New Age Islam News Bureau
8Jan 2014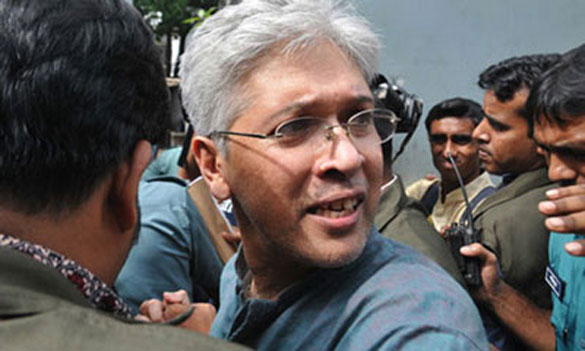 Odhikar's Adilur Rahman Khanof Bangladesh . — Photo courtesy: The Telegraph
-------------
India
• Refrain from pomp and pride on Milad un Nabi- Muslim Ulema appeal
• Centre holds back anti-terror scholar Dr Muhammed Tahir-ul-Qadri's visit to India
• Ministry of HRD announced Maulana Azad Taleem-e-Balighan scheme
• Homework done, India ready for Geneva meet on Syria
Arab World
• Saudi Cleric in Hot Water over Gifts to Women Celebrities
• Syria's Nusra Front chief urges end to jihadist-rebel clashes
• Brotherhood-linked cleric forbids voting in Egypt referendum
• Fighting in Iraq's Fallujah as jihadists urge resistance
• Defiant ISIL vows to fight in Syria and Iraq
• Syria rebels 'seize' ISIS headquarters in Aleppo
• Al-Sweady inquiry: Body removal results 'unfortunate'
• Syria opposition delays decision on peace talks until Jan 17
South Asia
• 16 militants killed, 15 injured in Afghan operations
• Afghan Taliban leader, Quari Saifullah declared global terrorist by US
• Bangladesh charges top rights activists over crackdown
• President Karzai condemn children's use for suicide attacks
• Chinese visa to be issued from Male' Embassy
• PM Sheikh Hasina: Stern action for attacking Hindus
Pakistan
• Jamiat Ulema-e-Islam-Fazl Chief for peace talks with Taliban
• Pakistan: Six men found with throats slit near Sufi shrine in Karachi
• Bokhari to launch Senate of Pakistan Syndicate today
• Illegal immigrants: 208 Pakistanis deported every day since 2009 from Saudi Arabia
North America
• Anti-Israel 'Lessons' In American Classrooms
• New York cops among 106 accused over 9/11 fraud
• Florida executes first US inmate of 2014
• Draft on Israel-Palestinian deal soon: US diplomat
• Fifty US senators line up behind new Iran sanctions bill
Europe
• CAR Conflict Risks Becoming Religious War: UN
• Child sex attackers among criminals in England not jailed
• Committee to investigate torture of Muslims in Tatarstan
• UK accepts 1,500 asylum seekers from Syria
• Al Qaeda group loses key post to rivals in Syria - watchdog
Mideast
• Turkey in intense diplomacy over al-Qaeda threat in Iraq
• Iranian MP: We need nuclear bomb 'to put Israel in its place'
• Elder Palestinians protect settlers from lynching in West Bank village
Africa
• DR Congo's Lubumbashi hit by fighting, 26 Killed
• South Sudan rebels say no truce unless allies released
• Libya autonomy group vows to sell oil from seized ports, challenges Tripoli
• Gunmen kill 3 in Nigeria mosque attack
• Tunisia's Islamists compromise to secure legacy
Southeast Asia
• Malaysian Sharia rules cut 20% from stock pool
• Anas' Weekend Plans in Doubt as KPK Taunts with 'Hallowed Friday' Summons
• Balikpapan Adds to Schoolchildren's Quran Study Curfew
• Jais wrong as Allah ban only for Herald, not Bibles, say critics
Compiled by New Age Islam News Bureau
URL: https://www.newageislam.com/islamic-world-news/new-age-islam-news-bureau/refrain-from-pomp-and-pride-on-milad-un-nabi--muslim-ulema-appeal/d/35197
-------------
India
Refrain from pomp and pride on Milad un Nabi- Muslim Ulema appeal
Jan 08 2014
Mr. Mohammed Amanullah, Mr. Mujahid Hashmi, Mr. Obaid Quadri and Mr. Abdul Wahab Quadri appealed to the Muslim youths not to indulge in un-Islamic activities on the occasion of Prophet Mohammed's birthday. They requested Islamic Scholars and Muslim Associations to spread this message. This occasion should be used for propagating political ideologies. Instead of organizing food distribution program at every place, it is appropriate that we should help the victims of Muzaffarnagar and to organize blood donation camps to help the needy patients.
http://www.siasat.com/english/news/refrain-pomp-and-pride-miladunnabi-muslim-ulema-appeal
-------------
Centre holds back anti-terror scholar Dr Muhammed Tahir-ul-Qadri's visit to India
Mohammed Wajihuddin, TNN | Jan 8, 2014
MUMBAI: Anti-terrorism scholar Dr Muhammed Tahir-ul-Qadri's visit to India is under a cloud as the Centre is yet to clear his visa application. Canada-based Pakistani scholar Qadri is scheduled to address several meetings in India, including a roundtable discussion and an interfaith prayer meeting on January 9 in Mumbai.
While he will address the January 9 roundtable discussion at Y B Chavan Centre via video-conferencing, the prayer meet at Somaiya Ground has been cancelled. This has left Qadri's hosts, Observer Research Foundation (ORF), Mumbai and Minhaj-ul-Quran International (India), distraught and his many followers disappointed.
"Officials in the Union home ministry tell us that Dr Qadri's visa has been held back because of IB's note. We have not been told on what ground the IB has not cleared it," said ORF Mumbai's chairman, Sudheendra Kulkarni. Kulkarni added that, since Qadri is a well-known figure and during his last visit to India in 2012 he had addressed huge rallies, it was surprising that the officials were delaying clearance of his visa. Kulkarni, along with Minhaj-ul-Quran International (India)'s president Rafeeq Ahmed Khan, met Union home minister Sushilkumar Shinde on Sunday and briefed him on Qadri's background. "Shinde promised us that he would hold a meeting with officials on January 8 and try to sort out the issue," said Khan. The home ministry official (foreign division), who is handling Qadri's visa application, couldn't be contacted by TOI.
Qadri's seminal work Fatwa on Terrorism and Suicide Bombings is hailed as the definitive denunciation of jihadist terrorism. The cancellation of his programme in Mumbai has disappointed many of his followers. "He must be allowed to travel to India, which is one of the biggest victims of terrorism," said Dongri restaurateur Salim Sarang who has followed Qadri's speeches for many years.
Other cities he is scheduled to visit are Bangalore, Kolkata and Delhi.
http://timesofindia.indiatimes.com/india/Centre-holds-back-anti-terror-scholars-visa/articleshow/28531911.cms
-------------
Ministry of HRD announced Maulana Azad Taleem-e-Balighan scheme
Jan 08 2014
Union Ministry of Human Resource Development announced Maulana Azad Taleem-e-Baligan scheme along with two other new initiatives on 5 January 2014.It was announced at the annual meeting of the National Monitoring Committee for Minorities Education.
Maulana Azad Taleem-e-Baligan aims to achieve higher literacy for the minority Muslim community.
The scheme will be launched in 61 Muslim-concentrated Sakshar Bharat districts, the Centre's adult literacy programme running in eleven states.
The scheme will impart literacy to one crore population in the age group of 15 years and above and the basic education to 2.5 lakh adults and skill development programmes.
Additional 1000 Adult Education Centers will be set up exclusively for women exceeding 5000 muslim population.
The other new scheme is for establishing educational hubs by co-locating KGBV, Girls/Women Hostels, Degree colleges, Polytechnics in few selected towns/Districts which are educationally backward and have substantial Muslim concentration.
Besides, a new scheme on the lines of HUNAR for skill development among Minority girls has been announced. The scheme will cover 9.20lakhs minority girls at the proposed outlay of Rs.978 crores.
http://www.jagranjosh.com/current-affairs/union-ministry-of-human-resource-development-announced-maulana-azad-taleemebaligan-schem-1389101557-1#sthash.viGlciVm.dpuf
-------------
Homework done, India ready for Geneva meet on Syria
SANDEEP DIKSHIT
Jan 8, 2014
Point man was sent to Damascus to assess situation
India says it is ready for the international conference on Syria, which begins in Geneva on January 22, even as Iran's participation hangs in the balance following remarks by U.S. Secretary of State John Kerry.
In preparation for the Geneva II Conference, India sent its point man for West Asia, Sandeep Kumar, to Syria late last month. The aim was to get a firsthand assessment of the developments, official sources said.
Besides meeting a variety of official and government representatives, Mr. Kumar, Joint Secretary (West Asia and North America) in the Ministry of External Affairs, met Hassan Abdul Azim, head of the National Coordination Committee for Democratic Change, the main Opposition within Syria.
The visit also helped in assessing the ongoing destruction of Syrian chemical weapons and fashioning a holistic approach to the ground situation in the country, said the officials. "With the United Nations formally dispatching invitations to various countries, including India, South Block is ready with its homework all done," they said.
India's desire to participate in the international meeting was backed by Russia when Prime Minister Manmohan Singh visited Moscow last October. Since then, New Delhi has been putting in place building blocks that would make it a useful participant at the Geneva meeting.
Assistance
India has already offered $1 million for use in destruction of Syria's chemical weapons and related facilities by the Organisation for the Prohibition of Chemical Weapons (OPCW). It has also offered the services of its experts in the destruction and verification activities and training for personnel participating in the destruction. As opposed to the U.S. and Russia, India has completed destruction of its chemical weapons.
It was around Christmas — days after the U.N. finalised the list of attendees for Geneva-II — that India got to know that it would also participate. The first meeting had produced the Geneva Communiqué that backed a political transition without seeking the ouster of President Bashar-al Assad.
India had a brief tryst with the Opposition in Syria during its participation as an observer in the West-backed Friends of Syria grouping, which had unsuccessfully tried to push for regime change.
However, for the present, South Block is keenly watching the January 13 meeting in Paris between Mr. Kerry and Russian Foreign Minister Sergei Lavrov, which will also take up the issue of Iran's participation.
Iran has objected to Mr. Kerry suggesting that it play a constructive role from the sidelines.
The official Iranian news agency IRNA quoted Foreign Ministry spokeswoman Marzieh Afkham as saying Tehran was ready to participate in the conference but would accept only offers "that preserve the honour of the Islamic republic."
http://www.thehindu.com/news/international/homework-done-india-ready-for-geneva-meet-on-syria/article5550300.ece
-----------
Arab World
Saudi Cleric in Hot Water over Gifts to Women Celebrities
January 8, 2014
Manama: A prominent Saudi religious scholar has been criticised and praised in equal measures after he waded into a controversy over gifts to women in the media.
Mohammad Al Arefi said that he offered gifts to 100 actors, singers and radio hosts and that he was thankful to them for accepting them.
The gift was a box that contained a copy of the Quran, a set of lectures and a bottle of perfume, the scholar posted on his Twitter account where he has more than 7.6 million followers.
The list of those who were offered gifts included some of the most popular women working in the media, prompting critics to lash out at his action.
"Religious scholars are very particular about dealing with women who do not cover their heads," one critic said. "As they usually refuse and rule out any contact with these women, why is Al Arefi dealing with them? Why does he reject for others what he allows for himself? That is not fair," the critic said, cited by Kuwaiti news site Al Aan.
Full report at:
http://gulfnews.com/news/gulf/saudi-arabia/saudi-cleric-in-hot-water-over-gifts-to-celebrities-1.1275070
------------
Syria's Nusra Front chief urges end to jihadist-rebel clashes
Jan 08 2014
The chief of Syria's Al-Nusra Front, an Al-Qaeda affiliate, called Tuesday for an end to fighting between rebel groups and the jihadist Islamic State of Iraq and the Levant (ISIL).
In an audio recording posted on Twitter, Abu Mohamed al-Jolani announced an initiative to end the fighting, including a "ceasefire" and the establishment of an independent Islamic committee to serve as mediator.
http://english.ahram.org.eg/NewsContent/2/8/91048/World/Region/Syrias-Nusra-Front-chief-urges-end-to-jihadistrebe.aspx
-------------
Brotherhood-linked cleric forbids voting in Egypt referendum
2014-01-08
DOHA: Muslim Brotherhood-linked cleric Yusef al-Qaradawi has issued a religious decree prohibiting Egyptians from voting in a referendum to be held next week by the military-installed interim government.
Islamist supporters of deposed president Mohamed Morsi had already called for a boycott of the Jan 14-15 vote on a new constitution drawn up by the interim authorities since his July overthrow by the army.
But the Egyptian-born Qaradawi, who wields huge influence through his regular appearances on Al-Jazeera television from his base in exile in Qatar, said that participation would go against Islam because it would mean colluding with a "sin".
Full report at:
http://www.dawn.com/news/1079148/brotherhood-linked-cleric-forbids-voting-in-egypt-referendum
-------------
Fighting in Iraq's Fallujah as jihadists urge resistance
Jan 08 2014
Fighting erupted in Iraq's Fallujah Wednesday after an Al-Qaeda-linked group urged fighters in the mainly Sunni Arab city to keep up their armed resistance against the Shiite-led government.
Fallujah and parts of the Anbar provincial capital Ramadi farther west have been outside government control for days -- the first time militants have exercised such open control in major cities since the height of the insurgency that followed the 2003 US-led invasion.
Clashes broke out in two areas of Fallujah -- Al-Askari in the east and Al-Shuhada in the west -- and lasted for about an hour, witnesses said.
Full report at:
http://english.ahram.org.eg/NewsContent/2/8/91096/World/Region/Fighting-in-Iraqs-Fallujah-as-jihadists-urge-resis.aspx
-------------
Defiant ISIL vows to fight in Syria and Iraq
Jan 08 2014
The jihadist Islamic State of Iraq and the Levant, facing a rebel backlash in Syria and challenging the government in Iraq, has vowed to continue the fight on two fronts.
In a defiant audio message that came late Tuesday, hours after Al-Qaeda's Syria affiliate urged an end to clashes between rebels and ISIL, the group's spokesman said it would "crush" opposition fighters.
Abu Mohammed al-Adnani also warned that ISIL considered members of the opposition Syrian National Coalition and the military command of the Free Syrian Army to be "legitimate targets".
Full report at:
http://english.ahram.org.eg/NewsContent/2/8/91086/World/Region/Defiant-ISIL-vows-to-fight-in-Syria-and-Iraq.aspx
-------------
Syria rebels 'seize' ISIS headquarters in Aleppo
Jan 08 2014
Islamist rebel brigades are reported to have seized the headquarters of Islamic State in Iraq and the Levant (ISIS) in the northern Syrian city of Aleppo.
The Syrian Observatory for Human Rights said it was not clear what had happened to the jihadists who had been at the former hospital in the Qadi Askar area.
A video posted online showed rivals proclaiming their victory there.
Recent days have seen fierce fighting in several Syrian towns between the al-Qaeda affiliate and other rebel groups.
On Tuesday evening, an ISIS spokesman vowed that it would "crush" its rivals and "kill the conspiracy in its cradle".
Full report at:
http://www.bbc.co.uk/news/world-middle-east-25652381
-------------
Al-Sweady inquiry: Body removal results 'unfortunate'
Jan 08 2014
A decision to take Iraqi insurgents' bodies back to a British base after a firefight had "unfortunate" unforeseen consequences, an inquiry has heard.
Col Jonathan Biggart said the decision was "unusual but reasonable" given the circumstances at the time.
The Al-Sweady Public Inquiry is investigating claims detainees were mistreated and killed at the base after the so-called Battle of Danny Boy.
The Ministry of Defence denies the allegations.
Set up in 2010, the inquiry is named after one of the Iraqi men, 19-year-old Hamid al-Sweady, who is alleged to have been unlawfully killed while being held after the battle.
Lawyers acting for several Iraqi clients claim some were taken alive following the battle and mistreated or unlawfully killed at the nearby Camp Abu Naj (CAN) base.
'No order'
Full report at:
http://www.bbc.co.uk/news/uk-25637149
------------
Syria opposition delays decision on peace talks until Jan 17
Jan 08 2014
Syria's exiled opposition has postponed until next week a decision on whether to take part in UN-hosted peace talks in Switzerland, following two days of heated debate in Turkey, members said.
The general assembly of the mainstream opposition National Coalition decided to suspend its debate and meet again in Istanbul on January 17, just five days before the peace conference is to open in the the lakeside town of Montreux.
"The debates were very heated among the different groups that make up the coalition. It was not possible to take a decision," a source close to the opposition said.
Full report at:
http://english.ahram.org.eg/NewsContent/2/8/91098/World/Region/Syria-opposition-delays-decision-on-peace-talks-un.aspx
-------------
South Asia
16 militants killed, 15 injured in Afghan operations
Jan 08 2014
At least 16 militants were killed and 15 others were injured during coordination military operations by Afghan national security forces across the country.
The interior ministry of Afghanistan following a statement, said the operations were jointly conducted by Afghan army, Afghan police and Afghan intelligence – National Directorate of Security (NDS) operatives during the past 24 hours.
The statement furhter added that 13 militants were also arrested during the joint military operations.
"In past 24 hours, Afghan National Police conducted several anti-terrorism joint operations with Afghan National Army and NDS to clean some of the areas from terrorists and enemies of peace and stability of Afghanistan," interior ministry said in statement.
Full report at:
http://www.khaama.com/16-militants-killed-15-injured-in-afghan-operations-3268
-------------
Afghan Taliban leader, Quari Saifullah declared global terrorist by US
Jan 08 2014
A senior Afghan Taliban leader, Quari Saifullah, was declared a specially designated global terrorist by the US Department of State on Tuesday.
Quari Saifullah, based in Quetta city of Pakistan, is the Taliban group's shadow deputy governor and an operational commander in Afghanistan's Zab ul province.
The US Department of State said Tuesday that Quari Saifullah was involved in major attacks against the Afghan and coalition security forces in south-eastern Zab ul province of Afghanistan.
Full report at:
http://www.khaama.com/afghan-taliban-leader-declared-global-terrorist-by-us-3270
-------------
Bangladesh charges top rights activists over crackdown
2014-01-08
DHAKA: A Bangladesh court charged top human rights activists on Wednesday for publishing details of a police crackdown on Islamist protesters last year that said dozens of people were killed.
A prosecutor said the heads of Dhaka-based rights group Odhikar were charged with publishing "false" reports online that stated 61 people were killed during the violent May street protests to demand a blasphemy law.
"They were indicted for spreading false information, which tarnished the image of the government among the Muslims and also undermined the law-enforcing agencies," prosecutor Nazrul Islam Shamim said.
"...Odhikar claimed 61 people were killed. But the government says only 11 people have died," Shamim told AFP.
Full report at:
http://www.dawn.com/news/1079180/bangladesh-charges-top-rights-activists-over-crackdown
----------
President Karzai condemn children's use for suicide attacks
Jan 08 2014
Afghan president Hamid Karzai on Tuesday strongly condemned the use of children and forcing them to carry out suicide attacks.
The presidential palace media office following a statement, said president Hamid Karzai instructed the interior ministry of Afghanistan to hand over the 10-year-old girl to her family, who was arrested prior to carry out suicide attack in Helmand province.
The interior ministry of Afghanistan said Monday that the 10-year-old girl, Spoghmai, was arrested by Afghan security forces late Sunday night in Khanshin distrct.
President Karzai said that Spoghmai should be handed over to her family, after receiving guarantees from her family in front of the tribal elders that better living conditions will be provided to her, similar as other children.
Full report at:
http://www.khaama.com/president-karzai-condemn-childrens-use-for-suicide-attacks-2668
-------------
Chinese visa to be issued from Male' Embassy
By Minivan News | January 7th, 2014
Chinese visas can be obtained from the Chinese Embassy in Male' starting from 9 January 2014. The service will be available on Sundays, Tuesdays and Thursdays from morning 9:00am till 11:00am, and will be provided free of charge for Maldivian citizens.
The Chinese Embassy is located at H. Nookurikeela (Dhanbugas Magu- Boduthakurufaanu Magu junction).
The issue was discussed last month during the Chinese Ambassador to the Maldives Yu Hongyao's courtesy visit to President Abdulla Yameen.
In that meeting the Chinese' government confirmed the granting of 50 million Yuan (USD 8.2 million) in grant aid to the Maldives for developmental projects and public services.
http://minivannews.com/category/news-in-brief
-----------
PM Sheikh Hasina: Stern action for attacking Hindus
Jan 08 2014
Prime Minister Sheikh Hasina has asked BNP Chairperson Khaleda Zia not to anguish the people of the country.
She also warned the opposition of taking stern action for attacking the minority Hindus after the elections.
"As she [Khaleda] has failed to stop the polls through violent activities, she will not be able to do anything," said Hasina while addressing a meeting of the Awami League-led 14-party alliance at Ganabhaban.
Full report at:
http://www.dhakatribune.com/politics/2014/jan/08/pm-stern-action-attacking-hindus#sthash.rzwkFnqe.dpuf
-------------
Pakistan
Jamiat Ulema-e-Islam-Fazl Chief for peace talks with Taliban
Jan 08 2014
Jamiat Ulema-e-Islam-Fazl (JUI-F) Chief Moulana Fazl ur Rehman Tuesday said that Pervez Musharraf's health would be explained by the doctors, while the decision regarding his journey to foreign country would be taken somewhere else.
Talking to newsmen here in National Press Club Islamabad, Moulana Fazl ur Rehman said that issue of peace talks with Talibans had entered into a complicated phase.
Moulana said that peace was nowhere in the country and target killings and extortion mafia were getting out of control. He said that the country cannot tolerate the collision of the institutions.
Full report at:
http://www.nation.com.pk/islamabad/07-Jan-2014/jui-f-chief-for-peace-talks-with-taliban
-------------
Pakistan: Six men found with throats slit near Sufi shrine in Karachi
Jan 08 2014
Karachi: Six bodies with their throats slit were found near a 'mazaar' in Karachi on Tuesday, with a note warning against visiting such shrines.
The corpses were recovered near the shrine of Ayub Shah Bukhari on the outskirts of Karachi. Bukhari is revered as a saint by followers of Sufism.
Three of the dead used to work at the shrine while the others were frequent visitors, senior police officer Amir Farooqi said.
Full report at:
http://www.indianexpress.com/news/pakistan-six-men-found-with-throats-slit-near-sufi-shrine-in-karachi/1216538/
-------------
Bokhari to launch Senate of Pakistan Syndicate today
January 08, 2014
ISLAMABAD - Chairman Senate Syed Nayyer Hussain Bokhari will formally launch today (Wednesday) the Senate of Pakistan Syndicate, a think tank to further strengthen the legislative role and oversight function of the Upper House of the Parliament.
The initiative, which is the brainchild of chairman Senate, would help in overcoming various deficiencies in law making and identifying weakness in different laws. A group of current and former senators has been included in the think tank. A brain storming session followed by the official launch ceremony of the think tank "The Syndicate" will be held at 11:30 am here on Wednesday in committee Room No-2, Parliament House.
The input provided by the think tank would improve working and performance of the Senate as legislative institution and as a House symbolising the unity of the federation.
http://www.nation.com.pk/islamabad/08-Jan-2014/bokhari-to-launch-senate-of-pakistan-syndicate-today
-------------
Illegal immigrants: 208 Pakistanis deported every day since 2009 from Saudi Arabia
January 8, 2014
ISLAMABAD: Labourer Ghulam Farid's dreams of greener pastures seemed to momentarily come true when he landed in the United Arab Emirates to earn a better living. But the rude awakening came when he was expelled from the country for illegal entry.
"I did not have a single penny to feed my four kids after being deported from the UAE," the 34-year-old told The Express Tribune. "My agent cheated me and now I have nowhere to go."
Farid is just one of over 380,000 Pakistanis who have been deported from 54 countries since 2009. According to the official figures obtained by The Express Tribune, the average deportation of Pakistanis during the five-year period amounts to 208 per day.
Full report at:
http://tribune.com.pk/story/656301/illegal-immigrants-208-pakistanis-deported-every-day-since-2009/
-------------
North America
Anti-Israel 'Lessons' In American Classrooms
Jan 08 2014
Anti-Israel and anti-Semitic curricular materials have now become endemic in American public schools. Examples abound and are surfacing from Massachusetts to California where concerned and sometimes angry parents are reacting.
At issue is not only the insidious nature of materials that inculcate anti-Israel biases disguised as history and multicultural lessons, but also – just as has been the case too often on American campuses – the often flaccid response by educators, elected officials and sometimes the mainstream Jewish community.
American Jewish organizations came late to the problem of anti-Israelism on the campuses. If this same poison spreads to the entire public school system, America will become a very different place for its Jews.
Full report at:
http://www.jpost.com/Opinion/Op-Ed-Contributors/Anti-Israel-lessons-in-American-classrooms-337404
-------------
New York cops among 106 accused over 9/11 fraud
AFP | Jan 8, 2014
NEW YORK: Former New York police officers and firefighters were among 106 people indicted on Tuesday over a "massive fraud" worth hundreds of millions of dollars, some in connection with the September 11 attacks. The accused allegedly collected tens of thousands of dollars a year in Social Security disability benefits -- funded by taxpayers -- by claiming they were completely incapacitated by serious psychiatric disorders and other ailments.
But, according to court documents, they were in fact living normal lives -- one of the accused flew a helicopter, while another played blackjack in Las Vegas.
One of the accused taught and performed mixed martial arts but was still claiming benefits of typically between $30,000 and $50,000 a year. In some instances, the total amount fraudulently obtained was nearly $500,000 per applicant.
Full report at:
http://timesofindia.indiatimes.com/world/us/New-York-cops-among-106-accused-over-9/11-fraud/articleshow/28545364.cms
----------
Florida executes first US inmate of 2014
2014-01-08
WASHINGTON: The United States put to death its first inmate of the year Tuesday in Florida, after a drop in executions during 2013.
Askari Abdullah Muhammad, previously known as Thomas Knight, was convicted of abducting and killing a Miami couple in 1974 and fatally stabbing a prison guard six years later using a sharpened spoon.
He appealed his conviction numerous times.
Muhammad, 62, died by lethal injection. He was pronounced dead at 6:45 pm (2345 GMT), Florida Department of Corrections spokeswoman Misty Cash told AFP.
He made no final statement.
As his last meal, Muhammad ate one and a half slices of sweet potato pie, a piece of coconut cake, half a slice of banana nut bread, a quarter bottle of Sprite, two tablespoons of strawberry and butter pecan ice cream, an entire small container of vanilla ice cream and a small handful of corn chips.
Full report at:
http://www.dawn.com/news/1079134/florida-executes-first-us-inmate-of-2014
-------------
Draft on Israel-Palestinian deal soon: US diplomat
Jan 8, 2014
The U.S. ambassador to Israel says a framework proposal on all issues at the heart of the Israeli—Palestinian conflict will be presented to both sides soon.
Mr. Dan Shapiro told Israel Radio on Tuesday that the proposal will include security arrangements, borders, Jerusalem and all the other "core issues."
U.S. Secretary of State John Kerry has been visiting the region often since talks resumed last July, shuttling between Israel and Palestinian leaders to mediate talks.
Full report at:
http://www.thehindu.com/news/international/world/draft-on-israelpalestinian-deal-soon-us-diplomat/article5549743.ece
----------
Fifty US senators line up behind new Iran sanctions bill
Jan 08 2014
WASHINGTON -- Support among Senate members for a new sanctions bill against Iran has doubled since the measure was introduced last month.
50 senators across party lines now co-sponsor the Nuclear Weapons Free Iran Act of 2013, according to multiple Senate aides, who expect support to increase in the coming days. That amounts to half of all Senate members, just one shy of the number required for a bill to pass.
Senate Foreign Relations Committee chairman Robert Menendez introduced the bill just before Christmas with 25 co-sponsors. The move was an affront to the Obama administration, which fears the bill could derail fragile nuclear talks among Iran, the US and world powers.
Full report at:
http://www.jpost.com/Iranian-Threat/News/Fifty-senators-line-up-behind-new-Iran-sanctions-bill-337397
-------------
Europe
CAR conflict risks becoming religious war: UN
January 08, 2014
UNITED NATIONS : Violence in Central African Republic risks escalating into a religious conflict amid an increasing number of clashes between Christian and Muslim militias, United Nations Under-Secretary-General for Political Affairs Jeffrey Feltman has warned.
Killings are occurring across the country on a daily basis and the population is divided along religious lines, Feltman, a US national, said while briefing the UN Security Council in New York on Monday. Access to residential neighborhoods in the capital, Bangui, is controlled by anti-Christian or anti-Muslim checkpoints, while in towns such as Bossangoa, Bouar and Paoua, there have been clashes between the Christian and Muslim communities, he said.
"The danger of escalation into sustained violence along religious lines remains real, with the potential for long-term danger to the country," Feltman said.
Full report at:
http://www.nation.com.pk/international/08-Jan-2014/car-conflict-risks-becoming-religious-war-un
-------------
Child sex attackers among criminals in England not jailed
Jan 08 2014
About 50% of criminals convicted of sex offences, violence and burglaries in England and Wales in 2012 were not sent to prison, it has emerged.
Of paedophiles who abused children under the age of 13, 107 - nearly half - were not jailed.
The figures were released following a parliamentary question from shadow justice secretary Sadiq Khan, who said the news was an insult to victims.
The government said it was working to give courts tough sentencing powers.
The Ministry of Justice (MoJ) figures also showed 40% of convicted robbers - about 5,000 people - and 51% of drug dealers were not jailed in 2012.
In cases of sexual assault, 49% - more than 2,300 offenders - were not given custodial sentences.
Full report at:
http://www.bbc.co.uk/news/uk-25648078
------------
Committee to investigate torture of Muslims in Tatarstan
World Bulletin / News Desk
Jan 08 2014
A new committee for to defend the rights of Muslims detained in the Russian republic of Tatarstan was set up yesterday after reports of torture.
Almira Zhukova, a lawyer, set up the committee after two Muslim brothers were reportedly tortured in prison and forced to sign a confession that they set fire to two Orthodox churches.
In 2012, another Muslim prisoner was allegedly tortured to death in a prison in the republic's capital Kazan.
European Committee for the Prevention of Torture chairman Latif Huseynov also told RFE/RL that they too will launch an investigation into the claims.
http://www.worldbulletin.net/?aType=haber&ArticleID=126496
-----------
UK accepts 1,500 asylum seekers from Syria
World Bulletin / News Desk
Jan 08 2014
Liberal Democrat Leader and Deputy Prime Minister Nick Clegg said that Britain had accepted about 1,500 Syrian asylum seekers.
Clegg's comments came after a question directed by Labour MP Ian Lucas asking, "Will you agree and support the placement of a limited number of the most vulnerable refugees from Syria in the UK?". Previously, opposition Labour Party had called on the British government to accept about 500 Syrians to the UK.
Adressing British MPs at the House of Commons, Clegg said, "We have accepted about 1,500 asylum seekers. It is a fact that we have accepted hundreds upon hundreds of individual asylum seekers from Syria under our international asylum obligations."
Full report at:
http://www.worldbulletin.net/?aType=haber&ArticleID=126509
----------
Al Qaeda group loses key post to rivals in Syria - watchdog
Jan 08 2014
Syrian rebels have captured the headquarters of a rival rebel group linked to al-Qaeda in northern Syria, a pro-opposition watchdog reported on Wednesday. Fighters from several Islamist groups overran the premises of the Islamic State in Iraq and the Levant (ISIL) in the city of Aleppo, according to the Britain-based Syrian Observatory for Human Rights.
Dozens of detainees were freed from the headquarters, housed in a children's hospital, according to the report.
"The fate of hundreds of the ISIL fighters, who were in the place, is not clear yet," the Observatory said.
The fighting, pitting secular and moderate Islamist opponents of Syrian President Bashar al-Assad against ISIL insurgents, has continued in northern and eastern Syria for almost a week. Dozens of people have reportedly been killed.
Full report at:
http://voiceofrussia.com/news/2014_01_08/Al-Qaeda-group-loses-key-post-to-rivals-in-Syria-watchdog-6611/
------------
Mideast
Turkey in intense diplomacy over al-Qaeda threat in Iraq
Jan 08 2014
Turkey is holding talks with Iraq and Iran over the mounting threat from al-Qaeda-linked groups, particularly in the Anbar region of Iraq, warning all related parties to "avoid sectarian clashes" and urging "restraint."
Foreign Minister Ahmet Davutoğlu initiated separate phone conversations with Iraqi Parliament speaker Osama al-Nujaifi and his Iranian counterpart Javad Zarif on Jan. 6. Diplomatic sources said the main theme of the conversations was the recent clashes in Anbar. Iraqi security forces and allies from Sunni tribes have been battling al-Qaeda-linked militants to recapture Fallujah and Ramadi, the two key cities in the western Anbar province. Al-Nujaifi is reportedly worried that the operations could turn into a wider oppression of all Sunni citizens in Iraq.
Full report at:http://www.hurriyetdailynews.com/turkey-in-intense-diplomacy-over-al-qaeda-threat-in-iraq.aspx?pageID=238&nID=60708&NewsCatID=352
-------------
Iranian MP: We need nuclear bomb 'to put Israel in its place'
Jan 08 2014
Iranian parliament representative Muhammad Nabavian said that Iran needs a nuclear bomb because of Israel.
"We don't aspire to obtain a nuclear bomb, but it is necessary so we can put Israel in its place," Nabavian said in a speech given on Friday and quoted by MEMRI (the Middle East Media Research Institute).
The Iranian Tasnim News Agency website, which first quoted Nabavian, later removed the comment about Iran needing a nuclear bomb, according to the MEMRI report.
Nabavian also revealed statements made to the Iranian parliament by President Hassan Rouhani, demonstrating that the US administration was pressing hard for a meeting with him.
"After I won the elections, [US President Barack] Obama relayed a message to me, [even] before [my September 2013] visit to New York.
Full report at:http://www.jpost.com/Iranian-Threat/News/Iranian-MP-We-need-nuclear-bomb-to-put-Israel-in-its-place-337410
-------------
Elder Palestinians protect settlers from lynching in West Bank village
Jan 08 2014
Palestinians prevented fellow villagers from lynching 14 settler youths in Kusra on Tuesday afternoon and called in the IDF to rescue the Jewish group, who had been cornered in a construction site and beaten.
Palestinians alleged the Jewish teens and young adults had entered the village, southeast of Nablus, to carry out a "price-tag" attack. Settlers in turn alleged that the group was hiking in the area when Palestinians forced them to go to the construction site in Kusra.
According to a security source, Palestinians held the settlers for more than 40 minutes before soldiers and border police arrived. The security personnel then spent more than 90 minutes negotiating their release.
Full report at:http://www.jpost.com/National-News/Palestinians-beat-up-Jewish-settlers-for-allegedly-throwing-stones-at-West-Bank-farmers-337370
-------------
Africa
DR Congo's Lubumbashi hit by fighting, 26 Killed
Jan 08 2014
At least 26 people have been killed in an eight-hour battle between government and rebel forces in the Democratic Republic of Congo's second city Lubumbashi, police say.
The rebels were beaten back on Tuesday morning after heavy fighting overnight, police said.
The city of more than a million people was deserted, police added.
The assault was launched by the Mai Mai Kata Katanga, a secessionist group in the region, police said.
It is fighting for the independence of Katanga, the richest province in DR Congo.
The group is led by Gedeon Kyungu Mutanga, who was freed during an attack by gunmen on Lubumbashi's prison in September 2011.
Full report at:
http://www.bbc.co.uk/news/world-africa-25645434
-------------
South Sudan rebels say no truce unless allies released
Jan 08 2014
South Sudan's rebels indicated Wednesday that there would be no imminent truce in the country unless the government freed a group of suspected rebels currently being detained.
A rebel spokesman said the 11 detainees, who were arrested in the capital Juba after fighting broke out more than three weeks ago, should be set free so they can take part in the peace talks under way in Ethiopia.
"Our colleagues must be released so that they come and participate," rebel spokesman Yohanis Musa Pauk told reporters in Addis Ababa.
"You cannot go to negotiations while there are some people being detained. You need to release them so that they now have a positive role in the negotiations. We are just waiting for the release of our detainees, when they release them very soon we will sign the cessation of hostilities agreement," he added.
Full report at:
http://english.ahram.org.eg/NewsContent/2/8/91088/World/Region/South-Sudan-rebels-say-no-truce-unless-allies-rele.aspx
-----------
Libya autonomy group vows to sell oil from seized ports, challenges Tripoli
Reuters | Jan 8, 2014
TRIPOLI/LONDON: A heavily armed autonomy group in eastern Libya said on Tuesday that it would invite foreign companies to buy oil from seized ports and protect arriving tankers, challenging Tripoli which has promised to use force to stop them.
The announcement came just hours after Libya's defence ministry said it would destroy any tankers loading oil from eastern ports in the Cyrenaica region which are under control of the armed protesters.
The escalation adds to chaos as the weak Tripoli government struggles to rein in armed groups that helped oust Muammar Gaddafi in 2011 but kept their guns to demand power and a bigger share of the country's oil wealth.
Full report at:
http://timesofindia.indiatimes.com/world/middle-east/Libya-autonomy-group-vows-to-sell-oil-from-seized-ports-challenges-Tripoli/articleshow/28534807.cms
--------------
Gunmen kill 3 in Nigeria mosque attack
Jan 08 2014
Gunmen opened fire on worshippers at a mosque near northern Nigeria's main city of Kano, killing three of them and wounding 12 as they prayed, witnesses and police said on Wednesday.
Police spokesman Musa Majiya declined to speculate on who was behind Tuesday night's attack in Kwankwaso village, about 30 km from Kano and home of Kano state governor Rabi'u Musa Kwankwaso. Criminal gangs operate in the area.
"We were inside the mosque praying when we heard gunshots just as we were almost finishing the prayer," witness Adamu Inuwa said, speaking by telephone from a hospital bed where he was nursing a gunshot wound.
Full report at:
http://www.worldbulletin.net/?aType=haber&ArticleID=126503
-----------
Tunisia's Islamists compromise to secure legacy
Jan 08 2014
Tunis: Tunisia's ruling Islamists have opted for a strategy of compromise on the thorniest aspects of the future constitution to save their political legacy, challenged by social unrest and elections this year, analysts say.
Unlike its Egyptian counterpart the Muslim Brotherhood, also elected after a popular uprising in 2011 but deposed by the army last year and outlawed, Al Nahda has survived a succession of crises and is set to step down to ensure a peaceful transition.
Tunisia's Islamist party has pledged to relinquish power in the coming days, under a deal that aims to see an electoral commission formed and the draft charter ratified by January 14, the third anniversary of the revolution.
Full report at:
http://gulfnews.com/news/region/tunisia/tunisia-s-islamists-compromise-to-secure-legacy-1.1275048
-------------
Southeast Asia
Malaysian Sharia rules cut 20% from stock pool
Jan 08 2014
Kuala Lumpur: Islamic fund managers in Malaysia have 20 per cent fewer investment options after the market regulator tightened compliance rules for stocks to draw more overseas capital.
The new methodology stipulates that companies must limit debt and cash not conforming to Islamic principles to less than 33 per cent of their total assets, in line with the requirements of the Dow Jones Islamic Market World Index. While the restrictions reduced the pool of qualified equities to 653, Aberdeen Asset Management and RHB Islamic International Asset Management said the benefits outweigh the drawbacks.
The measures were put in place to help boost inflows as Prime Minister Najib Razak seeks to finance his $444 billion development program to build railways, roads and power plants. The initiative comes as investors face the prospect of an outflow of funds as the Federal Reserve begins paring stimulus that's increased appetite for emerging-market securities.
Full report at:http://www.timesofoman.com/News/Article-27896.aspx
-------------
Anas' Weekend Plans in Doubt as KPK Taunts With 'Hallowed Friday' Summons
Jan 08 2014
Former Democratic Party chairman Anas Urbaningrum has been issued a third and, theoretically, final summons for questioning by the Corruption Eradication Commission (KPK) in connection with the graft-ridden Hambalang sports center construction project.
"He will be summoned again on Friday," KPK spokesman Johan Budi said on Wednesday.
Anas irritated KPK investigators this week by standing up the antigraft authority on Tuesday.
He had been summoned for a second time to answer questions on his putative involvement in bribes related to an East Java infrastructure project, whose budget under the sports ministry ballooned from a modest Rp 125 billion ($10.3 million, at today's exchange rate) to the more eye-catching total of Rp 2.5 trillion, before the entire thing collapsed in ignominy.
"The criminal code procedure allows us to summon people in a decent way," KPK chairman Abraham Samad said on Tuesday. "But, if after three decent summons the person does not turn up, sorry but I have to pick him up by force, without regard for whoever he has behind him."
Full report at:
http://www.thejakartaglobe.com/news/anas-weekend-plans-in-doubt-as-kpk-taunts-with-hallowed-friday-summons/
-------------
Balikpapan Adds to Schoolchildren's Quran Study Curfew
Jan 08 2014
Balikpapan, East Kalimantan. The Balikpapan city administration has passed a decree establishing a three-hour curfew for schoolchildren between 6 p.m. and 9 p.m. effective immediately on school nights.
"The heads of urban wards and neighbourhoods will have to inform the public about this," Balikpapan Mayor Rizal Effendy said on Tuesday. "We will then form supervisory organizations at the urban ward levels as both implementer and supervisor. They will involve local public leaders, educational institutions and other figures…"
The curfew came after the city's religious affairs office passed a similar ruling in November, which required all Muslim children to spend time reciting the Quran after dusk prayers.
"We will combine the two programs," Rizal said. "After Maghrib, [dusk prayer] children at home will use their time after the prayers to read the Quran. Muslim families are expected to play a role in supervising and implementing this policy."
Full report at:
http://www.thejakartaglobe.com/news/balikpapan-adds-to-schoolchildrens-Quran-study-curfew/
-------------
Jais wrong as Allah ban only for Herald, not Bibles, say critics
Jan 08 2014
Selangor's religious authorities were wrong to seize Malay and Iban language Bibles and must return them as the ban on using the word Allah is only for the Catholic weekly Herald, say lawyers and politicians.
They said the Bible, be it in any language, was never banned in Malaysia and as such, the Selangor Islamic Religious Department (Jais) had no right to seize the holy books from The Bible Society of Malaysia (BSM) last Thursday as the Allah issue only centred on the Herald case.
Full report at:
http://www.themalaysianinsider.com/malaysia/article/jais-wrong-as-allah-ban-only-for-herald-not-bibles-say-critics
-------------
URL: https://www.newageislam.com/islamic-world-news/new-age-islam-news-bureau/refrain-from-pomp-and-pride-on-milad-un-nabi--muslim-ulema-appeal/d/35197