New Age Islam News Bureau
8 Jun 2018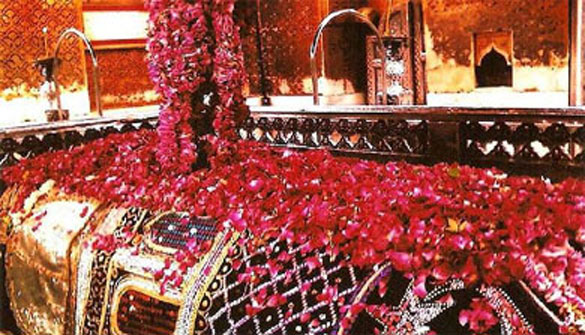 The red roses offered at the Moinuddin Chisti Dargah by Zayrins (pilgrims) will not go to waste but it will be gifted back to nature as organic compost.
----
• Red Roses at Ajmer Dargah Will Be Now Converted To Organic Compost
• VHP Protests Against 'Christianity and Islam' Chapter in School Textbook
• Pakistani Coalition Vows to Impose Sharia if Elected
• Facebook Blacklists Myanmar Hard-line Buddhist Group
• "We are not Islamists, we are Muslims" - Felicity Party
• Address Boko Haram as Terrorist, Not Islamic Sect, OIC Tasks Media, Civil Societies
India
• Red Roses at Ajmer Dargah Will Be Now Converted To Organic Compost
• VHP Protests Against 'Christianity and Islam' Chapter in School Textbook
• Bhajans Sound the Iftar Namaz at This Ramzan Celebration of Muslim-Hindu Unity In Pune
• The Rich Tradition Of Hindu-Muslim Harmony In This U.P. Village Should Inspire India
• Pranab Mukherjee at RSS home: Soul of India lives in pluralism, tolerance
• Govt accords 'top priority' to securing release of 6 Indians abducted in Afghanistan: MEA
• Work only for Hindus, who have voted for us, not for Muslims: BJP MLA to corporators
• Jammu and Kashmir: Soldier killed in militant attack
• Man held for help in Nagrota attack went to Pakistan, visa endorsed by Hurriyat brass: NIA
• Two Rohingya refugees held for 'donation racket' in Hyderabad
• Hindu-Muslim couple in Mumbai found dead in a car, cops suspect suicide
--------
Pakistan
• Pakistani Coalition Vows to Impose Sharia if Elected
• SC Conditionally Allows Musharraf to Run For Polls
• Act Against Terrorists Without Distinction: Pompeo To Pak Army Chief
• In pre-election Pakistan, a military crackdown is the real issue
• US reaches out to Bajwa, offers ceasefire to Afghan Taliban
• Former woman KP MPA sues Imran for defamation
• Imran Khan to contest elections from NA-61
• Bilawal, Imran, others file papers to contest elections from Karachi
• Pakistan, Afghanistan to hold high level security talks
--------
South Asia
• Facebook Blacklists Myanmar Hard-line Buddhist Group
• US Drones Target ISIS Hideouts in Kunar Province
• Afghanistan announces ceasefire with Taliban for Eid
• Syrian Man in Japan Opens School in Bangladesh for Rohingya Refugees
--------
Mideast
• "We are not Islamists, we are Muslims" - Felicity Party
• World marks Quds Day with rallies in over 800 cities
• 46 migrants drown, 16 missing off shore of Yemen
• Yemen peace plan sees ceasefire, Houthis abandoning missiles
• IAEA should put Israeli nuclear program on agenda as threat to world: Iran
• Turkey ready to attack northern Iraq: Erdogan
• Turkish courts handed jail terms to over 2,000 suspects over failed coup: Justice minister
--------
Africa
• Address Boko Haram as Terrorist, Not Islamic Sect, OIC Tasks Media, Civil Societies
• Suspected Takfiris Hack Five to Death in Mozambique
• Al Shabaab targeting Northeastern, Coast during Ramadhan - police
• Somalia: Al-Shabaab shuts down football pitches in Mogadishu
• Police hunt 'armed, dangerous' al Shabaab suspects from Mombasa
• Boko Haram: US donates additional $102m to Nigeria
--------
Europe
• Pope Reiterates Concern for Migrants, Refugees, Environment
• Russia: US-Turkey Agreement on Manbij Unacceptable
• Russian troops to stay in Syria as long as needed: Putin
• Tories are pushing Muslim voters into Corbyn's arms
• Strangers break bread at Ramadan tent in London park
• UN sanctions six people on Libya human-trafficking
• UN warns that Somalia's political unity at risk
• Islamic terrorists among hundreds of radicalized prisoners to walk free next year – French minister
--------
Arab World
• Terrorists Preventing Implementation of Peace Agreement in Dara'a
• Foreign Investment In Saudi Arabia Collapses Under Bin Salman
• IS attacks kill 17 pro-regime fighters in south Syria: monitor
• Turkish Sources: Kurdish Forces Not Withdrawing from Manbij
• Idlib: Tens of Terrorists Killed in Recent Infightings
• Syrian Army Seizes Large Arms Convoy from Terrorists in Idlib
• US Military Convoy Forced to Retreat by Syrian Army in Hasaka
• Turkish Army's Large Military Convoy Enters Aleppo Province
• More Civilians Killed, Wounded in US Air Raids in Eastern Syria
• Syrian Army Preparing to Purge ISIL Terrorists from Sweida's Badiyeh Region
• Lebanon FM says will take 'measures against' UN refugee agency
• Iraq launches air strike against ISIS in Syria
• Moustapha Akkad's 'The Message' to be shown in Saudi Arabia
--------
Southeast Asia
• The Problem with Muslims' Free-Hug Experiments
• Chinese University Suspends Islamic Culture Class after Complaints
• Jakim Will Not Be Abolished, Says Federal Territories Mufti
• Understanding the terrorism threat in southern Thailand
• Days after Modi Visit, Malaysia Puts Zakir Naik On Watch
• China Looks to Bolster Militancy Fight at Security Summit
• SOE Minister Inaugurates Al Istiqomah Mosque
--------
North America
• Why Jefferson's Vision Of American Islam Matters Today
• Trump requested Saudi oil support before Iran nuclear decision
• US defense secretary comments on Syria's Manbij talks
• Obama admin lied about Iran market access
Compiled by New Age Islam News Bureau
URL: https://www.newageislam.com/islamic-world-news/red-roses-ajmer-dargah-be/d/115488
--------
Red Roses At Ajmer Dargah Will Be Now Converted To Organic Compost
June 8, 2018
What if we say your prayers can be eco-friendly? You can laugh if you don't believe us but this is actually happening in Ajmer. The red roses offered at the Moinuddin Chisti Dargah by zayrins (pilgrims) will not go to waste but it will be gifted back to nature as organic compost.
Every day about 2-tonne roses are offered at the dargah and it ends up as waste. In an initiative to reduce waste, Temple Waste Management Programme is likely to be established soon.
It is estimated that from 2 tonnes of rose petals about 30 kg of organic compost will be made. This means there is a possibility of generating 900 kg compost per month. If this method is applied, it will require about 3 days to manufacture compost.
According to the DNA report, at the end of the holy month of Ramzan, the project will kick start in association with the Rural Development Programme (RDP) of Art of Living (AOL) Foundation as part of its waste management programme. It would be funded by a corporate as part of its corporate social responsibility (CSR) programme.
"The project is being taken up as part of 100 clean iconic cities programme. It is a combined effort of dargah administration, AOL and Hindustan Zinc. Dargah administration will provide land and facilities for waste collection AOL will provide technical expertise and Hindustan Zinc would fund it through its CSR programme," said Dr. Adil, assistant Nazim, Ajmer Dargah to DNA.
Trustee RDP, AOL Foundation, Deepak Sharma said to DNA, "The dargah committee was not in agreement to sell the compost as it is made from flowers that were offered with prayers by pilgrims. So a nominal cost of Rs 6 per kg would be charged for it against the Rs.20 per kg market cost of organic compost."
https://lifebeyondnumbers.com/red-roses-at-ajmer-dargah-will-be-now-converted-to-organic-compost/?utm
--------
VHP Protests Against 'Christianity and Islam' Chapter In School Textbook
Vinobha K T
Jun 7, 2018
MANGALURU: The controversy over missing chapter on Hinduism in school textbook continues with Vishwa Hindu Parishad (VHP) holding a protest on Thursday.
VHP leaders demanded removal of 'Christianity and Islam' chapter from the Ninth Standard Social Science Part 1 text book of the state syllabus. They also took objections to the activities at the end of the chapter wherein children are asked to "visit the Churches and Mosques of your place and write a note on the religious rituals."
Other activities suggested to children at the end of the chapter include understanding the method of Christmas celebrations among the Christians and understand how Ramzan is celebrated by Muslims. Taking objections to the chapter and activities in the textbook, VHP leaders demanded that the government should immediately replace the same.
VHP Mangaluru division secretary Sharan Pumpwell told reporters that it is an effort on part of the government to destroy the Indian culture. "We have no objections in teaching religions, but they should also include Hinduism in textbooks. The book asks children to visit churches and mosques to understand religious rituals. However, there is no activity in the textbook that suggests children to visit Hindu temples and understand rituals. We will intensify our protest if our demands are not fulfilled," he added.
The British followed the policy of destroying Indian culture and it is being followed by the state government through education department.
VHP leader Vishwananda Mendon said the government is helping religious conversion through school textbooks. "Let them introduce chapters on Indian leaders including Bhagat Singh, Rana Pratap, Kittur Chennamma, Rani Abbakka and others who contributed for the nation," he added.
Dakshina Kannada district Mathru Mandali pramukh Asha Jagadish said by making children visit churches and mosques, the government makes conversion a smooth affair.
https://timesofindia.indiatimes.com/city/mangaluru/vhp-protests-against-christianity-and-islam-chapter-in-school-textbook/articleshow/64492965.cms
--------
Pakistani Coalition Vows to Impose Sharia if Elected
June 07, 2018
The leadership of a coalition of five religious-turned-political parties known as Muttahida Majlis-e-Amal (MMA) has vowed to implement Islamic law if they are elected in Pakistan's general elections July 25.
Earlier this week, the heads of the Islamist-led political formation gathered in Islamabad to announce its 12-point election charter, declaring implementation of sharia as its top priority.
"All Islamic provisions in the constitution must be protected, and Nizam-e-Mustafa [sharia] should be implemented," Maulana Fazlur Rehman, the head of MMA, said during a news conference.
Protection of all Islamic provisions in the constitution, empowerment of parliament, an independent justice system, new foreign policy and equal rights for minorities remained other salient features of party's election strategy.
Liaquat Baloch, MMA's secretary-general, told VOA that the election manifesto was an effort to revive Islamic values in accordance with the constitution.
"Our aim is to make Pakistan an Islamic and democratic country. Pakistan has been pushed toward so-called liberalism and secularism under the Western pressure. It is our responsibility as religious leadership to work to impose the Sharia Act," Baloch said.
Not surprising
MMA's promise to implement sharia didn't come as a surprise to political experts in Pakistan, who said it was just another election slogan and political gimmick aimed at attracting voters.
"MMA has always used religion to appeal to people for votes. They build their case that secular parties are dangerous, as they do not work to implement religious rules and norms. Religion stays a very sensitive topic in the country," Ahmad Bilal Mehboob, the head of the Pakistan Institute of Legislative Development and Transparency (PILDAT), told VOA.
MMA's political alliance is a merger of five hard-line and ultraconservative religiopolitical parties that include Jamiat Ulema-e-Islam (JUI-F), Jamaat-e-Islami (JI), Markazi Jamiat Ahle Hadith (JA), Tehreek-e-Jafaria Pakistan (TJP) and Jamiat Ulema-e-Pakistan (JUP).
All of these parties remained in power in the past decades and have a following in conservative parts of the country, mainly in Khyber Pakhtunkhwa and Baluchistan provinces that border Afghanistan.
Traditionally, the religious parties in Pakistan, despite winning seats from different pockets of the country, were never able to pull enough votes to form a government in the center.
Tilt toward Talibanization
Jahangir Khattak, a New York-based political analyst, said the manifesto is vague on how these implementations will take place.
"It is a typical MMA manifesto loaded with rhetoric and has little details. The term, sharia, is a broad term, and it needs probing. What kind of sharia are they talking about?" Khattak asked.
"Generally, political parties of MMA are considered to have a tilt and soft corner toward the Taliban, or their thinking to be aligned with the Taliban," Khattak said. "If MMA ever comes to power and will impose its brand of sharia, it is obvious it will be pushing the society towards Talibanization."
Muttahida Majlis-e-Amal
MMA emerged in 2002 when a coalition of religious-turned-political parties expressed its strong opposition to the U.S. war in Afghanistan that pushed the Taliban out of power.
Surprisingly, MMA got a majority in the elections and formed a government in northwestern Khyber Pakhtunkhwa province, while remaining in alliance with the ruling party in Balochistan.
MMA remained in power in Khyber Pakhtunkhwa until 2007.
In June 2003, the then-six-party Islamist alliance adopted a bill that declared sharia as the supreme law in Khyber Pakhtunkhwa province.
However, the legislation, which was compared to the Taliban's notorious Ministry for the Promotion of Virtue and Discouragement of Vice in Afghanistan, was declared unconstitutional by the Supreme Court of Pakistan in 2006.
There was a split in MMA because of differences among different political parties. In 2008, the religious alliance officially collapsed.
In December 2017, the religious heads of five Islamist parties gathered in Karachi and announced the revival of MMA to contest the 2018 general elections.
https://www.voanews.com/a/pakistani-coalition-vows-to-impose-sharia-if-elected/4429830.html
--------
Facebook Blacklists Myanmar Hard-line Buddhist Group
Jun 08,2018
Facebook has blacklisted a group of Myanmar Buddhist hardliners including monks notorious for bilious hate speech against Rohingya Muslims, the company said Thursday, as it scrambles to show it is tackling inflammatory content.
The social media company plays an outsized role in a country that has only recently come online and boasts 18 million accounts among the population of around 50 million people.
UN investigators have said that Facebook has morphed into a 'beast' in the country and that hate crimes and incitement to violence against the Rohingya are rampant on the site.
Some 700,000 Rohingya have fled a violent army crackdown in Myanmar to Bangladesh since August last year – after years of increasingly violent and angry discourse against the minority, much of it playing out on Facebook.
In response, Facebook this week has undertaken its highest-profile visit yet to Myanmar.
It banned the Buddhist nationalist movement Ma Ba Tha from its platform, as well as a pair of prominent monks known for stoking hatred towards the Rohingya.
'They are not allowed a presence on Facebook, and we will remove any accounts and content which support, praise or represent these individuals or organisations,' said Content Policy Manager David Caragliano.
Extremist monks Parmaukkha and Thuseitta join their fellow firebrand clergyman Wirathu on the blacklist, after he was banned in January.
Activists have criticised the platform for responding too slowly to reports of malicious posts, with some content being shared by users for more than 48 hours before being removed.
Examples include calls for the killing of a Muslim journalist and posts last September saying Buddhists and Muslims were each preparing attacks against the other.
Activists flagged these repeatedly to Facebook but it still took several days for the platform to act.
'We can do more, and we have been slow to respond,' admitted Facebook vice president of public policy in Asia-Pacific Simon Milner.
He said Facebook is increasing the number of people working on Myanmar from Singapore and Bangkok, including those who speak the language, although declined to give specific numbers.
The platform says it is also stepping up measures to prevent fake accounts and block repeat offenders while improving systems for users to report harmful content.
Myanmar activists welcomed the high profile visit but urged the platform to be more transparent.
'What is the time it takes to remove harmful content? How many people do we have in the team that speak Myanmar?' tech hub Phandeeya CEO Jes Kaliebe Petersen asked.
'Users deserve to know.'
Facebook is caught up in a data sharing scandal that also stirred furious debate on its responsibilities for the content users share including 'fake news' and hate speech.
http://www.newagebd.net/article/43170/facebook-blacklists-myanmar-hardline-buddhist-group
--------
"We are not Islamists, we are Muslims" - Felicity Party
Jun 07 2018
The leader of Turkey's Felicity Party has said that his party is not Islamist but Muslim and that there are senior members of the ruling Justice and Development Party who will vote for the Felicity Party in the upcoming elections on June 24, party-linked newspaper Milli Gazete quoted the provincial head of the party, Abdullah Sevim as saying on Thursday.
The party, whose similarly Islamic-origin predecessor, the Welfare Party, was originally the home of most of the founders of the ruling Justice and Development Party, is taking part in these elections as part of an opposition bloc.
"There are AKP members in executive positions who have personally told our friend that they would vote for the Felicity Party," Sevim said.
"Our party chair says that he is a Muslim, not an Islamist," added Sevim, noting that when the party declares itself as Islamist, 98 percent of the population turn their back on it and have doubts, but when it says it is Muslim, its message reaches to all Muslims in the country.
Sevim also complained about the negative image of Muslims in the society due to the AKP's policies. "There is a perception in the society that a Muslim can steal, accept bribes, and give bribes. This is what comes to people's minds when one mentions Muslims," Sevim said.
Felicity party promises peace and social justice
Islamist Felicity Party's leader Temel Karamollaoğlu on Sunday promised to focus on non-security aspects of Turkey's decades-old Kurdish problem and to decrease taxes to ensure social justice, while unveiling his party's election manifesto for the upcoming elections on Jun. 24, ABC news site reported .
"The Kurdish problem has not been resolved as a result of incorrect approaches and remissness regarding many aspects of the issue, such as rights, justice, morality, economy, education, and security. Therefore, it is impossible to reach a solution without tackling all those remissions as a whole. When the Felicty Party comes to power, it will solve this problem as a whole through social, cultural, political, psychological, and economic reforms, rather than only through security based struggle," Karamollaoğlu said today.
Karamollaoğlu also said that the tax system in Turkey increased the social injustice, by favouring the rich, instead of the poor. "Paying taxes has become a source of suffering rather than a responsibility for the citizens," Karamollaoğlu said. Felicity Party plans not no levy taxes on those receiving minimum wage, and determining the minimum wage according to poverty threshold.
Felicity party leader also promised a merit based system in education and public employment and to end violence and discrimination against women.
https://ahvalnews.com/2018-elections/we-are-not-islamists-we-are-muslims-felicity-party
--------
Address Boko Haram as terrorist, not Islamic sect, OIC tasks media, civil societies
June 8, 2018
By Adeola Yusuf
The Organisation of Islamic Conference (OIC) has tasked the media in Nigeria and abroad to desist from addressing Boko Haram insurgents as Islamic sect.
The OIC, which said this in a document, insisted that the members of the sect should rather be addressed as criminals because they "are anti- Islam."
Quoting the Secretary General of the group, Eyad Madani, the document read: "What they (Boko Haram) do is criminal act; it has absolutely nothing to do with Islam."
The IOC scribe said: "The OIC has issued statements that … these people are outlaws. "What they do is criminal act, it has absolutely nothing to do with Islam, Islamic teachings, the religion of Islam, the history, the culture, the civilization of Islam and we should identify them for what they are: as a terrorist group." Mr. Madani had earlier said in Abuja that the OIC is solidly behind Nigeria in its fight against insurgents.
"We are also here to express our solidarity with Nigeria in facing up to this terrorist organisation and to condemn all terrorist acts they have been committing, and to show our condolences to the Nigerian people, to the families of those who were affected," he said.
When asked what concrete support Nigeria should expect from OIC, the Secretary General said since the crisis is multi-dimensional, OIC could be involved in many ways. He said one of the ways OIC could be involved, is to "first to declare its position morally, to declare its position from the religious point of view."
He said the conference is not a religious organisation, but a political organisation that has 57 member states, and each state is represented in the conference as a government.
"Nigeria is a member of OIC at the government level, so is Indonesia, so is Senegal, Saudi Arabia amongst others. "But it has to express its concerns about the misuse of Islam morally and ethically.
We are willing to do that if Nigerian government would allow us to. "We will convene an interfaith dialogue, because we feel that there is a lot to be said about the veracity of these (Boko Haram) claims, and to show the many aspects of similarities and living together between not only Christians and Muslims, but between all faiths and convictions," he said.
He said Africa is a model of such tolerance, and its history is a history of tolerance, and that of living together. He added that the OIC, through its different organs, is available to the request of the federal government and would do all it could to help in alleviating the social and economic conditions in any area affected by the activities of insurgents.
https://newtelegraphonline.com/2018/06/address-boko-haram-as-terrorist-not-islamic-sect-oic-tasks-media-civil-societies/
--------
India
Bhajans sound the iftar namaz at this Ramzan celebration of Muslim-Hindu unity in Pune
Jun 07, 2018
It's Ramzan and all the dargahs and mosques in the city are busy preparing for namaz followed by iftar every evening. It's different at the Shadul baba dargah in Yerawada. Here, an unusual combination of namaz and chants of Tukaram and Vithal, fill the air.
Akhil Pir Mohd Mujawar, the religious head of the dargah, says, "People from all communities come and pray at this dargah. In fact, we have been living together with the warkaris for hundreds of years in Sangamwadi. So when Sachin Nikam, who heads the warkari group from Sangamwadi, offered to sing at the dargah, we agreed."
Sachin Nikam said, "For eons we have been living together. After Padwa, every year, we go to different temples to sing bhajans and since we also pray at this dargah, we thought of performing here. So the request was stated."
Though there is enough bonhomie between the members of the dargah and warkaris, it was not an easy play.
Ikram Khan, patron of Shadul Baba Dargah, says, "There were hardliners from both the communities who were against the idea. We managed to convince them that this was a step in the right direction." With Khan's backing it became possible for the two communities to come together on the 21st day of Ramzan (June 6), which holds a special significance for the Muslim community.
"The 21st Ramzan is the day of special prayers as we celebrate the Uroos of Shadul baba. Every year on this day we break our fast with a special namaz and open our gates and our hearts to people from all communities to our iftar (when the fast is broken). Over 400 people from the surrounding areas come here to celebrate the Uroos," added Mujawar.
Nikam, whose 200 warkaris sang at the dargah, said, "I think this is the first time bhajans are being sung at a dargah. I hope people will see this and learn to live in harmony as we have been doing for generations."
"Shadul baba taught us that we should not discriminate between people and religion. He wanted us to live as one. The path to the Almighty may be different, but the goal is one, to be united with Him (God). So, it doesn't matter if you sing a bhajan or say a namaz. The goal is one after all," added Mujawar.
After the bhajans, Mujawar led the namaz before all sat together for iftar.
Khan was busy with the preparation of the food and sherbet. The warkaris got a flower 'chadar' and a pagdi to offer to Shadul Baba and fruits and dates for their Muslim brethren to break their fast with. Together they sat and shared a meal prepared by volunteers. One could see many warkaris wearing skull caps and Muslims wearing topis. Sharing of bhajans and namaz seem to be the way to erode religious differences.
"Perhaps this will start a trend. We have already been invited to perform at a gurudwara in Khadki and I plan to invite Mujawar bhai (brother) to our temple to say their namaz. After all the language you use does not matter, what matters is you seek Him," added Nikam.
https://www.hindustantimes.com/pune-news/bhajans-sound-the-iftar-namaz-at-this-ramzan-celebration-of-muslim-hindu-unity-in-pune/story-oEWgKa2I5mO5hJJ2AU1zgK.html
--------
The Rich Tradition Of Hindu-Muslim Harmony In This U.P. Village Should Inspire India
by Deepannita Das
June 8, 2018
A village in UP has a temple and a mosque that share a common yard. The residents of the village Dehriyawan celebrate festivals of all faiths together. The love, affection, and respect both the communities have for each other is worth learning from.
And more interestingly, it doesn't make any one of them feel like a less Hindu or a less Muslim.
A resident of this village, Sangeeta Yadav says, "we offer our prayers here, and they read their namaz there. There is no discrimination here." It is only in this village that Hindus and Muslims pray side by side.
This village truly sets an example of communal harmony. It shows us the way that two communities, despite having different cultures and traditions can coexist peacefully with understanding. Previously, we have also seen how a Shiv temple was offering Iftaar to the Muslim brothers.
Another old man from the village, Navi Ahmed says, "The time for Namaz is fixed. Whatever time is fixed for Namaz, it takes place at that time. Rest of the time, Puja takes place. And if it's the Tuesday, the boys have a prayer program. And when we start Namaz at that time. The drums are stopped for sometime and there is no sound. In some time we pray and leave. We are a close-knit- community," as mentioned in the report.
Full report at:
https://lifebeyondnumbers.com/hindu-muslim-harmony-dehriyawan-up-village/
--------
Pranab Mukherjee at RSS home: Soul of India lives in pluralism, tolerance
by Vivek Deshpande
June 8, 2018
Former President Pranab Mukherjee, addressing RSS swayamsevaks at their headquarters in Nagpur Thursday, said "any attempt at defining our nationhood in terms of dogmas and identities of religion, region, hatred and intolerance will only lead to dilution of our national identity".
Underlining that "multiplicity in culture, faith and language is what makes India special" and "we derive our strength from tolerance", Mukherjee told the gathering which included RSS Sarsanghachalak Mohan Bhagwat: "The soul of India resides in pluralism and tolerance… Secularism and inclusion are a matter of faith for us… India's nationhood is not one language, one religion, one enemy. It is the perennial universalism of 1.3 billion people who use more than 122 languages and 1,600 dialects in their everyday lives, practice 7 major religions… live under one system, one flag and one identity of being Bharatiya and have no enemies."
"For us, democracy is not a gift, but a sacred trust… From our Constitution flows our nationalism. The construct of Indian nationalism is Constitutional patriotism which consists of an appreciation of our inherited and shared diversity; a readiness to enact one's citizenship at different levels; the ability to self-correct and learn from others."
Emphasising that "dialogue is necessary not only to balance the competing interests but also to reconcile them", Mukherjee said: "We may argue, we may agree, or we may not agree. But we cannot deny the essential prevalence of multiplicity of opinion. Only through a dialogue can we develop the understanding to solve complex problems…"
He referred to what he called "manifestations of rage" that were "tearing our social fabric" and said "we must free our public discourse from all forms of violence, physical as well as verbal. Only a non-violent society can ensure the participation of all sections of people in the democratic process, especially the marginalised and the dispossessed".
Recalling Indian history from the 6th century BC that saw the emergence of the Indian State in the Mahajanapadas to the rules of different dynasties, Muslim invaders, East India Company and the British Empire. Mukherjee pointed out: "Each conqueror and each foreign element had been absorbed to form a new synthesis and unity. Tagore in his poem Bharat Teertha says and I quote: 'No one knows at whose beckoning call how many streams of humanity came in indomitable waves from all over the world, over the millennia and mingled like rivers, into this vast ocean and created an individual soul, that is called Bharat'."
"This nation and nationalism was not bound by geography, language, religion, or race. As Gandhiji explained, Indian nationalism was not exclusive, nor aggressive, nor destructive. It was this nationalism that Pandit Jawaharlal Nehru so vividly expressed in the Discovery of India, and I quote, "I am convinced that nationalism can only come out of the ideological fusion of Hindu, Muslim, Sikh and other groups in India. That does not mean that extinction of any real culture of any group, but it does mean a common national outlook, to which other matters are subordinated," he said.
Earlier, Mukherjee described RSS founding Sarsanghachalak Keshav Baliram Hedgewar as a "great son of Mother India" when he visited his birthplace in Nagpur.
Full report at:
http://indianexpress.com/article/india/soul-of-india-lives-in-pluralism-tolerance-pranab-mukherjee-at-rss-home-nagpur-mohan-bhagwat-5208896/
--------
Govt accords 'top priority' to securing release of 6 Indians abducted in Afghanistan: MEA
Jun 7, 2018
NEW DELHI: The government has accorded "top priority" to securing the release of six Indians abducted by gunmen in Afghanistan last month and is in touch with all the stakeholders involved, ministry of external affairs spokesperson Raveesh Kumar said here on Thursday.
He said there could be a meeting next week between external affairs minister Sushma Swaraj and the family members of the abducted and that dates were being worked out.
"We are according top priority to the problem. We are seized of the matter and the EAM (Swaraj) had also mentioned that this is a sensitive matter. We are in touch with the Afghan side and other stakeholders," Kumar said, but declined to elaborate further citing the sensitivity of the matter.
On May 6, gunmen kidnapped six Indians working for an infrastructure and electricity company from the Baghlan province of Afghanistan. A day later, Swaraj called her Afghan counterpart and sought assistance to find the men who were taken away by unidentified kidnappers.
Kumar said Swaraj had offered to meet the kin of those kidnapped next week as she was currently in South Africa on an official visit.
Full report at:
https://timesofindia.indiatimes.com/india/govt-accords-top-priority-to-securing-release-of-6-indians-abducted-in-afghanistan-mea/articleshow/64499107.cms
--------
Work only for Hindus, who have voted for us, not for Muslims: BJP MLA to corporators
June 7, 2018
A BJP MLA from Karnataka, Basanagouda Patil Yatnal, recently quoted controversy by instructing corporators to work only for Hindus, who have voted for him, and not for Muslims. The video of his speech has gone viral on social media.
"I had called all corporators and have told them that they should work for Hindus and not Muslims…who have voted for me in Bijapur," Yatnal is purportedly heard saying in the video, to which the crowd responded by saying "Hindus".
"I had said no to Muslims initially…I had instructed my people that those with topi (cap) and burkha should not come and stand in my office or beside me," he said.
Full report at:
http://indianexpress.com/article/india/work-only-for-hindus-who-have-voted-for-us-not-for-muslims-bjp-mla-to-corporators-5208596/
--------
Jammu and Kashmir: Soldier killed in militant attack
June 8, 2018
A soldier was killed and another injured when militants opened fired at an Army patrol along the Line of Control (LoC) in Kupwara's Keran sector Thursday morning. "Stand-off attack was made by terrorists on the patrol ahead of the LoC fence in Keran sector," Defence spokesperson Colonel Rajesh Kalia said. "The troops retaliated and two soldiers suffered injuries," he said.
"The injured soldiers were rushed to the base hospital in Dargmulla Kupwara. Later they were airlifted to Srinagar," said a source. "One of them succumbed at 92 Base Hospital in Srinagar". Soon after the firing, the Army launched an operation to track the militants. "The operation is in progress," the defence spokesperson said.
http://indianexpress.com/article/india/jammu-and-kashmir-soldier-killed-in-militant-attack-5208892/
--------
Man held for help in Nagrota attack went to Pakistan, visa endorsed by Hurriyat brass: NIA
June 8, 2018
A Kashmiri man, among three arrested for helping fidayeen launch the 2016 Nagrota Army camp attack, had gone to Pakistan multiple times on visas endorsed by Hurriyat leaders Syed Ali Shah Geelani, Mirwaiz Umar Farooq and Abdul Gani Bhat, NIA has claimed.
Identified as Ashiq Baba, Tariq Ahmed Dar and Muneer-ul-Hassan Qadri, the three Kashmiri men have been accused by the NIA of conducting reconnaissance of the Nagrota camp before the attack, sheltering the fidayeen and helping them launch the attack on November 29, 2016.
In a statement released on Thursday, the NIA has claimed that during interrogation Ashiq Baba revealed that he had gone to Pakistan four times to receive instructions for the attack on visas endorsed by Hurriyat leaders, including Geelani. "…. Ashiq Baba visited Pakistan four times crossing the Wagah border (2015 to 2017) legally. He obtained his visas after getting reference letters from Hurriyat leaders Syed Ali Shah Gilani, Gani Bhat and Maulana Umar Farooq," the NIA said. During his visits, Baba met top Jaish-e-Mohammed (JeM) commanders, who after consulting an ISI agent gave instructions on conducting reconnaissance of the Nagrota camp, receiving fidayeen after infiltration, sheltering them and then transporting them for the attack, NIA claimed.
After the attack, Baba visited Pakistan again during April-May last year and met Abdul Rauf, JeM chief Masood Azhar's brother, who praised him for his efforts and promised a reward, NIA claimed. "They (Baba and Muneer) were in continuous WhatsApp contact through voice and text with Maulana Mufti Ashghar based in Muzaffarabad whose nephew Waqas (JeM commander in south Kashmir) died recently in an encounter near Pulwama. they were in touch with Qari Zarar (another commander in charge of launching terrorists in Jammu region) based out of Rawalpindi and Waseem and Abu Talha (both in charge of launching terrorists along the Jammu region)," NIA said in a statement.
Baba had an HDFC account which he provided to the JeM commanders on WhatsApp and received "hefty amounts", the agency said. "Ashiq says that the amount came from Gulf countries," the NIA statement said. The NIA claimed that around a week before the attack, Baba and Muneer got GPS coordinates of the receiving point along the Samba sector highway as well as of the possible targets along the Nagrota cantonment through WhatsApp from their handlers in Pakistan.
Baba went with Muneer and was joined by Tariq, and they finalised the receiving point and the target, NIA said. The Officers mess complex of 166 Medium Regiment at Nagrota was chosen due to its convenient location. the points were passed on to the JeM commanders in Pakistan. They received a group of three attackers a day before the attack, NIA said. The terrorists travelled in two vehicles to Jammu, concealing their weapons in one of the two cars owned by Tariq and Baba, NIA said.
Full report at:
http://indianexpress.com/article/india/man-held-for-help-in-nagrota-attack-went-to-pakistan-visa-endorsed-by-hurriyat-brass-nia-5208888/
--------
Two Rohingya refugees held for 'donation racket' in Hyderabad
June 7, 2018
Two Rohingya Muslim refugees staying at a camp here were today arrested on the charge of running a racket in collecting donations in the name of the community and misappropriating the funds, police said.
Mohammad Ayub (39) and Ahmad Noor (32), residing in the Balapur refugee camp since 2012, had shot a video with the help of some other inmates and uploaded it in the social media seeking financial help for the community, a senior police official said.
The donations through online transfers were received in a bank account, but the money was not distributed to any other refugees. Instead, the two had used the money for leading a lavish life, the official said.
The two had also made fake rubber stamps in the name of Rohingya Refugee Community Hyderabad, police said. Cases had been registered against the two under IPC sections 465 (forgery), 420 (cheating) and 406 (criminal breach of trust).
Full report at:
http://indianexpress.com/article/india/two-rohingya-refugees-held-for-donation-racket-in-hyderabad-5208575/
--------
Hindu-Muslim couple in Mumbai found dead in a car, cops suspect suicide
Jun 07, 2018
A young couple was found dead inside a car parked near Mumbai's Mulund Court on Wednesday morning.
While no suicide note was found, the police suspect the Hindu-Muslim couple committed suicide as their families were against their relationship.
Salman Khan, 25, and Manisha Negi, 23, had been dating for four years since the second year of their college in Bhandup, according to Khan's friends.
Locals got suspicious when they saw a Mitsubishi Lancer, with the headlights, on parked near the court around 4am. On seeing that the youngsters were unconscious, they informed the police. They were taken to a nearby hospital, where they were declared dead. The bodies were then sent for post-mortem.
The police have registered a case of accidental death. Khan owned an apparel store in Mulund (West), while Negi worked in a private firm . "They were together since the past few days but were in touch with their families. The car was Khan's," said Akhilesh kumar Singh, deputy commissioner of police, Zone 7.
Khan's social media post on May 16 read: "Suicide doesn't end the pain. It just passes it on to someone else…This quote is the only reason I am still here."
The police recovered two bottles , which police suspect to be poison, from the car. "We have sent the samples for forensic analysis," said Singh.
Full report at:
https://www.hindustantimes.com/mumbai-news/couple-in-mumbai-found-dead-in-car-cops-suspect-suicide/story-BFhaIW4cm6KlRshZ15P63N.html
--------
Pakistan
SC conditionally allows Musharraf to run for polls
Nasir Iqbal
June 08, 2018
ISLAMABAD: The Supreme Court on Thursday allowed former president retd Gen Pervez Musharraf to file his nomination papers to contest July 25 general elections on the condition that he would appear in person before the court on June 13 in Lahore to attend the court hearing.
The directive was issued by a three-judge bench headed by Chief Justice Mian Saqib Nisar which had taken up retd Gen Musharraf's plea against his disqualification by the Peshawar High Court (PHC) in 2013.
The court assured Qamar Afzal advocate, who was representing the All Pakistan Muslim League (APML) chief, that he would not be arrested by the authorities the moment he landed in Pakistan, but also cautioned that the fate of the nomination papers would be subject to final decision of the present case.
The high court in April 2013 had disqualified retd Gen Musharraf for life in view of the July 31, 2009 judgement in which Nov 3, 2007 emergency was declared illegal.
In his appeal, retd Gen Musharraf had pleaded before the Supreme Court to set aside the PHC order, stating that it he was condemned unheard without due process of law.
The petition questioned whether by declaring retd Gen Musharraf disqualified from contesting elections for the National Assembly, provincial assemblies or Senate or holding a public office, the court had not failed at the touchstone of legal and constitutional parameters settled by the constitution and human rights declarations.
Criticising the July 31, 2009 judgement, the petition asked whether the verdict could be deemed a conviction to bring home disqualification under Article 62 of the Constitution when the order was pronounced in declaratory jurisdiction in absentia.
It argued that the right to participate in and contest election was a fundamental right and any restriction to curtail the same amounted to violating constitutional rights and that the impugned judgement reflected the failure to exercise the constitutional jurisdiction under Article 199 of the Constitution.
The petition questioned whether not imposition of a life-time disqualification and ineligibility was an excessive exercise of judicial authority that failed to the test of a constitutional judgement.
Talking to Dawn after the hearing, APML secretary general Dr Muhammad Amjad said retd Gen Musharraf was expected to return to Pakistan soon and contest elections from four constituencies namely Chitral, Karachi, Jhang and Gwadar.
https://www.dawn.com/news/1412756/sc-conditionally-allows-musharraf-to-run-for-polls
--------
Act against terrorists without distinction: Pompeo to Pak army chief
Jun 7, 2018
WASHINGTON/ISLAMABAD: US Secretary of State Mike Pompeo today asked Pakistan army chief General Qamar Javed Bajwa to take action against terrorist groups without any distinction.
It was the first time that a high-level engagement took place between the two sides since travel restrictions were imposed by the two sides on each others' diplomats.
Pompeo spoke with Bajwa over phone and their discussion was focused to advance Pak-US bilateral relations, his spokesperson said.
"They discussed ways to advance US-Pakistani bilateral relations, the need for political reconciliation in Afghanistan, and the importance of targeting all militant and terrorist groups in South Asia without distinction," State Department Spokesperson Heather Nauert said.
The US and others have long complained that Pakistan provides safe haven to the Afghan Taliban and their allies, the Haqqani network, allowing them to carry out cross-border attacks in Afghanistan.
Pakistan denies these allegations but US President Donald Trump has escalated the criticism against Islamabad since he took office.
Full report at:
https://timesofindia.indiatimes.com/world/pakistan/act-against-terrorists-without-distinction-pompeo-to-pak-army-chief/articleshow/64499354.cms
--------
In pre-election Pakistan, a military crackdown is the real issue
Jun 7, 2018
Just a month and a half away from national elections, Pakistan's powerful military establishment has mounted a fearsome campaign against its critics in the news media, on social networks and in mainstream political movements.
It is all adding up: journalists abducted or threatened, major news outlets blocked, sympathetic views toward the civilian governing party, the Pakistan Muslim League-Nawaz, censored or punished.
Interviews with journalists and political analysts in recent days have been dominated by concerns that a military campaign of intimidation and crackdown on dissent is intensifying before the vote — and nearly unanimously, none dared discuss it on the record.
The latest alarm came with the abduction of a newspaper columnist and prominent critic of the military, Gul Bukhari, by armed men late Tuesday in the eastern Pakistani city of Lahore. Bukhari was being driven to appear on a late-night talk show on Waqt News when the car was stopped in a military cantonment in the city. She was hauled off and the driver was beaten, the station said.
Bukhari has frequently crossed two of the military's recent red lines on social media — criticizing the army for its pressure on the PML-N, as the governing party is known, and expressing support for a growing Pashtun human rights movement known as PTM.
Just a day before, the army's chief spokesperson, Maj. Gen. Asif Ghafoor, called a news conference to declare that social media users who rebuked the military were engaged in "anti-state activities" and were being monitored by the army's spy agency.
He then posted pictures of some of the country's most prominent journalists, suggesting they were part of a social media conspiracy against the military, in a move condemned by the Committee to Protect Journalists as "tantamount to putting a giant target on their backs."
Bukhari's supporters see her abduction and Ghafoor's threats as related, and some directly accused the military of being responsible. She was dropped off near her home roughly four hours after her abduction, and was unwilling to talk about who was behind it, asking for privacy in a statement released on Twitter.
Military officials would not comment on the record about Bukhari's abduction or about Ghafoor's news conference.
The two events have further chilled the political environment in Pakistan's already beleaguered democracy.
"There is a palpable climate of fear about what can be said about whom, how and where — not just on mainstream media but also on social media," said Adil Najam, the Dean of Pardee School of Global Studies, Boston University. "This is not healthy for the state of democracy in general, but especially not right before an election."
Even when journalists do talk about the military, it is usually in code, referring to the "authorities" or the "powers that be" rather than directly naming the security establishment that has so asserted its dominance over civilian institutions.
One of the few Pakistani journalists who has repeatedly and directly condemned the military for its crackdown, Taha Siddiqui, can do so because he has fled the country. He narrowly escaped an abduction attempt in February.
On Wednesday, Siddiqui said Bukhari's abduction was another frightening statement.
"They want to send a message to the rest of Pakistanis and the world that they can do whatever they want, whenever they want, to dissenters," he said in an email interview.
"This is no longer about just about intimidating me, Gul or other such dissenters and military critics. This is about sending a message to everyone: Stop speaking against the Pakistan army," he added.
In recent weeks, Pakistan's biggest English-language newspaper, Dawn, was accused of ethical violations by the country's press regulatory panel and soon after found its circulation blocked in vast portions of southern Pakistan. The paper's offense was to publish an interview with the ousted former prime minister and leader of PML-N, Nawaz Sharif, in which he criticized the military.
In interviews in Lahore, newspaper sellers and shopkeepers said that military and intelligence officers had instructed them, sometimes politely but other times with force, to stop stocking Dawn.
The actions are similar to those used against Pakistan's biggest cable news network, Geo TV, which cable providers in military cantonment areas started blocking in March. In the following weeks, more than three-quarters of the network's cable providers around the country dropped or blocked them.
The pattern there, too, is familiar: Military officers and their supporters criticized Geo as being sympathetic to PML-N, citing its coverage of the judiciary's ouster of Sharif on corruption charges last summer. The coverage was attacked for suggesting that the court had been doing the military's bidding.
The punishing pressure now applied to Dawn and to other news outlets that challenge the military is more insidious than the outright censorship of times past, says Dawn's editor, Zaffar Abbas.
"This is somehow far more suffocating than martial law," he said in a recent interview with The New York Times. "This time, the facade of democracy is there. With the threat of economic retaliation, we see Pakistani media suffer the worst kind of censorship: self-censorship."
He was alluding to how the country's dozens of media channels and newspapers have been frightened into falling in line on what the military defines as "no-go" issues, such as giving Sharif and his party coverage, or reporting on the Pashtun rights movement.
This is high political season in Pakistan. The military's pressure on civilian institutions comes just as the country's political parties are exerting maximal effort to win seats in parliament.
In any normal political environment, PML-N would be going into the campaigning as a favorite. It is still the dominant party in the Pakistani heartland, Punjab, and even after the corruption accusations at the heart of Sharif's ouster, it has devoted followers.
But now the country is awaiting a court ruling that could see Sharif imprisoned. That decision is expected in the weeks before the elections, scheduled for July 25.
And over everything is the question: Can an election in which the leading party and journalists who cover it are perceived to be under threat — from a military establishment that has overthrown governments several times — really be seen as free?
Full report at:
https://timesofindia.indiatimes.com/world/pakistan/in-pre-election-pakistan-a-military-crackdown-is-the-real-issue/articleshow/64495929.cms
--------
US reaches out to Bajwa, offers ceasefire to Afghan Taliban
June 08, 2018
Anwar Iqbal
WASHINGTON: US Secretary of State Mike Pompeo launched a new peace initiative for Afghanistan on Thursday, reaching out to the man Washington believes can help them achieve this objective, Army Chief Gen Qamar Javed Bajwa.
Later, he announced that American and Nato troops in Afghanistan will also observe a temporary ceasefire that Afghan President Ashraf Ghani has offered to the Taliban.
A statement released by State Department spokeswoman Heather Nauert said the top US diplomat telephoned the army chief and discussed with him the "need for political reconciliation in Afghanistan and the importance of targeting all militant and terrorist groups in South Asia without distinction."
They also talked about "ways to advance US-Pakistan bilateral relations", Ms Nauert added.
All three subjects – relations with Pakistan, Afghan reconciliation and fighting terrorists – are Washington's main concern in the South Asian region.
Diplomatic observers in Washington say that like previous US governments, the Trump administration also believes that the Pakistan Army has a key role in restoring peace to Afghanistan and that's why Mr Pompeo called Gen Bajwa, instead of the country's political leadership.
The observers say that there must be "an urgent reason" for making this unusual call, as Americans prefer to use the Pentagon channel to communicate with a general. They point out that even strained relations with Pakistan did not prevent the Pentagon from maintaining its contacts with Rawalpindi, as top US generals often speak with their counterparts in the Pakistani military establishment.
Earlier this month, Secretary Pompeo told a congressional hearing in Washington that the US was now encouraging direct talks between Taliban and Afghan government officials as the first step towards ending the conflict, which has been simmering for the past 17 years.
And Gen John Nicholson, who commands US and Nato forces in Afghanistan, said earlier this week that the Trump administration has succeeded in arranging direct talks between the Taliban and the Afghan government.
The two statements created an impression in Washington that the Trump administration was now exploring the possibility of bypassing Pakistan by promoting direct negotiations between the Afghan government and the Taliban.
On Thursday, Secretary Pompeo issued a statement, welcoming President Ghani's offer of a temporary ceasefire to the Taliban to allow the Afghan people to celebrate Eidul Fitr without fear of violence. The offer follows the Afghan Ulema Council's call for the Taliban to end their campaign of violence against the Afghan people and government.
"This ceasefire further demonstrates the Afghan government's commitment to explore ways to end the conflict," Mr Pompeo said, and "underscores its commitment to peace as both a national and religious responsibility."
Secretary Pompeo announced that in support of the Afghan government's initiative, "Nato's Resolute Support Mission and US forces in Afghanistan will respect the ceasefire, as it applies to the Taliban."
He, however, made it clear that the offer does not apply to the militant Islamic State group and Al Qaeda, nor does it prohibit operations to defend Afghan and Coalition forces from attack.
"The United States and our international partners look to the Taliban to honor the ceasefire and demonstrate their respect for the people of Afghanistan who have long called for a reprieve to the Taliban's campaign of violence," Mr Pompeo said.
Meanwhile, co-founder of Microsoft Bill Gates called General Bajwa and acknowledged supporting efforts by Pakistan Army for successfully eradicating polio from Pakistan.
Full report at:
https://www.dawn.com/news/1412755/us-reaches-out-to-bajwa-offers-ceasefire-to-afghan-taliban
--------
Former woman KP MPA sues Imran for defamation
June 08, 2018
PESHAWAR: Member of the former Khyber Pakhtunkhwa Assembly Bibi Fauzia on Thursday filed a defamation suit with the Peshawar district and sessions judge against Pakistan Tehreek-i-Insaf chief Imran Khan over the charge of horse-trading in the Senate elections.
The suit meant for the recovery of Rs5 billion as damages from the PTI chief was assigned to additional district and sessions judge Shah Waliullah Hamid Hashmi, who fixed preliminary hearing into it for June 27.
The former MPA filed the suit under the Defamation Ordinance, 2002, through lawyer Syed Ghufranullah Shah.
She said she had followed the PTI's directions in the March 2 Senate elections by voting for the candidates named by it for general and reserved seats.
Ms Fauzia said after the elections, the PTI chief began 'uttering, spreading and resorting to publication, communication and circulation of maliciously false, baseless and unfounded oral statements and representation' against her.
She said the PTI chief accused her of selling vote for money through electronic, print and social media.
The former lawmaker said she denied the charge by taking oath on the Holy Quran and replied to the show cause notice issued by the PTI Secretariat within the stipulated time.
She said she asked Imran Khan of holding an 'open inquiry' into the matter, provide her with an opportunity of hearing, and confront her with all witnesses and material against her.
Ms Fauzia however said the PTI chief failed to hold the sought-after inquiry and prove the horse-trading charge against her.
She claimed that the defamatory statement of the PTI chief had damaged her political, social and family life besides destroying her personality.
"I served a legal notice on Imran Khan under Section 8 of the Defamation Ordinance asking him to tender an apology but he failed to respond to it," she said.
Full report at:
https://www.dawn.com/news/1412682/former-woman-kp-mpa-sues-imran-for-defamation
--------
Imran Khan to contest elections from NA-61
June 08, 2018
RAWALPINDI: Pakistan Tehreek-i-Insaf (PTI) chief Imran Khan changed the constituency he will be contesting elections from and on Thursday got nominations forms for cantonment areas constituency NA-61 through local party leaders, now standing against PML-N's Malik Abrar.
Imran Khan contested the 2013 general elections from NA-56 and defeated PML-N's Hanif Abbasi. For the 2018 elections, however, the PTI will support Awami Muslim League (AML) President Sheikh Rashid Ahmed in NA-60, previously NA-56, and NA-62 which was previously NA-55.
The AML president will now face Hanif Abbasi in NA-60 and Mr Ahmed claims that a senior PML-N leader from Lahore will be contesting the elections against him in NA-61.
A senior PTI leader told Dawn that the constituency from which Imran Khan will be contesting was changed on the request of Sheikh Rashid Ahmed, who wanted to contest on two seats and wanted Mr Khan to contest from the Cantt areas.
However, he said, the party's position in the Cantt areas was not good in the 2015 local government elections due to internal lifts and that the PML-N had won all the seats.
He said the internal rifts will end if the party chairman will contest from the Cantt areas but the city chapter will probably experience more internal rifts as most local leaders wanted to contest the elections to the National Assembly.
Consisting from Cantt areas from Golra Mor to Soan Camp, PML-N's Malik Abrar had won from NA-61, previously NA-54, and his brother won the provincial assembly seat.
Full report at:
https://www.dawn.com/news/1412663/imran-khan-to-contest-elections-from-na-61
--------
Bilawal, Imran, others file papers to contest elections from Karachi
June 08, 2018
KARACHI: The chiefs of the two major political parties, the Pakistan Peoples Party (PPP) and the Pakistan Tehreek-i-Insaf (PTI), on Thursday submitted their nomination forms to contest the upcoming general elections on the National and Provincial Assembly seats from Karachi.
PPP Chairman Bilawal Bhutto-Zardari appeared before the Returning Officer Ramesh Kumar, an additional district and sessions judge for district south in Karachi, to submit his nomination forms to contest the polls from NA-246, Lyari.
The young chairman of the party aspires to contest the first-ever parliamentary elections of his political career from his party's dominant National Assembly constituency from where his mother Benazir Bhutto and his father Asif Ali Zardari had emerged victorious in the general elections of 1988 and 1990, respectively.
Bilawal was flanked by former senator Farooq H. Naek along with Nabeel Gabol, Nadia Gabol and a large number of his party supporters.
Sources told Dawn that the PPP chairman submitted two forms for the same constituency in an attempt to make sure that in case one form was rejected for any reason the other could be accepted, adding he deposited an amount of Rs30,000 for one form.
Clad in the traditional shalwar-kameez, the young politician looked excited as he climbed up to the third floor in the judicial complex, as his supporters shouted slogans of Jeay Bhutto and showered him with rose petals.
"It is very happy moment that also refreshes various memories of the past," the young politician told reporters in a packed room, when asked about his feelings to contest his political career's first election from the constituency from where his mother and father both had won in the past, as he submitted the election nomination forms.
Mr Bhutto-Zardari vowed to strive to complete the mission his slain mother had left incomplete, as she was killed in a suicide attack days before the parliamentary elections were due after her return to the country, ending year-long self-exile.
"I think I'm entering into the parliamentary politicians," he said.
"After many years there would be a Bhutto in the National Assembly, who can [better] defend the country's national interests and can [better] defend the democracy," he added citing his victory in the polls.
The PPP chairman further said he would try his best to serve the people of Karachi, Larkana and rest of the country. The returning officer summoned him on June 11 for security of his nomination papers.
Earlier, Mr Bhutto-Zardari paid a visit to his future electoral constituency of Lyari, which has remained infested with war between gangsters for years.
PTI Chairman Imran Khan also submitted his nomination forms through his party leaders to contest the upcoming elections from the National Assembly constituency — NA-243 — and Provincial Assembly constituency PS-101.
The returning officer initially returned the documents, as the some papers were not signed by the candidate while others were not duly attested.
However, the party leaders submitted his nomination papers after removing the objection. The RO summoned Mr Khan on June 12 for scrutiny of his nomination papers.
Meanwhile, the PTI's Arif Alvi and Faisal Vawda also filed nomination forms to contest from the NA-245 and NA-249 while Khurrum Sher Zaman submitted nomination forms to contest from the PS-110.
Muttahida Qaumi Movement's Merajul Huda filed his nomination papers to contest on the NA-256 while the Haider Abbas Rizvi filed forms to contest on the NA-243.
Awami National Party's Shahi Syed filed his nomination form to contest the July 25 general elections from the National Assembly seat — NA-250.
Pak Sarzameen Party chairman Syed Mustafa Kamal filed his nomination form to contest the upcoming general election on two National Assembly and two Provincial Assembly seats, including NA-247, NA-253, PS-126 and PS-127. PSP's Advocate Hassan Sabir filed forms to contest on the NA-243 and PS-101.
Full report at:
https://www.dawn.com/news/1412720/bilawal-imran-others-file-papers-to-contest-elections-from-karachi
--------
Pakistan, Afghanistan to hold high level security talks
Tahir Khan
JUNE 8, 2018
ISLAMABAD: Senior Pakistani and Afghan military, intelligence and other security officials will hold talks in Islamabad and Kabul to explore ways for the implementation of key principles of a recently launched bilateral dialogue mechanism, sources said on Thursday.
A high level Afghan delegation of military and intelligence officials are due in Pakistan on Monday that will be followed by the visit to Kabul by Army Chief General Qamar Javed Bajwa, the sources told Daily Times.
Both sides are expected to review progress on the security matters, including the appointment of military liaison officers (LOs) in both countries for coordination and to exchange intelligence and monitor the activities of suspects.
LOs officers will accompany security officials in any country for a possible raid if intelligence on the presence of suspects is shared with any side.
Pakistan and Afghanistan are also discussing details of the establishment Ground Coordination Centers (GCCs) at Torkham and Chaman border points for the cross-border monitoring of the suspects. This is seen as a major step to remove mistrust.
Pakistan, Afghanistan and NATO had trilateral coordination centres at Torkham and Chaman until the presence of most of the US-led foreign forces in 2014; however, Pakistan and Afghanistan could not continue the system due to tensions and mistrust. Director General Military Operations will finalize details of the GCCs. More such coordination centres will be established along other crossing points at later stage, the sources said.
The visit of the army chief to Kabul will be important in view of the growing military to military contacts in recent months and the agreement on the establishment of joint working groups, which also include groups on Military to Military Coordination and Intelligence Cooperation.
Five groups are being established under the Afghanistan Pakistan Action Plan for Peace and Solidarity (APAPPS) and sources the groups will be finalized before within a week. The groups will start function after Eid, sources say.
President Ashraf Ghani had invited General Bajwa to visit Kabul and Afghan National Security Adviser Haneef Atmar, who led a high level Afghan delegation, delivered the invitation to the army chief on May 27. General Bajwa last met President Ghani in Kabul on October 1 that lad foundation for the high level contacts and agreement on the formation of the working groups.
Peace and reconciliation is also now the task of the security officials of the two countries in line with the discussions between General Bajwa and Haneef Atmar in Rawalpindi on May 27, sources privy to the discussions say.
Both sides had decided that the ISI and NDS chiefs will have more discussion on the issue and they will increase contacts and coordination to work for reconciliation in Afghanistan.
Full report at:
https://dailytimes.com.pk/250644/pakistan-afghanistan-to-hold-high-level-security-talks/
--------
South Asia
US drones target ISIS hideouts in Kunar province
Jun 07 2018
The US forces carried out a series of airstrikes on ISIS hideouts in eastern Kunar province of Afghanistan, leaving at least two militants dead.
The 201st Silab Corps of the Afghan Military in the East said the airstrikes were carried out using unmanned aerial vehicles in the vicinity of Suki district.
The source further added that preliminary reports indicate at least two members of the terror group were killed during the airstrikes.
The local residents did not suffer any casualty during the airstrikes, the 201st Silab Corps added.
The anti-government armed militant groups including ISIS Khurasan loyalists have not commented regarding the report so far.
Kunar is among the relatively volatile province in East of Afghanistan where the anti-government armed militant and terrorist groups including Taliban, ISIS, and Al Qaeda operatives are actively operating in some of its districts and often carry out insurgency activities.
The latest airstrike in Kunar has been carried out amid ongoing counter-terrorism operations against the militant and terrorist groups in the restive provinces of the country.
https://www.khaama.com/us-drones-target-isis-hideouts-in-kunar-province-05327/
--------
Afghanistan announces ceasefire with Taliban for Eid
June 08, 2018
KABUL - Afghanistan announced Thursday an apparently unilateral ceasefire with the Taliban for Eid, though operations against other groups including Islamic State will continue.
The week-long ceasefire, which was backed by the US and would bring some welcome relief to war-weary civilians, will last "from the 27th of Ramazan until the fifth day of Eidul Fitr", President Ashraf Ghani tweeted from an official account, indicating it could run from June 12-19. It was not immediately clear if the Taliban would agree to the ceasefire, the first during Eid since the US invasion in 2001. "We are checking with our officials regarding the ceasefire announcement," Taliban spokesman Zabihullah Mujahid told AFP.
The surprise declaration comes on the heels of a fatwa issued by Afghanistan's top clerics branding suicide attacks "haram", or forbidden, and after the Pentagon announced that senior Taliban officials had been negotiating with Afghan authorities on a possible ceasefire. Nearly 17 years after they were toppled from power, the Taliban are resurgent, with Afghan forces - who have taken the lead in the conflict since NATO combat troops pulled out in 2014 - struggling to contain them, while civilians pay a disproportionate price in the fighting. "The Afghan government directs all the security and defence forces of the country... to stop all the attacks on the Taliban, but the operation will continue against Daesh (Islamic State), Al-Qaeda and other international terrorist networks," Ghani said in an official statement. Ghani added that more details about the ceasefire will be revealed during a "massive gathering" next week but did not elaborate further.
Deputy interior affairs minister General Akhtar Mohammad Ebrahimi said that if security forces are attacked during the ceasefire period, "your security and defence forces will respond".
General Mohammad Sharif Yaftali, the army chief of staff, added that if the ceasefire holds it "could be extended".
The US will also "honour" the ceasefire, US Forces in Afghanistan said in a statement, though it seconded Ghani's stipulation that this did not extend to IS and other groups. "We will adhere to the wishes of Afghanistan for the country to enjoy a peaceful end to Ramazan, and support the search for an end to the conflict," said General John Nicholson, head of US and NATO forces in Afghanistan.
Last month, the Pentagon said that ceasefire negotiations with the Taliban were ongoing.
However analysts were sceptical of any positive response, saying Ghani's announcement appeared to be unilateral.
Kabul-based political analyst Haroon Mir said the Taliban were "highly unlikely" to agree to a ceasefire, and suggested it was more of a political move by Ghani. "I doubt this announcement will change anything on the ground," he added. Rahimullah Yusufzai, a Taliban expert based in Peshawar, agreed. "A ceasefire normally is negotiated... This is one-sided and I don't expect the Taliban to respond positively," he told AFP.
The announcement comes days after a gathering of Afghanistan's top clerics in the capital Kabul called for a ceasefire and issued a fatwa against suicide bombings and attacks.
An hour after the fatwa was issued on June 4, a suicide bomber detonated outside the gathering, killing seven people.
The attack was claimed by the Islamic State group, and was the latest demonstration of militants' ability to hit the capital, which has become the deadliest place in the country for civilians.
It also showed that any ceasefire with the Taliban alone might have a limited effect on security, given the myriad other militant groups infesting Afghanistan.
The Taliban view Ghani's government as illegitimate, and have previously said they would negotiate only with the US, whom they consider the main player in the conflict. In February Ghani unveiled a plan to open peace talks with the Taliban, including eventually recognising them as a political party. At the time he suggested a ceasefire would form part of the plan.
The insurgents did not officially respond, but attacks have proliferated since then, especially in Kabul.
However when coupled with the fatwa, the announcement does put pressure on the Taliban, Yusufzai said. "If it was only Ghani or the government, then the Taliban wouldn't have cared," he said.
"This is the clerics ... The Taliban cannot just say they don't agree, they will have to come up with an answer."
Social media users desperate for peace quickly called on the insurgents to agree to the ceasefire.
Full report at:
https://nation.com.pk/08-Jun-2018/afghanistan-announces-ceasefire-with-taliban-for-eid
--------
Syrian man in Japan opens school in Bangladesh for Rohingya refugees
June 8, 2018
A Syrian man living in Japan has opened a school in Bangladesh for young Rohingya Muslims who have fled a military crackdown in Myanmar.
Mazen Salim, 43, who runs a trade business and lives in the Toyama Prefecture city of Takaoka, established the school named Toyama Terakoya in Cox's Bazar, a town in southeastern Bangladesh near the border with Myanmar.
Almost 700,000 Rohingya Muslims, a minority in Buddhist-dominant Myanmar, fled from Rakhine state to neighboring Bangladesh since last August to escape the harsh crackdown launched by the Myanmar government in reprisal for attacks by an armed Rohingya faction against government security posts.
Myanmar and Bangladesh agreed to begin a repatriation process in January but it has since been delayed by logistical factors.
Toyama Terakoya currently has 300 students, half of whom are illiterate, and four teachers who are also refugees living in refugee camps. Bengali, Burmese and mathematics classes are held for 7 to 13 year-old boys and girls for a total of four hours a day, five days a week.
Of the 1.2 million yen ($10,900) initially needed to construct the simple school building made of bamboo and metal sheets and to run the school, Salim personally shouldered 400,000 yen and donations covered the rest.
Salim, who heads the Toyama Muslim Center, has been helping Muslims and non-Muslims alike. He already built an elementary school last September in his home country where a civil war has displaced millions of people.
He also collected donations and provided food for people after torrential rain last July devastated the city of Asakura in Fukuoka Prefecture, southwestern Japan.
After being asked to help Rohingya people in Bangladesh, Salim began making arrangements with people at refugee camps from January and collected textbooks and other necessary school materials.
When the school celebrated its opening on May 15, Salim also visited there and was greeted by children. But he said the school operation is far from stable yet.
With the school operation requiring about 600,000 yen annually, some students worry whether they can study at the school next year too, he said.
Full report at:
https://english.kyodonews.net/news/2018/06/ff32e182fe25-syrian-man-in-japan-opens-school-in-bangladesh-for-rohingya-refugees.html
--------
Mideast
World marks Quds Day with rallies in over 800 cities
Jun 8, 2018
Millions of people across Iran and other world countries are gathering for the International Quds Day rallies to show their solidarity with the Palestinians and condemn Israel's decades-long occupation and atrocities.
In Tehran and other cities and towns, people from all walks of life are taking to the streets for the annual event which falls on the last Friday of the Muslim fasting month of Ramadan.
Similar events are planned in London and Toronto as well as in 800 cities worldwide, which usually see people chanting anti-Israeli slogans and burning the occupying regime's flags.
Organizers in Toronto said the theme of the rally is to push for "justice, peace and love" and countering Islamophobia and racism as well as opposing the "Zionism and Israeli war crimes".
Near the Israeli fence separating Gaza from the occupied territories, Palestinians are expected to throng the site which has become the scene of bloodshed in recent weeks.
The International Quds Day is a legacy of the late founder of the Islamic Republic Imam Khomeini, who designated the day in solidarity with the Palestinians.
This year, Quds Day has become a larger rallying cry as it comes after months of mass protests in Gaza which proved Israel's inability to stop the Palestinians despite widespread use of deadly force against unarmed protesters.
Since late March, over 120 Palestinian protesters have been killed and thousands more wounded by Israeli forces, mainly sharpshooters. The Israeli military has come under intense international criticism for permitting its forces to open fire on unarmed protesters in Gaza.
Tensions have been running high near the Gaza fence since March 30, which marked the start of a series of protests, dubbed "The Great March of Return," demanding the right to return for those driven out of their homeland.
The Gaza clashes reached their peak on May 14, the eve of the 70th anniversary of the Nakba Day (the Day of Catastrophe), which coincided this year with the US embassy relocation from Tel Aviv to occupied Jerusalem al-Quds.
http://www.presstv.com/Detail/2018/06/08/564284/Quds-Day-Palestine-Israel
--------
46 migrants drown, 16 missing off shore of Yemen
June 08, 2018
GENEVA - Forty-six migrants drowned and 16 are missing after their boat capsized off the shore of Yemen the other day, the United Nations Migration Agency said.
At least 100 migrants were crammed into a smuggler's boat that left the port of Bossaso in Somalia on Tuesday, travelling through the night.
The boat overturned in high waves in the Gulf of Aden at around 5:00 am (0200 GMT) as it approached its destination. "IOM staff reported that 46 migrants had drowned, 37 men and 9 women. A further 16 remain missing, presumed dead," the agency said in a statement, adding that they were all believed to be Ethiopian.
"Survivors said the passengers, who were without lifejackets in the smuggler's boat, started panicking as high waves struck close to the shore. As the boat took on water, they were pitched headlong into the rough seas where so many succumbed." IOM staff provided medical assistance, health, food and psychosocial support to the survivors. The group were attempting to cross the Horn of Africa to find employment in Yemen and the Gulf.
Over 7,000 migrants take the perilous journey every month, facing horrendous conditions and appalling treatment at the hand of people traffickers, said Mohammed Abdiker, IOM's head of operations and emergencies.
Both while travelling to and in Yemen, migrants are routinely abused by smugglers and other criminals, including physical and sexual abuse, as well as torture for ransom, arbitrary detention for long periods of time and forced labour.
Some migrants are also taken to official and unofficial detention centres.
Through its Voluntary Humanitarian Return programme, the IOM has been providing return transport from Yemen to the migrants' home countries.
Earlier this week, IOM helped some 101 Ethiopian migrants leave Yemen, which is on the brink of famine following three years of war, through Hodeida port as clashes approached the area.
Full report at:
https://nation.com.pk/08-Jun-2018/46-migrants-drown-16-missing-off-shore-of-yemen
--------
Yemen peace plan sees ceasefire, Houthis abandoning missiles
7 June 2018
A UN peace plan for Yemen calls on the Houthi movement to give up its ballistic missiles in return for an end to an air raid campaign against it by the Arab Coalition and a transitional governance agreement, according to a draft of the document and sources.
The plan, which has not yet been made public and could still be modified, is the latest effort to end Yemen's three-year-old civil war.
The conflict pits the Iran-aligned Houthis, who took control of the capital Sanaa in 2014, against Yemeni government forces. The coalition fears the Houthis are part of a regional power grab by Tehran.
Previous efforts to end the conflict have failed. It is unclear whether the new plan will fare any better given the divergent interests of fighters on the ground and international backers.
A draft document seen by Reuters and confirmed by two sources familiar with it says that as a step toward new security arrangements, "Heavy and medium weapons including ballistic missiles shall be handed over by non-state military actors in an orderly and planned fashion."
"No armed groups shall be exempt from disarmament," it says.
The sources, who spoke on condition of anonymity, confirmed that the language included the Houthis, who have launched ballistic missiles at neighboring Saudi Arabia.
The document also cites plans to create a transitional government, in which "political components shall be adequately represented," in an apparent nod to the Houthis, who would be unlikely to cede Sanaa without participation in a future government.
"The intention is to link security and political aspects starting with a cessation of fighting...then to move towards a withdrawal of forces and the formation of a national unity government. This last objective could possibly be the hardest," one of the sources said.
The peace plan was drafted by special UN envoy Martin Griffiths, who is due to present a "framework for negotiations" in Yemen by mid-June.
Anwar Gargash, the UAE's minister of state for foreign affairs, signaled Abu Dhabi's desire to support Griffith's efforts.
"Politically, there is a necessity to back the UN effort. It will ultimately mean a transition, to a new political order in Yemen. Clearly with the UN effort, the military and political process will see the Houthis pull out of urban centers," he told UAE English-language newspaper The National.
Port city standoff
UAE-backed Yemeni forces and the Houthis are in a standoff over the Houthi-controlled Red Sea port of Hodeidah.
The Emirati-backed Yemeni forces, who are loyal to exiled Yemeni President Abd-Rabbu Mansour Hadi have moved to within 10 km (six miles) of Hodeidah, a lifeline for humanitarian supplies.
Griffiths is in the Middle East working on a separate deal to stave off an assault on Hodeidah
The wider peace plan appears designed to win a quick ceasefire while leaving many thorny issues for later negotiation.
Issues such as constitutional and electoral processes, and reconciliation among the sides would be dealt with later as part of a transition agenda, it says.
The draft document calls for establishing an inclusive transition government, led by an agreed-upon prime minister, "in which political components shall be adequately represented."
The plan offers no further detail on how much representation the Houthis might receive in such a transition government.
A national military council would oversee steps for "phased withdrawal of armed groups from specific areas" and the handover of weapons, including ballistic missiles.
Full report at:
https://english.alarabiya.net/en/News/gulf/2018/06/07/Yemen-peace-plan-sees-ceasefire-Houthis-abandoning-missiles.html
--------
IAEA should put Israeli nuclear program on agenda as threat to world: Iran
Jun 7, 2018
Iran's ambassador to the International Atomic Energy Agency has told the IAEA Board of Governors in Vienna that Israel's nuclear program poses threat to the international peace and security.
Speaking at the board's quarterly meeting on Thursday, Reza Najafi said Israel's nuclear capabilities should be put on the IAEA's agenda as a real threat to the regional and international peace and security.
The supervision should continue until Tel Aviv joins the Non-Proliferation Treaty (NPT) unconditionally and all the regime's clandestine nuclear facilities are placed under the UN agency's Safeguards, he added.
Najafi slammed the West's double standards with regard to Israel's nuclear program and called for a complete ban on any nuclear cooperation with Israel and transferring of nuclear material and equipment to the regime.
The Iranian envoy pointed to repeated calls by the international community and IAEA resolutions as well as the NPT Review conferences for immediate accession of Israel to the NPT and supervision over Tel Aviv's entire nuclear facilities under the IAEA safeguards.
He warned that the regime has continued the military dimension of its nuclear program through its ignorance of the legitimate demands of the global community, reliance on the support of certain countries and blatant violation of the international law.
Israel is widely believed to be the sole possessor of a nuclear arsenal in the Middle East with up to 400 undeclared nuclear warheads.
Tel Aviv has rejected global calls to join the NPT, refusing to allow international inspectors to observe its controversial nuclear program.
Full report at:
http://www.presstv.com/Detail/2018/06/07/564250/iran-Israel-IAEA
--------
Turkey ready to attack northern Iraq: Erdogan
Jun 8, 2018
Turkish President Recep Tayyip Erdogan says his country is ready to attack northern Iraq if the Iraqi central government does not take action against Kurdish militant groups there.
In an interview with CNN Turk on Thursday, Erdogan said Turkey may strike the Iraqi city of Qandil, "at any moment one evening."
A military action would go on to include Sinjar and Makhmur as well, he added.
Turkish military forces have regularly crossed the border with Iraq to carry out operations against positions of the Kurdistan Workers' Party (PKK) in the mountainous Qandil region, located roughly 40 kilometers southeast of the Turkish border in Iraq's Erbil province.
Turkish pro-government daily Daily Sabah reported late Thursday that the Turkish army had cleared a 400-square-kilometer area from PKK militants in northern Iraq.
Ankara, along with the European Union and the United States, have declared the PKK a terrorist group. The militant group has been seeking an autonomous Kurdish region since 1984.
A shaky ceasefire between the PKK and the Turkish government collapsed in July 2015. Attacks on Turkish security forces have soared ever since.
Turkish Prime Minister Binali Yildirim said earlier in the week that Turkey had established 11 regional bases in northern Iraq and doubled its troops across the region.
In late 2015, tensions flared up between Baghdad and Ankara after Turkey deployed 150 heavily armed soldiers backed by 20 to 25 tanks to the Bashiqa military base in Iraq's northern province of Nineveh, where it claimed it was training Iraqi Kurdish Peshmerga fighters battling the Daesh Takfiri terrorist group.
The Turkish government has been opening military fronts against Kurdish groups in Syria as well. Earlier this year, it launched the ongoing Olive Branch offensive against the purported positions of the US-backed People's Protection Units (YPG) Kurdish militia in Syria's western enclave of Afrin.
Full report at:
http://www.presstv.com/Detail/2018/06/08/564275/Turkey-Erdogan-Iraq-PKK-YPG-Qandil-Sinjar-Makhmur
--------
Turkish courts handed jail terms to over 2,000 suspects over failed coup: Justice minister
Jun 7, 2018
Turkey says its courts have so far handed prison terms for more than 2,000 people suspected of having links to a failed coup against the government of President Recep Tayyip Erdogan two years ago.
"Out of 287 court cases, 171 have been decided: 2,140 defendants have been given jail terms and 1,478 of them have been acquitted," Turkish Justice Minister Abdulhamit Gul said in an interview with the country's official Anadolu news agency on Thursday.
He added that "the remaining cases" were expected to be "finalized by the end of 2018."
Shortly after the mid-July 2016 coup attempt by a faction of the army, Ankara accused the US-based opposition cleric Fethullah Gulen of having masterminded the botched putsch.
The 76-year-old cleric has since strongly rejected any involvement in the coup attempt against Erdogan. However, Ankara has labeled his transnational religious and social movement as the Fetullah Terrorist Organization (FETO), claiming that Gulen has been behind a long-running campaign to topple the government via infiltrating the country's institutions, particularly the army, police, and the judiciary.
The Turkish government has so far submitted several requests to the US concerning the extradition of Gulen, but Washington has refused to heed the calls, arguing that it has not yet received sufficient evidence required by US courts to hand over the cleric, who has lived in self-imposed exile in the US since 1999.
Turkey, under a state of emergency since the coup, has been engaged in suppressing the media and opposition groups suspected to have played a role in the failed coup.
Tens of thousands of people have been arrested in Turkey on suspicion of having links to Gulen and the failed coup. More than 110,000 others, including military staff, civil servants and journalists, have been sacked or suspended from work over the same accusations.
The international community and rights groups have been highly critical of the Turkish president over the massive dismissals and the crackdown.
Full report at:
http://www.presstv.com/Detail/2018/06/07/564241/Turkey-jail-term-Erdogan-coup-Gulen-FETO-US
--------
Africa
Suspected Takfiris hack five to death in Mozambique
Jun 7, 2018
Militants wielding knives and machetes killed five people in a Mozambique region that has been rocked by attacks blamed on Takfiri extremists, police said Thursday.
Cabo Delgado, a northern province expected to become the center of a natural gas industry after several promising discoveries, has seen a string of assaults on security forces and civilians since October.
"There was one more attack (by) the same group that has been attacking the neighboring villages, (it) attacked a village on Wednesday around 9:00 pm and killed five and destroyed houses and left running," a police source told AFP.
The attackers targeted Namaluco village in the Quissanga district of Cabo Delgado.
Police reinforcements had been deployed to the area to step up security but attacks have continued unabated.
Police believe the same group also hacked seven people to death in another village in the region on Tuesday after beheading 10 people in another settlement on May 27.
"The strategy of the group is to attack different villages over several days, confusing the strategic response of government forces," added the police source.
Cabo Delgado police spokesman Augusto Guto said that "defense and security forces are on the ground hunting the attackers".
The May 27 bloodshed occurred in two small villages close to the border with Tanzania and not far from Palma, a small town gearing up to be the country's new natural gas hub in Cabo Delgado.
'An alarming deterioration'
Wednesday's slayings occurred roughly 100 kilometers from Pemba, a town that is an emerging tourist destination.
In October, armed men targeted a police station and military post in the regional town of Mocimboa da Praia in what was believed to be the first Takfiri attack on the country.
Two officers died and 14 attackers were killed.
"It is an alarming deterioration. It has contributed to a climate of uncertainty and fear in Cabo Delgado," said Alex Vines, a Mozambique expert at the London-based Chatham House think-tank.
"International investors are asking questions about the ability of the Mozambican authorities to both contain and counter this emerging problem."
The group, often described by locals and officials as "al-Shabab", has no known link to the Somali Takfiri terrorist group of the same name.
In the weeks following the initial attacks, at least 300 Muslims, including Tanzanians, were arrested and several mosques were forced to close.
The increase in attacks in the north of the country could pose serious issues for Mozambique, which holds general elections next year and hopes to cash in on the recently discovered gas reserves.
The vast gas deposits discovered off the shores of Palma could transform the impoverished country's economy.
Experts predict that Mozambique could even become the world's third-largest exporter of liquefied natural gas.
But the country's north has largely been excluded from the economic growth of the last 20 years, and the region sees itself as a neglected outpost, creating fertile ground for radical al-Shabab-style ideology.
Mozambique last month passed an anti-terrorism law that punishes terror activity with prison sentences of more than 40 years.
http://www.presstv.com/Detail/2018/06/07/564240/Mozambique-Cabo-Delgado-Extremists-Attack
--------
Al Shabaab targeting Northeastern, Coast during Ramadhan - police
Jun. 07, 2018
The National Police Service has reiterated its warning about an attack by al Shabaab terrorists during Ramadhan.
In a statement on Thursday, police said they had reliable information that the terrorists were targeting key infrastructure in Mandera, Wajir, Garissa and the Coast counties.
Spokesman Charles Owino said the group is particularly targeting installations along the boarder.
"We wish to assure members of the public that we have deployed our resources appropriately to counter any such actions by these criminals. Our officers are on high alert and will continue monitoring their movements at all times," Owino said.
The Spokesman dismissed claims that the GSU officers killed on June 7 were attacked on Kenyan soil.
Five GSU officers were killed and three others seriously injured after their vehicle ran over a landmine in Harhar, Liboi.
The 8am explosion occurred when the officers were on patrol a few kilometres from the Kenya-Somalia border. The vehicle rolled several times and was ripped apart.
"I wish to clarify that the attack on El wak town happened on the Somalia side and not within our boarders. The heavy deployment of security personnel in El Wak and along the borderline helped in providing refuge for Somali civilians fleeing the attacks," Owino said.
He added: "We condemn this attack in the strongest possible terms and warn the militants that we shall not rest until they are caught and punished."
Owino further said that the "isolated" incident will not distract them for the goal of ridding the country of the militia and securing all Kenyans.
He asked politicians and residents to fully support security operations.
Meanwhile, police have launched a manhunt for al Shabaab returnee Salim Aboud Sultri aka Survivor.
Full report at:
https://www.the-star.co.ke/news/2018/06/07/al-shabaab-targeting-northeastern-coast-during-ramadhan-police_c1769773
--------
Somalia: Al-Shabaab shuts down football pitches in Mogadishu
2018-06-07
It's late on Wednesday afternoon and the Shiirkole football pitch in the Somali capital should be teeming with life.
Usually there are uniformed players and crowds wearing colourful jerseys supporting their favourite teams. That's been the routine the past 20 years in Mogadishu during the holy month of Ramadan.
Football tournaments were held on this playground in the heart of the seaside city - even during the height of the brutal civil war that engulfed Somalia for decades - every Ramadan.
Despite the guns falling silent in Mogadishu, things are different this year. Aside from a bird pirched on a rusty goalpost, there is no sign of life at the Shiirkoole football pitch.
Days before the start of the fasting month, the committee that used to run both the grounds and football tournament received a call from a well-known number belonging to the armed group al-Shabaab.
"I received a phone call. I was told in a calm voice to close the football field and not hold any football tournament," Kassim Maalim, a member of the committee, told Al Jazeera.
"More than eight teams were signed up to take part in the competition this Ramadan. But since that phone call, no football has been kicked here," Maalim added.
Al-Shabaab, an al-Qaeda-linked armed group, is fighting to overthrow the UN-backed government in Mogadishu and wants to impose a strict version of Islamic law in the Horn of Africa country.
The group used to control most parts of the country, but since 2010 the fighters have been ousted from most major towns and cities.
In 2011, the armed group was pushed out of Mogadishu by Somali troops backed by hundreds of soldiers from the African Union Mission in Somalia (AMISOM) after months of deadly street battles. But al-Shabaab has continued to carry out deadly suicide bombings and assassinations in the city.
"They have been closing down football grounds for the past four months. I know more than 30 grounds that have closed down - one-by-one - after phone calls," Maalim said.
Those failing to heed al-Shabaab's order have been dealt with harshly by the group, he said. The fighters run courts that hand down sentences to anyone not following their orders in the villages of Mubarak and Toratorow, in the lower Shabelle region, not far from the Somali capital.
"They have arrested six people who did not act fast enough. Five have been released after serving time in al-Shabaab jails. One is still in their prison," said Maalim.
Some of those released fled the city, fearing for their lives.
"I left Mogadishu and now I'm in hiding because anything can happen to you if you don't do what they want," an owner of a football pitch in Mogadishu - who didn't want to be named fearing reprisals - told Al Jazeera.
"No one can protect you from them. I have a family to look after and don't want anything to do with them," he said, adding he's hiding in a town in central Somali not in al-Shabaab's control.
The armed group has said it isn't against Somali youth playing football. In 2014, Al Jazeera reported on Al-Shabaab fighters playing football on a beach in the port town of Barawe.
Against our religion
The group told Al Jazeera it is merely acting on a request from the public.
"These football grounds are open all day and late into the night. The youth instead of going to school go to these football fields. These grounds are not free so the youth steal money from their parents to enter these fields or take part in the matches," Abu Abdurahman, al-Shabaab's commander in the Benadir region, which includes Mogadishu, told Al Jazeera.
"Also, men and women mix at these football grounds. This is unacceptable. It is against our religion. Many parents came to us for help - and we intervened."
Mogadishu is home to thousands of troops from the African Union who are in Somalia to defeat the armed group. Many of the grounds shut down are a few minutes' drive from their main base at Mogadishu's airport.
Analyst say the closure of the football pitches is further evidence the armed group is very much active in the city, despite AMISOM claiming it was liberated in 2011.
"Al-Shabaab never left Mogadishu but changed their tactic. They are in the city amongst the people. AMISOM are in their bases, which mostly are on the outskirts of the city," Mohamed Ahmed, a Mogadishu-based analyst, told Al Jazeera.
Ahmed said there could be another reason why al-Shabaab wants fields closed.
"Music and sports are the two things that keeps the youth busy and away from joining armed groups. With high unemployment and nothing to do, they will be at the mercy of being recruiting by anyone," he said.
AMISOM said claims that al-Shabaab shut down football fields in the city are not true.
"Somalia has a recognised government in place and this government has not closed any football pitches. They are open and in use," Richard Omwega, an AMISOM spokesperson, told Al Jazeera.
Somalia's government also denied the armed group had forced the closures of any football pitches in the capital.
"Somali people love football and our young people enjoy playing football. In Mogadishu we have over 500 football grounds where they play, and at times you see that they even play on the streets," Abdirahman Omar Osman, governor of Benadir region and mayor of Mogadishu, told Al Jazeera.
"So no one can deny them playing football. However, the terrorist group always tries to threaten people."
While the Somali government, AMISOM, and al-Shabaab battle for supremacy in Somalia, the sports community can only wait and hope for the best.
Full report at:
https://www.news24.com/Africa/News/somalia-al-shabab-shuts-down-football-pitches-in-mogadishu-20180607
--------
Police hunt 'armed, dangerous' al Shabaab suspects from Mombasa
Jun. 07, 2018
Police have launched a manhunt for al Shabaab returnee Salim Aboud Sultri aka Survivor.
In a statement on Wednesday, they said Sultri is believed to have been hiding at Mlango Wa Papa mosque in Old Town Mombasa.
He fled after learning that they were searching for him.
"Survivor has been working closely with Ramadhan Rai Tsungu aka Rambo who has disappeared as well," police said, adding the two were likely on their way back to Somalia.
"The two are armed and dangerous."
Full report at:
https://www.the-star.co.ke/news/2018/06/07/police-hunt-armed-dangerous-al-shabaab-suspects-from-mombasa_c1769603
--------
Boko Haram: US donates additional $102m to Nigeria
June 7, 2018
By Wale Odunsi
The U.S. Ambassador to Nigeria, Mr Stuart Symington, on Thursday announced additional 102 million dollars humanitarian assistance to those affected by the Boko Haram insurgence in the North-East.
Symington made this known at a plenary session of the ongoing National Conversation on the Humanitarian-Development-Peace Nexus in Abuja.
The ambassador explained that the fund would help address the shelter, health and food security needs of populations in the North-East still struggling with the effects of Boko Haram insurgency.
"The assistance will be administered primarily through the U.S. Agency for International Development (USAID)'s offices of Food for Peace (FFP) and Foreign Disaster Assistance (OFDA) and the U.S. State Department's Bureau for Population, Refugees and Migration.
"Our hope is that this new investment in humanitarian assistance will combine with the efforts of your government and people to move Nigeria forward on a path to peace and prosperity," he said.
The envoy said that the funding would provide life-saving aid to millions of people, including emergency food assistance, nutrition treatment, shelter, health services, safe drinking water and services for survivors of sexual violence.
He added that that the funding would also help provide support to children who had been separated from their families.
Symington said that as of May 2018, an estimated 2.3 million people in the North-East experienced extreme food insecurity.
According to him, this is largely due to widespread insecurity, protracted displacement, depleted assets and the interruption of agricultural production throughout the region.
An estimated 7.7 million people in the North-East require urgent humanitarian assistance.
"Even, as the Nigerian military makes progress, access to those most in need remains tenuous in many areas and the operating environment is highly volatile.
Full report at:
http://dailypost.ng/2018/06/07/boko-haram-us-donates-additional-102m-nigeria/
--------
Europe
Pope reiterates concern for migrants, refugees, environment
By Robin Gomes
June 7, 2018
The waters of the Mediterranean Sea have "become a tomb for men, women and children" is how Pope Francis lamented the fate of migrants and refugees in a message to an international ecological symposium that kicked off on Tuesday in the Greek capital, Athens.
Pope Francis sent his message to a June 5-8 symposium entitled, "Toward a Greener Attica: Preserving the Planet and Protecting its People," taking place in Athens, Greece, sponsored by the Ecumenical Patriarchate of Constantinople.
Remembering Lesbos
In his message addressed to the symposium participants and host, Ecumenical Patriarch Bartholomew of Constantinople, the spiritual leader of some 300 million Orthodox Christians worldwide, Pope Francis recalled his visit to the Greek island of Lesbos on April 16, 2016, during which he together with Patriarch Bartholomew and Orthodox Archbishop Hieronymus II of Athens, expressed their concern and closeness to migrants and refugees stranded there, pending processing of their application for asylum.
Theologians, scientists, political, business leaders, activists and journalists from around the world are participating in the June 5-8 symposium entitled, "Toward a Greener Attica: Preserving the Planet and Protecting its People," sponsored by the Ecumenical Patriarchate of Constantinople.
Attica or the Attic peninsula, is a historical region that encompasses the city of Athens, the capital of present day Greece.
"While enchanted by the scenery of the blue sky and the sea, I was struck by the thought that such a beautiful sea had become a tomb for men, women and children who for the most past sought to escape tried to escape the inhuman conditions of their lands," the Pope wrote referring to desperate migrants and refugees who perished on in the Mediterranean while trying to reach Europe.
The Pope said that during his Lesbos visit he was able to witness the generosity of the Greek people, rich in human and Christian values, who despite their economic constraints were commitment to comforting those who "dispossessed of all material goods, had made to their shores".
Among Catholic Church's participants in the symposium are Cardinal John Olorunfermi Onaiyekan, Archbishop of Abuja, and Cardinal Peter Turkson, the Prefect of Vatican's Dicastery for Promoting Integral Human Development, who read out the message of Pope Francis at the gathering.
Ecological crisis rooted in the human heart
The Holy Father noted that "it is not just the homes of vulnerable people around the world that are crumbling, as can be seen in the growing exodus of climate migrants and environmental refugees," but as he pointed out in his environmental Encyclical "Laudato Si", they are also "condemning future generations to live in a common home that is reduced to ruins."
While repeating the question in "Laudato Si", "What kind of world do we wish to transmit to those who will come after us, to the children who are growing up?" the Argentinian pope called for a "serious examination of conscience" in the face of the current ecological crisis. "The care of creation, seen as a shared gift and not as a private possession," he said, "always entails the recognition and the respect of the rights of every person and every people".
The ecological crisis affecting all humanity, he said is "ultimately rooted in the human heart, that aspires to control and exploit the limited resources of our planet, while ignoring the vulnerable members of the human family."
World Day of Prayer for Creation
Recalling his message for the September 1 World Day of Prayer for Creation, written together with Patriarch Bartholomew, the Pope said that the duty to care for creation challenges all people of good will and invites Christians to recognize the spiritual roots of the ecological crisis and to cooperate in offering an unequivocal response.
The annual World Day of Prayer for Creation, he said, is a step in this direction as it demonstrates the common concern and aspiration to work together to address this sensitive issue.
The Pope concluded his message hoping that Catholics, Orthodox, other Christian communities along with people of good will, may "actively work together in local contexts for the care of creation and for a sustainable and integral development."
https://www.vaticannews.va/en/pope/news/2018-06/pope-francis-environment-message-ecumenism.html
--------
Russia: US-Turkey Agreement on Manbij Unacceptable
Jun 07, 2018
The Russian airbase announcement came on Wednesday in reaction to an agreement reached between the US and Turkey on a roadmap for Manbij city.
"The agreement on Manbij reached between Turkey and the US is by all means rejected," Russia's Humeimim airbase said.
It reiterated that the agreement has been reached without coordination with the Syrian government and between two countries that are illegally present in Syria; "hence such agreement is void".
In relevant remarks on Thursday, Manbij Military Council voiced its strong opposition to the Turkish army's military presence in the Northern Aleppo city amid the US delegation's arrival there after Washington and Ankara struck a deal over the city.
"We will not accept Turkish military presence in Manbij city," the Arabic-language al-Mayadeen television network quoted Manbij Military Council Spokesman Shirvan Dervish as saying.
Dervish pointed to the capabilities of Manbij Military Council forces to safeguard the security of Manbij city, and said, "Manbij city is more secure than the Turkish-controlled areas in Northern Syria, including al-Bab, Jarablus and Afrin where killings and blasts have destabilized those regions."
Meantime, Rudaw news website reported that the representative of US President Donald Trump in the international coalition arrived in Manbij on Wednesday.
It noted that the US representative has already had meetings with the commander of Manbij Military Council.
Full report at:
http://en.farsnews.com/newstext.aspx?nn=13970317000676
--------
Russian troops to stay in Syria as long as needed: Putin
Jun 7, 2018
Russian President Vladimir Putin says Moscow has no immediate plans for withdrawing troops from Syria, stressing that his country's military forces would remain in the war-ravaged Arab country as long as it is in Russia's interests.
"As for the presence of our soldiers in Syria, there are two sites where they are stationed at. One is the port of Tartus, and the other is Hmeimim airbase. It is worth mentioning that these are Russian deployment sites rather than bases. We are not building facilities for long-term plans there so we will be able to promptly withdraw our military personnel if need be," Putin said during an annual televised phone-in with the Russian public on Thursday.
He stressed that Russian troopers were in Syria at the request of the Damascus government, and in full compliance with international law.
"Our military is there to ensure Russia's interests in an important region of the world. They will remain there as long as Moscow finds it reasonable in accordance with its international commitments," Putin pointed out.
The Russian president went on to say that Syrian government forces were now in control of more than 90 percent of the country's territory.
"Large-scale combat operations, especially those involving Russian armed forces, have come to an end. There is no need for them anymore. Peace settlement is on the agenda. This is what we are now working on," Putin commented.
He stressed that Russia did not see Syria as a testing ground for various weapons systems that hadn't been used in combat before, but rather its munitions were upgraded there.
"Syria is not a training range for Russian armament. Modern precision-strike systems, including missile ones, have been improved there. When we started the trials of these sophisticated weapons, teams from our defense industry enterprises left for Syria, and they perfected those munitions at the scene," Putin said.
Syria has been gripped by foreign-backed militancy since March 2011. The Syrian government says the Israeli regime and its Western and regional allies are aiding Takfiri terrorist groups that are wreaking havoc in the country.
Russia has been helping Syrian forces in an ongoing battle in the province of Dayr al-Zawr as the Daesh terrorist group struggles to keep its last positions in eastern Syria.
The Russian military assistance, which began in September 2015 at the official request of the Syrian government, has proved effective as Syrians continue to recapture key areas from Daesh and other terrorist groups across the country with the backing of Russian air cover.
On May 21, the General Command of the Syrian Army and Armed Forces announced in a statement that complete security was restored to Damascus and its countryside after al-Hajar al-Aswad district and al-Yarmouk camp had been totally purged of Daesh terrorists.
Full report at:
http://www.presstv.com/Detail/2018/06/07/564245/Russian-troops-to-stay-in-Syria-as-long-as-beneficial-Putin
--------
Tories are pushing Muslim voters into Corbyn's arms
7 June 2018
Let's imagine a Labour MP had hosted a meeting in the House of Commons for a hate preacher who defended the ethnic cleansing of Jews.
Let's further imagine that this same Labour MP denied the existence of thousands of Jews in his constituency.
And then refused to retract or apologise.
Now let's further imagine that Jeremy Corbyn made one of his first appearances of the London local elections campaign alongside this MP.
There would be outrage.
The BBC News at Ten would lead on it for days on end. Newsnight would be about nothing else. All the mainstream papers would be filled with inside analysis and splash stories.
Cue furious demands for Corbyn's resignation, amid a scroll of denunciations of the anti-Semitism infecting Corbyn's Labour Party.
And rightly so.
MBC's powerful intervention
Now let's look at something that actually happened, and substitute the word "Muslim" for the word "Jew". Tory MP Bob Blackman hosted in Parliament a Hindu extremist who, among a torrent of despicable statements about Muslims, has tweeted: "Shame on Rohingya men. Shame on Islam. Seeing this reproduction rate, how can we blame the Myanmar Buddhists for driving them out?"
Blackman then retweeted the far-right leader Tommy Robinson sounding off about "the reality of being a minority surrounded by Islam". He claims he did so in error.
And Blackman has denied the irrefutable fact that there are more Muslims than Jews in his constituency of Harrow East.
No outcry resulted. The story barely made the news.
With the exception of one article in Middle East Eye, there was not even any criticism of Theresa May for standing alongside the Tory Islamophobe Bob Blackman on the campaign trail.
No one batted an eyelid. The double standard is revolting - and completely normal for British Muslims today.
That is why last weekend's intervention by the Muslim Council of Britain (MCB) demanding a full inquiry into Tory Islamophobia was so powerful. The MCB, to its great credit, produced a meticulously researched dossier setting out the Tory party's structural hostility to Islam.
Yet cabinet minister Sajid Javid brushed all this aside when he appeared on The Andrew Marr Show last Sunday morning. He used his airtime instead to attack the MCB, saying it "does not represent Muslims in this country", rather than address the very substantive issues raised by the MCB dossier.
A double problem
Now let's briefly return to our mental experiment and imagine that Sajid Javid were a senior Labour politician presented with unimpeachable, hard evidence of Labour Party anti-Semitism. Let's imagine that he'd brushed aside the evidence on the unsupported assertion that the group that produced it was not representative of Jews.
There would have been a public row of epic proportions. He wouldn't have got away with it. All of this shows that British Muslims face a double problem.
First of all, there is anti-Muslim bigotry, which sometimes turns to violence in British streets. Muslims are forced to live with this every day. Second, they have to cope with the warped mentality of much of the British political class and media, which denies this threat exists at all.
Over the last few months, the media quite rightly have held Jeremy Corbyn to account over Labour anti-Semitism. However, as the Jewish Council for Racial Equality and the Union of Jewish Students are now most creditably pointing out, they have utterly failed to hold the Tory party to account over Islamophobia.
In fairness, the Times recently published a commendable leader supporting the MCB and suggesting, "nobody could credibly deny that a certain level of prejudice exists against Muslims in Britain".
Biggest religious minority
The Independent's coverage of the MCB's demand has been strong. But these are a few candles in a long, dark night. More typical of media coverage of Islamophobia was the assertion by Melanie Phillips in the Times that it did not even exist.
And the Times made a giant contribution to Islamophobia last summer, when it published four front pages in a row carrying a story about mean-spirited Muslims adopting a Christian child, and forcing her to abandon her cherished cross.
It turned out to be untrue. The new parents were kind and loving: the child was happy. The Times had to publish a front-page IPSO edict saying that it had broken rule one of the editors' code of practice: accuracy.
The journalist who wrote these stories is still writing for the paper. He wouldn't have been if he had published four false front page stories about Jews. Nor would his editor. In the great French statesman Fouché's famous phrase, the refusal by the Tories and Tory-supporting media to tackle Islamophobia is worse than a crime, it is a mistake.
Muslims are now the biggest religious minority in the United Kingdom. The majority are people with small-c conservative social values, a strong work ethic, and a deep sense of family – people who would generally gravitate to the most conservative mainstream political party.
It is absurd for the Tory party to allow such voters to be driven into the arms of Jeremy Corbyn's Labour party.
Full report at:
http://www.middleeasteye.net/columns/tory-partys-islamophobia-pushing-voters-arms-jeremy-corbyns-labour-party-204714408
--------
Strangers break bread at Ramadan tent in London park
JUNE 7, 2018
LONDON (Thomson Reuters Foundation) - As dusk falls, shoes come off and hundreds of hungry diners sit cross-legged in a London park to break bread.
It is iftar: the traditional sundown dinner that follows 19 hours of fasting in London, part of an annual ritual observed by Muslims the world over to mark the holy month of Ramadan.
One of the sacred pillars of Islam, Ramadan calls on Muslims to abstain from all food, drink and even sipping water during the month's daylight hours.
So dinner takes on a special significance at the "open iftar" staged each year in a central London park.
Held in Bloomsbury, an elegant London district known for its garden squares and literary past, the "open iftar" is laid on for 30 nights by a small community group - The Ramadan Tent Project, which invites all comers to join them and eat for free.
"I was a bit uncertain as I'm not a Muslim," said retired psychotherapist Anthony Royle, who attended with two friends.
"The more we can understand of each other's particular points of view, I think it's an essential part of us all sharing in a community. It's very easy to put people into little enclaves."
The project began in 2013 when Omar Salha, then a postgraduate student, decided to set up a "home from home" for international students living in the city.
It has far surpassed Salha's first vision.
At least 300 hungry Londoners gathered in the park on Tuesday evening, from suited executives to the homeless, as strangers sat side-by-side on the ground.
Many said the atmosphere challenged perceptions that it was a time of mistrust between communities in Britain, home to some 2.7 million Muslims, according to census data.
But terror attacks, rising anti-immigrant sentiment and disputes over what it means to be British have bred division.
Sajid Javid, Britain's first Muslim interior minister, said this week the threat posed by Islamist militants remained high but that Muslims were not responsible "for the acts of a tiny minority who twist their faith".
Britain's largest Muslim group, The Muslim Council of Britain, has logged more than 100 hate incidents against Muslims since Britons voted in 2016 to leave the European Union, an outcome fueled in large part by anti-immigrant sentiment.
PICNIC GROWS UP
In its infancy, the dinner drew just a handful of students who sat on newspapers and shared a jumbled picnic on the grass.
Now, up to 400 people gather each night under a large marquee, with lighting and a sound system, served by a slick operation of 90 volunteers.
Its founder said the project was a way to celebrate diversity and offer Londoners an escape from urban life.
"It's very easy to get sucked into the 'us and them' narrative," Salha told the Thomson Reuters Foundation.
"The 'open iftar' experience is about turning strangers into friends, breaking down barriers ... and doing it through the act of sharing a meal."
Once the sun set, a volunteer performed a live call to prayer as parched men and women happily broke their fast.
Diners ate grilled chicken, rice, stuffed peppers and sticky baklava - all shared with strangers from any and no faiths.
"'Open iftar' in the heart of London provides a means for people to stop, take a moment, come together and connect," Tabetha Bhatti, an organizer at the Ramadan Tent Project, told the Thomson Reuters Foundation.
It was the first time for faster Wahil Gouraya.
"In a big city like London, it can be easy to be isolated," said the 18-year-old student. "This gives people an opportunity to go out and meet people that they might not usually meet."
It was the third visit for Umayair Ullah, who said the meal mattered more when misconceptions about Islam were so rife.
"Islam has definitely been misrepresented in the media so I think what 'open iftar' is doing is really important," he said.
"It's like reclaiming the narrative ... it makes me really happy."
PR professional Laura Bannister came with her Arabic class, while television anchor Jon Snow praised the spirit of communality in the bustle of a big city.
"I pay tribute to your generosity, which is what after all we celebrate at an iftar, and what we then try to practise after Ramadan," he told the group.
Full report at:
https://www.reuters.com/article/us-britain-ramadan-london/strangers-break-bread-at-ramadan-tent-in-london-park-idUSKCN1J31SG
--------
UN sanctions six people on Libya human-trafficking
8 June 2018
The United Nations Security Council on Thursday sanctioned six people for involvement in human trafficking and smuggling of migrants in Libya after Russia lifted a hold it had set on the request for action against the individuals.
The Netherlands, backed by France, Germany, Britain and the United States, asked the 15-member council's Libya sanctions committee last month to impose a global asset freeze and travel ban on the six people.
Russia had asked in May for more information on the proposed action. With the Russian hold lifted, the sanctions go into effect immediately.
The proposal came after a video, appearing to show African migrants sold as slaves, sparked global outrage late last year.
"Last fall, images of migrants being sold as slaves in Libya shocked our conscience, and the Security Council vowed to take action. Today's sanctions send a strong message that the international community is united in seeking accountability for perpetrators of human trafficking and smuggling," said US Ambassador to the United Nations Nikki Haley in a statement.
Under a sanctions regime set up in 2011, the Security Council is able to impose a global asset freeze and travel ban on "individuals and entities involved in or complicit in ordering, controlling, or otherwise directing, the commission of serious human rights abuses against persons in Libya."
List of those santioned
The six people listed are Mus'Ab Abu-Qarin, Mohammed Kachlaf, Abd Al Rahman Al-Milad, Ermias Ghermay, Fitiwi Abdelrazak and Ahmad Oumar Al-Dabbashi.
Libya descended into chaos after a NATO-backed uprising in 2011 led to the overthrow and killing of leader Muammar Gaddafi, with two competing governments backed by militias scrambling for control of the oil-producing country. Islamic State militants also gained a foothold in the North African state.
Full report at:
https://english.alarabiya.net/en/News/north-africa/2018/06/08/UN-sanctions-six-people-on-Libya-human-trafficking.html
--------
UN warns that Somalia's political unity at risk
8 June 2018
The UN Security Council warned on Thursday that "internal and external pressures risk undermining Somalia's political unity" and expressed serious concern at the ongoing threats posed by the al-Shabab extremist group.
A presidential statement approved by the 15-member council calls for stepped-up efforts "to prevent destabilizing effects of regional crises and disputes from spilling over into Somalia" and to support the country's federal system and institutions.
Somalia, which borders restive Kenya and lies across the Gulf of Aden from conflict-wracked Yemen, began to fall apart in 1991, when warlords ousted dictator Siad Barre and then turned on each other.
Years of conflict and attacks by al-Shabab, along with famine, shattered the country of some 12 million people. It has been trying to rebuild since establishing its first functioning transitional government in 2012.
Al-Shabab, which is fighting to impose Shariah law across Somalia, was pushed out of the capital, Mogadishu, and other major urban cities more than two years ago. But the extremist group still carries out suicide attacks across Somalia.
The presidential statement coincided with meetings in Somalia's capital, Mogadishu, on Thursday between UN political chief Rosemary DiCarlo and senior government officials, UN spokesman Stephane Dujarric said.
Need for unity
He said she reiterated UN support for the country and quoted DiCarlo as saying that "the unity of Somalis is essential to advance federalism, reduce violence, defeat extremism and tackle the humanitarian challenges and deliver real benefits to the population."
With a new federal government established, pressure is growing on Somalia's military to assume full responsibility for the country's security. But there are serious concerns about the military's takeover as a 21,000-strong African Union force known as AMISOM begins a withdrawal that is expected to be complete in 2020.
The Security Council statement said "AMISOM's role in enabling the transition to Somali-led security will be critical."
The council welcomed the peaceful election of a new speaker of the House of the People, the lower house of parliament, and the resumption of the federal parliament's activities.
It underscored the need for the government, parliament and states "to work together in the interests of all Somalis," noting recent fighting in the troubled northern Sool region between rival forces loyal to Puntland and breakaway Somaliland.
The presidential statement also stressed that the government and states need to make progress on issues including sharing power and resources, reviewing the constitution and preparing for the first one-person one-vote elections in 2020 and 2021.
Full report at:
https://english.alarabiya.net/en/News/middle-east/2018/06/08/UN-warns-that-Somalia-s-political-unity-at-risk.html
--------
Islamic terrorists among hundreds of radicalized prisoners to walk free next year – French minister
7 Jun, 2018
About 450 radicalized detainees, including 50 Islamic terrorists, will walk free by the end of 2019 in France, the Justice Minister said. French prisons struggle with overcrowding, violence and often fail to combat radicalization.
"We have about 500 detainees who are radical Islamic terrorists. Of these 500, twenty will leave prison this year [2018] and thirty will be freed next year [2019]," Nicole Belloubet told BFMTV in an interview on Wednesday.
There are also people imprisoned for common law crimes, who were radicalized - not necessarily in prison, the minister explained. Some 30 percent of these detainees will be free in 2019. All in all, the number of radicalized detainees, including the above-mentioned 50 terrorists, who will walk free by the end of 2019, will be about 450, she concluded.
France has witnessed an almost unprecedented wave of jihadist attacks in early 2015 that left over 200 people dead and hundreds injured. The biggest loss of life took place in November of 2015, when at least 130 people were killed in coordinated attacks in Paris and Saint-Denis, a northern Parisian suburb. The latest attack happened in Paris this May when a Frenchman of Chechen origin stabbed people in a tourist hotspot, killing one and injuring five more.
In the meantime, French prisons are trying hard to cope with jihadist inmates, as well as overcrowding and a lack of staff. The biggest jail in Europe, Fleury-Mérogis, located 24km from Paris, is notoriously known for radicalization. It has already witnessed a number of high-profile incidents this year, including the refusal of inmates to return to their cells on one occasion and protests among prison staff who criticized working conditions. "Fleury-Mérogis is starting to explode already. Because we are tired of this," Ambroise Koubi, the representative of the CGT Penitentiaries Union admitted to RT earlier in June.
The prison has housed several well-known jihadists. Among them was Salah Abdeslam, who was behind the 2015 Paris attacks, Amedy Coulibaly, who attacked a kosher store in January 2015, and the Charlie Hebdo attacker Cherif Kouachi.
Full report at:
https://www.rt.com/news/428987-france-islamists-walk-free/
--------
Arab World
Terrorists Preventing Implementation of Peace Agreement in Dara'a
Jun 07, 2018
The militants of Jeish al-Anqaz terrorists group affiliated to the Free Syrian Army have stopped a number of militants, including their FSA comrades, from surrendering to the Syrian Army in return for amnesty by travelling to the city of Azra from the Navi city in Northwestern Dara'a, the sources said.
The sources said that the terrorists have abducted a member of the Peace Committee in the town of Tal Shahab in Southwestern Dara'a and killed him later. The assassinated member of the Peace Committee was on his way few days ago to take part in the implementation of the peace plan in Dara'a city.
Meantime, the Syrian army pounded the military positions of the terrorists who have stood against the peace plan in Dara'a.
This comes as the assassination operations in the terrorist-held areas in Dara'a have considerably increased; the infighting among terrorist groups has killed a number of terrorists in al-Maneshieh district of Dara'a al-Balad.
The field sources, meantime, reported the Syrian army's artillery and missile units pounded the terrorists' positions in Tal (Hill) Sheikh Hossein areas, a road linking the town of al-Masifreh to the village of Um Valad in Eastern Dara'a, killing a number of terrorists.
http://en.farsnews.com/newstext.aspx?nn=13970317000553
--------
Foreign investment in Saudi Arabia collapses under bin Salman
Jun 8, 2018
Foreign investment in Saudi Arabia has collapsed under Saudi Crown Prince Mohammed bin Salman and his extensive economic reform agenda, according to new data by the United Nations.
Foreign direct investment (FDI) in Saudi Arabia fell to just $1.4 billion last year, down from $7.5 billion in 2016 and some $12.2 billion in 2012, newly published data from the UN Conference on Trade and Development (UNCTAD) showed Thursday.
The massive failure in attracting international investment put Saudi Arabia behind much smaller countries like Oman and Jordan with FDIs of $1.9 billion and $1.7 billion respectively.
Saudi Arabia has also lost its appeal as one of the main destinations of investment coming to the West Asia region, as it managed to attract only 5.6 percent of the regional total. The figure stood at around a quarter between 2012 and 2016.
Saudi's neighbors have made the most off of the kingdom's struggle, with United Arab Emirates (UAE) having managed to more than double its share of regional FDI over the past six years, going from 19 percent in 2012 all the way up to 41 percent in 2017.
Even Qatar, which has been under an economic siege by Saudi Arabia, Egypt, Bahrain and the UAE, since June last year, managed to increase its FDI from $774 million in 2016 to $986 million in 2017.
UNCTAD said the failure was partly because of significant divestments and negative intra-company loans by foreign multinational firms.
One example was the UK/Dutch Shell Group which sold its 50-percent share in the Saudi Petrochemical Company (SADAF) to its partner Saudi Basic Industries Corporation (SABIC) for $820 million in August.
This is a slap in the face for bin Salman, who has been leading a push to attract more foreign investments to help fund his economic reform program which envisions construction of new cities, expansion of tourism and loosening regulations that restrict foreign ownership of companies listed on the Saudi Stock Exchange.
To make the plan work, bin Salman has extensively toured the US and Europe. He also held a Future Investment Initiative conference last year and plans to hold a second one this year, hoping to attract investors.
Full report at:
http://www.presstv.com/Detail/2018/06/08/564273/Saudi-Arabia-Mohammed-bin-salman-foreign-investment
--------
IS attacks kill 17 pro-regime fighters in south Syria: monitor
June 8, 2018
Islamic State group jihadists today killed at least 17 pro-regime fighters including six soldiers in surprise attacks in southern Syria, a monitor said.
Nine jihadists also lost their lives in the assaults in the desert of the southern province of Sweida, the Britain-based Syrian Observatory for Human Rights monitoring group said.
They were the first attacks of their kind in the area, where no IS presence had been noted in more than a year, Observatory head Rami Abdel Rahman said.
The 17 pro-regime combattants killed also included nine Iranians and fighters belonging to pro-Iran Shiite militias, as well as two unidentified fighters, he said.
IS has ramped up its attacks against pro-regime forces since its fighters last month left their last stronghold near Damascus under an evacuation deal with the regime.
The new toll brings to 179 the number of pro-regime troops killed in more than two weeks in jihadist attacks across the country since May 22. At least 89 jihadists were killed during that same period.
IS in 2014 proclaimed a cross-border "caliphate" in Syria and neighbouring Iraq, but has since lost most of that territory to separate offensives by Russia-backed regime troops and a US-backed Kurdish-Arab alliance.
The jihadists now control no more than three percent of Syria, the Observatory says, mostly in the eastern desert near the border with Iraq.
Full report at:
https://www.business-standard.com/article/pti-stories/is-attacks-kill-17-pro-regime-fighters-in-south-syria-monitor-118060800009_1.html
--------
Turkish Sources: Kurdish Forces Not Withdrawing from Manbij
Jun 07, 2018
This comes as the Central Command of the Kurdish-led People's Protection Units announced that the YPG forces had retreated from Manbij after the Turkish government and the US struck an agreement over the Syrian city.
"The Kurdish units have not left the city yet and some of them are in Syrian Democratic Forces (SDF) uniforms," the Turkish-language Anatoly News Agency reported.
The sources claimed that the YPG forces have both military presence and security presence in Manbij under the name of counterterrorism forces.
"The Kurdish forces (YPG) are still in the Northern part of Manbij city near Aoun al-Dadat region and also in Eastern Manbij near al-Bab city which is occupied by the Free Syrian Army (FSA)," they added.
On Wednesday, the YPG claimed that withdrawal of its military advisors had taken place after they accomplished their mission of assisting the training of Manbij Military Council.
In relevant remarks on Thursday, Manbij Military Council voiced its strong opposition to the Turkish army's military presence in the Northern Aleppo city amid the US delegation's arrival there after Washington and Ankara struck a deal over the city.
"We will not accept Turkish military presence in Manbij city," the Arabic-language al-Mayadeen television network quoted Manbij Military Council Spokesman Shirvan Dervish as saying.
Dervish pointed to the capabilities of Manbij Military Council forces to safeguard the security of Manbij city, and said, "Manbij city is more secure than the Turkish-controlled areas in Northern Syria, including al-Bab, Jarablus and Afrin where killings and blasts have destabilized those regions."
Meantime, Rudaw news website reported that the representative of US President Donald Trump in the international coalition arrived in Manbij on Wednesday.
It noted that the US representative has already had meetings with the commander of Manbij Military Council.
Full report at:
http://en.farsnews.com/newstext.aspx?nn=13970317000785
--------
Idlib: Tens of Terrorists Killed in Recent Infightings
Jun 07, 2018
At least 137 militants, including 87 members of Tahrir al-Sham Hay'at (the Levant Liberation Board or the Al-Nusra Front), Faylaq al-Sham, Ahrar al-Sham and Jeish al-Izzah as well as 15 foreign militants from Uzbekistan, Asia and the Persian Gulf littoral states have been killed in recent assassination operations and infightings, the London-based pro-opposition Syrian Observatory for Human Rights (SOHR) admitted on Thursday.
The recent fierce infighting between Tahrir al-Sham Hay'at (the Levant Liberation Board or the Al-Nusra Front) and other terrorists of Jeish al-Ahrar coalition in Zardena village in Northern Idlib has resulted in the death and injury of militants from both sides.
A Saudi commander of Tahrir al-Sham named Mohammad Abu Abdollah was also assassinated by unknown assailants near Ma'arat al-Nauman.
In a relevant development on Wednesday, two senior commanders of Tahrir al-Sham Hay'at (the Levant Liberation Board or the Al-Nusra Front) were assassinated by unknown assailants in Idlib as infighting among terrorist groups has reached its peak in the province.
A Mufti (religious leader) and a notorious commander of Tahrir al-Sham Hay'at were killed near the town of Ma'arat al-Nu'aman in Idlib province.
One of the commanders was assassinated in Tahtaya Farms East of Ma'arat al-Nu'aman by unknown assailants.
Tahrir al-Sham's Mufti Abu Mazen al-Homsi was also assassinated near Ma'arat al-Nu'aman.
The infightings among Lawa al-Maham and Lawa al-Ansar al-Haqdar terrorist groups in Ma'arat al-Nu'aman also resulted in the death and injury of the terrorists from both sides.
Meantime, at least 30 ISIL terrorists were killed in clashes with al-Nusra Front in Kafar Hend village near the town of Salqin in Northern Idlib. The ISIL terrorists were forced to retreat from one of their bases in the region following the clashes.
Full report at:
http://en.farsnews.com/newstext.aspx?nn=13970317000786
--------
Syrian Army Seizes Large Arms Convoy from Terrorists in Idlib
Jun 07, 2018
The terrorists were sending large amount of weapons and ammunition from Northern Homs to their comrades in the city Idlib and its surrounding areas, field sources reported.
The weapons shipment contained a large number of PKC, PKT, RPG rifles and rockets, missiles, mortar shells, hand grenades and other ammunition, the Syrian army sources said.
This is while the Syrian army's engineering units also seized a large amount of weapons, ammos and military equipment in their cleaning operations in al-Houleh region in Northern Homs.
In a relevant development on Wednesday, an important base of Tahrir al-Sham Hay'at (the Levant Liberation Board or Al-Nusra Front) was fully destroyed in a special operation of the Syrian Army as other army units warded off the terrorists attack in Southern Idlib.
The Syrian army troops carried out a military operation against a major command center of Tahrir al-Sham near Tal-e Sultan (Sultan Hill) Northwest of the military airport in Southern Idlib, battlefield sources said.
The sources noted that Tahrir al-Sham's arm and ammunition depot was fully destroyed and a number of terrorists were killed and wounded in the Syrian army's military operation.
Meantime, other army units also engaged in heavy clashes with the members of Tahrir al-Sham and Turkistani Islamic Part and Haras al-Din who were trying to penetrate into the Syrian army's positions in Tal-e (Hill) al-Masitaf South of Tal al-Sultan Southeast of Idlib, inflicting heavy losses on the terrorists.
Full report at:
http://en.farsnews.com/newstext.aspx?nn=13970317000749
--------
US Military Convoy Forced to Retreat by Syrian Army in Hasaka
Jun 07, 2018
An American military convoy was pushed back by the Syrian army before it could reach a military point under the Syrian army's control, Arabic-language Moraseloun news website reported.
The US troops were going to pass by a Syrian army regiment and a military airport near the Southern entrance of Qamishli.
The American military convoy had to retreat after being stopped and inspected by the Syrian army.
In a relevant development in mid-May, the US military forces continued unabated illegal heliborne operations to rescue the ISIL terrorists and commanders from Southeastern Hasaka.
Local sources in Southeastern Hasaka reported that the US forces had conducted the heliborne operations near the town of al-Houl at the borders between Syria and Iraq.
Full report at:
http://en.farsnews.com/newstext.aspx?nn=13970317000602
--------
Turkish Army's Large Military Convoy Enters Aleppo Province
Jun 07, 2018
The sources noted that the Turkish convoy entered Aleppo from Kafr Lousin passage in Northern Idlib.
They said the Turkish military convoy comprised of 50 military and armored vehicles as well as several trucks, and added that the convoy arrived in the town of al-Artab in Western Aleppo.
Some sources have disclosed that the said military equipment contained aid supplies for the Turkish-controlled regions in the town of al-Eis in Southern Aleppo.
Almost 3,300 civilians were captured in May by the Turkish army troops and their allied militants in Afrin region in Northwestern Aleppo, a media outlet reported on Sunday.
The Kurdish-language Hawar news reported that as sum of 3,295 civilians were captured by the Ankara forces in Afrin region in May amid growing unrests and spreading insecurity following occupation of Afrin region by the Turkish troops.
Hawar news went on to say that the Ankara forces have been blackmailing and torturing the captured people, adding that the Turkish troops and their allied militants turned a school in the village of Hikjeh in Shih region into a large detention center to jail the captured civilians.
Hawar news further said that the Turkish army accommodated over 1,200 terrorists of Southern Damascus and Northern Homs in Afrin.
Full report at:
http://en.farsnews.com/newstext.aspx?nn=13970317000699
--------
More Civilians Killed, Wounded in US Air Raids in Eastern Syria
Jun 07, 2018
At least 10 civilians, including women and children, were killed in the US-led airstrikes on the village of al-Baqouz in Deir Ezzur province near the borders with Iraq, local sources said.
Many more civilians were also wounded in the US-led air raids on residential areas in Deir Ezzur province.
In a relevant development last Friday, the sources reported that the warplanes bombed the village of Zeib Hadaj in Southeastern Hasaka, killing eight members of a family and wounding several more.
In the meantime, other fighter jets of the US-led coalition struck the village of al-Baqouz Foqani near the town of Hajin in Southeastern Deir Ezzur, killing at least eight civilians, including three children, the sources said, adding that some of the injured are in critical condition.
http://en.farsnews.com/newstext.aspx?nn=13970317000428
--------
Syrian Army Preparing to Purge ISIL Terrorists from Sweida's Badiyeh Region
Jun 07, 2018
The Syrian army has sent a large number of troops and military equipment from Dara'a to Tal (Hill) Asfar region North-East of Sweida province, field sources said.
They noted that hundreds of Syrian army soldiers and heavy military equipment have been dispatched to the hills of Ashhib and Salman West of Tal Asfar in Northeastern Sweida, and said that the Syrian army is intending to cleanse Badiyeh from the ISIL remnants.
Meantime, the Syrian air force also pounded the ISIL's military positions in Tal Sa'ad and al-Tamsouneh regions in Northeastern Sweida.
The terrorists, meantime, have planted land mines along the roads linking the areas controlled by the Syrian army in Tal Asfar and Eastern Badiyeh in Sweida province.
In a relevant development on Wednesday, the Free Syrian Army was preparing for military operations in Western Sweida as reports said the FSA had failed to receive help from its allies in the region.
The Free Syrian Army militants "who are present in Sama al-Hanidat village in Western Sweida province have asked" other terrorist groups stationed in Dara'a to send military equipment and weapons for them, the Smart News website affiliated to the terrorist groups said.
Commander of 108 Brigade of FSA's al-Amri brigades Meftah al-Sabreh said that his request for help from other FSA militants in Dara'a has remained unanswered for more than one week.
Al-Sabreh voiced concern that the militants and residents of the regions in Western Sweida, including residents of the village of Sama, might have reached an agreement with the Syrian army to hand over those regions to the Syrian army.
He pointed to the dispatch of troops and military equipment by the Syrian army to the region, and accused other terrorist groups for not supporting him.
Al-Sabreh said that the army's military operations will not be limited to Sama village, but it will cover the entire Dara'a province.
In a relevant development on Tuesday, the ISIL launched attacks on the positions of the rival terrorist group of Free Syrian Army (FSA) in Southwestern Dara'a.
ISIL-affiliated Jeish Khalid bin Walid began the assault by storming the FSA positions on the outskirts Heet, which is a town that has been at the front-line of the battle for Western Dara'a for over a year.
According to pro-opposition activists in Dara'a, heavy clashes are ongoing between the two rival groups in Heet, with the ISIL terrorists still on the offensive this morning.
The ISIL claims they seized two points from the Free Syrian Army, while also killing at least five rebel fighters.
ISIL often advances at this axis in West Dara'a, but they later retreat after rebels launch a counter-assault.
Last week, the Syrian army forwarded a large number of fresh forces and a large volume of military hardware to the Southern part of the country to kick off a massive operation against terrorists in Dara'a province.
A large part of the fresh troops have deployed in Quneitra province.
In the meantime, local sources reported that a fresh round of infighting and differences covered Southern Syria, adding that the militants are not capable of controlling the security situation in their region.
The sources further said that six people were killed in infighting among terrorists in the town of Seida.
Full report at:
http://en.farsnews.com/newstext.aspx?nn=13970317000202
--------
Lebanon FM says will take 'measures against' UN refugee agency
8 June 2018
Lebanese Foreign Minister Gebran Bassil said on Thursday Lebanon would take measures against the United Nations' refugee agency UNHCR starting Friday, without specifying what those measures were.
Bassil has accused the UNHCR - which has repeatedly said the situation inside Syria is too insecure for returns - of intimidating refugees who wish to voluntarily go back into not doing so.
As Syrian forces and their allies retake more territory, Lebanon's president and other politicians are calling for refugees to go back to "secure areas" before a deal is reached to end the war. The international view is that it would not be safe for them to return.
Lebanon hosts around 1 million registered Syrian refugees according to the United Nations, or roughly a quarter of the population, who have fled the war since 2011. The government puts the number at 1.5 million and says their presence has strained public services and suppressed economic growth.
"Our procedures against UNHCR begin tomorrow, and they will escalate to the maximum extent that sovereign Lebanon can achieve towards an organization which acts against (Lebanon's) policy of preventing naturalization and returning the displaced to their homeland," Bassil said in a speech published on his Twitter page.
Last week, the head of Lebanon's general security agency, Major General Abbas Ibrahim, said Lebanon was working with Damascus for the return of thousands of refugees who want to go
back to Syria.
And on Thursday the mayor of a Lebanese border town hosting tens of thousands of refugees said around 3,000 are expected to go back to Syria in the coming week.
"Today we sent a mission which verified that UNHCR is intimidating the displaced people who wish to return voluntarily," Bassil said.
"Our affection for (the displaced Syrians) says that the time has come for returns since conditions are safe," he said, adding that only the international community is stopping this happening.
"We announce our determination to break the international desire to prevent the return of the displaced," he said.
Full report at:
https://english.alarabiya.net/en/News/middle-east/2018/06/08/Jordan-s-new-PM-says-to-drop-tax-bill-that-angered-protesters.html
--------
Iraq launches air strike against ISIS in Syria
7 June 2018
Iraq launched an air strike against an ISIS target inside neighboring Syria on Thursday, the military said.
The F-16 fighter plane destroyed an area where members of the ultra-hardline Sunni group were operating, it said in a statement.
ISIS, which once occupied a third of Iraq's territory, has been largely defeated in the country but still poses a threat along its border with Syria.
The Iraqi air force has carried out several air strikes against ISIS in Syria since last year, with the approval of the Syrian government of President Bashar al-Assad and the US-led coalition fighting ISIS.
Iraq has good relations with Iran and Russia, Assad's main backers in the Syrian civil war, while also enjoying strong support from the US-led coalition.
Prime Minister Haider al-Abadi declared final victory over ISIS in December but it still operates from pockets along the border with Syria and has continued to carry out ambushes, assassinations and bombings across Iraq.
Full report at:
https://english.alarabiya.net/en/News/middle-east/2018/06/07/Iraq-launches-air-strike-against-ISIS-in-Syria.html
--------
Moustapha Akkad's 'The Message' to be shown in Saudi Arabia
June 07, 2018
Director Moustapha Akkad's masterpiece "The Message" will be screened in Saudi Arabia for the first time after being passed by the country's censors.
The cinema epic, which chronicles the life of Prophet Muhammad and the birth of Islam, has undergone extensive restoration and will be screened in 4K at Vox Cinemas Riyadh Park during Eid-Al-Fitr.
The Oscar-nominated film was passed by the General Commission for Audiovisual Media (GCAM) at a screening on Thursday.
The film caused controversy when it was released in 1976 and was banned across much of the Arab world.
Now it will be given a widespread release across the region. Only Kuwait has continued its ban on the film.
Akkad's son, Malek, has lobbied extensively for "The Message" to be screened across the region.
The director's son has worked tirelessly on the film's restoration and to reacquaint himself with his father's work.
"Ironically, even though it's over 40 years later, probably the biggest challenge has been, once again, all the censorship boards and trying to get them to come around and see this film in a new light," Akkad said.
"Over the years it has become a favorite, a classic in the region that they play on satellite stations, so a huge portion of the population are familiar with this film. But there is still an old guard on the censorship boards. However, I'm happy to say we have been pretty much successful in a large number of countries and I'm very happy about that."
The re-release has been made possible by a collaboration between Akkad's Trancas International and Dubai-based distribution company Front Row Filmed Entertainment.
Moustapha Akkad was born in Aleppo, Syria, had began work on the film in 1974, shooting two versions simultaneously — one in Arabic and one in English. The Arabic version featured some of the biggest stars of Arab cinema, including Abdullah Gaith in the lead role of Hamza. In the English version, the role of Hamza was played by Anthony Quinn.
Full report at:
http://www.arabnews.com/node/1317631/saudi-arabia
--------
Southeast Asia
The Problem With Muslims' Free-Hug Experiments
Januarsyah Sutan
June 8, 2018
After the multiple terror attacks in Surabaya, East Java, some Muslims claimed they were discriminated against because of their religion. In Semarang, the police forced an Islamic boarding school student to reveal the inside of his bag and cardboard box. Meanwhile, a 14-year-old female student wearing a face veil was reportedly forced to step down from a bus because of other passengers' suspicion.
This perceived discrimination led a few Muslims to emulate a social experiment previously held in Europe and Canada. A bearded man and women with face veils stood at a shopping center in South Jakarta carrying a sign asking for a hug from passers-by who felt safe in their presence despite their appearance.
Soon after the success of this campaign, more free-hug experiments were held in other places. Although these experiments gained public attention, is it appropriate for Muslims to focus on and highlight their experience when the attention should be given to those who need it the most — the religious minorities?
In the United Kingdom, Sweden and Canada, the same social experiments were carried out by Muslims and they received a similar warm response. However, the experiences of Muslims in these countries are completely different from mainstream Indonesian Muslims'; they are vulnerable groups that consistently experience Islamophobia. Last year, according to the Independent, hate crimes directed at mosques reached 110 in the UK alone, including physical assaults and arson.
Meanwhile, in Indonesia, most Muslims often enjoy expressing their religious beliefs while dismissing voices of other religious groups. During the past gubernatorial election in Jakarta, many clerics freely said Muslims should only choose leaders who are Muslims. The use of the term kafir (infidel) has been defended many times by Muslims, ignoring the discomfort it causes to non-Muslims.
Furthermore, religious violence in Indonesia is often directed at religious minorities. The three suicide bombs in Surabaya targeted churches, killing those who came to worship. Mainstream Indonesian Muslims consider Shiites and the Ahmadiyah non-Muslims and they have also experienced intense discrimination. Recently, a mob in East Lombok attacked houses of the Ahmadiyah community, forcing seven families to find shelter at a police station. These are just a few of many upsetting religion-based violence in Indonesia.
Different from mainstream Indonesian Muslims, Muslim minorities in the West have built an alliance with other religious and non-religious groups. They have immensely benefited from "intersectionality", a framework coined by Kimberlé Crenshaw that is used to analyze the relationship between identity and power. It is an effective tool to understand how vulnerable groups experience different forms of oppression due to the intersection of racism, sexism, class oppression, religious discrimination and others.
Crenshaw wrote in the Washington Post that although the term was initially articulated on behalf of black women, it has unveiled the invisibility of many constituents within social groups that fail to represent them despite claiming them as members.
African-American Muslims in the Muslim community, queer Muslims in the lesbian, gay, bisexual and transgender (LGBT) movement and Muslim women in the feminist movement have learned intersectionality to understand their own experiences and help them fight for visibility.
Linda Sarsour, an American-Muslim woman who has gained international recognition within the global feminist movement after co-chairing the Women's March in the United States, pointed out that oppressed groups need the movement that is intersectional because people cannot fight one form of oppression while ignoring the others.
When organizing the Women's March, she invited active participation by other vulnerable groups, such as Native American women, Mexican women, undocumented women and trans women of color. Linda Sarsour has helped American Muslims to take part in the intersectional movement that unifies Muslims with other vulnerable groups.
On the other hand, mainstream Muslims in Indonesia use their religious identity to identify solely with other Muslim groups locally and globally. They imagine Muslims everywhere share the same experience and belief system.
The presence of Palestinian flags in Muslims' marches in Indonesia signifies how they identify with the oppression experienced by Muslims on the other side of the world. This may seem harmless, even noble. However, Muslims' narratives as vulnerable groups overseas are often exploited to shape the perception that all Muslims are victims of global oppression.
Combined with Islamic populism, the victimhood leads many Indonesian Muslims to falsely believe that they bear greater agony compared to any other groups, legitimizing oppression against and ignorance of the suffering of religious minorities in Indonesia itself. This may explain why Muslim organizers thought it was appropriate to conduct the free-hug experiments without really addressing the terror attacks against religious minorities.
When talking about Israeli-Palestinian conflict, it is important to recognize those directly affected. Linda Sarsour's parents came from Palestine and she has relentlessly spoken up about the Palestinian struggle. However, when a Jewish cemetery was vandalized by anti-Semites in the US, she also expressed her support. She raised US$125,000 to repair the damages and promised to give any remaining funds to Jewish community centers.
When black churches became the target of arson attacks, Sarsour also raised more than $100,000 to help them out.
As quoted by Tamika Mallory, a Black Lives Matter advocate, in the New York Times, Sarsour told members of other minority groups, "I'm gonna help y'all get your people straight and I expect you to come help me get mine straight."
Muslim minorities in the West are vulnerable groups and they have built an alliance with others so they can stand together when facing oppression perpetrated by those in power. Meanwhile, mainstream Indonesian Muslims are not a vulnerable group. Most Indonesians are Muslims; the government is dominated by Muslims; all of Indonesia's presidents have all been Muslims and Muslims dominate Indonesia's social and political scene.
Therefore, our experience as the majority is completely different from Muslim minorities. We do not experience religion-based oppression; religious minorities in Indonesia do.
We, Indonesian Muslims can still show others that we are peaceful, but putting ourselves in the spotlight while ignoring the oppression that is happening to vulnerable groups only shows self-importance and arrogance. Instead, we must provide to religious minorities in our country what we want for Muslim minorities abroad: support, safety and respect. We have to guarantee that they have religious freedom as much as we have, constantly ensuring that their freedom remains intact and jumping in to help fix it when it is disrupted.
http://www.thejakartapost.com/academia/2018/06/08/the-problem-with-muslims-free-hug-experiments.html
--------
Chinese university suspends Islamic culture class after complaints
Jun 7, 2018
BEIJING: A Chinese university suspended an Islamic culture class taught by a Pakistani student following criticism that it is spreading religious beliefs to students, a state-run media report said today.
Nanjing Agricultural University in East China's Jiangsu Province denied that the course had spread religious beliefs to students, amid online criticism that the university failed to separate education from religion, state-run Global Times daily reported.
The university said the course "Islamic culture," which was opened to undergraduates in the College of Engineering, was suspended half a year ago.
"It was suspended after the school discovered in late 2017 that the course instructor, a Pakistani student who is seeking a PhD degree in our university, was unqualified to teach in Chinese universities," a university employee surnamed Huang told the paper.
The university said in a separate online statement that it has begun investigating the incident, and will hold relevant people accountable.
The course was meant to introduce students to Islamic culture, history and festivals, and also to introduce Muslim conventions.
The university said it did not find any evidence that the instructor had guided students to engage in religious practices during and outside the class, the report said.
The university responded after Xi Wuyi, an expert on Marxism at the Chinese Academy of Social Sciences, wrote on her Sina Weibo on May 30 that the university, in a clear violation of law, spread religious beliefs in class.
China's Education Law stipulates that education should be separated from religion. Xi's post sparked heated discussions online.
"We did not practice religion in the course and were not asked to memorise any religious texts," an anonymous student, who attended the course, told the paper.
She said that many people chose this course because it's easy to pass, and the "teacher" conducts lectures in English, "so many students believe the course can improve their English skills."
"Universities are allowed to offer courses on religion. However, actions such as building religious sites, religious practices and advocating religious dogma in schools are strictly forbidden," Shen Guiping, a religious expert at the Central Institute of Socialism in Beijing, told the paper.
China's newly revised regulation on religious affairs, which took effect in February, bans religious practices and activities in schools and other educational institutions, except at religious schools.
However, Shen noted that a fine line exists between introducing religions to students and guiding them to practice religions.
The university said it sticks to the ethnic equality principle and encourages cross-cultural exchanges. It also vowed to strengthen scrutiny over its courses and prevent religion from infiltrating the campus.
Full report at:
https://timesofindia.indiatimes.com/world/china/chinese-university-suspends-islamic-culture-class-after-complaints/articleshow/64490401.cms
--------
Jakim will not be abolished, says Federal Territories mufti
7 Jun 2018
FEDERAL Territories mufti Zulkifli Mohamad Al-Bakri has given his support to a government initiative to evaluate the role of the Islamic Development Department (Jakim), and reassured concerned Muslim-rights groups that the Islamic institution will not be abolished.
"I hold to what Dr Mahathir (Mohamad) said, that the issue is not about abolishing (Jakim) but looking at its roles and how to enhance and empower it.
"There shouldn't be any problem," Zulkifli said after meeting with the Council of Eminent Persons at Ilham Tower today.
He said the issue of Jakim was not brought up in the one-and-a-half-hour meeting this morning, and no recommendation was given on how to streamline the department.
Zulkifli said the meeting was to discuss religious matters, and explaining issues related to the interpretation of the Quran.
On May 30, Prime Minister Dr Mahathir announced that a new committee that included religious scholars and non-religious experts would be formed to look into the role of Jakim, which has come under fierce criticism in recent years for appearing to be extreme in its policing of everyday activities of Muslims.
"We will see whether it will remain as how it is now, or revert to its original purpose," Dr Mahathir had said.
"We will ensure it will not portray Islam as a cruel and inconsiderate religion. That is not what Islam is."
While several Muslim groups have voiced concerns that the announcement signals the end of Jakim, G25, a group of prominent former civil servants, have welcomed the abolishment of the department.
Full report at:
https://www.themalaysianinsight.com/s/53156
--------
Understanding the terrorism threat in southern Thailand
07 JUNE, 2018
Transnational terrorist groups like the so-called Islamic State (IS) tend to exploit conflicts involving Muslims.
Many analysts claim that Southeast Asia is fertile ground for jihadist expansion, citing key areas such as southern Thailand and Mindanao in the Philippines.
Many individuals from Southeast Asia who travelled to Syria and Iraq to join IS and other jihadist groups are now returning.
A series of IS-linked activities in Southeast Asia, compounded by returning fighters from the Middle East, are renewing concerns about jihadist elements taking advantage of the insurgency in southern Thailand.
But these concerns are unfounded. The insurgency in southern Thailand is a localised conflict over territory and identity.
Narratives propagated by the southern Thai insurgents conjure up the history of the Sultanate of Patani in mythical proportions. Insurgents claim that the Sultanate of Patani was a trading hub and a centre for excellence in Islamic studies before its painful subversion by Siamese colonisation.
In this narrative, Siam's incorporation of the Malay Sultanate meant not only the end of national sovereignty but also of Malay identity in the area.
The primary aim of the main insurgent group, Barisan Revolusi Nasional (BRN), is to drive out the Thai state from what was the historical region of Patani.
Emphasising the territorial dimension, BRN has stated that the Holy War must be fought for Malay Muslims in Thailand's troubled southern provinces but not for Thai Muslims elsewhere.
BRN is not prepared to adopt the approach of transnational jihadists like IS. Operationally, the southern Thai insurgents have lacked a distinct interest in Western targets. Insurgents have also not resorted to suicide attacks in southern Thailand for fear of losing popular support from the masses.
BRN is only one of many actors in Thailand's deep south. But its ideological and organisational grip on the Malay Muslim community is strong and not to be underestimated.
In the short term, Thailand is unlikely to see the emergence of IS-inspired militant cells organised sufficiently to challenge the ideological and operational dominance of BRN.
Still, there may be a small group of isolated individuals who are drawn to the transnational extremist ideology espoused by IS.
In April 2018, a Malaysian security source accused Awae Wae-Eya, an alleged former member of the southern Thai insurgency, of having plans to establish an IS presence in Thailand.
Awae is currently wanted by Malaysian police for planning terror plots in the state of Johor. But such individuals alone cannot be the basis for suggestions that the insurgent landscape is changing or has changed. They are not organised into a network that could challenge BRN.
Nonetheless, cases of IS-inspired insurgents in the deep south, however isolated, should serve as a warning for the Thai government that the conflict in southern Thailand needs to be resolved as soon as possible.
If the conflict continues, more individuals like Awae could appear. In the medium term, these individuals could form splinter groups that are attracted to the advantages of aligning with foreign jihadists.
While ending the conflict should be a priority, the government's current peace talks with MARA Patani, an umbrella organisation of deep south separatist organisations, is unlikely to lead to a settlement.
BRN members have previously sat on MARA Patani negotiating panels, but senior BRN leaders did not endorse their participation and repeatedly denounced MARA Patani. The Thai government must make a serious effort to hold discussions with BRN. It is BRN, rather than MARA Patani, who has control over ground fighters.
The Thai government must also be ready to respect Malay Muslim identity. It should make efforts to contextualise and acknowledge Islam in southern Thailand so that civilians are less susceptible to inspiration from extreme Islamist ideology.
Partnerships with Malay Muslim leaders could help address destructive narratives due to their unique positions of authority, credibility and ties to local communities.
The Thai government should also seriously address deep-seated Buddhist anxieties. Buddhist extremism is on the rise in parts of Southeast Asia, including Thailand.
Although Thai authorities have made efforts to restrain extremism on their part, some outspoken leading monks have preached Islamophobic sentiments and spurred followers to turn towards violence.
As long as Thai society is split between 'us' and the 'other', there will always be room for extreme Islamist ideology to grow.
However difficult, the Thai government must move away from decades of forced cultural assimilation and accept that the Malay Muslim community needs more autonomy.
Full report at:
https://www.todayonline.com/commentary/understanding-terrorism-threat-southern-thailand
--------
Days After Modi Visit, Malaysia Puts Zakir Naik On Watch
Jun 07 2018
Just days after Prime Minister Narendra Modi's visit to Malaysia, the Malaysian government has issued a strict warning to Islamic hate preacher Zakir Naik, to follow the law of the land or face action, Malaysia based Malay Mail has reported.
Various groups in Malaysia have been protesting against Naik's acerbic speeches, saying it offends the sensibilities of those who do not profess Islam. The Indian government has maintained that Zakir Naik promotes terrorism in the garb of Islamic education, through his ironically named Peace Foundation.
The previous Malaysian government had offered Naik refuge in the aftermath of Indian law enforcement agencies pursuing him on charges of supporting terror and financial fraud. The new Pakatan Harapan regime in Malaysia, however, has chosen to take a tough stand on the hate preacher.
Malaysian home minister Tan Sri Muhyiddin Yassin has made it clear that Naik will have to abide by the rules of the country, or else risk strict action from the administration.
"I have been informed that Zakir Naik has been given PR by the previous administration. So the issue now, if he is a PR just like any of us here, we are still subject to the law.
If you do something that is not in accordance to the law, whether it involves the issue of religion, or crime, whatever it is, you cannot be spared," the Home Minister said.
Full report at:
https://swarajyamag.com/insta/will-hang-myself-if-tdp-allies-with-the-congress-andhra-pradesh-deputy-cm
--------
China Looks to Bolster Militancy Fight at Security Summit
June 08, 2018
Beijing. China will seek to bolster the fight against extremism at a regional security summit this weekend with some of its closest diplomatic allies, including Russian President Vladimir Putin.
Jointly led by Russia and China, the Shanghai Cooperation Organisation (SCO) was launched in 2001 to combat radical Islam and other security concerns in their own countries and across Central Asia.
It added two new members, India and Pakistan, last year and Iran has been knocking at the door. Tehran is currently an observer rather than a full member of a bloc that also includes four ex-Soviet Central Asian republics.
"One of the pressing tasks facing the SCO is to continue fighting against militants of the Islamic State who, following the extremist group's defeat in Syria and Iraq, have returned to their native countries, some of which are SCO members or observers," China's official Xinhua news agency said this week.
Member countries have destroyed more than 500 training bases for armed militants and arrested some 2,000 members of "international terrorist organisations" between 2013 and 2017, it said.
China says it faces a threat from Islamist militants in its far western region of Xinjiang, where hundreds have been killed in unrest in recent years.
China has long found a sympathetic audience from Russia and Central Asian countries for its security crackdown, although Western nations have expressed concern about rights abuses, charges China denies.
The Saturday-Sunday summit in the northern Chinese port city of Qingdao comes ahead of an historic planned meeting next week between North Korean leader Kim Jong-un and US President Donald Trump in Singapore.
Kremlin foreign policy aide Yuri Ushakov told reporters this week the Korean peninsula would be discussed between Putin and Chinese President Xi Jinping, who meet first in Beijing on Friday, although he gave no details.
The attendance of Iranian President Hassan Rouhani also offers China and Russia an opportunity to reaffirm their commitment to the Iran nuclear deal. Trump withdrew the United States from the 2015 deal last month.
However, Chinese Foreign Ministry spokeswoman Hua Chunying said they did not want Iran overshadowing the summit.
"We hope all parties focus on the theme of the summit," she said.
Serious disagreement among members remains, even if it is usually hidden from view behind diplomatic language on which everyone can agree, such as what China calls the "three evil forces of terrorism, separatism and extremism."
India and Pakistan remain deeply suspicious of each other, and China has long held off from strong public backing for Russia over Ukraine.
Full report at:
http://jakartaglobe.id/international/china-looks-bolster-militancy-fight-security-summit/
--------
SOE Minister Inaugurates Al Istiqomah Mosque
June 07, 2018
Jakarta. State-Owned Enterprises Minister Rini Soemarno inaugurated Al Istiqomah Mosque at the Telkom Landmark Tower in Jakarta on Tuesday (05/06).
The mosque, one of the largest ever built by Telkom, is located on the eighth floor and features a "smart digital" concept that provides the congregation with information on its activities, sermons, zakat (charity) and prayer times.
The minister was accompanied by Telkom Indonesia president director Alex Sinaga, president commissioner Hendri Saparini and human capital management director Herdy Harman during the inauguration.
"The mosque shows that the Ministry of State-Owned Enterprises and the Telkom Group are always committed to ensuring a blessed and vibrant religious life," Minister Rini said in a press statement.
The inauguration was followed by a fast-breaking feast with orphans, gift-giving and a Rp 1.2 billion ($86,000) donation to 10 charitable foundations.
Herdy said the Telkom Landmark Tower was built with a work-life balance in mind to create a new and more collaborative environment.
"For that we've provided a variety of facilities, including a collaborative room to support employee activities, such as sports or meditation," he said.
'Smart Mosque'
The "smart mosque" concept adopted the same design elements used for the Telkom Landmark Tower, such as the color scheme, decorations and materials. The mosque can accommodate 3,000 people.
Worshippers will be able to remain updated on mosque activities and prayer times through a smartphone application and by the mosque itself. The mosque also features interactive media-sharing facilities that allow worshippers to watch sermons online.
The mosque allows people to donate to charity, or infaq, electronically through Telkom's T-Cash and T-Money by scanning QR codes.
Full report at:
http://jakartaglobe.id/press-release/soe-minister-inaugurates-al-istiqomah-mosque/
--------
North America
Why Jefferson's vision of American Islam matters today
June 7, 2018
The month of Ramadan marks the time when Prophet Muhammad is believed to have first received revelations from God and has been celebratedat the White House since 1996. It was Hillary Clinton who started the tradition as first lady. However, last year, the Trump White House did not host the traditional reception. Neither did the State Department under Secretary Rex Tillerson, even though the holiday has been commemorated there since 1999.
Despite the relatively recent nature of these formal celebrations, the fact is that Islam's presence in North America dates to the founding of the nation, and even earlier, as my book, "Thomas Jefferson's Qur'an: Islam and the Founders," demonstrates.
Muslims arrived in North America as early as the 17th century, eventually composing 15 to 30 percent of the enslaved West African population of British America. Muslims from the Middle East did not begin to immigrate to the United States as free citizens until the late 19th century. Key American Founding Fathers demonstrated a marked interest in the faith and its practitioners, most notably Thomas Jefferson.
As a 22-year-old law student in Williamsburg, Virginia, Jefferson bought a Qur'an – 11 years before drafting the Declaration of Independence.
The purchase is symbolic of a longer historical connection between American and Islamic worlds, and a more inclusive view of the nation's early, robust view of religious pluralism.
Although Jefferson did not leave any notes on his immediate reaction to the Qur'an, he did criticize Islam as "stifling free enquiry" in his early political debates in Virginia, a charge he also leveled against Catholicism. He thought both religions fused religion and the state at a time he wished to separate them in his commonwealth.
Despite his criticism of Islam, Jefferson supported the rights of its adherents. Evidence exists that Jefferson had been thinking privately about Muslim inclusion in his new country since 1776. A few months after penning the Declaration of Independence, he returned to Virginia to draft legislation about religion for his native state, writing in his private notes a paraphrase of the English philosopher John Locke's 1689 "Letter on Toleration":
"
"(He) says neither Pagan nor Mahometan (Muslim) nor Jew ought to be excluded from the civil rights of the commonwealth because of his religion."
The precedents Jefferson copied from Locke echo strongly in his Virginia Statute for Religious Freedom, which proclaims:
"
"(O)ur civil rights have no dependence on our religious opinions."
The statute, drafted in 1777, became law in 1786 and inspired the Constitution's "no religious test" clause and the First Amendment.
Was Jefferson thinking about Muslims when he drafted his famed Virginia legislation?
Indeed, we find evidence for this in the Founding Father's 1821 autobiography, where he recorded that a final attempt to add the words "Jesus Christ" to the preamble of his legislation failed. And this failure led Jefferson to affirm that he had intended the application of the Statute to be "universal."
By this he meant that religious liberty and political equality would not be exclusively Christian. Jefferson asserted in his autobiography that his original legislative intent had been "to comprehend, within the mantle of its protection, the Jew and the Gentile, the Christian and Mahometan [Muslim], the Hindoo, and Infidel of every denomination."
By defining Muslims as future citizens in the 18th century, in conjunction with a resident Jewish minority, Jefferson expanded his "universal" legislative scope to include every one of every faith.
Ideas about the nation's religiously plural character were tested also in Jefferson's presidential foreign policy with the Islamic powers of North Africa. President Jefferson welcomed the first Muslim ambassador, who hailed from Tunis, to the White House in 1805. Because it was Ramadan, the president moved the state dinner from 3:30 p.m. to be "precisely at sunset," a recognition of the Tunisian ambassador's religious beliefs, if not quite America's first official celebration of Ramadan.
Muslims once again provide a litmus test for the civil rights of all U.S. believers. Even though this administration resumes the traditional White House Ramadan celebration in 2018, many prominent American Muslims have publicly stated that, even if invited, they would not attend. Many American Muslim have not forgotten Trump's many wrong assertions against them. Currently, the legality of this administration's Muslim ban is pending before the Supreme Court.
Regardless of the stated anti-Islamic political views of this president, Ramadan still provides a moment to remember that Islam has long been practiced in America.
Its adherents remain a pivotal part of its founding history. The presence of Muslims in America, as American citizens, has now been acknowledged by the Trump administration, in this year's markedly more inclusive 2018 statement about Ramadan. The statement reads in part:
"
"Ramadan reminds us of the richness Muslims add to the religious tapestry of American life. In the United States, we are all blessed to live under a Constitution that fosters religious liberty and respects religious practice."
Today, Muslims are fellow citizens, and their legal rights represent an American founding ideal still besieged by fear mongering, a practice at odds with the best of our ideals of universal religious freedoms. Despite demonstrating more public hostility toward Islam than any previous administration, the White House celebration of Ramadan this year underscores a more important, implicit historical reality: Muslims have practiced their faith here for centuries and will continue to do so.
https://wtop.com/entertainment/2018/06/why-jeffersons-vision-of-american-islam-matters-today/
--------
Trump requested Saudi oil support before Iran nuclear decision
June 08, 2018
A day before US President Donald Trump withdrew from the Iran nuclear deal, one of his senior officials phoned Saudi Arabia to ask the world's largest oil exporter to help keep prices stable if the decision disrupted supply.
Riyadh, Tehran's arch rival, has long been a close Washington ally, but direct pressure on a member of Organization of the Petroleum Exporting Countries (OPEC) over oil policies is rare. Washington last pressed Saudi Arabia to increase output in 2012.
Riyadh has said that even though prices have spiked to over $80 per barrel, the highest since 2014, the market has yet to recover from a long slump. Until the phone call, Saudi officials had been saying it was too early to raise output.
Riyadh took this line partly because higher crude prices could help the stock market float of a stake in state oil giant Saudi Aramco expected to take place in 2019, Saudi industry sources had told Reuters.
So there was shock among some of Saudi Arabia's fellow OPEC members when it issued a supportive statement hours after Washington imposed new sanctions on Tehran. It said it was ready to raise output to offset any supply shortage.
Three sources familiar with the matter said a senior US administration official had called Saudi Crown Prince Mohammed bin Salman before Trump's announcement to make sure Washington could count on Riyadh, the de facto OPEC leader.
One of the sources said the call took place on May 7. The other two did not specify a date for the call.
Washington was worried that the sanctions would curb deliveries from Iran and push oil prices up, the sources said.
A White House spokesperson declined to comment on whether a call took place.
A senior Saudi official did not confirm the call but said, "We were made aware of the decision on the JCPOA (Joint Comprehensive Plan of Action) before the announcement. We always have conversations with the US about the stability of the oil market."
The Saudi statement in May threatened to undermine a deal between OPEC and its allies led by Russia to curb output by about 1.8 million barrels per day (bpd), starting from January 2017, to reduce a supply glut and boost prices. The deal is due to expire at the end of 2018.
OPEC will meet on June 22 and needs a consensus of all members to officially change its output policy. Iran's oil minister, Bijan Zanganeh, said last week he did not agree on the potential need to increase global oil supplies.
An OPEC source familiar with Saudi thinking said that Riyadh and Washington had discussed their oil policies before the US announcement on Iran.
"You need to work with your partners in dealing with any potential effect on supply," that OPEC source said.
ALLIES 'UPSET'
The sudden shift in Riyadh's public position came as a surprise to its Gulf allies, who coordinate OPEC policies closely.
Some Gulf countries were "upset that there was no prior consultation with them", a separate source said. They felt Riyadh had come under pressure from Washington and they had not been consulted before public comments by Saudi Energy Minister Khalid al-Falih.
Falih traveled to Russia's economic forum in St Petersburg last month and said the kingdom was prepared to gradually ease oil output curbs to calm consumers' worries.
The shift has also irked some producers outside the Gulf.
"Some people felt they were not properly consulted before the comments in St. Petersburg," a second OPEC source said.
Since the original international sanctions were lifted in January 2016, Iran has struggled to raise production above 4 million barrels per day. This is due to a lack of new projects.
Iran would benefit less than Saudi Arabia from an increase in supplies if it cannot raise output, as well as receive a lower price for existing production.
A third OPEC source said it would be against the OPEC charter to raise output just because Washington had requested it. "For some OPEC members, this is too much," the source said.
MORE PRESSURE
US reliance on Saudi crude imports has decreased in recent years, in part as domestic shale output has risen, but Saudi Arabia remains an important source of US supply.
The US imported 748,000 bpd from Saudi Arabia in March 2018, having reached a post-1970s peak of more than 2 million bpd during 2003, according to figures from the US Energy Information Administration.
Reuters reported in late May that OPEC and its allies could raise production by about 1 million bpd from July to address any potential oil shortages.
The sources say Riyadh's shift in stance was prompted by pressure by Washington and other consuming countries but does not reflect concern in Saudi Arabia that there is a supply deficit.
In late April, Trump in a tweet criticized OPEC for high oil prices. India and China also raised concerns about high oil prices in separate calls with Falih.
Full report at:
https://nation.com.pk/08-Jun-2018/trump-requested-saudi-oil-support-before-iran-nuclear-decision
--------
US defense secretary comments on Syria's Manbij talks
07 June 2018
The U.S. defense secretary said Turkey was a front-line state for NATO and its legitimate interests needed to be addressed, referring to recent talks between both countries regarding Syria's northern Manbij.
Speaking to reporters during his flight to Brussels, Jim Mattis said talks had taken place between U.S. secretary of state and the Turkish minister of foreign affairs in Washington D.C.
The Manbij roadmap was announced after a meeting in Washington on Monday between Turkish Foreign Minister Mevlut Cavusoglu and U.S. Secretary of State Mike Pompeo.
The deal focuses on the withdrawal of the PKK-affiliated YPG terror group from the northern Syrian city and on stability in the region.
"We are working out, how do we take -- again, Turkey, a NATO ally -- how do we take Turkey's legitimate security interests and enhance their security? They are the only NATO nation with an active insurgency inside its borders," said Mattis, according to a transcript made available by the Department of Defense.
"They're the front-line state for NATO [...] -- on the front line of this disaster that [Bashar al-]Assad has visited upon his people in Syria, with the Iranians' help, the Russians' help. And we have got to find a way to work Turkey's legitimate interests," he stressed.
Mattis said the SDF were the only organization at the time able to thwart and defeat ISIL in "very, very tough fighting".
Full report at:
http://www.worldbulletin.net/america-canada/202863/obama-admin-lied-about-iran-market-access
--------
Obama admin lied about Iran market access
07 June 2018
The Obama administration sought to allow Iran access, however brief, to the U.S. financial system following the 2015 nuclear deal despite public assurances it would refrain from doing so, a Republican-led Senate investigation said Wednesday.
The majority report of the Senate's Permanent Subcommittee on Investigations said the Treasury Department issued a specific license on Feb. 24, 2016 to an Omani bank allowing it to convert $5.7 billion in funds it was holding for Iran into euros.
The funds were held in Omani rials, and because the rial is pegged to the dollar the most effective way to convert the funds was first to change them into dollars, which would have allowed Iran brief access to the U.S. financial system, according to the committee's report.
Without the license issued by the Treasury the proposed exchange would have run afoul of U.S. sanctions. It was ultimately unsuccessful because no U.S. bank would participate in the exchange. Two unnamed banks declined to participate, leaving Bank Muscat unable to convert the funds.
Treasury and State Department officials planned other alternatives to free up the funds, including coordinating with the Federal Reserve Bank of New York, but did not follow through, the report said.
The findings are at odds with statements from senior Obama White House, State Department and Treasury Department officials who repeatedly said Iran would continue to lack access to the U.S. financial and commercial markets following the implementation of the Iran deal, also known as the Joint Comprehensive Plan of Action (JCPOA).
In July 2015 then-Treasury Secretary Jack Lew told lawmakers Iran "will continue to be denied access to the world's largest financial and commercial market," referring to the U.S.
His comments and those of other top Obama administration officials drew the ire of the committee's Republican chairman.
"The Obama administration misled the American people and Congress because they were desperate to get a deal with Iran," Chairman Rob Porter said in a statement. "Despite claims both before and after the Iran deal was completed that the U.S. financial system would remain off limits, the Obama administration issued a specific license allowing Iran to convert billions of dollars in assets using the U.S. financial system."
But the committee's ranking Democrat, Tom Carper, said in a statement that "the Obama administration followed the law and worked to ensure the U.S. upheld our international commitments to the historic Iran deal, which stopped Iran from developing nuclear weapons. That's what leaders do," according to the Washington Post.
Full report at:
http://www.worldbulletin.net/america-canada/202869/obama-admin-lied-about-iran-market-access
--------
URL: https://www.newageislam.com/islamic-world-news/red-roses-ajmer-dargah-be/d/115488
New Age Islam, Islam Online, Islamic Website, African Muslim News, Arab World News, South Asia News, Indian Muslim News, World Muslim News, Women in Islam, Islamic Feminism, Arab Women, Women In Arab, Islamophobia in America, Muslim Women in West, Islam Women and Feminism