New Age Islam News Bureau
28 March 2019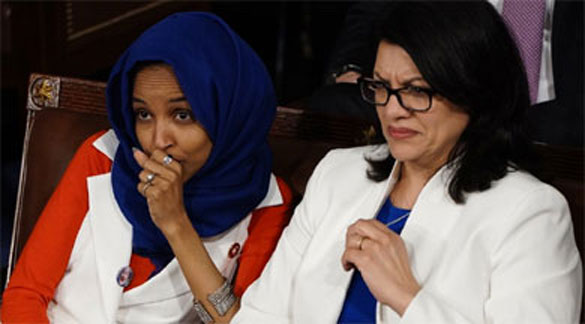 The Washington Post/Getty Images, Rashida Tlaib Slammed a "Hateful" Note for Ilhan Omar Left on Her Office Door
-------
• Rashida Tlaib and Ilhan Omar Accused Of 'Jihad Against The Jews'. 'Hateful and Bullying' Note Left on Their Office Door
• US Calls Out China's Hypocrisy of Protecting Masood Azhar and Detaining Country's Muslims
• US Steps up Push to Blacklist Jaish Chief Masood Azhar at UN with British, French Support
• Christchurch Attacker Gave Cash to Austrian Far-Right Movement
• Emboldened By Trump's Golan Move, Israel Attacks Aleppo
• Mumbai: Malad's Biggest Mosque Sees 45% Drop in Power Bill after Going Solar
• A Synagogue Renovation in Berlin and the Palestinian Making It Happen
• Amnesty Slams Brunei's New 'Vicious' Islamic Criminal Laws
• Pakistan Seeks 'More Evidence' From India on JeM's Involvement in Pulwama Attack
North America
• Rashida Tlaib and Ilhan Omar Accused Of 'Jihad Against The Jews'. 'Hateful and Bullying' Note Left on Their Office Door
• US Calls Out China's Hypocrisy of Protecting Masood Azhar and Detaining Country's Muslims
• US Approves Secret Nuclear Power Work for Saudi Arabia
• 'It's not about the Benjamins,' Netanyahu says of US support for Israel
• US: Omar slams Netanyahu's speech at AIPAC
• Turkey's Russian missile deal alarms US
--------
Europe
• US Steps up Push to Blacklist Jaish Chief Masood Azhar at UN with British, French Support
• Christchurch Attacker Gave Cash to Austrian Far-Right Movement
• Hagia Sophia's status to be changed to mosque: Erdogan
• Biker Gang Will Guard New Zealand Muslims At Mosque During Friday Prayers
• Pope to broaden Muslim dialogue with Morocco visit
• Germany demands 'full transparency' in Khashoggi case
• Prince William visit to honour Christchurch attack victims
• NZ PM welcomes Facebook bans on white nationalism, separatism
--------
Arab World
• Emboldened By Trump's Golan Move, Israel Attacks Aleppo
• Trump's Golan Move Part of 'Criminal Project': Syria At UN
• Syria requests urgent Security Council meeting
• Syria repels 'Israeli air aggression' in Aleppo province: report
• New pact will open flow of Egyptian workers to Libya
• Iraqi Kurds urge their Syrian cousins to make peace with Damascus
• Inside the prison holding IS detainees in northeast Syria
--------
India
• Mumbai: Malad's Biggest Mosque Sees 45% Drop in Power Bill after Going Solar
• 3 militants killed in south Kashmir's Shopian
• Pakistan Says No Link Found In Pulwama Attack, Asks US to Help Trace Phones
• 'Tilting against Windmills': Pakistan Responds to India's Mission Shakti
• Zakir Naik: Malaysia's Thorn, Masood Azhar: China's Game
• Terror funding probe: Agencies zero-in on 30 properties in J&K owned by 8 separatists for seizure
--------
Mideast
• A Synagogue Renovation in Berlin and the Palestinian Making It Happen
• Hamas leader appears in public as fighting with Israel tails off
• Hamas leader Haniyeh says Palestinians will not give up resistance
• Palestinian teen killed in clashes with Israeli troops
--------
Southeast Asia
• Amnesty Slams Brunei's New 'Vicious' Islamic Criminal Laws
• Indonesian Muslim Leader Wants 'Shared Idea of Pluralism'
• Religious freedom in the restoration of Sarawak's status
• Nga chides Khairy for calling him 'Taliban' in Dewan Rakyat
--------
Pakistan
• Pakistan Seeks 'More Evidence' From India on JeM's Involvement in Pulwama Attack
• Pakistan Hindu Lawmaker Moves Two Bills In Parliament on Child Marriage, Forced Conversion
• FATF affiliate not happy with steps to block banned groups funding
• PM chairs meeting on internal security, FATF action plan
• Pakistan shares preliminary findings on Pulwama dossier with India
• Kabul made AN unwise decision by calling back its envoy: Qureshi
--------
South Asia
• 36 Taliban Militants Killed, Wounded In Helmand and Paktika Operations
• 'Enemies preparing for war on orders of their foreign masters': Khalid
• Taliban commanders among 6 killed, wounded in Surobi district of Kabul: Silab Corps
• In US pursuit of peace talks, perilous rift opens with Afghan leader
• Kabul recalls envoy after Pakistan PM's suggestion for interim govt
--------
Africa
• Boko Haram Kills 10 People In Eastern Niger
• Ship hijacked by rescued migrants off Libyan coast
• How al-Shabaab militants operate in Mogadishu
• Most wanted Shabaab terrorist killed in Somali town air strike
Compiled by New Age Islam News Bureau
URL: https://www.newageislam.com/islamic-world-news/rashida-tlaib-ilhan-omar-accused/d/118156
--------
Rashida Tlaib and Ilhan Omar Accused Of 'Jihad Against The Jews'. 'Hateful And Bullying' Note Left on Their Office Door
Congresswoman Rashida Tlaib posts picture of 'hateful and bullying' note left on her office door and addressed to her colleague Ilhan Omar accusing her of 'jihad against the Jews'
27 March 2019
Congresswoman Rashida Tlaib has posted a picture of a 'hateful and bullying' note left on her office door addressed to her colleague Ilhan Omar accusing her of 'jihad against the Jews'.
The Democrat shared the scribbled message to her Twitter page, telling her followers the 'fear mongering and blantant (sic) lies' needs to stop.
The handwritten post-it note said: 'Rep Omar, stop your disgusting Jew hatred. Your sign says "Justice for all". That means Jews too. Your Jihad against the Jews will fail. Am Yisrael Chai!'
The last line references a Jewish song that translates to 'the people of Israel live'.
Tlaib, who is Muslim, wrote: 'This is the hateful rhetoric & bullying on my door today. Stop the fear mongering & blantant (sic) lies. Come here w/ the value that all beings deserve human rights, including Palestinians.
'@IlhanMN & I fight for equality & justice for all. There's nothing antisemitic about that!'
Omar, who is one of the first Muslim women in Congress, provoked outrage last month when she suggested that supporters of Israel were urging lawmakers to have 'allegiance to a foreign country'.
Just weeks before that, the congresswoman faced widespread backlash for suggesting that pro-Israel lobbyist group AIPAC was buying political support from members in Congress.
'It's all about the Benjamins baby,' read her controversial tweet, which referenced $100 bills. Omar later apologized.
The first-term Minnesota Congresswoman's repeated criticisms of Israel and a powerful pro-Israel lobby in Washington have been widely condemned as anti-Semitic.
Omar, a former Somali refugee, was assailed by Democrats and Republicans alike for the comments.
Several lawmakers expressed outrage, warning that Omar was peddling in age-old anti-Semitic tropes about Jews having dual allegiances.
The politician later apologized for the comment but Republicans have kept citing it as evidence of creeping bigotry.
She faced hundreds of protesters waving Israeli flags in California over the weekend following her controversial remarks about Israel.
https://www.dailymail.co.uk/news/article-6854745/Rep-Rashida-Tlaib-posts-picture-hateful-note-left-door-addressed-Ilhan-Omar.html
--------
US calls out China's hypocrisy of protecting Masood Azhar and detaining country's Muslims
March 28, 2019
US Secretary of State Mike Pompeo has hit out at China for its "shameful hypocrisy" over its treatment of Muslims.
Mike Pompeo said China, on one hand, abuses over a million Muslims at home and then protects Islamic terrorist groups from United Nations sanctions.
"The world cannot afford China's shameful hypocrisy toward Muslims. On one hand, China abuses more than a million Muslims at home, but on the other it protects violent Islamic terrorist groups from sanctions at the UN,"Mike Pompeo said.
Mike Pompeo was referring to China's move to block India's proposal at the United Nations to designate Jaish-e-Mohammad chief Masood Azhar as a global terrorist.
The US along with Britain and France had moved a resolution in the UNSC to designate Azhar a "global terrorist" following the February 14 Pulwama attack, but China blocked it.
China put a hold on the resolution arguing that it needs more time to study it. Every member of the UNSC, except China, had supported the US move.
Masood Azhar's Jaish-e-Mohammed had claimed responsibility for the February 14 attack in Jammu and Kashmir's Pulwama that killed over 40 CRPF personnel.
On detention of Uighur minority in China, US Secretary of State Mike Pompeo said China has detained more than one million Uighurs, ethnic Kazakhs, and other Muslim minorities in internment camps in Xinjiang since April 2017.
"China must release all those arbitrarily detained and end its repression," Mike Pompeo added.
The US stands with them and their family members. China must release all those arbitrarily detained and end its repression, he said.
On Wednesday, Pompeo met with survivors and family members of China's campaign of repression and mass detention against the minority groups in Xinjiang.
I call on China to end these counterproductive policies and release all arbitrarily detained, he said.
https://www.indiatoday.in/world/story/us-china-mike-pompeo-muslim-beijing-1488270-2019-03-28
--------
US Steps up Push to Blacklist Jaish Chief Masood Azhar at UN with British, French Support
March 28, 2019
The United States, Britain and France stepped up a push for the United Nations Security Council to blacklist the head of Pakistan-based militant group Jaish-e-Mohammad (JeM) on Wednesday after China prevented an earlier move two weeks ago. The United States circulated a resolution – drafted with British and French support – to the 15-member council that would designate JeM leader Masood Azhar, subjecting him to an arms embargo, travel ban and asset freeze, diplomats said.
JeM said it was responsible for a February 14 attack that killed at least 40 CRPF jawans, making it the deadliest in Kashmir during a 30-year-long insurgency, increased tensions between Pakistan and India.
The United States, Britain and France initially asked the Security Council's Islamic State and al Qaeda sanctions committee, which operates by consensus, to blacklist Azhar. However, China prevented the move.
Chinese Foreign Ministry spokesman Lu Kang said that China had conducted a "comprehensive and thorough evaluation" but still needed more time to consider the proposal. China had previously prevented the committee from sanctioning Azhar in 2016 and 2017.
Instead of consensus, a resolution only needs nine votes in favor and no vetoes by China, Russia, the United States, France or Britain to pass. It was not immediately clear when the draft resolution to designate Azhar could be put to a vote.
The Chinese mission to the United Nations did not immediately respond to a request for comment on the draft text.
JeM is a primarily anti-India group that forged ties with al Qaeda and was blacklisted by the UN Security Council in 2001. In December 2001, Jaish fighters, along with members of another Pakistan-based militant group, Lashkar-e-Taiba, attacked India's Parliament.
https://indianexpress.com/article/india/jem-chief-masood-azhar-to-be-blacklisted-us-steps-up-push-with-british-french-support-5646472/
--------
Christchurch attacker gave cash to Austrian far-right movement
March 27, 2019
Austria's far-right Identitarian Movement received cash from the man charged with killing 50 people in mass shootings at mosques in Christchurch, New Zealand, the country's chancellor said on Wednesday.
"We can now confirm that there was financial support and so a link between the New Zealand attacker and the Identitarian Movement in Austria," Sebastian Kurz said.
A spokesman for prosecutors in Graz said the head of the movement, Martin Sellner, received €1,500 (Dh6,200) in early 2018 from a donor with the same name as the man charged over the March 15 Christchurch attacks.
Mr Sellner published two videos on YouTube in which he said he had received a donation involving an email address that matched the name of the Australian.
In one of the videos, he said: "I'm not a member of a terrorist organisation. I have nothing to do with this man, other than that I passively received a donation from him."
Mr Sellner said the donation was from early 2018 and that he would give it to a charitable foundation.
He said police had raided his house over the possible links to the attacker.
The Identitarians, who say they want to preserve Europe's identity, are a relatively new, far-right movement that uses the internet to promote their action on the streets.
They imitate the tactics of more established activist groups such as Greenpeace.
In 2017 they helped to charter a ship as part of what they said was a campaign to defend Europe, and they have tried to stop migrants crossing the Mediterranean from Libya.
Hansjoerg Bacher, a spokesman for the Graz prosecutors, said an investigation was under way as to whether there were links between Mr Sellner and the mosque attacker.
The Austrian Interior Ministry declined to comment. Mr Kurz said Austria was looking at dissolving the Identitarian Movement.
"Our position on this is very clear," he said. "No kind of extremism whatsoever has any place in our society."
On Tuesday, Mr Kurz said on Twitter that any connection between the Christchurch attacker and members of the Identitarian Movement in Austria needed to be fully clarified.
Austrian Vice Chancellor Heinz-Christian Strache, of the far-right Freedom Party, said his political group had nothing to do with the Identitarian Movement.
New Zealand has announced a royal commission into the attack on two mosques in Christchurch.
A white supremacist has been charged with one count of murder over the Christchurch shootings and will next appear in court on April 5.
New Zealand Prime Minister Jacinda Ardern has said the man was not on any watch lists in New Zealand or Australia.
https://www.thenational.ae/world/europe/christchurch-attacker-gave-cash-to-austrian-far-right-movement-1.842120
--------
Emboldened by Trump's Golan move, Israel attacks Aleppo
Mar 27, 2019
The Syrian air defense system has responded to multiple missiles fired by Israeli jets on the northwestern city of Aleppo, intercepting the majority of them according to Syrian media.
The Israeli regime launched the attacks on Shaykh Najjar industrial city located 10 km northeast of Aleppo at around 11 p.m. local time (2100 GMT) on Wednesday, the official Syrian news agency SANA reported.
SANA quoted a military source as saying that the Syrian air defense has "downed a number of the hostile missiles".
The Syrian TV said the majority of the missiles had been intercepted by the Arab country's air defense, and those that hit their targets only caused material damage.
Meanwhile, the so-called Syrian Observatory for Human Rights claims the airstrikes have targeted an arms depot in Aleppo airport, causing huge explosions.
The attacks have also caused a massive blackout in Aleppo, according to the Syrian TV.
The Israeli regime launches airstrikes on the Syrian territory from time to time. Such aggressive moves are usually viewed as attempts to prop up terrorist groups suffering defeats at the hands of Syrian government forces.
Israel used to be very careful with its operations over Syria after Russia equipped Damascus with the advanced S-300 surface-to-air missiles in October 2018.
However, US President Donald Trump's recent decision to recognize the "Israeli sovereignty" over the Syrian territories of Golan Heights has seemingly emboldened Tel Aviv to launch new aggression on the Arab country.
Trump signed a decree recognizing Israeli "sovereignty" over the occupied Golan at the start of a meeting with Israeli Prime Minister Benjamin Netanyahu in Washington on Monday.
Since then, the US has become the subject of a new round of furor by world countries over Trump's controversial decision.
https://www.presstv.com/Detail/2019/03/27/592025/Israel-Syria-Aleppo-missile-attack-defense-system
--------
Mumbai: Malad's Biggest Mosque Sees 45% Drop in Power Bill after Going Solar
Jan 31, 2019
Malad's biggest mosque, Noorani Masjid in Pathanwadi, witnessed a 45% drop in its electricity bill after adopting a rooftop solar system. With centralised air conditioning and a capacity to host over 5,000 devotees on any given day, power usage at the six-storey building used to come at a hefty price.
Today, a 25 kilowatt-power (kWp) solar power plant made up of 72 solar panels primarily focuses on catering to the consumption of 60-ton AC units along with lights and fans across all common areas.
During summer months, the system generates 110 units of electricity. This drops to 80 units during monsoon months. The annual generation of the plant is 35,000 units against the mosque's annual consumption of 80,000 units from the grid. This allows the mosque to save an estimated Rs 4.3 lakh annually.
Trustees of the mosque said the electricity bill dropped from Rs 85,300 to Rs 37,400 post-installation. "We were facing huge difficulties with inflated electricity bills based on high consumption from our AC units. However, after witnessing the successful projects across south Mumbai and even in Bandra, we opted for this cost-effective form of electricity generation," said Rashim Gulam Rasul Maredia, chairman of the trust that runs of the mosque.
This is the eighth mosque in the city to opt for renewable energy sources to power electricity requirements. Maredia pointed out that the mosque will directly be responsible for saving 17.5 tons of carbon dioxide emissions by using solar energy. "Our intention will be to spread this message to all our devotees, that safeguarding the environment is essential for a green future and for our coming generations," he said.
The private company that installed the project said the mosque plans to move towards reducing 90% of their electricity bill by 2020. "We will be installing the second phase of the project which will add another 25 kWp as there is enough rooftop and shadow free spaces. During Ramzan, there will be a lot of AC consumption which will lead to high savings," said Muhammad Sohail Shaikh, chief operating officer, MSS Green Tech.
The plant was installed at a cost of Rs 15.23 lakh, which is estimated to be recovered within the next three and a half years, said Shaikh. "An average of 90 to 95 units per day will be benefitted by a net metering system, which sends excess electricity back to the local power grid and the units are credited in return," he said adding, "The mosque stands as an example for more such religious institutions to implement green energy."
https://www.hindustantimes.com/mumbai-news/malad-mosque-sees-45-drop-in-power-bill-after-going-solar/story-LU3oS9clJDjKeohwY8Z8FL.html
--------
A Synagogue Renovation in Berlin and the Palestinian Making It Happen
Rachel Goldberg
10.03.2019
Many worshippers gathered at the Fraenkelufer Synagogue in Berlin's Kreuzberg neighborhood on a recent Shabbat evening. Secular and religiously-observant Jews alike crowded the room, sang hymns and conversed in many languages – Hebrew and German among them, but also Spanish, Russian and Italian. The attendees didn't want to part with the place's ambiance, and stuck around until the police and guards' shifts had ended, only then going home.
In recent years the small synagogue on the colorful Landwehr Canal has become a home to a Jewish community that has quickly grown. A large and luxurious synagogue once stood at the same site, with room for 2,000 worshippers. That building was set on fire on Kristallnacht, and only a side wing survived.
With the help of the chairman off Berlin's Social Democratic Party, Raed Saleh, a new building will be built as a cultural center for the Jewish community in Berlin. Saleh, a German of Palestinian origin, heads the trustees spearheading the building's renovations.
The initial plans call for a new building to go up next to the renovated structure for a kindergarten, kosher café, concert hall, library and shared workspace. The room for religious study planned for the site will be open to all streams of Judaism.
Nina Peretz, 35, heads the organizing association. "There are many new Jewish initiatives in Berlin, klezmer concerts, kosher restaurants and Jewish art –but many off these initiatives have no available venues," she said.
"We want to invited artists and creators and entrepreneurs and unite them into a single world," she said.
While Peretz grew up in Germany, her husband, Dekel Peretz, 39, moved to Berlin from Israel 16 years ago. "With the immigration of many Israelis and other groups of Jews who speak Hebrew to Berlin, there's a feeling of pioneering Hebrew culture in the city. We see not only the rebuilding of a synagogue but of a large and independent Jewish congregation in Berlin."
Fraenkelufer is one of 12 active synagogues today in Berlin. But it's the first time that any synagogue destroyed by the Nazis is being rebuilt. The Jewish community in Berlin, estimated at 40,000 people, grew quickly in the past decade. The rise isn't solely due to Israeli immigration; Berlin also attracts Jews from the United States, South America, Hungary and elsewhere.
Not too long ago, Kreuzberg was far from being a focal point for Jewish life in Berlin. Its proximity to the Berlin Wall during the Cold War which made it the second poorest district of the city's western side. After the wall came down, the area became a cultural center and a magnet for students, artists and young families, who moved in alongside immigrants from Turkey who had arrived in the 1960s and 1970s. The relatively low rents and creative atmosphere attracted many Israelis and Jews as well.
Despite this, the Fraenkelufer synagogue was at risk of being shut down six years ago after the numbers of its congregants sunk to a point where there was sometimes no minyan for prayer. A group of volunteers, among them the Peretz couple, swung into action to revive the congregation. They held joint meals there, volunteering days and activities for children, and weekly lessons led by attendees.
Dekel said "we started to conduct activities that would permit wide circles of people to connect with their Jewish identity and the Jewish community, even if they weren't interested in participating in prayers."
As the community expanded, the synagogue needed to expand with it. The land there is owned by the State of Berlin, so the Peretzes looked for local politicians who might show an interest in the project. They knew Saleh from other social initiatives, and when they presented him with the idea, Dekel recalls, "He listened and said nothing. But he listened. A few months later he got in touch and said 'what do you think of rebuilding the synagogue that was destroyed?'"
From the outset it was clear that the community had no need for 2,000 seats in the synagogue's prayer space, but, says Nina, "what we do need is a community center, a place for activities, events, and meetings. Worship is an important part of Judaism but there are many other things that are a part of it as well."
Fraenkelufer was built from 1913-1916 in a neo-classical style designed by Jewish architect Alexander Barr who died in Thereisenstadt in 1944. It was one of the largest Orthodox synagogues in Berlin before most of was destroyed in 1938. Like many others across Europe, the synagogue is protected by a security barrier and guards. Visitors must coordinate their visits ahead of time.
But the Peretzes hope it will be more accessible to the non-Jewish public. "We want any person passing down the street and spotting a café or exhibit to be able to walk in without thinking twice," Nina Peretz said. "Judaism shouldn't be something that is only practiced behind closed doors."
Saleh, 41, was born in the West Bank town of Sebastiya and his family moved to Germany when he was five. He's one of the Social Democrats' youngest and most promising politicians, and ran for mayor in 2014. He has also been involved in interfaith dialogue and sees the synagogue's renovation as a clear statement against a rise in anti-Semitism in Germany and against racism and hatred of foreigners, which the Muslim community suffers from as well.
"The 80th anniversary of Kristallnacht passed recently, and I ask myself what we've learned from history," Saleh told Haaretz. "People are once again being attacked because of their faith or their opinions."
In an interview at his office in the Spandau quarter, Saleh expressed concern about the growing strength of the AfD (Alternative for Germany Party), a far—right party whose representatives now sit in all 16 of the country's 16 local parliaments. He cautioned that "history is quickly forgotten and that's dangerous, but a synagogue built of stone will live on. It's like a book that tells stories and evokes history."
In recent years Germany has been rebuilding historic edifices destroyed in the Second World War and the Communist era. Many are identified with the German empire or the country's militaristic past. A year ago Saleh had an article published in the Frankfurther Algemeine Zeitung in which he wrote that "a country that rebuilds palaces and churches must also rebuild its synagogues."
Saleh said that rebuilding the Fraenkelufer synagogue in the midst of a neighborhood where many immigrants live will remind German society that it has always been comprised of diverse religions and cultures.
"We are not asking to erase what happened from 1933 to 1945, but to show that Judaism has always been a part of German identity," he said. "It's important to do this today, especially in such a culturally and ethnically diverse place as Fraenkelufer," Saleh said.
Saleh recognizes the fact that anti-Semitism in Berlin, which has been on the rise in recent years, also exists among the city's immigrants, but warns that "Jews and Muslims in Germany must not be drawn into mutual divisions." Saleh feels that both communities "are in the same boat" in confronting the far right.
As someone who sees education and interfaith meetings as vehicles to bring communities closer and to fight prejudices, he leads tours for Muslim and Arab youth of Auschwitz death camp. "I wouldn't be a good Muslim if I didn't fight for the Jews, exactly like how a Jew is not a good Jew if he stands on the sidelines when someone removes a Muslim woman's headscarf."
https://www.haaretz.com/amp/world-news/europe/.premium-a-synagogue-renovation-in-berlin-and-the-palestinian-making-it-happen-1.7003447?fbclid=IwAR0f2AEVQgQEj1_Bk_fXLuwAuBYxtYWirTVVhQXSNGskHfsFwQ6a5LP_5rA
--------
Amnesty slams Brunei's new 'vicious' Islamic criminal laws
27 MARCH 2019
Kuala Lumpur, Mar 27 Amnesty International on Wednesday slammed plans by Brunei to implement what the rights group called "vicious" Islamic criminal laws such as stoning to death for gay sex and amputation for theft.
Amnesty said in a statement that the new penalties, which also apply to children, are provided for in new sections under Brunei's Sharia Penal Code and will come into effect April 3. The legal changes were announced in a discreet notice on the attorney general's website, it said.
"To legalize such cruel and inhuman penalties is appalling of itself," said Rachel Chhoa-Howard, Brunei researcher at Amnesty International. She said some of the potential offenses "should not even be deemed crimes at all, including consensual sex between adults of the same gender."
"Brunei must immediately halt its plans to implement these vicious punishments and revise its penal code in compliance with its human rights obligations," Chhoa-Howard said.
"The international community must urgently condemn Brunei's move to put these cruel penalties into practice." Brunei's sultan instituted the Sharia Penal Code in 2014 to bolster the influence of Islam in the tiny, oil-rich monarchy, which has long been known for conservative policies such as banning the public sale of liquor. The first stage of the law included fines or jail for offenses such as pregnancy out of wedlock or failing to pray on Friday.
Amnesty labeled the Penal Code as a "deeply flawed piece of legislation" with a range of provisions that violate human rights.
There has been no vocal opposition to the law in Brunei, where Sultan Hassanal Bolkiah rules as head of state with full executive authority. Public criticism of his policies is extremely rare in Brunei.
The Sultan, who has reigned since 1967, has previously said the Shariah Penal Code should be regarded as a form of "special guidance" from God and would be "part of the great history" of Brunei. Under secular laws, Brunei already prescribes caning as a penalty for crimes including immigration offenses, for which convicts can be flogged with a rattan cane. CPS
https://www.outlookindia.com/newsscroll/amnesty-slams-bruneis-new-vicious-islamic-criminal-laws/1504065
--------
Pakistan Seeks 'More Evidence' From India on JeM's Involvement in Pulwama Attack
Mar 27, 2019
ISLAMABAD: Pakistan on Wednesday sought "more information/evidence" from India on the involvement of the Jaish-e-Muhammed (JeM) in the deadly Pulwama terror attack and the presence of camps of the UNproscribed terror outfit in the country.
Indian high commissioner Ajay Bisaria was called to the foreign ministry by foreign secretary Tehmina Janjua and the "preliminary findings" on the "Pulwama incident" were shared with him, the Foreign Office said, referring the deadly terror attack as an "incident".
The preliminary findings were shared with India after examining the Indian dossier on the Pulwama attack, it said in a statement.
India handed over the dossier+ to the Acting High Commissioner of Pakistan in New Delhi on February 27 with specific details of JeM's complicity in the Pulwama attack on February 14 and the presence of JeM terror camps and its leadership in Pakistan.
The JeM had claimed responsibility for the attack in which 40 CRPF personnel were martyred+ .
"We have sought further information/evidence from India to take the process forward," the Foreign Office said.
Stating that Prime Minister Imran Khan had offered cooperation in the investigation if "credible evidence" was provided by India, the FO said, "in response to this offer, a paper was handed over to Pakistan."
Pakistan has acted with a high sense of responsibility and extended full cooperation, it claimed.
"We do so in the interest of regional peace and security," the FO said as it sought more evidence from India to take the process forward.
https://timesofindia.indiatimes.com/world/pakistan/pakistan-seeks-more-evidence-from-india-on-jems-involvement-in-pulwama-attack/articleshow/68601961.cms
--------
North America
US approves secret nuclear power work for Saudi Arabia
March 28, 2019
US Energy Secretary Rick Perry has approved six secret authorisations by companies to sell nuclear power technology and assistance to Saudi Arabia, according to a copy of a document seen by Reuters on Wednesday.
The Trump administration has quietly pursued a wider deal on sharing US nuclear power technology with Saudi Arabia, which aims to build at least two nuclear power plants.
Several countries including the United States, South Korea and Russia are in competition for that deal, and the winners are expected to be announced later this year by Saudi Arabia.
Perry's approvals, known as Part 810 authorisations, allow companies to do preliminary work on nuclear power ahead of the deal, but not ship equipment that would go into a plant, a source with knowledge of the agreements said on condition of anonymity. The approvals were first reported by the Daily Beast.
The Department of Energy's National Nuclear Security Administration (NNSA) said in the document that the companies had requested that the Trump administration keep the approvals secret.
"In this case, each of the companies which received a specific authorisation for (Saudi Arabia) have provided us written request that their authorisation be withheld from public release," the NNSA said in the document.
The NNSA and the Department of Energy did not immediately respond to requests for comments.
Many US lawmakers are concerned that sharing nuclear technology with Saudi Arabia could eventually lead to a nuclear arms race in the Middle East.
Saudi Crown Prince Mohammed bin Salman told CBS last year that the kingdom would develop nuclear weapons if its rival Iran did.
In addition, the kingdom has occasionally pushed back against agreeing to US standards that would block two paths to potentially making fissile material for nuclear weapons clandestinely: enriching uranium and reprocessing spent fuel.
Concern in Congress about sharing nuclear technology and knowledge with Saudi Arabia rose after Oct. 2, 2018 when US-based journalist Jamal Khashoggi was killed in the Saudi consulate in Istanbul.
The Part 810 authorisations were made after November 2017, but it was not clear from the document whether any of them were made after Khashoggi's killing.
Representative Brad Sherman, a Democrat, called on Secretary of State Mike Pompeo during a congressional hearing on Wednesday to release the names of the companies that got the approvals by the middle of April, and Pompeo said he would look into it.
Sherman also said the Trump administration has attempted to evade Congress on sharing nuclear power with the kingdom. Pompeo said the administration was working to ensure any shared technology nuclear power would not present proliferation risks.
Last month, Democratic House members alleged in a report that top White House aides ignored warnings they could be breaking the law as they worked with former US officials in a group called IP3 International to advance a multibillion-dollar plan to build nuclear reactors in the Middle East, including Saudi Arabia.
IP3 did not immediately respond to a request for comment about whether it was one of the companies that got a Part 810 authorisation.
Separately, the Government Accountability Office, the investigative arm of Congress, has accepted a request by Senators Marco Rubio, a Republican and Bob Menendez, a Democrat, to probe the administration's talks on a nuclear deal with Saudi, a GAO official who spoke on condition of anonymity, said on Wednesday.
https://www.dawn.com/news/1472401/us-approves-secret-nuclear-power-work-for-saudi-arabia
--------
'It's not about the Benjamins,' Netanyahu says of US support for Israel
27 March 2019
Israeli Prime Minister Benjamin Netanyahu said "it's not about the Benjamins" as he hit back on Tuesday against any suggestion that US politicians are paid to support Israel.
A tweet in February by Democratic Representative Ilhan Omar, a freshman legislator from Minnesota, was widely seen as echoing an anti-Semitic slur that Jews influence governments through money.
"It's all about the Benjamins baby," Omar wrote, using a slang term for $100 bills. She subsequently apologized, saying she was grateful for "Jewish allies and colleagues who are educating me on the painful history" of anti-Semitic references.
Netanyahu, addressing a Washington convention of the pro-Israel lobby group American Israel Public Affairs Committee (AIPAC), said via satellite from Tel Aviv: "Some people will just never get it. They'll never understand why the vast majority of Americans - Jews and non-Jews alike - support Israel."
He did not mention Omar by name.
"Take it from this Benjamin: it's not about the Benjamins," Netanyahu said. "The reason the people of America support Israel is not because they want our money, it's because they share our values."
A few hours later, Omar responded on Twitter: "This from a man facing indictments for bribery and other crimes in three separate public corruption affairs. Next!"
Ilhan Omar
✔
@IlhanMN
🤔 This from a man facing indictments for bribery and other crimes in three separate public corruption affairs.
Next!
Sheryl Gay Stolberg
✔
@SherylNYT
Rebuke from @netanyahu to @IlhanMN at @AIPAC :
"From this Benjamin: It's not about the Benjamins!"
54K
7:41 PM - Mar 26, 2019
Twitter Ads info and privacy
13.7K people are talking about this
The Israeli attorney-general said on Feb. 28 that he intends to indict Netanyahu on corruption charges in three cases. Netanyahu has denied any wrongdoing.
In another tweet, Omar said: "White supremacist violence is on the rise globally. Right-wing extremists killed more people in the US in 2018 than any year since 1995. Anti-Semitic violence accounted for 58% of religious hate crimes. Yet the topic Netanyahu chose to focus on was… me."
Full report at:
https://english.alarabiya.net/en/News/2019/03/27/-It-s-not-about-the-Benjamins-Netanyahu-says-of-US-support-for-Israel-.html
--------
US: Omar slams Netanyahu's speech at AIPAC
Umar Farooq
27.03.2019
WASHINGTON
U.S. congresswoman Ilhan Omar criticized Israeli Prime Minister Benjamin Netanyahu on Tuesday, saying the focus of his speech at this year's American Israel Public Affairs Committee (AIPAC) conference in Washington, D.C. was on her.
"At this year's AIPAC conference, the topic PM Netanyahu chose to focus on was…me," Omar said on Twitter.
Netanyahu devoted a paragraph of his speech to the Muslim lawmaker while only mentioning last October's mass shooting at the Tree of Life synagogue in Pittsburgh, Pennsylvania with a single word.
"Take it from this Benjamin: It's not about the Benjamins. The reason that the people of America support Israel is not because they want our money, it's because they share our values. They just don't get it," he said in a video recording to the conference, implicitly referencing a comment made by Omar.
Netanyahu was scheduled to speak at the conference Tuesday but cut his trip short after a rocket fired from the Gaza Strip on Monday struck a house in Israel and wounded several people.
The Muslim lawmaker has been embroiled in controversy after criticizing U.S. support of Israel on several occasions.
"I want to talk about the political influence in this country that says it is OK for people to push for allegiance to a foreign country," Omar said at a progressive town hall meeting earlier this month, referring to Israel.
The remarks received widespread and bipartisan backlash, with others in Congress labeling them as anti-Semitic.
Omar has apologized for similar comments, but this time she doubled down, saying she has "not mischaracterized our relationship with Israel. I have questioned it, and that has been clear from my end".
"Two of my first acts as a Member of Congress were to cosponsor a bill elevating the position of Special Envoy to combat anti-Semitism—and my first op-ed after my election was on the rise of hate crimes," she tweeted.
"White supremacist violence is on the rise globally. Right-wing extremists killed more people in the US in 2018 than any year since 1995. Anti-Semitic violence accounted for 58% of religious hate crimes," she added.
Omar shot back at Netanyahu on Twitter, mentioning that Adam Milstein, an AIPAC national council member, called her a "terrorist" and that the prime minister is in an alliance with the political party Otzma Yehudit, which she referred to as the "KKK of Israel".
She noted that the leaders of the party were members of a foreign terror organization and involved in attempts to target former Israeli Prime Minister Yitzhak Rabin.
"Yet Netanyahu chose to focus on…me," she reiterated.
Both Netanyahu and AIPAC opposed former U.S. President Barack Obama's efforts to secure the Iran nuclear deal. They also opposed the 1993 peace process between Palestine and Israel and Obama's proposed freeze of Israeli settlements as part of the 2010-2011 peace talks between the two states.
Full report at:
https://www.aa.com.tr/en/americas/us-omar-slams-netanyahus-speech-at-aipac/1431008
--------
Turkey's Russian missile deal alarms US
March 27, 2019
Security links between Nato allies the United States and Turkey are at risk, Washington says, following Ankara's recent decision to buy a missile defence system from Russia.
Moscow has found itself at the centre of the disagreement between Washington and Ankara by promising to sell Turkey its flagship S-400 surface-to-air missile system. The US claims that the hardware is not compatible with Nato defence systems and has threatened to impose sanctions on Turkey if it goes ahead with the deal.
National Security Adviser John Bolton this month became the latest and and among the most high-profile American official to call foul during an interview with John Catsimatidis, a New York-based radio host on 970 AM.
"We're concerned about their purchase of the Russian air defence system called the S-400 – that's a big problem," Mr Bolton said. "They're still a Nato ally; we're trying to work with them. [US President Donald] Trump would like to have good relationship with Turkey."
Russia and Turkey brokered the reported $2.5 billion (Dh9.2 bn) missile deal back in 2017 as the two countries were working to repair ties after Turkey shot down a Russian jet on the Syrian border in the end of 2015.
In the years since, Turkish president Recep Tayyip Erdogan, who regularly travels to Russia, has become a close ally of President Vladimir Putin.
Alongside Iranian leader Hassan Rouhani, the presidents are angling for a compromise on how to rout opposition from the last rebel-held territory in Syria and bring about an end to the eight-year conflict.
Mr Erdogan says the Russian air defence system is not incompatible with Nato. "We concluded the S-400 issue, signed a deal with the Russians and will start co-production," he told Turkish media earlier in March.
A US official speaking anonymously last week said that Turkey's decision to buy the S-400 did not equate to it leaving Nato, Reuters reported. But the official stressed that the decision should be seen as a national security issue, just not from a commercial perspective.
"We are continuing to work on a range of options to ensure that Turkey's participation in the Nato alliance and bilateral relationship can continue unabated and unimpinged," the official said.
Meanwhile US negotiators are trying to convince Ankara to substitute the S-400 system with the American patriot system, which would avoid disrupting delivery of American F-35 jets.
"We need Turkey to buy the Patriot," US acting defense secretary Patrick Shanahan told Congress this week.
Turkey will take part in the Nato ministerial meeting hosted by Washington next week. But with Ankara set to start receiving the S-400 parts this summer, to be deployed in October, the window is closing on the Turkish-American talks.
If Turkey obtains the S-400 "they would not have access to Patriot [missiles] and the F-35" jets, Charlie Summers, Pentagon spokesperson said earlier this month.
The deployment of S-400 in Turkey would immediately trigger sanctions under a law passed by Congress and signed by the US president in August 2017.
The law targets anyone dealing with certain Russian intelligence and military entities.
Congress is also moving to halt the sale of at least 100 F-35 jets to Ankara.
In its National Defence Authorisation Act, Congress considered the S-400 deal a threat to the security of the Nato alliance, and enforced a halt on F-35 deliveries until the State Department submits a report to Congress detailing a "description of plans for the imposition of sanctions, if appropriate" for the S-400 purchase.
"It's a tough issue," Joint Chiefs Chairman Joseph Dunford said last week, adding that the US "would have a hard time" making the sale to a country that's obtaining an S-400 system.
Katie Wheelbarger, acting assistant secretary of defence for international security affairs, explained the issue to Reuters saying, "The S-400 is a computer. The F-35 is a computer. You don't hook your computer to your adversary's computer and that's basically what we would be doing."
The US has sharpened its message because "it is running out of time," Aaron Stein, the director of the Middle East Programme at the Foreign Policy Research Institute told The National.
Ankara's "removal from the F-35 consortium and the blocking of the F-35 delivery to Ankara" are some of the immediate options under consideration he said. But in the larger political context, Mr Stein said the the S-400 deal "appears to be a political arrangement between Mr Erdogan and Putin, so any last minute cancellation would also have spillover effects on their personal relationship."
Since the Soviet era, Russia's arms agreements have had the dual purpose of deepening political ties with buyers. Yuri Barmin, a Middle East analyst at the Russia International Affairs Council, a think tank set up to advise the Kremlin, says the S-400 deal is no different.
"The S-400 deal with Turkey is both a political and a commercial project," Mr Barmin told The National. "Politically of course it's hugely important given the fact that Turkey's use of S-400 drives a wedge between Ankara and Nato partners. It also drives Turkey closer to Russia since S-400 comes with a whole package of training and service."
Russia's deepening alliance with Turkey in Syria means Erdogan would have a difficult time backing out of the S-400 deal now even if he wanted to says Soner Cagaptay, Director of the Turkish Programme at The Washington Institute.
Because Turkey's military operations in northern Syria against Kurdish rebel groups are ostensibly sanctioned by Mr Putin, says Mr Cagaptay, that approval comes predicated on Mr Erdogan's purchase of the S-400 systems.
"So, in a way Erdogan has been cornered," Mr Cagaptay told The National. "Even if he [Erdogan] wants to back out of this for reasons of not rupturing his alliance with the US, his Syria policy is being completely folded under his commitment to buy the S400 system."
The S-400, which first entered service in 2007, has become one of the most sought after missile systems primarily due to its range, analysts said.
Full report at:
https://www.thenational.ae/world/europe/turkey-s-russian-missile-deal-alarms-us-1.842068
--------
Europe
Hagia Sophia's status to be changed to mosque: Erdogan
Vakkas Doğantekin
28.03.2019
Istanbul's Hagia Sophia museum will be converted back into a mosque, Turkish President Recep Tayyip Erdogan said Wednesday.
"Ayasofya (Haghia Sophia) will no longer be called a museum. Its status will change. We will call it a mosque," Erdogan said during a live televised program.
Slamming criticism of the decision by foreign officials, Erdogan recalled their silence over the attacks on Jerusalem's Al-Aqsa Mosque.
"Those who remain silent when Masjid Al-Aqsa is attacked, trampled, its windows smashed, cannot tell us what to do about the status of Ayasofya," he said.
Hagia Sophia, dubbed "8th Wonder of the World" by historians, is one of the most visited museums in the world in terms of art and architecture history.
It was used as a church for 916 years. In 1453, it was converted into a mosque by Fatih Sultan Mehmet when the Ottomans conquered Istanbul.
Following restoration work during the Ottoman era and the adding of minarets by architect Mimar Sinan, the Hagia Sophia became one of the most important monuments of world architecture.
https://www.aa.com.tr/en/europe/hagia-sophias-status-to-be-changed-to-mosque-erdogan/1432062
--------
Biker Gang Will Guard New Zealand Muslims At Mosque During Friday Prayers
By David Brennan
3/20/19
New Zealanders are rallying around their Muslim neighbors and compatriots following last week's white supremacist attack on two mosques in the city of Christchurch.
This includes a handful of biker groups that have reached out to the country's small Muslim community to express solidarity in the aftermath of the massacre, according to The New Zealand Herald, and offered to provide voluntary security at mosques during this week's jumah, or Friday prayers. Groups that have promised protection include the Mongrel Mob, Black Power, King Cobras and Hells Angels.
The president of the Mongrel Mob chapter in Waikato, Sonny Fatu, reportedly offered to shield the Jamia Masjib Mosque in Hamilton.
"We will support and assist our Muslim brothers and sisters for however long they need us," Fatu told the New Zealand news outlet Stuff. "We will not be armed. We are peacefully securing the inner gated perimeter, with other community members, to allow them to feel at ease."
The president of the Waikato Muslim Association, Asad Mohsin, told NZME, "Some people from the Mongrel Mob had been visiting the mosque during the week, and said they wanted to come on Friday, show their support and solidarity."
Although the Muslim community did not feel scared, Mohsin said, the support was appreciated. "I feel very good, to receive this support from all different sections of society, different interests and dispositions, to come forward and give their love. It all gives us strength to overcome the grief we are undergoing," Mohsin told NZME.
But instead of asking the bikers to protect the Muslims from outside the mosque, he invited them inside. "They don't have to stand outside the mosque. They can come inside, right behind where the sermon is given," he said. "We would love everybody to come, but we don't want anybody to show they are scared. We are not scared. You don't have to stand outside the mosque, we want you to be inside, with us."
Last Friday, a 28-year-old Australian white supremacist attacked two mosques in Christchurch, killing 50 and injuring dozens more. Brenton Tarrant live-streamed part of the assault and published a meme-laden far-right manifesto to accompany the massacre. He is currently in custody facing at least one murder charge.
Full report at:
https://www.newsweek.com/new-zealand-attack-muslims-mosques-christchurch-biker-gangs-jummah-1369692?fbclid=IwAR1bHmO9pb7MGwquK9w_Mvc0yKPN2Qvn4fh2s8rdWJ_L188NGWPhDXL6aKI
--------
Pope to broaden Muslim dialogue with Morocco visit
March 28, 2019
VATICAN CITY: Pope Francis heads to Morocco on Saturday, the first pope to do so in 35 years, with interreligious dialogue and immigration on the agenda.
The Argentine pontiff will be welcomed by the North African country's population of around 30,000 Roman Catholics, mostly sub-Saharan African students or migrants headed for Europe.
Up to 10,000 are expected to attend a mass in a Rabat stadium on Sunday, a first in the 99 per cent Sunni Muslim country since Jean Paul II visited in 1985.
Following on from his visit to the United Arab Emirates in January, the papal mass will come the day after meeting the "Commander of the Faithful" King Mohammed VI and other senior religious leaders.
The spiritual leader of the world's 1.3 billion Roman Catholics has repeatedly called for religious tolerance and dialogue and his visit is keenly awaited by the country's Christian minority, including those who have converted from Islam.
Freedom of religion is inscribed in the Moroccan constitution, and during World War II King Mohammed V famously refused to cooperate with Nazi roundups of Jews.
"We dream of a free Morocco that takes responsibility for its religious diversity," the Christian Moroccan Coordination said ahead of the visit, hoping for a "historic occasion" for Morocco to "move forward in this direction."
According to the constitution, "Islam is the religion of State, which guarantees freedom to worship for all."
Unlike in Muslim-majority countries such as the UAE, apostasy in Morocco does not carry the death penalty.
A religious official in Rabat who asked not to be named said that in Morocco "discretion is the name of the game."
Last June, Morocco's junior minister for human rights, Islamist Mustafa Ramid, said that freedom of belief was "a threat" to Morocco's cohesion.
Muslims can convert, but proselytising – described as "shaking the faith of a Muslim or converting them to another religion" – can be punished with up to three years in prison.
"Pope Francis's visit is important, for the fight against fanaticism, cultural blinkeredness, of intolerance but also... for positive interactions between religions, peoples and civilisations," said Morocco's ambassador to Paris, Chakib Benmoussa.
Pope Francis has said he would have liked to have gone to Marrakesh in December when over 150 countries signed the United Nations Global Compact for Migration. In the end he sent the Vatican's number two, Pietro Parolin.
The non-binding pact hoped to draw up a framework to deal with the global challenges of migration.
Francis will on Saturday meet migrants at the Caritas Diocesan Centre and give a speech.
Migrants are increasingly crossing the Mediterranean from North Africa to Spain since Italy all but closed its ports.
The Church has set up several such reception centres in different Moroccan cities, staffed by Christians and Muslims.
Morocco says that it has a "humanist" policy towards migrants but is regularly criticised by rights groups for mass arrests aimed at distancing would-be migrants from the Mediterranean.
"I hope that the pope's visit will help this matter progress," said Tangiers archbishop Santiago Angelo Martinez.
When Jean-Paul II visited in 1985 he had an interreligious meeting for 80,000 youths in a stadium.
Full report at:
https://www.nst.com.my/world/2019/03/473582/pope-broaden-muslim-dialogue-morocco-visit
--------
Germany demands 'full transparency' in Khashoggi case
Ayhan Şimşek
27.03.2019
BERLIN
Germany on Wednesday called on Saudi Arabia to ensure "full transparency" in the trial of Saudi officials behind the murder of journalist Jamal Khashoggi.
"We expect from the Saudi judiciary to ensure full transparency and compliance with the rule of law," Christofer Burger, Germany's deputy foreign ministry spokesman, said at a news conference in Berlin.
"The German Embassy has sought to observe the trial, this has not been granted yet. We regret this," Burger added.
Jamal Khashoggi, a columnist for The Washington Post, was killed by Saudi agents last October, shortly after he entered the Saudi Consulate in Istanbul.
Saudi Arabia initially denied any knowledge of Khashoggi's whereabouts, claiming he left the diplomatic facility in good health the same day he went missing.
But following a rising number of contradictions in its narrative, Riyadh sought to blame the journalist's death on a botched rendition operation being carried out by rogue agents.
Turkey has sought the extradition of the Saudi citizens involved in the killing as well as a fuller accounting of the killing from Riyadh.
Full report at:
https://www.aa.com.tr/en/economy/germany-demands-full-transparency-in-khashoggi-case/1431789
--------
Prince William visit to honour Christchurch attack victims
March 28, 2019
CHRISTCHURCH, New Zealand: Prince William will visit victims of the Christchurch mosque shootings next month, New Zealand Prime Minister Jacinda Ardern announced Thursday on the eve of a national remembrance service being held in the grieving South Island city.
Ardern said the focus of Friday's service and next month's royal visit was supporting the Muslim community, which was devastated when a self-avowed white supremacist killed 50 people at two mosques in a shooting rampage.
Ardern will address the service, which has the theme "We Are One" and will be broadcast on national television.
She said representatives from 59 nations, including Australian Prime Minister Scott Morrison, were attending the event, which is expected to draw tens of thousands of people.
The emphasis will be on the Islamic community, with an invocation ringing out across Hagley Park, speeches by Muslim leaders and a performance by Cat Stevens, the British singer who shunned stardom in the 1970s and became a Muslim, taking the name Yusuf Islam.
"This is an event that has affected New Zealand deeply, but it was our Muslim New Zealanders who were targeted in this act of hatred," Ardern told reporters in Christchurch.
"Rightly so, that will be reflected in the remembrance service."
She said William, the Duke of Cambridge, was "very keen to show his support for the city and the Muslim community as it emerges from this attack."
William will represent his grandmother Queen Elizabeth II, the official head of state of the former British colony.
"The visit will be another sign that this nation will always stand with those affected by the terror attacks, and the people of Christchurch," Ardern said.
The royals have previously expressed sympathy for the attacks.
"The Duke will meet with those affected by the attack and will pay tribute to the extraordinary compassion and solidarity that the people of New Zealand have displayed in recent weeks," Kensington Palace said in a statement.
Ardern said William already had a strong connection with Christchurch and the surrounding Canterbury region after visiting in the wake of a devastating 2011 earthquake that killed 185 people.
William made a two-day visit to Christchurch following the quake to attend a memorial service. He and his wife Kate also visited the city in 2014.
After the mosque attacks, William, Kate, Prince Harry and wife Meghan sent a message that ended "Kia kaha," meaning "be strong" in Maori.
"No person should ever have to fear attending a sacred place of worship," they said.
"This senseless attack is an affront to the people of Christchurch and New Zealand, and the broader Muslim community. It is a horrifying assault on a way of life that embodies decency, community, and friendship."
Ardern has led efforts to support New Zealand's small, tightly-knit Muslim community in the wake of the attack.
As well as symbolic gestures such as donning a headscarf while comforting survivors, she has also moved to tighten gun laws and called for social media giants to do more to combat hate speech.
She said New Zealanders were "on a journey" to uphold their core values and her government wanted to take a leadership role in ensuring that happened.
Full report at:
http://www.arabnews.com/node/1473871/world
--------
NZ PM welcomes Facebook bans on white nationalism, separatism
March 28, 2019
WELLINGTON: New Zealand Prime Minister Jacinda Ardern said on Thursday that she welcomed Facebook Inc's decision to ban praise, support and representation of white nationalism and white separatism on its social media platforms.
"Arguably these categories should always fall within the community guidelines of hate speech, but nevertheless it's positive the clarification has now been made in the wake of the attack in Christchurch," she said at a press conference.
Facebook's ban was a shift in policy after criticism by civil rights groups that it was failing to confront extremism.
Full report at:
http://www.arabnews.com/node/1473816/world
--------
Arab World
Trump's Golan move part of 'criminal project': Syria at UN
Mar 28, 2019
Syria's ambassador to the United Nations has lashed out at US President Donald Trump's recognition of "Israeli sovereignty" over the occupied Golan Heights, describing the move as part of a "criminal project" aimed at prolonging chaos and destruction in the region.
Bashar Jaafari made the remarks at a Wednesday UN Security Council meeting on the situation of Syria in the wake of Trump's Monday decision to recognize "Israeli sovereignty" over the Syrian territories of Golan Heights.
"This is a criminal project or plan for which the US government and its allies have used all tools at their disposal," Jaafari said, adding that the plan is aimed at guaranteeing chaos and destruction in the region, and dividing the people of the region on religious and ethnic basis in order to "build a new reality".
"From the first day of this terrorist war led by governments of certain known countries, we said that the main goal of this war was to ensure Israeli occupation of Arab territories and to ensure that the occupation can go on forever on the basis of the plan put forward by the United States," he said.
The US president's recent decision on the occupied Golan Heights "shows just how correct we were at the time," the Syrian envoy added.
Trump signed a decree recognizing Israeli "sovereignty" over the occupied Golan at the start of a meeting with Israeli Prime Minister Benjamin Netanyahu in Washington on Monday.
Since then, the US has become the subject of a new round of furor by world countries over Trump's controversial decision.
Iran, Turkey, Lebanon, Russia, and the European Union were quick to reject Trump's move, which is in obvious contravention of international law.
In a declaration issued on Wednesday, EU foreign policy chief Federica Mogherini's office announced that the bloc "does not recognize Israeli sovereignty over the occupied Golan Heights."
EU Council Press
✔
@EUCouncilPress
Declaration by the High Representative @FedericaMog on behalf of the EU on the #GolanHeights:
The position of the EU has not changed. The EU does not recognise Israeli sovereignty over the occupied Golan Heights.
Full text: https://europa.eu/!Th47uu
152
4:27 PM - Mar 27, 2019
Twitter Ads info and privacy
196 people are talking about this
Security Council rejects Trump's decision
The Wednesday meeting of the Security Council turned into another stage for the isolation of the US, as other countries on the council opposed Trump's move on the occupied Golan Heights.
British UN Ambassador Karen Pierce told the council that the US decision was in contravention of that 1981 resolution, which declared "null and void and without international legal effect" the Israeli annexation of Golan in 1981.
Russia's Deputy UN Ambassador Vladimir Safronkov said Washington had violated UN resolutions and warned it could fuel instability in the Middle East.
North Korea also issued a statement backing "the struggle of the Syrian government and people for taking back the occupied Golan Heights."
The European members of the council - France, Britain, Germany, Belgium and Poland - had earlier on Tuesday raised concerns about "broader consequences of recognizing illegal annexation and also about the broader regional consequences."
Back on Thursday, Trump tweeted that it was time to back Israeli "sovereignty" over the Golan Heights, a Syrian territory under Israeli occupation since the 1967 Six-Day War.
"After 52 years it is time for the United States to fully recognize Israel's Sovereignty over the Golan Heights, which is of critical strategic and security importance to the State of Israel and Regional Stability!" the US president wrote on Twitter.
In 1967, Israel waged a full-scale war against Arab territories during which it occupied a large swathe of Syria's Golan and annexed it four years later, a move never recognized by the international community.
Syria has repeatedly reaffirmed its sovereignty over the Golan Heights, saying the territory must be completely restored to its control.
https://www.presstv.com/Detail/2019/03/27/592024/Jaafari-Syria-golan-heights-Trump-UNSC
--------
Syria requests urgent Security Council meeting
March 27, 2019
NEW YORK: Syria asked the UN Security Council on Tuesday to hold an urgent meeting on the US decision to recognize the Golan Heights as Israeli territory.
President Donald Trump signed a proclamation Monday in which the US recognized Israel's annexation of the strategic plateau, despite UN resolutions that call for Israel's withdrawal from the Golan.
In a letter, the Syrian mission to the UN asked the council presidency, held by France, to schedule an urgent meeting to "discuss the situation in the occupied Syrian Golan and the recent flagrant violation of the relevant Security Council's resolution by a permanent member-state."
The French presidency did not immediately schedule the meeting and diplomats said there would be a discussion at the council about the request.
On Friday, Syria wrote a separate letter urging the council to uphold resolutions demanding that Israel withdraw from the Golan.
US acting Ambassador Jonathan Cohen told a council meeting on the Middle East that Washington had made the decision to stand up to Syrian President Bashar Assad and Iran.
"To allow the Golan Heights to be controlled by the likes of the Syrian and Iranian regimes would turn a blind eye to the atrocities of the Assad regime and malign and destabilizing presence of Iran in the region," said Cohen.
Trump's decision could be seen as a "God-send" for Iran which will "try to capitalize on the US-Israeli move to try to fill the void of official Arab leadership" in the region, said Fawaz Gerges, an international relations expert at the London School of Economics.
Arab countries, which have long fought for the Palestinian cause, "have been reduced to extreme fragility and none of them will go to war for Syria," said Said Sadeq, a political sociology professor.
Full report at:
http://www.arabnews.com/node/1473651/middle-east
--------
Syria repels 'Israeli air aggression' in Aleppo province: report
28 March 2019
Syria said Wednesday Israel had attacked targets just north of the city of Aleppo and that its defenses had shot down several missiles.
"Army air defenses repel an Israeli air aggression that targeted a number of industrial sites in Sheikh Najjar industrial zone, north-east of Aleppo and downed a number of the hostile missiles," the official SANA news agency said, citing an unnamed military source.
Military experts say Aleppo is one of the main areas where Iran's elite Revolutionary Guards have a strong military presence where it supports local militias that have for years been fighting alongside the Syrian army to defeat insurgents.
Israel, which considers Iran as its biggest threat, has repeatedly attacked Iranian targets in Syria and those of allied militia, including Lebanon's Hezbollah.
Full report at:
https://www.alaraby.co.uk/english/news/2019/3/27/syria-repels-israeli-air-aggression-in-aleppo-province-report
--------
New pact will open flow of Egyptian workers to Libya
Ahmed Aleem
March 27, 2019
CAIRO — Egyptian and Libyan security authorities have agreed to coordinate Egyptian laborers' entry to Libya by opening offices in the border cities of Sallum, Egypt, and Masaed, Libya. The agreement comes in anticipation of Libya's reconstruction in the aftermath of the 2011 revolution, years of civil war and the resulting chaos that opened the door to the Islamic State (IS) in 2015.
Under the agreement signed March 17, Egyptian laborers will undergo security clearance by Egyptian agencies (which were not identified) affiliated with the police or army. Then in Libya, the Interior Ministry of the interim government will be responsible for security clearances for workers to enter that country.
On March 7, the Libyan-Egyptian Joint Economic Chamber organized its second economic forum in Alexandria to discuss ways to overcome obstacles to trade and people's movement between the countries. The forum underlined the need to work on returning Egyptian laborers to Libya and to extend invitations to some Egyptian businessmen and companies to visit. During his speech at the forum, Federation of Egyptian Chambers of Commerce head Ahmed al-Wakil called for allowing the return to Libya of a vast number of more than 2 million Egyptians who had worked there before the 2011 revolution, many of whom returned to Egypt because of the political and security instability in Libya.
Egypt had completely banned travel to Libya since February 2015 because of the danger. But as security improved, parliament member Mahdi al-Umda called in January for reopening the Sallum land crossing to Egyptian laborers.
The new agreement is a good move in that direction, said Mohammad Fathi al-Sherif, a researcher at the media center of the Arab League's Permanent Mission of Libya. "The agreement has security and organizational aspects, and this is a key preliminary step for the return of Egyptian labor to Libya," he told Al-Monitor. "Both countries have the political willingness to make it work."
Haitham Saad al-Din, a spokesman for the Egyptian Ministry of Labor, told Al-Monitor by phone that the agreement involves the countries' security forces, and that the civilian part of the Egyptian government has nothing to do with the pact. He emphasized, however, that a stable security situation in Libya is key to the return of Egyptian laborers.
Ayman Zuhri, head of the Egyptian Society for Migration Studies and a migration professor at the American University of Cairo, told Al-Monitor, "Egyptian labor is the best option for the Libyan market, given the countries' geographic proximity. Besides, skilled and junior Egyptian labor is available at low wages, compared with labor from other countries."
He added, "Egyptian workers are the primary candidates for the Libyan market currently. The number of Egyptian laborers is expected to return to pre-2011 figures, when there were around 1.7 million in Libya." He estimated the current number at 300,000 at most, while saying official figures are lacking and some workers cross illegally.
Libyan Minister of Work and Rehabilitation Al-Mahdi al-Amen told the Egyptian Al-Akhbar newspaper in April that Egyptian laborers will have priority over those of other nationalities in the coming Libyan reconstruction because of their professional capacities and skills, which were evident in Libya before 2011.
Khaled al-Shafei, director of the Capital Center for Economic Studies and Research, told Al-Monitor, "Egyptian companies specializing in construction have experience in such reconstruction. They will play a major role in the coming phase, alongside the expected rise in [general] demand for Egyptian labor that is widely welcomed in the Libyan market."
Shafei said the labor coordination agreement is essential and "will definitely have a positive impact on the national economy because it will add to the hard currency of the Egyptian Central Bank."
According to the Egyptian Central Bank, overall remittances of Egyptian laborers abroad rose in 2018 to $25.5 billion, up 3.1% from 2017. The remittances are the largest source of hard currency in the Egyptian economy.
Mohammad Abou Yassine, who worked in Libya from 2012 until 2016, told Al-Monitor, "I worked in construction in Benghazi city. Unfortunately, I didn't continue my work there, since I was injured on the job and had to return to Egypt. I didn't have medical insurance in Libya because I crossed the border illegally."
He added, "Many Egyptian young people want to travel to Libya for work, since opportunities are available for them there and they have priority over others in the Libyan market."
Job opportunities in Egypt are scarce.
Mohammad Ali, an Egyptian in his 20s with a bachelor's degree in commerce from the University of Cairo, is waiting for his chance to work in Libya, but he insists on using the proper channels. He told Al-Monitor, "I want to work in Libya legally, and I want a good job opportunity. I choose Libya because it is close to Egypt."
Ali said that the security situation in Libya has improved and that there would be better than life in Egypt without work. The agreement is important, he said, because it reopens the door to legal travel to Libya after years of travel bans and illegal smuggling.
Mahmoud al-Lahouni, who is currently unemployed, told Al-Monitor by phone, "I worked in Libya from 2008 until 2011, when I returned to Egypt after the deterioration of the security situation. I am currently getting ready to travel again to Libya, amid the relatively improving security situation."
Full report at:
https://www.al-monitor.com/pulse/originals/2019/03/egypt-libya-agreement-border-work-illegal-smuggling.html
--------
Iraqi Kurds urge their Syrian cousins to make peace with Damascus
Amberin Zaman
March 14, 2019
ERBIL, Iraqi Kurdistan — It has been nearly a year and a half since the Iraqi Kurds held their referendum on independence. The fallout from the referendum, which faced stiff opposition from Baghdad, the United States, Turkey and Iran, has been devastating.
Iraqi forces have driven Kurdish forces out of the disputed territories, most notably the oil-rich province of Kirkuk. The Iraqi Kurds have yet to form a regional government since the September parliamentary elections, but they have reached an informal agreement to make Prime Minister Nechirvan Barzani the new president of the Kurdistan Region of Iraq, replacing his uncle Massoud Barzani, who stepped down after the referendum. Relations with Baghdad, Turkey and Iran are beginning to thaw, but problems remain. Meanwhile, the future of the Kurds in Syria hangs in the balance as the United States continues to flip flop on its Syria policy.
Al-Monitor spoke with Prime Minister Nechirvan Barzani at his headquarters in Erbil on a wide range of domestic and regional issues. The following is a transcript of the interview, edited for clarity.
Al-Monitor: My first question is, after this turbulent period during and in the aftermath of the September 2017 referendum on Kurdish independence, how are your relations with Baghdad? Have you been able to overcome some of your differences and establish a good working relationship with the government in Baghdad?
Barzani: To be sure, we went through a difficult patch following the referendum. It was probably one of the toughest periods that we experienced since 1991. But we were able to resolve some of our problems with the former government, with former Prime Minister Haider al-Abadi, such as lifting the embargo on our airspace and the closure of the airports. And we had the opportunity to participate in the Iraqi national elections. We had substantial success as the Kurdish bloc, but the Kurdistan Democratic Party (KDP) is the No. 1 party in terms of seats in the Iraqi parliament. Obviously, this outcome proved that the political situation in Kurdistan and the contribution of the political parties in Kurdistan is still important to Iraq. And particularly those who were banking on the assumption that the KDP would be marginalized were proven wrong. The KDP clearly remains a power to be reckoned with.
We have also participated in the formation of the government in Baghdad and we are active in the government. We see a willingness on the part of the present Prime Minister Adel Abdul Mahdi to be more approachable. But the fact remains that the system in Iraq does not revolve around a single individual. There are many other actors and elements. But I can say wholeheartedly that the relationship that we currently enjoy with Baghdad is far better than it used to be.
Al-Monitor: Could you give us any examples?
Barzani: We suffered and went through four difficult years. We were stuck in a deep, long, dark tunnel. Now we see light at the end of the tunnel. We have been able to strike a compromise on the budget. It may not be the exact outcome that we desired, but we have come to some understanding.
Al-Monitor: So are you getting your 17% share of the budget as was originally agreed upon?
Barzani: Look, the budget issue became highly politicized and kind of a stumbling block for the [Iraqi] prime minister to get hung up on 17% or any percent for that matter. That's why we negotiated something that could work for both sides. We had to be pragmatic. This is a cooling down period with Baghdad. But that is not to say all of our problems are resolved. This is a temporary formula that allows us to address the problem of unpaid salaries of government employees. The salary issue has at least been fixed. We will have a whole year to discuss all the details of the budget before the draft national budget for the next fiscal year is drawn up. We want to avoid quarrels.
Al-Monitor: With salaries being paid, the economy must be picking up then?
Barzani: Yes, God be praised the economy is improving. You can feel it when you go downtown, to the bazaar. Some of the infrastructure and other projects that were stalled due to the financial crisis have resumed. We owed money to many private companies and private sector banks. We have started paying them back. This is all good news. We have agreed on the customs fees with Baghdad. The Kurdistan Regional Government (KRG) is harmonizing customs fees with the central government.
Al-Monitor: Does this apply to the Khabur border crossing with Turkey as well?
Barzani: Yes, everywhere. We are all Iraqis and the border problem has been solved. There were many checkpoints between the borders of KRG territory and those of the central government territory. Now they removed these checkpoints and by removing these checkpoints they facilitated trade.
Al-Monitor: When you speak about the boundaries of KRG territory, those have changed since the referendum. Iraqi forces have moved into all of the disputed territories, including Kirkuk. Can we talk about the current status of these disputed territories? Now what?
Barzani: The term is quite clear: disputed territory. This means it does not fully belong to them. Who controls these territories is a different matter. But this does not alter the fact that they remain in dispute. When I spoke to Prime Minister Adel Abdul Mahdi, I told him that if we are to have a stable Iraq and resolve our differences, the two key issues that need to be addressed are the revenue sharing arrangements between Baghdad and the KRG, and the disputed territories. Of course, there are other problems, but we need to concentrate on these first.
Al-Monitor: As president of the Kurdistan Region of Iraq, will that be one of your priorities?
Barzani: Absolutely. I travel to Baghdad constantly and I was there only two weeks ago.
Al-Monitor: Can we say you are the person that is now running that relationship?
Barzani: Yes, of course. Solving these two issues will be one of my top priorities as president. You mentioned Kirkuk. If we have a revenue sharing agreement and the KRG gets its fair share, the matter of which part of Kirkuk belongs to whom will automatically be clarified.
Al-Monitor: Do you still believe that Article 140 of the Iraqi Constitution, which calls for a referendum on the disputed territories, needs to be implemented?
Barzani: Yes, of course.
Al-Monitor: Does the Iraqi prime minister understand that?
Barzani: Look, there is no other politician in Iraq who understands, who fully absorbs the Kurdish issue as well as Mahdi does.
Al-Monitor: Why is that?
Barzani: Because he's been with us for many years. He's been with us since the 1980s. He was a warrior, part of the opposition, alongside us. We cooperated with his fellow fighters. I've known him since I was a kid. He's a friend and he's willing to address our problems and we sincerely hope that he will continue to do so.
Al-Monitor: But you also said that the system in Iraq does not center on individuals, that there is a system. Iran appears to figure prominently in that system. Iran is a very influential player in Iraq, would you agree?
Barzani: For sure Iran has an important role in Iraq. Relations between Iran and Iraq cannot be reduced to simple bilateral ties. Iran and Iraq have a very long common border. Relations between the two countries are complex and multilayered. There are religious dynamics, social dynamics and trade. Around 45% of Iraq's electricity comes from Iran. Trade between Iran and Iraq is about $11 billion.
Al-Monitor: What do you do when the president of the United States tells you to stop that trade? Doesn't that place you in a very awkward position? Is the KRG formulating its own policy on this or is it coordinating with Baghdad?
Barzani: There is a great deal of cooperation with Baghdad on this issue. Baghdad says there needs to be certain exemptions on certain items, for instance on the electrical supply and the natural gas that is purchased from Iran. The formula for this is that payments for these services should be made in Iraqi dinars rather than in dollars. Iran has agreed to this formula. And we consider the decisions made by Baghdad to be binding in this regard.
Al-Monitor: How are the Americans reacting? And how much does their reaction matter, given the deep bitterness felt by the KRG over Washington's perceived failure to prevent Iraqi forces from moving into the disputed territories after the referendum?
Barzani: The whole issue of our differences over the referendum is behind us now. We cannot look at this from just one side, from solely our side. They were also clear about their position, that they did not support the referendum. As far as US sanctions are concerned, we will simply comply with whatever decisions are made between Washington and Baghdad. Full stop.
Al-Monitor: Your other big, important neighbor is Turkey and they too were fiercely opposed to the referendum. How are your relations with Ankara?
Barzani: If you consider the period during and after the referendum, there were several critical levers Turkey could have used against us and we are deeply grateful that they chose not to. They neither sealed our borders nor turned off the pipeline that carries our oil to export terminals in Turkey. Relations are now good between us, they have improved.
Al-Monitor: Turkey seems to be much more active militarily here now, attacking the Kurdistan Workers Party (PKK) with airstrikes and causing civilian deaths. There have been loud protests against Turkey by the local population because of this. You seem to be stuck in this perennial position of being caught between Turkey and the PKK. As future president, are you interested in trying to help revive peace talks between Turkey and the PKK?
Barzani: Just a reminder, I was present at the inauguration ceremony last year of [Turkish] President Recep Tayyip Erdogan. And that was the first step in our post-referendum thaw. I have always said this very openly and explicitly, the PKK is providing the pretext for Turkish intervention. We cannot accept that the Kurdistan region is used as a safe haven for such groups to operate against our neighbors. So we need to recognize Turkey's legitimate security concerns. However, this situation has persisted for quite some time. It's clear that a purely military solution will not provide a lasting solution.
At the end of the day, there needs to be dialogue. In the past we were able to talk Mr. Erdogan, both when he was prime minister and now the president, to help create an atmosphere that would allow the peace process, for dialogue to start. We also convinced the other side [the PKK] that peace and dialogue were the only realistic ways forward.
Al-Monitor: And you continue to believe that dialogue, peace talks have to happen with this group, the PKK? Because President Erdogan appears to have ruled out any further talks with them and talks of engaging with other "non-terrorist" Kurds.
Barzani: If the aim is to resolve this issue fully, this groups need to be engaged.
Al-Monitor: And should the imprisoned PKK leader, Abdullah Ocalan, be part of that?
Barzani: Without question. He should be one of the key interlocutors.
Al-Monitor: But in the meantime the Americans are trying, supposedly, to separate the PKK from their partners in Syria, the Syrian Kurdish People's Protection Units (YPG) and its political arm, the Democratic Union Party (PYD). They are trying to get both of these Syrian Kurdish groups to disavow and sever all ties with the PKK leadership in the Qandil Mountains and to persuade the Turks that they can get along with the Kurds in Syria and all live together happily ever after. Is this realistic?
Barzani: I don't believe so. The Kurdish forces currently dominating northeastern Syria have strong links and ties with the PKK and all their instructions, orders are being given by Qandil.
Al-Monitor: We are hearing that the Americans have sought your support in separating the YPG from Qandil. Is that true?
Barzani: No. But the Americans have asked us to encourage these groups to develop positive ties with Turkey.
Al-Monitor: What is your advice to the Syrian Kurds? Should they be talking to the Syrian regime?
Barzani: I believe the Kurds of Syria should try to find a solution within the framework of a united Syria. They should be engaging in dialogue and negotiations with the regime.
Al-Monitor: They should ignore the Americans who are telling them not to do that?
Barzani: It's not a matter of ignoring the Americans. The Americans said their presence in Syria was related to defeating the Islamic State. That was the original purpose for their intervention. The reality is that the regime is still there and that the Kurds of Syria should be talking with the regime in order to gain certain rights.
Al-Monitor: Is President Bashar al-Assad prepared to give them any rights? The PYD and YPG leaders I spoke to say no.
Barzani: Currently the regime feels that it has the upper hand, but the reality is that there is still a lot of instability in Syria. The minute the government regains sovereignty over all of Syria there will be more stability and the regime will feel confident enough to give the Kurds their rights. The regime will need to deal with the reality that the Kurds are there, that they exist and they have power, they control territories and they have to find the way to solve their problems with the Kurds.
Al-Monitor: Given the level of distrust between the sides, who can be the guarantor of any deal between the Kurds and the regime? Is there a role for you to play?
Barzani: For us to a lesser extent, we are ready to step up to the plate. But this role can be played even more effectively by the Russians. It's important for all of us to have a stable neighbor such as Syria, but it's especially important for Russia. They are very clear on this point. Their strategy is geared toward securing a stable Syria. They can be key players in negotiating a settlement between the Kurds and the regime.
Al-Monitor: The Russians are becoming rather influential players here in Iraqi Kurdistan, as well with Rosneft buying a majority stake in the oil pipeline to Turkey.
Barzani: In economic terms, we do enjoy good relations with the Russians and they have invested a substantial sum of money here and they will continue to do so, OK? We are in the process of expanding ties.
Al-Monitor: And the Americans aren't upset?
Barzani: Our ties with Russia are in the private sector. They are ready to invest and it's of benefit to us.
Al-Monitor: Getting back to Syria, some of the Kurdish officials I spoke to in Syria agreed with you, saying their relationship with the Americans had been beneficial, but that, at this point, the benefits were beginning to be outweighed by the costs.
Barzani: Yes, the problem derives from the fact that the United States has never been very clear about its strategy, its policy in Syria. And this is why the Kurds will probably not wait for too long and they recognize the American presence for what it is, a temporary one.
Al-Monitor: The fear, though, is that once the Americans pull out, Turkey will intervene militarily against the YPG in Syria. This may have consequences for the KRG, too, with a fresh influx of Syrian Kurdish refugees fleeing Turkish forces.
Barzani: Turkey's security concerns are legitimate and need to be taken very seriously. But having a large Turkish military presence in that region will not provide any solutions. I believe our Kurdish brothers in Syria have behaved negatively toward Turkey. If you look at the background, at the start, Turkish policy was not anti-Kurd in Syria. Their concern was about the PKK and, sadly, our Kurdish brothers in Syria did not hesitate to provoke Turkey on this particular issue. The Turks were prepared to open the border crossing with the PYD, but on the sole condition that they remove the PKK flag, that was back in 2014. And get this, even when we, the KRG, were not enjoying good relations with the PYD [and its former co-chair] Saleh Muslim, the Turks offered to mediate between us and the PYD to improve our ties. And I told them I cannot participate in any such meeting and that I would send [senior KDP official and current Iraqi finance minister] Fuad Hussein instead. In response they did the opposite and went to every extreme to provoke the Turks. For Turkey it's a national security issue and how can they tolerate nearly their entire border to be controlled by the PKK? We need to hear both sides.
Al-Monitor: Finally, when are we going to see a government being formed in the KRG? What is holding this up still?
Barzani: We are in intense talks with the [main opposition] Patriotic Union of Kurdistan (PUK) and at the same time negotiating with [the opposition Change movement] Gorran. But the death of [former PUK and Iraqi president] Jalal Talabani has complicated things within the PUK. There are now many different factions within the PUK and we are having to negotiate with all of them and this is clearly a problem. But we have agreed on a framework of how to work together. The fight now is within the PUK over who gets what position. They feel the KDP has given Gorran too much and that they deserve more. Of course, the PUK will remain as a partner and we are pretty confident that we will soon be forming a government.
Full report at:
https://www.al-monitor.com/pulse/originals/2019/03/iraq-kurds-interview-nechirvan-barzani-peace-syria.html
--------
Inside the prison holding IS detainees in northeast Syria
Amberin Zaman
March 15, 2019
DERIK, Syria — In a dimly lit room the men sit on rows of bunk beds, their legs crossed or extended. Some smoke or read. Others rock rhythmically to and fro, mumbling prayers under their breath. Bright pink blankets stand in stark contrast with the grim atmosphere. A pale, thin man with wire-rimmed spectacles and a wispy beard stares daggers at a reporter who is allowed to peer briefly through a grilled window built into the cell's iron door. He's from Dagestan and, like the rest of his fellow prisoners at the Derik Central Prison for Terrorists in northeastern Syria, he was a fighter for the Islamic State.
Al-Monitor is the first Western media outlet to have been granted access to the maximum security detention center. It is run by the Syrian Kurdish administration, which controls a swath of northeastern Syrian territory the size of England that is protected by the US-led coalition battling IS together with the Kurds.
"This is the main detention center for captive fighters. The most dangerous terrorists are here," Murad Ser, who has run the facility since 2014, told Al-Monitor on a recent afternoon. The converted warehouse currently houses around 400 IS combatants. "There are Canadians, Europeans, Chinese, Saudi Arabians, Tunisians, Libyans, Russians, Turks, Moroccans and many other nationalities," Ser said, drawing an imaginary globe. Four hundred security guards watch over them.
The issue of what to do with captured foreign fighters is an increasingly pressing one as Western governments refuse to take their nationals back. The Syrian Kurdish administration says it cannot cope on its own and is demanding that they be either repatriated to be prosecuted in their home countries or tried by an international tribunal in a northeastern Syrian court.
"Until such time, the international community must provide us with money to care for these people," Aldar Khalil, a senior official in the Syrian Kurdish administration, told Al-Monitor in an interview in Qamishli. "So far we have not received a penny from anyone," he said. A US official speaking on condition of strict anonymity because of the sensitive nature of the issue confirmed that no funds had been given by the United States to the Syrian Kurds to care for the IS captives. The cost of just feeding and clothing inmates at the Derik facility is in excess of $20,000 per month, Ser asserted.
The tour of the prison starts in a roomy kitchen. It's ugly but clean. Any filming or photography inside the prison is strictly forbidden. A giant pot bubbles on a gas stove. Crates full of vegetables sit on the floor. "Tonight's menu is boiled eggs and potatoes," said Ali, the in-house cook. "There are exactly 425 eggs in there." The men are fed three times a day inside their cells. The food is wheeled in on large steel trolleys. But a dining hall will soon be built where inhabitants of each cell will eat in separate shifts. Special-needs detainees such as diabetics are given separate meals. Pulses, rice, soups and salads are daily staples. "Sometimes when they ask for something particular we order it from outside," the cook explained.
Smokers are given one pack of cigarettes a day. "Everything here is free," Ser said. A doctor comes in for weekly health checks.
The next stop is a large, empty hall where prison authorities are planning to build five different workshops so that prisoners can spend time productively outside their cells. "We also intend to hold seminars and training programs, but most of these men are already quite educated, you know, like doctors, engineers," Ser added.
Inmates are allowed to exercise for an hour and a half per day but again only with their own cellmates. Interaction with other prisoners is strictly forbidden for security reasons. There are three courtyards where they can walk and smoke. Barely legible lines of Arabic are etched on the towering gray walls separating them. One reads, "First we rode the horses."
"We are aware of their plans to escape but so far they haven't tried anything. But don't forget, they are Daesh," said a counter terrorism official who asked not to be identified by name, using the Arabic acronym for the Islamic State. Torture, ill treatment and verbal abuse of prisoners are strictly forbidden here, he insisted. "We abide by the Geneva Convention." The Red Cross carries out routine inspections. "In battle these people are the enemy but here they are treated like human beings," the official said. Tens of thousands of IS wives and children are meanwhile struggling to survive in the squalor of overcrowded outdoor camps while the men bask in the comparative luxury of Derik prison.
It all sounds and looks too good to be true. There are other interrogation centers where IS fighters who either turn themselves in or are captured go through initial screening. It's hard to believe that conditions there are quite as clement, considering the brutality inflicted by IS on the Kurds.
A cell that was emptied of its residents for Al-Monitor to inspect had 23 bunk beds with stained, wafer-thin sponge mattresses. There was a medium-sized flat screen television attached to the wall. Prisoners quarrel over which channels to watch. They are in either Arabic or Kurdish. "Usually it's about whether the content is too un-Islamic or not. Otherwise they generally don't fight," Ser observed.
Two well-thumbed Qurans with loose pages sit on a shelf alongside a bottle of olive oil-based shampoo and two bars of soap. There's a small toilet with its own door but no lock. Prisoners can play cards and chess. Some like to sing Islamic nasheeds. When I ask if there is a separate prayer room, Ser responds with an icy "No." The cell has an air conditioner, as do all the rest, Ser said.
I am allowed to speak with three inmates. "Pick a nationality and we'll see if they'll talk." A Turk, a Tunisian and a Trinidadian who holds Canadian citizenship agree to be interviewed.
Oguzhan Emre, a 46-year-old accountant from Ankara who migrated to the IS "caliphate" together with his wife and five children in 2014, has been held here since December 2017 after turning himself into the YPG-led Syrian Democratic Forces (SDF) in Deir ez-Zor province. He was radicalized by a bookstore owner called Kamil in Ankara's Sincan neighborhood who died later on in Raqqa. "I don't remember his last name." What about the book store? "I can't remember its name." Emre came, he claimed, "to lead an Islamic life." It all sounded "so rosy." He forced his wife to come. "Otherwise, I was going to take the children and leave. She had to obey." They crossed in broad daylight by foot from the southern Turkish province of Gaziantep.
There were no Turkish border guards in sight.
He denied participating in the jihadi orgy of head-chopping violence and "regretted coming and starting making plans to flee as soon as I arrived." But "it was like being trapped in a spider's web. The more you flapped your wings to get out, the more you got enmeshed."
Ser later tells me that all of the inmates deny involvement in the violence. "They are lying. Every male who joins Daesh is trained to fight and is sent to the front line."
Emre earned $250 a month assisting an accountant first in Al Bab then Mayadeen. An armed minder who sits with us throughout the interview briefly steps out. I seize the opportunity to ask him how he is being treated. "In all fairness, God is my witness, they treat me very well. There's no beating or anything, the food is nice and clean," he said. "The Red Cross visited me once in my cell." A 20-year-old from Gaziantep is among his cellmates. His main complaint is that his wife and children, who are being held in the nearby Roj camp, have not been permitted to visit him. Considering how he treated her, perhaps it's she who refuses to come. Asked if he has a message for her — I was supposed to interview her there in the coming days, but the camp has since been put off limits to journalists — he says "no."
The Tunisian is next up. I had already interviewed Jamel Ben Moussa last month via Skype for a piece I did on Tunisian jihadis. "Oh, hello Zaman," he said as if greeting an old friend. He seemed very agitated. "What is going to happen to us? They are sending our brothers to Iraq where they will be executed. We saw it on the television news. This is criminal," he said. "Will we be next?" Ben Moussa was referring to reports in early March that the SDF had handed over at least 280 IS prisoners, mostly Iraqi nationals, to Iraq. But at least 13 French IS prisoners were alleged to be among the group. "One of them was my friend. He wasn't French, he just had a residence permit," Ben Moussa claimed.
The SDF has formally denied the reports. But in late February, Iraqi President Barham Salih announced that Iraq would prosecute the French extremists in accordance with Iraqi law and within the confines of international law, prompting rebukes from Human Rights Watch. "Detainees are subject to unfair trials that could still end in the death penalty," the New York-based watchdog said in a statement, adding, "Trials of IS suspects fail to meet even the most basic markers of due process" and that they can be a short as "five minutes."
"What will our families do, our children in the camps? Our sons, do you think they will accept that their fathers are murdered like this? They will seek revenge. I am warning France, Europe, a new war will start," he said. I glance at the minder to gauge his reaction. He seems unfazed. I turn the subject to Ben Moussa's two wives, a Syrian and a Swede. He's had a pair of children with each. "Ah," he said, "the difficulty with polygamy in Islam is that you are supposed to treat the wives equally. But you know there is always a favorite. I love the Swedish one more. I want to go back with her to Tunisia." A smile flickers on the the minder's lips.
Safraz Ali, a 39-year-old dual Trinidadian and Canadian citizen, says he was recruited by fellow Trinidadians and joined the Islamic State in 2015 "to help the Syrian people." He explained, "I didn't seek out [IS execution] videos. I was against all of that. They sent me to Iraq to fight. I refused and fled to Syria on a bus. I had trauma training. I would go out after coalition bombings and pick up wounded children and take them to the hospital." He ended up in Al Bab, where "people were so kind they would give you the shirts off their backs." After Turkish troops captured the town in 2016 he moved on to Raqqa. "People were much harsher, crueler there."
Ali is rail thin. His eyes are glazed. He seems weak. "I have terminal Crohn's disease," he said. "They don't have proper medicine here. I have rectal bleeding, dizzy spells and blurry vision." He clutches an inhaler in his hand. "Asthma," he explains. He says he is scared but far more concerned for his wife. It emerges that he is married to Kimberley Gwen Polman, 46, a dual US and Canadian citizen he met in Raqqa who was profiled by the New York Times.
They were married in 2016 and made plans to flee together soon after. They were in touch with Polman's family and a Canadian official who handled such cases, he claimed. The pair was ratted out by spies and briefly imprisoned in Raqqa and continued to plot their escape once they were freed. "We led the life of fugitives," he said, describing a harrowing odyssey that took the couple from Raqqa to Mayadeen and then Hajin. They finally turned themselves over to SDF forces a little over a month ago. "We desperately wanted to have children. Kimberley had five miscarriages," he said. "I spend all my time thinking about my wife."
Full report at:
https://www.al-monitor.com/pulse/originals/2019/03/syria-kurdish-region-isis-prison-sdf.html
--------
India
3 militants killed in south Kashmir's Shopian
Mar 28, 2019
Three militants were killed in south Kashmir's Shopian by security forces after a gun battle, Indian Army officials said on Thursday.
According to officials, weapons have also been recovered during the search and cordon operation in Yarwan area of Keller of Shopian district.
"Three terrorists eliminated in Op Yarwan Forest in Shopian. Weapons also recovered and the operation is in progress," an army spokesperson said.
Another encounter began in Yaroo area of north Kashmir's Handwara. "Area under cordon. Details will follow. @JmuKmrPolice @HandwaraP," Jammu and Kashmir police tweeted.
https://www.hindustantimes.com/india-news/3-militants-killed-in-south-kashmir-s-shopian/story-YPa5vltei125rqtr1f6OPJ.html
--------
Pakistan says no link found in Pulwama attack, asks US to help trace phones
Mar 28, 2019
Pakistan has said they are investigating 54 people detained over the Pulwama suicide attack but claimed that no details linking them to the attack have been found so far. The February 14 terror attack that killed 40 CRPF soldiers triggered a major stand-off between India and Pakistan.
A statement by the Pakistan Foreign Office said they have examined the 22 pin locations of alleged training camps shared by India and said no such camps exist. "Pakistan is willing to allow visits, on request, to these locations," the statement said.
India's dossier had contained extensive evidence on JeM's involvement in the bombing carried out by a 22-year-old man from Jammu and Kashmir. It also had information on JeM's Pakistan-based chief Masood Azhar and other leaders of the banned terror group. The dossier was shared after Pakistan Prime Minister Imran Khan promised to act if "actionable evidence" was provided.
"All aspects of the information provided by India have been thoroughly examined including the confessional" video of Adil Dar, "claim" of responsibility for the attack, Whatsapp and Telegram numbers used to share videos and messages in support of Pulwama attack, list of 90 individuals suspected of belonging to a proscribed organization and 22 pin locations of alleged training camps," the Pakistan Foreign Office statement said.
Pakistan said service providers have been requested for data and a request for assistance from WhatsApp has also been made to the US government.
Islamabad has sought more information and evidence from India to take forward cooperation in the investigation into the Pulwama attack.
Full report at:
https://www.hindustantimes.com/india-news/pakistan-says-no-links-found-in-pulwama-attack-claims-terror-camps-don-t-exist/story-gfAHSZSKqJrImZBBkAoA2H.html
--------
'Tilting against windmills': Pakistan responds to India's Mission Shakti
Mar 27, 2019
Pakistan said on Wednesday that it was against the militarisation of outer space, hours after India's announcement of shooting down a live satellite with a missile - a rare achievement that puts the country in an exclusive club of space super powers.
Prime Minister Narendra Modi earlier announced that India successfully test-fired an anti-satellite missile by shooting down a live satellite.
The test makes India the fourth country in the world after the US, Russia and China to acquire the strategic capability to shoot down enemy satellites.
"Space is the common heritage of mankind and every nation has the responsibility to avoid actions which can lead to the militarisation of this arena," Foreign Office spokesperson Mohammad Faisal said in a statement.
He said Pakistan was a "strong proponent of the United Nations resolution on Prevention of Arms Race in Outer Space".
"Boasting of such capabilities (to destroy satellite) is reminiscent of Don Quixote's tilting against windmills," he said, referring to India's test.
"We hope that countries which have in the past strongly condemned demonstration of similar capabilities by others will be prepared to work towards developing international instruments to prevent military threats relating to outer space," Faisal said, without naming any country.
Full report at:
https://www.hindustantimes.com/india-news/tilting-against-windmills-pakistan-responds-to-india-s-mission-shakti/story-dNVpTZIVeGZ4HkXJRLBgfK.html
--------
Zakir Naik: Malaysia's Thorn, Masood Azhar: China's Game
March 27, 2019
By Asif Ullah Khan
In 1970, Dr Mahathir bin Mohamad wrote a controversial book, The Malay Dilemma. As prime minister of Malaysia for the second time at the ripe age of 93, he faces another dilemma—how to deal with the presence of fugitive controversial Islamic preacher Zakir Naik in his country. In fact, Naik has become a Hafiz Saeed of sorts for Malaysia.
His presence has frayed racial tensions and is posing a headache for the new Malaysian government. It cannot deport him because of his popularity among the Malay Muslims but, at the same time, wants to keep a check on his controversial sermons as they threaten to rip apart the multi-racial fabric of Malaysian society.
Unlike India, where he faces terror and money-laundering charges, the hardline Islamic preacher is a popular figure in Malaysia where more than 60 percent of the population is Muslim. This is the reason why both Mahathir and his predecessor, Najib Razak, refused to deport him to India because it could be interpreted by hardline Muslim organisations as "anti-Islam". Murmurs against Naik started in 2016 when it emerged that two of the militants who had stormed into an upmarket café in Dhaka, Bangladesh, killing 22 people, were "inspired by his preaching about Islam". At that time, the Barisan Nasional (National Front) government led by Razak was in power. The Barisan Nasional coalition comprises three major ethnic political parties—United Malays National Organisation (UMNO), Malaysian Chinese Association (MCA), and Malaysian Indian Congress (MIC). For the first time in the history of Malaysia, the MCA and MIC questioned their government's continued support to Naik as they felt that his presence in Malaysia was detrimental to society.
The then health minister in the Razak government and MIC president, S Subramaniam, was the first one to express his disagreement with Naik's stay in Malaysia and said that his activities "are outside the Malaysian context". "I don't think Malaysia needs Zakir Naik. Is he going to contribute to the advancement of Islam in the country? The answer is no," said Subramaniam.
The issue took a serious turn when a group of 19 human rights activists filed a civil suit against the Malaysian government in March 2017, accusing it of failing to protect the country from the controversial televangelist. The suit, among others, sought a government declaration that Naik was a threat to national security, called for a ban to prevent him from entering the country, and sought his arrest and deportation immediately. The group, comprising different religious and ethnic backgrounds, said that Naik was an "undesirable person" and "a preacher of hate" who was currently roaming free in Malaysia.
Soon rumours started doing the rounds that the reason why the Razak government was taking no action against Naik was because it had already granted him Malaysian nationality. Finally, on April 18, 2017, then Deputy Prime Minister Datuk Seri Ahmad Zahid Hamidi clarified the government's position, saying that Naik had not been granted citizenship but admitted that he was granted permanent resident (PR) status about five years earlier when Hamidi was not the home minister.
The Chinese coalition partner of the then Razak government, Malaysian Chinese Association (MCA), questioned the granting of PR status to Naik. The MCA's religious harmony bureau chairman, Datuk Seri Ti Lian Ker, said the government should not risk the country's spirit of mutual understanding and respect. "The government, especially the home ministry, must also account as to why Zakir was granted PR status and special consideration, seeing that he is known for creating tension," he said.
This led Naik's supporters to mount a counter-offensive. The first one to come to his rescue was PAS (Pan-Malaysian Islamic Party), which made it into an "us" versus "them" issue. PAS information chief Nasrudin Hassan, hitting out at Subramaniam said Naik was a renowned scholar, respected by Muslim clerics and the Muslim world as a whole. He then "advised" Subramaniam not to go overboard with his statements, especially related to the interests of the Muslims in the country, and added that being a health minister, he should not interfere in this matter.
Another right-wing group, Perkasa or Pertubuhan Pribumi Perkasa (Malay for "Mighty Native Organisation"), which honoured Naik with an award for his contributions to the struggle for Islam, also jumped into the fray and took offence to Subramaniam, a Hindu, interfering in Muslim affairs. Perkasa president Datuk Ibrahim Ali said that Subramaniam should resign from the Razak cabinet if he could not agree with the government's decision to grant PR status to Naik. Perkasa even told its members to campaign against Subramaniam and other MIC candidates in the general election.
However, things changed completely when Malaysia's landmark 2018 general election brought the 93-year-old Mahathir back to power in his new avatar as the head of the Alliance of Hope (Pakatan Harapan), which comprises mostly multi-racial, secular and centre-left parties. Since then, Naik has been lying low. He lives in a condominium in Putrajaya, the administrative capital of Malaysia, and is only seen during Friday prayers. He had made repeated attempts to meet Mahathir and even jostled with the crowd to greet him when the latter came to Putrajaya mosque to offer prayers. And finally, when he met Mahathir last July, he thanked the new government for not deporting him to India and vowed that he would abide by all laws of the country.
Mahathir, on his part, said that as long as Naik was not "creating any problems" in Malaysia, he would not be deported. But the prime minister has tactfully banned his public lectures and appearances, although the official government version denies that there is any ban on Naik's lectures. All his attempts to appear in public have been nipped in the bud on the basis of "technical grounds".
Recently, an Islamic NGO called the Islamic Propagation Society International (IPSI) had sought permission to use the city stadium in the Malaysian state of Penang for Naik's lecture but the Penang Island City Council refused the permission on "technical grounds". Its community service director, Rashidah Jalaludin, in a letter dated February 13, said that IPSI's request "could not be considered" as the city stadium had been recently upgraded and was being used for sports. Perhaps the venue was not suitable for the "ceramah" (lecture), the official added.
Interestingly, Penang Deputy Chief Minister Ramasamy Palanisamy, a member of the Democratic Action Party (DAP), a coalition partner of Pakatan Harapan, has on numerous occasions questioned the government's decision not to extradite Naik to India.
In April 2015, Ramasamy called Naik "Satan" and accused him of making speeches "designed to promote hatred of other faiths". He urged, via Facebook, "peace-loving Malaysians" to lodge police reports against Naik so that he can be banned from entering the country. "Let us get 'Satan' Zakir Naik out of this country! He is a Muslim preacher and evangelist who has nothing but hatred and contempt for non-Muslims," wrote Ramasamy.
"He has been banned in Canada and UK (United Kingdom) for his hate lectures. Even some sections of the Muslims in India have termed him a liar, man of half-truth and purveyor of hate," Ramasamy wrote.
However, this did not go down well with the Malay Muslims. Not only did he face an "online onslaught", even his office in Penang was bombed with a petrol explosive.
The question is: Can Malaysia afford to defend such a polarising figure at a time when a very mellowed Mahathir heads a coalition government which comprises multi-ethnic, secular parties? Many Malaysian commentators say Naik has become a national dilemma as his presence continues to cause uneasiness and discomfort in the multi-religious and multiracial community.
They say that although Naik talks about propagating Islam and social harmony, there is a distinct waft of cultural and religious imperialism in his recorded comments. Among them is the infamous statement to the effect that an Islamic country should not allow churches to be built because Christianity is a religion that is "wrong". Christianity is practised by more than nine percent of the Malaysian population and there are five Christian ministers in the Mahathir cabinet.
Is Naik worth the rift he is causing in Malaysian society? The reasonable answer will be a big "No". But to keep both the Malays and non-Malays happy, Mahathir has allowed Naik to stay in Malaysia and at the same time has tightened his leash over him by imposing an unannounced gag order.
Masood Azhar: China's game
China's reluctance to declare the JeM chief Masood Azhar a global terrorist is evidence of its symbiotic ties with Pakistan. It will protect it to keep a check on India's influence in the region
By Colonel R Hariharan
Are we missing the wood for the trees by focusing on China putting a "technical hold" on the listing of Masood Azhar, chief of Pakistan-based Jaish-e-Mohammed (JeM), as an international terrorist under the UN sanctions regime? It would seem so because China's response was not unexpected; it had been taking the same stance for the last decade. And it is Pakistan, not China, who is the main villain of the piece. India's relentless campaign to get the UN Security Council (UNSC) to list Azhar as a global terrorist is not the whole, but part, of its efforts to internationally isolate Pakistan.
The fact that 14 members of the UNSC supported listing the JeM leader against China's lone negative vote speaks for the success of India's campaign against Pakistan for sponsoring and supporting trans-border terrorist operations against India.
The proposal to designate Azhar under the 1267 Al Qaida Sanctions Committee of the UNSC was moved by France, the UK and the US on February 27, nearly two weeks after a JeM-inspired suicide car bomb attack on a CRPF convoy killed 40 people in Pulwama in J&K. The committee members had 10 working days to raise any objection to the proposal.
China had put a "technical hold" on the proposal, seeking "more time to examine" it. It said the move would give it time for a "thorough and in-depth assessment" of the case and help the parties concerned to engage in more talks to find a "lasting solution" acceptable to all. China's explanation would have been laughable, except for the grim fact that it enables Pakistan to delay concrete action to dismantle terror groups operating from its soil against India.
The anger against China after it blocked the UNSC move was palpable on Indian social media. People could not understand what was "technical" about recognising Azhar as a global terrorist. There were calls for boycott of Chinese goods, though they have become indispensable to trade and commerce and to the growth of mobile communication and the power industry in the country.
The public outrage against China is understandable as the grim sequel to the Pulwama attack took India and Pakistan to the brink of war. India had responded to the attack with an air strike on a JeM training centre at Balakot in Khyber Pakhtunkhwa province in Pakistan. The Pakistan Air Force's counter-strike in J&K two days later and the capture of an Indian fighter pilot, Wing Commander Abhinandan Varthaman, in Pakistan turned the situation ugly.
Further deterioration of the situation was averted when the US, China, Saudi Arabia and UAE intervened and claimed credit for defusing the situation after Pakistan released the Indian pilot. But the security situation along the India-Pakistan border and LoC in J&K continues to be anomalous. Pakistan continues to fire across the border while Indian troops are carrying out operations to eliminate terrorists and security agencies are uncovering and dismantling sources of supply and finance of Pakistan-inspired terrorist support networks within the state.
High public expectations on l'affaire Azhar have to be understood in the context of events that preceded it. India had been regularly briefing foreign diplomats about the situation leading up to the UNSC meeting. It gave a detailed dossier on Azhar and JeM involvement in terrorist activity to the members, including China. The media gave a huge build-up before the UNSC met to consider the listing of Azhar.
Unfortunately, the "friend or foe" binary vision of the visual and social media in the country got very shrill in the events leading up to the UNSC meeting. As the Indo-Pak confrontation happened close to the general election, it inevitably led to a lot of chest-thumping of the ruling party, countered equally and vehemently by the Opposition. Cumulatively, these developments influenced their understanding of China's stand on the Azhar issue. People expected China to be more sensitive to India's concerns about terrorism as their hopes were kindled after Prime Minister Narendra Modi met Chinese President Xi Jinping at the Wuhan unofficial summit last year.
In this context, the statement of Liu Zongyi, senior fellow at the Shanghai Institutes for International Studies, quoted in the Communist Party of China's tabloid, Global Times, is interesting. He said the question of whether to list Azhar as a global terrorist has been a long-lasting dispute between China and India. In 2017, New Delhi's demand was partly behind the Doklam stand-off. "If New Delhi succeeds in having both JeM and its leader black-listed, Islamabad would be branded a state sponsor of terrorism and isolated on the international stage. This is what India wants to pursue till the end," he added.
International columnist Fareed Zakaria's quote that "foreign policy is a matter of costs and benefits, not theology" applies to China's negative stand on Azhar. It has shown that China's approach to India will be transactional, selective and based on the hard reality of its national self-interest rather than ephemeral notions of harmony and bonhomie. China-Pakistan relations are built upon what Chanakya said long ago: "There is some self-interest behind every friendship. There is no friendship without self-interest. This is a bitter truth."
Pakistan is increasingly becoming dependent on China—strategically, economically, politically, diplomatically and militarily. China will continue to use Pakistan's vulnerability to protect and pamper it, not merely because it is its long-term friend and strategic ally in South Asia. It suits China that Pakistan firmly keeps a check on India's strategic strength and influence in the region. Pakistan enlarges China's options in handling India, its potential challenger in the region and beyond.
Moreover, China is under pressure to make a success of the China Pakistan Economic Corridor (CPEC) in which it has invested over $40 billion to showcase the Belt and Road Initiative which has come under heavy weather. CPEC's infrastructure would enable China to flex its strategic naval power to secure its interests in the Indian Ocean Region and South Asia, which had been dominated by India's naval power.
Diplomat Gautam Bambawale, who served as India's ambassador to both Islamabad and Beijing, while addressing the Indian Association of Foreign Affairs Correspondents, recently put the Wuhan meeting in perspective. He said he was averse to the term "Wuhan reset" as some people have described the informal summit. He said both India and China "saw what happened at Doklam, analysed that particular experience and drew their own conclusions from it". Then they independently came to the decision that it was "much more important to have a relatively harmonious and balanced relationship between the two most populous states on the globe".
He cautioned that "if the word (Wuhan) 'reset' in any way implies that the tensions and ill temperedness of Doklam was being brushed aside or under the carpet, then I strongly object to this term". He added that he would go along with the use of the term "reset" if it described "a cool reappraisal of the relationship and a desire to put it on an even keel".
On the Azhar episode, the diplomat was of the opinion that India must have a transactional approach to the issue. "Perhaps China will permit the listing to move ahead if there is something we can do for them or offer them in return? If there is, a bargain can indeed be struck," he added.
So it is not surprising that despite all the media hoopla over the Azhar episode, India's take on the issue was realistic as the Ministry of External Affairs' (MEA) carefully worded statement showed. The statement did not even name China, but merely expressed disappointment "by this outcome. This has prevented action by the international community to designate the leader of Jaish-e-Mohammed, a proscribed and active terrorist organization, which has claimed responsibility for the terrorist attack in Jammu and Kashmir on February 14, 2019". However, one wishes the MEA had named China in the statement, at least to signal that India was not happy with its role.
China is here to stay as a powerful neighbour. It is in India's interest to maintain a cordial working relationship with it, regardless of the hiccups in bilateral relations from time to time. Bambawale in his speech suggested an eight-point Pune Plan to build better relations with China.
These include maintaining high-level political relations, enhanced and expanded military exchanges between both countries, working to increase Chinese tourist visits to India through public-private partnership, focusing on attracting more Chinese students, creating a financial model for Chinese firms to modernise our railway stations, persuading it to join the International Solar Alliance as a member and expanding engagement with the Shanghai Cooperation Organisation.
However, some of these proposals might become politically controversial or inconvenient. But any foreign policy strategy to deal with China runs the risk of getting mired in political controversy.
After Modi took foreign policy initiatives to the political main stage with his signature showmanship, foreign policy has become one of the mainstream issues in the national political discourse. In a way, it has become a victim in the raucous election campaign, with rival political leaders making short shrift of nuanced policy initiatives to dispense their penny wisdom to the masses. Can political parties and leaders rise above petty politics to build a consensus on foreign policy?
Full report at:
http://www.indialegallive.com/top-news-of-the-day/news/zakir-naik-malaysia-thorn-62406
--------
Terror funding probe: Agencies zero-in on 30 properties in J&K owned by 8 separatists for seizure
Bharti Jain
Mar 27, 2019
NEW DELHI: Cracking the whip on terror financing involving Kashmiri separatist leaders, NIA and ED have identified around 30 properties across Srinagar, Budgam, Kupwara and Jammu belonging to eight separatists arrested earlier in J&K terror funding case, for seizure.
Significantly, the house of Hizbul Mujahideen chief Syed Salahuddin in Islamabad, Pakistan, too figures in the list of properties linked to terror funding in Kashmir.
Other separatists and alleged terror financiers whose properties are under the scanner include Zahoor Ahmad Shah Watali, Nayeem Khan, Altaf Ahmad Shah alias Funtoosh, Aftab Ahmad Shah alias Shahid-ul-Islam, Farooq Ahmad Dar alias Bitta Karate, Mohd Akbar Khanday, Raja Mehrajuddin Karwal and Bashir Ahmed Bhat alias Peer Saifullah. All of them have been chargesheeted by NIA in the J&K terror funding case.
The said properties include sprawling residential houses, agricultural land, apartment blocks, an apple orchard, plywood mills, a nursing home and a poplar nursery.
Kashmiri businessman Zahoor Watali has the largest number of properties either in his name or that of his sons and wife, identified for seizure over terror funding linkages. These include a house in Srinagar, measuring 18 marlas and owned by Watali's son Yavar Shah & his wife Ozma; raw, undeveloped land in Trison City, Narbal measuring 117 kanal & 3.5 marlas; three houses on Srinagar bypass road; a one-storey house in Handwara; sold residential plot in Nagrota; separate apartment blocks in Jammu owned by his son Yasin Ahmed Shah and jointly owned by Zahoor and his wife Sarwar Begum; 12 semi-furnished flats in Trison City, Budgam; nursing home in Budgam; plywood mill in Handwara (already seized by NIA); apple orchard in Handwara spread over 8-9 kanal; poplar nursery in Handwara; and a plywood mill in Parimpora, Srinagar.
Other properties under the scanner in the J&K terror funding case are a two-storey house owned by Aftab Ahmad Shah alias Shahid-ul-Islam in Sadar, Srinagar that is an evacuee property; a two-storey house owned by accused Altaf Ahmad Shah alias Funtoosh in Bemina, Srinagar; a two-storey house allegedly owned by accused Nayeem Ahmad Khan's wife in Srinagar; a twostorey house owned by accused Farooq Ahmad Dar's mother-in-law Gulam Fatima in Nageen, Srinagar; a two-storey house owned by accused Mohammad Akbar Khanday in Parimpora, Srinagar and an alleged property of 12 kanals in Malora, Srinagar; a two-storey house owned by accused Raja Mehrajuddin Kalwal's wife in Nowgam,Srinagar; and Bashir Ahmad Bhat alias Peer Saifullah's wife's two-storey house in Rawalpora, Srinagar.
Individuals identified during investigation of terror funding case, including Lashkar chief Hafiz Saeed and Hizbul Mujahideen boss Syed Salahuddin, have been found to be providing money to all major terrorist groups like LeT and Hizbul Mujahideen as also Hurriyat leaders, separatists and stone-pelters in J&K.
Full report at:
https://timesofindia.indiatimes.com/india/terror-funding-probe-agencies-zero-in-on-30-properties-in-jk-owned-by-8-separatists-for-seizure/articleshow/68595139.cms
--------
Mideast
Hamas leader appears in public as fighting with Israel tails off
27 March 2019
The leader of the militant group Hamas viewed the rubble of his bombed office in Gaza on Wednesday, appearing in public as an uneasy calm took hold after two days of cross-border Palestinian rocket attacks and Israeli air strikes.
But while violence eased amid Egyptian mediation, Israeli forces along the Gaza frontier and militants in the Hamas-run Palestinian enclave were on hair-trigger footing.
No deaths have been reported in Gaza and Israel since the latest clashes erupted on Monday. Israel's Iron Dome anti-missile interceptors have destroyed some Palestinian rockets and militants in Gaza vacated facilities hit in the air strikes.
Towns in southern Israel reopened classrooms and schools were also operating in Gaza, where streets were filled with traffic.
Hamas's top leader, Ismail Haniya, emerged from a secret location to see what was left of his wrecked office, targeted by an Israeli air strike on Monday.
"The occupation," he said, referring to Israel, "should not be under the illusion it can break the will of our people."
A senior Israeli official, who spoke on condition of anonymity, retorted: "Haniya should find himself a new office before he starts sounding off."
Even if the crisis subsides, it could shadow Israel's April 9 election, in which right-wing Prime Minister Benjamin Netanyahu has campaigned on a tough security platform.
Security is a major issue for Netanyahu, in power for a decade and beset by corruption allegations that he denies. He is facing his strongest electoral challenge from a centrist coalition led by a former general.
Anniversary nears
Seven Israelis were injured in Monday's initial rocket attack that hit the village of Mishmeret, 120 km north of Gaza. Twelve Palestinians have been wounded by Israeli strikes, Gaza health officials said.
After a daylight lull on Tuesday, Palestinian rocket attacks and Israeli strikes resumed after dark, but only briefly.
The latest escalation is the biggest since November between Israel and Hamas, which fought three wars between 2008 and 2014 and have come to the brink of a fourth several times since.
In the 2014 Gaza war, more than 2,100 Palestinians, most of them civilians, were killed in seven weeks of fighting. Sixty-six Israeli soldiers and seven civilians in Israel were killed.
This week's fighting comes ahead of the first anniversary on March 30 of the start of weekly Gaza protests at the frontier.
Preparing for a one-million-person march
The protests' organizing committee said it was preparing for a one-million-person march to mark the anniversary on Saturday at five locations along the frontier with Israel.
Some 200 Gazans have been killed and thousands wounded by Israeli fire in the past year. One Israeli soldier was killed.
Israel says its use of lethal force is meant to stop attempts to breach the border and launch attack on its troops and civilians.
The protesters are demanding the right to return to lands Palestinians fled or were forced to leave in Israel during fighting that accompanied its founding in 1948.
Egypt was expected to pursue further truce talks on Wednesday, said a Palestinian official involved in the efforts.
UN Middle East envoy Nickolay Mladenov told the Security Council on Tuesday he had been working with Egypt to secure a ceasefire and that a fragile calm had taken hold.
In further violence in the West Bank on Wednesday, about 150 Palestinian students threw firebombs and rocks at Israeli soldiers, who responded with tear gas and rubber-coated metal bullets, a day after an Israeli raid on Birzeit university.
Three protesters were wounded by rubber bullets, ambulance crews said. There were no reports of Israeli casualties. The Israeli military said it arrested 11 Palestinians in the West Bank overnight suspected of what it termed terrorist activities, but gave no specifics.
https://english.alarabiya.net/en/News/middle-east/2019/03/27/Hamas-leader-appears-in-public-as-fighting-with-Israel-tails-off.html
--------
Hamas leader Haniyeh says Palestinians will not give up resistance
Mar 27, 2019
A senior leader of the Palestinian resistance movement, Hamas, says Palestinians will not give up resistance in the face of Israeli aggression.
"The occupation should not be under the illusion it can break the will of our people," Ismail Haniyeh, the head of Hamas' political bureau, said on Wednesday, referring to Israel.
Haniyeh said his group taught a lesson to Israel in the current escalation of violence, adding that Israel got the message.
"The resistance has had the last word, and Israel got the message," he said. "I am grateful to all parties who helped stop the Zionist arrogance in the Gaza Strip."
He made the comments following two consecutive nights of heavy Israeli bombardments.
The new Israeli aggression against the coastal enclave began after Tel Aviv authorities said on Monday that a long-range rocket launched from the Gaza Strip had struck an area near Tel Aviv in central Israel, wounding seven people.
The early morning attack on Mishmeret, an agricultural town north of Tel Aviv, came a day after Israeli warplanes bombed the besieged enclave ahead of the anniversary of Gaza fence protests at the weekend.
Palestinian resistance groups on Wednesday fired rockets into Israel in response to the regime's airstrikes on several areas, including the town of Khan Yunis and the Rafah border crossing south of the Gaza city.
Palestinian sources in the Gaza Strip say Israeli airstrikes on Rafah damaged residential homes and electricity network.
Israel has also warned that it is prepared for further military actions in the Palestinian territories.
The Israeli military has also deployed artillery and tank brigades along the so-called buffer zone with Gaza.
Elsewhere in his remarks, Hanieyh also urged Gazans to participate in mass protests along the fence separating the Gaza Strip from the occupied territories on Saturday to mark the first anniversary of the Great March of Return that began on March 30 last year.
More than 260 Palestinians have been killed by Israeli forces ever since the anti-occupation protest rallies began in the Gaza Strip. Over 26,000 Palestinians have also sustained injuries.
Full report at:
https://www.presstv.com/Detail/2019/03/27/592015/Hamas-Palestinian-resistance-Israel-Ismail-Haniyeh
--------
Palestinian teen killed in clashes with Israeli troops
Mar 27, 2019
The Palestinian Health Ministry says an 18-year-old Palestinian has been shot dead in West Bank clashes with Israeli troops.
The ministry said Israeli soldiers shot Sajed Mizher after stones were thrown at them early Wednesday during an arrest raid in the Dheisheh refugee camp near Bethlehem.
It added that two other Palestinians were also wounded in the clashes.
https://www.presstv.com/Detail/2019/03/27/592005/Palestinian-teen-dies-in-clashes-with-Israeli-troops
--------
Southeast Asia
Indonesian Muslim leader wants 'shared idea of pluralism'
March 27, 2019
A prominent Indonesian Muslim has stressed the urgent need for all religions to come up with a so-called shared theology that maintains diversity and promotes tolerance.
The move is especially necessary in order to address serious problems facing mankind, said Din Syamsuddin, co-president of the World Conference on Religions for Peace and president of the Asian Conference on Religions for Peace.
He was speaking to nearly 150 religious leaders attending a one-day gathering in Moscow, Russia, on March 25.
The gathering was discussing the need for a shared theology as religions have points of tangency in terms of diversity and tolerance despite their different conceptions of God.
Syamsuddin, who is also chairman of Advisory Board to the Indonesian Ulema Council, told the meeting that Islam highlights the humane aspect of religiosity and this can be seen in the Quran which says that the Prophet Muhammad's apostolic mission is to spread his blessing to all people.
So now is the time to introduce a shared theology based on such a humane aspect of religiosity, he said, believing that the problems of mankind can be resolved if a shared theology is introduced.
Speaking to ucanews.com on March 27, Syamsuddin said accumulative global destruction has generally created problems for humanity, such as poverty, injustice, violence and environmental destruction.
"These demand that religions, which serve as problem solvers, speak up for an answer. That is why a shared theology is needed," he said, adding that it should serve as a guideline for each religious community to tackle problems facing humanity together.
Franciscan Bishop Adrianus Sunarko of Pangkalpinang, chairman of the Indonesian bishops' Commission for Theological Concerns, welcomed the idea and said that a common good must be a priority of each religion.
"Each religion's theology is different. However, each religion should put forward their own theologies that encapsulate values that promote the common good. This is what a shared theology means," the prelate said.
"Our founding fathers thought about the idea a long time ago. We have the philosophy of Pancasila [five principles]. But we need to continue promoting this idea," he said.
Reverend Henriette Tabita Lebang, head of the Communion of Churches in Indonesia, believed that Syamsuddin's idea is based on the Indonesian model of a plural society.
"It can be a contribution to the creation of a humane civilization in which each individual from whatever religious or ethnic background is respected. This is what is called true civilization," she said.
https://www.ucanews.com/news/indonesian-muslim-leader-wants-shared-idea-of-pluralism/84830
--------
Religious freedom in the restoration of Sarawak's status
2019-03-27
The Association of Churches in Sarawak (ACS) welcomes the forthcoming move to amend the Constitution of Malaysia to reinstate the original expression of the establishment of Malaysia as a new enlarged federation consisting of the states of Malaya and the Borneo states of Sabah and Sarawak.
This is the first step that is being taken arising from the establishment of Malaysia Agreement Steering Committee.
Every effort must certainly be directed to ensuring that the intentions of the formation of Malaysia as reflected in the constitutional documents leading to the creation of Malaysia are honoured. Sarawak should be restored its rights with regard to important matters like revenue, education and mineral resources.
These rights will however only be meaningfully enjoyed by all of us Sarawakians, if we can continue to live, strive and thrive as people living out our way of life, where all races and religions co-exist in peace and harmony, mutually respecting and celebrating each other's beliefs and practices. This is and must be an absolute imperative.
The ACS calls on the Sarawak government and our state representatives appointed to the Steering Committee to ensure that this fundamental pillar of nationhood and nation building be given the fullest attention that it deserves.
The ACS states for the record that religion and religious freedom was one of the key matters, which had to be resolved by the Borneo state entities and Malaya.
The constitutional settlement arrived at are fully recorded in the legislative history of the Malaysian Constitution of 1963. These consist, among others, of:
"Malaysia and Sarawak" dated 4.1.1962 (Government Paper) by the authority of the Government of Sarawak;
"North Borneo and Malaysia" dated 31.1.1962 (Government Paper) by the authority of the Government of North Borneo;
"Memorandum on Malaysia" by the Malaysia Solidarity Consultative Committee dated 3.2.1962;
"Report of the Commission of Enquiry, North Borneo and Sarawak, 1962"; and
"Report of IGC".
From the legislative history which is painstakingly recorded in our constitutional documents, the intent to be ascribed to the provision in Article 3(1) pertaining to the provision that Islam is the religion of the Federation and the guarantee for all other religions to be practiced in peace and harmony throughout Malaysia is plain and unambiguous.
This was retained for the new Malaysian nation with every intent and assurance that:
Existing religious freedoms at the formation of Malaysia will continue to be enjoyed and will not be impaired;
There would be no hindrance placed on the practice of other religions;
The civil rights and liberties of non-Muslims will not be violated;
The Malaysian nation will remain a non-religious secular state although Islam is the religion of Federation; and
There will be no change to the exercise of religious rights in the way it was then practiced at the formation of Malaysia.
In early 1962, the colonial government of Sarawak issued a government paper to announce the setting up and work of the Cobbold Commission.
The papers explained why the creation of a greater Malaysian nation was desirable and outlined the framework of the new federation. The government paper "Malaysia and Sarawak" states unequivocally as follows:
"People have wondered whether the fact that Islam is the official religion of the Federation of Malaya would affect religious freedom in Sarawak as part of Malaysia. This has been clarified at the recent Consultative Committee Meeting.
"Although Malaysia would have Islam as the official religion of the enlarged Federation there would be no hindrance placed on the practice of other religions. Complete freedom of religion would be guaranteed in the Federal Constitution. Sarawak has at the present has no established religion and it would not be required to accept Islam as its state religion".
The reference to the Malaysia Solidarity Consultative Committee in both Government Papers is significant. It provides the context to the assurance on religious freedom.
Such freedom will be freely exercisable in a nation which is secular and not a religious State. The "Memorandum on Malaysia" states as follows:
"The Committee directed a great deal of attention to the question of Islam as the religion of the Federation. It is satisfied that the acceptance of Islam would not endanger religious freedom within Malaysia nor will it make Malaysia any less secular.
"The present Constitution of the Federation of Malaya, which would serve as the basis for the new Federation has adequately guaranteed that other religions may be practised in peace and harmony in any part of the Federation."
Upon the governments of the United Kingdom and Federation of Malaya forming the view that the inclusion of Sabah and Sarawak in the proposed federation of Malaysia was desirable and in the best interest of the peoples of these state entities, a Commission of Enquiry was established under the chairmanship of Lord Cobbold.
The Cobbold Commission Report records deep anxieties over the position of Article 3 of the Federal Constitution which provides that Islam is to be the religion of the Federation.
The chairperson and members appointed to represent the Bornean entities noted the reservations, and even outright opposition, of the non-Muslim communities of the two territories to the provision making Islam the religion of the Federation.
These anxieties stemmed from the concern over the prospect of Malay/Muslim domination which will be to put them in a position inferior to that of the Malays and Muslims.
The two Malayan members noted that among non-Muslims there was a range from outright rejection to non-objection by a "substantial number who would not object to the present practice in the Federation of Malaya, as they are satisfied with the provisions for fundamental liberties and freedom of religion in the Malayan Constitution".
The Cobbold Commission Report was followed up by the Inter-Governmental Committee (IGC) to work out the constitutional arrangements for the new Malaysian Federation including safeguards for the special interests of Sabah and Sarawak.
Top of the items for deliberation was on the matter of religion and religious freedom. The IGC recommended that the retention of the existing provisions on religion and religious freedom in Article 3(1).
The plain reason for retaining the said Article 3 without any modifications or further qualifications are based on the guarantee of religious freedom premised on the essentially secular nature of the nation.
On religious freedom, there was a significant reference to the "present practice in the Federation of Malaya". Sarawak was prepared to accept the present practice which existed in the Malaya prior to Malaysia Day.
As practised then in 1963, there were no unwarranted intrusions into the religious freedoms and rights of non-Muslims to profess and to practice their religions as guaranteed by Articles 3, 11 and 12. The rights of religious groups as accorded under these articles were honoured. There was no discrimination on the grounds of religion as assured by Article 8. There were no hardships imposed upon non-Muslims and their religious institutions in this respect.
The ACS is therefore deeply concerned that the then Malayan practice of the constitutional provision guaranteeing religious freedom with Islam as the religion of the Federation which Sarawakians had no concerns about is no longer normative in the Malaysia of today. Racism and religious bigotry blight and taint our national life and has begun to also threaten the Sarawak way of life.
Over the years there has been a serious erosion of religious freedom as guaranteed in Article 3(1), Article 8, Article 11 and Article 12 of the Federal Constitution.
This has occurred in the course of a worrying departure from the fundamental non-religious secular basis of the new Malaysian federation formed by Sarawak together with Sabah and the states of Malaya in 1963.
Sarawak must make every effort to maintain the essence of a non-religious secular polity which assures religious freedom, and regain its Sarawak way of life of mutual and reciprocal respect of all faith communities, which was also the Malayan way of life assured in 1963.
Full report at:
https://www.malaysiakini.com/letters/469831
--------
Nga chides Khairy for calling him 'Taliban' in Dewan Rakyat
28 March 2019
By Emmanuel Santa Maria Chin
KUALA LUMPUR, March 28 — Dewan Rakyat Deputy Speaker Nga Kor Ming today rebuked Rembau MP Khairy Jamaluddin for calling him "Taliban", a remark that the Umno lawmaker later retracted.
Khairy had mentioned "Taliban" when asked by the deputy speaker to clarify his question to Finance Minister Lim Guan Eng during Question Time today in Parliament.
Khairy had posed a question towards Lim, asking if the additional RM19 billion supplementary budget allocation requested by Lim's ministry meant an increase in allocation for bachelors in the Bantuan Sara Hidup (BSH) scheme.
"Maybe with the Rantau by-election around the corner, the BSH for bachelors will be raised to RM450 like practiced under the Barisan Nasional government," said Khairy, before Nga asked him to clarify his question.
"In conjunction with Rantau by-election, experiencing comprehension problems, Taliban?" replied Khairy.
"Retract Rembau, retract Taliban," an obviously irritated Nga replied, to which Khairy retracted his statement.
Nga then accepted the retraction and chided Khairy, calling his attitude non-exemplary and accused him of disrupting the order in the House.
"Here we have it, what we should not learn from where as we try to have this Honorary House proceed smoothly, and there is obvious provocation.
"I feel regret, and this is the type of attitude we should not learn from," said Nga.
The deputy speaker then gave the floor back to Lim, who denied that such an announcement concerned an increase in BSH allocations.
"We will have to consider and evaluate the needs and government's financial before we will make an announcement to increase the allocation or not," said Lim in reply.
Nga had tweeted on March 22 a cartoon of a Malay-Muslim man calling a Chinese man various names like "anti-Malay", "chauvinist", and "communist", to which Nga was pictured saying "Taliban" to the angry-looking Malay man.
Nga Kor Ming
@NgaKorMing
Biar Fakta Bicara : Terima kasih Sdr Haili atas lukisan di mana mesejnya cukup jelas.
888
11:01 AM - Mar 22, 2019
934 people are talking about this
Twitter Ads info and privacy
Khairy had replied Nga's tweet, saying he spent a few weeks in Afghanistan as a journalist in 1999 to cover the Taliban.
He said he witnessed hands of convicted thieves dangling from traffic lights, girls running around because they were not allowed to go to school, and women wearing a burqa. Vice squads were armed with AK47s.
Full report at:
https://www.malaymail.com/news/malaysia/2019/03/28/nga-chides-khairy-for-calling-him-taliban-in-dewan-rakyat/1737307
--------
Pakistan
Pakistan Hindu lawmaker moves two bills in Parliament on child marriage, forced conversion
March 28, 2019
A Hindu lawmaker from Prime Minister Imran Khan's party has moved two bills in Parliament seeking enhancement of punishment for those involved in forced conversion and for making child marriage a cognisable offence, amid the nationwide outrage over the alleged forced conversion of two teenage girls from the minority community.
Dr Ramesh Kumar Vankwani from the ruling Pakistan Tehreek-e-Insaf (PTI) submitted Child Marriage Restraint Act (Amendment) Bill 2019 and the Criminal Law (Protection of Minorities) Act 2019 in National Assembly on Tuesday.
Dawn reported that the bills, moved in the wake of alleged kidnapping of two Hindu girls and their forced conversion to Islam, were accompanied by a resolution with the support of minority lawmakers from all major political parties condemning such incidents.
Besides Vankwani, PTI legislators Lal Malhi and Shunila Ruth, Pakistan Muslim League-Nawaz lawmaker Dr Darshan and Pakistan Peoples Party's Ramesh Lal signed the resolution.
The five-point resolution called for immediate passage of the bill against forced conversions, which had been unanimously passed by the Sindh Assembly in 2016 and then reverted due to pressure of extremist elements, from all the legislatures.
Through the resolution, the lawmakers demanded strict action against the culprits including controversial religious figures who are involved in forced conversions.
"All those who are preaching hate under the cover of religion must be handled like banned religious organisations," the resolution said.
Vankwani, who is also patron-in-chief of Pakistan Hindu Council (PHC), later told the media that unfortunately the practice of child marriage was common in all parts of Pakistan, particularly in poverty-hit areas.
He said the bills were intended to serve as a deterrent and to remove the existing gender disparity in age.
The lawmaker said he had moved the bills in line with a PHC resolution that condemned the recent alleged kidnapping and forced conversion of two Hindu sisters, Reena and Raveena, and kidnapping of another Hindu girl, Shania, from Mirpurkhas.
One of the two bills seeking protection of minorities called for sensitisation of government officials, police officials and members of judicial service on the issue. It also suggested setting up of specific courts to hear cases of forced conversions and shelter homes for victims.
"Any minor who claims to have changed their religion before attaining maturity shall not be deemed to have changed their religion and no action shall be taken against him or her for any such claim or action made by the minor," the bill stated.
The bill proposed imprisonment of either description for a minimum of five years and maximum of life imprisonment and a fine to be paid to the victim by a person who forcibly converts another person.
"Any person who is an abettor to a forced conversion shall be liable to imprisonment of either description for a minimum of five years and a fine to be paid to the victim," it suggested.
The Hindu community in Pakistan has carried out massive demonstrations calling for strict action to be taken against those responsible for abduction, forced conversion and marriages of two teenage Hindi girls, while reminding Prime Minister Khan of his promises to the minorities of the country.
Last year, Khan during his election campaign had said his party's agenda was to uplift the various religious groups across Pakistan and said they would take effective measures to prevent forced marriages of Hindu girls.
Hindus form the biggest minority community in Pakistan.
According to official estimates, 75 lakh Hindus live in Pakistan. Majority of Pakistan's Hindu population is settled in Sindh province.
https://indianexpress.com/article/pakistan/pak-hindu-lawmaker-moves-2-bills-in-parliament-on-child-marriage-forced-conversion-5646655/
--------
FATF affiliate not happy with steps to block banned groups funding
Khaleeq Kiani
March 28, 2019
ISLAMABAD: A delegation of the Asia-Pacific Group (APG) on money laundering, a regional affiliate of the Financial Action Task Force (FATF), has expressed serious reservations over insufficient physical actions on ground against proscribed organisations (POs) to block flow of funds and activities and is likely to issue a formal warning before its departure on Thursday (today).
"The crux of first two days of interactions is that they (APG) consider us very good on paper — legislation, regulation, data collection and notifications — mostly involving the federal government, but highly non-performing at provincial and district levels where such POs and non-profit organisations (NPOs) actually operate," a senior official told Dawn.
The APG delegation is currently on a three-day visit to Pakistan for mutual evaluation as part of second country risk assessment report and would conclude its assessment on Thursday (today). Authorities of the Securities and Exchange Commission of Pakistan, Financial Monitoring Unit, law enforcement and intelligence agencies, ministries of foreign affairs and interior, National Counter Terrorism Authority, Federal Investigation Agency and Counter Terrorism Departments of the provinces participated in the two-day interaction.
The official said the situation was such that Finance Minister Asad Umar had directed the newly appointed finance secretary to give top priority to 'problem areas' in consultation with the federal and provincial agencies and plug deficiencies so that a robust report could be submitted to the FATF by third week of April. This followed a joint commitment of the civil and military leadership in recent meetings that all institutions had to put their act together to get the country out of the FATF's grey list.
The official said the APG delegation appreciated the flooding of data on issuance of suspected transaction reports (STRs), blockade of funds through banking and other formal channels and strengthening of legal, regulatory and institutional mechanism, but the team members repeatedly raised questions over specific and on-ground actions against each of the eight organisations proscribed under international requirements. They wanted break-up of suspected transaction report against each PO and specific actions taken against each entity.
"Their impression is that activities of POs and NPOs are still unchecked at the provincial, district and grass roots level where they can still raise funds and hold meetings and rallies," said the official, adding that the delegation expressed concern over administrative inaction on sustainable basis at the district level.
The delegation was satisfied with anti-money laundering law and regulations of the SECP and controls of the SBP, the official said.
The delegation demanded that activities of proscribed organisations and their workers should be kept under stringent monitoring on a sustainable basis and their fund raising activities and transportation of their proceeds should be totally blocked and focus should increase towards informal means like passenger transport and cash couriers, he said.
Informed sources said the APG was appreciative of action against currency dealers and exchanges to block money laundering and terror financing through hundi and hawala in general, but was more interested to know how many of them were dealing with the eight proscribed organisations.
The two sides reviewed action against hundi, hawala, bank robberies, kidnapping for ransom, extortion, smuggling of precious stones and natural resources, marble and narcotics through land and sea routes and agreed that all agencies of the federal and provincial governments, including intelligence agencies, needed to improve their coordination at every level to act against high risk areas.
Pakistan has declared as high risk all the eight entities and related elements specifically named by the FATF as threat to global financial system after February 18-22 meetings of the global watchdog against financial crimes.
The achievement of a series of targets under a 10-point action plan has now become a top priority for the government. As the FATF meetings were still in progress (Feb 18-22), the government announced a ban on the Jamat-ud-Dawa (JuD) and Falah-i-Insanyat Foundation (FIF) to partially address the concerns raised by India that Pakistan supported these and six similar organisations, including Jaish-e-Mohammad (JeM), or at least considered them low-risk entities and then declared then 'high risk'.
The high risk description means the government has to start monitoring and re-examining their activities and profiles under heightened security checks at all layers of legal, administrative, investigative and financial regimes.
The FATF had noted that Pakistan had revised its terror financing risk assessment, but did "not demonstrate a proper understanding of the terror financing risks posed by the Islamic State group, AQ (Al Qaeda), JuD, FIF, LeT (Lashkar-e-Taiba), JeM, HQN (Haqqani Network), and persons affiliated with the Taliban".
Full report at:
https://www.dawn.com/news/1472344/fatf-affiliate-not-happy-with-steps-to-block-banned-groups-funding
--------
PM chairs meeting on internal security, FATF action plan
MARCH 28, 2019
Prime Minister Imran Khan on Wednesday chaired a high-level meeting at the Prime Minister's Office "to discuss matters of security", a statement issued by the PM Office said.
According to the statement, Finance Minister Asad Umar, Minister for Education Shafqat Mehmood, Minister of State for Interior Shehryar Khan Afridi, Chief of Army Staff General Qamar Javed Bajwa, the DG Inter Services Intelligence, Secretary Foreign Affairs, Secretary Interior, the DG Inter Services Public Relations and senior officials were in attendance.
"Security matters were discussed during the meeting," the statement said without further elaboration.
However, sources within the PM Office said that a discussion on matters of internal security was the focus of the meeting, with progress on the implementation of the Finance Action Task Force (FATF) action plan, the National Action Plan, and the ongoing crackdown on banned organisations also coming into discussion.
During the last such meeting chaired by the premier, held two weeks ago, money laundering had been the point of focus. The government had decided to make significant amendments in money laundering and foreign exchange laws and enhance the maximum imprisonment to 10 years and the fine to Rs5 million for convicts.
The country has taken several steps since the February 18-22 meetings with FATF functionaries to comply with latest instructions to meet various deadlines in order to avoid being included in a money laundering and counter terrorism financing blacklist.
It has declared as "high risk" all the eight entities and related elements specifically named by FATF as threats to the global financial system. Achieving 27 targets under a 10-point action plan has now become a top priority for the government. As the FATF meetings were still in progress in February, the government had announced a ban on Jamaatud Dawa (JuD) and Falah-i-Insaniat Foundation (FiF) and declared them as "high risk". Under the "high risk" category, the government is required to start monitoring and re-examining the groups' activities and profiles under heightened security checks at all layers of legal, administrative, investigative and financial regimes.
Full report at:
https://dailytimes.com.pk/370455/pm-chairs-meeting-on-internal-security-fatf-action-plan/
--------
Pakistan shares preliminary findings on Pulwama dossier with India
MARCH 28, 2019
The government on Wednesday shared with the Indian government its initial findings on the dossier handed over by Delhi on the Pulwama incident, a statement issued by the Foreign Office said.
According to the statement: "The Indian High Commissioner in Islamabad was called to the Ministry of Foreign Affairs by the Foreign Secretary and the findings on the Pulwama incident were shared with him."
The prime minister had earlier offered cooperation in an investigation into the incident if Delhi shared any actionable evidence concerning the suicide bombing in occupied Kashmir's Pulwama area, which had targeted Indian paramilitary soldiers.
In response to the premier's offer, India had handed over documents to Pakistan on February 27 amidst soaring tensions.
"Pakistan has acted with a high sense of responsibility and extended full cooperation. We do so in the interest of regional peace and security," the Foreign Office said in its statement.
"We have sought further information/evidence from India to take the process forward," it added.
Full report at:
https://dailytimes.com.pk/370510/pakistan-shares-preliminary-findings-on-pulwama-dossier-with-india/
--------
Kabul made AN unwise decision by calling back its envoy: Qureshi
Tahir Khan
MARCH 28, 2019
President Ashraf Ghani's administration has taken an ill-advised decision to call back its Islamabad-based ambassador as a protest on Prime Minister Imran Khan's reported comments regarding installation of interim government in Afghanistan.
Afghan officials even did not confirm whether or not Imran Khan had offered such comments, which they viewed as "interference" in internal affairs in Afghanistan.
Ambassador Atif Mashal, who had returned to Islamabad on Tuesday from Afghanistan, left for Kabul on Wednesday after he was called back as protest over the reported comments by Imran Khan.
Although the Foreign Office clarified that the PM had referred to Pakistan's model where elections are held under an interim government. The foreign office insisted that the "comments should not be misinterpreted to imply interference in Afghanistan's internal affairs." However, the clarification is seemed to have little impact in Afghanistan as Afghan leaders kept on continuing their criticism at the prime minister.
Afghan Chief Executive Dr Abdullah Abdullah said remarks by Pakistani prime minister are not acceptable to anyone in Afghanistan.
"We welcome all efforts towards peace in Afghanistan, but will never allow any country to subvert the right of self-determination of our people or undermine our sovereignty under the pretext of facilitating peace negotiations," Abdullah tweeted.
"I want to be very clear that the so-called "interim government" provides solution to nothing in Afghanistan. Our route to peace and stability must pass through elections," the Afghan leader said.
At home, Pashtoon nationalist leaders also did not spare Imran Khan. The Awami National Party chief Asfandyar Wali Khan said Imran Khan's statement gives an impression that he "represents the Taliban which will harm existence of this country."
"Imran Khan's statement regarding an interim government in Afghanistan is interference in the internal affairs of a sovereign country as a time when peace talks in Afghanistan are underway," the ANP chief said in a statement, posted online. Foreign Minister Shah Mahmood Qureshi described Kabul's decision to call back its ambassador as a "knee-jerk" reaction and told a private television channel that Imran Khan did not have any intension of interference in internal affairs.
Although Ghani's National Unity Government links withdrawal of its ambassador for "consultations" with Imran Khan's latest remarks, the move could be seen in the context of Kabul's frustration of being left out of the Taliban-US talks.
It is not only Pakistan, but Ghani's administration is also in direct confrontation with the United States over the Taliban peace talks. Ghani's top security advisor Hamdullah Mohib's serious allegations against US peace envoy Zalmay Khalilzad that he wants to keep Kabul out of the peace talks for personal interests evoked harsh reaction in the US and reports said Washington has told Mr Ghani the US will no more deal with his advisor.
Ghani regime was further isolated when almost all senior political leaders including Hamid Karzai, Haneef Atmar, Younas Qanooni, Mohammad Mohaqiq, Atta Mohammad Noor, Ismail Khan, Hekmatyar's Hizb-e-Islami and over 50 other political leaders sat with the Taliban political envoys in Moscow in February.
A second round of the Moscow talks will be held in Qatar on April 14-15, according to Mullah Abdul Salam Zaeef. Ghani gov't stopped members of the government-sponsored high peace council from attending the Moscow talks that was a major step towards the intra-Afghan dialogue. Peace council secretary Umar Daudzai had confirmed that the council was invited to the Moscow talks, which was a good opportunity for its members to interact with the Taliban.
The war-weary Afghans have attached high hopes to the Taliban-US talks and the coming round in Qatar is seen important as both sides could reach some sort of agreement as both had reported progress in the last round.
Zalmay Khalilzad has already started another visit and Qatar is included in his March 25-April 10 trip. A State Department statement says Khalilzad will travel to the United Kingdom, Belgium, Pakistan, Uzbekistan, Jordan and Qatar as part of the overall effort to facilitate a peace process that brings all Afghan parties together in inclusive intra-Afghan negotiations. In Kabul, the Special Representative will consult with the Afghan government and other Afghans about the status of U.S. talks with the Taliban, encourage efforts to form an inclusive negotiating team, and discuss next steps in intra-Afghan discussions and negotiations.
The Special Representative will meet with the Allies and partners regarding the status of peace talks and to coordinate sustained commitment by the international community to peace and development in Afghanistan.
Full report at:
https://dailytimes.com.pk/370451/kabul-made-an-unwise-decision-by-calling-back-its-envoy-qureshi/
--------
South Asia
36 Taliban militants killed, wounded in Helmand and Paktika operations
27 Mar 2019
At least 36 Taliban militants were killed or wounded during the operations of the Afghan Special Forces and airstrike which were conducted in Helmand and Paktika provinces in past 24 hours.
According to informed military sources, the Afghan Special Forces conducted a ground assault in Nahr-e Saraj district of Helmand province in the past 24 hours killing 30 Taliban fighters and wounding 4 others.
The sources further added that an airstrike in Bermal district of Paktika province killed 2 Taliban fighters.
The anti-government armed militants including Taliban have not commented regarding the operations so far.
https://www.khaama.com/36-taliban-militants-killed-wounded-in-helmand-and-paktika-operations-03592/
--------
'Enemies preparing for war on orders of their foreign masters': Khalid
27 Mar 2019
The acting minister of defense Asadullah Khalid has said that the ministry of defense has received reports which indicate that enemies of the country are preparing for war based on orders of their foreign masters.
Speaking during a ceremony to introduce the deputy minister of defense, Khalid said the current year will be a decisive but a dangerous year as reports received by the ministry of defense indicate that the enemies are preparing for war based on orders of their foreign masters.
Khalid further added that peace process and elections are the two key events scheduled to take place in current year.
However, he said that the enemies will be defeated due to the bravery of the Afghan armed forces, emphasizing that the Afghan National Defense and Security Forces will lead the initiatives.
He did not disclose further information in this regard but the urged the political elites not to interfere in the activities of the armed forces and remain neutral, insisting that the armed forces have nothing to do with the activities of the political elites.
In the meantime, Khalid assured that the armed forces will use all available facilities to ensure a dignified election is conducted.
In the meantime, the acting minister of defense said that the terrorist groups have faced immense presssures as he hoped that they would be forced to pursue peace process.
However, he said those who are opposing peace process would be forced to accept peace, insisting that the armed forces are ready to pursue peace until their last breath and to spill their blood for a dignified peace.
Full report at:
https://www.khaama.com/enemies-preparing-for-war-on-orders-of-their-foreign-masters-khalid-03591/
--------
Taliban commanders among 6 killed, wounded in Surobi district of Kabul: Silab Corps
27 Mar 2019
At least six Taliban militants including three of their local commanders were killed or wounded during an operation in Surobi district of Kabul.
The 201st Silab Corps of the Afghan Military in the East said Wednesday that the operation was conducted by Special Forces of National Directorate of Security on Monday night.
According to a statement released by 201st Silab Corps, at least three Taliban militants including their commander Rashid were killed and three others including their two commanders were wounded.
The statement further added that some weapons and munitions were also destroyed during the same operation.
This comes as reports had emerged earlier suggesting that five civilians including a child were also killed in an operation in Surobi district on Monday.
Full report at:
https://www.khaama.com/taliban-commanders-among-6-killed-wounded-in-surobi-district-of-kabul-silab-corps-03589/
--------
In US pursuit of peace talks, perilous rift opens with Afghan leader
27 March 2019
Washington's relationship with Afghan President Ashraf Ghani appears increasingly at risk of permanent damage, the consequence of a US policy shift that has so far excluded his government from talks with the Taliban and of his own determination to retain power and manage peace efforts himself.
The feud threatens to undermine the already narrow chances for a peace accord that President Donald Trump hopes would end America's longest war.
Current and former US officials tell Reuters they believe Ghani is positioning himself to perhaps be a spoiler in still-fragile negotiations, angry that the Afghan government has been kept out of talks and worried about the implications for his presidency.
But from Ghani's perspective, the negotiations themselves, led by US special envoy Zalmay Khalilzad, feel like a personal betrayal and a capitulation by the United States that could return the Taliban to power, Afghan officials say.
The growing rift between Kabul and Washington over the peace negotiations erupted in public view on March 14 when Ghani's national security adviser, Hamdullah Mohib, slammed Khalilzad and accused the Afghan-born veteran US diplomat of perhaps trying to steal the Afghan presidency for himself.
"(Ghani's worried) there could be some agreement for an interim government and he'll be on the outside looking in," said one US official, speaking on condition of anonymity.
The blow-up over Mohib's attack has had serious repercussions. The following day, the State Department decreed that US officials should have no further contact with Mohib and his presence at a meeting on Monday between Ghani and NATO diplomats prompted the US delegation to walk out of the presidential palace, Afghan sources said on condition of anonymity. The State Department did not respond to a request for comment.
The discord carries echoes of tensions under Ghani's predecessor, Hamid Karzai, who became an intense critic of the United States during his 13 years in power.
But the acrimony is still largely behind closed doors. Ghani is dependent on US support, as Afghanistan's main economic, diplomatic and security backer, and there are signs that he will move to limit the fallout on ties.
In a nod to Washington's outrage over Mohib's remarks, Ghani is considering replacing Mohib with the Afghan envoy to London, a second Afghan official said.
Latest round disappoints Ghani
Since his 2016 election campaign, Trump has made the case to end the Afghan conflict that began in 2001 and has tied the prospect of troop drawdowns in Afghanistan to success in peace talks. But it is unclear if Trump will accept a deal at any cost - something that Ghani and other Afghans increasingly fear.
"The president has indicated that he hopes for the best in these peace talks but he also will not accept a bad deal," a senior Trump administration official said.
The Taliban has refused to meet with him.
Although the US had historically balked at the prospect of unilateral talks with the Taliban, the Trump administration made a decision to move ahead with them, something that veteran US officials sharply criticized.
"By acceding to this Taliban demand, we have ourselves delegitimized the government we claim to support," Ryan Crocker, former US ambassador to Afghanistan, wrote in a Washington Post column, adding that the US move signaled "we were surrendering."
The second round of US-Taliban talks lasting 16 days ended this month in Doha, Qatar, with discussions including potential US troop withdrawals and Taliban assurances on counter-terrorism.
But those talks disappointed Ghani, who had hoped Khalilzad would make some progress on negotiating a ceasefire for Afghanistan and convincing the Taliban to negotiate with Ghani's government, several Afghan officials said.
Instead, Khalilzad flew to Washington without such progress and without discussing the details of the talks with Ghani, which made the Afghan president paranoid, they said.
"The two sides discussed and agreed on issues concerning them but it did not change anything for the (Afghan) people or the government," the first Afghan official said.
Acknowledging Kabul's frustration, the senior Trump administration official said: "It's urgent that we convince the Taliban to sit down with the Afghan government and other Afghans and engage in a political process."
Afghan election complication
The Afghan election is shaping up as a major challenge for Ghani's government, with speculation that the poll may not be held at all if a peace deal is first reached with the Taliban. Delayed twice already, it is now slated for Sept. 28.
Ghani "thinks that if the peace process goes through and the election doesn't take place, he loses everything," said a former senior Afghan official.
With so much in play politically, Ghani is seen as trying to tightly control the process - something experts fear could exclude opposition elements that would be crucial for any lasting agreement between the Taliban and Afghan society.
A former US official said Ghani's controlling personality was one reason Washington long worried he could prove to be "more an obstacle than a help on the peace process."
Full report at:
https://english.alarabiya.net/en/features/2019/03/27/In-US-pursuit-of-peace-talks-perilous-rift-opens-with-Afghan-leader.html
--------
Kabul recalls envoy after Pakistan PM's suggestion for interim govt
March 27, 2019
KABUL: Afghanistan recalled its ambassador from Pakistan on Wednesday; a day after its premier suggested the creation of an interim government in Afghanistan.
Pakistan Prime Minister Imran Khan also called on Afghanistan President Ashraf Ghani's government not to be an obstacle in the peace talks between the Taliban and the US.
The Afghan Foreign Ministry in a statement issued on Wednesday said that it had summoned its senior Pakistani diplomat in Kabul to protest against Khan's remarks, which were published in the Pakistani media.
The ministry expressed its grave objection and described Khan's comments as "reckless."
"The statements about the peace process and the establishment of an interim government are deemed as an obvious example of Pakistan's interventional policy and disrespect to the national sovereignty and determination of the people of Afghanistan," it said.
Kabul's ambassador to Pakistan, Atif Mashal, in a statement sent to reporters, said that he was heading home after the move.
"I have been called back by my government for consultation and in protest at the remarks by the PM of Pakistan in relation to the formation of a new interim government, which is a clear attempt of interference in the internal affairs of Afghanistan," he said.
US Special Envoy for Afghanistan Zalmay Khalilzad called Khan's comments unconstructive, even as Washington steps ups its efforts with the Taliban to find a peaceful settlement to the Afghan conflict.
Speaking to Pakistani journalists on Monday, Khan said that the formation of an interim Afghan government would help to streamline the peace talks between US and Taliban officials since the militant group refuses to speak with representatives from the government.
In the published comments, Khan also described Ghani's government as a "hurdle in the peace process." Khan's comments caused an outcry in Afghanistan, with Khalilzad praising Pakistan for its role in the peace process but calling Khan's comments unproductive.
"While #Pakistan has made constructive contributions on the #AfghanPeaceProcess, PM Khan's comments did not. The future of #Afghanistan is for #Afghans, and only Afghans, to decide. The role of the international community is to encourage Afghans to come together so they can do so," he said in a tweet.
Many Afghans, including Ghani's arch-rival in the presidential race, Haneef Atmar — who has been pushing for the formation of an interim administration when Ghani's term ends in late May — criticized Khan's suggestion.
Khan's reported comments come two weeks after he said that peace will be restored in Afghanistan and that a friendly government will be created in Kabul soon. His comments had irked Kabul at the time too, with analysts saying that the latest statements may further sour the already uneasy ties between the two neighbors.
"Imran Khan's proposal about the formation of an interim government in Afghanistan is a flagrant and direct interference of Pakistan in Afghanistan, and naturally would further worsen relations between Afghanistan and Pakistan," Zubair Shafiqi, an analyst and prominent Afghan writer, told Arab News.
US ambassador to Kabul, John R. Bass, in a statement on Tuesday, said that Imran Khan needed to resist cricket-style "ball tampering with the #Afghanistan peace process and its internal affairs."
Following the anger from Kabul and Khalilzad's remarks, Pakistan's Foreign Office on Tuesday said that Khan's comments were "misinterpreted."
Wahidullah Ghazikhail, a commentator who runs a think-tank, said that the statements could also have an impact on the people of the two countries.
"Such remarks can trouble relations among governments which affect their people directly," he told Arab News.
He said that Ghani may try to use Khan's comments to shame those of his rivals who have been also pushing for the formation of an interim set-up. "Ghani politicizes Imran Khan's remarks and seeks to weaken his political oppositions."
Shafiqi said that Ghani may exploit the comments in his favor after being sidelined from all rounds of secret talks between Khalilzad and the Taliban, which have been held mostly in Doha, and will now push to be engaged in direct talks with the Taliban — not as part of a group of Afghans as demanded by the Taliban.
But he said that it cannot help Ghani to fill a legal and constitutional void that will be created when his tenure comes to an end in May and with the new date for elections set for Sept. 28.
The polls have twice been delayed, largely due to inefficiency in the government. Ghani, who wants to take charge of peace talks with the Taliban, has not spoken about what will happen and what he will do when his term ends in May.
In Washington, the State Department said that Khalilzad, following his tour of several nations, will head to Afghanistan for talks with Afghan rulers about the state of US and Taliban talks.
"In Kabul, the Special Representative will consult with the Afghan government and other Afghans about the status of US talks with the Taliban, encourage efforts to form an inclusive negotiating team, and discuss next steps in the intra-Afghan discussions and negotiations."
Khalilzad is expected to have another round of talks with the Taliban in Doha to discuss the vital part of the talks he had with the group in recent months, which involve the pullout of foreign troops and a guarantee from the Taliban that Afghan soil will not be used as a base for an attack against any country.
His trip to Kabul comes weeks after Ghani's National Security Adviser Hamdullah Mohib publicly accused him in Washington of trying to negotiate with the Taliban to advance his own political career with the formation of an interim government, which he said the Afghan-born diplomat wants to lead.
Mohib was summoned by the State Department, which protested against him. The US has barred him from traveling to America and Washington has reportedly said that it will not deal with Mohib any longer.
Full report at:
http://www.arabnews.com/node/1473736/world
--------
Africa
Boko Haram kills 10 people in eastern Niger
Mar 27, 2019
Ten people were killed along with two bombers in a coordinated attack late Tuesday by Boko Haram extremists on a town in eastern Niger, the local mayor said.
"Two female ... bombers blew themselves up and gunmen then attacked civilians," the mayor of the town of N'Guigmi, Abba Kaya Issa, told AFP on Wednesday.
"We have a provisional toll of 10 dead plus the two ... bombers," along with "seven or eight" wounded, he said, blaming "Boko Haram elements" for the assault.
"One of the ... bombers blew herself up in the courtyard of a policeman's home, which is located inside the police barracks, and the second triggered her explosives belt between the town hall, the police barracks and the prefecture," he said, referring to the office of the state representative.
A local resident said several houses had been burned and wounded children in the police camp had been taken to the local hospital.
Another inhabitant said "armed Boko Haram" attacked the district of Dileram, "killing civilians and torching homes."
N'Guigmi lies in the north of the Diffa region, near Lake Chad, which has borne the brunt of cross-border infiltration by the Nigerian-based extremists.
Eight people were killed last Thursday in the village of Karidi and 14 died in four attacks on Saturday. Fourteen soldiers have been killed since February 16.
The army says it killed "more than 200 terrorists" in the region at the end of last year, as well as 33 others on March 12.
An estimated 27,000 people have been killed and two million displaced since Boko Haram launched its insurgency in northeastern Nigeria 2009, a campaign that has spilled over to Burkina Faso, Niger and Chad.
https://www.presstv.com/Detail/2019/03/27/592004/Niger-Boko-Haram-Deaths
--------
Ship hijacked by rescued migrants off Libyan coast
27.03.2019
Migrants on Wednesday hijacked a cargo ship Elhiblu 1, which rescued them off the coast of Libya, the Italian interior minister said.
"These are not migrants in distress, they are pirates, they will only see Italy through a telescope," Matteo Salvini said in a Twitter post.
"This is clearly a case of organized crime. Our ports remain closed," Salvini added.
The ship with 108 migrants on board is now sailing towards Malta, said Mediterranea Saving Humans, a non-governmental organization.
There were six-member crew -- including Turkish captain, four Indians and one Libyan -- in the 52-meter-long ship.
Full report at:
https://www.aa.com.tr/en/africa/ship-hijacked-by-rescued-migrants-off-libyan-coast/1431994
--------
How al-Shabaab militants operate in Mogadishu
Simon Shen
Mar 28, 2019
During a recent trip to Somaliland in East Africa, I had a chance to engage with some international contractors who are undertaking projects there or in neighboring Somalia.
Those foreigners are always under heavy protection, having their own bodyguards or employing local soldiers, whenever they go outdoors.
I would probably have visited Mogadishu as well, the capital city of Somalia, which, according to these foreign contractors, is the truly dangerous place in the entire region, if I had managed to get my visa approved on time.
But that didn't happen and the plan had to be shelved. Still, I picked up something pretty useful and enlightening, which is, as the foreign friends have taught me, "how to tell whether a person is a terrorist in Mogadishu".
At present, the most active terrorist group in Somalia is the Harakat al-Shabaab al-Mujahideen, or "al-Shabaab" for short, meaning "the Youth Party".
The "al-Shabaab" once occupied the entire Mogadishu at the height of its power, only to be defeated and driven out of the city later by government forces.
Today even though al-Shabaab militants are no longer in control of the capital, they remain a force to be reckoned with, and continue to mount terrorist strikes almost on a weekly basis.
And the reason why they still keep on doing this over the years is quite simple: to generate fear among the local population, to make their presence felt, and, perhaps most importantly, to prove to the government that they remain destructive enough to be worth negotiating with.
As such, whenever the al-Shabaab has launched a successful attack, it will always claim responsibility immediately afterwards to make sure everybody learns about it, otherwise it would be a waste of their resources and efforts.
It is also for the same reason that under most circumstances, members of the al-Shabaab wouldn't even bother to hide their identity in public, nor would they mount an attack at all costs, because it is simply against their principle of "cost-effectiveness".
One of the foreign contractors that I met showed me a stack of photos, and drew my attention to one of them, which he said, based on his observations, is very likely to be a portrait of a bunch of al-Shabaab insurgents.
According to him, one of the most distinguishing features of al-Shabaab militants is that they always wear a keffiyeh and put on a pair of sandals, as opposed to most average young Somali men, who are pretty western when it comes to clothing styles and rarely wear the keffiyeh.
Another dead giveaway is that, as the contractor pointed out, the men in the photo were putting both of their hands in their trouser pockets.
For people who have been raised under western culture, this small habit has become so common and spontaneous that people often aren't aware of it when they are doing this.
Nevertheless, interestingly though, I was told that the average Somalis actually rarely do this.
If a Somali man who wears traditional clothing puts his hands in his trouser pockets, chances are, he may have a concealed gun and be ready to draw it if necessary, the contractor said.
I asked my friend if he would put himself in danger by openly taking a picture of a suspected al-Shabaab insurgent. His answer was: "not really".
It is because, he explained, these militants have a very calculating mind, and are very careful in choosing their targets: in most cases they would only go after easy prey in a hit-and-run fashion, namely, foreigners who are either alone or only slightly guarded when walking on the open streets.
My contractor friend also said al-Shabaab militants normally don't "work" on weekdays, and mostly strike during weekends, when there are usually more vulnerable targets, so that they can maximize the "cost-effectiveness" of their attacks.
Besides, these al-Shabaab terrorists tend to follow a set pattern in choosing their attack routes, and therefore most locals and expats in Mogadishu are pretty well-versed on how to avoid dangers.
Full report at:
http://www.ejinsight.com/20190328-how-al-shabaab-militants-operate-in-mogadishu/
--------
Most wanted Shabaab terrorist killed in Somali town air strike
MARCH 27 2019
For the fifth time, security forces have reported that Al-Shabaab's director of Kenyan operations has been killed in an air strike.
Ahmad Iman Ali, according to intelligence sources, is reported to have been killed last Friday when an unidentified aircraft conducted an operation on a building complex in the town of Bu'aale in middle Juba.
Sources within the ranks indicated that the Kenyan-born terrorism suspect was hit and killed together with over 40 Al-Shabaab members.
On Tuesday, the Kenya Defence Forces' communication department would not confirm the information, as the head, Col Paul Njuguna, said he was in a meeting all day.
Ministry of Defence spokesman Bogita Ongeri too did not confirm if the commander was killed in any attack by KDF or any other forces.
Ali, who was declared a Specially Designated Global Terrorist (SDGT) by the US in March 2018, took over the leadership of the group in 2012, and is perceived to have been behind the establishment of various terrorist cells in Kenya, leading to radicalisation of youth.
He is believed to have also spearheaded the establishment of cells in Tanzania, Mozambique, Uganda, Burundi, and DR Congo.
When he was declared an international terrorist, the US said it was denying him the resources they need to plan and carry out terrorist attacks.
"Among the consequences, all of their property and interests in property subject to US jurisdiction are blocked, and US persons are generally prohibited from engaging in any transactions with them," the statement from the government read.
PROPAGANDA
The brief said that Ali, also known as Abu Zinira, had targeted Kenyan troops serving with the African Union Mission in Somalia (Amisom), such as the January 2016 attack in El Adde.
"Ali is also responsible for Al-Shabaab propaganda targeting the Kenyan government and civilians, such as a July 2017 video in which he issues threats to Muslims serving in Kenya's security forces. Ali has also served as an Al-Shabaab recruiter, focusing on poor youth in Nairobi slums, and has fundraised at mosques to support Al-Shabaab activities," the statement indicated.
In 2015, Kenyan security forces announced that they were cracking down on investments they suspected were run by Ali in Nairobi's Majengo and stalls at Gikomba market.
Full report at:
https://www.nation.co.ke/news/Ahmad-Ali--the-student-who-joined-Al-Shabaab/1056-5043862-bqsiibz/index.html
--------
URL: https://www.newageislam.com/islamic-world-news/rashida-tlaib-ilhan-omar-accused/d/118156
New Age Islam, Islam Online, Islamic Website, African Muslim News, Arab World News, South Asia News, Indian Muslim News, World Muslim News, Women in Islam, Islamic Feminism, Arab Women, Women In Arab, Islamophobia in America, Muslim Women in West, Islam Women and Feminism