New Age Islam News Bureau
28 March 2020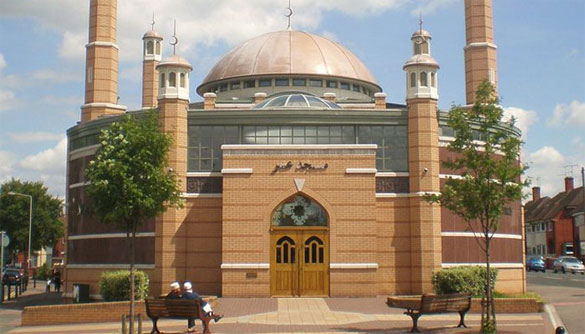 • Ramadan Is Under Quarantine This Year, But How Are Muslims Prepping?
• Muslims In Southeast Turkey Sacrifice Lambs, Pray for Coronavirus Cure
• UK Mosques Unanimous in Suspension of Congregational Prayers
• Panic Grips Deoband After Reports Of Kashmir COIVD-19 Deceased's Visit To Islamic Seminary
• Defying Islamist Protests: Middle East Scholar Speaks at U.S. Army War College
• Muslim Leaders Of Ghana Blame Coronavirus On 'Transgender And Lesbianism'
• Unlike Other Countries Like Kuwait, Saudi Arabia, And Egypt, Pakistan Has Not Banned
• Khalilzad Lauds Formation of Inclusive Negotiating Team For The Talks With Taliban
• Popular Preacher Balks at Simultaneous Muslim Special Prayer Campaigns
--------
Arab world
• Ramadan Is Under Quarantine This Year, But How Are Muslims Prepping?
• Saudi Arabia failing to find customers for extra oil supply: Report
• Hariri: Amnesty Should Include Islamist Prisoners
• Saudi Arabia denies contact with Russia over OPEC+ deal
• As world locks down, Qatari construction presses ahead
• UAE's bin Zayed expresses support to Syria in phone call with Pres. Assad
-----
Mideast
• Muslims In Southeast Turkey Sacrifice Lambs, Pray for Coronavirus Cure
• Turkey: Friday Muslim Prayers Led on TV Due to Virus
• Turkey accuses Saudi Arabia of concealing coronavirus cases among pilgrims
• Political Islam jeopardises Turkey's fight against coronavirus
• Israeli warplanes conduct new attacks on besieged Gaza Strip
• Prophet's Perfume, Bitter Oil Drops: Iran Warns Against Quackery, Islamic Medicine To Treat Coronavirus
-----
Europe
• UK Mosques Unanimous in Suspension of Congregational Prayers
• Islamic State and Coronavirus: A Joy of Weakening 'Crusader Nations'
• Muslim faith school shut down by Ofsted inspectors
-----
India
• Panic Grips Deoband After Reports Of Kashmir COIVD-19 Deceased's Visit To Islamic Seminary
• Keralite Among Afghanistan Gurdwara Attackers, Did It For 'Muslims In Kashmir', Says Islamic State
• Malaysian Preacher, 65, Dies In Bihar Mosque
• COVID-19 Lockdown: Hyderabad Muslims Pray At Home After Clerics Appeal
• Maharashtra: Worshippers stay away from mosques
• Delhi: Mosques Deserted, Friday Prayers at Home
• Ghaziabad: Religious Leaders Persuade People To Offer Friday Prayers At Home To Prevent Large Gatherings At Mosques Amid Lockdown
• Coronavirus: No Prayers in Kashmir Mosques on Friday
• Mosques Finally Close Doors in Agra, Muslims Offer Friday Namaz At Home
-----
North America
• Defying Islamist Protests: Middle East Scholar Speaks at U.S. Army War College
• Sefrou: Moroccan City of Religious Symbiosis Between Islam And Judaism
• Holy days may be impacted by social isolation, but Memphis faith leaders say it's a time for growth
• How The Muslim Ban Served As A Warning For Trump's Response To Coronavirus
• US extends Iraq waivers but intensifies Iran sanctions as COVID-19 breaks records
• US general warns over Pentagon's plan to target Iraq's anti-terror Kata'ib Hezbollah
------
Africa
• Muslim Leaders Of Ghana Blame Coronavirus On 'Transgender And Lesbianism'
• Islamic group reacts as Buhari govt moves to release prisoners
• Coronavirus: Worshippers desert mosques in Lagos, FCT, Katsina, others
• Popular APC Chieftain Attacks Imam Of Peace For Mocking Buhari
• Coronavirus: Pray at home – Islamic leaders tell Muslims in Ogun
-----
Pakistan
• Unlike Other Countries Like Kuwait, Saudi Arabia, And Egypt, Pakistan Has Not Banned Congregational Prayers That Pose A Clear Threat To Public Health
• Police visit mosques to convince citizens to offer prayers at home
• Punjab, Sindh, Balochistan limit prayers in mosques Corona cases reach 1321 including an MPA
------
South Asia
• Khalilzad Lauds Formation of Inclusive Negotiating Team For The Talks With Taliban
• Afghan forces suffered casualties in Badakhshan province, Mod confirms
• Afghanistan confirms 104 positives cases of coronavirus
• New details emerge regarding the Indian man who attacked the Afghan Sikhs in Kabul
------
Southeast Asia
• Popular Preacher Balks at Simultaneous Muslim Special Prayer Campaigns
• COVID-19: Countries ban Friday prayers, Muslims at home
-----
New Zealand/Australia
• Australia-based Islamic Cleric Slams President Buhari Over Failure To Address Nigerians On Coronavirus Outbreak
Compiled by New Age Islam News Bureau
URL: https://www.newageislam.com/islamic-world-news/ramadan-under-quarantine-this-year/d/121427
------
Ramadan is under quarantine this year, but how are Muslims prepping?
2020-03-28
By Mariam Nabbout
Bustling markets, street decorations, and iftar invitations are essential parts when it comes to the holy month of Ramadan. Thirty days of fasting, dawn till sunrise, have since forever brought a mystical feel to this Muslim holiday; the latter is awaited impatiently by people of the Islamic faith year on year.
But as with everything else in life, exceptions occur. With less than a month to go before Ramadan begins on April 24, apprehension has taken over the usual excitement reserved for iftar gatherings and family get-togethers. The novel coronavirus (COVID-19) has thrown its weight on the shoulders of Muslim families who eagerly count the days with every turn of the calendar before they're reunited over prayers and mouthwatering feasts.
Currently, the world is on lockdown: mosques are closed, holy Islamic sites in Saudi Arabia are emptier than ever, and flights are suspended.
Many have now accepted the reality that the core of the holy month will be affected by an outbreak that shows no signs of subsiding anytime soon. We spoke to a number of Arab Muslims, asking them about Ramadan preparations under such unprecedented circumstances, and here's what they told us.
Faced with the reality that group prayers usually held in mosques during Ramadan won't be possible in Kuwait this year, Ahmed, a lawyer based in the country, is gearing up by launching an online prayer group.
"Prayers are a pillar of Islam all year long but in Ramadan they're even more special. We're also used to joining the taraweeh prayers after dinner during the month and the beauty of it is that you get to do that with close friends and family members," Ahmed explained to StepFeed.
Praying in unity is vital since it plays an important role in uplifting the spirits of worshippers, Ahmed believes, which is why it's important to keep a connection among those used to praying together — even if it isn't physical.
"I am launching a prayer group online. So far 14 of my relatives and friends have joined and we're thinking of opening up to more people. We'll connect via a video-call platform for one prayer each day of Ramadan. I think every group of friends and families should do the same," the lawyer added.
Ahmed and his group have already agreed that even if mosques do open for Ramadan, they will stick to their plan as they believe the risk of contracting the novel coronavirus will remain high until then.
"Like everyone else in Saudi Arabia, I am just hoping coronavirus will all be over by next month but that doesn't mean I am hopeful. Infections are rising around us [...] people are overwhelmed by the lockdown," Reemas, a Saudi graphic designer, lamented over the current situation.
In Saudi Arabia, a curfew was set - 3 p.m. till 6 a.m. - to minimize the number of infections. Even though Reemas understands the need for it, she believes this curfew has already shown drastic changes to the way Saudis would normally prepare for the holy month.
"I always felt at peace before Ramadan, this year I am drained. Most of my friends feel the same too because everything is unstable right now," she added.
After fasting all day long, Muslims all around the world gather around an iftar table to break the fast together. This is also a tradition in Egypt where extended families meet on a daily basis during Ramadan.
"I live alone in Cairo so I am mentally prepping for futoor in isolation. To be honest, it's daunting to think that it has come to this but there's no other way or else I'd be putting my parents and grandparents at risk," Sarah, a 27-year-old from Egypt, told StepFeed.
This would be the first time Sarah - just like millions of Muslims - doesn't feel the spirit of Ramadan coming along in the weeks leading up to it. People are busy trying to navigate and live through the COVID-19 outbreak that "it's definitely changing the way we all plan for Ramadan."
"We always used to prep for Ramadan for weeks. This year, we don't even want to go buy Ramadan groceries. A trip to the supermarket is this scary and exhausting for us because of this illness," Manal, a 29-year-old graphic designer based in Dubai, told StepFeed. "I went once and could only focus on the necessities that we need to make it through this lockdown. I couldn't think or plan any further," she added.
"Personally, this crisis has reminded me of the true essence of the holy month which is really all about helping people. Instead of focusing on what to buy and where to go, I think this year we have a chance to re-experience the meaning behind Ramadan," the young medic commented.
Loolwa and many of her colleagues are hoping to use the holy month's spirit to help them in the fight against the viral illness.
"I am more focused on those in need this year and I think we all should've been all along. The fact that Ramadan is approaching during this time is a true reminder for us all to shift our focus to what really matters," she advised.
"It's a tradition that has been going on for decades, we all meet for iftar and by all I mean over 50 people that make up our family. This year we've already agreed we won't be doing that because we need to look out for the well being of older family members," she said.
The 26-year-old isn't about to let the virus completely ruin the family tradition and has already worked out a plan. "Fingers crossed that the internet in Lebanon won't let me down but the plan is to still have iftars together online. I made my grannies, aunts and uncles Skype accounts and we have a few weeks to practice," she explained to us.
All jokes aside, Reem believes this is the safest way to feel less isolated while taking all the precautions needed to protect everyone during a month that would usually include tens of family gatherings.
https://stepfeed.com/ramadan-is-under-quarantine-this-year-but-how-are-muslims-prepping-1931
------
Muslims in southeast Turkey sacrifice lambs, pray for coronavirus cure
Mar 27 2020
Townspeople in Turkey's southeastern Hakkari province have sacrificed 180 lambs as part of an Islamic ritual to provide food for those in need, with participating worshippers praying for an end to the coronavirus pandemic, Yeni Şafak reported on Friday.
"Alms-giving helps keep disasters and catastrophes at bay," Yeni Şafak quoted Hakkı Töre, a former lawmaker, as saying. "Our country is in the midst of a trial."
The ritual was carried out in seven towns in the majority-Kurdish province, and the meat was distributed to the needy in nearby villages, Töre told Yeni Şafak.
Turkish Health Minister Fahrettin Koca on Friday announced the number of new coronavirus cases had risen by 2,069, bringing the total number of people diagnosed to 5,698. The death toll of people with the virus in Turkey rose to 92, after 17 people died on Friday.
People in Turkey have resorted to different measures to stem the spread of COVID-19, from prayers to drone deliveries.
https://ahvalnews.com/turkey-coronavirus/muslims-southeast-turkey-sacrifice-lambs-pray-coronavirus-cure
-----
UK mosques unanimous in suspension of congregational prayers
Murtaza Ali Shah
March 28, 2020
LONDON: Mosques across the United Kingdom have closed congregational prayers to protect worshippers from the viral COVID-19 outbreak.
Instead of hosting Friday sermons in their mosques, clerics in the UK have used technology to continue praying with Muslims without incurring health risks by featuring the sermons live on social media platforms.
The Ilford Islamic Centre live-streamed its Friday sermon on Facebook. Addressing his community digitally, the Imam said, "The day of Jummah tul Mubarik is a day of hope but rather it is a day to turn to Allah SWT and make special duas and supplications to him."
The Imam further mentioned that mosques were closed and congregational prayers were suspended to protect the health of the worshippers.
On the first Friday after PM Boris Johnson announced lockdown of the country and asked Britons not to come out of their homes unless very essential, no mosques opened on Friday for the Jumma prayers. Most Imams took to their social media pages to reach out to the faithful.
More than three million Muslims live in the UK who are considered amongst the devout faith groups who regularly attend mosques but the mosques have unanimously supported the advice sent out by health professionals and the government.
Famous scholar Allama Ghulam Rabbani told The News that it's best to stay safe and stay at home. He said that students from all Ahle Sunnat madrassahs have been sent home to continue their teaching from home. He said that the affiliate mosques had stopped congregations even before the PM made the announcement.
Earlier, funeral prayers of a Pakistani origin British citizen in Luton were conducted in the graveyard while the mourners observed social distance during the prayers. The funeral prayers were led by Qazi Abdul Aziz Chisti who told the gathering, "I will request all of you to follow the law and keep a distance while you are praying the funeral prayers for the departed.
In a unanimous press release issued by over a dozen of the biggest Muslim and Islamic associations in Britain, including The Islamic Cultural Centre & London Central Mosque, Jamiat-e-Ulema Britain, East London Mosque & London Muslim Centre, Manchester Central Mosque, Birmingham Central Mosque and Glasgow Central Mosque, the entire Muslim community agreed to support the government's ban on congregations.
The press release read, "Following the latest rulings (Fatwas) from many reputable Islamic scholars, Shariah boards as well as the latest UK governmental guidance and advice from medical organisations, the undersigned mosques have taken the unprecedented and difficult move to suspend all congregational services and activities."
The joint press release stated that mosques owed a duty of care to the community and to the worshippers and thus, in these circumstances, congregational prayers would not be feasible.
It also cited a unanimously agreed maxim of Shariah law, "Preservation of life takes precedence over the public commission of significant acts of worship as well as the principle, Harm is to be removed".
Mosques across the Muslim world have also closed down congregational prayers after the global cases of coronavirus reached over 550,000 with over 25,000 deaths.
https://www.thenews.com.pk/print/635737-uk-mosques-unanimous-in-suspension-of-congregational-prayers
-----
Panic Grips Deoband After Reports Of Kashmir COIVD-19 Deceased's Visit To Islamic Seminary
27th March 2020
LUCKNOW: Panic gripped Islamic seminary Deoband in Saharanpur district of western Uttar Pradesh when it was revealed that the coronavirus positive patient who died in Kashmir recently had allegedly visited Deoband between March 9 and 11.
As per the sources, the deceased, 65, from Hyderapore in Srinagar had visited Deoband, which is the seat of Asia biggest Islamic seminary, Dar-ul-Uloom. He had visited Deoband with a group five persons and had stayed in a mosque.
The sources claimed that all those five who had visited Deoband with the man had also been quarantined at a special quarantine facility in Saharanpur.
Moreover, two cops, who had also offered namaz in the same mosque on March 13, were also sent on leave for home quarantine.
Meanwhile, in another major development, a manhunt has been launched by UP police to track down a Kerala cadre IAS officer Anupam Mishra, who is a native of Sultanpur in UP, after he was suspended for violating quarantine norms while in the southern state.
Mishra has been facing strict punitive action by the Kerala government. An FIR has been lodged against him and his wife for violating the health protocol by breaking the mandatory isolation after their return from Singapore.
https://www.newindianexpress.com/nation/2020/mar/27/panic-grips-deoband-after-reports-of-kashmir-coivd-19-deceaseds-visit-to-islamic-seminary-2122331.html
-----
Defying Islamist Protests: Middle East Scholar Speaks at U.S. Army War College
by Leonard Getz
March 27, 2020
On a 500-acre campus in Carlisle, Pennsylvania, Middle East scholar Raymond Ibrahim was finally allowed to give his speech before a packed, mostly civilian audience at the U.S. Army War College's Heritage and Education Center. Based on his book, Sword and Scimitar -- Fourteen Centuries of War Between Islam and the West, Ibrahim covered the 7th century origins of Islam, its conflict with Christianity during the hundreds of years that followed, and revisionist attempts to deny Islam's history of violent warfare and supremacism.
Ibrahim, a Judith Friedman Rosen Writing Fellow with the Middle East Forum, was on the receiving end of such an attempt in June 2019, when the Council on American-Islamic Relations and other Islamists convinced the U.S. Army War College to disinvite Ibrahim from his original appearance, fallaciously accusing the son of Egyptian immigrants of being a "bigot" and "white nationalist."
However, Ibrahim wasn't alone. In its press release, CAIR ridiculed the War College as "an academic institution run on taxpayer funds" which was "poised to exacerbate longstanding problems such as racism and human rights violations that exist within the US military."
Ibrahim explained that CAIR is "well aware how important it is to dominate the historic narrative." He pointed to his reliance on primary source material and actual quotes from jihadist and Islamists to support his view that there is "a continuity between past and present; Muslim religious leaders and jihadists see Christianity as both antithetical to the Islamic world and inherently ripe for conquest or conversion."
It took a letter signed by ten congressmen to Army War College commandant Major General John S. Kem, as well as a National Association of Scholars letter to President Trump which included 5,000 signatories, to convince Army leaders to reinstate Ibrahim's invitation.
When CAIR learned that Ibrahim was set to return to the Carlisle campus, it responded by once again suggesting that it suffers from an "internal problem with white supremacists and white nationalists within its ranks," while claiming that Ibrahim's talk would "instigate hatred against Muslims."
Undeterred by his Islamist critics, Ibrahim began his presentation by saying that "since 9/11," it has "become popular" for media and academia to whitewash the Koran's objectionable passages. "They say Mohammad may have done bad things, but so did King David and Abraham," he said. The difference, Ibrahim noted, is that the Torah acknowledges the wayward path of these leaders and advises against following them, unlike the Koran.
For argument's sake, Ibrahim offered to "put aside what the Koran says," and "see what Islamists have done." Beginning with the Islamic conquests of the Middle East and North Africa, Ibrahim argued that Islamists' consistent goal has been western submission to Islamic supremacy. This region, which is identified today as Muslim-majority, was home to more Christians than Europe in the 7th century. What remained after the Arab Muslim invasion became "the West." Ibrahim quoted historian Franco Cardini, who wrote that, "Repeated Muslim aggression against Europe in the 7th and 8th centuries and again in the 14th and 18th centuries was a violent midwife to Europe."
Ibrahim referred to the late historian of Islam Bernard Lewis, who said, "We forget that for a thousand years since the advent of Islam from the 7th century to the siege of Vienna in 1683 Christian Europe was under constant threat from Islam, the double threat of conquest and conversion violently wrested from Christendom." Ibrahim noted that modern historians often fail to acknowledge this simple truth.
He argued that Mohammad's guidance to spread Islam was the motivation behind the Islamic conquests. The only way peace could be achieved was through acceptance of Islam by conversion, enslavement, or paying the jizya -- an enormous annual tribute which the caliphate levied on non-Muslims.
Short of these options, a non-believer's only recourse was to fight to the death. He quoted what Islamist conqueror Khalid bin Walid said to a Byzantine general before the Battle of Yarmuk in 636 CE: "We Arabs are in the habit of drinking blood and we are told the Romans are the sweetest of its kind. Where you love life, we love death."
Unlike contemporary historians who identify the various inter-civilizational wars of this age as ethnic and nationalistic, Ibrahim emphasized that the primary sources clearly show that these ongoing battles were manifestations of jihad, inspired by Koranic scripture. He called this tendency "a historic fact that modern day historians censor."
Ibrahim showed that modern jihadists "belonging to groups such as ISIS are well-versed in Islamic historic military jurisprudence" and the Koran and point to historical precedents to justify their violence and brutality.
At the fall of Constantinople, Sultan Mehmed II motivated his jihadists with the same instructions invoked by modern-day ISIS: "Recall the promise of our Prophet regarding fallen warriors in the Koran; the man who falls in combat will be transported bodily to Paradise [and] will dine with Mohammed in the presence of women."
Next, Ibrahim recounted the American experience with the Islamic Barbary pirates in 1785 and 1786 that attacked U.S. merchant ships and enslaved American sailors. In an effort to ransom the slaves, Thomas Jefferson and John Adams entered negotiations with Abdul Rahman, Tripoli's ambassador to Britain. The American diplomats futilely explained that they "had done them no injury" and "consider all mankind our friends."
Abdul answered that "it was founded on the laws of their Prophet, written in the Koran that all nations not acknowledging their authority were sinners, that it is their religious right and duty to make slaves of non-believers, and all Muslims slain in battle were sure to go to paradise." America's conflict with Islam did not begin on 9/11. Rather, it dates back to the time of America's Founders.
Theodore Roosevelt wrote in 1916 that "the Christian religion would be exterminated" were it not for the growth of European military superiority over the Muslim world.
To underscore this message, Ibrahim cited Theodore Roosevelt's 1916 book, Fear God and Take Your Part, where the former president pointed out, "If the peoples of Europe in the 7th and 8th centuries, and on up to and including the 17th century, had not possessed a military equality with, and gradually a growing superiority over the Mohammedans who invaded Europe, Europe would at this moment be Mohammedan and the Christian religion would be exterminated."
The great English statesman Winston Churchill also criticized Islam for institutionalizing slavery. "The fact that in Mohammedan law every woman is the absolute property -- either as a child, a wife, or a concubine -- must delay the final extinction of slavery until the faith of Islam has ceased to be a great power among men."
Ibrahim rhetorically asked, if the violent history of Islam is so well-documented, "so ironclad" then "why don't we know about it?" Older historians who studied Islam unprejudiced by political correctness reached conclusions which no longer comport to what the public is told. Conversely, modern historians get away with academic malpractice by reducing previous Islamic studies scholarship to outdated myths.
This is all part and parcel to what Ibrahim referred to as "propaganda as a form of jihad," misinformation of which academics and groups such as CAIR are the most vociferous defenders.
Meanwhile, CAIR, an unindicted co-conspirator in the nation's largest terrorism finance trial and an accused Hamas supporter, engaged in "propaganda jihad "by working to suppress Ibrahim's historical review, a practice consistent with Islamist suppression of different religious beliefs.
In the end, Ibrahim gave Army service members and the community a coherent and fact-driven presentation of Islamic history that everyone in America should hear, one that dispels the many false, politically correct notions about the nature of Islam. It lays bare the inconvenient truth that Islamic ideology is what motivates Muslim jihadists to perpetrate acts of terrorism against non-believers, both domestically and abroad.
https://www.meforum.org/60624/middle-east-scholar-speaks-at-us-army-war-college
------
Muslim Leaders Of Ghana Blame Coronavirus On 'Transgender And Lesbianism'
MARCH 27, 2020
People in Ghana undertook two days of fasting and praying this week, on Wednesday and Thursday, at the insistence of Ghana's president and the chief imam.
While this was supposed to be a time to pray for "Allah's intervention against the coronavirus", Ghana's Muslim Mission couldn't resist the opportunity to blame LGBT+ people for the global health crisis.
Calling on Ghanaians to pray for those infected with the coronavirus, and for those in quarantine or isolation because of the disease, the Muslim Mission of Ghana – as one of the five messages it broadcast to the nation – said that "abominable" LGBT+ people are to blame.
"It is important for us to acknowledge our sins against the world," the Muslim Mission said, "especially the most abominable acts such as homosexuality, lesbianism, transgender, destruction of water bodies and forests."
Repenting for the "sin" of "homosexuality, lesbianism, transgender" will "bring us Allah's mercies and intervention in fighting the pandemic in Ghana and the rest of the world", the Islamic organisation added.
It was Ghana's chief imam, Sheikh Dr Osamanu Sharubutu, who last week used his national address about coronavirus to call LGBT+ people "demonic".
Addressing the country via a broadcast from his house after Ghana's president Akufo-Addo banned usual meeting at mosques, wedding and other gatherings, Sharubutu called for hand sanitiser dispensers to be placed outside mosques and also, bizarrely, for the president to ban meetings of LGBT+ people.
"The almighty Allah created woman for a man and vice versa. It is against the holy Quaran to indulge in such unacceptable behaviour. I am urging all not to indulge in it," Sharubutu said.
https://www.pinknews.co.uk/2020/03/27/ghana-coronavirus-muslim-mission-pandemic-transgender-lesbian-homophobia/?utm
------
Unlike Other Countries Like Kuwait, Saudi Arabia, And Egypt, Pakistan Has Not Banned Congregational Prayers That Pose A Clear Threat To Public Health
28 March 2020
ARSALAN KHAN
Pakistan has crossed 1,200 confirmed cases of COVID-19, and the actual infected is likely significantly higher. Yet, unlike other countries like Kuwait, Saudi Arabia, and Egypt, Pakistan has not banned congregational prayers that pose a clear threat to public health.
A few weeks ago, thousands thronged to Raiwind for the annual congregation of the Tablighi Jamaat, a transnational Islamic piety movement. The Federal Government requested that the congregation be suspended – but only on the second day.
For weeks, congregations in mosques have continued despite dire warnings. Yesterday, a council of the country's most prominent Islamic ulema met and all but one, a Shia representative, proclaimed that mosques should remain open and that Friday congregation prayers should proceed, albeit shortened.
Today, as I write this article, thousands if not hundreds of thousands of men across Pakistan will have visited their local mosques for Friday prayers despite the threat to their lives and the lives of their families.
The government announced that while mosques would remain open, mosque congregations should not exceed three to five, a welcome policy, to which a few prominent Islamic scholars have acceded. But, many others insist that mosques remain open and congregational prayers continue.
Congregational prayers are, of course, a pillar of Islam and understood by many as a mandatory requirement, but throughout the world, Muslims are adjusting their religious duties to save lives. This is seen as necessary by the state to protect citizens and also well within the demands of Islam.
Yet, in Pakistan, Islamic authorities are resisting state pressure to close mosques, and the government refuses to take strident actions against them. Many people in Pakistan and around the world are asking why Pakistan seems to stand out in this seemingly suicidal commitment to mosque congregations.
Pakistan was conceived as a homeland for the Muslims of the Indian subcontinent. The country was founded on the two-nation theory that posited that Hindus and Muslims were fundamentally distinct people with distinct religious and cultural traditions. Pakistan's founder and father of the nation Muhammad Ali Jinnah did not conceive of Pakistan as an Islamic state.
In a famous address, he proclaimed: "You are free; you are free to go to your temples, you are free to go to your mosques or to any other place or worship in this State of Pakistan. You may belong to any religion or caste or creed -- that has nothing to do with the business of the State."
But Islam was not absent from the understandings of national identity either. In 1949, less than two years after Pakistan's founding, the Constituent Assembly passed the Objectives Resolution which declared: "Sovereignty belongs to Allah alone but He has delegated it to the state of Pakistan through its people for being exercised within the limits prescribed by Him as a sacred trust."
Pakistan, then, has always wrestled with an internal tension between, on the one hand, the idea that Pakistan should be governed according to a divine plan and on the other that it should be dictated, solely, by the will of the people.
All governments have had to strike some balance, and of course, ideally, it was understood that both the will of the people and the will of God would be one and the same.
Religious parties like the Jamaat e Islami had long argued that Pakistan must move in the direction of Islamic ideals and that this required the creation of an Islamic state. But, their abilities to realise this goal remained limited in the first decades after independence.
It was the military dictatorship of General Zia ul Haq that formalised and intensified the link between Islam and the state, making Islam the basis for state sovereignty.
The cataclysmic civil war of 1971 that led to the violent birth of an independent Bangladesh had rent the myth of a united Muslim identity asunder. Ethnic nationalists throughout the country were demanding greater recognition and autonomy for linguistic and ethnic identities and autonomy for provincial governments from the federal centre, challenging that basic premise of a single, unified Muslim identity.
When Zia assumed power, he claimed it was in defence of both Islam and Pakistan, and he used Islam as a bulwark against both progressive forces as well as ethnic nationalists.
Zia's "Islamisation" expanded the scope of Islamic law in Pakistan, establishing the Federal Shariat Courts to ensure that laws are in keeping with Islam, passed a range of anti-women (Hudood Ordinances) and anti-minority (Ordinance XX against Ahmadis) legislation, mandated the teaching of Islam in schools, and generally promoted Islamic institutions.
Moreover, the period witnessed the dramatic growth of madrassa education funded in part through the collection of zakat taxes and flow of funding from Saudi Arabia to support the Afghan jihad.
Islam's symbolic importance grew throughout the next few decades. Zia's Islamisation expanded the political space for religious political parties and also led to the politicisation of the Islamic ulema who became increasingly involved in matters of the state. But, it also intensified competition over the mantle of Islamic authority.
The politics around Islamic authority in Pakistan is an immensely competitive space, and this competition shapes the refusal of the ulema to implement the closing of mosques despite the dire threat of Covid-19.
Nobody wants to be seen as backing down from the commitment to a foundational religious practice like congregational prayer. In the competition for being the authentic and true representatives of Islam, admitting the need to close mosques is to cede the symbolic value of Islamic faith to others.
The ranking ulema in Pakistan can find their authority challenged both by other ranking ulema but also by lower-tier ulema and mosque imams. There are economic issues at play, as well.
Madrassas in Pakistan produce graduates who fill the mosques of Pakistan, and they depend on mosques for their livelihood. The mosque economy depends on alms and is therefore tied to the flow of bodies in the mosque. To demand a closing of mosques can, then, potentially invite the ire of one's constituency.
The Pakistani state draws directly on Islamic authority and thus has become beholden to Islamic actors, particularly to the authority of the ulema.
The reluctance of the government of Pakistan to close mosques and ban congregational prayers despite the obvious and immediate threat posed to Pakistani citizens by Covid-19 is a clear manifestation of this problem.
The ruling Pakistan-Tehreek I Insaf (PTI) government led by Imran Khan has been notably reluctant to take bold action. This is because the PTI has placed Islam at the centre of its populist politics.
Prime Minister Imran Khan, a former cricketer and once-notorious playboy has reinvented himself as a born-again pious Muslim and routinely claims that the mission of his party is to create a "riyasat-e-medina" or 'state of Medina'.
This vision of an Islamic society is not necessarily in keeping with that of the ulema, and Imran Khan has faced resistance and a backlash from Islamic groups and parties. But, to override the collective body of ulema is very difficult for a government that routinely affirms its Islamic credentials.
The government must close mosques and place a ban on congregational prayer immediately. But, it is true that to do so "unilaterally" could invite a backlash and could lead religious parties and actors to take their protests to the streets.
The state is generally reluctant to take on religious actors but the threat of street protests in the context of Covid-19 is, indeed, a disturbing prospect.
Nevertheless, the Pakistani state must dig into the Islamic tradition as have the governments of other countries to find alternative sources of Islamic authority.
https://www.trtworld.com/opinion/why-pakistan-isn-t-closing-mosques-despite-the-coronavirus-threat-34913
------
Khalilzad lauds formation of inclusive negotiating team for the talks with Taliban
28 Mar 2020
The U.S. envoy for Afghan peace Zalmay Khalilzad lauded the formation of an inclusive team for the talks with the Taliban group.
"I want to congratulate Afghan government, political & civil society leaders for coming together. They've forged an inclusive negotiating team for talks with the Taliban," Khalilzad said in a Twitter post.
Khalilzad further added "The Islamic Republic delegation reflects the true tapestry of the nation and the instrumental role of women."
The Afghan government announced last week that it has formed a negotiating team led by former intelligence chief Masoom Stanikzai to hold talks with the Taliban group.
The State Ministry in Peace Affairs said the negotiating team consists of 21 members including Masoom Stanikzai, Nader Naderi, Abdul Mateen Baig, Zerar Ahmad Muqbil, Fatema Gilani, Fawzia Koofi, Mohammad Rasool Talib, Abdul Hadi Arghandiwal, Habiba Sarabi, Dr. Ghairat Baheer, Mohammad Hafeez Mansoor, Ghulam Farooq Majrooh, Mawlavi Enayatullah Baligh, Kalimullah Naqeebi, Mohammad Nateqi, Batur Dostum, Gern. Ayoub Ansari, Shahla Fareed, Sharifa Zurmati, Dr. Ameen Ahmadi and Khalid Noor.
https://www.khaama.com/khalilzad-lauds-formation-of-inclusive-negotiating-team-for-the-talks-with-taliban-04576/
-------
Popular preacher balks at simultaneous Muslim special prayer campaigns
March 28, 2020
PETALING JAYA: A popular preacher has hit out at Muslims who organise special prayer sessions which have been deliberately timed simultaneously, describing such actions as "foolish" and "logically wrong".
Ismail Musa Menk said getting Muslims to pray at the same time was against the principle of prayers in Islam, which he said are done throughout the day in different time zones around the world.
"We are not going to earn the pleasure of Allah by coming out with a strategy that is unheard of, unknown," said Menk, better known as Mufti Menk, a Zimbabwean preacher who is well known for his motivational talks.
Several Muslim groups had called for such virtual congregational events in the past, including mass recitations of the Quran worldwide during a specific hour of the day.
Similar calls have also made rounds recently as mosques nationwide shut down under Putrajaya's movement control order to contain the Covid-19 virus.
Several media organisations and Islamic groups have also backed similar prayer sessions, with the involvement of a government leader, calling on Muslims to join virtual congregations at a specific time so that they can do so simultaneously.
"Practise good hygiene and social distancing. Do what's right in this current climate. Numbers are rising. Governments are taking drastic measures trying to contain the spread. Let's do our best," he said in a separate Twitter post.
https://www.freemalaysiatoday.com/category/nation/2020/03/28/popular-preacher-balks-at-simultaneous-muslim-special-prayer-campaigns/
-----
Arab world
Saudi Arabia failing to find customers for extra oil supply: Report
27 March 2020
Saudi Arabia is having serious problems finding buyers for the extra oil it is going to pump into the global markets in the coming months as customers cancel or delay orders mainly because of falling demand for refined products and surging transportation prices, shows a report.
The Reuters news agency said in its report that major oil companies around the world had already cancelled orders for extra Saudi oil in April and May after Riyadh disagreed to pay rebates on freight under default contract terms.
That means that Saudi Arabia is now struggling to find customers for the millions of barrels of oil it was planning to pump into the markets each day.
Earlier this month, the Saudis decided to supply oil at a major discount in the coming months after they failed to convince rival producer Russia to agree to new cuts to production.
However, Reuters' report said that many of those customers, including Royal Dutch Shell, Finland's Neste, US and Polish refiners and Unipec, the trading arm of Asia's largest refiner Sinopec in China, were taking less Saudi crude.
Saudi Arabia's state-run Aramco, the world's largest oil company, has been directed by the Kingdom to keep supplying crude at an all-time high of 12.3 million barrels per day (bpd) until the end of May and then add another 10 million bpd to the production.
Cancelling orders for extra Saudi oil comes as many refiners face tumbling demands as a result of the new coronavirus pandemic which has seriously affected the global markets.
https://www.presstv.com/Detail/2020/03/27/621747/Buyers-avoid-extra-Saudi-oil,-discounts-fail:-Report
-----
Hariri: Amnesty should include Islamist prisoners
27 Mar 2020 17:00
Former Prime Minister Saad Hariri on Friday said that coronavirus is not a door for discrimination in judicial decisions, stressing the need for the amnesty law to include the Islamist prisoners.
He said on Twitter: "It is a good thing for the amnesty to include those whose sentence ends in six months, but what is more important is the fate of hundreds of Islamist prisoners who are paying the price of the slowdown in trials or have been held under preventive detention for years."
"In time of coronavirus, these should be pardoned first. We have previously rejected a proposal for a general amnesty law that unfairly deals with this case. Today there is an epidemic that has limitless risks on the lives of citizens, and a general amnesty has become an urgent demand that is more important than all narrow calculations, and political considerations are no longer acceptable," he added.
https://www.mtv.com.lb/en/News/Local/1037221/Hariri-Amnesty-should-include-Islamist-prisoners
-----
Saudi Arabia denies contact with Russia over OPEC+ deal
28 March 2020
DUBAI: Saudi Arabia has denied it has had any contact with Russia's Energy Ministry over the possibility of a new OPEC+ deal to rebalance global oil markets.
A statement from the Saudi Energy Ministry dismissed reports from Moscow that there had been discussions between Russia and the Kingdom aimed at resurrecting the OPEC+ alliance, and even bringing in new members.
"There have been no contacts between Saudi Arabia and Russian energy ministers over any increase in the number of OPEC+ countries, nor any discussion of a joint agreement to balance oil markets," a ministry official said in a statement.
The denial followed quoted comments in the Russian and international media by Kirill Dmitriev, CEO of the Russian Direct Investment Fund (RDIF), to the effect that a new arrange- ment was desirable in light of turmoil in global energy markets
Brent crude — the Middle East benchmark — traded at $24.41 per barrel on Friday, compared with a 12-month high of $75 per barrel.
Since the OPEC+ partnership led by Saudi Arabia and Russia fell apart in Vienna earlier this month, energy volatility has been exacerbated by the accelerating coronavirus outbreak and a big drop in global demand for oil and gas.
"Joint actions by countries are needed to restore the global economy. They are also possible in the OPEC+ deal framework," Dmitriev told Reuters. He declined to identify which countries he thought should get involved in any new OPEC deal. Dmitriev, whose RDIF wealth fund is a significant invest- ment partner of Saudi Arabia, was a member of the team led by Russian Energy Minister Alexander Novak that took part in the OPEC+ negotiations.
A Russian official who did not want to be named told Arab News that Dmitriev was speaking with the knowledge of the energy ministry and of Russian President Vladimir Putin.
"We are in contact with Saudi Arabia and a number of other countries. Based on these contacts we see that if the number of OPEC+countries will in crease and other countries will join, there is a possibility of a joint agreement to balance oil markets," Dmitriev said.
Conditions in global energy markets have changed significantly since Saudi Arabia and Russia failed to agree bigger cuts to oil supply earlier this month.
The Kingdom responded with deep discounts to its oil products for international customers and a surge in supply to more than 12 million barrels per day from next month.
Since then, oil demand has fallen faster than at any time in history, with some experts predicting a decline of around 20 percent from the roughly 100 million barrels per day consumed in normal economic conditions.
At the same time, the oil price has also dropped. On Friday, Brent crude, the Middle East benchmark, was down by 7.33 percent from the previous day, at $24.41 a barrel, compared with a 12-month high of $75 per barrel.
Lower oil prices are especially worrying for the American shale industry, which has much higher production and finance costs than either Saudi Arabia or Russia.
A group of American senators has written to US Secretary of State Mike Pompeo urging him to ask Saudi Arabia to change its current high-output, low-price policy. "Our nation's energy dominance, which President Trump has carefully nurtured over the past three years, is now under threat," the lawmakers said.
The energy industry did not feature in the "virtual" summit of the G20 group of nations organized by the Saudi Arabian presidency last Thursday, but before the meeting Pompeo asked Crown Prince Mohammed bin Salman to "reassure global energy and financial markets."
https://www.arabnews.com/node/1648606/business-economy
----
As world locks down, Qatari construction presses ahead
March 28, 2020
LONDON: The outbreak of coronavirus disease (COVID-19) across much of the world has forced many governments to act, with most ordering restrictions on daily life and working conditions, and some even ordering complete shutdowns in a bid to contain the pandemic.
Even where governments have left the choice up to employers, many have taken the decision to let employees work from home where possible to slow the spread, with others shutting down work for the foreseeable future to protect lives.
That has not been the case in Qatar, though, where many migrant laborers are still working on crowded, dangerous construction sites as the country gears up to host the 2022 FIFA World Cup.
Qatar's government has banned "all forms of gatherings … including but not limited to the Corniche, public parks, beaches and social gatherings."
But despite also putting in place near-total bans on the operating of gyms, malls and banks, construction sites were notably not part of the ban.
Qatar currently has the third-highest number of confirmed COVID-19 cases in the Middle East, at 500.
But as Doha struggles to respond to COVID-19, and with the World Cup inching closer, work on stadiums and other infrastructure projects has continued apace, despite the majority of its cases being migrants.
Workers at Qatari construction sites reportedly receive very little in the way of health checks, and commute to work on packed buses from the camps in which they live, where proximity to others, often with 10 people to a dormitory, is a near constant.
In a report by The Guardian, laborers said they felt they had no choice but to continue going to work, facing pressure both from the companies that employ them and the need to support their families overseas.
"I worry a lot about getting the virus, but I need the money," said a Kenyan laborer, adding that he was not provided with protection beyond gloves and a mask on his 14-hour shifts.
A Nepalese worker told The Guardian: "I use a face mask, which I bought myself. Those who don't have a mask cover their mouth with a piece of cloth."
Migrant workers in Qatar face a difficult choice, especially with the outbreak of the COVID-19 pandemic.
Many pay large fees to secure sponsorship allowing them to travel, are underpaid for their labor, and are only allowed to leave or change their jobs with the permission of their employers — a practice many have likened to slavery and which, despite promises by Doha to end it, remains widespread.
James Lynch, a director at Fair/Square Research and Projects, and an expert on migrant workers in Qatar, told The Guardian: "It is hard for employees in any context to refuse to go to work, but in systems like Qatar, where employers have extreme levels of control over workers, it would be particularly risky."
He added: "New migration to Qatar has been halted as a result of the pandemic, so the impact of losing your job is now even worse than it would be anyway."
Many have been outraged at the government's response, with social media posts illustrating the extent of ill-feeling among members of Qatar's migrant worker community.
https://www.arabnews.com/node/1648611/middle-east
----
UAE's bin Zayed expresses support to Syria in phone call with Pres. Assad
28 March 2020
Abu Dhabi's Crown Prince Mohammed bin Zayed Al Nahyan has held a phone conversation with Syrian President Bashar al-Assad as the Damascus army inches closer to win the war against foreign-backed terrorist groups.
In a post on his Twitter account on Friday, bin Zayed said that he had exchanged views with Assad on the novel coronavirus, COVID-19 and vowed to support the Arab country during the pandemic.
For his part, Assad welcomed the UAE's initiative and praised the Persian Gulf country's humanitarian stance in light of the pandemic that is wreaking havoc in the region and the world.
Syria has recorded five cases of COVID-19 so far, but there are concerns about a rapid spread of the respiratory disease in the war-wracked country, where health system and infrastructure have been decimated by years of conflict.
Friday's phone call was reported to be the first publicized contact between an Arab leader and Assad since Syria plunged into foreign-sponsored militancy in 2011.
Currently, however, alliances shift as the war in Syria winds down with the army capturing most of the territory that was once lost to Takfiri elements.
The Syrian military is now engaged in a months-old operation to liberate the last major terrorist-held area in the country.
Idlib Province, home to Turkish-backed elements, is the only large territory in the hands of terrorists after the Syrian military managed to undo militant gains and bring back almost all of Syrian soil under government control.
The United Arab Emirates (UAE) officially reopens its embassy in the Syrian capital of Damascus on Thursday, the Syrian Information Ministry has announced.
The Arab League suspended Syria's membership in November 2011, citing alleged crackdown by Damascus on opposition protests. Syria denounced the move as "illegal and a violation of the organization's charter."
In December 2019, Emirati charge d'affaires Abdul-Hakim Naimi praised Assad for his "wise leadership," describing relations between the two Arab countries as "solid and special".
Speaking at a ceremony to mark UAE national day, Naimi described ties between Damascus and Abu Dhabi as "solid, distinct and strong," saying, he hoped "security and stability prevails throughout the Syrian Arab Republic under the wise leadership of President Bashar al-Assad."
https://www.presstv.com/Detail/2020/03/28/621762/Syria-UAE-Bashar-Assad-coronavirus
------
Mideast
Turkey: Friday Muslim prayers led on TV due to virus
27.03.2020
Dilara Hamit
With all-important Friday congregational prayers banned in mosques over coronavirus fears, Turkey's top religious authority today led the faithful via television screens.
Ali Erbas, head of the Religious Affairs Directorate, delivered a sermon on television to help stem the virus' spread.
Just like last week, Friday congregational prayers are prohibited nationwide, with the exception of Bestepe Mosque in the capital Ankara, said the directorate in a statement.
On Monday, the directorate announced that congregational prayers had been suspended as a public safety measure during the pandemic.
Turkey has confirmed a total of 75 fatalities from the novel coronavirus, while the tally of infections was reported as 3,629 late Thursday.
After first appearing in Wuhan, China, last December, the virus has spread to at least 176 countries and regions, according to the U.S.-based Johns Hopkins University.
Nearly 543,000 people have tested positive worldwide, with the death toll above 24,000 and over 124,000 recoveries.
https://www.aa.com.tr/en/latest-on-coronavirus-outbreak/turkey-friday-muslim-prayers-led-on-tv-due-to-virus/1781840
------
Turkey accuses Saudi Arabia of concealing coronavirus cases among pilgrims
28 March 2020
Turkey says its first cases of the new coronavirus were detected among those returning from Saudi Arabia, accusing Riyadh of concealing the number of patients among pilgrims.
Turkish Interior Minister Suleyman Soylu said the first cases of coronavirus were confirmed in pilgrims who had returned to the country after performing the Umrah pilgrimage in Mecca,
Umrah, a lesser pilgrimage compared to the annual Hajj, involves a visit to Saudi Arabia where Islam's holiest site Kaaba is located.
"Saudi Arabia did not inform us or the world about any cases," Turkey's state-owned Anadolu news agency quoted Soylu as saying.
"People returned from Umrah [lesser pilgrimage]. The health ministry took measures right after the first case was observed and put the pilgrims in isolation centers," he added.
In an effort to contain the spread of the virus, Turkey quarantined more than 10,000 pilgrims upon their return from Saudi Arabia.
Turkey suspends flights to and from dozens of countries as authorities rise the death toll from the coronavirus to 21, with some 950 confirmed cases.
Turkey's Health Minister Fahrettin Koca said the total number of infections had reached 3,629, after 7,286 tests were conducted on Thursday.
Turkey has taken a raft of measures aimed at curbing the spread of coronavirus, from shutting schools and universities to banning mass prayers.
The government has also postponed matches in its main sports leagues indefinitely, as well suspending flights to many countries. The Turkish Interior Ministry has also announced that grocery store and supermarket hours will be limited to between 9 am and 9 pm, with a maximum of one customer for every 10 square meters of shop space.
Turkish authorities have ordered everyone aged 65 and over as well as those with chronic illnesses to stay at home, while most public spaces have been temporarily closed.
Meanwhile, Saudi Arabia tightened restrictions on religious gatherings outside two main mosques in the holy cities of Mecca and Medina on Thursday in an attempt to prevent the spread of a new wave of coronavirus in the country.
Saudi Arabia is to impose a nationwide curfew starting on Monday to fight the deadly coronavirus that hit more people in the kingdom and across the Middle East.
The new coronavirus, which causes a respiratory disease known as COVID-19, is believed to have first emerged in the central Chinese city of Wuhan in Hubei Province late last year. It has been reportedly contained in China, but is spreading rapidly around the globe.
More than 533,000 people worldwide have so far been infected with the virus and over 24,000 have died, according to a running count by www.worldometers.info.
As the rate of transmission of the new coronavirus shows no signs of slowing, many countries have adopted severe measures to contain the outbreak, including imposing lockdown measures and closing businesses and borders, as well as limiting public gatherings.
https://www.presstv.com/Detail/2020/03/28/621764/Turkey-Saudi-Arabia-coronavirus-pilgrims-Mecca-Umrah-interior-ministry
------
Political Islam jeopardises Turkey's fight against coronavirus
Mar 27 2020
With its huge budget and staff, the decisions made by Turkey's Religious Affairs Directorate (Diyanet) have had a negative effect on the country's fight against the deadly coronavirus pandemic, exiled journalist Can Dündar wrote for the Washington Post.
"Over the past two weeks, Turkey has been witnessing a lethal tug of war between reason and belief — one that shows us again how dangerous politicized religion can be," said Dündar, former editor-in-chief of opposition newspaper Cumhuriyet.
Diyanet officials participated in a meeting on Turkey's response to the coronavirus, organised by Turkish President Recep Tayyip Erdoğan on March 18, while the country's top medical professional organisation, the Turkish Medical Association (TTB) was not invited.
The top religious body had authorised thousands of Turks to go on pilgrimage to Mecca, Saudi Arabia, and by March 15 the 21,000 returning pilgrims became the biggest threat for the spread of the virus in Turkey as most of them were only checked for fevers at airports, against the advice of the TTB and other medical experts.
Only the last group of pilgrims, some 6,400 people, were quarantined, after many defied a non-binding request by the Diyanet to self-isolate for 14 days and not receive any visitors as is tradition.
"But it was too late," Dündar said. "Thousands of people had spread across the country. Within a week, the number of cases surged from one to more than 1,000."
Diyanet also decided to keep the mosques open, including for Friday prayers, "which draw around 18 million people each week," Dündar said. The government suspended Friday prayers on March 16, later than many Islamic countries including Iran and Kuwait, and after entertainment and cultural venues were already closed.
"But it was too late again," Dündar said. "Within one week, Turkey had surpassed all other countries in the rate of increase of cases."
Following the meeting that included Diyanet and excluded the TTB, President Erdoğan "chose to speak like a cleric," Dündar said, when he urged the country to "take precautions and leave judgement to Allah."
"Our Lord's help will be on our side," Dündar quoted Erdoğan as saying on March 25, as the president responded to concerns raised by experts that the spread of the virus would accelerate in coming weeks due to the delayed initial reaction.
Religious talk dominated Turkish media rather than scientists, Dündar said. A sociology professor said the coronavirus was god's wrath for "adultery and anal sex," while an infectious disease expert from the Coronavirus Science Council said on live television that god created viruses for population control.
The pandemic has shown "just how the secular foundations of the education system have been eroded," Dündar said, while Turkey's economy faltered and healthcare system was "utterly unprepared for the challenge it faces."
Religious authority has filled the gap the government created with the lack of "a serious, well-thought-out response," with measures like mosques broadcasting prayers every night.
Political Islam in the country has obstructed science and misallocated vital resources, Dündar said, posing a direct threat to the nation's health.
https://ahvalnews.com/turkey-coronavirus/political-islam-jeopardises-turkeys-fight-against-coronavirus
------
Israeli warplanes conduct new attacks on besieged Gaza Strip
27 March 2020
Israeli warplanes have conducted several airstrikes against the besieged Gaza Strip, targeting a number of areas in the northern parts of the Palestinian coastal enclave.
Palestinian media outlets reported on Friday night that the strikes targeted positions belonging to the Palestinian resistance movement Hamas.
There have been no immediate reports on the extent of the damage and possible casualties due to the aerial aggression, which was jointly carried out by Israeli jets and combat drones.
The Israeli military claimed in a tweet that "striking Hamas targets" were in response to "a rocket" that "was fired from Gaza" at the occupied Palestinian territories earlier in the night, adding that "thousands of Israelis" were "currently in bomb shelters."
Israeli media outlets also reported that the "projectile" from Gaza landed in an open area in the vicinity of Sha'ar Hanegev in the southern occupied territories, without causing damage or casualties.
However, they added that it triggered sirens and the first red alerts in weeks in the southern city of Sderot and several other communities along the Gaza Strip.
Israeli warplanes have carried out several airstrikes in the Gaza Strip, targeting a number of areas in the north and the northwest of the coastal enclave.
The Israeli regime usually claims that airstrikes against the Gaza Strip are carried out in response to purported rocket attacks from the blockaded enclave.
Gaza has been under an Israeli siege since June 2007. The blockade has caused a decline in the standards of living as well as unprecedented levels of unemployment and unrelenting poverty.
The Israeli regime denies about two million people in Gaza their basic rights, such as freedom of movement, jobs with proper wages as well as adequate healthcare and education.
Since 2008, Israel has waged three wars against Gaza, where two million Palestinians live under a 12-year Israeli blockade. Thousands of Gazans have been killed in each of these deadly wars.
https://www.presstv.com/Detail/2020/03/27/621753/Israeli-warplanes-conduct-new-attacks-on-besieged-Gaza-Strip
-----
Prophet's Perfume, Bitter Oil Drops: Iran Warns Against Quackery, Islamic Medicine To Treat Coronavirus
March 28, 2020
By Golnaz Esfandiari
A Muslim cleric applying what he called the "Prophet's perfume" under the nose of coronavirus patients lying sick in a hospital in northern Iran has gone into hiding after a warrant for his arrest was issued.
Morteza Kohansal, a proponent of Islamic medicine, was seen in a video on social media using his finger to dab the potion on patients in a Gilan Province hospital.
Not wearing any protective gear, Kohansal appeared to suggest the unknown tonic will cure those suffering from the dreaded COVID-19 disease.
The low-level cleric told one patient that he would feel better if he would sneeze. One of the patients in the video died a few days after the unplanned visit. Iranian media reported that Kohansal had entered the hospital without permission.
After the video received widespread attention, authorities later condemned Kohansal's actions and said they were seeking his arrest.
Iranian Health Ministry spokesman Kianush Jahanpur accused Kohansal of interfering in the treatment of patients and "disturbing public opinion." He said he hoped the judiciary would take action against Kohansal.
Iran is struggling to contain a deadly outbreak of the coronavirus that has officially killed more than 2,375 people and infected more than 32,300 as of March 28. Those numbers are believed by many Iranians and international health experts to be much lower than the actual numbers.
With tens of thousands of people infected and the government enforcing restrictions within society, misleading medical advice on the prevention and treatment of COVID-19 has appeared all over social media and is being promoted by self-proclaimed doctors.
Tabrizian is reported to have said on his Telegram channel that the oil from violet flowers is effective against the coronavirus, a claim dismissed by health experts, including Mehdi Yusefi, the head of the Traditional Medicine Department at the Mashhad University of Medical Sciences.
Meanwhile, other so-called doctors have promoted the use of bitter gourd oil -- another practice without medical approval -- to prevent infection from the coronavirus.
Others have gone online in an effort to sell other fake remedies that they claim can either prevent the coronavirus from entering the body or cure an infected person of the COVID-19 disease, for which there is no known cure.
On March 10, Iranian Food and Drug Organization official Mehrnaz Kheyrandish was quoted by Hamshahrionline.ir as saying that a herbal syrup sold online as a cure for the coronavirus did not have an official production license and was therefore illegal.
Kheyrandish warned citizens not to trust too-good-to-be-true claims about untested and often illegal products that are being sold online as a cure for the coronavirus.
The surge in false information and bogus prescriptions for a cure prompted a warning from Health Minister Saeed Namaki, who earlier this week said some "illiterate charlatans and demagogues" are trying to deceive people under the guise of Islamic and traditional medicine.
Namaki said doctors and experts in Western and traditional medicine should work together to protect Iranians from the misleading remedies.
The head of Iran's Union of Apothecaries, Alireza Rezai Ghahravi, also warned people not to believe those who claim they have made herbal cures for COVID-19.
"If China, the United States, and powerful European countries have been unable to produce an effective medicine for the treatment of the coronavirus, how can an apothecary discover a vaccine against [the virus]?" Rezai Ghahravi was quoted as saying by domestic media.
Yusefi, from the Mashhad University of Medical Sciences, told the official news agency IRNA that while there is no traditional medicinal cure for the coronavirus, some natural products can ease breathing difficulties.
Vahid Majid, the chief of Iran's Cyberpolice, warned that those spreading rumors and misinformation regarding the coronavirus will be prosecuted.
In recent weeks, at least 200 Iranians have died -- the Associated Press reported more than 400 -- and many others have been hospitalized after drinking bootleg or modified industrial alcohol because of a bogus rumor that consuming it can make one immune to the coronavirus.
Iranian media also reported this week that a 5-year-old child had gone into a coma and lost his sight after being given tainted alcohol by his family in the belief it would protect him from the coronavirus.
rferl.org/a/prophet-s-perfume-bitter-oil-drops-iran-warns-against-quackery-islamic-medicine-to-treat-coronavirus/30514396.html
------
Europe
Islamic State and coronavirus: a joy of weakening 'crusader nations'
Mar 27, 2020
BERLIN, (BM) – As it appears, the jihadists, who focus on Iraq and Syria, understand the corona virus epidemic as an All-weakening of the "crusader nations" that are now facing "worst nightmares", such as it is formulated in an editorial in the al-Naba newsletter, a body that promulgates the IS ("Islamic State").
Read more: 24/7 BulgarianMilitary.com – All about coronavirus COVID-19 in the army and military departments around the World.
The commentary was translated into English by Aymenn Jawad Al-Tamimi, who translated several sources from the jihadist camp who commented on the Corona epidemic into his blog. From the political side, criticism of his connections to jihadists and Islamists keeps coming up – which not only give him access to documents, but also enable interviews with insiders – especially since he is critical and distant of the Syrian government.)
The others must fear, not those who adhere to the true faith, that is the commonality of the text of the IS and the voices from the jihadist camp that Al-Tamimi presents. The latter includes a representative of al-Qaida, Khalid al-Siba'i, the well-known supporter of the Syrian jihadist militias, the Saudi "Sheikh" al-Muhaysini, also with al-Qaida connections, and several representatives of the Hayat Tahrir militia ash-shame (HTS) and in detail the Jordanian preacher of jihadist Salafism, Muhammad al-Maqdisi, who is very well known and influential in the region, who depicts the corona virus as a "blessing and a gift".
Its text, as far as it is transmitted on its Telegram channel, is an enumeration of benefits that span a broader spectrum, from reorientation towards Allah, veiling, no more shaking hands with representatives of the idolaters Tagut and closing bars . Countries such as Italy, France, Great Britain and China would prove to be the false ideal of the misguided. The dirt is on the other side.
There is another notable benefit that is highlighted: the closing of the mosques and the suspension of Friday prayers given by the Imams, who are determined by the Taguts, those Imams who are dependent on, or political with, the governments True beliefs have made misguided compromises.
As the named "Sheikh" al-Muhaysini appeals to the "faithful", meetings in the mosque are now the order of the day. With "A Thousand No" he opposes the closings of the mosques. "Come to prayer!" Is now the slogan for the areas beyond the control of the unbelieving governments.
The risk of infection is relativized for him, there are compromise solutions, it is important to him that here not the materialistic view of the West in view of the virus is adopted, but the spiritual request of the assembly of the faithful is followed.
It remains to be seen how the conjuring up of a "counter-public" in the mosques under the rule of the jihadists will work if covid-19 expands in Idlib and other Sharia zones. In the provisions that IS expresses in the above-mentioned al-Naba newsletter commentary, the focus is primarily on the weakening of opponents – "idolatrous states", "crusader nations" – as a result of the corona epidemic.
The call is different than what was advertised by the media last week, no abandonment of jihad in western countries for fear that the warriors could become infected. Jihad is said to be the most expensive, "most beloved" way of showing God to followers, it says at the end of an execution that has the essence that there is no pity for the opponents weakened by fear and financial losses gives.
"And the last thing they (the" Crusader Nations ") want now is that this critical time they're going through now coincides with preparations by the Caliphate soldiers for new attacks on them, similar to those in Paris, London, Brussels and other places have taken place" IS commentary on the Corona epidemic
Specifically, IS fighters are called on to free the prisoners in camps in northeastern Syria. One should take advantage of the opportunities that currently arise. The "crusaders" are now concerned with security in their countries and are exposed to the pressure on their foreign missions, at a time when the withdrawal of the troops or their return has long been an issue.
As Aaron Y. Zelin, from the Washington Institute for Near East Policy think tank, states in his situation description, IS has continued to be active in Syria and Iraq since the defeat in Baghuz, which was celebrated as the end of the caliphate.
In total, it lists well over 1,000 attacks or attacks in both countries. The main targets were in the Deir e-Zor governorate in Syria and the Dyiala governorate in Iraq. However, since they are a smaller number than in earlier times, it cannot be said that ISIS has returned strongly in the two countries. Rather, IS survive and its fighters would wait for the opportune moment to take advantage of it.
It is not yet clear whether the corona epidemic will provide such opportunities. But this complicates international and local actions against the IS militias.
https://bulgarianmilitary.com/2020/03/27/islamic-state-and-coronavirus-a-joy-of-weakening-crusader-nations/
-------
'Deceitful and dishonest' Headteacher and her husband raked in £347,000 by running secret Muslim faith school shut down by Ofsted inspectors
27 March 2020
Head teacher Mujanet Daniah, 41, set up the Advanced Education Centre in Brent, northwest London, with her husband Suleyman Folami, 58.
The couple ran a legitimate primary school on the ground floor but Ofsted inspectors discovered a covert secondary school upstairs on December 12, 2018, Westminster Magistrates' Court heard.
The couple were given a warning, but three months later on March 5 inspectors returned to find the school running exactly as before, the court heard.
District Judge Emma Arbuthnot told the 'deceitful and dishonest' pair she was concerned about the children's welfare and raised concerns about the quality of education they received.
'I convicted these defendants of conducting an unregistered school, the Advanced Education Centre. The background was that the Ofsted inspectors were inspecting the primary school when they discovered this other school upstairs was carrying on.
'They left a warning notice and spoke to Ms Daniah and Mr Folami who were on the premises and made it clear what an unregistered school was.
'Ofsted were told by Ms Daniah that they would split the session so instead of a day session it would be broken into two.
'Three months alter the first inspection the inspectors arrived and found 57 children in the morning whilst by 3pm 20 children remained and the register showed a total of 62 children in all attending.
'So many children were involved. Not just five or six but 66 children attending on one day. We're talking a vast amount of children.
'The school had a very successful second year. They average 122 pupils during the year. They received £347,000 in school fees.
'The safeguarding was a concern to me. On the second occasion Mr Folami, when caught out by Ofsted, tried to push the children out of the school to get them out.
'The children were confused and one said he had no parents at home. He was taking a serious risk with this child to hide what was going on at the school.
'These children are of a vital age. If they can't be taught properly it's a risk to their whole future, their ability to get jobs, the whole works. It's a very serious case in my view.
'I find that they were dishonest and they deceived Ofsted on March 5 and 6. They were given a warning and they went on to continue with that school knowing absolutely well they shouldn't be doing so.'
Folami said: 'My parents were very poor. I remember when my dad told me the only thing they can give me is education because they are very poor. I am an educator, a teacher. All I've done is to educate children.'
Daniah said: 'Being a headteacher I always sought to obey the law and help from those in authority. I seem to have got it wrong this time and I apologise fully.'
She said: 'What I really want to say is financially we were really struggling and before anything we did liaise with the council and what we did was not really intentional so if you look at it from that angle...'
The judge interjected: 'The trouble is I have found it was intentional. It was made absolutely clear that you should not be conducting an unregistered school and yet on March 5 and 6 that is exactly what you were doing.
'There was deceit and dishonesty involved. That's what makes it really serious. You can't blame the council or anyone else.'
Daniah describes the centre, founded in 2017, as a 'one-form entry faith based independent school' on its website and says:
'Our curriculum is based on the national curriculum, promoting the intellectual, spiritual and moral elements needed through a nurturing environment. We strive for each child to achieve his/her fullest potentials and lead a healthy, productive life in the wider community.
'The core values of our society is to enable our pupils to understand and develop a sound understanding of Islamic faith free from extremism. Our strong emphasis on British Values enables us to focus on discipline and encourage good behaviour at all times.'
https://www.dailymail.co.uk/news/article-8159855/Couple-raked-347-000-fees-running-secret-Muslim-faith-school.html
-----
India
Keralite Among Afghanistan Gurdwara Attackers, Did It For 'Muslims In Kashmir', Says Islamic State
Mar 28, 2020
NEW DELHI: The Islamic State-Khorasan Province has claimed that Thursday's suicide attack on a Sikh gurdwara in Kabul, which killed 25 people, was carried out by one of its Indian recruits, who has now been identified as Muhammad Muhsin from Kasaragod, Kerala.
Muhsin, sources in Indian agencies said, was named in the IS message as Abu Khalid al-Hindi — which also claimed the bombing as an act of revenge for Kashmiri Muslims — but his real identity was confirmed based on his photograph released by Al-Amaq News, a pro-IS media outlet. The picture showed him brandishing a gun and surrounded by ammunition, with an IS flag for the background.
Sources said the NIA on Friday corroborated Muhsin's identity by getting in touch with his family in Kasaragod. More details are expected after further probe. There was no clarity on whether a case would be filed.
Initial probe showed that Muhsin did not figure in any of the existing cases being probed by the NIA, relating to those from Kerala who have travelled out of the country so far to join IS.
Sources said Muhsin's last known location was the UAE, where he had travelled to from India in July 2018. "It is not known how and when he travelled further to reach Afghanistan. A school dropout aged 28-29 years, Muhsin — given the 'kunya' name Abu Khalid al-Hindi — was allegedly one of the three suspected attackers involved in the Kabul gurdwara bombing. "Neither was Muhsin on the NIA radar nor had his parents approached the police/NIA to report him as 'missing'," an official told TOI.
Islamic State-Khorasan Province, in its message published on March 25, said the Indian fighter Abu Khalid al-Hindi fired upon "Sikh polytheists" in their temple in Kabul, and detonated explosive devices on Afghan security forces. The group said, "This attack comes as revenge for the Muslims in Kashmir, and what is coming is more devastating and bitter, with permission from Allah the Almighty."
https://timesofindia.indiatimes.com/india/keralite-among-af-gurdwara-attackers-did-it-for-muslims-in-kashmir-says-is/articleshowprint/74856091.cms
-----
Malaysian Preacher, 65, Dies In Bihar Mosque
Mar 28, 2020
Aditya Nath Jha
The death of a 65-year-old preacher from Malaysia, who came to Bihar's Araria along with nine others, inside a mosque has set alarm bells ringing in the region even though authorities have not yet confirmed the exact cause of his demise.
The preacher, identified as Md Khairani Bin Lookman, had reached Araria on March 21 died on Thursday evening. Lookman had landed in Delhi on March 6.
"He offered namaz and soon after fell unconscious and died," a local resident said adding that he was rushed to Araria district hospital where he was declared brought dead.
According to sources, Araia district administration forced the doctor to perform an autopsy in the hospital despite several health officials suggesting it should be done at a bigger centre.
However, a senior deputy collector, Araria, Shambhu Kumar said, "The rest nine Islamic preachers have been quarantined in the mosque where they are staying."
A large number of Muslims abstained from performing the obligatory congregational prayer on Friday at Jama Masjid. However, at some places, they defied the lockdown and gathered at local mosque to perform collective prayers.
There are nine Covid-19 patients in Bihar as the number across the country crossed the 700 mark on Friday.
https://www.hindustantimes.com/india-news/malaysian-preacher-dies-in-bihar-mosque/story-EJUG4Tj6aZLsVIJpCZsubI.html
-----
COVID-19 lockdown: Hyderabad muslims pray at home after clerics appeal
28th March 2020
HYDERABAD: In a first, Mecca Masjid and several other mosques were closed for devotees for Friday prayers in the city. The gates of mosques were closed and notices were hung urging the devotees to maintain social distance and pray at home amid the Covid-19 outbreak.
Even the AIMIM chief Asaduddin Owaisi, late on Thursday, issued a statement saying, "My appeal to all Muslims is to offer Zuhur prayers tomorrow at home and to not congregate. The only way we can get ahead in this fight is by practising social distancing and preventing larger gatherings."
The khatib of Mecca Masjid Hafiz Rizwan Qureshi said, "As it was directed earlier that Mecca Masjid will not be open for prayers, the same was followed today. Around 25-30 people were there in the mosques, which included members of the press and police. I want to appeal to maintain this decorum and offer prayers on other days from their homes. We will resume prayers in the mosque once the situation improves."
Other major mosques too remain closed in the city. They hung notices saying, "The masjid is closed for general public during jumma as well. Admission only for imam, muezzin and committee."
On Thursday, the All India Muslim Personal Law Board had asked Muslims to offer zuhur at home in view of the Covid-19 pandemic, while adding the hashtag #StayAtHomeSaveLives.
https://www.newindianexpress.com/cities/hyderabad/2020/mar/28/covid-19-lockdown-hyderabad-muslims-pray-at-home-after-clerics-appeal-2122532.html
-----
Mahrashtra: Worshippers stay away from mosques
Written by Srinath Rao
March 28, 2020
Following last week's failure by worshippers to heed calls by religious leaders and police to offer prayers at home, mosques around Maharashtra remained empty on Friday amid heavy police presence.
Following orders issued by the state government on March 24, ordering all places of worship to shut down immediately, the police had reached to out imams of the mosques. A senior Mumbai Police officer said that mosques have been making announcements to worshippers to pray from the safety of their homes. "We have been using the public announcement systems to remind residents that all religious institutions will remain closed. Even in temples, only priests are allowed to enter," he added.
A senior state police officer said there were no reports of worshippers attending mosques on Friday for afternoon prayers.
"We asked imams to record audio and video messages and circulated their appeals on WhatsApp groups and social media," said the officer. Similar video appeals were recorded by imams in districts across Maharashtra, the officer added.
In Bhandara, a local cleric asked residents not to go to mosques as COVID-19 can spread easily through close contact with infected individuals. In Beed, SP Harssh Poddar said that reaching out to local Muslim leaders and placing police cordons outside mosques ensured that worshippers did not violate the curfew and maintained a safe distance from each other. "At each mosque, we allowed only the muezzin to enter on Friday and make appeals to the people to pray in their homes," he said. The outreach, Poddar added, began two days ago with a meeting with imams in the district's seven major towns and a request for them to ensure that no more than five persons entered mosques at any given time. "We brought that figure down to zero today," he said.
https://indianexpress.com/article/cities/mumbai/coronavirus-india-lockdown-mahrashtra-worshippers-stay-away-from-mosques-6335200/
-----
Delhi: Mosques deserted, Friday prayers at home
Mar 27, 2020
NEW DELHI: For the first time in ages, the iconic Jama Masjid and its adjoining streets were deserted on Friday during the Jumah prayers. All mosques in the city were almost empty as people stayed back home in the wake of the novel coronavirus pandemic and lockdown in the country.
The decision to stop congregation was announced by All India Muslim Personal Law Board (AIMPLB) on Twitter. "Due to novel coronavirus pandemic, Muslims are recommended to offer Zuhur at home instead of praying Jumah at mosques. Don't come out for congregational prayers and stay at home to save lives. It is mandatory upon all to avoid causing harm to fellow citizens," the tweet said.
Many imams also asked their local area residents to avoid coming to mosques. Imam Bukhari, Shahi Imam of Jama Masjid, said, "We had earlier announced that we will keep the gates of the mosque shut. We broadcast on the speakers that since there are restrictions against mass gathering, people should stay home and pray. Even in remote areas of the country, hardly any namaaz took place."
AIMPLB said that mosques can continue to have prayers with a few people. "Don't leave mosques abandoned. Four individuals should remain in mosques to establish the congregational prayers due to the Right of Masjid," it tweeted.
Responding to the call, only four people prayed in Jamia Millia Islamia's mosque on Friday. "Only staff members were present. We made sure that no outsider came," said a mosque member.
The hashtag, #NoJumahInMasjid, trended on social media in support of the call. Abu Sufyan, an entrepreneur who resides near Turkman Gate, said, "We spread the word that people should avoid going out and threatening lives of their family members and others. Most in Old Delhi complied with it."
Mohammad Naeem, a librarian who lives in Pahari Imli in the Walled City, said smaller mosques were shut too. "We spread the word through WhatsApp and Facebook to comply with the directions issued by the government and the authorities," he added. At Okhla Vihar, Mohammad Waseem, a mechanical engineer, decided not to go to the mosque which was right in front of his house.
Around noon, instead of the azaan, the Jama Masjid in C-Block of East of Kailash made an announcement asking people to stay indoors.
"Hukumat ki taraf se jo ailan hua hai us par poori tarah se amal karein. Apne gharon se na nikle aur namaaz apne gharon mein padhein kyunki jama hone ki wajah se bataya jaata hai ki virus zyada phailta hai. (Everyone should follow the government's direction to stay indoors. Don't step out of your homes and offer prayers at home as there are chances of spreading the virus in a large gathering)," the announcement stated.
https://timesofindia.indiatimes.com/city/delhi/mosques-deserted-friday-prayers-at-home/articleshowprint/74854948.cms
----
Ghaziabad: Religious Leaders Persuade People To Offer Friday Prayers At Home To Prevent Large Gatherings At Mosques Amid Lockdown
Mar 27, 2020
To prevent people from offering namaz at mosques in the city on Friday, in order to ensure no large gathering takes place amid the national lockdown in the wake of the Covid-19 outbreak, the Ghaziabad police and district administration roped in religious leaders from the Mulsim community and some minority organizations. Their efforts paid off when most people stayed home to offer Friday prayers.
Mufti Mehtab Alam Qasmi, imam, Jama Masjid, Sanjay Nagar said last Friday people had been told at the mosque to stay home and offer prayers. Signboards had also been put outside the mosque urging people to stay home.
"The Sanjay Nagar Jama Masjid is one of the biggest mosques in Ghaziabad and around 4,000-5,000 coffer prayers here on Fridays. During the prayers last Friday, we had told the people about detrimental effects large gatherings could have on people amid the Covid-19 outbreak after the district administration and police officers apprised us about the need to contain the disease from spreading," he said.
"Following our requests, nobody came to the mosque and a few people that work for the mosque offered prayers inside it. We also made announcements on loudspeakers about the benefits of washing hands, using hand sanitisers and maintaining cleanliness. We have asked people to offer prayers at home till the lockdown is in place. It is probably for the first time that people have been asked not to come to the mosque," he added.
The police and administration officials were on toes expecting many to gather at city mosques on Friday. Police personnel were deployed to ensure that no gathering takes place and social distancing is maintained.
"We have several WhatsApp groups and every group has people from 12 or 13 localities. We sent messages on these groups and requested people not to go to the mosques and offer prayers at home. It seemed unusual for people to stay away from mosques and many called us as well. We told them about the threat Covid-19 presents to all of us and also briefed them on how to maintain social distance and avoid all kinds of gatherings," said Maulana Mohammad Arshad of Mehboobi Masjid in Masuri.
"Our efforts paid off as our volunteers had been making announcements in different areas of Loni for the past several days. People offered prayers at their homes and there were no gatherings at nay mosques in Loni," said Faizuddin Aarif, general secretary, Loni chapter, Jamiat Ulema-i Hind.
The police said prayers were offered peacefully in Loni, Muradnagar, Dasna, Masuri among other areas and no untoward incident was reported.
"There were a lot of efforts which went in to persuade people to offer prayers at home. The members of Muslim community and their religious leaders made our appeal successful. They cooperated fully was to prevent any large gathering. On our part, we had deployed about seven vehicles especially for making public announcements on maintaining social distancing," Neeraj Kumar Jadaun, superintendent of police (rural), said.
https://www.hindustantimes.com/cities/ghaziabad-religious-leaders-persuade-people-to-offer-friday-prayers-at-home-to-prevent-large-gatherings-at-mosques-amid-lockdown/story-I0BsH9RIUe2qMico1QKtpO.html
-----
Coronavirus: No Prayers In Kashmir Mosques On Friday
27 March 2020
Kashmir's Grand Mufti Nasirul Islam on Thursday said that there should be no Friday prayers in any Mosque or shrine across the valley on Friday in the wake of the coronavirus threat.
Talking to IANS, the Grand Mufti said on Friday people should not hold congregational prayers in Mosques and shrines across Kashmir.
"The situation is very grave," he said. "I appeal to people including Imams and Khateebs and managing bodies of all Masjids and shrines across Kashmir not to hold Friday congregational prayers."
He said that only three people including the meuzzins of Masjid should offer five times prayers, rest of the people should say the prayers at home.
Meanwhile, DC Srinagar Shahid Choudhary tweeted: "Closure of all religious places in #Srinagar is under way. With active cooperation of Management committees. Revered shrines Hazratbal, Naqshband Saheb show the way. #StayAtHome"
"Dastgeer Saheb , Gurudwara Saheb Chhati Padshahi and others. Mosques follow. Thankful to officials on ground and all management committees.
https://www.outlookindia.com/website/story/india-news-coronavirus-no-prayers-in-kashmir-mosques-on-friday/349531
----
Mosques finally close doors in Agra, Muslims offer Friday namaz at home
Siraj Qureshi
March 27, 2020
After a Covid-19 positive case surfaced on Thursday in Agra, Friday brought much-needed relief for the city, when the Muslim community finally agreed to avoid assembling in mosques for Friday prayers.
With the mosques closing their doors from Friday, all religious places including temples, churches, and gurudwaras, are now closed for prayers in Agra, with the full support of local residents.
A large number of police personnel were deployed on the streets of Agra on Friday to dissuade Muslims from going to mosques for their weekly prayers and meetings with Imams of the mosques.
Following which, announcements were made by mosques for the devout Muslims to stay at home and offer their prayers from home.
Due to the efforts of the Inspector General of Police A Satish Ganesh and the Agra District Magistrate Prabhi N Singh, the courtyard Jama Masjid was completely empty on Friday and some Muslims who did turn up to offer prayers, were persuaded to go back home.
The IG said that people of Agra have nothing to fear as they only need to break the chain of this virus and the city will become free of the coronavirus disease. To ensure that the chain is broken, they just need to stay at home and observe full precautions, he said.
District Magistrate Agra Prabhu N Singh warned grocery stores to desist from black marketeering saying if any shopkeeper is found to be charging unjustifiable profits at this time, he shall be punished strictly.
He said the effort of the district administration is to ensure there is no paucity of food and other items of daily needs in the city and every locality of Agra is currently receiving groceries on their door-steps.
Praising the local administration's efforts, Hindustani Biradari Vice-Chairman Vishal Sharma said that apart from the administration, there are several social organisations and individuals that have come out to assist the administration in supplying food to the needy at this time. The efforts of these organisations and individuals are worthy of praise and this displays the spirit of Sulh-e-Kul, which is the foundation of the city of Agra.
Meanwhile, the Agra administration has registered a criminal case under sections 188, 269 and 270 of the IPC, against the doctor couple and their Covid-19 positive son for hiding the information of being infected and possibly spreading it to hundreds of patients who had visited the nursing home in the past few days.
https://www.indiatoday.in/india/story/mosques-finally-close-doors-in-agra-muslims-offer-friday-namaz-at-home-1660488-2020-03-27
-----
North America
Sefrou: Moroccan City Of Religious Symbiosis Between Islam And Judaism
By Dr. Mohamed Chtatou
March 28, 2020
North of Morocco, not far from the imperial city of Fez, lies the locality of Sefrou in the lap of the Atlas mountains. It was in the nineteenth and the twentieth centuries a haven of peace and togetherness where Muslims and Jews lived in total communion. It forged, then, the image of a place where cultures, creeds, languages and traditions mixed freely without any bias or sense of of hatred. In spite of its small size, the city of Sefrou reflected the spirit of a plural, multiethnic, and tolerant Morocco with Arabic language (Moroccan Darija) spoken alongside Tamazight/Berber dialects as well as Hebrew and French.
Indeed, because of its location at the foot of the central Middle Atlas on the former trans-Saharan trade route (Trik as-Sultane), Sefrou was, throughout its history, a transit point, a crossroads of diverse cultures and creeds and a human receptacle. These factors combined with the diversity of its resources have given it important opportunities for integration and human fulfillment. As a result, it has attracted people of various ethnic and tribal origins (Amazighs, Arabs) and confessional backgrounds (Muslims, Jews and Christians). This has made it a home of exemplary cohabitation where a secular urban tradition based on openness, coexistence and tolerance has developed and thrived for two centuries on end.
The name of the city comes from the name of the Amazigh/Berber tribe Ahl Sefrou (1), who converted to Judaism around the second century AD. It occupied the Wad Aggay meaning «River of the Cheecks» in Tamazight and the river bore, also, the name of Wad Lihoudi, the «River of the Jew» past the Mellah, Jewish quarter, of the city.
Sefrou was born of the regrouping, for security reasons, of inhabitants who settled along the river in a walled settelment. The mellah, Jewish district, for the same security reasons, occupied a central position inside the Muslim neighborhoods of the medina and that shows quite clearly that Muslim population cared so much about the safety of their Jewish brethern, so they placed them in the center of the city, for maximum security. Dominating the river, stands the suburb of al-Qal'a (meaning fortress in Arabic), a detachment from the city, as to remind visitors of its refractory past and rebelious nature.
Sefrou is surrounded by high crenelated ramparts pierced by seven gates dating from the 18th century when it was an important stage of the caravan trade as evidenced by the many Fondouks (caravanserais) of the city. Its various zaouïas (religious lodges), mosques, hammams (public baths) and shops relate, in turn, its great commercial influence in the region. Sefrou has always been a place of human confluence (from different regions of Morocco and Andalusia) and confessional brewing (Muslim, Jewish and later on Christian) and ethnic communion (Arab and Amazigh/Berber).
Founded in 682, a century before the imperial city of Fez, Sefrou is located at 28 kilometers south of this city and culminates at 850 meters above sea level ; It has always been called the «oasis without a palm tree» or «the garden of the kingdom,» a garden that all the sovereigns of Morocco have carefully protected an praised. However, the late King Hassan II, in the 90s of the last century lamented, in one of his speeches, that the city because of avid and uncontrolled urban development, lost, alas, its garden specificity and became a jungle of concrete. He directly blamed elected local government for lack of ecology-mindedness and, undirectly, for corruption practises.
With its ramparts surrounding the city and protecting it from belicose tribes of bled as-siba (land of dissidence)(2) and its 7 imposing gates, lucky number in Arab and Amazigh culture, and, also, in Moroccan Jewish cabal tradition. Sefrou was made famous for its waterfalls of about 10 meters high and the waters of Wad Aggay which make its land fertile, where many fruit trees grow, of which the best known is, undoubtedly, the cherry tree: habb lmellouk (the fruit of kings.)
The city became in the twelfth century a center of thriving commerce where the producers of the regions of northern Morocco and those of Tafilalet met to exchange crops, handicrafts and hides. It was, also, the starting point of the famed subsaharan caravan trade whereby Morocco exchanged salt and hides against the gold of the black African Ashanti mines, a commerce that is known, today, as the «unfair trade.» This trade, for centuries, was financed by Jews keeping small «banking shops» known as Hwanet tale' in the medina of Sefrou and its caravans that travelled for 44 days to Timbuktu, in today's Mali, led by Jewish guides respected for their leadership, fairness, patience, courage and sense of leadership. They were known as azettat (because they carried long sticks bearing the azetta, woven cloth of each Amazigh tribe travesrsed in peace (aman,)) which in down-to-earth language means pre-paid free passage tithe.
Sefrou is twelve centuries old. Moulay Idris II stayed there in 806 before the foundation of the city of Fez. He lived in a place called Habouna (from Arabic "they loved us ") which is now a quarter of the city. During his stay in Sefrou, Moulay Idriss made some trips to Bahlil whose inhabitants he converted to Islam with much duresss.
According to Rawd al-Qirtass (The Garden of Pages) (3) Bahlil did not oppose any resistance to the conversion, but it seems from oral tradition that the Chqounda tribe resigned itself only to constraint and forced action of Moulay Idris, because it was probably still influenced by the ideas of the Second Roman Legion that dwelt the area during the Roman Empire colonization of Morocco (52 CE-5th centuryAD) .
In any case, the people of this tribe reserved a very cold welcome to the Idrisid Sultan and following his failure to convert peacefully the town of Bhalil, he reportedly returned to Sefrou and on his way he named a nearby mountain Jbel Binna, and said: "Had jbel binna or binhoum", which means literally: this is a border mountain between us and them. Since, then the name of "Binna" referred to this mountain.
Without any drinking water in Bhalil, the people were obliged to go to get water supply from the Wad Aggaï of Sefrou, at the risk of dangers constantly increasing from animosity towards them shown by the Muslims of Sefrou. Tired of rejection, the Christian inhabitants of Bhalil submitted to the will of the sultan on the condition that he insured them access to precious water supply.
Moulay Idris, on their conversion, fulfilled their desire by a miracle; he apparently visited anew their village and made the water spill from the ground after giving it a sword blow. This water would be since the source of Ain Rta which lies nowadays in the middle of the village. In admiration of this divine miracle, the last hostile Bahloulis (inhabitants of the village) rallied immediately to the will of the sultan, but not without having earned, since, the nickname of Bahlil originating in the Arabic word "bahloul" meaning "stupid and ignorant person verging on idiocy,"which was granted to them by their Sefrou neighbors who laughed at them at having hesitated so long to embrace Islam.
Today, however, the inhabitants reject this story and say that the name Bhalil comes from the Arabic word «baha' al-lil» which means in Arabic the «beauty of the night» of this unique troglodyte village. Many centuries later, the inhabitants of Bhalil would, in return, doubt of the true Islamic identity of the Muslims of Sefrou because of their proverbial coexistence with the Jews, by referring to them in Jewish Moroccan Arabic dialect, obviously distinct from Muslim Arabic dialect : «msalmin di safrou» (Muslims of Sefrou.)
In 1967, Sefrou this quiet beautiful city situated in the piedmont of the Middle Atlas was losing its last Jewish inhabitants in the wake of the six-day war in the Middle East (4). The Jews have lived in Sefrou since their arrival in Morocco on the year 70 AD, after the destruction of their second temple of Jerusalem by the Romans and it was for centuries the capital of Moroccan coexistence and tolerance. It had the highest concentration of Jews by square meter anywhere in the world, a fact that owned it the sobriquet: «Little Jerusalem.»
In the limits of the small city lived Amazighs, Arabs and Jews in total harmony. The Amazigh practised agriculture and cattle-raising, the Arabs some agriculture, menial jobs and petty trade and the Jews banking services and Saharan caravan trade, whereby the «Sitting Jew» was a banker and shopkeeper and the «Walking Jew,» itinerant peddler and caravan guide known as «azettat.»
The cherry of Sefrou, known throughout the kingdom, is distinguished by its black color, a very sweet taste and a weight of more than 14g. Attached to this fruit, the Sefriouis devote to it every year a festival which sees the election of Miss Cerisette, a girl chosen from the most beautiful maidens of the kingdom, whatever her creed might be and daily processions and celebrations that attract people from all over the country.
Every year, on the early days of the Cherry Festival (moussem hab l-mlouk), from 1920 to 1956, the locals organized a procession to the grotto of Kaf al-Moumen which, supposedly, houses the tomb of the prophet Daniel and where, also, according to a local legend, Muslims believe that (sab'atu rijal,) the seven pious men and their dog have fallen asleep for centuries. Muslims and Jews organized this procession to ask their respective spirits to grace and bless with baraka their yearly celebration. Fantasias, dances and songs punctuate this important agricultural event.
At the edge of the city, there is a miraculous source, called Lalla Rqya, near the tomb of a rare woman saint (marabout) by the same name, reputed to have the power to cure madness, epilepsy and nervous disorders. During this moussem (yearly celebration), the blood of sacrificed animals is poured into this spring, after accomplishing the sacrifice at the shrine of the patron saint Sidi Ali Bousserghine, overlooking the city from the height of a hill and protecting it frome evil, for the success of the festival and the benediction of this well-known religious figure to the city and all its inhabitants.
Sefrou has, also, been known, for centuries, for its grace, tolerance and harmonious cohabitation of the three Abrahamic religions, as evidenced by these verses of thevenerable sufi Sheikh Abdelkader Timouri, in tribute to the oldest Festival of Morocco, celebrated every mid-June since 1920 :
https://www.eurasiareview.com/28032020-sefrou-moroccan-city-of-religious-symbiosis-between-islam-and-judaism-analysis/
-----
Holy days may be impacted by social isolation, but Memphis faith leaders say it's a time for growth
March 27, 2020
The Abrahamic faiths all have traditions of "isolation before illumination," said Imam Hamzah Abdul-Malik, founder of Midtown Mosque.
Now, practitioners of those three faiths — Christianity, Islam and Judaism — are facing the possibility of observing some of their holiest days in isolation due to the spread of the new coronavirus.
There's Easter on April 12 and preceded by Good Friday, Passover beginning on April 8 and Ramadan, which is expected to begin around April 23.
In the Memphis area, shelter-in-place orders have banned gatherings of non-essential personnel and groups larger than 10 people. One directive, from the Shelby County Health Department, is in place for 30 days but could be extended by another month.
Alisa Haushalter, director of the Shelby County Health Department, has said she anticipates four to eight weeks of "safer at home" directives before an impact is made on the spread of COVID-19.
Although the orders will make for unique and sometimes isolating celebrations, leaders in the three faith traditions from the Memphis area said they believe this can be a time for growth.
They also said that when people can return to congregational gatherings, it will be made even sweeter by the time apart.
A Passover Seder (holiday meal) already revolves around the home, said Rabbi Micah Greenstein of Temple Israel, and in many ways, the symbols of Passover speak to this particular moment in time.
"The message of redemption and freedom may be appreciated for the first time in America given the pandemic we're living through. We're feeling the need for one another," Greenstein said. "This may be the first time in many of our lifetimes where the ten plagues we tell in the story of Passover, the plague of the pandemic is real."
Passover marks the exodus of the Jewish people from slavery in Egypt. Greenstein noted that the Hebrew word for "Egypt" can literally mean going forth from a physically confining space.
"I think all the people, the over 4,000 members of our congregation, just like every Christian, Muslim, Hindu, other is living in a physically confining space or an emotionally confining space (during the COVID-19 pandemic)," Greenstein said. "This message of Passover is to appreciate what it means to be redeemed and to be released and to go free from a narrow space — what year to appreciate that more than now?"
Temple Israel does normally hold a congregational Seder that brings together about 400 people, Greenstein said, and that will be difficult for people to miss. Many are likely to have regrets about missing out on social and family reunions.
At the same time, the congregation is sharing support tools, conversation suggestions for the Seder table, recipe suggestions and more to help during this time.
Passover is also a festival of renewal and spring, Greenstein said, and certain parts of the Haggadah (the text that guides a Passover Seder) speak of moving "from darkness to light," from slavery to freedom and from despair to hope.
"If we arise, arise from this quarantine saner, truly morally, ethically more in touch with the broader concerns of humanity beyond our own individualistic concerns, then in many ways the Passover prayer has been answered," Greenstein said.
Rev. Phoebe Roaf leads the congregation in her first communion as Bishop of the Diocese of West Tennessee. (Photo: Brandon Dahlberg / For CommercialAppeal.com)
The Rt. Rev. Phoebe Roaf, bishop of the Episcopal Diocese of West Tennessee, was planning for her first Good Friday and Easter Sunday in Memphis when the COVID-19 pandemic began.
Normally, she would preach from the cathedral on High Holy Days, so she had been planning her first message to the Diocese. Her message would have reflected on the past year and celebrated Jesus' resurrection from the dead, she said.
But now, she's also considering whether her service will be live streamed from the cathedral or possibly from her own home.
As Episcopalians, it is particularly important to celebrate the Eucharist every Sunday when they gather together, Roaf said. Having to forego Holy Communion and gathering together will feel like Lent, she said, the period of fasting that leads up to Easter.
"To not be able to have something in a sense will even make it so much more meaningful and poignant when we finally are able to get together," Roaf said. "We may not physically gather on Easter Sunday but whenever that first Sunday is that we all gather, I think it's going to feel like Easter Sunday."
Already, Roaf said she's seeing people in her faith community come up with ideas of how to worship at home among their own families. People are reaching out to each other through technology, reading the Bible at home, helping children dye Easter eggs, she said.
"In the midst of all this uncertainty, I have seen so much creativity and real commitment to actually live and follow Jesus," she said. "Perhaps now all of us will have a sense that God really is everywhere. Yes, we have these beautiful worship spaces, beautiful buildings that have so much history and so much meaning, yet the whole world is holy because God made it. Perhaps it will give all of us a little bit of a sense of the sacredness in the everyday things that we can sometimes take for granted."
There's already a quieter, private aspect to Ramadan, the month of fasting for Muslims, said Abdul-Malik, the imam at Midtown Mosque.
"When you're fasting, you tend to talk less. You become very keen on very basic things. You become very keen on how you use your energy," he said. "Having this at home situation helps us. … It creates an environment where we're not pulled by several different distractions."
But congregational worship and prayer is also very important during Ramdan, as is sharing an Iftar meal together to break the fast. Often, people will gather at the mosque to hear an inspirational speaker and to do the evening prayers.
"That's very important to the Muslim community because there is this sense of equality, a sense of sharing, a sense of unity that comes with physically coming to a place and worshiping together, breaking bread together and reading Quran, reading revelation together," Abdul-Malik said. "I'm hoping this period of time will help rekindle that love for the physical proximity we have towards each other. Now that we have shelter in place, we can't just take the masjid or community for granted."
People are also turning online for a sense of community: people are reciting the Quran via video, reaching entire families who may not have been able to make it to the mosque in the evening, Abdul-Malik said. The wider Muslim community in Memphis is doing live programming, and he's been doing targeted conference calls.
There's precedent for prayer in isolation in Islam, Abdul-Malik said: The Prophet Muhammad was in isolation in a cave when he received his first revelation.
Abdul-Malik is hopeful that this period of social distancing will be over before Eid al-Fitr, the festival of breaking the fast that marks the end of the month of Ramadan.
During Eid, Muslims from all eight masjids in Memphis normally gather together for the Eid prayer, dressing up, giving gifts and celebrating.
"Again, we can all still do our prayers at home. The prayer is between us and our Lord," Abdul-Malik said. "But the festivities will be severely limited considering we can't congregate in any place … Even if we're not able to do it the way we normally do it, it still emphasizes the principle of appreciating the blessings that have been provided for you."
All three clergy members agreed that when the COVID-19 pandemic has ended and their congregations are able to return to physical gatherings, they will likely have gained something by the time apart, however difficult.
"I do hope and I do believe that when we come back, we will not only be more excited, all this built up energy of finally coming back together, but inside we'll all feel that this matters even more because of what we learned through this experience," said Greenstein, the rabbi.
While community is an "integral part" of the lives of people of faith, God isn't constrained to one particular place, said Roaf, the bishop.
"I think, perhaps, it would be good to just remind people that wherever we are, God is," Roaf said. "When this is over, this particular crisis, are there lessons that we are learning even in the midst of it that will help our faith communities be stronger moving forward?"
https://www.commercialappeal.com/story/news/2020/03/27/how-ramadan-easter-and-passover-may-impacted-safer-home/2907671001/
-----
How The Muslim Ban Served As A Warning For Trump's Response To Coronavirus
MARCH 27, 2020
TASMIHA KHAN
For Muslim women who observe hijab, it's become hard not to feel wary about going out in public. This has nothing to do with any increase in white American xenophobia during the current pandemic, but rather because of the Trump administration's latest — and seemingly ongoing— expansion of what's commonly known as the Muslim Ban. For visibly Muslim women, the ban and its widening scope have become a significant problem, serving as a cover for racism. Since women in hijab are easily recognized as being Muslim, they have become the obvious targets.
When Refinery29 spoke to graduate student Janeen Radwan, who observes hijab, she told us how the Muslim Ban has had a huge impact on her and other hijabis. "It's a manner of singling us out from our respective communities. It is already difficult living as a hijabi in the U.S. Wearing a headscarf is like wearing a giant flag around our heads. In a post-9/11 world, a hijab welcomes ignorant questions, glares, and insults — and these are just the minor offenses," Radwan said. "This ban encourages a negative rhetoric that puts other Americans on their toes around those who are most visually Muslim, wearing a hijab. It makes us targets and villains to the rest of our American brethren."
Similarly, Durdana Rahman, a mother of three, explains how the implications of the ban makes her nervous to fly with her children. "I don't want my children to see the humiliation that comes with my hijab. Trump's expansion of this horrible ban is a manifestation that he is wanting to oust Muslims. By his implementation and expansion of the ban, that is allowing negativity to proliferate and this is not an isolated case."
For those who observe hijab, the Muslim Ban can feel like another mechanism for weaponizing anti-Muslim bigotry for political gain. And this is not just limited to travel. When discrimination is sanctioned at a federal level with something like the Muslim Ban, it trickles down into all other parts of society, in areas ranging from education to employment to healthcare. This leads to everything from a lack of employment opportunities to lower incomes to being ignored when sick — something that's particularly dangerous right now, in the midst of a pandemic. For those observing hijab, even in the best of times, the Muslim Ban can heighten anxiety to simply go outside and tend to everyday matters since they can be easy targets for hate. The impact of the Ban is a domino effect that effectively collapses all potential opportunities for those affected, spreading xenophobia further, and normalizing its legal implementation.
Zahra Billoo, Executive Director of Council on American-Islamic Relations of the San Francisco Bay Area, says, "The Muslim Ban is Islamophobia manifesting as policy, giving cover to racists in power to target people based on their faith and as a result also emboldening individuals to commit hate crimes. When our most powerful leaders are bigoted, it follows that ordinary people would follow, feeling as though they've been given permission. The impact is that Muslims are unsafe and unable to trust the government to protect them."
In America, though, it can feel like the government only cares to protect one group of people: white, Christian men. This is, after all, a country where , white supremacy is the driving ideology behind most instances of mass gun violence, yet the administration prefers to target immigrants from what the President deems "sh*thole" countries for surveillance and deportation. The Ban exists alongside other policies that are marked by unprecedented cruelty to children and families, horrific conditions at detention centers, and actions such as the government's recent deportation of a person with a valid visa —this was in spite of a judge's order. Trump's immigration-policy architect Steven Miller's own emails show he favors and shares white nationalist ideas. Trump himself has called white supremacists "very fine people."
Last year, the Trump administration said a major pillar of its economic strategy was to expand economic ties with African nations, including those that are predominantly Muslim. And yet, the administration showed its hypocrisy by first saying it want to build better ties, then banning nearly a quarter of the people from the continent, including those from Nigeria, the continent's largest economy. We cannot view the Muslim Ban and its expansion as an isolated policy. The implementation of the expansion not only hurts economic ties to the U.S., but also continues to marginalize immigrants and communities of color. Despite the administration's claims of security, this policy is based on deep-seated racism and the need for an election-year showstopper.
But it's also not exactly a surprise. Trump's promise to enact a Muslim Ban is one that stretches back for years, to the time when he was still campaigning. The current proposed expansion is about reminding his base of his delivered promises during an election year, and a component of his broader campaign targeting non-whites.
People across this nation must demand an end to the Muslim Ban and any expansion. That is why it is imperative for us to be calling on members of Congress to pass the NO BAN Act, a necessary civil rights bill that would immediately end this heinous ban and prevent future presidents from enacting similar religious, racial, and nationality bans ever again.
https://www.refinery29.com/en-us/2020/03/9613723/muslim-ban-trump-racism-coronavirus
-----
US extends Iraq waivers but intensifies Iran sanctions as COVID-19 breaks records
March 27, 2020
AhlulBayt News Agency (ABNA): The US has once again extended a waiver allowing Iraq to import Iranian electricity and natural gas, but at the same time intensified its sanctions against Iran despite the coronavirus pandemic which is infecting more and more Iranians.
Morgan Ortagus, a US State Department spokeswoman, said in a statement on Thursday that "Iraq is permitted to engage in financial transactions related to the import of electricity from Iran" under a US-issued sanctions waiver.
"The purpose of this waiver, which the United States is renewing today, is to meet the immediate energy needs of the Iraqi people," she added.
The extension is for 30 days, the shortest extension yet for Iraq, and will be the last extension issued, according to AFP.
The US, at the same time, imposed new sanctions against 20 entities based in Iran and Iraq, which she claimed were funneling money to Iran's Quds Force.
The fresh US sanctions were imposed on the same day the novel coronavirus infected a record-high number of people in Iran.
According to Health Ministry spokesman Kianoush Jahanpour, 2,926 new cases of infection were confirmed in the 24 hours to Friday noon.
The spokesman said the total number of confirmed cases now stands at 32,332, out of whom 11,133 have recovered and been discharged from hospital.
While many countries in the world have called on Washington to lift the bans at the height of the global pandemic, the administration of Donald Trump is "vengefully" refusing to end its "unlawful and collective punishment", partly under the pressure of Israeli lobby groups.
Israel's ambassador to the UN Danny Danon told The Jerusalem Post on Thursday that any sanctions relief for Iran during the COVID-19 pandemic must be linked to a pledge by Tehran that it would halt its nuclear program.
He spoke out in the aftermath of an appeal by Tehran to the UN to help ensure that the United States eases its crippling sanctions against Iran.
https://en.abna24.com/news//us-extends-iraq-waivers-but-intensifies-iran-sanctions-as-covid-19-breaks-records_1020854.html
-----
US general warns over Pentagon's plan to target Iraq's anti-terror Kata'ib Hezbollah
28 March 2020
A top US general in Iraq has warned over a Pentagon's secret directive, which called on US military commanders to prepare a campaign against Iraq's pro-government anti-terror Kata'ib Hezbollah group.
Several American officials, who saw the directive or were briefed on it, told The New York Times on Friday that the Pentagon had last week ordered planners at the US military's Central Command and in Iraq to draw up a strategy to dismantle Kata'ib Hezbollah, which is part of the anti-terror Popular Mobilization Units (PMU) or Hashd al-Sha'abi.
In response, the officials said, US army lieutenant general Robert P. White had written a memorandum warning about the costs and risks of any such attack, saying it could be "bloody and counterproductive."
They added that General White had also cautioned that a new military action would require thousands more American troops be deployed to Iraq and divert resources from existing missions there.
The officials further said the memo had pointed out that a possible Iraq campaign might run afoul of the current agreement with the Baghdad government that allows American troops to operate in the country.
Washington has blamed Kata'ib Hezbollah for about a dozen rocket attacks against American troops based in Iraq over the past few months. It claims that the group is backed by Iran.
The US has also conducted a string of deadly airstrikes on Iraqi military bases, which are denounced by Baghdad as a violation of its sovereign and targeted aggression against its official armed forces.
American officials said US Secretary of State Mike Pompeo and Robert C. O'Brien, the national security adviser, have been pushing for an aggressive action against Iraqi resistance groups, while Pentagon chief Mark T. Esper and Gen. Mark A. Milley, the chairman of the Joint Chiefs of Staff, have been wary of a sharp military escalation.
Similarly, during an Oval Office meeting on March 19, US President Donald Trump did not make a decision about whether he might authorize the new campaign in Iraq, but allowed the planning to continue, they emphasized.
Earlier this week, Kata'ib Hezbollah held a military drill, dubbed Hunting the Crow, in the town of Jurf al-Nasr near Baghdad, to prepare itself for battling occupying US troops after suspicious American activities.
Kata'ib spokesman Jaafar al-Husseini said sophisticated weapons with live ammunition were used in the exercises, which simulated a number of engagement patterns, including confronting airstrikes and land exposure, and fighting in a forest environment.
The anti-terror Iraqi resistance group Kata'ib Hezbollah holds a maneuver to prepare itself for a possible battle against occupying American troops in the Arab country.
On January 5, the Iraqi parliament obliged the government "to work towards ending the presence of all foreign troops," including some 5,200 American forces.
The vote came two days after the US military - acting on Trump's order - launched a fatal drone strike on Iran's prominent anti-terror commander Lieutenant General Qassem Soleimani upon his arrival in the Iraqi capital at the invitation of the Baghdad government.
The attack also claimed the lives of Abu Mahdi al-Muhandis, the PMU's second-in-command, along with eight other Iranian and Iraqi people.
https://www.presstv.com/Detail/2020/03/28/621771/Pentagon-Iraq-Kata'ib-Hezbollah
-----
Africa
Islamic group reacts as Buhari govt moves to release prisoners
March 28, 2020
By Wale Odunsi
The Muslim Rights Concern (MURIC) has commended the announcement by the President Muhammadu Buhari government that it would release some set of prisoners.
Those excluded are inmates serving jail terms for capital offences such as murder, kidnapping, armed robbery, rape, treason among others.
The government's decision followed coronavirus spread and the health challenges the Nigeria Correctional Service would face in the event of a major outbreak in Nigeria.
MURIC Director, Professor Ishaq Akintola, in a statement on Saturday, said the inmates were human beings and had fundamental human rights.
"They have the right to live, except those that have been condemned to death. Therefore the Nigerian government has no moral right to keep them in correctional centers where they are gravely exposed to coronavirus", he noted.
"We all know what is happening around the world today regarding the devastating power of this virus. It is killing people in their thousands on a daily basis. We also know the poor state of our correctional centres.
"There are 54 Nigerian soldiers serving a ten-year sentence. They were ordered to confront Boko Haram fighters armed to the teeth. But our soldiers had very poor weapons. Their death sentence was later commuted to ten years in jail. Yet it was their demand for better weapons which exposed the $2.1 billion armsgate," he said.
MURIC urge governors and chief judges to visit correctional centres and release inmates in large numbers before the number of infections explode.
"We call on President Muhammadu Buhari to exercise his prerogative of mercy to free all Nigerian prisoners except those on death row. Nigeria has 74,927 inmates in 244 centres.
"Already, 19 prisoners in 10 prisons have tested positive in British jails. We do not know exactly if the virus is already in our jails. Nigeria must emulate other countries of the world which have taken proactive measures to combat the spread of Covid-19 by decongesting their prisons," he stated.
https://dailypost.ng/2020/03/28/islamic-group-reacts-as-buhari-govt-moves-to-release-prisoners/
-----
Coronavirus: Worshippers desert mosques in Lagos, FCT, Katsina, others
March 28, 2020
Muslims on Friday deserted mosques in the Federal Capital Territory, as well as in Lagos, Katsina and other states in the country in compliance with the various directives by state governments banning social and religious gatherings.
Federal Government and many states had banned large gatherings of people in order to stop the spread of the coronavirus pandemic.
One of our correspondents, who moved round in Lagos between 12:noon and 3 pm, observed that worshippers stayed away from various worship centres in obedience to the directive of the state government.
One of our correspondents observed that the National Mosque, NASFAT Central Mosque and Ansaruddeen Central Mosque among others were shut during Jumat.
Major mosques in Katsina, Katsina State were also shut on Friday in compliance with the directive of the state government banning large gatherings.
The state Governor Aminu Masari had announced the ban on large gatherings, including Jumat, via his Twitter handle @GovernorMasari on Thursday.
A joint patrol of policemen, soldiers and other security agents was also seen patrolling the streets of Katsina town to ensure compliance with the government's directive which prohibits large gatherings.
Meanwhile, due to non-compliance with the state government's directive on restriction on large gatherings, men of the Ogun State Task Force on Friday stormed the Najomo Central Mosque at Adatan, Abeokuta and drove away worshippers who gathered for Jumat.
The worshippers were being led in prayer by the 78-year-old chief imam of the mosque, Moshood Taiwo, when the task force stormed the mosque and dispersed them.
Our correspondent gathered that the Wakilu Muslim of Yorubaland, Edo and Delta states, Sheikh Iskeel Awwal, led the task force to the mosque.
But Taiwo, while being arrested, was said to have engaged the commander of the task force, CSP Toyin Afolaogun, in a heated argument.
He insisted that he did not commit any wrong by conducting Jumat prayer, adding that the worshippers were exercising their rights and praying to God to end coronavirus in the country.
When confronted with the government's order banning the gathering of over 20 people, he said he had started the prayer with only 15 worshippers and he was not aware when the number increased above the limit.
"I told some worshippers to wait outside and ensure they didn't allow more people to join us. But, when they heard the prayers I was making for the state and Nigeria, some of them forcefully entered the mosque. I did not violate any rule of the government. I am part of the government," he defended.
To curb the spread of the COVID-19, the Ogun State chapter of the Christian Association of Nigeria has asked all churches in the state to stop operation immediately.
In a directive which was given on Friday via a statement by the state Chairman of CAN, Bishop Tunde Akin-Akinsanya, the order was with immediate effect.
The bishop had initially on March 19 directed churches in the state to reduce their worshippers to what he described as "the nearest minimum."
The statement read in part, "As a follow-up to our press release of March 19 in respect of the coronavirus pandemic and consequent upon our continued finding on the disease, the Ogun chapter of CAN hereby directs that all churches be immediately shut down across the state."
In a similar manner, the Gombe State Governor Inuwa Yahaya has directed that all public gatherings be suspended till further notice.
He said, "All social gatherings be suspended till further notice. Interstate travels by public and private vehicles will be suspended effective from 12 am on Sunday, March 29, 2020.
"Effective from Saturday (today), markets will be closed. We will ensure everyone embraces the principle of social distancing. We shall only allow those who sell essential commodities like food and medicine."
All rights reserved. This material, and other digital content on this website, may not be reproduced, published, broadcast, rewritten or redistributed in whole or in part without prior express written permission from PUNCH.
https://punchng.com/coronavirus-worshippers-desert-mosques-in-lagos-fct-katsina-others/
-----
Popular APC Chieftain Attacks Imam Of Peace For Mocking Buhari
March 27, 2020
Olugbenga Ige
A chieftain of the All Progressives Congress (APC), Adamu Garba, has attacked globally renowned Islamic cleric, Mohammad Tawhidi, popularly known as Imam of Peace, for mocking President Muhammadu Buhari.
POLITICS NIGERIA reports that Tawhidi, who is a Muslim influencer and reformist, had accused the Nigerian leader of being complicit in various terrorist attacks in Nigeria.
Imam of Peace also mocked President Buhari for pronouncing Covid-19 as 'Covik one nine", which according to him, shows that Buhari has not been proactive in the fight against the coronavirus pandemic.
He wrote on Twitter: "The President of Nigeria Muhammadu Buhari still doesn't know the name of the virus killing 24,000+ at such a rapid rate. Addressing the nation about it for the first time, he pronounced the virus as 'COVIK 1-9'.
"Islamists in Nigeria are destroying Christian communities. Weak leadership of Buhari. Failed President. No realistic agenda to tackle Jihadists. All talk."
The Muslim cleric also berated those supporting President Buhari for his inactions and attitude towards terrorism in the country.
"Whoever supports Buhari is not only foolish but also responsible for his crimes regardless of their nationality. I'm not even Nigerian and I am standing up for Nigerians."
"I'll say it again: Whoever voted for Buhari, especially for the second time after seeing his failures to crack down on terrorists, is 100% stupid, foolish and irresponsible. Victims of terrorism due to Buhari's incompetence don't care about minority or majority votes. Wake up."
However, Garba, who is a former presidential aspirant on the platform of the All Progressives Congress (APC) slammed the popular cleric for attacking Nigerians and the president.
He wrote on Twitter: "A refugee, @Imamofpeace who cannot withstand his home country's repression and ran to another man's country to seek asylum due to dictatorship of his home country have no right to attack my country and its President. Whoever hate your President hates your country. Imam hates us."
Tawhid, however, accused Garba of lies, stating that he didn't seek asylum in Australia. He only migrated with a valid visa and a plane ticket.
https://politicsnigeria.com/apc-chieftain-attacks-imam-of-peace-for-mocking-buhari-supporters/
-----
Coronavirus: Pray at home – Islamic leaders tell Muslims in Ogun
March 27, 2020
By Ishola Oludare
Islamic leaders in Ogun State have told Muslims in the State to stay and pray at home as there will be no Friday Jumat services from this moment, until further directives.
This is in conformity with the directive of Governor Dapo Abiodun, banning all gatherings with more than 20 persons to prevent the spread of Coronavirus pandemic in the state.
According to an announcement on Friday by the Wakeel Muslimeen of Yorubaland, Edo and Delta States, on behalf of the League of Imams and Alfas in Ogun state, Muslims across the nation are advised to obey government directives by keeping themselves safe from contracting the disease.
Meanwhile, the Ogun State chapter of the National Association of Nigerian Students (NANS) have called on the Association of Table Water Producers, in the State to, within the next 24 hours, reduce the price of sachet water from N20 to the status quo of N10 or face the wrath of students in the state.
https://dailypost.ng/2020/03/27/coronavirus-pray-at-home-islamic-leaders-tell-muslims-in-ogun/
------
Pakistan
Police visit mosques to convince citizens to offer prayers at home
March 28, 2020
Rawalpindi : To ensure implementation on directives of the government to make social distancing and seeking preventive measures against Coronavirus pandemic, police officials make visits to mosques in different areas of the city here on Friday to convince people to say Friday prayers at home.
On instructions from CPO Rawalpindi DIG Muhammad Ahsan Younis, police officials including SPs, SHOs and police personnel made visits to the Mosques to convince Ulemas and clerics as well as public to say Friday prayers at homes.
Police officials informed Ulemas and public on directives of the government for preventive measures against Coronavirus pandemic.
Police officials utilizing loudspeakers of Masajid also appealed to public to stay inside homes and restrict unnecessary movement out of their homes.
Ulemas and Mashaykh were also appealed by senior police officials to educate public on preventive measures of the government for public to stay safe by staying inside their homes.
CPO Rawalpindi along with respective SPs and SHOs also paid visit to various mosques and convince public and religious scholars to stay safe by seeking preventive measures against Coronavirus pandemic.
Police employing all available resources to ensure safety of the citizens in accordance of the directives of the government to control outbreak of Coronavirus, said CPO Rawalpindi DIG Muhammad Ahsan Younis.
Citizens were also appealed by senior police officials to stay inside the homes through announcements from police mobile vans to ensure their safety against Coronavirus pandemic.
https://www.thenews.com.pk/print/635610-police-visit-mosques-to-convince-citizens-to-offer-prayers-at-home
-----
Punjab, Sindh, Balochistan limit prayers in mosques Corona cases reach 1321 including an MPA
March 28, 2020
ISLAMABAD Congregational prayers throughout Pakistan have been limited to a few people only as the federal and provincial governments ramp up efforts to enforce social distancing amid the spread of the novel coronavirus that has left nine dead and more than 1,200 infected. On Friday morning, the Punjab government followed the Sindh and Balochistan governments in issuing an advisory notifying mosques that prayers were to be limited to three to five people only, including the mosque administration. The order also applied to Friday prayers. "People should pray at home to avoid catching the epidemic. The Punjab government took the decision in light of the recommendations of the medical experts in this regard," the advisory issued by the provincial government proclaimed. It must be noted that there are 1321 confirmed coronavirus case in Pakistan, according to the latest report released by the National Command and Control Center on coronavirus on Friday. Meanwhile, two doctors who were treating Covid-19 patients in Dera Ghazi Khan quarantine center tested positive for coronavirus on Friday. According to Punjab Secretary for Primary Healthcare Muhammad Usman, both doctors were treating patients in the DG Khan Isolation ward. Dr. Usama and Dr. Saba, detected with Covid-19 have been kept in an isolation ward and are undergoing treatment, said health secretary. He said that the condition of both doctors is out of danger. The national dashboard, maintained by the federal ministry of health, reported that Sindh province has been affected more due to the virus, where the number of cases stands at 440, Punjab 448, Balochistan 133, KP 180, Gilgit-Baltistan 91, Islamabad 27 and two cases were reported in Azad Kashmir. With the addition of 57 new cases of the Covid-19, with in short span of twenty four hours, the tally of those tested positive for Coronavirus in Khyber Pakhtunkhwa surged to 180 on Friday. The new cases also include a Member of the KP assembly. Member Provincial Assembly from Khyber Pakhtunkhwa, Abdus Salam Afridi was tested positive for coronavirus on Friday. The Pakistan Tehreek-e-Insaaf lawmaker has quarantined himself in his home. It has been learnt that a death from the pandemic was reported in his constituency earlier. On the other hand, an area in Charsadda's Tehsil Tangi has been sealed by the administration after a patient, Feroz Shah, was tested positive for coronavirus. The houses of Feroz Shah and his thirty neighbours have been quarantined and the medical data of all individuals has been collected. The administration will take further action if any other person shows symptoms of the pandemic. The authorities will also provide food to 12 deserving families of the area until it is sealed. Twenty-nine new coronavirus cases have been confirmed in Punjab, taking the provincial tally to 448, according to a spokesperson for the Punjab health department. Punjab now has the highest number of Covid-19 cases in the country, overtaking Sindh's total of 440. Four people have died from the virus in the province so far, one in Rawalpindi and three in Lahore. Two coronavirus patients have been discharged from hospital in Balochistan after making a full recovery, Balochistan government spokesperson Liaquat Shahwani said. He said the two patients tested negative for the virus after being treated at Quetta's Sheikh Zayed Hospital. Another 16 people were tested positive in GilgitBaltistan as the region's tally of coronavirus patients rose to 103 on Friday. "With three patients recovered and Dr Usama Riaz's death, the tally now stands as 103," said Adviser to CM on Information Shams Mir during a daily briefing at Gilgit Press Club on day five of the lockdown in the region. The adviser said results of 300 tests were pending at NIH, Islamabad and other hospitals.
https://pakobserver.net/punjab-sindh-balochistan-limit-prayers-in-mosques-corona-cases-reach-1321-including-an-mpa/?utm_source=rss&utm_medium=rss&utm_campaign=punjab-sindh-balochistan-limit-prayers-in-mosques-corona-cases-reach-1321-including-an-mpa
-----
South Asia
Afghan forces suffered casualties in Badakhshan province, Mod confirms
28 Mar 2020
The Ministry of Defense (MoD) confirmed that the Afghan forces sustained casualties while responding to a Taliban attack in North-eastern Badakhshan province.
According to a statement released by MoD, the Taliban militants attacked the security check posts in Jurm district of Badakhshan on Friday night.
The statement further added that the security forces responded to the attack and managed to repulse the offensive on many outposts, while being in a defensive mode.
However, the Ministry of Defense said the security forces were forced to retreat from 4 security outposts during which they sustained casualties.
Without disclosing further information regarding the exact number of casualties, the Ministry of Defense said, adding that it would publicize the exact casualties figure soon.
Meanwhile, the Ministry of Defense said the security forces also inflicted casualties on assailant militants during the clashes.
https://www.khaama.com/afghan-forces-suffered-casualties-in-badakhshan-province-mod-confirms-04575/
-----
Afghanistan confirms 104 positives cases of coronvirus
28 Mar 2020
The Ministry of Public (MoPh) confirmed that the new positive cases of novel coronavirus (COVID-19) has reached 104 in Afghanistan.
According to MoPH officials, the Ministry of Public Health tested 48 suspected COVID-19 cases as of late Friday in western Herat province.
The officials further added that the test results returned as negative for 34 cases while 14 other cases were tested positive for the disease.
The Ministry of Public Health recorded 11 positive cases in Herat and 3 positive cases in western Farah province, out of the new suspected cases.
This comes as the Afghan cabinet had earlier approved a plan to impose curfew in Kabul city in a bid to combat and prevent the outbreak of COVID-19 disease in the country.
Pakistan has so far reported close to 1,400 positive cases while reports emerging from India suggest the number of positive cases has exceeded 800.
https://www.khaama.com/afghanistan-confirms-104-positives-cases-of-coronvirus-04574/
-----
New details emerge regarding the Indian man who attacked the Afghan Sikhs in Kabul
28 Mar 2020
New details emerged regarding the Indian man who attacked a Sikh temple in Kabul city on Wednesday, killing at least 25 people and wounding 8 others.
Officials from Intelligence Bureau confirmed that the real name of the Indian National who attacked the Sikh temple in Kabul city was Mohammad Muhsin.
Originally hailing from Kerala of India, Muhsin left for Afghanistan in 2018 to join the offshoot of the Islamic State terror group or the ISIS Khurasan.
Muhsin's mother confirmed that she received a message that her son was killed during the attack on Sikh temple in Kabul city, according to One India.
The ISIS Khurasan had earlier issued a statement, claiming that the attack on Sikh temple in Kabul was carried out by Abu Khalild al-Hindi.
The Amaq News Agency, affiliated with the terror group also released the photo of the suicide bomber who stormed the Sikh temple in Kabul city on Wednesday.
The Ministry of Interior of Afghanistan confirmed that the attack on Sikh temple in Kabul city left at least 25 people dead and 8 others wounded.
https://www.khaama.com/new-details-emerge-regarding-the-indian-man-who-attacked-the-afghan-sikhs-in-kabul-04573/
------
Southeast Asia
COVID-19: Countries ban Friday prayers, Muslims at home
Sorvar Alam
27.03.2020
Millions of Muslims across South East Asia stay at home on Friday following bans and repeated calls to suspend Friday congregational prayers as part of efforts to stem the spread of the novel coronavirus known as COVID-19.
Several cities in Indonesia, the largest Muslim nation with over 270 million population, have suspended religious gatherings for two weeks as country is under lockdown.
The Indonesia Ulema Council said mass Friday prayers remain mandatory for those in areas with low potential for spread of the virus.
But Muslims are not allowed to perform Friday prayers at the mosque in places where the virus has spread "uncontrollably".
Malaysia had also banned Friday prayers last week and mosques across the country follow the direction for the second time today.
In Pakistan, people partially followed a ban on Friday prayers across the country, as people in remote areas did not heed to the call for staying away from typical Friday congregations.
In major cities, including the capital Islamabad, commercial capital Karachi, Lahore, Peshawar and Quetta, attendance at mosques was much lesser than regular times, according to local media.
The Friday congregational prayers in the Indian-administered Kashmir were also suspended after the region reported one death and 18 cases, including an 8-month-old baby.
Most people in the region did not move out of their homes for prayers on Friday after early announcements from local mosques cautioned people not to come for the prayers.
The region's Grand Mufti Nasir-ul-Islam told Anadolu Agency that after taking expert opinion from health specialists, scholars and other experts, it has become imperative to call off the prayers from the mosques and shrines in view of the pandemic.
"People can pray at home when our religion allows it, there is no need to go to mosques till the situation gets normal," he said.
Also the government spokesman in the region, Rohit Kansal today tweeted that all district commissioners and police officers in the region have been strictly asked to caution religious leaders not to call any gatherings.
This is the first time that the Friday congregational prayers have been suspended across the region and the decision was taken after the region reported its first death on Thursday.
The decision was taken on board with different socio-religious organizations, one of the members of Jamia Masjid Committee, in the main city of the region, Srinagar confirmed to Anadolu Agency.
The administration on Thursday in the region has also ordered the closure of all religious institutions, including gurudwaras, shrines and mosques, and appealed to the management committees of all places of worship and all residents of the region to cooperate and support.
The first case to be reported in the region was on March 18 after which the religious clergy had suggested that the elderly and sick should remain home and not come out for the Friday prayers.
As of now, 14 people have tested positive for the virus in the Kashmir region, while four have been reported from the Jammu region earlier this month taking the tally to 18. Over 5,000 patients have been put under observation, while one has died, another recovered so far.
Amid lockdown to contain the spread of coronavirus, people in India on Friday offered prayers at their home. This comes after clerics across the nation had issued statements on Thursday asking people not to gather in mosques to offer special Friday prayers.
The call of the adhan (Islamic call for prayers) was heard from mosques in India, but people stayed at their home for prayers.
Well-known Muslim cleric Khalid Rasheed Farangi Mahali said: "In the current situation, it was necessary for the people to offer Friday namaz [prayer] from their houses. We should follow the instructions of the government."
Renown Islamic seminary Darul Uloom Nadwat Ul Ulama in Lucknow has also asked people not to gather in mosques for Friday prayers.
For Muslims in India, it was a hard decision. They have never seen in their life when they were asked not to offer prayers in mosques.
"This is something we have never imagined. I have never seen such a situation in my life," said Abdul Rauf in Kanpur, in the northern state of Uttar Pradesh.
While speaking to Anadolu Agency in tears, he said: "We must respect the decision and should pray for Allah's mercy."
In Bangladesh, another populated Muslim country with over 165 million people, Muslims partially follow the call to pray at home.
Although there was no official ban for Friday prayers in the country, the highest religious body, the Islamic Foundation, call on people not to attend the congregational prayers in areas with a high risk of COVID-19.
In Baitul Mukarram, the largest mosque in Dhaka, people gathered for Friday prayers but many areas in the country see less attendance today.
The coronavirus emerged in Wuhan, China last December and has spread to at least 176 countries and territories. The World Health Organization has declared the outbreak a pandemic.
The number of confirmed cases worldwide has now surpassed 549,600, while the death toll is more than 24,800, and over 127,500 have recovered, according to data compiled by U.S.-based Johns Hopkins University.
https://www.aa.com.tr/en/asia-pacific/covid-19-countries-ban-friday-prayers-muslims-at-home/1781948
------
New Zealand/Australia
Australia-based Islamic Cleric Slams President Buhari Over Failure To Address Nigerians On Coronavirus Outbreak
MAR 27, 2020
An Islamic cleric based in Australia, Mohammad Tawhidi popularly known as 'Imam of Peace', has slammed Nigeria's President, Muhammadu Buhari, over his failure to address Nigerians on the Coronavirus pandemic that is spreading rapidly across the country and wreaking havoc.
Tawhidi also berated Buhari for his poor handling of terrorism in Nigeria especially in the North-East region where Boko Haram has killed thousands and displaced millions.
The President of Nigeria Muhammadu Buhari still doesn't know the name of the virus killing 24,000+ at such a rapid rate. Addressing the nation about it for the first time, he pronounced the virus as 'CIVIK 1-9'.
ABUJA, Nigeria — It was faith that compelled us to travel to Nigeria last week to see for ourselves the simmering crisis threatening parts of Africa's wealthiest and most populous country.
President Buhari and his cult are coming after me instead of going after Boko Haram. This shows you the real agenda of #PresidentCovik and the Covik cult.
Reacting to the development, a former Minister of Aviation, Femi Gani-Kayode, said, "@Imamofpeace has focused his attention on @MBuhari and his goons, made a fool of them and taken them to the cleaners.
Also adding his voice to the issue, Reno Omokri, aide to former President, Goodluck Jonathan, said, "General @MBuhari has turned himself into an international figure of fun to the extent that one of the world's most popular Islamic clerics, @Imamofpeace, described him as the "dumbest person in Nigeria."
http://saharareporters.com/2020/03/27/australia-based-islamic-cleric-slams-president-buhari-over-failure-address-nigerians
-----
URL: https://www.newageislam.com/islamic-world-news/ramadan-under-quarantine-this-year/d/121427
New Age Islam, Islam Online, Islamic Website, African Muslim News, Arab World News, South Asia News, Indian Muslim News, World Muslim News, Women in Islam, Islamic Feminism, Arab Women, Women In Arab, Islamophobia in America, Muslim Women in West, Islam Women and Feminism