New Age Islam News Bureau
19 March 2021

• 'Some Europeans Hold Centuries-Old Grudge Against Muslims': Former Far-Right European Politician
• Saudi Arabia Calls for Greater Tolerance As Crimes against Muslims Soar: Saudi Representative to the UN
• UAE Angered over Netanyahu's Exploitation of Normalization Deal, Cancels Summit with Israel, US
• Making Pakistan a Model Of State Of Medina Is Final Goal, Says President Alvi
• Sri Lankan Police Arrest Muslim Leader Using Draconian Anti-Terror Laws
• Uighur Exiles Urge Blinken to Demand China Close Xinjiang Camps
• Nigerian Soldiers Flee As Boko Haram Takes Over Military Base In Borno
• Russia, Us, China Urge Taliban to Cut Spring Offensive
India
• Quran Recitals to Protest Rizvi PIL: Shia Board Appealed To the Supreme Court to Dismiss the Petition
• Authors of MBBS Book Linking Tablighi Jamaat to Covid-19 Spike Promise Revision
• Key Changes Have Been Made To the Blueprint of the Mosque-Hospital Complex at Ayodhya Construction after Ramzan
• Lucknow Book Fair: Bookstall tries to clear misconceptions about Islam, Muslims in India
• Allahabad HC Asks UP Govt under Which Authority of Law It Appointed Administrator In Shia Waqf Board
• Space diplomacy: India plans space pact with Saudi, pushes key projects with Quad nations
• Why is the Asian Church cold about Muslim friendship?
--------
Europe
• 'Some Europeans Hold Centuries-Old Grudge Against Muslims': Former Far-Right European Politician
• Anti-Muslim Hatred Has Reached 'Epidemic Proportions' Says UN Rights Expert
• Russia hosts Afghanistan peace conference, urges speedy deal to end violence
• 'EU should support Turkey for hosting over 4M refugees'
• EU criticizes Assad regime, its global supporters
• 'Turkey key in Europe's future as it was in past'
--------
Arab World
• Saudi Arabia Calls for Greater Tolerance As Crimes against Muslims Soar: Saudi Representative to the UN
• 'Three Mossad-linked Teams Active in Syria's US-Controlled Al-Hawl Refugee Camp, Recruit Spies'
• Cardinal and Imam Talk About Pope Francis's Visit with Al-Sistani
• Lebanon's Hariri says new cabinet, IMF dialogue necessary to halt collapse
• Certain groups attempt to create civil war in Lebanon, Hezbollah chief warns
--------
Mideast
• UAE Angered over Netanyahu's Exploitation of Normalization Deal, Cancels Summit with Israel, US
• Iran Blasts Growing Trend of Intolerance, Prejudice against Muslims in West
• Turkey Orders Muslim Brotherhood TV Channels To Stop Airing Anti-Egypt Rhetoric
• Pakistani PM Stresses Using Iran's Energy Capacities
• Envoy Lauds Brazilian Lawmakers for Passing Bill to Develop Ties with Iran
• Over 550 intl. organizations urge UN Human Rights Council to 'end Israel's impunity'
• Yemen: Al-Qaeda attacks military post, kills 12
--------
Pakistan
• Making Pakistan a Model Of State Of Medina Is Final Goal, Says President Alvi
• Time for India and Pak to Bury Past, Move Forward: Pak Army Chief Gen Qamar Bajwa
• Fazl, Nawaz agree to go ahead even if PPP leaves PDM
• Kuwait seeks stronger ties with Pakistan: minister
• SC to hear Imran's petition against Akbar's PTI membership
--------
South Asia
• Sri Lankan Police Arrest Muslim Leader Using Draconian Anti-Terror Laws
• Bangladesh still far from achieving founding father's dreams
• U.S Air Force bombs Taliban in Kandahar
• US, Russia join forces for Af-Taliban deal despite spat
• US, Regional Powers Call on Taliban to Forego Spring Offensive at Moscow Conference
--------
Southeast Asia
• Uighur Exiles Urge Blinken to Demand China Close Xinjiang Camps
• Jakim awaits Conference of Rulers' consent for next course of action over 'Allah' issue
• Johor allows congregational prayers at mosques, surau from tomorrow
• Indonesia president calls for ASEAN high level meeting on Myanmar crisis
• China accuses outspoken scholar on Xinjiang of fabrication
--------
Africa
• Nigerian Soldiers Flee As Boko Haram Takes Over Military Base In Borno
• At least 30 hospitalized by strange illness in Nigeria
• Qatar denounces terror attack in Niger
• Attackers on trucks and motorbikes raid Mali base, kill 33 troops
--------
North America
• Russia, Us, China Urge Taliban to Cut Spring Offensive
• Iran-Backed Attacks on US Forces to Accelerate Nuclear Deal Will Not Work: US Envoy
• Biden urges UNSC to act on Ethiopia, Syria, Yemen
Compiled by New Age Islam News Bureau
URL: https://www.newageislam.com/islamic-world-news/quran-recitals-protest-rizvi-pil/d/124580
--------
Quran Recitals to Protest Rizvi PIL: Shia Board Appealed To the Supreme Court to Dismiss the Petition

Mar 19, 2021
Ayodhya: The All India Shia Personal Law Board (AISPLB) appealed to the Supreme Court to dismiss the petition of former Uttar Pradesh Shia Waqf Board chairperson, Wasim Rizvi, who sought removal of 26 verses of the Quran.
At an emergency meeting of the board executive in Lucknow on Thursday, it was decided that Quran would be recited in groups on Monday evening at Imambara, mosques and mausoleums and by women at their homes and these videos would be uploaded on social media. The board also demanded harsh punishment to those who insult religion.
Talking to TOI after the meeting at Shia Degree College campus, general secretary of the Board, Maulana Yasoob Abbas, said, community members have been asked to recite the Quran at religious places and homes. He also announced that the board would counter Rizvi's petition and the convener of the Board's legal cell, Afzal Imam, reached Delhi on Thursday to finalise the legal strategy. He also criticitised Allahabad University VC Prof Sangeeta Srivastava for her stand against azan from mosques.
https://timesofindia.indiatimes.com/city/lucknow/quran-recitals-to-protest-rizvi-pil-shia-board-at-crucial-meet/articleshow/81578653.cms
--------
'Some Europeans Hold Centuries-Old Grudge Against Muslims': Former Far-Right European Politician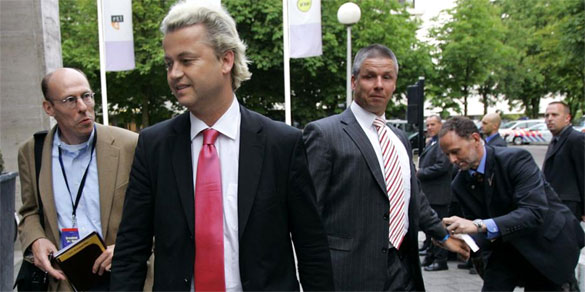 Joram was once close to the Dutch far-right anti-Islam politician Geert Wilders. (AP Archive)
-----
March 19, 2021
Deep-rooted hatred against Islam persists, says Joram van Klaveren, the former far-right European politician, who was once a close ally of Geert Wilders.
When Brenton Tarrant live-streamed the massacre of Muslims at two mosques in New Zealand, viewers noticed his guns were covered with inscriptions - racial slurs such as 'Migration Compact' and 'Kebab Remover'. One read 'Vienna 1683'.
That last one is a reference to the year when the Ottoman Empire fought a bloody war with the Holy League, a Christian European alliance that included Russia.
Tarrant, 30, who has been imprisoned for life, without any possibility for parole, for the killing of 51 Muslim worshippers in the city of Christchurch on March 15, 2019, was well-versed in white supremacist propaganda.
He cherry-picked historical events to justify targeting Muslims, who according to him, are migrating in large numbers and have more babies, something that threatens to turn white Europeans into a minority.
Muslims make up 5 percent of Europe's population, according to Pew Research.
"What Tarrant and the others from the far-right do is that they bring these stories out of history, twist them around and use them to scare everybody," says Joram van Klaveren, a former lawmaker of the anti-Muslim Party for Freedom (PVV) of Netherlands.
"They don't say that we in Europe should be thankful to Muslims for algebra, maths and hospitals - the things we borrowed from the Islamic civilisation."
Klaveren was a close associate of Geert Wilders, the Freedom party leader, and for years worked as his spokesperson on Islam. He once submitted a bill in the Netherlands parliament that called for a ban on Islam because it permits violence against women.
But in 2018, Klaveren renounced Freedom party's politics. While researching a book that was supposed to highlight the dangers posed by Muslims, he ended up writing Apostate - a book about his conversion to Islam.
Klaveren is now a board member of the Islam Experience Center, which promotes Islam's understanding in Europe and actively promotes Muslim causes.
A time for reflection
What happened at Christchurch was the worst terrorist attack in New Zealand's history. It was also one of the most gruesome against Muslims anywhere in Europe.
New Zealand's immediate response was widely appreciated. Prime Minister Jacinda Ardern, her head covered with a scarf, was alongside mourners during funerals, gun laws were tightened and the court handed the maximum punishment to Tarrant within the country's laws.
But there are concerns that authorities are not keeping track of white supremacists like Tarrant who openly exchange anti-Islam propaganda online.
Just weeks back, New Zealand police arrested a man who posted messages on 4Chan message board - also frequented by Tarrant - threatening to attack the same mosques in Christchurch that were targeted by Tarrant.
Police were able to nab the guy only after a tip-off from a user, leading to criticism of the slow response of New Zealand's Security Intelligence Service.
Two years since the Christchurch attack, not much has changed in the way right-wing politicians spew hatred against Muslims, says Klaveren. And they still appear to be a formidable political force in a few countries.
In the Netherlands, PVV, which is already the second largest in the parliament, is expected to do well in national elections being held this week.
Dutch Prime Minister Mark Rutte, who is expected to win another term in office, hasn't done much to inspire confidence in the Muslim community either.
"Our government doesn't want Islamic organisations and mosques getting funding from abroad. But it's okay for a Church or a political party to get funds from abroad."
Nevertheless, the New Zealand attack made European Muslims realise that they have to come together and that has encouraged them to better organise themselves.
"Also politicians now know that there will be consequences to what they say and do."
A crisis of Christianity
Tarrant's infamous manifesto, which he wrote before carrying out the attack, spoke about the perceived threat that Muslim migrants pose to white Europeans. It's a view that's shared by many others as reflected by a rise in Islamophobic attacks in countries such as Germany.
"That perception hasn't really changed," says Klaveren. Especially as Europeans are not being given the true picture of Islam, he adds.
"More often they see the news of terrorist attacks and young Muslim migrants shown as hooligans. A combination of this worries people. There are Muslim organisations, which are doing a lot of charity work but it never gets the media coverage."
Many Europeans have an inherited fear of Islam because of a history of wars that Muslims and Europeans fought centuries ago.
At the same time, the rise of the nationalist right-wing politics has coincided with the rapid increase in Europe's secularisation, says Klaveren.
"A lot of people, in a sort of spiritual way, have lost their God. There is emptiness in their heart. They go do drugs, they start drinking, they go partying, and they join the ranks of extreme-right nationalists - do everything to fill up the hole," he says.
"Then they are confronted by a group, in this case the Muslims, who are still very practicing. They do believe in God, it's clear what we think and what we want to do. And it scares them. The extreme right misuses this fear."
https://www.trtworld.com/magazine/some-europeans-hold-centuries-old-grudge-against-muslims-45087
--------
Saudi Arabia Calls for Greater Tolerance As Crimes against Muslims Soar: Saudi Representative to the UN
March 18, 2021
NEW YORK: "Islamophobia is unfortunately pervasive everywhere," Abdallah Al-Mouallimi, Saudi Arabia's permanent representative to the UN, told a high-level international meeting on Wednesday.
It was organized by the Organization of Islamic Cooperation (OIC) to mark the first International Day to Combat Islamophobia. In response to an increase in attacks and other hate crimes targeting Muslims worldwide, the organization adopted a resolution in November last year calling for March 15 to be observed as a day to highlight and address the issue.
Fifty-seven countries, with a total population of 1.8 billion people, are members of the OIC. They include some, in West Africa and South America in particular, that are not Muslim-majority nations.
"Social media, hate speech and disinformation campaigns have made Islamophobia harder to address and eradicate," said Al-Mouallimi, who stressed that any threat to the freedoms of one community based on the faith of its members is a threat to the religious freedoms of all.
Not only does the media perpetuate Muslim stereotypes through a "disproportionate" focus on the actions of individuals "perceived to be Muslims," he said, it also plays an active role in spreading hatred. He called on the international community to come together to address this threat.
Speaking on behalf of Prince Faisal bin Farhan, the Kingdom's foreign minister, Al-Mouallimi cited the words of the "Charter of Makkah," which affirms that "religions and philosophies are exonerated from the sins committed by their adherents and claimants," and that "true understanding of Islam requires an objective view that is devoid of stereotypical and prejudicial notions."
The charter, adopted in the Holy City by the Muslim World League in May 2019, is a pan-Islamic set of principles that aim to counter extremism, advocate religious and cultural diversity, and support legislation against hate and violence. It was presented by Saudi Arabia's King Salman, approved by the Islamic leaders of 139 countries, and signed by more than 1,200 prominent Muslims.
Al-Mouallimi also raised concerns about an increase in individual attacks against Muslims, and reminded those at the meeting that "personal behaviors should not be attributed to any religion or nationality. We underscore that the dissemination of hate speech jeopardizes the peace of society and serves the agenda of individual extremists to nourish their notion of hatred."
The Saudi envoy called for an end to all "disproportionate measures" that target Muslims, and activities that stir up "religious intolerance, discrimination and violence."
He reiterated the principles enshrined in the establishment of the International Day to Combat Islamophobia: a recognition of the growing threat from rising intolerance and sectarian violence; the importance of breaking perceived links that connect terrorism with any particular religion; and the need to raise awareness of acts of violence based on religion and condemn them.
Al-Mouallimi also welcomed a recent report by the UN Human Rights Council that concluded "suspicion, discrimination, and outright hatred" toward Muslims has risen to "epidemic proportions."
It highlighted the disproportionate restrictions placed on Muslims manifesting or practicing their faith, limits on their access to citizenship, the socioeconomic exclusions they face, and the pervasive stigmatization of Muslim communities. These forms of discrimination, in the private and public spheres, "often make it difficult for a Muslim to be a Muslim," the UN's special rapporteur said in the report.
Muslims are frequently targeted based on visible characteristics of their faith, according to the report, such as their names, skin color and religious attire, including headscarves. The study also highlighted "the triple levels of discrimination" that Muslim women face because of their "gender, ethnicity and faith."
The report — titled Countering Islamophobia/Anti-Muslim Hatred to Eliminate Discrimination and Intolerance Based on Religion or Belief — also examines "how Islamophobia perpetuates a vicious circle whereby state policy validates private Islamophobic attitudes and actions, and the prevalence of such attitudes can propel state policies that penalize Muslims; with stark consequences for the enjoyment of human rights, including freedom of religion or belief."
It concludes that "cumulatively, in some contexts, such actions may amount to the level of coercion as prohibited under international law."
UN Secretary-General Antonio Guterres told the meeting: "Unfortunately, far too often stereotypes are further compounded by elements of the media and some in positions of power.
"Anti-Muslim bigotry is sadly in line with other distressing trends we are seeing globally: a resurgence in ethno-nationalism, neo-Nazism, stigma and hate speech targeting vulnerable populations including Muslims, Jews, some minority Christian communities, as well as others."
Although acts of intolerance might not always be recorded in official statistics, they "degrade people's dignity and our common humanity," Guterres said.
"Discrimination diminishes us all," he added. "As the Holy Qur'an reminds us: nations and tribes were created to know one another."
Calling for social cohesion and an end to bigotry, the UN chief said that fighting discrimination, racism and xenophobia is a priority for the organization.
Other guests at the meeting included President of the UN General Assembly Volkan Bozkir, OIC Secretary-General Yousef Al-Othaimeen, UN High Representative for the Alliance of Civilizations Miguel Angel Moratinos, and the foreign ministers of Iran, Turkey and Pakistan.
https://www.arabnews.com/node/1827321/saudi-arabia
--------
UAE angered over Netanyahu's exploitation of normalization deal, cancels summit with Israel, US
19 March 2021
The United Arab Emirates (UAE) has canceled an event with Israel and the US, accusing Israeli prime minister Benjamin Netanyahu of exploiting the normalization deal and using Crown Sheikh Mohammed bin Zayed's commitment as an election ploy to boost his chances in upcoming Israeli general elections.
The UAE, the US, and Israel and leaders from Arab states that have normalised relations with Tel Aviv had planned to organize an April summit to celebrate Israel's normalization agreement with Sudan. The event was canceled after the UAE officials expressed their frustration with Netanyahu's electioneering.
This is the first big crisis between the UAE and Israel since the two sides announced the normalization of relations last August.
Netanyahu had touted his role in Israel's normalization deals as a key component of his campaign strategy, announcing that the UAE would invest $10 billion in Israel.
He has reportedly taken to name-dropping bin Zayed in recent political events, billing himself as the facilitator of the multi-billion-dollar UAE investment projects in Israel.
Netanyahu, who faces general elections on 23 March, has suggested that his opponents do not have the same political lout.
According to the UAE, Netanyahu has misrepresented the Emirati commitment as one tied to Netanyahu's political fortunes.
The UAE downplayed what it described as "our potential" $10 billion investment, with UAE's Minister of Industry and Advanced Technology Sultan Al Jaber emphasizing that the investment is "commercially driven and not politically associated."
Al Jaber reiterated that the UAE's possible investment is anything but a done deal. "We are at a very early stage in studying the laws and policies in Israel," he told Emirati outlet The National.
Meanwhile, officials and analysts doubt that irritation over the electioneering will weaken the foundations of the normalization deal, such as cooperation against the Islamic Republic of Iran and bilateral investment and tourist opportunities.
"It is inevitable that such a relationship with Israel, which remains so controversial for so many in the Arab world, is and will remain subject to politicking, and some public spats are normal," said Cinzia Bianco, research fellow on Europe and the Gulf for the European Council on Foreign Relations.
This is not the first time Netanyahu has angered an Arab country he is seeking to court.
Back in November, Saudi Arabia was angered and embarrassed after Israel leaked a secret trip Netanyahu took to the kingdom to meet Crown Prince Mohammed bin Salman, the country's day-to-day leader.
That meeting came as the Trump administration sought to convince Riyadh to follow the UAE's lead and normalize ties with the Israeli regime.
https://www.presstv.com/Detail/2021/03/19/647628/UAE-cancels-summit-with-Israel-US-over-Netanyahu-electioneering
--------
Making Pakistan a model of State of Medina is final goal, says President Alvi
March 19, 2021
MADEJI: President Dr Arif Alvi on Thursday said that making Pakistan a model of the State of Medina is the final goal as envisioned by the Prime Minister of Pakistan Imran Khan.
The president was addressing the opening ceremony of a series of webinars entitled, "Nurturing Peaceful, Respectful and Inclusive Societies in Pakistan: Seerat counters hate speech through decisive action", being jointly organised by the United Nations Office on Genocide Prevention and the Responsibility to Protect (OSAPG) and the Higher Education Commission (HEC), Pakistan.
He underlined that lack of communication generates phobias among individuals, states, and nations, yet cooperative and peaceful discussions, as enshrined in the UN Charter, are the key to address these phobias.
Alvi stated that hate speech should have no standing in Pakistan. "We need to make sure that the laws isolating communities must be condemned," he said. Highlighting the role of media, he stressed the need for judiciously handling the 'weapons of misinformation' and communicating to the world that Pakistan is a peaceful country, and the Muslims around the world are peaceful.
According to the HEC statement issued on Thursday, the introductory webinars will continue for three days to cover six sessions, including topics like Seerat of the Holy Prophet (Peace Be Upon Him), minorities, and the role of youth in combating hate speech.
The series of webinars are aimed at encouraging peaceful, inclusive, and empathetic communities in Pakistan through tools like active and continuous intersectional participation, dialogue, and collaboration. It also aims to contribute to achieving the Sustainable Development Goals (SDGs), in particular SDG16 on building peaceful, inclusive and just societies.
Alvi said that it is imperative that all of us hold ourselves to the true principles of Islam which can counter all kinds of religious, ethnic and gender hatred, marginalisation, discrimination, and inequality. He underlined that Islam establishes the fact that all human beings are equal, and there is no point of discrimination among them except piety.
He said that Arabs had a patriarchal society wherein slavery was common, yet the Holy Prophet (PBUH) encouraged people to break the chains of slavery.
He maintained that the Holy Prophet (PBUH) taught and emphasised forgiveness, putting compensation as a secondary and vengeance as a last resort in case of any confrontation. He added that the Holy Prophet (PBUH) laid emphasis on adopting a just approach in financial affairs to set up an economically just society.
He added that the father of the Pakistani nation, Muhammad Ali Jinnah, was also a staunch advocate of unity and peaceful coexistence.
On this occasion, UN Special Adviser Alice Wairimu Nderitu emphasised that the United Nations was committed to using education as a tool to counter hate speech.
"Education highlights the difference between good and bad, right and wrong, and true and false," she said, adding that the promotion of quality education and the establishment of peace, justice and strong institutions were among the UNDP's SDGs.
None of the SDGs to establish inclusive and resilient societies by 2030 can be achieved without the promotion of education, she affirmed. She also acknowledged the world's accumulative response to Covid-19. Nderitu said that the past decade witnessed an increase in access to education, however, there was still a lot to be done in this direction.
She appreciated Pakistan for its commitment to achieving the goal of ensuring free and compulsory education for all, as per the Constitution. She observed that the governments around the world had a strong role in combating the increased exclusion and stigmatisation of communities and groups, especially on social media platforms.
Nderitu emphasised that the majority and the minority need to join hands to wipe out hate speech and fulfil the responsibility to protect the marginalised segments of societies. She also highlighted the role of Pakistani youth in the elimination of discrimination by capitalising on education.
HEC Chairman Tariq Banuri, HEC Executive Director, HEC Dr Shaista Sohail, Pakistan Institute of Development Economics former vice chancellor Dr Asad Zaman, a faculty member of Fatima Jinnah Women University, Dr Ayesha Rafique, and Dr Aayesha Leghari also spoke on the occasion, while former project director for Seerat Chairs, Dr Amineh Hoti, and Political Affairs Officer at the UN Office on Genocide Prevention and the Responsibility to Protect Dr Simona Cruciani moderated the first-day webinars.
The UN and the HEC aim to follow these webinars in a few months with another set of sessions giving more time to speakers in order to allow supportive in-depth impact.
https://www.pakistantoday.com.pk/2021/03/18/making-pakistan-a-model-of-state-of-medina-is-final-goal-says-president-alvi/
--------
Sri Lankan police arrest Muslim leader using draconian anti-terror laws
March 19, 2021
Sri Lankan police arrested Muslim political leader Azath Salley on Tuesday at the orders of Attorney General Dappula de Livera, following provocative statements last week by former rear admiral, now Public Security Minister Sarath Weerasekera. Salley has been detained for three months under the country's draconian Prevention of Terrorism Act (PTA).
De Livera "advised" the Criminal Investigation Department to arrest the Muslim leader, claiming "credible information" that he had committed offences under the Penal Code, the PTA and the International Covenant on Civil and Political Rights (ICCPR) in a recent speech.
Enacted in 1979, the PTA has been widely used to detain and arrest individuals allegedly linked to the separatist Liberation Tigers of Tamil Eelam (LTTE) and other Tamil groups, beginning with Colombo's bloody communalist war in 1983. It has also been employed by Sri Lankan governments to suppress political opponents and militant workers. Confessions extracted forcibly by the police under this law can be used as evidence against the victims.
The ICCPR, which was adopted in Sri Lanka in the early 1990s, was introduced under the guise of curbing "hate speech." It has, however, been used to witch hunt individuals, accusing them of defaming Buddhism or preaching Muslim extremism.
Salley leads the National Unity Alliance (NUA) and was Western Province governor under the previous government. He has been taken into custody for allegedly declaring that Muslim Sharia law and the Koran cannot be changed, and that his community will only respect these laws.
While the Socialist Equality Party does not support Salley's politics, or the NUA's Islamic communalist agenda, we oppose his arrest and detention, which is a part of an anti-Muslim campaign initiated by the Rajapakse government. Salley's persecution is a warning to all political critics of the government and a threat to the democratic rights of the working class. It followed provocative comments last week by Weerasekera, who told the media, "We will arrest him, question him and take the necessary legal action."
Further allegations have been hurled against Salley since his arrest. Police spokesman Ajith Rohana told the media that the Muslim leader was also being questioned over the April 21, 2019 terrorist bombing on three Catholic Churches and two tourist hotels. The Easter Sunday attacks, which were carried out by ISIS-backed Islamists, killed over 270 people and injured another 500.
The bombings were immediately seized on by the government, and the parliamentary opposition parties, to witch hunt the Muslim community. This provoked violent attacks on Muslims and was also used to divert attention from Colombo's austerity measures against the working class and the poor.
Gotabhaya Rajapakse, with the backing of the Sri Lanka Podujana Peramuna (SLPP), won the Sri Lankan presidency by rallying support from Sinhala-Buddhist chauvinist groups and the military and by promising a "strong and stable government."
Weerasekera told parliament on March 11 that the government would act to "ban Madrasas [Islamic schools] and the burqa." He claimed these measures would "prevent the recurrence of Islamic extremist activities" in Sri Lanka. Weerasekera later told a press conference that "The burqa is something that directly affects our national security" and that he had signed a cabinet paper to outlaw it.
Cabinet spokesmen claimed that the public security minister's proposal had not come up at this week's ministers' meeting. The foreign ministry also said a decision had not yet been made and described it as "merely a proposal… under discussion."
The latter statements, however, appear to be a tactical move by Colombo, which wants to downplay the issue at the moment because it is attempting to win support from Muslim countries in the UN Human Rights Council (UNHRC). Next Tuesday, a UNHRC meeting will discuss a resolution prompted by the US and its allies over Sri Lankan war crimes committed during Colombo's war with the LTTE, as well as ongoing attacks on democratic rights.
The US and other Western powers, which have themselves committed numerous war crimes, have little concern about human rights violations and the suppression of democratic rights in Sri Lanka. Washington, which is intensifying its geo-strategic and military preparations against China, is using the resolution to pressure the Colombo regime to distance itself from Beijing.
Last Friday, President Rajapakse gazetted new additions to the repressive PTA, which are supposed to "de-radicalise" those "holding violent extremist religious ideology" and are clearly targeted against Muslims.
Under these rules any one can be detained "on suspicion of being a person who by words, either spoken or intended to be read or by signs or by visible representations or otherwise, causes or intends to cause commission of acts of violence or religious, racial or communal disharmony or feelings of ill will or hostility between different communities or racial or religious groups."
In fact, anybody could be arrested and detained under these vague and sweeping regulations. The new measures also allow a magistrate to order anyone found guilty of "extremist ideology" to be sent for as long as 18 months to a so-called rehabilitation centre controlled by the commissioner general of rehabilitation.
The communal, discriminatory character of the government's actions is revealed in its attitude towards Bodu Bala Sena (BBS), a fascistic Buddhist group. The recent Presidential Commission of Inquiry's report into the Easter Sunday terror attack recommended, among other things, the banning of BBS for causing religious disharmony.
On March 8, however, SLPP chairman and Minister of Education G.L. Peiris told the media the commission of inquiry's recommendation to ban the BBS "wasn't acceptable to the government." BBS is one of the extreme right formations that campaigned for Rajapakse to become president and backs his government.
The Rajapakse government, which faces an unprecedented economic crisis, with rising foreign debts and falling export income, is systematically provoking racial and religious tensions in order to divide and weaken rising working class opposition to its attacks on jobs and social rights.
The Sri Lankan ruling elite, from the outset of so-called national independence in 1948, and whenever faced with a political crisis since, has systematically discriminated against the country's minorities, principally the Tamils, to defend capitalist rule.
Predictably, the Sri Lankan media has backed the government's anti-Muslim campaign. Gayantha Karunatilleke, an MP from the main opposition party the Samagi Jana Balavegaya, condemned Salley's remarks. Janatha Vimukthi Peramuna (JVP) leader Vijitha Herath advised the government to "speak to the communities and religious and political leaders" about banning the burqa. These parties, which are mired in reactionary Sinhala communal politics, have no differences with Rajapakse's anti-democratic measures or his moves towards the establishment of a presidential dictatorship.
https://www.wsws.org/en/articles/2021/03/19/sril-m19.html
--------
Uighur exiles urge Blinken to demand China close Xinjiang camps
MAR 18, 2021
The largest group representing exiled ethnic Uighurs has written to US Secretary of State Antony Blinken urging him to demand that Beijing close its internment camps in the Xinjiang region in talks on Thursday.
Activists and UN experts say that more than 1 million Muslim Uighurs and other Turkic Muslims are being held against their will in harsh camps in the remote western region.
China rejects US charges that it has committed genocide against ethnic and religious minorities, and says the camps provide vocational training to help stamp out Islamist extremism and separatism.
Blinken and national security adviser Jake Sullivan are to meet China's top diplomat Yang Jiechi and State Councilor Wang Yi in Alaska, in the first face-to-face meetings between the rival powers since Joe Biden became US president.
Blinken has already accused China of coercion and aggression at home and around the region.
Dolkun Isa, president of the World Uyghur Congress, told Blinken: "First and foremost, it is imperative that China immediately and unconditionally ends the ongoing genocide and crimes against humanity in East Turkestan.
"This includes that China closes all internment camps and unconditionally releases all those arbitrarily detained," he said in the letter from his group's base in Munich, Germany.
The exiles call Xinjiang "East Turkestan", and the group uses a different spelling for the word Uighur.
Isa said China must also end the use of forced labour in Xinjiang and other regions and allow UN monitors to investigate.
Chen Xu, China's ambassador to the United Nations in Geneva, told the UN Human Rights Council on Monday: "Today, Xinjiang and Tibet enjoy prosperity and stability ... It can't be more absurd to pin the 'genocide' label on China, and this attempt will not go anywhere."
On Wednesday, European Union countries agreed in principle to blacklist Chinese officials for human rights abuses, according to diplomats.
China has said allegations of forced labour and human rights violations in the region are groundless, and that there are no "detention camps".
It has also said all those who have attended the complexes in question have "graduated" and gone home. Access is restricted and it is not possible to verify Beijing's assertions independently.
https://www.hindustantimes.com/world-news/uighur-exiles-urge-blinken-to-demand-china-close-xinjiang-camps-101616065041187.html
--------
Nigerian Soldiers Flee As Boko Haram Takes Over Military Base In Borno
MAR 17, 2021
Militants from the Islamic State-backed faction of Boko Haram, the Islamic State West Africa Province (ISWAP), formerly known as Jamā'at Ahl as-Sunnah lid-Da'wah wa'l-Jihād, have taken over a military base in Damasak town, Mobbar Local Government Area of Borno State.
Sources told SaharaReporters that the insurgents stormed the community, shooting in all directions before ramming a pick-up truck loaded with explosives into the military base.
A resident said the gunmen came in different groups and could not be counted.
He added that some Nigerian soldiers were killed while others fled into the bush.
"They came, hundreds of them, with guns, trucks, and grenades and started firing from different directions. The soldiers ran away and left us on our own. They didn't shoot at them (insurgents) at all. Though some soldiers were killed I can't say how many," he told SaharaReporters.
‪It was learnt that the insurgents also burnt a Nigerian army tanker and some buildings in the military base.
The attack on the base took place just days after Boko Haram fighters ambushed a military convoy in Gudumbali, Kukawa Local Government Area of Borno state, killing over 15 soldiers, including the commanding officer, 123 Special Forces Battalion, Major U.I. Urang.
Boko Haram and its offshoot, Islamic State West Africa Province, have killed thousands and displaced millions in northeastern Nigeria.
The Nigerian military has repeatedly claimed that the insurgency has been largely defeated and therefore frequently underplays any losses.
In the past months, soldiers have been targeted by the insurgents.
Many soldiers and officers have been reportedly killed since January 2021.
At least 33 soldiers were recently killed when two vehicles loaded with explosives rammed into a military convoy in Wulgo.
The suicide bombers were identified as Abu Bakr al-Siddiq and Bana Jundullah. The group also claimed four military vehicles were destroyed.
In February, about 20 soldiers were also killed in Malari, Borno State by the insurgents.
SaharaReporters gathered that the soldiers were on patrol to clear some Boko Haram elements in the area following credible intelligence when they were ambushed by the group.
http://saharareporters.com/2021/03/17/exclusive-nigerian-soldiers-flee-boko-haram-takes-over-military-base-borno?utm_source=iterable&utm_medium=email&utm_campaign=2117933_
--------
Russia, US, China urge Taliban to cut spring offensive
Elena Teslova
18.03.2021
Russia, the US, China, and Pakistan -- the expanded troika on the Afghan settlement -- called on the Taliban to abandon plans on the Spring offensive following the Moscow meeting on Afghanistan on Thursday.
In a joint statement, approved by the meeting participants, the expanded "troika" urged all parties "to reduce the level of violence", and on the Taliban – not to pursue a Spring offensive.
According to the statement, Russia, the US, China, and Pakistan agreed to "acknowledge the widespread and sincere demand of the Afghan people for an end to the war and a lasting and just peace", which can only be achieved through a negotiated political settlement.
"As stated in the UNSC resolution 2513 (2020), we do not support the restoration of the Islamic Emirate and we call on the Government of the Islamic Republic and the High Council for National Reconciliation to engage openly with their Taliban counterparts regarding a negotiated settlement," the statement said.
Four states "call on the parties to negotiate and conclude a peace agreement that will bring an end to the war in Afghanistan," aiming to achieve "a durable and just political resolution that will result in the formation of an independent, sovereign, unified, peaceful, democratic and self-sufficient Afghanistan free of terrorism and an illicit drug industry".
Also, Afghanistan has to ensure that terrorist groups and individuals do not use its soil to threaten any other country's security, it said.
"Any peace agreement must include protections for the rights of all Afghans – women, men, children, victims of war, and minorities," the statement said.
The expanded troika welcomed international efforts on the Afghan peace settlement. It gave individual gratitude to Qatar, saying it "appreciates Qatar's long-standing support to the peace process, support continuation of the Doha process."
On March 18, Moscow hosted a regular meeting of the extended 'troika' comprising representatives of Russia, China, the US, and Pakistan, which focused on making progress in the intra-Afghan process to reach a negotiated settlement and permanent and comprehensive cease-fire.
The event was attended by representatives of the Afghan government, the High Council for National Reconciliation, prominent Afghan political figures, representatives of the Taliban movement, and Qatar and Turkey guests of honor.
https://www.aa.com.tr/en/americas/russia-us-china-urge-taliban-to-cut-spring-offensive/2180669
--------
India
Authors of MBBS Book Linking Tablighi Jamaat to Covid-19 Spike Promise Revision
MAR 19, 2021
The authors of Essentials of Medical Microbiology, a textbook for undergraduate medical students, have issued a clarification and assured that the parts of it that blamed Muslim group Tablighi Jamiat's gathering in Delhi last year for a spike in Covid-19 cases will be removed.
The assurance came after the Student Islamic Organisation (SIO) took this matter up with the publishers and asked them to remove the reference as there has been no epidemiological study to corroborate such claim.
"...there were many large socio-political events and gatherings at the said time period," said SIO's joint secretary (South Maharashtra) Musaddiq Ul Moid. He added courts have condemned such misinterpretation of the gathering.
Apurba Sastry and Sandhya Bhat, the authors, issued a clarification after SIO approached them.
"We sincerely apologise if we have inadvertently hurt the sentiments of a group of people by the content of our third edition of Essentials of Medical Microbiology. The intention was only to convey the epidemiology timelines, nothing else. However, understanding the sentiments of people, such statements have been changed in the re-print of the third edition of the same book," said a statement released by Sastry.
The third edition of the book has a chapter about "the explosive spread of Covid-19". It said the Jamaat cluster was an important "causative factor" for the spread of the virus. The book mentions how "most of the [Jamaat] cases were asymptomatic" and were detected positive after they returned home. "Thus, led to several clusters of cases in various states." The book notes Maharashtra accounts for nearly one-third of the total cases in India as well as about 22% deaths. The surge in cases was attributed to factors such as the Jamaat cluster, foreign returnees, and overcrowding in slum areas of Mumbai.
The Bombay high court's Aurangabad bench in August quashed criminal cases registered against 34 people, including 28 foreign Tablighi Jamaat members, in Maharashtra's Ahmednagar district, saying they were virtually persecuted. "The material of the present matter shows that the propaganda against the so-called religious activity was unwarranted," it said.
The Jamaat hit the headlines in March last year when authorities blamed a congregation at its headquarters in New Delhi's Nizamuddin area for a jump in Covid-19 infections. The headquarters was sealed and thousands of attendees, including foreigners from countries like Indonesia, Malaysia, and the US, were quarantined.
https://www.hindustantimes.com/education/competitive-exams/authors-of-mbbs-book-linking-tablighi-jamaat-to-covid-19-spike-promise-revision-101616133259889.html
--------
Key Changes Have Been Made To the Blueprint of the Mosque-Hospital Complex at Ayodhya Construction after Ramzan
Mar 19, 2021
Ayodhya: Key changes have been made to the blueprint of the mosque-hospital complex at Ayodhya on recommendations of the Uttar Pradesh government. A green belt, sewage treatment plant and basement for parking were accommodated in the design, which will be submitted to the Ayodhya Development Authority for approval before construction begins after the month of Ramzan.
The Ayodhya mosque Trust — Indo-Islamic Cultural Foundation (IICF) — held brainstorming sessions in Delhi last week with chief architect Prof S M Akhtar, who tweaked the design as per state government's recommendations. On Thursday, political officer at US embassy, Alexi LeFevre, and political adviser Abhiram Ghadyalpatil called on IICF secretary Athar Husain in Delhi and discussed the political scenario in ÜP and Ayodhya developments in the context of the mosque project .
Talking to TOI, Athar Husain, said, "I "told them about the progress of the Ayodhya mosque project and emphasised on cordial relations between Hindus and Muslims in Awadh and eastern UP, where both communities participated in the freedom struggle and shared a legacy in literature, music, architecture, art and cuisine. Our concern for environment was lauded by embassy officials.
https://timesofindia.indiatimes.com/city/lucknow/mosque-blueprint-tweaked-construction-after-ramzan/articleshow/81578671.cms
--------
Lucknow Book Fair: Bookstall tries to clear misconceptions about Islam, Muslims in India
19th March 2021
Lucknow: The Lucknow Book Fair 2021 that began on 5 March lasted till 14th March. One of the bookstalls, Rational Thinker's Cafe, was dedicated to promoting communal harmony by distributed free pamphlets and literature.
It also tried to clear misconceptions about Muslims and Islam in India in present political context and received positive comments from visitors from all age groups.
Imran Ali, one of its members, received a memento from the Lucknow police commissioner D J. Thakur.
Imran Ali gifted the Holy Quran and Dawah literature to him which he received with thanks and appreciated the true efforts of the organization.
https://www.siasat.com/lucknow-book-fair-bookstall-tries-to-clear-misconceptions-about-islam-muslims-in-india-2112892/
--------
Allahabad HC asks UP govt under which authority of law it appointed administrator in Shia Waqf Board
18th March 2021
LUCKNOW: The Allahabad High Court asked the Uttar Pradesh government on Thursday under which authority of law it appointed an administrator in the Shia Waqf Board.
The Lucknow bench of the court further asked the government when would it initiate the process of election to constitute the board.
The court also directed a special secretary-level officer to appear before it on March 25 to assist it in the matter.
A division bench of justices DK Upadhyaya and Manish Kumar passed the order on a writ petition moved by Asad Ali Khan.
The petitioner's lawyer, Abhinab Singh, pleaded that there was no provision under the Waqf Act, 1955 and the rules framed under it for the appointment of an administrator in the board, in case the elections could not be held on time.
In the course of the hearing, the bench found out that the last election of the board was held on May 19, 2015 for a term of five years and the term of the elected body expired on May 19, 2020.
Subsequently, the elections to constitute a new body could not be held due to the COVID-19 pandemic.
The state government appointed an administrator on March 16 to look after the affairs of the board, but was reluctant to start the election process for no obvious reason, the petitioner said.
https://www.newindianexpress.com/nation/2021/mar/18/allahabad-hc-asks-up-govt-under-which-authority-of-law-it-appointed-administrator-in-shia-waqf-board-2278435.html
--------
Space diplomacy: India plans space pact with Saudi, pushes key projects with Quad nations
Mar 19, 2021
NEW DELHI: To boost space diplomacy, India and Saudi Arabia have held discussions on initiating cooperation in space science and technology, and explored the possibility of a space pact. Also, New Delhi has given a boost to space ties with Quad countries — the US, Japan and Australia — in the last few weeks.
Isro had held separate meetings or talks with Japanese space agency JAXA, Nasa and Australian Space Agency (ASA) recently to give push to several key programmes like joint lunar mission, earth imaging satellite programme (NISAR), navigation satellite and establishing a transportable terminal in Australia to help the Gaganyaan mission.
On Wednesday, Isro chairman K Sivan and president of board of directors of the Saudi Space Commission, Prince Sultan bin Salman, led the space meeting on virtual mode. "Both had discussions on initiating space cooperation in areas of mutual interest. The possibility of concluding a country-level MoU for space cooperation was also discussed," an Isro statement said. In December last, India's ambassador to Saudi Arabia Ausaf Sayeed had held talks with Prince Sultan bin Salman in Riyadh to boost cooperation in remote sensing, satellite communication and satellite-based navigation projects.
On March 11, Isro and JAXA agreed on collaborative activities for rice crop area and air quality monitoring using satellite data during a meeting between the Isro chief and JAXA president Hiroshi Yamakawa. The two agencies reviewed ongoing programmes in earth observation, lunar cooperation and satellite navigation, and also agreed to explore opportunities for cooperation in space situational awareness and professional exchange programme. Both space agencies are specifically working on sharing earth observation data and establishing Isro's NavIC (India's constellation of eight navigation satellites in space) reference station in Japan.
Isro had on March 8 flagged off a key component of the joint Isro-Nasa SAR (NISAR) mission to the US to fast-track the earth imaging satellite project, which will help measure dynamic changes on the earth's surface, natural resources and hazards. Isro had shipped the S-band synthetic aperture radar to Nasa's JPL in California so that it could integrate it with its L-band radar and sent the module back to India for its launch, which is likely in 2023. Both agencies are also working for an implementing arrangement to carry Nasa's Laser Reflectometer Array (LRA) in Chandrayaan-3 mission and exploring collaboration in the human spaceflight programme.
On February 17, Isro and ASA signed an amendment of the '2012 India – Australia Inter-Governmental MoU for cooperation in Civil Space Science, Technology and Education' in the presence of envoys from both countries. The amendment makes the Department of Space and ASA as executive organisations. Both sides also reviewed the status of activities in earth observation, satellite navigation, space situational awareness and establishment of the transportable terminal in Australia to support India's first manned mission (Gaganyaan) to space.
https://timesofindia.indiatimes.com/india/space-diplomacy-india-plans-space-pact-with-saudi-pushes-key-projects-with-quad-nations/articleshow/81579050.cms
--------
Why is the Asian Church cold about Muslim friendship?
Ben Joseph
March 19, 2021
Most of the world's Muslims live in Asia, the birthplace of all major religions including Christianity and Islam. But the world's most populous continent has yet to wake up from the slumber of colonial trade wars and the Crusades when it comes to Christian-Muslim ties.
In Indonesia, India, Pakistan and Bangladesh, which together house half of the world's 1.8 billion Muslims, the battles for supremacy between the Christian West and Muslim rulers left the two cultures parting ways during earlier centuries.
Hardly any serious efforts have been made to mend the relationship in modern times other than some sporadic, token gestures.
While the Portuguese, Spanish, Dutch and British military escapades throughout Asia stripped many Muslim rulers of their royal robes, Vatican-sponsored missionaries painted Islam as a distorted version of the Holy Book among their new recruits in Asia.
Many Islamic towns in Asia were changed with a European town planning ethos, dominated by churches and monasteries. The Augustinians, Dominicans, Franciscans and Jesuits preached to convince the local people of the superiority of the Western religion.
During their centuries of occupation of the Asian continent, both the European governors and the clergy often resorted to questionable methods to compel the "Indios" to accept the Christian religion of love and forgiveness.
With control of Asian seas falling into the hands of colonial Christendom, a vast colonial network from Sumatra to Calcutta (now Kolkata) flourished where Islamic rulers once thrived.
On the part of the Church, the popes were encouraging the monastic orders to prevent the expansion of Islam worldwide. The clergy were armed with books and handbooks of advice to convert Muslims in foreign lands.
As a countermove, Muslim theologians termed Christianity a religion of pantheism and a ploy by Western imperialism to spread its wings.
In Asia, the world's main religious brands competed with each other in three ways — conquest, demographic rivalry and persuasion. Hate speech is an old tactic religions discovered much earlier than the social media age.
In the fight to increase adherents, Muslim rulers and Christian governors were unforgiving at mere signs of disloyalty and erected barriers to prevent mutual interaction. Muslims and Christians in Asian countries even followed separate dress codes, residues of which are still visible.
The 1.8 billion Muslims and more than 286 million Christians in Asia still subscribe to the us-versus-them philosophy, albeit unwritten and silent.
The legacy of confrontation, distrust and misunderstanding passed on from the Middle Ages to the present day found many takers in Asia when both Europe and America came up with anti-Islamic stereotypes after the Twin Tower blasts.
The US-led invasion of Iraq and Afghanistan resulted in a face-off reminiscent of the medieval hyperbole for Asian Muslims and Christians.
While the West has made a theological and political compromise with Islam under the mutual cohabitation norm, in Asia the segregation has increased, with few takers for cordial Muslim-Christian cultural endeavors and for a thaw.
Muslim-majority nations in Asia are also taking a radical approach to their religious minorities. For example, Indonesia and Bangladesh, known for moderate Muslim politicians, are now adopting a hardline approach to please their conservative electorates.
In Indonesia, faith-based politics has gained ground and the persecution of religious minorities has increased. Hundreds of churches have been forced to close in the largest Muslim country in the world where about 10 percent of the population is Christian.
Though freedom to practice religion is guaranteed under the country's constitution, proselytizing is banned.
Under President Jokowi Widodo, Christians find themselves victims of one-sided blasphemy accusations which punish those who speak against Prophet Muhammad or Islam while those who blaspheme against Jesus go scot-free.
In Bangladesh, Christian-Muslim ties have been nominally fraternal. A sense of fear persists among Christians about numerically and politically dominant Muslims.
Of late, the ruling Awami League, which officially professes a secular-leaning ideology, has sided with conservative Muslim clerics who regularly call for the persecution of minorities, including Christians, who make up less than 0.4 percent of Bangladesh's more than 160 million people.
Christians, who account for 1.27 percent of the 208 million population in Pakistan, face extreme persecution and discrimination. New converts from Islam face the greatest levels of persecution and all Christians are considered second-class citizens because of their faith in this Islamic nation.
Christian men are victims of bonded labor and face severe workplace discrimination in Pakistan. Christian girls live with the risk of abduction, rape and forced marriage. The country's notorious blasphemy laws are frequently used to target Christians.
In India, where 195 million Muslims make up 14 percent of the 1.3 billion population, there is hardly any camaraderie between them and Christians. Muslims, hit hard by the wounds of the 1947 Partition, still look down on the Christian minority for their symbolic association with British colonialism.
After the Hindu right-wing government came to power in 2014 headed by Prime Minister Narendra Modi, Christian-Muslim bonhomie has become a remote possibility due to political reasons.
Hindu-majority India is predicted to become home to the largest Muslim population in the world by 2050, surpassing Indonesia's 231 million Muslims, if the current level of population growth continues.
As the Vatican makes efforts to reach out to Muslims worldwide, it also needs to put the focus on South and Southeast Asia where Muslim-Christian fraternity is historically difficult to come by.
Serious and time-consuming efforts are needed to heal the wounds of colonialism and the injuries of insult that the history of mission heaped on Asian lands.
A cultural paradigm shift is needed to help Asian Muslims to stretch their arms towards Christians.
https://www.ucanews.com/news/why-is-the-asian-church-cold-about-muslim-friendship/91816
--------
Europe
Anti-Muslim hatred has reached 'epidemic proportions' says UN rights expert
19th Mar 2021
Nadine Osman
Institutional Islamophobia, fear of Muslims and those perceived to be Muslim, have escalated to 'epidemic proportions', the UN Human Rights Council (HRC) heard on March 4.
Addressing the HRC'S forty-sixth session in Geneva, UN Special Rapporteur on Freedom of Religion or Belief, independent rights expert Ahmed Shaheed, said that "numerous" States, regional and international bodies were to blame.
In a report to the Council titled 'Countering Islamophobia/Anti-Muslim Hatred to Eliminate Discrimination and Intolerance Based on Religion or Belief', he cited European surveys in 2018 and 2019 that showed that four in 10 people held unfavourable views about Muslims. In 2017, some 30 per cent of Americans surveyed viewed Muslims in a negative light.
He said that States had responded to security threats "by adopting measures, which disproportionately target Muslims and define Muslims as both high risk and at risk of radicalisation".
These measures include restricting Muslims from living according to their belief system, the securitisation of religious communities, limits on access to citizenship, socioeconomic exclusion and pervasive stigmatisation of Muslim communities. Shaheed noted that these developments followed the 9/11 terrorist attacks in the US in 2001 and other acts of terrorism "purportedly conducted in the name of Islam", institutional suspicion of Muslims and those perceived to be Muslim have escalated to "epidemic proportions."
He further raised concerns that in States where Muslims are in the minority, they are frequently targeted based on stereotypical 'Muslim' characteristics, such as names, skin colour and clothing, including religious attire, such as headscarves (hijab).
The independent expert said that "Islamophobic" discrimination and hostility were often intersectional, such as where "Muslim women may face a 'triple penalty' as women, minority ethnic and Muslim…Harmful stereotypes and tropes about Muslims and Islam are, chronically, reinforced by mainstream media, powerful politicians, influencers of popular culture and academic discourse".
The report emphasised that the critiques of Islam should never be conflated with Islamophobia, adding that international human rights law protects individuals, not religions. The criticism of the ideas, leaders, symbols, or practices of Islam are not Islamophobic in itself, the Special Rapporteur stressed, unless it is accompanied by hatred or bias towards Muslims in general.
"I strongly encourage states to take all necessary measures to combat the direct and indirect forms of discrimination against Muslims and prohibit any advocacy of religious hatred that constitutes incitement to violence", the UN expert said.
The report also attributes rising anti-Muslim hatred to 'Harmful stereotypes and tropes about Muslims and Islam' that 'are chronically reinforced by mainstream media, powerful politicians, influencers of popular culture and in academic discourse.'
As an example of Muslims are 'generally underrepresented' and 'often misrepresented in the media' the report cites a study by the European Commission against Racism and Intolerance. It found that between 2016 and 2017 in more than 600,000 Dutch news items 'the adjectives most used to describe Muslims were "radical", "extremist" and "terrorist;" in contrast, Dutch people are often described as "known", "average" and "beautiful."'
Furthermore, the studies 'show that media in several countries disproportionately focus on negative angles for news stories involving Muslims, such as reporting on their perceived failure to integrate, and disproportionate media attention is often paid to a terrorist attack committed by Muslims than coverage of terrorist attacks committed by far-right extremists.'
Indeed, a Federal Commission against Racism-commissioned study on the quality of media coverage of Swiss Muslims in 18 print media outlets covering 2014 to 2017 found that coverage largely focused on 'a lack of will of Muslims to integrate, but only 2 per cent of reporting covered the daily life of Muslims or their successful integration, respectively.'
The Special Rapporteur noted that surges in online anti-Muslim hate are often catalysed by offline "trigger-events" such as terror attacks (including attacks on Muslims), comments by public figures, or political events such as elections or referenda.
In Myanmar, inflammatory statements shared on social media by prominent Buddhist monks have alleged that Muslims are responsible for sexual crimes against Buddhist women.
Muslim women receive more extreme hate speech online than other women: 55 per cent of the most aggressive online hate speech documented by Amnesty India directed at female politicians was directed at Muslim women.
In Europe and North America, prominent politicians, influencers and academics advance a narrative on both social networks and blogs that Islam is innately antithetical to democracy and human rights — particularly gender equality — often propagating the trope that all Muslim women are oppressed.
In China, popular narratives on social media emphasise the incompatibility of Muslim identities with being Chinese and claim that State initiatives attempting to strip Muslim women of their religious identity serve to "rescue" them from being 'vessels of Muslim reproduction.'
Conspiracy theories drawing on xenophobic and racist narratives about Muslims are also propagated by far-right groups online.
Designed to influence attitudes towards policies meant to promote immigration and inclusion, or to ascribe blame for challenges facing society, such theories include fabrications that immigrant Muslim populations are going to "out-breed" native populations, which are widespread online in Europe, North America, Myanmar and Sri Lanka; and in India, Hindu nationalists have pushed the "Love Jihad" narrative, claiming that Muslim men conspire to marry Hindu women into converting to Islam
In India, the hashtag #CoronaJihad went viral on Twitter following the BJP's Hindu Nationalist Government announcement of high levels of Covid-19 infection among the Muslim community. WhatsApp group chats and forwarding features have been used, including allegedly by government officials, to propagate disinformation about Muslims, depicting them as criminals or terrorists, and at times including specific calls to violence.
Similarly, in Sri Lanka, disinformation rapidly spread online that Muslims deliberately disseminated Covid-19 in the country, and in the UK, discourse online alleges that Muslim communities were responsible for the spread of Covid-19. Encrypted chat platforms such as WhatsApp or Telegram are also used to spread Islamophobic disinformation, particularly during the pandemic.
http://muslimnews.co.uk/newspaper/islamophobia/anti-muslim-hatred-reached-epidemic-proportions-says-un-rights-expert/
--------
Russia hosts Afghanistan peace conference, urges speedy deal to end violence
18 March 2021
Russia has urged both the Afghan officials and the Taliban leaders during talks in Moscow to reach an speedy agreement to put an end to years of violence as the deadline for US troops to withdraw from the war-torn country draws near.
The call came during a Thursday conference in Moscow, which was part of intensified negotiations between the Afghan government, the Taliban militant group, and the United States. The three parties had already met in Qatar's capital, Doha, to negotiate Washington's exit from Afghanistan about 20 years after US troops invaded the country under the pretext of fighting terrorism.
The US reached a deal with the Taliban in February last year on the withdrawal of 12,000 US troops from Afghanistan in exchange for the Taliban's halting of their attacks on American forces.
Under the so-called Doha Accord, the former US administration promised to bring the number of US forces in Afghanistan to zero by May 2021.
The new US President Joe Biden, however, said on Wednesday that it would be "tough" to meet that deadline.
Last week, Russia said it supported the formation of an interim government in Afghanistan that will include the Taliban.
"The formation of an interim inclusive administration would be a logical solution to the problem of integrating the Taliban into the peaceful political life of Afghanistan," Russian Foreign Ministry spokeswoman, Maria Zakharova said last Friday.
Opening the conference on Thursday, Russian Foreign Minister Sergei Lavrov said, "In a degrading military-political situation, further delays are unacceptable."
He also expressed regret that Afghanistan peace talks in Doha have so far failed to progress, hoping that
international negotiations with Afghan government representatives and the Taliban in Moscow would support the process.
"We regret that so far the efforts to launch a political (peace) progress in Doha have yet to yield a positive result," Lavrov said, adding, "We hope today's talks will facilitate the creation of conditions to achieve progress."
Taliban co-founder and deputy leader Mullah Abdul Ghani Baradar told the Moscow conference that Afghans "should be left to decide their own fate," a Taliban spokesman said in a tweeted summary of Baradar's speech, which was given behind closed doors.
He added, "The world should take into account the Islamic values, independence and national interests of the Afghan people."
During the conference, participants from Russia, the United States, China and Pakistan appealed for a reduction in violence in Afghanistan, urging all warring sides to avoid further escalation in order to "create a favorable atmosphere for achieving a politico-diplomatic settlement."
"We call on all parties to the conflict in Afghanistan to reduce the level of violence in the country and the Taliban ... not to declare a spring-summer offensive campaign," they said in a joint statement.
The international mediators also said the Afghan government and the Taliban should reach an agreement "as soon as possible" that would "bring an end to over four decades of war in Afghanistan."
Also in a show of support for the international efforts, the head of the Afghan government's reconciliation council, Abdullah Abdullah, said Kabul wanted to speed up negotiations and for "the two sides to start their talks and discussions in a different atmosphere."
The Afghan delegation included a large spectrum of personalities from the past four years of conflict, including members of the current negotiation team in Doha, a former president and two former military leaders.
https://www.presstv.com/Detail/2021/03/18/647595/Russia-Afghanistan-peace-deal-
--------
'EU should support Turkey for hosting over 4M refugees'
Baris Seckin
19.03.2021
ROME
The European Union should support Turkey for hosting more than four million refugees, the EU's foreign policy chief said Thursday.
Josep Borrell made the remarks after visiting the command center of Operation Irini, the EU initiative to implement a UN arms embargo on Libya.
On the EU-Turkey refugee deal, Borrell said illegal immigration was stopped and many lives were saved thanks to the agreement.
"This agreement is still valid and its implementation should continue," he added.
Underlining that Turkey hosts more than four million refugees, he said the EU should ease the country's burden.
Most of the EU funding under this agreement goes directly to immigrants, not the Turkish government, he noted.
Earlier in the day, Borrell met with Italian Foreign Minister Luigi Di Maio and held a press conference.
"On Turkey, also we have a momentum, a good momentum, following their exploratory talks with Greece," Borrell said.
"I will present a report to the European Union leaders, where I will outline current trends and suggest a way ahead to consolidate a constructive attitude, while at the same time being ready to take measures if necessary," he stressed.
Borrell and Maio will discuss the report with other European Union colleagues during the EU Foreign Ministers' meeting, which will be held on Monday.
Turkey has been a key transit point for asylum seekers aiming to cross into Europe to start new lives, especially those fleeing war and persecution.
Turkey hosts nearly 4 million refugees, more than any other country in the world. Ankara says it has so far spent more than $40 billion from its own resources for the refugees and has stressed that the EU should do more to share the burden.
https://www.aa.com.tr/en/europe/eu-should-support-turkey-for-hosting-over-4m-refugees/2181145
--------
EU criticizes Assad regime, its global supporters
Erdal Turkoglu
18.03.2021
The Assad regime and its international supporters are not working to find a diplomatic and political solution in Syria, said the EU's top representative in Turkey on Thursday.
Visiting Hatay – in southern Turkey, bordering Syria – Nikolaus Meyer-Landrut, head of the EU Delegation to Turkey, said the Syrian civil war had dragged on for 10 years now because of the brutal pressure the Assad regime puts on its people.
"Both Turkey and the EU are making efforts to find a diplomatic solution to this conflict. This effort aims to solve the underlying cause of the problem. If we can find such a solution, then those who have been forced to flee their country can return honorably, safely, and voluntarily," said Meyer-Landrut.
"Unfortunately, neither the regime nor the regime's international supporters are making any serious efforts to find a diplomatic and political solution. For this reason, unfortunately, we need to act, thinking that the current situation will continue for some time," he added.
Turkey's 'tremendous efforts for refugees'
This week the Turkish-EU 2016 migrant agreement marked its fifth birthday, said Meyer-Landrut, adding that the agreement saves lives, with far fewer people making dangerous sea journeys from Turkey since the pact was reached.
He also congratulated the Turkish government, interested parties, and the municipality of Hatay for "their tremendous efforts for refugees" in Turkey – which hosts some 4 million Syrian refugees, more than any other country in the world.
Saying that the EU is working to support meeting Syrian refugees' basic needs, health, education, vocational education, and municipal infrastructure, Meyer-Landrut added: "I know that the main burden is on you, but I hope that we will contribute to your work with these projects."
During the visit, Hatay Mayor Lutfu Savas also briefed the EU delegation about the Syrians in the Hatay border province.
After meeting with Hatay Governor Rahmi Dogan, Meyer-Landrut attended a meeting with district mayors and businesspeople at the Antakya Chamber of Commerce.
Turkey has been a key transit point for irregular migrants who want to cross into Europe to start new lives, especially those fleeing war and persecution.
https://www.aa.com.tr/en/europe/eu-criticizes-assad-regime-its-global-supporters/2180982
--------
'Turkey key in Europe's future as it was in past'
Burak Bir
18.03.2021
On the occasion of the fifth anniversary of 18 March statement with the EU, Turkey's Foreign Ministry said on Thursday that Turkey is a key country in Europe's future as it was in the past.
"Our renewed close cooperation with the #EU will continue to bring peace, prosperity and stability to the entire continent," the ministry said on Twitter by sharing an infographic on EU-Turkey 18 March statement.
In the infographic, the ministry said that the statement is an example of a positive result when the EU and Turkey cooperate on common goals.
"[The statement] is also a suitable tool for developing Turkey-EU relations with a membership perspective," it added.
"Strengthening Turkey's EU accession process", "starting the negotiations on Customs Union modernization", "Visa Liberation for Turkish citizens", "Holding High-Level Dialogue Meetings," and "Turkey-EU Summits", "counter-terrorism operation", "cooperation on migration" are elements of the statement.
https://www.aa.com.tr/en/europe/turkey-key-in-europe-s-future-as-it-was-in-past/2180605
--------
Arab World
'Three Mossad-linked teams active in Syria's US-controlled al-Hawl refugee camp, recruit spies'
18 March 2021
The head of the Union of Muslim Scholars in Iraq's eastern province of Diyala says three teams affiliated with Israel's Mossad spy agency are active in the US-controlled al-Hawl refugee camp in the northeastern Syrian province of al-Hasakah, and recruiting spies.
"We have received information about the activities of three Mossad-linked teams in the Syrian al-Hawl camp under the disguise of humanitarian organizations. They are actually engaged in espionage, have recruited several young people, have formed multiple spy cells and are providing the youths with various forms of support," Jabbar al-Mamouri told Arabic-language al-Maalomah news agency on Wednesday.
He said the presence of Mossad in the refugee camp is indicative of "fresh plots" against the region, especially those targeting Iraq.
"The Syrian al-Hawl camp has turned into a hotbed for international intelligence services seeking to undermine the security of regional countries, including Iraq. This explains for US protection of the camp despite the presence of thousands of Daesh terrorists inside it," Mamouri highlighted.
Al-Hawl camp is located in a region controlled by US-backed militants affiliated with the so-called Syrian Democratic Forces (SDF), and holds internally displaced people as well as families of Daesh terrorists.
It is the largest camp in war-torn Syria, with more than 60,000 people, according to UN figures.
More than 80 percent of its inhabitants are women and children. Aid agencies have long complained of inhumane conditions in the overcrowded camp.
Thousands of former Daesh supporters, including German nationals, are also kept at al-Hawl.
The UN reported last year that several children had died there. The reasons varied from complications as a result of malnutrition, diarrhea or internal bleeding.
US military brings in 40-truck convoy into Syria's oil-rich Hasakah
Separately, a US military convoy of 40 vehicles, loaded with logistic reinforcement, has arrived in oil-rich Hasakah.
Syria's official news agency SANA, citing local sources, reported on Thursday that the US military brought truckloads of weapons and logistical equipment into Kharab al-Jeir air base, which lies on the outskirts of al-Ya'rubiyah town, through the al-Walid border crossing earlier in the day.
The US military has stationed forces and equipment in northeastern Syria, with the Pentagon claiming that the troops deployment are aimed at preventing the oilfields in the area from falling into the hands of Daesh terrorists. Damascus, however, says the deployment is meant to plunder the country's resources.
The US first confirmed its looting of Syrian oil during a Senate hearing exchange between South Carolina Republican Senator Lindsey Graham and former US secretary of state Mike Pompeo in July last year.
During his testimony to the Senate Foreign Relations Committee, Pompeo confirmed for the first time that an American oil company would begin work in northeastern Syria, which is controlled by SDF militants.
The Syrian government strongly condemned the agreement, saying that the deal was struck to plunder the country's natural resources, including oil and gas.
https://www.presstv.com/Detail/2021/03/18/647593/%E2%80%98Three-Mossad-linked-teams-active-in-Syria%E2%80%99s-al-Hawl-refugee-camp,-recruiting-spies%E2%80%99
--------
Cardinal and Imam talk about Pope Francis's visit with Al-Sistani
Mar 18, 2021
By Sr Bernadette Mary Reis, fsp
On Wednesday, Cardinal Wilton Gregory, Archbishop of Washington, D.C., and Imam Sayyid M. B. Kashmiri, Representative of Ayatollah Al-Sistani in the U.S., discussed Pope Francis's historic visit with Ayatollah Al-Sistani. That visit took place on 6 March, the second day of Pope Francis's three-day 'pilgrimage' to Iraq.The online discussion was hosted by the Archdiocese of Washington and moderated by Tamara Sonn, Hamad Bin Khalifa Al-Thani Professor in the History of Islam and Director of the Alwaleed Center for Muslim-Christian Understanding at the Edmund A. Walsh School of Foreign Service at Georgetown University. She introduced the event characterizing the meeting between Pope Francis and the Ayatollah as "a first, but not the last, the beginning of a process."
Pope Francis's journey to Iraq
Regarding the importance of the Pope's journey to Iraq, Cardinal Gregory emphasized the strong desire Pope Francis expressed to be near Iraq's Christians and to "those who have suffered". Going to visit them was a tangible way of communicating that "the suffering they have endured matters", the Cardinal said.Imam Kashmiri characterized Pope Francis's visit as "not only in support of peace but it was also a challenge to terrorism." This is the aspect that has brought hope to Iraqis regardless of the minority they may belong to. The Imam also said Al-Sistani's perspective is that it is "important to keep minorities alive in Iraq" because all of these minorities contributed to the constructing the number of civilizations that have been present in Iraq over the millennia. Thus, the Iraqi's "deserve such holy visits", he said.
Pope's with Al-Sistani: a model
In a country such as Iraq "ravaged by conflict and war for many years", Cardinal Gregory believes Pope Francis is tangibly demonstrating the type of dialogue he has been promoting for a long time. "Pope Francis went to visit Al-Sistani to create a relationship of dialogue and respect," the Cardinal said. Therefore, he continued, others who want to embrace this model can look to the example of the Pope and Al-Sistani engaging in healthy dialogue. The fact that "these two religious leaders with so much at stake" could meet face to face, shows that overcoming fears of the other can be done and is worthy of imitation, Cardinal Gregory noted.Picking up on that thought, Imam Kashmiri called their meeting "an inspiration to everyone". He said it "will put a lot of responsibility on other religious scholars in the world." This meeting, he continued is a clarion call for "collaboration and cooperation between scholars in different parts of the world. The ball is in our court right now" to "put pressure on various governments in the world who can create the change needed to bring peace to people who are suffering," and to right injustices, the Imam stated.Summing up this topic, Cardinal Gregory said the Pope and the Ayatollah "have raised the bar considerably in our religious traditions. We cannot abandon this opportunity to advance fraternity and collaboration. This will enrich and improve the faith experience of both communities."
Catholic and Muslim relations in the U.S.
This brought the discussion to the domestic level. Imam Kashmiri stated that Christianity and Islam "share some commonalities." Working together on the basis of these commonalities, he said, "can be utilized in a way to model collaboration to members of other faiths." A specific example he then gave for the U.S. context is working together to "promote family, religious and human values and the future of our young people."With this concrete demonstration from the Pope and the Ayatollah that "people from different religious traditions can work together in dialogue and mutual respect", Cardinal Gregory suggested that Catholics and Muslims collaborate in the area of "works of charity." "Both religions place an emphasis on charitable work. This is where collaboration and dialogue can focus," he said.
http://www.heraldmalaysia.com/news/cardinal-and-imam-talk-about-pope-franciss-visit-with-al-sistani/58585/2
--------
Lebanon's Hariri says new cabinet, IMF dialogue necessary to halt collapse
18 March ,2021
Lebanon's Prime Minister-designate Saad Hariri said on Thursday after a meeting with President Michel Aoun that forming a government that could re-engage with the IMF was the only way to halt the country's financial collapse.
The meeting took place after a heated exchange on Wednesday night between the two top politicians, who have been at loggerheads for months over cabinet formation.
Aoun asked Hariri to form a new government immediately or make way for someone else in a televised speech, and Hariri hit back by telling him that if he could not approve his cabinet line-up then he should call an election.
On Thursday, Hariri's tone was more positive after saying a further meeting was scheduled for Monday and that he saw "an opportunity to be seized".
"The main priority of any government is to prevent the collapse that we are facing today... that we proceed to start halting the collapse with the IMF and regain the trust of the international community," he told reporters.
French President Emmanuel Macron said on Thursday he would push for a new approach in the coming weeks on Lebanon.
Paris has spearheaded international efforts to rescue the former French protectorate from its deepest crisis since the 1975-1990 civil war, but has failed so far to persuade squabbling politicians to adopt a reform roadmap and form a new government to unlock international aid.
"The time of the test of responsibility is coming to an end and there will be a need in the coming weeks, in a very clear manner, change approach and the methods because we can't leave the Lebanese people since last August in the situation in which they are," Macron said.
Lebanon's talks with the IMF stalled last year over a row among Lebanese government officials, bankers and political parties over vast financial losses.
The Lebanese pound has sunk by 90 percent in the country's worst crisis since the 1975-1990 civil war. It has plunged many into poverty and endangered imports as dollars grow scarce.
Politicians have since late 2019 failed to agree a rescue plan to unlock foreign cash which Lebanon desperately needs.
"We are really looking at the abyss, seeing it very clearly, and I think it's either now or never," Mohanad Hage Ali of the Carnegie Middle East Center said, alluding to the urgency of forming a new government able to make reforms.
He added that major political parties, including Aoun's ally, the Iran-backed Hezbollah movement, were re-evaluating their positions as delays worsen the economy's free-fall and unrest grows.
A French diplomat said on Wednesday that France, which has led aid efforts to its former colony, and its partners will seek to ramp up pressure on Lebanese politicians in the coming months.
Strikes and closures
The currency has crashed so fast in recent weeks, losing a third of its value, that grocery shops closed on Wednesday and bakeries cautioned they may have to follow suit.
Many pharmacies shut their doors on Thursday and flashed neon strike signs, the latest sector of the economy to voice frustration.
Ali Obaid, a Beirut pharmacist, said he could no longer keep up with expenses. "Pharmacies will close permanently if this continues," he said.
Comments that subsidies - including on fuel, wheat and medicine - may soon end have also triggered panic buying.
Cars lined up outside gas stations earlier this week, and scenes of brawls over subsidized goods at supermarkets have heightened fears among Lebanese over their most basic needs.
The sharp descent of the pound sent protesters into the streets this month, blocking roads in anger at an entrenched political elite that has dominated since the civil war.
https://english.alarabiya.net/News/middle-east/2021/03/18/Lebanon-s-Hariri-says-new-cabinet-IMF-dialogue-necessary-to-halt-collapse
--------
Certain groups attempt to create civil war in Lebanon, Hezbollah chief warns
18 March 2021
The secretary-general of Lebanon's Hezbollah resistance movement has warned against attempts by certain groups to foment a civil war in the cash-strapped country on economic, racial, and religious grounds, emphasizing that the movement will not allow anyone to realize such a fiendish plot.
Those, who become frustrated in the face of the country's resistance, could resort to the option of trying to ignite such an internal conflict, Sayyed Hassan Nasrallah said in a televised speech broadcast from the Lebanese capital city of Beirut on Thursday evening.
"I have information that there are outside forces and some internal ones that are pushing towards civil war ... They are looking for the fuel to add to the fire," he said.
"The chaos in Lebanon is aimed at driving Lebanon into a civil war and this is a red line," he, however, added.
Lebanon is experiencing its worst economic crisis in decades, compounded by the COVID-19 pandemic. Prices are skyrocketing and more than half of the population is now living below the poverty line.
Nasrallah's remarks came as the country's major cities are hosting fresh protests at the situation afflicting the economy that is falling apart at the seams. He, therefore, entitled the high point of his address to the domestic woes.
"Lebanon is at the heart of a true and great national economic, livelihood, financial, and also political crisis," he said, noting, "It can also be described as a crisis of the establishment."
Nasrallah categorically dismissed that his movement harbored any intention to exacerbate the already explosive situation.
"Some say that Hezbollah is the party, which has weapons [and may start a civil war]. This rhetoric is wrong since the civil war can be waged by light arms and such arms are found everywhere in Lebanon and are in the hands of many people," the Hezbollah chief said.
Hezbollah has no intention to resort to its weapons in a bid to form a government or to deal with the economic and financial crisis.
Since the Lebanese government formally resigned after a massive explosion in Beirut port last August, domestic political divisions and pressure by some Western states have hindered the formation of a formal cabinet.
'US pressure main factor behind crisis'
Nasrallah pointed to the pressure that the United States was applying to Lebanon as a main principle driving the country's crisis.
The United States wants for Lebanon to "be placed in the US-Israel axis" in the same way that such regional countries as the United Arab Emirates and Bahrain did by normalizing their relations with the Israeli regime through Washington's facilitation, he stated.
Nasrallah questions dependence on IMF
Without a formal cabinet, the country cannot resume negotiations with the International Monetary Fund (IMF) for potential bailout packages.
Even if the country was to be thrown such a lifeline, it would be required by the IMF and the West to enact certain "reforms" in its political structure. The reforms entail introduction of stringent austerity measures, the biggest part of whose burden falls on the people.
Lebanese Prime Minister-designate Saad al-Hariri alleged earlier that the only way to stop the country's economy from total collapse was to re-engage with the IMF.
"The main priority of any government is to prevent the collapse that we are facing today... that we proceed to start halting the collapse with the IMF and regain the trust of the international community," Hariri said at a press conference at the presidential palace in Baabda.
Nasrallah, however, asked whether the Lebanese nation could bear the burden of the IMF's conditions, including subtraction of subsidies from staples.
He considered the country's economic policies, including the policy of burrowing money from others, to be one of the reasons that Lebanon had ended up this way.
The American pressure, he added, was aimed at forcing Lebanon into "resorting to certain economic options."
It was this very fear of Washington that was scaring some inside the country from strengthening its ties with China.
Hezbollah agrees to a technocratic-political govt.
The Hezbollah leader, meanwhile, signaled his movement's approval of the formation of a government composed of technocrats and politically influential elements at the same time.
He said if Hariri and President Michel Aoun reached an agreement on formation of such a ruling structure, Hezbollah would agree to it too.
US apparatuses freeing Daesh ringleaders in Iraq
Nasrallah also said there were evidence pointing out that the US's intelligence and security apparatuses were establishing contact with the Takfiri terrorist group of Daesh's ringleaders in Iraq's prisons before enabling their release.
"With every day that goes by, the truth that lies behind the armed Takfiri terrorist groups and the nature of their handler and supporter comes further to light," he said.
Nasrallah, however, announced, "We stand up to the terrorist groups that are shaped, run, supported, and armed by the American intelligence apparatuses."
https://www.presstv.com/Detail/2021/03/18/647609/Certain-parties-attempts-to-create-civil-strike-in-Lebanon-Hezbollah-chief-warns
--------
Mideast
Iran Blasts Growing Trend of Intolerance, Prejudice against Muslims in West
2021-March-18
Zarif made the remarks during a meeting of the Organization of Islamic Cooperation (OIC) to mark "International Day to Combat Islamophobia" on Wednesday.
Zarif criticized the growing trend in intolerance and prejudice against Muslims across the world, in particular the West, which he said has become a hub for anti-Muslim media outlets, hate groups posing as think tanks and civic groups promoting a hostile and abusive environment against Muslims.
"It is imperative for the Islamic Ummah to unite against attempts at embracing Islamophobia, including through such measures as the Muslim travel ban, banning Muslim symbols and the abhorrent use of such ignorant terms as Islamic terrorism," Zarif said.
"Meanwhile, we must root out terrorism and extremism within the Islamic world. We need to take a unified and resolute stand against those who export hateful Takfiri ideologies," he remarked.
Zarif lauded the determination of Islamic countries to address Islamophobia as one of the main challenges facing the Islamic Ummah.
He highlighted the OIC's objectives in protecting the true image of Islam, promoting values of peaceful co-existence as well as encouraging interfaith and intercultural dialogue as an effective and valuable mechanism to combat all forms of racism, discrimination, xenophobia, Islamophobia, extremism and incitement to hatred based on religion.
"It is incumbent upon the international community to take more concrete measures to raise awareness at the global level on the need to counter Islamophobia, bigotry, and anti-Muslim hate crimes," the chief Iranian diplomat said.
"In this connection, the Islamic Republic of Iran expresses its strong support for OIC initiatives on tackling Islamophobia, in particular the designation of the 15th of March as an International Day to Combat Islamophobia by the UN General Assembly," he added.
Islamophobia has been on the rise in Western countries in recent years. The problem has even shown itself through the words and actions of Western leaders, including former US President Donald Trump, who imposed a travel ban against Muslims entering the United States.
Trump has famously said that Islam hates America, that there is something going on with Islam and Muslims, and that Islam is incompatible with the West.
Last month, the lower house of the French parliament approved a controversial bill targeting religious freedom and stigmatizing Muslims, tightening rules on the funding of mosques, associations, and non-governmental organizations belonging to Muslims.
Months earlier, French President Emmanuel Macron's comments sparked a wave of condemnations by Muslims and activists around the world.
Macron unveiled a plan to defend France's secular values against what he labeled as "Islamist radicalism" and claimed that the religion was "in crisis" all over the world. He said "no concessions" would be made in a new drive to eliminate religion from education and the public sector in the country.
https://www.farsnews.ir/en/news/13991228000248/Iran-Blass-Grwing-Trend-f-Inlerance-Prejdice-agains-Mslims-in-Wes
--------
Turkey orders Muslim Brotherhood TV channels to stop airing anti-Egypt rhetoric
18 March ,2021
Turkish authorities have ordered Istanbul-based TV channels affiliated with the Muslim Brotherhood to stop airing criticism geared toward Egypt immediately, sources familiar with the matter said Thursday.
The announcement comes as Cairo and Istanbul have looked at ways to ease tensions between the two, which boiled over in 2013 after Egypt's army ousted Muslim Brotherhood President Mohammed Mursi, an ally of Turkish President Recep Tayyip Erdogan.
Cairo has since designated the Muslim Brotherhood as a terrorist organization, while Erdogan's Islamist-rooted AK Party supported Mursi's short-lived Egyptian government. Many Brotherhood members and their supporters have fled to Turkey since their activities were banned in Egypt.
In recent days, officials from Egypt and Turkey have said there is an ongoing dialogue between the two, albeit limited.
Sources familiar with the matter told Al Arabiya that Turkey issued an order for three Muslim Brotherhood channels (El Sharq TV, Watan TV, Mekameleen) to immediately stop airing political shows critical of Egypt and to only air non-political shows and series.
Penalties will be imposed on those who defy the order; this includes permanently closing down the TV stations.
A tweet from El Sharq TV's official account read: "To our dear followers, we apologize [for not airing] tonight's episode of 'The Streets of Egypt." No further clarification was given.
https://english.alarabiya.net/News/middle-east/2021/03/19/Turkey-orders-Muslim-Brotherhood-TV-channels-to-stop-airing-anti-Egypt-rhetoric
--------
Pakistani PM Stresses Using Iran's Energy Capacities
2021-March-18
Imran Khan made the remarks, addressing the inaugural session of the two-day Islamabad Security Dialogue in Islamabad on Wednesday.
He said that the Islamic Republic of Iran is Pakistan's neighbor and a rich source of energy through which Pakistan's energy needs can be met.
Imran Khan also said that without peace and security in the region it is difficult to achieve economic prosperity.
He said peace in Afghanistan is important for the security of the regional countries, specially the trade route from China to Pakistan to Central Asia through Afghanistan.
PM Imran said that economic prosperity cannot be sustained without peace in the neighborhood.
Earlier this year, Iranian Ambassador to Pakistan Seyed Mohammad Ali Hosseini said that the gas pipeline from Iran to the Pakistani border had been laid and despite some restrictions imposed by foreign powers both sides are serious to complete the project.
He said that the Islamic Republic of Iran is one of the countries that are a rich source of energy, specially oil and gas and is ready to help its neighbors to meet their energy demands.
https://www.farsnews.ir/en/news/13991228000358/Pakisani-PM-Sresses-Using-Iran's-Energy-Capaciies
--------
Envoy Lauds Brazilian Lawmakers for Passing Bill to Develop Ties with Iran
2021-March-18
Brazilian senators approved a resolution to develop ties with Iran and setting up the parliamentary friendship group with Iran.
The resolution, raised for the first time in the Federal Senate of Brazil, underlined the importance of trade relations with Iran.
Qaribi appreciated the Brazilian senators for passing the bill, and said that the parliament and senate friendship groups are two powerful arms for expanding the existing 118-year-long ties between Iran and Brazil.
He stressed the position of the Iranian and Brazilian parliaments in creating long-term connections between the two countries.
Developing bilateral relations in all fields and removing possible obstacles in the post-COVID-19 era is the most important mission of the parliamentary friendship group, he added.
Earlier this year, Iranian Deputy Foreign Minister Seyed Abbas Araqchi and his Brazilian counterpart Kenneth Nobarga held the tenth round of bilateral negotiations via video conferencing.
During the videoconference in January, Araqchi and Nobarga discussed political and economic relations, as well as regional and international issues.
The two deputy foreign ministers also exchanged views on the expansion of economic and trade relations.
In a relevant development in July 2020, Iranian and Brazilian officials reviewed the ways of strengthening mutual cooperation in different spheres, and stressed the need to share economic experiences in the coronavirus era.
Qaribi and Governor of the State of Paraná Ratinho Júnior discussed the ways of improving bilateral ties in the fields of agriculture, petrochemicals and technology.
Qaribi voiced Iran's readiness to expand economic relations with the South American country, and emphasized the need for using and exchanging of all potentials to compensate for the losses caused by the COVID-19 epidemic.
Ratinho Junior, for his part, said that job-creation is on top the agenda to compensate for the losses caused by coronavirus outbreak, and noted that cooperation with Iran could help alleviate sufferings in this respect.
The members of Iran-Brazil Parliamentary Friendship had also attended the meeting.
https://www.farsnews.ir/en/news/13991228000461/Envy-Lads-Brazilian-Lawmakers-fr-Passing-Bill-Develp-Ties-wih-Iran
--------
Over 550 intl. organizations urge UN Human Rights Council to 'end Israel's impunity'
19 March 2021
More than 550 international human rights organizations have jointly called upon the UN Human Rights Council to recognize and denounce the Israeli regime's racist policies against the entire Palestinian population, which include home demolitions and violation of the right of Palestinians to self-determination.
The organizations, in a letter published on Thursday, urged the world body to form an independent fact-finding mission and investigate the Tel Aviv regime's colonial and apartheid practices, in addition to its associated systematic policies.
They stressed that Israel's culture of impunity has further allowed business enterprises to benefit from the prolonged Israeli occupation, and the perpetration of gross human rights violations.
The signatories urged the Office of the High Commissioner for Human Rights to further develop in a transparent manner the UN database on business enterprises involved in Israel's illegal settlement expansion activities.
They also called on the international community to utilize all available mechanisms to obtain justice and accountability, to intervene immediately and slap economic sanctions against Israel, and hold individuals who may have committed war crimes in the occupied Palestinian territories to account.
The human rights organizations finally urged member states of the Rome Statute of the International Criminal Court to publicly support and fully cooperate with the Office of the Prosecutor of the International Criminal Court (ICC) to ensure the arrest and trial of individuals investigated and found guilty of international crimes at The Hague, and prevent the continued perpetration of crimes against Palestinian people.
Israel receives ICC letter on its war crimes probe
Israel has received a letter from the International Criminal Court formally detailing the scope of its war crimes investigation in the occupied Palestinian territories.
Israeli Hebrew-language Channel 13 television network said on Thursday the letter was sent over the weekend, and has requested the Tel Aviv regime to respond to it within 30 days.
The report added that Israel's so-called National Security Council has already met to formulate an official response.
It noted that the letter covers three main topics: the 2014 Israeli military onslaught on the besieged Gaza Strip, Israeli settlement policy, and the 2018 Great March of Return protests in Gaza along the fence separating the territory from the occupied lands that led to Israel's killing of dozens of Palestinians.
Earlier this month, ICC Chief Prosecutor Fatou Bensouda announced in a statement the launch of a war crimes investigation into the Palestinian territories, which have been under Israeli occupation since 1967.
She said her inquiry will be conducted "independently, impartially and objectively, without fear or favor."
The Palestinian Authority (PA) welcomed the prosecutor's announcement.
It is "a long-awaited step that serves Palestine's tireless pursuit of justice and accountability, which are indispensable pillars of the peace the Palestinian people seek and deserve", the PA foreign ministry said in a statement.
Hamas resistance movement also praised the ICC's move.
"We welcome the ICC decision to investigate Israeli occupation war crimes against our people. It is a step forward on the path of achieving justice for the victims of our people," Hazem Qassem, a Hamas spokesman said.
"Our resistance is legitimate and it comes to defend our people. All international laws approve legitimate resistance," Qassem noted.
Israeli president Reuven Rivlin has reportedly started an official visit to Europe aimed at convincing European countries to pressure the court to cancel its probe.
Palestinian FM meets ICC chief prosecutor in The Hague
Palestinian Minister of Foreign Affairs and Expatriates Riyad al-Maliki met on Thursday with the ICC Chief Prosecutor Fatou Bensouda in The Hague, as part of the Palestinian Authority's ongoing collaboration with the court concerning its war crimes investigation against Israel.
During the meeting, Maliki stressed the need for quicker probes into crimes committed across the Palestinian lands, and ensuring justice for Palestinian victims and their families, especially in light of Israel's ongoing human rights violations, the official Palestinian Wafa news agency reported.
He also expressed Palestine's support for the work of the ICC, the Prosecutor and the court's staff for their pursuit of international justice despite all threats facing them.
The top Palestinian diplomat called on the international community to assume its responsibilities for protecting the integrity and independence of the ICC, and provide all necessary means to ensure the exercise of its mandated tasks in accordance with the Rome Statute.
Maliki underlined that the Palestinian Authority will cooperate with the Court and its staff in order to end the era of impunity and create a new path of accountability.
UN: Israel targets EU-funded humanitarian relief structures in Feb.
The United Nations Office for the Coordination of Humanitarian Affairs (OCHA) in the occupied Palestinian territories says the Israeli regime's targeting of EU-funded aid structures across the Palestinian lands soared dramatically in February, and registered a three-fold increase compared to the same period last year.
OCHA, in a report titled West Bank demolitions and displacement | February 2021, stated that Israeli authorities demolished, forced people to demolish, or seized 153 Palestinian-owned structures across the West Bank, including East Jerusalem al-Quds during the mentioned period.
The report highlighted that the Israeli officials' actions throughout February resulted in the displacement of 305 Palestinians, including 172 children, and affected the livelihoods or access to services of 435 others.
The UN report highlighted that nearly 90 percent of all structures targeted (demolished or seized) last month were seized without prior warning in Area C of the West Bank.
The report said the figure marks a significant rise, and shows an increase by 30 percent in 2020, 11 percent in 2017 and eight percent in 2016.
So far in 2021, a total of 93 structures provided as humanitarian aid have been demolished or seized by the Israeli authorities, compared with 157 structures in entire 2020, according to OCHA.
Deputy Special Coordinator for the Middle East Peace Process and United Nations Resident Coordinator for the Occupied Palestinian Territory, Lynn Hastings, called on Israeli authorities on February 24 to "immediately halt all further demolitions of Palestinian homes and possessions, allow the humanitarian community to provide shelter, food and water to this most vulnerable group and these people to remain in their homes."
https://www.presstv.com/Detail/2021/03/19/647624/Over-550-intl--organizations-urge-UN-Human-Rights-Council-to-end-Israel%E2%80%99s-impunity
--------
Yemen: Al-Qaeda attacks military post, kills 12
Tareq al-Shal and Shoukry Hussein
18.03.2021
ABYAN, Yemen
At least 12 people, including nine soldiers from the UAE-backed forces, were killed when al-Qaeda terrorists attacked a military post in Yemen's southern Abyan province Thursday morning.
A security source told Anadolu Agency that "12 people, including nine soldiers from the UAE-backed forces, known as Security Belt Forces were killed in an attack by al-Qaeda militants on a security checkpoint in Ahwar town on the coastal road on Thursday morning."
Requesting anonymity, the source added the terrorists used hand grenades and medium machine guns to attack the post.
Another medical source referred that three civilians were also killed in the attack.
Military headquarters and security checkpoints in Abyan province are exposed to frequent attacks, usually attributed to al-Qaeda, which is active in the mountainous areas near the districts of Ahwar and Al-Mahfad, east of Zinjibar city, the provincial capital.
https://www.aa.com.tr/en/africa/yemen-al-qaeda-attacks-military-post-kills-12/2180419
--------
Pakistan
Time for India and Pak to bury past, move forward: Pak Army chief Gen Qamar Bajwa
Mar 18, 2021
NEW DELHI: A day after Pakistan Prime Minister Imran Khan expressed his desire for better ties with India, Army chief General Qamar Javed Bajwa said that it is time for both countries to "bury the past and move forward".
Addressing a session of the first-ever Islamabad Security Dialogue in the country's capital, General Bajwa also said that the potential for regional peace and development always remained hostage to the disputes and issues between Pakistan and India - the two "nuclear-armed neighbours".
"We feel it is time to bury the past and move forward," he said, adding that the responsibility for a meaningful dialogue rested with India.
The statement came a day after PM Imran Khan made similar overtures towards New Delhi.
Khan said on Wednesday that India will be benefitted economically by having peace with Pakistan as it will enable New Delhi to directly access the resource-rich Central Asia region through Pakistani territory.
"India will have to take the first step. Unless they do so, we cannot do much," Khan said while delivering the inaugural address at the launch of the two-day Dialogue.
Khan said that having a direct route to the Central Asian region will economically benefit India. Central Asia is rich in oil and gas.
Today General Bajwa echoed PM Khan's statement and said that peace between Pakistan and India would help to "unlock the potential of South and Central Asia" by ensuring connectivity between East and West Asia.
"Our neighbour will have to create a conducive environment, particularly" in Kashmir, Gen Bajwa said in his address, adding that any effort to improve ties without addressing the core issue would be vulnerable to external political factors.
"The Kashmir issue is at the heart of this. It is important to understand that without the resolution of the Kashmir dispute through peaceful means, the process will always remain susceptible to derailment to politically motivated bellicosity," he said.
In early February, Gen Bajwa had said that Pakistan stands firmly committed to the ideals of mutual respect and peaceful co-existence.
"It is time to extend a hand of peace in all directions," he remarked. Pakistan and India should also resolve the longstanding issue of Jammu and Kashmir in a dignified and peaceful manner as per the aspirations of people of Jammu and Kashmir and bring this human tragedy to its logical conclusion, the army chief emphasised.
"However, we will not allow anybody or any entity to misinterpret our desire for peace as a sign of weakness," he added.
India last month said that it desires normal neighbourly relations with Pakistan in an environment free of terror, hostility and violence. India has said the onus is on Pakistan to create an environment free of terror and hostility.
India has also told Pakistan that "talks and terror" cannot go together and has asked Islamabad to take demonstrable steps against terror groups responsible for launching various attacks on India.
Their remarks came weeks after the militaries of India and Pakistan announced on February 25 that they have agreed to strictly observe all agreements on a ceasefire along the Line of Control (LoC) in Jammu and Kashmir and other sectors.
India and Pakistan signed a ceasefire agreement in 2003, but it had hardly been followed in letter and spirit over the past several years with more violations than the observance of the pact.
https://timesofindia.indiatimes.com/world/pakistan/time-for-india-and-pak-to-bury-past-move-forward-pak-army-chief-gen-qamar-bajwa/articleshow/81575093.cms
--------
Fazl, Nawaz agree to go ahead even if PPP leaves PDM
Amir Wasim
March 19, 2021
ISLAMABAD: Two days after announcing postponement of the anti-government long march due to the Pakistan Peoples Party (PPP)'s rejection of the proposal of submitting en masse resignations from the assemblies and in an effort to keep the opposition's alliance intact, Pakistan Democratic Movement (PDM) president Maulana Fazlur Rehman on Thursday separately talked to former president Asif Zardari and Pakistan Muslim League-N (PML-N) supremo Nawaz Sharif over telephone.
Sources in the three major opposition parties confirmed to Dawn that the Maulana, who is also head of the Jamiat Ulema-i-Islam (JUI-F), talked to the leaders of the two parties over the issue of the resignations and the proposed long march.
The sources said Mr Zardari, who had forcefully opposed the idea of quitting the assemblies during the meeting of the heads of the PDM parties in Islamabad on Tuesday, told the Maulana that the PPP had decided to convene a meeting of its Central Executive Committee (CEC) after its public meeting in Rawalpindi on the occasion of the death anniversary of the party's founder Zulfikar Ali Bhutto on April 4 in which they would again review the proposal of submitting resignations from the assemblies.
According to sources in the PPP, both Mr Zardari and Maulana Fazl once again tried to convince each other on the issue of en masse resignations. However, Mr Zardari reiterated his stance that they should not come out of the assemblies as such a situation would only strengthen the hands of "the establishment" and Prime Minister Imran Khan.
Mr Zardari also expressed concern over the decision of the other PDM parties to link the resignations with the long march. The former president drew the attention of the Maulana to the agreed "plan of action" in the multi-party conference held in September last year, which clearly stated that the resignations would be the last option and for this purpose, a committee would be formed.
Mr Zardari, the PPP sources said, told the Maulana that the PML-N and other parties had suggested resigning from the assemblies believing that by doing so they might block the Senate elections and prevent the government from taking a majority in the upper house of the parliament. However, he opined, after contesting the Senate elections, the issue of the resignations had already become redundant.
The Maulana told Mr Zardari that the PDM component parties would wait for a final reply from the PPP after its CEC meeting before making any decision.
Later, the Maulana talked to Mr Sharif, who has been living in self-exile in London for more than a year, and apprised him about his conversation with Mr Zardari.
The sources said that the two leaders also discussed the probabilities in case the PPP decided to stick to its previous decision of not resigning from the assemblies. The two leaders, the sources said, were of the view that the PDM should continue its struggle against the government and should go ahead with its plan, even if the PPP decided to formally part ways with the alliance. They agreed to convene another meeting of the heads of the PDM soon after the PPP's CEC meeting to discuss the future strategy.
The cracks within the ranks of the 10-party opposition alliance had become visible on Tuesday when its leadership announced postponement of their March 26 anti-government long march due to differences over the issue of the resignations.
An upset looking Maulana Fazl had suddenly left the press briefing without taking questions of the reporters after making a brief announcement that the PPP had sought more time to reconsider its position on the issue of en masse resignations and till the time the PPP would come back after an in-house discussion in its CEC, the long march stood "postponed".
Before leaving the venue, the Maulana had disclosed that nine parties were in favour of resigning from the assemblies during the long march, but only the PPP had some "reservations over this thinking". He said the PPP had sought time to discuss the matter again in its CEC which had been granted.
The sources said that in the PDM meeting, Mr Zardari had made submission of resignations conditional on the return of Mr Sharif to the country. The PPP leader in his speech launched political attacks on Mr Sharif and highlighted his own sacrifices, stating that he had spent 14 years in jail.
In the meeting, PML-N vice-president Maryam Nawaz had defended her father in a forceful manner and categorically declared that her father would not return to the country to put his life into danger.
The sources said that the Maulana was unhappy over the proceedings of the PDM meeting in which the PPP and the PML-N, the two arch rivals of the past, once again made some personal attacks against each other.
Speaking at a ceremony in Peshawar in Wednesday, the PDM president had expressed annoyance over the PPP's attitude, saying it should have respected the opinion and viewpoint of the nine parties. He had also indirectly criticised the PPP for "leaking the proceedings of the meeting" to the media, saying that "discussions in such meetings are always kept secret as a trust and leaking the proceedings amounts to the breach of trust".
Again speaking at a function in Islamabad on Thursday, without mentioning any name, the Maulana said that those who were afraid of going to jails should not have joined politics.
"It is a weakness to say that I can't go to jail now. How will I fight? If you can't fight then why you have joined politics?" the Maulana said without any reference, adding: "If you are in politics then you can find both power and jail."
The Maulana once again asked the "establishment" not to support the government.
"Your job is to defend the country's frontiers and not an illegitimate government," he said.
https://www.dawn.com/news/1613275
--------
Kuwait seeks stronger ties with Pakistan: minister
March 19, 2021
ISLAMABAD: Kuwaiti Foreign Minister Dr Ahmed Nasser Al-Sabah on Thursday said that his country was committed to developing stronger relations with Pakistan.
During a meeting with Prime Minister Imran Khan, the Kuwaiti foreign minister identified education, economy, trade and investment, and people-to-people linkages as priority areas in which his country intended to intensify cooperation with Pakistan.
Dr Al-Sabah also underscored the need to further strengthen the institutional frameworks of bilateral cooperation.
The prime minister hailed efforts for building an enhanced partnership between the two countries. He underscored the imperative of forging deeper economic, trade and investment cooperation.
The two sides had at the third round of bilateral political consultations held in January this year agreed on broadening their ties, especially through enhancing cooperation in the areas of trade, investment, manpower export and food security.
Dr Al-Sabah also met Foreign Minister Shah Mahmood Qureshi at the Foreign Office.
During the meeting, the FO said, the foreign ministers reviewed the entire gamut of bilateral relations, including cooperation in political, economic, defence, trade and investment sectors, and manpower export, and discussed ways to enhance people-to-people linkages between the two countries.
Mr Qureshi reaffirmed Pakistan's strong commitment to further strengthening and diversifying bilateral cooperation with Kuwait in all fields.
"The resolve to continue close collaboration in multilateral fora, in particular the United Nations and the Organisation of Islamic Cooperation, was reaffirmed," the FO said.
Mr Qureshi mentioned Pakistan's shifting focus to geo-economics with emphasis on peace, development and connectivity.
The two sides agreed to convene the 5th Session of the Joint Ministerial Commission at the earliest.
During the meeting, Mr Qureshi called for easing visa curbs for Pakistanis by Kuwait. This, he said, would provide impetus to bilateral trade.
https://www.dawn.com/news/1613273/kuwait-seeks-stronger-ties-with-pakistan-minister
--------
SC to hear Imran's petition against Akbar's PTI membership
March 19, 2021
ISLAMABAD: The Supreme Court on Thursday granted leave to appeal to a petition filed on behalf of Prime Minister Imran Khan against a declaration that Akbar S. Babar — a founding but dissident member of the ruling Pakistan Tehreek-i-Insaf (PTI) — is still a member of the party.
Headed by Justice Mushir Alam, the two-judge Supreme Court bench, of which the other member is Justice Yahya Afridi, issued a notice to Mr Babar directing him to furnish a reply.
Senior lawyer Anwar Mansoor informed the court that Mr Babar was expelled from the party on Sept 26, 2011, but he contended that nowhere the notice for expelling him from the party had ever been shown.
Through the petition, the PM has challenged a Dec 4, 2019, Islamabad High Court (IHC) order which upheld the Election Commission of Pakistan's (ECP) declaration that Mr Babar is a member of the party.
Earlier filed by Barrister Umaimah Anwar Khan on behalf of PTI chairman Imran Khan, the appeal pleads before the Supreme Court that the high court decision came without defining the ambit and power of the ECP. Rather the IHC indulged in fact finding, it added.
The ECP, the petition alleges, acted as a court of law or a tribunal and travelled beyond the scope of prayer. It extended its jurisdiction in matters of factual controversy, in contravention of the settled law. Thus by assuming the jurisdiction, the ECP gave a declaration in violation of law which was liable to be set aside being illegal, void ab initio and coram non judice, the petition argues.
Can the ECP treat any information received by it under Order 6(3) and (4) of the Political Parties Order 2002 (PPO) as adversarial form of complaint, the petition questions. It argues that the high court failed to consider the clear law laid down by the Supreme Court in the 2017 Hanif Abbasi case that information by a third party pertaining to the accounts of a political party can only be entertained subject to the condition that the information emanated from a credible and reliable source and was verifiable.
The petition says that the high court failed to acknowledge that the proceedings under Order 6 of the PPO are not dispute resolution between two parties, but inquisitorial proceedings.
The petition alleges that the high court ignored a pertinent question regarding the jurisdiction of the ECP and whether it exceeded in exercising its jurisdiction over the party membership status of Mr Babar.
When the membership of Mr Babar had been cancelled permanently in accordance with the law and he himself had shown antagonism in his clear declaration of parting ways with the party, can the ECP still, that too while sitting as an inquisitorial body for determining the question of the funding of a political party, declare Mr Babar a prominent member of the PTI, the petition wonders.
https://www.dawn.com/news/1613270/sc-to-hear-imrans-petition-against-akbars-pti-membership
--------
South Asia
Bangladesh still far from achieving founding father's dreams
Rock Ronald Rozario
March 18, 2021
A festive mood prevails in Bangladesh despite a sudden, rapid rise in Covid-19 cases in the country in recent weeks.
The nation is celebrating the 101st birth anniversary of Sheikh Mujibur Rahman, the country's founding leader and father of Prime Minister Sheikh Hasina of the ruling Awami League.
A 10-day nationwide celebration from March 17-26 marks the conclusion of the year-long observance of Mujib Borsho (Year of Mujib) and the beginning of the 50th anniversary of Bangladesh's independence from Pakistan.
The main programs are being held at the National Parade Ground in capital Dhaka, where a host of sociocultural shows are on display in the presence of national and international dignitaries including the heads of five South Asian countries — India, Maldives, Sri Lanka, Nepal and Bhutan.
Popularly called Bangabandhu (Friend of Bengal), Mujib deserves such high-flying tributes from Bangladeshi people because it was his seminal leadership that materialized Bengalis' dreams of independent statehood in 1971.
As exemplar of a great, visionary politician, Mujib always stood by the people through thick and thin, mostly against oppressive regimes. Thus, he spent most of his adult life in jail.
Mujib was born on March 17, 1920, in the Gopalganj area of the Bengal region of British India and studied at a Christian missionary school before moving to Kolkata for higher studies.
His political career started with the Muslim League, a party devoted to the idea of a separate Muslim homeland in India leading to the creation of Pakistan. In 1949, only two years after Partition, he left the increasingly Islamist party and joined the Awami League, then an avowedly secular party.
It was his dynamic, courageous and grassroots politics that made him a champion of poor and oppressed Bengali people who rose against the discrimination of the civilian and military establishments of Pakistan.
A man of incredible bravery, his political career evolved around his love of the people based on equality, dignity and justice for all. His visionary leadership led the Awami League to a landslide victory in Pakistan's first national election in 1970.
However, Pakistan's ruling elites, dominated by West Pakistani politicians and the influential military, refused to transfer power, sparking a massive nationalist movement.
On March 7, 1970, Mujib delivered a historic, inspiring speech to galvanize public support against the political conspiracy. Following the speech, Newsweek magazine termed Mujib "the poet of politics" and in 2017 UNESCO recorded the speech as a documentary heritage.
Mujib was soon arrested and flown to a jail in West Pakistan, while the military sought an armed solution to a political crisis, launching a genocidal crackdown in East Pakistan (now Bangladesh) on March 25. Hours before his arrest, Mujib declared independence for Bangladesh.
During the ensuing nine-month civil war, about three million people were killed, tens of thousands of women were raped and about 10 million fled to India as refugees. Bengali guerrilla fighters defeated the Pakistan army with support from India on Dec. 16, 1971.
Released from prison, Mujib returned to war-ravaged Bangladesh to lead the country on Jan. 10, 1972. Less than a year later, his government promulgated the country's first constitution with four principles — nationalism, socialism, secularism and democracy.
Though a devout Muslim, Mujib was a strong advocate for religious pluralism and liberalism his entire life.
In a country totally destroyed by the war and grappling with over 70 percent of people facing poverty, hunger, disease and death, Mujib never lost hope. He unified people for a dream for better days that he called Sonar Bangla (Golden Bengal), which is free from poverty, hunger, corruption and injustice and only achievable by honesty, sincerity and hard work.
But his efforts came to an abrupt end on Aug. 15, 1975, when a group of misled military soldiers, backed by conspirators at home and abroad, assassinated him along with most of his family members. The killings led to 15-year military rule until the 1990s when democracy was restored. Military rule saw Bangladesh's secular constitution amended to impose Islamic identity and the reintroduction of banned religion-based politics.
Now, 46 years after Mujib's demise, Bangladesh has made significant strides in socioeconomic development that has brought global praise.
The nation has successfully tackled high rates of infant and maternal mortality, reduced poverty from about 70 percent in the 1970s to about 25 percent today and achieved laudable gender equality.
Bangladesh is considered an emerging economy that has been booming thanks to the burgeoning US$30 billion garment industry, $15 billion in remittances from migrant workers and its agricultural sector. The nation is well set to graduate from the United Nations' least developed countries category.
Rising authoritarianism
But that's not the complete picture. Bangladesh has been constantly faltering to uphold human rights and human dignity and to stop corruption and rising authoritarianism in the absence of effective democracy.
The ruling Awami League, in power since 2008, has exploited the state machinery to destroy political opposition. The two latest elections, in 2014 and 2018, were rigged to keep the party in power. Opposition leaders and supporters have been jailed, tortured and killed.
All democratic and constitutional bodies including the judiciary have been made subservient to toe the government line.
Draconian laws, such as the Information and Communication Technology Act and Digital Security Act, have been passed to muzzle dissent, criticism and to censor media and social media, violating the constitutional right to freedom of expression. The recent death of writer Mushtaq Ahmed in jail showed the worst form of abuses of the laws.
Law enforcement agencies are widely accused of hundreds of extrajudicial killings and enforced disappearances but enjoy near impunity.
The country has seen a rising tide of Islamic radicalism and attacks on liberals and religious and ethnic minority groups in recent years. Many blame it on the government's appeasing of Islamic groups for political dividends.
Back in 2013, when Islamic extremists started killing atheist bloggers, the government rebuked bloggers for crossing the line instead of backing free speech. It frustrated bloggers and writers, forcing many to flee the country for Europe and America.
Despite making some progress, the country still reels from endemic corruption, which was once again exposed during massive anomalies during the government's response to the Covid-19 pandemic.
Bangladesh is poised to achieve the third-fastest growth in the number of high-net-worth individuals in the world in the next three years, but it is also among countries with the highest levels of social inequality in the Global Inequality Index.
A group of extremely rich and well-connected political and business elites reap the dividends of socioeconomic development and the poor remain neglected and exploited.
Socially, the nation has been experiencing a horrific and exponential rise in violence against women, girls and children, triggering condemnation at home and abroad.
The most worrying fact is that progressive student groups, civil society and concerned citizen groups are largely silent about such grave anomalies and injustices, either fearing a backlash or losing what they have gained. Christians including Catholic Church officials have joined the same tide.
Mujib's life and works are an inspiration for millions even if they don't support the party now led by his daughter. Sadly, under the helm of the same party, the very basic foundations of the nation that Mujib propelled to independence are under threat.
There are area reasons to be cheerful about Bangladesh's recent socioeconomic advancement, but the sorry state of affairs in terms of human rights, justice and democracy is the complete opposite of Mujib's coveted Golden Bengal.
Bangladeshi people still face a long journey before the dreams of the great founding father can come true.
https://www.ucanews.com/news/bangladesh-still-far-from-achieving-founding-fathers-dreams/91801
--------
U.S Air Force bombs Taliban in Kandahar
17 Mar 2021
According to American forces based in Afghanistan, the US air force has targeted Taliban positions in the Zherai and Spin Boldak districts of Kandahar.
Taliban have been bombed by these forces for the past 48 hours after the group's multiple attacks on Afghan forces.
The US forces spokesman in Afghanistan, Col. Sonny Leggett tweeted on Wednesday the incident occurred when Taliban fighters were trying to attack and maneuver Afghan national defense and security force's positions.
He says that under the US-Taliban agreement, American military are defending ANDSF.
In response to the attacks, the Taliban said US had acted in violation of the Doha agreement.
Zabihullah Mujahid, a spokesman for the Taliban, said in a statement that in the past 24 hours, US forces had bombed Taliban positions in the Panjwai, Zherai, and Khakriz districts of the province.
The air raids have reportedly inflicted heavy casualties on the Taliban.
Meanwhile, the Ministry of defense in a released statement said, that at least eight Taliban militants were killed and nine others are wounded in a joint operation by Afghan infantry and air force in Chak-e- Shir Ahmad area, Chahar Bolak district of northern Balkh province.
MoD said in the statement that the air force targeted the Taliban's depo and group's tactical operating center (TOC) in the region.
Helmand's National Directorate of Security (NDS) stated that the department has arrested 12 individuals on various terrorist charges in the province.
The National Directorate of Security (NDS) in Helmand said it had arrested 9 people on charges of targeted killing of government employees and tribal elders, one enemy infiltrator, and two insurgent mine planters were detained.
Helmand's deputy governor, Baryalai Nazari told the media that the accused militants had confessed to their crimes and soon will be sent for prosecution after investigations on their cases are finalized.
Despite peace efforts, violence across Afghanistan has escalated and the rampage of targeted killings, magnetic IEDs have intensified.
https://www.khaama.com/u-s-air-force-bombs-taliban-in-kandahar-654633/
--------
US, Russia join forces for Af-Taliban deal despite spat
Mar 19, 2021
Russia hosted a peace conference for Afghanistan on Thursday, bringing together government representatives, the Taliban and international observers in a bid to help jump-start the stalled peace talks. US special envoy for Afghanistan, Zalmay Khalilzad, attended the meeting in a rare example of collaboration between the ex-Cold War foes and amid an angry response in Moscow after President Biden said he agreed his counterpart Vladimir Putin is a "killer". Representatives of Pakistan, Iran, India, China also participated.
The one-day meet was the first of three planned international conferences ahead of a May 1 deadline for the final withdrawal of US troops from the country, a date fixed under a deal between the Trump administration and Taliban.
In a statement issued after the talks, Russia, the US, China and Pakistan called on the warring parties to reduce the level of violence in the country — and specifically urged the Taliban not to pursue a spring offensive. "We urge participants in the intra-Afghan negotiations to engage immediately in discussions on fundamental issues to resolve the conflict, including the foundations of the future peaceful and stable Afghan state, the content of a political roadmap leading to an inclusive government, and the modalities of a permanent and comprehensive ceasefire," they said.
The talks took place on a day a roadside bomb killed four people in a bus carrying Afghan officials in Kabul. A day earlier, nine members of the security forces died when their helicopter was shot down. The Taliban denied involvement in either of the attacks.
https://timesofindia.indiatimes.com/world/rest-of-world/us-russia-join-forces-for-af-taliban-deal-despite-spat/articleshow/81580221.cms
--------
US, Regional Powers Call on Taliban to Forego Spring Offensive at Moscow Conference
By Ayesha Tanzeem
March 18, 2021
ISLAMABAD - The United States, Russia, China, and Pakistan have called on all parties in Afghanistan to reduce violence and the Taliban to forego their Spring offensive, the yearly renewal in attacks after a winter lull, in order to facilitate peace negotiations.
The demand was part of a joint statement after a conference on Afghanistan hosted by Russia in Moscow Thursday.
The one-day gathering was part of an intense diplomatic push to jumpstart a stalled peace process amid a looming deadline for withdrawal of foreign forces from the country. Some fear Afghanistan will descend into chaos if international forces depart without a negotiated political settlement in place.
Negotiations between a sanctioned Afghan government team and the Taliban started in Doha in September 2020 but have so far not yielded results.
An Afghan delegation led by the chair of Afghanistan's High Council for National Reconciliation (HCNR) Abdullah Abdullah, and a Taliban delegation led by the group's political deputy Mullah Abdul Ghani Baradar, were also present.
The statement called on both sides to conclude their peace negotiations and supported the formation of "an independent, sovereign, unified, peaceful, democratic, and self-sufficient Afghanistan," free of terrorism and drugs. It also called for the protection of the rights of women, children, minorities, and others.
"[W]e do not support the restoration of the Islamic Emirate," the statement said, using the Taliban's name for their own government.
"It is only through diplomatic peace negotiations and compromise that peace can be achieved," said Russian Foreign Minister Sergei Lavrov in his opening remarks. "And the agreements that are to be reached have to include the interests of all parties."
Russia's top diplomat also said his country was ready to facilitate but Afghans had to take the lead.
"Outside parties like Russia should create the conditions for forces inside Afghanistan to negotiate and move forward," Lavrov said.
The newly elected administration of President Joe Biden had been pushing to involve regional powers and other countries to try and bring the warring Afghan sides to negotiate. As part of its efforts, the U.S. has also floated the idea, supported by Russia, of a transitional government that includes the Taliban.
That idea is strongly opposed by Afghan President Ashraf Ghani who said elections are the only way to choose a government.
The push comes as the U.S. is reviewing an agreement the administration of former President Donald Trump made with the Taliban—a deal Biden called "not a very solidly negotiated deal," in a recent interview with U.S. broadcast network ABC.
Under the deal, the U.S. is supposed to withdraw all forces from Afghanistan by May 1. However, an increase in violence, lack of progress in peace negotiations between Taliban and Afghan government, and a wave of targeted assassinations of human rights activists, journalists, and government officials have forced the U.S. to reevaluate its decision.
The Taliban, who have not directly attacked the U.S. or NATO forces since the February 2020 agreement, have warned that failure to stick to the withdrawal deadline would lead to a bloody response.
Some regional experts have suggested the U.S. negotiate a one-time extension in the deadline with the Taliban to salvage the deal.
Under this diplomatic push, two more international conferences are expected as early as next month, one hosted by the United Nations and the other by Turkey.
Moscow was also the venue for a February 2019 dialogue between senior Afghan opposition politicians and former top government officials, including former president Hamid Karzai, and the Taliban. That conference, which Ghani's government criticized as "little more than a political drama," paved the way for formal negotiations to start between Taliban and an Afghan government sanctioned delegation.
The idea for Thursday's conference was first floated by Russian envoy to Afghanistan Zamir Kabulov in an interview with the country's state-run Sputnik news agency last month.
Kabulov said the U.S. supported the idea of gathering a small group of countries with the most influence on the Afghan peace process. The format, called an "expanded troika," included Russia, the U.S., China, Pakistan, and Iran—although Iran was hesitant to sit at the table with the U.S.
Kabulov said he hopes Iran will change its mind once tensions with the U.S. decrease.
In a Sunday meeting with Mohammad Sadiq, Pakistan's special envoy on Afghanistan, Iranian Foreign Minister Javad Zarif "stressed the need to promote regional cooperation to help establish peace in Afghanistan and preserve achievements gained by Afghan people," according to the official Iranian news agency IRNA.
Meanwhile, the United Nations Secretary-General António Guterres appointed a new personal envoy on Afghanistan and the region Wednesday.
Announcing the appointment, the U.N. said Jean Arnault of France was tasked with helping find a political solution to the Afghan conflict.
"The responsibilities of the Personal Envoy include to liaise, on behalf of the Secretary-General, with regional countries with the aim of supporting the negotiations between the Islamic Republic of Afghanistan and the Taliban and implementation of any agreements which are reached," U.N. spokesman Stéphane Dujarric said.
The appointment comes at a time when the U.S. is expected to ask the U.N to invite the foreign ministers of the U.S., Russia, China, Pakistan, Iran, and India for a conference on Afghanistan.
"It is my belief that these countries share an abiding common interest in a stable Afghanistan and must work together if we are to succeed," U.S. Secretary of State Antony Blinken said to President Ghani in a letter leaked to the media earlier this month.
Iran's foreign ministry spokesman Saeed Khatibzadeh told a weekly press briefing on March 8 that his country had "not yet received any invitation for any session on Afghan Peace Talks at the United Nations," adding that "Iran will review the invitation whenever it receives any." His remarks were printed in Iran's official Islamic Republic News Agency.
https://www.voanews.com/south-central-asia/us-regional-powers-call-taliban-forego-spring-offensive-moscow-conference
--------
Southeast Asia
Jakim awaits Conference of Rulers' consent for next course of action over 'Allah' issue
18 Mar 2021
KUALA LUMPUR, March 18 — The Department of Islamic Development Malaysia (Jakim) and other Islamic religious agencies will take appropriate action on the issue on the use of the word "Allah" after getting the consent of the Conference of Rulers.
Minister in the Prime Minister's Department (Religious Affairs) Datuk Seri Zulkifli Mohamad Al-Bakri said the outcome of discussions on the issue between muftis of all states and legal experts held last Tuesday has been submitted to the Keeper of the Rulers' Seal.
"InshaAllah we will announce the appropriate action to be taken soon," he told reporters after attending a gathering of agencies under his ministry at the National Mosque here today.
Present were Deputy Minister in the Prime Minister's Department (Religious Affairs) Datuk Ahmad Marzuk Shaary and the heads of agencies under the ministry.
Zulkifli was previously reported to have said that a meeting would be held with muftis from throughout the country and law experts to finalise a resolution on the issue on the use of the word "Allah".
On March 10, the Kuala Lumpur High Court ruled that Christians nationwide can use the word "Allah" and three other Arabic words in their religious publications for educational purposes. The three other words are Baitullah, Kaabah and solat.
However, the Home Ministry and the Malaysian government filed an appeal against the High Court's decision at the High Court Registry on March 15. — Bernama
https://www.malaymail.com/news/malaysia/2021/03/18/jakim-awaits-conference-of-rulers-consent-for-next-course-of-action-over-al/1959057
--------
Johor allows congregational prayers at mosques, surau from tomorrow
18 Mar 2021
JOHOR BARU, March 18 — The Sultan of Johor, Sultan Ibrahim Sultan Iskandar, has consented to allow the five daily obligatory prayers and Friday prayers to be performed statewide, according to the capacity of mosques and surau, by taking into account physical distancing.
The permission was announced through a joint statement issued by state Islamic Religious Affairs Committee chairman Tosrin Jarvanthi; state Mufti Datuk Yahya Ahmad and Johor Islamic Religious Department director Datuk Md Rofiki Samsudin here today.
According to the statement, the permission will be effective from the Subuh prayers tomorrow (March 19) until further notice, after obtaining the advice of the National Security Council and the Ministry of Health.
It also said that all gatherings for the purpose of enlivening the mosques and surau would be allowed.
These include religious lectures and reading the Quran, recitation of Yasin and Tahlil and Solat Hajat.
It also said that the Terawih prayers, Tadarus Quran and Qiamullail can be held during the Ramadan month.
"Breaking the fast and Suhoor (pre-dawn meals) are also allowed, but food must be prepared in packages, while cooking activities are disallowed but the distribution of 'bubur lambuk' (porridge) is allowed," it said.
The congregation should give priority to Malaysians and permanent residents.
In addition, mosques and surau committee members must also be responsible for ensuring that the management and implementation of all permitted activities are made in accordance with the standard operating procedures (SOPs). — Bernama
https://www.malaymail.com/news/malaysia/2021/03/18/johor-allows-congregational-prayers-at-mosques-surau-from-tomorrow/1959030
--------
Indonesia president calls for ASEAN high level meeting on Myanmar crisis
Mar 19, 2021
JAKARTA: Indonesian president Joko Widodo on Friday called for democracy to be restored and violence to be halted in Myanmar and for Southeast Asian leaders to hold a high-level meeting to discuss the situation there.
"I will immediately call the Sultan of Brunei Darussalam as head of ASEAN to as soon as possible hold a high-level ASEAN meeting to discuss the crisis in Myanmar," he said in a virtual address.
Brunei is currently chair of the 10-member Association of Southeast Asian Nations (ASEAN).
https://timesofindia.indiatimes.com/world/south-asia/indonesia-president-calls-for-asean-high-level-meeting-on-myanmar-crisis/articleshow/81582158.cms
--------
China accuses outspoken scholar on Xinjiang of fabrication
MAR 18, 2021
China on Thursday accused a scholar and outspoken critic of its policies toward Muslim minorities of fabricating charges that have helped bring sanctions against Chinese officials and companies operating in the Xinjiang region.
The ruling Communist Party's deputy head of propaganda, Xu Guixiang, made the accusations against Adrian Zenz in the latest of a series of news conferences aimed at deflecting criticism over China's detention of more than 1 million Uyghurs and other Muslims in reeducation camps.
Zenz has also used government documents to detail the mistreatment of Muslim women in such facilities and the coercive use of birth control that has radically cut the birthrate among such groups. He has also published on the alleged use of forced labor in Xinjiang's cotton fields.
"Adrian Zenz and his so-called research reports are sure to be thrown on the dust heap of history and be despised by the 25 million people of various ethnicities in Xinjiang," Xu said.
China's Foreign Ministry and state media have said companies and individuals have petitioned to sue Zenz for economic and reputational damages, although the names of the plaintiffs haven't been revealed and it isn't clear how they will pursue the charges.
China first denied the existence of the camps but has since described them as centers to provide job training and reeducate those exposed to radical jihadist thinking. Officials deny all charges of human rights abuses in the northwestern region.
Xinjiang had been a hotbed of anti-government violence, but Beijing claims its massive security crackdown has brought peace in recent years.
Zenz is a German anthropologist and senior fellow at the U.S.-based Victims of Communism Memorial Foundation that has been sharply critical of China's human rights record and its policies in Xinjiang and Tibet.
In a telephone call from Minnesota, Zenz said the Chinese government campaign against him "smacks of desperation."
"The attacks on the Uyghur witnesses have become more and more nasty. It's especially disgusting," Zenz said.
Zenz said the economic pressure of sanctions, along with the designation of China's campaign as genocide by some Western countries and growing calls for a boycott of the 2022 Winter Olympics to be held in China, have led to increased attacks on his character.
One video displayed during Xu's news conference showed two former husbands of a Uyghur woman who has spoken spoke to media about her abuse in detention. One of the men called her an obscene name and said she had "bad moral quality."
Another video showed men alleging another woman who has spoken to the foreign media about Xinjiang had perpetrated a bank loan scheme.
"You are a lousy person," one man said. Another said the woman had been an unfaithful spouse.
Zenz says the vast majority of his work is based on documents produced by the Chinese government such as propaganda videos, local government websites and company notices.
"I used their propaganda against them, and read between the lines," Zenz said.
https://www.hindustantimes.com/world-news/china-accuses-outspoken-scholar-on-xinjiang-of-fabrication-101616060278961.html
--------
Africa
At least 30 hospitalized by strange illness in Nigeria
Ibrahim Garba Shuaibu
18.03.2021
At least 30 people suspected to have contracted a strange illness were hospitalized in the northern city of Kano on Thursday.
The sick were from six villages under the Rogo local government area of Kano state, located 136 kilometers (85 miles) from the city.
The victims were reportedly rushed to the area's primary health center after passing excessive blood urine and vomiting.
The situation is getting worse as local healers and medicine stores are being overwhelmed in Unguwan Rijiyan Dadi, Gwanwan Gabas, Gwangwan Yamma, Unguwar Tsarmai, Gangare and Unguwar Kofar Fada.
Residents are complaining about receiving little help from the government.
A resident of Gwangwan Gabas confirmed that 56 people contracted the illness since its outbreak.
"We rushed no fewer than 30 people to the Rogo General Hospital within a day of the outbreak," said Muhammad Tukur. "So far only one person has died as a result of the outbreak. Most of the victims of the disease have complained of spending a lot of money on the disease."
Shehu Adamu, a resident from Gangare, said that two of his children have been affected.
He said he has spent more than 20,000 naira ($52) at the hospital trying to get his family treated despite difficult times.
Eight people are affected in Idris Isah Jibrin's house and he said he is completely devastated. Affected members include his wife, mother and children, who cannot stand.
He said he has spent 100,000 naira ($262) between Rogo Hospital and Gwarzo Hospital without any real result.
The Kano state government confirmed the death of three people on Tuesday and 284 others hospitalized after drinking water from a nearby cemetery and consuming expired powder flavored drinks.
The government has debunked any links between the illness and the coronavirus, however, part of the symptoms associated with the ailment include urinary blood, vomiting, weakness, diarrhea, fever and dizziness.
Although the state ministry of health has not categorically declared the cause, it confirmed victims in 13 local government areas, including eight metropolitan councils.
Sulaiman Ilyasu, director of infectious diseases at the Health Ministry confirmed the development but insisted the ministry has only received reports of four people falling ill and they have since been treated.
https://www.aa.com.tr/en/africa/at-least-30-hospitalized-by-strange-illness-in-nigeria/2180994
--------
Qatar denounces terror attack in Niger
Ahmed Youssef
18.03.2021
Qatar Thursday condemned a terror attack in Niger that killed at least 58 people, including six children aged 11-17, in the Tillaberi region earlier this week.
The Foreign Ministry reiterated its "firm position of rejecting violence and terrorism regardless of the motives and reasons."
And it expressed "condolences of the State of Qatar to the families of the victims, the government and people of Niger" for the attacks late Monday.
The Tillaberi region has been frequently targeted by terror groups based in Mali since 2017, with a state of emergency declared in the area.
Niger, Burkina Faso, and Mali in the Sahel are at the epicenter of one of the world's fastest-growing displacement and protection crises.
The region is already hosting 851,000 refugees and nearly 2 million displaced people, according to the UN refugee agency.
In January, around 100 people were also killed in attacks in two villages in Tillaberi after the first round of presidential elections.
https://www.aa.com.tr/en/africa/qatar-denounces-terror-attack-in-niger/2180613
--------
Attackers on trucks and motorbikes raid Mali base, kill 33 troops
17 Mar 2021
At least 33 Malian soldiers have been killed and 14 wounded in an attack on a military post in the country's violence-hit northeastern region of Gao, according to the army.
Some 100 assailants on pick-up trucks and motorbikes launched the attack on Monday at about 13:00 GMT in the town of Tessit, located 60km (37 miles) southeast of Ansongo, near Mali's border with Burkina Faso and Niger
The army said in a statement on Wednesday that 20 attackers were killed. There was no immediate claim of responsibility.
While offering its condolences to the soldiers' families, the army underlined "the necessity of strengthening the fight against terrorism".
Mali has been plagued by a brutal conflict that began as a separatist movement in the north but devolved into a multitude of armed groups jockeying for control in the country's central and northern regions.
The violence has spread into Burkina Faso and Niger, with fighters linked to ISIL (ISIS) and al-Qaeda exploiting the poverty of marginalised communities and inflaming tensions between ethnic groups.
The "tri-border" region – the three-country point joining Burkina Faso, Mali and Niger – has seen the most intense fighting in a worsening conflict that has sparked a major humanitarian crisis.
Attacks grew fivefold between 2016 and 2020, with 4,000 people killed in the three countries last year, up from about 770 in 2016, according to the United Nations.
Last month, French President Emmanuel Macron ruled out an immediate drawdown in France's 5,100-strong Barkhane forces battling armed groups in the Sahel, describing a rushed exit as a mistake.
https://www.aljazeera.com/news/2021/3/17/at-least-33-killed-in-northern-mali-attack?utm_source=iterable&utm_medium=email&utm_campaign=2117933_
--------
North America
Iran-backed attacks on US forces to accelerate nuclear deal will not work: US envoy
Joseph Haboush
18 March ,2021
Attacks by Iran-backed militias against US forces abroad will not force Washington to move faster to reach a new deal with Tehran, Special Envoy for Iran Rob Malley has said.
Iraqi militias have repeatedly targeted military bases hosting US troops across Iraq, and the number of attacks has escalated since President Joe Biden took office.
Biden and his administration have said they want to sit down with Iran for talks on the nuclear deal, which former President Donald Trump withdrew from in 2018. The original agreement, also known as the JCPOA, was brokered by then-President Barack Obama.
Democrats argue that the deal prevented Iran from acquiring a nuclear weapon in exchange for sanctions relief and allowing Tehran access to the global economy, dominated by the US dollar.
But Iran has given Biden the cold shoulder and refused to accept an invitation to sit down for talks. In the meantime, the attacks against US and Coalition forces in Iraq continue.
This will not pressure the US to move quickly, Malley told Voice of America.
Insinuating that Iran was directing the attacks in an effort to pressure the US to act quickly, Malley said, "it's hard to see how that is going to work."
Iran has insisted that the US lift all sanctions imposed by the Trump administration before it comes back into compliance with the JCPOA. Biden and the US have said Iran must first come back into compliance.
As for the attacks, Malley said the US would respond "as it has responded and it will continue to respond."
Last month, Biden ordered an airstrike on Iranian proxies inside Syria to respond to an attack that wounded Americans stationed in Iraq's Erbil.
Days later, another rocket attack killed an American civilian contractor at Iraq's Al-Asad airbase.
The US has not retaliated for this attack yet.
"It's not really helping the climate in the US to have Iranian allies take shots at Americans in Iraq or elsewhere," Malley said.
Republicans and Democrats are divided, for the most part, over Biden's Iran policy.
Republicans are lobbying to maintain sanctions on Iran to force a behavior change in the Iranian regime, while Democrats favor lifting sanctions with the belief that Iran will then rein in its proxies and ballistic missile program.
In separate comments made to the BBC Persian, Malley said he understood why Iran was frustrated with the sanctions imposed by the Trump administration. He then proposed for a third party to mediate between the US and Iran if the latter did not want direct talks with Washington.
This is another attempt by the US to appease Iran after sending multiple signals to Tehran that it was taking a softer stance than the previous administration.
Days after taking office, Biden revoked the terror designation against Yemen's Houthis and removed three of its leaders from the Specially Designated Global Terrorist (SDGT) list. The administration then signaled that it was willing to release frozen Iranian funds in foreign banks; the State Department has since said the reports were untrue.
The Biden administration has also frozen arms sales to Saud Arabia and the United Arab Emirates, Iran's archrivals in the Middle East.
https://english.alarabiya.net/News/middle-east/2021/03/18/Iran-nuclear-deal-Iran-backed-attacks-on-US-forces-to-accelerate-nuclear-deal-will-not-work-US-envoy
--------
Biden urges UNSC to act on Ethiopia, Syria, Yemen
Servet Günerigök
19.03.2021
WASHINGTON
US President Joe Biden met virtually with permanent representatives of the UN Security Council, calling for its action on regional crises, the White House said Thursday.
During the meeting, Biden reaffirmed the US commitment to values-based global leadership and re-engagement with international institutions, in particular the UN, the White House said in a statement.
"The president also noted the need for UNSC action on a range of regional crises, including those in Burma, Ethiopia, Libya, Syria and Yemen," said the statement.
Biden and the UN diplomats also discussed the COVID-19 pandemic and global health security.
"The President reiterated the importance of working with global partners and through multilateral institutions to end the pandemic, improve global health security, and ensure that our nations drive an equitable and sustainable economic recovery," it said.
Biden said the US intends to formally join the UN's Group of Friends on Climate and Security.
https://www.aa.com.tr/en/americas/biden-urges-unsc-to-act-on-ethiopia-syria-yemen/2181142
--------
URL: https://www.newageislam.com/islamic-world-news/quran-recitals-protest-rizvi-pil/d/124580
New Age Islam, Islam Online, Islamic Website, African Muslim News, Arab World News, South Asia News, Indian Muslim News, World Muslim News, Women in Islam, Islamic Feminism, Arab Women, Women In Arab, Islamophobia in America, Muslim Women in West, Islam Women and Feminism