New Age Islam News Bureau
23 Jul 2020
• Muslims, Christians Agree Over Promoting Inter-Faith Harmony in Pakistan
• Tabliighis Start Leaving India, First Batch Of 21 Boarded Flight for Indonesia
• 2019 Easter Blasts: Wife of A Suicide Bomber Escaped to India, Says Sri Lanka Police
• US House Passes Act to Reverse Trump's 'Muslim Ban'
• Saudi Arabia Sentences Corrupt Judge, Others to Prison, Issues Fines
• Rouhani, Al-Kadhimi Agree to Form Joint Committee to Implement Iran-Iraq Agreements
---------
Pakistan
• Quetta Siri Guru Singh Gurdwara Handed Over to Sikhs After 73 Years
• Muslims, Christians Agree Over Promoting Inter-Faith Harmony in Pakistan
• PM Imran discusses Pakistan-Bangladesh ties with PM Hasina
• Police Cordon Off Jamia Hafsa To Prevent Cleric from Visiting Lal Masjid
• Mosques, seminaries following corona SOPs
• Punjab Assembly Unanimously Passes Tahaffuz-E-Bunyaad-E-Islam Bill 2020
• Eid packages for virus-hit transgender persons
• Pakistan, Qatar pursuing common goal of regional peace: COAS
--------
India
• Tabliighis Start Leaving India, First Batch Of 21 Boarded Flight For Indonesia
• 'Qurbani' Can Be Foregone in Pandemic: Shia ClericMaulana Kalbe Sadiq
• Muslim Student in Madhya Pradesh Arrested for Calling RSS Men 'Pigs' on Facebook
• India Distances Itself from Pakistan Move to Get Kulbhushan Jadhav a Lawyer
• Terrorist hideout busted in J&K's Rajouri, arms and ammunition seized
• J&K: Militant hideout busted in Rajouri; huge cache of arms, Pika gun, seized
• Important for Tablighi Jamaat to speak on issues of Islamic interests: Author of new book
--------
South Asia
• 2019 Easter Blasts: Wife of A Suicide Bomber Escaped to India, Says Sri Lanka Police
• Myanmar Muslims Struggle to Avoid Another Muslim-Free Parliament
• Pakistanis among 46 Taliban militants killed, wounded in clashes in East of Afghanistan
• NATO's SCR reaffirms support to Afghanistan and Afghan forces post peace agreement
--------
North America
• US House Passes Act to Reverse Trump's 'Muslim Ban'
• US stands with Iranian people 'in their struggle for true justice': State Department
• Ex-Counterterrorism Chief: Cutbacks Raise Risk of New Attacks
• Hezbollah-Linked Operative Extradited from Cyprus to US
--------
Arab World
• Saudi Arabia Sentences Corrupt Judge, Others to Prison, Issues Fines
• UAE Eid Al-Adha Prayers to Be Performed at Home Amid COVID-19
• Foreign fighters key to ISIS resurgence as thousands join new militias
• Mosul sowing seeds post-Islamic State
• Egyptian army says it killed 18 Islamist militants in North Sinai
• Turkey shifts fight against Kurdish militants deep into northern Iraq
• Kuwait's emir to travel to US for treatment after hospitalization: KUNA
--------
Mideast
• Rouhani, Al-Kadhimi Agree to Form Joint Committee to Implement Iran-Iraq Agreements
• Palestinian Cultural Leader, Wife Arrested By Israel For Allegedly Funding Terrorism
• Israel Hosts US Envoy at Biochem Lab, Seeks FDA Nod For COVID-19 Vaccine Prototype
• Incident at Iran's Natanz nuclear facility due to 'security breach': Lawmaker
• Iranian parliament chief urges Iraq to pursue Gen. Soleimani's assassination case
--------
Africa
• Moroccan ISIS-Affiliates Leave Syria, Iraq For Libya – European Security Reports
• Libyan National Army downs Turkish drone west of Sirte
• Gunmen kill 11 villagers in Nigeria's volatile northwest after wedding bloodshed
--------
Europe
• Germany: Anti-Semitic Attack Suspect Shows No Remorse In Court
• Iran looks to buy Russian weapons to 'enhance defense capacities'
• Question everything: How open debate can combat extremism in schools
• Tajik man faces IS-related terrorism charges in Germany
--------
Southeast Asia
• Medan Man Faces Four Years In Prison For Allegedly Desecrating Quran
• Bersatu-linked think tank's study suggests one in two Malaysians would back Umno-PAS in snap poll, Pakatan losing urban foothold
Compiled by New Age Islam News Bureau
URL: https://www.newageislam.com/islamic-world-news/quetta-siri-guru-singh-gurdwara/d/122449
--------
Quetta Siri Guru Singh Gurdwara Handed Over to Sikhs After 73 Years
Jul 23, 2020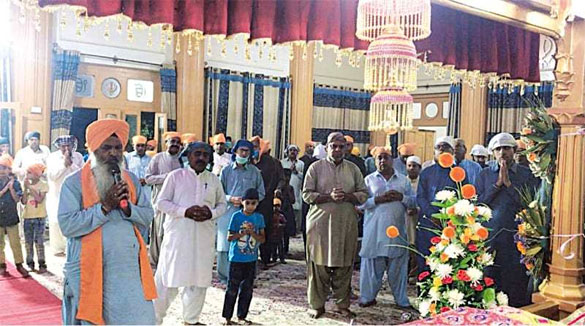 QUETTA: Sikhs pray in the 200-year-old Siri Guru Singh gurdwara after it was handed over to the minority community on Wednesday.—Dawn
----
QUETTA: The Siri Guru Singh Gurdwara located on Masjid Road in the centre of the city has been used as APWA Government High Girls School since 1947, said the Dawn news report.
"Restoring gurdwara as a place of worship for the Sikh community is a historical decision of the Balochistan government," Denesh Kumar, provincial parliamentary secretary and Adviser to the Chief Minister on Minority Affairs, said on Wednesday.
The students who were studying in APWA Government Girls High School have been asked to seek admission to nearby schools.
Sardar Jasbeer Singh, chairman of the Sikh Community Committee in Balochistan, welcomed the move and described it as a "gift from the Balochistan government to the Sikh community living in the province".
"The Sikh community of the province is very pleased that our ancient gurdwara has been handed over to us by the government of Pakistan and the Balochistan High Court after 73 years and now we are able to continue our religious practice there," Dawn news quoted Singh as saying.
Around 2,000 Sikh families live in Balochistan. Earlier in February this year, the Balochistan government had handed over a 200-year-old temple in Zhob to the Hindu community.
The temple had been converted into a government boys' school, which has now been shifted to another building.
https://timesofindia.indiatimes.com/world/pakistan/quetta-gurdwara-handed-over-to-sikhs-after-73-years/articleshow/77121550.cms
--------
Muslims, Christians Agree Over Promoting Inter-Faith Harmony in Pakistan
July 23, 2020
RAWALPINDI - The representatives of Muslim and Christian community on Wednesday agreed over promoting inter-faith harmony in the society. Special Representative Arch Bishop Rawalpindi-Islamabad, Babu Sajid Amin Khokhar called on KhateebMarkazi Jamia Masjid/Zonal KhateebAuqaf Rawalpindi, Maulana Hafiz Muhammad Iqbal Rizvi here. Both the dignitaries agreed to carry forward the agenda of inter-faith harmony in best interest of the society and country. According to a press release, speaking on the occasion, Hafiz Muhammad Iqbal appreciated the efforts of the Christian community for promoting harmony among different religions in the country.
The Special Representative of the Arch Bishop conveyed special message of the Arch Bishop to the Muslim scholar and also threw light on the role of ulema for promoting peace in the society. He told the religious leader that they, on the direction of Arch Bishop Dr. Joseph Arshad, were holding meetings with the notable Muslim scholars to promote harmony and peace in the society.
https://nation.com.pk/23-Jul-2020/muslims-christians-agree-over-promoting-inter-faith-harmony
--------
Tabliighis Start Leaving India, First Batch Of 21 Boarded Flight for Indonesia
Jul 22, 2020
First batch of 21 Tablighis from Indonesia boarded the flight from Indira Gandhi Airport on Wednesday
----
CHANDIGARH: Having spent four months in Haryana, which include more than three months behind the bars, the members of Tablighi Jamaat from abroad who were arrested in Mewat have started moving back to their countries.
First batch of 21 Tablighis from Indonesia boarded the flight from Indira Gandhi Airport on Wednesday. The members had got the permission to return to their countries from the ministry of external affairs.
According to information of the 21 tablighis from Indonasia, 11 were arrested by Mewat police and rest were arrested by Faridabad, Palwal, Sonipat and Ambala districts.
Earlier this month, the various courts had disposed off their cases by slapping fines on them. Following this, Courts of Mewat at Nuh and other districts had directed to police to return the passports of TJ activists from abroad so that they can go back home.
Notably there were over 115 tablighis who had been arrested by police after the state wide raids conducted by Ingelligence wing of Haryana police, health officials following a tip off that the tablighis had attended jamats at NizamudeenMarkaj.
Notably, this had happenen in the first week of April and they Jamatis alleged to have triggered first wave of COVID patients in NCR districts as well as minority dominated areas of Haryana.
ForieignTablighis were booked for the violation of Foriegners Act.
https://timesofindia.indiatimes.com/india/tabliighis-start-leaving-india-first-batch-of-21-boarded-flight-for-indonesia/articleshow/77115294.cms
--------
2019 Easter Blasts: Wife Of A Suicide Bomber Escaped To India, Says Sri Lanka Police
by Arun Janardhanan
July 23, 2020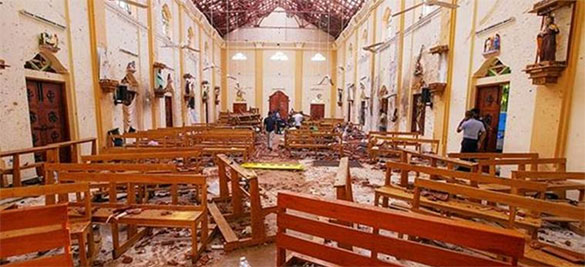 The blasts targeted St Anthony's Church in Colombo, St Sebastian's Church in the western coastal town of Negombo, and a church in the eastern town of Batticaloa when the Easter Sunday mass was in progress. (Reuters)
-----
The wife of one of the suicide bombers who struck churches across Sri Lanka on Easter in April 2019, resulting in the death of 260 people, has fled to India fearing arrest, the police of the island nation has said.
Testifying before the Presidential Commission of Inquiry, which is probing the blasts, Chief Inspector of Police Arjuna Maheenkanda said Pulasthini Rajendran alias Sarah — the wife of Atchchi Muhammadu Hastun, who detonated his bomb at the St Sebastian's Church in Negombo — may have fled to India via sea in September 2019.
His submission was based on an input he received on July 6 this year through an informant. The information was that a woman, believed to be Sarah, who was initially believed to have been killed in the explosion at a house in Sainthamaruthu on April 26, 2019, had actually fled the scene and was in hiding before escaping to India from Sri Lanka's Mannar coast.
Probed by the Colombo Crime Division, Criminal Investigation Department and the Terrorism Investigation Department, the probe into the Easter Sunday blasts has result in the arrest of around 200 suspects, and the investigation is in its final stages.
According to the Colombo Crime Division, Sarah was hiding in a village called Mankadu in the Kalawanchikudy area.
Jaliya Senaratne, director of the Police Media Division, told The Indian Express, "We do not have any concrete information about her whereabouts in India except a report that she managed to escape to India. We arrested two persons on July 13 — her relative and a senior police officer — from Ampara (an eastern province of Sri Lanka) for harbouring that lady before her escape. They are in custody."
An estimated 15 people, including four women and six children, were killed in the Sainthamaruthu blast. The explosion, which killed the families of at least four of the suicide bombers, had occurred when security forces launched an operation to capture them, a week after the Easter blasts.
When The Indian Express visited Sainthamaruthu blast site two days later, the two known survivors from the explosion were the wife and daughter of Zahran Hashim, the main suicide bomber.
A senior officer said Hashim's wife, who sustained serious injuries in the blast, is currently under detention.
https://indianexpress.com/article/india/sri-lanka-easter-sunday-attackers-wife-may-fled-india-report-6518169/
--------
US House passes act to reverse Trump's 'Muslim ban'
Joyce Karam
July 23, 2020
A majority in the US House of Representatives on Wednesday voted to reverse President Donald Trump's "Muslim ban", which restricts arrivals from some countries in the Middle East.
The No Ban Act passed the Democratic-majority House with members voting mainly along party lines.
The final vote was 233-183 in favour of the bill, with only two Republican legislators voting yes.
Palestinian-American Congresswoman Rashida Tlaib clapped in celebration as she announced the final vote to the chamber.
Maya Berry, executive director of the Arab American Institute, described the House vote as a milestone in "rejecting bigotry".
"We applaud the House on this important milestone of officially rejecting the bigotry enshrined in President Trump's Muslim ban," Ms Berry said.
She credited the passage to a broad coalition of advocacy groups, including hers, and described it as evidence that the House had "heard the demands of the American people in support of immigrants, refugees and asylum seekers".
The bill is designed to repeal Mr Trump's executive orders since 2017, which placed immigration and visa restrictions on mostly Muslim-majority countries.
These included Libya, Iran, Somalia, Syria and Sudan, as well as Nigeria and Venezuela.
The act imposes limits "on the President's authority to suspend or restrict aliens from entering the United States", a Congressional summary of the bill read.
It also "prohibits religious discrimination in various immigration-related decisions".
The vote was preceded by a debate on the bill.
Congressman Hakeem Jeffries, chairman of the House Democratic Caucus, called the ban "hateful" and "unconscionable".
Republican politicians who opposed the ban's reversal accused its sponsors of undermining the president's ability to keep the country safe.
Republicans have called Mr Trump's ban this year on travel from China another measure that has saved lives during the pandemic.
They accuse the Democrats of trying to strip away the authority for the president to save lives.
The White House has repeatedly defended the ban as being in the interests of US national security.
In 2018, the US Supreme Court in a narrow vote, 5-4, upheld the legality of the ban and said Mr Trump acted lawfully in imposing travel restrictions.
Civil rights groups including the Human Rights Campaign, the American Civil Liberties Union and the AAI threw their support behind the bill since it was introduced last year.
But it is unlikely to pass the Republican-led Senate.
On Monday, the Democratic Presidential nominee Joe Biden told the Muslim-American group Emgage Action that he was committed to scrapping the ban as a priority.
"If I have the honour of being president, I will end the Muslim ban on day one," Mr Biden said.
https://www.thenational.ae/world/the-americas/us-house-passes-act-to-reverse-trump-s-muslim-ban-1.1053320
--------
Saudi Arabia sentences corrupt judge, others to prison, issues fines
23 July 2020
Saudi Arabia has issued preliminary rulings for five financial and administrative corruption cases in the Kingdom, the official Saudi Press Agency (SPA) reported on Thursday citing a Control and Anti-Corruption Authority source.
For all the latest headlines follow our Google News channel online or via the app.
A general court judge charged with bribery was sentenced to four years in prison and a fine of 130,000 riyals, according to SPA. A mediator involved in the same case was sentenced to five months in prison and a fine of 20,000 riyals ($5,333).
In another case, a judge who "took advantage of his position of influence" and took bribes was also sentenced to four years in prison and a fine of 100,000 riyals. The citizen who provided the bribe was sentenced to four years in prison as well as a fine of 100,000 riyals, SPA reported.
The third case involved a citizen receiving 800,000 riyals from two expatriates in exchange for the "possibility" of canceling a deportation penalty issued against them. They were also accused of "paying sums of money in the form of bribery, money laundering and commercial concealment."
The citizen was sentenced to two years in prison while the two expatriates and their employer were sentenced to two and a half years. They were each also fined 20,000 riyals, according to SPA. The two expatriates will be deported after serving their sentences. Meanwhile, authorities confiscated the 800,000 riyals paid to the citizen, the news agency reported.
The fourth case involved two Department of Education employees who were charged with forgery, embezzlement of public funds, money laundering and administrative misuse, according to SPA. One of the defendants was sentenced to 10 years in prison and fined 1,020,000 riyals, in addition to having to return the embezzled amount of 13.2 million riyals.
The second defendant was sentenced to nine months in prison and fined 20,000 riyals, in addition to returning the embezzled amount of nearly 20,000 riyals, SPA reported.
The fifth case included two Ministry of Housing employees, the brother of one of the two employees and a businessman.
"They were accused of committing bribery crimes, money laundering, and exploiting the influence of the public office for personal interest," SPA reported.
One of the employees was sentenced to eight years in prison and fined 2 million riyals. The government also seized his land which he received as a bribe, in addition to the confiscation of 617,819 riyals. He is also prohibited from traveling for four years.
The second employee was sentenced to eight years in prison and also fined 2 million riyals. The amount of 1,007,709 riyals was confiscated from him and he banned from traveling for four years.
The third person involved, who is also the brother of one of the two government employees, was sentenced to four years in prison and fined 1 million riyals.
Meanwhile, the businessman involved was sentenced to one year in prison and fined 500,000 riyals, according to SPA.
https://english.alarabiya.net/en/News/gulf/2020/07/23/Saudi-Arabia-sentences-corrupt-judge-others-to-prison-issues-fines.html
--------
Rouhani, Al-Kadhimi Agree to Form Joint Committee to Implement Iran-Iraq Agreements
Jul 22, 2020
The agreement was made during the Tuesday evening meeting between the two high-ranking officials in Tehran.
In the meeting President Rouhani said that the foreign powers cannot disrupt the brotherly relations of the two old neighbors.
"The concern and interest of the two nations and governments of Iran and Iraq towards their fates is a great asset on the path of all-out development of their relations," the Iranian president added.
He said that Iran and Iraq share numerous commonalities in cultural, religious, historical and political fields and the seminaries of Qom and Najaf are regarded as two great assets of Iran and Iraq.
Rouhani said that Iran and Iraq can pass through the difficult situation created by the deadly coronavirus, noting that the two countries should accelerate implementation of all the existing agreements through widespread cooperation.
"The Islamic Republic of Iran firmly supports the determining role played by Iraq as a powerful Muslim and Arab country in the region in line with restoring peace and stability," the Iranian president added.
Al-Kadhimi, for his part, described relations between Iran and Iraq beyond the ordinary ties between two neighboring states, and said, "The Islamic Republic of Iran and the Republic of Iraq enjoy strategic relations and the deep affection of both countries' people to each other is a strong backup for these strategic relations.
In relevant remarks on Tuesday, al-Kadhimi noted the strong presence of Iran-made goods in his country's market, and expressed the hope that the Khorramshahr-Basra railway would soon be linked for the further development of economic relations between the two neighbors.
"We held talks to implement agreements between the two countries, including connecting the two railways from Khorramshahr to Basra and I hope so much that these agreements will be implemented soon," al-Kadhimi said at a joint press conference with President Rouhani in Tehran.
"I hope to witness flourishing economic ties between the two countries," he added.
"Iraq does not allow any threat to be posed to Iran from its territories, specially given the fact that relations between the two countries date back to hundreds of years ago and we should support these age-old ties," al-Kadhimi said.
He emphasized that Baghdad wants excellent relations with Tehran, appreciating Iran for its assistance, as the first country to have rushed to Iraq's fight against the terrorist groups.
The Iraqi premier also thanked Iran's help to his nation in campaign against the Coronavirus in recent months.
"Iraq has also stood beside Iran to help it pass the economic challenges," al-Kadhimi said, adding that the Iraqi markets are full of goods imported from Iran.
"Our relations with Iran and different countries are based on good will and we are endeavoring to find solutions to take the region out of challenges and tensions that we are suffering through cooperation with the Islamic Republic of Iran," he added.
Rouhani, for his part, said that Iran will help the Iraqi government and nation in fighting against the coronavirus as much as its possibilities and capacities allow and will provide the country with medicine and hygiene products.
"The second issue which was discussed by us was enhancement and expansion of trade ties between the two countries and the [Iranian] government is determined to increase the volume of trade relations between the two countries to $20bln," he added.
Also, the two countries are determined to implement the agreement which was signed by Tehran and Baghdad nearly two years ago, President Rouhani said.
He also commemorated former IRGC Quds Force Commander martyred Lieutenant General Qassem Soleimani and deputy head of Iraq's Popular Mobilization Units (PMU) forces Abu Mahdi al-Muhandis for their efforts to establish security in Iraq by fighting against the terrorist groups.
https://en.farsnews.ir/newstext.aspx?nn=13990501000290
--------
Pakistan
PM Imran discusses Pakistan-Bangladesh ties with PM Hasina
JULY 23, 2020
ISLAMABAD: Prime Minister Imran Khan on Wednesday held a telephonic conversation with his Bangladesh counterpart Sheikh Hasina in a rare occurrence of diplomacy as the two estranged countries seek rapprochement.
"Pakistan is committed to deepening fraternal relations with Bangladesh on the basis of mutual trust, mutual respect and sovereign equality," said PM Imran, according to a statement issued by his office.
The premier reiterated his invitation to Sheikh Hasina to visit Pakistan.
He also extended condolences for the lives lost during the pandemic, and offered his commiserations on the material and human losses due to the recent flooding in Bangladesh and prayed for early recovery of the people affected by this natural calamity.
The two leaders exchanged views on their respective steps to deal with the myriad of challenges posed by Covid-19. Imran apprised of his government's efforts and commended his Bangladesh counterpart on the measures taken by her leadership to contain the virus.
He also apprised her of his 'Global Initiative on Debt Relief' for developing countries.
In the bilateral context, Imran underscored the importance Pakistan attaches to closer ties with fraternal Bangladesh and highlighted the significance of regular bilateral contacts and people-to-people exchanges.
Reaffirming Pakistan's commitment to SAARC, Imran underlined the importance of both countries working for enhanced regional cooperation for sustainable peace and prosperity.
He shared Pakistan's perspective on the grave situation in the Indian-occupied Jammu & Kashmir (IOJ&K) and stressed on the importance of a peaceful resolution of the Jammu and Kashmir dispute for a safe and prosperous region.
Earlier this month, Pakistan's High Commissioner Imran Ahmed Siddiqui held a rare meeting with Bangladesh Foreign Minister AK Abdul Momen in Dhaka. The meeting raised eyebrows in New Delhi, which viewed the development with suspicion, according to media reports.
The Bangladesh government called the meeting a "courtesy call" but reports said it was much more than that. It is believed that Imran-Hasina telephonic conversation on Wednesday was the result of that meeting.
Relations between the two countries have remained tense for the last many years. The two countries have yet to overcome the bitter memories of 1971 that led to the creation of Bangladesh.
https://www.pakistantoday.com.pk/2020/07/22/imran-offers-condolences-to-bangladesh-pm-over-covid-19-deaths/
--------
Police cordon off Jamia Hafsa to prevent cleric from visiting Lal Masjid
Munawer Azeem
23 Jul, 2020
ISLAMABAD: The police on Wednesday cordoned off Jamia Hafsa to prevent former Lal Masjid cleric Maulana Abdul Aziz from leaving the seminary.
Capital administration and police officials told Dawn that Mr Aziz recently announced that he would return to Lal Masjid because the capital administration had violated an agreement he made with them.
In response, a police contingent consisting of 150 officials, including Counter Terrorism Department, Anti-Terrorism Force and Anti-Riot Unit personnel, were deployed around the G-7 seminary to prevent him from leaving.
Mr Aziz and his family moved to Jamia Hafsa from Lal Masjid in June after reaching an agreement with the administration under which he was banned from entering the mosque for two months.
On July 7, Mr Aziz, his family and Jamia Hafsa students moved into Jamia Fareedia, a seminary in E-7, causing tensions with the current seminary administration. He returned to Jamia Hafsa after two days following the intervention of ulema who assured him the matter that brought him to the seminary would be resolved.
In a message, Mr Aziz threatened to break the agreement with the capital administration, the officials said, after the disappearance of his close aide Maulana Idrees from outside Jamia Fareedia. The officials said Mr Aziz' wife and students from Jamia Hafsa visited the seminary after Mr Idrees' disappearance, resulting in a physical confrontation between the students of both seminaries.
In response to the message, police were deployed around Lal Masjid to prevent Mr Aziz from entering the mosque. He later said he would go to the mosque on Wednesday, at which point police also deployed around Jamia Hafsa to stop him there.
They said he exited Jamia Hafsa with guards and few others, but then went back inside after a brief chat with the police officials stationed there.
Mr Aziz' nephew Haroon Rasheed told Dawn that Mr Aziz made his announcement because the administration violated the agreement by cordoning off Lal Masjid.
He said he delayed is plans to go to the mosque after administration officials and ulema asked him for time to resolve the issue.
https://www.dawn.com/news/1570552/police-cordon-off-jamia-hafsa-to-prevent-cleric-from-visiting-lal-masjid
--------
Mosques, seminaries following corona SOPs
MANSOOR ALI
July 23, 2020
ISLAMABAD-The religious seminaries and the mosques around Islamabad are permanently following the SOPs, as a visible drop in cases of COVID-19 was witnessed in the city. According to the members of the local mosque committees formed by the district administration, the mosques proved to be the safest spots during lockdown because the SOPs were followed constantly from the very start of the outbreak.
While talking to The Nation, Mufti Khalid, a Muhtamim of a Madarassa in Islamabad said that the mosques proved to be the safest spots amid the outbreak and it was all made possible due to the affective role of local committees.
He stated that the religious segment of the country played their positive role in keeping the masses aware of the consequences of violation of SOPs, adding that they were still committed to fulfill their national and religious duties in creating awareness among the masses. It must be noted that in the very beginning of the COVID-19 outbreak, mosques and religious gatherings were predicted to be the hotspots of coronavirus but due to sensible attitude of religious scholars, the predictions were proved wrong.
Meanwhile, Maulana Abdul Qudous, chief of a religious seminary in Islamabad said that they held Wifaq ul Madarris exams across the country by adopting all the fixed SOPs. He stated that the government itself admired the arrangements of the madrassahs for the annual exams, adding that they were all set to start the new educational year after the Eid ul Azha and arrangements for the precautionary measures during the classes were almost done.
He concluded that the district administration should trust them and they will ensure the adoption of SOPs at any cost.
https://nation.com.pk/23-Jul-2020/mosques-seminaries-following-corona-sops
--------
Punjab Assembly Unanimously Passes Tahaffuz-E-Bunyaad-E-Islam Bill 2020
JULY 23, 2020
Speaker Punjab Assembly Chaudhry Pervez Elahi formed a committee to ensure strict implementation of 'The Punjab Tahaffuz-e-Bunyaad-e-Islam Bill 2020′ which both treasury and Opposition lawmakers passed unanimously.
The Opposition tearing assembly's agenda copies walked out the House proceedings on further government's business after its legislators were not allowed to speak. The Opposition's lawmakers claimed that the rules of procedure were violated while introducing rest of the Bills. Neither they were informed in-time nor they were given time to put their contribution in light of any amendment.
As The Punjab Tahaffuz-e-Bunyaad-e-Islam Bill 2020' was unanimously passed, Speaker Elahi made clear that the government's work is not only confined to its preparation adding the government would have to ensure its strict implementation.
He said "The committee will be headed by the provincial law minister Raja Basharat to ensure implementation".
He wished that the same nature Bill should be passed from all provincial assemblies. He will also visit Speaker National Assembly AsadQaiser to take this mission ahead. He also thanked to all the treasury and opposition lawmakers who passed this bill and applauded those who worked in its preparation.
Provincial law minister Raja Basharat termed the Bill a first step towards Prime Minister Imran Khan's vision on Riasat-e-Madina. He said the PTI led government stopped forever the desecration of holly prophets, Islam, Quran and others. It will also be workable in eliminating sectarianism and religious disharmony.
Following tradition, the House proceedings started with laps of one hour and 55 minutes under chair of Speaker PA Ch. Pervez Elahi.
During question hour, the lawmakers put queries on Home Department to which provincial law minister Raja Basharat responded.
On a point, Speaker Elahi applauded the government's Ehsas Program which according to him is helpful for the poor masses. He said those who used to beg at streets, squares (if they had their CNICs) could get financial assistance from Ehsas Program.
Later the treasury passed with majority "The Ravi Urban Development Authority Bill 2020", "The Punjab Undesirable Cooperative Societies (Dissolution) (Amendment) Bill 2020. The session was adjourned to meet again on Thursday.
https://dailytimes.com.pk/644356/punjab-assembly-unanimously-passes-tahafuz-e-bunyaad-e-islam-bill-2020/
--------
Eid packages for virus-hit transgender persons
23 Jul, 2020
ISLAMABAD: The Ministry of Human Rights launched Eid relief packages for Covid-19 affected transgender persons in collaboration with the United Nations Development Programme and United Nation Population Fund.
The beneficiaries were identified through a preliminary socio-economic rapid need assessment for Covid-19 to cater to the most vulnerable transgender persons, led and driven by the transgender community.
A statement issued here said that the ministry and UNDP had asked civil society partners who were also members of the Ministry of Human Rights National Implementation Committee and focal persons in Rawalpindi and Islamabad to conduct the assessment.
A total of 120 ration bags will be distributed to the transgender persons. The remaining individual relief packages were handed over to focal persons for distribution to deserving members of the population.
Bubbli Malik, committee member from Punjab, and Nadeem Kashish, committee member from Islamabad, conducted the survey among 75 transgender persons in Islamabad and Rawalpindi to identify their needs during this pandemic.
United Nations Development Program Consultant Nayyab Ali has coordinated the assessment while Aisha Mughal from the Ministry of Human Rights along with the relevant United Nations Development Programme and United Nations Population Fund team members were overseeing the process. Federal Secretary for Human Rights RabiyaJaveri Agha distributed ration bags among three transgender persons at the ceremony.
Speaking at the event, she reiterated the commitment of the state to protect the rights of transgender persons.
"MoHR constituted a National Implementation Committee under the Transgender Persons Act 2018. Pakistan has one of the most progressive transgender laws, granting transgender persons equal rights, including the right to self-identification of gender. Provincial consultation meetings have been conducted in all four provinces in order to reduce Trans-phobic stigma and discrimination with transgender community," she said.
The senior official also highlighted police sensitisation sessions and consultations have also been conducted to finalise guidelines for police engagement with transgender persons in the Islamabad Capital Territory, she said adding: "These are critical steps towards the realisation of equal rights for the transgender community in Pakistan."
Federal Minister for Human Rights Shireen Mazari said the PTI government was trying its best to ensure that transgender persons were recognised as equal citizens of the state.
"The transgender community in Pakistan, one of the most marginalised sections of the country - has continued to raise concerns regarding economic impact ever since the lockdown was announced. Targeted interventions to alleviate the plight of these persons are necessary."
She further said, "MoHR is also establishing protection centres for transgender persons in order to provide shelter, rehabilitation and other medical and psychological care to them. Separate Wards have also been opened at Pakistan Institute of Medical Sciences for the members of transgender community."
https://www.dawn.com/news/1570548/eid-packages-for-virus-hit-transgender-persons
--------
Pakistan, Qatar pursuing common goal of regional peace: COAS
JULY 23, 2020
RAWALPINDI: Chief of Army Staff (COAS) General Qamar JavedBajwa has expressed hope that relations between Pakistan and Qatar will flourish further for the common goal of improved peace and stability in the region and increased economic prosperity.
The COAS was talking to Sheikh Saoud bin Abdulrahman Al Thani, the ambassador of Qatar, who called on him here at General Headquarters (GHQ) on Wednesday, said a statement issued by the Inter-Services Public Relations (ISPR).
During the meeting matters of mutual interest and cooperation in various fields was discussed.
The army chief congratulated the dignitary on assuming the office and hoped that Pak-Qatar relations will further prosper under his able leadership for the common goal of improved peace and stability in the region and increased economic prosperity.
The visiting dignitary appreciated Pakistan's continuous efforts for peace and stability in the region and pledged to keep working for better relations between the two countries.
https://www.pakistantoday.com.pk/2020/07/22/pakistan-qatar-pursuing-common-goal-of-regional-peace-coas/
--------
India
'Qurbani' Can Be Foregone in Pandemic: Shia Cleric Maulana Kalbe Sadiq
Jul 23, 2020
Lucknow: Prominent Shia cleric Maulana Kalbe Sadiq said on Wednesday that in his view when animals are not easily available in extraordinary circumstances, like in the time of coronavirus, then Muslims can forego the ritual of 'qurbani' (animal sacrifice) on Bakrid.
Speaking to TOI on phone in the context of the ongoing pandemic, Maulana Sadiq, who is also the senior vice-president of the All India Muslim Personal Law Board, said that in these times if the government and doctors opine that Bakrid celebrations should be limited, people should adhere to the appeal.
Sadiq's statement is relevant amid confusion in the Muslim community about Bakrid, because of lack of clarity till date whether or not administration will allow bakra mandis to assemble this year for the sale of goats. Transportation of animals for sale and purchase is also not allowed as of now.
Bakrid will be celebrated on August 1 which is a Saturday and the mandatory weekend curbs to contain the pandemic will be in place.
"Islam and Shariah do not allow a person to put his own life or that of others in danger. And if the government and doctors are of the opinion that to contain Covid-19, people should stay at their homes, it should be followed," said Maulana Sadiq whose words are widely respected among Shias and even in other communities as well. Shias form a sizeable population in Lucknow after Hyderabad with an estimated 3-3.5 lakh Shias in the city.
Maulana Sadiq also said that while both Eid-ul-Fitr (after Ramzan) and Eid-ul-Zuha, hold high significance for Muslims, but if sacrificial animals are not available due to Covid related transportation and social distancing reasons, people should not take risk for the same.
"In fact, Islam does not burden everyone with performing the ritual of qurbani. Except those who are performing haj, for whom it is obligatory to sacrifice an animal, those who cannot afford sacrificing an animal are exempt from the service or can pool in with other people. Grand Ayatollah Ali Al Sistani's fatwa in this regard and even higher Sunni authorities have consensus on this fact," he added.
https://timesofindia.indiatimes.com/city/lucknow/qurbani-can-be-foregonein-pandemic-shia-cleric/articleshow/77116927.cms
--------
Muslim Student in Madhya Pradesh Arrested for Calling RSS Men 'Pigs' on Facebook
Rishav Raj Singh
Bhopal: At the height of the media hysteria over the emergence of coronavirus infections at the Nizamuddin centre of the Tablighi Jamaat in Delhi, the wrestler-turned-BJP politician BabitaPhogat took to Twitter to call the Jamaatis 'ignorant pigs' (jaahilsuar). But when a young Muslim man in Jabalpur used the same term – suar – for the dozen or so activists of the Rashtriya Swayamsevak Sangh who had contracted COVID-19 at the RSS office in the city, he ended up in jail with the police slapping serious charges of promoting religious hatred on him.
On July 20, the Jabalpur police booked Ziya-ul-Haq – a 23-year-old resident of MansurabadGohalpur of Jabalpur district and final year student of B. Pharm. at the Rani Durgavati Vishwavidyalaya – under section 295 (A) ('Deliberate and malicious acts, intended to outrage religious feelings of any class by insulting its religion or religious beliefs') and 505 ('Statements conducing to public mischief') of the Indian Penal Code and immediately arrested him.
The reason: a Facebook post the previous day where he called the RSS men pigs.
The RSS is the parent body of the Bharatiya Janata Party, now in power in Madhya Pradesh, and of course at the Centre.
The incident
Hours after the news of 12 RSS men testing positive for the coronavirus at the Jabalpur Sangh office broke on July 19, Ziya-ul-Haq took a dig at organisation on the Facebook page of 'NSUI Group Jabalpur VVV'. NSUI is the student wing of the Congress party.
Sharing a screenshot of the news from a local TV News channel, he wrote 'Aajhamareshahar me 12 suar corona sankaramitpaye gai. Bund karo in suaro ka karyalay pure desh me Corona phailarahehai' (12 pigs have tested corona positive in our city today. Close the offices of these pigs, they are spreading corona across the country).
Angered by the Facebook post, RSS activists and members of the right-wing Hindu DharmSena, reported the matter to the Jabalpur Cantonment police station the following day.
Based on the complaint of Neeraj Rajput, state vice president, Hindu DharmSena, who also described himself as an RSS worker, the Jabalpur police registered a case against Ziya-ul-Haq for insulting the religious beliefs of a group.
The complainant in the FIR alleged that Haq made "indecent", "shameful", and "intolerable" statements against RSS members. He went on to emphasise that such statements against a "nationalist organisation" by a "Muslim youth" can jeopardise social harmony. "The RSS is a patriotic and social work organisation, and has crores of members in this country. The Muslim man's indecent reference to such an organisation can endanger social harmony. The abusive reference made by the man has hurt my feelings of nationalist and social service," the complainant said in the FIR. He warned the police to take immediate legal action against the "Muslim youth" and arrest him, failing which, he said, "an angry protest movement will be organised".
Interestingly, even though Rajput's allegation is that the "Muslim youth" has maligned the image of the RSS and its members, the police have registered a case under section 295 (a) of the IPC – of deliberately insulting the religion or religious beliefs of a group.
Confirming these sections, town inspector of Jabalpur Cantonment Police Station Vijay Tiwari said, "He has been booked under sections 295 (A) and 505 of the IPC for making derogatory remarks against the RSS and sent to jail."
When asked why Ziya-ul-Haq has been booked for insulting religious beliefs when the allegation is that of defamation, Tiwari disconnected the call. Likewise, when the same question was put to the superintendent of police, Jabalpur, Siddharth Bahuguna, he refused to make any comment and advised The Wire to speak to his subordinates.
Justifying the police action, however, Sanjeev Uikey, ASP, Jabalpur said, "Indeed the RSS is not a religious institution but if a Muslim youth calls the RSS and its workers 'suar' and it offends them and they demand action, the police have to book the youth for insulting religious beliefs. Now, the matter is before the court."
Interestingly, when Ziya-ul-Haq's advocate, Vikash Rathour, filed for bail before the Jabalpur judicial magistrate first class court on July 21, the court denied bail claiming the crime to be serious and sent him to police custody till July 24.
Madhya Pradesh high court advocate Nayeem Khan, who is now defending Ziya-ul-Haq, said the matter at best pertained to defamation and not hurting anyone's religious beliefs. "The previous advocate did not defend the case properly. Hence, the case will fall flat in the next hearing which is on July 24," he said.
https://thewire.in/rights/muslim-student-in-madhya-pradesh-arrested-for-calling-rss-men-pigs-on-facebook
--------
India Distances Itself From Pakistan Move To Get Kulbhushan Jadhav A Lawyer
Jul 23, 2020
ISLAMABAD/NEW DELHI: India has distanced itself from a move by Pakistan on Wednesday to approach the Islamabad high court for appointment of a lawyer for a review of Indian national Kulbhushan Jadhav's sentencing by a military court. Pakistan approached the court, as official sources said, without the consent of the Indian mission in Islamabad.
India sees the move by Pakistan as another attempt to grandstand and create a smokescreen of review and reconsideration of the death sentence to Jadhav.
While Pakistan is learned to have "extended" the deadline for India to file a review petition in the case, it has not agreed to India's demand that a lawyer from outside Pakistan represent Jadhav.
As per Pakistan's May 20 ordinance, the review petition had to filed within 60 days of the promulgation of the ordinance. India, though, doesn't want to respond to every change in deadline or even Pakistan's position in the case when it's yet to get what Indian officials describe as unconditional, and also private, access to Jadhav.
Calling for an effective review and reconsideration of the military court's verdict, the ICJ had last year also held Pakistan guilty of violating the Vienna Convention on Consular Relations by denying consular access to Jadhav. An ICJ spokesperson was quoted as having said on Wednesday that the court's judgment was final, binding and without appeal. The Hague-based ICJ had ruled that Pakistan had failed to inform Jadhav of his rights, and deprived the Indian government "of the right to communicate with and have access to him, to visit him in detention and to arrange for his legal representation".
https://timesofindia.indiatimes.com/india/india-distances-itself-from-pakistan-move-to-get-kulbhushan-jadhav-a-lawyer/articleshow/77117437.cms
--------
Terrorist hideout busted in J&K's Rajouri, arms and ammunition seized
Jul 22, 2020
JAMMU: A joint team of security forces busted a terrorist hideout in Thanamandi area of J&K's Rajouri district on Wednesday and recovered a huge cache of arms and ammunition including a PIKA rifle and UBGL grenades.
Rajouri SSP Chandan Kohli said a joint team of Army's Rashtriya Rifles, J&K Police's special operations group and Rajouri Police "launched a cordon-and-search operation in Manyal area of Thanamandi early on Wednesday" based on intelligence inputs about the presence of an old terrorist shelter in the area and busted the hideout under a portion of dense bushes.
During the search, the team recovered one PIKA rifle, two pistols (one Chinese and a local-made), one AK magazine, two pistol magazines, 168 PIKA rounds, 47 AK rounds, four pistol rounds, two UBGL grenades, a binocular, eight ammunition belts, one antenna and a tape recorder, SSP Kohli said.
"The area is still being searched and SDPO Thanamandi Sajjad Khan along with SHO Fareed Ahmed and officers of Army's Rashtriya Rifles are monitoring the operation," the SSP said, adding that the proactive approach of forces and close synergy with all the sister agencies is foiling the nefarious designs of anti-social elements in Jammu and Kashmir.
https://timesofindia.indiatimes.com/india/terrorist-hideout-busted-in-jks-rajouri-arms-and-ammunition-seized/articleshow/77115433.cms
--------
J&K: Militant hideout busted in Rajouri; huge cache of arms, Pika gun, seized
July 22, 2020
In a joint operation in the bordering Rajouri district, the Jammu Kashmir Police and the Indian Army busted a militant hideout and seized huge quantity of arms and ammunition, including a Pika gun.
A cordon and search operation was launched jointly by the two teams in Manysl area of Thanamandi following information during late hours of Tuesday. Rajouri SSP Chandan Kohli said "the entire area was kept under cordon and in the wee hours of Wednesday morning. Searches were launched during which a militant hideout under a portion of dense bushes was busted."
The seizures included one Pike Rifle, a Chinese pistol, one local Pistol, besides an AK magazine, two pistol magazines, 168 Pika rounds, 47 AK rounds, four pistol rounds, two UBGL grenades, one Binocular, eight Ammunition belts, one Antenna and a tape recorder.
"The area is still under searches and SDPO Thanamandi Sajjad Khan along with SHO Fareed Ahmed and officers of army's Rashtriya Rifles are monitoring the operation," the SSP said.
"The pro-active approach of forces and close synergy with all the sister agencies is playing it's role and the nefarious designs of anti social elements are being foiled." he added.
https://indianexpress.com/article/india/jammu-and-kashmir-rajouri-militant-hideout-arms-ammunition-seized-6517811/
--------
Important for Tablighi Jamaat to speak on issues of Islamic interests: Author of new book
by AdrijaRoychowdhury
July 22, 2020
No other piece of news around Covid-19 in India has created the kind of controversy like the one involving the Tablighi Jamaat at the Nizamuddin Markaz. The religious congregation held in March, attended by over 8000 members from across the world, was then called a super-spreader event leading to a scrutiny of the sect and their style of functioning.
Journalist and social commentator Ziya Us Salam in his new book, 'Inside the Tablighi Jamaat', published by Harper Collins, looks closely at the Markaz incident and delves into the apolitical nature of the Jamaat. The Jamaat, despite being the largest Muslim organisation in the world, is known to have been of least interest to political leaders and the government in India before the March incident.
Salam begins his book with an interesting look back at the Emergency, when the government led by Indira Gandhi came down heavily upon Muslim organisations in the country. The only organisation that was left untouched was the Tablighi Jamaat. "It remained free to pursue its aim to profess, practice and propagate religion. At a time when many Muslim organisations went underground, its volunteers — sporting long beards that touched their chests, and wearing pyjamas that ended a few inches above the ankles — still went door to door, inviting the faithful to join the daily prayers in the neighbourhood masjid," writes Salam.
In an interview with Indianexpress.com, Salam discusses his book, elaborating on why the Jamaat's lack of political inclination and awareness is one of the reasons why the incident at the markaz could not be avoided. At the same time, he explains that the discussion arising out of the incident failed to distinguish between the larger Muslim community and the unique socio-political dispensation of the Jamaat.
Why were political parties never interested in the Jamaat?
Ziya Us Salam: The Jamaat has no political ideology or ambition. It does not want to change the political or economic system of the country. Most governments across the world are tolerant of the Tablighi Jamaat simply because the Jamaat does not insist on overthrowing any government or bringing about Caliphate. They are not aspiring to bring about Islamic rule. Their focus is on internal cleansing. Their focus is on Muslims to become better Muslims. They are not even trying to convert non-Muslims.
It is interesting that the Jamaat never took a stance during moments like the Shah Bano case or Babri masjid. Why? Weren't these issues of Islamic interests other than being just political?
Ziya Us Salam: They were of interest to the Islamic community for sure. Considering that the Tablighi Jamaat has the highest membership among Muslim organisations across the world, it was important for them to speak up on these subjects. Say for instance with Triple Talaq, had the Tablighi Jamaat guided the community, it would have been really beneficial. The decision on the subject of talaq had to be taken in light of the Quran. When the Supreme Court invalidated it, it did so in light of the Quran. All that the Jamaat had to do was to open the Quran and come up with the decision. Unfortunately the Tablighi Jamaat does not put emphasis on understanding the Quran.
During the demolition of the Babri masjid and Gujarat riots as well they kept quiet and saw it as a will of Allah.
Could you explain a bit about the historical circumstances in which the Jamaat was born? How were things different from when other Muslim organisations were born?
Ziya Us Salam: The time when the Tablighi Jamaat came into being in 1927 was when Dayanand Saraswati'sShuddhi campaign was going on in Awadh and what is now the Haryana region of Mewat. Many new converts who had been Muslims for a generation or two were being reconverted to Hinduism. These were people who did not know much about rituals in Islam. Their rituals were still those of Hinduism, except that when they died their bodies were buried.
At that time, Tablighi Jamaat spread knowledge of Islam among the Muslims. They started bringing them to mosques so as to give them a sense of fraternity and camaraderie. These were people who did not give in to Saraswati'sShuddhi campaign due to the influence of Maulana Ilyas who was the founder of the Tablighi Jamaat. His father had the rare distinction of looking out for the landless labourers from Mewat who would be coming to Delhi for work. He would bring those workers to the Nizamuddin Markaz and ask them to memorise the surahs from the Quran. So throughout the day these men would be taught to read and memorise the surahs. At the end of the day they would be given wages as if they worked at a construction site.
Jamiat Ulama-i-Hind was born before the Jamaat in 1919. It has always been a socio-political body, wedded to the idea of India. It believes in an inclusive culture and a pluralistic society. It opposed Muslim League's philosophy of one nation for Islam and the creation of Pakistan. It played an active role in the freedom struggle. Unlike the Jamaat, it was not confined to a madrasa or a masjid and was always part of the society and polity. Yes they tried to understand Islam, but they believed that Islam and nationalism were mutually compatible.
In the 1940s, the Jamaat-e-Islami was established on the principles of establishing an Islamic order. But after Independence, it also got wedded to India's principles of secularism, justice etc. As a result, the body started supporting elections and many of its members also stood as candidates. Consequently, the Jamaat-e-Islami has also been a religio-political body now.
How did the Jamaat become a global movement?
Ziya Us Salam: They simply spread the word of Allah. Wherever they went, they had no interest in the political dispensation of the country. All that they were interested in was reading the Quran and asking Muslims to be better Muslims. For that they insisted that Muslims need to look distinct from non-Muslims. That is how Maulana Iliyas came up with the idea of men having a beard and wearing pyjamas that end just above the ankles and women wearing the hijab. Wherever they went across the world, they used the Indian template.
Would you say the incident at the Nizamuddin Markaz could have been avoided had the Jamaat been politically active?
Ziya Us Salam: I guess so since they would have been more aware of what is happening in the world. At the time they had their congregation in Delhi in March, the fear of Covid had spread across countries. But they refused to take a decision keeping in mind the health dangers because they keep away from all this. I don't think the Jamaat even insists upon its members to read the newspaper regularly.
Having said that, the Jamaat was not completely wrong in hosting the congregation in Delhi on March 13. If you recall, on March 13, our health minister had said that there is no health emergency in the country. No religious congregations were banned at that time. This ban started coming into force from March 16 onwards. By then the Jamaat congregation was over. But those members who had come from abroad or from far off places in the country could not be expected to leave in a hurry. Then on the 22nd, the prime minister asked everyone to be wherever they are. They abided by the instructions of the prime minister. Where did they flout the rules? They applied for permission to travel to the local police who guided them to the local magistrate and they got permission to travel in small numbers and they abided by that.
In your book, you have given a detailed account of how the media covered the incident of the Tablighi Jamaat at the Markaz. Where would you say the media went wrong in their coverage?
Ziya Us Salam: Firstly, there was a lack of enterprise shown by the media to find the truth. If the media had bothered to investigate a bit or even read up the instructions by the Delhi government on religious gatherings they would have concluded that at least for the March 13-15 gathering, the Jamaat was well within rules. After the lockdown was announced as well, they were still following the rules. Where it went wrong was when they had the first case of suspected Covid-19, they ought to have got in touch with medical professionals and alert the local police.
But it's absolutely whimsical and irresponsible to come up with statements like they were hiding in the Markaz. They were stranded in the Markaz because the trains and flights were not working.
Also the kind of videos circulated by some sections of Hindu newspapers and English news channels were not from the Jamaat at all. There was a widely circulated video of the members sneezing together, there was one of a Jamaat member stripping in front of a nurse, and then there was one of them asking for biryani in UP. All of them were proven to be false. The video of the man stripping was found to be that of a deranged man in Karachi. But the media did not have the patience to find the truth.
Undoubtedly, there was a larger issue of Islamophobia that went into the coverage of Tablighi Jamaat. The Jamaat came to be representational of all Muslims.
https://indianexpress.com/article/research/important-for-tablighi-jamaat-to-speak-on-issues-of-islamic-interests-author-of-new-book-6517991/
--------
South Asia
Myanmar Muslims struggle to avoid another Muslim-free parliament
Kyaw Ye Lynn
21.07.2020
Political parties in Myanmar have geared up for upcoming general elections with Nov. 8 set as the date for crucial polls which will be the first held under the civilian government in more than six decades.
The Union Election Commission announced the election date on July 1, inviting candidate registration from the 96 registered political parties from July 20 to Aug. 7.
A few days after the commission's announcement, a 16-membered team was formed to assist Muslim candidates in campaigning in their constituencies countrywide. The team includes mainly Muslim legal experts.
Spokesman of the team Maung Muang Myint told Anadolu Agency that the group will help Muslim candidates financially, legally and technically.
"It was a shame that our parliament has no Muslim lawmaker although Muslims make up more than 5% of the country's population," he said over the phone.
"Of more than 6,000 candidates in the 2015 elections, only 28 were Muslims. And they won no seat," he said, adding that the commission had rejected more than a hundred would-be candidates, mostly Muslims, on the grounds of citizenship. Election law states that candidates' parents must be already recognized as citizens at the time of the candidates' birth.
"So this year, we teamed up to help them in the whole process starting from candidate registration," said Myint.
Two largest political parties in the county, Aung San Suu Kyi's National League for Democracy (NLD) party and military-backed Union Solidarity and Development Party (USDP), did not file any Muslim candidates for the last general elections.
Parties have yet to submit the lists of candidates to election commission for registration. Myint, however, said Muslims have only a slim chance of being chosen as candidates of the political parties in the Buddhist-majority country.
"We do not hear anything about parties choosing Muslims as their candidates," he said.
"So far, we are contacted by only about 20 independent Muslim candidates from Yangon, Mandalay and Rakhine."
Aung Shin, spokesman of the NLD party, admitted the party had excluded Muslims as candidates to avoid the criticisms from Buddhist nationalist groups while religious tensions were running high ahead of the 2015 elections.
"It happened [in 2015], but it will not happen this time," he told Anadolu Agency over phone last week, affirming that the party will choose candidates regardless of race and religion.
"We do not have a policy not to select Muslim candidates, but it depends on the will of respective local communities," Shin said.
He said respective local communities have been making lists of the would-be candidates, and the party's Chief Executive Committee then to select suitable people from their lists.
"In this way, the candidate selection will reflect the desire of the host communities," said Shin.
Min Htwe, like many other Muslims in Yangon's MingalarTaungnyunt township, does not believe strong political parties will include proper number of Muslim candidates running in the upcoming elections.
"I do not think the NLD and other parties would risk losing votes by selecting many Muslim candidates because majority of populations are Buddhists," said Htwe in his 30s.
"But parties will include some Muslim candidates to claim that they have no discriminatory policy," he told Anadolu Agency.
The Muslim community is concerned that not only there will be very few Muslim candidates running in the upcoming elections, but also most will be representing little-known parties, left with slim chances of wining any seats.
"Most people would only vote for big parties, the NLD or USDP. So there will be likely another Muslim-free parliament unless these parties have Muslim candidates," he said.
According to the 2014 census, Muslim population officially makes up 4% of the country's 51 million people. Muslims, however, found themselves a target of hatred as Myanmar has seen a growing anti-Muslim sentiment with the rise of nationalism among majority Buddhists.
The persecution of Muslims is most prevalent in the western Rakhine state, where the UN Refugee Agency said more than 723,000 Rohingya have fled to Bangladesh to escape the brutal military crackdown since 2017.
Myanmar refers Rohingya as Bengali, a term suggesting that they are illegal immigrants from Bangladesh, living in Rakhine for decades. However, Rohingya reject the claim, asserting that they have been living in the region for centuries. Rakhine housed more than 1 million Rohingya, who were temporary national identity card (white card) holders and had rights to vote in 2010, a crucial election in transforming the country from military dictatorship to democracy.
The previous government led by reformist President Thein Sein, who himself a senior leader of the military junta that ruled the country for nearly six decades until 2010, revoked the white cards ahead of the 2015 elections, making them ineligible to vote.
Rohingya politician Kyaw Min, chairperson of Democracy and Human Rights Party, was among Muslim candidates who were banned by the election commission from running in the 2015 elections.
"I won a seat in 1990," Min told Anadolu Agency, referring to general elections in which the NLD saw a landslide victory, but the results were ignored by the military junta.
Min said Muslims had had voting rights in elections dating back to independence and through the country's 2010 general election.
"There was at least a Muslim lawmaker in every parliament throughout Myanmar history. We, Muslims, however, lost our rights to represent our community since the 2015 election," he said.
His party recently sent a letter to the election commission, demanding the restoration of rights to vote for Rohingya people in Rakhine.
"With a minority group being disenfranchised, how could an election be really free and fair?" he asked.
https://www.aa.com.tr/en/asia-pacific/myanmar-muslims-struggle-to-avoid-another-muslim-free-parliament/1917399
--------
Pakistanis among 46 Taliban militants killed, wounded in clashes in East of Afghanistan
23 Jul 2020
The Afghan security forces killed or wounded at least 46 Taliban militants including many Pakistani nationals during a clash in eastern Nangarhar province.
According to a statement released by provincial government, the security forces carried out retaliatory attacks in Qelghoo area of Khogyani district, killing at least 31 Taliban militants.
The statement further added that the security forces also 13 Pakistani nationals during the same clash.
The security forces arrested a Taliban militant and wounded at least 15 others during the clash, the Nangarhar government's office added in its statement.
Meanwhile, the provincial government said the security forces destroyed at least 10 vehicles of the Taliban militants together with some weapons and munitions.
The security forces and ordinary civilians did not suffer casualties during the clash, the statement added.
The Taliban group has not commented regarding the incident so far.
https://www.khaama.com/pakistanis-among-46-taliban-militants-killed-wounded-in-clashes-in-east-of-afghanistan-08977/
--------
NATO's SCR reaffirms support to Afghanistan and Afghan forces post peace agreement
22 Jul 2020
The Senior Civilian Representative of NATO Ambassador Stefano Pontecorvo reaffirmed the alliance's support to Afghanistan and the Afghan National Defense and Security Forces following the conclusion of a peace agreement.
Speaking to Khaama Press, Ambassador Pontecorvo said "Certainly yes, that is certainly our intention. After the peace deal we'll have to negotiate whatever we do with the new Afghan government which comes out of the peace deal so these are not unilateral decisions on the side of NATO, it will be the Afghan government which will ask us for what they need and we will apply to measure of our capacities and we are committed."
Reiterating the alliance's commitment to Afghanistan until 2024, Ambassador Pontecorvo said the alliance is firm to provide political and financial support to Afghanistan until 2024.
Ambassador Pontecorvo further added that the international community including NATO look forward to the outcome of the peace deal.
Furthermore, he emphasized that the Taliban group should respect the gains of the Afghan society including achievements in various sectors including human rights, women's rights, ethnic rights, education, health and media freedom of media.
In regards to alliance's support to Afghan National Defene and Secuity Forces, Ambassador Pontecorvo said NATO is committed to support the Afghan forces without any 'doubt'.
https://www.khaama.com/natos-scr-reaffirms-support-to-afghanistan-and-afghan-forces-post-peace-agreement-08975/
--------
North America
US stands with Iranian people 'in their struggle for true justice': State Department
22 July 2020
The United States "will always stand with the Iranian people in their struggle for true justice," a State Department spokesperson told Al Arabiya English on Tuesday, in reaction to Iran suspending the execution of three protesters due to an online campaign.
"We are glad to hear that the Iranian regime backed off their plans to execute three men for protesting," said a State Department spokesperson, adding that many others are still at risk of torture and execution.
The three men are Amirhossein Moradi and Mohammad Rajabi, both 26 years old, and Said Tamjidi, 28 – all linked to protests that took place across Iran last November following Tehran's implementation of petrol rationing, which raised pump prices over 50 percent.
Iran's judiciary halted their executions on Sunday following an online campaign to overturn the capital punishment, which used the Farsi hashtag #do_not_execute and the English hashtag #StopExecutionsinIran.
US Donald President Trump used his Twitter platform to advocate on their behalf in both Farsi and English on July 15.
"Three individuals were sentenced to death in Iran for participating in protests. The execution is expected momentarily. Executing these three people sends a terrible signal to the world and should not be done! #StopExecutionsInIran" Trump said in the tweets.
Iran tried to curtail the social media storm by shutting down the internet on Friday according to NetBlocks, a non-governmental organization that monitors cybersecurity and Internet freedom.
Two days later the government seemingly gave into the pressure of the popular campaign, suspending the executions.
Prisoners after protests
The government claims evidence on the phones of the three young men show them setting fire to banks, buses, and public buildings during the November demonstrations.
Iran's judiciary spokesperson accused them of being "riot leaders," according to Amnesty International.
Despite Iran cracking down hard on protesters in November – with over 1,5000 people killed during the first two weeks according to Reuters – demonstrations erupted again in January after the Islamic Revolutionary Guard Corps (IRGC)'s downing of a Ukrainian civilian airliner.
Mary Mohammadi, 21, joined one evening protest in Tehran's Azadi square on January 12. She told Al Arabiya English that Iranian officers arrested and abused her.
"Suddenly I was attacked from behind and was arrested after taking a severe beating," Mohammadi said in an interview with Al Arabiya English.
She now faces a sentence of flogging and three months in prison.
State Department Spokesperson Morgan Ortagus said last week it was "troubled" by Mohammadi's sentencing.
"The Iranian regime continues to violate the human rights of its own people, targeting political and civil society activists," Ortagus told Al Arabiya English.
Two other participants in January's protests have also been sentenced to prison time.
Mostafa Hashemizadeh, an engineering student at the University of Tehran, was sentenced in May to five years in prison for allegedly "colluding against national security," in addition to a year in prison and 74 lashes for "disturbing public order."
Amir Mohammad Sharifi, another student at the university, was sentenced to three months in prison for his alleged involvement.
https://english.alarabiya.net/en/features/2020/07/22/US-stands-with-Iranian-people-in-their-struggle-for-true-justice-State-Department.html
--------
Ex-Counterterrorism Chief: Cutbacks Raise Risk Of New Attacks
July 21, 2020
A recently ousted counterterrorism chief says the country is risking the gains made against terrorist threats by cutting back resources with little or no public debate. In an interview with NPR, Russ Travers also expressed frustration at the poor state of relations between the intelligence community and the Trump administration.
"If people believe that conditions have so changed and the threat is so diminished that we can go back to the way things were [before the 9/11 attacks], so be it," said Russ Travers, who served as acting director of the National Counterterrorism Center.
"I just personally don't believe that's the right answer. And I don't like the quality of the discussion that has gotten us to this point," Travers told NPR's Mary Louise Kelly, co-host of All Things Considered, in his first broadcast interview since leaving his government post.
Travers, who joined the intelligence community in the late 1970s, said he's never seen such bad relations between intelligence professionals and a presidential administration.
"I've been doing this for 42 years. I have never seen longtime civil servants removed because they had opinions that were different than the administration," he said.
The National Counterterrorism Center, or NCTC, was set up in the wake of the 2001 al-Qaida attacks. Because government agencies failed to adequately share information prior to those attacks, the center was designed to coordinate government efforts. Many officials working there are on temporary assignment from other agencies, like the CIA or the National Security Agency.
Travers said it became increasingly difficult to properly staff the NCTC as agencies sought to keep their staffers for their own expanding missions, such as growing cyber threats.
"I felt that we didn't have adequate resources to do the missions that we've been given," Travers said.
He sought to outline his concerns at a March 18 meeting he requested with Richard Grenell, who had recently been named acting director of national intelligence.
"We exchanged pleasantries and he tells me that my deputy Peter Hall and I, we're both out," Travers said. "I went in as the acting director of the center and I came out not being such anymore."
The Office of the Director of National Intelligence said that Travers was offered other jobs, but chose to retire. Travers says that was not the case. During his brief time as director of national intelligence, Grenell announced plans to scale back the NCTC, reportedly cutting the workforce by about 15 percent.
Critics of President Trump say the episode reflects his ongoing friction with the intelligence community, whose findings the president has sometimes challenged or rejected. The president's tenure has been marked by a rapid turnover of top officials and, according to the critics, an inclination to favor political loyalists over intelligence professionals.
Here are some excerpts from the interview:
You said that you didn't have adequate resources to carry out the job that you'd been given. What did you not have?
The law said that NCTC (National Counterterrorism Center) would be the primary organization in the government to do analysis of international terrorism. It would also have a strategic, operational, planning function, which essentially meant kind of integrated whole-of-government stuff. So we were doing this as a common concern for the government and we simply were not resourced to do that as departments and agencies started drawing down their commitments to NCTC because the country was going through this kind of re-evaluation of threats.
To play devil's advocate, al-Qaida is not the organization it once was. ISIS is not the organization it was just a few years ago. Why shouldn't fewer resources be devoted to fighting terrorism?
I actually believe that's true. As you say, the threat is not what it once was. There needs to be a rationalization of resources against terrorism. I think we could do that. But it does require a change in mindset in that not every department and agency needs to do everything.
Can you give me an example of something that you saw not getting done because you didn't have the resources?
Every day we would get upwards of 15,000 names. We had to sort through those, decide who is of concern. That ultimately percolates down to an organization that has to make a decision about who gets on an airplane. What happens if a police officer stops them? Do they get a visa? This is not cheap. And so the question ultimately is one of risk. I would be completely on board if if we had that conscious, informed discussion about how much risk are we or are we not willing to accept. My fear is that we are kind of stumbling into, "let's just cut resources and things aren't going to get done."
You're raising the question of whether the U.S. is prepared for a major terrorist attack. We haven't had one since 9/11. But if there was one in the works, is the U.S. back to where we were before 9/11?
The American public needs to know that the counterterrorism enterprise, in my opinion, is the best example we had ever of thinking whole-of-government. We took the fight overseas. We pushed borders out. We made the homeland more secure. I'm worried that people kind of want to move on from terrorism. I don't think we're going to see an attack tomorrow. I'm probably more concerned about a few years down the road.
A few days after you were ousted, nine former senior leaders of the intelligence community wrote an open letter in The Washington Post and talked about "the deeply destructive path being pursued by the Trump administration." As somebody who had a front-row seat, what do you think are the consequences of those tensions?
There are always tensions. I do think that it's far worse in the current administration. It's not healthy. The intelligence community, for the most part, is a behind-the-scenes player. They will often carry a message that policymakers don't want to hear. But I've never seen it like this. They were telling senior intelligence officials that they need to "go to school." I just don't think that's helpful. I certainly don't think it's appropriate.
In that letter, the former senior intelligence leaders also wrote that your removal sent a message that, "Every current officer sees that speaking truth to power in this administration is an immediate career killer." Do you think that is the message being sent?
I do. I've been doing this for 42 years. I have never seen longtime civil servants removed because they had opinions that were different than the administration.
Just to be clear, you're not saying, "Hey, I ran the National Counterterrorism Center, the budget got cut. I'm mad about it. We need more money thrown at this problem." You're saying let's be intentional about figuring out the national security threats.
That's exactly right. I want a conscious decision. I want eyes wide open. If people believe that conditions have so changed and the threat is so diminished that we can go back to the way things were [before 9/11], so be it. I just personally don't believe that's the right answer. And I don't like the quality of the discussion that has gotten us to this point.
https://www.npr.org/2020/07/21/893520358/ex-counterterrorism-chief-cutbacks-could-increase-risk-of-new-attacks?utm_source=iterable&utm_medium=email&utm_campaign=1378653_
--------
Hezbollah-Linked Operative Extradited From Cyprus to US
By SirwanKajjo, Mehdi Jedinia
July 21, 2020
WASHINGTON - A Lebanese man accused of laundering drug money for the militant group Hezbollah has been extradited from Cyprus to the United States.
Ghassan Diab, 37, arrived in Miami last week to face charges dating back to 2016 in the U.S. state of Florida, the U.S. Department of Justice said in a statement Saturday.
Diab has been charged with two counts of money laundering over $100,000, two counts of conspiracy to launder over $100,000, two counts of unlicensed transmission of currency over $100,000, and two counts of unlawful use of a two-way communications device to further the commission of money laundering, all of which are felonies under Florida law, according to a statement released by the department.
In 2016, a state attorney in Florida identified Diab as an alleged Hezbollah associate, announcing charges against him as a part of an operation on money laundering by the U.S. Drug Enforcement Administration (DEA) in Miami, according to the Justice Department.
Diab was arrested in Cyprus in March 2019 upon his arrival from Beirut, Lebanon.
U.S. law enforcement agencies in recent months have stepped up crackdowns on the Iranian-backed group and its financial networks.
In April, the U.S. Department of State issued a bounty of up to $10 million for information on Muhammad Kawtharani, a senior Hezbollah military commander, as part of U.S. efforts to disrupt the finances of the Shiite group.
The U.S. designated Hezbollah as a terrorist organization in 1997.
Significant move
Emanuele Ottolenghi, a senior fellow at the Foundation for Defense of Democracies (FDD) in Washington, says such extraditions of Hezbollah associates are significant steps to damage the group's operations abroad.
Diab was "part of a very large drug trafficking and laundering network that spans several continents," he said.
"These [U.S.] actions hit one specific node of the network," Ottolenghi told VOA. "It may not take it all down, but it exposes people, disrupts operations and sucks resources out of those operations."
Ottolenghi added that every time a Hezbollah operative is arrested and prosecuted, the group "loses their resources, and their assets get exposed."
2016 case
The case against Diab in Florida reportedly traces back to an international drug-smuggling hub in Colombia where his brother-in-law, Mohammad Ahmad Ammar, ran an operation to launder drug money.
Ammar, 35, was extradited to the U.S. in 2016. He was later convicted in Miami of one count of money laundering in excess of $100,000 and one count of conspiracy to commit laundering in excess of $100,000.
Hassan Mohsen Mansour, a third Hezbollah operative involved in the scheme, was arrested in Paris in 2016.
Global network
For years, Hezbollah has been carrying out illicit activities around the world to fund its military operations, experts and U.S. officials say.
The militant group has been particularly active in drug trafficking, money laundering and other illegal activities in South America, North America, Europe and the Middle East.
Experts say Hezbollah has been effective in advancing its agenda in various fields, exploiting loopholes wherever it has been able to do so.
"The global network of Hezbollah from Latin America through Middle East and Europe, plus their enormous and deep-rooted investments in every business aspect from construction to gambling, has turned them a reliable partner for drug cartels and other organized groups to reach them for money laundering and other revenues generated from illicit trades and activities," Hugo Antonio Acha, a counterterrorism expert based in Miami, told VOA.
In some parts of Europe, experts argue, the Lebanese groups and their Iranian benefactors have developed a vast network that provides support to Hezbollah in terms of logistical, financial and operational capabilities.
Acha said that Hezbollah militants "have hands in governments, banking systems and officials from a country like Venezuela that has been completely hijacked by a criminal organization, to countries that operate under the umbrella of shell companies, like Romania, and own banks and accounts in the Isle of Cayman, to businesses that were being developed in Qatar and construction complexes in the United Arab Emirates."
In May, German authorities banned the political activities of Hezbollah on German soil, a move experts believe could be significant to cutting off support for the group's activities around the world.
The European Union considers Hezbollah's military wing a terrorist organization, while allowing its political wing to operate in the bloc's countries. The Netherlands and Germany are the only EU members that recognize Hezbollah in its entirety as a terrorist organization. The U.K. also dropped the distinction last year.
https://www.voanews.com/extremism-watch/hezbollah-linked-operative-extradited-cyprus-us?utm_source=iterable&utm_medium=email&utm_campaign=1378653_
--------
Arab World
UAE Eid al-Adha prayers to be performed at home amid COVID-19
22 July 2020
The upcoming Eid al-Adha prayers in the United Arab Emirates will be prayed at home while the prayer calls will be broadcast via audio-visual means amid the continuing efforts to limit presence at mosques due to the COVID-19 coronavirus pandemic, according to officials.
For all the latest headlines follow our Google News channel online or via the app.
The United Arab Emirates announced last month plans to gradually reopen mosques and places of worship starting from July 1 with a maximum of 30 percent capacity, according to an official statement. Friday prayers in mosques remain suspended until further notice.
The UAE suspended prayer in all houses of worship including mosques across the country on March 16 as part of the country's efforts to combat the spread of the coronavirus. Initially, the suspension was meant to last four weeks but has been extended ever since.
Later on Wednesday, authorities confirmed they will be increasing the capacity of mosques to 50 percent starting from August 3 as the country slowly eases restrictions against the COVID-19 coronavirus.
The period between the first call to prayer and the performing of the prayer itself will also be extended to ten minutes between each other, except for the Maghrib sunset prayer which will be limited to 5 minutes apart.
https://english.alarabiya.net/en/coronavirus/2020/07/22/Coronavirus-UAE-Eid-al-Adha-prayers-to-be-performed-at-home.html
--------
Foreign fighters key to ISIS resurgence as thousands join new militias
Nicky Harley
July 21, 2020
Legions of ISIS foreign fighters have fanned out across the globe to pose the threat of a resurgence by the group in territories from Syria into Asia.
Researchers at King's College London said more emphasis needed to be placed on the movement of veteran fighters to conflict zones in South-East Asia and Africa rather than their return to Europe.
Latest figures from the university showed that 53,000 people travelled to Syria to join ISIS between 2013 to 2018.
The report by researchers in the defence studies department at King's, in collaboration with Institute for Strategic Studies, said that career foreign fighters increased the risk of an ISIS resurgence as thousands joined new militia groups.
"Despite governments' concerns, numbers of ISIS foreign fighters returning home and engaging with violent extremism remains relatively low," said Francesco Milan of the defence studies department, the report's author.
"Of far greater risk is the growing threat from ISIS in both its former stronghold in Iraq and Syria and in terrorist zones around the world.
"These relocators enable ISIS to evade direct confrontation and to strengthen their operations."
Mr Milan said inaction from western governments in dealing with ISIS detainees in Syria and Iraq and a worsening humanitarian situation there provided a perfect breeding ground for a revival of the terrorist group.
This posed a far greater long-term risk to countries in the West, said the paper, published in the institute's 2020 Armed Conflict Survey.
The report revealed that since mid-2019, ISIS led "targeted recruitment and redistribution of extremists" into conflict zones in countries from Libya to the Philippines in an effort to strengthen operations.
Areas targeted in Asia included regions beset by political instability, such as smuggling routes across the Afghanistan-Pakistan border.
It said that in South-East Asia at least 100 foreign fighters had joined ISIS militias in the Philippines since a siege in 2017.
Indonesia and Malaysia were also identified as priority relocation destinations.
Thousands of extremists and their families detained in prisons in Syria could also "exacerbate existing grievances and breed a new generation of ISIS militants".
The paper highlighted that, despite appeals from the UN, western governments avoided responsibility for the repatriation, trial, detention and eventual reintegration of ISIS affiliates who were citizens of their countries.
Some countries used national laws to try ISIS fighters, but faced major difficulties in finding evidence.
The authors said regional instability was made worse by the withdrawal of all US military forces from northern Syria last October. That had increased the risk that captured fighters could simply escape.
"This has led to poorly guarded detention facilities and the escape of an unspecified number of ISIS fighters, with at least 76 extremists reportedly joining Turkey-backed Syrian militias operating in northern Syria," it said.
"Western governments are avoiding taking charge of the repatriation, trial, detention and eventual reintegration of ISIS affiliates who are citizens of their countries."
Home country officials hoping that the problems posed by the citizens could be kept at arms length are taking a big gamble.
"The long-overlooked question of how to deal with captured foreign fighters is rapidly becoming a pressing issue, given the huge numbers of surrendering fighters and their families massing in prisons in Syria," Mr Milan added.
"By overly focusing on returning foreign fighters and pursing a short-term, wait-and-see response to the management of captured foreign fighters, western governments are leaving us all vulnerable to the re-emergence of a stronger and more widespread ISIS presence."
Earlier this year, EU prosecutors called for ISIS fighters to be tried for war crimes as well as terror offences and to receive harsher sentences.
https://www.thenational.ae/world/foreign-fighters-key-to-isis-resurgence-as-thousands-join-new-militias-1.1052613?utm_source=iterable&utm_medium=email&utm_campaign=1378653_
--------
Mosul sowing seeds post-Islamic State
Hassan Ali Ahmed
Jul 21, 2020
Following years of neglect and environmental abuse, the new governor of Ninevah province, Najm al-Jabouri, announced last June, a project to plant 1 million trees in an effort to revive Mosul, a city that is also known as al-Khaḍrah, which translates to "The Green."
Subsequently, many projects were launched and some have been finalized already. For instance, on July 15, a tree planting project at Mosul's central transportation hub was completed by a group of youth volunteers.
Mosul is known for being one of the most fertile cities in Iraq, and many scholars believe the legendary Hanging Gardens of Babylon were built near the city. However, many years of neglect, Turkish dams on the Tigris River and environmental damage by the Islamic State (IS) has contributed to its deforestation, turning it into a semi-arid city.
IS not only unraveled the social fabric in Mosul, but it ravaged its fertile lands and systematically burnt the Yazidi's olive tree farms and Mosul's palm trees, causing sandstorms in Iraq. Hence, the idea to plant trees in the city was born. On June 7, Jabouri officially launched the "Green Mosul" project proposed by Mosul Eye to plant 1 million trees in the city this year.
Al-Monitor spoke to Omar Mohammed, founder of the internationally known blog Mosul Eye, an organization he created in 2014 to document the atrocities committed in Mosul during its occupation under IS. In a tweet, Mosul Eye said the deforestation processes caused by IS between 2013 and 2020 had been clearly and extensively shown and documented.
As part of the project, more than 500,000 palm trees will be planted across Mosul's neighborhoods, parks and roadsides in order to revive the city's neglected biodiversity. Mosul's main harvest consists of zucchini, onions and potatoes and many families grow grapes in their backyards.
When asked about what inspired Mohammed to initiate the project, he said, "The main reason I proposed this project is because I traveled to many cities in the world and I saw green spaces in every city in every country where people can enjoy the view and clean air."
Mohammed said that the local population will be able to enjoy cleaner air, in addition to the trees contributing to "the global climate change campaign"; Iraq and its neighbors have suffered major natural disasters including droughts and locust swarms. According to Mohammed, Mosul's fertile land and environment will support and preserve the trees, although Mosul has greatly suffered from the use of chemical weapons during the wars that have affected the city's water and soil.
He noted, "The palm trees will be planted based on the urban design of Mosul in a way that is more accessible for the people to visit these green spaces." He added, "We don't want to rely solely on oil and want to support our local farmers and improve our agriculture production to export food rather than having to import." (Iraq imports the majority of its grains, meat, poultry and dairy from Iran and Turkey.)
The project relies on the surveys and studies conducted by the Mosul agriculture department, which had planned to implement a large-scale tree planting project in Mosul for many years but never started the project. The Mosul local government is discussing the project with France, Turkey and the International Organization for Migration (IOM), and is also seeking support from international communities and organizations.
On July 9, the French Embassy in Iraq announced an interest in supporting the project on Twitter, saying it intended "to support farmers in western Ninevah and promote social and economic factors." Mosul Eye tweeted in response, "We are happy that France is positively interested in supporting the project.
Mohammed added, "We look forward to get support from France as they proposed a similar project in 1930 that they did not pursue."
A source in the Mosul local government told Al-Monitor that the IOM is still studying the project and showed interest because it will also help in creating jobs in the city and ease the tensions in the community. In 2018, the IOM rehabilitated Sallamiya's water irrigation system, which restored the agriculture sector encouraging many farmers to return to their areas. The source noted that Turkey has offered to contribute with four different types of trees, but has yet to offer any further details.
The governor has also been supportive and established a committee that includes representatives from Mosul Eye, the agriculture department and the municipality of Mosul. The committee will oversee the project and also involve both civil society and the government in taking action to preserve Mosul's trees. Mohammed said, "This will also help to create some kind of trust between the local government and society."
The first phase of the project started with the planting of 200,000 trees. However, residents of al-Sukkar district in Mosul have taken it upon themselves to make a difference in their neighborhood by planting trees voluntarily. On July 6, Mosul Eye tweeted a photo of a park in Mosul after it was revitalized by local volunteers.
Tahir Khalil, a Turkmen Shiite who fled his hometown of Shrikhan during the IS occupation, has now returned to harvest his land and continue his studies. He told Al-Monitor, "Mosul has more than 1.5 million residents. If everyone plants only one tree, we will already have more than a million trees in the city."
As many regions face the ever-rapid consequences of climate change, individual countries are beginning to address those problems. Mohammed concluded, "We think about climate change and the next generations, and it is up to us whether we leave the environment in a worse or better state."
https://www.al-monitor.com/pulse/originals/2020/07/iraq-mosul-agriculture-trees.html?utm_source=iterable&utm_medium=email&utm_campaign=1378653_
--------
Egyptian army says it killed 18 Islamist militants in North Sinai
22/07/2020
Egypt's military said it killed 18 suspected Islamist militants in aerial and ground operations in the restive North Sinai region on Tuesday, as part of its battle to quell a long-running insurgency.
The army said in a statement that its forces succeeded in foiling "an attack by takfiri terrorist elements on one of the security complexes" in the town of Bir al-Abd.
Egyptian security officials use the term "takfiri" to designate extremist Islamist militants.
"In cooperation with the air force, security forces managed to chase the takfiri elements across a farm and in abandoned houses killing 18, including one wearing an explosive belt," the statement said.
Two military personnel were killed and four others wounded in Tuesday's operations in Bir al-Abd. Troops also destroyed four cars including three that were packed with explosives.
The town, about 80 kilometres (50 miles) west of North Sinai's capital al-Arish, has been the site of several terror attacks claimed by the Islamic State group including the deadliest attack in modern Egyptian history, in which more than 300 worshippers were gunned down in a mosque in 2017.
The late Tuesday statement came after videos surfaced on social media purportedly showing plumes of smoke, gunfire and residents screaming for their lives.
AFP could not verify the authenticity of the short clips posted online.
Security forces have been battling a hardened Islamist insurgency in Egypt's northeast Sinai Peninsula spearheaded by a local IS affiliate.
In February 2018, authorities launched a nationwide operation against Islamist militants, focused on North Sinai.
Around 990 suspected militants have been killed in the region along with dozens of security personnel, according to official figures.
https://www.france24.com/en/20200722-egyptian-armys-says-it-killed-18-islamist-militants-in-sinai-region?utm_source=iterable&utm_medium=email&utm_campaign=1378653_
--------
Turkey shifts fight against Kurdish militants deep into northern Iraq
22 July 2020
Turkey is taking its decades-old conflict with Kurdish militants deep into northern Iraq, establishing military bases and deploying armed military drones against the fighters in their mountain strongholds.
The cross-border campaign has attracted less attention than Turkey's incursions into neighboring Syria - partly because Turkish troops have long been in Iraq - but it is part of a strategy to push the fight beyond its borders after years of bloodshed at home.
Turkey has been battling an insurgency in its mainly Kurdish southeast by Kurdistan Workers Party (PKK) militants that has killed 40,000 people since the 1980s and which has largely been directed from within Iraq.
For all the latest headlines follow our Google News channel online or via the app.
After the breakdown of peace efforts in 2015, heavy fighting erupted again in Turkey. Since then President Tayyip Erdogan's government has sought to address what it says is the root of the crisis.
"The new approach aims to destroy the threat from where it begins," a Turkish official told Reuters.
A ground assault launched on June 17 and dubbed Operation Claw Tiger has seen Turkish troops advance up to 40 km (25 miles) inside Iraq and establish over 30 "temporary bases", the official said, speaking on condition of anonymity.
It aims to deny PKK fighters any sanctuary near the border, cut their supply lines between Iraq and Syria, and prepare the ground for a possible offensive on the main PKK stronghold around the Qandil mountains, inside Iraq on the Iranian border.
Turkey's frequent claims of military gains in a conflict far from the spotlight are difficult to verify, but analysts and an Iraqi Kurdish official say the scope of the air and ground offensives extends beyond Ankara's usual operations.
Baghdad summoned Turkey's ambassador last month to formally complain, but the central government has limited authority in the autonomous region, while the Kurdistan Regional Government in northern Iraq is wary of antagonizing Turkey, which has NATO's second largest standing army.
"Baghdad has been very quiet and we are forced to be very quiet, otherwise we run the risk of escalation with Turkey," an official in the KRG said.
Drone power
The Iraq operation comes after Turkey launched three incursions into northern Syria in three years to drive PKK and ISIS fighters from its borders, and then deployed forces in Idlib province to halt a Russian-backed Syrian government offensive against Syrian rebels.
Turkey has been attempting to project its own influence in the eastern Mediterranean, turning the tide of Libya's conflict by sending its own troops and mercenaries to support the Government of National Accord. It has also established military bases in Qatar and the Horn of Africa.
Turkey's interventions under Erdogan have alarmed regional rivals Egypt and the United Arab Emirates and led to accusations from domestic opponents that he is seeking diversions from an economic crisis and political setbacks after 17 years in power.
Much of the new military muscle comes from domestically produced armed drones. In Iraq, that means Turkey can attack militants in areas once beyond its reach.
PKK casualties in Iraq had risen in the last year, with increasing numbers of veteran fighters killed in targeted strikes, the International Crisis Group (ICG) says.
"The use of drone technology appears to have significantly shifted the balance of power on the ground, allowing Turkish forces to go after militants in areas previously difficult to penetrate," ICG Turkey analyst BerkayMandiraci said.
The ICG says 5,000 people have been killed in Turkey's wider conflict with the PKK since the 2015 ceasefire collapse, one tenth of them in northern Iraq. So far this year, that proportion of fatalities in Iraq has leapt to 70 percent.
Turkish officials say the latest fighting targets several border districts including Haftanin and Metina near Syria to the west, and regions nearer Iran including Avasin and Hakurk, a possible staging post to Qandil further south.
"The operation in Iraq aims to secure Turkey's border, prevent the passage (of PKK fighters) to Syria, and from there infiltration to Turkey," a second Turkish official said. "When the time comes, (targeting) Qandil will be evaluated."
Turkey ultimately may be guided more by progress on the ground than any response from Baghdad.
The Iraqi government is hamstrung by political infighting, an economic crisis and the prospect of more mass unrest, and its own relations with the Kurds have often been fraught - especially when its forces halted a Kurdish bid for independence in 2017.
"From the Baghdad point of view ... the (Turkish) incursion is headed for the KRG, so there's little harm in this," said Bilal Wahab of the Washington Institute for Near East Policy.
"Ultimately these things require some level of respect for Iraq's sovereignty and some sort of power," Wahab said. "On both counts, Iraq has become so weak that it's hard to demand that kind of respect from anyone."
https://english.alarabiya.net/en/News/middle-east/2020/07/22/Turkey-shifts-fight-against-Kurdish-militants-deep-into-northern-Iraq.html
--------
Kuwait's emir to travel to US for treatment after hospitalization: KUNA
22 July 2020
Kuwait's Emir Sheikh Sabah al-Ahmad al-Jaber al-Sabah will be traveling to the US to receive treatment after he was hospitalized earlier this week, state news agency KUNA reported on Wednesday.
The 91-year-old ruler underwent a surgery on Sunday, requiring the crown prince to temporarily serve in his place.
For all the latest headlines follow our Google News channel online or via the app.
Sheikh Sabah has ruled the US ally and OPEC oil producer since 2006 and steered its foreign policy for more than 50 years.
In October of last year, Sheikh Sabah had suffered a health setback while in Kuwait and was admitted to a hospital in the United States during his trip for a meeting with US President Donald Trump.
After receiving treatment, the emir then returned to Kuwait.
https://english.alarabiya.net/en/News/gulf/2020/07/22/Kuwait-s-emir-to-travel-to-US-for-treatment.html
--------
Mideast
Palestinian cultural leader, wife arrested by Israel for allegedly funding terrorism
22 July 2020
Israeli police arrested two prominent Palestinian cultural leaders on Wednesday at their home in east Jerusalem on suspicion of "funding terrorism," police and a defense lawyer said.
Rania Elias, who heads the Yabous Cultural Center and her husband Suhail Khoury, Director General of the Edward Said National Conservatory of Music, were detained at their home in Jerusalem's Beit Haninaneighborhood.
For all the latest headlines follow our Google News channel online or via the app.
The Yabouscenter and the conservatory were also raided by police and Israeli tax investigators, with documents confiscated.
The Palestine Liberation Organization condemned the arrests and raids as part of "Israel's violent and systematic campaign against Palestinians in occupied Jerusalem."
According to Elias's lawyer Nasir Odeh, the couple was "detained on charges of financing terrorist organizations."
But he stressed that Israel's broad anti-terrorism laws include a wide range of offenses, including accepting money from organizations that the Jewish state has labeled as "terrorist."
Israeli police spokesman Micky Rosenfeld said in a statement that police, with tax authorities, detained "three suspects... in connection with tax evasion and fraud", without mentioning the individuals by name.
Read more: A brief history of previous Palestine peace deals – and their failure
It confirmed the searches "at two organizations that were run in east Jerusalem claiming that they were involved in Palestinian culture."
Rosenfeld said the individuals were being questioned and the investigation was ongoing.
His statement makes no mention of terror-related offenses.
But documents sent to AFP by a conservatory official, presented by police at the time of the search, reference "suspicion of money laundering (and) funding terror."
The Yabous Cultural Center in east Jerusalem was established in the mid-1990s with a mandate to celebrate Palestinian culture and Arab heritage in the city.
https://english.alarabiya.net/en/News/middle-east/2020/07/22/Palestinian-cultural-leader-wife-arrested-by-Israel-for-allegedly-funding-terrorism.html
--------
Israel hosts US envoy at biochem lab, seeks FDA nod for COVID-19 vaccine prototype
22 July 2020
The US ambassador to Israel visited its bio-chemical defense laboratory and was briefed on a coronavirus vaccine prototype for which it is seeking US Food and Drug Administration (FDA) regulation, a US official said on Wednesday.
The vaccine being developed at the Israel Institute for Biological Research (IIBR), in rural Ness Ziona, began animal trials in March. A source familiar with IIBR activities said human trials were expected before year's end.
A US official described Ambassador David Friedman's visit to the IIBR on Monday as part of the two allies' "robust fight against the coronavirus." Israel's Defense Ministry, which oversees the IIBR, had no immediate comment.
The IIBR is seeking FDA vaccine regulation, the US official added. Asked whether Friedman would help in this regard, the official said only that the envoy "is working tirelessly to ensure that things that (can) help the American people can get to them in the most effective and efficient way."
For all the latest headlines follow our Google News channel online or via the app.
The FDA website says its "regulations for the development of vaccines ensure their safety, purity, potency and effectiveness" and could pave the way for a vaccine's use in the United States.
https://english.alarabiya.net/en/coronavirus/2020/07/23/Israel-hosts-US-envoy-at-biochem-lab-seeks-FDA-nod-for-COVID-19-vaccine-prototype.html
--------
Incident at Iran's Natanz nuclear facility due to 'security breach': Lawmaker
22 July 2020
The explosion at Iran's Natanz nuclear facility early July was due to a "security breach," an Iranian lawmaker said Wednesday.
Iran's Atomic Energy Organisation (AEOI) said on July 2 that an accident had taken place at a construction site in the Natanz nuclear site in central Iran without causing casualties.
For all the latest headlines follow our Google News channel online or via the app.
Iran said a day later it determined the cause of the "accident" at Natanz but declined to release details citing security reasons.
"A security breach is our definitive conclusion," Javad Karimi Ghodoosi, a member of the Iranian parliament's national security and foreign policy committee, told the parliament's website ICANA.
Ghodoosi did not give any further details on the security breach that he said took place.
Ghodoosi ruled out that "an object from outside" struck the nuclear facility, meaning he does not believe the facility was subject to an airstrike or a missile attack.
"If an external object had hit the facility, we should have seen shrapnel, but based on the investigations, absolutely nothing has been found," he said.
Iranian officials and state media have persistently ruled out that the explosion at Natanz was due to an airstrike or cyber sabotage.
Government spokesman Ali Rabei said on Tuesday investigations are yet to reach a final conclusion. He also ruled out any Israeli involvement.
"Some media outlets and media activists, who mainly work with the Mossad, have linked the Natanz incident to the Israeli regime in a planned and coordinated effort to portray a powerful image of the Israeli regime," Rabei said.
Some media reports suggested that Israel may have been behind some of the recent incidents in Iran, especially the incident at Natanz.
Three Iranian officials who spoke to Reuters said they thought cyber sabotage had been involved at Natanz but offered no evidence. Two said Israel could have been behind it.
Some Iran watchers say the Iranian regime is refraining from admitting to an Israeli involvement in order to "save face."
Admitting to an Israeli involvement will also require a response from Iran which the regime likely does not have the capacity for, they say.
Israel has not claimed any responsibility for any attacks in Iran.
A report by the Washington-based Institute for Science and International Security said that the explosion at Natanz has caused "likely irreparable" damage to parts of the site, marking a "significant" setback to Tehran's aspirations to mass produce advanced centrifuges.
https://english.alarabiya.net/en/News/middle-east/2020/07/22/Incident-at-Iran-s-Natanz-nuclear-facility-due-to-security-breach-Lawmaker.html
--------
Iranian parliament chief urges Iraq to pursue Gen. Soleimani's assassination case
22 July 2020
Iran's Parliament Speaker Mohammad-BaqerQalibaf has called on neighboring Iraq to "vigorously" follow up on the US assassination of top anti-terror commander Lieutenant General Qassem Soleimani, censuring the crime as a stain on the record of American statesmen.
"The United States violated Iraqi territory and impudently assassinated those who risked their lives to crush the bones of terrorism. This is not a simple issue. The American assassination is a major case that must be pursued vigorously," Qalibaf said in a meeting with visiting Iraqi Prime Minister Mustafa al-Kadhimi in Tehran on Wednesday.
General Soleimani, the commander of the Quds Force of Iran's Islamic Revolution Guards Corps (IRGC), was killed in a fatal US drone strike near Baghdad airport on January 3, along with Abu Mahdi al-Muhandis, the second-in-command of Iraq's Popular Mobilization Units (PMU) counter-terrorism force, and eight other Iranian and Iraqi people.
"The criminal assassination of General Qassem Soleimani, an international hero in the fight against terrorism, and the great martyr Abu Mahdi al-Muhandis and their companions, on the direct order of [US] President [Donald] Trump, is a stain of shame that will never be erased from the faces of White House officials," the top parliamentarian said.
The Islamic Republic, he added, believes that stability will not return to the region as long as foreign forces are present.
Qalibaf also highlighted the historical and religious bonds between the two neighboring nations and said, "We fought Daesh and Takfiris and emerged victorious. The Islamic Republic of Iran has been standing by the Iraqi government and since the start [of their anti-terror fight]."
The Parliament chief said political, economic and cultural relations between the two sides have been growing at a proper rate, calling for serious efforts to further enhance bilateral ties in various sectors.
Kadhimi, for his part, hailed Iran for backing the Iraqi government and nation during the fight against Daesh.
Iraq, he added, will not forget that Iran is an important neighbor and thus will continue developing bilateral economic, cultural and security ties.
Iraq will not allow its territory to be used as a ground for security threats against the Iranian nation, Kadhimi stressed.
https://www.presstv.com/Detail/2020/07/22/630179/Iran-Qalibaf-Iraq-Kadhimi-Soleimani
--------
Africa
Moroccan ISIS-affiliates leave Syria, Iraq for Libya – European security reports
July 21, 2020
Two European counterterrorism reports have reported the movement of Islamic state group fighters, including Moroccan nationals, leaving Syria and Iraq to lawless Libya.
Published by the European Center for Counterterrorism and France's Center of Terrorism Analysis, the reports stress that fighters of the global terror group are fleeing Syria and Iraq, two hubs of the criminal group.
The fleeing affiliates include dozens of Moroccans, local Moroccan Arabic media Al Ahdath Al Maghribia reports.
At least 1,000 Moroccans have left the kingdom for hotbed conflict zones, mainly in Syria and Iraq.
Libya is currently witnessing a rivalry between the UN-backed Government of National Accord (GNA) supported by Turkey and Qatar and an eastern administration backed by Egypt, UAE, Russia and France.
The European Union (UE) has called for the end of rivalries between the Libyan sides arguing that the conflict situation in the oil-rich country endangers countries around the Mediterranean.
European countries continue to receive hundreds of migrants who depart from Libyan coasts. More than 650,000 people wait to leave Libyan shores for Europe, Malta warned.
https://northafricapost.com/42558-moroccan-isis-affiliates-leave-syria-iraq-for-libya-european-security-reports.html?utm_source=iterable&utm_medium=email&utm_campaign=1378653_
--------
Libyan National Army downs Turkish drone west of Sirte
23 July 2020
Forces from the Libyan National Army have shot down a Turkish drone west of the city of Sirte late on Wednesday, according to sources from the eastern-based forces in Libya.
The LNA warned Turkey on Wednesday against making advances toward the Libyan coast, threatening to target any hostile naval vessels present in Libyan waters.
For all the latest headlines follow our Google News channel online or via the app.
Colonel Abu Bakr al-Abyad, an LNA naval officer, said that any Turkish naval vessel that attempts to approach the Libyan coasts will be subject to destruction, adding that the LNA has "capabilities necessary to defeat any enemy approaching Libya."
Turkey supports the Government of National Accord (GNA), which is fighting for control of the country against eastern-based commander Khalifa Haftar.
Egypt, the United Arab Emirates and Russia all back the LNA forces led by Haftar.
Earlier on Monday, Egypt's parliament authorized the deployment of troops outside the country after the president threatened military action against Turkish-backed forces in Libya.
Rhetoric on the Libyan conflict has been ramping up in recent days, with Turkish President Recep Tayyip Erdogan aide FahrettinAltun tweeting "Turkey has the "power and ability to obliterate the illegitimate bloc targeting Libya's legitimate government."
https://english.alarabiya.net/en/News/north-africa/2020/07/23/Libyan-National-Army-downs-Turkish-drone-west-of-Sirte.html
--------
Gunmen kill 11 villagers in Nigeria's volatile northwest after wedding bloodshed
23 July 2020
Unknown gunmen have raided a village in Nigeria's northwestern Kaduna State, leaving nearly a dozen people dead and forcing hundreds of others to flee their homes in panic.
Local authorities and community representatives said Wednesday that a group of motorcycle-riding assailants had launched an overnight raid on the Gora Gan village and opened fire on locals.
"The gunmen killed 11 people in the attack and left 15 with serious injuries," said Elias Manza, administrative head of the ZangonKataf district.
The attackers also set fire to houses, seven motorcycles, a church and a car.
Meanwhile, Jonathan Asake, a community leader, said the assault promoted over 550 people to flee their homes.
He added they "are afraid to go back to their homes and are sheltering in a primary school" in a nearby town.
The latest bloodshed came a day after gunmen killed at least 18 people and wounded others at a wedding ceremony in Kaduna.
No group has claimed responsibility for the attack.
Kaduna has, over the past years, witnessed a wave of ethnic violence as well as raids by armed gangs, most notably the Daesh-affilated Boko Haram terror group.
Recently, there has been a rise in deadly clashes between predominantly Christian farmers and Muslim Fulani herders, a historically nomadic people who graze their cattle on the land.
A day after the wedding bloodshed, the Nigerian presidency warned against a rise in violence in the southern part of Kaduna, saying banditry, revenge killings and gang violence are to blame for unending killings in the region.
https://www.presstv.com/Detail/2020/07/23/630231/Nigeria-Kaduna-village-attack
--------
Europe
Germany: Anti-Semitic attack suspect shows no remorse in court
21.07.2020
Stephan B. remained impassive as he was led into the large, low-ceilinged Magdeburg courtroom on Tuesday morning. As in the video that he live-streamed on the internet during last October's deadly attack in Halle, he was shaven-headed and dressed in a thick black jacket, only this time he was also handcuffed and shackled, wearing a disposable coronavirus protection mask, and with at least six masked guards around him.
The trial itself was only able to begin after a two-hour delay, apparently because the rigorous security checks took much longer than predicted. But by midday, the courtroom was packed. Spectators and journalists observed proceedings from behind a glass screen, while the ranks of seats in front were filled with some of the 43 co-plaintiffs — many of them the people who had been in the synagogue last October — and their lawyers.
The 28-year-old defendant has been charged with two cases of murder in the killings of 40-year-old Jana L. and 20-year-old Kevin S., as well as 68 cases of attempted murder. The latter figure comprises the 52 people who were observing Yom Kippur inside the Halle synagogue plus a number of other passers-by and police officers that he shot at during the attack and his two-hour attempted escape. He has also been charged with extortion under threat of force for stealing a taxi at gunpoint as he fled.
Cross-examination reveals no remorse
The proceedings began, after the charges were read, with a lengthy exchange between the defendant and Judge Ursula Mertens that took up the rest of the first trial day.
Stephan B. showed no remorse or emotion throughout the long cross-examination, repeating anti-Semitic conspiracy theories, in line with the plan he published online shortly before the attack began.
He was lucid throughout, and had a habit of sniggering nervously at parts of his own testimony.
Asked if he had friends in his youth, he answered: "No." Did he belong to a sports club? "No."
What were his interests? "Internet." What did he like about the internet? "The possibility to converse freely." Didn't he have that possibility outside? "Not in Germany," he replied.
He said he had a good relationship with his sister, who initially encouraged him to engage more with others, though his social contacts steadily declined over time. When asked by the judge why these contacts had ebbed, he answered simply: "Different things. Not important."
Stephan B. said he had spent six months in the Bundeswehr — Germany's armed forces — which according to him was "not a real army."
He then described his brief attempt to study chemistry, which was cut short by a long illness that he declined to go into in detail about. After that, when asked whether he had had any plans, he laughed and said, "No, I had no plans."
Inspired by Christchurch mosque attacks
"After 2015, I decided not to have anything to do with this society," he added. "Especially the Muslims in it."
After this statement, the defendant was warned by the judge not to express any hate speech, or he would be shut out from proceedings.
Read more: Christchurch — The myth of the lone wolf attacker
Occasionally, the judge entered into discussions with him about his world view. "I'm angry, I'm angry! For millennia it has been normal to defend one's home country," he added at the end of a dispute with the judge about immigration.
He described Muslim refugees as alleged "conquerors from the Islamic world."
"I'm someone from the bottom rung of society, and when my country is being colonized by people I am under threat," he claimed.
He also stated, for the first time on record, that he was directly inspired by the Christchurch attacks of March 2019,which he saw as an example of "the white man defending himself," he said.
The judge countered, "But you might ask what the white man was doing in New Zealand in the first place?"
Details of the attack
During his lengthy testimony, Stephan B. described the reason why he shot Jana L., a passer-by outside the synagogue. He said he had been irritated by the way she had chided him for making a noise.
But then why shoot her several times? "When you start something, you have to carry it out," he answered bluntly.
The judge asked him directly: "You shot her once, then again several times, and then even said 'pig.' Do you feel any empathy? Do you understand what that is?"
He answered: "I'm sorry I shot her, it wasn't planned, I didn't mean to, but..." the answer trailed off there. "I do regret it, I shot at a lot of whites, I didn't mean to do that."
He said he believed that Kevin S., the customer in the kebab shop who he killed, was a Muslim when he shot him.
As the day progressed, Stephan B. was induced by Judge Mertens into describing the attack in detail. He appeared more than willing to do this, enthusiastically answering all questions in detail about his homemade weapons, his planning, his strategic considerations, and how he had experienced the day.
Several times throughout the attack, he said he thought he would die, especially when he realized he had been shot in the neck following a fire-fight with police.
'Complex personality disorder'
Few people doubt that Stephan B. will be found guilty and sentenced to life in prison. The man charged filmed the entire attack himself with a camera attached to his helmet, streaming the video live onto the online platform Twitch.
During his testimony on Tuesday Stephan B. said that at one point he realized that his Twitch account, with his live-stream, had been suspended. "That's bad, because the stream was more important than the attack itself," he said.
The perpetrator confessed soon after being arrested and showed no remorse for his actions. In fact, according to an examination by forensic psychiatrist Norbert Leygraf, Stephan B.'s only regret was that his initial plan — to break into the synagogue and kill as many Jewish people as possible — had failed so completely.
Leygraf's 100-page assessment, details of which were revealed this week by news magazine Der Spiegel, found that Stephan B. has a "complex personality disorder," with some traits of autism, but that this does not compromise his criminal liability. He apparently described the two killings with no emotion.
The psychiatrist, who interviewed the defendant three times, also found that he had been obsessed with anti-Semitic conspiracy theories and homemade weapons for years. In the indictment, the German federal police said Stephan B. had armed himself with eight firearms and several homemade explosives, some of which he threw over the synagogue wall in an attempt to scare the people inside to come out.
His defense attorney, Hans-Dieter Weber, previously described Stephan B. as intelligent, articulate, and socially isolated.
At the end of the exhausting court day, co-plaintiff Rebecca Blady, one of the people inside the Halle synagogue during the attack, said she was initially skeptical of the judge's insistent questions.
"But then as proceedings went on I realized that we were able to really see how he thinks through those questions," she told DW. "There's no question that there's no room in this society for a person who thinks like that. That ideology is lethal. It kills people."
Blady said Stephan's B.'s testimony was revealing. "He knows what he's talking about. He hates Arabs and Muslims, he's completely racist, he believes Jews are the source of many of the world's problems. He's convinced, and he's not speaking from a place of craziness. This is actually what he thinks."
Some 18 days have been set for the trial, which is expected to last until October.
https://www.dw.com/en/german-synagogue-attack-trial-starts/a-54241893?utm_source=iterable&utm_medium=email&utm_campaign=1378653_
--------
Iran looks to buy Russian weapons to 'enhance defense capacities'
21 July 2020
Tehran is looking to buy Russian weapons to "enhance its defense capacities," Iran's ambassador to Moscow has been quoted as saying, amid US efforts to extend an arms embargo on Iran expiring later this year.
Iran will hold talks with Russia to determine its military needs, Iranian Ambassador KasemJalali was quoted as saying by Russia's TASS news agency, Monday.
For all the latest headlines follow our Google News channel online or via the app.
"The Russian government and the Russian people have always been by our side in times of trouble. Russia is our priority partner in this sense," Jalali said.
Jalali's remarks come as the US increases its diplomatic efforts to extend the UN Security Council arms embargo on Iran, which expires on October 18.
Iran's foreign minister, Mohammad Javad Zarif, was in Russia Tuesday where he met with his Russian counterpart Sergei Lavrov.
Zarif said he delivered an "important message" to Russian President Vladimir Putin, without elaborating.
The US argues that a failure to extend the arms embargo on Tehran would further destabilize the Middle East.
Senior Iranian officials have warned against the extension of the embargo on numerous occasions in recent weeks, saying it would have severe consequences for Washington and its allies.
Iran is counting on China and Russia to block the extension of the arms embargo at the UN Security Council. Moscow and Beijing have signaled that they oppose the extension.
https://english.alarabiya.net/en/News/middle-east/2020/07/22/Iran-looks-to-buy-Russian-weapons-to-enhance-defense-capacities-.html
--------
Question everything: How open debate can combat extremism in schools
Nicky Harley
July 22, 2020
Teachers should be engaging in tough love and debate with pupils to combat extremism, security experts say.
A new report showed that encouraging youngsters to question radicalisation issues was more effective than telling children to treat each other nicely.
Researchers analysed more than 20 international education initiatives aimed at preventing violent extremism.
The paper by defence think tank Royal United Services Institute urged teachers not to shy away from challenging issues.
"Education initiatives can only address a limited range of concerns but, carefully designed, [they] can play a role to make students more resilient to radicalisation efforts," Claudia Wallner, a terrorism and conflict researcher at the institute, said.
"We do have evidence from existing interventions that, if done right, certain approaches can make students aware of certain types of extremism and make them more resilient to recruitment and radicalisation.
"Education initiatives can be effective at targeting some extremism. Germany chose the approach to dealing with its own historical legacy by debating the government's part in past human rights issues.
"It is relevant as many countries start to deal with their own racist history, like the Black Lives Matter movement.
"Improving the ability [of youngsters] to critically evaluate and see through world views and binary narrative by debating topics openly takes the power away from extremists."
However, Ms Wallner said her analysis revealed that flawed initiatives could fuel hate.
"We also found poorly designed and managed interventions can create more harm than good and help radicalisation if specific groups are targeted by the intervention," she said.
Prof Lynn Davies from the University of Birmingham specialises in how education can be used to combat extremism and said encouraging children to speak openly about topics built their "resilience and confidence".
"What doesn't work in terms of trying to prevent extremism is just telling kids to love each other and to be nice or respect each other – that is not enough in building resilience," she said.
"What doesn't work is saying 'do not say that', 'do not mention extremism'.
"You have to let children express everything, even if it is very uncomfortable. Let children question everything is the key message."
Ms Davies, whose work has reached 83,000 pupils and teachers in 20 countries, she said it was important for teachers to be aware of current issues, such as the coronavirus pandemic and the so-called fake news extremists use in their radicalisation techniques.
"There are links between extremism, knife crime, grooming and racism," she said.
"Someone might start in a violent gang and switch to religious extremism and it is understanding this trajectory. [Educators need to] look at how extremists are capitalising on current events like Covid-19 and Black Lives Matter and understand how current events get diverted into support for extremist movements.
"We speak to former extremists and they share how they went into movements and how they were misled in terms of what happened."
Ms Davies said the most successful initiatives were delivered by people with "huge credibility" among youngsters, such as former extremists or youth workers.
https://www.thenational.ae/world/question-everything-how-open-debate-can-combat-extremism-in-schools-1.1053116
--------
Tajik man faces IS-related terrorism charges in Germany
July 21, 2020
BERLIN — Authorities have charged a Tajik man with membership in a terrorist organization on allegations he led a group plotting attacks in Germany in coordination with Islamic State leaders in Syria and Afghanistan, prosecutors said Tuesday.
Ravsan B., whose last name wasn't released in line with German privacy laws, also faces charges of weapons violations, preparing an act of violence, and other counts.
The 30-year-old, who has been in custody since March 2019, is accused of forming a cell of the Islamic State in Germany with other Tajik nationals no later than January 2019 to carry out attacks and raise money for the extremist organization.
For the latter goal, they allegedly took a contract for $40,000 to kill an Albanian businessman and traveled to the country at the end of February, 2019. There they procured weapons from contacts and observed the target over several days but eventually experienced misgivings as to whether they were focused on the right man and returned to Germany without killing him, prosecutors said.
They also allegedly brought the weapons with them, and when back in Germany also procured explosives and detonators to use in an unspecified attack.
Acting on orders from an Islamic State member in Afghanistan, they decided to kill a man who had made critical comments about Islam, and take photographs to use as propaganda to raise support for the fight against "infidels," prosecutors said.
On the day the attack was planned, the suspect was arrested by German police and the killing was prevented, prosecutors said.
Four other alleged members of the cell, identified only as Azizjon B., Muhammadali G., Farhodshoh K. and Sunatullokh K. — all also Tajiks — were arrested this February and charged with membership in a terrorist organization on allegations they were plotting an attack on American military facilities in Germany.
Another suspect, identified as KomronZukhurov, was arrested in May in Albania on allegations he was part of the cell.
https://www.washingtonpost.com/world/europe/tajik-man-faces-is-related-terrorism-charges-in-germany/2020/07/21/e9a3e04c-cb60-11ea-99b0-8426e26d203b_story.html?utm_source=iterable&utm_medium=email&utm_campaign=1378653_
--------
Southeast Asia
Medan man faces four years in prison for allegedly desecrating Quran
July 22, 2020
A 44-year-old man in Medan, North Sumatra, faces four years in prison for having allegedly desecrated the Quran at a local mosque earlier this year.
Prosecutors at the Medan District Court charged the defendant, DoniIrawan Malay, for blasphemy under Article 156 of the Criminal Code and demanded a four-year prison term for him during a hearing on Tuesday.
Doni was accused of committing a blasphemous act by purportedly tearing out pages from the Quran. He pleaded for a lighter sentence, conveying his guilt to the court.
"I am very sorry, your honor. I will never do it again. Please give me as light a punishment as possible," he told the judge as quoted by tribunnews.com.
Sentencing is scheduled for next week.
According to the prosecutors, the incident took place at Al-Mashum Mosque in Medan Kota district in the afternoon of Feb. 13.
"The defendant entered the mosque and took a Quran from a shelf without permission from the management," a prosecutor told the court, adding that the defendant then took the Quran into the male ablution room.
"The defendant removed the cover from the Quran, threw it into a garbage bin inside the ablution room and then proceeded to tear out pages from the Quran with both of his hands."
They said Doni then exited the mosque later that afternoon and threw the ripped Quran pages onto the streets before running away.
Doni was later caught by locals and reported to the Medan Kota Police. (rfa)
https://www.thejakartapost.com/news/2020/07/22/medan-man-faces-four-years-in-prison-for-allegedly-desecrating-quran.html
--------
Bersatu-linked think tank's study suggests one in two Malaysians would back Umno-PAS in snap poll, Pakatan losing urban foothold
23 Jul 2020
BY RADZI RAZAK
KUALA LUMPUR, July 23 — Over half the respondents from an Emir Research survey said they would vote for an Umno-PAS pairing in a hypothetical early general election, according to the results released yesterday.
In its quarterly report released yesterday, the PartiPribumi Bersatu Malaysia-linked think tank said 52 per cent of respondents backed Umno and PAS while 30 per cent chose Pakatan Harapan (PH) and 18 per cent were undecided.
This contrasted strongly with the firm's poll last year that showed PH to still enjoy popular support, particularly among urban voters.
"The results were near opposite in the previous poll — Pakatan Harapan was greatly supported within the middle — and higher-income groups of respondents. Only the lower income earners have shown very marginal support to Umno and PAS in the previous round of polling.
"In the current poll though, lower-income earners' support for Umno and PAS was twice as high at that for Pakatan Harapan," said the report.
Emir Research is led by Datuk RaisHussin, the Bersatu Supreme Council member, who was recently appointed as Malaysia Digital Economy Corporation (MDEC) chairman after pledging support to party president Tan Sri Muhyddin Yassin.
The poll said that in contrast to the previous polling results, both urban and rural dwellers now supported Umno and PAS whereas those in urban areas previously leaned towards PH.
It said urban respondents were now twice as likely to support Umno and PAS over PH.
In rural areas, support for PH grew marginally but this gain was eclipsed by what Umno and PAS achieved.
The report said that while Chinese (61 per cent) and Indian (47 per cent) voters still preferred PH, there has been a massive swing towards the two Malay-based parties.
"Overall, there has been a great shift of voters' support from Pakatan Harapan towards Umno and PAS over the period from the last quarter of 2019 to the first quarter of 2020.
"This trend is maintained across different demographic categories such as income, qualification, age and domicile.
"Only ethnically-coloured support has largely remained the same — favouring Pakatan Harapan by Chinese and Indian groups and backing the Umno and PAS by Malay and Bumiputera respondents," said the report.
The poll also found that 45 per cent of Malaysians polled agree that an Umno-PAS coalition could best preserve the rights of the Malays and the position of Islam, with 43 per cent saying the two could resolve political divisions in the community.
Over one in three also said all Malay parties should merge.
"Among the ethnic groups, understandably, the Malays/Bumiputeras were the most receptive to the idea of Umno-PAS coalition and the need for all Malay parties to be united compared to the other ethnic groups.
"The Chinese and Indians were more unsure than either being agreeable or disagreeable with the idea of Umno-PAS coalition and the unity of Malay parties. A third of the Chinese (33 per cent) and Indians (34 per cent) agreed that a Umno-PAS coalition resolves disunity among the Malays."
Emir Research said the survey included 2,002 voters across all 222 Parliamentary constituencies, and was aimed at gauging the public's wellbeing in terms of their perceptions, expectations, and worries.
The survey was conducted between January 15 to February 25, 2020.
https://www.malaymail.com/news/malaysia/2020/07/23/bersatu-linked-think-tanks-study-suggests-one-in-two-malaysians-would-back/1887133
--------
URL: https://www.newageislam.com/islamic-world-news/quetta-siri-guru-singh-gurdwara/d/122449
New Age Islam, Islam Online, Islamic Website, African Muslim News, Arab World News, South Asia News, Indian Muslim News, World Muslim News, Women in Islam, Islamic Feminism, Arab Women, Women In Arab, Islamophobia in America, Muslim Women in West, Islam Women and Feminism