New Age Islam News Bureau
4 Aug 2018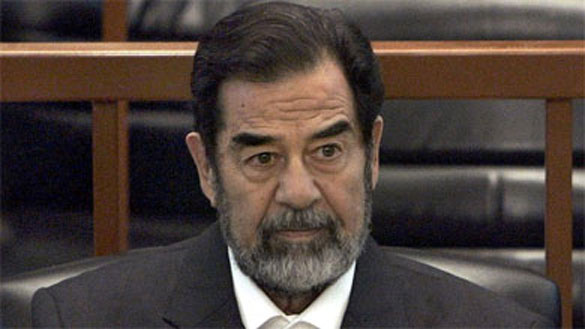 The uproar in Lebanese banking sector is related to money deposited in the name of late Iraqi president Saddam Hussein or under his former regime. (File photo: Reuters)
-----
• Queer And Islam: There's No Conflict, A Delhi Project Set to Tell You
• Secular State to Be Resisted By Religious Parties: Pakistan Jamaat-i-Islami Emir
• Attackers Target Shiite Mosque in Afghanistan, Killing At Least 39
• Lebanon Transferred Saddam's Billions to US, Clarifies Top Banker
• 55 Civilians Killed In Attacks Thursday on Yemen's Hodeida: Red Cross
India
• Queer And Islam: There's No Conflict, A Delhi Project Set to Tell You
• 4 Terrorists Killed In Fresh Exchange Of Fire With Security Forces In Shopian
• NIA files chargesheet against six in LeT terrorist escape case
• Is Modi's BJP aiming for the moon in India's Muslim-majority Jammu & Kashmir?
--------
Pakistan
• Secular State to Be Resisted By Religious Parties: Pakistan Jamaat-i-Islami Emir
• 12 Schools Attacked, Set on Fire in Northern Pakistan
• Pakistani families denied visas to see Pope Francis
• Extending support to Imran Khan for betterment of country, says Pir Pagara
• MQM confirms support to PTI in exchange for federal package for Karachi
• Law minister says Imran may take PM oath on 14th
• PPP considering Khursheed or Nafisa for NA speaker
• Pakistan condemns attack on Afghanistan mosque
• US-Muslim leader sees tough time for Pak-US ties under Imran
--------
South Asia
• Attackers Target Shiite Mosque in Afghanistan, Killing At Least 39
• Amnesty Possible For Daesh Fighters Surrendering In North Afghanistan
• Afghan commandos rescue 61 civilians from a Taliban prison in Helmand
• 7 Pakistani militants killed, 8 wounded in Kunar operations
• Taliban rejects involvement as Gardez mosque bombing attracts widespread condemnation
--------
Arab World
• Lebanon Transferred Saddam's Billions to US, Clarifies Top Banker
• UAE Tolerance: Dubai Summit to Fight Extremism with Knowledge
• UN gradually returning peacekeepers to Syria-Israel frontier
• Russia talking with ISIS to free 36 women, children abducted in Syria's Sweida
• Activist Mai Skaf laid to rest in Paris flanked by Syrian Revolution flags
• Saudi Arabia sends evidence to UN of deadly Houthi attack on Hodeidah hospital
• Turkey working to forestall Idlib offensive by Syria: Report
• Saudi-led coalition accuses Houthis of Hodeidah hospital attack
• Official praises KSA's commitment to human rights
--------
Mideast
• 55 Civilians Killed In Attacks Thursday on Yemen's Hodeida: Red Cross
• Hamas Leaders to Meet In Gaza amid Israel Truce Reports
• Secret UN report reveals North Korea attempts to supply Houthis with weapons
• Coalition: Houthis kill civilians by bombing Hodeidah hospital
• 25 Houthis killed in intense fighting in Yemen's al-Jawf
• Israel forces shoot dead one, injure 120 Palestinian protesters
• Yemeni army continues to advance, pushing back Houthis in Al-Baydah province
• Iran protesters attack religious school: Fars news agency
--------
Africa
• Nigerian Activist Runs Schools to Counter Boko Haram Violence
• US Military Airstrike In Somalia Kills 4 Al-Shabaab Fighters
• IDPs in Libya running out of time and resources
• Jordan army says several ISIL fighters killed in border clashes
• Nigeria's prominent Muslim cleric abducted
--------
North America
• Texan Says U.S. Muslims Lately Subject To More Attacks, Hate Crimes than Ever
• Detective Claims NYPD Is Discriminating Against Him for Being Muslim
• Osama Bin Laden May Have Planned 9/11 to Unleash the Apocalypse
• Ankara says it agreed with US 'to work closely to resolve issues'
• Demonstrators call on Canadian government to reunite Yazidi families
--------
Europe
• UK Labour Must Tackle Its Anti-Semitism
• Tajikistan Refutes IS Claim of "Terror Attack" That Killed 4 Tourists
• UN condemns 'shocking' Yemen hospital strike
• UN peacekeepers return to Golan after talks with Russia, Israel, and Syria
• Tunisia arrests two over foiled biological attack in Germany
--------
Southeast Asia
• Jakarta Fails Yet Again To Counter Islamic State Threats
• Indonesia launches new group to combat extremism
• Perak MB says 'cruel to marry children' 16 and younger
• Philippines Nabs Cleric over Bomb Claimed by Islamic State
Compiled by New Age Islam News Bureau
URL: https://www.newageislam.com/islamic-world-news/queer-islam-theres-no-conflict/d/116040
--------
Queer and Islam: There's no conflict, a Delhi project set to tell you
By Christina George
August 4, 2018
Why can't Muslims be queer and vice-versa? Why don't queer Muslims open up within their community? Why is it that queer Muslims remain caught in a double bind of homophobia and Islamophobia?
It is with these tough questions in mind that queer activist Rafiul Alom Rahman is looking to reconcile the two identities – that of gender and faith – of queer Muslims and create an inclusive safe space that will help them come out without the fear of ostracism and ridicule.
Speaking to the indianexpress.com, Rahman said, "Belonging to two marginalised communities, queer Muslims often fail to find acceptance even within the queer community. They are facing a parallel struggle to navigate their sexual as well as religious identities. There needs to be a fearless space to discuss gender identities and faith in Islam."
To begin with, Rahman, inspired by the queer Muslim groups in the West, has launched The Queer Muslim Project (TQMP), an online space for uninhibited conversations and exchange of experiences, ideas and information regarding LGBTQs.
TQMP, in fact, came into being after Rahman quit his PhD on the queer Muslim community midway at Texas University, US, when he found that there was a dearth of information or contemporary documents available on LGBTQ Muslims in India.
Bogged down by the rigidness in the culture and community, the activist said that many LGBTQ people give up on practising Islam to avoid Islamophobia.
"The mainstream idea about what faith says regarding the LGBTQ community is that their actions are sinful and punishable and as a result, I have heard people saying, 'I'm not a Muslim, I'm queer,' and I have seen the other extreme as well," Rahman said while speaking for the need for such a project and the perceived conflict between Islam and homosexuality.
Expanding its reach to the Muslim homosexuals, TQMP has now decided to mark their presence offline and gather in person to strengthen the movement. The Queer Muslim Project is holding a "Do-It-Yourself (DIY) Islam" workshop in Delhi that will be a space for LGBTQ and queer Muslims to explore their feelings and experiences of Islam, both good and bad, this Sunday, August 5.
The discussion will be felicitated by Fyzah Tajdin who is a non-binary queer Muslim from New York City (NYC), who works with the Muslim Alliance for Sexual and Gender Diversity (MASGD) in planning the annual LGBTQIA Muslim Retreat.
Rahman said: "The gathering is available through strict RSVPs to safeguard the voice and interest of the queer Muslims."
Calling TQMP an open chapter, Rahman said it is a voluntary initiative and right now the project is moderated by a group of 10 people. "It is a voluntary community initiative expanded in both Delhi and Bangaluru," he said.
Responding to The All India Muslim Personal Law Board's statement on not contesting if the Supreme Court scraps Section 377 of the IPC, which criminalises homosexuality, Rahman said, "It is a positive approach but that doesn't stop the backlash and hate we receive from the conservatives."
"We are constantly trolled for organising events for queer Muslims, saying we should head to Pakistan as we are creating a divide within the LGBTQ community. But we want to include the voices of people who have queer and Muslim experiences in a way that invites conversation with the public," said Rahman.
https://indianexpress.com/article/india/the-queer-muslim-project-delhi-rafuil-alom-rehman-homophobia-islamophobia-5288514/
--------
Secular State to Be Resisted By Religious Parties: Pakistan Jamaat-i-Islami Emir
August 04, 2018
LAHORE: Certain elements are overjoyed over the poor electoral performance by religious parties in the elections and believe that secular and liberal lobbies will now be able to pursue their agenda freely but they are gravely mistaken, says Jamaat-i-Islami emir Senator Sirajul Haq.
Addressing the Friday congregation at Mansoora, he said the people were always ready to lay down their lives for Islam and the Holy Prophet and no one can dare to convert this country into a secular state.
Mr Haq said the JI would continue watching new government and see where it was getting guidance from. The US was saying it was glad over the defeat of the religious parties in this country and that the Pakistanis have rejected extremism and terrorism. In fact, the US itself was promoting terrorism and extremism in the world.
He said the list of US crimes against humanity was long. It was the only country in the world to drop nuclear bombs on Hiroshima and Nagasaki which killed millions of innocent humans. During the last three decades, he said, the US had been involved in the bloodshed of innocent people, especially the Muslims, in different parts of the world. The Americans had even bombed the factory preparing milk for the infants in Sudan and they were mainly responsible for the killings of the Muslims in Palestine and Kashmir, he added. He said that if the new government also acted on Washington's dictation, it would also lose public support in no time.
He said the JI wanted Imran Khan to fulfill his commitment to build the country an Islamic state on the pattern of the Medina state. He said that a beginning in this direction should be made soon. He said the JI would welcome every good work of the new government. If the government tried to change the direction of the country, the JI would be the biggest obstacle in its way.
He said the JI had always struggled for the enforcement of the Islamic system as it wanted to see this country an Islamic, welfare state. He was sure that the sacrifices of the JI workers for this great cause would not go waste.
He said that during the election campaign, the JI workers had approached the people in every nook and corner of the country and sought the public support for the blessed Islamic system. He said the hurdles arising in their way could not shatter their resolve and they would continue to strive for the sublime cause till their last breath and they were sure to be successful in the last run.
https://www.dawn.com/news/1424830/secular-state-to-be-resisted-by-religious-parties-siraj
--------
Attackers Target Shiite Mosque in Afghanistan, Killing At Least 39
By Sayed Salahuddin
August 3, 2018
KABUL — Attackers clad in Burqas opened fire on a Shiite mosque and set off a suicide blast Friday, killing at least 39 people and injuring scores of others in south-eastern Afghanistan, officials said.
The Taliban denied any links to the attack that occurred during prayers in Gardez, about 50 miles south of Kabul, and there was no immediate claim of responsibility from others.
But militants linked to the Islamic State have carried out similar attacks in the past against Shiites. The Islamic State and other Sunni-led extremists view Shiites as following a heretical branch of Islam.
Sardar Wali Tabassum, a provincial spokesman, said two assailants launched the mosque attack.
"One opened fire on the worshipers before the second one blew up explosives on his body," he said. Each was said to be disguised in a Burqa, the head-to-toe covering worn by Muslim women in Afghanistan.
Abdullah Hasrat, a spokesman for the provincial governor, said at least 39 people were killed and 80 injured. Witnesses said the mosque was badly damaged.
Several senior provincial Shiite clerics were among the victims, he said. Televised images showed a damaged part of the mosque with body parts strewn on its floor.
President Ashraf Ghani condemned the attack, which he said was aimed at trying to create sectarian division in Afghanistan. Hundreds of Shiites have been killed in strikes by Islamic State militants in recent years in Afghanistan.
"This attack targeting civilians has no possible justification," said Tadamichi Yamamoto, the United Nations secretary general's special representative for Afghanistan and head of the U.N. Assistance Mission in Afghanistan. "Those who are responsible for enabling this attack must be brought to justice and held to account."
Yamamoto added in a statement: "These brutal and senseless attacks against people at prayer are atrocities. Such attacks . . . may amount to war crimes."
Attackers have struck a variety of targets in Afghanistan in recent weeks.
On July 15, a suicide bomber detonated explosives outside a government office for rural projects, killing five people. On Thursday, the bodies of three foreign workers — from India, Malaysia and Macedonia — were found after they apparently were abducted and slain. The three men worked for Sodexo, one of the world's leading food and catering services.
The rising violence casts further doubt on the ability of Ghani's government to securely hold long-delayed parliamentary elections slated for October, followed by a presidential election in April 2019. Ghani announced last month that he intends to run for reelection.
https://www.washingtonpost.com/world/asia_pacific/attackers-target-shiite-mosque-in-afghanistan-killing-at-least-12/2018/08/03/4e58ebfc-970d-11e8-810c-5fa705927d54_story.html
--------
Lebanon transferred Saddam's billions to US, clarifies top banker
3 August 2018
The head of Lebanon's Association of Banks, Joseph Torbey, revealed in a press conference on Thursday, that the Lebanese Authority transferred to the United States in the wake of its occupation of Iraq in 2003, the money deposited in Lebanese banks under the name of late Iraqi president Saddam Hussein or that under his regime.
Torbey's revelation came in reply to a question regarding rumors about "very huge deposits" by Saddam Hussein's regime in some of the Lebanese banks.
But the veteran Banker confirmed that "these deposits were sent to the United States Federal Reserve from the Iraqi Central Bank under the supervision of the legal military authority in Iraq and Lebanon's Central Bank, and therefore there was no secrets or smokescreen around this subject."
Torbey stressed that banking system does not deprive the rightful owners of their deposits , adding that "the current Iraqi regime is the heir to the former regime."
Torbey's comments came after the turbulence caused by an organized crime network operating between Iraq and Beirut claiming to have documents giving them access to accounts with billions of dollars, which actually belong to people who passed away or disappeared, and was registered under their names since 1999.
The members of the network published their names in Iraqi media claiming ownership of documents under their names and others who passed away, with access to billions of dollars deposited in Lebanese banks.
This claims caused uproar in Lebanon for almost two weeks, especially as the news affected important and well-known banks, which demanded that Major General Abbas Ibrahim, the head of Lebanon's General Security, travel to Baghdad to solve the issue.
After the visit, the Iraqi Intelligence issued a statement saying that they uncovered the network and arrested a number of suspects.
Last Tuesday, Major General Abbas Ibrahim announced that a joint operations with the Iraqi authorities resulted in the discovery of the criminal network based in Iraq, targeting the Lebanese banking sector and trying to extort money from the bank.
He said this operation prevented a $1 billion fraud scam, stressing in statements to the media the need to know who was behind this gang , "especially since the losses of the banking sector, because of these rumors, may reach one billion dollars."
He also revealed that the arrested were Iraqis.
This case goes back more than a year, but it surfaced again in the past two weeks following a campaign of accusations and rumors on social media by the criminal network against some prestigious Lebanese banks.
https://english.alarabiya.net/en/News/middle-east/2018/08/03/Lebanon-s-bombshell-Saddam-Hussein-s-billions-in-a-fraud-scam.html
--------
55 civilians killed in attacks Thursday on Yemen's Hodeida: Red Cross
August 04, 2018
A series of explosions Thursday on Yemen's rebel-held port city of Hodeida killed 55 civilians and wounded dozens of others, the Red Cross said, denouncing the "reprehensible" disregard for human life.
"While the exact circumstances around the ground explosions are still unknown, this lack of respect for civilian life and civilian property is reprehensible," said Johannes Bruwer, the head of the delegation in Yemen for the International Committee of the Red Cross (ICRC), in a statement Friday.
The Red Cross said 55 civilians were killed and 170 injured "when a series of explosions rocked densely populated districts of the coastal city, including a fish market and the area around Al-Thawra Hospital" — a facility supported by the ICRC.
Two ambulances were also destroyed, it said.
On Thursday, medics and witnesses said at least 20 people were killed in an air strike at the entrance to a hospital and the bombardment of a fish market in the Red Sea city of Hodeida.
"The scenes coming from Hodeida are horrific. The disregard of international humanitarian law in Yemen cannot be tolerated," said Bruwer, condemning the attacks.
Lise Grande, the UN humanitarian coordinator for Yemen, earlier said hundreds of thousands of people depend on Al-Thawra, the country's largest hospital.
"This is shocking," she said of the attacks.
Yemeni government forces backed by a Saudi-led coalition have been conducting an offensive to capture Hodeida from Iran-backed Houthi rebels but announced last month they were pausing the assault to give UN mediation efforts a chance.
Strikes have picked up again around Hodeida since the Saudis last week said that two oil tankers operated by one of the kingdom's companies were attacked in the waters of the Red Sea.
Rebel-run media outlets accused the Saudi-led coalition of carrying out the attacks in Hodeida.
But the coalition's spokesman, Turki al-Maliki, on Friday denied the charges, accusing the Houthis of having bombed the hospital and the fish market.
The nearest target hit by the coalition on Wednesday or Thursday was more than two kilometres (1.2 miles) away from the two sites, Maliki told a news conference in Riyadh.
https://nation.com.pk/04-Aug-2018/55-civilians-killed-in-attacks-thursday-on-yemens-hodeida-red-cross
--------
India
4 terrorists killed in fresh exchange of fire with security forces in Shopian
Aug 4, 2018
SRINAGAR: Four terrorists were killed in a fresh exchange of fire with security forces in Shopian district of Jammu and Kashmir, the Army said on Saturday.
With these deaths, the number of terrorists killed in the overnight operation reached five.
#JammuAndKashmir: Fresh firing has been heard at the site of encounter in Shopian's Killora Village. An encounter h…
https://t.co/iDWf1m5prL
— ANI (@ANI) 1533347314000
"Four more terrorists have been killed in the operation at Kiloora in Shopian. One terrorist was killed last night," an Army official said, adding the operation was still going on.
The security forces had cordoned off the area last night following specific intelligence inputs about the presence of terrorists there and had started a search operation there.
The search operation turned into an encounter after the terrorists fired upon the security forces, an official had said.
https://timesofindia.indiatimes.com/india/4-terrorists-killed-in-fresh-exchange-of-fire-with-security-forces-in-shopian/articleshow/65266625.cms
--------
NIA files chargesheet against six in LeT terrorist escape case
Aug 3, 2018
NEW DELHI: The NIA on Friday filed chargesheet against six people in a case related to the escape of LeT terrorist Mohd Naveed Jatt from a hospital in Jammu and Kashmir, according to an official statement.
The agency said the conspiracy to free the Pakistan-born terrorist was hatched in central jail, where he was lodged.
The chargesheet was filed at the NIA special court in Jammu against six people including Mohd Tika Khan, Shakeel Ahmad Bhat, Syed Tajmul Islam Kirmani and Mohd Shafi Wani -- all residents of different villages in Kakapora Tehsil of Pulwama district, it said.
Jatt, who has also been named in the chargesheet, escaped after an attack on a police escort party on February 6 this year while he was being taken for medical treatment at Shri Maharaja Hari Singh Hospital (SMHS), Srinagar.
Two police personnel of the escort party were killed in the incident.
During the investigation, it was found that the escape was in furtherance of a well-planned criminal conspiracy hatched among Jatt, a native of Pakistan, and another person Hilal Ahmad Rather (also a resident of Pulwama), besides four others -- Khan, Bhatt, Kirmani and Wani.
"Investigation revealed that the accused conducted meetings in the central jail, Srinagar on different dates before the incident and a comprehensive plan was made to effect the escape of LeT terrorist Mohd Naveed Jatt," the National Investigation Agency (NIA) said in the statement.
As per the plan and in furtherance of the criminal conspiracy, the accused conducted a detailed recce of the SMHS Hospital as well as routes to be followed before and after the action, it said.
They also arranged vehicles and weapons to be used in the execution of the plan.
During the investigation, accused Khan, Bhat, Kirmani and Wani were arrested.
Full report at:
https://timesofindia.indiatimes.com/india/nia-files-chargesheet-against-six-in-let-terrorist-escape-case/articleshow/65260945.cms
--------
Is Modi's BJP aiming for the moon in India's Muslim-majority Jammu & Kashmir?
3 August 2018
Prime Minister Narendra Modi's Bharatiya Janata Party (BJP) is aiming for the moon in Jammu & Kashmir – the Hindu nationalists are pulling out all stops to install a Hindu chief minister in India's only Muslim-majority province.
The man BJP is desperate to anoint is none other than Jitendra Singh, party MP from Udhampur-Doda in the Jammu region. He is the federal Minister of State for Development of North-East and is considered close to Modi and BJP president Amit Shah.
The outcome of the BJP's "Operation Hindu CM" will depend on its capabilities to engineer a split in the People's Democratic Party (PDP) of ex-CM Mehbooba Mufti.
PDP and BJP ran a coalition government in J&K from 2015 until June 2018 when the latter suddenly pulled the plug dethroning Mufti and triggering yet another bout of Governor's Rule in the troubled state bordering Pakistan.
Significantly, Governor N.N. Vohra hasn't dissolved the 87-member J&K legislative assembly which has 28 PDP lawmakers besides 25 BJP members.
The National Conference has 15 and Congress Party 12 members, while the People's Conference, People's Democratic Front and Communist Party of India (Marxist) have 2, 1 and 1 respectively. Moreover there are three independents.
'Suspended animation'
The assembly is still in what is called "suspended animation", a new coalition enjoying the support of at least 44 members can easily and legally stake its claim to form a new government.
Evidently, 82-year-old Vohra, a BJP appointee, hasn't deliberately disbanded the J&K House with the sole intention of helping the BJP to recapture power through the backdoor by engineering defections – a strategy derisively described as horse-trading by losers in the game of numbers.
Jahangir Ganai, former Advocate General of J&K, told Al Arabiya English that "the amended Para 4 of Schedule 7 of the Jammu and Kashmir Constitution stipulates that if two-third members of a legislative party form a new block, they will evade disqualification under the state's anti-defection laws". Hence at least 19 out of PDP's 28 members must quit the party together to bypass anti-defection provisions applicable in J&K.
Nineteen deserters from the PDP plus 25 BJP legislators add up to 44 members needed for a simple majority in the 87-member House. The strength of the new coalition will be augmented by two members of Sajjad Lone's People's Conference and three independents increasing its tally to 49, which is more than enough for the Governor to invite the new coalition to form the government.
As things stand, the BJP has already instigated five PDP legislators to openly rebel against Mufti. They are: Imran Reza Ansari, Abid Ansari, Abdul Majeed Padder, Abbas Wani and Javed Hassan Baig. The five have accused the ex-CM of perpetuating "family" rule, patronizing corrupt leaders and civil servants and declared their willingness to join an alternative government.
There is no greater proof of BJP's machinations and manipulation to split the PDP than Mufti's public outbursts.
She said in a television interview: "If Delhi intervenes and breaks our party to install a chief minister, it will erode the trust of Kashmiris in Indian democracy. Any intervention from Delhi will be taken seriously." Subsequently she warned that "if Delhi tries to break PDP, the outcome will be dangerous…"
Interestingly, the BJP is speaking in two voices. While Ram Madhav, General Secretary of BJP and senior-most BJP leader handling J&K, denies all reports of poaching of PDP members and insists that there is no alternative to Governor's Rule at present, BJP leaders like former Deputy CM Kavinder Gupta are openly saying that they are trying to cobble up a government with those who are unhappy with Mufti.
Full report at:
https://english.alarabiya.net/en/features/2018/08/03/Is-Modi-s-BJP-aiming-for-the-moon-in-India-s-Muslim-majority-Jammu-Kashmir-.html
--------
Pakistan
12 schools attacked, set on fire in northern Pakistan
Aug 3, 2018
Twelve schools have been attacked and torched overnight in a northern Pakistani district, where Taliban-affiliated terrorists openly opposed to girls' education are active, police say.
According to police chief Raja Ajmal, eight girls and four boys' schools were attacked in total on Friday in villages of the scenic Diamer district in northern Gilgit, whose Shia minority and tourists come under regular attacks by Taliban-linked militants.
Ajmal further said that the overnight attacks had been "a well planned and coordinated act," adding that there were no immediate reports of casualties.
No group has so far claimed responsibility for the attack, but Pakistani Taliban militants have been attacking thousands of schools for young women in northwestern and northern parts of the country.
Pakistan's prime minister-elect, Imran Khan, denounced the "shocking" attacks on schools.
"This is unacceptable (and) we will ensure security for schools as we are committed to focusing on education," tweeted Khan, who won last week's general election.
Back in 2012, militants of the Pakistani Taliban shot and severely injured Nobel Prize winner Malala Yousafzai, known for her girls' education advocacy in northern Swat valley.
Despite frequent offensives by the Pakistani army, acts of terror by militant outfits continue to target security forces as well as civilians.
Thousands of Pakistanis have lost their lives in bombings and other militant attacks since 2001, when Pakistan entered an alliance with the United States in Washington's so-called war on terror.
https://www.presstv.com/Detail/2018/08/03/570111/Pakistan-Taliban-Diamer-schools
--------
Pakistani families denied visas to see Pope Francis
August 3, 2018
Christians in Pakistan have been left reeling after the Irish government denied them visas to attend the upcoming World Meeting of Families.
About 10,000 families applied from all over the country — 600 from Karachi Archdiocese alone — for the Aug. 21-26 event in Dublin that will be attended by Pope Francis. All were refused visas.
Father Anthony Abraz, parish priest of Good Shepherd Church in Karachi, is among six priests who had visa applications rejected for providing no evidence of a connection with, or of traveling to, similar events in the past.
"The visa officer has found insufficient evidence of strong family, social, economic or other obligations to return to your home country," stated the response to families from Ireland's consulate in Karachi, which also expressed dissatisfaction at their purpose for travelling to Ireland, financial situation, family circumstances, employment details, travel history, host in Ireland and itinerary.
"All applications should have been assessed on a case-by-case basis," Father Abraz said, adding that two groups of laity received letters with the same text.
"We had carefully selected potential pilgrims, including school principals and NGO directors, from the executive class. Cardinal Joseph Coutts of Karachi only granted letters of recommendation to those who were not interested in seeking asylum."
Samuel Sarfraz, who works in a pharmaceutical company in Multan city of Punjab province, sold a residential plot to raise 300,000 rupees (US$2,420) for non-refundable visa applications and registration fees for his family of three children to attend the Irish event.
"This is a conspiracy to mint money from people who are already marginalized and discriminated against in a Muslim-majority country. If the policy was to reject all Pakistanis, why did they accept visa and registration fees for the world meeting?" he asked.
"We only wanted to see our beloved Holy Father. The refusal affects our prospects of visiting any European country."
Pakistan ranked fourth on the Open Doors World Watch List 2017 of the 50 countries where it is most difficult to be a Christian.
Pope St. John Paul II's 1981 visit is the only one by a pope to Pakistan, while the Henley Passport Index ranks the Pakistani passport as the fourth worst in the world for international travel.
Full report at:
https://www.ucanews.com/news/pakistani-families-denied-visas-to-see-pope-francis/82987
--------
Extending support to Imran Khan for betterment of country, says Pir Pagara
Habib Khan Ghori
August 04, 2018
KARACHI: Pakistan Muslim League-Functional president and Grand Democratic Alliance's chief Pir Pagara has said solidarity and stability of the country is above everything and that is why his party is extending complete support to Pakistan Tehreek-i-Insaf chairman Imran Khan.
The GDA chief expressed these views in response to a phone call from PTI's central leader Jahangir Tareen who told him on Friday that he wanted to pay a visit to Kingri House, the Pir's Karachi residence.
Pir Pagara pointed out that the GDA even before the general election on July 25 had decided to extend political support to Imran Khan and his party backed PTI candidates in Sindh whenever possible during the election.
"Our cooperation with the PTI will continue," he said.
Appreciating the sentiments of Pir Pagara, Mr Tareen said he would be visiting Karachi in a day or two to meet him at Kingri House.
GDA protests against rigging
The GDA on Friday staged a protest rally outside the Karachi Press Club against rigging where its leaders rejected the outcome of the general election.
The protesters were led by Ghaus Ali Shah, Sardar Raheem, Nusrat Sahar Abbasi, Qari Usman, Abdul Karim Abid, Maulana Omar Sadiq, Aslam Ghauri and others.
"We want fresh elections. The election commission failed to discharge its duties fairly," they said.
The GDA leaders also warned that they would give a call for a shutter-down strike in the province if their demands were not met.
The protesters included a large number of women and youths who were holding placards and raising slogans against the "rigged and fraud" elections.
They also accused the PPP of "destroying" the entire province. "People now want to get rid of the PPP," they said.
The GDA leaders further said their polling agents were thrown out of polling stations at 6pm on election day and Form 45 was not provided to them.
They asked the chief election commissioner to tender his resignation as he failed to conduct fair and free elections despite spending Rs22 billion on the exercise.
Full report at:
https://www.dawn.com/news/1424762/extending-support-to-imran-khan-for-betterment-of-country-says-pir-pagara
--------
MQM confirms support to PTI in exchange for federal package for Karachi
Fahad Chaudhry
August 03, 2018
The Muttahida Qaumi Movement-Pakistan (MQM-P) on Friday inked an agreement with the Pakistan Tehreek-i-Insaf (PTI), promising to extend its support to the latter for the formation of government in the Centre, DawnNewsTV reported.
In exchange for MQM-P's support for the upcoming federal government, PTI promised that a special federal package will be announced for Karachi, with an emphasis on the provision of water for its residents.
Additionally, the PTI agreed that Sindh police reforms will be implemented, a university will be established in Hyderabad, and constituencies identified by MQM-P will also be audited, according to the contents of the memorandum of understanding.
"The agreement was a constitutional and democratic necessity," said MQM leader Khalid Maqbool Siddiqui.
Earlier on Wednesday, the MQM-P had announced its decision to support the PTI for the formation of the upcoming federal government. The party has won six National Assembly (NA) seats in the July 25 election.
Other parties that won NA seats and have declared their support for PTI include Pakistan Muslim League-Q with four seats; Grand Democratic Alliance (GDA) with two; Balochistan Awami Party with four; Awami Muslim League and Jamhoori Watan Party with one seat each.
GDA's head Pir Sibghatullah Rashidi, also known as Pir Sahab Pagara, also telephoned Jahangir Tareen to declare his support for Imran Khan.
Moreover, nine independents have joined PTI so far. Their names are Sanaullah Mustikhel, Basit Bukhari, Saleh Muhammad Khan, Fakhar Imam, Muhammad Amjad Farooq, Abdul Ghafar Wattoo, Asim Nazir Shabbir Qureshi, and Ali Mohammad Mehr.
The PTI won 115 NA seats, but due to an error which the Election Commission of Pakistan (ECP) admitted on Friday, the party's tally for elected members stands at 116.
Issuing a statement of clarification, the commission said that the similarly named Pakistan Tehreek-i-Insaniyat did not win a seat in the National Assembly and the win attributed to it earlier actually belongs to PTI, thereby bringing the latter's initial tally to 116. "We made a mistake in reporting the data," the commission stated.
With the support of independents and other parties, PTI will have a coalition of 143 seats in the Centre.
Jahangir Tareen during a media conference said, "Out of the 13 independent candidates for the National Assembly, nine have joined PTI."
Full report at:
https://www.dawn.com/news/1424714/mqm-confirms-support-to-pti-in-exchange-for-federal-package-for-karachi
--------
Law minister says Imran may take PM oath on 14th
August 04, 2018
ISLAMABAD: Pakistan Tehreek-i-Insaf (PTI) chairman Imran Khan is likely to take the oath as the 21st elected prime minister of the country on Indepen­dence Day.
"It is my and caretaker prime minister retired Justice Nasirul Mulk's desire that the oath-taking of the new prime minister should take place on Aug 14," caretaker law minister Ali Zafar told Dawn on Friday.
Unveiling a tentative schedule of the National Assembly formation, the law minister said the Election Commission of Pakistan (ECP) was already on board as the ECP was engaged in making necessary arrangements required to hold the prime minister's election on the desired date.
Mr Zafar said a fresh session of the assembly could be called on Aug 11 or 12.
"If it is held on Aug 11, the election of the prime minister can take place on Aug 14 and on the same day Presi­dent Mamnoon Hussain can administer the oath to the new prime minister," he added.
He elaborated that if the NA session was held on Aug 11, the same day the new members would be administered the oath. He added that after printing of ballot papers for the elections of the NA speaker and deputy speaker, their elections could take place on Aug 13 and the next day the election of the prime minister could be held.
However, if the NA session was called on Aug 12, the election of the prime minister would be held on Aug 15. "We wanted that the new prime minister should take his oath on Independence Day so that the new government can start its functioning with full national fervour and commitment to bring progress to the country," he said.
Meanwhile, successful candidates of the July 25 general elections will have to submit returns of their election expenses on Aug 4 (today) — the deadline fixed by the ECP for filing of returns — and a notification will be issued the following day.
Three days will be given to independent candidates if they want to join any party. Similarly, three days will be spent on seats reserved for women and minorities.
The caretaker law minister told the media that as per Constitution the first session of the National Assembly would have to be summoned within 21 days after the general election. He said it was necessary to fulfil this obligation by Aug 15.
After election, the newly-elected prime minister would take the oath and the job of the caretaker PM and his cabinet would be over and power would be transferred to the new government under constitutional provisions.
The minister said the ECP was completing legal formalities including consolidation of elections results and collection of returns of election expenditures from the wining candidates. The ECP after giving time to independent candidates to join a political party or stay independent would issue parties position in the assembly, Mr Zafar said, adding that after that the ECP would issue a list of winning candidates on reserved seat for women and minorities.
In reply to a question, he said the caretaker government during its short tenure had performed its duties with commitment and dedication and took steps for overcoming challenges in power, energy, water, law and petroleum sectors and matters related to foreign affairs and prepared guidelines which he hoped would help the next government to run the business of the governance smoothly.
Earlier on July 30, PTI chairman Imran Khan, who claimed to have secured a simple majority in the polls required to form his government, had expressed his desire to take the oath of PM on Aug 11.
Full report at:
https://www.dawn.com/news/1424850/law-minister-says-imran-may-take-pm-oath-on-14th
--------
PPP considering Khursheed or Nafisa for NA speaker
August 04, 2018
LAHORE: Syed Khursheed Shah and Dr Nafisa Shah are figuring prominently among the likely candidates for the National Assembly speaker from the PPP.
The party in a meeting, presided over by Chairman Bilawal Bhutto-Zardari, in Islamabad on Thursday evening discussed credentials of its various MNAs-elect to run for the coveted office after the joint opposition reached the agreement that it would support PPP nominee for the speaker's slot and of Muttahida Majlis Amal for deputy speaker.
A source privy to the development says that the arguments put forward in favour of Khursheed Shah were that not only he was a seasoned politician in the political field since 1988 he had also earned a name as opposition leader in the National Assembly, and developed good relations with leadership of other parties through his humble persona and won many admirers from among rivals because of his gentle style of politics.
Dr Nafisa was considered for she could attract votes of women parliamentarians from the 'treasury' benches through the contacts she had developed as general secretary of Women Parliamentary Caucus.
Holding a PhD in social and cultural anthropology from the Oxford University, Ms Shah proved her administrative skills by leading Khairpur, Sindh, district government as Nazim from 2001 to 2007.
She has also been a parliamentarian since 2008 for she was elected twice on reserve seat for consecutive two terms - 2008 and 2013-18. In the July 25 vote, she defeated former Sindh chief minister Syed Ghaus Ali Shah on a general seat bagging over 100,000 votes.
She has been chair of the National Commission for Human Development and vice-president of Commonwealth Parliamentary Association.
Full report at:
https://www.dawn.com/news/1424836/ppp-considering-khursheed-or-nafisa-for-na-speaker
--------
Pakistan condemns attack on Afghanistan mosque
August 4, 2018
ISLAMABAD: Pakistan has strongly condemned the shooting and suicide attack during Friday prayers at a mosque in Afghanistan's city of Gardez, which claimed the lives of at least 20 people.
Foreign Office (FO), in a statement issued here, has expressed deepest sympathies and condolences to the bereaved families.
"Pakistan prays for the earliest recovery of the injured and stands together with the government and people of Afghanistan in this hour of grief," said the statement, adding that the country condemned terrorism in all forms and manifestations.
Full report at:
https://www.pakistantoday.com.pk/2018/08/03/pakistan-condemns-attack-on-afghanistan-mosque/
--------
US-Muslim leader sees tough time for Pak-US ties under Imran
Waseem Abbasi
August 4, 2018
ISLAMABAD: US-Pakistan relations are heading towards a difficult phase under Pakistan's new government as Imran Khan's demand for relations based on equality will be met with staunch opposition from Trump administration.
These were the views of noted US Muslim leader and philanthropist Frank Islam, who had previously worked with Obama administration on South Asia affairs. Frank shared these views in an email interview with The News.
Frank, a graduate of Aligarh Muslim University who keenly follows Muslim believes Pakistan's future prime minister Imran Khan wants a mutually beneficial relationship with the US.
"It is my understanding, after conferring with experts that Imran Khan wants to push the reset button and start all over in terms of Pakistan-US relations. In past, Khan has been very critical of US involvement in Afghanistan and wants it out of there as quickly as possible," Franks said adding that Khan does not understand how the US can call Pakistan an ally and then bomb it with drones.
"If my understanding is correct, I believe that Khan's views and approach would be a non-starter with the Trump administration. I believe the US would want to negotiate a modified approach from a position of strength," Frank said.
He said any proposed change that reduces US influence without getting something meaningful in return would be met with staunch resistance. "I say this not as an administration spokesperson but as my personal insights as someone who is fairly knowledgeable on this topic," Frank said.
The US-Muslim leader said he was aware that Pakistan and the US have had an on-again off-again relation dating back to 1947 when the US was one of the first countries in the world to establish diplomatic ties with Pakistan.
President Trump's tweet at the beginning of the year regarding the aid that the US has "foolishly given" to Pakistan over the past fifteen years followed by a suspension of military aid have made those relations off-again. He said the relations between the two countries are attenuated and for them to strengthen would require serious diplomacy from both the US and Pakistan.
Frank is an expert on Muslim affairs in the United States as he serves on a number of boards and advisory councils including the Kennedy Center for the Performing Art, the JFK Library, American University in Emirates, Marymount University, John Hopkins University, and the Brookings Institution.
While talking about influence of the US-Muslims on the US policies, Franks said there are two Muslim representatives in the US House, Keith Ellison and Andre Carson. "That's only 2 out of 435. I also know through personal involvement that American Muslims contribute to political campaigns and provide input into policy papers for both parties."
However, he said there is no major formal coordinated lobbying being done by American Muslims as a unified group. There are groups by country such as the Indian American Muslim Council and the American Muslims for Palestine.
"I have not had direct contact with either of these groups. But, I do not believe them to be very influential. Bottom line is that I think the American Muslim influence is more individual than it is an organised effort and as a result the influence is fragmented and modest at best. I do believe that the influence was much better with the prior administration than this one," Frank said.
He said the Trump administration's "Muslim ban" and other statements by the President Trump have definitely made the Muslim world view the US in a different and less positive light.
Frank was born in India and moved to US at the age of fifteen to go to college at the University of Colorado in Boulder.
"Growing up in India had an enormous impact on the person I am today. It's there that I learned lessons from my motherland, my faith, my family, my home city of Azamgarh, and Aligarh Muslim University," he said.
"Being a Muslim has taught me many things – but the most important one is that the whole purpose of religion is to provide justice and a path to justice for all of us. My faith firmly believes in equality, dignity, compassion, respect, tolerance, justice and peace for other faiths," he said.
Frank recently donated $2.5 million to Aligarh Muslim University (AMU). He said AMU helped him with the basic building blocks to become a successful entrepreneur, to assume serious responsibilities, and most importantly, to become a passionate leader. "Aligarh provided me with an excellent education. AMU shaped my story and determined my destiny. AMU is a precious possession. Its principles have always guided me during times of calm and crisis," he said.
He said he is engaged in purposeful philanthropy. "I look at the contributions that I make to organisations, groups and individuals that I support not as charity but as investments."
Full report at:
https://www.thenews.com.pk/print/350605-us-muslim-leader-sees-tough-time-for-pak-us-ties-under-imran
--------
South Asia
Amnesty possible for Daesh fighters surrendering in north Afghanistan
August 04, 2018
MAZAR-I-SHARIF, Afghanistan: Daesh fighters who surrendered to Afghan forces this week in the northern province of Jawzjan may be granted amnesty despite accusations of atrocities including rape and murder, officials said.
Around 150 Daesh fighters, including two senior commanders, gave themselves up after being driven from their strongholds in Jawzjan by the Taliban after weeks of fighting.
Thousands of civilians fled the area in the districts of Darzab and Qush Tepa and many accused Daesh fighters of multiple atrocities, giving detailed accounts of women and young girls being taken from their families, raped and, in some cases, murdered.
However the spokesman for the Jawzjan provincial governor said the need to encourage militant fighters to surrender was likely to mean that they would not face charges.
"There is an amnesty for the Daesh group that surrendered in Darzab district," Mohammad Reza Ghafouri, spokesman for the Jawzjan provincial governor, said.
"The group will not be presented to legal and judicial authorities because they are taking part in the peace process," he said, adding that people with complaints about individual Daesh members were free to take the matter up with the courts.
Government officials said it was the first time such large numbers of Daesh fighters had surrendered at once. Several women and children, all related to the fighters, had also handed themselves to Afghan authorities.
"Any adversary of the government that joins the peace process has to be given amnesty because if they are taken before the judges, other adversaries who have reached an agreement with the government will go cold on it," Ghafouri said.
While pressure has been building for peace talks between the Western-backed government in Kabul and the Taliban, the local affiliate of Daesh, which has gained an unmatched reputation for brutality, has shown no signs of joining.
The Taliban, seeking to reimpose strict Islamic law after their 2001 ouster, also took credit for the surrender, saying they had "cleared" Jawzjan.
Defense Ministry spokesman Mohammad Radmanish said the military had done its duty and it was now for the government to decide the next step.
"As defenders of our people and country, our job is to fight our enemy until the battle ground. Now they have surrendered...our job is done," he said.
Another official, Jawzjan security commander General Faqir Mohammad Jawzjani, said any Daesh fighter who had committed crimes against humanity would face justice and expressed skepticism about any reconciliation.
He said those fighters who surrendered to the government were Afghans, although foreign fighters believed to be in the area may have been killed or captured by the Taliban.
"I am concerned and afraid that after surrendering, these people will commit more crimes because they are completely untrustworthy," he said.
http://www.arabnews.com/node/1350916/world
--------
Afghan commandos rescue 61 civilians from a Taliban prison in Helmand
Aug 03 2018
The Commandos of the Afghan National Army rescued at least 61 civilians from a Taliban prison in southern Helmand province of Afghanistan.
The provincial government media office in a statement said the civilians were rescued during an operation conducted in Kajaki district.
The statement further added that the operation was conducted in Deh Baba Kariz area of the district and the rescued civilians have all been shifted to 215th Maiwand Corps compound
According to Helmand governor's office, a number of old men and children were also among those held by the Taliban and were rescued by the Commando forces.
A number of the released inmates have said the Taliban militants were torturing and misbehaving with them.
In the meantime, the provincial government said at least seven suspected militants were also arrested during the same operation and two others were killed.
This is not the first time the Afghan forces are conducting special operations against the hideouts of the Taliban militants which are used as prison cells.
Full report at:
https://www.khaama.com/afghan-commandos-rescue-61-civilians-from-a-taliban-prison-in-helmand-05700/
--------
7 Pakistani militants killed, 8 wounded in Kunar operations
Aug 03 2018
At least seven Pakistani militants were killed and eight others were wounded during the operations in eastern Kunar province of Afghanistan.
The 201st Silab Corps of the Afghan Military in the East said the militants were killed or wounded in Nari district.
The source further added that the Afghan national army, Afghan national police, and the National Directorate of Security operatives conducted joint operations in Do Kalam area of the district.
According to Silab, the operations were launched on Thursday and are still being conducted to suppress the militants.
The armed forces also receiving air and artillery support during the operations, the 201st Silab Corps of the Afghan Military added.
The security situation in eastern Kunar province has started to deteriorate sharply during the recent months amid growing insurgency activities by the Taliban and ISIS militants.
The anti-government armed militants continuously attempt to expand their foothold in this province amid ongoing military operations and airstrikes.
Full report at:
https://www.khaama.com/7-pakistani-militants-killed-8-wounded-in-kunar-operations-05699/
--------
Taliban rejects involvement as Gardez mosque bombing attracts widespread condemnation
Aug 04 2018
The Taliban militants group in Afghanistan rejected involvement in the deadly attack on a mosque in Gardez city, the provincial capital of Paktia province, as the raid has attracted widespread condemnation.
Taliban spokesman Zabiullah Mujahid in a statement claimed the fighters of the group have no role in the attack on a mosque in Gardez city.
The Office of the President, ARG Palace, in a statement said President Ghani has strongly condemned the attack on a mosque in Gardez city, calling it a criminal act which is against the principles of Islam.
He said the attack on civilians and mosque once again proved the filthy nature of the terrorist groups.
"This attack targeting civilians has no possible justification," said Tadamichi Yamamoto, the UN Secretary-General's Special Representative for Afghanistan and head of UNAMA. "Those who are responsible for enabling this attack must be brought to justice and held to account."
"These brutal and senseless attacks against people at prayer are atrocities," said Yamamoto. "Such attacks directed against congregations and places of worship are serious violations of international law that may amount to war crimes."
The Commander of the NATO-led Resolute Support Mission Gen. John Nicholson said "The entire Resolute Support Mission offers our deepest sympathies to the family and friends of those martyred adn wounded today during the horrific attack at the Sahib-ul-Zaman Mosque in Gardez city."
He said "The enemies of Afghanistan who martyr innocent Muslims in prayer can only be described as evil. We will continue to pursue these terrorists and destroy them."
Full report at:
https://www.khaama.com/taliban-rejects-involvement-as-gardez-mosque-bombing-attracts-widespread-condemnation-05703/
--------
Arab World
UAE tolerance: Dubai summit to fight extremism with knowledge
June 26, 2018
Nawal Al Ramahi
The UAE has enacted laws and formed government organisations to promote a culture of tolerance and to clamp down on hate crime, the head of Dubai's Islamic affairs authority said.
The anti-discrimination law, that came into effect in 2015 and criminalises all forms of discrimination on the grounds of religion, caste, creed, doctrine, race, colour or ethnic origin, and the establishment of a Ministry of Tolerance are among the ways the country is leading the fight against extremism.
Dr Hamad Al Shaibani, managing director of the International Institute for Tolerance, said intolerance and discrimination create a breeding ground for extremism and fanaticism and their consequences need to be addressed.
Speaking in Dubai on Monday, Dr Al Shaibani said: "Wars and famines resulted from intolerance and fanaticism across worldwide communities.
"Promotion of the culture of tolerance is key to the elimination of worldwide conflict. The UAE is the first country to establish a ministry for tolerance," he said.
The World Tolerance Summit will be held in November to inform policies and brainstorm solutions to address radicalism.
"Government and private sector leaders, human rights activists, society studies experts and social media influencers will be hosted at the two-day summit to exchange topics and come up with binding resolutions for societies worldwide," Dr Al Shaibani said.
When asked about the reason for hosting the summit in the Middle East – a region blighted by the consequences of wars, Dr Al Shaibani said: "Tolerance is a concept that incorporates other values, specifically the human ones. The issues of fan­aticism and not accepting the other need to be highlighted and examined."
He said the UAE was the perfect place to host the summit since it has proven itself as a tolerant country capable of hosting a multinational society which happily coexists.
"Our country is at the forefront of combating terrorism by using measures from internationally recognised experts," he said.
Last year's annual Arab Youth Survey revealed that unemployment and extremism were regarded as the greatest challenges to the region.
Because extremist ideologies thrive in societies with the largest number of young people, experts at the summit will focus on youth involvement in educational institutes and the empowerment of women.
https://www.thenational.ae/uae/uae-tolerance-dubai-summit-to-fight-extremism-with-knowledge-1.744192
--------
UN gradually returning peacekeepers to Syria-Israel frontier
4 August 2018
The United Nations said Friday it is implementing "a gradual return" of the UN peacekeeping force to the frontier zone between Syria and the Israeli-occupied Golan Heights.
UN deputy spokesman Farhan Haq told reporters that a key goal in the return of the peacekeeping force, known as UNDOF, is reopening the Quneitra crossing between the two sides.
"The ultimate goal for UNDOF is the full return, conditions permitting," he said.
UN peacekeepers returned on Thursday for the first time in years to the Syria-Israel frontier, conducting joint patrols with Russian military police in a reflection of Moscow's deepening role in mediating between the decades-old foes in the volatile region.|
Haq said "the August 2 patrol to the Quneitra crossing point is part of UNDOF's ongoing efforts to return incrementally to the area of separation."
Russian military police have been deploying in all areas recaptured from rebels by the Syrian government, and they have deployed on the edge of the Israeli occupied Golan Heights in the past two days - a move that also appears aimed at reassuring Israel.
Israel considers Iran's growing influence in Syria - it has advisers and allied militias fighting alongside Syrian troops - as an existential threat and had looked for guarantees from Moscow to push pro-Iran fighters away from its frontiers.
Haq stressed that the Russians are not part of UNDOF, which has been authorized to patrol the buffer zone between Syria and Israel since 1974, a year after the Arab-Israeli war. He said the 1974 Disengagement of Forces Agreement state that UNDOF's members cannot include the five permanent members of the UN Security Council - the US, Russia, China, Britain and France.
Full report at:
https://english.alarabiya.net/en/News/middle-east/2018/08/04/UN-gradually-returning-peacekeepers-to-Syria-Israel-frontier.html
--------
Russia talking with ISIS to free 36 women, children abducted in Syria's Sweida
3 August 2018
Syrian regime ally Russia is negotiating with the ISIS over the release of Druze women and children kidnapped by the terrorist group, a Druze religious leader said Friday.
On July 25, ISIS carried out a series of coordinated attacks in the southern province of Sweida that killed more than 250 people, mostly civilians.
It was the deadliest attack ever to target the mostly government-held province and the Druze religious minority that populates it.
ISIS also abducted 36 Druze women and children from a village in Sweida's east, said the Britain-based Syrian Observatory for Human Rights, a Britain-based monitor.
It said four women had since escaped while two had died, leaving 14 women and 16 children in ISIS captivity.
Top Druze religious leader, Sheikh Yussef Jarbua, told AFP that Russia was in talks with the extremist group over their release.
"The Russian side is carrying out negotiations in coordination with the Syrian government," Jarbua said.
ISIS "planned to take captives to put pressure on the Syrian state and implement specific demands", he said.
Jarbua did not detail the demands, but the Observatory says ISIS is seeking the release of extremists captured by the regime in the neighboring province of Daraa.
ISIS fighters once held a patch of Daraa known as the Yarmuk Basin, but regime forces have in recent weeks ousted them from all of the towns and villages there.
Syria's state media says regime troops are pursuing the last remaining extremists who fled to nearby valleys.
Since Moscow intervened in Syria in 2015, it has helped the regime retake swathes of territory militarily but has also negotiated rebel surrenders on its behalf.
ISIS has not claimed the kidnappings but local sources say the families have been sent photos and videos of their loved ones via Whatsapp.
Jarbua urged the "international community and the United Nations to help us free the hostages and exert pressure so civilians are not used as human shields".
"The families of the captives are terribly sad and sick with worry," he said.
Activists from Sweida have expressed concern over reports that one of the women, captured by ISIS with her four children, had given birth to her fifth child in captivity.
The extremist group had called the woman's relatives to tell them she had given birth, according to Nour Radwan, who heads news outlet Sweida24.
Relatives confirmed the woman was nine months pregnant when she was kidnapped during ISIS's rampage last week, which also killed her husband, Radwan said.
Sweida24 said the oldest woman abducted was 60.
Sweida had until last week largely remained isolated from Syria's seven-year conflict.
Full report at:
https://english.alarabiya.net/en/News/middle-east/2018/08/03/Russia-talking-with-ISIS-to-free-36-women-children-abducted-in-Syria-s-Sweida.html
--------
Activist Mai Skaf laid to rest in Paris flanked by Syrian Revolution flags
3 August 2018
Syrian actress- turned- activists Mai Skaf who died in July, 23, aged 49, in her Parisian home due to a brain hemorrhage, was laid to rest on Friday and buried in a cemetery in a suburb in the French capital, surrounded by family members and friends carrying flags of the Syrian revolution.
The burial was delayed due to forensic investigation into the cause of the death by the French police, as she was found dead by her only son in her flat in Paris.
Skaf publicly opposed the Syrian President Bashar al-Assad and was arrested twice in 2011 and 2013. She was nicknamed as the 'Revolution's Icon'. After she was released from prison, she left Syria in 2013 and lived in France until she died.
The last post she shared on her Facebook page before her death was: "I will not lose hope, I will not lose hope. It is the great Syria, not Assad's Syria."
Full report at:
https://english.alarabiya.net/en/News/middle-east/2018/08/03/Activist-Mai-Skaf-laid-to-rest-in-Paris-flanked-by-Syrian-Revolution-flags.html
--------
Saudi Arabia sends evidence to UN of deadly Houthi attack on Hodeidah hospital
4 August 2018
Saudi Arabia on Saturday sent a letter to the UN Security Council that included "evidence of the involvement of Houthi militias" in the targeting of a hospital in Hodeidah and other civilian sites on Thursday in a series of explosions.
The letter demanded immediate action against the militias to disarm and implement the relevant UN resolutions.
A Red Cross statement denouncing the "reprehensible" disregard for human life said 55 civilians were killed and 170 injured "when a series of explosions rocked densely populated districts of the coastal city, including a fish market and the area around Al-Thawra Hospital."
The Arab Coalition for the Support of Legitimacy in Yemen earlier accused the Houthi militias of carrying out the attacks.
Spokesman Colonel Turki al-Malki, said the coalition has developed many rules of engagement because of the nature of military operations. "We apply the highest international standards in targeting operations in Yemen," he said.
"Houthi militias continue to violate international laws in Yemen," he added. "There are 22 million Yemenis affected by the Houthi coup on legitimacy."
Col. Malki said the collision of a ship in Hodeidah confirms the failure of the militias in the management of the port, stressing that the control of the Houthis on the West Coast hurts the Yemenis and the international community.
Full report at:
https://english.alarabiya.net/en/News/gulf/2018/08/04/Saudi-Arabia-sends-letter-to-UN-with-evidence-of-Houthi-attack-on-hospital-.html
--------
Turkey working to forestall Idlib offensive by Syria: Report
Aug 3, 2018
Turkey is reportedly working to stave off an imminent Syrian army offensive to dislodge terrorists from Idlib which is the last major territory still in militant hands.
According to a Turkish diplomatic source, cited by the Middle East Eye news portal, "Ankara is working with other opposition groups in Idlib to eliminate the militants" in order to fend off a Syrian operation.
A militant commander was quoted as saying that the US was happy with Turkey's plan, since it meant the Turkish-backed "opposition" would be in control of the city instead of Syrian government forces.
Most of Idlib is controlled by Hayat Tahrir al-Sham, formerly al-Qaeda's affiliate in Syria.
President Bashar al-Assad told Russian media last month that Syria's next priority was retaking Idlib after the army's liberation of three provinces on the border with Jordan and the occupied Golan Heights.
Russia's Foreign Minister Sergei Lavrov said on Thursday the counter-terrorism fight in Syria would not become complete without eliminating terrorists in Idlib Province.
"The work is in full swing, a lot is yet to be done. At the same time, it is necessary to deal a final blow to terrorists near Idlib, which still remain there," Lavrov said in Singapore.
Amnesty: Turkey commits rights abuses in Afrin
Amnesty International on Thursday accused Turkish forces of allowing terrorists to commit major rights abuses in the northern region of Afrin, calling on Ankara to immediately end the violations.
The city is under the occupation of Turkish forces since January when Ankara launched an offensive to clear it of US-backed Kurdish militants. Turkey began the operation without permission from the Syrian government.
Amnesty said since Turkey's military intervention, residents in Afrin have been "enduring a wide range of violations," to which Turkish armed forces "turned a blind eye."
"These violations include arbitrary detentions, enforced disappearances, and confiscation of property and looting to which Turkey's armed forces have turned a blind eye," the rights group said.
It said some of the terrorist groups in Syria as well as Turkish armed forces had taken over schools, disrupting education for thousands of children.
Amnesty quoted residents as saying that Afrin University had been "completely shut down after it was destroyed and looted," adding that only one school in Afrin city was accessible.
Lynn Maalouf, Amnesty's Middle East research director, said the terrorist groups in Syria continued to "wreak havoc on civilians, unchecked by Turkish forces".
Full report at:
https://www.presstv.com/Detail/2018/08/03/570058/Syria-Turkey-Idlib-militants-Afrin
--------
Saudi-led coalition accuses Houthis of Hodeidah hospital attack
August 03, 2018
RIYADH: The Saudi-led coalition on Friday accused the Houthi militia of carrying out an attack on a hospital and fish market in Yemen that killed dozens of people.
Coalition spokesman Col. Turki Al-Maliki said the Iran-backed group targeted the sites in the port of Hodeidah on Thursday with mortar shells in what he described as a "terrorist attack."
Initial reports said more than 20 people were killed in the attack which hit near Al-Thawra Hospital — one of the county's biggest. But the Red Cross on Friday said the series of explosion in Hodeidah had killed 55 with dozens more injured.
Pro-Houthi media accused the Arab coalition of carrying out an airstrike on the hospital, but Al-Maliki strongly refuted the allegation.
"These targets were not from the coalition and the weaponry used was mortars, which are from the Houthis," he said.
The spokesman presented evidence including pictures he said showed the Houthi mortars used in the attack and maps of Hodeidah showing coalition targets in relation to the location of the hospital.
He said the nearest Houthi position targeted by the coalition on the day of the hospital attack was a weapons storage facility 7.5km from the hospital, east of Hodeidah. A day earlier, on Tuesday, the coalition hit a target 2.5km away from the hospital.

Hodeidah, the country's largest port, is still held by the Houthis. Pro-government forces backed by the coalition were close to capturing the city before pausing the offensive last month to allow UN mediation efforts to continue.
Al-Maliki said the UN had received "incorrect reports from invalid organizations" which had blamed the coalition.
He said the coalition had aways applied the highest international and humanitarian standards in its targeting operations in Yemen.
Earlier, Lise Grande, the UN humanitarian coordinator for Yemen, condemned the hospital attack as "shocking".
"Hospitals are protected under international humanitarian law. Nothing can justify this loss of life," she said, adding that hundreds of thousands of people depended on the hospital to survive.
On Thursday, Martin Griffiths, the UN envoy to Yemen, told a Security Council meeting that he had called for talks between the warring parties to take place on Sept. 6 in Geneva.
A Yemeni government official told AFP that the government would attend the meeting although it was "not optimistic" over the outcome.
Al-Maliki said the coalition had always sought to find a political solution, but that the Houthis continued aggression had hindered this.
"We have given them time for a political solution and also, many opportunities," he said. "We know that 22 million Yemenis have been devastated through this time. However, the real reasons behind the suffering of the people is the coup."
"The collation shall continue its work to free Yemen and return the Yemeni land to the legitimate government."
The conflict in Yemen began when the Houthis seized the capital Sanaa in 2014 and forced the internationally recognized government to flee to Aden. The Arab coalition intervened in 2015 to return the country to the control of President Abed Rabbo Mansour Hadi.
Yemen's war has killed nearly 10,000 people and triggered what the UN calls the world's largest single humanitarian crisis.
On Friday, the World Health Organization warned that Yemen may be on the brink of a new cholera epidemic and called for a three-day truce to allow vaccinations.
Full report at:
http://www.arabnews.com/node/1350621/middle-east
--------
Official praises KSA's commitment to human rights
August 03, 2018
JEDDAH: Mohammad Al-Muadi, the official spokesman of the Human Rights Commission in Saudi Arabia, announced that the Kingdom has fulfilled all of its obligations to international human rights conventions.
It is one of 36 states, out of a total of 197, that has done so proving, he said, the country's commitment to human rights, as led by King Salman and Crown Prince Mohammed bin Salman.
Al-Muadi stressed that Saudi Arabia's commitment to cooperation with regional and international human rights organizations stems from Shariah, which calls for respect for all and the protection of their rights.
http://www.arabnews.com/node/1350736/saudi-arabia
--------
Mideast
Hamas leaders to meet in Gaza amid Israel truce reports
AUGUST 4, 2018
The leadership of Palestinian Islamist movement Hamas is to convene late Friday for a rare meeting, officials said, amid speculation of a long-term truce between the Gaza Strip's rulers and Israel.
The meeting comes as a Palestinian was shot dead by Israeli forces in clashes along the border between Gaza and Israel.
A senior Hamas source, speaking on condition of anonymity, said the evening meeting would be chaired by the movement's leader Ismail Haniya.
Members "will discuss a number of important issues including proposals from Egypt and UN envoy Nickolay Mladenov concerning a truce and the lifting of the Israeli blockade imposed on Gaza," the source said.
The meeting will be the first of its kind by Hamas's political bureau to be held in Gaza, they added.
Among those attending will be Hamas's deputy leader Saleh al-Aruri, who crossed the border from Egypt on Thursday with eight other Hamas leaders based outside Gaza.
Aruri, who lives in Lebanon and has never before visited Gaza as he is wanted by Israel, was given Egyptian and United Nations assurances over his safety, the Hamas source said.
Ahead of the gathering Hassam Badran, a member of Hamas's political wing, said during a speech on the border that the leadership "will push for political action to break the blockade on Gaza".
Israel on Thursday reimposed a blockade on fuel supplies to the enclave, in response to a resurgence of the flow of fire kites across the border.
– Hamas 'committed to calm' –
Israeli Prime Minister Benjamin Netanyahu on Thursday delayed a planned visit to Colombia amid speculation that a truce agreement could be reached within days.
Such a deal would involve a long-term cessation of hostilities between Israel and Hamas in exchange for a significant easing of the Jewish state's crippling economic blockade of Gaza, according to Hamas and UN officials.
An agreement could allow international donors to fund a series of programmes including electricity and water network upgrades in Gaza.
It could also cover a prisoner exchange with Hamas, which holds the bodies of two soldiers killed in a 2014 war, Israeli media say.
On Friday Ezzat al-Rishaq, a member of the Hamas political office, told protesters along the border they were "committed to calm".
"We do not want war and we are determined to spare our people in Gaza a new war," he said.
– Palestinian shot dead –
A Palestinian on the Gaza border was shot dead by Israeli soldiers on Friday, in the latest round of deadly clashes on the frontier.
Ahmed Yaghi, 25, was killed by a sniper east of Gaza City according to the enclave's health ministry.
More than 220 people were wounded, of them 90 from live bullets, the ministry's spokesman Ashraf al-Qudra said.
At least 158 Palestinians have been killed in border demonstrations which began at the end of March, while one Israeli soldier has been shot dead.
According to the Israeli army, some 8,000 Gazans gathered at different spots along the frontier Friday, attempting to sabotage the Israeli border fence.
"A number of suspects infiltrated into Israel from the southern Gaza Strip, hurled firebombs and an explosive device in the border fence area and then returned into the Gaza Strip," an army statement said.
It said a tank struck a Hamas post in response.
Israeli forces also launched tear gas at protesters, who had set tires alight along the border.
Palestinians have also flown balloons and kites attached to incendiary devices across the border, starting hundreds of fires inside Israel in recent months.
With borders to both Egypt and Israel largely sealed in recent years, Gaza suffers from desperately high rates of poverty and unemployment.
Israel insists its blockade is necessary to isolate Hamas, with which it has fought three wars since 2008.
Critics say it amounts to collective punishment of the coastal territory's two million residents.
https://dailytimes.com.pk/277956/hamas-leaders-to-meet-in-gaza-amid-israel-truce-reports/
--------
Secret UN report reveals North Korea attempts to supply Houthis with weapons
4 August 2018
North Korea has not stopped its nuclear and missile programs and has been trying to sell weapons to Yemen's Houthi militia, according to a confidential UN report seen by Reuters news agency on Friday.
The report said North Korea is in violation of United Nations sanctions and is cooperating militarily with Syria.
The six-month, 149-page report by independent experts monitoring the implementation of UN sanctions was submitted to the Security Council North Korea sanctions committee late on Friday.
"(North Korea) has not stopped its nuclear and missile programs and continued to defy Security Council resolutions through a massive increase in illicit ship-to-ship transfers of petroleum products, as well as through transfers of coal at sea during 2018," the experts wrote in the report.
The report said that experts were investigating efforts by the North Korean Ministry of Military Equipment and Korea Mining Development Trading Corporation (KOMID) to supply conventional arms and ballistic missiles to Yemen's Houthi group.
A country, which was not identified, showed the experts a July 13, 2016 letter from a Houthi leader inviting the North Koreans to meet in Damascus "to discuss the issue of the transfer of technology and other matters of mutual interest," according to the report.
Full report at:
https://english.alarabiya.net/en/News/gulf/2018/08/04/Secret-UN-report-reveals-North-Korea-weapons-sale-attempts-to-Yemen-s-Houthis.html
--------
Coalition: Houthis kill civilians by bombing Hodeidah hospital
3 August 2018
The Coalition for the Support of Legitimacy in Yemen said that the Houthi militias killed civilians by bombing a hospital and fish market in Hodeidah.
The spokesman for the coalition, Colonel Turki al-Malki, said this at press conference on Friday evening, accusing the Houthi militias of targeting of Yemeni civilians in Hodeidah.
Col. Malki noted that the Coalition has developed many rules of engagement because of the nature of military operations. "We apply the highest international standards in targeting operations in Yemen," he stressed.
"Houthi militias continue to violate international laws in Yemen," he said. "There are 22 million Yemenis affected by the Houthi coup on legitimacy."
Col. Malki said the collision of a ship in Hodeidah confirms the failure of the militias in the management of the port, stressing that the control of the Houthis on the West Coast hurts the Yemenis and the international community.
"We are continuing our operations to restore the port of Hodeidah and the West Coast in Yemen," he added.
The Coalition is exerting great efforts on behalf of the international community to ensure the security of the Bab al-Mandab Strait and the South Red Sea, although it is an international and regional responsibility, Col Malki said.
Full report at:
https://english.alarabiya.net/en/News/gulf/2018/08/03/Houthi-militias-violate-international-laws-by-targeting-civilians.html
--------
25 Houthis killed in intense fighting in Yemen's al-Jawf
3 August 2018
Yemeni military sources said on Friday that around 25 Houthis have been killed in intense fighting between Yemeni national army and the Houthi militias in al-Maslub district west of al-Jawf governorate.
The source said that the Houthi militants were killed in different areas of the district when the national army advanced in the governorate.
He added that most of the Houthi wore civilian clothes during clashes with the military to trick the army into not staging any military advances in the district in the pretense that there are only civilians in the area.
The Yemeni military source said that a number of Houthis fled leaving behind those killed and weapons confiscated by the army.
On Thursday military sources reported that the Yemeni national army, supported by the Arab coalition, seized control over the international road between Saada and Saudi Arabia.
The sources confirmed that the army backed by the Arab coalition is battling, in the last few days, with the Houthi militias in the mountainous areas surrounding the district of Baqim near Saada and that the national army gained full control over a town at the entrance of the district after inflicting losses among the militias.
Full report at:
https://english.alarabiya.net/en/News/gulf/2018/08/03/25-Houthis-killed-in-intense-fighting-in-Yemen-s-al-Jawf-.html
--------
Israel forces shoot dead one, injure 120 Palestinian protesters
Aug 3, 2018
A Palestinian has been shot dead and 120 have been wounded after Israeli forces opened fire on thousands of peaceful demonstrators during a march in the besieged Gaza Strip.
The Gaza Health Ministry said that Ahmed Yaghi, 25, was killed by a sniper near the fence that separates the occupied territories from the east of Gaza City on Friday.
Health Ministry sources noted that 50 of the wounded Palestinian protesters were taken to nearby hospitals, while the rest were treated at the scene of the protests. Most of the casualties were due to the Israeli troops' use of live fire.
The Israeli military said some 8,000 people took part in the protests at five sites along the fence.
Tensions have been running high near the fence since March 30, which marked the start of a series of protests dubbed "The Great March of Return." Palestinian protesters demand the right to return for those driven out of their homeland.
The clashes in Gaza reached their peak on May 14, the eve of the 70th anniversary of Nakba Day, or the Day of Catastrophe, which coincided this year with Washington's relocation of the US embassy from Tel Aviv to occupied Jerusalem al-Quds.
Israeli fire has taken the lives of at least 157 Palestinians since March 30.
Nearly 15,000 Palestinians have also sustained injuries, of whom at least 360 are reportedly in critical condition.
On June 13, the United Nations General Assembly adopted a resolution, sponsored by Turkey and Algeria, condemning Israel for Palestinian civilian deaths in the Gaza Strip.
Gaza has been under Israeli siege since June 2007, causing a decline in living standards as well as unprecedented unemployment and poverty.
Full report at:
https://www.presstv.com/Detail/2018/08/03/570103/Israel-Palestine-Gaza-Ahmed-Yaghi-Jerusalem-alQuds
--------
Yemeni army continues to advance, pushing back Houthis in Al-Baydah province
August 04, 2018
DUBAI: Yemen's army liberated new positions in Al-Baydah province, south east of the capital Sanaa, following fierce clashes with Houthi militants, Saudi state-news agency Al-Ekhbariya reported.
A military source issued a statement to the Yemeni army's official website, September net, saying that concentrated militia locations along the mountains were targeted by the army.
Earlier, dozens of Houthi militants were killed during battles with the army on the outskirts of Fadha province while trying to infiltrate the area.
http://www.arabnews.com/node/1350866/middle-east
--------
Iran protesters attack religious school: Fars news agency
August 04, 2018
TEHRAN: Iran protesters have attacked a religious school in Karaj province near Tehran, the conservative Fars news agency reported on Saturday.
"At 9 pm (1530 GMT on Friday) they attacked the school and tried to break the doors down and burn things," Fars quoted the head of the school in the town of Ishtehad, Hojatoleslam Hindiani, as saying.
It gave only his clerical rank -- Hojatoleslam -- not his given name.
"They were about 500 people and they chanted against the system but they were dispersed by the riot police and some have been arrested," Hindiani said.
http://www.arabnews.com/node/1350901/breaking-news
--------
Africa
Nigerian Activist Runs Schools to Counter Boko Haram Violence
August 04, 2018
LAGOS, NIGERIA —
When Rebecca Gadzama meets with the teachers she oversees, they sometimes hold the meeting outdoors, under trees in open fields. It gives them a chance to spot danger and run in case of an attack.
The Islamist militant group Boko Haram is still an ever-present danger in northeastern Nigeria and is still against people being educated in Western-style schools.
Yahaya James, an elementary school math teacher, recalled one attack in his hometown of Lassa, in the southern part of Borno state.
"I was here in the town when they came. I was living with my mom and my dad and we just heard gunshots and we started running," he told VOA.
Signs of attacks
Lassa lies adjacent to Sambisa Forest where most Boko Haram members are believed to be hiding. The insurgents frequently invade Lassa for supplies, and the town shows visible signs of attacks. Buildings here are crumbling.
That's why Gadzama returned home from where she was living in central Nigeria. She brought dozens of teachers, Yahaya James and others, together to work in a school that she co-founded with her husband.
The program is called the Education Must Continue Initiative, or EMCI. It was created in 2014 to respond to the need for quality education in a region where Boko Haram militants have destroyed most of the government schools.
"We are just private individuals, just good citizens, natives of this area, so … because we weren't sure when the government would start their school, we just found this place," Gadzama said.
EMCI runs two schools for displaced children, one in Lassa and one in the city of Yola. Gadzama said the schools have 1,600 students being instructed by 80 teachers. The teachers sometimes meet in the open, but classes are held under roofs, either in newly constructed buildings or tents provided by the government.
Government focused on Maiduguri
The schools run mainly on donations. Much of the government's reconstruction spending in Borno State is directed at Maiduguri, the state capital and the city where Boko Haram started.
In June, a newly built neighborhood of 200 housing units was opened in the Maiduguri area, which is more than 200 kilometers north of Lassa. Largely a private-funded venture, the new community provides brand new housing for Boko Haram victims.
"We hear about what is happening in northern Borno. Buildings are made, they are allocated to people. It doesn't look like there is government presence in the situation in the rebuilding of this area," Gadzama said.
James and a group of local schoolteachers walk around an aging school building in Lassa. Among them is 23-year-old Maimuna Zhubairu. Boko Haram killed three of her uncles and her older brother. She feels the government has abandoned Lassa.
"Most of the help comes from NGOs," she said. "The government, they are not doing much help."
She thinks the inaction may be because Lassa is a mostly Christian town, while the majority of people in northern Nigeria are Muslim. When Boko Haram launched its violent insurgency in 2009, Christians and their churches were among the group's early targets.
Muhammed Bulama, the Borno state minister of information, told VOA the government is overwhelmed by the amount of damage Boko Haram caused: $9 billion in northern Nigeria and $6 billion in Borno state alone.
He said that most of the reconstruction efforts are focused on northern Borno because it is where most of the damage is, and also because parts of southern Borno are still inaccessible.
He said the government has begun working in Lassa, helping to rebuild a church.
"Lassa is not even a local government capital, yet it has received some rehabilitation. Reconstruction is not an event, it is a process. We have not neglected any area and most of the people accusing the government of religious bias are mischief makers," Bulama said.
Dealing with trauma
Gadzama stops by to visit another EMCI school. Most of the students are Christians still traumatized by what they have seen. Some of them want to become soldiers when they get older to get revenge on what Boko Haram did in their communities.
"Boko Haram, I see them use knife, chop my grandfather head," 13-year-old Ibrahim Daniel told VOA, speaking in pidgin slang English. "I like to be a soldier because anything that them do, I like to do for them. If me I see them, me I go carry them, me I kill them."
Under the blazing sun in a sandy field, the kids play war games, with one side pretending to be soldiers and the others acting like Boko Haram.
Rebecca hopes the school library she's working on will help heal the students' minds.
"It is not an issue of fighting back," she said. "It's an issue of how do we get over this? How do we become one again because the guys in the Boko Haram are also children. ... When will it stop? So we thought that the best thing to do is to give these children here education, good education, and psychosocial counseling and teach them positiveness in the society."
In her mind, education is the only way that the region can withstand and defeat Boko Haram.
https://www.voanews.com/a/nigeria-schools-to-counter-boko-haram/4513523.html
--------
US military airstrike in Somalia kills 4 al-Shabaab fighters
2018-08-03
The US military says it has carried out an airstrike in Somalia that killed four members of the al-Shabaab extremist group.
The US Africa Command says this is the 19th such airstrike this year against the Somalia-based al-Shabaab, the deadliest Islamic extremist group in sub-Saharan Africa.
The US also has carried out a number of drone strikes against a small presence of fighters linked to the Islamic State organisation in northern Somalia.
Friday's statement says the latest airstrike was carried out on Thursday about 119km northwest of the capital, Mogadishu. Al-Shabaab often targets the capital with deadly attacks.
Full report at:
https://www.news24.com/Africa/News/us-military-airstrike-in-somalia-kills-4-al-shabaab-fighters-20180803
--------
IDPs in Libya running out of time and resources
August 04, 2018
Fighting in the Libyan city of Benghazi has displaced hundreds of families who have come to rely on the government, UN and NGO support.
But now that support has starting to fade and IDPs say it is still not safe to return home, leaving them nowhere to go.
Al Jazeera's Mahmoud Abdelwahed reports from Misrata.
https://www.aljazeera.com/news/2018/08/idps-libya-running-time-resources-180803133537521.html
--------
Jordan army says several ISIL fighters killed in border clashes
2 Aug 2018
Jordan's army says its forces have killed several fighters belonging to ISIL to prevent them from crossing from southern Syria.
Military units used "all types of weapons" to shell a group of fighters who had come close to its side of the Yarmouk Valley in clashes that lasted nearly 20 hours from Tuesday to Wednesday afternoon, an army source told state news agency Petra.
"We applied rules of engagement and members of the Daesh (the Arabic acronym for ISIL, also known as ISIS) gang were forced to retreat inside Syria and some of their members were killed," the source said.
ISIL fighters have been staging attacks in southwestern Syria, as they face an offensive by troops loyal to Syria's President Bashar al-Assad.
A coordinated attack by ISIL on a busy market street in the city of Sweida last month killed more than 200 people, many of whom were civilians.
ISIL and its affiliated Khaled Bin Al Waleed group still control pockets in southern Syria, as well as some western areas, close to the Israeli-occupied Golan Heights.
A Jordanian army source told the Reuters news agency that ISIL fighters who fled from the border area were chased by Syrian army units conducting operations in the region aiming to drive them out of their last hideouts.
The armed group had sought to take cover among hundreds of civilians camped near the Jordanian border to escape the bombing of their villages during the offensive against the fighters, an intelligence source told Reuters.
The heavy fighting had displaced most of the former 40,000 inhabitants and caused many civilian casualties, the source said.
Full report at:
https://www.aljazeera.com/news/2018/08/jordan-army-isil-fighters-killed-border-clashes-180802135231069.html
--------
Nigeria's prominent Muslim cleric abducted
August 04, 2018
A prominent Nigerian Muslim cleric has been abducted alongside two other persons in northwestern Kaduna state, police said on Friday.
Mukhtar Aliyu, spokesman for Kaduna state police, said that Malam Ahmad Garko, popularly known as Al-Garkawy, went to his farm in Maguzawa village, from where some unknown armed men kidnapped him.
Al-Garkawy is a vocal preacher with a large following in the hugely Muslim region.
Aliyu said at least two suspects have been arrested in connection to the abduction, while police tactical units have been deployed to free the victims.
Full report at:
https://www.aa.com.tr/en/africa/nigeria-s-prominent-muslim-cleric-abducted/1222109
--------
North America
Texan says U.S. Muslims lately subject to more attacks, hate crimes than ever
August 3rd, 2018
A Texas member of a Muslim congregation said after a man was convicted of setting its mosque on fire that the United States isn't what it used to be.
Muslims can't afford to lower their guards, Omar Rachid, a board member at the Victoria Islamic Center, told the San Antonio Express-News for a July 2018 news story stating that Marq Vincent Perez, just convicted of burning the mosque, faces up to 40 years in prison when he is sentenced in October 2018.
Rachid then made a claim making us wonder: "The reality of it is that Muslims in America have been subjected to more insults, attacks and hate crimes in the last two or three years than ever before, specifically more than after 9/11," Rachid said, adding: "Islamophobia is thriving. This is not America. It is not the America I came to 35 years ago."
We didn't divine how to pin trends in insults. But, we found, the FBI and others tabulate anti-Muslim attacks and hate crimes.
Have records recently been set? By phone, Rachid told us he based his declaration on accounts of upticks tied to FBI figures; he emailed us web links to news stories and a commentary published in 2017 and 2018.
Included was a November 2017 Pew Research Center blog post citing FBI figures indicating 307 incidents of U.S. anti-Muslim hate crimes in 2016, which marked a 19 percent increase from 2015.
Pew's post specifies that a record was set in 2016 in the subcategory of anti-Muslim assaults, which rose significantly between 2015 and 2016, per the FBI, easily surpassing the previous peak reached in 2001, the year of the 9/11 attacks. For 2016, the FBI reported 127 reported Muslim victims of aggravated or simple assault, compared with 91 the year before and 93 in 2001, Pew's post says.
"But assaults are not the only form of hate crime carried out against Muslims and other religious groups," Pew's post says. "The most common is intimidation, which is defined as reasonable fear of bodily harm. Anti-Muslim intimidation also increased in 2016, with 144 reported victims, compared with 120 the previous year." Pew cautioned, though, that the 2016 "intimidation" count was "dwarfed by the 296 victims of anti-Muslim intimidation in 2001" tallied by the FBI.
A general caution: Pew and others that explore anti-Muslim activism stress that the FBI collects hate crime data from about 15,000 law enforcement agencies that voluntarily participate, which means the statistics likely undercount hate crimes.
FBI reports on anti-Muslim incidents
Next, we looked directly at the FBI's annual reports on hate crimes, which the agency defines as "criminal offenses motivated, in whole or in part, by the offender's bias against" a particular group such as a religion, race or sexual orientation.
It looked to us like the greatest percentage spike in reported anti-Islamic incidents occurred between 2000 and 2001. For the latter year, the FBI tallied 481 anti-Islamic incidents--a count up more than 1,600 percent from 28 in 2000. According to the FBI, such incidents decreased by 68 percent to 155 the next year and then dipped to 149 in 2003 before escalating to 156 in 2004.
We also reviewed the agency's recent tallies, finding there was not a bigger-than-post-9/11 spike in incidents in recent years -- though the numbers have been on the rise. The 307 incidents noted for 2016 compare to 257 reported incidents in 2015, the FBI says, and that count was up 67 percent from 154 anti-Muslim incidents reported in 2014.
Put another way, the 2016 tally reflected a two-year 99 percent increase. But that latest count still fell 36 percent shy of the agency's 2001 count of 481 anti-Muslim incidents.
A California researcher
Rachid offered among the stories fueling his claim a July 2017 analysis of hate crimes against U.S. Muslims by Brian Levin, who directs the Center for the Study of Hate and Extremism at California State University, San Bernardino.
Levin's article, covering every year since 9/11, says that from 2002 to 2014, the FBI's counts of anti-Muslim crimes receded to a range of 105 to 160 though the 257 tally for 2015 was the highest since 2001 and, the article says, the second-highest total of anti-Muslim hate crimes since the agency began eliciting reports of hate crimes from police agencies in 1992.
Not only did anti-Muslim crime cases rise numerically, the article says, they grew as a percentage of all hate crimes, accounting in 2015 for 4.4 percent of all reported hate crimes even though Muslims are estimated to be only 1 percent of the population, the article says.
By phone, Levin told us that in 2016, per FBI figures, anti-Muslim hate crimes accounted for 5 percent of all hate crimes. After 9/11, Levin told us, anti-Muslim hate crimes represented 4.5 percent of hate crimes reported by the agency.
In 2016, Levin's published calculations of hate crimes against Muslims were cited by Hillary Clinton to justify her claim that hate crimes against American Muslims and mosques had tripled after attacks in Paris and San Bernardino. Levin said in a 2016 interview that since 9/11, anti-Muslim incidents ranked second to anti-Jewish incidents among all anti-religious hate crimes. PolitiFact rated Clinton's claim Mostly True.
Civil rights reports by CAIR
Hoping for more up-to-date information, we approached several non-government groups about research into anti-Muslim incidents. This tack drew data only from the Council on American-Islamic Relations, which says it challenges stereotypes of Islam and Muslims.
Zainab Arain of CAIR pointed by email to the council's latest annual civil rights report. The April 2018 report, based on investigations by council staff, says that in 2017, there were 2,599 U.S. anti-Muslim "bias incidents," including 300 hate crimes--a count exceeding the council's confirmation of 2,213 incidents in 2016 by 17 percent.
The report classifies incidents by type. Harassment, it says, accounted for 14 percent of the confirmed incidents in 2017 with incidents in which an individual was "inappropriately targeted and harassed by Customs and Border Protection" proving second-most prevalent. Anti-Muslim hate crimes, including crimes targeting children and families, made up 12 percent of the 2017 cases, the report says, with incidents involving FBI harassment or other targeting of individuals constituting 10 percent of incidents.
Its counts, the report says, should be considered only a "snapshot of the experiences of American Muslims, including children, youth, and families. From experience, CAIR knows that bias incidents targeting the community are vastly underreported to both law enforcement and community institutions. Community members will often not report incidents, such as harassment and bullying, because of a certain level of desensitization," the report says.
Arain told us: "Based on the numbers we report, we have documented more anti-Muslim bias incidents and anti-Muslim hate crimes from 2015 to present than were documented in the year immediately following September 11, 2001."
We followed up by checking the council's 2002 civil rights report. It says the group received 1,516 complaints from community members over the year involving the lives of more than 2,250 people, most of whom "were subjected to incidents of bias-motivated harassment and violence" including several murders, the report says. The report says its complaint count was up 300 percent from the year before. "Excluding the September 11 backlash incidents," the report says, "this year's normal reporting period contains 525 valid complaints, up from 366 in 2000/2001--a 43 percent increase."
Our ruling
Rachid said: "Muslims in America have been subjected to more insults, attacks and hate crimes in the last two or three years than ever before, specifically more than after 9-11."
Incidents confirmed by the pro-Muslim CAIR support this statement. Also, FBI hate-crime statistics drawn from police departments indicate there were more anti-Muslim assaults in 2016 than after 9/11 though its counts generally indicate there were more anti-Muslim incidents after 9/11. A footnote: We didn't come up with a way to gauge shifts in the prevalence of insults.
https://www.politifact.com/texas/statements/2018/aug/03/omar-rachid/US-Muslims-more-attacks-hate-crimes-than-ever-be/
--------
Detective claims NYPD is discriminating against him for being Muslim
August 04, 2018
A Muslim cop on Mayor Bill de Blasio's security detail filed a $7 million federal suit against the city Friday, claiming he's being discriminated against for his religion.
Detective Abdelim "Abe" Azab says he's been denied a deserved promotion and prestigious gigs like protecting Hizzoner during his daily workouts at the Park Slope Y because of his faith and Middle Eastern heritage — while his bosses smear him as a "misfit" who is "too intimidating."
"Mr. Azab, a detective who went undercover after 9/11, has been regularly passed over for promotion, and has been given insulting assignments within his unit," his attorney Marshall Bellovin, of the firm Ballon, Stoll, Bader & Nadler, told The Post.
The Egypt-born Staten Islander was previously assigned to the NYPD's now-disbanded Demographics Unit, which put plainclothes investigators in predominantly Muslim neighborhoods, and has been a detective second grade since 2008 — earning base pay of $103,585 last year plus another $60,000 on top of that, public records show.
But he says he should've been promoted to first grade by now — where he'd be earning $20,000 more a year and get $15,000 more toward his pension, the just-filed Manhattan federal suit says.
Azab alleges his bosses have made "vulgar" and "derogatory" comments about him — including that he's "useless" and a "misfit," and have directed sergeants to keep "Abe away from [de Blasio]."
As a result, he spent most of 2015 through 2017 protecting City Hall instead of the mayor in an effort "to isolate him from the rest of the EPU team," he alleges.
He says he's been repeatedly pulled off driving duty and replaced by a non-Muslim, non-Middle Eastern officer — on at least four occasions, he claims he was told to pull over and vacate the car when the top cops realized he was behind the wheel.
He also claims he's been denied training opportunities that would help advance his career, and wasn't included on the mayor's 2015 trip to Israel, despite being the only Arabic speaker in the unit.
When Azab asked the unit's commanding officer, Inspector Howard Redmond, about the treatment, he says he was told he is "too intimidating."
"It is clear that Inspector Redmond used this as an excuse as there are other officers in the EPU who Inspector Redmond has stated 'I love this guy he is so intimidating,'" the suit charges.
Azab's suit notes that numerous other officers in de Blasio's unit have filed discrimination complaints, and yet the mayor has not spoken out publicly or "taken any affirmative steps to date to curb preferential assignments and preferential promotions that result in discriminatory practices."
Full report at:
https://nypost.com/2018/08/03/detective-claims-nypd-is-discriminating-against-him-for-being-muslim/
--------
Osama Bin Laden May Have Planned 9/11 to Unleash the Apocalypse
AUGUST 3, 2018
BY TYLER O'NEIL
Seventeen years after the terror attacks of September 11, 2001, officials in Saudi Arabia have granted western journalists access to the Bin Laden family in an effort to separate the Saudi kingdom from its most infamous son, Osama Bin Laden. According to a new groundbreaking interview, Bin Laden may have orchestrated the 9/11 attacks to bring about the end of the world.
In Islam, the Hadith, or traditions of the Prophet Mohammed, are second in importance only to the Quran itself. One of the earliest and most authoritative hadith — Sahih Muslim — predicted that the apocalypse would come after the destruction of the Kaaba, the building housing the black stone at the center of Mecca, the most holy site in Islam (Book 41 Hadith 6951).
Besides its oil wealth, Saudi Arabia's clout comes from the fact it contains the Hejaz, the region of most importance to Islam, containing the holy cities of Mecca and Medina. Bin Laden grew up in Saudi Arabia, and radicalized while fighting against the Soviets in Afghanistan. All the same, he went out of his way to involve Saudis in the 9/11 attacks.
"There is no doubt that he deliberately chose Saudi citizens for the 9/11 plot," a British intelligence officer told the Guardian's Martin Chulov. Fifteen of the 19 hijackers were from Saudi Arabia. "He was convinced that was going to turn the west against his ... home country. He did indeed succeed in inciting a war, but not the one he expected."
Chulov interviewed Bin Laden's family members in a groundbreaking story. The terrorist's mother, Alia Ghanem, insisted that her son's radicalization began in college, and that he became a strong, driven, pious figure while studying at King Abdulaziz University in Jeddah.
"The people at university changed him. He became a different man," Ghanem said. While at the university, Bin Laden met Abdullah Azzam, a member of the Muslim Brotherhood who was later exiled from Saudi Arabia and became Bin Laden's spiritual adviser.
"He was a very good child until he met some people who pretty much brainwashed him in his early 20s. You can call it a cult," the mother recalled. "They got money for their cause. I would always tell him to stay away from them, and he would never admit to me what he was doing, because he loved me so much."
Full report at:
https://pjmedia.com/faith/osama-bin-laden-may-have-planned-9-11-to-unleash-the-apocalypse/
--------
Ankara says it agreed with US 'to work closely to resolve issues'
3 August 2018
The United States and Turkey have agreed to work closely to resolve issues between them, Turkish Foreign Minister Mevlut Cavusoglu said on Friday, following what he said was a "constructive" meeting with Secretary of State Mike Pompeo.
Cavusgolu and Pompeo met on the sidelines of a meeting of regional ministers in Singapore. Their talks came after Washington imposed sanctions on two of Turkish President Tayyip Erdogan's ministers over the trial of a U.S. pastor accused of backing terrorism. Turkey has said the sanctions are unacceptable.
Cavusoglu, in comments to Turkish broadcasters, said he and Pompeo had also discussed potential joint steps the two countries could take regarding Syria's Idlib and Manbij. The NATO allies have also been at odds over Syria policy.
Also Turkish Foreign Minister said he told US Secretary of State Mike Pompeo that threats and sanctions will not work, after Washington targeted Turkish ministers over the detention of an American pastor.
"We have said from the start that the other side's threatening language and sanctions will not get any result. We repeated this today," Cavusoglu said in televised remarks in Singapore after their meeting.
Pastor Andrew Brunson was held in prison for nearly two years before he was moved to house arrest last week, disappointing American officials who expected his release.
He is accused of carrying out activities on behalf of two groups viewed by Ankara as terrorists: the movement of the US-led Muslim preacher Fethullah Gulen blamed for the July 2016 coup attempt and the Kurdistan Workers' Party (PKK).
Brunson, who led a Protestant church in the Aegean city of Izmir, denies the charges. He risks up to 35 years in prison if found guilty. His next hearing is on October 12.
The case is now at the centre of a bitter row between NATO allies Ankara and Washington after the US on Wednesday imposed sanctions on the Turkish justice and interior ministers claiming they played a major role in the arrest and detention of the pastor.
The meeting was the first between the countries' officials after Ankara vowed it would respond to sanctions with retaliatory measures.
Full report at:
https://english.alarabiya.net/en/News/world/2018/08/03/Ankara-says-it-agreed-with-US-to-work-closely-to-resolve-issues-.html
--------
Demonstrators call on Canadian government to reunite Yazidi families
August 3, 2018
It was Aug. 3, 2014, when hundreds of thousands of lives changed forever for the Yazidi people living in northern Iraq.
ISIL militants attacked and captured the city of Sinjar and surrounding areas, forcing 50,000 Yazidis to flee to nearby mountains, only to face death by starvation, dehydration and ISIL gunfire.
That month, 7,000 Yazidis were slaughtered in a genocide, while many young women and children were sold into sexual slavery.
Friday afternoon, four years after the genocide began, roughly 100 Yazidi Calgarians who fled the hardship held a demonstration in front of City Hall calling on the Canadian government's help.
"All these people are ISIL survivors," said Ghazi Hasso, a member of the Yazidi community who came to Canada after the attacks.
"There's not a single person here who has not been affected by ISIL. There are many people here that have half of their family missing — their parents, children missing, husband missing, wife missing, all sort of family. These are traumatized people.
"We still have 3,000 or so (Yazidi people) in captivity in the hands of ISIL."
Demonstrators could be seen carrying photographs of missing loved ones as they marched around City Hall chanting "stop ISIS! Save our women! Stop genocide!"
"You can imagine losing your cat or something. You would worry about it, but people have lost most of their family; you can imagine what they are going through," Hasso said.
"There's not a single minute that goes by where we don't think about the family members lost and our women and children."
The genocide continues to this day, as hundreds of thousands of Yazidi are displaced in camps and makeshift shelters in northern Iraq.
Shreen Kengo is one of the few lucky enough to escape the war-torn area.
Through a translator, she said her mother, brother and sister were captured. Her mother and sister were recently bought out of the slavery, but they are still uncertain of her brother's fate.
"ISIS came to our areas and they attacked us because we are Yazidi — either you turn to Islam, or you will die," she said of the threats the militant group made.
"Many, many people got killed because they refuse to become Muslim. They killed the older women, and any woman not good enough for them to be married or sold into sexual slavery were killed. They sold the young women around nine years old or younger on the market."
Kengo said she was sold six times over 21/2 years.
"We were sold from one person to another — something you would not do to another human being," she said.
"You were just considered property. It's hard for me being alone here — I have no family."
Full report at:
https://calgaryherald.com/news/local-news/these-are-traumatized-people-demonstrators-call-on-canadian-government-to-reunite-yazidi-families
--------
Europe
UK Labour must tackle its anti-Semitism
Farrukh Dhondy
Aug 4, 2018
The Labour Party of Britain, Her Majesty's loyal Opposition and possible government-in-waiting, is in deep trouble.
Here's not what happened:
A member, let's say, of Labour's ethics committee and once even a shadow minister appeared on TV saying that all Muslims living in Britain supported the murderous cult of ISIS. Several Muslim leaders objected and complained to Jeremy Corbyn, leader of the Labour Party, to take action. Mr Corbyn declined to comment.
A member of Labour's National Executive Committee (NEC) went a step further and said that in his opinion the majority of Muslims in Britain owed more loyalty to ISIS than to Britain. Two Muslim Labour MPs, call them Miriam Haji and Yusuf Ahmed, representing constituencies in the north with large Muslim populations, reacted, calling this abject anti-Muslim nonsense. They asked Mr Corbyn to take action.
Mr Corbyn issued a statement of Labour's opposition to all racism. Brandishing that assurance. Ms Haji and Mr Ahmed asked Mr Corbyn to suspend or expel the NEC member who held and voiced this opinion. Mr Corbyn didn't. Ms Haji then, very publicly in the House of Commons, called Mr Corbyn an Islamophobe and a racist.
Her remarks were noted and calls for her expulsion from the party followed.
Joining Ms Haji and Mr Ahmed in their protests, 68 imams of mosques in Britain signed an open letter in the press pointing to several remarks that Labour officials had made over time. They said there was a current of Islamophobia in the Labour Party, which ought to be checked and dealt with.
Another Labour luminary and known ideological associate of Mr Corbyn then pronounced these imams to be "Putin's puppets" who supported Bashar al-Assad and his murderous Russian-backed regime in Syria.
Again, the national press, surveying opinion within the UK's Muslim communities and questioning a large sample of Muslim Labour Party members, concluded that there was a widespread fear that Labour, hitherto seen as a champion of Muslims and anti-racism, was being infiltrated by a current of Islamophobia.
Analysts put this down to the Labour spokespersons perceived as Islamophobic confounded the actions and ideology of Islamism with Islam and attributed these to all Muslims. The prevalence of this conflation could certainly be labelled Islamophobia and had to be addressed head-on.
Several Muslim MPs of the Labour Party muttered about resigning if action was not taken. Investigative journalists unearthed another fact: In 2010, Mr Corbyn appeared on a platform with a rabid rabbi who advocated the genocide of Palestinians.
It is time, gentle reader, to repeat as I said at the start, that none of these things happened. And yet I didn't exactly make them up! Within the contexts of several statements, events, speeches, protests and accusations that have indeed taken place over the last few weeks in Britain. I substituted "Muslim" for "Jewish", "ISIS" for "Israel", "Islamophobia" for "anti-Semitism", "imams" for "rabbis", two Muslim MPs for two Jewish Labour ones and "Putin's puppets" for "Trumpeteers".
The Labour Party, its NEC and Mr Corbyn appear in the above allegory as themselves.
If the above scenario, the statements substituting Muslims for Jews had actually come to pass or be pronounced, the Labour Party would be in deeper trouble than it is. That can't happen. Any overt Islamophobia would be dealt with through severe condemnation and expulsions. And yet the Labour Party has got its knickers in a right twist over anti-Semitism.
The party has adopted a code against anti-Semitism and annexed to itself a definition of what that is. The code comes from the world Jewish organisations themselves, but in its adoption of the definition it has left out some serious clauses. Without going into the semantics of each, it can be generally said that these are the clauses, which allow the conflation of anti-Zionism with anti-Semitism.
For instance, a Labour Party official who condemns the domestic or foreign policy of Benjamin Netanyahu would not be considered anti-Semitic by either the Jewish community, very many of whom are critics of Israeli policy, or by the Labour Party.
On the other hand, if, as the Labour ex-mayor of London Ken Livingstone did, one was to say that Hitler was a Zionist because he favoured the repatriation of Jews from Germany to Israel, he would be condemned by the Jewish community as anti-Semitic and suspended from the Labour Party for at the least not choosing his words carefully enough. It may be true that Hitler wanted initially to expel Jews before he set in motion the Holocaust, but that doesn't make him a Zionist.
It is true that some of the actions of the Israeli state against Arabs are comparable to the actions of German National Socialists, but that doesn't excuse calling all Jews or Israeli Jews Nazis.
Mr Corbyn needs to save the party from this destructive dilemma. He did appear on a platform in 2010 with terrorists who advocated the annihilation of Israel. In the wake of this coming to light he apologised for it saying he disagreed with what was said. A respected Jewish MP, Margaret Hodge, did object to Labour's mealy-mouthed definition of anti-Semitism and she did call Mr Corbyn an anti-Semite and a bigot. Now the Labour deputy leader, several MPs and Labour constituencies are calling for no disciplinary charges to be levelled against her.
Mr Corbyn's supporters say this is all a conspiracy by Jews who own the press and control "the establishment" to discredit him and the party.
This is errant nonsense. Rupert Murdoch, Lord Rothermere and the Barclay Brothers, who together own all British newspapers, have not converted to Judaism — and as for "the establishment" I think Prince Charles and the Queen are still Anglicans.
http://www.asianage.com/opinion/oped/040818/uk-labour-must-tackle-its-anti-semitism.html
--------
Tajikistan refutes IS claim of "terror attack" that killed 4 tourists
AUGUST 4, 2018
Authoritarian Tajikistan has called for the first time an incident that left four foreign cyclists dead in the Central Asian country a "terror attack" while appearing to refute the Islamic State group's claim of responsibility.
In a statement published late on Friday the ex-Soviet country's state prosecutor said the attack initially reported as a hit-and-run road accident was aimed at "creating an atmosphere of fear and panic in society and undermining the international authority of the Republic of Tajikistan".
"The attack on the foreign tourists was a terrorist act," the statement said of the assault by an armed gang on a group of seven foreign cyclists Sunday which left two Americans, one Swiss and one Dutch national dead.
On Tuesday IS released a video showing what it said was a pledge of allegiance by the five men accused of murdering the tourists visiting the impoverished ex-Soviet nation.
In a first official mention of the video Friday, however, the country's state prosecutor said the clip had been released "with the aim of deflecting suspicions from another terrorist organisation, the Islamic Renaissance Party, which is the main commissioner of this terrorist act".
A prior police report pinning responsibility for the attack on the Islamic Renaissance Party (IRPT) — which styled itself as a moderate, faith-based opposition party until it was outlawed by Tajikistan in 2015 — has generated scepticism outside the republic.
The government began a long crackdown on the opposition in 2015 just before the IRPT failed to make parliament in a vote widely viewed as strewn with violations.
Tajik police also alleged that a detained suspect viewed as one of the leaders of the attack on the tourists "underwent training" in Iran, a country with whom Tajikistan currently has poor relations.
Both Iran and IRPT have denied any links to the attack.
The video released by IS Tuesday shows five men, who resemble pictures of the suspects put out by Tajik police, sitting by a tree in front of a jihadist flag.
The clip shows them swearing allegiance to Abu Bakr al-Baghdadi, the group's leader.
Four of the men were killed resisting arrest, according to Tajik police while a fifth is in police custody.
The victims were killed by being struck by a car and attacked with knives and guns as they cycled along a road off the Pamir Highway — a popular tourist route with spectacular views.
They have been named as Lauren Geoghegan and Jay Austin of the United States, Dutch citizen Rene Wokke and Swiss citizen Markus Hummel.
Full report at:
https://dailytimes.com.pk/277967/tajikistan-refutes-is-claim-of-terror-attack-that-killed-4-tourists/
--------
UN condemns 'shocking' Yemen hospital strike
August 04, 2018
SANAA - A senior UN official expressed alarm Friday at deadly strikes in Yemen's rebel-held port city of Hodeida including at the entrance to the war-wracked country's largest hospital.
At least 20 people were killed and 60 wounded Thursday in an air strike at the Al-Thawra hospital and the bombardment of a fish market in Hodeida, according to medics and witnesses.
"This is shocking," said Lise Grande, the UN humanitarian coordinator for Yemen.
Hundreds of thousands of people depend on Al-Thawra, which is Yemen's largest hospital, she said.
"Hospitals are protected under international humanitarian law. Nothing can justify this loss of life."
Yemeni government forces backed by a Saudi-led coalition have been conducting an offensive to capture Hodeida from Iran-backed Huthi rebels, but announced last month they were pausing the assault to give UN mediation efforts a chance.
Strikes have picked up again around Hodeida since the Saudis last week said that two oil tankers operated by one of the kingdom's companies were attacked in the waters of the Red Sea.
Rebel-run media outlets accused the Saudi-led coalition of carrying out the attacks in Hodeida on Thursday, but there was no immediate response from the alliance headed by Riyadh.
The fighting around Hodeida has raised UN fears of a new humanitarian catastrophe in a country already standing at the brink of famine and gripped by a deadly cholera epidemic.
"Every day this week we have seen new cholera cases in Hodeida, and now this," Grande said.
"The impact of the strikes is appalling. Everything we are trying to do to stem the world's worst cholera epidemic is at risk."
Meritxell Relano, resident representative in Yemen for the UN Children's Fund, said the "senseless attack in Hodeida has destroyed families, hopes and dreams for a better future".
Yemen's war has killed nearly 10,000 people and triggered what the UN calls the world's largest single humanitarian crisis, with more than eight million Yemenis at risk of starvation.
Full report at:
https://nation.com.pk/04-Aug-2018/un-condemns-shocking-yemen-hospital-strike
--------
UN peacekeepers return to Golan after talks with Russia, Israel, and Syria
August 04, 2018
UNITED NATIONS - UN peacekeepers have carried out a first patrol since 2014 to a key crossing point between the Syrian and Israeli-controlled Golan Heights after liaising with Russia, Israel and Syria, a UN spokesman said Friday.
Thursday's patrol at the Quneitra crossing point was the first since the UN Disengagement Observer Force (UNDOF) withdrew in 2014 after Al-Qaeda-linked rebels overran the area.
Syrian government forces, backed by Russia, have in past weeks recaptured territory near the Golan Heights, driving out rebel groups from a "de-escalation zone" agreed by Jordan, Russia and the United States.
The "patrol to the Quneitra crossing point is part of UNDOF's ongoing efforts to return incrementally to the area of separation," said UN spokesman Farhan Haq.
He said the mission liaised with both the Syrian Arab Armed Forces and Israel's Defense Forces ahead of the patrol.
Syrian troops and Russian military police also carried out "simultaneous" patrols of the area, said Haq.
After the Russian army said Thursday it planned to deploy eight military observation posts in the Golan, the UN spokesman said any Russian military presence would be "separate and distinct from that of UNDOF." The United Nations is aiming for the full return of UNDOF to the Syrian side. Currently, more than half of UNDOF's 978 troops are deployed on the so-called Bravo (Syrian) side.
UNDOF has carried out more than 30 patrols in the northern and central parts of the area of separation since it resumed its activities on the Syrian side in February. Established in 1974, UNDOF monitors a ceasefire line that has separated Israelis from Syrians in the Golan Heights.
Full report at:
https://nation.com.pk/04-Aug-2018/un-peacekeepers-return-to-golan-after-talks-with-russia-israel-syria
--------
Tunisia arrests two over foiled biological attack in Germany
August 03, 2018
Tunisian authorities said Friday they had arrested two suspects in connection with a biological bomb plot thwarted by police in Germany in June.
The two men are suspected of links to 29-year-old Tunisian Sief Allah H. who was arrested in Germany in possession of the deadly poison ricin and bomb-making material, the interior ministry said.
German police commandos on June 12 stormed the Cologne apartment of Sief Allah H. and discovered "toxic substances" that turned out to be ricin, according to the German authorities.
Produced by processing castor beans, ricin is lethal in minute doses if swallowed, inhaled or injected and 6,000 times more potent than cyanide, with no known antidote.
Sief Allah H., who has been charged with possession of weapons of war and planning a serious act of violence against the state, was thought to have followed instructions on making a ricin bomb disseminated online by the Islamic State group.
Investigations revealed that one of the two men had conspired with Sief Allah H. "to simultaneously carry out in Tunisia and Germany two attacks using homemade bombs", Tunisian anti-terrorism spokesman Sofiene Sliti told AFP.
The other suspect allegedly prepared a false passport to help Sief Allah H. flee to other European countries, according to the interior ministry.
Full report at:
https://nation.com.pk/03-Aug-2018/tunisia-arrests-two-over-foiled-biological-attack-in-germany
--------
Southeast Asia
Jakarta fails yet again to counter Islamic State threats
4 Aug 2018
On Tuesday, Indonesia banned the Islamic State (IS)-aligned terrorist group Jemaah Ansharut Daulah (JAD) as part of ramping up its counter terror measures ahead of the Asian Games to be held in Jakarta and Palembang in mid August and the Annual Meetings of the International Monetary Fund (IMF) and World Bank (WB) in Bali in mid-October.
Since May of this year, terrorist attacks and counter-terror operations in Indonesia have resulted in at least 49 deaths including civilians, policemen and terrorists. Three families including young children staged suicide bombings in Surabaya. The JAD is alleged to have inspired the Surabaya attacks.
The predictable doom-laden hyperbole from terrorism experts and understandable national shock over the use of women and children in the Surabaya attacks galvanised support for President Joko Widodo to push through an amended Law on Counter-Terrorism.
The law was first proposed in January 2016 in the wake of a terror attack in Jakarta in which eight people were killed.
The amended law provides wide powers to Indonesia's security forces, including to detain suspects for up to 221 days without producing them before the court. The amended law follows a well-worn global pattern shifting the balance between rights and security.
As part of preparations for the Asian Games and IMF-WB meeting, Indonesia has launched a wider crackdown. The country has seen the arrest of hundreds of suspected terrorists, the imposition of a death sentence against Aman Abdurrahman, leader of the JAD and now banning of the JAD.
The overall picture for Indonesia remains positive and the recent terror attacks may not amount to any strategic upsurge or gains for terrorism.
The IS remains unpopular in Indonesia. The US-based Pew Research Centre survey estimated support for the IS at around 4% of the population, notably one of the lowest levels of support amongst Islamic majority states. Yet some security experts extrapolate that number against the total population and conclude that there may, therefore, be 10 million potential IS operatives in Indonesia. The empirical evidence suggests that such extrapolation is neither helpful nor valid. Expressing extremist views in a public survey is not a useful measure of a person's willingness to act on their views.
Rather than a cause for panic, limited support for the IS might better be viewed as cause for optimism. The reality is that terror attacks in Indonesia have been on the slide since the Bali bombings in 2002. This fall is consistent with global trends. Despite a panic-prone security sector, both Indonesia and the world are now far safer places from terrorism than in the 1970s.
Even if terror attacks do rise, it is difficult to square this with terror experts' predictions of regional chaos. Local terror exists only to the extent it can draw on local support. Pew research consistently suggests that Indonesian Muslims, 92% of them, believe that violence against civilians in the name of Islam is rarely or never justified. Once again, this is one of the highest levels of rejection of Islamist terror amongst Muslim majority nations.
All violent extremist groups including the IS depend on public support, without which terrorists can never grow beyond their current minuscule minority.
The vast majority of today's counter-terror "experts", media pundits and policymakers fail to understand this particular dimension of terrorism that leads them to obsess over a narrow view of security to the exclusion of everything else.
Political leaders, often with one eye on elections, find it easier to appear "strong" and respond emotionally to these types of attacks. It is popular with the public.
However, security by itself is subject to diminishing returns. A shift in the balance in favour of security over human rights has invariably led to an increase in human rights violations. Security experts often argue that human rights violations are a necessary evil in the fight against terror. The real challenge for Indonesia is not just about immediate security but also about taking measures that avoid the current 4% support for the IS becoming 10%, and then 10% becoming 40%.
Banning the JAD doesn't remove the underlying grievances that eventually coalesce into terror groups. The JAD will soon be replaced just as the JAD itself had replaced the vacuum after the banning of Jemaah Islamiah in 2008. Jemaah Islamiah stepped into the vacuum created by the destruction of the Darul Islam movement of the 1950s and 1960s.
Indonesia needs to move beyond security-centric approach and seek to understand local grievances better and address them through a variety of measures that fall far outside the one-dimensional security-centric approach.
Full report at:
https://www.bangkokpost.com/opinion/opinion/1515482/jakarta-fails-yet-again-to-counter-islamic-state-threats
--------
Indonesia launches new group to combat extremism
August 3, 2018
Moderate Muslims in Indonesia have launched a new civil society group to promote interreligious tolerance in a country where religious and ethnic sentiments are on the rise ahead of a presidential election in 2019.
More than 200 people, including religious leaders such as Jakarta's Catholic archbishop, as well as politicians, attended the Aug. 1 launch of the Said Aqil Siroj Institute in Jakarta.
The new non-profit organization is named after a prominent Muslim cleric who now serves as chairman of Nahdlatul Ulama (NU), Indonesia's largest Islamic organization.
"His thoughts and ideas highlighting tolerance, mutual respect, peace and willingness to work together with people from different religious and ethnic backgrounds have inspired the establishment of this institute. These are important pillars for the existence of our diverse nation," Imdadun Rahmat, the organization's executive director, said at the launch.
"This institute has come about because of concerns among young people about problems and challenges faced by our nation, especially the weakening of national unity as a result of segregation based on religion, ethnicity and ideology," he said.
He said the organization would take up the same fight as similar organizations including the Jakarta-based Wahid Institute, an organization that focuses on the creation of peace and non-violence espoused by former Indonesian president Abdurrahman Wahid, who was also a former NU chairman.
"Such organizations need to expand to serve as 'shields' to protect our younger generation from radicalism," he told ucanews.com.
In near future, he said, the institute will share moderate Islamic teachings through social media and conduct research, seminars and discussions.
Speaking to reporters, Siroj said the institute would promote Islam Nusantara (Islam of the Archipelago) as many people still don't have a clear understanding of it.
"Islam Nusantara means an Islam which promotes cultural values that are dignified, friendly and polite," he said.
"I think Islam Nusantara is a solution to the wave of globalization which is very radical and extreme.
"I believe Indonesian Muslims can show people that they respect differences and other cultures," he said.
Coordinating Minister for Maritime Affairs, Luhut Binsar Panjaitan, said the launch of the new organization comes at the right time.
"[Next year] is the year of politics. Regional elections [held in June] ran peacefully. Yet, we see that in some regions the issues of religion, ethnicity and ideology were used to influence public opinion. We predict these issues will grow ahead of the presidential election next year," he said.
Archbishop Ignatius Suharyo Hardjoatmodjo of Jakarta, who attended the launch, welcomed the institute's establishment.
Full report at:
https://www.ucanews.com/news/indonesia-launches-new-group-to-combat-extremism/82981
--------
Perak MB says 'cruel to marry children' 16 and younger
04 August 2018
IPOH, Aug 4 ― Perak Mentri Besar Ahmad Faizal Azumu said he is personally opposed to child marriages, saying it is "cruel" for those 16 and below to be wed when they have far more options in the world today.
The 48-year-old said things have changed from the past when underaged marriages were common, and added that parents have a duty to prepare their children to be independent and equip them with life skills to set up their own households before marriage.
"I am a Muslim and I understand that someone has the right to be married or marry when they have reached akil baligh," he said, using the Islamic term meaning puberty.
"At the same time I think parents of children under 18 have a duty to make their kids ready for independence. We must give them the highest education possible and the skills to take care of themselves instead of getting them married.
"Today, at the age of 16 or lower, I think it is cruel to marry children off," he said during a recent sit-down with journalists here.
The Chenderiang assemblyman and Tambun MP stressed that he was only expressing his personal opinion, which should not be taken as the state government's official stand.
Ahmad Faizal said that married children might be forced to care for their own children before they were ready to do so, which was not an easy task.
Such cases could cause future problems, and add to the already high divorce rates in the country.
"For no reason, a young mother at the age of 16 or 17 could have to take care of her own child. Come on lah, we have to be respectful towards women."
Ahmad Faizal acknowledged that not everyone shares his views, and that he may even be criticised but said he sincerely believes that child marriages are not suitable for the society today.
"In my great-grandparents time, things were different. Then there were no schools or universities, so this was acceptable.
"Now, we should think of the futures of these children. When they are truly ready, they can get married but not too early," he said.
The Perak Islamic Family Enactment 2004 has set a minimum marriage age for female Muslims in the state to 16.
Legal experts say a uniform legal age of marriage of 18 can only be realised if all state legislative assemblies amend their respective Islamic Family Law Enactments.
Asked if he would lead the charge to raise the age limit, Ahmad Faizal said more viewpoints were needed before a final call was made.
"This needs to be discussed by the Pakatan Harapan council. We are also a state with a monarchy," he said.
Full report at:
https://www.malaymail.com/s/1659088/perak-mb-says-cruel-to-marry-children-16-and-younger
--------
Philippines Nabs Cleric Over Bomb Claimed by Islamic State
August 04, 2018
Manila. The Philippine military said on Thursday (02/08) that it has arrested a Muslim cleric who knew in advance about a bomb that killed 11 people on Basilan Island in an attack earlier this week that raised fears of Islamic State involvement.
Acting on a tip off, scout rangers raided the home of Indalin Jainul, alias Ustadz Abdulgani, 12 hours after Tuesday's bombing in Lamitan town.
Informants told the army that the cleric, 58, knew the bomb would go off and had been helping foreign operatives reach Basilan from Malaysia, according to army spokesman Gerry Besana. A grenade was found at his home.
Jainul is charged with multiple murder and illegal possession of explosives. His family protested what they said were trumped-up charges. Islamic State claimed responsibility for the attack, which killed five militias, a soldier and four civilians, including a child, calling it a "martyrdom operation."
The driver of a van carrying the device also died. He was believed to have detonated the device when questioned at the checkpoint. Defense and military officials dismissed the Islamic State claim as propaganda, with Defense Secretary Delfin Lorenzana describing the claim as "just speculation." Basilan is a stronghold of the Abu Sayyaf, a group better known for its banditry and kidnapping, though it has pledged loyalty to Islamic State.
The attack came days after Philippine President Rodrigo Duterte made peace overtures towards the Abu Sayyaf, following his approval for an autonomy plan sought for decades by leaders of the region's Muslim minority.
Vehicle bombings are rare in the Philippines, despite decades of separatist and Islamist violence that have destabilized the southern Mindanao region.
Security experts say that although Islamic State has no known affiliate in the southern Philippines, it has ties with local extremists who have given refuge to foreign radicals, particularly from Malaysia and Indonesia.
Full report at:
http://jakartaglobe.id/international/philippines-nabs-cleric-bomb-claimed-islamic-state/
--------
URL: https://www.newageislam.com/islamic-world-news/queer-islam-theres-no-conflict/d/116040
New Age Islam, Islam Online, Islamic Website, African Muslim News, Arab World News, South Asia News, Indian Muslim News, World Muslim News, Women in Islam, Islamic Feminism, Arab Women, Women In Arab, Islamophobia in America, Muslim Women in West, Islam Women and Feminism