New Age Islam News Bureau
12 Jan 2017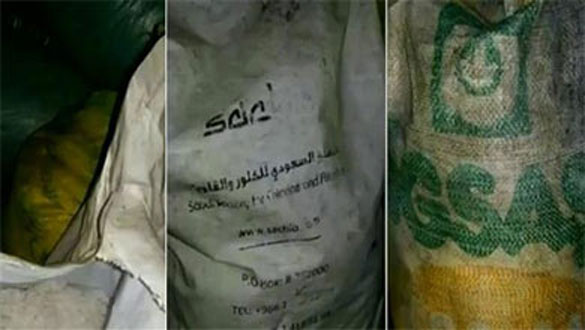 Photo: The picture shows Saudi chemical weapons agents discovered by Syrian forces in Aleppo on January 11, 2017. (Photo by SANA)
---------
• Qazis Have No Power To Declare Marriages Invalid: Madras High Court
• Syrian Forces Uncover Saudi Chemical Weapons Agents In Aleppo
• Pakistan Will Be Recognised As Minorities-Friendly Country: Nawaz Sharif
• US Backs Afghan Claim Of Terrorist Safe Havens In Fata
India
• Qazis Have No Power To Declare Marriages Invalid: Madras High Court
• PoKMuslim Sends Sacred Soil To Kashmiri Pandits In India
• Saudi Arabia increases India's annual Haj quota to 1.70 lakh
• The 'Fatwa Man' Of Bengal Who Is Offering Rs 25 Lakh For Blackening PM Modi's Face
• Three Malaysia-bound planes in Mumbai searched following alert over bomb threat
• Muslim students protest against delay in reservation
--------
Arab World
• Syrian Forces Uncover Saudi Chemical Weapons Agents In Aleppo
• Large Number of Al-Nusra Militants Targeted by Poison Attack for Internal Differences
• Saudi Flags, Car Registration Plates Found in ISIL Bases in Mosul
• Spokesman: Iraqi Nujaba Fighters to Uproot Terrorists in Syria
• Bombed Mosul bridge still lifeline for long-suffering civilians
• ISIS using hobby drones to bomb forces in Mosul
• US Soldiers Operating in Mosul in Iraqi Army Uniforms, Vehicles
• Media: Russia Increasing Military Presence in Syria
• Dissident Figure: Turkey-Led Ceasefire Not Trustworthy
• Syria: Jeish Al-Fatah's Missile Depot Found in Eastern Aleppo
--------
Pakistan
• Pakistan Will Be Recognised As Minorities-Friendly Country: Nawaz Sharif
• Pakistan Predicted To Be World's Fastest-Growing Muslim Economy In 2017
• European Union to take up with Pakistan, rights violations against Ahmadiyya Muslims
• APS martyrs' mothers for extending military courts
• Raheel Sharif has not requested NOC for appointment to Islamic military alliance: Asif
• Pakistan to renovate Katas Raj temple
--------
South Asia
• US Backs Afghan Claim Of Terrorist Safe Havens In Fata
• After Posing As Kids, Afghan Refugees In Austria Used £87,000 In Social Benefits
• US forces in Afghanistan confirm 33 civilians killed in Kunduz operation last year
• Afghan police arrest 3 Iranians on terrorism charges in Herat
• Atmar in Kandahar as Ghani orders thorough probe into the terror attack
• Taliban say they didn't plant bomb wounding UAE diplomats
--------
Southeast Asia
• Kyrgyzstan Doctor Refuses To Treat Epileptic Toddler Till After Muslim Prayer Time
• China Tightens Border with Pakistan as Fears Grow of Jihad in Western Xinjiang
• Eight Indonesians Deported For Possessing Islamic State Images
• Gerakan: Review policies of govt-funded religious schools
• Indonesia Military commander defends military-style training of FPI
• As Malaysia ups halal ante, Singapore Islamic authority relaxes cert rules
• Islamic NGOs, muftis back Perlis fatwa for wives as progressive
• Highway operator blames errant contractor for 'Muslim toilet' sign
--------
Europe
• European Union To Take Up With Pakistan, Rights Violations Against Ahmadiyya Muslims
• TV Appearance Of 'Charlie Hebdo' Terrorists' Former Mentor Stokes Anger In France
• Two Pakistanis held in Germany for human trafficking
• Germany sees huge drop in refugee arrivals
• US freezes assets of Londoner identified as leading member of British ISIS cell
--------
Mideast
• Israel Mulls Constructing Settlement On Palestinian Trucker's House Site
• Turkey will discuss troop presence in Iraq once ISIS removed
• Turkey, Israel officials to discuss roadmap for closer cooperation: Report
• At least 25 Palestinians seized during Israeli raids
• MP faces life in jail for exposing Turkey's arms aid to Syria militants
• Saudi campaign has killed 1,400 Yemeni kids, UNICEF says
--------
Africa
• Somali Islamists Kill Man And Teenager For Gay Sex, Another Man For Spying
• Amnesty Urges Special Court For War Crimes In CAR
• Russian military team in Libya to meet Haftar, Saleh Issa
• As ISIS Struggles for Influence in Somalia, al-Shabab Remains the Main Threat
• Kenya: Thousands Turn Up for TSS' Burial
• Boko Haram: Nigerian Army recovers corpses of 16 missing soldiers
--------
North America
• How An Obscure U.S. Policy Effort Could Hurt American Muslims
• Muslim prayer issue reaches boiling point at Peel board meeting
• Six police departments come together for first eastside Muslim safety forum
• Rex Tillerson opposes blanket ban on Muslims' entry into US
Compiled by New Age Islam News Bureau
URL: https://newageislam.com/islamic-world-news/new-age-islam-news-bureau/qazis-have-no-power-to-declare-marriages-invalid--madras-high-court/d/109697
--------
Qazis Have No Power To Declare Marriages Invalid: Madras High Court
By Siva Sekaran
Jan 12, 2017
CHENNAI: Holding that Qazis had no power to certify the marriages of Muslims invalid after the utterance of the husbands 'talaq' thrice, the first bench of the Madras High Court has restrained them from issuing any such certificates, until further orders.
The bench of Chief Justice SK Kaul and Justice MM Sundresh gave the ruling while passing interim orders on a PIL from advocate and former MLA Bader Syed on Wednesday.
The petition assailed the declarations issued by Qazis, certifying a talaq and to consequently restrain them from issuing certificates and other documents certifying or approving talaq. Referring to Sec. 4 of The Qazis Act, 1880, the bench held that the office of Khazi does not confer on the person any judicial or administrative power.
The All India Muslim Personal Law Board and the Shariath Defence Forum submitted that the nature of the certificates issued by the Chief Khazi is only an opinion having expertise of Shariath Law. In support of this, they referred to Sec 2 of the Muslim Personal Law (Shariath) Application Act, 1937.
However, Syed and others supporting the petitioner, including the Women Lawyers Association, contended that the nature of certificates issued by the Qazis are causing immense confusion in the matrimonial proceedings and also in the understanding by both the spouses of the effect of such a certificate being issued by the Chief Khazi.
In this behalf, they also produced some certificates issued from 1997 to 2015, which merely stated that on a representation of the spouse of a particular date, the talaq pronounced in respect of the wife is valid as per Islamic Shariath. But neither the facts, which prompted the Khazi to opine so, have been set out nor it clarified that it is only in the nature of opinion, the bench pointed out.
The counsel for the Board submitted that the Board is willing to examine the format in which a certificate may be issued purely as an opinion of the Chief Khazi having expertise on Shariat Law, so that there will be no ambiguity before any legal forum or otherwise understanding the effect of it i.e. that it is a mere opinion.
And the bench granted time to the Board to formulate the format of the certificate and place a draft of the same before it, so that the inputs from other stakeholders are made available. In the meantime, to avoid any confusion, the bench held that no certificate in respect of talaq would be issued as an opinion by the Chief Khazi.
newindianexpress.com/cities/chennai/2017/jan/12/Qazis-have-no-power-to-declare-marriages-invalid-1558726.html
--------
Syrian forces uncover Saudi chemical weapons agents in Aleppo
Jan 11, 2017
Syrian forces engaged in mop-up operation in Aleppo's recently retaken areas have discovered Saudi-produced chemical weapons agents left behind by foreign-backed terrorists in the city.
Syria's official SANA news agency reported on Wednesday that the chemical materials were found by an army unit in a depot in the Old City of Aleppo.
Sulfur, chlorine and raw materials used for plastic granules were among the Saudi substances discovered, the report added.
It further noted that militants used the materials for manufacturing explosives that were later employed for targeting Aleppo's residential areas.
It was not the first time that the Syrian troops uncovered toxic chemicals stored by Takfiri terrorists in Aleppo.
In December, Syrian military forces found a chemical warehouse inside Sana'a Mehaidali school in Aleppo's Masaken Hanano neighborhood.
Terrorist groups such as Daesh and Jabhat Fateh al-Sham, formerly known as al-Nusra Front, have on several occasions used toxic materials to target civilians in the Aleppo areas.
The Syrian government has accused Saudi Arabia, Qatar, and Turkey of providing the militants with the banned weapons.
The picture shows Aleppo's former militant-held Ansari district on December 23, 2016, after Syrian government forces retook control of the whole city. (Photo by AFP)
Last month, the Syrian army established full control over Aleppo, which had long been divided between government forces in the west and the militants in the east.
Aleppo's liberation was interpreted as a crushing blow to the militants and their foreign supporters, who have been actively working to unseat the government of Syrian President Bashar al-Assad since March 2011.
presstv.ir/Detail/2017/01/11/505784/Syria-Aleppo-Saudi-Arabia-chemical-weapons
--------
Pakistan will be recognised as minorities-friendly country: Nawaz Sharif
January 12, 2017
Islamabad: Pakistan will soon be recognised as a "minorities-friendly country", Prime Minister Nawaz Sharif today said as he ordered renovation of Katas Raj complex, one the most sacred places of Hindus in the Muslim-majority country.
Pakistan is pursuing policies to establish the country's identity as a minority-friendly country and followers of all religions have equal rights in the country, Sharif said speaking at the Katas Raj Temples Complex in Chakwal.
"The day is not far when Pakistan will be recognised as a minorities-friendly country due to steps being undertaken to better the lives of minority groups," he was quoted as saying by the state-run APP news agency.
The Prime Minister said he has advised government officials to spare no efforts in hosting pilgrims and the protection and expansion of minorities' places of worship.
He said that he is the Prime Minister of everyone and "not just Muslims" and instructed Evacuee Trust Property Board (ETPB) Chairman Siddiqul Farooq to restore the holy sites in the area to their original state by renovating them.
He said he would ensure his full support for the construction of Baba Guru Nanak and Gandhara universities.
Sharif referred to historic examples to elaborate that it was a part of the Islamic faith to treat the majority and minorities equally.
He said that Muslims, Christians, Hindus, Sikhs, Parsis and Baha'is are working hand-in-hand to defend the country and contribute their share to its peace and prosperity.
Sharif visited the Katas Raj in Chakwal district near Islamabad to inaugurate water filtration plant of Amrat Jal.
The filtration plant set up at the temple's holy Amrat Jal pond will provide clean drinking water to the Hindu pilgrims visiting the place.
"The renovation should be done to restore the building to its original shape. It should be done within the one and half year of remaining tenure of my government," he said.
He also planted a sapling on the occasion.
siasat.com/news/pakistan-will-recognised-minorities-friendly-country-nawaz-sharif-1107194/
--------
US backs Afghan claim of terrorist safe havens in Fata
ANWAR IQBAL
Jan 12, 2017
WASHINGTON: In a rare acknowledgement of the difficulties Pakistan faces in combating terrorists in Fata, the US State Department has said that the remoteness of the area and the military's tactical limitations prevent Islamabad from eliminating all terrorist safe havens.
But at a Tuesday afternoon news briefing, a department spokesman Mark Toner also endorsed Kabul's claim that the existence of safe havens in Fata allowed terrorists to carry out attacks inside Afghanistan whenever they want.
He urged the Pakistani government to realise that "Afghanistan's security, Pakistan's security, indeed India's security, they're all interconnected". The three countries, he said, needed to work together to defeat terrorism.
The comments followed twin suicide blasts near the Afghan parliament on Tuesday that killed scores. Another blast in Kandahar wounded the UAE Ambassador Juma Mohammed Abdullah Al Kaabi and some other diplomats.
Soon after the blasts, a government spokesman in Kabul said that the terrorists were able to strike targets inside Afghanistan whenever they wanted because Pakistan had allowed them to maintain safe havens in Fata, a charge Islamabad rejects as baseless.
"The short answer to your … question is yes," said Mr Toner when a journalist asked if Washington endorsed Kabul's allegation.
"We've been very frank and very open about publicly saying to Pakistan that it needs to not provide any safe haven to groups that will or are intent on carrying out attacks on Afghanistan."
Mr Toner, however, said that Pakistan had made "some progress" and had taken "some steps to address these safe havens, but clearly the problem persists".
That's why the United States continues to urge Pakistan to act against all terrorist groups without any discrimination and was "willing to help them" do so, he said.
"But given Pakistan's reluctance to act against these safe havens, do you think there's need to review the US policy towards Pakistan because it's not working?" asked a journalist.
"I don't have anything in that regard to speak to except to say that it is an ongoing issue of concern. It's something we raise regularly with Pakistan's leadership," the spokesman said. "Part of it is, one could argue, the difficulty of going after some of these safe havens given the remote areas that they're in and providing — or ensuring that the Pakistan military has the capabilities to do so."
dawn.com/news/1307885/us-backs-afghan-claim-of-terrorist-safe-havens-in-fata
--------
India
PoKMuslim Sends Sacred Soil To Kashmiri Pandits In India
Jan 11, 2017
Emotional scenes were witnessed when a small packet containing the holy soil of ancient Sharada temple arrived from Pakistan Occupied Kashmir (PoK). No sooner was the packet opened in a function at Jammu, the Kashmiri Pandits lined up to apply the sacred soil on their foreheads as a mark of respect and devotion to Goddess Mata Sharada.
It was after almost 70 years that the Kashmiri Pandits, who have been fighting for permission to visit the ancient temple, received a memorabilia from the holy temple. The ancient temple lies in ruins in PoK, and the faithful haven't had access to it given that almost all Hindus living across the LoC migrated to India after the partition.
What added an interesting dimension to the cross-border bonhomie was that a local Muslim forester in PoK, Rayees Ahmad, sent a packet of holy soil by registered post to Ravinder Pandita, Delhi chapter head of All Party Migrant Coordination Committee (APMCC), so that Kashmiri Pandits could have a feel of the holy temple.
"Tilak was applied by all the participants from the soil brought from Sharada. It was a poignant and an emotional scene when the soil was received and obeisance paid for the first time after Partition," said Pandita.
Situated 207 kilometres north of Muzaffarabad, capital of PoK, in Athmuqam Neelam Valley, the Sharada temple is located near the confluence of Kishan Ganga river and Mudhumati stream. The exact date of establishing the temple is unknown, however, the present style and form of the shrine was established by King Lalitaditya in 724 AD.
Before independence, the annual yatra to Sharada temple was a tradition conducted from ancient times. During the Dogra rule in 1846, it became a regular feature. Historical facts reveal that a Buddhist University was established near the shrine during the period of Emperor Ashoka in 273 BC known as Sharada Peeth.
"The last pilgrimage was undertaken by Swami Nand Lal Ji of Tikker Kupwara fame in 1947. He left for heavenly abode in 1968 but one of his disciples, Swami Mast Bab Ji of Hushru fame, is still alive. In fact, at the time of partition, Swami Nand Lal Ji carried idols from Sharda to Tikker on horses. A few of these stone idols are lying at Devibal in Baramulla besides Tikker in Kupwara," informed Pandita.
70 years on, the Kashmiri Pandits have been demanding revival of the pilgrimage and reopening of Sharada temple for Hindu devotees of the country and Jammu and Kashmir. In fact, APMCC chairperson Vinod Pandit led a fast unto death some years ago for reopening of the temple as well as some other issues.
"A few years back, I applied for permission to visit the temple using the cross LoC peace bus, but I was told by the state government to approach the Pakistan high commission for visa. If a Muslim can go to PoK on a permit, why should I not be allowed to visit on permit system," questioned Vinod.
In fact, locals in PoK have set up Save Sharada Committee, and APMCC is in the process of opening and registering such a committee in India too. History was scripted in November last year when flowers were offered at the temple on behalf of Ravinder Pandita by the Civil Society of Neelum Valley for the first time since 1947.
wionews.com/south-asia/pok-muslim-sends-sacred-soil-to-kashmiri-pandits-in-india-11134
--------
Saudi Arabia increases India's annual Haj quota to 1.70 lakh
Jan 11, 2017
NEW DELHI: Saudi Arabia has increased India's annual Haj quota from 1.36 lakh to 1.70 lakh, biggest such expansion in last 29 years, Union minister Mukhtar Abbas Naqvi said on Wednesday.
An agreement to this regard was inked by minister of state for minority affairs (independent charge) Naqvi with Saudi Arabia's haj and umrah minister Dr Mohammad Saleh bin Taher Benten at Jeddah on Weddnesday, making the expansion effective from the current year.
The Saudi authorities had five years ago slashed quotas for foreign pilgrims coming from each country by 20 per cent in view of safety of the devotees as they undertook expansion of Grand Mosque there.
Accordingly, India's quota was brought down to 1.36 lakh from nearly 1.70 lakh in 2012.
Expressing pleasure at signing of the agreement, Naqvi said his meeting with Benten was "very fruitful" as constructive discussion was held on the whole gamut of issues related to the pilgrimage, transport and accommodation facilities for pilgrims and their safety.
"On behalf of the people and Government of India, we also extend gratitude to the Custodian of the Two Holy Mosques, His Excellency Saudi Arabia King Salman bin Abdul Aziz al Saud, for his keen personal interest and initiative in organising a successful Haj 2016," Naqvi said in a statement.
Naqvi exuded confidence that under the visionary leadership of Saudi Arabia's King Salman bin Abdul Aziz al Saud, the "excellent" relationship between India and Saudi Arabia will be further strengthened.
Stating India and Saudi Arabia share ideals of global peace, progress and prosperity, Naqvi said the two countries are tied together with strong civilisational, cultural, economic and political links.
Full report at:
timesofindia.indiatimes.com/india/saudi-arabia-increases-indias-annual-haj-quota-to-1-70l/articleshow/56479897.cms
--------
The 'Fatwa Man' Of Bengal Who Is Offering Rs 25 Lakh For Blackening PM Modi's Face
Jan 12, 2017
Known for his flowing burgundy beard, Kolkata's Noor-ur-Rehman Barkati has also built up quite a reputation for his acerbic tongue.
The head of the famous Tipu Sultan mosque at the heart of the city's business district is in the habit of issuing fatwas or religious rulings at regular intervals and hogging the headlines. He did it again last week, issuing an edict against none other than Prime Minister Narendra Modi over his demonetisation drive.
Claiming that many have been forced into penury in the wake of the scrapping of high-value currency, Barkati announced a cash reward of Rs 25 lakhs for anyone who blackens Modi's face. His latest diktat outraged many and the BJP lodged a complaint with the police, seeking his immediate arrest.
But Barkati is unfazed and continues to roil others with his fatwas. His place cemented as "Bengal's fatwa man", he is continuing to stand his ground.
"I stand by my fatwa against Modi ... He is also responsible for the death of the 127 (so far) who died queuing up in front of banks and ATMs after demonetisation," Barkati told Hindustan Times.
He even claimed to have received hundreds of congratulatory phone calls and messages from different cities after his latest fatwa.
Before targeting Modi, he had directed his ire at Dilip Gosh, the West Bengal BJP president for his alleged disparaging comments against chief minister Mamata Banerjee. "He (Ghosh) should be pelted with pebbles and kicked out of Bengal," said the imam, who has headed the Tipu Sultan mosque for three decades.
Others in his line of fire included author Salman Rushdie, Bangladesh-born writer Tasleema Nasreen and Canadian columnist Tarek Fatheh.
Nasreen, in fact, had no less than three fatwas issued against her by Barkati: once in 2004 for her reported anti-Islamic comments, then in 2006 and again in 2007. Each time he issued a fatwa, Barkati hiked the bounty on her head.
Successive governments in West Bengal, with a Muslim population of about 30%, have chosen to ignore his seemingly incendiary acts. During the Left Front rule, he used a car with a red beacon. Since Banerjee stormed to power, Barkati has graced the stage at rallies of the Trinamool Congress.
His proximity to the ruling party has prompted the BJP to accuse Banerjee of Muslim appeasement.
Full report at:
hindustantimes.com/india-news/meet-bengal-s-fatwa-man-who-is-giving-rs-25-lakh-for-blackening-narendra-modi-s-face/story-3kek0xqnSwEVYQBtz7j6pN.html
--------
Three Malaysia-bound planes in Mumbai searched following alert over bomb threat
Jan 11, 2017
Security agencies at the Mumbai airport were on their toes following an Interpol alert about bomb threat to some flights to Malaysia, forcing the agencies to carry out an extensive search of three Kuala Lumpur-bound aircraft as well as their passengers and cargo.
A message was received on Monday from Interpol by security agencies following which the three planes were sanitised till early morning next day but nothing was found, sources said.
As part of the sanitisation exercise, passengers of all three flights were deplaned, their baggage offloaded and an extensive search carried out, they said.
Full report at:
hindustantimes.com/india-news/three-malaysia-bound-planes-in-mumbai-searched-following-alert-over-bomb-threat/story-xfF6zOkEt2YAKRYS9FCEdP.html
--------
Muslim students protest against delay in reservation
January 12, 2017
Aurangabad: All the Muslim students in city attended their schools by wearing black ribbons to protest against delay in fulfillment of their demand of reservation.
Full report at:
siasat.com/news/video-muslim-students-protest-delay-reservation-1107299/
--------
Arab World
Large Number of Al-Nusra Militants Targeted by Poison Attack for Internal Differences
Jan 11, 2017
News websites affiliated to the terrorist groups reported that the poisoned militants were members of al-Nusra's "religious patrol (which forces people to obey the terrorists' interpretation of religious rules)" in a region North of Homs province, adding that all of them have lost their lives.
The terrorist who embarked on poisoning and massacring 20 militants then went to Deir Foul village in Homs and opened fire on other members of al-Nusra Front, killing 3 militants, the reports said, adding that the assailing militant was also killed in pursuing clashes in the same incident.
Media sources privy to opposition groups also disclosed on Tuesday that terrorists of Ahrar al-Sham and al-Nusra Front have engaged in rising waves of unprecedented clashes in Idlib countryside, leading to tens of casualties in the last two days.
The sources said that the most bloody clashes are between al-Nusra and Ahrar al-Sham, adding that Ahrar members accused Fatah al-Sham of assassinating their three commanders in the town of Talmans.
The sources added that widening gaps and harsh disputes between the commanders of Ahrar al-Sham and Fatah al-Sham in Idlib ushered in armed clashes between the two fronts.
"Ahrar al-Sham and al-Nusra assassinate members and commanders of each other in covert operations and without accepting the responsibility, and in a number of more cases they open fire at each other in the public and without any excuse," they continued.
The clashes have inflicted tens of casualties on both Ahrar al-Sham and al-Nusra Front.
en.farsnews.com/newstext.aspx?nn=13951022001232
--------
Saudi Flags, Car Registration Plates Found in ISIL Bases in Mosul
Jan 11, 2017
The Iraqi Counter-terrorism Units have found the Saudi flags and car plates in al-Zabat region on the Eastern bank of the Tigris river, al-Eba' news channel reported quoting security sources.
The development came hours after the Syrian army's engineering units that were carrying out demining operation in the Eastern neighborhoods of Aleppo city found a large volume of Saudi chemicals that were used by Jeish al-Fatah terrorists to make chemical weapons.
The engineering units seized a large volume of sulfur, chlorine and raw materials that are used in the plastic industries in a warehouse that was used by the terrorists in old Aleppo neighborhoods.
Jeish al-Fatah terrorist used these chemicals to build explosives to target residential areas in Aleppo.
On Tuesday, the Russian sappers found a number of Saudi medical equipment in areas which were under terrorists' rule before the Eastern Aleppo was taken back form al-Nusra terrorists.
Full report at:
en.farsnews.com/newstext.aspx?nn=13951022001343
--------
Spokesman: Iraqi Nujaba Fighters to Uproot Terrorists in Syria
Jan 11, 2017
"We were the first group (of popular forces) to have arrived in Syria to fight terrorists and we will stay there until the last terrorist leaves the country," Seyed Hashem al-Moussavi said in his statement.
He reiterated that the Iraqi popular forces fight against the terrorist groups for humanitarian reasons, and said, "The reason for our presence in Syria is only to fight terrorism."
Full report at:
en.farsnews.com/newstext.aspx?nn=13951022001415
--------
Bombed Mosul bridge still lifeline for long-suffering civilians
Jan 12, 2017
Stephen Kalin - The rubble of a bridge blown up by Islamic State in Mosul to block advancing Iraqi forces has become a lifeline for civilians as more and more of the northern city breaks loose from the grip of the ultra-hardline militants.
Men and women, children and the elderly scramble down the banks of the Khosr River, a tributary of the Tigris some 30 metres wide and a metre deep which counter-terrorism forces crossed last week in a nighttime raid.
Lumbering over ladders and pipes, civilians crawl onto the span of the bridge, which has collapsed into the murky water, and shimmy up the opposite bank along a dirt path.
Those escaping east to Zuhur district drag suitcases along with strollers and wheelchairs. Those returning west to Muthanna carry sacks of rice, potatoes and onions, cartons of eggs and packs of baby diapers. The journey in either direction is usually several kilometres.
"Now there are people entering and people leaving," Major General Sami al-Aridi told Reuters this week after touring both sides of the river on foot.
"The ones who left are returning, and those who are leaving now are coming from ... neighbourhoods where there are currently clashes."
He said he expected the latest evacuees to return in a day or two as Iraqi forces pushed further west.
The United Nations had warned that the US-backed campaign to kick Islamic State out of Mosul, their largest urban stronghold in Iraq or Syria, could displace up to 1.5 million people.
But with much of the eastern half of the city now under government control, most residents have stayed in their homes or moved in temporarily with relatives in other neighbourhoods.
That has complicated the task of the military, which must fight among civilians in built-up areas against an enemy that has targeted non-combatants and hidden among them.
HARSH CONDITIONS
The offensive, involving a 100,000-strong ground force of Iraqi troops, members of the autonomous Kurdish security forces and mainly Shia militiamen, is the most complex battle in Iraq since the US-led invasion in 2003.
When it launched the offensive in October, the government hoped to have retaken the city by the end of 2016 but Iraqi Prime Minister Haider al-Abadi said in December it could now take another three months to drive the militants out.
Fawaz, a 46-year-old schoolteacher going back across the ruptured bridge to his family's home in Muthanna on Monday, held a jerry can filled with fuel in one hand and a bag of fresh food in the other.
"We spent two months without food, just what we had stored up," he said, describing the harsh conditions that many residents faced after the Mosul campaign began in mid-October. Fawaz said he lost some 30 kg (66 lb) in that period.
He crossed the river earlier in the day to buy supplies and check in with his old workplace but was returning before nightfall to his neighbourhood, where Iraqi forces are now in charge but mortars fired by Islamic State still land.
He shrugged off the danger with a laugh and, expressing the deep faith that Mosul residents say sustained them through 2-1/2 years of brutal Islamic State rule, said: "God is present."
ACCUSTOMED TO VIOLENCE
Along a road running west towards the city's ancient ruins, black armoured Humvees race down one side, transporting soldiers to and from the frontline where they're fighting Islamic State suicide attackers with machine guns, rockets and air strikes.
Civilians, including infants and the disabled, pad along the other side. Many are fleeing clashes with only their most prized possessions but others are pursuing more mundane tasks such as shopping for groceries or reconnecting electricity cables.
A Humvee rushes down the road to reinforce the troops. Behind, a man wearing a grey hoodie bicycles in the dust kicked up by the vehicle. Two more Humvees pass in the opposite direction carrying disabled civilians in their open beds.
"You see with your own eyes: one hand fights, one hand helps," said a soldier guarding a forward command post. A corner grocery has opened on the street and a school-age boy sells packets of sunflower seeds to soldiers. Young children, one grasping a Barbie doll, play in side streets where orange trees hang low under the weight of ripened fruit. A general clad in black uniform hands out chocolates.
The kids do not flinch at the sound of explosions or gunfire. During a particularly heavy spell of clashes nearby, two boys no older than 10 stop in the road where stray bullets occasionally land. They scan the skyline.
"There, there is the Apache (attack helicopter). There, it's coming! It's going to work them in," said one, turning to add: "We've become accustomed."
Full report at:
nation.com.pk/international/12-Jan-2017/bombed-mosul-bridge-still-lifeline-for-long-suffering-civilians
--------
ISIS using hobby drones to bomb forces in Mosul
12 January 2017
ISIS militants are using small commercial drones to attack Iraqi security forces in the battle for Mosul, a US commander said Wednesday.
Colonel Brett Sylvia, who commands an "advise and assist" US unit in Iraq, said ISIS militants are attaching small munitions to quadcopters in an attempt to kill local forces as they retake Mosul, the last major ISIS bastion in Iraq.
Also read: Iraqi special forces reach Tigris river in Mosul
"They are small drones with small munitions that they've been dropping," Sylvia said. While the munitions were no larger than "a small little grenade," he said, that was enough to do what "Daesh does, and that's just, you know, indiscriminate killing," he said.
The group's use of small drones is not new, Sylvia said, though initially they were mainly used for reconnaissance. "They are (now) using them to drop munitions as Iraqi forces push into Mosul," he said.
Full report at:
english.alarabiya.net/en/News/middle-east/2017/01/12/ISIS-using-hobby-drones-to-bomb-Iraqi-forces-in-Mosul.html
--------
US Soldiers Operating in Mosul in Iraqi Army Uniforms, Vehicles
Jan 11, 2017
"It is about three weeks that tens of US army forces have been deployed in the Eastern and Northeastern districts of Mosul, but most of them wear the uniforms of Iraq's Counter-terrorism Units," al-Ma'louma News quoted al-Arabi al-Jadid newspaper as reporting on Wednesday.
"One of the US army bases is in al-Zahour district in Eastern Mosul to coordinate coalition flight missions and trace and mark ISIL targets in the region. The Americans use military vehicles similar to the Iraqi forces' vehicles at this base too," an Iraqi military source was quoted as saying by the newspaper.
The daily added that the Americans are providing the Iraqi forces with intelligence and military logistic support in al-Zahour district.
The revelation comes as Iraq's military forces have taken back, at least, 80 percent of East Mosul from ISIL, the spokesman of the special forces spearheading the campaign said Wednesday.
"I think you can say that we have retaken 80 to 85 percent" of the Eastern side of Mosul, Sabah al-Noman, said spokesman for the Counter-Terrorism Service (CTS), the Daily Star Full report at:
en.farsnews.com/newstext.aspx?nn=13951022001308
--------
Media: Russia Increasing Military Presence in Syria
Jan 11, 2017
Russia's Interbirtermag magazine has been quoted by a number of Arab media as disclosing that Moscow has not decreased its military forces in Syrian, and rather increased them.
Hadath news, Islam message daily and a host of other Arabic-language media quoted the Russian outlet as reporting that satellite images show Russia has reinvigorated its military presence in Syria and has intensified its operations against terrorists regardless of Moscow' declared plan to withdraw its naval fleet led by Admiral Kuznetsov aircraft carrier from Syrian waters.
New images released on January 5 showed several Russian cargo ships carrying military vehicles heading towards Syria, according to the reports.
The new images also showed deployment of Russia's Alexander Ballistic Missiles that are also capable of carrying atomic warheads, the Arab media reports said.
The magazine underlined that most of the Russian fighter jets (involved in war in terrorism in Syria) take off and land in Humeimim airbase and not from Admiral Kuznetsov, adding that withdrawal of the aircraft carrier will have a minor impact on Russia's mission in Syria.
The magazine wrote that Admiral Kuznetsov's operation was not cost-effective and meantime, its withdrawal will decrease West's pressure on Russia and will also show off Moscow's intention of taking its military forces out of Syria.
Russian General Vyacheslav Bobov underlined on Tuesday that the Russian fleet of warships, including Admiral Kuznetsov aircraft carrier, which were about to leave the Eastern waters of the Mediterranean Sea in coming weeks would be fully ready to return to Syria in case needed.
The Russian General warned that in case any incident arises to halt the diplomatic settlement of the Syrian crisis, Admiral Kuznetsov aircraft carrier, the fighter jets on board and other accompanying warships will return to Syrian waters immediately.
Yet, he said Syria's current situation allowed the Russian fleet to return to its base back at home.
Full report at:
en.farsnews.com/newstext.aspx?nn=13951022001087
--------
Dissident Figure: Turkey-Led Ceasefire Not Trustworthy
Jan 11, 2017
"The militants who have accepted the truce act at Turkey's order and if the country changes its views on the crisis in Syria in future, they will also do so," Marei told FNA on Wednesday.
"The dissidents inside Syria know that pinning hope on change in the terrorists' position on the crisis in the country is fruitless and the only solution is fighting against terrorism until the full annihilation of all terrorists," he added.
Marei underlined that the National Coordination Committee for Democratic Change is ready to participate in the ceasefire talks provided that it will adopt an independent approach and find a national solution to the crisis in Syria.
His remarks came after the Iranian foreign ministry called on the Turkish officials to confront repeated violation of the ceasefire in Syria by the terrorist groups.
Foreign Ministry Spokesman Bahram Qassemi underlined earlier this month that as a partner in Moscow tripartite meeting, Iran emphasizes serious implementation of the agreements, expecting the Turkish officials as another party to the agreements to refuse taking stances which are contrary to the existing realities and commitments of the country.
Full report at:
en.farsnews.com/newstext.aspx?nn=13951022000386
--------
Syria: Jeish Al-Fatah's Missile Depot Found in Eastern Aleppo
Jan 11, 2017
The source quoted a Russian bomb and mine defusing expert as saying that the sappers used special devices and police-trained dogs and found a depot of missiles and hand-made mortars in Jeish al-Fatah's positions in Eastern districts of Aleppo city.
Terrorists had left bombs and mines in the depot before leaving their positions, the source said.
The source further said that this depot and its explosive material could detonate the entire neighborhood from booby-traps and mines, adding the Russian experts managed to defuse a network of bombs and took the explosives out of the residential areas.
A military source said on Tuesday that Syrian Army's engineering units continued their demining operation in the Eastern neighborhoods of Aleppo, discovering another depot of arms and ammunition that belonged to Jeish al-Fatah terrorists,
Full report at:
en.farsnews.com/newstext.aspx?nn=13951022000552
--------
Pakistan
Pakistan predicted to be world's fastest-growing Muslim economy in 2017
January 12, 2017
ISLAMABAD: Pakistan has been forecasted to be the world's fastest-growing Muslim economy in 2017 ahead of Indonesia, Malaysia, Turkey and Egypt, says "The Economist" magazine.
Pakistan's estimated GDP growth 5.3 per cent is also ahead of 4 per cent GDP growth of Israel, making Pakistan world's fifth fastest-growing economy in the world, only behind India and China and two other countries.
The London-based Economist offers authoritative insight and opinion on international news, politics, business and finance.
The live data comprising global figures is updated twice daily and is published on the Economist's website in the form of an interactive table of economic and financial indicators. This data reinforces a Harvard University study which predicted Pakistan to grow by more than 5 per cent in the next decade.
According to the interactive table the contrasting trends in Pakistan's economy; "The Economist" in 2014 had forecast Pakistan to be world's sixth fastest-growing economy. This year, the four world economies ahead of Pakistan are: India (7.5%), Vietnam (6.6%), China (6.4%), and Philippines (6.4%).
However Pakistan is ahead of large Muslim economies such as: Indonesia (5.2%), Malaysia (4.6%), Egypt (4.0%), and Turkey (2.9%), according to the Economic and financial indicators of the magazine.
All of these countries except Malaysia are expected to be among the top 20 economies in the world in 2050, the Economist says. The Economist forecast follows a report by Bloomberg that termed Pakistan Stock Exchange as the 5th best performing stock market in 2016.
nation.com.pk/business/11-Jan-2017/pakistan-predicted-to-be-world-s-fastest-growing-muslim-economy-in-2017
--------
European Union to take up with Pakistan, rights violations against Ahmadiyya Muslims
Jan 12, 2017
[Belgium], Jan.12 (ANI): Members of the European Parliament (MEPs) from various countries have decided to approach the Government of Pakistan on the issue of alleged violation of human rights of the Ahmadiyya Muslim community. According to informed sources and reports, the MEPs have been in regular touch with Ahmadiyya Muslims residing in Europe and have been made aware of the abuses being committed against members of this community in Pakistan. They have therefore decided to flag this issue at the next session of the European Parliament. Many MEPs are of the view that the European Union should insist on strictly linking assistance to Pakistan with the country's human rights record. It goes without saying that Islamabad will only be forced to act to arrest the country's deplorable human rights situation and the abuse faced by minority groups, whether Christians, Shias, Ahmadiyyas or Hindus, provided countries like the US and EU members link active diplomatic engagement to human rights. The Ahmadiyya community in Pakistan has for decades struggled for their basic rights in Pakistan. As per data released by the International Human Rights Committee, since 1984 more than 83 Ahmadi mosques have been demolished more than 250 Ahmadis killed.
Full report at:
sify.com/news/european-union-to-take-up-with-pakistan-rights-violations-against-ahmadiyya-muslims-news-international-rbmhbjjcifibh.html
--------
APS martyrs' mothers for extending military courts
January 12, 2017
PESHAWAR - A group of bereaved mothers of the martyred students of Army Public School, Peshawar on Wednesday demanded extension of military courts.
During a press conference organised by APS Shuhada Forum at Peshawar Press Club, mother of Asfand Shaheed said terrorism acts had considerably been declined due to effective functioning of the military courts and punishments to terrorists during the last two years. She said it was inevitable to give extension to military courts to bring the perpetrators of the gruesome APS attack to the court of justice.
She also said the APS attack united the nation against terrorism, after which government set up military courts to dismantle sanctuaries of the militants groups and to restore peace and normalcy in the country.
She was flanked by mothers of other martyred students of APS, including mothers of Osama, Shaheer, Mobeen Afridi, and mother of a martyred teacher of the school. She said terrorism acts were considerably declined after the establishment of special military courts. She further said that peace was restored to some extent, with the matchless sacrifices of schoolchildren and security forces' personnel. "We will not forgive the blood of our beloved children until we bring all the culprits involved in the APS attack to the court of justice", she resolved.
Mother of Asfand further said they would not allow political point scoring over blood of their innocent children. She stated that politicians' children were studying abroad, and they were least bothered about the future of children in the country.
The bereaved mother asked the government and politicians to refrain of any such step that might damage the safe future of their children, or benefit terrorists. She also said those people who are against the extension of military courts are not sincere to get the country rid of the menace of terrorism. "We want a sincere leadership and better future of our children", she said, demanding the federal government to give extend the military courts to cope with internal and external security challenges and control terrorism activities in the country so that to ensure a safe and prosperous future for the upcoming generations.
The bereaved mothers of APS martyrs warned that if the government failed to extend military courts period, they along-with their children would be compelled to besiege parliament house by holding a sit-in till the acceptance of their demands.
Chief Minister Khyber-Pakhtunkhwa Pervez Khattak on Wednesday constituted a committee to finalise a draft bill for replacing existing police laws in the province.
The chief minister was presiding over 2nd meeting of the select committee on Khyber-Pakhtunkhwa (KP) Police Bill 2016, which envisages establishment of an independent forensic lab in the province, among other things.
The meeting was attended by provincial ministers, leader of the opposition, members of the provincial assembly from treasury and opposition benches as well as government functionaries related to police reforms. The meeting discussed the proposed bill at length and made a number of decisions to bring amendments to the proposed draft.
The meeting decided on the mode of posting of inspector general of police (IGP) under which the chief minister would pick one among three police officers nominated by the Prime Minister for posting as IGP in the province.
Regarding other amendments, the chief minister formed a committee comprising representatives from government, opposition and other stakeholders. Khattak tasked the committee to find out a solution to the provincial posts in police, creation of new posts and maintaining the ratio of provincial employees including their vertical mobility.
On this occasion, the chief minister said the present method of registering a first investigation report (FIR) had a number of weaknesses that warranted fine tuning to make it more transparent in order to remove apprehensions of certain quarters alleging the existent procedure for promoting crimes instead of fighting it.
Full report at:
nation.com.pk/national/12-Jan-2017/aps-martyrs-mothers-for-extending-military-courts
--------
Raheel Sharif has not requested NOC for appointment to Islamic military alliance: Asif
January 11, 2017
ISLAMABAD: Defence Minister Khawaja Asif informed the Senate on Tuesday that former Army Chief General (retd) Raheel Sharif had not requested for an NOC pertaining to appointment to the 39-nation Islamic military alliance. Prime Minister's Advisor on Foreign Affairs Sartaz Aziz said the former Army chief had not been offered any post by Saudi Arabia to the alliance.
Speaking in the Senate, Defense Minister Khawaja Asif said, "The Ministry of Defense issues NOC to retired military officials, however, General Raheel Sharif has not yet requested the ministry for an NOC or clearance".
Asked by the Senate chairman whether the former Army chief has sought permission from his institution, the minister replied that he (General Sharif) had not sought any such permission from the Pakistan Army.
"General Sharif went to Saudi Arabia for pilgrimage, on an invitation extended to him. He had informed about this," Asif said, adding that former COAS is back from Umrah.
"He (Sharif) has neither requested the Ministry of Defense nor the GHQ after having returned to the country."
General Sharif has also not informed whether he has been offered a post in the 39-nation alliance of Muslim states, the defense minister told the Senate.
He added that existing rules will also be changed pertaining to taking up a foreign job.
In his reply in the Senate, Advisor to PM on Foreign Affairs Sartaj Aziz said the foreign policy of the country cannot be impacted since nothing has yet been offered to the former Army chief.
On Monday, Chairman Senate Raza Rabbani had asked the defence minister to provide details of former army chief General (retd) Raheel Sharif's appointment as head of a Saudi-led 39-nation Islamic military alliance to fight terrorism.
"Whether Gen Sharif sought permission prior to taking up the job or was an NoC issued to him?" Rabbani had asked. "And, if an NOC was issued, then who issued it?"
Last week, Defence Minister Khawaja Asif had confirmed the former army chief's appointment to the 39-nation coalition force.
The minister had said the decision to appoint the retired general, who spearheaded a campaign against militants at home, was taken with the consent of both the Army's General Headquarters and the government of Pakistan.
Islamic coalition formed to combat terrorism
News of the alliance's formation was first reported in December 2015, with reports of Middle Eastern, African and Asian states including Saudi Arabia, Gulf states, Pakistan, Egypt being part of the then 34 nation coalition.
The objective of the Saudi-led alliance was "to coordinate and support military operations to fight terrorism".
Saudi Arabia, Pakistan, Turkey, United Arab Emirates, Bahrain, Bangladesh, Tunisia, Sudan, Malaysia, Egypt, Yemen and other Muslim countries are said to be part of the coalition. The Joint Command Centre, headquarters of the military alliance is located in Riyadh.
Full report at:
geo.tv/latest/126962-Raheel-Sharif-has-not-been-offered-any-post-in-Islamic-military-alliance-Senate-told
--------
Pakistan to renovate Katas Raj temple
JANUARY 11, 2017
Sharif inaugurates work, says he wants to establish a minority-friendly identity
Pakistani Prime Minister Nawaz Sharif visited the Katas Raj Hindu temple in Chakwal district of Punjab on Wednesday to inaugurate its renovation. The work includes installation of a water filtration plant in the Amrat Jal area.
Mr. Sharif said his government was pursuing a policy to establish Pakistan's identity as a minority-friendly country.
"Salam, Namaste, Sat Sri Akaal and good morning to all my brothers belonging to different religions," the Prime Minister told a cheering audience.
"I am the Prime Minister of all Pakistanis ... be it a Muslim, Hindu, Sikh, Christian or [those of] any other religion. You are all equal," he said.
The Katas Raj temple is revered by Hindus across the globe as legend has it that the foundation of the sacred site was laid by Lord Shiva. Mr. Sharif said the temple was over 5,000 years old and had been the focal point of four civilisations. Al-Biruni, Persian scholar and polymath, had computed the earth's circumference from here.
The Prime Minister said all efforts must be made to restore the temple to its original glory. He had directed the chairman of the Evacuee Trust Board to preserve, renovate and expand holy places of various religions.
Mr. Sharif said there was an upsurge in the economy and his government had undertaken development activities in every nook and corner of the country.
Full report at:
thehindu.com/news/international/Pakistan-to-renovate-Katas-Raj-temple/article17024209.ece
--------
South Asia
After posing as kids, Afghan refugees in Austria used £87,000 in social benefits
Shailaja Neelakantan
Jan 12, 2017
NEW DELHI: They are accused of defrauding the Austrian government, but three Afghan refugees who posed as children, likely so they aren't turned away, have shown that the war in Afghanistan is alive and well.
The refugees, who pretended to be child migrants, ended up using Austrian social benefits like healthcare and basic care, worth as much as £87,000. They were sent to jail for five-six months, the Daily Express reported.
"People said it was better to apply as a minor as then I cannot be deported back. I was afraid that I would then be killed in Afghanistan like my father was," said one of the three who admitted lying about his age.
In the first 10 months of 2016, as many as 16,054 minors, of whom 4,076 were unaccompanied, applied for asylum in Austria, the newspaper said.
Authorities brought a case against the three refugees after court-ordered medical reports revealed the men were older than they claimed on their Austria asylum applications.
Two of the accused denied the accusation saying that they didn't know their birthdays and that their parents are illiterate and used the Afghan calendar. The Afghan Solar Hijri calendar, used in Iran and Afghanistan, has six months of 31 days, then five months with 30 days each and then one month of 29 days, the newspaper said.
The judge didn't believe the two defendants who claimed to not know their birthdays.
"They knowingly gave false information so they could stay in Austria," the judge said.
timesofindia.indiatimes.com/world/europe/after-posing-as-kids-afghan-refugees-in-austria-used-87000-in-social-benefits/articleshow/56492429.cms
--------
US forces in Afghanistan confirm 33 civilians killed in Kunduz operation last year
Jan 12 2017
The US Forces in Afghanista (USFOR-A) confirmed the death of 33 civilians during an operation jointly conducted by Afghan and US forces in northern Kunduz province last year.
"U.S. Forces – Afghanistan completed its investigation into an allegation that civilian casualties were caused by U.S. and Afghan forces during a joint military operation in Boz Village, Kunduz, Nov. 2-3, 2016. The investigation determined, regretfully, that 33 civilians were killed and 27 wounded. To defend themselves and Afghan forces, U.S. forces returned fire in self-defense at Taliban who were using civilian houses as firing position," a statement by USFOR-A said.
"Regardless of the circumstances, I deeply regret the loss of innocent lives," said Gen. John Nicholson, commander of U.S. Forces – Afghanistan. "On this occasion the Taliban chose to hide amongst civilians and then attacked Afghan and U.S. forces. I wish to assure President Ghani and the people of Afghanistan that we will take all possible measures to protect Afghan civilians. We will continue to assist the Afghan security forces in their efforts to defend their country."
The statement further added that the operation was conducted to capture Taliban leaders responsible for October's violence in Kunduz. It was carried out by Afghan special operation forces with a smaller U.S. element to provide advice and assistance. Upon arrival at the village, friendly forces were soon engaged by the Taliban from multiple civilian buildings. As the engagement progressed and friendly forces began to take casualties from Taliban fire coming from civilian buildings, U.S. and Afghan forces were forced to request aerial fire support from U.S. platforms in self defense. Aerial fires were also used to suppress Taliban who were firing on U.S. medical evacuation assets as the dead and wounded were evacuated.
The investigation concluded that U.S. air assets used the minimum amount of force required to neutralize the various threats from the civilian buildings and protect friendly forces, the statement said, adding that the investigation further concluded that no civilians were seen or identified in the course of the battle. The civilians who were wounded or killed were likely inside the buildings from which the Taliban were firing. In addition, a Taliban ammunition cache was struck and exploded which also destroyed multiple civilian buildings and may also have killed civilians.
Full report at:
khaama.com/us-forces-in-afghanistan-confirm-33-civilians-killed-in-kunduz-operation-last-year-02659
--------
Afghan police arrest 3 Iranians on terrorism charges in Herat
Jan 11 2017
Local officials in Herat province are saying at least three Iranians have been arrested by the Afghan police over terror charges.
An official in the counter-terrorism directorate Fazal-ur-Rehman Khadem said the three Iranians were arrested as they were operating in the province to carry out assassination of the individuals.
No further details were given regarding the possible target of the individuals.
However, Khadem said the men were initially claiming that they are residents of Afghanistan but further investigations revealed that they were Iranian nationals.
He said the men have not confessed to their crime so far but preliminary investigations suggest that the men are already involved in several target killings in this province.
According to Khamem, the apprehension of the Iranian men shows that the outsiders are directly involved in the growing instability and violence in the country.
This comes as reports emerged late last year suggesting that Iran is supporting the Taliban group to counter the growing ISIS threats in the region.
Also reports emerged lately suggesting the growing nexus between the Taliban group and the Russian as well as the Iranian authorities.
Full report at:
khaama.com/afghan-police-arrest-3-iranians-on-terrorism-charges-in-herat-02657
--------
Atmar in Kandahar as Ghani orders thorough probe into the terror attack
Jan 11 2017
The National Security Adviser Mohammad Hanif Atmar arrived in southern Kandahar province today leading a delegation of high level government officials to investigate the deadly attack on government guesthouse.
Tawab Ghorzang, spokesman of the National Security Council (NSC), said "A high level security line ministries delegation leading by NSA Atmar, just reached to Kandahar to investigate the yesterday's explosion."
The Office of the President, ARG Palace, condemned the attack on strongest words and said enemies of Afghanistan targeted governor, UAE Ambassador, and some civilians in a terrorist attack.
A statement by ARG said the UAE Ambassador had visited the province for humanitarian support and inauguration of Al-Nahyan foundation.
President Ghani said the enemies of the stability and development of Afghanistan cannot harm the will and confidence of the Afghan people for development and prosperity of the country.
He said the attack will also not harm the bilateral relations between Afghanistan and the United Arab Emirates.
Full report at:
The Taliban group rejected responsibility behind the attack.
khaama.com/atmar-in-kandahar-as-ghani-orders-thorough-probe-into-the-terror-attack-02656
--------
Taliban say they didn't plant bomb wounding UAE diplomats
11 January 2017
The Taliban say they did not plant the bomb in southern Afghanistan that wounded the United Arab Emirates' ambassador and other diplomats the day before.
They issued a short statement on Wednesday, blaming an "internal local rivalry" for the attack at the Kandahar governor's guesthouse that killed five people and wounded 12.
The Taliban claimed attacks earlier on Tuesday in Kabul that killed at least 38 people and wounded dozens.
The Taliban have denied some attacks in the past — attacks that diplomats and security forces later attributed to the group.
Full report at:
english.alarabiya.net/en/News/gulf/2017/01/11/Taliban-say-they-didn-t-plant-bomb-wounding-UAE-diplomats.html
--------
Southeast Asia
Kyrgyzstan Doctor Refuses To Treat Epileptic Toddler Till After Muslim Prayer Time
11 Jan, 2017
A doctor in Kyrgyzstan came under heavy criticism for turning his back on a two-year-old patient with epilepsy, saying it was time for his Muslim prayers and he could only see the toddler after finishing them.
The news broke after local Health Ministry press service consultant Elena Bayalinova wrote about the incident on her Facebook page.
"Already religion is practically ruling over the family institution in our country; we can already see the problem of irresponsible polygamous marriages and abandoned children. We mustn't allow for it to compromise people's health as well. Administrative penalties are not enough. I ask for the Spiritual Administration of Muslims of the Kyrgyzstan to pay their attention to this incident," Bayalinova wrote. The entry was later removed, however.
Watch RT's documentary on bride-snatching in Kyrgyzstan: Brides by force
Local journalist Hulkar Isamova then stepped in to say that the child had been one of her relatives and that the doctor in question, as well as the hospital's chief physician, have since apologized to her family.
"He asked for some time to pray, explaining that the little girl was conscious and active," Isaimova said in an interview with Vecherniy Bishkek news outlet.
A PR representative for the Spiritual Administration of Muslims of Kyrgyzstan (SAMK) condemned the doctor's decision:
"In any case the doctor should have examined the child first before heading to prayer. Sharia law doesn't prohibit praying after the work is finished. The doctor was wrong in this particular situation," Maksat Atabaev said.
A wave of condemnation followed on social media, with both religious and secular online commentators taking the side of the mistreated child.
"Because of this people think bad of Islam" one commenter wrote, while joining many others in calling on the hospital administration to fire the pious physician.
rt.com/news/373304-doctor-refuses-toddler-help/
--------
China Tightens Border with Pakistan as Fears Grow of Jihad in Western Xinjiang
11 Jan 2017
The government of China's Muslim-populated western region of Xinjiang has announced it is implementing new measures to keep its border with Pakistan as sealed as possible to prevent jihadist sympathizers from crossing into what many experts believe to be the world's premier terrorist training destination.
"We need to make sure not a single terrorist can get in or out of Xinjiang illegally, especially when our neighboring countries are facing rising terrorist threats," Xinjiang Communist Party official Aniwar Turson said of the new measures, according to the state-run China Daily. While government representatives did not specify exactly how strengthening border security would work, one official suggested that "strict inspections near the borders" would be part of the plan. Xinijang also borders Afghanistan, currently embroiled in its own war against radical Islamic groups.
The Times of India also quotes Xinjiang Communist Party chairman Shohrat Zakir as stating that the government would improve "efforts in entry-exit system to curb illegal movement of people across the border."
The move follows an incident earlier this month in which police killed three men who attempted to attack a Communist Party office armed with knives and a bomb. Two others were killed in the attack. The South China Morning Post reports that the men involved were known to law enforcement and "suspected of carrying out an attack two years ago in Pishan county in Hotan prefecture." While the men are believed to be ethnic Uighur separatists, the Chinese government has not identified them as such.
Indian outlets are reporting the border control news as potential evidence of tension between China and its ally (and Indian rival) Pakistan. The Times of India called the announcement a move on China's part to "signal its displeasure about the Pakistan military's ability to stop militants from sneaking into" Xinjiang. India.com reported that the move would seal the Chinese-Pakistani border. The Indian outlet Top Yaps bluntly referred to the announcement as a "slap in the face" to Pakistan.
China has provided Pakistan financial assistance for years and has reportedly sold Pakistan more weapons than any other country.
Full report at:
breitbart.com/national-security/2017/01/11/xinjiang-pakistan-border/
--------
Eight Indonesians deported for possessing Islamic State images
January 12, 2017
KUALA LUMPUR, Jan 12 ― Eight Indonesians were deported by the Federal Police (Bukit Aman) Special Branch's Counter Terrorism Unit after one of them was found keeping pictures showing Daesh's militant influence on his mobile phone.
According to a source, the group was arrested by Singapore authorities at the Woodlands Customs, Immigration and Quarantine (CIQ) complex at about 1.30am yesterday.
"During inspection, immigration personnel found images on Daesh militancy including that of a homemade bomb using a shoe in one of the suspects mobile phone.
"The Singaporean authorities then placed the suspects under the 'No Time Limit' prohibited entry status into the republic before handing them over to Malaysian police for further investigation," he said.
According to the source, Malaysian police detained the group's members from 2.30am until 9am and from the interrogation conducted, found that suspect concernedobtained the Daesh images from a Whatsapp group.
"After the investigations, the suspects were deported to Batam, Indonesia by ferry before being detained by Indonesian National Police (INP) and Riau Police two hours later for follow-up investigations," he said.
Full report at:
themalaymailonline.com/malaysia/article/eight-indonesians-deported-for-possession-of-islamic-state-images
--------
Gerakan: Review policies of govt-funded religious schools
Sheith Khidhir Bin Abu Bakar
January 12, 2017
KUALA LUMPUR: Gerakan has urged the government to review the policies of government-funded religious schools.
According to Gerakan vice-president Dominic Lau Hoe Chai, it is religious schools and not vernacular schools that are likely to threaten unity in the country.
He based this claim on the government's own education blueprint which stated that government-funded religious schools were fully comprised of Bumiputera students.
"At least in Chinese schools we have a 12% non-Chinese student base," he said at a press conference at the Gerakan headquarters here today.
He also claimed that religious schools had the tendency to produce people with a more extremist interpretation of Islam.
"Through our own analysis, we have found that while not all the students end up having extremist views, there is a tendency to produce some with this kind of thinking."
He stressed that he was not calling for the abolishment of religious schools.
"We need to go back to how the country was originally envisioned to be. A secular country where politics and religion are kept separate.
Full report at:
freemalaysiatoday.com/category/nation/2017/01/12/gerakan-review-policies-of-govt-funded-religious-schools/
--------
Indonesia Military commander defends military-style training of FPI
January 11, 2017
Indonesian Military (TNI) commander Gen. Gatot Nurmantyo has defended the right of Islam Defenders Front (FPI) members as citizens of the country to participate in military training and argued that referring to the FPI as anti-Pancasila was debatable.
In his response to journalists' queries on the matter, Gatot emphasized that the military institution required regional commanders to submit proposals to hold the military-style training for FPI members, as well as other citizens, all across the archipelago.
"[Regional commanders] submit the proposals to their superiors who will decide [if the FPI is anti-Pancasila or not]," Gatot told reporters when asked if the state defense program also welcomed anti-Pancasila groups like the FPI.
Gatot did not comment when he was asked for his opinion about the FPI.
Full report at:
thejakartapost.com/news/2017/01/11/indonesia-military-commander-defends-military-style-training-of-fpi.html
--------
As Malaysia ups halal ante, Singapore Islamic authority relaxes cert rules
January 11, 2017
KUALA LUMPUR, Jan 11 — The Islamic Religious Council of Singapore (Muis) has clarified that customers are allowed to consume birthday cakes that are not halal-certified in the country's halal outlets, citing a "flexible approach" towards the matter.
The explanation came after McDonald's Singapore said it has banned non-certified cakes since 1992, but the franchise has since announced today it will revise its policy following Muis' clarification.
In a media statement reported by Singaporean press today, Muis said halal outlets "may exercise some discretion in such cases" if three conditions can be met with outside food.
The conditions stipulates that there is no cross-contamination and the item is not brought into the kitchen, food preparation area, or storage facilities; only disposable cutlery is used; and the item must be consumed while any leftovers must immediately be bagged and disposed.
"As long as these conditions are met, Muis is of the view that the principles of halal certification are still preserved," Muis said, as quoted by The Straits Times newspaper.
McDonald's Singapore had notified the press of its policy, following public furore against a similar ban in the fast food chain outlets in Malaysia which was made the headlines.
"We need to adhere strictly to Muis regulations to ensure the food we serve is halal and suitable for consumption for our Muslim friends," McDonald's Singapore's director of government relations and communication, Faz Hussen, told portal Channel NewsAsia yesterday.
"These include regulations on preparing our food, storing our ingredients and ensuring the food we serve is not mixed with non-halal food."
However, Muis explained that McDonald's Singapore had made the statement without prior consultation with the body.
"In the light of Muis' clarification, McDonald's Singapore will review its policy on birthday cakes," Faz announced.
Full report at:
themalaymailonline.com/malaysia/article/as-malaysia-ups-halal-ante-singapore-islamic-authority-relaxes-cert-rules
--------
Islamic NGOs, muftis back Perlis fatwa for wives as progressive
BY MELATI A. JALIL
January 12, 2017
KUALA LUMPUR, Jan 12 ― The Perlis Fatwa Committee has been lauded for its recent edict allowing Muslim wives to leave their marital home without their husbands' permission if their lives are in danger.
Muslim rights advocates and muftis expressed support for the fatwa, but stopped short of saying it should be replicated by the other states in the country.
"I strongly support the edict because women are not a property of men, they should not be treated as a property, they have their own mind, soul and body, they should not be treated as slaves," Islamic Renaissance Front founder Ahmad Farouk Musa told Malay Mail Online when contacted yesterday.
He added that the fatwa was necessary as some people still treated and viewed women as property.
"It's fair and wise, it's good for the women to know their rights," he added.
Issued last December, the fatwa stated that if Muslim wives strongly feel that there is no way out of a threatening situation, including those that affect their religious status, physical self, honour, family or possessions, they are allowed to leave without getting permission from the husbands.
Ikram president Mohd Parid Sheikh Ahmad said the edict would act as a catalyst to awareness efforts in providing knowledge to Muslim women about their rights.
"Marriage is about sharing, not oppressing, husband and wife complement each other, not one person becomes a dictator and nothing can be discussed," he said.
He added that many people nowadays get married without knowing their responsibility and obligation.
Kedah Mufti Datuk Syeikh Muhamad Baderudin Ahmad also expressed support for the Perlis fatwa, saying it is compulsory for Muslims to keep themselves from any harm.
"Generally, it is harus [neither forbidden nor recommended] for a wife to leave her marital home and go to a safe place, like a father's house or brother's.
"But people cannot misuse it, and a husband also needs to understand that marriage is not about mistreating people. It's also not only about providing a place to live in and nafkah [alimony], you cannot abuse your wife and vice-versa," he said.
He said the state does not have an edict on the matter as it will usually be issued if there are queries raised by the public.
Penang Mufti Datuk Dr Wan Salim Wan Mohd Noor meanwhile said the department usually advises people on the matter as edicts will only be gazetted if it involves a big issue.
"But we explain the matter to Islamic centres, mosques and in lectures," he said adding that the state's fatwa committee also agreed with the fatwa issued by Perlis.
The edict by Perlis added that Muslim wives would also not be considered as to have committed nusyuz (unreasonable disobedience) under the circumstances until the husbands fulfil their responsibilities.
Full report at:
themalaymailonline.com/malaysia/article/islamic-ngos-muftis-back-perlis-fatwa-for-wives-as-progressive
--------
Highway operator blames errant contractor for 'Muslim toilet' sign
January 12, 2017
KUALA LUMPUR, Jan 12 ― A sign purporting to restrict toilets to Muslims at a rest area on the East Coast Expressway (Phase 2) was installed by a contractor without the knowledge of operator LPT2 Sdn Bhd, the firm has said.
The concessionaire added that the sign, which caused controversy among local social media users yesterday, was removed after the firm was informed of the matter.
LPT2 explained that it had ordered the sign at the southbound Bukit Besi rest area to be replaced after it was damaged.
"However, the contractor appointed to service and repair the signboard did not refer to LPT2 before repair works were carried out," it said in a statement.
Full report at:
themalaymailonline.com/malaysia/article/highway-operator-blames-errant-contractor-for-muslim-toilet-sign
--------
Europe
European Union to take up with Pakistan, rights violations against Ahmadiyya Muslims
January 12, 2017
Brussels [Belgium]: Members of the European Parliament (MEPs) from various countries have decided to approach the Government of Pakistan on the issue of alleged violation of human rights of the Ahmadiyya Muslim community.
According to informed sources and reports, the MEPs have been in regular touch with Ahmadiyya Muslims residing in Europe and have been made aware of the abuses being committed against members of this community in Pakistan. They have therefore decided to flag this issue at the next session of the European Parliament.
Many MEPs are of the view that the European Union should insist on strictly linking assistance to Pakistan with the country's human rights record.
It goes without saying that Islamabad will only be forced to act to arrest the country's deplorable human rights situation and the abuse faced by minority groups, whether Christians, Shias, Ahmadiyyas or Hindus, provided countries like the US and EU members link active diplomatic engagement to human rights.
The Ahmadiyya community in Pakistan has for decades struggled for their basic rights in Pakistan. As per data released by the International Human Rights Committee, since 1984 more than 83 Ahmadi mosques have been demolished more than 250 Ahmadis killed. Despite continued international outcry whenever there has been a major incident of violence against the community, successive Pakistani governments have made no effort to improve the situation.
Lately, incidents of harassment and violence against this minority Muslim community of Pakistan have visibly increased. The community was still recovering from a raid and forceful closure on December 5, 2016 by the local armed police on the Central office of a Ahmadiyya publication in the town Rabwah in Pakistan, when on December 12, 2016 a thousand-strong mob of the majority Sunni Muslims attacked a Ahmadiyya mosque in Chakwal, resulting in the death of two and injuring scores of Ahmadiyya worshippers who were at the mosque at the time of attack. Following the attack, almost all the 70-80 Ahmadiyya families living in Chakwal fled the village during the night of December 12 and 13.
In Pakistan, Ahmadis are declared non-Muslims by law and as per a 1984 legislation it is a criminal offence for a Ahmadi to 'pose' as a Muslim or to refer to their religious gathering sites as mosques. Hence under the law, the Ahmadis who were worshipping in their mosque on December 12 were committing a criminal act. Such legislations coupled with the Blasphemy Law in Pakistan, have given religious fundamentalist elements the lever to promote their radical ideology against Ahmadiyyas and other ethnic minority groups.
With the European Union having experienced in 2016 one of its worst years with regard to incidents of terrorism, there is a growing understanding among the decision-makers in various European capitals that many of these incidents have roots in the increasing radicalisation of society in Pakistan and the rising influence of Islamic fundamentalist there. There are also growing concerns with regard to the complete lack of intent on the part of the Pakistani government to take serious measures on improving the human rights situation in the country. (ANI)
siasat.com/news/european-union-take-pakistan-rights-violations-ahmadiyya-muslims-1107464/
--------
TV Appearance of 'Charlie Hebdo' Terrorists' Former Mentor Stokes Anger in France
January 11, 2017
Paris (CNSNews.com) – A French television channel is at the center of an uproar over a decision to invite as a guest an ex-jihadist who was responsible for indoctrinating the terrorists who shot dead 12 people at the Paris offices of the satirical magazine Charlie Hebdo – and to do so on the second anniversary of the deadly attack.
Two senators who chair and co-chair a Commission of Inquiry into the Fight against Jihadist Networks, Nathalie Goulet and André Reichardt, have instructed a lawyer to make a formal complaint with an independent media ethics watchdog.
They want the Conseil Supérieur de l'Audiovisuel (CSA) to act against Channel 8 on the grounds that featuring Farid Benyettou on the show was indecent, and a provocation to the victims of Islamist terrorism.
Benyettou, a 35-year-old Muslim preacher nicknamed the "emir" of his Parisian neighborhood admits he was a mentor and inspiration in terror to Said and Cherif Kouachi, the brothers of Algerian heritage who carried out the January 2015 attack.
Now claiming to be reformed, he went on the show to promote a book and speak about his work with associations that seek to deradicalize Muslims returning from the jihad in Syria.
The book was co-written with Dounia Bouzar, head of an association called the Center for the Prevention of Sectarian Excesses in Islam, with whom Benyettou works.
During the television program, Benyettou told host Thierry Ardisson "Je suis Charlie" ("I am Charlie") holding up a badge bearing the words which after the attack became a slogan of solidarity with the magazine, known for periodically poking fun at Islam and publishing cartoons mocking Mohammed.
Immediately after the show aired, various politicians and organizations were quick to criticize the choice of guest, particularly on the anniversary of the attack.
"For a man who is that close to the Kouachi brothers to say on TV that 'he is Charlie' just to sell his book is, at the minimum, terribly awkward towards the victims," said Guillaume Denoix de Saint Marc, president of the French Association of Victims of Terrorism (AFVT).
He had many doubts about the "sincerity" of these words. (Denoix de Saint Marc's own experience with terrorism goes back to 1989, when his father was one of 170 people killed when Libyan terrorists bombed a French airliner, UTA flight 772, over Niger.)
AFVT spokeswoman Aline le Bail-Kremer said by phone the appearance of Benyettou at the very least showed a lack of decency toward the victims of terrorist acts.
"A lot of people doubt his sincerity," she said. "We all know that marketing is important to sell a newly published book but to use the attack against Charlie Hebdo made a lot of people at the minimum uncomfortable."
She added that the association would monitor developments in the coming day before deciding whether or not to take legal action against the channel.
Ardisson is known to be provocative on his shows, but has said he will not change his program format or the people he invites.
"Inviting Benyettou was not a provocation," he said in a statement. "I don't want to look like a censor."
Full report at:
cnsnews.com/news/article/fay-al-benhassain/tv-appearance-charlie-hebdo-terrorists-former-mentor-stokes-anger
--------
Two Pakistanis held in Germany for human trafficking
Jan 12, 2017
BERLIN - Police detained two Pakistani nationals - one near the German the city of Erfurt, the other in the Italian port of Ancona - for alleged human trafficking, German prosecutors said. They were accused of having brought mostly Pakistani nationals via the Balkan route to Germany and of having unlawfully detained two asylum seekers in a bid to extort money out of their relatives abroad. Germany said on Wednesday that migrant arrivals dropped by two-thirds in 2016 from the previous year's record high, providing relief for Chancellor Angela Merkel ahead of this year's elections.
nation.com.pk/international/12-Jan-2017/two-pakistanis-held-in-germany-for-human-trafficking
--------
Germany sees huge drop in refugee arrivals
11 January 2017
The number of asylum seekers arriving in Germany dropped by nearly 70 percent last year, German interior minister said on Wednesday.
Speaking at a press conference in Berlin, Interior Minister Thomas de Maiziere said nearly 280,000 asylum seekers came to Germany last year compared with 890,000 in 2015.
"This shows that measures taken by the federal government and the European Union have been effective in significantly reducing these numbers," de Maiziere said.
He cited the EU-Turkey refugee agreement and the closure of Balkan route as important factors that helped in addressing the refugee flows.
Refugee influx in 2015 led to public discontent in Germany and gave rise to far-right and populist movements, which have exploited the crisis.
Chancellor Angela Merkel, who suffered heavy defeat in regional elections last year, defended her decision in 2015 to open Germany's doors to refugees who fled wars and conflicts.
She underlined Germany's humanitarian responsibility, and argued that stopping refugee flows would only be possible by international cooperation, by improving the conditions of refugees in countries neighboring conflict zones, and by strengthening the fight against human traffickers.
The interior minister also renewed Germany's call for a common asylum policy among EU member states to share the burden of the refugee crisis.
Full report at:
worldbulletin.net/europe/183009/germany-sees-huge-drop-in-refugee-arrivals
--------
US freezes assets of Londoner identified as leading member of British ISIS cell
11 Jan, 2017
A British father-of-two recently identified as a member of the Islamic State terrorist cell known as 'The Beatles' has had his assets frozen by US authorities.
Londoner Alexanda Kotey fled Britain in an aid convoy to Gaza headed by Respect leader George Galloway in 2009, before joining the group of terrorists with British accents led by the infamous executioner 'Jihadi John'.
Counter-terrorism forces also found that Kotey, a Greek-Ghanaian raised in the Greek Orthodox Church, converted to Islam in his teens. He later became a mass recruiter for Islamic State (IS, formerly ISIS/ISIL) and a torturer for 'The Beatles', specializing in electric shocks and waterboarding.
"As a guard for the cell, Kotey likely engaged in the group's executions and exceptionally cruel torture methods, including electronic shock and waterboarding," a US State Department statement read.
"Kotey has also acted as an ISIL recruiter and is responsible for recruiting several UK nationals to join the terrorist organization."
'The Beatles' rose to prominence after a series of videos showed its members speaking Arabic with what experts described as a British accent. The cell was responsible for the murders of around two dozen hostages, including American journalist James Foley and British aid worker Alan Henning.
'Jihadi John', real name Mohammed Emwazi, was killed in a US drone strike in Syria in 2015. Fellow cell member Aine Lesley Davis, also known as 'Paul' by the press, a fellow Londoner, was arrested in Turkey that year.
Kotey's last confirmed position was in Raqqa, Syria, although it is not certain he remains there. While he left his children behind in Britain after fleeing to join IS, he was described by neighbors and friends as a quiet man and a big fan of the Queens Park Rangers football club. He is thought to have known Emwazi and Davis from his days in London, where the three attended the Al-Manaar mosque in Ladbroke Grove.
A local worker told ITV News that the trio were once "physically ejected" from the mosque due to their extremist views.
Full report at:
rt.com/uk/373319-islamic-state-beatles-kotey/
--------
Mideast
Israel mulls constructing settlement on Palestinian trucker's house site
Jan 12, 2017
Israel is planning to build a new illegal settlement in the occupied East Jerusalem and on the site of the home of the Palestinian man involved in a deadly truck attack against Israeli troops.
The regime in Tel Aviv has already ordered the demolition of Fadi al-Qanbar's home in the Jabel Mukaber neighborhood of southern East Jerusalem al-Quds,
The so-called Municipality of Jerusalem al-Quds now aims to build 2,500 settler units on the remains of the soon-to-be-destroyed house and a large surrounding area, Israel's Hebrew-language Channel 10 television network reported on Wednesday.
The plan will leave the family of the slain 28-year-old Palestinian man homeless under Israel's policy of home demolitions, which has been widely denounced as an act of collective punishment and illegal under international law.
An unnamed spokesperson for the Jerusalem al-Quds municipality later claimed that "the plans in question were approved a year ago, and are unrelated to recent events."
The allegations came as Israeli authorities have called for extremely tough measures against the family of Qanbar, who drove a truck into a group of Israeli troops and killed four of them on January 8. The Palestinian trucker was the shot dead.
Israeli police forensic experts examine the body of one of the four Israeli soldiers killed when a Palestinian driver rammed a truck into a group of soldiers in East Jerusalem al-Quds on January 8, 2017. (Photo by AFP)
His mother and 12 other relatives are to have their Jerusalem al-Quds residency permits revoked, and they run the risk of being forcibly uprooted and exiled to the blockaded Gaza Strip or even Syria.
The truck attack came amid ongoing tensions between Israeli forces and Palestinian protesters, in what is regarded as the third Palestinian Intifada against the regime's occupation.
Gaza-based Hamas and Islamic Jihad resistance movements have termed the incident as a natural response from Palestinians to the ongoing Israeli aggression and its violent treatment towards Palestinian people.
The occupied Palestinian territories have witnessed tensions ever since Israel imposed restrictions on the entry of Palestinian worshipers into the al-Aqsa Mosque compound in East Jerusalem al-Quds in August 2015.
More than 270 Palestinians have lost their lives at the hands of Israeli forces in the tensions since the beginning of October that year. A total of 40 Israelis, two Americans, a Jordanian, an Eritrean and a Sudanese have been killed in the wave of violence as well.
presstv.ir/Detail/2017/01/12/505850/Israel-build-settlement-Palestinian-truckramming-attack-East-Jerusalem-alQuds
--------
Turkey will discuss troop presence in Iraq once ISIS removed
11 January 2017
Turkey will discuss with Iraq the presence of Turkish troops at the Bashiqa camp near Mosul after the area is cleared of ISIS, and the matter will be resolved in a friendly manner, Turkish Defense Minister Fikri Isik said on Wednesday.
"Turkey respects Iraq's territorial integrity and unity, and the presence of our troops in Bashiqa is not a choice but a necessity," Isik told reporters in Kirikkale, a city east of the capital Ankara, in comments broadcast live.
Full report at:
english.alarabiya.net/en/News/middle-east/2017/01/11/Turkey-will-discuss-troop-presence-in-Iraq-once-ISIS-removed.html
--------
Turkey, Israel officials to discuss roadmap for closer cooperation: Report
Jan 12, 2017
Israel and Turkey are reportedly drafting a "roadmap" to promote their cooperation in different areas, months after the two sides reached an agreement to normalize their ties.
The undersecretaries of the Turkish and Israeli foreign ministries are scheduled to meet within a month to discuss the issue, Hurriyet Daily News cited a Turkish Foreign Ministry official as saying on Wednesday.
The two sides plan high-level visits to discuss the outcome of the upcoming "political consultations" on a series of domestic and regional issues, according to the report.
A visit by Turkish Foreign Minister Mevlut Cavusoglu to the Israeli-occupied territories will be on the agenda.
The two sides are also expected to upgrade a free trade agreement and the lifting of visa procedures.
The official added that Ankara and Tel Aviv will also hold talks on cooperation and information sharing on regional issues, including the crisis in Syria, where the two sides have long been supporting the Takfiri militants operating against the Damascus government.
On Wednesday, Israel's Haaretz daily also reported that Yuval Rotem, the director general of the regime's ministry for foreign affairs, would visit Ankara in two weeks for talks.
Haartez cited a senior Israeli official as saying that Rotem and his Turkish counterpart would exchange views on issues including the situation in Syria, ties with Russia and the situation in the Gaza Strip and West Bank.
In June 2016, Israel and Turkey reached an agreement on the normalization of their relations six years after an Israeli raid on a Gaza-bound Turkish aid flotilla killed 10 Turkish activists in high seas and sent their ties spiraling into a cycle of tensions in May 2010.
Ankara initially reacted with fury. It suspended its military ties with Israel and expelled the Israeli envoy from Ankara in September 2010 over Tel Aviv's refusal to apologize for the killings.
Full report at:
presstv.ir/Detail/2017/01/12/505848/Turkey-Israel-Reconciliation
--------
At least 25 Palestinians seized during Israeli raids
Jan 11, 2017
At least 25 Palestinians, including a number of minors, have been detained during a series of Israeli raids throughout the occupied territories.
A Fatah spokesman said on Wednesday that Talal Dweikat, a former governor of the northern West Bank district of Tulkarm, was seized from his home in the occupied West Bank city of Nablus.
"The Israeli occupation targets every Palestinian regardless of political affiliation and the best response to that is to close ranks and maintain national unity," said Fatah spokesman Munir al-Jaghoub.
The rest of the people were abducted during a series of raids launched by Israeli forces on the Nur Shams refugee camp in Tulkarm, Balata refugee camp in Nablus and several Palestinian villages.
The Palestinian Prisoner's Society has reported that over 100 Palestinians, including 18 minors, were arrested by Israeli forces during the first five days of 2017.
According to the Palestinian prisoners' rights group Addameer, there are currently 7,000 Palestinians, including seven lawmakers, held at Israeli jails. Three Palestinian Legislative Council members are in "administrative detention."
Full report at:
presstv.ir/Detail/2017/01/11/505827/israel-palestine-abduction-detention
--------
MP faces life in jail for exposing Turkey's arms aid to Syria militants
Jan 11, 2017
A Turkish prosecutor has called for life imprisonment for an opposition lawmaker who is being tried for exposing to a newspaper a video showing weapons shipment to parts of Syria held by foreign-backed terrorists.
In an indictment released on Wednesday, Prosecutor Mehmet Yesilkaya said he sought life term for MP Enis Berberoglu of the opposition Republican People's Party, accusing him of "aiding an armed terrorist organization knowingly and intentionally without being a member."
Yesilkaya further accused the lawmaker of purportedly revealing "confidential information and documents of the state… and undertaking political or military espionage."
Back in May 2015, Cumhuriyet daily posted on its website footage showing Turkish security forces in early 2014 intercepting a convoy of trucks carrying arms for the militants in Syria.
A screen grab from a video published on the website of the Turkish Cumhuriyet daily on May 29, 2015 shows mortar shells in boxes intercepted on a truck destined for Syria.
The paper said the trucks were carrying some 1,000 mortar shells, hundreds of grenade launchers and more than 80,000 rounds of ammunition for light and heavy weapons.
Ankara denied the allegation and claimed that the trucks had been carrying humanitarian aid to Syria. However, Berberoglu defended the video, saying it was genuine.
Two prominent Cumhuriyet journalists were among other defendants in the case. Can Dundar and Erdem Gul were sentenced last year to at least five years in jail for revealing what was said to be state secrets.
Full report at:
presstv.ir/Detail/2017/01/11/505814/Turkey-Syria-Enis-Berberoglu-Cumhuriyet-video
--------
Saudi campaign has killed 1,400 Yemeni kids, UNICEF says
Jan 11, 2017
The United Nations Children's Fund (UNICEF) says nearly 1,400 children have been killed in the ongoing deadly Saudi campaign against Yemen.
Meritxell Relano, UNICEF's representative in Yemen, said on Wednesday that hundreds more had been injured and many schools closed since March 2015, when Saudi Arabia started its campaign.
"Attacks on civilian areas continue to kill and injure scores of children in Yemen," Relano said, adding, "Instead of learning, children are witnessing death, war and destruction."
Relano said the actual casualty toll was likely to be much higher than the verified figures. She said that some 2,000 schools across Yemen can no longer be used because they have been damaged, destroyed or are used as shelters or for military purposes.
Elsewhere in her remarks, the UN official called on all parties in the conflict to stop attacks on schools and protect children.
"Schools have to be zones of peace at all times, a sanctuary where children can learn, grow, play and be safe," Relano said.
"Children should never risk their lives only to attend school."
Full report at:
presstv.ir/Detail/2017/01/11/505792/Saudi-campaign-Yemeni-kids-UNICEF
--------
Africa
Somali Islamists kill man and teenager for gay sex, another man for spying
12 January 2017
Somali Islamist group al Shabaab shot two men and a teenager in southern Somalia on Tuesday, saying one of the men and the 15-year-old had been seen having gay sex, while the other man was found guilty of spying, a senior al Shabaab official said.
Hundreds of civilians gathered in a field in the town of Buale to watch them being shot, the second time al Shabaab has killed men accused of homosexuality, the official said, without giving details of the previous killing.
Homosexuality and gay sex is outlawed in most of Africa's 54 states and can be punishable by imprisonment.
"The judge read their charges publicly and the three men were found guilty. They were executed according to the Islamic sharia. They were shot dead in Buale town," Sheikh Mohamed Abu Abdalla, a regional governor for al Shabaab, told Reuters.
A Somali government official said any case of homosexuality in Muslim Somalia would be dealt with according to sharia law, although he did not specify what that would mean in practice.
Al Shabaab militants are fighting against Western-backed government forces in Mogadishu in a bid to impose its strict interpretation of Islamic, or sharia, law.
The al Shabaab governor said 20-year-old Isak Abshirow and 15-year-old Abdirizak Sheikh Ali were found committing a homosexual act by al Shabaab fighters.
Saeed Mohamed Ali was found guilty of spying for Ethiopian troops, who form part of an African force that has been fighting the militants.
The Islamist group once controlled the capital and much of Somalia but it lost control of Mogadishu in 2011 and has slowly been driven back into smaller pockets of territory since then.
citizentv.co.ke/news/somali-islamists-kill-man-and-teenager-for-gay-sex-another-man-for-spying-154421/
--------
Amnesty urges special court for war crimes in CAR
11 January 2017
Amnesty International on Wednesday denounced the prevailing impunity in Central African Republic, urging the creation of a Special Criminal Court to try the perpetrators of war crimes committed during the sectarian conflict that started in 2013.
"Individuals suspected of committing war crimes including killing and rape during the conflict in the Central African Republic (CAR) are evading investigation and arrest, and in some cases live side by side with their victims," Amnesty said in a statement.
Ilaria Allegrozzi, Amnesty International Central Africa Researcher said perpetrators were still free while their victims continued to await justice.
"Thousands of victims of human rights abuses across CAR are still waiting for justice to be served, while individuals who have committed horrific crimes like murder and rape roam free," she said.
The rights watchdog also highlighted the weakness of the country's justice system.
"The justice system in CAR, which was weak before the conflict, was further undermined by the fighting as records were destroyed and legal personnel were forced to flee."
Allegrozzi said the "only long-term solution to this entrenched impunity" was to "overhaul" the country's judicial system "including rebuilding its courts, prisons and police force."
She also called for the creation of a Special Criminal Court.
"In the meantime, sustainable funding for the Special Criminal Court, including robust witness protection programmes, is an essential step towards justice.
"The SCC is essential to ensure that victims of some of the conflict's most serious crimes will have a chance to see justice done in CAR, and should be given every support," she said.
Full report at:
worldbulletin.net/africa/182992/amnesty-urges-special-court-for-war-crimes-in-car
--------
Russian military team in Libya to meet Haftar, Saleh Issa
11 January 2017
Russian military delegation arrived on Wednesday in Libya's port city of Tobruk to meet Khalifa Haftar, the Commander-in-Chief of the National Army of the House of Representatives in Tobruk, as well as the President of the Libyan House of Representatives Aguila Saleh Issa, Al Hadath reported.
In November last year, Haftar met with the Russian Foreign Minister Sergey Lavrov in Moscow to request military support for the Libyan army.
The move comes as Lavrov praised Libya's military role in countering terrorism and the maintenance of the independence of Libya, pointing out that Russia still adheres to the arms embargo decision by the UN Security Council.
Full report at:
english.alarabiya.net/en/News/north-africa/2017/01/11/Russian-military-team-in-Libya-to-meet-Haftar-Saleh-Issa.html
--------
As ISIS Struggles for Influence in Somalia, al-Shabab Remains the Main Threat
Jan. 11, 2017
The so-called Islamic State received some modest good news recently from Somalia, in what has otherwise been a dismal stretch of losses for the jihadi group. In October, a small militant faction aligned with the Islamic State took and held Qandala, a port town in northern Somalia, for more than a month before withdrawing. It was the first time a group linked to the Islamic State has occupied a town in Somalia.
Full report at:
worldpoliticsreview.com/articles/20887/as-isis-struggles-for-influence-in-somalia-al-shabab-remains-the-main-threat
--------
Kenya: Thousands Turn Up for TSS' Burial
11 JANUARY 2017
By Mohamed Ahmed
Thousands of Mombasa residents on Wednesday turned up for the burial of businessman Tahir Sheikh Said, popularly known as TSS.
Mr Said, 75, was buried at Saragoi Muslim Cemetery in Mvita.
His body had first taken to Masjid Sheikh Nurein for a funeral service.
The businessman's body was flown from South African on Tuesday night and taken to the mosque from his Kizingo home in Mombasa Town at around noon.
The prayers were conducted by Sheikh Muhammad Al Hadi after a sermon by a Muslim scholar, Ustadh Harith Swaleh.
The mosque was filled to capacity. Other residents followed the proceedings from outside. Police temporarily closed the roads near the mosque.
Leaders who attended Said's burial, included Mombasa Senator Hassan Omar and businessman Suleiman Shahbal, both eyeing the governor's seat.
Others were former Kisauni MP Ananiah Mwaboza, Mvita MP Abdulswamad Nassir, his Msambweni counterpart, Mr Suleiman Dori, Deputy County Commissioner Salim Mahmoud as well as business people from the wider Coast region.
"I want to offer my deepest condolences to the family and friends of TSS. In his life, he contributed a lot to the people of Mombasa," Senator Omar said.
"You can tell what kind of a person he was from the hundreds of people who have converged here for the funeral."
Mr Shahbal said the death of the tycoon was a blow to the people of Mombasa.
"Mombasa residents will remember TSS for having used his wealth to serve them," he said.
Mr Nassir said TSS was loved by many because he was a philanthropist.
"He was among the people who advised me when I was planning to join politics. He was very close to my father (former Mombasa Kanu supremo and Cabinet minister) Shariff Nassir. Everyone loved him because he helped many," the lawmaker, whose father was the Mvita MP for many years, said.
Full report at:
allafrica.com/stories/201701120045.html
--------
Boko Haram: Nigerian Army recovers corpses of 16 missing soldiers
January 11, 2017
The Nigerian Army on Wednesday said one officer and fifteen soldiers have been found dead in a major river northeast of the country.
The sixteen personnel were part of the 46 officially declared missing more than six weeks ago.
Lucky Irabor, the Theatre Commander of Operation Lafiya Dole who made the announcement, said the soldiers were found dead in River Yobe,
"The corpses were recovered along Kamadogou River line area in Maiduguri," Mr. Irabor, a major general, said.
Mr. Irabor said the departed soldiers included K. Yusuf, a lieutenant colonel.
Prior to his kidnapping and ultimate death, Mr. Yusuf was the commander of Nigerian Army 223 Tank Battalion.
"They have since been buried in Maimalari Cantonment Cemetery with full military honours," Mr. Irabor said.
PREMIUM TIMES had reported how about 83 soldiers manning a Forward Operation Base in Gashigar, Borno State, went missing in a major Boko Haram attack on the evening of October 16, 2016.
After initial resistance, the poorly motivated troops abandoned their base and scampered for safety.
As they retreated, some soldiers jumped into River Yobe to escape the advancing insurgents. The terrorists opened fire nonetheless, killing some of the troops and wounding others.
Full report at:
premiumtimesng.com/news/headlines/220191-boko-haram-nigerian-army-recovers-corpses-16-missing-soldiers.html
--------
North America
How an obscure U.S. policy effort could hurt American Muslims
By Abigail Hauslohner
Jan 12, 2017
U.S. lawmakers have introduced a measure calling for the Muslim Brotherhood, one of the oldest Islamist organizations in the Middle East, to be designated a foreign terrorist organization, and for the first time in recent years they are optimistic it will get signed into law.
The Muslim Brotherhood Terrorist Designation Act, introduced this week by Sen. Ted Cruz (R-Tex.) and Rep. Mario Diaz-Balart (R-Fla.) in both chambers of Congress, advocates for the designation on the grounds that the Muslim Brotherhood espouses "a violent Islamist ideology with a mission of destroying the West."
It marks the fifth straight year that lawmakers have introduced legislation to this effect. Previous administrations — as well as counterterrorism analysts and political scientists who study the Brotherhood — have not viewed the group, which has held elected political offices across the Middle East, as a threat, preferring to engage it diplomatically.
President-elect Donald Trump, his supporters say, sees things differently.
Rex Tillerson, Trump's nominee for secretary of state — and the person who would make such a designation — on Wednesday referred to the Brotherhood as an adversary during prepared remarks before the Senate Foreign Relations Committee, but he stopped short of calling for a terrorist designation.
Tillerson said the administration's top priority in the Middle East must be defeating the Islamic State, which has been implicated in the murders of thousands of people, but he suggested the Muslim Brotherhood would come next.
"The demise of ISIS will also allow us to increase our attention on other agents of radical Islam like al-Qaeda, the Muslim Brotherhood and certain elements within Iran," Tillerson said Wednesday during his confirmation hearing. ISIS is another name for the Islamic State
If the Trump administration adds the Muslim Brotherhood, it would mark the first time that the U.S. government has pursued the terrorist designation on ideological grounds, analysts say.
It is also likely to have a far-reaching impact on American Muslims at a time when Muslim community leaders say the religious minority is facing the worst harassment it has seen since the aftermath of 9/11.
Proponents of the measure, including members of Trump's incoming administration, have long used the Muslim Brotherhood label as shorthand for Muslim organizations, politicians and government officials who they disagree with, and civil rights advocates fear those allegations could be used as pretext to investigate and alienate those who challenge the government's treatment of Muslims.
Supporters of the designation have wielded it most frequently against advocacy groups such as the Council on American-Islamic Relations (CAIR), which regularly files lawsuits on behalf of Muslims over alleged discrimination, as well as against charities.
They have also used it to attack Democratic members of Congress, Muslim government officials, longtime Hillary Clinton aide Huma Abedin and the Gold Star father Khizr Khan, who criticized Trump at the Democratic National Convention in the summer.
[Fact Checker: Does Huma Abedin have 'ties' to the Muslim Brotherhood?]
Corey Saylor, who oversees CAIR's response to Islamophobia, describes the allegation of a connection as "pure conspiracy theory" but worries that a formal terrorism designation for the Muslim Brotherhood could then "be used as a pretext to essentially go into organizations, shut them down, and say, 'We're investigating them.' "
"Years later, [they'll say] 'Oh, sorry, there's nothing there.' But the effect is, those organizations no longer exist," he said. The label, he added, "could also be used to isolate organizations and drive away potential allies."
Baher Azmy, legal director with the Center for Constitutional Rights in New York, said he viewed the move as "part of a two-step process to delegitimize a great swath of American Muslim advocacy organizations."
"This is sort of a massive cudgel, if it were passed, that could really be used to question, to target, to harass advocacy organizations," he said.
Supporters of the designation have suggested as much.
In announcing the Muslim Brotherhood Terrorist Designation Act, Cruz's office cited a widely discredited 1991 memo from a Muslim Brotherhood member as evidence that the group is working to eliminate Western civilization from within and referred to CAIR as an affiliated organization.
[Reinvention of Jordan's Brotherhood involves women — and Christians]
Experts on the Muslim Brotherhood say it poses no threat to the United States — typically one of the criteria for designating a foreign terrorist organization — and many have also questioned the extent to which it is alleged to participate in violence.
Founded in Egypt in 1928, the Muslim Brotherhood is widely viewed as the mother of political Islamist movements. In its modern incarnation, it has sought to implement Islamic law and governance in several Middle East states through participation in democratic elections.
Full report at:
washingtonpost.com/national/how-an-obscure-policy-effort-could-hurt-american-muslims/2017/01/11/8ce93184-d76e-11e6-b8b2-cb5164beba6b_story.html?utm_term=.b0060713cc32
--------
Muslim prayer issue reaches boiling point at Peel board meeting
By Jason Spencer
Jan 12, 2017
Delegations at the Peel District School Board's Tuesday, Jan. 10 meeting descended into a spectacle that encapsulated the tension surging through the room.
"I was extremely disappointed at how people conducted themselves this evening," said chair Janet McDougald, characterizing the events as a "new low for decorum and respect."
Given the police presence and increased security at the HJA Brown Education Centre, it was clear staff were anticipating blowback from a report on the agenda regarding religious accommodation for Muslim students.
The tea leaves weren't difficult to read, as censoring student-written sermons for Friday prayer has been a sore spot among offended Muslims and those who take issue with religion in public school.
Some, however, take it one step further than that.
After a current and former student each commended the board for its decision to alter the procedure for Friday prayer, the circus ensued.
Greeting everyone in Arabic was delegate Eric Brazau. He seemed to have the crowd fooled until he began criticizing the Muslim faith as well as "exclusive accommodation for Muslims" in the board report, written by education director Tony Pontes.
One aspect that Brazau found worrisome was how sermons for Friday prayer must be in English, save for any parts of the Qur'an cited in Arabic.
Up next was a delegate who identified as Ron Banerj. He did much of the same, but decided to say things like "Islam is poison" and tell agitated spectators to "shut up."
In an effort to stop Banerj, McDougald referenced the previous delegates: "If you want to discuss this with respect, take a little lesson from our students."
A woman then stood up and started waving a book and shouting at everyone. Amid the commotion, she appeared to be denouncing Islam.
Peel police officers quickly waded through the audience and removed the woman.
Board communications staff confirmed that the woman wasn't arrested, but was made to leave the property.
The chaos immediately paused the meeting.
Warning: Video contains foul language.
"Tonight was very disappointing because what we saw was intolerance and hate," director Pontes, whose report notes that students will be able to, once again, write their own sermons without approval.
The controversial issue stemmed from a change to an operating procedure for religious accommodation that required Muslim students to only use sermons that were written by local imams.
Full report at:
mississauga.com/news-story/7060807-muslim-prayer-issue-reaches-boiling-point-at-peel-board-meeting/
--------
Six police departments come together for first eastside Muslim safety forum
by: Joanna Small Updated
Jan 10, 2017
After a number of hate crimes against Muslims in western Washington, eastside police departments came together with the Muslim community in an effort to prevent more crimes.
Tuesday night was the first "Muslim Safety Forum" at the Muslim Association of the Puget Sound in Redmond.
The sign outside MAPS was destroyed twice, just weeks apart. The second incident occurred after it had been repaired and decorated with the handprints of community leaders.
The members of MAPS decided it was time to learn skills to protect themselves, which is how the forum idea came to light.
"The message that we're sending out really is that we are all together," explained Redmond Police Chief Kristi Wilson.
And that message—delivered by six different eastside police departments—is not lost on the people who feel most under fire.
"Certainly, things right now are pretty bad," said Aneelah Afzali, who leads a new Muslim empowerment network at MAPS. "I think 2015 we had the highest record in hate crimes against Muslims or those perceived as Muslims in this nation's history.
Azfali said there have been at least a dozen hate crimes against Muslims in the greater Seattle area in just the past six months.
"I've had people drive by, roll down their windows and scream obscenities, I've had that happen. I have friends I know personally who have been physically assaulted and attacked," Azfali said.
Full report at:
kiro7.com/news/local/six-police-departments-come-together-for-first-eastside-muslim-safety-forum/483322402
--------
Rex Tillerson opposes blanket ban on Muslims' entry into US
January 12, 2017
Donald Trump's secretary of state pick Rex Tillerson has said he does not support blanket travel ban against Muslims even as he asserted that the US must win the war against Islamic terrorists not just on the battlefield, but in the war of ideas.
"I think what's important is that we are able to make a judgement about the people that are coming into the country. And so no, I do not support a blanket type rejection of any particular group of people," the 64-year-old former ExxonMobil CEO told the Senate Foreign Relations Committee during his confirmation hearing yesterday.
"But clearly, we have serious challenges to be able to vet people coming into the country particularly, under the current circumstances because of the instability in the parts of the world that it's occurring," he said.
"It's a huge challenge and I don't think we can just close our eyes and ignore that. We have to be very clear-eyed about recognising that threat and developing a means to deal with it," Tillerson said.
President-elect Donald Trump had vowed to temporarily ban Muslim travel and immigration to the country after a wave of terrorist attacks carried out or inspired by the Islamic State in Europe and the US.
He has since walked back that promise, instead saying he would ban immigration from countries where terrorism is prevalent.
Tillerson, however, said he would require more information on how the government would approach constructing a registry of Muslims before he would consider lending his support to creating one.
"I would need to have a lot more information around how such an approach would even be constructed. And if it were a tool for vetting, then it probably extends to other people as well - other groups that are threats to the US," he said.
Tillerson said the US must win the war against Islamic terrorists not just on the battlefield, but must triumph in the war of ideas.
Tillerson said that because of his past work, he has travelled extensively to Muslim countries.
Full report at:
business-standard.com/article/international/rex-tillerson-opposes-blanket-ban-on-muslims-entry-into-us-117011200332_1.html
URL: https://newageislam.com/islamic-world-news/new-age-islam-news-bureau/qazis-have-no-power-to-declare-marriages-invalid--madras-high-court/d/109697
New Age Islam, Islam Online, Islamic Website, African Muslim News, Arab World News, South Asia News, Indian Muslim News, World Muslim News, Womens in Islam, Islamic Feminism, Arab Women, Womens In Arab, Islamphobia in America, Muslim Women in West, Islam Women and Feminism, Moderate Islam, Moderate Muslims, Progressive Islam, Progressive Muslims, Liberal Islam