New Age Islam News Bureau
24 Feb 2014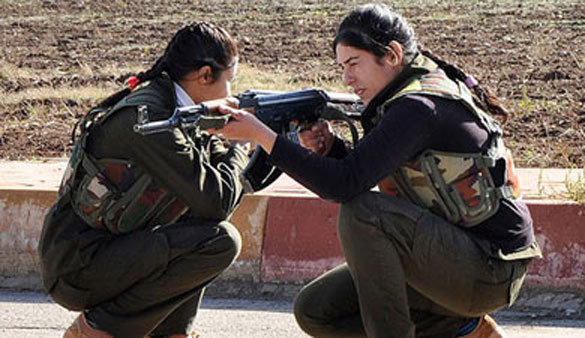 Kurdish female fighters of the Kurdish People's Protection Units are seen in training at a military camp in Hassakeh, Dec. 9, 2013. (photo by REUTERS/Rodi Said)
--------------
Pakistan
• Qaeda now relying on Punjabi Taliban instead of Pashtuns
• Bombing kills 14 at northwest Pakistan bus Terminal
• Pakistan's harsh blasphemy law under scrutiny
• Coordinator unaware how Taliban want to enforce Sharia
• Jamaat-i-Islami asks PM to seek Mullah Omar's help for peace
• MQM Chief says Taliban someone else's puppets
• Five killed in Balochistan violence
• Gunmen kill senior TTP commander in Miranshah: Officials
• Police bust Iranian gang having 'Pak nationality'
• Drop war, play cricket: Nisar to TTP
India
• In Ayodhya, Officials Stall Repairs To Crumbling Mosques
• West Bengal CM Presents Her Case before Shahi Imam of Jama Masjid, Delhi
• Workshop focuses on improving education for Indian Muslims
Arab World
• Syrian Citizens, Arab, French Figures March in Paris in Support of Syria
• Iraq violence kills 14
• Blasts, clashes in Bahrain Shia village
• European Hezbollah combat recruits depart for Syria
• Egypt's military-backed government resigns
• Syrian rebel who was Osama's friend killed by rival Islamists
• Difficulties Facing UNRWA Caused by Terrorist Groups in Areas Hosting Palestinians
• Dutch Jihadists Fighting in Syria, Deep Concern for Dutch Government
• Saudi Grand Mufti urges people to donate for Syrians
North America
• Terror war harmed regional heritage: US Ambassador to Pakistan
• US fears 'fragment' of Syrian state, says Obama advisor
• US slams attacks by Boko Haram
• Barack Obama wins first prize at 'Islamophobia awards'
• Obama invites Abbas to Washington for talks following Netanyahu's visit
• Time to get tough on Turkey's Erdogan, US foreign policy experts tell Obama
Mideast
• Iran agrees to modify film 'Hussein, Who Said No' after clerics' protests
• Ultra-Orthodox draft law defuses Israel's 'existential threat'
• 7,000 spied on in Turkey under 'terrorism' excuse
• Netanyahu: Kerry's peace efforts 'only way' to peace
• Turkey denies Taliban office opened in Ankara
• The threat of Israel boycotts more bark than bite: Analysts
Africa
• 18 African Countries in Niger for Joint Military Exercise against Terrorism
• Full face veil sparks heated debate in Tunisia
• Kenya: Punjabi Muslim Association Launched in Mombasa
• Libyan human rights organisation sets precedent in Maghreb
• Somali journalist seeking asylum records refugees' plight in Hong Kong
• Nigeria Boko Haram crisis: Anger over second Izghe raid
Europe
• European Christians fighting with Syria Kurdish factions
• EU expresses concern over extrajudicial killings, civil rights in Bangladesh
• Tough times inside the German-Israel marriage
• Russian military delegation arrives in Egypt
• Russia, Palestine propose new Mideast Quartet talks on Israel-Palestine peace
• Tajik President Rahmon, US diplomat look into Afghan situation
South Asia
• PM Sheikh Hasina: BNP-Jamaat e Islami behind militancy
• Supreme Court's contempt trial against E C "unjust", says Nasheed
• Saudi prince's Maldives visit makes global headlines
• Freed militant shot to death in Bangladesh
• Border raid: Karzai seeks Pak help as 21 soldiers killed
• Over 40 universities in China teach Arabic
• War crimes trial: Tortured freedom fighter seeks justice
Southeast Asia
• Rising Islamic conservatism in Malaysia
• Isma questions motive of Christian missionaries in giving out Bahasa leaflets
• 'Allah' banned in Herald due to different readership, says Idris Jala
Compiled by New Age Islam News Bureau
URL: https://www.newageislam.com/islamic-world-news/new-age-islam-news-bureau/qaeda-now-relying-on-punjabi-taliban-instead-of-pashtuns/d/35909
------------
Pakistan
Qaeda now relying on Punjabi Taliban instead of Pashtuns
Feb 24, 2014
ISLAMABAD - Pakistani security apparatus is these days keenly and minutely observing the near future course of action and designs of al-Qaeda elements in North Waziristan as intermittent targeted operation against the militant groups operating under the banner of Tahreek-i-Taliban Pakistan (TTP) continues in those areas and elsewhere, sources in the tribal agency said.
For the moment, the only consolation in these testing times when Pakistan military is taking on TTP and foreign fighters is the operational reliance of al-Qaeda and TTP on Punjabi Taliban, especially in areas of the country other than KPK. Security officials have often pointed out fingers towards Punjabi Taliban for providing support and logistic facilities to al-Qaeda and TTP for carrying out devastating terrorist attacks in urban areas and military installation of Pakistan, in the past. Lately, political expediency and pressure from ideological based leaders in Pakistan has helped in neutralising Punjabi Taliban as far as terrorist strikes in Pakistan are concerned, it was reliably learnt.
Qaeda-affiliated group led by Ustad Ahmed Farooq these days is present in Miran Shah area of North Waziristan but is mysteriously silent operationally. Some security officials believe this is the most potent force in the al-Qaeda arsenal and could prove devastating if unleashed in urban areas of the country. Badar Mansoor Group, Saifur Rehman Saifi, Asmatullah Muavia, Adnan Rashid are other known powerful figures and groups who have close links with al-Qaeda. Punjabi Taliban are now considered the core of al-Qaeda in Pakistan's tribal and settled areas.
"Instead of Pushtun elements, al-Qaeda relies on Punjabi Taliban and foreign fighters including Arabs, Chachens, Uzbaks," said an observer who interacts with TTP as well as pro-Pakistan military tribal men on regular basis. Many of these al-Qaeda affiliate and sympathiser groups are these days operating out of North Waziristan tribal area reportedly while rest of their operators and supporters keep a low profile in settled areas of KPK and other parts of the country.
This is why the Pakistani Interior Minister Ch Nisar Ali Khan recently rubbished a television report which termed capital Islamabad and twin city Rawalpindi as very dangerous in presence of al-Qaeda sleeper cells. Some Pakistani security officials believe as far as Punjabi Taliban remain neutralised, the terrorist threat level in cities and towns remains very low. Political steps and persuasion by PML-N led by Sharifs has played a major role in pacifying Punjabi Taliban and distancing them from TTP during the last few months.
Independent terrorism experts believe, al-Qaeda, now basically comprising foreign fighters, has been operationally silent in towns and cities of Pakistan for many months now. Since reported exodus of its main leadership from this area over various reasons, it is relying operationally on powerful groups of Punjabi Taliban like Asmatullah Muavia, the same person who annoyed the slain TTP Chief Hakimullah Mehsud when he favoured talks with Pakistani government.
Asmatullah, sources believe, is ideologically very close to Malik Ishaq, Lashkare Jhangvi leader having proximity with some ruling party leaders. Later on, Hakimullah also agreed on talks but was killed by an American drone late last year, which annoyed the Pakistani government greatly which was seriously and secretly pursuing contacts with the slain TTP chief.
The strong group of Punjabi Taliban led by Asmatullah Muavia has been openly favouring peace talks with the government since the peace overtures started from TTP and government ranks. Muavia took over reigns of this group after the death of Usman Punjabi who was blamed for high profile attacks on Pakistan Army Headquarters, Parade Line Masjid attack in Rawalpindi, attacks on Manawan Elite police training institute Lahore, and attack on an Ahmadi mosque in Lahore.
Saifur Rehmnan Saifi has been blamed for Church attack in Peshawar. Adanan Rashid, who now remains elusive in tribal areas of Pakistan after the infamous Bannu jail break, was a former Pakistan Air Force technician and he was also blamed for attacks on Ex-President General retired Pervez Musharraf.
http://www.nation.com.pk/national/24-Feb-2014/qaeda-now-relying-on-punjabi-taliban-instead-of-pashtuns
------------
Bombing kills 14 at northwest Pakistan bus Terminal
Feb 24, 2014
A bomb planted at a busy bus terminal near a police station in northwest Pakistan killed 14 people and wounding 15 near the country's lawless tribal region, authorities said.
The explosion on Sunday targeted passengers in a motorized rickshaw and those on a minibus in Kohat, some 150 kilometers (100 miles) west of the capital, Islamabad, police official Iqbal Khan said.
No one immediately claimed responsibility for the attack, though Kohat has seen past attacks by local Taliban fighters and allied sectarian groups against its minority Shiite population, which has a presence in the city and its outskirts.
Mr. Khan and police official Fazal Naeem said the vehicles targeted were bound for a Shiite-majority area, and suspected that the minority Muslims could have been the target of the attack.
North-western provincial police chief Nasir Durrani said security forces have been conducting counterinsurgency operations in the area.
Local Taliban militants have killed tens of thousands of Pakistanis in a bloody war against the state in a bid to overthrow the government and enforce their own harsh brand of Islamic Shariah law.
Pakistan's government recently started peace talks with the Taliban, but negotiations were suspended after the killing of 23 soldiers by a faction of the militant group and a militant-claimed bombing in southern port city of Karachi that killed 13 police officers.
Air force jets have been pounding militants' hideouts in various tribal regions near the Afghan border since the peace talks collapsed last week.
In the latest strikes, the air force hit militants' compounds and a bomb-making factory in the Tirah valley in Khyber tribal region, an army and an intelligence official said on late Sunday. They claimed that at least 28 militants were killed.
They spoke on condition of anonymity because they were not authorized to talk to the media on record.
There was no way to independently confirm the report. The remote tribal area is off limits to journalists.
Both the Pakistani government and the local Taliban are demanding each other to initiate a cease-fire first to resume the talks.
Pakistani Prime Minister Nawaz Sharif long has favoured peace talks over military action to end the bloodshed in the northwest, but he is also under pressure from critics to retaliate for any Taliban violence.
One of the critics is an ethnic political party based in Karachi called the Muttahida Qaumi Movement.
The party on Sunday held an anti-Taliban rally to express solidarity with Pakistan's security forces. Thousands of people demonstrated and were addressed by the party leader Altaf Hussain by phone from London.
"Taliban are cancer for Pakistan. Taliban are cancer for the humanity," he said.
http://www.thehindu.com/news/international/south-asia/bombing-kills-14-at-northwest-pakistan-bus-station/article5721638.ece
------------
Pakistan's harsh blasphemy law under scrutiny
Feb 24, 2014
ISLAMABAD — Mohammad Asghar, a 69-year-old paranoid schizophrenic, faces a death sentence in Pakistan for claiming to be the Prophet Mohammed in letters written to officials and police in 2010.
The retired British national of Pakistani descent is partially paralyzed after a stroke, but Pakistani courts have so far refused to acknowledge his physical and mental limitations.
The charges against Asghar recall the case of Rimsha Masih, a teenage girl who was alleged to have dumped torn and burnt pages of the Quran into a garbage heap nearly two years ago. Rimsha, who is Christian, was also arrested under Pakistan's blasphemy law, which stipulates a life sentence for defiling the Quran.
Later, it emerged that the torn and burnt pages were from an Arabic primer. Rimsha, whose lawyers claim she is developmentally disabled, was granted bail and whisked away in a helicopter amid tight security.
The Pakistan Penal Code prohibits blasphemy against any recognized religion, providing penalties ranging from life imprisonment to death.
The law has been widely abused in Pakistan, where about 247 blasphemy cases have been registered, affecting the lives of 435 people since 1987, according to a 2013 report from the Center for Research and Security Studies (CRSS), an independent think tank based in Islamabad.
Though the courts have not sentenced anyone to death for blasphemy, 52 Pakistanis have fallen prey to extrajudicial killings as a result of blasphemy charges. According to the CRSS research, 25 were Muslims, 15 Christians, five Ahmadis, one Buddhist and one Hindu.
The growing misuse of the blasphemy law has riled some Pakistanis and, increasingly, foreign powers. British Prime Minister David Cameron said he was "deeply concerned" about Asghar's conviction. British Foreign Minister Sayeeda Warsi spoke to Punjab Chief Minister Shahbaz Sharif about restoring a moratorium on death penalty convictions for blasphemy. Sharif, younger brother of Pakistan Prime Minister Nawaz Sharif, reportedly assured Warsi a review of the death penalty freeze was forthcoming.
Pakistan risks losing vital British support for greater trade access with the European Union if it does not agree to a moratorium on the death penalty sentences for blasphemy convictions.
But Babar Sattar, a popular columnist for the Dawn newspaper and a constitutional lawyer, said that after two high-profile killings, the mood has become so coercive that "a demand for amending the law is translated as blasphemy in itself."
On Jan. 4, 2011, Punjab province's outspoken governor Salman Taseer was shot 27 times from close range by his security guard Malik Mumtaz Qadri for favoring review of the blasphemy law.
Two months later, Minister for Religious Affairs Shahbaz Bhatti, a Roman Catholic, was shot dead for questioning the law. Though the Waziristan-based Taliban has admitted killing him, no one has been arrested for the crime.
"One way of curbing abuse of the blasphemy law can be to award life imprisonment or death sentence for the false accuser," said Tahir Ashrafi, a Muslim activist.
In rural areas of Sindh and Punjab province, Hindus and Christians have been forced to flee their homes after being threatened with accusations of insulting the Quran or the Prophet Mohammed.
Azhar Hussain, president of the Islamabad-based Peace & Education Foundation, which works for educational enhancement and religious reconciliation, believes the law leaves room for vigilantism owing to the weakness of law and order in the country.
"If Islamabad can't suspend the law till its enforcement procedure is improved, the public needs to be educated about spirit and intent of the law," Hussain said.
In one instance, Sajjad Farooq — who had memorized the Quran by heart — was beaten to death by a mob in the Punjab province on suspicion of committing blasphemy in 1995.
Aslam Khaki, a Supreme Court lawyer with doctorate degree in Shariah law, suggested that a committee consisting of religious scholars, lawyers and civil servants should examine each allegation before a charge is brought.
Through the years, those accused of blasphemy have sometimes been smuggled out of Pakistan to Europe to allow tempers to die down. In June, Canada's CBC News reported that Rimsha now lives at an undisclosed location in Toronto with her parents and siblings.
Asghar's lawyers have appealed and are hoping for the best.
http://www.usatoday.com/story/news/world/2014/02/23/pakistan-blasphemy-law-quran-religion/5641827/
------------
Coordinator unaware how Taliban want to enforce Sharia
Feb 24, 2014
LAHORE - The coordinator of the three-strong committee nominated by the Taliban for peace talks with a similar body constituted by the government says he doesn't know how the Taliban plan to implement the Islamic system in the country.
"I can't say what is in their mind; only they know what is in their mind", said Maulana Yousaf Shah while talking to TheNation by phone on Sunday.
He was asked to enlist in sequence steps the Taliban want the government to take for the enforcement of the Islamic system.
"We'll not like to be dragged into such controversies. TTP spokesman Shahidullah Shahid is the right man to answer this question," said Maulana Yousaf.
JUI-S Amir Maulana Samiul Haq and Jamaat-i-Islami's Senator Ibrahim Khan are other members of the committee.
Although Maulana Samiul Haq and Senator Ibrahim Khan say the 1973 Constitution is "not un-Islamic", TTP spokesman Shahidullah Shahid insists that the Taliban don't recognise this document and want Quran and Sunnah as the supreme law.
Maulana Yousaf Shah was told that it appears that the committee members and the Taliban are not on the same page on this important question.
In response, he said if there was any confusion on the subject it would be resolved.
"Nobody should worry about this. Whenever we reach some result, we'll inform the media."
About the possibility of resumption of talks with the government-nominated committee, Maulana Yousaf Shah said there was no alternative to negotiations. He said he could not say whether the talks would take one day, one week, one month or more time to yield results, this was the only mechanism which could be relied upon.
He said he was "1,000 per cent" sure that talks would ultimately help bridge the gulf between the two sides.
Maulana Yousaf Shah did not offer any comment on the ISPR's claim that no child or any woman was in the custody of the army.
"The claim that people falling in such categories were with the army had been made by the Taliban; the denial came from the ISPR; I cannot give my opinion on the subject."
Asked if he invited the Taliban's attention to the denial issued by the ISPR, Maulana Yousaf Shah said he would not like to discuss the matter in the media even if he had taken it up with the Taliban.
"I am not a Mufti," replied Maulana Yousaf Shah when asked about the religious status of those killed at the hands of Taliban in various suicide attacks.
"Shouldn't the Taliban leaders, who demand enforcement of sharia, offer Qisas or Diyet to the bereaved families of those killed in such attacks?" he was asked.
The TTP committee member said: "We'll see what's our legal and Islamic obligation in such cases."
The talks between the government and the TTP committee remain suspended on account of differences on various issues.
The government committee wants the Taliban to stop attacks and recognise the 1973 Constitution before the resumption of talks.
However, TTP leaders say that it was the government which had started the war, so the ceasefire should be announced by them.
As for the recognition of the 1973 Constitution, TTP spokesman had said only a couple of days ago that Quran and Sunnah alone were acceptable to them.
http://www.nation.com.pk/national/24-Feb-2014/coordinator-unaware-how-taliban-want-to-enforce-sharia
------------
Jamaat-i-Islami asks PM to seek Mullah Omar's help for peace
Feb 24, 2014
PESHAWAR/NOWSHERA: Jamaat-i-Islami chief Syed Munawar Hasan has asked Prime Minister Nawaz Sharif to seek help from Afghan Taliban supreme leader Mullah Mohammad Omar for restoration of peace.
"The prime minister should send a delegation to Mullah Omar and seek his help for the restoration of peace in Pakistan," he suggested while addressing party workers at the JI provincial secretariat here on Sunday.
He proposed that Mr Sharif should arrange a joint meeting of the two negotiation committees to pave the way for peace in the Federally Administered Tribal Areas.
He said that the military leadership could also be included in the talks. Prof Mohammad Ibrahim and other leaders of the party were also present on the occasion, said a press release.
Full report at:
https://www.dawn.com/news/1089116/ji-asks-pm-to-seek-mullah-omars-help-for-peace
------------
MQM Chief says Taliban someone else's puppets
Feb 24, 2014
KARACHI - Pakistan's sovereignty has been endangered by the growing menace of terrorism, warranting immediate measures for security of the nation.
Muttahida Qaumi Movement chief Altaf Hussain expressed these views while addressing a rally organised to express solidarity with the armed forces, here on Sunday. He said that the Taliban were being used to destabilise Pakistan. He said that about three years ago at a press conference in 2011, he had warned about the terrorists gaining power and influence, but the political forces did not take the matter seriously.
Full report at:
http://www.nation.com.pk/national/24-Feb-2014/altaf-says-taliban-someone-else-s-puppets
------------
Five killed in Balochistan violence
2014-02-23
QUETTA: At least five alleged assailants were killed during an exchange of fire with security forces in Balochistan's Turbat area on Sunday night, police said.
A police officer who requested anonymity, since he was not authorised to speak to the media, told Dawn.com that armed militants attacked the convoy of Frontier Corps (FC) in Chah-e-Sar area of Turbat.
He said the FC personnel quickly retaliated and five gunmen were killed on the spot. The officer stated that the FC recovered weapons from the possession of militants.
The dead bodies were shifted to Turbat hospital.
Full report at:
https://www.dawn.com/news/1088965/five-killed-in-balochistan-violence
------------
Gunmen kill senior TTP commander in Miranshah: Officials
February 24, 2014
MIRANSHAH: Unidentified gunmen on Monday killed a senior commander of the Tehreek-e-Taliban Pakistan (TTP) who had a government bounty on his head, officials and family said.
Asmatullah Shaheen, a former interim chief of the banned group was ambushed in Dargah Mandi village near Miranshah, the main town of North Waziristan.
"Unknown attackers opened fire on Asmatullah Shaheen's car. He along with three associates died on the spot," a security official in Miranshah told AFP.
A close relative of Shaheen told AFP that two other people travelling in the car were critically wounded.
Full report at:
http://tribune.com.pk/story/675515/gunmen-kill-senior-ttp-commander-in-miranshah-officials/
------------
Police bust Iranian gang having 'Pak nationality'
February 24, 2014
ISLAMABAD - Islamabad police Sunday claimed to have arrested two members of criminal gang of Iran nationals who have been issued computerised national identity cards, an embarrassing development that put a serious question mark on the credibility of Nadra (National Database and Registration Authority).
The gang comprising four Iranians includes a young lady and police said they have been involved in various crimes of heinous nature in the federal capital. They all had managed to get CNIC of Pakistan and have been living here for several years.
A team of Kohsar Police arrested Mohammad Ehsan, the ring leader and his associate Sumera Irani, mother of a child, two days back from jurisdiction of Kohsar police station. However, their other two companions managed to escape.
Full report at:
http://www.nation.com.pk/islamabad/24-Feb-2014/police-bust-iranian-gang-having-pak-nationality
------------
Drop war, play cricket: Nisar to TTP
2014-02-24
ISLAMABAD: Interior Minister Chaudhry Nisar Ali Khan on Monday invited the Pakistani Taliban to play cricket, saying members of the outlawed group were avid viewers of the matches Pakistan played and that the approach will end up in a positive outcome, DawnNews reported.
He was speaking to media representatives after striking a few shots during an event where he was the chief guest.
Nisar said the Taliban appeared to have much interest in cricket, adding that they should drop the path of war and mayhem and instead play cricket.
Full report at:
https://www.dawn.com/news/1089154/drop-war-play-cricket-nisar-to-ttp
------------
India
In Ayodhya, Officials Stall Repairs To Crumbling Mosques
OMAR RASHID
Feb 24, 2014
More than 20 years after right-wing activists demolished the Babri Masjid, other mosques and Muslim shrines in the city still wear scars of the day's violence. Twenty-two mosques and dozens of shrines were damaged in mob attacks on December 6, 1992, but repairs have been blocked by the district administration.
One of the mosques in question is the Dorahi Kuan Masjid, located close to the disputed site. The mosque, according to its caretaker Mushtaq Ahmed, resembled the Babri.
On December 6, 1992, Ahmed and his family had a close shave as they were evacuated to Faizabad in an ambulance, but Kar Sevaks brought down the wall enclosure, the main door and all three domes of the mosque, leaving only the middle wall standing. On his return to Ayodhya four months later, Ahmed tried to repair the mosque but was reportedly prevented by the administration, which cited official rules.
Full report at:
http://www.thehindu.com/news/national/other-states/in-ayodhya-officials-stall-repairs-to-crumbling-mosques/article5719801.ece
------------
West Bengal CM Presents Her Case before Shahi Imam of Jama Masjid, Delhi
Feb 24, 2014
Anna Hazare on her side, Mamata Banerjee now seems to be eyeing the endorsement of Shahi Imam of Delhi's Jama Masjid Syed Ahmed Bukhari. She is the only leader to have replied to Bukhari's letter to political parties and chief ministers on the implementation of the Sachar Committee recommendations.
For Mamata, the support of both Hazare and Bukhari, if she does get it, would come at a time when she has been positioning her party for a bigger national role. Bukhari has already welcomed her decision not to meet US ambassador Nancy Powell, reportedly in deference to Muslim sentiments.
Full report at:
http://indianexpress.com/article/india/politics/anna-won-didi-presents-her-case-before-bukhari/
------------
Workshop focuses on improving education for Indian Muslims
Feb 24, 2014
"It is very important for everyone to find ways and means to improve our existing education system, and motivate community members to spread knowledge," Maulana Malik Uzair Falahi, a well-known community member of Uttar Pradesh Overseas Welfare Association (UPOWA), said.
He was speaking at a workshop organized by UPOWA on "Importance of Education and its Objectives" to raise awareness about the importance of education as a tool for success on Friday.
The workshop's aim was to bring about awareness among community members on the educational conditions in the entire Muslim world. It also focused on the available resources and their utilization, solutions and hopes in the field of Islamic and universal education.
"Education is the most important part of life. Our aim is to motivate community members to invest heavily in the education of children," he said.
Full report at:
http://www.arabnews.com/news/530351
------------
Arab World
Syrian Citizens, Arab, French Figures March in Paris in Support of Syria
Feb 24, 2014
Citizens of Syrian community, Arab and foreign figures in France took to the streets in Paris showing support to Syria and its army in the face of the terrorist groups and rejecting the foreign interference in Syria's domestic affairs.
The march set off from the main square of Saint-Michel in Paris, crossing the streets into the Pantheon square, during which the participants expressed solidarity with the country and its army in combating terrorism, Syrian Arab News Agency reported Sunday.
They condemned the foreign interference in Syria's affairs through backing a number of terrorist gangs which kill the Syrians and loot their economy and resources.
Full report at:
http://english.farsnews.com/newstext.aspx?nn=13921205000397
------------
Iraq violence kills 14
Feb 24, 2014
Bombings and shootings in Iraq, including two blasts in the capital, killed at least 14 people, officials said, as the country struggles to curb a year-long surge in violence.
The deadliest attack was a bomb that exploded on a highway between Baghdad and the northern city of Mosul, killing three police and four detainees who had been captured during a raid.
In north Baghdad, a roadside bomb exploded near bicycle shops in the Sadr City area, killing at least two people and wounding at least seven, while another bombing in the Hurriyah area wounded at least three more people.
Three shootings in the northern city of Mosul -- one of the most dangerous parts of the country -- killed four people, including the brother of a provincial councillor and a health directorate employee.
Full report at:
http://english.ahram.org.eg/NewsContent/2/8/95061/World/Region/Iraq-violence-kills-.aspx
------------
Blasts, clashes in Bahrain Shia village
Feb 24, 2014
Two homemade bombs exploded overnight in a Shia village west of Manama as Bahraini police clashed with rioters, police said Monday while the opposition accused authorities of attacking mourners.
Shia villages frequently witness clashes between security forces and protesters demanding Bahrain's ruling Sunni Khalifa family to surrender its grip on all key cabinet posts in favour of an elected government.
The bombs exploded as "security forces were confronting acts of sabotage, blocking of roads and attacks with molotov cocktails," police said in an English-language statement published by the official BNA news agency.
Full report at:
http://english.ahram.org.eg/NewsContent/2/8/95087/World/Region/Blasts,-clashes-in-Bahrain-Shia-village.aspx
------------
European Hezbollah combat recruits depart for Syria
Feb 24, 2014
BERLIN – The Lebanese militia organization Hezbollah recruited combatants in Europe to bolster Syrian President Bashar Assad's regime in its war against rebel fighters.
According to an article in the Beirut- based The Daily Star last week, officials from March 14 – a largely pro-Western Lebanese political coalition opposed to Assad's interference – had received security information about new Eastern European mercenaries arriving at the Rafik Hariri International Airport, in groups, on their way to Syria, presumably to fight alongside Assad's regime.
"According to the one Eastern European country's intelligence unit, most of these fighters have professional military experience and have fought in Chechnya."
Full report at:
http://www.jpost.com/Middle-East/European-Hezbollah-combat-recruits-depart-for-Syria-342342
------------
Egypt's military-backed government resigns
Feb 24, 2014
Egyptian Prime Minister Hazem el-Beblawi announced on Feb. 24 that the government is to resign. "Today the cabinet took a decision to offer its resignation to the president of the republic," Beblawi said in a televised statement. He gave no clear reason for the decision.
The step will likely to pave the way for army chief Field Marshal Abdel Fattah al-Sisi to declare his candidacy for president.
Egypt's state-run al-Ahram, citing an unnamed source in a report on its website, said the decision was made after a 15-minute cabinet meeting. For Sisi to run for president, he would first need to leave his post of defence minister.
Full report at:
http://www.hurriyetdailynews.com/egypts-military-backed-government-resigns-.aspx?pageID=238&nID=62851&NewsCatID=352
------------
Syrian rebel who was Osama's friend killed by rival Islamists
Reuters | Feb 24, 2014
BEIRUT: A Syrian rebel commander who fought alongside al-Qaida founder Osama bin Laden and was close to its current chief, Ayman al-Zawahiri, was killed by a suicide attack on Sunday, intensifying infighting between rival Islamist fighters.
The Observatory for Human Rights in Syria said Abu Khaled al-Soury, also known as Abu Omair al-Shamy, a commander of the Salafi group Ahrar al-Sham was killed along with six comrades by al-Qaida splinter group the Islamic State of Iraq and the Levant (ISIL). It said al-Soury had fought in Iraq and Afghanistan.
Al-Soury's death will fuel the infighting among jihadis fighting President Bashar al-Assad, a violent rivalry that has killed hundreds of fighters in recent months, rebels said.
Two rebels told Reuters that five ISIL members had entered Ahrar al-Sham headquarters in Aleppo, engaged its fighters and then one ISIL fighter blew himself up.
Full report at:
http://timesofindia.indiatimes.com/world/middle-east/Syrian-rebel-who-was-Osamas-friend-killed-by-rival-Islamists/articleshow/30927277.cms
------------
Difficulties Facing UNRWA Caused by Terrorist Groups in Areas Hosting Palestinians
Feb 24, 2014
Syria's Deputy Prime Minister and Foreign Minister Walid al-Moallem stressed that the challenges and difficulties facing the United Nations Relief and Works Agency for Palestine Refugees in the Near East (UNRWA) in Syria are a result of the practices committed by the terrorist groups in areas hosting the Palestinian refugees.
During a meeting with Filippo Grandi, Commissioner-General of UNRWA, and the accompanying delegation, al-Moallem hailed the efforts exerted by the international agency in Syria, stressing the Syrian government's keenness to continue to host the Palestinian refugees until they get the right to return to their homeland of Palestine, SANA reported Sunday.
Full report at:
http://english.farsnews.com/newstext.aspx?nn=13921205000467
------------
Dutch Jihadists Fighting in Syria, Deep Concern For Dutch Goverment
Feb 24, 2014
TEHRAN (FNA)- There is tremendous concern for extremists who are attracted to Syria, engage in combat, get training and now they want back to their countries and conduct more terrorist acts.
http://english.farsnews.com/player.aspx?nn=13921204000303
----------
Grand Mufti urges people to donate for Syrians
Feb 24, 2014
RIYADH — Saudi Arabia's Grand Mufti and President of Council of Senior Scholars and General Presidency of Scholarly Research and Ifta Sheikh Abdulaziz Bin Abdullah Al-Sheikh has appealed to citizens and residents, especially the wealthy to contribute generously to the Saudi National Campaign to Support Brothers in Syria
While lauding Custodian of the Two Holy Mosque King Abdullah's generous support, Al-Sheikh called on all Saudis to deliver their donations through the campaign, the sole agency to receive donations and aid to our brothers in Syria.
He commended the role being played by the Saudi National Campaign to support the Syrian people, particularly its general supervisor, Minister of Interior Prince Muhammad Bin Naif for his efforts for the relief of the Syrian people, support for their cause and alleviation of their sufferings.
Full report at:
http://www.saudigazette.com.sa/index.cfm?method=home.regcon&contentid=20140224196719
------------
North America
Terror war harmed regional heritage: US Ambassador to Pakistan
February 24, 2014
LAHORE - US Ambassador to Pakistan Richard G Olson has said that operation against militants or holding peace negotiations with them is an eternal matter of Pakistan and the US has no position in this regard.
Talking to media after addressing the participants at Lahore Literary Festival (LLF) at Alhamra Arts Centre on Sunday, the American ambassador accepted terror war had a bad impact on historical structures in the region especially in Iraq and Afghanistan. He said a number of projects were underway for conservation of cultural heritage. In this regard, three different projects are also going on in Lahore including Masjid Wazir Khan, he added. Olson said Lahore was very important city of South Asia and the world also due to its cultural significance. That is why, he said, they had supported LLF.
Full report at:
http://www.nation.com.pk/national/24-Feb-2014/terror-war-harmed-regional-heritage-olson
------------
US fears 'fragment' of Syrian state, says Obama advisor
Feb 24, 2014
WASHINGTON – US national security adviser Susan Rice suggested a subtle shift in American priorities in Syria on Sunday, indicating that the embattled country could soon become a breeding ground for terrorist cells hoping to operate worldwide.
The US still hopes embattled President Bashar Assad will step down from power, but now concerns itself primarily with the fragmentation of Syria, Rice said.
"First of all, we don't want to see terrorists and the terrorist threat emanate from Syria," Rice said. "We don't want to see the state fragment."
While Rice called the deaths of over 130,000 Syrians thus far in the ongoing conflict "horrific," she added, "this is not a genocide."
Full report at:
http://www.jpost.com/Syria/US-fears-fragment-of-Syrian-state-says-Obama-advisor-342351
----------
US slams attacks by Boko Haram
Feb 24, 2014
Washington - US Secretary of State John Kerry on Sunday condemned last week's attacks in Nigeria by the Islamist group Boko Haram and underscored a commitment to help Nigerian authorities crack down on the militants the United States deems a terrorist organisation.
"Unspeakable violence and acts of terror like the ones committed by Boko Haram last week in northern Nigeria are horrific, wrong and have no place in our world," Kerry said in a statement.
Boko Haram gunmen killed about 100 people in the north-eastern Nigeria town of Bama on Wednesday, storming the town, firing on a school, shooting or burning to death dozens of people and trashing the palace of a traditional ruler of one of West Africa's oldest Islamic kingdoms.
Full report at:
http://www.iol.co.za/news/africa/us-slams-attacks-by-boko-haram-1.1651649#.UwsJa-NdUqM
------------
Barack Obama wins first prize at 'Islamophobia awards'
Feb 24, 2014
US president Barack Obama has won first prize at the toung-in-cheek Islamophobia awards for for his nations unrelenting drone attacks.
Obama had been nominated by the public for "just about everything" - a charge that covers his continuation of drone strikes in the Muslim world as well as the failure to close the notorious Guantanamo Bay detention centre, and the introduction of the National Defense Authorisation Act that effectively 'Guantanamises' the whole USA.
Obama came in streets ahead of a gallery of fellow rogues which included other prominent politicians including French President Francois Hollande - cited for his country's invasion of Mali - and the British Home Secretary Theresa May for a host of sins including extraditing Asperger's sufferer Talha Ahsan to the United States, stripping Muslims of their citizenship, and most recently thinking about applying "anti-terror" ASBO-style punishments for British Muslims who are merely "suspected" of so-called terrorist activities.
Full report at:
http://www.asianimage.co.uk/news/united_kingdom/11024787.Barack_Obama_wins_first_prize_at__Islamophobia_awards_/?ref=var_0
------------
Obama invites Abbas to Washington for talks following Netanyahu's visit
Feb 24, 2014
U.S. President Barack Obama has invited Palestinian Authority President Mahmoud Abbas to meet with him in Washington, officials in Ramallah said Monday.
The Palestinian officials said that the meeting was due to take place sometime after Prime Minister Benjamin Netanyahu's own talks with Obama in early March. An exact date has not yet been set, but the invitation was received by the Muqata, the Palestinian Authority's headquarters in Ramallah.
Given the lack of progress in the peace talks with Israel, there had been some expectation in Ramallah that such an invitation would be forthcoming.
Haaretz has learned that despite the pessimism felt by the Palestinians after the most recent round of talks between Abbas and U.S. Secretary of State John Kerry in Paris last week, another round was scheduled to take place next week between the Palestinians and Kerry's team.
Full report at:
http://www.haaretz.com/news/diplomacy-defense/.premium-1.576044
----------
Time to get tough on Turkey's Erdogan, US foreign policy experts tell Obama
Feb 24, 2014
Bipartisan group of wonks, lawmakers urge US president to publicly chide Turkish PM for "undermining democracy."
A group of over 80 bipartisan lawmakers and foreign policy wonks are appealing to US President Barack Obama to take a more forceful, public stand against Turkish Prime Minister Recep Tayyip Erdogan's efforts to "diminish the rule of law" and "undermine democracy."
The letter, whose existence was first reported on by The Daily Beast online news site, comes during tense times in Turkey, with Erdogan conducting a shake-up of the law enforcement and judicial establishments in order to shore up his hold on power.
Full report at:
http://www.jpost.com/Diplomacy-and-Politics/Time-to-get-tough-on-Erdogan-US-foreign-policy-experts-tell-Obama-342287
----------
Mideast
Iran agrees to modify film 'Hussein, Who Said No' after clerics' protests
Feb 24, 2014
TEHRAN -- The Iranian Ministry of Culture and Islamic Guidance has agreed to modify "Hussein, Who Said No" after protests by two clerics on the depiction of the depiction of members of Shia imams' households in the film, which is about the tragedy of Ashura.
"The viewpoints of the Ulema about 'Hussein, Who Said No' will be taken into consideration," Iran Cinema Organization Director Hojjatollah Ayyubi said during a meeting with Ayatollah Nasser Makarem Shirazi in Qom on Thursday.
The depiction of Prophet Muhammad (S) and his household (AS) in any art production are not allowed.
Ayatollah Makarem Shirazi sent a letter to Ayyubi last week protesting the depiction of members of Shia saints in the film, which premiered at the 32nd Fajr International Film Festival held In Tehran from February 1 to 11.
Full report at:
http://tehrantimes.com/arts-and-culture/114219-culture-ministry-agrees-to-modify-controversial-film-after-clerics-protests
------------
Ultra-Orthodox draft law defuses Israel's 'existential threat'
Feb 24, 2014
When the Jewish state was established in 1948, founder and first Prime Minister David Ben-Gurion promised to allow some 400 rabbinical college students of military age to continue studying the Torah without interruption. They would not be drafted into the Israel Defense Forces (IDF) like any other young Israeli, and they would not have the same normal obligations incumbent upon other citizens of the young state, which fought for its survival from the moment it was born.
At the time, Ben-Gurion had many other problems to deal with, including five Arab countries that attacked the Jewish state to destroy it. His historic promise wasn't considered to be a genuine problem. No one imagined that within a generation or two, the number of people studying the Torah would double, triple, quadruple, and continue to soar at an exponential rate. Today, each class of young ultra-Orthodox Jews of draft age, numbers 15,000 rabbinical college students. Since military service in the IDF lasts three years (for men), the number of ultra-Orthodox Jews who should be serving in the IDF at any given moment is around 45,000. Full report at:
http://www.al-monitor.com/pulse/originals/2014/02/idf-bill-ultra-orthodox-draft-employment-modern-society.html#ixzz2uEOOfjb0
------------
7,000 spied on in Turkey under 'terrorism' excuse
World Bulletin / News Desk
Feb 24, 2014
It has been revealed in a dossier obtained by a Turkish news outlet that Turkey's 'parallel state' listened to the phone conversations of up to 7,000 individuals over a period of 3 years.
According to Turkey's daily Star newspaper, World Bulletin editor and Yeni Safak columnist Akif Emre is among those who had their phones tapped.
Other writers for Yeni Safak, as well as employees at Turkey's state-owned TRT channel, the Turkish National Intelligence Organization (MIT), a ruling AK Party minister, the opposition Republican People's Party (CHP) headquarters, the general manager of Vakifbank, Prime Minister Recep Tayyip Erdogan's brother and Interior Minister Efkan Ala also find their names on the list.
Full report at:
http://www.worldbulletin.net/headlines/129508/7000-spied-on-in-turkey-under-terrorism-excuse
----------
Netanyahu: Kerry's peace efforts 'only way' to peace
Feb 24, 2014
The initiative led by U.S. Secretary of State John Kerry is the "only way" to achieve peace between Israel and the Palestinians, Prime Minister Benjamin Netanyahu told German television on Sunday, according to a report carried by AFP.
On the eve of German Chancellor Angela Merkel's 24-hour visit to Israel along with her cabinet on Monday, Netanyahu told the German public television ZDF that the Palestinians and Israel would be best served to support Kerry's efforts and sit around the negotiating table.
During the interview, Netanyahu reiterated his condition that the Palestinians recognize Israel as a Jewish state, adding that he could not understand the Palestinian leadership's resistance to doing so.
Full report at:
http://www.haaretz.com/news/diplomacy-defense/1.576007
-----------
Turkey denies Taliban office opened in Ankara
2014-02-24
ISTANBUL: Turkey denied Sunday a Pakistani media report claiming that the Taliban had opened a political office in Ankara as part of efforts to revive the peace stalled process.
The report by the Frontier Post came after a trilateral summit in Ankara earlier this month between Afghanistan, Pakistan and Turkey.
But the Turkish foreign ministry denied the report, saying it "does not reflect the truth".
"No such office has been opened in Turkey."The Frontier Post also said Pakistan's top intelligence officials had met with the political advisor of the Taliban's supreme leader Mullah Omar in Ankara.
Full report at:
https://www.dawn.com/news/1089068/turkey-denies-taliban-office-opened-in-ankara
------------
The threat of Israel boycotts more bark than bite: Analysts
Feb 24, 2014
Though voices are getting louder inside and outside Israel about the threat of economic boycotts for its continued occupation of Palestinian territories, there seems little prospect of it facing measures with real bite.
With a number of European firms already withdrawing some funds, Israeli Finance Minister Yair Lapid has warned that every household in Israel will feel the pinch if ongoing peace talks with the Palestinians collapse.
US Secretary of State John Kerry has also warned that Israel risks a financial hit if it is blamed for the failure, but investors and diplomats say they are unconvinced.
It is true that some foreign firms have started to shun Israeli business concerns operating in East Jerusalem and the West Bank - land seized in the 1967 war - and the European Union is increasingly angered by relentless Jewish settlement expansion.
Full report at:
http://english.ahram.org.eg/NewsContent/2/8/95048/World/Region/The-threat-of-Israel-boycotts-more-bark-than-bite-.aspx
------------
Africa
18 African Countries in Niger for Joint Military Exercise Against Terrorism
23 FEBRUARY 2014
Niamey — Up to 1,000 soldiers and army officials from 18 African countries began a joint military training exercise in Niger against terrorism in the Sahel region.
The joint military exercise dubbed "Flintlock" is being conducted in Niger's Agadez, Diffa and Tahoua regions between Feb. 20 and March 9.
The "Flintlock" exercise was initiated in 2005 with the objective of developing capacities of defense and security forces and promoting inter-state collaborations to protect the people of Sahel countries.
Full report at:
http://allafrica.com/stories/201402230127.html?aa_source=sptlgt-grid
------------
Full face veil sparks heated debate in Tunisia
Feb 24, 2014
The issue of the niqab (the full face veil) is suddenly being raised in Tunisia, as the country faces security threats. The ban on wearing the niqab in public spaces has been thrust into a national debate between those who justify this measure by security challenges, and others keen on preserving individual freedoms.
The debate on the niqab has been relaunched in the wake of various recent events. Interior Ministry spokesman Mohamed Ali Aroui heavily insinuated during one of his media statements that terrorists were using the niqab to evade police checkpoints. Indeed, the recent arrest of a notorious criminal traveling while covered in the niqab demonstrated that this garment can be used for concealment purposes.
Full report at:
http://www.al-monitor.com/pulse/culture/2014/02/tunisia-heated-debate-full-face-veil.html#ixzz2uEPkfg7b
------------
Kenya: Punjabi Muslim Association Launched in Mombasa
Feb 24, 2014
The Tudor Water Sports Club was the venue for the official launch of the Punjabi Muslim Association last Sunday. PMA is a new community organisation that has set out a confident agenda for the future of their community at the coast. There was a huge turnout with members coming from as far as Malindi, Mtito Andei and Mtwapa to congratulate each other and to participate in the launch that was followed by a sumptuous lunch.
It appears that this is the first Muslim organisation of the Punjabi community at the Coast, even though the Punjabis (ethnic to the area of the Punjab in present day Pakistan and India) settled in Kenya in the late 1800s when they were brought in as sturdy labour to build the railway and carry out construction projects.
Full report at:
http://allafrica.com/stories/201402180464.html
------------
Libyan human rights organisation sets precedent in Maghreb
Feb 24, 2014
The Libyan National Council for Civil Liberties and Human Rights (NCCLHR) has set a precedent in the Maghreb by being the first North African human rights organisation to adopt the UN Guiding Principles for business and human rights (UNGP).
Also known as the Protect, Respect and Remedy Framework, this addresses human rights in commercial and business areas. The UN introduced the UNGP in 2011 to give corporate responsibility both within a state and internationally, taking human rights into account in everyday aspects of life.
Full report at:
http://www.libyaherald.com/2014/02/23/libyan-human-rights-organisation-sets-precedent-in-maghreb/#ixzz2uELUGVrI
------------
Somali journalist seeking asylum records refugees' plight in Hong Kong
Feb 24, 2014
When investigative journalist Maahir and his television crew went undercover into a refugee camp in East Africa to investigate allegations of soldiers raping women, it was the start of a nightmare he has yet to wake up from.
After interviewing the women the soldiers kidnapped them.
"When they found out we were journalists they seized all our gear and took us to a detention centre," Maahir said. "I was blindfolded" and endured 20 days of torture and interrogation.
He said he was given just a cup of milk and a few biscuits every day.
More than a year later, Maahir is now claiming asylum in Hong Kong and has decided to turn his camera on the city's demoralised and downtrodden refugees.
"Many people think of this city as New York – rich with golden opportunities – but it's not," the Somalian said.
Full report at:
http://www.midnimo.com/2014/02/23/somali-journalist-seeking-asylum-records-refugees-plight-hong-kong/
------------
Nigeria Boko Haram crisis: Anger over second Izghe raid
Feb 24, 2014
A Nigerian senator has expressed outrage over the security forces' failure to prevent a second deadly attack on a town by Islamist militants.
Gunmen believed to be from the Boko Haram group killed several residents and burnt down Izghe over the weekend.
A week earlier, 106 people were killed in a Boko Haram raid on Izghe.
Borno state Senator Ali Ndume told the BBC it was clear that a state of emergency imposed by the government to end the insurgency was not working.
More than 500 people had been killed in Borno in the last two months, he said.
'Burnt everything'
President Goodluck Jonathan declared a state of emergency in three north-eastern states - Borno, Yobe and Adamawa - last year, giving the security forces extra-ordinary powers to fight Boko Haram.
Full report at:
http://www.bbc.co.uk/news/world-africa-26322224
---------
Europe
European Christians fighting with Syria Kurdish factions
Feb 24, 2014
A BBC Arabic report revealed that Christian European fighters are flocking to Syria to fight alongside the Kurdish factions in the face of al-Qaeda groups.
The report pointed out that the conflict is no longer confined to jihadist groups fighting alongside the Syrian opposition under the banner of Jabhat al-Nusra or the Islamic State of Iraq and al-Sham (ISIS), but a recent phenomenon saw the participation of Christian young men who left European countries to join the armed groups in Syria.
The report cited a group calling itself Sotoro, which is fighting in the Hassakeh province in northeastern Syria alongside Kurdish factions against al-Qaeda gunmen.
According to the report, the Agenfor Group has been following this issue and has uncovered these groups. This phenomenon is the first of its kind because the groups that have been flocking to Syria have been al-Qaeda-affiliated Islamic groups.
Full report at:
http://www.al-monitor.com/pulse/security/2014/02/european-christians-fighting-syria-kurdish-groups-syriac.html#ixzz2uEP2DpTf
------------
EU expresses concern over extrajudicial killings, civil rights in Bangladesh
Feb 24, 2014
A delegation of European Union yesterday expressed concern over the "extrajudicial killings" and capital punishment in the country, urging the government to stop the "killings" and cancel the provision of death penalties.
The EU delegation led by William Hanna also urged the government to give more space to civil society members to express their views during a meeting with Law Minister Anis ul Haque.
Swedish Ambassador in Dhaka Anneli Lindahl Kenny and French Ambassador Michel Trinquier were also among the delegation.
After the meeting, the law minister told the media: "The EU delegation expressed their concern on three issues and requested the government to take steps in this regard. They made the requests citing the issues of BDR carnage, ICT trial and the verdict of 10-truck arms haul case."
Full report at:
http://www.dhakatribune.com/foreign-affairs/2014/feb/24/eu-expresses-concern-over-extrajudicial-killings-civil-rights#sthash.lMrbr17Y.dpuf
------------
Tough times inside the German-Israel marriage
Feb 24, 2014
BERLIN - Chancellor Angela Merkel arrived in Israel on Monday with her full cabinet as part of the German-Israel government consultation meetings. Her second term (2009-2013) filled the "special relationship" with a mixed bag of bitter disappointments and encouraging security commitments for Israel. If past is prologue, Merkel's third term will lead to her to impose the same policy of sticks and carrots on Israel.
Merkel famously declared in her 2008 Knesset speech that Israel's security interests are integral to those of Germany. In short, she said Israel's security is "non-negotiable" for her administration. German commentators write obsessively about the semantic interpretation of Merkel's assurance that Israel is part of her country's raison d'être.
Full report at:
http://www.jpost.com/Diplomacy-and-Politics/Analysis-Tough-times-inside-the-German-Israel-marriage-342353
-------------
Russian military delegation arrives in Egypt
World Bulletin / News Desk
Feb 24, 2014
A Russian military delegation arrived in the Egyptian capital Cairo on Monday, Cairo International Airport sources said.
The delegation is headed up by a top Russian air defense commander, added the source.
Details regarding the delegation's agenda in Egypt, however, remain unclear.
It is the second Russian military delegation to visit Egypt this month.
A high-level Russian military delegation led by Russian Air Force Commander Viktor Bondarev arrived in Cairo last week for an unannounced visit.
Full report at:
http://www.worldbulletin.net/todays-news/129528/russian-military-delegation-arrives-in-egypt
----------
Russia, Palestine propose new Mideast Quartet talks on Israel-Palestine peace
Feb 24, 2014
Russian and Palestinian delegations have offered to meet again in the framework of the Middle East Quartet, which also includes the United States, the European Union and the United Nations, to discuss Israeli-Palestinian peace.
This is according to Palestine's Saib Erikat who spoke Monday on the heels of his meeting with Russia's foreign policy chief Sergei Lavrov.
Israel and the Palestinian Authority have been deadlocked on peace talks for years.
"We explained what the matter was at the latest Paris meeting between PNA's Mahmoud Abbas and the US Secretary of State John Kerry," Mr. Erikat told reporters, adding no date for the next round of talks has been set yet.
Full report at:
http://voiceofrussia.com/news/2014_02_24/Russia-Palestine-propose-new-Mideast-Quartet-talks-on-Israel-Palestine-peace-8075/
----------
Tajik President Rahmon, US diplomat look into Afghan situation
Feb 24, 2014
Tajik President Emomali Rahmon and US Deputy Assistant Secretary of State Richard Hoagland have discussed Tajik-US relations and the situation in Afghanistan, the Tajik presidential press service said on Monday. Hoagland, who headed the US diplomatic mission to Tajikistan in 2003-2006, is on a Central Asian tour.
"The meeting focused on Tajik-US relations and mutually advantageous cooperation between the two countries," the press service said. "The current situation in Afghanistan, its prospects and the International Security Assistance Force pullout were given special attention," it noted.
Full report at:
http://voiceofrussia.com/news/2014_02_24/President-Rahmon-US-diplomat-look-into-Afghan-situation-7414/
---------
South Asia
PM Sheikh Hasina: BNP-Jamaat e Islami behind militancy
Feb 24, 2014
Prime Minister Sheikh Hasina has said the BNP-Jamaat alliance were responsible for the expansion of the militancy in the country adding that they have plotted to turn Bangladesh into "a militant country."
She said: "In contrast, the ruling Awami League wants to turn the country into a prosperous one and establish it as a dignified state in the global arena."
The premier made the statement while addressing a public rally after inaugurating Sheikh Kamal International Cricket Stadium in the district around 3pm.
Criticising the BNP-Jamaat alliance for their "unbridled militancy, terrorism, and corruption," the Awami League chief said the country's people did not want to see them in power again.
Earlier in the day, Prime Minister Sheikh Hasina opened the Sheikh Kamal International Cricket Stadium in order to fulfil the long-cherished demand of the people of the tourist town.
Full report at:
http://www.dhakatribune.com/cricket/2014/feb/23/pm-bnp-jamaat-behind-militancy#sthash.X4kK9JNU.dpuf
------------
Supreme Court's contempt trial against Election Commission "unjust", says Nasheed
By Zaheena Rasheed | February 23rd, 2014
The Maldivian Democratic Party (MDP) is "extremely concerned" over the Supreme Court's contempt of court charges against the Elections Commission (EC), former President Mohamed Nasheed has said.
Speaking at a press conference today, Nasheed said the trial is "unjust" and is against the spirit of the constitution. He pledged to use all means to stop the case.
The Supreme Court on February 12 summoned the four members of the EC to an unannounced contempt of court trial under new 'Suo motu' regulations that allow the apex court to initiate trial and act as plaintiff and judge.
"If Election Commission members are removed, then there cannot be a fair election. MDP will not participate in such an election," Nasheed told the press today.
The Supreme Court has accused the EC of contempt, claiming it had criticised the verdict which annulled the first round of presidential elections held in September 2013, as well as disobeying the court's orders by dissolving eight political parties earlier this month.
Full report at:
http://minivannews.com/politics/supreme-court%E2%80%99s-contempt-trial-against-election-commission-%E2%80%9Cunjust%E2%80%9D-says-nasheed-78310
------------
Saudi prince's Maldives visit makes global headlines
By Daniel Bosley | February 23rd, 2014
The visit of Saudi Prince Salman bin Abdulaziz continues to make headlines today after the UK's Daily Mail newspaper reported that the prince had booked out Anantara's three South Malé atoll resorts for nearly one month.
Headlines in Saudi Arabia have suggested that Prince Salman – due to arrive tomorrow – will discuss potential investments and partnerships in energy, tourism, transport, and Islamic affairs, as well the provision of a soft loan facility of US$300 million for the Indian Ocean nation.
"The crown prince's trip to the Maldives comes in response to the invitation extended by Maldivian President Abdullah Yameen Abdul Gayoom," Maldivian ambassador to Saudia Arabia Adam Hassan told Arab News.
Full report at:
http://minivannews.com/politics/saudi-princes-maldives-visit-makes-global-headlines-78279
------------
Freed militant shot to death in Bangladesh
2014-02-24
DHAKA: An Islamist prisoner who had been freed by gunmen was killed hours later in a gunfight between his accomplices and Bangladesh security officials, a police official said Monday.
Rakib ul Hasan and two other convicted militants escaped on Sunday when dozens of gunmen exploded bombs and opened fire on the van transporting them.
One policeman was killed in the attack in Mymensingh district, 112 kilometers (70 miles) north of the capital, Dhaka.
Full report at:
https://www.dawn.com/news/1089157/freed-militant-shot-to-death-in-bangladesh
------------
Border raid: Karzai seeks Pak help as 21 soldiers killed
February 24, 2014
ISLAMABAD: Taliban killed 21 soldiers in an assault in the remote mountainous region of Kunar, the Afghan government said, while six soldiers were missing after the militants' most deadly assault on the security forces in months.
President Karzai cancelled his state visit to Sri Lanka after the attack on Afghan troops in Kunar province, his office said.
Afghan Taliban spokesman Zabihullah Mujahid claimed responsibility for the attack in Kunar's Ghazi Abad district.
Full report at:
http://tribune.com.pk/story/675414/border-raid-karzai-seeks-pak-help-as-21-soldiers-killed/
------------
Over 40 universities in China teach Arabic
Feb 24, 2014
As many as 50,000 Chinese and foreign students, study Arabic and Islamic culture at various universities and educational institutions in Beijing, asserts Zhang Hong, professor at Beijing Foreign Studies (BFU).
Zhang was speaking to Arab News on Friday at a reception hosted by the Chinese Ambassador to Riyadh Li Chengwen in honor of Arabist Chinese academics who are visiting the capital to attend the ongoing Janadriyah festival.
Arabic language is taught at more than 40 universities in China, the professor added.
Among these universities are the University of International Business and Economics and Beijing Foreign Studies (BFU). The latter produces most of the Chinese diplomats and ambassadors posted in the country's missions in Arab countries.
Full report at:
http://www.arabnews.com/news/529946
------------
War crimes trial: Tortured freedom fighter seeks justice
Feb 24, 2014
New prosecution witness in the trial against Mir Kashem Ali yesterday sought justice in court, saying he was tortured by the accused during the Liberation War.
Eskender Alam Chowdhury, a 66-year-old freedom fighter from Chittagong, told the International Crime Tribunal 2 that the accused had tortured him at an al–Badr camp inside a hotel in Chittagong city.
Eskender claimed that Kashem and his gang detained and brutally beat him up at Dalim Hotel, known as an al–Badr torture cell, adding that he was freed on Victory Day by some local people.
Full report at:
http://www.dhakatribune.com/law-amp-rights/2014/feb/24/tortured-freedom-fighter-seeks-justice#sthash.HGEtQlGt.dpuf
------------
Southeast Asia
Rising Islamic conservatism in Malaysia
Feb 24, 2014
Former premier Mahathir Mohamad believes that Islam is under siege in Malaysia. He is not alone.
With religion fast becoming the most contentious source of disputes in Malaysia, this perception has given rise to a host of conservative Islamic groups becoming more vocal.
At the root of their grievances is their belief that non-Muslims and "liberal" Muslims are attacking the dominance of Islam in Malaysia, and Malays in general.
For them, the "Allah" issue - where Christians want to use "Allah" to refer to their God - is simply the last straw.
Since the 1970s, Malaysia has had many Islamic groups which have taken conservative stances on issues relating to human rights, women's rights and homosexuality, and in their relations with non-Muslim groups. Probably the most well known, started by a young Anwar Ibrahim in 1971, is Angkatan Belia Islam Malaysia, or Abim, which pushed for more Islamisation of public life including legal and financial systems.
Full report at:
http://www.thejakartapost.com/news/2014/02/24/rising-islamic-conservatism-malaysia.html
------------
Isma questions motive of Christian missionaries in giving out Bahasa leaflets
Feb 24, 2014
Muslim group Ikatan Muslimin Malaysia (Isma) has claimed that Christian missionaries are going around Subang Jaya and spreading their faith using leaflets written in Bahasa Malaysia.
The leaflets, titled "Semua penderitaan akan berakhir tidak lama lagi" (All sufferings will end soon), talked about how the people's lives are similar to what has been predicted in the Bible.
"Besides that, the leaflets also questioned who deserved to rule and whose leadership is the best. There were also questions on whether human beings could live more happily if God does not rule over them and why God didn't destroy Adam and Eve and create another pair of humans," Isma said in a statement today.
Full report at:
http://www.themalaysianinsider.com/malaysia/article/muslim-group-questions-motive-of-christian-missionaries-in-giving-out-leafl
------------
'Allah' banned in Herald due to different readership, says Idris Jala
Feb 24, 2014
The Home Minister has exercised his discretion to prohibit the use of the word "Allah" on grounds of public order and security, although Putrajaya's 10-point solution allows the Malay-language Bible containing the word, said Minister in the Prime Minister's Department, Datuk Seri Idris Jala.
Writing in the Star today, Idris (pic), referring to the court case involving Catholid weekly Herald, said many people feared that the newsletter, given its "potentially wide circulation", had a greater propensity to be a tool of Christian propagation.
Propagating any religion other than Islam to Muslims in the country is an offence under Malaysian laws.
Full report at:
http://www.themalaysianinsider.com/malaysia/article/allah-banned-in-herald-due-to-different-readership-says-idris-jala
------------
URL: https://www.newageislam.com/islamic-world-news/new-age-islam-news-bureau/qaeda-now-relying-on-punjabi-taliban-instead-of-pashtuns/d/35909