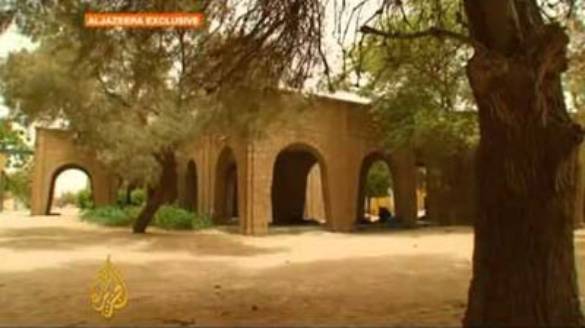 Africa
Qaeda kingdom rises on ruins of Timbuktu amidst rivers of blood
Kenyan Muslims, Christians Vow to Prevent Violence
Mali boosts efforts to save north from Islamists
Timbuktu destruction by Sharia militants
ICC team released from Libya back in the Netherlands
Arab World
40 Killed 75 wounded in Bomb explosion Before Iraqi Shiite Ritual
Bahrain Sunnis Blame U.S. Embassy for Violence, Al-Watan Says
Syria's torture of civilians' crime against humanity: report
Syria running 27 torture centers: rights group
Eighty-Five Syrian Soldiers, Including a General, Defect en Masse to Turkey
Syrian Army Attacks Rebels, Turkey Scrambles F16s
Syria's Assad Expresses Regret for Shooting of Turkish Warplane
After expansion, Prophet's Mosque at Medina will accommodate 1.6 million people
Court to hear appeal of Marine in Iraqi killing
Syria uprising toll tops 16,500: rights group
India
SC Asks To Pay Compensation to 500 Shrines Damaged During the Infamous 2002 Riots
Fasih's wife accuses CBI of foul play
Maldivians Building Friendships through Vibrant Cultural and Linguistic Exchanges with India
'Israeli- style settlements being planned in Valley'
Krishna: India's relationship with Tajikistan 'excellent'
LeT 'major general', two ISI men were inside 26/11 control room: Abu Jundal
26/11: Abu Jundal names same Pak army officers as Headley did
Kasab grilled covertly a year ago to extract info on Jundal
Green-blouse-for-teachers' diktat gets official suspended
Indian Malaysians seek compensation from UK
Minority cell wants 14 tickets for Muslim candidates, Congress party looks for cover
U P Minister vows to bring back Waqf properties 'looted' during SP, BSP governments
Syed Ali Shah Geelani's RSS, Sangh Parivar allegations fiction: Omar
Pakistan
Sexual Abuse Cases in Britain Put Pak Community In Spotlight
Terrorists blow up boys' primary school in Swabi
Row over heritage plan for Dilip Kumar's Pakistan house
Civilian deaths from US drones 'lowest since 2008′
Six killed in Karachi violence
Pak FS arrives in India, says has mandate to take peace process 'forward'
Pak Cabinet's Defence Committee to hold key meeting on US ties
Six of a family killed in Mardan over second marriage issue
South Asia
Afghanistan endgame leads to Tajik gambit
Afghanistan accuses Pakistan army of rocket attacks
2 suspected Uighur hijack plotters die
Taliban bodies are 'returned to Pakistan for burial'
Afghanistan killings: Suspect's name released
Australian soldier killed in Afghanistan
7 killed in suicide attack in Afghanistan
Afghanistan, Pakistan cross swords on border row
Mideast Asia
With army cowed, Turkey scraps 'conspiracy courts'
Israel accuses Iran of plotting attacks in Kenya
Simulating attack on US bases, Iran begins drills
Iran MPs seek to shut Hormuz for EU-bound oil tankers
Yemen: A Hostage Makes a Plea to Saudi Arabia
Hamas Suspends Voter Registration Process in Gaza
Israel Disbands Panel on Military Service Rules
Iran test-fires ballistic missile able to hit Israel: Report
North America
Jihad mass murderer again barred from court because of his Muslim beard
Ohio Muslim Policeman's Suit Says Firing Followed Conversion to Islam
Bosnian Muslim community growing, changing
U.S. Adds Forces in Persian Gulf, a Signal to Iran
Grand Forks-area Muslims rejoice in new worship centre
Sexton: Mosque gathering celebrates First Amendment
Danish Solider 'Likely' in 2 Pirate Hostage Deaths
Does America Have a Responsibility to Stop Mass Killings?
Europe
French arrest man suspected of financing al-Qaeda
Radicalisation of Europe bigger threat than al-Qaeda: official
"Objective" proof that Turkish jet was shot in Syrian airspace: Russia
Arms to government, opposition fuelling Syria war: UN
Islamic finance treads fine political line in Kazakhstan
Muslim Minorities More British Than Whites
UN Urges Jordan to Open Camp for Syrian Refugees
Compiled by New Age Islam News Bureau
Photo: Qaeda kingdom rises on ruins of Timbuktu amidst rivers of blood
URL: http://www.newageislam.com/islamic-world-news/new-age-islam-news-bureau/qaeda-kingdom-rises-on-ruins-of-timbuktu-amidst-rivers-of-blood/d/7814
----------
Africa
Qaeda kingdom rises on ruins of Timbuktu amidst rivers of blood
2012-07-01
By Serge Daniel
Mali's government, international community express horror, outrage at destruction of cultural treasures in fabled city.
Islamist rebels in northern Mali took hoes and chisels to the tombs of ancient Muslim saints in the city of Timbuktu for a second day, ignoring international pleas to halt their campaign of destruction.
After smashing three ancient tombs on Saturday, the Islamist militants who consider the World Heritage shrines idolatrous, set about wrecking four mausoleums at the cemetery of Djingareyber, a local journalist said.
Mali's government and the international community have expressed horror and outrage at the destruction of cultural treasures in the fabled city, an ancient desert crossroads and centre of learning known as the "City of 333 Saints".
On Saturday the Islamists destroyed the tombs of Sidi Mahmoud, Sidi Moctar and Alpha Moya, and on Sunday attacked Cheikh el-Kebir's mausoleum as residents stood by helplessly.
Crying "Allahu Akbar" (God is Great), the men circled the cemetery clasping tools such as chisels and hoes, but did not have construction vehicles that were used in Saturday's rampage.
"There are many of us watching them destroy the mausoleum. It hurts but we can't do anything. These madmen are armed, we can't do anything but they will be cursed that is for sure," the journalist said on condition of anonymity.
The cemetery is situated in the south of Timbuktu in the suburb of the eponymous Djingareyber mosque built in 1327.
In addition to three historic mosques, Timbuktu is home to 16 cemeteries and mausoleums, according to the UNESCO website.
The Islamist fighters from Ansar Dine (Defenders of Faith) are among the Al-Qaeda-linked armed groups which occupied the north of Mali in the chaos that emerged after a March coup in Bamako.
Their presence in Timbuktu prompted UNESCO to on Thursday list the city as an endangered site because of the continuing violence in northern Mali and in the wake of an attack on a 15th century tomb in May.
"God is unique. All of this is haram (forbidden in Islam). We are all Muslims. UNESCO is what?" a spokesman for Ansar Dine, Sanda Ould Boumama, said on Saturday.
He said the group was acting in the name of God and would "destroy every mausoleum in the city. All of them, without exception".
Mali's Culture and Tourism Minister Diallo Fadima Toure on Sunday urged the UN to take action to preserve her country's heritage.
"Mali exhorts the UN to take concrete steps to stop these crimes against the cultural heritage of my people," Toure told UNESCO's annual meeting in the Russian city of Saint Petersburg.
The attacks were reminiscent of the Taliban blowing up the giant Buddhas of the Bamiyan valley in Afghanistan -- an ancient Buddhist shrine on the Silk Road and a world heritage site -- in 2001 after branding them un-Islamic.
The Malian government has denounced the "destructive fury, comparable to war crimes" as pleas poured in for a halt to the Islamist rampage.
UNESCO session chairwoman Yeleonor Mitrofanova told a meeting in Saint Petersburg that the destruction was tragic.
"I appeal to all those engaged in the conflict in Timbuktu to exercise their responsibility -- for the sake of future generations, spare the legacy of their past," she said.
In a matter of months Mali has gone from one of West Africa's stable democracies to a nation gripped by deadly chaos.
The March 22 coup eased the way for Tuareg separatist rebels -- descendants of those who founded Timbuktu in the fifth century -- to carry out the armed takeover of an area larger than France they consider their homeland.
However the previously unknown Ansar Dine group fighting on their flanks seized the upper hand, openly allied with Al-Qaeda in the Islamic Maghreb, and have since pushed the Tuareg from all positions of power.
The international community fears the vast desert area will become a new haven for terrorist activity and the Islamists have threatened any country that joins a possible military intervention force in Mali.
http://www.middle-east-online.com/english/?id=53143
----------
Kenyan Muslims, Christians Vow to Prevent Violence
Jul 03 2012
NAIROBI, Kenya (AP) — Kenyan clerics across the religious divide say they will not allow sectarian violence to erupt following attacks on churches over the weekend that killed at least 15 people.
The Inter-Religious Council of Kenya said Tuesday that Muslims will form vigilante groups alongside Christians to guard churches in Kenya's North Eastern Province, where the latest attacks occurred.
Adan Wachu, secretary general of the Supreme Council of Kenya Muslims and the chairman of Inter-Religious Council, said the weekend attacks, which are being blamed on an al-Qaida-linked militant group from Somalia, are meant to trigger sectarian violence between Christians and Muslims.
Wachu says clerics will actively preach against retaliation to prevent violence from spreading in Kenya like it has in Nigeria, where attacks by a Muslim sect has ignited a spiral of violence.
http://www.nytimes.com/aponline/2012/07/03/world/africa/ap-af-kenya-terror-religion.html?ref=africa&gwh=C483B42146F1B7E67B68049CC441A9AC
------
Mali boosts efforts to save north from Islamists
03 July, 2012
BAMAKO — Mali's embattled interim government ramped up diplomatic efforts Tuesday to save the north from Islamist fighters who have smashed World Heritage shrines in Timbuktu and rigged another city with mines.
The post-coup transition authorities in Bamako are powerless in the face of the armed Al Qaeda-allied groups occupying the north, and Mali's neighbours in west Africa have proposed a stronger unity government be formed.
West African leaders will meet in Burkina Faso's capital on Saturday to discuss this option with senior Malian political figures, as the Islamists escalate efforts to exert their control in the country's north.
In Timbuktu, where they have enforced sharia law for the past three months, Islamist group Ansar Dine (Defenders of Faith) has smashed seven tombs of ancient Muslim saints as well as the 'sacred door' to a 15th century mosque.
The UN cultural agency UNESCO on Tuesday called for an end to the "repugnant acts" of destruction and called for the head of the body to create an emergency fund for the cultural treasures and send a mission to assess the damage.
The destruction has deeply upset Malians and prompted outpourings of condemnation from abroad.
The interim government in Bamako, set up after a March 22 which led to the northern takeover as the armed groups exploited the chaos, is scrambling for assistance to recover its territory.
"We will do everything to recover our territory," Foreign Minister Sadio Lamine Sow told AFP, speaking at the end of a two-day visit to Algeria, where he held talks with authorities in Algiers.
"Everything that can be done for us towards a reconquest of these occupied territories, we will accept it willingly... when these efforts go in the direction we agree with," he added.
Algeria's African Affairs Minister Abdelkader Messahel said Algiers was working on a political solution that both countries believed was still possible, saying it was on the right path.
Sow condemned the armed groups now controlling the cities in northern Mali as "armed terrorists."
"It is they who are raping women, pillaging banks" and conducting a campaign of destruction, he said, saying these acts were crimes against humanity and would not go unpunished.
The International Criminal Court chief prosecutor Fatou Bensouda has warned that the destruction of religious and historical buildings could amount to a war crime and those responsible could face prosecution.
A March 22 coup in Mali eased the way for Tuareg separatist rebels to seize an area in the north larger than France that they consider their homeland.
However, the previously unknown Ansar Dine group seized the upper hand while fighting on their flanks. Openly allied with Al-Qaeda in the Islamic Maghreb, they have since pushed the Tuareg rebels from all positions of power.
After expelling the Tuareg fighters from the key city of Gao in deadly clashes last week, Ansar Dine's Al-Qaeda allies have planted landmines around the city to prevent a possible counter-offensive.
The Tuareg National Movement for the Liberation of Azawad (MNLA) said Monday that residents were being prevented from leaving the city.
Copyright © 2012 AFP. All rights reserved.
----------
Timbuktu destruction by sharia militants
02/07
Timbuktu, the World Heritage city in war-troubled Mali, is undergoing a steady destruction of centuries-old shrines by salafist hardliners.
Militants from the al Qaeda-linked Ansar Dine group which backs strict sharia Islamic law equate the local Sufi Islamic beliefs with idol-worship.
Witnesses described the demolition of several tombs of saints. The group has threatened to destroy all of them.
Ansar Dine and allies have muscled in on a separatist uprising by local Tuareg rebels and now control two-thirds of Mali's desert north territory.
The size of the area in western Africa now under their control is bigger than France, heightening fears Mali will become a haven for jihadists.
Ansar Dine is made up of various nationalities, including Malians, Algerians and Nigerians.
UNESCO called for an immediate halt to the attacks.
Mohamed Ousmane Ag Mohamedun, a minister in the Transitional Council of Azawad, a territory unilaterally declared separated from Mali after a Tuareg rebellion, said the people wouldn't accept turning the area into a Taliban-like Afghanistan.
But the strength of the fortifications around Sankore Masjid, an ancient centre of learning in Timbuktu, is uncertain.
Sufi shrines have been attacked by hard-line Salafists in Egypt and Libya in the past year.
The Timbuktu attacks began just after UNESCO placed the city on its list of heritage sites in danger, recalling the 2001 dynamiting by the Taliban of 6th-century statues of Buddha in central Afghanistan.
http://www.euronews.com/2012/07/02/timbuktu-destruction-by-sharia-militants/
----------
ICC team released from Libya back in the Netherlands
03 July, 2012
THE HAGUE: Four envoys of the International Criminal Court who were detained in Libya last month after visiting the son of slain leader Moamer Kadhafi arrived Tuesday in the Netherlands, an ICC spokesman said.
But their ordeal may not be over just yet, as the four have been summoned to a Libyan court later this month to complete the judicial process set in motion by the Libyan prosecutor general's investigations against them.
ICC spokesman Fadi El-Abdallah early Tuesday told AFP the four had "just arrived in the Netherlands," where they work at the Hague-based ICC.
He declined to name the airport where their plane touched down just before 2300 GMT Monday adding the four would be reunited with their families shortly afterwards.
"They will then go home to The Hague to get some rest," Abdallah added.
The four earlier Monday flew to Rome "on a plane generously provided by the Italian government," and changed to a charter flight, he said.
Italian news agency ANSA reported that the plane was headed to Rotterdam airport from a Rome military airport.
Full report at:
http://dawn.com/2012/07/03/icc-team-released-from-libya-back-in-the-netherlands/
----------
Arab World
40 Killed 75 wounded in Bomb explosion Before Iraqi Shiite Ritual
03 July, 2012
DIWANIYA, Iraq (Reuters) - A bomb in a small truck exploded in a market in the Iraqi city of Diwaniya on Tuesday, killing 40 people, and a bomb blast killed four more near the city of Kerbala, police and officials said - the latest in a series of sectarian attacks.
The Diwaniya bombing was near a Shi'ite mosque where pilgrims gather on their way to Kerbala to celebrate the birthday of one of the most important imams, al-Mahdi, this week.
In Diwaniya, 150 km (93 miles) south of Baghdad and 130 kms south east of Kerbala, police announced a partial curfew and blocked all entrances to the city as they searched for more explosives. Two police sources said 75 people had been wounded.
Attacks have increased in Iraq in recent weeks, raising fears that the country may slip back into widespread violence between Iraqi Sunni and Shi'ite Muslims.
"All of a sudden the explosion happened, I felt the power of the blast, it was so strong, it broke all the glass in my windows," butcher Ahmed Hassan, 23, said in his shop close to where the explosion took place.
"I smelled blood and gunpowder."
He said a fellow shopkeeper had been taking dead bodies to the hospital morgue.
"We even saw body parts on the top of building, we took them down," said Hassan, looking pale and confused as he swept glass from his shop floor.
SPIKE IN VIOLENCE
Shoes, toys and vegetables were scattered across the ground and at least 15 shops were destroyed, a Reuters reporter at the scene in Diwaniya said. Two burnt-out vehicles were abandoned near the site of the explosion. Witnesses said the bomb appeared to have been planted in a delivery truck.
Earlier in the day, two bombs in a vegetable wholesale market killed four people and wounded 29 near the central Iraqi city of Kerbala, hospital and police sources said.
"The bomb happened because of sticky bombs attached to two parked cars which went off separately," said Hussein Shadhan, a provincial council member, who was at the hospital.
"Four of the wounded people are seriously injured and their medical situation is very critical," he said.
Reuters pictures showed pulverized tomatoes and bits of salad covering the blackened market floor. People picked their way through twisted pieces of metal and broken wooden crates.
Hospital and police sources said earlier they believed the attack had also been targeting Shi'ite pilgrims on their way to Kerbala.
Last month at least 237 people were killed and 603 wounded mainly in bomb attacks, according to a Reuters tally, making June one of the bloodiest months in Iraq since U.S. troops withdrew at the end of last year.
The deadliest attack occurred on June 13 when bombers targeting Shi'ite pilgrims killed more than 70 people.
Sunni insurgents often attack Shi'ite targets to try to reignite sectarian violence that killed tens of thousands of people in 2006-2007. Iraq's al Qaeda wing has claimed some of the recent bombings against Shi'ites.
(Additional reporting by Suadad al-Salhy and Ali al-Rubaie; Writing by Sylvia Westall; Editing by Louise Ireland)
http://www.nytimes.com/reuters/2012/07/03/world/middleeast/03reuters-iraq-violence.html?ref=global-home
----------
Bahrain Sunnis Blame U.S. Embassy for Violence, Al-Watan Says
By Wael Mahdi
July 01, 2012
Bahrain's al-Asalah Islamic Society blamed the U.S ambassador in Bahrain Thomas Krajeski for the spread in violence among the Kingdom's dissidents groups, Al- Watan reported, citing a statement from the society.
The society, a leading Sunni formation in Bahrain, said that the ambassador's "incorrect" reports and his inability to condemn "clearly and explicitly" the use of Molotov cocktails by protesters, in addition to the U.S. government's pressure on Bahrain to release "convicted terrorist" has led to more violence against the state, the newspaper reported.
Bahraini MP Abdul Halim Murad told the daily that Krajeski is becoming "a threat to the national security of Bahrain and the Gulf."
To contact the reporter on this story: Wael Mahdi in Manama at wmahdi@bloomberg.net
To contact the editor responsible for this story: Andrew J. Barden at barden@bloomberg.net
http://www.businessweek.com/news/2012-07-01/bahrain-sunnis-blame-u-dot-s-dot-embassy-for-violence-al-watan-says
----------
Syria's torture of civilians crime against humanity: report
03 July, 2012
Syria has made torture a state policy against civilians, Human Rights Watch said in a report released Tuesday, calling it a crime against humanity that should be prosecuted by the International Criminal Court.
The New York-based rights group said it had identified 27 detention centres in Syria, plus government agencies involved and methods used against people suspected of opposing the Damascus-based regime.
"The (Syrian) intelligence agencies are running an archipelago of torture centres scattered across the country," said Ole Solvang, a researcher at Human Rights Watch.
The group said four Syrian intelligence agencies have carried out the worst torture: the Department of Military Intelligence, the Political Security Directorate, the General Intelligence Directorate and the Air Force Intelligence Directorate.
It said the 81-page report was based on more than 200 interviews, which Human Rights Watch began after the start of demonstrations against Damascus in early 2011.
The report said most former detainees interviewed said they were tortured or had witnessed the torture of others. Torture methods included prolonged beatings with batons and cables, and detainees being held in painful stress positions for prolonged periods.
It said use of electricity, burning with acid, sexual assault and humiliation, pulling of fingernails and mock execution were also employed. It said torture victims included mostly men between 18 and 35, but also children, women and the elderly.
http://www.thehindu.com/news/international/article3597832.ece
----------
Syria running 27 torture centers: rights group
July 03, 2012
Syrian intelligence agencies are running torture centers across the country where detainees are beaten with batons and cables, burned with acid, sexually assaulted, and their fingernails torn out, Human Rights Watch said in a report released on Tuesday. The New York-based rights group
identified 27 detention centers that it says intelligence agencies have been using since President Bashar al-Assad's government began a crackdown in March 2011 on pro-democracy protesters trying to oust him.
Human Rights Watch conducted more than 200 interviews with people who said they were tortured, including a 31-year-old man who was detained in the Idlib area in June and made to undress.
"Then they started squeezing my fingers with pliers. They put staples in my fingers, chest and ears. I was only allowed to take them out if I spoke. The staples in the ears were the most painful," the man told Human Rights Watch.
"They used two wires hooked up to a car battery to give me electric shocks. They used electric stun-guns on my genitals twice. I thought I would never see my family again. They tortured me like this three times over three days," he said.
The report found that tens of thousands of people had been detained by the Department of Military Intelligence, the Political Security Directorate, the General Intelligence Directorate, and the Air Force Intelligence Directorate.
Full report at:
http://www.hindustantimes.com/world-news/NorthAmerica/Syria-running-27-torture-
----------
Eighty-Five Syrian Soldiers, Including a General, Defect en Masse to Turkey
By SEBNEM ARSU and RICK GLADSTONE
03 July, 2012
ISTANBUL — Eighty-five Syrian soldiers, including one general and at least 14 lower-ranking officers, fled into southern Turkey's Hatay Province on Monday, Turkish news agencies reported. It was one of the largest mass military defections since the Syrian conflict began 16 months ago.
A Turkish broadcaster, T.R.T. Haber, said the defectors entered the town of Reyhanli as part of a group of 293 refugees "fleeing atrocities in Syria." It said the defectors were placed in the Apaydin refugee camp, where there are already about 2,000 former members of the Syrian military who have abandoned allegiance to President Bashar al-Assad. The civilians in the group were sent to another camp along the shared border with Syria.
Turkey's Anatolia news agency said the 14 lower-ranking officers included a colonel and a lieutenant colonel.
The once-close relationship between Turkey and Syria has badly frayed with Mr. Assad's harsh repression of an uprising that began last year in March as a peaceful political protest and has since evolved into an armed insurgency.
Full report at:
http://www.nytimes.com/2012/07/03/world/middleeast/dozens-of-syrian-soldiers-defect-
----------
Syrian Army Attacks Rebels, Turkey Scrambles F16s
03 July, 2012
BEIRUT (Reuters) - The Syrian army pressed attacks on rebels on Tuesday, bombarding the city of Douma near Damascus, and Turkey said it had scrambled F-16 fighters the previous day after Syrian helicopters flew near its border.
Turkey's armed forces command said the jets took off on Monday when Syrian transport helicopters were spotted flying near the frontier, without entering Turkish air space. It was the third day in a row that Turkey had scrambled its F-16s.
Syrian President Bashar al-Assad told a Turkish daily he wished his forces had not shot down a Turkish jet last month and that he would not allow tensions with Turkey to lead to war.
The downing of the Turkish F4 in disputed circumstances has aggravated hostility between Damascus and Ankara, which has raised its military profile to try to keep Syrian helicopters from Turkey's border zone where rebels and refugees are camped.
"We learned it belonged to Turkey after shooting it down. I say 100 percent 'if only we had not shot it down'," Turkey's Cumhuriyet daily quoted Assad as saying.
A Syrian general and 84 soldiers were the latest to defect and flee to Turkey on Monday. But army and government defections have so far failed to shake Assad's 12-year grip on power.
More violence erupted on Tuesday in a 16-month conflict that opposition leaders say has killed more than 15,000 people.
Full report at:
http://www.nytimes.com/reuters/2012/07/03/world/europe/03reuters-syria-crisis.html?ref=europe
----------
Syria's Assad Expresses Regret for Shooting of Turkish Warplane
By ALAN COWELL and SEBNEM ARSU
03 July, 2012
LONDON — As his government's human rights record came under renewed criticism on Tuesday, President Bashar al-Assad of Syria sought to ease mounting regional tensions, expressing regret for his forces' shooting down of a Turkish warplane and saying his gunners believed the jet was Israeli.
While the circumstances of the shooting remain disputed, Mr. Assad was quoted in the Turkish newspaper Cumhuriyet on Tuesday as saying: "I say 100 percent, I wish we did not shoot it down." Turkey says the unarmed warplane was back in international airspace after straying into Syrian airspace when it was shot down. Syrian officials have said it was close to shore batteries that opened fire on it over Syrian waters.
The interview was published as, separately, Human Rights Watch, an advocacy group based in New York, accused the Syrian authorities of building an "archipelago" of at least 27 torture centers in major cities. Activists in Syria, meanwhile, posted video showing what they said were the bodies of people killed in intense shelling on the streets of Douma near Damascus, the Syrian capital, in recent days. It was not possible to independently verify the provenance of the images.
Full report at:
http://www.nytimes.com/2012/07/04/world/middleeast/human-rights-watch-report-
----------
After expansion, Prophet's Mosque at Medina will accommodate 1.6 million people
Jul 2, 2012
King Abdullah of Saudi Arabia has approved a plan to expand the Prophet's Mosque in Medina ahead of the month of Ramzan in preparation for Haj. Up to 1.6 million people will be able to pray together after the mosque is expanded, Saudi finance minister Ibrahim al-Assaf was quoted as saying.
The official Saudi Press Agency reported, citing the minister, that the mosque will be expanded in three phases. "The new expansion of the Prophet's Mosque is part of King Abdullah's efforts in the service of Islam and Muslims, the latest of which was the unprecedented expansion of the Grand Mosque in Mecca," he said.
"The first phase will accommodate more than 800,000 worshippers while the second and third will accommodate an equal number of worshippers bringing the total number of people the mosque can accommodate to more than 1.6 million at any given time," al-Assaf told Arab News.
http://timesofindia.indiatimes.com/world/middle-east/After-expansion-Prophets-Mosque-at-Medina-will-accommodate-1-6-million-people/articleshow/14613368.cms
----------
Court to hear appeal of Marine in Iraqi killing
03 July, 2012
SAN DIEGO: The military's highest court has agreed to hear the appeal of a US Marine convicted of murder in one of the most significant criminal cases against US troops from the Iraq war.
The Court of Appeals for the Armed Forces on Monday ordered a review requested by Sgt Lawrence Hutchins III, who claimed in a petition that his constitutional rights were violated when he was held in solitary confinement without access to a lawyer for seven days during his interrogation, and that Navy Secretary Ray Mabus unlawfully influenced his case after his conviction.
Hutchins, 26, of Plymouth, Massachusetts, led an eight-man squad accused of kidnapping retired Iraqi policeman Hashim Ibrahim Awad from his home in April 2006, marching him to a ditch and shooting him to death.
The killing took place in Hamdania, a small village in Al Anbar province.
The six other Marines and a Navy corpsman in his squad served less than 18 months.
Hutchins has sought clemency and early release, saying he was deeply sorry for what happened and has suffered nightmares and anxiety because of the killing.
Those requests have been denied, Hutchins claimed in the appeal, because Mabus illegally interfered in the case and influenced officers under him to rule against release.
Mabus has said that the killing did not happen in the fog of battle, but was a carefully planned attack and cover-up.
Full report at:
http://dawn.com/2012/07/03/court-to-hear-appeal-of-marine-in-iraqi-killing/
----------
Syria uprising toll tops 16,500: rights group
03 July, 2012
BEIRUT: More than 16,500 people have been killed in violence since an uprising against President Bashar al-Assad broke out in March last year, the Syrian Observatory for Human Rights said on Monday.
The 16,507 dead comprise 11,486 civilians, 4,151 government troops and 870 army defectors, the Britain-based watchdog told AFP.
In its running tolls, the Observatory counts as civilians those rebel fighters who are not defectors from the army.
Full report at:
http://dawn.com/2012/07/02/syria-uprising-toll-tops-16500-rights-group/
-----------
India
SC Asks To Pay Compensation to 500 Shrines Damaged During the Infamous 2002 Riots
03 July, 2012
The Supreme Court has refused to entertain the Narendra Modi government's plea for staying the Gujarat High Court's February 8 order to pay compensation to over 500 shrines damaged during the infamous 2002 riots in the wake of Godhra train carnage.
While declining to entertain the plea, a bench of justices K. S. Radhakrishnan and Dipak Misra also asked the State government to furnish details of the number of religious structures actually damaged and the financial cost of their reconstruction.
The apex court wanted to know if any survey or study was conducted on the actual damage and loss occurred to the holy places during the riots. The bench later adjourned the matter for July 9.
Appearing for the State, Additional Advocate General Tushar Mehta and counsel Hemantika Wahi submitted that the High Court order was erroneous as under the Constitution's secular principles, there cannot be funding to religious bodies by any government.
On February 8, the Gujarat government was pulled up by the Gujarat High Court for "inaction and negligence" on its part during the 2002 post-Godhra riots that led to large-scale destruction of religious structures.
A division bench of Acting Chief Justice Bhaskar Bhattacharya and Justice J. B. Pardiwala had ordered compensation for over 500 places of worships in the State on a plea by Islamic Relief Committee of Gujarat (IRCG), an NGO.
The court also ordered that principal judges of 26 districts of the State will receive the applications for compensation of religious structures in their respective districts and decide on it. They have been asked to send their decisions to the High Court within six months.
Plea filed in 2003
The plea by Islamic Relief Committee of Gujarat (IRCG) in 2003 had sought court's directions to the government to pay compensation for damages to religious places during riots on the ground that the National Human Rights Commission, too, had recommended it and the State government had in principle accepted the suggestion.
Inadequacy, inaction and negligence on the part of the State government to prevent riots resulted in large-scale destruction of religious structures across the State, the High Court had observed.
The court had said when the government paid compensation for destruction of the houses and commercial establishments, it should also pay compensation for religious structures.
If the structures are already restored by now, the government should reimburse the amount spent on their restoration, the court said.
The High Court had directed that principal judges of all district courts in the State will decide on the applications for compensation to local shrines. The judges were asked to convey their rulings to the High Court within six months.
The State government had opposed the plea, contending that it would amount to the violation of fundamental rights under Article 27 of the Constitution which restrains the government from imposing tax for the promotion of a religion. It had added that there was no policy to facilitate compensation for repair or restoration of religious places damaged or destroyed during riots.
The court found the State government's suggestion "preposterous" that in spite of its failure to protect the rights under Article 25 and 26 of the Constitution, it took a policy decision only to restore the places of residence and the business destroyed in the riots, but not the religious places.
http://www.thehindu.com/news/states/other-states/article3598420.ece
----------
Fasih's wife accuses CBI of foul play
By Hakeem Irfan in New Delhi
03 July, 2012
AFTER the CBI revealed that terror suspect Fasih Mahmood had been detained in Saudi Arabia, his wife claimed that Indian intelligence agencies were trying to fabricate charges against him and even misled the Supreme Court by remaining silent on his detention for more than 45 days.
" Indian agencies must be held accountable for the illegal detention of my husband," Nikhat Parveen said over the phone from Bihar. " His 49- day detention since May 13 in Saudi Arabia was used to frame a case against him." Claiming that his family wasn't officially informed about his custody, Nikhat said: " I am just hearing about him through the media." She alleged the Indian authorities had falsely claimed in front of her and the Supreme Court that they had no idea about how Fasih went missing in Saudi Arabia.
" Fasih is not guilty. They could not produce charges against him in front of the court even after issuing the Interpol Red Corner Notice. They should have deported him the day he went missing if they knew he was accused in a case," said Nikhat, demanded the setting up of a fast- track court to try him once he was deported.
Nikhat had last talked to Fasih for a few minutes over the phone on May 19 after he went missing. " He was crying and told me he was innocent.
He also said he would be free soon," Nikhat said.
Full report at: Mail Today
---------
Maldivians Building Friendships through Vibrant Cultural and Linguistic Exchanges with India
By Hawwa Lubna | June 30th, 2012
For those interested in exploring the diversity of Indian arts, culture and language, the Indian Cultural Center (ICC) is the place to be. Since its opening in July 2011, the centre has been an important platform, where Indians and Maldivians are building friendships through vibrant cultural and linguistic exchanges.
Hundreds of participants, both locals and foreigners alike are today part of the diverse programs run by the Indian Cultural Center. Many are exploring the world of Indian mother tongue and poetry while others are enjoying the experience of Indian classical dance Kathak or classical drumming, Tabla.
Similarly, to those who wants to take a break from the hustle and bustle of the busy capital Male', the cultural center offers its best – rejuvenating and relaxing yoga classes.
And, the best part of all, every program is offered free. No charges.
"This is a cultural window to India", ICC Director Dr.Mishra Amrendhra told Minivan News on Wednesday night, following the launch of a new Hindi learning program at the centre.
Currently over 40 centers are opened worldwide, to provide people to the opportunity to learn Indian culture and language, he observed.
Full report at:
http://minivannews.com/politics/a-window-to-the-indian-culture-literature-and-dance-39930
----------
'Israeli- style settlements being planned in Valley'
Naseer Ganai/ Srinagar
03 July, 2012
SYED Ali Shah Geelani, chairman of the hardline faction of the Hurriyat Conference, has accused the Indian government of planning to create Israeli- style settlements in the Valley, in the garb of rehabilitating Kashmiri Pandits.
" We are not against the return of Kashmiri Pandits. They are part of our society. We welcome them in Kashmir. But creating settlement colonies in the name of Kashmiri Pandits is a conspiracy.
The Indian government wants to settle the RSS, the Sangh pariva r, and subjects from other states in these zones," Geelani said in Srinagar on Monday.
He claimed he has reports that the state government has given its consent for establishing the settlement colonies.
Full report at: Mail Today
----------
Krishna says India's relationship with Tajikistan 'excellent'
Jul 3, 2012
DUSHANBE: External affairs minister S M Krishna on Monday described India's relationship with Tajikistan as "excellent" after meeting his Tajik counterpart Hamrokhon Zarifi here during which the two leaders discussed bilateral issues like trade, energy and counter-terrorism besides situation in the region.
Krishna, who arrived here on a special flight for a two-day visit, was received by Tajikistan deputy foreign minister Nizomiddin Zohidov at the Dushanbe International airport here.
His visit to Dushanbe, first by any Indian external affairs minister in nine years, is part of India's 'Connect Central Asia Policy' to tap the natural resources-rich region.
The external affairs minister met his Tajik counterpart for 40-minutes during which they discussed cooperation in energy sector, economy and counter-terrorism besides other issues of mutual interest and on the situation in the region especially Afghanistan, officials said.
Talking to reporters after the meeting, Krishna described the relationship between the two countries as "excellent".
"India and Tajikistan have an excellent relationship, a very cordial one. This year we will be completing 20 years of diplomatic relations with the Tajikistan," he told reporters alongside his Tajik counterpart Zarifi.
Full report at:
http://timesofindia.indiatimes.com/india/Krishna-says-Indias-relationship-with-Tajikistan-excellent/articleshow/14633264.cms
----------
LeT 'major general', two ISI men were inside 26/11 control room: Abu Jundal
Jul 2, 2012
NEW DELHI: A senior Lashkar-e-Taiba (LeT) militant, identified only as "major general saheb", was among the 10 people present in the control rook set up in Karachi to orchestrate the 26/11 terror attack on Mumbai, key suspect Abu Jundal has told Indian investigators, an officer said.
Indian intelligence agencies are still to ascertain the identity of the LeT militant.
However, they are convinced that at least two of the 10 people present in the control room on November 26, 2008, were from Pakistan's spy agency, the Inter-Services Intelligence (ISI), as per Jundal's revalations.
"Till now, Jundal has informed us of some persons present in the control room. He identified one of them as 'major general saheb', whose original name is yet to be ascertain. He seems to be a high-ranking LeT militant. This apart, Jundal has identified Zaki-ur-Rehman Lakhvi and Muzammil alias Yusuf as those present," an officer in the investigating team told IANS.
Jundal had been arrested by the Indian investigating agencies after he was nabbed in Saudi Arabia and deported to June 21. He is at present in custody of the Delhi Police Special Cell and is being interrogated for his links with several terror attacks in India, including the November 2008 Mumbai strike.
Full report at:
http://timesofindia.indiatimes.com/india/LeT-major-general-two-ISI-men-were-inside-26/11-
----------
26/11: Abu Jundal names same Pak army officers as Headley did
Jul 3, 2012
MUMBAI: The statements of American jihadi David Headley and alleged 26/11 handler Zabihuddin Ansari, alias Abu Jundal, match in one key respect: they have both named the same three Pakistani officials as being involved in the planning and execution of the 26/11 attacks. Sources in the Maharashtra Anti-Terrorism Squad (ATS), which is keeping tabs on the developments in Delhi, where Jundal is being interrogated, said Jundal has named Major Iqbal, Major Sameer Ali and Colonel Shah of the Pakistani army.
Jundal is believed to have told interrogators that Major Iqbal provided Rs 25 lakh for the boat that was initially purchased for the 2008 attacks. However, the terrorists' first attempt to reach Mumbai by sea was thwarted due to bad weather. "Prior to November 2008, the ISI had sailed a weapons-laden boat towards Mumbai, but the boat rammed into rocks and the attack was postponed," said an officer in Mumbai on condition of anonymity.
Mumbai officers are being kept abreast of developments in Delhi by central investigating agencies. The revelation continues to put pressure on Pakistan, which has been denying any role in the attacks.
Full report at:
http://timesofindia.indiatimes.com/city/mumbai/26/11-Abu-Jundal-names-same-Pak-army-officers-as-Headley-did/articleshow/14619870.cms
-------
Kasab grilled covertly a year ago to extract info on Jundal
Sagnik Chowdhury
Jul 03 2012
Mumbai : An 'off-the-books' interrogation with 26/11 gunman Ajmal Kasab at his cell in Arthur Road Jail, conducted covertly by the Mumbai Police slightly over a year ago, was part of the elaborate groundwork for securing Lashkar handler Zabiuddin Ansari alias Abu Jundal from Saudi Arabia, Maharashtra police sources have revealed.
Top Maharashtra Police sources said around April last year, Indian intelligence agencies had also directed the Mumbai Police Crime Branch to once again provide them a CD of the intercepts of calls between the 10 26/11 attackers and their handlers in Pakistan. Instructions were also issued to make fresh attempts at extracting information on Jundal from Kasab. Mumbai Police officers then launched a secret operation to grill Kasab in his high-security cell.
Full report at:
http://www.indianexpress.com/story-print/969549/
-------
Green-blouse-for-teachers' diktat gets official suspended
Jul 03 2012
Thiruvananthapuram : A circular asking women teachers to wear green blouse while attending an official function has kicked up a controversy here, prompting the government to suspend an official in the Education Department.
Department sources said K M Aliyar, District Project Officer of Sarva Sikshha Abhiyan (SSA), was suspended for issuing the circular, which triggered a row with some teachers unions alleging political motive behind it as green is the colour of the flag of Indian Union Muslim League, whose nominee holds the Education portfolio.
The circular had directed teachers to wear green blouses while attending the inaugural of a function connected with the SSA project at Ernakulam, the sources said.
The office of the Education Minister P K Abdu Rabb, however, made it clear that the department had no connection with the circular.
The Minister also directed the Secretary, General Education, to take action against the official and hold an inquiry into the controversy. The function, scheduled for today, was cancelled.
A spokesperson for Rabb said "this order appears to be a deliberate attempt to tarnish the image of the Minister and the department."
http://www.indianexpress.com/story-print/969794/
----------
Indian Malaysians seek compensation from UK
Jul 03 2012
London: A group representing Indian Malaysians have filed a suit against the British government seeking compensation of USD 1 million for each of the 1.8 million Indians in the country for allegedly failing to protect them when Malaysia was granted independence in 1957.
The claim was filed in the High Court by Malaysian exiled human rights lawyer Waytha Moorthy yesterday.
No date has been set for a hearing, but the Foreign Office has been asked to provide "crucial papers", a spokeswoman for Moorthy said.
According to Moorthy, Indian Malaysians face human rights abuses and live unprotected and in "continuous colonisation" under the rule of the Malay-Muslim majority.
This current situation for the Indian community is, he argued, the direct legacy of the then British Government who gave the Muslim population special rights and privileges in perpetuity in Article 153 of the Constitution of Malaysia, "effectively establishing a system of apartheid which has marginalised Malaysian Indians ever since".
Full report at:
http://www.indianexpress.com/story-print/969807/
----------
Minority cell wants 14 tickets for Muslim candidates, Congress party looks for cover
Syed Khalique Ahmed
Jul 03 2012
Ahmedabad: The Muslim leadership in the Gujarat Pradesh Congress Committee (GPCC) is demanding tickets for the community leaders from as many as 14 seats in the Assembly elections due late this year.
Though the issue was not discussed at the GPCC's minority cell meet on Sunday since it was an open forum, minority cell leaders say they had submitted a list of the constituencies to the state party leadership almost a week ago.
They argue there were 12 Muslim MLAs in the state Assembly in 1985 but their number has come down to five at present, mainly because the Congress has been fielding fewer Muslim contestants but also because the growth of communalism since eighties made it difficult for Muslim candidates to win elections.
They say there are several seats with substantial Muslim votes and Muslim candidates can sail through if the Congress leadership effectively works to transfer non-Muslim Congress votes to Muslim candidates.
Full report at:
http://www.indianexpress.com/story-print/969725/
----------
U P Minister vows to bring back Waqf properties 'looted' during SP, BSP governments
Jul 3, 2012
LUCKNOW: Uttar Pradesh urban development and minority affairs minister Azam Khan on Monday created flutter by claiming that almost 90% prime properties of the Waqf Board in the state have been sold to builders during previous regimes of the Bahujan Samaj Party (BSP) and Samajwadi party (SP). He said that he would bring a legislation to restore all of them back to the board. However, his claim led to embarrassment of the ruling SP in the House because Muslim are party's main vote bank. Khan also alleged that massive irregularities in the urban development department during the BSP rule.
Khan, while presenting Mulsim welfare budget in the state assembly, said in the last five years of BSP government and also during the SP rule earlier, waqf properties were sold. "We will bring a law soon to restore them back to the Waqf Board", said Khan, who is also considered to be the Muslim face of the party. He said that he is 'aware' about the 'dealings' of waqf properties done by some 'vested interests' in previous SP regime. However, Khan said that the new law on waqf will have the provision to take over the buildings constructed by builders over waqf land and they will become a part of the Waqf.
Full report at:
http://timesofindia.indiatimes.com/india/Azam-Khan-vows-to-bring-back-Muslim-waqf-
-------
Syed Ali Shah Geelani's RSS, Sangh Parivar allegations fiction: Omar
Jul 03 2012
Srinagar: Jammu and Kashmir Chief Minister Omar Abdullah has termed as "fiction" and "imagination" the allegations of hardline Hurriyat Conference leader Syed Ali Shah Geelani about settling RSS and Sangh Parivar members in the Valley in the garb of return of Kashmiri Pandits.
"Glad to see SASG's (Syed Ali Shah Geelani) imagination and ability to create fiction has not dulled with age," he wrote on the micro-blogging site twitter.com in response to the Hurriyat leader's allegations.
Geelani, at a press conference yesterday, claimed that the government was planning to settle RSS and Sangh Parivar members in the Valley, in the garb of return of Kashmiri Pandit migrants, to change the demographics of the area.
The Hurriyat Chairman said he was not against return of the Pandits but urged them to go to the places where they used to live before migration.
Omar dared Geelani to come out with the truth about his stand on the return of Kashmiri Pandits.
"If he wants to oppose Pandits' return, he should say so," the Chief Minister said.
http://www.indianexpress.com/story-print/969821/
----------
Pakistan
Sexual Abuse Cases in Britain Put Pak Community In Spotlight
Jul 03 2012
Rochdale: She was a lonely adolescent girl: No friends, no boyfriend, not much of a relationship with her parents. So she felt special when a man decades older paid attention to her, bought her trinkets, gave her free booze.
Then he took her to a dingy room and said she had to give something in return. His demands grew: Not just sex with him, but with friends. It went on for years, until police charged nine men with running an underage sex ring.
The story of Girl A, as she became known in court, is tragic, but it has also become explosive. Because there is no getting around it: The girls are white, and the men who abused them are Asian Muslims, mostly Pakistanis raised in Britain. And it's not just Rochdale, roughly a dozen other cases of Asian Muslim men accused of grooming young white girls for sex are slowly moving to trial across northern England, involving several hundred girls in all.
The case has stripped away the skin to expose the racial sores festering beneath. It is also feeding an already raw anger against the Asian Muslim minority, in a movement led by far right groups at a time when the economy is stalled.
"You can't get away from the race element,'' says prosecutor Nazir Afzal, a British Muslim from Pakistan who brought the girls' perpetrators to trial.
Nearly 1 million Pakistanis live in England, far more than in any other European country, with about 25,000 settled in the greater Manchester area that includes Rochdale. They face hard times now. They have been hit by a double-dip recession.
Mohammed Shafiq, a British Pakistani who directs the Ramadhan Foundation in Rochdale, has angered some in his own community by suggesting that police at first did not pursue the case of the Girl A and 47 other victims aggressively for fear of appearing racist because of an obsession "with the doctrine of political correctness.''
The May verdict has polarised Rochdale. Pakistanis are horrified at the stigma on their community and enraged that the men claimed to be Muslim.
http://www.indianexpress.com/story-print/969537/
---------
Terrorists blow up boys' primary school in Swabi
03 July, 2012
PESHAWAR: Unidentified terrorists blew up a government primary school for boys in Swabi district with no casualty reported, police said on Monday. The school in Dara village was detonated with a time bomb that was planted outside the outer wall. As a result, structure of several rooms was badly damaged and windowpanes were smashed. No casualty was reported as the explosion occurred late on Sunday night. The police cordoned off the area after the explosion and launched a search operation.
http://www.dailytimes.com.pk/default.asp?page=2012\07\03\story_3-7-2012_pg7_7
----------
Row over heritage plan for Dilip Kumar's Pakistan house
Jul 3, 2012
ISLAMABAD: The government's plan to turn the ancestral home of Bollywood actor Dilip Kumar in Pakistan's Peshawar city into a heritage site has come a cropper because there are too many claimants to the property.
The culture department was keen to preserve the ancestral home of the legendary actor and convert it into a heritage site, reported Dawn on Tuesday.
The house is located in Mohalla Khudadad near Qissa Khwani Bazaar. A dingy building, it located at the end of a narrow street.
Full report at:
http://timesofindia.indiatimes.com/world/pakistan/Row-over-heritage-plan-for-Dilip-Kumars-Pakistan-house/articleshow/14636366.cms
---------
Civilian deaths from US drones 'lowest since 2008′
03 July, 2012
ISLAMABAD: Fewer civilians have died in US drone strikes in Pakistan so far this year than at any other time in the last four years, a report said Monday.
Three to 24 civilians were reported killed by American CIA drones in Pakistan from January to June, according to the London-based Bureau of Investigative Journalism.
Reported civilian casualty rates have not been so low since the first half of 2008, when 12-21 civilians reportedly died under former US president George W Bush, it said.
It was also a marked decline on the 62-103 civilians reported killed by drone strikes in Pakistan in the first six months of 2011, the bureau added.
Full report at:
http://dawn.com/2012/07/02/civilian-deaths-from-us-drones-lowest-since-2008/
----------
Six killed in Karachi violence
03 July, 2012
KARACHI: At least six people were killed in incidents of violence in Karachi on Tuesday, DawnNews reported.
Moreover, the police claimed arresting a suspected target killer.
In the city's Orangi Town area, two people, including a political worker, were shot dead.
Separately, one man was gunned down in the Baldia Town neighbourhood.
Another man was killed in SITE's Metroville area whereas a policeman was shot dead in Gulbahar.
Furthermore, a man who had been wounded in an overnight firing incident in Karachi's Quaidabad area succumbed to his wounds at a hospital.
'Target killer' arrested
West zone police on Tuesday claimed arresting Shahid alias 'darinda' over suspected involvement in over 30 incidents of targeted killings and gang war.
A hand grenade and arms were also recovered from the suspect's possession, police claimed.
http://dawn.com/2012/07/03/six-killed-in-karachi-violence-3/
----------
Pak FS arrives in India, says has mandate to take peace process 'forward'
Jul 03 2012
New Delhi : Ahead of the Indo-Pak Foreign Secretary-level talks, Pakistan Foreign Secretary Jalil Abbas Jilani today said he has been "mandated" by his leadership to move the peace process forward and was looking forward to a "very constructive" dialogue with his Indian counterpart tomorrow.
"Let me tell you that I have brought a message of goodwill, peace and prosperity from the people of Pakistan for the people of India and the leadership of India....I am looking forward to a very constructive dialogue with my counterpart Ranjan Mathai," Jilani said after his arrival here.
The Pakistan Foreign Secretary was received by Yash Sinha, Joint Secretary (PIA) in Ministry of External Affairs and other senior officials.
Full report at:
http://www.indianexpress.com/story-print/969820/
----------
Pak Cabinet's Defence Committee to hold key meeting on US ties
Jul 03 2012
Islamabad : Pakistan's highest decision-making body on security issues will hold a crucial meeting today that is expected to ratify new terms of engagement with the US and the reopening of NATO supply routes to Afghanistan.
The meeting of the Defence Committee of the Cabinet will be chaired this evening by new Prime Minister Raja Pervez Ashraf for the first time.
It will be attended by key ministers, including Foreign Minister Hina Rabbani Khar,army chief Gen Ashfaq Parvez Kayani, other service chiefs and ISI chief Lt Gen
Zahir-ul-Islam, officials said.
Official sources said the committee is expected to decide on ending a six-month blockade of NATO supply lines, which was imposed after a cross-border NATO air strike killed 24 Pakistani soldiers in November last year.
A deal on reopening the supply routes has been held up by Islamabad's insistence on an apology from Washington for the air strike.
The two sides have also been negotiating the fees to be paid for NATO containers and tankers transiting through Pakistani territory.
Full report at:
http://www.indianexpress.com/story-print/969813/
----------
Six of a family killed in Mardan over second marriage issue
03 July, 2012
PESHAWAR: Six persons of a family, including an infant, were killed over second marriage issue in Mardan in the early hours of Monday.
According to police, Sajjad Khan had married another woman five months ago that infuriated his first wife.
Angry relatives of the first wife attacked Sajjad's house and opened fire indiscriminately that killed six persons, including his second wife, parents, siblings, and a one-year-old niece on the spot. Three others were also wounded in the incident. One of the victims was identified as Rasool Khan. The police have lodged a case against six persons, including Liaqat, Javed and Zulfiqar, and started investigation.
http://www.dailytimes.com.pk/default.asp?page=2012\07\03\story_3-7-2012_pg7_23
----------
South Asia
Afghanistan endgame leads to Tajik gambit
Jayanth Jacob
July 03, 2012
With the end game in Afghanistan at sight, India is stepping up its engagements with central Asian countries, the key neighbours of the strife-torn country.
India's external affairs minister SM Krishna arrived in the capital of Tajikistan on Monday ahead of all major donor countries get down to discuss their future commitments to Afghanistan on July 8.
Tajikistan a key and strategically located neighour of Afghanistan, has remained on the same page with India on Afghanistan. Both the countries also supported the Northern Alliance in their fight against the Taliban regime. More importantly, India using the Ayni airbase in Tajikistan gives an impetus to the growing strategic ties between the two countries.
What will also top the agenda at the Tokyo Conference on Afghanistan that Krishna will be attending is the international commitment to Afghan National Security Forces once the western forces exit most of their responsibilities.
New Delhi has been maintaining that whatever happens in Afghanistan is of direct national security implication for India. India also visualises the Shanghai Cooperation Organisation (SCO) keeping Afghanistan as a top priority issue once the NATO forces withdraw from there. And the central Asian countries have a decisive role in the grouping.
Indian officials said that India will be giving special attention the Central Asian countries. Despite having robust ties with most of the countries in the area the trade with the region is pegged at 500 million US$, which is much beyond the potential.
"Energy, economy and counter terrorism are the three areas of our vital cooperation", an official remarked. Besides his discussions with the Afghanistan leadership, Krishna will also meet with all Indian ambassadors in the Eurasian region. India is also looking the region for its energy purposes. The Chinese have a keen interest in the region, especially in Turkmenistan. The Chinese also have also ambitious railway plans for the region. While India is keenly working on the gas pipeline from Turkmenistan that passes through Afghanistan and Pakistan, it wants to firm up its energy ties with other countries in the region as well.
http://www.hindustantimes.com/world-news/RestOfAsia/Afghanistan-endgame-leads-to-Tajik-gambit/Article1-882441.aspx
----------
Afghanistan accuses Pakistan army of rocket attacks
03 July, 2012
KABUL: Afghanistan accused Pakistan's army on Monday of launching months of rocket attacks on its territory and threatened to report Islamabad to the UN Security Council, straining already troubled ties between the neighbours.
Kabul has regularly accused elements in Islamabad's government and army of backing militants fighting the US-backed Kabul government, charges denied by Pakistan.
But it was the first time Afghanistan has held Pakistan directly responsible for hundreds of rocket strikes on the heavily forested Afghan border province of Kunar that it says have killed four civilians since March.
No one was immediately available for comment from Islamabad but Pakistan has previously accused Kabul of not doing enough to wipe out militant bases in Afghan border areas like Kunar.
"We now have enough evidence that proves the rockets used in these attacks belong to the Pakistani army," the spokesman for Afghanistan's National Directorate of Security, Shafiqullah Taheri, told Reuters.
Full report at:
http://dawn.com/2012/07/03/afghanistan-accuses-pakistan-army-of-rocket-attacks/
---------
2 suspected Uighur hijack plotters die
Jul 3, 2012
BEIJING: Two of the six alleged hijackers who tried to hijack a Chinese plane on Friday died days after being injured during a scuffle with crew and passengers of the aircraft, Chinese state media reported.
The report of the death of the two alleged hijackers aged 26 and 32 on board the Tianjin Airlines flight comes amid conflicting reports on whether the incident was a serious case of hijacking or a brawl over seat adjustment.
Initial reports stated six Uighur Muslims from Xinjiang attempted to break into the cockpit by using a crutch and tried to hijack the plane flying between Hotan and Urumqi in the province.
The World Uighur Congress has disputed the official version of a hijack saying it was a case of brawl over seat adjustment.
http://timesofindia.indiatimes.com/world/china/2-suspected-Uighur-hijack-plotters-die/articleshow/14625602.cms
----------
Taliban bodies are 'returned to Pakistan for burial'
2 July 2012
The bodies of nine Taliban fighters, who slipped over the border and attacked a Nato convoy in Afghanistan, have been returned to Pakistan's North Waziristan tribal area for burial.
They were part of a 50-member group of fighters loyal to militant commander Hafiz Gul Bahadur.
Many vehicles were torched in the attack on the convoy in Afghanistan's Khost province two weeeks ago.
But the fighters were killed in a Nato air raid that followed the attack.
Residents in Miranshah, the main town of North Waziristan, told the BBC that the dead fighters were between 15 and 25 years old and were from the area.
They said the bodies were badly charred and barely identifiable.
Locals added that the bodies of six more Taliban fighters killed in the same attack are still to be brought to North Waziristan.
Full report at:
http://www.bbc.co.uk/news/world-asia-18672709
----------
Afghanistan killings: Suspect's name released
03 July, 2012
An Afghan policeman suspected of shooting dead three British soldiers has been named by an Afghan police commander as Ziarahman.
The two soldiers from the 1st Battalion Welsh Guards and another from the Royal Corps of Signals were killed on Sunday. They are expected to be named later.
They were shot as they left a checkpoint in Helmand province.
Ziarahman, 25, who reportedly came from Herat in western Afghanistan, was injured and later detained.
A second Afghan policeman is believed to be in custody in connection with the shootings.
More than 20 foreign personnel have been killed in rogue shootings in Afghanistan this year.
Such shootings are sometimes referred to as "green on blue" attacks.
Afghan police wear green uniforms; the use of "blue" for Nato dates from military exercises where Nato forces had blue pennants, and those playing their opponents had red ones.
The soldiers were part of a Nato-led Isaf force who have been training Afghan counterparts ahead of a handover of security responsibility by 2014.
Full report at:
http://www.bbc.co.uk/news/uk-18687788
----------
Australian soldier killed in Afghanistan
03 July, 2012
SYDNEY: An Australian special forces soldier has been killed in Afghanistan, Defence Force chief David Hurley said Tuesday, bringing to 33 the number of Australians lost in the conflict.
The 40-year-old member of the Perth-based Special Air Service Regiment was shot in the chest while on a mission with Afghan forces hunting an insurgent commander in Uruzgan province Monday, the general said.
"This man was a soldier's soldier," he added.
The trooper, who was on his seventh tour to Afghanistan in 11 years, had been hit during a small arms firefight in the Chora valley and the mission was continuing, Hurley said.
The death was Australia's first since October and Hurley said it was "unusual" for one soldier to serve seven tours in the war-torn country.
Full report at:
http://dawn.com/2012/07/03/australian-soldier-killed-in-afghanistan/
----------
7 killed in suicide attack in Afghanistan
Jul 2, 2012
KABUL: A suicide bomber blew up a car packed with explosives near the gates of a university in southern Afghanistan on Monday, killing at least seven people, officials said.
Ahmad Javed Faisal, the spokesman for the governor of Kandahar province, said the blast near the entrance to Kandahar University also wounded 23 people. He said all of the casualties were civilians.
Attacks in Kandahar, the birthplace of the Taliban, have been on the rise.
Earlier Monday, a spokesman for the eastern province of Logar said a NATO airstrike killed three civilians in the province. A spokesman for the coalition says initial reports do not suggest any civilian deaths.
Logar province spokesman Din Mohammad Darwesh said NATO forces were on a foot patrol in Charkh district Monday morning when they came under fire from insurgents. He added that they called in an airstrike and the bombardment killed three shopkeepers.
NATO spokesman Maj. Martyn Crighton said initial reports show only one airstrike in Charkh on Monday, with no civilian deaths. He said the strike was called on insurgents who were planting a bomb.
Crighton said a number were killed and the body of at least one tested positive for traces of homemade explosives.
http://timesofindia.indiatimes.com/world/south-asia/7-killed-in-suicide-attack-in-Afghanistan/articleshow/14613155.cms
----------
Afghanistan, Pakistan cross swords on border row
ANITA JOSHUA
03 July, 2012
What began last week as a renewed round of recriminations over border skirmishes along the Durand Line has snowballed into Kabul accusing Islamabad of opening rocket fire on posts inside Afghanistan and the latter in turn claiming that Afghan soldiers had entered Pakistan.
The AFP quoted unnamed Pakistani officials as saying 60 Afghan soldiers crossed into Pakistan in the Kurram tribal agency on Monday resulting in clashes which left two tribesmen dead. On the other hand, Afghan officials have threatened to approach the U.N. against Pakistan's shelling of villages along the border with Afghanistan, particularly those in the Kunar provnice. After a lull, these verbal clashes have resumed since last month's attack on Pakistani security posts in Upper Dir by terrorists allegedly based in the Kunar and Nuristan provinces of Afghanistan. The previous summer had also seen several such border incursions.
Pakistan's contention is that these attacks on its personnel are being orchestrated by Maulvi Fazlullah, Taliban leader — better known as Radio Mullah — who had fled Swat in 2009 in the wake of military operations and is believed to have secured a safe haven in Kunar.
Full report at:
http://www.thehindu.com/news/international/article3595520.ece
----------
Mideast Asia
With army cowed, Turkey scraps 'conspiracy courts'
Jul 2, 2012
The Turkish parliament has approved a reform abolishing the special courts used in coup conspiracy cases, without touching on existing prosecutions of hundreds of military officers that have drawn wide criticism.
The special courts have helped to sharply reduce the power and influence of the military, in the process helping to insure PM Tayyip Erdogan and his Islamist AK Party against any threat of a secularist putsch by an army that has staged four coups in the past 52 years.
With swathes of the current and former military leadership including General Ilker Basbug, Erdogan's own former chief of staff, already on trial under the existing system on suspicion of plotting to topple his government, he has now acknowledged some of the concerns of secularists and human rights groups.
The reform, pushed through by the ruling AK Party late on Sunday night, means any future cases concerning coups and terrorism-related crimes will be heard by regional high criminal courts, not special courts, according to a text obtained by Reuters.
Since coming to power in 2002, the AK Party has worked to clip the wings of the staunchly secularist military, which distrusted his Islamist past, although relations have recently improved as the army's power has waned.
Full report at:
http://timesofindia.indiatimes.com/world/rest-of-world/With-army-cowed-Turkey-scraps-conspiracy-courts/articleshow/14614184.cms
----------
Israel accuses Iran of plotting attacks in Kenya
Jul 3, 2012
JERUSALEM: Prime Minister Benjamin Netanyahu on Monday accused Iran of plotting attacks against Israel in Kenya after the arrest of two Iranians in possession of explosives in the African country.
"Iranian terrorism knows no borders," the Israeli leader was quoted as saying in a statement from his office.
The allegation comes after the US last year said Iran had plotted to assassinate the Saudi ambassador to the United States.
"After Iran sent its agents to murder the Saudi ambassador on US soil, the country has engaged in attacks in Azerbaijan, Bangkok, in Tbilisi, in New Delhi, and now we have just discovered a plot for a terrorist attack in Africa," Netanyahu said.
"The international community must fight against this major player in the world of terrorism," he added.
On June 25, a Kenyan court charged two Iranians with illegal possession of 15 kilograms (33 pounds) of the powerful explosive RDX, according to the charge sheet presented in court.
Both men have denied the charges.
The Iranian foreign ministry said on Saturday it was seeking information about their case, refusing to make further comment.
http://timesofindia.indiatimes.com/world/middle-east/Israel-accuses-Iran-of-plotting-attacks-in-Kenya/articleshow/14619855.cms
----------
Yemen: A Hostage Makes a Plea to Saudi Arabia
03 July, 2012
Militants with Al Qaeda in Yemen on Monday posted online a new video of a kidnapped Saudi diplomat appealing to the kingdom's rulers to grant his captors' demands and save his life. The speaker identified himself as Abdullah Mohammed Khalifa al-Khaldi, the deputy Saudi consul in the Yemeni port city of Aden, who was kidnapped in March. Mr. Khaldi said that Al Qaeda would release him if Saudi Arabia freed detained female militants. Also on Monday, a bomb hidden under the driver's seat of a car killed a senior Yemeni intelligence officer, Lt. Col. Mohammed al-Qudami, in Sana, the capital, a security official said. There was no immediate claim of responsibility.
http://www.nytimes.com/2012/07/03/world/middleeast/yemen-a-hostage-makes-a-plea-to-saudi-arabia.html?ref=middleeast&gwh=15D8A289EDCC06517A747A45F4618D67
----------
Hamas Suspends Voter Registration Process in Gaza
By FARES AKRAM and ISABEL KERSHNER
03 July, 2012
GAZA — The Hamas-run government in Gaza suspended the work of the Palestinian Central Elections Commission on Monday, a day before it was to start registering new voters, abruptly halting one of the few tangible steps toward reconciliation with the rival Fatah party, based in the West Bank.
The move pushed off the prospect of presidential and parliamentary elections. Though considered long overdue, no date had been set for them.
The latest delay added a new complication in a reconciliation process that began more than a year ago with an accord brokered by Egypt that was described as historic but has mainly resulted in new rounds of talks, more documents and broken deadlines.
Hamas said it was temporarily halting the work of the commission for several reasons, among them what it said was the unfair treatment of Hamas supporters in the West Bank, where the Fatah-dominated Palestinian Authority led by President Mahmoud Abbas holds sway.
Sami Abu Zuhri, a Hamas spokesman in Gaza, said in a statement that large numbers of its supporters could not register as new voters in the West Bank "due to the repression" and that Hamas representatives could not supervise registration there.
Full report at:
http://www.nytimes.com/2012/07/03/world/middleeast/hamas-suspends-voter-registration-
----------
Israel Disbands Panel on Military Service Rules
By JODI RUDOREN
03 July, 2012
JERUSALEM — Prime Minister Benjamin Netanyahu of Israel on Monday disbanded the committee he had charged with devising a plan for universal military or national service, a move that could lead to a coalition crisis and end the national unity government he formed two months ago.
The broad coalition has been in turmoil for a week over the issue of how to draft more ultra-Orthodox Jews as well as Arab citizens. Shaul Mofaz, the Kadima Party leader whose surprise agreement with Mr. Netanyahu gave the prime minister a supermajority of 94 of Parliament's 120 members, had made the universal draft his primary goal.
But the two men differ sharply on whether to levy personal sanctions on ultra-Orthodox men who avoid service in order to study in yeshivas, a nonnegotiable point for several right-wing and religious political factions whose alliances with Mr. Netanyahu are generally stronger than Kadima's.
Full report at:
http://www.nytimes.com/2012/07/03/world/middleeast/israel-disbands-panel-on-military-
----------
Iran test-fires ballistic missile able to hit Israel: Report
Jul 3, 2012
TEHRAN: Iran on Tuesday test-fired in its central desert a ballistic missile capable of striking Israel as part of war games designed to show its ability to retaliate if attacked, media said.
Iran's Revolutionary Guard fired the medium-range Shahab-3 missile at a mock target in the Kavir Desert on the second day of its Great Prophet 7 exercise, which is due to end on Wednesday, Iran's Al-Alam television network reported.
The Shahab-3 has a range of up to 2,000 kilometres (1,200 miles), which means it is theoretically able to hit Israel, which is some 1,000 kilometres away.
Al-Alam said two short-range missiles, the Shahab-1 and Shahab-2, with ranges of 300 to 500 kilometres, were also launched.
The Fars news agency said "dozens of short-, medium-, and long-range missiles have been fired from different parts of Iran at a single target in Kavir."
The ISNA news agency said the last day of the drill would see Revolutionary Guard "bomber drones" also used.
Full report at:
http://timesofindia.indiatimes.com/world/middle-east/Iran-test-fires-ballistic-missile-able-to-hit-Israel-Report/articleshow/14634059.cms
----------
Simulating attack on US bases, Iran begins drills
Jul 3, 2012
TEHRAN: Iran on Monday said it was readying ballistic missile war games simulating a counter-attack against US or Israeli targets in the region in the event of air strikes on its nuclear facilities.
The three-day drill in Iran's central desert region was starting days after the EU and the US imposed severe new sanctions, and on the eve of another round of negotiations with world powers seeking to curb Tehran's nuclear ambitions.
"All units and missile bases have commenced their preparation and movement to the designated areas," the Revolutionary Guards, Iran's powerful elite military force conducting the exercise, said in a statement published by the official IRNA news agency.
It said the "tens of different missiles" to be used included the Shahab-3, a ballistic missile with a range of 2,000 kilometres capable of hitting Israel.
The other ballistic missiles it said would be used — the Fateh, Tondar, Zelzal, Khalij Fars and Qiam — have lesser ranges of 200 to 750 kilometres. Brigadier General Amir Ali Hajizadeh, the head of the Guards' aerospace division handling missile operations, announced the war games by saying that they showed Iran "will decisively respond to any trouble" caused by "adventurous nations".
http://timesofindia.indiatimes.com/world/middle-east/Simulating-attack-on-US-bases-Iran-begins-drills/articleshow/14625099.cms
----------
Iran MPs seek to shut Hormuz for EU-bound oil tankers
Jul 3, 2012
TEHRAN: Iranian MPs have signed a draft law aimed at banning Europe-bound oil tankers from using the Strait of Hormuz to punish EU nations that slapped sanctions on the Islamic republic, reports said on Tuesday.
"This project is a response to the oil sanctions imposed by the European Union on the Islamic republic," Ebrahim Agha Mohammadi, of parliament's foreign affairs committee, was quoted as saying by Mehr news agency.
"In line with this draft law, the government has the right to stop the transit of tankers (through Hormuz) carrying oil to countries which have imposed oil sanctions on Iran," he added.
Parliament would be asked to approve the draft law and consider it a "priority," he said.
An EU embargo on Iranian oil went into effect on Monday, provoking anger in Tehran which says the measure will hurt talks with world powers over its sensitive nuclear activities.
Oil market observer bodies and analysts say the embargo, coupled with US financial sanctions ramped up on Thursday, are gutting Iran's vital oil exports, which account for half of government revenues.
Full report at:
http://timesofindia.indiatimes.com/world/middle-east/Iran-MPs-seek-to-shut-Hormuz-for-EU-bound-oil-tankers/articleshow/14628765.cms
---------
North America
Jihad mass murderer again barred from court because of his Muslim beard
June 30, 2012
The trial of Fort Hood jihad mass murderer Nidal Malik Hasan has become a dreary politically correct sideshow, matching the U.S. Government's analysis of his murders, which classified his jihad as "workplace violence." They expect a jihad mass murderer of American troops to respect the American system enough to remain clean shaven? This trial should proceed quickly, whether Hasan is in court or not, and he should be swiftly executed.
FORT HOOD, Texas — A military judge ruled Friday against delaying the trial of the Fort Hood shooting suspect, an Army psychiatrist who remains banned from the courtroom because his beard violates Army regulations.
Maj. Nidal Hasan's trial will proceed as scheduled, beginning on Aug. 20. Defense attorneys wanted the trial moved to December, saying they needed more time to prepare.
But the judge, Col. Gregory Gross, said the defense already had plenty of time. Prosecutors had indicated they were ready for trial last fall, but the court-martial was set for March and postponed first to June and then August — all at the request of the defense team.
Hasan faces the death penalty if convicted of 13 counts of premeditated murder and 32 counts of attempted premeditated murder in the 2009 attack.
Gross said Friday that top Army officials had rejected Hasan's request for a religious exemption — due to his Islamic faith — to the rule banning beards. An appeals court also denied a defense request to overturn the judge's decision last week to bar Hasan from the courtroom unless he shaves.
Hasan watched Friday's hearing from a closed-circuit television in a nearby room, as he did during last week's hearing.
"I could have him held down and have someone shave him, but I'm not prepared to do that at this time," Gross said.
I hope Gross or the relevant authority will soon be prepared to hold Hasan down and have someone execute him.
Gross also denied a defense request to step down as the trial judge, disputing allegations that he was biased against Hasan.
The defense ought to be deeply ashamed to play the Muslim Victimhood Card in a case like this.
Lead defense attorney Lt. Col. Kris Poppe said the judge had asked defense attorneys to clean up a court restroom after Gross found a medical waste bag, adult diaper and what appeared to be feces on the floor after a hearing earlier this month.
Hasan, who is paralyzed from the waist down after being shot by police the day of the rampage, has to wear adult diapers — but the mess in the restroom that day was mud from a guard's boots, Poppe said.
And the bag and diaper were attached to those boots, I suppose?
Poppe also said that Hasan often gets cold because of his paralysis and had been allowed to wear a knit cap in court. But when Hasan showed up with a beard June 8, the judge ordered the cap removed because defense attorneys didn't have a doctor's note specifying why Hasan needed it, Poppe said....
http://www.jihadwatch.org/2012/06/fort-hood-jihad-mass-murderer-again-barred-from-court-because-of-his-muslim-beard.html
----------
Ohio Muslim Policeman's Suit Says Firing Followed Conversion to Islam
July 2, 2012
NORTON, OHIO, 7/2/12 – Nicholas A. Matheny today filed a federal civil-rights complaint charging federal and state discrimination, retaliation, conspiracy, and hostile-work-environment claims against the City of Norton, Police Chief Thaddeus Hete, Police Sergeant John Dalessandro, and City Administrator Richard Ryland.
Officer Mathey's suit, captioned Matheny v. City of Norton, et al., seeks declaratory and injunctive relief and damages. It was filed in the U.S. District Court, Northern District of Ohio, Eastern Division.
[NOTE: Matheny's legal team includes Subodh Chandra and Ashlie Case Sletvold of the Chandra Law Firm, LLC in Cleveland and Romin Iqbal of the Council on American-Islamic Relations of Ohio (CAIR-Ohio), a leading civil-rights organization.]
Federal and state anti-discrimination laws forbid making employment decisions based on religion, or in retaliation for an employee's opposition to discrimination or harassment. The complaint's allegations are summarized below.
Full report at:
http://www.facebook.com/notes/cair/cair-ohio-muslim-policemans-suit-says-firing-followed-conversion-to-islam/10150959076324442
----------
Bosnian Muslim community growing, changing
June 30, 2012
By Jenna Mink
Large Bosnian refugee community has completed building its own mosque
When it's time to pray, Azmir Husic goes to an ornate, new mosque with a tower on the outside and hardwood floors on the inside. It's a welcome change from the place where he used to worship: an old maintenance garage.
"We built this all the way from the ground, and we built it the way we wanted to build it," said Husic, president of the Bosnian Islamic Centre on Blue Level Road. "It's really better ... more than 10 times better" than the garage where Bosnian Muslims once gathered.
As Bowling Green becomes more religiously diverse, the local Muslim community is not only growing, it's also changing. More than 10 years ago the local Muslim population was increasing due to an influx of immigrants, particularly Bosnians. Around that time, the Islamic Center of Bowling Green opened.
Full report at:
http://www.kentucky.com/2012/06/30/2243797/bowling-greens-muslim-community.html
----------
U.S. Adds Forces in Persian Gulf, a Signal to Iran
By THOM SHANKER, ERIC SCHMITT and DAVID E. SANGER.
03 July, 2012
WASHINGTON — The United States has quietly moved significant military reinforcements into the Persian Gulf to deter the Iranian military from any possible attempt to shut the Strait of Hormuz and to increase the number of fighter jets capable of striking deep into Iran if the standoff over its nuclear program escalates.
The deployments are part of a long-planned effort to bolster the American military presence in the gulf region, in part to reassure Israel that in dealing with Iran, as one senior administration official put it last week, "When the president says there are other options on the table beyond negotiations, he means it."
But at a moment that the United States and its allies are beginning to enforce a much broader embargo on Iran's oil exports, meant to force the country to take seriously the negotiations over sharply limiting its nuclear program, the buildup carries significant risks, including that Iran's powerful Islamic Revolutionary Guards Corps could decide to lash out against the increased presence.
The most visible elements of this buildup are Navy ships designed to vastly enhance the ability to patrol the Strait of Hormuz — and to reopen the narrow waterway should Iran attempt to mine it to prevent Saudi Arabia and other oil exporters from sending their tankers through the vital passage.
Full report at:
http://www.nytimes.com/2012/07/03/world/middleeast/us-adds-forces-in-persian-gulf-a-signal-to-iran.html?ref=global-home
----------
Grand Forks-area Muslims rejoice in new worship center
July 01, 2012
GRAND FORKS - It wasn't planned, but the not-on-the-square angle at which the Christian altar was designed inside Grand Forks' United Church of Christ when the building was built 40 years ago means that, when one faced the altar, one faced the most direct route to Mecca.
"It was accidental," said Nabil Suleiman, president of the Islamic Center of Grand Forks, which is completing its purchase of the building across 17th Avenue South from Sharon Lutheran Church and Red River High School.
Knowing which way is the shortest to Mecca, birthplace of the prophet Muhammad and a city in Saudi Arabia, from wherever one is in the world always has been central to being Muslim.
It could seem fortuitous for area Muslims that their new worship center seems built to facilitate their prayers.
For more than 20 years, Muslims have held Friday prayers on UND's campus, first in the Memorial Union and in recent years in the Lotus Meditation Center attached to the International Center. But the space was limited.
"Now we have a place for women and children to pray, too," said Salowah Ahmed, who has lived in the United States since 1985 and in Grand Forks for 20 years. She plans to start teaching religion classes for children, she said.
Grand Forks-area Muslims make up a group that is perhaps surprisingly large for an area better known for Catholics and Lutherans.
Full report at:
http://www.inforum.com/event/article/id/365990/group/News/
----------
Sexton: Mosque gathering celebrates First Amendment
By: SCOTT SEXTON
July 02, 2012
It was 168 degrees in the shade yesterday. The pavement was melting. Air conditioners and ceiling fans strained to the point of breaking. Even ice cubes were complaining.
Pools, movie theaters and walk-in coolers were popular places to try to beat the heat. The Community Mosque of Winston-Salem, surprisingly enough, was nowhere near the top of anyone's list of places to cool down on a brutish Sunday afternoon.
Yet a crowd of close to 75 turned out anyhow to celebrate the First Amendment — specifically the bit about freedom of religion.
"Freedom of religion is one of the founding principles of this country," said the Rev. Charles Wilson.
Some things are that important, blast-furnace heat or not.
Educational tidbits
Full report at:
http://www2.journalnow.com/news/2012/jul/02/wsmain01-sexton-mosque-gathering-celebrates-first--ar-2400168/
----------
Danish Solider 'Likely' in 2 Pirate Hostage Deaths
03 July, 2012
COPENHAGEN, Denmark (AP) — Military prosecutors say a Danish soldier "very likely" caused the death of two hostages while stopping a pirate vessel off Somalia earlier this year.
Prosecutors say the soldier who opened fire at the hijacked "Jelbut 37" vessel to force it to halt accidentally killed an Iranian and a Pakistani hostage in the process. Prosecutors said Tuesday the soldier would not be prosecuted since anti-pirate operations are inherently fraught with deadly risks.
The Absalon warship intercepted the hijacked fishing boat on Feb. 27, freeing 16 crew members from Iran and Pakistan and capturing 17 pirates.
Piracy has emerged as a major threat to merchant ships in the sea lanes of the Indian Ocean and the Arabian Sea.
http://www.nytimes.com/aponline/2012/07/03/world/europe/ap-
----------
Does America Have a Responsibility to Stop Mass Killings?
JUL 1 2012
The near consensus is "sometimes." The foreign policy establishment thinks presidents should make the call. But Congress ought to have the final say.
Does the U.S. have a responsibility to intervene abroad to stop egregious human rights abuses? The so-called "responsibility to protect" was the subject of a panel that my colleague Jeffrey Goldberg moderated Sunday in Aspen. He shared the stage with Anne-Marie Slaughter, who served in the Obama Administration as Directory of Policy Planning in the State Department, and is known to advocate for interventions like the one in Libya. In fact, all of the panelists were, broadly speaking, advocates of American intervention, at least in situations like the Rwandan genocide. To spur a more wide-ranging conversation, law professor Steven Carter was briefly assigned to channel the perspective of Sen. Rand Paul, a leading non interventionist.
"The spirit Rand Paul captures goes deeply in American history," he said, adding that in situations like the killings in Darfur, a lot of Americans think it's tragic, but nevertheless feel as though we've got our own problems to address, and that it would be good if someone else did something.
Full report at:
http://www.theatlantic.com/politics/archive/2012/07/does-america-have-a-responsibility-to-stop-mass-killings/259270/
----------
Europe
French arrest man suspected of financing al-Qaeda
03 July, 2012
PARIS: French authorities have arrested the administrator of an extremist French website who is suspected of playing a key role in financing and recruiting for al-Qaeda and other terrorist groups from Pakistan to Spain, the Paris prosecutor's office said Tuesday.
The man, whom prosecutors call an "operational vector and formidable financier of the bloodiest terrorist groups'', is being questioned Tuesday. He faces preliminary charges of planning terrorist acts and financing a terrorist enterprise, the prosecutor's office said in a statement.
The man, a Tunisian born in 1977 based in the southern French city of Toulon, was arrested Friday after a yearlong investigation, the prosecutor's statement said. It did not give the man's name.
The prosecutor cited "serious and concordant evidence" that the suspect sent material from his computer to terrorist groups. It says he played a "centralizing role" in collecting funds for terrorist groups to buy weapons, but did not elaborate on how much money was involved.
Prosecutors say he is suspected of acting as a financier and recruiter for groups including al-Qaeda and al-Qaeda in the Islamic Maghreb (North Africa), Fatah al Islam, and the Islamic State of Iraq.
Full report at:
http://dawn.com/2012/07/03/french-arrest-man-suspected-of-financing-al-qaeda/
----------
Radicalisation of Europe bigger threat than al-Qaeda: official
Jul 03 2012
New Delhi : Radicalisation of society is the biggest threat - bigger than the al-Qaeda terrorists – Europe is facing now, a top European Commission official said today.
Director General for Home Affairs, European Commission, Stefano Manservisi, said the basic threat to Europe has not come from terrorist organisations like al-Qaeda but from radicalisation of societies, which are on stress, as it may lead to terrorism.
"Prevent terrorism and address radicalisation and recruitment. This is a domain of particular concern for EU and where we must work harder and more closely with a number of actors to prevent new attacks", he told journalists in an interaction.
Maintaining that Europe has been and still is exposed to terrorism and violent extremism, Manservisi said the European Union has been working with international partners like India to disrupt international crime networks which take a variety of forms: trafficking in human beings, drugs and firearms, money laundering.
"Security cannot be achieved in isolation. Therefore, we are equally concerned about the terrorist threats that India faces, which in the past few years resulted in a number of attacks, most prominently the Mumbai attacks of November 2008 and July 2011", he said.
The European Commission official said security was a global issue and Europe and India have common interests in sharing experiences and enhancing cooperation between the two was very important.
Full report at:
http://www.indianexpress.com/story-print/969803/
----------
"Objective" proof that Turkish jet was shot in Syrian airspace: Russia
VLADIMIR RADYUHIN
03 July, 2012
Russia has indisputable proof that the Turkish jet F-4 Phantom was shot down in the Syrian airspace, a Russian military source stated on Monday.
The Interfax news agency quoted a "military-diplomatic source" as saying that Russia possessed "objective data on the flight itinerary" of the Turkish F-4 Phantom which was downed by Syrian air defences on June 22.
"This data proves conclusively that the jet violated the Syrian airspace," the source told Interfax.
Full report at:
http://www.thehindu.com/news/international/article3595026.ece
----------
Arms to government, opposition fueling Syria war: UN
Jul 3, 2012
UNITED NATIONS: Weapons supplied to the Syrian government and opposition are escalating the conflict, UN human rights chief Navi Pillay said on Monday.
"The provision of arms to the Syrian government and to its opponents is fueling the violence," Pillay told reporters after briefing the UN Security Council.
"Any further militarization of the conflict must be avoided at all costs."
While Pillay did not name countries, Russia and Iran are key suppliers to President Bashar al-Assad's government. The Gulf states, notably Qatar and Saudi Arabia, have given weapons to the increasingly well-armed opposition.
Pillay said the government and opposition are carrying out "serious" new rights violations including attacks on hospitals. She renewed an appeal for the 15-nation council to refer the Syria conflict to the International Criminal Court.
The UN human rights commissioner acknowledged that it would be a "political" decision however. Russia, Syria's key ally, has blocked past moves to impose sanctions and make an ICC referral.
Full report at:
http://timesofindia.indiatimes.com/world/middle-east/Arms-to-government-opposition-
----------
Islamic finance treads fine political line in Kazakhstan
Jul 2, 2012
By Robin Paxton
ASTANA, July 2 (Reuters) - In Kazakhstan, a farmer and an imam approach the Islamic Development Bank for a loan. The farmer, an Orthodox Christian, needs tractors to plough his fields. The imam wants to repair the roof of his mosque. Which one gets the loan?
Yerlan Baidaulet, a banker who is one of Kazakhstan's foremost proponents of Islamic finance, received both requests. He sent the imam away with a donation from his own pocket on the grounds that Islamic banking permits charity or grants, not loans, to religious institutions.
The farmer, an ethnic Russian, got the loan he needed. Long since repaid, it was the springboard to the growth of a major farming enterprise in the grain belt surrounding Kazakhstan's futuristic capital, Astana.
"Islamic finance isn't only for Muslims," said Baidaulet, executive director for the Commonwealth of Independent States and Eastern Europe at the IDB, a Saudi Arabia-based multilateral lender. "Even dollar bills are printed with the words: 'In God We Trust'."
Two decades after the collapse of the Soviet Union freed Kazakhstan from Marxist ideology, the country of 17 million people is making a bid to become a regional centre of Islamic finance, which is based on religious principles including bans on interest and pure monetary speculation.
Full report at:
http://in.reuters.com/article/2012/07/02/islamic-finance-kazakhstan-
----------
Muslim Minorities More British Than Whites
02 July 2012
LONDON – Muslim ethnic minorities living in the United Kingdom are more likely to consider themselves British than their white counterparts, a new study has found, blasting all theories about Muslims' inability to integrate into British society.
"Our research shows that people we might assume would feel very British, in fact do not - while others who we might assume would not associate themselves with feelings of 'Britishness,' in fact do," said Alita Nandi, who will present the research next week, was quoted as saying by Channel 4 News.
The "Understanding Society" report, conducted by the Institute for Social and Economic Research at the University of Essex, found that Muslims are the most likely of all groups to be identified with the concept of 'Britishness.'
In particular, Muslims from a Pakistani background, often believed to associate more strongly with Pakistan than with Britain, are revealed in the survey as quite the contrary.
Researchers point to the significant numbers of White Britons who feel little or no association with "being British."
Full report at:
http://www.onislam.net/english/news/europe/457806-muslim-minorities-more-british-than-whites.html
----------
UN Urges Jordan to Open Camp for Syrian Refugees
03 July, 2012
AMMAN, Jordan (AP) — A United Nations official says a refugee camp must soon be opened in Jordan to address a dramatic spike in the numbers of Syrians crossing the border.
Andrew Harper, the U.N. refugee agency's representative to Jordan, says refugee numbers doubled over the past four days with about 1,000 entering Jordan late Monday alone.
He says most are fleeing violence in and around the northern city of Homs, and from Daraa just across the border.
Both the UN and Jordan's Interior Ministry estimate an average of 400 Syrians now cross into Jordan daily.
Harper said Tuesday that the camp would need to accommodate recent arrivals due to overcrowding at the government's Bashabsheh holding facility.
Jordanian government officials said they had no immediate comment.
http://www.nytimes.com/aponline/2012/07/03/world/middleeast/ap-ml-jordan-
----------
URL:http://www.newageislam.com/islamic-world-news/new-age-islam-news-bureau/qaeda-kingdom-rises-on-ruins-of-timbuktu-amidst-rivers-of-blood/d/7814