New Age Islam News Bureau
11 Jun 2018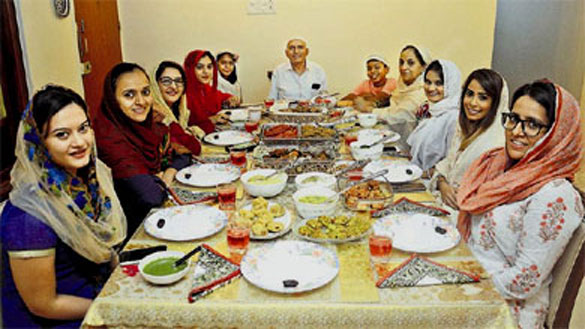 The Poonawala family at their home on Friday. The family hosts Iftaar parties every year for their friends, irrespective of their religious beliefs. (Shankar Narayan/HT PHOTO)
------
• Pune's Interfaith Iftaar Parties Have a Place for Everyone at the Table
• US-Backed Militias Start Recruiting Kids in Northeastern Syria
• Pakistan Ulema Council Muslim Unity Urged To Foil Enemy Plots
• Diner Brings Calgary's Muslim Community Together to Feast and Support Charity
• Political Islam Set To Intensify In Malaysia: Don't Treat Pas Lightly
India
• Pune's Interfaith Iftaar Parties Have a Place for Everyone at the Table
• Gurugram Comes Together To Break Fast and Celebrate Harmony
• Imam's Son Beaten to Death in West Bengal Riots Cracks 2018 Class 10 Board Exam
• YSRCP, JSP Leaders Distribute Ramzan Tohfa to Muslims
• RSS Muslim Wing To Hold Eid Milan; SP, Congress See It as 'Gimmick'
• JeM, LeT & Hizb work closely to target India, reveals ultra
--------
Arab World
• US-Backed Militias Start Recruiting Kids in Northeastern Syria
• Fire Hits Iraq's Biggest Ballot Warehouse before Recount
• Regime strikes kill 15 Syrians after jihadist attack
• Infighting Erupts again Among Terrorists in Northern Syria
• Kurd-Arab council ready for 'unconditional talks' with Syria regime
• Syrian Air Force Pounds Terrorists' Positions in Northeastern Idlib
• Syrian Army Forwards More Military Hardware to Sweida
• Iraq's parliament speaker calls for election rerun
• Deadly clashes as militants attack besieged Syria regime villages
• Mosul's traumatized children: 'I am like my old self. What I was before ISIS came'
• 400 events across Saudi Arabian cities to celebrate Eid Al-Fitr
--------
Pakistan
• Pakistan Ulema Council Muslim Unity Urged To Foil Enemy Plots
• One-Month Ban on Public Gatherings, Rallies In South Waziristan Following 'Anti-State' Speeches
• Musharraf 'Confused' Over Return to Pakistan, Announces to Challenge NADRA's Action Of Blocking His CNIC
• Nawaz's lawyer recuses himself from corruption references
• Pakistan's HC to India Hosts Traditional Iftar in New Delhi
• Tahirul Qadri might boycott upcoming polls
--------
North America
• Diner Brings Calgary's Muslim Community Together to Feast and Support Charity
• Islamophobia Infects the Government As Anti-Muslim Bigotry Becomes Socially Acceptable in Trump's America
• Why Wasn't I Invited to the White House?
--------
Southeast Asia
• Political Islam Set To Intensify In Malaysia: Don't Treat Pas Lightly
• In Speech to Jewish Group, Leader of World's Largest Muslim Organization Calls for Compassion
• Islamic Fashion School Cuts a Faithful Figure In Indonesia
• PAS replaces Umno as defender of race, religion
• Ibrahim Ali: My resignation can be discussed during Perkasa AGM
• Indonesian Muslim cleric to speak in Israel amid diplomatic row
--------
Europe
• Protests over Plan for Muslim Rapper to Perform At Bataclan
• Denmark Swings Right On Immigration – And Muslims Feel Besieged
• Hundreds of people in London, Berlin mark International Quds Day
• EU assures Jordan of continued aid ahead of Arab summit in Makkah
• Putin says G-7 criticism of Russia is 'chatter'
• UK ignored suspicious arms flow to Saudi Arabia: Watchdog
• Rohingya organizations criticize recent UN-Myanmar deal
--------
South Asia
• Award-Winning Lawyer Says Rohingya Must Be Recognized As Myanmar Citizens
• 34 Militants Killed In NDS Special Forces Operation in Nangarhar
• First Monsoon Rains Pound Rohingya Camps
• Afghans walk hundreds of kilometres for peace
• 4 Militants Killed In Coordinated Suicide Attack in Jalalabad City
• Roadside bomb kills 6 civilians in Afghanistan
--------
Mideast
• IRGC Disbands 2 More Terrorist Teams in Western Iran
• Dozens of Saudi Mercenaries Killed As Yemeni Forces Hit Bases In Ta'izz, Hudaydah
• Kurdish Party Announces Killing Nine Iranian Revolutionary Guards
• Palestinians must decide fate of Palestine: Ayatollah Khamenei
• Israeli army destroys undersea tunnel from besieged Gaza Strip
• Austria's anti-Muslim measures leading to religious war: Erdogan
--------
Africa
• Libyan Army Air Raid Kills Egyptian Al-Qaeda Leader in Derna
• Nigeria: Why "Falz" Should Ignore Muslim Rights Concern
• Seven injured in al Shabaab attack at Somalia military base
Compiled by New Age Islam News Bureau
URL: https://www.newageislam.com/islamic-world-news/punes-interfaith-iftaar-parties-place/d/115511
--------
Pune's interfaith Iftaar parties have a place for everyone at the table
Jun 10, 2018
Ramadan is a month of fasting, reflection, devotion, generosity, and sacrifice observed by Muslims around the world. People across the city embrace the spirit of the holy month as people of all faiths come together to celebrate the occasion.
During the month of Ramadan, Muslims observe a fast which is broken in the evening in a ceremony called Iftaar.
"It is a venue where people gather to meet their loved ones and eat the various delicious dishes prepared after the evening namaaz," says Aliasgar Mukhtiar, founder, food adda India.Over the past few years, non-Muslims and people of other faiths also participate in Iftaar celebrations across the city. We look at the trend and speak to Puneites about how they celebrate the occasion and what they enjoy most about it.
Celebration of community
An interfaith Iftaar is one where people, irrespective of their caste or religion, come together and celebrate the spirit of Ramadan. Aliasgar, who has experienced this unique celebration, said, "This year, I was blessed to meet people who, despite their different religious beliefs, strictly followed the Islamic month and its traditions. Two of my friends were fasting throughout the month and it is such a great way of showing support and showing how a community is built from more than just one's religion. Iftaar is a memorable experience with these wonderful people."
He added that India is a country where religious festivals are celebrated by one and all, irrespective of their religion.
"The non-vegetarian as well as the vegetarians always have a place at the table. Everyone enjoys the food. I wish there are more instances such as this where the community can come together and celebrate special occasions," he said.
Samreen Sayyad, a media professional, has heard about such Iftaar parties and is keen to be a part of one.
"As a part of the younger generation, this idea of interfaith Iftaar has caught my attention. Even though I haven't been a part of one, I have heard pleasant things about it. People with different beliefs, sitting together and just enjoying a meal, is what helps build a strong community, irrespective of who belongs to which religion," said Samreen Sayyad.
Language of faith
Ayesha Munshi, a fashion mentor, has not only been to an interfaith Iftaar, but has also hosted a few.
"Ramadan is like a month of Islamic detox where we fast to realise what tolerance tastes like. In the fast paced lifestyles of today's world, a little time spent with the intention of sharing your generosity, promoting love, peace and togetherness is always a welcome. Iftaar parties calling for interfaith congregation is as calming to the soul as to the five senses," says Ayesha.
With Muslims breaking their fast at sunset and non-Muslims relishing Muslim delicacies - all clad in astounding ethnic wear, heads partially covered at the time of Iftaar, Ayesha added, "It is indeed ironic how India has so many religions, but the hearts speak one language - the language of faith."
Sharing and compassion
For Saba Poonawala, a celebrity hair and makeup artist, the holy month of Ramadan has always been about being grateful, joyous, and compassionate.
"My parents have always taught us the art of sharing. During Ramadan our home is always open for Iftaar. My friends, irrespective of their religious beliefs, come home every evening and be a part of our ceremonies. The idea is to bridge the gap and celebrate with everyone."
Ritika Athwani, Saba's friend, has been coming over to her place every year for Iftaar.
"I look forward to spending time with Saba and her family. It is one big celebration with lots of delicious food and lots of bonding. I thoroughly enjoy every meal made during these days. It feels like home. Farooque (Poonawala), Saba's father, very lovingly serves us with all the delicacies they have prepared."
https://www.hindustantimes.com/pune-news/pune-s-interfaith-iftaar-parties-have-a-place-for-everyone-at-the-table/story-KGPmhIlX03YBzyKogmpP9H.html
--------
US-Backed Militias Start Recruiting Kids in Northeastern Syria
Jun 10, 2018
The Washington-backed SDF has started using children from 7 to 14 years of age for stealing assets of civilians from houses in Raqqa.
A local source said that a number of children that had been arrested while stealing peoples' properties and possessions have disclosed that the SDF militias forced them to join the US-backed group at a base near Bimo Bank and forced them to participate in looting people's houses in Raqqa.
Damascus government said on Wednesday that the illegitimate US-led International Coalition was targeting civilians in the villages of Hasaka, Raqqa and Deir Ezzur as a retribution for their refusal to join US-allied separatist militias.
In a letter addressed to the UN Secretary-General and President of the United Nations Security Council, Damascus lambasted the Coalition's incessant aggressions targeting innocent Syrian civilians and Syria's sovereignty, safety and territorial integrity. Citing a slew of atrocities the Coalition perpetrated in the villages of al-Hasaka, which left scores of civilians dead and many others injured, the Foreign Ministry stressed that the attacks are intended to punish the locals for their reluctance to join separatist militias allied to the United States.
According to the letter, the US has been restructuring relations with ISIL terrorists, integrating some within these militias and using others in mounting attacks against the Syrian Arab Army's sites with a view to recapturing areas the Syrian army and allies have liberated from terrorism.
The letter added that the Coalition had not balked at providing overt military backing to ISIL terrorists against the Syrian army, the latest of which was on May 24 when its warplanes targeted military outposts for the Syrian army between Albu Kamal and Humeimeh in Deir Ezzur countryside 24 hours after the Syrian army managed to abort ISIL attack against the sites.
The Coalition's sole aim is to undermine Syria's sovereignty, safety and territorial integrity and prolong the crisis in it which contravenes the UN Security Council's resolutions, the letter noted.
The Ministry urged the Coalition's member country to pull out of this "outrageous coalition", calling on the UNSC to assume its responsibilities in preserving international peace and security and take immediate action to end its massacres.
The letter also called for terminating the illegal US and foreign presence on the Syrian territories and to call a halt to the US plans in support of terrorism.
"The US hostile polices in Syria, the region and the world lack ethical grounds because it has become part and parcel of the threats which endanger international peace and security," the letter concluded.
The US-led coalition has been conducting airstrikes against what are said to be ISIL targets inside Syria since September 2014 without any authorization from the Damascus government or a UN mandate.
http://en.farsnews.com/newstext.aspx?nn=13970320000615
--------
Pakistan Ulema Council Muslim unity urged to foil enemy plots
June 11, 2018
LAHORE: Representatives of different political and religious organisations while addressing 'Tahafuz-e-Arz-e-Harmain al-Sharifain conference' stated that challenges of Muslim Ummah are increasing because of extremists and terrorist organisations.
Amidst prevailing challenges, responsibility rests on the Muslims to get united for security and sanctity of Masjid-e-Al-Aqsa and Harmain Al-Sharifain.
Addressing the conference, religious and political leaders asserted that enemies of Islam and Muslims had been carrying out pre-planned conspiracies to destabilise Muslim world, adding that terrorist organisations were conspiring to wreak havoc in Pakistan. Pakistan and Saudi Arabia have a unanimous stance on the issue of Palestine and atrocities on innocent Muslims of Palestine would not be tolerated, they said.
Pakistan Ulema Council Chairman Hafiz Muhammad Tahir Mehmood Ashrafi chaired the conference that held here in Nasser Bagh. Hafiz Muhammad Tahir Mehmood Ashrafi addressing the conference stated that we are ready to lay any sacrifice for security, defence and sanctity of Harmain Al-Sharifain.
He underlined that all the religious schools of thought have drafted 'Paigham-e-Pakistan'. He announced that Pakistan Ulema Council will observe 27th Ramazan (Pakistan Day) as Paigham-e-Pakistan day.
https://www.thenews.com.pk/print/328148-pakistan-ulema-council-muslim-unity-urged-to-foil-enemy-plots
--------
Diner brings Calgary's Muslim community together to feast and support charity
June 10, 2018
CALGARY— On Friday nights during the Muslim holy month of Ramadan, a local retro-style diner keeps its doors open until the early hours of the morning for the community to come together and break the fast.
"Friday nights there's so much energy," said Sarah Amery, owner of Flipp'n Burgers in Kensington. "It's fun chaos."
Ramadan Fridays start at around 9 p.m., but it's not until the wee hours of the morning that the diner is packed with people, usually still dressed in their prayer clothes, trickling in from the last prayer of the day.
Ramadan Fridays is a tradition that started around four years ago when Amery and her husband, Aris Abdulkarim, were approached by regular customer Rahamatullah Siddique and a few of his friends to see if they would consider staying open later on Friday nights. They wanted to have a place they could break their fast.
"It was really awesome. There were about eight of us who would come and it just grew," Siddique said. "It's now a tradition. It just adds to the community spirit; everyone can come to a enjoy a pre-dawn meal."
Through word of mouth, the event got bigger and bigger, until it became what it is today. Amery said on an average Friday night during Ramadan they see between 50 to 80 people.
This year the profits made during late-night Ramadan Fridays is donated to the Islamic Relief Canada. Guests are also encouraged to bring non-perishable food items to donate to the food bank.
"There's a lot of community spirit in the people that come out. People will bring other families who may not be able to afford to eat out," Amery said.
It's a warm environment; Friends reconnecting, adults teasing teenagers, children chattering with excitement. With every new face that walks in, people scoot in a bit closer to make more room to sit and eat.
Amery, who is Lebanese-Canadian, said the environment the tradition creates really embraces their culture.
"It's our nature. In the Arab culture, it's all about fostering community and relationships and people coming together around food."
But it's more than just food; it's community, said Zouheir Osman, who makes sure to come down every Friday night during Ramadan.
"We get together and we eat and we have our Suhoor, which is our breakfast. We enjoy sitting with company here, instead of just being in our house," said Osman.
For Maha Al-Ghoul, Friday nights mean passing on a bit more of her culture to her four daughters.
"Back home, stores are open until five in the morning (during Ramadan), so if we want to go out for a meal there are places like this," said Al-Ghoul.
Al-Ghoul said in her birthplace of Kuwait, as well as in England and the U.S., there were always restaurants with extended hours for Ramadan. She said they have been harder to find in Canada.
When she heard about Flipp'n Burgers, she was excited her children would be able to experience gathering as a community over food.
"You see people you haven't seen for a week or two, and it's a good place to meet and talk," Al-Ghoul said. "My friends get to see their friends, my daughters get to see their friends. It's a lot of fun."
Amery said she feels fortunate she can create a space for her community to come together during their most holy month.
"We continue to do it because we are Muslims ourselves and we really enjoy the gathering," Amery said. "We enjoy people coming together, having something to eat, talking and socializing. It has a special meaning to us."
https://www.thestar.com/calgary/2018/06/10/diner-brings-calgarys-muslim-community-together-to-feast-and-support-charity.html
--------
Political Islam Set To Intensify In Malaysia: Don't Treat Pas Lightly
Politics, Social
June 11, 2018
JOHOR BARU – Political Islam, as practised by PAS, is on the rise with the Islamist party having secured 18% of the popular vote at the recent General Election.
Secretary-general of the Association for the Promotion of Human Rights (Proham) Datuk Dr Denison Jayasooria (pix) predicted a further growth in strength of the party over the next 10 years.
"We must accept (this) and practise moderation," he told a public forum with the theme 'The reform agenda and the role of the civil society' today.
"We need to article the position of Islam from the understanding of the Federal Constitution, role of the Rulers and the state governments."
Denison was speaking at the forum organised by Malaysian CSO-SDG Alliance, Engage, Proham, Johor chapter of the International Women's Peace Group (IWPG) and Johor Indian Business Association (JIBA).
He said there are still many challenges ahead in the country's process of change, such as resistance from certain political forces, Islamist and Malay NGOs on the appointment of the minister of finance and the attorney-general on racial and religious grounds.
Denison said he foresees resistance to changes of institutions seen as political propaganda tools, such as the National Civics Bureau (BTN) and the Department of Islamic Development Malaysia (Jakim).
Meanwhile, Engage chairman Thomas Fann, said civil society organisations are willing to work for the changes for a better Malaysia.
He said the government had promised in Pakatan Harapan (PH) Manifesto that such organisations will be given platform in participating social reforms.
Fann said Engage is working on a report on "Make Johor Jaya a better livable place" .
He added that 30 residents are working on the community project since three weeks ago. It will outline some recommendations on local agendas and the proposals will be submitted to the Exco for Women Development and Tourism Liow Cai Tung, who is the Johor Jaya assemblyperson.
The report is expected to be completed in two months and will be presented in a town hall session here.
http://www.malaysia-chronicle.com/?p=115387
--------
India
Gurugram Comes Together To Break Fast and Celebrate Harmony
Shubhra Pant
Jun 11, 2018
GURUGRAM: Mohammad Yameen, a worker employed with an auto manufacturer in Manesar, recalls offering Friday namaz in Tau Devi Lal Park, Manesar, a month and a half ago. He and the other faithful had found their motorcycles damaged when they returned from prayers. A week later, their prayer mats were thrown away, as objections to public prayers reached a crescendo. Eventually, they stopped praying in the park.
On Sunday, Yameen joined over 200 people for a 'Sanjha Iftar' in Gurugram, organised to reaffirm that such incid-ents can't break the thread of social harmony in our cities that easily.
"Today's Iftar, where people from different religions came together to have a meal, is a slap on the face of those who were trying to divide this city on communal lines," said Yameen. He was joined by people from all religions and walks of life. The inter-faith Iftar, hosted by Gurugram Nagrik Ekta Manch (GNEM), saw activists, doctors, Sikh and Hindu community leaders and representatives of political parties attending, along with city's Muslims.
Among them, there was one person who was welcomed with the biggest applause and gratitude — Delhi's Yashpal Saxena — whose son Ankit (23) was murdered by the family of his Muslim girlfriend. Yashpal had also hosted an inter-faith Iftar last week in Delhi. "We need to ask ourselves why we hate each other, and how we can end this cycle of communalism and casteism," said Yashpal, whose thoughts were echoed by many others, who said incidents like disruption of namaz in Gurugram need to be stopped as they are not just destroying communities, but our Constitution as well.
"The atmosphere in the country is worrying. We need to understand attempts to disrupt communal harmony aren't destroying a religion or community, but our nation and our Constitution," said Shabnam Hashmi, a human rights activist.
As men, women and kids broke their fast with dates, they spoke of the need to bring back the times when people irrespective of their faith had each other's back, specifically in Gurugram, which has people from all religions. While Muslims explained the significance of the month of Ramzan and of fasting, people from other communities assured them of never-ending support in these difficult times. "Gurugram has a rich history of communal unity. For instance, men from both communities in the area fought for freedom in the 1857 War of Independence. We need to revisit this past to understand why peace and harmony are essential to Gurugram," said Rahul Roy, filmmaker and member of GNEM.
A few kilometres away, another interfaith Iftar was hosted by 10 Muslim women, spearheaded by author Nazia Erum, who has written the book "Mothering a Muslim". This is not the first inter-faith Iftar she has arranged, but with many Hindus helping out this time, she said this was the most satisfying Iftar yet.
"The idea was to get people from all communities together over a meal and get to know each other, send out a message of peace and harmony through these conversations," said Gul Ali, one of the hosts.
https://timesofindia.indiatimes.com/city/gurgaon/gurgaon-comes-together-to-break-fast-and-celebrate-harmony/articleshow/64534256.cms
--------
Imam's son beaten to death in West Bengal riots cracks 2018 Class 10 board exam
June 9, 2018
Kolkata: Sibgatulla Rashidi, the son of Imam who was beaten to death in Asansol riots, found his name in the list of successful candidates who cracked the West Bengal Class 10 Maghyamik exams held in March 2018 result of which was declared last Wednesday. According to the result sheet released by the the West Bengal Board of Secondary Education (WBBSE), Sibgatullah Rashidi scored 58% marks in the Class 10 board exam which started on March 12 and concluded on March 21, 2018.
Sibgatulla Rashidi, who appeared for his Class X board exams this year, went missing after the communal clashes in Rail Par area of Asansol on March 27. According to reports, he was picked up by a mob. His body was recovered after two days. He is suspected to have been beaten to death.
Sibgatullah Rashidi's father Imdadul Rashidi is an Imam of Noorani Mosque in Chetladanga Nadi Par in West Bengal. The Imam hit the media headlines after he in a rare example of sacrifice threatened to leave the mosque and the town if there was any retaliation for his son's death.
"I want peace. My boy has been taken away. I don't want any more families to lose their loved ones. I don't want any more houses to burn. I have already told the gathering of my son that I will leave Asansol if there is any kind of retaliation. I told them that if you love me, you will not raise a finger," Rashidi had said after the leading the funeral gathering of Sibgatullah Rashidi.
"I have been an Imam for the last 30 years. It is important that I give the right message to the people — a message of peace. I need to get over my personal loss. People of Asansol are not like this. This is a conspiracy," he said.
The unprecedented gesture by the Imam made at the time of crisis and personal grief is being applauded and hailed from various sections. "The Imam was instrumental in calming the angry youth and cooperated with the administration. We are proud of him. Despite the pain he is suffering following the loss of a son, he appealed for peace," said Jitendra Tiwari, Mayor of Asansol.
Imam Imdadul Rashidi was later chosed for the West Bengal's highest civilian award 'Banga Ratna Samman'.
Full report at:
http://ummid.com/news/2018/June/09.06.2018/son-of-imam-killed-in-west-bengal-riots-passed-madhamik-exam-2018.html
--------
YSRCP, JSP leaders distribute Ramzan tohfa to Muslims
JUNE 11, 2018
A slew of developmental programmes would be implemented for the Muslims if Y.S. Jagan Mohan Reddy was voted to power, said the YSRCP spokesperson Kolusu Parthasaradhy on Sunday.
Addressing a meeting organised in connection with the distribution of Ramzan tohfa (gifts) to Muslim women, he said former CM Y.S. Rajasekhara Reddy, recognising the fact that people belonging to the Muslim community were lagging behind in all spheres of life, had implemented reservations. The fee reimbursement scheme had helped the students from this section a lot. Party's city president Vellampalli Srinivas criticised the behaviour of TDP MLA Jaleel Khan towards YSRCP corporator Jaan Bi at the foundation stone laying for a road in the 36th division.
City spokesperson Manoj Kothari, leader Malladi Vishnu and others were present.
Jana Sena gesture
Full report at:
http://www.thehindu.com/news/cities/Vijayawada/ysrcp-jsp-leaders-distribute-ramzan-tohfa-to-muslims/article24131548.ece
--------
RSS Muslim wing to hold Eid Milan; SP, Congress see it as 'gimmick'
Jun 10, 2018
LUCKNOW: The RSS-backed Muslim Rashtriya Manch (MRM) will hold 'Eid Milan' programmes and Iftar parties in a bid to remove what it believes are misconceptions among a section of the people about the Sangh and the BJP, but its attempts to reach out to Muslims have been derided by the opposition as a mere political gimmick ahead of the 2019 Lok Sabha polls.
The MRM said it would invite Muslim clerics and RSS leaders to an 'Eid Milan' programme to be held in Delhi on June 19.
"Guests from other countries and ambassadors will also be invited to the programme during which the MRM will try to remove misconceptions related to the RSS and the BJP," the front's national convenor Muhammad Afzal told PTI.
Afzal said RSS chief Mohan Bhagwat had also been invited to the event but might not be able to attend it because of prior engagements.
The opposition Samajwadi Party said the move was an effort to "befool" Muslims while the Congress dubbed it a "political gimmick" ahead of the 2019 elections.
"The BJP and the RSS are trying befool Muslims for whom they have done nothing. It's just an attempt to distract people as they have done nothing for them in their over four-year-rule at the Centre and also during the one year it has been in power in the state," SP MLC Rajpal Kashyap said.
He said such "political gimmicks" would not succeed, an opinion echoed by the Congress.
"This is a political gimmick ahead of the 2019 elections. This is not going to work. Muslims know what the BJP and the RSS are... They will not fall in their trap," Congress leader Dwijendra Tripathi said.
Afzal, however, stressed that the MRM was reaching out to Muslims to inform them about the work being done by the RSS and trying to change their views about the organisation.
The MRM has been hosting Iftar parties at several places. RSS leader Kumar Indresh was present in some of the functions.
"Iftar parties were organised in Mumbai and Dehradun. More such events will be held in Meerut and Pune this week," Afzal said.
Eid al-Fitr marks the end of the fasting month of Ramzan and is likely to be celebrated on Friday or Saturday.
The MRM claims that it sponsors the education of Muslim children and gives Rs 1,000 every month to 1,000 divorced women.
"We have been bearing the cost of education of over 2,000 Muslim children. A pension of Rs 1,000 per month has been started for women who were given 'talaq'," he said.
The organisation also claims it has set up "food grain banks" for the poor in Uttar Pradesh, Madhya Pradesh and Maharashtra.
The MRM was formed in 2002 by then RSS chief KS Sudarshan to enable the Sangh to reach out to Muslims.
The MRM has established an educational trust for meritorious students named after freedom fighter Ashfaqullah Khan, he said.
The RSS's Muslim wing had last year organised Iftar parties and served cow milk and milk products to those present. It sought to send a message on cow protection and on the harmful effects of eating its meat.
Full report at:
https://timesofindia.indiatimes.com/india/rss-muslim-wing-to-hold-eid-milan-sp-congress-see-it-as-gimmick/articleshow/64530228.cms
--------
JeM, LeT & Hizb work closely to target India, reveals ultra
Neeraj Chauhan
Jun 11, 2018
NEW DELHI: Spilling the beans on Pakistan-based terror group Jaish-e-Mohammad's activities, its Srinagar-based operative Ashiq Baba has claimed that the deadly attack on Pulwama police-lines in 2017 in which eight security personnel died was led by JeM Kashmir terrorist Mufti Waqas.
The details of JeM's actions form part of Baba's interrogation after his detention for his alleged role in the attack on the Army base at Nagrota.
His apprehension, said sources, is proving to be a mine of information as he had been to JeM camps in Pakistan and met top leaders close to Jaish boss Maulana Masood Azhar and can provide a description of activities and jihadi leaders he met.
The Pulwama attack marked the increasingly prominent role Jaish has been playing. Three JeM attackers, wearing Indian combat uniforms, had struck in the early hours on August 26, 2017 in the camp which also had families of personnel.
A highly wanted terrorist, Waqas, was killed in an encounter with security forces in early March this year. He was also responsible for the February 11, 2018 attack at Sunjuwan army camp, in which a junior commissioned officer (JCO) was killed.
The accounts of Ashiq Baba, who travelled to Pakistan several times between 2015 and 2017 to meet JeM leaders including its emir Maulana Masood Azhar's brother Abdul Rauf and Maulana Mufti Asghar, are helping the security forces fill gaps in information about Jaish's operations and planning.
Baba had travelled to JeM's Bahawalpur headquarters after obtaining Pakistani visas on Hurriyat leader Syed Ali Shah Geelani's recommendation, said sources. Baba is being questioned by NIA.
Baba is understood to have claimed that one Abdulla is specifically in charge of launching Pakistani terrorists into India from the Kashmir side of the border.
He has claimed that Jaish is running a terror training camp in Manshera in Khyber Pakhtunkhwa province, close to those of Lashkar-e-Taiba (LeT) and Hizbul Mujahideen (HM), buttressing the assessment that the three anti-India terror groups work in close coordination, under the watchful eye of the Pakistan military and ISI, in planning attacks on Indian civilian and security targets.
Sources said Baba has played an "important link in JeM sending several groups of attackers to Kashmir over the years. He is among very few people in the valley, who were in direct touch with the top leadership of Jaish".
Intelligence reports say that JeM sent several attackers in different batches to India in 2017 and they were specifically directed to carry out spectacular attacks on the camps of security forces.
Full report at:
https://timesofindia.indiatimes.com/india/jem-let-hizb-work-closely-to-target-india-reveals-ultra/articleshow/64534101.cms
--------
Arab World
Fire hits Iraq's biggest ballot warehouse before recount
June 11, 2018
BAGHDAD - A fire ripped through Iraq's biggest ballot warehouse on Sunday ahead of a vote recount prompted by allegations of fraud during legislative elections that saw a surprise victory for a populist cleric.
A senior security official, speaking to AFP on condition of anonymity, said the fire broke out in a warehouse located in Al-Russafa, one of the largest voting districts in eastern Baghdad.
Around 60 percent of Baghdad's two million eligible voters had cast their ballots in the May election in Al-Russafa district.
A column of black smoke billowed from the warehouse, normally used to store foodstuff, and could be seen across the capital.
Two hours after the blaze erupted firefighters, backed by 10 trucks, were still struggling to put out the fire as warehouse staff ran out of the building carrying blue and white plastic ballot boxes, an AFP reporter said.
The cause of the blaze was not immediately known.
It comes as Iraq prepares for a manual recount of around 10 million votes, following allegations of fraud during the May 12 legislative polls.
The vote was won by populist Shiite cleric Moqtada Sadr's electoral alliance with communists, with long-time political figures pushed out by Iraqis voters hoping for change in a country mired in conflict and corruption. But the result was contested following allegations of fraud namely by the veteran politicians led by parliamentary speaker Salim al-Juburi.
The recount was ordered by parliament on Wednesday at all polling stations, although no timetable has been announced.
According to intelligence services, tests of electronic voting machines - used for the first time in Iraqi elections - produced varied results, appearing to give credence to the fraud claims.
An electoral commission official and a spokesman for the interior ministry suggested that Sunday's fire did not damage ballot boxes. "The room where voting machines and other election equipment were stored was destroyed by the fire," Imed Jamil, an electoral commission official for Al-Russafa, told AFP.
"The ballot boxes were stored in another room," he said, adding that the fire would not affect the recount.
Interior ministry spokesman General Saad Maan echoed him during a visit to the scene to the warehouse where the blaze was raging.
"Election material, including maybe ballot boxes, were burned but most of the ballot boxes were stored in another building and have been preserved," Maan told reporters.
Last month's election saw a record number of abstentions as Iraqis snubbed the corruption-tainted elite who have dominated the country since the 2003 US-led invasion that toppled Saddam Hussein.
Less than half of Iraq's 24-million electorate took part, dumping the old guard in favour of Sadr's alliance followed by a list of former fighters of the Hashed al-Shaabi alliance that last year played a key role in the defeat of the Islamic State group.
But the old guard, dumped by Iraqi voters, have clamoured for a recount, although experts say it is unlikely to produce a major change in the number of seats won by their rival lists.
On Wednesday, Iraq's outgoing parliament also sacked the nine-member independent commission which oversaw the polls, and on Sunday they were replaced by nine judges who would supervise the recount.
The previous week parliament had already voted to annul the ballots of displaced Iraqis and those living abroad, although they accounted for only a small fraction of the overall vote.
https://nation.com.pk/11-Jun-2018/fire-hits-iraqs-biggest-ballot-warehouse-before-recount
--------
Regime strikes kill 15 Syrians after jihadist attack
June 11, 2018
BEIRUT - Regime forces killed at least 15 civilians Sunday in air strikes carried out in northwestern Syria in apparent retaliation for a jihadist attack on two besieged government-held villages, a monitor said.
The bombing raids hit a string of towns and villages in the northwestern province of Idlib, which is almost entirely controlled by various jihadist and hardline rebels. In the town of Taftanaz the strikes killed 10 civilians, including four children, said the Britain-based Syrian Observatory for Human Rights.
Observatory head Rami Abdel Rahman said strikes had also hit near a children's hospital, putting it out of service.
Five other civilians were killed in raids that hit other towns.
The air strikes came a day after jihadists from Al-Qaeda's former Syrian affiliate launched an attack on Fuaa and Kafraya, two villages held by the regime but cut off by hardline forces.
Late Saturday, Hayat Tahrir al-Sham (HTS) and allied fighters shelled Fuaa and Kafraya heavily and clashed with local fighters.
"This is the fiercest attack in around three years," Abdel Rahman said, adding that Sunday's deadly air strikes were in response to the jihadist attack.
Six Syrian pro-regime fighters and at least three from HTS were killed in the fighting, which continued on Sunday.
Syrian state news agency SANA also reported Saturday's attack, and said local fighters were able to push back the jihadists.
Fuaa and Kafraya are the only two places in Syria currently designated as besieged by the United Nations after the government recaptured the Yarmuk Palestinian camp in southern Damascus.
The villages are home to an estimated 8,100 people, most of them Shiite Muslims.
They came under siege in 2015, when rebels ousted regime forces from a vast majority of Idlib province.
Since then, the mainstream opposition's influence has dwindled as jihadists solidified their grip on the province, and regime forces have recaptured an eastern sliver of Idlib.
HTS and its allies control around 60 percent of the province, its local rivals hold about a third, and the regime controls about 10 percent, according to the Observatory.
Now, even the Islamic State group is conducting hit-and-run attacks in Idlib against its HTS rival.
Last week, clashes between HTS and an IS sleeper cell made up of Iraqi jihadists left more than two dozen fighters dead, mostly from IS.
In retaliation, the IS cell executed five HTS fighters it had abducted in Idlib, the Observatory said. HTS also killed six IS members it had captured in the clashes.
Siege tactics have been used throughout Syria's seven-year conflict, mostly by the government.
Troops have employed the tactic alongside heavy bombing to cut off food and medicine to rebel-held areas, then coerce people to agree to leave in population transfers.
Idlib, which lies on the border with Turkey, has seen its population balloon to around two million people in recent years as fighters and civilians evacuated from other opposition areas are dumped there.
Full report at:
https://nation.com.pk/11-Jun-2018/regime-strikes-kill-15-syrians-after-jihadist-attack
--------
Infighting Erupts again Among Terrorists in Northern Syria
Jun 10, 2018
Tahrir al-Sham Hay'at (the Levant Liberation Board or the Al-Nusra Front) stormed the positions of the rival terrorist group of Syria's Liberation Front in the small town of Abin in Western Aleppo that inflicted major casualties on both sides.
In the meantime, a number of Tahrir al-Sham members were killed and wounded after a bomb-laden motorcycle blasted at an al-Nusra base in al-Saharah settlement in Idlib province.
Meanwhile, media activists reported that ISIL executed three captured members of Tahrir al-Sham Hay'at in revenge for the execution of almost 30 of its members in Kafr Hend settlement in Idlib province.
In a relevant development on Thursday, at least 137 militants, including 87 members of Tahrir al-Sham Hay'at, Faylaq al-Sham, Ahrar al-Sham and Jeish al-Izzah as well as 15 foreign militants from Uzbekistan, Asia and the Persian Gulf littoral states have been killed in recent assassination operations and infightings, the London-based pro-opposition Syrian Observatory for Human Rights (SOHR) admitted.
The recent fierce infighting between Tahrir al-Sham Hay'at and other terrorists of Jeish al-Ahrar coalition in Zardena village in Northern Idlib has resulted in the death and injury of militants from both sides.
Full report at:
http://en.farsnews.com/newstext.aspx?nn=13970320000908
--------
Kurd-Arab council ready for 'unconditional talks' with Syria regime
June 10, 2018
QAMISHLI, SYRIA: The political arm of a powerful alliance of Syrian Kurd and Arab fighters announced Sunday it was ready for unconditional peace talks with the central government in Damascus.
The Syrian Democratic Council (SDC) is linked to the Syrian Democratic Forces, a US-backed militia that holds much of the country's north and east.
Those areas are outside regime control, and most are managed by autonomous Kurdish-run administrations that the regime sees as a challenge to its authority.
In a statement on Sunday, the SDC said it was committed to resolving Syria's deadly conflict through dialogue, and would not "hesitate to agree to unconditional talks."
"It is positive to see comments about a summit for Syrians, to pave the way to start a new page," it said.
Leading SDC member Hekmat Habib told AFP that both the council and the SDF "are serious about opening the door to dialogue" with the government.
"With the SDF's control of 30 percent of Syria, and the regime's control of swathes of the country, these are the only two forces who can sit at the negotiating table and formulate a solution to the Syrian crisis," he said.
The comments are the latest in a string of developments indicating an attempted rapprochement between the regime and Kurdish authorities, in an effort to head off a clash.
Last month, Syrian President Bashar Assad warned Kurdish forces he could use force against them, if he was not able to take their territory through talks.
Several days later, a delegation from Syria's tolerated domestic opposition made a rare visit to Qamishli, most of which is held by Kurdish forces linked to the SDF.
Full report at:
http://www.arabnews.com/node/1319116/middle-east
--------
Syrian Air Force Pounds Terrorists' Positions in Northeastern Idlib
Jun 10, 2018
Syria's National Defense Forces (NDF), deployed in the besieged towns of Fua'a and Kafraya, engaged in tough battle with the terrorists in the afternoon, the second such battle today after the morning raid by the militants was fended off by the NDF.
The NDF popular forces managed to repel terrorists' attacks after destroying their vehicles and inflicting a number of casualties on invaders.
Also, the army aircraft carried out continued raids on terrorists' positions and movements in Banish, Ram Hamdan and Brouma settlements near Fua'a and Kafraya.
This morning the NDF exchanged fire with Tahrir al-Sham and its allied militants that tried to prevail over the pro-government forces in Fua'a and Kafraya from Banish, Ram Hamdan and al-Sawaqiyeh regions.
Full report at:
http://en.farsnews.com/newstext.aspx?nn=13970320001045
--------
Syrian Army Forwards More Military Hardware to Sweida
Jun 10, 2018
More soldiers and equipment have been dispatched by the army to Northwestern Sweida in the last 24 hours to participate in military operation against the ISIL terrorists.
In the meantime, local sources reported fierce clashes between the army men and the terrorists in Badiyeh, adding that the army intends to lay siege on ISIL from four directions in a large region stretching from Ba'ar al-Na'ameh up to al-Kara'a covering an area as large as 600 sp-km.
The army men, also, purged Wadi Ar Ar region of ISIL and deployed only 15 km away from al-Kara'a region which is a strategic base for the ISIL.
In a similar development on Saturday, the army forces, backed up by the artillery units and Air Force, engaged in fierce clashes with ISIL in Northeastern Sweida, seizing control over al-Mosheirefeh School and Rahbat al-Mosheirefeh area near Khirbet al-Ambashi region.
Also, the army men drove ISIL out of the village of al-Ashrafiyeh and Ba'ar al-Oureh regin in Northeastern Sweida.
In the meantime, field sources reported that the army soldiers stormed ISIL's position in three flanks in a desert-like region in Northeastern Sweida, adding that the army forces managed to reach Souh al-Majidi region after advancing towards Khirbet al-Ambashi from Tal Asfar flank.
They added that the army men, operating in the second flank, managed to advance as deep as 7km from Qasra al-Saqiyeh toward Khirbet al-Ambashi in the East.
Full report at:
http://en.farsnews.com/newstext.aspx?nn=13970320000942
--------
Iraq's parliament speaker calls for election rerun
10 June 2018
Iraq's outgoing parliament speaker Salim al-Jabouri said on Sunday that a May 12 parliamentary election should be repeated after a storage site housing ballot boxes in Baghdad caught on fire earlier in the day.
The ballot boxes are part of a manual recount of votes from the May parliamentary election, mandated in a law passed on Wednesday.
"The crime of burning ballot box storage warehouses in the Rusafa area is a deliberate act, a planned crime, aimed at hiding instances of fraud and manipulation of votes, lying to the Iraqi people and changing their will and choices," Jabouri said in a statement.
"We call for the election to be repeated," added Jabouri, who lost his seat in the election. He called for those responsible to be brought to justice by the security forces.
Full report at:
https://english.alarabiya.net/en/News/middle-east/2018/06/10/Iraq-s-parliament-speaker-calls-for-election-rerun.html
--------
Deadly clashes as militants attack besieged Syria regime villages
10 June 2018
Deadly clashes erupted overnight as militant fighters attacked two besieged regime-controlled villages in northwestern Syria, a monitor said on Sunday.
The villages of Fuaa and Kafraya represent a tiny pocket of regime-held territory in Syria's northwest Idlib province, which is otherwise almost entirely controlled by various extremist and hardline rebels.
Occasional skirmishes erupt there but the frontline has been quiet in recent months.
Late Saturday, fighters from Al-Qaeda's former Syrian affiliate attacked Fuaa and Kafraya, according to the Syrian Observatory for Human RIghts.
"Hayat Tahrir al-Sham (HTS) began heavily shelling the two villages, and broke into Fuaa to attack local fighters," said Observatory chief Rami Abdel Rahman.
"This is the fiercest attack in around three years," he told AFP.
The fighting, which was continuing Sunday, had killed six Syrian pro-regime fighters and at least three from HTS.
Around 10,000 people, most of them Shiite Muslims, are estimated to live in the two villages. Syrian troops also hold some territory in Idlib's east, including the key Abu Duhur airbase.
Fuaa and Kafraya are the only two places in Syria currently designated as besieged by the United Nations.
Seige tactics have been used throughout Syria's seven-year conflict, mostly by the government.
Troops have employed the tactic alongside heavy bombing to cut off food and medicine to rebel-held areas, then coerce people to agree to leave in population transfer deals. After such agreements, the United Nations no longer considers those areas as besieged.
The fate of Fuaa and Kafraya has been heavily impacted by such deals.
They made up part of the Four Towns Agreement, a deal that saw tit-for-tat evacuations and aid deliveries between Fuaa and Kafraya on one hand, and the government-besieged towns of Zabadani and Madaya.
Full report at:
https://english.alarabiya.net/en/News/middle-east/2018/06/10/Deadly-clashes-as-militants-attack-besieged-Syria-regime-villages-.html
--------
Mosul's traumatized children: 'I am like my old self. What I was before ISIS came'
11 June 2018
Rasha and her father Halif live in a camp for displaced people in northern Iraq. They are originally from Mosul but fled the city when Rasha's uncle was killed and the fighting between the Islamic State group (ISIS) and the Iraqi forces became too intense. After they arrived in Hassansham camp (near the city of Erbil) in March 2017, Rasha was constantly scared as a result of the traumatic events she had witnessed in Mosul. Rasha received support from Médecins Sans Frontières (MSF) psychologists to manage and overcome her fear. This is Rasha and Halif's stories:
Halif:
"ISIS group tried to kill us so we had to flee [Mosul]. Then we came to Hassansham (camp). ISIS brought destruction with them and it was the worst period of my life. We were under siege from all sides. It was a hard life. No movement, no trade. We didn't have the right to work or do business. There was no medication.
They (ISIS) cut external telephone lines and using mobile phones was forbidden. And if you had a sim card, they would have killed you. There was no gas and no petrol and people were cooking with wood. Some people suffered more than others, but in general, it was a horrible life.
When the west Mosul battle started, the children were terrorised. Everyone was shooting. People died in the streets and many families died during the bombing. Most of the casualties were children and women. You didn't know if you would die in an hour, in a minute, today, tomorrow.
MSF visited our tent (in Hassansham camp). I was happy they helped my daughters. I thank MSF and the doctor for their time with my daughters. They kept my children away from fear. My children would recall fear from the past – the fear of ISIS and of displacement. But with the care of the doctors, they were not scared anymore.
It's been one year since we've been in the camp. We don't know what our destiny is. Me and all the people in Mosul and Iraq don't have any hope."
Rasha:
"My name is Rasha and I was born in 2007. In school I like English. I love it. It's the best thing for me. And I also like drawing and I like to play, and I like sport games. And I also like football.
When I grow up I would like to become a translator because I like to help people. If people don't know how to speak English, I will translate for them. When I become a translator, people will talk in Arabic with me and I will talk in English.
And I would also like to become a doctor. I like treating people. I would like them to get better, and also for them to be happy.
During ISIS group, we were in Tal al-Ruman neighbourhood (in Mosul). Bullets and shrapnel came into our house and our neighbour's (house). My mother was afraid for us so we went to my uncle's house. We stayed the night with them. The next day, we wanted to go to another house.
My father told my big uncle (Ali) that he would go out from the main door that led to a side alley, and my uncle said that he would go out the small door that led to the main street. I was with my father and my little brother Musad. When we went out of the main door, a sniper started shooting at us. We hid in the kitchen. Then my father yelled "Ali Ali Ali". Ali didn't answer. My father went out and saw my uncle dead near the car. Then I was shocked and I got traumatized.
My life in the camp is good and I visit MSF. MSF treated me. And now I'm better. I was cured from the fear I felt because of what I saw during ISIS. I am like my old self. What I was before ISIS came."
Full report at:
https://english.alarabiya.net/en/features/2018/06/11/Mosul-s-traumatized-children-I-am-like-my-old-self-What-I-was-before-ISIS-came-.html
--------
400 events across Saudi Arabian cities to celebrate Eid Al-Fitr
June 11, 2018
JEDDAH: Saudi Arabia's General Entertainment Authority (GEA) announced that it will organize 400 events across 23 cities on the occasion of Eid Al-Fitr, which is is set for the end of the week.
The events include fireworks, carnivals, folklore and circus performances, as well as many other diverse methods of celebration.
Under the Twitter hashtag #TogetherInEid , the authority said it will announce within the coming two days more details on social media platforms regrading its "Entertainment Calendar."
Full report at:
http://www.arabnews.com/node/1319281/saudi-arabia
--------
Pakistan
One-month ban on public gatherings, rallies in South Waziristan following 'anti-state' speeches
Sirajuddin
June 10, 2018
A district magistrate in South Waziristan has banned all gatherings, rallies and processions to be held in the tribal region without the district administration's approval for a month, it emerged on Sunday.
An order dated June 9 and issued by District Magistrate Suhail Khan — a copy of which is available with DawnNewsTV — stated that the bar was imposed after reports were received about some alleged anti-state gatherings being arranged in the area.
"Reports have been received that certain elements are resorting to objectionable, prejudicial, hate speeches against the state institutions in public gatherings, assemblies and processions which are likely to disturb the public peace and law and order situation in the tribal district of South Waziristan," the notification said, without naming any person or group.
See: How to spot a militant: Pakistan Army removes roofs in South Waziristan
There are "sufficient grounds" to prevent such gatherings and rallies under Section 144 of the Criminal Procedure Code (CrPC), it added.
The magistrate prohibited the events planned and rallies scheduled to be taken out without the district administration's approval for a month, saying the order will come into force immediately.
Any person or group found contravening the order "shall render himself/themselves punishable under Section 188 of [the] Pakistan Penal Code", the order warned.
The development comes days after the political administration of neighbouring North Waziristan accused a leader of the Pashtun Tahafuz Movement (PTM) of "acting in a manner prejudicial to public peace and tranquillity" and banished him from the area for three months.
In his order, the political agent said that Mohsin Dawar had "instigated the people through provocative speeches against the state and state institutions and attacked the state functionaries in the area.... therefore in exercise of powers vested in me under Section 5 of the Maintenance of Public Ordinance 1960 [I] do hereby order expulsion of Mr Mohsin Dawar from limits of North Waziristan with immediate effect".
https://www.dawn.com/news/1413279/one-month-ban-on-public-gatherings-rallies-in-south-waziristan-following-anti-state-speeches
--------
Musharraf 'confused' over return to Pakistan, announces to challenge NADRA's action of blocking his CNIC
June 10, 2018
DUBAI – Former military dictator General (r) Pervez Musharraf says he is confused over Supreme Court's 'ambiguous' verdict in his case.
The president of All Pakistan Muslim League (APML) announced to challenge NADRA's action to block his CNIC.
"How can one travel without CNIC and passport. I will challenge the action in Supreme Court," he said.
While Speaking to mediamen in Dubai, the All Pakistan Muslim League leader said that the court has given an ambiguous verdict unlike the decision in Khawaja Asif's disqualification case.
According to media reports, the CNIC of the former president was blocked on direct orders by a special court hearing a treason case against him. The orders to block the CNIC of the former president were issued after he failed to inform the court of the date of his return to Pakistan.
A three-member SC bench, headed by Chief Justice of Pakistan (CJP) Justice Mian Saqib Nisar has ordered earlier Musharraf to appear before the court on June 13 and assured he will not be arrested upon appearance.
The former army chief demanded the top court to give him bail in all ongoing cases against him, a verdict on his review petition before July 26 and an assurance that he won't be arrested.
"I feel lonely but my party workers keep raising my morale," the military ruler-turned-democrat said.
The former military General said that the court should assure him that his name would not be included in the Exit Control List based on the six cases filed against him.
The former COAS claimed that a number of political leaders are ready to withdraw their candidates in his favor.
Full report at:
https://en.dailypakistan.com.pk/pakistan/musharraf-says-confused-over-return-to-country-announces-to-challenge-nadras-action-of-blocking-his-cnic/
--------
Nawaz's lawyer recuses himself from corruption references
Malik Asad
June 11, 2018
Ousted prime minister Nawaz Sharif's counsel Khawaja Haris on Monday recused himself from fighting the ex-PM's case in the corruption references filed by the National Accountability Bureau (NAB) against the Sharif family.
Haris formally withdrew from the case as Accountability Judge Muhammad Bashir resumed proceedings in the Al-Azizia reference.
On Sunday, the Supreme Court — while granting the accountability court a 30-day extension and deadline to wrap up all three references — suggested that the hearings for the case be held on a daily basis, even on Saturdays.
Haris, when he appeared before the accountability judge, said it was not possible for him to pursue these cases under such pressure.
He also expressed his inability to work on Saturdays and Sundays — which are official weekly court holidays.
Following the withdrawal of his paper of attorney (wakalatnama) the accountability judge asked Nawaz if he would like to engage another lawyer or would he attempt to convince Haris to continue with the case.
To this, Nawaz replied that he needs some time to make a decision in this regard and requested the court to adjourn proceedings for a few days.
Haris, while speaking to Dawn on Sunday, said that he spends the weekend preparing his arguments which is why he would not be able to continue with the case if court proceedings are held on Saturdays.
He added that it would also be unsuitable for his clients if he was unable to prepare his arguments for their cases in advance.
Haris also said that when he believes that he cannot do justice to his job it is better to recuse himself from the case.
Full report at:
https://www.dawn.com/news/1413443/nawazs-lawyer-recuses-himself-from-corruption-references
--------
Pakistan's HC to India hosts traditional iftar in New Delhi
June 10, 2018
Pakistan's High Commissioner to India Sohail Mahmood hosted Iftar at the Pakistan High Commission in New Delhi, reported Radio Pakistan.
The guests included people from all walks of life including political figures, Sajjadah Nasheens of several holy shrines in India, senior representatives of Kashmiri parties, journalists, artists, civil society activists and other notables.
In his interaction during the Iftar, High Commissioner Sohail Mahmood warmly welcomed the distinguished guests and extended special greetings for Ramadan.
During the event, the Sajjada Nasheens from Ajmer Sharif and Hazrat Nizamuddin Auliya (RA) presented dastar and traditional chaddar to High Commissioner Sohail Mahmood.
Full report at:
https://nation.com.pk/10-Jun-2018/pakistan-s-hc-to-india-hosts-traditional-iftar-in-new-delhi
--------
Tahirul Qadri might boycott upcoming polls
June 11, 2018
Pakistan Awami Tehreek (PAT) chief Tahirul Qadri will not contest the General Elections 2018, while his two sons will also skip the upcoming polls.
Qadri, who is well-known for his anti-Pakistan Muslim League-Nawaz (PML-N) stance and as a leader of large protest rallies against the last government, had been observing silence while all political parties of the country were busy in election campaigns.
On the other hand, the decision of PAT leadership has thrown at least 200 party candidates into confusion. Due to this, the candidates have reportedly obtained nomination forms to contest for national and provincial seats as independent candidates.
It merits mention here that Qadri had taken part in one election in the past despite holding Canadian nationality as well.
Full report at:
https://www.pakistantoday.com.pk/2018/06/10/tahirul-qadri-may-boycott-upcoming-polls/
--------
North America
Islamophobia Infects the Government As Anti-Muslim Bigotry Becomes Socially Acceptable in Trump's America
June 10, 2018
Imagine that a nominee for secretary of state had shared platforms with white nationalist Richard B. Spencer and been given a major award by his National Policy Institute, which describes itself as "an independent organization dedicated to the heritage, identity, and future of people of European descent in the United States and around the world." With that on his record, is it likely the nominee would have been confirmed, or nominated in the first place, to head the State Department?
Or what if someone under consideration for a top White House job had written an admiring foreword for a book by Holocaust denier David Irving or perhaps one by the psychologist and alt-right sympathizer Kevin MacDonald, who describes Jews as "a hostile, adversary elite" conducting "ethnic war" against Christianity and "traditional institutions of European-American culture"? Would such an endorsement keep him from being named as the president's national security advisor?
While those are hypothetical questions, there can't be much doubt about the answers. Views like Spencer's ("This country does belong to white people, culturally, politically, socially, everything. We defined what America is") and MacDonald's ("Given Jewish influence over the political process... it is vitally important for those of us attempting to reverse White dispossession to understand this, to call attention to it, and to combat it") certainly have a following, but are broadly seen as inconsistent with mainstream American values and beyond the borders of acceptable public discourse.
A Double Standard on Bigotry
When Muslims are the target of bigotry, however, the reaction is quite different. Evidence of that double standard abounds. Consider Brigitte Gabriel, not quite a household name but a leading voice in the Islamophobic choir. Gabriel, whose organization ACT for America is one of the most active and visible anti-Muslim groups in this country, has maintained longstanding and warm relations with various high-ranking political figures, including Secretary of State Mike Pompeo. In rhetoric that is very similar in tone and logic to that of the white nationalists, Gabriel argues that the people she disparages are not true Americans: "A practicing Muslim who believes the word of the Koran to be the word of Allah, who abides by Islam, who goes to mosque and prays every Friday, who prays five times a day -- this practicing Muslim, who believes in the teachings of the Koran, cannot be a loyal citizen to the United States of America."
Pompeo not only delivered speeches at ACT conferences while a member of Congress, but arranged for the group to give a presentation at the Capitol and, in 2016, received its highest award. He faced some sharp questioning in his Senate hearing about those connections, but did not repudiate either Gabriel's views or those of her organization and yet his association with her did not derail his confirmation as the nation's top diplomat.
Similarly, earlier this year when John Bolton was tapped to replace Lieutenant General H.R. McMaster as President Trump's national security advisor, numerous critics called attention to his associations with various anti-Muslim conspiracy theorists, including his enthusiastic foreword for a book by two leading Islamophobes, Pamela Geller and Robert Spencer (no relation to white nationalist Richard Spencer), filled with ominous insinuations about former President Barack Obama's supposed Muslim ties. That book was titled The Post-American Presidency: The Obama Administration's War on America. Bolton used the same label in the opening sentence of his foreword, which says: "Barack Obama is the first post-American president" -- that is, not a real American president, which was the book's central message.
When Bolton's White House appointment was announced, numerous commentators recalled that and other instances when he aligned himself with prominent anti-Muslim activists, including Frank Gaffney, the leading campaigner against the supposed Muslim conspiracy to replace the U.S. constitution with sharia, or Islamic law. But the criticism never came close to the critical mass that might have kept Bolton from assuming the post. Nor did it deter him from appointing Fred Fleitz, one of Gaffney's top associates, as chief of staff of the National Security Council (NSC). As a senior vice president at Gaffney's Center for Security Policy, Fleitz was one of the authors of a 2015 publication arguing that naturalized Muslim citizens who advocate sharia observance should be subject to loss of citizenship and deportation. Fleitz's NSC appointment, announced May 29th, brought a new flurry of criticism but no indication from the White House that Bolton would be overruled or the appointment withdrawn.
That's been a fairly typical American response: anti-Muslim opinions are criticized, often strongly, but not treated as out of bounds, the way other expressions of bigotry would be.
The pattern has been strikingly consistent since a network of strident Islamophobic activists appeared rather suddenly on the national stage at the beginning of the present decade. They initially blasted into public view in the furor over the so-called Ground Zero Mosque, an Islamic center in New York City close to (but not on) the site where the twin towers of the World Trade Center were destroyed on September 11, 2001. With increased visibility after that controversy, anti-Muslim organizers turned up across the country supporting local campaigns to oppose building permits for new mosques, organizing rallies against "creeping sharia," and pressuring state lawmakers to pass bills banning sharia law in their states.
A Legitimate Constituency?
In the last decade, at the conservative end of the American political spectrum anti-Muslim activists have become, as The Atlantic's Peter Beinart has written, "a legitimate constituency group, like people who support gun rights or oppose abortion." In fact, that description applies more broadly. Not just on the political right but in mainstream news coverage and in the political world generally, Islamophobes are criticized but are typically not treated as beyond the pale in the same way as anti-Semites or white supremacists would be.
The 2016 election campaign was full of examples of that difference. To mention just one, when Ku Klux Klan leader David Duke praised Donald Trump, the news cycles that followed were full of demands for the Trump campaign to reject Duke's support, which Trump did, after some hemming and hawing. No such outcry arose a few months later about his endorsement by retired Lieutenant General Jerry Boykin, a vocal Islamophobe who has called Islam an "evil" religion that "should not be protected under the First Amendment" and has urged Americans to "get on the offensive" to block the construction of mosques in their communities. One liberal veterans group did call on Trump to disavow Boykin, but its statement received almost no media coverage and, needless to say, the candidate did not repudiate the general's endorsement. (Boykin, incidentally, was another co-author of that Center for Security Policy publication calling for sharia-adherent Muslims to lose U.S. citizenship.)
Of course, the 2016 campaign provided the most spectacular example of the outrage gap when Donald Trump won the Republican nomination and then the presidency after explicitly calling for an across-the-board ban that would keep all non-American Muslims from entering the United States.
If a presidential candidate had proposed an equivalent policy directed against any other religious or racial minority -- foreign Jews? Black Africans? -- would his candidacy have survived? Not likely. It is difficult to imagine that someone who had taken that position could have stayed in the race at all, let alone won the election.
A Reduced-Fare Ride for Islamophobes
An unsettling tolerance of Islamophobic views is noticeable in other realms as well. Around the country, self-anointed "counterterrorism experts" regularly offer virulently anti-Muslim messages in training programs for local police and sheriffs' departments and other public safety agencies. A notable member of that club is former FBI agent John Guandolo, who tells audiences that America is "at war with Islam," and that all versions of their faith require Muslims to wage "warfare against non-Muslims until the entire world is under Islamic law... that's what Islam is."
Along the way Guandolo has also declared, without a shred of evidence, that former CIA director John Brennan is a secret Muslim convert and has suggested that mosques in the United States, unlike other places of worship, are not protected by the constitutional guarantee of religious freedom. In his words, they "do not have a First Amendment right to do anything."
Guandolo -- whose publicity implies that he was forced out of the FBI for trying to speak truth to power about Islam, but who actually resigned after the bureau learned he'd had a sexual relationship with a witness in a case that had nothing to do with Islam or terrorism -- is by no means universally accepted as a valid anti-terrorism expert. His record of offensive (not to say unhinged) statements is regularly recirculated by advocacy groups and cited in local media when he turns up somewhere to conduct training or promote his consulting business. Recently, the Texas Commission on Law Enforcement retroactively denied accreditation to a seminar Guandolo gave in that state in early May, declaringthat his material "paints an entire religion with an overly broad brush." But his views haven't shut his business down, either. Despite adverse publicity, he continues to get contracts from law enforcement clients who, it is safe to say, would not dream of hiring a consultant expressing comparable views about African Americans or other minorities.
Guandolo's case is far from unique. Even while post-9/11 presidents George W. Bush and Barack Obama, as well as other political leaders, strongly rejected war-on-Islam rhetoric, inflammatory material about Muslims turned up repeatedly in counterterrorism briefings and training materials for federal national security and public safety personnel as well as in programs for local agencies.
These and a great many other examples point to a troubling but indisputable conclusion: politicians, other public figures, and public institutions in America may not get a completely free pass when linked to Islamophobic bigots, but they certainly get a reduced-fare ride.
The same can be said about the bigots themselves. They have plenty of critics, but have nonetheless gained an influential voice in the public dialogue -- and have much more credibility than they deserve, given that their arguments are largely premised on false logic and provably phony evidence.
An Imaginary Menace
The imaginary sharia conspiracy, to take just one example, is completely at odds with both facts and common sense.
To begin with, the Islamophobes' description of sharia as a kind of official manual, a comprehensive "legal-political-military doctrine" spelling out a single set of rules that all Muslims are bound to obey, is wildly inaccurate. It bears no resemblance to the sharia that actually exists in Muslims' lives, a constantly evolving guide to moral principles, religious practice, and personal conduct not formulated in any one document but drawn from many interpretations by scholars and religious thinkers across the Muslim world -- the exact opposite of the "totalitarian socio-political doctrine" that the anti-sharia movement says Muslim infiltrators want to impose on the United States.
Moreover, there is no indication that such a plot actually exists. Even the most rabid conspiracy theorists have not produced a single piece of credible evidence that anyone anywhere has actually tried to infiltrate the American legal system and covertly convert it to Islamic law (nor have they ever explained how that might be done). No evidence shows that homegrown or foreign jihadists who have carried out or planned terrorist acts against Americans were trying to impose sharia or Islamize the United States, either. Peter Bergen, who examined the records of 330 "home-grown" terrorists for his book The United States of Jihad, mentions one young man who mused in a blog posting about "the possibility of banning alcohol consumption in the States." Other than that, in 280 pages of text there is not a single indication that any of his subjects thought they were acting to bring Americans under Muslim rule.
Lastly, even if the conspiracy were real, it's inconceivable that it could succeed. Consider, for instance, conservative evangelical Christians, who are perhaps a quarter of the national population (and broadly identify with the same faith as the large majority) and are politically influential out of proportion to their numbers. They have been unable to reverse court rulings on school prayer, abortion rights, and gay marriage, despite years of strenuous effort. And we are asked to believe that there is a realistic threat that a minority religious group making up 1% of the population -- actually, as the authors of one critical commentary pointed out, a small extremist fraction of that 1% -- could subvert the legal and governmental system and impose its "laws" on the other 99%? To any rational person, that is a ludicrous argument. But the conspiracy theorists have convinced a surprising number of people, including state legislators who have enacted anti-sharia laws in a dozen states and introduced similar legislation in many more.
Beyond any possible dispute, the sharia conspiracy is a fabrication, an imaginary threat conjured up to stoke public fear and hostility toward Muslims. No responsible official or opinion maker should give it any legitimacy. Yet, as the news agency Middle East Eye recently disclosed, it is presented as a real issue on the quintessentially establishment platform of President Trump's official campaign fund-raising website. A survey on the site, titled "Listening to America 2018," asks for visitors' views on a number of issues including, in question 27, "Are you concerned by the potential spread of sharia law?"
Simply putting it on the list along with identically formulated questions about school safety, illegal immigration, abortion, gun control, trade policy, and other subjects is a clear suggestion that the "spread of sharia law" is of equivalent public concern, a legitimate question for voters to consider. Moreover, since those taking the survey will presumably include many respondents who had not thought about the issue before, that question will undoubtedly plant that subject -- and the fear that goes with it -- in more minds.
There's no way to know if that question is on the survey because its designers or the Make America Great Committee fundraisers who put it on the site actually thought of sharia as a real problem for Americans. Maybe they just saw it as a useful hot-button term that could help energize the voters and potential campaign donors they wanted to reach. Either way, it is yet another small but telling example of a broader reality: in today's America, disparaging Islam is acceptable in ways that disparaging other religions is not (and make no mistake, spreading a grotesque caricature of sharia and condemning it as evil and dangerous is a slur on the Muslim faith).
Given the continuing well-funded campaigns by the Islamophobes and continuing support from their enablers in the Trump administration, starting with the president himself, it seems unlikely that this trend will be reversed any time soon.
https://www.alternet.org/news-amp-politics/islamophobia-infects-government-anti-muslim-bigotry-becomes-socially-acceptable
--------
Why Wasn't I Invited to the White House?
June 10, 2018
U.S. President Donald Trump held his first Iftar dinner at the White House last week. Iftar is the traditional meal that breaks the day-long fast that Muslims observe during the Islamic month of Ramadan.
Although the list of the 40 Muslims who were invited was not disclosed, we do know some those invited as well as those excluded. In attendance were ambassadors from Muslim countries. Excluded were members of Muslim Brotherhood-linked Islamist groups, including the Council on American Islamic Relations (CAIR), the Muslim Public Affairs Council (MPAC), the Islamic Society of North America (ISNA) and the Islamic Circle of North America (ICNA).
Trump's choice of attendees stands in sharp contrast to former President Obama, who invited these groups and their radical leaders into the White House. Not only did his administration have a history of empowering American Islamists (giving them a hand in rewriting military and intelligence training protocols and purging existing counterterrorism materials that made the connection between Islamism and terror), the Obama administration empowered the agenda of the Muslim Brotherhood across the Muslim world.
We saw how that went. Shortly after Obama assumed office, he made his famous Cairo speech, in which he insisted that members of Egypt's banned Muslim Brotherhood attend. The New York Times famously gave Obama credit for jump starting the Arab Spring, which was not-surprisingly hijacked by the Muslim Brotherhood.
"Mr. Obama's order, known as a Presidential Study Directive, identified likely flashpoints, most notably Egypt, and solicited proposals for how the administration could push for political change in countries with autocratic rulers who are also valuable allies of the United States," the Times reported. "Presumably, the paper pointed out the strength of Islamist forces and the Muslim Brotherhood factor and then discounted any dangers from this quarter. One could have imagined how other U.S. governments would have dealt with this situation."
Obama's reasoning, based on intelligence reports he had ordered, was that revolution was about to happen anyway in certain American-allied countries in the Muslim world. By supporting the opposition (i.e. the Brotherhood), the United States would be sitting pretty.
The strategy backfired. While the Brotherhood took over Egypt and installed Mohammed Morsi as president, Islamists exerted increasingly autocratic power over the Egyptian people, who revolted once more – this time against Morsi and his cadre of Brotherhood thugs.
Ironically, while the U.S. was supporting the Brotherhood, their minions were busy denouncing the U.S. and trying to take over the U.S. embassy in Cairo (aiming for a circa 1979 repeat of the embassy takeover in Iran after the Islamic revolution there).
Even though the Islamists who gained power in Tunisia and Egypt during the Arab Spring were eventually thrown out, Obama had let a dangerous genie out of the bottle. Coupled with his withdrawal of American forces from Iraq, a vacuum was left that was ultimately filled by ISIS and later by Iran. Similarly, Obama's withdrawal of American troops in Afghanistan made way for the resurgence of the Taliban.
Trump has wisely taken another tack. ISIS is all but defeated in Iraq and Syria, the Taliban has its head down in Afghanistan once more and the much of the Arab world has united with the U.S. to defeat the fanatical regime in Tehran. Of note is the fact that the alliance with America and the perks that come with it have also yielded a good payoff – Saudi Arabia has officially reversed its policy of extremism and Israel has been doing America's dirty work in Syria routing the Iranians.
American Islamists may cry they are not represented in the White House anymore. But the truth is, they never represented American Muslims as they claim to.
A 2011 poll found that only 12% of Muslim-American males and 11% of females picked CAIR as the organization that most represented their interests. In addition, of all the Muslim Brotherhood legacy groups, only 24 percent of Muslim-American men and 19 percent of Muslim-American women felt these groups represented them.
The poll may be seven years old, however, the pictures we have seen of the reality of living under sharia governance as represented by Islamist regimes from Turkey to ISIS in the years since that poll was taken has not been pretty.
It is likely the majority of American Muslims are well aware of this and still do not support Brotherhood-linked groups in the U.S.
Full report at:
https://clarionproject.org/do-islamists-represent-american-muslims/
--------
Southeast Asia
In Speech to Jewish Group, Leader of World's Largest Muslim Organization Calls for Compassion
by Benjamin Kerstein
June 11, 2018
The leader of the world's largest Muslim organization told a leading Jewish group on Sunday that religious people must seek to solve today's violent conflicts and embrace "rachma" — compassion and caring for people.
Appearing at the American Jewish Committee's Global Forum in Jerusalem, Pak Yahya, the General-Secretary of the Nahdlatul Ulama (NU) Supreme Council in Indonesia, spoke eloquently about current tensions between Islam and Judaism, which he believes are neither inevitable nor insurmountable.
In conversation with Rabbi David Rosen, the AJC's Director of Interreligious Affairs, Yahya said of the relationship between Judaism and Islam, "Sometimes it's a good, close relationship, in other parts of history there are conflicts and tensions. It depends on the history."
"But overall," he continued, "we have to acknowledge there are problems in the relationship between Islam and Judaism [today]. And some of the problems live within the teachings of the religion itself. In our current context of reality, people of religion — including Islam and Judaism — need to find new ways of … finding a new moral interpretation of religion."
Asked whether this would include reinterpreting texts that attack other religions, such as anti-Jewish statements in the Quran and Hadith, Yahya replied, "It is not just possible, but it is a must. Because every verse of Quran was revealed in connection with a certain particular context of reality of the time. … So the Quran and the Hadith are first basically a historical document. When the situation, when the reality changed, then the interpretation of the spirit of Quran needs to be changed also."
Asked about the problem of religious extremism in today's world, Yahya said that it is the responsibility of religious people themselves to find a solution to the problem. There are many conflicts in the world, he noted, in which "religion is used as a justification or weapon. Now we are then facing the question: do we want this to continue, or do we want another future? And if these conflicts continue, the consequences are obvious: no one will survive it. … We people of religion should ask ourselves: is it really the true function of religion — what people are doing now? Or is there a way that religion can function to provide inspiration for a solution to all these conflicts?"
Yahya emphasized that this solution must be spiritual in nature. He compared it to attempting to cure diabetes or heart disease without the patient changing their lifestyle, and quoted a Quranic verse saying, "Verily, Allah will not change the society of a people until they change what is in their heart."
This change, he asserted, can come about through the embrace of a basic sense of religious compassion and empathy.
"I say to you now, what is left to us is simply the choice," he said. "We believe it is a choice of what in the Islamic term is called 'rachma.' Meaning compassion and caring for others. We need to choose rachma. If we choose rachma, then we can begin to talk of justice. Because justice is not just about demanding, but it's also about willingness to provide justice for others. If people do not have rachma, don't have compassion and caring for others, these people will never be willing to provide justice for others. So if I had to make a call to the world, I want to tell the world: 'Let us choose rachma.'"
Yahya's call was met with a standing ovation from the audience at the Global Forum, which is being attended by over 2,000 delegates from around the world.
The NU is the largest Muslim organization on earth with over 50 million members. It runs over 14,000 religious schools in Indonesia alone.
Based in Indonesia, the group seeks to emphasize the aspects of Islam that preach peace, compassion, and tolerance. It is staunchly opposed to Islamic and other forms of extremism.
https://www.algemeiner.com/2018/06/10/in-speech-to-jewish-group-leader-of-worlds-largest-muslim-organization-calls-for-compassion/
--------
Islamic fashion school cuts a faithful figure in Indonesia
10 Jun 2018
Bandung, INDONESIA: Indonesia's first Islamic fashion school is teaching students in the world's largest Muslim-majority country the usual skills of design, styling and marketing: but with a religion-specific twist.
As demand grows for Islamic apparel, featuring variations on traditional headscarves and long, flowing dresses for women, while men are targeted with robes or shirts embroidered with religious motifs, about 140 students have signed up.
"We want our students to make unique designs and become leaders in modest fashion," said Deden Siswanto, who founded the Islamic Fashion Institute nearly three years ago in Indonesia's third largest city of Bandung.
"We also teach them about wearing clothes according to Islamic rules."
Nearby sat a group of young women working at sketchboards and sewing stations in the school, which offers nine-month courses in fashion styling, marketing, and basic styling.
Both men and women, whether Muslim or non-Muslim, may join. But teachers must be Muslim, to ensure familiarity with Islamic business practices.
The trend towards garments that meet religious requirements is becoming more visible among the burgeoning middle class in Indonesia, where, for years, few Muslim women covered their heads, or opted for traditional batik or Western clothing.
The Indonesian websites of leading online retailers such as Lazada.com and Zalora.com now have pages dedicated to Islamic fashion.
The country hosted its first Muslim Fashion Week in 2015 and the industry ministry aims to make Indonesia a "Muslim fashion hub" by 2020.
One of the students at the school, Runi Soemadipradja, said she started wearing a headscarf in 2007 but found few options suitable for Muslims.
Full report at:
https://www.channelnewsasia.com/news/asia/islamic-fashion-school-cuts-a-faithful-figure-in-indonesia-10415842
--------
PAS replaces Umno as defender of race, religion
June 11, 2018
'We don't need a bigot like Zuhdi to arouse and cause disharmony among M'sians.'
A month on, 'Malaysian Malaysia' is rearing its head, says PAS researcher
Anonymous: As a sixth generation Malaysian of Chinese descent, I consider myself a Malaysian but it is the likes of PAS that make me angry yet sad at the same time.
It is the likes of PAS that make a lot of Malaysians feel like outsiders, rather than Malaysians true and true.
We should be proud that we are such a diverse nation, with various cultures and religions. Malaysia is a beautiful country and it could be a greater country if we work together as a nation instead of trying to make half the population feel unwanted.
I, for one, want a Malaysian Malaysia!
AB Sulaiman: PAS researcher Mohd Zuhdi Marsuki states that the "New Malaysia" call is similar to "Malaysian Malaysia". And that both depart from the social contract embedded in the Federal Constitution.
Sure. But to go forward with this old "social contract" doctrine is akin to asking the same question, thereby getting the same answer in the end.
Time and space have moved on, Zuhdi, and adjusting to a new environment - asking new questions - is surely the better way of going forward of getting better results.
Anonymous_c9b96c38: "Malaysian Malaysia" is what the constitution is all about.
With the coming together of Sabah, Sarawak and Singapore with the Federation of Malaya, the 1963 Malaysia Agreement was aimed at creating a nation called Malaysia and a nationality called Malaysian. So "Malaysian Malaysia" is nothing new.
In the constitution, the special position of the Malays, Islam and sultans are acknowledged. No one is trying to undermine these special positions.
FellowMalaysian: Indeed, "New Malaysia" is an agenda and approach all Malaysians should be proud of, as it contains the essence and formula which will alleviate the malaise the country and its people have been inflicted with in the past 10 years under Najib's reign of terror.
There is not a smidgen of racial or religious element tarnishing the New Malaysia stratagem and this rightly should be the focus and direction as the country marches on towards progress and development.
The special rights of the Malays and Islam and the royalty are enshrined in the tenets of the Federal Constitution, and the New Malaysia will preserve and respect these institutions.
We do not need a bigot like Zuhdi to arouse and cause disharmony and disarray among Malaysians by instigating and fanning lies and deceits.
The Fog of Life: I am a Muslim and let me tell you in no uncertain terms that we are all equal and no one race should think they are better, more special or more equal.
One should be ashamed to think as such. Islam does not teach racism or bigotry. Likewise, while the official religion of the Federation is Islam, this should not be interpreted as supremacy over other religions.
Each person is free to choose their own way ... be it Islam or another religion, or none, and no one should judge another for their choice.
As for the Malay language being the sole national language, what a heavy price this nation has paid for that folly. The standard should be fluency in both English and Malay. To describe the current standard of English in Malaysia as shocking would be putting it mildly.
David Dass: The Constitution of the country remains exactly as it was before May 9. There is no suggestion that it will be amended to alter adversely the position of Islam as the religion of the Federation, the Malay rulers, the Malay language and the special rights of bumiputeras.
The position of Islam remains exactly what it was. Mohd Zuhdi refers to "the supremacy of Islam" being under threat. Whilst Islam is the religion of the Federation, nowhere in the constitution does it talk of the supremacy of Islam.
Of course, the adherents of Islam will believe that Islam is truth as revealed in the Quran. That is their right. As it is the right of believers of other religions to believe in the precepts of their respective faiths.
Turvy: Without admitting to any of his descriptions of what is being done now under the new government, can this 'researcher' please let us know what he and his party have done for the states they govern and the people of those states, leave alone the bumiputeras as a whole, that should give us pause in celebrating their dispatch from government, and hopefully by the next elections, from the political scene completely?
He and his ilk of green-cloaked men have preyed on the ignorant to remain in power. Their sin, which is beyond redemption, is that they deliberately kept the poor and the dispossessed in that condition, without exposure to the meaning of human dignity so that they can continue to live off their ignorance.
Whatever slogans this man may chant, he and they are responsible for stifling the humanity of a people.
Quigonbond: This is another reason why we need the National Harmony Act pronto - to nab people like this for racial/religious incitement. The way it is framed by Zuhdi, it is as if a Malaysian Malaysia seeks to dismantle all Malay institutions.
Not sure what half-past-six researcher this is, but if Mohd Zuhdi cannot provide specific examples or show any proof, he is in danger of serious defamation, for starters.
Darmakochi: I am a third generation Indian born in a rubber plantation and my children are the fourth generation Malaysians.
A lot of first generation Muslims of different nationalities are enjoying the special privileges as the bumiputeras in our country while the welfare of our natives and others like me are not being addressed properly.
How long are you going to scream 'Ketuanan Melayu'? Of late, so many Muslims from the Middle East countries and elsewhere have migrated to the Western countries and are enjoying equal rights as the locals there, even though they are the first generation.
There is still a lot of discrimination against these people and it is being addressed as best as they can. A lot people - Muslims from outside these countries like you - are demanding these people should be accorded the same rights as the locals.
Can you honestly look at yourself in the mirror and say it, but at the same time discriminate third generation non-Malays like me? What a screwed-up value system you have. Please wake up and be a true Malaysian.
Speechless: Zuhdi, have any of your rights or assets been taken away? Has any Muslim or bumiputera lost his freedom to practise his religion or been forced to do anything against his religion? Have any mosques been demolished?
Instead of practising the true form of Islam, which preaches love and compassion, you are preaching hatred and divisiveness. Shame on you.
The above is a selection of comments posted by Malaysiakini subscribers. Only paying subscribers can post comments. Over the past one year, Malaysiakinians have posted over 100,000 comments. Join the Malaysiakini community and help set the news agenda. Subscribe now.
Full report at:
https://www.malaysiakini.com/news/429207
--------
Ibrahim Ali: My resignation can be discussed during Perkasa AGM
10 June 2018
KUALA LUMPUR, June 10 — Datuk Ibrahim Ali today reiterated his decision to step down as Perkasa president, saying the matter can be deliberated during the group's general assembly in October.
Speaking to media at a press conference here, Ibrahim said he will first meet with the NGO's committee members to review the reason as why his resignation was declined.
"I was informed that my resignation was rejected but I would want to know in detail and discuss it. The situation remains, with Datuk Ruhanie Ahmad as the acting president until the matter is resolved.
"If it is not, then it will be brought to the AGM in October," he said after a Perkasa meeting with NGO Gerakan Pembela Ummah at the Kelab Sultan Sulaiman.
Ibrahim said he had insisted on his resignation as to give way to other members within the group, which he said are of high credibility, to champion its cause.
He said he also does not want to give the perception that Perkasa is all about "Ibrahim Ali".
"I have joined and led the group since it was first established for nearly 10 years. I want to give room to others to champion the group's cause and I also do not want the perception that 'Ibrahim Ali is Perkasa', and 'Perkasa is Ibrahim Ali'," he said.
Meanwhile, Perkasa deputy president Datuk Sirajuddin Salleh said the group's supreme council had rejected Ibrahim's resignation as they felt he was able to address the current issues raised on Malays and Islam.
Sirajuddin said some of the issues recently raised were of the Malay rights and of the institution of Malay Rulers.
"We plead for him [Ibrahim] him to return and lead Perkasa as there are many issues at hand that he would be able to address well," said Sirajuddin.
On another note, Perkasa has urged the Malay Rulers Council to review a memorandum the group had handed over in October 2016 to form Majlis Ukhwah Islamiah Negara (Muin), that would function as an umbrella for all Malay NGOs under one council.
Full report at:
https://www.malaymail.com/s/1640521/ibrahim-ali-my-resignation-can-be-discussed-during-perkasa-agm
--------
Indonesian Muslim cleric to speak in Israel amid diplomatic row
June 10, 2018
A top Muslim cleric from Nahdlatul Ulama (NU), Indonesia's largest Islamic organization, is scheduled to deliver a speech in Jerusalem after an invitation from an Israeli organization.
NU supreme council secretary-general Yahya Cholil Staquf, who is also known as Gus Yahya, has reportedly been invited by the Israel Council on Foreign Relations to deliver a speech titled "Shifting Geopolitical Calculus: From Conflict to Cooperation" at the David Amar World North African Jewish Heritage Center in Jerusalem on June 13.
The news about his planned departure for Jerusalem, which was announced by an Israeli journalist with the handle @simonarran on Twitter, has sparked controversy in Indonesia as Tel Aviv recently announced that it would bar Indonesians from entering the country in retaliation for Jakarta's move to deny visas to dozens of Israeli citizens.
Israel claimed that Jakarta made the move in response to the ongoing violence in Gaza, which has left dozens of Palestinians dead at the hands of Israeli security forces.
The ban was supposed to take effect on June 9, but Israel waived it until June 26.
It is unclear if Yahya, who also serves as an adviser to President Joko "Jokowi" Widodo, will fly to Israel. He was not available for comments on Sunday. Numerous calls from The Jakarta Post were not returned.
On Saturday, NU executive Robikin Emhas confirmed that Yahya had been invited to deliver a speech in Israel but his departure was personal and did not represent his organization.
Full report at:
http://www.thejakartapost.com/news/2018/06/10/indonesian-muslim-cleric-to-speak-in-israel-amid-diplomatic-row.html
--------
Europe
Protests over plan for Muslim rapper to perform at Bataclan
David Chazan
10 JUNE 2018
A row erupted has over a planned performance by a controversial Muslim rapper at the Bataclan, where 90 people were killed during the November 2015 Paris attacks.
Laurent Wauquiez, leader of the conservative party, The Republicans, said the concert would be "a sacrilege for the victims and a dishonour for France."
Two lawyers acting for relatives of those killed and injured in the Bataclan massacre said they would launch legal action to get Médine's planned shows on October 19 and 20 cancelled on the grounds that they pose a threat to public order.
Right-wing MPs started an online petition titled "No to the rapper Médine", which has garnered more than 9,000 signatures.
Médine, whose full name is Médine Zaouiche, is known for provocative lyrics about Islam and France's secular tradition. One of his albums is called 'Jihad'.
However, the 35-year-old rapper, born in the Channel port of Le Havre, has offered his condolences to the families of those killed in the Paris attacks. He says he is against violence and the jihad he is referring to is an individual, internal struggle.
Liberals see him is an artist who wants to shock people into thinking about difficult issues in new ways, but lyrics such as "I put fatwas on the head of jerks" and "crucify the secularists" have shocked and disgusted conservatives.
Jean-François Copé, the mayor of Meaux, near Paris, and a former head of The Republicans, said it was "intolerable and completely mad" to allow Médine to perform at the Bataclan. He demanded that President Emmanuel Macron ban the concert.
Marine Le Pen, leader of the far-Right Front National, which has been renamed as Rassemblement National (National Rally), tweeted: "No French person can accept that this bloke goes and pours out his filth at the scene of the #Bataclan."
Bruno Retailleau, a Republican senator, urged the government to employ "the same weapons against this rapper as those used against Dieudonné," a comedian who has been convicted and fined for hate speech against Jews and condoning terrorism. Several of Dieudonné's shows were banned under the former government of President François Hollande.
The row comes after survivors and families of victims of the Bataclan attack, which was claimed by Isil, filed a legal complaint on Friday over the failure of soldiers near the venue to intervene. They had been ordered not to enter the Bataclan. The case, which also seeks an explanation about why special forces were not deployed, could prove embarrassing for military commanders and political leaders in office at the time.
https://www.telegraph.co.uk/news/2018/06/10/protests-plan-muslim-rapper-perform-bataclan/
--------
Denmark swings right on immigration – and Muslims feel besieged
10 Jun 2018
"It's a lovely place," says Jens Kramer, as he gazes across the harbour from his seat outside the wooden shed that serves as Holbæk's boat club. "But I think people here are becoming more and more hostile to foreigners and I'm not proud of it. It's not the Holbæk I love."
Kramer is not alone in thinking that the tone of Denmark's immigration debate has changed. In recent years, the rise of the rightwing anti-migrant Danish People's party has led to previously radical positions becoming mainstream. And the country's Muslim population in particular feels under siege. Earlier this month Danish MPs passed a law that, in effect, bans the burqa. It imposes a penalty of 10,000 kroner (£1,200) for repeat offenders.
In another move greeted with dismay by Denmark's Muslims, a citizen's proposal to ban the circumcision of children got the 50,000 signatures it needed to go to a parliamentary vote.
In Holbæk, an attractive small town in Zealand, the latest legislation has had a mixed reception. Kramer says: "On the burqa ban there were people who said, 'if they make it law, then I'm going to leave', and I said 'OK, then leave.'" His companion Hanne Madsen chips in: "Jens and me, we are those who say: 'If you have a problem come to me, but if you don't want to take off your burqa or try to learn Danish…'" She throws up her hands in exasperation.
The ban was backed not only by both the ruling centre-right Liberal party but also by the centre-left Social Democrats, whose rhetoric on Islam has started to rival that of the populist right in the last two years.
The Social Democrats' leader, Mette Frederiksen, has called Islam a barrier to integration, said some Muslims "do not respect the Danish judicial system", that some Muslim women refuse to work for religious reasons, and that Muslim girls are subject to "massive social control". She has also called for all Muslim schools in the country to be closed.
Emrah Tuncer, a local politician for the pro-immigration Social Liberal party, worries about where the two main parties' rhetorical race to the bottom will lead. "They are almost fighting about who has the most extreme ideas," he said. "With the burqa ban we're talking about 40 people who are wearing it. Our government is making laws for just 40 people! And these 40 women will now be trapped in their homes from morning to evening. Does it help them? It does not."
The day before we met, Tuncer's party formally ended its 25-year electoral partnership with the Social Democrats over the party's rightward turn on Islam and immigration. "I think it's very ugly that the Social Democrats have become so extreme," he says. "They're worse than the [far-right] Danish People's party."
But he concedes that the party's shift over the past two years has come in response to a change in public opinion. "They've smelt votes on this one," he says. "It's moved in Holbæk, like in the whole of Denmark, from: 'Let's help people even if they're Muslims or immigrants', to: 'We have to take care of Danish people first.'"
Tuncer attributes the shift in mood to the rise of the Islamic State terror group and the refugee crisis. "It's because of terror: 150 Danish citizens went to Syria to fight with Isis," he said. "And of course the refugees cost a lot of money at the same time as, in Holbæk, they didn't didn't have money to buy paper for schools, or markers to write on the whiteboards."
Stig Hjarvard, a professor of media at the University of Copenhagen who last year co-wrote a paper on Scandinavian attitudes to Islam, believes the antagonism goes further back. According to Hjarvard, it began with Danish troops' involvement in the Nato-led invasion of Afghanistan in 2001, grew with the US-led invasion of Iraq in 2003 and was further fuelled by the reaction to publication of cartoons of the prophet Muhammad in the Jyllands-Posten newspaper in 2005.
He also thinks that the kingmaker position that the populist Danish People's party has enjoyed in politics recently is important. "That has of course meant that their policies in terms of immigration have spilled into the agenda of the other parties: not only the Liberal party, but also the Social Democrats. That has consistently put immigration on the agenda. It's immigration in general and it's Muslim immigration in particular."
Outside Tuncer's cafe, a couple of women in Islamic headscarves are browsing in the shops, but Holbæk is more ethnically homogenous than Denmark's major cities. Tuncer's brother Hikmet, who is chairman of the local mosque, says he's not aware of anyone who wears the burqa or niqab. "I think here, it's a bit more white and Danish," says Dennis Petersen, who is in the harbour working on his traditional galeas schooner. "In Holbæk, it seems like we have this ghetto. They're locked in. You don't see them."
Madsen refers disparagingly to Agervang, a housing estate just outside the centre. "We have this ghetto where people are talking: 'Bap, bap bap,'" she says, miming people babbling in a foreign language with her hands.
Mina, 30, has lived in Agervang all her life after her parents came to Denmark from Turkey as children. "I think it's so sad they call it a ghetto," she says.
"Do you know how many lawyers, doctors and engineers have come out of these blocks? I see so many people studying, trying to become part of this country, but suddenly we're not good enough just because we don't eat pork."
When she went to school, she says, teachers and other pupils were sensitive to the fact that she was a Muslim without it being a big deal. "But I went to a kindergarten for my son, and the first thing they said is: 'Are you a Muslim?' The very first thing! I'm a human being."
She is particularly incensed by the recent call from Inger Støjberg, Denmark's hardline immigration minister, for all Muslims to take holidays during this month's Ramadan fast "to avoid negative consequences for the rest of Danish society".
"I don't know what this lady is doing," Mina says. "I can't take a vacation just because I'm fasting. It's so ridiculous."
Istahil Hussein, 36, says the change in Danish opinion so disturbing that she is thinking of returning to Somalia, the country she left 18 years ago. "You listen every day [about] Muslims doing this, Muslims doing that. It's not good," she says.
"I think about what's coming in the future, because Denmark 10 years ago, was not talking about Muslims. If Somalia is good I will go home. I will go back like this," she laughs, and snaps her fingers.
Each month, Holbæk council holds a meeting of its advisory committee on integration. Tuncer is a member, as is Derya Tamer, a Social Democrat councillor with a Turkish background. Tuncer thinks both the Social Democrat and Liberal groups on the town council are split on immigration. And he does not think that Christina Krzyrosiak Hansen, the town's Social Democrat mayor (and at 25, Denmark's youngest) backs her party's hardline stance.
"I believe she doesn't think this position is the right one, but she can't do much about it," he says.
He says he has challenged Tamer on Facebook to respond to her party's hardline position on Islam, but without any success. "I don't understand Muslim Social Democrats. Everybody is silent. We don't hear them," he says. "When they joined the party, [it] didn't say this about Muslims, so how can they just sit there and applaud?"
Full report at:
https://www.theguardian.com/world/2018/jun/10/denmark-swings-right-immigration-muslims-besieged-holbaek
--------
Hundreds of people in London, Berlin mark International Quds Day
Jun 10, 2018
Hundreds of people in London and Berlin have commemorated the International Quds Day, marching in support of the oppressed people of Palestine and against the decades-long occupation of the Palestinian territories by the Israeli regime.
Demonstrators in London convened in front of the Royal Embassy of Saudi Arabia on Sunday, shouting "Death to Israel" and other slogans against the occupying regime in Tel Aviv, while expressing solidarity with Palestinians.
During the rally, which began at 3 p.m. local time, protesters also carried a number of flags of the Lebanese resistance movement Hezbollah, which has been a significant aid to the Lebanese army defending the Middle Eastern country against Israeli aggression.
The London rally also came a day after a similar demonstration was held under scorching heat in the German capital of Berlin, where some 1,600 people gathered to voice solidarity with Palestinians and their strong dissent against the Israeli regime.
The demonstration was staged in the western part of Berlin under heavy restrictions imposed by the police. Protesters were carrying Palestinian and Lebanese flags during the rally. They shouted "Zionists are the perpetrators" and "Zionists anywhere, you will lose everywhere." They also called for a boycott of Israeli products.
Similar events were held in some 800 cities worldwide on Friday with millions of demonstrators commemorating the event.
The International Quds Day is a legacy of the late founder of the Islamic Republic Imam Khomeini, who designated the day in solidarity with the Palestinians. Since 1979 Islamic Revolution in Iran, the International Quds Day has been held worldwide on the last Friday of the holy month of Ramadan.
However, this year's event comes amid higher than normal tensions along the border of besieged Gaza Strip with the occupied territories, where large-scale protests have taken place on a weekly basis.
More than 120 Palestinian protesters have been killed since late March and thousands more wounded by Israeli forces, mainly sharpshooters along the border. The Israeli military has come under intense international criticism for permitting its forces to open fire on unarmed protesters in Gaza.
March 30 marked the start of a series of protests, dubbed "The Great March of Return," demanding the right to return for those driven out of their homeland.
Full report at:
http://www.presstv.com/Detail/2018/06/10/564578/Quds-Day-London-Berlin
--------
EU assures Jordan of continued aid ahead of Arab summit in Makkah
June 10, 2018
AMMAN: The European Union's foreign policy chief assured Jordan of continued financial support Sunday, saying it's an investment in an ally in the "most heated and difficult area of the world."
Federica Mogherini's visit to Jordan came days after the country's prime minister quit amid widespread protests against a government austerity plan sought by international lenders, including proposed tax increases. The new prime minister says he will scrap the tax plan and devise a new one.
Jordan is increasingly in debt and dependent on foreign aid, at a time of economic downturn and growing unemployment, largely linked to regional crises. Jordan has absorbed hundreds of thousands of Syrian refugees in recent years, while trade with troubled neighbors has been disrupted.
Mogherini told a news conference with Jordanian Foreign Minister Ayman Safadi on Sunday that the European Union has given Jordan 1 billion euros ($1.18 billion) over three years, financing a range of programs in infrastructure, water and energy sectors as well as education.
She also announced that the EU would provide 20 million euros ($23.5 million) for social protection programs targeting vulnerable Jordanians.
Mogherini said Jordan can count on Europe.
"We are here not as a gesture of charity, if you allow me the expression, but as an investment," she said, adding that Jordan is located "in probably the most heated and difficult area of the world."
"We understand the needs," she said. "We understand the pressure, the urgency, and so we deliver our support."
The EU foreign policy chief said it's up to Jordan to devise its own reform program, but stressed the importance of dealing with tax evasion. The new prime minister, Omar Razzaz, has promised to formulate a new tax plan in consultations with various groups in Jordan.
Later Sunday, Saudi Arabia is to host a meeting among several Gulf Arab countries to offer support to Jordan. The Saudi Royal Court said the meeting in Makkah would include Saudi Arabia, Jordan, Kuwait and the United Arab Emirates.
In December 2011, the Gulf Cooperation Council pledged to give $2.5 billion in aid each to Jordan and Morocco, both of which had been invited to join the regional group that year.
The pledge from the GCC was to last five years. It expired last year and so far the GCC has yet to offer any additional funding as the bloc remains split by the diplomatic crisis engulfing Qatar.
Full report at:
http://www.arabnews.com/node/1319056/middle-east
--------
Putin says G-7 criticism of Russia is 'chatter'
10 June 2018
Russian President Vladimir Putin said Sunday that he's happy to meet with US President Donald Trump once Washington is ready to hold the summit and welcomed Trump's call to bring Moscow back into the G-7 group of leading industrialized nations.
Speaking to reporters in Qingdao, China, Putin said that some nations, including Austria, have offered to host his summit with Trump, should they have one.
"The US president has repeatedly said that it's reasonable to hold such a meeting," Putin said on the sidelines of a summit of the Shanghai Cooperation Organization. "As soon as the US side is ready, the meeting will take place, depending, of course, on my working schedule."
Putin said he shares Trump's expression of concern about a renewed arms race expressed in a March phone call.
"I can confirm that President Trump voiced concern about a new round of arms race in our latest call," Putin said. "I fully agree with him," he said, adding that personal meetings and work by experts are needed to tackle the issue.
Putin's remarks follow a report that White House officials were working toward setting up a meeting. Trump has said he was open to having a summit with Putin, who US intelligence officials have said directed Russian meddling in the 2016 election to help Trump win.
The American leader has repeatedly said he wants to improve relationships with Moscow.
Putin also welcomed Trump's statement that Russia should be invited to rejoin the group that was called the G-8 before others expelled Russia.
"It wasn't us who left," he said. "Colleagues refused to come to Russia on well-known grounds."
"We will be ready to greet them all in Moscow," he added.
Russia was expelled from the grouping in 2014 after it invaded and annexed Crimea and for its support for pro-Russia separatists in Ukraine. Trump, however, suggested that the G-7 offer a seat at the table to Russia.
"I think it would be an asset to have Russia back in," he said.
Canadian Prime Minister Justin Trudeau said he told Trump that readmitting Russia "is not something that we are even remotely looking at at this time."
Putin dismisses 'chatter'
Putin also dismissed as mere "chatter" a G-7 statement that criticized Russia.
The statement had said: "We urge Russia to cease its destabilizing behavior to undermine democratic systems and its support of the Syrian regime." It also said the countries shared and agreed with Britain's assessment that it is "highly likely" that Russia was responsible for the poisoning of ex-Russian spy Sergei Skripal and his daughter in Britain.
"Once again, nothing concrete was said," Putin said, referring to the G-7 statement. "It's time to stop that chatter and deal with real issues."
Earlier Sunday, Putin criticized the US withdrawal from the Iranian nuclear deal in a speech at the summit.
He emphasized that the bloc's members, who also include China, four ex-Soviet Central Asian nations, as well as India and Pakistan, are worried about the US move.
Putin said that Washington's decision to exit the agreement could "destabilize the situation" in the region. He added that Moscow will continue to honor its obligations under the Iranian nuclear deal.
Last month, Trump pulled out of former US President Barack Obama's landmark 2015 nuclear accord with Iran over the objections of European allies and other nations.
Addressing the summit, Iranian President Hassan Rouhani, whose country has an observer status in the group, said that Iran would expect other participants in the nuclear deal to provide guarantees that they would honor the agreement.
Full report at:
https://english.alarabiya.net/en/News/world/2018/06/10/Iran-postpones-debate-on-terror-financing-.html
--------
UK ignored suspicious arms flow to Saudi Arabia: Watchdog
Jun 10, 2018
An arms sales watchdog accuses the UK of refusing to act in time to prevent a huge and highly-suspicious Saudi-bound ammunition consignment.
The consignment involved 30 million rounds of ammunition – including 13,492,927 bullets for AK-47 assault rifles and 3,063,276 rounds of sniper ammunition, The Guardian reported on Sunday.
Back in 2014, two British arms dealers asked the British Department for International Trade (DIT) to approve their sales of the Bosnian-made rounds to Saudi Arabia.
The DIT took 14 months to examine the request, despite normally processing such applications within 20 days. It eventually rejected it under the European Union and domestic arms export licensing criteria, which allow rejection of such applications if they seek to export arms to sanctioned countries or where there is suspicion that the arms could end up in the wrong hands.
The brokers finally dispatched the ammunition to Saudi Arabia in two consignments through Bosnia.
Now, the Balkan Investigative Reporting Network (BIRN) monitoring group has questioned why Britain did not exercise the promptness, which is expected of it in the process, the paper wrote.
BIRN says Britain took too long to examine the application, and failed to notify Bosnia about it, given that the ammunitions are made by the Balkan state's arms manufacturers.
It said suspicions came after it was established that the Saudi military does not use AK-47 assault rifles, and therefore the 13 million bullets for the machineguns could be diverted to "proxy fighters."
"Experts in the international arms trade say the UK likely suspected the bullets would end up in the hands of Saudi proxies in Syria or Yemen," the report said.
"Even more worrying are the concerns raised by some watchdogs, including Amnesty International, about the leaky nature of US and Saudi arms pipelines into Syria, meaning some military hardware has found its way to extremists including ISIS (Daesh)," it added.
Saudi Arabia is accused of arming Takfiri terrorist groups, whose mentality is informed by the kingdom's radical Wahhabi ideology.
London is already the target of strong criticism from rights groups for its multibillion-pound arms sales to Saudi Arabia, during the kingdom's 2015-present war on Yemen.
Full report at:
http://www.presstv.com/Detail/2018/06/10/564517/UK-Saudi-Arabia-ammunition-Bosnia
--------
Roadside bomb kills 6 civilians in Afghanistan
June 11, 2018
KABUL: An Afghan official says a roadside bomb struck a microbus in the eastern Ghazni province, killing six people.
Arif Noori, a spokesman for the provincial governor, says women and children were among those killed in Monday's blast, which also wounded three people.
He said the bomb was planted by the Taliban. The insurgents mostly target security forces and government officials, but their roadside bombs often kill civilians.
Noori says that elsewhere in Ghazni, at least three local police and 10 Taliban were killed in clashes.
Full report at:
http://www.arabnews.com/node/1319426/world
--------
South Asia
Award-winning lawyer says Rohingya must be recognized as Myanmar citizens
Jun 10, 2018
An award-winning lawyer says the stateless Rohingya Muslims must be recognized as citizens of Myanmar so that they can safely stay in the country instead of fleeing abroad.
Kyaw Hla Aung, who has worked to promote the rights of the persecuted minority, demanded in an interview on Sunday that the Rohingya be given identity documents.
"We belong on this land. This government is denying our citizenship," Aung said in a phone interview with Reuters from Armenia, where the award ceremony was held.
"We are citizens of Myanmar, so why have we become stateless?" he asked.
"We cannot keep going from our land to other countries," said Aung, who spent 12 years in prison due to his work.
The United Nations refugee agency says the Rohingya are the biggest minority among an estimated 10 million people who are stateless.
There are four million Rohingya around the world, the majority living outside their ancestral land. More than 700,000 members of the minority have fled the state-sponsored violence to Bangladesh over the past nine months.
Myanmar and Bangladesh agreed in January to complete the voluntary repatriation of Rohingya refugees by 2020, followed up by an agreement with the UN last month.
Full report at:
http://www.presstv.com/Detail/2018/06/10/564579/Myanmar-Rohingya-citizens
--------
34 militants killed in NDS Special Forces operation in Nangarhar
Jun 11 2018
At least 34 militants were killed during an operation of the Special Forces of the Afghan Intelligence, National Directorate of Security (NDS), in eastern Nangarhar province of Afghanistan.
The provincial government media office in a statement said the NDS Special Forces conducted an operation in Zawa area of Khogyani district late on Sunday night.
The statement further added at least 34 militants including several killed militant figures were killed during the operation.
According to the provincial government, the NDS Special Forces also confiscated several weapons, munitions, and explosives during the operation which were later destroyed.
The operation was conducted as the militants had gathered in one of their hideouts and were planning major attacks, the provincial government added.
The statement by the provincial government also added that the local residents and security personnel did not suffer any casualty during the operation.
The anti-government armed militant groups including Taliban insurgents have not commented regarding the report so far.
Full report at:
https://www.khaama.com/34-militants-killed-in-nds-special-forces-operation-in-nangarhar-05357/
--------
First monsoon rains pound Rohingya camps
June 11, 2018
DHAKA - The first monsoon rains have hit camps in Bangladesh housing around a million Rohingya refugees, triggering floods and landslides but no casualties or major damage so far, officials said Sunday.
Aid agencies have been warning that the monsoon season could prompt a humanitarian catastrophe in coming months at what is the world's biggest refugee camp, sheltering people fleeing violence in Myanmar.
The sites in southeastern Bangladesh are predicted to be hit by powerful cyclones and by more than 2.5 metres (eight feet) of rainfall over the coming three months of monsoon - roughly triple what Britain gets in a year.
Bangladesh's meteorological office said the Cox's Bazar area where many of the refugees live in makeshift shelters on bare hillsides had 138 millimetres (5.4 inches) of rain since Saturday evening.
"Some areas like the football field areas are flooded. Some houses have been inundated with water.
There have been a few landslides. The conditions are bad," UN refugee agency spokesperson Caroline Gluck told AFP.
The monsoon season "is going to be big test for everybody involved in the humanitarian response in support of the government of Bangladesh", she said.
More heavy rain is forecast for coming days.
Rohingya leaders told AFP the rains have already devastated some parts of the camps and turned some dirt roads into quagmires, hindering the movement of refugees and relief materials.
Kamal Hossain, a Rohingya community leader, said at least five shanties were destroyed by landslides or strong winds over around 12 hours of a sustained downpour beginning on Saturday evening.
"It's just the beginning and the entire monsoon season is ahead of us. Some people have been relocated but the majority are still living under risk," said Mohammad Mohibullah, another community leader.
Last year heavy rain triggered mudslips in Cox's Bazar and the nearby Chittagong Hill Tracts, killing at least 170 people. More than 100 died in landslides in the region in 2012, and two years earlier around 50 perished.
Gluck said that so far nearly 29,000 refugees have been relocated to new areas out of an estimated 200,000 people at very high risk of landslides and flood, who need to be moved to safer areas.
There are fears that heavy flooding could also cause latrines to overflow and spread disease in the crowded camps. Around 700,000 Rohingya Muslims have poured in from Myanmar since August, fleeing an army crackdown.
They joined hundreds of thousands of earlier refugees from mainly Buddhist Myanmar, where the Rohingya are a persecuted and stateless minority.
Full report at:
https://nation.com.pk/11-Jun-2018/first-monsoon-rains-pound-rohingya-camps
--------
Afghans walk hundreds of kilometres for peace
June 11, 2018
Hobbled by blisters and stalked by hunger, dozens of Afghan protesters are marching hundreds of kilometres across the war-torn country demanding an end to the nearly 17-year conflict.
Nine people began the weeks-long anti-war march in May, but their numbers have since swollen to around 50, organizers say, as their demands for an end to fighting gain traction among ordinary Afghans increasingly fed up with years of bloodshed.
The arduous journey began in the southern province of Helmand, a Taliban stronghold.
The group hopes to reach the capital Kabul, some 700 kilometres (430 miles) away, before the end of the holy month of Ramadan this week where it plans to present a list of demands for peace to Afghan leaders.
Among the protesters is Zaheer Ahmad Zindani, who was blinded in a roadside explosion several years ago that also killed his sister.
"We are tired of this war and bloodshed," Zindani told AFP as the group arrived in Ghazni, the capital of the southeastern province of the same name, over the weekend.
"Both sides should sit down for peace talks. We want a permanent and sustainable peace."
The group is also calling for a ceasefire -- but longer than the ones announced by the Afghan government and Taliban for the Eid holiday that follows Ramadan -- and a timetable for the withdrawal of foreign troops from Afghanistan.
After weeks of walking along asphalt roads in the heat, sleeping under trees or in mosques, and weakened by fasting for Ramadan, the group is now within 200 kilometres of the Afghan capital.
Initially ridiculed for their plan to walk to Kabul, the protesters now enjoy growing support as more Afghans pay attention to their cause and take to social media to cheer them on.
"Your every step gives us hope for peace, continue your march until we have peace," Jamilurahman wrote on Facebook.
A user called Hamidullah posted: "May Allah give you paradise for every step you take for peace. May peace prevail in every part of our country."
The march, which is believed to be the first of its kind in Afghanistan, emerged out of a sit-in protest and hunger strike in the Helmand provincial capital Lashkar Gah.
That demonstration, which began spontaneously after a car bomb attack in the city on March 23, triggered similar movements by war-weary Afghans around the country.
But when the Taliban and security forces failed to heed their demands to stop fighting, some of the protesters decided to take their message directly to the country's top leaders.
'No safe place left'
It has been a physically gruelling and dangerous journey as the Taliban and Islamic State group step up attacks against Afghan and foreign forces.
Every day the protesters run the gauntlet of roadside bombs, armed robbers and militants.
But they accept the risks.
"There is no safe place left here," Sardar Mohammad Sarwari, who uses crutches to walk after polio weakened his legs, told AFP.
"I can be killed if I stay home or if I go to my shop, so I have decided it is much better to die for peace so the next generation of my family can enjoy peace."
Abdullah Malik Hamdard told AFP he felt that he had nothing to lose by joining the march.
"Everybody thinks they will be killed soon," he said.
"The situation for those alive is miserable. If you don't die in the war, the poverty caused by the war may kill you, which is why I think the only option left for me is to join the peace convoy."
The protesters, wearing matching blue bandanas and sashes with the message "We want peace", have received help from ordinary Afghans along the way.
They are provided with food and drink for their pre-dawn and post-sunset meals, but during the day they battle hunger and fatigue.
Drivers honk their horns in support and some stop to praise them.
Even Afghan security forces and Taliban fighters have taken a break from the battlefield to urge them on, Iqbal Khaibar, one of the leaders of the group, told AFP.
Zindani, who was blinded several years ago by pieces of flying glass after a roadside bomb struck the bus he and his sister were travelling in, holds a fellow protester's hand for guidance as he walks.
"All the marchers have suffered in this war," he said, noting that his own sister, father and uncle had been killed in the conflict.
Full report at:
https://nation.com.pk/11-Jun-2018/afghans-walk-hundreds-of-kilometres-for-peace
--------
4 militants killed in coordinated suicide attack in Jalalabad city
Jun 11 2018
An explosion rocked Jalalabad city, the provincial capital of eastern Nangahrar province, triggering a standoff which ended due to the quck reaction of the security forces.
The incident took place in the vicinity of the 2nd police district of the city.
A local official confirmed that a group of four suicide bombers launched a coordinated attack on education directorate.
The source further added that one of the suicide bombers detonated his explosives near the education directorate compound while three others were shot dead by the security forces.
Full report at:
https://www.khaama.com/standoff-underway-as-explosion-rocks-jalalabad-city-05356/
--------
Roadside bomb kills 6 civilians in Afghanistan
June 11, 2018
KABUL: An Afghan official says a roadside bomb struck a microbus in the eastern Ghazni province, killing six people.
Arif Noori, a spokesman for the provincial governor, says women and children were among those killed in Monday's blast, which also wounded three people.
He said the bomb was planted by the Taliban. The insurgents mostly target security forces and government officials, but their roadside bombs often kill civilians.
Noori says that elsewhere in Ghazni, at least three local police and 10 Taliban were killed in clashes.
Full report at:
http://www.arabnews.com/node/1319426/world
--------
Mideast
IRGC Disbands 2 More Terrorist Teams in Western Iran
Jun 10, 2018
"As the honorable and revolutionary people of Iran have been informed, a terrorist team planning to sneak into Oshnavieh region on Friday evening was trapped by Hamzeh Base troops, was fully dismantled and 7 of its members were killed and wounded," General Pakpour said on Sunday.
He also revealed two more cases of clashes in Sarvabad and Oshnavieh region in Kordestan province in Western Iran in the past 24 hours, noting that the terrorist groups were disbanded, 6 terrorists were killed and three others were wounded.
General Pakpour said that a large number of weapons, ammunition and equipment have been discovered and seized from the terrorists, and vowed "a decisive and crushing response to any move aimed at endangering the security of Islamic Iran".
The public relations office of the IRGC's Hamzeh Seyed al-Shohada Base said in a statement on Saturday afternoon that it had dismantled a 7-member terrorist team in Kordestan province in the Western part of the country near the border with Iraq.
"The IRGC forces killed all members of the terrorist team in the Oshnavieh border region in Kordestan Province on Friday evening," the statement said.
The terrorists had planned an attack in Northern Iraq before crossing the border into Iran.
"Elements of the terrorist team received orders from the heads of terrorist groups in Northern Iraq and had precise plans to carry out terrorist and anti-security actions after infiltrating the country," the statement read.
http://en.farsnews.com/newstext.aspx?nn=13970320001053
--------
Dozens of Saudi mercenaries killed as Yemeni forces hit bases in Ta'izz, Hudaydah
Jun 10, 2018
Dozens of Saudi-sponsored militiamen loyal to Yemen's resigned president, Abd Rabbuh Mansur Hadi, have been killed and scores of others sustained injuries when Yemeni army forces separately fired two domestically-manufactured ballistic missiles at their base in the country's southwestern province of Ta'izz as well as the western coastal province of Hudaydah.
A Yemeni military source, speaking on condition of anonymity, told Yemen's Arabic-language al-Masirah television network that Yemeni soldiers and their allies launched a short-range Zelzal-2 (Earthquake-2) missile at the Saudi mercenaries in the Maqbanah district of Ta'izz.
The source added that the attack left an unidentified number of Hadi loyalists dead and injured.
Earlier in the day, many Saudi-sponsored militiamen lost their lives and sustained injuries when Yemeni soldiers and allied fighters fired a Qaher M-2 (Subduer M-2) ballistic missile at their position in Hudaydah.
The Yemeni Ministry of Human Rights announced in a statement on March 25 that the Saudi-led war had left 600,000 civilians dead and injured since March 2015.
The United Nations says a record 22.2 million Yemenis are in need of food aid, including 8.4 million threatened by severe hunger.
A high-ranking UN aid official recently warned against the "catastrophic" living conditions in Yemen, stating that there was a growing risk of famine and cholera there.
"People's lives have continued unraveling. Conflict has escalated since November driving an estimated 100,000 people from their homes," John Ging, UN director of aid operations, told the UN Security Council on February 27.
Full report at:
http://www.presstv.com/Detail/2018/06/10/564552/Dozens-of-Saudi-mercenaries-killed-as-Yemeni-forces-hit-bases-in-Taizz-Hudaydah
--------
Kurdish party announces killing nine Iranian Revolutionary Guards
10 June 2018
Clashes between armed groups opposed to the Iranian regime and the Revolutionary Guards Corps in the Ashnawiya or Sheno district of western Azerbaijan province on the Iraqi-Iranian border were reported on Saturday.
Although the Revolutionary Guard confirmed that the clashes did not result in losses on the part of Iranian forces, but some reports say killing nine members of the Revolutionary Guards were killed.
The Revolutionary Guards said in a statement that the attackers were "terrorist groups driven by the hands of global arrogance," while sources in Iraqi Kurdistan say that the attackers were members of the Kurdistan Democratic Party, which is struggling to win the rights of the Kurdish people in Iran for more than 60 years.
According to the Tasnim agency close to the Iranian security forces, the headquarters of "Sayed Shuhada Hamza," of the Revolutionary Guards "was able to prevent the gunmen from infiltrating into Iranian territory through the Iraqi border in the area of Ashnawiya, killing seven people and returned to the bases intact.
On the other hand, the Democratic Party of Kurdistan announced on Sunday the killing and wounding of members of the Iranian Revolutionary Guard in the clashes that occurred near the border area, according to the site "Kurdistan 24".
The armed wing of the Kurdistan Democratic Party (KDP) said in a statement that its fighters clashed on Friday evening with the Iranian Revolutionary Guard Corps in the Shno area near the border with the Kurdistan region.
Full report at:
https://english.alarabiya.net/en/News/middle-east/2018/06/10/Kurdish-party-announces-killing-nine-Iranian-Revolutionary-Guards.html
--------
Palestinians must decide fate of Palestine: Ayatollah Khamenei
Jun 10, 2018
Leader of the Islamic Revolution Ayatollah Seyyed Ali Khamenei says the fate of Palestine must be determined by Palestinians, including Muslims, Jews and Christians, who originally lived in the historical land of Palestine.
"Today, democracy is a modern method, which is accepted by the entire world. We said that to determine the fate of the historical country of Palestine, they must refer to the people of Palestine and this proposal has been registered at the United Nations as the Islamic Republic's opinion," Ayatollah Khamenei said in a meeting with a group of university professors and academics in Tehran on Sunday.
The Leader added that a poll must be conducted among Palestinians, who have lived there since 100 years or 80 years ago, including Muslims, Jews and Christians, and whether they live inside our outside the occupied territories.
"Then whatever they said [and voted for] it must be done. Is this a bad idea? Aren't European countries ready to understand this?" the Leader asked.
Referring to a recent European tour by the Israeli Prime Minister Benjamin Netanyahu in which he aimed to undermine Iran's standing and influence in the region, Ayatollah Khamenei said, "Then that oppressor [and] wicked … child killer goes [to other countries and] plays the victim that Iran wants to do away with several millions of our population."
"That European audience also listens to him, shakes his head and does not say that it is you [Israelis] who are currently committing these crimes in Gaza and al-Quds," the Leader noted.
Ayatollah Khamenei said, "At the present time, we are one country in the world, which has the highest number of enemies among arrogant governments and worthless powers and also have the highest number of supporters among the masses in many countries."
The Leader then added that the prestige that the Islamic Republic has in many countries, including neighboring and other countries, is not matched by any other country and no other country is as much prestigious and has as many supporters as the Islamic Republic has.
Full report at:
http://www.presstv.com/Detail/2018/06/10/564589/Khamenei-Leader-Palestine-professors-
--------
Israeli army destroys undersea tunnel from besieged Gaza Strip
Jun 10, 2018
The Israeli military has destroyed a tunnel from the northern part of the Gaza Strip, which purportedly gave frogmen from the Palestinian Hamas resistance movement unnoticeable access to the sea from their base in the besieged enclave.
Israel's Hebrew-language Channel 2 television network reported on Sunday that the tunnel, which belonged to the naval force of the Ezzedine al-Qassam Brigades – the military wing of Hamas, was targeted last week as Israeli military aircraft pounded over a dozen targets in Gaza.
Israeli military spokesman Jonathan Conricus told reporters that the tunnel was the first of its kind discovered by Israeli intelligence forces.
Cornicus added that it was probable there were more like it not yet located by Israel.
"We continue to monitor using all our operational, technical and intelligence capabilities that we have at our disposal," he noted.
Conricus said the tunnel ran from a Hamas military facility into the Mediterranean Sea "a few dozen meters away" and had a depth underwater of two to three meters.
"It could have facilitated hostile activity against … Israel," he said, adding that the tunnel's underwater exit was about three kilometers (two miles) from the border with occupied territories.
Conricus highlighted that the tunnel had been used in Hamas training and was "operational."
The report comes as at least 129 Palestinians have been killed by Israeli forces since the "Great March of Return" began in the Gaza Strip on March 30. Fourteen children are among the fallen Palestinians.
About 13,300 Palestinians also sustained injuries, of whom 300 are in a critical condition.
The occupied territories have witnessed new tensions ever since US President Donald Trump on December 6, 2017 announced Washington's recognition of Jerusalem al-Quds as Israel's "capital" and said the US would move its embassy to the city.
The dramatic decision triggered demonstrations in the occupied Palestinian territories and elsewhere in the world.
The status of Jerusalem al-Quds is the thorniest issue in the decades-long Israeli-Palestinian conflict.
The Palestinians see East Jerusalem al-Quds as the capital of their future state.
In a final communiqué issued following an emergency meeting in Istanbul on May 18, the Organization of Islamic Cooperation (OIC) condemned the May 14 massacre of dozens of Gazans as "savage crimes committed by the Israeli forces with the backing of the US administration."
It also urged the UN to "form an international investigation committee into the recent atrocities in the Gaza Strip, and enable the committee to initiate field investigation."
Full report at:
http://www.presstv.com/Detail/2018/06/10/564571/Israeli-army-destroys-undersea-tunnel-from-besieged-Gaza-Strip
--------
Austria's anti-Muslim measures leading to religious war: Erdogan
Jun 10, 2018
Turkish President Recep Tayyip Erdogan has slammed Austria's decision to shut down mosques and deport imams, warning that the measure could trigger a religious war.
Earlier this week, Chancellor Sebastian Kurz announced plans to order the closure of seven mosques and the expulsion of up to 60 imams, including 40 members of the Union of Turkish-Islamic Cultural Associations in Europe (ATIB).
"These measures taken by the Austrian prime minister are, I fear, leading the world towards a war between the cross and the crescent," Erdogan said in Istanbul Saturday as he warned of the repercussions of Austria's new anti-Islam policies.
"They say they're going to kick our religious men out of Austria. Do you think we will not react if you do such a thing? That means we're going to have to do something," he added.
On Friday, Erdogan's spokesman Ibrahim Kalin denounced Austria's decision to close mosques and expel imams as "a reflection of the Islamophobic, racist and discriminatory wave in this country."
The right-wing coalition government of Austria, home to around 600,000 Muslims, has been accused of fanning anti-Islamic sentiments in the European state.
Vienna passed a law in May 2017, banning Muslim women from wearing full-face veils such as burqas and niqabs in public.
Under the law, which came into effect in October 2017, violators face a fine of 150 euros (nearly $180) and police are authorized to use force with people who resist showing their faces.
Similar restrictions, known as the "Burqa Ban," have been adopted in other European Union countries like, France, Belgium and the Netherlands.
Denmark also banned garments that cover the face late last month. Those violating the law risk a fine of 1,000 kroner (£118).
Full report at:
Irked by Kurz's stance, Turkey vetoed NATO's cooperation with Austria in May 2017.
http://www.presstv.com/Detail/2018/06/10/564525/Turkey-Austria-Recep-Tayyip-Erdogan
--------
Africa
Libyan army air raid kills Egyptian al-Qaeda leader in Derna
10 June 2018
The prominent Egyptian al-Qaeda leader, Omar Suroor, was killed during a series of air raids carried out by the Libyan National Army (LNA) in Derna on Saturday during clashes between the LNA and a faction of the Mujahideen Shura Council.
Local al-Qaeda news outlets officially announced the news on Sunday morning reporting that he died following an air raid attack on his house. They also announced the death of Abdulsalam al-Awami, the al-Qaeda Imam in Derna, and Abi Buzaid al-Shulwi.
Suroor was also known as Abu Abdullah al-Masry, and was the official Mufti of the Derna Shura Mujahideen, as well as most Shiite extremist factions in Libya that follow al-Qaeda.
He was one of the most known foreign Qaea leaders in Libya and the most wanted man in Egypt with a large criminal record.
Suroor, 39, was involved in a terrorist operation in Egypt as he was the right hand of Hisham Ashmawy, the Egyptian terrorist who is the founder of the group al-Mourabitoun.
He was also known for making extreme fatwa's against the Egyptian army and police, whom he used to describe as tyrants.
Suroor escaped to Derna in Libya after he was listed as a wanted man by Egyptian authorities in 2014, where he became a prominent leader in al-Qaeda in the city.
Earlier this week, residential areas in Derna were being hit by artillery fire and air strikes as Haftar's Libyan National Army (LNA) stepped up its campaign to seize the coastal city.
Derna, 266 km (165 miles) from the border with Egypt, is the only city in eastern Libya to elude LNA control.
After blockading the city from mid-2016, the LNA launched a ground offensive to capture it from a coalition of local anti-Haftar combatants known as the Derna Protection Force (DPF) last month.
The LNA is now estimated to control about half of Derna, with the front line around the shuttered hospital. Residents fleeing the city said DPF fighters had planted mines in the Shiha district, one of the neighbourhoods they have withdrawn to.
https://english.alarabiya.net/en/News/north-africa/2018/06/10/Libyan-army-air-raid-kills-Egyptian-al-Qaeda-leader-in-Derna.html
--------
Nigeria: Why "Falz" Should Ignore Muslim Rights Concern
9 JUNE 2018
The Muslim Rights Concern, MURIC, has issued a 7-day ultimatum to Folarin 'Falz' Falana to apologise to Muslims and withdraw his trending video, "This is Nigeria", over what the group termed "insensitive, thoughtless and highly provocative" scenes.
The group also claimed that "The video manifests ethnic bias against Fulanis while it ignored the criminal activities of ethnic militia of the Middle Belt who have also massacred Fulanis and rustled their cattle in their thousands".
"It is a hate video. This video has the potential of causing religious crisis of unprecedented dimension. It is an assault on the self-dignity of every Muslim. It is freedom of expression gone haywire", MURIC further stated.
Really?
It is very obvious that those who crafted that ultimatum to Falz do not understand what a work of art like the video in question represents both in content and in form. Apart from its entertainment value which is derived from its form, art is nothing but the imitation or the reflection of a society. Truth be told, there is nothing in that video that should offend anyone who is deeply and truly touched by the nauseating level of socio-political decadence driving our nation to the precipice which are most times perpetrated and perpetuated under the guise of religion.
If crafters of that ultimatum understood what art is, they would not even take the explanations of Falz for anything, they would rather seek an independent and dispassionate interpretations of the musical video in a manner which can be useful to them and others in the correction of our societal ills rather than dissipate scarce energy on a beautiful work of art. This is because in art, it is believed that "the author is 'dead'" and so has no explanations to make about his work but leaves it to the dissection of its users.
For example, some have interpreted part of the song which says "everybody be criminal" to mean that Falz is referring to all Nigerians as criminals. But far from it, in another view, it could be that what he is saying by that line is that not everyone who lives a fairly comfortable lifestyle made his riches through fraudulent means.
This could be his way of balancing critical issues raised in the song because "We operate a predatory neo-colonialism capitalist system which is founded on fraud and exploitation and therefore we are bound to have corruption... "
So he says, "This is Nigeria where because I'm on TV now, person wey no get work is checking to see if my watch is original". In other words, even if his wristwatch is "original", he worked for it through his music that has put him on TV and gave an undeclared but implied advice to such a person to go find him/herself a job as it is not everyone with an "original" wristwatch that participates in the "fraud and exploitation" going on in the country even though such people think "everybody be criminal".
So rather than interpret the song from the parochial premise of an attack on a particular religion, respectable bodies like MURIC should download the video on multiple devices as may be legally permissible and distribute to millions of their members to study and come up with ways Nigeria can tackle the many socio-political and economic ills that are the crux of the message in Falz's musical video.
It is becoming too monotonous and ineffective for MURIC and such other bodies to keep issuing threats whenever the reality of the ills of religion is exposed either in speech, writing, song or movie. After all, Falz also indicted the Christian faith in his well choreographed interpretation of the sad situation the country is in. Christians will not be caught issuing threats because humility as a cardinal virtue of their religion requires that they rather look inward and correct the ills still existing among them than fight those who expose them.
It is therefore the height of hypocrisy for MURIC to threaten the young musical star for using images of girls in hijab dancing "shaku shaku" as if there are no hijab-wearing girls prostituting audaciously particularly in Abuja and other places. MURIC should deploy its resources, since it has so much to sue Falz, to convincing such hijab-wearing prostitutes to abandon their adverse social life, get them rehabilitated and reintegrated into society.
Once again, since art is not and cannot be limited to one particular interpretation, I make bold to say that it is such sad realities that Falz tries to depict in his video. Since art is a mirror of the society, no one can blame any artist/artiste for speaking to society using the realities in the same society no matter who or which group is involved. Not doing so would amount to a corrupt reproduction of reality. This is why in a literature class, the interpretation of a book can be as diverse as all the students studying the book, yet, they could all be correct.
It would be a total waste of time and resources to take Falz to court for depicting "a character that dressed like a Fulani man, who suddenly abandoned his traditional guitar and beheaded a man". The simple evidence Falz would need to present in court that he did not make up the scene to denigrate or ridicule any particular religion or ethnic group but only reflecting the realities of our society would be to just present a plethora of newspaper reports of killings carried out by Fulani herdsmen terrorists and official statements from government functionaries at all levels concerning the killings, videos of claims of responsibility for the many killings by groups of Fulani extraction etc, and MURIC would be forced to run back home with its tail between its legs.
In other works, even the police and the judiciary have been subjects of painful but truthful expose on the corruption that goes on among their respective professions. If the police decide to arrest every artiste or movie maker that depict that some of them are corrupt and if the judiciary decides to jail everyone who produces a work of art that depicts some negative developments in their field, we certainly will not have the entertainment industry which is Nigeria's new crude oil if well harnessed rather than being well harassed.
Full report at:
http://allafrica.com/stories/201806090279.html
--------
Seven injured in al Shabaab attack at Somalia military base
Jun. 10, 2018
A suicide car bomb explosion at a military base in Somalia injured seven soldiers late Saturday, a military official said.
Terror group al Shabaab claimed responsibility for the attack.
Al Shabaab fights to topple Somalia's western-backed central government and impose its a rule based on its own strict interpretation of Islam's Sharia law.
Major Hussein Ali, a Somali military officer, told Reuters the attack took place at a military base just outside the town of Kismayu in Southern Somalia.
"We fired (at) the suicide car bomb before it entered the base. It exploded outside the base. Only seven Somali soldiers were injured," Ali said.
The assault was on the same base where a US soldier was killed in an attack late on Friday.
Al Shabaab claimed responsibility for the Saturday attack and said they killed 40 Somali soldiers.
"We killed 40 Somali soldiers in the base," Abdiasis Abu Musab, al Shabaab's military operations spokesman, told Reuters.
Al Shabaab is also fighting to drive out African Union mandated peace keeping force AMISOM.
"The foreign forces ran away from the base this morning because we attacked them on Friday. We targeted the Somali forces who were in the base," he added.
Full report at:
https://www.the-star.co.ke/news/2018/06/10/seven-injured-in-al-shabaab-attack-at-somalia-military-base_c1770722
--------
URL: https://www.newageislam.com/islamic-world-news/punes-interfaith-iftaar-parties-place/d/115511
New Age Islam, Islam Online, Islamic Website, African Muslim News, Arab World News, South Asia News, Indian Muslim News, World Muslim News, Women in Islam, Islamic Feminism, Arab Women, Women In Arab, Islamophobia in America, Muslim Women in West, Islam Women and Feminism