New Age Islam News Bureau
18 Dec 2019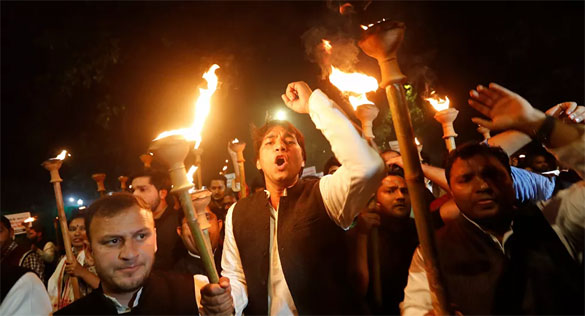 Protests in Northeast About Ethnicity, Not India's Favourite Hindu-Muslim Narrative: Assamese Native
------
• Protests in Northeast about Ethnicity, Not India's Favourite Hindu-Muslim Narrative: Assamese Native
• Sikhs Stand for Equality, Include Muslims in CAA: Akal Takht Jathedar
• Citizenship Law Has "Nothing to Do With India's Muslims": Shahi Imam of Delhi's Jama Masjid
• Pakistan Skips Malaysia Moot to 'Avert Division in Ummah'
• Respect Other Religions – Chief Imam of the University Of Ibadan
• Foil Attempts by Pakistan Lovers to Turn Bangladesh into A 'Failed State': PM Hasina
• Conflicts, Weak Governance among Factors Hindering Development of Muslim Countries
• Muslim Council of Britain Accuses Boris Johnson Of 'Deceit' After Widening Scope Of Islamophobia Probe
• Most Effective Way to Counter Extremism Explaining Compassionate Islam
• Saudi Arabia's Ithra Launches "To Be a Saudi" Exhibition
Compiled By New Age Islam News Bureau
URL: https://www.newageislam.com/islamic-world-news/protests-northeast-ethnicity-india-favourite/d/120561
------
India
• Don't give Hindu-Muslim colour to protests against amended Citizenship Act: AAP
• Once In Army, Jamia Millia Islamia Guards Brave Cops' Lathis
• In US For 2+2 Meet, Rajnath Singh Defends CAA, Says Muslims Have Nothing to Do With It
• CAA, NRC Will Hurt India's Image: Goa Muslim Jamats Assn Chief
• Entered Jamia to identify agitators, protect students: Delhi Police says in FIR
------
Pakistan
• Govt to Save Ex-Ruler In Court On Appeal: AG
• Two policemen on polio duty gunned down in Lower Dir
• Misconception led Alvi to send reference against judge, lawyer tells SC
• No one above law, says Amnesty on Musharraf's conviction
------
Africa
• Report: Senegal Failing to Prevent Rampant Abuse and Torture at Islamic Schools
• Islamic group attacks LASTMA for stopping Muslim officers from praying
------
South Asia
• Dhaka Willing To Take Back Undocumented Muslim Migrants If India Provides Evidence, Says Official
• 38 Taliban militants killed in Special Forces raids, airstrikes in 12 provinces
• Explosion injures 18 civilians in Balkh province of Afghanistan
------
Southeast Asia
• Mideast Rivalries Plague Fledgling Muslim Summit in Malaysia
• LZS Aims to Draw Muslim U Mobile Users to Pay Zakat via Gopayz
• Muslim leaders gather in Malaysia for summit shunned by Saudi
• Saturday Arrests, Attack Spotlight Islamic Militancy in Eastern Indonesia
• Iran President arrives in Kuala Lumpur to attend KL Summit 2019
------
Europe
• Finland minister apologises for Instagram poll on ISIL women
• Finland to repatriate Islamic State children from Syria
• Islamic Development Bank to Provide $23 Million To Improve Health Care Services In Tajikistan
• Hundreds of thousands protest in France over pension reform plans
------
Mideast
• Iraq's Muslim Clerics Union: ISIL Back in Diyali with US Support
• Lebanon: Party supporters clash with army after anti-Shia video
• Syrian Army Thwarts Al-Nusra Attacks in Aleppo, Kills 40 Terrorists in Idlib
• Hamas delegation to attend summit of Islamic states
• Iranian Patients Breathe Hard due to US Sanctions on Medical Imports
• Anti-Iran Sentiments in Iraq; Reality or US, Allies' Deception
• Energy Minister: Iran Turned into Russia's Strategic Partner
• Iran Tests First Sample of Home-Made Space Engine
------
Arab World
• Qatar's Islamic finance industry continues to expand; assets at $129bn in H1, 2019
• Saudi entertainment authority offers musical treat to Riyadh Season visitors
• Arab coalition investigators refute claims of deadly mistakes in military operations
• As Saudi tourism becomes more accessible, tour guides share their pride in assisting pilgrims
• Al-Ahsa in Saudi Arabia's Eastern Province set to host Arab tourism conferences
• Saudi construction representatives build case for reprieve on expat workers' fees
------
North America
• Pompeo expresses support for soccer player in criticism of China's treatment of Muslims
• Why the State Dept. Has Largely Been Muted on India's Moves against Muslims
• Muslim mates 'adopted' by small community, after making 10-hour round trips to cook for bushfire victims
------
Australia and New Zealand
• Peace man: Christchurch mosque survivor Farid Ahmed honoured with award
• Australian cyber soldiers hacked Islamic State and crippled its propaganda unit – here's what we know
• Arrested New Zealand soldier with far-right ties was questioned after March 15 attacks
------
Protests in Northeast About Ethnicity, Not India's Favourite Hindu-Muslim Narrative: Assamese Native
18.12.2019
New Delhi (Sputnik): The 2019 Citizenship Amendment Act, passed by the upper house of the Indian Parliament on 11 December and signed by the President of India, aims to grant Indian nationality to persecuted Buddhists, Christians, Hindus, Jains, Sikhs and Parsis, who fled Afghanistan, Pakistan, and Bangladesh before 2015.
The protests in India against the Citizenship Amendment Act, 2019, have been hogging headlines since last week. The movement against the legislation began in the northeastern states of Assam and Tripura. But those protests are not the same as being witnessed in the country's capital or other parts of the nation, says Assam native Jahnavi Mahanta.
Mahanta, a software developer by profession, says the recent protests against the Citizenship Amendment Act in Assam, Tripura, and other northeastern states are more ethnic in nature than India's favourite Hindu-Muslim narrative.
Conflicts From the Past
The northeastern states have seen conflicts in the past as well against "migrants from Bangladesh stealing their jobs and altering the demography of their states", she says.
The 1985 Assam Accord signed between representatives of the government of India and the leaders of the Assam Movement in New Delhi on 15 August 1985, had assured that illegal migrants from Bangladesh would be deported.
It had all begun with the 1979 Assam Movement – led by the All Assam Students Union (AASU) and the All Assam Gana Sangram Parishad (AAGSP) – which developed a programme of protests and demonstrations to compel the Indian government to identify and expel illegal (mostly Bangladeshi) immigrants and protect and provide constitutional, legislative, and administrative safeguards to the indigenous Assamese people.
Giving the example of Tripura, wherein the erstwhile ruler (a princely state in British India) had let people take refuge in this state during the Bengal Famine, Noakhali Riots, in 1947, and then during 1971, Mahanta says, "Now the East Bengali population is more than the local Tiprasa population which has led to settler-colonialism and imposition of a Bengali hegemony in the state".
New Law Disturbs Northeast Region's Demography
The new law grants citizenship to illegal immigrants who are Hindus, Sikhs, Buddhists, Christians, Jains and Parsis, who entered the country from Pakistan, Bangladesh and Afghanistan before 31 December 2014.
The 1951 NRC list was updated for Assam to deport illegal migrants and prevent further inflows. The process to update the NRC started in 2013 under the strict monitoring and supervision of the Supreme Court of India.
However, last week, after the Citizenship Amendment Bill was passed in the Indian Parliament, India's home minister announced that the NRC would be implemented nationwide, requiring every Indian to prove that their descendants were from India.
Now, illegal Bangladeshi Hindus will be able to apply for citizenship after five years, threatening the indigenous population of the region, she says.
People in northeast region of India have been protesting against the controversial Citizenship Amendment Act (CAA). A curfew was imposed in some parts of the region while internet and mobile services were also snapped. Currently, broadband services have been restored while internet services remain suspended.
https://sputniknews.com/asia/201912181077598797-protests-in-northeast-about-ethnicity-not-indias-favourite-hindu-muslim-narrative-assamese-native/
------
Sikhs stand for equality, include Muslims in CAA: Akal Takht Jathedar
December 18, 2019
Written by Kamaldeep Singh Brar
Claiming that the new citizenship law has led to the alienation of Muslims, Akal Takht Jathedar Giani Harpreet Singh on Tuesday said that the community should have been included in the amended law. The Jathedar, meanwhile, welcomed the inclusion of the Sikh community in the Act.
"There were many Sikhs and Hindus, who were living as refugees in India and the CAA has provided them relief. It is a good development and a welcome step. The CAA will be of big relief for the Sikhs who were facing religious persecution. There are Afghan Sikhs who have been attacked and forced to leave their birth place. They will benefit from this Act," the Jathedar said while talking to The Indian Express. But he maintained that Muslims should not be kept outside of the purview of the Act.
"According to principles of Sikhism, we Sikhs cannot differentiate against anyone on the basis of religion and caste. In the same way, the Constitution also does not differentiate on the basis of religion and caste. So, there was no need to keep the Muslims out," the Jathedar added.
Asked whether Muslims needed to be included in the Act when they were in majority in several Islamic countries, the Jathedar said, "It is true that Muslims are in majority in those countries, but it is also a fact that Muslims are a minority in India. Excluding them from the CAA has led alienation of Muslims."
"Religious persecution in any country, whether it is Pakistan, Afghanistan or Bangladesh, should be condemned. Respective countries should take measures that all minorities living there can follow their religion," he added.
Many Sikh bodies have come in support of activists protesting against the CAA.
https://indianexpress.com/article/india/sikhs-stand-for-equality-include-muslims-in-caa-akal-takht-jathedar-6172454/
------
Citizenship Law Has "Nothing To Do With India's Muslims": Shahi Imam of Delhi's Jama Masjid
December 18, 2019
New Delhi: Appealing for restraint while exercising what he calls the democratic right to protest, the Shahi Imam of Delhi's Jama Masjid has stressed that the citizenship law at the core of massive protests across the country "has nothing to do with Muslims living in India". He also reminds that the NRC or National Register of Citizens, the other trigger for the protests, "has not become a law" yet.
Protests have erupted in college campuses in many parts of the country over the Citizenship (Amendment) Act, which makes it easier for non-Muslims from Pakistan, Afghanistan and Bangladesh to become Indian citizens. Protesters, opposition parties and petitions before the Supreme Court argue that the law discriminates against Muslims and citizenship based on religion is against the constitution.
"To protest is the democratic right of the people of India, no one can stop us from doing it. However, it is important that it is done in control, keeping our emotions in control is the most important part," Shahi Imam Syed Ahmed Bukhari said on Tuesday, according to a video posted by news agency ANI.
He also sought to explain that the citizenship law does not affect Muslims living in India but Muslim refugees from Pakistan, Afghanistan and Bangladesh.
"There is a difference between Citizenship Amendment Act (CAA) & National Register of Citizens (NRC). One is CAA that has become a law, and the other is NRC that has only been announced, it has not become a law. Under CAA, the Muslim refugees who come to India from Pakistan, Afghanistan and Bangladesh will not get Indian citizenship. It has nothing to do with the Muslims living in India," said the Shahi Imam.
Imam Ahmed Bukhari, the top cleric of Jama Masjid, one of the largest mosques of India, put out the appeal for restraint after violence at Delhi's Jamia Millia University on Sunday, when protesters clashed with the police. Several students were injured when the police stormed the campus and 100 were arrested and released later.
Yesterday, there were protests in Seelampur and Brijpuri in east Delhi, where protesters threw stones at the police and vandalized vehicles. The police used batons and tear gas on the protesters.
https://www.ndtv.com/india-news/delhis-jama-masjid-shahi-imam-says-citizenship-law-has-nothing-to-do-with-indias-muslims-2150566
------
Pakistan skips Malaysia moot to 'avert division in Ummah'
Baqir Sajjad SyedUpdated
December 18, 2019
ISLAMABAD: Ending uncertainty over Pakistan's participation in the upcoming Kuala Lumpur Summit, the government on Tuesday announced that it would not attend the event at any level.
Talking to a group of journalists at the Foreign Office on Tuesday, Foreign Minister Shah Mehmood Qureshi said there would be no representation from Pakistan government at the summit being held in Kuala Lumpur from Wednesday.
Prime Minister Imran Khan telephoned his Malaysian counterpart Mahathir bin Mohammad on Monday night to express his regrets for not being able to attend the summit.
Meanwhile, Mr Khan conveyed the same to Turkish President Recep Tayyip Erdogan, who is also one of the driving forces behind the event, during a meeting on the sidelines of First Global Refugee Forum in Geneva on Tuesday.
FM says Saudi Arabia and UAE had concerns about Kuala Lumpur summit
A statement issued by Malaysian Prime Minister's Office, while confirming that PM Khan would not participate in the summit, said: "Dr Mahathir appreciates Prime Minister Imran Khan's call to inform of his inability to attend the summit where the Pakistani leader was expected to speak and share his thoughts on the state of affairs of the Islamic world."
Pakistan was one of the first countries with whom PM Mahathir shared his plans for holding the summit, when he met PM Khan along with President Erdogan on the sidelines of the UN General Assembly session in New York in September. Later PM Khan formally conveyed his acceptance of the invitation for attending the summit when deputy foreign minister Marzuki Bin Haji Yahya of Malaysia called on him in Islamabad on Nov 29.
Then came the Saudi pressure on Pakistan. Riyadh, which had extended a helping hand to the Pakistan Tehreek-i-Insaf government in its early days to stave off economic crisis, wanted Islamabad to stay away from the event.
FM Qureshi confirmed that Saudi Arabia and the United Arab Emirates had concerns about the Kuala Lumpur Summit. They were worried that the event could cause "division in Ummah" and lead to setting up of an organisation parallel to the existing Saudi-dominated Organisation of Islamic Cooperation.
Mr Mahathir, meanwhile, told reporters in Kuala Lumpur on Tuesday that Saudi King Salman bin Abdul Aziz was averse to KL summit discussing Muslim issues. The Saudi monarch is of the view that the OIC should continue as the platform for discussing such matters.
In view of the reservations about the event, Mr Qureshi said, it was decided that Pakistan would first seek to bridge the gap between Riyadh and Kuala Lumpur and if that did not work there would be no participation in the summit.
The foreign minister said that Pakistan accordingly attempted to patch up the differences and succeeded not only in getting invites for Saudis and Emiratis, but also convinced Mr Mahathir to personally visit Riyadh and directly invite King Salman. Mr Mahathir's visit could, however, not be scheduled because the dates proposed by Riyadh were not convenient for him to undertake the trip.
PM Khan's trip to Saudi Arabia, he said, was aimed at bringing Saudi Arabia and Malaysia closer and not for getting a permission to attend the summit.
Mr Qureshi contended that by staying back, Pakistan had underscored its neutrality on the issue and conveyed that it was not inclined towards one side or the other.
According to media reports from the Malaysian capital, PM Mahathir and King Salman held a video conference on Tuesday to discuss Saudi reservations even after Pakistan had officially pulled out. But no common grounds could be found.
https://www.dawn.com/news/1522854/pakistan-skips-malaysia-moot-to-avert-division-in-ummah
------
Respect Other Religions – Chief Imam of the University Of Ibadan
December 18, 2019
Wale Oyewale
The Chief Imam of the University of Ibadan, Prof. Abdur-Rahman Oloyede, has said it is against the principles of Islam to deride other religions or their practitioners in the name of inviting people to the worship of God.
Oloyede made the declaration in Ibadan, Oyo State, at the inauguration of the new national executives of Yusrullah Association of Nigeria, popularly known as Asalatu Irorun Oluwa, and the launch of the group's prayer manual.
At the event, Alhaji Adekunle Adeniran was sworn in as the president of the prayer group. Others are Dr Taleat Tella, (1st Vice President); Yesiru Sansaliu, (2nd Vice President); Alhaji Taofeek Oduola, (General Secretary); Sikiru Amoo, (Assistant General Secretary), and Alhaja Zeenat Yusuff (Financial Secretary).
Oloyede, in a lecture titled, 'Da'wah: a duty for all,'describd Islam as a beautiful religion that spreads messages of peace, justice and fairness.
He explained that although da'wah "means to invite non-Muslims to the worship of Allah, the concept of da'wah also involves actively encouraging fellow Muslims to be pious in all aspects of their lives."
The ceremony was attended by dignitaries, including the Aare Musulumi of Yorubaland, Alhaji Dawud Akinola, who is the grand patron of the association.
In a remark, Adeniran urged all members of the association to support the new executive council in its pursuit of greater achievements for the association.
https://punchng.com/respect-other-religions-ui-imam/
------
Foil attempts by Pakistan lovers to turn Bangladesh into a 'failed state': PM Hasina
Dec 17, 2019
DHAKA: Bangladesh Prime Minister Sheikh Hasina on Tuesday cautioned against conspiracies by the anti-liberation forces to turn the country into a "failed state" but asserted that the plots by "Pakistan lovers" will never succeed. The prime minister was speaking at a discussion organised by the ruling Awami League (AL) to mark the 49th Victory Day when Bangladesh marks its liberation from Pakistan in 1971.
"The collaborators of the Pakistani occupation forces and those who still love Pakistan are out to foil Bangladesh's hard-earned independence and turn the country into a failed state. But we won't allow their conspiracies to be successful," Hasina was quoted as saying by the official of BSS news agency.
Hasina, also the AL president, said Bangladesh earned independence in exchange for the blood of millions of martyrs.
"They joined the Liberation War responding to the call of Bangabandhu (Sheikh Mujibur Rahman) and struggled throughout their life for this independence ... their sacrifice cannot go in vain," Hasina, the daughter of Mujibur Rahman, said.
She said Bangladesh fought and won the Liberation War against Pakistan.
"Our goal was that we will remain above Pakistan anyhow on all sides including economic, social and cultural fronts. We truly stay there," she said.
She went on saying: "We are in a better position than everybody else. We must keep up this success."
Hasina said wherever the Pakistan-lovers stay - in jail or abroad - their plots will be there.
"We will have to foil their conspiracies by remembering the words of the Father of the Nation (Mujibur Rahman) that none could suppress seven crore Bangalees... we are now 16 crore people."
Bangladesh on Monday celebrated its 49th 'Victory Day' that marks its liberation from Pakistan. On December 16, 1971, Lt. Gen. Amir Abdullah Khan Niazi, heading 93,000 Pakistani troops, surrendered to the Indian Army under the command of Lt. Gen. Jagjit Singh Aurora in Dhaka, and East Pakistan was declared as the newly liberated "Bangladesh".
https://timesofindia.indiatimes.com/world/south-asia/foil-attempts-by-pakistan-lovers-to-turn-bangladesh-into-a-failed-state-pm-hasina/articleshow/72856591.cms
------
Conflicts, weak governance among factors hindering development of Muslim countries
18/12/2019
By Thivyamalini Ramalu
KUALA LUMPUR, Dec 18 -- Conflicts, war, weak governance, corruption and lack of integrity are among the hindering factors of Muslim countries' development.
These factors do not only revolve around poor Muslim countries, but also the rich ones.
Universiti Teknologi Malaysia (UTM) Geostrategist Assoc Prof Dr Azmi Hassan said about 60 to 70 per cent of the 56 Muslim countries in the world can be classified as poor countries.
"For a poor country stricken by conflict and war, the government is more focused on solving the conflict rather than developing the country.
"For a country with no conflict, the government would be facing fund management issues as the country's wealth is not being used to ensure that the nation will continue to prosper and grow, but is spent for the benefit of the leaders," he told Bernama here recently.
Azmi said he believed that the Gross Domestic Product (GDP) of certain rich Muslim countries is at par with that of the GDP of the rich Scandinavian countries, but the quality of life of the people is very different.
"For these rich Muslim countries, they need to manage their revenue well with the aim to expand their investment to develop the country," he said.
The issue of development is among the topics to be discussed at the Kuala Lumpur Summit 2019, which runs from today until Saturday.
Meanwhile, Universiti Utara Malaysia (UUM) lecturer at the College of Law, Government and International Studies, Prof Dr Ahmad Marthada Mohamed, said all efforts to prevent and curb problems occurring in Muslim countries must begin with the election of a clean leader with a high level of integrity.
"We need more committed and more clean leaders. In any Muslim countries, we don't need corrupted leaders who misuse countries' wealth for personal gains," he said.
http://www.bernama.com/en/general/news.php?id=1800628
------
Muslim Council of Britain accuses Boris Johnson of 'deceit' after widening scope of Islamophobia probe
18th December 2019
Former equality and human rights commissioner, Swaran Singh, has been appointed to lead an independent review into all forms of discrimination and racism with the party despite previously pledging to focus on Islamophobia.
Mr Johnson himself has come in for specific criticism for comparing Muslim women who wear burkas to "letter boxes" and "bank robbers".
The Prime Minister was also forced to apologise during the election campaign for "all the hurt and offence that has been caused" by members of his party who have been suspended or faced disciplinary action for making Islamophobic comments.
Harun Khan, general secretary of the Muslim Council of Britain, accused the party of diluting previous commitments to hold a probe into Tory Islamophobia.
"(Swaran Singh's) appointment is at risk of being seen in the same light as the Conservative party's customary approach to Islamophobia, that of denial, dismissal and deceit," he said.
"We were promised an independent inquiry into Islamophobia specifically. Now we have a review that aims to broaden the scope to examine discrimination more generally.
"A laudable aim if it were not for the fact that the Conservative party is afflicted with a particular type of bigotry that it refuses to countenance.
"The appointment of Professor Singh does not instill huge confidence in the process."
Mr Singh, a professor of psychaitry at the University of Warwick, said his investigation would look at the party's structures for dealing with complaints of racism to ensure "any instances are isolated, and that there are robust processes in place to stamp them out as and when they occur".
Announcing the review, Conservative Party chairman James Cleverly, said: "The Conservative party has always worked to act swiftly when allegations have been put to us and there are a wide range of sanctions to challenge and chance behaviour.
"The Conservative party will never stand by when it comes to prejudice and discrimination of any kind and it is right to hold an independent review, so we can stamp out unacceptable abuse that is not fit for public life."
https://www.politicshome.com/news/uk/political-parties/conservative-party/news/108653/muslim-council-britain-accuses-boris
------
Most effective way to counter extremism explaining compassionate Islam
Dec 17, 2019
Tehran, Dec 17, IRNA – Secretary of the Supreme National Security Council (SNSC) Ali Samkhani described the best and most effective way to counter extremist and Takfiri ideas as to properly promote compassionate Islam.
The promotion of ISIS-oriented Islam is among the strategies of the US and the Zionist regime to spread Islamophobia and make division, conflict, and crisis in the Islamic countries of the region.
Tajik National Security Secretary Mohammad Ali Vatanzadeh, who is on a visit to Iran to attend the second regional security summit while heading a high-level security delegation met SNSC Secretary Ali Shamkhani on Tuesday afternoon to discuss bilateral, regional and international issues.
Speaking at the meeting, Shamkhani referred to the numerous cultural, ethnic, religious and linguistic relations between Iran and Tajikistan, and noted that "we have no restrictions on the development of bilateral relations and mutual cooperation".
Welcoming the presence of his Tajik counterpart at the second Regional Security Dialogue in Tehran, Shamkhani emphasized the two countries' cooperation in countering the threat of ISIS' revival and expansion.
Tajikistan's National Security Council Secretary Mohammad Ali Vatanzadeh also noted a regional security dialogue meeting will be held on Afghanistan which will be an important event on collaboration efforts on one of the region's most important security challenges.
Referring to Tajikistan's long shared borders with Afghanistan, he said insecurity in the country had an impact on Tajik national security, noting that an extremist terrorist group in the name of Islam must not make the country insecure and destabilize the region with mounting security challenges.
https://en.irna.ir/news/83598430/Most-effective-way-to-counter-extremism-explaining-compassionate
------
Saudi Arabia's Ithra launches "To be a Saudi" exhibition
December 18, 2019
DHAHRAN: The King Abdul Aziz Center for World Culture (Ithra) launched the "To be a Saudi" culture and heritage exhibition during the official opening of the "Ajial" Hall at Ithra's museum.
The exhibition explores Saudi heritage and highlights the Kingdom's rich culture throughout the history of its regions.
The "To be a Saudi" exhibition offers the visitors the opportunity to see works of art and culture showcasing authentic Saudi identity, art and heritage, through a range of cultural pavilions and corners including music, poetry, fashion and style.
Since its inauguration in November 2016, Ithra has emerged as a hub for knowledge and culture, and an incubator for arts, science and innovation. The center is located near the Well of Prosperity, where oil was first discovered.
The Ithra Center is 90 meters high, and covers 45,000 square meters. Ithra has a modern library, an archive gallery, the IDEAlab for innovation, an energy exhibition, a children's museum and an extensive museum on the Kingdom's natural history and contemporary arts, and a theater.
The Knowledge Tower looks over the surrounding facilities with its immaculate design; its main purpose, however, is to offer educational programs for pioneers in all fields.
https://www.arabnews.com/node/1600611/saudi-arabia
------
India
Don't give Hindu-Muslim colour to protests against amended Citizenship Act: AAP
Dec 17, 2019
NEW DELHI: The Aam Aadmi Party (AAP) on Tuesday urged the BJP not to give "Hindu-Muslim" colour to the recent protests against the amended Citizenship Act, saying from Kerala to West Bengal, everyone is against it.
Senior AAP leader Sanjay Singh said the amended Citizenship Act is an agenda of everyone living in India.
"The BJP should not give Hindu-Muslim colour to the matter. AAP and others are against the CAA because it is against BR Ambedkar's principles. It is not a matter of just Muslims but of every person who goes out to work," he said.
"From West Bengal to Kerala, everyone is opposing the Citizenship Amendment Act," Singh said.
Reacting to reports that 10 people having criminal background were arrested for allegedly being involved in the violence near the Jamia Millia Islamia University here, Singh asked "why did the police enter the hostel and the library and hit them" if none of the students were involved in the violence.
On Sunday, scores of people, including Jamia students and policemen, were injured, four DTC buses were set afire and over 100 private vehicles were damaged when protesters opposing the amended Citizenship Act turned violent and clashed with police near New Friends Colony.
The AAP has accused the BJP of making the whole protest against the law about Muslims and also claimed that the saffron party is doing "dirty politics" in the matter.
The amended citizenship act was passed by Parliament and given assent by the President last week.
According to the Act, Hindus, Sikhs, Buddhists, Jains, Parsis and Christians who had come to India till Dec 31, 2014, from Pakistan, Bangladesh and Afghanistan because of religious persecution will not be treated as illegal immigrants and be given Indian citizenship.
The Act says non-Muslim refugees will be given Indian citizenship after their stay in India for five years, instead of the earlier requirement of 11 years.
It also proposes to give immunity to such refugees facing cases as illegal immigrants.
According to the legislation, it will not be applicable to the tribal areas of Assam, Meghalaya, Mizoram and Tripura as included in the Sixth Schedule of the Constitution and in the areas covered under the Inner Line Permit, notified under the Bengal Eastern Frontier Regulation, 1873.
https://timesofindia.indiatimes.com/city/delhi/dont-give-hindu-muslim-colour-to-protests-against-amended-citizenship-act-aap/articleshow/72858456.cms
------
Once in Army, Jamia Millia Islamia guards brave cops' lathis
Dec 18, 2019
NEW DELHI: Nazeer Khan, formerly of the Grenadier Infantry Regiment, was a lance naik in the Army during the Kargil war of 1999. He did not face action, but stationed in the Poonch Sector, was close enough to the theatre of war. The life of a soldier hadn't, however, prepared him for what happened on Sunday at Jamia Millia Islamia, where he is now a security guard. "I never imagined I would be beaten up and injured by police," the 57-year-old said on Tuesday.
The guard room at Jamia's Gate No 8 was a sorry sight, with blood stains and broken glass shards testifying to the mayhem during Sunday's protest against the Citizenship Amendment Act. Nazeer, a native of Sikar in Rajasthan, was standing near the gate when he saw students running to the campus. He tried to stop them and refused to open the gate, but the crowd broke through.
Several other security guards rushed into the guard room when, as Mukim Khan disclosed, "a large number of policemen entered the gate and started using lathis on the students". Both Nazeer and Mukim, an ex-serviceman who served in the Rajput Regiment, faced the police fury. They pleaded they were former Armymen, but the cops, they alleged, broke the window panes of the guard room and used their canes on them.
"I was wearing my army fatigues," said the shaken Nazeer. "But one policeman rebuked me when he heard I was an ex-serviceman and hit me on the back with his baton. Another policeman hit my hand with his rifle butt."
Guard Daulat Khan told TOI of a similar life as a soldier for 17 years and recalled being posted as a havildar in Rajouri, Shimla, Chandigarh, Samba and even in Siachen. In 1984, he faced Pakistan shots during an exchange of firing in the Poonch sector. Now 55 years old, he joined Jamia as a guard in 2001.
Daulat, who hails from Jhunjhunu, Rajasthan, recalled that on Sunday he was at the Jamia Masjid gate, adjacent to the library. "At around 6.30pm police emerged from the library and I could see them beating students with their canes," Daulat said, wincing as he showed his injured left leg, the result of the cops allegedly beating him too.
Daulat was taken to the university health centre by students on Monday and had his leg x-rayed. He is recuperating in the guards' quarters near the Jamia workshop area. When his son heard of the incident, he advised Daulat to be cautious. But the security guard did not mince is words. "What happened in Jamia was absolutely wrong. The students did nothing wrong, but police beat them and us," he said.
https://timesofindia.indiatimes.com/city/delhi/once-in-army-jamia-guards-brave-cops-lathis/articleshow/72860834.cms
------
In US for 2+2 meet, Rajnath Singh defends CAA, says Muslims have nothing to do with it
Dec 18, 2019
Yashwant Raj
Union defence minister Rajnath Singh on Monday pushed back against criticism of the Citizenship (Amendment) Act as anti-Muslim and sought to portray it as a measure meant only for victims of religious persecution in neighbouring Muslim-majority countries that he described as "theocratic".
The minister sought to present the law as non-discriminatory in inclusive language and sentiment, drawing upon his own belief system — that every Muslim is like family to him — which he also acknowledged made him an outlier in his own party, left him looking "dheelay, dhale (weak, tentative)".
Singh addressed Indian Americans at a gathering in New York on Monday, on his way to Washington DC for the second edition of the 2+2 ministerial meeting on Wednesday, when he and external affairs minister S Jaishankar will meet their American counterparts Mark Esper and Mike Pompeo.
Singh is expected to meet Esper first at the Pentagon and then travel together to the state department to join Jaishankar and Pompeo for a working lunch and meetings. They are also expected to address reporters later at a joint news briefing, and, a possible visit to the White House to meet President Donald Trump, who faces impeachment by the House of Representatives in a vote later in the evening.
India and the United States are expected to announce the signing of the Industrial Security Annex (ISA), an enabling agreement that will allow American manufacturers of defense equipment to work with Indian private sector companies, expanding their reach beyond the government-owned companies they have been confined to dealing with currently.
The two sides will also discuss India's shopping list of military hardware such as maritime helicopters called "Romeos" — MH 60R Seahawks, described by manufacturer Lockheed Martin as "the world's most advanced maritime helicopter" that can operate from frigates, destroyers, cruisers and aircraft carriers, and 10 more of Boeing's P-8 anti-submarine, anti-surface, intelligence, surveillance and reconnaissance aircraft. Singh is scheduled to visit a US military facility in Virginia on Tuesday which has a fleet of F-18 Hornets, which is competing for the Indian Air Force's order of 114 fighter jets.
On Monday, the minister presented a muscular narration of the Narendra Modi government's performance on both domestic and international front, speaking in Hindi with a generous sprinkling of English words. Amid blowing of conch shell horn and chants of "Bharat mata ki jai", he spoke of the abrogation of Article 370 to alter the constitutional status of Jammu and Kashmir as the fulfillment of a promise first made by the BJP's forerunner Bharatiya Jana Sangh in 1951; the air-attack on a terrorist training facility in Balakot, Pakistan in retaliation for the Pulwama attack; and the Supreme Court judgment allowing the construction of Ram temple in Ayodhya.
The defence minister gave a quick summary of most of issues, and dwelt at length on CAA, which became law last week and is currently the target of expanding protests in India and growing international attention.
Singh said the law is meant to grant citizenship only to Indian-origin victims of religious prosecution in the neighboring countries of Pakistan, Bangladesh and Afghanistan, which are "Islamic" and "theocratic" where Muslims cannot persecuted or discriminated against for being Muslims.
The law is "not anti-Muslim", the minister said, adding, for emphasis, "Muslims have nothing to do with it."
As a people, "we do not discriminate against people on the basis of caste, creed and religion."
As a member of Parliament from Lucknow, Muslims vote from him. "I consider every Muslim in India as my bhai (brother) and a member of my family," he said.
But he acknowledged being somewhat of an outlier in his party for these unitary views. He said people in his party often react to these views with exasperation — "kya bhai sahab, aap" and "Rajnathji to bade dheele dhale hain."
But, he said, he believes people can't be won over by "creating a sense of alienation" but by a "sense of confidence".
On economy, the minister said India has been a victim of the global economic slowdown among other things and the government has initiated measures and packages to deal with the situation. He was optimistic of the country will be out of this crisis soon.
On Pakistan, Singh said India wanted better relations, but has been met with disappointment every time it tried. He referred to Prime Minister Atal Behari Vajpayee's Lahore bus visit and that India got Kargil incursions in return. And then Prime Minister Narendra Modi invited the Pakistani Prime Minister along with other Saarc leaders to his swearing in.
On the acquisition of Rafael fighter jets, Singh said the planes will allow to "clean up" terrorist camps in Pakistan without having to leave India, or crossing the border.
The minister said India exhibited remarkable restraint when it carried out the retaliation against the Pulwama terror attack. It hit only a terrorist training camp in Balakot, when it could have targeted a Pakistan military establishment or a civilian area "that would have killed thousands of people. India did not, and does not believe in attacking the sovereignty of another country."
https://www.hindustantimes.com/india-news/in-us-for-2-2-meet-rajnath-singh-defends-caa-says-muslims-have-nothing-to-do-with-it/story-9j78XE8JrpSGOOVD0nyXhN.html
------
CAA, NRC will hurt India's image: Goa Muslim Jamats Assn chief
December 17, 2019
The Citizenship Amendment Act is divisive and regressive as it includes a "religious test" for granting citizenship, said a Muslim community organisation in Goa on Tuesday.
Association of All Goa Muslim Jamats (AAGMJ) president Bashir Ahmed on Tuesday said the CAA was against the country's Constitution and should be revoked immediately.
"The CAA is communal, divisive and regressive as it includes a religious test for granting citizenship. It will damage the plurality of India and hurt the country's image in the international community," he said.
He said Muslims who rejected the two-nation theory at the time of Independence and stayed back in India understand how much damage CAA and the National Register of Citizens exercise can cause.
https://www.indiatoday.in/india/story/caa-nrc-will-hurt-india-s-image-goa-muslim-jamats-assn-chief-1629156-2019-12-17
------
Entered Jamia to identify agitators, protect students: Delhi Police says in FIR
Dec 18, 2019
NEW DELHI: Amid allegations that it forcefully burst into premises of Jamia Millia Islamia during protest against the new citizenship law and harassed students, Delhi Police said that they entered the campus to identify the agitators and protect students.
In an FIR lodged against the property damage during the protest on Sunday near the university, the police said that the agitators pelted stones and did not heed warnings of the personnel deputed there to bring the situation under control.
"The angry mob pelted stones at the police from inside the campus and burnt the tyres on the road in front of the university gates. They also vandalised an ambulance. The situation was not coming under control," Delhi Police said in the FIR that was filed on Monday.
The FIR was filed on the basis of a complaint by station house officer (SHO) Upender Singh.It said that police personnel entered the university and urged agitators to get out of the campus but the agitators continued pelting stones.
"The agitators were then run out of the campus by the use of minimum force on the directions of senior officers. Several police officials sustained serious injuries due to the stone pelting and scuffle. The officials were admitted to hospitals for treatment," the FIR added.
Police said that the protestors also set two police booths in the area on fire and vandalized around 70-80 motorcycles.
A case was registered under several sections of the Indian Penal Code (IPC) including assembly of unlawful mob, rioting, obstructing public servant in discharge of duty, assault and attempt to commit culpable homicide, etc.
A protest, led by the students of Jamia Millia Islamia, against the Citizenship (Amendment) Act, 2019, had turned violent on Sunday, following which the police had to resort to lathi-charge and tear gas shelling to bring the situation under control.
The varsity vice-chancellor Najma Akhtar, had on Monday, said that the university administration will file an FIR against Delhi Police for forcibly entering the campus and allegedly destroying property.
https://timesofindia.indiatimes.com/city/delhi/entered-jamia-to-identify-agitators-protect-students-delhi-police-says-in-fir/articleshow/72863853.cms
------
Pakistan
Govt to save ex-ruler in court on appeal: AG
Syed Irfan Raza
December 18, 2019
ISLAMABAD: Terming the high treason trial against former military ruler Pervez Musharraf "unfair", the Pakistan Tehreek-i-Insaf government on Tuesday decided to defend the self-exiled, ailing ex-president during the hearing of an appeal to be filed on his behalf.
"I will defend the law in the case but not any individual," said Attorney General Anwar Mansoor in the late-night joint press conference that he addressed along with Special Assistant to the Prime Minister on Information Dr Firdous Ashiq Awan.
He said former president Musharraf had not been given the right of fair trial during the case tried in a special court and the judgement was announced in absentia without recording statement of the accused.
The attorney general said the verdict raised questions about "urgency in pronouncing the judgement when Mr Musharraf was in critical condition in ICU" in Dubai.
PM's spokesman slams opposition for 'maligning the army' by commenting on decision; MQM-P regrets ruling
"Musharraf was not given a chance to record his statement under Article 342 (of the Constitution), to present his testimony and witnesses and his request to record his statement through video link or before a commission was turned down by the judge," he added.
"There is no question that a person who had committed treason must be punished but in this case the right of fair trial guaranteed under the Constitution was not ensured. A trial should not just be fair but also seen to be fair," he insisted.
The AG argued before the media that one of the major flaws in the case was that those who might have assisted Gen Musharraf in enforcing emergency in the country "had not been made party" in the case. He said if Gen Musharraf had been given a chance to record his statement and present his witnesses, he might have come up with "logical" reasons in support of emergency he had proclaimed in 2007.
Mr Mansoor further argued that the complaint against the ex-president had been filed by a former interior secretary, whereas under the 18th Amendment only a prime minister and members of his cabinet have powers to authorise any person for filing such petitions/complaints.
Asked if he committed a contempt of court by declaring the trial "unfair" during his media talk, the attorney general said: "Once the verdict is announced it becomes a public document and everyone can comment on it." At the same time, he added, he had tried his best to get a copy of the judgement but he was asked by the court that it would be issued after 48 hours.
The PM's aide on information, however, criticised the opposition for what she said "maligning the army" and "harming the interest of the state" by commenting on the decision.
In a TV talk show, spokesman for the PM Nadeem Afzal Chan said that institutions should not get themselves involved in any controversy on the judgement, as it was a verdict against an individual. He also urged the nation and institutions to move forward and not to get themselves involved in any controversy.
"Here [in the country] we have faced hanging of prime minister Zulfikar Ali Bhutto, assassination of ex-prime minister Benazir Bhutto and horrible tragedy of Army Public School, but [we] moved forward," he added.
The PM spokesman was of the opinion that all stakeholders should exercise patience on the judgement. He said: "When we criticise the judiciary for not taking decisions against military generals and when we condemn lawyers for creating a fuss in Lahore then people can also comment on Musharraf."
"Had the people stopped doing politics when ex-PM Bhutto was hanged," he said and again appealed to the nation to move forward after the high treason case verdict.
Mr Chan, however, demanded that action be taken against the accomplices of Gen Musharraf who had assisted him or endorsed his act of enforcing emergency in the country in 2007.
The Muttahida Qaumi Movement-Pakistan termed the decision against Gen Musharraf "extremely regrettable".
"What kind of justice is this that those looted national wealth are considered patriots but the man who put his life at stake for the sake of country has been declared a traitor," wondered MQM-P convener Dr Khalid Maqbool Siddiqui in his reaction to the special court's verdict.
He demanded that Gen Musharraf, who he said was very ill, be given an opportunity to defend his case.
Also, the Mustafa Kamal-led Pak Sarzameen Party rejected the special court verdict, saying "legal and constitutional obligations had not been met in the case against Gen Musharraf."
https://www.dawn.com/news/1522863/govt-to-save-ex-ruler-in-court-on-appeal-ag
------
Two policemen on polio duty gunned down in Lower Dir
Sirajuddin
December 18, 2019
Two policemen, deployed on a security detail for polio teams, were martyred after unidentified assailants opened fire at them in Lower Dir, police confirmed on Wednesday.
Lower Dir Deputy Superintendent of Police (DSP) Saeedur Rehman said the incident took place in Maidan area of the city. "The policemen were on their way to a basic health unit when they were targeted," he added. No officials from the polio vaccination team were hurt as they were at a distance from the firing, Rehman said.
He said a search operation had begun to find those responsible for the deaths. "According to initial reports, the suspects managed to escape from the scene," he added.
Wednesday marks the third day of the five-day polio campaign currently underway in Khyber Pakhtunkhwa.
Around 22,925 teams have been constituted to vaccinate 6.75 million children below the age of five. The campaign is focused on reaching and vaccinating every child in order to stop the transmission of the virus as well as its outbreak in the region.
Polio cases surge to 104
The total number of polio cases in Pakistan have surged to 104 during the current year. Pakistan is among a handful of countries that are still battling the disease which has been widely eradicated.
In a recent report, the World Health Organisation (WHO) predicted Pakistan as a polio-endemic state in 2020 as well.
The WHO report states that increased instances of polio cases in Pakistan in 2019 as compared to 2017 and 2018 highlights the continued geographic spread of the virus.
"The gaps in strategic implementation of vaccination activities in Pakistan means that there is a high likelihood that the number of cases will continue to increase and that transmission will continue well into 2020," read the report.
https://www.dawn.com/news/1522973/two-policemen-on-polio-duty-gunned-down-in-lower-dir
------
Misconception led Alvi to send reference against judge, lawyer tells SC
December 18, 2019
ISLAMABAD: Senior counsel Hamid Khan, representing the Supreme Court Bar Association (SCBA) and other bar associations in a petition challenging the reference against Justice Qazi Faez Isa, argued before the Supreme Court on Tuesday that the president had sent the reference on the basis of a "misconception" that the prime minister's advice was binding on him.
The counsel contended before a 10-judge full court of the Supreme Court that the president had to make an independent opinion before forwarding the reference against a judge on misconduct charges to the Supreme Judicial Council (SJC).
But going through the complaint, Mr Khan said, it appeared there was a confusion that since the information had been sent on the advice of the prime minister, it was binding and the president had to form an opinion on the basis of such advice.
On the contrary, the counsel contended, the president had to satisfy himself independently since the matter, when referred by the prime minister or the cabinet, was simply a piece of information and "needed to crystallise" first.
Hamid Khan, who is expected to conclude his arguments on Wednesday (today), is representing four petitions challenging the filing of the reference against Justice Isa.
The petitions were filed by SCBA, Quetta Bar Association president Mohammad Asif Reki, the Balochistan Bar Council and Punjab Bar Council's vice chairman Shahnawaz Ismail.
During the hearing on Tuesday, Justice Yahya Afridi wondered how one can expect that the president would hold a preliminary inquiry first after the prime minister sends the information against the judge and even if the president decides to hold the inquiry, what sources will he apply when the executive has already sent the information.
Although the information was initiated through a private complainant Abdul Waheed Dogar, it was "crystallised by the executive", Justice Afridi observed.
The counsel argued since the president did not see the substance in the reference, he did not form his independent opinion before sending it to the Supreme Judicial Council.
The opinion of the prime minister was taken as if it is the president's opinion when the reference was referred to SJC, the counsel said.
There was no need to seek advice from the executive when the reference was submitted to the president under Article 209 of the Constitution, Hamid Khan argued.
Likewise, the SJC should have held a preliminary inquiry before issuing a show cause notice against the judge, the counsel said.
Since the president enjoys a special position as head of state and interacts will the three organs — legislature, executive and the judiciary — he should be seen to be as apolitical and non-partisan person, the counsel said.
Justice Syed Mansoor Ali Shah inquired of the counsel whether the president was bound to get advice from the prime minister for forming his opinion if the complaint was sent by the latter himself.
Justice Maqbool Baqar observed that opinion forming was an essential duty of the president and he has to form his opinion like any other prudent person does.
Justice Faisal Arab asked the lawyer whether the president can call a judge for certain clarification before forming an opinion on referral of a matter to SJC. "Will it not hurt the independence of the judiciary," the judge wondered.
"What if the president has some personal grievance against a judge," Justice Muneeb Akhtar put a question to Hamid Khan. "Will it not lead to chaos if the president summons the judge against whom he has received a complaint to explain his position before forming an opinion that the judge is guilty of misconduct or not."
The counsel contended the president had to apply his mind independently by checking the reliability, credibility and fairness of a complaint before completing the process of sending the reference to SJC.
https://www.dawn.com/news/1522858/misconception-led-alvi-to-send-reference-against-judge-lawyer-tells-sc
------
No one above law, says Amnesty on Musharraf's conviction
December 18, 2019
WASHINGTON: Amnesty Internatio­nal, a leading campaigner for human rights, said on Tuesday that Pakistan's judgement against former military ruler Pervez Musharraf proved that no one was above the law but strongly opposed the death sentence.
Earlier in the day, Gen Musharraf was convicted of 'high treason' and sentenced to death for suspending the Constitution when he imposed a state of emergency in November 2007.
Responding to the conviction Amnesty International's Deputy South Asia Director, Omar Waraich, said: "No one is above the law, and it is encouraging to see Pakistan break with a history of impunity for powerful generals. At the same time, it is crucial that he receives a fair trial without recourse to the death penalty."
Amnesty has been campaigning for decades for the abolition of death penalty.
"The death penalty is the ultimate cruel, inhuman and degrading punishment; it metes out vengeance, not justice," said Mr Waraich while explaining the group's position on this issue.
Amnesty, however, demanded that Gen Musharraf and the government he led must be held to account for all human rights violations committed during their time in office, not just a select few.
The statement also listed the violations that the Musharraf government committed while in power. "It includes extrajudicial executions, enforced disappearances, torture, arbitrary detentions, deaths in custody, unlawful killings and other serious human rights violations committed against the political opposition, human rights defenders, members of civil society and suspected members of armed groups," the group said.
During Gen Musharraf's nearly nine-year rule, Amnesty International documented widespread human rights violations conducted by his government, including the killing, enforced disappearances and torture of members of armed groups, political activists and human rights defenders.
Rimmel Mohydin, a campaigner for Amnesty International, said that while Gen Musharraf "deserve(d) punishment" and has "committed many, many crimes", awarding of a death penalty was "wrong".
https://www.dawn.com/news/1522833/no-one-above-law-says-amnesty-on-musharrafs-conviction
------
Africa
Report: Senegal Failing to Prevent Rampant Abuse and Torture at Islamic Schools
Senegal has failed to prevent the rampant abuse of thousands of children and teenagers at many of the country's Quranic schools, according to a report released on Monday by Human Rights Watch.
The in-depth report, titled These Children Don't Belong in the Streets': A Roadmap for Ending Abuse, Exploitation of Talibés in Senegal, is an analysis of the Senegalese government's pledge to end the abuses, which take place in Islamic education centers known as "daaras."
After studying the government's policy, programming, and judicial efforts, the report found that the government had been grossly negligent in their attempts to prevent the abuse of over 100,000 children, known as "talibés," in these Quranic schools.
Having done extensive research since 2017, investigators found that in many cases children attending such schools are forced to beg on the streets for money until they meet a certain quota. If they fail to do so, they can face punishments such as beatings, locking them in chains, and even withholding food.
"Talibé children have been openly and tragically neglected, exploited, and abused, and the government simply has not done enough to stop it," said Corinne Dufka, associate Africa director at Human Rights Watch. "The government needs to take bold, concrete, and sustained actions to end the suffering many children endure in Senegal's daaras."
Public outcry over the abuse rose significantly last month after photos of underweight children begging or being locked up in chains circulated on social media. Although some religious leaders were outraged after the arrest of those responsible for that institution, the outcry has led to further pressure being placed on the government to be accountable and take responsibility for such abuses.
Over the past decade, Senegalese lawmakers have passed various laws to protect children by outlawing abuse and willful neglect of children, wrongful imprisonment, endangerment, and human trafficking. However, the report found authorities are still far too slow in taking the necessary steps to end the abuses, with just 25 Quranic teachers or their assistants convicted of such crimes since 2017.
"The abuses going on in many daaras are out of control, yet the government delays taking action," said Issa Kouyate, member of the Platform for the Promotion and Protection of Human Rights (PPDH) and director of a children's refuge in the city of Saint-Louis. "Talibés have suffered enough. It's high time for change."
Horrific abuse of children is also taking place in other parts of Africa, including Nigeria, where similar Islamic "boarding schools" have been compared to "torture chambers." Human rights analysts estimate that around 10 million children could be in the hands of these institutions in Nigeria, although that number is expected as the government prioritizes their closure and the prosecution of those responsible.
https://www.breitbart.com/national-security/2019/12/17/report-senegal-failling-prevent-rampant-abuse-torture-islamic-schools/
------
Islamic group attacks LASTMA for stopping Muslim officers from praying
December 18, 2019
By John Owen Nwachukwu
The Muslim Rights Concern (MURIC) has tackled the Lagos State Traffic Management Agency (LASTMA) for allegedly infringing on the religious rights of the agency's Muslim officers who are currently undergoing training in Idimu, Lagos.
According to the human rights group, LASTMA authorities breached the fundamental human rights of Muslims by disallowing them from observing congregational prayers in the camp during the recent Induction Course 10 held at the Four Square International Conference Centre, Idimu, Lagos State.
This was contained in a press statement issued to DAILY POST by the director of MURIC, Professor Ishaq Akintola, on Wednesday.
According to MURIC, "We learnt about this ugly situation through the media and we know from experience that we have to move quickly in order to douse tension. We are dismayed by what LASTMA authorities are alleged to have done. Can it be true? In the first place, why did a whole government agency pick the premises of a religious group to train its officers? Why were Draconian rules rolled out over the use of the same religious premises for people of another faith. Why pick such a place ab initio if harsh and repressive conditionalities were going to be applied?
"About ten Muslim officers were alleged to have attempted to pray in an open space within the premises. Some Christian colleagues who saw them reported to the commander. They were all summoned and interrogated and in the end LASTMA commander was reported to have threatened to deal seriously with the Muslim officers for daring to observe Muslim prayer in a church premises. There are fears that their appointments may be terminated or they would be dismissed.
"We in MURIC declare that it had better not be. Lagos is the centre of excellence and there is respect for the rule of law. Lagos respects citizens' rights. The state government has also been propagating and actively promoting peaceful co-existence among the different religious groups in the state. So we do not see how the commander's alleged threat can become a fait accompli.
"We want to hear from LASTMA. We are keen on knowing their side of the story. We repeat: it had better not be. Nobody has the right to stop Muslims from worshipping Allah just as no one has the right to stop Christians from worshipping Jesus. It should be added that Muslim mode of worship cannot be curtailed by any homo sapien. We are saying this because we heard that the officials said Muslims in the camp should pray individually and not in congregation. That is nauseating, nonsensical and unacceptable.
"This is another moment of truth. The choice of the Four Square Church premises for LASTMA induction course 2019 has exposed the hypocrisy of those who claim that there is religious tolerance in the South West. We declare that such a claim is false and misleading. What happens in the South West is that individuals who belong to different faiths but who live in the same houses or work in the same places tolerate themselves because they belong to the same families or because they know each other. Besides, fate has brought them together under the same roof or in the same workplace.
"But religious institutions have remained enstranged from each other and sometimes bitterly hostile towards one another. That is why there have been instances whereby religious rivalry has taken the driving seat and intolerance has threatened the peace in Yorubaland.
"Examples of such instances include the LASTMA-Four-Square-Church saga above, the Hijab-Church-choir-gown-and-masquerade-dress imbroglio in the State of Osun schools, the molestation of hijab-wearing female Muslim students by overzealous Christian teachers in Lagos State schools, election registration and identity card officials who compel Muslims to remove their hijabs, caps and turbans before 'capturing', etc.
"It is noteworthy that both the perpetrators and the victims in the above examples are of Yoruba stock. There was no single Northerner among them. Yet the Christians in the examples were determined to deprive the Muslims of their Allah-given fundamental human rights. The idea of religious tolerance among the Yoruba is therefore a myth, a mirage and a tale by moonlight.
"The above examples also showcase the sufferings of Yoruba Muslims in the hands of their fellow Yoruba who are Christians, particularly in the hands of Christians who occupy official positions. Muslims are told point-blank, 'This is not Sokoto…Go to Kano if you want to use hijab…' Yet Nigeria has only one constitution.
"We in MURIC will like to know if Yoruba Christians have any grudges against Yoruba Muslims, any allegation at all, anything Yoruba Muslims have done to hurt Yoruba Christians. This question is another angle to our choice of dialogue in interfacing with our Christian neighbours. We have listed our allegations against you (see above), now tell us, what have we done to hurt you?
"MURIC is putting the Federal Government as well as all state governments in the South West on notice. Enough of the deception about the existence of religious tolerance in Yorubaland. The spate of persecution of Muslims in the South West has reached its highest crescendo. Although the perpetrators are aware that they are breaking the law, they have been emboldened by the fact that no one has ever been held accountable by the authorities.
"If anyone is still in doubt, the tactical withdrawal by the highest law institution in the land from any legal tussle arising from and approval of the use of hijab for Amasa Firdaus and, by deduction, for all future law graduates called to bar, is enough to convince doubting Thomases that the use of hijab is lawful, legitimate and constitutional. But not for Christian officials in Yorubaland. They will seize every single opportunity to oppress Muslims. Yet they claim that there is religious tolerance in the South West.
"In this regard, MURIC advises the Lagos State Government to withdraw the hijab case from the Supreme Court as a mark of respect for the prestigious Law School and the highly respected Body of Benchers. If these two legal institutions deem it fit to allow a graduand who defied all decorum on account of her hijab to be called to bar eventually, Lagos needs to put on another thinking cap, namely, the cap of real, genuine and undiluted religious tolerance. This cap will truly fit Lagos as the center of excellence primus inter pareil.
"Press statements are an extension of dialogue and MURIC will continue to explore this and other peaceful means of resolving issues. We want peace in Lagos State in particular and Nigeria in general. Our vision of Nigeria is that of a nation where people live together in peace and harmony, a nation in which no one is oppressed, where every citizen enjoys Allah-given fundamental human rights regardless of class, creed, or ethnicity. But we all must tow the path of justice to ensure this happens because justice is the soul of peace. No one can deny one and enjoy the other.
"We, therefore, invite the Lagos State Government to quickly intervene in the conflict at the ongoing LASTMA induction programme at the Four Square International Conference Centre before it escalates. We demand a probe into circumstances surrounding the choice of a church premises for the training of LASTMA officials when it is well known that there are non-Christians among them. We demand immediate halt to the irrational rules in the camp for those in this second batch which will end on Sunday 22nd December, 2019.
"We charge LASTMA authorities to provide a place within the premises where the Muslims can observe their congregational prayers or move the training venue out of a church premises immediately in the interest of peace. We demand the relocation of the training ground to a neutral place for subsequent batches. The remaining streames should not be held in any church, mosque or shrine premises. A neutral venue must be found. Lastly, we appeal to Muslims throughout the country to remain calm and law-abiding."
https://dailypost.ng/2019/12/18/islamic-group-attacks-lastma-for-stopping-muslim-officers-from-praying/
------
South Asia
Dhaka willing to take back undocumented Muslim migrants if India provides evidence, says official
An advisor to Bangladesh Prime Minister Sheikh Hasina told PTI on Tuesday that the country will take back undocumented Bangladeshi Muslim migrants in India if New Delhi provides evidence.
"We will take back any Bangladeshi citizen staying in India illegally," Gauhar Rizvi said. "But India has to prove that." The amendments to the citizenship law were India's internal matter, he added.
Last week, Indian Parliament passed the contentious Citizenship Amendment Act that provides citizenship to refugees from six religious communities, except Muslims, escaping persecution in Bangladesh, Pakistan and Afghanistan.
Rizvi, who advises Hasina on international affairs, denied that Hindus find it impossible to practise their religion in Bangladesh, an allegation India's Home Minister Amit Shah had levelled in Parliament. The senior official said Muslims, Hindus, Christians and Buddhists co-exist peacefully in Bangladesh.
Rizvi's statements came on a day Pakistan Prime Minister Imran Khan told the Global Refugee Forum in Geneva that his government cannot take in any more refugees, and warned that the Narendra Modi government's policies could cause a "big refugee crisis" in South Asia. The remarks were rejected by the Ministry of External Affairs.
On December 12, as protests against the amended citizenship law kicked off in the North East, Bangladesh Foreign Minister AK Abdul Momen cancelled his visit to India, citing other commitments. The day before, he had said that amendments could weaken India's character as a secular nation. "India is historically a tolerant country which believes in secularism [but] their historic position will be weakened if they deviate from that," the minister added.
Momen had told Dhaka Tribune on December 10 that Indian politicians' comments about persecution and torture of Hindus in Bangladesh were "unwarranted as well as untrue". He claimed that there are a very few countries with as good a track record on communal harmony as Bangladesh. "We have no minorities," he claimed. "We are all equal. If he [Amit Shah] stayed in Bangladesh for a few months, he would see the exemplary communal harmony in our country."
In response, India's Ministry of External Affairs said New Delhi had told Dhaka that it believed religious persecution had taken place during the rule of previous military regimes, and not the current government.
Hours after Momen cancelled his visit, his Cabinet colleague and Home Minister Asaduzzaman Khan cancelled a personal visit to Meghalaya's capital Shillong because of the protests.
The demonstrations have intensified in the last five days, spreading to universities across India as well as to the streets of India's national Capital Delhi. The Narendra Modi-led government has accused the Opposition and "urban Naxals" of fanning the protests for their political agenda.
https://scroll.in/latest/947139/dhaka-willing-to-take-back-undocumented-muslim-migrants-if-india-provides-evidence-says-official
------
38 Taliban militants killed in Special Forces raids, airstrikes in 12 provinces
17 Dec 2019
A series of airstrikes and Special Forces' raids killed at least 35 Taliban militants in 12 provinces in the past 24 hours, the military officials said Tuesday.
The Special Forces conducted the operations in Chahar Darah and Imam Sahib districts of Kunduz, Shah Wali Kot of Kandahar, Baraki Barak of Logar, Hisark of Nangarhar, Qarghh'l of Laghman, Nejrab of Kapisa, Shindand of Herat, Almar of Faryab, Deh Yak of Ghazni and Now Zad of Helmand.
According to military officials, the Special Forces also arrested 11 Taliban militants and destroyed multiple caches of weapons during the same operations.
The officials further added that the security forces conducted the airstrikes in Chahar Darah of Kunduz, Shah Wali Kot of Kandahar, Jalrayz of Wardak, Nad Ali of Helmand and Bermal fo Paktika.
The Taliban group has not commented regarding the operations and airstrikes so far.
https://www.khaama.com/38-taliban-militants-killed-in-special-forces-raids-airstrikes-in-12-provinces-04428/
------
Explosion injures 18 civilians in Balkh province of Afghanistan
Tuesday, 17 Dec 2019
An explosion injured at least 18 civilians in northern Balkh province of Afghanistan, the security officials said.
Adelshah Adel, a spokesaman for the provincial police said an explosives-laden bicycle went off in Mazar-e Sharif city, the provincial capital of Balkh province which injured at least 18 civilians.
However, another security official said the explosion wounded at least 23 people including security personnel.
The officials further added that five Traffic Police and an Afghan National Police (ANP) soldier were also among those wounded.
No individual or group including Taliban has so far claimed responsibility for the explosion.
Taliban militants and other insurgent groups frequently use improvised explosive devices to target the security forces and government personnel.
But the majority of roadside bombings inflict casualties on ordinary civilians.
This comes as an Improvised Explosive Device explosion killed 10 civilians including women and children in South-eastern Khost province of Afghanistan earlier today.
https://www.khaama.com/explosion-injures-18-civilians-in-balkh-province-of-afghanistan-04427/
------
Southeast Asia
Mideast rivalries plague fledgling Muslim summit in Malaysia
Sabena Siddiqui
December 17, 2019
Malaysia is launching a summit this week that reflects Prime Minister Mahathir Mohamad's vision for a new power bloc to address problems afflicting the Muslim world. But the upstart summit is causing controversy over its exclusivity, mainly because Iran was invited but its archrival, Saudi Arabia, was not.
Taking place Dec. 18-20, the 2019 Kuala Lumpur Summit's agenda covers regional issues including trade, security, technology and internet governance.
Apparently, the idea occurred to the leaders of Turkey, Pakistan and Malaysia during a meeting on the sidelines of the UN General Assembly session in September. Later, Iran and Qatar were invited to participate.
In addition to the host, Mahathir, the following top leaders were expected to attend: Turkish President Recep Tayyip Erdogan, Pakistani Prime Minister Imran Khan, Qatari Emir Sheikh Tamim bin Hamad Al Thani and Iranian President Hassan Rouhani. Also, 450 other leaders, thinkers and scholars from 52 countries will be taking part.
But Mahathir just announced that Khan, who had already accepted an invitation to speak, will not attend, under pressure from Saudi Arabia. Also, Indonesian President Joko Widodo may be sending a representative rather than attending himself.
Some observers are comparing the KL Summit group with the Organization of Islamic Cooperation (OIC), as their main objectives are similar. But the difference is that many major Muslim countries have not been included yet. At a soft launch of the summit prior to the main event, Mahathir was recently asked whether the summit is an alternative to the OIC, and he replied, "OIC is a very big organization. It is very difficult for us to have such a big organization to the conference. That is why we started with five countries and we hope over time the other members of OIC will join in."
Mahathir denied rumors that he expects the summit's organizing group to replace the OIC.
Some critics say the OIC is losing relevance and a new broad-based alliance could help sort out differences in the current regional scenario. But major powers like Saudi Arabia are feeling left out of this process and perceive the KL Summit as a rival forum to the OIC.
Though other countries had also expressed interest, just five main states will decide the main direction of the Islamic alliance and lay its foundation. There is also a proposal to introduce a common currency.
At this point, it's too early to assess whether Mahathir's efforts will prove sustainable and effective, But the summit gained more relevance as the 40th Gulf Cooperation Council (GCC) Summit, held Dec. 10 in Riyadh, was unable to mend its divisions involving Qatar. And, Qatar's emir confirmed he would attend the KL Summit, but he ignored King Salman bin Abdul-Aziz Al Saud's invitation to attend the GCC meeting and sent Prime Minister Abdullah Bin Nasser Al Thani instead.
Discussing the KL Summit with Al-Khaleej news, Qatari journalist Jaber al-Harami observed, "The initiative is ambitious and comes in accordance with the aspirations of these countries, especially as some of them talked about the creation of an Islamic bloc focused on defense industries, development and good governance, and Qatar had a lead in this aspect."
Malaysian Foreign Minister Saifuddin Abdullah has been visiting various Muslim countries to invite their leaders in recent months, including Oman, and ostensibly there are plans to include more states for the next summit.
As for Pakistan's no-show move, the week ahead presents a very complicated scenario for Islamabad. Khan greatly appreciates Mahathir's views on Kashmir, as they are similar to Pakistan's, so the KL Summit is important to him.
The Pakistan Foreign Office had stated earlier, "The KL Summit will provide Pakistan with an opportunity to exchange views and find solutions to challenges facing the Muslim world."
But Pakistan's relations with Saudi Arabia apparently are more important.
After the Saudi hierarchy indicated it was not pleased with Pakistan's participation in the KL Summit, and Saudi displeasure over the new bloc became obvious, Khan made an urgent visit to Riyadh to carry out consultations covering "bilateral matters and recent developments in the regional context," the Foreign Office said.
On that visit, his fourth to Saudi Arabia since May, Khan must have tried to clear up any misunderstandings and keep Riyadh in the loop to contain the damage and reassure the Saudi leadership that ties between Pakistan and Saudi Arabia will not be affected by the new alliance. Islamabad has always worked to maintain its delicate balance between Iran and Saudi Arabia.
However, this time a whole faction of rival countries is forming a new bloc, and Islamabad will have to make sure that Riyadh is included in the next KL Summit.
Just days before that visit, Pakistani Foreign Minister Shah Mehmood Qureshi and the head of the Inter-Services Intelligence had traveled to the Saudi capital to "discuss the latest developments at regional and international arenas," according to the Saudi Press Agency. For a couple of months, Pakistan's civil and military leaderships have been paying frequent visits to the kingdom, trying to facilitate a rapprochement between Riyadh and Tehran.
At the latest meeting, with Saudi Crown Prince Mohammed bin Salman, Khan called for using diplomacy to solve Middle East disputes. The visit ended with the prince himself seeing Khan off at the airport.
It seems Islamabad will not risk upsetting Riyadh and will give priority to maintaining close Pakistani-Saudi ties.
https://www.al-monitor.com/pulse/originals/2019/12/summit-malaysia-iran-saudi-arabia-pakistan.html
------
LZS aims to draw Muslim U Mobile users to pay zakat via GoPayz
Last update: 18/12/2019
KUALA LUMPUR, Dec 18 -- Lembaga Zakat Selangor (LZS) aims to attract 1.2 million Muslim U Mobile subscribers in Selangor to pay their zakat (tithe) by using GoPayz, U Mobile's universal e-wallet.
LZS chief executive officer (CEO) Saipolyazan Mat Yusop said the collaboration with U Mobile is to encourage more Selangorians to pay their zakat via the digital platform, in line with its aim to drive cashless zakat payment in the state.
He said zakat payment via digital platform had increased by 47 per cent.
Saipolyazan said LZS hoped to encourage more Muslims to pay zakat to support the growing number of asnaf in Selangor.
He said the number of asnaf is likely to grow to 60,000 this year and 70,000 next year from 50,000 in 2018.
LZS hopes the new platform will also help them to reach more Muslim immigrants in the country.
He said LZS is looking at ways to tap into the Muslim community from Indonesia, Cambodia, Pakistan and Bangladesh, among others.
GoPayz is Malaysia's first e-wallet to offer zakat fufilment platform to LZS.
Meanwhile, U Mobile group CEO Wong Heang Tuck said there are 15,000 users onboard GoPayz currently, and the company had targeted the Muslim community to make up at least 70 per cent of GoPayz's subscribers in the near future.
Muslims can make zakat payments for income, business, savings, equities, gold, silver, assets, zakat fitrah (personal tithe) to LZS conveniently via the GoPayz app or web.
Wong said the zakat platform is the first Islamic service by GoPayz and more services would be launched in the future.
"GoPayz is committed to continuing to expand its digital services to bring unlimited convenience and access to all its customers.
"This is just the first phase and we will be looking at introducing more Islamic services that will benefit the community," he added.
http://www.bernama.com/en/business/news.php?id=180061
------
Muslim leaders gather in Malaysia for summit shunned by Saudi
Joseph Sipalan
KUALA LUMPUR (Reuters) - Leaders and senior representatives from some 20 Muslim nations flocked to the Malaysian capital on Wednesday to discuss issues agitating Muslims globally at a summit Saudi Arabia decided to snub, and Pakistan ducked out of attending.
No agenda for the Kuala Lumpur Summit has been released, but it could address age-old disputes in Kashmir and the Middle East, the conflicts in Syria and Yemen, the plight of Myanmar's Rohingya Muslim minority, and mounting outrage over China's camps for Uighur Muslims in Xinjiang - a subject that will doubtless upset Beijing - as well as how to counter the spread of Islamophobia in the world.
Two of the world's most outspoken leaders, Malaysia's Prime Minister Mahathir Mohamad and Turkey's President Tayyip Erdogan will be giving their views during the four-day summit, which begins with a welcome dinner on Wednesday and wraps up on Saturday.
Pakistan's Prime Minister Imran Khan, who along with Mahathir and Erdogan had been a prime mover behind the summit, made a belated decision to skip the meeting.
Some Pakistani officials, unnamed because they are not authorised to speak to the media, said Khan pulled out under pressure from close ally Saudi Arabia, though media reports say his officials deny that was the reason why the world's second largest Muslim country won't be represented.
Iranian President Hassan Rouhani and Qatar's Emir Sheikh Tamim bin Hamid Al-Thani, whose countries have tense relations with Saudi Arabia, are also attending.
Explaining its decision to stay away, Saudi Arabia said the summit was the wrong forum for matters of importance to the world's 1.75 billion Muslims, though some analysts suspected the Kingdom feared being diplomatically isolated by regional rivals Iran, Qatar and Turkey.
Saudi state news agency SPA reported that on a call with Mahathir on Tuesday, Saudi King Salman reaffirmed that such issues should be discussed through the Organisation of Islamic Cooperation (OIC).
A Saudi source said Saudi Arabia was invited but would only attend it the meeting was held under the auspices of the OIC.
"They are very concerned about it," the source said of the summit, declining to be named as he was not authorised to talk to media.
The Saudi government's centre for international communication did not respond to a request for comment.
The absence of Saudi Arabia, the birthplace of Islam, whose king also hold the title of Custodian of the Two Holy Mosques in Mecca and Medina demonstrates some of the divisions in the Muslim world.
"The issue is that you've got blocs," said James Dorsey, a senior fellow at S. Rajaratnam School of International Studies and Middle East Institute in Singapore. "You've got a Saudi-UAE bloc, Turkey-Qatari bloc, and Pakistan in the middle trying to hedge their bets."
Indonesia, the country with the world's largest Muslim population, would be represented by Vice-President Ma'ruf Amin, a cleric overseeing the country's fight against radicalisation and terrorism.
Even as delegations were arriving in Kuala Lumpur, Malaysian officials were unable to provide a final list of who would be attending. Mahathir's office said that invitations had been sent to all 56 OIC member states, but officials said only about 20 were sending delegations, and fewer would be led by heads of state.
Defending the summit, Mahathir's office issued a statement saying there was no intention to create a "new bloc as alluded to by some of its critics".
"In addition, the Summit is not a platform to discuss about religion or religious affairs but specifically to address the state of affairs of the Muslim Ummah," it said, using the Arabic term for community.
Speaking to Reuters last week, Mahathir expressed frustration with the OIC's inability to forge a united front and act decisively. During that interview, the Malaysian leader also raised the possibility that the alleged mistreatment of Muslim Uighurs in China's Xinjiang would be discussed.
Beijing describes the camps where Uighur Muslims are being held as "vocational training centres", while critics say they are mass internment camps.
https://in.reuters.com/article/malaysia-muslimalliance/muslim-leaders-gather-in-malaysia-for-summit-shunned-by-saudi-idINKBN1YM0G2?rpc=401&
------
Saturday Arrests, Attack Spotlight Islamic Militancy in Eastern Indonesia
By Niniek Karmini
December 18, 2019
Alleged members of an Islamic militant group shot a police officer to death in eastern Indonesia in the latest assault targeting security officials in the world's most populous Muslim country, police said Saturday.
Five gunmen ambushed and took hostage villagers and police officers who had just returned from Friday prayers at a small mosque near a police post in Central Sulawesi province's Salubanga village, said National Police spokesman Argo Yuwono.
He said the hostages managed to escape when the gunmen, believed to be members of the East Indonesia Mujahideen militant group, sneaked into the mosque's yard and opened fire at the officers and villagers, killing a police officer, and fled to a nearby forested area in Parigi Moutong district.
The attack occurred amid security operations that had been intensified in the past months in Poso, a neighboring mountainous district considered an extremist hotbed, to try to capture the rest of the group's members. The group still has some nine members after more than 30 were captured or killed in the past year. The group's leader, Abu Wardah Santoso, was killed in a shootout with security forces in 2016.
Yuwono said that although the strength of the extremist group was weakened after the death of Santoso, it remains dangerous under its current leader, Ali Kalora.
Also on Saturday, Indonesian police said that they had arrested seven suspected Islamic militants in the country's easternmost Papua province as authorities beef up security ahead of Christmas and New Year's celebrations.
Papua police's deputy chief, Yakobus Marjuki, said the elite counterterrorism squad arrested a man, identified only as Karwanto, in a raid at a house in Sentani town in December 5 after receiving a tip from intelligence that some members of the extremist group have fled to Papua from other Indonesian islands since last year.
His arrest led police to six other suspects who were captured in the past week in Jayapura, the capital of Papua province. Police seized knives, laptops, explosive materials and a bomb from three houses rented by the suspects.
Marjuki declined to say what the suspects had planned in predominantly Christian Papua province. He said those arrested are suspected members of a local affiliate of the Islamic State group known as Jama'ah Anshorut Daulah, or JAD, from Lampung and Medan on Sumatra island.
JAD has been implicated in numerous attacks in Indonesia over the past two years and was designated a terror organization by the U.S. in 2017.
The arrests come as authorities announced Friday the launch of an annual security operation to secure the year-end festivities. For the operation, which will run through January 1, Indonesia's police and military will deploy a total of 190,000 officers across the country. They will be tasked with securing churches, shopping malls, tourist destinations, airports, and other places where crowds are expected to gather in large numbers.
Arrests of suspected Islamic militants are rare in Papua, a former Dutch colony in the western part of New Guinea that is ethnically and culturally distinct from much of Indonesia. It was incorporated into Indonesia in 1969 after a U.N.-sponsored ballot that was seen as a sham by many.
Indonesia, which is home to some 230 million Muslims, has carried out a sustained crackdown on Islamic militants since bombings on the tourist island of Bali in 2002 killed 202 people, mostly foreigners.
The Jemaah Islamiyah military network, which was blamed for the Bali attacks, was neutralized following the arrests of hundreds of its militants and leaders. But new threats have emerged in recent times from Islamic State group-inspired radicals who have targeted security forces and local "infidels" instead of Westerners.
By Niniek Karmini for The Associated Press.
https://thediplomat.com/2019/12/saturday-arrests-attack-spotlight-islamic-militancy-in-eastern-indonesia/
------
Iran President arrives in Kuala Lumpur to attend KL Summit 2019
December 17, 2019
AhlulBayt News Agency (ABNA): President of the Islamic Republic of Iran arrived in the capital city of Malaysia, Kuala Lumpur, on Tuesday evening local time, at the official invitation of the Prime Minister of Malaysia to attend the Muslim leaders' summit.
Kuala Lumpur Summit 2019 is being held 18-21 December with 400 figures, including 250 world leaders and authorities, as well as intellectuals from 52 countries in the Malaysian capital.
The participants will discuss ways to discuss the most important challenges facing Islamic countries and issues affecting the Muslim world.
While in Malaysia, Dr Hassan Rouhani is going to address the leaders and officials attending the Kuala Lumpur Summit and explain the regional and international policies of the Islamic Republic of Iran, as well as meeting with a number of the leaders and officials participating the meeting, with focus on bilateral, regional and international fields of interest.
Meeting with Iranians in Malaysia will be Dr Rouhani's another programme for the visit to the Muslim country.
https://en.abna24.com/news//iran-president-arrives-in-kuala-lumpur-to-attend-kl-summit-2019_994598.html
------
Europe
Finland minister apologises for Instagram poll on ISIL women
Finland's finance minister has deleted an Instagram post and issued an apology following criticism by a human rights group that embarrassed the new, women-led government days after it took office.
Katri Kulmuni, who became finance minister only this week, had posted an informal poll on whether the government should allow Finnish women with links to the Islamic State of Iraq and the Levant (ISIL or ISIS) group to return from Syria, or just their children.
The poll posted on Thursday asked her Instagram followers whether they backed repatriating "children only" or "children and mothers" from the al-Hol camp in a part of Syria held by Kurds.
Kulmuni's Centre Party opposes letting the mothers return to Finland.
Kulmuni, 32, said she had been expressing the views of the Centre Party which she leads, highlighting divisions on the issue with other parties in the five-party governing coalition.
"My aim to have a discussion on social media about a complicated topic failed. I apologise for the poll," Kulmuni tweeted on Friday.
"My IG [Instagram] poll aroused condemnation, it has been removed. The style was unsuccessful."
On Thursday, Andrew Stroehlein, the European media director of the Human Rights Watch (HRW), criticised the post, asking Finland to "respect the rights of its citizens in all cases".
"Seriously, Finland? This is awful, if true," he posted on Twitter.
The criticism of the poll was all the more embarrassing as new Prime Minister Sanna Marin said on Wednesday she would not alter her social media behaviour but would be careful in what she posts.
Marin, a Social Democrat, said on Wednesday the government had given its "silent blessing" for the foreign ministry to go ahead with a plan to repatriate the children.
But the children cannot be repatriated without their mothers because the Syrian Kurdish forces oppose separating the children and their mothers, Foreign Minister Pekka Haavisto said.
Finland is one of many European Union countries trying to decide what to do about their citizens, with 11 Finnish women and more than 30 children held at al-Hol, and the government faces questioning in Parliament on the issue on Tuesday.
The Centre Party has been alarmed by the rise in polls of the nationalist Finns Party, which says repatriating ISIL detainees could endanger Finland's security.
https://www.aljazeera.com/news/2019/12/finland-minister-apologises-instagram-poll-isil-women-191214072337685.html
------
Finland to repatriate Islamic State children from Syria
Finland's prime minister Sanna Marin announced on 16 December that the country will repatriate children of Finnish mothers who traveled to Syria to join ISIS.
The announcement comes as more than 30 children born to 10 Finnish women are currently trapped at the al-Hol camp displacement camp in northeastern Syria.
The decision has raised tensions in the country's government, with the opposition warning that bringing home citizens with ISIS links is a security threat.
The women in the camp have been in a close contact with ISIS members, joined voluntarily and possibly participated in terrorist activities. Security experts say the children should arrive in Finland without their mothers, to prevent radicalisation.
"The aim of the authorities' actions is to protect the interests of the child in all circumstances," Marin said.
She also added that the ministry for foreign affairs will "make the decisions on repatriations" and stressed that the officials will be responsible for ensuring the returnees do not pose a security threat in the country.
https://www.neweurope.eu/article/finland-to-repatriate-islamic-state-children-from-syria/
------
Islamic Development Bank to provide $23 million to improve health care services in Tajikistan
DECEMBER 17, 2019
AKIPRESS.COM - The lower chamber of the Parliament of Tajikistan has considered the agreement between the Government of Tajikistan and Islamic Development Bank on improvement of infant and maternal health care services in 4 districts of Khatlon region of Tajikistan, Avesta reports.
The agreement will support rehabilitation of medical facilities in 4 districts of Khatlon region and upgrade of their equipment.
The Islamic Development Bank will provide $14.95 million loan and $8.05 million grant for the project.
The government of Tajikistan contribute around $3 million.
https://akipress.com/news:631158:Islamic_Development_Bank_to_provide_$23_million_to_improve_health_care_services_in_Tajikistan/
------
Hundreds of thousands protest in France over pension reform plans
Dec 18, 2019
PARIS: Hundreds of thousands of French protesters took to the streets on Tuesday in a pension reform standoff that has sparked nearly two weeks of crippling transport strikes, with the government vowing it will not give in to union demands to drop the overhaul.
Police said they fired tear gas in Paris after protesters hurled projectiles at them, with 30 people arrested in the French capital.
Pressure is growing on President Emmanuel Macron just days before the Christmas break and late Tuesday he named a new pensions chief to lead fresh talks with the unions set for Wednesday.
Lawmaker Laurent Pietraszewski will oversee the negotiations, replacing the last top official who was forced to resign on Monday when it emerged he had failed to declare income.
Teachers, hospital workers and other public employees joined transport workers on Tuesday for the third big day of marches since the dispute began on December 5.
The interior ministry said about 615,000 people took part in more than 100 rallies countrywide, including 76,000 demonstrators in Paris, where the Eiffel Tower was closed due to the protest.
The hardline CGT union tweeted that 1.8 million demonstrators had turned out across the country, a figure higher than the 1.5 million it claimed for the last big protest day on December 5.
The CGT said electricity workers had cut power to some 50,000 homes near Bordeaux and 40,000 in Lyon overnight, warning that bigger cuts could follow.
Later the CGT and four other trade unions issued a joint ultimatum to the government, saying local industrial action would continue with no let-up for Christmas, unless it responds to their requests "in the coming hours".
The day of action was "a total success", said CGT leader Philippe Martinez. "Despite the government's attempts at division, the people remain mobilised," he added.
The government has insisted it will push through a single points-based pension system and end the current patchwork of 42 separate schemes that offer early retirement to many in the public sector.
It says the new system will be fairer and more transparent, improving pensions for women and low earners in particular.
"My determination, and that of the government and the majority, is total," Prime Minister Edouard Philippe told parliament on the eve of fresh talks with unions.
Critics say the changes could force millions of people to work beyond the official retirement age of 62 -- one of the lowest in Europe -- by setting a "pivot age" of 64 that would ensure a full pension.
"What scares us about the points system is that we don't know how much a point is worth," said Kelly Grosset-Curtet, a 21-year-old student marching in Lyon.
Laurent Berger, head of France's largest union, the moderate CFDT, took part in the Paris protest and described the pension reform measures as "terribly unjust".
Commuters in Paris and other big cities have borne the brunt of the transport stoppages so far but holiday travel plans are now at risk, with just one in four high-speed TGV trains running on Tuesday.
Strike organisers are hoping for a repeat of 1995 when they forced the government to back down on pension reform after three weeks of metro and rail stoppages just before Christmas.
Some 62 per cent of respondents to a poll for the RTL broadcaster said they support the strike but 69 per cent said they wanted a "Christmas truce".
"Nobody wants to mess up Christmas, not the strikers nor workers nor the French who want to be with their families," Laurent Escure of the UNSA union told France 2 television.
"But this is entirely the government's fault." Train operator SNCF has warned that it may now be too late to get services back to normal by December 25. But it assured that all TGV ticket holders would be able to travel over the pre-Christmas weekend, though with some changes to timetables.
Several universities have cancelled or postponed year-end exams, and both the Garnier and Bastille Operas in Paris have cancelled dozens of performances, costing millions of euros in lost ticket sales.
"This is absurd," Sylvie Baheux, a 55-year-old gym teacher, said at Paris' Saint-Lazare station on Tuesday, adding that her usual one-hour commute to work had doubled during the strike.
"It's complicated but this pension reform needed to be done," she told AFP. Opposition leaders have urged the government to rethink the pension reform plans.
The travel misery is set to continue on the 14th day of the strike Wednesday, with half of the capital's 16 metro lines closed, most of the rest severely curtailed, and the number of regional and suburban trains slashed.
https://timesofindia.indiatimes.com/world/europe/hundreds-of-thousands-protest-in-france-over-pension-reform-plans/articleshow/72864601.cms
------
Mideast
Iraq's Muslim Clerics Union: ISIL Back in Diyali with US Support
Tue Dec 17, 2019
TEHRAN (FNA)- The Muslim Clerics Union in Diyali in Eastern Iraq warned that the ISIL has returned to the province, adding that the terrorists are using modern weapons supplied by the US.
"The ISIL returned to Diyali again and resumed attacks against different regions in the province, killing and wounding several people, including security forces," Jabbar al-Ma'amouri, the head of the Muslim Clerics Union, told the Arabic-language al-Ma'aloumeh news website on Tuesday.
"Had it not been for the US greenlight, the ISIL would not have returned and the most importance evidence of this claim is the type of weapons used by the ISIL," he added.
Al-Ma'amouri said that the ISIL terrorists use modern weapons and night goggles and are receiving smart and intelligence backup to infiltrate different parts of Diyali.
Relevant reports from Diyali province said last week that Hashd al-Shaabi (Iraqi popular forces) thwarted an ISIL plot to occupy the oil wells in the province.
Head of the security committee at Diyali governor-general's office Sadeq al-Hosseini told al-Ma'aloumeh website last Tuesday that Hashd al-Shaabi forces in Naft Khaneh region in Eastern Ba'aqoubah repelled the ISIL plot to occupy the oil wells in the region.
He added that Hashd al-Shaabi adopted the strategy of line of fire in its recent operations to confront the ISIL attacks against the oil-rich region of Naft Khaneh and adjacent areas.
"Hashd al-Shaabi plays a strategic role in establishment of security in Diyali and is in control of an extensive area in the province which sometimes witnesses activities of the remnants of the ISIL terrorists," al-Hosseini said.
Hashd al-Shaabi continues fight against the ISIL while the US fighter jets shrug off targeting the terrorists' hideouts in al-Anbar province in Western Iraq.
https://en.farsnews.com/newstext.aspx?nn=13980926000780
------
Lebanon: Party supporters clash with army after anti-Shia video
17 December 2019
By Kareem Chehayeb in Beirut
A video of a Lebanese man making anti-Shia comments circulating on social media led to clashes across downtown Beirut on Monday night, raising tensions amid a two-month-long uprising in the country.
Angry young men carrying a banner reading "Oh, Hussein" - in reference to the grandson of Prophet Muhammad, an important figure in Shia Islam - headed towards downtown Beirut, the epicentre of the protest movement in the Lebanese capital, from the adjacent neighbourhood of Khandaq al-Ghamiq.
The crowd burned down protester tents and set civilian cars on fire in the vicinity, as clashes went on past midnight until about 4am.
Internal Security Forces (ISF) and Lebanese Army troops present in large numbers struggled to contain the situation, as the crowd threw firecrackers at forces who fired tear gas.
Several security forces officers were reportedly wounded during the clashes. Lebanese Civil Defense said they treated 43 wounded, transferring 23 to hospitals.
Trying to quell the situation, the imam of the Khandaq al-Ghamiq mosque urged the young men to return home through its loudspeakers. "If the youth love Hussein and Ali, then they should leave the streets, because Hussein would not approve such acts," the imam said.
The leadership of Hezbollah and the Amal Movement also called on their supporters to leave the streets.
Meanwhile, protesters expressed fears that the incident might be used to smear their movement by association by accusing it of targeting a particular sect - as partisans of Hezbollah and Amal have regularly targeted the demonstrations.
Anti-Shia video posted 'under the influence'
The man who sparked unrest with his video was identified as Samer Saidawi, who apologised in a later video.
Originally from the northern city of Tripoli but currently residing in Greece, Saidawi said the video was disseminated without his consent after a heated exchange with a friend.
"I was not insulting any religion, only the thugs from Dahieh," Saidawi said, referring to Hezbollah and Amal supporters from the southern suburbs of Beirut, who often clash with protesters. "He then agitated me… insulting my religion and sect several times."
Saidawi apologised to Shia and Sunnis Muslims and "any other sect I may have insulted". "I was drinking… I was under the influence," he said.
Speaking to local television station Al-Jadeed, a man who said he was Saidawi's uncle said his family "condemns what was said by this ignorant boy".
Responding to the incident, Hezbollah MP Ibrahim Moussawi said in a tweet that the party would not be "provoked by insults".
"Our prophet, imams, and symbols have been insulted for many years, and we were patient with the ignorant, the hateful, and the malicious," he added.
Meanwhile, Future Movement MP Dima Jamali from Tripoli denounced Saidawi's comments, and said he does not represent the northern Lebanese city. "Tripoli is coexistence," Jamali said, condemning anyone trying to sow discord among the Lebanese.
Fears of tensions
Two social media trends occupied Lebanese online spaces in the wake of the video's release. The hashtag "Except for Zahra", referring to the prophet's only daughter, was heavily used by Lebanese who were dismayed by the video.
Some accused the protest movement, which has notably called for an end to corruption and sectarianism, of sharing Saidawi's negative view of Shia Lebanese. Tripoli, where Saidawi is from and where large protests are taking place, is a Sunni-majority city.
However, people supportive of the uprising reacted by saying Saidawi's comments were not representative of protesters.
Using the trending hashtag "No to Sedition", many demonstrators expressed fears that sectarian narratives could emerge following this incident and undermine the unity of the "thawra" - revolution.
While clashes were ongoing nearby, protesters meanwhile chanted "Tripoli and Dahieh are hand-in-hand", rejecting attempts to divide Sunnis and Shias.
Tensions have mounted between protesters in downtown Beirut and Amal and Hezbollah supporters in Khandaq al-Ghamiq, as altercations have taken place since the onset of the uprising on 17 October.
In several instances, the Hezbollah and Amal partisans have burned down protest tents and attacked demonstrators for denouncing parliament speaker and Amal party leader Nabih Berri and Hezbollah's secretary-general Sayyed Hassan Nasrallah.
Protesters have rejected accusations that their movement is exclusively targeting Shia political movements, as demonstrators have denounced parties of all religious affiliations for their clientelist approach to politics at the expense of the greater national good.
Since 17 October, countrywide protests have swept across Lebanon, calling for an end to economic corruption, an independent judiciary, and the downfall of the country's sectarian political system.
Meanwhile, Lebanon's economic crisis continues to worsen, with the Lebanese lira's value inflating against the pegged US dollar and banks struggling to keep currency.
Shortage of US dollars has to led to import stagnation, a thriving black currency exchange rate, and an unprecedented inflation in costs of goods and services.
Saad Hariri resigned as prime minister in late October, but political leaders continue to struggle to agree on a successor.
Many protesters advocate for a downsized independent government that would focus on the economic crisis and prepare for early parliamentary elections.
https://www.middleeasteye.net/news/party-supporters-clash-lebanese-forces-overnight-after-controversial-video
------
Syrian Army Thwarts Al-Nusra Attacks in Aleppo, Kills 40 Terrorists in Idlib
Tue Dec 17, 2019
TEHRAN (FNA)- The Syrian Army engaged in heavy clashes with Tahrir al-Sham al-Hay'at (the Levant Liberation Board or the Al-Nusra Front) in Western, Southern and Southeastern Aleppo after repelling their attacks on government forces' military positions.
Terrorist groups resumed their rocket attacks on Halab al-Jadideh, al-Sarian and al-Khalediyeh, the Arabic-language service of the Russian Sputnik news agency reported.
Meantime, the terrorists fired mortar rounds at al-Zahra town in Northern Aleppo, seriously injuring three civilians.
Battlefield sources said that the Syrian Army's artillery units also pounded the terrorists' military positions in al-Raymoun, Haritan and al-Rashedeen regions in Aleppo province.
Meantime, the Syrian Army pounded the military positions of Al-Nusra, Horrasedin and Ansar al-Tawhid in Bensh, Sarmin and Eastern al-Deir, as well as the surrounding areas of Ma'arat al-Numan.
A military source also said that several military positions of the terrorists, including their training camps and operations room in Idlib have been destroyed in exchange of fire with the Syrian army.
In a relevant development in late November, the Syrian Army troops continued their advances in the Southern countryside of Idlib, and regained full control of another strategic town there.
The Syrian state news agency SANA reported that the Syrian Army has recently gained new achievements in its battle with the Takfiris in Southern Idlib, and took full control of al-Seir strategic town.
https://en.farsnews.com/newstext.aspx?nn=13980926000532
------
Hamas delegation to attend summit of Islamic states
DECEMBER 18, 2019
A Hamas delegation led by Ismail Haniyeh will arrive in Malaysia tomorrow and be taking part in the summit of Islamic states to be held in Kuala Lumpur, Kan News reported.
https://www.jpost.com/Breaking-News/Hamas-delegation-to-attend-summit-of-Islamic-states-611246
------
Iranian Patients Breathe Hard due to US Sanctions on Medical Imports
Tue Dec 17, 2019
TEHRAN (FNA)- The US sanctions and restrictions on export of drugs and medical equipment to Iran have shortened the breath of patients suffering from cancer, hemophilia, epilepsy and thalassemia.
Despite the American officials' claims of not imposing sanctions on imports of drugs to Iran, it's reported that medications are hard to obtain in the country due to banking embargos that hamper money transactions which causes some Western companies to refuse to sell the necessary drugs and medical equipment to Tehran.
"The US has targeted the Iranian patients and they have planned to pressure those who are consumers of these drugs. Therefore, the vitamins and ordinary drugs are easily accessed in the market but the US is making its utmost attempts to prevent Iran from purchasing the vital medicine and those which are necessary for cancer patients," Head of the Iranian Society of Blood and Cancer of Children Hassan Abolqassemi told FNA on Tuesday.
He added that the crime committed by the US against the Iranian patients is worse than its crime in Hiroshima.
Meantime, Head of Iran Thalassemia Association Yunes Arab said that 90 thalassemia patients lost their life last year due to the lack of drugs and the US sanctions, adding that 60 other young patients also died in the current year.
"They would have been breathing a normal life if it hadn't been for the US sanctions on drugs," he told FNA.
The US embargos have also left impacts on the hemophilia patients.
"Basically, what the US is doing is a type of war crime; although the Americans declared that drugs and medical equipment are not sanctioned, what we witness is harsh sanctions in the field of drugs and medical equipment," former head of Iran's Hemophilia Association Ahmad Qavidel told FNA.
Also, Sara Nouri, the Managing-Director of Iran's MPS (Mucopolysaccharidosis) Patients Society, told FNA that the Association provides necessary medicine to the MPS patients but it has faced problems after the US sanctions.
"The most important medicine needed for the patients is a type of enzyme and they should receive them weekly," Nouri said, adding that 300 MPS patients have been identified in Iran so far but the number is expected to increase to 1,000.
"For instance, if a patient should receive 50 drugs in a period of time, he/she receives 5 to 10 drugs now due to the problems created by sanctions, and this will inflict serious harm to the patients' health," she warned.
Meantime, Dariush Nasabi Tehrani, the head of Iran's Epilepsy Association, cautioned of the shortage of medicine for the epileptic patients due to the US sanctions.
"Production of a number of medicine has been disrupted for the sanctions and the patients are forced to use the medicine produced by other companies which are highly expensive," Nasabi Tehrani told FNA.
"The embargos make these patients anxious and concerned about shortage of their drugs while they should be assured of easy accessibility to medicine due to the sensitiveness of their disease," he added.
In a Foreign Policy article earlier this year, Dr. Abbas Kebriaee Zadeh, professor of toxicology and pharmacology at Tehran University of Medical Sciences, wrote that US sanctions against Iran indirectly hamper the flow of vital medicines for cancer patients in the Islamic Republic.
The article revealed that while Washington claims its harsh sanctions against Iran would not target the flow of medicine and other humanitarian necessities into Iran, banking sanctions are in fact increasing import prices, blocking supply chains, and creating deadly drug shortages in the country.
Citing the US Census Bureau, Kebriaee Zadeh added that under the administration of US President Donald Trump during the last two years, the US' annul exports of pharmaceutical products to Iran declined to an average of $8.6 million a year compared to $26 million annually during the Barack Obama-era sanctions.
Washington under Trump has also made it more difficult for European countries to export medicine to the Islamic Republic, Kebriaee Zadeh wrote.
"Swiss pharmaceutical exports to Iran fell 30 percent from 235 million Swiss francs ($240 million) in 2017 to 163 million francs ($167 million) last year, according to Swiss customs data. Even though sanctions were only fully re-imposed in November 2018, Swiss exports that year fell below the 173 million francs ($178 million) annual average observed from 2008 to 2015," he said.
The report, citing figures from the Eurostat, added that in a similar manner, French pharmaceutical exports to Iran also fell 25 percent from 194 million euros ($218 million) in the Obama-era period to 146 million euros ($164 million) in 2018, slipping below the 2008 to 2015 average of 150 million euros ($168 million).
Iranian Health Minister Saeed Namaki said in August that Washington's unilateral sanctions against his country which prevent medicines from being sold to Iran was a crime against humanity.
"Measures taken by the US administration in banning [access to] medicines needed by Iranian patients and pressures mounted by Washington on Iran's health sector amount to crime against humanity," the Iranian minister said, in a joint press conference with his Lebanese counterpart, Jamil Jabak, in Tehran on August 5.
In relevant remarks on Monday, Iran's Judiciary Chief Ebrahim Rayeesi called on the international community to take action against the US sanctions which prevent imports of the Iranian patients' much needed medication.
The US which has failed in all its plots and seditions against Iran, "has adopted other measures, including prevention of imports of drugs to Iran", Rayeesi said, addressing the judiciary officials in Tehran.
He described the US sanctions as clear instance of "economic terrorism and crime against humanity", saying, "The international community should be vigilant and know that the US violates the nations' rights wherever it can and therefore, real action is needed against the US impudence."
Also, in November, Iranian Vice-President and Head of the Management and Planning Organization (MPO) Mohammad Baqer Nobakht lashed out at Washington's economic terrorism against his country, reminding that Tehran is facing hardships to import needed food and medication at the same time that it is banned from selling oil.
Nobakht said that the US had created obstacles for import of food and medicines, adding that they had attempted to prevent export of a single barrel of oil as well.
Meantime, early in December, Head of Iran's Food and Drug Administration (IFDA) and Deputy Health Minister Mohammadreza Shanehsaz said that Washington's sanctions and the recent warning issued by the US Treasury Department was meant to be a coup against the Iranian patients, particularly those with special needs.
"They have declared in the letter that they will provide a special line to supply drugs and medical equipment but they use policing methods to threaten the pharmaceutical companies that in case of providing Iran with medicine and medical equipment, they will not be allowed to export to the EU and the US," Shanehsaz told FNA.
He added that the US measures have created problems for Iran in supplying drugs to the special patients.
https://en.farsnews.com/newstext.aspx?nn=13980926000560
------
Anti-Iran Sentiments in Iraq; Reality or US, Allies' Deception
Tue Dec 17, 2019
TEHRAN (FNA)- Scrutinizing the suspicious developments related to the popular protests in the Iraqi provinces which were deviated in several areas and turned violent indicates organized attempts by the US and its allies to sow discord between Iran and Iraq amid their intimate and constructive relations.
The Iraqi people's rallies which were aimed at protesting at the economic conditions and corruption in the country were soon deviated from their main course and many national and historical symbols as well as certain sites belonging to Iran, which pioneered in helping Iraq in fighting the ISIL terrorists, were insulted and set on fire.
The important point witnessed in the protest rallies in Iraq was the targeted display of anti-Iran sentiments of Iraqis in the media outlets of those regional states that are against Iran.
Political analysts believe that the popular rallies in Iraq were not aimed at protesting at Iran's policies, the senior Shiite clerics and other national symbols of the country, but the Iraqi people are angry at the inefficiency of the ruling system in resolving problems, including shortage of water and electricity, unemployment, poverty and corruption.
The Americans played a key role in the recent unrests in Iraq after they failed in their first plot implemented through a planned military coup by General Abdolwahhab Sa'edi, the commander of the anti-terrorism service, who was dismissed in September.
Therefore, the US started its second plot which entailed overthrowing the Shiite-led government, as Iran's ally, and replacing it with a Sunni government with anti-Iran stances.
The Arabic-language Iraqi news agency Boratha described the main leaders of the recent riots in Iraq as the Ba'athists who dream of returning to power, the Wahhabis with anti-Shiite sentiments, the Zionists with the aim of taking revenge from Iran, the crusaders who oppose Islam, al-Sarkhis who take order from the British and Dutch embassies in Baghdad and are opposed to the senior Shiite clerics, and seculars who oppose religion.
The main goal of such an undeclared alliance is elimination of the Shiites' role in Iraq's ruling system and dimming Iran's influence in the country by attacks against its diplomatic centers which started by attacks against the Iranian consulate in Basra in September 2018 and continued by attacking Iran's consulates in Najaf, Karbala and Basra.
The Arabic-language al-Ahd news website in an analysis wrote that if the protestors have negative feelings against the presence of foreigners why they did not target the consulates of the US and Britain and merely set fire at the Iranian mission.
Another issue which proves foreign sides have been trying to hijack the Iraqi people's protests for their own agenda is the international community and different countries' silence on attacks against the Iranian diplomatic missions in Iraq which should be condemned based on the international laws.
The Lebanese Arabic-language al-Akhbar newspaper had earlier disclosed some documents on the US embassy's role in the recent unrests in Iraq, adding that several committees in the US mission have been formed to this end, including the high committee of protests for coordination and management of the protest rallies, the psychological operations team which mobilizes the opposition forces in the streets through the social media, a special team to make documentaries about the rallies and exaggerating the security mistakes, the international pressure group which organizes protest rallies in front of the Iraqi missions in different foreign states, a media team to cover the protest rallies and security mistakes of Iraqi armed forces, an electronic technology team to help with removing internet filtering and providing alternative programs and applications for communication, an aiding team to help the wounded protestors and teaching them to confront the anti-riots forces and a logistic team to supply food, water and first aid to the protestors.
Meantime, many documents have emerged about Saudi Arabia and the UAE's role in the recent unrests in Iraq to take revenge from Iran which helped the Arab country in fighting against the ISIL terrorists who were supported by Riyadh and Abu Dhabi.
The Arabic-language al-Akhbar newspaper revealed recently that Saudi Arabia has allocated $150mln to support the unrests and overthrow the government in Iraq while the UAE plays the role of a planner to implement anti-Iraq plots and empower a military ruler in Iraq with the help of the Saudi and American media, including al-Arabiyah, al-Horrah, CNN (Arabic), BBC and al-Sharqiyah.
Also, failure of all governmental efforts to end the protest rallies, including resignation of Prime Minister Adel Abdol Mahdi and his proposal to change the parliamentary system into a presidential system, indicates that Iraq is facing a full-fledged sedition.
Seyed Hadi Seyed Afqahi, an analyst on West Asia issues, told FNA that the project to sow discord between Iran and Iraq started long time ago.
"The atmosphere ruling the popular protest rallies in Iraq is not against Iran, and the individuals who attacked the Iranian consulates in Najaf and Karbala are those who chant slogans against Hashd al-Shaabi and want its dissolution, set fire at the public properties and target the ordinary people," Seyed Afqahi said.
He added that the reality of recent protests in Iraq was revealed in the past week massive rallies held to support the senior Shiite clerics during which the protestors chanted anti-US, anti-Israel and anti-Saudi slogans.
Seyed Afqahi said that the Iraqis should ask a number of questions from themselves; Is Iran interfering in Iraq or Saudi Arabia which has 6,300 affiliated terrorists in al-Iraq's Naseriyeh prison? Is Iran meddling or Turkey which has occupied a part of Ba'ashiqeh in the Iraqi Kurdistan region despite the Iraqi government's warnings?
"Behind the scene of anti-Iran slogans in Iraq unrests are those countries which have been harmed by Iran's aid to Iraq in confrontation against the ISIL and their mutual cooperation," he concluded.
https://en.farsnews.com/newstext.aspx?nn=13980926000385
------
Energy Minister: Iran Turned into Russia's Strategic Partner
Tue Dec 17, 2019
TEHRAN (FNA)- Russian Energy Minister Alexander Novak in a meeting with outgoing Iranian Ambassador to Moscow Mehdi Sanayee described Tehran as Moscow's strategic partner.
"Iran has turned into Russia's strategic partner and good efforts have been made in the past 6 years in line with mutual and regional cooperation, and relations between Iran and China have developed in all fields," Novak said in the meeting in Moscow on Tuesday.
He noted that good developments have been made in economic relations between the two countries, saying that implementation of big projects in the areas of energy, transportation and Free Trade Zone agreement with the Eurasian Economic Union can be useful and valuable.
Iranian Energy Minister Reza Ardakanian and Novak in a meeting in Moscow in November exchanged views on economic cooperation, specially in the field of energy and renewable energies.
During the meeting in the Russian capital, the Iranian and Russian ministers discussed agreements reached at the 15th Iran-Russia Joint Economic Commission in the fields of agriculture, banking, energy, industry, and technology.
Ardakanian's visit to Russia was aimed at operationalizing a $5 billion credit line for infrastructure projects.
The idea for Russia to provide the loan to Iran was first conceived in 2015, but the final documents were signed only in September this year.
The majority of the loan will reportedly be used for conducting several joint power plant projects in Iran. Part of it will also be used to finance building 2,000 train carriages for use in inner-city transportation as well as building a railway between Zahedan in the southeast to Birjand in Northeastern Iran.
https://en.farsnews.com/newstext.aspx?nn=13980926001048
------
Iran Tests First Sample of Home-Made Space Engine
Tue Dec 17, 2019
TEHRAN (FNA)- President of Iran's Space Research Center Hossein Samimi announced that the first sample of indigenized space engine was tested successfully.
"The new achievement of the Center includes the designing of the class of Arash space engines and the first sample of this space engine was tested successfully last month," Samimi told reporters in a press conference in Tehran on Tuesday.
He added that the engine should have been tested in vacuum, adding that the Iranian experts simulated a vacuum-like space for the test.
"The first sample of this engine has been tested and another test is due to take place soon," Samimi said.
The Iranian scientists have in recent years made astonishing progress in development of the country's space program.
Iran launched its first locally-built satellite, Omid (Hope), in 2009. The country also sent its first bio-capsule containing living creatures into space in February 2010, using a Kavoshgar-3 (Explorer-3) carrier.
In February 2015, the Islamic Republic placed its domestically-made Fajr (Dawn) satellite into orbit, which is capable of taking and transmitting high-quality photos to stations on Earth.
Head of the Iranian Space Agency (ISA) Morteza Barari announced in August that the country would send 3 new satellites to orbit by the end of this year.
The decision was made to accomplish the tasks related by Nahid 1 telecommunication satellite and Zafar and Pars 1 sensing satellites to orbit them this year, Barari said.
He added that Zafar and Pars 1 satellites enjoy the resolutions of 22.5m and 15m, respectively.
"We are trying to build a sensing satellite with the resolution of 1m by 2025," Barari said.
Late in July, Iranian Communication and IT Minister Mohammad Javad Azari Jahromi announced that the country's newly-developed satellite 'Nahid' had undergone final tests and would be prepared for launch soon.
"The space research centers have accomplished their task on the satellite and related final tests have been carried out, and the satellite could be delivered to the defense ministry within the next one to two weeks to be launched into the orbit," Azari Jahromi told reporters in Tehran after a cabinet meeting.
He added that the problems observed in the last two failed satellite launches of Iran had been resolved, and further expressed hope for a successful launch of Nahid into the orbit.
https://en.farsnews.com/newstext.aspx?nn=13980926000847
------
Arab World
Qatar's Islamic finance industry continues to expand; assets at $129bn in H1, 2019
18 Dec 2019
By Satish Kanady I The Peninsula
Qatar has been rapidly developing its Islamic finance industry and is poised to become a leading hub for the sector. The industry's total assets grew by a CAGR of 8 percent since 2015 to $129bn in H1 2019, constituting 33 percent of Qatar's total financial system assets, Qatar Financial Centre's (QFC) Islamic Finance report noted.
The QFC's annual report, produced in partnership with Refinitiv and published under the title 'Unlocking Cross-Border Opportunities', comes as part of a series of research the QFC publishes on trending topics in the financial sector, with this year's edition revealing key insights into the Islamic Finance industry in Qatar and beyond.
According to the report, one key initiative set to strengthen Qatar's Islamic finance sector is the planned introduction of a centralized Shariah Board, which is expected to raise consistency and hence, improve the integrity of the industry.
QFC is also collaborating with Malaysia and Turkey to establish Islamic finance hubs in their respective regions by using common technology. In addition to this, steps are being taken to raise knowledge and awareness of the industry through educational initiatives and events, which should further support the industry's growth.
Islamic banking in Qatar, amounting to $107bn in assets in H1 2019, is also being transformed in terms of its institutions. Qatar's first bank merger, between International Bank of Qatar and Shariah-compliant Barwa Bank, resulted in the newly reconstituted Barwa Bank.
Meanwhile, Qatar's $1bn takaful sector outperformed conventional insurance in terms of growth over the past two years, mainly driven by Islamic subsidiaries of Qatari insurance operators. Its nonbanking financial institutions, consisting of financing and investment companies, reached a combined asset value of just over$1bn, the report noted.
Yousuf Mohamed Al Jaida, Chief Executive Officer & Board Member, Qatar Financial Centre (QFC) Authority commented: "QFC sees significant promise in Islamic finance's expansion globally and in Qatar, driving an impetus to identify concrete business opportunities on its platform. These are varied and growing rapidly — as is our list of international financial and trading partners.
"Product opportunities abound in Qatar, far more so when one considers the financing needs of our New Emerging Belt Initiative partners. This comparative study identifies major developments and differences between existing Islamic finance centers and pinpoints how QFC will build further on its success to become a regional Islamic finance hub."
The report noted Qatar has the necessary foundation to take its Islamic finance industry to the next level while benefiting from the experience of other Islamic finance markets. For instance, Qatar could play a major role in the takaful industry by establishing a retakaful operator that caters to the reinsurance requirements of takaful providers, both domestically and regionally, as seen in Malaysia.
In addition, Qatar could further strengthen its Islamic banking regulatory framework, such as establishing a centralized Shariah Board, which would enable more commercial opportunities. Turkey has also set an example through the strategies and incentives, like state-guaranteed corporate loans and relaxed provisions, which have made it one of the world's fastest growing Islamic banking markets.
Qatar's Islamic capital market consisted of $20bn in sukuk outstanding and $399m in Islamic assets under management in H1 2019. The government remains the most active player in the sukuk market.
In addition, Qatari banks including Qatar Islamic Bank and Barwa Bank have been active as primary dealers for IILM sukuk, which are partly backed by Qatari sovereign assets, helping to facilitate cross-border Islamic liquidity management.
The Islamic asset management landscape has been transformed with the introduction of the country's first Islamic ETF, which captured more than one-third of total Islamic funds' AuM in 2018. The success of the fund has encouraged the creation of new units, including another Islamic ETF that will be focused on Islamic stocks outside Qatar.
Sukuk activities in Qatar can be boosted by introducing incentives that offer prospective sukuk issuers tangible benefits and capitalize on SRI and green sukuk issuance trends, which would attract demand from international investors. It can also study Islamic pension funds and introduce Shariah-complaint REITs, an investment trend that is growing increasingly in the region.
https://thepeninsulaqatar.com/article/18/12/2019/Qatar%E2%80%99s-Islamic-finance-industry-continues-to-expand-assets-at-$129bn-in-H1,-2019
------
Saudi entertainment authority offers musical treat to Riyadh Season visitors
December 18, 2019
RIYADH: Saudi Arabia's General Entertainment Authority on Tuesday signed an agreement with Apple Music to showcase musical performances taking place during Riyadh Season.
From EDM anthems to the soulful tunes of Amr Diab, visitors can listen to a curated selection of hits exclusively on Apple Music and relive special memories at the many concerts, shows and performances staged across the capital.
Visitors to #Riyadh_Season will also receive a free subscription to Apple Music when purchasing tickets for the season's events at ticketmx.com. New Apple Music subscribers can enjoy four months free, while existing users gain a month's access for free.
Riyadh Season began on Oct. 11, 2019 with a concert by K-Pop superstars BTS at King Fahd International Stadium, and was followed by a series of incredible musical evenings and performances by leading international and local artists.
Riyadh Season is one of 11 Saudi Seasons that aim to promote Saudi Arabia as a tourism hub, as well as enhance the quality of life for the people of the Kingdom.
Combining 100 lavish events and more than 3,000 activities, the season covered over 12 different locations in Riyadh to attract people of all places.
https://www.arabnews.com/node/1600641/saudi-arabia
------
Arab coalition investigators refute claims of deadly mistakes in military operations
December 18, 2019
RIYADH: The Arab Coalition's Joint Incident Assessment Team in Yemen has refuted several allegations made by UN agencies, international organizations and media outlets of fatal mistakes made by coalition forces in military operations in the country.
During a press conference at the Armed Forces Officers Club in Riyadh on Tuesday, JIAT spokesman Mansour Al-Mansour reviewed the results of investigations into four incidents.
On Feb. 12, 2018, the UN High Commissioner for Human Rights said that three air strikes hit a Ministry of Interior building in the Thahban neighborhood of Bani Al-Harith directorate in the capital Sana'a on Feb. 4, killing eight civilians, including a woman and a child, and injuring 32. It also stated that UN human-rights monitors who visited the scene reported that there did not appear to be any military targets near the building, which was also attacked in 2016.
During its investigation into the incident, JIAT reviewed all documents, including procedures and rules of engagement, daily mission schedules, post-mission reports, video footage of the mission, satellite images, and the provisions and principles of international humanitarian law.
It concluded that coalition forces received intelligence indicating that Houthi armed militias had seized the General Department of Criminal Evidence and were using it as a weapons depot to support their operations, making it a legitimate military target.
JIAT said that intelligence reports had revealed the establishment of an armed checkpoint by the Iranian-backed Houthi militias on a road near the building to prevent civilians from approaching and entering it. Coalition forces increased surveillance, which confirmed military activity at the site on the morning it was targeted, including the presence of armed vehicles and combatants gathered around them. It also confirmed that there were no civilians around the building.
JIAT found that the procedures taken by coalition forces to deal with a weapons depot in the building, which was a legitimate military target, were correct and in accordance with international humanitarian law, and that coalition forces did not target the building in the 2016 attack.
In the second incident, media sources reported that five civilians were killed on Nov. 07, 2018 when an air strike hit a courtyard beside a residential cottage in the Ram area of Mustaba district in Hajjah governorate, while a family was eating breakfast. When relatives came from two nearby homes to find out what happened, a second air strike, launched about seven minutes after the first, killed two more people and wounded three.
The JIAT investigation found that the closest coalition air mission that day targeted a legitimate military target, a Houthi cannon, in Saada governorate, 44 kilometers from Ram. It also found that coalition forces did not conduct any air missions inside Yemen at the time of the alleged attack on Nov. 7. On Nov. 6, the closest air mission was an attack on a cannon 16 km from Ram, and the closest mission on Nov. 8 was an assault on a tank 19 km from Ram. Both were judged to be legitimate military targets.
JIAT found, therefore, that coalition forces did not target the cottage in Ram as claimed.
In Oct. 2015, Amnesty International issued a report that included the claim that coalition forces bombed a house in Al-Safra, a village southeast of Sa'dah city, on June 13 that year, killing 10 civilians and injuring seven, all from one family. It said representatives of the organization visited the site three weeks after the attack and found no no evidence of military activity in or around the house, or proof that the occupants of the house were combatants. Only one of them was present at the time of the strike, it added.
JIAT said coalition forces received intelligence on June 10 about a building in Wadi Dammaj in Al-Safra district of Saada governorate that belonged to a prominent Houthi militia leader. It suggested the property hosted meetings of Houthi leaders in support the war effort, and that a hangar next to it was used to store military equipment and weapons.
Reconnaissance and surveillance operations by coalition forces, complemented by information from sources on the ground, confirmed that two senior Houthi commanders were at the building. Therefore legal mechanisms protecting civilian properties no longer applied, in accordance with Article 52, paragraph 3 of the First Additional Protocol to the Geneva Conventions.
Coalition forces targeted the site with an air mission on June 13. JIAT found that they took all possible precautions to minimize damage, including the use of two guided bombs, the size of which reflected the size of the targets. One of the Houthi leaders was killed in the strike and the other injured.
The fourth alleged incident was included in a statement by the Special Rapporteur on extrajudicial summary or arbitrary executions. It said that on Dec. 25, 2017 an air strike targeted the house of an Egyptian Memorial guard in Asr, west of Sana'a, killing 11 civilians and injuring four. The house was destroyed and the memorial partially damaged.
JIAT said that intelligence was received indicating the presence of Houthi militia members guarding a meeting of Houthi leaders in a building at the Egyptian Memorial site. The information was confirmed by sources on the ground at the site, which was therefore considered a legitimate military target.
Coalition forces conducted an aerial mission on Dec. 25, according to JIAT, targeting Houthi commanders, armed vehicles and their crews, and other members of Houthi militias gathered at the memorial site. Guided bombs were used and they hit their targets.
After studying the plans for the operation, the intelligence, operational procedures and video footage of the mission, JIAT found that coalition forces took all possible precautions to avoid any losses or accidental damage to civilian property near the target. These precautions included reconnaissance operations and the use of ground sources to ensure there were no civilians within the bombing zone, and the use of proportionate, guided bombs.
https://www.arabnews.com/node/1600636/saudi-arabia
------
As Saudi tourism becomes more accessible, tour guides share their pride in assisting pilgrims
TARIQ AL-THAQAFI
December 18, 2019
MAKKAH: The journey of pilgrims visiting Saudi Arabia to perform Umrah is no longer confined to the two holy cities of Makkah and Madinah. They can now visit different cities and experience the ancient and modern wonders the Kingdom has to offer.
Hisham Madani, director general of the Saudi Commission for Tourism and National Heritage in Makkah, said that the commission has the capabilities to execute all the ambitious tourist plans.
"We are looking to knowing the pilgrims' demands, needs and their languages so the guides can be well-versed to enrich their experiences," Madani said.
He highlighted the importance of training to ensure tour guides are equipped with necessary skills to carry out their responsibilities in a professional manner and to the satisfaction of visitors.
Rania Shodary, a tourist guide, told Arab News that serving Umrah pilgrims was an honor.
"We are eager to give them a better service to ensure they perform the rituals without any difficulty," she said.
A bus service has been introduced to offer pilgrims a round trip from Makkah to Taif with tourist guides to show them historical sites along the way and in the two cities.
Taif's moderate weather makes it a perfect tourist destination, attracting Muslims and non-Muslims to its breathtaking mountain sites and greenery throughout the year.
Visitors are also keen on visiting sites such as the Prince Saud Al-Faisal Wildlife Center in Taif to see rare animals and rose factories that make high-quality perfumes.
Mona Daghstani became a tour guide after completing a short course offered by the Saudi Commission for Tourism and National Heritage in Makkah. She said that during the course she realized the importance of serving the pilgrims.
She said that the guides sit with the visitors in order to understand their interests. Daghastani said pilgrims want to visit Saudi heritage sites and learn about the history of the Arabian peninsula.
Another tour guide, Fawziah Harriri, told Arab News that pilgrims no longer want to remain confined to the holy sites, they want to enrich their experience by visiting ancient sites and markets in Makkah, Madinah and beyond.
Some pilgrims also ask about entertainment activities taking place across the Kingdom, Harriri added.
She added that they have developed a passion to visit Saudi universities, colleges and even attend lectures and meet knowledgeable people.
Itemad Ghazawi, a tour guide, said they work hard on lodging and transportation requirements to ease their trip.
Ghazawi told Arab News that some pilgrims "had very wrong impressions about some archaeological sites in Makkah.
"Many were misinformed about the place of birth of Prophet Muhammad (peace be upon him) and his companions," she said.
https://www.arabnews.com/node/1600626/saudi-arabia
------
Al-Ahsa in Saudi Arabia's Eastern Province set to host Arab tourism conferences
December 18, 2019
RIYADH: Al-Ahsa will host the meetings of the 25th session of the Executive Office of the Arab Ministerial Council for Tourism and the 22nd session of the Arab Tourism Council.
The meetings, which will take place between Dec. 22-23, will be hosted by Ahmad bin Aqil Al-Khatib, chairman of the board of directors for the Saudi Commission for Tourism and National Heritage.
The Executive Office of the Arab Ministerial Tourism Council will meet on Dec. 22 while on the next day the main ministerial meeting will be held.
Guests will have the chance to enjoy tourist programs in Al-Ahsa, including visiting a number of archaeological and historical sites, such as Al-Qarah Mountain, Beit Al-Baya, Qasr Al-Sahoud and Al-Qaysariya Historic Market.
Al-Ahsa is widely considered to have the greenest and most fertile land in Saudi Arabia's Eastern Province, while also housing prominent archaeological and historical sites.
The creative and cultural achievements of Al-Ahsa Oasis were highlighted by its mayor at a UNESCO meeting in Japan earlier this year.
In 2015, it became the first Gulf city to be included in UNESCO's Creative Cities Network in the fields of crafts and folk art. The network brings together 180 cities from 72 countries to place creativity and cultural industries at the heart of their development plans at the local level, and to cooperate actively at the international level.
The second achievement was UNESCO's designation of Al-Ahsa as a World Heritage Site in 2018, becoming the fifth such Saudi site.
Moreover, Al-Ahsa was chosen as the Arab Tourism Capital for 2019 by the Arab Ministerial Council for Tourism.
These achievements would not have been possible without the Saudi government's support, and Al-Ahsa residents' relentless efforts to maintain their cultural heritage.
https://www.arabnews.com/node/1600621/saudi-arabia
------
Saudi construction representatives build case for reprieve on expat workers' fees
FATIMA MUHAMMAD
December 18, 2019
JEDDAH: Saudi Arabia's construction sector is hoping to win an exemption from expatriate workers' fees following a review that gave the industrial sector a five-year reprieve from the levy.
Representatives of the sector have reportedly received assurances from the authorities over the fees, which are imposed in a bid to "Saudize," or nationalize, jobs in the Kingdom.
Zuhair Zahran, an investor in the contracting sector and a member of the Jeddah Chamber of Commerce and Industry's construction committee, told Arab News that the sector has received promises from the Ministry of Commerce and Investment that it will review
"expat fees."
The issue has been transferred to related authorities for review and "we are hoping for a positive outcome," he said. A review in the industrial sector has led to an exemption for five years. "That is something positive, and we hope to see the same thing applied to the construction sector," he added.
"The construction sector is suffering the most," Zahran said.
"The main goal of imposing expat fees is to Saudize jobs. But it is difficult to Saudize this sector, unlike many other sectors. The construction sector is the only sector that relies on expat workers and it is nearly impossible to Saudize it."
Zahran said that the average worker's salary in the sector ranges from SR1,000 ($270) to SR2,000 per month. "No Saudi youth will accept work for less than SR3,000. There is no way to Saudize professions such as a plumber or carpenter, where up to 90 percent of the workers are expats," he added.
He said that the cost of each worker has reached up to SR9,800 per year before their salary, housing and Iqama transfer fees were taken into account. Contractors in the industry also face difficulties because projects are seasonal, Zahran said.
"Each contractor handles a project for one year in a specific city, then has to move to another city when the project is completed. In this case they are forced to relocate the workers. Is there any Saudi worker who likes to travel from one city to another every now and then? That is why it is very difficult to Saudize this sector."
Saudi Minister of Commerce and Investment Majed Al-Qasabi told a recent gathering in Riyadh that a review on all fees, including expatriate workers' fees, will be submitted to the relevant authorities.
He said that the ministry's mission is to facilitate procedures and strengthen investment, and highlighted the role of the chamber of commerce in eliminating obstacles in the business sector.
Al-Qasabi said that the government will continue to review and improve systems and procedures in order to create more investment opportunities.
https://www.arabnews.com/node/1600601/saudi-arabia
------
North America
Pompeo expresses support for soccer player in criticism of China's treatment of Muslims
DEC 17 2019
U.S. Secretary of State Mike Pompeo on Tuesday came out in support of Arsenal player Mesut Ozil for his criticism of China's treatment of ethnic Uighur Muslims, saying Beijing can censor the team's football games but cannot hide rights violations.
The Arsenal midfielder, a German Muslim of Turkish origin, last week in social media posts called Uighurs "warriors who resist persecution" and criticized both China's crackdown and the silence of Muslims in response.
China's state broadcaster CCTV on Sunday removed Arsenal's Premier League game against Manchester City from its broadcast schedule.
"China's Communist Party propaganda outlets can censor Mesut Ozil and Arsenal's game all season long, but the truth will prevail," Pompeo tweeted. "The CCP can't hide its gross #humanrights violations perpetrated against Uighurs and other religious faiths from the world."
The United Nations and human rights groups estimate that between 1 million and 2 million people, mostly ethnic Uighur Muslims, have been detained in harsh conditions in Xinjiang as part of what Beijing calls an antiterrorism campaign.
China has repeatedly denied any mistreatment of Uighurs.
On Monday, China's Foreign Ministry said Ozil "had been completely deceived by fake news and false statements."
Washington has been ratcheting up its criticism of Beijing over Uighurs simultaneously as it has continued its trade deal negotiations. U.S. President Donald Trump in November signed into law congressional legislation backing protesters in Hong Kong despite angry objections from China.
Earlier this month, the U.S. House of Representatives passed legislation requiring a stronger response to Beijing's treatment of its Uighur Muslim minority.
What started as demonstrations against a now-withdrawn bill allowing extradition from Hong Kong to mainland China has morphed into calls for greater democratic freedoms and nearly six months of sometimes violent protests in Hong Kong. Beijing has condemned the unrest and blamed foreign interference.
Arsenal on Saturday tried to distance itself from Ozil's comments after he posted messages on Twitter and Instagram. "The content he expressed is entirely Ozil's personal opinion," the official account of Arsenal said in a post on China's Twitter-like Weibo platform.
The controversy is the latest between the sports industry and China. In October, an executive from the National Basketball Association's Houston Rockets, expressed support for the pro-democracy demonstrators in Hong Kong, angering Beijing and suddenly putting on shaky ground the NBA's estimated $4 billion market in China.
https://www.cnbc.com/2019/12/18/pompeo-defends-soccer-player-critiques-chinas-treatment-of-muslims.html
------
Why the State Dept. Has Largely Been Muted on India's Moves against Muslims
By Lara Jakes
Dec. 17, 2019
WASHINGTON — China's detention of one million ethnic Uighur Muslims has been described by Secretary of State Mike Pompeo as Orwellian, a "gross human rights violation" and "one of the worst stains on the world of this century."
In Myanmar, the ethnic cleansing campaign against Rohingya Muslims is "deeply abhorrent to our way of life" and displayed "shocking and brutal violence," according to State Department officials.
But American diplomats have offered only muted public criticism of India's moves against Muslims, seemingly wary of alienating even an unpredictable ally as the United States confronts China and Russia in the Indo-Pacific region.
The stark contrast over religious protections for Muslims reveals an undercurrent in high-level meetings this week between the United States and India on a range of diplomatic and military issues.
The meetings, in Washington, are scheduled as protests rage across India over the country's new legislation to fast-track citizenship for migrants of all of South Asia's major religions except Islam. The unrest follows months of high anxiety in Kashmir, a Muslim-majority region claimed by both India and Pakistan; in August, Kashmir was besieged by Indian security forces and saw its decades-long autonomy revoked.
Alice G. Wells, the principal deputy assistant secretary of state for issues in South and Central Asia, said last week that the Trump administration was closely watching the situation in Kashmir and continued to call for the release of detainees and for political and economic normalcy to be restored.
"I don't want to diminish the challenges that we have in the relationship," Ms. Wells said in a speech previewing Wednesday's meetings between the two nations' top diplomats and defense chiefs.
She noted concerns in Congress about India's citizenship bill and said residents in Kashmir "are entitled to their full rights under the Indian Constitution, which enshrines the respect for religious freedom of all Indians."
"The message I want to leave with you is that there are challenges," Ms. Wells said, "but we're working together to overcome them in ways that would have seemed impossible in the past."
Representative André Carson, Democrat of Indiana and one of three Muslim lawmakers in Congress, called the citizenship bill "yet another attempt to effectively reduce Muslims in India to second-class citizens." He said it was the latest attempt by the country's prime minister, Narendra Modi, to "promote Hindu supremacy" in the world's most populous democracy.
Under Mr. Pompeo, the State Department has elevated the issue of religious freedom and its role in foreign policy to include for the first time hosting annual meetings of senior foreign diplomats to discuss challenges to faith-based liberty.
"All governments have a duty to protect people from harm regardless of their beliefs, and to hold perpetrators of persecution accountable," Mr. Pompeo said in August, while the siege in Kashmir was underway. At the time, he cited religious persecution in China, Iran and Myanmar, but not India.
A briefing last month by Sam Brownback, the State Department's special ambassador for international religious freedom, was notably silent on the plight of Muslims in Kashmir. And in an Oct. 28 speech about Tibetan Buddhism, delivered in India, Mr. Brownback urged governments to protect "religious freedom for all people, everywhere, all the time" — but never once mentioned the anti-Muslim moves by Mr. Modi's government.
In statements this week, the State Department urged India to "protect the rights of its religious minorities." It called on authorities to respect peaceful protests against the citizenship legislation and urged demonstrators to refrain from violence. The department also urged India's government to reopen mosques and shrines in Kashmir that were closed because of the unrest and said it was concerned by restrictions on cellphone and internet access.
Separately, the United States Commission on International Religious Freedom, a federal body, called the new citizenship legislation a "dangerous turn in the wrong direction" and said that the United States should consider sanctions against India.
The citizenship bill and Kashmir are expected to be raised by the United States at the meetings with India's foreign and defense ministers. But those issues are not the focus of the discussions.
Trade, defense and counterterrorism efforts, and fostering closer ties through business, education and science top the agenda. But the underlying theme of the talks will be countering China and Russia, and the Trump administration is pulling India closer to offset the other powers' influence in the region.
Both the United States and India oppose China's military moves in the South China Sea and what experts describe as its intimidation of India, Japan and smaller states in Asia. They also both oppose China's Belt and Road Initiative to link the economies of Asia, Europe and Africa — and put Beijing at the center of global trade and enhance its geopolitical ambitions.
India has also struggled to respond to Beijing's increased influence in the Indian Ocean, and is limited in the ways it can forcibly push back against China, with whom it shares a border of more than 2,500 miles.
"We need like-minded partners," Deputy Secretary of State John J. Sullivan said in New Delhi in August. "That's why the vitality of the U.S.-India partnership is such an important factor in determining whether China ultimately succeeds in reshaping Asia to its purposes."
(Mr. Sullivan did not mention Kashmir in his speech, although he cited religious freedom as a value that both India and the United States "hold dear.")
Pentagon officials are also trying to dissuade India from buying a missile defense system from Russia, offering both an incentive — in the possibility of instead purchasing American-made arms — and a threat of sanctions if the sale with Moscow goes through. Last month, Russia's chief arms trade executive said India had already paid $800 million for five S-400 missile systems.
Randall G. Schriver, an assistant secretary of defense for Indo-Pacific security affairs, said the United States and India had made great strides over the last two years, syncing lines of communications, holding annual amphibious military exercises and increasing arms sales to India.
"Defense trade has been a very positive area of our relationship," Mr. Schriver told reporters last week. The two countries have together spent about $18 billion in security cooperation, he said, "starting from basically zero in 2002."
Despite "complexities" between the United States and India, the meetings on Wednesday could yield significant agreements to expand defense training, military sales and collaboration on security technology, said Ashley J. Tellis, a former diplomat and National Security Council official under President George W. Bush.
But the diplomatic effort is not expected to paper over deep divisions between the two countries, including a trade deal that stalled after the Trump administration stripped India of a special protectionist status. New Delhi retaliated by raising tariffs on $1.4 billion worth of American imports, including almonds, walnuts, apples and finished metal items.
Nor is it likely to change India's mind about its treatment of Muslims.
Mr. Tellis said the Trump administration had "been very conscious to not do anything publicly that might embarrass India" — which is why, he predicted, the State Department had toned down its criticism of the anti-Muslim actions.
"There is a perception that India is a strategic ally and a partner," said Mr. Tellis, a senior fellow at the Carnegie Endowment for International Peace. "Whatever their discomfort with the Modi government's policies are, I think they want to allow the Indian democratic process to work itself out, and see where the country comes out."
https://www.nytimes.com/2019/12/17/world/asia/india-muslims-state-department.html?emc=rss&partner=rss
------
Muslim mates 'adopted' by small community, after making 10-hour round trips to cook for bushfire victims
By Luisa Rubbo
Four Muslim men have driven from Sydney to northern New South Wales for a second time to put on a barbecue for bushfire victims.
The builders by trade travelled about six hours from their homes in Auburn in Western Sydney to be at the first get-together for the community of Willawarrin, which has been devastated by the recent fires.
After the fires hit, the men surprised Kempsey locals by just turning up at the evacuation centre with the barbecue, but this time they were happy to come back to cook for Willawarrin's fair.
Leaving just before six o'clock in the morning, Jawad Nabouche and his mates drove north on the Pacific Highway with a ute loaded with about 30 kilos of sausages and 30 boxes of water and all the utensils and equipment they needed to cook a barbecue.
"It's the least we can do, to try help the community and help everybody up here and put a smile on everybody's faces," Mr Nabouche said.
'Our adopted people'
Kempsey Shire Council Mayor Liz Campbell recalled how the men "just arrived" one Saturday morning.
"At that stage, the roads were cut but we had to wait to be able to get through and we came up to the pub and they put on this fabulous barbecue and became part of the Willawarrin community," Cr Campbell said.
She said that support meant "everything to us now".
"When you're down you need that support to keep you up," Cr Campbell said.
"They've become part of Willawarrin, they're our adopted people."
Locals 'gobsmacked'
Maree Tyme, who lost fences in the fires but not her home, said it was "amazing" the amount of people who have come to support the fire victims at Willawarrin.
"You see it in other places with different things that happen in life but to happen in your own little hometown that I grew up in, born and bred here, it's just amazing to get support from outside communities," Ms Tyme said.
"It's a beautiful gift to give to our little village and there are lots of fire-affected people here and around us who have lost their home."
The Mayor said many residents were in need of a morale boost like this.
"We've got families in Willawarrin with children who have lost everything, they've lost their home, they've lost all their childhood stuff and that's hard for kids," Cr Campbell said.
Jamie Zaia, whose house was one of the first to be lost, described the men's first visit as "unbelievable".
"It's been daunting and mind-blowing the amount of support that I've got from all the community. It's been great, really."
Tania and her husband, who married a week before the devastating fires, stayed and fought the fire.
Their house was saved but their property was burnt all the way around.
"Whoever said dirt can't burn, hasn't seen dirt burn," she said.
She appreciated the support from the out-of-towners.
'Proud to be an Aussie'
Tania said the generosity of people was amazing.
"We had some people from the Central Coast, they brought up three trailer loads full of donations, fridges, washing machines, clothes, toys," she said.
"They've actually got a list of all the kids in the Willawarrin area and they're bringing Christmas presents back up for them.
"That's the beauty about Willawarrin, this community is such a tight community and everybody is the first to put their hand up to help anybody around here, they really do, and that's what keeps us smiling."
CEO of the veteran-led organisation Team Rubicon Australia Geoffrey Evans said they first saw the Muslim community helping out in Tathra.
He said that experience set Team Rubicon volunteers up in good stead and what they found was they "got adopted by the community".
"You see it first in the community, whenever we turn up to a house. No matter how badly devastated that person is the first thing they will say is 'There must be people who need help more than we do'.
"We look at them and say "But you've lost everything', and then the top lip starts to go and there's an outpouring of grief and then we start helping them but then broader Australia will start to come in."
https://www.abc.net.au/news/2019-12-18/muslim-mates-drive-from-sydney-to-cook-bbq-for-bushfire-victims/11802674
------
Australia and New Zealand
Peace man: Christchurch mosque survivor Farid Ahmed honoured with award
18 Dec, 2019
Anna Leask
A man who escaped the terror attack at his mosque in Christchurch only to go back in and help others has been honoured with an international peace award.
On March 15 Farid Ahmed and his wife Husna were at the Al Noor Mosque when a gunman stormed in and opened fire.
Husna hurried the women and children to safety and was shot dead as she ran back into the mosque to help her husband who uses a wheelchair.
Farid managed to get out of the mosque, and also went back in to try find his wife and help others.
Since then he has been speaking at events around New Zealand and the world about forgiveness and love - which he astonishingly extended to his wife's alleged killer in the days after the massacre.
Earlier this month Ahmed travelled to Abu Dhabi to speak at the Forum for Promoting Peace in Muslim Societies.
Around 495 faith leaders and advocates of tolerance participated at the sixth annual assembly, focused on the role of religions in promoting tolerance.
At the event Ahmed received an award for promoting peace.
He told the Herald he was humbled by the honour, which he said was given as an acknowledgement for his "peace messages to the world through the message of love and forgiveness".
Ahmed said he believed mankind "is one family".
"And therefore we must treat one another with mercy," he said.
That fitted with the aim of the forum which he said was to bring a vast array of religions together gradually to spread the message of peace and unity in the world.
Ahmed said he would not stop promoting the message.
He felt it was his job, and what his late wife would have wanted him to do following the tragedy.
"Any peace initiative in this world is good and it gives us hope," he said.
"It will motivate our next generation to strive harder for peace.
"The world needs to come together to reject violence.
"If all good people stand together, that will be like a light which will remove the darkness of violence, hate and killing."
Ahmed said following the March 15 attack New Zealand had shown an "outstanding expression of love and compassion".
"It is well respected as an inspiration in this world," he said.
"I see that wherever I go."
Ahmed said he enjoyed spreading his message and travelling the world to do so.
It kept him busy which helped him heal after the brutal loss of his wife and made him feel he was doing good in her name.
"Whatever I did after the tragedy, I did not do it for any recognition or award," he said.
"I did it as a duty towards my fellow human brothers and sisters for a better peaceful, and loving future.
"I did not accept the award for me because I do not see any credit in me, but I took it as an honour to the martyred people who lost their lives in peaceful worship."
He wanted to thank the people of New Zealand - and all others who had shown aroha and support after the mosque massacre.
He hoped that sentiment would continue and effect positive changes.
"Together we can create a better world," Ahmed said.
"We must avoid hate and take love."
https://www.nzherald.co.nz/crime/news/article.cfm?c_id=30&objectid=12295031
------
Australian cyber soldiers hacked Islamic State and crippled its propaganda unit – here's what we know
The 2016 operation was integral in trying to stop the spread of Islamic State's indoctrination but has remained classified until now.
The ABC has revealed Australia's participation in an international effort that's been described as the largest cyber offensive in US military history.
A so-called scorched earth attack devasted Islamic State's ability to recruit fighters.
Here's how they did it.
Why hack Islamic State?
As Australia and its allies fought Islamic State from the ground and in the air in the Middle East, it became clear that the terror group's online skills were helping to build its caliphate.
At its peak, Islamic State had at least 100 people working for its propaganda unit. They included IT specialists, graphic designers and editors.
The team produced glossy digital magazines in several languages that outlined ways to launch an attack and published high quality videos to recruit members from across the world with great success.
Sitting at computers, Islamic State fighters proved just as important as those carrying guns and making explosives.
"A lot of the individuals who worked on the virtual caliphate had the same salaries and titles as military commanders on the ground," said Lydia Khalil, a research fellow at the Lowy Institute.
How was Australia involved in hacking Islamic State?
The Australian Signals Directorate (ASD) is one of the nation's most secretive organisations and is tasked with intercepting foreign communication and cyber warfare.
The United States drafted a team of 20 from within ASD to join a top-secret mission, called Operation Glowing Symphony, aimed at hacking into Islamic State's propaganda computer network.
The Australian team included hackers, or "offensive cyber operators" as they're officially called, counter terrorism experts, linguists, intelligence experts and technical specialists.
The team spent four months preparing for a cyber-attack on Islamic State, during which they spied on the terror group's propaganda unit members.
"You need to know how they will respond when we conduct operations against them, to inform your tactics of how you will go back against them pending your responses," said Sarah, an ASD hacker who led the Australian operation, but whose identity cannot be revealed for security reasons.
What was involved in the hack?
Australia and its allies found 10 entry points to hack into Islamic State's online network.
The ASD won't reveal how hackers broke those doors down and gained access into the propaganda unit's systems.
But the techniques can include working out a username and password, by sending phishing emails, or by exploiting security flaws from people not updating their computer systems.
Those months of snooping were finally put to the test when US agents issued a code word, an undisclosed a football team name, to launch a global cyber offensive.
Working in a windowless room in Canberra, ASD's cyber fighters tapped away at their keyboards, targeting a list of targets pinned to the wall.
For 12 hours they accessed accounts, locked Islamic State members out, stole the contents and deleted backups of the files.
The cyber-attacks continued for a week, crippling the propaganda unit's systems.
What did they take from Islamic State?
The exact nature of what ASD secured in the attack remains highly classified.
But the ABC has revealed the Australian team scooped up terabytes of data from the Islamic State network.
That included everything from photos and videos to documents.
The hack would have left Islamic State fighters bewildered when they tried to log into their computers.
"[It was] like scorched earth," ASD's Ben Staughton told the ABC in an exclusive interview.
"You no longer had access to email, to your virtual private networks, to your media production capabilities."
Does that mean Islamic State is no longer a threat?
The terror group was locked out of producing the material it had used to recruit fighters around the world.
It left Islamic State unable to produce high quality material and spread its propaganda in a timely manner.
But it didn't stop Islamic State from trying to rebuild its efforts.
"You did see a difference, but you didn't see a complete eradication of Islamic State's online presence either," Ms Khalil said.
She said Islamic State had proven its ability to recover, albeit from a weaker position, each time it was attacked.
"There would be a takedown, Islamic State would recover slightly, but each time they were starting lower and lower on the ladder."
The ABC is aware that further cyber-attacks against Islamic State have been launched since Operation Glowing Symphony, but the ASD has refused to comment.
https://www.abc.net.au/news/2019-12-18/inside-the-secret-hack-on-islamic-state-propaganda-network/11809426
------
Arrested New Zealand soldier with far-right ties was questioned after March 15 attacks
Dec 18 2019
Florence Kerr and Thomas Manch
A New Zealand soldier with far-right links was questioned by police after the March 15 terror attacks, a source says.
The soldier, who was taken into military custody on Friday, is a 27-year-old man working as an armourer at the Linton Military Camp.
The man has deep connections with New Zealand's underground far-right movement. He was due to leave the country in the coming weeks to spend Christmas in Russia.
A source close to the family confirmed he had been arrested.
"We don't know the exact charges they are holding him on," the source said.
"All we know is that they [police and military] closed the [Linton] base down on Friday and searched his house."
The source understood an antique explosive dating back to World War I had been found, but was unsure if it related to the charges.
The source said the 27-year-old's family were told of his arrest in the early-hours of Wednesday and have since learned about his intense involvement in far-right groups.
"The family just found out today that he was questioned after the March terror attacks because of his right-wing views," the source said.
"He was also supposed to go to Russia for Christmas and maybe it was a red-flag for the military and police?
"He has been wanting to go to Russia for years and have a white Christmas. Him and his girlfriend were going."
The source said the family, who have no affiliation with far-right groups, are horrified by what has happened.
"We are just absolutely shocked and as the day goes by they are learning more about what he has been up to online," the source said.
"His family, his brothers are nothing like this, they are absolutely devastated by what has happened and what information is slowly becoming available to them.
"When I look back, I mean, he really didn't have many friends as a kid - it was heartbreaking. He must have found a group of friends he could relate too? Maybe they were social outcasts as well?"
Neither the Defence Force nor police would confirm further details about the arrest.
Defence Minister Ron Mark said he had been briefed, but he would not comment on "ongoing operations".
"What I take strength and confidence in is that this has happened, and the military are clearly very observant, doing their job," he said.
"I'd like to think that any Government department that has the security interests of this nation at heart would be monitoring itself, as well."
Asked if the soldier was a threat to the country's security, Mark declined to comment.
A spokesman for the Defence Force said a cordon had been in place at the housing area of Linton Military Camp on Friday, as police conducted a search warrant. A soldier was taken into custody.
"Because investigations are ongoing, no further details will be released at this time," a statement provided by the spokesman read.
The spokesman confirmed an interim name suppression order was being sought.
A police spokesman said it was involved in a joint criminal investigation with the Defence Force.
As defence was the lead agency it would not comment further, a statement said.
FAR-RIGHT CONNECTIONS
The arrested soldier's connection to far-rights groups first became apparent last week, when members of the group Wargus Christi began talking about a member being arrested in a chatroom on Telegram.
Stuff has been supplied images of these messages by a source. The arrest and far-right connection was first reported by Newsroom.
"One of our boys has been arrested for reasons still unknown," a message from the Wargus Christi group read.
A member of the group said as the soldier was in a military prison, he could not be visited.
Wargus Christi, on its public Facebook page created in September, promotes Christian extremist content, anti-Semitism, Islamophobia, and far-right internet memes.
The group's founder, Daniel Waring, was in 2010 convicted of smashing windows of Christian church in Feilding. At the time, he described himself as a neo-Nazi to a probation officer.
The soldier has also been connected to the Dominion Movement, a white nationalist group which closed down abruptly after March 15.
Activists who track the far-right online have connected the soldier with an online profile which claimed to be a founder of the group.
The group ascribed to identitarianism, the far-right ideology which appeared to motivate the Christchurch terror suspect.
https://www.stuff.co.nz/national/118298650/arrested-new-zealand-soldier-with-farright-ties-was-questioned-after-march-15-attacks
------
URL: https://www.newageislam.com/islamic-world-news/protests-northeast-ethnicity-india-favourite/d/120561
New Age Islam, Islam Online, Islamic Website, African Muslim News, Arab World News, South Asia News, Indian Muslim News, World Muslim News, Women in Islam, Islamic Feminism, Arab Women, Women In Arab, Islamophobia in America, Muslim Women in West, Islam Women and Feminism