New Age Islam News Bureau
24 Apr 2019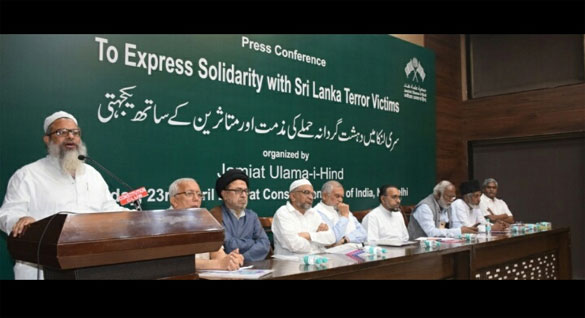 • Prominent Indian Muslim and Christian Leaders Issue Joint Statement on Sri Lanka Bombing; Express Solidarity with Victims
• Some Markaz Schools In Kerala Have 50 Per Cent Non-Muslim Students: Education Is Key To Peace, Says India's Grand Mufti
• 'Terror Guru' Zakir Naik – Whom Malaysia Is Protecting – The 'Inspiration' Behind Sri Lanka Massacres?
• Kick Out Zakir Naik 'For The Sake Of God, Islam, Country', Activist Tells PM
• Saudi Arabia Beheads 37, Mostly Shiites, For Terrorist Crimes
• Israel's Netanyahu Plans to Name New Settlement in Golan After Trump
• Jared Kushner: US to Present Middle East Peace Plan after Ramadan
• Islamists Celebrate Damage to France's Notre Dame Cathedral
• Easter Sunday Blasts: Sri Lanka's Muslim Community Fears Backlash
India
• Prominent Indian Muslim and Christian Leaders Issue Joint Statement on Sri Lanka Bombing; Express Solidarity with Victims
• Some Markaz Schools In Kerala Have 50 Per Cent Non-Muslim Students: Education Is Key To Peace, Says India's Grand Mufti
• Sri Lankan group behind serial bombings had close ties to India-based terror outfit
• Interpol Takes Up India's Red Notice on Fugitive Zakir Naik
• NIA arrests founder of 'ISIS Amroha module' in Delhi
• US to India: Helping you on Masood Azhar, so end Iran oil imports
--------
Southeast Asia
• 'Terror Guru' Zakir Naik – Whom Malaysia Is Protecting – The 'Inspiration' Behind Sri Lanka Massacres?
• Kick Out Zakir Naik 'For The Sake Of God, Islam, Country', Activist Tells PM
• Pakatan government in danger of being a one-hit wonder: The Star columnist
• Dangerous for non-Muslims to touch on Islam and rulers, says Hadi
--------
Arab World
• Saudi Arabia Beheads 37, Mostly Shiites, For Terrorist Crimes
• Ministry Of Religious Endowment Renaming Mosques across Egypt
• Egypt Referendum Extending Sisi's Rule Passed With 88.83 Percent Of The Vote
• Hundreds of Civilians Flee US-Controlled Refugee Camp in Homs
• Army shelling kills seven civilians in Syria's Idlib: monitor
• African summit gives Sudan military more time for reforms, says Sisi
• Sisi receives Sudan's Director of National Intelligence and Security Services
• Saudi Arabia welcomes US move to end all Iran sanction waivers
• Jabhat Fateh al-Sham, White Helmets preparing for false flag chemical attacks in Idlib, Hama
• Thousands of Iraqi families bear the burden of Daesh legacy
--------
Mideast
• Israel's Netanyahu Plans to Name New Settlement In Golan After Trump
• Iranian Parliament Labels Entire US Military as Terrorist
• Yemen's Houthi official dies in a Hezbollah hospital in Beirut
• Iran blasts Trump's administration for staying silent on new Saudi mass execution
• Palestinian demonstrators call on UN to end Gaza blockade
• Turkey's election board rejects objection for 'dismissed voters'
--------
North America
• Jared Kushner: US to Present Middle East Peace Plan after Ramadan
• Democrat 2020 hopefuls say would return US to Iran deal
• Hezbollah leader denies reports of war with Israel this summer
• US envoy rushes to Kabul and Doha to rescue intra-Afghan summit
--------
Europe
• Islamists Celebrate Damage to France's Notre Dame Cathedral
• Morocco Trains Foreign Students In Its Practice Of Moderate Islam
• 'No Right to Livestream Murder': Ardern Leads Push against Online Terror Content
• Morocco arrests seven ISIS-linked extremist suspects
• France rejects Syria-based French extremists' repatriation demands
• Christchurch shooting attack survivors offered New Zealand residency
• UK sends counter-terrorism police to Sri Lanka after Easter Sunday bombings
• France and New Zealand launch bid to end violent extremism online
--------
South Asia
• Easter Sunday Blasts: Sri Lanka's Muslim Community Fears Backlash
• Kabul 'Intentionally Scuttled' Intra-Afghan Dialogue: Taliban
• OIC Secretary General Strongly Condemned the Terrorist Attacks in Sri Lanka
• Muslim Council of Elders strongly condemns Sri Lanka terror attacks
• IS claims Lanka attack, 13 Indians among 359 dead
• Bangladesh PM Hasina's 8-year-old relative killed in Sri Lanka blasts
• CTTC: Sri Lanka attack may inspire extremists at home
• 4 militants killed as U.S. airstrike destroy Humvee packed with explosives in Paktia
• 10 civilians rescued from a Taliban prison during a joint operation in Ghazni province
• Probe shows Sri Lanka attacks 'retaliation for Christchurch'
--------
Pakistan
• Bint-e-Pakistan Cannot Be Used In Place Of Father's Name, Rules CII
• Bill against Forced Conversions Sent To NA Standing Committee
• Imran Comes Under Opposition's Attack for Acknowledging Terrorists Used Pakistan Soil against Iran
• When Pakistan PM Imran Khan said Germany and Japan 'share' border
• Hafeez moves on amnesty scheme as IMF, FATF nod awaited
--------
Africa
• UN Says Over 250 Killed, Over 1,200 Injured In Libya Battle
• Nigerians stage protest rally in Abuja to demand Zakzaky's release
• Libyan troops drive back Haftar loyalists south of Tripoli
• African Leaders At Emergency Cairo Summit Urge Peaceful Sudan Transition
• Migrants in Libyan jail were reportedly seriously wounded in shooting -UN
• Cameroon: Another Boko Haram Attack Kills Seven
Compiled by New Age Islam News Bureau
URL: https://www.newageislam.com/islamic-world-news/prominent-indian-muslim-christian-leaders/d/118414
--------
Prominent Indian Muslim and Christian Leaders Issue Joint Statement On Sri Lanka Bombing; Express Solidarity With Victims
By Muslim Mirror Special Correspondent
April 23, 20191
New Delhi: Prominent Muslim and Christian leaders expressed shocked and solidarity with the blast victims who were killed on Sunday in a deadly serial suicide bombing in Sri Lanka. They condemned the attack in the strongest possible terms described it as the act of devilish forces.
At joint press conference in the Constitution Club here, Muslim and Christian religious leaders expressed solidarity with terror victims in Sri Lanka. They condemned the most ghastly serial bomb blasts in Sri Lanka's Churches and hotels on the Easter Sunday. They dubbed terrorists as anti-human, anti-God and anti-civilization and incarnation of most heinous and devilish forces on the earth.
Maulana Mahmood Madani, General Secretary Jamiat Ulama-i-Hind(M) said that we condemn this dastardly act without ifs and buts. It is not a time to blame each other but it is time to express solidarity with the victims and help to enable them to rid out of this trauma. He also expressed his intention to form a delegation of Indian Muslim leaders and other Social and political leaders who should visit the victims in Sri Lanka and assess possibilities to help them.
On this occasion, Christian leader Father Flex, Father A. C Michal and Father Abraham thanked Muslim leaders to express solidarity with their community in this most testing hour. DrZafarul Islam Khan, Dr. JhonDayal, Navaid Hamid, Nusrat Ali of JamaateIslami Hind, Shia scholar Maulana MohinTaqvi also addressed the press.
All the leaders unanimously passed a resolution that read as follows:
"The most ghastly serial bomb blasts in Sri Lanka's Churches and hotels on the Easter Sunday has shocked the entire civilized society all over the world. We, the peace-loving people, drawn from all faiths and communities condemn unequivocally the dastardly act with no ifs and buts. The persons and the groups responsible for the serials blasts are anti-human, anti-God and anti-civilization. They are incarnation of most heinous and devilish forces on the earth. To associate them with any faith would be most sacrilegious to the faith itself. Therefore, the people of all faiths must disown and condemn such barbarous individuals and groups. It is our duty that we must expose them and banish them from the civilized society.
(1) The terrorist attacks become all the more gruesome if launched under the garb of religious and holy mission. Besides causing great loss of innocent lives, the very peace and harmony is destroyed. It is the prime most duty of all faith leaders to stand up and use all resources at their hands to cleanse the society of this most heinous evil.
(2) Attacks on religious places and during religious festivals such as Easter are perpetrated with design to cause divide between people of various faiths and communities. Therefore we feel it all the more necessary that we stand together with our Christian brothers everywhere and assure them that we share their sorrows and pains and express our solidarity with them.
(3) We appeal to the government and law-enforcement agencies all over the world to be more vigilant and take effective precautionary measures making it impossible for any terrorist groups to play havoc with the life and property of civil society anywhere.
(4) Sri Lanka being our closest neighbour, we are ready with offer of help to enable the victims to get over the unprecedented crisis in their lives. We propose to depute high level delegation of various faiths to Sri Lanka to explore the possibilities of cooperation and also to offer our sincere condolence to the bereaved families.
We hope that Sri Lankan Government will properly enquire the matter and stern action will be taken against those who are guilty.
(5) We sincerely hope that media and peace-loving citizens of this country will extend their fullest cooperation for our endeavor against terrorism. We express our resolve to continue our struggle against terrorism and for global peace. We appeal to everyone irrespective of their religion, caste and creed to come forward for saving the humanity and maintaining social harmony and peace."
Source: http://muslimmirror.com/eng/prominent-muslim-and-christian-leaders-issue-joint-statement-on-sri-lanka-bombing-express-solidarity-with-victims/
------
Some Markaz Schools In Kerala Have 50 Per Cent Non-Muslim Students: Education Is Key To Peace, Says India's Grand Mufti
April 23, 2019
Some Markaz schools in Kerala have 50 per cent non-Muslim students and he wishes to replicate this model in other states.
The newly elected Grand Mufti of India is "pained" by "deepening communal tensions" across his country and feels educating the generations is the only way to end divisions. Sheikh Aboobacker Ahmad from Kerala aims to transform the image of Indian Muslims by putting focus on education. The 80-year-old scholar, also known as Kanthapuram A.P. Aboobacker Musliar, is the founder of Kozhikode-based Markaz, an Islamic University with presence in 23 states and four union territories.
Some Markaz schools in Kerala have 50 per cent non-Muslim students and he wishes to replicate this model in other states. Sheikh Aboobacker took charge as the Grand Mufti this February and holds the supreme authority to give fatwas in relation to Islamic religious matters in India. He aims to build consensus among muftis from across the country to work together for development of the community and forms opinion on issues like entry of women in mosques.
The leader of Muslims is averse to mixing politics and religion - a factor which will "destroy the secular fabric of India". In an interview ahead of his mega reception in Abu Dhabi, Sheikh Aboobacker noted there will be firm effort from his side to revive brotherhood among Indians.
What will be your role as the Grand Mufti and the changes you wish to initiate?
This is a big responsibility. Whenever there is any matter of national interest, I as the Grand Mufti, will bring together all muftis from across India and form a collective opinion. For example on an issue like triple talaq, there will be a discussion held among muftis. It wasn't done earlier as previous Grand Mufti (Akhtar Raza Khan) passed away last year. A Grand Mufti also gives fatwa, which has its own importance. In India, Muslims follow the Muslim Personal Law, Mahomedan Law and those laws for Sunnis and Shias. When any issue on Muslim community is in the parliament, a mufti's fatwa is needed as a guidance to take a decision. I will seek to unite the Muslim community and develop cordial relations with all other religious groups. I want to see Muslims playing greater role in nation building process.
What are the reasons for communal divisions in India and what are the solutions to this?
Lack of education is the root cause of all hatred and divisions. Politics and religion shouldn't be mixed as it will lead to bias in the community. But Muslims shouldn't remain aloof too. They should be part of all mainstream organisations. In election, it's wrong to have a Muslim candidate from Muslim majority constituency and a Hindu candidate from Hindu majority area. A Muslim should win from Hindu dominated area and vice versa to really make India secular. All citizens from diverse religions across India should live together just like you find in Kerala. Education holds key to peace and harmony in India.
What can Indian leadership learn from counterparts in the UAE?
The UAE is an Islamic country with more than 200 nationalities living together. The new Hindu temple is an example of inclusiveness, harmony and tolerance shown by the UAE leadership. Islam has always promoted the idea of love and peace. Islam always propagates the fact that faith and belief shouldn't be forcefully imposed on anyone but willfully accepted.
https://www.khaleejtimes.com/nation/abu-dhabi/education-is-key-to-peace-says-indias-grand-mufti
--------
'Terror Guru' Zakir Naik – Whom Malaysia Is Protecting – The 'Inspiration' Behind Sri Lanka Massacres?
April 24, 2019
As people continue to digest the fact that at least 290 people were killed, including at least 39 foreign tourists, and more than 500 injured in a series of suicide bombs tore apart churches and hotels across Sri Lanka on Easter Sunday, questions have been raised if the radical Muslim extremists could have been stopped before they blew themselves up.
Intelligence services in India and the United States reportedly had told Sri Lanka of the threat in early April, as a memo dated April 11 has emerged warning of a potential attack. But early warnings had emerged earlier than that. On April 4, foreign intelligence agencies told Sri Lankan officials of a potential plot to launch suicide attacks against Christian churches and tourist spots.
The next warning came five days later. On April 9, the country's Defense Ministry informed the Inspector General of Police of the alleged plot, even named the group believed to be behind the plan – the Nations Thawahid Jaman or National Thowfeek Jamaath (NTJ). The memo compiled by Sri Lankan security officials was so specific that it even gave a list of suspects.
CNN reported that foreign security services had repeated their warnings in the days and hours before the attack. In fact, one warning came ten minutes before the deadly bombings were started. Unfortunately, all the warnings had fallen on deaf ears. It didn't reach the higher authorities due to internal politics between President Maithripala Sirisena and Prime Minister Ranil Wickremesinghe.
But even if the authorities were aware of the potential terrorist attacks, what could they do? Potential suicide bombers who walked into three churches or checked into three upscale hotels in Colombo would not be subjected to enhanced security checking anyway. Worshippers at church and hotel guests lined up for breakfast provide the best cover for attackers.
No individual or group has made a formal claim of responsibility for the horrific Easter Sunday bombings. However, the government has blamed a local militant group NTJ (National Thowfeek Jamaath or Nations Thawahid Jaman) as the terror group responsible. The authorities also believe the little-known radical Islamist organization had help from "an international network".
Apparently, the NTJ was a spin off from an Islamist organization called Sri Lanka Towheeth Jamath (SLTJ) several years ago. The NTJ was linked to vandalism last December that targeted Buddhist temples in Mawanella, central Sri Lanka. The NTJ keeps such a low profile that they only update its Facebook page once every few weeks. Their Twitter page hasn't been updated since March 2018.
According to the Jerusalem Post, unconfirmed reports revealed that the suicide bomber and the mastermind behind the attack on the Shangri La hotel has been identified as Islamic extremist Moulvi Zahran Hashim. An imam, he was a prolific lecturer for NTJ. CNN reported that Hashim also wanted to attack the Indian High Commission in Colombo earlier this month, but the attack was thwarted.
Imam Moulvi Zahran Hashim has a history of racism and Islamic supremacy. He had also posted several YouTube videos during which he preaches comments that could be considered incitement. In one of his videos, the radical Muslim extremist says – "What can Sri Lankan Muslims do for Dr. Zakir Naik?"
If the name Zakir Naik sounds familiar, that's because the Indian Islamic preacher is one of Malaysia's most controversial "Permanent Residents". Infamous for stirring hate with his lectures and messages, Mr. Zakir is a wanted man in India. So, the burning question is – did the mastermind of Sri Lanka terror attacks inspired by Zakir Naik?
Last month, India's Enforcement Directorate (ED) has accused the controversial Muslim preacher or money laundering – using his Islamic Research Foundation, meant for the social welfare of the Muslim community, to organise dubious donations and diverted the proceeds to purchase properties. Zakir Naik allegedly diverted assets worth RM113 million (US$28 million).
The Times of India reported that these assets included at least 20 flats in the cities of Mumbai and Pune in India. The India's ED had on March 21 arrested jeweller Abdul Kadir Najmudin Sathak, an aide of Zakir, for allegedly assisting him to transfer funds of dubious origins from the UAE to him.
While Zakir is a wanted man in India, having had his citizenship revoked, he was granted permanent resident by former Najib government. When the new government of Mahathir Mohamad took over, the prime minister said that Malaysia would not deport Zakir "as long as he is not creating any problems" in the country.
Zakir Naik, whose sermons are already banned in Canada and the UK, was popularly known as the Muslim preacher who inspired the terrorists who killed 22 people at a Dhaka restaurant on July 1, 2016. In one sermon uploaded to YouTube in 2009, he was asked by an audience member if a suicide attack could ever be justified.
Mr. Zakir once controversially said that suicide bombing may not be "haram (forbidden)" if the situation demands it, justifying the situation where suicide attacks are allowed – "If the situation demands, like in Palestine … and they cause a damage to the opponent, as a last resort, with guidance from a scholar, so with guidance from the Koran, as a last resort, it can be used".
The preacher had once claimed that Al-Qaeda leader Osama bin Laden was not a terrorist. He said – "If Osama-bin-Laden is fighting enemies of Islam, I am for him. If he is terrorising America – the terrorist, biggest terrorist – I am with him. Every Muslim should be a terrorist. The thing is that if he is terrorising the terrorist, he is following Islam."
The snake oil salesman also justified keeping sex slaves, claiming such practice is permitted in Islam. He said in 2010 – "There are many verses in the Quran which say you can have sex with your wife and with whatever your right hand possesses." Interestingly, Zakir Naik was quick to condemn the Sri Lanka terror attacks, probably a pre-emptive strike to prevent him from being linked to the NTJ.
https://www.malaysia-chronicle.com/?p=163041
--------
Kick out Zakir Naik 'for the sake of God, Islam, country', activist tells PM
23 Apr 2019
MALAYSIAN activist Farouk A. Peru has started a petition urging Prime Minister Dr Mahathir Mohamad to act on fundamentalist Muslim preachers and evict Indian preacher Zakir Naik from the country.
The London-based Islamologist's petition was posted on change.org this morning and comes two days after attacks on churches and hotels in Colombo, Sri Lanka, which left more than 300 people dead.
https://www.themalaysianinsight.com/s/149774
--------
Saudi Arabia beheads 37, mostly Shiites, for terrorist crimes
2019-04-24
Saudi Arabia on Tuesday beheaded 37 Saudi citizens, most of them minority Shiites, in a mass execution across the country for alleged terrorism-related crimes. It also publicly pinned the executed body and severed head of a convicted Sunni extremist to a pole as a warning to others.
The executions were likely to stoke further regional and sectarian tensions between rivals Saudi Arabia and Iran.
Saudi dissident Ali Al-Ahmed, who runs the Gulf Institute in Washington, identified 34 of those executed as Shiites based on the names announced by the Interior Ministry.
"This is the largest mass execution of Shiites in the kingdom's history," he said.
Amnesty International also confirmed the majority of those executed were Shiite men. The rights group said they were convicted "after sham trials" that relied on confessions extracted through torture.
It marked the largest number of executions in a single day in Saudi Arabia since Jan. 2, 2016, when the kingdom executed 47 people for terrorism-related crimes in what was the largest mass execution carried out by Saudi authorities since 1980.
Among those executed three years ago were four Shiites, including prominent Shiite cleric Nimr al-Nimr, whose death sparked protests from Pakistan to Iran and the ransacking of the Saudi Embassy in Tehran. Saudi-Iran ties have not recovered and the embassy remains shuttered.
King Salman ratified by royal decree Tuesday's mass execution and that of 2016. The king, who has empowered his son Crown Prince Mohammed bin Salman, has asserted a bolder and more decisive leadership style than previous monarchs since ascending to the throne in 2015.
The kingdom and its Sunni-led Arab allies have also been emboldened by U.S. President Donald Trump's unwavering dedication to pressuring Iran's Shiite clerical leadership, which includes his decision to pull out of a nuclear agreement with Iran and re-impose punishing sanctions to cripple its economy.
Al-Ahmed described Tuesday's executions as a politically motivated message to Iran.
"This is political," he said. "They didn't have to execute these people, but it's important for them to ride the American anti-Iranian wave."
The Interior Ministry's statement said those executed had adopted extremist ideologies and formed terrorist cells with the aim of spreading chaos and provoking sectarian strife. It said the individuals had been found guilty according to the law and ordered executed by the Specialized Criminal Court in Riyadh, which specializes in terrorism trials, and the country's high court.
The individuals were found guilty of attacking security installations with explosives, killing a number of security officers and cooperating with enemy organizations against the interests of the country, the Interior Ministry said.
The statement was carried across state-run media, including the Saudi news channel al-Ekhbariya. The statement read on the state-run news channel opened with a verse from the Quran that condemns attacks that aim to create strife and disharmony and warns of great punishment for those who carry out such attacks.
Al-Ahmed said among those executed was Shiite religious leader Sheikh Mohammed al-Attiyah, whose charges included seeking to form a sectarian group in the western city of Jiddah. Al-Ahmed said the sheikh publicly spoke of the need to work closely with Saudi Arabia's Sunni majority and would lead small prayer groups among Shiites.
In a speech he gave in 2011 under then King Abdullah, the sheikh was quoted as saying that frank and open dialogue between Sunnis and Shiites could help strengthen Saudi unity. He urged patience and expressed hope in a national dialogue that had taken place among Shiite dissidents and Sunni leaders.
"As long as we live in the same country, we have no choice but to accept one another and live with one another, no matter the degree of difference between us," he said.
Amnesty International said 11 of the men were convicted of spying for Iran and sentenced to death after a "grossly unfair trial." At least 14 others executed were convicted of violent offences related to their participation in anti-government demonstrations in Shiite-populated areas of Saudi Arabia between 2011 and 2012.
Among those put to death was a young man convicted of a crime that took place when he was 16 years-old, said Amnesty.
Saudi Arabia's supreme council of clerics, who are all ultraconservative Sunnis, said the executions were carried out in accordance with Islamic law.
The Interior Ministry said the body of one of the executed men – Khaled bin Abdel Karim al-Tuwaijri – was publicly pinned to a pole. The statement did not say in which city of Saudi Arabia the public display took place.
He appears to have been convicted as a Sunni militant, though the government did not give a detailed explanation of the charges against each individual executed.
The government defends such executions as a powerful tool for deterrence.
Saudi analysts and pro-government writers brought in to discuss the executions on al-Ekhbariya said they are a powerful sign that the country's leadership will not hesitate to use the full might of the judicial system to punish Saudis who seek to disrupt the kingdom's security.
Those executed hailed from Riyadh, Mecca, Medina and Asir, as well as Shiite Muslim populated areas of the Eastern Province and Qassim. The executions also took place in those various regions.
It brings the number of people executed since the start of the year to around 100, according to official announcements. Last year, the kingdom executed 149 people, most of them drug smugglers convicted of non-violent crimes, according to Amnesty's most recent figures.
Executions are traditionally carried out after midday prayers. Public displays of the bodies of executed men last for around three hours until late afternoon prayers, with the severed head and body hoisted to the top of a pole overlooking a main square.
This latest mass execution comes days after four Islamic State gunmen were killed by Saudi security forces while trying to attack a security building north of the capital, Riyadh.
It also comes on the heels of Sri Lanka's Easter Day attacks that killed over 300 people, including two Saudi nationals. The attack was claimed by the Islamic State group.
Local affiliates of the Islamic State group and Saudis inspired by its ideology launched several attacks in Saudi Arabia between 2014 and 2016, killing dozens of people, including security officers and Shiite worshippers. The last major attempted attack is believed to have been two years ago.
The group, like al-Qaida in the past, has sought to undermine the Al Saud royal family's legitimacy, which is rooted in part in its claim to implement Islamic Shariah law and to be the protectors of Islam's most sacred sites in Mecca and Medina that are at the center of hajj.
https://www.israelhayom.com/2019/04/24/saudi-arabia-beheads-37-mostly-shiites-for-terrorist-crimes/
--------
Israel's Netanyahu plans to name new settlement in Golan after Trump
Apr 23, 2019
Israeli Prime Minister Benjamin Netanyahu says he plans to name a new settlement in the occupied Golan Heights after President Donald Trump of the United States in gratitude for his recognition of Israel's claim of "sovereignty" over the strategic plateau.
Emboldened Netanyahu, who has been on a trip to the occupied region along with his family for the Jewish week-long Passover holiday, said in a video message on Tuesday that he would submit a resolution calling for "a new community on the Golan Heights" to be named after "President Donald J. Trump."
"All Israelis were deeply moved when President Trump made his historic decision to recognize Israel's sovereignty over the Golan Heights," he said.
In a highly provocative move on March 25, the US president signed a proclamation recognizing Israel's "sovereignty" over the Syrian territory on the direction of a number of his advisers, most notably his son-in-law Jared Kushner.
Damascus strongly condemned the move and called it a "blatant attack on the sovereignty and territorial integrity" of Syria.
The Arab League also denounced the decision, saying, "Trump's recognition does not change the area's status."
Many countries, including Iran, Russia and Turkey, along with the United Nations Security Council have also lambasted Trump's provocative move.
In 1967, Israel waged a full-scale war on Arab territories, during which it occupied a large swathe of Golan and annexed it in 1981, a move never recognized by the international community. Syria has repeatedly reaffirmed its sovereignty over the Heights, saying the territory must be completely restored to its control.
Israel has also said separately that, in appreciation of Trump, it plans to name a proposed train station near the Western Wall of Jerusalem al-Quds after him.
https://www.presstv.com/Detail/2019/04/23/594180/Israel-Golan-Heights-Trump-settlement
--------
Jared Kushner: US to present Middle East peace plan after Ramadan
April 23, 2019
NEW YORK: President Donald Trump's son-in-law Jared Kushner said Tuesday that he would present his long-awaited Middle East peace plan after the Islamic fasting month of Ramadan ends in early June.
Kushner, speaking at a forum of Time magazine, said he had hoped to offer the proposal late last year but that Israeli Prime Minister Benjamin Netanyahu then called elections and still needs time to form a coalition.
"Once that's done we'll probably be in the middle of Ramadan, so we'll wait until after Ramadan and then we'll put our plan out," said Kushner, a senior adviser to Trump.
Kushner, who is President Donald Trump's son-in-law, would not discuss any details of the plan, including whether it would endorse a two-state solution for Israel and the Palestinians.
The peace proposal has been in the works for two years and the process has been greeted with skepticism both on Capitol Hill and in global capitals.
http://www.arabnews.com/node/1486991/middle-east
--------
Islamists celebrate damage to France's Notre Dame Cathedral
April 23, 2019
Islamists worldwide have been celebrating the destruction of large parts of the Notre Dame Cathedral in Paris in a devastating fire on April 15.
Reactions by jihadis on social media refer to the cathedral as a symbol of Christianity and a major point of origin for the Crusades. Several describe the fire as punishment for various crimes attributed to France or to Christians in general, such as France's military intervention in Muslim countries or the mosque massacres in New Zealand. Some jihadis, including leading figures, view the incident as a good omen heralding calamities for the West and the global order.
The following is a selection of reactions to the fire:
Muntasir Media, a pro-Islamic State (ISIS) media outlet, published a poster showing the burning cathedral, with the caption: "A good day! Notre-Dame Cathedral. Its construction began in 1163 and finished in 1345. It's time to say goodbye to your pulpit of polytheism. 'A fitting reward' [Koran 78:26]."
A French-speaking jihad supporter on Facebook writes: "800 years of […] pedophilia, worship of Satan and other diabolical rituals, all up in smoke in a few minutes … it's thrilling […] not mentioning the Crusades and the various wars led by the Church against the Muslims."
Another jihadi supporter on Facebook describes the fire as punishment for the recent expulsion of ISIS from its stronghold of Baghouz in Syria: "Paris is burning in flames. Woe to it from the fire of tomorrow [hellfire], for that is the [Divine] promise. Oh Paris, the air of your ashes is like snow falling on cheeks strained by exhaustion. Oh Paris, how long will you wander in the sea of haughtiness, do you not long for the army of monotheism in order to pay it the jizyah which is long overdue and provide it with full-breasted female slaves? Oh Paris, why the disobedience? You are a sinner, and what is the fire if not an army that came from Baghouz to take a right which was plundered."
A Facebook post by Muhammad Nasr Abu Bakr which appears to express wishful thinking about ISIS involvement reads: "The burning of the Notre Dame church in Paris is an answer to the mosque incident in New Zealand. Allah bless your virtue, oh ISIS, oh pride of terrorists! Who wants to bemoan it [the fire] so we can stick our shoe in his mouth?"
On Twitter, an ISIS supporter writes: "They bombed the Muslims in the cities of the Islamic State and eradicated them with the ugliest types of weapons, and they thought that they have won and defeated the jihad. They didn't know that they brought death upon themselves. They didn't know that they opened the gates of hell, which will close only on their burnt corpses."
Writing on Telegram, a prominent Al-Qaeda supporter who calls himself Shibl Al-Aqidah [the cub of the faith] celebrates the devastation at Notre Dame Cathedral: "I rejoice and praise Allah as I witness the fall of the oldest cross as a result of the fire in the church in France. This joy is mixed with sorrow, as I remember the massacres of Muslims and the burning of mosques by these infidels. Praise Allah who burned their churches and destroyed their crosses. And let there be no comfort to the hypocrites who expressed sorrow for this gladdening event."
In a lengthy post on his Telegram channel in response to the fire, Jordan-based jihadi ideologue Abu Qatadah Al-Falastini notes that while most educated people associate the cathedral with the classic The Hunchback of Notre Dame by Victor Hugo, few are aware of the church's Crusader past, alleging that it was from Notre Dame that Patriarch Heraclius of Jerusalem declared the Third Crusade after Saladin vanquished Crusader-held Jerusalem. Abu Qatadah writes that "today we see" the cathedral, from which the Crusade against Muslim-controlled Jerusalem began, "burning and turning into heaps of ruins," concluding: "Perhaps it is a good omen."
An Islamist rebel commander in Syria writes that the Notre Dame fire might be a good omen heralding the collapse of the international order: "Far from foolish optimism, rather I sense it is an omen for great good. This year there have been many dreams revolving around the glad tidings of victory. Likewise, the events that are happening, if we look at them in a comprehensive perspective, we will find them to be arrangements of Divine predestination laying the foundations for the collapse of the international order and beforehand, or at the same time, the agents of the American domain. All these are part of a recurring story in the annals of history, praise Allah. Today the oldest cross fell because of a fire in a church in Paris. By Allah, from the land of the den of lions [Syria] I read it as a great message, and see it as glad tidings … "
https://www.jns.org/islamists-celebrate-damage-to-frances-notre-dame-cathedral/
--------
Easter Sunday blasts: Sri Lanka's Muslim community fears backlash
Meera Srinivasan
APRIL 24, 2019
The Easter day attacks in Sri Lanka and the subsequent naming of a local Islamist radical organisation as the perpetrator have left the island's Muslim community in fear and panic.
Amid reports of a few stray incidents of attacks on Muslim-owned property in the last two days, the sudden, heightened scrutiny of localities where Muslim families reside have sparked serious concerns, according to leaders and members of the community.
"The Muslim community is equally outraged [by the blasts]," said Sri Lanka Muslim Congress Leader and Cabinet Minister Rauff Hakeem. In his view, the "warped ideology" of the radical group cannot get "even an iota of support" from within the community.
Belief in moderation
Muslims, and in fewer instances Christians, have been at the "receiving end" of violence in Sri Lanka in the last few years, he said, pointing to the spate of targeted, violent attacks unleashed by hard-line Sinhala Buddhist groups.
"But the [Muslim] community has always believed in moderation," he said, at the same time calling for introspection within the community on new cultural practices and foreign ideas.
But the space for conversations within the community may now shrink, fears Mareena Thaha Reffai, founder-president of Al Muslim Aath, a 28-year-old organisation of Muslim Women. "Despite holding diverse views, we were trying to talk about reforming our personal laws, reflect on our changing practices. It may become harder to have those discussions because something so big has hit us," she said.
Community leaders also fear that the recent jihadist killings might taint the overall image of Sri Lankan Muslims. "Even when we were targeted by the BBS (hard-line Buddhist organisation Bodu Bala Sena) we did not retaliate even once," Ms. Reffai said.
Constituting about 10% of the island's population, Muslims in Sri Lanka are widely perceived to be an enterprising community, successful in trade and as professionals. Though Tamil-speaking, they identify themselves as a separate ethnic group, different from ethnic Tamils, who are fellow minorities in the island. Many of them are trilingual, speaking Sinhala, Tamil and English with equal ease.
"We have never had even an oral disagreement with Christians. What the bombers believed in and did was completely contradictory to the values of Islam," Ms. Reffai said, adding: "I just don't understand how this sort of indoctrination happens. It is very disturbing."
In addition to grappling with how a few members of the community were veering towards a radical path, Muslims worry about a possible backlash, particularly in Kattankudy town, in the eastern Batticaloa district that is home to a sizeable population of Muslims and Tamils.
Base of Islamist group
Batticaloa, which witnessed one of the eight explosions, has also been identified as the base of the National Thowheed Jamaath (NTJ), said to be behind the bombings. Its leader Mohammed Zaharan was a resident there. "We feel a sense of inexplicable guilt. I don't know how to look into the eyes of my Christian neighbours with whom we have enjoyed cordial relations for so long. There is a lot of fear and panic that some may think we are also culpable," said A.L.M. Sabeel, a member of the Kattankudy Mosques Federation and the local Urban Council.
Following Sunday's attacks, there is heavy security all around the town and the police have been conducting frequent search operations in the area, he said. "While it is disturbing that everyone is seen as a potential suspect in such times, I actually appreciate it. We will offer all cooperation to authorities," he said. The scrutiny, he said, might help the community identify and eliminate "such forces".
Not that they did not try purging radical elements earlier. For at least two years now, locals have tried to draw the security services' attention to the NTJ and some "50-60 people" attached to it. "We reported their activities to the authorities, but sadly, no action was taken," said Mr. Sabeel.
According to Mr. Sabeel, Zahran left Kattankudy after a fallout with the mawlawi (religious scholar) two years ago, due to differences of opinion in the practice of Islam, and had been "in hiding". "We need to understand something. We are a minority in this country, we must adopt a religious practice suitable to our context. You can't simply import practices from Saudi," Mr. Sabeel said.
The Muslim Council of Sri Lanka too made several complaints to authorities, pointing to Zahran and his attempts to spread radical ideas, the Council's President N.M. Ameen said. "If they had taken our complaints more seriously, maybe we will not be here today. What the group did is outrageous. And it has put the community at great risk locally," he told The Hindu.
This fear of possible exclusion or a backlash from other locals was a recurring theme among many Muslims. "We have seen so many anti-Muslim attacks here in the past years, haven't we?"
With hard questions about their future and the recent memory of facing attacks, many in the community are disillusioned, leaders said. "To think that there was sufficient prior warning and yet no preventive action is baffling," Minister Hakeem said. The attacks, which had a massive human cost, could be used by some for their political gains, he cautioned.
"It is not enough to see who the perpetrators are, we must also be mindful of who stands to gain. We have to apply the beneficiary test to understand and suitably address this issue." he added. "A terrorist attack is a threat not to some of us but all of us. We need a collective, national response to this."
https://www.thehindu.com/news/international/easter-sunday-blasts-sri-lankas-muslim-community-fears-backlash/article26926046.ece
--------
India
Sri Lankan group behind serial bombings had close ties to India-based terror outfit
April 23, 2019
The Sri Lankan government on Tuesday said the National Thowheeth Jama'ath (NTJ), which is believed to have carried out Sunday's serial bombings on Easter, had close links with the Jamaat-ul-Mujahideen India unit.
Sri Lankan state minister of defence Ruwan Wijewardene said the Jamaat-ul-Mujahideen India (JMI), a unit of the Jamaat-ul-Mujahideen Bangladesh or JMB, may have had a role in Sunday's bombings that killed over 300 people in the island nation on Sunday.
The is little information about the terror group JMB, which established its India faction last year. What is clear is the fact that the group shares a similar ideology with the Bangladesh faction.
While there is little information on JMI's activities in India, there have been reports that indicate its presence in India. In Feburary, two members of the JMB were arrested from West Bengal's Murshidabad district.
Explosives in large quantities were seized from the two terrorists, Moshibur Rahman (35) alias Farooque and Ruhul Amin alias Saifullah (26).
A Hindustan Times report from 2018 indicates that Bangladesh's most wanted terror duo, Salahuddin Salehin and Jahidul Islam, were responsible for setting up the "India chapter" of the JMB, which has been banned by Bangladesh.
If Ruwan Wijewardene's claim turns out to be true, it could be an alarming indication for India which is facing its own share of terror-related issues after 40 CRPF troopers were killed in south Kashmir's Pulwama.
Meanwhile, the situation in Sri Lanka is at a sensitive stage as the island nation remains on high alert.
Sources said that Sunday's attack was the most coordinated bombing attack in the country and hinted that more attacks could follow.
https://www.indiatoday.in/world/story/group-suspected-behind-sri-lanka-serial-blasts-had-close-links-with-india-based-terror-outfit-1508296-2019-04-23
--------
Interpol takes up India's red notice on fugitive Zakir Naik
Neeraj Chauhan
Apr 24, 2019
A high-powered panel of global law enforcement organisation Interpol last week took up India's request for issuing a so-called red notice against fugitive Indian Islamic preacher, Dr Zakir Naik, 54, according to two Indian officials aware of the development who asked not to be named.
Red notices are requests issued to Interpol's 194 member states worldwide to locate and provisionally arrest fugitives wanted either for prosecution or to serve a sentence.
Naik is wanted in India for money laundering and hate speech and also for allegedly promoting enmity and hatred between different religious communities.
He fled India after the terrorists, who attacked a Dhaka cafe and killed 22 people in July 2016, said they were Naik's admirers.
The Interpol panel took up India's request as the National Investigation Agency (NIA) has been trying have Naik declared as an international fugitive.
The preacher lives in Malaysia, where he has permanent residency. An Indian request for his extradition is pending with the Malaysian government since January 2018. In July 2018, Malaysian Prime Minister Mahathir Mohamad said Naik would not be deported as long as he was not creating problems in Malaysia.
According to one of the officials, the Commission for the Control of Interpol's Files (CCF) met on April 19 to discuss India's request.
CCF is a five-member independent body that ensures requests from Interpol member states seeking red notices conform to the rules.
NIA has been arguing before the global law enforcement organisation that Naik was spreading hatred through his speeches, funding terrorists and laundering money over the years, according to the officials.
The Interpol cancelled a red notice against Naik in December 2017 as he was yet to be charged in India then.
Naik, too, approached the Interpol in 2017 claiming he was being targeted. He linked the cases against him to the alleged religious persecution of minorities in India.
NIA contested Naik's claim in 2018 saying they have "solid evidence" against Naik.
NIA filed a charge sheet against Naik in October 2017 and submitted a copy of it to Interpol as well. "After we submitted a detailed charge sheet and other evidence establishing his crimes including religious conversions, inciting Muslim youth to join Jihad and routing massive funds, Interpol referred the red notice request to the CCF,'' the second NIA official said.
The official added the panel met last week but that India is yet to be updated about its final decision. "We are positive that the CCF will recommend a global arrest warrant against Naik, which will restrict his movements."
He added the panel will take a final call in a couple of days. The official said NIA wanted to be a part of the CCF meeting to convince its members regarding its case but did not get the requisite permission to do this.
Retired CBI officer NS Kharayat, who headed Interpol's National Central Bureau (NCB) in India (CBI is the nodal agency for Interpol in India), told HT, "The CCF basically discusses the legal aspects of a red notice request. If they find any religious or political motive behind any request, they don't issue the global notice. However, in the cases of terrorism, where a person has done an act of waging war against a sovereign nation, the CCF should immediately issue the red notice".
In its charge sheet , NIA has accused Naik of deliberately insulting religious beliefs of the Hindus, Christians and Islamic sects like the Shias, and Barelvis. It said Naik's speeches have influenced recruits to join the so-called Islamic State (IS), which overran swathes of Iraq and Syria in 2014 and carried out attacks across the world. Iraq and Syria declared victories over the IS in 2018 and 2019.
The government has attached Naik's properties since he fled India. His Islamic Research Foundation has been banned and some of his associates have been arrested.
Attempts to reach Naik for comment were unsuccessful.
In a speech in Malaysia's Kangar in December, Naik insisted he had never broken any Indian law. "But because I was spreading peace, I was giving a solution for humanity, all the people who do not like peace to prevail, they do not like me," news agency Reuters quoted him as saying. He claimed he was being targeted because of his work to spread Islam.
Full report at:
https://www.hindustantimes.com/india-news/interpol-takes-up-india-s-red-notice-on-fugitive-zakir-naik/story-GjEWfcu2JF1Jr0qdA9LLJI.html
--------
NIA arrests founder of 'ISIS Amroha module' in Delhi
Apr 24, 2019
The National Investigation Agency (NIA) on Tuesday arrested – Mohammad Faiz, a resident of Delhi's Jaffrabad area, for a conspiracy to carry out terror attacks in the national capital region (NCR) and Uttar Pradesh by an Islamic State inspired module.
Faiz is the founding member of pro-Islamic State module - Harkat-Ul-Harb-E-Islam, also popularly known as 'ISIS Amroha module' recently unearthed by the NIA. So far, 14 members of the module including its leader Mufti Mohammad Suhail have been arrested.
NIA spokesperson Alok Mittal said Faiz was closely involved in the procurement of arms and ammunition for the group to carry out terrorist acts in and around NCR. Suhail, according to a NIA officer, had even travelled to Tral, Rajouri and Bandipora twice last year and had sought arms training from a Pakistan trained "mujahideen".
The agency had claimed in December 2018, following raids at 17 places in Delhi and Uttar Pradesh that this new ISIS inspired module was at an advanced stage of preparation for carrying out a series of bomb blasts in Delhi with crowded areas and important persons as likely targets.
The outfit members, according to the NIA, were "highly radicalised and motivated" and had conducted reconnaissance at several places in Delhi, including the RSS office and the Delhi Police headquarters.
Full report at:
https://www.hindustantimes.com/india-news/nia-arrests-founder-of-isis-amroha-module-in-delhi/story-aPp2KU2RuRMywWoGSgfS0M.html
--------
US to India: Helping you on Masood Azhar, so end Iran oil imports
by Shubhajit Roy
New Delhi
April 24, 2019
With the White House announcing the end of the waiver to buy Iranian oil, Washington has conveyed to Delhi that it has stood by India on combating terrorism after the Pulwama attack and expects reciprocity on President Donald Trump's commitment to disrupt Iran's terror network, The Indian Express has learnt.
In its conversation with Delhi, the Trump administration has also assured that the exemption of the development of the Chabahar port project will continue, though its decision to halt the waiver on oil imports to India is guided by its objective of "changing the Iranian regime's malign behaviour".
Moving to squeeze Iran's top export, the White House Monday said it will no longer grant sanctions exemption to Iran's oil customers. The waiver for India runs out on May 1, and from May 2, India cannot import oil from Iran, or its state-owned or private entities will face US sanctions.
Hectic consultations are underway between India and US officials, with a top US State Department official, Alice Wells, visiting India currently to discuss the issue with Indian interlocutors. The US has told Indian officials that the policy is designed to put "maximum pressure" on Iran, and is not targeted against India.
The US has been leading the effort at the United Nations Security Council to list Jaish-e-Mohammad chief Masood Azhar a "global terrorist", and is working with French and British interlocutors in the face of opposition from Beijing. US officials also did the heavy-lifting to get Beijing on board when the UNSC issued a condemnation statement after the February 14 Pulwama attack.
Foreign Secretary Vijay Gokhale had visited Washington DC on March 11, after the February 26 Balakot air strike and when the UNSC deadline for Azhar's listing was due on March 13 amid the hectic diplomatic offensive.
The assessment in Washington is that the reduction of oil imports from Iran has tightened the screws against Tehran, and this is visible in the lack of salaries for Hezbollah fighters and lack of funds to move missiles among other similar activities.
Since Iran lost the revenue from oil over the last year, the US believes that the Iranian regime would have used that money to support terror groups like Hamas and Hezbollah, and continue its missile development, in defiance of UNSC resolution 2231. Earlier this month, Iran's Islamic Revolutionary Guard Corps was designated a foreign terrorist organisation.
The US policy towards Iran was announced in May last year, and all countries were given six months until November 2018 to bring down oil imports to zero. In November, Washington gave a six-month waiver to eight countries, including India.
American interlocutors have told Delhi that the non-renewal of the waiver will impact not just India, but close allies like Japan and South Korea and NATO ally – Turkey as well. They have also conveyed that the deadline for sanctions to kick-in starts May 2, and it is a "pre-ordained process" under US law.
Washington is also working with Delhi to keep the oil market well-supplied, with Saudi Arabia and the UAE prepared to export more oil to India. India Tuesday said it was adequately prepared to deal with the impact of the US decision to end waivers that allowed it to buy Iranian oil without facing sanctions.
The Ministry of External Affairs official spokesperson Raveesh Kumar said the government will continue to work with partner nations, including with the US, to find all possible ways to protect India's energy and economic security interests.
Full report at:
https://indianexpress.com/article/india/us-to-india-helping-you-on-masood-azhar-so-end-iran-oil-imports-5691315/
--------
Southeast Asia
Pakatan government in danger of being a one-hit wonder: The Star columnist
Apr 24, 2019
KUALA LUMPUR (THE STAR/ASIA NEWS NETWORK) - The Pakatan Harapan (PH) government could end up like Lou Bega's Mambo No. 5, Right Said Fred's I'm Too Sexy and Sir Mix-A-Lot's Baby Got Back, if it doesn't handle reforms properly.
The songs are all one-hit wonders and if Pakatan doesn't dance to the reform tune it might be a one-term government.
In an analysis, New Malaysia: Four key challenges in the near term, James Chin, who is director of the Asia Institute, University of Tasmania, contended that if reforms were not handled properly, the country could easily revert to the old regime after one term of Pakatan rule.
Chin, in his analysis for The Lowy Institute, an Australian think tank with a global outlook, identified four key areas that the Tun Dr Mahathir Mohamad administration must deal with in the next 12 months.
These issues, he said were not only crucial to the stability of the Pakatan administration, but also for long-term institutional reforms.
The Pakatan administration, said Chin, had acknowledged that the Malay Agenda/Bumiputra Policy needed reform.
To bring Malaysia to the next economic level, the Council of Eminent Persons led by Tun Daim Zainuddin suggested that reforms to the affirmative action policies were necessary.
However, Chin said that with only 25 per cent of Malays supporting Pakatan in GE14, Dr Mahathir would continue with the Malay Agenda with some changes.
"In all probability, there is no political appetite to make real changes to the Malay Agenda until PH has won the Malay vote at the next general election, due in 2023. The overriding fear is that if changes are made now, PH will lose Malay support and may even lose the government in the next election," he said.
If you thought that the Bill - that arguably would make Sabah and Sarawak equal with Peninsular Malaysia - was complex, wait until the government negotiates the MA63 (the 1963 Malaysia Agreement).
I foresee thorny points in the agreement that grants a high degree of autonomy to the two states in Borneo.
For example, Islam's status as the national religion of Malaysia should not be applicable to Sarawak and Sabah.
Or, English should continue as the official language. Or, Sabah and Sarawak should be given a high degree of autonomy over their financial affairs, such as control of their own finance, development expenditure, and tariffs.
Chin summed up one of the grievances the people of my state and Sarawak feel with their experience being part of the Federation, which they formed in 1963 together with Malaya and Singapore.
"State nationalists argue that Sabah and Sarawak contribute more in economic terms to the federation than they get out of it, especially in oil and gas, and that political neglect has resulted in the underdevelopment of Sabah and Sarawak compared to the peninsula," he said.
The academic warned that the historical grievances of Sabahans and Sarawakians were real and deep and if it was not dealt with properly at the political level, could provide the impetus for a secession push.
"Small secessionist movements are already active in both states. These could easily gain momentum if Putrajaya continues to ignore historical grievances," he said.
On the Borneo side of Malaysia, according to Chin, the version of Islam practised was far more liberal and tolerant compared to that in Peninsular Malaysia.
"This is largely due to the population structure. Unlike West Malaysia, where Malays constitute more than half the population, Sabah and Sarawak are plural states with no single ethnic group making up more than 40 per cent of the population," he said.
In the past three decades in Malaysia, Chin argued that the Muslims vs non-Muslims narrative was promoted.
"The non-Muslim population, especially the Christian community in Malaysia, feel they are under siege by Islamists who are suspicious of anything they deem to be Christian," he said.
Chin said the three issues mentioned above were not new - they went unresolved under the previous regime, leading to an increasingly dysfunctional political system and culminating in the change of government.
The Pakatan government, he said, has an opportunity to change Malaysia's political trajectory if it takes steps to resolve them.
The immediate issue, the academic said, was the promised transition of power to PKR president Datuk Seri Anwar Ibrahim.
There was persistent talk that Dr Mahathir preferred Datuk Seri Azmin Ali, the PKR deputy president, Chin said.
"Persistent chatter about Anwar Ibrahim's ability to ascend to the top job is having a destabilising impact on Malaysian politics. In a government in which power is highly centralised in the office of the prime minister, the prime minister's standing is crucial in maintaining continuity and defusing tensions," he said.
"Similarly, the Malaysian economy and financial markets do not like political uncertainty, particularly after such an unprecedented regime change. Malaysia has thrived economically in the past, in part because of the political certainty produced by Umno's long reign."
Reform.
If not, Pakatan politicians and die-hards could be singing Billy Ray Cyrus' one-hit wonder, Achy Breaky Heart, after GE15.
https://www.straitstimes.com/asia/se-asia/pakatan-government-in-danger-of-being-a-one-hit-wonder-the-star-columnist
--------
Dangerous for non-Muslims to touch on Islam and rulers, says Hadi
Apr 24, 2019
Non-Muslims have become emboldened with regard to commenting on issues related to Islam and the Malay rulers, according to PAS president Abdul Hadi Awang.
"It is is not their right to touch on these issues, sometimes it involves hukum (Islamic laws) which is not related to them (non-Muslims) at all, including the royal institution.
"Some (non-Muslims) are bold... to write (regarding these issues) on social media.
"This is dangerous... it will confuse the younger generations'... understanding (of Malaysia). So this situation must be corrected," he added in a video clip posted on his Facebook page.
The video appeared to be from an interview with the PAS president.
Hadi was responding to a question on issues related to Islam and the rulers under the Pakatan Harapan administration, where the interviewer said: "... Sorry to say, non-Malays are very vocal in objecting the position of Islam and the rulers. What is your view?"
The PAS leader said these issues are enshrined in the Federal Constitution.
"This is a social contract involving the main races in a multiracial nation, which was agreed to by the parties under the Alliance then and PAS...," he added.
The Alliance is the predecessor of BN, which governed Malaysia from the time of independence until the last general election. The Alliance comprised Umno, MCA and MIC.
During this period, Hadi said there was a greater understanding of the spirit of the Federal Constitution.
"Because of this... even when they (non-Muslims) were dissatisfied, they saw the kehebatan (supremacy) of the constitution, the greatness of rulers, the greatness of Islam and greatness of the Malays.
"So even when there were issues which tersinggung (slighted the non-Muslims), they were not as bold (in raising them) compared to now," he added.
Hadi's remarks come amidst Prime Minister Dr Mahathir Mohamad's administration locking horns with the Johor palace on various issues.
On Monday, Mahathir revealed that the Yang di-Pertuan Agong had not responded regarding the new chief justice.
Full report at:
https://www.malaysiakini.com/news/473529
--------
Arab World
Ministry of Religious Endowment renaming mosques across Egypt
Amr Mostafa
April 23, 2019
CAIRO — Egyptian Minister of Religious Endowment Mohammed Gomaa issued a ministerial decision on April 1 changing the name of the Hassan al-Banna Mosque in Nasser, Beni Suef governorate, to Al-Huda Mosque. Banna is the founder of the Muslim Brotherhood.
In March, Gomaa had ordered a month-long survey of mosques and zawyas (small local mosques) bearing the names of certain persons, groups or associations with the intention of replacing those names with others devoid of an ideological bent. A well-informed source at Gomaa's ministry who spoke to Al-Monitor on the condition of anonymity said that the survey found more than 100 mosques and zawyas named based on a Muslim Brotherhood association or political faction.
The ministry has issued a series of decisions since 2014 aimed at preventing what it views as the political exploitation of mosques and seeks to subject all mosques — including those supervised by the Muslim Brotherhood, Salafist Call (Al-Da'wa Al-Salafiyya) and other organizations — to its direct supervision. In 2014, a decree issued by the government of Adly Mansour prohibited unlicensed preachers from delivering Friday sermons. It also compelled preachers to abide by a unified Friday sermon on predetermined topics or face punishment.
Among the many other mosques likely to be renamed is Al-Hudaibi Mosque, in the center of Shibin al-Qanater, Qalyubia governorate, named after Hassan al-Hudaibi, the second leader of the Muslim Brotherhood, who was born in that city. Al-Qaradawi Mosque, in Desouq, Kafr al-Sheikh governorate, is named after Yusuf Qaradawi, grand mufti of the Muslim Brotherhood accused of several terrorism-related charges. He fled to Qatar in 2014, when Abdel Fattah al-Sisi was elected president.
Al-Haq Mosque, aka Sheikh Omar Abdul Rahman Mosque, in Nagaa Hammadi, Qena governorate, is named after the spiritual leader of the militant group Gamaa Islamiya, which Egypt has designated a terrorist group. Abdul Rahman, known widely as the Blind Sheikh, died in a US prison in 2017, having been accused of conspiracy in connection with the 1993 attack on the World Trade Center.
The Zomor family has a mosque bearing its name in Giza governorate. Abboud and Tarek al-Zomor, members of Gamaa Islamiya, were implicated in the assassination of Egyptian President Anwar Sadat in 1981. A mosque can be found in Al-Badrashin, Giza governorate, named after the Islambouli family, a member of which, Khaled al-Islambouli, killed Sadat.
There are also several mosques bearing the names of Salafist Call leaders who founded the Nour Party, including Sheikh Mohammed Hussein Yacoub and Sheikh Mohammed Hassan in 6th of October, in Giza, and the mosque of Abu Ishaq al-Hawaini, in Kafr al-Sheikh.
A brief survey of random Egyptians highlighted the divide surrounding the renaming of mosques. For example, in regard to Banna, one person on social media doubted the value of replacing his name, arguing that even if it is removed, people will still know who he is. Meanwhile, a person who supported the decision to remove the name cited a Quranic verse in defense of doing so: "Mosques are for God, so do not invoke anyone with God."
Jalal, from Nasser, praised the ministry's decision, telling Al-Monitor, "Several groups, especially the Muslim Brotherhood, have been exploiting mosques. This has misled Egyptian society. Naive Egyptians who believe anything they are told at mosques fall into a trap and turn into extremists. The ministry cannot spread moderation and non-politicized ideas through mosques named after ideological figures. This will reduce the credibility of the ministry's discourse."
One man from Alexandria who requested anonymity believes the renaming is political and not actually aimed at depoliticizing mosques. He claimed, "If this was true, the Ministry of Endowments would have also counted mosques named after politicians, including mosques named after Gamal Abdel Nasser and Anwar Sadat and others."
Al-Monitor contacted a source from the Salafist Call who spoke on the condition of anonymity saying that despite opposing the Muslim Brotherhood, his organization believes it is contrary to Sharia to rename a mosque. He asserted, "This requires the permission of the original owner who donated the mosque building to the Ministry of Endowment or any of his heirs authorized to modify conditions of the endowment, including the name."
An anonymous source at the ministry disagreed, telling Al-Monitor, "When someone donates a building to be turned into an endowment for Muslims, this endowment shall be placed under the supervision of the Ministry of Endowments, which would be entitled to intervene in its management if it finds that it is being managed against the best interest of Muslims or Egyptians. For example, a given mosque could be used to promote terrorist acts or could be politically exploited."
Ali al-Qasabi, a sociology professor at South Valley University, told Al-Monitor, "The ministry's decision should not be challenged as undermining religious freedom or discriminating against religious factions."
He argued that freedoms are practiced within the scope of the constitution and the public order, stating, "It is the duty of any civil state to implement policies and procedures aimed at protecting the society from the spread of the ideology of religious political factions whose mere existence is contrary to the civil constitution."
Qasabi further argued, "Egypt is a civil state under the constitution, and therefore no mosque should be named after any political faction or any of its figures. This would be tantamount to political propaganda that exploits religion and the mosque. This is a flagrant and blatant breach of the constitution."
Reham Salah, co-founder of Almanyon (Arabic for Secularists), told Al-Monitor, "It is a good step by the Ministry of Endowments to stop the political exploitation of mosques by changing politically charged names."
Salah hopes the ministry's move will be extended to more theologians. "Scholars like Ibn Taimyyah and Ibn al-Qayeem and others still enjoy immunity from any criticism in Al-Azhar's curriculum," she said.
https://www.al-monitor.com/pulse/originals/2019/04/egypt-endowments-changing-names-political-muslim-brotherhood.html
--------
Egypt referendum extending Sisi's rule passed with 88.83 percent of the vote
23 April 2019
Nearly 90 percent of Egyptian voters have approved in a referendum constitutional changes that could see President Abdel Fattah al-Sisi stay in power until 2030, the election commission said on Tuesday.
Voter turnout during the three-day referendum was 44.33 percent and 88.83 percent of those taking part approved the amendments, commission chairman Lasheen Ibrahim said.
"These (changes) are effective from now as your constitution," Ibrahim told a news conference broadcast on state TV, adding that more than 23.4 million voters had endorsed the changes in the referendum.
Full report at:
https://english.alarabiya.net/en/News/middle-east/2019/04/23/Egypt-referendum-extending-Sisi-s-rule-passed-with-88-83-percent-of-the-vote.html
--------
Hundreds of Civilians Flee US-Controlled Refugee Camp in Homs
Apr 23, 2019
Over 1,000 civilians, most of them children and women, residing in al-Rukban refugee camp which is under the control of the US Army have crossed Jaligham crossing to reach areas under the control of the Syrian Army after fleeing al-Tanf region, the Arabic-language SANA news agency reported.
There are about 40,000 to 60,000 people residing in al-Rukban Camp and about 2,500 of them have managed to leave the camp, Al-Watan quoted special sources as saying.
The sources said the exit of the civilians came after terrorists sought to block their departure from leaving al-Rukban camp.
The families who have escaped al-Rukban have confirmed lack of food and hygiene in the camp, adding that the US-backed terrorists keep people hungry and prevent their evacuation.
Based on media reports, the US troops that occupy a 55-km zone in Southern Syria block Russian and Syrian diplomatic and military officials from entering Rukban to provide people with humanitarian aid.
The US command in Al-Tanf had previously delayed the delivery of aid to Rukban from Damascus, after refusing to guarantee its safety while it passed through its zone. It has also prevented buses sent by Damascus and guarded by Russian military police from taking Syrians from the camp to other parts of Syria from permanent resettlement.
Full report at:
http://en.farsnews.com/newstext.aspx?nn=13980203000280
--------
Army shelling kills seven civilians in Syria's Idlib: monitor
23 April 2019
Regime shelling killed seven civilians in Syria's Idlib region on Tuesday, in the latest violence to threaten a seven-month-old truce, a war monitor and local medics said.
Four children and two women were among the seven killed by rocket fire on the Idlib town of Khan Sheikhun, the Britain-based Syrian Observatory for Human Rights said.
The toll was confirmed by Syrian civil defense workers, who said 12 others were wounded.
Regime ally Russia and rebel-backer Turkey in September inked a buffer zone deal to prevent a massive regime offensive on the Idlib region, near the Turkish border.
But the region of some three million people has come under increasing bombardment since former al-Qaeda affiliate Hayat Tahrir al-Sham took control of it in January.
Increased regime shelling on Khan Sheikhun has sparked one of the largest waves of displacement since the truce agreement was struck in the Russian resort of Sochi.
Full report at:
https://english.alarabiya.net/en/News/middle-east/2019/04/23/Army-shelling-kills-seven-civilians-in-Syria-s-Idlib-monitor-.html
--------
African summit gives Sudan military more time for reforms, says Sisi
23 April 2019
African leaders meeting in Cairo agreed to give Sudan's ruling military council more time to implement democratic reforms, Egypt's President Abdel Fattah al-Sisi said on Tuesday.
The decision appears to extend a 15-day deadline set by the African Union last week for Sudan's Transitional Military Council (TMC) to hand over power to civilians or to be suspended from the grouping.
The TMC took over after President Omar al-Bashir was ousted on April 11.
Speaking at the end of a summit attended by several African heads of state, Sisi said that the meeting agreed on the need to deal with the situation in Sudan and to install a comprehensive democratic system.
The states had agreed to give "more time" to carry out these measures with the help of the African Union, Sisi said in his closing remarks at the summit.
Full report at:
https://english.alarabiya.net/en/News/middle-east/2019/04/23/Egypt-hosts-African-summits-on-Sudan-Libya.html
--------
Sisi receives Sudan's Director of National Intelligence and Security Services
23 April 2019
Egyptian President Abdel Fattah al-Sisi and Chief of Intelligence Maj. Gen. Abbas Kamel received on Monday the Director of Sudan's National Intelligence and Security Services (NISS) Gen. Abu Bakr Damblab.
Ambassador Bassam Radi, the spokesperson of the Egyptian government, said that Damblab delivered a message from Gen. Abdel Fattah al- Burhan, Chairman of the Sudanese Transitional Military Council, and briefed his Egyptian counterparts on the latest developments in Sudan.
He also expressed Sudan's interest to continue receiving support from the Egyptian government to guarantee the security and stability of Sudan in light of the "eternal ties that unite the people of the Nile," and praised Egypt's role and continental influence as the current head of the African Union.
Full report at:
https://english.alarabiya.net/en/News/middle-east/2019/04/23/Sisi-receives-Sudan-s-Director-of-National-Intelligence-and-Security-Services.html
--------
Saudi Arabia welcomes US move to end all Iran sanction waivers
23 April 2019
Saudi Arabia's Foreign Minister Dr. Ibrahim al-Assaf on Tuesday welcomed a US decision to end all Iran sanction waivers by May, saying it was a necessary step to halt Tehran's "destabilizing" policy in the region.
"Saudi Arabia fully supports this step taken by the United States as it is necessary to force the Iranian regime to end its policy of destabilizing stability and its support and sponsorship of terrorism around the world," al-Assaf said in comments carried on state media.
He reiterated a statement issued by the kingdom's energy minister on Monday that the world's largest oil exporter would coordinate with other oil producers to ensure an adequate crude supply and balanced markets after Washington's announcement.
On Monday, US President Donald Trump decided not to reissue Iran oil waivers when they expire in early May, a White House statement said.
Full report at:
https://english.alarabiya.net/en/News/gulf/2019/04/23/Saudi-Arabia-welcomes-US-move-to-end-all-Iran-sanction-waivers.html
--------
Jabhat Fateh al-Sham, White Helmets preparing for false flag chemical attacks in Idlib, Hama
Apr 23, 2019
Militants from the Jabhat Fateh al-Sham Takfiri terrorist group, formerly known as al-Nusra Front, together with members of the so-called White Helmets civil defense group are reportedly making preparations to stage chemical attacks in Syria's northwestern province of Idlib as well as the west-central province of Hama in a bid to implicate Syrian government forces and invent pretexts for possible acts of aggression on army troops.
Local sources, requesting not to be named, told Syria's official news agency SANA on Tuesday that Jabhat Fateh al-Sham terrorists and Western-backed White Helmets, who have been accused of cooperating with Takfiri militants and staging false flag gas attacks, have already withdrawn from Jarjnaz village in Maarrat al-Nu'man district of Idlib as a prelude to launching the attacks in order "to frame the Syrian army and justify a pretext for a US act of aggression."
Sources highlighted that terrorists and their allies are planning to use chlorine gas in their anticipated attacks.
Speaking during a press briefing in the Russian capital Moscow on April 18, Russia's Foreign Ministry spokeswoman, Maria Zakharova, warned that White Helmets and Jabhat Fateh al-Sham terrorists were "preparing for further provocations aimed at accusing the legitimate government in Syria of using poisonous substances."
The United States has warned it would respond to any possible chemical weapons attack by Syrian government forces with retaliatory strikes, stressing that the attacks would be stronger than those conducted by American, British and French forces last year. On April 14, 2018, the US, Britain and France carried out a string of airstrikes against Syria over a suspected chemical weapons attack on the city of Douma, located about 10 kilometers northeast of the capital Damascus.
Washington and its allies blamed Damascus for the Douma attack, an allegation rejected by the Syrian government.
On September 11 last year, Russian Deputy Foreign Minister Sergei Ryabkov censured the US threats to use military force against Syria as part of Washington's blackmail policy.
"Unlike the United States, Britain and their allies, Russia provides particular facts on a daily basis through its Defense Ministry, the Foreign Ministry as well missions in New York, The Hague and Geneva. We particularly name geographical points, where preparations are underway for certain terrorist groups backed by the US and its allies to carry out provocations," Ryabkov said.
Western governments and their allies have never stopped pointing the finger at Damascus whenever an apparent chemical attack takes place.
Full report at:
https://www.presstv.com/Detail/2019/04/23/594183/Terrorists-White-Helmets-preparing-to-false-flag-chemical-attacks-in-Idlib-Hama-Report
--------
Thousands of Iraqi families bear the burden of Daesh legacy
April 24, 2019
MOSUL, Iraq: When Ahmed Khalil ran out of work as a van driver in the Iraqi city of Mosul three years ago, he signed up with the Daesh group's police force, believing the salary would help keep his struggling family afloat.
But what he wound up providing was a legacy that would outlast his job, and his life.
In Mosul and elsewhere across Iraq, thousands of families — including Khalil's widow and children — face crushing discrimination because their male relatives were seen as affiliated with or supporting Daesh when the extremists held large swaths of the country.
The wives, widows and children have been disowned by their relatives and abandoned by the state. Registrars refuse to register births to women with suspected Daesh husbands, and schools will not enroll their children. Mothers are turned away from welfare, and mukhtars — community mayors — won't let the families move into their neighborhoods.
The Daesh group's "caliphate" that once spanned a third of both Iraq and Syria is now gone but as Iraq struggles to rebuilt after the militants' final defeat and loss of their last sliver of territory in Syria earlier this year, the atrocities and the devastation they wreaked has left deep scars.
"They say my father was Daesh," said Safa Ahmed, Khalil's 11-year old daughter, referring to Daesh by its Arabic name. "It hurts me."
Iraq has done little to probe the actions of the tens of thousands of men such as Khalil who, willingly or by force joined, worked and possibly fought for IS during its 2013-2017 rule. Instead, bureaucrats and communities punish families for the deeds of their relatives in a time of war.
Khalil was killed in an airstrike in Mosul, in February 2017, during the US-backed campaign to retake the city that Daesh seized in 2014. It was liberated in July 2017, at a tremendous cost — around 10,000 residents were believed to have been killed in the assault, and its historic districts now lie in ruins.
His widow, Um Yusuf, and their seven children were left to bear the stigma of his Daesh affiliation. She cannot get social assistance, and her teenage son Omar is being turned away from jobs.
They live in an abandoned schoolhouse, living on what they can make selling bread on the streets of the devastated city. Just three of the children are in school — the oldest two dropped out because of bullying about their father, and the youngest two cannot enroll because the civil registrar's office won't issue their IDs.
"It's true their father made a mistake," Um Yusuf said. "But why are these children being punished for his sin?"
Under Iraq's patrimonial family laws, a child needs a named father to receive a birth certificate and an identity card, to enroll in school and to claim citizenship, welfare benefits and an inheritance.
But in post-Daesh Iraq, virtually every bureaucratic procedure now includes a security check on a woman's male relatives, further frustrating mothers and children.
A UN report this year estimates there are 45,000 undocumented children in Iraq. Judges and human rights groups say an urgent resolution is needed or the country risks rearing a generation of children without papers or schooling.
"By punishing entire families, you marginalize them and you seriously undermine reconciliation efforts in Iraq," said Tom Peyre-Costa, a spokesman for the Norwegian Refugee Council, which provides legal aid to Mosul mothers struggling to get their children ID papers.
At Al-Iraqiya school in western Mosul, one of the city's first to reopen in 2017, principal Khalid Mohammad said he faces pressure from the community to deny enrollment to children whose fathers are in jail or missing — an absence many interpret as proof of Daesh affiliation.
"If anyone complains and someone is sent to investigate, I could lose my job," he said.
At a legal office and clinic supported by the Norwegian Refugee Council, Nour Ahmed was looking for a way to claim legal custody of her undocumented younger son, in order to collect food and fuel aid for the family.
Her husband, she said, was abducted two years ago in Mosul by a group of pro-government militiamen who likely thought he was an Daesh member. Ahmed insists he wasn't. He has been missing to this day.
Born in 2016 at a hospital run by Daesh, their son was given a birth certificate notarized by the Daesh group. As Iraq doesn't recognize Daesh documents, the 3-year-old has no legal mother or father.
Ahmed was told she would need to find her husband to re-register her son's birth. If she submitted a missing person's report, it would raise questions about the child's parentage, jeopardizing his right to citizenship.
"I just want to find him," said Nour.
Adnan Chalabi, an appeals court judge, said he sees more than a dozen cases each day related to civilian documentation, brought largely by the wives, widows or divorcees of IS suspects. There is little he can do to help, he said, without a change to the law first.
"Daesh held the city for three years. Did people stop getting married, divorced, and having children during those three years?" he said. "We need a legislative solution."
There is little appetite to change the country's family and patrimony laws, said Iraq's parliament speaker, Mohamad Halbousi, though there is a proposal to open civil registries for a limited period, to register undocumented children.
"These families need to be cared for. They cannot be left to melt away into society," he said.
Full report at:
http://www.arabnews.com/node/1487346/middle-east
--------
Mideast
Iranian parliament labels entire US military as terrorist
23 April 2019
Iranian lawmakers on Tuesday overwhelmingly approved a bill that labels all US military forces as terrorists, state TV reported, a day after Washington ratcheted up pressure on Tehran by announcing that no country would any longer be exempt from US sanctions if it continues to buy Iranian oil.
The bill is a step further from the one last week, when lawmakers approved labeling just US troops in the Middle East as terrorists, in response to the US terrorism designation for Iran's Revolutionary Guards earlier this month.
The Trump administration re-imposed sanctions on Iran, including on its energy sector, last November, after pulling America out of the landmark 2015 nuclear deal between Iran and world powers.
The US designation against Iran's Revolutionary Guards is the first-ever for an entire division of another government, and it added another layer of sanctions to the powerful paramilitary force, making it a crime under US jurisdiction to provide them with material support.
On Monday, President Donald Trump decided to do away with waivers as part of the administration's "maximum pressure" campaign on Iran that aims to eliminate all of its revenue from oil exports that the US says funds destabilizing activity throughout the Mideast and beyond.
https://english.alarabiya.net/en/News/middle-east/2019/04/23/Iranian-parliament-labels-entire-US-military-as-terrorist.html
--------
Yemen's Houthi official dies in a Hezbollah hospital in Beirut
23 April 2019
An official in the pro-Iranian Houthi militia in Yemen died in Al-Rasool al-Azam Hospital in Beirut's southern suburb, al-Dhahiya, on Saturday, sources confirmed on Tuesday to Al Arabiya English.
A Lebanese official told Reuters on Monday that the Houthi official died in a hospital in Lebanon without specifiying the location.
The Al-Rasool al-Azam Hospital is owned and controlled by the Lebanese Hezbollah.
Abdul Hakim al-Maori who held the post of the interior minister in the Houthi militia died at the age of 60 while receiving treatment for a chronic disease in a Lebanese hospital, Houthi-run Masirah TV said on Saturday.
But conflicting reports said that he died from injuries sustained from an air strike by the Arab Coalition on a post in Yemen.
Lebanon is the home of the Iran-backed group Hezbollah.
Full report at:
https://english.alarabiya.net/en/News/gulf/2019/04/23/Yemen-s-Houthi-interior-minister-dies-in-Lebanese-hospital.html
--------
Iran blasts Trump's administration for staying silent on new Saudi mass execution
Apr 24, 2019
Iran's foreign minister has lashed out at the administration of US President Donald Trump for staying tight-lipped on its ally Saudi Arabia's latest mass execution of its nationals, one of whom was crucified after beheading.
"After a wink at the dismembering of a journalist, not a whisper from the Trump administration when Saudi Arabia beheads 37 men in one day—even crucifying one two days after Easter," said Mohammad Javad Zarif in a tweet on Wednesday.
He was referring to Trump's support for Saudi Crown Prince Mohammed bin Salman, who is reported to have ordered the brutal assassination of dissident Saudi journalist Jamal Khashoggi at Riyadh's consulate in Istanbul in October 2018.
"Membership in the #B_team —Bolton, Bin Salman, Bin Zayed & 'Bibi— gives immunity for any crime," said Zarif in a reference to the highly hawkish politicians, besides bin Salman, in the US, the United Arab Emirates and Israel, namely US National Security Adviser John Bolton, Abu Dhabi Crown Prince Mohammed bin Zayed Al Nahyan and Israeli Prime Minister Benjamin Netanyahu.
Earlier on Tuesday, the Saudi Interior Ministry said in a statement carried by state-run media that it had put 37 citizens to death for their alleged "adoption of extremist, terrorist ideology and forming terrorist cells to corrupt and disturb security, spread chaos and cause sectarian discord."
The individuals, it added, had been ordered to be executed by the specialized criminal court in Riyadh after being found guilty of attacking security installations, killing security officers and cooperating with enemy organizations.
Reports said that the body of one of the victims, Khaled bin Abdel Karim al-Tuwaijri, was attached to a pole for several hours.
Adam Coogle, who monitors Saudi Arabia for Human Rights Watch, said that at least 33 of those executed were Saudi Shias, noting that some of the victims had been convicted based on confessions taken under torture, the New York Times cited him as saying.
"As a matter of principle, none of these people had lawyers during investigation, so all of these cases are unfair," he stressed.
The fresh mass execution was the largest in Saudi Arabia since January 2016, when 47 men were executed in a single day, including outspoken Shia cleric Sheikh Nimr Baqir al-Nimr.
It brings to around 100 the total number of people executed by the kingdom since the start of the year.
Amnesty International slammed the execution, saying that the victims had been convicted "after sham trials," which relied on "confessions extracted through torture."
"Today's mass execution is a chilling demonstration of the Saudi Arabian authorities callous disregard for human life. It is also yet another gruesome indication of how the death penalty is being used as a political tool to crush dissent from within the country's Shi'a minority," said Lynn Maalouf, Middle East Research Director at Amnesty International.
Bin Salman was appointed the first in line to the Saudi throne by his father, King Salman bin Abdulaziz Al Saud, in June 2017.
Since then, the young prince has been involved in an aggressive push to purge royals and businessmen critical of his policies under the banner of an "anti-corruption campaign." He has also ordered the rounding up of scores of activists, high-profile clerics and women's rights defenders.
Full report at:
https://www.presstv.com/Detail/2019/04/24/594210/Iran-Saudi-Arabia-execution-Donald-Trump
--------
Palestinian demonstrators call on UN to end Gaza blockade
Apr 23, 2019
Dozens of Palestinian demonstrators have called on the United Nations to put an end to the Tel Aviv regime's tight blockade on the Gaza Strip, which has been in place against the impoverished coastal enclave for more than a decade.
The protesters converged in front of the UN office in Gaza City on Tuesday, waving national Palestinian flags and carrying banners in condemnation of the Israeli siege. They called for an international intervention to end the blockade.
The Highest Commission of the Great March of Return and Breaking the Siege, which had organized the demonstration, said in a statement that the siege must be lifted as soon as possible.
"The weekly marches of return will go on until the siege is immediately lifted," the statement noted.
Sami Ammassi, chairman of the Palestinian General Federation of Trade Unions, who joined the protest, told reporters that the rate of unemployment in the Gaza Strip exceeded 54 percent and poverty rates hit 80 percent.
"We call on the United Nations and the international organizations to press Israel to lift the blockade that had critically affected all aspects of life," he said, adding, "We also call on the Arab League to help end Gaza people's sufferings."
The Gaza Strip has been under an Israeli blockade since June 2007. The blockade has caused a decline in the standard of living as well as unprecedented levels of unemployment and unrelenting poverty.
Palestinians have held weekly rallies along the Gaza border to protest the siege on the enclave and demand the right for refugees to return to their homes they fled during the 1948 creation of Israel.
More than 270 Palestinians have been killed by Israeli forces ever since anti-occupation protest rallies began in the Gaza Strip on March 30, 2018. Over 16,000 Palestinians have also sustained injuries.
The Gaza clashes reached their peak on May 14, 2018, on the eve of the 70th anniversary of Nakba Day (Day of Catastrophe), which coincided with a US decision to relocate its embassy from Tel Aviv to occupied East Jerusalem al-Quds.
On June 13, 2018, the United Nations General Assembly adopted a resolution, sponsored by Turkey and Algeria, which condemned Israel for Palestinian civilian deaths in the Gaza Strip.
The resolution, which had been put forward on behalf of Arab and Muslim countries, garnered a strong majority of 120 votes in the 193-member assembly, with 8 votes against and 45 abstentions.
Full report at:
https://www.presstv.com/Detail/2019/04/23/594167/Palestinian-demonstrators-call-on-UN-to-end-Gaza-blockade
--------
Turkey's election board rejects objection for 'dismissed voters'
April 23, 2019
ISTANBUL: Turkey's high election board has rejected part of an effort by President Tayyip Erdogan's ruling party to have a rerun of elections in Istanbul, dismissing an appeal regarding voters who were dismissed by decrees from government jobs after an attempted coup in 2016, state news agency Anadolu said.
In a petition submitted to cancel and rerun the city elections that it lost three weeks ago, Erdogan's AK Party cited thousands of ballots cast by people it said were ineligible to vote due to previous government decrees.
Based on initial results and a series of recounts, the main opposition Republican People's Party (CHP) won the mayoralty in Istanbul, Turkey's largest city, with a margin of some 13,000 votes.
The new CHP mayor, Ekrem Imamoglu, took office on Wednesday, despite a formal request submitted a day earlier by the AK Party to annul and repeat the mayoral elections over what it said were irregularities.
The high election board, the YSK, has not yet ruled on the appeal to annul and rerun the elections due to voting irregularities including faulty entering of voting data, a wider issue that has been described by the AK Party as organized fraud.
Full report at:
http://www.arabnews.com/node/1487156/middle-east
--------
North America
Democrat 2020 hopefuls say would return US to Iran deal
Michael Hernandez
23.04.2019
WASHINGTON
A growing number of Democrats say they would return the U.S. to compliance with the 2015 nuclear pact world powers struck with Iran as President Donald Trump continues efforts to scuttle the agreement.
Senator Elizabeth Warren, widely regarded as one of the top Democratic contenders for the White House, said she would return the U.S. to the 2015 agreement, which saw Iran accept unprecedented curbs on and inspections of its nuclear program in return for billion of dollars of sanctions relief.
While Iran has repeatedly and consistently been verified to be in compliance with the agreement, Trump has repeatedly called it unfair to the U.S., and one of the worst deals he had ever seen, before exiting in May 2018.
Trump called on the U.S.'s negotiating partners -- China, France, Germany, the European Union, Russia and the United Kingdom -- to follow the U.S. lead in leaving the agreement, but to date none have, arguing the Joint Comprehensive Plan of Action remains the best way to ensure Iran does not attain the bomb.
"Our intelligence community told us again and again: The #IranDeal was working to prevent Iran from obtaining a nuclear weapon. If Iran continues to abide by the terms of the deal, you bet I will support returning to it," Warren wrote on Twitter in February.
In a display of the party's support for one of former President Barack Obama's signature foreign policy accomplishments, the Democratic National Committee adopted in February a resolution calling for the U.S. to re-enter the agreement.
The Trump administration announced Monday that it would end waivers for seven countries, and Taiwan, to import Iranian oil in the latest attempt to mount pressure on Tehran. The 2015 agreement lifted U.S., EU and UN sanctions on Iranian oil exports, allowing Tehran unhindered access to one of its main sources of national revenue.
As of May 2, no country will be able to buy Iranian oil without the risk of running afoul of U.S. sanctions -- the Trump administration's latest effort to force Iran to leave the agreement.
But should 2020 go the Democrats' way there is no shortage of candidates who have said they would rejoin the historic agreement.
In addition to Warren, Senator Bernie Sanders, who mounted a fiery 2016 bid, has indicated that he would seek to have Washington return.
A Sanders aide told the Al-Monitor news website, "as president, Sen. Sanders would rejoin the JCPOA and would also be prepared to talk to Iran on a range of other issues, which is what Trump should've done instead of simply walking away. Rejoining the JCPOA would mean meeting the United States' commitments under the agreement, and that includes sanctions relief."
Sanders is one of five presidential candidates who confirmed to Al-Monitor their desire to return to the JCPOA, including Senator Kamala Harris; Miramar, Florida Mayor Wayne Messam and lecturer Marianne Williamson.
A spokesman for Pete Buttigieg, the South Bend, Indiana mayor whose campaign is ascendant, also told the Hill website he would follow suit, as did a spokesman for former congressman Beto O'Rourke.
Three senators who have yet to explicitly state if they would seek to rejoin the agreement -- Cory Booker, Kirsten Gillibrand and Amy Klobuchar -- did vote in favor of the agreement when it came before Congress.
Former Vice President Joe Biden, who is expectedly to officially announce his candidacy as soon as Thursday, is highly likely to return the U.S. to compliance as has was a vital part of the U.S. administration that initially brokered and then implemented the agreement. He strongly criticized Trump's decision to leave the accord.
And Former Housing and Urban Development Secretary Julian Castro, said on Twitter in March "If Iran continues to comply with the terms of the agreement as determined by the intelligence community, I will re-enter the U.S. into the #JCPOA as President."
Democrats are expected to have their first primary debate in June. That will kickstart a flurry of campaign activity ahead of the Democratic convention next summer.
https://www.aa.com.tr/en/americas/democrat-2020-hopefuls-say-would-return-us-to-iran-deal/1461018
--------
Hezbollah leader denies reports of war with Israel this summer
Sunniva Rose
April 23, 2019
Hezbollah leader Hassan Nasrallah denied on Monday reports published by a Kuwaiti newspaper that he had predicted a war with Israel this summer and that he might be assassinated soon.
"I did not say these words… I did not say there would be an Israel war with Lebanon this summer, I never even thought about it," he said in a speech Monday night, quoted by the state-run Lebanese National News Agency.
In an article published Sunday, Kuwaiti newspaper Al Rai wrote that Mr Nasrallah told regional leaders in a meeting that "there are many signs that Israel is trying to surprise everyone like in 2006," urging them to "not hide the possibility of war" to their supporters. Mr Nasrallah supposedly added that "Iran and Hezbollah are in a defensive position and will not initiate an attack."
During the summer of 2006, over 1,100 Lebanese civilians and 120 Israel soldiers were killed in Israel's war against Hezbollah, which functions as a regular political party in Lebanon but also controls a private militia of thousands.
Al Rai quoted Mr Nasrallah as warning of the possibility that he might be assassinated by Israel alongside other party leaders, arguing however that "this does not mean the end of Hezbollah, which does not depend on individual people but is part of Lebanese society."
But speaking on the 34th anniversary of the foundation of Hezbollah's scouts association, Mr Nasrallah called the article fiction. "I advise this newspaper to ask the author of this article, whom I do not know, to write the scenario of a fictional film," he said.
Mr Nasrallah also belittled the Israeli military, saying that "Israeli ground forces are not ready for war".
Al Rai published a follow-up article on Monday writing that "Washington sources" had responded to its initial report by saying that should a war break out, "Israel would not be the first to fire a bullet, but would not hesitate to defend itself if attacked."
The elusive Hezbollah leader, who never appears in public and is rumoured to live in a bunker in South Beirut out of fear of assassination, justified his response to Al Rai, saying that he does not "normally" comment on newspapers articles, but that he was "obliged" to react because of the "negative impression" it created among "the people, political circles and many analysts."
He then moved on to bash Saudi TV network Al Arabiya, which reported that there were clashes between Iranian and Russian forces in Aleppo and Deir Ezzor in Syria, and that Hezbollah intervened in the fighting.
"This is a total lie," said Mr Nasrallah, adding that he never turned on Al Arabiya himself but that "others" who had watched the report told him about it.
"There may be political differences in some areas" between Syria's two allies, said Mr Nasrallah, but that "does not affect co-operation in the field."
Mr Nasrallah also denied reports that Hezbollah's Lebanese political ally Amal could be facing sanctions soon. The National broke the news this month.
"This has no basis whatsoever. This is the work of politicians and the media," he said.
In a speech two weeks ago, he acknowledged that "there are Lebanese in Washington working towards putting friends and allies of Hezbollah on a terror list."
As he does in most of his speeches, Mr Nasrallah also lambasted US policy in the Middle East, accusing the administration of US President Donald Trump of wanting to "starve" the world, including Syria. "They are aiming to achieve what they failed to accomplish militarily by starvation, siege and sanctions."
The US treasury warned in November against selling oil to Syria, pushing the government to ration fuel, which has brought traffic to a halt in government-controlled areas.
In addition to commenting on regional issues, Mr Nasrallah addressed Lebanese politics, stressing that a "solution" must be found quickly to avoid a financial crisis.
Full report at:
https://www.thenational.ae/world/mena/hezbollah-leader-denies-reports-of-war-with-israel-this-summer-1.852819
--------
US envoy rushes to Kabul and Doha to rescue intra-Afghan summit
Joyce Karam
April 23, 2019
US envoy for peace in Afghanistan Zalmay Khalilzad is travelling to the region this week in a bid to break the stalemate in political talks.
The State Department announced on Monday that Mr Khalizad has left on a trip to Afghanistan, India, Pakistan, Qatar, Russia, and the United Kingdom that will go until May 11, and "is part of the overall effort to facilitate a political settlement that ends the conflict in Afghanistan."
In the first stop, Kabul, Mr Khalilzad "will consult with the Afghan government and other Afghans to encourage all parties to work towards intra-Afghan dialogue and negotiations to determine a final peace settlement."
Afghan and Taliban officials were supposed to meet in Doha this weekend for what was dubbed the intra-Afghan dialogue, but the summit has been postponed indefinitely after a row about the number of delegates Kabul planned to send. President Ashraf Ghani's administration announced on Monday that 250 afghans from all walks of life would represent the government. The Taliban replied that the meeting was not "an invitation to some wedding or other party at a hotel in Kabul."
The comments let to more recriminations between the sides, each blaming each other – and Kabul blaming the host nation of Qatar – for the derailment. Although the Taliban said the meeting didn't represent an official Taliban-Government summit, it would have been a big step as the militant group has refused for years to meet officials who they call a puppet regime of the US.
In Afghanistan, Mr Khalizad faces a tough test as government officials have expressed concerns over the direct US-Taliban peace talks that have mainly focused on a pull out of American troops and how the Taliban can ensure it will stop militant groups using Afghanistan as a base to plan and carry out attacks against the United States.
These concerns recently boiled over when President Ashraf Ghani's National Security Advisor, Hamdullah Mohib, launched a blistering public attack on Mr Khalizad while visiting Washington, saying the US official was seeking personal benefit by side-lining the government. After the comments, the US administration reportedly told Mr Ghani that they would no longer speak with Mr Mohib.
While other senior officials have downplayed the rift, it indicates that some in the Afghan administration have concerns.
"In London, Moscow, Islamabad, and New Delhi, he will work to build international support for the Afghan peace process to help ensure that any peace settlement reached will be sustainable," the statement said. "In Doha, he will continue to press forward on negotiations with the Taliban to reach a consensus on core national security issues, and urge their participation in an inclusive intra-Afghan dialogue," it added. The Taliban have a political office and negotiating team based in Doha.
The trip comes after Mr Khalilzad expressed dismay ten days ago over the Taliban's latest announcement of a Spring offensive.
The US envoy then called the announcement "reckless" and described it as "irresponsible to suggest that an increase in violence is warranted because the government announced a security plan."
U.S. Special Representative Zalmay Khalilzad
✔
@US4AfghanPeace
1/6 The Taliban's spring offensive announcement is reckless. It is irresponsible to suggest that an increase in violence is warranted because the government announced a security plan. The Afghan people have clearly voiced their desire for peace.
935
11:23 PM - Apr 12, 2019
Twitter Ads info and privacy
496 people are talking about this
The announcement could derail peace talks with the Taliban as it "demonstrates their indifference to the demands of Afghans across the country."
"The call for more fighting will not advance peace efforts. If executed, it will only yield more suffering and thousands more causalities," the US envoy said.
He added that some members of the group "including fighters and some leaders oppose this announcement." After condemning the announcement, Mr Khalilzad called on "Pakistan, Qatar, and other nations that want peace in Afghanistan to do the same."
Full report at:
https://www.thenational.ae/world/mena/us-envoy-rushes-to-kabul-and-doha-to-rescue-intra-afghan-summit-1.852768
--------
Europe
Morocco trains foreign students in its practice of moderate Islam
23/04/2019
By Ahmed Eljechtimi
RABAT (Reuters) - Naminata Koulibaly, 30, receives training in a Moroccan Muslim teaching institute, founded by King Mohammed VI in 2015, and hopes to return to her home in Ivory Coast better equipped to advise women on religious issues.
She is one of 100 women admitted every year to study for up to three years in the institute in Rabat, run by Morocco's ministry of religious affairs.
Morocco, which is nearly 100 percent Muslim, has marketed itself as an oasis of religious tolerance in a region torn by militancy - and has offered training to imams and male and female preachers of Islam from Africa and Europe on what it describes as moderate Islam.
It currently trains 1,300 people mostly from the sub-Sahara nations of Mali, Senegal, Nigeria, Guinea, Gambia and Chad, where Al Qaeda and Islamic State are active.
"When I go back to my country, I will find some children and women who did not go to school and don't know a lot about religion...we will be very useful to them and we will teach them about the fundamentals of religion," said Koulibaly.
"We will show them how to behave with others and not to be extremists. We will show them how to be moderate in religion".
Compared to other countries in North Africa Morocco has been largely insulated from militant attacks. The first since 2011 took place last December when two Scandinavian tourists were found murdered in a tourist spot in the Atlas Mountains. Four suspects had pledged allegiance to the Islamic State.
Students at the institute receive 2,000 dirhams (£160.5) a month in addition to free accommodation, plane tickets, and health insurance. Admission criteria include having a Bachelor university degree.
The curriculum covers Islamic studies along with philosophy, history of religions, sexual education and mental health.
"We show them that the concepts of democracy and human rights serve purposes rooted in Islamic values," said institute director Abdeslam Lazaar.
Imams also receive vocational training in electrics, agriculture or tailoring to enable them to have a source of stable revenue when they return home.
Imam training can help sub-Saharan countries facing militancy and a vacuum in the supervision of religion, Salim Hmimnat of the Rabat-based African Studies Institute said.
Pope Francis visited the imam training institute during his trip to Morocco in March.
Students also come from France, such as 25-year-old Aboubakr Hmaidouch.
"The Muslim community in France is in great need of imams and female religious preachers to ensure that the values of religion contribute to living together and to the spiritual well-being of society," he said.
Training takes into account practical life and culture, and accepts diversity he said.
"When I return... I hope to put into practice and transmit this knowledge, especially this spirit of peace, love, fraternity and tolerance."
The institute also helps Rabat expand its foothold in a region where major Moroccan banks and companies have been investing for years.
"The use of religion plays an important role in the kingdom's overall soft power equation," said Anouar Boukhars, a Maghreb expert and Carnegie Endowment fellow, noting Morocco promotes its tolerant Islam as an alternative to the extremist ideologies in the Sahel.
https://www.euronews.com/2019/04/23/morocco-trains-foreign-students-in-its-practice-of-moderate-islam
--------
'No right to livestream murder': Ardern leads push against online terror content
24 Apr 2019
New Zealand prime minister Jacinda Ardern is to spearhead a push to combat violent extremism and terrorism on social media in the wake of the Christchurch attacks, saying the gunman did not have "a right to livestream the murder of 50 people".
Ardern and French president Emmanuel Macron will host a summit in Paris on 15 May, rallying tech companies and other concerned countries to commit to a pledge known as the "Christchurch Call" – a vow to eliminate terrorist and violent extremist content online.
Ardern said online platforms had been used in a "unique" way to disseminate and publicise video of the Christchurch attack, and there had been rallying cries for New Zealand to take on a leadership role, but the remote island country of fewer than 5 million people could not do it alone.
France was a natural partner, Ardern said, due to its G7 presidency, focus on combating the use of the internet for terrorist purposes, and being the host country for a G7 digital ministers meeting in mid-May.
"We want to maintain the principles of a free, open and secure internet, but this isn't about freedom of expression, this is about preventing violent extremism and terrorism online. I don't think anyone would argue that the terrorist on the 15 of March had a right to livestream the murder of 50 people," Ardern said on Wednesday.
"We all need to act, and that includes social media providers taking more responsibility for the content that is on their platforms … it's critical that technology platforms like Facebook are not perverted as a tool for terrorism, and instead become part of a global solution to countering extremism."
Ardern said she had already spoken to global tech company CEOs, including Facebook's Mark Zuckerberg, Twitter, Microsoft and Google.
Ardern described the conversations as "really positive"
"No tech company, just like no government, wishes to see violent extremism and terrorism online, so we have a starting point that is one of unity" said Ardern.
"What we're trying to tackle here is a global issue and I think it requires a global response. New Zealand is looking to play a leadership role because what happened here on the 15 March was unprecedented in the way that is used the internet, so with that does come a responsibility to try and make change."
The text of the Christchurch Call to action was still being finalised, Ardern said, but there would be a strong focus on practical action, and not just aspirational rhetoric.
Ardern said a number of countries such as France, Ireland, New Zealand and Germany already had internet legislation in place, but more needed to be done towards ensuring better global protections, and tech companies had a responsibility to make their platforms safer.
The Christchurch mosque gunman livestreamed the mosque shootings on Facebook and they were viewed hundreds of times before moderators were alerted 30 minutes after the shootings.
The video of the mosque attack was also copied and shared widely on the internet, and Facebook has said that since the attacks it has intercepted and prevented more than a million attempts to upload and distribute the video again.
Full report at:
https://www.theguardian.com/world/2019/apr/24/christchurch-call-ardern-leads-push-against-online-terror-content
--------
Morocco arrests seven ISIS-linked extremist suspects
24 April 2019
Moroccan authorities said on Tuesday they had arrested seven suspected extremists with links to ISIS.
An initial group of six suspects, aged between 22 and 28, were "supporters" of ISIS and suspected of planning "terrorist acts," the central bureau of investigations said in a statement.
They were arrested in the coastal town of Sale, near Rabat, in a raid led by the bureau's anti-terrorism squad.
Electronic devices, bladed weapons, and "extremist" documents were found during the raid, it said.
Investigators later said a seventh person had been arrested in the Western Sahara town of Dakhla on suspicion of links with the Sale detainees.
Morocco has been spared large-scale extremist attacks since a 2011 bombing in Marrakesh's famed Jamaa El Fna Square that killed 17 people, mainly European tourists.
But authorities regularly announce they have dismantled ISIS cells.
Full report at:
https://english.alarabiya.net/en/News/north-africa/2019/04/24/Morocco-arrests-seven-ISIS-linked-extremist-suspects.html
--------
France rejects Syria-based French extremists' repatriation demands
23 April 2019
France's top administrative court on Tuesday rejected demands by Syria-based women and children, relatives of French extremists fighting in Syria to be repatriated back to France, arguing that a judge could not rule on the issue given it involved negotiations with foreign authorities.
"The Council of State (Conseil d'Etat) rejects the demands for repatriation made by French nationals and for their children, currently in Syria," said the court in a statement.
Western nations have been wrestling with how to handle suspected militants and their families seeking to return from combat zones in Iraq and Syria, as well as those in detention.
Full report at:
https://english.alarabiya.net/en/News/world/2019/04/23/France-rejects-Syria-based-French-extremists-repatriation-demands.html
--------
Christchurch shooting attack survivors offered New Zealand residency
April 23, 2019
WELLINGTON: New Zealand will grant permanent residency to all survivors of the mass shooting at two Christchurch mosques in which 50 Muslim worshippers were killed, it said on Tuesday.
Australian Brenton Tarrant, 28, a suspected white supremacist, has been charged with 50 counts of murder for New Zealand's worst peacetime mass shooting in which 50 other people at Friday prayers were wounded.
The government had said it was considering giving visas to survivors, but no decision was announced. Tuesday's news was only released as a link on the immigration website, which some say was done to avoid any backlash by opponents of immigration.
Immigration New Zealand said a new visa category called the Christchurch Response (2019) visa had been created. People who were present at the mosques when they were attacked on March 15 can apply, as can immediate family members.
Applicants must have been living in New Zealand on the day of the attack, so the visa will not be available to tourists or short-term visitors. Applications can be made from Wednesday.
Full report at:
http://www.arabnews.com/node/1487076/world
--------
UK sends counter-terrorism police to Sri Lanka after Easter Sunday bombings
Jack Dutton
April 24, 2019
killed at least 359 people, including eight Britons, on Easter Sunday.
Foreign Secretary Jeremy Hunt said family liaison officers had been sent to Sri Lanka to support and assist the families of British victims and help with repatriation of their bodies.
"The attack was complex, tightly co-ordinated and designed to cause maximum chaos, damage and heartbreak," Mr Hunt told MPs in the House of Commons on Tuesday.
"The UK will never stand by in the face of such evil, so today we stand in solidarity with the government and people of Sri Lanka, who have been making enormous strides towards stability and peace after the conclusion of the civil war almost 10 years ago."
Mr Hunt spoke with Tilak Marapana, the Sri Lankan Minister of Foreign Affairs, on Monday evening to offer his condolences and the UK's assistance with the investigation.
After eight explosions ripped through hotels and churches across the country, an improvised pipe bomb found on Sunday evening was destroyed by security services at Colombo airport.
Mr Hunt said that the device was probably meant to harm fleeing civilians.
British Prime Minister Theresa May spoke to Sri Lankan leader Ranil Wickremesinghe earlier on Tuesday. Mrs May stressed the UK's solidarity with the people of the South Asian nation.
"The leaders discussed the strong connection between the UK and Sri Lanka, and the need to stand together in the fight against terrorism," a Downing Street spokesman said.
"Prime Minister Wickremesinghe expressed his gratitude for the UK's support."
Mr Hunt spoke of religious persecution, referring to the Christchurch mosque attacks during Friday Prayer on March 15, where 50 people died and 50 were wounded.
"We must respond by bringing people together – the exact opposite of what was intended by the perpetrators," he said.
Ruwan Wijewardene, Sri Lanka's Minister of State for Defence, said that preliminary investigations into the bombings suggested that they were in retaliation for the Christchurch attack.
ISIS on Tuesday claimed responsibility for the attacks, without providing evidence.
But Mr Wickremesinghe said the terrorist group night have been linked to the attack.
On Sunday, Mr Hunt called the Sri Lanka attacks "wicked" and said everyone had a right to practise their faith in peace, safety and security.
"These despicable acts were carried out at a time when millions of Christians celebrate Easter while living under the shadow of persecution," he said.
Full report at:
https://www.thenational.ae/world/europe/uk-sends-counter-terrorism-police-to-sri-lanka-after-easter-sunday-bombings-1.852892
--------
France and New Zealand launch bid to end violent extremism online
24 April 2019
Political leaders and tech company executives have been called to a meeting -- to be co-chaired by New Zealand Prime Minister Jacinda Ardern and French
President Emmanuel Macron -- in Paris on May 15.
They will be asked to commit to a pledge called the "Christchurch Call" designed to eliminate terrorist and violent extremist content online.
Ardern said the March 15 terrorist attacks on two mosques in Christchurch, in which 50 Muslim worshippers were killed, saw social media used "in an unprecedented way as a tool to promote an act of terrorism and hate".
The mosque attacks were live-streamed on the internet and showed distressing footage of the gunman firing indiscriminately at men, women and children.
In Paris, the Elysee presidential palace said the meeting would ensure that "new, concrete measures are taken so that what happened in Christchurch does not happen again".
Nearly six weeks after the massacre, social media sites are still struggling to stamp out copies of the gunman's video.
"We're calling on the leaders of tech companies to join with us and help achieve our goal of eliminating violent extremism online at the Christchurch Summit in Paris," Arden said.
The meeting will be held alongside the "Tech for Humanity" meeting of G7 Digital Ministers, and France's separate "Tech for Good" summit also scheduled for May 15.
"We all need to act, and that includes social media providers taking more responsibility for the content that is on their platforms, and taking action so that violent extremist content cannot be published and shared," Ardern said.
"It's critical that technology platforms like Facebook are not perverted as a tool for terrorism, and instead become part of a global solution to countering extremism."
Macron has previously stated his ambition for France to take a leading role in devising new regulatory measures "to reconcile technology with the common good".
Ardern said the joint action was not aimed at curbing freedom of expression but at preventing extremist violence from spreading online.
"I don't think anyone would argue that the terrorist on March 15 had a right to livestream the murder of 50 people and that is what this call is very specifically focussed on," she said.
A French Muslim group said on Monday it was suing Facebook and YouTube for allowing the grisly live broadcast of Christchurch massacre to be streamed.
The livestream lasting 17 minutes was shared extensively on a variety of internet platforms and uploaded again nearly as fast as it could be taken down.
Full report at:
https://www.thelocal.fr/20190424/france-and-new-zealand-launch-bid-to-end-violent-extremism-online
--------
South Asia
Kabul 'intentionally scuttled' intra-Afghan dialogue: Taliban
Tahir Khan
APRIL 24, 2019
The Afghan Taliban have again accused the Kabul administration of "intentionally scuttling" an intra-Afghan conference planned in Doha, Qatar, while US Secretary of State Mike Pompeo also expressed "disappointment" at the postponement of the dialogue.
Qatar postponed the April 20-21 dialogue after the Afghan government stopped delegates from proceeding to Doha in protest over Qatari list of participants. Kabul had announced its own list of 250 participants, excluding former President Hamid Karzai, who was one of the prominent leaders behind interaction between the Taliban and the Afghan political leaders.
Earlier, Special Representative for Afghanistan Reconciliation Zalmay Khalilzad, who has embarked upon another trip to the region, also said he was "disappointed" at the delay of Qatar's intra-Afghan initiative and said the US was in touch with all parties, and encouraged that everyone remained committed to the dialogue.
In Afghanistan, Chief Executive Dr Abdullah Abdullah came up with a different approach and said an opportunity for talks was lost, blaming "mismanagement" for the delay.
The Taliban criticised the Kabul administration for ruining the meeting that would have been different from the first similar dialogue in Moscow in early February, as the Taliban had agreed to a Qatari proposal to sit face-to-face with representatives of the Afghan government with a condition that all participants would speak in their personal capacity. The Afghan Taliban's political spokesman Suhail Shaheen said the conference was cancelled because of the "hurdles created" by the Kabul administration.
He told Daily Times from Doha that the Kabul administration issued a long list of 250 people just days before the conference.
"They (Kabul) wanted all 250 people to participate in the conference. They did not take into account the other side of the Afghan society. And they also violated the principles of participation – the principle was that everyone will participate in the conference in his or her personal capacity. But they said they will represent the government, which was not agreed upon in the last conference held in Moscow," Shaheen said. "It means they intentionally wanted to scuttle the conference in Qatar. We wanted to know the views of the Afghan people through their representatives' participation in the conference, as to what kind of a solution they wanted and how to reach that solution. We wanted to have their views and their advice in this regard, and to know their vision about the future Afghanistan. These were the main things we wanted to discuss with the participants," the Taliban spokesman said.
Daily Times has learnt that Uzbekistan also wants to organise an intra-Afghan meeting and shared the proposal with the Taliban political representatives.
"Yes, Uzbekistan has offered to host an intra-Afghan dialogue, but have not agreed to their proposal," a Taliban source said.
The Taliban had held informal meetings with those Afghans who had reached Doha from the US, the UK and several other European countries, sources within the group said.
Senior Taliban leaders Sher Abbas Stanekzai, Amir Khan Mutaqi and Abdul Salam Hanafi spoke at the meeting and held the Kabul administration responsible for postponement of the conference. They defended the Afghan Taliban's refusal of holding direct talks with Kabul and said the US had toppled the Taliban government in late 2001 – when the present Kabul administration did not exist – so they wanted a solution to the problem with the Americans.
Khalilzad's new trip:
Khalilzad has started another visit to Afghanistan, India, Pakistan, Qatar, Russia, and the UK from April 21, which will continue until May 11, as part of the overall effort to "facilitate a political settlement that ends the conflict" in Afghanistan, the State Department said. "In Kabul, Special Representative Khalilzad will consult with the Afghan government and other Afghans to encourage all parties to work towards intra-Afghan dialogue and negotiations to determine a final peace settlement," a statement said on Monday. In London, Moscow, Islamabad, and New Delhi, he would work to build international support for the Afghan peace process to help ensure that any peace settlement reached be sustainable, according to the State Department. In Doha, he would continue to press forward on negotiations with the Taliban to reach a consensus on core national security issues, and urge their participation in an inclusive intra-Afghan dialogue. He last visited several countries, including Pakistan, last month.
https://dailytimes.com.pk/381317/kabul-intentionally-scuttled-intra-afghan-dialogue-taliban/
--------
OIC Secretary General Strongly Condemned the Terrorist Attacks in Sri Lanka
21/04/2019
The Secretary General of the Organization of Islamic Cooperation (OIC), Dr. Yousef A. Al-Othaimeen, has strongly condemned the multiple cowardly attacks carried out in churches and hotels in Colombo and neighboring towns targeting innocent worshipers and civilians, which killed hundreds and wounded many more.
Extending the solidarity of OIC with Sri Lanka at this painful moment, the Secretary General offered his deepest condolences to the families of the victims, Government and people of Sri Lanka on the tragic loss of lives and wished early recovery to the injured people.
Full report at:
https://www.oic-oci.org/topic/?t_id=20831&t_ref=11796&lan=en
--------
Muslim Council of Elders strongly condemns Sri Lanka terror attacks
April 21, 2019
The Muslim Council of Elders, under the Chairmanship of His Eminence Dr Ahmed El-Tayeb, the Grand Imam of Al-Azhar strongly condemns the cowardly terror attacks carried out in a number of churches and hotels in Sri Lanka on the morning of Easter Sunday, which resulted in hundreds of casualties and injuries.
The Council vehemently denounces such despicable attacks which go against the teachings of all religions and creeds as well as international laws and social norms. The Council also stresses the urgent need to intensify international efforts towards countering all forms of terrorism.
The Muslim Council of Elders also emphasizes that attacks on innocent civilians celebrating a religious holiday proves that the persons who carried out these attacks are nothing more than inhumane cowards.
Full report at:
https://www.muslim-elders.com/news-detail-39.html
--------
IS claims Lanka attack, 13 Indians among 359 dead
Apr 24, 2019
NEW DELHI: Forty eight hours after the serial blasts in Sri Lanka, the Islamic State claimed responsibility for the terror attacks in which at least 321 people have died and over 500 are injured. The development lent credence to the assessment that a global terror outfit may have joined hands with local extremist outfit, National Tawheed Jamaat, in executing the Easter bombings.
In a statement released in Arabic through its mouthpiece Amaq on Tuesday afternoon, an IS spokesperson said: "The perpetrators of the attack that targeted the citizens of the coalition governments and the Christians in Sri Lanka the day before yesterday were IS Inghemasis (fighters)".
Meanwhile, the number of Indians killed in the blasts rose to 13. They were among at least 38 foreigners who lost their lives.
Addressing an emergency session of Parliament, Sri Lanka's state minister of defence, Ruwan Wijewardene, citing "preliminary investigations", said the serial bombings were in "retaliation to the attack against Muslims in Christchurch".
Five Indians were among 50 people killed in terror attacks on two mosques in Christchurch, carried out by Australia-born Brenton Tarrant (28) on March 15.
Although the IS didn't directly mention Christchurch on Tuesday, its statement strengthens the view that the Sri Lanka bombings were intended to be revenge for the massacre of Muslims in New Zealand last month. The Sri Lankan government had named the NTJ and also said the scale and sophistication of the attacks clearly pointed to the hand of an international network .
TOI on Tuesday had reported the names and pictures of three IS fighters involved in the bombings after they were released by a pro-IS telegram channel.
The names released by the channel were Zahran Hashim aka Abu Ubaida, Abu Al-Mukhtar and Abu Al-Barra. The others have been identified as Abu Khalil, Abu Hamza, Abu Mohammed and Abu Abdullah. These are identities which IS terrorists are typically given after they have pledged allegiance to the terror outfit chief Abu Bakr al Baghdadi.
The statement by Amaq details the exact movements of the bombers. It further says: "Some of the brave fighters went towards churches and hotels... They went separate ways... Abu Hamza, Khalil and Mohammed went towards churches... Others went to hotels and other places in the battle... 350 kafirs were killed and 650 injured," the translation reads.
This claim by IS validates the view that a local outfit like NTJ could not have carried out attack on its own given the expertise required in bomb-making and planning. The attack also has typical IS imprints like the strikes carried out in Bangladesh and other places where the global outfit roped in local extremist groups to execute terror attacks.
In Sri Lanka's case, agencies are trying to verify inputs that an IS cell based in a southeast Asian country may have extended logistical help and provided training to the NTJ terrorists. The Sri Lanka bombings have many similarities with the attack on a Roman Catholic cathedral in January in Philippines. Two bombs had exploded in the church in southern Philippines, killing 20 people and injuring dozens. The IS had claimed the attack on the cathedral located in Jolo island, where jihadist groups have been active for some time.
IS spokesperson Abu Hasan al Muhajir had earlier released an audio speech calling for Muslims to wake up and avenge the Christchurch shootings by a heavily armed white supremacist.
Intelligence officers, however, felt that the Sri Lanka plan could have been in the works for months. "The speech by Muhajir could be a trigger but the planning would have begun much earlier," an officer said. When asked about a delay of two days by IS in claiming the attack, an intelligence officer pointed out that bombs are still being recovered till Tuesday evening. "IS usually claims attacks once they are 'over'," he said.
TOI spoke to a few officers on the nature of explosives used in the blasts. While officials said they were waiting for the post blast investigation (PBI) to get over before commenting, sources said it was being probed if C4 explosives were used by the terrorists.
Full report at:
https://timesofindia.indiatimes.com/world/south-asia/is-claims-lanka-attack-13-indians-among-321-dead/articleshow/69016708.cms
--------
Bangladesh PM Hasina's 8-year-old relative killed in Sri Lanka blasts
Apr 23, 2019
LONDON/ COMBO: An 8-year-old relative of Bangladesh Prime Minister Sheikh Hasina is among the 45 children who were killed in the devastating suicide bomb attacks in Sri Lanka on Easter Sunday, media reports said Tuesday.
Ruling Awami League leader Sheikh Fazlul Karim Selim's grandson Zayan Chowdhary, who was reported missing after bombings in Sri Lanka, has died, the reports said.
The boy was having breakfast with his father Moshiul Haque Chowdhary Prince at a restaurant on the ground floor of a luxury hotel in Colombo that came under attack along with several other hotels and churches on Easter Sunday that killed 321 people and injured nearly 500 others.
Selim's younger brother Sheikh Fazlur Rahman Maruf said that Zayan's body would be brought back to Dhaka on Wednesday, the Dhaka Tribune reported.
Zayan's younger brother Zohan Chowdhary and mother Sheikh Amina Sultana Sonia were in their hotel room when the blast occurred. The family went to Sri Lanka on a holiday.
Selim is a cousin of Prime Minister Hasina.
Speaking to Bangladeshi expatriates in Brunei, Hasina urged them to pray for the grieving family.
"Please pray for their safe return," Hasina said.
Selim said his son-in-law Mashiul is now in the intensive care unit ICU of a hospital in Sri Lanka.
Selim said: "I spoke with my family members there in the morning. They said Mashiul's condition is still critical, but he is improving. We will know more after 72 hours."
Full report at:
https://timesofindia.indiatimes.com/world/south-asia/bangladesh-pm-hasinas-8-year-old-relative-killed-in-sri-lanka-blasts/articleshow/69013296.cms
--------
CTTC: Sri Lanka attack may inspire extremists at home
April 24th, 2019
'Extremists may think, we will do something in Bangladesh. But they do not have the ability to organize an attack in Bangladesh'
Police counter terrorism chief Monirul Islam anticipates that extremists may inspire globally in the event of a series of bomb attacks in Sri Lanka.
The head of Dhaka Metropolitan Police's Counter Terrorism and transnational Crime (CTTC) unit said: "Extremists may think, we will do something in Bangladesh. But they do not have the ability to organize an attack in Bangladesh."
He was speaking at a program organized by Bangladesh Crime Reporters Association (CRAB) and CTTC in the CIRDAP Auditorium in Dhaka on Tuesday.
"Many countries thought we could not stop militancy or extremism after the Holey Artisan attack. But militancy has been controlled by the government's policy of zero tolerance and cooperation of all people," he said.
He admitted that it was not entirely eliminated.
"Terrorism or militancy is a doctrine, so the terrorists believe in this ideology. Many of them have already been brought under the law, and many are under surveillance," he added.
CTTC chief said that after any attack, terrorists in other countries are encouraged and try to imitate that attack.
"After the Holey Artisan, a group of Indonesianswere inspired. After the New Zealand attacks, some groups have been active in anti-Christian and anti-Semitic propaganda," he said.
The CTTC chief said that while there was a suicide group in the Liberation Tigers of Tamil Eelam (LTTE), they never targeted any religious group.
"The last riot that took place last year in Sri Lanka is between Buddhists and Muslims," he said.
"But the attack that took place in Sri Lanka's churches and hotels, it is undoubtedly terrorism," he added.
He also said: "We heard from different sources that an intelligence report was given that Jamaat al-Tawhid al-Watania could directly attack churches and the Indian mission. All those who carried out the attack were citizens of that country. From the nature of the attack, we can understand that outside groupswere involved."
Full report at:
https://www.dhakatribune.com/bangladesh/dhaka/2019/04/24/cttc-sri-lanka-attack-may-inspire-extremists-at-home
--------
4 militants killed as U.S. airstrike destroy Humvee packed with explosives in Paktia
23 Apr 2019
The U.S. forces conducted an airstrike targeting a Humvee armoured personnel carrier packed with explosives in south-eastern Paktia province of Afghanistan, the Afghan military said Monday.
The 203rd Thunder Corps in a statement said Monday that the airstrike was carried out on Friday in the vicinity of Zurmat district.
The statement further added that four militants were also killed during the same airstrike and the Humvee vehicle was completely destroyed.
According to 203rd Thunder Corps, the militants were looking to use the Humvee to carry out an attack against the security forces.
In the meantime, the 203rd Thunder Corps said the U.S. forces carried out a similar airstrike in Andar district of Ghazni province leaving six militants dead and a 4×4 vehicle destroyed.
Full report at:
https://www.khaama.com/4-militants-killed-as-u-s-airstrike-destroy-humvee-packed-with-explosives-in-paktia-03788/
--------
10 civilians rescued from a Taliban prison during a joint operation in Ghazni province
24 Apr 2019
At least ten civilians were rescued from a Taliban prison during a joint operation conducted in south-eastern Ghazni province of Afghanistan the Afghan military said Tuesday.
The 203rd Thunder Corps of the Afghan Military in the Southeast said a statement that the operation was conducted in Bala area of Qarabagh district.
The statement further added that the foreign forces were also accompanying the Afghan armed forces during the operation.
At least 9 militants were also killed and five others were arrested during the same operation, the 203rd Thunder Corps added in its statement.
The anti-government armed militants including Taliban have not commented regarding the operation so far.
Full report at:
https://www.khaama.com/10-civilians-rescued-from-a-taliban-prison-during-a-joint-operation-in-ghazni-province-03791/
--------
Probe shows Sri Lanka attacks 'retaliation for Christchurch'
23 April 2019
Sri Lanka's Easter Sunday bomb attacks were retaliation for a recent attack on mosques in New Zealand, a Sri Lankan official said on Tuesday, adding that two domestic Islamist groups were believed to be responsible.
"The initial investigation has revealed that this was in retaliation for the New Zealand mosque attack," junior minister for defence Ruwan Wijewardene told parliament.
"It was done by National Thawheed Jama'ut along with JMI," he said, referring to another local group, Jammiyathul Millathu Ibrahim.
Full report at:
https://english.alarabiya.net/en/News/world/2019/04/23/Probe-shows-Sri-Lanka-attacks-retaliation-for-Christchurch-.html
--------
Pakistan
Bint-e-Pakistan cannot be used in place of father's name, rules CII
Apr 24, 2019
The Council of Islamic Ideology (CII) on Tuesday said that using 'Bint-e-Pakistan,' (the daughter of Pakistan) in place of father's name is against Shariah.
When the identity of a father is known the surname of a person cannot be changed or replaced, the CII said in a decision.
The council has forwarded the summary of the decision to the Ministry of Law on Tuesday in a case pertaining to Tatheer Fatima, a 22-year-old girl, who sought removal of her father's name from her documents.
In September last year, Tatheer had moved the Supreme Court to allow her to mention the words 'Bint-e-Pakistan' in place of her father's name in all her documents.
The applicant stated in an application that she was facing difficulties in obtaining official documents, including national identity card and passport due to her father's absence.
The top court had appointed Advocate Makhdoom Ali Khan as amicus curiae over the Tatheer's request.
He submitted that there was no need for the name of father to be displayed on a person's identification documents as long as such information is available in official records and databases of the authorities.
Advocate Makhdoom also said that various amendments to statutory provision and rules would be required to eliminate the requirement of father's name in the official documents of children.
https://www.pakistantoday.com.pk/2019/04/23/bint-e-pakistan-cannot-be-used-in-place-of-fathers-name-rules-cii/
--------
Bill against forced conversions sent to NA standing committee
Apr 24, 2019
ISLAMABAD: A bill against forced conversions tabled in the National Assembly on Tuesday was sent to the standing committee after getting support from the Minister of Law Farogh Naseem.
The bill was moved by PPP's minority member Amir Naveed Jeeva.
"Everyone has right to change the religion by heart," he said.
The mover of the bill when told the house, he wanted to table a bill against forced conversions, law minister Farogh Naseem responded that it is a basic issue, no one in the house would have any problem with it. "We have to sit and discuss this problem," Naseem further said.
The proposed legislation was sent to the concerned standing committee of the house.
The forced conversion became a high pitched issue in the public space after two Hindu girls from Ghotki recently converted to Islam.
A number of the minorities groups asked the federal government to enact immediate laws against the rising issue of forced conversions in the country.
A symposium participated by various human rights groups asked the government to undertake the responsibility for comprehensive legislation against the issue.
Full report at:
https://www.pakistantoday.com.pk/2019/04/23/bill-against-forced-conversions-sent-to-na-standing-committee/
--------
Imran comes under opposition's attack for acknowledging terrorists used Pakistan soil against Iran
24th April 2019
ISLAMABAD: Pakistan Prime Minister Imran Khan on Tuesday came under attack by the Opposition for acknowledging in Tehran that in the past militants had used his country's soil to carry out attacks in Iran.
Addressing a joint press conference with Iranian President Hassan Rouhani at the end of his two-day trip (April 21-22) to Tehran, Khan had said, "I know Iran has suffered from terrorism (perpetrated) by groups operating from Pakistan. We (need to) have trust in each other that both countries will not allow any terrorist activity from their soil. We hope this will build confidence between us".
During a discussion on Khan's visit to Iran in National Assembly, Pakistan Muslim League-Nawaz (PML-N) leader Khurrum Dastigir said, "Prime Minister's statement is against the national security as for the first time he has admitted the use of (the country's) soil for terrorism in Iran."
"No prime minister has ever made such a confession on foreign soil," Dastagir said, adding that only a day earlier, "the foreign minister had stated that terrorists had entered from Iran to carry out activities in Balochistan."
"Pakistan is exposed internationally by such statements," the PML-N lawmaker said.
Dastagir said that the prime minister has committed "diplomatic blunders" and "through his statements, he has hurt the national security".
He also attacked Khan for his earlier statement that Indian Prime Minister Narendra Modi's re-election could help in moving towards a settlement of Kashmir issue.
Pakistan Peoples Party legislator and former foreign minister Hina Rabbani Khar said, "We are worried for the country after seeing it continually become a laughing stock".
She said that the prime minister had publicly spoke about the use of Pakistani territory against Iran in the past also, but others who had said much less severe things were ousted from the country and cases were filed against them and their right to be elected was taken away.
She also referred to Khan's another statement in which he had said Japan and Germany share borders.
"You cannot make these stupid statements and expect us to stand behind you," Khar said.
Defending Khan, Pakistan's Human Rights Minister Shireen Mazari said "he was quoted out of context" on his acknowledgement of use of Pakistani soil by terrorists against Iran.
On Khan's statement about Japan and Germany sharing borders, Mazari said that it was "slip of tongue" when he said that Japan and Germany were neighbours and as he wanted to say France and Germany.
Full report at:
http://www.newindianexpress.com/world/2019/apr/24/imran-comes-under-oppositions-attack-for-acknowledging-terrorists-used-pakistan-soil-against-iran-1968365.html
--------
When Pakistan PM Imran Khan said Germany and Japan 'share' border
Apr 23, 2019
NEW DELHI: Pakistan Prime Minister Imran Khan's knowledge of geography came under scanner when he said that Germany, situated in Central Europe, shares a border with Japan, an island nation in East Asia.
The faux pas happened when the Pakistan PM was emphatically advocating the necessity of promoting trade between the two countries to ensure peace in a speech.
"The more trade you have with each other...your ties automatically gets stronger. Germany and Japan killed millions of their civilians, until after the Second World War. The border region of Germany and Japan they had joint industries. So now there is no question of them ever having bad relations because there economic interests are tied together," the Pakistan PM said in a video clip, which was widely circulated on social media.
It appears that the Pakistan Prime Minister was referring to the close Germany-France ties forged after the Second World War.
However, the Prime Minister ended up mixing Japan with France.
Khan's lack of knowledge of geography not only left the delegates present at his speech puzzled but also rocked up a storm on social media.
"Please can someone find him a speech writer, or someone should give him lessons in geography. How much can one troll him?" a Twitter user wrote.
Germany and Japan had joint borders. Says the Prime Minister of Pakistan Imran Khan in his one speech ♀ ♀ ♀ …
https://t.co/fpPuaJO5Ma
— Shama Junejo (@ShamaJunejo) 1555952292000
"It is alarming that Khan is the Prime Minister of a nuclear-armed country," another Twitter user wrot #Pakistan: Is this a parody of Imran Khan?? If not he is clearly high on more than life. He says 'Germany and Japan…
https://t.co/eBA4uKRDzD
— Farahnaz Ispahani (@fispahani) 1555983022000
Full report at:
https://timesofindia.indiatimes.com/world/pakistan/when-pakistan-pm-imran-khan-said-germany-and-japan-share-border/articleshow/69004891.cms
--------
Hafeez moves on amnesty scheme as IMF, FATF nod awaited
Mubarak Zeb Khan
April 24, 2019
ISLAMABAD: The timeline of the International Monetary Fund (IMF) bailout package has complicated the launch of government's first tax amnesty scheme, Dawn has learnt from knowledgeable sources in the Finance Division.
Read: FBR told to make Asset Declaration Scheme 'more attractive'
In a meeting held to discuss the tax amnesty scheme — Asset Declaration Scheme — under the leadership of Finance Adviser to Prime Minister Dr Abdul Hafeez Shaikh, the talks centred on two important issues: tax rates and the duration of the scheme. However, the discussions with the International Monetary Fund and the review meeting of the Financial Action Task Force (FATF) will dictate the scope and duration of the proposed amnesty scheme.
Hafeez gave directions to the Federal Board of Revenue (FBR) to devise a successful communication strategy in order to ensure people can easily comprehend the scheme. The tax officials were given a deadline of two days to refine the scheme, the sources added.
The adviser is also expected to discuss the broad contours of the scheme with the visiting IMF team expected to reach Islamabad by month-end where he will negotiate the possibility of launching the proposed scheme during the IMF programme, the sources claimed, adding that it was the only way which can ensure maximum time is available for individuals willing to avail the scheme.
However, before sharing the new draft with the IMF, Prime Minister Imran Khan will be given a final presentation to seek his input.
The fate of the scheme depends on the IMF whether it allows the duration to be extended during the bailout programme. Otherwise, the government will have no option but to offer the scheme for a limited time until June 30.
However, the government still has two months before the June 30 deadline and in the previous amnesty scheme announced by the PML-N government, the FBR had collected Rs84 billion in just 13 days, the sources claimed. "We believe that people are anxiously waiting the launch of scheme," the sources added.
The government can also extend the period in case of depositing the tax money and repatriation of cash assets. In case of repatriation, the time period can also be extended to one year, the sources added. However, individuals availing the scheme will have to declare their undeclared assets by June 30, 2019.
Full report at:
https://www.dawn.com/news/1478061/hafeez-moves-on-amnesty-scheme-as-imf-fatf-nod-awaited
--------
Africa
UN says over 250 killed, over 1,200 injured in Libya battle
April 24, 2019
TRIPOLI: At least 264 people have been killed and over 1,200 wounded in weeks of fighting on the outskirts of Libya's capital, the World Health Organisation said on Tuesday, as African leaders gathered in Cairo to discuss the crisis.
The agency called on Twitter for "a temporary cessation of hostilities, and for all parties to respect humanitarian law".
Eastern-based strongman Khalifa Haftar launched an offensive on the capital on April 4, as his self-styled Libyan National Army pledged "to purge the west of terrorists and mercenaries".
Forces loyal to the internationally recognised Government of National Accord (GNA), based in Tripoli, launched a counter-attack at the weekend.
The fighting has since eased somewhat as both sides appeared to be preparing for the next phase of the battle.
Fighting in Tripoli's southern suburbs has so far displaced at least 35,000 people, UN humanitarian coordinator for Libya Maria do Valle Ribeiro said on Monday.
"Displacement is continuing at an increasing rate every day," she said, warning that the figures were a conservative estimate.
The two sides have reached a near stalemate since armed groups backing the GNA launched their counter-attack on Saturday.
An AFP team on the ground at the weekend confirmed that GNA-aligned fighters had pushed the frontline back several kilometres in the southern district of Ain-Zara, around a dozen kilometres south of the city centre.
'Civilians trapped'
Another frontline is a little further southwest, around the districts of al-Swani and Qasr ben-Ghachir, around 30 kilometres from Tripoli, on a key road between the capital and the old international airport.
Occasional bursts of gunfire — and heavier projectiles — have been audible, sometimes resonating in the city centre.
"It is calm on most fronts," Mustafa al-Mejii, a spokesman for GNA forces, said on Tuesday.
"Orders were given to forces on the perimeter of Tripoli airport to consolidate their positions," he said.
Haftar's force said on its official Facebook page it had received "significant" reinforcements, particularly in the west.
Valle Ribeiro said civilians were being displaced every day, while some had been trapped by fire including "heavy artillery and... shelling in some densely populated parts of the city".
"Any country that has leverage should be using that leverage to ensure that civilians can be protected," she said.
World powers divided
African leaders were due to meet in Cairo at the behest of Egyptian President Abdel Fattah al-Sisi on Tuesday to discuss the violence.
Discussions in Cairo were to seek to "stem the current crisis" in Tripoli, Egypt's presidency said ahead of the talks.
Egypt and the UAE, which strongly oppose Islamist militants and the Muslim Brotherhood, back Haftar.
The military commander also spoke by telephone to President Donald Trump last week, in an implicit sign of US support that undercut international calls for restraint on all sides.
And while the UN recognises the GNA and its leader Fayez al-Sarraj, Haftar's diplomatic star appears to be rising.
The White House said Trump "recognised Field Marshal Haftar's significant role in fighting terrorism and securing Libya's oil resources".
That came a day after Russia and the United States opposed a British bid at the UN Security Council, backed by France and Germany, to demand a ceasefire in Libya.
https://www.dawn.com/news/1478040/un-says-over-250-killed-over-1200-injured-in-libya-battle
--------
Nigerians stage protest rally in Abuja to demand Zakzaky's release
Apr 24, 2019
Hundreds of people have staged a fresh protest rally in Nigeria to voice their support for prominent Muslim cleric Sheikh Ibrahim Zakzaky, who has been held in detention for more than three years, and demand his immediate release.
Supporters of the Islamic Movement in Nigeria (IMN) took to the streets in the capital Abuja on Tuesday, carrying images of the 65-year-old cleric and chanting slogans in his support.
Zakzaky, the leader of the IMN, has been held in detention since December 2015 and was charged just in April 2018 with murder, culpable homicide, unlawful assembly, disruption of public peace and other accusations. He has pleaded not guilty.
In 2016, the Federal High Court of Nigeria ordered his unconditional release from jail following a trial, but the government has so far refused to set him free.
The top cleric lost his left eyesight in a raid which was carried out by the Nigerian army on his residence in the northern town of Zaria in December 2015.
During the raid, Zakzaky's wife sustained serious wounds too and more than 300 of his followers and three of his sons were killed. Zakzaky, his wife, and a large number of the cleric's followers have since been in custody.
Last August, Britain-based rights group Amnesty International accused Nigeria's government of carrying out unlawful arrests and practicing "enforced disappearance," calling on Abuja to clarify the fate of hundreds of jailed Shia activists.
The organization further stated that the fate of at least 600 members of the Islamic Movement in Nigeria remained unknown since their arrest in 2015.
"The Nigerian government has used enforced disappearance as a longstanding tactic to silence critics and instill fear in civilian populations," Amnesty International Nigeria Director Osai Ojigho said at the time.
Full report at:
https://www.presstv.com/Detail/2019/04/24/594193/Nigerians-stage-fresh-protest-rally-in-Abuja-to-demand-Zakzakys-release
--------
Libyan troops drive back Haftar loyalists south of Tripoli
Apr 23, 2019
Forces supporting Libya's UN-recognized Government of National Accord (GNA) have managed to push back militiamen loyal to the renegade commander of the self-styled Libyan National Army (LNA), Khalifa Haftar, dozens of kilometers south of Tripoli as fighting around the capital continues unabated.
Reuters reported on Tuesday that Haftar's forces were repulsed more than 60 kilometers (37 miles) southwest of the capital as troops aligned to the internationally recognized government targeted them.
Local sources said the small town of 'Aziziya was fully under the control of forces backing the Tripoli administration, with shops reopening after days of fierce skirmishes.
Haftar launched his deadly campaign on April 4, when he ordered his loyalists to invade Tripoli and seize it from troops aligned to the GNA.
In recent days, troops loyal to Tripoli have driven back the LNA forces in the southern suburb of Ain Zara. Militiamen loyal to Haftar have, however, said they had launched air strikes on military sites in the capital.
The clashes have raised fears of a worsening conflict in the North African country.
Meanwhile, the World Health Organization (WHO) spokesperson, Tariq Jarasevic, told reporters on Tuesday that the death toll from ongoing fighting between rival Libyan forces in Tripoli has risen to 264.
He added that some 1,266 people have also been wounded since the beginning of the battle nearly three weeks ago.
Jarasevic further noted that at least 21 of the deceased and 69 of the injured were civilians.
Additionally, the United Nations High Commissioner for Refugees (UNHCR) said 32,000 civilians have been displaced since the beginning of the conflict.
"We call on the parties for the protection of civilians and humanitarian aid," UNHCR spokesman Barbar Baloch said.
On Monday, the UN's deputy envoy to Libya Maria do Valle Ribeiro expressed concern over "the increasing rate of displacement" and stressed that the world body needs to ramp up its humanitarian response in the conflict-plagued Arab country.
"We are likely to see a continuation of hostilities for some time to come," Ribeiro said at a press briefing in Tripoli.
She added, "For that we need to gear up and accelerate and increase our capacity to be able to respond."
"We're also very concerned by the fact that displacement is continuing at an increasing rate every day," the top UN official told reporters.
African leaders urge ceasefire in Libya
Furthermore, leaders participating in the African Union (AU) summit in Cairo on Tuesday called for an "immediate and unconditional halt" to fighting in Libya.
The AU's Libya "troika", which includes Egyptian President Abdel Fattah el-Sisi as well as his Rwandan and South African counterparts Paul Kagame and Cyril Ramaphosa, urged "all parties to act with restraint" and to facilitate "the delivery of humanitarian aid."
Libya has been the scene of increasing violence since 2011, when former dictator Muammar Gaddafi was toppled from power after an uprising and a NATO military intervention.
His ouster created a huge power vacuum, leading to chaos and the emergence of numerous militant outfits, including the Daesh terrorist group.
Libya has two rival seats of power: one known as the House of Representatives and based in the eastern city of Tobruk, and another in Tripoli, which is headed by Prime Minister Fayez al-Serraj and enjoys UN recognition.
The White House said on April 19 that US President Donald Trump had personally discussed the situation in Tripoli with Haftar on the phone earlier this week.
Full report at:
https://www.presstv.com/Detail/2019/04/23/594188/Libyan-troops-drive-back-Haftar-loyalists-south-of-Tripoli
--------
African Leaders At Emergency Cairo Summit Urge Peaceful Sudan Transition
Apr 23, 2019
African leaders at an emergency summit in Cairo have called on Sudan's military rulers to effectively and peacefully carry out a democratic transition within three months.
The Egyptian presidency said in a statement issued on Tuesday that representatives from African countries gave the Sudanese authorities and political actors three months "to implement peaceful... and democratic transition measures."
They also urged the African Union to extend its 15-day deadline for Sudan's Transitional Military Council (TMC) to hand over power to a civilian authority or face suspension from the regional bloc.
Speaking at the end of the summit, Egyptian President Abdel Fattah el-Sisi, who holds the rotating presidency of the African Union, said there was consensus work had to be done for Sudan to "quickly restore the constitutional system through a political democratic process led and managed by the Sudanese themselves."
Sisi told the meeting that AU Commission Chairman Moussa Faki Mahamat had briefed the meeting on his recent talks in Khartoum.
"We agreed on the need to give more time to Sudanese authorities and Sudanese parties to implement these measures," Sisi said.
The TMC took over after toppling President Omar al-Bashir on April 11.
Protest leaders have vowed to continue organizing sit-ins and other rallies as part of a widening campaign to confront the junta and push for the transfer of power to a civilian council.
Full report at:
https://www.presstv.com/Detail/2019/04/23/594174/AU-Cairo-Sudan-elsisi-alBashir
--------
Migrants in Libyan jail were reportedly seriously wounded in shooting -UN
April 23, 2019
TRIPOLI: Migrants in a detention facility in the Libyan capital Tripoli have reportedly been seriously wounded in a random shooting, the UN migration agency IOM said on Tuesday.
IOM gave no more details of the incident which it said took place in a facility in Qasr Ben Ghashir, a southern suburb fought over by forces loyal to Libya's rival governments.
IOM has been moving some migrants out of detention centers in Tripoli, which forces loyal to eastern commander Khalifa Haftar have been trying to take in a three-week offensive.
But more than 3,000 migrants are still in detention centers there, among them women and children, IOM said in a tweet.
Full report at:
http://www.arabnews.com/node/1487146/middle-east
--------
Cameroon: Another Boko Haram attack kills seven
24.04.2019
The attack took place in the Madagascar neighbourhood on Monday evening as the attackers equally destroyed several properties and set houses ablaze before taking off, sources said.
Monday's attach comes just four days after another attack in Tchakamri in Kolofata Sub Division, Mayo Sava Division which left at leats nine persons dead and several houses burnt down.
Local administrative authorities have called on the population to remain vigilant and denounce any suspects in their localities.
Full report at:
https://www.journalducameroun.com/en/cameroon-another-boko-haram-attack-kills-seven/
--------
URL: https://www.newageislam.com/islamic-world-news/prominent-indian-muslim-christian-leaders/d/118414
New Age Islam, Islam Online, Islamic Website, African Muslim News, Arab World News, South Asia News, Indian Muslim News, World Muslim News, Women in Islam, Islamic Feminism, Arab Women, Women In Arab, Islamophobia in America, Muslim Women in West, Islam Women and Feminism