26 January 2021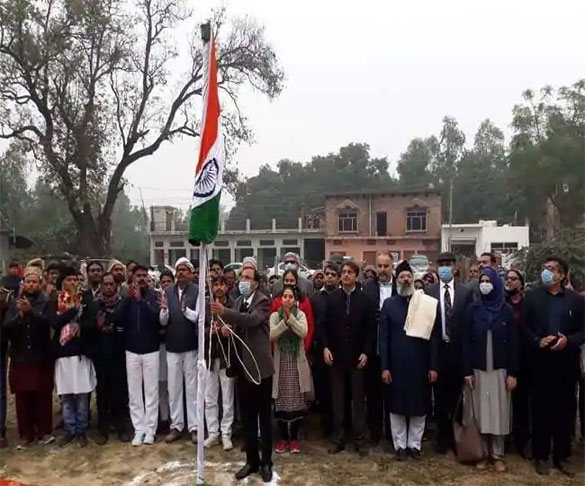 IICF members begin process of mosque building in Ayodhya after unfurling tricolor.
----
• Pakistani Dissident Baloch Activist, Karima Baloch, Buried Amid Tight Security In The Restive Balochistan Province
• US Treasury: 'Al-Qaeda Gaining Strength' Through Taliban Protection
• Independent Terrorism Watchdog To Open Inquiry Into Radicalisation In UK Prison
• Taliban Deputy 'Mullah Baradar' Leads A Delegation to Iran
• Stop Using LGBT Community As Punching Bag, Says Malaysian Rights Group
• Syrian Military Source: ISIL Launches Attacks on Syrian Army from US-Occupied Regions
• Iran Warns Persian Gulf Arab States Not to Cling to Israel after Trump
• Tunisian President Rejects Reshuffle, Escalating Political Crisis
India
• Process For Mosque Construction At Ayodhya Started With Unfurling The National Flag On The Occasion Of Republic Day
• A Muslim Man Is Keeping Alive The Memory Of India's Oldest Jew, Sarah Cohen, By Turning Her Business Site Into A Museum
• Identity Politics, Spiritual Leadership: Furfura Sharif Cleric's Party Modelled On IUML
• UP's Plea Seeking To Transfer "Love Jihad" Petitions To Top Court Refused
• In A First, Bangladesh Tri-Service Contingent Takes Part In India's Republic Day Parade
• Stir at Secretariat; Shabbir Ali decries Muslims' arrest
• All You Need To Know About Padma Vibhushan Awardee Maulana Wahiduddin Khan
--------
Pakistan
• Pakistani Dissident Baloch Activist, Karima Baloch, Buried Amid Tight Security In The Restive Balochistan Province
• Why China-Pakistan ties are 'unravelling' over CPEC
• Pakistan voices opposition for new permanent seats in UNSC
• Murad Will Not Be Replaced As CM If Arrested In NAB Case: Minister Ghani
--------
North America
• US Treasury: 'Al-Qaeda Gaining Strength' Through Taliban Protection
• Canada Parl. Asks Govt. To Designate Armed US Militia Group As Terrorist Entity
• Biden Admin Launches Review Of Trump Decision To Designate Yemen's Houthis As Foreign Terrorist Organization
• US authorizes transactions with Yemen's Houthis for 30 days
• Senator: Trump's campaign against Iran 'catastrophic failure'
--------
Europe
• Independent Terrorism Watchdog To Open Inquiry Into Radicalisation In UK Prison
• Russia rejects any closed-door discussion of Syrian chemical case at UN Security Council
• Schoolboys in court charged with terrorism offences
• Swiss ambassador to Beirut, Lebanese FM hold talks amid central bank probe
--------
South Asia
• Taliban Deputy 'Mullah Baradar' Leads A Delegation to Iran
• Afghanistan Welcomes US Move To Review Deal With Taliban
• Bangladesh To Buy Myanmar Rice, Putting Aside Rohingya Crisis
• Afghanistan: Journalists, Reporters Displaced by Surge of Targeted Assassinations, Killings
• Pakistan to Boost Sustenance Markets along Pak-Afghan Border
--------
Southeast Asia
• Stop Using LGBT Community As Punching Bag, Says Malaysian Rights Group
• Govt introduces Manhaj Rabbani as basis of Islamic administration – Zulkifli
• Calls for Zahid to quit as Umno chief impolite, says Tok Mat
• Will Indonesia's new Religious Affairs minister protect religious minorities?
• Father Of A Non-Muslim Pupil Rejects Hijab Requirement
--------
Arab World
• Syrian Military Source: ISIL Launches Attacks on Syrian Army from US-Occupied Regions
• Citizen attacks member of security forces in north Lebanon
• Iraq Hangs Three Convicted Of 'Terrorism' At Nasiriyah Central Prison: Sources
• Syria constitution talks recommence in Geneva
• Israel's F-35 fighter jets violate Lebanese airspace in south
• Saudi Court Sentences Shia Muslim Eulogist To Nine Months In Prison
--------
Mideast
• Iran Warns Persian Gulf Arab States Not to Cling to Israel after Trump
• In Gaza, Palestinian refugees protest cuts to UNRWA services
• Iranian FM: No Limitation for Cooperation with Azerbaijan
• Iranian-American facing spying charges arrested while leaving Iran: Spokesman
• Israel extradites former Australia Orthodox school principal accused of child abuse
• Yemenis demonstrate against US aggression
--------
Africa
• Tunisian President Rejects Reshuffle, Escalating Political Crisis
• At least 11 killed after fighting erupts in Somalia's Jubbaland: Doctor
• Nigerian security forces attack Sheikh Zakzaky's supporters
• Ugandan Airstrikes in Somalia Kill 189 Al-Shabab Fighters
Compiled by New Age Islam News Bureau
URL: https://www.newageislam.com/islamic-world-news/process-mosque-construction-ayodhya-started/d/124149
--------
Process For Mosque Construction At Ayodhya Started With Unfurling The National Flag On The Occasion Of Republic Day
January 26, 2021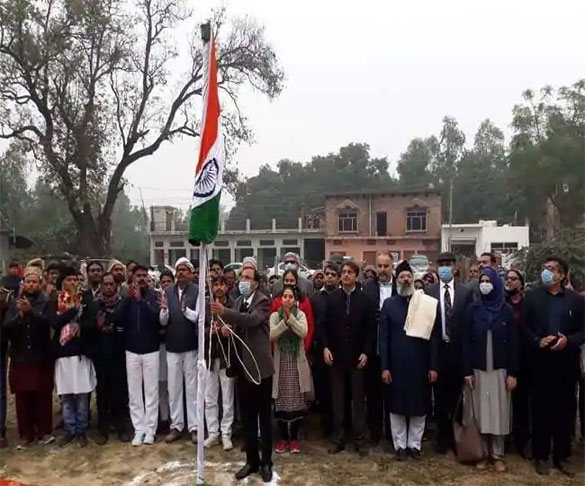 IICF members begin process of mosque building in Ayodhya after unfurling tricolor.
----
The process for starting the construction of a mosque in the Dhannipur village in Ayodhya began on Tuesday.
The members of the Indo-Islamic Cultural Foundation (IICF) that will oversee the mosque construction, unfurled the national flag on the occasion of Republic Day on Tuesday morning and this was followed by plantation of tree saplings by the chief trustee and the member trustees of the IICF.
As envisaged in the project, a green area, which will have plants from all over the world — from the Amazon rainforest to areas in Australia that report bushfires — and from all different geographical regions of India will be developed to create awareness on the imminent threat posed by climate change.
Zufar Faruqi, chairman of IICF, planted a tamarind sapling and he was joined by other members and local villagers.
The soil from the designated plot was taken out for testing before the actual construction begins.
The first pictures of the project had been released on December 19 last year by the IICF.
Following the release, secretary and spokesperson of the trust Athar Hussain had confirmed that the Dhannipur Mosque project includes a hospital, a museum, a library, a community kitchen, the Indo-Islamic Research Centre, a publication house and a mosque.
A mosque measuring 15,000 square feet will be built in the Dhannipur village. It will be of the same size as that of the Babri mosque. The shape of the mosque may be completely different from that of other mosques.
Although the blueprint suggests a circular mosque with a unique minaret over it, project architect S.M. Akhtar hinted that it may be square-shaped like the Kaaba Sharif in Mecca, Saudi Arabia.
The five-acre plot had been given to the Sunni Waqf Board in lieu of the land on which the Babri mosque stood, prior to the demolition. This was as per the verdict of the Supreme Court in November 2019.
https://www.thestatesman.com/india/process-mosque-construction-begins-ayodhya-1502948719.html
--------
Pakistani Dissident Baloch Activist, Karima Baloch, Buried Amid Tight Security In The Restive Balochistan Province
Jan 25, 2021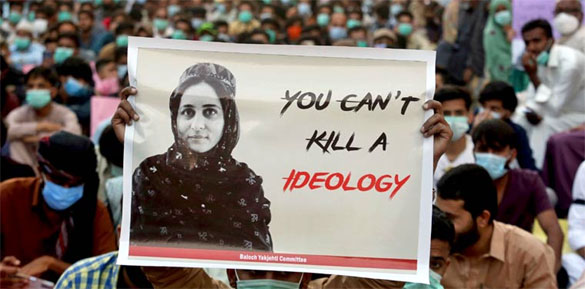 FILE - In this Dec. 24, 2020, file photo, supporters of Baloch political activist Karima Baloch hold her portrait during a demonstration to condemn her killing, in Karachi, Pakistan. | AP Photo/Fareed Khan, File
-----
ISLAMABAD: The body of Karima Baloch, a 37-year-old Pakistani dissident from the ethnic Baloch community and a prominent women's rights activist, who died in mysterious circumstances while in exile in Canada, was brought home and buried in her village in the restive Balochistan province amid tight security, officials said on Monday.
Karima, who was highly critical of Pakistan's security agencies and campaigned extensively against disappearances and human rights violations in the troubled Balochistan province, was found dead in Toronto downtown waterfront on December 22.
Officials said that her immediate family was present at the funeral on Sunday in the Tump village of the Keach area of the restive province.
Security was tight due to the fear of protests by the Baloch nationalists who cherished her as their leader. Her supporters claimed on social media that the village was virtually sealed off so that people from other areas could not attend the funeral.
In some videos, people are seen requesting security forces to allow them to attend the funeral prayers.
Security sources said that the mobile phone services were suspended in the area to avoid any untoward incidents as militants often use it to carry out acts of sabotage.
Toronto police have not treated her death as suspicious though there were allegations by her supporters that she was killed.
Her family members are not sure what happened. According to police in Toronto, her body was found near Lake Ontario, but no further details were given. Police said they did no believe there were any suspicious circumstances.
"The Toronto Police Service is aware of heightened community and media interest surrounding a missing person investigation," the force said in a statement. "The circumstances have been investigated and officers have determined this to be a non-criminal death and no foul play is suspected."
"The death of activist Karima Baloch in Toronto, Canada is deeply shocking and must be immediately and effectively investigated. The perpetrators must be brought to justice without recourse to the death penalty," Amnesty International South Asia said in a tweet last month.
Karima was highly critical of Pakistan's security institutions like her fellow nationalists who alleged that the federal government was exploiting the mineral resources while keeping the region impoverished. The charge is always rejected by the institutions.
She was living in Canada where she was granted asylum in 2016.
Karima, a critic of the Pakistani government and powerful military, had campaigned extensively against disappearances and human rights violations in Balochistan.
In 2016, she was named on BBC's list of 100 inspirational women. At 30, she was the first woman to become the leader of the Balochistan Student Organisation.
She left Pakistan in 2015, after terrorism charges were levelled against her. Her family said she had been given death threats.
Her sister told the BBC Urdu service last month that Karima's death was "not only a tragedy for the family, but also for the Baloch national movement".
"She didn't go abroad because she wanted to, but because... open activism in Pakistan had become impossible," Mahganj Baloch was quoted as saying by the BBC Urdu service.
https://timesofindia.indiatimes.com/world/pakistan/pakistani-dissident-baloch-activist-buried-amid-tight-security/articleshow/80452507.cms
--------
US Treasury: 'Al-Qaeda Gaining Strength' Through Taliban Protection
By Mohammad Haroon Alim
26 Jan 2021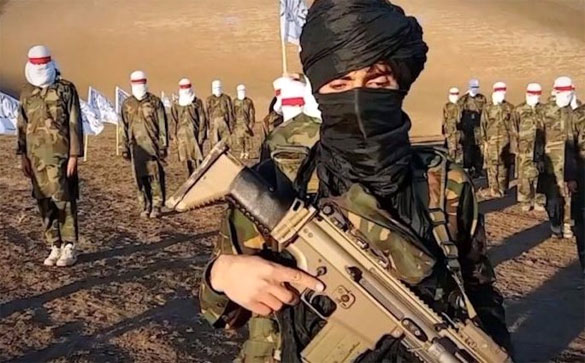 Photo Courtesy: Khaama Press
------
US treasury department in an issued memo said that Al-Qaeda is gaining strength in Afghanistan.
The report indicates that Al-Qaeda being protected by the Taliban is gaining its strength back, turning a red line on over US-Taliban agreement.
"As of 2020, al-Qaeda is gaining strength in Afghanistan while continuing to operate with the Taliban under the Taliban's protection. Al-Qaeda broadly still depends on donations from like minded supporters, and from individuals who believe that their money is supporting humanitarian or charitable causes," US Treasury reported.
"Al-Qaeda capitalizes on its relationship with the Taliban through its network of mentors and advisers who are embedded with the Taliban, providing advice, guidance, and financial support.
"Senior Haqqani Network figures have discussed forming a new joint unit of armed fighters in cooperation with and funded by al-Qaeda," the report stated.
The report also discussed the elements of Al-Qaeda, AQIS, TTP Tahrik-e Taliban Pakistan, and continuous use of the Afghan-Pak Border as safe haven.
"AQIS likely receives funding from al-Qaeda senior leadership," the report stated adding that "as of May 2020, the Taliban and al-Qaeda maintained a strong relationship and continued to meet regularly."
"Al-Qaeda capitalizes on its relationship with the Taliban through its network of mentors and advisers who are embedded with the Taliban, providing advice, guidance, and financial support", the report indicates, adding that "Senior Haqqani network figures have discussed forming a new joint unit of armed fighters in cooperation with and funded by al-Qaeda,"
On the financial state of Daesh Khorasan, the report says "ISIS-K primarily raises funds through local donations, taxation, extortion, and some financial support from ISIS-core.
"In 2019, Afghan Taliban and Afghan government forces retook ISIS-K's stronghold in southern Nangarhar, which decreases the amount of money the group could earn exploiting natural resources in this territory.
"As of early 2020, ISIS core was possibly providing some funds to ISIS-K. According to Treasury's information, ISIS-K retains at least some financial reserves and relies on hawalas (Money Transfer), particularly in Kabul and Jalalabad, to transfer funds," the report read.
The inquiries at the US Department of Defense, facilitated Inspector General to discover illicit terrorism financing,
This comes as US Taliban Deal on February 2021, requires the Taliban to sever ties with Al-Qaeda, but the two groups remained close allies.
https://www.khaama.com/us-treasury-al-qaeda-gaining-strength-through-taliban-protection-5656565/
--------
Independent Terrorism Watchdog To Open Inquiry Into Radicalisation In UK Prison
24 Jan 2021
An inquiry into the way prisons deal with convicted terrorists is being launched by the independent terror watchdog amid concerns of growing radicalisation behind bars.
Jonathan Hall QC said there had been a succession of terror attacks on prison officers while other inmates were coming under the influence of "high status" terrorist prisoners.
Hall, the government's independent reviewer of terrorism legislation, said that if terrorist activity was taking place in jails then it had to be dealt with.
"There has been a steady drumbeat over recent years of terrorist attacks against prison officers, and an increasing number of individuals who may well have formed their terrorist intent in prison under the influence of high status terrorist prisoners," he told the Times.
"If terrorism exists (in prison) then it ought to be dealt with. We need scrutiny of how prisons operate to either contain, or worse encourage, terrorism."
His comments followed a series of high-profile cases, including the 2019 London Bridge attack when Usman Khan, a terrorist prisoner out on licence, stabbed two people to death.
Khairi Saadallah, who was given a whole life sentence earlier this month for murdering three men in a terror attack in a Reading park, had been befriended by a radical preacher while serving an earlier prison term.
Last year Brusthom Ziamani, who was serving a 19-year sentence for plotting to behead a soldier, was convicted of attempted murder for trying to hack an officer to death in the maximum security Whitemoor jail.
Hall said that he had been amazed at the way terrorist prisoners were looked up to by other inmates.
"I find it astonishing that someone should go to prison for plotting a terrorist atrocity and the concern is not that they themselves are at risk of attack, like a paedophile is often at risk of attack because prisoners generally say what they've done is terrible," he said.
"Terrorists automatically achieve a sort of status."
A Ministry of Justice spokesperson told the Times that it had trained more than 29,000 prison officers to better spot signs of extremism, increased the number of specialist counter-terrorism staff, and would separate the most subversive prisoners where necessary.
"Our tough measures to stop extremists spreading their poisonous ideologies in prison have been stepped up," the spokesperson said.
"We ended the automatic early release of terrorists and our new legislation means they will also face tougher sentences and monitoring on release."
https://www.theguardian.com/politics/2021/jan/24/terrorism-watchdog-to-open-inquiry-into-radicalisation-in-prison?utm_
--------
Taliban Deputy 'Mullah Baradar' Leads A Delegation to Iran
By Mohammad Haroon Alim
26 Jan 2021
Deputy Taliban Leader, Mullah Abdul Ghani Baradar led a delegation to Iran, Mohammad Naeem Taliban Spokesman said on Tuesday.
The Taliban delegation will Talk to Iranian officials in regards to the current political situation, security conditions in the region, bilateral relations, and the situation of Afghan refugees.
It is worth mentioning that this is one of the several visits of the Taliban leadership to Iran.
Earlier, Mullah Baradar had traveled to Iran at the invitation of Iranian officials.
Iran is accused of supporting the Taliban was previously blamed several times by US officials for supporting the Taliban insurgency in Afghanistan.
US officials claimed at the time that Iranians are providing weapons and ammunition to the Taliban fighters, and some were even trained across the border.
An accusation that has always been denied by the Iranian officials, but officials in Tehran during their remarks always have supported the rule of the Islamic Republic of Afghanistan and its governance.
Two weeks ago, before Joe Biden's inauguration, Former Secretary of State Mike Pompeo, accused Iran of having secret ties with the al-Qaida network and imposed new sanctions on several senior Iranian officials.
In May 2018, Mohammad Javad Zarif, Iran's Foreign Minister blamed the United States for supporting Al-Qaeda, Taliban, and ISIS.
Despite all these allegations, the Taliban most likely and for many times visited Iran.
https://www.khaama.com/taliban-deputy-baradar-leads-a-delegation-to-iran-454545/
--------
Stop Using LGBT Community As Punching Bag, Says Malaysian Rights Group
January 20, 2021
PETALING JAYA: Rights group Lawyers for Liberty (LFL) today urged the authorities to stop using the lesbian, gay, bisexual and transgender (LGBT) community as a "convenient punching bag", stating this only creates an "illusion of rectitude and false piety".
LFL said the vilification of the LGBT/transgender community serves to help no one and will only harm the very citizens it is supposed to protect.
This follows a statement by deputy minister in the Prime Minister's Department (religious affairs) Ahmad Marzuk Shaary yesterday that the government intends to hand out heavier punishments against the LGBT community by increasing the sentencing limits in the Syariah Courts (Criminal Jurisdiction) Act 1965 (Act 355).
"In a time when the country is in crisis due to the Covid-19 pandemic, it is disappointing that the deputy minister chooses to focus on the vilification of the LGBT community, which is nothing more than a tired and cheap political ploy to detract from the real issues currently affecting Malaysian citizens," LFL coordinator Zaid Malek said in a statement.
"This is especially more obvious when we consider the fact that Malaysian-Muslims are still in a state of shock and confusion by the 40-year long halal meat cartel scandal that was exposed quite recently – yet the spotlight is again cast on LGBT instead."
Zaid said the "targeted harassment" by the government against the LGBT Muslim community invades and harasses their rights and privacy and is in violation of Article 8 of the Federal Constitution, which forbids any discrimination on the basis of an individual's gender.
He said LGBT Muslims are entitled to equality and deserve protection from laws that target them solely due to their sexual orientation.
He also condemned Marzuk's statement that religious enforcers have been told to take stern action against those who cross-dress, "which indicates that the enforcers have been instructed to target transgender Muslims specifically".
He urged the government not to take "such a restrictive view of Islamic law" and follow the footsteps of other Muslim majority countries that have recognised the legitimate rights of the transgender community.
"Egypt and Iran have issued fatwas since the 1980s that allow gender reassignment surgeries, and even Pakistan has enacted the Transgender Persons (Protection of Rights) Act in 2018 which is a formal recognition of transgender rights in Pakistan," Zaid said.
"It is obvious, therefore, that the recognition and protection of the transgender community is not contrary to the precepts of Islam and is in fact mandatory under our Federal Constitution."
https://www.freemalaysiatoday.com/category/nation/2021/01/20/stop-using-lgbt-community-as-punching-bag-says-rights-group/
--------
Syrian Military Source: ISIL Launches Attacks on Syrian Army from US-Occupied Regions
2021-January-25
"The ISIL cells have recently resumed their activities in two main areas; first, the Homs deserts triangle, Deir Ezzur, and the Iraqi border; second, the desert between Hama, Raqqa and Deir Ezzur," the source told the Arabic-language al-Akhbar newspaper on Monday.
He added that the traffic of a number of ISIL terrorists have been monitored and it has come to be known that "a number of attacks start from Al-Tanf area and around the US base there".
Also, a senior Syrian military source said that the US facilitates and supports the moves of ISIL-affiliated terrorists in order to ensure instability and insecurity in the region and continue the war of attrition against the Syrian army in the Syrian desert region.
He noted that the US goal is to cut off all contacts between Eastern Syria and Damascus and Homs, adding, "For this reason, Washington uses the ISIL inmates in the prisons of its supported Kurdish militias and transfers them to the Syrian desert and the Iraqi borders."
A senior Iraqi source said that the recent airstrikes against Jurf al-Nasr region at the bordering areas of Iraq and Syria were aimed at preparing the ground for the ISIL to enter the country.
Al-Qadir news network quoted a "special source" as saying that the attack on Iraqi army units in Jurf al-Nasr area was part of the US ongoing attempts to destabilize Iraq.
He added that the air raids targeted a number of Iraqi army units, killing several forces and wounding a number of others.
The source noted that the US attacks were aimed at undermining Iraq's military power in the region in a bid to the pave the ground for the ISIL terrorists to penetrate into Jurf al-Nasr area from the Syrian border, specially from the US-occupied Al-Tanf base.
https://www.farsnews.ir/en/news/13991106000542/Miliary-Srce-ISIL-Lanches-Aacks-n-Syrian-Army-frm-US-Occpied-Regins
--------
Iran Warns Persian Gulf Arab States Not to Cling to Israel after Trump
2021-January-25
"We remind the regional states that they were waiting for Trump who brought them nothing. Now they have resorted to Israel; the Zionist regime will not benefit them either. Israel will not bring them security. If it could, it would create security for itself. Israel has come to bring them insecurity, it has come to place the border of its conflict on their soil, and this is not in their interest, while we have no problem with these regional states," Zarif said in an interview with the Persian-language Ettela'at newspaper on Monday.
He reminded the Arab states that Trump had called them "milking cows", and said the Israeli regime is worse than Trump.
"Trump cannot compete with Netanyahu in criminal acts and malignancy. So the wise way is to accept the proposal of the Qatari foreign minister, which we have also welcomed, and return to the region, and we are ready to work with them [the regional states]," Zarif said.
In relevant remarks last year, Supreme Leader of the Islamic Revolution Ayatollah Seyed Ali Khamenei, in a meeting with visiting Qatari Emir Sheikh Tamim bin Hamad Al-Thani in Tehran, called upon all neighboring countries of the region to rely on intra-regional capacities to stop the US from throwing the region into further mayhem.
During the January 12, 2020 meeting with Sheikh Tamim, Ayatollah Khamenei said corrupt actions taken by the United States and its allies are the main cause of the current situation in the region, urging regional countries to boost cooperation to undo such actions.
Describing the current conditions in the region as unfavorable, Ayatollah Khamenei said, "The reason behind this situation in corrupt actions taken by American and its allies and the only way to counter it is to rely on inter-regional cooperation."
In another part of his remarks, the Leader pointed to good political ties between Iran and Qatar, saying, "The two countries' economic relations are not on the same level as political relations and Iran-Qatar cooperation should further improve in common fields."
"The Islamic Republic of Iran has repeatedly announced and Mr. President [Hassan Rouhani] has also explicitly stated that Iran is ready for closer cooperation with regional countries," Ayatollah Khamenei noted.
The Leader stated, "Of course, some parties who have come to this region from across the world are not interested in the expansion of cooperation among regional countries, but this issue has nothing to do with them and regional countries and nations do not accept such bullying and interference anymore."
https://www.farsnews.ir/en/news/13991106000707/Iran-Warns-Persian-Glf-Arab-Saes-N-Cling-Israel-afer-Trmp
--------
Tunisian president rejects reshuffle, escalating political crisis
25 January 2021
Tunisia's president indicated on Monday he would reject an expected cabinet reshuffle, escalating a dispute with the prime minister as a political logjam undermines efforts to tackle the pandemic and its economic fallout.
Kais Saied said the reshuffle would be unconstitutional on procedural grounds, condemned the absence of women among the prospective new ministers and said some likely new cabinet members may have conflicts of interest, without giving details.
The political paralysis comes as the COVID-19 crisis weakens an already battered economy that shrank more than 8 percent last year, and as both foreign lenders and Tunisia's powerful union urge fast reforms.
Protests against inequality and police abuses have also been building.
Tunisia has been politically all but deadlocked since two separate elections in 2019 put Saied into office but left a deeply fragmented parliament in which no party held more than a quarter of the seats.
The constitution worked out in 2014 after the 2011 revolution that introduced democracy gave parliament the main voice in forming a government. But the president also has a role in a complex system of approvals and vetoes.
It took several months after the election for a government to form early last year, but it only lasted until the summer before falling in a scandal as the pandemic took hold.
Saied then proposed Hichem Mechichi as prime minister, but fell out with him soon afterwards despite the successful formation of a government that narrowly won parliamentary backing.
Mechichi is expected to unveil his proposed new cabinet this week.
The political jostling among parties and prominent figures that has accompanied each stage of the process has delayed government efforts to tackle longstanding reforms.
Tunisia's economy was not delivering even before the pandemic, with sluggish growth, high deficits and public debt and failing state-owned companies.
Joblessness, inequality and declining public services have angered many Tunisians, tarnishing the country's achievement in throwing off autocratic rule a decade ago and introducing democracy.
https://english.alarabiya.net/News/north-africa/2021/01/25/Tunisian-president-rejects-reshuffle-escalating-political-crisis
--------
India
A Muslim Man Is Keeping Alive The Memory Of India's Oldest Jew, Sarah Cohen, By Turning Her Business Site Into A Museum
Romita Saluja
Jan 25, 2021
Sarah Cohen, one of the oldest members of the Paradesi Jewish community, died in 2019. A year later, her Muslim protege turned her business site into a museum.
On any regular day in the coastal Indian city of Kochi, Thaha Ibrahim can be seen stitching colourful kippahs, the traditional skull caps worn by members of the Jewish community.
The 50-year-old devout Muslim loves to tell the story of how he came to know a Jewish couple around 35 years ago and ended up becoming a part of their family. As a child, he used to sell postcards and souvenirs to tourists on the footpaths of Mattancherry, a spice hub of Kochi in those days. One day, a ship carrying tourists did not arrive as expected and he needed to park his postcards somewhere. His uncle introduced him to a Jewish couple living nearby - Sarah and Jacob Cohen. "Sarah Aunty was reluctant to help; she did not like me," he says, laughing. "But Jacob Uncle agreed and allowed me to keep my postcards at their home."
The Cohens belonged to the city's Baghdadi Jew community whose ancestors are believed to have migrated from Iraq several generations ago. Jacob was a lawyer, and Sarah was a seamstress. She used to stitch and embroider challa covers (a cloth used to cover bread loaves), table clothes, bridal clothes, and kippahs.
"Once she needed help with stitching something," Ibrahim says. "And I offered to help, having some knowledge of tailoring." Eventually, Sarah hired him as an assistant to work at her embroidery shop, next to the Cohens' ancestral residence in Mattencherry's Jew Town. She taught him embroidery and stitching while he managed the daily chores at the shop.
Before Jacob Cohen passed away, around 20 years ago, Ibrahim says that he had asked him to always be by Sarah Cohen's side, as the couple didn't have children. Thus, several years later, an ageing Sarah Cohen could often be seen walking to a nearby synagogue, supported by Ibrahim and her Christian caretaker Celine. She died in August 2019, five days short of turning 97.
A Jewish museum in India
Ibrahim continues to run her shop. Last month, he turned her house and shop into a museum. Here, one can get a glimpse of the Jewish culture preserved in a Hindu majority city, with considerable populations of Christians and Muslims.
On the display are old black-and-white photographs of the Cohens, books on Jewish literature and history, some copies of the Torah owned by the couple, kitchenware, and Sarah Cohen's notebooks containing Jewish songs written in the local language, Malayam. Aside from that, there are kippahs, embroidered challahs, and table covers for sale.
"It's not a big museum. It's very small," Ibrahim says. "It's just to keep alive the memory of Sarah Cohen and other Jews in the town."
Located on a colourful street, with shops selling antiques, brass items, Kashmiri handicrafts and shawls, the museum is 100 metres away from a 16th century synagogue built by the city's "White Jews".
Jewish history in Kochi
Locally known as "Paradesi (foreigner) Jews", the "white Jews" are believed to have first arrived in Kochi in the 15th century from Europe after suffering persecution by the Portuguese and Spanish. They were later joined by other Jews who came from the Middle East. The King of Kochi, Kesava Varma, provided them with asylum, and a land that was later developed into Jew Town. "One year after the building of Jew Town, the Paradesi Synagogue was built, in 1568," writes local historian Bony Thomas in his book Kochiites. Thomas writes that according to some locals, even Mattancherry was a land donated by the king to the Jews, as "mattan" means "donation" in Hebrew, although this claim is contested.
There is another community of Jews in the city that arrived even earlier and is believed to have been living in the country since the time of King Solomon. They are locally known as the "Black Jews" or the "Malabari Jews", named after the Malabar coastline. Various records suggest that they were exiles or captives taken by King Nebuchadnezzar after the destruction of the Temple, who managed to escape and sail to India.
Both the communities have separate synagogues and several personal and cultural differences. "While many Malabari Jews married Indians and got assimilated into the local community, the Paradesi Jews chose to marry amongst themselves," Ibrahim says.
Thomas writes that the Paradesi Jews, being rich traders and having proximity to the political rulers, always enjoyed a stronger social standing, and discriminated against the Malabari Jews. "This discrimination has no relationship with the actual tone of the skin. A White Jew need not be fair-skinned or a Black Jew need not be dark-skinned. The White-Black dichotomy is based on racial purity… Paradesi Jews take pride in the fact that they are Mayookasims (Pure Jews)," he writes.
Sarah was the oldest member of the Paradesi Jew community. Her death has meant there are only two of them left in Jew Town, as per Ibrahim. Together with the Malabari Jews, who live in another part of the city, there are around 25 Jews left in Kochi.
Ibrahim recalls the period when the neighbourhood used to bustle with Jews. "It was in the early 1980s. Everywhere you turned, there was a Jewish family. I knew so many of them. But all of them were not as friendly as Sarah Aunty."
A Times of Israel report says that there were around 3,000 Jews in Kochi in the 1950s. Most of them later immigrated to Israel. The Cohens were among the few families that chose to stay back. "Many of Sarah Aunty's relatives live outside India," Ibrahim says. "But she would say, "Why should I leave Kochi to move to any other place? It's my home.""
He says that the museum would be emblematic of the relationship that the Jews formed with the city over the years. Talking about the global tensions between Jews and Muslims, he says, "I eat halal food and Sarah Aunty used to eat kosher food. Our religious books are different. Our laws are different. And yet, there are so many common things between the two religions. Nobody understands that."
https://www.trtworld.com/magazine/a-muslim-man-is-keeping-alive-the-memory-of-india-s-oldest-jew-43567
--------
Identity politics, spiritual leadership: Furfura Sharif cleric's party modelled on IUML
by Liz Mathew
January 25, 2021
Before he launched the Indian Secular Front (ISF), Pirzada Abbas Siddiqui, the 34-year-old cleric of Furfura Sharif in West Bengal, visited Kerala and closely monitored the activities of Indian Union Muslim League (IUML), led by the spiritual leader of Muslims in Kerala.
Inspired by the way the Panakkad Thangal family wields political and social influence in Kerala politics and among the Muslims in the state, Siddiqui tried to be part of the IUML, which has units in most of the states in the country.
However, IUML refused to join hands with Siddiqui or let him form a political outfit that could work as a coalition.
"The cleric and his associates had visited Kerala during the floods in 2018 after collecting money for relief work. They had seen how the Thangals, spiritual leaders, led the political and social activities of a party. He was impressed by how the party keeps the community moderate and away from fundamentalist groups," said Sabir Ghaffar, the former national president of IUML youth wing who had tried to convince the IUML leadership to join hands with Siddiqui.
He added that Siddiqui had several interactions with Panakkad Sadiq Ali Shihab Thangal, the number two in the IUML.
Ghaffar resigned from his post in IUML Saturday to work with ISF.
He has played a key role in the formation of ISF and its decision to contest the West Bengal elections along with the Asaduddin Owaisi-led AIMIM.
IUML president Panakkad Syed Hyderali Shihab Thangal has inherited the spiritual leadership of the community from his father P M S Pookoya Thangal, said to be the 39th descendant of Prophet Muhammad. Everyday, hundreds visit the family's ancestral home, Kodappanakkal Tharavad in Panakkad, Malappuram, seeking Thangal's blessings and political intervention.
"The ISF will model identity politics with a spiritual leadership to transform the society into a politically significant, developed, moderate, modern society. West Bengal has 30 per cent Muslims. If this support base gets split into groups, the BJP will form the government there. We want to make the Muslim population a strong support base that prevents the BJP," Ghaffar told The Indian Express.
The ISF will work with not only the AIMIM but a number of other social and political outfits spread across the state, he said. "In its efforts to stop the BJP, the party is ready for any pre or post-poll alliances with non-BJP parties. But the TMC should apologise for neglecting the community. In constituencies where ISF does not have candidates, it will back other candidates against the BJP," Ghaffar said, countering the argument that the new outfit would dent the Muslim support base of the TMC.
While launching his party, Siddiqui said, "Years of Congress rule, then that of CPM and then Trinamool Congress in Bengal did nothing for the Muslims or the poor people."
"Furfura Sharif is the second most prominent Mazar in the country after Ajmer Sharif. It has followers in Assam, West Bengal, Tripura and even in Bangladesh. And politics is not strange to the family – it played a key role in the formation of the Indian Muslim League, but took political backstage for long," Ghaffar said.
https://indianexpress.com/article/india/identity-politics-spiritual-leadership-furfura-sharif-clerics-party-modelled-on-iuml-7160319/
--------
UP's Plea Seeking To Transfer "Love Jihad" Petitions To Top Court Refused
January 25, 2021
New Delhi: The Supreme Court on Monday refused to entertain a petition filed by the Uttar Pradesh Government to transfer all the petitions against the anti-conversion ordinance from Allahabad High Court to itself.
A three-judge bench of the Supreme Court, headed by Chief Justice of India (CJI) Sharad Arvind Bobde refused to entertain the plea filed by the Uttar Pradesh government on the "love Jihad" issue.
The CJI, while refusing to entertain the petition, observed that the top court would like the advantage of having a decision of the High Court.
The Uttar Pradesh government had moved the Supreme Court seeking a direction to transfer all the petitions against the anti-conversion (Love Jihad) ordinance from Allahabad High Court to the Supreme Court.
Earlier in November, Uttar Pradesh Governor Anandiben Patel had issued the UP Prohibition of Unlawful Conversion of Religion Ordinance 2020.
The new law mandates a jail term of the accused between one to five years, with ₹ 15,000 penalty, if convicted for carrying out forceful conversions for marriage.
https://www.ndtv.com/india-news/ups-plea-seeking-to-transfer-love-jihad-petitions-to-top-court-refused-2357788
--------
In a first, Bangladesh tri-service contingent takes part in India's Republic Day parade
Jan 26, 2021
NEW DELHI: For the first time, a marching contingent and band of Bangladesh tri-services participated in the Republic Day Parade to commemorate 50 years of its historic liberation.
The 122-member contingent of the Bangladesh Armed Forces comprising soldiers of the Bangladesh Army, sailors of the Bangladesh Navy, and air warriors of the Bangladesh Air Force was led by the contingent Commander Lieutenant Colonel Abu Mohammed Shahnoor Shawon and his deputies, Lieutenant Farhan Ishraq and Flight Lieutenant Sibat Rahman.
All the three services of the Bangladesh Armed Forces had played a key role in securing independence for their country in the Bangladesh Liberation War of 1971.
The representatives of the battalions that participated in Liberation War, like 1, 2, 3, 4, 8, 9, 10 and 11 East Bengal Regiment and 1, 2 and 3 Field Regiment Artillery, marched in the parade.
Bangladesh Navy had successfully conducted Operation Jackpot during the War, destroying 26 enemy ships in sea ports and river ports. The Air Force conducted 50 successful air strikes on the enemy targets during the War as part of "Kilo Flight" from the base in Dimapur, India.
The contingent marched to the song of "Shono Ekti Mujibur-er theke lokkho Mujibur", meaning "Listen, the voice of Mujibur which has been multiplied by hundred thousands of his followers", played by the marching band led by Lieutenant Colonel Banazir Ahmed.
Sheikh Mujibur Rahman, popularly known as Bangabondhu, was the central figure behind the Bangladesh Liberation Movement and the Bangladesh Liberation War in 1971.
Rahman, also known as 'Father of the Nation', served as the first President of Bangladesh and later as the Prime Minister from April 17, 1971 until his assassination on August 15, 1975.
India was the first country to recognise Bangladesh as a separate and independent state and established diplomatic relations with the country immediately after its independence in December 1971.
https://timesofindia.indiatimes.com/india/in-a-first-bangladesh-tri-service-contingent-takes-part-in-indias-republic-day-parade/articleshow/80462133.cms
--------
Stir at Secretariat; Shabbir Ali decries Muslims' arrest
25th January 2021
HYDERABAD: Senior Congress leader Mohammed Ali Shabbir strongly condemned the arrest of activists of various organisations, who tried to visit the Secretariat to offer prayers at the two mosques, namely Masjid-e-Hashmi and Masjid-e-Dafatir Mohammedia.
In a press release, Shabbir Ali said that a Joint Action Committee of various Muslim organisations had given a call for 'Chalo Secretariat' to offer prayers at the same place where the two mosques existed on the Secretariat premises until they were demolished by ruling TRS government in July, 2020. He said that the demand for resuming prayers at the Secretariat mosques' site was fully justified as Chief Minister K Chandrashekar Rao had "illegally" demolished them. Alleging that the CM had openly cheated the Muslim and Hindu communities on the promise of reconstructing the two mosques and a temple, Shabbir Ali said that their religious sentiments were hurt.
Meanwhile, speaking at Hyderabad, CLP leader Bhatti Vikramarka demanded that the Centre set up a Turmeric Board in Nizamabad.
https://www.newindianexpress.com/states/telangana/2021/jan/25/stir-at-secretariat-shabbir-ali-decries-muslims-arrest-2254745.html
--------
All you need to know about Padma Vibhushan awardee Maulana Wahiduddin Khan
JAN 25, 2021
The Centre on Monday released the list of Padma awards on the eve of India's 72nd Republic Day in which it has honoured 119 people for their achievements and contributions to their respective fields of work.
One of the names that is sure to pique interest is that of renowned Islamic scholar Maulana Wahiduddin Khan. He has been given Padma Vibhushan, India's second-highest civilian award, for his exceptional contribution in the field of spiritualism.
Khan first shot to limelight when he gave a clarion call to Muslims to relinquish claims over the disputed Babri Masjid site, one the first community leaders to do so.
He then floated, along with others, the "Vajpayee Himayat (support) Committee", which had extensively campaigned for the former BJP prime minister in the Lucknow constituency in the 2004 Lok Sabha elections.
Khan is known for his association with Vajpayee and his senior colleague in the Bharatiya Janata Party (BJP) L K Advani.
Khan has contributed articles to the RSS mouthpiece Organiser which presents him "as an enlightened alternative to Islamic fanaticism" for "reportedly counselling Muslims to abandon their claim on Ayodhya".
His verified Facebook page describes the Islamic scholar as, "Maulana Wahiduddin Khan is an Islamic spiritual scholar who has adopted peace as the mission of his life. Known for his Gandhian views, he considers non-violence as the only method to achieve success."
He established Centre for Peace and Spirituality (CPS) in 2001 to promote and reinforce the culture of peace. The website of the organisation says the Khan was born in Uttar Pradesh's Azamgarh in 1925.
Padma awards - conferred in Padma Vibhushan, Padma Bhushan and Padma Shri categories - are among the highest civilian awards given in various disciplines/fields like art, social work, public affairs, science and engineering, trade and industry, medicine, literature and education, sports, and civil service.
https://www.hindustantimes.com/india-news/all-you-need-to-know-about-padma-vibhushan-awardee-maulana-wahiduddin-khan-101611591256620.html
--------
Pakistan
Why China-Pakistan ties are 'unravelling' over CPEC
Jan 25, 2021
NEW DELHI: The multi-billion dollar Belt and Road Initiative (BRI) appears to have driven a wedge between all-weather allies China and Pakistan.
Sharp differences have emerged between the two countries over a $6.8 billion railway line project which is part of the ambitious China Pakistan Economic Corridor (CPEC), according to a report in Nikkei Asia.
The impasse has even led to an indefinite delay in the annual bilateral CPEC summit, claimed the report.
This is not the first that CPEC has triggered a strain in the long-standing friendship between the two countries.
Here's why China-Pakistan ties are in troubled waters these days ...
Fallout over rail project
Pakistan has been expecting China to lend $6 billion at a concessional interest rate of less than 3% for the Main Line-1 project. The Imran Khan government had even hoped to finalise the lending at an interest rate of just 1%.
But to Islamabad's chagrin, China has shown increasing reluctance over lending money for the project.
The project includes dualisation and upgrading of the 1,872-km railway track from Peshawar to Karachi and is a major milestone for the second phase of CPEC.
A Pakistan-based journalist told Nikkei Asia that China is not happy about lending the money since Pakistan has already sought debt relief to meet the G20 lending conditions and is not in a position to give sovereign guarantees.
The journalist said that China's appetite for investments in large infrastructure projects has diminished because these projects are vulnerable to local politics that delay returns on investment for Beijing.
In December last year, China had even sought additional guarantees before sanctioning the loan in view of Islamabad's weakening financial position.
It had proposed a mix of commercial and concessional loans to fund the rail project, going against Islamabad's wishes of "cheapest lending".
A Pakistani official had said that China raised the additional guarantees issue to get clarity over Pakistan's financial condition after Islamabad applied for debt relief from the G-20 countries, which is only meant for the world's poorest nations.
Pakistan is currently renegotiating its $6 million extended fund facility at the International Monetary Fund (IMF), which was suspended in April 2020.
The IMF will reportedly resume the programme only if Pakistan does not take out any new commercial loans, and that is one of the reasons it is looking for concessions on loans for the ML-1 project, according to Nikkei Asia.
CPEC summit delayed
The Joint Cooperation Committee (JCC) is the primary decision-making body of CPEC.
Its first meeting was held in August 2013 and the latest one in November 2019.
The report said that the 10th JCC was originally scheduled for early 2020, but has not taken place so far.
It said that Covid-19 pandemic was initially cited as the reason behind the postponement but sources later revealed that delay has been caused due to disagreements over the railway project and special economic zones.
Sources told Nikkei that the meeting will not take place for at least three more months - by far the longest gap to date.
As a result, Pakistan's desire to start work on the package-1 from January 2021 would remain unfulfilled due to delay in finalisation of financing details.
Spate of concerns
Discontentment between the two allies had been brewing ever since China decided to tighten its purse strings amid concerns over its investments in Pakistan.
Another report on Nikkei had recently said that China is slowly backing away from CPEC due to Islamabad's spiraling debt, series of corruption scandals and rising security costs.
China has rejected claims that it's turning its back on CPEC but other media reports, coupled with the continuous delay in the CPEC summit, seem to confirm that it is wary of pumping more money into the debt-ridden country.
According to Asia Times, only 32 out of the 122 projects under CPEC had been completed till the third quarter of the fiscal year.
Corruption scandals
Besides concerns over Pakistan's ballooning debt, Beijing is also believed to be unhappy about reports of corruption involving Chinese companies that are part of the CPEC projects.
A recent report on Nikkei said that a probe by the Security and Exchange Commission of Pakistan (SECP) found irregularities worth over $1.8 billion in the power sector, with many Chinese firms receiving undue subsidies.
This was further corroborated by another report on Asia Times recently, which said China's "illegal profiteering" from the power sector was in fact the reason behind the nationwide blackout in Pakistan earlier this month.
Citing a report of the nine-member committee, a former chairperson of the Security and Exchange Commission of Pakistan (SECP) FM Shakil made startling revelations about widespread malpractice in the power sector.
The report lifted the lid on the extent of Independent Power Producer (IPP) corruption, including among Chinese units installed under a government-to-government arrangement for China-Pakistan Economic Corridor (CPEC) related operation.
It traced 100 billion Pakistani rupees ($625 million) in annual over-payment to the IPPs and discussed the magnitude of illegal "profiteering" of Chinese energy companies.
China has earmarked $30 billion for Pakistan's energy sector through CPEC funds. Several Chinese IPPs have been involved in the construction of as many as 27 power plants in Pakistan with a total installed capacity of 12,000 MW under the CPEC programme, reported Asia Times.
"Analysts, however, have questioned the viability of these energy projects, primarily because most of the Chinese investments focused on power generation and ignored the distribution of power, which is clearly in a shambles judging by the recent blackout," expressed Shakil.
Opposition heat
Adding another layer of controversy is the role of the CPEC Authority chairman Lt General Asim Saleem Bajwa (retd).
Last week, the opposition parties staged a walkout from the Senate session over the Pakistan government's "inadequate" response to their queries on the CPEC Authority ordinance, reported Dawn.
The CPEC Authority ordinance is largely seen as an attempt by the Pakistan government to allow the military greater control over the CPEC projects.
The proposed law will allow Bajwa to replace the planning minister as co-chair of a Pakistan-China joint committee and eliminate the role of the planning ministry as an administrative division.
Bajwa is already a controversial figure in Pakistan who is said to have amassed millions of dollars of late.
The opposition had even questioned the meeting of Bajwa with the Chinese ambassador when the CPEC Authority had no chairman and the CPEC Authority's ordinance had lapsed.
"Is [retired Lt Gen] Asim Saleem still receiving the salary of the chairman of CPEC Authority?" questioned Pakistan Muslim League-Nawaz (PML-N) Senator Muhammad Javed Abbasi. Meanwhile, Jamaat-i-Islami Senator Mushtaq Ahmad asked in what capacity did Bajwa meet the Chinese ambassador.
Ahmad said Bajwa was a "controversial" figure and yet he was made chairman of the CPEC Authority, adding that there were allegations of corruption against Bajwa.
He further said that "in the future, no such individual, who has allegations of corruption against them, should be appointed chairman of the CPEC Authority."
Earlier, local media had exposed Bajwa's several offshore businesses, including more than 100 companies and franchises in the US, UAE and Canada in which his families were involved.
https://timesofindia.indiatimes.com/world/pakistan/why-china-pakistan-ties-are-unraveling-over-cpec/articleshow/80450316.cms
--------
Pakistan voices opposition for new permanent seats in UNSC
January 26, 2021
Pakistan has warned that attempts by the aspirants of permanent seats on the UN Security Council (UNSC) — India, Brazil, Germany and Japan — to railroad efforts to reform the 15-member body would kill the consensus-based process to make it more effective, representative and accountable.
"Inter-governmental negotiations (IGN) remain the only credible platform for a comprehensive reform of the council," Ambassador Munir Akram said while re-affirming Pakistan's strong opposition to creating new permanent members.
"Any attempts to undermine or derail the IGN process will prove counterproductive," the Pakistani envoy said when the long-running IGN process resumed in New York on Monday.
Having failed to evoke support for their bid for permanent membership of the council, he said that G-4 members were trying to create the "fear" that the opportunity for reform may soon be lost unless their procedural moves to short circuit the process were endorsed.
"We are prepared to breathe new life in IGN but some states are bent upon killing the process," Ambassador Akram said.
Full-scale negotiations to reform the UNSC began in the General Assembly in February 2009 on five key areas; the categories of membership, the question of veto, regional representation, size of an enlarged Security Council, and working methods of the council and its relationship with the General Assembly.
Despite a general agreement on enlarging the council, as part of the UN reform process, member states remain sharply divided over the details.
The G-4 have shown no flexibility in their push for expanding the UNSC by 10 seats, with six additional permanent and four non-permanent members.
On the other hand, the Italy/Pakistan-led Uniting for Consensus (UfC) group opposes any additional permanent members, saying it would make it less representative, less effective and more divided, and will diminish the right of the vast majority of the UN membership to serve on the body.
UfC has proposed a new category of members that are not permanent with longer terms and with a possibility of getting re-elected.
The Security Council is currently composed of five permanent members which include Britain, China, France, Russia and the United States, and 10 non-permanent members elected to serve for two years.
In his remarks, Ambassador Akram said that the UfC proposal to add 11 new non-permanent seats would redress the "deficit" of equitable representation in the UNSC as it accommodates the interests of all groups.
"In 1945, the council represented 20 per cent of the membership of the United Nations. Today, it represents 8pc of the membership. In 1945, there was one non-permanent seat for eight member states. Today, there is one non-permanent seat for 19 member states."
He also pointed out that a third of UN members have never served on the council while Saint Vincent and the Grenadines is only the second small island developing state to ever serve on the UNSC.
The Pakistani envoy said UfC's proposal can accommodate the aspirations of the African Group, small island developing states, the Arab Group and the Organisation of Islamic Cooperation (OIC). "The G-4 is unlikely to apply Africa's regional approach to their own regions," he said.
The consensus-based African model is anchored in the twin imperatives of "representation" and "accountability", he pointed out.
"Pakistan and the UfC are keen to build on the progress made during IGN's previous sessions," Akram said, adding that it was only through dialogue and consensus that a solution could be achieved.
"We are ready and willing to work with you to promote this objective," the Pakistani envoy said.
'Human rights bodies, media exposing Indian oppression in IIOJK'
Meanwhile, Foreign Minister Shah Mahmood Qureshi said on Tuesday that international human rights organisations and the media are exposing Indian oppression in occupied Kashmir, Radio Pakistan reported.
In a statement, he said that India's Republic Day — being celebrated today (Jan 26) to commemorate the day the Indian constitution came into effect — is being observed as a "Black Day" by Kashmiris across the world.
"The people are protesting as their rights have been usurped," he said. The foreign minister said that minorities feel unsafe in India, adding that instead of democracy "black laws are being imposed in the neighbouring country".
Qureshi said that the negative policies of the BJP government were also affecting the Indian economy. He added that all countries neighbouring India, including Bangladesh, Nepal and China, were annoyed over Delhi's posturing.
https://www.dawn.com/news/1603739/pakistan-voices-opposition-for-new-permanent-seats-in-unsc
--------
Murad Will Not Be Replaced As CM If Arrested In NAB Case: Minister Ghani
January 26, 2021
KARACHI: Sindh Education and Labour Minister Saeed Ghani said on Monday that Murad Ali Shah would continue to serve as the province's chief minister even if he got arrested in a graft case recently registered against him.
In response to a question at the Meet the Press programme of the Karachi Press Club about the replacement of Mr Shah as the CM in case of his arrest by the National Accountability Bureau (NAB), the senior PPP leader said that he will remain the provincial chief executive.
"We have been saying since day one that NAB is a Niazi nexus and it has become an instrument of the government," he said, adding: "NAB would make a reference against whoever gives a tough time to the federal government."
He said Mr Shah had spoken about the rights of Sindh, talked about the National Finance Commission share of this province and done "record" development work in Karachi. "He has shown the people of the country that Sindh has a constitutional right on the gas of this province and in return for it, there is a NAB reference against him," he said.
Threatens to air recording of Jan 16 meeting that saw a spat between chief minister and PTI's Ali Zaidi
Video of CM-Ali Zaidi spat
Talking about a terse exchange between the CM and Maritime Affairs Minister Ali Zaidi during the Jan 16 meeting of the Karachi Coordination Committee, he said they had not made any secret recording of the meeting but many participants had joined in through a video link and "it is all recorded".
"If the real face of this PTI government were to be shown to the people, then we would definitely air that recording," he said.
Mr Ghani also said that the federal cabinet and the prime minister were answerable to the people about the sugar, wheat and medicine scandals.
"Also, with all the reports about the petrol, LNG and gas scandals coming to light and the involvement of cabinet members including their prime minister and their ATM and bank accounts that are being filled, there is also a burden of billions of rupees on the nation. The federal cabinet is full of crooked ministers and spokespersons and when they get stuck somewhere they resort to shenanigans," he said.
Talking about the Pakistan Steel Mills, the minister said that the Sindh government still wanted to take it over and run it.
"It is the government's incompetence that the Steel Mills incurred a loss of Rs42 billion. Instead of questioning those who destroyed the Mills by cutting off gas connections, punishment is being meted out to the poor workers there," he said.
https://www.dawn.com/news/1603673/murad-will-not-be-replaced-as-cm-if-arrested-in-nab-case-ghani
--------
North America
Canada parl. asks govt. to designate armed US militia group as terrorist entity
26 January 2021
Canada's parliament has approved a motion calling on the government to formally designate an American group that supports former US president Donald Trump as a terrorist entity, alongside outfits like al-Qaeda and Daesh.
Canadian lawmakers unanimously passed a motion on Monday that called on the government of Prime Minister Justin Trudeau to declare as a banned terrorist group the so-called Proud Boys, a white supremacist group and one of the staunchest supporters of Trump.
It urges the government to "use all available tools to address the proliferation of white supremacists and hate groups starting with immediately designating the Proud Boys as a terrorist entity."
Although the move is symbolic, Trudeau's government said authorities were monitoring the Proud Boys and collecting evidence that could support designation.
A spokeswoman for Public Safety Minister Bill Blair said that security and law enforcement agencies were "very actively engaged in monitoring the activities of these groups." According to Mary-Liz Power, authorities are "gathering the evidence required to support a determination of listing as a Terrorist Organization."
Earlier this month, Trump incited armed supporters, including members of Proud Boys, to storm the US Capitol building, where lawmakers were in the process of confirming Trump's defeat and Biden's win in the 2020 US presidential election.
The mob assault resulted in the killing of at least five people, including a police officer who was guarding the Capitol building.
The attack also prompted a historic second impeachment vote against Trump at the US House of Representatives. Lawmakers cited Trump's incitement of an insurrection against the US government in the article of impeachment.
The Proud Boys had previously offered to serve as Trump's private militia.
If the Canadian government designates Proud Boys as a terrorist entity, the group would be joining a long list of other organizations including al-Qaeda, Boko Haram, and Daesh terrorist groups.
https://www.presstv.com/Detail/2021/01/26/643861/Canada-parl--asks-govt--to-designate-armed-US-militia-group-as-terrorist-entity
--------
Biden admin launches review of Trump decision to designate Yemen's Houthis as foreign terrorist organization
January 22, 2021
Washington (CNN)The State Department has initiated a review of the Trump administration's decision to designate Yemen's Houthi rebels as a foreign terrorist organization (FTO), a spokesperson told CNN Friday.
It is a swift move by the newly installed Biden administration to examine one of the most consequential 11th hour actions taken by former Secretary of State Mike Pompeo who announced the decision less than two weeks before leaving, with the designation going into effect just a day before the inauguration on Wednesday.
"As noted by Secretary-Designate (Antony) Blinken, the State Department has initiated a review of Ansarallah's terrorist designations," the spokesperson said.
Blinken, President Joe Biden's pick for secretary of state, said at his nomination hearing Tuesday that his "deep concern about the designation that was made is that at least on its surface it seems to achieve nothing particularly practical in advancing the efforts against the Houthis and to bring them back to the negotiating table, while making it even more difficult than it already is to provide humanitarian assistance to people who desperately need it."
He told lawmakers that he would propose to review it "immediately."
The foreign terrorist organization designation was swiftly condemned by humanitarian organizations, diplomats, and bipartisan members of Congress who fear it could further inflame the situation on the ground, upend UN peace talks, and exacerbate the country's humanitarian crisis.
The State Department spokesperson told CNN that they "will not publicly discuss or comment on internal deliberations regarding that review.
"However, with the humanitarian crisis in Yemen we are working as fast as we can to conduct the review and make a determination," they said.
Yemen has been embroiled in a years-long civil war that has pitted a coalition backed by Saudi Arabia and the United Arab Emirates against the Iran-backed Houthi rebels, a Shia political and military organization from the north of Yemen. The conflict has cost thousands of civilian lives and plunged the country into a humanitarian crisis.
The State Department spokesperson said that they "strongly believe that Ansarallah" -- another name for the Houthis -- "needs to change its behavior," adding that it "bears significant responsibility for the humanitarian catastrophe and insecurity in Yemen."
"At the same time, we must also ensure that we are not impeding the provision of humanitarian assistance," they said.
Pompeo said in his statement announcing the designation that the United States was "planning to put in place measures to reduce their impact on certain humanitarian activity and imports into Yemen."
"We have expressed our readiness to work with relevant officials at the United Nations, with international and non-governmental organizations, and other international donors to address these implications," he said.
However, humanitarian organizations and lawmakers expressed serious concerns that the measures would not be sufficient.
Mercy Corps CEO Tjada D'Oyen said the Trump administration's designation of the Houthis as a foreign terrorist organization would "undermine the overstretched humanitarian response in Yemen, threatening the lives of millions of Yemenis who rely on humanitarian assistance."
The head of the International Rescue Committee called the decision "pure diplomatic vandalism."
"This policy, in the name of tying up the Houthis, will actually tie up the aid community and international diplomacy. The opposite is needed -- effective pressure on all parties to the conflict to cease using civilians as hostages in their war games," David Miliband said.
The spokesperson said the US "will continue to support the efforts of UN Special Envoy Martin Griffiths in bringing the parties to a political consensus."
"Our focus is on supporting a comprehensive political agreement that will end the conflict and resolve the dire humanitarian situation," they said.
In his nomination hearing Tuesday, Blinken told lawmakers that the Biden administration intends to end its support for the Saudi-led campaign in Yemen.
"The President-elect has made clear that we will end our support for the military campaign led by Saudi Arabia in Yemen. And I think we will work on that in very short order once the President-elect is President for the reasons that you cited," Blinken said.
Asked what ending that support looks like, the nominee for top US diplomat said, "it looks like, first and foremost, making sure we understand exactly what support we are actually currently providing and which we need to look at, and then withdrawing that support."
"But I want make clear, I think we have to be in close contact with Saudi Arabia, with our partner there. We need to be very clear about what we are doing, why we are doing something and talk it through," Blinken said. "But the main point is that for reasons that we have discussed we believe that continuing that support is not the national interest."
https://edition.cnn.com/2021/01/22/politics/houthi-designation-review/index.html?utm_source=iterable&utm_medium=email&utm_campaign=1933646_
--------
US authorizes transactions with Yemen's Houthis for 30 days
25 January 2021
The US Treasury Department has issued a license authorizing transactions until February 26 involving Yemen's Houthi Ansarullah movement, which was earlier designated by the Trump administration as a foreign terrorist organization.
The new Treasury Department license issued on Monday allows all transactions involving the Houthi group or any entity in which it owns 50% percent or more - though not its blacklisted leaders - until Feb. 26, 2021.
The Treasury Department appeared to be trying to allay the fears of companies and banks involved in commercial trade to Yemen, which relies mainly on imports.
The Treasury specifically stated in a Frequently Asked Question, "Foreign financial institutions do not risk exposure to … sanctions … if they knowingly conduct or facilitate a transaction" for the Houthis.
Brian O'Toole, a former Treasury official under the Obama Administration, says the license "essentially wipes out the entire effect of the designation while giving the Biden administration a chance to make the decision on its own rather than getting stuck with Mike Pompeo's decision."
Donald Trump's administration announced the designation of popular Ansarullah movement as a terrorist group on January 11, nine days before new US President Joe Biden took office last Wednesday.
Trump was a staunch ally of Saudi Arabia, offering logistical help and military sales for the kingdom's six-year war on Yemen to dislodge the Ansarullah-led and Sana'a-based National Salvation Government, which is controlling much of the war-torn country.
The Biden administration's move to approve transactions with the Houthis came after 22 aid organizations working in warn-torn Yemen called for Washington to revoke its labeling of the Houthis as a terror group as the move put "millions of lives at risk".
The joint appeal was issued by Mercy Corps, Oxfam, Save the Children and Norwegian Refugee Council, among others.
"This designation comes at a time when famine is a very real threat to a country devastated by six years of conflict," said the 22 groups.
The Trump administration had exempted aid groups, the United Nations, the Red Cross and the export of agricultural commodities, medicine and medical devices from its designation, but UN officials and aid groups said the carve-outs were not enough and called for the decision to be revoked.
Earlier this month, Stephane Dujarric, spokesman for UN Secretary General Antonio Guterres, had also called on the USA to reverse the Trump administration's stance.
The US State Department said on Friday that it has initiated a review of the designation and is working as quickly as it can to conclude the process and make a determination.
Since late 2014, Houthis have been running state affairs following the resignation of the Riyadh-back President Abd Rabbuh Mansur Hadi.
Months later in March 2015, the Saudi regime and a number of its allies launched the deadly war on Yemen to reinstall Hadi, but the campaign has flatly failed in the face of stiff resistance by the Yemeni armed forces.
https://www.presstv.com/Detail/2021/01/25/643843/Yemen-houthis-ansarullah-sanctions
--------
Senator: Trump's campaign against Iran 'catastrophic failure'
25 January 2021
A US senator has vehemently denounced former US president Donald Trump's policy of "maximum pressure" against Tehran, warning that the Iran hawks, who used to champion the wrong approach, are now trying to prevent his successor Joe Biden from opting out of it.
"Trump's "maximum pressure" campaign proved a catastrophic failure," Senator Chris Murphy (D-Conn.) tweeted on Monday.
Trump's "maximum pressure" campaign proved a catastrophic failure, but the Iran hawks are unrepentant. Now they want to dictate Biden's personnel choices, labeling those who support diplomacy as dangerous.
The hawks have been wrong, over and over. Why listen to them now?
— Chris Murphy (@ChrisMurphyCT) January 25, 2021
Trump took the US out of the Joint Comprehensive Plan of Action (JCPOA), a historic 2015 nuclear deal between Iran and world powers. He also returned the sanctions that the deal had lifted.
Israel as well as anti-Iran American and regional officials reportedly played a major role in having the Trump administration take the unilateral measures that violated the JCPOA - a nuclear agreement ratified in the form of a United Nations Security Council resolution.
"The hawks' theory was if we pulled out of the nuclear deal and went back to sanctions and tough talk, Iran would come to the table…," Murphy said.
He reminded how the hawkish US officials used to believe that not only would the pressure force Iran back to the negotiation table, but also the Islamic Republic would start discussing its missile program and regional influence as Washington desired.
The Islamic Republic reacted to the campaign led by the US and its allies by asserting that it would never renegotiate a "done deal."
Leader of the Islamic Revolution Ayatollah Seyyed Ali Khamenei has said that Iran would resist the "criminal" US sanctions and turn the maximum pressure into "maximum disgrace" for Washington.
Murphy said, "Trump tested the theory. Gave it 4 solid years. It didn't work. At all. And Iran restarted the shuttered parts of their nuclear program. Unmitigated disaster."
"When Trump came into office, the JCPOA had aligned U.S./Britain/France/Germany/Russia/China vs. Iran," he said, referring to the nuclear deal's members.
"Trump and the Iran hawks managed to shift the JCPOA balance to U.S. vs. Iran/Britain/France/Germany/Russia/China. A total disaster," he added.
The anti-Iran forces, Murphy said, are still "unrepentant," and now trying to "dictate Biden's personnel choices, labeling those who support diplomacy as dangerous."
They "want to tell Biden he can't hire people to work on the Iran brief who support diplomacy," he added.
"The hawks have been wrong, over and over. Why listen to them now?" he asked.
https://www.presstv.com/Detail/2021/01/25/643794/Iran-United-States-Trump-maximum-pressure-Chris-Murphy-catastrophic-failure-hawks
--------
Europe
Russia rejects any closed-door discussion of Syrian chemical case at UN Security Council
25 January 2021
Russia's permanent ambassador to the United Nations says Moscow will oppose any attempt to return to closed-door discussions on the purported use of chemical arms in Syria at the UN Security Council.
Vassily Nebenzia, the permanent representative of the Russian Federation to the UN, said on Monday that the United Kingdom, which will become the head of the Council for the month of February, has proposed to return to discussing Syria's chemical case behind closed doors.
He added, in an interview with TASS news agency, that such discussions would be held "without video conference and also without the participation of the representative of Syria, but we'll oppose that."
"With our initiative, these sessions have become open, and we do not see why they should hide from the public community," Nebenzia further said, as cited by Syria's official SANA news agency.
The Russian envoy said the international community must be aware of what is going on about the chemical file in Syria, "so we would insist that the meeting be open."
The Syrian government surrendered its stockpiles of chemical weapons in 2013 to a joint mission led by the UN and the Organization for the Prohibition of Chemical Weapons (OPCW), which oversaw the destruction of the weaponry.
However, Western governments and their allies have never stopped pointing the finger at Damascus whenever an apparent chemical attack has taken place.
Damascus has time and again strongly denied any use of chemical weapons, saying it is not in possession of such weapons and remains committed to cooperating with OPCW.
On January 5, Syria lambasted Western pressure aimed at forcing the OPCW and its member states to adopt a French-Western draft resolution that falsely claimed its "Syria's non-abidance" by the obligations according to the Chemical Weapons Convention.
Damascus further stressed that any resolution that would be released by the Executive Council based on the fabrications of the OPCW Investigation and Identification Team (IIT) was a politicized resolution with the aim of accusing the Syrian government of using chemical weapons and acquitting the terrorists and their sponsors.
Back in December, Syria emphasized the necessity of closing its chemical file for good after it fulfilled all the obligations entailed by its accession to the Chemical Weapons Convention in 2013.
https://www.presstv.com/Detail/2021/01/25/643811/Russia-closed-door-Syria-chemical-case
--------
Schoolboys in court charged with terrorism offences
23 January 2021
Two boys accused of being members of a far-right extremist group have appeared in court on terrorism charges.
The pair, aged 15 and 16, are alleged to have been part of a Telegram chat group found to contain images of Adolf Hitler and the white supremacist behind the 2019 Christchurch massacre.
The boys appeared at Westminster Magistrates' Court on Friday but did not enter pleas.
They are due to appear at the same court on 26 February.
The younger boy, from South Derbyshire, is accused of possessing a terrorist publication, namely the Anarchy Cookbook Version 2000 on or before 22 September.
He is also charged with disseminating a terrorist publication on 18 September and has been remanded in custody.
The other teenager, from Kent, is accused of providing an electronic link that allowed others to access a terrorist publication, namely the "white resistance manual".
It is alleged he did so with the intention it would encourage others to commit a terrorist act.
He is also charged with the dissemination of a terrorist publication on 28 August.
The boy was granted conditional bail with restrictions on his internet use and a curfew ordering him to remain at home between 20:00 and 06:00 GMT.
https://www.bbc.com/news/uk-england-derbyshire-55772245?utm_source=iterable&utm_medium=email&utm_campaign=1933646_
--------
Swiss ambassador to Beirut, Lebanese FM hold talks amid central bank probe
25 January 2021
Lebanon's foreign minister held talks Monday with the Swiss ambassador to Beirut after Switzerland started a probe into possible money laundering and embezzlement at the Mideast country's central bank.
Foreign Minister Charbel Wehbi and ambassador Monika Schmutz Kirgoz did not offer comments following their meeting, saying only that the probe is a matter that judicial authorities are dealing with.
Switzerland's attorney general said last week he has asked Lebanon for cooperation into the probe, without offering further details. It's not clear what prompted the Swiss investigation. Lebanon is facing its worst economic and financial crisis in its modern history.
Lebanon's Central Bank Governor Riad Salameh denied last week he had made any transfers of the bank's funds. On Monday, shortly after the meeting between Wehbi and Kirgoz, the governor issued a statement saying reports about large transfers "are very exaggerated and have nothing to do with reality."
They allegedly aim to tarnish the image of the central bank and its governor "but lies won't succeed," said Salameh, who has been questioned by Lebanon's prosecutor general, Judge Ghassan Oweidat.
Swiss legislator Fabian Molina has been campaigning for months for Swiss authorities to act against corruption in Lebanon. On Sunday, he said he was pleased "there is finally a movement in connection with the billions (of dollars) stolen from the Lebanese people."
Molina added he expects the Swiss government and the Financial Market Authority to take action "to block further funds and prevent future cases of money laundering by Swiss banks."
Lebanon is facing its worst economic and financial crisis in its modern history and as of late 2019, private banks enforced informal capital controls, limiting withdrawals and blocking transfers abroad. The value of Lebanon's currency tumbled against the dollar amid an unprecedented shortage of foreign currencies.
The government defaulted on its foreign debts and began talks with the International Monetary Fund for a rescue package.
Amid the chaos, reports surfaced of capital transfers, including by government officials.
A government-commissioned international audit of the central bank faltered after the New York-based company hired to do it said it was unable to acquire needed information and documents.
Salameh, who has held the central bank post since 1993, has defended his role, alleging a systematic campaign meant to hold him responsible for the country's financial crisis.
https://english.alarabiya.net/News/middle-east/2021/01/25/Swiss-ambassador-to-Beirut-Lebanese-FM-hold-talks-amid-central-bank-probe
--------
South Asia
Afghanistan welcomes US move to review deal with Taliban
Jan 26, 2021
ISLAMABAD: The Afghan government on Saturday welcomed the move by the Biden administration to review the February 2020 deal that Washington had signed with Taliban insurgents.
Sediq Sediqqi, spokesperson of Afghan President Dr Ashraf Ghani, said in a statement that the US-Taliban agreement has so far failed to deliver the desired goal of ending Taliban violence and bringing a ceasefire. "The Taliban did not live up to its commitments," he said.
His statement followed a phone conversation between Jake Sullivan, the new US national security adviser, and his Afghan counterpart Hamdullah Mohib.
The Biden administration on Friday said that it was looking to review the deal between Washington and the Taliban.
In the conversation with Sullivan, Mohib said that they agreed to work towards a permanent ceasefire and a just and durable peace in Afghanistan "capable of preserving the gains of the past two decades, protecting the rights of all Afghans, and continuing the reforms."
In a series of tweets on Saturday, Mohib said that Sullivan affirmed that the partnership with the government of Afghanistan and Afghan security and defense forces remains a priority and a key to US national security objectives. "We will continue close consultations in the days and weeks ahead," he added.
Last week, following the targeted assassination of two female judges in the capital Kabul, the US Embassy warned the Taliban to cease attacks on civilians for peace to come to Afghanistan.
"The Taliban should understand that such actions for which it bears responsibility outrage the world and must cease if peace is to come to Afghanistan," tweeted Ross Wilson, the US chargé d'affaires.
The review comes amid the stalled intra-Afghan talks in the Qatari capital of Doha, which aimed at ending the nearly two-decade conflict in war-torn Afghanistan.
Former US President Donald Trump had made the withdrawal of US Nato troops from Afghanistan a priority. According to the US-Taliban deal, the US and Nato allies would withdraw all troops from Afghanistan by May this year if the Taliban upheld its promises.
The promises included not to allow militant outfits to operate from areas controlled by the Taliban, shunning violence and to start dialogue with the government in Kabul. Following the deal, the militants halted attacks to a greater extent on foreign troops but intensified its fight against Kabul, with the country having seen a wave of targeted killings in recent months. Journalists, activists, politicians and women judges were among those killed in targeted assassinations.
Given the volatile situation in the war-torn country, the new US administration has said that it will review a peace deal that President Trump had made with the Taliban.
https://timesofindia.indiatimes.com/world/south-asia/kabul-welcomes-us-move-to-review-deal-with-taliban/articleshow/80458457.cms
--------
Bangladesh to buy Myanmar rice, putting aside Rohingya crisis
JAN 24, 2021
Bangladesh will buy 100,000 tonnes of rice from Myanmar, putting aside a rift over the Rohingya refugee crisis as the government races to overcome a shortage of the staple food for the country's more than 160 million people.
High rice prices pose a problem for the Dhaka government, which is ramping up efforts to replenish its depleted reserves after floods last year ravaged crops and sent prices to a record high.
Muslim-majority Bangladesh and mostly Buddhist Myanmar have been at odds over the more than 1 million Muslim Rohingya refugees in camps in southern Bangladesh. The vast majority of them fled Myanmar in 2017 from a military-led crackdown that U.N investigators said was executed with "genocidal intent" - assertions that Myanmar denies.
Bangladesh will import white rice in a government-to-government deal at $485 a tonne, including cost, insurance and freight (CIF) liner out basis, said Mosammat Nazmanara Khanum, the secretary at the country's food ministry.
"Our main priority is to bring down the prices of rice," Khanum told Reuters on Sunday, adding the government could buy as much as 10 million tonnes while private traders are allowed to buy another 10 million tonnes in the year to June.
The deal will be signed soon and the rice will be delivered by April in phases, she said.
Bangladesh is also buying 150,000 tonnes of rice from India's state-run firm NAFED in a government-to-government deal while it has issued a series of tender to buy the grain.
"We could buy more rice from India in state-to-state deals," Khanum said, adding that the Food Ministry was holding talks with several other Indian state agencies.
Bangladesh, traditionally the world's third-biggest rice producer with around 35 million tonnes annually, uses almost all its production to feed its people. It still often requires imports to cope with shortages caused by floods or droughts.
https://www.hindustantimes.com/world-news
--------
Afghanistan: Journalists, Reporters Displaced by Surge of Targeted Assassinations, Killings
By Mohammad Haroon Alim
24 Jan 2021
As the targeted killings and assassinations in the country have increased, more specifically by targeting journalists and members of civil society, many of the media workers were forced to leave the country.
Last night, Mukhtar Lashkari, the host of the satirical program "Cactus" on Channel One, left Afghanistan due to security threats against journalists.
In a video posted on social media, Lashkari says he is leaving Afghanistan to protect his life.
the recent targeted killings of journalists have caused many Afghan media figures to leave the country either forever or for a while, Lashkari added, that a country without journalists and media is like the "graveyard of information".
"What should we do? Journalists, are the most vulnerable segment of society, mostly under the throes of the opposition without any security protection, and haven't you heard of what happened to journalists recently" fearing for his life he whined "I am also one of those who decided to live abroad for a while", Lashkari said.Lashkari said that he will return back to Afghanistan and that currently, he should save his life.
On the other hand, Farahnaz Forotan, a political presenter who worked with various TV channels has left Afghanistan due to recent security threats and targeted assassinations of journalists. She confirmed her migration on Twitter that she had taken refuge in France.
"I went to France on a long-term visa and am currently in Turkey," she wrote on her Twitter account", she also emphasized that she did not seek asylum in France, but sought refuge in the country.
Meanwhile, Fatemeh Hashim, Editor in Chief of Khaama Press, has also left the country due to security threats against journalists.
Hashem added, that currently journalists, civil society activists, public and prominent political figures are living under extreme disappointing situation.
According to Fatema Hashim, Afghanistan, and especially Kabul city, has recently become a city of terror, and every day "we are evident to a targeted killing incident", Something that has turned our survival into a "miracle".
"It simply came to our notice that every moment of fear prevents a person from reaching the goal he is about to achieve, but I must survive to achieve all my ideals and goals," Hashim added.
Last week, RFE\RL (Radio Azadi) correspondent Nusrat Parsa has also left Afghanistan for Turkey due to targeted assassinations and security threats.
He also stated that the reason for his departure from Afghanistan was due to security threats to the lives of journalists, "I fled the Islamic Republic of Afghanistan," he wrote on his Facebook page, escape is also part of the struggle, "I left Afghanistan to survive.".
Reports indicate many journalists and media activists have left the country, either temporarily or permanently, following the rage and escalation in targeted killings of journalists and members of civil society.
In the past two months, several journalists and media workers in the country have been killed by unidentified gunmen or by magnetic mines, some were also suspiciously announced dead.
Two months ago, Amrullah Saleh, the first vice president, wrote on his Facebook page that the Taliban had decided to target Afghan journalists, members of civil society in order to put pressure on the government.
Just a few days after Saleh's remarks, a wave of targeted attacks on journalists, members of civil society, and women's rights activists began.
In less than two months more than a dozen journalists, civil society activists, and women's rights activists were assassinated.
But the Taliban have never claimed responsibility such actions.
Following the international community's strong criticism of the recent targeted killings, the Taliban issued a statement completely denying their involvement in the attacks, and besides the militant group condemned the killings of journalists, members of civil society, and civilians.
https://www.khaama.com/afghanistan-journalists-reporters-displaced-by-surge-of-targeted-assassinations-killings-4455544/
--------
Pakistan to Boost Sustenance Markets along Pak-Afghan Border
By Mohammad Haroon Alim
25 Jan 2021
Pakistan Foreign Ministry in a press statement said, that Afghan Foreign Minister, Haneef Atmar on Monday in a telephone conversation spoke with Shah Mahmood Qureshi, both had discussed matters of mutual interest.
According to the statement, Qureshi stressed strengthening trade policies between the two countries, adding to the importance of the Border Sustenance Markets, he underlined a special initiative by Prime minister Imran khan to improve trade across the Afghan border with Pakistan.
"Highlighting Pakistan's policy to strengthen trade between the two countries, Foreign Minister Qureshi drew Foreign Minister Atmar's attention towards proposed establishment of Border Sustenance Markets. He underlined that it was a special initiative of the Prime Minister Imran Khan to boost local trade and economic activity in the border regions".
Qureshi "expressed hope for the earliest finalization of the MoU", the statement read.
Qureshi reiterated Pakistan's support to the Afghan peace process and hoped for a stable and prosperous Afghanistan.
Foreign Minister Qureshi "underlined that the Intra-Afghan Negotiations (IAN) provided an historic opportunity for the Afghan leadership to achieve an inclusive, broad-based and comprehensive political settlement in Afghanistan", he also expressed "concern on the high level of violence in Afghanistan and emphasized progress in the IAN which would also facilitate reduction in violence, leading to ceasefire".
Qureshi demanded the release of Pakistani prisoners detained for minor crimes in the Afghan jails.
Foreign Minister Qureshi raised the "issue of Pakistani prisoners who had been languishing in Afghan jails over minor crimes".
The released statement indicates, that Qureshi hoped the Afghan president will issue a decree, by providing an opportunity for the prisoners to return home and to their families.
"The Intra-Afghan Negotiations had provided a window of opportunity for return of lasting peace in Afghanistan. Pakistan had always held that there was no military solution of the Afghan conflict and a political settlement was the only way forward. Pakistan would continue to play its positive role towards supporting the Afghan Peace Process and strengthening bilateral relations with Afghanistan" Pakistan Foreign Ministry stated.
This comes as President Ashraf Ghani in a Cabinet meeting said Monday, that a new chapter has been opened in relations between Kabul and United States.
He added that the US our "main partner" relations with Afghanistan will be at the government-to-government level.
According to President Ghani, the American government will consult on a joint-strategy following the review of the US-Taliban agreement in Doha, Qatar.
"A quick review of the US's deal with the Taliban will be done by the US National Security council and then a fundamental consultation will be done with us," Ghani said.
https://www.khaama.com/pakistan-to-boost-sustenance-markets-along-pak-afghan-border-445544/
--------
Southeast Asia
Govt introduces Manhaj Rabbani as basis of Islamic administration – Zulkifli
JANUARY 25, 2021
PUTRAJAYA (Jan 25): The government has introduced the Manhaj Rabbani policy as the basis of Islamic administration, which is based on three main features – Thaqafah (knowledge), Ruuhaniyyah (spirituality) and Dakwah (activism).
Minister in the Prime Minister's Department (Religious Affairs) Datuk Seri Dr Zulkifli Mohamad Al-Bakri said the Manhaj Rabbani is a concept that is close to the community, clear, easy to understand and can be interpreted at the individual, community, organisational and national levels.
Zulkifli, when delivering an online message in conjunction with the assembly of agencies under his department, described the policy required an individual to adhere to the principle of 'ubudiyyah' (devotion) to God.
"The policy is also in line with Malaysia's position as an Islamic country and is further strengthened through the first principle of the Rukun Negara, which is Belief in God," he said.
The core of the Manhaj Rabbani policy was Maqasid Syariah and the level of achievement under the policy would be measured by the implementation of the i-MaqSD application, under the purview of the Department of Islamic Development Malaysia's Maqasid Syariah Division, he said.
i-MaqSD has been designed to scientifically measure the level of application of the five principles of Maqasid Syariah on the implementation of functions of agencies under the Prime Minister's Department (Religious Affairs). It is also integrated with 17 agendas of the 2030 Sustainable Development Goals (SDGs).
Its implementation will use the mix research method which is quantitative and qualitative, involving six key areas and 29 indicators that are directly related to the function of each agency.
The areas are Shariah Law and Judiciary; Education and Human Development; Socio-Economic of Ummah; Dakwah and Media; Mosque Institution; and Leadership and Governance.
Zulkifli said based on the i-MaqSD pilot project which has been implemented by the Maqasid Division on 14 agencies under the department last year, the overall achievement level is at 85.9 per cent.
In his message, Zulkifli also asked the agencies under the purview of his department to streamline their respective corporate communication units so that every issue that arises in the media including social media to be addressed immediately.
"There are agencies which are still unsure on how to respond even though the issues (in the media) have already been discussed. There should be a detailed plan if an issue arises, what action will be taken to resolve it. Silence will not resolve anything," he said.
He said agencies focusing on the distribution of aid such as the Federal Territories Islamic Religious Council's Baitulmal, Yayasan Pembangunan Ekonomi Islam Malaysia and Yayasan Dakwah Islamiah Malaysia should utilise social media such as Facebook and Twitter to disseminate activity reports.
"We do not want posting on social media done half-heartedly with only 10 likes. Every time you post something, let it spread with thousands of shares, likes, retweets. Social media can serve an echo chamber that transmits true and positive news if we really want it," he said.
Zulkifli, meanwhile, said that although the two parliamentary sittings this year may be postponed due to an emergency declaration, action to resolve issues such as the Endowment Bill, Syariah Courts (Criminal Jurisdiction) Bill or RUU355 and Royal Commission of Inquiry (RCI) to investigate the alleged misappropriation of funds in Lembaga Tabung Haji (TH), should continue. – Bernama
https://www.theborneopost.com/2021/01/25/govt-introduces-manhaj-rabbani-as-basis-of-islamic-administration-zulkifli/
--------
Calls for Zahid to quit as Umno chief impolite, says Tok Mat
January 26, 2021
PETALING JAYA: Umno deputy president Mohamad Hasan has spoken out against calls for party president Ahmad Zahid Hamidi to resign, pleading for unity and harmony among members.
Mohamad, also known as Tok Mat, said the "impolite" manner in which the calls had been made was against Umno's values and culture, and warned members against being disrespectful towards the presidential institution.
"We can have different opinions and aspirations because Umno is democratic, but not to the point where it leads to disputes and eventually divisions in Umno. I call on all to unite within Umno by reconciling with one another.
"A little seed of division between us will give our opponents the opportunity to break Umno apart," he said in a statement today.
Mohamad urged Umno members to guard the friendships and camaraderie within the party, adding that no one would benefit nor win from Umno being divided.
He also said his concern was that the party and the Malays would pay the biggest price if differences were not settled in a civil and courteous manner.
"I urge everyone to bring in a new era for Umno with unity and cooperation. An era where the party is strengthened with the commitment to champion the interests of Malaysia, the Malays, Islam and democracy.
"And, finally, an era where Umno is respected as the true spokesman of Malaysians and the Malays, and not a party that is greedy for power and position," he said.
There have recently been a few calls for Zahid to step down as Umno president, with a division chief most recently saying his weak leadership had caused "havoc" among members.
Two youth leaders from Johor and Negeri Sembilan had also asked Zahid to resign.
https://www.freemalaysiatoday.com/category/nation/2021/01/26/calls-for-zahid-to-quit-as-umno-chief-impolite-says-tok-mat/
--------
Will Indonesia's new Religious Affairs minister protect religious minorities?
26 January 2021
Alexander R Arifianto
On 22 December 2020, Indonesian President Joko Widodo reshuffled his cabinet to replace six ministers. One of the more important changes was for the Ministry of Religious Affairs. Retired General Fachrul Razi, who occupied the portfolio since the start of Widodo's second term commenced in October 2019, was replaced by Yaqut Cholil Qoumas. Quomas is a member of parliament from the National Awakening Party, affiliated with the Nahdlatul Ulama (NU), Indonesia's largest Muslim organisation.
Qoumas' appointment is a sign that Widodo is making amends with NU, one of Widodo's key supportersduring his 2019 re-election campaign. Widodo's appointment of Razi had alienated leaders of the organisationsince, by political tradition, the position is usually occupied by a cleric or politician affiliated with NU.
NU leaders expressed their disappointment through subtle criticisms in media statements and, more importantly, lukewarm support for his policies. For instance, they argued that Razi's proposal to institute a certification program for Islamic preachers should be implemented by Islamic organisations themselves instead of the state. The lack of NU support for Razi's policy initiatives weakened his ministerial authority and led to the perception that his brief tenure was controversial and largely ineffective.
Widodo likely reached out to NU to appease his most important Islamic ally and to work closely with the organisation on two main priorities: combating Islamic radicalism and protecting the rights of religious minorities.
Qoumas is chairman of the Ansor Youth movement, NU's wing for young activists aged 40 years and under. Ansor was widely considered a leading ally of the President during last year's general election. It has also long been known for its efforts to protect the rights of religious minorities, as seen in its initiatives to guard Christmas Eve services in Christian churches across Indonesia for the past two decades.
The organisation's one-sided actions against Islamist groups have often created controversy. For instance, it engaged in violent altercations with the Islamic Defenders Front (FPI) and Hizb ut-Tahrir Indonesia (HTI)during the heavily polarised 2019 general election campaigns. Ansor and NU leaders were thought to have lobbied the Widodo administration to legally ban HTI, a prohibition which was enacted in July 2017. Incidents like these have led some observers to question Ansor's — and broadly NU's — commitment to genuine tolerance and pluralism.
Some analysts assert that Qoumas' appointment indicates a continuation of the Widodo administration's harsh measures against Islamist groups, given the tough rhetoric he issued against FPI and other hard-line groups as Ansor chairman. The Indonesian government finally prohibited FPI on 30 December 2020.
But it is unclear whether Qoumas will enact some of the controversial proposals of his predecessor, such as the preachers certification scheme and mandatory registration of Islamic community preaching groups (majelis taklim).
Addressing discrimination against religious minorities seems to be another new policy initiative for Qoumas. In an impromptu statement issued on 24 December 2020, he announced that Ministry of Religious Affairs will review the status of the Ahmadi Muslim minority to 'reaffirm their religious rights as well as their rights as Indonesian citizens'.
Ahmadi Muslims have been victims of religious persecution for more than a decade. The Indonesian Ulama Council (MUI) issued a religious ruling (fatwa) declaring Ahmadi Muslims a 'deviant' sect in 2005. This fatwawas followed up by a joint ministerial decree issued by the Religious Affairs, Home Affairs, and Justice and Human Rights ministries that severely restricted the religious activities of Ahmadis outside of their mosques.
Qoumas' statement immediately invoked a strong pushback from conservative Islamists. A senior MUI official urged Qoumas to consult all Islamic organisations and senior clerics before issuing a decision, since this is considered 'a sensitive theological matter'. Qoumas was forced to clarify his initiative, stating that he only intends to restore the rights of Ahmadi minorities as Indonesian citizens.
This clarification meant that, if implemented, Qoumas' initiative is unlikely to reverse the MUI fatwa or the joint ministerial decree. But it would restore the civil rights of Ahmadi minorities as citizens, including their ability to access public services such as education and health care. Human rights groups have criticised Quomas' initiative as inadequate and called on him to cancel the joint ministerial decree, since it is the root of the persecution of Ahmadis.
Qoumas' new initiatives as Religious Affairs Minister are a welcome move to counter the influence of radical Islamists and address long-standing injustices against religious minorities. He now has to prove these are not empty slogans, but an earnest attempt at promoting equal citizenship for all Indonesians irrespective of their religious beliefs.
Alexander R Arifianto is a Research Fellow in the Indonesia Programme at the S Rajaratnam School of International Studies, Nanyang Technological University, Singapore.
https://www.eastasiaforum.org/2021/01/26/will-indonesias-new-religious-affairs-minister-protect-religious-minorities/
--------
Father of a non-Muslim pupil rejects hijab requirement
by Mathias Hariyadi
01/25/2021
Jakarta (AsiaNews) - The parent of a non-Muslim pupil has rejected the discriminatory regulation of the Padang school in Indonesia which wants to impose the hijab on all female students.
There are two predominantly Muslim provinces in the country that have rigorously applied Islamic regulations to their local residents. While Aceh Province became the nation's first province to enforce sharia law, West Sumatra province has never mentioned sharia law as a daily "baseline" for residents' everyday lives. But certainly, in dozens of districts of the province a feeling of intolerance has repeatedly emerged for which non-Muslim residents have suffered acts of intolerance in forms of persecution, bullying or even - the most recent incident - have been forced to respect local regulations mostly inspired by the Muslim "way of life".
This is what happened to a non-Muslim local high school student identified as Jeni Cahyani Hia, of Chinese descent, in Padang, the capital of West Sumatra province. Days ago her father sent a strong worded message to her daughter's school - the SMKN 2 Padang - stating that as a parent he strongly rejected the school regulations that all female students must wear hijabs. In turn, Ms. Hia steadfastly refused to accept the school's regulations, stating that she and her daughter are not Muslims and therefore her daughter Jenny should not wear hijab as required by the school.
Her mother publicly posted her strong rejection on social media, which brought this issue to national attention to such an extent that both Padang and Jakarta school office branches said they would soon be addressing this issue.
Ms. Hia's recorded video message on social media got responses from at least 3,600 accounts, shares from at least 3,400 accounts, and received 5,500 comments from various people.
The comments have generally expressed great concern that the educational institution should not impose discriminatory acts on a student from a different religious background and from a minority group.
Notice of reprimand
Wikan Sakarinto, director general of vocational education, said Jakarta will give the school an official reprimand for violating the school regulations, that "religious symbols" should not be implemented in school. "The regulation on the student uniform has been officially issued by the Ministry of Education and National Culture," Sakarinto said in a press release released today, referring to Ministerial Regulation no. 45 / Year 2014 which states that a school uniform must not follow certain religious habits. The school is also not authorized to design clothes as a uniform.
Indonesian education minister Nadiem Makarim, a devout Muslim, condemned the Padang incident as an intolerant act on the part of the state school. He said: "This is a serious offense (of the spirit) of the Pancasila, an intolerant act that denies our spirit of pluralism. This means that it is not only an offense to the education regulation, but it also violates the spirit of our national philosophy: Pancasila. "He added that such acts of intolerance clearly constitute a serious violation of Law No. 39/1999 on human rights.
A few days earlier, Adib Alfikri, head of Padang's Education Brach, had said that his office would look into such discriminatory regulation very soon, but many accused him of late reaction.
On Friday, Rusmadi, principal of the SMKN2 school, based in Padang, publicly expressed his request for forgiveness for the incident. "We are very sorry - she said - for a hostile situation caused by our staff".
The public condemned this incident as a serious accident caused by the then mayor of Padang, for which the school is supposed to implement the so-called "local genius" - which means Islamic clothing.
http://www.asianews.it/news-en/Father-of-a-non-Muslim-pupil-rejects-hijab-requirement-52159.html
--------
Arab World
Citizen attacks member of security forces in north Lebanon
Rawad Taha
26 January 2021
A citizen assaulted a member of the uniformed police officer in Lebanon which resulted in an uproar on social media.
The video showed a person getting out of a car without a plate number and with dark windows and then violently assaulting a member of the Internal Security Forces. He then leaves the place of the assault.
On social media, some said the incident involved an old personal dispute that led to the conflict at a time when the policeman was out of his service, while others said the incident occurred after the citizen verbally harassed the policeman's wife.
Some have questioned the two versions of events, with one tweeting that "if a man assaulted a woman, the reason is honor, and if the man assaulted a man, the reason would also be a women."
Some criticized the attack on the officer, claiming that the reason behind this type of incident being "the absence of the [prestige] of the state."
Later, the Directorate of Internal Security Forces settled the debate and said, in a tweet, that "the problem occurred on January 24, between the officer outside his work hours and one of the people living in the neighboring street due to old individual disputes in the port area."
The directorate added that "an investigation report was opened on the subject on the same date by the concerned faction under the supervision of the competent judiciary, and work is underway to arrest the aggressor."
https://english.alarabiya.net/media/digital/2021/01/26/Watch-Citizen-attacks-member-of-security-forces-in-north-Lebanon
--------
Iraq hangs three convicted of 'terrorism' at Nasiriyah central prison: Sources
25 January 2021
Three Iraqis convicted of "terrorism" were hanged on Monday, a security source said, days after a deadly double suicide attack in a crowded Baghdad marketplace.
"Three people convicted under Article 4 of the anti-terror law were executed on Monday at the Nasiriyah central prison," the source told AFP on condition of anonymity.
The reported hangings came after rights groups warned Iraq may authorize a spree of such executions in a show of strength following the bombings on Thursday which killed at least 32 people and were claimed by ISIS terrorist group.
On Sunday, an official from Iraq's presidency had told AFP more than 340 execution orders "for terrorism or criminal acts" were ready to be carried out.
"We are continuing to sign off on more," said the official, speaking on condition of anonymity.
Another official from Iraq's presidency said Monday that all the orders were signed after 2014, most of them under ex-president Fuad Massum and at a time when ISIS occupied a third of the country.
Thursday's attack was a jolting reminder of the persistent threat posed by the extremists, despite the government declaring victory over ISIS in late 2017.
A 2005 law carries the death penalty for anyone convicted of "terrorism," which can include membership of an extremist group even if they are not convicted of any specific acts.
Since Baghdad officially declared victory over ISIS, Iraqi courts have sentenced hundreds to death for crimes perpetrated during the extremists' 2014 seizure of swathes of the country and their brutal three-year hold over cities including Mosul.
Only a small proportion of the sentences have been carried out.
Rights groups have warned that executions were being used for political reasons.
"Leaders resort to announcements of mass executions simply to signal to the public that they're taking... (these issues) seriously," said Belkis Wille, senior crisis and conflict researcher at Human Rights Watch.
"The death penalty is used as a political tool more than anything else," she told AFP on Sunday.
https://english.alarabiya.net/News/middle-east/2021/01/25/Terrorism-Iraq-hangs-three-convicted-of-terrorism-at-Nasiriyah-central-prison-Sources
--------
Syria constitution talks recommence in Geneva
25 January 2021
Delegations from Syria's government, opposition and civil society began a new round of meetings in Geneva on Monday aimed at revising the constitution of the war-torn country.
The fifth round of the so-called Constitutional Committee came days after UN Special Envoy for Syria Geir Pedersen told the UN Security Council that many subjects have been discussed for more than a year and it's now time for the committee to ensure that "the meetings are better organized and more focused."
Syria's nearly 10-year conflict has killed more than half a million people and displaced half the country's pre-war 23 million population, including more than 5 million refugees mostly in neighboring countries.
"I believe that we need to ensure that the committee begins to move from `preparing' a constitutional reform to `drafting' one, as it is mandated to do," Pedersen said last week.
The United States and several Western allies have accused Syria's President Bashar Assad of deliberately delaying the drafting of a new constitution to waste time until presidential elections are held this year and avoid UN-supervised voting as called for by the UN Security Council.
According to Syria's elections law, presidential elections are scheduled to take place between April 16 and May 16, at least 90 days before Assad's seven-year term expires. Assad has been in power since 2000.
At a Russian-hosted Syrian peace conference in January 2018, an agreement was reached to form a 150-member committee to draft a new constitution, which took until September 2019. A 45-member committee known as the "Small Body" started its meetings in Geneva on Monday.
Monday's meeting involved 15 people from each delegation and was taking place amid measures to prevent the spread of coronavirus.
https://english.alarabiya.net/News/middle-east/2021/01/25/Syria-constitution-talks-recommence-in-Geneva
--------
Israel's F-35 fighter jets violate Lebanese airspace in south
25 January 2021
Israeli fighter jets have reportedly violated the Lebanese airspace, carrying out a number of high-altitude flights over several southern cities.
Lebanon's state-run media said the regime used F-35 and F-15 warplanes on Monday afternoon to violate the country's airspace over the cities of Nabatiyeh, Iqlim al-Tuffah and Tyre.
Reports said it was the first time the Israeli regime had used F-35 fighter jets of the advanced fifth-generation in such intrusive missions, and that the flights were conducted at high altitude.
تحليق مكثف للطيران الحربي المعادي من بعد ظهر اليوم في اجواء منطقتي النبطية واقليم التفاح وعلى علو متوسط
— nbnlebanon (@nbntweets) January 25, 2021
Israeli aircraft have been intruding into Lebanon's skies on an almost daily basis since 2006, when the regime withdrew from the country's south after staging a devastating war against it, claiming the flights serve surveillance purposes.
Lebanon's government, the Hezbollah resistance movement and the UN Interim Force in Lebanon (UNIFIL) have repeatedly condemned the overflights, saying they are in clear violation of UN Resolution 1701 and the country's sovereignty.
UN Security Council Resolution 1701, which brokered a ceasefire in the war of aggression Israel launched against Lebanon in 2006, calls on Tel Aviv to respect Beirut's sovereignty and territorial integrity.
In 2009, Lebanon filed a complaint with the UN, presenting over 7,000 documents pertaining to Israeli violations of Lebanese territory.
https://www.presstv.com/Detail/2021/01/25/643836/Israeli-fighter-jets-Lebanese-airspace
--------
Saudi court sentences Shia Muslim eulogist to nine months in prison
25 January 2021
A court in Saudi Arabia has sentenced a Shia Muslim eulogist to nine months in prison as the Riyadh regime continues its heavy-handed crackdown on members of the religious community in the kingdom.
The London-based and Arabic-language Nabaa television network reported that the so-called Criminal Court in the city of Dammam, located about 400 kilometers (248 miles) east of Saudi Arabia's capital city of Riyadh, passed the ruling on Muhammad Boujabara for practicing religious rites.
The same court also slapped four-month prison sentences against five other defendants.
On October 4 last year, Saudi regime forces arrested Boujabara and eight other Saudi citizens in the al-Asfar neighborhood of the Shia-populated region of al-Ahsa, in Saudi Arabia's Eastern Province as they were commemorating Arba'een, the 40th day after the martyrdom anniversary of Imam Hussein (AS), the third Shia Imam.
Meanwhile, the European Saudi Organization for Human Rights (ESOHR) has denounced the prison sentence handed down to the Saudi Shia Muslim eulogist and his associates, voicing concerns about the dire situation of religious freedom and spread of extremism in the kingdom.
ESOHR slammed their arbitrary arrest, and said their imprisonment on charges of exercising religious rites violates international law.
Saudi Arabia has stepped up politically-motivated arrests, prosecution and conviction of peaceful dissident writers and human rights campaigners, in particular in Eastern Province.
The province has been the scene of peaceful demonstrations since February 2011. Protesters have been demanding reforms, freedom of expression, the release of political prisoners, and an end to economic and religious discrimination against the oil-rich region.
The protests have been met with a heavy-handed crackdown, with regime forces increasing security measures across the province.
In January 2016, Saudi authorities executed Shia cleric Sheikh Nimr Baqir al-Nimr, who was an outspoken critic of the Riyadh regime. Nimr had been arrested in Qatif, Eastern Province, in 2012.
https://www.presstv.com/Detail/2021/01/25/643833/Saudi-court-sentences-Shia-Muslim-eulogist-to-nine-months-in-prison
--------
Mideast
In Gaza, Palestinian refugees protest cuts to UNRWA services
25 January 2021
Ashraf Shannon
Palestinian refugees demonstrated in the Gaza Strip against the United Nations Relief and Works Agency for Palestine Refugees (UNRWA), slamming its cuts to essential services amid the coronavirus pandemic.
The UN agency provides education, health, food aid and sanitation services to Palestinian refugees displaced and dispossessed upon the creation of the Israeli regime in 1948.
The vast majority of Gazans are refugees who were kicked out of their towns and villages that year.
UNRWA's field of operation also includes the occupied West Bank and Jerusalem al-Quds as well as Jordan, Syria and Lebanon.
The agency is already suffering from a huge budget deficit that has forced it to cut back services to Palestinian refugees in recent years. Things changed for the worse after the United States suspended its funding to UNRWA in 2018.
https://www.presstv.com/Detail/2021/01/25/643829/Gaza-Palestinian-refugees-UNRWA
--------
Iranian FM: No Limitation for Cooperation with Azerbaijan
2021-January-25
During the meeting in Baku on Monday, the two top diplomats discussed important issues of mutual interest in various bilateral and regional areas.
Zarif, for his part, stressed Iran's readiness to play an active and extensive role in reconstruction of regions in Azerbaijan taken back during the war with Armenia, which are also located at the joint borders of the two countries.
He also declared serious determination of the two countries for cooperation.
"We do not see any ceiling for mutual cooperation with Azerbaijan," the Iranian foreign minister said, adding that various economic sectors in Iran are fully prepared to actively participate in economic projects in the Republic of Azerbaijan.
"Establishment of peace in the region (after an agreement between Azerbaijan and Armenia) provides a great opportunity for cooperation between the two countries (Tehran and Baku) in the field of transit and activation of the East-West and North-South corridors," he said.
In the meeting, Bayramov said relations between the two countries are based on friendship and historical and cultural commonalities, and praised the standing of the most ranking officials and people of the Islamic Republic of Iran towards its territorial integrity and sovereignty.
He referred to the exchange of high-level delegations between the two countries, saying that development of economic relations is one of the important priorities in relations between the two countries.
Cooperation between the two countries in the Caspian Sea region, cultural issues, cooperation in the field of water, transportation and international affairs, and trilateral cooperation with Turkey were among other topics discussed by the two foreign ministers.
Zarif had also earlier today said his country is prepared to participate in the reconstruction of the war-hit Karabakh region, reiterating the importance of regional peace and stability.
Zarif said Iran is ready to use its capabilities for reconstructing Karabakh, and underscored the status of peace and stability in the region.
During his meeting with the President if Azerbaijan Republic Ilham Aliyev, Iran's top diplomat congratulated the people and government of Azerbaijan on liberation of Karabakh and stressed the importance of expanding bilateral cooperation.
He welcomed Azerbaijan's proposed regional peace initiative and stressed Tehran's readiness for securing peace and stability in the region.
Aliyev, for his part, welcomed the presence of Iranian companies in the reconstruction of the freed regions of Karabakh.
Aliyev also expressed satisfaction with Iran's view on Azerbaijan's proposed regional cooperation plan on peace, noting that the ground is set for further development of all-out ties.
He also welcomed the holding of Iran-Azerbaijan-Russia, as well as the Iran-Azerbaijan-Turkey meetings in the future.
https://www.farsnews.ir/en/news/13991106000653/Iranian-FM-N-Limiain-fr-Cperain-wih-Azerbaijan
--------
Iranian-American facing spying charges arrested while leaving Iran: Spokesman
26 January 2021
An Iranian-American facing spying charges in Iran has been arrested as he tried to leave the country, judiciary spokesman Gholamhossein Esmaili said on Tuesday.
"The defendant had been free on bail ... and was arrested as he tried to leave the country," Esmaili told a news conference streamed live.
https://english.alarabiya.net/News/middle-east/2021/01/26/Iranian-American-facing-spying-charges-arrested-while-leaving-Iran-Spokesman-
--------
Israel extradites former Australia Orthodox school principal accused of child abuse
25 January 2021
Israel on Monday extradited Malka Leifer, a former Jewish ultra-Orthodox school principal accused of dozens of sexual abuse cases of pupils in Australia, ending a six-year legal wrangle, the justice ministry said.
"We confirm the deportation," it said in a WhatsApp message.
Israeli media said she left on an early-morning flight to Australia, hours before Israel's Ben Gurion airport was to close down as part of COVID-19 precautions.
Leifer, an Israeli, is accused of child sex abuse while she worked as a teacher and principal at an ultra-Orthodox school in Melbourne.
According to Australian media, she faces 74 counts of child sex abuse against girls.
After allegations against her surfaced in Australia in 2008, Leifer and her family left for Israel and moved to the Emmanuel settlement in the occupied West Bank.
In December, the Israeli Supreme Court rejected her lawyers' final appeal against extradition in a strongly-worded judgement.
"More than six years have passed since a request was filed in the Jerusalem district court to declare the appellant extradited to Australia," it wrote.
Since then, it said, "there is no proceeding that the appellant has not taken" to prevent her extradition, including on grounds of mental illness.
Israeli daily Haaretz on Monday quoted the Zionist Federation of Australia's Jeremy Leibler as criticizing the delay.
"That Leifer was allowed to escape justicDubai announces new 24-hour hotline for reporting child abusee for so long was a travesty", he said.
"While it's a relief that Israel's justice system has finally prevailed, the time and process that resulted in these delays are completely unacceptable."
https://english.alarabiya.net/News/middle-east/2021/01/25/Israel-extradites-former-Australia-Orthodox-school-principal-accused-of-child-abuse
--------
Yemenis demonstrate against US aggression
25 January 2021
Abdullatif al-Washali
On the Global Day of Action for Yemen, Yemenis from all walks of life took to streets in the capital Sana'a and other major cities to denounce the US terrorist designation of the Ansarullah movement.
The demonstrators voiced their support for the Ansarullah movement and called on US administration to reverse the decision.
The demonstrators also confirmed that the Ansarullah movement is an inseparable part of Yemen and they are determined to defend Yemen against the Saudi-led coalition's war.
Earlier, over 170 Yemeni NGOs condemn US terrorist designation of Ansarullah.
Since the beginning of 2015, Yemenis have been suffering from war and siege imposed by the US-backed Saudi-led coalition, during which war crimes were committed and international humanitarian law was violated by killing thousands of women and children.
Yemenis say the US decision is not against a specific group, but rather against a nation severely suffering from war and blockade imposed by Washington's allies in the region.
https://www.presstv.com/Detail/2021/01/25/643846/Yemenis-demonstrate-against-US-aggression
--------
Africa
At least 11 killed after fighting erupts in Somalia's Jubbaland: Doctor
25 January 2021
At least 11 people were killed on Monday after fighting broke out between the Somali federal army and Jubbaland state forces in the Gedo region of southwestern Somalia, a local doctor told Reuters.
Somalia's federal government confirmed there had been fighting, concentrated in the town of Bula Hawa bordering Kenya. But it and Jubbaland, one of Somalia's five semi-autonomous states, reported no casualties.
Mogadishu accused Kenya of backing Jubbaland in the fighting, an accusation that Jubbaland denies.
"Kenya and its guerrilla rebels attacked Bula Hawa town last night," Osman Dube, Somalia's information minister, told reporters in Mogadishu. "We overpowered the enemy and captured 100 of them."
Kenya's security minister, Fred Matiang'i, said "no troops" had crossed into Somalia and called it an internal Somali matter.
Kenya's foreign ministry called for hostilities to cease, warning that "the situation could further destabilize the region, complicate the security situation and reverse gains made in the fight against terrorism."
"We received 11 dead civilians, including five from one family. And 14 other civilians were injured," Mohamud Gomey, a doctor at Bula Hawa hospital, said.
Mohamud Sayid Aden, Jubbaland's vice president, told Reuters that federal forces had shelled residential areas.
"The shells landed on a house and killed a family of five people," he said.
The Somali government blamed local forces for the shelling of residential areas.
The fighting precedes an election on February 8 that was delayed from December because of disagreements between the government and opposition over the make-up of the electoral board.
The bloodshed could further damage strained relations between Mogadishu and Nairobi.
Somalia cut diplomatic ties with Kenya in December, accusing it of political meddling after Somalia expelled Kenya's ambassador and recalled its own envoy after alleging interference in the electoral process in Jubbaland.
https://english.alarabiya.net/News/world/2021/01/25/At-least-11-killed-after-fighting-erupts-in-Somalia-s-Jubbaland-doctor
--------
Nigerian security forces attack Sheikh Zakzaky's supporters
26 January 2021
Nigerian security forces have attacked a popular rally of Sheikh Ibrahim Zakzaky's supporters in Abuja.
The protest rally was being held on Monday against Sheikh Zakzaky's arrest and trial. Those attending the protests called for the immediate and unconditional release of Zakzaky, who is the leader of the Islamic Movement in Nigeria (IMN).
A prominent Islamic human rights NGO has urged Nigeria to release the country's leading Muslim cleric and his wife, who have been unlawfully detained by Abuja since 2015 and afflicted with considerable suffering, now that they have been diagnosed with COVID-19 infection.
The London-based Islamic Human Rights Commission (IHRC) made the plea with Nigerian President Muhammadu Buhari on Thursday, reminding the illegal grounds on which the duo were being kept.
"Mallimah Zeenah tested positive for COVID-19 this week in Kaduna state prison," the body said, referring respectively to Sheikh Ibrahim al-Zakzaky's spouse and the facility in the northwestern city of Kaduna, where they were incarcerated. The release, it added, was necessary "to protect them from the spread of COVID-19 in the country's jails."
A prominent Islamic human rights NGO has urged Nigeria to release the country's leading Muslim cleric and his wife, who have been unlawfully detained by Abuja since 2015 and afflicted with considerable suffering, now that they have been diagnosed with COVID-19 infection.
The London-based Islamic Human Rights Commission (IHRC) made the plea with Nigerian President Muhammadu Buhari on Thursday, reminding the illegal grounds on which the duo were being kept.
In late 2015, Nigerian forces brutally attacked Zakzaky's residence in the city of Zaria in Kaduna State and the followers of the Islamic Movement in Nigeria (IMN) Muslim group that he leads. They laid the couple under arrest and went on to slay three of Zakzaky's sons and more than 1,000 of IMN's supporters.
Abuja ordered the massacre after claiming that the IMN had "attacked" a convoy carrying Nigeria's defense minister. Reports, however, have shown how the convoy intentionally crossed paths with a religious procession by the movement earlier, prompting a conflict with its supporters that the state used as a pretext to launch the bloodbath.
https://www.presstv.com/Detail/2021/01/26/643851/Nigeria-zakzaky-islamic-movement
--------
Ugandan Airstrikes in Somalia Kill 189 Al-Shabab Fighters
By Mohamed Olad Hassan
January 23, 2021
Somali officials and the Uganda People's Defense Forces (UPDF) claimed killing 189 al-Shabab fighters late Friday and in the early hours of Saturday in an operation in southern Somalia.
Talking to VOA Somali Service by phone, Lower Shabelle Governor Abdulkadir Mohamed Nur Siidi said Ugandan soldiers under the African Union Mission in Somalia (AMISOM), using attack helicopter gunships, have killed nearly 200 al-Shabab militants.
Earlier, the Ugandan army's deputy spokesman, Lt. Col. Deo Akiki, said, "Their soldiers killed at least 189 al-Shabab fighters in the operation and destroyed two mounted weapons and motorbikes in separate fire strikes."
Siidi said the strikes, along with ground assaults by the joint troops, occurred Friday and early Saturday in a string of villages between the Qoryoley and Janaale districts in the southern Somali region of Lower Shabelle.
"The militias were struck in their hideouts in the villages of Sigaale, Adimole and Kayitoy, just over 100 kilometers southwest of the capital, Mogadishu," Nur said.
A statement from the Ugandan Army said that during the operation, "a large number of military hardware and items used by the terrorist were also destroyed."
"The UPDF also disrupted an al-Shabab meeting, injuring several terrorists in Donca-daafeedow, which is seven kilometers from the Janaale town," the statement added.
Residents, who asked to remain anonymous to avoid retribution, told VOA they could see military helicopters striking key al-Shabab targets and hideouts in the thickets and farmlands around Janaale town.
AMISOM has been in Somalia for more than 10 years, keeping the peace and supporting Somalia's government to fend off attacks from al-Shabab militants. The group aims to topple the government and impose its own harsh interpretation of Islamic Sharia law.
The group controlled large swaths of south-central Somalia until 2011, when it was driven out of Mogadishu by African Union troops.
Speaking of the latest operations, both Somali and Ugandan military officials say this was the most al-Shabab fighters killed in a military operation in a single day.
Governor Siidii says AMISOM has introduced a new strategy and unveiled fresh military power.
"The Ugandan soldiers are using attack helicopter gunships in their operations for the first time, and also the Somali National Army, with the help of AMISOM, came up with a strategy of aggressive attacks against militants in their hideouts, rather than wait their attacks," he said.
This operation comes a week after the United States military said it had completed the withdrawal of troops from Somalia.
AFRICOM spokesperson Colonel Christopher Karns confirmed to VOA Somali earlier that repositioning of the troops was completed ahead of the mid-January deadline mandated by a presidential directive last December.
The number of U.S. military personnel in Somalia ranged from 650 to 800 service members. U.S. troops supported and mentored an elite Somali unit known as the Danab "lightning" brigade.
In recent days, al-Shabab militants had intensified their attacks using improvised explosive devices and landmines targeting Somali security officials in Mogadishu and other major towns.
The militant group claimed responsibility Saturday for a landmine explosion in Mogadishu that killed four people and injured two former lawmakers, Hussein Arale and Muhidin Afrah.
On Tuesday, the militants claimed responsibility for another blast that killed the deputy commissioner for security and politics in Garasbaale, Abdi-Rashid Dubad. Six others were injured.
Security analysts say a day hardly passes in Somalia without reporting an incident involving al-Shabab attacks.
https://www.voanews.com/africa/ugandan-airstrikes-somalia-kill-189-al-shabab-fighters?utm_source=iterable&utm_medium=email&utm_campaign=1933646_
--------
URL: https://www.newageislam.com/islamic-world-news/process-mosque-construction-ayodhya-started/d/124149
New Age Islam, Islam Online, Islamic Website, African Muslim News, Arab World News, South Asia News, Indian Muslim News, World Muslim News, Women in Islam, Islamic Feminism, Arab Women, Women In Arab, Islamophobia in America, Muslim Women in West, Islam Women and Feminism