New Age Islam News Bureau
16 Nov 2013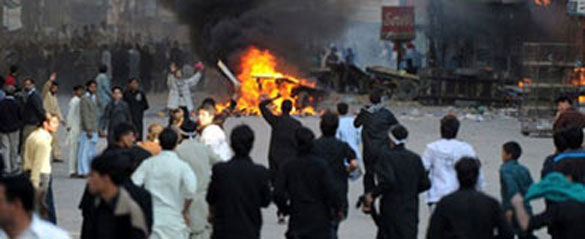 Pakistani residents gather near burning shops at a market following clashes during an Ashura procession in Rawalpindi on November 15, 2013. PHOTO: AFP
---------
Arab World
• Prince Bandar to Lead Saudi Extraterritorial Military Force for War in Syria, Yemen
• 75 Killed In Several Cities of Syria in Operations Staged By Syrian Regime
• As powers push for talks in Geneva, balance tilts toward Assad
• Egypt's Brotherhood offers talks to "exit" post-Morsi crisis
• Allawi: Iraq lost its sovereignty to Iran
• Expert: About 600 Saudi fighters are in Syria
• Iraqi Kurdish president, Turkey's Erdogan seek to bolster ties
• Prominent Bahrain cleric criticizes judicial system
• Senior Lawmaker: Assad's Opponents on Mission to Create Unrest in Lebanon
• Watchdog adopts Syria chemical arsenal destruction plan
Africa
• Ansaru leader calls Zawahiri 'our good emir,' praises al Qaeda branches
• 48 killed in Tripoli clashes, army deputy resigns
• 26 Persons Killed in Boko Haram Night Raids on Borno Villages
• Shabaab offers condolences to Mullah Omar and Zawahiri over Hakeemullah Mehsud's death
• Northern Africans said trapped in Christian-Muslim struggle
• Tunisia's Youth Revolution Turns Over the Reins of Power to Increasingly Wrinkled Hands
Pakistan
• 10 Killed, 80 Injured In Rawalpindi, Following Riot at Ashura Procession
• Multiple blasts target KP police; kill at least two
• Multan administration calls army as clash kills one
• Clashes continue: ASI killed, 8 injured in Lyari
Europe
• Kazakhs encouraged studying religion in Kazakhstan
• Moscow Strives to Break the Resistance of Dagestani Militants
• Students 'furious' after controversial Islamic preacher booked for charity dinner talk
• Albania rejects request to destroy Syrian chemical weapons
• Russia staging comeback in Egypt
• London rally to demand freedom of Gitmo's Briton
South Asia
• Karzai calls on Taliban to participate in jirga on US deal
• Afghanistan finalises draft of pact that allows extended stay for US forces
• Voting begins in Maldives presidential run-off
• 'Violence cannot distract Awami League from democracy': Bangladesh H M
• Kunduz militants kill former jihadist commander, guard
Southeast Asia
• World Christian leaders voice concern over Allah ruling
• Indonesian Religious Affairs Minister: Religious Conflict Is Normal
• NGO declares war on rights group for their "devious" agenda, of making Malaysia a haven for LGBT
Mideast
• Israel and strategic US partner fall out over Iran
• Turkey F M visits Myanmar's Muslim minority in Arakan
• Israel Persists in Violence against Anti-Settlement Protests in West Bank
• Yemen takes steps toward addressing its refugee crisis
• Israel urges France not to waver on Iran
• Iran averts big rise in sensitive nuclear stockpile, report shows
• Gaza repairs 9,600 homes destroyed by Israel
• Israeli troops cuff Palestinian children, aged five to nine: Witnesses
North America
• 'Quite Possible' Iran, P5+1 Countries Can Reach Nuclear Deal Next Week: US Official
• US offers $10m bounty for Benghazi attackers
• US closely watching situation in Maldives
India
• Will continue to back J&K rebels, Pakistan tells Hurriyat
• India, Pakistan Agree: Emotional Google Ad a Hit, Strikes a Cultural Chord
• 5 soldiers injured as militants attack Army convoy in Kupwara
• Onus is on Pak to maintain peace on the border in J&K: BSF
Compiled by New Age Islam News Bureau
URL: https://www.newageislam.com/islamic-world-news/new-age-islam-news-bureau/prince-bandar-to-lead-saudi-extraterritorial-military-force-for-war-in-syria,-yemen/d/24456
-----------
Arab World
Prince Bandar to Lead Saudi Extraterritorial Military Force for War in Syria, Yemen
November 16, 2013
TEHRAN (FNA)- New information indicated that Saudi intelligence chief Prince Bandar bin Sultan will lead his country's extraterritorial military force in a bid to conduct terrorist operations in Syria and Yemen.
The Saudi extraterritorial force named 'Muhammad Army' is being established and its forces have undergone specialized trainings and it is fully equipped, Al-Rai Al-A'am news website reported.
Prince Bandar and his brother and Saudi Deputy Defense Minister Salman Bin Sultan are supervising establishment of the 'Muhammad Army'. The Saudi government has earmarked several billions of dollars for the establishment of Muhammad Army, training of the army's forces in Jordan.
It is said that the Muhammad Army will be Saudi Arabia's strike force in Syria and it might also be deployed for war against Yemen's Al-Houthi movement which is now in combat against the Salafi groups in Damaj region in Northern Yemen, particularly given the fact that the Al Saud is a staunch supporter of Yemen's Salafi groups.
Military sources in London said that Muhammad Army comprises 50,000 men and it might expand to a 250,000-strong force, adding that the Muhammad Army's headquarters will be in Jordan.
Head of the so-called Syrian National Coalition Ahmed Al-Jerba was the first to expose Saudi Arabia's plan and in a statement on August 8 said that Saud Arabia will form a national army outside Syria.
Meantime, the western sources revealed that Saudi Arabia also plans to replace Pakistan with Egypt as a backup military power so that Riyadh can rely on that country in case of facing any foreign threats.
The Al Saud also plans to provide financial support for Egyptian Defense Minister Major General Abdelfattah Al-Sisi, the sources said.
The western sources said that Major General Al-Sisi had good relations with Saudi military officials when he was a military attaché in Riyadh.
"Al-Sisi's recent inclination towards Russia to purchase missiles and Mig-29 fighter jets was the result of Saudi Arabia's persuasion after the US suspended its military aid to Egypt," the sources added.
Earlier reports had already disclosed that the Saudi spy chief, a former Ambassador to Washington, is trying hard to push US officials to Syria war.
The Saudis are "indispensable partners on Syria" and have considerable influence on American thinking, a senior US official told The Wall Street Journal late August.
Prince Bandar has been gone from the US capital for eight years, but as Saudi Arabia's ambassador to Washington wielded influence over no fewer than five different US presidents, has re-emerged as a pivotal figure in the struggle by America and its allies to tilt the battlefield balance against Syria.
Appointed by the Saudi King, his uncle, last year as the head of the Saudi General Intelligence Agency, Prince Bandar has reportedly for months been focused exclusively on garnering international support, including arms and training, for militants in Syria in pursuit of the eventual toppling of the Syrian government.
It is a long-term Saudi goal that in the past several days has been subsumed by the more immediate crisis over the alleged use of chemical weapons by Damascus, which, according to Riyadh, must be met by a stern response. That message is being delivered to President Barack Obama by the current Saudi Ambassador in Washington, Adel al-Jubeir, who is a Bandar protégé.
It was Prince Bandar's intelligence agency that first alerted western allies to the alleged use of sarin gas by the Syrian government in February, while later reports proved that rebels had used the gas.
While a trip in August to the Kremlin to try to cajole President Vladimir Putin into withdrawing his support for President Bashar al-Assad reportedly failed, Prince Bandar automatically has greater leverage in western capitals, not least because of friendships forged during his time in Washington. His most recent travels, rarely advertised, have taken him to both London and Paris for discussions with senior officials.
As ambassador, Prince Bandar left an imprint that still has not quite faded. His voice was one of the loudest urging the United States to invade Iraq in 2003.
Months of applying pressure on the White House and Congress over Syria have slowly born fruit. The CIA is believed to have been working with Prince Bandar directly since last year in training militants at base in Jordan close to the Syrian border.
http://english.farsnews.com/newstext.aspx?nn=13920825000693
---------
75 Killed In Several Cities of Syria in Operations Staged By Syrian Regime
World Bulletin / News Desk
November 16, 2013
Syria's regime troops held operations against opponents in various cities of Syria, killing 75 civilians, 18 of whom were women and five children.
Regime forces staged air-land operations, killing 34 people in Homs, 23 in Hama, six in Dera, five in Idlib, four in suburbs of Damascus and three in Aleppo, said a statement of Syrian Network for Human Rights (SNHR).
Meanwhile, clashes were reported between regime forces and armed opponents in various areas of Damascus according to Syrian Revolution General Commission (SRGC)
http://www.worldbulletin.net/?aType=haber&ArticleID=123049
-----------
As powers push for talks in Geneva, balance tilts toward Assad
November 16, 2013
BEIRUT: More than two-and-a-half years into the civil war devastating Syria, the United States and Russia are pushing the combatants to the negotiating table in Geneva, but on terms that mark a shift in favor of President Bashar Assad against the increasingly fragmented rebels seeking to oust him. Since the Aug. 21 nerve gas attacks on rebel suburbs ringing Damascus, which brought the U.S. to the brink of a missile assault on Assad's forces, the diplomatic tide has turned against the opposition, which briefly believed external intervention would enable its forces to launch a final offensive.
Instead, the combination of hesitation by President Barack Obama's administration and an 11th hour deal brokered by Russia, a key Assad ally, to decommission Syria's chemical arsenal, has wrong-footed the rebels, now under intense U.S. and European pressure to attend talks in Geneva with a vague agenda.
Syrian opposition advisers and independent analysts fear this could channel the Syrian conflict – like other intractable regional problems such as the Israeli-Palestinian conflict – into a lengthy and fruitless process.
The only diplomatic landmark in this conflict, last June's U.N.-brokered statement known as Geneva I, was vague enough.
It called for a transitional government in a way that many assumed precluded any role for the Assad family, which has ruled Syria with an iron fist since Bashar's late father, Hafez, seized absolute power in 1970.
There has been barely a flicker of agreement within Syria about its future since the country erupted in initially peaceful protests in March 2011.
A source close to the internationally recognized political opposition, the National Coalition, says it fears the U.S.-Russia deal to dismantle Syria's chemical arsenal has restored the Assad administration's legitimacy, even as it uses tactics such as the starvation of rebel areas to try to regain control.
Regional analysts and diplomats closely involved also agree that Western concerns have moved on from toppling Assad to how to stop jihadist groups linked to Al-Qaeda gaining further traction in a conflict where mainstream rebel groups with limited Western backing are losing ground.
The U.S. position is that "the opposition must negotiate with the regime and agree on a road map," said Fawaz Gerges, Middle East expert at the London School of Economics.
"The Americans and the Europeans want to lock Assad into Geneva; it is a process without peace."
The opposition source, who did not want to be identified, said the West was switching "from an Arab Spring narrative to a counterterrorism narrative" and bullying the opposition to attend Geneva II or lose its support.
For the West, Syria has now become "a source of terrorist recruits that will come back to Europe and America," the source said. "But that doesn't answer the fundamental problem of how to stop it; that terrorism will get worse and the longer the war goes on, the more fragmented and radicalized the opposition becomes."
"The regime's military advances will continue. It is difficult to imagine that Assad's position will be weaker in six months. This is not a dead man walking," said Ayham Kamel, a Syria expert at the Eurasia consultancy group.
"Al-Qaeda is here to stay. This is a new reality. It is hard to imagine how the threat will disappear in the future."
Even Saudi Arabia, the opposition's biggest supporter, is in two minds.
Diplomats and officials in the kingdom say it regards the Syrian war as battle for regional power with Iran and its Arab Shiite Muslim allies such as Hezbollah, the powerful Lebanese movement that this summer threw its weight behind Assad.
The Saudis have been unusually strident and public in criticizing the United Nations and the United States since the Syrian chemical weapons deal appeared to be leading to a rapprochement with Iran, despite the failure to reach a breakthrough on Tehran's nuclear program in high-level talks in Geneva last weekend.
Prince Bandar bin Sultan, the Saudi spy chief, went as far as to declare a "major shift" away from Washington.
But diplomats in the Gulf say his cousin, the influential Interior Minister Prince Mohammad bin Nayef, is much more concerned about Al-Qaeda, and the terrorist "blowback" implications of supporting the rebels, than the fate of Assad.
With friends like this in such policy ambiguity, the Syrian opposition may well wonder what its real options are.
"The international consensus in support of the opposition and militarization of the conflict is no longer there," said Kamel of Eurasia. "There is no longer a belief that a military victory for the opposition is possible."
Diplomatic sources say there is recognition by Russia and the West of Assad's ability to remain, even if Syria has already been carved up into enclaves – Sunni rebels in the north and east, secessionist Kurds in the northeast and Alawites and others in the capital and northwestern coastal area.
According to these sources, U.S. and Russian officials have privately been discussing what organs of the Syrian state would remain and at what level – who would have to go and who would have to stay – indicating the possibility of compromise.
Yet critics say talks in Geneva are becoming a substitute for real policy, with no concerted plan to stop the war. Some analysts compare this to the 1992-95 Bosnia war, where meandering prolonged talks failed to stop fighting until NATO air strikes against Serb forces in the late summer of 1995.
Close watchers of Syria and the opposition, which has agreed in principle to attend the long-delayed talks, believe Geneva II will be futile because the West has no strategy to force a stop to a war which has so far cost 100,000 lives, displaced more than 4 million people and created 2.2 million refugees.
"Even if Geneva II takes place, don't expect an imminent solution. There might be more Genevas and the war will continue," Lebanese columnist Sarkis Naoum said.
"We had a war that went on for 15 years, envoys would meet but nothing would happen," Naoum said, referring to Lebanon's own 1975-90 Civil War.
Even if the parties agree in Geneva, analysts say, they would need to convince rebel armed groups on the ground, who have said nothing less than a commitment to end Assad's rule would persuade them to stop fighting.
"I don't see how Geneva II will be remotely successful if the regime is not prepared to make the slightest indication that they are ready for a transition," one source close to the opposition said.
"Assad is saying the opposite, he is giving interview after interview saying that he will not hand over power."
Western nations hope Russia will follow up on the deal to rid Syria of chemical weapons by putting pressure on Assad. But with the deal in place and government forces making gains, there is little incentive for Russia to change its position.
If the Geneva talks go ahead and succeed, Russia will be able to cast itself as a peacemaker. If not, it will continue to blame rebels, the West and Gulf Arab states, saying that Assad's government was ready to attend without preconditions while the United States and others failed to get the rebels to do so.
Militarily, Assad's forces, backed by Iran and Hezbollah, are flushing out rebels from around Damascus and other areas.
Within rebel ranks, Sunni jihadists and other groups linked to Al-Qaeda have become the dominant current among the opposition while other, moderate, groups, backed by the West and armed by Saudi Arabia and Qatar, are in disarray.
And while international players deliberate about Geneva, the Syrian battleground continues to draw in foreign radical Shiite fighters – backing Assad's Alawite minority rule – and Sunnis seeking to topple Assad and install an Islamist caliphate.
"The U.S. is pursuing a very dangerous strategy which is to say they pursue talk almost for the sake of talks," the source close to the opposition said. "The only way this war will end is if the regime goes."
"If there is not going to be military intervention against the regime then there needs to be a much more aggressive and deliberate approach to force the regime to step down through harsh pressure, and that means forcing Russia and Iran to make it happen."
Few believe that Geneva will alleviate the sufferings of Syrians in the near future.
"The logic in the U.S. is that the only way for the opposition to snatch a political victory out of the jaws of military defeat is through Geneva II," Gerges said. "The chances of Geneva II producing a breakthrough probably are less that 20 percent.
"It is a grim situation ... it is a prolonged war, a war of attrition, and in the meantime the humanitarian crisis will intensify and turn into a world tragedy of great proportion."
http://www.dailystar.com.lb/News/Middle-East/2013/Nov-16/238016-as-powers-push-for-talks-in-geneva-balance-tilts-toward-assad.ashx#ixzz2krnf2Jdx
---------
Egypt's Brotherhood offers talks to "exit" post-Morsi crisis
AFP | Nov 16, 2013
CAIRO: An Islamist coalition led by the Muslim Brotherhood on Saturday offered negotiations to end the deadly tumult since Egyptian president Mohamed Morsi's overthrow, without explicitly insisting on his reinstatement.
The coalition "calls on all revolutionary forces and political parties and patriotic figures to enter a deep dialogue on exiting the current crisis," it said in a statement.
http://timesofindia.indiatimes.com/world/middle-east/Egypts-Brotherhood-offers-talks-to-exit-post-Morsi-crisis/articleshow/25891511.cms
-----------
Allawi: Iraq lost its sovereignty to Iran
16 November 2013
Former Iraqi interim prime minister and head of Iraqya political bloc Iyad Allawi on Friday accused the government of Prime Minister Nuri al-Maliki of failing to protect the Iraqi sovereignty, which he said is lost to Iran and its proxy militias.
"Unfortunately Iraq's sovereignty is completely violated and the situation in Iraq now is sad, even on the regional level," Allawi said during an interview with Al Arabiya News Channel from London.
"There are many proofs to this and one of them is Iraq's inability to stop militias from going to Syria or prevent Iranian planes from using Iraqi airspace to transport weapons to the ruling regime in Syria," he added.
Full report at:
http://english.alarabiya.net/en/News/middle-east/2013/11/16/Allawi-Iraq-lost-its-sovereignty-to-Iran.html
-----------
Expert: About 600 Saudi fighters are in Syria
16 November 2013
An estimated 600 Saudis have joined al-Qaeda-affiliated groups in Syria fighting against President Bashar's al-Assad's regime, a Saudi expert in Islamist movements told Al Arabiya's weekly program "Death making" on Friday.
Faris Bin Hizam said many Saudis are fighting on the ranks of the Islamic State in Iraq and the Levant (ISIL) and the al-Nusra Front.
But the Saudi fighters are only a small number if compared to other foreign nationalities fighting in Syria, Bin Hizam said.
He added that unlike Iraq and Afghanistan, where al-Qaeda has a strong presence, there is increased awareness amongst Saudis regarding the dangers of belonging to al-Qaeda, and a widely held belief that the Syrian revolution does not need more fighters but rather financial support.
Full report at:
http://english.alarabiya.net/en/News/middle-east/2013/11/16/Expert-about-600-Saudi-fighters-in-Syria.html
-----------
Iraqi Kurdish president, Turkey's Erdogan seek to bolster ties
November 16, 2013
DIYARBAKIR (Reuters) - The president of Iraqi Kurdistan visited southeastern Turkey for the first time in two decades on Saturday, a trip meant to shore up support for a flagging Kurdish peace process there and bolster Turkey's influence across its troubled southern borders.
Thousands gathered as Masoud Barzani arrived in a long convoy of cars, a police helicopter buzzing overhead, in Diyarbakir, the main city in Turkey's Kurdish-dominated southeast, for a meeting with Prime Minister Tayyip Erdogan.
Crowds waved green, white and orange Kurdistan flags ahead of ceremonies due to include a performance by Kurdish poet and singer Sivan Perwer, who had fled Turkey in the 1970s, and a mass wedding of 300 couples.
Full report at:
http://www.thestar.com.my/News/World/2013/11/16/Iraqi-Kurdish-president-Turkeys-Erdogan-seek-to-bolster-ties.aspx
---------
Prominent Bahrain cleric criticizes judicial system
November 16, 2013
A prominent Bahraini cleric has criticized the country's judicial system for its harsh sentences against anti-regime protesters.
Sheikh Issa Qassim said in a Friday speech that Bahrain's courts are very tough on protesters while being lenient with pro-regime offenders.
"Many harsh sentences are only issued against one faction of the people" in the country, Sheikh Qassim said.
Sheikh Qassim added that Bahraini judges need to treat people equally if they are abiding by the same law in the country.
He also said that the government calls the opposition terrorists while many are allowed to do whatever they like.
Full report at:
http://www.presstv.ir/detail/2013/11/16/334940/bahrain-cleric-criticizes-judicial-system/
---------
Senior Lawmaker: Assad's Opponents on Mission to Create Unrest in Lebanon
November 16, 2013
TEHRAN (FNA)- A senior Lebanese legislator warned that the opponents of the Syrian government have been commissioned to create insecurity in the Middle East, specially in Lebanon, and said a senior member of Lebanon's Islamic Action (Amal) Front has been assassinated to the same end.
The remarks by Qassem Hashem, member of the Development and Freedom Fraction of the Lebanese parliament, came after Sheikh Saadeddine Ghiyyeh, member of the Islamic Action Front was killed by unknown gunmen in the Northern Lebanese city of Tripoli earlier this week.
Full report at:
http://english.farsnews.com/newstext.aspx?nn=13920825001029
---------
Watchdog adopts Syria chemical arsenal destruction plan
AFP | Nov 16, 2013
THE HAGUE: The world's chemical watchdog has adopted a final roadmap for ridding Syria of its arsenal by mid-2014, hours before a deadline expired, a spokesman said.
"The plan is adopted," Christian Chartier, a spokesman for the Organisation for the Prohibition of Chemical Weapons (OPCW), said on Friday, after a meeting of its 41-member Executive Council in The Hague.
Friday was the deadline for the OPCW to agree "destruction milestones" for the more than 1,000 tonnes of dangerous chemicals in Syria, according to the terms of a US-Russian deal that headed off US military strikes on President Bashar al-Assad's regime.
The talks at OPCW headquarters in The Hague broke off twice before agreement was reached, as delegates thrashed out the final draft.
Full report at:
http://timesofindia.indiatimes.com/world/middle-east/Watchdog-adopts-Syria-chemical-arsenal-destruction-plan/articleshow/25854857.cms
-----------
Africa
Ansaru leader calls Zawahiri 'our good emir,' praises al Qaeda branches
By BILL ROGGIO
November 16, 2013
The leader of Ansaru, a Nigeria-based jihadist group that was added to the US' list of global terrorist organizations just days ago, recently called Ayman al-Zawahiri "our good emir" and Mullah Omar the "Emir of the Believers."
Abu Usama al Ansari, the leader of Ansaru, praised al Qaeda and the Taliban's top leaders in an Eid al Adha statement that was released on jihadist forums on Nov. 14. His statement was obtained and translated by the SITE Intelligence Group.
Al Ansari described the leader of al Qaeda as "our good emir, and dear sheikh, the doctor of the Ummah [Muslims community], the man of dignity and determination."
Additionally, al Ansari described Mullah Omar as the "Emir of the Believers" [the title is also known as "Emir al Mumineen," or the Commander of the Faithful]. Mullah Omar's title has religious significance among jihadists; the Commander of the Faithful is designated the leader of their Islamist caliphate. Osama bin Laden had sworn allegiance to Mullah Omar.
Full report at:
http://www.longwarjournal.org/archives/2013/11/ansaru_leader_calls.php#ixzz2krjvaQuP
---------
48 killed in Tripoli clashes, army deputy resigns
World Bulletin / News Desk
November 16, 2013
The death toll from clashes that erupted in Tripoli on Friday between Libyan protesters and armed militias has risen to 48.
Around 300 people were injured in the violence.
An earlier toll by the Libyan Health Ministry put the number of deaths at 31 -- all of them protesters who had been participating in massive demonstrations to demand that armed militias leave the capital.
When protesters approached Tripoli's upscale Gharghour neighborhood, they came under heavy fire from armed militiamen, triggering clashes.
Libyan army troops eventually arrived at the scene to break up the warring sides, as fighter jets flew overhead at low altitudes.
Full report at:
http://www.worldbulletin.net/?aType=haber&ArticleID=123044
-----------
26 Persons Killed in Boko Haram Night Raids On Borno Villages
November 16, 2013
Suspected members of the outlawed Boko Haram sect were alleged to have randomly attacked some Borno villages at night, leading to death of over 26 persons and displacement of several others. Forty houses were also said to have been torched in the villages.
It was gathered that the attacks, which began on Sunday night and had not ceased by Wednesday night, affected villages in Southern Borno which were once serene. The affected villages include Bdagu, Izge, Hartsa and Yazza in Gwoza, Damboa and Askira-Uba Local Government Areas of the state.
It was also learnt that the insurgents also recorded casualties as three of them were said to have been killed when people from the neighbouring villages of Dille and Lassa mobilised and pursued them in a counter-attack.
Full report at:
http://allafrica.com/stories/201311150254.html?aa_source=acrdn-f0
-----------
Shabaab offers condolences to Mullah Omar and Zawahiri over Hakeemullah Mehsud's death
By DAVID BARNETT
November 16, 2013
Shabaab, al Qaeda's affiliate in Somalia, has issued a statement offering its condolences for the death of Hakeemullah Mehsud, the former emir of the Movement of the Taliban in Pakistan. Hakeemullah was killed by the US in a drone strike in North Waziristan on Nov. 1.
In its statement released to jihadist forums on Nov. 14, Shabaab praised Hakeemullah as "a knight from among the knights of Islam and the lions of Tawhid." In addition, the group offered its condolences for the loss of Hakeemullah to Mullah Omar as well as Ayman al Zawahiri.
Full report at:
http://www.longwarjournal.org/threat-matrix/archives/2013/11/shabaab_offers_condolences_to.php#ixzz2krk0ZoyC
---------
Northern Africans said trapped in Christian-Muslim struggle
November 16, 2013
BUSAN, South Korea – Boko Haram is one of two Islamist groups in Nigeria added to the U.S. State Department's list of foreign terrorist organizations for killing thousands of people and threatening Westerners in West Africa.
U.S. officials said Wednesday that Boko Haram and a splinter group, Ansaru, were named to the federal roster of terrorist groups, as a regional African threat.
This was after U.S. officials determined that they had received training and some financing from the Al Qaeda affiliate in the northern part of Africa.
Although African see Boko Haram as a threat, they see the conflict facing them through a different prism to Westerners.
Full report at:
http://www.ecumenicalnews.com/article/northern-africans-said-trapped-in-christian-muslim-struggle-22566
-----------
Tunisia's Youth Revolution Turns Over the Reins of Power to Increasingly Wrinkled Hands
November 16, 2013
Nearly three years ago twenty-six year old Mohamed Bouazizi had his vegetable cart confiscated by police. Bouazizi was denied an audience with local authorities when he sought to complain. Humiliated and frustrated by the dual scourges of political repression and limited economic opportunity, Bouazizi doused himself in gasoline and set himself on fire in protest.
Full report at:
http://allafrica.com/stories/201311151158.html?viewall=1
-----------
Pakistan
10 Killed, 80 Injured In Rawalpindi, Following Riot at Ashura Procession
PTI | Nov 16, 2013
ISLAMABAD: At least 10 people, including some students of a Sunni seminary, were killed and over 80 others injured in sectarian violence that erupted in Pakistani garrison city of Rawalpindi on Friday after a clash during a Muharram procession, following which a curfew was imposed.
Army soldiers were called out and all mobile services were suspended to control the situation.
At least ten people were killed in sectarian violence, Dunya News channel reported. Around 80 others, including several policemen, were injured in the violence.
The Punjab government decided to impose the indefinite curfew in Rawalpindi on the advice of the Commissioner and IG Police after the deadly clashes, in which a market and several vehicles and petrol pumps were burnt, spiralled out of control.
Full report at:
http://timesofindia.indiatimes.com/world/pakistan/10-killed-80-injured-in-sectarian-violence-in-Rawalpindi/articleshow/25847642.cms
-----------
Multiple blasts target KP police; kill at least two
2013-11-16
PESHAWAR: Multiple bomb explosions shook northwestern Khyber Pakhtunkhwa province on Saturday, killing at least two and injuring at least a dozen people.
The most recent attack came in the Dera Ismail Khan district.
According to police officials, a police van was hit by a blast in Mandi area as it was traveling from D I Khan to Hangu district. At least one policeman was killed and two were injured from what officials described as a roadside bomb explosion.
Earlier, a suspected suicide bombing wounded four paramilitary Frontier Corps personnel and two passersby in Bannu.
Official sources said the suspected suicide-bomber rammed his motorbike into a security forces vehicle, injuring the six men and damaging the vehicle.
Full report at:
http://www.dawn.com/news/1056551/multiple-blasts-target-kp-police-kill-at-least-one
-----------
Multan administration calls army as clash kills one
2013-11-16
LAHORE: The Multan administration has summoned the army in the wake of a clash between two groups in the city, DawnNews reported.
One person was killed and two others were severely injured in the clash that took place in Multan's Nala Wali Muhammad area, following which the situation in the city became tense.
Following the clash, miscreants blocked roads in the city by setting fire to tyres and other objects.
http://www.dawn.com/news/1056574/multan-administration-calls-army-as-clash-kills-one
-----------
Clashes continue: ASI killed, 8 injured in Lyari
November 16, 2013
KARACHI: Assistant Sub Inspector (ASI) Asadullah was killed and three policemen injured when a rocket was fired at their armored car in Lyari, Karachi Express News reported Saturday.
The police had been reluctant to go to the area following calls of troubled residents asking them for assistance, due to the escalated violence in the area.
Earlier today, five people were injured in multiple clashes between two groups the same area of the city.
The clashes took place at Dubai Chowk, Gul Mohammad Lane, Hangorabad and Ahmed Shah Bukhari Road.
People were forced into their homes when the groups threw hand grenades and fired rockets at each other.
The injured were taken to Lyari General and Civil Hospital for treatment.
According to the police, shops and businesses in the area have been closed for the last 15 days.
Full report at:
http://tribune.com.pk/story/632425/clashes-continue-five-injured-in-lyari-gang-war/
-----------
Europe
Kazakhs encouraged to study religion in Kazakhstan
November 16, 2013
ASTANA – Authorities and clerics in Temir District, Aktobe Oblast, are urging local citizens pursuing religious education to seek it in Kazakhstan, not in the Middle East, RFE/RL reported separately November 14.
They expressed that sentiment after media reported that eight Temir District residents had gone to fight in Syria. All eight are studying in Egypt, not fighting in Syria, relatives insisted.
In October, an online video purportedly showed LINK 150 young Kazakhstanis preparing to join the insurgency in Syria.
http://centralasiaonline.com/en_GB/articles/caii/newsbriefs/2013/11/15/newsbrief-05
-----------
Moscow Strives to Break the Resistance of Dagestani Militants
Mairbek Vatchagaev
November 16, 2013
Militants in Dagestan have been extensively targeting judges in the republic, killing four so far this year. On January 15, Dagestani Supreme Court judge Magomed Magomedov was killed in Makhachkala. On March 9, federal judge Akhmed Rajabov was killed near his home in Izberbash. On September 25, Dagestani Supreme Court judge Mukhtar Shapiev and his son were severely wounded in an attack and died later in the hospital. Meanwhile, on October 9, a judge of the Arbitration Court of Chechnya, Adam Agakhajiev, was found dead in Kabardino-Balkaria (https://www.kavkaz-uzel.ru/articles/232867/), and on November 4, federal judge Zainutdin Madanov was killed in the central part of Makhachkala (http://www.internovosti.ru/text/?id=77559). This targeted assassination was, respectively, the fourth judge killed in Dagestan and the fifth judge killed in the greater North Caucasus so far this year.
Full report at:
The Jamestown Foundation's
-----------
Students 'furious' after controversial Islamic preacher booked for charity dinner talk
November 16, 2013
National Charity Week began in controversy after Westminster Islamic Society (ISOC) asked an anti-gay and anti-semitic Muslim scholar to give a speech to over 300 students.
ISOC had originally arranged for the moderate Wasim Kempson to come in as a guest speaker, but students were left confused after the controversial figure Sheikh Haitham Al-Haddad replaced Kempson less than 24 hours before the dinner.
Al-Haddad's views on many subjects are outspoken to say the least. In a recent article published online with his name underneath it, entitled "Standing up against homosexuality and LGBTs", the words "the scourge of homosexuality" are used, which is referred to as a "criminal act".
Full report at:
http://www.independent.co.uk/student/news/westminster-university-students-furious-after-controversial-islamic-preacher-booked-for-charity-dinner-talk-8939980.html
-----------
Albania rejects request to destroy Syrian chemical weapons
AP | Nov 16, 2013
TIRANA, Albania: Albania on Friday rejected a request from the United States for the tiny impoverished Balkan nation to host the destruction of Syria's chemical weapons stockpile, a major blow to international efforts to destroy the arsenal by mid-2014.
In a televised address, Prime Minister Edi Rama said it was "impossible for Albania to take part in this operation."
The announcement was greeted by a loud cheer from some 2,000 protesters camped outside Rama's office who opposed the plan to dismantle the weapons in Albania.
The Organization for the Prohibition of Chemical Weapons has been discussing a plan to destroy Syria's estimated 1,000-metric ton arsenal, which includes mustard gas and the deadly nerve agent sarin.
Full report at:
http://timesofindia.indiatimes.com/world/middle-east/Albania-rejects-request-to-destroy-Syrian-chemical-weapons/articleshow/25841252.cms
-----------
Russia staging comeback in Egypt
ATUL ANEJA
November 16, 2013
After consolidating in battle-torn Syria, Russia has once again asserted itself in Egypt, taking advantage of the current rift between Cairo and Washington, in the hope of re-emerging as a political heavyweight in West Asia.
"We want to give a new impetus to our relations and return them to the same high level that used to exist with the Soviet Union," said Egyptian Foreign Minister Nabil Fahmy. He made the weighty remark after holding talks on Thursday with his visiting Russian counterpart, Sergei Lavrov.
Full report at:
http://www.thehindu.com/news/international/world/russia-staging-comeback-in-egypt/article5354982.ece
-----------
London rally to demand freedom of Gitmo's Briton
November 16, 2013
British activists are set to hold a rally to demand the release of Shaker Aamer, the last British inmate at the United States' notorious Guantanamo Bay prison.
The march, organized by the Save Shaker Aamer Campaign (SSAC), is planned to take place outside Northcote Baptist Church in London on November 23.
Campaigners are also expected to rally at Battersea Arts Centre to mark the 12th anniversary of Aamer's incarceration at the US prison.
Full report at:
http://www.presstv.ir/detail/2013/11/15/334881/anitgitmo-rally-to-be-held-in-london/
---------
South Asia
Karzai calls on Taliban to participate in jirga on US deal
2013-11-16
KABUL: Afghan President Hamid Karzai on Saturday called on the Taliban and their allies to join an assembly on a security pact that could allow some US troops to stay in the country after 2014.
Around 2,500 tribal elders and civil leaders are expected to take part in an assembly known as a "loya jirga" next Thursday, to decide whether to accept the draft Bilateral Security Agreement between Afghanistan and the US.
"We invite them, please come to this national jirga of Afghanistan, raise your voice, raise your objection ... and share your views," he told a news conference in Kabul.
The draft pact was hammered out in Kabul last month during a visit by US Secretary of State John Kerry. But he left without a final deal as Afghan President Hamid Karzai said only a jirga had the authority to decide the contentious issues.
Full report at:
http://www.dawn.com/news/1056570/karzai-calls-on-taliban-to-participate-in-jirga-on-us-deal
-----------
Afghanistan finalises draft of pact that allows extended stay for US forces
November 16, 2013
ISLAMABAD: Afghanistan has finalised the draft of a security pact with the United States that will allow continued American military presence in Afghanistan beyond 2014, Afghan diplomats in Islamabad said on Friday.
The document is now ready to be presented to a grand "jirga", or council, next week to discuss and take a final decision, they said.
Nearly 3,000 people are expected to attend the assembly.
A diplomat, requesting not to identified, told The Express Tribune on Friday that a final draft of bilateral security agreement (BSA) has been sent to the United States.
Sources say Afghan President Hamid Karzai is likely to address the upcoming jirga.
The draft is currently being translated into Pashto and Darri, the native languages in Afghanistan, for the jirga's participants.
Full report at:
http://tribune.com.pk/story/632381/afghanistan-finalises-draft-of-pact-that-allows-extended-stay-for-us-forces/
-----------
Voting begins in Maldives presidential run-off
November 16, 2013
The Maldives on Saturday began voting in the second round of the controversy-ridden presidential election as ousted leader Mohamed Nasheed faces a run-off against his closest rival, with the poll being held under global pressure to elect a new leader and end months of political turmoil.
Early voters queued up outside polling stations across the island-nation as it staged the second round of the much delayed election in a bid to choose a new president amidst a constitutional crisis.
Full report at:
http://www.thehindu.com/news/international/south-asia/voting-begins-in-maldives-presidential-runoff/article5357532.ece
-----------
'Violence cannot distract Awami League from democracy': Bangladesh H M
November 16, 2013
Home Minister Mohiuddin Khan Alamgir said no one can distract Awami League from the path of democracy by the fear of violence.
The minister made the statement in response to BNP Chairperson Khaleda Zia's remark 'there is no scope of a negotiation with the government'.
Khaleda Zia came up with the remark while speaking to journalists during an unscheduled visit to the National Press Club on Thursday.
Full report at:
http://www.dhakatribune.com/politics/2013/nov/15/%E2%80%98violence-cannot-distract-al-democracy%E2%80%99#sthash.0VDmuQRh.dpuf
-----------
Kunduz militants kill former jihadist commander, guard
November 16, 2013
KUNDUZ, Afghanistan – Unidentified gunmen November 14 killed tribal elder Khwaja Muhammad and his bodyguard in Khanabad District of Kunduz Province, District Administrative Chief Hayatullah Ameri said.
Unidentified gunmen fatally shot the two in the Bandar Bukhari area, Ameri said, and fled.
Khawaja was a brother of Juma Din, a prominent pro-government activist, Ameri said.
http://centralasiaonline.com/en_GB/articles/caii/newsbriefs/2013/11/15/newsbrief-12
---------
Southeast Asia
World Christian leaders voice concern over Allah ruling
November 16, 2013
Christian leaders from around the world, who congregated in South Korea last week, expressed concern over the controversial Allah ruling, saying the decision had increased religious tension in Malaysia.
The church leaders, who were attending a world assembly, voiced their concern and discontent over the situation in Malaysia where Christians were being denied their right to use the word Allah, said Council of Churches Malaysia (CCM) general secretary Reverend Dr Herman Shastri.
Herman, who attended the 10th General Assembly of the World Council of Churches (WCC) in Busan, said that a public statement issued by WCC following the assembly had noted that church leaders found that restrictions on the use of the word had worsened religious hatred and tension.
Full report at:
http://www.themalaysianinsider.com/malaysia/article/world-christian-leaders-voice-concern-over-allah-ruling
----------
Indonesian Religious Affairs Minister: Religious Conflict Is Normal
November 16, 2013
Bandung. Religious Affairs Minister Suryadharma Ali said on Friday that religious tolerance in Indonesia is among the best in the world, despite some issues he said still needed to be addressed.
"Conflict is normal, as long as it's not [provoked]," he said at a gathering of religious leaders in Bandung, West Java on Friday evening. "Why? As long as God created humans with anger, then the potential of conflict arising is still there."
"But remember," he said, "God gives us anger, but God also guides our anger. In Islam, patient people are loved by God."
Full report at:
http://www.thejakartaglobe.com/news/religious-conflict-is-normal-religious-affairs-minister-says/
-----------
NGO declares war on rights group for their "devious" agenda, of making Malaysia a haven for LGBT
November 16, 2013
Non-governmental organisation Jalur Tiga (Jati) has declared war on the Coalition of Malaysian NGOs, or Comango, for its alleged attempts to make Malaysia a haven for lesbians, gays, bisexuals and transgenders (LGBT) and for promoting freedom to commit apostasy in the name of human rights.
Jati president Datuk Dr Hasan Mohamed Ali in a press conference in Taman Tun Dr Ismail today said Comango's most ill-mannered demand was its call to repeal Syariah Law in the country which is a core component of Islam.
"It is obvious that Comango's call is a criminal and treacherous act towards the nation. This is why we should declare war on them. Malaysia does not need 'warriors' like them," said Hasan.
Full report at:
http://www.themalaysianinsider.com/malaysia/article/muslim-ngo-declares-war-on-rights-group-for-their-devious-agenda
-----------
Mideast
Israel and strategic US partner fall out over Iran
November 16, 2013
JERUSALEM: Israel and its US ally have hit a troubled patch in their close relationship, caused by differences over Iran's nuclear plans and peace with the Palestinians.
In a highly public spat, Israeli Prime Minister Benjamin Netanyahu and President Barack Obama are each seeking to directly address the other's public.
At the moment, Israeli Economy Minister Naftali Bennett is campaigning in Washington, while the US ambassador to Israel, Dan Shapiro, has been making his case in the Israeli media.
"I'm not telling the Americans what they should do; I just give them the information, it's for them to decide," Bennet, who heads the far-right Jewish Home party, told Israeli public radio by telephone on Friday.
Full report at:
http://tribune.com.pk/story/632416/israel-and-strategic-us-partner-fall-out-over-iran/
-----------
Turkey F M visits Myanmar's Muslim minority in Arakan
November 16, 2013
Foreign Minister Ahmet Davutoğlu has visited Myanmar's Arakan (Rakhine) region in the northwest of the country on Nov. 15 where the Muslim Rohingya people predominantly live, providing assistance for those staying in camps following last year's ethnic violence.
Davutoğlu was accompanied by a delegation from the Organization of Islamic Cooperation (OIC) during his visit.
"Myanmar has accepted, perhaps for the first time in its history, such a visit from an international delegation and opened Arakan. This is a positive step, hopefully we will continue our efforts to relieve the pains of our brothers there," Davutoğlu told reporters following his visit.
Full report at:
http://www.hurriyetdailynews.com/foreign-minister-davutoglu-visits-myanmars-muslim-minority-in-arakan.aspx?pageID=238&nID=58019&NewsCatID=356
-----------
Israel Persists in Violence against Anti-Settlement Protests in West Bank
November 16, 2013
TEHRAN (FNA)- The Israeli occupation forces (IOF) violently attacked and clashed with Palestinian and foreign activists protesting Israel's settlement and Judaization activities in the occupied West Bank areas.
Several protestors got injured on Friday in the violent clashes that broke out in the West Bank villages of Bil'in, Ni'lin, Kafr Qaddum and Nabi Saleh as well as other occupied areas, PIC reported.
Full report at:
http://english.farsnews.com/newstext.aspx?nn=13920825000709
---------
Yemen takes steps toward addressing its refugee crisis
November 16, 2013
Now that the regional conference on asylum and migration from the Horn of Africa to Yemen closed this Thursday, Yemen officials will be busy reviewing their notes before looking to implement much needed changes in both policies and attitudes.
Although Yemen has been keen throughout the thick of its own political, economic and institutional crises to honour its obligations toward the UN in relation to its welcoming of political refugees, the central government had to call on the international community for help as the Yemen has faced a refugee Tsunami since 2011. Hundreds of thousands of new refugees and asylum seekers have flocked to Yemen, running away from their own war zones over the past, putting a heavy strain on Yemen' stretch out resources.
Full report at:
http://yemenpost.net/Detail123456789.aspx?ID=3&SubID=7358&MainCat=3
---------
Israel urges France not to waver on Iran
November 16, 2013
PARIS: Israeli Prime Minister Benjamin Netanyahu has urged France to stand firm in international negotiations over Iran's nuclear program.
"We hope France will not yield," Netanyahu said in an interview to Le Figaro newspaper due out on Saturday, on the eve of French President Francois Hollande's visit to Israel.
"For us, the United States remains an important ally, the most important ally. But our relationship with France is also very special," he said.
France took a tougher line than its Western partners last week in Geneva talks aimed at resolving the impasse over Iran's nuclear program.
"On the Iran issue, our countries have defended common stances for years, regardless of the party in power, and we are maintaining this vital partnership with President Hollande," he said.
Full report at:
http://www.dailystar.com.lb/News/Middle-East/2013/Nov-16/238041-israel-urges-france-not-to-waver-on-iran.ashx#ixzz2krnZwkn7
---------
Iran averts big rise in sensitive nuclear stockpile, report shows
16 November 2013
VIENNA (Reuters) - Iran appears to have moved quickly to prevent a large increase in its most disputed nuclear stockpile, a new U.N. watchdog report indicates, in what may be an attempt not to undermine talks on a nuclear deal with six world powers next week.
The Islamic Republic's holding of uranium gas refined to a fissile concentration of 20 percent is closely watched by the West as it represents a relatively short technical step away from the level required for the core of an atomic bomb.
Israel, which has long warned it could use force to prevent Iran from gaining nuclear weapons, has said its foe must not obtain enough of this higher-grade uranium for one warhead if processed further. Iran says its work is peaceful and that it is Israel's assumed nuclear arsenal that threatens peace.
Full report at:
http://news.yahoo.com/iran-averts-big-rise-sensitive-nuclear-stockpile-report-131140986.html
-----------
Gaza repairs 9,600 homes destroyed by Israel
World Bulletin / News Desk
November 16, 2013
Gazan authorities have repaired 9,600 houses damaged during a deadly Israeli onslaught on the Gaza Strip last year.
In a Saturday statement, the Ministry of Public Works and Housing said that 180 houses have also been rebuilt after they were destroyed during the Israeli offensive.
Israeli forces launched an eight-day deadly war on Gaza, home to 1.9 million Palestinian, last year.
More than 12,000 houses were damaged and 220 others totally destroyed during the Israeli onslaught.
Full report at:
http://www.worldbulletin.net/?aType=haber&ArticleID=123052
----------
Israeli troops cuff Palestinian children, aged five to nine: Witnesses
AFP | Nov 16, 2013
JERUSALEM: Israeli troops in the West Bank have detained four Palestinian children aged five to nine years for more than an hour with their hands cuffed, Palestinian witnesses said.
An Israeli military spokeswoman said she had no knowledge of such an incident but would check the report.
Palestinian activist Murad Ashtiye told AFP yesterday that clashes erupted with soldiers in the northern West bank village of Kfar Qaddum during the weekly protest there against Israeli occupation by Palestinians and international activists.
Full report at:
http://timesofindia.indiatimes.com/world/middle-east/Israeli-troops-cuff-Palestinian-children-Witnesses/articleshow/25868232.cms
-----------
North America
'Quite Possible' Iran, P5+1 Countries Can Reach Nuclear Deal Next Week: US Official
November 16, 2013
Major Powers and Iran are getting closer to an initial agreement to curb Iran's nuclear program, a senior U.S. official said on Nov. 15, adding it is "quite possible" a deal could be reached when negotiators meet Nov. 20-22 in Geneva.
"For the first time in nearly a decade we are getting close to a first-step ... that would stop the Iranian nuclear program from advancing and roll it back in key areas," the official told reporters.
"I don't know if we will reach an agreement. I think it is quite possible that we can, but there are still tough issues to negotiate," said the official, speaking on condition of anonymity.
The official said EU foreign policy chief Catherine Ashton and Iranian Foreign Minister Javad Zarif were to meet on Nov. 20 in Geneva. They will be joined later the same day by a wider group known as the P5+1 comprising Britain, China, France, Germany, Russia and the United States. The talks are likely to last through Nov. 22, the official added.
Full report at:
http://www.hurriyetdailynews.com/quite-possible-iran-p51-countries-can-reach-nuclear-deal-next-week-us-official.aspx?pageID=238&nID=58023&NewsCatID=352
-----------
US offers $10m bounty for Benghazi attackers
November 16, 2013
The US has been quietly offering as much as $10m (£6.2m) since January for information about the attack on a diplomatic post in Benghazi, Libya.
The state department confirmed the reward in a letter to a Republican lawmaker who questioned them about it.
The appeal had not been published on its Rewards of Justice site because of security concerns, the department said.
Four Americans, including the US ambassador to Libya, died in the attack on 11 September 2012.
Full report at:
http://www.bbc.co.uk/news/world-us-canada-24965925
-----------
US closely watching situation in Maldives
Nov 16 2013
Washington : Closely monitoring the situation in Maldives, the US has said that its interest is in a government transition that reflects the will of the people.
"Our position has not changed,we continue to watch the situation closely and to voice our support for both elections on Saturday as well as our interest in a government transition that reflects the will of the Maldivian people," a State Department spokesperson said on Friday.
The State Department statement came in response to a question on news reports the Maldivian president, Mohamed Waheed, whose term expired on November 11, resigned ahead of run-off elections.
Full report at:
http://www.indianexpress.com/news/us-closely-watching-situation-in-maldives/1195666/
-----------
India
Will continue to back J&K rebels, Pakistan tells Hurriyat
M Saleem Pandit, TNN | Nov 16, 2013
SRINAGAR: Pakistan's national security advisor Sartaj Aziz told Hurriyat that Pakistan would continue to support the separatist cause in Jammu & Kashmir during his meeting with the hardliners led by Syed Ali Shah Geelani on Sunday, a Hurriyat spokesman told TOI on Friday.
Aziz's response was in reaction to Geelani conveying to the Pakistan NSA that the Musharraf formula on Kashmir was unacceptable to Kashmiris and that Pakistan should instead stress on the UN resolution "pending since 1947" over the issue.
"Geelani told Aziz that Pakistan should continue to support the Kashmir cause politically as well as diplomatically, besides through other means, and highlight human rights violations in J&K at the hands of the security forces," said Ayaz Akbar, Geelani's spokesman.
Musharraf's four points included demilitarization, maximum autonomy, making border irrelevant and joint management of the area. Subsequent Pakistani governments have rejected the formula saying it was Musharraf's personal line of thinking and lacked endorsement by Pakistani parliament.
Full report at:
http://timesofindia.indiatimes.com/india/Will-continue-to-back-JK-rebels-Pakistan-tells-Hurriyat/articleshow/25843742.cms
-----------
India, Pakistan Agree: Emotional Google Ad a Hit, Strikes a Cultural Chord
Nov 16, 2013
An emotional advertisement for Google's search engine has become a hit in India and Pakistan by surprisingly invoking a searing and traumatic period in the shared history of the South Asian archrivals. Officially debuting on television Friday, the commercial already has been viewed more than 1.6 million times on YouTube.
"Reunion" portrays two childhood friends, now elderly men, who haven't seen each other since they were separated by the 1947 partition that created India and Pakistan from the old British empire in South Asia. Partition sparked a mass exodus as millions of Muslims and Hindus fled across the new borders amid religious violence.
Full report at:
http://www.hindustantimes.com/technology/socialmedia-updates/india-pakistan-agree-emotional-google-ad-a-hit-strikes-a-cultural-chord/article1-1151767.aspx
-----------
5 soldiers injured as militants attack Army convoy in Kupwara
AHMED ALI FAYYAZ
16 November 2013
Five soldiers sustained injuries in a militant strike on an Army convoy who were on their way from Kupwara to Handwara in northern Kashmir on Saturday.
Official sources told The Hindu that suspected militants ambushed a military convoy at Dhobi Mohalla near Drugmulla, in Kupwara district, minutes after it had left for Handwara in the forenoon. One soldier got hit and four others sustained injuries as their driver lost control and the bus skidded off the road.
Full report at:
http://www.thehindu.com/news/national/other-states/5-soldiers-injured-as-militants-attack-army-convoy-in-kupwara/article5357770.ece
-----------
Onus is on Pak to maintain peace on the border in J&K: BSF
16 November 2013
Asserting that Indian troops are fully alert to foil infiltration attempts from across the Line of Control (LoC) in Jammu and Kashmir, Border Security Force (BSF) on Saturday said it is upto Pakistan to maintain peace.
"We will reciprocate in the same way the Pakistan behaves (on the borders). We will be the happiest people if they want to have peace on the LoC but if they attempt to violate the LoC they will be given a befitting reply, which we have been doing," Inspector General of BSF, Kashmir frontier, P.S. Sandhu told reporters here.
Full report at:
http://www.thehindu.com/news/national/onus-is-on-pak-to-maintain-peace-on-the-border-in-jk-bsf/article5358015.ece
-----------
URL: https://www.newageislam.com/islamic-world-news/new-age-islam-news-bureau/prince-bandar-to-lead-saudi-extraterritorial-military-force-for-war-in-syria,-yemen/d/24456