New Age Islam News Bureau
22 December 2020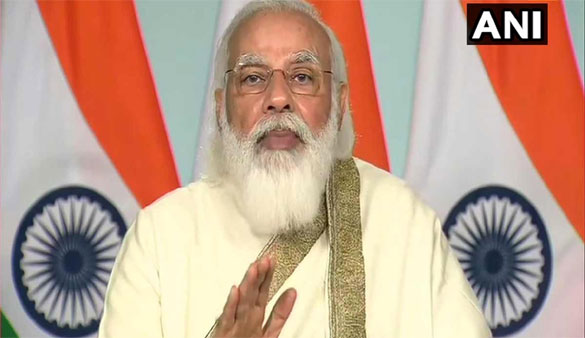 PM Modi's remarks came during his address at the centenary celebrations of Aligarh Muslim University via video conferencing. (Photo source: ANI)
-----
• Qasim Khan Is Now Karamveer Singh: 8 Years On, Muslim Man in Interfaith Marriage Converts
• Pakistan to UAE: Can't Recognise Israel until Palestine Resolved
• Christmas Decorations, Trees and Glittery Ornaments, Are for the First Time on Sale in Saudi Arabia
• Lockdown Blamed As More Under-18s Held For Terror Offences in UK
• US Muslim Lawmaker Vows Not To Take Coronavirus Vaccine before Those 'Who Need It Most'
• Israeli Forces Kill Young Palestinian In Aqsa Mosque
• Israeli Envoys Head to Morocco To Meet King In Latest Talks On US-Brokered Ties
India
• Prime Minister Modi Says AMU is 'Mini-India' - Aligarh Muslim University's Diversity Strength of Entire Nation –
• Qasim Khan Is Now Karamveer Singh: 8 Years On, Muslim Man In Interfaith Marriage Converts
• Dropout Rate of Muslim Girl Students Reduced, Govt Concerned About Their Education, Empowerment: PM Modi at AMU
• 'Love Jihad': Entire Family Booked In UP, 6 In Jail; Reward Of Rs 25000 On 5 'Missing'
• PM Modi Addresses Centenary Celebrations Of Aligarh Muslim University: Highlights
• Government Committed to Development without Discrimination Says Prime Minister
• Ideological Divides Secondary to Nation: PM at Aligarh Muslim University
• Delhi HC asks cops to trace 'missing' Hindu woman who eloped with Muslim man
• Pak army shells mortars along LoC in J&K's Poonch
• NIA arrests 17 SDPI and PFI activists in Bengaluru riots case
• Two PDP leaders detained in Kashmir, says Mehbooba Mufti; officials tight-lipped
--------
Pakistan
• Pakistan to UAE: Can't Recognise Israel until Palestine Resolved
• Pakistan Government Grants Permission for Construction of Hindu Temple in Islamabad
• Pakistan, Saudi Arabia Reaffirm Resolve to Cement Bilateral Ties
• Fazl among 20 politicians facing 'serious threats to life': minister
• Hindu community issued NOC for boundary wall around cremation site in capital
• Alvi urges OIC countries to join hands for Ummah's renaissance
• Rifts in Fazl-led JUI deepens
• Fazl accused of committing graft, inciting violence
--------
Arab World
• Christmas Decorations, Trees and Glittery Ornaments, Are for the First Time on Sale in Saudi Arabia
• Over Dozen Shia Scholars Kept In Detention Centres In Saudi Arabia: Report
• Pro-Israel Stance: Hamas Slams UAE Support for the Settlement And Occupation
• Lebanon passes law criminalizing sexual harassment, amends domestic violence law
• Saudi Arabia thwarts attempts to smuggle over 18 million amphetamine pills
• Yemeni PM: Saudi Arabia ended division between Yemenis via Riyadh Agreement
• Hezbollah: Soleimani was assassinated because he challenged US hegemony
• US using terrorists as pretext to justify continued military presence in northeast Syria: FM
--------
Europe
• Lockdown Blamed As More Under-18s Held For Terror Offences in UK
• Four arrested for Sept. 25 Paris knife attack, source says
• Nando's knife attacker who claimed to be terrorist detained under Mental Health Act
• Germany brings home 'Islamic State' brides, children from Syrian camps
• Berlin Islamist terror attack: A deadly story of failure
• Two more suspects linked to Vienna attack arrested: prosecutors
• India should not worry about our ties with Pakistan, says Russia
--------
North America
• US Muslim Lawmaker Vows Not To Take Coronavirus Vaccine before Those 'Who Need It Most'
• US Reinstates Sudan's Sovereign Immunity after Removal from Terror List
• The deep US web of animosity towards Iran to continue?
• Islamic State train attacker thwarted by three California men is convicted
• US announces new criminal charges in Pan Am terrorist bombing
--------
Mideast
• Israeli Forces Kill Young Palestinian In Aqsa Mosque
• MEPs call on Israel to allow entry of anti-coronavirus medical supplies into Gaza
• Iranian Lawmaker: FATF Policymakers Main Sponsors of Terrorism
• Iran Blasts Canada's Meddling in Ukrainian Plane Case, Stresses Publication of Relevant Report Soon
• Iran urged not to waste 'last window of opportunity' for nuclear deal
• Houthi official accused of prison torture at Yemen's Central Security prison
• Knesset rejects bill to delay budget Israel heading to 4th vote in 2 years as Knesset tosses out election prevention bill
--------
Africa
• Israeli Envoys Head to Morocco To Meet King In Latest Talks On US-Brokered Ties
• El Al Airlines to operate first Israel-Morocco flight on December 22
• UNSC Discusses Western Sahara After Trump's Deal With Morocco
• At least 10 killed in central Somalia bombing claimed by al Shabaab
--------
South Asia
• Afghan Parliament Lashes over Recent Remarks by First Lady
• Prison doctors among 5 killed in Kabul bombing
• Suicide Bomber Targets Funeral Ceremony in Paghman, Killing 1
• Ex-Pakistani PM: Pakistan Supports Both Taliban, Al-Qaeda
--------
Southeast Asia
• Covid-19: Christmas celebration in the Federal Territory is now allowed, says KL Dept of National Unity and Integration
Compiled by New Age Islam News Bureau
URL: https://www.newageislam.com/islamic-world-news/prime-minister-modi-says-amu/d/123844
--------
Prime Minister Modi Says AMU is 'Mini-India' - Aligarh Muslim University's Diversity Strength of Entire Nation –
December 22, 2020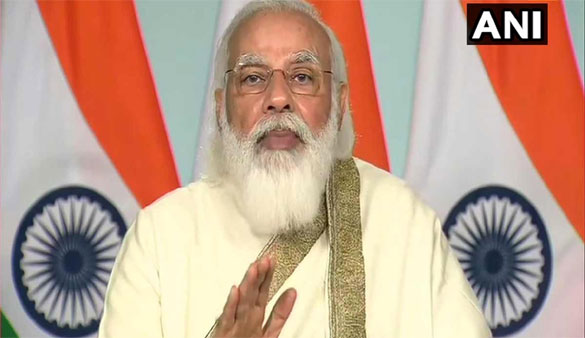 PM Modi's remarks came during his address at the centenary celebrations of Aligarh Muslim University via video conferencing. (Photo source: ANI)
-----
Prime Minister Narendra Modi on Tuesday reiterated his commitment to his government's slogan of 'Sabka Sath, Sabka Vikas' as he heaped praise on the Aligarh Muslim University. Modi was speaking at the centenary celebrations of the Aligarh Muslim University.
The last time a prime minister attended an event at AMU was Lal Bahadur Shastri in 1964. Before him, prime minister Jawaharlal Nehru had visited Aligarh Muslim University four times.
Attending the event via videoconference, Modi released a special postal stamp to commemorate the centenary celebrations of AMU.
Modi was quoted by ANI as saying, "The country is marching forward on the path where every citizen would get the benefits of development happening in the country without any discrimination. The country is on the path where every citizen should rest assured about their constitutional right and their future. Country is on the path where no citizen would be left behind because of their religion, and everyone would get equal opportunities, so that everyone can fulfil their dreams. Sabka Sath, Sabka Vikas, Sabka Vishwas is the mantra behind it."
Modi heaped praise on Aligarh Muslim University and its role in nation building. "Wherever in the world they go, AMU alumni represent the rich heritage and culture of India... In its 100 years of history, AMU has crafted and polished millions of lives, giving them modern and scientific thinking and inspiring them to do something for the society and the nation," ANI quoted Modi as saying.
Modi lauded Aligarh Muslim University's contribution to the fight against COVID-19. "The way AMU helped society during COVID-19 pandemic is phenomenal. Conducting free tests, making isolation wards, creating plasma banks and contributing to PM Cares Fund... all this shows the seriousness of fulfilling your obligations towards society," Modi was quoted as saying by ANI.
Modi highlighted the diversity of Aligarh Muslim University. He was quoted by ANI as saying, "People tell me that the AMU campus is like a city in itself. We see a Mini-India among different departments, dozens of hostels, thousands of teachers and professors. The diversity that we see here is not only the strength of this university but also of the entire nation."
https://www.theweek.in/news/india/2020/12/22/modi-lauds-aligarh-muslim-university-as-mini-india.html
--------
Qasim Khan Is Now Karamveer Singh: 8 Years On, Muslim Man in Interfaith Marriage Converts
Dec 22, 2020
AGRA: Eight years after he married a Hindu woman, a Muslim man from Aligarh has converted to Hinduism "with help from" a Hindutva outfit. Qasim Khan, 28, is now Karamveer Singh.
"No one forced me. I took this decision on my own," he said on Monday. Qasim had met Anita Kumari, 24, when his father had leased a house from hers for a construction workshop. The two fell in love and got married in 2012. Anita's family was not entirely on board and, a year later, the couple organised another wedding ceremony, this time following Hindu rituals. Her family moved to Delhi, the couple stayed on in Aligarh and had two kids — Kasifa (7) and Ayaz (4).
Now, less than a month after the UP Prohibition of Unlawful Conversion of Religion Ordinance 2020 came into effect, Qasim has converted to Hinduism.
Qasim said he needs protective cover. "I had sought security from the district administration but they didn't get back to me. I request the government again, I need protection," he told TOI. Anita added, "I was never asked to convert or not follow Hindu rituals." For his own conversion, the "helping hand" came from the local unit of a Hindutva outfit.
Neeraj Bhardwaj, a member of the outfit, who got Qasim converted, told TOI, "They are welcome to the fold of Hindu religion. We did the rituals at Arya Samaj temple on Sunday." He said Qasim had applied for a legal conversion to the district magistrate on December 15. But after he got no response for five days, the temple took over.
https://timesofindia.indiatimes.com/india/8-years-on-muslim-man-in-interfaith-marriage-converts/articleshow/79848079.cms
--------
Pakistan To UAE: Can't Recognise Israel Until Palestine Resolved
21 Dec 2020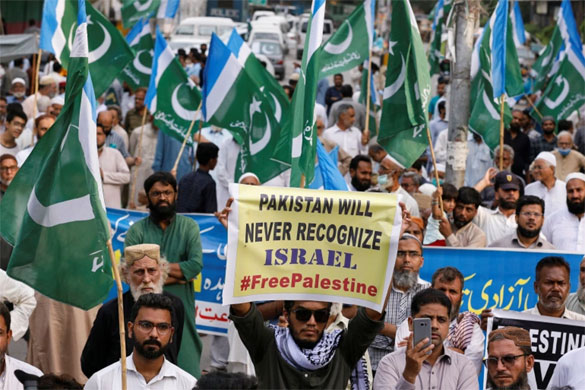 Pakistanis protest UAE's decision to normalise diplomatic ties with Israel during a demonstration in Karachi on August 16, 2020 [File: Akhtar Soomro/Reuters]
-------
Pakistan says it has made it clear to the United Arab Emirates (UAE) that Islamabad cannot recognise Israel until the Israeli-Palestinian conflict is resolved.
"I categorically presented Pakistan's stance on Israel to the UAE's foreign minister that we will not and cannot establish a relationship with Israel until a concrete and permanent solution to the Palestine issue is found," Pakistan's Foreign Minister Shah Mahmood Qureshi told reporters in the central city of Multan on Monday.
Qureshi's statement came days after his visit to the UAE, which was seen by many as crucial amid rumours that Islamabad had secretly sent a messenger to Israel.
Islamabad denied the reports, which appeared mainly in the Israeli media.
Responding to questions regarding reports about alleged pressure from Saudi Arabia, the UAE and other Gulf states for recognition of Israel, Qureshi said he explained to his UAE counterpart the "depth of emotions and feelings Pakistanis have about Palestine and Kashmir".
The UAE foreign minister, he contended, "fully understood our feelings" on the two issues.
Rebuffing reports about pressure on Islamabad to recognise Israel, he said, "Number one, there will be no pressure on us nor there is. Number two, we have to make decisions keeping Pakistan's interests in view and not because of any pressure. We have a policy and we are still steadfast on it."
He said Prime Minister Imran Khan had "time and again clarified there is no pressure on us in this regard".
Khan made headlines last month when he revealed that Islamabad had been under pressure from some "friendly" nations to recognise Israel.
Although he stopped short of naming the countries despite being repeatedly asked whether they were Muslim or non-Muslim countries, many believe the Pakistani leader was referring to Saudi Arabia and the UAE.
The UAE, Bahrain and Morocco recently established diplomatic and economic relations with Israel, while reports suggest some other Gulf states, including Saudi Arabia, are also weighing the options to normalise ties.
In recent years, Pakistan's relations with its traditional Gulf allies have come under strain due to Islamabad's "neutrality" on several issues, including the war in Yemen and the blockade on Qatar imposed by a Saudi Arabia-led Arab alliance.
Riyadh also appears to be irked by criticism from Islamabad over its lukewarm stance on Pakistan's longstanding dispute with India over the Himalayan territory of Kashmir, claimed in full by both the South Asian neighbours.
Visa restrictions
Meanwhile, Pakistan's foreign ministry spokesman Zahid Hafeez Chaudhry, in a statement on Sunday, said Qureshi also raised the issue of visa restrictions on Pakistani nationals in the meeting with his UAE counterpart.
He said Qureshi was assured the visa restrictions were "temporary" and were imposed due to the outbreak of the COVID-19 pandemic.
Last month, the UAE stopped issuing new visas to citizens of 13 mostly-Muslim countries. The decision took effect on November 18 and included citizens from Yemen, Syria, Iraq, Libya, Afghanistan, Pakistan, Somalia, Kenya, Lebanon, Tunisia, Algeria, Turkey, and Iran.
https://www.aljazeera.com/news/2020/12/21/cant-recognise-israel-until-palestine-resolved-pakistan-to-uae
--------
Christmas Decorations, Trees and Glittery Ornaments, Are for the First Time On Sale In Saudi Arabia
21 December 2020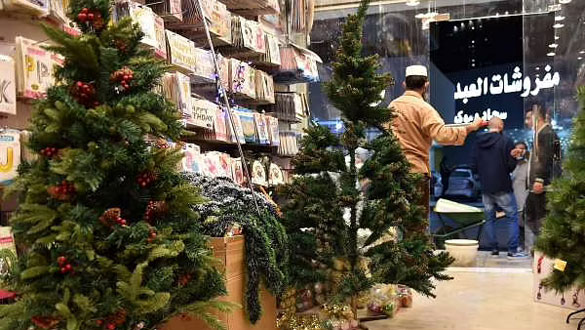 Christmas trees and glittery ornaments are for sale at a gift shop in Riyadh, Saudi Arabia, a once unthinkable sight.
In recent years, festive sales have gradually been introduced into the capital Riyadh, a sign of loosening social restrictions after Crown Prince Mohammed bin Salman pledged to steer the country towards an "open, moderate Islam."
For all the latest headlines follow our Google News channel online or via the app.
"I didn't ever imagine I'd see this" in Saudi Arabia, a Riyadh resident told AFP at the shop selling trees, Santa Claus outfits as well as tinsel, baubles and other ornaments.
"I am surprised," said the resident.
Until barely three years ago, it was almost impossible to sell such items openly in Saudi Arabia.
"It was very difficult to find such" Christmas items in the Kingdom, said Mary, a Lebanese expat based in Riyadh.
"Many of my friends used to buy [Christmas trees] them from Lebanon or Syria," she said.
Things changed in the Kingdom after a 2016 decree was issued by the Saudi cabinet, restricting the Saudi Committee of Promotion of Virtue and Prevention of Vice (dubbed as "religious police" by Western media) to pursue and arrest violators.
In February, shops sold red roses and teddy bears in celebration of Valentine's Day, something that just two years ago was banned as the holiday was deemed "un-Islamic."
A Saudi newspaper listed several restaurants that allowed guests to celebrate Valentine's Day, including one that offered a themed menu with special arrangements for Valentine's surprises.
https://english.alarabiya.net/en/News/gulf/2020/12/21/Christmas-decorations-go-on-sale-in-Saudi-Arabia-for-first-time
--------
Lockdown blamed as more under-18s held for terror offences in UK
21 Dec 2020
The number of children being arrested for terrorism offences is rising as the pandemic creates a climate for lonely young people to be drawn in, police have warned.
A total of 17 under-18s were arrested in the year to September 2020 compared with 11 in the year to September 2019, police have said.
So far this year a total of 3,000 pieces of suspected terrorist content have been flagged up to the Counter-Terrorism Internet Referral Unit (CTIRU) compared with 2,796 in 2019, a rise of around 7%.
But the number of referrals of rightwing content rose 43%, from 134 in 2019 to 192 between 1 January and 20 November this year.
DCS Kevin Southworth, from the CTIRU, said that one unforeseen consequence of the global pandemic could be young people being radicalised.
"There has been a slight shift during the pandemic, which may simply reflect people being at home more, and ultimately perhaps spending more time online – Perhaps in some instances sadly who have less people to speak to, perhaps recoursing to online media for greater quantities of their time because they've been stuck in self-isolating, or lacking people to come into contact with. It could be a sad corollary really of the Covid pandemic that we've not yet really fully realised."
On Monday the unit published a blog by one of its sergeants, identified only as Paul, who warned parents that their children might be viewing terrorist material online during the Christmas break.
He wrote: "It would be misguided to think that the youngsters finding terrorist propaganda online and being sucked in by its eye-catching graphics and false promises of martyrdom are archetypical terrorist 'suspects'.
"They're not. They vary by gender and ethnic background; some are high-achievers at school, others not so; some are from impoverished backgrounds, others more fortunate. They're sons, daughters, siblings and friends – possibly yours, though you may not like to think it."
Between 1 January 2019 and 30 June 2020 around 1,500 children aged 15 and under were identified as being at risk of radicalisation as part of the government's Prevent scheme.
Southworth said: "There's perhaps a challenge that young people face in the modern age that we didn't face when we were younger.
"We are in the digital age now where everyone has access to copious quantities of open-source material, and if you are a youngster in the middle of a pandemic who's spending a long time online, especially if you're someone who has any other underlying vulnerability or perhaps a mental illness, then there's always that chance that you may be drawn to extreme material."
A website and helpline have been set up, Act Early, to encourage adults to report signs of young people at risk of being radicalised.
Southworth said: "The one outcome that we would all want to avoid, family and friends alike, is that someone becomes radicalised or subject to hateful extremism in our midst, and then ultimately comes to injury or causes someone else an injury when we could have avoided it."
https://www.theguardian.com/uk-news/2020/dec/21/lockdown-blamed-as-under-18s-terrorism-offences-coronavirus?utm_source=iterable&utm_medium=email&utm_campaign=1840297_
--------
US Muslim lawmaker vows not to take coronavirus vaccine before those 'who need it most'
22 December 2020
Muslim American lawmaker Ilhan Omar says she will not take the vaccine for the coronavirus unless those "who need it most," take it first.
The Minnesota Democrat also criticized her colleagues for putting themselves ahead of frontline the essential workers, Fox News reported Monday.
"We are not more important [than] frontline workers, teachers, etc. who are making sacrifices [every day]," Omar said. "Which is why I won't take it. People who need it most, should get it."
Omar's fellow Squad member Alexandria Ocasio-Cortez, meanwhile, went ahead and took the shot like House Speaker Nancy Pelosi and Senate majority leader Mitch McConnell.
If you have any questions or unease about the COVID vaccine, I got you! I'd *never* ask you to do something I wasn't willing to do myself. Yday per national security policy (PPD40), Congress began getting vaccinated," AOC tweeted. "I took the jab & am here to answer your questions. Ask away!"
There were also those who argued that the country's leaders should get vaccinated to assure people that the vaccine is safe.
"Millions of Americans are waiting for shots, many of whom are workers on the front lines of this pandemic," tweeted Democratic Representative Don Beyer of Virginia, who was among those to receive one. "I am not more important than they are, but national leaders must lead by example."
Retiring Hawaii Rep. Tulsi Gabbard said Monday that she would not receive a covid-19 vaccine until elderly Americans have been vaccinated.
"They're recommending 100 million 'essential workers' (i.e. healthy people working at liquor stores or phone companies) can get the vaccine before our grandparents," wrote Gabbard, a former 2020 Democratic presidential candidate. "This is immoral and bad health policy," she added. "I had planned to get the vaccine but will now stand in solidarity with our seniors by not doing so until THEY can. I urge my colleagues who are under 65 and healthy to join me."
https://www.presstv.com/Detail/2020/12/22/641252/I-won%E2%80%99t-take-it-ilhan-Omar-speaks-up-on-vaccine
--------
Israeli forces kill young Palestinian in Aqsa Mosque
21 December 2020
Israeli forces have fatally shot a young Palestinian near Bab Huta, one of the gates to al-Aqsa Mosque compound in the occupied Jerusalem al-Quds.
Local sources say the Israeli forces opened fire at the Palestinian youth, killing him after he allegedly attempted to carry out an attack near the gate.
His identity remains unknown until the moment, the Palestinian news agency WAFA reported on Monday night.
Israeli soldiers have prevented people from entering or leaving the Old City in the aftermath of the shooting and closed off Bab al-Amoud area and Bab al-Sahera in the Old City, where they attacked civilians and street vendors.
They also closed all the gates leading to the al-Aqsa mosque compound and held worshipers inside.
The al-Aqsa Mosque compound sits just above the Western Wall plaza and houses both the Dome of the Rock and al-Aqsa mosque.
Palestinians have repeatedly warned of Israeli attempts to change the status quo of the al-Aqsa Mosque compound. Al-Aqsa Mosque is the third holiest site in Islam.
Earlier this year, the Israeli regime outraged Palestinian people by installing loudspeakers on the walls of the sacred site and arresting employees of the Religious Endowments Authority.
The violations were strongly condemned by Jordan in September.
Dhaifullah al-Fayez, a spokesman for Jordan's Ministry of Foreign Affairs and Expatriates, said that Israeli police actions are a violation of the legal and historical status quo of the religious site.
"The police actions are irresponsible tampering, unacceptable and constitute a provocation to the feelings of Muslims around the world and a flagrant violation of Israel's obligations as the occupying power under the international law," he noted.
Fayez then warned against the dire consequences of the Israeli regime's continued abuses, calling for an end to such practices and respect for the historical and legal status quo of al-Aqsa Mosque.
He emphasized that al-Aqsa Mosque entirely belongs to Muslims, and that the Jordan-run Religious Endowments Authority in Jerusalem al-Quds is the exclusive authority responsible for the mosque's affairs.
Israeli settlers attack Palestinian vehicles in Bethlehem, injure man in Nablus
In two other separate incidents, Israeli settlers attacked Palestinians in the West Bank districts of Bethlehem and Nablus, according to local and security sources.
A group of Israeli settlers, under Israeli military protection, closed off the bypass road connecting the northern and southern West Bank and attacked Palestinian vehicles traveling near the town of Janata, east of Bethlehem, in the southern West Bank. No injuries were reported.
Meanwhile, another group of settlers attacked a Palestinian man near Deir Sharaf in Nablus, causing him injuries that necessitated his transfer to the hospital for treatment, according to local monitors.
Sources say the Israeli forces closed Za'atara military checkpoint to the south of Nablus, amid the heavy presence of settlers on roads, warning Palestinians to stay alert to possible settlers' attacks against them and their properties.
https://www.presstv.com/Detail/2020/12/21/641248/Israel-palestine-aqsa-mosque-killed-
--------
Israeli envoys head to Morocco to meet king in latest talks on US-brokered ties
22 December 2020
Israel sent envoys to Morocco on Tuesday to meet its king and hammer out an upgrade of ties that was forged by the White House in a parting foreign-policy push by US President Donald Trump.
Led by National Security Adviser Meir Ben-Shabbat, the delegates were accompanied to Rabat by Jared Kushner, Trump's son-in-law and architect of pan-Arab rapprochements with Israel.
For all the latest headlines follow our Google News channel online or via the app.
They took El Al Israel Airlines in the first direct flight by a commercial plane from Tel Aviv to Rabat, opening the way for a possible surge in tourism among the hundreds of thousands of Israelis of Moroccan descent.
As the Trump administration has sought to isolate Iran, the normalization deals have been sweetened with promises of business opportunity or economic aid. Israel's new partners have also seen bilateral benefits from Washington - in Rabat's case, US recognition of its sovereignty over the Western Sahara.
Ben-Shabbat and Kushner will see Morocco's King Mohammed during a two-day trip, Israeli Prime Minister Benjamin Netanyahu said.
The jet was painted with the Hebrew, Arabic and English words for "peace" and a palm-shaped Maghreb good-luck talisman.
Some US officials have privately voiced hope of hosting an Israel-Morocco signing ceremony at the White House before Trump steps down on Jan. 20.
Facing domestic dissenters at the engagement with Israel, Moroccan ministers have cast it as a formalization of de facto relations under which Rabat had hosted an Israeli "liaison
office".
Shut in 2000 in solidarity with the Palestinians, that office will now reopen. Israel hopes for mutual embassies, eventually.
"This type of agreement will help have a better interaction between communities and people," Moroccan Tourism Minister Nadia Fettah Alaoui told Israeli television channel I24.
https://english.alarabiya.net/en/News/middle-east/2020/12/22/Israel-relations-Israeli-envoys-head-to-Morocco-to-meet-king-in-latest-talks-on-US-brokered-ties
--------
India
Dropout rate of Muslim girl students reduced, govt concerned about their education, empowerment: PM Modi at AMU
Posted by Nandini
Dec 22, 2020
Prime Minister Narendra Modi on Tuesday said that dropout rate of Muslim girl students has reduced due to government policies said that the Centre is deeply concerned about their education and empowerment.
"School dropout rate among Muslim girls was more than 70 per cent and this situation persisted for 70 years. In these circumstances, the government started Swachh Bharat Mission, built toilets in villages and toilets for school-going girls. Now the dropout rate from 70 per cent has fallen to nearly 30 per cent. The Central government is continuously working to reduce their dropout rates," he said speaking at the centenary celebrations of Aligarh Muslim University on Tuesday.
"At AMU, the number of female students increased to 35 per cent. I want to congratulate you. Sarkaar ka Muslim betiyon ke shiksha aur shashaktikaran pe bahut dhyaan hai (The government is deeply concerned about education and empowerment of Muslim daughters). In the last six years, scholarships have been provided by the government to around 1 crore Muslim daughters," he added.
"Education brings employment and entrepreneurship with itself, employment and entrepreneurship bring economic independence, which leads to empowerment. An empowered woman, at every level and in every decision, contributes as much as any other person," the PM said.
He said that the country has moved forward in the direction of creation of the modern Muslim community after abolishing malpractice like triple talaq.
"Nearly 100 years ago, the Founder-Chancellor of AMU, Begum Sultan worked towards the creation of the modern Muslim community. Today, after abolishing malpractice like triple talaq, the country has moved forward in that direction," he said.
The Prime Minister said that resources of the country belong to every citizen and every one of them should benefit from it.
"Jo desh ka hai woh har deshvaasi ka hai (Resources of the country belongs to every citizen). Everyone should benefit from it, that's the spirit our government is working with," PM Modi said
"The policies which are being framed today are reaching every section without discrimination on the basis of religion. Bank accounts of over 40 crore poor were opened without any discrimination. Without discrimination, more than 2 crore poor were provided pucca houses. More than 8 crore women got gas connections without discrimination. 50 crore people got free medical treatment up to Rs 5 lakh under Ayushman scheme without any discrimination," he said.
PM Modi said that the country is marching forward on the path where every citizen would get the benefits of development happening in the country without any discrimination.
"The country is on the path where every citizen should rest assured about their constitutional rights & their future. The country is on the path where no citizen would be left behind because of their religion and everyone would get equal opportunities so that everyone can fulfil their dreams. Sabka Sath, Sabka Vikas, Sabka Vishwas is the mantra behind it," he said.Earlier in the day, PM Modi released a postal stamp as part of centenary celebrations of AMU. This is the first time PM Modi is participating in a programme of the Aligarh Muslim University.
https://www.hindustantimes.com/education/dropout-rate-of-muslim-girl-students-reduced-govt-concerned-about-their-education-empowerment-pm-modi-at-amu/story-pJrdWaTXdUWazFa5EEveqM.html
--------
'Love Jihad': Entire Family Booked In UP, 6 In Jail; Reward Of Rs 25000 On 5 'Missing'
Dec 22, 2020
AGRA: Over a month after a woman, 21, left her home, allegedly converted and married a Muslim man in Delhi after a brief affair, police in UP's Etah have booked her husband's entire family under the new anti-conversion law and sent six of them to jail.
Apart from the man, 25-year-old Mohammad Javed, 10 members of his family, including three women, were booked at Jalesar police station last week. Those arrested on Saturday and Sunday are the distant relatives of Javed, and police claimed that "they were in contact with the accused". Javed and his four close relatives are yet to be arrested. Police have now announced a reward of Rs 25,000 on each of the five missing accused.
The FIR was registered on the basis of a complaint filed by the father of the woman on Thursday, when he received a letter sent by Javed's lawyer from Delhi purportedly informing him about the woman's conversion and the subsequent marriage in a court.
DSP Ram Niwas Singh said, "FIR was registered against Javed and his family members under IPC section 366 (kidnapping, abducting or inducing woman to compel her marriage, etc) and under the Uttar Pradesh Prohibition of Unlawful Conversion of Religious Ordinance. Six persons have been arrested."
Police said that the woman had been "missing" since November 17. "However, her family members did not approach police until Thursday," a police officer said. Owner of a cloth shop, Javed lived close to the woman's house in Etah. SHO Krishna Pal Singh said, "Those arrested are relatives of Javed. During the probe, they were found involved in the entire matter and had been in regular contact with the main accused. All of them have been sent to jail on court orders. Javed and the other four absconding will be arrested soon"
https://timesofindia.indiatimes.com/india/love-jihad-11-of-family-booked-in-up-6-in-jail-reward-of-rs-25000-on-5-missing/articleshow/79847557.cms
--------
PM Modi Addresses Centenary Celebrations Of Aligarh Muslim University: Highlights
by Nonika Marwaha
December 22, 2020
New Delhi: Prime Minister Narendra Modi addresses the centenary celebrations of Aligarh Muslim University (AMU) via video conferencing.
Prime Minister Modi also released a postal stamp during the event. Chancellor of the University Syedna Mufaddal Saifuddin and Union Education Minister Ramesh Pokhriyal Nishank are present on the occasion.
The Prime Minister is accompanied by Union Education Minister Ramesh Pokhriyal Nishank. This is the first time PM Modi is participating in a programme of the Aligarh Muslim University.
Here are the highlights of PM Modi's address:
I would begin by saying thank you for making me a part of your celebration and happiness on completing 100 years.
I see the campus buildings all lit up in celebrations. But these are not mere buildings, but the place from where innumerable alumni have contributed immensely in taking the nation forward.
Wherever they may be, the alumni of this prestigious institution has always made India proud.
It is not just the alumni and the students, but the contribution of each and every teacher over the last 100 years, since the start of this university.
Not just in academics, but your contributions in other ways have also been extremely valuable to the nation. Recently, during the COVID-19 pandemic, the manner in which you set up facilities for check-ups, the manner in which you all helped those who needed it, as well as contributing significantly to the PM CARES fund, all show your sincere intent towards working for the nation.
At this prestigious university, if a student can imbibe her/his education in Urdu, so can they in Hindi, On one side one can get knowledge about Arabic, on the other so can we in Sanskrit. One on side you can learn the teachings of the Quran, while on the other, AMU teaches the teachings of the Gita and other scriptures too. This is what India is all about, and this institution functions every day on that principle.
Sir Syed Ahmed Khan said that when you receive education and come into the work sphere, you must work towards all, without any discrimination, without seeing caste or creed or religion. That is a thought that we must always carry with us.
The Centre is working everyday for the benefit of all its citizens. The central schemes - be it healthcare or gas and electricity connections, etc - they all benefit everyone.
Public conveniences and toilets benefit everyone, and all sections of society.
In fact, the dropout rate in school among Muslim girls has gone down from 70% to currently around 30%, and we are working towards minimising this further.
The government is focused on education and empowerment of our Muslim daughters.
Women's empowerment is fundamental towards taking any nation forward. A good education leads to financial empowerment, and financial empowerment leads to a woman making independent decisions. And that is key towards then taking both their families and the nation forward.
I would love to hear from you all at Aligarh Muslim University on how to make India self-reliant and how to work on successfully taking 'local to global'. Your ideas and sugestions are always welcome and is greatly valued.
I want you all to think about how we can build an Atmanirbhar Bharat (self-reliant India).
The alumni of this great institution has given our nation so many freedom fighters. So many from here helped India get its independence and stood shoulder-to-shoulder with all other citizens. That contribution will forever be remembered by us all.
The current generation of students have now got to work towards taking India forward and making it a global leader in all spheres... to make India self-reliant.
The youth today should work keeping in mind a 'nation-first' attitude, and the government is creating such an education eco-system. This will greatly help India be a leader in the 21st century.
The government is working to create more premier institutions and increase the seats of education so that more and more students get the best education. In 2014 India had 16 IITs, today there are 23 IITs. In 2014, we had 9 IIITs, today we have 25 IIITs. In 2014, there were 13 IIMs, today there are 20 IIMs. Same is the case with medical education. In 2014, there were 7 AIIMS in India, today there are 22 AIIMS.
Be it online education or offline education, it must reach all. That is our goal.
On completing 100 years, there is a lot of expectation from a prestigious institution like AMU.
You all must research the contribution of many freedom fighters who may not be as well known. Make their contributions known to everyone across India.
AMU has some treasures of knowledge in its archives. I urge you all to make these available to all Indians by making it available digitally and virtually.
Today, the entire world is looking at India. The whole world is keeping a close eye on what India is doing and how we are doing it.
We must work towards making India truly self-reliant. That is our aim. There may be some political differences at times, but nothing comes above nation building.
100 years ago, getting our independence became a common ground for all Indians, irrespective of differences in personal views. Similarly, today our common ground is to take India forward and make it self-reliant and to ensure nation-building.
We must remember that politics may be an important part of the overall system, but there are many other things much bigger and greater than politics. Society as a whole is much larger than politics.
When we speak of a new India, we urge that the development and progress of the nation must not be viewed from a political lens.
Politics can wait, society can wait, but the development of the country cannot wait anymore, and neither do we want to. A lot of time has already been lost. We must act and not let time go by any further.
There will always be some who will try to stall things by keeping their personal agendas in mind, but if we can see the larger picture, then we will restrict their efforts to sabotage. We must keep India in all our decisions, and all actions must lead to nation-building.
27 years after 1920, we gained our independence. We are now 27 years from completing 100 years of our independence. We must all work hard to take India forward over these 27 years. And institutions like AMU play a vital role in creating and developing a modern and scientific India.
https://www.ndtv.com/india-news/prime-minister-narendra-modi-addresses-centenary-celebrations-of-aligarh-muslim-university-highlights-2341899
--------
Government Committed to Development without Discrimination Says Prime Minister
Dec 22, 2020
NEW DELHI: Prime Minister Narendra Modi on Tuesday addressed the centenary celebrations of Aligarh Muslim University (AMU) via video conferencing.
This is the first time PM Modi will participate in a program of the Aligarh Muslim University. PM Modi also released a postal stamp during the event. AMU Chancellor Syedna Mufaddal Saifuddin & Union Education Minister Ramesh Pokhriyal Nishank attended the event.
Earlier in the week, buildings in Aligarh Muslim University (AMU) were illuminated for its centenary celebrations.
Here are the top quotes from PM Modi's address:
1
'AMU represents India's rich culture and heritage'
AMU alumni are spread across the world and take a lot of pride in their alma mater. Their pride is justified. In 100 years of existence, AMU has crafted and polished millions of lives, giving them modern and scientific thinking and inspiring them to do something for society and the nation.
In the last 100 years, AMU has also worked to strengthen India's relations with many countries of the world.
The research done in AMU on Urdu, Arabic, and Persian languages, research on Islamic literature, gives new energy to India's cultural relations with the entire Islamic world.
People tell me that the AMU campus is like a city in itself. We see a mini India among different departments, dozens of hostels, thousands of teachers, and professors. The diversity which we see here is not only the strength of this university but also of the entire nation.
I have been told that at least 1,000 international students are currently enrolled in AMU.
There is an onus on AMU students to share with the world everything good about India. They have a two-fold responsibility to contribute to nation-building and also help India bolster its soft power.
2
'AMU's contribution in the fight against coronavirus unprecedented'
The contributions made by the university during the coronavirus pandemic were unprecedented.
They helped people get tested for free, built isolation wards, started plasma banks, provided hospital beds, and helped society.
3
'Government's policies being implemented without discrimination'
AMU's founder Sir Syed had said that the growth of the country is above the caste and religion of the people.
He had also given an example and said that for the body to remain healthy, every body part should be healthy.
Sir Syed had also said that religion should not be the reason for anyone's backwardness.
India is on the path where no citizen would be left behind because of their religion and everyone would get equal opportunities so that everyone can fulfill their dreams. Sabka Sath, Sabka Vikas, Sabka Vishwas is the mantra behind it.
I recently met an AMU alumnus who is also a scholar and told him that we made free toilets and no discrimination was done in their construction. Every community benefitted from these free toilets.
The policies made by the government reach every section irrespective of their religion. Bank accounts of over 40 crore poor have been opened without any discrimination. Without discrimination, more than 2 crore poor were provided pucca houses. More than 8 crore women were given gas connections without discrimination.
50 crore people got free treatment of up to Rs 5 lakh under the Ayushman scheme without any discrimination.
What belongs to the country belongs to every countryman and every citizen should be benefited, our government is working with this spirit.
4
'Dropout rate of Muslim girls drastically decreased'
Earlier, the dropout rate of Muslim girls was 70 per cent due to lack of toilets and now after launching the Swachh Bharat Mission, the dropout rate went down to only 30 per cent.
In AMU as well, a bridge course has been started for students who had to drop out.
Thirty-five per cent of students in AMU today are female, I congratulate AMU for this feat.
Malpractice of triple talaq has ended.
5
'Don't look at everything from a political lens'
Politics is a part of society but there are more important things in life. Politics cannot be a measure for everything.
I urge people to not look at everything from a political lens. Campuses like AMU can play a key role in contributing to this approach.
There are people who spread all kinds of negativity. But if we sideline them, we can grow.
The poor cannot wait, the uneducated cannot wait for politics. Development cannot wait for politics.
A lot of time has already been wasted on differences. Let us come together to work for an Aatmanirbhar Bharat.
About AMU
AMU became a University in 1920, through an Act of the Indian Legislative Council by elevating the Mohammedan Anglo-Oriental (MAO) College to the status of a Central University. MAO College was set up in 1877 by Sir Syed Ahmad Khan, the PMO release stated.
The University has a campus spread over 467.6 hectares of land in the city of Aligarh, Uttar Pradesh. It also has three off-campus centres in Malappuram (Kerala), Murshidabad-Jangipur (West Bengal) and Kishanganj (Bihar).
https://timesofindia.indiatimes.com/india/prime-minister-narendra-modi-addresses-aligarh-muslim-university-centenary-celebrations/articleshow/79851786.cms
--------
Ideological Divides Secondary To Nation: PM At Aligarh Muslim University
by Alok Pandey, Edited by Deepshikha Ghosh
December 22, 2020
Aligarh: Prime Minister Narendra Modi today said development should not be seen through the political prism and when it came to the nation's progress, ideological differences must be secondary.
Addressing the Aligarh Muslim University (AMU) on its centenary celebrations, PM Modi said the nation was on a path today where everyone, irrespective of religion, was assured of their constitutional rights and their future and where no community was left behind. The government's schemes for the poor are reaching all sections "without any religious bias", he asserted.
"The country is heading towards a path where all citizens get the benefits of development without any bias. We are heading to a path where no one is left behind because of religion and everyone is able to fulfill their dreams," said the Prime Minister.
"Whatever religion we are born in, it is important to see how to blend our aspirations with national goals. There can be ideological divides in society but when it comes to the nation's development, everything else is secondary. When it comes to the nation, there is no question of ideological differences. It is logical for me to say this here because AMU produced many freedom fighters - they had their ideological differences but they set that aside for freedom. Like freedom united them, we have to work on common ground for 'Naya Bharat'."
The country's progress should not be seen through a political prism, PM Modi stressed. "Yes, when we come together for this goal, some elements will feed negativity. But when our thoughts are focused on a new India foremost, then such elements will have diminished space. Politics and society can wait but the country's development cannot wait. In the last century, a lot of time has been lost over differences. There is no more time to lose."
He added: "Politics can wait but development cannot". The remarks were seen in the context of the month-long farmer protests on the borders of Delhi against three central laws.
PM Modi said in the past six years, his government's Swachha Bharat programme had facilitated the construction of toilets and helped reduce the school dropout rate of Muslim girls. He also referred to the law banning Triple Talaq.
The Prime Minister addressed the iconic university via video link after releasing a special postage stamp to mark its centenary.
The pre-independence Muhammadan Anglo-Oriental College became Aligarh Muslim University on December 1, 1920. AMU was formally inaugurated as a university on December 17 that year.
In his address, PM Modi urged hostel students of AMU to take up an "extra-curricular task", of researching and bringing to the spotlight unknown freedom fighters to mark 75 years of Independence next year.
This was the first time in five decades that a prime minister was chief guest at AMU. The last Prime Minister to participate in an event at AMU was Lal Bahadur Shastri in 1964. Before him, India's first Prime Minister Jawaharlal Nehru had visited the university four times.
https://www.ndtv.com/india-news/pm-narendra-modi-at-aligarh-muslim-university-amu-ideological-divides-secondary-to-nation-2341942
--------
Delhi HC asks cops to trace 'missing' Hindu woman who eloped with Muslim man
Richa Banka
Dec 22, 2020
The Delhi high court has directed the Anti-Human Trafficking Unit (AHTU) of Delhi Police's crime branch to trace a Hindu woman, a B.Tech student, who apparently eloped with a Muslim man in November and got married in West Bengal.
A bench of justices Vipin Sanghi and Rajnish Bhatnagar expressed shock that the local police did not registered a first information report (FIR) that the woman was missing on a complaint by her parents . A Nikahnama (marriage contract) of the couple sent by post to the police could not be verified by the station house officer of the Naraina Vihar police station, it was accepted as genuine by the police.
Police said they received the post from an unknown address and are in the process of verifying the address and the authenticity of the document.
The bench also said it cannot accept statements attributed to the girl as having been made voluntarily and would want them to be verified.
"To satisfy our conscience, we would like that she be produced before us," the bench said, adding that in case the woman is traced, she shall be brought to Delhi and kept at Nari Niketan at least for four days before the next date of hearing so that she is not under influence of either the petitioner, or the persons with whom she is stated to have eloped and gone," it said.
The court was hearing a habeas corpus plea by the father of the woman, contending that his daughter had been missing since November 7. In his plea, the father said that a Muslim man took her to Kolkata by train. He said the father of the man had also been missing since.
The SHO told the court that an FIR was not registered because a Nikahnama was produced to show that the woman married the man. A status report by the police said the woman also informed her family members that she did not wish to be disturbed and that she was happy and safe wherever she was.
"During our interaction with the SHO, Naraina — who is also present during this hearing -- he states that FIR was not registered since the Nikahnama has been produced... On our query, he states that the said Nikahnama could not be verified despite efforts..
"We are shocked that even in this background, he did not think it proper to register an FIR and proceeded on the bald statement produced before him...This is complete dereliction of duty on the part of the SHO concerned," the court said in its order of December 18.
The bench, while transferring the investigation to the AHTU, also directed the SHO of the area to look into a potential threat to the woman's family and asked that they be provided adequate security. "The mobile phone number of the beat constable of the area shall be provided to the petitioner and family members, and any call received from them shall be attended to and actioned without any delay," the court said.
The matter will now be heard on January 4, 2021.
https://www.hindustantimes.com/delhi-news/hc-asks-cops-to-trace-missing-hindu-woman-who-eloped-with-muslim-man/story-cuCeRdSctWZa8nNXfSKiRO.html
--------
Pak army shells mortars along LoC in J&K's Poonch
Dec 22, 2020
JAMMU: Pakistani troops opened fire and shelled mortars at forward posts along the Line of Control in Jammu and Kashmir's Poonch district on Tuesday, a defence spokesperson said.
There was no report of any damage on the Indian side, he said.
"At about 0930 hours today, Pakistan army initiated unprovoked ceasefire violation by firing with small arms and intense shelling with mortars along the LoC in Mankote sectors in Poonch district," the spokesperson said.
He said the Indian Army retaliated befittingly.
https://timesofindia.indiatimes.com/india/pak-army-shells-mortars-along-loc-in-jks-poonch/articleshow/79852607.cms
--------
NIA arrests 17 SDPI and PFI activists in Bengaluru riots case
Dec 21, 2020
The National Investigative Agency which is looking into the riots which happened in Bengaluru on August 11, 2020 following a Facebook post by the nephew of a Congress MLA on Monday said that it had arrested 17 SDPI and PFI activists for their involvement in the riots.
In a press release, NIA said that the investigation so far had revealed that the SDPI leaders including Md Sharieff, president, Bengaluru District, Imran Ahmed, president KG Halli Ward along with other senior leaders like Rubah Waqas, Shabbar Khan and Shaik Ajmal had conducted meetings at Thanissandra and KG Halli wards on the evening of August 11.
The release said that the leaders had therein conspired, mobilised and led the crowd gathered at KG Halli police station to attack police personnel, causing huge damage to public and police station vehicles. It also named others including Abbas, SDPI president of Nagawara ward and his associates Azil Pasha, Irfan Khan and Akbar Khan of mobilising large crowds.
NIA in the release also said that investigation had revealed the use of social media channels like Facebook, Instagram and WhatsApp to spread terror among people and mobilise them. In the case so far, 187 accused have been arrested and further investigations are on.
The riots were caused after community members took offence to an alleged derogatory post on their prophet by Naveen the nephew of Congress MLA from Pulikeshinagar, Akhanda Srinivas Murthy. Three people were killed in the subsequent attempt to stem the riots and bring about peace. On September 11, the Yediyurappa government handed over the investigation into the riots to NIA.
https://www.hindustantimes.com/india-news/nia-arrests-17-sdpi-and-pfi-activists-in-bengaluru-riots-case/story-w0EMVibO68LSDil8jj9EeK.html
--------
Two PDP leaders detained in Kashmir, says Mehbooba Mufti; officials tight-lipped
Mir Ehsan
Dec 21, 2020
Two senior Peoples' Democratic Party (PDP) leaders were detained in Kashmir on Monday, former Jammu and Kashmir chief minister and PDP president Mehbooba Mufti said.
Mufti termed the arrests as having taken place in "gunda raj".
Mufti said the officials in J&K administration are clueless about the detention of the PDP leaders. With these two detentions, so far three senior PDP leaders have been detained in Kashmir over the past one month. The PDP youth president Waheed ur Rehman Parra was arrested by National Investigation Agency (NIA) last month.
Since Monday morning, sources had been saying that senior leaders, Sartaj Madni and former legislator Mansoor Hussain Pir had been detained by a central agency. While officials are tight-lipped about these arrests, and their reasons, Mufti has confirmed the detention of two leaders on her official Twitter handle.
Mufti tweeted, "Total lawlessness as PDPs Sartaj Madni & Mansoor Hussain have been arbitrarily detained today on the eve of DDC election results. Every senior police officer here is clueless as it is 'upar say order'. No rule of law in J&K anymore. It is out & out Gunda Raj."
The detention of two PDP leaders has taken place a day before the counting for the 280 district development council seats across J&K is to be held.
https://www.hindustantimes.com/india-news/two-pdp-leaders-detained-in-kashmir-says-mehbooba-mufti-officials-tight-lipped/story-zEtvAZfF2D5k8zq0ES5qAJ.html
--------
Pakistan
Pakistan Government Grants Permission For Construction Of Hindu Temple In Islamabad
Dec 22, 2020
LAHORE/ISLAMABAD: Pakistan government has granted permission for the construction of a Hindu temple in Islamabad, nearly six months after the work at the site was stopped apparently because of the pressure from the radical Islamic groups.
The Capital Development Authority (CDA) issued a notification in Lahore on Monday, giving permission for the construction of the boundary wall for cremation ground for the Hindu community in sector H-9/2, Islamabad.
"Permission to construct the boundary wall around cremation ground for the Hindu community in sector H-9/2, Islamabad is hereby accorded in accordance with clause 4.I.I of Islamabad Capital Territory, Building Control Regulations 2020 ensuring that height of this boundary wall shall not accord 7'-0'," says the notification, a copy of which is available with the PTI.
"It may either be a solid wall, or up to one foot it shall consist of solid masonry and remaining portion may be of light material such as fence etc. The height of the enclosure shall not be less than 3'-0' in any case," it says.
Earlier, some hardline clerics had warned the government not to allow the construction of the temple in Islamabad.
The CDA in July stopped construction of the boundary wall on the plot meant for the temple, citing legal reasons.
Religious Affairs Minister Pir Noorul Haq Qadri had forwarded the matter to the Council of Islamic Ideology (CII) - Pakistan's state-run council of clerics - for its advice along with a summary for grant of Rs 100 million to the prime minister for construction of the building.
In October, the council, which advises the government on religious issues, said that there are no constitutional or Sharia restrictions on the construction of a temple in Islamabad or any other part of the country.
The decision, signed by 14 CII members, added that Hindus, like all other religious groups in the country, have the constitutional right to a place for last rites according to their faith.
Lal Chand Malhi, a minority lawmaker from the ruling Pakistan Tehreek-e-Insaf (PTI), in a statement thanked Prime Minister Imran Khan, CII chief Dr Qiba Ayaz and others for granting permission to build the boundary wall.
He said that the minorities in the country enjoy equal rights as promised by Quaid-e-Azam Muhammad Ali Jinnah while lauding the CII for clearing the way for the construction of a temple, a crematorium and community hall in Islamabad.
As per plans, the Krishna temple will come up in a 20,000 sq ft plot in the capital's H-9 administrative division.
The plot for the first Hindu temple in Islamabad was allotted to the Hindu Panchayat by the CDA in 2017. However, the construction work was delayed due to some formalities, including the approval of the site map and documents from the CDA and other relevant authorities.
Former prime minister Nawaz Sharif had allotted the land for the temple.
The temple complex will also have a cremation site, apart from the space for separate structures for other religious rites.
Hindus form the biggest minority community in Pakistan.
According to official estimates, 75 lakh Hindus live in Pakistan. However, according to the community, over 90 lakh Hindus are living in the country.
The majority of Pakistan's Hindu population is settled in Sindh province where they share culture, traditions and language with Muslim residents.
https://timesofindia.indiatimes.com/world/pakistan/pakistan-government-grants-permission-for-construction-of-hindu-temple-in-islamabad/articleshow/79852673.cms
--------
Pakistan, Saudi Arabia reaffirm resolve to cement bilateral ties
Baqir Sajjad Syed
22 Dec 2020
ISLAMABAD: Saudi Ambassador Nawaf bin Saeed Al-Maliki on Monday called on Prime Minister Imran Khan amidst what appear to be frayed bilateral ties due to Riyadh's refusal to roll over its loan.
"The exchange of views focused on bilateral cooperation and the Covid-19 situation," the Prime Minister Office said in a statement on the meeting.
"The resolve to further strengthen the strong, longstanding Pakistan-Saudi Arabia fraternal ties was reaffirmed," it added.
The repayment of $1 billion last week as the second tranche of $3bn loan brought into spotlight what many see as an unease in relations between the two countries over geopolitical differences.
Envoy meets PM after Islamabad unexpectedly repaid part of Saudi loan
Saudi Arabia had in 2018 given $3bn loan to Pakistan for three years to avert a balance of payments crisis that the country was then facing. The Kingdom had on that occasion also agreed to provide $3.2bn oil credit facility, but that was discontinued after the first year.
The Saudi cash loan has now matured. There was, however, an expectation that Riyadh would roll over the loan in view of Pakistan's difficult economic conditions, especially because of the Covid-19 pandemic. Saudis, moreover, in the past never insisted on the repayment of loans, but that did not happen this time. The message from Riyadh was clear that it wanted its money back.
Pakistan has so far repaid $2bn with help from China and is set to pay the final instalment of $1bn next month.
The Saudi attitude, some say, stemmed from its unease over Pakistan's foreign policy direction, especially its relations with Turkey and Iran.
Many officials, despite failing to get the Saudi loan rolled over, are still optimistic about renewal of ties with the Kingdom.
A high-level Saudi delegation, led by Prince Faisal bin Farhan, is expected to visit Islamabad early next month. A Pakistani delegation is also expected to visit Riyadh soon afterwards.
Special Assistant to the Prime Minister Tahir Ashrafi, who is also the special representative for Middle East, dismissed these assertions as propaganda. "There is no pressure from Saudi Arabia in any respect," he maintained. Maulana Ashrafi rather contended that ties with Saudi Arabia were at a high point as compared to the past decade.
https://www.dawn.com/news/1597141/pakistan-saudi-arabia-reaffirm-resolve-to-cement-bilateral-ties
--------
Fazl among 20 politicians facing 'serious threats to life': minister
Amir Wasim
22 Dec 2020
ISLAMABAD: Interior Minister Sheikh Rashid Ahmed has disclosed that there are "serious threats to life" to the country's 20 politicians, including Jamiat Ulema-i-Islam chief Maulana Fazlur Rehman, and the government has already issued "high alerts" to all of them.
Talking to reporters after his maiden visit to the National Counter Terrorism Authority (Nacta) headquarters on Monday, the minister said all those politicians facing threats had been asked to take steps for their safety.
He said there were four to five politicians, including those belonging to the opposition, who had already survived attacks in recent years.
"These politicians have been issued high alerts. They (the politicians), especially Maulana Fazlur Rehman, have been told to protect themselves," Mr Ahmed said.
Rashid attends briefing on working of Nacta
Praising the armed forces and the law enforcement agencies, the minister claimed that there had been 40 to 50 per cent decline in the killings in terror attacks in the country over the past three years. Providing statistics, he said 584 people were killed in terror incidents in 2018 while the number reduced to 482 in 2019 and 357 in 2020. This year, he said, only two incidents of suicide attacks had been reported.
He said there were major threats to China-Pakistan Economic Corridor projects. However, he said, the country's armed forces, police and other law enforcement agencies had foiled a number of terrorist attacks and defeated sinister designs of anti-state elements. He said Nacta averted major terror attacks, including the one on the Karachi Stock Exchange, by providing advance information.
Mr Ahmed said he wanted to further improve Nacta's system and he would try to get more funds released for the Authority to fulfill its financial needs.
He termed the decision of the Pakistan Peoples Party to approach the Election Commission for holding by-elections on different vacant seats of national and provincial assemblies a "positive sign" in politics. He said this showed that there were differences within the opposition ranks. He said there was a possibility that the by-polls would be held on the vacant seats on the dates on which the opposition was planning to make advancement against the government.
He predicted that the Pakistan Democratic Movement would participate in the coming Senate elections as its leadership knew that their absence from the House would enable Prime Minister Imran Khan to make such a legislation, which would close doors of parliament for money launderers and corrupt elements once and for all.
The minister accused the opposition parties of putting lives at risk for personal gains by holding political gatherings amid the second wave of Covid-19.
The pandemic, he said, was becoming dangerous all over the world. He said the United Kingdom and Saudi Arabia had even suspended flight operations due to Covid-19.
He criticised Pakistan Muslim League-N supremo Nawaz Sharif for maligning the army and the judiciary.
Mr Ahmed said that Mr Sharif always remained in confrontation with the army and judges. He said Mr Sharif had buried his own politics due to his confrontational posture. He said it would be better for the PDM to show maturity by reviewing its politics of agitation and saving the public from the deadly virus.
A handout issued by the ministry of interior said that Mr Ahmed was briefed on the functioning, organisational structure and mandated role of Nacta as per the law.
The minister was told that Nacta was a fully functional body and was operating as per its legal framework.
"The authority is acting as a pivot for coordination and collaboration among different stakeholders, including civilian and non-civilian intelligence agencies," it says, adding that Nacta has made contribution in Countering Financing of Terrorism through leading Pakistan's FATF response on international forum.
"We believe with this intervention, Pakistan will finally come out of the (FATF) grey list," said one of the Nacta officials during the briefing.
The minister was informed that a bi-annual policy review on the National Action Plan was being circulated among the stakeholders to improve response of the state in countering terrorism and extremism and it had improved the response at provincial and national levels.
The Research and Development Branch of Nacta has been issuing Pakistan Journal of Terrorism Research on bi-annual basis wherein quality research articles are being contributed by national and international scholars on terrorism and extremism.
The Nacta's Outreach Branch has started activities to engage constructively the youths across the country by initiating a number of intellectual and creative activities, including competitions among youngsters of different age brackets. Quality intelligence assessment on terrorism has been prepared and disseminated to all stakeholders on quarterly, bi-annual and annual basis for improving gaps in kinetic field.
https://www.dawn.com/news/1597138
--------
Hindu community issued NOC for boundary wall around cremation site in capital
Kashif Abbasi | Kalbe Ali
22 Dec 2020
ISLAMABAD: The issue related to the construction of a cremation centre in the capital was on Monday resolved as the city managers issued permission to the Hindu community to raise the boundary wall around the proposed site.
In July this year, after strong reaction from right-wing groups, who criticised the government for its intention to build a Hindu temple with government funding, the CDA all of a sudden stopped the community from constructing the boundary wall around the plot.
The four kanals at H-9/2 was allotted to the community in 2016 for the construction of a temple, cremation and community centres.
The CDA had cited "legal" reasons for stopping the construction of the boundary wall.
CDA official says issue regarding construction of temple and community centre will be discussed later
In its permission letter issued on Monday, the civic agency stated: "Permission to construct the boundary wall around cremation ground for Hindu community in H-9/2 is hereby accorded in accordance with clause 4.1.1 of Islamabad Capital Territory, Building Control Regulations 2020."
It said the height of the boundary wall shall not exceed seven feet and that of the enclosure not less than three feet.
A senior officer of the CDA added: "Today we issued the letter to the Hindu community and now they are free to construct the boundary wall for the cremation centre." He said at a later stage the issue regarding construction of a temple and community centre will be discussed.
Sources in the CDA said the civic agency has so far not received the building plans of the temple and the community centre.
"Today's approval is meant for construction of the boundary wall around the cremation centre," said the official.
There is no temple and cremation centre in Islamabad for the Hindu community. After lots of efforts by the community and on the direction of the Human Right Commission of Pakistan, the CDA in 2016 allotted the four kanals to the community.
In the past, there was a temple in Saidpur village but that was abandoned decades ago.
"The Hindu community members are the citizens of Pakistani but unfortunately so far we have failed to provide them a worship place in Islamabad. The issuance of the permission at least for the boundary wall of the cremation centre is a positive step," said an official of the CDA.
The approval letter was collected by former president Islamabad Hindu Panchayat, Preetam Das.
A delegation of the Hindu Panchayat led by its president Mahesh Kumar had held a meeting with CDA Chairman Amer Ali Ahmed last week and informed him that the Council of Islamic Ideology (CII) had given a ruling for the construction of a crematorium in Islamabad.
As the Panchayat started constructing the boundary wall on the plot in June this year, some clerics mainly affiliated with Lal Masjid, JUI-F and Markazi Jamiat Ahle Hadis objected to the move and termed the establishment of a temple in Islamabad and the government's proposed financial grant un-Islamic.
At the same time, an application was filed in Islamabad High Court by a citizen against establishment of the cremation place and construction of the temple. The court referred the matter to the CII, which in October ruled that there was no constitutional or Sharia constraints to have a temple in Islamabad or any other place in the country.
The council referred to the Islamic traditions and Sharia as well as the Constitution and the Liaquat-Nehru Agreement 1950 and allowed the government to hand over the ancient temple as well as adjoining Dharamshala (community centre) in Saidpur to the Hindu community.
The CII decision stated that the Hindus like all other religious groups in the country had the constitutional right to have a place for their last rites according to their faith.
"Under this right the Hindu community in Islamabad can have a suitable place for cremation of their dead and perform last rites of the deceased according to religious instructions," the CII decision said. The NOC by CDA was based on the CII ruling.
Meanwhile, PTI MNA and Parliamentary Secretary Human Rights Lal Chand Malhi lauded the issuance of the no-objection certificate (NOC) by the CDA for the boundary wall of the plot for crematorium.
"It is the legal and constitutional right of all citizens to observe their faith as per their belief," Mr Malhi said, adding: "Minorities will enjoy equal rights in Pakistan as promised by Quaid-i-Azam."
Special representative of the Prime Minister on Religious Harmony Hafiz Tahir Ashrafi also hailed the decision and said rights of religious minorities in Pakistan had been granted in the Constitution.
"Nobody will be allowed to encroach upon the rights of others," he said.
https://www.dawn.com/news/1597122/hindu-community-issued-noc-for-boundary-wall-around-cremation-site-in-capital
--------
Alvi urges OIC countries to join hands for Ummah's renaissance
22 Dec 2020
ISLAMABAD: President Dr Arif Alvi pointed out on Monday that the pace of scientific developments in the present era was so fast that it would widen the gap between the developed and developing Muslim countries if immediate and focused actions were not taken.
He identified the spirit of enquiry and boldness as characteristic of the Muslim scientists and philosophers in the glorious days of Muslim science and philosophy.
The President mentioned that the Comstech was the only major institution in Organisation Islamic Cooperation (OIC), established for the socio-economic development of the Ummah through the application of science and technology.
He urged the OIC member states to join hands with this prestigious institution and work together for the renaissance of the Ummah.
He said that Comstech is only institution of OIC hosted by Pakistan and lauded it efforts for promotion of scientific cooperation and the uplift of the OIC countries.
He made these remarks in his address to the inaugural session of the Global A-Farabi forum organised jointly by Comstech and the government of Kazakhstan.
The opening session was also addressed by the Comstech Coordinator General, Prof Dr M Iqbal Choudhary, the Assistant Secretary General of OIC, Ambassador Askar Mussinov, Dr. Darkhan Kydyrali, President International Turkic Academy and the Kazakhstan Ambassador to Saudi Arabia, Berik Aryn.
All the speakers emphasized the need for the advancement of science and technology in the OIC member states and resolved to follow the tradition of the renowned Muslim scholar Abu-Nasr Al-Farabi to recapture the golden era of the Ummah.
The Comstech Coordinator General, Prof Dr M. Iqbal Choudhary in his address announced that Comstech and the Turkic Academy would continue the tradition set by this Global Al-Farabi Forum by organising similar forums on renowned Pakistani philosopher Allama Dr Mohammad Iqbal, in Turkmenistan, and on the eminent astronomer scientist Ulugh Beg in Uzbekistan.
In his address, the OIC assistant secretary general assured full support to the development of science and technology in OIC member states. President of International Turkic Academy Dr Darkhan Kydyrali appreciated Comstech for organising the forum on such a renowned scholar and resolved to take this tradition further and hold such forums on other renowned Muslim scholars.
Over 120 scholars from Pakistan, United Kingdom, Kazakhstan, Cameroon, Nepal, Somalia and Sudan are participating in this event.
The lectures would cover different aspects of the multi-faceted contributions of Al-Farabi as a philosopher and a scientist.
https://www.dawn.com/news/1597116/alvi-urges-oic-countries-to-join-hands-for-ummahs-renaissance
--------
Rifts in Fazl-led JUI deepens
Saleem Shahid
22 Dec 2020
QUETTA: Serious differences have emerged between Jamiat Ulema-i-Islam (JUI-F) chief Maulana Fazlur Rehman and former Islamic Ideological Council chairman and senior party leader Maulana Mohammad Khan Sherani, with the latter levelling serious allegation against the party chief and rejecting the politics of the opposition Pakistan Democratic Movement (PDM).
Former MNA and senator Sherani, who also served as provincial chief of the JUI-F, is the second important leader after Hafiz Hussain Ahmed from Balochistan who was opposing the policies of Maulana Fazlur Rehman.
Party sources said the rift deepened during the JUI-F elections that Maulana Sherani had rejected while criticising the party leadership for turning it into a 'family party'.
With such a policy there was no space for betterment, he said, claiming that he had always been against one-man rule in the JUI and its transformation into a hereditary party.
Maulana Sherani calls party chief 'selected', rejects PDM politics
Maulana Sherani, who had been elected to the National Assembly and Senate on a JUI-F ticket in the past, said: "Maulana Fazlur Rehman himself is selected. How can he taunt and call Imran Khan and others selected?"
He said he was opposing the JUI-F chief because of his lies.
Maulana Sherani is reportedly in contact with Hafiz Hussain Ahmed and has asked the party workers to join hands with him and leave the factions named after individuals.
Hafiz Hussain was considered very close to Maulana Fazl when he was made central spokesman for the JUI-F. But he was removed from the position after he started criticising some policies of the leadership when Maulana Fazl decided to join hands with the opposition parties and became PDM convener.
Maulana Sherani, too, rejected the PDM politics, terming it an unnatural alliance of the opposition parties.
He said that every member party in the 11-party alliance had its own interests. Being an unnatural alliance, he said, it would soon vanish.
They did not have any vision as everyone in the opposition PDM was running to get to the chair, he alleged.
Meanwhile, the sources in the JUI-F said that Maulana Fazlur Rehman has convened an important meeting of the party on Dec 24 to discuss the allega-tions and the issue related to Maulana Sherani.
https://www.dawn.com/news/1597153/rifts-in-fazl-led-jui-deepens
--------
Fazl accused of committing graft, inciting violence
Kalbe Ali
22 Dec 2020
ISLAMABAD: Two federal ministers on Monday slammed Jamiat Ulema-i-Islam (JUI-F) chief Maulana Fazalur Rehman, accusing him of being hypocrite and corrupt. They also blamed him for using the name of Islam for his personal gains and politics.
Addressing a joint press conference, Minister for Kashmir Affairs and Gilgit-Baltistan Ali Amin Gandapur and Minister for Water Resources Faisal Vawda accused the JUI-F chief of being involved in corruption.
Mr Gandapur announced plans to drag the Maulana to the court of law, claiming that he had not responded to any of queries put to him. He also announced that the government would soon confiscate the 'benami' properties of the JUI-F chief, saying that legal formalities in this regard had already been initiated.
He recalled all the accusations he had made earlier before the media, including a meeting of the Maulana with Ajit Doval, Indian national security adviser. He alleged that the JUI-F chief had been in contact with some international powers during his party's "Azadi march" which, the minister claimed, had sabotaged the Kashmir cause.
Ministers say JUI-F chief using religion for personal gains, politics
The minister accused the Maulana of receiving foreign funding to ignite sectarian terrorism in the country. The JUI-F chief was trying to put pressure on the government because he knew that the noose was being tightened around him, he added.
Mr Gandapur showed to reporters a copy of the statement of assets the Maulana had submitted to the Election Commission of Pakistan, saying that it showed six huge residential units in Dera Ismail Khan. "Apart from the Maulana himself, those who live in these houses included his two brothers and two sons, but they have no sources of earning," he claimed.
Faisal Vawda alleged that the JUI-F chief had accumulated his wealth through dubious sources. "He claimed to have six houses worth Rs2.5 million each, but that is an incorrect statement," he said, adding that the value of these properties was much higher than being claimed.
The minister challenged the Maulana to resign and launch a long march to Islamabad. "What do you think, we will give you permits to sell diesel or regularise your benami assets or anything; no, nothing of this kind will ever be done by us," he said while addressing the JUI-F chief.
"We are warning you that the drama staged by you in the name of religion to deceive the masses and your plan to get to power by risking the lives of children will fail," he added.
The minister said the government had reservations over the opposition Pakistan Democratic Movement's public meetings because they were causing the spread of coronavirus.
He said that it was the responsibility of the media and concerned citizens to crosscheck all information being provided about corrupt practices and ill-gotten wealth of the JUI-F chief.
He accused the Maulana of blackmailing the successive governments for the past 30-40 years. But, he added, Prime Minister Imran Khan would not bow to any such blackmailing.
Meanwhile, another news conference was later held by Information Minister Senator Shibli Faraz who reiterated his claim that the opposition parties were pressurising the government to get relief in the corruption cases against their leaders.
He highlighted all the 13 amendments proposed to the NAB ordinance by the parliamentarians belonging to the Pakistan Peoples Party and the Pakistan Muslim League-Nawaz.
"The main crux of these amendments was to escape NAB inquiries," he said, adding that the government would not bow to any pressure tactics or threats of a long march by these "corrupt elements".
Mr Faraz said the government would continue to move ahead over the accountability process and expressed the confidence that the looted public money would be recovered.
https://www.dawn.com/news/1597152
--------
Arab World
Over Dozen Shia Scholars Kept In Detention Centres In Saudi Arabia: Report
21 December 2020
More than a dozen Shia Muslim clerics are reportedly being kept behind bars at detention facilities in Saudi Arabia, as the Riyadh regime presses ahead with its brutal clampdown against members of the religious community in the kingdom.
Lebanon-based and Arabic-language al-Nour radio station reported on Monday that Saudi authorities recently arrested Sheikh Hussein al-Nimr, who is the son of executed Sheikh Nimr Baqr al-Nimr, in the country's oil-rich and Shia-populated Eastern Province.
The report added that Saudi officials confessed to imprisoning the Shia cleric two days after his abduction, noting that his arrest brings to 16 the number of clergymen from Qatif and al-Ahsa regions who are currently being kept in prison.
Nour radio station then named Sayyed Hashim al-Shaks, Hussein al-Radhi, Mohammad al-Habib, Sayyed Ja'far al-Alawi, Mohammad al-Ebad, Abdullatif al-Nasser, Badr Al Talib, Mohammad Zainuddin, Habib al-Khabbaz, Hassan Al Zayed, Samir al-Hilal, Abdul-Jalil Al-Athiyan , Abbas al-Mazani, Sayyed Khidr al-Awami and Abbas al-Saeed as other Saudi Shia clerics whose imprisonment has been confirmed by the Riyadh regime.
Saudi Arabia has stepped up politically-motivated arrests, prosecution and conviction of peaceful dissident writers and human rights campaigners, in particular in Eastern Province.
The province has been the scene of peaceful demonstrations since February 2011. Protesters have been demanding reforms, freedom of expression, the release of political prisoners, and an end to economic and religious discrimination against the oil-rich region.
The protests have been met with a heavy-handed crackdown, with regime forces increasing security measures across the province.
Over the past years, Riyadh has redefined its anti-terrorism laws to target activism.
In January 2016, Saudi authorities executed Shia cleric Sheikh Nimr Baqir al-Nimr, who was an outspoken critic of the Riyadh regime. Nimr had been arrested in Qatif, Eastern Province, in 2012.
https://www.presstv.com/Detail/2020/12/21/641234/Over-dozen-Shia-scholars-being-kept-in-detention-centers-in-Saudi-Arabia-Report
--------
Pro-Israel Stance: Hamas Slams UAE Support for the Settlement And Occupation
2020-December-21
"Statements made during visits by some Emirati officials to the Israeli occupation went over the line and reflect unlimited UAE support for the settlement and occupation," Hamas spokesman Sami Abu Zuhri wrote on his Twitter account.
"Such statements also confirm the UAE involvement with the occupation against Palestinian rights and the interests of the peoples of the region," he added.
During recent visits to Israel and the Israeli-occupied Golan Heights, a number of Emirati and Bahraini officials made statements showing support for Israeli policies.
In September the UAE, along with Bahrain, signed a controversial US-brokered agreement with Israel to establish diplomatic relations. Following their normalization deal, a host of bilateral agreements were signed between the two countries.
The normalization deals have drawn widespread condemnation from Palestinians, who say the accords ignore their rights and do not serve the Palestinian cause.
With the pressures of the outgoing US president, Donald Trump, to make the Arab regimes' relations normalized with the Israeli regime, the UAE, Bahrain, Sudan, and Morocco reached an agreement with the Zionist regime on full normalization of diplomatic ties.
These agreements have been widely criticized in the Islamic world.
All Israeli settlements are illegal under international law as they are built on the occupied Palestinian land.
Under a US-brokered agreement reached between Israel and the UAE some two months ago on the normalization of ties, the Tel Aviv regime had supposedly agreed to "temporarily" suspend applying its rule to further areas in the occupied West Bank and the strategic Jordan Valley that Israeli Prime Minister Benjamin Netanyahu had pledged to annex.
While Emirati officials have described the normalization deal with the Tel Aviv regime as a successful means to stave off annexation and save the so-called two-state solution to the Israeli-Palestinian conflict, Israeli leaders have lined up to call the bluff of Abu Dhabi's Crown Prince and de facto ruler of the UAE, Sheikh Mohammed bin Zayed Al Nahyan, who claimed Israel's annexation plans were off the table.
Bahrain and Sudan have also reached a US-brokered normalization agreement with the occupying regime.
The normalization deals have drawn widespread condemnation from Palestinians, who seek an independent state in the occupied West Bank and Gaza Strip, with East Jerusalem al-Quds as its capital. They say the deals ignore their rights and do not serve the Palestinian cause.
More than 600,000 Israelis live in over 230 settlements built since the 1967 Israeli occupation of the Palestinian territories of the West Bank and East Jerusalem al-Quds.
The UN Security Council has condemned Israel's settlement activities in the occupied territories in several resolutions.
Palestinians want the West Bank as part of a future independent Palestinian state with East Jerusalem al-Quds as its capital.
In a relevant development in mid-November, the Palestinian resistance movement Hamas lambasted the United Arab Emirates (UAE) over its "real support" for Israel's settlement expansion in the occupied West Bank.
In a statement, Hamas Spokesman Hazem Qasem said Abu Dhabi had just recently received the head of "the Zionist Settlements Council" in the West Bank and concluded economic agreements with him, the Yemeni Arabic-language al-Masirah television network reported.
He added the recent visit to the UAE by outspoken annexation advocate Yossi Dagan, who heads a council for Israeli settlements in the occupied West Bank, and the signing of economic agreements between the two sides shows Abu Dhabi's "practical support" for Israel's settlement expansion in the Palestinian territories.
The Hamas official stated the UAE leaders' cooperation with Israeli settlement expansion companies clearly violates all resolutions adopted by the Arab League against Israel's settlements.
"It is shameful that many countries and international bodies continue to boycott settlements and all their products, while the UAE is striving to strengthen its relationship with the Zionist settlement system," Qassem noted.
https://www.farsnews.ir/en/news/13991001000237/Hamas-Slams-UAE-ver-Pr-Israel-Sance
--------
Lebanon passes law criminalizing sexual harassment, amends domestic violence law
21 December 2020
Lebanon's parliament on Monday passed a landmark bill criminalizing sexual harassment and amended a controversial domestic violence law, in a move rights groups criticized as incomplete.
The new law "criminalizes sexual harassment, especially in the workplace", the official National News Agency reported.
For all the latest headlines follow our Google News channel online or via the app.
Per the law, perpetrators can be sentenced to up to two years in prison and fined up to 20 times the value of the minimum wage, which stands at 675,000 Lebanese pounds ($450 at the official exchange rate but less than $100 on the black market), according to Lebanese rights group Legal Agenda.
Maximum penalties are reserved for harassment in the work place, public institutions or educational facilities.
The United Nation's envoy to Lebanon, Jan Kubis, called the law a "welcome step".
But Legal Agenda said the legislation fails to protect victims of harassment.
Karim Nammour, a lawyer with the group, said the law only allows for victims to make use of the criminal justice system and not the civil courts, "which means the case will be public".
"This is a major obstacle for victims and does not give them the incentive to file complaints."
Another problem, according to Nammour, is that the law places on the victim "the burden of proving the harassment and its consequences", rather than requiring the perpetrator to prove his or her innocence.
Parliament also expanded the scope of a law penalizing domestic violence.
The legislation has been in force since 2014, but rights groups have censured it for defining domestic violence too narrowly and failing to specifically criminalize marital rape.
On Monday, parliament broadened the law so that it now "penalizes economic and psychological violence", said Leila Awada, a lawyer with women's rights group KAFA.
UN Women Lebanon praised the law's endorsement of "important protection-related measures that strengthen the legal framework to end violence against women" in the country.
But it did not lay down penalties for marital rape.
Aya Majzoub, Lebanon researcher at Human Rights Watch, called this a "glaring omission".
"Marriage to the victim should not exempt a sexual offender from punishment," she told AFP.
https://english.alarabiya.net/en/News/middle-east/2020/12/21/Lebanon-passes-law-criminalizing-sexual-harassment-amends-domestic-violence-law
--------
Saudi Arabia thwarts attempts to smuggle over 18 million amphetamine pills
22 December 2020
Saudi Arabian authorities have thwarted multiple criminal attempts to smuggle and distribute over 18 million amphetamine pills in the Kingdom, the Ministry of Interior (MOI) said on Monday.
For all the latest headlines follow our Google News channel online or via the app.
In a video posted on the interior ministry's Twitter account titled "The War on Drugs," the ministry said 9,878,500 amphetamine pills were seized from five citizens, who hid the drugs inside iron tablets in Riyadh.
In cooperation with the General Authority of Customs, 3,228,323 amphetamine pills were also seized from a resident, hidden inside a shipment of potatoes in Saudi Arabia's al-Haditha border crossing, according to the ministry.
In Jeddah, 5,827,000 amphetamine pills were seized in the possession of five citizens and five residents, hidden inside belts, the General Directorate of Narcotics Control reported.
"Those involved were arrested and referred to the authorities," according to the video published by the ministry.
https://english.alarabiya.net/en/News/gulf/2020/12/22/Saudi-Arabia-thwarts-attempts-to-smuggle-over-18-million-amphetamine-pills
--------
Yemeni PM: Saudi Arabia ended division between Yemenis via Riyadh Agreement
Ismaeel Naar
22 December 2020
Yemeni Prime Minister Maeen Abdulmalik Saeed confirmed that the essence of the Riyadh Agreement focuses on ending divisions between Yemeni factions.
"The essence of the Riyadh agreement aims at ending the divisions that could be at the political level to that of the government," Saeed told Al Arabiya during an exclusive interview set to be aired in full on Wednesday.
For all the latest headlines follow our Google News channel online or via the app.
"But as far as the security and military forces are concerned, there is the merging of these forces within the framework of the Ministry of the Interior. There are many files on this in this aspect, but it takes time and there is work on this subject at the Military Security Committee," the Yemeni prime minister added.
A new power-sharing cabinet that includes southern separatists in the internationally recognized Yemeni government was formed on Friday as part of a deal to end a power struggle between the nominal allies.
Saeed was re-appointed as prime minister while Yemeni diplomat Ahmad Awad bin Mubarak has been named Yemen's new foreign minister.
Lieutenant General Mohammed Ali al-Maqdashi was named as Yemen's new defense minister under the new government formation. He was previously the chief of staff of the Yemeni Armed Forces.
"Arrangements are subject to the Military Security Committee, in which the Kingdom of Saudi Arabia is making efforts. Withdrawals have taken place that paved the way for the government's announcement, but the issue is not only related to withdrawals," Saeed told Al Arabiya.
"There are long mechanisms regarding the security and military file in relation to integration and other things, but currently the maintenance and security forces are making some preparations and there is some arrangement being completed based on discussions in the Military Security Committee," he added.
https://english.alarabiya.net/en/News/gulf/2020/12/22/Yemeni-PM-Saudi-Arabia-ended-division-between-Yemenis-via-Riyadh-Agreement
--------
Hezbollah: Soleimani was assassinated because he challenged US hegemony
22 December 2020
Deputy secretary general of the Lebanese resistance movement Hezbollah has heaped praise on Iranian anti-terror commander Lieutenant General Qassem Soleimani for his unmatched bravery and courage, stating that the United States decided to assassinate him because he was a primary challenge to the advancement of Washington's hegemonic schemes in the region.
"[US President Donald] Trump would not have made the decision to overtly assassinate Qassem Soleimani, if it weren't for his constantly unsettling the hegemonic schemes of the United States in a most painful manner," Sheikh Naim Qassem said
"General Soleimani would not be occupying such a lofty place in the hearts of people, had it not been for his achievements and for the victories of the resistance front that took place under his watch," he added in an interview with Lebanon's Arabic-language al-Ahed news website.
Lieutenant General Qassem Soleimani, the commander of the Quds Force of Iran's Islamic Revolution Guards Corps (IRGC), and his Iraqi trenchmate Abu Mahdi al-Muhandis, the deputy head of the Popular Mobilization Units, were assassinated along with their companions in a US terror drone strike authorized by Trump near Baghdad International Airport on January 3.
Just two days after the assassination, Iraqi lawmakers approved a bill, demanding the withdrawal of all foreign military forces led by the United States from the country.
Both commanders were admired by Muslim nations for their role in eliminating the US-sponsored Daesh Takfiri terrorist group in the region, particularly in Iraq and Syria.
The US assassination drew a wave of condemnation from officials and movements throughout the world, and triggered huge public protests across the region.
Early on January 8, the IRGC targeted the US-run Ain al-Assad air base in Iraq's western province of Anbar with a barrage of missiles to retaliate the assassination.
According to the US Defense Department, more than 100 American forces suffered "traumatic brain injuries" during the counterstrike on the base. The IRGC, however, says Washington uses the term to mask the number of American forces who perished during the retaliatory operation.
Iran has described the missile attack on Ain al-Assad air base as a "first slap."
Elsewhere in his remarks, Sheikh Qassem said Hezbollah did not attach much significance to the results of the US presidential election, but it believed there was a lesson for the oppressors in the "repressive" Trump's departure from office.
"Judgment on [US President-elect Joe] Biden will depend on his policies. He should know how we value our land and our independence," he commented.
Sheikh Qassem gave assurances that Hezbollah will continue to tread the path of resistance, and will use its deterrent power to confront the Israeli occupiers.
"Those who stood up against Israel, prevailed over it, faced sanctions but never altered their stance in the face of the most difficult circumstances, will not allow the martyrs' blood and their achievements to be wasted," Sheikh Qassem said.
https://www.presstv.com/Detail/2020/12/22/641259/US-assassinated-Gen--Soleimani-as-he-used-to-seriously-challenge-colonial-plots-Hezbollah-deputy-chief
--------
US using terrorists as pretext to justify continued military presence in northeast Syria: FM
21 December 2020
Syrian Foreign Minister Faisal al-Mekdad says the United States is using Takfiri terrorist groups, which are wreaking havoc in the northeastern sector of the Arab country, as a pretext to justify the presence of its military forces in the area.
"Even though we (Syrian and Russian forces) have achieved joint victories against terrorism, this does not mean that terrorism is over. The United States supports activities of terrorist groups in order to find a justification for its continued presence in northeastern Syria," Mekdad said in an exclusive interview with the Arabic service of Russia's Sputnik news agency on Monday.
He added, "The US incitement in northeast Syria is taking place through its support for separatist groups. Turkey also supports terrorists while occupying northwestern Syria."
The US military has stationed forces and equipment in northeastern Syria, with the Pentagon claiming that the troops deployment are aimed at preventing the oilfields in the area from falling into the hands of Daesh terrorists. Damascus, however, says the deployment is meant to plunder the country's resources.
Earlier this year, the Syrian ambassador to Russia, Riyad Haddad, said the United States controls all oil fields in the northeastern part of his country.
"Americans are currently present in the northeastern part of the country, controlling all oil fields there and stealing our crude resources. If we manage to liberate the region from the American occupation, we will then revive our economy," the Arabic service of Russia's Sputnik news agency quoted him as saying in an exclusive interview with Russia's state-owned Rossiya 24 television news network at the time.
The US first confirmed its looting of Syrian oil during a Senate hearing exchange between South Carolina Republican Senator Lindsey Graham and US Secretary of State Mike Pompeo in late July.
On July 30 and during his testimony to the Senate Foreign Relations Committee, Pompeo confirmed for the first time that an American oil company would begin work in northeastern Syria, which is controlled by militants from the so-called Syrian Democratic Forces (SDF).
The Syrian government strongly condemned the agreement, saying that the deal was struck to plunder the country's natural resources, including oil and gas, under the sponsorship and support of the administration of US President Donald Trump.
The presence of US forces in eastern Syria has particularly irked the civilians, and local residents have on several occasions prevented American military convoys from entering the region.
In his Monday remarks, Mekdad also underscored that Russia's military presence in Syria is necessary because the war on terror has not finished yet.
"The war against terrorism continues in different ways and through various means. Every time we attain our goal of defeating terrorism, they form terrorist groups and armed separatist outfits to pursue their political goals," he pointed out.
"The Russian military presence is not only beneficial, but also necessary," the Syrian foreign minister said.
Elsewhere in his remarks, Mekdad pointed to the Constitutional Committee process that seeks to draft a new constitution for post-conflict Syria, emphasizing that Syrian presidential election, which must be held between April 16 and May 16 according to election law, will not be postponed even if related negotiations do not come into fruition.
The Syrian foreign minister also noted that Damascus is in talks with Moscow to import Russian-made Sputnik V vaccine to help stop the spread of coronavirus.
The Syrian Ministry of Health reported 145 new COVID-19 cases on Sunday, bringing the total nationwide infections to 10,195.
The ministry also reported 9 new deaths and 49 more recovered cases in the country, raising the death toll from the infectious virus to 610 and the total recoveries to 4,786.
https://www.presstv.com/Detail/2020/12/21/641208/US-using-terrorists-as-pretext-to-justify-military-presence-in-northeast-Syria-FM
--------
Europe
Four arrested for Sept. 25 Paris knife attack, source says
DECEMBER 18, 2020
PARIS (Reuters) - Four people have been arrested in France as part of an investigation into a knife attack in Paris on Sept. 25, a judicial source said on Friday.
The source told Reuters that one of those held has been charged with a terrorism-related offence and placed in custody in the southwestern Gironde region.
On Sept. 25, a stabbing in which two journalists were wounded took place in Paris's rue Nicolas-Appert, where Islamist militants killed 12 people in the offices of satirical magazine Charlie Hebdo five years ago.
The main suspect in the attack was an 18-year-old man from Pakistan. Police arrested him soon after the stabbing.
French daily Le Parisien reported on Friday that the four detained people of Pakistani origin had allegedly encouraged the attacker to act.
Several attacks in recent months, including the beheading of a teacher who had shown his class caricatures of the Prophet Mohammad, have prompted the French government to take action against Islamist "separatism".
https://www.reuters.com/article/us-france-security-attack-arrest/four-arrested-for-sept-25-paris-knife-attack-source-says-idUSKBN28S28H?utm_source=iterable&utm_medium=email&utm_campaign=1840297_
--------
Nando's knife attacker who claimed to be terrorist detained under Mental Health Act
Lizzie Dearden
19 Dec 2020
A man who launched a knife attack in Nando's restaurant and claimed to be a terrorist has been detained indefinitely under the Mental Health Act.
Ali Algdaner, 27, grabbed a handful of cutlery before stabbing a 20-year-old waitress in the back inside the Arndale Centre.
Greater Manchester Police said he approached other staff members and customers, before moving to the restaurant next door on 18 October 2019.
The shopping centre was evacuated and Algdaner was pursued by members of staff before armed police arrived.
"While in police custody, Algander made false admissions that he was a terrorist and that he had planted bombs in the centre but a thorough search of the building ensued and no suspicious items were found," a police spokesperson said.
"Algander continued to state he had committed a terrorist attack and was subsequently assessed by mental health specialists before being detained under the Mental Health Act. He has since been remanded in a specialist hospital."
On Friday, he was sentenced to an indefinite hospital order under section 37 of the Mental Health Act 1983.
He had previously admitted affray, assault causing actual bodily harm and communicating false information causing a bomb hoax at Manchester Crown Court.
Greater Manchester Police said he would spend an indefinite time in hospital, and would have to be assessed before being considered for release.
DC Annabel Lewis said: "The actions of Algander on that Friday evening last year caused great distress to all those that were targeted and involved in this frightening ordeal.
"While one woman was stabbed during this incident, it is fortunate that Algander's actions did not result in any further casualties, and this is in part due to the swift response of staff at the Arndale in evacuating the premises, and the subsequent work from our specialist officers at the scene."
She added: "It is clear that Algander was, and remains, a danger to the public and we are satisfied that today's verdict keeps the streets of Manchester a safer place until he is deemed fit enough to return to society."
The incident followed another knife attack the week before, when another man was detained under the Mental Health Act after stabbing several people.
https://www.independent.co.uk/news/uk/crime/manchester-arndale-centre-stabbing-nandos-mental-health-b1776327.html?utm_source=iterable&utm_medium=email&utm_campaign=1840297_
--------
Germany brings home 'Islamic State' brides, children from Syrian camps
20.12.2020
German Foreign Minister Heiko Maas on Sunday said he was "relieved" that a "humanitarian" recovery operation had brought home 18 children and five "Islamic State" (IS) brides from Kurdish-run internment camps in northeastern Syria.
One of three German women brought back, identified in reports as Leonore M., 21, from Saxony-Anhalt state, was arrested a day earlier on arrival in Frankfurt airport, on charges including terror organization membership, said federal prosecutors.
All three German women reportedly face terror charges in Germany.
Accompanying Saturday's chartered flight were German federal police officers, reported the German news magazine Der Spiegel.
German public broadcaster SWR said the group, reportedly comprising five women and 18 children, including 7 orphans, were handed over to a Foreign Office delegation by Kurdish envoys at Qamishli in northeastern Syria.
SWR said they had been held at Roj and al-Hol, two Kurdish-run internment camps holding tens of thousands of detainees since the military defeat of IS by Kurdish forces backed by a multinational US-led alliance in late 2018, early 2019.
Germany's Foreign Office did not mention the women's alleged IS backgrounds but said the mission involved "humanitarian cases, especially orphans and children with illnesses — cases in which departure was particularly urgent."
'Intensive preparations'
Maas said the mission had gone ahead in "precarious" circumstances after "months of intensive preparations and coordination."
Thanks also went, he said, "to our Finnish partners, with whom we jointly carried out this operation."
The relocation of the German nationals was the first direct mission involving the Foreign Office, the German tabloid Bild noted, headlining the recovery as a "secret mission shortly before Christmas."
Remaining in Syria, according to the newspaper, were nearly 70 adult Germans in Kurdish captivity along with 150 children of German parents.
The German women, identified only by their first names also include Merve A., 24, from Hamburg and Yasmin A. from Bonn.
Der Spiegel said Merve followed her then-18-year-old friend to Syria, who was later killed as an IS combatant.
Leonora went to Raqqa, then a IS stronghold, and became the third wife of Martin L., a German in IS' notorious intelligence network.
For a period, reported Der Spiegel, she had allegedly held a Yazidi woman and two children as slaves in her apartment until selling them on.
Kurdish forces had taken her prisoner in January 2019 as she fled the battle for Baghouz — the last IS stronghold in eastern Syria — taken by Kurdish-led Syrian Democratic Forces (SDF) militias, backed by a US-led multinational alliance.
Many countries reluctant
The reluctance of many countries, including Germany, to take back citizens deemed radicalized IS-associates has often been challenged by family lawyers, acting for grandparents, and aid groups such as the Red Cross.
They argued that unwitting child nationals must be extracted from "horrifying" conditions in internment camps along the Syrian-Iraqi border.
The tabloid Bild noted that Chancellor Angela Merkel's government had previously rejected direct repatriations, but reported on a separate humanitarian mission, which took place over the summer.
"A grandmother living in Germany recognized her grandson," recalled the newspaper, "and in August, the Foreign Office finally brought the three orphans and the seriously ill baby to Germany."
https://www.dw.com/en/germany-brings-home-islamic-state-brides-children-from-syrian-camps/a-56001039?utm_source=iterable&utm_medium=email&utm_campaign=1840297_
--------
Berlin Islamist terror attack: A deadly story of failure
Marcel Fürstenau
18.12.2020
Eleven people died and 60 were seriously injured when the Islamist Anis Amri drove a stolen truck into a Christmas market in central Berlin on December 19, 2016.
The 24-year-old Tunisian national whose application for asylum had been rejected had hijacked the semi-trailer truck, killing Polish driver Lukasz Robert Urban.
The attacker managed to escape and travel through Europe until he was shot dead by Italian police on December 23 after an altercation in Milan.
The attack on the Breitscheidplatz Christmas market was the most serious Islamist terror attack in Germany to date. And it was "preventable," according to Hans-Georg Maassen, the head of the domestic intelligence agency at the time.
Maassen made his testimony in October this year before the Bundestag's parliamentary inquiry committee, set up in March 2018 to establish who was responsible for the many mistakes in the course of the investigation.
It turned out the police had been aware that Amri was more than just a small-scale drug vendor and failed asylum-seeker. Still, they failed to prevent the attack.
"This didn't need to happen, and that for me is the real tragedy," Maassen conceded four years after the attack. But he refused to admit that he personally had made mistakes or that the agency he headed until 2018 had done anything wrong.
"Mistakes are only ever made by others," was the summary liberal democrat MP Benjamin Strasser gave to DW after Maassen's testimony. "It's about time to come clean on who is responsible for the authorities' failure," he said.
Intelligence agencies admit failure
The ball did get rolling after Maassen's controversial appearance before the committee.
The heads of the German Intelligence Agency (BND) and the Federal Criminal Police Office (BKA) were subsequently questioned by the committee.
BKA chief Holger Münch freely admitted to major shortcomings concerning the exchange of information between German security agencies — and also on a European level. BND chief Bruno Kahl echoed this assessment.
In September and October of 2016, just a few months before the attack, the Moroccan secret service had contacted both the BND and BKA seeking to convey information on Anis Amri's Islamist extremist activities. This information, however, did not get passed on to the domestic intelligence agency (Verfassungsschutz) immediately. Kahl conceded that this was a mistake and should prompt a closer and more critical look at procedures within the organization. The inquiry committee saw this admission as a promising first step.
Experts had warned of attacks on Christmas markets
Four years after the attack we have not learned any lessons, says parliamentarian Strasser (Free Democrats). He sees a lack of real commitment from the ruling parties.
Fellow committee member Fritz Felgentreu from the junior coalition partner SPD refuses to go that far. But he, too, sees serious failures. "A series of errors made it possible for Anis Amri to somehow fall through the cracks of our system," he admits.
Anis Amri was even on the radar of the central anti-terror center GTAZ in Berlin. That is where the federal intelligence agencies and those of the 16 German states pool their resources and share information. Amri was discussed there several times. In retrospect, the coordinator for the intelligence agencies, Klaus-Dieter Fritsche, admitted before the inquiry committee that one had to know that the situation was extremely dangerous. The agencies were aware that the so-called Islamic State (IS) was planning attacks on year-end festivities in Europe.
Parallels to attack in Nice
The Interior Ministry was also in the picture back then: An expert for international terrorism within the ministry even explicitly mentioned Christmas markets as "especially attractive" targets for Islamist terror, because of the Christian symbolism involved.
Despite all the warnings, there were no special safety precautions, which could have stopped Amri from driving the truck at full speed into the Breitscheidplatz Christmas market.
Half a year before, in July 2016, an Islamist terrorist had driven into a crowd of people who were celebrating the French national holiday in the southern city of Nice, killing 80 people. Like Amri, the perpetrator was a Tunisian national.
After the attack in Nice, German authorities discussed the likelihood of something similar happening in Germany too, and started thinking about "sensible" measures that could be taken to prevent it, a terrorism expert with the Interior Ministry told the inquiry committee.
Setting up concrete barricades at the entrance of pedestrian areas was one of the ideas up for discussion. They were set up everywhere – but only after the Christmas market attack.
But what consequences were there on the political level? Berlin Interior senator Andreas Geisel quickly named a special investigator, who presented his findings in autumn 2017: The security agencies had failed on all levels, he found.
A week before Christmas 2020, Geisel has been called as a witness by the inquiry committee. One of the questions put to him is why the Berlin intelligence agency actually stopped the surveillance of Amri weeks before his attack. This was due to a personnel shortage, Geisel explained. "It was clearly a mistake," he concluded. The personnel shortage has been addressed: Berlin's police force has hired an additional 1,000 officers. But, Geisel added, "there can never be absolute security."
The buck stops with the interior minister
Thomas de Maizière, who was Germany's federal interior minister in 2016, was the last witness to be heard by the committee.
He began by talking about his feelings at the time. He felt "endless sorrow" and "great anger," he felt reminded of the events in Nice, and he asked himself whether the attack in Berlin could have been prevented. But, he said, he couldn't find a convincing answer to that and believes all that can be done is to learn from the mistakes. As interior minister, he stressed, he accepts full responsibility.
The attack revealed weaknesses in the system, de Maiziére said. But he also came out in support of the security agencies. Finally, he recalled speaking to survivors of the attack and said that this was the most moving encounter in his whole time in office.
https://www.dw.com/en/berlin-islamist-terror-attack-a-deadly-story-of-failure/a-55990942?utm_source=iterable&utm_medium=email&utm_campaign=1840297_
--------
Two more suspects linked to Vienna attack arrested: prosecutors
DECEMBER 20, 2020
ZURICH (Reuters) - An Austrian of Afghan descent whose genetic material was allegedly found on the weapon that a jihadist used to kill four people in Vienna last month has been arrested, prosecutors said on Sunday.
Authorities will seek court approval to put the 26-year-old into investigative custody, a spokeswoman for Vienna prosecutors said, confirming a report in the Krone newspaper.
"Traces of DNA from this person were found on the weapon," she said.
Another suspect was also arrested, she said, without giving details.
Police shot dead the 20-year-old gunman, whom Austrian authorities have described as an Islamist terrorist, during his rampage in the centre of the Austrian capital in early November.
Austria had already arrested 15 people in connection with the attack. Authorities in Germany and Switzerland are also investigating people they suspect had ties to the shooter.
https://www.reuters.com/article/austria-attack-idUSKBN28U08L?utm_source=iterable&utm_medium=email&utm_campaign=1840297_
--------
India should not worry about our ties with Pakistan, says Russia
Dec 22, 2020
Russia on Monday said it was committed to developing its relationship with Pakistan although India should have no concern about such moves as they are within the framework of the Shanghai Cooperation Organisation (SCO) and aimed at ensuring regional stability.
Moscow's efforts to develop relations with Islamabad fit in with the basic values of the strategic partnership between India and Russia, Russian ambassador Nikolay Kudashev told a news briefing. His deputy, Roman Babushkin, said Russia's ties with Pakistan were "independent in nature" and the two sides have a trade and economic agenda.
"If you take a look at the substance of our ties with Pakistan and the priorities we are committed to, you could easily see they would correspond to the basic values of Russia and India, especially the privileged and strategic partnership – issues like regional stability, transparency, fighting terror, drugs and crime first and foremost," Kudashev said in response to a question on a perceived uptick in ties between Moscow and Islamabad.
Economic cooperation between Russia and Pakistan, Kudashev said, was a key to progress and predictability. "Our ties with Pakistan are naturally no exception to the values of our ties with India," he added.
Babushkin said India should not be worried about Russia's commitment to respecting the sensitivities of any other country.
"Russia is very cautious when it comes to respect of sensitivities but at the same time we regard our relations with Pakistan are independent in nature and we also have a bilateral trade and economic agenda. We are quite committed to developing this relationship further, including from the point of view of Pakistan being a partner country in the framework of the SCO," he said.
SCO comprises eight member-states -- India, Kazakhstan, China, Kyrgyzstan, Pakistan, Russia, Tajikistan and Uzbekistan;
"The basic principle of Russian foreign policy is to have bilateral relations not aimed against any other country. This is the very important principle we are following when it comes to cooperation with every country in the world, including Pakistan," he added.
Babushkin said a recent exercise between the Russian and Pakistani armies focused on counter-terrorism. "Such kind of collaboration, including experience sharing and capacity building, is quite natural for all SCO member states. We have reached an advanced level of exercises with India including the three services. All of that is important from the point of view of how we proceed to ensure regional stability. Promoting dialogue and a unified agenda are also instrumental for the same reasons," he said.
India has in the past expressed concerns about possible arms deals between Russia, the supplier of a majority of weapon systems used by Indian armed forces, and Pakistan.
In response to an another question, Babushkin said Russia and India closely consult each other on the situation in Afghanistan.
The current negotiations between the Taliban and the US are being conducted on the basis of agreements between the two sides. Russia wants these negotiations to be successful and lead to a "forward-looking solution in Afghanistan" so that the war-torn country can have a "maximum possible representative government" that takes care of the interests of all national and ethnic groups, Babushkin said.
https://www.hindustantimes.com/india-news/india-should-not-worry-about-our-ties-with-pak-says-russia/story-T0ZBWTQzgjRARrnwT6jHbM.html
--------
North America
US reinstates Sudan's sovereign immunity after removal from terror list
22 December 2020
The United States on Tuesday reinstated Sudan's sovereign immunity, as the US Congress passed legislation formalizing the move, following the ending of Sudan's designation as a state sponsor of terror.
However, the legislation includes an exemption allowing lawsuits by the families of victims of the Sept. 11, 2001, attacks on the United States already underway in US courts to move forward, although experts say Sudan is unlikely to lose those cases.
For all the latest headlines follow our Google News channel online or via the app.
The state sponsor of terror designation, which was in place for almost three decades, had weighed on Sudan's economy and restricted its ability to receive aid. For investors, the reinstating of sovereign immunity removes another layer of financial risk.
Sudan had been engaged in talks with the United States for months and paid a negotiated $335 million settlement to victims of al-Qaeda attacks on US embassies in East Africa in 1998 who had been awarded much higher damages by US courts.
The process to release the settlement money and restore Sudan's sovereign immunity - protection against being sued in American courts - had been stalled in the US Congress as it had been tied to the $892 billion coronavirus aid package.
Late on Monday, the wider package was passed in the US Congress after a deal has been worked out in a rare weekend session and sent to President Donald Trump to sign into law.
Sudan's bilateral debt
According to the bill, Washington will be authorizing $111 million to pay off part of Sudan's bilateral debt, and $120 to help pay off its debt to the International Monetary Fund (IMF) while making another $700 million available until September 2022 for assistance to the country.
Last week, Sudan's finance minister announced a US "bridge loan" that would allow Sudan to clear $1 billion in arrears to the World Bank .A US source familiar with the matter said the debt assistance would help kick off Sudan's debt relief on a global level, helping make it eligible for the IMF's Highly Indebted Poor Countries (HIPC) programme.
With the reinstatement of sovereign immunity and the financial aid, Khartoum will now be "on the hook," to normalize ties with Israel, a US source familiar with the matter said, a move it has agreed to under US pressure.
In a joint statement in October, Israel and Sudan said they had agreed to normalize relations and end the state of belligerence between the two countries, but Sudan's civilian leaders have said the final decision would be in the hands of a yet-to-be-formed transitional legislature.
The normalization would make Sudan one of the four Arab countries along with the United Arab Emirates, Bahrain and Morocco, over the past several months, to establish relations with Israel in deals brokered with US help.
The bill also appropriates an additional $150 million for Sudan's settlement payment, in order to redistribute the funds in a way the bill's sponsors say is more equitable.
The United States designated Sudan a state sponsor of terrorism in 1993 on the grounds that former President Omar al-Bashir's regime was supporting militant groups including al-Qaeda, Hamas and Hezbollah.
In the 1990s, the regime became a pariah, hosting Osama bin Laden and positioning itself as a fulcrum for extremist movements, although experts still say Sudan's liability for the Sept. 11 attacks is questionable.
https://english.alarabiya.net/en/News/world/2020/12/22/US-foreign-policy-US-reinstates-Sudan-s-sovereign-immunity-after-removal-from-terror-list
--------
The deep US web of animosity towards Iran to continue?
21 December 2020
By J. Michael Springmann
Well, in my view, the Los Angeles Times article about whether or not the Joint Comprehensive Plan of Action will be reinstated by the incoming Joe Biden Administration, shows the weasel-worded nature of the American news media, the American body politic, and the control that the apartheid entity of Israel has over the American government.
I am not optimistic at all about any changes in the present situation. I think Biden and the Democrats, who are beholden to Israel and the votes of Israel's supporters in the United States, will not change their views, especially with all that Israeli money going to various Congressmen.
So, I believe not much will alter. The issue, of course, is sanctions, and whether or not the Americans will abolish them. The Los Angeles Times article seems to talk about a gradual, step by step operation. It will be a little bit of this versus a little bit of that, with the Iranians expected to do all the agreeing. The US will emphasize controls on Iranian missiles, with Iran dropping its support for Hezbollah and other freedom fighters in Syria. The article went on about the deep web of animosity between the two countries.
Well, I am afraid that the deep web of animosity has been created by the United States of America with its overthrow of the duly elected government of Mohammad Mossadegh in 1953, and the subsequent installation of the repressive Shah.
And after the Shah was overthrown in 1979, the Americans decided to retaliate, and impose more sanctions and, as time went by, the sanctions increased. The Iranian government eventually agreed to the Joint Comprehensive Plan of Action, which Donald Trump abolished, with the full support of the rest of the American government, particularly people like Charles Schumer and Nancy Pelosi, who always support Israel, no matter what.
So I think that, in the future, there will be no modification of the present situation. There's going to be plenty of talk. There's going to be plenty of demands for the Iranians to take the first step, the second step and the third step. But I don't see the Americans dropping their sanctions against Iran or ending its inability to use the international banking system to buy medical equipment, medical treatment, and drugs and vaccines against this virus, which I believe came out of an American or Israeli laboratory or, maybe, both.
In my view, it's going to be more of the same with a lot of huffing and puffing on the American part, insisting that Iran is not doing enough to justify going back to the Joint Comprehensive Plan of Action as it was before Trump abolished it unilaterally. I don't see any European countries bucking the United States and saying: "We don't accept your sanctions, we're going to trade with Iran, no matter what." Well, they permitted their companies to withdraw from Iran, and have not said a word about this and they keep talking about INSTEX and trading riyals for Euros and engaging in complicated banking transactions, an exchange of currencies. But that hasn't happened, even though they've been talking about it for years.
In the end, unfortunately, things will not change and Israel will still control America's policy towards Iran.
J. Michael Springmann is an American political commentator, author and former US diplomat in Saudi Arabia. He is based in Washington. He recorded this article for Press TV website.
https://www.presstv.com/Detail/2020/12/21/641240/The-deep-US-web-of-animosity-towards-Iran-to-continue
--------
Islamic State train attacker thwarted by three California men is convicted
DEC. 18, 2020
PARIS — A French court has convicted an Islamic State operative in a 2015 train attack that was foiled by three fast-acting young California men, whose heroics were turned into a film by Clint Eastwood.
The special terrorism court sentenced Morocco-born Ayoub Khazzani on Thursday to life in prison, with 22 years guaranteed behind bars.
Khazzani, who went to Syria as a jihadi after trafficking drugs in Spain, met his match in the train encounter with three childhood friends from California who took him down. Eastwood turned the face-off into the movie "The 15:17 to Paris."
Three of Khazzani's accomplices, who weren't on the train, were convicted of complicity and handed prison sentences ranging from seven to 27 years.
The verdict closed the monthlong trial of Khazzani for attempted terrorist murder. He had boarded the Amsterdam-to-Paris train Aug. 21, 2015, with an arsenal of weapons.
The court rejected Khazzani's contention that he had changed his mind about carrying out the assault. He seriously wounded a French-American teacher who grabbed his Kalashnikov.
"I still feel lucky to be here. That's what I'm focused on. Just feel lucky that I survived and just glad to be in France," said Mark Moogalian, the teacher who was shot in the back with a hand gun. The bullet exited through his neck.
Few if any of the passengers in the train car would have reached their destination alive if the attack had gone off as planned, prosecutors, lawyers and some witnesses contended during the trial.
Khazzani, who was armed with an assault rifle, nearly 300 rounds of ammunition, a handgun and a box cutter when he boarded the train in Brussels, was tackled, choked and knocked unconscious with his own Kalashnikov by the two American servicemen and their friend.
The actions of Spencer Stone, a member of the U.S. Air Force; Alek Skarlatos, in the National Guard, and Anthony Sadler, a student, were a highlight of the trial, and their testimony captivated the courtroom. Stone fell ill upon arrival in France and eventually testified by video from California.
The plot described by the prosecution was chilling.
Investigators exposed an alleged network of connections that culminated, months after the train assault, in the coordinated terrorist attacks on a Paris concert venue, cafes and restaurants, and a sports stadium that left 130 people dead.
The train attack was allegedly organized by Abdelhamid Abaaoud, whom prosecutors said was the coordinator of the November 2015 bombings and shootings in Paris. Khazzani was with Abaaoud in Syria and traveled with him back to Brussels. He told the court that Abaaoud concocted the plan for the train attack, and he followed it to the letter — until, he said, he changed his mind.
"It was a very intense trial" because it was linked to the Paris attacks that lay ahead, said Thibault de Montbrial, the lawyer for the California trio and for Moogalian.
"The terror cell that came to Europe to kill Europeans had as a first step to kill inside the ... train," he said, noting the prosecution's contention that Khazzani had planned a mass attack in the railway carriage.
Khazzani's testimony was often confused, but he agreed when the presiding judge said he appeared to be "a puppet" of Abaaoud, who was killed by French special forces shortly after the Paris massacre.
"I believed him. It's stupid, but I believed," he said during testimony in November.
Khazzani said Abaaoud told him to kill three to five American soldiers in the car, along with the "European Commission," though no members of the commission were on the train. Abaaoud had told him they were responsible for bombings in Syria, including one of a mosque that Khazzani said triggered his wish for revenge.
It remained unclear at the trial's end how he identified the vacationing Americans as servicemen, as he claimed he had, because they were in civilian clothes.
The presiding judge noted that he had more weapons than the terrorists who carried out the massacre in Paris' Bataclan concert hall. Khazzani said Abaaoud had told him that that was how things were done in Syria.
The verdict came a day after 14 people were convicted of involvement in the January 2015 massacre at satirical magazine Charlie Hebdo and another deadly attack. All three attackers were killed.
https://www.latimes.com/world-nation/story/2020-12-18/isis-operative-convicted-foiled-train-attack-france?utm_source=iterable&utm_medium=email&utm_campaign=1840297_
--------
US announces new criminal charges in Pan Am terrorist bombing
December 22, 2020
By Christina Carrega, Katelyn Polantz and Evan Perez
(CNN)US Attorney General William Barr on Monday announced criminal charges against an alleged bombmaker in the 1988 terrorist bombing of Pan Am flight 103 over Lockerbie, Scotland.
The former Libyan intelligence officer Abu Agela Mas'ud Kheir Al-Marimi was charged in a criminal complaint with for allegedly providing the medium-sized Samsonite suitcase with the prepared explosive that was later placed onboard the flight. He is currently in custody in Libya.
Monday is the 32nd anniversary of the attack, which killed 270 people, the majority of whom were Americans. The Pan Am Boeing 747 was en route from London to New York.
The announcement also brings Barr's service as attorney general -- a position he's held twice -- full circle.
Last week, when he told President Donald Trump of his resignation, Barr asked to delay his departure by a week so he could announce the Lockerbie charges, one of the sources said.
Early in his tenure at the department under President George H.W. Bush, Barr had announced charges against two other Libyan intelligence-linked men, Abdelbeset Ali Mohmed al Megrahi and Al Amin Khalifah Fhimah, whom the US accused of placing explosives in a portable cassette and radio player that was inside a suitcase on the plane.
Libyan leader Moammar Ghadafi later accepted Libya's responsibility for the bombing.
But because of difficulty bringing them to the US, the men were tried instead by a Scottish court sitting in neutral Netherlands.
"The investigation also pointed to a third conspirator, a man known by the name of Abu Agila Mas'ud Kheir Al-Marimi, who at the time, investigators were unable to identify or locate this third person," Barr said at a news conference on Monday.
Prosecutors referred the alleged bombmaker as "Masud" in court documents. He is currently in custody in Libya, prosecutors said. But, unlike the extraditions of Megrahi and Fhimah over 20 years ago, US authorities have plotted out a less complicated court procedure this time around.
Officials say the US is having conversations with Libya to take custody of Masud, and with Scottish authorities who may be able to provide evidence.
The trial in the Scottish court resulted in an acquittal of Fhimah and a conviction of Megrahi. Megrahi, sentenced to 27 years in prison, was released from prison after being diagnosed with cancer. He died in 2012.
US officials learned in 2016 about Masud's role as the bombmaker when he was arrested in Libya for a separate incident and he made the alleged confession, according to the criminal complaint.
Masud was allegedly summonsed by an unidentified Libyan intelligence official for a meeting in Tripoli where he was told to fly to Malta with a suitcase prepared with the explosives, according to the criminal complaint. Masud spent a few days at a hotel that was located 20 minutes from the airport before he met Megrahi and Fhimah who instructed Masud to set the timer on the explosive to 11 hours later.
"Three or four days after returning to Libya, Masud and Megrahi met with a senior Libyan intelligence official, who thanked them for a successful operation," prosecutors said in a statement.
Barr said Monday that without prosecuting all involved with the "second deadliest terrorist attack in American history," it felt like "unfinished business" and delayed justice for the victims.
At a memorial for the victims in 2019, Barr said "nothing was more important to me" when he first served as attorney general in the 1990s than investigating the bombing.
"I must say that, to this day, I am not satisfied with our country's overall response to the attack. I never thought that putting two Libyan intelligence officers on trial should be the sum and substance of our response," Barr said at the Arlington Cemetery ceremony last year.
https://edition.cnn.com/2020/12/20/politics/lockerbie-pan-am-103-barr/index.html?utm_source=iterable&utm_medium=email&utm_campaign=1840297_
--------
Mideast
MEPs call on Israel to allow entry of anti-coronavirus medical supplies into Gaza
21 December 2020
Two dozen lawmakers of the European Parliament have signed a petition launched by a rights group, calling on the Israeli regime to allow immediate entry of necessary equipment and medical supplies into the besieged Gaza Strip to assist in the fight against the COVID-19 pandemic.
In a press release on Monday, the Euro-Mediterranean Human Rights Monitor welcomed the signing of the petition by 24 members of the European Union (EU)'s law-making body, the Palestinian Information Center reported.
The Geneva-based rights monitor noted that the MEPs expressed concern about the latest surge in COVID-19 cases in the impoverished enclave, which has been under a tight Israeli blockade from land, air, and sea since 2007.
The legislators called for immediate measures to be taken to facilitate the entry of preventive supplies, including face masks and intensive care units, into the densely-populated Palestinian territory, which is home to some two million people.
According to the rights monitor, the health system in the enclave is dilapidated and most medical supplies and equipment have been depleted, with a deficit exceeding 30 percent and an occupancy rate for intensive care beds that reached 90 percent.
"The international community is required to take decisive action to facilitate the entry of medical supplies, allocate part of the coronavirus vaccines to the Strip, and end the Israeli blockade imposed on the largest open prison in the world," said the rights monitor, Rami Abdu.
He added that the situation in Gaza is no longer acceptable and that the World Health Organization (WHO) must ensure that Palestinians in the impoverished enclave receive decent health care.
The petition also sought to raise awareness of the alarming health situation in Gaza as the pandemic rages across the territory.
Just recently, several patients, who contracted the contagious disease, lost their lives while waiting for the lengthy procedures to obtain transit permits to Israel and Egypt to seek treatment abroad.
"This requires an immediate international intervention to save the Palestinians", Abdu stressed, as many health facilities have been destroyed during the repeated Israeli attacks on the enclave.
The lawmakers of the European Parliament further urged all parties to the conflict in Gaza to save the civilians from the plight of COVID-19 and to put their differences aside.
Separately on Monday, Palestinian Minister of Health Mai al-Kailah announced that in the previous 24 hours, eleven people had died of COVID-19 and 280 new cases of infection had been documented.
https://www.presstv.com/Detail/2020/12/21/641238/Gaza-Israel-European-Parliament-COVID
--------
Iranian Lawmaker: FATF Policymakers Main Sponsors of Terrorism
2020-December-21
"Although the FATF claims its agenda is combat against money laundering and countering financial support for terrorists, its key policymakers play a direct role in terrorist acts around the world," Jokar told FNA on Monday.
"The main policymakers of the FATF are those who played a fundamental and direct role in the assassination of (former commander of the IRGC Quds Force) Martyr General Qassem Soleimani, (Iranian nuclear scientist) Martyr Fakhrizadeh and our other martyrs. How can we accept the leadership of such people in the FATF?" he asked.
Jokar said that fulfilling the requirements of the FATF, specially as the country is in the conditions of sanctions, will practically disarm Iran against enemies.
The FATF placed Iran on its blacklist in February after Tehran refused to fully adopt its provisions.
The Iranian Foreign Ministry at the time denounced the move, and said the decision materialized what the US, Israel and Saudi Arabia, the three sponsors of terrorism in the Middle East, wished against Tehran.
"Unfortunately, this is also part of the politicization of international mechanisms [carried out] by the United States, Saudi Arabia, and the Zionist regime (Israel). Given their influence on these mechanisms, they are trying to politicize them," former Iranian Foreign Ministry Spokesman Seyed Abbas Mousavi said.
"Saudi Arabia, as the central bank of terrorism and the Zionist regime as a terrorist state, are providing terrorist groups and organizations around the world with the most support," he added.
However, they blacklist Iran which has the highest level of cooperation and transparency in the field of combating money laundering and financing of terrorists, he added.
Mousavi emphasized that Iran has been implementing all laws and regulations related to money laundering and financing of terrorism for more than two years, saying, "International mechanisms have advantages and disadvantages and placing Iran on FATF's blacklist came despite all efforts we have made inside the country and all regulations we have tried to observe."
Iran has been required to fulfill dozens of FATF recommendations to enhance its status from a blacklist of non-cooperative countries, while the country is under US sanctions. The country's status in FATF has no impact on toughening or easing the US sanctions.
FATF has required Iran to implement a number of moves that include endorsement of several conventions.
Palermo bill is one of the four government bills seeking to bring Iran's anti-money laundering and countering terrorism financing standards into line with those defined by the FATF.
The parliament has approved all the measures but except for the bill that updates Iran's domestic law on countering financing of terrorism. All the rest have been rejected by the Guardian Council – a watchdog that ensures laws are in line with the Constitution and Sharia.
The bills on Iran's accession to the Palermo Convention and the convention against the funding of terrorism (CFT) were rejected by the Guardian Council in November 2019 due to some flaws that violated the country's Constitution. The bills were then amended by the Iranian Parliament, waiting for the next steps in the Guardian Council.
To fulfill FATF requirements, President Hassan Rouhani's administration has proposed four bills to the parliament for approval, two of which are still undecided, including the Palermo Convention. They have been referred to the Expediency Council for final approval.
Yet, Iran has recently approved a national anti-money laundering (AML), which was a domestically-developed bill.
In its October 2019 meeting, the FATF decided to extend the deadline for Iran until February to complete reforms under the specified action plan that includes a list of 9 major moves, including the opening of its financial transactions data bank to the FATF that is headed by the US Department of the Treasury's Assistant Secretary heading the Office of Terrorist Financing and Financial Crimes Marshall Billingslea.
The Political-Defense-Security and Legal-Judicial Commissions of the EC declared last January that endorsement of the Palermo bill would run against the country's interests.
https://www.farsnews.ir/en/news/13991001000634/Iranian-Lawmaker-FATF-Plicymakers-Main-Spnsrs-f-Terrrism
--------
Iran Blasts Canada's Meddling in Ukrainian Plane Case, Stresses Publication of Relevant Report Soon
2020-December-21
Khatibzadeh lashed out at the Canadian government's meddlesome remarks about the Ukrainian passenger plane incident, adding, "We did our best in accordance with international laws and treaties and the report will be published and delivered to the Ukrainian side later today or by tomorrow."
"We will make every effort to act with transparency," he stressed.
The spokesman blasted Canada's allegations and intrusive stance on the issue, saying, "It is not a simple issue. The Canadian officials' remarks have been interventionist and unacceptable since the first day after the incident."
He warned the Canadian government and foreign minister to be accountable for their comments and moves.
Referring to Canada's complicity with the US to block medicine imports to Iran, Khatibzadeh said, "The government that has made every effort to prevent the delivery of medicine to Iran has no place to talk about human rights."
"I invite the Canadian Foreign Minister to diplomatic etiquette," the spokesman stressed.
A Ukrainian Boeing 737 passenger plane was accidentally shot down by an Iranian rocket near Tehran on January 8, 2020.
It happened after the US terrorist attack against motorcade of Lieutenant General Qassem Soleimani, late anti-terror Commander of the Islamic Revolution Guards Corps (IRGC) Qods forces and his companions near Baghdad airport on January 3, 2020.
Iran reciprocated the US terrorist operation by hitting the US Ain al-Assad airbase in Iraq.
Commander of the IRGC Aerospace Force Brigadier General Amir Ali Hajizadeh admitted that human error the incident.
In relevant remarks on October 19, Iranian Foreign Minister Mohammad Javad Zarif in a meeting with Ukraine's Deputy Foreign Minister Yevgeny Yenin described as positive and constructive the talks between the two countries on the Ukrainian passenger plane incident, and expressed hope that the talks would end in favorable and desirable results soon.
"I hope that we could settle the case of tragic plane incident very soon," Zarif said.
Zarif and Yenin also exchanged views on the expansion of bilateral ties and the ways to expand cooperation between the two countries in different areas.
Iranian and Ukrainian officials started the second round of talks on the passenger plane crash on October 19 and continued until October 21.
In the second round of negotiations, Mohsen Baharvand hosted his Ukrainian counterpart and the accompanying delegation.
Baharvand underlined that Iran has nothing to hide about the Ukrainian plane incident, and said that the Islamic Republic is ready to honestly inform the Ukrainian delegation about the details of the incident.
https://www.farsnews.ir/en/news/13991001000505/Iran-Blass-Canada%E2%80%99s-Meddling-in-Ukrainian-Plane-Case-Sresses-Pblicain
--------
Iran urged not to waste 'last window of opportunity' for nuclear deal
21 December 2020
Countries trying to keep alive the 2015 deal on Iran's nuclear program agreed Monday to "positively address" the possibility of a US return to the accord under the Biden administration. Germany's foreign minister urged Iran not to waste what he called a final window of opportunity.
For the latest headlines, follow our Google News channel online or via the app.
Monday's virtual meeting of parties to the agreement — the first at the level of foreign ministers in over a year — came as the deal is in what German Foreign Minister Heiko Maas called a "downward spiral" caused by a mixture of strong US pressure on Iran and Tehran's violations of the accord.
The remaining countries that signed the agreement with Iran — Germany, France, Britain, China and Russia — have been trying to keep it from collapsing after the unilateral withdrawal of the US in 2018.
The three European powers have expressed hope that with the change of administrations in Washington, the US could be brought back into the deal, whose goal is to prevent Iran from developing a nuclear bomb — something Tehran insists it doesn't want to do.
President-elect Joe Biden has said he hopes to return the US to the deal, which was negotiated while he was vice president.
Complicating that, Iran is now in violation of most major restrictions set out in the agreement, including the amount of enriched uranium it is allowed to stockpile and the purity to which it is allowed to enrich uranium.
A joint statement released after Monday's meeting said participants in the deal, known as the Joint Comprehensive Plan of Action or JCPOA, "re-emphasized their commitment to preserve the agreement" and discussed the fact that "full and effective implementation of the JCPOA by all remains crucial."
"Ministers acknowledged the prospect of a return of the US to the JCPOA and underlined their readiness to positively address this in a joint effort," the statement said.
"We are standing at a crossroads today," Germany's Maas told reporters in Berlin, adding that the deal's survival or otherwise will be determined in the coming weeks and months.
The European powers stressed Monday that "just a commitment" to the accord on everyone's part is not enough, Maas said.
"To make possible a rapprochement under Biden, there must be no more technical maneuvers of the kind we have seen plenty in recent times — they would do nothing but further undermine the agreement," he added.
"The opportunity that is now being offered — this last window of opportunity — must not be squandered," Maas said. "We made that very clear today to Iran in particular."
The deal promises Iran economic incentives in exchange for curbs on its nuclear program, but with the reinstatement of American sanctions, the other nations have been struggling to provide Iran the assistance it seeks.
British Foreign Secretary Dominic Raab, who also attended the meeting, tweeted that "I made it absolutely clear Iran must not implement the recently announced expansions to its nuclear program. To do so would undermine the opportunities for progress we hope to see in 2021."
Despite Iran's violations, the International Atomic Energy Agency has reported that Tehran continues to give inspectors full access to its nuclear sites — a key reason the JCPOA member nations say it is worth preserving.
https://english.alarabiya.net/en/News/middle-east/2020/12/21/Iran-urged-not-to-waste-last-window-of-opportunity-for-nuclear-deal-
--------
Houthi official accused of prison torture at Yemen's Central Security prison
Ismaeel Naar
21 December 2020
A Houthi official in charge of prisoners' affairs in Yemen has been accused of ramping up the torture of prisoners in the country's central prison in Sanaa, according to a video being shared by activists.
The video making the rounds on social media shows a man with torture marks on his back, with activists saying the Houthis are increasing the use of torture tools a fortnight before the one-year anniversary of the killing of Iranian commander Qassem Soleimani.
For all the latest headlines follow our Google News channel online or via the app.
"On the night of killing Solaimani [sic], the Houthis unleashed their officers to torture detainees. One of those officers was Murad Abu Hussein, who serves as the deputy head of Houthis prisoners swap committee. He tortured detainees being held at the Central Security prison," tweeted Baraa Shiban, an expert on Yemen.
Al Arabiya English could not independently verify the authenticity of the video originally posted on Twitter on Sunday.
Murad Abu Hussein is currently the Deputy head of the National Committee for Prisoners Affairs in Yemen under the Houthis.
The Central Security prison in Yemen's Sanaa has been wrought with accusations of torture and human rights abuses over the past several years. The prison currently holds many political prisoners, including Tawfiq al-Mansouri, one of four journalists detained by the Houthis since 2015.
Last month, the Yemeni Abducted Mothers Association group called for international intervention al-Mansouri's case, accusing the Houthis of neglecting to provide the journalist with medical attention.
https://english.alarabiya.net/en/News/gulf/2020/12/21/Houthi-official-accused-of-prison-torture-at-Yemen-s-Central-Security-prison
--------
Knesset rejects bill to delay budget Israel heading to 4th vote in 2 years as Knesset tosses out election prevention bill
22 December 2020
Israel is on an almost certain course for a fourth election within less than two years after legislators narrowly rejected a bill that would have deferred the deadline for passing next year's budget, raising the likelihood that the Knesset (parliament) will dissolve.
Lawmakers voted 49 to 47 after midnight Monday against the legislation that would have given rival coalition parties of Likud and Blue and White extra time to reconcile their stark differences and reach a compromise.
The bill would have pushed back the deadline for approving the 2020 budget from Tuesday night until December 31, and set the deadline for passing the 2021 budget for January 5.
Under the current arrangement between Prime Minister Benjamin Netanyahu and minister of military affairs Benny Gantz, the shaky coalition administration has until one minute past midnight on Wednesday to strike an agreement over a budget for the current year.
The Knesset will thus automatically dissolve at midnight on Tuesday, and Israelis will go to the polls again, probably on March 23, 2021.
Late on Sunday, Gantz's center-left Blue and White said it had reached an agreement with Netanyahu's right-wing Likud on a bill to buy more time.
But the two leaders engaged in yet another war of words the following day.
Netanyahu said Gantz had "decided to renege" on promises he made, accusing him of "dragging (Israel) to unnecessary elections in the midst of the coronavirus crisis."
Gantz, in return, insisted that he had presented Netanyahu with clear conditions to avoid another vote.
"If Likud won't meet our demands, we will head to elections with our head held high," he said.
Long-standing disagreements between Likud and Blue and White regarding the rotation of the premiership has for weeks been pushing the fragile coalition towards eventual collapse.
Likud has apparently been holding up the budget for months in an effort to renegotiate a more favorable coalition.
Netanyahu would have to campaign for the election during his trial on charges of bribery, fraud and breach of trust if elections were to be held soon.
Multiple recent surveys suggest that the New Hope party of former Likud minister Gideon Sa'ar could withdraw considerable support away from Netanyahu.
For several months now, Israel has been the scene of massive protest rallies held by people who want the controversial prime minister to quit power.
Opinion polls indicate that Likud would pick up some 28 seats in a March vote, down from the 36 it won in the March 2020 elections.
Blue and White, which won 33 seats in the previous elections, is hovering at some 5 seats — barely above the Knesset threshold. New Hope party is polling at 19-20 seats.
"We don't want elections. That's why we were willing to vote in the Knesset to avoid it," Netanyahu said during a meeting with White House special advisor Jared Kushner on Monday. "But if elections are imposed upon us, we will win."
https://www.presstv.com/Detail/2020/12/22/641269/Knesset-rejects-bill-to-delay-budget-deadline-Israel-set-for-new-elections
--------
Africa
El Al Airlines to operate first Israel-Morocco flight on December 22
21 December 202
Israeli flag carrier El Al Airlines said on Sunday it would operate the first flight from Israel to Rabat, Morocco on Dec. 22 and that the plane would carry a joint US-Israeli delegation.
The direct flight, LY555, is expected to take six hours and follows a US-brokered deal earlier this month in which the countries agreed to normalize relations.
For all the latest headlines follow our Google News channel online or via the app.
Israel and Morocco agreed on Dec. 10 to normalize relations in a deal brokered with the help of the United States, making Morocco the fourth Arab country to set aside hostilities with Israel in the past four months.
At the time, Moroccan King Mohammed told US President Donald Trump by phone that Morocco intended to facilitate direct flights for Israeli tourists to and from Morocco, according to a statement from Morocco's royal court.
Immediately following the announcement of the deal, El Al Israel Airlines said it was examining the possibility of establishing direct flights between Israel.
As part of the agreement, US President Donald Trump agreed to recognize Morocco's sovereignty over the Western Sahara, where there has been a decades-old territorial dispute with Morocco pitted against the Algeria-backed Polisario Front, a breakaway movement that seeks to establish an independent state in the territory.
https://english.alarabiya.net/en/business/economy/2020/12/21/Israel-relations-El-Al-Airlines-to-operate-first-Israel-Morocco-flight-on-December-22
--------
UNSC discusses Western Sahara after Trump's deal with Morocco
22 December 2020
The United Nations Security Council (UNSC) has been briefed about Western Sahara after US President Donald Trump's recognition of Moroccan "sovereignty" over the disputed region as part of a normalization deal between Rabat and the Israeli regime.
The council briefing had been requested by Germany and happened behind closed doors on Monday.
"There are no major operational changes from our part," UN spokesman Stephane Dujarric said before UN Assistant Secretary-General for Africa Bintou Keita and Colin Stewart, the head of a UN peacekeeping mission in Western Sahara, briefed the UNSC.
"Our position on the announcements regarding Western Sahara is unchanged and... we continue to believe that a solution can be found through dialog based on the relevant Security Council resolutions," he added.
Earlier this month, Trump, who is due to leave office on January 20, agreed to recognize Moroccan "sovereignty" over Western Sahara, abandoning longstanding US policy on the region.
Morocco agreed in return to join the list of Arab states that have normalized ties with Israel.
Morocco became the fourth Arab country — after the United Arab Emirates (UAE), Bahrain, and Sudan — to normalize ties with the Israeli regime since August. The normalization deals have been condemned by all Palestinian factions as a betrayal of their cause.
Morocco annexed the vast Western Sahara region, a former Spanish colony, in the 1970s and has since been in conflict with the Algeria-backed Polisario Front, a movement that seeks to establish an independent state in the territory and end Morocco's presence there.
Morocco is currently in control of 80 percent of the region, including its phosphate deposits and fishing waters.
The UN has deployed a peacekeeping mission, the MINURSO, to the region to monitor a 1991 ceasefire and to supposedly organize a referendum on the region's status.
Washington had backed the ceasefire between Morocco and the Polisario Front.
US President-elect Joe Biden will face a decision whether to maintain or reverse the decision to recognize Moroccan "sovereignty" on Western Sahara. No other Western country has offered such recognition.
After the council briefing, South Africa's UN Ambassador Jerry Matjila said "decisions contrary to multilateral collective decisions must be discouraged and unequivocally disregarded," without naming the US.
"We believe that any recognition of Western Sahara as part of Morocco is tantamount to recognizing illegality as such recognition is incompatible with international law," he told reporters.
https://www.presstv.com/Detail/2020/12/22/641256/UNSC-discusses-Western-Sahara-after-Trump-deal-with-Morocco
--------
At least 10 killed in central Somalia bombing claimed by al Shabaab
DECEMBER 19, 202
By Abdi Sheikh, Feisal Omar
MOGADISHU (Reuters) - At least 10 people were killed on Friday in a town in Somalia's semi autonomous state of Galmudug when a suicide bomber detonated a device at a rally due to be addressed by the country's prime minister, a security official said.
Prime Minister Mohamed Hussein Roble was on his way to address the rally at a stadium in Galkayo, a town in central Somalia where many residents and security forces had gathered to welcome him before the explosion, Galmudug state security ministry said in a post on its Facebook page.
"Over 10 people died in the blast including three senior military officials, soldiers and civilians," Major Mohamed Abdirahman, a military officer, told Reuters from Galkayo. Over 20 people were injured, he added.
Senior officials at the site included General Abdiasis Abdullahi Qooje who was commander of a battalion based in Galmudug, Somali state radio SONNA reported.
He said the death toll may rise.
Somalia's al Qaeda-allied Islamist group al Shabaab, claimed responsibility for the attack and said it was "targeting the apostate prime minister who was visiting the town."
Among those killed, al Shabaab's military operations spokesman, Abdiasis Abu Musab, told Reuters, some were U.S.-trained.
The group has been fighting for more than a decade to topple the Horn of Africa's central government and establish its own rule based on its strict interpretation of sharia law.
Farah Ali, a resident of Galkayo who witnessed the bombing, told Reuters in a phone interview the stadium was packed with a huge crowd before the blast.
"I counted seven dead people including soldiers and civilians and over a dozen injured," he said.
https://in.reuters.com/article/somalia-blast-idINKBN28T07P?utm_source=iterable&utm_medium=email&utm_campaign=1840297_
--------
South Asia
Afghan Parliament Lashes over Recent Remarks by First Lady
By Mohammad Arif Sheva
22 Dec 2020
KABUL, Afghanistan – Lawmakers in Afghanistan's Wolesi Jirga (lower house of parliament) on Monday strongly criticized the First Lady Rula Ghani's recent remarks, according to sources, saying her rhetoric against the parliament is unacceptable.
In a recent interview with Radio Azadi, the first lady said Afghan parliament has turned into a trading ground for votes, adding the denied acting ministers will continue their jobs regardless of MPs votes of confidence.
"Who are you to insult this nation? On behalf of this nation, from this forum I want to say that you are ignorant," said MP Habiburrahman Pedram, critizcizing Rula Ghani's statement, as TOLOnews quoted.
"Afghanistan has witnessed individual, family and ethnic repression. But the Afghan people never witnessed such a shameful government," said MP Khalid Assad.
Meanwhile, a number of MPs exclaimed Rula Ghani is misusing her authority, attending official government meetings and interfering in appointments and/or dismissals of the nominees.
"Thieves have gathered and are plundering the budget of the nation, the minister who did not secure a vote of confidence is filling his pockets," said MP Razia Mangal, according to report.
Afghan Parliament Approves Appointment of News Ministers
Earlier this month, the Afghan parliament approved candidates for six ministries and the chief of the National Directorate of Security (NDS), denying position for nominees of the Ministry of Women's Affairs and Ministry of Information and Culture.
https://www.khaama.com/afghan-parliament-lashes-over-recent-remarks-by-first-lady-3453/
--------
Prison doctors among 5 killed in Kabul bombing
22 Dec 2020
Four doctors who worked at an Afghan prison with hundreds of Taliban inmates were among five people killed on Tuesday when a bomb attached to their car exploded, police said.
The blast happened in a southern district of the city when the doctors were travelling to the Pul-e-Charkhi prison where they worked, Kabul police spokesman Ferdaws Faramarz said.
Four doctors and a passer-by were killed when a "magnetic bomb" attached to the car detonated, Faramarz said, adding that another two people were wounded.
Hundreds of Taliban fighters and other criminals are incarcerated at Pul-e-Charkhi, located on the eastern outskirts of Kabul.
The city has been hit by a wave of deadly violence in recent months despite the Taliban and the government engaging in peace talks.
Targeted killings of prominent figures, including journalists, politicians and rights activists have also become more common recently in Kabul and other provinces.
The Islamic State group has claimed responsibility for some of the recent attacks in Kabul, that killed dozens of people.
Tuesday's attack came just two days after a car bomb targeting a lawmaker killed 10 people and wounded more than 50 in Kabul.
Lawmaker Khan Mohammad Wardak was wounded in the blast.
Days before that incident, a deputy governor of Kabul province, Mahbobullah Mohebi was killed in a similar attack.
And on Monday, an Afghan journalist was shot dead by gunmen in the eastern city of Ghazni in what appeared to be yet another targeted killing.
Rahmatullah Nekzad had contributed to the Associated Press news agency since 2007 and had also previously worked with the Al-Jazeera broadcast network.
https://www.dawn.com/news/1597216/prison-doctors-among-5-killed-in-kabul-bombing
--------
Suicide Bomber Targets Funeral Ceremony in Paghman, Killing 1
By Mohammad Haroon Alim
21 Dec 2020
At least one person was killed in a suicide bombing incident in Paghman district of Kabul province on Monday.
Ferdaws Faramarz, a spokesman to Kabul Police HQ, told Khaama press that the incident occurred when a suicide bomber detonated his explosive vest out side Bolsan Mosque in the Bolsan village.
One civilian was killed, as the bomber detonated his explosive vest during the Fatiha (a ritual ceremony often after the funeral).
Media reports the incident happened at around 2 p.m. local time.
The incident is still under the police investigation.
No group or individual have yet claimed responsibility for the attack.
https://www.khaama.com/suicide-attack-claims-1-in-paghman-religious-ritual-attack-kabul-87979/
--------
Ex-Pakistani PM: Pakistan Supports Both Taliban, Al-Qaeda
By Mohammad Haroon Alim
21 Dec 2020
Veteran Pakistani politician and a former parliament member, Afrasiab Khattak, told 1TV news in an interview, that the Taliban are still being financed and trained by the Al-Qaeda militants.
He added Pakistan supports not only the Taliban but also Al-Qaeda in relations to gain their regional goals, adding that the Afghan conflict is "rooted outside the country," 1TV news quoted Afrasiab.
The US- Taliban deal was against the international rules, it is due to the deal was made with a non-state negotiating group that promises to renounce violence and government recognition matters, Khattak told 1TV news.
Indicating that the United States has given concessions to the Taliban in order to remain in Afghanistan and use the region in case of a new cold war breakout.
Earlier, the government said Taliban are still carrying coordinated operations with Al-Qaeda, and United Nations analysis confirmed Taliban and Al-Qaeda ties remain intact.
On February 2020, in a speech, Mike Pompeo urged the militant group to "keep your promises to cut ties with al-Qaeda".
This comes as, amid peace talk breaks for 20 days in Doha, the conflict still have raged across Afghanistan.
https://www.khaama.com/former-pakistani-pm-taliban-still-tied-to-alqaeda-pakistan-facilitates-both-4545454/
--------
Southeast Asia
Covid-19: Christmas celebration in the Federal Territory is now allowed, says KL Dept of National Unity and Integration
22 Dec 2020
KUALA LUMPUR, Dec 22 ― Activities at non-Muslim houses of worship in the Federal Territory in conjunction with the Christmas celebration are allowed based on the attendance limit set by the National Security Council (NSC) , Health Ministry and the Federal Territories Ministry.
Kuala Lumpur Department of National Unity and Integration, in a statement, said the permission is in line with the standard operating procedures (SOP) and protocols on the Christmas celebration issued by NSC for the period during the recovery movement control order (RMCO) and the conditional movement control order (CMCO).
Attendance for prayers is allowed up to a third of the capacity of the houses of worship or not more than 30 people per session, it said.
Last Friday, Senior Minister (Security Cluster) Datuk Seri Ismail Sabri Yaakob announced that open houses and carrolling in conjunction with the Christmas celebrations are not allowed throughout the country.
However, those celebrating the occasion are allowed to perform prayer ceremonies on December 24 and 25 in the areas under the RMCO and CMCO.
These are among the SOP for the festival which also stipulates that visiting each other's houses is only allowed on the first day (December 25) in areas where the RMCO and CMCO are being enforced. ― Bernama
https://www.malaymail.com/news/malaysia/2020/12/22/christmas-celebration-in-the-federal-territory-is-now-allowed-says-kl-dept/1934104
--------
URL: https://www.newageislam.com/islamic-world-news/prime-minister-modi-says-amu/d/123844
New Age Islam, Islam Online, Islamic Website, African Muslim News, Arab World News, South Asia News, Indian Muslim News, World Muslim News, Women in Islam, Islamic Feminism, Arab Women, Women In Arab, Islamophobia in America, Muslim Women in West, Islam Women and Feminism