New Age Islam News Bureau
5 May 2017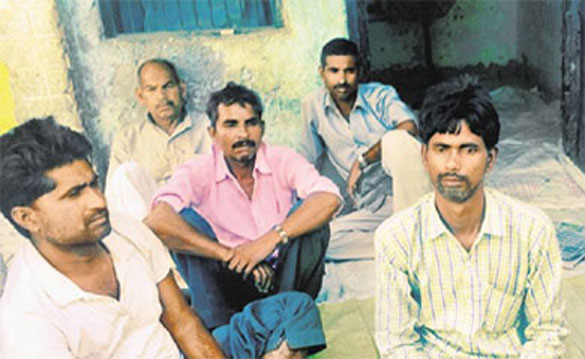 The four Muslim families living in the Thakur-dominated village now fear for their lives.(S Raju/HT Photo)
-----
• President Who Pushed for Muslim Ban Says He'll 'Never Ever Stand for Religious Discrimination'
• No Solid Numbers for Triple Talaq, But Divorce Data Show Interesting Trends
• Iran Urges Global Action against Saudi Support for Extremism, Terrorism
• President Trump's 1st Foreign Visit Is to Saudi to Counter Iran
North America
• President Who Pushed for Muslim Ban Says He'll 'Never Ever Stand for Religious Discrimination'
• Toronto Landlord John Alabi Fined For Ignoring Muslim Tenants' Religious Rights
• US advancing sale of precision-guided missiles to Riyadh: Saudi FM
--------
India
• No Solid Numbers for Triple Talaq, But Divorce Data Show Interesting Trends
• After Bulandshahr Lynching, Fear-Struck Muslims Are Ready To Leave the Village
• Pakistani, Saudi Channels Beam into Kashmiri Homes, Stoke 'Azadi' Rage
• Pakistan to take up with India issue of students' return
• After Pehlu Khan's Death, Meo Muslims Want Countrywide Ban On Cow Slaughtering
--------
Mideast
• Iran Urges Global Action against Saudi Support for Extremism, Terrorism
• Arab League Calls for UN Probe into Rights Violations at Israeli Jails
• Trilateral UAE-Saudi-Yemen committee holds first meeting
• Yemenis protest in Aden against Hadi's sacking of officials
• Palestinian 'attacker' shot by Israeli forces
--------
Arab World
• President Trump's 1st Foreign Visit Is to Saudi to Counter Iran
• After Egypt Trip, Pope Francis Hails 'Healthy Secularism' Approach
• Syria: Jeish Al-Islam's No. 3 Killed in Clashes with Rival Terrorists in Eastern Damascus
• Tens of Terrorists Killed, Wounded in Clashes with Russian Special Forces in • Syria's Hama
• Astana safe zones deal great leap forward in peace efforts: Ja'afari
• Russia, Turkey, Iran ink deal on safe zones in Syria
• Terrorists' Heavy Attack on Syrian Army Positions in Hama Repulsed
• Russia to Deploy Military Police in Safe Zones in Syria
• ISIL Suffers Heavy Casualties in Clashes with Kurdish Fighters in North-eastern Syria
• Syrian Soldiers Make Fresh Gains in Battle against ISIL in Homs
• Syrian opposition: We reject any agreement with an Iranian role in it
--------
Europe
• UN Expert Seeks Urgent Review of Saudi Terror Law
• France's Muslims tell of fear and frustration as runoff vote approaches
• Pope's Representatives in Morocco amid Debate over Local Christians
--------
South Asia
• Taliban Are Brothers, Says HIA Chief Gulbuddin Hekmatyar
• US Drone Strike Leaves 7 ISIS-K Militants Dead In East Of Afghanistan
• One Held Over Posing With Foot on Hindu Idol in Bangladesh
• No headway made in Hefazat mayhem probe
• Clash among Afghan and Pakistani forces in Spin Boldak
--------
Africa
• UN: Thousands of Minors Exploited In Boko Haram Crisis
• Robert Mugabe Thankful For Absence of Islam in 'Highly Developed' Zimbabwe
• NASFAT set to build N2.5b Islamic centre
--------
Pakistan
• Charged Mob Demands Custody of Blasphemy Accused in Hub
• Civilian killed, 18 injured in firing by Afghan forces in Chaman: ISPR
• Unusual police report against PM
• SECP to forward 291 names to apex court for JIT
• 'Complete peace essential for Pak-Iran trade'
--------
Southeast Asia
• Perlis Mufti: Smokers Don't Deserve Zakat, Donations
• Turkish academic arrested over Islamic State links
• Najib: Selangor government unstable, imagine if this happened at federal level
• Jawi Admits Nabbing Married Couple for Khalwat, But Denies Wrongdoing
• Shariah judge lodges report over Rafizi's allegation
• Indonesia Official: US Speaker Ryan Does Not Link Islam, Terrorism
• Mounting Calls for Hizbut Tahrir Disbandment
Compiled by New Age Islam News Bureau
URL: https://www.newageislam.com/islamic-world-news/president-pushed-muslim-ban-says/d/111038
--------
President Who Pushed For Muslim Ban Says He'll 'Never Ever Stand For Religious Discrimination'
Amanda Terkel
04/05/2017
President Donald Trump, who wants to ban Muslims from entering the United States, advocated "tolerance" for people of faith Thursday in a ceremony hosting religious leaders at the White House.
"Today, my administration is leading by example as we take historic steps to protect religious liberty in the United States of America," Trump said. "We will not allow people of faith to be targeted, bullied or silenced anymore. And we will never ever stand for religious discrimination. Never, ever."
During the campaign, Trump called for "a total and complete shutdown of Muslims entering the United States until our country's representatives can figure out what is going on."
In January, he signed an executive order that banned Syrian refugee resettlement in the U.S. indefinitely. It also shut down the entire refugee program for 120 days and barred all immigrants and visitors from seven Muslim-majority countries ― Iran, Iraq, Libya, Somalia, Sudan, Syria and Yemen ― from entering the U.S. for at least 90 days.
At the time, former New York Mayor Rudy Giuliani (R) ― a prominent Trump campaign surrogate ― admitted that the policy was a back-door Muslim ban.
"When he first announced it, he said 'Muslim ban,'" Giuliani said. "He called me up and said, 'Put a commission together, show me the right way to do it legally.'"
A judge blocked that policy from going into effect, and the administration revised the order in an attempt to get something in place that would pass legal muster. The modified order still banned people from Muslim-majority countries, however.
In March, federal judges in Hawaii and Maryland concluded that the revamped order likely violates the Constitution because it was intended to target members of a religious faith.
Both rulings are now being appealed by the Trump administration, and will be heard in separate courtrooms in Richmond, Virginia, and Seattle. Government lawyers contend the president's words against Muslims while campaigning shouldn't be held against him. "Even in the domestic setting, courts judge the legitimacy of a law by what it says and does, and occasionally by the official context that surrounds it — not by what supposedly lies in the hearts of its drafters," administration lawyers wrote in a brief filed in March.
Trump signed a "religious liberty" executive order Thursday, the National Day of Prayer, that makes it easier for religious organizations to engage in politics. It also chips away at Obamacare's requirement that employers provide contraceptive coverage in health insurance plans for their workers.
The White House did not return a request for comment on whether any Muslim faith leaders attended Thursday's ceremony.
http://www.huffingtonpost.in/entry/trump-religious-discrimination_us_590b5503e4b0e7021e955019
--------
No solid numbers for triple talaq, but divorce data show interesting trends
May 5, 2017
The Supreme Court will begin, from May 11, daily hearings on the legality of oral triple talaq. There's no concrete data, however, on the number of Muslim women who have been divorced this way. Publicly available data suggest that despite their vulnerability to arbitrary divorce, the recorded divorce rate for Muslims is not the highest among all communities in India.
Census 2011 recorded 13.2 lakh divorcees in India, a number that activists feel is severely underreported. There are 9.09 lakh female divorcees, who make up 68% of the total divorced population.
The divorce rate — number of divorcees per 1,000 marriages — in India is 2.3. For men, the divorce rate is 1.58; for women, 3.10. The gap suggests that men who divorce tend to remarry faster than women.
Among women, the divorce rate is the highest for the Buddhist community (6.73 per 1,000 marriages), followed by Christians (5.67) and Muslims (5.63). 'Other communities' (4.91), Jains (3.04), Hindus (2.60) and Sikhs (2.56) follow.
However, what sets Muslim women apart from other women is the stark disparity with the divorce rates for men of the community. While Buddhist men have a divorce rate of 3.0 per 1,000 marriages and Christian men 2.92 per 1,000, for Muslim men it is 1.59 — almost three times lower than the rate for Muslim women.
This suggests Muslim men do not stay single for long, and tend to remarry far more quickly than Muslim women.
Interestingly, despite the high rate of divorce, the rate of couples living separately from each other is one of the lowest in the country for Muslims. The Census defines a 'separated' person as one who is married but doesn't live with their spouse for reasons other than illness, work or school, and who has not obtained a divorce.
The rate of women who are separated in India stands at 8.09 for every 1,000 married women. For Muslims, it is 7.64. The highest is for Buddhists (14.46), followed by Christians (14.18), 'Others' (13.36), and Hindus (8).
Indians of different religious denominations and faiths are governed by their own sets of personal laws in respect of marriage, divorce, succession, etc. Divorce cases are settled under the Divorce Act, 1869 (4 of 1869); the Parsi Marriage and Divorce Act, 1936 (3 of 1936); the Dissolution of Muslim Marriages Act, 1939 (8 of 1939); the Special Marriage Act, 1954 (43 of 1954); and the Hindu Marriage Act, 1955.
For Muslims, divorces also take place under Sharia rules. While the various schools of Islamic jurisprudence prescribe different ways of dissolution of marriage, the most contentious has been the unilateral oral talaq, against which various groups, including a section of Muslim activists, have been protesting.
A survey, conducted by the Bhartiya Muslim Mahila Andolan, of 4,710 Muslim women from the economically weak strata of the community, found 525 women — 11.14% — were divorced. Of these women, as many as 408 — 78% — had been given unilateral divorce by their husbands.
The All India Muslim Personal Law Board, on the other hand, points out that the divorce rate is lower for Muslims than for other communities. The Board, which analysed numbers from family courts and Darul Qazas from 8 districts in Kerala, Maharashtra, Telangana and Andhra Pradesh found that the number of cases for Muslims was 1,307 as against 16,505 for Hindus.
The absence of concrete numbers of victims of unilateral triple talaq notwithstanding, community watchers say it is time to ensure broad justice for all sections of Muslims. "While empirical evidence does play a role in formulating policies, there is a definite need for course correction when you realise that a large chunk of your own people are suffering because of the rigidity of a few," Dr Abdul Shaban, deputy director of Tata Institute of Social Sciences, and member of the Telangana government's commission of inquiry into the socio-economic and educational status of Muslims, said.
http://indianexpress.com/article/explained/no-solid-numbers-for-triple-talaq-but-divorce-data-show-interesting-trends-4641016/
--------
Iran urges global action against Saudi support for extremism, terrorism
May 4, 2017
Iran's UN Ambassador Gholam-Ali Khoshrou has urged the global community to take action against Saudi Arabia's support for terrorism and extremism.
"It is imperative for the international community to take necessary action to compel Saudi Arabia to stop its reckless sponsorship of terrorism and extremism in the region and across the globe," Khoshrou wrote in a Thursday letter to UN Secretary General Antonio Guterres and the Security Council.
The Iranian diplomat expressed Tehran's preparedness to hold dialogue with Saudi Arabia to promote regional peace despite "unlawful and inflammatory" remarks by the Saudi deputy crown prince, Mohammed bin Salman Al Saud, against Iran.
On Tuesday, Salman, who is also Saudi Arabia's defense minister, ruled out ties with Iran after Tehran announced the possibility of de-escalation of tensions if Riyadh halted its war against Yemen.
Earlier in the day, Iranian Foreign Minister Mohammad Javad Zarif said the Islamic Republic was ready to normalize ties with Riyadh if the Kingdom halted its bombardment of Yemen and stopped supporting extremist groups.
Salman also said that any struggle for influence between Iran and Saudi Arabia has to take place "inside Iran, not in Saudi Arabia," without elaborating on the remark.
He stressed that talks with Iran were impossible as Tehran's goal was to "control the Muslim world."
"We have no desire, nor any interest, in an escalation of tension in our neighborhood," Khoshrou's letter read.
"We continue to stand ready for dialogue and accommodation to promote regional stability, combat destabilizing extremist violence and reject sectarian hatred," the letter wrote.
"We hope Saudi Arabia will be persuaded to heed the call of reason," it added.
Saudi Arabia has been incessantly pounding Yemen since March 2015 in an attempt to bring back to power the resigned president, Abd Rabbuh Mansur Hadi, who is a staunch ally of Riyadh, and to undermine the Houthi Ansarullah movement. The Riyadh regime has, however, failed to reach its goals despite suffering great expense.
The military aggression has claimed the lives of more than 12,000 people, most of them civilians.
http://www.presstv.ir/Detail/2017/05/04/520603/Iran-UN-Saudi-Arabia-Yemen-Salman
--------
President Trump's 1st Foreign Visit Is to Saudi to Counter Iran
4 May 2017
The White House on Thursday announced that the US President Donald Trump to visit Saudi Arabia on May 23, making the kingdom as his first foreign trip as head of the United States.
Trump said he would begin to construct a new foundation to combat "terrorism" in the trip.
The US president will also visit Israel and the Vatican. Trump will add the three stops to an already announced visit to NATO and G7 summits in Brussels and Sicily later this month.
"My first foreign trip as president of the United States will be to Saudi Arabia, then Israel, and then to a place that my cardinals love very much, Rome," Trump said.
White House officials said representatives of other Arab Gulf countries will also be gathering during Trump's visit to Saudi.
Trump also expects tangible results in countering radical Islamist ideologies from Saudi Arabia, White House officials added.
Senior administration officials said they're working to build a framework in the Middle East to counter ISIS and Iran, and provide a security blanket for America's allies in the region.
"I think what the president has demonstrated already and will be able to demonstrate even further on this trip is that America First is fully compatible with American leadership in the world," said one of the senior officials, who spoke on condition of anonymity.
https://english.alarabiya.net/en/News/gulf/2017/05/04/Trump-eyes-new-foundation-against-terror-in-trip-to-Saudi.html
--------
North America
Toronto Landlord John Alabi Fined For Ignoring Muslim Tenants' Religious Rights
05/04/2017
TORONTO — A landlord who repeatedly ignored his tenants' requests to respect their prayer times and remove his shoes in their prayer space violated their religious rights, Ontario's human rights tribunal has ruled.
John Alabi is facing a $12,000 fine after the decision, which found he discriminated against his tenants on the grounds of their Muslim faith.
The decision handed down from tribunal adjudicator Jo-Anne Pickel outlines a turbulent tenancy for Walid Madkour and Heba Ismail, who rented a unit from Alabi for less than three months after moving to Toronto from Montreal.
The issues that came before the tribunal all took place in January and February 2015 — the time between when both parties mutually agreed to terminate the lease and the day the couple moved out.
Conflicts centred around requests the couple had made while Alabi was trying to show their unit to prospective tenants.
Alabi told the tribunal he felt Madkour and Ismail were imposing their way of life on him, a claim flatly rejected in Pickel's decision.
"Unfortunately, attempts by Muslims to practice their faith have increasingly been interpreted as an attempt to impose their way of life on others,'' Pickel wrote.
"There was absolutely no evidence that the applicants' requests for additional notice and for the removal of shoes in this case were an attempt by them to impose their way of life on the respondent or anyone else. Far from seeking to impose their way of life on anyone, the applicants were merely making simple requests for the accommodation of their religious practices.''
Asked for an hours' notice before entering the apartment
Between late January and late February 2015, Alabi had agreed to give the couple 24-hours notice if someone was planning to view the apartment, in accordance with Ontario's Residential Tenancies Act.
Madkour and Ismail, however, asked for additional notice up to an hour before Alabi planned to enter the apartment.
While they did not disclose the religious grounds for their request at first, they eventually explained that they wanted to be certain the visits did not coincide with prayer times designated by the Qur'an, the tribunal heard. As practising Muslims, both Madkour and Ismail pray five times a day during designated time periods.
Ismail also wanted to have enough time to ensure she was wearing her hijab and other "modest attire'' in order to comply with another tenet of her faith, the tribunal heard.
Did not remove shoes once inside
Alabi frequently denied these requests or provided only momentary notice via text message before entering the apartment, the tribunal heard.
Once inside, another bone of contention often arose when Madkour or Ismail would request that people remove their shoes before walking through the unit.
The Qur'an states that the area in which prayers are conducted must be clean, the tribunal said, adding that potential contamination would result in extra work to cleanse the area.
In video evidence shown to the tribunal, Pickel said the couple is heard asking Alabi and a prospective tenant to remove their shoes before entering the bedroom, which they used as their prayer space.
Pickel's decision said the video shows the prospective tenant wearing only socks, but clearly shows Alabi walking through the bedroom in shoes despite protests from Ismail, who is heard telling him that wearing footwear in the area is disrespectful.
Alabi told the tribunal that he ignored her request in order to avoid making a scene in front of the tenant and because he felt her stance was propaganda designed to make him look bad.
Pickel took a different view.
"I fail to see how such a request would make the respondent look bad if he complied with it,'' she wrote. "If anything, it was the respondent's non-compliance with the request that made him look bad in front of prospective tenants.''
Text message responses showed lack of respect for rights: Pickel
She also pointed to some text messages sent to Madkour in response to his request for additional notice before an apartment viewing. One of those messages read "Welcome to Ontario, Canada,'' prompting Pickel to find that Alabi was not respectful of the couple's religious rights under the Human Rights Code.
She ordered Alabi to pay Madkour and Ismail $6,000 each, as well as to take an online course on human rights and rental housing.
A paralegal representing Alabi said he is disappointed with the tribunal's decision and is considering an appeal.
Peta-Gaye Drummond said Alabi insists that none of his actions or omissions were motivated by the couple's religion.
http://www.huffingtonpost.ca/2017/05/04/toronto-landlord-muslim_n_16409420.html
--------
US advancing sale of precision-guided missiles to Riyadh: Saudi FM
May 4, 2017
The US administration has taken measures to advance the sale of warheads and precision-guided missiles to Saudi Arabia as part of additional military and intelligence assistance to the kingdom's bloody intervention in Yemen.
On Thursday, Saudi Arabia's Foreign Minister Adel al-Jubeir said that the administration of President Donald Trump has taken steps in the congressional notification process for the sale of armor-piercing Penetrator Warheads and precision-guided Paveway missiles to the kingdom.
The controversial sale is expected to include over $1 billion worth of the weapons, informed sources said.
The Trump administration notified Congress last month that it wanted to sell about $390 million worth of weapons guidance systems to Saudi Arabia.
The systems, manufactured by Raytheon Co., are designed to convert "dumb" bombs into precision-guided munitions that are supposed to hit targets more accurately.
An announcement of the new weapons sale had been expected last month, but objections from some members of Congress and human rights groups complicated the matter.
A group of US senators introduced legislation last month to set new conditions for US military assistance to Riyadh.
The US support for the Saudi military campaign in Yemen—which includes arms sales, aerial refueling and providing intelligence—has long been controversial.
Human rights groups have repeatedly accused the Saudis of causing civilian casualties, notably through airstrikes on schools and hospitals. The bombing campaign has claimed the lives of more than 12,000 people, most of them civilians.
Amnesty International's researchers have already found unexploded US-made bombs among the ruins of residential buildings in Yemen.
Full report at:
http://www.presstv.ir/Detail/2017/05/04/520606/Saudi-Arabia-US-Munition-Trumo
--------
India
After Bulandshahr lynching, fear-struck Muslims are ready to leave the village
May 05, 2017
After an elderly Muslim man was killed by suspected Hindu Yuva Vahini (HYV) activists in Bulandshahr's Sohi on Tuesday, the four Muslim families in the village are living in fear.
Gulam Mohammad, 55, was thrashed to death by HYV activists, who were enraged when a Muslim boy and a Hindu girl eloped last week.
"We are feeling suffocated and are willing to move out of the village," said Yasin, one of the four sons of the deceased.
Equally petrified are his uncle Pappu and brother Vakil. Other male members of the family, meanwhile, have gone underground due to fear of being attacked by Hindu activists.
"We are labourers. How can we earn our livelihood in such fear?" asked Yasin. "How long can police protect us if someone has decided to harm us?" said another community member, who is ready to live in a rented house at a safer location.
The four Muslim families have been living in the Thakur-dominated village for generations. Their Hindu neighbours have always taken care of them, but Mohammad's death seems to have shattered the age-old
harmony.
Vakil has named villager Gavendra and five other unidentified Vahini activists as the killers of his father.
When the attack took place, most of the male members were out of the village to help cops trace the eloped couple.
The issue erupted when Yusuf, a young member of the Muslim community, eloped with a Thakur girl of a neighbouring village last week.
Yasin claimed main accused Gavendra, a resident of Sohi village, and his aide had threatened Muslim families at least twice before the lynching.
Full report at:
http://www.hindustantimes.com/india-news/after-bulandshahr-lynching-fear-struck-muslims-are-ready-to-leave-the-village/story-IWLCknZKOO0qzoCpxCXoKO.html
--------
Pakistani, Saudi channels beam into Kashmiri homes, stoke 'azadi' rage
Aarti Tikoo Singh
May 5, 2017
SRINAGAR: Saudi clerics and Pakistani news anchors are being beamed direct to Kashmiri homes, and are stoking the fires of 'azadi'. Over 50 Saudi and Pakistani channels, including Zakir Naik's banned Peace TV+ preaching Salafist Islam, and others indulging in anti-India propaganda are running without necessary clearances via private cable networks in Kashmir.
All this is happening under the nose of the PDP-BJP government, which even subscribes to these cable services in some of its offices and buildings.
Although satellite television service providers like Tata Sky, Airtel digital TV and Dish TV, are available in Kashmir, most people subscribe to private cable. A cable operator, who did not want to be named, said that there are over 50,000 private cable connections in Srinagar alone, and only because these broadcast Pakistani and Saudi channels.
Besides Naik's Peace TV Urdu and English channels, private operators air Saudi and Pakistani channels like Saudi Sunnah, Saudi Quran, Al Arabia, Paigham, Hidayat, Noor, Madani, Sehar, Karbala, Hadi, Sehar, Ary QTV , Bethat, Ahlibat, Message, Falak, Geo News, Ary News, Dawn News, and many others, which cannot be accessed through satellite television service providers. None of these channels is permitted to air in the rest of the country by the I&B ministry .
"No cable operator, any where in the country, including in Jammu & Kashmir, can run any channel other than the ones approved by the Union I&B ministry. If it is not in the permitted list of channels on the ministry website, it is being illegally broadcast. Even if it is a free-to-air channel, a private cable operator must get approval from the ministry," director of broadcasting, I&B ministry, Amit Katoch, told TOI. He asked TOI to send a written complaint so that the ministry could verify and take appropriate action.
Some of the Saudi channels broadcast the same kind of rigid, fundamentalist and patriarchal interpretations of Islam and Sharia that invited a government ban on Peace TV .Wahhabi clerics on these channels often sermonise that women should surrender before their husbands and obey their commands completely.
For example, a woman should not step out of the house without the permission of her husband, a cleric preached on Saudi Sunnah.
Most Pakistani news channels refer to the terrorists of Hizbul Mujahideen, Lashkare-Taiba and other groups as "martyrs" and counter-insurgency operations in Kashmir as "human rights violations".
People in Kashmir have historically preferred Pakistani news and drama. "Love for all things Pakistan has a political history but love for Saudi religious channels developed in the '90s," said Muzaffar, a Srinagar businessman, whose employees are avid watchers of Saudi Sunnah channel.
Saudi channels are one of the biggest media of propounding the Salafist version of Islam in the Valley , Shahid, an Islamic scholar in Anantnag, said. "It is radicalising youth and adding fuel to the violent separatist movement that is being mobilised by invoking Islam. Wahhabism has stoked Islamist extremism and terrorism across the world." However, a police officer said there was a wide range of religious channels, including those that preach moderate Islam.
Amjad Noor, the owner of Site Entertainment Network (SEN)-the biggest local cable network in Srinagar which has been running for the last 20 years and is subscribed by some government offices, said all Saudi and Pakistani channels were "free-to-air" and "legal" because Jammu & Kashmir has its "own constitution under Article 370 and a separate law, Ranbir Penal Code".
"We have been beaming these channels ever since these were launched because Kashmir is a religious place. We also broadcast Hindu religious channels even though there are hardly any Hindus living in Kashmir. Also, these channels are running not just in Kashmir but in Jammu via other cable operators," Noor said.
J&K home secretary R K Goyal was unavailable for a comment even after repeated phone calls to him. Another top government official in Kashmir admitted the channels were running illegally. "We have started the process to check how this is happening. Television is a problem here," he said.
Last year, following massive violence in the valley, the J&K government, under the Cable Full report at:
http://timesofindia.indiatimes.com/india/pakistani-saudi-channels-beam-into-kashmiri-homes-stoke-azadi-rage/articleshow/58524303.cms
--------
Pakistan to take up with India issue of students' return
May 4, 2017
ISLAMABAD: Pakistan on Thursday said it would take up with India the issue of about 50 students being sent back following the beheading of two Indian soldiers and criticised New Delhi for being "a silent spectator".
Delhi-based NGO Routes2Roots had invited the Pakistani students as part of their student "Exchange for Change" Programme.
They were sent back on Wednesday after the government advised the NGO against hosting them, saying the time was not "appropriate" for such exchanges after the beheading of Naib Subedar Paramjeet Singh and BSF Head Constable Prem Sagar by Pakistan's Border Action Team (BAT) on May 1.
Pakistan Foreign Office Spokesperson Nafees Zakaria blamed hardliners for India's move to send back students and said, "Hindu extremist organisations are involved while the government is watching as a silent spectator."
"In India, growing incidents of intolerance, extremism and terrorism have attracted the world's attention... India's hostile policy towards Pakistan, and persecution of religious minorities including Muslims, Christians and others within India have been noted by the International community with concern."
Full report at:
http://timesofindia.indiatimes.com/world/pakistan/pakistan-to-take-up-with-india-issue-of-students-return/articleshow/58518807.cms
--------
After Pehlu Khan's death, Meo Muslims want countrywide ban on cow slaughtering
May 04, 2017
Meo Muslims, a community comprising mostly of dairy farmers, want the cow to be declared as the national animal or a countrywide ban on its slaughter in the wake of the lynching of a man by vigilantes on suspicion of cow smuggling.
The Meo community, which has a population of 60 lakhs spread over in parts of Rajasthan, Haryana and Uttar Pradesh, has called a meeting of its core committee on May 8 to discuss the issue in the wake of the lynching of 55-year-old Pehlu Khan last month by a group of cow vigilantes.
"The government should either declare cow as the national animal or ban cow slaughtering across the country," Sher Mohammad, head of the Meo Panchayat-Alwar, told PTI today.
"We have convened a meeting to discuss this issue. We will write letters to Prime Minister Narendra Modi and Rajasthan chief minister Vasundhara Raje," he added.
He noted that Alwar and Bharatpur in Rajasthan and the nearby region in Haryana have over 60 lakh population of Meo Muslim community who are mainly dairy farmers.
"We earn our livelihood by selling cow milk," Mohammad said.
He said the allegations of cow slaughtering against the community by cow vigilantes is nothing new.
Full report at:
http://www.hindustantimes.com/india-news/after-pehlu-khan-s-death-meo-muslims-want-countrywide-ban-on-cow-slaughtering/story-yZiSojHUxalqLrX3WlK8OP.html
--------
Mideast
Arab League calls for UN probe into rights violations at Israeli jails
May 4, 2017
The Arab League has urged the UN to launch a probe into the violation of Palestinian prisoners' rights in Israeli jails as thousands of inmates are on an open-ended hunger strike.
In a resolution approved on Thursday, the 22-member pan-Arab body said it "invites the United Nations and its relevant specialized agencies to send an international commission of inquiry to Israeli prisons."
It demanded that the commission of inquiry "view the violations being committed against the prisoners of war."
The resolution further called on "relevant international institutions and bodies" to "intervene immediately and urgently to compel" Israel to respect international humanitarian law.
It also "condemned the Israeli occupation authorities in their ongoing detention of thousands of Palestinian prisoners... including children, women, and political leaders and elected representatives."
Arab League representatives and officials gathered in solidarity with the Palestinian hunger strikers outside the Arab League headquarters in the Egyptian capital, Cairo.
The mass hunger strike, dubbed the Freedom and Dignity Strike, began on April 17. It is led by a jailed leader of the Fatah Movement, Marwan Barghouti.
The strike initially began with 1,500 prisoners, but now some 2,000 people are believed to be refusing food to denounce the inhumane treatment of the Palestinians held in Israeli jails.
Some 6,500 Palestinians are currently being held in Israeli jails, 536 of them arbitrarily, according to figures provided by the Palestinian prisoners' rights group Addameer in January.
Palestinian inmates complain that they have been subjected to assault and torture at Israeli prisons.
They have continuously resorted to hunger strikes in an attempt to voice their anger at the so-called administrative detention, which is a form of imprisonment without trial or charge that allows Israel to incarcerate Palestinians for up to six months.
http://www.presstv.ir/Detail/2017/05/04/520592/Arab-League-UN-Israel-Palestine
--------
Trilateral UAE-Saudi-Yemen committee holds first meeting
4 May 2017
The trilateral high UAE-Saudi-Yemen committee, chaired by Yemeni Vice President Lt. General Ali Mohsen al-Ahmar, held its first meeting in Jeddah to discuss its work and recent contacts made between the political leaders of the three member states, Saudi Press Agency (SPA) reported.
The committee discussed its agenda for security action and progress of military operations being conducted in Yemen to liberate all Yemeni territory from militias loyal to the Houthis and former leader Ali Abdullah Saleh.
Recommendations made during the meeting were approved unanimously by members of the committee, SPA reported, and noted that the committee will hold regular meetings from now on.
Full report at:
https://english.alarabiya.net/en/News/gulf/2017/05/04/Trilateral-UAE-Saudi-Yemen-committee-holds-first-meeting.html
--------
Yemenis protest in Aden against Hadi's sacking of officials
May 4, 2017
Thousands of Yemeni people have held a demonstration in the southwestern port city of Aden to denounce the recent sacking of senior officials by former president, Abd Rabbuh Mansur Hadi.
Hadi dismissed Aden Governor Aidarous al-Zoubeidi and State Minister Hani bin Breik on April 27 over their alleged close ties with the United Arab Emirates (UAE).
In an interview with Middle East Eye earlier this week, Hadi accused the UAE of acting "like an occupation power in Yemen rather than a force of liberation."
Sources close to Hadi reported an angry confrontation during a February meeting between the Yemeni official and Mohammed bin Zayed bin Sultan Al-Nahyan, the crown prince of Abu Dhabi and deputy supreme commander of the UAE armed forces.
The row erupted over differences on who should control Aden International airport.
During Thursday's protest, Yemenis held banners depicting Zoubeidi and reading, "No regions. We all are with the leader Aidarous al-Zoubeidi and the drive for independence."
In a statement, organizers of Thursday's event called on Zoubeidi to set up a "national leadership to represent the south" and pledged their allegiance to it.
Supporters of Yemen's separatist Southern Movement were among the demonstrators.
Aden, Yemen's second largest city, used to be the capital of the once independent South Yemen before unification in 1990.
Saudi Arabia, backed by its allies such as the UAE, has been leading a brutal military campaign against Yemen since March 2015. The kingdom has also imposed an aerial and naval blockade on its southern neighbor.
Britain and the US have provided huge amounts of arms and military training to the Saudi forces.
Full report at:
http://www.presstv.ir/Detail/2017/05/04/520578/Yemen-Aden-Mansur-Hadi
--------
Palestinian 'attacker' shot by Israeli forces
May, 05 2017
JERUSALEM - A Palestinian attempted to stab Israeli police near a flashpoint holy site in Hebron in the occupied West Bank on Thursday and was shot and wounded, Israeli authorities said. The incident occurred near the site known to Muslims as the Ibrahimi Mosque and to Jews as the Cave of the Patriarchs in the tense city, where several hundred Israeli settlers live under heavy guard among some 200,000 Palestinians. "Officers responded when the suspect approached them armed with a knife," Israeli police said in a statement.
http://nation.com.pk/international/05-May-2017/palestinian-attacker-shot-by-israeli-forces
--------
Arab World
After Egypt trip, Pope Francis hails 'healthy secularism' approach
By Josephine McKenna
May 3, 2017
VATICAN CITY (RNS) Pope Francis hailed his visit to Egypt as a "sign of peace" in which he called for a "vision of healthy secularism" after recent terror attacks against Coptic Christians killed dozens of people and provoked a state of emergency.
The pope used his weekly Wednesday (May 3) audience in St. Peter's Square to reflect on his two-day visit last week and to thank Egyptians for their warm welcome and efforts to ensure his own personal security.
But he also spoke of the need to build lasting peace in a country beset by violence and religious extremism.
"The grand historical and religious patrimony of Egypt, and its role in the Middle East region, gives it a particular obligation on the path towards stable and durable peace, based not on the law of force but on the force of law," Francis said.
Egyptian President Abdel-Fattah el-Sissi declared a three-month state of emergency after 45 people were killed in two bomb attacks on Coptic Christian churches in April. The Islamic State group claimed responsibility for the bombings that occurred on Palm Sunday.
Francis said Egypt's rich history and cultural heritage should be the basis for "the construction of social and civil order" in which all citizens regardless of their origin or religion can work together.
"This vision of healthy secularism emerged as speeches were exchanged with the president of the Republic of Egypt, in the presence of the country's leaders and the diplomatic corps," the pope said.
His predecessor Pope Benedict XVI used the phrase "healthy secularism" in 2008 on an official visit to Paris, where he met France's then-president, Nicolas Sarkozy, who had used the expression to emphasize the separation of the state and religion.
Francis also reflected on his visit to Al-Azhar University, a major center of Sunni Islamic learning with global influence and expertise in interpreting the Quran.
There, the pope focused on "dialogue between Christians and Muslims" and his meeting with his "dear brother," Pope Tawadros II, the Coptic Orthodox patriarch.
Francis said Christians should be guided by their pastors to be the "salt and light" of the Middle East and described his voyage to Egypt as "a sign of hope."
Full report at:
http://religionnews.com/2017/05/03/after-egypt-trip-pope-francis-hails-healthy-secularism-approach/
--------
Syria: Jeish Al-Islam's No. 3 Killed in Clashes with Rival Terrorists in Eastern Damascus
May 04, 2017
The sources said that Na'aman Awaz, nom de guerre Abu Osam, famous as Jeish al-Islam's third top commander, has been killed in battle with Faylaq al-Rahman and Tahrir al-Sham Hay'at (the Levant Liberation Board) in Eastern Damascus.
Awaz was the Chief of the Religious Committee of Jeish al-Islam.
The sources added that in the clashes that erupted between Jeish al-Islam with Tahrir al-Sham Hay'at and Faylaq al-Rahman the former took control over the settlements of Hazah and Mesraba, while Faylaq fighters captured the settlements of Beit Sowa, Hamouriyeh, Zmelka and Sabqa.
"Heavy infighting is underway between rival rebel factions in the towns and settlements of Arbin, Hazah, Hamouriyeh, Sabqa and Hawsh al-Ash'ari," they added.
In relevant developments in the province on Wednesday, the commander of the Joint Operation Room of Jeish al-Islam in al-Marj region was killed in clashes with two rival terrorist groups in Eastern Ghouta.
Qasim Qadish, nom de guerre Abu Mohammad al-Qa'aqa, the notorious commander of Jeish al-Islam was killed in clashes with the rival terrorist groups of Faylaq al-Rahman and Tahrir al-Sham Hay'at in Eastern Ghouta.
Full report at:
http://en.farsnews.com/newstext.aspx?nn=13960214000519
--------
Tens of Terrorists Killed, Wounded in Clashes with Russian Special Forces in Syria's Hama
May 04, 2017
The Russian forces attacked the Al-Nusra positions near the town of al-Mahradeh, killing at least 15 and injuring 40 others, massdar news quoted a source at the Humeimim airbase as saying.
Relevant reports said on Tuesday that the Syrian army troops warded off a fresh assault by the terrorist groups in Northern Hama.
The army soldiers engaged in tough battle with the terrorists that tried to prevail over the pro-government forces' positions near Abu Obeideh (Showeilet) village in Northern Hama and managed to repel their attack, killing and wounding a number of them.
Full report at:
http://en.farsnews.com/newstext.aspx?nn=13960214000433
--------
Astana safe zones deal great leap forward in peace efforts: Ja'afari
May 5, 2017
Top Syrian negotiator Bashar al-Ja'afari has praised the latest round of Astana talks as an "unprecedented" leap forward in the peace process aimed at finding a political solution to the deadly Syria crisis.
He was speaking Thursday at the end of the second day of negotiations between the Damascus government and armed opposition in the Kazakh capital, Astana.
During the talks, Iran, Russia and Turkey, as mediators and guarantors of the ceasefire regime in Syria, brokered a memorandum on the creation of four de-escalation zones in areas where the most intense fighting is taking place between Syrian government troops and different militant groups.
Ja'afari further thanked Tehran and Moscow for helping mediate the safe zones agreement, which has opened a new chapter in Syria peace efforts. He also expressed hope for Iran and Russia to hammer out the details of the agreement as soon as possible.
Iran and Russia are allies of the Syrian government, while Turkey backs different militant factions. The trio are tasked with observing the implementation of the ceasefire regime, which was agreed last December and helped launch the Astana peace process a month later.
The memorandum was adopted based on a Russian proposal to single out four hot spots in violence-hit areas of Syria, including the provinces of Idlib and Homs as well as the eastern Ghouta region near Damascus.
Under the plan, Damascus and the militant groups, which are party to the Syria-wide truce, will stop all clashes and the use of any kinds of weapons in the security zones. The measure is meant to facilitate the progress of the diplomatic process as well as aid deliveries to civilians in the troubled areas.
Russian negotiator Alexander Lavrentyev said that under the plan Russia could send observers to safe zones. He said third-party monitors could be invited provided Iran and Turkey agreed.
Also on Thursday, UN Secretary-General Antonio Guterres welcomed the memorandum.
Guterres "welcomes the commitments to ceasing the use of all weapons, particularly aerial assets; to rapid, safe, and unhindered humanitarian access; and to creating conditions for the delivery of medical aid and meeting civilians' basic needs," his spokesman said in a statement released by the UN.
The UN chief believes it is "crucial to see this agreement actually improve the lives of Syrians," the statement added, reaffirming the world body's support for a peaceful settlement of the Syria crisis.
Full report at:
http://www.presstv.ir/Detail/2017/05/05/520624/Jaafari-Astana-Memorandum
--------
Russia, Turkey, Iran ink deal on safe zones in Syria
May, 05 2017
ASTANA - Syrian regime allies Russia and Iran and rebel supporter Turkey on Thursday signed a pact on a Moscow-backed plan to create safe zones in Syria meant to halt fighting in the war-torn country.
The Kremlin has been touting a plan to create safe zones in Syria that is aimed at "further pacification and cessation of hostilities."
Several members of the rebel delegation, however, left the room shouting as the signing took place at talks in the Kazakh capital Astana, angry at regime ally Iran, an AFP reporter saw. The Syrian government and rebel delegations are not signatories to the agreement, which was signed by the talks' three sponsors.
Turkey's foreign ministry said the zones would cover the whole of Idlib province, portions of the Latakia, Aleppo, Hama and Homs provinces, as well as the Ghouta suburb of Damascus. The zones will also include parts of the Deraa and Quneitra provinces, the ministry said.
Moscow's draft proposal included four safe zones. The Kremlin's envoy at the Astana talks, Alexander Lavrentiev, said the zones were set to remain in place for six months, a period that could eventually be extended.
The deal also foresees a halt in fighting in the zones, Turkey and Russia said.
The Turkish foreign ministry said the zones' parameters would be determined shortly by a working group formed by the talks' three sponsors.
"We welcome with satisfaction this memorandum, which foresees a halt in the use of all categories of arms among belligerents, including aerial weapons, as well as the rapid and uninterrupted influx of humanitarian aid toward those zones," the ministry said in a statement. The aim of the zones, according to an Arabic version of the draft seen by AFP, is to "put an immediate end to the violence" and "provide the conditions for the safe, voluntary return of refugees" as well as the immediate delivery of relief supplies and medical aid, the document said.
But issues including which countries could police any safe zones remained unclear. Lavrentiev said Moscow was ready to send observers to monitor the zones, Russian news agencies reported. Russian President Vladimir Putin said Wednesday that ways to monitor the zones would be an issue for separate talks.
The Kremlin's plan echoes calls by US leader Donald Trump to establish safe zones in Syria.
Putin said Wednesday that "as far I could tell" the US leader broadly supported the idea in a phone call they held on Tuesday. After talks with Turkey counterpart Recep Tayyip Erdogan on Wednesday, Putin said the proposed zones would also be no-fly areas if fighting on the ground there stopped entirely.
Erdogan said in comments published Thursday that Moscow's plan to set up these zones in Syria would "50 percent" solve the six-year conflict.
Speaking to Turkish reporters aboard his plane flying back from the meeting in the Black Sea resort of Sochi, Erdogan said such zones would include Idlib, part of Aleppo province, El-Rastan in Homs province, a part of Damascus and part of Daraa.
"I hope that if this is implemented then 50 percent of the Syrian issue can be solved," he said in comments published on the websites of the Hurriyet and Yeni Safak dailies. Details on what the de-escalation zones would comprise have been thin so far but Erdogan described the plan as a "new concept" and distinct from Ankara's previous proposals for terror-free safe zones.
Full report at:
http://nation.com.pk/international/05-May-2017/russia-turkey-iran-ink-deal-on-safe-zones-in-syria
--------
Terrorists' Heavy Attack on Syrian Army Positions in Hama Repulsed
May 04, 2017
The army soldiers engaged in fierce clashes with a group of terrorists that tried to prevail over the pro-government forces' positions in the village of Jadrin between Northern Homs and Southern Hama, and managed to repel their attack.
The terrorists lost a number of fighters under the army soldiers' heavy machinegun fire.
In the meantime, the army's artillery units targeted the positions of the Al-Nusra Front (also known as Fatah al-Sham Front or the Levant Liberation Board) near a square in the small town of Hirbnafsa in Southern Hama, killing a number of militants and destroying their equipment.
Local sources in Northern Hama reported that the Syrian Air Force bombed the movements of Jeish al-Izzah terrorists in the towns of Lahaya and Alboyzeh, inflicting a dozen casualties on the terrorists.
In relevant developments in the province on Tuesday, the army soldiers engaged in tough battle with the terrorists that tried to prevail over the pro-government forces' positions near Abu Obeideh (Showeilet) village in Northern Hama and managed to repel their attack, killing and wounding a number of them.
Full report at:
http://en.farsnews.com/newstext.aspx?nn=13960214000854
--------
Russia to Deploy Military Police in Safe Zones in Syria
May 04, 2017
Yuri Shefitkin said in case safe zones are created as a giant stride towards reconciliation in Syria, Moscow will temporarily deploy its military police in the war-ravaged country.
"If this decision (deployment of military police in safe zones in Syria) in taken, it will definitely be temporary," Shefitkin said, adding, "It is necessary for the opposition to guarantee peaceful coexistence to prevent any possibility of clashing with the Russian military police."
In the meantime, one of delegations participating in Astana peace talks on Syria pointed out that in case of the safe zone plan receives approval of all side, it will be implemented a day after its endorsement, although he reminded that specifying and marking the safe zones will take two weeks
Russia will dispatch its military police to guarantee security of the zones, he reiterated.
Deputy Head of Security and Defense Committee of the Council of the Russian Federation Frants Klintsevich said that his country will likely forward more military police forces to Syria in case the plan is endorsed by all warring parties.
At the new round of Syria peace talks in Astana, Russia proposed establishment of four de-escalation zones in the war-ravaged country.
The plan aims to break the years-long deadlock over separating extremist groups from the moderate opposition.
"As you know, the Russian Federation is making intensive efforts to promote the Syrian peace settlement and is developing various schemes to strengthen the ceasefire agreement and make this agreement more effective," Russia's special presidential envoy for Syria, Aleksandr Lavrentiev, said at a press briefing summarizing the first day of the peace talks in Astana.
"We believe that (the creation of de-escalation zones in Syria) can really help to move along the long-standing problem of separating the moderate Syrian opposition from terrorist organizations, primarily the ISIL and Al-Nusra Front (also known as Fatah al-Sham Front or the Levant Liberation Board), and will help significantly reduce the level of armed confrontation between the Syrian armed opposition and government forces," Lavrentiev said.
He lamented that the efforts undertaken by the former US administration for the last one and a half years to separate the so-called moderate opposition from Al-Nusra terrorists have brought no fruit.
The Russian plan, according to Lavrentiev, is to single out four hotspots in which the most intense fighting between government forces, the moderate opposition and extremist groups are taking place.
"We decided to go this way to create such zones in which the fight against terrorist organizations will be directly taken up by the moderate opposition themselves with the support of the guarantor countries," he said.
Details of the four proposed de-escalation zones are still being ironed out, but the documents are due to be ready for signing by Thursday.
Full report at:
http://en.farsnews.com/newstext.aspx?nn=13960214000617
--------
ISIL Suffers Heavy Casualties in Clashes with Kurdish Fighters in North-eastern Syria
May 04, 2017
The sources said that 53 ISIL terrorists were killed in the SDF operation in the Neighborhoods of 1,2 and 3 that aimed to push ISIL back from al-Tabaqa city and the Euphrates dam.
In the meantime, the Kurdish fighters engaged in heavy fighting with ISIL that attacked the villages of al-Safsafeh and Saleh al-Khashab East of Raqqa.
Relevant reports said on Wednesday that the SDF engaged in tough battle with the ISIL in the Northern part of al-Tabaqa and seized control over the neighborhoods 1, 2 and 3.
Local sources confirmed that the SDF troops found control over the entire neighborhoods of al-Tabaqa except for the building of the Euphrates dam, adding that now ISIL terrorists were trapped in the circle of the SDF forces in the dam building.
Full report at:
http://en.farsnews.com/newstext.aspx?nn=13960214000730
--------
Syrian Soldiers Make Fresh Gains in Battle against ISIL in Homs
May 04, 2017
The army men engaged in fierce clashes with the ISIL in al-Shoumeriyeh region and won control over the villages of al-Tadmuriyeh, al-Khaliliyeh and al-Mahsham.
The army soldiers also drove ISIL out of several hills in areas surrounding Mount al-Shoumeriyeh.
The ISIL lost tens of fighters and its military hardware sustained major damage in the attacks.
In the meantime, the army's artillery and missile units shelled heavily ISIL's positions in te village of Um Sahrij in Eastern Homs, destroying a missile launching base and killing six crews.
Also, local sources in Northern Homs reported that the army's soldiers targeted two bomb-laden suicide vehicles of the Al-Nusra Front (also known as Fatah al-Sham Front or the Levant Liberation Board) in the village of Deir Foul, killing a number of militants.
Relevant reports said on Wednesday that the army soldiers engaged in fierce clashes with the ISIL in al-Shoumeriyeh mountain and took back control over more positions, killing tens of terrorists.
Full report at:
http://en.farsnews.com/newstext.aspx?nn=13960214000340
--------
Syrian opposition: We reject any agreement with an Iranian role in it
5 May 2017
The Syrian opposition declared on Thursday its rejection of any agreement that Iran has a role in as a guarantor, "considering that Iran has committed crimes against the Syrian people and we will never agree to an Iranian role." The opposition also rejected any agreement unless it is based on international resolutions. .
"We oppose the division of Syria and we are not an active party to the agreement signed," said opposition spokesman Oussama Abu Zaid in a press conference in Astana, calling for a timetable for the departure of foreign militias from Syria.
"We were surprised by the dangerous Russian escalation and its bombardment on the liberated areas," he stated, noting that Russia has broken its promises to stop bombing and stop supporting Assad.
"We have received promises to stop the shelling on the liberated areas before our participation in the negotiations," he asserted, adding that "we attended the negotiations with the aim of stopping the shedding of Syrian blood."
Osama Abu Zaid stressed the need for the international community to take practical measures to reduce Iran's influence and ambitions in Syria.
The spokesman refused to respond to a question by a Syrian regime Channel on fighting the Nusra front, while a member of the delegation answered by saying, "We will fight all those who kill the Syrians, either with explosive barrels or by chemical weapons or arms."
The three countries sponsoring the Astana talks (Russia, Turkey and Iran) agreed earlier Thursday on the four low-tension areas in Syria.
In an extended session with all the participating delegations, the Kazakh foreign minister stressed that there is no military solution in Syria.
He also emphasized that the resumption of the Geneva negotiations are linked to the results of the Astana talks.
He pointed out that the next round of the Syrian talks will be held in mid-July.
Al Arabiya correspondent in Astana reported that some representatives of the opposition withdrew when the Iranian representative signed a memorandum of understanding, according to preliminary information, especially as the Syrian armed factions protested on Wednesday in a statement the Iranian presence in Syria, and its refusal to accept an Iranian role as guarantor of a particular agreement or on the ground of course.
On Wednesday, Russia submitted a document to establish four areas of low tension or escalation. The four areas will be identified in the provinces of Idlib, north of Homs, Al-Ghouta Al-Sharqiya, and in South Syria (established by the guarantors and other parties concerned).
Full report at:
https://english.alarabiya.net/en/News/middle-east/2017/05/05/Syrian-opposition-We-reject-any-agreement-with-an-Iranian-role-in-it.html
--------
Europe
UN expert seeks urgent review of Saudi terror law
May, 05 2017
RIYADH - Saudi Arabia should urgently review its definition of terrorism under a law used to prosecute non-violent journalists and human rights defenders, a United Nations special rapporteur said on Thursday.
After a visit to the kingdom, Ben Emmerson told reporters that a 2014 counter-terrorism law contains an "unacceptably broad definition" of the crime and does not comply with international rights standards. "I strongly condemn the use of counter-terrorism legislation and penal sanctions against individuals peacefully exercising their rights to freedom of expression", religion, or association, said Emmerson, who reports to the UN's Human Rights Council.
He urged Saudi Arabia to create an independent review mechanism to examine cases of people jailed for exercising such rights "and to commute or pardon all such prisoners with immediate effect".
Emmerson, a British lawyer, said he gave the government on Thursday morning a list of nine "priority cases" which a UN group in 2015 said had been arbitrarily detained for exercising their rights to free speech and peaceful association.
The list includes Saudi blogger Raif Badawi and human rights lawyer Walid Abulkhair. Emmerson said he sought to interview people detained for expressing non-violent views but "the government was unable to give access". The independent expert expressed additional concern about persistent reports of "the use of torture and ill-treatment by law enforcement officials to extract confessions".
He said he had also received reports of secret trials, trials proceeding without lawyers, and other violations of due process at the Specialised Criminal Court which handles terrorism cases.
Saudi officials denied those and the torture allegations, Emmerson said.
Saudi Arabia is one of the world's most prolific users of the death penalty, including for people convicted of terrorism.
Emmerson said there appear to have been "multiple due process violations" in one death penalty case, "and there may well be others".
At the same time, he said standards of care at the kingdom's prisons for terrorist suspects "are amongst the highest in the world".
The kingdom can also be proud of its rehabilitation of terrorist suspects, added Emmerson, who also reviewed Saudi involvement in Yemen and Syria.
Saudi Arabia for more than two years has led a military coalition conducting air strikes in Yemen, where the government says it is battling "state-sponsored terrorists".
Emmerson raised the issue of civilian casualties caused by the coalition in Yemen.
A coalition team of military and legal experts, which it describes as independent, has issued findings on numerous incidents in Yemen.
But Emmerson reminded Saudi Arabia that it has an international legal obligation to conduct a probe "independent of the chain of command" in every case where civilians are reliably believed to have been killed or wounded.
He said every case must be investigated and "the true civilian death toll made public."
Emmerson also noted the kingdom has made a significant contribution to the United States-led coalition fighting Islamic State group militants in Syria and Iraq.
Saudi Arabia has assigned warplanes to that coalition.
"However, I am concerned at allegations that some of the most violent armed groups involved in jihad which have committed serious human rights violations" in Syria "appear to have enjoyed various forms of support, financial and logistical, implicating sources inside Saudi Arabia", Emmerson said.
He did not elaborate on which militants he was referring to but said the allegations come despite Riyadh's stated commitment to stem terrorist violence.
http://nation.com.pk/international/05-May-2017/un-expert-seeks-urgent-review-of-saudi-terror-law
--------
France's Muslims tell of fear and frustration as runoff vote approaches
5 May 2017
In her apartment in a northern suburb of Paris, Hanane Charrihi looked at a photograph of her mother Fatima. "Her death shows that we need tolerance more than ever," she said. "Tolerance does exist in France, but sometimes it seems those who are against tolerance shout the loudest and get the most airtime."
Fatima Charrihi, 59, a Muslim grandmother, was the first of 86 people to be killed in a terrorist attack in Nice last summer when a lorry driver ploughed into crowds watching Bastille Day fireworks. She had left her apartment and gone down to the seafront to have an ice-cream with her grandchildren. Wearing a hijab, she was the first person the driver hit in the gruesome attack claimed by Islamic State. A third of those killed in the Nice attack were Muslims. But Fatima Charrihi's family, some wearing headscarves, were insulted by passersby who called them "terrorists" even as they crouched next to their mother's body under a sheet at the site of the attack. "We don't want people like you here any more," a man outside a cafe told her family soon after the attack.
Hanane Charrihi, 27, a pharmacist, was so irked to find that, even after her mother's death, the so-called "problem" of Islam in France was such a focus of political debate that she wrote a book, Ma mère patrie, a plea for living together harmoniously in diversity. The far-right Front National gained a slew of new members in Nice after the attack and now Marine Le Pen's presence in the final presidential runoff this weekend – after taking a record 7.6 million votes in the first round – has pushed the issue of Islam and national identity to the top of the agenda.
"I'm French, I love my country, and it seemed like people were saying to me: 'No, you can't possibly love France,'" Hanane Charrihi said. "All this focus on debating national identity by politicians seems like wasting time that could be focused instead on unemployment, work or housing."
The runoff between the far-right, anti-immigration Le Pen and the independent centrist Emmanuel Macron has seen heated exchanges over Islam and national identity. In 2015, Le Pen was tried and cleared of inciting religious hatred after comparing Muslims praying in the streets to the Nazi occupation. Macron has insisted that Le Pen still represents "the party of hatred". He told a Paris rally this week: "I won't accept people being insulted just because they believe in Islam." After more than 230 people were killed in terrorist attacks in France in just over two years, Le Pen has called Islamic fundamentalism a "mortal danger" for France and accused Macron of having an "indulgent attitude" towards it. He accused her of dividing France and stoking "civil war".
Le Pen's policy proposals include banning religious symbols, such as the Muslim headscarf, from all public places. She would outlaw ritual animal slaughter, namely Islamic halal slaughter, although Jewish kosher practices would also be affected.
When Le Pen's father and her party's co-founder, Jean-Marie Le Pen, reached the final round of the presidential election in 2002, the political class spontaneously united with anti-racism campaigners to block his vote, marching on the streets. This time anti-Le Pen demonstrations have been fewer, smaller and more fragmented. Comparatively few people have lined up behind anti-racism banners, and the Front National is now accepted as a part of the political landscape. The issue of diversity and France's divisions – between city and countryside, rich and poor, so-called "native" French and immigrants – have haunted the campaign.
In Aubervilliers market – part of Seine-Saint-Denis, the leftwing and ethnically diverse area north-east of Paris, where young people on estates complain of discrimination that has underlined youth unemployment – Ezzedine Fahem, 62, worried there was a growing divide. "In some places Le Pen's vote is increasing, yet here the very idea of Le Pen sparks fear," said the former restaurant worker. "To me, it feels like she targets Muslims, religion, foreigners. All this talk of integration. Look around here – everyone from abroad was pushed here into a ghetto. Now even if you're French and born here, you will always be brought back to your roots. You're French but you're always an Arab, you're still black, you're still Jewish."
At the market, Alexandre Aidara is handing out election leaflets for Macron. He is one of the few parliamentary candidates already selected to run for parliament in June for Macron's "neither left nor right" movement, En Marche! (On the Move). Aidara, 49, an engineer who was born in Senegal and studied in France, including at the elite civil service school, École Nationale d'Administration, has worked at a senior level in top government ministries. He said Macron's choice of more parliamentary candidates from ethnic minorities was a bid to renew the political class. Although Seine-Saint-Denis is one of the most ethnically diverse areas in France, only one of its 13 MPs is not white. Of France's 577 members of parliament, four come from ethnic minorities.
Le Pen's stance on the high-rise banlieues surrounding French cities is that security must come first. Macron's take is that discrimination is a growing problem and business opportunities hold the key. He has said that he wants "social mobility" and would give a €15,000 bonus over three years to companies who hired people from 200 designated poor neighbourhoods.
"On diversity issues, Emmanuel Macron wants to show there are role models," Aidara said. "The role models here are rappers and footballers. That's good – art and culture is great. But you can also succeed through school, like me, through being an engineer. Discrimination represents a big economic loss to the economy and the state."
Macron has argued that his line on fighting terrorism is to look at the "roots" of why French-born children are growing up to take arms against their own country – a view that has sparked scorn not just from Le Pen but from Socialists. "When people are born in France and attack France, it means integration has failed – you have to look at that, have to work on jobs, education, integration and schools. That's why we want to cut class sizes in priority zones," Aidara said.
Macron also tried to take on the unresolved chapter in French history that is the colonial period and war in Algeria. On a visit to Algiers in February, he called France's colonial past a "crime against humanity". He later tempered his comments, but insisted: "We must face this common, complex past if we want to move on and get along." Le Pen this week accused him of slandering France's "glorious history".
Sara, 22, took a leaflet for Macron. A first-time voter and technology student who wears a Muslim headscarf, she voted in the first round for the hard-left Jean-Luc Mélenchon, "because he was about everyone in France living together and getting on". She felt anti-Islam feeling was becoming "almost commonplace" in France. "I'm not sure Emmanuel Macron has really understood that," she added, but she would vote for him to keep Le Pen out. She liked the fact that Macron did not want to ban the Muslim headscarf from universities – an idea proposed by some on the mainstream right and even backed by the former Socialist prime minister Manuel Valls.
Full report at:
https://www.theguardian.com/world/2017/may/05/france-muslims-fear-frustration-runoff-vote-marine-le-pen
--------
Pope's Representatives in Morocco amid Debate over Local Christians
May 4, 2017
A conference was held on Wednesday in the Moroccan Royal Academy in partnership with the Pontifical Council for Inter-religious Dialogue to discuss under the theme "Believers and Citizens in a Changing World".
High Moroccan officials took part in the conference, including the Academy's Permanent Secretary Abdeljalil Lahjomri; King Mohamed VI advisor Omar Azimane; Head of the Constitutional Court Driss Dahak and the Secretary General of the Moroccan Rabita Mohammadia of Ulamas (official body of religious scholars) Ahmed Abbadi.
During their lectures, both Lahjomri and the President of the Pontifical Council, Cardinal Jean Louis Touran, quote the King Mohammed VI's message to the Conference on "The rights of Religious Minorities in Islamic Lands," held in Marrakech in January 2016.
"As Commander of the Faithful and defender of the faith, I am committed to protecting the rights of Muslims and non-Muslims alike. The religious rights of Muslims and non-Muslims are protected in accordance with the aforementioned immutable principles, and their rights as citizens are guaranteed by the Constitution; there is no difference or distinction as far as the ultimate goals are concerned," read the royal message.
The visit of the Catholic Church representatives came amid growing debate over the Moroccan Christians' "emergence from the shadows."
More and more Christian converts are speaking up, calling for their rights to worship, marry and be buried according to their adopted faith.
After a meeting with the Secretary General of the National Council for Human Rights, these converts addressed a letter to the Head of Government Saad Eddine Othmani, to draw attention to their situation as Moroccan Christians trying to live their faith in their country.
Full report at:
https://www.moroccoworldnews.com/2017/05/215681/popes-representatives-morocco-amid-debate-local-christians/
--------
South Asia
Taliban Are Brothers, Says HIA Chief Gulbuddin Hekmatyar
May 04 2017
The leader of Hezb-e-Islami Gulbuddin Hekmatyar says Taliban are brothers despite the party is related to Taliban, Al-Qaeda, ISIS or any other group.
Hekmatyar made the remarks during his speech in capital Kabul and in the presence of the of the former Jihadi leader leaders including Abdul Rab Rasool Sayyaf and the current government leaders including the chief executive Abdullah Abdulla.
In his speech during the gathering in ARG Palace in Kabul today, Hekmatyar said the current system in Afghanistan is Presidential and we do not believe in parliamentary system and the parliamentary system is not acceptable in Afghanistan considering the current situation.
Hekmatyar further added that the coalition governments are failed in everywhere, insisting that the current is not suitable in the situation of Afghanistan.
The leader of Hezb-e-Islami once again insisted that the power can not be achieved through the use of power as the Afghan nation will never accept the use of power so that one can govern on them.
Hekmatyar arrived in eastern Laghman province over a week ago and since then he has travelled to eastern Nangarhar province.
The Afghan officials are optimistic that the signing and implementation of peace agreement with Hezb-e-Islami may help to encourage other insurgent and militant groups to join reconciliation p
http://www.khaama.com/taliban-are-brothers-says-hia-chief-gulbuddin-hekmatyar-02719
--------
US drone strike leaves 7 ISIS-K militants dead in East of Afghanistan
May 04 2017
At least seven militants of the Islamic State of Iraq and Syria (ISIS) terrorist group's offshoot in Afghanistan, ISIS-Khurasan, were killed in an airstrike in eastern Nangarhar province of Afghanistan.
The provincial police commandment said the airstrike was carried out in the vicinity of Gorgori area of Haska Mina district on Wednesday.
The source further added that the security forces and the local residents did not suffer any casualties in the airstrike.
The anti-government armed militant groups including the ISIS-K loyalists have not commented regarding the report so far.
Nangarhar is among the relatively calm provinces in eastern Afghanistan but the anti-government armed militant groups have recently increased their insurgency activities in some parts of the province during the recent years.
This as an anti-ISIS operation is underway in Nangarhar to eliminate the presence of ISIS affiliates in this province.
The Hamza operations were launched nearly one month ago in response to the growing threats posed by ISIS loyalists in Nangarhar province.
The US forces based in Afghanistan are also providing support to the Afghan forces during the operations, mainly involving airstrikes.
Full report at:
http://www.khaama.com/us-drone-strike-leaves-7-isis-k-militants-dead-in-east-of-afghanistan-02717
--------
One Held Over Posing With Foot on Hindu Idol in Bangladesh
May, 05 2017
Two other accused are on the run
Sylhet police have arrested a man in a case filed for hurting religious sentiment by posing with foot on a Hindu idol and posting it to Facebook.
The detainee is Foisol Ahmed, 22, son of late Firoz Khan from Kumarpara village of Bishwanath upazila.
Two other accused — Akibur Rahman alias Akul, and Jubel Khan — are on the run.
According to the case, the three accused had been behaving rudely with the Hindu community people for a long time.
With the help of his two associates, prime accused Akibur on Wednesday posed for a picture putting his leg on the idol of Hindu goddess Kali that was immersed after Pooja near Madanpur Durga temple area, says the case statement.
Bishwanath police station Officer-in-Charge Monirul Islam said Akibur posted the picture on Facebook that hurt religious sentiments of the Hindus.
Full report at:
http://www.dhakatribune.com/bangladesh/nation/2017/05/05/one-held-posing-foot-hindu-idol/
--------
No headway made in Hefazat mayhem probe
May 05, 2017
On May 5, 2013, they held a rally at Motijheel to press home their 13-point demands that included formulation of an anti-blasphemy law
Four years after radical Islamist group Hefazat-e-Islam wreaked mayhem in Dhaka and elsewhere, there has still been no visible headway made in cases filed over the incidents.
According to police sources, a total of 83 cases were filed with different police stations across the country, accusing Hefazat members of launching attacks on law enforcers and journalists, damaging public properties, and burning the holy Qur'an during their demonstrations in May 2013.
Among the cases, 53 were filed in Dhaka including seven for murders.
Law enforcers have so far submitted charge sheets in only four cases, filed with Ramna, Sher-e-Bangla Nagar and Kalabagan police stations.
Counter Terrorism and Transnational Crime (CTTC) unit chief Monirul Islam on Tuesday told a press conference they had been able to identify those who masterminded the rampage, but were yet to identify the foot soldiers.
Following the incident, police arrested 376 people including Hefazat General Secretary Junaid Babunagari, Nayeb-e-Ameer Mufti Izharul Islam's son Harun bin Izhar, and its leader Mufti Wakkas. All were later released on bail.
In his confessional statement before a court, Babunagari admitted that Hefazat activists were involved in the anarchy.
The Qawmi madrasa-based Islamist group came to the forefront in early 2013 to counter a non-stop demonstration at the Shahbagh intersection.
Full report at:
http://www.dhakatribune.com/bangladesh/2017/05/05/no-headway-made-hefazat-mayhem-probe/
--------
Clash among Afghan and Pakistani forces in Spin Boldak
May 05 2017
A clash broke out between the Afghan and Pakistani security forces in Spin Boldak near the Durand Line earlier this morning.
According to the local officials in Kandahar, the clash started around 3 am local time as the Pakistani militia forces were trying to conduct census work.
Provincial governor's spokesman Samim Khpolwak confirmed the incident and said the militia forces of Pakistan had started census work in Loqman village which belongs to Spin Boldak district of Kandahar.
He said the Afghan security forces prevented the Pakistani militia forces to do census work inside the Afghan soil which resulted into clash.
Khpolwak further added that the clashes continued for several hours and the two sides have sustained casualties but did not disclose the exact number.
In the meantime, the provincial security commandment in Kandarhar said additional border protection forces have been deployed in the area.
On the other hand the Pakistani authorities are claiming that a child was killed and 18 others were wounded during the clash.
Full report at:
http://www.khaama.com/clash-among-afghan-and-pakistani-forces-in-spin-boldak-02720
--------
Africa
UN: Thousands of minors exploited in Boko Haram crisis
05 May 2017
The United Nations on Thursday said children were increasingly being exploited by all sides in the Boko Haram crisis in Nigeria, leaving thousands killed or maimed.
A report by the Secretary-General on children and armed conflicts in Nigeria said at least 3,900 minors had been killed and 7,300 more maimed between 2013 and 2016.
Thousands more have been forcibly recruited as fighters.
It added that hundreds of girls and women are also being used as sex slaves by the militants, with children from such relationships subjected to discrimination and stigma by their communities.
"Suicide attacks became the second leading cause of child casualties, accounting for over 1,000 deaths and 2,100 injuries during the reporting period," the document said.
The report also accused the military authorities of detaining thousands of children they accused of being combatants for Boko Haram, although it admitted that some of those detained were gradually being freed after profiling.
"In 2016, more than 1,100 children were also deprived of their liberty because of their parent's alleged association with Boko Haram.
"On average, children were detained between three to four months, but 68 boys between the ages of 12 and 17 have been detained since September 2015," according to the statement.
The report also said situations where children are used for intelligence gathering should be discouraged.
http://www.worldbulletin.net/africa/189017/anger-brews-in-moroccos-neglected-rif-region
--------
Robert Mugabe Thankful For Absence Of Islam In 'Highly Developed' Zimbabwe
BY LUDOVICA IACCINO
5/4/17
Zimbabwe President Robert Mugabe has blamed Islam for the violence plaguing many African countries.
The 93-year-old Mugabe was on a panel discussing fragile states at the World Economic Forum on Africa in Durban, South Africa on Thursday when he said some countries on the continent are destabilized by religious influences, News 24 reported.
After stating that splits within the Christian church did not lead to violence, Mugabe said: "In the Islamic world, the belief is that the more violence you exert on the population, the more they listen.
See Newsweek Subscription Offers
"In Africa you also had a touch of the Muslim world in some countries, but in the south it wasn't our experience, thank God," he said.
Nearly 84.5 percent of Zimbabwe's population of 15.6 million people is Christian with an estimated 1 percent Muslim, according to the 2015 International Religious Freedom Report by the U.S. Bureau of Democracy, Human Rights and Labor.
The Islamic Welfare Organization based in the capital Harare has not responded to a request for comment on Mugabe's remarks.
Mugabe also denied Thursday that Zimbabwe was a fragile state.
"Zimbabwe is the most highly developed country in Africa. After South Africa, I want to see another country as highly developed," he said.
Mugabe added that Zimbabwe has 14 universities and that the country's literacy rate is above 90 percent.
"And yet they talk about us as a fragile state," Mugabe said. "We have a bumper harvest, not only maize, but also tobacco and many other crops. We are not a poor country. If anyone wants to call us fragile, they can. You can also call America fragile."
Mugabe, who has ruled the country for 37 years, acknowledged last year that Zimbabwe was in the midst of a financial crisis and said the country was in a "critical time... for regime change," according to the African News Agency.
The world's largest online social network, used by more than 1.2 billion people every day, condemned the accused killer's action.
"This is a horrific crime and we do not allow this kind of content on Facebook," said a spokesperson for the company. "We work hard to keep a safe environment on Facebook, and are in touch with law enforcement in emergencies when there are direct threats to physical safety."
Full report at:
http://www.newsweek.com/facebook-live-killing-steve-stephens-stevie-stevie-cleveland-police-elderly-585009
--------
NASFAT set to build N2.5b Islamic centre
May 5, 2017
The Executive Governor of Ogun State, Senator Ibikunle Amosun has commended the efforts of Nasrul-lahi-Fatih Society (NASFAT) over the proposed N2.5billion mosque which foundation was laid recently at its multi-purpose Islamic Centre, along Lagos Ibadan Expressway.
Amosun, who was at the fund raising and foundation laying ceremony for the ultra-modern mosque enjoined Muslims to be a good ambassadors in order to erase the misconceptions about Islam and the Muslims.
He said: "Islam is a religion of peace, it is wrong that people are ascribing violence with Islam" he said.
Do you something awesome to share with the world? Click here to share
He urged Nigerians to live with one another in peace and harmony for the development of the country, adding "when there is peace in the country, the economy grows."
The President of NASFAT, Engr. Abayomi Bolarinwa while thanking the governor for his support, stated that the mosque will be completed soon.
Bolarinwa said: "the main reason we are building the mosque is to teach people about the religion and understand the Quran and teaching of the Prophet. Allah said know me before you worship me, we want people to have adequate knowledge about Islam because if all Nigerians understand their religion, Nigeria will be a peaceful place to live. If you know the God you serve, you will know He made provision for everything he created.
He stated that facts and figures showed that the rate of corruption and kidnapping in the country is high because of lack of fear of Almighty Allah.
The Chairman, NASFAT Aseese Mosque Development Committee, Alhaji Yunus Olalekan Saliu said the organization would build a befitting masjid and an Islamic Center, disclosing that it would cost N2.5billion
Full report at:
https://www.nigeriatoday.ng/2017/05/nasfat-set-to-build-n2-5b-islamic-center/
--------
Pakistan
Charged mob demands custody of blasphemy accused in Hub
May 04, 2017
A charged mob gathered outside a police station located in Hub on Thursday demanded that a Hindu man accused of blasphemy be handed over to them so that they could administer justice to him.
According to details, the mob assembled outside a police station during the day and demanded that a suspect accused of blasphemy be handed over to them.
Police and FC personnel held negotiations with the mob that refused to back down from their demand.
A case of blasphemy and incitement was registered against the accused, who is a local business owner, on the complaint of various citizens. He was accused of sharing blasphemous content on social media.
The situation turned violent when police refused to entertain the protesters' demands.
Protesters pelted stones at police and FC personnel due to which law enforcement personnel fired aerial shots. A DSP was also injured as a result of the altercation between the mob and law enforcement personnel.
A heavy contingent of police and FC personnel arrived on the scene to control the deteriorating situation. One boy was seriously injured due to the clashes between law enforcement personnel and protesters.
http://nation.com.pk/national/04-May-2017/charged-mob-demands-custody-of-blasphemy-accused-in-hub
--------
Civilian killed, 18 injured in firing by Afghan forces in Chaman: ISPR
May, 05 2017
At least one civilian was killed and 18 others injured as the Afghan Border Police opened fire on Frontier Corps (FC) personnel detailed for the security of a census team in Balochistan's Chaman area early Friday, the Inter-Services Public Relations (ISPR) said.
Four FC Balochistan men are among those injured.
"Since 30th April, Afghan Border Police had been creating hurdles in [the] conduct of census in divided villages of Killi Luqman and Killi Luqman in Chaman area, on Pakistani side of the border," the military's media wing said.
ISPR said the Afghan border guards' firing comes despite the fact that Afghan authorities had been informed in advance about the census exercise in Pakistan and coordination was carried out through diplomatic and military channels.
The Chaman border crossing has been sealed as Pakistani and Afghan troops continue to exchange fire, the ISPR press release said.
Earlier during the cross-border "attack", mortar shells fired from the Afghan side hit houses in a village of Killi Luqman, leaving one person dead and 17 others injured, Station House Officer (SHO) Chaman Maqsood said. At least three children are among the injured.
He said the injured were shifted to the Civil Hospital Chaman, where an emergency has been imposed. Four of the injured are said to be in critical condition.
The slain man has been identified as 17-year-old Mohammad Ashraf.
Full report at:
https://www.dawn.com/news/1331245/civilian-killed-18-injured-in-firing-by-afghan-forces-in-chaman-ispr
--------
Unusual police report against PM
MOHAMMAD ASGHAR
May, 05 2017
RAWALPINDI: In an unusual development, police have registered a report against Prime Minister Nawaz Sharif for provoking people against the Pakistan Army and creating hatred against the armed forces.
It is worth noting that the report registered by the police is not a First Information Report or FIR. It is a report registered in the police diary, known in local parlance as roznamcha.
The one-page report was lodged by Advocate Ishtiaq Ahmed Mirza, chairman of the I.M. Pakistan, a political party which he claimed was registered with the Election Commission of Pakistan.
Mr Ahmed in his complaint said he was sitting at his office at the district courts when he received a WhatsApp clip at 12.47pm which showed a man making a speech. He said it was visible that the man delivering the speech was Nawaz Sharif, the prime minister, who was allegedly provoking people and creating hatred against the armed forces.
The complainant prayed for the registration of a case against Mr Sharif.
Full report at:
https://www.dawn.com/news/1331186/unusual-police-report-against-pm
--------
SECP to forward 291 names to apex court for JIT
KALBE ALI
May, 05 2017
ISLAMABAD: The Securities and Exchange Commission of Pakistan (SECP) has decided to forward the names of all of its 291 officials of grade 18 and above to the Supreme Court for selection of one of them as a member of the joint investigation team (JIT) to investigate allegations against the prime minister and his family stemming from the Panama Papers.
is was said by SECP chairman Zafar Hijazi while briefing a meeting of the Senate standing committee on finance here on Thursday.
Chairman of the committee Senator Saleem Mandviwalla had inquired about the issue and asked Mr Hijazi to brief the meeting on it. "We want to know the reasons why the names forwarded by the SECP and the State Bank have been rejected by the court," he said.
The SECP chairman said he was not aware of the reasons behind the apex court's rejection of the names earlier forwarded by the commission for the JIT membership.
He added, "We have decided to forward the names of all the officers of grade 18 and above to the Supreme Court so that there is no confusion. What can we do?" There are 291 officials of that cadre in the commission.
This brought perplexed looks on the faces of the participants of the meeting and Mr Mandviwalla asked, "How would they select the right person from such a huge list?"
As Mr Hijazi, along with a commissioner and senior executives of the SECP, remained silent, Senator Kamil Ali Agha said, "This is not a problem as selecting a diamond is easy due to its unique shine."
He was referring to the remarks made by Justice Ejaz Afzal of the Supreme Court that members of the JIT needed to be known for their integrity like a diamond.
The committee chairman maintained his calm by containing his smile and saying, "Alright, let us continue with the agenda."
The meeting was also scheduled to discuss and approve the Companies Bill 2017. It approved the bill with certain amendments.
Major amendments proposed by the panel envisage empowerment of women, protection of rights of disabled people and making the process of doing business easy.
The major changes incorporated in the bill by the committee include mandatory presence of a female member on the boards of all public interest companies.
Public interest companies are private and government-owned entities involved in public service, ranging from public transport services and industrial units to educational institutes and NGOs.
The committee directed the SECP to ensure that every public interest company, which had 50 or more employees, would be required to hire two per cent disabled individuals.
"We want to promote women into decision-making positions, and I suggest that there should be some protection for transgender persons too," Senator Mandviwalla said.
But the proposal of mandatory hiring of transgender persons by companies was dropped on the insistence of the SECP officials, who said that it would be covered under a law in the offing.
Full report at:
https://www.dawn.com/news/1331201/secp-to-forward-291-names-to-apex-court-for-jit
--------
'Complete peace essential for Pak-Iran trade'
May 05, 2017
QUETTA - Quetta-based Iranian Consul General Mohammad Rafiei on Thursday said the volume of trade between Pakistan and Iran can't touch $5 billion until peace in border areas is ensured.
Addressing a press conference at the consulate general of Iran in Quetta, Mohammad Rafiei hoped the culprits who had killed 10 Iranian security personnel in an ambush would be punished.
Rafiei said attacks on Iranian border security personnel at Pak-Iran border would not provide environment conducive to trade volume to the desired heights between the two countries.
The consul general said 10 Iranian security men were martyred and one got missing in Mirjaveh had grieved the whole Iran. He added Iranian Foreign Minister Mohammad Javad Zarif visited Islamabad following public pressure after the Mirjaveh incident and met with civil-military leadership of Pakistan.
Mohammad Rafiei asserted hotline and a security committee had already been established, while the Pakistani authorities had given the assurance that miscreants in the border area would be dealt with iron hands.
The militant group, Jaish al-Adl, which had claimed responsibility for the attack would be brought to justice, the consul general asserted.
He went on to say that the 20th joint border meeting was held at Chabahar Port in which they had declared Chabahar and Gwadar as sister ports. He added visa policy and future course of action with Pakistan would soon be announced for meeting the settled target of trade volume.
Full report at:
http://nation.com.pk/national/05-May-2017/complete-peace-essential-for-pak-iran-trade
--------
Southeast Asia
Perlis Mufti: Smokers don't deserve zakat, donations
May 5, 2017
KUALA LUMPUR, May 5 — Smokers are "rich people" who do not deserve zakat (alms) or any form of donations, Perlis Mufti Datuk Mohd Asri Zainul Abidin said.
On his official Facebook page yesterday, Asri described smoking as wasting money on a harmful activity, and concluded that those who smoked must be rich as the price of cigarettes was high.
"Only someone with an excess of money, to the point they don't know what to do with it, can do such a thing (smoking). What more with the price of cigarettes being so expensive," the Facebook post read.
The government is proposing to raise the price of cigarettes from RM17 to RM21.50 per pack.
Asri said that this meant that smokers were not in need of financial aid or even zakat.
"Should zakat or any other form of aid be given to people who waste money by burning and destroying themselves and others around them.
"If anyone asks me if they should give zakat or donations to those who claim to be poor but smoke, I will most definitely answer 'no!' Look for those who are really poor," Asri added.
The National Fatwa Council in 1995 declared that smoking was haram for Muslims as it was detrimental to their health.
The council also ruled in 2015 that the use of electronic cigarettes and vaporisers were forbidden as these were, like cigarettes, harmful to one's health.
http://www.themalaymailonline.com/malaysia/article/perlis-mufti-smokers-dont-deserve-zakat-donations
--------
Turkish academic arrested over Islamic State links
BY IDA LIM
May 5, 2017
KUALA LUMPUR, May 5 — Local police have arrested Turkish academic Ismet Ozcelik for alleged links to the Islamic State (IS), after two men from Turkey were also nabbed over purported ties to the terror group.
Ozcelik's lawyer Rosli Dahlan said he found the turn of events "surprising" after the 57-year-old was arrested yesterday afternoon.
"It is rather surprising that only now the police linked Ismet with IS," Rosli told Malay Mail Online.
"He was remanded for 53 days until Feb 2017 and released on bail. There was nothing about IS then," he said.
Ozcelik — a director of a Turkish university with a valid social visit pass initially expiring only this November 17 — had been arrested last December 13 for allegedly obstructing Immigration Department officers from carrying out their duty.
Rosli noted that Ozcelik's arrest last year occurred after the Immigration Department officers — in plainclothes — tried to seize his passport. His client then was fearful of being abducted, deported and of being thrown into a Turkish prison like two of his friends in October.
The Turkish duo, Alettin Duman and Tamer Tibik, were reported missing in Malaysia on October 13 and were later reported to have been handed over to the Turkish government and have been detained without trial since then, Ozcelik's lawyers said.
Ozcelik's arrest comes after yet another two Turkish men — Turgay Karaman and Ihsan Aslan — were respectively reported to the police as abducted and missing on Tuesday, before it was revealed that they were under arrest.
Turgay was to be a witness in a two-day trial here against Ozcelik and four others from Wednesday onwards.
"At Ismet's trial on [May 3] morning, we raised the point that the charge is defective and the case was postponed. On [May 3] afternoon, IGP [Inspector-General of Police] finally admitted Turgay was arrested and not abducted. Only later a statement was made about IS against Turgay.
"And now Ismet is re-arrested also on alleged links with IS. Why only now?" Rosli asked.
Ozcelik's alleged second arrest and raid
According to Ozcelik's lawyers, he was in a vehicle with his son Suheyl and another friend at 5.30pm yesterday when his arrest happened.
"They were stopped by 5 cars and swarmed by more than 20 who searched and seized their phones and took Ismet into their car. Suheyl and the other friend were not arrested but are uncontactable at the moment," the lawyers said.
According to Ozcelik's lawyers, five policeman had allegedly raided Suheyl's house on Wednesday at 4pm when only the latter's wife and their two toddler-age children were in the house.
The lawyers said the family is still in shock, claiming that five policemen came armed and broke down the door without giving Suheyl's wife a chance to cover her aurat.
"They searched the whole house without any warrant and damaged many household items. The police seized his wife's phone.
Full report at:
http://www.themalaymailonline.com/malaysia/article/turkish-academic-arrested-over-islamic-state-links
--------
Najib: Selangor government unstable, imagine if this happened at federal level
May 5, 2017
KUALA LUMPUR, May 5 — The Opposition's directionless leadership will lead to frequent Cabinet changes and a disruption in public services if they take over government, Datuk Seri Najib Razak claimed today.
Claiming the Selangor state government was currently unstable, the prime minister and Barisan Nasional (BN) chairman pointed out that the Mentri Besar's position will be affected if PAS or the DAP withdrew from the administration comprising PKR, PAS and the DAP.
"Imagine if this happened at the federal level. To ensure a flourishing economy and the protection of public welfare, the government must be led by a solid and experienced coalition of parties with a common direction," Najib said on his blog.
PAS resolved at its muktamar last weekend to cut ties with PKR, although the decision ultimately lies with the Islamist Opposition party's syura council.
Rumours of a snap election in Selangor and defections of several state assemblymen have also swirled.
Najib also pointed out that the Opposition have formed nine alliances since 1986.
"The funny thing is that a new small party that recently joined the Opposition now wants to change the pact's Pakatan Harapan name. What alliance will surface next?
"Internal conflict will result in inattention on the people. Their government is fractured and can cause the economy to dive," he said.
Opposition Leader Datuk Seri Dr Wan Azizah Wan Ismail announced Sunday that the four Pakatan Harapan parties have decided on a common logo and a leadership lineup for the pact's application to be formally registered with the Registrar of Societies.
Full report at:
http://www.themalaymailonline.com/malaysia/article/najib-selangor-government-unstable-imagine-if-this-happened-at-federal-leve
--------
Jawi Admits Nabbing Married Couple for Khalwat, But Denies Wrongdoing
May 5, 2017
KUALA LUMPUR, May 5 — The Federal Territories Islamic Religious Department (Jawi) has accepted that a couple it arrested for khalwat (close proximity) were married, but insisted the raid and subsequent enforcement action were lawful.
Jawi reportedly said a check of its records on January 9 found the couple's marriage to be valid and solemnised in Kuala Lumpur on October 7, 2014.
But the department denied wrongdoing and noted that the January 8 raid by its enforcement officers was based on a public tip-off at 10.55pm of January 7, local paper The Star reported.
Jawi, in its statement of defence, argued that the arrest and detention were lawful as the couple had allegedly failed to produce evidence to show that they were married.
On February 17, Mohd Ridhuan Giman and Siti Sarah Maulad Abdullah filed a lawsuit against Jawi and six others over the raid of their budget hotel room at 1.30am on January 8.
According to the couple's court filing, the Jawi raid team comprised eight officers, seven who were male and had forcefully entered their room despite Mohd Ridhuan telling them his wife — in a singlet and shorts — was underdressed.
The male enforcers allegedly refused to leave the room even after the husband presented photos of their wedding and their Jawi-issued marriage certificate, and instead ordered Siti Sarah to dress in front of them.
Scuffles broke out twice during the raid during which Mohd Ridhuan said he was strangled and suffered injuries to his neck while his wife's left arm was bruised. Both said their injuries required medical attention.
The duo said they were held separately at Jawi's office for an hour, and the officers refused to recognise they were a married couple despite being presented with the original marriage certificate by the husband's mother later.
Mohd Ridhuan and Siti Sarah were only released after his mother was forced to sign a personal bond stating that the couple would return for investigation and that she would pay RM3,000 if they failed to turn up, while the couple themselves said they were forced to sign a personal bond acknowledging their arrest for khalwat.
The couple and the mother are suing for wrongful arrest, wrongful confinement, trespass to person, violation of privacy, tort of abuse of office and violation of the duo's rights to personal liberty and freedom of movement under the Federal Constitution's Articles 5 and 9.
They are seeking compensation in the form of general damages, aggravated damages, exemplary damages; a court order instructing Jawi to drop the investigation, as well as an unconditional apology in the form of a letter to them and in at least two Malay-language newspapers.
They sued two of the Jawi enforcement officers who have been identified as Mohd Shiham Ramli, Mohammad Izehar Md Amin; Jawi enforcement division's senior chief assistant director, Jawi director-general, Jawi, the Prime Minister's Department and the government of Malaysia.
Full report at:
http://www.themalaymailonline.com/malaysia/article/jawi-admits-nabbing-married-couple-for-khalwat-but-denies-wrongdoing
--------
Shariah judge lodges report over Rafizi's allegation
BY JASMINE ANDRIA
May 5, 2017
PUTRAJAYA, May 5 — A police report for criminal defamation was filed yesterday against PKR vice-president Rafizi Ramli after he alleged Shariah court judges were prone to corruption.
Federal Territory Shariah Court chief judge Datuk Mahammad Ibrahim lodged the report at Putrajaya police headquarters on behalf of the Malaysia Shariah Officers' Association.
Mahammad said he was acting for the 546 members, including Syarie judges and legal officers.
In his report, he stated Rafizi had made baseless claims during a mock parliamentary sitting on April 10.
Rafizi had alleged Shariah court judges were at risk of being corrupted if the Syariah Courts (Criminal Jurisdiction) Act (RUU355) was implemented.
He had said the act meant the judges' salaries would not be increased and due to this, they would resort to bribery and abuse of power.
He had also claimed that Shariah court judges were involved in more corruption cases than civil court judges.
"This is a baseless claim. For the record, there has only been one case of a corrupt judge who was arrested and charged. This is slanderous and insulting to the Shariah justice system and its judges," he said.
"This only causes confusion and doubt among the public."
He said they would wait for police investigations to take its course.
Full report at:
http://www.themalaymailonline.com/malaysia/article/shariah-judge-lodges-report-over-rafizis-allegation
--------
Indonesia Official: US Speaker Ryan Does Not Link Islam, Terrorism
May 04, 2017
WASHINGTON —
Indonesia's foreign minister expressed satisfaction after a meeting Thursday with the leader of the U.S. House of Representatives, saying that Speaker Paul Ryan had affirmed he does not see the Muslim faith as the source of Islamist radicalism.
"There is a strong message that Paul Ryan delivered at the meeting, that overcoming radicalism and terrorism is not [to be done] by positioning Islam as the enemy," Foreign Minister Retno Marsudi told VOA's Indonesian service after the meeting. "This ideology can be adopted by anyone. There is no link between Islam and radicalism."
Speaking in the Indonesian language, the minister said the 15-minute Capitol Hill meeting had left her with the belief that the United States understands that Indonesia is a strong, pluralistic and democratic country, and that Islam, the predominant faith in Indonesia, is not an obstacle to positive relations with the United States.
She said the two agreed that Indonesia, with the world's largest Muslim population, could play a "very important" role in the fight against international terrorism, "especially through 'soft power,' because that's where our strength is."
Travel ban
Retno's remarks masked her reaction to the Trump administration's initial travel ban covering seven Muslim-majority nations. In January, she said, "We have deep regrets about the policy."
And, although Ryan stressed the need for Indonesia to use "soft power" to counter "radicalism and terrorism," Indonesia has faced an increase in religious intolerance since the end of Suharto's secular dictatorship in 1998. Salafism, which is much stricter than Indonesia's traditional practice of Islam, has been growing in part because of Saudi Arabian funding.
Retno said she and Ryan also discussed efforts to maintain and strengthen the strategic partnership between the two countries, cooperation on trade and investment cooperation, and the long-running dispute between Israel and the Palestinians.
The minister's two-day visit to Washington follows a visit to Jakarta last month by Vice President Mike Pence. In addition to her meeting with Ryan, Retno met with Secretary of State Rex Tillerson. Talks with Pence and Thomas P. Bossert, President Donald Trump's presidential adviser on counterterrorism, were also on her agenda.
The meeting between Retno and Ryan came two weeks after Islam played an unprecedented role in the election of a new governor of Jakarta, Indonesia's largest city.
Ahok defeated
In last month's runoff, Anies Baswedan, a former minister of education and culture, beat Chinese-Christian Basuki "Ahok" Tjahaja Purnama, who became acting governor after his boss, Joko "Jokowi" Widodo, won the 2014 presidential election.
Ahok campaigned while being tried on a blasphemy charge, which originated in a campaign speech when he quoted the Quran. Islamist hard-liners seized upon a video clip, and the Islamic Defenders' Front (FPI), once a fringe group, organized two enormous protests in Jakarta, where it called for Ahok to be jailed and even killed.
The verdict and sentencing are scheduled for Tuesday, amid growing popular support for Sharia, the Islamic legal code, which is what the Trump administration hints at in its attacks on "radical Islamic terrorism."
Full report at:
https://www.voanews.com/a/indonesia-official-paul-ryan-does-not-link-islam-terrorism/3838380.html
--------
Mounting Calls for Hizbut Tahrir Disbandment
May, 05 2017
Jakarta. Calls are mounting for the disbandment of the radical Islamic organization Hizbut Tahrir Indonesia, or HTI, amid renewed concerns that its existence may jeopardize national unity.
Police hinted last week that the government is considering dissolution of the group, which allegedly seeks to establish an Islamic state in Indonesia. National Police chief Gen. Tito Karnavian said the movement could undermine national unity.
The dissolution is supported by human rights activists. According to Setara Institute for Democracy and Peace, it will be a proper move as long as legal procedures are followed.
"HTI's thoughts can't be suppressed, because the right to freedom of conscience can't be limited. But the government can limit the spread of their ideology," said Setara chairman Hendardi.
"Their mass and systematic movement has been deemed a threat to national unity. Dissolution is a way to suppress the destructive influence of HTI," he added said.
However, according to the chairman of a Muslim youth group that has been opposing HTI, so far the government has not undertaken any concrete steps.
"I'm confused why it takes so long for the government to deal with HTI," said Yaqut Cholil Qoumas, who leads Ansor, the youth wing of Nahdlatul Ulama — Indonesia's largest Muslim organization.
"It's obvious they want to establish a caliphate. They have no merits for this republic," he said in Jakarta on Wednesday (03/05).
Last month, Ansor members blocked a long march by HTI activists in Tulungagung, East Java. The latter dispersed without resistance.
Three weeks later, police cancelled the International Caliphate Forum organized by HTI in Bogor, citing security concerns due to widespread public opposition.
Hizbut Tahrir is an international organization which seeks to remove the existing governments in the Muslim world and unite it under a pan-Islamic theocracy. Its Indonesian chapter was founded in 1980s.
Despite its nonviolent nature, the organization has been banned in several countries.
Full report at:
http://jakartaglobe.id/news/mounting-calls-hizbut-tahrir-disbandment/
--------
URL: https://www.newageislam.com/islamic-world-news/president-pushed-muslim-ban-says/d/111038
New Age Islam, Islam Online, Islamic Website, African Muslim News, Arab World News, South Asia News, Indian Muslim News, World Muslim News, Women in Islam, Islamic Feminism, Arab Women, Women In Arab, Islamophobia in America, Muslim Women in West, Islam Women and Feminism