New Age Islam News Bureau
16 March 2013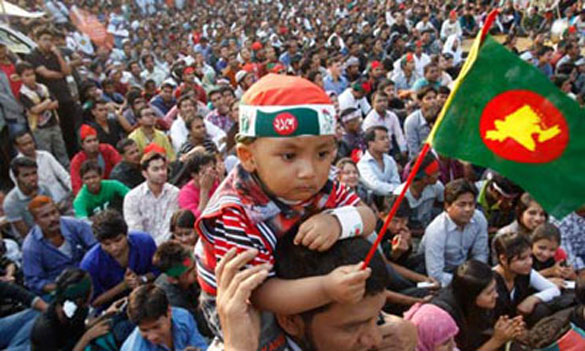 India
• Premarital Sex against Social Norms and Indian Culture: Muslim Outfits
• 7/11 blast accused withdraws bail plea after IG varsity report
• Attack on CRPF camp: J-K Police detain third suspect
• Bukhari, Imam Delhi's Jama Masjid snaps ties with Samajwadi Party
• Pakistan Edges Toward First Democratic Power Transfer
Arab World
• Saudi Grand Mufti denounces excessive dowry demands
• Egyptian officials who eradicate locusts are 'enemies of God': Salafist preacher
• Egyptian Christians say they were tortured in Libya
• Iraq a major arms buyer decade after invasion
• Prince Faisal commends Filipino work ethic
• Syria regime expanding use of cluster bombs: HRW
• Syria accuses Jordan of opening borders for jihadists
Europe
• Historic UN code adopted to combat violence against women
• European Muslims see dialogue hope in pope name
• Al-Qaida Jihadis replacing rebels in Syria: Russia
• Syrian warplanes launch raids near capital: Watchdog
Mideast Asia
• Turkish Cypriots eye turning to Muslim states for recognition
• Islamic Jihad to Run In Palestinian Elections
• Aramaic Language Project in Israel Furthers Recognition of Maronites
• Hamas urges collaborators with Israel to surrender
• Iran: Commanders authorized to respond to attacks
Pakistan
• It Happens Only In Pakistan: Matric In 2007, B.A. In 2006 and M.A. In 2001
• Rangers arrest 13 suspects, seal bomb-making factory in Karachi
• Frontier Corps arrests 14 terrorists, recovers heavy explosives in Hub
• Pakistan Edges Toward First Democratic Power Transfer
• Kishanganga award an achievement, says Pakistan
• Egypt's President Morsi to visit Pakistan on March 18: FO
• Road accident kills 24 Pakistan army personnel in Kohistan
• Christians fear attack amid cleric's threat
• People will judge at the upcoming polls: Chairman Senate
• Pakistan Edges Toward First Democratic Power Transfer
South Asia
• Shahbag rallyists swamp hard-line group
• "Difficult" to consider elections credible unless Nasheed contests: E U
• Attempts will be made to "assassinate" my character: Umar Naseer
• Jamaat role in economy adds to its Bangla clout
• Afghans protest US special operators in Wardak
North America
• Britons afraid to challenge radical Islam, says former Obama adviser
• CIA begins sizing up Islamic extremists in Syria for drone strikes
• Islamic scholar, Tariq Ramadan to speak on nonviolence, peace
• 'Human rights' are a weapon in the political arsenal of Israel's enemies
• Cleric Abu Hamza awaiting terror trial in New York gets prosthetics
Africa
• Saudi King's interfaith centre launches first program in Africa
• Tunisians mark 40 days since political killing of leader
Southeast Asia
• Indonesia Executes First Convict in Four Years
• FPI Demands Govt Shut Down Buildings Operating Prostitution Services
• Malaysian novelist wins top Asian literary prize
• Filipino officials to discuss labour agreement with KSA
Compiled by New Age Islam News Bureau
Photo: Protesters gather during a demonstration against the Jamaat-e-Islami party in Dhaka, Bangladesh. Photograph: Pavel Rahman/AP
URL: https://www.newageislam.com/islamic-world-news/arab-world/premarital-sex-against-social-norms-and-indian-culture--muslim-outfits/d/10791
--------------
India
Premarital Sex against Social Norms and Indian Culture: Muslim Outfits
Muslim outfits slam proposal to lower age of consent
Mar 16, 2013
NEW DELHI: Muslim community leaders slammed the proposal to lower the age of consent from 18 to 16 years, arguing that premarital sex or sex outside marriage was against social norms and the culture of the country.
While demanding capital punishment for rape convicts as ordained by Islam, Abdul Rahim Qureshi, assistant general secretary, All India Muslim Personal Law Board, said, "It is an irony that the government proposes to lower the age of consent to 16 when the marriageable age for girls is 18. Sex outside marriage is detrimental to society."
Muslim leaders stressed it was not a question of the community but the well-being of the country in general which was spurring them to oppose the move.
The age of marriage according to Muslim personal law in India is 15 years for girls. There is no fixed age in Islam for marriage. In Islamic jurisprudence (fiqh), a boy or a girl is eligible for marriage when they attain puberty which is much before 18 years of age, said Zafarul Islam Khan, president, All India Muslim Majlis-e Mushawarat ( AIMMM), an umbrella body of Muslim organizations.
Community leaders said premarital sex or sex outside marriage was unacceptable not only in Islam but it was against India's social and cultural tradition.
"Lowering the age of consent to 16 will disrupt the social fabric of the country by encouraging sex outside marriage. It militates against India's social norms and culture which believes in sanctity of marital relationship," said Niaz Ahmed Farooqui, secretary, Jamiat Ulama-i-Hind.
Community leaders believe the proposal would make children in the 16-18 age group more vulnerable. "Instead of protecting our children, this will expose them to manipulation. The children of 16-18 years would be open to exploitation, for instance, by teachers or staff in school," Farooqui said.
http://timesofindia.indiatimes.com/india/Muslim-outfits-slam-proposal-to-lower-age-of-consent/articleshow/18997787.cms
-------------
7/11 blast accused withdraws bail plea after IG varsity report
Mar 16 2013
Mumbai : Etheshyam Siddiqui, an accused in the 2006 serial train blasts case, has withdrawn his bail plea before the Bombay High Court after the Indira Gandhi Open University filed a report stating that an undertrial accused is not required to do field work to submit a project report.
The report was submitted to the court yesterday. Siddiqui, who was arrested by the ATS for alleged involvement in hatching the conspiracy of 7/11 train blasts, is doing a course in Bachelors of Tourism while lodged at Arthur Road Jail in south central Mumbai.
While moving the bail application Adv Sharif Sheikh, representing an NGO Jamiat-Ulama-e-Maharashtra, which provides free legal aid to Muslim youths, had earlier urged the court to grant interim bail to enable the accused to submit a project by May 31.
He had enrolled in the course in 2010 and has completed two years. Earlier, he had completed his Human Rights diploma from Indira Gandhi National Open University.
Seven bombs went off in first class coaches of Mumbai's suburban trains on July 11, 2006 killing 188 persons and injuring several others. Over a dozen persons have been arrested in connection with the serial blasts.
http://www.indianexpress.com/news/711-blast-accused-withdraws-bail-plea-after-ig-varsity-report/1089028/
--------------
Attack on CRPF camp: J-K Police detain third suspect
Mar 16 2013
Srinagar : Jammu and Kashmir Police has detained Parandeep Singh, a daily wager with the Public Health Department who allegedly provided shelter to two 'fidayeens' who carried out the suicide attack here on Wednesday, killing five CRPF men.
Police were looking for Parandeep Singh after his name figured in the interrogation of Bashir Ahmed alias Haroon Bhai – a resident of Uri in North Kashmir who worked for Lashkar-e-Toiba.
Singh, who was on run after the fidayeen attack on Wednesday, was detained early this morning, official sources said.
Full report at:
http://www.indianexpress.com/news/attack-on-crpf-camp-jk-police-detain-third-suspe.../1089088/
--------------
Bukhari, Imam Delhi's Jama Masjid snaps ties with Samajwadi Party
Mar 16 2013
Lucknow : Sweet to sour Imam says promises made to Muslims unfulfilled.
As Chief Minister Akhilesh Yadav completed his first year in office, the bonhomie between the ruling Samajwadi Party and Syed Ahmad Bukhari, Imam of Delhi's Jama Masjid, ended on Friday with Bukhari saying he had severed all relations with the party and had conveyed this to SP president Mulayam Singh Yadav in a letter.
"My relationship with the SP is over. Mulayam tried to manage things by sending a messenger last night, but they have miserably failed to fulfil their promises to Muslims," Bukhari told The Indian Express.
Full report at:
http://www.indianexpress.com/news/syed-ahmad-bukhari-snaps-ties-with-samaj.../1088990/
--------------
Trial of Pakistani suspects in Mumbai attacks adjourned till March 30
March 16, 2013
The trial of seven Pakistani suspects, including Lashkar-e-Taiba commander Zakiur Rehman Lakhvi, charged with involvement in the Mumbai attacks was on Saturday adjourned for two weeks as the judge was away to attend a training course.
The trial was adjourned till March 30 as anti-terrorism court judge Chaudhry Habib-ur-Rehman was expected to return to duty on Monday, sources said
In a separate development, chief prosecutor Chaudhry Zulifqar Ali said that Indian authorities had not yet responded to a request for a written assurance that a Pakistani judicial commission would be allowed to cross-examine four key witnesses during a planned visit to Mumbai.
Full report at:
http://www.hindustantimes.com/world-news/Pakistan/Trial-of-Pakistani-suspects-in-Mumbai-attacks-adjourned-till-March-30/Article1-1027469.aspx
--------------
Arab World
Saudi Grand Mufti denounces excessive dowry demands
March 16, 2013
JEDDAH — Grand Mufti Sheikh Abdul Aziz Al-Alsheikh has called upon the concerned authorities and social experts to study the issue of excessive dowry demands and find a solution to the problem.
"This issue should be reviewed by the pertinent experts and authorities and solutions should be suggested accordingly. Excessive dowry demands have become one of the biggest problems in society that needs to be addressed," he said while also criticizing extravagant wedding ceremonies.
The mufti also described the phenomenon of young men putting off marriage until they are in their 40s as another problem that should be addressed. "Some young men say they do not want to get married at a young age and they want to enjoy life first and do not want to have any restrictions. Such thinking is dangerous and wrong."
Al-Alsheikh said if young men are financially capable of marrying, they should do so immediately and thank Allah for giving them the opportunity to get married and live a life free from sin. He underscored the important role society plays in encouraging men to get married at a young age and warned parents against turning down marriage proposals made by good Muslim men.
He also cited the saying of the Prophet Muhammad (peace be upon him) calling for accepting marriage proposals from young men of sound character.
http://www.saudigazette.com.sa/index.cfm?method=home.regcon&contentid=20130316157026
----------
Egyptian officials who eradicate locusts are 'enemies of God': Salafist preacher
Locusts are a 'gift from God', and government officials who plan to get rid of them are against God, Salafist preacher Abdullah Abdel Hamid says
15 Mar 2013
Abdullah Abdel Hamid, a professor at Al-Azhar University and Salafist preacher, described Egyptian government officials as "enemies of God," following their late statements about eradicating millions of locusts who stormed several of Egypt's governorates in the last few weeks, Al-Watan newspaper reported on Friday.
Full report at:
http://english.ahram.org.eg/NewsContent/1/64/66930/Egypt/Politics-/Egyptian-officials-who-eradicate-locusts-are-enemi.aspx
----------
Egyptian Christians say they were tortured in Libya
Mar 16, 2013
CAIRO: Dozens of Coptic Christians were tortured inside a detention center run by a powerful militia in eastern Libya, two of the recently released detainees told The Associated Press on Friday amid a wave of assaults targeting Christians in Benghazi and the latest instance of alleged abuse by Libyan security forces.
The two, among an estimated 50 Egyptian Christians who have been detained in Libya on suspicion of proselytising, told of being rounded up in a market by gunmen who checked their right wrists for tattoos of crosses.
Full report at:
http://dawn.com/2013/03/16/egyptian-christians-say-they-were-tortured-in-libya/
----------
Iraq a major arms buyer decade after invasion
Mar 16, 2013
BAGHDAD: Ten years after the invasion that toppled Saddam Hussein and smashed Iraq's military, the country has become a major buyer of military equipment, spending billions to rebuild its armed forces.
In doing so, Iraq has become a customer of some of the same companies that supplied the weapons used to attack Baghdad's troops in 2003.
US-led forces carried out a massive bombing campaign and then a ground offensive against Iraq in March that year.
Full report at:
http://tribune.com.pk/story/521759/iraq-a-major-arms-buyer-decade-after-invasion/
----------
Prince Faisal commends Filipino work ethic
16 March 2013
Madinah Gov. Prince Faisal bin Salman has lauded overseas Filipino workers (OFWs) in the region for their work ethic.
"Their efficiency and hard work has contributed to the national development of both Saudi Arabia and the Philippines," Prince Faisal said.
He made the statement to Philippine Ambassador Ezzedin H. Tago, who called on him last Sunday to congratulate him on his appointment as the new Madinah governor.
Full report at:
http://www.arabnews.com/news/445047
----------
Syria regime expanding use of cluster bombs: HRW
March 16, 2013
BEIRUT — An international human rights group says the Syrian regime is expanding its use of widely banned cluster bombs in attacks on residential areas.
Such bombs open in flight, scattering smaller bomblets. They pose a threat to civilians long afterwards since many don't explode immediately.
Full report at:
http://www.saudigazette.com.sa/index.cfm?method=home.regcon&contentid=20130316157106
----------
Syria accuses Jordan of opening borders for jihadists
Damascus accuses Jordan of opening its borders and permitting the entrance of weapons coming from Saudi Arabia, claiming it could 'intensify the conflict'
15 Mar 2013
A Syrian security official on Friday accused Jordan of opening its borders to jihadist fighters and allowing weapons bought by Saudi Arabia in Croatia to be smuggled into the country.
"We deplore the change of attitude of Jordan, which in the past 10 days has opened its borders and is allowing to cross over (into Syria) jihadists and Croatian weapons bought by Saudi Arabia," said the source.
Full report at:
http://english.ahram.org.eg/NewsContent/2/8/66936/World/Region/Syria-accuses-Jordan-of-opening-borders-for-jihadi.aspx
----------
Europe
Historic UN code adopted to combat violence against women
By Tim Witcher
16 March 2013
UNITED NATIONS — Muslim and Western nations overcame deep divisions to agree on a landmark United Nations code to combat violence against women and girls.
Iran, Libya, Sudan and other Muslim nations ended threats to block the declaration and agreed to language stating that violence against women could not be justified by "any custom, tradition or religious consideration."
Western nations, particularly from Scandinavia, toned down demands for references to gay rights and sexual health rights to secure the accord after two weeks of tense negotiations between the 193 UN member states.
Full report at: Copyright © 2013 AFP. All rights reserved
---------
European Muslims see dialogue hope in pope name
Mar 16, 2013
VATICAN CITY: Muslims in Europe see hope for better relations with Roman Catholicism after the new pope took the name Francis, recalling the 13th-century saint known for his efforts to launch Christian dialogue with Islam.
Cardinal Jorge Bergoglio chose the name after his election on Wednesday in honour of St. Francis of Assisi, who is revered for his radical poverty and humility. Francis met the sultan of Egypt in 1219 on a peace mission during the Fifth Crusade.
Full report at:
http://dawn.com/2013/03/15/european-muslims-see-dialogue-hope-in-pope-name/
---------------
Al-Qaida jihadis replacing rebels in Syria: Russia
ByKounteya Sinha, TNN | Mar 16, 2013
LONDON: Russia has warned that jihadi fighters connected to al-Qaida are replacing genuine opposition fighters in Syria, putting the whole world at risk.
After meeting British foreign secretary William Hague on Wednesday, Russian foreign minister Sergei Lavrov said Kremlin could confirm that the dangerous group fighting in Syria in the name of being rebels was the Jabhat al-Nusra, which had direct links to al-Qaida. "The US has declared it a terrorist organisation," Lavrov said.
Full report at:
http://timesofindia.indiatimes.com/world/europe/Al-Qaida-jihadis-replacing-rebels-in-Syria-Russia/articleshow/18998870.cms
--------------
Syrian warplanes launch raids near capital: Watchdog
AFP | Mar 16, 2013
BEIRUT: Syria's air force launched new air strikes on Friday on rebel bastions near Damascus, as clashes raged in flashpoints across the country two years after the anti-regime uprising began, a watchdog said.
Regime forces resumed an assault on parts of third city Homs, pounding the Old City and Khaldiyeh rebel enclaves in the city centre and the embattled Baba Amr district in the southwest, the Syrian Observatory for Human Rights said.
Full report at:
http://timesofindia.indiatimes.com/world/middle-east/Syrian-warplanes-launch-raids-near-capital-Watchdog/articleshow/18997315.cms
--------------
Mideast Asia
Turkish Cypriots eye turning to Muslim states for recognition
Mar 16, 2013
NICOSIA: Frustrated by a stalled process to reunite Cyprus, the de facto Turkish Cypriot state that has run the north for almost four decades says it is considering asking fellow Islamic states for formal recognition.
That would infuriate the Republic of Cyprus government, a European Union member that describes the north as being under illegal military occupation since a 1974 Turkish invasion.
The eastern Mediterranean island has been divided ever since, with only Turkey so far recognising the north as a sovereign state.
Full report at:
http://www.dailytimes.com.pk/default.asp?page=2013\03\16\story_16-3-2013_pg4_7
--------------
Islamic Jihad to Run In Palestinian Elections
Abeer Ayyoub
March 14, 2013
Islamic Jihad has decided, for the first time, to run in the elections of the Palestinian National Council, the PLO's parliament representing Palestinians at home and in the diaspora.
Islamic Jihad made the decision despite no final agreement on elections, which is dependent on a reconciliation deal that's currently stalling between Hamas and Fatah.
In 2011, Palestinian factions agreed to form a temporary leadership committee for the PLO, which aims at reforming the representative body to allow factions that do not recognize Israel, such as Hamas and the Islamic Jihad, to join. Hamas and the Islamic Jihad are members in the temporary leadership committee.
Full report at:
http://www.al-monitor.com/pulse/originals/2013/03/palestinian-islamic-jihad-elections.html#ixzz2Ng2w9FeV
--------------
Aramaic Language Project in Israel Furthers Recognition of Maronites
By: Jacky Hugi
March 15, 2013
Shady Khalloul Risha holds his son Aram in his lap and speaks to him in a language that most Israelis are familiar with, but which only a few understand. The child responds the way children aged three and a half do. Shady is proud of his firstborn; Aram is really a special child. At home, in the village of Jish (Gush Halav), not far from the Israeli-Lebanese border, the infant has been exposed to three languages from birth. His father speaks to him in Aramaic. His mother, born in Ukraine, chats with him in Russian. And his grandparents, Shady's parents, address him in Arabic.
Full report at:
http://www.al-monitor.com/pulse/originals/2013/03/an-aramaic-community-seeks-recognition-in-israel.html#ixzz2Ng4DK2H2
----------
Hamas urges collaborators with Israel to surrender
Those who come forward will have their cases dealt with discreetly, says Hamas official
By Fares Akram
March 16, 2013
Gaza City: "Hey, collaborator! Stop and think! Isn't time to get out of the swamp?"
That message appeared this week on dozens of billboards and in graffiti on walls across Gaza, as the Hamas government began an intensive one-month campaign to urge people who collaborate with the Israeli authorities to surrender willingly in exchange for amnesty.
But those who do not turn themselves in by April 11, the Interior Ministry warned, will be pursued without mercy.
Full report at:
http://gulfnews.com/news/region/palestinian-territories/hamas-urges-collaborators-with-israel-to-surrender-1.1158992
-------------
Iran: Commanders authorized to respond to attacks
March 16, 2013
TEHRAN, Iran: The spokesman for Iran's armed forces says military commanders have been given the authority to respond immediately to enemy attacks.
Gen. Masoud Jazayeri also says Iran keeps "all options are on the table", language similar to that used by U.S. President Barack Obama to leave open the possibility of military action against Iran's nuclear program.
Full report at:
http://www.dailystar.com.lb/News/Middle-East/2013/Mar-16/210372-iran-commanders-authorized-to-respond-to-attacks.ashx#ixzz2NhjDGFnL
------------
Pakistan
It Happens Only In Pakistan: Matric In 2007, B.A. In 2006 and M.A. In 2001
New Age Islam News Bureau
Karachi: A legislative assembly member of Pakistan has achieved a feat no one can even imagine of. Pakistan's MLAs and MPs have made a sort of history by submitting fake mark sheets and other documents while filing nominations in the last elections. More than 60 such leaders have been declared invalid by the court but still they are holding office. But Tariq Mahmood's case is the most curious and interesting. The documents show that he did his M.A. in 2001, B.A. in 2006, and Matric in 2007. It means he first passed M.A. that too in Islamiyat (Islamic Studies) and then after clearing his M.A. he took admission for his B.A. After completing his B.A. which he cleared in only one year he finally enrolled for matriculation in 2007. He belonged to Pakistan Muslim League (N). The local leadership have demanded his exclusion from the election process so cleanse the party of corrupt elements. He had won the elections from Bajoh in district Nankanah in 2001.
---------------
Rangers arrest 13 suspects, seal bomb-making factory in Karachi
Mar 16, 2013
KARACHI: Rangers arrested at least 13 suspects during a search operation in the Surjani Town area of Karachi on Saturday and sealed a factory producing local bombs, reported Express News.
Security personnel recovered as much as 25 kilogrammes of explosives and a huge cache of arms and ammunition from the suspects. Five locally-made bombs embedded in cricket balls were also recovered.
Full report at:
http://tribune.com.pk/story/521761/security-operation-rangers-arrest-13-suspects-seal-bomb-making-factory-in-karachi/
-----------
Frontier Corps arrests 14 terrorists, recovers heavy explosives in Hub
Syed Ali Shah
Mar 16, 2013
QUETTA: Frontier Corps on Friday foiled a major bid of terrorism by arresting 14 suspected terrorists and recovering a large quantity of explosives from their possession in Lala zar area of Hub.
According FC Spokesman, the force has recovered 100 kilos of explosives, 1500 kilos of chemical used in making of explosives and a huge cache of other arms and ammunitions.
He said 14 suspects were also arrested during the operation and handed over to police.
The FC spokesman said another major terrorism bid was foiled when the FC personnel defused a 10 kilos heavy bomb in Sui town of troubled Dera Bugti district in Balochistan province.
http://dawn.com/2013/03/16/fc-arrests-14-terrorists-recovers-heavy-explosives-in-hub/
-----------
No need for 'grand operation' in Karachi: Rehman Malik
March 16, 2013
ISLAMABAD: Federal Interior Minister Rehman Malik on Saturday said that there was no need to conduct any 'grand operation' in Karachi, DawnNews reported.
Malik said that only 15-20 miscreants were responsible for the deteriorating law and order situation in the city and would be caught soon by authorities.
The interior minister alleged that the Lashkar-e-Jhangvi (LeJ) was involved in spreading violence in Karachi, adding that LeJ members flee to Rahim Yar Khan or Dera Ghazi Khan after committing crimes in the city.
Speaking at a ceremony in Islamabad, the interior minister said that the Inter-Services Intelligence (ISI) played a major role in fighting against terrorism.
Malik also praised the role of the Chief of Army Staff General Ashfaq Parvez Kayani in fighting terrorism.
Moreover, he said that he had successfully completed the duty assigned to him, adding that he would be happy to help, should the new government require his assistance.
http://dawn.com/2013/03/16/no-need-for-grand-operation-in-karachi-rehman-malik/
------------
Kishanganga award an achievement, says Pakistan
ANITA JOSHUA
Mar 16, 2013
Pakistan on Friday claimed that the partial award of The Hague-based Court of Arbitration in the Kishanganga Hydroelectric Plant dispute had corrected the "travesty of justice" done by the decision of the neutral expert in the Baglihar case, and restored the efficacy of the Indus Waters Treaty (IWT).
Briefing journalists here on the February 18 partial award, Prime Minister's Special Assistant on Water Resources Kamal Majidullah said the 2007 verdict of the neutral expert on the Baglihar project had turned the IWT on its head. Pakistan did not challenge the verdict because the Treaty did not allow questioning the neutral expert's decision.
Full report at:
http://www.thehindu.com/news/international/south-asia/kishanganga-award-an-achievement-says-pakistan/article4513506.ece
-----------
Egypt's President Morsi to visit Pakistan on March 18: FO
Mar 16, 2013
ISLAMABAD: Egyptian President Mohamed Morsi will be making a state visit to Pakistan on March 18 on an invitation extended by President Asif Ali Zardari, the Foreign Office said.
President Morsi will be the first democratically-elected president of Egypt to visit Pakistan. The last visit of an Egyptian president to Pakistan was made by the late Gamal Abdel Nasser in the 1960s.
Full report at:
http://dawn.com/2013/03/16/egypts-president-morsi-to-visit-pakistan-on-march-18-fo/
-----------
Road accident kills 24 Pakistan army personnel in Kohistan
Mar 16, 2013
MANSEHRA: At least 24 Pakistan army personnel were killed and five others were injured when a Gilgit bound passenger coach plunged into the Indus River in Kohistan on Saturday morning.
All soldiers killed in an accident were from the Northern Light Infantry Battalion (NLIB).
The incident happened at Summer Nula when the speeding driver of the coach negotiated a sharp turn and lost control of the vehicle which then fell into a deep ravine.
Full report at:
http://dawn.com/2013/03/16/road-accident-kills-20-security-personnel-in-kohistan/
-----------
Christians fear attack amid cleric's threat
Mar 16, 2013
LAHORE: Several Christian families fled their homes in Shibli Town on Friday in anticipation of a mob attack after accusations surfaced over the desecration of a mosque's ablution area.
There are about 70 houses in the Christian locality of Shibli Town, where Naseer Ahmed, a prayer leader of Jamia Masjid Al Hajveri, accused a Christian boy of entering the mosque and urinating at the place designated for ablution purposes on Wednesday.
Full report at:
http://tribune.com.pk/story/521688/on-tenterhooks-christians-fear-attack-amid-clerics-threat/
-----------
People will judge at the upcoming polls: Chairman Senate
Mar 16, 2013
ISLAMABAD: Chairman Senate Nayyer Hussain Bokhari on Friday said people are the best judge and the Pakistan People's Party will rest its case before the people's court at the upcoming elections.
The Chairman declared the successful completion of 5-year-term by elected democratic government a milestone in Pakistan's history.
"We have laid the strong foundation for continuity of democratic process in the country and for strengthening the democratic roots for ultimate peace, progress and prosperity of people
of Pakistan," said Bokhari while addressing the inaugural ceremony of the second Asian conference on contemporary dental practice advancement, dental research and dental education at Pak China friendship centre. The Chairman said that for progress of a nation research and development in various fields is essential. He said that no stone will remain unturned for provision of good quality education and health facilities to the people of Pakistan, particularly the rural areas.
Full report at:
http://www.dailytimes.com.pk/default.asp?page=2013\03\16\story_16-3-2013_pg11_1
------------
Pakistan Edges Toward First Democratic Power Transfer
March 16, 2013
ISLAMABAD—Pakistan is expected this weekend to begin the countdown to a general election that, if successful, would be a historic first: the country's first proper democratic transition since its founding in 1947.
On Saturday, the Pakistani parliament's term will expire, paving the way for the formation of a caretaker government that will oversee elections slated to take place by early May. If all goes to plan, it will mark the first time for Pakistan that a democratically elected government has completed a full five-year term and transferred power to a new civilian administration.
The current government, led by the Pakistan People's Party of President Asif Ali Zardari, is now in negotiations with the opposition to select a caretaker prime minister. If the two sides don't agree, a parliamentary committee would name the caretaker. If that fails, the Election Commission of Pakistan, an independent agency, will decide the interim setup.
Election officials and observers said they don't expect the talks over a caretaker to prompt a crisis.
Full report at:
http://online.wsj.com/article/SB10001424127887324532004578362702912520718.html?mod=googlenews_wsj
-----------
South Asia
Shahbag rallyists swamp hardline group
ByCaesar Mandal, TNN | Mar 16, 2013
DHAKA: The Hefazat-e-Islam may have forced the government to stop the Gana Jagaran Mancha rally in Chittagong recently, but its muscle tactics failed at Ashulia, on the outskirts of Dhaka, on Friday.
Nearly a lakh people — most of them workers of garment manufacturing units in the Savar area — gathered at Ashulia to demand death penalty for those convicted in the '71 genocide. This is the first time that the working class came out in such large numbers to join a movement that was so far perceived to be orchestrated by the urban, educated middle class.
Full report at:
http://timesofindia.indiatimes.com/world/south-asia/Shahbag-rallyists-swamp-hardline-group/articleshow/18998834.cms
--------------
"Difficult" to consider elections credible unless Nasheed is allowed to contest: European Union
By JJ Robinson | March 16th, 2013
The European Union (EU) has declared that it would be "difficult" to consider the Maldives' upcoming presidential elections credible unless former President Mohamed Nasheed is allowed to contest.
Nasheed is currently being tried in the Hulhumale' Magistrate Court over his detention of Chief Judge of the Criminal Court Abdulla Mohamed.
Full report at:
http://minivannews.com/politics/difficult-to-consider-elections-credible-unless-nasheed-is-allowed-to-contest-european-union-54653
------------
Attempts will be made to "assassinate" my character: Umar Naseer
By MinivanNews | March 14th, 2013
Progressive Party of the Maldives (PPM) presidential primary candidate Umar Naseer has claimed he has "received information" of an attempt to plant drugs in one of his offices.
A post made under Umar's name on his Facebook and Twitter pages stated he had received "intel" that an attempt would be made to discredit his name by planting contraband in one of his offices.
Full report at:
http://minivannews.com/politics/attempts-will-be-made-to-assassinate-my-character-umar-naseer-54497
------------
Jamaat role in economy adds to its Bangla clout
ByCaesar Mandal, TNN | Mar 16, 2013
DHAKA: Shahbag activists have so far overcome death threats and assassinations, but their biggest obstacle isn't a bunch of radical, machete-wielding terrorists. It's economy.
There are fears that the Shahbag mission's call to ban the Jamat-e-Islami and seize their property may destabilize Bangladesh financially. The Jamat and several radical Islamic groups are alleged to be the force behind Islami Bank Bangladesh Limited (IBBL), one of the major private financial institutions of the country with huge stakes in privatized health, insurance, education, pharmaceuticals, transport and real estate.
Full report at:
http://timesofindia.indiatimes.com/world/south-asia/Jamaat-role-in-economy-adds-to-its-Bangla-clout/articleshow/18998821.cms
----------
Afghans protest US special operators in Wardak
Mar 16, 2013
KABUL: Several hundred demonstrators were marching to the Afghan parliament building in Kabul, protesting the continued presence of US special operations forces in Afghanistan's troubled Wardak province.
Kabul's deputy police chief General Mohammad Daud Amin said Saturday's demonstration of roughly 500 protesters had been peaceful.
Full report at:
http://dawn.com/2013/03/16/afghans-protest-us-special-operators-in-wardak/
------------
North America
Britons afraid to challenge radical Islam, says former Obama adviser
British people are too afraid to offend a "vocal and aggressive" section of the Muslim community who demand that their cultural values are accepted by wider society, according to a former adviser to Barack Obama.
By John-Paul Ford Rojas
15 Mar 2013
Professor Lawrence Krauss said he had been shocked when taking part at a debate hosted by an Islamic group at a leading British university to find that men and women were segregated.
The professor, a leading physicist and prominent atheist, threatened to walk out unless organisers agreed to let men and women sit together, which was eventually agreed - but was then astonished to find himself being accused of intolerance by angry members of the audience.
Full report at:
http://www.telegraph.co.uk/news/religion/9932108/Britons-afraid-to-challenge-radical-Islam-says-former-Obama-adviser.html
--------------
CIA begins sizing up Islamic extremists in Syria for drone strikes
The strategy is part of the agency's secret contingency planning to protect the U.S. and its allies as the violence there grows. Some militants in Syria are seen as closely linked to Al Qaeda.
By Ken Dilanian and Brian Bennett, Los Angeles Times
March 16, 2013
WASHINGTON — The CIA has stepped up secret contingency planning to protect the United States and its allies as the turmoil expands in Syria, including collecting intelligence on Islamic extremists for the first time for possible lethal drone strikes, according to current and former U.S. officials.
Full report at:
http://www.latimes.com/news/nationworld/world/middleeast/la-fg-cia-syria-20130316,0,3989647.story
---------------
Islamic scholar, Tariq Ramadan to speak on nonviolence, peace
March 15 2013
SALT LAKE CITY — A coalition of organizations focused on nonviolence and peace is bringing noted scholar Tariq Ramadan to Utah for two lectures on March 20-21 about finding peace in the Middle East. Both lectures are free and open to the public.
The first talk, "Islam and Human Rights: How Will the Arab Spring bring Peace to the Middle East?" is Wednesday, March 20 at 7 p.m. at the Salt Lake Main Library, 210 E. 400 South. The second, "The Needs of Ethics when dealing with an Islamic Legal System" is Thursday, March 21, at noon in the Marriott Library on the University of Utah campus.
Full report at:
http://www.deseretnews.com/article/865575917/Islamic-scholar-to-speak-on-nonviolence-peace.html
--------------
'Human rights' are a weapon in the political arsenal of Israel's enemies
By Anne Bayefsky
March 15, 2013
Today at the United Nations in New York City, the UN's top women's rights body, the Commission on the Status of Women, will wrap up its annual session by condemning only one state for violating the rights of women anywhere in the world. Not Syria, or China, or Saudi Arabia. But Israel, for violating the rights of Palestinian women.
Next week, the UN's top human rights body, the Human Rights Council, will end its session by adopting six resolutions condemning human rights violations by one state alone. Israel. And one resolution each on human rights violations in seven of the other 192 UN countries combined.
Full report at:
http://www.foxnews.com/opinion/2013/03/15/human-rights-are-weapon-in-political-arsenal-israels-enemies/#ixzz2Nh7o2tFv
-----------
Cleric Abu Hamza awaiting terror trial in New York gets prosthetics
Abu Hamza al-Masri, the handless Islamic cleric awaiting trial on US terrorism charges, has got a new set of prosthetics and will have access to a laptop computer to review evidence in his cell
16 Mar 2013
The jail holding Abu Hamza al-Masri, the handless Islamic cleric awaiting trial on U.S. terrorism charges, provided him with a new set of prosthetics on Friday, officials said at a hearing on Friday.
His attorneys had been asking for the new limbs for months, after authorities refused to allow him to wear his usual metal hooks outside of his jail cell.
Full report at:
http://english.ahram.org.eg/NewsContent/2/9/66958/World/International/Handless-cleric-Abu-Hamza-alMasri-awaiting-terror-.aspx
-----------
Africa
Saudi King's interfaith centre launches first program in Africa
16 March 2013
RIYADH — King Abdullah Bin Abdul Aziz International Centre for Interreligious and Intercultural Dialogue has launched its first initiative in Africa in the Ugandan capital of Kampala.
The initiative will focus on interfaith dialogue between religious leaders in local communities to encourage coexistence and cooperation and enhance children's rights.
Full report at:
http://www.saudigazette.com.sa/index.cfm?method=home.regcon&contentid=20130316157103
------------
Tunisians mark 40 days since political killing of leader
March 16, 2013
Tunis: More than 1,000 people demonstrated on Saturday on the 40th day of mourning after the murder of opposition leader Chokri Belaid, a critic of the ruling Islamists whose death plunged Tunisia into turmoil.
People began gathering at midday in the cemetery in southern Tunis where Belaid is buried. He was gunned down outside his home on February 6 in a killing blamed by the authorities on radical Islamists.
Full report at:
http://www.ndtv.com/article/world/tunisians-mark-40-days-since-political-killing-of-leader-343318
-------------
Southeast Asia
Indonesia Executes First Convict in Four Years
Camelia Pasandaran & SP/Erwin Sihombing | March 15, 2013
A Nigerian drug dealer was executed by firing squad on Thursday night in Indonesia's first execution of a convicted felon since 2008.
"Last night, Adami Wilson was executed, [he was] a drug dealer," Indonesia's Attorney General Basrief Arief said on Friday. "The [execution] place was around the Thousand Islands."
Basrief said that the Attorney General's Office (AGO) planned to execute nine more convicts this year.
Full report at:
http://www.thejakartaglobe.com/home/indonesia-executes-first-convict-in-four-years/579982
------------
FPI Demands Govt Shut Down Buildings Operating Prostitution Services
Vento Saudale | March 16, 2013
Depok. An Islamic fundamentalist group has demanded city officials in Depok knock down a rundown, illegal building that they claim has been used to run a prostitution service.
Hundreds of members from the Islamic Defenders Front (FPI) told the Depok administration on Friday that they had until April 15 to clean up illegal buildings.
Full report at:
http://www.thejakartaglobe.com/news/fpi-demands-depok-govt-shut-down-buildings-operating-prostitution-services/580025
------------
Malaysian novelist wins top Asian literary prize
Mar 16, 2013
HONG KONG: Malaysian writer Tan Twan Eng won the 2012 Man Asian Literary Prize on Thursday for a novel dealing with the aftermath of Japan's wartime occupation of his country, becoming the first Malaysian to claim one of Asia's main literature prizes.
Tan, born in 1972, beat out four other authors, including Turkish Nobel Laureate Orhan Pamuk, for the $30,000 prize in what was described as a "far-ranging and intricately layered novel".
"The Garden of Evening Mists", which was shortlisted for the Man Booker Prize in 2012, tells the story of Yun Ling Teoh, the survivor of a Japanese prison camp who in her old age looks back at the early 1950s and her relationship with the mysterious creator of then-Malaya's only Japanese garden.
Full report at:
http://dawn.com/2013/03/15/malaysian-novelist-wins-top-asian-literary-prize/
-------------
Filipino officials to discuss labour agreement with KSA
16 March 2013
Top officials from the Philippines are scheduled to meet with Saudi Labour Ministry officials today and tomorrow regarding the bilateral labour agreement on HSWs between the two countries, according to Philippine Ambassador Ezzedin H. Tago.
"The Filipino officials will discuss the proposals of the Kingdom as well as the counter-proposals of the Philippines regarding the deployment of Filipino household service workers (HSWs) in the Kingdom," the Filipino envoy told Arab News.
Full report at:
http://www.arabnews.com/news/445039
------------
URL: https://www.newageislam.com/islamic-world-news/arab-world/premarital-sex-against-social-norms-and-indian-culture--muslim-outfits/d/10791