New Age Islam News Bureau
5 Jun 2020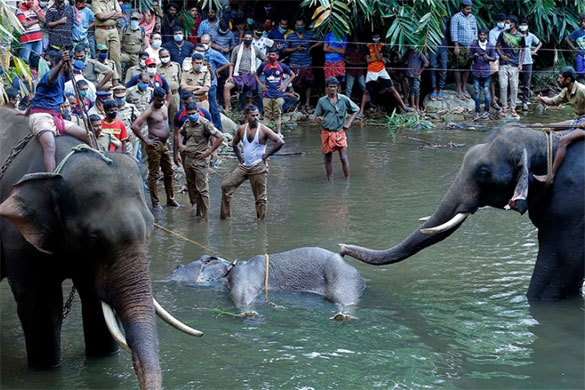 This photograph taken on May 27 shows policemen and onlookers standing on the banks of the Velliyar River in Kerala's Palakkad district as the dead elephant is retrieved [File: AFP]
------
• Pregnant Elephant's Death in India Triggers anti-Muslim 'Hate Campaign'
• All India Muslim Development CouncilIssued an Appeal and Asked Muslims Not to Retaliate The 'Call for Boycott of Muslim Businesses'
• Hindu Sisters Who Married Muslim Men Reconcile with Families, After A Year of Conflicts
• Iran Releases American Convict Due to Islamic Kindness
• PM Sheikh Hasina Calls for Rapid Invention of Vaccinesto Protect Mankind from The Pandemics Like Novel Coronavirus
• West Sumatra Governor Wants Local Language Bible App Removed Because Province Is 'Islam-Leaning'
• Dubai Islamic Bank to Revive Islamic Bond Deal
• UK National Health Service Thanks Muslim Staff Who Worked Through Ramadan
• U.S. Presses Allies to Keep Up Islamic State Fight
-------
India
• Pregnant Elephant's Death in India Triggers anti-Muslim 'Hate Campaign'
• All India Muslim Development CouncilIssued an Appeal and Asked Muslims Not to Retaliate The 'Call for Boycott of Muslim Businesses'
• 2,300 Foreigners Blacklisted For 10 Years Over Tablighi Jamaat Delhi Event
• WhatsApp Group With 125 Members Formed During Delhi Riots Linked to Murder of Muslim Brothers
• Kanpur Medical College Principal Removed After Making Controversial Remarks Against Muslims
-------
Pakistan
• Hindu Sisters Who Married Muslim Men Reconcile with Families, After A Year of Conflicts
• PBM receives equipment from Muslim Aid Pakistan
• Cabinet panel opens debate on outsourcing of major airports
• Senate panel wants Saarc to formulate joint anti-virus strategy
• Peshawar ATC grants bail to suspected militant
• Traders among hundreds held over SOP violation in Peshawar
------
Mideast
• Iran Releases American Convict Due to Islamic Kindness
• Turkey to reopen key border crossing to help trade rebound with Iran
• Imam Khomeini's character surpassed borders: South African FM
• Turkey: Where Criticizing Islam Can Land You In Prison
• Imam Khomeini's Departure Anniv. Observed In Beijing
• London meeting: Imam Khomeini most influential leader of 20th century
• Martyrdom operations affected by Imam Khomeini's ideas
-----
South Asia
• PM Sheikh Hasina Calls for Rapid Invention of Vaccinesto Protect Mankind from The Pandemics Like Novel Coronavirus
• Burial Held for Imam Killed by Blast, Public Outcry Continues in Kabul
• In Afghanistan, the Islamic State Threatens Long-Term Peace
• Afghan Vice President's family members, office staff tested positive for coronavirus
• Explosion leaves 4 dead, wounded in Kabul
• Command of Joint Forces established to root out terror cells, criminal gangs in Kabul
• Three dead, seven wounded in China supermarket stabbing
-----
Southeast Asia
• West Sumatra Governor Wants Local Language Bible App Removed Because Province Is 'Islam-Leaning'
• Former K-Pop star Lu Han Angers Muslims After Wearing Vest with Islamic Shahada
• Basilan Lawmaker Wary of Anti-Terror Bill, worries for Muslims Getting Tagged As Terrorists
• How COVID-19 will reshape Islamic finance markets
• Muhammadiyah allows mosques to hold mass Friday prayers with strict health protocols
------
Arab world
• Dubai Islamic Bank to Revive Islamic Bond Deal
• Organization of Islamic Cooperation Universities Urged To Continue Research, Innovation
• Saudi Arabia Pledges $150m at GAVI, The Vaccine Alliance, Vaccine Summit
• Jordan To Lift 'Most' Coronavirus Restrictions, Mosques and Restaurants to Reopen
• Friday sermon in Egypt to be aired live from Al-Azhar Mosque without worshipers
• Dubai Islamic Bank donates AED16 million to Mohammed bin Rashid Al Maktoum Humanitarian and Charity Establishment
• COVID-19: Saudi Mosque Shut Over Imam's Suspected Infection
• Saudi Arabia mourns first doctor to die after contracting coronavirus
• Saudi Arabia repatriation flights from US cities, Beirut bring home nationals
• Friday sermons in Saudi Arabia to focus on virus prevention
------
Europe
• UK National Health Service Thanks Muslim Staff Who Worked Through Ramadan
• Reopening of mosques in coronavirus-free regions of Uzbekistan delayed until June 8
• Tichitt, A Mauritanian Jewel of Islamic Culture, Sees Itself 'Forgotten'
• Preston Muslim Prayer House's Hope to Open Earlier and Later - With More Worshippers Allowed As Demand Rises
• British Airways 'spurns Priti Patel call' amid row over 14-day coronavirus quarantine plans
------
North America
• U.S. Presses Allies to Keep Up Islamic State Fight
• Intel: US urges anti-Islamic State coalition to step up financial contributions
• 'Do Not Tell Anybody You're Muslim': 'Ramy' Stars Reflect On Hollywood's Longtime Neglect
• George Floyd death: Nicola Sturgeon says it is 'hard to not conclude' Trump is a racist
-----
Africa
• COVID-19: Nigerian Govt Threatens To Close Down Churches, Mosques Again
• Libya's prime minister to meet with Turkish president in Ankara
• In the dry season, Nigeria's army puts Boko Haram on the back foot
• How explosion killed nine-year-old child of suspected Boko Haram member
Compiled by New Age Islam News Bureau
URL; https://www.newageislam.com/islamic-world-news/pregnant-elephant-death-india-triggers/d/122042
------
Pregnant Elephant's Death In India Triggers anti-Muslim 'Hate Campaign'
05 June 2020
An elephant's death in the southern Indian state of Kerala has erupted into a political controversy, with the state's chief minister flagging a "hate campaign" over the incident by the Hindu right-wing forces.
The wild elephant, aged about 15, allegedly ate a pineapple filled with firecrackers that exploded in its mouth, leaving it in searing pain as it walked around the village for days, according to media reports.
The animal eventually died standing in a river on May 27 near the Silent Valley National Park in Kerala's Palakkad district, prompting shock and anger across the nation over the cruel death.
An autopsy undertaken by forestry officials found it had major wounds in its mouth consistent with an explosion, said a report by the India Today network.
Kerala Chief Minister Pinarayi Vijayan on Thursday tweeted that three suspects have been identified, and that the case will be jointly investigated by the state's police and forest departments.
Meanwhile, a controversy erupted after Bharatiya Janata Party (BJP) parliamentarian Maneka Gandhi, also an animal rights activist, said the incident happened in Malappuram district, which has 70 percent Muslim population and lies 85km (52 miles) west of Palakkad.
"It's murder. Malappuram is famous for such incidents, it's India's most violent district," she told the ANI news agency on Wednesday.
"For instance, they throw poison on roads so that 300-400 birds and dogs die at one time," she said, without elaborating who she meant by "they".
The statement by the senior BJP leader triggered a storm of anger on social media, with hundreds of posts suggesting the perpetrator could be a Muslim.
That, despite many journalists - and even actors - from the region tweeting that the elephant died in Palakkad and not Malappuram as alleged by the BJP and its supporters, and asking people not to communalise the incident.
"Seeing all the hatred on the pregnant elephant's killing in Kerala, need to add something. The elephant was found dead in the Velliyar river which flows through Palakkad district," wrote Dhanya Rajendran, editor-in-chief of southern India-based The News Minute website, on Twitter.
Sorry, based on the district you ASSUME this happened in!! How much more hate will you spew based on assumptions and misleading reportage?
In a tweet on Thursday morning, Union Minister Prakash Javadekar repeated Maneka Gandhi's statement that the killing happened "in Malappuram, Kerala" and the central government has taken a "very serious note" of it.
"We will not leave any stone unturned to investigate properly and nab the culprit(s). This is not an Indian culture to feed firecrackers and kill," he posted.
"[We] are saddened by the fact some have used this tragedy to unleash a hate campaign. Lies built upon inaccurate descriptions and half truths were employed to obliterate the truth," he tweeted.
The state of Kerala is governed by the opposition Communist Party of India (Marxist). One of the parliamentarians from the state is Rahul Gandhi, former president of the main opposition Congress party.
The elephant's death came to India's attention after a forestry officer, Mohan Krishnan, posted an emotional apology to her on May 30.
"Sorry sister," Krishnan, who witnessed the elephant's death, wrote in the Malayalam language in a Facebook post, which received almost 10,000 reactions or comments.
"With her mouth and tongue destroyed in the explosion, she paced around hungry without being able to eat. She must have been more worried about the health of the child inside her than about her own hunger."
Photos of the pachyderm shared on social media showed it standing in a river after the incident, dunking its mouth and trunk in the water hours before it died.
India's cricket captain Virat Kohli said he was "appalled" while Bollywood actor Akshay Kumar tweeted that the incident was "heartbreaking, inhumane and unacceptable".
Ratan Tata, chairman emeritus of Tata, one of India's biggest conglomerates, called the killing "no different than acts of meditated murder against other humans ... Justice needs to prevail."
Poor villagers in India, Sri Lanka and elsewhere often use firecracker or explosive-filled pineapples - which act like pressure-activated landmines - to protect their fields and homes from wild animals.
A similar incident was reported last month in a nearby district in Kerala where a female elephant was found with serious mouth injuries.
About 2,361 people were killed in attacks by elephants between 2014 and 2019, according to data recorded by the Indian government.
In the same period, about 510 elephants died, including 333 from electrocution and about another 100 from poaching and poisoning, the figures stated.
https://www.aljazeera.com/news/2020/06/pregnant-elephant-death-india-triggers-hate-campaign-200604101245365.html
-----
All India Muslim Development Council Issued an Appeal and Asked Muslims Not to Retaliate The 'Call for Boycott of Muslim Businesses'
Jun 4, 2020
MUMBAI: A Muslim outfit has asked community members to buy from non-Muslims in the neighbourhood rather than go looking for Muslim grocers and traders elsewhere. This call, akin to PM Narendra Modi's "vocal for local" slogan comes days after videos of some Hindus calling for boycott of Muslim vegetable vendors and businesses surfaced.
Bangalore-headquartered All India Muslim Development Council (AIMDC) has issued an appeal on June 2 in which it has asked Muslims not to retaliate the "call for boycott of Muslim businesses'' negatively and increase their dealings with non-Muslim traders.
""Islam teaches us to reply hatred with love and compassion. Our religion attaches huge importance to the rights of neighbours and people living around us. Based on this principle, the shopkeepers living in our neighbourhood should be preferred in our dealings," said AIMDC's general secretary Mohammed Imthiyaz. Masjid One Movement through which mosques are being transformed as community development centres. Besides offering namaz, mosques will be used to collect data on social, economic, educational status of the community members living in the mosques' vicinity. The data will be used to implement several welfare schemes and scholarships among the poor and needy community members. AIMDC and Masjid One Movement were launched nine months ago.
UzmaNaheed, a co-president of AIMDC, said that the appeal to Muslims to buy ration and other products from non-Muslim grocers is to give boost to local business. "During the coronavirus-induced lockdown several Muslims and their organisations distributed food and water among the migrants returning home. After watching the divisive, disturbing videos where Muslim vendors were beaten and returned from mohallas, we thought it would be prudent if we tell Muslims not to retaliate by boycotting non-Muslim traders," said Naheed. "Love is natural, not hatred. We must promote love and discourage hatred."
https://timesofindia.indiatimes.com/city/mumbai/muslim-outfit-asks-community-members-to-go-local-buy-from-non-muslim-grocers/articleshowprint/76197556.cms
-----
Hindu Sisters Who Married Muslim Men Reconcile with Families, After A Year of Conflicts
June 5, 2020
LAHORE: After a year of conflicts, two sisters belonging to the Hindu community who converted to Islam last year and married Muslim men in Ghotk, Sindh, have finally reconciled with their families and the matter has now settled.
In March last year, the girls named Reena and Raveena were allegedly abducted and forcibly converted to Islam. Their elder brother claimed that the girls were underage and were unable to make such decisions.
In response, the girls had approached the Islamabad High Court (IHC) along with their husbands and had sought protection because they felt threatened for their safety. In their plea, the girls confessed of willingly embracing Islam and marrying Muslim men. After a detailed inquiry into the matter, the court said the two were adult enough to make their own decisions and that they were not forced to convert.
The teenagers had left their home on March 20 to be married in Punjab, where the law does not bar marriages of those younger than 18, unlike Sindh.
After the conversion, Raveena changed her name to Aasiya, whereas Reena was named Nadia. Aasiya was married to a young man named Safdar Ali, while Nadia tied the knot with Barkat Ali. Both the men were already married and the girls were taken as their second wives.
The marriages, however, did not take place smoothly as controversies continued to surround the couples. According to a Sindh government report submitted in the IHC, both the men had failed to mention their first marriages in their nikahnamas. What's more, the first wives of Barkat Ali and Safdar Ali, in their official statements, expressed 'serious concern' over second marriages of their husbands without their consent, which is a legal requirement as per the law.
Raveena stressed that she and her sister converted to Islam willingly and the undue media propaganda related to their forced conversions and marriages was untrue.
"Changing my religion was not an easy decision and my journey from Hinduism to Islam was very difficult in the beginning, but I am finally fine with the mercy of Allah."
She said that her parents were really upset with her decision earlier but now that she is a mother, they have reconciled with her.
"We used to talk on the phone with them and gradually fell in love," she said. "As against the common belief, we both are happy, our husbands treat us well, and our in-laws respect us. No one has ever taunted us about our past," Raveena said.
Despite Reena and Raveen's success story, forced conversions of Hindu girls and marrying them off to Muslims men still remains a problem in Sindh and over the years, a number of cases have surfaced. It is pertinent to mention that both Raveena and Reena are devout followers of MianMithoo who is infamous for facilitating such conversions.
https://tribune.com.pk/story/2235763/1-hindu-sisters-married-muslim-men-reconcile-families/
------
Iran releases American convict due to Islamic Kindness
Jun 5, 2020
TEHRAN, Jun. 05 (MNA) – Tehran has announced the release of a US citizen, Michael White, who had been imprisoned on security charges in Iran.
Foreign Ministry Spokesman Abbas Mousavi said Mr. White was released on Thursday night with Islamic kindness and based human rights considerations and left Tehran to join his family soon.
Mousavi noted that since White had no one in Iran, he was handed over to the US interests section in the country, i.e. the Embassy of Switzerland.
As he had some symptoms of the virus, he was totally examined and after making sure that he was not sick, his freedom verdict was implemented, the spokesman said.
Mousavi also said, "Simultaneous with White's release, Majid Taheri, an Iranian scientist who was imprisoned in the United States for false reasons, was released too."
Mousavi thanked the Judiciary Branch, Ministry of Intelligence, the Secretariat of the Supreme Security Council, and Swiss Embassy in Tehran for close cooperation in order to free Taheri and White.
Majid Taheri was sentenced to 16 months in prison for charges of circumventing unilateral anti-Iranian sanctions.
On Wednesday, Another Iranian scientist SirousAsgari who had been imprisoned in the United States has returned to the country.
https://en.mehrnews.com/news/159429/Iran-releases-American-convict-due-to-Islamic-Kindness
-------
PM Sheikh Hasina Calls for Rapid Invention of Vaccines to Protect Mankind from The Pandemics Like Novel Coronavirus
June 05, 2020
Bss, Dhaka
Prime Minister Sheikh Hasina yesterday called for "rapid invention" of newer vaccines to protect mankind from the pandemics like novel coronavirus, saying that vaccination has proved to be one of the most important means to combat contagious diseases.
"The Covid-19 pandemic proved how really powerless we are in the face of any global calamity. It also reminded us of the old saying that prevention is always better than cure," she told the virtual Global Vaccine Summit 2020 being held in the UK.
Citing the United Nations, Hasina said one new infectious disease emerges in humans every four months and the Global Virome Project estimated that there are about 700,000 which are capable of causing pandemics.
"Many of them may pose existential threat to the whole human race. So, the current and newer vaccines will be needed for the survival of the humans."
In this connection, the PM sought assistance from the GAVI Alliance, formerly known as Global Alliance for Vaccines and Immunisation.
The UK is hosting the Global Vaccine Summit, bringing together leaders from governments, foundations, the private sector and civil society and it marks 20 years since the GAVI was founded.
Hasina said since its inception in 2000, GAVI has helped immunise over 760 million people against deadly diseases, saving more than 13 million lives worldwide.
"Our simple wish can ensure that GAVI is fully funded to strengthen immunisation infrastructure; help immunise 300 million additional children and save up to 8 million lives in GAVI-supported countries.
The premier said there could not have been a better time than today to meet to support the causes of vaccination when the world is frantically searching for an effective vaccine to fight Covid-19.
"I'm delighted to be with you today to be a partner of the initiative which has saved lives of millions of children and pregnant mothers."
The PM said in this journey, GAVI has been a "time-tested partner" for Bangladesh towards achieving universal health coverage and Sustainable Development Goals (SDGs).
"Bangladesh reached the target of MDG number 4 -- reducing under-five mortality by two-thirds in 2010 due to important assistance rendered by GAVI," she said.
Hasina said since her first tenure as the PM (1996-2000), her governments have relentlessly worked to bring the fruit of development to the last person in the line.
"In our efforts, GAVI has provided continuous support to expand immunization coverage up to 98 percent. Our Universal Health Coverage programme could not have been successful without the alliance's active participation and contribution of $700 million."
She said with GAVI's partnerships for innovation in immunisation, Bangladesh has become the pioneer in the region for digitising and strengthening data systems as one of the most advanced users of the Digital Heath Information System-2.
The PM said the government was studying establishment of a unique digital identity for health services in partnership with ID2020, GAVI and the a2i programme.
About hosting 1.1 million Rohingyas, Hasina said Bangladesh said the country was sheltering the "forcibly displaced Myanmar nationals" at a great financial, social and environmental cost.
"Our health officials and workers from international organizations are working to limit the number of Covid-19 cases in the Rohingya camps," she said.
US President Donald Trump, Burkina Faso President Roch Marc Christian Kabore, Ethiopian President Sahle-Work Zewde, UN Secretary-General António Guterres, WHO Director General Tedros Adhanom Ghebreyesus and leaders and representatives of different countries and international organisations also spoke at the event.
British Prime Minister Boris Johnson, and the co-chair of Bill and Melinda Gates Foundation, Bill Gates, delivered the keynote speeches, while Chair of GAVI Board Ngozi Okonjo-Iweala gave the closing address.
The summit aims to raise at least $7.4 billion for the GAVI for 2021-2025 to protect a further 300 million children against infectious diseases like measles, typhoid and polio.
In a statement, the GAVI said if the summit succeeds, the alliance will be able to maintain immunisation in developing countries, mitigating the impact of the pandemic.
"We will be able to sustain health system so that the countries are ready to rapidly introduce Covid-19 vaccines and by 2025, we will have immunised more than 1.1 billion children and saving 22 million lives," it said.
https://www.thedailystar.net/frontpage/news/pm-calls-rapid-invention-vaccines-1909205
------
West Sumatra governor wants local language bible app removed because province is 'Islam-leaning'
Jun 5, 2020
West Sumatra Governor IrwanPrayitno has filed a formal request to the Communications and Information Ministry for the removal of a local language bible app from the Google Play Store, which he said is incompatible with the majority belief of the citizens in the province.
The request was reportedly sent to the ministry on May 28, as confirmed by West Sumatra Provincial Government spokesman ZardiSyahrir yesterday.
"It's not that we are differentiating religions. But this is the culture. In West Sumatra the culture is Islam-leaning. Based on that, of course we have to respect the culture's order because culture makes up the personalities of the Minang people," he said, referring to the ethnic group native to the province.
A copy of the formal request has made the rounds online, in which the governor wrote, "the Minang people object to and are troubled by the app."
According to National Statistics Agency (BPS) data, as of 2019, West Sumatra is home to 5.48 million people. Some 98 percent of the province's population are Muslim, with a very small minority of Christians mostly residing in the Mentawai Islands.
That said, Indonesia's constitution, in theory, guarantees religious freedom for adherents of six officially recognized religions, with Islam and Christianity among them. In practice, that guarantee does not always translate to equal rights for all believers.
In this case, such is perhaps evident by the Communications and Information Ministry's failure to outright reject West Sumatra's request.
"If it's in violation of or is not compatible with the state's ideology, constitution, and laws, then an app, which may appear on digital platforms such as Google, Facebook, Microsoft, Instagram, and others may be taken down," Communications and Information Minister Johnny G. Plate said.
"To my knowledge the Holy Bible is translated into many languages such as Latin, English, Arabic, Indonesian, Chinese, and more, whether in their lingua franca or in local languages. But the ministry will look into it first."
West Sumatra has used religion and culture to justify some ultra-conservative policies in recent years, including its plan to ban LGBT communities and behavior, which has yet to pass into official local policy.
https://coconuts.co/jakarta/news/west-sumatra-governor-wants-local-language-bible-app-removed-because-province-is-islam-leaning/
------
Dubai Islamic Bank To Revive Islamic Bond Deal
June 5, 2020
Dubai Islamic Bank has revived plans to issue a U.S. dollar-denominated sukuk, or Islamic bond, sources familiar with the matter said, a deal the bank had postponed during financial market volatility earlier this year.
The United Arab Emirates' largest shariah-compliant lender had hired a group of banks in February for a deal, which one source said would have been for around $750 million. The sale was postponed due to turbulent market conditions resulting from the new coronavirus outbreak.
The bank is now considering issuing the bond soon, two sources familiar with the matter said, with one of them saying the deal could happen as early as next Monday.
The double whammy of the coronavirus crisis and low oil prices brought international public bond issuances from the Gulf to a halt for more than a month around March. But primary public bond issues have since slowly opened up in the region, with investment-grade sovereigns ending the drought in April and junk-rated Bahrain selling $2 billion in bonds in May.—Reuters
https://pakobserver.net/dib-to-revive-islamic-bond-deal/?utm_source=rss&utm_medium=rss&utm_campaign=dib-to-revive-islamic-bond-deal
------
UK National Health Service Thanks Muslim Staff Who Worked Through Ramadan
19 hours ago
National Health Service leaders have thanked and commended Muslim staff for serving on the frontline and in supporting roles against the coronavirus crisis whilst fasting during Ramadan.
According to the healthcare journal HSJ, Habib Naqvi, deputy director of the Workforce Race Equality Standard, said: "Along with the rest of the UK, the Muslim NHS workforce has made sterling efforts and sacrifices to delay the spread of the coronavirus by heeding social distancing and adapting government advice.
"This has been a unique time globally, with festivals of Ramadan and Eid occurring during the peak of COVID-19. Muslims and other faith communities have met these challenges head on, and it's inspiring to see people using technology for prayer and iftar with family and friends throughout Ramadan.
"This virus has made some of our BME communities more vulnerable," he said, adding that while coronavirus restrictions still remained in place during Eid, the key message remained: "stay at home unless absolutely necessary, to help contain the virus and save lives."
Prerana Issar, chief people officer for the NHS, added: "Our Muslim colleagues have been working tirelessly across the NHS, many while navigating the additional challenge of fasting for Ramadan.
"I am thinking of those who are celebrating Eid this year – it will be very different as people will not be able to mark this important occasion with extended members of their families and their friends and communities as they normally would.
"I would like to wish Eid Mubarak to all our Muslim communities – but also encourage everyone to make use of online platforms and alternative approaches to communicating with our family and friends, and work within government guidelines around social distancing.
"The NHS has a diverse workforce with an estimated 3.3 per cent of the 1.4 million NHS workers being from a Muslim background. While fasting plays an important central feature in many major religions, there are a number of exemptions where adult Muslims do not fast during Ramadan."
In April the NHS developed new Ramadan guidance in partnership with the NHS Muslim Network and the British Islamic Medical Association, outlining key advice to NHS staff and managers working in hospitals and healthcare settings during coronavirus.
The coronavirus crisis has claimed a disproportionate amount of deaths in the Muslim community, including Walsall nurse Areema Nasreen who died on April 3.
Richard Beeken, Chief Executive of Walsall Healthcare NHS Trust, said at the time: "Any death is devastating but losing one of our own is beyond words. Areema was extremely committed to her role as a Staff Nurse on the Acute Medical Unit at Walsall Manor Hospital. She was a professional, passionate nurse who started at the trust as a housekeeper in 2003 before working hard to gain her nursing qualification in January 2019.
"Her dedication to her role and her popularity amongst her colleagues is obvious to see with the outpouring of grief and concern we are seeing around the organisation and on social media. We will do everything that we can in the coming days and weeks to support those that need it.
"Her vocation in nursing was clear for all to see and she always said that she was so blessed to have the role of a nurse which she absolutely loved because she wanted to feel like 'she could make a difference' – and you did, Areema, you will be very sadly missed.
"I would, on behalf of the trust like to pass our deepest condolences to Areema's family and loved ones and our thoughts are with them all at this very sad time."
https://5pillarsuk.com/2020/06/04/nhs-thanks-muslim-staff-who-worked-through-ramadan/
------
U.S. presses allies to keep up Islamic State fight
June 4, 2020
The Trump administration is pressing U.S. allies to boost funding for the global fight against Islamic State, saying Iraq still needs help in battling the terror group's still-potent remnants even as U.S. forces pull back from front-line positions.
The plea from Secretary of State Mike Pompeo — during a virtual summit of the counter-Islamic State coalition that the U.S. and Italy co-hosted Thursday — came as the world economy grapples with financial fallout from the coronavirus pandemic that has infected more than 6.5 million people and killed nearly 387,000 around the world.
"It's true that the pandemic is putting enormous pressure on all of our budgets, but we urge your nations to pledge toward our goal of more than $700 million for 2020," Mr. Pompeo told representatives of 31 other nations attending the virtual gathering.
Amid reports Islamic State has been able to regroup in the sparse lands along the Syria-Iraq border, Mr. Pompeo said Iraq and its allies still must root out the terror group's surviving cells and network and "provide stabilization assistance to liberated areas in Iraq and Syria."
A joint communique from the summit noted that, "while [Islamic State] no longer controls territory and nearly eight million people have been freed from its control in Iraq and Syria, the threat remains and thus calls for stronger vigilance and coordinated action."
"This includes allocating adequate resources to sustain Coalition and legitimate partner forces' efforts against [Islamic State] in Iraq and Syria, including stabilization support to liberated areas, to safeguard our collective security interests," the communique said.
While Mr. Pompeo told the gathering that the Trump administration will provide the $100 million it pledged to support Iraq against a potential Islamic State resurgence last year, his remarks Thursday came roughly two months after American troops began pulling back from and handing over several key bases in Iraq to Iraqi security forces.
President Trump has also markedly reduced the size of the anti-Islamic State U.S. special forces contingent posted in Syria.
In late March, U.S. commanders in Iraq said coalition forces in Iraq, including about 5,000 U.S. troops, were being consolidated in and around Baghdad as part of pre-planned movements set in motion by what they said was the coalition's success in breaking the Islamic State's hold on territory.
The statement denied claims that had swirled in some media at the time that the troops were being pulled back in response to increasing threats posed by Iran-backed Iraqi Shiite militia groups.
With Mr. Trump pushing to come through on a major campaign promise to bring U.S. troops home from "forever wars," the overall status of U.S. and coalition forces in Iraq has come under question since the October 2019 death in Iraq of Islamic State leader Abu Bakr Al-Baghdadi.
Al-Baghdadi was killed after detonating a suicide vest while being pursued by U.S. forces. The Trump administration has since repeatedly declared the Islamic State caliphate defeated, despite warnings from analysts and former officials that the terror group remains a threat in the Middle East and globally, with offshoots and affiliates still carrying out attacks from Africa to Asia.
Several violent attacks claimed by the Islamic State affiliate in Afghanistan during recent months have threatened to undermine the Trump administration's push for a historic peace deal and U.S. troop withdrawal there.
Analysts have also warned that jihadists and other militant extremists have sought to exploit the coronavirus world health crisis. Islamic State propaganda has surfaced in recent months calling on followers to increase attacks as world governments and militaries focus on combating the COVID-19 pandemic
https://www.thedailystar.net/opinion/perspective/news/brexit-bangladeshis-1865212
------
India
2,300 Foreigners Blacklisted For 10 Years Over Tablighi Jamaat Delhi Event
June 04, 2020
As members returned to their homes across the country, over 15,000 coronavirus cases with links to the Delhi event were reported, leaving states scrambling to track them down. Some foreigners were also arrested as they tried to leave the country.
The Tablighi Jamaat is one of the world's biggest Sunni Muslim proselytising organisations with followers in more than 80 countries, promoting a pure form of Islam.
The group had said that many of the followers who had visited its offices in a narrow, winding lane in Delhi's historic Nizamuddin area were stranded after the government declared the three-week lockdown, and the centre had to offer them shelter.
However, the Delhi government said the congregation had violated its rules that were introduced days before the nationwide lockdown and banned large gatherings to stop the spread of COVID-19.
http://c.newsnow.co.uk/A/1034174517?-2818:1034
------
WhatsApp Group With 125 Members Formed During Delhi Riots Linked to Murder of Muslim Brothers
JUNE 4, 2020
New Delhi: Investigation into the rioting incident in Northeast Delhi's Bhagirathi Vihar has revealed that a WhatsApp group with 125 members was formed on the intervening night of February 25 and 26, a day before four bodies were fished out of Bhagirathi Vihar and Johripur drains.
The Delhi Police crime branch is now all set to file chargesheet in the case on Thursday. It is going to be the sixth chargesheet in the rioting case this week.
"During the investigation, it was found that during peak rioting, a WhatsApp group was created on the intervening night of Feb 25 and 26. This group had 125 members," the police mentioned in its chargesheet.
According to officers, on February 23, as the situation turned tensed in the area after clashes over CAA, two brothers — Amir Ali (31) and Hashim (19) — went to their maternal home for safety. After two days, their father Babu Khan, a tailor, asked them to return as the situation had apparently become normal.
Both Amir and Hashim reached Gokalpuri area at about 9.30 PM on a motorcycle and asked their brother Sheruddin to come out in the lane, as they were terrified. But they never reached their home.
On February 28, when the family reached Gokalpuri police station, they learnt that Amir and Hashim were killed and their bodies and burnt motorcycle thrown into the Bhagirathi Vihar drain by rioters.
According to police, two active members of the group were arrested and their mobile phone was scanned. "A WhatsApp group was created on February 25 as well. During the course of investigation, it has been found that while some members of these groups were only sending and receiving chats, a few others were involved in active rioting," sources said.
On the basis of eyewitness accounts and technical evidences, police arrested nine people for murdering Hashim, while eleven arrested for killing Amir.
https://www.news18.com/news/india/whatsapp-group-with-125-members-formed-during-delhi-riots-linked-to-murder-of-muslim-brothers-2652585.html
-----
Kanpur Medical College Principal Removed After Making Controversial Remarks Against Muslims
June 5, 2020
Principal of Kanpur's GSVM Medical College Arti Dave Lalchandani was removed from her position by the Uttar Pradesh government after her video where she was seen making controversial remarks against Muslims went viral last week.
In the video Lalchandani was heard calling the Muslims as terrorists who deserve to be put in jail and tortured. She also accused Chief Minister Yogi Adityanath of indulging in appeasement politics. "They are terrorists, we are exhausting our resources on them. We are extending our hospitality to these terrorists. Yogi (chief minister) should have given a clear order that they would not be treated here."
In March, an event of Islamic missionary movement, Tablighi Jamaat held at Nizamuddin in Delhi had emerged as first COVID-19 hotspot.
In the video that surfaced on social media on Sunday, Lalchandani complains that district magistrate suppressed her for bringing this issue up because he takes order from Yogi Adityanath. "I am writing to the Union health minister (also her batchmate at medical college) Harsh Vardhan because no one listens to me and continues to extend hospitality."
The Indian Express reports, the action was taken after Kanpur District Magistrate Brahm Dev Tiwari submitted his report on the controversy to Principal Secretary (Medical Education) Rajneesh Dube.
Following the controversy, Lalchandani held a press conference where she alleged that the video was morphed by a local journalist in Kanpur who has been allegedly trying to use it to extort money and receive administrative favours. She further claimed that she did not use words Tablighi or Muslims in the video, Lalchandani had said she would get an FIR registered against the journalist for filming the video and blackmailing her.
https://www.thestatesman.com/india/kanpur-medical-college-principal-removed-after-making-controversial-remarks-against-muslims-1502896439.html
-------
Pakistan
PBM receives equipment from Muslim Aid Pakistan
June 5, 2020
Islamabad : Pakistan Bait-ul-Mal (PBM) receives necessary equipment from Muslim Aid Pakistan (MAP), for its Women Empowerment Centre.
In the presence of Managing Director PBM, Aon Abbas Buppi, Head of Programmes MAP, Fahad Iqbal Haidri handed over the equipment to Director PBM, Sajjad Iqbal during a ceremony held here in PBM head office.
Admiring the humanitarian services of Muslim Aid, Managing Director PBM expressed his gratitude for sincere gesture towards susceptible women of the country. "Economic empowerment of women results family financial stability, economic independence and momentous contributions to the well-being of society." he added.
Managing Director PBM, Aon Abbas Buppi told that presently 156 WECs are functional across the country including Azad Kashmir & Northern Areas, where vocational training to widows, orphan & poor girls is being provided free of charge. At the present, latest IT courses are being introduced in these centres and the passed out women are also being offered soft loans to initiate their own business. He also expressed his passion for the expansion of these centres to Tehsil Level, so as to benefit maximum number of poor women of the country.
Muslim Aid handed over Cutting table, embroidery machines and sewing machines for PBM's WEC established in Tarnol, Islamabad.
https://www.thenews.com.pk/print/667962-pbm-receives-equipment-from-muslim-aid-pakistan
------
Cabinet panel opens debate on outsourcing of major airports
June 05, 2020
Mubarak Zeb Khan
ISLAMABAD: The cabinet committee on outsourcing of major airports of the country on Thursday held its first meeting and directed stakeholders to come up with viable options in a week.
The committee, headed by its chairman Razak Dawood, Adviser to the Prime Minister on Commerce and Investment, asked the members to finalise proposals to be presented before the cabinet.
On the outsourcing of the airports, the government has constituted the cabinet committee to explore ways and means of opening of major airports for foreign investment.
It is believed that some investors are interested in making investment in the airports and the government is also now keen to open up this crucial sector for investors.
An official announcement issued after the meeting said the committee discussed two aspects of airport operations: the regulatory part of the Civil Aviation Authority and the commercial part of operations.
During the meeting, various options, along with the associated legal aspects, were discussed in detail, keeping in view the segregation of regulatory and commercial sides.
Speaking on the occasion, the chairman of the committee, Mr Dawood, said that there was a huge potential in airport-related commercial activities, which could be exploited by bringing in knowledge and experience from major international experts in the aviation industry.
He further said that the gap in non-aeronautical activities at major airports, including duty-free shops, restaurants and commercial outlets, could be efficiently filled by such expertise, thereby bringing the country's airports on a par with leading airports of the world.
He said that international best practices would be ensured in the overall operation and management of various activities by bringing in international investors and generating overall goodwill for the country among various stakeholders and the aviation industry around the world.
He said that foreign direct investment always acted as a catalyst to socio-economic development in the country, as it resulted in creating thousands of jobs.
He further said that the move would restore confidence of the private sector of the country and they would invest in the airport-related industry.
https://www.dawn.com/news/1561442/cabinet-panel-opens-debate-on-outsourcing-of-major-airports
------
Senate panel wants Saarc to formulate joint anti-virus strategy
Iftikhar A. Khan
June 05, 2020
ISLAMABAD: A Senate panel on Thursday asked the government to convene a Saarc conference to formulate a joint strategy to effectively combat coronavirus.
The Senate Standing Committee on Interior unanimously passed a resolution urging the government to call a Saarc meeting to evolve a joint anti-coronavirus strategy for a unified regional response to the pandemic.
The Senate panel expressed deep concern over the rapidly growing number of coronavirus patients and deaths caused by the deadly virus.
The committee asked the government to come up with a clear policy on the lockdown and noted that there appeared to be a state of confusion on the issue.
Chairman of the committee Rehman Malik objected to the much-publicised slogan of "no need to be scared of corona" and said the slogan was sending out a wrong message and needed to be immediately amended.
He said the people were not following the SOPs to prevent the spread of the deadly disease and because of this positive cases and deaths were rapidly increasing. He said the country would face a massive increase in positive cases of Covid-19 and deaths if the government did not implement the SOPs by force of law.
The interior secretary briefed the committee on implementation of 37-point recommendations of the Senate Standing Committee on Interior and said these served as a compact guideline for the government to combat coronavirus in the country.
Executive Director of the National Institute of Health (NIH) Major General Aamer Ikram briefed the committee on the measures taken to combat coronavirus. Briefing the committee on the Covid-19 situation in the country, he said that the fatality rate was 2.6 per cent and currently there were 16 centres operating in the country.
Mr Malik said that the government must take steps for increasing the testing capacity for coronavirus as senators from Balochistan complained that testing facility was not available for people in some parts of Balochistan.
The chairman of the committee said that he would personally request the Chinese government to assist Pakistan in this effort and provide testing kits to the country
He also asked the government that it must not ignore patients of coronavirus in rural areas of the country and mobile laboratories should be deployed in those areas to test maximum number of suspected cases.
The committee condemned the continued ceasefire violations by Indian security forces along the Line of Control, targeting civilian population, sending spy drones and killing 35 Kashmiri youth in occupied Kashmir.
Federal Minister for Narcotics Control Azam Khan Swati applauded efforts of Senator Rehman Malik for getting removed the name of Pakistan from FATF's grey list. He said that because of his tireless efforts, Pakistan had received a relief of five months from the FATF in the most difficult time of pandemic.
The committee, after a detailed del­i­­beration, passed the Islamabad Pre­v­e­­ntion of Beggary Bill, 2020, the Islam­abad Consumer Protection (Amen­d­ment) Bill, 2020, the Anti-Terrorism (Amendment) Bill, 2020, and the Rig­hts of Persons Arrested, Detained or under Custodial Investigation Bill, 2020.
https://www.dawn.com/news/1561441/senate-panel-wants-saarc-to-formulate-joint-anti-virus-strategy
------
Peshawar ATC grants bail to suspected militant
June 05, 2020
PESHAWAR: An anti-terrorism court here has granted bail to a suspected militant commander charged with carrying out a terrorist attack on a checkpost which had left two police constables dead around a decade ago in Badhber area.
The court accepted a bail petition filed by the suspect, Gul Mat Khan, a resident of Khyber tribal district, who the prosecution claimed was a commander of proscribed Lashkar-i-Islam.
The prosecution alleged that the petitioner along with other militants had attacked SpeenQabarcheckpost, which was jointly manned by personnel of police and Frontier Constabulary, with heavy machine guns and rocket launchers in 2010.
An FIR of the occurrence was registered under 302/324/353/427 of Pakistan Penal Code, section 7 of Anti Terrorism Act and section 3-4 of Explosive Substance Act.
Advocate Shabbir Hussain Gigyani appeared for the petitioner and contended that his client was falsely implicated in the case. He argued that the investigation wing of police had failed to collect any evidence regarding his linkage to any terrorist organisation.
https://www.dawn.com/news/1561355/peshawar-atc-grants-bail-to-suspected-militant
-----
Traders among hundreds held over SOP violation in Peshawar
June 05, 2020
PESHAWAR: The district administration of Peshawar on Thursday arrested 385 people, mostly traders, and sealed several pharmacies and superstores for not following the standard operating procedures enforced to prevent the spread of Covid-19 pandemic.
According to a statement issued here, Umer Pharmacy, Naik Store and Esa Electronics on University Road, Chen-One and Macro Mart on Ring Road, Madina Express, Bilal Daewoo and Faisal Movers on GT Road and Afghan Market and Baba G Market in QissaKhwani Bazaar were sealed, while owners of many shops were fined.
Officials of the administration and provincial transport authority checked passengers and transporters at the Motorway Toll Plaza and fined many of them for not wearing face masks. Some drivers were fined for overcharging commuters.
They checked more than 90 filling stations in the city and arrested managers of 18 of them for hoarding petroleum products and overcharging consumers.
A statement issued by the office of the deputy commissioner said a total of Rs16,500 fine was imposed on SOP violators, while warnings were issued to 148 shopkeepers for not wearing face masks.
It said it was observed during visits to markets and taxi stands on Tuesday, only 50-60 per cent of the residents took protective measures against the virus, so it had been decided to intensify regular checking of crowded places.
A statement issued by the district police said besides the deployment of personnel at quarantine centres and ensured the enforcement of Covid-19 SOPs across the district, the police had also launched a crackdown on outlaws and achieved a record success during the last month.
It said a large cache of chars, heron and liquor was also seized and dozens of drug peddlers were held during a crackdown.
The police also arrested 14 people wanted for heinous crimes and seized unlicensed arms and ammunition from their possession.
https://www.dawn.com/news/1561349/traders-among-hundreds-held-over-sop-violation-in-peshawar
-----
Mideast
Turkey to reopen key border crossing to help trade rebound with Iran
June 4, 2020
Turkish Trade Minister RuhsarPekcan said on Wednesday that Ankara will order a reopening of the Gurbulak border gate, known on the Iranian side of the border as Bazargan, to help boost trade between the two neighbors.
The long-awaited measure comes more than a week after Iranian and Turkish presidents discussed the reopening of air and land borders between the two countries now that the pandemic has slowed down.
Iran has been the worst affected country in West Asia by COVID-19, the disease caused by the new coronavirus.
However, the rate of infection in the country has declined over the past weeks to help the government ease lockdown measures that came into force in early March.
The pandemic-related closure of borders between Iran and Turkey has caused a decline of up to 70 percent in trade between the two in the first quarter this year.
Iran sees trade with Turkey as key in efforts to confront US sanctions that have sought to undermine Tehran's oil exports. Petrochemical products account for a major share of Iran's exports to Turkey although US bans have made it difficult to settle payments between businesses in the two countries.
Turkey also relies on Iran as a major market for its manufacturing goods, including industrial machinery and garment, while it also sends to Iran some sizable shipments of crops and fruits that are not cultivated in the country.
https://en.abna24.com/news//turkey-to-reopen-key-border-crossing-to-help-trade-rebound-with-iran_1043171.html
------
Imam Khomeini's character surpassed borders: South African FM
Jun 4, 2020
Tehran, June 4, IRNA – South African minister of international relations and cooperation said in a webinar on Thursday that character of Imam Khomeini surpassed Iranian borders.
Naledi Pandor said that Iran is a country that has based its diplomatic policies on independence, which has been an inspiration for many developing countries.
Pandor said that the foreign policy of Iran is a reflection of its national identity, and that people of Iran should be proud of their history enormously.
She said Iran is one of the oldest countries in the world and is praiseworthy in literature, medicine, engineering, and sciences. It reminds me of the people who knew who they were and what they fought for, which is the biggest freedom.
She said that one of the teachings of Imam Khomeini was that every man and women should decide its own fate, and hoped that this will happen one day for everyone.
Imam Khomeini's measures enabled the Iranians to decide their own fate, she said.
The event was held by the Embassy of Iran in Pretoria, South Africa, on the occasion of the 31 anniversary of Imam Khomeini's demise and the 57th anniversary of the massacre that took place in Iran on 5 and 6 June 1963 to discuss the role of Imam Khomeini and Nelson Mandela in the future of the world. About 15,000 protesters were kicked by the Shah's forces and tanks in Tehran, Qom, Shiraz, Mashhad, and Varamin.
https://en.irna.ir/news/83810527/Imam-Khomeini-s-character-surpassed-borders-South-African-FM
------
Turkey: Where Criticizing Islam Can Land You In Prison
by Tyler Durden
06/04/2020
On May 17, Turkish photographer FıratErez, a former supporter of Turkey's ruling Justice and Development (AKP) Party, was arrested in the city of Antalya after saying "Islam is immoral" on his Twitter account.
"Islam is immoral. His Prophet, Allah, his disciples could not protect it. Islam has not overcome the moral barrier. It cannot. You cannot find the truth by bending over five times a day. Plain, clear and painful."
Erez was detained by Antalya police for "insulting religious values" and "provoking hatred or hostility in one section of the public against another section".
Twitter has since suspended Erez's account, and those who visit his Twitter feed today only see the following notification: "Twitter suspends accounts which violate the Twitter Rules".
Many people who commented on Erez's Twitter post called on authorities to arrest and punish him. One openly called on the "special operations unit" to torture Erez and "not to leave a single rib in his body that is unbroken, a tooth that is not pulled out, and a nail that is unextracted."
The journalist HakanAygün, former chief editor of the left-wing opposition-linked Halk TV, was also recently arrested for allegedly "humiliating religious values." Aygün was accused of "provoking hatred or hostility" by "insulting the Koran", the pro-government newspaper Sabah reported on April 3.
On March 31, Aygün had posted a tweet that criticized Turkey's "national donation campaign" to fight the coronavirus outbreak, announced by Turkish President Recep Tayyip Erdoğan, with wordplay over a verse in the Koran. Many social media users have criticized the government for asking citizens to donate to the campaign when many citizens themselves are financially struggling after the government has mismanaged or irresponsibly wasted much of its budget.
Aygün criticized the donation campaign by referring to the Koran, which uses the term "iman" (religious belief) several times particularly in the expression "O you who believe! [who have faith]". Aygün replaced the word "iman" with "IBAN" [International Bank Account Number] and wrote:
"O you who have IBAN! We gave you IBAN numbers from separate banks so that you will engage in IBAN. Undoubtedly, in the afterlife, those do IBAN will be separated from those who don't!"
"The words of the suspect containing insults and accusations based on false claims that are impossible to be tolerated have reached more than one person, and have led to the insulting, degradation and demoralization of a particular section of the society."
Inal also said in the criminal complaint that Aygün's Twitter post "insulted the Koran, the holy book of Muslims, in a country where almost the entire population is Muslim and lives as Muslims.
"Degrading the book and its verses, which is one of the top priorities of the Muslims, by changing the places of letters and words through some word games is an unacceptable, ugly and presumptuous attack. Our book, Koran, clearly makes known the end [fate] of such people."
Indeed, laws criminalizing blasphemy or any criticism of the Islamic religion is deeply rooted in Islamic scriptures. According to the Koran and the recorded sayings (hadith) and biographies (sira) of Islam's founder, "To leave Islam, to insult Muhammad or Allah, to deny the existence of Allah, to be sarcastic about Allah's name, to deny any verse of the Koran" or to commit other acts of blasphemy are all punishable by death.
Such teachings have become embedded in the culture of many Muslim communities. Blasphemy is punishable by death in six countries: Iran, Pakistan, Afghanistan, Brunei, Mauritania and Saudi Arabia.
Turkey does not have a separate law on blasphemy, but critics of Islam can be exposed to physical violence and death. TuranDursun, an ex-Muslim imam and author who spoke about his atheism and publicly criticized Islam, and professor BahriyeÜçok, who said the use of headscarf was not obligatory in Islam, were both murdered in Turkey in 1990.
Certain laws in the criminal code are specifically cited to punish people for offenses related to "disrespecting" or "insulting" Islam. Article 216 of the Turkish criminal code, for instance, outlaws "insulting religious belief":
"Any person who openly disrespects the religious belief of group is punished with imprisonment from six months to one year if such act causes potential risk for public peace."
Bans on, or pressure against, any criticism of religion appear to be commonplace across the Muslim world. According to a report by the United States Library of Congress:
"Most jurisdictions in the Middle East and North Africa have laws prohibiting insulting Islam or religion generally. Many of them have recently applied such laws, including in Algeria, Bahrain, Egypt, Iran, Jordan, Kuwait, Morocco, Qatar, Saudi Arabia, Sudan, Tunisia, the United Arab Emirates, and the West Bank.
"Islamic countries in East Asia and the Pacific, including Brunei, Indonesia, Malaysia, and Myanmar, have blasphemy-related laws that are actively enforced."
"Laws restricting apostasy and blasphemy are most common in the Middle East and North Africa, where 18 of the region's 20 countries (90%) criminalize blasphemy and 14 (70%) criminalize apostasy."
More alarming is that these pressures and bans come not only from governments. Many of the people in the countries mentioned above also appear enthusiastically to support strict or even deadly blasphemy and apostasy laws. According to a 2013 Pew survey, overwhelming percentages of Muslims in many regions -- Southeast Asia (84%), South Asia (78%), the Middle East and North Africa (78%), and Central Asia (62%) -- favor making sharia, or Islamic law, the official law of the land. And according to sharia, blasphemy and apostasy are punishable by death.
The "End Blasphemy Laws Campaign", run by the International Coalition Against Blasphemy Laws, has been trying to repeal blasphemy and related laws worldwide. According to its official website:
"While freedom of thought and belief, including religious belief, must be protected, it is equally important to guarantee an environment in which a critical discussion about religion can be held.
"Countries which prosecute 'blasphemy' and 'insult to religion' tend to suffer disproportionately many incidents of intercommunal and mob violence, vigilantism against individuals, and the general silencing and persecution of minorities.
"Criminalizing 'insult to religion in the penal code lends... legitimacy to the social persecution of individuals and groups who are said to 'offend' mainstream religious sensibilities, sometimes with their speech acts or writing, often just through their existence, or based on rumours spread with the intention of whipping up violence."
HakanAygün was released on May 6, pending trial. His next hearing will be held on July 14. FıratErez, however, is still in jail. The way these two individuals have been targeted appears to be a warning by the government to other potential dissidents who might consider criticizing some aspects of Islam or a government policy.
Even if criticizing Islam might be offensive to some Muslims, all ideas, religions and ideologies should be open to criticism so long as one does not incite violence. "If liberty means anything at all," the author George Orwell wrote, "it means the right to tell people what they do not want to hear." Sadly, however, a philosophy that is for liberty seems a million years away from Erdoğan's government.
https://www.zerohedge.com/geopolitical/turkey-where-criticizing-islam-can-land-you-prison
------
Imam Khomeini's departure anniv. observed in Beijing
Jun 5, 2020
Tehran, June 5, IRNA – The Iranian diplomats based in Beijing commemorated on Thursday the 31st anniversary of the departure of the late Founder of the Islamic Revolution Imam Khomeini.
Cultural Attaché of Iran in China AbbasaliVafaei described the departure anniversary of Imam as a historic day.
The steps taken by Him was very great and the Islamic Revolution could be considered as one of the Islamic gifts, he underlined.
Thanks to the insightful thoughts of Imam Khomeini, today Iran enjoys humanity and freedom, he further noted.
Imam Khomeini, who led the Islamic Revolution of Iran (1979), passed away in 1989 at the age of 87.
His charismatic character and political approach inspired many leaders and popular uprisings against dictatorial powers across the world.
https://en.irna.ir/news/83810789/Imam-Khomeini-s-departure-anniv-observed-in-Beijing
------
London meeting: Imam Khomeini most influential leader of 20th century
Jun 4, 2020
June 4, IRNA – Different scholars, political and social activists from all around the world in a meeting in London termed Imam Khomeini as the greatest and most influential leader of the 20th century in light of his legacy.
During the virtual meeting which was screened by YouTube, Facebook, Ahl-e-Bait TV, Hedayat TV and Euronews, 11 Muslim and Christian scholars from Canada, Iran, Australia and the UK elaborated on the impacts of Imam Khomeini's ideologies in the world.
Head of the Islamic Center of England Hashem Mousavi said that before the Islamic Revolution, it was always mentioned that Islam is not capable of controlling the society.
Meanwhile, UK political analyst Rodney Shakespeare termed Imam Khomeini as a bigger leader than Mahatma Gandhi, Nelson Mandela and Martin Luther King.
In the meantime, Secretary of the Supreme Council of the Cultural Revolution Saeed-Reza Ameli termed Imam Khomeini as man of century, saying he appeared when the world was dominated by secular systems.
His charismatic character and political approach inspired many leaders and popular uprisings against dictatorial powers across the world.
https://en.irna.ir/news/83810558/London-meeting-Imam-Khomeini-most-influential-leader-of-20th
-----
Martyrdom operations affected by Imam Khomeini's ideas
Jun 4, 2020
Tehran, June 4, IRNA – Religious scholars and elite discussed the effects of Imam Khomeini's ideas on the martyrdom operations against Zionist occupiers and American.
The office of Iran's cultural attaché in Beirut held an online event on the occasion of 31st anniversary of Imam Khomeini's demise.
The participants said that religious synergy, emphasis on knowing the new issues of the Islamic World, sensitivity to issues of the Muslims, and following the Holy Quran and the Holy Prophet's household were among the characteristic of Imam Khomeini.
One of the close followers of Imam Khomeini, Mohammad-Hassan Rahimian said that Imam Khomeini was not afraid of any power or person in the world whatsoever.
Amal Movement leader's political deputy Khalil Hamdan said in meeting that the relations between Imam Khomeini and Imam Musa Sadr started in Qom when Sadr was a student there.
He said that he knew Imam Khomeini long before meeting him, adding that the World Arrogance has always tried to hit and hurt the Arab and Islamic leaders, including Imam Khomeini and Imam Musa Sadr and many others.
Previous representative of Supreme Leader in Lebanon Isa Tabataei said that when Israel attacked and occupied Lebanon and committed crimes like Sabra and Satilla massacres, Imam Khomeini made more emphasis on resistance against the Zionists' crimes, following that martyrdom operations increased.
https://en.irna.ir/news/83810619/Martyrdom-operations-affected-by-Imam-Khomeini-s-ideas
------
South Asia
Burial Held for Imam Killed by Blast, Public Outcry Continues in Kabul
05 June 2020
Some clerics meanwhile warned to cut off their ties with the government if the plotters of the attack on Niazi weren't taken into account.
Mohammad Ayaz Niazi, who was killed on Tuesday night by a bomb blast at Wazir Akhbar Khan mosque, was laid to rest in Kabul amid strong anger and a public outcry over the fragile security situation in the country.
Critics and citizens in Afghanistan have voiced strong criticism about the security strategy of the Afghan security institutions in the two days since a bomb exploded inside Wazir Akbar Khan mosque, which is located in a highly fortified area of Kabul.
t least two people were killed, including the mosque's imam Mohammad Ayaz Niazi, and eight others were wounded.
Afghan religious dignitaries and members of the public at the funeral ceremony for Niazi again called on the Afghan government and security institutions to arrest the perpetrators who planned the murder and serve them justice.
Some clerics meanwhile warned to cut off their ties with the government if the plotters of the attack on Niazi weren't taken into account.
"The honorableDr. (Dr. Mohammad Ayaz Niazi) never took a position against anyone, he was just against those elements who conduct those acts which are against the teaching of Islam," said Abdul QaderQanet, the head of the Kabul Ulema Council.
"This is an unforgiveable crime, for me, as a student of Niazi, I will not allow this crime to go without being answered for, and I will defend his legacy till the last drop of blood," said Yasin Farooqi, a member of the Kabul Ulema Council.
"The government has a responsibility and it should respond, as the Ulema knows, the government knows those who are behind such murders," said MawlaviHabiburrahman, a cleric.
He graduated from Al-Azhar University in Cairo, Egypt, and specialized in the study of Islamic economy. He also earned a doctorate in international relations in Islamic jurisprudence.
After he returned from Egypt, he started as a professor at Kabul University and also was an imam at Wazir Akbar Khan mosque.
https://tolonews.com/afghanistan/burial-held-imam-killed-blast-public-outcry-continues
------
In Afghanistan, the Islamic State Threatens Long-Term Peace
BY EMRAN FEROZ
JUNE 4, 2020
Overall violence in Afghanistan has abated somewhat as large numbers of both Taliban and Afghan national forces have continued to informally observe a cease-fire called during the Eid al-Fitr holiday, which marked the end of the Islamic month of Ramadan in late May.
But on May 30, a roadside bomb in Kabul killed a journalist and a driver from an Afghan television station, and the Afghan franchise of the Islamic State—known as the Islamic State Khorasan Province (ISKP)—claimed responsibility. On Tuesday, June 2, another attack occurred, killing Mawlana Mohammed Ayaz Niazi, a well-known cleric who served as the imam of the Wazir Akbar Khan Mosque in the heart of Kabul, and ISKP later said it was responsible for that blast as well. The surge of ISKP attacks suggests to many Afghan experts that the terrorist group is likely intent on disrupting any long-term move toward peace.
Many of the most brutal attacks in the last few weeks appear to have been the work of the ISKP. One of the bloodiest occurred on May 12, when at least 24 mourners were killed by ISKP militants at a funeral in the eastern province of Nangarhar. On the very same day, another gut-wrenching massacre took place in western Kabul. A Médecins Sans Frontières-run maternity clinic was attacked by gunmen dressed up as security personnel and medics. Twenty-four civilians were killed, and dozens were injured, including women and newborns. While no group took responsibility, many observers believe that ISKP was behind the attack, noting that this attack, like others committed by ISKP, targeted Shiite Hazaras. A few weeks earlier, in late March, ISKP attacked a Sikh temple in Kabul's old town, killing 25 members of the Afghan Sikh community.
But while ISKP's parent organization is largely known in much detail, its Afghan branch remains mysterious since its first appearance in 2015. In a further perplexing twist, it seems that any connection between the two barely exists beyond paper. "I would look at them separately, also because of the geography," said Thomas Ruttig, the co-director of the Afghanistan Analysts Network. Ruttig said many of these Afghan Islamic State militants act independently of each other, suggesting that negotiation might prove impossible. "They don't have to interact with each other. They are able to operate separately while proclaiming attacks under one banner. That's the whole idea of the Islamic State's franchise terrorism," Ruttig told Foreign Policy in a phone conversation.
As a result, like many other observers of the Afghan war, Ruttig believes that despite a U.S. orchestrated plan for peace talks, long-term stability in the country appears far-fetched as long as terrorist groups like ISKP exist. According to WaheedMozhdah, a late Afghan analyst and writer known for his insight on Islamist militant groups, "war in Afghanistan will decrease, but conflict and bloodshed will not vanish." Mozhdah himself became a part of his analysis when he was killed last November by unknown gunmen in Kabul.
A new report by the U.S. Institute of Peace suggests that ISKP is laying the groundwork for ideological radicalization not just in rural areas but also in urban areas in Afghanistan, and this will probably not stop even if a final peace deal is reached between the Afghan national government and the Taliban. The report, by Borhan Osman, one of the leading experts on militant groups in the region, notes that many ISKP members have a middle-class, educated background and are from urban areas like Kabul.
"In contrast with their rural counterparts, who often step into the jihadist enterprise in the absence of promising normal career options, a significant number of those joining ISKP from the central urban areas (Kabul and the surrounding urban centers of Parwan, Kapisa, and Panjsher Provinces) come from families that can be labelled 'middle-class,'" Osman wrote. Many are non-Pashtuns who were radicalized in universities.
"In terms of educational performance, a remarkable feature found in about one-third of the ISKP members interviewed is their outstanding intellectual record," he wrote. "In addition to several professors of universities who recruited for ISKP, the presence in the Kabul cell of many 'first-graders' (awal-numra, those who topped their classes—usually of about thirty students—in annual rankings) and graduates gives it a distinctly elite character. A significant number of first-graders were drawn from the sharia faculty. Others came from law, chemistry, engineering, and literature departments, often in state-funded universities. Three universities contributed the largest number of recruits to ISKP's ranks: Kabul University, Nangarhar University, and Al-Biruni University."
ISKP tactics are also sowing mistrust between the two main parties to the conflict, the government and the Taliban. After the horrific attack on the maternity ward last month, the government was quick to blame the Taliban, though no group took responsibility and some analysts, like Ruttig, thought ISKP was much more likely responsible for the attack. "Obviously, the attack has ISKP fingerprints. It did not make sense from the Taliban's view," Ruttig said.
"The Afghan government still exploits the Islamic State threat for its own benefits. We could see this immediately after the most recent attacks when Kabul blamed the Taliban for the bloodbath and conducted new operations against them," said Zakir Jalaly, a Kabul-based political analyst. After the attacks in Kabul and Nangarhar, President Ashraf Ghani's government claimed that both ISKP and the Taliban were the culprits. The Taliban denied responsibility. Indeed, according to Jalaly, there is more evidence indicating that the Taliban took the fight against ISKP seriously and pushed the group back in rural sites, while the government in Kabul might have seen ISKP as a strange bedfellow in its political battle against the Taliban—which, contrary to ISKP, is the largest and most organized insurgency in the country. Until today, no group has taken responsibility for the Kabul hospital attack.
Moreover, the mere existence of ISKP is often blamed on the Taliban, and it will continue to disturb any kinds of negotiation talks and peace—or "less conflict," as Mozhdah called it—in general.
For the moment, both the Taliban and the government are going forward with plans for negotiations, with prisoner releases underway. In a statement, the Taliban ordered "all the Mujahideen to adopt special preparatory measures for the safety of our countrymen and not to attack the enemy in any place." Ghani's government welcomed the announcement, accepted the truce, and also declared that it would release hundreds of Taliban prisoners imminently. Concurrently, calls from politicians and civil society activists grew louder in demanding an extension of the cease-fire and the commencement of intra-Afghan talks. Unofficially, the former already happened, but questions persist as to the durability of the goodwill of both sides, having warred against each other for two decades. During the last days, several attacks took place, including operations against Afghan security forces and at least one government airstrike causing civilian casualties.
https://foreignpolicy.com/2020/06/04/afghanistan-islamic-state-taliban-peace-cease-fire/
------
Afghan Vice President's family members, office staff tested positive for coronavirus
04 Jun 2020
The First Vice President Amrullah Saleh has confirmed that half of his family members and office staff have contracted the novel coronavirus (COVID-19) disease.
Saleh made the announcement earlier today by posting a statement on his official social media page. However, he did not disclose the exact number of his family members and office staff who have tested positive.
Meanwhile, Saleh said Afghanistan is going through a tough time and is among the countries which have been badly affected by the virus.
Saleh further added that the government will do everything it can to help the citizens of the country.
However, he urged the people to follow the instructions of the Ministry of Public Health for their own safety and safety of their families.
This comes as the Ministry of Public Health said at least 18,054 people have contracted the virus since its outbreak in the country.
According to Public Health Ministry data, the virus has so far killed around 300 people across the country while 1,585 others have recovered.
https://www.khaama.com/afghan-vice-presidents-family-members-office-staff-tested-positive-for-coronavirus-08893/
-----
Explosion leaves 4 dead, wounded in Kabul
04 Jun 2020
An explosion killed a civilian and wounded three others in Kabul earlier today, the security officials said.
Officials in Kabul Police Headquarters confirmed that a roadside bomb went off in Qarabagh district earlier today, killing one civilian and wounding three others.
The officials further added that the Taliban militants had planted the roadside bomb but the group has not commented regarding the incident so far.
The anti-government armed militants including Taliban frequently use improvised explosive device as the weapon of their choice to target the security forces but majority of such attacks inflict casualties on ordinary civilians.
This comes as the anti-government armed militants carried out a series of attacks in Kabul during the recent weeks, killing or wounding many people including the prayer leader of Wazir Akbar Khan mosque.
https://www.khaama.com/explosion-leaves-4-dead-wounded-in-kabul-08892/
------
Command of Joint Forces established to root out terror cells, criminal gangs in Kabul
04 Jun 2020
The Afghan government established the new Command of the Joint Forces in a bid to root out the terror cells and criminal gangs in Kabul.
Tariq Arian, a spokesperson for the Ministry of Interior, said the new Command of the Joint Forces will root out the scattered cells of the terrorist groups as well as criminal networks in the capital.
This comes as criminal incidents are on the rise parallel to terrorist attacks in Kabul city.
The militants carried out numerous attacks in Kabul city lately including an attack in Wazir Mohammad Akbar Khan mosque located in the diplomatic part of the city.
The explosion killed a prominent religious figure Mawlavi Ayaz Niazi who was also serving as the prayer leader of the mosque, sparking an outcry on domestic and international level.
https://www.khaama.com/command-of-joint-forces-established-to-root-out-terror-cells-criminal-gangs-in-kabul-08891/
-------
Three dead, seven wounded in China supermarket stabbing
June 5, 2020
Three people were killed and seven wounded in a stabbing spree at a supermarket in rural southeast China, police said Friday.
The suspected attacker, a 35-year-old man, was arrested shortly after the incident late Thursday in Fujian province, they said in a statement, without specifying the kind of weapon used.
The attack came hours after 39 pupils and staff were wounded in a knife attack at a rural primary school in south China's Guangxi region.
Violent knife crime is not uncommon in China, where firearms are strictly controlled, with a number of similar attacks at schools in recent years.
https://www.thejakartapost.com/news/2020/06/05/three-dead-seven-wounded-in-china-supermarket-stabbing-.html
------
Southeast Asia
Former K-Pop star Lu Han Angers Muslims After Wearing Vest with Islamic Shahada
05 Jun 2020
PETALING JAYA, June 5 — Chinese singer and actor Lu Han has ignited controversy after he was spotted in public wearing a denim vest with the Arabic text spelling out the syahadah, the Islamic declaration of faith, printed on it.
Photos of the former Exo member in the offending outfit made the rounds online on June 2 and angered his Muslim fans, sparking accusations that he and his stylist had appropriated the sacred text for fashion purposes without being aware of its significance.
"That isn't just some Arabic writing, it's the shahada and you, a non-Muslim, don't understand how offensive it is to wear that as an accessory," wrote one Twitter user.
"I'm so disappointed and upset that Lu Han wore the shahada as an accessory. My religion is NOT an aesthetic," said another.
I am so disappointed & upset that luhan wore the shahada as an accessory, my religion is NOT an aesthetic. I'm not hating on luhan, I just want his stylist and the fashion designer and luhan to educate themselves before making/wearing clothes using religious words as an aesthetic
The syahadah, or shahada is a profession of belief in Allah and Prophet Muhammad as his messenger and is one of the five pillars of Islam.
To add insult to the injury, Twitter users said it was ironic that Lu Han was openly wearing the sacred text during an event in China where Uighur Muslims have reportedly faced decades of religious persecution.
Regarding Luhan's issue, Lufans have sent email to Luhan Studio to take action about this issue. We hope they can do it as soon as possible. Thank you.
https://www.malaymail.com/news/showbiz/2020/06/05/former-k-pop-star-lu-han-angers-muslims-after-wearing-vest-with-islamic-sya/1872707
------
Basilan lawmaker wary of Anti-Terror Bill, worries for Muslims getting tagged as terrorists
Jun 05 2020
MANILA - A lawmaker from Mindanao on Friday expressed reservations about the new Anti-Terror Bill, as he lamented that some people immediately equate terrorism to Islam.
"Remember, every time may bombing incidents here in Mindanao, even in Metro Manila and other parts of the country, ang lagingpinupuntirya o laginginiisip ng atingkababayan or even law enforcers Muslim ang may kagagawannito. So medyo worried akodito. Yung definition ng terrorism very vague kaya yun ang nakakatakotsapanukalangito," House Deputy Speaker MujivHataman said in an interview on ANC's Early Edition.
(Remember, every time there's a bombing incident in Mindanao or even in Metro Manila, some people, even law enforcers, immediately think a Muslim is behind it. I am worried. The definition of terrorism is very vague, that's why this bill is scary.)
Hataman said the anti-terror bill may also be not the right approach in combatting terrorism because the bill's stringent and repressive policies might even push people to join terrorist groups.
"Habanginaapimo ang tao, habangpinapahirapanmo, inaabusomo, walasiyangibang option ma-push siya to the wall, anonggagawinniya? Ako, I agree, walaakong question sa intent ng law perotalagangmeronakongproblemasailang policies provided in the law," House Deputy Speaker MujivHataman said.
"Ang tingin ko, we have more than enough laws that are punitive. Sa tingin ko, mas effective pa rinyung local security forces in close coordination with civil society organization and the local government unit yungpag involve samga Ulama," he said.
Hataman said he manifested during the hearing on House Bill 6875 that experts, including from the Muslim community, be invited to share their views on the matter.
"Definitely, andyan ang threat ng terrorism habangmeron pang bilangsakanila. Pero ang tanongditopaanonatin ma-counter na pang prevent na ma-expand sila, at the same time, paanomahimoknatinsilangbumalik at makipagtulungansapamahalaan," he said.
The lawmaker representing Basilan also that even without the application of the Human Security Act of 2007, they were able to slowly address the number and capacity of terrorist groups in the province.
"Talaganghumina ang Abu Sayyaf not because of any national policy but because of the local collaboration between the security sector, local government units, and the communities themselves," he said.
The House of Representatives on Wednesday approved on third and final reading the controversial House Bill 6875, which seeks to amend the Philippines' current anti-terrorism laws. The bill was passed during the lower chamber's session on Wednesday, with 173 House members voting yes, 31 voting no, and 29 abstentions.
"Hindi saayawnatingmatuldukan ang terorismoperobakakailangannatingpag-usapan kung anongtamang policy o approach sapag-address ng problema ng terorista," he said.
(It's not that we don't want to address terrorism, but we need to discuss the rightful policy or approach when dealing with terrorism.)
If it becomes a law, the government can wiretap suspects, arrest them without warrants and hold them without charge for 14 days, among other provisions.
The bill also removes the provision that penalizes law enforcers with a payment of P500,000 in damages per day of detention of any person acquitted of terrorism charges.
"Hindi ko sinasabingngayonito or in the future bagong administration, biglangmerongkalabansapulitika, mga apprehensions, biglanggalitsaisa. Ang magde-determine ngayon kung i tag silangterrorista o hindi ay ATC. Ang tingin ko, magandanarinyung Human Security Act of 2007 at least korte ang mag-tag o mag-proscribe kung sinotatawagindapatterorista individual man o organization," he said.
Malacanang allayed fears that the proposed bill, which President Rodrigo Duterte certified as urgent, would infringe on the right to freedom of expression and pave the way for a crackdown on government critics.
https://news.abs-cbn.com/news/06/05/20/basilan-lawmaker-wary-of-anti-terror-bill-worries-for-muslims-getting-tagged-as-terrorists
-------
How COVID-19 will reshape Islamic finance markets
Stuart Brown
June 5, 2020
Since the inception of the Islamic finance industry in the 1970s, there has been a steady growth in demand for sharia-compliant products and services and the industry's total assets reached US$2.5 trillion globally in 2019.
Given the headwinds posed by the COVID-19 pandemic, the volatility in oil prices and the uncertain macroeconomic environment, the Islamic finance industry faces an unprecedented challenge to its development.
Nevertheless, COVID -19 is also shifting the dynamics in the industry and the outbreak may create new opportunities for Islamic finance markets by accelerating trends such as socially responsible investing, sustainability, and digitalization.
The impact of the 2008 global financial crisis on Islamic banks and financial institutions was largely minimal due to the prohibitions against speculation and risky asset classes in the industry.
However, the COVID-19 pandemic will have a more severe and deeper impact on Islamic finance markets, as the current crisis is affecting small and medium enterprises (SMEs) as well as low income and minimum wage individuals particularly hard. Compared to conventional banking, Islamic finance has a larger exposure to SMEs, microfinance, and retail lending, especially in Asia.
Despite government measures such as Indonesia's tax break facility and Malaysia's Special Relief Facility for SMEs, these businesses are still under immense financial strain given the lockdown measures and store closures imposed to contain the COVID-19 outbreak.
Beyond its immediate economic implications, COVID-19 is also forcing the Islamic finance industry to adapt to rapidly evolving market conditions and speeding up the pace of emerging trends such as digitalization to mitigate the impact of the outbreak.
Even before the COVID-19 pandemic, Islamic banks have been trying to catch up with conventional banking counterparts by stepping up investment in digitalization to reduce operating expenses, boost revenue and automate internal processes.
As financial institutions around the globe implement remote work policies and homebound safety measures amid the outbreak, there has been a considerable increase in digital banking transactions and activity, which in turns provides an added impetus driving the digital transformation push across Islamic banks. These may include increased automation of processes to minimize the need for human contact as well as digital structures for liquidity management.
Against the backdrop of the COVID-19 pandemic, fintech will continue to play a significant role in the industry's development in the coming years by improving access to financial services and transforming Islamic social finance.
In Indonesia, where Islamic financial institutions disbursed $16 million in corporate social responsibility funds in 2018, the National Committee for Islamic Finance has partnered a centralized quick response code payment platform owned by four Islamic units of state-owned banks to develop a digital platform for distributing Islamic social finance funds and to help Islamic finance cooperatives better manage funds from zakat and waqf payments.
Another new development was the acceptance of zakat payments in the form of cryptocurrencies in 2018. In response to consumer demand, Islamic finance microfinance firm Blossom Finance's Jakarta office began accepting payments made directly via the blockchain to a wallet address held at a cryptocurrency exchange in Indonesia. The funds are then distributed via an Islamic financial cooperative to any of the 87 microfinance institutions Blossom has partnered with.
In April 2020, the United Nations Development Program (UNDP) highlighted several sharia-compliant financing instruments that could be part of the integrated pandemic response plan including zakat (charity) and sukuk (Islamic bonds) to help countries prepare, respond, and recover from the pandemic.
UNDP's partnership Baznas, Indonesia's national zakat collection agency, has been in place since 2017. This collaboration provides an example of how zakat stakeholders can systematically link their projects with the Sustainable Development Goals (SDG), including in response to crises.
The ongoing COVID-19 outbreak has prompted financial institutions across the globe to pay greater attention to environmental, social, and governance (ESG) risks to build greater resilience in their business operations and supply chains, and we believe that Islamic finance markets will see a similar trend as well.
In fact, an analysis of the 6,554 companies in Refinitiv's EIKON global database shows that sharia compliance screening can do much to improve ESG performance and sharia-compliant companies — to which Islamic financial institutions will direct capital — have ESG scores that are on average 6 percent higher than for those excluded by the sharia screening process.
The principal source of ESG risk facing Islamic banks is embedded in their balance sheets though the financing they provide, and it is becoming clear to financial institutions around the world that ESG risks will affect their potential profitability, portfolio risk levels and returns on capital.
Not only will improving ESG risk management benefit the bottom line, the strategic shift towards responsible finance will also unlock new opportunities for Islamic banks to differentiate itself from peers and unlock new business opportunities in the post-COVID environment.
https://www.thejakartapost.com/academia/2020/06/05/how-covid-19-will-reshape-islamic-finance-markets.html
------
Muhammadiyah allows mosques to hold mass Friday prayers with strict health protocols
Sri Wahyuni
June 5, 2020
Indonesia's second-largest Muslim group, Muhammadiyah, said on Thursday that its members and Muslims in general may again take part in public prayers in mosques starting this Friday with health protocols and particular arrangements in place to prevent the spread of COVID-19.
The announcement marks the opening of mosques and other Muslim holy sites, especially those associated with Muhammadiyah, after they were closed for congregational prayers in March.
In a circular read out by the organization's deputy secretary Agung Danarto during a press briefing on Thursday, the Muhammadiyah central executive board (PP) stated that the compulsory Friday prayers could be conducted in mosques, mushola (prayer rooms) or other similar places.
"The prayers held in mosques or mushola should be carried out according to health protocols set out by Muhammadiyah's COVID-19 command center [MCCC] or local administrations," Agung said.
According to the circular, Friday prayers with COVID-19 prevention protocols can take place in more than one shift or in several places, such as in other buildings or rooms other than mosques or mushola, to give Muslims a chance to join the congregations.
It also reminded the public that the status of "green" or "red zones" -- referring to the level of coronavirus transmission in certain areas -- was very dynamic and could change at any time, thus Muhammadiyah members and Muslims in general have to remain up to date with relevant information so they can take the necessary precautions.
"It is advisable that in carrying out worship, one must take health, benefit, safety and security concerns into consideration to avoid mafsadat [damage or negative impacts] and to help reduce the spread of COVID-19," Agung said.
The circular, jointly signed by Muhammadiyah chairman HaedarNashir and secretary Abdul Mu'ti, was issued alongside guidance on how to conduct worship amid the pandemic, which is a continued version of the previous guidance issued by the organization's tarjih (law making) and tajdid (reform) council.
Among other things, it regulates that congregations can maintain distance while praying instead of standing close to each other in their shaf (rows) during the pandemic. It also allows them to wear masks while praying.
Straightening and tightening shaf are part of perfecting shalat (prayers), but as the conditions are yet to return to normal, distancing shaf is advisable to avoid infection, the guidance reads.
Wearing masks while praying, which is not allowed during normal conditions, does not damage the legitimacy of prayer, the guidance reads.
"Especially in a time of a pandemic, a mask is a personal protector that has to be put on outdoors, including when going to the mosques or mushola to take part in mass prayers," Fuad said.
Meanwhile, MCCC chairman AgusSyamsuddin reminded takmir (mosque managements) to make sure of the status of the pandemic in their respective areas so as to assure that the decision to open mosques for mass prayers is not based only on emotion.
Agus also advised the takmir to make necessary preparations, including the provision of thermo guns and hand sanitizers for people entering the mosques as well as to prepare shaf arrangements and ablution places according to the health protocols.
"The availability of inspectors in mosques is also pivotal to make sure that everyone obeys the prevailing protocols," Agus said, as he went on to remind the takmir to promptly close a mosque again if a congregation is found to have been infected by COVID-19.
https://www.thejakartapost.com/news/2020/06/04/muhammadiyah-allows-mosques-to-hold-mass-friday-prayers-with-strict-health-protocols.html
------
Arab world
Organization of Islamic Cooperation universities urged to continue research, innovation
June 05, 2020
RIYADH: Senior education officials held a virtual meeting to tackle the challenges being faced by Organization of Islamic Cooperation (OIC) universities as a result of the coronavirus outbreak. Members of the General Secretariat of the OIC and the rectors of OIC universities discussed measures adopted by the education institutions to deal with issues arising from the health crisis.
The rectors highlighted the importance of redefining their teaching methodologies to meet the future demands of a post-COVID-19 world.
https://www.arabnews.com/node/1684986/saudi-arabia
------
Saudi Arabia Pledges $150m At GAVI, The Vaccine Alliance, Vaccine Summit
June 04, 2020
Saudi Arabia has joined countries from around the world in pledging money to Gavi, the Vaccine Alliance (GAVI) at its Global Vaccine Summit 2020 in London.
This year's summit was held virtually for the first time, as it focused on the threat from the coronavirus disease (COVID-19) and the need to develop a vaccine for the virus responsible for the pandemic that has shut down much of the globe, as well as claiming the lives of more than 380,000 people.
The summit was opened with a brief speech from UK Prime Minister Boris Johnson, who was hospitalized in April with the disease and has since made a full recovery.
Introductory addresses were also given by Dr. Tedros Adhanom Ghebreyesus, director-general of the World Health Organization; Moussa Faki Mahamat, chair of the African Union; and Antonio Guterres, secretary-general of the UN.
The Kingdom, which pledged $150 million to help fund GAVI's work, was represented by Minister of Foreign Affairs Prince Faisal bin Farhan Al-Saud, who thanked the UK government and Johnson for hosting the summit, on behalf of Saudi Arabia's King Salman. He praised GAVI for its "noble" work in reducing the "dangers of epidemics" and saving lives.
"Now, more than ever, we must remain united," Prince Faisal told the summit. "In 2016, the Kingdom contributed $25 million to support the efforts of GAVI and its mission. I would like to reiterate the message of King Salman that the preservation of human health is at the forefront of the Kingdom's priorities.
"Based on its Islamic and humanitarian values, Saudi Arabia has provided over $86 billion in aid throughout the last three decades; these funds provided support to over 81 countries to assist them in improving livelihoods and health care," he said. "In March this year, Saudi Arabia called for an Extraordinary Virtual Leaders' Summit of the G20, chaired by King Salman, to coordinate the international response to combat the spread of COVID-19."
"During this summit, Saudi Arabia announced a contribution of $500 million in support of global efforts to prevent the spread of the virus and enhance preparedness and emergency responses. Of this amount, I am pleased to announce the allocation of $150 million for vaccines and immunizations that will support the great efforts of your alliance," he said.
"To achieve stability and prosperity for future generations, it is our collective responsibility to contribute and support the noble cause of preserving and protecting human life."
GAVI, a major beneficiary of the Bill and Melinda Gates Foundation, aims to raise at least $7.4 billion this year from governments and elsewhere in an effort to help improve global public health through a raft of ambitious vaccine programs, made all the more pressing by the emergence of COVID-19.
The summit was addressed by heads of state from across the world, including France, Japan, India and Canada. US President Donald Trump sent a short-recorded message wishing GAVI success, while Bill Gates also gave a speech in which he suggested the coronavirus crisis had forced the hand of the international community.
"We're meeting at a unique time in history. Never have more people been more aware of the importance of vaccines," he said.
"As we race to develop a COVID-19 vaccine, we must also renew our commitment to delivering every life-saving vaccine there is, to every child on earth. That is the work that GAVI and alliance partners have been doing for 20 years — when we come together to support GAVI replenishment, we're making sure that it can continue to do these things until no child dies from a vaccine-preventable disease."
Gates added: "Since its inception, GAVI has helped vaccinate more than three quarters of a billion children. It has incentivized researchers; it has made new vaccines widely available. And now it's stepping up and saying it's willing to deliver a COVID-19 vaccine as soon as one is available, to end the pandemic as soon as possible. If we didn't already have GAVI, we would have to create it just to solve this crisis."
The Kingdom was not the only Arab country to contribute at the summit. Jordan's King Abdullah also addressed the forum from Amman, warning that the international community could afford to leave no country behind in the response to COVID-19, and highlighting the need to protect vulnerable people, especially those forced from their homes by conflict.
"It is our responsibility as an international community to make sure the most vulnerable are not left behind," he said. "In my region, many are internally displaced or live as refugees. Jordan alone holds 1.3 million Syrian refugees and others. It is a priority for us to afford them the same care we give Jordanians."
Reem Al-Hashimy, UAE minister for international cooperation, praised GAVI for the "timely" summit, and its history of improving the lives of people around the world, highlighting the work of the alliance in keeping vaccines available and accessible for those least able to afford health care.
"Now more than ever we recognize the indispensable role GAVI plays," she said. "The UAE and GAVI have been strong partners working together for many years. I take this opportunity to reaffirm my country's commitment to freeing the next generation from disease, and creating a healthier, more prosperous world."
https://www.arabnews.com/node/1684826/saudi-arabia
-----
Jordan to lift 'most' coronavirus restrictions, mosques and restaurants to reopen
04 June 2020
Jordan announced Thursday it will lift most restrictions imposed to curb the spread of the novel coronavirus, with mosques, restaurants and churches allowed to reopen.
There will be "a period of general easing" of the lockdown, Prime Minister Omar al-Razzaz told reporters on Thursday.
Information Minister Amjad al-Adayleh said most restrictions imposed over the last two months to rein in the virus would be lifted from Saturday.
Jordan has confirmed a cumulative total of 765 cases of the respiratory disease in the kingdom, of which just nine have been fatal.
Mosques, churches, ports, business activities, restaurants and cafes will be allowed tore-open and travel between cities will also be authorized from Saturday, authorities say.
https://english.alarabiya.net/en/coronavirus/2020/06/04/Jordan-to-lift-most-coronavirus-restrictions-mosques-and-restaurants-to-reopen.html
-----
Friday sermon in Egypt to be aired live from Al-Azhar Mosque without worshipers
4 Jun 2020
Cairo's Al-Azhar Mosque will hold a Friday prayer for first time since March, but only in the presence of the mosque's imams and staff and without the attendance of worshipers, Egypt's top Sunni Muslim institution said.
Al-Azhar added that tomorrow's sermon will be delivered by well-known cleric Ahmed Omar Hashem, a member of Al-Azhar's senior scholars, on "Islam in the face of calamities."
Last week, the weekly prayer was performed at Cairo's Al-SayyidaNafisa Mosque as the country's endowments ministry decided to resume holding Friday prayers every week at one mosque in the presence of only 20 worshipers.
The ministry said last week it will discuss the issue with the health ministry and cabinet's coronavirus committee in the second half of June.
Prime Minister Mostafa Madbouly said earlier that the reopening of mosques and churches will be considered after mid-June.
Egypt has started to ease some restrictive coronavirus measures as the country learns to live with the pandemic.
http://english.ahram.org.eg/NewsContent/1/64/371492/-.aspx
------
Dubai Islamic Bank donates AED16 million to Mohammed bin Rashid Al Maktoum Humanitarian and Charity Establishment
04-06-2020
DUBAI, 4th June, 2020 (WAM) -- The Mohammed bin Rashid Al Maktoum Humanitarian and Charity Establishment received a donation from the Dubai Islamic Bank worth AED16 million consisting of Zakat money.
The donation is part of a community partnership agreement signed by the two sides to achieve their joint humanitarian and charity objectives.
Ibrahim Bu Malha, Deputy Chairman of the Board of Directors of the Establishment, said that the donation will help implement the establishment's initiatives and programmes, to benefit categories eligible to receive Zakat money according to the establishment's standards. He then thanked the bank's board of directors and officials for their initiative.
The establishment's partnership with the bank has benefitted its humanitarian and charity activities, and will help achieve the national and humanitarian objectives of their partnership, he added.
http://wam.ae/en/details/1395302846307
-----
COVID-19: Saudi mosque shut over imam's suspected infection
June 04, 2020
Ramadan Al Sherbini
Cairo: Religious authorities in Saudi Arabia's eastern city of Dammam have closed a mosque after its imam was suspected of having contracted the new coronavirus, Saudi media reported Thursday, days after mosques were reopened in the kingdom.
The Ministry of Islamic Affairs shut the mosque after the imam sent a WhatsApp message to worshippers and notified the ministry's branch in the Eastern Region that he suspects being infected with the highly contagious disease, Saudi online newspaper Sabq said, quoting a local official.
"The mosque has been closed. The imam has been suspended over suspicion of infection and the mosque's muezzin has also been suspended as a precautionary measure for their safety and that of worshippers," head of the mosques directorate in Dammam Ahmad Al Mahashir told Sabq.
He added that the mosque will be completely sterilised during the temporary closure.
The shutdown is the first of its kind since Saudi Arabia reopened on Sunday over 900,000 mosques across the kingdom, except in Mecca, in line with a plan to gradually return to normal life.
In March, Saudi authorities closed the mosques as part of strict measures to curb the spread of the new coronavirus.
https://gulfnews.com/world/gulf/saudi/covid-19-saudi-mosque-shut-over-imams-suspected-infection-1.71864176
------
Saudi Arabia mourns first doctor to die after contracting coronavirus
TARIQ AL-THAQAFI
June 05, 2020
MAKKAH: A Pakistani surgeon is the first doctor to lose his life in Saudi Arabia as a result of the coronavirus disease, COVID-19. Naeem Chaudhry died two days ago in Makkah, where he worked in the General Surgery Department at Hira General Hospital
Dr. Wael Hamzah Mutair, director-general of Makkah Health Affairs, said the healthcare family is saddened by the death, and the city has lost one of its most skilled and prominent general surgeons.
He paid tribute to Chaudhry as one of the front-line workers who have played such an important role in the fight against COVID-19 in the Kingdom, and confirmed he contracted the virus during the course of his work, not from anyone outside the hospital. His only existing health problem was high blood pressure, Mutair added.
Makkah Health Affairs has seen many examples of dedication, perseverance and sacrifice among health workers, he said, and that even when family members have tested positive for the virus they have remained steadfast in their duty and continued to do their utmost to protect the country and its people.
Chaudhry is survived by his wife and three daughters, who live in Makkah.
https://www.arabnews.com/node/1685066/saudi-arabia
------
Saudi Arabia repatriation flights from US cities, Beirut bring home nationals
June 05, 2020
DUBAI: Four more repatriation flights arrived in Saudi Arabia as part of the Kingdom's efforts to bring back stranded citizens from coronavirus hotspots, state news agency SPA reported.
Flights from Washington and Houston arrived at King Khalid International Airport in Riyadh while another two landed in King Abdulaziz International Airport in Jeddah, bringing Saudi nationals from New York and Beirut.
All precautionary measures to contain the coronavirus spread were taken to ensure the safety of passengers, who would also be in isolation for 14 days.
https://www.arabnews.com/node/1685091/saudi-arabia
------
Friday sermons in Saudi Arabia to focus on virus prevention
June 05, 2020
RIYADH: The Kingdom's minister of Islamic affairs has called for Friday's sermons to focus on COVID-19 precautionary and preventive measures.
Sheikh Abdullatif Al-Asheikh's directive is part of the ministry's efforts to raise awareness in Saudi society, as Friday sermons play a role in guiding people and provide an opportunity to remind them about government instructions to fight the coronavirus.
Al-Asheikh also called on speakers to highlight the Kingdom's work in the context of the pandemic.
https://www.arabnews.com/node/1685001/saudi-arabia
-----
Europe
Reopening of mosques in coronavirus-free regions of Uzbekistan delayed until June 8
JUNE 5, 2020
AKIPRESS.COM - Mosques will reopen only in coronavirus-free regions of Uzbekistan since June 8, according to the decision of the special commission for coronavirus containment.
The commission said earlier mosques and other religious organizations will be reopened in coronavirus-free regions since June 5.
Mosques and religious organizations will have time to prepare for reopening. They will need to mark at least 1.5-2 m distance for worshippers inside, to arrange availability of pyrometers, sanitizers, disinfectants, sanitary mats, to provide training for workers.
Prayers will be possible only with masks, maintenance of distance of 1.5-2 meters between worshippers.
Collective prayers on Fridays and Sundays are still not allowed to prevent spread of coronavirus infection.
https://akipress.com/news:642944:Reopening_of_mosques_in_coronavirus-free_regions_of_Uzbekistan_delayed_until_June_8/
------
Tichitt, a Mauritanian jewel of Islamic culture, sees itself 'forgotten'
04/06/2020
"The decline began when the trade began to use sea routes rather than land routes," Mbaka said. "Now it's over, and people are facing many problems," he added.
Today, the traders who come arrive on a monthly supply truck, bringing rice and pasta to the local shops, and leave again, with salt mined from a nearby saline plain, or sebkha.
"The old airstrip laid down by the French in the colonial era was redeveloped for the rally," said local dignitary Mohamed Teya, recalling how dozens of planes used to touch down during the event.
But, in 2009, organisers relocated the off-road race to South America due to security threats in the Sahara and the runway has since disappeared.
As well as the unique architecture from its heyday, carefully maintained by UNESCO and the Mauritanian government which stipulate that new buildings retain the style, reams of yellowing historic manuscripts have survived. The documents are stored haphazardly in people's homes.
High school headmaster MouhamedouAhmadou set up a group to preserve them about 20 years ago and was allotted a house for the purpose. But he has few resources for the job and their future looks bleak. "These manuscripts are like old people and children: they are fragile," Ahmadou said.
Towns like Timbuktu in Mali, renowned worldwide for historically important manuscripts, benefit from foreign funding, or even temperature-controlled rooms, he points out.
As he pulls out works from the shelves written mostly during the 7th and 8th century Arab conquests, the dust clouds make everyone in the room cough.
Even within an already sparsely populated country of some four million, its isolation makes life difficult and expensive. There's a small clinic offering first aid and an ambulance, one of the six cars in the town, jokes local official Mohamed Teya.
Many try to make a living elsewhere. "There's nothing to do here, no work, no opportunities," says GildouMuhamedouBabui,(34 years), dressed in a sky-blue boubou.
Some find jobs at the palm grove, he says. Others work at the salt field, paid a few ouguiyas for their heavy manual labour, cutting the salt and loading up the camels of passing traders impatient to be on their way.
Babui himself tried to find work in the capital Nouakchott and in the northwestern town of Atar but to no avail.
He now keeps the accounts at the town hall. "At least it's stable," he says, of the work that earns him about 3,900 ouguiyas ($103) a month. "What can we do?"
https://thearabweekly.com/tichitt-mauritanian-jewel-islamic-culture-sees-itself-forgotten
------
Preston Muslim prayer house's hope to open earlier and later - with more worshippers allowed as demand rises
4 JUN 2020
A Muslim prayer house in Preston is looking to extend its opening hours while more than doubling its current capacity to meet demand in the local area.
Personnel behind the prayer house in Carlton Drive - The Boulevard Community - are looking to open the facility from 5.30am until 11.30pm for local Muslims to attend during prayer.
Writing on behalf of The Boulevard Community, planning agents Urban Future said the site has now "successfully operated for around 18 months, meeting the needs of a small number of local worshippers, without any known detriment to amenity or to the functioning of the local highway network".
It adds: "The development provides a highly valued localised prayer facility for a small number of local residents of Muslim faith who reside in the surrounding residential streets.
"Unlike a typical Mosque, there is no associated education (Madrassa) provision or ceremonies/events; simply a small scale community prayer room to allow local residents of Muslim faith to attend the five daily prayers of Islam without having to travel further afield to attend a Mosque."
The prayer house was first given permission to open in November 2018, with an extra clause meaning it could only open for 12 months under current guidelines.
But last month the community withdrew an application to make this permanent under the same rules after concerns were raised over a potential negative impact on neighbouring properties.
https://www.lancs.live/news/lancashire-news/preston-muslim-prayer-houses-hope-18363796
-----
British Airways 'spurns Priti Patel call' amid row over 14-day coronavirus quarantine plans
2 hr
Alex Cruz, the airline's chief executive, declined to join an industry call with Ms Patel and aviation minister Kelly Tolhurst on Thursday.
Industry sources told the BBC and The Telegraph that BA believed the meeting was a "waste of time", amid anger over the "unworkable" decision to press ahead with asking all travellers to the UK to isolate for 14 days or face a fine.
The firm, which is planning up to 12,000 redundancies amid a sharp downturn in global tourism, is also said to have been unhappy that it was singled out for criticism in the Commons this week by Ms Tolhurst.
Conservative MPs, including former prime minister Theresa May, have openly criticised the quarantine plans, warning that they will heap further damage on a sector already hard-hit by the coronavirus lockdown.
https://www.politicshome.com/news/article/british-airways-spurns-priti-patel-call-amid-row-over-14day-coronavirus-quarantine-plans
------
North America
Intel: US urges anti-Islamic State coalition to step up financial contributions
Jun 4, 2020
The United States and Italy convened a virtual ministerial meeting with members of the defeat-Islamic State (IS) coalition to discuss progress on the campaign. During the meeting, US Secretary of State Mike Pompeo urged member countries to pledge money to the coalition's goal of more than $700 million in funding for 2020, while acknowledging the "enormous pressure" the coronavirus pandemic has placed on state budgets.
"The US is leading the investment in our shared mission by continuing its role as the military backbone of the [defeat IS] effort, and we're sharing the financial burden of Iraq's immediate recovery," said Pompeo, adding, "Just last year, the United States pledged more than $100 million for the coalition's main stabilization program for liberated areas."
Why it matters: The coalition also released a joint communique that further stressed the need to allocate "adequate resources to sustain coalition and legitimate partner forces' efforts against [IS] in Iraq and Syria, including stabilization support to liberated areas, to safeguard our collective security interests."
Pompeo also called on members "to fund the secure and humane detention of the thousands of foreign terrorist fighters still in custody inside of Syria and in Iraq," urging them to "follow Italy's example on repatriation and Germany's example on holding [IS] fighters and facilitators accountable."
Finally, the communique thanked Iraqi Prime Minister Mustafa al-Kadhimi for his address to the coalition and acknowledged "with deepest respect the extraordinary efforts and huge sacrifices made by Iraq against [IS]," while welcoming Baghdad's new government.
What's next: Washington and Baghdad are scheduled to convene a strategic dialogue later this month to hammer out the future US force posture in Iraq. The Iraqi parliament passed nonbinding legislation to expel US troops in January following President Donald Trump's strike on Iranian Maj. Gen. Qasem Soleimani and Popular Mobilization Units leader Abu Madhi al-Muhandis.
Know more: Shelly Kittleson reports on Iraq's new operation to root out IS sleeper cells near Kirkuk after an uptick in terrorist attacks.
https://www.al-monitor.com/pulse/originals/2020/06/pompeo-iraq-italy-islamicstate-coronavirus-germany-syria.html
-------
'Do not tell anybody you're Muslim': 'Ramy' stars reflect on Hollywood's longtime neglect
By LORRAINE
JUNE 4, 2020
No one looked more surprised than "Ramy's" Ramy Youssef when he won a Golden Globe — over Michael Douglas no less — for his performance in Hulu's comedy about an aimless, Muslim American millennial in suburban New Jersey.
And no one was more shocked than Youssef when Mahershala Ali signed on for Season 2 of the half-hour series, in a central role, playing a Sufi sheikh.
"I thought maybe someone made a mistake," joked Youssef, "Ramy" co-creator, writer, director and star. "I mean, 'Moonlight' and then my show?"
The performers, who spoke over the phone on the eve of the new season's May 29 release, may come from different ends of the entertainment spectrum, but both have broken barriers in TV and film.
Renowned for his performances in award-winning films that explore the painful realities of racism and the beauty of the American black experience ("Green Book," "Hidden Figures"), Ali became the first Muslim actor to win an Oscar when he was honored for his supporting role in 2016's "Moonlight." Youssef is behind the first Arab and Muslim American sitcom. But the true miracle, at least for those stuck in Hollywood's conventional thinking, is that "Ramy" is funny and irreverent.
The comedy follows the rumpled, 20-something Ramy Hassan (Youssef) as he seeks meaning and purpose in everything from porn to Friday prayer. Ali stars as Sheikh Ali, who serves as a spiritual guide for the meandering, aimless soul in a backward baseball cap.
Youssef and Ali couldn't have known America would be mid-pandemic and on the precipice of a #BlackLivesMatter revolution when 10 new episodes landed. But "Ramy" was already well-positioned to speak to the pre-existing anxieties of 2020. The series is a clever and fresh exploration of race, xenophobia and finding one's identity in a country that's continually grappling with its own cultural DNA. Complex issues and shifting paradigms are at the core of "Ramy," so what better show to make us laugh through all the pain?
Sheik Ali and Ramy are an odd pair. The imam is thoughtful and disciplined. Ramy is self-centered and impulsive. Together they show what it takes to survive and thrive as an African American father, a modern Muslim and a brown kid with considerably lower career drive than his immigrant parents.
Here, Youssef and Ali discuss their unexpected partnership and what it takes to turn real-life struggles into comedy gold.
https://www.latimes.com/entertainment-arts/tv/story/2020-06-04/hulu-ramy-youssef-mahershala-ali-hollywood-diversity
------
George Floyd death: Nicola Sturgeon says it is 'hard to not conclude' Trump is a racist
Alix Culbertson
5 June 2020
Scotland's first minister also said the US president appears to be more interested in polarising those rallying against police brutality.
The protests have been in response to George Floyd, who died after a police officer knelt on his neck for nearly nine minutes during an arrest.
Answering a question from Radio Clyde and Radio Forth listeners about whether Mr Trump is a racist, Ms Sturgeon said: "I think sometimes it's hard to not conclude that.
"It's not an unwillingness to confront the issue, I don't know what goes on inside Donald Trump's head - maybe that's a good thing.
She added that if you do not want to be accused of racism then you should not "sound" as if you are equating people who protest against racism with those who take to the streets to try to perpetrate racist values and attitudes.
Ms Sturgeon said that, at times like these, a leader needs to try to bring people together and heal the divide by addressing the underlying issues, implying Mr Trump is doing the opposite and is further polarising the American people.
She said that, with no malice, she does not know if Mr Trump is capable of that type of leadership - but this is the moment to prove that he is.
The first minister added that the UK should also be looking in the mirror as no country is immune from racism or does not have issues of racial injustice and inequality.
https://news.sky.com/story/george-floyd-death-nicola-sturgeon-says-it-is-hard-to-not-conclude-trump-is-a-racist-12000756
------
Africa
COVID-19: Nigerian govt threatens to close down churches, mosques again
June 5, 2020
The federal government has made it clear it would not hesitate to review the reopening of churches and mosques if its guidelines are not adhered to.
The Chairman of the Presidential Task Force on COVID-19, Boss Mustapha, stated this on Thursday during their daily briefing in Abuja.
Some of the guidelines shared earlier this week, include worshippers with health issues like diabetes, cancer and cardiovascular diseases staying at home.
"As we approach the weekend, we remind the public to be aware of the guidelines set for restricted opening of places of worship.
"The PTF will continue to monitor the overall compliance to the easing of restriction as well as evolution of the outbreak.
"However, we will not hesitate to review as we progress, should the situation warrant, to avoid preventable risks of transmission," Mustapha said.
Nigeria as of Friday morning, has recorded 11,516 confirmed cases of COVID-19.
https://dailypost.ng/2020/06/05/covid-19-nigerian-govt-threatens-to-close-down-churches-mosques-again/
------
Libya's prime minister to meet with Turkish president in Ankara
June 4, 2020
AhlulBayt News Agency (ABNA): For the past six years, Libya has been split between two rival camps, namely the internationally-recognized government of Sarraj, and another camp based in the eastern city of Tobruk, supported militarily by rebel forces under the command of Haftar, a renegade general.
The strongman is supported by the UAE, Egypt, and Jordan, and launched a deadly offensive to capture Tripoli, the seat of the government, in April last year. His forces haven't been able to advance past the city's outskirts, however.
In a statement on Thursday, the Turkish Presidency said that Erdogan and Sarraj were due to meet in Ankara at 1100 GMT on Thursday.
In recent months, Ankara, a close ally of Tripoli, has significantly helped the government push back Haftar's rebel forces and take back multiple areas. The Turkish government has been providing the government with logistics and military equipment.
Furthermore, and in a controversial move, Ankara has sent thousands of Turkish-backed Syrian militants there to allegedly fight alongside the government forces against Haftar's rebels.
"The whole world recognizes that Turkey changed the balance" on the ground in Libya, Turkish Foreign Minister Mevlut Cavusoglu said on Wednesday. "We have interests here (and) in the Mediterranean."
The plan for the meeting on Thursday comes just a day after Libyan government forces managed to liberate Tripoli's main airport from the rebels ahead of what appeared to be moves toward talks on a ceasefire and after months of gains to oust the strongman from much of his foothold in the northwest.
On Monday, the UN said both sides had agreed to resume ceasefire negotiations, warning that weapons and armed men flying into Libya in defiance of an arms embargo risked leading to a major escalation.
https://en.abna24.com/news//libya%e2%80%99s-prime-minister-to-meet-with-turkish-president-in-ankara_1043164.html
-----
In the dry season, Nigeria's army puts Boko Haram on the back foot
The chief of staff of Nigeria's army, General Tukur Buratai, has often declared victory over Boko Haram, a jihadist group known for kidnapping girls and strapping bombs to children. But it was only in April, after soldiers from neighbouring Chad attacked the rebels' bases, that he felt confident enough to move his headquarters from Abuja, the sleepy federal capital, to Borno state, the heart of the insurgency. It was intended as a signal that Nigeria was entering the final stages of a bloody war that has raged for more than ten years and cost perhaps 40,000 lives, according to the Armed Conflict Location & Event Data Project (acled), a non-profit organisation based in America.
Nigerian forces claim to have made big advances and to have killed more than 1,000 insurgents in recent weeks. Few Nigerians believe the government's numbers or that it is winning the war, since it has been saying so since late 2015. But audio messages released by Abubakar Shekau, the leader of Boko Haram's main faction, since April suggest the group is indeed hard-pressed. In one of them he wept and prayed for protection from the "devilish" army as he urged his men to stand firm.
https://www.economist.com/middle-east-and-africa/2020/06/04/in-the-dry-season-nigerias-army-puts-boko-haram-on-the-back-foot
------
How explosion killed nine-year-old child of suspected Boko Haram member
June 5, 2020
Abdulkareem Haruna
The kids had taken the device from Bama on the instruction of their father who is a suspected member of Boko Haram.
Bama, the second largest town in Borno, is 72 km from Maiduguri. It is one of the local government areas in the state worst affected by the Boko Haram insurgency.
Many young people in the town were believed to have subscribed to the Boko Haram ideology, the reason the community was displaced for over five years after several attacks by Boko Haram until the military began to liberate it in 2018.
Though many families that had been living in various IDP camps in Maiduguri have returned to Bama, some male returnees who are not sure of their safety left their wives and children behind in IDP camps in Maiduguri.
With the recent opening of roads connecting other Borno communities with Maiduguri, residents can now easily travel to visit their relatives outside the state capital.
Last week, an unidentified 13-year-old boy and his younger brother, aged nine, who were living with their mother and grandparent at an IDP camp in Maiduguri, went to visit their father in Bama. On their way back to Maiduguri, after some days with their father, he gave them a parcel for their mother in Maiduguri.
"Unfortunately, the boy that delivered the parcel became curious about the parcel they helped their father to transport from Bama to the Farm Centre IDP camp in Maiduguri," said Danbatta Bello, a senior official of the Civilian-JTF who is familiar with the incident.
Mr Danbatta said the boy sneaked into the room to search the parcel where he found concealed in it a cold piece of metal that looked like a toy.
"He brought the metal out, not knowing that it was explosive and he and his younger sibling began to play with it in the presence of their grandmother."
Mr Danbatta who was among the personnel investigating the incident said the piece of steel suddenly exploded as the boys were attempting to use a stone to open its aluminum covering.
"The nine-year-old boy died instantly while his grandmother and two other siblings survived with serious injuries," Mr Danbatta who doubles as spokesperson of the Civilian-JTF told PREMIUM TIMES.
"But she confirmed that she received a message from her husband from Bama even as she denied knowledge of the content of the parcel," said the Civilian-JTF official.
"However the grandmother of the child confirmed to us from her hospital bed that she overheard her daughter receiving a call from the husband who asked if she had received the parcel, and then told her to wait for his further instruction."
A source at Farm Center IDP camp who was also familiar with the incident said "the explosion was massive" and could have been more fatal had it occurred in a crowded place.
"He has not convincingly disproved the testimony of the child's grandmother who said she overheard him telling his wife to await his further instruction concerning the delivered parcel."
Mr Danbatta said security officials have become suspicious of the incident as it happened on the same day two other suicide bombings were carried out by females in Konduga town.
"One of the female suicide bombers succeeded in killing herself and a civilian, while the second suicide bomber died alone after her suicide belt went off," Danbatta said.
Reacting to the recent explosion incidents, a local non-governmental organisation, Kalthum Foundation for Peace (KFP), called on the government to raise the bar in the monitoring of the traffic coming in or leaving the state.
"While calling on parents to watch over their children more than ever before, so that they won't end up, directly or indirectly, as recruits of the insurgents, we equally beseech the government to deploy technology-based surveillance in detecting the influx of human-borne explosive devices."
Despite renewed claims by the military that government troops are winning the war, Boko Haram and their ISWAP collaborators have continued to carry out attacks on soft targets around the state.
The Boko Haram insurgency started in 2009 when the Islamic group decided to pick arms with the wild motive of setting aside the constitutional democracy to enforce Sharia rule.
https://www.premiumtimesng.com/news/headlines/396142-how-explosion-killed-nine-year-old-child-of-suspected-boko-haram-member.html
------
URL: https://www.newageislam.com/islamic-world-news/pregnant-elephant-death-india-triggers/d/122042
New Age Islam, Islam Online, Islamic Website, African Muslim News, Arab World News, South Asia News, Indian Muslim News, World Muslim News, Women in Islam, Islamic Feminism, Arab Women, Women In Arab, Islamophobia in America, Muslim Women in West, Islam Women and Feminism