New Age Islam News Bureau
1 Feb 2019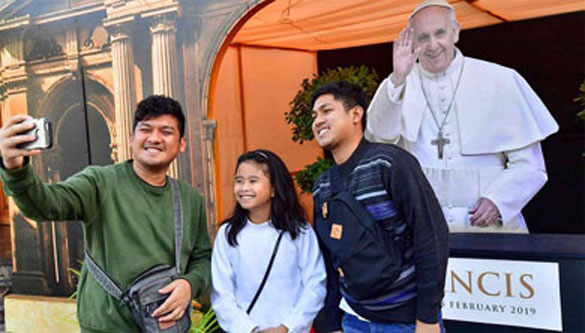 Two men and a girl pose for a "selfie" photograph with a cutout image of Pope Francis, days ahead of his visit to the United Arab Emirates, at St Mary's Catholic Church in Dubai on January 30, 2019. PHOTO | GIUSEPPE CACACE | AFP
------
• Pope Says 'Happy To Write New Page in History' With UAE Visit
• Muslim Death Row Prisoner Seeks Stay after Being Denied Imam In Chamber in Alabama
• Triple Talaq Bill Aimed At Liberating Muslim Women from Life of Fear: President of India
• No Protest after SC's Final Decision in Aasia's Case Termed A Milestone
• Quebec Prime Minister Says No To Anti-Islamophobia Day
• Sudan Army Says Will Not Allow State to Collapse Amid Protest
• Exposed: China's Surveillance Of Muslim Uighurs
Arab World
• Pope Says 'Happy To Write New Page in History' With UAE Visit
• Partners Agree Plan to Open More Cinemas in Kingdom
• Mariah Carey wows fans in Saudi Arabia with her first concert in the Kingdom
• Pope's Visit Sends 'A Message of Love and Peace,' Says Syriac Archbishop
• US Forces Plotting to Occupy Energy Zone in Western Iraq
• Kurds Asked to Transfer ISIL from Eastern Euphrates to Turkey, Idlib
• Children, babies dying from cold at camp in northeast Syria
• Australia admits 'may have killed' as many as 18 civilians in Mosul raid
• Syria's UN envoy says anti-Damascus sanctions amount to 'economic terrorism'
• White Helmets preparing to film false flag chemical attacks in Idlib: Russia
• Saudi Arabia, UAE, Egypt, Bahrain, Kuwait and Jordan hold Arab security talks
--------
Europe
• Muslim Death Row Prisoner Seeks Stay after Being Denied Imam In Chamber in Alabama
• Swedish Party Founder Exposes 'Islamist Infiltration' Into Politics
• Muslim Dutch politicians request protection for mosques
• Russia invites Taliban, anti-govt leaders for talks
• Germany, France, Britain to launch mechanism for trade with Iran
• We are losing a generation of children in Yemen: UNICEF
--------
India
• Triple Talaq Bill Aimed At Liberating Muslim Women from Life of Fear: President of India
• Centre sought fresh ban on Students Islamic Movement of India
• 2 JeM militants killed in Kashmir's Pulwama
• J-K: Five civilians, two CRPF jawans injured in grenade attack by militants
• Muslim groups call for impartial probe, ban on terror sites
--------
Pakistan
• No Protest after SC's Final Decision in Aasia's Case Termed A Milestone
• Financial Help Assured To Militants Surrendering Arms in Balochistan
• Convicted British Sex Offender Held in Pakistan
• Pakistan summons Indian high commissioner
• Sirajul Haq demands formation of judicial commission on Sahiwal incident
• Cabinet approves 63pc increase in Haj cost
• 11,000 out-of-school children identified for enrolment in schools
• Some 'regional actors' out to ruin Pak efforts for Afghan peace: FO
--------
North America
• Quebec Prime Minister Says No To Anti-Islamophobia Day
• Dem leader Schumer asks US spy chiefs to 'educate' Trump on Iran
• Kabul continues to lose control over area, people: US report
• US troops to leave Afghanistan if peace deal reached with Taliban: Trump
• US Senate rejects Donald Trump's rushed withdrawal from Syria and Afghanistan
--------
Africa
• Sudan Army Says Will Not Allow State to Collapse Amid Protest
• Saudi Arabia, allies meet in Jordan to coordinate policy on regional issues
• Muslim preacher stabbed, injured in Mali's capital
• US says airstrike kills 24 al-Shabaab extremists in Somalia
• Aid effort brings little relief for migrants trapped in Libya
--------
Southeast Asia
• Exposed: China's Surveillance Of Muslim Uighurs
• Yadim Committed To Making Malaysia Shariah-Compliant Model Country
• Muslim students pursuing social work receive awards from Muis
• China calls for 'harmony' before talks with Qatar
• Indonesia's Aceh whips teens for public cuddling
• Take heed of Malay disapproval, DPM reminds Pakatan govt
• Suicide bombing suspected in Philippine attack
• Muslim World League condemns twin bombings in the Philippines
--------
South Asia
• Afghan Government Has the Key for Peace, Reconciliation: Ashraf Ghani
• 19 Taliban militants, 1 ISIS-K member renounce violence in Nangarhar
• Ghani's comments on peace process anger Pakistan
• Bangladesh seeks US help for Rohingya repatriation
• Thousands of Rohingya children in the world's largest refugee settlement are going without an education
• Landmark report reveals new human rights abuses in Myanmar
• Taliban militants suffer casualties in NDS Special Forces raid in Kunduz
--------
Mideast
• Muezzin Muscled Out: Israeli Mosque Fires Bodybuilder
• Turkey Integrating Terrorist Groups in Idlib
• Palestinian, European officials worried over Hebron monitoring
• Hamas won't be part of any new puppet Palestinian govt.: Official
Compiled by New Age Islam News Bureau
URL: https://www.newageislam.com/islamic-world-news/pope-says-happy-write-new/d/117620
--------
Pope Says 'Happy To Write New Page in History' With UAE Visit
31 January 2019
Pope Francis said he was looking to write a new page in the history of relations between religions with his visit to the United Arab Emirates from Sunday.
"I am happy ... to write on your dear land a new page in the relations between religions, confirming that we are brothers although different," he said in a video message to the Emirati people released Thursday.
In the message, in Italian but also dubbed into Arabic, the pope thanked Abu Dhabi Crown Prince Sheikh Mohammed bin Zayed Al-Nahyan for his invitation to participate in an interfaith meeting on "human fraternity" from February 3 to 5.
He said the visit would give him the opportunity to again see "friend and dear brother" Sheikh Ahmed al-Tayeb, the head of Egypt's top Sunni Muslim authority, whom he met on a visit in 2017.
Francis has made boosting ties between Christianity and Islam a cornerstone of his papacy. The pope said he believes the interfaith meeting reflects "the courage and willingness to affirm that faith in God unites rather than divides, brings together despite differences, and turns away from hostility and aversion".
Francis also said the United Arab Emirates was "a land that seeks to be a model of coexistence, human fraternity and the meeting of diverse civilizations and cultures, where many find a safe place to work and live freely in the respect for diversity".
"I look forward to meeting a people who live in the present with their eyes on the future," he added.
The UAE prides itself on its religious tolerance and cultural diversity, and most Gulf Arab states have long allowed Christians to worship in churches.
Nearly 80 percent of the population of the UAE is Muslim, while Christians constitute around nine percent, according to the Catholic News Agency.
Many of the Catholics are workers from Africa, Bangladesh, India, Pakistan and the Philippines, though some are locals.
https://english.alarabiya.net/en/News/gulf/2019/01/31/Pope-says-happy-to-write-new-page-in-history-with-UAE-visit.html
--------
Muslim Death Row Prisoner Seeks Stay after Being Denied Imam In Chamber in Alabama
31 Jan 2019
A Muslim death row prisoner is seeking a stay of execution because he is being denied the presence of an imam while he is administered a lethal injection.
Dominique Ray, who is due to be executed in Alabama next Thursday for the murder of teenage girl in 1995, has been told that only the prison chaplain, a Christian, is allowed to be present in the execution chamber.
In papers filed at a district court in Alabama, Ray's lawyers argued that the prisoner's right to free exercise of religion was being violated.
The papers said the prison warden refused Ray's request for an imam to take the place of the chaplain and subsequently refused a request for the chaplain not to be present at the time of execution.
Ray, who is described as a "devout Muslim" in the court papers, was convicted in 1999 of the murder of Tiffany Harville, 15, four years earlier. Her decomposing body was found in a field a month after she disappeared.
Ray's co-defendant in the trial testified that Ray had cut the girl's throat after the pair raped her, although there was no physical evidence linking Ray to the crime scene.
In September 2017, medical records of Ray's co-defendant were released, showing he had schizophrenia and was suffering from misperceptions of reality, auditory hallucinations and religious delusions at the time of his interrogation and testimony.
Death row prisoners in Alabama are permitted to have "contact visits", without barriers, with pre-approved family, friends, attorneys and spiritual advisers in the days running up to their scheduled execution. But only the prison chaplain is permitted to be present in the chamber while the execution is carried out.
Ray's lawyers have argued that the prisoner will be executed under "conditions that substantially burden the exercise of his religious belief" and violate the first amendment.
"There is no compelling governmental interest in preventing a condemned inmate from having his or her spiritual adviser – who has been approved to have a contact visit with the condemned inmate in the death watch cell steps away from the execution chamber and moments before the execution begins – from taking the place of the prison chaplain in the execution chamber," the court documents say.
The chaplain's "mandatory presence in the execution chamber can serve only one interest – an unconstitutional one – safeguarding the soul or spiritual health of the condemned inmate in the Christian belief system".
The chaplain's presence has "the principle or primary effect of advancing Christian religion and inhibiting all other religions".
A spokesperson for the department of corrections, said a security protocol "only allows approved correctional officials, that includes the prison's chaplain, to be inside the chamber where executions are lawfully carried out.
"The inmate is given the right to visit with his spiritual advisor beforehand and the advisor may witness the execution from a designated witness room that has a two-way window. As a concession, the [department] will waive the presence of the prison chaplain in the chamber during the execution."
Ray's lawyers want his execution stayed to give the court time to consider the case. Ray is scheduled to be killed by lethal injection at Holman correctional facility near Atmore, Alabama, at 6pm on Thursday.
https://www.theguardian.com/us-news/2019/jan/31/dominique-ray-muslim-inmate-execution-chaplain-imam
--------
Triple Talaq Bill Aimed At Liberating Muslim Women from Life of Fear: President of India
Jan 31, 2019
NEW DELHI: The triple talaq bill is aimed at liberating Muslim women from a "life of fear", President Ram Nath Kovind said Thursday.
Addressing a joint sitting of both houses of Parliament at the beginning of the Budget session, he said the government is "striving hard" to get the bill passed by Parliament.
"With a view to liberate our Muslim daughters from a life of fear and anxiety and to provide them with equal right to lead their lives at par with other daughters, my government is striving hard to get the triple talaq bill passed by Parliament," he said.
In December last year, a fresh bill, to make the practice of triple talaq among Muslims a penal offence was introduced in Lok Sabha to replace an ordinance issued in September.
Under the proposed law, giving instant triple talaq will be illegal and void and will attract a jail term of three years for the husband.
The Muslim Women (Protection of Rights on Marriage) Bill, 2018 has superseded an earlier bill passed in the Lok Sabha and pending in Rajya Sabha.
The earlier bill was approved by the Lower House. But amid opposition by some parties in the Upper House, the government had cleared some amendments, including introduction of a provision of bail, to make it more palatable.
But as the bill continued to face resistance in Rajya Sabha, the government issued an ordinance in September, incorporating amendments.
The ordinance was repromulgated recently as the first one was about to expire.
The government has maintained that despite the Supreme Court striking down the practice of talaq-e-biddat (instant triple talaq) as unconstitutional, men were divorcing their wives on flimsy grounds and even via WhatsApp.
The opposition has said that divorce cannot be made a penal offence and the provisions of the bill were against basic principles of the Constitution.
While the proposed law makes it a 'non-bailable' offence, an accused can approach a magistrate even before the trial to seek bail. In a non-bailable offence, bail cannot be granted by police at the police station.
A provision has been added to allow the magistrate to grant bail 'after hearing the wife'.
The magistrate would ensure that bail is granted only after the husband agrees to grant compensation to the wife as provided in the bill. The quantum of compensation will be decided by the magistrate, as per the bill.
The police would lodge an FIR only if approached by the victim (wife), her blood relations or people who become her relatives by virtue of marriage. Neighbours and others cannot lodge a complaint under the proposed law.
The offence of instant triple talaq will be 'compoundable'. Now, a magistrate can use his powers to settle the dispute between a husband and his wife. This will happen only when the wife approaches the court.
Under a compoundable offence, both parties have the liberty of withdrawing the case.
The proposed law would only be applicable on instant triple talaq or 'talaq-e-biddat' and it would give power to the victim to approach a magistrate seeking 'subsistence allowance' for herself and minor children. A woman can also seek the custody of her minor children from the magistrate who will take a final call on the issue.
https://timesofindia.indiatimes.com/india/triple-talaq-bill-aimed-at-liberating-muslim-women-from-life-of-fear-president/articleshow/67774778.cms
--------
No protest after SC's final decision in Aasia's case termed a milestone
Ikram Junaidi
February 01, 2019
ISLAMABAD: Politicians from the governing and opposition parties on Thursday said Aasia Bibi's acquittal in a blasphemy case was a milestone in Pakistan's history, as was the absence of any prominent protests against the decision.
At the 'Dialogue between Youth and Parliamentarians on Democratic and Peaceful Governance and Sustainable Development in Pakistan' organised by the Pakistan Institute of Legislative Development and Transparency (Pildat) and the United Nations Development Programme, speakers also said the time had come to look into where they had made mistakes.
Parliamentary Secretary for Planning MNA Kanwal Shauzab from the PTI said at the event that the absence of protests was due to improved management and social media monitoring.
"Everyone knows what happened three months back [when Aasia Bibi was first acquitted by the Supreme Court]. But after that, monitoring of social media was increased and hate speech was topped. Immediate action was taken against those who were inciting people," she said.
Ms Shauzab said society had been radicalised and become polarised, so it would take time to eradicate the issue completely.
"However I suggest that people should not forward provocative messages on social media and also discourage such messaging. As Aasia has been acquitted, we should look into where we went wrong," she added.
While discussing provocative remarks against other countries in the educational curriculum, she said these countries were previously considered enemies but such things would improve following decisions such as that to open the Kartarpur Corridor.
MNA Mehnaz Akbar Aziz from the PML-N said it was a milestone for Pakistan that Aasia Bibi was acquitted.
MNA Kishwer Zahra from the Muttahida Qaumi Movement told participants that she moved two bills, one against extremism and one to upgrade volunteer units such as the girls guide, but they were not passed.
"I suggest the ulema should be pushed to play a role to bring peace in society, and their speeches should also be checked," she said.
The ban on student unions should be lifted so the youth can be involved in political activities, Jamiat-i-Ulema Islam-Fazl MNA Shahida Akhtar Ali added.
National Assembly Speaker Asad Qaiser said the war against terrorism has affected all of society and there is frustration among the youth.
However, he said, development would boost society and the China Pakistan Economic Corridor (CPEC) will create economic opportunity.
Mr Qaiser said there are 96 young parliamentarians whom he will connect with the youth.
Special Assistant to the Prime Minister on Youth Affairs Usman Dar said that although the youth is a devolved subject, he will play his role for their economic empowerment.
"Unfortunately during the last 71 years, especially in the last 10 years, policies were not made for the youth. We are not only making efforts to increase job opportunities but the curriculum would also be changed as the current curriculum does not match market requirements," he said.
He added that "we are considering allocating seats for the youth in parliament".
Senator Mushtaq Ahmed from the Jamaat-i-Islami said that although the youth is a major asset to the country, CPEC and other projects are discussed more often than the youth. However, he praised the proposal for a youth quota in parliament, but said "it should be ensured that youngsters from political families are not nominated to those seats".
Opening the dialogue, Pildat President Ahmed Bilal Mehboob said Pildat and the UNDEP have joined hands to encourage youth engagement with political parties in government and opposition.
He also praised the UNDP Human Development Report: Unleashing the Potential of a Young Pakistan, which identified education, employment and engagement as the key requirements of Pakistani's youth population.
UNDP Pakistan resident representative Ignacio Artaza said: "Youth are the drivers of economic, social, cultural, institutional and political change. As such, their voices must be listened to."
UN Resident Coordinator Pakistan Neil Buhne said: "So much of Pakistan's development is dependent on the youth of the country. There is a need for systematic youth-centric solutions to development challenges."
https://www.dawn.com/news/1461035/no-protest-after-scs-final-decision-in-aasias-case-termed-a-milestone
--------
Quebec prime minister says no to anti-Islamophobia day
Feb 1, 2019
The far-right prime minister of Canada's province of Quebec has ruled out naming a national day against Islamophobia in a move slammed as "absolute insult" to victims of a deadly mosque attack two years ago.
Prime Minister Francois Legault, who was elected to the post late last year, said on Thursday that he was opposed to devoting a day to act against anti-Muslim hate crimes, because he doesn't believe Islamophobia is a problem in his province.
"I don't think there is Islamophobia in Quebec. So I don't see why there would be a day dedicated to Islamophobia," he said.
He made the remarks only two days after the second anniversary of a deadly attack against the Islamic Cultural Center, which claimed the lives of six people in Quebec City on January 29, 2017.
On the day of the anniversary on Tuesday, Legault's deputy Premier Genevieve Guilbault appeared open to the idea of naming a day to counter Islamophobia, but the prime minster said, "We looked at it, and there won't be any, that's clear."
This has prompted reaction from rights groups, including National Council of Canadian Muslims (NCCM), which described Legault's comments as "an absolute insult."
Executive director of NCCM, Ihsan Gardee, said the remarks "are an absolute insult to the families of the victims and to Muslim communities in Quebec and across Canada who continue to grieve this tragedy."
"Premier Legault is clearly out of touch with the realities of Islamophobia on the ground in Quebec," he said.
"The Premier should immediately retract and apologize for his highly offensive and inaccurate comments and acknowledge that Islamophobia, just like other forms of hatred and racism, exists in Quebec and must be addressed."
The council, a prominent civil liberties and advocacy organization, was among many other Muslim community groups which put forward the idea of naming a day against Islamophobia.
It had written an open letter to Canadian Prime Minister Justin Trudeau in November, calling on him to designate January 29 as a National Day of Action against Hate and Intolerance.
In the letter, NCCM described the mosque attack as "the most horrific large-scale expression of the kind of Islamophobia that too many Canadian Muslims face daily."
Following the mosque attack, the Trudeau government proposed a symbolic motion which called on the government to condemn Islamophobia.
Far-right groups, however, immediately expressed their opposition, with white supremacist groups staging rallies across the country.
Data shows Quebec saw a surge in hate crimes in 2017, Statistics Canada released its annual hate crimes data on Thursday.
The agency concluded that hate crimes almost tripled from 41 reported incidents in 2016 to 117 on 2017 in Quebec. The incidents even increase in February, the month after the deadly mosque attack.
Canada's police received 2,073 hate-crime reports only in 2017, an increase of 664 from 2016. The increases were largely in Ontario and Quebec.
https://www.presstv.com/Detail/2019/02/01/587344/Canada-Quebec-Islamophobia-Francois-Legault
--------
Sudan army says will not allow state to collapse amid protest
31 January 2019
Sudan's army said on Wednesday it will not allow the state to collapse amid nationwide protests, as the defense minister warned of a "plot" to trigger insecurity in the African nation.
Deadly protests have rocked Sudan for weeks now, with protesters calling for an end to President Omar al-Bashir's three-decade-old rule.
The protests were initially triggered by a government decision to triple the price of bread, but have mushroomed into nationwide anti-government rallies.
The army's chief of staff, Kamal Abdelmarouf, said on Wednesday the armed forces were ready to face those who destabilized the security of the Sudanese people.
"We will not allow the Sudanese state to collapse or fall into chaos," he said in a meeting with top military officers in Khartoum, according to a statement issued by the army.
On Tuesday, similar warnings were issued by Abdelmarouf's deputy, Essameddine Mubarak, who said that the forces were ready to face any threat to the country.
For years, anger has been mounting across Sudan over growing economic hardships and deteriorating living conditions driven by soaring inflation and shortage of foreign currency.
But the defense minister blamed the recent protests on an unspecified plot.
"Sudanese armed forces are aware of a plot to use the economic situation for triggering insecurity in the country," Defense Minister Awad Ibnouf said in the military meeting.
Despite nationwide rallies, Bashir has refused to step down and blamed violence at demonstrations on "infiltrators" among the demonstrators.
Conflicting claims regarding toll
Officials say 30 people have died in protest-related violence since the demonstrations began on December 19, while rights groups say more than 40 people have been killed.
Earlier on Wednesday, professors and lecturers from the University of Khartoum held a sit-in protest on campus against Bashir's government.
"More than 300 professors and lecturers of the university held a sit-in today inside the campus," Mamduh al-Hassan, a spokesman for the group told AFP.
He said that 531 university staff members had signed a "Khartoum University Professors' Initiative" listing a series of demands.
"The main demand is that a transitional government be formed in Sudan," Hassan said, echoing the demand of protesters on the streets calling for an end to Bashir's iron-fisted rule.
The current protest movement has been led by the Sudanese Professionals' Association, an umbrella group of teachers, doctors and engineers.
Analysts say the movement has emerged as the biggest challenge yet to Bashir's rule.
https://english.alarabiya.net/en/News/middle-east/2019/01/31/Sudan-army-says-will-not-allow-state-to-collapse-amid-protest.html
--------
Exposed: China's surveillance of Muslim Uighurs
Feb 01, 2019
Zonguldak, Turkey - The Turkish coal-mining town of Zonguldak seems an unlikely place to meet a man who says he's a Chinese spy, but it's here where Yusuf Amat arranged to meet us.
Sitting in the lobby of a hotel overlooking the Black Sea, waiting for him to arrive, I wonder what kind of person would agree to inform on neighbours, friends and even family for a government accused by rights groups of carrying out a brutal campaign of mass arrests and detention.
As Amat walks in through the glass door, I almost miss him. Wearing grey overalls, a grey cotton-knit hat and a grey bulky jacket, everything about him - from his clothes to his mannerisms - is unremarkable.
"Ni hao (hello)," Amat says softly, greeting me in Mandarin as he casts his eyes down and gently shakes my hand.
"Sorry for being late, I just finished my shift at the gas station and had to take a few buses to get here."
Amat is Uighur. A Muslim ethnic-minority group in China, Uighurs have been the target of a major crackdown by the government in Beijing. A United Nations human rights panel says this has led to up to a million people being imprisoned, in what the Chinese call "reeducation centres".
"My role," Amat explains,"was to feed information to officials".
"I reported on everything people did - what they ate, drank, what they did in private in their homes, whether it was friends or relatives, I shared it all."
Amat says his information was sent to authorities.
What upsets Amat, he says, is that the officials often imprisoned people for "harmless and inconsequential" reasons.
"You could have a long beard or some religious text on your phone, or maybe you studied abroad or had a long-distance phone call with someone overseas. It could all land you in detention."
Amat says he began spying in 2012 because officials arrested and tortured his mother, threatening to keep her in detention unless he agreed to work for them.
"From when I was young, I always told myself I would protect my mum. But I didn't do it. When they took me to see her, my heart was so pained."
Amat says his handler sent him to also spy abroad, as part of China's expanding global network of surveillance. From 2012 to 2018, Amat says he was told to infiltrate Uighur communities in Afghanistan, Pakistan and Turkey. He says Beijing has "countless" informants around the world.
"I'm from the small town of Karamay and I'm just one of many my handler deals with. There are dozens of towns the same size throughout Xinjiang, not to mention big cities. And then there are the international operations. So you can imagine how many eyes are out there."
And Amat says China is getting bolder on the international front, claiming government operatives have abducted Uighurs abroad.
Once back in China, he says, many disappear into the reeducation centres.
China's government denies Uighurs are being arrested arbitrarily and held against their will and says these are "voluntary" vocational training facilities, designed to provide job training and to stamp out "extremist" tendencies.
Amat says the government is "outright lying" and he himself spent a year and a half in a detention centre, having been arrested for trying to fly to the Middle East and join Muslim fighters.
It was while he was serving his sentence that he says authorities recruited him. Once he agreed to be an informant, Amat says he was given the job of cleaning the detention facilities.
His rounds gave him access to many areas of the centre.
"I've seen many people being beaten in interrogations inside. At times they used bare electrical cords - which inflict pain beyond what you can imagine. Those who were beaten made horrible shrieks, especially the young ladies my age. What I can't forget is the blood - human blood on the floor, on the walls, everywhere, afterwards."
Al Jazeera spoke to more than a dozen former detainees. Many confirm they either witnessed or were themselves tortured and abused in these centres.
Abduweli Ayup, a teacher and writer, spent 15 months in three facilities in Urumqi, the capital of Xinjiang province. On the day of his arrest, he says police officers allegedly took him to a holding cell and raped him.
"The first day was very bad," says Ayup.
"They stripped me of my clothes, slapped my buttocks and then they abused me ... more than 20 Chinese guys. The next day, police asked me, 'One day, if you guys are in power, what will you do to us?' I said, 'Look, I'm a human being, I'm not an animal like you'."
Ayup says in the months that followed, he was regularly beaten by other inmates. Prison guards ignored his calls for help, he adds.
"They want you to be tortured like this. If you're tortured a lot, it's easier for you to cooperate with them during the interrogation."
Ayup says the rape and beatings were orchestrated to get him to admit to being a separatist or a "terrorist".
"I am a teacher, I am a scholar. I have never thought about these things. I am not a separatist. I am not a terrorist. What do I have to confess?" he asks.
Ayup was jailed for raising money for Uighur schools after Chinese authorities made it illegal for children to learn the Uighur language.
"They want to delete Uighur. They want Uighurs to believe the Chinese Communist Party is God," Ayup says.
After being released, Ayup says he feared he would be locked up again, so he fled with his family to Turkey. Uighurs share a long history with the country and thousands have settled there in the last decade.
In Istanbul, Ayup has been documenting the stories of Uighur detainees.
One of those is Gulbakhar Jaliloua.
Ayup takes us to meet her at a safe house in the city. Sitting on a couch, she begins to sob uncontrollably as she recounts her experience.
"I was held for one year, three months, 10 days ... I counted every single hour and minute. An hour felt like a year," she says.
Jaliloua says she was arrested in Xinjiang while picking up a shipment for her clothing business. What baffles her about the arrest is that she isn't even a Chinese citizen. When she told authorities she was from Kazakhstan, they simply hid her identity, Jaliloua says.
"They gave me a Chinese name and Chinese ID number so the Kazakhstan embassy couldn't find me."
Jaliloua recounts how she was crammed into a small cell with up to 35 other women, and then subjected to terrifying interrogations that sometimes lasted 24 hours.
"They put a black hood on my head, and handcuffs and chains … I couldn't walk fast with the leg cuffs, so they kept pushing me. When I fell down, they dragged me to the interrogation room."
Jaliloua says she and other Muslim inmates were not allowed to pray and they lived in constant fear they would be punished if found to be secretly doing so.
In detention, she lost 30kg but says her treatment was better than that meted out to Chinese Uighurs.
"There was this young woman named Patigul … One day, she came back with her hair all messed up ... She showed me the right side of her head. It was swollen and bleeding … after a heavy beating."
Chinese officials categorically deny accusations of abuse and ignore growing international calls to shut down the "reeducation" centres.
The government says it will allow UN officials to visit the facilities, so long as they "abide by Chinese law … avoid interfering in domestic matters … and instead, take on a neutral and objective attitude".
Amat says it is no longer possible for him to stay silent on the treatment of his people.
"China thinks what they're doing is right, but they're wrong," he says. "Yes, every country has their own laws, but there is also a universal international standard. And in my eyes, they're seriously violating this standard. Uighurs don't have a right to our own freedom, to live the way we would like."
Amat confesses he's been consumed with guilt for informing on fellow Uighurs.
"It's like a painful needing stabbing into me every time."
I asked him why he's decided to share this information now. Amat says he longer has much to lose. Most of his family have been placed in centres, in part, he says, because of his spying.
"My sister, my mother and my brother-in-law, his brothers, their parents, my uncle … they're all in jail. They're all in there."
Amat says he moved to Zonguldak because few Uighurs live in the town, making it harder for Chinese officials to ask him to spy.
Now that he's spoken to media, he says it's likely he'll face retribution.
But he says he's ready.
"This is not just about my immediate family, this is about taking a stand for every Uighur. They're all my family. My own life doesn't matter. Whatever happens, happens. I've lived enough."
https://www.aljazeera.com/blogs/asia/2019/01/exposed-china-surveillance-muslim-uighurs-190130011449217.html
--------
Arab World
Partners agree plan to open more cinemas in Kingdom
February 01, 2019
JEDDAH: A partnership agreement to open more cinemas in Saudi Arabia has been signed by business chiefs.
Abdullah bin Nasser Al-Dawoud, chairman of the Saudi Entertainment Ventures Co. (SEVEN), and Fouad Al-Rashed, CEO of Asala Holding Co., on Thursday put pen to paper on a deal to establish new AMC cinemas in several Saudi cities.
The agreement is part of SEVEN's strategy to develop and operate 50 movie theaters throughout the Kingdom over the coming years.
SEVEN, a unit of the Kingdom's Public Investment Fund (PIF), aims to drive the Saudi entertainment industry forward through its other strategic sectors, particularly leisure parks.
Real estate firm Hamat Property Co., the operating arm of Asala Holding Co., specializes in the ownership, development and management of shopping centers and commercial properties. The company's portfolio includes 25 operating shopping malls in the Kingdom.
SEVEN recently announced the launch of its first family-friendly entertainment complex, in Riyadh.
http://www.arabnews.com/node/1445231/saudi-arabia
--------
Mariah Carey wows fans in Saudi Arabia with her first concert in the Kingdom
January 31, 2019
KING ABDULLAH ECONOMIC CITY: Mariah Carey took the stage in Saudi Arabia on Thursday to become the highest profile international artist to perform in the Kingdom since the easing of restrictions on entertainment.
"I'm so happy to see you guys all together tonight," the superstar told an exuberant crowd at the Bay La Sun resort in King Abdullah Economic City.
She then launched into a string of her hits including "Love Takes Time," and "Make it Happen."
Wearing a full length black sequined dress, Carey dedicated the song "Always Be My Baby," to the crowd.
Fans flocked to the concert to see Carey become the first female international artist to perform in the Kingdom since social reforms removed restrictions on entertainment and segregation of the sexes.
Ahead of her performance, fans told Arab News of their excitement at seeing the star on stage.
Faisal Mulla, 21, said it was his first time seeing a concert in the Kingdom.
"I'd just like to enjoy it as much as I can," he told Arab News as he waited excitedly outside the venue.
Hundreds gathered at the event before she arrived and the mood was joyful and full of anticipation. The crowd included a mix of Saudis and foreigners, with quite a few in their 40s and above. For many it was their first concert experience.
When Carey performed one of her classic hits "Fantasy" the crowd erupted, singing along. The mixed crowd cheered and danced with many holding their smartphones in the air.
"I came to encourage more artists to come to Saudi Arabia and celebrate," said 22 year-old Hamza Gamaraldin. "We're all big fans of pop music and as we're huge fans of her music, I came to support her too."
"She's a legend. We love Mariah and we thank her for coming to Saudi! I feel good and more encouraged about the future of Saudi Arabia, I'm encouraging it to be more improved and more open to foreigners."
Earlier, Carey said her concert was a positive step towards the dissolution of gender segregation.
"Presented with the offer to perform for an international and mixed gender audience in Saudi Arabia, Mariah accepted the opportunity as a positive step towards the dissolution of gender segregation," Carey's publicists told The Associated Press.
"As the first female international artist to perform in Saudi Arabia, Mariah recognizes the cultural significance of this event and will continue to support global efforts towards equality for all," the publicists added.
DJ Dash warmed up the crowd before Carey took to the stage while Dutch DJ Tiesto was set to perform after Carey had finished.
Ahmad, a 29 year old Lebanese man who was born and raised in Saudi Arabia, said that he was attending to see DJ Tiesto rather than Mariah Carey, and that "it's a great performance so far, it's just nice to see in Saudi."
He added that it is the first time he has seen "something like this. I hope she comes again, and other artists."
Carey's concert is taking place at the Kingdom's first major international golf tournament. Part of the European Tour, the inaugural Saudi International, powered by SBIA, has drawn several of golf's biggest stars.
Full report at:
http://www.arabnews.com/node/1445066/saudi-arabia
--------
Pope's visit sends 'a message of love and peace,' says Syriac Archbishop
January 31, 2019
As the United Arab Emirates welcomes Pope Francis, head of the Catholic Church, next week, it sends "a message of love and peace to the entire world," according to the head of the Syriac Orthodox Church in the UAE.
"The visit shows that the UAE embraces pluralism and diversity within its community and is the ideal place to host a meeting of civilisations and religions," Archbishop Mor Bartholomaeus Nathaniel Youssef told the Emirates News Agency, WAM.
The Archbishop is head of the Patriarchal Vicariate for the UAE and the Arab states of the Gulf of the Syriac Orthodox Patrriarchate of Antioch and All the East, one of the Oriental Orthodox churches.
The visit by Pope Francis, he said, "is very important and has many dimensions. It would not be taking place if both the visitor and his hosts did not share the spirit of tolerance, compassion and acceptance, regardless of their differences."
The underlying message of the visit, he added, "is that religions seek to serve mankind and to advance it, not to harm it."
Referring to the declaration of 2019 as the Year of Tolerance in the UAE, Archbishop Bartholomaeus noted that "this country has always taken this approach for many centuries, long before the establishment of the federation in 1971. Its history is full of examples of peaceful co-existence between Christians and Muslims, as shown by the discovery of a 7th Century AD Syriac monastery on Sir Bani Yas island. This shows that people of both faiths have always lived here in harmony."
The invitation extended to the Pope by the UAE, he continued, provides a way "to highlight its message as a tolerant country, which is home to many cultures, religions and sects. It will help to correct the wrong perceptions about moderate Islam, which rejects all extremist ideas."
That is particularly important, he noted, "in the light of the growing Islamophobia in some Western communities towards Arab and Islamic communities."
The Archbishop went on to express the hope that the visit by Pope Francis will help to draw attention to what he described as "the barbaric practices" from which Christians have suffered in parts of the Arab world, as a result of the actions of extremist groups such as Daesh.
"This is a dark part of our history that will never be erased. History will also remember those who supported them and stood by them in the face of evil," he added.
Though small, numbering around 5,000 families, the Syriac Orthodox community in the UAE is diverse in origin. It dates back to the late 1960s, when many Malayalam-speaking Syriac Christian families came from Kerala, India.
Full report at:
https://www.khaleejtimes.com/news/general/popes-visit-sends-a-message-of-love-and-peace-says-syriac-archbishop
--------
US Forces Plotting to Occupy Energy Zone in Western Iraq
Jan 31, 2019
The Arabic-language al-Ma'aloumeh news website quoted a source at al-Anbar provincial council as saying on Thursday that the US forces, supported by combat helicopters, carried out reconnaissance operations in Okaz oil and gas field in Western al-Anbar without coordination and agreement with Iraqi security forces.
Earlier, Hameed Al-Hayes, the head of the al-Anbar Salvation Council, had warned that the Americans had established military bases near Okaz in the town of al-Qa'em in Western al-Anbar to take control over the gas field.
Iraqi sources reported earlier this month that the US army was searching for new locations to establish military bases in the two towns of al-Ramadi and Fallujah in al-Anbar province.
The Arabic-language al-Maloumeh news website quoted an Iraqi security source as saying that a number of US military advisors along with army forces traveled to the 'Military Farm' region in Eastern Fallujah to find a location for their new base.
He added that the US forces have located a number of positions in different parts of al-Ramadi, and said that they want to set up new bases in the province.
Full report at:
http://en.farsnews.com/newstext.aspx?nn=13971111000835
--------
Kurds Asked to Transfer ISIL from Eastern Euphrates to Turkey, Idlib
Jan 31, 2019
The Arabic-language al-Hal news website affiliated to the militants quoted SDF commander Ahmed al-Sultan as saying that the ISIL has demanded the Kurds to set up a safe corridor for them to move to Turkey or Idlib and Jabal Turkman in Northern Lattakia.
He claimed that the SDF has rejected the ISIL demand.
Meantime, the Arabic-language Stepnews website, also affiliated to the militants in Syria, reported on Wednesday that the SDF and ISIL in Eastern Deir Ezzur have secretly agreed on a ceasefire.
Based on reports, the ISIL is surrounded in a 6sq/km region in Southeastern Deir Ezzur in Eastern Euphrates.
Earlier this week, the ISIL occupied a new region in Eastern Deir Ezzur after the US fighter jets wrongly attacked the Washington-backed SDF, killing and wounding a number of them.
The Arabic-language al-Baladi news website affiliated to the terrorists reported last Friday that in a blue-on-greens air assault the US-led coalition's warplanes targeted a group of SDF forces in the town of al-Baqouz in Eastern Deir Ezzur with white phosphorous bombs, killing 5 and wounding 7 others.
According to the report, after the attack, the ISIL militants took the chance and occupied Baqouz after the SDF pulled out of the region.
Full report at:
http://en.farsnews.com/newstext.aspx?nn=13971111000598
--------
Children, babies dying from cold at camp in northeast Syria
31 January 2019
At least 29 children and newborns are reported to have died in a teeming camp in northeastern Syria over the past 8 weeks, mainly due to hypothermia, the World Health Organisation (WHO) said on Thursday.
About 23,000 people fleeing fighting in Deir al-Zor between ISIS and the US-backed Syrian Democratic Forces alliance, led by the Kurdish YPG militia, have arrived at al-Hol camp during the period, swelling its population, it said.
"The situation in Al-Hol camp is heartbreaking. Children are dying from hypothermia as their families flee to safety," Elizabeth Hoff, WHO representative in Syria, said in a statement.
The United Nations agency appealed for unhindered access to the camp, saying the situation has become "critical" for 33,000 people, mainly women and children, now living there in bitterly cold winter conditions.
Many displaced had walked for days or travelled in open trucks, arriving malnourished and exhausted following "years of deprivation" living under control of ISIS, it said.
"Thousands of new arrivals have been forced to spend several nights in the camp's open-air reception and screening areas, without tents, blankets or heating," the WHO added.
WHO-supported teams are working around the clock in the camp to screen new arrivals, support vaccination and refer severely malnourished children to a hospital in al-Hasakah, it said.
Full report at:
https://english.alarabiya.net/en/News/middle-east/2019/01/31/Children-babies-dying-from-cold-at-camp-in-northeast-Syria.html
--------
Australia admits 'may have killed' as many as 18 civilians in Mosul raid
1 February 2019
Australia on Friday acknowledged it may have killed as many as 18 civilians in an air strike on Mosul two years ago, during a massive and ultimately successful campaign to dislodge militants.
Following an internal investigation, the Australian Defense Forces said coalition raids against ISIS positions in the then-occupied northern Iraqi city on June 13, 2017 "may have caused civilian casualties".
"The coalition assesses that between six and 18 civilians may have been killed," during strikes on the al-Shafaar neighborhood. Air Marshal Mel Hupfeld indicated there was no firm information about the number of deaths or whether they came as a result of the Australian strike, or from other coalition members.
The intense aerial bombardment to retake what had been Iraq's second-largest city has already been the subject of intense scrutiny, with the US-led coalition admitting over 1,100 civilian casualties. A total of 30,008 strikes against ISIS were carried out between August 2014 and the end of August 2018, with the Mosul campaign being particularly intense.
Critics have alleged the coalition strategy leaned too much on overwhelming air power. While quicker and posing fewer risks for coalition forces, they allege it put civilians at greater risk. Monitoring group Airwars says the number of civilian deaths acknowledged by the coalition is well below the true toll of the bombing campaign, estimating that at least 7,468 civilians were killed.
Hupfeld said the Australian strike was requested by Iraqi security forces and was in "full compliance with the law of armed conflict and applicable rules of engagement". "The Australian Defense Force takes all feasible precautions to minimize the risk of civilian casualties."
Full report at:
https://english.alarabiya.net/en/News/middle-east/2019/02/01/Australia-admits-may-have-killed-as-many-as-18-civilians-in-Mosul-raid.html
--------
Syria's UN envoy says anti-Damascus sanctions amount to 'economic terrorism'
Jan 31, 2019
Syria's mission to the United Nations has vehemently condemned the economic sanctions targeting the country, saying they blight the lives of ordinary Syrians.
"The unilateral, coercive measures imposed on the Syrian people represent an economic terrorism that are largely affecting the lives of the Syrians and hindering the delivery of their daily basic needs," the official Syrian Arab News Agency (SANA) reported, citing the country's UN Ambassador Bashar al-Ja'afari as saying on Wednesday.
Ja'afari, who was addressing a UN Security Council session focusing on the situation in the country, said that since foreign-backed militancy broke out in 2011, Damascus "had spared no efforts to fulfill its duty in meeting the humanitarian requirements of the Syrians, who have suffered from this war."
The Syrian government, the envoy said, was prepared to boost its cooperation with the UN and its member states to both improve the humanitarian situation and pave the way for the return of those who had fled war.
The United States and its Western and regional supporters stand accused of supporting the foreign-backed war that has killed hundreds of thousands in the country, but has now been mostly contained thanks to Damascus and its allies' counter-terrorism efforts.
Washington has, meanwhile, been imposing sanctions on hundreds of companies and individuals, whom it accuses of involvement in developing chemical munitions. Damascus surrendered its stockpile of chemical weapons in a process monitored by the UN and the Organization for the Prohibition of Chemical Weapons (OPCW) in 2013, and has repeatedly asserted that it has never deployed such weapons.
The European Union has also slapped Syria with an oil embargo, placed restrictions on certain investments in the country, frozen the assets of the Syrian Central Bank across the bloc, and imposed bans on dozens of companies linked to the government of Syrian President Bashar al-Assad. The EU voted last May in favor of extending the bans until June 1, 2019.
'Foreign forces back terrorism'
Elsewhere in his remarks, Ja'afari expressed satisfaction with the "positive" meetings and "frank" dialog with the UN Under-Secretary General for Humanitarian Affairs Mark Lowcock and other officials.
He, however, asserted that the Syrian people's suffering would not cease "if the reasons behind this suffering are not treated, mainly the presence of terrorism."
The envoy called for ending the illegitimate presence of the US, French, Turkish, and British troops on the Syrian territory, saying those are "supporting terrorism and obstructing the humanitarian work," SANA said.
Back in April, officials from a coalition of Arab and Kurdish militants operating in northeastern Syria said the US, Britain and France were setting up new outposts in northeastern Syria, despite a lack of permission from Damascus to have military presence in sovereign Syrian territory.
"The United States and France have increased the number of their military in Manbij," said Helil Bozi, the commander of the "Military Council of Manbij" of the so-called Syrian Democratic Forces (SDF). He said British forces, too, had been deployed to the same territories.
Turkey has also a military presence in northern Syria and has already launched two cross-border operations there, namely "Euphrates Shield" in August 2016 and "Olive Branch" in January 2018 with the declared aim of eradicating the presence of Kurdish militants and Daesh terrorists near Turkey's borders.
'Foreign intelligence informing White Helmets'
Separately, he said the White Helmets, a Western-backed so-called aid group, had "made many fabrications by instructions from Western intelligence" about alleged use of chemical substances in Syria for some permanent members of the UNSC to provide pretext for launching acts of aggression against the Arab country.
The US, Britain, and France have, in the past, used allegations of deployments of chemical agents to launch attacks against the Syrian military's defenses and other targets with the purported goal of paralyzing the Syrian government's capability to produce chemicals.
US President Donald Trump ordered a missile strike against Shayrat Airbase in Syria's Homs Province on April 7, 2017. He claimed back then that the airfield had been the origin of a suspected sarin gas attack on the town of Khan Shaykhun in the northwestern Syrian province of Idlib on April 4, 2017.
Full report at:
https://www.presstv.com/Detail/2019/01/31/587306/Syria-economic-sanctions-terrorism-United-Nations-envoy-Bashar-alJaafari-foreign-presence-White-Helmets
--------
White Helmets preparing to film false flag chemical attacks in Idlib: Russia
Jan 31, 2019
Russia has warned that members of the so-called White Helmets civil defense group are making preparations to film scenes of staged chemical attacks in Syria's northwestern province of Idlib in a bid to implicate Syrian government forces and invent pretexts for possible acts of aggression on army troops.
Speaking during a press briefing in the Russian capital Moscow on Thursday, Russia's Foreign Ministry spokeswoman, Maria Zakharova, said there were reports that the Western-backed group, which has been repeatedly accused of cooperating with Takfiri terrorists and staging false flag gas attacks, has installed cameras and related equipment in several hospitals across Idlib to film the purported victims of fake chemical attacks.
"Tensions around the Idlib de-escalation zone are not on the decline," Zakharova pointed out, adding, "Hayat Tahrir al-Sham militants, who are running the show there, do not only shell nearby settlements on a daily basis, but are also actively beefing up their presence near the contact line with Syrian government forces."
The diplomat also expressed deep concern over incoming reports that the terrorists "have not abandoned efforts to stage a chemical attack against civilians."
Zakharova concluded that Moscow has urged Washington to withdraw its troops from Syria as soon as possible, calling for the return of all Syrian territories to the Damascus government's control.
The Russian Defense Ministry said on September 11, 2018 that foreign-sponsored terrorists had started filming scenes of a staged chemical attack in Idlib province.
The Russian Center for Syrian Reconciliation said in a statement that cameramen from several Middle Eastern television networks and an American news channel had arrived in the city of Jisr al-Shughur to produce the footage needed for the provocation.
The statement added that a Takfiri militant outfit had been provided with two canisters of a "chlorine-based chemical" for the purpose of the operation.
It further noted that the footage would include scenes of members of the so-called White Helmets aid group helping and treating the residents of Jisr al-Shughur after an alleged barrel bomb chemical weapon attack by the Syrian army.
"All the footage of the staged provocation is to be delivered to the newsrooms of TV channels, which are to broadcast it after its publication on social media," the statement pointed out.
The United States has warned it would respond to any possible chemical weapons attack by Syrian government forces with retaliatory strikes, stressing that the attacks would be stronger than those conducted by American, British and French forces last year. On April 14, 2018, the US, Britain and France carried out a string of airstrikes against Syria over a suspected chemical weapons attack on the city of Douma, located about 10 kilometers northeast of the capital Damascus.
Washington and its allies blamed Damascus for the Douma attack, an allegation rejected by the Syrian government.
On September 11 last year, Russian Deputy Foreign Minister Sergei Ryabkov censured the US threats to use military force against Syria as part of Washington's blackmail policy.
"Unlike the United States, Britain and their allies, Russia provides particular facts on a daily basis through its Defense Ministry, the Foreign Ministry as well missions in New York, The Hague and Geneva. We particularly name geographical points, where preparations are underway for certain terrorist groups backed by the US and its allies to carry out provocations," Ryabkov said.
Western governments and their allies have never stopped pointing the finger at Damascus whenever an apparent chemical attack takes place.
Full report at:
https://www.presstv.com/Detail/2019/01/31/587309/White-Helmets-preparing-to-film-false-flag-chemical-attacks-in-Idlib-Russia-warns
--------
Saudi Arabia, UAE, Egypt, Bahrain, Kuwait and Jordan hold Arab security talks
January 31, 2019
AMMAN: Top diplomats from Saudi Arabia, Kuwait, the UAE, Bahrain, Egypt and Jordan concluded talks on Thursday aimed at coordinating policy on the multiple conflicts gripping the region.
Jordanian Foreign Minister Ayman Safadi said the ministers "exchanged views on regional issues and ways of cooperation to overcome regional crises." He said the meeting was "positive and productive."
The meeting at the King Hussein Bin Talal Convention Center on the Dead Sea also covered the goal of achieving "security and stability in the interest of Arab benefit."
The six-hour talks were "positive, constructive, and allowed a wide dialogue with an open agenda on the developments in the region and ways to face common challenges and enhance cooperation and coordination to serve Arab issues and interests," Safadi said.
He described the meetings as a "consultation between brothers and friends."
The meeting was attended by Sameh Shoukri of Egypt, Sabah Khaled Al-Sabah of Kuwait, Abdullah bin Zayed Al-Nahyan of the UAE, Khalid bin Ahmed Al-Khalifa of Bahrain and the Kingdom's Adel Al-Jubeir.
"The meeting was aimed at finding ways of bringing Syria back to the Arab fold," former Jordanian Deputy Prime Minister Mamdouh Abadi told Arab News, adding that the focus had been the future of Syria not Iran.
But a former Jordanian royal adviser, Adnan Abu Odeh, said the Syria issue was complicated. "Everyone is thinking now of bringing Syria back to the Arab League and the rebuilding efforts in Syria. But the Syrians threw a monkey wrench into the process when they signed a long-term agreement with Iran regarding economic cooperation and the rebuilding of Syria," he told Arab News.
Former Jordanian Minister Asma Khader said the aim of such meetings was reaching a consensus on difficult issues.
The Dead Sea six-party meeting did not have any Palestinian representation, for example.
"While the event was held on the Jordanian side of the Dead Sea it would have been more productive if a Palestinian official was invited," she told Arab News. "Any meeting without Palestinians will not be able to confront the biggest regional challenge of the Palestinian cause. Ordinary Arabs are supportive of Iran and Turkey precisely because of their position on the Palestinian issue."
Full report at:
http://www.arabnews.com/node/1445021/middle-east
--------
Europe
Swedish Party Founder Exposes 'Islamist Infiltration' Into Politics
28.01.2019
The Swedish Green Party, which remains part of the "red-green" coalition government, has in recent years been shaken by a number of nationwide scandals involving Islamists and their sympathisers; the most recent involves Sweden's freshly-minted Culture and Democracy Minister Amanda Lind.
Addressing the recent allegations directed against his party, Green Party founder Per Gahrton admitted that Islamists are trying to infiltrate Swedish parties and get a hand in Swedish politics.
"There are investigations that show that Islamists, unfortunately, are trying to get into almost all parties", Gahrton said during a public debate on SVT with writer Sofie Löwenmark.
Sofie Löwenmark argued that the Green Party, despite its quest to champion "tolerance" and "diversity", had instead began to accept intolerance and extremism from certain groups, thus undermining its image as a "feminist party". Löwenmark also cited Green Party member Kamal al-Rifai, who invited Salman al-Ouda, Osama bin Laden's mentor, to a lecture in Sweden, where he voiced anti-Semitic views and insisted that the Holocaust never happened.
The Green Party, which was founded in 1981 by Gahrton, has in recent years suffered a spate of scandals with an Islamist undertone.
"Representatives of radical Islamism have tried to gain entry into other political parties. But no Swedish party has embraced representatives with opinions of this kind as much as the Green Party", members of the Islamism watchdog Doku warned in a recent opinion piece in Aftonbladet. The watchdog also claimed that the Green Party had major "blind spots" for Islamism in its midst.
Most recently, new Swedish Culture Minister and Green party secretary Amanda Lind landed in hot water only days into her tenure. Lind triggered broad outrage with her accolades to party colleague and former Housing Minister Mehmet Kaplan, whom she hailed as "pioneer" and "hero" who "spent every day fighting for environment, climate, democracy, equality and justice".
"She has been minister for like three minutes and has already begun hailing Islamists", Moderate party MP Hanif Bali tweeted.
?Expressen's columnist Patrik Kronqvist called Lind's accolades "the worst possible start for a democracy minister".
?Turkish-born Mehmet Kaplan, the first active Muslim to become a cabinet minister in Sweden, quit his post in 2016 after his ties with a Turkish neo-Nazi group, the Grey Wolves, were revealed. Earlier, Grey Wolves representatives in Sweden urged their compatriots to "awaken" and "slay Armenian dogs". In 2014, Kaplan also made national headlines after comparing Swedish jihadists in Syria to Swedish volunteers in Finland during WWII. Still earlier, he likened Israel to Nazi Germany.
Another Islam-related scandal within the Green Party featured chairman for the Swedish Muslims for Peace and Justice Yasri Khan, then a candidate for the party's top management, who had to quit for refusing to shake hands with a female reporter.
Per Gahrton himself sparked a lot of controversy with his pro-Palestine speeches at Radio Islam in the 1980s, which were slammed as anti-Semitic. In the recent SVT debate, Gahrton admitted this was a "foolish thing to do".
Having emerged in 1981 out of the anti-nuclear power movement, the Green Party has been represented in parliament since 1994. Since October 2014, the Greens have been the junior partner to the Swedish Social Democratic Party in the Löfven Cabinet minority coalition government.
https://sputniknews.com/europe/201901281071876985-sweden-islamism-politics/
--------
Muslim Dutch politicians request protection for mosques
31.01.2019
Muslim politicians in the Netherlands have requested protection of mosques and Islamic centers from far-right groups and PKK supporters, leader of Denk (Think) Party said on Thursday.
Speaking to Anadolu Agency, Tunahan Kuzu stressed the importance of protecting mosques against rising Islamophobia.
He noted that more than 300 incidents of attacks on mosques occurred over the past 10 years.
Protecting mosques in Amsterdam is just a beginning Kuzu said, adding these actions must be taken in other cities too.
Last week, Femke Halsema, the mayor of Amsterdam, said that they will protect mosques and Islamic centers because of rising Islamophobic threats.
"Mosques' windows were shattered, people left threat notes and pig heads in front of mosques. A few years ago, some people attacked with molotov cocktails to a mosque in Enschede city. I appealed to Muslim community to speak up about their fears," Kuzu said.
Some of the political parties do not want to take action against mosque attacks, he said.
"We bring up this issue every time we have the chance. Sooner or later, everyone will realize the importance of taking safety measures against these attacks. We get the first outcomes from Amsterdam and we will continue to fight for it," he added.
"When government spare €1.5 million [$1.7 million] to protect synagogues in 2015, Denk Party supported it but we stated that all religious groups deserve same kind of safety as it is the primary duty of the state," said Kuzu and emphasized the importance of upcoming elections in March 20 on this issue.
Arnoud Van Doorn, former far-right Dutch Freedom Party (PVV) leader, said although the decision of protecting mosques in Amsterdam is an important development, the decision is very late.
Full report at:
https://www.aa.com.tr/en/europe/muslim-dutch-politicians-request-protection-for-mosques/1379986
--------
Russia invites Taliban, anti-govt leaders for talks
February 01, 2019
KABUL: Russia will host the Taliban and Afghan politicians opposed to President Ashraf Ghani on Tuesday, Russian and Taliban sources said, promoting its role of power broker in what a US official called an attempt to "muddle" the US-backed peace process.
Take a look: US sees China, Russia and Iran as key players in Afghanistan
Moscow snubbed the Afghan government, sources said, to ensure the participation of the Taliban who refuse to hold talks with Ghani's representatives to end the 17-year-old Afghan war, branding them puppets of the United States.
"Senior Taliban leaders and prominent Afghan politicians will travel to Moscow for a day-long summit. At this sensitive stage, it was best to not have Afghan government officials at the table," said a Russian official on condition of anonymity. The Russian Embassy in Kabul was not available for comment.
The Moscow talks underline the increasing role Russia is playing in Afghanistan, decades after Soviet forces withdrew from the country, with business investment plans, diplomatic and cultural outreach and small military support for the central government. A leaf from history: The Afghan war spills over
They also come as the Afghan government is struggling to recover control of districts lost to the Taliban.
The news of Russia hosting Ghani's critics, including former president Hamid Karzai who believes Russia can play a decisive role in ending America's longest war, has angered Kabul and US officials.
"Russia is again trying to muddle the US-backed peace process and the political situation of Afghanistan," said a senior US official, adding that Russia's repeated overtures towards the Taliban and Ghani's critics proved its determination to belittle the government.
Prominent outspoken critics of Ghani, Mohammad Mohaqiq, Mohammad Ismail Khan and Atta Mohammad Noor, who fought against the Soviets after their 1979 invasion, will travel to Moscow.
Sohail Shahin, a spokesman for the Taliban political office in Qatar, said a delegation led by Mohammad Abbas Stanekzai, a senior political leader, would travel to Moscow for what he said would be a two-day meeting.
Last November, Moscow hosted a multilateral summit to try to find ways to end the war, drawing delegates from a body appointed by the Western-backed government, the Taliban and officials from a dozen nations, including the United States.
Analysts said Russia wants to maintain good relations with the Taliban, who are fighting to restore strict Islamic rule after their 2001 ouster.
Full report at:
https://www.dawn.com/news/1461158/russia-invites-taliban-anti-govt-leaders-for-talks
--------
Germany, France, Britain to launch mechanism for trade with Iran
31 January 2019
Germany, France and Britain have officially set up a European mechanism to facilitate non-dollar trade with Iran and circumvent US sanctions, two diplomats said on Thursday.
The EU has been preparing the system, in effect a clearing house that avoids monetary transfers in dollars between the EU and Iran for months although it is unlikely to become operational for several months due to technical details.
German broadcaster NDR reported that the European Special Purpose Vehicle (SPV) would be named INSTEX-Instrument In Support Of Trade Exchanges.
The idea is for the SPV to help preserve the economic benefits for Iran derived from the curbs it placed on its nuclear program under a 2015 deal with world powers.
Europe has been keen to show good faith towards Iran since US President Donald Trump withdrew from the deal last year.
The entity is not likely to revive trade with Iran to begin with as its focus will primarily be food, medicine and humanitarian, with limited transactions. It will not be used for oil-related transactions that have been hit hard by US sanctions.
"It won't change things dramatically, but it's an important political message to Iran to show that we are determined to save the JCPOA and also the United States to show we defend our interests despite their extraterritorial sanctions," one European diplomat said.
However, relations between Tehran and the EU have worsened, and the EU this month imposed its first sanctions on Iran since the 2015 deal in reaction to Iran's ballistic missile tests and assassination plots on European soil.
In a symbolic move, the EU added two Iranian individuals and an Iranian intelligence unit to the bloc's terrorist list.
EU member-states are also finalizing a joint statement on Iran to outline concerns about Tehran's regional policies and ballistic missile program, but also to show their desire to maintain the 2015 Iran nuclear deal.
France and Germany had taken joint responsibility for the SPV. A German banker would head up the vehicle, which would be based in France. France, Britain and Germany will be shareholders and they hope other states will join.
New trade mechanism is 'first step', says Iran
Iran said on Thursday the new European mechanism to facilitate non-dollar trade with the country was a first step for the European Union to fulfil its commitments under a nuclear deal between Tehran and major powers, state television reported.
France, Germany and Britain have set up the mechanism in an effort to circumvent US sanctions on Iran, though diplomats say it is unlikely to yield the big commercial transactions that Tehran says it needs to keep the nuclear deal afloat.
Full report at:
https://english.alarabiya.net/en/News/middle-east/2019/01/31/Germany-France-Britain-to-launch-mechanism-for-trade-with-Iran.html
--------
We are losing a generation of children in Yemen: UNICEF
Feb 1, 2019
The United Nations International Children's Emergency Fund (UNICEF) has expressed concern about the humanitarian conditions of Yemeni children, warning about the formation of a "lost generation".
More than half a million children have been forced to leave their homes in the past six months, most of which have fled a major Saudi-led military onslaught on Yemen's port city of Hudaydah during July and August, said the Yemen director of UNICEF, Meritxell Relano, on Thursday.
Facing no access to education and withstanding an increased risk of disease and hunger, Relano highlighted some of the conflict's long-term effects on the children.
"Without education they will not be able to find jobs... a generation that is not educated has a very bleak future," said the UNICEF director.
"We are losing a generation - many children are losing on their education, and displacement makes it worse."
The Save the Children charity reports that despite an ongoing ceasefire in Hudaydah, thousands of families are still fleeing the city in fear of a renewed Saudi siege. Many are struggling to afford basic items like food, fuel and medicine.
"Children forced to flee their homes often have to live in unsanitary and cramped conditions in camps or host communities with little access to clean drinking water or nutritious food," said Save the Children spokesman Bhanu Bhatnagar.
Bhatnagar added that children are specifically vulnerable towards malnutrition, diarrhea, cholera, and diphtheria -- a serious bacterial infection that spreads as easily as a common cold. As much as 89 percent of Yemen's diphtheria deaths are related to children who are under 14.
Saudi Arabia and its allies unleashed the deadly military aggression against Yemen in March 2015 in an attempt to reinstall the country's former Riyadh-allied regime.
Yemen's Houthi Ansarullah movement, which runs state affairs in Sana'a in the absence of an effective government, has been defending the nation against the Saudi aggression.
In June last year, the Saudi-led coalition launched an offensive on Hudaydah despite international warnings that it would compound the country's humanitarian crisis.
Hudaydah is known to be the point of entry for 80 percent of the country's commercial imports and nearly all UN-supervised humanitarian aid.
Full report at:
https://www.presstv.com/Detail/2019/02/01/587337/Yemens-lost-generation
--------
India
Centre Sought Fresh Ban on Students Islamic Movement of India
Jan 31, 2019
NEW DELHI: The Centre will soon re-invoke a fresh ban on Students Islamic Movement of India (SIMI), under the Unlawful Activities (Prevention) Act (UAPA), 1967.
According to the Indian Express, Home Ministry officials sources said the decision was taken after fifteen states and union territories, including Delhi sought a fresh ban against the organisation.
A fresh ban will be brought for five more years after January 2019, said sources based on assessments by investigative agencies and state police forces.
Investigators says Abu Faizal alias 'Doctor', a top SIMI member was arrested in December 2013 after he escaped from Madhya Pradesh's Khandwa jail along with five other SIMI members in Oct 2, 2013. Faizal was the mastermind of the jailbreak.
As part of the 'Maal-e-Ganimat', which means to acquire funds by any means, Faizal's group robbed a rural bank in Narmada in 2009. He was also involved in bank lootings in Dewas and Itarsi, in Madhya Pradesh. Faisal's former associates, who were part of the 2013 escape was killed in an encounter in 2015 by Telangana police.
SIMI was formed in Aligarh in 1977 and had thousands of members and offices in almost every district of Madhya Pradesh before it was banned in 2002. The group is said to believe in fundamentalist Islam and to spread its values. In 2007, the Supreme Court of India described SIMI as a "secessionist movement".
The group came under the radar of intelligence agencies after 1998 and the then SIMI president Shahid Badr Falahi was arrested in Bahraich for an alleged provocative speech days after 9/11. SIMI was declared outlawed for the first time in September 2001 for its involvement in terrorist acts and the ban was extended in 2003 and 2006.
More than 1,200 SIMI members were arrested after the ban.
https://www.siasat.com/news/centre-sought-fresh-ban-simi-1462222/
--------
2 JeM militants killed in Kashmir's Pulwama
Feb 01, 2019
At least two militants were killed in a gun battle with security forces in south Kashmir's Pulwama, officials said on Friday.
An operation was launched by the Indian Army and state police in Drubgam village on Thursday evening and house to house searches were conducted during the night, an official said.
The security forces installed lights at various places in the village to prevent the militants from escaping, they said.
Police said an encounter began around 12am when militants opened fire at the forces and that both militants were killed in the ensuing gun battle.
They have been identified as Shahid Ahmad Baba and Aniyat Ahmad Ziger, according to news agency ANI. A self-loading rifle and a pistol have been recovered from them after the encounter, it said.
However, the army has not revealed their identities. The locals said they could be affiliated with the Jaish-e-Mohammed (JeM) as the group is active in the area.
Mobile internet service has been snapped in Pulwama and Shopian districts.
Eleven militants were killed last week in different operations launched by security forces in south Kashmir and Baramulla. Nine of these were locals who were affiliated with the Lashkar-e-Taiba, the Jaish and the Hizbul Mujahideen.
Full report at:
https://www.hindustantimes.com/india-news/2-jem-militants-killed-in-kashmir-s-pulwama/story-Jw51lhre7quaaOnhn4XJ0J.html
--------
J-K: Five civilians, two CRPF jawans injured in grenade attack by militants
January 31, 2019
Five civilians, including three women, and two CRPF jawans were injured Thursday morning in a grenade attack by militants on security forces at Sherbagh Chowk in Anantnag district.
A press release issued on Thursday by the Jammu Kashmir police stated, "Terrorists today hurled a grenade on security forces at Sherbagh Chowk in Anantnag district which resulted in injuries to five civilians, including 3 women, and two CRPF jawans."
The injured have been shifted to a hospital in the Valley and Jammu Kashmir police have registered a case in connection with the incident.
Full report at:
https://indianexpress.com/article/india/j-k-seven-civilians-injured-in-grenade-attack-by-militants-5562726/
--------
Muslim groups call for impartial probe, ban on terror sites
Jan 31, 2019
Aurangabad: A delegation of Muslim organisations has demanded an impartial and transparent probe into the case involving the arrest of suspects with IS tilt and a ban on websites used by terror organisations to brainwash the youth.
The Maharashtra anti-terrorism squad (ATS) recently arrested nine suspects and detained a minor from the city and Mumbra in Thane for their alleged inclination towards IS — an international terror outfit.
The arrested suspects were allegedly conspiring to carry out attacks in Mumbai and Aurangabad, the ATS has said.
The delegation met the ATS chief and submitted a memorandum of their demand to him in Mumbai on Wednesday.
Senior officers at the ATS headquarters confirmed the visit of the delegation. "The ATS chief assured the delegation of personally looking into their grievances by ensuring transparent and unbiased probe," said an officer who was present at the meeting.
The members, led by Muslim Numainda Council, during their interaction with the ATS chief also made some serious allegations against the squad besides raising questions over actions by its team that conducted the raids at houses of the suspects in Aurangabad. The members of the delegation said that they defended Mushahidul Islam, the 23-year old city-based graphic designer, before the ATS chief, citing that he did not have any role in the alleged activities as being associated with other suspects. His only mistake was that his SIM card was used by his brother-in-law Mohsin Khan, who hails from Mumbra, the said.
The members also raised the issue of Mohsin Khan's spouse, who alleged that a member from the ATS allegedly held a gun to her head and took signatures on blank papers. The members also claimed that whatever material is being shown as seized from the houses of the suspects in the city are commonly available household articles, including thinner and nail polish remover. The delegation told the ATS chief that the articles seized from the suspects' houses in Aurangabad were neither sealed nor a panchanama was done, leaving scope for tampering with the seized articles. They also expressed apprehensions over the possibility of the forensic lab giving adverse report in such a situation.
Council president Ziauddin Siddiqui said, "We have made a representation to the ATS chief demanding impartial probe and ensuring that no innocent gets framed or harassed at any cost." He said the delegation has demanded that after the suspects' role gets established during the process of investigation, the ATS should slap them with sections as per their individual role and not all of them should be jointly slapped with the stringent sections of UAPA.
Full report at:
https://timesofindia.indiatimes.com/city/aurangabad/muslim-groups-call-for-impartial-probe-ban-on-terror-sites/articleshow/67779774.cms
--------
Pakistan
Financial help assured to militants surrendering arms in Balochistan
Ali Jan Mangi
February 01, 2019
DERA MURAD JAMALI: The provincial government, under the Peaceful Balo­ch­istan Package, will provide complete financial and other help to all those who have laid down their weapons and abandoned militancy against the state and joined the mainstream to play their role for the development of the country.
The Sector Commander of East, Brigadier Zulfiqar Bajwa, said this while speaking at a compensation distribution ceremony in Sui area of Dera Bugti on Thursday.
Under the package, the compensation amount was distributed among 132 former militant commanders and sub commanders. A large number of people of belonging to the Bugti tribe attended the ceremony.
Brig Bajwa said that because of joint efforts of the government and law-enforcement agencies, a large number of anti-state militants had surrendered their arms and joined hands with the government.
The Deputy Commis­sio­ner of Dera Bugti, Yasir Bazai, Mir Jan Muhammad Bugti, Shah Murad Bugti, Mir Jamal Khan Kalpar, Wadera Ghulam Nabi Bugti and senior civil ministry officials attended the ceremony.
https://www.dawn.com/news/1461113/financial-help-assured-to-militants-surrendering-arms-in-balochistan
--------
Convicted British sex offender held in Pakistan
Amin Ahmed
February 01, 2019
ISLAMABAD: A British national, convicted of sexual offences by a British court, was arrested in Pakistan during a joint operation carried out by the Federal Inves­tigation Agency (FIA), the Punjab Police and the National Crime Agency of the United Kingdom.
A British High Commission press release on Thursday said Choudhry Ikhlaq Hussain was arrested during the joint operation in Sangla on Jan 26.
Hussain, 41, of Pakistani origin was sentenced in the UK to 19 years' imprisonment for serious sexual offences against a child in 2016. He was found guilty on three counts of sexual activity with a child, two counts of rape and one count of conspiracy to rape. This followed a long-running Greater Manchester Police investigation — named 'Operation Doublet' — which looked into the sexual exploitation of teenage girls in Rochdale.
Hussain fled to Pakistan during the trial, but was found guilty in absentia. The UK has been working closely with Pakistan's authorities since 2017 to secure his arrest and extradition.
Hussain's arrest is a further operational success for the UK-Pakistan justice and accountability partnership established during the British home secretary's visit to Pakistan in September last year. The partnership includes a renewed commitment to tackle the shared threats of organised crime and international criminality between our two countries.
Hussain's case will now go to courts, which will decide whether to approve his extradition to the UK, the press release further stated.
On the successful joint operation, the British High Commissioner to Pakistan, Thomas Drew, said that "the arrest of this individual, who has been convicted of sexual offen­ces by a British court, is a significant achievement, and another excellent example of UK-Pakistan cooperation in tackling international criminality and impunity. It sends a clear message that Pakistan is not a safe haven for international criminals."
The British ambassador thanked FIA and the Punjab Police for their professionalism and dedication in the execution of this operation.
It is worth mentioning here that British Home Secretary Sajid Javid visited Pakistan in September, and during his visit, he agreed on a new justice and accountability partnership to help Pakistan and the UK tackle the shared threats posed by serious and organised crime and international criminality.
The partnership has strengthened collaboration and delivered a number of outcomes. This includes the extradition in October 2018 of Shahid Mohammad — wanted in the UK for the murder of five children and three adults, the press release said.
Full report at:
https://www.dawn.com/news/1461097/convicted-british-sex-offender-held-in-pakistan
--------
Pakistan summons Indian high commissioner
Jan 31, 2019
ISLAMABAD: Pakistan on Thursday summoned India's high commissioner in Islamabad to protest against the summoning of its top diplomat in New Delhi over a telephonic conversation of foreign minister Shah Mehmood Qureshi with Kashmiri separatist leader Mirwaiz Umar Farooq.
Taking strong objection to Qureshi's phone call to Mirwaiz, India's foreign secretary Vijay Gokhale had summoned Pakistan's high commissioner Sohail Mahmood on Wednesday to convey him his country's reservations.
In a statement, Indian external affairs ministry called Qureshi's telephonic conversation with All Parties Hurriyat Conference (APHC) leader a "brazen attempt" to subvert India's unity and violate its sovereignty and territorial integrity.
On Tuesday, Qureshi, according to Pakistani media reports, had informed the APHC chairman of the upcoming events organised at the House of Commons and an exhibition in London on Feb 4 and 5. Farooq, according to officials here, had said that he wished to attend the events but will not be able to do so given the confiscation of his passport by the Indian government. During their phone call, the foreign minister was of the view that India should permit a Commission of Inquiry to visit Kashmir.
In a tit-for-tat, Pakistan's foreign secretary Tehmina Janjua summoned India's high commissioner in Islamabad Ajay Bisaria to the foreign office on Thursday morning to lodge a protest against New Delhi's move of summoning Pakistan's high commissioner.
The foreign office (FO) spokesperson Dr Muhammad Faisal said that Pakistan rejects the Indian view that Kashmiri struggle for self-determination is terrorism. "Kashmir is a disputed territory. The Indian government's move to summon the Pakistani high commissioner is an attempt to influence the upcoming elections. If you wish to contest your elections, don't involve us in it," the spokesperson said.
According to Dr Faisal, foreign secretary Janjua made it clear to the Indian diplomat that Pakistan would continue to extend support to the people of Kashmir.
Full report at:
https://timesofindia.indiatimes.com/world/pakistan/pak-summons-indian-high-commissioner/articleshow/67777038.cms
--------
Sirajul Haq demands formation of judicial commission on Sahiwal incident
31 January, 2019
LAHORE (Dunya News) – Jamaat-e-Islami (JI) chief Sirajul Haq on Thursday demanded the formation of judicial commission on Sahiwal incident which left four people including two women dead.
The JI chief said that no one has confidence on the Joint Investigation Team (JIT), adding that what kind of justice is this that investigation is being carried out after killing whether the person killed in alleged encounter was a terrorist or not.
The incumbent government is also a continuation of Pakistan Peoples' Party (PPP), Pakistan Muslim League-Nawaz (PML-N) and Musharraf government.
Sirajul Haq went on to say that the children were being asked to identify those involved in the alleged encounter.
Full report at:
https://dunyanews.tv/en/Pakistan/476702-Sirajul-Haq-demands-formation-of-judicial-commission-on-Sahiwal-incident
--------
Cabinet approves 63pc increase in Haj cost
February 01, 2019
ISLAMABAD: At a time when inflation is hitting every segment of society hard, performing of Haj has also become costlier by 63 per cent.
The federal cabinet on Thursday announced the Haj Policy 2019 under which the cost of performing the ritual under the government scheme has been fixed at Rs456, 426 (with Qurbani), against last year's expense of Rs280,000 per person. Now, every individual will have to pay an additional Rs176,426.
Under the Haj Policy 2018, the cost of Haj for individuals in the north of the country was Rs280,000 and for the south, it was Rs270,000. However, in the new policy, the cost of Haj for individuals in the north has been fixed at Rs456,426 (with Qurbani) and Rs436, 975 (without Qurbani), while for those in the south it is Rs446,426 (with Qurbani) and Rs426, 975 (without Qurbani).
"Prime Minister Imran Khan approved the Haj Policy 2019 today under which 184,000 pilgrims from Pakistan will perform Haj this year," said Information Minister Fawad Chaudhry at a press conference after the cabinet meeting, elaborating that under a quota of 184,000 pilgrims given this year to Pakistan by the government of Saudi Arabia, 10,000 senior citizens would perform Haj. "We are trying to provide better facilities to pilgrims," he added. "Their biometrics will be conducted in their own cities."
Sources said that during the cabinet meeting, some ministers, including Religious Affairs Minister Noorul Haq Qadri, had opposed the move to withdraw the subsidy on Haj. They said Mr Qadri was due to accompany the information minister at the press briefing, but he did not turn up apparently to show his displeasure over the decision after which the charges would increase to over Rs456,000.
When contacted, the information minister denied reports that Mr Qadri was to be present at the presser. However, a reporter who has been covering the religious affairs ministry for the past 10 years, said it was for the first time that the religious affairs minister had not announced the Haj policy.
Exit Control List
The cabinet also decided to reconsider the names of 32 persons accused in the 'fake bank accounts' case so that their names could be removed from the travel ban list.
Initially, 172 people — including top leaders of the PPP — were placed on the ECL but on the directives of the Supreme Court, the names of PPP chairman Bilawal Bhutto-Zardari and Sindh Chief Minister Murad Ali Shah were removed. Now, 170 of the persons accused face the travel ban.
"The ban on [former president] Asif Ali Zardari will continue while the case of 32 others has been sent to the review committee for removal from the ECL," the information minister said, adding that one of the persons accused in the context, Abdul Momin Dehri, had passed away.
Visa regime
The cabinet decided to provide e-visa to the nationals of 175 countries, that will be issued by the relevant Pakistan embassies within one week. The nationals of 50 countries, that the minister referred to as "friendly countries", will be given visas on arrival at domestic airports. However, the cabinet did not approve the provision of a visa on arrival to foreign journalists. Responding to a query about the issuance of visas to Indian nationals, the minister said: "India is still in category B and no decision has so far been made regarding the issuance of visas on arrival to Indians."
18th Amendment
Talking about the controversy generated over the mentioned change, the minister said that more than a 100 articles of the Constitution have been affected under the amendment, many of them proving to be non-beneficial. Answering a question about the ongoing US-Taliban negotiation process, Mr Chaudhry claimed that the credit of bringing the two sides to the table went to the PTI-led government. The talks, he said, were heading towards their logical conclusion and would benefit the whole region. The minister added that the cabinet had approved recommendations on civil service reforms that were presented by Dr Ishrat, the head of a committee formed on the issue.
He explained that Finance Minister Asad Umar had also given a detailed presentation on tax reform and that it had been discussed that the country's defence budget was still low as compared to that of India and other neighbouring countries. "Although we cannot increase our defence budget at this stage, it is still lower than that of other countries in the region," he said.
The cabinet approved appointment of Khurram Hussain as managing director of Pak-Libya Holding Company Limited. It also approved terms and conditions for the appointment of Jameel Ahmed as deputy governor of State Bank of Pakistan.
Full report at:
https://www.dawn.com/news/1461101/cabinet-approves-63pc-increase-in-haj-cost
--------
11,000 out-of-school children identified for enrolment in schools
Kashif Abbasi
February 01, 2019
ISLAMABAD: The Federal Directorate of Education (FDE) has identified over 11,000 out-of-school children who could be enrolled in schools in the first phase of its campaign.
According to a rough estimate, there are over 30,000 out-of-school children in Islamabad and FDE teams have so far managed to reach 11,029.
"We will decide how to enrol these students in schools in a meeting likely to be held on Friday," said Saqib Shahab, director schools.
He said most of the out-of-school children are residents of Tarnol and Nilor. Asked what will happen if parents of the out-of-school children identified for enrolment refuse, he said legal proceedings will be initiated against them.
He said that article 25-A of the Constitution makes it the state's responsibility to provide free and compulsory education to all children between the ages of five and 16.
"However, I do not think parents will refuse the admission of their children in schools," he said, adding that the survey will continue and that FDE teams will reach out to all out-of-school children in the capital.
A few months ago, Federal Minister for Education Shafqat Mehmood started a campaign for enrolling out-of-school children into schools and registered the first five students himself during a ceremony.
In the same ceremony, the minister had said that all the over 25,000 out-of-school children in the city will be enrolled in two years.
Sources said attempts have been made in the past to bring out-of-school children into schools and that these attempts failed because the root cause was not addressed, which is that these children contribute towards the finances of their households.
"I do not think the campaign will be successful if the families of these children are not given financial assistance," an FDE official said.
He added that two full-fledged campaigns were started in 2010 and 2015-16 in which hundreds of children were enrolled. But most of those children gave up their education later on.
However, the official said FDE is pushing a plan for paying parents of out-of-school children via the Benazir Income Support Program so their children can go to school.
An official of the education ministry told Dawn that a meeting has been planned for Friday in which FDE's progress related to out-of-school children will be reviewed.
He said all the children identified will be enrolled in their nearest schools by March 15.
They said that if need be, an evening shift will be started in FDE-run schools to accommodate these children.
"If an area does not have a school, we will set up a community school so all children in the locality can get an education," an official said, adding that the education ministry was also planning to provide the children with food.
Full report at:
https://www.dawn.com/news/1461040/11000-out-of-school-children-identified-for-enrolment-in-schools
--------
Some 'regional actors' out to ruin Pak efforts for Afghan peace: FO
FEBRUARY 1, 2019
Pakistan Thursday dismissed allegations of maneuvering the Afghan peace process, saying it was facilitating talks between Taliban and the United States (US) in 'good faith' despite attempts by some regional actors to ruin the efforts.
"Pakistan on request of the US and Afghanistan and as shared responsibility is facilitating the talks, however some actors, having their interests served by perpetual conflict in Afghanistan, are active to scuttle the peace process," Foreign Office Spokesman Dr Faisal said during a weekly press briefing here at the Foreign Office.
The Foreign Office also rejected allegations in a US threat assessment report that Islamabad provides safe havens to militant groups, warning that such 'controversial statements will be counterproductive and have the potential to adversely affect the peace and stability of the region'. The spokesperson cautioned Washington against hurling allegations which could be 'harmful'.
Dr Faisal also commented on the situation in Afghanistan, saying that matters between the Taliban and Kabul are 'their business'. "We hope that they can sit together and resolve their issues," he added.
The spokesperson highlighted Pakistan's concern about militant Islamic State group activities at the Pak-Afghan border. He defended Prime Minister Imran Khan's decision to keep the Torkham border crossing open around the clock, explaining that the decision was meant to encourage trade between Pakistan and Afghanistan. "Pakistan is making the transport of imports to and exports from Afghanistan easier [by keeping the border open]," he said.
The Foreign Office also rejected India's objections to Foreign Minister Shah Mahmood Qureshi's phone call to All Parties Hurriyat Conference (APHC) leader Mirwaiz Umar Farooq. In a tit-for-tat move, Pakistan summoned India's high commissioner on Wednesday, a day after Delhi had summoned Islamabad's representative in India to lodge a protest over Qureshi's telephone call to Mirwaiz. Qureshi had on Tuesday apprised the APHC leader of Pakistan's efforts to highlight the Kashmir issue at all international forums and to expose brutalities committed by Indian security forces in the occupied territory.
Dr Faisal said Pakistan has rejected India's objections to the telephone call and reaffirmed its support for the Kashmiri's struggle for self-determination. He said Pakistan rejects Indian insinuations which equate the Kashmiri's struggle for self-determination to terrorism. "Kashmir is a disputed territory. The Indian government's move to summon the Pakistani high commissioner is an attempt to influence the upcoming elections," the spokesperson said, adding, "If you wish to contest your elections, don't involve us in them."
Full report at:
https://dailytimes.com.pk/350114/some-regional-actors-out-to-ruin-pak-efforts-for-afghan-peace-fo/
--------
North America
Dem leader Schumer asks US spy chiefs to 'educate' Trump on Iran
Jan 31, 2019
US Senate Minority Leader Chuck Schumer has called on the country's spy chiefs to "educate" President Donald Trump after his recent attack against the American intelligence community.
On Wednesday, Trump went on a twitter rant to attack his intelligence chiefs' assessments on Iran's growing power despite Washington's pressure campaign.
In a letter to Director of National Intelligence Dan Coats, Schumer asked the former senator, CIA Director Gina Haspel and FBI chief Christopher Wray hold a meeting with the Republican president.
"You cannot allow the President's ill-advised and unwarranted comments today to stand. …He is putting you and your colleagues in an untenable position and hurting the national interest in the process. You must find a way to make that clear to him," Schumer wrote in the letter.
Trump's tweets came in response to Tuesday statements by Haspel and Coats before the US Senate Intelligence Committee.
Haspel told the panel that, despite Trump's decision last May to withdraw from the 2015 Iran nuclear deal, the Islamic Republic has been "making some preparations that would increase their ability to take a step back."
Coats also acknowledged that Tehran is not seeking to develop nuclear weapons capabilities.
Upon announcing his decision to leave the deal between Iran and six world powers – the US, the UK, France, China, Russia and Germany—Trump was under the impression that other signatories would follow his suit. But that never happened.
Trump hoped that re-imposing sanctions against Iran would force Tehran to halt its missile program and roll back regional influence. However, a lack of international support for the sanctions has cast doubt over the effectiveness of his plan.
The American head of state scolded Haspel and Coats for their testimony, calling them "extremely passive and naïve."
"When I became President Iran was making trouble all over the Middle East, and beyond. Since ending the terrible Iran Nuclear Deal, they are MUCH different," Trump said.
"But source of potential danger and conflict. They are testing Rockets (last week) and more, and are coming very close to the edge. There [sic] economy is now crashing, which is the only thing holding them back. Be careful of Iran. Perhaps Intelligence should go back to school!"
Schumer asked Coats to make Trump understand "the facts and raw intelligence underlying the Intelligence Community assessments."
"Impress upon him how critically important it is for him to join you and the leadership of our intelligence community in speaking with a unified and accurate voice about national security threats," he added.
Iranian Foreign Minister Mohammad Javad Zarif took the opportunity to highlight the confusion within the US political system under Trump, asserting that even the American intelligence agencies "contradicted" the US commander-in-chief.
https://www.presstv.com/Detail/2019/01/31/587291/US-Schumer-trump-Iran-cia-FBI-coats-Haspel-Wray-Trump
--------
Kabul continues to lose control over area, people: US report
Anwar Iqbal
February 01, 2019
WASHINGTON: The Afghan government's control over both its territory and population further eroded in 2018 while the insurgents continued to strengthen their position, says an official US report released on Thursday.
The office of the Special Inspector General Afghanistan Reconstruction (SIGAR), which prepared the report for Congress, points out that there's no evidence to suggest that President Donald Trump's new South Asia strategy — implemented last year — has been effective in bringing stability to the war-ravaged country.
SIGAR points out that the district-stability data it received from US civil and military officials based in Afghanistan in the last quarter of 2018, "is not indicative of effectiveness of the South Asia strategy".
Quoting from a report by a mission it sent to Afghanistan in May 2018, SIGAR supports the argument that the United States alone cannot secure or rebuild Afghanistan if it does not get strong support from within the country.
"The US government overestimated its ability to build and reform government institutions in Afghanistan as part of its $4.7 billion stabilisation efforts," the report says.
"The stabilisation strategy and the programmes used to achieve it were not properly tailored to the Afghan context, and that successes in stabilising Afghan districts rarely lasted longer than the physical presence of Coalition troops and civilians."
SIGAR prepares a quarterly report on the situation in Afghanistan under a mandate from the US Congress but also shares it with the administration.
SECURITY: Quoting from the district-stability data, SIGAR notes that as of October 22, 2018, control of Afghanistan's districts, population, and territory became somewhat more contested.
"Afghan government control or influence continued to decline, and insurgent control or influence increased slightly since July 2018."
The percentage of the population in districts under the Afghan government control or influence remained largely stagnant from May 2017 through July 2018, at around 65 per cent. But it decreased in October to 63.5 per cent.
However, the Afghan government's control or influence of its districts in October decreased by nearly two percentage points since July to 53.8 per cent.
Population Control: The Afghan government's control or influence over the population declined this quarter. As of October 22, 2018, 63.5 per cent of the population (21.2 million of an estimated 33.3 million total) lived in areas under Afghan government control or influence, down roughly 500,000 people (and 1.7 percentage points) since the previous quarter.
However, this quarter's figure represents a slightly smaller decline (0.6 percentage points) in population under government control or influence compared to the same period in 2017.
The insurgency slightly increased its control or influence over areas where 10.8 per cent of the population (3.6 million people) lived, a 0.3 percentage- point increase since last quarter but a decrease from the 12 per cent reported in October 2017.
The number of people living in contested areas increased to 8.5 million people (25.6 per cent of the population), a nearly two percentage-point increase compared to the same period in 2017.
District Control: As of October 22, 2018, there were 219 districts under Afghan government control (74) or influence (145), which is 53.8 per cent of the total number of districts. This represents a decrease of seven government-controlled or influenced districts compared to last quarter and eight since the same period in 2017.
Insurgent control or influence of Afghanistan's districts increased marginally: there were 50 districts under insurgent control (12) or influence (38) this quarter. This is an increase of one district since last quarter, but a decrease of eight compared to the same period in 2017.
Full report at:
https://www.dawn.com/news/1461086/kabul-continues-to-lose-control-over-area-people-us-report
--------
US troops to leave Afghanistan if peace deal reached with Taliban: Trump
Feb 1, 2019
United States President Donald Trump says American troops in Afghanistan will return home if his administration's talks with the Taliban militant group lead to an "agreement".
"For the first time they're talking about settling, they're talking about making an agreement, and we bring our people back home if that happens," Trump said in remarks in the Oval Office on Thursday.
"We'll see what happens. But they're in very serious negotiations for the first time. There's a reason for that. So I think we're doing so well on a foreign policy basis."
Washington and the Taliban terrorist group ended six days of negotiations in Doha on Saturday, with Kabul saying the US had assured Afghan officials that the focus of the talks was finding a way to facilitate peace and ensure foreign troop withdrawal.
Taliban sources speaking to Reuters claimed that the two sides agreed on a draft peace agreement, setting out the withdrawal of foreign troops from Afghanistan within 18 months, a timetable that was later denied by a US State Department spokesperson.
Speaking about the negotiations, Taliban spokesman Zabihullah Mujahid stressed the importance of foreign troop withdrawal for future talks.
"Until the issue of withdrawal of foreign forces from Afghanistan is agreed upon, progress in other issues is impossible," said Mujahid.
US peace envoy to Afghanistan Zalmay Khalilzad, however, revealed on Monday that American and Taliban officials had agreed to a peace deal framework that could lead to a full US troop pullout in return for a ceasefire and Taliban talks with the Afghan government.
Meanwhile, a senior US government official told Reuters the talks had made "significant progress" regarding the withdrawal of foreign troops but more talks were required for a ceasefire agreement and timetable.
'Surrender negotiations'
Speaking to the CNN on Thursday, former US Ambassador to Afghanistan Ryan Crocker expressed concern that the US has engaged in talks with the Taliban without the involvement of the Kabul government, describing it as a "dangerous concession" to the militant group.
"If this is a course we're going to continue on, this is very much is a surrender negotiation," Crocker said.
According to a report by the US Special Inspector General for Afghanistan Reconstruction (SIGAR) published October last year, the Afghan government only controls 55 percent of the country's territory, while anti-government militants govern 12 percent.
About a third of the country is contested, fully controlled by neither the government nor militants.
Afghan President Ashraf Ghani said last week that 45,000 members of the country's security forces had been killed since he took office in 2014.
The US has nearly 14,000 troops in Afghanistan as part of a NATO-led mission.
Full report at:
https://www.presstv.com/Detail/2019/02/01/587334/Troops-to-leave-Afghanistan
--------
US Senate rejects Donald Trump's rushed withdrawal from Syria and Afghanistan
February 1, 2019
In a vote that will likely further complicate US withdrawal plans from both Syria and Afghanistan, the Senate voted on Thursday to advance a bill that pushes back against any precipitous pull-out.
The vote coming 48 hours after Senate Majority leader Mitch McConnell proposed an amendment that rejects President Donald Trump's plans to withdraw 7,000 troops from Afghanistan and 2,000 from Syria. The amendment is attached to the bill Strengthening America's Security in the Middle East Act that the Congress is debating.
On Thursday, a majority from the US Senate voted in favour of Mr McConnell's amendment and in rebuking the White House policy. The vote was bipartisan with 68 in favour and 23 against, offering more than two thirds support, with majority coming from Mr Trump's own Republican party.
Mr McConnell had warned of "the danger of a precipitous withdrawal from either conflict", reminding of the terrorist attack of September 11, and where Al Qaeda used Afghanistan as a safe haven to plan an attack against the United States. The Senate leader called for "diplomatic engagement and political solutions to the underlying conflicts in Syria and Afghanistan."
"While it is tempting to retreat to the comfort and security of our own shores, there is still a great deal of work to be done … we know that left untended, these conflicts will reverberate in our own cities," he said.
But the amendment that passed on Thursday is non-binding and Mr Trump would not be bound by it. Still experts saw it as a signal to the Trump administration that could affect the shape and the timeline of its exit from these conflicts.
"Senator McConnell's amendment is a shot across the bow of the Trump team from the majority of the Republican party that favours active US engagement in global affairs," Nicholas Heras, a senior fellow at Center for New American Security, told The National. "It is Mr McConnell's way of telling President Trump that Syria is an important item on the GOP's foreign policy agenda" he added.
How would it affect Mr Trump's vague plans on Syria? "It could keep US engagement in Syria for the rest of Mr Trump's term in office, even if by other means than the US military" Mr Heras argued. Leaving a counterterrorism force is one of the options being explored in Syria.
Full report at:
https://www.thenational.ae/world/the-americas/us-senate-rejects-donald-trump-s-rushed-withdrawal-from-syria-and-afghanistan-1.820472
--------
Africa
Saudi Arabia, allies meet in Jordan to coordinate policy on regional issues
31 January 2019
Top diplomats from Saudi Arabia and its allies wrapped up two days of talks in Jordan's Dead Sea resort on Thursday on coordinating policy on the multiple conflicts gripping the region.
The closed-door meetings were a "consultation between brothers and friends", Jordanian Foreign Minister Ayman Safadi said in a terse statement shortly after they ended.
They were a forum "to exchange views on our regional issues and ways of cooperation to overcome regional crises," he said, without providing any details.
On Wednesday, when the six ministers held six hours of talks, Jordan's King Abdullah II highlighted the "importance of coordination on the various issues and crises facing the region."
The talks, which also involved the foreign ministers of Bahrain, Egypt, Kuwait and the United Arab Emirates, came just two weeks before a planned US-Polish conference on the Middle East.
US Secretary of State Mike Pompeo has said the conference will look at "making sure Iran is not a destabilizing influence", although a senior US official has insisted it is "not an anti-Iran meeting."
Key players have baulked at attending the conference, concerned by Washington's hard line against Iran which is widely seen as driven by Saudi Arabia and Israel.
The Dead Sea meeting also came amid debate over the return of Syria to the Arab League, which suspended Damascus's membership in November 2011 as President Bashar al-Assad has emerged victorious from nearly eight years of deadly conflict.
Several Arab states, including Lebanon and Tunisia, have called for Syria's return.
In December, Sudanese President Omar al-Bashir made the first visit to Damascus by an Arab leader since 2011, and the UAE reopened its embassy.
https://english.alarabiya.net/en/News/gulf/2019/01/31/Saudi-Arabia-allies-meet-in-Jordan-to-coordinate-policy-on-regional-issues-.html
--------
Muslim preacher stabbed, injured in Mali's capital
31.01.2019
One of the leading Islamic preachers in Mali's capital Bamako was stabbed and injured by six people on Wednesday, another leading imam said.
Adam Sakho, one of the imams of Hippodrom-2 Mosque, was stabbed by six young people in front of his house at around 10.00 a.m. local time (1000GMT), Messa Mory Konate, a representative of the Islamic Solidarity League, told Anadolu Agency.
Wednesday's stabbing was the second such incident in this month as Sheikh Abdoulaye Aziz Yattabare, another leading opinion leader, was previously stabbed to death on Jan. 19.
Konate said that two young carpenters, who are among the suspects, are also accused of stealing the phone of a businessman.
Sakho had advised the accused to give back the phone to the owner if they stole it, he added.
After leaving the scene, Sakho was attacked in front of his house by six people, including the two in question.
Sakho was taken to the Mali Hospital in the capital and he was discharged in the evening.
Konate said police have arrested some of the suspects and launched investigation.
Full report at:
https://www.aa.com.tr/en/africa/muslim-preacher-stabbed-injured-in-mali-s-capital/1379944
--------
US says airstrike kills 24 al-Shabaab extremists in Somalia
2019-01-31
The United States military said on Thursday it has killed 24 al-Shabaab extremists with an airstrike in Somalia, one of its deadliest in months.
The airstrike was carried out on Wednesday near an extremist camp near Shebeeley in the central Hiran region north of the capital, Mogadishu, the US Africa Command said in a statement.
It was the ninth such airstrike carried out by the US this year. The US carried out nearly 50 strikes last year in the Horn of Africa nation against the al-Qaeda-linked al-Shabaab, the deadliest Islamic extremist group in Africa.
Al-Shabaab has claimed responsibility for the attack on a hotel complex in the capital of neighbouring Kenya earlier this month that left 21 people dead. The extremist group, which targets Kenya in retaliation for sending troops to Somalia, has also targeted hotels, government offices and checkpoints in Mogadishu with suicide bombings.
The group is also accused of stealing humanitarian aid in the often drought-hit country and extorting residents and travelers to fund its attacks.
The US statement said the airstrikes are meant to support Somali forces as they increase pressure on al-Shabaab and its recruiting efforts in the region, especially in southern and central Somalia. Extremist camps and other safe havens are targeted.
The US statement said no civilians were killed or injured in the latest airstrike.
On January 19 the US said an airstrike had killed 52 al-Shabaab extremists in Middle Juba region after a "large group" mounted an attack on Somali forces. A Somali intelligence officer said the extremist group had been amassing some 400 fighters for more than a week to launch a major attack against Somali and Kenyan forces in order to disrupt a planned offensive.
In October, the US said an airstrike killed about 60 fighters near the al-Shabaab-controlled community of Harardere in Mudug province in the central part of the country.
Full report at:
https://www.news24.com/Africa/News/us-says-airstrike-kills-24-al-shabaab-extremists-in-somalia-20190131
--------
Aid effort brings little relief for migrants trapped in Libya
FEBRUARY 1, 2019
A bigger presence of relief agencies, U.N. workers and diplomats in Libya has done little to ease the plight of migrants abused in detention centres and blocked from crossing the Mediterranean, migrants and aid workers say.
Migrant boat crossings from Libya dropped steeply from mid-2017 due an Italian-led push to disrupt smuggling networks and boost Libyan coastguard interceptions.
Aid agencies have tried to partner with the internationally recognised Government of National Accord (GNA), which was set up in 2016, to help those stranded inside the country.
But the United Nations and rights groups say migrants are still frequently exposed to torture, forced labour and rape.
Migrants picked up by the coastguard under EU-backed measures to try to stop them reaching the bloc are returned to detention centres nominally run by the GNA, one of Libya's two rival governments, where they can languish for months while they plan for another crossing or seek repatriation or resettlement.
Real control, however, often lies with local armed groups.
"The police here do whatever they want to us. If they want to beat us they beat us … no one can protect us," said one Eritrean migrant who was transferred from a centre in Tripoli to the southern city of Sabha after being intercepted at sea in December 2017, and spoke to Reuters by phone.
"In two days we get one meal. We drink saltwater, we don't get any medical treatment." A senior guard shot at migrants when they demanded food, injuring one of them in the hand, he said, echoing testimony reported by rights groups in the country.
Migrants have sometimes been left underfed or deprived of assistance because of corruption or power struggles among guards and officials, aid workers say. During militia battles, migrants have been abandoned to their fate.
Another Eritrean man held reached by phone at Tariq Siqqa centre in Tripoli said some migrants won release by bribing guards or working for no pay. "They go and work in their homes and after that they go free. There is much corruption here."
Officials from the GNA's interior ministry and its illegal immigration department did not respond or could not be reached for comment. In the past they have denied allegations of abuse and said migrants were detained for their own protection.
'Dire Consequences'
The centres currently hold some 5,200 migrants, a fraction of the hundreds of thousands present in Libya, but numbers can suddenly swell due to new coastguard interceptions or clashes.
The number of migrants held in the cities of Misrata and Khoms rose from 650 at the start of the year to 930, "leading to further deterioration of already dire detention conditions", Medecins Sans Frontieres (MSF) said last week.
Many are suffering from malnutrition, hypothermia, or severe diarrhoea, and some were systematically abused and tortured by traffickers before trying to cross by sea, MSF said.
Human Rights Watch said last week that it had heard "disturbing accounts from both adults and children of violence by guards, including beatings, whippings and use of electric shocks" in detention centres in Misrata, Tajoura, and Zuwara.
Access to detention centres for humanitarian workers who provide basic supplies and healthcare, often through EU-funded programmes, is unpredictable.
Full report at:
https://dailytimes.com.pk/350103/aid-effort-brings-little-relief-for-migrants-trapped-in-libya/
--------
Southeast Asia
Yadim committed to making Malaysia Shariah-compliant model country
31 January 2019
PUTRAJAYA, Jan 31 — Missionary body, Yayasan Dakwah Islamiah Malaysia (Yadim), is committed to making Malaysia a shariah-compliant model country to the rest of the world, says its president, Nik Omar Nik Abdul Aziz.
He said the foundation would also be boosting relations and interaction with Islamic non-governmental organisations towards making them its strategic partners to achieve Yadim's mission and vision, besides contributing to the development of the ummah (Muslim community).
Nik Omar said Yadim's main focus was on missionary work, besides education, welfare and social well-being through its vision of changing way of thinking, giving advice and helping Muslims to manage their lives better.
"Yadim will also focus on recruiting individuals as preachers who truly understand Islam, and on using the best approach to preaching the religion to Muslims and non-Muslims.
Nik Omar, meanwhile, said Yadim's new Board of Trustees comprised knowledgeable and experienced individuals with their own strengths and from different backgrounds like religious, academic and legal, hence they would be able to generate ideas and give advice to the Yadim management.
"The varied backgrounds and experience are indeed suitable for an agency like Yadim to pursue its agenda, that is, placing Islam in its real position in Malaysia through preaching the religion with full of wisdom.
Nik Omar also thanked Prime Minister Tun Dr Mahathir Mohamad for agreeing to the appointment of 12 individuals to Yadim's Board of Trustees. — Bernama
https://www.malaymail.com/news/malaysia/2019/01/31/yadim-committed-to-making-malaysia-shariah-compliant-model-country/1718572
--------
Muslim students pursuing social work receive awards from Muis
JAN 31, 2019
Rahimah Rashith
SINGAPORE - As a child, Ms Liyana Abdul Rahaim watched as her parents struggled financially to support the family, which included her wheelchair-bound intellectually disabled elder brother.
That experience spurred her to help people in need.
"Being part of a middle-income family trying to cope, I saw our struggles growing up. We had no financial assistance then and had to pay for the hospitalisation and rehabilitation of my brother along with our daily expenses. Because of that I want to help other families," said the 30-year-old, who has two children of her own now.
The Islamic Law and Jurisprudence graduate from Al-Azhar University in Egypt, who has worked with organisations such as help-group Mendaki and educational institution Simply Islam, joined the Social Service Institute last year to pursue a part-time course for a Diploma in Social Service. She is now a community engagement executive with the Islamic Religious Council of Singapore (Muis).
"Graduates from religious backgrounds like me usually pursue teaching. But I see social work can also complement my religious background," she added. "I wish to help create the awareness about social assistance for struggling families and be able to assist families holistically. Many people are not aware of social assistance programmes that are available."
On Thursday (Jan 31), Ms Liyana and six other students received the Muis Social Work Study Award during the Madrasah Teachers Symposium at Suntec Convention Centre.
The award is for students pursuing social work and studies who, upon graduation, contribute to the development of the Muslim community, said Muis chief executive Esa Masood in his opening speech at the symposium.
Last year, Muis announced that it had set aside $150,000 until 2020 for the award. Bursary distributing organisation Lembaga Biasiswa Kenangan Maulid (LBKM) administers the funds.
The first batch of seven students on Thursday received between $5,000 and $10,000 each.
At the symposium, Muis also presented the Muis50 Contemporary Madrasah Leader Awards to six individuals who contributed towards the progress and achievements of madrasahs.
All had served as chairmen, committee members or principals of madrasahs for a continuous period of at least 15 years.
Among them is the chairman of Madrasah Al- Ma'arif's management committee, Mr Ma'mun Suheimi, 76. A Muis council member from 1995 to 2004, he continues to champion Madrasah development and education.
He said: "Madrasah education is progressing all the time, it is not static, it is something that should continue to evolve to cater to the current generations and future generations. For example, learning IT is important, e-learning is important."
In his opening address, Mr Esa said the award recipients had improved Islamic education in Singapore.
"They drove initiatives in the early years and some continue to contribute in different capacities to the madrasah sector today," he said.
Citing the progress of madrasahs in Singapore, Mr Esa said that all four madrasahs offering primary school education successfully scored above the Primary School Leaving Examination (PSLE) benchmark over the last couple of years.
"In the first few years when the Compulsory Education Act was introduced, we were worried about clearing the PSLE benchmark. But, in the last few years, all four madrasahs offering primary education have successfully scored above the PSLE benchmark," he said.
Muis figures show that 96.8 per cent of the 251 Singaporean madrasah students who sat for the PSLE in 2018 could proceed to secondary school.
The guest of honour at the symposium was Minister-in-charge of Muslim Affairs and Minister for the Environment and Water Resources Masagos Zulkifl.
Full report at:
https://www.straitstimes.com/singapore/muslim-students-pursuing-social-work-receive-awards-from-muis
--------
China calls for 'harmony' before talks with Qatar
February 01, 2019
BEIJING: Chinese President Xi Jinping called for a return to "unity and harmony" on Thursday as he welcomed gas-rich Qatar's emir to Beijing, amid a dispute that has seen some Arab states led by Saudi Arabia severing relations with Doha.
Saudi Arabia, the United Arab Emirates, Bahrain and Egypt cut diplomatic, trade and transport ties with Qatar in June 2017. They accuse Qatar of supporting terrorism and cultivating ties with Saudi Arabia's regional foe, Iran. Qatar, which denies the charge, says the boycott seeks to curtail its sovereignty.
China has largely stayed out of the dispute, calling for the problem to be resolved via talks, though has played host to senior Qatari officials since the spat began.
Meeting in Beijing's Great Hall of the People, Xi told Sheikh Tamim bin Hamad Al Thani that regional cooperation was an important basis for prosperity in the Gulf region, Chinese state television reported.
China supports the efforts of the Gulf Cooperation Council to seek an "appropriate resolution to disputes and contradictions via political and diplomatic means, to return unity and harmony between Gulf and Arab countries", Xi said.
"China is willing to continue to play a constructive role according to the wishes of the Gulf Cooperation Council countries," Xi added, according to the report, which did not make direct mention of the Gulf rift.
In remarks in front of reporters, Xi called Al Thani "an old friend and a good friend".
Al Thani told Xi that he was very happy with their personal friendship. "We are ready to have bigger investments in China, in infrastructure or in any other field we see as important for us," he said.
"We are happy to provide China with liquid gas and we are ready to provide China with more in the near future. I am very happy to be in China." Last October, state energy giant Qatar Petroleum said it had signed a five-year agreement to supply China with 600,000 tonnes of Liquefied Petroleum Gas (LPG) per year.
Qatar's state news agency said Al Thani and Xi had signed memorandums of understanding on diplomatic training, future trade delegations, and the creation of a road map for Qatar to take part in China's Belt and Road initiative.
Full report at:
https://www.dawn.com/news/1461157/china-calls-for-harmony-before-talks-with-qatar
--------
Indonesia's Aceh whips teens for public cuddling
January 31, 2019
BANDA ACEH: Two teenagers were whipped in Indonesia's Aceh province on Thursday after they were caught cuddling in public — a crime under the conservative region's Islamic law.
Flogging is used as punishment for a range of offences in the region at the tip of Sumatra island, including gambling, drinking alcohol, and having gay sex or relations outside of marriage.
Hundreds of spectators watched as a female university student and her boyfriend, both 18, were whipped 17 times each outside a mosque in the provincial capital Banda Aceh.
A 35-year-old man was also flogged with a rattan cane for being intimate with a woman — aged 40 — in a local grocery store.
All four had served several months in prison before the punishment.
On Thursday, the 40-year-old woman pleaded to be caned in an apparent attempt to get out of jail immediately, but a medical team postponed her flogging after they deemed her physically unfit.
Aceh is the only province in the world's biggest Muslim majority country that imposes Islamic law.
"People outside of Aceh who think Islamic Sharia (law) is cruel can now see that it is actually very tolerant and humane," Banda Aceh deputy mayor Zainal Arifin told reporters.
In December, two men caught having sex with underage girls were whipped 100 times each.
Rights groups slam public caning as cruel, and Indonesia's President Joko Widodo has called for it to end.
But the practice has wide support among Aceh's mostly Muslim population — around 98% of its five million residents practise Islam.
Earlier this year, Aceh said that flogging would be carried out behind prison walls in future, but some local governments have continued public whippings.
Full report at:
https://www.freemalaysiatoday.com/category/world/2019/01/31/indonesias-aceh-whips-teens-for-public-cuddling/
--------
Take heed of Malay disapproval, DPM reminds Pakatan govt
01 February 2019
AMPANG, Feb 1 — The federal government must take note of widespread disapproval among the Malays about Pakatan Harapan's performance to date, Deputy Prime Minister Datuk Seri Dr Wan Azizah Wan Ismail said today.
Responding to a recent Ilham Centre survey where approval ratings among Malay respondents were only slightly above 40 per cent, Dr Wan Azizah said the current administration needs to find a balance between populist measures and national policy-making after taking over from Barisan Nasional.
"I read the survey. We must listen to the woes and opinions of the rakyat and take steps to see if their (disapproval) was real or imagined.
"The majority of Malaysians are Malays so when they say the majority of them (are unhappy), we have to take note and see what we can do to address it," she told reporters after distributing mandarin oranges for the coming Chinese New Year festival to the public at the Taman Muda market here.
"Coming in as a new government following a change in 60 years, there are adjustments that need to be done and only now we are able to find out.
"We take note of that and find ourselves wanting to do what is popular yet having to consider what the country needs, what needs to be done for the economy and take care of stability (of the country)," she said.
The survey found that 59.5 per cent of 2,614 Malay respondents disapproved of the new government's performance in the five months after the 14th general election.
Among reasons for this negative view was the perception that PH was not adequately pushing the "Malay agenda", defending the community's rights, or upholding Islam's position in the federation.
Nearly two in three were also convinced that DAP was the real force behind the coalition, despite Parti Pribumi Bersatu Malaysia providing the prime minister.
Aside from the perceived failure to defend the Malays and Islam, six in 10 respondents also felt the coalition was not doing enough to manage rising costs, which had been a key platform prior to the general election.
Full report at:
https://www.malaymail.com/news/malaysia/2019/02/01/take-heed-of-malay-disapproval-dpm-reminds-pakatan-govt/1718844
--------
Suicide bombing suspected in Philippine attack
February 01, 2019
MANILA: Body parts thought to belong to suicide bombers who attacked a cathedral in the southern Philippines have been recovered at the scene, officials said Thursday.
The twin bombings on Jan. 27 at Our Lady of Mount Carmel Cathedral on Jolo island killed 21 people and injured more than 100.
"The possibility of a suicide bomber is there. All angles and possibilities are being considered in the course of the investigation," Col. Noel Detoyato, from the Armed Forces of the Philippines (AFP), told Arab News.
The human remains were believed to belong to two people, although Detoyato added it was hard to discern gender or nationality because they were "shredded" beyond recognition.
Some of the body parts were recovered from the church and at the road around 50 meters away.
"If you look at it, it's like two sets, (they don't) belong to the same person."
He explained there was no way to piece together the body parts so was unable to say if they belonged to the bombers.
Defense Secretary Delfin Lorenzana earlier said one of the survivors had reported seeing a woman four seats in front leave behind a package.
Detoyato said the woman may have met up with the other bomber at the church entrance.
"But we can only surmise, based on the body parts ... (it seems) the bodies were really very close to the explosive," he added.
Lorenzana said there would be a DNA test to see if the body parts belonged to a foreigner or local.
It would be "alarming" if the suicide bombing was carried out by a local, he said, adding: "No Filipino would do that … unless Filipino militants have become so fanatical that they would blow themselves up."
The military has been pursuing the militant Abu Sayyaf Group (ASG).
It is believed to be involved in the Jolo attack through its Ajang-Ajang faction, according to AFP Chief of Staff Gen. Benjamin Madrigal Jr.
President Rodrigo Duterte visited the attack site on Monday and ordered the military to crush the ASG.
One militant died in a subsequent army assault while another, named Kamah, escaped.
Kamah, a known bombmaker and brother of a slain senior ASG figure, was part of a group seen in CCTV footage running away from the cathedral's vicinity moments after the explosion.
Full report at:
http://www.arabnews.com/node/1445216/world
--------
Muslim World League condemns twin bombings in the Philippines
January 31, 2019
JEDDAH: Secretary-General of the Muslim World League (MWL) Dr. Mohammed bin Abdul Karim Al-Issa has condemned the twin bombings that targeted a mosque and a cathedral in the Philippines.
In a statement issued by the MWL, Al-Issa stated: "These acts go against Islamic, human and international principles and values. Terrorism is a losing cause because such barbaric behaviors will only consolidate religious, national and human unity. They will not be able to undermine these shared values found in all societies.
"The aim of this act was to destabilize and undermine national unity. It should be faced with solidarity, so the terrorists do not achieve their goal."
Full report at:
http://www.arabnews.com/node/1445186/world
--------
South Asia
Afghan government has the key for peace, reconciliation: Ashraf Ghani
31 Jan 2019
President Mohammad Ashraf Ghani has said that the Afghan government has the key for peace and reconciliation since a proper plan, program, and road map is available with the government.
He made the remarks during the national conference of youths and peace which was organized in Loya Jirga auditorium hall on Wednesday.
In the meantime, he emphasized that the government wants unconditional negotiations with the Taliban but reconciliation process has conditions.
This comes as efforts are underway to launch direct negotiations between the Afghan government and Taliban group to end the violence in the country but the Taliban has so far rejected to hold talks with the government.
In response to Taliban's stance for considering the government as illegitimate and refusing direct talks, President Ghani questioned the legitimacy of Taliban group and the justification the group offers for waging war.
President Ghani said the religious scholars have denounced the killings of civilians and suicide attacks during the gatherings in Mecca and Indonesia.
He explained that the authority of the president lies with the nation and has been specified by the constitution of the contry.
President Ghani also questioned if Taliban has any plan for peace and if the authority of the group lies with the leaders of the group or with the foreigners.
He also added that the government respects the views of Taliban and the group should also respect the will of the Afghan people.
https://www.khaama.com/afghan-government-has-the-key-for-peace-reconciliation-ashraf-ghani-03209/
--------
19 Taliban militants, 1 ISIS-K member renounce violence in Nangarhar
31 Jan 2019
At least 19 Taliban militants and a member of ISIS Khurasan (ISIS-K) group renounced violence in eastern Nangarhar province of Afghanistan, the provincial government media office said late on Wednesday.
According to the local officials, the militants were previously involved in destructive activities in Khogyani, Achin, Momandara, Ghani Khel and Haska Mina districts.
Habiba Kakar, deputy advisor to Nangarhar's governor for social affairs, said the militants renounced violence due to the efforts of the Afghan Intelligence, National Directorate of Security (NDS).
She also added that the militants have also handed over heavy and small fire arms after renouncing violence.
Full report at:
https://www.khaama.com/19-taliban-militants-1-isis-k-member-renounce-violence-in-nangarhar-03211/
--------
Ghani's comments on peace process anger Pakistan
February 01, 2019
ISLAMABAD: Pakistan's Foreign Office on Thursday dismissed Afghan President Ashraf Ghani's assertion about the country being a safe haven for cross-border militant activities, and urged him to exercise caution while issuing such statements.
President Ghani had said on Wednesday that the "keys to war are in Islamabad, Quetta, Rawalpindi," suggesting that Pakistan was providing safe havens to the Taliban and other militants to indulge in cross-border activities.
"Such statements have undermined the (Afghan) peace process in the past and one should refrain from issuing these kind of statements," Dr. Mohammed Faisal, Foreign Office spokesperson, said while addressing a weekly press briefing here on Thursday.
He said that the relationship between Afghan officials and the Taliban was Afghanistan's internal matter and "hopefully all stakeholders will be able to resolve their issues peacefully."
However, when asked about the ongoing negotiations between the US and the Taliban to reach a political settlement to the Afghan conflict which has entered its 18th year, he said: "It is a very difficult and sensitive matter, but things are progressing in the right direction."
The US special representative for Afghanistan reconciliation, Zalmay Khalilzad, briefed Ghani in Kabul on Sunday night about the progress made in the six-day peace talks with the Taliban in Doha, Qatar.
Progress
Khalilzad had hailed "significant progress" in the talks to end the decades-old conflict through a negotiated settlement.
"Meetings here were more productive than they have been in the past ….. will build on the momentum and resume talks shortly," he tweeted after the talks.
However, the Taliban have so far denied to initiate direct talks with the Afghan government by terming it as a "puppet" of the West and "illegitimate" — a major obstacle in the peace process.
This apparently has also frustrated Ghani who questioned the legitimacy of the Taliban on Wednesday for carrying out suicide attacks and other acts of terrorism in the war-torn country.
"If the Afghan government is illegitimate, so where does the Taliban get their legitimacy from?" he said.
"Islamic scholars in Makkah and Indonesia said that suicide attacks and killing of civilians does not have a legitimacy ... so where is the source of Taliban's legitimacy?"
Pakistan's Foreign Office, however, expressed optimism about the future of the peace process by welcoming the appointment of Mullah Abdul Ghani Baradar as the head of the Taliban's political office in Doha. "This is producing positive results," Dr. Faisal said.
He added that Pakistan has played its role by bringing the Taliban to the negotiating table and will continue to facilitate the peace process.
Full report at:
http://www.arabnews.com/node/1445221/world
--------
Bangladesh seeks US help for Rohingya repatriation
01.02.2019
By Md. Kamruzzaman
DHAKA, Bangladesh
Credible pressure needs to be put on Myanmar so that the country develops a favorable environment for the Rohingya to return home, said Bangladesh's foreign minister on Thursday.
AK Abdul Momen made the remarks on Thursday in a meeting in the capital Dhaka with Earl Robert Miller, the U.S. ambassador to Bangladesh.
Momen also raised the issue of creating a "safe zone" inside Myanmar's Rakhine state for the Rohingya and sought cooperation from the U.S. in resolving the crisis.
On relocating some Rohingya to Bhashan Char, a remote islet at the entrance to the Bay of Bengal prone to natural disaster, Momen told Miller that around 100,000 Rohingyas are planned to be relocated there on a voluntary basis.
He stressed the Rohingya will have opportunities to earn a livelihood there, promising safety and saying the islands will be like Singapore.
Most of the 750,000-plus Rohingya refugees in Bangladesh currently live in the country's southeast in areas such as Cox's Bazar, after fleeing violence and persecution in Myanmar.
- Persecuted community
The Rohingya, described by the UN as the world's most persecuted people, have faced heightened fears of attack since dozens were killed in communal violence in 2012.
According to Amnesty International, more than 750,000 Rohingya refugees, mostly women and children, have fled Myanmar and crossed into Bangladesh after Myanmar forces launched a crackdown on the minority Muslim community in August 2017.
Since Aug. 25, 2017, nearly 24,000 Rohingya Muslims have been killed by Myanmar's state forces, according to a report by the Ontario International Development Agency (OIDA).
More than 34,000 Rohingya were also thrown into fires, while over 114,000 others were beaten, said the OIDA report, titled "Forced Migration of Rohingya: The Untold Experience."
Some 18,000 Rohingya women and girls were raped by Myanmar's army and police and over 115,000 Rohingya homes were burned down and 113,000 others vandalized, it added.
The UN has also documented mass gang rapes, killings – including of infants and young children – brutal beatings and disappearances committed by Myanmar state forces.
Full report at:
https://www.aa.com.tr/en/asia-pacific/bangladesh-seeks-us-help-for-rohingya-repatriation/1380520
--------
Thousands of Rohingya children in the world's largest refugee settlement are going without an education
By VIDYA KRISHNAN
JAN 31, 2019
Ibrahim Mohammad, a slight 10-year-old with a guarded manner, used to love school. But as a fourth-grader in 2017, he saw his parents' house burned down by the Myanmar military, his grandfather shot and killed, and his mother forced to deliver a baby in the forest as his family fled along with hundreds of thousands of other Rohingya Muslims to Bangladesh.
Ibrahim, who used to dream of becoming a doctor, is now prone to long silences and mood swings, and he rarely smiles.
"It changed him," said his father, Mohammad Eleyas. And "not having a school has made things worse."
It's been 16 months since a brutal Myanmar military operation left thousands of Rohingya Muslims dead and sent at least 800,000 fleeing over the border to Bangladesh. Now, in what has become the world's largest refugee settlement, there are half a million children in need of a formal education, which an international relief effort is failing to provide.
What's more, some question whether aid agencies vying for funds are as interested in looking good to potential donors as in providing a basic education to the children they say they are serving.
Rohingya families and Bangladeshi officials sharply criticize the United Nations-backed humanitarian operation — which has received $655 million in international aid over the last year — for providing inadequate classrooms and curriculum. The needs are particularly great, they say, because most refugees have little hope of returning to Myanmar anytime soon.
In Myanmar, hatred for Rohingya Muslims runs so deep that a diplomat called them 'ugly as ogres' — and got promoted »
Many Rohingya Muslim children in predominantly Buddhist Myanmar were already denied an education following a harsh clampdown begun in 2012. Government schools that were teaching Rohingya children in the Burmese language quickly shut down after the Myanmar army offensive began in August 2017.
Critics say the makeshift learning centers — operating out of temporary bamboo structures slightly larger than huts — established by the U.N. Children's Fund, or UNICEF, and its partner agencies are little more than play areas where children are taught songs and rhymes, often in English, with little emphasis on the reading, writing and other skills many were taught in regular schools back in Myanmar before the violence.
Many parents say they are frustrated to see children being trained to recite songs like "We Shall Overcome" for foreign visitors and dismiss the facilities as a waste of time. Many children simply stop going.
The few families who can afford it are spending what little cash they have on private tutors to ensure their children learn.
"They teach our children the same rhymes over and over again," Eleyas said. "Ibrahim gets bored and doesn't want to go to school anymore."
The anger came to a boil in December, when officials from Bangladesh's Refugee Relief and Rehabilitation Commission — the government agency overseeing the humanitarian response — accused UNICEF and 10 of its partner agencies of incorrectly reporting the numbers of children attending learning centers, as well as engaging in other questionable practices.
The commission said it had found that aid agencies were not tracking the numbers of children who had stopped attending the learning centers, resulting in vastly inflated enrollment numbers that they used to appeal for more donor funding, according to minutes of the meeting obtained by The Times.
The commission also received reports that some agencies were opening new centers alongside existing ones run by other groups even though the additional facilities were not needed in those locations. They did so, the commission found, to "poach" children and increase their headcount to help with donor funding appeals.
Although the commission did not single out individual agencies for wrongdoing, 10 international and Bangladeshi groups were summoned for a meeting.
Two Bangladeshi officials on the commission, Shammimul Haq Pavel and A.S.M. Obaidullah, said UNICEF and its partners did not consult with the Bangladeshi government on its strategies and ignored repeated requests for better communication, according to the minutes, which officials confirmed were accurate.
"Bangladesh is not a conflict zone like Yemen or Syria," Pavel said, "where partners can act without approval from local government."
UNICEF spokesman Jean-Jacques Simon acknowledged that there had been "communication gaps." He said officials responsible for education would soon work out of the local government primary education office in Cox's Bazar, the nearest city, to improve contact with Bangladeshi authorities.
Simon said UNICEF had agreed to amend the data on enrollment at learning centers to account for children who stopped coming.
He added that reports of "land grabbing" — setting up learning centers without approval from camp authorities — were an outgrowth of crowding in the camps, where more than 100 agencies are providing relief.
"The scarcity of the land available in the camp is a challenge for all agencies working on the humanitarian response," Simon said. "However, despite the challenges, UNICEF is fully committed to providing education to Rohingya children."
The head of the Bangladeshi commission, Mohammad Abul Kalam, said turf battles between aid agencies were not limited to the education sector.
"It is unfortunate that competition arises between humanitarian actors," Kalam said in an email, "considering the high needs, insufficient financial and human resources, and the extreme scarcity of land which characterizes this response."
UNICEF has warned of a "lost generation" of Rohingya children, who constitute 60% of the camps' population. They are visible everywhere, collecting firewood, helping parents with household work, taking whatever odd jobs are available — but often simply playing by the dirt roads.
As of July 2018, some 1,200 learning centers were operating inside the camps, and almost 140,000 children had been enrolled.
In these facilities, Bangladeshi instructors teach children rhymes, dances and proper hygiene. There are often donated toys and a place for younger children to nap during the day. But most classrooms lack stationary, notebooks or drinking water.
Parents say the informal schooling targets younger children and does not include reading, math or other basic subjects. According to the most recent UNICEF data, 39% of children ages 4 to 14 don't even attend the learning centers. That figure is 97% for children 15 to 18, a group that UNICEF has warned is at risk of sexual trafficking by criminal groups or other forms of exploitation.
In Buthidaung township in the northern Rakhine state of Myanmar, where Eleyas grew up, most teachers were Buddhists and stopped coming to Rohingya schools in the months leading up to the army offensive.
"When we were children, we did not have a chance at education in Myanmar. Now, our children are being robbed of this opportunity," said Muhib Ullah, a community leader who heads the Arakan Rohingya Society for Peace and Human Rights, an activist organization in the camps. "Our community's future depends on these children having a right to education. When the learning centers were opened, we were happy. But we realize our children learn nothing there. It's been over a year — how are the schools not working yet?"
Frederic Vincent, who leads education activities in the camps for UNICEF, said aid agencies were finalizing a formal curriculum in Burmese, including all major subjects, that would be rolled out to learning centers this year to provide "more structured, quality education opportunities" for Rohingya children.
Rohingya families who earn money in the camps by doing odd jobs are now paying as much as $70 per month for private lessons in math, science and English for their children. Educated Rohingya refugees tutor students using Burmese textbooks brought in through informal networks, at religious schools and in families' temporary shelters.
Eleyas earned a master's degree in geography from Sittwe University in the Rakhine state capital, the only college Rohingya Muslims were able to attend due to travel restrictions. He has hired tutors to teach Ibrahim history.
Full report at:
https://www.latimes.com/world/la-fg-bangladesh-rohingya-education-20190131-story.html
--------
Landmark report reveals new human rights abuses in Myanmar
By James Massola
1 February 2019
Jakarta: At least 43 journalists have been arrested in Myanmar since democratic elections were held in 2015, according to a landmark new report from Human Rights Watch.
And approximately 140 cases of defamation have been brought - which carries a penalty of up two years jail - under section 66 [d] of the country's Telecommunications Law according to the report, which cities statistics from Myanmar civil society group Athan.
The report, Dashed Hopes - the criminalisation of peaceful expression in Myanmar, sets out in detail how journalists have been targeted, freedom of expression curtailed and how laws have been enacted and amended to cover up corruption allegations and military abuses of Rohingya Muslims, in Rakhine State.
It covers the period since the National League for Democracy took power in March 2016, with Aung Sang Suu Kyi as its figurehead and state counsellor [she is barred from being President under the constitution], in what is the first democratically-elected government since 1962.
Even as new media organisations have begun to blossom in Myanmar, report author Linda Lakhdir said "abuses against the press under Myanmar's new government have been particularly striking".
"Aung San Suu Kyi's government has had a real opportunity to abolish the tools of oppression used by the military juntas, but has instead used them against peaceful critics and protesters," she said.
The report comes as Myanmar's government, particularly Suu Kyi, has faced wave after wave of international condemnation for the expulsion of more than a million Rohingya Muslims to Bangladesh.
The UN has documented mass gang rape, killings, brutal beatings and the torching of homes and people.
Australian Foreign Minister Marise Payne met Suu Kyi as recently as December 2018 and Australia has been criticised for providing funds to help Myanmar's military.
One famous case of how the media has been targeted in Myanmar is that of two Reuters journalists, Wa Lone and Kyaw Soe Oo, who investigated the military's activities in Rakhine State, which is home to the Rohingya population.
The pair uncovered evidence of a massacre at Inn Din, met police at a restaurant while seeking more information and received a cache of documents in December 2017.
They were arrested immediately afterwards and have been prosecuted for violating the Official Secrets Act, concluding in their conviction and a seven year jail sentence in September 2018. Their appeal to Myanmar's High Court was thrown out in January 2019.
Many other less high-profile cases of legal abuse are also highlighted, including that of Swe Win, a journalist and co-founder of Myanmar Now, which has reported on the ultranationalist movement in the country including the killing of a Muslim lawyer, U Ko Ni.
Nearly two years later, Swe Win is facing prosecution under section 66 [d] of the country's Telecommunications Law for sharing a story online about an ultranationalist monk who welcomed the murder of the Muslim lawyer.
The report finds that it is the Telecommunications law that is most often used to penalise peaceful expression in Myanmar, and not only by journalists.
Eight students were convicted and fined for defamation after participating in a satirical anti-war play that angered Tatmadaw (Myanmar armed forces) officials, while the father of one of the students, who streamed the play on Facebook, has been jailed for three months under the Telecommunications law.
Full report at:
https://www.brisbanetimes.com.au/world/asia/landmark-report-reveals-new-human-rights-abuses-in-myanmar-20190131-p50uxj.html
--------
Taliban militants suffer casualties in NDS Special Forces raid in Kunduz
31 Jan 2019
At least 14 Taliban militants were killed or wounded during an operation of the Special Forces of National Directorate of Security (NDS) in northern Kunduz province.
The Afghan Intelligence, National Directorate of Security (NDS) in a statement said the operation was conducted in the vicinity of Khanabad district of the province.
The statement further added that a compound of the Taliban was targeted during the operation which left at least 11 Taliban dead and 3 others wounded.
Three caches of weapons and munitions were also destroyed during the operations, NDS said, adding that Nikpai, Clinic, Syed Ramazan, Aab Garmak and Jang Bashi villages were cleared of militants.
Full report at:
https://www.khaama.com/taliban-militants-suffer-casualties-in-nds-special-forces-raid-in-kunduz-03210/
--------
Mideast
Muezzin muscled out: Israeli mosque fires bodybuilder
January 31, 2019
Ibrahim Masri has been calling Muslims to prayer for nearly 15 years in an Israeli city but his voice is now being silenced because he took part in a bodybuilding contest.
Israel's interior ministry is stripping him of his role as chief muezzin of El-Jazzar mosque in the northern city of Acre after having ruled that his participation in the 2017 competition was "incompatible" with his religious role.
Muezzins call Muslims to prayer five times a day through loudspeakers, with the most renowned famed for their voice.
The 46-year-old Masri has been lifting weights since he was young and is well known in Acre. He has never seen a contradiction between his sport and his religion.
"This is an unjust decision," he told AFP. "The religion of Islam encourages any individual to practice sport."
A ministry spokesman told AFP he had been fired over his inappropriate dress.
Bodybuilders typically wear brief trunks during competitions and Masri has many photos in such attire.
Scanty clothing
Masri, who has bulging arms and weighs around 105 kilos (230 pounds), is a member of Israel's Arab minority, who make up around 18 percent of the Jewish state's population.
In 2017, he took part in the Israel bodybuilding championships, winning in his category.
A few months later he was summoned to a committee of religious officials in northern Israel.
"They showed me the pictures of me participating in the competition, and they considered it was not appropriate for a muezzin to practice this sport," the father-of-three said.
They said his scanty clothing was unacceptable for a religious figure.
The interior ministry oversees the religious organisations of Christians, Muslims and other non-Jewish minorities in Israel, and it has the final say over the full-time muezzin's job.
Masri said he sent them a letter apologising. "I told them I would not take part in any more competitions.
"They knew I was involved in this sport before I was hired."
But this month the ministry finally decided to dismiss him, and a spokesman told AFP he was fired effective this week.
"The employee appealed to the state service commission, which concluded that the ministry's conduct was flawless and the firing was approved."
'No voice more beautiful'
El-Jazzar mosque in the Old City of Acre is one of the most beautiful in Israel, built in 1781.
The Mediterranean city is considered a World Heritage Site, with its repository of remains from the Crusades.
The mosque is named after the local Ottoman ruler at the time it was built and its design inspired by the famed mosques of Istanbul.
The muezzin's firing has caused a stir among Acre's Muslim majority.
"How can they separate Ibrahim from his work just because he took part in a competition?" asked Wissam Zalafi, a guard at the mosque.
"We don't have another muezzin with a voice as beautiful in all of Acre."
Sheikh Mohammed Kiwan, the mosque's head imam, or prayer leader, said Masri had not asked the administration before entering the bodybuilding competition.
"It is not permissible for him to expose his modesty in front of men, women and children."
However, the imam said he was in favour of giving Masri a final warning and agreed that he had a beautiful voice.
Masri worked out throughout his time as a muezzin and even helped open a club to train young people in Acre.
Amal Khatib, 19, said the club had helped him focus and to find a job.
Masri has filed an appeal, which will be heard next month, and has started a petition by local supporters.
Jaber Mushahee, an 80-year-old who prays at El-Jazzar, said the decision would damage the mosque.
"I've made umra and there is no voice anywhere more beautiful than his," said Mushahee, referring to the mini-pilgrimage to Mecca.
https://www.thejakartapost.com/news/2019/01/31/muezzin-muscled-out-israeli-mosque-fires-bodybuilder.html
--------
Turkey Integrating Terrorist Groups in Idlib
Jan 31, 2019
Syria's Arabic-language al-Watan newspaper quoted sources close to the terrorists as saying on Thursday that the Turkish military and intelligence officials have promised the ringleaders of Ahrar al-Sham, Nour al-Din Zinki and the so-called National Liberation Front (NLF) terrorist groups that they will merge them along with Tahrir al-Sham al-Hay'at (the Levant Liberation Board or the Al-Nusra Front) within the framework of a military organization.
They added that Turkey has also promised them to set up a parliament and an autonomous government after dissolution of Tahrir al-Sham in territories occupied by the militants, adding that Faylaq al-Sham which has recently been joined by 18 other terrorist groups in Northern Idlib and Western Aleppo is due to be the political branch of the new organization and Tahrir al-Sham will take the responsibility for its military wing.
The military experts warned that Turkey's measures are against the Sochi agreement to establish a demilitarized zone in Northern Syria and the Turkish president's promises to his Russian counterpart in the last week meeting in Moscow, adding that the move by Ankara has left the Syrian army with the only option of cleansing Tahrir al-Sham from the demilitarized zone.
Similar reports earlier this month also said that the terrorists of Tahrir al-Sham are pursuing the new scenario to establish a new integrated military organization in Idlib after the terrorist group extended its presence in the province in cooperation with Turkey.
"The terrorists of the National Liberation Front (NFL) affiliated to the Turkish Army will soon be dissolved in Tahrir al-Sham as the militant groups have agreed to form an integrated military structure," the Arabic-language Enab Baladi affiliated to militants quoted a source close to Ankara-backed Free Syrian Army (FSA) as saying.
The source noted that the scenario started after Tahrir al-Sham's dominance over most of Idlib's regions.
He said that according to the plan, Idlib province will be divided into two sections in political and military terms; the Ankara-backed Faylaq al-Sham terrorists will take charge of the political affairs and Tahrir al-Sham will represent the military wing.
Full report at:
http://en.farsnews.com/newstext.aspx?nn=13971111000405
--------
Palestinian, European officials worried over Hebron monitoring
31 January 2019
Palestinian and European officials expressed concern and regret on Wednesday over Israel's decision not to renew the mandate of an international monitoring group in the occupied West Bank city of Hebron.
The Temporary International Presence in Hebron (TIPH) was established after a massacre of Palestinians in 1994.
Israeli Prime Minister Benjamin Netanyahu announced on Monday he would not extend its mandate, accusing it of bias.
The Palestinians labelled the move a "green light" for Israeli settlers in the city to carry out abuses.
"I think nations should stand tall against this," PLO secretary general Saeb Erekat said.
He said Israeli settlers and soldiers had committed "40,000 attacks and violations against the Palestinian people in Hebron" since the TIPH was formed, without giving a source for the figure.
"Imagine what will they do without the presence of this force."
European countries which staff the mission also opposed the Israeli decision.
"We have learned of this decision with regret but we continue our efforts," Italy's Foreign Minister Enzo Moavero Milanesi told Italian news agencies.
"Sweden and the other countries of the mission deeply regret the Israeli statements," a Swedish foreign ministry spokesman said.
"We believe that the mission is important and should continue."
TIPH team
The Norway-led team is comprised of 64 observers tasked with promoting security for Palestinians in Hebron, the largest city in the West Bank.
Its mission was created after 29 Palestinian worshippers in a mosque were gunned down by an American-born Israeli settler.
Observers carry out daily patrols and document rights abuses they witness, although they are not allowed to intervene.
The mission reports its findings to its member countries - Italy, Norway, Sweden, Switzerland and Turkey - as well as the Israeli and Palestinian authorities.
Hebron is holy to both Muslims and Jews and has been a flashpoint in the Israeli-Palestinian conflict.
At least 600 Jewish settlers live under heavy military guard in the city, which is home to around 200,000 Palestinians.
Full report at:
https://english.alarabiya.net/en/News/middle-east/2019/01/31/Palestinians-Europeans-worried-over-Hebron-monitoring-.html
--------
Hamas won't be part of any new puppet Palestinian govt.: Official
Jan 31, 2019
The deputy head of the Hamas political bureau, Mousa Abu Marzouk, says the resistance movement will not take part in any puppet Palestinian government in Ramallah, noting such a government will be "devoid of any national legacy and would strive to promote division" just like its predecessors.
Marzouk, in a post published on his official Twitter page on Wednesday, said officials from the Ramallah-based Palestine Liberation Organization (PLO) would not invite Hamas to participate in such a Palestinian government in the first place, emphasizing that the movement would turn down such an offer even if it were made.
He asserted that a new government in Ramallah would work on realizing US President Donald Trump's "deal of the century."
The so-called deal, a back channel plan to allegedly reach a peace settlement between the Israelis and the Palestinians, was proposed by the US administration in September 2018. Although the plan has not been released, leaks signal it will consist of the same tried and failed ideas.
While little is known about the controversial deal, leaks have suggested that it regards East Jerusalem al-Quds as Israeli territory, whereas Palestinians view the eastern sector of the occupied city as the capital of their future state.
Palestinians also believe that the US-drafted plan calls for keeping borders and security under Israeli control, while it keeps Israeli settlements' final borders to be discussed in later negotiations.
Palestinian Prime Minister Rami al-Hamdallah officially submitted his resignation and that of his unity government to President Mahmoud Abbas on January 29, casting doubt on the prospects of reconciliation efforts with Hamas.
Abbas had been facing pressure from his ruling Fatah movement over the past few weeks to remove Hamdallah from power, and establish a new government comprised of representatives from PLO factions in addition to independent figures.
Hamdallah headed the Palestinian National Consensus Government, which was formed after Fatah and Hamas reached an agreement in 2014.
Fatah leaders said there was no point in keeping the government in power in the wake of the continued crisis between their faction and Hamas.
Full report at:
https://www.presstv.com/Detail/2019/01/31/587303/Hamas-wont-participate-in-new-Vichy-Palestinian-government-Official
--------
URL: https://www.newageislam.com/islamic-world-news/pope-says-happy-write-new/d/117620
New Age Islam, Islam Online, Islamic Website, African Muslim News, Arab World News, South Asia News, Indian Muslim News, World Muslim News, Women in Islam, Islamic Feminism, Arab Women, Women In Arab, Islamophobia in America, Muslim Women in West, Islam Women and Feminism