New Age Islam News Bureau
5 Apr 2019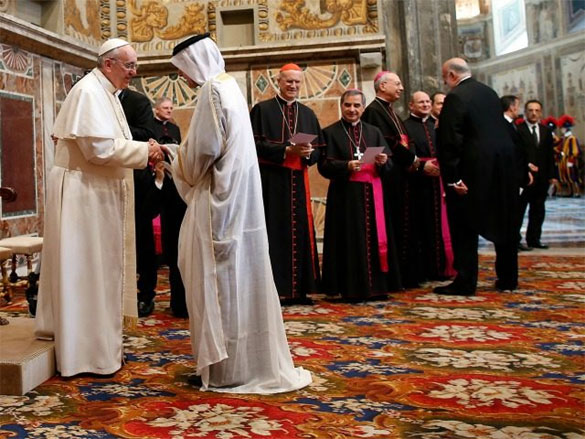 Pope Francis walked back an earlier statement Wednesday on God "willing" a plurality of religions, saying that in reality God only permits the existence of many religions.
--------
•
Pope Francis Says God Only 'Permits' Islam to Exist
• 'German Islam': Can A State-Led Project Succeed With A New Interpretation Of Religion?
• Handcuffing of Suspects by NAB, Other LEAs un-Islamic, Says Council of Islamic Ideology
• Indian Muslims Can Set an Example of Religious Harmony for World, Says Dalai Lama
• Inside Indonesia's Controversial Training Seminars Preparing Muslims for Polygamous Marriage
• Teaching Muslim Values in Public Schools Rejected in California
• Libya's Grand Mufti Urges Public to Fight Haftar Forces
Europe
• Pope Francis Says God Only 'Permits' Islam to Exist
• 'German Islam': Can A State-Led Project Succeed With A New Interpretation Of Religion?
• Christchurch Messages On Facebook Lead To Charge Of Lying To FBI
• Australia open to the return of ISIS militant's orphaned children
• Judge orders psych test for Christchurch shooting suspect
• Germany seeks accountability for Syria chemical attacks
--------
Pakistan
• Handcuffing of Suspects by NAB, Other LEAs un-Islamic, Says Council of Islamic Ideology
• Christian children have the right to study the Bible, Lahore activists say
• The trouble with being Hazara in Pakistan's Quetta city
• Bhutto would have protested against PPP's corruption: Fawad
• Pakistan, US hold talks on Afghan peace process
• All of Pakistan's F-16 Jets Accounted For By US Personnel, Contradicting Indian Claims: Report
• Pakistan's GDP Growth to Fall behind Nepal, Maldives This Year: UN
• Absence of accused can't delay treason trial: SC
--------
India
• Indian Muslims Can Set an Example of Religious Harmony for World, Says Dalai Lama
• 'Concerns Remain Unaddressed': MEA on Kartarpur Corridor Talks With Pakistan
• Point of scrapping Article 370 is to attack Muslim character of J&K: Mehbooba Mufti
• Muslim candidates bear brunt of division of votes
• Police bust terrorist hideout in Kishtwar; Pak army rifle found
--------
Southeast Asia
• Inside Indonesia's Controversial Training Seminars Preparing Muslims for Polygamous Marriage
• Indonesia Focuses on Terror Prevention, Peacekeeping as Non-Permanent UN Security Council Member
• Duo accused of insulting Islam claim assaulted in prison
--------
North America
• Teaching Muslim Values in Public Schools Rejected in California
• Muslim Americans Confident 'Terror Watchlist' Will Soon Be Ruled Unconstitutional
• US envoy wraps up Afghan visit, vows inclusivity in talks
• House passes resolution to withdraw US support in Yemen
--------
Africa
• Libya's Grand Mufti Urges Public to Fight Haftar Forces
• Eastern Libyan Commander Haftar Orders His Troops to Move On Tripoli
• Car bomb explodes at restaurant near police academy in Somali capital
• Eastern forces in Libya seize town south of Tripoli, UN chief voices deep concern
• Libya at risk of 'sliding back into chaos', Qatar warns
• Burkina Faso: 62 people killed in northern town
• Somalia: The Escalation in Relations Between Al-Shabab Al-Mujahideen and the Islamic State
--------
Mideast
• Palestinian Issue Nowhere to Be Found in Israel's Election
• MSF halts work in Yemen's militia-held Aden after patient abducted, killed
• Israeli settlers, soldiers seize Palestinian land in northern West Bank
• 11 Palestinian children killed by Israel since January, says rights group
• Iran FM says Europe incapable of bypassing US sanctions
--------
South Asia
• UK High Commissioner: Bangladesh A Developing Giant on World Stage
• Taliban kills dozens in Afghanistan's Badghis
• Afghan officials: Taliban kill at least 20 troops, policemen
• Afghan forces arrest alleged Daesh online recruiters
• Five killed as Myanmar military chopper attacks Rohingya Muslims
• ASEAN wants to create 'safe zones' for Rohingya
• 6 ISIS media activists arrested in Kabul city
• Afghan Special Forces kill 13 ISIS militants in Nangarhar province
• 8 Taliban militants killed in an airstrike of the Afghan Air Force in Balkh province
--------
Arab World
• Ankara-Backed Militants Continue Detention of Civilians, Looting Historical Sites in Afrin
• Army Repels ISIL Attack near Iraqi Borders, Reinvigorates Positions in Eastern Syria
• Iraqi Sources: Over 10,000 US Forces Deployed in Al-Anbar
• In a boost to bilateral relations, Saudi Arabia opens new Baghdad consulate
• Iraqi victims of Daesh leadership deserve justice: UN
• Syrian government forces' shelling kills 22: war monitor
Compiled by New Age Islam News Bureau
URL: https://www.newageislam.com/islamic-world-news/pope-francis-says-god-only/d/118238
--------
Pope Francis Says God Only 'Permits' Islam to Exist
4 Apr 2019
Pope Francis walked back an earlier statement Wednesday on God "willing" a plurality of religions, saying that in reality God only permits the existence of many religions.
In a joint statement with the Grand Imam of Al-Azhar Ahmad Al-Tayyeb, Pope Francis said in February that the plurality and diversity of religions "are willed by God in His wisdom," just as God wills a plurality of colors, sexes, races, and languages.
This Abu Dhabi declaration elicited a wave of criticism from Catholic theologians, who insisted that such a statement seemed to suggest that either God actively wills error, or that all religions are equally valid paths to God. The existence of a variety of colors, races, and languages in humanity is very different from a variety of contradictory claims about God's identity and way of acting.
Father Thomas Weinandy, for instance, the former head of the U.S. bishops' doctrinal office, said he found the statement disturbing for its apparent reduction of Jesus Christ to just another guru or religious leader.
"What I find very sad and scandalously troubling" Father Weinandy told Lifesite News, "is that, in the midst of it all, Jesus is being insulted. He is reduced to the level of Buddha or Mohammed when in fact he is the Father's beloved Messianic Son, the one in whom the Father is well pleased."
"The only religions that God positively willed are Judaism and Christianity for he himself founded these religions through his own positive divine actions and revelation," Weinandy said.
According to many scholars, Islam, for example, was born as a Christian heresy — a perversion of Christianity — and it would be odd if God directly willed for heresy to be proclaimed.
In a series of unscripted remarks Wednesday, the pope attempted to clarify that what God really wills is fraternity among all peoples, while he only permits a plurality of religions.
"But someone may wonder: why does the Pope go visit the Muslims and not just Catholics? Why are there so many religions? How is it that there are so many religions?" Francis said.
"With the Muslims we are descendants of the same Father, Abraham. Why does God allow there to be so many religions? God wanted to allow this. Scholastic theologians referred to God's voluntas permissiva [permissive will]. He wanted to allow this reality: that there are so many religions," he said.
"Some are born from culture, but they always look at heaven, they look at God," he said. "But what God wills is brotherhood among us and in a special way – and this is the reason for this journey – with the Muslims, our brothers and sisters, children of Abraham."
"We must not be frightened by the difference: God allowed this," the pope continued. "We should be frightened if we do not work in brotherhood, to walk together in life."
While this clarification is undoubtedly helpful, Father Weinandy suggested, it does not go far enough.
"The problem is that, more than likely, the vast majority of the media and many other theologians and bishops will continue to interpret the original document in the manner that, as God willed Judaism and Christianity, so he also willed other religions – full stop," he said.
In 2017, Father Weinandy published a forceful letter he had written to Pope Francis, criticizing the pontiff's "intentionally ambiguous" teaching, scorn of conservatives, and resistance to constructive criticism.
Weinandy made the letter public, he said, because it "expresses the concerns of many more people than just me, ordinary people who've come to me with their questions and apprehensions."
In his letter, Father Weinandy listed five points that illustrate the "chronic confusion" that seems to mark the Francis pontificate, namely, intentional ambiguity, disdain for doctrine, the appointment of heterodox bishops, sowing division in the Church, and vindictiveness in the face of criticism.
https://www.breitbart.com/faith/2019/04/04/pope-francis-says-god-only-permits-islam-to-exist/
--------
'German Islam': Can a state-led project succeed with a new interpretation of religion?
4 April, 2019
In late November the German Islam Conference was held in Berlin. The project triggered many controversies and heating debates in Germany and beyond.
While the programme was launched in 2006 by the German Federal Ministry of the Interior, it was mainly initiated to promote dialogue between representatives of the German government and the country's Muslim community, it significantly transformed over the years. Even though it was originally designed as a mechanism of communication and dialogue between the German state and Muslims living in Germany, the conference added a completely new dimension to its programme: redefining Islam.
The initiative to redefine and adjust Islam to German values combined with efforts to stimulate the integration of Muslims into German society is not an entirely new idea. In early 2000's former Interior Minister Otto Schily for example, raised this issue when saying that Muslims had to be assimilated and be prepared to adopt a "European Islam".
The German Islam Conference seems to continue this approach. It has been also interpreted as a governmental identity-building project through an initiative to create a German version of Islam. But while integration of 4.6 million strong Muslim community into the German society is welcomed and necessary goal of every responsible state, the current approach conducted by the German authorities have been debatable.
Defining the 'German Islam'
Many have expressed serious scepticism whether state-imposed or state-led project of a new interpretation of religion can succeed and whether it will be adopted by a wider Muslim community. Traditional circles fear that such project aimed to transform religious identity by promoting "secular and enlightened" version of new "German" Islam is completely unacceptable and counterproductive.
According to them, there cannot be multiple versions of Islam based on nationality. On the other hand, religion and life practices may differ from culture to culture, while at the same time observing Islamic norms.
Prof Dr Dr h.c. Mathias Rohe, M.A., Director of The Erlangen Centre for Islam and Law in Europe (EZIRE) observes that many Muslims would reject the idea of an established regional Islam but would at the same time condone the idea of their religious life and their convictions how to be a good Muslim being influenced by their regional and social environment.
According to Dr Yasemin El-Menouar, Senior Expert at the Bertelsmann Stiftung, the term "German Islam" is misleading and sparked a critical debate in Germany at that time. Federal Interior Minister Horst Seehofer then specified that the issue is "an Islam for Germany, an Islam of the Germans."
Thus, while a normative definition of "German Islam" is highly disputed, the factual description is virtually uncontested, Prof Dr Rohe added. He explained that the term of a "German Islam" aims at defining the scope and limits for religious life in the country. The German president has recently said that millions of Muslims are living their everyday life in the country in a way that "belongs to Germany".
"This means that concrete needs and creeds of Muslim citizens and immigrants to Germany should be tackled, rather than mixing them up with traditionalist and extremist movements and political systems abroad, which are inimical to the standards of democracy and the rule of law governing the country," he told The New Arab.
Moreover, Dr El-Menouar noted that the topic is less about a new identity-building project and more about the recognition of the reality that Islam has arrived in Germany and has become native, from both the side of the German majority population and the side of the Islamic associations.
"Religion Monitor" series of studies, conducted by the Bertelsmann Stiftung show empirically that the 4.6 million Muslims in Germany have found independent, pragmatic ways to reconcile their religiosity with their living in German secular society. They are meanwhile strongly guided by the fundamental values of German society. For example, 96 percent of the interviewed Muslims feel closely connected to Germany; 90 percent are committed to democracy, 93 percent to openness toward other religions, and 83 percent to gender equality.
Not very tactful approach
But although the integration of migrants is necessary in order to prevent ghettoisation, German officials have often acted like an elephant in a porcelain store when dealing with this sensitive issue. This is especially true for the statement given by Interior Minister Horst Seehofer, who also chairs the German Islam Conference when said that Islam "doesn't belong in Germany." His deputy latter responded that, "If there is to be an Islam that belongs to Germany, German Muslims must define it as 'German Islam." Such strong and imperative language caused nothing but great disappointment and annoyance within the Muslim community.
Finally, the most grotesque was certainly a scandal that made the world headlines, when the organisers from the Ministry served a blutwurst – or "blood sausage" – which is made of ingredients including pig's blood, pork, and bacon. An incident, which completely overshadowed the Islamic conference meeting has been viewed as a deliberate provocation by controversial Interior Minister Horst Seehofer, rising the suspicions about true intentions and goodwill of German authorities when dealing with Muslim issue. Stop to foreign influence and funding?
Regardless of the latest scandal, the conference addressed other important issues that sparked heated debate in the country. However, the issues such as the role of Islamic theology in German universities, training of imams and question of funding Muslim organisations, have been met with great suspicion by some.
Some conservative and traditional circles especially those from large Turkish community believe that the true aim of the authority efforts is to diminish the role of traditional Muslim/Turkish organisations which are believed to be directly influenced by official Ankara.
The current efforts of German state are therefore seen as a creation of an institutional mechanism that would keep the Muslim community under control and surveillance either by offering financial incentives or taxing mosques while cutting the funding (and influence) from foreign sponsors.
German political elite perceives countries like Turkey, Iran or Saudi Arabia as promoters the radical interpretation of Islam, which is "in violation of Western values."
After series of violent attacks in Eastern Germany last year, Markus Kerber a State Secretary at the Interior Ministry, said that government will tighten control over foreign influence of its Muslim community, calling into question the future role and existence of well-established and traditional institutions such as the Turkish Islamic Union for Religious Affairs (DITIB).
According to Prof Dr Rohe, there is no doubt that the German Islam Conference was at least in part a consequence of 9/11. The government expressed its vivid interest in fostering Muslim self-organisation and cooperation with the state for security reasons. But this was not the sole motivation.
Germany is uniting Muslims of all Islamic faiths from different countries of origin. In the past, a patchwork of very different Islamic organisations has been created, each representing only a minority of Muslims.
The German Islam Conference tries to bring together all these organisations, but also non-organised Muslims, in order to negotiate a form of cooperation with the German state. Prof Dr Rohe, who has been involved in all stages of the German Islam Conference from the very beginning, have noticed that "remarkable shift from strong state-directed procedures to a dialogue on equal footing and to the reduction of the state representatives to the role of a moderator between different Muslim organisations and stakeholders. If the Conference were a simple instrument of exercising control, Muslim representatives would have rejected to participate, which is obviously not the case."
Traditionalists vs new actors
The debate about the aims of the conference and the role of the Muslim organisations in the country has also divided the Muslim community. Some conservative and their traditional organisations who reject "German Islam" project and favour foreign funding like that of DITIB, have clashed with Germany's more liberal-minded Muslims, who appear willing to embrace secularism.
Since the German state focuses on the cooperation with the various religious communities, several prominent Muslim individuals and unorganised groups were also invited at the conference causing a great deal of disagreement among traditional groups which have been the only invitees so far. The presence of new groups and individuals has been understood as an attempt to impose a state-designed brand of religion.
Read also: Islam and the European Reformation
One of such groups, the Initiative Secular Islam, was founded shortly before the start of the 4th Islam Conference in November 2018 and attracted a lot of media attention. However, Dr El-Menouar said that the initiative is currently supported by only about 2,500 Muslims and non-Muslims is neither financially nor otherwise supported by the state. It is merely a legitimate voice of civil society.
Meanwhile, many Muslim organisations are unable in terms of staff/members and financial means to organise their work without cooperation with the state on all levels, be it local, regional or on the federal level. Thus, according to Prof Dr Rohe, most of them welcome the ability to discuss their needs and projects and to get the latter supported within the legal framework (e.g. for financing social and cultural activities). Most Muslims have perceived the state initiatives as being part of a "policy of recognition" from the very beginning.
So, "as long as the state initiatives respect the right of Muslim self-determination, and interact with Muslims on equal footing, this can be considered as a major contribution for preventing Muslim radicalisation and disintegration," he added.
Real problems in everyday life of Muslims in Germany very often are not rooted in their religion, but in socio-cultural circumstances and in distrust in "Islam as such" among large parts of the population, which nevertheless supports a peaceful and respectful living together with the Muslims living in the country.
https://www.alaraby.co.uk/english/indepth/2019/4/4/german-islam-project-work-in-progress
--------
Handcuffing of suspects by NAB, other LEAs un-Islamic, says Council of Islamic Ideology
Kalbe Ali
April 05, 2019
ISLAMABAD: The Coun­cil of Islamic Ideology (CII) declared on Thursday that handcuffing of suspects by the National Accountability Bureau and law enforcement agencies as well as insulting them on the media before conviction was against Islamic principles and violated human dignity.
At the same time, the council continued its tradition of taking up issues related to women and expressed concern over what it termed "advances" implied in several slogans during Women's Day rallies.
CII chairman Dr Qibla Ayaz told the media after the two-day council meeting that a committee had been formed under the supervision of retired Justice Raza Khan, a member of the council, to analyse the National Accountability Ordinance.
"The committee will review as to which sections of the law are in violation of Islamic laws," Mr Ayaz said.
However, when asked about handcuffing of suspects by police and other law enforcement agencies, he said that it was an un-Islamic act.
Dr Ayaz declined to further elaborate but said, "Handcuffing can be allowed only when there is threat of violence by the accused".
Incidentally, the CII had come up similar reservations in 2002 along with a set of rights to be followed by the authorities for treatment of suspects and prisoners.
The CII's latest meeting also observed that "unethical and immoral" slogans were heard at the rallies held on March 8.
"We have noted that it was due to the decaying family system in the country and the council will try to determine the reasons for disintegration of the family system," Dr Ayaz said, adding that it was the responsibility of the council under its mandate to suggest ways and measures for the Muslims of the country to live their lives according to principles of the Quran and Sunnat.
"Such behaviour cannot be changed with charged slogans and rhetoric. There is a need to determine the reasons and environment leading to such actions (by participants of the Aurat march)," the CII chairman said.
The meeting also discussed the murder of Associate Professor Khalid Hameed, the head of the English department at the Government Sadiq Egerton College, Bahawalpur. "We have noted that the education system in the country needs an overhauling as there is lack of coordination and informal contacts between students and teachers. Besides healthy activities including extracurricular activities have almost died down," Dr Ayaz said. "The [government's education] policies are teacher-centric — about their salaries etc — but not student-centric and the youth of the country is under serious psychological pressures," he added.
About the alleged forced conversion of two Hindu girls, the CII chairman said that their case was in the Islamabad High Court, adding that forced conversion was incorrect. However marriage of one's free will outside one's religion was another issue, he added.
"We [the council meeting] also took up the sale of liquor in the name of religions other than Islam. The CII will approach religious personalities of other religions to seek their opinion on liquor as the liquor sale permits are issued on the basis of other religions," he added.
He said that the CII expressed concern over attacks on Christchurch mosques, and paid tribute to New Zealand Prime Minister Jacinda Ardern for her actions and decisions following the attack.
https://www.dawn.com/news/1474005/cii-terms-handcuffing-of-suspects-before-conviction-un-islamic
--------
Indian Muslims can set an example of religious harmony for world, says Dalai Lama
April 4, 2019
Tibetan spiritual leader Dalai Lama on Thursday said Indian Muslims could set an example of religious harmony before the world.
At a press conference here, Lama said: "I have never heard a problem between Shia and Sunni in India, while in Muslim countries like Iran and Saudi Arabia, they are fighting against each other."
"India is a country with religious harmony despite so much diversity. I have suggested the government to do an international religious conference here," he said.The Tibetan spiritual leader said, "If an international Buddhist conference, headed by former President of India Dr Radhakrishnan, can happen here in the past, then why not an international conference on all religions be conducted here?"
Commenting on Gurugram incident where a Muslim family was beaten up by some Hindus over an argument regarding a cricket match, Lama said: "There are misguided people in all religions."
"Even some Buddhists are also misguided, but these people cannot symbolise the whole religion. We must think seriously to make 21st century peaceful and India can make a significant impression on the world."
Lama also praised New Zealand Prime Minister Jacinda Ardern for the manner in which she handled the situation after terror attacks in Christchurch on March 15 that caused 50 lives.
On the speculation that succession of Dalai Lama will be in China, he said, "How long will I live? Suppose I live for the next 15 years, I think in that case the Chinese government will change by that time."
"If I die next year, then China will have to show to the world that my reincarnation is born there. My rebirth cannot be at one particular place. It can be anywhere. I will take rebirth as long as the suffering remains, as long as space remains." he said. On the question of his exile in India, he said "I am not a separatist which the Chinese government thinks I am. We are not seeking independence from anyone.
https://www.business-standard.com/article/news-ani/indian-muslims-can-set-an-example-of-religious-harmony-for-world-says-dalai-lama-119040401168_1.html
--------
Inside Indonesia's controversial training seminars preparing Muslims for polygamous marriage
Apr 05, 2019
A club dedicated to promoting polygamy in Indonesia is actively touting "a quick way to have four wives" through classes across the country that cost hundreds of dollars.
Though experts say most Indonesians find the idea of polygamous marriage objectionable, there is strong support for the practice in some sections of society.
The Indonesian Polygamy Forum (FP Indonesia) is capitalising on interest among conservative Muslim men in taking multiple wives by offering one-day seminars that claim to prepare their clients for polygamous marriage.
The organisation said it even provides a same-day marriage service for seminar attendees deemed ready to enter into a polygamous marriage.
Vicky Abu Syamil, a 32-year-old male who facilitates the workshops, said male participants are charged 3,500,000 rupiah each (roughly $350) to attend.
Discounts for women who attend
Class sizes are limited to 20 people — most of them men — with a 50 per cent discount being offered to female attendees in an attempt to attract more women.
Topics covered include how to begin and maintain a polygamous marriage, how to acquire four wives within a short period of time, and how to avoid a divorce.
Mr Abu Syamil said he became a polygamist when he was 24 years old, and now has four wives.
"I married my first wife in 2006 and my second one in 2011. It was a long process to actually reach that big decision based on mutual understanding," he said.
Mr Abu Syamil said he was able to persuade his first wife based on "knowledge that came from heaven and was delivered by the messenger", referring to Islamic teachings.
The club, which was established in 2017, holds sessions that are attended by Muslims around Indonesia, with the next one scheduled for Jakarta in mid-April.
'Only one in a million men will refuse polygamy'
Another man touting the appeal of polygamy is Fadil Muzakki Syah, the son of a charismatic cleric, who has become infamous in Indonesia for living openly with three wives in Jember, East Java.
Female participants in an Indonesia Polygamy Forum class
PHOTO: The Indonesian Polygamy Forum said these women participated in one of its classes. (Supplied: Indonesian Polygamy Forum)
"I believe an old saying that among a million women, only one is willing to accept polygamy," Mr Muzaki Syah told local media outlet Jawapos.
"On the other hand, only one in a million men will refuse polygamy."
He has praised his first wife for not only letting him marry again but also being actively involved in "coaching" the second wife into their family. When he met another woman, a young widow, both his other wives were heavily involved in the preparations for the marriage.
While men who promote the practice tend to paint a picture of marital harmony, most wives in polygamous marriages suffer detrimental effects to their wellbeing, both "psychologically and economically", according to Nina Nurmila, a commissioner on Indonesia's National Commission of Violence Against Women (Komnas Perempuan).
A Muslim man who wants to take on secondary wives — an option not afforded to women — must prove his first wife is sick, disabled, or cannot have children, and that he has the means to care for all of his spouses and children equally.
Wives 'at a disadvantage'
But Ms Nurmila, whose PhD research at the University of Melbourne focuses on polygamous marriages in Indonesia, said the existing spouses she interviewed described being emotionally and financially sidelined.
Secondary wives, she said, were often at a disadvantage as their marriages are rarely registered, meaning they had no legal recourse in the event of a dispute.
And critics say domestic violence is also more likely to take hold in polygamous marriages.
Once rare in Indonesia — former president Suharto frowned upon polygamy and banned civil servants from the practice during his three-decades dictatorial rule — a return to democracy has brought a niche but flourishing resurgence.
Indonesian local media reported that just 897 polygamous marriages were registered in 2018, but with most avoiding official registration, Ms Nurmila estimated that up to 5 per cent of people in Indonesia could be practicing polygamy.
The Indonesian Ulema Council (MUI), the country's peak body for Muslim organisations, said it had not received any complaints about the polygamy classes and nor does it plan to formally discourage the practice.
"Polygamy is not mandatory, recommended, reprehensible or forbidden, however it could be haram or forbidden if it would create damage to the family," the MUI's Aminuddin Yaqub told the ABC.
Ms Nurmila predicted that the practice was unlikely to be outlawed any time soon, with male politicians unmotivated to address the issue.
"The struggle to outlaw polygamy I don't think will be successful in the next 10 to 20 years, until women can be represented [equally] in the legislature."
https://www.abc.net.au/news/2019-04-05/inside-indonesias-polygamy-training-schools/10965646
--------
Teaching Muslim Values in Public Schools Rejected in California
BY MATTHEW VADUM
April 4, 2019
The terrorism-linked Council on American-Islamic Relations recently suffered a rare defeat in its long-running push to mainstream Muslim values in U.S. schools, when a federal lawsuit was settled. The group agreed to end its program in San Diego schools, which critics say pressured students to accept Islam or risk being labeled "Islamophobic."
CAIR was named an unindicted co-conspirator in 2007 in an alleged criminal conspiracy to support both Hamas and the Holy Land Foundation for Relief and Development. In 2014, the United Arab Emirates designated CAIR a terrorist organization.
CAIR, which touts itself as a Muslim civil-rights organization, claimed with scant proof that President Donald Trump's election caused a wave of attacks on Muslim students in San Diego schools and throughout the country. The radical Southern Poverty Law Center, which made similar assertions, dubbed it "The Trump Effect."
In May 2017, the Rancho Santa Fe, California-based Freedom of Conscience Defense Fund (FCDF) sued on behalf of five families. The legal complaint asserted that the San Diego Unified School District's "anti-Islamophobia initiative," launched to fight purported anti-Muslim bullying, was unconstitutional.
Attorney Charles LiMandri of FCDF said that, in reality, it was non-Muslims who ended up being the victims of discrimination in the school district.
"CAIR's insinuation that there are hordes of MAGA hat-wearing students prowling the schools and terrorizing Muslim students is a study in mass deception," LiMandri said.
"Under the guise of promoting inclusivity, CAIR had unfettered power to target conservative Christian students and smear them as 'Islamophobic' if they don't accept Islam. More broadly, the liberal school board ran roughshod over the First Amendment by empowering CAIR to indoctrinate impressionable children. We applaud our clients for standing up and fighting back."
The school district's own data, presented at a court hearing in July 2018, showed only two incidents in 2016 in which Muslim students were bullied, compared to 11 incidents for Jewish students, KPBS reported at the time.
Despite the paucity of evidence, district lawyer Michael Sullivan said the schools nonetheless needed to take precautions to safeguard students.
"They don't have to wait until a kid is run over by a bus to address issues with the crosswalk," he said, adding problems could ensue if the district were to sever ties with CAIR. "It would be inappropriate for the district to exclude CAIR, or any other organization, based on its religious beliefs."
CAIR and its allies have been remarkably successful in promoting Islam in schools.
In the overwhelmingly Christian state of Tennessee, CAIR has demanded that public school students be taught that the Islamic prophet Muhammad is the one and only true messenger of God. CAIR and similar groups are pushing public school systems across the United States to promote pro-Islamic messages in their lesson plans.
Much of the nation's education establishment has already adopted the agenda of CAIR, providing resources to combat "Islamophobia."
Examples of programs include the Bridge Initiative at the Prince Alwaleed bin Talal Center for Muslim-Christian Understanding at Georgetown University; the Islamophobia Research and Documentation Project at the University of California–Berkeley; and the University of Pittsburgh-based three-state Consortium for Educational Resources on Islamic Studies (CERIS). A teacher's guide, "Islam in Asia: People, Practices, Tradition," was put out jointly by the University of Washington and the Seattle Times.
CAIR remains very active in the Golden State, with its California branch sponsoring "Muslim Day at the Capitol" in Sacramento on April 22, which the organization describes as "the nation's largest Muslim civic engagement event." Participants are encouraged to urge state lawmakers to pass Assembly Bill 331, a bill that would require high schools, including charter schools, to be instructed in so-called ethnic studies, a radical discipline that looks at America through the eyes of supposedly oppressed minorities.
The very fabric of America is under attack ...
Our freedoms, our republic, and our constitutional rights have become contested terrain. The Epoch Times, a media committed to truthful, responsible journalism, is a rare bastion of hope and stability in these testing times.
While other media may twist the facts to serve political agendas, we deliver stories while upholding our responsibility to society.
We've reported truthfully on the current U.S. administration from the start. We reported on the real possibility of a Trump victory in 2016. We've led reporting on the Chinese communist threat since 2000; we have been exposing communist thought in our government, schools, universities, popular culture, and media; and we, like no other media, are rigorously investigating and exposing the unscrupulous agents working to subvert our society.
Stand with us in advancing a truly independent and truthful media—the way a free press was intended to be, as a cornerstone of the Republic. Your contribution allows us to continue piercing through the surface narratives of mainstream media, and provide you with a full picture.
https://www.theepochtimes.com/teaching-muslim-values-in-public-schools-turned-back-in-california_2865649.html
--------
Libya's Grand Mufti urges public to fight Haftar forces
Mehmet Nuri Uçar
05.04.2019
Libya's highest religious authority called on the public Thursday to take to the streets against military commander Khalifa Haftar's campaign aimed at capturing the capital.
"The Libyan people should resist and fight against Haftar's forces in Tripoli in order not to see crimes against humanity committed in [the eastern cities of] Derna and Benghazi," said Grand Mufti Sadiq Al-Ghariani, speaking to Al-Jazeera Mubasher television based in Qatar
"It is no longer a secret that the UN mission in the country cooperates with Haftar," said Al-Ghariani, referring to the UN Support Mission in Libya (UNSMIL).
He added that the UN mission was deployed in the country not to resolve problems but to exacerbate them.
On Wednesday, Fayez al-Sarraj, head of the Tripoli-based government, ordered security forces to "prepare for and respond to any threats aimed at destabilizing the region".
Earlier that day, Haftar, who is affiliated with a rival government based in the eastern city of Al-Bayda, reportedly ordered his forces to deploy to western parts of the country with a view to "purging the region of terrorist groups and strongholds".
Libya has remained beset by turmoil since 2011, when a bloody NATO-backed uprising led to the ouster and death of President Muammar Gaddafi after four decades in power.
Since then, the country's stark political divisions have yielded two rival seats of power: one in Al-Bayda, to which Haftar is linked, and another in Tripoli.
https://www.aa.com.tr/en/africa/libya-s-grand-mufti-urges-public-to-fight-haftar-forces/1442860
--------
Europe
Christchurch messages on facebook lead to charge of lying to FBI
April 5, 2019
A New Zealand flag hangs on a fence as part of a makeshift memorial to the victims of the Christchurch mass shooting, in front of the Linwood Mosque, in Christchurch, New Zealand. (Adam Dean/The New York Times)
Written by Liam Stack
A New York man who discussed an American re-enactment of the New Zealand mosque massacre with white supremacist friends on Facebook was charged Thursday with lying to FBI agents, law enforcement officials said.
According to the criminal complaint, Thomas Alonzo Bolin, 22, was charged on Wednesday with lying to federal agents in an interview last week about whether he owned firearms, the Office of the U.S. Attorney for the Western District of New York said. He was already in custody on state charges filed Saturday.
The office said the FBI had been investigating Bolin, who lives in the Rochester suburb of Greece, New York, for possible violations of federal civil rights and firearms laws.
It was not clear on Thursday whether Bolin had made any specific plans for violence. But in Facebook messages he had praised the March 15 mass killing of 50 people at two mosques in Christchurch, New Zealand, according to the criminal complaint. He also discussed his desire to commit acts of violence in the messages, which were intercepted by law enforcement officials.
The FBI said Bolin used the alias Peter Vincent to share video of the Christchurch attack, which was livestreamed by the shooter on Facebook and spread to Twitter, Reddit and YouTube. Bolin also used that alias to be active in white supremacist Facebook groups and discuss potential violence with his cousin, Austin Witkowski, the agency said.
A law enforcement official said Witkowski, who used the Facebook alias Ragnar Odinson, had not been arrested. The official said his whereabouts was unknown.
The FBI used Facebook messages to map out weeks of racist conversations between the two men, who appeared to share a specific hostile fixation on Muslims, according to the complaint.
On the day of the Christchurch attack, the two men also talked to each other about the manifesto published by the gunman and shared their hope that a similar massacre would happen in the United States.
The FBI said Bolin talked to his cousin about the New Zealand gunman, telling him, "Brugh dude killed 40 muslims." Witkowski responded with a heart emoji and the word, "Lovely."
Both men talked to other Facebook users about the Christchurch attack, the FBI said, and their desire to emulate it in the United States, although those other users are not identified in the criminal complaint.
Talking about the shooting with one of those unidentified Facebook users, Brolin said "there is a war brewing" and "realistically this was a small piece of a bigger picture now we wait for the retaliation."
The criminal complaint alleges Witkowski made more specific threats. Speaking to an unidentified Facebook user, Witkowski said he wanted to see the Christchurch attacks copied in the United States and then said he was willing to "do something as of next week" in Baltimore.
The complaint said Witkowski told the other Facebook user to buy firearms, ammunition and food, and said that he would travel to meet him the next week. The complaint does not say if the meeting ever happened.
The day after the shooting, Bolin and Witkowski expressed frustration to each other that they had not been able to carry out an attack. According to the complaint, Bolin said he had broken his arm in a car accident.
Using an expletive, Witkowski responded that the broken arm would complicate an unspecified plan they had made. Bolin then reassured him, saying it only "takes one arm to flue a Glock."
Witkowski wrote back saying he would carry out their plan himself. "I'm not waiting months and months or a week," he said. "It was supposed to be done by Halloween."
Later that day, Witkowski wrote to his cousin: "Words aren't going to help. Violence is the key." The FBI said Bolin then cautioned his cousin not to say anything more on Facebook.
"Yoooo chill," he wrote. "Not on the fed book." Witkowski replied that he did not care.
Using the Peter Vincent alias, Bolin managed a Facebook group called Odin's Warriors, which did not appear to be active on Thursday. The FBI said Bolin and his cousin were members of a neopagan religious group called "Folk Odinism" that worships the gods of Norse mythology and limits its membership to white heterosexuals.
The criminal complaint said investigators linked Bolin to the Peter Vincent account by combing through Facebook messages, where Vincent once told someone that his "real name is Thomas Bolin, Peter Vincent is a character from a horror movie." (That was most likely the 1985 vampire movie "Fright Night," or the 2011 remake.)
Facebook provided the FBI with Bolin's messages on March 21 as part of a "voluntary emergency disclosure of subscriber and content information," the agency said. Representatives for Facebook, which has taken steps to ban white supremacist content on its site, did not respond to a request for comment on Thursday.
https://indianexpress.com/article/world/christchurch-messages-on-facebook-lead-to-charge-of-lying-to-fbi-5659679/
--------
Australia open to the return of ISIS militant's orphaned children
5 April 2019
Prime Minister Scott Morrison said Friday he was open to allowing the return of orphaned children of an Australian militant in a Syrian refugee camp following their desperate plea for help.
Morrison said his government was working with the Red Cross so the children could leave the Al-Hol camp in northeastern Syria and Australian officials could assess them.
"Where they might be in a position to return to Australia, we will cooperate with that process," Morrison told reporters in Canberra.
"Where there are Australians who are caught up in this situation, particularly as innocent children, we will do what I think Australians would expect us to do on their behalf."
The PM added that he would not put "any Australian life at risk to extract people from these conflict zones", a stance he has taken in recent weeks despite pleas from their grandmother Karen Nettleton.
Morrison's comments came as Hoda Sharrouf – the 16-year-old daughter of Australian ISIS militant Khaled Sharrouf – said she was worried about her siblings' health, including 17-year-old sister Zaynab who is seven months pregnant and "very sick".
"What about the children? What about the people that didn't want to come here? What about the people that are stuck here and never wanted to be here in the first place? They don't deserve this kind of treatment," she told The Sydney Morning Herald from the camp.
"We're Australians too. Australia needs to do something about it. They need to step up," she said in an interview published Friday.
The Sydney Morning Herald said there were five children in the family seeking help – Hoda, Zaynab, their eight-year-old brother Hamzeh, and Zaynab's two young children – Ayesha, 3, and Fatima, 2.
Sharrouf – the first Australian to have his citizenship stripped under anti-terrorism laws – left the country for Syria in 2013 with his wife Tara Nettleton, two daughters and three sons.
He made international headlines in 2014 when he posted an image on Twitter of another son holding a severed head. He is believed to have died in a 2017 American air strike alongside his then pre-teen sons, while Nettleton reportedly died in 2015.
The fate of foreign fighters and their families has become a significant problem for governments as the conflict against ISIS draws to a close. Foreigners at the camp are from some 30 to 40 countries.
Full report at:
http://english.alarabiya.net/en/News/world/2019/04/05/Australia-open-to-the-return-of-ISIS-militant-s-orphaned-children.html
--------
Judge orders psych test for Christchurch shooting suspect
5 April 2019
A New Zealand judge on Friday ordered the accused Christchurch mosque gunman to undergo a mental health assessment to determine if he is fit to face trial for the murder of 50 Muslim worshipers.
Alleged attacker Brenton Tarrant is facing 50 murder and 39 attempted murder charges over the March 15 attacks on two mosques, which shocked the world and rattled normally peaceful New Zealand.
The 28-year-old Australian will be seen by two health assessors to determine "whether he is fit to stand trial or insane", High Court judge Cameron Mander ruled during a brief hearing in Christchurch.
Tarrant appeared by audio-visual link from Auckland, where he is being held in isolation in a maximum-security prison following the deadliest massacre in modern New Zealand history.
The suspect, a self-avowed white supremacist, sat motionless throughout the hearing. He was not required to enter a plea.
Several relatives of victims were in the court getting their first glimpse of the man charged with the massacre.
"(I) just want to see what he has to say, what sort of feeling he's got, (his) emotion, to see what his reaction is, good or bad," Yama Nabi, whose 71-year-old father was killed, told Radio New Zealand outside the court.
Tarrant was remanded in custody until his next court appearance on June 14.
Ahead of the shooting, Tarrant posted a 74-page manifesto on social media in which he identified himself by name and described himself as a white supremacist out to avenge attacks in Europe perpetrated by Muslims.
He live-streamed himself as he opened fire in the packed Al Noor mosque during Friday prayers and then travelled across town to continue the carnage in the suburban Linwood mosque.
Tarrant was initially charged with one murder count as a holding measure when he made his first court appearance a day after the killings.
However, the charges were updated Friday to include the names of all 50 who died in the attack and 39 others who were wounded.
Tarrant had sacked a court-appointed lawyer after his first court appearance, raising fears he wanted to represent himself and attempt to use any trial as a propaganda platform.
However, two Auckland lawyers, Shane Tait and Jonathan Hudson, appeared in court on his behalf.
Full report at:
http://english.alarabiya.net/en/News/world/2019/04/05/Judge-orders-psych-test-for-Christchurch-shooting-suspect.html
--------
Germany seeks accountability for Syria chemical attacks
April 5, 2019
BERLIN
Germany called for stronger efforts to hold accountable all those responsible for the use of chemical attacks in Syria.
"The Assad regime has committed war crimes time and again, including with the use of chemical weapons against civilians," German Foreign Minister Heiko Maas said in a statement on Thursday, marking the anniversaries of attacks in the Khan Shaykhun town of Idlib, northwestern Syria, on April 4, 2017 and Duma on April 7, 2018.
He underlined the important role of the UN and the Organization for the Prohibition of Chemical Weapons in identifying the perpetrators of these chemical attacks.
"Those responsible for the use of chemical weapons must be held accountable for their crimes. Together with many partners, we have managed to ensure that the independent experts of the Organisation for the Prohibition of Chemical Weapons can now identify the perpetrators of these attacks," he stressed.
Maas also called on Russia to wield its influence on the Syrian regime over the use of chemical weapons.
Full report at:
https://www.aa.com.tr/en/europe/germany-seeks-accountability-for-syria-chemical-attacks/1442605
--------
Pakistan
Christian children have the right to study the Bible, Lahore activists say
by Shafique Khokhar
04/04/2019
Lahore (AsiaNews) – For the Centre for Social Justice (CSJ) in Lahore, Christian children have the right to study the Bible, Hindu children have the right to study the Bhagavat Gita and Buddhist children have the right to study the Vedas.
Together with the People's Commission for Minorities Rights (PCMR), the CSJ held a conference on 29 March in which they adopted a resolution entitled 'Right to education without discrimination' demanding the right of minorities to teach their own religion in schools, as guaranteed by Article 22 of the Pakistani Constitution. Currently, only Islam is taught in schools.
The unanimous resolution is addressed to Pakistan's federal and provincial governments. According to the two groups, Pakistan's educational system is full of hate material against minorities.
For this reason, they want all biased references to be removed from the curricula, that quotas be reserved for minorities in higher education institutions, that the study of religions be included in the curricula, and that minority students be guaranteed the right to enhance the knowledge of their faith.
Pakistan's constitution guarantees all students the right study the basics of their religion. However, most minority students are forced to study Islam. The law in fact provides only for the study of ethics as an alternative to the Qurʾān; however, the former is basically a course on Islam, so students have no choice.
According to the CSJ and the PCMR, religious courses based on minority faiths should be offered to minority students. Instead the current curriculum continues to violate the fundamental rights of minorities, even though they are citizens of the State.
"Religious education in the South Asian region is largely driven by political economic considerations and often has very little to do with promotion of principles of humanity," said Baela Raza Jamil, CEO of Idaara-e-Taleemo-Agahi.
For CSJ executive director Peter Jacob, there is a need to develop sustainable action strategies aimed at creating a pluralistic, open-minded and tolerant society where members of different faith-based communities can co-exist and flourish in peace.
http://www.asianews.it/news-en/Christian-children-have-the-right-to-study-the-Bible,-Lahore-activists-say-46689.html
--------
The trouble with being Hazara in Pakistan's Quetta city
SYEDA SANA BATOOL
MARIAM AHMED
Apr 05, 2019
On September 3 2010, at around 3pm, Mariam (who does not want to reveal her last name), sat down in disbelief, crying, at home in Islamabad, Pakistan.
A few hundred miles away, her hometown, Quetta, was yet again under attack by militants targeting the ethnic Hazara minority, to which she belongs. News channels were reporting that it was a suicide attack and early updates said that at least 50 were killed. This figure also included one of Mariam's close family friends.
As she lamented his loss, Quetta, already shaken by the impact of the suicide bombing, echoed with the cries of grieving Hazara families who had lost their loved ones in the blast.
One of a string of many attacks against Hazaras of Balochistan province, the explosion occurred during an al Quds day procession, which is organised by Shia Muslims on the last Friday of every Ramadan to express solidarity with Palestinians.
"It was painful," Mariam says. But the worst was yet to come.
Her younger brother, Mujtaba was spending his summer break at their residence in Quetta. She tried to reach him by phone as a Hazara is more likely to land into trouble than any regular Pakistani.
The phone call went through and Mujtaba told her he was at Meezan chowk – the site of the blast.
"I told him to immediately go home," Mariam tells TRT World.
A few minutes later she called him again to find out if he was home. Several calls went unanswered until one of Mujtaba's friends received one telling her brother had been shot.
"I don't remember what happened afterwards," she says.
Mariam later learned that Mujtaba had left home telling their mother he was going to donate blood to the blast victims. He and his two friends first stopped by the blast site to help the wounded victims and send corpses to morgue. An exchange of gunfire broke out between the militants and police, in which Mujtaba lost his life.
Hazaras, who follow the tenets of Shia Islam, have a longstanding history of being subjected to sectarian violence by the Taliban and other Sunni extremist groups in Balochistan. A report released by the National Commission for Human Rights last year stated that 509 members of the Hazara community were killed and 627 injured in various incidents of terrorism in Quetta from 2013 to 2017.
According to Mohammad Jibran Nasir, a Pakistani human rights activist: "The main reason behind violence against Hazaras is sectarian dispute." He also points out that Hazaras are more vulnerable to being attacked than others Shias, their typical Mongolian features disclosing their identity and making them easily recognisable.
According to statistics issued by the United Nations, militant groups working under the patronage of the Taliban have killed more than 1,500 Hazara Shias in Pakistan in the past decade. Continual violence perpetrated against Hazaras, in the form of suicide attacks, targeted killings and bombings, has forced them to live in restricted areas, which has further led to economic difficulties for the minority.
"Everyone who leaves for work, leaves under the fear that he or she might not return," Mariam says. "Scores of Hazara men and women have left Pakistan for good because employment opportunities [in Pakistan] were extremely limited and the available ones were never safe".
Human rights activist Nasir says whenever Hazaras face violence from militant groups, it's common to see non-Hazara people being invited to TV studios where they make sweeping remarks and judgements on the persecuted community.
"They don't even get to talk about their grievances themselves on the media," he says. "They are not considered important enough to be given a platform, so when they die no one cares."
After Mujtaba's death, Mariam and her family changed drastically. Her parents are ageing fast and she struggles to find peace and happiness.
"Every time I have been happy, I have wept too," she says. "We lost our baby – the youngest member of our household – the centre of all our hopes and dreams," she says.
While Mariam deals with the trauma of her brother's perpetual absence, she also feels that the tragedy defines who she is and what she stands for.
"Someone once told me how he was shot. I chose to forget that. Call it denial, but that's how I have survived all these years," she says.
Mariam and her family settled down in Islamabad, the Pakistani capital, and except for the anniversary of Mujtaba's death they barely visit their relatives in Quetta.
The only memory Mariam holds on to is the last few moments she spent with her brother when he was taken to hospital after being shot.
Full report at:
https://www.trtworld.com/magazine/the-trouble-with-being-hazara-in-pakistan-s-quetta-city-25558
--------
Bhutto would have protested against PPP's corruption: Fawad
Apr 05, 2019
ISLAMABAD: Federal Minister for Information and Broadcasting Fawad Chaudhry on Thursday said if Pakistan People's Party (PPP) founder Zulfikar Ali Bhutto were alive today, he would have announced a protest march against the corruption of the present day PPP.
In a rejoinder to the speeches of Asif Ali Zardari and Bilawal Bhutto Zardari at Garhi Khuda Bakhsh, he said that if PPP respected the courts, then why and against whom they had announced to launch a protest. He advised the PPP leadership to protest against their own corruption.
He said that when the "corruption addicts" are treated, they resist the move. He also said that today's PPP was as much related to Zulfikar Ali Bhutto as was Nawaz Sharif's Pakistan Muslim League-Nawa (PML-N) linked with Quaid-e-Azam Muhammad Ali Jinnah.
He questioned that for how long would the PPP leadership use the names of Zulfikar Ali Bhutto and Benazir Bhutto for personal gains. Fawad made it clear that speeches, hue and cry and threats could not save them from the accountability process.
He said that Zulfikar Ali Bhutto had not asked the PPP leaders to commit corruption, then why they were shying away from accountability using Bhutto's name.
"If the PPP leaders would take to the streets, the nation would hold them accountable," he said, adding that the recent "Save the Daddy" train march had already flopped.
Seeing the people's lack of interest in the protest, they named it Karwan-e-Bhutto, he said.
Full report at:
https://www.pakistantoday.com.pk/2019/04/04/bhutto-would-have-protested-against-ppps-corruption-fawad/
--------
Pakistan, US hold talks on Afghan peace process
April 5, 2019
ISLAMABAD: Talks between Pakistan and United States have begun at the Foreign Office in Islamabad to discuss progress on Afghan reconciliation process.
The Pakistani delegation was led by Foreign Secretary Tehmina Janjua while US delegation is being headed by United States Special Representative for Afghanistan reconciliation Zalmay Khalilzad.
The United States Special Representative for Afghanistan reconciliation will also have separate meetings with the civil and military leadership during his visit to the country.
Meanwhile, US Special Representative for Afghanistan Reconciliation, Zalmay Khalilzad called on Foreign Minister Shah Mehmood Qureshi in Islamabad.
Full report at:
https://www.thenews.com.pk/latest/453823-pakistan-us-hold-talks-on-afghan-peace-process
--------
All of Pakistan's F-16 jets accounted for by US personnel, contradicting Indian claims: report
April 05, 2019
United States (US) officials did a count of Islamabad's F-16 jets recently and found that none were missing, contradicting India's claims that it shot down a Pakistani fighter jet amid heightened tensions between both countries after the Pulwama attack, a Foreign Policy report quoting two senior US defence officials said on Friday.
Following the conflict between the two countries in February, India had claimed that the Pakistan Air Force (PAF) had used the F-16 to target Indian military installations after crossing the Line of Control. As "proof", a piece of an apparent missile was shown, which Indian media said could only have been fired by an F-16.
Read more: 2 Indian aircraft violating Pakistani airspace shot down; pilot arrested
It also claimed that before an Indian plane was shot down and its pilot captured by Pakistani forces, an Indian Air Force (IAF) MiG Bison had shot down a PAF F-16 aircraft. Pakistan had denied the Indian claims.
New Delhi had also insisted that Pakistan's alleged use of F-16 against India meant that Islamabad stood in violation of a sales agreement with the US. The US State Department had refused to take a position on India's complaint against Pakistan over using F-16s in the air battle.
Read more: Foreign journalists find holes in Indian narrative on F-16 usage, Balakot strike
According to the report, one of the unnamed senior US defence officials "with direct knowledge of the count" had told Foreign Policy that Pakistan had invited the US to count its F-16 planes after the incident "as part of an end-user agreement signed when the foreign military sale was finalised", the report said.
Foreign Policy added that Washington generally requires countries it strikes such agreements with to allow US officials to inspect equipment on a regular basis and to ensure that it is accounted for and safe.
The official explained that some of the aircraft were not immediately available for inspection after the Pak-India back-and-forth, so it took US personnel a few weeks to account for all the jets.
Find out more: Villagers near Balakot say nobody killed or injured by Indian aircraft
An associate professor of political science at MIT, Vipin Narang, told FP that although the news likely won't affect Indian voters, it may affect Delhi's dealings with Pakistan in the future.
Full report at:
https://www.dawn.com/news/1474086/all-of-pakistans-f-16-jets-accounted-for-by-us-personnel-contradicting-indian-claims-report
--------
Pakistan's GDP Growth to Fall behind Nepal, Maldives This Year: UN
Amin Ahmed
April 05, 2019
ISLAMABAD: The annual Economic and Social Survey of Asia and the Pacific 2019 titled 'Ambitions beyond Growth', released by the United Nations Economic and Social Commission for Asia and the Pacific (ESCAP) on Thursday, forecast Pakistan's GDP to remain lowest in the region at 4.2 per cent in 2019 and 4pc in 2020 compared to Bangladesh's 7.3pc, India 7.5pc, Maldives and Nepal 6.5pc each in 2019.
The survey revealed that overall economic conditions in the region are stable with the projected 5-5.1 per cent GDP growth in 2019 and 2020 respectively. However, export-oriented sectors face headwinds from weaker demand in Europe and possibly in US, and looming uncertainty over ongoing US-China trade war.
Pakistan's economy is experiencing severe balance of payment difficulties amid large fiscal and current account deficits and mounting pressures on the currency, the report adds.
Inflation in the developing Asia-Pacific region is forecast to increase moderately in 2019 to 4.2pc before dropping to 3.8pc in 2020. However, potentially higher tariffs against the backdrop of trade tensions and rising uncertainties, currency depreciation and unfavourable weather could push up consumer and food prices.
According to the survey, the region's medium-to-long term prospects depend on structural transformation and broad-based productivity growth. The report cautions against countries shifting from an agriculture-based economy to one in which services play a dominant role, bypassing manufacturing sector.
New frontier technologies may reduce the scope for industrialisation in "late entrant" developing countries, while high-value-added services require skilled workers. This calls for investment in people and enabling infrastructure, the survey suggests.
Stating that the next phase of structural transformation in the region must be environment-friendly, the survey illustrates that investments to speed up transition to more resource-efficient systems of production and consumption would not only reduce carbon emissions by a tenth, but deliver high economic returns and over time can reduce net financial costs to zero.
The 2019 survey points out that achieving Sustainable Development Goals by 2030 would require an annual additional investment of $1.5 trillion for Asia-Pacific developing countries — equivalent to 5pc of their combined GDP in 2018.
Full report at:
https://www.dawn.com/news/1474039/pakistans-gdp-growth-to-fall-behind-nepal-maldives-this-year-un
--------
Absence of accused can't delay treason trial: SC
Nasir Iqbal
April 05, 2019
ISLAMABAD: The Supreme Court has asserted there cannot be a more grave offence than high treason and more solemn a proceeding than a trial for high treason before a special court.
"High treason is a constitutional offence," deplored Justice Syed Mansoor Ali Shah in a five-page order he wrote about the April 1 hearing on the high treason trial of former president retired General Pervez Musharraf.
A bench of the Supreme Court headed by Chief Justice Asif Saeed Khosa is seized with a petition filed by a former president of the Lahore High Court Bar Association, Taufiq Asif, and Sheikh Ehsanuddin that seeks intervention of the apex court as Mr Musharraf's trial has been stalled.
In the order, Justice Shah explained that Article 6 of the Constitution provides that if "a person abrogates or subverts or suspends or holds in abeyance or attempts or conspires to abrogate the Constitution by use of force or show of force or by any other unconstitutional means", he/she is guilty of high treason.
"The Constitution is the fundamental law of the land which the people of Pakistan, through their representatives in the National Assembly, have adopted, enacted and given to themselves," he observed, adding that obedience to the Constitution under its Article 5 was the inviolable obligation of every citizen wherever he/she might be.
Justice Shah regretted that a report of the special court's registrar had painted a "sorry picture" regarding long delays in the trial, pointing out that the complaint against the accused was filed on Dec 12, 2013 before the court, the charge was framed on March 13, 2014 and since then the matter was dragging on due to the general's absence.
The significance, gravity and solemnity of the proceedings before the special court could not be undermined by delaying the trial due to non-appearance of the accused, the judge wrote.
He also referred to a parliamentary debate on the bill about the Criminal Law (Special Court) Act 1976, which suggested that when the accused was charged with serious offences involving security and sovereignty of the state, it was in Mr Musharraf's best interest that the case be decided as quickly as possible, particularly if he was innocent.
Referring to Section 9 of the Act, Justice Shah said it envisaged that once the trial began it would not be adjourned by reason of absence of any accused on account of illness.
The section also mandated that the special court would proceed with the trial after taking necessary steps to appoint an advocate to defend any accused person; the provision was therefore an extension of the procedure for trial provided under Section 6 of the Act and supported the purpose of the special law, the judge said.
Within the scope of the Act, if the accused voluntarily chose not to exercise his right to appear it did not infringe on the fairness of the trial, nor did it violate the right to fair trial under Article 10A of the Constitution, Justice Shah wrote.
Thus, to stop further proceedings in this situation would amount to putting a premium on the fault of the absconder, he observed, adding that control over the proceedings could not be allowed to vest in the accused.
In the present circumstances of the case, the accused was not merely absenting himself from attending the proceedings, he had also been declared a proclaimed offender on July 12, 2016.
Being a fugitive from the law, the accused loses his/her right to audience and as a consequence loses the right to have an advocate appointed to defend him/her unless and until he/she surrenders before the court.
Justice Shah said that while Section 342 of the Criminal Procedure Code (CrPC) enabled the accused to explain any circumstances appearing against him in the evidence, in the context of the Act if he voluntarily chose not to appear or join the proceedings he would lose his right to such an explanation.
Similarly, being a proclaimed offender he had lost his right to audience and had forfeited his right to put up a defence.
Thus for these reasons, the special court would proceed with the trial on the next date of hearing. In case the accused appeared before the special court, he would be entitled to record his statement under Section 342 of the CrPC and lead any other defence under the law.
Full report at:
https://www.dawn.com/news/1473997/absence-of-accused-cant-delay-treason-trial-sc
--------
India
'Concerns remain unaddressed': MEA on Kartarpur corridor talks with Pakistan
Apr 04, 2019
India on Thursday said Pakistan has not addressed the concerns it raised with the country over Kartarpur corridor. Ministry of External Affairs spokesperson Raveesh Kumar said India has "sought clarification from Pakistan" on certain issues but Islamabad is yet to satisfy New Delhi on the matter.
"It's important to remember we remain committed to realise aspirations of people. Aspirations which flow out of pending demand of Indian pilgrims to visit Kartarpur Sahib using the corridor," Kumar was quoted as saying by news agency ANI in response to a query if there has been any communication from Pakistan side over Kartarpur corridor.
Kumar said, "At the same time, there are certain things which came to our notice, we had sought clarifications from Pakistan on a number of issues. They remain unaddressed by Pakistan."
"We had also shared our concerns on reports that controversial elements have been appointed by Pakistan to a committee which was to be associated with Kartarpur corridor. We are yet to receive a response from Pakistan. That's why we decided to postpone meeting," said Kumar, according to ANI.
A meeting between India and Pakistan scheduled for April 2 to discuss the Kartarpur Corridor details could not take place over the concerns raised by New Delhi. India has objected to Pakistan's decision to appoint a pro-Khalistani leader to a committee to help Indian pilgrims to Gurdwara Darbar Sahib in Kartarpur.
Reports from Pakistan suggested that minister for information Chaudhry Fawad Hussain had in March announced a ten-member committee with pro-Khalistani leader Gopal Singh Chawla onboard.
Chawla is a Pakistan-backed separatist leader who is demanding a separate homeland for the Sikhs. He is reported to be the general secretary of the Pakistan Sikh Gurdwara Parbandhak Committee.
His name had cropped up during investigations into the grenade attack on the Nirankari Bhawan in Amritsar last year. Three people were killed in the incident. Chawla is said to have prevented Indian diplomats from visiting a gurdwara in Lahore.
The officials from India and Pakistan held first round of meeting to discuss the proposed corridor to Gurdwara Darbar Sahib in Kartarpur in March. The 4 km-corridor will facilitate pilgrimage from Dera Baba Nanak shrine in Gurdaspur on the Indian side to Gurdwara Darbar Sahib in Kartarpur in Pakistan.
https://www.hindustantimes.com/india-news/concerns-remain-unaddressed-mea-on-kartarpur-corridor-talks-with-pakistan/story-TqirhPdzkwZ52hsMwkNhTK.html
--------
Point of scrapping Article 370 is to attack Muslim character of J&K: Mehbooba Mufti
by Adil Akhzer
April 5, 2019
Sharpening her attack on the BJP-led Central government, former Jammu and Kashmir chief minister and PDP chief Mehbooba Mufti on Thursday said Article 370 is a "matter of death and life for every Kashmiri", and that "the whole point behind (talk of) scrapping Article 370 is to attack the Muslim character of the state, (and) to change the state's demography".
"If they (Centre) revoke Article 370, which is the foundation of our relation with India, then this relation becomes illegitimate and illegal. If they do so, then it would be as good as an occupational force here in J&K," Mufti told mediapersons after a rally in North Kashmir on Thursday.
Before that, she had stated at a party workers' meet that if guarantees provided for the state under the Constitution are removed, it will "force us to reconsider whether we would like to continue with you (India)".
Mufti's latest statements come in reaction to BJP president Amit Shah's remarks last week that Article 35A, which gives special rights to J&K, may be abrogated by 2020.
Former CM and National Conference leader Omar Abdullah, state Congress president G A Mir Peoples Conference chief Sajad Lone are among leaders of other non-BJP mainstream political parties in J&K who have criticised Shah's statement.
At the rally, Mufti said, "Amit Shah-sahib, Mehbooba Mufti is telling you that the day you will revoke Article 370.you will be an occupational force in Jammu and Kashmir. You will have no right in J&K." Pointing out that J&K is a Muslim-majority state, Mufti said every Kashmiri will fight until the end to fight for Constitutional right.
Full report at:
https://indianexpress.com/elections/point-of-scrapping-article-370-is-to-attack-muslim-character-of-jk-mehbooba-mufti-5659434/
--------
Muslim candidates bear brunt of division of votes
05 April 2019
As many as 882 Muslim candidates had contested either as an Independent or on the ticket of political parties in 2014 and only 23 managed to win. As per data, they managed to get vote share of 10.69 per cent. In 2009, 819 Muslim candidates contested and only 28 won their seats.
In most cases, Muslim candidates lost because of division of votes since the "so-called secular" parties have a tendency to field Muslim candidates from these seats, much to advantage of the BJP.
Despite the fact, there are 145 Lok Sabha seats in the country where Muslims account for 20 per cent of the overall vote share on each seat. There are 46 seats where Muslims have a vote share of 30 per cent and above. There are 35 seats in which out of every 3 votes is a Muslim vote.
Uttar Pradesh has maximum 28 such constituencies, West Bengal has 20, Jammu & Kashmir has five, Kerala has six, Assam and Bihar has four each and Andhra Pradesh has two. The Lakshadweep seat is yet another Muslim-majority constituency.
According to Census 2001, Muslims in India comprise 13.4 per cent of the total population. Based on this the ideal number of MPs in Lok Sabha should be 73. In the 2014 elections, the BJP came to power without a single elected Muslim MP — in any case it had fielded only seven Muslims (5 in J&K and Bengal alone) out of a total of 482 candidates. The total Muslim representation in Parliament fell to 4 per cent, the lowest since 1957.
Muslims, by and large, have voted for non-BJP parties, or anti-BJP parties in States where BJP has been an important player for long. In States like UP, Bihar and West Bengal where there has been more than one 'secular' option, Muslims have adopted 'tactical voting', where they vote for the best possible candidate who can defeat BJP.
Muslim scholar Maroof Khan said that the Muslim identity on the ground is highly fragmented based on various religious denominations, linguistic differences, caste divisions, and class hierarchy. "For instance, in a State with a bipolar contest, the Congress wins most of the Muslim votes if the BJP is its only competitor. And if a strong regional player is present in the State, then the Congress has to fight hard to win the support among Muslims. In some cases, regional parties garner maximum votes from the community. For example, the Muslim vote in Jammu & Kashmir is divided among the National Conference (NC) and Peoples Democratic Party (PDP), among the Trinamool Congress (TMC) and the Left Front in West Bengal, among the Samajwadi Party (SP) and the Bahujan Samaj Party (BSP) in Uttar Pradesh," Khan said.
The report "Vision 2025 Socio Economic Inequalities, Why does India's economic growth need an inclusive agenda", authored by economist Amir Ullah Khan and historian Abdul Azim Akhtar points out that Muslim votes usually split into the different favourite political parties in their concentrated seats.
"Muslim voters get confused between SP, BSP, Congress in UP and RJD, JD(U) and Congress in Bihar. These parties are known to having the vote bank among Muslim and generally give the ticket to Muslim candidates in their concentrated seats. Such confusion within the favourite parties leads to splitting their votes and makes the election three to four cornered," the report said. The report further stated that Muslims are considered as a vote bank only by mainstream political parties.
According to data compiled by The Pioneer, Bijnor (39.33%), Amroha (37.50%), Moradabad (44.78%), Rampur (49.14%), Meerut (30.86%), Muzaffarnagar (36.94%), Kairana (38.53%), Saharanpur (39.11%), Sambhal (45.54%), Nagina (41.71), Bahraich (34.83%), Bareilly (33.89%) and Shrawasti (31.34%) are among the 28 seats in UP where Muslim dominates 30 per cent and above.
There are 11 seat among the 20 minority-dominated seat which include Raiganj (47.36%), Malda North (49.73%), Malda South (53.46) Jangipur (63.67%), Murshidabad (58.31%), Baharampur (63.67%), Diamond Harbour (33.24%), Birbhum (35.08%) , Jadavpur (33.24%), Joynagar (33.24%) and Mathurapur (33.24%) have 30 per cent and above Muslim population.
In Kerala Kasaragod (32.54), Kozhikode (37.47), Mallapuram (68.53%), Ponnani (64%) Wayanad (57.98%) and Vadakara (34.70%) are Muslim dominated. Bihar four seats include Araria, (41.14%), Kishanganj (56.66%), Katihar (42.53%) and Purnia (37.65%); Jammu & Kashmir seats include Baramulla (97%), Srinagar (90%), Anantnag (95%), Ladakh (46%) and Udhampur (31%); Assam's four seat include Karimganj, (45%), Dhubri (56%), Barpeta (39%) and Nagaon (33%). Andhra Pradesh's two seats Hyderabad (41.17%)%) and Secundrabad (41.17%) are Muslim seats.
The study finds that 89 per cent of Muslims face challenges as a minority community. A whopping 86 per cent of the respondents were not aware of the Government schemes. Around 44 per cent of the respondents were not aware of the Sachar Committee report.
Full report at:
https://www.dailypioneer.com/2019/page1/muslim-candidates-bear--brunt-of-division-of-votes.html
--------
Police bust terrorist hideout in Kishtwar; Pak army rifle found
Apr 4, 2019
JAMMU: Police Thursday busted a terrorist hideout and found a rifle, which is used by the Pakistani army, in Jammu and Kashmir's Kishtwar district, officials in Jammu said.
On a specific information, police launched a search operation in MarwahDacchan area of Kishtwar district and busted a hideout in Drungai forest area, SSP Kishtwar Shakti Pathak said.
SSP Kishtwar: We received information that there are a few hide-outs
in Marwah area. We went there & found few weap…https://t.co/Baz7sEpLRb
— ANI (@ANI) 1554386237000
A 7.62mm Heckler and Koch G3A3 rifle, used by the Pakistani army, was found at the site, he said.
Full report at:
https://timesofindia.indiatimes.com/india/police-bust-terrorist-hideout-in-kishtwar-pak-army-rifle-found/articleshow/68726957.cms
--------
Southeast Asia
Indonesia Focuses on Terror Prevention, Peacekeeping as Non-Permanent UN Security Council Member
APRIL 03, 2019
Jakarta. Indonesia has been focusing on the prevention and eradication of terrorism funding, and conflict resolution in the Middle East since assuming its seat as a non-permanent member of the United Nations Security Council in January, a government official said last week.
"We have been in the Security Council since Jan. 1, 2019… in the first three months we discussed terror attacks in Jammu and Kashmir, New Zealand, Afghanistan, the Philippines and Iran," Febrian A. Ruddyard, director general of multilateral cooperation at the Ministry of Foreign Affairs, said in Jakarta on March 28.
He said Indonesia also ensures that the council attends to all acts of terrorism equally.
One of Indonesia's achievements as non-permanent member so far is the drafting of a resolution on extending the mandate of the United Nations Assistance Mission in Afghanistan, or Unama.
"This is our first ever resolution we ever drafted; this is Indonesia's achievement," Febri said.
Middle Eastern conflict, including Palestine, were also addressed in the forum. He said Indonesia would continue to support Palestine by promoting the "two-state solution" to end the conflict.
"The two-state solution is the most reasonable solution and we also talked about humanitarian crisis management in Gaza," Febri said.
He added that Indonesia has succeeded to show within the Security Council that the United States is the only country hampering peace between Israel and Palestine.
Indonesian Foreign Minister Retno Marsudi visited a Palestinian refugee camp in Jordan during March last year to deliver the Indonesian government's commitment of $1 million in humanitarian aid.
Peacekeeping
Indonesia will assume the rotating presidency of the Security Council in May, which according to Febri, will see UN peacekeeping efforts topping the agenda.
"We would like to strengthen UN peacekeeping and the role of women in peacekeeping activities," he explained.
To enforce this commitment, Indonesia will convene assemblies on peacekeeping operations and protection of civilians in armed conflicts.
During its council presidency, Indonesia will also head the sanctions committee on Islamic State, Al Qaida, the Taliban and nuclear weapons, the foreign ministry official said.
Support for New Resolution
The ministry meanwhile also said in a press release on Tuesday that Indonesia supported a UN General Assembly resolution on combating acts of terrorism and religiously motivated violence, following the recent attack by a gunman on two mosques in New Zealand.
"No country is free from racism, intolerance and hatred…there is a demand for joint actions to encourage global dialogue, promoting tolerance and peace," Retno told the General Assembly, as quoted in the statement.
During the session, Indonesia stated its readiness to share its experiences as a country that has succeeded in maintaining peace and harmony, despite significant cultural, religious and racial diversity.
Indonesia was one of the co-sponsors of the UN resolution condemning the New Zealand attacks, which claimed the lives of 50 people, including an Indonesian citizen.
https://jakartaglobe.id/context/indonesia-focuses-on-terror-prevention-peacekeeping-as-nonpermanent-un-security-council-member
--------
Duo accused of insulting Islam claim assaulted in prison
Ho Kit Yen
April 5, 2019
KUALA LUMPUR: A senior citizen who was accused of insulting Prophet Muhammad on Facebook today claimed he was assaulted while in detention.
Wai Foo Sing claimed he was beaten up in the Sungai Buloh prison where he was taken after failing to settle his RM20,000 bail. His family only managed to post bail for him on March 13.
The 68-year-old claimed trial on Feb 27 to two charges under Section 298A (1)(a) of the Penal Code and Section 233 (1)(a) of the Communications and Multimedia Act of insulting the Prophet.
Wai's lawyer, Gerald Lazarus, told the Sessions Court of his claim when his case came up for mention today. He added that Wai's daughter lodged a police report at the Klang Selatan police station on March 15.
"He is also under mental observation, and we have a medical report to confirm his injuries," he said.
Sessions Court judge MM Edwin Paramjothy noted Wai's claim and fixed June 17 and 18 for hearing after deputy public prosecutor Muhamad Asyraf Md Kamal said the prosecution had given the trial documents to Wai's lawyer.
Lazarus also told the court they would send a representation to the prosecution to seek a reduced charge for Wai.
In the same court, another man charged with a similar offence also claimed he was assaulted in the Sungai Buloh prison.
Chow Mun Fai was slapped with eight counts under Section 505(c) of the Penal Code on March 8 for making, publishing or circulating a statement, rumour or report with the intent to incite, or which is likely to incite, a person or persons to commit an offence against another person or persons.
He claimed he was beaten up while in detention, and that his spectacles were broken.
Edwin told Chow he should lodge a police report on the matter.
Lazarus said he would assist Chow and another man, Danny Anak Antoni, to get representation from the National Legal Aid Foundation.
Full report at:
https://www.freemalaysiatoday.com/category/nation/2019/04/05/duo-accused-of-insulting-islam-claim-assaulted-in-prison/
--------
North America
Muslim Americans confident 'terror watchlist' will soon be ruled unconstitutional
4 April 2019
Muslim-American advocates are confident that a US federal judge will soon rule in their favour in a lawsuit they filed in 2016 challenging the constitutionality of the FBI's terrorist watchlist.
A hearing was held in the case on 4 April in Arlington, Virginia, just outside of the US capital Washington.
Hassan Shibly, executive director of the Florida chapter of the Council on American-Islamic Relations and one of 23 Muslim-American plaintiffs in the lawsuit, said he expected the judge to deliver a decision soon.
"Growing up as an American Muslim, unfortunately, I felt I have been treated as a second-class citizen at the hands of my government since I was a teenager," Shibly said during a news conference after the hearing.
The US government's watchlist counts more than one million names, both US citizens and foreigners, who are considered to be "known or suspected terrorists", according to the court filings.
Washington justifies its use of the watchlist on the basis of national security.
But civil rights advocates and other groups say it constitutes an unconstitutional breach of due process and unfairly targets Muslim Americans in particular.
Shibly said being on the watchlist has been tantamount to being treated as a "criminal" when travelling. He said he can be questioned for hours and sometimes even detained when leaving and entering the US, all because his name is on the list.
"This overly broad list ultimately makes us less safe and less free, and in order to protect our country's safety, security and liberty, we are challenging the watchlist together," Shibly said.
CAIR and others, including the American Civil Liberties Union (ACLU), have filed various lawsuits around the country challenging the constitutionality of the federal government's watchlist system.
It was not immediately clear when the judge will deliver a final ruling in the CAIR case.
'Vague, overbroad standards'
According to the ACLU, Americans are put on the list as terrorism suspects based "on vague, overbroad standards and secret evidence".
"The consequences can be devastating, from repeated questioning and harassment by law enforcement officials to an indefinite ban on air travel," the ACLU says on its website.
"To make matters worse, the network of watchlists has been found to be riddled with errors, and watchlisted individuals don't have a meaningful way to correct errors and clear their names."
During Thursday's news conference, Lena Masri, legal director for CAIR's Michigan chapter, shared detailed personal stories of the plaintiffs named in the lawsuit.
One couple has not being able to get spousal immigration papers approved for a decade, Masri said, while one man decided to move to Europe after being intimidated and threatened at gunpoint during a US border crossing.
"Lives are being destroyed by this watchlist," Masri said.
"This watchlist is an attack on the Muslim community and we are confident the judge will see the watchlist for what it is and declare it unconstitutional for violating due process rights for thousands of Muslims," she added.
Individuals on the watchlist have had their bank accounts closed without warning, have been denied the ability to make wire transfers, they suffer delays and interrogations at airports and other border crossings, and cannot work certain jobs.
The watchlist, established in 2003, is maintained by the US government's Terrorist Screening Centre, a division of the national security branch of the FBI.
https://www.middleeasteye.net/news/muslim-americans-confident-terror-watchlist-will-soon-be-ruled-unconstitutional
--------
US envoy wraps up Afghan visit, vows inclusivity in talks
April 05, 2019
ISLAMABAD: The US envoy tasked with forging a peace deal with the Taliban met with officials in Pakistan on Friday, after telling leaders and various groups in Afghanistan they would be included in future talks.
Zalmay Khalilzad was in Islamabad after spending five days in Afghanistan amid strains between Washington and President Ashraf Ghani's administration, which has complained bitterly of being sidelined in peace talks.
"Intra-Afghan dialogue should be comprehensive and inclusive with representatives from the #Afghan government, women, young people, and civil society," Khalilzad said on Twitter at the start of his five-day visit.
The Taliban has until now refused to meet with the Kabul government, accusing it of being a puppet regime.
The diplomatic spat between Washington and Kabul came to a head last month when Afghanistan's national security adviser Hamdullah Mohib accused Khalilzad of a lack of "transparency," even suggesting the Afghan-born envoy wanted to be "viceroy" of his native country.
Washington reacted furiously, with US officials reportedly refusing to attend meetings in which Mohib was present. The outspoken adviser visited eastern provinces when Khalilzad was in Kabul.
Among those Khalilzad met with was a group of seven women from the Afghan Women Network.
Under the Taliban's strict interpretation of Sharia law, women were stripped of all basic rights and were sometimes executed for alleged adultery.
"Women should not be forgotten in the talks, and our rights should not be trampled," Robina Hamdard, an advocacy manager at the network, told AFP.
"We want everything — women's rights to education and social activities — to be guaranteed during the talks... We want a lasting peace, not a shaky peace."
Khalilzad's schedule in Islamabad has not been announced, but he had already met with officials including Foreign Minister Shah Mehmood Qureshi early Friday, according to the foreign ministry.
Pakistan says it supports an Afghan-led peace process and is helping to facilitate the talks. Washington and Kabul have long held Pakistan's shadowy intelligence services responsible for supporting and training the Taliban.
In an interview with a US-funded radio network, Khalilzad said he hoped 2019 would be the "year of peace."
"Afghans are tired of the war. So, too, is the world. The war has raged for a long time," he told Radio Free Europe/Radio Liberty.
After talks in February, Khalilzad announced a "draft framework" for a peace deal, though he warned major hurdles remain.
Elections in Afghanistan, originally slated for April 20, have been postponed until September to allow space for the peace talks.
A new round of talks between the Taliban and Afghan officials is expected later this month in Doha, with further US-Taliban talks possible after that.
Full report at:
http://www.arabnews.com/node/1478011/world
--------
House passes resolution to withdraw US support in Yemen
Umar Farooq
04.04.2019
WASHINGTON
The House of Representatives passed a resolution Thursday to end American support for the war in Yemen, offering another rebuke to U.S. President Donald Trump's foreign policy.
The measure passed by a 247-175 vote with bipartisan support but is likely to be vetoed by Trump.
"Even if [Trump] doesn't sign it, it's still an extraordinary statement. And there are steps that his administration can take to put pressure on the Saudis to lift the blockade," Congressman Ro Khanna said at a press conference following the vote.
The Saudi blockade on Yemen has stopped medicine and other humanitarian supplies from entering the country.
The legislation was originally introduced in the Senate, co-sponsored by presidential candidate Senator Bernie Sanders, invoking the War Powers resolution, a federal law that gives Congress the power to check the president when committing the U.S. to an armed conflict.
The resolution will be sent to Trump's desk, and it will be the first time in U.S. history that a president will be presented with such a resolution.
The House passed a similar resolution on Yemen in February but it was not able to reach the Senate due to a procedural issue.
"Today we took a clear stand against war and famine and for Congress' war powers by voting to end our complicity in the war in Yemen," Sanders said on Twitter. "This is just the beginning of a national debate over when and where we go to war and Congress' authority over those interventions."
A similar resolution previously passed in the previous Senate session in December, serving as a rebuke to Trump for his continued support for the Saudi-led coalition's efforts in Yemen.
Saudi Arabia has been leading a coalition against Yemen's Houthi rebels since 2015, when Riyadh and its Sunni-Arab allies launched a massive air campaign aimed at rolling back Houthi gains that began in 2014.
The campaign has devastated Yemen's infrastructure, including its health and sanitation systems, prompting the UN to describe it as one of the worst humanitarian disasters of modern times.
The bill also served as a sharp criticism of the Trump administration's stance on the murder of journalist Jamal Khashoggi who was killed shortly after he entered the Saudi Consulate in Istanbul on Oct. 2.
Saudi Arabia initially denied any knowledge of his whereabouts, but following a rising number of contradictions in its narrative sought to blame the journalist's death on a botched rendition operation being carried out by rogue agents.
Full report at:
https://www.aa.com.tr/en/americas/house-passes-resolution-to-withdraw-us-support-in-yemen/1442636
--------
Africa
Eastern Libyan commander Haftar orders his troops to move on Tripoli
4 April 2019
Eastern Libyan commander Khalifa Haftar ordered his troops on Thursday to march on the capital Tripoli, taking his conflict with the internationally recognized government to a dangerous new level.
Haftar posted his order in a video online hours after his forces took full control of Gharyan, a town about 100 km south of the capital.
His forces have arrived in the area of al-Heira, a spokesman for the force said.
UN Secretary-General Antonio Guterres is in Tripoli trying to push an international peace deal, and was due to make a statement. He earlier called for restraint from all sides.
"To our army which is stationed at the outskirts of Tripoli. Today we complete our march ... We are going to start shortly," Haftar said in the video titled 'Operation to liberate Tripoli'.
"Today we will shake the land under the feet of their suppressors," he added.
The capture of Gharyan after skirmishes on Wednesday with forces allied to Tripoli-based Prime Minister Fayez al-Serraj followed a rapid thrust westwards by Haftar's Libyan National Army (LNA) from his eastern stronghold of Benghazi.
The developments mark a dramatic escalation of a power tussle that has dragged on in Libya since the overthrow of Muammar Gaddafi in 2011.
The country has been divided between the Western-backed government in Tripoli and a parallel administration allied to Haftar since Gaddafi's downfall.
http://english.alarabiya.net/en/News/north-africa/2019/04/04/Eastern-Libyan-commander-Haftar-orders-his-troops-to-move-on-Tripoli-.html
--------
Car bomb explodes at restaurant near police academy in Somali capital
4 April 2019
A car bomb exploded at a restaurant near the police academy in the Somali capital on Thursday evening, police said, the latest in a string of attacks in the city.
"A car bomb parked at a restaurant exploded. The restaurant is behind the police academy. So far we do not know the casualties," Major Mohamed Hussein, a police officer, told Reuters.
http://english.alarabiya.net/en/News/world/2019/04/04/Car-bomb-explodes-at-restaurant-near-police-academy-in-Somali-capital-.html
--------
Eastern forces in Libya seize town south of Tripoli, UN chief voices deep concern
Apr 4, 2019
Forces of the so-called Libyan National Army (LNA), led by Libya's strongman Khalifa Haftar, say they have managed to seize full control of a town south of the capital Tripoli in their westward advancement.
The development brings their conflict with the North African nation's internationally recognized government in the capital to a potentially dangerous new phase.
"We fully control Gharyan and right now as we speak I'm driving through the town," Abdelsalam al-Hassi, commander of the operation to secure western Libya, said on Thursday. The town is located about 100 kilometers south of Tripoli.
Libya has been the scene of increasing violence since 2011, when former dictator Muammar Gaddafi was toppled from power after an uprising and a NATO military intervention.
His ouster created a huge power vacuum, leading to chaos and the emergence of numerous militant outfits, including the Takfiri Daesh terrorist group.
Libya is now divided between two rival governments —the House of Representatives, based in the eastern city of Tobruk, and the internationally-recognized government of Fayez al-Sarraj, or the Tripoli-based unity Government of National Accord (GNA). Haftar is presumably loyal to the one in the east.
Gharyan had been allied to the GNA although some Haftar supporters were also based there. The two sides reportedly entered into brief clashes but according to the town's mayor earlier on Thursday the clashes had ceased.
"The town now is under control of the army who came from the east and I can see their vehicles with their Libyan National Army logo," a town resident told Reuters.
A video posted online showed LNA vehicles, including pickups mounted with heavy machineguns, marching through Gharyan.
On Wednesday, the LNA claimed in a statement that the advance on the country's west was meant to root out what it called "terrorist groups" in the restive region.
The LNA office also published a video showing a convoy of armored vehicles and pickup trucks with heavy guns mounted on them on a road, which appeared to be on the coastline along the eastern city of Benghazi.
The GNA quickly responded by declaring a "general alert" to all Libyan army and security forces.
The Tripoli government denounced the move as an "escalation" and called on Haftar's forces to "stop using the language of threats."
In January, the LNA started a military campaign to take control of Libya's south and its oilfields.
Haftar's advance order came less than a month after he met with Sarraj in the United Arab Emirates, where they agreed on ending military operations, peacefully ending transitional phases, and going to elections.
Additionally on Thursday, United Nations Secretary General Antonio Guterres expressed his deep concern over the risk of possible confrontation in the North African country after forces loyal to Haftar announced they were preparing to advance on Tripoli.
"I am deeply concerned by the military movement taking place in Libya and the risk of confrontation," the visiting Guterres tweeted from Tripoli, adding that there is no military solution.
Full report at:
https://www.presstv.com/Detail/2019/04/04/592592/Libya-LNA-Gharyan-GNA-Haftar-alSarraj-UN
--------
Libya at risk of 'sliding back into chaos', Qatar warns
Adam Moro
04.04.2019
DOHA
Libya faces the risk of "sliding back into chaos and insecurity", Qatar's Foreign Ministry warned Thursday amid reports of fresh military escalations in the troubled North African country.
The ministry issued the warning in a statement released shortly after Libya's UN-backed unity government claimed to have spotted forces loyal to military commander Khalifa Haftar near capital Tripoli.
Haftar is affiliated with a rival Libyan government based in the eastern city of Al-Bayda.
"Qatar is following with great concern recent military escalations in Libya and warns against a further slide into chaos and insecurity in the west of the country [near Tripoli]," the ministry statement read.
It went on to warn that the escalations -- if confirmed -- threaten to derail a planned national dialogue conference slated for April 14 in the western city of Ghadames.
Sponsored by the UN, the three-day event is ostensibly aimed at devising a "roadmap" for Libya's political future.
Earlier Wednesday, Fayez al-Sarraj, head of Libya's Tripoli-based government, ordered the government's security forces to "prepare for -- and respond to -- any threats aimed at destabilizing the region".
On the same day, Haftar reportedly ordered his forces to deploy to western parts of the country with a view to "purging the region of terrorist groups and strongholds".
The move has prompted speculation that pro-Haftar forces plan to march on Tripoli, where the fragile unity government is headquartered.
Libya has remained beset by turmoil since 2011, when a bloody NATO-backed uprising led to the ouster and death of President Muammar Gaddafi after four decades in power.
Full report at:
https://www.aa.com.tr/en/africa/libya-at-risk-of-sliding-back-into-chaos-qatar-warns/1442581
--------
Burkina Faso: 62 people killed in northern town
Alaattin Dogru
04.04.2019
Sixty-two people were killed this week in terrorist attacks and subsequent inter-communal clashes in northern Burkina Faso, a minister said late Wednesday.
In a statement, Territorial Administration Minister Simeon Sawadogo said there were 62 deaths – 32 by terrorists and 30 due to community conflicts -- in the town of Arbinda near the Mali border.
Nine people were also taken hostage by militants.
The inter-communal clashes occurred following the assassination of a religious leader, his eldest son and brother last week, Sawadogo said.
Burkina Faso has been threatened by terrorist attacks since 2015.
On Dec. 27, a terrorist attack on security forces in Sourou State in northwestern Burkina Faso left 10 gendarmes dead.
Full report at:
https://www.aa.com.tr/en/africa/burkina-faso-62-people-killed-in-northern-town/1441891
--------
Somalia: The Escalation in Relations Between Al-Shabab Al-Mujahideen and the Islamic State
3 APRIL 2019
In December 2018, Al-Shabab Al-Mujahideen, Al-Qaeda's branch in Somalia, published an 18-page document calling for battle against members of the Islamic State in Somalia for the crimes it claimed the organization committed in Somalia.
Clashes between the Islamic State in Somalia and Al-Shabab are nothing new and began back in 2015 when some members of Al-Shabab defected from the ranks of the organization and swore allegiance to the Islamic State.
Conflicts
The main group of the Islamic State in Somalia operates under the leadership of Abd al-Qadir Mumin, a former Al-Shabab official who appeared in many of the organization's video clips before he defected to join the ranks of the Islamic State in October 2016. However, it appears that while the conflict between Al-Shabab and Mumin's group focused mainly on assassinations by Al-Shabab of members who defected to the ranks of the Islamic State, Al-Shabab declared an all-out war against the Islamic State in Somalia in a document presented below.
It should be noted that Al-Shabab's activities against the Islamic State in Somalia in the three years that have passed since then have prevented the latter from spreading, but have not succeeded in completely eradicating the Islamic State's presence.
According to various reports, the Islamic State carried out 96 attacks inside Somalia since April 2016. There is also various evidence that the Islamic State inside Somalia maintains contact with the broad network of the Islamic State.
It seems that, despite the small number of Mumin's fighters compared to the number of Al-Shabab fighters, the former succeeded in attracting to its ranks several foreign fighters from Al-Shabab, which led to a battle between a group of foreign fighters belonging to the Islamic State and those remaining loyal to Al-Shabab.
For example, violent internal clashes took place within Al-Shabab in November 2018 when the organization's fighters killed one of its foreign fighters, claiming that he had left Al-Shabab and defected to the Islamic State. A similar incident took place in southern Somalia in the beginning.
Full report at:
https://allafrica.com/stories/201904040253.html
--------
Mideast
Palestinian issue nowhere to be found in Israel's election
4 April 2019
In a charged election campaign that has been heavy on insults and short on substance, Israel's conflict with the Palestinians has been notably absent from the discourse.
Prime Minister Benjamin Netanyahu's ruling Likud Party has offered no plan for what many believe is the country's most existential problem.
His main challenger in the April 9 vote speaks vaguely of "separation," while Netanyahu's hardline partners speak openly of the once unthinkable idea of annexing all or parts of the West Bank.
Talk of a Palestinian state, the international community's preferred solution for the past two decades, is non-existent. It is a far cry from past elections, when peace with the Palestinians was the central issue for voters.
This apparent lack of interest reflects widespread disillusionment in Israel over years of failed peace efforts. But it also is a testament to Netanyahu's success in sidelining the issue.
Capitalizing on internal Palestinian divisions and promoting sometimes contradictory policies, Netanyahu has succeeded in managing the conflict without addressing the bigger issue of how two intertwined peoples will live together in the future. Strong backing from the Trump administration has given him an extra boost.
"The peace track is currently in a coma," said Shmuel Rosner, a senior fellow at the Jewish People Policy Institute. "There's not much hope for a viable solution to be revived in the near future, so people can just keep pushing it aside until someday it comes back to haunt them."
Netanyahu took office in early 2009 and under heavy pressure from then-President Barack Obama reluctantly stated his support for an independent Palestinian state, albeit with many conditions, which were rejected. Things quickly went downhill, and serious peace talks never took place during Obama's time in office.
Throughout his tenure, Netanyahu has repeatedly cast blame on the Palestinians, accusing President Mahmoud Abbas, who seeks a negotiated settlement with Israel, of incitement and promoting "terror."
At the same time, he has maintained behind-the-scenes security cooperation with Abbas' forces in the West Bank in a joint struggle against the Hamas militant group.
In the Hamas-controlled Gaza Strip, Netanyahu has engaged in frequent rounds of fighting, but is also conducting behind-the-scenes negotiations with his bitter enemy in hopes of maintaining calm.
The Trump administration has further sidelined the Palestinians by cutting hundreds of millions of dollars in aid and recognizing Jerusalem as Israel's capital, prompting the Palestinians to sever ties with the US.
A long-promised peace plan, which the White House says will be released after the election, faces dim prospects, if it is even released. With the peace process in a deep freeze, it is perhaps no surprise that none of the major Israeli parties are talking about the Palestinians.
"The Palestinian cause is totally absent in the Israeli elections, and when it comes, it comes only in a negative context," said Ahmed Majdalani, a senior Palestinian official. "This is worrisome, because it tells us that we are going from bad to worse."
The Palestinians seek the West Bank, east Jerusalem and Gaza Strip – areas captured by Israel in the 1967 Mideast war – for an independent state. The so-called two-state solution is widely backed internationally as the best way to end the conflict.
If Israel continues to rule over millions of Palestinians, the thinking goes, the Palestinians will eventually abandon their dream of statehood and instead demand Israeli citizenship and full equality. In such a scenario, Israel would no longer be able to be both Jewish and democratic.
Israelis accuse the Palestinians of rejecting generous peace offers, most recently in late 2008, a narrative the Palestinians reject. The Israelis also point to the 2005 withdrawal from Gaza, which cleared the way for Hamas to seize power from Abbas' forces two years later.
Ahead of the election, several religious and nationalist parties, along with individual members of Netanyahu's Likud party, have openly called for annexing parts or all of the West Bank. These plans include a range of proposals for the Palestinians, including non-voting residency rights, possible citizenship or financial incentives to emigrate.
It remains unclear how hard these parties, all potential coalition partners for Netanyahu, will push, though Trump's recent recognition of Israel's annexation of the occupied Golan Heights has led to stepped-up calls for annexing West Bank territory.
Likud spokesman Eli Hazan said he does not expect annexation to be on the agenda. He said the party "strongly believes" in the status quo. "We are against the one-state solution and two-state solution. Both ways may lead to the end of Israel as a Jewish and democratic country," he said.
Yohanan Plesner, president of the Israeli Democracy Institute and a former lawmaker, said he did not think Netanyahu would give in to the annexation calls. "At the end of the day, West Bank annexation is the prerogative of the prime minister," he said.
Netanyahu's main challenger, former military chief Benny Gantz, has given Israel's "peace camp" some dim hope.
His Blue and White party's platform devotes just a few sentences to the Palestinians, promising "an open horizon for political settlement" and pledging to work with Arab neighbors to find a way to "deepen the separation."
It makes no mention of Palestinian statehood, and says Israel will continue to maintain control of parts of the West Bank and never divide Jerusalem.
Ghassan Khatib, a former Palestinian negotiator, said the lack of interest on the Israeli side is harmful to the Palestinians in the short term but much worse for Israel in the long term. "It means the end of the two-state solution," he said.
"The alternative will be an apartheid system, and this will cause huge damage to Israeli democracy and the image of Israel."
Yossi Beilin, one of the chief architects of Israel's historic 1993 interim peace agreement with the Palestinians, said Netanyahu's policies have been "devastating" for peace prospects.
Yet he remains confident the two-state solution will one day be adopted due to a lack of alternatives, and even believes that Gantz "for sure" will pursue a peace deal if elected.
Ironically, Trump's peace plan, if released, may force Netanyahu's hand, Beilin said. If elected, Netanyahu will have a hard time resisting his close friend's proposal while his hardline coalition partners oppose any concessions to the Palestinians.
"The impact of the plan might be very interesting," Beilin said.
http://english.alarabiya.net/en/features/2019/04/04/Palestinian-issue-nowhere-to-be-found-in-Israel-s-election.html
--------
MSF halts work in Yemen's militia-held Aden after patient abducted, killed
Apr 4, 2019
International medical charity Doctors Without Borders (MSF) has stopped admitting patients to its hospital in Yemen's southern port city of Aden, after a group of armed assailants stormed the medical facility, threatened staff there and kidnapped and killed a patient.
The Geneva-based humanitarian non-governmental organization said on Thursday that the unknown gunmen had raided its emergency trauma hospital in Aden and terrorized guards as well as medics at the medical facility.
Aden is controlled by Saudi-sponsored militiamen loyal to Yemen's former president Abd Rabbuh Mansur Hadi.
MSF went on to say that the armed men then kidnapped a patient, who had been admitted the day before. The patient was found dead on a street in the al- Mansurah district of the city.
"Following this incident, we have no choice but to suspend the admission of patients until further notice," Caroline Seguin, MSF's program manager for Yemen, said.
A Yemeni police commander, requesting anonymity, said the patient had been wounded in a battle between rival armed groups and hospitalized at the MSF clinic.
Separately, three women and a man lost their lives when Saudi-backed militiamen targeted their residential building in an area of al-Hawak district in Yemen's western coastal province of Hudaydah. A civilian sustained injuries in the incident as well.
Moreover, four people were killed when Saudi military aircraft struck a water tanker in the al-Sawadiyah district of the central Yemeni province of al-Bayda.
Meanwhile, Yemeni snipers, backed by allied fighters from Popular Committees, managed to kill and injure some 30 Saudi-paid militiamen during operations in Saudi Arabia's southern border areas of Najran and Jizan.
Saudi Arabia and a number of its regional allies launched the devastating campaign against Yemen in March 2015, with the goal of bringing the government of Hadi back to power and crushing Ansarullah.
According to a report by the Armed Conflict Location and Event Data Project (ACLED), a nonprofit conflict-research organization, the Saudi-led war has so far claimed the lives of around 56,000 Yemenis.
Full report at:
https://www.presstv.com/Detail/2019/04/04/592588/MSF-halts-work-in-Yemens-militiaheld-Aden-after-patient-abducted-killed
--------
Israeli settlers, soldiers seize Palestinian land in northern West Bank
Apr 4, 2019
A number of Israeli settlers escorted by troops have confiscated a large area of private Palestinian land and razed agricultural property in the northern part of the occupied West Bank.
Local Palestinian media reports said that several bulldozers belonging to settlers under the heavy protection of Israeli soldiers entered a village in the West Bank district of Nablus on Thursday morning.
Ghassan Daghlas, a Palestinian Authority official in charge of monitoring Israel's settlement expansion activities, confirmed that extremist settlers from the Yitzhar settlement stormed the Karm Abu Salim area in the Burin village and seized lands planted with fruitful trees.
The illegal Israeli land grab in the occupied West Bank is a regular occurrence by extremist settlers and the Israeli military.
In recent years, Israeli settlers have been frequently caught on camera vandalizing Palestinian farms in the occupied West Bank and stealing their olive harvest.
Palestinians say the thefts and vandalism occur mainly on Palestinian land near settlements that they can only reach by coordinating ahead of time with the Israeli military.
Most of the attacks carried out by Israeli settlers against Palestinians and their property are met with impunity, with those guilty rarely facing consequences for such actions.
Rights groups, including Yesh Din and B'Tselem, have on several occasions slammed the regime in Tel Aviv for failing to protect Palestinians from settler violence or investigate attacks.
A new report last month said that Israel had so far occupied more than 85 percent or some 27,000 square kilometers of historical territories of Palestine in an expropriation process which still continues unabated.
Israel occupied the entire West Bank, including East Jerusalem al-Quds, during full-frontal military operations in 1967.
Following the 1967 war, the law was applied to East al-Quds to enable Tel Aviv to confiscate homes of the Palestinians who are not "absent" or "missing" but live in so-called adversarial territories.
More than half a million Israelis live in over 230 settlements built since the 1967 Israeli occupation of the West Bank and East Jerusalem al-Quds. Built on occupied land, the settlements are internationally condemned as illegal.
Palestinians want the West Bank as part of their future independent state with East Jerusalem al-Quds as its capital.
Israel's continued settlement expansion on Palestinian territories has been a major sticking point in Israeli-Palestinian talks, which have stalled since 2014.
Israeli bulldozers level Palestinian lands
In a separate development on Thursday, a fleet of Israeli bulldozers and military vehicles crossed the separation fence into the besieged Gaza Strip and flattened private Palestinian lands.
At least four Israeli-armored Caterpillar D9 bulldozers, accompanied by a number of tanks, advanced scores of meters into the Khan Younis in the southern Gaza Strip.
A number of Israeli surveillance aircraft were also reported to have flown at low altitude over the area while the bulldozers were busy leveling the lands.
The Israeli regime has long been conducting daily incursions into Gaza and in the vicinity of the so-called buffer zone, which lies on both land and sea sides of the strip.
Israeli forces often fire at those Palestinians who work in the vicinity of the zone. Tel Aviv has not yet made clear the exact demarcation of the designated zone. The practice has in effect devastated much of the agricultural and fishing sectors of the besieged coastal enclave.
Israeli forces also often attack Palestinian fishermen off the coast of the Gaza Strip.
At least 263 Palestinians have been killed and about 26,000 others injured by Israeli forces ever since the Great March of Return protest rallies began in the Gaza Strip on March 30, 2018.
Gaza has been under the Israeli siege since June 2007, which has caused a decline in living standards.
Full report at:
https://www.presstv.com/Detail/2019/04/04/592575/Israel-West-Bank-Nablus-Gaza-Khan-Younis
--------
11 Palestinian children killed by Israel since January, says rights group
Apr 4, 2019
An international children's rights NGO says Israeli military troopers have shot and killed 11 Palestinian children in the occupied West Bank and the besieged Gaza Strip since January.
Defense for Children International - Palestine (DCI-P) reported on Thursday that the fatalities included two minors, whom were shot during anti-occupation protests along the fence separating the Gaza Strip and the occupied territories on March 30, as well as a volunteer medic killed in the town of Bethlehem, located some 10 kilometers south of the Old City of Jerusalem al-Quds, last week.
The NGO said Israeli soldiers had shot 17-year-old Bilal Najjar in the abdomen during anti-occupation protest rallies in the Gaza Strip, adding that the teenager later succumbed to his gunshot wounds in hospital.
On the same day, 17-year-old Adham Nidal Sakr Amara was shot in the head with live ammunition.
A DCI-P investigation, citing medical sources, said that "Adham was likely struck with an exploding bullet," and "the object that struck Adham appeared to have detonated on the lower half of his face."
Meanwhile, Israeli military forces shot dead another Palestinian teen, identified as Sajed Abdul Hakim Helmi Mizher, a volunteer medic, during a raid in Duhayshah refugee camp on March 27.
The DCI-P noted that two 14-year-old Palestinian boys were fatally shot at the hands of Israeli forces on February 22 and March 6.
Saif al-Deen Imad Nasser Abu Zaid was killed by live ammunition on March 6 as he was taking part in a protest outside Gaza City.
"Israeli forces are killing Palestinian children with live ammunition at alarming rates," Ayed Abu Eqtaish, the director of DCI-P's Accountability Program, said.
He added, "UN investigators recently found that Israeli forces intentionally targeted child protesters in Gaza, a conduct that amounts to war crime, yet the international community stands by as Palestinian children are killed with impunity. We need action."
Furthermore, the Palestinian Central Bureau of Statistics (PCBS) said in a report published on Thursday that the number of Palestinian children killed by Israeli forces in 2018 had increased sharply from the previous year, and reached 57 compared to 15 in 2017.
The PCBS report added that based on data provided by the DCI-P, among the 57 children killed in 2018 five aged up to 12 years, 29 aged 13 to 15 years, and 23 children were in the age group of 16 to 17 years.
The PCBS also stated that according to data released by the Commission of Detainees and Ex-Detainees Affairs, 1,063 children were among around 6,500 detention cases in 2018, and out of about 6,000 Palestinian detainees by end of 2018, 250 were children under 18 years of age.
250 Palestinian minors incarcerated in Israeli prisons: NGO
Separately, a Palestinian non-governmental and civil organization says the Tel Aviv regime is keeping 250 Palestinian minors behind bars in prisons and detention facilities across the occupied territories.
The Palestinian Detainees' Committee, in a statement released on Thursday, announced that Israeli military forces had abducted and imprisoned nearly 10,000 Palestinian children ever since the Second Palestinian Intifada erupted in September 2000.
It added that hundreds of detained children had reached adulthood while in prison, including many who served extended prison terms.
The committee further noted that the children were being held in Ofer, Megiddo and Addamoun prisons, and most of them were subject to physical and psychological torture and denied basic rights.
It highlighted that Israeli soldiers and interrogators tended to hurl insults at detained Palestinian children, and frequently threatened to inflict more harm on them. They also threatened to harm children's families "if they do not confess" to whatever the army is accusing them of.
Full report at:
https://www.presstv.com/Detail/2019/04/04/592568/11-Palestinian-children-killed-by-Israel-since-beginning-of-2019-says-rights-group
--------
Iran FM says Europe incapable of bypassing US sanctions
4 April 2019
Iranian Foreign Minister Javad Zarif said on Wednesday European powers were incapable of bypassing sanctions imposed on Tehran by the US after it withdrew from the Iran nuclear deal.
Iran and six world powers agreed on a deal in 2015 that severely restricted Tehran's nuclear activities in return for sanctions relief and economic incentives.
However President Donald Trump withdrew Washington from the deal - technically called the Joint Comprehensive Plan of Action (JCPOA) - last May, re-imposing punishing sanctions on the Islamic republic.
The other parties to the nuclear deal - Britain, China, France, Germany and Russia along with the European Union - however insist they remain committed to making the deal work.
"The Europeans at first viewed the JCPOA (nuclear deal) as an achievement, but maybe they were not prepared to, and certainly they were not capable of standing up against US sanctions," Zarif said in an interview with Khamenei.ir, the official website of Iran's Supreme Leader Ayatollah Ali Khamenei.
"We will continue pressing the Europeans to implement their commitments. Europe must know that they cannot shy away from their responsibilities with a few statements and some unaccomplished plans," he added.
Zarif, who was his country's chief negotiator in the negotiations leading to the deal, said that Iran would continue to pressure the Europeans to act on their obligations within the deal but added that "we never had any hopes" in them.
Full report at:
http://english.alarabiya.net/en/News/middle-east/2019/04/04/Iran-FM-says-Europe-incapable-of-bypassing-US-sanctions.html
--------
South Asia
UK high commissioner: Bangladesh a developing giant on world stage
April 4th, 2019
'The political relationship has huge potential as Bangladesh assumes its rightful place as a developing giant on the world stage'
Describing Bangladesh as a developing giant on the world stage, British High Commissioner Robert Chatterton Dickson on Thursday said the UK wants a stronger political partnership with the South Asian nation.
"The political relationship has huge potential as Bangladesh assumes its rightful place as a developing giant on the world stage," he said at Cosmos Dialogue at a city hotel.
He said the two countries can work together to tackle global challenges and deliver global opportunities, reports UNB.
"We are keen to broaden the UK-Bangladesh relationship, building on Bangladesh's economic success story," the high commissioner said.
Dickson said Britain will be looking towards the fast-growing economies of South Asia, including Bangladesh, for new partnerships after Brexit.
He pointed out that a more balanced UK-Bangladesh trade relationship will be a good thing for both sides.
The high commissioner said the UK and Bangladesh can work together at the UN and within the Commonwealth on issues such as climate change and support open and free international trade.
Cosmos Foundation organized "Bangladesh-UK Relations: Prognosis for the Future" symposium as part of the second edition of its Ambassador Lecture Series.
Cosmos Foundation Chairman Enayetullah Khan delivered the welcome address at the event held with Iftekhar Ahmed Chowdhury, Principal Research Fellow, Institute of South Asian Studies, National University of Singapore, in the chair.
"We are bound by cricket and culture, language and literature, common visions, and values that complement our political and economic relations," said Khan highlighting the deep emotional ties Britain and Bangladesh share.
Iftekhar said Bangladesh is now viewed as a rising economic powerhouse and that its potentials, not just in the blue economy but also in the Indo-pacific maritime milieu, are burgeoning.
High Commissioner Dickson said the UK will be working alongside the Bangladeshi High Commission in London to highlight the opportunities in Bangladesh for British companies.
A country with 165 million potential consumers growing 8% per year ought to be an attractive proposition for business, he noted.
"Serious efforts to address the issues making business in Bangladesh difficult will be a good way to attract private capital involvement that the Bangladesh economy is going to need as it matures and becomes a larger player on the world stage," he said.
As Bangladesh is set to achieve middle-income status in the next few years, Dickson said the UK's assistance is likely to evolve from helping basic development to technical assistance with the economic and governance reform needed to continue progress.
"We'll be highlighting the partnership and the UK's unique role here during the celebration of Bangladesh's 50th birthday in 2021. That's the future trajectory as the high commission sees it, helping Bangladesh deliver on the 2021 agenda and entering the next 50 years as a global economic force," he added.
'Rohingya problem made in Myanmar'
Dickson said the Rohingya issue is something that Bangladesh had nothing to do with but the country has been "unbelievably generous."
"It's a problem made in Myanmar," he said, where Rohingyas, left out of the citizenship law, suffer a "basic injustice."
Bangladesh is currently hosting more than 1.1 million Rohingyas. Over 700,000 of them fled here since August 2017 after the Myanmar military launched a brutal offensive targeting the mainly-Muslim ethnic minority.
The high commissioner said Myanmar has participated in ethnic cleansing. "It's a problem for the Rohingyas...[and] obviously for Bangladesh... [and] also for Myanmar."
Although Bangladesh and Myanmar signed repatriation deals, there has been very little progress.
Dickson said the UK has a role and that the Department for International Development (DFID) has provided 130 million pounds worth of humanitarian support and promised to provide more.
"We're having conversations about ways in which we can help everybody resolve this very difficult problem, which is just as bad for everybody, including, we'd argue strongly, the government of Myanmar," the high commissioner said.
Noted foreign affairs experts and businesspersons, including Inam Ahmed Chowdhury, Prof Selina Mohsin, Lt Gen (retd) ATM Zahirul Alam, AK Khan Foundation Trustee Secretary Salahuddin Kasem Khan, Advanced Chemical Industries Limited Director Juned Ahmed Choudhury, Mohammadi Group Managing Director Rubana Huq, Dhaka University's Honorary Professor Dr Shakhawat Ali Khan, and other former diplomats spoke on the occasion.
They focused on security, defence, and education cooperation between the two countries.
Commonwealth and current global issues, including the Rohingya crisis and climate change, were also part of the discussions.
https://www.dhakatribune.com/bangladesh/event/2019/04/04/uk-high-commissioner-bangladesh-a-developing-giant-on-world-stage
--------
Taliban kills dozens in Afghanistan's Badghis
Apr 5, 2019
Hundreds of Taliban militants stormed a district in Afghanistan's western Badghis province, with both Afghan government forces and the militant group suffering dozens of casualties, provincial officials said.
The district of Bala Murghab has been a recurring hotspot of fighting in the past two months, and officials have previously warned that it could fall to the Taliban without reinforcements.
Fighting in Afghanistan has escalated ahead of the usual spring season, as both sides seek to increase leverage in talks on a peace settlement.
The Taliban killed 36 members of the government forces and captured several security checkpoints in attacks that began on Wednesday night, Waris Sherzad, district governor of Bala Murghab, said late on Thursday. Fighting was ongoing, he said.
More than 30 Taliban were also killed, said Jamshed Shahabi spokesman for Badghis' provincial governor.
Taliban spokesman Qari Yousuf Ahmadi said it attacked from four directions, capturing five checkpoints.
Afghanistan's defense ministry, in a series of tweets, said its forces chose to "tactically retreat" from the checkpoints to prevent civilian casualties. The ministry said it called in multiple air strikes on Taliban positions.
On Friday, the defense ministry said Afghan forces had forced the Taliban to retreat from some checkpoints and that all key areas remained under its control.
The conflict in Badghis has been particularly intense along with northern Kunduz province and Helmand province in the south in recent weeks. Both sides took heavy casualties in Badghis last month, and at one point 50 members of Afghan security forces surrendered to the Taliban.
Fighting between militant groups has also intensified. The United Nations Office for the Coordination of Humanitarian Affairs (OCHA) said in a statement on Thursday that Daesh attacks on Taliban positions on March 23 resulted in 21,000 people being displaced in Kunar and Nangarhar provinces.
The latest round of peace talks between US and Taliban officials wrapped up last month, with both sides citing progress.
Full report at:
https://www.presstv.com/Detail/2019/04/05/592613/Afghanistan-Taliban-Attack-Badghis
--------
Afghan officials: Taliban kill at least 20 troops, policemen
April 04, 2019
KABUL: Afghan provincial officials say a Taliban attack on a government compound in western Badghis province has killed at least 20 troops and policemen.
Mohammad Nasir Nazari, a provincial councilmember, says the "massive attack" took place before dawn on Thursday, and that it targeted the government headquarters in the district of Balal Murgab.
He says the Taliban stormed all the security posts around the compound under the cover of darkness. He says that the lives of some 600 members of the security forces deployed there are under threat.
Jamshid Shahabhi, spokesman for the Badgis' governor, says intense fighting in the district is still underway. He says he fears more casualties by the government.
Full report at:
http://www.arabnews.com/node/1477581/world
--------
Afghan forces arrest alleged Daesh online recruiters
April 04, 2019
KABUL: Afghan security forces have arrested six alleged members of the Daesh militant group and accused them of using hundreds of fake accounts on Facebook and other social media to find recruits, authorities said on Thursday.
The men, arrested in the capital, Kabul, also used Twitter, Instagram and Telegram for fake accounts recruiting fighters and promoting Daesh, Afghanistan's National Directorate of Security (NDS) said.
The agency said the men had confessed, but have not yet been charged. They were among 16 arrests it said were connected to Daesh.
The arrests come as Facebook and Twitter have been separately sucked into an information war between India and Pakistan.
The Afghan affiliate of Daesh, sometimes known as Islamic State Khorasan (Daesh-K) after an old name for the region that includes Afghanistan, has recruited many fighters from around the world, including Western countries.
The group, also known as Daesh, has been active in Afghanistan since 2015, fighting the Taliban as well as Afghan and US forces.
In a separate operation in the eastern province of Nangarhar, the NDS arrested 10 suspects over involvement in assassinations and transporting weapons, ammunition and explosives, it said in the statement.
Daesh emerged in Nangarhar on the porous border with Pakistan to become one of Afghanistan's most dangerous militant groups for its bombing and complex attacks.
It is difficult to say how many Daesh fighters are in Afghanistan because they frequently switch allegiances, but the US military estimates there are about 2,000.
Full report at:
http://www.arabnews.com/node/1477671/world
--------
Five killed as Myanmar military chopper attacks Rohingya Muslims
Apr 4, 2019
At least five people have been killed and more than a dozen others wounded after a military helicopter attacked a group of Rohingya Muslims gathering bamboo in Myanmar's troubled Rakhine state.
Zaw Kir Ahmed, a community leader, told media outlets on Thursday that the aerial raid occurred in a valley in Buthidaung township near a village that was home to Rohingya Muslim families.
"A military airstrike killed five people, including one of our villagers, at around 4 pm yesterday," said Ahmed from Kin Taung village. "People in the village don't dare to go out and are frightened."
Maung Kyaw Zan, a local lawmaker, said some of the wounded were brought to Buthidaung town but several died before they reached the hospital, adding five bodies had been recovered.
"When I talked to the wounded people they said the shooting came from the air, there were no clashes on the ground," the lawmaker said.
Rashid Ahmed, a laborer, said his elder brother, uncle and nephew had been shot while they were working at Sai Din valley. "A helicopter attacked them while they were working there, cutting and collecting bamboo."
Two other villagers also said a helicopter had attacked the group.
Stephan Sakalian, head of delegation in Myanmar at the International Committee of the Red Cross, confirmed that teams from the organization had visited Buthidaung Hospital where 13 people were being treated for wounds, some of them in "urgent need of surgery".
A military spokesman declined to comment on the latest deadly incident, but Major-General Tun Tun Nyi, vice chairman of the Myanmar military's information committee, said the army would release "true news" about the alleged incident in time.
Myanmar's western Rakhine state came to global attention in 2017, when the army drove thousands of ethnic Rohingya across the border into Bangladesh. Myanmar is facing growing international calls for accountability over the Rakhine massacre.
Last year, a UN fact-finding mission, said the campaign against the Rohingya was orchestrated with "genocidal intent." It urged charging the army chief and five other generals with the "gravest crimes under international law." The International Criminal Court (ICC) has already opened a preliminary examination into the violence.
The army said last month a military court in Myanmar would investigate the military's conduct during the crackdown. A previous military investigation had exonerated security forces of any crimes.
About 800,000 Rohingya Muslims are living in camps in Bangladesh after they were driven out of Rakhine during the deadly campaign in 2017, which the United Nations has described as ethnic cleansing.
Rakhine has been the scene of communal violence since 2012. Many Muslims have been killed while tens of thousands have been forced to flee as a result of attacks by Buddhists. The refugees largely live in camps in dire conditions.
Full report at:
https://www.presstv.com/Detail/2019/04/04/592585/Rohingya-Myanmar-Rakhine-Buthidaung-UN-ICC
--------
ASEAN wants to create 'safe zones' for Rohingya
Md. Kamruzzaman
04.04.2019
DHAKA, Bangladesh
The Association of Southeast Asian Nations (ASEAN) wants to play a leading role in the repatriation of Rohingya refugees living in Bangladesh, a minister said late Wednesday.
"Thailand is the current chair of ASEAN. They are willing to take a leading role in the Rohingya repatriation process," Bangladeshi Foreign Minister AK Abdul Momen said at a press briefing following a meeting with his Thai counterpart Don Pramudwinai in Dhaka, local media reported.
Pramudwinai had informed Bangladesh authorities that Thailand had sent a delegation to visit villages in Rakhine, but Momen accused Myanmar authorities of taking foreign delegations to villages that were not damaged during atrocities, the daily New Age newspaper reported.
Replying to a question by a journalist on Bangladesh's proposal to create a 'safe zone' in Rakhine for Rohingya, Momen said Pramudwinai agreed with the idea but wanted to use different words as 'safe zone' carries certain connotations and some quarters were unwilling to agree with that, the report added.
The Thai minister did not attend the press briefing.
Pramudwinai said ASEAN wanted to create such an environment in Myanmar where Rohingya might feel safe to go back, Momen noted.
Persecuted people
The Rohingya, described by the UN as the world's most persecuted people, have faced heightened fears of attack since dozens were killed in communal violence in 2012.
According to Amnesty International, more than 750,000 Rohingya refugees, mostly women and children, have fled Myanmar and crossed into Bangladesh after Myanmar forces launched a crackdown on the minority Muslim community in August 2017.
Since Aug. 25, 2017, nearly 24,000 Rohingya Muslims have been killed by Myanmar's state forces, according to a report by the Ontario International Development Agency (OIDA).
More than 34,000 Rohingya were also thrown into fires, while over 114,000 others were beaten, said the report, titled "Forced Migration of Rohingya: The Untold Experience".
Some 18,000 Rohingya women and girls were raped by Myanmar's army and police and over 115,000 Rohingya homes were burned down and 113,000 others vandalized, it added.
The UN has also documented mass gang rapes, killings – including of infants and young children – and brutal beatings and disappearances committed by Myanmar state forces.
Full report at:
https://www.aa.com.tr/en/asia-pacific/asean-wants-to-create-safe-zones-for-rohingya/1442180
--------
6 ISIS media activists arrested in Kabul city
04 Apr 2019
A group of six media activists of the Islamic State of Iraq and Syria (ISIS) have been arrested in Kabul city, the Afghan Intelligence announced Thursday.
A spokesman of the National Directorate of Security Haris Jebran said the media activists of ISIS group were arrested during a special operation of Afghan intelligence operatives.
Jebran further added that the detained individuals were involved in pro-ISIS activities in social media networks, mainly spreading propagandas in Facebook, Twitter, Instagram, and Telegram.
He also added that the Afghan intelligence operatives arrested 10 other ISIS facilitators during a separate operation in Nangarhar province.
According to Jebran, the detained individuals were involved in arms smuggling, assassinatons, explosives and munitions smuggling, and transportation of the family members of ISIS loyalists.
Full report at:
https://www.khaama.com/6-isis-media-activists-arrested-in-kabul-city-03644/
--------
Afghan Special Forces kill 13 ISIS militants in Nangarhar province
04 Apr 2019
At least thirteen militants affiliated with ISIS Khurasan, the offshoot of the Islamic State of Iraq and Syria in Afghanistan, were killed during the operations of the Afghan Special Forces in eastern Nangarhar province.
Informed military sources said Thursday that the operations were conducted in Bar Sengani area of the province.
The sources further added that 5 defensive positions and 13 compounds of the terror group were also destroyed during the same operations.
The anti-government armed militants including ISIS loyalists have not commented regarding the operations so far.
Full report at:
https://www.khaama.com/afghan-special-forces-kill-13-isis-militants-in-nangarhar-province-03645/
--------
8 Taliban militants killed in an airstrike of the Afghan Air Force in Balkh province
04 Apr 2019
At least eight Taliban militants were killed in an airstrike conducted by the Afghan Air Force in northern Balkh province.
A secuirty source said the airstrike was carried out earlier today in the vicinity of Koh-e-Alburz in Chemtal district, leaving eight militants dead.
The source further added that a key commander of the Taliban group was also among those killed.
The Afghan ground forces and local residents did not suffer casualties in the airstrike, the source added.
Balkh was among the relatively calm provinces in North of Afghanistan but the security situation of the province has deteriorated during the recent months.
Full report at:
https://www.khaama.com/8-taliban-militants-killed-in-an-airstrike-of-the-afghan-air-force-in-balkh-province-03643/
--------
Arab World
Ankara-Backed Militants Continue Detention of Civilians, Looting Historical Sites in Afrin
Apr 04, 2019
The Kurdish-language Hawar News quoted sources in the village of Simalka in Mobata region in Afrin as saying on Thursday that the terrorists affiliated to Ankara excavated the regions near historical monuments in Hasiyeh hill in the Western parts of the village with heavy vehicles to find artifacts.
Also, the London-based Syrian Observatory for Human Rights (SOHR) reported that over 2,680 civilians in Afrin have been detained by the Turkish army and affiliated militants, adding that they receive over 10mln Syrian lira for releasing the detained people.
Meantime, field sources in Afrin said that the local people are angry with the Turkish army and affiliated militants' measures in the region, adding that nearly 100 residents of the village of Marimin gathered near one of the military bases in the village and prevented the Turkish army's drilling operations to develop the base.
In a relevant development late last month, people in Northern Aleppo demanded the occupying Turkish forces to leave the region as tensions and insecurities had sorely increased in the region.
Hawar News reported that people in Northwestern Aleppo, specially Jarablus, al-Bab, A'azaz and Afrin regions, were growingly calling for the withdrawal of occupying forces.
The report said people were printing graffiti on walls and hold sporadic protest rallies to call for the Turkish army's retreat.
It added that the local people were furious with exacerbating security conditions resulting from increasing infighting among the Turkish army and their affiliated militants as well as their attempts to blackmail the civilians.
Meantime, the SOHR reported that the Ankara-affiliated militants fighting under the Euphrates Shield operations are dissatisfied with their low salaries paid by Turkey.
http://en.farsnews.com/newstext.aspx?nn=13980115000136
--------
Army Repels ISIL Attack Near Iraqi Borders, Reinvigorates Positions in Eastern Syria
Apr 04, 2019
The Syrian army forces on Wednesday engaged in heavy clashes with a group of terrorists near the town of Bu Kamal in Eastern Deir Ezzur who intended to infiltrate from Baqouz region in Eastern Euphrates into the army-controlled areas.
A large number of militants were killed and wounded during the several-hour clashes and others were forced to flee.
Meantime, field sources in Eastern Syria also reported that the Syrian army has strengthened its positions in Bu Kamal in recent days by sending tens of fresh forces and new military equipment.
Also on Wednesday, the ISIL was heavily suppressed by the Syrian army in the Eastern Badiyeh (Desert) of Homs province.
The Syrian army units engaged in fierce clashes with the ISIL militants in regions near the T2 Station in Eastern Homs, killing a number of them.
Meantime, the artillery units of the Syrian army targeted the positions and movements of terrorists in areas near the clashes region, destroying several of their strongholds and military equipment and inflicting tolls on them.
Full report at:
http://en.farsnews.com/newstext.aspx?nn=13980115000291
--------
Iraqi Sources: Over 10,000 US Forces Deployed in Al-Anbar
Apr 04, 2019
The Arabic-language al-Ma'alomeh news website quoted the head of Badr Organization's office in al-Anbar province as saying that the number of US forces deployed in Ein al-Assad and al-Habaniyeh bases has increased to 10,000, adding that they have been supplied with the state-of-the-art weapons and military equipment.
The official said that the two bases also host the US marines who have been transferred recently from Syria to the region, noting that 90% of the US soldiers in Iraq are combat forces and are not considered as military advisors.
Relevant reports said last month that the American forces had established two military bases in al-Anbar province on Iraq's international road close to the borders with Syria and Jordan as political groups and politicians are trying to expel the US military troops from their country.
The Arabic-language al-Akhbar newspaper reported early March that the US forces had built up the first base on Baghdad-Damascus international road, formerly known as H3, while a second military center have been established to the South of the first base and South of the Baghdad-Amman international road, in addition to 13 other US bases spread across the country.
It noted that the first base had practically started operation, but the second one was being equipped, adding that the Americans had also set up two other new bases in al-Ratbah region which might be intended to serve as new air bases.
Reports about establishment of new bases in the region came as different political groups in Iraq were endeavoring to approve a bill in the parliament to expel the foreign forces from the country.
Full report at:
http://en.farsnews.com/newstext.aspx?nn=13980115000179
--------
In a boost to bilateral relations, Saudi Arabia opens new Baghdad consulate
4 April 2019
The Saudi consulate in Baghdad was opened on Thursday with the raising of the Kingdom's flag at the consulate building in the presence of senior Saudi ministers visiting the Iraqi capital as part of the Saudi-Iraqi Coordination Council delegation.
The high-level Saudi delegation, which includes seven ministers, representatives of other government ministries and major private companies arrived in Iraq on Wednesday on a two-day official visit.
The opening ceremony took place in the presence of the Saudi-Iraqi Coordination Council, headed by Saudi Arabia's Minister of Commerce and Investment Dr. Majid bin Abdullah Al-Qasabi. The Iraqi side was headed by Iraqi Foreign Minister Mohamed Ali Al-Hakim, and Iraqi Deputy Prime Minister for Energy Affairs and Minister of Oil Thamir Al-Ghadhban.
Three more consulates will soon to be opened in other Iraqi cities, according to Dr. Majid Al-Qasabi.
In a press statement, the Iraqi Foreign Ministry said that opening of the consulate reflects the keenness of the two countries to facilitate consular services and provide facilities for those who want to visit the holy sites in the Kingdom of Saudi Arabia or perform Hajj and Umrah, and, further more, to facilitate the labor movement and trade exchange between the two countries.
The Saudi-Iraqi Coordination Council concluded its second session on Thursday in Baghdad.
Dr. Majid Al-Qasabi, chaired his country's side to the meeting while Iraqi Deputy Prime Minister and Minister of Oil Thamir Al-Ghadhban led the other side, in the presence of a number of senior Saudi officials.
The meeting reviewed the latest developments regarding the outputs of the Council committees and discussed the priorities of the next phase, its implementation plan and topics of the Council's agenda.
Al-Qasabi underscored the importance of enhancing the joint cooperation between the two sides in important international and regional affairs, developing the partnership between the two countries in the private sector and allowing businessmen to explore the trade and investment opportunities.
Earlier, Iraqi President Barham Salih received Dr. Majid Al-Qasabi and the accompanying delegation, on the sidelines of the Second meeting of the Saudi-Iraqi Coordination Council.
Iraqi Prime Minister Adel Abdel Mahdi also met the Saudi economic delegation. During the meeting, they reviewed ways of enhancing and supporting bilateral relations between the two countries and a number of issues of mutual interest.
Saudi Minister of Culture visits cultural, historical landmarks
Prince Badr bin Abdullah bin Farhan, Saudi Minister of Culture, accompanied by Iraqi Minister of Culture and Tourism Dr. Abdul Amir Al-Hamdani visited historic and cultural landmarks in Baghdad on Thursday.
The Saudi Minister of Culture toured several areas including Mutanabbi Street, Qishla, Abbasid palace, and a number of historical places.
Full report at:
http://english.alarabiya.net/en/News/middle-east/2019/04/04/In-a-boost-to-bilateral-relations-Saudi-Arabia-opens-new-Baghdad-consulate-.html
--------
Iraqi victims of Daesh leadership deserve justice: UN
April 04, 2019
GENEVA: Iraq must ensure that Daesh leadership faces justice for alleged war crimes and genocide against civilians, not just charges of belonging to a terrorist group, a UN human rights investigator said on Thursday.
Four men, two Iraqi and two Syrians, were sentenced to death by a Baghdad court on Oct. 30 on charges of membership of Daesh, a banned terrorist organization, Agnes Callamard, UN special rapporteur on extrajudicial, summary or arbitrary executions, said.
Their identity has not been revealed but she described them in a statement as "four senior affiliates of the ISIL leadership," using a widespread acronym for the militant group.
"The trial should have shed light on the inner workings of ISIL and created a crucial judicial record of ISIL crimes against people."
The militant group, which took large swathes of Iraq and Syria from 2014, declared a "caliphate" and imposed a reign of terror with public beheadings and sexual enslavement of women and girls including from the Iraqi Yazidi sect. It lost its last territorial stronghold in Syria last month.
"The Government of Iraq should take appropriate steps to prosecute the crimes perpetrated against the Iraqi people, including alleged genocide, crimes against humanity and war crimes," Callamard said.
"At the very least, the Iraqi prosecutors should have brought additional charges from the Iraqi penal code, such as charges of murder, torture or disappearance, against the defendants, for the purpose of accountability," she said.
International standards guaranteeing a fair trial appear not to have been met at the "hasty" criminal proceedings, during which the men were denied access to legal counsel, Callamard said.
Despite widespread violations, no victims or their families participated in the trial at Karkh criminal court or presented testimony, she said.
Callamard, who made recommendations about criminal accountability after a visit to Iraq in 2017, said on Thursday that the right to truth about gross human rights violations is an inalienable right.
"There is no justice delivered in secrecy," she said.
Full report at:
http://www.arabnews.com/node/1477576/middle-east
--------
Syrian government forces' shelling kills 22: war monitor
April 04, 2019
BEIRUT: Heavy bombardment by Syrian regime troops of the extremist-controlled Idlib region has killed 22 civilians, a monitor said on Thursday, the latest violence to theaten a seven-month-old truce.
The cease-fire was brokered by the main foreign backers of the warring parties in September to head off a government offensive that prompted UN warnings of humanitarian disaster for the region's 3 million residents.
But since the region was overrun by the Hayat Tahrir Al-Sham alliance led by former Al-Qaeda militants in January, the fragile truce has come under mounting assault.
Walid Muallem, foreign minister of the Assad regime, accused Turkey, which signed the September deal on behalf of the rebels, of failing to honor its commitments and warned that his government's patience was running out.
The UN humanitarian affairs office said the escalating violence threatened aid deliveries to some 2.7 million people in need.
In the latest flare-up, army artillery and rocket fire on the Idlib towns of Kafrnabel and Maaret Al-Noman killed 13 people on Thursday, the Syrian Observatory for Human Rights said.
It came after shelling of adjacent extremist-held areas of Hama and Aleppo provinces killed nine people late on Wednesday, the Britain-based watchdog said.
The UN humanitarian office said that the ecalating violence had already killed 90 civilians in the Idlib region in March, nearly half of them children.
More than 86,500 people fled their homes in February and March as a result of the escalation, it added.
The UN expressed concern over "increased shelling along front lines, an intensification of air strikes and a growing number of attacks involving improvised explosive devices in urban areas."
The foreign minister said his regime was growing impatient to recapture Idlib, the last region outside its control apart from the Kurdish-held north and northeast where Washington retains a troop presence.
Muallem said Turkey had failed to ensure the withdrawal of extremist forces from a planned buffer zone along the front line as stipulated by the truce agreed in the Russian Black Sea resort of Sochi.
"It is known that Turkey is responsible for a delay in implementing" the deal, he said at a joint press conference with his Venezuelan counterpart Jorge Arreaza.
"Honestly, we are still waiting for the Sochi deal to be implemented but our patience has its limits and we must liberate this land.
"We are losing patience," he warned.
More than half of the population of the Idlib region have already fled regime offensives on other militant-held regions of Syria.
Full report at:
http://www.arabnews.com/node/1477556/middle-east
--------
URL: https://www.newageislam.com/islamic-world-news/pope-francis-says-god-only/d/118238
New Age Islam, Islam Online, Islamic Website, African Muslim News, Arab World News, South Asia News, Indian Muslim News, World Muslim News, Women in Islam, Islamic Feminism, Arab Women, Women In Arab, Islamophobia in America, Muslim Women in West, Islam Women and Feminism