New Age Islam News Bureau
7 Dec 2018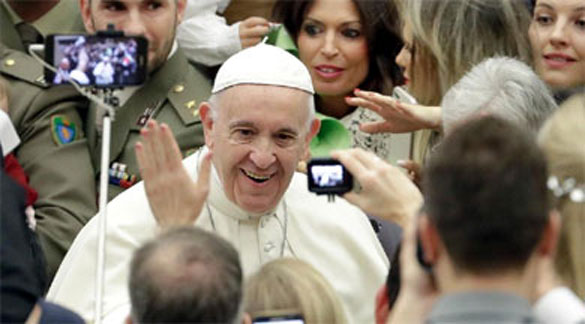 Pope Francis has taken a different approach to Islam than Benedict. AP
------
• Pope Francis Has Demonstrated A Clear Sympathy For Oppressed Minorities In The Arab World
• Promote True Teachings of Islam to Curb Boko Haram Ideology, Nigerian government Urges Saudi Arabia
• Attacking Muslims Is Wrong Path For Republicans. Be Like Bush, Celebrate Religious Liberty
• Gujarat: Board at Vadodara Mosque 'Bars' Entry of Muslim BJP Leader
• Child Suicides on the Rise in Bangladesh
Europe
• Pope Francis Has Demonstrated A Clear Sympathy For Oppressed Minorities In The Arab World
• France 'Yellow Vests' Protests? Blame It on The Brotherhood
• Saudi, Russia leave world guessing after OPEC meeting
• EU plans to do all oil transactions with other states in euros: Iran
• EU, France pledge €1.3bn anti-terror aid for Africa Sahel
• German FM warns of humanitarian catastrophe in Yemen
• 'Israel continues to invade Palestinian territory'
• Three arrested in Britain in far-right terror probe
• Ireland criminalises import of occupied territories goods
--------
Africa
• Promote True Teachings of Islam to Curb Boko Haram Ideology, Nigerian government Urges Saudi Arabia
• Seif al-Islam Letter To Putin Reveals Roadmap To Resolve Libya Crisis
• Bloody rivalry erupts between Al-Shabab and Daesh in Somalia
• Boko Haram blocking humanitarian aid in Nigeria: UNICEF
• US says air strike kills four militants in Somalia
--------
North America
• Attacking Muslims Is Wrong Path For Republicans. Be Like Bush, Celebrate Religious Liberty
• Canada Hosts Anti-Daesh Coalition Meeting
• US Fails To Condemn Hamas at UN General Assembly
• Saudis Paid For 500 Rooms At Trump Hotel In 2016: Report
Senator Durbin calls for expulsion of Saudi ambassador to US
--------
India
• Gujarat: Board at Vadodara Mosque 'Bars' Entry of Muslim BJP Leader
• Gujarat: State Education Board Refutes Allegation Of Muslim Profiling
• Agra: On Babri Demolition Anniversary, Muslim Group Cancels On-Road Namaz
• Meet Mohammed Khalid, Who Has Buried, Cremated Over 10,000 Unclaimed Bodies in Jharkhand
• India and Pakistan Turn To Religious Diplomacy As Peace Talks Stall
• Kishanganj Congress MP Maulana Asrar-ul-Haque Qasmi passes away at 76
• Anniversary of Babri mosque demolition passes off peacefully
• J&K: Two soldiers killed in ceasefire violation by Pakistan
--------
South Asia
• Child Suicides on the Rise in Bangladesh
• At Least 40 Pakistani Taliban Killed In Ghazni Operations
• All stakeholders agree on need for talks to end Afghan conflict: FO
• Bangladesh summons Myanmar's envoy over minister's remarks about Rohingya
• Afghan official: Taliban kill 14 troops in western province
• Rohingya refugees wary after Myanmar minister's hostile remarks
--------
Pakistan
• Hindu Pilgrims Attend Central Ceremony Of Shadani Darbar
• Will Reconstruct Pakistan Brick-By-Brick: COAS
• Moment Is Watershed; Time Ahead May Be Very Good Or Bad: Paint Pakistan Positive For Six Months, Says DG ISPR
• Nawaz welcomes Imran's remarks on early elections
• 212 TLP activists released
• Terrorist killed, two troops injured in DG Khan Clash
• Pakistan begins talks with US on coalition support fund
• Terrorist killed, two security officials injured in an encounter in DG Khan: ISPR
--------
Mideast
• US Fails To Win UN Condemnation Of Hamas
• IRGC Warns Supporters of Chabahar Terrorist Attack of Harsh Punishment
• Ansar Al-Forqan Terrorist Group Likely Responsible for Chabahar Attack
• Yemeni peace talks start in Sweden between legitimate government and Houthis
• Yemen government representatives call for Houthi withdrawal from Hodeidah
• Six Yemeni Missiles Hit Gatherings Of Saudi-Led Forces In Jizan
• Israeli forces shoot, injure 5 Palestinian minors in occupied West Bank
• Houthi militia shell commercial centre in Hodeidah
• Turkish authorities seek arrest of journalist Dundar over 2013 protests
--------
Southeast Asia
• Pas Urges Supporters to Attend Saturday Rally In The Name Of Islam
• Friday Sermon Reminds Muslims of Status Of Islam, Ruler
• Muslim NGOs Take An Oath As Protest Against US' Stance On Jerusalem
• UN requests access to 'worrying' Muslim re-education camps in China
• Malaysian opposition garners support with protest march
• Malaysia improves in terrorism ranking, but region emerges as hotspot
--------
Arab World
• US, Israeli Weapons Found in Terrorists' Strongholds in Southern Syria
• Organization of Islamic Cooperation Rejects Israel's Disputed 'Nation-State' Bill
• US-Backed SDF Resumes Attacks against Ankara-Affiliated Militants in Aleppo
• Army Sends More Military Convoys to Northern Syria
• Terrorists Heavily Defeated in Offensive against Syrian Army in Demilitarized Zone
• Syrian Army Wards off ISIL Heavy Offensive near Iraqi Borders
• Key Hezbollah financier Kassim Tajideen pleads guilty in US
• UN peacekeepers confirm Israeli report of tunnel at Lebanon border
Compiled by New Age Islam News Bureau
URL: https://www.newageislam.com/islamic-world-news/pope-francis-demonstrated-clear-sympathy/d/117095
--------
Pope Francis has demonstrated a clear sympathy for oppressed minorities in the Arab world
Paul Vallely
December 7, 2018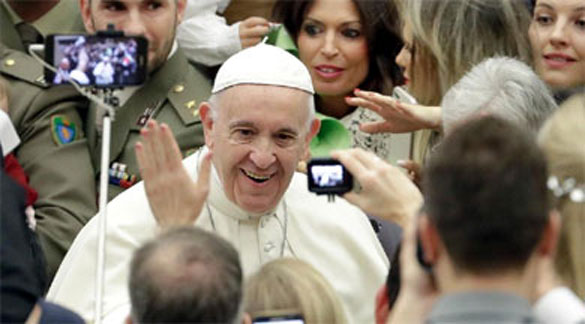 Pope Francis has taken a different approach to Islam than Benedict. AP
------------
Pope Francis has made building a good relationship between Christianity and Islam one of the priorities of his papacy.
More than that, he has demonstrated a clear sympathy for oppressed minorities in the Arab world.
This is in stark contrast to the approach of his predecessor, Pope Benedict XVI, who set back relations between the faiths with an approach characterised by theological challenge – accusing "radical Islam" of creating an "explosive situation in Europe".
Pope Benedict's speech, at Regensburg in Germany in 2006, angered the Muslim world and sparked deadly protests in several countries.
Pope Francis, since his election as Supreme Pontiff of the Roman Catholic Church in 2013, has made efforts to build the bridges that Pope Benedict burnt.
Only this week, the Pope received Palestinian President Mahmoud Abbas in the Vatican and gave his backing to plans to reactivate the peace process between Israelis and Palestinians, and to work for the two-state solution that US President Donald Trump has been downgrading. It was under Pope Francis that the Vatican first recognised the state of Palestine in 2016.
He has visited no fewer than eight Muslim-majority countries in his five years as Pope. They include Turkey in 2014, Bosnia in 2015, Azerbaijan in 2016 and Egypt and Bangladesh in 2017.
His commitment to this is significant. He visited Cairo only three weeks after 45 Christian worshippers were killed in bomb attacks on Egyptian churches.
Yet despite that, the Pope refused a bulletproof vehicle and travelled through the crowds in an open-topped golf buggy. The personal warmth of his intentions was symbolised in the Al Azhar Mosque by his embrace of the Grand Imam, Dr Ahmed Al Tayeb.
The very name that Francis chose as pope was revealing.
His namesake, Francis of Assisi, was not only a great advocate of the poor and champion of the environment – two of the Pope's cornerstone causes – he was also one of the first Christians to conduct a dialogue with Muslims. In the year 1219, when Europeans were embarking on military crusades in the Middle East, the original Francis travelled to Egypt to meet the great Muslim leader Sultan Al Kamil. After three weeks of dialogue, St Francis returned to Italy to promote respect for Muslims and encourage Christians to emulate their zeal for prayer.
The current pope's embrace of Islam is part of his wider approach to inclusivity.
He puts people before doctrine. One of his favourite sayings is "realities are greater than ideas" – not something you can imagine the theologian Pope Benedict XVI, or the philosopher Pope John Paul II, saying.
This pope is a religious leader who does not have his finger out to wag but his arms open to embrace.
Francis is a reforming pope. He has revolutionised the Vatican's corrupt finances. He has changed the way the Church makes decisions – re-empowering synods of bishops, which were merely rubber-stamping bodies under previous popes.
He has opened the way for free discussion, once suppressed as dissent, within the Catholic Church.
Conservative clerics who have stood in the way of all this have been removed from key posts. His new clerical appointments have embodied a pastoral rather than an ideological approach.
They are, to use the Pope's words, shepherds who "smell of their sheep" and are willing to accompany the ordinary people through the difficulties of their daily lives.
Rebuilding relationships with Islam was an early priority. Francis, who will be 82 this month, moved quickly to make interfaith overtures as soon he was elected. One of his first symbolic moves was to invite two old friends from his time as archbishop of Buenos Aires to join him in his visit to the Holy Land.
In Jerusalem, sacred to the three Abrahamic faiths, the three men embraced – the Pope; a Jewish rabbi, Abraham Skorka; and a Muslim professor, Omar Abboud, president of the Institute for Inter-Religious Dialogue in Argentina.
Afterwards, he invited the presidents of Israel and Palestine to the Vatican for a prayer summit. They went, and prayed alongside each other.
Pope Francis's friendship with Mr Abboud and Mr Skorka was more than nominal.
In his ill-judged Regensburg lecture in 2006, Pope Benedict quoted a highly inflammatory remark by a 14th-century Christian emperor.
Immediately, the man who later became Pope Francis stepped out of line. Cardinal Jorge Mario Bergoglio, as he was then, told the Argentine media: "Pope Benedict's statement ... will serve to destroy in 20 seconds the careful construction of a relationship with Islam that Pope John Paul II built over the past 20 years."
The Vatican rapped his knuckles, but Bergoglio merely responded by calling an interfaith meeting in his homeland, inviting, among others, Mr Abboud and Mr Skorka.
In 2013's Evangelii Gaudium, the first major document he produced as pope – which set out his personal manifesto – Pope Francis pointedly wrote: "Authentic Islam and the proper reading of the Quran are opposed to every form of violence."
He echoed the sentiment a year later in his Letter to the Christians in the Middle East, declaring: "Islam is a religion of peace, one which is compatible with respect for human rights and favours peaceful coexistence."
Last year, he went further while on the plane back from Egypt, saying: "It is not right to identity Islam with violence".
Terrorism was, rather, caused by social injustice and societies where "money is made a god". Francis has condemned those in western nations who support anti-immigration policies.
Instead, he has urged Christians to take in Muslim refugees, and himself housed Muslim refugees in the Vatican to send a message of inclusiveness. He has paid a price for living up to his name – the word pontiff means bridge builder.
His dialogue with Islam has brought criticism from theological conservatives as well as Christians living in beleaguered places like Iraq, where one Christian minority leader described Pope Francis's approach as "naive and short-sighted".
But he has persevered. He is not afraid to speak out in defence of Islam. But nor is he afraid to defend the increasingly minority status of Christians in the Middle East.
By the time of his visit to the birthplace of Christ, Bethlehem, in 2013, the little town, which had been 60 per cent Christian in 1990, had a Christian population of only 15 per cent. This prompted the pope to authorise the Vatican website to condemn the persecution of Palestinian Christians.
https://www.thenational.ae/uae/comment/pope-francis-has-demonstrated-a-clear-sympathy-for-oppressed-minorities-in-the-arab-world-1.800111
--------
Promote True Teachings of Islam to Curb Boko Haram Ideology, Nigerian government Urges Saudi Arabia
December 6, 2018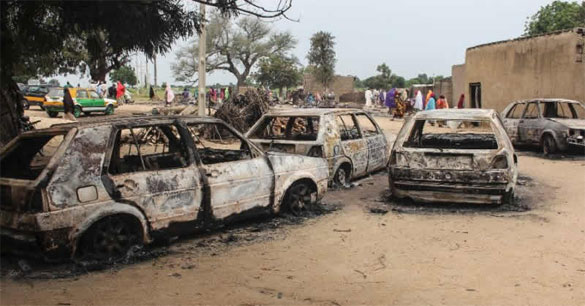 The Federal Government on Thursday appealed to Saudi Arabia to assist in promoting true teachings of Islam to fast-track de-radicalisation and curtail spread of Boko Haram ideology in the North-East.
Minister of Defence, Mansur Dan Ali, made the call in Maiduguri while inaugurating the distribution of relief items donated by the Saudi Kingdom to persons displaced by Boko Haram insurgency in the region.
He said that the call was imperative to enhance true teachings of Islam, curtail spread of Boko Haram ideology and end insurgency in the area.
"I request the assistance of the Kingdom of Saudi Arabia in the promotion and propagation of right Islamic ideology to eradicate Boko Haram ideologies in the country.
"I also urge the Saudi Arabia Government to extend the military defence platform sharing of information and intelligence to Nigeria.
"Our country values the cordial relations that exist between Nigeria and Saudi Arabia.
"The two countries have continued to collaborate in areas of mutual benefits and interest, including military relations, especially with the recent posting of the Nigerian Defence Adviser to Riyadh," he said.
The minster lamented that Boko Haram insurgency had caused humanitarian crisis, including loss of lives, high level destruction of economic and social activities as well as displacements in the war-ravaged region.
He noted that poverty was one of the remote causes of the insurgency, which needed a holistic social and livelihood programmes to address.
He disclosed that the Federal Government, in collaboration with international community, recorded significant successes in the counter-insurgency campaign in the past three years.
Ali added that the government also initiated viable projects to restore peace, build resilience, livelihoods, reconstruction and resettlement of displaced communities to accelerate sustainable social and economic development of the region.
He commended the Saudi government for the assistance, adding that it would go a long way to mitigate the sufferings of displaced persons.
On his part, Director-General, National Emergency Management Agency, Mustapha Maihaja, said that Saudi Arabia had donated $10m to support persons affected by Boko Haram attacks in the North-East.
Maihaja revealed that 125,372 food baskets would be distributed to 33,323 deserving families at Internally Displaced Persons' camps and host communities in Borno and Yobe states.
He explained that each family would receive 59.8 kilogrammes of assorted food items, including rice, beans, vegetable oil, salt and seasoning.
According to him, the items were donated by King Salman Humanitarian Aid and Relief Centre, a Saudi agency.
Manager of the centre, Mr. Nasir Alshibay, disclosed that 70,000 food baskets would be distributed to 880,000 displaced persons in the next four months in the North-East.
Alshibay said the gesture was to alleviate the sufferings of persons affected by Boko Haram insurgency.
https://punchng.com/promote-true-teachings-of-islam-to-curb-boko-haram-ideology-fg-urges-saudi-arabia/
--------
Attacking Muslims Is Wrong Path For Republicans. Be Like Bush, Celebrate Religious Liberty
Dec. 6, 2018
During this election cycle that felt never-ending, too many conservative candidates steered their campaigns in a dangerous anti-Muslim direction. They spewed nasty rhetoric on the campaign trail, damaging the image of the Republican Party and alienating voters.
Muslim Advocates released a report in October detailing the increased amount of anti-Muslim rhetoric in campaign messaging. It found at least 80 campaigns this cycle used shameless anti-Muslim rhetoric. Of 73 races where a candidate's party affiliation could be positively identified, 71 of the campaign messaging supported Republican candidates. Half of the candidates were running for Congress, and 37 competed in the general election.
This isn't a new development. There have been anti-Muslim conspiracies looming on the fringes for years. Some candidates across the country keep taking the bait. By doing so, they alienate faith-friendly voters who value diversity and cherish their neighbors who follow Islam.
Take GOP Reps. Duncan Hunter of California and Dave Brat of Virginia.
To distract voters from his indictments, Hunter used anti-Muslim messaging to portray his Democratic opponent as a threat. Ammar Campa-Najjar is a former Obama official of Mexican and Palestinian descent. Hunter accused Campa-Najjar of being receptive to sharia law and looking to "infiltrate" Congress. And Hunter won — even though Campa-Najjar is a devout Christian who denounces extremist beliefs.
Bush presidents showed Republicans the way
Brat lost his race to former CIA operative Abigail Spanberger. He accused her of having links to terrorism, despite her years of honorable service to our country. When forced to back up his claims, he'd cite Spanberger's time as a substitute teacher at an Islamic college-preparatory school as ample evidence.
Especially this week, with the Bush family in the spotlight, it is hard to avoid contrasting today's rhetoric with the words of President George H.W. Bush and his son President George W. Bush. Both of them repeatedly decried discrimination and hate against Muslims, and stressed the right of all Americans to worship as they choose.
"There's no anti-Islam," the late president said in 1991. Islam is not about terror, his son said a decade later, right after the 9/11 attacks. "Islam is peace."
If you feel the need to attack a religious community to win an election, you lack the intelligent ideas and American values to be worthy of a seat in office.
You might also like:
After historic midterm wins, Muslims struggle a little less with their American identity
Secretary of State Mike Pompeo: Religious persecution in Iran, China must end now
Evangelical, Muslim, Jewish. It's time we all renew our commitment to religious freedom.
No, conservative ideals are not consistent with the fear of Islam. Yes, there are Islamophobes jockeying for positions within our party. This cannot be the way forward for the conservative movement or the Republican Party.
This misguided political behavior is how we'll continue to lose elections. Anti-Muslim rhetoric threatens and isolates our Muslim neighbors, and is unhealthy for our party and our country. It will continue to inspire more candidates like Joe Arpaio and Roy Moore, who have proved that they're incapable of winning anything. It will become a desperate go-to tactic for failing candidates such as Dave Brat. And it places a permanent stain on the proud history of the party of Lincoln.
We must stand for religious liberty at all times and for all religions. Religious liberty does not exist when selectively applied. Our entire history is shaped by those who fled religious persecution to build a place where they could be safe and free to worship.
Our leaders must revive compassionate politics
Our representatives need to speak out against this hateful messaging. Over the past few months, we've seen the dangerous real world effects of painting those who are different as "the other." Shooting places of worship are still acts considered extreme and rare. But in today's angry political climate, prejudiced individuals have found a comfort zone.
According to the Anti-Defamation League, there were 1,986 reported anti-Semitic incidents in 2017: a 57 percent increase from 2016. The Council on American-Islamic Relations reported that from 2016 to 2017, there was a 17 percent increase in anti-Muslim bias incidents and a 15 percent increase in hate crimes against Muslim-Americans. This is unacceptable.
Our politics must immediately return to prioritizing truth and compassion over conspiracy and demagoguery.
I'm asking our elected officials: While in your districts, pay a visit to your Muslim neighbors. Visit a mosque, a community center, or even a cultural or religious festival to learn more about the issues your constituents face. They are your neighbors, and you've been selected to represent the interests of all of your constituents.
Never forget to celebrate the ideals that have already made America great — first and foremost among all of our freedoms, the freedom of religion.
https://www.usatoday.com/story/opinion/2018/12/06/attacking-muslims-not-republican-value-president-bush-model-column/2213312002/
--------
Gujarat: Board at Vadodara mosque 'bars' entry of Muslim BJP leader
December 6, 2018
A board with a message to ban the entry of a Muslim leader was placed on the gate of a mosque in Vadodara recently, PTI reported on Thursday.
However, it was not clear who put up the board as the trustees of the mosque issued a statement denying that they had issued an order prohibiting entry to Zahir Qureshi, general secretary of minority cell of the BJP's city unit.
The board hung at the gate of a mosque in Yakutpura area, said that Qureshi "should not enter by trustees' order".
Police commissioner Anupam Singh Gehlaut said police were investigating who put up the board.
The BJP leader said that some people did not like his attending a meeting of BJP Muslim leaders in Delhi last month to discuss an amicable solution to the Babri Masjid dispute.
https://indianexpress.com/article/india/gujarat-board-vadodara-mosque-bars-entry-muslim-bjp-leader-qureshi-5481905/
--------
Child suicides on the rise in Bangladesh
December 7, 2018
A lack of awareness among families and teachers as well as inadequate facilities for mental health care of children are behind an alarming rise in child suicides in Bangladesh, health experts and child rights activists say.
There have been at least 293 child suicides and 22 attempted child suicides in the South Asian nation this year.
This was up from 213 child suicides and 11 attempted suicides by minors in 2017, according to the Bangladesh Child Rights Forum, which is a national coalition.
Children die by suicide following incidents that include getting poor grades, being rebuked by parents or being bullied or insulted by others, Abdus Shahid Mahmood, director of the forum, told The Daily Star newspaper on Dec. 6.
"Not everyone has the same ability to absorb mental pressure," he said.
Many who do not take their own lives, or try to do so, still suffer long-term emotional and psychological damage from mistreatment or neglect.
Child abuses including rape and killings have made headlines in Bangladesh in recent years and sparked public outrage.
The issue of child suicides again came to the fore in Bangladesh with the Dec. 3 suicide of a student from a top girls' school in capital Dhaka.
Aritry Adhikary, a Hindu ninth-grade student at Viqarunnisa Noon School and College (VNSC), committed suicide by hanging herself after she and her parents were allegedly humiliated by college authorities.
Aritry was removed from the school during an examination after she was alleged to have been caught with a mobile phone in a hallway a day before.
The girl and her parents admitted there had been a breach of the rules but asked for mercy. College authorities refused to relent.
Aritry was barred from appearing for the rest of her exams and threatened with being permanently dismissed from the school.
She ran away from the school, leaving her parents behind, and hanged herself at home in her room.
The death shocked VNSC students and they held street protests demanding justice. Some branded the death as a murder.
The government said it would take punitive action against the college.
Dilip Adhikary, Aritry's father, lodged a police case on Dec. 4. Detectives opened an investigation.
The governing body of VNSC on Dec. 5 suspended three teachers, including acting principal Nazneen Ferdous, who were accused of wrongdoing in the police complaint.
Meanwhile, the Education Ministry has formed a committee headed by the minister, Nurul Islam, to probe the events that led to the suicide.
"Adolescence is a critical period of life and emotional overflow is common in most children," Dr. Helaluddin Ahmed, associate professor at the state-run National Institute of Mental Health, told ucanews.com.
"This is how children grow up and march to maturity. Whether in the family, the school or anywhere else, they need to be treated with care."
A lack of awareness leads to tragedies, she added.
"Sometimes parents and teachers put children under immense pressure to get good grades, which become unbearable for them," Dr. Ahmed warned. "They find death is the solution, or freedom, which is very sad."
Dr. Edward Pallab Rozario, secretary of the Catholic Bishops' Commission for Healthcare, said the real level of child and teenage suicides must be much higher than the official figures.
Many cases went unreported as parents and family members hushed up deaths to hide their own failures, save face and avoid a social backlash, Dr. Rozario told ucanews.com.
"There is not just a lack of facilities for counselling of children in schools but also a serious lack of awareness among people for mental well being of children," he added. "This is a serious issue and we must face it head on."
https://www.ucanews.com/news/child-suicides-on-the-rise-in-bangladesh/84053
--------
Europe
France 'yellow vests' protests? Blame it on the Brotherhood
Mohammad Ayesh
6 December 2018
In the UAE and Egypt, yellow vest conspiracies abound
Former chief of the Dubai Police forces Dhahi Khalfan sparked a wave of controversy and ridicule after he posted a since-deleted tweet accusing the Muslim Brotherhood of being behind the recent "yellow vests" protests in France.
Khalfan, who is an adviser to UAE authorities, linked the detention of Swiss Islamic thinker Tariq Ramadan to the protests taking place in France for nearly three weeks, noting that Ramadan is "the grandson of the founder of the Muslim Brotherhood Organisation, Hassan al-Banna".
Ramadan is currently facing charges of rape in France, and was recently granted conditional release on bail after several months of detention.
"Can the arrest of Hassan al-Banna's grandson, who is accused of rape in France, be a potential cause of the Muslim Brotherhood's fabrication of demonstrations similar to the ones which ignited the spring of the Muslim Brotherhood or the so-called Arab Spring? ... Or is it really a matter of protesting against fuel prices increase?" Khalfan wrote.
Khalfan is not the only one in the Middle East to make outlandish assertions about the French demonstrations, as pro-government press in Egypt have published reports accusing the Brotherhood - or even the Islamic State - of being behind the yellow vests.
Gaza protests against US Hamas 'terror' call
Mass rallies are scheduled to take place in the Gaza Strip on Thursday, according to newspaper al-Quds al-Arabi, to express rejection of attempts by the US government to classify Hamas as a terrorist organisation at the United Nations.
An Israeli source has reportedly stated that Washington was wielding pressure on several Arab countries to support a proposal condemning Hamas in the UN General Assembly, which is set to be voted on Thursday, according to the newspaper.
Al-Quds al-Arabi said that US special envoy to the Middle East and staunch Israel supporter Jason Greenblatt had sought the support of diplomats from Saudi Arabia, Egypt, the UAE, Qatar, Bahrain, Morocco, Kuwait, Oman and Jordan for the General Assembly proposal.
"States that oppose terrorism and support stability in the region will have no excuse to reject this proposal," Greenblatt wrote.
In his correspondence with these countries, Greenblatt reportedly called the Palestinian Authority's (PA) opposition to the proposal hypocritical, given the sanctions imposed by the Fatah-led PA on Hamas and the enmity between the two parties since contested parliamentary elections in 2006.
Tunisian prisons are overflowing
Tunisia's prisons are suffering from overcrowding, with 22,663 detainees across the country, according to a report published by the Tunisian newspaper al-Sabah - straining the capacities of the prison system with more than 5,000 detainees having no access to basic prison services.
"Tunisian authorities are planning to build more prisons in the country in order to reduce overcrowding," Sufian Mzighish, a spokesman for Tunisia's General Prison Administration, told al-Sabah, as existing prisons were only designed to hold 17,000 prisoners.
According to al-Sabah, official statistics in Tunisia show that 39 percent of prisoners tend to return to prison for other crimes after being released - a rate of recidivism lower than previous years.
https://www.middleeasteye.net/news/arabic-press-review-1891452316
--------
Saudi, Russia leave world guessing after OPEC meeting
Dec 6, 2018
OPEC has tentatively agreed an oil output reduction but is reportedly waiting for Russia to declare its commitment before deciding the exact volumes for a cut aimed at propping up crude prices.
The agreement was reached during the Thursday talks between OPEC members in the Austrian capital of Vienna.
Russian Energy Minister Alexander Novak flew home from Vienna earlier for talks with President Vladimir Putin in St Petersburg. He is going to return to Vienna on Friday for discussions among OPEC and non-OPEC allies.
"We hope to conclude something by the end of the day tomorrow ... We have to get the non-OPEC countries on board," Saudi Energy Minister Khalid al-Falih told reporters before the OPEC meeting started.
"If everybody is not willing to join and contribute equally, we will wait until they are," he said.
Asked whether OPEC could fail to reach a deal, Falih said all options were on the table.
His comments came after Iran's Oil Minister Bijan Zangeneh said Tehran will not involve itself in any deal over OPEC production levels as long as it remains under the illegal US sanctions.
Saudi Arabia has indicated a need for steep reductions in output from January, but it has come under pressure from US President Donald Trump, who has urged Riyadh to refrain from output cuts in order to keep oil prices low.
The price of crude has fallen almost a third since October but Trump has demanded OPEC make oil even cheaper by refraining from output cuts.
"Hopefully OPEC will be keeping oil flows as is, not restricted. The world does not want to see, or need, higher oil prices!" Trump wrote in a tweet on Wednesday.
The Trump administration has sent the country's special envoy for Iran Brian Hook to Vienna, where he held talks with the Saudi energy minister one day before OPEC's 175th meeting.
The talks were harshly criticized by Iran, which called it "meddlesome" and "unprofessional".
"If Mr. Hook has come to Vienna to apply for US membership in OPEC, and this is the reason why he meets OPEC members, the request can be reviewed," Zangeneh told Shana news outlet.
Otherwise, he added, the US official has adopted an unprofessional, naïve, and meddlesome approach.
"OPEC is an independent organization, not a part of the US Department of Energy to take orders from Washington," said Zangeneh on Wednesday.
Possible output cuts by OPEC and its allies ranged from 0.5-1.5 million bpd, and 1 million bpd was acceptable, the Saudi energy minister said Thursday.
Iran has said it is carefully monitoring the next steps by some OPEC members and their allies which have "arbitrarily" ramped up oil production, leading to a crash in prices.
Iran's OPEC governor Hossein Kazempour Ardabili said on Tuesday that any meaningful cuts in production must be made by the countries which have pumped above their quotas in breach of a 2007 deal between OPEC and non-OPEC oil producers.
According to Ardabili, "the five or six countries which have benefited from the situation should slash their output by 1.4 million to 1.8 million barrels per day at the minimum in order to return prices to an upward trajectory. But to reach such a consensus is highly unlikely."
Full report at:
https://www.presstv.com/Detail/2018/12/06/582179/OPEC-deal-oil-output-cut-Russia-Iran
--------
EU plans to do all oil transactions with other states in euros: Iran
Dec 6, 2018
The European Union is going to ditch the US dollar and use its own currency in oil contracts worth 300 billion euros, an Iranian official said, quoting a European commissioner.
"Based on the news I recently received and was confirmed by a European commissioner, from now on, the EU is going to ditch the US dollar and just use the euro in the financial transactions of all European oil deals with other countries," said Iran's nuclear chief, Ali Akbar Salehi, on Thursday.
Speaking to reporters, the head of the Atomic Energy Organization of Iran (AEOI) said the amount of these transactions is more than €300 billion.
"Previously, the EU used to pay 85 percent of the money for the oil it purchased from other countries in US dollars, but now with this new mechanism, all the money will be paid in euros," he said.
Once the mechanism takes effect, the US dollar will be isolated as a global currency, and the US will no longer be able to use dollars in the current dominating way, Salehi added.
His comments came one day after the EU commission presented its plan to reduce the dollar's overwhelming dominance of the global economy and to strengthen the role of the euro, particularly for energy transactions.
European capitals are increasingly frustrated with the global dominance of the dollar as a reserve currency, which hands the United States unparalleled diplomatic and economic power in a globalized world.
Governments, banks and multinationals are at the mercy of US authorities, which have the legal power to switch off access to the world economy if any company or country runs afoul of Washington.
"In the current context of incertitudes – trade conflicts, extra territorial sanctions by the US – the market participants are looking for alternative," said EU economics affairs commissioner Pierre Moscovici at a news conference in Brussels.
The single currency – born on January 1, 1999 – "should reflect the political, economic and financial weight of the eurozone", the single currency bloc of 19 EU countries, said European Commission Vice-President Valdis Dombrovskis.
The share of the euro in global holdings of foreign exchange reserves currently stands at around 20 percent, according to the commission. The US dollar, by comparison, is over 60 percent.
After a strong start, the international stature of the euro suffered greatly during the eurozone debt crisis as the financial markets lost faith in the single currency.
The most frustrating recent example for the EU is Iran, where international companies that choose to trade with or invest despite US sanctions are vulnerable to punishment by Washington if they use the dollar.
In order to resolve the issue, Europe has promised to establish the Special Purpose Vehicle (SPV), a mechanism which is supposed to bypass US sanctions against Tehran.
SPV to be launched by year-end
In his Thursday remarks, Iran's nuclear chief expressed hope that the SPV will be in place by the end of December.
It is not easy to build consensus among 27 members of the European Union, he said, quoting European officials as saying that they are doing their best to finalize the mechanism, and that its development is in its final stages.
"Based on the pledges that the Europeans have made, we hope that Europe's proposed package would become operational by the end of the current year," Salehi added.
Salehi's comments echoed Wednesday remarks by Iranian Foreign Minister Mohammad Javad Zarif who also quoted Europeans as saying that the SPV will be launched very soon.
"The Europeans told me in Geneva, and my colleagues in Brussels, that the final arrangements for the SPV have been made," Zarif said, but at the same time noted that the EU has kept the process confidential for fear of the US which may disrupt the SPV if it is made aware of the details.
In a Tuesday report, Al-Monitor quoted European sources as saying that the SPV will be announced in January.
"It is likely that it will be used initially to facilitate trade in food and medicine and consumer goods to avoid attracting unwanted scrutiny from the US Treasury Department," the report said.
Full report at:
https://www.presstv.com/Detail/2018/12/06/582162/EU-euro-dollar-SPV-Iran-oil
--------
EU, France pledge €1.3bn anti-terror aid for Africa Sahel
December 06, 2018
NOUAKCHOTT, Mauritania: The European Union and France on Thursday said their total investment in development funding aimed at preventing terrorism in African Sahel countries would rise to €1.3 billion ($1.5 billion), as the region struggles with extremism and lawlessness.
The five Sahel states — Mauritania, Burkina Faso, Chad, Mali, and Niger — have been struggling against extremism and lawlessness along the Sahara's southern rim since a militant revolt that began with a Tuareg separatist uprising in northern Mali in 2012. The EU's International Cooperation and Development Commissioner Neven Mimica told a conference in the Mauritanian capital that the bloc's Sahel Priority Investment Programme (PIP) "now totals almost €800 million," with an extra €122 million announced Thursday.
France will invest €500 million for the "priorities" of the G5 Sahel, added French Foreign Minister Jean-Yves Le Drian, explaining that the country will add an extra €220 million to the €280 million already pledged.
"Half of this sum is for projects already planned or under way. The other half will be awarded in a speedy way over the next two years to enable you to meet your priorities," Le Drian said.
The five Sahel countries told the meeting they needed €1.9 billion to help them fund projects in border regions vulnerable to militants. They themselves provide 13 percent of that sum.
Governments hope that with an array of projects, including building schools, health centers and improving access to water, they can prevent communities from falling under the influence of extremists.
Extremism in the region has been fueled by the chaos that engulfed Libya in 2011, the militant takeover of northern Mali in 2012 and the rise of Boko Haram in northern Nigeria.
The extremists were largely driven out of Mali in a French-led military operation launched in January 2013.
The France-backed fledgling African regional force fighting militants is also suffering from lack of funding and shortfalls in equipment and training have led to delays in its operations.
Full report at:
http://www.arabnews.com/node/1416701/world
--------
German FM warns of humanitarian catastrophe in Yemen
06.12.2018
By Ayhan Simsek
BERLIN
Yemen will face a humanitarian catastrophe if the UN-sponsored peace talks fail, the German foreign minister said on Thursday.
Speaking to reporters in Italy's Milan, Heiko Maas called on international and regional powers to use their influence on the parties to the conflict to achieve progress for a ceasefire and unhindered humanitarian access.
"Otherwise many, many people would die there, we must prevent this under all circumstances," he stressed.
Representatives of the Yemeni government and Houthi rebels are meeting in Sweden this week for UN-sponsored talks aimed at ending the four-year conflict in the impoverished country.
Yemen has been wracked by violence since 2014, when the Houthi rebel group overran much of the country and the crisis escalated in 2015 when a Saudi-led coalition launched a devastating air campaign aimed at rolling back Houthi gains.
Saudi Arabia and Sunni allies accuse the Houthis of acting as a proxy force for Shia Iran.
Full report at:
https://www.aa.com.tr/en/europe/german-fm-warns-of-humanitarian-catastrophe-in-yemen/1331518
--------
'Israel continues to invade Palestinian territory'
06.12.2018
Israel continues to invade Palestinian territory in violation of international law, a co-winner of the 2018 Nobel Prize in Chemistry said Wednesday.
George P. Smith, professor emeritus of biological sciences at the University of Missouri-Columbia in the U.S., was in Stockholm to attend the Nobel Prize Award Ceremony. He was invited to speak at a conference organized by the Association of Palestinians, which was founded by a group of academics in Sweden who have dedicated themselves to the Palestinian issue.
"The people of Palestine and Israel should have the same rights and equally live in the territory in the form of two states," Smith said.
While noting that Israel, with its disregard for any rules, doesn't allow it, Smith said Palestinians must return to the occupied territories and all their rights must be rehabilitated.
He also stressed that Israel's activities in Gaza are unacceptable.
"Israel is not only pressuring the Palestinian people. There is also pressure on Jewish people who are disturbed by the wrong policies of Israel," he said, adding that Israel has to give up these actions.
The 2018 Nobel Prize in Chemistry was divided. One half was awarded to Frances H. Arnold -- a member of the National Academy of Sciences, National Academy of Engineering and National Academy of Medicine -- "for the directed evolution of enzymes," while the other half was awarded jointly to Smith and Gregory P. Winter "for the phage display of peptides and antibodies".
Full report at:
https://www.aa.com.tr/en/europe/israel-continues-to-invade-palestinian-territory/1330746
--------
Three arrested in Britain in far-right terror probe
December 6, 2018
Police in Britain arrested three men on suspicion of terror offences on Thursday as part of an investigation into extreme right-wing activity.
A 21-year-old man from Bath, an 18-year-old from Portsmouth and a 17-year-old from London are being interviewed by police.
British media reports said the arrests were linked to alleged activity by neo-Nazi group, the Sonnenkrieg Division.
A BBC investigation published this week identified the group as a British offshoot of American group the Atomwaffen Division, which has been linked to five murders in the US.
An online propaganda image the BBC said was produced by the Sonnenkrieg Division called Prince Harry, the son of Queen Elizabeth, a "race traitor" and suggested he should be shot.
Prince Harry earlier this year married Meghan Markle, a former actress who is mixed race.
The BBC said it handed over its dossier to police, who said the arrests were part of a planned operation.
Four properties in Bath, Leeds, London and Portsmouth are also being searched as part of the investigation, police added.
The 17-year-old boy was arrested on suspicion of encouraging terrorism, dissemination of terrorist publications, and conspiracy to inspire racial or religious hatred.
The 21-year-old man was arrested on suspicion of possessing material likely to be useful to a person committing or preparing an act of terrorism, and conspiracy to inspire racial and religious hatred.
The 18-year-old suspect is accused of encouraging terrorism and dissemination of terrorist publications.
Thursday's arrests came as latest Home Office figures showed a record 224 prisoners were being held in British prisons for terrorism-related offences. The figures also showed a 75 per cent increase in the number of alleged far-right extremists being detained.
Full report at:
https://www.thenational.ae/world/europe/three-arrested-in-britain-in-far-right-terror-probe-1.799995
--------
Ireland criminalises import of occupied territories goods
December 6, 2018
Ireland's Senate passed a bill on Wednesday that will criminalise the import or sale of goods which have been produced in the occupied territories of Israel's West Bank, East Jerusalem or the Golan Heights.
The Control of Economic Activities (Occupied Territories) Bill 2018 will now pass to the Dáil Éireann, the lower house in the country, where it must face more challenges before it can become law.
"Incredible — the Occupied Territories Bill has just passed all stages in Seanad Éireann! Ireland can be the first EU country to end trade in illegal #SettlementGoods," tweeted independent Senator Frances Black, the sponsor of the bill.
Israeli foreign ministry spokesperson Emmanuel Nahshon replied by calling the measure hateful and unhelpful.
"Truly incredible — the Irish Senate just approved a hateful boycott initiative against a friendly nation," he tweeted at Black. "This will not help the Palestinians and just push their leadership further away from negotiations."
The Israeli foreign ministry stated: "The Irish Senate (Seanad Éireann) have chosen to give their backing to the most extreme anti-Israel piece of legislation in Europe. This bill will not help a single Palestinian and is aimed at negating the historical connection between the people of Israel and the birthplace of the Jewish people."
The legislation will make it an offense "for a person to import or attempt to import settlement goods" and those who "assist another person to import or attempt to import settlement goods" would risk up to five years in prison, if the bill become law.
"The bill seeks to prohibit the import and sale of goods, services and natural resources originating in illegal settlements in occupied territories," Ms Black said on her website in June.
Full report at:
https://www.thenational.ae/world/mena/ireland-criminalises-import-of-occupied-territories-goods-1.799669
--------
Africa
Seif al-Islam letter to Putin reveals roadmap to resolve Libya crisis
6 December 2018
A member in the delegation of Seif al-Islam, the son of slain Libyan leader Muammar Qaddafi, has revealed the contents of a letter handed over to Russian President Vladimir Putin, pointing out that the letter requests Moscow to support a roadmap to solve the Libyan crisis.
Mohammed al-Qailouchi told the media that Seif al-Islam presented his point of view of the solution in Libya, which was based on two main points: the success of the national forum leading to comprehensive national reconciliation, provided that everyone participates without exclusion, besides holding transparent elections. It emphasized that Seif al-Islam supports the international roadmap proposed by the UN Special Envoy to Libya, Ghassan Salame.
Qailouchi said that he held several meetings last Tuesday, with Russian officials, including Deputy Foreign Minister Mikhail Bogdanov, during which they conveyed the view of Seif al-Islam Qaddafi and clarified the picture of the situation in Libya and ways to resolve the crisis, saying they were welcomed by the Russian side on which the Libyans depend on, in view of the historical relations between the two countries.
The member said that this visit to Russia comes within a series of tasks carried out by the political team of the son of Qaddafi, in order to restore stability.
For his part, Libyan MP Ali Saeed al-Qaidi said that the delegation that visited Russia as the representative of Seif al-Islam Qaddafi, is part of the Libyan society aimed at persuading the Russians to be represented at the national conference, which the UN envoy Salame promised in his last statement before the Security Council.
In his interview with Asharq Al-Awsat newspaper, al-Qaidi hoped that the letter of Seif al-Islam to the Russian foreign ministry would contain a solution to the Libyan crisis. Seif al-Islam Qaddafi has not appeared publicly since he was released from prison in Zintan, south of Tripoli in June 2017, where he has been detained since the overthrow of the regime of his father in 2011.
Libya remains divided between the UN-backed Government of National Accord (GNA) based in Tripoli and headed by Fayez al-Sarraj and a rival administration in the east, headed by Khalifa Haftar, whose self-styled Libyan National Army dominates the area.
The GNA was set up under a 2015 UN-brokered deal that raised hopes of an easing of the chaos that followed the 2011 NATO-backed revolution which ousted Libyan leader Muammar Qaddafi.
https://english.alarabiya.net/en/News/north-africa/2018/12/06/Details-of-Seif-al-Islam-letter-to-Putin-to-solve-Libya-crisis-emerge.html
--------
Bloody rivalry erupts between Al-Shabab and Daesh in Somalia
December 07, 2018
NAIROBI: A bloody rivalry has emerged between extremist groups in Somalia as the Al-Qaeda-linked Al-Shabab hunts upstart fighters allied to Daesh, who have begun demanding protection payments from major businesses, officials tell The Associated Press.
The rivalry supports some observers' suspicions that Al-Shabab, now scrambling to defend its monopoly on the mafia-style extortion racket that funds its high-profile attacks, is drifting from its long-declared goal of establishing a strict Islamic state.
The manhunt began in October with the killing of a top leader of the Daesh-linked group by a suspected Al-Shabab death squad in the capital, Mogadishu, according to several Somali intelligence officials, who spoke on condition of anonymity because they were not authorized to speak to the media.
When the body of Mahad Maalin, deputy leader of the Daesh-affiliated group, was found near a beach in Mogadishu, it set off a hunt for suspected Daesh sympathizers within Al-Shabab's ranks, officials said. Maalin had been suspected of trying to extend his group's reach into the capital.
Last month, the Daesh group's Al-Naba newsletter noted deadly attacks on its fighters in Somalia and warned that "when the time of response comes from Daesh, with God's will, we will be excused."
Strongholds
The Daesh-affiliated group in Somalia, largely made up of Al-Shabab defectors, first announced its presence in 2016 with attacks in the far north, far from Mogadishu and most Al-Shabab strongholds. Though estimated at a few hundred fighters at most, their emergence in one of the world's most unstable countries has been alarming enough that the US military began targeting it with airstrikes a year ago.
While Al-Shabab and its thousands of fighters have hunted down suspected Daesh sympathizers before, they had not taken the young group's expansion seriously until now, observers say.
"Al-Shabab miscalculated Daesh's organizational capability and ambitions to extend its reach beyond the north, having judged it by its handful of fighters there, and thus missed the bigger picture," said Mohamed Sheikh Abdi, a Mogadishu-based political analyst.
The revelation by businessmen that Daesh-linked operatives had begun making extortion demands took A-Shabab's leadership by surprise, prompting the manhunt that has led to assassinations and the detention of over 50 suspected Daesh-linked extremists, including foreign fighters, two Somali intelligence officials told AP. One suspected Daesh-linked fighter from Egypt was shot dead on Nov. 18 in Jilib.
As members of the Daesh flee shrinking strongholds in Iraq and Syria, fears have grown that the terrorists will find a new and welcome home in parts of Africa.
Alarmed by Al-Shabab's deadly attacks, the Daesh-linked group has expanded its own assassination campaign. Daesh's Amaq news agency, turning its attention to the young affiliate, has released videos showing what it called killings by the group's death squad.
Daesh-linked fighters already had claimed responsibility for 50 assassinations in southern Somalia between October 2017 and August, often against federal government officials, according to a report released last month by the UN panel of experts monitoring sanctions on the country.
Source of funding
While extortion is the fighters' latest tactic it is nothing new in Somalia, where Al-Shabab has long used death threats and other intimidation to pressure businesses to pay what is called "zakah," or charity. The money is their main source of funding. "Indeed, Al-Shabab is likely generating a significant budgetary surplus," the UN panel of experts said, noting that one of its checkpoints brought in about $10 million a year.
With no strong government to protect them, businessmen often say they have no choice but to pay in exchange for protection.
Among the companies targeted by suspected extremists is Somalia's telecom giant, Hormuud, which intelligence officials say has lost up to 10 employees in attacks in recent weeks. Hormuud officials did not respond to requests for comment.
Businesses worry that the rise of another extremist group seeking cash, as well as a new effort by Somalia's central government to impose taxes, will bleed them dry.
"At this point, (businesses) are faced with two equally undesirable alternatives," said Abdisamad Barre, a professor of business management in Mogadishu. "Rejection to the demands for extortion will pave way for attacks by Daesh, and paying them to evade danger will anger Al-Shabab."
Somali intelligence officials say Al-Shabab's new manhunt is aimed at preventing the Daesh-linked extremists from expanding their extortion demands into southern Somalia, where Al-Shabab levies millions of dollars in taxes per year on travelers and cargo meant for the lucrative port of Kismayo.
Another Al-Shabab tactic against its young rival is pressuring religious leaders to issue a fatwa, or edict, declaring Daesh "un-Islamic," thus legitimizing a war against them, according to sources close to Al-Shabab who requested anonymity for fear of reprisal.
Security experts, however, say Al-Shabab will find it difficult to unearth Daesh supporters even within its own ranks.
Full report at:
http://www.arabnews.com/node/1416951/world
--------
Boko Haram blocking humanitarian aid in Nigeria: UNICEF
06.12.2018
By Rafiu Ajakaye
YOLA, Nigeria
Boko Haram violence is a major setback for key humanitarian interventions and socioeconomic development in Nigeria's northeast, a nutritionist with the United Nations Children's Fund (UNICEF) said on Thursday.
The Boko Haram insurgency has claimed nearly 30,000 lives and displaced over 2 million people from the Lake Chad region, orphaning millions of children, leaving many farmlands deserted, and threatening food security.
Dozens of humanitarian workers have either been killed or abducted, leading to some nonprofit relief agencies leaving the region.
"We cannot talk about any development or food security when people don't have somewhere to live or are in fact not sure whether they would not be killed in the next attack," Davis Bamidele Omotola, UNICEF nutrition consultant, said at the close of a two-day media dialogue on child malnutrition.
"We must resolve the crisis as early as possible to properly address the crisis of malnutrition. Government must urgently address this crisis. You can't talk of nutritious food when you don't even have a home to stay in. People must live before we talk of development."
He also called on the government to prioritize funding for interventions targeting the over one million malnourished children in the region.
"We also face the problem of government not meeting up with the counterpart funding to treat the severely malnourished children. At the moment, the DFID [U.K. Department for International Development] is helping with provisions of the Ready to Use Therapeutic Food (RUTF) for at least 240,000 of the children. But what happens to the remaining ones?" he said.
RUTF is a vitamin and mineral fortified peanut paste mixed with dry milk products. It has been heralded by Doctors Without Borders and other aid groups as powerful tool to help children suffering from severe malnutrition.
Geoffrey Njoku, communications expert with UNICEF, said budget reforms are required to free up funding for nutrition.
"This involves engagement with the stakeholders, especially the lawmakers and executives, on why money should be voted on and released for nutrition.
Full report at:
https://www.aa.com.tr/en/africa/boko-haram-blocking-humanitarian-aid-in-nigeria-unicef/1331584
--------
US says air strike kills four militants in Somalia
December 6, 2018
The US military said it killed four militants in an air strike against al Shabaab militants in the vicinity of Awdheegle, Somalia, as part of its operations to support the government's efforts to weaken the group.
The military's Africa Command (Africom) said the strike was carried out on December 4.
"The US airstrike was conducted against militants after US and partner forces came under attack," Africom said in a statement late on Wednesday.
"We currently assess this airstrike killed four (4) militants with no civilians involved."
Full report at:
https://www.thenational.ae/world/africa/us-says-air-strike-kills-four-militants-in-somalia-1.799710
--------
North America
Canada hosts anti-Daesh coalition meeting
By Umar Farooq
WASHINGTON
Thirteen countries from an international coalition to defeat Daesh met Thursday to declare they have taken back more than 99 percent of the territory once held by the terrorist group in Iraq and Syria.
Secretary of Defense James Mattis and his Canadian counterpart, Harjit Sajjan, who co-hosted the meeting in Ottawa, issued a joint statement after the meeting.
"We will continue to adapt and strengthen our global network to counter ISIS's own network of foreign terrorist fighters, financing and propaganda," the statement said, referring to Daesh by an alternative name.
The coalition was created in 2014 when the U.S. announced a group to defeat the Daesh terrorist organization. It has grown to include 79 countries.
The two officials said they reaffirmed their focus on defeating the group, and said they will leverage military, intelligence, diplomacy and economics to ensure their success.
Last year, officials from Iraq, which is a part of the coalition, declared Daesh's military presence in the country had been neutralized following a three-year conflict.
Nevertheless, Iraqi forces continue to carry out frequent operations to decisively end the group's lingering presence.
"We are confident that we will prevail," the statement added. "We stand with people across the world who seek a better and safer future."
https://www.aa.com.tr/en/americas/canada-hosts-anti-daesh-coalition-meeting/1331721
--------
US fails to condemn Hamas at UN General Assembly
Dec 7, 2018
A US-sponsored draft resolution seeking to condemn Palestinian resistance group Hamas at the United Nations General Assembly has failed to gain a majority vote.
The 193-member UNGA voted 87-57 in favor of the resolution Thursday while 33 members chose to abstain, leaving Washington with a plurality vote that fell short of the two-thirds requirement to adopt the resolution.
The US had originally called for a simple majority vote, but the world body opted for a two-third majority instead after a narrow 75-72 vote, with 26 abstentions.
The resolution attempted to condemn Hamas for carrying out rocket attacks against Israel and using "airborne incendiary devices" against Israelis living in occupied Palestinian lands.
The resolution came weeks after Hamas and other Palestinian resistance groups fired over 400 rockets into Israel during a two-day flare-up of violence following a botched Israeli attack against a Hamas commander.
US Ambassador Nikki Haley said before the vote that the assembly could make history condemning Hamas, which she referred to as "one of the most obvious and grotesque cases of terrorism in the world."
"For the sake of peace, and for the sake of this organization, I respectfully urge my colleagues to support this resolution," she said.
"The General Assembly has passed over 700 resolutions condemning Israel. And not one single resolution condemning Hamas. That, more than anything else, is a condemnation of the United Nations itself," she added.
China and Russia were among those voting the measure down. India abstained despite having recently forged warmer ties with the Tel Aviv regime. The measure was welcomed in Europe and the Americas.
After the US draft's failure, the UNGA voted 156-6 to adopt an Irish resolution that called for "the achievement, without delay, of a comprehensive and lasting peace in the Middle East" on the basis of UN resolutions, specially the December 2016 measure.
The resolution also reaffirmed "unwavering support" for a two-state solution along "the pre-1967 borders."
Tel Aviv tried to undermine the defeat, with Israel's UN envoy Danny Danon saying that a majority vote was within reach had the vote "not been hijacked by a political move of procedure."
Israeli Prime Minister Benjamin Netanyahu also hailed the 87 countries for taking "a principled stand against Hamas."
Hamas hails 'slap' to Trump
Following the vote, Hamas hailed the failure of the resolution as a "slap" to US President Donald Trump's administration.
"The failure of the American venture at the United Nations represents a slap to the US administration and confirmation of the legitimacy of the resistance," the group's spokesman Sami Abu Zahri wrote on Twitter.
Palestinian Authority President Mahmoud Abbas also commended the outcome.
Full report at:
https://www.presstv.com/Detail/2018/12/07/582203/US-UNGA-palestine-Hamas-resolution-failure-Israel
--------
Saudis paid for 500 rooms at Trump hotel in 2016: Report
Dec 6, 2018
Shortly after US President Donald Trump's election victory in 2016, lobbyists working on behalf of Saudi Arabia's government paid hundreds of thousands of dollars for rooms in his hotel, a new report has revealed, shedding more light on the American leader's ties to Riyadh.
It was first revealed in June that Saudi lobbyists had paid Trump's hotel in Washington, DC, more than $270,000 to accommodate US military veterans who were offered free trips to the Capitol Hill as part of an influence campaign aimed at convincing American lawmakers to ignore Saudi Arabia's role in the September 11, 2001 terror attacks.
In September 2016, US Congress had overridden a veto from then President Barack Obama and passed the Justice Against Sponsors of Terrorism Act, called JASTA, which opened the door to a legal case alleging that the Saudi government played a role in the deadly attacks that killed 32,000 people.
Of the 19 plane hijackers involved in the attacks against the World Trade Center towers, 15 were Saudi citizens.
The Washington Post revealed more details about the payments on Wednesday, noting that the US-based lobbyist group Qorvis/MSLGROUP had reserved blocks of rooms at Trump's luxury hotel an estimated 500 nights.
The rooms cost $768 per night and were reserved for six separate groups of veterans from across the country.
Qorvis/MSLGROUP, which has long represented the Riyadh regime, admits paying more than $190,200 for lodging, $78,204 for catering and roughly $1,600 for parking at the Trump International Hotel.
Some of the veterans who stayed at Trump's hotel said they were never informed of the role Saudis had in organizing the trips. Some also wondered whether they were used not just to forward Riyadh's agenda but also to deliver business to the Trump Organization.
The organizers, however, have denied the charges, saying they only chose Trump's hotel because of its discounts.
Citing organizers of the trips and various documents, the Post claimed that the extent of the transactions was much bigger than initially thought.
The payment is viewed as further evidence of Trump's collusion with Riyadh, an allegation that has gained more traction after the Republican president's refusal to punish Saudi Arabia over the murder of dissident journalist Jamal Khashoggi and the ongoing war against Yemen.
These transactions also provide ammunition for plaintiffs in two different lawsuits that accuse Trump, a businessman-turned-politician, of violating the US Constitution by taking payments from foreign governments.
Earlier this year, the Trump Organization donated about $151,000 to the US Treasury as the amount of profit it made from dealings with foreign governments.
The transactions are also expected to face extra scrutiny from the House of Representatives after the new Democratic majority takes over in January.
Democrats have already expressed strong interest in understanding Trump's business connections with the Saudi regime and whether they play a role in his lack of willingness to go after Saudi Crown Prince Mohammed bin Salman.
"Foreign countries understand that they can curry favor with the president by patronizing his businesses," said Democratic Representative Adam B. Schiff, who will lead the House Intelligence Committee next year. "It presents a real problem, in that it may work."
Full report at:
https://www.presstv.com/Detail/2018/12/06/582200/US-Trump-Saudi-hotel-rooms-Khashoggi
--------
Senator Durbin calls for expulsion of Saudi ambassador to US
Dec 6, 2018
US Senator Dick Durbin has said the United States should expel Saudi Arabia's ambassador to the United States over the murder of dissident journalist Jamal Khashoggi.
Saudi Arabia's ambassador to the United States is Prince Khaled bin Salman, the younger brother of the crown prince, whom intelligence sources identified as the man behind Khashoggi's gruesome murder.
After Durbin and a small number of other senators were briefed this week by CIA Director Gina Haspel on the Khashoggi killing, the Illinois Democrat senator Durbin said he did not understand the efforts made by US President Donald Trump and his administration, including Secretary of State Mike Pompeo and Defense Secretary James Mattis, to cast doubt on the prince's "obvious" involvement in the murder.
"I couldn't understand the PR effort by the Trump administration, Sec. Pompeo, after we sat down with the very same intelligence analyst and the conclusion was obvious" that bin Salman was involved in the Khashoggi killing, told CNN's "New Day.
"I couldn't understand the PR effort by the Trump administration, Sec. Pompeo, after we sat down with the very same intelligence analyst and the conclusion was obvious" that bin Salman was involved in the Khashoggi killing, says @SenatorDurbin. https://t.co/dPYbec6KDw pic.twitter.com/KTbhlcIWoE
— New Day (@NewDay) December 6, 2018
Durbin said that after being briefed by Haspel on Tuesday he was more convinced than ever that the onus was upon US administration to send a clear and strong message that Washington did not condone such actions.
"I said it months ago and I will say it again: we should formally expel the Saudi Ambassador to the United States given the Crown Prince's direct involvement in the kidnapping and murder of Jamal Khashoggi," Durbin emphasized.
Durbin, who had said earlier that bin Salman's "finger prints" were "all over" the Khashoggi murder case, said the Trump administration needed to stop "bending to the will of autocrats and dictators" and take a moral stand against these types of criminal actions.
In addition to Durbin, multiple US Senators have said the complicity of Crown Prince Mohammad Bin Salman in the murder is overwhelmingly supported by the evidence in the case.
Prince Khalid had allegedly called Khashoggi -- at the direction of his brother -- telling told him to go to the Saudi Consulate in Istanbul to receive marriage papers, while giving him assurances that he would be safe there.
Khashoggi went missing during the visit to the consulate on October 2.
Full report at:
https://www.presstv.com/Detail/2018/12/06/582198/US-Senator-Durbin-Khashoggi-Saudi-Arabia-Ambassador-Khaled-bin-Salman
--------
India
Gujarat: State education board refutes allegation of Muslim profiling
Dec 7, 2018
The Gujarat Secondary and Higher Secondary Education Board on Thursday vehemently refuted the allegations levelled against it in a PIL claiming that the board is carrying out a religious profiling of the Muslim candidates appearing for Class X and XII exams.
In a reply submitted to the court, the board stated that the data of minorities were being collected as per a 2012 circular of the Ministry of Human Resource Development to reduce dropouts of Muslim students and make informed decisions, based on available data, for their upliftment. The board also clarified that to take any measures for the upliftment of Muslim students, having the highest drop-out rate among all religion, data was required.
As far as the allegation that the board has made it mandatory for students to declare their religion as well as reveal their Aadhar details, the board has clarified that these sections were not mandatory for the students. It has also submitted that it was up to the students whether they want to voluntarily disclose the details related to their religion and Aadhar, or not.
https://www.dnaindia.com/ahmedabad/report-gujarat-state-education-board-refutes-allegation-of-muslim-profiling-2693039
--------
Agra: On Babri demolition anniversary, Muslim group cancels on-road namaz
Siraj Qureshi
December 6, 2018
Rashtriya Muslim Action Committee did not hold its annual 'on-road namaz' in Agra as it does on the anniversary of Babri Masjid demolition every year on December 6.
On-road namaz has been a standard practice by the committee since the first anniversary of Babri Masjid demolition in 1993. The namaz takes place on Mantola crossing in the city every year.
Mohammed Sharif Kale, acting president of the committee, said that though the namaz was held peacefully since 1993, it was cancelled this year to avoid communal tension in the city that has been tense for some time.
In light of the prevailing tension over the Ayodhya issue, Agra Police had made arrangements to contain possible violence in the city. They were coordinating with leaders from both the communities.
The district administration had imposed Section 144 of CrPC declaring any gathering of more than five people unlawful.
Read | When terrorists attacked Babri Masjid-Ram Janmabhoomi site in Ayodhya
Agra SP Amit Pathak held a peace committee meeting on the eve of December 6 following which there were no incidents of violence in the city.
Mohammed Sharif Kale, acting president of Rashtriya Muslim Action Committee, said that as the namaz is cancelled, Muslims expect that Hindu community reciprocates by not drumming up Ram Mandir issue and waiting for Supreme Court to pass the order to solve the deadlock.
BJP leader Madanlal Mahore said that on-road namaz caused major inconvenience to commuters who wished to enter the old city. He welcomed Rashtriya Muslim Action Committee's decision to cancel the namaz and said that this shows the willingness of the community to negotiate peacefully on the issue.
Full report at:
https://www.indiatoday.in/india/story/agra-on-babri-demolition-anniversary-muslim-group-cancels-on-road-namaz-1404021-2018-12-06
--------
Meet Mohammed Khalid, Who Has Buried, Cremated Over 10,000 Unclaimed Bodies in Jharkhand
04th December 2018
RANCHI: Mohammed Khalid has been serving the society silently for the last 14 years by cremating and burying unclaimed dead bodies according to their religion and has performed last rites for more than 10,000 bodies so far.
According to Khalid, whatever life a person might have lived, he must get a dignified exit from this world. Khalid, a science graduate and pathologist by profession, has been doing this social service all of his own without taking any support from the Government or any other organization.
A local cloth merchant, however, provides shroud for the dead bodies free of cost, while some other people, whom he calls - 'Dharm Bhai,' of late have started helping him in this noble cause by giving donations for cremation.
It all started by chance, when he was working as a cleaning supervisor at Sadar Hospital in Hazaribagh some 14 years back where an old lady suffering from leprosy was dumped there by her family members died and there was nobody to perform her last rights. "When nobody came forward, I cremated the dead body at the nearby crematorium of my own which changed my life as it gave me a sense of immense satisfaction and I took decision then and there to carry forward this noble cause by giving a dignified exit from this world to those, who might not had lived a comfortable life here," said Md Khalid.
All round appreciation from family, friends and administration has been working as motivation to carry forward this noble cause he added. "Now, during the last 14 years, I have performed last rights of not less than 10,000 dead bodies in Ranchi, Hazaribagh, Chatra and, Ramgarh districts of Jharkhand," said Khalid.
Looking at his dedication, the district administration has put a notice at several places in Hazaribagh asking them to contact Md Khalid if they have any problem in the cremation or burial of dead bodies, he added.
Not only unclaimed bodies, Md Khalid also gives performs last rights for those neo-natal children who die during their birth in the hospital and there is no one to take care of them. Later on, some other people also expressed their desire to join him in this noble cause.
"To ensure a dignified exit to the dying person, we also make it a point to immerse the ashes of those dead bodies to Varanasi or prey for them in the mosque and church as per their religion," said Khalid. Tapas Chakravarty, a retired professor from St Columba College in Hazaribagh, is also associated with Khalid along other persons - Ashish Singh, Md Naseem and Mukesh Ram.
"Being his teacher, it makes me feel proud when I see Khalid," said Chakravarty. The work he has been doing is really commendable, he added. According to Chakravarty, probably there is only one mortuary in India which is run by two private individuals that is Khalid and he.
Full report at:
http://www.newindianexpress.com/nation/2018/dec/04/change-makers-meet-the-man-who-has-buried-cremated-over-10000-unclaimed-bodies-in-jharkhand-1907262.html
--------
India and Pakistan turn to religious diplomacy as peace talks stall
Nyshka Chandran
Historical rivals New Delhi and Islamabad have agreed to build a visa-free corridor that traverses their heavily militarized border and promises to ease bilateral tensions. But political realities may limit any real progress toward reconciliation.
Called the Kartarpur Corridor, the five-kilometer passageway connects Sikh shrines from the Indian city of Dera Baba Nanak to the town of Kartarpur in Pakistan, allowing Sikhs in both countries to travel to places of worship across the border without a visa.
The confidence-building measure is a milestone for the historically tense relationship — Indian Prime Minister Narendra Modi recently compared the corridor with the fall of the Berlin Wall. It's also a huge win for the regional Sikh community, which has long demanded the liberalization of travel to holy places. Sikhism is the fourth-largest religion in India, but in Muslim-majority Pakistan, it's only practiced by a small segment of the population.
"Religious diplomacy — or using faith to bring people and nations together — has been very much part of Modi's foreign policy in his outreach to the neighboring countries in the Subcontinent and beyond," C. Raja Mohan, nonresident senior fellow at Carnegie India and a visiting professor at the National University of Singapore, said in a note.
Modi, who leads the Hindu nationalist Bharatiya Janata Party, tends to emphasize Hinduism as a uniting factor when he travels to Asian countries such as Nepal and Indonesia that have been influenced by the ancient religion. At home, however, the BJP's right-wing rhetoric and policies have been linked to religious violence — mob killings and Hindu assaults on Muslims.
Reasons for hope
The Kartarpur Corridor, which has been praised by Beijing and Washington, promises to "give a new fillip to the strained relations between the two neighboring countries," the All Parties Sikh Coordination Committee, a prominent Sikh organization based in India-administered Kashmir, said in a statement.
Construction on the corridor began last week, coinciding with India's anniversary of the 2008 Mumbai attacks in which members of a Pakistan-based terror network known as Lashkar-e-Taiba carried out a series of shootings and bombings.
"If the Mumbai attacks represent the accumulated negative legacy of the [India-Pakistan] relationship, the surprising breakthrough on Kartarpur points to a potentially positive future," Mohan said.
The border where Sikh pilgrims would cross is located at the Indian and Pakistani provinces of Punjab. Both states share the same name and have great demand for cross-border commercial cooperation and people-to-people contact, according to Mohan. "If there is one place ripe for quick advances in bilateral relations it is the Punjab," he said.
A lack of formal talks and logistical issues
But in the absence of dialogue, it's hard to forecast any normalization of ties. New Delhi currently refuses to participate in any formal discussions with Islamabad amid terror concerns.
At last Wednesday's launch of the Kartarpur Corridor, Pakistani Prime Minister Imran Khan called for talks with Modi's administration but, on that same day, India's External Affairs Minister Sushma Swaraj dismissed the prospect.
"Bilateral dialogue and the Kartarpur Corridor are two different things," she said at a press briefing. "Terror and talks can't go together. The moment Pakistan stops terrorist activities in India, a dialogue can start."
In December 2015, Modi became the first Indian prime minister to travel to Pakistan in over a decade as the neighbors launched a comprehensive bilateral dialogue. But that initiative was stalled following a terror attack on an Indian air base in January 2016, which Indian officials blamed on Pakistan-based group Jaish-e-Mohammed.
Khan has said his government is against radicals using Pakistani soil for terrorism.
Pakistan may be keen to embrace dialogue but "political realities in India are very different," Stuti Bhatnagar, adjunct fellow at the University of Adelaide, wrote in a note published on The Lowy Institute this week.
Amid ongoing state elections and ahead of a general election in 2019, "it would not be in Modi's electoral interests to enter serious negotiations with Pakistan," she argued. "The ascendance of the Hindu nationalist narrative, which has become more pronounced since 2014, suggests that the electoral imperative for Modi is Pakistan-bashing rather than dialogue."
It's also unclear how the South Asian neighbors will govern the corridor or deal with the thorny issue of Sikh separatism.
One major obstacle is the process of visa-free travel. Security officials on both sides are likely to have demands that will make it tough for Sikh pilgrims to cross the border, according to Mohan, who pointed to the conflict-ridden region of Kashmir as an example.
"In Kashmir, we have seen how the agreement in the middle of the last decade to let Kashmiris travel across the Line of Control without passports and visas was marred by an onerous permit system," he pointed out.
Indian authorities are also wary of the corridor being used by Sikh nationalists who seek to create an independent state known as Khalistan.
"The portent of things to come became crystal clear when a notorious Khalistani was given the front seat in the Corridor inauguration ceremony," Sushant Sareen, senior fellow at the Observer Research Foundation, said in a note, referring to pro-Khalistan activist Gopal Singh Chawla.
New York-based separatist group Sikhs for Justice, for instance, has called the corridor "a bridge to Khalistan," local media reported last week. That's likely to keep Indian border forces on high alert, which raises concerns of clashes between separatists and authorities.
Full report at:
https://www.cnbc.com/2018/12/07/india-and-pakistan-turn-to-religious-diplomacy-as-peace-talks-stall.html
--------
Kishanganj Congress MP Maulana Asrar-ul-Haque Qasmi passes away at 76
December 7, 2018
Maulana Asrar-ul-Haque Qasmi, noted Islamic scholar and Congress Lok Sabha MP from Bihar's Kishanganj constituency, passed away in the early hours of Friday following a heart attack. He was 76.
Qasmi won the Kishanganj seat in 2009 general elections by contesting on an Indian National Congress ticket after five consecutive failures. He retained his constituency in the 2014 general elections by defeating BJP's Dilip Kumar Jaiswal, that too, with a margin of over 1 lakh votes.
He was a member of the All India Muslim Personal Law Board and also a founder member of the All India Milli Council.
https://indianexpress.com/article/india/noted-islamic-scholar-kishanganj-congress-mp-maulana-asrar-ul-haque-qasmi-passes-away-at-76-5482566/
--------
Anniversary of Babri mosque demolition passes off peacefully
December 6, 2018
The 26th anniversary of the demolition of Babri Mosque passed off peacefully in Uttar Pradesh Thursday with Hindu and Muslim organisations observing the day as "shaurya diwas" and "black day" respectively.
While the VHP and Bajrang Dal burst crackers and resolved to build a grand Ram temple in Ayodhya, Muslim outfits held protests to express grief over the incident. In Ayodhya, Mahant Suresh Das of Digambar Akhara said Ram temple is the biggest issue in front of the country.
"There are three courts -lower courts, high court and Supreme Court – but the people's court is above these three courts. We must go to the peoples court, and convince the public for construction of Ram temple," he said, while addressing the 'Shaurya Sankalp Sabha'.
Muslim organisations observed the day as 'Yaum E Gham' (day of sorrow) and a protest demonstration was held in Lucknow, Convenor of Babri Masjid Action Committee, Zafaryab Jilani said. There are reports of protests being held in Kerala, Hyderabad and Maharashtra, Jilani said.
A member of the All India Muslim Personal Law Board, Khalid Rashid Firangimahli, handed over a memoradum to the District Magistrate of Lucknow addressed to Prime Minister Narendra Modi and Chief Minister Yogi Adityanath on behalf of the board demanding justice in the case, Jilani said. In Gorakhpur, the prant sanyojak of Bajrang dal, Purnendu, said: "We can't have more patience and the Government should pass a law in Parliament for the construction of Ram temple at the birth place of Lord Ram in Ayodhya.
"The Hindu community is depressed after hearing that Ram temple is not among the priorities in front of court," he said in a statement.
On the other hand, Gorakhpur unit of AIMIM, observed the day as black day with a banner carrying the picture of Asaduddin Owaisi, Bheem Rao Ambedkar and Bhagat Singh, and staged a sit-in at the district magistrate's office and gave a memorandum addressed to President of India. We demanded the arrest of the accused in Babri Masjid demolition and reconstruction of the mosque in the memorandum, the All India Majis-e-Ittehadul Muslimeen (AIMIM) spokesperson, Imran said.
Full report at:
https://indianexpress.com/article/india/anniversary-of-babri-mosque-demolition-passes-off-peacefully-5482093/
--------
J&K: Two soldiers killed in ceasefire violation by Pakistan
December 6, 2018
An Army soldier lost his life in a ceasefire violation by Pakistan in Machil sector of Kupwara district while and a BSF jawan was killed by sniper fire from across LoC in Sunderbani sector in Jammu and Kashmir on Thursday.
"There was an unprovoked ceasefire violation by Pakistani troops in Macchil sector in Kupwara district in Jammu and Kashmir today (Thursday) at 10.45 am," an Army official said.
One soldier was killed in the Pakistani firing, he said. "Our troops retaliated in adequate measure to the Pakistani
aggression," he added.
This was the second ceasefire violation along the LoC in Kashmir valley within 24 hours. One soldier was injured in a ceasefire violation by Pakistani troops in Uri sector on Wednesday.
The second incident, in which a BSF jawan was killed and another injured, occurred at the Rakhee post in the evening. The sector is manned by the troops of the 126th battalion of the Border Security Force (BSF).
Full report at:
https://indianexpress.com/article/india/jk-soldier-killed-ceasefire-violation-pakistan-kupwara-machil-sector-kashmir-5481959/
--------
South Asia
At least 40 Pakistani Taliban killed in Ghazni operations
Dec 06 2018
The Afghan Military in the Southeast claims at least 40 Pakistani Taliban militants have been killed during the operations of the Afghan forces and coalition airstrikes in Ghazni province.
The 203rd Thunder Corps in a statement said the Afghan National Defense and Security Forces and coalition forces conducted operations and airstrikes in Nawa, Khogyani, and Gilan districts.
The statement further added that at least 72 militants have been killed during the operations, including around 40 Pakistani Taliban militants.
According to 203rd Thunder Corps, at least 2 militants were also wounded and at least 17 others were arrested during the same operations.
A commander of the Taliban identified as Jabar is among those killed, the 203rd Thunder Corps said, adding that 18 motorcycles and around 45 vehicles were also destroyed.
The anti-government armed militant groups including Taliban have not commented regarding the operations so far.
https://www.khaama.com/at-least-40-pakistani-taliban-killed-in-ghazni-operations-02884/
--------
All stakeholders agree on need for talks to end Afghan conflict: FO
December 07, 2018
ISLAMABAD: The Foreign Office on Thursday emphasised that all stakeholders of the Afghan conflict were now on the same page with regard to finding a political settlement through a dialogue for ending it.
"I would again emphasise that the point to be registered is that all stakeholders now agree with Pakistan's position that the final settlement of the Afghan conflict can only be achieved through dialogue," said FO spokesman Dr Muhammad Faisal at his weekly media briefing.
In a major development this week, US President Donald Trump wrote a letter to Prime Minister Imran Khan seeking Pakistan's help for starting peace negotiations between Kabul and Afghan Taliban. Pakistan has positively responded to the US request and renewed its commitment to contribute to the process.
Dr Faisal said there were no preconditions for this cooperation for peace and reconciliation in Afghanistan.
"I want to clarify that when we negotiate there are no pre-set demands. Both sides give their positions and we try to identify converging areas to move forward. This is diplomacy. It remains our desire that matters may be resolved through dialogue rather than resorting to settlement through the gun," he asserted.
Ties with India
The spokesman said that progress in Pakistan-India ties could only be achieved if India remained steadfast on the matter.
"We can only move forward if India remains steadfast. India's reluctance in reciprocating to Pakistan's proposal is the biggest hurdle in normalisation of relations between the two countries," said Dr Faisal.
Recalling Prime Minister Khan's letter to Prime Minister Narendra Modi in which he proposed the way forward for resolving all outstanding issues between the two countries, he said: "You all know India agreed to our proposal one day, only to renege on their commitment the next day. There is a lack of clarity and will, on the Indian side."
Full report at:
https://www.dawn.com/news/1449920/all-stakeholders-agree-on-need-for-talks-to-end-afghan-conflict-fo
--------
Bangladesh summons Myanmar's envoy over minister's remarks about Rohingya
Dec 6, 2018
Bangladesh has summoned Myanmar's ambassador over controversial comments made by the Myanmarese religion minister about Dhaka and Rohingya Muslim refugees, and called for legal action against him.
Senior officials at the Bangladesh Foreign Ministry said on Thursday that Ambassador Lwin Oo had been called in after Myanmar's religion minister, Thura Aung Ko, claimed in a video release that Rohingya Muslims living as refugees in Bangladesh were being "populated" and "brainwashed" by Bangladesh to then "march on" the Buddhist-majority country.
The Bangladeshi Foreign Ministry denounced Thura's remarks as "provocative."
"We strongly protest their minister's provocative remarks. It also hurt Muslim sentiments," a senior official in the Bangladeshi ministry anonymously told Reuters. "If you give them citizenship and their property back, they will run for Myanmar. Instead of doing that, you are making provocative statements? This is unfortunate."
In his video, Aung Ko said Bangladesh was "not letting them (the refugees) return," using the term "Bengalis" to refer to the Rohingya Muslims, who consider themselves natives to Myanmar.
"If [they] release them, the population will drop," he said in the video. "And then, they, at the camps, also feed and brainwash Bengali youths to truly march. They will march on Myanmar. The future goal of those over-populated Bengalis is to march on Myanmar."
The Rohingya Muslims, who had previously been based in Myanmar's northwestern state of Rakhine, were subjected to a campaign of killings, rape, and arson attacks by the military, backed by the country's majority Buddhist extremists, mainly between late 2016 and August 2017 in what the United Nations (UN) has concluded was genocide.
The brutal campaign forced some 700,000 Rohingya to flee their homeland since August 2017 and seek refuge in neighboring Bangladesh.
Many of the displaced Rohingya are either living in squalid camps or just across the border in a plot of land known as the "no man's land."
The Rohingya Muslims, who have lived in Myanmar for generations, are denied citizenship and are branded illegal emigrants from Bangladesh, which likewise denies them citizenship.
Their former communities in Myanmar have been razed. Report say Buddhists have been shuttled and settled there in newly-built structures to repopulate the area.
In late October, Bangladesh and Myanmar agreed to begin to return hundreds of thousands of the Rohingya refugees who fled last year.
Full report at:
https://www.presstv.com/Detail/2018/12/06/582122/Bangladesh-Myanmar-ambassador-Rohingya-Muslim-refugees-populate-brainwash
--------
Afghan official: Taliban kill 14 troops in western province
December 07, 2018
KABUL: An Afghan official says the Taliban have killed 14 Afghan soldiers and taken another 21 captive in an overnight attack in the country's western Herat province.
Herat provincial council member Najibullah Mohebi says attackers besieged two army outposts late on Thursday in Herat's Shindand district.
He says the fighting lasted for six hours before reinforcements arrived and repulsed the insurgents early on Friday — but not before they captured 21 troops.
However, the Defense Ministry's spokesman, Ghafor Ahmad Jaweed, put the number of army dead and wounded at 10. The different accounts couldn't immediately be reconciled.
Full report at:
http://www.arabnews.com/node/1417031/world
--------
Rohingya refugees wary after Myanmar minister's hostile remarks
December 06, 2018
DHAKA: Rohingya refugees have told Arab News they fear going back to Myanmar after a government minister made derogatory remarks about Islam.
Myanmar's Minister for Religious Affairs and Culture Thura Aung Ko also made comments about the Muslim minority group, which has been subjected to a military crackdown described by the United Nations as a textbook example of ethnic cleansing.
Ko alleged that Rohingya youths in refugee camps across the border in Bangladesh were being brainwashed to "truly march toward Myanmar" and referred to the Rohingya as Bengalis, a term used by Naypyidaw to paint the group as illegal immigrants.
In another video, released by Radio Free Asia, Ko alleged that Myanmar's Buddhist population was under threat.
"While we Buddhists practice monogamy and have only one or two children, an extreme religion encourages having three or four wives and giving birth to 15 to 20 children. After three, four, five decades in this Buddhist country, the Buddhist community will certainly become the minority," he said in the video.
The Rohingya have faced severe discrimination in Myanmar and been the target of violence for years, notably in 2017.
Thousands were killed and more than 720,000 fled their homes following a Myanmar military crackdown purportedly aimed at militants, according to rights group.
Myanmar refuses to recognize the Rohingya as a legitimate native ethnic minority and they are denied citizenship and other rights.
"We were living in a highly hostile environment, in many cases that were backed by the state. Now the world witnessed it once again after the religious affairs minister's comments," Daud Ali told Arab News, a 47-year-old living in the Kutapalang refugee camp in the southeastern city of Cox's Bazar.
Another refugee at the same camp, 27-year-old Sayed Alam, said the Rohingya had always been treated as second class citizens.
"Our movements were highly restricted even in Rakhine," he told Arab News, referring to the western Myanmar state where the majority of the Rohingya live, "so it's no wonder that a minister of (Aung) Suu Kyi's government makes derogatory remarks about Muslims."
Bangladesh protested Ko's remarks, summoning Myanmar's Ambassador Lwin Oo to the Foreign Ministry in Dhaka on Wednesday.
Delwar Hossain, from the Foreign Ministry, said Bangladesh had conveyed its displeasure.
"We consider that these types of comments are unacceptable and disgraceful. Bangladesh has strongly objected and made its position clear. In the entire conversation, Myanmar's envoy did not utter any words in defense of his country and only assured to convey Dhaka's message to Naypyidaw," Hossain told Arab News.
Ko, a former Myanmar army general, was appointed in 2016 by Suu Kyi after her party came to power in a general election landslide victory.
"Myanmar does not seem interested in Rohingya [refugees] repatriation," former Bangladesh Ambassador to the United States Humayun Kabir told Arab News.
Myanmar would not be making negative remarks about Bangladesh if it were genuinely interested in creating a conducive environment for repatriation, he added.
"Actually Bangladesh has no other option to move forward with the repatriation issue except for creating more diplomatic pressure from the international community."
An attempt to repatriate Rohingya refugees last month failed because of their refusal to go of their own accord.
They had a list of demands before any repatriation including safety and security in Rakhine, citizenship guarantee and freedom of movement.
The UNHCR is helping Bangladesh with the repatriation process to ensure it is voluntary.
One official report from humanitarian agencies said more than 15,000 Rohingyas had entered Bangladesh since January 2018.
Full report at:
http://www.arabnews.com/node/1416716/world
--------
Pakistan
Hindu pilgrims attend central ceremony of Shadani Darbar
Dec 7, 2018
KARACHI: A delegation of 209 Hindu pilgrims from India, besides thousands of local Hindu community members attended the central ceremony of Shadani Darbar in Mirpur Mathelo on Thursday.
The Hindu pilgrims performed rituals and offered prayers for peace in the region.
Evacuee Trust Property Board (ETPB) Secretary Muhammad Tariq Wazir and other officials also attended the ceremony, according to a press release issued here.
Speaking on the occasion, the secretary said that all minorities living in Pakistan were patriotic Pakistanis. He said the board was providing all facilities to Hindu pilgrims under the directions of the federal government.
Hindu leader Youjester Laal thanked Prime Minister (PM) Imran Khan and the Ministry for Religious Affairs for the provision of all facilities, renovation, beautification and protection of their worship places.
He said that the board had made the best arrangements including accommodation, transport and security for the pilgrims.
Earlier, the Pakistan High Commission in New Delhi announced that it has issued visas to more than 220 Hindu pilgrims from India to participate in the 310th birthday celebrations of Shiv Avtari Satguru Sant Shadaram Sahib at Sukkur.
A statement released by the commission says: "The issuance of pilgrimage visas is in line with the Government of Pakistan's efforts for promoting visits to religious shrines and people-to-people exchanges."
The visas have been issued to pilgrims from December 5 to 16. Under the framework of the Pakistan-India Protocol on Visits to Religious Shrines of 1974, a large number of Sikh and Hindu pilgrims from India visit Pakistan to observe various religious festivals every year.
"The move also reflects the Pakistani government's commitment to faithfully implement the bilateral protocol on visits to religious shrines," the statement added.
Shadani Darbar Tirth, a 300-year old temple, is a sacred place for devotees across the world. The foundation of Shadani Darbar was laid at Hayat Pitafi Tehsil, Mirpur Mathelo, Ghotki district in 1786 by Sant Shadaram Sahib, who was born in Lahore in 1708. Earlier on 30 November, more than 3800 Sikh pilgrims returned to India from Pakistan after participating in the 549th birth anniversary celebrations of Baba Guru Nanak Dev Ji and the ground-breaking ceremony for the "Kartarpur Corridor" on the Pakistan side of the International Border.
https://www.pakistantoday.com.pk/2018/12/06/pakistan-issues-220-visas-to-indian-pilgrims-wishing-to-visit-sukkur-temple/
--------
Will reconstruct Pakistan brick-by-brick: COAS
DECEMBER 7, 2018
Chief of Army Staff (COAS) General Qamar Javed Bajwa Thursday said they will reconstruct Pakistan brick-by-brick to bring it back to normalcy.
"We will reconstruct Pakistan brick-by-brick to have a normalised Pakistan … the country will run as per the constitution," Chief of Army Staff General Qamar Javed Bajwa said in a message read out by Inter-Services Public Relations (ISPR) Director General Maj Gen Asif Ghafoor at a press conference on Thursday. No person or institution is above the law, the army chief said, adding that the prerogative of violence rests with the State only.
https://dailytimes.com.pk/330740/will-reconstruct-pakistan-brick-by-brick-coas/
--------
Moment is watershed; time ahead may be very good or bad: Paint Pakistan positive for six months, says DG ISPR
Muhammad Anis
December 7, 2018
RAWALPINDI: The Inter-Services Public Relations (ISPR) Director General Maj-Gen Asif Ghafoor on Thursday called upon the media to project a positive image of Pakistan inside and outside the country.
While talking to the media persons after a briefing, he said it was Pakistan's watershed moment. The times ahead might be very good or bad. He said the media was the fourth pillar of the state and journalists were opinion-makers. They should paint a positive image of the country for at least six months and then see where the country reaches.
Stressing on the importance of the media as the first defence line in the fifth generation warfare, the DG ISPR said: "I have also met owners of the media houses and anchorpersons and requested them to play a role to create a positive image of the country, which is passing through a critical phase for the last 70 years."
He cited the army chief's statement to explain his vision, saying, "We are rebuilding this country brick by brick, (let us) improve law and order, and economy. We want that Pakistan where there is rule of law according to the Constitution…"
He rejected an impression that they exerted pressure for removal of any anchorperson. Maj-Gen Asif Ghafoor said that it was the nation, and not the army, which gives confidence to a government, saying that armed forces and Maj-Gen Asif Ghafoor said that it was the nation, and not Army, which gives confidence to a government, saying that armed forces and government have strategic level relations.
"It is the nation, and not the Army, which gives confidence to a government. The new government comes in when a government loses its (nation's) confidence," the military spokesman said while responding to a question regarding content of a press talk of Imran Khan in which he said his party's manifesto enjoys Army's confidence.
Maj-Gen Asif Ghafoor said the armed forces were forces of the country and they did not have relations with any single party, particular government or a province. "We are an institution of the country and, as the security establishment, has given input to every government in the past on the security issues concerning foreign relations," he said. Referring to Prime Minister Imran Khan's media talk, he said it was good to feel that all institutions are working jointly for achieving national objectives, adding that a part of PM's interview should not be taken in isolation.
He said that the Army accepts every government, which is elected by the nation. "We never say at any stage that any government has taken any wrong decision," he said, asking the media persons to point out when the Army had stated that a government had taken a wrong decision.
Saying that he also watched prime minister's interview thrice, he said the content of the interview was presented out of context. Responding to a question about a defence pact, reached between India and Russia, the DG ISPR said Pakistan was capable and credible nuclear state. "It is not only capability but confidence of a nuclear state which matters," he added.
Asked to comment on defence relations with the United States and China, he said, "With recent things going on with the US, we expect defence ties with them will improve. Defence relations with China are a continuous process," he added.
Giving befitting reply to a statement of the Indian army chief, the spokesman for Pakistan Army said they should not tell Pakistan what kind of state it should be. "We are an Islamic state, which came into being in the name of Islam," he said, adding that India should tolerate it as it is.
The Indian army chief had said that India would hold talks with Pakistan only when it becomes a secular state. "I ask them whether they themselves are a secular state," Maj-Gen Ghafoor said adding that the world very well knew what was happening with over 200 million Muslims in India and what happened to the Babari Masjid.
On the other hand, he pointed out, the worship places of non-Muslims were being given protection in Pakistan. He said Pakistan opened Kartarpur corridor to show respect to the Sikh religion, but it was also taken negatively in India.
The DG ISPR said from the point of entry to Pakistan, there would be fencing till the place of worship. There would be one-way entry for the Sikh yatrees alone, and none else from Pakistan could use this corridor. He said the project would be completed in six months time. On daily basis, 4,000 Sikh pilgrims would be able to visit Gurdwara Darbar Sahib in Kartarpur, he added.
About situation at the Line of Control (LoC), the DG ISPR said during the year 2017, there were 1,881 ceasefire violations from Indian side, and until now, 2,593 violations have taken place this year.
In 2018, 55 civilians were martyred and 300 injured, which is the largest number of causalities in a single year in held Kashmir's history, he said adding that casualties in Pakistan showed that India was deliberately targeting civilians. "India should understand what the impact of these violations is on the relations between the two countries," he said.
He added that the civilians' casualties showed India was deliberately targeting civilians. "We cannot target civilians like this. Ceasefire violations are a cause of concern and we hope Indian understands its impact on the mutual relations."
Major General Asif Ghafoor said the Pakistani government had taken several initiatives with India so relations could improve. He said the Indian government did not agree to dialogue.
The DG ISPR, while talking about the accountability process within Pakistan Army, said there was a branch at the GHQ which is tasked with accountability and discipline. "We are a disciplined force and there is a chain of command, rules and regulations," he said.
Asif Ghafoor said that during the last two years, around 400 officers of Pakistan Army, which were awarded punishment from warnings to dismissal from service, and even imprisonment, saying that one of the officers was sent home for committing corruption of Rs10,000. "Accountability of officers in the Army is harsher than that of jawans," he added.
To a question about peace efforts in Afghanistan and US president's letter written to prime minister, the DG ISPR said Pakistan had always emphasised political reconciliation in Afghanistan. "We desire political reconciliation in Afghanistan to succeed," he said adding that Pakistan was taking every possible step which could make this reconciliation process a success.
He said Pakistan would not fight the war of Afghanistan on its soil again. He said it was also desire of Pakistan that the United States leaves Afghanistan as a friend of the region and not as a failure, which he said was in the interest of Afghanistan, Pakistan and the region at large. "We do not have influence on them in Afghanistan, but we will facilitate the reconciliation process in every possible way," he added.
He said the country was seeing the critical period because of internal fault lines, which were exploited by the enemy and half of the country was also lost. "That's why I said '".. hold fast by the rope of Allah all together and be not disunited".... "But then we stood up and also became a unclear state," he said.
He said it would not be good for the country if three pillars of the state perform in the right direction, but the media starts jolting things. He also warned Pashtun Tahafuz Movement (PTM) against crossing the red line, where force had to be used to establish the state writ.
The military spokesman said the army was using confidence-building measures with the PTM and not handling them with heavy-handedness. "They are hurt and have suffered in the war. We still want to deal with them politely; but they are headed in the direction where the same will happen to them which happens when the state establishes its writ," he added.
About three demands of the PTM and the steps which had been taken to address them, the military spokesman said the first demand of the PTM was about check-posts, saying that Army had decreased its check-posts in KP and Fata from 469 to 331. "When we feel there is no need for even one check-post, we will remove them."
He said the second demand of the PTM was to clear landmines, the process of which, the DG ISPR said, was under way. "Our troops have also suffered casualties due to these mines and hidden bombs. One day, all areas will be cleared of mines," he assured.
Regarding PTM's third demand, he said there were 7,000 missing persons cases from 2010 to 2011, according to a commission on forced disappearances. Over 4,000 have been settled while 3,000 plus cases are under process with 2,000 cases with the commission. According to Major General Ghafoor, it could not be proven that those missing were not part of Tehreek-e-Taliban Pakistan (TTP) or any other faction. "We want this process to move further and be resolved."
About overall security situation in the country, the DG ISPR said the situation had improved considerably saying that as compared to the year 2013, when 90 terror incidents took place, the country witnessed 14 terror acts in 2018.
He also compared security measures in Balochistan with KP and Fata. He said that in Fata, which consisted of three per cent of the country's total area, over 200,000 troops had been deployed. There were 65,000-70,000 troops deployed in Balochistan, which was 43 per cent of the country's area and 6 per cent of the population.
He pointed out that now the Balochistan was the main focus where re-adjustment of deployment of troops was being made in order to provide security to mega economic projects there. About the Operation Raddul Fasaad, which was in progress for the last two years, the DG ISPR said that until now, 44 major operations and 42,000 intelligence-based and combing operations had been undertaken.
"Our aim of de-weaponising has not progressed as we hoped. We are working with the government through legislation and licensing process to improve this. Till now nearly 32,000 weapons have been recovered from across the country," he said.
About the Karachi situation, he said there had been 99% reduction in terror acts, 97% per in target-killings, 96% in extortion and 93% in kidnapping-for-ransom cases, saying that as compared to 2013, when 4,503 such crimes took place, only 41 of these crimes were reported during the year 2018.
Full report at:
https://www.thenews.com.pk/print/402614-moment-is-watershed-time-ahead-may-be-very-good-or-bad-paint-pakistan-positive-for-six-months-says-dg-ispr
--------
Nawaz welcomes Imran's remarks on early elections
Malik Asad
December 07, 2018
ISLAMABAD: Former prime minister Nawaz Sharif on Thursday welcomed the remarks of incumbent Prime Minister Imran Khan about early elections and claimed that the Pakistan Muslim League-Nawaz (PML-N) was ready to go for a contest.
After testifying in the Flagship Investment reference in the accountability court, Mr Sharif during his informal discussion with journalists said that if the Pakistan Tehreek-i-Insaf (PTI) wanted to go for midterm elections, this would be a blessing for the people of Pakistan.
"The people are happy over these remarks as they want to get rid of this government even before the schedule time," he said.
According to him, the PML-N is in a position to win elections whenever they are held.
While recording his testimony before the accountability court, Mr Sharif said that the reference against him was not only against legal norms, but also contrary to religious, social and ethical values of society.
He said it was ironic that the National Accountability Bureau (NAB) was trying to portray a fair and transparent matter as an illegal practice. Around eight million overseas Pakistanis earn their livelihood in different countries and some of them secured distinction in their respective professions and businesses. "Have overseas Pakistanis or their parents in Pakistan ever faced references for sending or receiving remittances?" he asked.
He pointed out that his sons sent him different amounts from time to time not because he was the owner of their businesses, but they did it for being his children.
According to the statement of the former prime minister, "there are four ingredients to be proved by the prosecution, (i) The onus is on the prosecution to prove that the accused has paid for certain property, (ii) Titled documents were in possession of the accused person, (iii) The properties are in possession and being occupied by the accused, and (iv) It is on the prosecution to prove motive for benami. In case, the prosecution levels allegation of benami it is up to them to prove the allegation".
The statement further said: "As far as this [Flagship Investment] case is concerned, everyone knows the treatment meted out to Sharif family for two and half years in the name of accountability. None in Pakistan has ever faced such [harsh] accountability."
The statement, however, termed it a matter of pride that the ruthless accountability could not prove an iota of corruption against Mr Sharif or his family members.
It claimed that the whole case against him was based on assumptions. It started from allegations of billions of rupees corruption and ended with the offence "assets beyond means" and the prosecution could not prove that as well, he added.
Mr Sharif then gave a background of his family properties and industries which were run by his father Mian Mohammad Sharif. He told the court that in 1969-70, his family purchased seven bungalows comprising 10 kanal each and their Ittefaq foundries were dealing with steel furnaces, sugar mills, cement industry parts, defence-related products, gear boxes and many others.
Mr Sharif said that in January 1972, Ittefaq foundries were nationalised in Pakistan whereas they were taken over by the Bangladeshi government after the fall of Dhaka. In 1979, while Ittefaq foundries were operating at a loss, they were returned to the Sharif family which invested a huge amount and turned them into a profitable organisation again.
He said that both his sons had been helping Mian Sharif since they had been students and both of them started independent business during the lifetime of their grandfather. The former prime minister said that his family business paid a huge cost for politics.
Full report at:
https://www.dawn.com/news/1449955/nawaz-welcomes-imrans-remarks-on-early-elections
--------
212 TLP activists released
December 07, 2018
Mohammad Asghar
RAWALPINDI: As many as 212 people detained during the police crackdown against Tehreek-i-Labbaik Pakistan (TLP) last month have been released from different prisons across the province.
Around 3,000 TLP workers, including its leaders, arrested under the charges of sedition and terrorism are still languishing in jails. The government has started reviewing cases of those who were detained under the Maintenance of Public Order (MPO) ordinance. They are being released upon the completion of the verification process, said sources.
Among those released on Wednesday, 12 were from the Rawalpindi district. The sources said 477 people were arrested by the Rawalpindi police under the MPO and sent to the Adiala jail and their cases were being reviewed to ascertain if they were involved in violence or had been picked under the MPO.
Full report at:
https://www.dawn.com/news/1449893/212-tlp-activists-released
--------
Terrorist killed, two troops injured in DG Khan clash
Dec 7, 2018
RAWALPINDI: A terrorist was killed and another injured in an exchange of fire with security forces in the tribal area of Dera Ghazi Khan, the Inter-Services Public Relations (ISPR) reported on Thursday.
According to a statement issued by the military's media wing, the clash began when terrorists opened fire on a recce patrol of Pakistan Rangers (Punjab).
"Two security forces personnel, Col Ayub and Sep Rehan, were injured in the exchange of fire," the statement read.
https://www.pakistantoday.com.pk/2018/12/06/terrorist-killed-two-troops-injured-in-dg-khan-clash/
--------
Pakistan begins talks with US on coalition support fund
Dec 7, 2018
ISLAMABAD: The Foreign Office (FO) on Thursday said that no special conditions were placed before US Special Representative for Afghanistan Reconciliation Zalmay Khalilzad during his recent visit to Islamabad.
The spokesman, Dr Muhammad Faisal said that Pakistan has begun talks with the US for a Coalition Support Fund (CSF) after Khalilzad called on Foreign Minister Shah Mahmood Qureshi and assured him of mutual cooperation.
Adding that US President Donald Trump's letter to Prime Minister Imran Khan highlighted the importance of the Afghan issue, Faisal said that it is a political and not a military matter, hence, Pakistan believes in "moving forward".
Referring to the atrocities in Indian occupied Kashmir, he said that Indian forces should accept actual facts and stop maligning Pakistan. He added that Pakistan wants to open the Kartarpur corridor before Baba Guru Nanak's 550th birth anniversary in 2019.
He added that Pakistan is working on a positive relationship with India to resolve the Kashmir issue. "The success of the Kartarpur project should not sideline Kashmir as it is on the top of Pakistan's list of priorities," he said.
Deflecting questions pertaining to the rise of the dollar, Faisal said that it falls under the mandate of the finance ministry and the foreign office has nothing to do with it.
Full report at:
https://www.pakistantoday.com.pk/2018/12/06/no-conditions-placed-during-us-envoys-visit-fo/
--------
Terrorist killed, two security officials injured in an encounter in DG Khan: ISPR
DECEMBER 7, 2018
A terrorist was killed and another suspect got injured in exchange of fire with security forces in Dera Ghazi Khan, announced Inter-Services Public Relations (ISPR) on Thursday.
According to the statement issued by ISPR, a team Pakistan Rangers, Punjab was patrolling the area when the suspects opened fire at them. "A terrorists was killed, another got injured in the shootout with the personnel of Punjab Rangers," read the statement. Two security personnel namely Colonel Ayub and Sepoy Rehan, were injured in exchange of fire.
Earlier in September, four terrorists were killed and two soldiers martyred during an intelligence-based operation conducted by security forces against a group of suspected terrorists hiding in Manghochar, Kalat, according to ISPR. Two suicide jackets, large quantity of explosives and weapons and ammunition were also recovered during the operation.
Full report at:
https://dailytimes.com.pk/330691/terrorist-killed-two-security-officials-injured-in-an-encounter-in-dg-khan-ispr/
--------
Mideast
US fails to win UN condemnation of Hamas
7 December 2018
A US-sponsored draft resolution that for the first time would have condemned the militant group Hamas, which controls Gaza, failed to win the required two-thirds majority in the UN General Assembly.
Before Thursday's vote, the 193-member world body had narrowly voted to require a two-thirds majority which Arab nations pressed for rather than a simple majority which the United States urged.
US Ambassador Nikki Haley told the assembly before the vote that it could make history and unconditionally speak out against Hamas which she called "one of the most obvious and grotesque cases of terrorism in the world."
But the vote on the resolution to condemn Hamas was 87-57 with 33 abstentions, a plurality below the two-thirds requirement.
https://english.alarabiya.net/en/News/middle-east/2018/12/07/US-fails-to-win-UN-condemnation-of-Hamas-.html
--------
IRGC Warns Supporters of Chabahar Terrorist Attack of Harsh Punishment
Dec 06, 2018
"Most terrorist grouplets are linked to foreign security services of countries like Saudi Arabia and they always attempt to foment insecurity at our bordering areas," General Sharif said on Thursday after a terrorist attack in Chabahar in Sistan and Balouchestan province killed two and wounded 27 others.
He explained that a suicide car was attempting to enter Chabahar law enforcement police station to kill a number of people but it was targeted by the police forces.
"A number of Law Enforcement Police personnel were martyred by the car blast and a number of others were wounded and the suicide bombers were killed," General Sharif added.
"Usually, such terrorist attacks will be followed by crushing responses (from Iran) and these individuals are traced in addition to their tolls in the field and the groups which support them will also be punished," he underlined.
Deputy Governor-General of Sistan and Balouchestan Province for Security and Law Enforcement Affairs Mohammad Hadi Mara'ashi told FNA earlier on Thursday that "a bomb blast was heard some minutes ago near a police station on a street in Chabahar city and security forces and aid groups were immediately deployed in the region".
He added that the bomb which was planted inside a car killed 2 people and wounded 3 others.
Local sources also said that at least 2 law enforcement police have been killed in the terrorist attack. The suicide bomber meant to open his path into the Law Enforcement command center, but was forced to stop where he blew up himself and the car.
Meantime, Caretaker of Chabahar city's Governor-General Office Bameri confirmed the death and injury of a number of people in the bomb blast, stressing that conditions are under control now.
He added that the bomb was planted inside a pickup truck near the Law Enforcement Police's station.
"A number of women, children and local business owners are among the wounded people who were transferred to Imam Ali (AS) hospital," Bameri said.
Latest reports by Chabahar medical officials said that 27 wounded people were accepted to the city's hospitals, among them a pregnant woman and a 16-year-old adolescent.
IRGC Ground Force Brigadier General Mohammad Pakpour underlined on Thursday that full security has been established in the Southeastern city of Chabahar after the Thursday morning terrorist attack.
Chabahar city is in full security and complete safety, General Pakpour said.
He added that a car with explosives tried to attack Police Headquarters in the city, noting that "unfortunately, a number of compatriots were martyred and injured by this blind terrorist operation", which had no achievements for terrorists.
The commander said the suicide car could not enter the police headquarters, adding that reports concerning martyrdom of the city's police commander are not correct.
General Pakpour visited the blast site on Thursday.
Also, the chief commander of Chabahar's Law Enforcement Police dismissed media claims that he was killed in the terrorist attack.
Full report at:
http://en.farsnews.com/newstext.aspx?nn=13970915000674
--------
Ansar Al-Forqan Terrorist Group Likely Responsible for Chabahar Attack
Dec 06, 2018
Foreign media outlets said that Ansar al-Forqan has claimed responsibility for the terrorist attack but no official has yet confirmed the report.
"A bomb blast was heard some minutes ago near a police station on a street in Chabahar city and security forces and aid groups were immediately deployed in the region," Deputy Governor-General of Sistan and Balouchestan province for Security and Law Enforcement Affairs Mohammad Hadi Mara'ashi told FNA on Thursday.
He added that the bomb which was planted inside a car killed 2 people and wounded 3 others.
Local sources also said that at least 2 law enforcement police have been killed in the terrorist attack. The suicide bomber meant to open his path into the Law Enforcement command center, but was forced to stop where he blew up himself and the car.
Meantime, Caretaker of Chabahar city's Governor-General Office Bameri confirmed the death and injury of a number of people in the bomb blast, stressing that conditions are under control now.
He added that the bomb was planted inside a pickup truck near the Law Enforcement Police's station.
"A number of women, children and local business owners are among the wounded people who were transferred to Imam Ali (AS) hospital," Bameri said, but did not specify the numbers.
But the latest reports by Chabahar medical officials said that 27 wounded people have so far been admitted to the city's hospitals, among them a pregnant woman and a 16-year-old adolescent.
Commander of the Islamic Revolution Guards Corps (IRGC) Ground Force Brigadier General Mohammad Pakpour visited the blast site on Thursday.
Also, the chief commander of Chabahar's Law Enforcement Police dismissed media claims that he was killed in the terrorist attack.
In June 2017, the IRGC Ground Force killed the ringleader of Ansar al-Forqan terrorist group, Jalil Qanbar Zehi, in clashes in the heights of Qasr-e Qand region, Southeastern Iran.
IRGC's public relations office announced in a statement at the time that the IRGC Ground Force destroyed a Takfiri terrorist team in Qasr-e Qand in the Southeastern province of Sistan and Balouchestan.
Several terrorists were killed and wounded in clashes with the IRGC forces in Qasr-e Qand region, including the ringleader of Ansar al-Forqan, it added.
Full report at:
http://en.farsnews.com/newstext.aspx?nn=13970915000543
--------
Yemeni peace talks start in Sweden between legitimate government and Houthis
6 December 2018
Yemeni peace talks kicked off on Thursday in Stockholm, Sweden, between the Yemeni government and Houthi militias.
Sweden's foreign minister, Margot Wallstrom, opened the talks at a castle in Rimbo, a town north of Stockholm, wishing the Yemen adversaries strength to find "compromise and courage" as they embark on the difficult task ahead.
"Now it is up to you, the Yemini parties," she said. "You have the command of your future."
The UN envoy for Yemen Martin Griffiths said the coming days were a milestone and urged the parties not to "waver... let us work in good faith ... to deliver a message of peace."
Griffiths added that he is grateful for the role that Saudi Arabia played in supporting the Yemeni peace talks.
"I'm also pleased to announce the signing of an agreement on the exchange of prisoners, detainees, the missing, the forcibly detained and individuals placed under house arrest," Griffiths said. "It will allow thousands of families to be reunited, and it is product of very effective, active work from both delegations."
The UN envoy stressed on the fact that the peace talks will also discuss several aspects of the Yemeni people's situation including the violence being used and insuring aid deliverance.
Griffiths added that the possibility of direct meetings between the legitimate government and Houthi militias are still being looked into.
Regarding Sanaa's airport, the UN envoy said that they have a proposal to discuss with the conflicting parties of Yemen.
Full report at:
https://english.alarabiya.net/en/News/gulf/2018/12/06/Yemeni-peace-talks-start-in-Sweden-between-legitimate-government-and-Houthis.html
--------
Yemen government representatives call for Houthi withdrawal from Hodeidah
6 December 2018
The Yemeni legitimate government delegation to UN talks which kickstarted in Sweden on Thursday, called for a complete withdrawal of the Houthi militias from the port city of Hodeidah.
On Wednesday, the United Nations, which sponsors the consultations, ruled out direct meetings between the two delegations in the first phase of the negotiations, but it hopes the talks will be successful in ending the Yemeni crisis.
A United Nations source said the two sides were unlikely to meet directly in the talks, and Martin Griffiths, the UN special envoy to Yemen, and Hu and his team will make shuttle trips in the consultations, which will be the first since 2016.
The Peace talks between the Yemeni legitimate government representatives and the Houthi militias' delegation began on Thursday in Stockholm, the UN announced.
Full report at:
https://english.alarabiya.net/en/News/gulf/2018/12/06/Yemen-government-representatives-calls-for-Houthi-withdrawal-from-Hodeidah.html
--------
Six Yemeni missiles hit gatherings of Saudi-led forces in Jizan
Dec 6, 2018
Yemeni army forces, backed by allied fighters from the Houthi Ansarullah movement, have hit gatherings of Saudi soldiers and Saudi-led mercenaries in the kingdom's southwestern Jizan region with six domestically-manufactured missiles in retaliation for the kingdom's campaign of military aggression against the impoverished nation.
Yemen's Arabic-language al-Masirah television network, citing unnamed military officials from the missile unit of the Yemeni army, reported on Thursday that six Zelzal-1 (Quake-1) short-range missiles hit the enemy gatherings off Qais Mountain and the village of al-Laj in Jizan province on Thursday.
It added that the projectiles had successfully struck the designated targets, killing an unspecified number of enemy forces.
The report added that at least three Saudi-led forces had been killed and two others wounded by explosives planted by Yemeni troops in al-Nar Mount area in Jizan.
Meanwhile, al-Masirah said in a separate report that the Yemeni army managed to shoot down a spy drone belonging to Saudi-led forces in the coasts of Yemen's western province of Hudaydah.
Later on Thursday, the Yemeni army spokesman said that 28 Saudi-led mercenaries were killed and 64 others injured during clashes with Yemeni forces in Damt region in the southern province of Dali'.
Leading a coalition of its allies, including the United Arab Emirates and Sudan, Saudi Arabia invaded Yemen in March 2015 in an attempt to reinstall former president Abd Rabbuh Mansur Hadi, who had resigned amid popular discontent and fled to Riyadh.
The imposed war initially consisted of an airstrike campaign but was later coupled with a naval blockade and the deployment of ground mercenaries to Yemen.
Since the onset of aggression, the Yemeni army, backed by fighters from the country's popular Houthi Ansarullah movement, has been defending the impoverished nation against the invaders. The coalition is also resolute to crush the movement as another goal in its war on Yemen, which is teetering on the edge of famine.
In a statement on Thursday, the World Food Programme (WFP), the world's largest humanitarian organization addressing hunger and promoting food security, said that its survey conducted in October found that more than 15 million Yemenis were in a "crisis" or "emergency" situation and that the number could hit 20 million without sustained food aid.
The Saudi-led military aggression is estimated to have left 56,000 Yemenis dead.
More than three and a half years into the war, Saudi Arabia has achieved neither of its objectives. Riyadh had declared at the start of the invasion that the war would take no more than a couple of weeks.
The situation has worsened in Yemen in recent months due to a broad economic collapse after a full-scale offensive by UAE forces, backed by armed militia loyal to Hadi, was launched against the Houthi-held port city of Hudaydah in June.
More than 70 percent of Yemen's imports pass through the docks of Hudaydah, which is currently under a tight siege imposed by the invaders.
Full report at:
https://www.presstv.com/Detail/2018/12/06/582192/Yemen-missiles-Saudi-Arabia-Jizan-drone-Hadi-Houthis
--------
Israeli forces shoot, injure 5 Palestinian minors in occupied West Bank
Dec 6, 2018
At least five Palestinian teenage boys have been injured after Israeli military forces carried out raids across the occupied West Bank over the past 24 hours and engaged in clashes with local residents in a number of villages and towns.
Local sources, requesting not to be named, told Palestine's official WAFA news agency that Israeli military vehicles rolled into the Jenin refugee camp early on Thursday, breaking into several Palestinian homes and violently ransacking them.
The raid promoted violent skirmishes with residents of the camp. Israeli soldiers responded with live bullets to disperse the protesting crowd, injuring three teenagers in the process.
The trio were rushed to Khalil Suleiman Hospital in Jenin city, where doctors and medical staff described their condition as moderate.
Two Palestinian minors were also shot and injured with Israeli live bullets on Wednesday evening as they were on their way home from school in Jaba' town in the central West Bank.
The two injured Palestinian teenagers, aged 14 and 15 years old, were immediately transferred to Ramallah Hospital to receive necessary medical treatment.
According to medical sources, one of the minors was shot and injured in his shoulder, while the other was shot in the leg.
Also on Thursday, Israeli forces detained 12 other Palestinians during multiple predawn raids across the West Bank.
The Palestine Prisoners' Society (PPS) said in a statement that Israeli troopers detained six people during separate operations in the northern West Bank towns of al-Mughayyir, Kafr Ni'mah and Saffa.
Two Palestinians were detained after Israeli forces broke into their homes in the city of al-Khalil.
Israeli forces carried out two similar raids in Halhul town and the al-Arroub refugee camp, detaining three Palestinians.
Another Palestinian was reportedly rounded up from Shuwaykah town.
More than 7,000 Palestinians are reportedly held at Israeli jails. Hundreds of the inmates have apparently been incarcerated under the practice of administrative detention, a policy under which Palestinian inmates are kept in Israeli detention facilities without trial or charge.
Some Palestinian prisoners have been held in administrative detention for up to eleven years.
Palestinian inmates regularly stage hunger strikes in protest at the administrative detention policy and their harsh prison conditions in Israeli jails.
Full report at:
https://www.presstv.com/Detail/2018/12/06/582181/Israeli-forces-shoot-injure-5-Palestinian-minors-in-occupied-West-Bank
--------
Houthi militia shell commercial centre in Hodeidah
December 07, 2018
DUBAI: As peace talks between Yemeni government representatives and a Houthi delegation began on Thursday in Sweden, local reports from Yemen said that a group of Houthi militias shelled a commercial center in Hodeidah.
Local sources told Yemen's official news agency Saba New that "the Houthi militia shelled the CityMax center with a mortar and artillery, which destroyed the center and burnt the building completely."
"The commercial center contained commercial goods worth tens of billions of riyals," the source said.
Local reports also claimed that Houthi militia targeted a number of civilian houses with mortars on Wednesday. The shells fell on a number of houses, causing total destruction and damage to other houses. One family was believed to haven been killed in the attack, however Arab News cannot independently conform this report.
Meanwhile, during the Stockholm peace talks, the warring parties agreed to a prisoner swap that will allow thousands of families to be reunited, United Nations special envoy Martin Griffiths said.
Full report at:
http://www.arabnews.com/node/1417036/middle-east
--------
Turkish authorities seek arrest of journalist Dundar over 2013 protests
December 07, 2018
ISTANBUL: Turkish authorities have issued an arrest warrant for journalist Can Dundar as part of an investigation into protests in Istanbul in 2013 against President Tayyip Erdogan's rule, state-run Anadolu agency said on Wednesday.
Prosecutors said he played an active role in the protests and provoked public unrest through social media.
They also said he supported members of a terrorist organization against the police, the news agency said.
It is not clear how the warrant can be served because Dundar has left the country.
Dundar, a former editor of opposition newspaper Cumhuriyet, was sentenced in 2016 to five years for publishing a video purporting to show Turkey's intelligence agency trucking weapons into Syria. He was released pending appeal and went abroad.
Hundreds of thousands of people marched in 2013 to protest a plan to build a replica of an Ottoman barracks on Gezi Park in the center of the city. The protests turned into a direct challenge to Erdogan's government.
"#HepmizGezideydik We feel proud," Dundar wrote on his Twitter on Wednesday, sharing Anadolu's story about his arrest warrant. The hashtag translates to: "We were all at Gezi."
Two weeks ago 13 people were arrested as part of the Gezi investigation.
Erdogan says the protests were organized and financed by Osman Kavala, a businessman and rights activists. Kavala was detained more than a year ago in connection with the investigation.
He has not been charged over the protests and denies the claim against him.
The prosecutor also said Dundar was in contact with Kavala during the protests in a written arrest request to the court, Anadolu reported.
Aside from the investigation into the Gezi Park protests, authorities have detained tens of thousands of people they suspect in the wake of a coup attempt in 2016 of opposing Erdogan's government.
Full report at:
http://www.arabnews.com/node/1416956/middle-east
--------
Southeast Asia
Pas urges supporters to attend Saturday rally in the name of Islam
December 6, 2018
KOTA BHARU: Kelantan PAS is urging its supporters to attend the rally on the International Convention on the Elimination of All Forms of Racial Discrimination (ICERD) this Saturday in the name of Islam and its honour.
Kelantan PAS secretary Datuk Che Abdullah Mat Nawi said the huge turnout would reflect Islam's supremacy in the country.
He said PAS expected between 100,000 and 200,000 people from Kelantan at the rally.
"More than 100 buses will be deployed to take rally participants to the federal capital from tomorrow (Friday).
"The people of Kelantan are expected to make the biggest number of rally participants, since the rally is about protecting the dignity of Islam and the Malays.
"PAS does not sponsor buses and they are provided by non-governmental organizations (NGOs), individuals and from the people's own initiatives.
"This is the first time that PAS has called on its supporters to attend a gathering although the federal government has repeatedly failed its election manifesto promises, such as lowering oil prices and implementing Sales and Service Tax (SST)," he said when contacted here today.
He said PAS charity unit, NGO and the police will be on hand to ensure the rally is safe for everybody and urged supporters to follow instructions from the authorities.
https://www.nst.com.my/news/nation/2018/12/437869/pas-urges-supporters-attend-saturday-rally-name-islam
--------
Friday sermon reminds Muslims of status of Islam, ruler
FMT Reporters - December 7, 2018
SHAH ALAM: The Friday sermon at mosques in Selangor today reminded Muslims of the status of Islam as enshrined in the constitution, urging them to remain loyal subjects of the sultan, a day before a rally in Kuala Lumpur called by Malay groups and politicians who have accused the current government of undermining the community.
"The religion of Islam has a very privileged status within the legal system of our homeland," reads an English translation of the sermon prepared by the Selangor Islamic Religious Department.
"Islam is the official religion, and His Majesty is the head of Islamic affairs for the state of Selangor. The royal institution is the continuation of leadership history of the national heritage, and also a symbol of unity for the ummah."
The text of the sermon was prepared in conjunction with the 73rd birthday of the Sultan of Selangor on Tuesday.
Among others, it urged Muslims to be loyal to the rulers as long as they do not violate the shariah.
"The cordial relationship between the ruler and the citizens that has long existed must be firmly maintained. The ruler is the pillar of the Malay society, who symbolises the unity of the society as well as the head of Islamic affairs, which we must rightly defend," the sermon added.
Umno and PAS, two of the country's largest Malay-Muslim parties which have formed a loose alliance, are organising a so-called "thanksgiving" rally tomorrow in a show of strength amid their claim that the Pakatan Harapan government is sidelining the Malays.
The rally, supported by several right-wing Malay and Muslim groups, was initially to protest suggestions that Malaysia ratify the United Nations-endorsed International Convention on the Elimination of All Forms of Racial Discrimination, or ICERD.
They said ratifying ICERD would undermine the special position of the Malays, including provisions to allow quotas in public institutions as spelt out in Article 153 of the Federal Constitution.
Putrajaya last month reluctantly announced that it was not ratifying the treaty, with Prime Minister Dr Mahathir Mohamad saying the government was committed to defending the constitution.
Supporters of ICERD have however said that ratifying the treaty would be a step forward to show the government's commitment to doing away with racism and discriminatory practices.
The sermon today also referred to the Charter of Medina, a historic treaty signed by Prophet Muhammad in the early days of Islam that served as a basis for governing the multi-tribal state of Medina.
Full report at:
https://www.freemalaysiatoday.com/category/nation/2018/12/07/friday-sermon-reminds-muslims-of-status-of-islam-ruler/
--------
Muslim NGOs take an oath as protest against US' stance on Jerusalem
By Mohd Noor Aswad
December 6, 2018
GOMBAK: The Al Quds Foundation of Malaysia organised the Al Quds Oath event to voice its support for Jerusalem and Palestinians today, a year after United States President Donald Trump officially announced Jerusalem as Israel's capital city on Dec 6 last year.
The event, held at the International Islamic University Malaysia (IIUM) saw the attendance of representatives from 40 non-governmental organisations (NGOs) who gathered to voice their opposition to the United States' support for Jerusalem as the Israel capital city.
Malaysian Al Quds Foundation CEO Dr Sharif Abu Shammala said he was pleased with the support shown by representatives from Malaysian NGOs who attended the oath signing ceremony.
"Exactly on this day last year, US President Donald Trump declared Jerusalem as the capital of Israel so we choose the exact same date this year to come together and voice our opposition to that move in a peaceful manner to show that this is a peaceful initiative.
"This event today is a symbolic event to show to the world that we stand united against this evil act against the Palestinian people and how the move against Jerusalem will only make the situation worse," he said in his opening speech.
Dr Sharif praised the Malaysian government for standing strong against the stance by US and Israel on Jerusalem.
"We are grateful for the Malaysian government that sent its representative to join in taking the oath for Al Quds with the presence of Deputy Works Minister Mohd Anuar Tahir amongst our group today," he said.
Meanwhile, Mohd Anuar welcomed the goodwill and reiterated that Malaysia, under the leadership of Dr Mahathir, would continue to support the struggle of the Palestinian people.
"The conspiracy against the Palestinians and Jerusalem has been going on for a long time. But the decision to declare the holy land of Jerusalem as the capital of Israel is an evil act that threaten stability of the region.
"Many innocent people have suffered under this occupation and Israel continues to provoke the Muslim population. The only way to stop terrorism is to remove the cause which is the Israel occupation," he said.
He said the meeting today would ensure that proactive steps such as education, boycotts and raising of funds can be done to help the Palestinian cause and make a symbolic stand against Israel.
At the end of the function, those on attendance stood up and recited the oath of Al Quds together.
Mohd Anuar was later invited on stage by Dr Sharif to sign the Al Quds Oath.
Mohd Anuar was also given an olive leaf and a bottle of soil from Jerusalem by Ustazah Zeina Amr from Palestine.
Full report at:
https://www.nst.com.my/news/nation/2018/12/437849/muslim-ngos-take-oath-protest-against-us-stance-jerusalem
--------
UN requests access to 'worrying' Muslim reeducation camps in China
Dec 7, 2018
The United Nations most senior human rights official has requested direct access to China's Xinjiang region to verify "worrying reports" of re-education camps holding Uighurs and other Muslim minorities.
Michelle Bachelet, the high commissioner for human rights, made the announcement amid growing global concern over Chinese treatment of the ethnic minority group.
"We have been asking for direct access to the region to be able to check and verify the worrying reports we are receiving," Ms Bachelet told a news conference in Geneva on Wednesday.
The authorities are believed to have incarcerated as many as two million Uighurs in "reeducation camps" to promote what the government calls "ethnic unity" in the country's far west.
Until October 2018, the Chinese government officially denied the existence of the camps.
Since then, reports have noted malnourishment, numerous deaths – particularly among the elderly and infirm – and in some cases the forced administration of psychiatric drugs.
Former detainees have alleged torture and said they were forced to learn Chinese Communist Party propaganda.
China has rejected criticism of its actions in Xinjiang, saying it protects the religion and culture of minorities, and its security measures are required to combat the influence of "extremist" groups they claim have been inciting violence there.
It has also emerged more than a million Han Chinese people have reportedly moved into the homes of Uighur Muslim families to report on whether they display Islamic or unpatriotic beliefs.
The informants, who describe themselves as "relatives" of the families they are staying with, are said to have received specific instructions on how to get them to let their guard down, including offering them cigarettes and alcohol.
Shohrat Zakir, a high-ranking Xinjiang government official, told state-run news agency Xinhua the Chinese government was fighting "terrorism and extremism" in accordance with United Nations resolutions, and referred to those in camps as "trainees".
"Through vocational training, most trainees have been able to reflect on their mistakes and see clearly the essence and harm of terrorism and religious extremism," he said.
The UN's decision to intervene comes a week after a 29-year-old Uighur Muslim woman said she was tortured and abused at an internment camp.
Mihrigul Tursun told reporters in Washington she was interrogated for four days in a row without sleep, had her hair shaved, was electrocuted and was subjected to an intrusive medical examination following her second arrest in China in 2017.
Last week over 270 scholars from 26 countries published a statement condemning the "mass human rights abuses and deliberate attacks on indigenous cultures" in China.
The statement came after 15 foreign ambassadors who wrote a letter expressing their concern about the incarcerations were told by Chinese officials they should not "interfere in the internal affairs of other countries".
Germany's top human rights official, Bärbel Kofler, was recently blocked from visiting the Uighur camps in China.
Full report at:
https://www.independent.co.uk/news/world/asia/uighur-muslims-china-reeducation-camps-un-intervene-torture-a8670481.html
--------
Malaysian opposition garners support with protest march
Dec 7, 2018
Malaysia will tomorrow see its largest street rally since the new government took power in May.
A protest-turned-thanksgiving rally backed by the country's biggest Malay-Muslim political parties is expected to draw tens of thousands to Kuala Lumpur to celebrate the administration's decision to not ratify a United Nations convention eliminating racial discrimination.
Despite Malaysia getting a new government with reformist credentials, racial issues continue to loom large, with the Malay community voicing fears that ratifying the charter - called the International Convention on the Elimination of All Forms of Racial Discrimination (ICERD) - would erode Malay rights granted under a decades-old affirmative action policy.
The Pakatan Harapan (PH) government, in its election manifesto, had promised human rights reform and ratification of relevant international conventions. However, widespread protests led to the administration making a U-turn last month, without any explanation.
"The strong reaction to ICERD is because of the government's failure to properly inform the public, especially the rural Malays (on the issue)," said Mr Asrul Hadi Abdullah Sani, an analyst at public policy consultancy BowerGroupAsia.
Instead, the government's fumbling over its handling of the backlash made room for opposition parties to score brownie points with the Malay electorate.
Umno and Parti Islam SeMalaysia (PAS) said they expected 500,000 of their members to turn up at the rally in Kuala Lumpur tomorrow.
Recent anti-ICERD street protests organised by opposition parties attracted several thousand people.
Race and religion issues remain prickly in Malaysia, with Umno and PAS winning a bigger share of the Malay vote in the May general election. PH garnered only one-third of the Malay votes then, according to a study by independent pollster Merdeka Centre.
Analysts say that although the Mahathir administration is not ratifying the ICERD, the rally is proceeding because it serves as a platform for opposition parties to burnish their reputation as Malay-rights defenders. "It's to show themselves (Umno and PAS) as still relevant and taking credit that the government backed down," said Mr James Chin, director of the Asia Institute at University of Tasmania.
Umno, especially, has been plagued by bad press following multiple corruption probes into its leaders. "This is Zahid's big comeback," Mr Chin added, referring to Umno president Ahmad Zahid Hamidi, who was slapped with 45 charges in October.
At the same time tomorrow, Prime Minister Mahathir Mohamad will be attending another mass gathering some 10km away.
The human rights day celebration, organised by the Human Rights Commission of Malaysia, is expected to draw 3,000 people.
During the UN General Assembly in September, Tun Dr Mahathir said in his speech that Malaysia is committed to ratifying "core UN instruments related to the protection of human rights".
Full report at:
https://www.straitstimes.com/asia/malaysian-opposition-garners-support-with-protest-march
--------
Malaysia improves in terrorism ranking, but region emerges as hotspot
06 December 2018
KUALA LUMPUR, Dec 6 — Malaysia has improved its position in the Global Terrorism Index (GTI) 2018, as the number of deaths from terrorism globally declined for the third year in a row last year.
Despite that, the report by Australia-based Institute of Economics and Peace released yesterday named Malaysia as among the contributors towards what it called the "second wave of Islamic terrorism" through Islamic State (IS)-affiliated groups and separatist movements here.
This year, Malaysia scored 2.7 out of 10, down from 3.334 last year. Zero denotes no impact of terrorism while the higher the number, the greater the impact of terrorism on the population.
Malaysia was also ranked 70th out of 138 countries in the index that seeks to measure the number of terrorist incidents, fatalities and casualties as well as damage to property in a country.
It was a marked improvement from Malaysia's previous rank of 60th.
Malaysia was also among the nine countries in the Asia-Pacific region which improved its score, including, among others, neighbours Thailand, Laos, and Cambodia.
However, the overall average ranking of the region has decreased, due to rising terrorism in the Philippines and Myanmar — which accounted for over 87 per cent of all deaths from terrorism in the region last year.
The report also highlighted South-east Asia as one of the emerging hotspots for terrorism — joining the Sahel region near Sahara and Nigeria's middle-belt — chiefly for the abovementioned "second wave of Islamic terrorism".
This comes as groups from the Philippines, Malaysia and Indonesia formally pledged their allegiance to IS in 2016.
It also warned of the insurgency of Muslim Malays in Thailand's southern provinces, seeking separation from the Buddhist government.
Globally, Iraq topped the index, followed by Afghanistan, Nigeria, Syria, and Pakistan — unchanged from last year.
The worst terrorist attack in the world last year was in Mogadishu, Somalia, where a bomb by Al-Qaeda-linked jihadist group Al-Shabaab killed 588.
Meanwhile, in the Asia-Pacific region, the two deadliest attacks took place in Myanmar by insurgent groups Arakan Rohingya Salvation Army and the National Democratic Alliance Army, killing 45 and 30 respectively.
Full report at:
https://www.malaymail.com/s/1700797/malaysia-improves-in-terrorism-ranking-but-region-emerges-as-hotspot
--------
Arab World
US, Israeli Weapons Found in Terrorists' Strongholds in Southern Syria
Dec 06, 2018
The engineering units of the Syrian army found US-made TOW missiles, Israeli weapons, sniper guns, a large number of combat guns, cannons, mortars, RPGs, machine guns and drones in a former terrorist base in Dara'a al-Balad region.
They also discovered several weapons and military equipment, including different types of machine guns, ammunition, cannons and mortars, in one of the terrorists' hideouts in the village of al-Nasib in Southern Dara'a at the borders with Jordan.
In a relevant development last Saturday, the Syrian army discovered a large cache of arms and ammunition, which also included several US-made missiles, during cleansing operations against the remnants of the terrorist groups in Dara'a province in Southern Syria.
A Syrian military source reported that the army's engineering units have found American TOW missiles in the weapons cache which belonged to the terrorists before being forced to leave Dara'a province.
The source added that the army forces also found over 100,000 rounds of machine-guns bullets, a large number of RPG rockets and a number of assault rifles.
Media reports revealed last month that the US was providing direct military support for the ISIL in trade for Syria's artifacts.
http://en.farsnews.com/newstext.aspx?nn=13970915000343
--------
Organization of Islamic Cooperation rejects Israel's disputed 'nation-state' bill
December 05, 2018
JEDDAH: A committee at the Organization of Islamic Cooperation (OIC) denounced and rejected a controversial Israeli law declaring the country a predominantly Jewish state in a meeting convened on Wednesday.
Dubbed the "Basic Law," or the "nation-state" bill, the legislation is designed to ensure Jewish rights over those of minorities, a move that was widely denounced within the international community and even among members of the Jewish diaspora. The Israeli government passed the bill by a narrow margin in May.
The Committee of Permanent Representatives at the OIC, which convened the meeting at the request of the Saudi government, expressed strong condemnation of Israel's latest form of sanctioned racial discrimination.
The OIC declared the latest bill void since it contravenes the basic tenets of international law and warned against the institutionalization of racism through religion.
"Enshrining Israeli colonialism in law and upholding it as a national value is merely a means to abolish Arab identity and the Arabic language among Palestinians living in Israel," read the OIC statement. "It justifies ethnic cleansing and denies an entire people their existence, history, identity and rights."
Permanent members of the committee discussed the impact of the bill, which aims to reinforce Israeli settlement ideology and strengthen occupation policies, on the political and historical rights of the Palestinian people.
"These racist laws practiced by Israel, the occupying power, will only further legitimize injustice, aggression and violations, making Palestinian rights an international humanitarian responsibility more than ever before," said Yousef Al-Othaimeen, OIC secretary-general.
He said that the OIC would continue efforts to expose racist Israeli policies and push for the prosecution of the occupation forces through co-sponsoring international initiatives.
"We reaffirm that just and lasting peace cannot be achieved until Israel ends its colonial occupation and abolishes its racist laws and policies," he said.
Mahir Karaki, the permanent representative of the state of Palestine to the OIC, echoed the view.
"The international community must take responsibility for the issue," he told Arab News.
"We also call on OIC member states to double up efforts against Israeli racism through categorical rejection of this law and through lobbying international organizations, parliaments, human rights organizations and international courts to prevent its implementation."
Karaki added that Israel has taken full advantage of US support for Israel's right-wing government.
In recent months, the US has transferred its embassy to Jerusalem, closed the Palestine Liberation Organization office in Washington, DC and halted support for the UN Relief and Works Agency.
"All these steps aim to force the Palestinian leadership and its people to accept the Israeli narrative, which denies the Palestinian right to self-determination," said Karaki.
"We hope that the US administration will reconsider its stance, as it is detrimental to the peace process. The White House must play a more proactive role toward peace."
He emphasized the dedication of the Palestinian leadership toward resolving the long-standing Palestinian-Israeli conflict.
The OIC also celebrated the International Day of Solidarity with the Palestinian People, a UN-organized event held yearly on Nov. 29.
The event was attended by Mahmoud Al-Asadi, consul general of the State of Palestine in Jeddah, along with other diplomats and journalists.
Al-Asadi thanked the Saudi government for its continued support to the Palestinian people and stressed on the need to help halt all forms of racially inspired normalization within Israel.
"I would like to express appreciation to Marc Lamont Hill, who was fired by CNN after he declared support for Palestinians at a UN meeting," he said. During the meeting, Hill said "free Palestine from the river to the sea."
The so-called nation state bill declares "the right to exercise national self-determination" in Israel "unique to the Jewish people," while also establishing Hebrew as Israel's official language and downgrading Arabic to a "special status" language.
Full report at:
http://www.arabnews.com/node/1416306/saudi-arabia
--------
US-Backed SDF Resumes Attacks against Ankara-Affiliated Militants in Aleppo
Dec 06, 2018
Field sources in Northern Syria reported on Thursday that the Kurdish forces (SDF) attacked the positions of Turkey-backed militants in the villages of Kaljabrin and Kafr Kalbin in A'azaz region in Northern Aleppo, leading to fierce clashes between the two sides.
Also, heavy clashes erupted between the Kurds and the Operation Euphrates Shield militants after the former attacked the positions of Ankara-backed fighters in the town of al-Ablah near al-Bab city in Northeastern Aleppo.
Meantime, sources said that during the clashes at least 10 Kurdish and Ankara-backed militants were killed and a number of others were wounded.
A number of Turkish troops and Ankara-backed militants were also killed on Tuesday after the Kurdish militia targeted them in occupied Afrin in Northwestern Aleppo, field sources reported.
The sources said that the Kurdish units fired a thermal missile on a group of Turkish soldiers and their allied militants in the village of Deir Mashmash in Afrin, killing over 10 of them and injuring several more.
A military vehicle of the Ankara forces was destroyed in the attack too.
In the meantime, the London-based Syrian Observatory for Human Rights (SOHR) reported that a commander of Ankara-backed militants was killed and two of his forces were injured in the Kurdish missile attack in Basalhaya region in Afrin.
Full report at:
http://en.farsnews.com/newstext.aspx?nn=13970915000594
--------
Army Sends More Military Convoys to Northern Syria
Dec 06, 2018
Field sources in Syria reported on Thursday that the Syrian army has sent hundreds of forces along with tens of military vehicles to the regions controlled by its forces in Idlib province and nearby regions.
They added that the convoy which consisted of tens of Syrian army soldiers has moved towards Idlib via Damascus-Dara'a highway.
Meantime, other reports said that a large number of Syrian army forces have been sent to Saqilabiyeh region in Northwestern Hama along with military equipment.
Also, several army troops, including the Tiger Force, were deployed in regions from the village of Abu Dali in Northern Hama to Southern Aleppo.
The terrorists' refusal to implement the Sochi Agreement to establish a demilitarized zone is pushing the army to initiate its long-waited assault on militants in Idlib that had been put on hold due to the Sochi Agreement.
Colonel Mar'ei Hamdan, a Syrian military expert, was quoted by the Arabic-language website of Sputnik news agency as saying last month that Tahrir al-Sham Hay'at (the Levant Liberation Board or the Al-Nusra Front) is in control of nearly 70% of towns and villages in Idlib province and makes provocative moves against the Syrian army, adding that the army's commitment to decrease tensions is not lasting forever.
He added that the Syrian army has so far repelled all attacks by terrorists against its positions and inflicted heavy damages on them, noting that the army is now necessitated to come out of the defensive mood to retake control of Idlib.
Hamdan said that Tahrir al-Sham will resort to a full-scale military operation against the Syrian and Russian armies soon, after rejecting the Sochi agreement last October, which leaves no room for ceasefire or disarmament anymore, and underlined that the Syrian army's battle against Tahrir al-Sham is inevitable.
Meantime, the Turkey-backed Ahrar al-Sham and National Liberation Front (NLF) terrorist groups has also dismissed the Russian-Turkish Sochi agreement and is preparing for military operations against the army in Northern Syria, calling for a coalition with Tahrir al-Sham.
Tahrir al-Sham and other allied terrorist groups have not left the demilitarized zone two months after the Sochi agreement and have instead reinvigorated their strongholds and targeted the army positions every day.
Full report at:
http://en.farsnews.com/newstext.aspx?nn=13970915000573
--------
Terrorists Heavily Defeated in Offensive against Syrian Army in Demilitarized Zone
Dec 06, 2018
The Syrian army units engaged in fierce clashes with the terrorists in the Northern parts of the town of Kanasba in Northern Lattakia, warding off their offensive after leaving several militants dead and wounded and destroying their weapons and military equipment.
The remaining terrorists fled the scene towards their strongholds near the Turkish borders.
The army troops also targeted the terrorists' moves towards their positions in the towns of al-Arba'een, al-Zakat, Tal al-Sakhar and Hasraya in Northern Hama with artillery fire.
Meantime, Syria's Arabic-language al-Watan newspaper reported that the army has launched heavy artillery fire on terrorists' positions in Khan Sheikhoun, al-Tamane'ah, al-Khowin, Um Jalal, Jarjanaz, al-Tah, Katibeh al-Mahjoureh and Sakik in Southeastern Idlib, the points that militants attacked the army, leaving heavy damage on them.
The terrorists' refusal to implement the Sochi Agreement to establish a demilitarized zone is pushing the army to initiate its long-waited assault on militants in Idlib that had been put on hold due to the Sochi Agreement.
Colonel Mar'ei Hamdan, a Syrian military expert, was quoted by the Arabic-language website of Sputnik news agency as saying last month that Tahrir al-Sham Hay'at (the Levant Liberation Board or the Al-Nusra Front) is in control of nearly 70% of towns and villages in Idlib province and makes provocative moves against the Syrian army, adding that the army's commitment to decrease tensions is not lasting forever.
He added that the Syrian army has so far repelled all attacks by terrorists against its positions and inflicted heavy damages on them, noting that the army is now necessitated to come out of the defensive mood to retake control of Idlib.
Hamdan said that Tahrir al-Sham will resort to a full-scale military operation against the Syrian and Russian armies soon, after rejecting the Sochi agreement last October, which leaves no room for ceasefire or disarmament anymore, and underlined that the Syrian army's battle against Tahrir al-Sham is inevitable.
Meantime, the Turkey-backed Ahrar al-Sham and National Liberation Front (NLF) terrorist groups has also dismissed the Russian-Turkish Sochi agreement and is preparing for military operations against the army in Northern Syria, calling for a coalition with Tahrir al-Sham.
Tahrir al-Sham and other allied terrorist groups have not left the demilitarized zone two months after the Sochi agreement and have instead reinvigorated their strongholds and targeted the army positions every day.
Full report at:
http://en.farsnews.com/newstext.aspx?nn=13970915000269
--------
Syrian Army Wards Off ISIL Heavy Offensive Near Iraqi Borders
Dec 06, 2018
The army soldiers on Thursday engaged in fierce clashes with a large number of ISIL terrorists, including suicide bombers, who had attacked the army positions in al-Kataf region of Albu Kamal from Baqouz region.
Field sources said that heavy clashes erupted between the two sides in parts of al-Kornish region and farms near the Euphrates river, noting that a large number of militants were killed and wounded.
They added that the Syrian army troops repelled the terrorists' attacks after several hours of clashes, forcing other militants to flee.
Syria has been gripped by foreign-backed militancy since March 2011. The Syrian government says the Israeli regime and its Western and regional allies are aiding Takfiri terrorist groups wreaking havoc in the country.
United Nations High Commissioner for Human Rights Michelle Bachelet warned against the deteriorating humanitarian situation in Syria's troubled Eastern province of Deir Ezzur, saying that ISIL Takfiri terrorists are putting local residents to death.
Speaking to a news conference in the Swiss city of Geneva on Wednesday, Bachelet voiced deep concern for 7,000 civilians, whom she said had been caught between ISIL militants preventing them from evacuating Deir Ezzur, located 450 kilometers Northeast of the capital Damascus, and US-led coalition airstrikes.
"We also have reports of Daesh (ISIL) executing people perceived as cooperating with SDF (Syrian Democratic Forces) or other parties to the conflict," she added.
Full report at:
http://en.farsnews.com/newstext.aspx?nn=13970915000370
--------
Key Hezbollah financier Kassim Tajideen pleads guilty in US
7 December 2018
Lebanese businessman Kassim Tajideen, designated by US authorities as an important financial supporter of Hezbollah, pleaded guilty Thursday to charges related to evading sanctions against him, a Justice Department statement said.
Tajideen, 63, pleaded guilty before a Washington court and faces five years in prison and a forfeiture of $50 million if his deal with prosecutors is accepted.
He was named a Specially Designated Global Terrorist in May 2009 by the Treasury Department over his links to Hezbollah. Tajideen has been detained since extradition to the United States in March 2017 after his arrest overseas, the statement added.
"We are going to keep targeting Hezbollah and other terrorist groups and their supporters, and we are going to keep winning," said Acting Attorney General Matthew Whitaker, who hailed the guilty plea.
Full report at:
https://english.alarabiya.net/en/News/middle-east/2018/12/07/Key-Hezbollah-financier-Kassim-Tajideen-pleads-guilty-in-US.html
--------
UN peacekeepers confirm Israeli report of tunnel at Lebanon border
6 December 2018
UN peacekeepers in Lebanon have confirmed the existence of a tunnel discovered by the Israeli military close to the blue line separating the two countries, it said in a statement on Thursday.
The UN Interim Force in Lebanon (UNIFIL) is "engaged with the parties to pursue urgent follow-up action" and "will communicate its preliminary findings to the appropriate authorities in Lebanon", it added.
Israel's Prime Minister Benjamin Netanyahu said this week that Hezbollah was planning to send militants through the tunnels to launch attacks and he expanded on his comments on
Thursday.
"Hezbollah wants to insert several battalions to our territory with the aim of isolating communities, towns and kibbutzim (collective farms) to continue its reign of terror and abductions which could take place simultaneously," he told a meeting of foreign diplomats.
Full report at:
https://english.alarabiya.net/en/News/middle-east/2018/12/06/UNIFIL-confirms-presence-of-a-tunnel-near-Blue-Line-south-of-Lebanon.html
--------
URL: https://www.newageislam.com/islamic-world-news/pope-francis-demonstrated-clear-sympathy/d/117095
New Age Islam, Islam Online, Islamic Website, African Muslim News, Arab World News, South Asia News, Indian Muslim News, World Muslim News, Women in Islam, Islamic Feminism, Arab Women, Women In Arab, Islamophobia in America, Muslim Women in West, Islam Women and Feminism