New Age Islam News Bureau
29 Nov 2014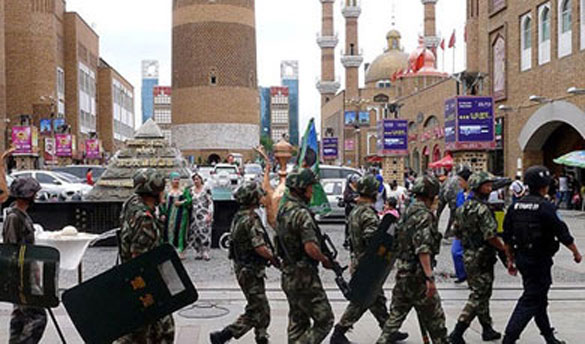 Fifteen people were killed and fourteen wounded in an attack in China's Xinjiang (East Turkestan), the official Xinhua news agency said
-------
Mideast
• Pope Francis Clasps Hands In Reflection in Istanbul Mosque
• Pope Warns Against Fundamentalism, As Erdoğan Slams 'Double-Standards'
• Iran Calls for Muslims' Unity, Vigilance against Enemies' Divisive Plots
• Arabs should be paid to leave Israel, says Lieberman
Africa
• 'I Saw Two Gunmen Going Into the Mosque, Shooting People'
• Libya's Haftar Vows to 'Take Tripoli' From Islamists
• Boko Haram Steps up Attacks Aimed at Islamic 'Establishment' In Nigeria
• Cameroon battles to keep youths out of Boko Haram
• Boko Haram's brutality spreading fear beyond Nigeria
• 'No stone unturned' vows Nigerian president in hunt for those behind mosque attacks
• 2 Algeria protesters killed, 20 hurt in clashes: Media
• Sudan, Darfur Rebels Fail to Agree On Peace Talk Agenda
Arab World
• Islamic State sets off suicide bombs on Turkey border
• 3 officers, 2 civilians killed in Friday Islamist demos
• Jordanians protest Israel 'Jewish State law'
• ISIS controls an area the size of Britain: Syria expert
• Saudi Minister: Remove Syrian Regime to Eradicate IS
• Egypt's 'Islamic revolution' protests fail to draw crowd
• Iranian commander led anti-jihadist drive: Hezbollah
• Iraqi Turkmens want role in Kirkuk fight, demand arms and salary from Baghdad
• Egypt court drops charges against Mubarak
• Syria says US-led strikes have not weakened Islamic State
• Pancakes for Jihadists: ISIS Shares New Online Cooking Tips
Europe
• 'Quran should be read at Coronation of Prince Charles': Former Bishop of Oxford
• Pope: Military force against ISIS justified
• Iran's human rights situation has not improved, says activist Shirin Ebadi
• We understand your burden, Putin tells Turkey over Iraq and Syria conflicts
• ICC chief prosecutor says difficult access hinders Libya probe
India
• Return of youth from Syria, Iraq a new security challenge: IB chief
• Islamic State a major challenge, some youths are swayed by its ideology: Home Minister
• Indian captives in Iraq: Worker's brother refutes TV report
• Seven injured in grenade explosion at Srinagar's Lal Chowk
Pakistan
• 11 suspected militants killed in Tirah air attack
• Imran an absconder, feudal lord and working for world oil mafia: Minister
• Gunmen kill prominent Sunni leader in Pakistan
• Increased number of attacks on Hindu temples in Pakistan a worrying trend
• JUI-F office-bearer's murder: Fazl calls for countrywide strike
• PPP won't let anyone impose agenda through force: Zardari
• As opposed to past rigidity, PTI showing flexibility: Rehman Malik
• Jirga asks govt not to create hurdles for PTI's rally
• Govt, Musharraf's 'abettors' weighing legal options
• Law against violence on women soon, says Balochistan CM
North America
• Conflicting Policies on Syria and Islamic State Erode U.S. Standing in Mideast
• China, US team up to weed out extremist content from internet
• To fight ISIS, U.S. shifts tactics on Iraqi army training: report
• Minnesota: County GOP official resigns after anti-Muslim remarks
Southeast Asia
• Zahid screens video clip to drive home dangers of Isis
• Activist criticizes Jokowi on human rights
• Speedy action against offenders once Sedition Act revised, says Zahid
South Asia
• 15 Killed, 14 Hurt in Attack in China's Xinjiang
• Suicide Attack in Helmand Leaves 4 Policemen Dead, 5 Injured
• Explosion inside a mosque in Nangarhar leaves dozens injured
• PM Sheikh Hasina: People will try Khaleda
Compiled by New Age Islam News Bureau
URL: https://newageislam.com/islamic-world-news/pope-francis-clasps-hands-reflection/d/100255
----------
Mideast
Pope Francis Clasps Hands In Reflection in Istanbul Mosque
Nov 29, 2014
Pope Francis today paused for two minutes and clasped his hands in reflection during a visit to the Sultan Ahmet mosque in Istanbul, an AFP correspondent reported.
The pope closed his eyes, clasped his hands in front of his chest beneath the cross he wears around his neck and bowed his head, as he stood next to Istanbul Mufti Rahmi Yaran who performed an Islamic prayer known as the Dua.
Francis' gesture was remarkably similar to that of his predecessor Benedict XVI who visited the mosque on the last papal visit to Turkey in 2006.
Benedict assumed the Muslim attitude of prayer and turned towards Mecca in what many saw as a stunning gesture of reconciliation between Islam and Christianity.
The Vatican later made clear he had not actually prayed in the mosque but was "in meditation" and had indicated that Pope Francis would make a similar gesture in this visit.
Francis then left the Sultan Ahmet mosque – known abroad as the Blue Mosque and one of the great masterpieces of Ottoman architecture – and headed to his visit of the Hagia Sophia museum.
http://www.themalaysianinsider.com/world/article/pope-clasps-hands-in-reflection-in-istanbul-mosque#sthash.q17gULeO.dpuf
----------
Pope Warns Against Fundamentalism, As Erdoğan Slams 'Double-Standards'
Nov 29, 2014
Pope Francis chose Turkey as a venue to call for an end to all forms of fundamentalism, noting that fighting hunger and poverty, rather than military intervention alone, were key to stopping fundamentalist militants carrying out "grave persecutions" in Syria and Iraq.
For his part, his host, President Recep Tayyip Erdoğan, used the occasion to express his disillusionment about the international response to the massacres in Syria and the coup in Egypt. Pope Francis hosted Egyptian President Abdel Fattah el-Sisi just four days ago at the Vatican.
Speaking at the start of a three-day trip to Turkey that many are billing as an opportunity to increase dialogue between the Muslim and Christian worlds at a time of increased religious tension, Francis said Nov 28 "terrorist violence" showed no sign of abating in Turkey's southern neighbors, where jihadist insurgents had declared a caliphate and persecuted Shiite Muslims, Christians, Yazidis and others who do not share their ultra-radical brand of Sunni Islam.
"It is licit, while always respecting international law, to stop an unjust aggressor," the leader of the world's 1.2 billion Roman Catholics said in reference to Islamic State of Iraq and the Levant (ISIL) militants after a meeting with Erdoğan.
"What is required is a concerted commitment on the part of all ... to enable resources to be directed, not to weaponry, but to the other noble battles worthy of man: the fight against hunger and sickness," he said.
The president of Turkey, meanwhile, particularly cited the policies of the Syrian regime as well as the "terrorist activities" of the outlawed Kurdistan Workers' Party (PKK), describing international actions as "double-standards."
"Military coups, massacres, rights violations and bloodshed in some countries are not reacted to appropriately by the world. In fact, they are almost encouraged," Erdoğan said.
Slamming "xenophobia and racism in the West," Erdoğan said "terror organizations like Da'esh [ISIL], Boko Haram and al-Qaeda are able to exploit people" due to policy failures.
Before the meeting with Erdoğan, Francis visited the tomb of Mustafa Kemal Atatürk, the founder of the Republic of Turkey.
Francis called for interreligious dialogue "so that there will be an end of all forms of fundamentalism and terrorism which gravely demean the dignity of every man and woman and exploit religion."
Turkey has been a reluctant member of the U.S.-led coalition against ISIL, refusing a frontline military role but backing the Syrian opposition and calling for President Bashar al-Assad to be toppled.
Turkey is sheltering nearly 2 million refugees from Syria, including thousands of Christians. Turkey has seen its own Christian population dwindle over the past century, with decades of violence and economic and political pressure forcing most Christians to leave after World War I and the emergence of the post-Ottoman Turkish state.
"It is essential that all citizens – Muslim, Jewish and Christian – both in the provision and practice of the law, enjoy the same rights and respect the same duties," Francis said.
Unscheduled moves and humbleness
Francis renounced the spacious papal apartments in the Vatican's Apostolic Palace when he was made pontiff last year and lives instead in a much more modest guesthouse in the Vatican. Because he has been renowned for his humble lifestyle, there was controversy over the venue for his meeting with Erdoğan. He was the first foreign guest in the president's overly extravagant new 1,000-room palace.
Francis, who generally prefers not to stay in hotels on foreign trips, was set to stay at the Vatican Embassy in Ankara before he proceeds to Istanbul.
The Vatican also reportedly asked Ankara to assign a modest "Ford Focus" model car for the pope's use during his visit, but the Turkish authorities instead offered an official German armored state car that is in general use for Turkish protocol.
Some 900 media members have been accredited to cover Pope Francis' visit to Turkey, 69 of whom have been traveling with him.
During his visit to Istanbul on Nov. 29-30, the pope will visit the Hagia Sophia Museum, originally built as an Eastern Orthodox cathedral in the sixth century before being converted into a mosque after the Ottoman conquest in 1453. It is now open to the public as a museum.
Francis will also visit the Blue Mosque and celebrate Mass at the Catholic Cathedral of the Holy Spirit.
The pope will later offer a prayer at the Orthodox Patriarchal Church of St. George, followed by a private meeting with Greek Orthodox Patriarch Bartholomew. The pope will celebrate a private Mass on Nov. 30, followed by a divine liturgy and the signing of a joint declaration with Bartholomew.
Bartholomew previously visited the Vatican for the inaugural mass of Francis, the first time in history that a Greek Orthodox patriarch had attended the installation of a pope.
"We are eagerly awaiting the visit of our brother, Pope Francis," Bartholomew said ahead of the visit. "It will be yet another significant step in our positive relations as sister churches."
http://www.hurriyetdailynews.com/in-turkey-pope-warns-against-fundamentalism-as-erdogan-slams-double-standards.aspx?pageID=238&nID=74985&NewsCatID=338
----------
Iran Calls for Muslims' Unity, Vigilance against Enemies' Divisive Plots
Nov 29, 2014
Iranian Parliament Vice-Speaker Mohammad Hassan Aboutorabi Fard called on all the world Muslims, Shiites and Sunnis, to grow more united against the divisive plots hatched by the enemies to wreak havoc on them.
Aboutorabi Fard said the arrogant system, led by the US, has been behind creation of disputes among different ethnic groups, religions and cultures in most African, Southeastern Asian and even European countries to guarantee security of the Zionist regime of Israel.
He further said that enhancement of solidarity and unity among Islamic nations can serve as the most important strategy to refrain from sectarian disputes.
Late in October, Supreme Leader of the Islamic Revolution Ayatollah Seyed Ali Khamenei stressed that strengthening unity among the Muslim states is the prioritized policy of the Islamic Republic of Iran.
"Islamic unity which is the basic slogan of the Islamic Republic means that the Islamic Ummah shouldn't practice hostility towards each other, but should support each other in (dealing with) important global issues," Ayatollah Khamenei said.
He described unity and brotherhood among Muslims as one of the pillars of Islam, and emphasized that the Islamic Republic of Iran would never compromise this issue.
http://english.farsnews.com/newstext.aspx?nn=13930908001043
----------
Arabs should be paid to leave Israel, says Lieberman
Nov 29, 2014
JERUSALEM: Israeli Foreign Minister Avigdor Lieberman proposed that Arab citizens of Israel be offered financial incentives to leave the country and relocate to a future Palestinian state.
Lieberman, whose ultra-nationalist party is a core part of Prime Minister Benjamin Netanyahu's coalition, has previously spoken about redrawing borders but not about using sweeteners to encourage Arabs to uproot to a Palestinian state.
His proposals were made in the form of a manifesto, presented with expectations rising that Israel may have to hold early elections in the coming months as Netanyahu's coalition frays. Elections are not formally due until 2017.
Lieberman, one of the most strident voices in favour of the separation of Jews and Arabs, said Palestinians living in Jaffa and Acre, two mixed cities on the Mediterranean coast far from the West Bank, should be encouraged to move if they want.
"Those (Israeli Arabs) who decide that their identity is Palestinian will be able to forfeit their Israeli citizenship and move and become citizens of the future Palestinian state," he wrote in the manifesto, entitled Swimming Against the Stream, published on his Facebook page and his party's website.
"Israel should even encourage them to do so with a system of economic incentives," he said.
The last round of negotiations between Israel and the Palestinians, who seek a state in the West Bank and Gaza with East Jerusalem as their capital, collapsed in April.
Lieberman has in the past called on Israeli Arabs, who make up about 20 per cent of Israel's 8 million population, to take a loyalty oath if they want to remain in Israel, a measure that Netanyahu denounced at the time.
But Netanyahu is now backing a contentious bill that would define Israel as the Jewish nation state and enshrine certain rights for Jews. Critics say it would discriminate against Arab-Israelis and put religion and ethnicity above democracy.
The bill comes at a time of high tensions in Israel, the occupied West Bank and Jerusalem, where a dispute over access to a religious site sacred to Jews and Muslims alike has ignited Palestinian streets protests and lethal attacks on Jews.
A poll carried out in 2010, after Lieberman addressed the United Nations and set out plans for the borders of a future Palestinian state to be redrawn to include Arab towns in Israel, showed that 58pc of Israeli Arabs opposed the idea.
http://www.dawn.com/news/1147535/arabs-should-be-paid-to-leave-israel-says-lieberman
----------
Africa
'I Saw Two Gunmen Going Into the Mosque, Shooting People'
Nov 29, 2014
PATCHES of human flesh were strewn right inside the Kano Central Mosque yesterday, as one suicide bomber forced his way into a row of worshippers and detonated a bomb during prayers at Kofa Kwaru quarters in the metropolis.
Scattered around three spots where the coordinated explosions occurred were mangled bodies of over 100 worshippers who were either killed by the explosions or gunshots that followed from gunmen suspected to be allies of the bombers.
Then, there was confusion, as people ran in all directions for safely, with many of them dead or injured in the ensuing stampede.
Thick smoke billowed in the sky and was sighted even from afar. It was a scene of chaos and confusion, fear and anger, as the people of Kano grappled with the reality of yet another deadly bombing in the city.
Palace sources say the Emir of Kano, Muhammadu Lamido Sanusi, was out of the country.
But on hearing news of the blasts, he was said to have changed plans and was heading home.
However, top emirate councilors were present during the prayer.
The bombs began exploding soon after the Imam opened the prayers. The first went off when one of the suicide bombers sped past worshippers recklessly in a Toyota Spacewagon, attracting attention.
Full report at:
http://www.ngrguardiannews.com/lead-story/188403-i-saw-two-gunmen-going-into-the-mosque-shooting-people
----------
Libya's Haftar vows to 'take Tripoli' from Islamists
Nov 29, 2014
An anti-Islamist former Libyan general, Khalifa Haftar, said Friday he has given himself two weeks to take Benghazi and three months to recapture the capital Tripoli.
The strongman, who is allied to the Libyan parliament, has been battling Islamist militias who took control of the war-torn country's biggest cities this summer after their defeat in elections.
Forces loyal to Haftar and Prime Minister Abdullah al-Thani are fighting for control of Benghazi in the east and have launched an offensive against Islamist positions west of the capital.
"For Tripoli we are only at the beginning," Haftar told the Italian daily Corriere della Sera. "We need more men and more supplies and weaponry."
"I have given myself three months, but maybe we will need less. The Islamists of Fajr Libya (Libya Dawn) are not difficult to fight, no more so than the Islamic State at Derna," the town in the east of the war-torn country which has become a base for militants affiliated to the extremist group who control swathes of Syria and Iraq.
Full report at:
http://english.alarabiya.net/en/News/middle-east/2014/11/28/Libya-s-Haftar-vows-to-take-Tripoli-from-Islamists.html
----------
Boko Haram steps up attacks aimed at Islamic 'establishment' in Nigeria
Nov 29, 2014
(CNN) -- The devastating attack on the Grand Mosque in Kano, Nigeria, on Friday was almost certainly the work of Boko Haram, which has stepped up its bombing campaign across northern Nigeria in recent weeks.
It may seem counterintuitive that Islamist militants should attack a mosque, but since its early days, Boko Haram has targeted the Muslim "establishment" in Nigeria, accusing it of not defending the interests of Nigeria's 80 million Muslims, of corruption and of "perverting" Islam.
One eminent member of that establishment is the emir of Kano, Sanusi Lamido Sanusi, a former governor of Nigeria's Central Bank who frequently preaches at the Kano mosque on Fridays. The emir of Kano is the second-most influential Muslim figure in Nigeria.
Sanusi was reportedly out of the country at the time of Friday's attack -- but two weeks ago, he used Friday prayers to urge Nigerians to defend themselves against Boko Haram.
"People must stand resolute" against a group that enslaves girls and "must not assume that the crisis will not reach their area," Sanusi said.
Full report at:
http://edition.cnn.com/2014/11/28/world/africa/nigeria-boko-haram/
----------
Cameroon battles to keep youths out of Boko Haram
Nov 29, 2014
MAROUA (Cameroon): As the West fights to keep its youth from the grip of jihadists, Cameroon's Muslim leaders are struggling to respond to a recruitment drive by Nigeria's Boko Haram.
In this remote north-east corner of Cameroon, some 450 young locals from the town of Kolofata alone joined up over the course of two months, deputy Prime Minister Amadou Ali said in August.
"No to Boko Haram," say signs posted across the region as Muslim authorities seek to keep a closer eye on preaching and teaching in mosques and religious schools.
"We're raising awareness in our mosques through Friday prayers," says Imam Malloum Baba while chatting with residents in Kourgui, about 20 kilometres (12 miles) from the border with Nigeria.
Full report at:
http://www.dawn.com/news/1147530/cameroon-battles-to-keep-youths-out-of-boko-haram
----------
Boko Haram's brutality spreading fear beyond Nigeria
Nov 29, 2014
LAGOS, Nov 29 — A suicide and gun attack that killed at least 120 at one of Nigeria's most well-known mosques was extreme in its brutality but part of an increasingly familiar pattern that has spread fear even beyond Nigeria's borders.
Unsuspecting worshippers were blown up as they gathered for Friday prayers at the Grand Mosque in the northern city of Kano; those who survived were cut down by gunfire as they fled.
The attack was widely seen as revenge for the Muslim Emir of Kano's call at the same mosque last week for civilians to arm and protect themselves against Boko Haram.
"Boko Haram has repeatedly threatened religious and traditional leaders in northern Nigeria, who are seen by the group as allies and instruments of the state," said Andrew Noakes, of the Nigeria Security Network of analysts.
Full report at:
http://www.themalaymailonline.com/world/article/boko-harams-brutality-spreading-fear-beyond-nigeria#sthash.vJIvVvtq.dpuf
----------
'No stone unturned' vows Nigerian president in hunt for those behind mosque attacks
Nov 29, 2014
ABUJA, Nov 29 — Nigerian President Goodluck Jonathan vowed today to hunt down those behind "heinous" attacks which left at least 120 dead at the mosque of a top Islamic leader and vocal critic of Boko Haram.
At least 270 others were also wounded in yesterday's attacks when two suicide bombers blew themselves up and gunmen opened fire during weekly prayers at the Grand Mosque in Kano, the biggest city in the mainly Muslim north of the country.
The president "directed the security agencies to launch a full-scale investigation and to leave no stone unturned until all agents of terror... are tracked down and brought to justice," said a statement from Jonathan's office today.
"The president reaffirms that terrorism in all forms... is a despicable and unjustifiable threat to our society."
He urged Nigerians "not to despair in this moment of great trial in our nation's history but to remain united to confront the common enemy."
The Grand Mosque is attached to the palace of the Emir of Kano Muhammad Sanusi II, Nigeria's second most senior Muslim cleric, who last week urged civilians to take up arms against Boko Haram.
Full report at:
http://www.themalaymailonline.com/world/article/no-stone-unturned-vows-nigerian-president-in-hunt-for-those-behind-mosque-a#sthash.bJWdVTwM.dpuf
----------
2 Algeria protesters killed, 20 hurt in clashes: Media
Nov 29, 2014
Two young men were killed and about 20 other people wounded when Algerians demonstrating against delays in a government projects clashed with police, media said Saturday.
The confrontation took place Friday in the town of Touggourt, where people were protesting delays "in awarding plots, construction and connection to the water supply," APS news agency aid.
The pair killed were aged 20 and 24, Nahar newspaper reported, with witnesses adding that police were among the wounded.
The protests began with people blocking the road that leads to the nearby Hassi Messaoud oil field, the daily said.
After police dispersed them with tear gas and batons, they converged on the police station, where the fatal clash took place.
http://english.ahram.org.eg/NewsContent/2/8/116735/World/Region/-Algeria-protesters-killed,--hurt-in-clashes-Media.aspx
----------
Sudan, Darfur Rebels Fail to Agree On Peace Talk Agenda
Nov 29, 2014
Addis Ababa — The Sudanese government and the rebel groups in the peace negotiations in Addis Ababa have failed to strike an agreement on the Darfur conflict and establish an agenda since the start on Monday.
Ahmed Tugud Lisan, chief negotiator on behalf of the JEM and the SLM-MM on Thursday told Radio Dabanga that the two sides have created a "vast gap" on reaching an agreement on the agenda points during the African Union-brokered peace process.
"The government delegation stuck to its previous position by saying that the policial issues, the issue of the internally displaced, reconciliations, and other issues have been addressed in the Doha Document for Peace in Darfur (DDPD)," Lisan said.
In response, Dr Amin Hassan Omar, the head of the government delegation, pointed for these issues to the Doha agreement, signed in 2011. "The Addis Ababa negotiations are concerned only with a ceasefire and security arrangements."
Full report at:
http://allafrica.com/stories/201411290127.html
----------
Arab World
Islamic State sets off suicide bombs on Turkey border
Nov 29, 2014
Islamic State fighters set off two suicide bombs on the Turkish border with the Syrian Kurdish town of Kobani today amid clashes that have killed at least 30 fighters, a monitoring group said.
Kurdish militia have been holding off Islamic State fighters for more than two months in the battle for the town, known as Ayn al-Arab in Arabic, but neither side has been able to gain a decisive advantage.
The Britain-based Syrian Observatory for Human Rights said Islamic State fighters detonated a suicide car bomb at the border crossing at dawn on Saturday and that clashes broke out after.
A second suicide bomber with an explosive vest later blew himself up in the same area, the Observatory said.
Clashes also broke out throughout the town itself, and another car bomb was detonated to the south, the Observatory said.
At least 30 fighters from the two sides have been confirmed as killed so far, said Rami Abdulrahman, the Observatory's director. Twenty-one of those were Islamic State fighters, including four suicide bombers. The remaining nine were from the Kurdish forces.
http://www.themalaysianinsider.com/world/article/islamic-state-sets-off-suicide-bombs-on-turkey-border#sthash.sz640rfF.dpuf
--------
3 officers, 2 civilians killed in Friday Islamist demos
Nov 29, 2014
Friday demonstrations called for by the the government's Islamist opposition have so far claimed the lives of three army officers as well as three protesters, news reports and government officials have revealed.
The Health Ministry said one army officer and two civilians were killed in clashes in the working class district of Matariya during clashes between police and demonstrators.
One army officer was also shot dead by passengers of a passing-by unlicensed car in Gesr al-Suez, east of Cairo.
Meanwhile, a navy officer was killed by unknown assailants who were shooting at security from a rooftop in Shatby, Alexandria.
The Health Ministry, however, only confirmed the death of the Matariya officer and the two civilains at the same district.
The cabinet's Information and Decision Support Center said in a statement quoted by state agency MENA that security campaigns resulted in the arrest of 107 so-called "terrorists," seizing one machine gun and eight IEDs. The Interior Ministry said later in a statement that the number soared to 224.
Full report at:
http://www.egyptindependent.com/news/3-officers-2-civilians-killed-friday-islamist-demos
----------
Jordanians protest Israel 'Jewish State law'
Nov 29, 2014
Hundreds of Jordanians joined a rally Friday organised by the Muslim Brotherhood to denounce Israeli plans to enshrine in law the country's status as the national Jewish homeland.
An estimated 1,500 protesters set off from the Husseini mosque in downtown Amman holding up signs saying "Al-Aqsa is in danger."
"There is a greater danger today, and that is the Jewish state draft law," Hamzeh Mansur, the former head of the Brotherhood's Islamic Action Front party, told the protesters.
"Where is Jordan's custodianship over Jerusalem and where is the promised Palestinian state," he asked.
Jordan has custodianship over the Al-Aqsa mosque compound in Jerusalem -- which is holy to both Jews and Muslims -- and other Muslim holy sites in annexed Arab east Jerusalem, which the Palestinians want as the capital of their future state.
Full report at:
http://english.alarabiya.net/en/News/middle-east/2014/11/28/Jordanians-protest-Israel-Jewish-State-law-.html
----------
Saudi Minister: Remove Syrian Regime to Eradicate IS
Nov 29, 2014
National Guard Minister Prince Miteb bin Abdullah has called on the international community to remove the Syrian regime if it wants to defeat the Islamic State terror group.
Prince Miteb made the comments in a recent interview with Asharq Al-Awsat, a sister publication of Arab News. He returned to the Kingdom on Wednesday after a tour of the US where he met President Barack Obama and senior US officials.
He urged Iran to abide by international requirements on its nuclear program and said the Kingdom would continue to work for peace and stability in other Arab nations.
"I think that we must eradicate the reasons for the presence of ISIS (Islamic State of Iraq and Syria) and other terrorist organizations, which were formed as a result of the international community's failure to stand with the Syrian people."
Full report at:
http://www.arabnews.com/news/667151
----------
ISIS controls an area the size of Britain: Syria expert
Nov 29, 2014
The Islamic State of Iraq and Syria (ISIS) controls a third of Iraq and a third of Syria, a land mass that is the size of Britain, Joshua Landis, a top Syria expert and the director of the University of Oklahoma's Center for Middle East Studies, told Al Arabiya's Diplomatic Avenue on Friday.
"The country that ISIS is building is the size of Great Britain; it has about eight or nine million people in it," he said.
Speaking to Talal al-Haj, Al Arabiya's New York bureau chief, about the role of the Syrian National Coalition in the fight against ISIS, Landis said: "That coalition does not actually control any militias, which is one of the problems and it is why the United States has stopped sending money through the coalition."
Landis said that U.S. intelligence agency C.I.A. is sending arms and is dealing directly with militias fighting President Bashar al-Assad in Syria since the former head of the Supreme Military Council of the Free Syrian Army, Salim Idris, was pushed out of Syria a year ago.
"All of his arms that were coming from America and other products were all stolen from him by the Islamic Front, and so the United States gave up on him…and began to just work directly with various militias," he explained.
Full report at:
http://english.alarabiya.net/en/News/middle-east/2014/11/28/ISIS-controls-an-area-the-size-of-Britain-Syria-expert.html
----------
Egypt's 'Islamic revolution' protests fail to draw crowd
Nov 29, 2014
Anti-government Islamists in Egypt saw their calls for a day of mass protests to defend the coutnry's "Islamic identity" fall flat on Friday, with low turnouts at scattered protests around the country.
Despite widespread apprehension of possible violence that caused many Egyptians to stay home, institutions to shut, and churches to suspend their activities, there were relatively few violent incidents.
One civilian was killed in clashes in Matariya in eastern Cairo, while three security personnel were reportedly killed. Two officers died in two separate incidents of drive-by shootings, one in Cairo and one just north of the capital in Qalioubiya, while one police conscript was killed in Ain Shams in Cairo during clashes.
Twenty-six people were injured in clashes in a number of cities, while some 220 people were arrested, officials said.
Full report at:
http://english.ahram.org.eg/NewsContent/1/64/116696/Egypt/Politics-/Egypts-Islamic-revolution-protests-fail-to-draw-cr.aspx
----------
Iranian commander led anti-jihadist drive: Hezbollah
Nov 29, 2014
BEIRUT: Lebanon's Shia movement Hezbollah said on Friday that an Iranian elite unit commander led the anti-jihadist counter-attack in Iraq after the Islamic State group made major advances in June.
Major General Qassem Suleimani landed in Baghdad on June 10, hours after the IS overran the Iraqi city of Mosul, "leading a group of Lebanese and Iranian military experts", according to the pro-Tehran group's Al-Manar website.
It said Suleimani, who heads Iran's elite Quds Force, had together with the Iraqi military and Shia militias worked out a strategy "to secure Baghdad and its surroundings", when the jihadists appeared unstoppable.
"The first order he gave was to secure the road linking Baghdad to Samarra (to the north), and he successfully expelled the IS jihadists who had been occupying sections of this vital artery," it said.
http://www.dawn.com/news/1147532/iranian-commander-led-anti-jihadist-drive-hezbollah
----------
Iraqi Turkmens want role in Kirkuk fight, demand arms and salary from Baghdad
Nov 29, 2014
Iraqi Turkmens have said they want to help defend the northern Iraqi province of Kirkuk against Islamist jihadists along with Kurdish militants and have asked Baghdad to supply arms and a budget.
"We also want to contribute to the defense of Kirkuk with the Peshmerga," Arshad al-Salihi, the head of the Iraqi Turkmen Front (ITC), told state-run Anadolu Agency on Nov. 28.
However, he said, "We have some demands from the central Iraqi government."
Iraq should provide arms and salaries to Iraqi Turkmen militias as it does with Iraqi forces and the Peshmerga, according to al-Salihi.
He said there are a substantial number of armed Turkmen militias willing to fight against the Islamic State of Iraq and the Levant (ISIL), but they keep them out of the organization due to the lack of a legal status.
Full report at:
http://www.hurriyetdailynews.com/iraqi-turkmens-want-role-in-kirkuk-fight-demand-arms-and-salary-from-baghdad.aspx?pageID=238&nID=74980&NewsCatID=352
----------
Egypt court drops charges against Mubarak
29 November 2014
An Egyptian court on Saturday dismissed criminal charges against former president Hosni Mubarak in connection with the killing of protesters in the 2011 uprising that ended his nearly three-decade reign.
A helicopter transporting the 86-year-old former president took off from the Maadi military hospital early Saturday, where he is currently serving a three-year-sentence after he was found guilty of corruption, Al Arabiya News Channel reported.
Families of the victims gathered in front of the Police Academy, where the trial is being held.
Earlier in September, the presiding judge was supposed to announce the court's decision but postponed the judgment to Nov.29 saying that he did not have the time to go through thousands of case documents filed.
Today's verdict ends a long retrial after an appeals court overturned a life sentence handed down in 2012.
In addition to the families of the victims, a crowd of Mubarak's supporters also gathered in front of the court house, Al Arabiya News Channel's correspondent reported.
http://english.alarabiya.net/en/News/middle-east/2014/11/29/Mubarak-faces-verdict-in-murder-trial.html
----------
Syria says US-led strikes have not weakened Islamic State
Nov 29, 2014
BEIRUT - Syria's foreign minister said US-led air strikes had failed to weaken Islamic State in Syria and the jihadist group would not be tackled unless Turkey was forced to tighten border controls.
A US-led alliance started attacking Islamic State targets in Syria in September as part of a wider effort to destroy the al-Qaida offshoot that has seized large areas of the country and neighboring Iraq.
"All the indications say that (Islamic State) today, after two months of coalition air strikes, is not weaker," Foreign Minister Walid al-Moualem said in an interview with the Beirut-based Al Mayadeen TV broadcast on Friday.
The Syrian government has said it was willing to join the fight against Islamic State, but the United States refuses to deal with President Bashar al-Assad, who it says has lost legitimacy and must leave power.
"If the Security Council and Washington do not force Turkey to control its borders then all of this action will not eliminate (Islamic State)," Moualem said, referring to foreign jihadists who have crossed into Syria from Turkey.
Full report at:
http://www.jpost.com/Breaking-News/Syria-says-US-led-strikes-have-not-weakened-Islamic-State-383140
----------
Pancakes for Jihadists: ISIS Shares New Online Cooking Tips
Nov 29, 2014
An Islamic State-run campaign targeting women has released its second recipe online, explaining how to keep jihadists happy and fulfilled by making pancakes after a day of fighting.
Al-Zawra is an online propaganda campaign that was launched in October. It aims to convert women to the cause of the Islamic State (IS, ISIS) by defining their role in day-to-day jihadist life.
The campaign embraces various media platforms – including Facebook, Twitter, and YouTube – to get its message across.
ISIS is presenting the campaign as an institute for women, designed to "prepare sisters for the battlefields for jihad" and to support Islamic State fighters, Vocativ cited the group's mission statement as saying.
Full report at:
http://rt.com/news/209915-isis-pancakes-recipe-women/
----------
Europe
'Quran should be read at Coronation of Prince Charles': Former Bishop of Oxford
Nov 29, 2014
The former Bishop of Oxford, Lord Harries of Pentregarth, has said readings from the Quran, central religious text of Islam, should feature in the next Coronation, when Prince Charles succeeds to the Throne.
In a debate on the role of religion in British public life, Lord Harries, now an independent peer praised what he called "the hospitality" shown in a service last year at Bristol Cathedral.
"The relationship of the Church of England to the state has changed, is changing, and could change further," he said in the House of Lords.
He said that at a civic service in Bristol Cathedral last year authorities had agreed to a reading of the opening passage of the Koran before the beginning of the Christian ritual. He said: "It was a brilliant creative act of accommodation that made the Muslim high sheriff feel," as she said, warmly embraced but did not alienate the core congregation.
"That principle of hospitality can and should be reflected in many public ceremonies, including the next coronation service."
However, Douglas Murray, author and associate editor of The Spectator, disagreed saying: "A lot of people will think this is an example of Anglican leaders not having faith in their own faith."
Full report at:
http://www.dhakatribune.com/world/2014/nov/29/quran-should-be-read-coronation
----------
Pope: Military force against ISIS justified
29 November 2014
In his first visit to Turkey as pontiff, Pope Francis affirmed military force was justified to stop the Islamic State of Iraq and Syria as he urged Muslim leaders to condemn the group's "barbaric violence."
As part of a visit meant to strengthen inter-faith ties, Francis called upon Turkish political and religious leaders to denounce ISIS, the Associated Press reported.
"As religious leaders, we are obliged to denounce all violations against human dignity and human rights," Francis told Mehmet Gormez, Turkey's top cleric and other religious officials who gathered at the government-run Religious Affairs Directorate.
"As such, any violence which seeks religious justification warrants the strongest condemnation because the omnipotent is the God of life and peace."
He also called for greater dialogue between Christians, Muslims and people of all faiths to end fundamentalism.
Full report at:
http://english.alarabiya.net/en/News/middle-east/2014/11/29/Pope-Military-force-against-ISIS-justified-.html
----------
Iran's human rights situation has not improved, says activist Shirin Ebadi
29 November 2014
Iran's President Hassan Rowhani has not been able to deliver on his promises to address key human rights issues in the country, Iranian lawyer and rights activist Shirin Ebadi told Al Arabiya's Diplomatic Avenue on Friday.
Ebadi told Al Arabiya's New York bureau chief Talal al-Haj that the situation in Iran "has not progressed at all."
Last month, Iran executed a 26-year-old woman, Reyhaneh Jabbari, for allegedly murdering her rapist, in defiance to international pressure to spare her life. The United Nations reported that around 411 people were executed in Iran since the beginning of 2014.
Iran has not let any U.N. rapporteurs into the country for nine years, said Ebadi, citing the example of Ahmed Shaheed, the U.N.'s human rights rapporteur on Iran, who was repeatedly denied an entry visa to the country last month.
Full report at:
http://english.alarabiya.net/en/News/middle-east/2014/11/29/Iran-s-human-rights-situation-has-not-improved-says-activist.html
----------
We understand your burden, Putin tells Turkey over Iraq and Syria conflicts
Nov 29, 2014
Moscow is aware of the pressure on Turkey stemming from violence in Iraq and Syria, Russian President Vladimir Putin has said ahead of his Dec. 1 visit to Turkey.
"We are fully aware of the burden imposed on Turkey by the ongoing violent conflict ravaging your neighbors," Putin said in an interview with Turkish state-run Anadolu Agency.
The president, whose country's relations with the West have been strained in their worst standoff since the Cold War due to the crisis in Ukraine, accused "terrorist organizations and Western countries" for the escalation of tension in the region.
"What is more, the main risk of further aggravation of the situation both in this country and in neighboring states stems from the activities of the so-called Islamic State and other radical groups that were once actively employed by some Western countries, which flirted with them and encouraged them," Putin said.
Russia has been a key international ally of Syrian President Bashar al-Assad in the Syrian civil war, which is in its fourth year and where the situation on the ground has deteriorated as the Islamic State of Iraq and the Levant (ISIL) has grabbed large swathes of land.
"We will continue to do everything necessary to help the Syrian people to overcome the tragic events and find peace and harmony as soon as practicably possible. This is the purpose of our contacts with the Syrian government, various opposition groups, our international and regional partners, including, of course, our Turkish colleagues," he said.
http://www.hurriyetdailynews.com/we-understand-your-burden-putin-tells-turkey-over-iraq-and-syria-conflicts.aspx?pageID=238&nID=74961&NewsCatID=359
----------
ICC chief prosecutor says difficult access hinders Libya probe
29 November 2014
War crimes are likely being committed in war-torn Libya, but limited access to information is hindering investigation, International Criminal Court (ICC) chief prosecutor, Fatou B. Bensouda, told Al Arabiya's Diplomatic Avenue on Friday.
Although the ICC does not have detailed information due to difficulties of ground access in Libya, "it is clear from all the public reports that are available that the crimes of torture, of killings, these are crimes that could potentially fall within the jurisdiction of the ICC," Bensouda said.
The numbers of alleged victims of tortures – reportedly in thousands – is of "of grave concern" to the ICC, she said. "They're staggering."
Full report at:
http://english.alarabiya.net/en/News/africa/2014/11/29/ICC-chief-prosecutor-says-difficult-access-hinders-Libya-probe.html
---------
India
Return of youth from Syria, Iraq a new security challenge: IB chief
PTI | Nov 29, 2014
GUWAHATI: Terming Pakistan-based terror groups like Lashkar-e-Taiba and Jaish-e-Mohammad a constant security threat, director of Intelligence Bureau Asif Ibrahim on Saturday said return of the battle-hardened youth from Iraq and Syria poses a new challenge to the country.
"Pakistan-based Lashkar-e-Taiba and Jaish-e-Mohammad remain a constant threat to our national security," he said addressing the 49th annual conference of DGPs, IGPs of all states, Union Territories and central police organizations heads here organised by the Intelligence Bureau.
Referring to the terrorist violence in Iraq and Syria, Ibrahim said the two countries have emerged as new theatres of 'jihadi' violence.
"The return of the battle-hardened youth from these regions into India poses a fresh challenge," he said.
A youth from Mumbai's suburb Kalyan, Arif Majeed, who was believed to have been killed while fighting for militant group ISIS in Syria, returned to the metropolis on Friday and was arrested after joint interrogation by NIA and Maharashtra ATS.
Full report at:
http://timesofindia.indiatimes.com/india/Return-of-youth-from-Syria-Iraq-a-new-security-challenge-IB-chief/articleshow/45317305.cms
----------
Islamic State a major challenge, some youths are swayed by its ideology: Rajnath Singh
TNN | Nov 29, 2014
NEW DELHI: Union home minister Rajnath Singh said on Saturday that there may be many terrorist organizations in the world but the government will not allow them to get a foothold in India.
Addressing the 49th DGPs/IGs conference in Guwahati, the Union home minister raised the issue of ISIS and called it a major security threat.
"Islamic State is a major challenge. Some youth are swayed by its ideology," Rajnath Singh said.
The home minister also added that the country is united to fight any anti-national activity. "Muslims fought for India's freedom like Hindus did. Al-Qaida won't succeed in their motives," Rajnath said.
Talking about the Burdwan blasts, he said that West Bengal police and NIA are playing crucial role in its probe.
Full report at:
http://timesofindia.indiatimes.com/india/Islamic-State-a-major-challenge-some-youths-are-swayed-by-its-ideology-Rajnath-Singh/articleshow/45315755.cms
----------
Indian captives in Iraq: Worker's brother refutes TV report
Yudhvir Rana,TNN | Nov 29, 2014
BABOWAL (Punjab): Indian worker Harjeet Masih's brother has refuted a TV channel's report that quoted him telling two Bangladeshi nationals that ISIS had executed 39 Indians, who worked for a Turkish construction company in Iraq, in its captivity.
"When my brother spoke to me after he escaped on June 15, he told me terrorists had sprayed bullets and wounded his knee, but he never said that they had killed his fellow workers," Robin Masih told TOI on Friday.
He said Harjeet told him the abducted Indians were bundled into a truck and taken to some unknown destination.
"This means he never saw them being killed. Had there been such a horrific happening, he would have definitely told me. I spoke to him 15 days ago." Robin said Harjeet is now in Erbil in Iraq's Kurdistan region.
Full report at:
http://timesofindia.indiatimes.com/india/Indian-captives-in-Iraq-Workers-brother-refutes-TV-report/articleshow/45314766.cms
----------
Seven injured in grenade explosion at Srinagar's Lal Chowk
Nov 29, 2014
A grenade hurled towards security personnel outside the defunct Palladium Cinema fell short of the target and exploded on the roadside.
At least seven persons were injured in a grenade explosion triggered by suspected militants at the busy Lal Chowk in the heart of the city on Saturday afternoon, police said.
Unidentified militants hurled a grenade towards security personnel outside the defunct Palladium Cinema but the device fell short of the target and exploded on the roadside, they said.
Seven persons were injured in the blast which sparked off panic in the business hub.
The injured were rushed to SMHS hospital, the police said adding, the area has been cordoned off and a hunt has been launched to nab the militants involved in the attack.
No militant outfit has so far claimed responsibility for the explosion.
http://www.thehindu.com/news/national/other-states/grenade-explosion-at-srinagars-lal-chowk-injures-many/article6646460.ece
----------
Pakistan
11 suspected militants killed in Tirah air attack
Nov 29, 2014
LANDI KOTAL: Eleven suspected militants were killed and five of their hideouts destroyed in air strikes in Tirah valley on Friday.
Official sources said that eight militants belonging to the Tariq Afridi group of the Taliban were killed when military planes bombed their hideouts in Tor Darra, Sur Kas, Sra Vela and Wacho Wany areas of Kukikhel.
Three activists of the banned Lashkar-i-Islam militant group died in similar attacks in Naakai area of Malikdin Khel and Gaary area of Qambar Khel. Five hideouts were destroyed.
A civilian was killed in Dro Adda area of Akkakhel when security forces opened fire over violation of curfew.
Meanwhile, security forces put on fire some houses of militants affiliated with the Lashkar-i-Islam group. An unspecified number of civilians, including three teenagers, were released by security forces after questioning.
http://www.dawn.com/news/1147648/11-killed-in-tirah-air-attack
----------
Imran an absconder, feudal lord and working for world oil mafia: Minister
Nov 29, 2014
ISLAMABAD: Information Minister Pervaiz Rashid on Friday accused Pakistan Tehreek-e-Insaf of being an absconder, feudal lord, saying that he is working for the oil mafia.
"Imran Khan is an absconder, a feudal lord and working for the international oil mafia," the usually calm minister told a media briefing here. "He was assigned to sabotage Chinese president's visit to Pakistan who was to sign contracts for several cheap power projects and now he was opposing the installation of coal-based energy plants." The minister said that Imran Khan had accumulated wealth of Rs 8,445,000 for his "commitments" overseas and had at least Rs 13,600,000 in cash.
Full report at:
http://www.dailytimes.com.pk/national/29-Nov-2014/imran-an-absconder-feudal-lord-and-working-for-world-oil-mafia
----------
Gunmen kill prominent Sunni leader in Pakistan
29 November 2014
A prominent Sunni Muslim leader from a religious political party was shot dead in a pre-dawn attack in southern Pakistan on Saturday, police said.
Doctor Khalid Mehmood Soomro, a leader from the pro-Taliban Jamiat Ulema-e-Islam Fazl (JUI-F) party in southern Sindh province was offering his morning prayers when unidentified gunmen entered the mosque and shot him dead.
"Two armed men entered in the mosque and fired 11 shots, four bullets hit Khalid Soomro and he died on spot," Tanveer Hussain, a senior police officer told AFP.
Hafiz Hussain Ahmed, a party spokesman confirmed the killing which took place in Sukkur town, some 500 kilometres (290 miles) north of Karachi, the provincial capital and the country's commercial hub.
Full report at:
http://english.alarabiya.net/en/News/asia/2014/11/29/Gunmen-kill-prominent-Sunni-leader-in-Pakistan-.html
-------
Increased number of attacks on Hindu temples in Pakistan a worrying trend
Nov 29, 2014
Islamabad, Nov 28: In the latest incident of its kind, a Hindu temple was attacked by fanatics in Pakistan, the temple was torched, the stone idol of Lord Hanuman blackened with soot, and some religious books burnt. This attack Nov 21 on the Hindu temple in the Tando Mohammad Khan area in Sindh – and reported in the Dawn newspaper – is however, not a one-off incident in a country where such attacks are increasingly turning out to be the rule, rather than an exception.
With a population of around seven million, Hindus form the largest religious minority group in Pakistan, which, at 195 million, is the second largest Muslim nation in the world after Indonesia. In a similar attack March 28 this year, a small Hindu temple was torched near Fateh Chowk in Hyderabad, Sindh, triggering widespread protests by the Hindu community.
Only a couple of weeks before that, a Dharamsalas, or a pilgrims' rest-house, was set ablaze and some statues of Hindu deities in an adjacent temple in Larkana were damaged to protest the alleged desecration of the Islamic holy text Quran. The arson attacks on Hindu places of worship are seen as attempts to fan flames of communal violence.
Full report at:
http://www.india.com/news/world/increased-number-of-attacks-on-hindu-temples-in-pakistan-a-worrying-trend-206278/
----------
JUI-F office-bearer's murder: Fazl calls for countrywide strike
Nov 29, 2014
ISLAMABAD: Jamiat Ulema-e-Islam-Fazl (JUI-F) chief Maulana Fazlur Rehman on Saturday called for a countrywide strike tomorrow (Sunday) to protest the killing of Dr Khalid Mehmood Soomro, the Secretary General for JUI-F's Sindh chapter.
Addressing a news conference, the JUI-F chief said it was the responsibility of the government to protect its citizens, a duty which it had failed to do.
The JUI-F chief directed party workers to take to streets tomorrow and hold protests but urged them to remain peaceful in the process.
"All the major roads of the country will be blocked tomorrow in protest against the killing," Fazl said, condemning the incident and demanding the immediate arrest of those behind the murder.
Full report at:
http://www.dawn.com/news/1147706/jui-f-office-bearers-murder-fazl-calls-for-countrywide-strike
----------
PPP won't let anyone impose agenda through force: Zardari
Nov 29, 2014
ISLAMABAD: In what appeared to be a message to certain political and religious elements, PPP Co-Chairman and former president Asif Ali Zardari said the PPP would not permit anyone to impose any peculiar agenda through brute force and using the facade of religion.
"The party is also conscious of threats to democracy in the name of democracy itself and is determined to foil them," Zardari said in a statement issued in relation to the 47th founding day of the party which falls on November 30.
"Our founding principles 'democracy is our politics' and 'all power to the people' are ingrained in the consciousness of the people and will never be erased," he said.
Full report at:
http://www.dawn.com/news/1147711/ppp-wont-let-anyone-impose-agenda-through-force-zardari
----------
As opposed to past rigidity, PTI showing flexibility: Rehman Malik
Nov 29, 2014
ISLAMABAD: As the PTI's public meeting draws closer with significant hype surrounding the upcoming event, Senator Rehman Malik on Saturday said it was important to note that given his previously rigid attitude, Imran Khan was showing a considerable degree of "flexibility".
Speaking to DawnNews on Saturday, the senior member of Pakistan Peoples Party's (PPP) central executive committee said that keeping in mind Pakistan Tehreek-i-Insaf's former rigid demeanor, it appeared that the party was now showing some flexibility when it came to its readiness for talks and relaxation in Imran's terms.
Ever the mediator, Senator Malik also claimed that there were signs and indications that Imran and his supporters would hold a rally on November 30 and leave as opposed to pulling together a full-blown sit-in or 'dharna'.
Full report at:
http://www.dawn.com/news/1147705/as-opposed-to-past-rigidity-pti-showing-flexibility-rehman-malik
----------
Jirga asks govt not to create hurdles for PTI's rally
Nov 29, 2014
ISLAMABAD: The opposition jirga urged the government on Friday not to create hurdles in the way of the rally that the Pakistan Tehreek-i-Insaf (PTI) plans to hold in Islamabad on Nov 30.
The jirga that met at the residence of Senator Rehman Malik of PPP said that both the government and the protesting PTI should sit on the negotiation table to resolve the issue of alleged poll rigging.
"Government should not create hurdles in the way of PTI demonstration," said jirga leader and Jamaat-i-Islami Emir Sirajul Haq after the meeting.
The jirga had written to Prime Minister Nawaz Sharif and PTI Chairman Imran Khan to find a negotiated solution to the three-month political impasse.
"We will continue our effort to resolve the issue and assure the government that no untoward incident will take place on Nov 30," Mr Haq said.
He recalled that the matter was about to be resolved when Imran Khan had agreed to the suggestion that the judicial commission should be formed for the purpose. However, the government backed out and did nothing towards the setting up of the judicial commission.
http://www.dawn.com/news/1147644/jirga-asks-govt-not-to-create-hurdles-for-ptis-rally
----------
Govt, Musharraf's 'abettors' weighing legal options
Nov 29, 2014
ISLAMABAD: While the ruling Pakistan Muslim League-Nawaz (PML-N) is still trying to figure out how to proceed on a special court's order regarding the implication of former president Pervez Musharraf's abettors in the treason case, the co-accused have engaged legal counsel to defend themselves.
Former prime minister Shaukat Aziz discussed the special court order and its possible repercussions against his person with former Senate chairman, Barrister Wasim Sajjad. Former federal minister Zahid Hamid has engaged former Punjab advocate general Khawaja Haris, while Justice Abdul Hameed Dogar has been discussing the matter with his attorneys to decide how to appeal against the order.
Barrister Sajjad confirmed to Dawn that the former prime minister had approached him and discussed the special court's order in some detail. However, he refused to comment further, saying that his discussion with "his client" was "privileged communication" and that things were at the initial stage.
Full report at:
http://www.dawn.com/news/1147678/govt-musharrafs-abettors-weighing-legal-options
----------
Law against violence on women soon, says Balochistan CM
Nov 29, 2014
QUETTA: Balochistan Chief Minister Dr Abdul Malik Baloch said on Friday that no religion, culture and norms allowed torture of women and added that steps would be taken to ensure legislation aimed at curbing violence against women.
Addressing a Round Table Conference organised by the USAID and Aurat Foundation here on Friday, he said: "We oppose torture of women and are going to legislate to stop domestic and other types of violence against women."
He said that killing of polio workers in Quetta on Wednesday was a bitter example of violence against women. However, he added, his government had devised a foolproof security plan to continue polio eradication campaign in the province.
The chief minister said that curbing terrorism and eradicating corruption were priorities of his government, adding he was aware of the fact that socio-economic development could take place only in presence of durable peace.
Full report at:
http://www.dawn.com/news/1147658/law-against-violence-on-women-soon-says-chief-minister
----------
North America
Conflicting Policies on Syria and Islamic State Erode U.S. Standing in Mideast
Nov 29, 2014
American and Syrian warplanes screamed over the Syrian city of Raqqa in separate raids this week, ostensibly against the same target, the Islamic State militants in control there.
In the first raid, on Sunday, United States warplanes hit an Islamic State building, with no report of civilian casualties. On Tuesday, Syrian jets struck 10 times, killing scores of civilians, according to residents and Islamic State videos.
The back-to-back strikes, coming just days after President Bashar al-Assad of Syria declared that the West needed to side with him in "real and sincere" cooperation to defeat the extremist group, infuriated Syrians who oppose both Mr. Assad and the Islamic State. They see American jets sharing the skies with the Syrians but doing nothing to stop them from indiscriminately bombing rebellious neighborhoods. They conclude, increasingly, that the Obama administration is siding with Mr. Assad, that by training United States firepower solely on the Islamic State it is aiding a president whose ouster is still, at least officially, an American goal.
Full report at:
http://www.nytimes.com/2014/11/28/world/middleeast/conflicting-policies-on-syria-and-islamic-state-erode-us-standing-in-mideast-.html?_r=1
-----------
China, US team up to weed out extremist content from internet
PTI | Nov 29, 2014
BEIJING: Shedding their differences, China and the US are coordinating to weed out extremist materials on the internet even as Beijing continues to battle violence in the Muslim-majority Xinjiang region where the al-Qaeda backed militant groups have been active in the recent years.
Counter-terrorism work between China and the US has helped authorities in tracking down and deleting a number of violent, extremist propaganda video and audio programmes stored on the US servers, a senior official from the Ministry of Public Security said here.
"We have agreed on enhancing judicial cooperation on fighting terrorism, especially cracking down on violent and terrorist audio and video files released online in the US," Yang Shaowen, deputy director of the ministry's International Cooperation Bureau was quoted by the state-run China Daily today.
Full report at:
http://timesofindia.indiatimes.com/tech/tech-news/China-US-team-up-to-weed-out-extremist-content-from-internet/articleshow/45317458.cms
---------
To fight ISIS, U.S. shifts tactics on Iraqi army training: report
Nov 29, 2014
After the failure of the Iraqi army to defend the country's second city of Mosul from Islamic State of Iraq and Syria (ISIS) militants earlier this year, the United States is choosing to train a smaller number of Iraqi troops, rather than attempting rebuild the entire force, the Washington Post reported on Thursday.
After the ouster of long-term President Saddam Hussein after the 2003 invasion, U.S. commanders disbanded regime-era forces and raised a new army.
At its peak, the new U.S.-backed military comprised around 400,000 troops. However, by 2014, due to corruption and absenteeism, this number had shrunk by half, according to the newspaper.
Full report at:
http://english.alarabiya.net/en/perspective/features/2014/11/28/To-fight-ISIS-U-S-shifts-tactics-on-Iraqi-army-training-report.html
-----------
Minnesota: County GOP official resigns after anti-Muslim remarks
Nov 29, 2014
The Republican Party county chairman who came under fire for comments about Muslims on his Facebook page has resigned.
Big Stone County GOP Chair Jack Whitley called Muslims "parasites" and wrote "FRAG 'EM!" when they travel to Mecca, slang for a fragmentation hand grenade.
Those comments were condemned by Muslim community leaders and state GOP chairman Keith Downey.
Whitley told the Associated Press Friday that he had no plans to resign but was asked to do so by other board members. His resignation was effective Friday.
Whitley was also recently fired from his hardware store job in Ortonville.
Whitley declined to answer whether he still believes what he wrote about Muslims.
His comments were first reported by the Bluestem Prairie blog.
http://www.twincities.com/localnews/ci_27030189/minnesota-county-gop-official-resigns-after-anti-muslim
-----------
Southeast Asia
Zahid screens video clip to drive home dangers of Isis
Nov 29, 2014
A short video clip purportedly showing Islamic State of Syria and the Levant (Isis) militants preparing to execute a row of prisoners was shown to Umno delegates today.
The clip was aired near the end of Umno vice-president Datuk Seri Ahmad Zahid Hamidi's winding-up speech, as he warned delegates of the dangers posed by the terror group that aimed to set up an Islamic caliphate in the Middle East and has attracted scores of followers from Malaysia.
The video, about one minute long, started off with the militants walking in a row with their captives at an undisclosed desert location.
As they walked, the militants each grabbed a knife from a container and stood in a row with their captives, believed to be Syrian soldiers, kneeling in front of them.
Thousands of party members were spotted gasping in horror as the video showed the militants placing the knives close to the captives' necks.
Full report at:
http://www.themalaysianinsider.com/malaysia/article/zahid-screens-video-clip-to-drive-home-dangers-of-isis#sthash.cL6Fqdzq.dpuf
----------
Activist criticizes Jokowi on human rights
November 29 2014
Noted rights activist Hendardi has criticized President Joko "Jokowi" Widodo for what he perceives is a lack of concern on human rights issues.
Hendardi said it was difficult to deny that Jokowi had only manipulated human rights issues to defeat his political rival in this year's presidential election.
He then cited a recent statement by Attorney General HM Prasetyo, regarding the President's order to put aside the prosecution of human rights cases and prioritize prosecutions in drug abuse and corruption cases.
Hendardi said this was a big indication that the President lacked commitment on human rights issues.
"The fact that Pollycarpus Budihari Priyanto, the convict who has been proven to have murdered activist Munir Said Thalib, is given parole on Jokowi's watch should also be treated as a warning for all of us," he said as quoted by tribunnews.com on Saturday.
Hendardi said Jokowi had failed to ensure that his government was committed to resolving cases of human rights violations.
http://www.thejakartapost.com/news/2014/11/29/activist-criticizes-jokowi-human-rights.html
----------
Speedy action against offenders once Sedition Act revised, says Zahid
Nov 29, 2014
Datuk Seri Ahmad Zahid Hamidi pledged today that speedy action will be taken against offenders once the Sedition Act is revised and strengthened.
"Insyaallah I promise that when the act is strengthened, I will continue to take quick action against offenders," the Umno vice-president said to roaring cheers when winding up at the Umno general assembly today.
Citing statistics, Zahid, who is also the home minister, said 40 people have been charged under the colonial-era law since 2010.
Last year, 12 people have been arrested under the act, a few of whom had been charged.
In his opening address at the assembly, Prime Minister Datuk Seri Najib Razak had announced that the Sedition Act would be retained and further fortified to include provisions making it an offence to insult religions and to call for the secession of Sabah and Sarawak.
The move was a U-turn to his first pledge in June 2012 to abolish the Act as part of his reform agenda and replace it with a National Harmony Act.
Full report at:
http://www.themalaysianinsider.com/malaysia/article/speedy-action-against-offenders-once-sedition-act-revised-says-zahid#sthash.5WaAncMy.dpuf
----------
South Asia
15 killed, 14 hurt in attack in China's Xinjiang
Nov 29, 2014
15 people were killed and 14 wounded in an attack in China's restive region of Xinjiang, the official Xinhua news agency said today, citing a statement from local authorities.
Eleven of those killed were described as "mobsters" who drove into a street of food stalls, threw explosive devices and stabbed people in the incident yesterday in Shache County, state-owned Xinjiang news website Tianshan News said.
It said detonation devices, large knives and axes were among items police seized from the scene.
http://www.themalaysianinsider.com/world/article/15-killed-14-hurt-in-attack-in-chinas-xinjiang#sthash.14JXHYyD.dpuf
----------
Suicide attack in Helmand leaves 4 policemen dead, 5 injured
Nov 29, 2014
At least four policemen were killed and five others were injured following a suicide attack in southern Helmand province on Friday.
Provincial governor spokesman Omar Zwak said the incident took place in Nawzad district after a suicide bomber detonated a vehicle-borne improvised explosive device (VBIED) near a police check post.
Zwak further added that the victims were all members of the Afghan National Police Public Order forces.
He said a truck packed with explosives was used to carry out the suicide attack on the check post in Anzur Shali area.
The Taliban militants group claimed responsibility behind the attack.
Helmand is among the volatile provinces in southern Afghanistan where anti-government armed militants are actively operating in its various districts and frequently carry out insurgency activities.
http://www.khaama.com/suicide-attack-in-helmand-leaves-4-policemen-dead-5-injured-8811
----------
Explosion inside a mosque in Nangarhar leaves dozens injured
Nov 29, 2014
An explosion took place inside a mosque in eastern Nangarhar province of Afghanistan on Friday afternoon.
Preliminary reports suggest at least 36 people were injured after the explosives were detonated while dozens of people had gathered inside the mosque in Khogyani district for Friday prayers.
The health condition of a number of the victims have been reported critical.
The district public health officials confirmed that 36 wounded individuals were taken to the government hospital, including the Mullah Imam of the mosque.
The officials further added four victims of the incident including the mosque imam are in critical health condition.
No group including the Taliban militants has so far claimed responsibility behind the incident.
Khogyani is among the volatile districts in eastern Nangarhar province where anti-government armed militants are actively operating.
http://www.khaama.com/explosion-inside-a-mosque-in-nangarhar-leaves-dozens-injured-8809
----------
PM Sheikh Hasina: People will try Khaleda
Nov 29, 2014
Prime Minister Sheikh Hasina has said while her goverment is trying and punishing the war criminals, the people will try BNP chief Khaleda Zia for allowing the war criminals to desecrate Bangladesh's flag.
Mentioning that the nation will never forgive Khaleda for assuming power with the help of war criminals, she said: "Khaleda betrayed the nation. She placed our sacred flag in the black hands of war criminals. The people will never forgive her."
"Khaleda will be tried in the people's court for her role in making the war criminals a part of the government in independent Bangladesh."
Jamaat-e-Islami chief Motiur Rahman Nizami and the party secretary general Ali Ahsan Mohammad Mujaheed, both sentenced to death for war crimes, were appointed as ministers during BNP's tenure in government.
Full report at:
http://www.dhakatribune.com/bangladesh/2014/nov/29/pm-khaleda-will-be-tried-people
----------
URL: https://newageislam.com/islamic-world-news/pope-francis-clasps-hands-reflection/d/100255