New Age Islam News Bureau
27 Apr 2017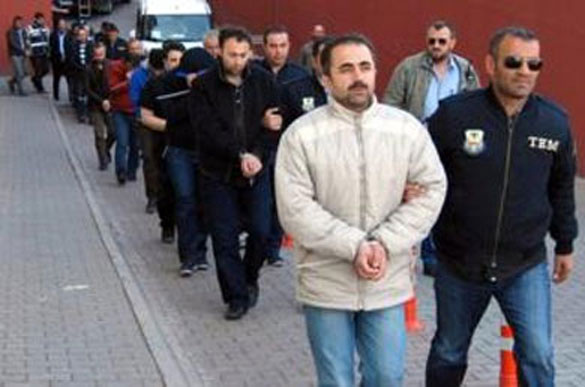 Members of the Turkish police escort alleged Gulen supporters
----
• Polygamy Not Part Of Islamic Teachings: Indonesia's Women Muslim Clerics
• U.S. Monitoring Western Europe over Anti-Muslim, Anti-Jewish Discrimination
• Key Le Pen Adviser Convicted of Inciting Hatred against Muslims
• ISIS Developing New Weapons despite Losses
• Turkey Suspends More Than 9,000 Police Officers over 'Gulen Links'
Southeast Asia
• Polygamy Not Part Of Islamic Teachings: Indonesia's Women Muslim Clerics
• Coalition of 22 Malay Muslim NGOs wants Hindraf banned
• Door still open for cooperation with DAP, Amanah, says PAS spiritual leader
• Anies' victory raises Muslim dignity in politics: PKS
• MUI eyeing to dig its claws deeper into the House
--------
North America
• U.S. Monitoring Western Europe over Anti-Muslim, Anti-Jewish Discrimination
• 1000 Per Cent Rise in Muslim Profiling By US Customs Officials Since Trump Took Office: Muslim Group
• Ivanka Trump draws line with father on Syrian refugees
• Latinos becoming Islam's fastest growing ethnic group
• Jihadist Warning Signals Quotes from Iran's Radical Leaders
--------
Europe
• Key Le Pen Adviser Convicted of Inciting Hatred against Muslims
• German Jews Fear Growing Muslim Anti-Semitism: Report
• Al Qaeda-Tied Jihadi Group Claims Responsibility for St. Petersburg Attack on Al Zawahiri's Guidance
• Is Putin interfering in Iran's presidential elections?
• It's Not Just Jehovah's Witnesses: Before Ban, Russia Among Biggest Abusers Of Religious Freedom
--------
Arab World
• ISIS Developing New Weapons despite Losses
• Iraqi Forces Retake Ancient City of Hatra from ISIS
• Al-Baghdadi's Senior Aide Captured in Syria
• Syrian Army Advances in More Regions near Palmyra
• Ahrar Al-Sham's Spokesman Killed in Syrian Army Attack in Southern Syria
• Syrian Forces Kick off Fresh Operation to Capture Last Terrorist Bastion in Hama
• Al-Nusra Continues Vast Withdrawal of Militants from Eastern Damascus
• More ISIL Terrorists Killed in Attacks by Unknown Assailants in Deir Ezzur
• Terrorist Groups Form New Coalition in Hama to Face Syrian Army's Rapid Advances
• Kuwait suspect says ISIS planned attacks: Media
• Syrians hold mass funeral for victims of Aleppo bombing
--------
Mideast
• Turkey Suspends More Than 9,000 Police Officers over 'Gulen Links'
• Turkish Fighter Jets, Artillery Pound Kurdish Areas in Afrin
• Saudi fire stops ´rebel boat bomb´ from Yemen
• Iran, Russia accused of abusing Interpol to arrest foes
• Murky details emerge of the deal that Obama struck with Iran
• Iran condemns Turkish air raid in Iraq's Sinjar
• Ankara says military had informed Washington, Moscow of air raid
--------
Pakistan
• Former Spokesperson of TTP Asks Old Buddies to Quit Violence
• Airstrikes Kills Terrorists at Pak-Afghan Border: ISPR
• 10 Iranian guards killed at Pak border
• JI to besiege Governor's House if protest disrupted
--------
South Asia
• 91 Killed In Taliban and ISIS Militants Clash in North of Afghanistan
• ISIS Suffer Heavy Casualties in Zabul Province of Afghanistan
• AQIS head of Bangladesh affairs killed in Afghanistan
• 715 Afghan civilians killed, 1466 wounded in past 3 months: UNAMA
• 135 Killed, 64 Wounded In Afghan Army Base Attack, MoD Findings Reveal
• Geopolitical games being played around Afghanistan: Russia
• 35 Afghan soldiers held after attack on base
--------
India
• Jamaat Takes Up Campaign on Triple Talaq, Muslim Personal Law in Telangana
• In Sensitive Malda: Muslim Neighbours Help Cremate Hindu Labourer
• Three army men martyred as terrorists attack Kupwara army camp in J&K
• Separatist leader Asiya Andrabi arrested in Jammu & Kashmir
• India objects to Pakistan raising Kashmir issue at UN forum
• Terrorism will recoil on those who nurture it: India
--------
Africa
• Nigeria: Boko Haram Victim - 'I Still Have Nightmares of Those Who Were Beheaded'
• Nigeria: Protesters Shut Down NASS over El-Zakzaky's Continued Detention
• Powerful Nigerian Muslim leader investigated for corruption
• Muslim students back Buhari's anti-corruption war
Compiled by New Age Islam News Bureau
URL: https://www.newageislam.com/islamic-world-news/polygamy-part-islamic-teachings-indonesias/d/110933
--------
Polygamy Not Part Of Islamic Teachings: Indonesia's Women Muslim Clerics
Nurul Fitri Ramadhani
April 27, 2017
Responding to the long-standing controversy over polygamy, Indonesia's women Muslim clerics are emphasizing that the practice is not part of Islamic teachings.
According to Siti Ruhaini Dzuhayatin, who represents Indonesia in the Organization of Islamic Cooperation's (OIC), Islam never introduced the concept of having multiple spouses at once.
"Polygamy has existed since the jahiliyyah era. At that time, men were allowed to have unlimited number wives," Siti said, referring to the era of "ignorance" in Middle Eastern history prior to the advent of Islam.
"When Islam came, it humanized the practice by limiting the number [of wives a man could take]," she added.
Many conservative Muslims still claim that polygamy is allowed in Islamic teaching. The government, however, upholds the principle of monogamy with Article 3 of the law, which stipulates that a man is only allowed to have one wife.
The law allows men take a second wife under certain conditions, such as cases in which his first wife suffers from a serious illness or is unable to bear a child.
"We should learn that the Quran itself pushes for monogamy; it says that if men are not able to treat women fairly, then they must only have one wife. So, the requirement [for taking a second wife] is strict and that's because the practice can lead to violence against women," said cleric Nur Rofiah of the Jakarta Quranic College.
http://www.thejakartapost.com/news/2017/04/27/polygamy-not-part-of-islamic-teachings-muslim-clerics.html
--------
U.S. Monitoring Western Europe Over Anti-Muslim, Anti-Jewish Discrimination
4/26/17
The United States is monitoring Western Europe for signs of religious discrimination, particularly against Muslims and Jews, according to the annual report from the U.S. Commission on International Religious Freedom.
"The state of affairs for international religious freedom is worsening in both depth and breadth of violations," according to the USCIFR, a federal government commission. "The blatant assaults have become so frightening—attempted genocide, the slaughter of innocents, and wholesale destruction of places of worship—that less egregious abuses go unnoticed or at least unappreciated. Many observers have become numb to violations of the right to freedom of thought, conscience, and religion."
Problems involving religious freedom in Western Europe include hate speech against certain groups; government restrictions on forms of religious expression such as dress and places of worship; and the impact of counter-extremism policies, according to the report. The USCIFR also cites "an alarming rise in societal hostility towards Jews and Muslims in Europe, including discrimination, harassment, and sometimes violence."
See Newsweek Subscription Offers
Western Europe has been monitored by the commission for the past several years, as an increase in refugees and asylum seekers to the continent "fueled an already-rising tide of hatred and violence targeting Muslims and Jews," according to last year's report.
Some countries have been guilty of overreach when enacting counter-extremism legislation in the wake of attacks by the Islamic State (ISIS) group, said USCIRF. According to the report: "France, Spain, Germany, and the U.K. have all outlawed glorification or defense of terrorism in an effort to counter radicalization," although that legislation has mainly resulted in cases being brought against "artists, young children, people with developmental disabilities, and drunk people." Anti-Muslim bias is an ongoing issue across Western Europe, and it escalated in the U.K. following the June 2016 vote to leave the European Union, the commission said. Sikhs, who are often mistaken for Muslims, are also affected by such discrimination.
The U.K. recorded a record number of anti-Semitic incidents in 2016, while the number of European Jews attending synagogues on high holy days declined due to security concerns, according to a September 2016 poll. The report cites three main sources of anti-Semitism in Western Europe: Islamist extremists, the political far-right and the political far-left.
Additionally, Jehovah's Witnesses, Hare Krishnas, Scientologists and Evangelical Protestants are among smaller religious groups that have been targeted in Western European countries, according to the report.
Elsewhere, Russia for the first time has been included in the commission's list of most concerning countries. According to the report, Russia "represents a unique case among the countries in this report—it is the sole state to have not only continually intensified its repression of religious freedom since USCIRF commenced monitoring it, but also to have expanded its repressive policies to the territory of a neighboring state, by means of military invasion and occupation."
Russia joins the Central African Republic, Nigeria, Pakistan, Syria and Vietnam as newly designated countries of concern. They join the existing nations on that particular list: Burma, China, Eritrea, Iran, North Korea, Saudi Arabia, Sudan, Tajikistan, Turkmenistan and Uzbekistan.
http://www.newsweek.com/us-religious-freedom-commission-monitor-western-europe-590194
--------
Key Le Pen Adviser Convicted of Inciting Hatred Against Muslims
April 26, 2017
Mayor of the southern town of Beziers, Menard's trouble began September 1st, 2016, when he tweeted that he was bearing witness to the "great replacement." He was referring to a derogatory term for a conspiracy theory which claims that white, Christian French citizens are being systematically replaced with Muslims.
On September 5th, during an appearance on LCI television, Menard elaborated that "In a class in the city centre of my town, 91 percent of the children are Muslims. Obviously, this is a problem. There are limits to tolerance." According to French law, data based on an individual's religion or ethnicity is strictly prohibited.
In addition to the statement, Menard employed two classroom photographs to illustrate his point. One circa the 1970's, showed a classroom full of white faces. He compared it to a more recent photo which depicted a decidedly more diverse group of students. The mayor has been ordered to pay the government a 2,000 euro fine, as well as between 1-1,000 euros to several organizations with affiliations to anti-racist groups.
Vowing to appeal the conviction, Menard instead expressed pride in his statements. "I was happy to describe the situation in my city. It is not judgmental, it is factual, it is what I can see." He added that, in his opinion, "there is no discrimination for anyone" in his remarks.
In his arguments, the Paris public prosecutor accused Menard of reducing children "to their religion, regardless of whether they have French nationality or do not practice." He further explained his point of view, saying Menard "pointed the finger at kids, whom he describes as a weight on the national community."
The conviction comes just after Le Pen announced she was stepping back temporarily from the leadership of the Front National party to concentrate her energy on her presidential fight against Emmanuel Macron. Critics are viewing the move as an attempt to distance herself from her party's racist image, at least long enough to win over a broader array of voters.
https://www.moroccoworldnews.com/2017/04/214971/key-le-pen-adviser-convicted-inciting-hatred-muslims/
--------
ISIS developing new weapons despite losses
26 April 2017
ISIS militants have developed an improvised explosive device (IED) that can be launched from rifles or dropped from an aerial drone, an arms monitoring group said on Wednesday.
Conflict Armament Research (CAR) said the militant group was "promoting the development of 'own-brand' weapons" to provide its insurgents with otherwise unavailable armaments.
"The (IED) can be thrown, launched from an improvised rifle attachment, or in its most recent phases of development, dropped from a commercial, off-the-shelf unmanned aerial vehicle (UAV) or drone," CAR said in a report following visits to Mosul in November, February and March.
Iraqi military and elite counter-terrorism forces launched a sweeping, US-backed offensive in October to retake the city, ISIS's last major urban stronghold in Iraq seized in a lightning offensive in 2014.
They have retaken most of Mosul, including its half east of the Tigris River, and surrounded the militants in its northwest quarter including the Old City, home to the Grand al-Nuri mosque where ISIS declared a "caliphate" over parts of Iraq and Syria.
CAR, which identifies and tracks arms and ammunition in war zones, reported in December that ISIS had been making weapons on a scale and sophistication matching national military forces and that it had standardized production across its realm.
The monitor's findings suggested ISIS was centrally managing the design and production of improvised weapons with the ability to test its systems on the field and refine them as well as use new technologies such as drones.
The report said ISIS was using the battle for Mosul to field-test different types of ordnance, an important step in any weapons research and development program.
"Evidence of research and development by ISIS forces, compiled by CAR since 2014, suggests that such adaptations are likely to continue and will result in further UAV innovations in the near future, potentially for use in theatres other than Iraq."
https://english.alarabiya.net/en/News/middle-east/2017/04/26/ISIS-developing-new-weapons-despite-losses.html
--------
Turkey suspends more than 9,000 police officers over 'Gulen links'
Apr 27, 2017
Turkey's police force has suspended more than 9,000 officers over alleged links to the US-based Islamic preacher Fethullah Gulen.
It said the action had been taken on the grounds of national security.
President Tayyip Erdogan accuses Mr Gulen of instigating a failed coup against him last July - a charge the cleric denies.
Earlier, authorities detained more than 1,000 people in the latest operation against alleged Gulen supporters.
The nationwide sweep was one of the largest such operations carried out in Turkey in months.
Turkey under Erdogan: The full story
Why did Turkey hold a referendum?
Interior Minister Suleyman Soylu said it had targeted a Gulen network "that infiltrated our police force, called 'secret imams'".
He said more than "secret imams" had been detained and the operation was continuing.
In the aftermath of the 15 July coup attempt, which was led by military officers, 40,000 people were arrested and 120,000 sacked or suspended.
They included soldiers, police, teachers, and public servants - all of whom were accused of having links with militant groups.
A brief guide to Turkey's coup
Who is Turkey's pugnacious president?
The latest purge comes just over a week after President Erdogan narrowly won a controversial referendum on increasing his powers.
Opponents fear the victory, which has bitterly divided Turkey, brings him closer to authoritarian rule.
Two days after the referendum, Turkey's parliament extended a nine-month state of emergency by a further three months.
Erdogan tightens grip - by Mark Lowen, BBC News, Istanbul
It was widely expected that the post-coup purge would accelerate once President Erdogan achieved the referendum victory he wanted.
He feels emboldened and there's no longer a risk of jeopardising potential referendum votes.
No matter that the opposition still contests the referendum results, and their claim of widespread fraud is backed by a scathing report from election observers. The president says the result is final.
So on Wednesday the police bore the brunt of the detentions, but other institutions are likely to follow suit.
The governing AKP party was full of Gulen supporters when Mr Erdogan and the cleric were staunch allies.
It hasn't yet been purged and could now be targeted. And even if not, the threat will be dangled over potential opponents like a sword of Damocles: speak out and your Gulen affiliation will be exposed.
The scale of the "anti-Gulen" arrests has raised alarm in Europe, and stalled Turkey's bid to join the EU.
After the latest sweep, Germany's foreign ministry said it had "taken note of the mass detentions with concern".
http://www.bbc.com/news/world-europe-39723371?ocid=global_bbccom_email_26042017_top+news+stories
--------
Southeast Asia
Coalition of 22 Malay Muslim NGOs wants Hindraf banned
Mohamad Fadli
April 26, 2017
KUALA LUMPUR: A coalition of 22 Malay Muslim NGOs has urged the government to ban the Hindu Rights Action Force (Hindraf), calling it racist, extremist and a threat to national security.
The Barisan Bertindak Melayu Islam (Bertindak) also said Hindraf was a "rude" organisation which could affect relations between the different races in the country.
Its chief secretary, Mohd Khairul Azam Abdul Aziz, after calling Hindraf chairman P Waythamoorthy a "dangerous individual", warned him not to interfere in other religions' activities.
"The emergency meeting attended by Malay Muslim NGOs today follows their disappointment. They strongly condemn the audacity of certain individuals from Hindraf who are clearly trying to disrupt public peace.
"This meeting is not to be enemies or show hatred towards the Indians and Hindus in this country, nor any other race.
"This meeting carries the slogan 'Melayu Bangkit' (Rise Up Malays) to remind and give a stern warning to the individual known as P Waythamoorthy from Hindraf as well as those who act like him not to touch on the rights of Muslims and Malays because this may cause another May 13 incident to happen."
The group's press conference was also attended by Malaysian Muslims Consumers Association (PPIM), Perkasa, Pertubuhan Muafakat Sejahtera Masyarakat Malaysia, the Federation of Malay Students Union (GPMS) and the Pertubuhan Pembela Islam at the Sultan Sulaiman Club today.
Last Saturday, Waythamoorthy said Hindraf was seeking an audience with the Raja of Perlis to present a case for the sacking of Perlis mufti Mohd Asri Zainul Abidin.
Hindraf is among those vocal against controversial Muslim preacher Zakir Naik, who is wanted by India's National Investigation Agency (NIA) for suspected money laundering and terrorist propaganda promotion.
http://www.freemalaysiatoday.com/category/nation/2017/04/26/coalition-of-22-malay-muslim-ngos-wants-hindraf-banned/
--------
Door still open for cooperation with DAP, Amanah, says PAS spiritual leader
BY RAM ANAND
April 27, 2017
ALOR SETAR, April 27 — PAS is still prepared to work with DAP and Amanah provided the latter parties accept the "leadership of Islam", PAS spiritual leader Hashim Jasin said today.
The Islamist party fell out with DAP over the former's push for Islamic law, while Amanah consists largely of former PAS members who left after the so-called "progressive" faction was purged in an internal election.
"The door is still open, it is not completely closed. Only that we learn from past experiences and we put certain conditions," Hashim said during a press conference after launching the PAS Muslimat wing's annual assembly (Muktamar) here today.
Full report at:
http://www.themalaymailonline.com/malaysia/article/door-still-open-for-cooperation-with-dap-amanah-says-pas-spiritual-leader
--------
Anies' victory raises Muslim dignity in politics: PKS
April 26, 2017
Islamic-based Prosperous Justice Party (PKS) chairman Sohibul Iman said the victory of presumptive Jakarta governor-elect Anies Baswedan and his running mate, Sandiaga Uno, gives momentum to Muslims to raise their dignity in the political sphere.
"I take lessons from Jakarta gubernatorial election. Following the victory of Anies-Sandiaga, I visited several regions [and I see] that Muslims perceive the victory as an event, which has raised their dignity," Sohibul said as quoted by kompas.com on Wednesday.
Sohibul, whose PKS allied with the Gerindra Party to back Anies-Sandiaga in the Jakarta gubernatorial election, said the pair's victory was inseparable from the Indonesian Muslims who united to give their support to the candidates.
According to the politician, Muslims in civil-society organizations and political parties have united ever since claims emerged alleging that Jakarta Governor Basuki "Ahok" Tjahaja Purnama may have committed blasphemy against Islam.
With the rise of Islamic pride in politics, Sohibul asked the nation's political party elites to understand and prioritize accommodating the aspirations of Muslims.
Separately, Indonesian Ulema Council (MUI) consultative board chairman Din Syamsuddin said Muslims should be independent in politics, considering Indonesia is a Muslim-majority nation.
Full report at:
http://www.thejakartapost.com/news/2017/04/26/anies-victory-raises-muslim-dignity-in-politics-pks.html
--------
MUI eyeing to dig its claws deeper into the House
April 27, 2017
Indonesian Ulema Council (MUI) secretary-general Anwar Abbas has suggested the establishment of an MUI "faction" within the House of Representatives, which would work to strengthen Islamic values in the nation.
During the 17th MUI consultative board plenary meeting in Jakarta on Wednesday, Anwar said the MUI faction would carry out its mission to provide justice and welfare for the Indonesian people.
However, the faction would serve to fight for the interests of all religious groups in the nation and not only for the sake of Islam, Anwar ensured.
"It's because Islamic teachings are not only intended for Muslims. [Islamic teachings] don't just benefit Muslims, they benefit all of mankind. Thus, all citizens will have an advantage," Anwar said as quoted by kompas.com.
He added that as a religious group, the MUI would not be actively involved in politics as this suggested faction would consist of members of existing political parties at the House, Anwar said.
"We won't [be involved]; the faction would exist only to uphold Pancasila [state ideology] values and to ensure that the House will uphold the principles of humanity and the country's unity," Anwar said.
"There are some groups in the House that don't adhere to Pancasila values and the 1945 Constitution," he added. (afr)
http://www.thejakartapost.com/news/2017/04/27/mui-eyeing-to-dig-its-claws-deeper-into-the-house.html
Global Populism and New Globalized Economy: What Trump Presidency Means for Indonesia
The election of Donald J. Trump as president of the United States was a political earthquake. Not even the most informed commentators predicted his unlikely ascent to the most powerful political position in the world.
For Indonesia and the world, following on the heels of the presidency of Barack Hussein Obama – America's first black and first truly Pacific president, with a Muslim father and a president who applied reasoned cautiousness, logic and critical thinking to his policies – the election of Trump appears to be a diametrically opposite choice by an angry and marginalized white rural America, left behind by the forces of globalization.
Unlike Obama, who spent part of his childhood living and being educated in Jakarta, Trump does not have the same understanding of Asia, the Pacific, and Indonesia. For Indonesia and Southeast Asia, this is troubling. Trump has already spoken of slapping trade barriers on Chinese products and is likely to take a much harder line with Beijing than previous administrations.
Beijing is likely to respond to any economic or political provocation aggressively and assertively. We are currently living through a turning point in global history. The center of global power is shifting from Washington, D.C., to Beijing – China's "new" Silk Road policy is emblematic of the country's growing global economic and political confidence.
The United States is an empire in decline – to argue to the contrary is to ignore the facts. Like the fall of the British Empire before it, US hegemony is slowly being eroded. A newly confident and assertive Beijing is already carving up the world in its image – its interests and influence already outweigh that of the United States in Africa and Asia.
China now owns global trade – it has quietly purchased a significant chunk of global ports across the world. Furthermore, President Xi Jinping is the most powerful Chinese leader since Mao Zedong. Xi has carefully consolidated his power over the last few years, using an anti-corruption drive to expunge opponents and rivals. He also has almost the unanimous backing of the Politburo – this is rare in China.
The flashpoint to watch for in US-China relations is not trade, but the South China Sea and Taiwan. One miscalculation by either side could unleash conflict, as the rising power clashes with the world's declining power on global fault lines. These fault lines are worryingly close and span into Southeast Asia. Preventing this from happening should be the priority of policy makers at a global level. The threat posed by Islamic State is trivial in comparison.
For Indonesia, another rising global Asian power, the biggest economy in Southeast Asia and the de-facto leader of the Association of Southeast Asian Nations (Asean), Trump has done himself no favors in the eyes of Jakarta. Trump did not ingratiate himself to the world's largest Muslim-majority nation – with a population of more than 250 million people – when he suggested a total ban on Muslims entering the United States during the election cycle. The recent visit by Vice President Mike Pence, aimed at reassuring Jakarta, did not do much to change Indonesia's increasing turn towards China and Chinese investment, and a gradual move away from US influence.
Trump's repeated attempts to implement Muslim bans against several Muslim-majority countries since assuming office did not exactly go down well with Indonesia or its political leaders. Leaders, who after the Jakarta election, are putting a greater emphasis on their Muslim faith and moving away from overtly promoting secular values.
Trump has already sidelined Indonesia and Asia to varying degrees. Most importantly, terminating the only tangible way the United States may have managed to salvage some significance in the region over the coming decade, by scrapping the much-vaunted Trans-Pacific Partnership (TPP) between Asia and the United States. This will undoubtedly be a historical and consequential mistake Trump and America will live to regret, as China steps in to fill the economic and trading void. The United States simply will not have the same market access as China, which has the Regional Comprehensive Economic Partnership (RCEP) – an Asia-China trade deal.
Full report at:
http://jakartaglobe.id/opinion/global-populism-new-globalized-economy-trump-presidency-means-indonesia/
--------
North America
1000 per cent rise in Muslim profiling by US Customs officials since Trump took office: Muslim group
April 26, 2017
Islamophobic incidents involving US Customs and Border Protection officials have risen by about 1,000 per cent since President Donald Trump took office in January, a Muslim activist group said on Tuesday.
According to the Council on American-Islamic Relations, preliminary data collected from its branches across the US found that instances in which officials were accused of profiling Muslims accounted 23 per cent in 2017.
Of the 193 Customs and Border Protection (CBP) cases in 2017, at least 181 were reported after the January 27 Muslim travel ban. In the first three months of 2016, the group reported 17 cases, according to a report in The Independent.
"These are incidents which are reported to us and which we examine," Corey Saylor, director of CAIR's group that monitors Islamophobia, told The Independent.
"We look at these very carefully. Around 50 per cent, we reject," he said.
Saylor said allegations of Islamophobia being levelled at border officials was nothing new.
He believed that Trump's election and the executive order was behind the spike in incidents. "I have no doubt in my mind that these things are connected," he said.
In the aftermath of the travel ban, which has been halted by the courts, there were widespread reports of chaos at US airports, and people being turned away as they sought to board flights to the US at foreign airports.
Trump vowed during his election campaign that he would make it more difficult for people from certain countries to reach the US as part of tighter security, despite immigrants from countries such as Syria and Somalia already having to endure screening that can take several years.
Saylor said he appreciated the difficult job being faced by border officials, but asked that they did it without breaching the US constitution.
He cited testimony of a Customs and Border Protection official from a 2013 lawsuit, who said: "Look to the Muslim woman as an indicating factor. By the way she wears her hijab. If the hijab is a solid colour it indicates religiosity. If it's a patterned scarf, with colours, it's more likely that she is less religious."
http://indiatoday.intoday.in/story/trump-immigration-ban-us-custom-muslim-profiling/1/938901.html
--------
Ivanka Trump draws line with father on Syrian refugees
26 April 2017
First Daughter Ivanka Trump is contradicting her father, the US president, insisting that allowing Syrian refugees to immigrate to the United States "has to be part of the discussion" over ending Syria's years old civil war.
"I think there is a global humanitarian crisis that's happening, and we have to come together, and we have to solve it," she told NBC News in an interview aired Wednesday.
President Donald Trump has signed executive orders banning Syrian refugees from entering US territory, saying that they present a national security threat. Federal courts have ruled against the ban, placing it indefinitely on hold.
Opening America's borders to the refugees "has to be part of the discussion, but that's not going to be enough in and of itself."
Trump has suggested creating "safe zones" for refugees and displaced people in the Middle Eastern country, and launched a cruise missile strike against President Bashar al-Assad's military in response to an apparent chemical weapons attack.
Full report at:
https://english.alarabiya.net/en/News/middle-east/2017/04/26/Ivanka-Trump-draws-line-with-father-on-Syrian-refugees.html
--------
Latinos becoming Islam's fastest growing ethnic group
April 26, 2017
They are Islam's fastest growing ethnic group, but for Latinas living in the United States, converting from Catholicism isn't easy. Some say people view them as giving up their heritage to become Arab. And they're doing this in what are, for many, difficult political times.
Lucy Silva is a Muslim. She converted from Catholicism 18 years ago.
"Some people just jump into it and put on the headscarf, I took my time in doing a lot of research before taking that step," she said.
Once Mexican and Catholic, and now Mexican and Muslim, which some people just can't get their heads around.
"They automatically assume I'm Arab or from 'over there.' So when they hear me speaking Spanish – let's say I'm at a grocery store, or I'm speaking to my Mom or my son – they're quite surprised. They say, 'Where did you learn to speak Spanish' and I say, 'Well, I'm Mexican,'" Lucy said.
It's hard to know exactly how many Latino and Latina Muslims are in the U.S. because no official studies have been carried out. But some experts estimate that figure to be anywhere between 150,000 and 200,000.
One report from Florida International University says 90 percent of them are converts.Most of them women.
In fact, Latino and Latina Muslims are the fastest growing ethnic group in Islam.
"A lot of their values tend to already be conservative values. They have a higher respect for Jesus who we say is a prophet in Islam. They have a high respect for the mother of Jesus, for Mary. So there's that kind of connection with religion and the idea of God and love for God," Mustafa Umar an Imam at the Islamic Institute of Orange County, says.
Wanda couldn't agree more.
"If you grew up in a traditional Hispanic family home, then it's very similar to Islam," she said.
She's from Puerto Rico and converted as a teenager, only weeks before 9/11.
"I was exposed to drugs and alcohol when I was about 11. And for me, Islam was more of like a stability and structure for me," Wanda said.
Full report at:
https://america.cgtn.com/2017/04/26/latinos-becoming-islams-fastest-growing-ethnic-group
--------
Jihadist Warning Signals Quotes from Iran's Radical Leaders
April 26, 2017
By Mike Scruggs – "Islam says: Kill all the unbelievers just as they would kill you all….There are hundreds of other [Koranic] psalms and Hadiths [sayings of Muhammad] urging Muslims to value war and to fight. Does all this mean that Islam is a religion that prevents men from waging war? I spit upon those foolish souls who make such a claim!"—Ayatollah Ruhollah Khomeini, Supreme Leader of the Islamic Republic of Iran (1979-1989)
The big establishment lie in the West is that Islam is a religion of peace and tolerance that has been hijacked by a few radicals. But if you believe that, the Supreme Leader of Iran wished to spit on you. Here are two other quotes from the late Ayatollah Khomeini:
"The fundamental difference between Islamic government, on the one hand, and constitutional monarchy on the other, is this: whereas the representatives of people or the monarch in such regimes engage in legislation, in Islam the legislative power and competence to establish laws belong exclusively to Allah."
"Should one permit an infidel [that's all non-Muslims] to continue in his role as the Corrupter of the Earth, the moral suffering of the infidel will be all the worse. Should one kill the infidel, and this stops him from perpetrating his misdeeds, his death will be a blessing to him."
Not to worry, following Khomeini's death in 1989, he was replaced as Supreme Leader of the Islamic Republic by Ayatollah Ali Khamenei. Khamenei is still in office with no plans to retire. Here are a few quotes from his Excellency:
"It is the mission of the Islamic Republic of Iran to erase Israel from the map of this region."
[There is only one possible solution to unrest in the Middle East]…"namely the annihilation and destruction of the Zionist state."
If you were thinking that is only a negotiating position, consider this quote from Khamenei:
"Iran's stance has always been clear on this ugly phenomenon [Israel]. We have repeatedly said that this cancerous tumor of a state should be removed from the region…no one will allow a bunch of thugs, lechers and outcasts from London, America, and Moscow to rule over the Palestinians."
This Khameinei quote ought to be in the scrap book of every Islamic apologist:
"Today, America poses a threat to peace and security in the world. Therefore, the slogan, 'Death to America' is no longer used only by our people. Today, you see throughout the world people setting fire to the effigy of the American president and chanting the slogan 'Death to America.' This is because of the American regime's exaggerated demands, the arrogance, the vanity, and its desire to control, and because it is a pawn in the hands of the Zionists."
After Iranian Revolutionary Guards Corps (IRGC) Naval Forces seized two U.S. Navy boats and their crews in 2016, Iranian General Yahya Rahim Safavi, an advisor to Khamenei, said this:
"America is the Iranian nation's number one enemy. America's hands are drenched in the blood of the martyrs of the Iranian, Iraqi, Syrian, and Palestinian nations. Some try to depict the enemy as a friend, and are unaware of the deceptions and plots of the [U.S.] arrogance against the Iranian nation….with Allah's help, Islam's might will be revealed in this century. The liberal-democratic Western culture and the Western capitalist economy do not promote humanity's salvation from poverty, injustice, and warmongering. The solution? Islam: The [Islamic] Revolution has championed a message of salvation to the nations of the world by inspiring an atmosphere of hope and enthusiasm among them."
Iranian speeches commemorating the Great Revolution establishing the Islamic Republic and taking over the U.S. Embassy in Iran in 1979 are filled with hatred and saber rattling against the "Great Satan," i.e., the United States.
Yet this is the nation and regime with which the Obama Administration signed a treaty in 2015 that virtually expedited Iran's objective to be a nuclear power holding a nuclear saber over the existence of Israel. It was a treaty with unverifiable terms, 24-day warnings before inspections, and expiring restrictions. It also ignored the Islamic doctrine of Taqiyya, which allows Muslims to deceive non-Muslims to advance or defend Islam. This Khamenei statement probably fits:
"The Iranian nation has never been seeking an atomic weapon and never will be."
A June 17, 2015 editorial in the Iranian newspaper Kayhan, which is essentially a Khamenei propaganda front, besides lavishly praising the Supreme Leader, boasted that the U.S…"cannot even attack the Iranian facilities without the White House being destroyed in under 10 minutes."
The Muslim Brotherhood's chief front organization CAIR (Council on American-Islamic Relations) has its main office less than 10 minutes from the White House, but the Kayhan editorial may also be hinting of Iran's future nuclear capability.
Full report at:
http://www.thetribunepapers.com/2017/04/26/jihadist-warning-signals-quotes-from-irans-radical-leaders/
--------
Europe
German Jews fear growing Muslim anti-Semitism: Report
24th April 2017
BERLIN: Jews in Germany say they feel a "growing threat" of anti-Semitism, especially from Muslims but also from xenophobic far-right groups, a parliamentary report said Monday.
They are "increasingly concerned for their safety due to everyday experiences of anti-Semitism," said the Independent Experts Group on Anti-Semitism.
In a 2016 survey, Jewish people questioned about verbal and physical attacks against them put "Muslim persons or groups" first as the perpetrators, ahead of "people unknown" or far-right or left groups, said the report, without providing specific data.
In Germany, which has long struggled with the dark memory of Nazi-era World War II and the Holocaust, there was now "a significant discrepancy in perception" about anti-Semitism, said the group set up by the German Bundestag in 2014.
"While the non-Jewish majority does not see current manifestations of anti-Semitism as a relevant problem, Jews in Germany feel they are facing a growing threat," it said.
"In addition to the disconcerting rise of right-wing populism, there is concern about anti-Semitism among Muslims, these days especially in refugee and migrant populations."
About 200,000 Jews live in Germany, Europe's third largest community after Britain and France, up from only about 15,000 after the end of the Nazi Third Reich.
Germany has taken in more than one million asylum seekers since 2015, many fleeing war and persecution in Syria, Iraq and Afghanistan.
The case of a 14-year-old Jewish boy in Berlin recently made headlines -- his parents took him out of a state school with many pupils of Turkish and Arabic descent after he was allegedly bullied and threatened by classmates who told him that "all Jews are murderers".
The parliamentary panel report said rising Jewish fears were partly due to "the growing importance of social media", which was "key to the spread of hate speech and anti-Semitic agitation".
It called for closer online monitoring and for using legal instruments "to delete the social bots and fake accounts through which anti-Semitic hate speech is spread".
And it recommended the appointment of an ombudsperson for anti-Semitism and better nationwide coordination on fighting the problem.
It also called for study into anti-Muslim discrimination and other prejudices, finding that "these attitudes overlap with anti-Semitic attitudes".
http://www.newindianexpress.com/world/2017/apr/24/german-jews-fear-growing-muslim-anti-semitism-report-1597269.html
--------
Al Qaeda-Tied Jihadi Group Claims Responsibility for St. Petersburg Attack on Al Zawahiri's Guidance
04/26/2017
The Imam Shamil Brigade, a previously unknown jihadi group, claimed responsibility for the April 3, 2017 St. Petersburg Metro attack, stating the perpetrator, Akbarzhon Jalilov, had carried the attack following the guidance of Al Qaeda leader Ayman Al Zawahiri, according to the Middle East Media Research Institute (MEMRI), which monitors jihadi social media.
Jalilov, a native of Kyrgyzstan, is described in Imam Shamil Brigade's statement as a "lion" and "one of the knights of Islam."
In the statement, which MEMRI said "was published exclusively by the Nouakchott News Agency on April 24, 2017, the group threatened to carry out more attacks in retaliation for Russian attacks in Syria, and stress[ed] the attack was 'a clear message to Russia and to anyone who attacks Muslim countries' that 'the price of waging war on Muslim countries is high.'"
Addressing the Russian people, the statement threatened that they will "pay with their blood as the brothers in Syria, Chechnya and Libya are paying with theirs" unless "they stop their government from interfering in Muslim countries."
MEMRI said, "The group conclude[d] its statement by sending a message to the Russian government saying the attack was only the 'beginning' and that the government security precautions put in place after the attack would not stop them from carrying more attacks inside Russia."
Earlier this week, Al Qaeda's media company, Al Sahab released a 6-minute audio message by Al Zawahiri "focusing on Syria and urging Syrians to prepare for a long-term war against their enemies," MEMRI said, noting, "Al Zawahiri advise[ed] the mujahideen to adopt a strategy of guerrilla warfare rather than focusing on holding territory in order to 'wear down' their enemies and cause them to 'bleed to death.' Al Zawahiri also urge[ed] the mujahideen to present the jihad in Syria as a matter concerning the entire ummah to avoid it being looked upon as merely a nationalistic or geographically-bound issue."
Following are excerpts from Al Zawahiri's message based on the original English transcript provided by Al Sahab:
"... My dear Muslim brothers … To begin with, I would like to tell our beloved people in Shaam [Syria]...that your wounds are the wounds of the entire Ummah, and your pain is the pain of the entire Ummah. You are in our prayers at every moment, and we wish to sacrifice our souls for you. If anything stands in our way, it is the fact that we are engaged in fighting the same Crusader enemy which you are up against, though on a different front.
"Our Muslim Ummah in Shaam, the land of Ribaat [Garrison] and Jihad: Know that the only reason you are being targeted is that you want Islam to rule over the land of Shaam, and the International Satanic Alliance will never accept this, and it will spare no effort to stop this Islamic tide.
"Our dear people in Shaam: You must therefore prepare yourselves for a protracted war against the Crusaders and their Rafidhi [Shi'ite] and Nusairi [Syrian regime] allies. So remain steadfast, for verily victory comes with patience, ease with hardship, deliverance with affliction, and know that victory is often just a matter of timely perseverance …
"You are those who have taken up the path of Jihad in the way of Allah to raise the flag of Islam and Jihad on the land of Shaam, and to liberate it from oppression, tyranny and corruption. So do not backtrack. Know no wavering or compromise. Die honorably, but never accept a life of humiliation. Unite and close your ranks with your Muslim brothers and Mujahideen not just in Shaam, but the entire world, for it is a single Crusader campaign being waged against Muslims the world over.
"Our brothers in Shaam: Watch out for the progeny of Abu Righal, who wish to deceive you into buying the myth that only if you were to change your Jihad to an exclusively nationalist Syrian struggle, the leading international criminals would be pleased with you, for this goes against what the Quran has clearly explained: 'Never will the Jews, nor the Christians be pleased with you, until you follow their creed' [Koran 2:120].
"My people and my brothers in Shaam: I would like to offer here a few words of advice as a reminder to you and myself.
"First: We must constantly review our actions, and retract ourselves from everything which is capable of hindering victory. For we can never be better than the Companions of the Prophet (peace be upon him), who were denied victory when they disobeyed. Critical reassessment and correction of mistakes is the first step in the path to victory.
"Second: In my humble opinion, the strategy for Jihad in Shaam must focus on a guerilla war aimed at wearing down the enemy and bleeding it to death. This has been the weapon of choice of the oppressed against arrogant transgressors in every age. Do not occupy yourselves with holding on to territory, instead focus on destroying the morale of your enemy. Take the enemy to the point of abysmal despair by inflicting unrelenting blows and unbearable losses on its forces.
"Third: The cause of Shaam is the cause of the entire Ummah. We must not present it as merely a cause of the people of Shaam, and then further narrow it down to a cause of Syrians alone, for this is precisely the enemy's plan and his much sought after objective. The enemy seeks to transform the Jihad in Shaam from a cause of the Muslim Ummah to an exclusively nationalist Syrian cause, then turn the nationalist cause to an issue of specific regions and localities, and finally reduce this to an issue of a few cities, villages and neighborhoods.
Full report at:
http://www.hstoday.us/briefings/daily-news-analysis/single-article/al-qaeda-tied-jihadi-group-claims-responsibility-for-st-petersburg-attack-on-al-zawahiri-s-guidance-al-qaeda-leader-says-jihad-in-syria-a-global-islamic-cause/284f672334877a526cd3ad813830f191.html
--------
Is Putin interfering in Iran's presidential elections?
Apr 27, 2017
On April 20, Iranian conservative presidential candidate Ebrahim Raisi met with visiting Tatarstan President Rustam Minnikhanov — an encounter that Raisi probably did not expect would end up causing problems ahead of the May 19 presidential elections.
The hard-line Tasnim News Agency, which is seen as backing Raisi and reported the meeting, described Minnikhanov as an envoy of Russian President Vladimir Putin, seemingly to highlight Raisi's stature.
During the meeting, Minnikhanov reportedly told Raisi, "We hope that the relationship between Iran and Tatarstan will be [further] developed." He added, "Vladimir Putin gives special importance to the spread of religion, including Islam, as he has formed a strategic group, which I head, for developing relations with Islam [the Islamic world]."
Tatarstan is a federal republic in the Russian Federation, in the Volga region. In 2010, then-Russian President [and current Prime Minister] Dmitry Medvedev nominated Minnikhanov as its president.
Following the Minnikhanov-Raisi meeting, which was widely reported under the headline "Putin's envoy met Raisi," many moderates and Reformists harshly criticized the conservative presidential candidate.
Iranians commonly hold unfavorable views of Britain and Russia in particular, given historical grievances about occurrences such as czarist Russia's annexation of vast Iranian territories under the treaties of Gulistan in 1814 and Turkmenchay in 1828. To this day, the names of these treaties are used in the political lexicon as references to humiliating agreements and commitments.
In reaction to the controversial meeting, Alireza Rahimi, a member of parliament's foreign policy and national security commission, said April 22, "The recent meeting raises the suspicion of [Russian] interference in the [May 19] elections, which is not appropriate."
Rahimi added that if the meeting was held within the framework of Raisi's presidential campaign, it would be considered as beyond protocol and that Iran's Foreign Ministry should thus explain what was sought through the holding of such a meeting.
On the other hand, Hossein Sobhani-Far, the head of the parliamentary friendship committee between Iran and Russia, denied that Moscow was interfering in Iran's elections. "The Tatar president is Muslim and sought to visit [the holy shrine of the eighth Shiite imam, which Raisi manages]. … It is unlikely that a small province [Tatarstan] of a country would interfere in Iran's elections," Sobhani-Far said April 22.
This is not the first time that reports about potential Russian interference in Iran's internal affairs have raised eyebrows. In December, the Tabnak news site, close to former Islamic Revolutionary Guard Corps commander Mohsen Rezaie, called on Iranian officials to send a message to Moscow that it not meddle in Iran's domestic affairs.
According to an April 26 report in the Reformist Ghanoon daily, conservatives made a similar move in the 1997 presidential elections, when Mohammad Javad Larijani, a supporter of conservative candidate Ali Akbar Nategh-Nuri, met with a high-ranking British diplomat amid the campaigning. News of the meeting was leaked and is believed to have played a role in Nategh-Nuri's defeat to Reformist Mohammad Khatami.
Full report at:
http://al-monitor.com/pulse/originals/2017/04/iran-tatarstan-president-raisi-meeting-russia-interference.html
--------
It's Not Just Jehovah's Witnesses: Before Ban, Russia Among Biggest Abusers Of Religious Freedom
BY JASON LE MIERE
4/26/17
Days after imposing a complete ban on Jehovah's Witnesses operating in the country, Russia has been labeled a "country of particular concern" by the United States Commission on International Religious Freedom (USCIRF). It is the first time that Russia has been designated among the highest tier of violators of religious freedom. It joins 15 other countries, including Iran, Syria, Nigeria, Burma and China.
Related: U.S. Monitoring Western Europe Over Anti-Muslim, Anti-Jewish Discrimination
Russia's Supreme Court last week upheld a charge from the justice ministry that Jehovah's Witnesses' activity in the country violated the country's anti-extremism law. Although USCIRF says Russia's new designation was made before the confirmation of the Jehovah's Witnesses ban, the chair of the independent bipartisan commission, Thomas Reese, stressed that it was a "serious violation," which only added to its list of attacks on religious freedoms.
See Newsweek Subscription Offers
"Through a cynical use of an extremely flawed set of anti-extremism laws, Russia has banned for the first time in its history a centrally administered religion," Reese said in a conference call following the release of the report Wednesday. "The Russian Supreme Court ruling on the Jehovah's Witnesses just confirmed that USCIRF's CPC recommendation was appropriate, justified and timely."
He added: "The Russian government's premeditated attack demonstrated that it does not consider itself bound by internationally recognized norms or conventions."
The anti-extremism law was enacted in 2002, in the aftermath of Russia's second war in Chechnya and the 9/11 attacks in the U.S. It followed a 1997 Law on Freedom of Conscience and Religious Associations, which designated Christianity, Islam, Judaism and Buddhism as part of the country's "historical heritage" but also recognized the "special contribution" made by Russian Orthodox Christianity.
"Vladimir Putin and the Russia government have shown themselves to be some of the worst and most serious violators of religious freedom in the world," he said. "The U.S. needs to recognize this fact and send a clear message to Russia that we will not tolerate its continued campaign of attack and intimidation against the freedom of religion and belief."
Full report at:
http://www.newsweek.com/jehovahs-witnesses-ban-russia-religion-590350
--------
Arab World
Iraqi forces retake ancient city of Hatra from ISIS
26 April 2017
Iraqi pro-government forces announced Wednesday their recapture of the UNESCO-listed ancient city of Hatra from ISIS.
"Hashed al-Shaabi (Popular Mobilisation) forces liberated the ancient city of Hatra... after fierce clashes with the enemy," said the paramilitary group.
Hatra, which lies in the desert southwest of Iraq's second city Mosul, includes a UNESCO world heritage site.
ISIS destroyed priceless objects in Hatra and at other archaeological sites after seizing swathes of Iraq and Syria in a lightening 2014 offensive.
The full extent of the harm to Hatra remains unclear.
Hatra, known as Al-Hadhr in Arabic, was established in the 3rd or 2nd century BC and became a religious and trading center under the Parthian empire.
Its imposing fortifications helped it withstand sieges by the forces of two Roman emperors.
Hatra finally succumbed to Ardashir I, founder of the Sassanid dynasty but the city remained well preserved over the centuries that followed.
The Hashed al-Shaabi launched a three-pronged offensive Tuesday to retake the nearby modern town of Hatra, the statement said.
Iraqi pro-government forces backed by a US-led international coalition have been fighting since October to oust ISIS from Mosul, its last major urban bastion in Iraq.
The Hashed al-Shaabi is an umbrella group for militias that mobilized to fight ISIS and were later integrated into Iraq's official defense apparatus.
https://english.alarabiya.net/en/News/middle-east/2017/04/26/Iraqi-forces-retake-ancient-city-of-Hatra-from-ISIS.html
--------
Al-Baghdadi's Senior Aide Captured in Syria
Apr 26, 2017
News websites affiliated to the dissidents reported that Abu Zainab al-Koraiwili, an Iraqi national who carried out financial affairs for the terrorist group, intended to escape from the ISIL-held areas in Deir Ezzur to Badiyeh region but he was arrested by ISIL guards.
Al-Koraiwili is a senior commander and a close aide to ISIL ringleader Abu Bakr al-Baghdadi.
Meantime, a local source in Nineveh province in Iraq reported in mid April that one of the most prominent aides of al-Baghdadi was killed in an attack by unknown raiders in a town West of Mosul.
The source said that Hasabullah Qafqazi nom de guerre Emir Qafqazi, one of Baghdadi's most prominent aides, was killed by unknown attackers near his house in the Central part of Tal Afar town.
The source said that Qafqazi and some ISIL security officers were at the house when it came under attack.
Full report at:
http://en.farsnews.com/newstext.aspx?nn=13960206001487
--------
Syrian Army Advances in More Regions Near Palmyra
pr 26, 2017
The Syrian army units engaged in fierce clashes with ISIL terrorists in Badiyeh (deserts) of Palmyra South of the city and regained control over vast areas near al-Abtar mountain after killing several ISIL members.
Meantime, the Syrian air force pounded ISIL's positions and moves in areas near the wheat silos and al-Sukhneh region, destroying a number of military vehicles and inflicting losses on the terrorists.
Also, the army's artillery units targeted the ISIL bases in al-Sawame' (wheat silos) region, smashing 3 military vehicles.
Earlier today, the Syrian army's artillery and missile units along with the country's Air Force hit hard the positions of ISIL in Eastern Homs and Al-Nusra Front (also known as Fatah al-Sham Front or the Levant Liberation Board) in Northern and Northwestern parts of the province, inflicting tens of casualties on the terrorists.
The warplanes carried out several combat flights over ISIL's positions and movements in the regions of Um al-Raman, Fat'hat al-Mahasah, Ibn Arsan mount, East of the city of Palmyra (Tadmur), al-Bardeh and East of the town of al-Quaryatayn in Eastern, Southeastern and Southern Homs, killing a number of terrorists, including several non-Syrians.
A large volume of ISIL's arms, ammunition and military hardware were damaged in the air raids.
Full report at:
http://en.farsnews.com/newstext.aspx?nn=13960206001320
--------
Ahrar Al-Sham's Spokesman Killed in Syrian Army Attack in Southern Syria
Apr 26, 2017
The sources said that Osama Nasrullah al-Shrif, nom de guerre Abu Zeid, was the spokesman of Ahrar al-Sham who was killed in the Syrian fighter jets' raid on the terrorist group's positons in Nasib region in Southeastern Dara'a.
Relevant reports said last week that the Syrian army forces repelled an offensive of the al-Nusra Front (also known as Fatah al-Sham Front or the Levant Liberation Board) on several military points in Dara'a, killing a terrorist field commander.
The Syrian soldiers also engaged in heavy clashes with the al-Nusra terrorists who had launched another attack on army positions in al-Manshiyeh district in Dara'a and warded off their offensive.
Full report at:
http://en.farsnews.com/newstext.aspx?nn=13960206000963
--------
Syrian Forces Kick off Fresh Operation to Capture Last Terrorist Bastion in Hama
Apr 26, 2017
Army sources said that the operation kicked off with heavy raids of the Russian and Syrian fighter jets against Al-Nusra positions in al-Latamina, adding that the ground troops later stormed Al-Nusra's defense lines from several directions and engaged in clashes with them.
Another military source reported that tens of Al-Nusra terrorists have been killed or wounded and their military equipment also have sustained major damage in the operation, adding that the army has thus far liberated 66 hills, villages, settlements and towns in it's recent operations in Northern and Western Hama.
Relevant reports said on Tuesday that the army men recaptured the village of Zour Al-Mahrouqah, few kilometers to the South of the town of al-Latamina near the border with Idlib, while militants withdrew from Zour Al-Mahrouqah to al-Latamina outskirts as they hoped to make a stand against the Syrian Armed Forces.
As a result of the army's advance on Monday and Tuesday, Damascus forces were inching closer to al-Latamina, a Takfiri terrorist stronghold which was under militants' control since 2012.
In the meantime, the Syrian and Russian fighter jets carried out non-stop sorties on the headquarters of the militants in the villages and towns of Kafr Zita, al-Latamina, Ma'arkabeh, Alboyzeh in Northern Hama and the town of Khan Sheikhoun in Southern Idlib.
Full report at:
http://en.farsnews.com/newstext.aspx?nn=13960206000415
--------
Al-Nusra Continues Vast Withdrawal of Militants from Eastern Damascus
Apr 26, 2017
The army soldiers continued battle against Al-Nusra in the Eastern direction of al-Qaboun that lasted for several hours, and seized control over the Kuwaiti building and power company.
The army men then moved further to advance in the region to imposed control over other nearby buildings.
In the meantime, the army's artillery and missile units pounded al-Nusra's positions in al-Qaboun and al-Barzeh farm.
A military source in Eastern Ghouta said that the terrorist front in al-Qaboun has completely collapsed, addling that tens of al-Nusra have been killed in the army attacks and several others have been captured by the army men.
The source added that the army units also destroyed one of the tunnels of Al-Nusra in al-Qaboun, killing at least 17 militants.
He went on to say that the Syrian Air Force carried out several combat sorties over the gatherings of Al-Nusra in al-Qaboun and targeted several positions of the terrorist group, killing a large number of militants.
Reports said on Monday that the army men engaged in fierce clashes with terrorists in al-Qaboun district and managed to drive them out of 40 residential complexes.
In the meantime, the army's missile units shelled heavily terrorists' positions in al-Qaboun.
Local sources reported that the army units also seized control over a tunnel near power company in al-Qaboun, adding the tunnel that was named Rahma by terrorists was a road used by the militants to move between al-Qaboun and other regions in Eastern Ghouta.
Full report at:
http://en.farsnews.com/newstext.aspx?nn=13960206000353
--------
More ISIL Terrorists Killed in Attacks by Unknown Assailants in Deir Ezzur
Apr 26, 2017
The source said that a number of unknown gunmen opened fire at a group of ISIL terrorists at the power company near al-Ma'amel square at the Northern entrance of Deir Ezzur city on Tuesday at night, killing six terrorists and wounding several more as they were going to an ISIL positons in the region.
The source said that the attack occurred only two days after a similar incident in Deir Ezzur, adding that after the attack, the ISIL terrorists stormed the region and residential buildings and arrested a number of men and youths.
Reports say almost 75 percent of ISIL members have been killed in air and ground operations in Iraq and Syria, decreasing the total number of the terrorist group's members from 60,000 to 12,000 up to 15,000.
The reports further said that after the killing of ISIL terrorists the group's female fighters have played a crucial role in terrorist operations, specially suicide ones, adding the total number of ISIL's female fighters stands at 500, mostly form the Europe.
Reports said on Tuesday that the army units engaged in fierce clashes with ISIL that used hundreds of fighters to break through government forces' positions in al-Maqaber (cemetery) region, Deir Ezzur's airbase and Tamin Brigade base, killing or wounding a large number of them and destroying their equipment.
The army soldiers further carried out a rapid counterattack and took back several positions near Jabal (mount) Harabish from ISIL.
Full report at:
http://en.farsnews.com/newstext.aspx?nn=13960206000992
--------
Terrorist Groups Form New Coalition in Hama to Face Syrian Army's Rapid Advances
Apr 26, 2017
The sources said that Ahrar al-Sham and Tahrir al-Sham Hay'at (the Levant Liberation Board) agreed in a meeting on Tuesday to form a joint operation room to resist against the army's rapid advances in Northern Hama.
They added that based on the agreement the joint operation room - that resembles their alliance under the umbrella coalition of Jeish al-Fatah in Aleppo - will be established along with a united political headquarter and the two sides will cooperate to supply weapons and equipment to each other.
The sources said that Top Commander of Tahrir al-Sham Hay'at Abu Mohammad al-Joulani and his counterpart in Ahrar al-Sham Abu Amar al-Omar were in the meeting and after more than 10 hours of talks they ordered the agreed details to their forces.
The new coalition plans to kick off a large-scale battle against the army to maintain their positions in the triangle of al-Latamina-Morek-Kafr Zita and take back the lands they have lost to the army in the recent days.
A former commander of Al-Nusra Front (also known as Fatah al-Sham Front or the Levant Liberation Board) said on Monday that al-Joulani should commit suicide after his weak management and following the recent defeats of his forces in the battle with the Syrian Army in Hama.
"Were I al-Joulani I would surely commit suicide in a religious way after the military collapse of Tahrir al-Sham Hay'at's forces" in the battle against the Syrian army in Northern Hama, Saleh al-Homawi wrote in his tweeter.
"Al-Nusra prevents other (terrorist) groups from participation in the battles (with the Syrian army), and then retreats in a dramatic manner," he added.
Military analysts said that disagreement among terrorists and their commander intensified after their repeated and rapid defeats of the terrorists in Northern Hama.
"Only when you renew allegiance we will agree your back up," the commanders of Tahrir al-Sham had told Ahrar al-Sham commanders who had offered to dispatch their forces to Northern Hama battlefield to take part in clashes with the army.
Full report at:
http://en.farsnews.com/newstext.aspx?nn=13960206000702
--------
Kuwait suspect says ISIS planned attacks: Media
26 April 2017
A suspected member of ISIS has confessed to plotting attacks on targets in Kuwait including the US military and a Shiite religious hall, local media reported Wednesday.
Judicial sources said Hussein al-Dhafiri, arrested with his wife in the Philippines last month, confessed to planning suicide attacks on a US military convoy and a Shiite prayer hall, the Al-Rai daily reported.
Kuwait's Arifjan Base houses several thousand US troops and serves as a military transit point to Iraq and Afghanistan.
Home to a small Shiite minority, Kuwait was the site of a suicide attack linked to ISIS back in June 2015.
A Saudi suicide bomber killed 26 worshippers in a Shiite mosque, the worst such attack in the Gulf state's history.
Dhafiri was deported earlier in April to Kuwait where he is now set to stand trial on charges of belonging to a banned organization and plotting attacks, Al-Rai said.
He had been arrested in Manila along with his wife, whom he married after her high-ranking ISIS commander husband was killed in Syria.
Authorities in Kuwait have also arrested four of Dhafiri's relatives, including his brother and nephew, in connection with the planned attacks, Al-Rai said.
The five suspects told public prosecutors that suicide bombers had been recruited from outside of Kuwait to carry out the attacks, according to Al-Rai.
They also said there had been tentative plans to target a church in Kuwait during a visit this week by Coptic Pope Tawadros II.
Kuwaiti courts have handed down multiple convictions on charges of ISIS membership or financing.
Full report at:
https://english.alarabiya.net/en/News/gulf/2017/04/26/Bahrain-jails-36-strips-them-of-citizenship.html
--------
Syrians hold mass funeral for victims of Aleppo bombing
Apr 26, 2017
Hundreds of Syrians have attended a funeral procession for those killed in a recent deadly bomb attack outside the Syrian city of Aleppo that targeted buses carrying evacuees from the militant-besieged Shia-majority towns of Kefraya and al-Foua.
The mourners performed prayers in the shrine of Sayyidah Zaynab, the granddaughter of Prophet Muhammad (PBUH), and laid the victims to rest in a cemetery in the town with the same name just outside the capital Damascus on Wednesday.
"Today, there will be funeral services for 52 of the dead, after they were identified. They will be buried in a cemetery near the shrine," said an organizer of the funeral.
At least 150 people, including 72 children, were killed on April 15, when a bomb attack hit buses waiting in the militant-held al-Rashideen district on the outskirts of Aleppo to cross into government-controlled territory.
The evacuation was made possible under a deal struck in late March that envisaged the transfer of people holed up in Kefraya and al-Foua in Syria's Idlib province in exchange for the evacuation of militants and their families from the government-besieged towns of al-Zabadani and Madaya in Rif Dimashq province.
There was no immediate claim of responsibility for the Aleppo bombing, but such assaults bear the hallmarks of those carried out by Takfiri terrorists operating in conflict-ridden Syria.
Rupert Colville, a spokesperson for the Office of the United Nations High Commissioner for Human Rights, said the attack "most likely amounts to a war crime."
Syrian mourners carried posters bearing photographs of the fatal attack, with some of them reading, "Victory blooms from your blood."
Mourner Abdelsalam Remman, who was carrying a poster of his six-year-old sister Tuqa, said, "There's no worse feeling than this, than burying your sister without being able to see her."
Damascus Countryside Governor Ala'a Ibrahim, who was among those attending the event, said the Syrians will remain steadfast until victory over terrorism is achieved.
Quneitra Governor Ahmad Sheikh Abdelqader also decried the international silence on the terrorist attack.
Full report at:
http://www.presstv.ir/Detail/2017/04/26/519575/Syria-Aleppo-Kefraya-Foua
--------
Mideast
Turkish Fighter Jets, Artillery Pound Kurdish Areas in Afrin
Apr 26, 2017
According to ANHA TV channel, Turkey's attacks focused on Ferfirak village in Rajou area of Afrin region.
The report said that fighter jets, heavy weapons and artillery fire were used by the Turkish army in the aggression and the Kurdish People's Protection Units (YPG) resisted against it, adding that clashes still continue in the region.
No report has yet been released about the number of casualties in Ankara's attack.
In a relevant development on Tuesday morning, 26 Turkish warplanes attacked the mountainous areas of Qarjoukh and several other villages in Dirak region, killing 20 Kurdish fighters.
Also, last week, the Turkish army soldiers and allied militants targeted heavily the positions of Kurdish fighters in five different regions in Northern Aleppo, escalating fierce clashes with the Kurds.
Artillery and mortar units and tanks of the Turkish army and Ankara-backed militants of the Euphrates Shield Operation shelled Kurdish combatants' concentration centers and defense lines in the villages of al-Shahba, al-Samouqeh, Zouyan, al-Hasiyeh and Um Hawsh in around the towns of Ezaz and Afrin in Northern Hama.
The Kurdish fighters in return opened heavy fire at the Euphrates Shield forces' positions. In the meantime, the Kurdish fighters engaged in heavy fighting with the Turkish army men and their allied militants in the village of Qastal Jandou.
http://en.farsnews.com/newstext.aspx?nn=13960206001196
--------
Saudi fire stops ´rebel boat bomb´ from Yemen
Apr 27, 2017
RIYADH: The Saudi coast guard fired on an unmanned boat rigged with explosives, thwarting an attack on one of the kingdom´s oil terminals that authorities on Wednesday blamed on Yemeni Huthi rebels.
The boat, sent from a small island off the Yemeni coast, was targeting a petroleum products distribution terminal run by Saudi oil giant Aramco when it was intercepted on Tuesday, the interior ministry said in a statement carried by the SPA state news agency.
"The boat was spotted when it departed from a small island in Yemeni waters and gained speed after entering Saudi waters," the ministry said.
After determining that the boat was unmanned, a coast guard unit opened fire on its engine and stopped it 1.5 miles (2.8 kilometres) from the terminal in the southern region of Jazan, the statement said.
The boat was loaded with "strong explosive material," it said.
The ministry vowed to foil all "terrorist attempts" against the kingdom and to "reach those behind them from the Huthi militias."
It accused the rebels of "threatening the security of waterways and offshore installations with explosive-laden boats and naval mines."
Saudi Arabia is leading an Arab coalition that in March 2015 launched a military campaign against Iran-backed Yemeni rebels in support of President Abedrabbo Mansour Hadi.
Huthi rebels aided by renegade troops loyal to former president Ali Abdullah Saleh repeatedly fire missiles across the borders with the kingdom, but this is the first attempt of kind to target an oil installation.
Full report at:
http://nation.com.pk/international/27-Apr-2017/saudi-fire-stops-rebel-boat-bomb-from-yemen
--------
Iran, Russia accused of abusing Interpol to arrest foes
27 April 2017
Russia and Iran are among countries increasingly abusing Interpol red notices to seek the arrest of political opponents, European lawmakers warned Wednesday, citing a five-fold increase in the past decade.
The Council of Europe said in a resolution that the issuing of red notices – to inform Interpol's 190 members that someone's arrest is sought and thus ensure their deportation -- for such purposes was deplorable.
The number of red notices jumped to 12,787 in 2016, up from 2,343 in 2005, said the Council's parliamentary assembly, which comprises more than 300 members of national parliaments across Europe.
"Interpol and its system of red notices has been misused by some member states for political purposes in recent years to suppress freedom of expression or to persecute political opponents abroad," the Council's report warned.
Among the cases cited were that of Mukhtar Ablyazov, Kazakhstan's former energy minister, who is accused of embezzling billions of dollars from BTA bank, once a leading lender in the authoritarian republic.
Also read: Murky details emerge of the deal that Obama struck with Iran
Ablyazov, also a former banker, spent more than three years in custody after being arrested by French authorities in the Cote d'Azur region in 2013 on account of a red notice issued by Russia. He was also wanted by Kazakhstan where his trial in absentia started last month.
France refused to extradite him but he languished in jail until last December when his defence successful argued that Russia's goal was political. Attending the assembly's hearings in Strasbourg on Wednesday, he told AFP: "Because of the red notice I spent three-and-a-half years in prison in France."
Ablyazov has always denied the charges, claiming they are linked to his political opposition to Kazakhstan President Nursultan Nazarbayev. The lawmakers' report cited many other cases, including Mehdi Khosravi, an Iranian arrested in Italy in August 2016 on the basis of a red notice issued by Tehran, even though he had obtained political asylum in Britain.
Full report at:
https://english.alarabiya.net/en/News/middle-east/2017/04/27/Iran-Russia-accused-of-abusing-Interpol-to-arrest-foes.html
--------
Murky details emerge of the deal that Obama struck with Iran
26 April 2017
More than a year ago on January 17, 2016, then President Barack Obama announced on TV the nuclear deal with Iran and also another secretly concluded deal securing freedom for four Iranian-Americans incarcerated by Tehran.
In exchange, Obama said he had granted clemency to six Iranian-Americans and one Iranian man convicted or awaiting trial or appeal in the US for violations of US sanctions laws. He made clear that they were not charged with "terrorism or any violent offenses."
Politico has published the list and details of those individuals involved in the deal – the four Iranian-Americans freed by Tehran, the seven who were granted clemency in the US, and also the 14 that Obama did not mention at all – Iranian fugitives wanted by the US that the administration dropped charges and international arrest warrants against, citing foreign policy interests and the low likelihood of capturing them.
Those who were awaiting trial or appeal in the US and the Iranian-Americans held by Iran, have all asserted their innocence and portrayed themselves as political pawns in the often-contentious relationship between the US and Iran.
The four Iranian-Americans freed:
Jason Rezaian, the Tehran correspondent for The Washington Post, jailed in July 2014, andconvicted in October 2015 and sentenced for alleged offenses that included spying.
Amir Hekmati, an American of Iranian descent and Marine who served in Iraq. Detained in 2011 while visiting relatives in Tehran, he was convicted of espionage, initially sentenced to death and later sentenced to 10 years in prison.
Saeed Abedini, a naturalized American citizen and pastor, arrested in 2012, and sentenced to eight years in prison for subverting Iran's national security by creating a Christian religious network.
Nosratollah Khosravi-Roodsari, a mystery captive. A news service run by expatriate Iranian journalists said the former carpet seller may have worked as a consultant for the FBI and possibly linked to the case involving the disappearance of retired FBI agent Robert Levinson. He is believed to have stayed in Iran.
The seven Iranians freed in the US:
The following are the details of the seven men freed by the US who had violated the Iranian embargo and Export Administration Regulations.
Bahram Mechanic, a dual US and Iranian citizen and accused ringleader of a Houston-based procurement network operating since at least 1985. He and alleged associates Khosrow Afghahi and Tooraj Faridi were charged with illegally supplying Iran with USorigin microelectronics and other commodities "frequently used in a wide range of military systems, including surface-air and cruise missiles."
Nima Golestaneh, an Iranian national accused of conspiracy to steal for Iran millions of dollars worth of sensitive information from a Vermont-based defense contractor, including proprietary software to help its customers with aerodynamics analysis and design issues.
Nader Modanlo, a naturalized US citizen born in Iran convicted of a conspiracy to illegally provide satellite hardware and technology to Iran over many years, and with receiving $10 million as part of a secret effort to help Tehran launch its first-ever satellite.
Arash Ghahreman, a naturalized US citizen born in Iran, Ghahreman was a former engineer for the Islamic Republic of Iran Shipping Lines, which has been sanctioned by the US, United Nations and EU for advancing Iran's nuclear and ballistic missile programs. Ghahreman headed a US-based Iranian procurement network that acquired a wide array of American goods and technologies with possible military and weapons uses for users in Iran.
Ali Saboonchi, a naturalized US citizen born in Iran and living in Parkville, Maryland, Saboonchi was accused of setting up the Ace Electric Co. at the behest of an Iranian co-conspirator, and using it as part of a procurement network that illegally shipped industrial parts and components to Iranian users.
The 14 fugitives whose cases and international arrest warrants were dropped:
These case histories have been compiled from federal court documents and other records, based on identities of the men initially disclosed by Iran's FARS news service.
Seyed Abolfazl Shahab Jamili, an Iranian import-export businessman charged with procuring nuclear-related equipment for Iran from 2005 through 2012, including conspiring with Chinese associate Sihai Cheng to obtain hundreds of US-made pressure transducers for the gas centrifuges Iran used to secretly enrich uranium.
Amin Ravan, an Iranian citizen known to be a long-time procurement agent for Iran, Ravan and his Iran-based company IC Market Iran were charged with smuggling US-made military antennas to Hong Kong and Singapore to acquire the antennas and a wide array of other components for users in Iran. He was also charged with helping Iran acquire US radio frequency modules and other components that were used in IEDs that was responsible for killing many American troops in Iraq.
Behrouz Dolatzadeh, an Iranian citizen and longtime weapons smuggler for Iran. He was indicted and charged in connection with an alleged scheme to buy thousands of US-made assault rifles for ultimate use in Iran.
Hamid Arabnejad, Gholamreza Mahmoudi and Ali Moattar were Iranian citizens and executives at Mahan Air, and were indicted in connection with a conspiracy to illegally obtain by lease agreement for as many as six Boeing airplanes on behalf of the private Iranian airline.
Matin Sadeghi, a Turkish national indicted as part of Bahram Mechanic's Houston-based procurement network, Sadeghi allegedly used his Istanbul trading company as an intermediary shipping point for dual-use US-origin electronics exported illegally to Iran, including commodities "frequently used in a wide range of military systems, including surface-air and cruise missiles."
Koorush Taherkhani, an Iranian national and alleged co-conspirator in Ghahreman's procurement network, Taherkhani used hise firm as a front company to acquire US-made navigation equipment for use in Iran.
Full report at:
https://english.alarabiya.net/en/News/middle-east/2017/04/26/Murky-details-emerge-of-the-deal-that-Obama-struck-with-Iran.html
--------
Iran condemns Turkish air raid in Iraq's Sinjar
Apr 26, 2017
The Iranian Foreign Ministry has censured Turkey's air raid in northern Iraq, saying any violation of countries' national sovereignty will lead to instability in the region.
"Violating the national sovereignty of other countries with any purpose or under any pretext is an infringement of internationally recognized rules and regulations and will pave the way for further instability in the region," Foreign Ministry Spokesman Bahram Qassemi said on Wednesday.
Qassemi said Turkey's air raid in Iraq's Sinjar region was a breach of the Arab country's sovereignty and territorial integrity.
On Tuesday, a Turkish military statement said it had carried out pre-dawn strikes on Sinjar Mountain, adding that the raids were meant to hit the positions of the Kurdish Workers' Party (PKK) in Sinjar area.
The PKK has established a presence in Sinjar, where Kurdish Peshmerga fighters battling the Daesh Takfiri terrorist group are also present.
Ankara has long claimed that the area was becoming a hotbed for the PKK.
Sinjar Mayor Mahma Khalil said the strikes had killed five members of Peshmerga fighters and wounded nine.
The statement said that Turkish planes had also hit northeastern Syria on Tuesday.
In a statement on Tuesday, the Iraqi government spokesman, Saad al-Hadithi, condemned Turkey for violating Iraq's sovereignty.
Turkey, which has declared the PKK a terrorist group, regularly bombs the positions of the PKK in Iraq and Syria. Ankara has also deployed troops to the two countries.
Full report at:
http://www.presstv.ir/Detail/2017/04/26/519542/Iran-Turkey-air-raid-Iraq-Sinjar-Peshmerga
--------
Ankara says military had informed Washington, Moscow of air raid
Apr 26, 2017
Turkish officials say the United States and Russia were informed in advance of a recent airstrike carried out on the positions of suspected Kurdish militants in Syria and Iraq.
Foreign Minister Mevlut Cavusoglu said on Wednesday that the Turkish military had informed Washington and Moscow on the attack a day earlier that targeted Kurdish-dominated areas in Syria and neighboring Iraq.
"Two hours before this operation, we shared information with the US and Russia that we would undertake an operation," Cavusoglu said, adding that Ankara had also told Washington in the "last few weeks" that such military operations would be carried out.
Turkey claims 70 suspected Kurdish militants were killed in the attack on what it has described as "terrorist havens" in Syria and Iraq. Sources on the ground, however, say more than two dozen were killed in the air raid, which faced swift ire in Washington. The US Department of State said it was "deeply concerned" the strike was conducted "without proper coordination" either with the US military or commanders within a broader international coalition, which claims to be fighting Daesh Takfiri terrorists in Iraq and Syria.
Cavusoglu, however, who was speaking to reporters in Uzbekistan, said Ankara had nothing to hide and that it was entitled to "a legitimate right" to intervene militarily in Syria and Iraq to repel threats. The top diplomat said the air raids were not necessarily a violation of the sovereignty of Iraq and Syria.
"There are terrorists that enter Turkey via different paths," he said, adding, "Turkey acts transparently on all issues. We have no secret agenda... We respect Syria and Iraq's territorial integrity."
Both Iraq and Syria have repeatedly criticized Turkey for attacks and deployments of troops in the two countries.
The Iraqi government condemned the recent air raid, saying it violated the Arab country's sovereignty.
The Kurdistan regional government also denounced as "unacceptable" Turkey's airstrike, which killed at least six peshmerga Kurdish fighters.
Turkey has defended its intervention in Iraq and Syria, claiming it seeks to prevent a potential spillover of the conflict into its territory.
In a new development on Wednesday, the Turkish military said it had retaliated in kind against a mortar attack from the Syrian territories under the control of the government. There was no comment from Damascus.
Full report at:
http://www.presstv.ir/Detail/2017/04/26/519534/Turkey-Ankara-air-raid-US-Russia
--------
Pakistan
Former Spokesperson of TTP Asks Old Buddies To Quit Violence
April 27, 2017
Islamabad - Former key leader and spokesperson of Tehreek-e-Taliban Pakistan (TTP) Ehsanullah Ehsan, who is in the state custody, has issued a confessional statement admitting the TTP has links with Indian intelligence agency RAW and Afghanistan's NDS.
Ehsansullah Ehsan said he joined proscribed TTP in 2008 and later also served as the spokesperson of Jamaat-ul Ahrar (JuA), the most deadly TTP offshoot which is responsible for most of the major terrorist acts in country in recent years.
In the confessional statement made through a video clip and issued by the military's media wing ISPR, former Taliban leader stated that these people [TTP and JuA] have misled people in the name of Islam for their own ends.
He said there are people in terrorist ranks who are frustrated with the fight which only serves TTP leaders self-interest, and he appealed them to quit terrorism and return to Pakistan. He also urged people, especially youth, to not fall a prey to terrorists' malicious propaganda.
Ehsan said the TTP has special committees which are linked with India's Research and Analysis Wing (RAW). About Afghanistan military and its National Directorate of Intelligence (NDS), Ehsansullah Ehsan said they used to cross border and carry out terrorist activities in Pakistan with their help.
Enemy designs stand exposed
ISPR Director General Asif Ghafoor said that Ehsanullah Ehsan has exposed enemy's hostile agenda and designs to destabilise Pakistan.
In a tweet, he said "our youth is our strength and shall never fall prey to the designs of the enemy".
Maj-Gen Asif had announced on April 17 that Ehsan had surrendered to Pakistan's security agencies.
Announcing his surrender, the ISPR chief said that one of the objectives of the counterterrorism operations was to restore the writ of the state and that should be considered a major achievement if those previously indulging in wrongdoing realised that they were on the wrong side.
It is generally believed that Ehsan has been in the military's custody since the Army responded to a string of terrorist attacks in February, which had been claimed by JuA, by shelling terrorist hideouts along the Pak-Afghan border.
Ehsanullah Ehsan was believed to have been in hiding in Afghanistan. He was one of the founding figures of JuA, which was formed in August 2014 after splitting from the TTP.
JuA is one of the most lethal of TTP's splinter groups and has been involved in some of the most brutal attacks in the country. The group carried out about 120 attacks since it was formed nearly three years ago.
At one stage JuA had aligned itself with Daesh, the Arabic acronym for the militant Islamic State group. JuA subsequently returned to the TTP fold, but continued to maintain an independent identity. The group launched the so-called operation Ghazi in February that led to spike in terrorist attacks.
Having Ehsan in custody could be invaluable for security agencies given the wealth of information he could have about TTP and JuA networks and operations.
Transcript of Ehsanullah's
video confession
My name is Liaquat Ali, aka Ehsanullah Ehsan, and I belong to the Mohmand Agency. I joined the TTP in 2008, when I was a college student.
I have been a spokesperson for TTP Mohmand, TTP's central division and the Jamaat-ul-Ahrar. I have seen a lot in my nine years with these organisations.
These people have misled people in the name of Islam, especially the youth, for their own ends. They themselves do not hold themselves to the same standards they champion for others.
A particular group [within them] is responsible for misleading people, kidnapping them, extorting money and murdering innocents. These people have been behind bomb attacks in public spaces and attacking schools, colleges and universities. This is not what Islam teaches us.
When the operation in Waziristan kicked off, these people [TTP groups] started fighting with each other for power and leadership. A formal election campaign was run by Molvi Fazlulah, Khalid Khurasani and Molvi Sajna.
After Hakimullah [Mehsud] was killed, a new succession struggle started. Campaigns began in support of Omar Khalid Khorasani, [Khan Said] Sajna and Mullah Fazlullah. Everyone wanted power, so a shura [consultative committee] decided that there would be a draw of names for the future leader. This is how Mullah Fazlullah was elected leader of the TTP.
What can you expect from a leader who was nominated through a lucky draw? And what can you expect from Fazlullah, who married his mentor's daughter by force and took her away. People like him are not fit to serve Islam.
After the operation in North Waziristan, we fled to Afghanistan. Over there, we established and developed contacts with NDS [Afghan intelligence agency] and RAW.
They [TTP leadership] got their [Indian and Afghan] support, their funding and took money for every activity they did. They pushed the TTP soldiers to the frontlines to fight against Pakistan Army and went into hiding themselves.
When they started taking help from India and RAW, I told Khorasani that we're supporting the kuffar [non-believers] and helping them kill our own people in our own country.
He [Khorasani] said: Even if Israel wants to fund me to destabilise Pakistan, I will not hesitate in taking their help.
At that point, I realised that TTP was following an agenda that [only] served the self-interest of its leaders.
These [terrorist] organisations have established committees in Afghanistan through which they communicate and coordinate with RAW. The Indians had given them special documents to help them move around in Afghanistan with ease. In Afghanistan, these documents function like Pakistani ID cards.
Giving the security situation in that country, it is very difficult for these people [terrorists] to move in Afghanistan without these documents.
These people would contact Afghan and Indian security forces before moving anywhere in the country. They [enemy forces] used to grant them [TTP cadres] passage [inside Afghanistan] and guide their infiltration into Pakistan.
Since Pakistan Army destroyed several Jamaat-ul-Ahrar camps in Parchinar and Lalpura and killed many of their commandoes in its ongoing operation, they've had to flee the area and abandon their stronghold(s). Due to this, the morale of their commanders and their senior leadership has been shaken.
There are people in those camps who have had enough, who want to quit [terrorism]. I want to send out a message to them. Please stop the militancy and come to path of peace!
After ban on electronic media, TTP started to use social media to trap youngsters through their malicious propaganda.
I appeal to the youngster not to be trapped by the propaganda of TTP!
In remarks made to a private TV channel on Wednesday, Foreign Affairs Adviser Sartaj Aziz said: "His [Ehsan] confessional statement is crucial. Pakistan will raise his confessions with the Afghan government."
'Terrorist' asks old buddies to quit terror
http://nation.com.pk/national/27-Apr-2017/terrorist-asks-old-buddies-to-quit-violence
--------
Airstrikes kills terrorists at Pak-Afghan border: ISPR
April 27, 2017
Airstrike kills a number of terrorists on Pak-Afghan border, says Inter Services Public Relation latest press release.
According to ISPR, "Terrorists were moving from Nangarhar, Afghanistan into Rajgal valley Khyber Agency. Airstrike was carried out in Sattar Kalay and Narai Nau, Rajgal Valley khyber Agency."
A number of terrorists were killed while many were injured. The injured and survivors fled back.
Full report at:
http://nation.com.pk/national/27-Apr-2017/airstrikes-kills-terrorists-at-pak-afghan-border-ispr
--------
10 Iranian guards killed at Pak border
April 27, 2017
Tehran - Ten Iranian border guards were killed by Sunni militants in a "cross-border" attack on the frontier with Pakistan on Wednesday,Iranian news agency Tasnim reported.
The militant group called Jaish al Adl, or the Army of Justice, has claimed responsibility, the report said.
"10 border guards of Mirjaveh county in Sistan and Baluchestan Province were martyred in an ambush by the terrorists in the Pakistani border's zero-point," Tasnim said.
The semi-official Fars news agency said the gunmen fired on an Iranian patrol near the border.
Sistan-Baluchestan province in southeastern Iran has long been plagued by unrest from both drug smuggling gangs and separatist militants. The population of the province is predominantly Sunni Muslim; the majority of Iranians are Shias.
Jaish al Adl is a Sunni militant group that has carried out several attacks before against Iranian security forces with the aim of highlighting what they say is discrimination against Sunni Muslims and the ethnic Baluch in the province.
Full report at:
http://nation.com.pk/national/27-Apr-2017/10-iranian-guards-killed-at-pak-border
--------
JI to besiege Governor's House if protest disrupted
April 27, 2017
KARACHI - Jamaat-e-Islami (JI) Karachi chief Engineer Hafiz Naeem-ur-Rehman has said that K-Electric will have to pay back the money it has extorted from its consumers and the party's campaign will continue till acceptance of all demands. He expressed these views while chairing a high-level meeting held here on Wednesday in connection with Jamaat's ongoing drive.
JI leaders and heads of sister organisations also participated in the meeting.
Naeem made it clear that the party had no plans to postpone its protest outside the Governor's House on Saturday April 29. "We will protest at all costs," he resolved.
He warned that the party would have no other option but to besiege the Governor's House, if the government attempted to interrupt the peaceful protest.
He directed the district and zonal leaders to pace up their efforts for a historic protest demonstration on 29th.
He asked them to ensure participation of people from all walks of life in the event.
The JI leader said categorically that the party's case was based on solid facts and figures, and not on flimsy grounds.
He also said that KE's de-rated production capacity is 2093 megawatt while NTDC provided to it 650 and IPPs provide it with 350 megawatts of electricity.
"The KE administration is thrusting loadshedding despite the fact that the production capacity of the company is more than the requirement," he said, adding that Karachi needed almost 2300 megawatts whereas the KE's production capacity and the electricity made available to the company by IPPs and the federal government was almost 3093 megawatts.
Naeem accused the KE administration of being directly responsible for subjecting Karachiites to loadshedding at the time when heat is at its peak. The JI leader said that people of Karachi will not tolerate the current situation any more.
Full report at:
http://nation.com.pk/karachi/27-Apr-2017/ji-to-besiege-governor-s-house-if-protest-disrupted
--------
South Asia
91 killed in Taliban and ISIS militants clash in North of Afghanistan
Apr 26 2017
At least 91 insurgents have been killed as deadly clashes erupted among the Taliban insurgents and the loyalists of the Islamic State of Iraq and Syria (ISIS) terrorist group.
According to the local government officials, the majority of the casualties were inflicted to the Taliban insurgents.
Provincial governor's spokesman Mohammad Reza Ghafoori said the clashes started in Darzab district on Tuesday and still continue between the two sides.
He said at least 76 Taliban insurgents and 15 ISIS militants have been killed so far, citing the preliminary information received by the government.
Ghafoori further added that 56 Taliban insurgents have also been wounded alongn 12 ISIS fighters.
The anti-government armed militant groups have not commented regarding the report so far.
Jawzjan is among the relatively volatile provinces in North of Afghanistan where the anti-government armed militant groups are actively operating in some of its districts.
The province has also witnessed growing activities by the loyalists of the Islamic State of Iraq and Syria (ISIS) terrorist group who are mainly operating in Darzab district.
The group has carried out numerous attacks against the government and other institutions including the kidnapping of several ICRC workers in this province.
http://www.khaama.com/91-killed-in-taliban-and-isis-militants-in-north-of-afghanistan-02656
--------
ISIS suffer heavy casualties in Zabul province of Afghanistan
Apr 26 2017
The Islamic State of Iraq and Syria (ISIS) terrorist group's offshoot militants in Afghanistan suffered heavy casualties during an operation in southern Zabul province.
The Ministry of Defense (MoD) spokesman Gen. Dawlat Waziri said the militants were targeted during a night operation in Khak-e-Afghan district of Zabul.
He said several ISIS militants including foreign insurgents had gathered in the house of the ISIS leader Khalid Akhundzada when they were targeted by the Special Forces.
Gen. Waziri further added that the ISIS leader Akhundzada was arrested with his nephew and three militants Uzbekistan.
According to Waziri, the other nephew of Akhundzada was killed along with ISIS commanders and four militants.
He said several weapons and ammunition belonging to the terror group were also destroyed during the operation.
Zabul is among the relatively volatile provinces in southern Afghanistan where the Taliban insurgents and other militants including ISIS loyalists are actively operating.
This comes as a senior commander of the terror group identified as Gul Agha was killed during a similar operation in this province earlier last month.
Full report at:
http://www.khaama.com/isis-suffer-heavy-casualties-in-zabul-province-of-afghanistan-02657
--------
AQIS head of Bangladesh affairs killed in Afghanistan
April 27, 2017
Tariq alias Sohel, the "chief" of the Bangladeshi affairs of al-Qaeda in the Indian Subcontinent (AQIS), and five of his accomplices were killed in Afghanistan's Qandahar, says a statement purportedly from the top leader of the terror outfit.
The statement, uploaded on early Wednesday on Telegram, a cloud-based instant messaging service, however, does not say when and how the militants were killed.
It also does not say whether the five accomplices of Sohel were Bangladeshis. They are Qari Abdul Aziz alias Abdul Halim, Yaqub alias Saddam Hossain, Asadullah alias Nazimuddin Maimoon, Abu Ibrahim alias Saiful Islam Hasan and Abu Bakr alias Anuj Hasib.
The 13-page statement, titled "Behold", is said to be a transcript of an audio message from the "top AQIS leader Asim Omer". The alleged chief of the Bangladeshi affairs of AQIS and his five companions were mentioned only in a paragraph.
The statement was also published in al-Qaeda's media production house "As-Sahab Media", with a photograph of Sohel, said Bangladeshi law enforcement members.
This newspaper could not independently verify the authenticity of the statement.
Asked, Assistant Inspector General (confidential) of the Police Headquarters Mohammad Moniruzzaman said they had no information about Sohel and the five other men.
"We are looking into the matter and verifying the information," Moniruzzaman, who deals with the crimes related to militancy, told The Daily Star yesterday. He has been assigned to maintain communications with the Afghan police on the matter.
He said the information was scanty and it seemed the photograph used in the statement was old.
Contacted, several officials from the Counter Terrorism and Transnational Crime (CTTC) unit of Dhaka Metropolitan Police also said they had no information about Sohel and the five others.
The statement was uploaded on Telegram early Wednesday, said sources in Bangladeshi law enforcement agencies.
Sohel's death was first learnt from a video released by As-Sahab Media last month, as mentioned by Ansar al-Islam members in Dawahilallah online forum. Ansar al-Islam is believed to be the Bangladesh chapter of AQIS.
Maj (dismissed) Syed Ziaul Haque is the only known top ranking leader of Ansar al-Islam and the operational wing chief of the outfit.
On several occasions, Home Minister Asaduzzaman Khan Kamal said Zia could be arrested any time as he was under surveillance of law enforcers.
Mufti Jasim Uddin Rahmani, the alleged founder and spiritual leader of Ansarullah Bangla Team (now Ansar al-Islam), has been in jail since August 2013.
Osama bin Laden's successor, Egyptian Islamist ideologue Ayman al-Zawahiri, announced the formation of AQIS in September 2014 to carry the group's fight to India, Pakistan and Bangladesh.
Full report at:
http://www.thedailystar.net/frontpage/aqis-head-bangladesh-affairs-killed-afghanistan-1397230
--------
715 Afghan civilians killed, 1466 wounded in past 3 months: UNAMA
Apr 27 2017
The United Nations Assistance Mission in Afghanistan (UANAMA) released its latest civilian casualties report covering a period of three months since the start of 2017.
In the first quarter of 2017, UNAMA documented 2,181 civilian casualties (715 dead and 1,466 injured), a four per cent decrease compared to the same period in 2016. Civilian deaths decreased by two per cent while civilian injuries decreased by five per cent, the report said.
The report further added that consistent with trends in 2016, ground engagements continued to cause most civilian casualties, followed by improvised explosive devices, as well as suicide and complex attacks.
Anti-Government Elements caused 62 per cent of civilian casualties – 1,353 civilian casualties (447 dead and 906 injured), reflecting a five per cent increase compared to the same period in 2016, the report added.
According to UNAMA, aAnti-Government Elements continued to target civilians intentionally and deploy indiscriminate tactics in areas with a civilian presence – in clear violation of their obligations under international humanitarian law. UNAMA documented attacks targeting civilian government employees, tribal elders, Muslim Shi'a mosques, humanitarian de-miners, NGO workers and civilians perceived to be government supporters.
Full report at:
http://www.khaama.com/715-afghan-civilians-killed-1466-wounded-in-past-3-months-unama-02660
--------
135 killed, 64 wounded in Afghan army base attack, MoD findings reveal
Apr 27 2017
At least 135 people were killed and around 64 others were wounded in the attack on the Afghan army base, the 209th Shaheen Corps in northern Balkh province of Afghanistan.
According to the findings of the Ministry of Defense released on Wednesday, 10 officers, 26 sergeants, 94 soldiers, and 5 civilians were among those killed.
MoD spokesman Gen. Dawlat Waziri said 2 officers, 15 sergeants, and 47 soldiers were among those wounded.
He said the ministry had initially put the number to 100 as the majority of the victims were civilian clothes and most of them were unrecognizable.
However, he said the fact finding team did a thorough investigation to ascertain the number of those killed or wounded.
The Taliban militants group claimed responsibility behind the attack which was carried out by a group of at least ten insurgents who had disguised in army uniforms and used army vehicles to penetrate inside the base.
This comes as earlier estimates showed over 150 people were killed in the attack and dozens more were wounded.
Full report at:
http://www.khaama.com/135-killed-64-wounded-in-afghan-army-base-attack-mod-findings-reveal-02659
--------
Geopolitical games being played around Afghanistan: Russia
Apr 26 2017
Russia's Minister of Foreign Affairs Sergei Lavrov has said geopolitical games are being played around Afghanistan.
Lavrov made the remarks during a meeting with the former Afghan President Hamid Karzai in Moscow on Tuesday.
"Russia sincerely wants your friendly country to end the period of instability in its history and to work towards the prosperity of the Afghans," he said.
Lavrov further added "We confirm our support for national dialogue and are willing to use any format to rally the support of external players for this process."
"We appreciate your desire to use your influence and reputation to help your nation," he said, adding that "Regrettably, the geopolitical games that are being played around Afghanistan have nothing to do with sincere concern for the future of the Afghan people. Russia-hating tendencies are being used in this dirty play."
Full report at:
http://www.khaama.com/geopolitical-games-being-played-around-afghanistan-russia-02658
--------
35 Afghan soldiers held after attack on base
Apr 27, 2017
KABUL - Authorities have arrested 35 soldiers who served on an army base in northern Afghanistan where the Taliban staged a deadly attack last week, officials said Wednesday, as fears grew they had inside help.
The defence ministry released its official toll of 135 recruits killed in the assault on the sprawling base, home to the 209th Army Corps, outside the city of Mazar-i-Sharif in Balkh province on Friday. Gunmen in military trucks and wearing suicide vests stormed the base, killing unarmed young recruits as they ate lunch in the dining hall and prayed in the mosque. The brutal assault is believed to be the deadliest-ever Taliban attack on a military installation.
The death toll has been unclear, with Afghan officials - who have been known to minimise casualties in previous attacks - ignoring earlier calls for exact figures.
A senior US defence official has told AFP at least 144 people were killed, while some sources on the base have placed the toll as high as 160.
The gunmen were dressed in army uniforms, multiple sources have told AFP, fuelling suspicions of complicity on the 30,000-strong base, where Western instructors are sometimes called on as part of NATO's training, assistance and advisory mission.
They also carried valid passes to the base, a senior security source has told AFP.
"So far 35 people have been detained and are being questioned in connection with the attack," said 209th Corps spokesman Abdul Qahar Aram, adding that they ranked from foot soldiers to colonel.
So-called insider attacks - when Afghan soldiers and police turn their guns on their colleagues or on international troops - have been a major problem during the war which began in 2001.
Analyst and university professor Abdul Hamid Safoot said Friday's assault had highlighted multiple systematic flaws among Afghan forces, ranging from a lack of vetting to inadequate intelligence sharing.
"(The) Taliban know these weaknesses, they have people in the government," Safoot said.
"After the insider attacks on the NATO trainers increased, the foreign mentors no longer allow Afghan soldiers to carry arms during training," he added.
The recruits in the mosque and the dining hall were unarmed - a fact which the security source said was known to the militants. He said at least four of the attackers had served at the base.
Full report at:
http://nation.com.pk/international/27-Apr-2017/35-afghan-soldiers-held-after-attack-on-base
--------
India
Jamaat takes up campaign on triple talaq, Muslim Personal Law in Telangana
27th April 2017
WARANGAL: Even as the Supreme Court is hearing a case on the constitutional validity of the controversial 'triple talaq', a practice among Muslims in which the husband says 'talaq' thrice in quick succession for seeking divorce and All India Muslim Personal Law Board (AIMLPB) decided to not allow any "outside interference" on an issue that is described as part of Sharia, Jamaat-e-Islami Hind (JIH) has launched a campaign to create awareness among Muslim communities about Muslim Personal Law and the rules to be followed before choosing to divorce using triple talaq.
The members of the JIH are touring the state to educate people about Muslim Personal Law and the misconceptions about it among people. They would be undertaking door to door campaign, organise seminars and talks, distribute literature explaining the importance of following Sharia, besides organising group meetings, scholars' meetings and public meetings in villages, district headquarters and cities.
The JIH would also set up counselling centres to educate people on Muslim Personal Law and its benefits. They would also hold meetings and round table conferences with non-Muslims to clarify their doubts and misconceptions on Muslim Personal Law.
The organisation feels that there is nothing wrong with Muslim Personal Law and that a few people who are not aware of the real objective of it are misinterpreting and creating problem. Muslims have the "constitutional" right to follow their personal law, it said.
The JIH claims that the "propaganda" that a lot of women were affected by triple talaq is incorrect and misleading. "A few women are creating misconceptions on triple talaq and Muslim Personal Law. Most of Muslim women in the country are in favour of Muslim Personal Law. But those opposing it are trying to create an impression through media that almost all women are in favour of Uniform Civil Code," claims JIH state president Khalida Parveen.
Sharia has given equal rights to men and women, and it is the responsibility of the community to provide those rights to women, she added. "The Muslim law protects the honour and dignity of women. It restores their rights and ensures sensible liberty for them," she said.
According to her, adequate efforts are not made to educate Muslim masses about Islamic teachings and to eliminate the violation of Shariatis. A majority of Muslims do not know the rules and instructions that guide them in matters of marriage, divorce, inheritance and other important things, hence, there is an imperative need to educate, uplift and morally reform Muslim society as a whole, she said.
Many victims of triple talaq have filed PILs in the apex court challenging the provision of triple talaq and nikah halala, terming them "regressive".
http://www.newindianexpress.com/states/telangana/2017/apr/27/jamaat-takes-up-campaign-on-triple-talaq-muslim-personal-law-in-telangana-1598280.html
--------
In Sensitive Malda: Muslim neighbours help cremate Hindu labourer
April 27, 2017
Muslims in a communally-sensitive pocket of Malda in West Bengal on Tuesday cremated their Hindu neighbour, helping with money and pall bearers as there was no young male in the deceased liver cancer patient's family to carry the body.
At Sheikhpura in Manikchak, the body of 35-year-old Biswajit Rajak, a day labourer who was suffering from liver cancer for over a year, was taken to the shores of the Ganga by Haji Malkasuddin, Haji Malek, Sheikh Kaisul and Abul Kalam Azad.
"All my Muslim brothers came forward and they were the ones who took the body to the Ganga," said Sarita, Biswajit's wife who has three children to raise. "People from Hindu community also joined in. I have lost my husband and my father-in-law is very ill. I have always felt the warmth of the Muslim community here. They have stood by us not as Muslims, but as humans. It's because of them that my husband's soul will rest in peace," she said.
Villagers said several neighbours helped during the treatment of Biswajit, whose family was among a handful of
Hindus in the Muslim-dominated village of 7,000. They also pooled in money for funeral after Biswajit died Monday night.
"The family had no male member and no money for the cremation," panchayat member Md. Yasin said.
"It was heartening to see people choosing peace and human life over religion. The Muslims are… sad about losing their neighbour. The family of the deceased is poor. Money was contributed by all of us, including the Muslims, to complete the rituals," Malda zilla parishad sahakari sabhadipati Gour Chandra Mondal said.
"The local maulvi too joined the procession. The Muslims collected money to make all necessary arrangements. All customs were followed and after the body was burnt, the ashes were immersed in the river," Mondal said.
A Sheikhpura resident said the procession grew in size as it moved towards the bank of Ganga, reaching 200. "I have heard about clashes over Muharram and Ram Navami processions. But yesterday I saw so many Muslims coming forward to offer a helping hand for Rajak's last rites," he said.
"No religion can be above a human life. We have lost our dear neighbour. We want him to rest in peace. Those who make a big hue and cry over religion definitely have other motives," another resident said.
Full report at:
http://indianexpress.com/article/india/in-sensitive-malda-muslim-neighbours-help-cremate-hindu-labourer-4629752/
--------
Three army men martyred as terrorists attack Kupwara army camp in J&K
Apr 27, 2017
SRINAGAR: Two soldiers and an army captain were martyred this morning after terrorists attacked an Army camp in Jammu and Kashmir's Kupwara district, reported Times Now.
Five soldiers were also injured in the attack. The army officer killed was identified as Captain Ayush, official sources told PTI.
Two suspected Jaish-e-Mohammed terrorists were gunned down in the exchange of fire.
An encounter between security forces and terrorists is still under way. A hunt is on to ascertain if any militant managed to sneak into the camp under the cover of darkness, PTI said.
Full report at:
http://timesofindia.indiatimes.com/india/three-soldiers-martyred-as-terrorists-attack-kupwara-army-camp-in-jk/articleshow/58390384.cms
--------
Separatist leader Asiya Andrabi arrested in Jammu & Kashmir
Apr 27, 2017
SRINAGAR: Jammu and Kashmir Police on Thursday arrested separatist leader Asiya Andrabi under the Public Safety Act.
She was arrested in the morning from her residence, sources said.
Full report at:
http://timesofindia.indiatimes.com/india/separatist-leader-asiya-andrabi-arrested-in-kashmir/articleshow/58392082.cms
--------
Separatist leader Asiya Andrabi arrested in Jammu & Kashmir
Apr 27, 2017
SRINAGAR: Jammu and Kashmir Police on Thursday arrested separatist leader Asiya Andrabi under the Public Safety Act.
She was arrested in the morning from her residence, sources said.
Full report at:
http://timesofindia.indiatimes.com/india/separatist-leader-asiya-andrabi-arrested-in-kashmir/articleshow/58392082.cms
--------
India objects to Pakistan raising Kashmir issue at UN forum
Apr 27, 2017
UNITED NATIONS: India has strongly objected to Pakistan raising the Kashmir issue at a UN General Assembly session here, asserting that it is a bilateral matter which should not be brought up in the UN forum.
Minister in Pakistan's permanent mission to the UN Masood Anwar raised the Kashmir issue in his statement to the UN General Assembly session of the committee on information on April 25.
He said Pakistan appreciates the efforts by the UN's department of public information in arranging coverage of events related to the International Day of Solidarity with the Palestinian people.
"We would urge you to do the same for the people of Kashmir who continue to suffer under foreign occupation," Anwar said.
As soon as these remarks were made, minister in India's Permanent mission to the UN S Srinivas Prasad interrupted Anwar's speech and strongly raised objections to the mention of Kashmir by the Pakistani delegate.
"It is a bilateral issue which should not be brought here," Prasad told the chair of the session.
Pakistan's ambassador to the UN Maleeha Lodhi, also present during the session, was heard prodding Anwar to "carry on" speaking even as Prasad raised his objections with the session's chair.
Later, before delivering India's statement at the session, Prasad said the Kashmir issue was totally unrelated to the forum.
"Before I begin my statement, I would like to thank the chair for its deft handling and not allowing the elaboration of a subject which is totally unrelated to this forum as was tried by a member state," Prasad said.
Full report at:
http://timesofindia.indiatimes.com/india/india-objects-to-pakistan-raising-kashmir-issue-at-un-forum/articleshow/58391470.cms
--------
Terrorism will recoil on those who nurture it: India
Apr 26, 2017
MOSCOW: India on Wednesday called for united global action in strongly resisting "opportunistic" efforts of some states to support terrorist groups by facilitating training, funding and providing safe havens to them.
Addressing an international security conference here, Defence Minister Arun Jaitley said terrorism is being "reinvented" in newer and even more dangerous manifestations and that the challenge must be dealt with effectively.
Without naming any country, he said terrorism will recoil on those who nurture it, adding distinctions are still sought to be made between good and bad terrorists, despite all the evidence and experience to the contrary.
The sixth Moscow conference on international security is attended by defence ministers of a large number of countries.
"We should also resolutely resist opportunistic efforts by some states to support terrorist proxies by training, funding or providing safe havens to such groups for their limited objectives," he said.
On the positive side, he said, the territory acquired by ISIS in the Middle East has begun to be effectively challenged by several countries.
"It is reassuring and should be taken to its logical conclusion. Cooperation between major powers in this effort can become a template for similar steps elsewhere," he said.
At the same time, he said even work is on to eliminate the breeding grounds of terrorism in the Middle East, the dangers of such elements returning to their home countries has become a major challenge.
"We need to encourage closer information exchanges and intelligence cooperation to address this threat," he said.
The defence minister said the scourge of terrorism remains the primary security challenge for all peaceful countries, asserting India will steadfastly partner all friendly countries confronted with the challenge of terrorism.
Full report at:
http://timesofindia.indiatimes.com/india/terrorism-will-recoil-on-those-who-nurture-it-india/articleshow/58382442.cms
--------
Africa
Nigeria: Boko Haram Victim - 'I Still Have Nightmares of Those Who Were Beheaded'
25 APRIL 2017
A handful of psychiatrists - one for every million people - deal with the minds of Nigerians racked by Boko Haram terror
Bulus Apollos is sitting in the small courtyard of a compound in Gomari Gana, an area with dusty streets in Maiduguri, Nigeria. His hands, gnarled from years of onion farming, shake as he lifts faded yellow trousers to reveal swollen feet.
Apollos (47) was held captive for over a year by Boko Haram fighters, the Islamist insurgents who have waged a bloody terror campaign in northeastern Nigeria for seven years. He says his feet are still aching from being shackled for the 15 months he was detained.
"Every Friday each of us would be paraded in front of a special court and ordered to convert to Islam," Apollos explains, a vein throbbing in his right temple. "We refused ... and they would beat us and take us back to detention."
Boko Haram enforces its own, radical version of Islam that forbids Western education and seeks to destroy the secular Nigerian state. Its campaign has been marked by sexual violence against girls and women, including rape and forced marriage.
"I still have nightmares of those who starved to death," Apollos says. "And of those who were beheaded."
No money for mental health services Apollos doesn't know if he is suffering from depression or post-traumatic stress disorder. He doesn't have money to seek professional help and has not been diagnosed with a mental illness.
Rescued from captivity by Nigerian military forces in October last year, Apollos is among the hundreds of thousands who have sought the relative safety of Maiduguri, the capital of Borno state and birthplace of Boko Haram, to wait out an end to the bloody conflict.
More than 20 000 people have been killed since the start of Boko Haram's campaign to establish a caliphate, according to the United Nation's Office for the Co-ordination of Humanitarian Affairs, and in Nigeria alone 1.8-million people have fled their homes.
Bulus Apollos was rescued from captivity by Nigerian military forces in October last year. His feet are still aching from being shackled for the 15 months he was detained. (Eromo Egbejule)
As vast swaths of farmland and entire villages in the underdeveloped and poor northeastern provinces of Nigeria were destroyed, Maiduguri, a once little-known agricultural trading centre, saw its population double from one million to two million people with the influx of villagers from across the region since 2009, UN figures show.
The 16 government-managed camps set up for the displaced here have simply not been able to accommodate the huge numbers. Makeshift shelters cram open spaces and families have moved into schools and half-built government buildings. Many of Maiduguri's residents have opened their homes to refugees, but the city is overcrowded and battling to provide basic services. Long lines quickly form when there is news of aid handouts.
Apollos found temporary sanctuary when a member of his church took him in. Abducted in 2015 along with more than 1 000 other men from his village of Kerenuwa, near the border of Cameroon, Apollos was held in a detention camp just outside Maiduguri.
Northeast Nigeria has only one mental health hospital At the Federal Neuropsychiatric Hospital in Maiduguri - the only psychiatric facility in all of northeast Nigeria - there is not a single empty seat in the waiting room. Orderlies in pink and nurses in white rush back and forth.
Doctors here estimate they have treated at least 60 000 patients since the start of the conflict.
Nobody has escaped the trauma of the conflict, says Abba Shuwa, a doctor at the hospital. "Everyone has been affected: nursing mothers, teenage girls, ageing elderly men."
With such pressing difficulties in an already impoverished region, psychiatrists at the Federal Neuropsychiatric Hospital say the mental health crisis reaches far beyond what they can manage. (Eromo Egbejule)
Over the past year, President Muhammadu Buhari and the military have repeatedly claimed victory over Boko Haram as government forces have pushed back the insurgents.
Although Nigerian soldiers have regained territory and freed many captives like Apollos from the militants, the army too has reportedly been accused of abuse and brutality by civilians. As suicide bomb attacks continue - increasingly by women and even children - distrust of suspected Boko Haram supporters among the refugees grows.
"If you are hungry, your mental health becomes a secondary issue" One woman recently brought to the Federal Neuropsychiatric Hospital was mute, says Ibrahim Wakawa Abdu, the chief medical director. "She's from Gulak in Adamawa state but she was rescued by the soldiers on one of their operations within Borno state here. They thought she was a spy, one of the insurgents."
The woman did not respond to anyone, but would sob when left alone for more than a few minutes. They did not learn what horrors she had experienced, but diagnosed her with post-traumatic stress syndrome.
It was weeks before she could talk and even then could only say where she was from. A staff member helped reunite her with her family, but she had no money to pay for ongoing treatment.
The majority of patients are brought to the hospital by aid organisations such as the UN International Organisation for Migration (IOM), Shuwa explains. With many battling to survive here, mental illness is hardly a priority.
Shuwa says: "Most of them are battling just to feed themselves so they take their [mental] health as a secondary issue until it becomes life threatening. It is then that they present to the hospital."
Most health centres have been destroyed Shuwa and the other doctors here have often pooled whatever money they have to help the victims.
There are severe food shortages in northeastern Nigeria as farmers have been unable to return to their fields for a third year in a row. Crops have been destroyed and livestock stolen or slaughtered.
In Borno, 75% of water and sanitation infrastructure has been destroyed or damaged, Lake says. Since the conflict started, 72% of health centres have been damaged or destroyed in Yobe state and 60% in Borno, figures from the World Health Organisation show.
With these pressing difficulties in an already impoverished region, psychiatrists at the Federal Neuropsychiatric Hospital say the mental health crisis reaches far beyond what they can manage.
The hospital couldn't even deal with its normal workload before the insurgency, explains Fatima Akilu, a psychologist and executive director of the Neem Foundation. The nonprofit group offers trauma counselling and psychological support to victims of the insurgency in Borno state.
"The mental health services here are completely inadequate. We are talking tens and tens of thousands of people who need help," Akilu says.
The Neem Foundation opened a psychology training centre, where lay counsellors undergo an intensive nine-month training programme. They specialise in trauma treatment. (Eromo Egbejule)
One psychiatrist for every one million people More than 2.7-million conflict-affected children alone in the region need psychosocial support, Unicef reports. But only 3.3% of Nigeria's health budget goes towards mental health, a 2016 study published in BioMed Central points out. In the whole of Nigeria, with its population of 180-million, there are less than 200 psychiatrists - or just one for every one million people, the same study states.
Although not everyone with mental health problems needs to see a psychiatrist, there is also a lack of other professionals: at the Federal Neuropsychiatric Hospital there are only four psychologists, Akilu says. "My foundation also has four psychologists. That means there are only eight in the whole of Borno state. We need hundreds and hundreds."
Apollos, like many others here, has turned to the church for spiritual healing and mental health assistance. His treatment here consists of prayer, fasting and counselling by church elders.
"The prayers have helped me sleep better," he softly says.
Supernatural beliefs Many Nigerians still believe there are supernatural or preternatural causes for mental illness, a 2008 study in the African Journal of Psychiatry found, and they often turn to spiritual healers who attribute mental illness to witchcraft, the use of cannabis or believe it is punishment for sins. Curses and punishment from gods and ancestors are also cited as causes for mental illness. Treatment may involve fasting, drinking of holy water, prayer, beating, bathing and sacrifice, according to the study.
The lack of understanding of mental health issues has left aid workers overwhelmed, Akilu says. The IOM and Unicef have also been providing psychosocial support, but many areas are still inaccessible with no access to any form of counselling.
He says: "We need to use lay counsellors - it is the only solution."
Neem has started a project called Counselling on Wheels to bring trauma care to the doorstep of victims of violence. (Eromo Egbejule)
The Neem Foundation has opened a psychology training centre, where lay counsellors undergo an intensive nine-month training programme. This covers all aspects of psychological counselling, Akilu explains, including assessment and diagnosis. They specialise in trauma treatment, working with victims of gender violence as well as child trauma.
Here social workers, preachers and teachers also get trained to give psychosocial support to children and the foundation has opened a centre dedicated to child trauma.
"Counselling on Wheels" In June last year, Neem started a project called Counselling on Wheels to bring trauma care to the doorstep of victims of violence. Twelve mobile units travel in small, three-wheeled tuk-tuks to different locations in Maiduguri. They visit four communities at a time.
"We do individual assessments and then we sort [people] into groups and do group therapy for each group for a month at a time," Akilu explains.
Those in need of greater psychological services are seen individually.
"Every month we see 1 000 people. With the limitations we have in funding, our target is to reach 12 000 people a year, providing comprehensive psychological services."
Akilu says people often queue for more than eight hours in the blazing northern sun to get to see the counsellors.
"The impact has been incredible. For many the symptoms have decreased and they have built resilience. We have reports of people being able to sleep for the first time in months."
http://allafrica.com/stories/201704260661.html
--------
Nigeria: Protesters Shut Down NASS Over El-Zakzaky's Continued Detention
27 APRIL 2017
By Joseph Erunke
Mass protest against alleged continued detention of Shiite Muslim leader, Sheik Ibrahim El-Zakzaky, rocked the National Assembly yesterday.
The intimidating large number of the protesters, who started their protest match from the Unity Fountain, to the National Assembly forced the Nigerian Army not to leave anything to chances, as they drafted a large number of personnel, mainly from the Army Brigade Command, Abuja, to strategic positions.
In spite of the large number of personnel of the Nigerian Police Force who were earlier deployed to major parts of the city ahead of the protest, the Army Brigade Command, which is directly in charge of security of the Federal Capital Territory, deployed gun-wielding personnel not only to the National Assembly but also strategic locations around the Three Arms Zone, housing Aso Rock Villa, the National Assembly and the Supreme Court.
The protesters, who carried placards with such inscriptions as "Free El-Zakzaky", "500 days of El-Zakzaky and his wife in illegal detention", "Release El-Zakzaky and his wife now," among others, continously chanted "free Zakzaky, obey court order."
The development caused panic and fear among people around the area, with some of them running away from the area for fear of imminent danger.
Addressing the crowd at the National Assembly first entrance gate where security personnel had limited their entry point, convener of the protest who led a coalition of civil society groups, Prince Deji Adeyanju, said the long and continued "unwarranted incarceration of the leader" of Shi'a Muslim leader, Sheik Ibrahim El-Zakzaky, even in the face of a Federal High Court, Abuja, order necessitated their protest.
The former Head of New Media for the Peoples Democratic Party, PDP, said his group, Concerned Nigerians, convened the protest not only to demonstrate solidarity with the detained leader of Shiite Muslims but also draw the attention of the National Assembly to the continued violation of the rights of El-Zakzaky and and wife, Hajia Zainab.
Hear him: "Our organisation convened this protest due to the fact that today marks the 500 days that Sheik El-Zakzaky has been in custody of the Nigerian government without trial.
" As a Nigerian and as a Christian from Kogi State, North Central Nigeria, today, I'm a Shiit because an injustice to one is an injustice to all and the greatest way to fight injustice is when you see that injustice is being done to one, you fight for him so that it doesn't come to you.
"The greatest way to fight for peace is when you see that the peace of others are threatened. You do everything humanly possible to ensure that you restore their peace so that you can also have peace.
" When somebody in Kogi sees trouble in Borno, he should do everything humanly possible to solve the problem in Borno because if he does not, it will get to Kogi and it will affect him. That is the main reason why we are here.
Full report at:
http://allafrica.com/stories/201704270093.html
--------
Powerful Nigerian Muslim leader investigated for corruption
2017-04-26
Lagos – A powerful Nigerian Muslim leader is reportedly being investigated on allegations of corruption.
According to the BBC, the Emir of Kano, Muhammadu Sanusi, has denied allegations that he has been stealing government money allocated to the palace since his rise to the throne in 2015.
The anti-graft agency in Kano state said that it was investigating the allegations against Sanusi.
But palace secretary Mahe Bashir Wali vehemently denied that the emir had used state money to buy himself top of the range executive cars, including a Rolls Royce.
Wali was quoted as saying: "The vehicles had been given to Mr Sanusi by friends as a gift."
He added that the palace would be co-operating with the investigation, and would provide evidence of all expenses since Sanusi's appointment.
Several high profile cases have been investigated by the country's anti-corruption agency, but only a handful of cases have been concluded.
The commission secured 135 convictions last year, though none have been of high profile former cabinet ministers or senior civil servants who have been accused of or charged with money-laundering and embezzling government funds.
Full report at:
http://www.news24.com/Africa/News/powerful-nigerian-muslim-leader-investigated-for-corruption-20170426
--------
Muslim students back Buhari's anti-corruption war
27 April 2017
Muslim Students in the country yesterday threw their weight behind the anti-graft war of President Muhammadu Buhari's administration and specifically commended the Federal government for introducing the "whistle blowing policy" which according to them has boost the war.
The group, under the aegis of Muslim Students' Society of Nigeria (MSSN) also urged the President to immediately deploy the recovered stolen funds from corrupt officials towards provision of "necessary and critical infrastructure, like power".
The President of the MSSN, Zone B, in-charge of 17 States, Mushafau Kehinde Alaran spoke at a press conference in Abeokuta, the Ogun State capital.His words: "Our great society, MSSN, in clear terms supports the anti-corruption war by the President Muhammadu Buhari led administration. The introduction of whistle blowing as another device to expose corruption is accepted and appreciated.
"We hereby call on the President that the recovered funds so far that has gone through necessary prosecution and adjudged stolen should be immediately deployed to provision of necessary and critical infrastructure like power and education."
Alaran also asked Legislators at the National Assembly to be alive to their responsibilities and pass the 2017 Budget and other pending bills on anti-corruption in due course to aid the anti-graft war.
He however faulted a statement credited to the youth wing of the Christian Association of Nigeria (CAN), through Daniel Kadzai that the suspension of the Secretary to the Government of the Federation (SGF), Mr. Babachir Lawal, has religious undertone.
He argued that the statement is prejudice to the outcome of a committee set up by the Presidency and headed by Professor Yemi Osinbajo to look into the allegations against Lawal.
Alaran urged the Christian youths to emulate the Pentecostal Fellowship of Nigeria (PFN) by staying clear of partisan politics and "remain a religious body."He said, "Nigerians are well informed and more sophisticated in reasoning than petty insinuations from CAN. We all know the grass cutting controversies predated the JAMB (Joint Admission and Matriculation Board) registration.
"This moment is historic in our journey to nation building as all Nigerians unanimously queued behind President Muhammadu Buhari for leading by example. CAN should note that her divisive statement will not change minds of Nigerians who give the current administration the needed support to fight corruption, irrespective of religious affiliation of perpetrators."
Full report at:
https://guardian.ng/news/muslim-students-back-buharis-anti-corruption-war/
--------
URL: https://www.newageislam.com/islamic-world-news/polygamy-part-islamic-teachings-indonesias/d/110933
New Age Islam, Islam Online, Islamic Website, African Muslim News, Arab World News, South Asia News, Indian Muslim News, World Muslim News, Women in Islam, Islamic Feminism, Arab Women, Women In Arab, Islamophobia in America, Muslim Women in West, Islam Women and Feminism