New Age Islam News Bureau
26 October 2020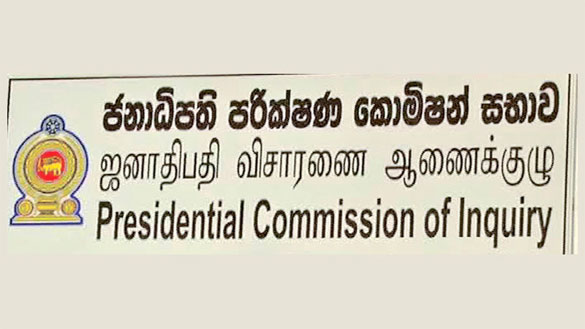 • Political Hand Behind Islamic Extremists Who Carried Out Attacks on the Easter Sunday - All Ceylon Jamiat ul Ulama
• 'Place Ban' on Islamophobia, 'Hate Against Islam' on Facebook: Imran Khan to Zuckerberg
• Azhar's Grand Imam Slams Attempts To Drag Islam Into 'Political Battles'
• "Nothing Will Make Us Back Down": Macron Stays The Course In The Face Of Anger From Part Of The Muslim World
• Sudan's Normalization Deal With Zionist Regime 'Political Deviance' - Says Haniyeh
• 'Muslims Are Not Kids To Be Misguided,' Owaisi Tells RSS Chief After Anti-CAA Protests Remark
• Competition For Religious Authority Breeds Islamist Militancy In Java
• Yale Muslim Student Association Event Seeks To Boost Muslim Youth Voter Turnout
South Asia
• Political Hand Behind Islamic Extremists Who Carried Out Attacks on the Easter Sunday - All Ceylon Jamiat ul Ulama
• Afghan Scholars Dub ongoing War 'Illegitimate
• Dhaka University Teacher Sued Over Comments On Religion
• Hekmatyar Faces Backlash over Statement of Interim Gov't 'Only Solution'
• Police Nabs 12 Suspects in Raids, Defuses Roadside Mines
---------
Pakistan
• 'Place Ban' on Islamophobia, 'Hate Against Islam' on Facebook: Imran Khan to Zuckerberg
• Macron Hurt Muslims' Sentiments Across The Globe: Prime Minister Imran Khan
• 'Time Has Come To Change Fate Of Pakistan': PDM Leadership Blasts PTI Govt At Quetta Power Show
• Three killed in motorbike blast in Quetta
• Turkey reaffirms support on Kashmir issue
• Ordinance against constitution can be nixed, IHC told
---------
Arab world
• Azhar's Grand Imam Slams Attempts To Drag Islam Into 'Political Battles'
• Saudi Arabia's Senior Ulema Council: Defaming Prophets Only Serves Extremist Agendas
• Arab Christians Slam French Insults Against Islam
• Muslim World League Condemns Attempts To Abuse Followers Of Religion
• Egypt Warns Greece of the Threat Posed by Erdogan's Islamic Terrorists
• Arab coalition destroys armed Houthi drone targeting Saudi Arabia
---------
Europe
• "Nothing Will Make Us Back Down": Macron Stays The Course In The Face Of Anger From Part Of The Muslim World
• Paris Urges Muslim Countries to Stop Boycott of French Products
• France accuses Turkey of stoking hate and using 'slanderous propaganda'
• Hamas: French cartoons provocative to Islam, beliefs
--------
Africa
• Sudan's Normalization Deal With Zionist Regime 'Political Deviance' - Says Haniyeh
• Chief Imam, others urge youths to shun violence
• Nigeria: Nearly 70 people killed during police brutality protests; President Buhari in closet
• Uganda Muslim Supreme Council buys own TV channel
• Libya's High Council of State urges economic boycott on France over slurs to Islam
---------
India
• 'Muslims Are Not Kids To Be Misguided,' Owaisi Tells RSS Chief After Anti-CAA Protests Remark
--------
Southeast Asia
• Competition For Religious Authority Breeds Islamist Militancy In Java
• Rulers begin arriving at Istana Negara for meeting on Muhyiddin's alleged 'emergency' bid
• Umno leader: Did Muhyiddin negotiate with Opposition leader first before taking 'emergency' route?
--------
North America
• Yale Muslim Student Association Event Seeks To Boost Muslim Youth Voter Turnout
• Poll: Majority will accept result of US election, even if they dislike the winner
--------
Australia
---------
• Leaders Of Sydney Mosque Condemn 'Anti-Turkish Vandal Who Caused More Than $100,000 In Damage' - But Police Say There's More To The Story
----------
Mideast
• Iran Boosts Military on Border as Nagorno-Karabakh Truce Falters
• Turkish mosque in Australia attacked
• Hopes for Kylie Moore-Gilbert after detained academic moved out of Iran's Qarchak prison
Compiled by New Age Islam News Bureau
URL: https://www.newageislam.com/islamic-world-news/political-hand-behind-islamic-extremists/d/123273
------
Political Hand Behind Islamic Extremists Who Carried Out Attacks on the Easter Sunday - All Ceylon Jamiat ul Ulama
October 26, 2020
Subhashini Senanayake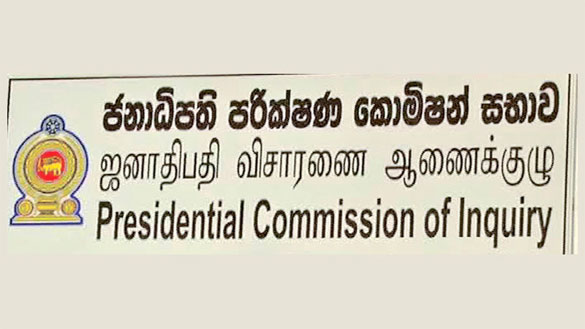 Acting Secretary of the All Ceylon Jamiat ul Ulama (ACJU) Arkam Moulavi told the Presidential Commission to Inquiry (PCoI) probing the Easter Sunday terror attacks that he believes that there was a political hand behind the Islamic extremists who carried out the Easter Sunday attacks and that a group of misguided Islamic youth was active.
Responding to a query made by President's Counsel Shamil Perera appearing for His Eminence Malcolm Cardinal Ranjith, as to whether the eight persons involved in the Easter attacks had been misled by misinterpreting the Holy Quran, he said that he did not accept that.
Testifying further he said that the group of terrorists including Zahran Hashim who carried out the series of Easter Sunday attacks were a mentally deranged group. It seems that they were in great distress and these people were under political influence.
"We need to find out who is behind this and how these attacks were planned. How could have these attacks taken place when there was a very active intelligence service in the country," he said.
"Colonel Muthalif is my wife's uncle. My grandfather was also in the Navy. This is a conspiracy. These misguided youths were led by someone.Muslims have never had problems with Christians. The Christian and Islamic faiths share some similar beliefs. Mary is mentioned in the Qur'an as the mother of an angel in Islam. The verses in the Quran have been misinterpreted. Suicide bomber Insaf Ahmed who carried out a series of Easter attacks does not know Arabic. He is a businessman who stayed abroad. This may have been due to the misconception that he would soon go to heaven," he added.
He also pointed out that there is no responsible institution in the country to regulate translations of the Quran and that such an institution must be established and that there are such institutions in several countries in the Asian region.
"Our country has been the home to around two million Muslims for over 1,000 years. Muslim youth never joined the civil war and the JVP insurrections. Small issues were politically motivated at village level, nothing like this had happened during that time. If that happened then it could be said that it was the fault of the religion," he added. However, a member of the five Judge Panel of the Commission pointed out that there is a significant difference between the English version and the Sinhala translated version of the Quran and asked him to reconsider the translations of the Quran.ACJU Arkam Moulavi thanked for pointing out those differences and said he said he will inquire into it.
http://www.dailynews.lk/2020/10/26/local/232371/political-hand-behind-islamic-extremists-who-carried-out-attacks-acju-acting
---------
'Place Ban' on Islamophobia, 'Hate Against Islam' on Facebook: Imran Khan to Zuckerberg
26.10.2020
AAMIR QURESHI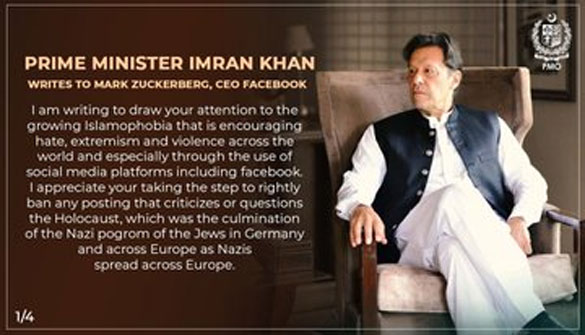 Prime Minister @ImranKhan PTI writes to Mark Zuckerberg, CEO Facebook, asking for the platform to place a ban on Islamophobic content and hate speech against Islam.
-----
Pakistani Prime Minister Imran Khan has called on Facebook CEO Mark Zuckerberg to ban Islamophobic messaging and posts containing "hate against Islam" on Facebook.
In a letter published on Sunday, Khan pointed out that he appreciated Zuckerberg's "step to rightly ban any posting that criticizes or questions the Holocaust, which was the culmination of the Nazi pogrom of the Jews in Germany and across Europe as Nazis spread across Europe".
The Pakistani PM added that "today we are seeing a similar pogrom against Muslims in different parts of the world", claiming that "in some states, Muslims are being denied their citizenship rights and their democratic personal choices, from dress to worship".
"In India, anti-Muslim laws and measures such as CAA and NRC, as well as targeted killings of Muslims and blaming Muslims for the coronavirus are reflective of the abominable phenomenon of Islamophobia. In France, Islam has been associated with terrorism and publication of blasphemous cartoons targeting Islam and our Holy Prophet (PBUH) has been allowed. This will lead to further polarization and marginalization of Muslims in France. How will the French distinguish between radical extremist Muslim citizens and the mainstream Muslim citizenry of Islam? We have seen how marginalization inevitably leads to extremism – something the world does not need," the Pakistan prime minister wrote.
"The message of hate must be banned in total – one cannot send a message that while hate messages against some are unacceptable, these are acceptable against others. Nor should the world have to wait for a pogrom against Muslims, which is ongoing in countries like India and in Indian Illegally Occupied Jammu and Kashmir, to be completed before Islamophobia is banned. This in itself is reflective of prejudice and bias that will encourage further radicalization."
The dispute over Kashmir dates back to 1947 when India and Pakistan gained independence from British rule. Occasional clashes and diplomatic bravado have since been a regular occurrence, but tensions escalated in August when New Delhi annulled Kashmir's special autonomous status and placed it under the direct control of the Indian government.
https://sputniknews.com/asia/202010261080877299-imran-khan-calls-on-zuckerberg-to-place-ban-on-islamophobia-hate-against-islam-on-facebook/
---------
Azhar's Grand Imam slams attempts to drag Islam into 'political battles'
Egypt Independent
October 25, 2020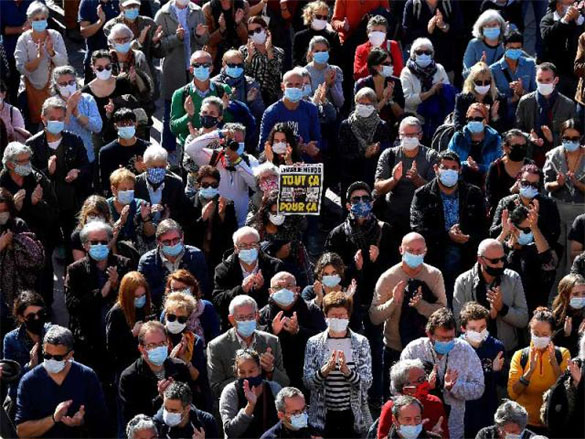 The Grand Imam of Azhar Ahmed al-Tayyeb on Sunday issued a statement condemning all attempts to involve Islam in "political battles".
-----
The Grand Imam of Azhar Ahmed al-Tayyeb on Sunday issued a statement condemning all attempts to involve Islam in "political battles".
In his Facebook statement, al-Tayyeb said that "We will not accept our symbols to become victims of a cheap gamble in the marketplace of politics and electoral struggles."
Europe is facing a crisis of narrow agendas and conflicting thoughts, he said, adding that it is the responsibility of all leaders to safeguard peace, respect religion and maintain social security.
The imam's remarks coincide with a statement by French President Emmanuel Macron regarding the slaying of French teacher Samuel Paty, who Macron said "embodied the republic."
Macron assured that France will never forbid cartoons that criticize public figures.
Paty was decapitated close to his school near Paris for showing cartoons of the Prophet Muhammad in class. His killer, 18-year-old Abdullakh Anzorov, was shot dead by police shortly after the attack.
https://www.egyptindependent.com/azhars-grand-imam-slams-attempts-to-drag-islam-into-political-battles/
---------
"Nothing will make us back down": Macron stays the course in the face of anger from part of the Muslim world
syriahr.com
Oct 25, 2020
The President of the French Republic, Emmanuel Macron, has been under fire for a few days from criticism from part of the Muslim world, after his comments on the cartoons of the Prophet Muhammad. During a tribute paid to the murdered history and geography professor Samuel Paty, Wednesday at the Sorbonne, He had thus promised "Do not give up" to the latter. An outrage for certain political and religious leaders, elected officials but also ordinary citizens, the representations of the Prophet being prohibited by part of the Muslim tradition.
France asked, Sunday, October 25 evening, the governments of the countries concerned by this wave of protest to "stop" calls to boycott French products and demonstrations, coming, according to Paris, from a "Radical minority". The French authorities also want them to commit to " Ensure the security " French people living on their soil.
Sunday evening, Emmanuel Macron spoke on Twitter in three languages, a rare occurrence. "Our history is that of the struggle against tyrannies and fanaticisms. We will continue ", wrote the President of the Republic, also the target of direct attacks by his Turkish counterpart, Recep Tayyip Erdogan.
"Freedom, we cherish it; equality, we guarantee it; fraternity, we live it with intensity. Nothing will make us back down, ever ", tweeted the Head of State, before adding this message – also translated in Arabic and in English :
" We will continue. We respect all differences in a spirit of peace. We never accept hate speech and stand for reasonable debate. "
In Algeria, the head of the Islamist party Justice and Development Party thus called for a boycott of French products and requested the summons of the French ambassador. At Morocco, the opposition party Istiqlal (center right) denounced "The repeated persistence in publishing the cartoons insulting the Prophet" as well as "Stigmatizing statements of Islam which affect the common religious sentiment of Muslims around the world, primarily those of France". In Tunisia, some Internet users criticized the means used to defend the Prophet, made fun of boycott attempts, and defended freedom of expression.
Demonstrators trample a French national flag during a rally protesting French President Emmanuel Macron's comments on the prophet Muhammad cartoons, in Martyrs Square in the Libyan capital, Tripoli, on October 25. MAHMUD TURKIA / AFP
In Libya, Internet users called for demonstrations on Sunday in the great Martyrs Square, in downtown Tripoli. But less than 70 people responded. Portraits of Mr. Macron and French flags were trampled and set on fire. Similar scenes had been observed the day before in the band Gaza, and some 200 people gathered in front of the residence of the French Ambassador in Israel.
A symbolic call for a boycott also took place at Bab Al-Hawa, a border crossing point in the northwest of the Syria, in the hands of the rebels. Demonstrations were also organized in various regions beyond the control of Damascus, detailed to Agence France-Presse Rami Abdel Rahmane, director of the Syrian Observatory for Human Rights, specifying that portraits of Mr. Macron had been burned.
Men attach a sign condemning French President Emmanuel Macron for his comments on the Prophet Muhammad cartoons in the rebel-held town of Idlib in northwestern Syria on October 25.
In Jordan, the Minister of Islamic Affairs estimated that" to offend " the prophets did "Not of personal freedom but of a crime which encourages violence". At Lebanon, the demonstration planned in front of the French embassy on Sunday did not – like the day before – attract anyone, apart from dozens of soldiers and riot control forces.
At Kuwait, the Minister of Foreign Affairs, Sheikh Ahmed Nasser Al-Mohammed Al-Sabah, " meet " the Ambassador of France Anne-Claire Legendre. "They spoke of the heinous crime suffered by a French teacher", according to a Kuwaiti press release, specifying that the minister had underlined "The importance of putting an end to attacks on monotheistic religions and on prophets in certain official speeches (…) likely to exacerbate hatred ".
In Iraq, Rabaa Allah, the latest of the pro-Iran armed factions, said he was ready "To replicate", without further details, after what she called"Insult to a billion and a half people".
At Pakistan, finally, Prime Minister Imran Khan accused Mr. Macron of"Attacking Islam". he "Could have played appeasement (…) rather than creating additional polarization and marginalization which inevitably leads to radicalization ", he tweeted.
The context is accompanied by a new tension in relations between Paris and Ankara. The Turkish President, Recep Tayyip Erdogan, had already denounced as a provocation two weeks ago the statements of Mr. Macron on the "Islamist separatism" and the need to "Structuring Islam" in France, while the French executive presented its future bill on this subject. Since this weekend, he has also criticized him for his position on the cartoons of the Prophet Muhammad.
https://www.syriahr.com/en/189765/
---------
Sudan's normalization deal with Zionist regime 'political deviance' - says Haniyeh
October 26, 2020
Source : Palestine Info
Head of Hamas's political bureau Ismail Haniyeh has condemned Sudan's normalization deal with Israel as "a political aberration that reflects the nature of the schism between the [Arab] rulers and the nation's conscience and history."
In press remarks, Haniyeh expressed his Movement's confidence that Sudan's deal with Israel does not reflect the nobility of the Sudanese people and their historical positions towards the Palestinian cause.
The Hamas leader also appreciated the Sudanese popular positions that rejected the normalization deal with the Israeli occupation state, asserting that such deals would not succeed in reshaping the regional map according to the Israeli mood.
"The regional map is drawn only by the peoples who are adherent to their constants and our inalienable rights in Palestine and refuse to recognize the usurping Zionist entity that will not have a future at the expense of our people's rights on their homeland Palestine," he said.
Haneyya also expressed his Movement's extreme anger over the French leadership's persistence and involvement in insulting Prophet Muhammad (peace be upon him) and the great religion of Islam and inciting hatred, hostility and violence against the Muslim nation.
He stressed that such French behavior "undermines the meanings of tolerance and coexistence between the world's peoples and nations."
https://en.abna24.com/news//sudan%e2%80%99s-normalization-deal-with-zionist-regime-political-deviance-says-haniyeh_1080909.html
---------
'Muslims are not kids to be misguided,' Owaisi tells RSS chief after anti-CAA protests remark
Scroll Staff
26-10-2020
All India Majlis-e-Ittahadul Muslimeen President Asaduddin Owaisi on Sunday criticised Rashtriya Swayamsevak Sangh chief Mohan Bhagwat for saying that the Muslim community was misled by people protesting against the Citizenship Amendment Act. Owaisi said that the Muslims were not kids who could be misguided.
"BJP [Bharatiya Janata Party] didn't mince words about what CAA+NRC [Citizenship Amendment Act and the National Register of Citizens] were meant to do," Owaisi tweeted. "If it's not about Muslims, just remove all references to religion from the law? Know this: we'll protest again and again till there are laws that require us to prove our Indianness."
"We'll protest against any law with religion as basis of citizenship," he added. "I also want to tell Congress, RJD [Rashtriya Janata Dal] their clones: your silence during the agitation is not forgotten. While BJP leaders were calling people of Seemanchal ghuspethiye [intruders], RJD-INC didn't open their mouths once."
In his address to the country on Sunday, Bhagwat had said that "opportunists unleashed organised violence" in the name of protests against the Citizenship Amendment Act. "CAA [Citizenship Amendment Act] does not oppose any particular religious community," he claimed. "But those who wanted to oppose this new law misled our Muslim brothers by propagating a false notion that it was aimed at restricting the Muslim population."
Owaisi had also sharply criticised the Centre's response to the communal violence in Delhi in February. He accused Union Home Minister Amit Shah of openly defending the Delhi Police in his reply in the Lok Sabha in March. The leader had also pointed out that Shah had avoided commenting on BJP leaders who made provocative remarks ahead of the violence.
The Citizenship Amendment Act, approved by Parliament on December 11, provides citizenship to refugees from six minority religious communities from Bangladesh, Afghanistan and Pakistan, on the condition that they have lived in India for six years and entered the country by December 31, 2014. It has been widely criticised for excluding Muslims. Protests against the CAA had started in Delhi in mid-December and spread across the country.
https://scroll.in/latest/976787/muslims-are-not-kids-to-be-misguided-owaisi-tells-rss-chief-after-anti-caa-protests-remark
---------
Competition For Religious Authority Breeds Islamist Militancy In Java
October 26, 2020
Alexandre Pelletier
After Indonesia's democratic transition of 1998, dozens of small yet vocal Islamist groups sprung up throughout the world's most populous Muslim majority country.
The Islamic Defenders' Front (Front Pembela Islam or FPI) – the most notorious of these groups – has mobilised, often violently, to curb what it considers as immorality and misguided religious minorities.
Aside from a few national campaigns, such as the "212" protest movement in opposition to Chinese Christian Basuki "Ahok" Tjahaja Purnama in Jakarta's gubernatorial election in 2016, most of these militant groups' activities are local, targeted at regional governments and minorities.
I have conducted a study of Islamist mobilisation in Indonesia's main island of Java to understand why. I have recently published the findings of this study in Comparative Politics.
In that study, I found that militant groups have grown rapidly in regions where Muslim leaders and their institutions are weak and competition for religious authority particularly intense.
Militant mobilisation, I argue, is a byproduct of the local structure of religious authority – not of Islam as such, but of how it is locally produced and contested.
West Java saw nearly 60% of all protests and violence in Java since 1998. In contrast, East Java had only about 10% of the protests.
Several observers have linked the rise of militant groups such as the FPI to decentralisation and patronage politics in the post-transition period.
While part of the explanation, this does not explain why these groups tend to proliferate more in West Java since political incentives are arguably similar across Indonesia.
Others have suggested these militant groups cluster in West Java because of their link to the old Darul Islam networks. Darul Islam was a hard-line movement that sought to turn Indonesia into an Islamic state between 1942 and 1962.
Most chairmen of militant groups like the FPI, especially down at the kabupaten (regency) and kecamatan (district) levels, are otherwise mainstream kyai (religious teacher or elder) or ustadz (preacher). They operate small pesantren (Islamic boarding school), pengajian, or majelis taklim (Quran study group) and have no link to the Darul Islam.
Provinces in Java vary in how Islamic leadership and institutions are structured, which is the key to understanding Islamist success in a province like West Java.
For this study, I conducted dozens of field interviews with Indonesian kyai and militant groups in 2014 and 2016 as part of my PhD dissertation research.
The data I gathered allow for an unprecedented comparative perspective on Islamic institutions in Java. Here are some of the key differences.
The map plots kabupaten with the smallest pesantren (in green) and those pesantren with more than 1,000 students (black dots) in Java.
As we can see, West Java has much smaller schools than any other region. West Java has only 26 schools with more than 1,000 students, while East Java has no less than 94.
There, pesantren are not only smaller but also collectively weaker. Inter-kyai networks in West Java tend to be thinner, more fragmented, and more informal than those in East Java.
This is reflected in the region's organisational dynamics: although most people in West Java are traditionalist Muslims, Nahdlatul Ulama (NU) – the country's largest Muslim organisation – is far from dominant.
Instead, the landscape of Islamic mass organisations is exceptionally fragmented. Most kyai tend to remain unaffiliated or members of smaller organisations.
The influence of a kyai is inherently tied to the size of his pesantren and his network. Kyai with more students and more extensive networks with other kyai generally command more influence both inside and outside their region.
Influential kyai can better leverage their popularity to gain access, power, and resources in local governments, political parties, and Islamic institutions (e.g., the Ministry of Religious Affairs, Indonesian Ulema Council).
Low-status kyai, those with fewer students and weaker ties to other kyai, are much more peripheral and have fewer opportunities to exert influence.
Although West Javanese people have a strong Islamic identity, Islamic authority is much weaker and much more competitive than in the rest of the island.
Many small kyai have gained new followers and recognition from other kyai and policymakers precisely as a result of their mobilisation and assertive religious discourse.
In other words, their activities in militant groups have improved their status, influence and power, something they could not have achieved on their own.
A recent study shows that NU followers, many of whom are located in East Java, are just as intolerant of religious minorities as other Indonesian Muslims, and in some cases, they are even more intolerant.
Here, it is not ideas but institutions that matter the most: kyai have big pesantren and strong inter-kyai networks and do not compete for followers and public attention as much as kyai in West Java.
This institutional structure and less intense religious competition tend to discourage entrepreneurship and strategies of religious outbidding.
The way to gain influence and power in the region is through Nahdlatul Ulama and achieving leadership positions in its numerous wing organisations.
Moreover, because they have strong institutions below them, local kyai have found it easier – or less costly in terms of their reputation – to publicly oppose and contain militant groups' activities.
Interestingly, many kyai in East Java have opposed militant groups for fear of being outflanked by new Islamic leaders, rather than because they oppose militant groups' goals or ideology.
In sum, variation in the local structure of religious authority, rather than political or ideational (cultural, theological) differences, explains militant groups' success or failure in Java.
Where religious authority is strong, militant groups have been unable to take root. Where it is weak and competitive, militant groups have proliferated.
For example, governments should avoid creating too much space for religious inter-elite competition in Majelis Ulama Indonesia, as it increases incentives for militant mobilisation.
https://theconversation.com/how-competition-for-religious-authority-breeds-islamist-militancy-in-java-146919
----------
Yale Muslim Student Association Event Seeks To Boost Muslim Youth Voter Turnout
RAZEL SUANSING
OCT 26, 2020
On Sunday, 20 Muslim student organizations across the country gathered over Zoom to boost historically low turnouts among Muslim youth.
The Yale Muslim Student Association hosted the "National Muslim Student Mobilization to Get Out to Vote" event to increase Muslim youth voter engagement and provide an opportunity for young American Muslims to learn about voting. YMSA Political Chair Shaezmina Khan '23 moderated the discussion and hosted panelists including Muslim Outreach Advisor for the Biden Campaign Farooq Mitha, Cleveland Ward 7 Councilman Basheer Jones, Civic Engagement Fellow at MPower Change Mahreen Alam and civil rights lawyer Brenda Abdelall. The panelists reflected on why this election cycle is important to American Muslims and highlighted important policies as well as presidential candidates' policy agendas.
"Each one of us as individuals has a duty both Islamically as well as being part of a broader community to help push towards positive change for individuals within our communities," Abdelall said at the event. "Though you may not have a candidate that meets all of your priorities, it is important to look at ourselves as a broader collective and harness your energy as being part of a broader community. It is important to take that ownership over that right to vote and push that moral arc over that right direction."
Khan told the News that she decided to organize this event because she believes that the upcoming election may be one of the most consequential elections the U.S. has seen, particularly for the American Muslim community. She wanted to mobilize young Muslim voters — what she said is one of the most important demographics in this election — which motivated her to reach out to Muslim Student Associations all over the country.
According to Khan, the four panelists are from "diverse backgrounds with a depth and breadth of experience, working with Muslim communities around the country to get up and vote and engage in this election." Panelists' areas of expertise include local, state and national law and policy.
At the event, the panelists discussed national policy issues at stake that should motivate American Muslims to vote in this election.
The panel said that these policy issues include the 2017 Muslim ban, as well as foreign policy in Yemen, Palestine and Kashmir. Mitha spoke approvingly of the Biden campaign's stance on these issues, stating that the Biden campaign intends to "end the Muslim ban on day one." Abdellal said that the Biden campaign changed how Muslim issues are tackled in America; in the past, these issues were framed in a "securitized lens." But, Abdellal added, Biden now intends to pass legislation such as the "No Hate Act" and review the no-fly lists.
According to Mitha, Islamophobia and racial justice remain pertinent in the U.S. Jones honed in on the intersectionality between these two issues, saying that some members of the Muslim community still fail to welcome African-American Muslims.
"I don't mind standing up for Syria, Lebanon, Palestine, Somalia and Sudan," Jones said. "I don't mind standing up for those other places, but you gotta help and stand up for Chicago, Cleveland, Brooklyn. Stand up for Black and brown people in this country whether you are Muslim or not."
Jones said that if Black Muslims — the group that first established Islam in the United States — are not respected by other Americans, the rest of the Muslim community will not be respected either.
These issues and others are especially important to younger Muslims — according to Alam, the grassroots organizing movement MPower Change conducted a survey called the Muslim Article, which found that key issues include surveillance, the criminalization of political activity and repealing the Muslim ban.
Mithi encouraged young Muslim people to vote because what he called four more years of the status quo "would be a disaster to our country and to our communities." He said it has been proven that "relational organizing" is the best way to increase voter turnout, and he especially urged voters to persuade people in their inner circle to vote.
Aldedall told voters that every vote counts, especially when taking into account how Hillary Clinton lost Michigan to Donald Trump in 2016 by 10,000 votes. She said that the election is expected to be widely contested and thus, everyone is encouraged to preserve American democracy by volunteering as a poll watcher in the next eight days before the election.
Staying true to Islam's values is of utmost importance, according to Jones, who also said that the growing "cancel culture" among youth worries him.
"Don't get into the habit of not wanting to work with people just because you have differences," Jones said. "Once Muslims understand that we can work together — despite if you pray with your hands up or despite if you wear a hijab — despite it all, we can come together. We push more people away from Islam because we have been so nasty. Just be respectful."
Khan told attendees that she believes the Muslim youth have a special role in this election. She added that it was not only the role of the youth to mobilize their peers but also to mobilize elders, parents, teachers and other members of older communities.
At the end of the event, the Yale Muslim Students Association and MPower Change encouraged the participants to attend their phone banking event on Nov. 1 for a tangible means of creating change.
The Institute for Social Policy and Understanding estimates that 37 percent of voting-age Muslims in America are under 30 years of age, and 80 percent are under 50.
https://yaledailynews.com/blog/2020/10/26/yale-msa-event-seeks-to-boost-muslim-youth-voter-turnout/
-----------
South Asia
Afghan Scholars Dub ongoing War 'Illegitimate
By Mohammad Arif Sheva
26 Oct 2020
KABUL, Afghanistan – More than 2,000 religious scholars from various part of the country gathered at the Loya Jirga hall in Kabul Sunday, dubbing the ongoing war "illegitimate" and urged the warring sides to avoid killing more Afghans.
While supporting the ongoing peace talks between the Afghan representatives and the Taliban delegations in Doha, religious scholars said further violence will affect trust in the peace process; blaming the group for intensifying war throughout the country.
"Anyone who does something that leads to the shedding of Muslim blood, he will go to hell," said Abdul Salam Abid, a religious scholar, as TOLOnews quoted.
The remarks came a day after an explosion rocked areas surrounding Kowsar education center in Pul-e-Khoshk area of Dasht-e-Barchi in West Kabul Saturday evening, killing at least 24 and wounded further 46 people.
According to the Interior Ministry, a suicide bomber was identified by security guards of the education center, leading the suspect to a premature detonation.
Taliban denied involvement in the attack, while Daesh claimed responsibility. But critique suggests Daesh claim is fake and Taliban are main culprit of the attack.
The Kowsar education center is located at a narrow street in Pul-e-Khoshk area. The suicide bomber who was trying to enter the center, was reportedly recognized, failing him to target crowd of young students.
According to eyewitnesses, dozens of pupils between 16 to 25 years old were in their classes when the bomb went off. Videos on social media showed many teenagers sustained injuries in the explosion.
https://www.khaama.com/afghan-scholars-dub-ongoing-war-illegitimate-34534/
---------
Dhaka University Teacher Sued Over Comments On Religion
October 26, 2020
Court Correspondent
A professor at Dhaka University has been sued under the Digital Security Act for making "derogatory" comments on religion during a talk show on a private television channel.
Two cases were filed with the Cyber Tribunal in Dhaka against Md Ziaur Rahman, professor of DU's Criminology Department, yesterday.
Md Imrul Hasan, a lawyer; and Muhammad Mahbub Alam, editor of monthly magazine Al Bayyinat and daily Al-Ihsan, lodged the lawsuits separately, Shamim mentioned.
After the hearing, the tribunal took the cases into cognisance and recorded statements of both complainants.
It also directed the Cyber Crime Investigation Division of the Counter Terrorism and Transnational Crime Unit of police to investigate the matter and submit two separate reports to it by November 1.
According to the case documents, Ziaur made anti-Islamic remarks during a talk show of private TV channel DBC News recently, hurting people's religious sentiment. Video clips of the talk show went viral on Facebook and YouTube.
https://www.thedailystar.net/backpage/news/digital-security-act-du-teacher-sued-over-comments-religion-1984333
----------
Hekmatyar Faces Backlash over Statement of Interim Gov't 'Only Solution'
By Mohammad Arif Sheva
25 Oct 2020
KABUL, Afghanistan – Presidential Spokesman Sediq Sediqqi reacted over Hezb-e-Islami leader Gulbuddin Hekmatyar's statement of interim government a political solution in Afghanistan, saying he had nothing to offer to people other than "opposing authoritarian regimes" in the past four decades.
Hours after the press conference, where Hekmatyar exclaimed an interim government is the "only solution" to current problems in Afghanistan, Seddiqi wrote in a tweet, "the people are indifferent to such statements."
"By the grace of God, there is freedom of expression in our country and the government is committed to political freedoms," he said in a tweet. "This gentleman [Hekmatyar], however, never had any other message to the people of Afghanistan in the last four decades other than such statements and opposition to authoritarian regimes."
Hezb-e-Islami leader Gulbuddin Hekmatyar at news conference Sunday in Kabul said the Taliban do not want the current government, suggesting interim government is a political settlement in the country.
Addressing his recent official trip to Pakistan, Hekmatyar said there would be peace in Afghanistan and that he would do so to ensure peace in the country, adding Pakistan had assured him that it would work honestly in the Afghan peace process.
Meanwhile, backlashing over the current insecurities throughout the Afghanistan, Hekmatyar said providing security is one of the responsibilities of the government and if it cannot ensure it should render the duty to people.
During a press conference in Islamabad earlier this week, he said the United States has failed in Afghanistan and has no choice but to leave, criticizing the ongoing peace talks in Doha the process is between a Presidential Palace team and the Taliban – not really intra-Afghan.
In Pakistan, Hekmatyar met with Prime Minister Imran Khan and Foreign Minister Shah Mahmood Qureshi, discussing Afghan peace and Pakistan's role in the process.
https://www.khaama.com/hekmatyar-faces-backlash-over-statement-of-interim-govt-only-solution-34534/
---------
Police Nabs 12 Suspects in Raids, Defuses Roadside Mines
By Mohammad Haroon Alim
25 Oct 2020
Officials say at least 12 individuals who were part of various criminal activities in different parts of the country, were arrested through security raids in the regions.
Interior Ministry tweeted, "12 suspects involved in different criminal cases were arrested during several separate raids of the ANP in Khost, Ghazni, Herat & Parwan provinces. The arrestees' files have been referred for further investigation to the related departments"
On the other hand, afghan national police personnel carried out several reconnaissance operations around the country.
The ministry also indicates that security personnel conducted several reconnaissance operations in Sar-e-Pul, Paktika, Badakhshan and Nangarhar provinces to prevent civilian casualties and ensure better security.
During the operation, 10 Improvised Explosive Devices (IEDs) were defused, which prevented many lives from serious harm.
MOI claims these mines recently found were aimed to carry out terrorist activities by the Taliban militants.
https://www.khaama.com/police-nabs-12-criminal-suspects-in-raids-defuses-insurgency-mines-879878/
----------
Pakistan
Macron Hurt Muslims' Sentiments Across The Globe: Prime Minister Imran Khan
Mumtaz Alvi
October 26, 2020
ISLAMABAD: Prime Minister Imran Khan said by attacking Islam, clearly without having any understanding of it, French President Emmanuel Macron has attacked and hurt the sentiments of millions of Muslims in Europe and across the world.
In a series of tweets Sunday, Prime Minister expressed his serious concerns and said, "the last thing the world wants or needs is further polarisation. Public statements based on ignorance will create more hate, Islamophobia & space for extremists".
The prime minister continued that encouraging the display of blasphemous cartoons targeting Islam and our Prophet (PBUH), clearly without having any understanding of it, President Macron has attacked & hurt the sentiments of millions of Muslims in Europe & across the world. "It is unfortunate that he has chosen to encourage Islamophobia by attacking Islam rather than the terrorists who carry out violence, be it Muslims, White Supremacists or Nazi ideologists. Sadly, President Macron has chosen to deliberately provoke Muslims, including his own citizens," he noted.
He said, "hallmark of a leader is he unites human beings, as Mandela did, rather than dividing them. This is a time when President Macron could have put healing touch and denied space to extremists rather than creating further polarisation and marginalisation that inevitably lead to radicalisation".
Meanwhile, Foreign Office also condemned in the strongest manner the systematic resurgence of blasphemous acts of republication of blasphemous caricatures of the Holy Prophet (PBUH) and desecration of the Holy Quran by certain irresponsible elements in some developed countries.
"We are further alarmed at highly disturbing statements by certain politicians justifying such heinous acts under the garb of freedom of expression and equating Islam with terrorism, for narrow electoral and political gains," Pakistan Foreign Office spokesperson said.
"Under international human rights law, the exercise of the right to freedom of expression carried with it special duties and responsibilities. The dissemination of racist ideas, defamation and ridiculing of other religions, denigration of religious personalities, hate speech, and incitement to violence are not allowed expressions of this fundamental freedom," the spokesperson said.
"Such illegal and Islamophobic acts fanning inter-religious hatred, hostility and confrontation, were the very basis of horrendous terrorist acts like Christ Church, thereby imperiling future prospects of peace and harmony among civilizations." "Whilst having anti-blasphemy and criminal laws for sensitive issues such as denial of Holocaust, the justification by a few politicians in some Western countries for insulting sentiments of Muslims, is a blatant reflection of double standards. Such justifications seriously erode their human rights credentials," the spokesperson maintained.
"Pakistan has always supported and continues to lead international efforts for combating intolerance, discrimination and violence on the basis of religion or belief. Both in our national capacity as well as part of the OIC group, we have advocated arduously for the alliance of civilizations and developing mutual understanding and respect for all religions, faiths and beliefs. We unequivocally condemn all acts of violence on the basis of religion or belief."
"Prime Minister Imran Khan in his address at the 75th UN General Assembly session had highlighted the recent incidents of Islamophobia and such unlawful provocations and urged the international community to take all necessary steps to universally outlaw willful provocations and incitement to hate and violence. The prime minister also proposed to declare an International Day to Combat Islamophobia. At a time of rising racism and populism, the international community must show a common resolve against xenophobia, intolerance, stigmatization and incitement to violence on the basis of religion or belief. It is necessary to work together for peaceful co-existence as well as social and inter-faith harmony," the spokesperson further stressed.
https://www.thenews.com.pk/print/734645-macron-hurt-muslims-sentiments-across-the-globe-pm
---------
'Time has come to change fate of Pakistan': PDM leadership blasts PTI govt at Quetta power show
Dawn.com
26 Oct 2020
The 11-party anti-government Pakistan Democratic Movement (PDM) alliance on Sunday held its third power show — this time in Quetta — despite Balochistan government's appeal to postpone the public meeting in view of security threats.
PDM president Maulana Fazlur Rehman was also in attendance at the rally in Ayub Stadium, along with other political leaders who are part of the alliance.
"The reason you are deprived of food and shelter is that your vote is not respected. Those who rule you are not answerable to you but to someone else, someone else pulls their strings," she said.
The former premier's daughter told the crowd that Quaid-i-Azam Mohammad Ali Jinnah, in one of his speeches at Staff College, Quetta, had stated that policymaking is the job of civilians and had instructed serving officers of the state to abide by their oaths.
She lauded a recent Supreme Court judgement that declared the references filed against Justice Qazi Faez Isa — who hails from Balochistan — were based on "malafide intentions".
"I urge the courts to give justice to Shaukat Aziz Siddiqui as well who was removed for speaking the truth," she said, referring to the deposed Islamabad High Court judge, who was removed in 2018 after the Supreme Judicial Council found him guilty of misconduct over a speech he delivered before the Rawalpindi District Bar Association.
Maryam also demanded CPEC Authority Chairman retired Lt Gen Asim Saleem Bajwa to step down from his position, citing allegations against him and his family of offshore properties and businesses. She also accused him of "toying with the respect of vote" and interfering in politics during his tenure as an officer in Balochistan.
He also raised the issue of missing persons and said that Pakistan could not be termed as a modern democracy until the matter was resolved.
He said that during PPP's tenure, his father and then president Asif Ali Zardari had "not only asked for forgiveness [from Balochistan] on behalf of the state but started something that could have provided what they were deprived of".
"In the form of 18th Amendment, [Zardari] restored democracy [...] We fulfilled Balochistan's demand for provincial autonomy in the form of 18th Amendment," Bilawal told the crowd. Aghaaz-i-Huqooq-i-Balochistan package, Bilawal said, was a beginning for all provinces to end their problems by taking governance into their own hands. The package included constitutional amendments, political reconciliation, NFC award, royalties for provincial resources among others, he said and regretted that it was not being implemented.
The PPP chief said that the China Pakistan Economic Corridor (CPEC) was the result of a four-year struggle by Zardari and added that the project was meant for the benefit of deprived regions including Gilgit Baltistan, erstwhile Fata and Balochistan province.
"Today, those who term CPEC as a gamechanger should think that without Balochistan and its Gwadar, without GB and its borders, there is no CPEC," he declared and asked why CPEC had still not benefitted the people of Balochistan and GB. He accused Prime Minister Imran Khan of "trying to turn CPEC into a failed project", adding that the incumbent premier had "not given anything to Balochistan, but instead was trying to snatch from the province".
JUI-F chief Fazlur Rehman, who was the last to address the rally, condemned the arrest of PML-N leader Safdar and the 'detention' of MNA Mohsin Dawar at the Quetta airport, saying that the latter incident was "contrary to Balochistan's traditions".
Rehman insisted that he was not against institutions but "when they impose martial law on Pakistan or when they back a fake government, it is our right to complain and protest".
"Even today, if our establishment stops backing [this] fake government, if it apologises before the nation that 'we did wrong during the elections and ruined Pakistan's mandate', we are ready to hold it in esteem," he said.
He said that JUI-F had played its part in protecting the 18th Amendment and, by holding 'all parties conferences' in all provinces, had succeeded in creating a consensus. He assured that his party would not allow anyone to curb the rights of any province.
Referring to Supreme Court's verdict in a case pertaining to the presidential references against Justice Isa, Rehman said that the government should resign as it has lost its "moral authority".
Rehman said that in the contemporary world, a country's survival depended on its economy, not defence — though that was integral as well.
He said that when the late Atal Bihari Vajpayee, who was part of the Bharatiya Janata Party (BJP), was prime minister of India, he came to Lahore because he wanted to start trade with Pakistan due to the latter's growing economy. Rehman said that India was being ruled by BJP again but its prime minister Narendra Modi's behaviour with Pakistan was unfriendly because of the latter's weak economy.
He accused the incumbent government of "annoying China" as well as Iran and Afghanistan because it had "no idea about foreign policy".
He also termed the government as a "seller of Kashmir", saying that the rulers had "quietly accepted" the Indian government's move of abrogating the special status of the occupied territory.
PML-N supremo Nawaz Sharif addressed the public meeting via video link. "Looking at this enthusiasm, I am sure that no one will be able to violate the vote's respect now. I saw this enthusiasm in Gujranwala and Karachi, and now I'm seeing it in Quetta," said the former premier from London.
"I am aware of Baloch people's problems, Nawaz Sharif knows [...] the missing persons issue is still there. I feel pain when I see the victims."
Like in his previous speeches, Nawaz again strongly criticised the PTI government's performance and spoke about his disqualification as premier "over a flimsy charge". The former premier said that he was not liked by some quarters because he was the "elected representative of the people".
He also addressed the arrest of PML-N leader retired Captain Mohammad Safdar, saying that it was "shameful" how police officials barged into the room and violated the privacy of his daughter Maryam Nawaz and her husband.
"On whose order is the privacy of people violated? On whose orders are doors broken down? If even the province's chief minister doesn't know, then who is behind it?"
He said that the PDM had risen against "unconstitutional power that has made Pakistan hollow from inside and out". The PML-N supremo said that he names individuals "because I don't want my army to be defamed". He called upon Army Chief Gen Qamar Javed Bajwa and Inter-Services Intelligence Director General Lt Gen Faiz Hameed to "account" for the country's current situation.
"Gen Bajwa, you will have to answer for record rigging in the 2018 elections, for horse-trading in the Parliament, for making Imran Niazi prime minister against people's wishes and [by] tearing apart the Constitution and laws, for pushing people towards poverty and hunger," the former premier said.
This is not the first time Nawaz has made such allegations; he made similar ones in the Gujranwala rally after which a furious Prime Minister Imran Khan had declared that he would get "tougher" with the opposition.
"Come back and see where I put you [Nawaz Sharif]," said the prime minister touching his chin as a gesture and challenging the deposed prime minister to return to the country.
Balochistan National Party President Sardar Akhtar Mengal, while addressing the crowd, said that while the province had always held up democratic ideals, it had gotten little in return. He highlighted the missing persons issue once again, saying that the families have been waiting for their loved ones for 10 years.
"Since 1947 to 2020, we have gotten nothing, our children have been murdered, our houses are empty. Was this why this country was made? The agreements that were signed, where was this written that only Baloch and Pashtun people's blood will be shed? We were told that we will be equal citizens here, are you equal citizens here?" he said.
He vowed that the Baloch people would never abandon the country and defend its borders just like the nation had not given up its struggle for rights and democracy.
Mengal regretted that while CPEC projects had led to development in other parts of the country, residents of Gwadar still don't have access to drinking water.
The BNP leader said that he had joined the PDM alliance on the assurance that whichever party comes to power, it will give rights to Balochistan.
Qaumi Watan Party Chairperson Aftab Ahmad Khan Sherpao blasted the PTI-led government over "their inefficiency [...] the damage they have caused the country".
"They [government] are afraid of opposition's rallies. After Gujranwala jalsa, they registered cases of treason against PML-N leaders. They got so scared in Karachi that the Centre attacked a province and kidnapped its IGP for signatures," he alleged.
"This inefficient government has isolated itself [...] Every policy of this government has failed and now they have made life difficult because of inflation."
JUI-F Senator Maulana Abdul Ghafoor Haideri claimed that participants en route to the rally were being stopped on the way and asked that the workers start a dharna at the very place they have been held back.
Awami National Party's central senior vice president Amir Haider Khan Hoti condemned the way PML-N leader Mohammad Safdar was treated in Karachi and MNA Mohsin Dawar upon his arrival in Quetta.
Former prime minister Raja Pervaiz Ashraf, during his brief address, declared that the government, which had been "selected has now been rejected by the masses".
Former Balochistan chief minister and National Party leader Abdul Malik Baloch condemned the "kidnap-like arrest" of PML-N leader retired Captain Mohammad Safdar and the "kidnapping" of MNA Mohsin Dawar.
He lamented the discrimination against Balochistan province and its residents and said that the government was trying to "make Sindh and Balochistan's islands a part of federal territory" by passing an ordinance.
Ahead of the rally, Balochistan government's spokesperson Liaquat Ali Shahwani said that cell phone services have been suspended due to "security concerns" . He urged PDM leaders to direct their party workers to cooperate and not politicise the move.
Earlier on Friday, Shahwani said that the National Counter Terrorism Authority (Nacta) had issued a security alert for the public rallies of opposition parties in Quetta and Peshawar, saying there was "credible information" about possibility of subversive activities. A day later, the provincial government banned pillion riding in Quetta under Section 144 of the criminal procedure code.
Rehman and Maryam, however, declared that the event would not be postponed as it was Balochistan government's responsibility to provide complete security to the public meeting.
The administration should go home if it can not do its job, the JUI-F and PML-N leaders ann­ounced in separate remarks after their arrival on Saturday in Khuzdar and Quetta, respectively.
The alliance leader said the PDM had challenged Prime Minister Imran Khan's dictatorial attitude. He was afraid of Gujranwala and Karachi big public meetings, she said, adding that he might resign from the premiership by January 15, 2021.
In the meantime, a number of PTM supporters gathered at the airport, blocked traffic on the main road and chanted slogans against the government. Home Minister Ziaullah Langove confirmed that there was a ban on MNA Dawar's entry. The ban is set to expire on October 29.
"Once again our rights are being violated by state above state," tweeted Dawar. "I am told its because of security risks. Why are these risks limited to me only? We refuse to be silenced like this. We will not be intimidated."
https://www.dawn.com/news/1586932/time-has-come-to-change-fate-of-pakistan-pdm-leadership-blasts-pti-govt-at-quetta-power-show
----------
Three killed in motorbike blast in Quetta
Staff Correspondent
26 Oct 2020
QUETTA: Three people were killed and over a dozen others injured in a bomb blast in the Hazarganji area on the outskirts of the provincial capital on Sunday.
The blast occurred when the leaders of the opposition Pakistan Democratic Movement (PDM) were addressing their third anti-government public meeting at Ayub Stadium, some 20km from the explosion site.
A spokesman for the provincial government had warned the PDM leadership about the security threats issued by the National Counter Terrorism Authority and appealed to the opposition leaders to postpone the rally.
Police said that an improvised explosive device (IED) was planted in a motorcycle parked in front of a shop in the Hazarganji area. When the IED was detonated with remote control three people lost their lives and 16 others suffered injuries.
Soon after the blast, police rushed to the site and took the dead and the injured to Civil and other nearby hospitals. "We received three bodies and one injured," Civil hospital's spokesman said.
A car and several motorcycles caught fire after the blast. A nearby shop was also damaged. "Miscreants used the IED which was hidden under a motorcycle," a senior police officer said, adding that investigation was under way. No one immediately claimed responsibility for the bomb blast.
https://www.dawn.com/news/1587040/three-killed-in-motorbike-blast-in-quetta
---------
Turkey reaffirms support on Kashmir issue
Staff Reporter
26 Oct 2020
KARACHI: The keel-laying ceremony of the second Milgem Class Corvette for Pakistan Navy was held at the Karachi Shipyard and Engineering Works (KS&EW) on Sunday.
The Milgem Class Corvettes are to be the most technologically-advanced stealth surface platforms of the Pakistan Navy fleet. The vessel is equipped with state of the art weapons and modern sensors, including surface-to-surface and surface-to-air missiles, anti-submarine weapons and command and control system.
The induction of these ships into Pakistan Navy would significantly add to the lethality of the navy's capabilities and contribute to maintaining peace, security and balance of power in the Indian Ocean region.
The ceremony was attended by Minister for Defence Production Zubaida Jalal and Chief of the Naval Staff Admiral Muhammad Amjad Khan Niazi. The Minister of National Defence of the Republic of Turkey, Hulusi Akar, graced the occasion as the chief guest.
While addressing the ceremony, the chief guest termed keel-laying of PN Milgem Corvette as a historic event for the Ministry of Defence Production, Pakistan Navy, KS&EW and M/s Asfat of Turkey. He appreciated the commitment and dedication of the Turkish state-owned Defence Firm M/s Asfat and KS&EW for the construction of the technologically-advanced corvette. The chief guest also said that Turkey stood in solidarity with Pakistan's principled stance over the Kashmir issue and Azerbaijan conflict.
Speaking on the occasion, Minister for Defence Production Zubaida Jalal also appreciated the performance of Karachi Shipyard and underlined that indigenisation is at the forefront of Pakistan's policy. She said that it was heartening to see a state-of-the-art warship being built in Pakistan.
Earlier, KS&EW MD Rear Admiral Ather Saleem welcomed the distinguished guests and highlighted that Karachi Shipyard is fully cognisant and aligned with the goals set forth by the government and Pakistan Navy to pursue self-reliance in Defence Shipbuilding Industry. He emphasised that deep-rooted friendship with brotherly country Turkey for this mega project would open new vistas of further cooperation in the field of indigenous warship construction and other defence initiatives in Pakistan.
The construction of corvettes in Pakistan is aimed to provide impetus to local ship-building industry and to further enhance KS&EW capabilities. These ships are being constructed as per modern Naval Ship class standards with stealth features. The 2nd Milgem Class Corvette will be delivered in first half of 2024.
The ceremony was also attended by representatives of M/s Asfat Turkey, Istanbul Naval Shipyard and officials from the government of Pakistan, Pakistan Navy and KS&EW.
https://www.dawn.com/news/1587037/turkey-reaffirms-support-on-kashmir-issue
---------
Ordinance against constitution can be nixed, IHC told
Malik Asad
25 Oct 2020
ISLAMABAD: Former Sen­ate chairman Mian Raza Rabb­ani has informed the Islamabad High Court (IHC) that an ordinance issued without meeting requirements of Article 89 of the Constitution can be scrapped.
Senator Rabbani, an amicus in the petition filed against promulgation of 'excessive' ordinances, told the court that when an ordinance is promulgated in violation of the requirements of pre-promulgation of an ordinance under Article 89, it is in violation of the Constitution, has no legal effect and can be struck down.
The lawmaker submitted a 61-page report on Saturday in response to the direction of IHC Chief Justice Athar Minallah on a petition filed by PML-N lawmaker Barrister Mohsin Shahnawaz Ranjha.
The petition says the president, under Article 89 of the Constitution, was empowered to promulgate ordinances which were a form of temporary legislation subject to two expressly stipulated conditions — when neither the Senate nor the National Assembly is in session, and if circumstances exist which render it necessary to take immediate action.
Mr Rabbani stated in the report that an ordinance was a temporary legislation undertaken by the president while parliament was not in session.
According to him, the power conferred on the president under Article 89 is co-extensive with the power of the parliament to make the law. Clause (2) of Article 89 states that an ordinance will have the same force and effect as an Act of Parliament and will be subject to restrictions similar to that of the parliament's powers to make laws.
The power to issue an ordinance during the recess of the parliament is based on the satisfaction of the president that the existing situation made it necessary for him to take immediate action.
"The satisfaction referred in Article 89 of Constitution 1973, is the satisfaction of the President, acting on the advice of the Cabinet. The unequivocal intention of the Constitution that legislation is essentially the domain of Parliament can be gathered from Article 70 to 88, Constitution, 1973 therefore, the President has been given limited power to legislate in extraordinary circumstances, to address certain unavoidable and grave circumstances during the recess of Parliament. There is no bar to call in question the satisfaction of the President in such type of cases where the satisfaction is absurd or perverse or mala fide or based on wholly extraneous or irrelevant grounds," Senator Rabbani said.
Earlier on Thursday, the petitioner informed the court that over 2,500 federal-level ordinances had been passed since the country came into being in 1947.
According to the petitioner, ordinances can only be used to bring about such legislation which is (a) necessary to enable the federal government to respond to an emergency situation such as war, famine, epidemic or rebellion which has put the life, liberty or property of the people of Pakistan at stake; (b) where the emergency which is being responded to arose after the prorogation of the last session of parliament; and (c) where waiting for the summoning of the next session of either house of parliament would cause irreparable loss of life, liberty or property to the people of Pakistan.
https://www.dawn.com/news/1586895/ordinance-against-constitution-can-be-nixed-ihc-told
-----------
Arab world
Saudi Arabia's Senior Ulema Council: Defaming Prophets Only Serves Extremist Agendas
ARAB NEWS
October 26, 2020
RIYADH: Saudi Arabia's Senior Council of Scholars said in statement that defaming prophets will never harm them, but only serves extremist agendas, the state-run Saudi Press Agency said Sunday.
The council, considered the highest religious body in the kingdom, urged "wise and prudent men of the world community, including individuals and organizations, to denounce such insults as they are not related to freedom of expression or wise thinking," SPA stated.
The statement explained that the religion of Islam has forbidden accusing any prophet of any wrongdoing and has prohibited attacking religious figures whoever.
It also called on Muslims to reflect on the teachings of Prohet Muhammad by setting an example and working for the good.
https://www.arabnews.com/node/1754106/saudi-arabia
----------
Arab Christians slam French insults against Islam
26.10.2020
ISTANBUL
Arab Christians on Sunday joined those condemning recent statements by French authorities against Islam and Prophet Muhammad.
On Wednesday, French President Emmanuel Macron said he will not prevent the publishing of insulting cartoons of Prophet Muhammad under the pretext of freedom of expression, a statement that sparked outrage in the Arab and Muslim world.
Jalal Chahda, a senior anchor with the Qatar-based Al-Jazeera news channel, said in a tweet: "I am Jalal Chahda, an Arab Levantine Christian, and I strongly reject and denounce the insult to the Prophet of Islam, the Messenger #Mohammad. Blessings and peace."
Ghada Owais, another Al-Jazeera presenter who is also Christian, re-tweeted Chahda's tweet, saying: "I refuse to hurt the feelings of Muslims or to generalize terrorism and link it to Islam."
A Twitter user named Ayman Dababneh said: "Who offends and does not respect my Muslim brothers does not respect me as a Jordanian Christian," he also attached a photo saying "I am Christian against Islam abuse."
Raymond Maher wrote on his Twitter account that, "Since yesterday, all that I see in my Facebook newsfeed are posts for Christians who condemn insulting Prophet Muhammad, and that's how our nature is in Egypt. We are one [Muslims and Christians]. "
On Facebook, dozens of Christians including "Fathi Daniel" and "Wael Elbatl" posted pictures with similar comments which were accompanied by praise from Muslims.
Egyptian lawyer Nevin Malak also tweeted under the hashtag '#Against insulting the prophet' quoting some of the teachings of the Bible that call for respecting other religions.
Over the past few days, France has witnessed the posting of insulting pictures and drawings of the Prophet Muhammad on the facades of some buildings in the country.
Besides the provocative cartoons, earlier this month, President Macron described Islam as a religion "in crisis" and announced plans for tougher laws to tackle what he called "Islamist separatism" in France.
Several Arab countries as well as Turkey and Pakistan have also condemned Macron's attitude toward Muslims and Islam, with Turkish President Recep Tayyip Erdogan saying the French leader needs a "mental health check."
https://www.aa.com.tr/en/world/arab-christians-slam-french-insults-against-islam/2018950
---------
Muslim World League condemns attempts to abuse followers of religion
ARAB NEWS
October 26, 2020
MAKKAH: The Muslim World League (MWL) has condemned attempts to insult and abuse followers of religion. The MWL stated that the principle of freedom of expression must be framed by values based on respect for the feelings of others and that freedom of opinion, when it deviated from those values, offended the moral meaning of freedoms.
Dr. Mohammad bin Abdulkarim Al-Issa, secretary-general of the MWL, said the body was aware that the motive for stirring religious sentiment was "on the face of it" nothing more than a provocation for material gain.
https://www.arabnews.com/node/1754116/saudi-arabia
--------
Egypt Warns Greece of the Threat Posed by Erdogan's Islamic Terrorists
By Tasos Kokkinidis
Oct 25, 2020
Egypt's President Abdel Fattah al-Sisi warned PM Kyriakos Mitsotakis last week that Turkey may dispatch jihadists to Greece to destabilize the country, a report in Greek daily Ta Nea reveals.
According to the report, Cairo's concern was expressed in the 8th Tripartite Cyprus-Greece-Egypt Summit held in Nicosia last Wednesday.
The Egyptian president's concern is not only about Ankara's involvement in all regional conflicts, but especially about the way Turkish President Recep Tayyip Erdogan "now engages and openly uses the Islamic factor."
In public statements after the meeting Al Sisi avoided referring directly to Turkey. But, he stressed the need to address tensions in the eastern Mediterranean and keep an eye on "countries that equip and finance terrorism."
He also said that his country "does not use the issue of immigration to blackmail its partners in Europe as other countries do," in a direct reference to Turkey.
The report at Ta Nea says that Al Sisi asked Mitsotakis and Cypriot President Nicos Anastasiadis to keep the threat of Islamic fundamentalism high on the agenda in their meetings and consultations with their partners.
Earlier in October, French President Emmanuel Macron demanded that Turkey explain what he said was the arrival of jihadist fighters in Azerbaijan – and urged NATO to face up to its ally's actions.
"A red line has been crossed, which is unacceptable," Macron said. "I urge all NATO partners to face up to the behavior of a NATO member.
The French leader was infuriated by events in disputed Nagorno-Karabakh, where there has been heavy fighting between Armenian and Azerbaijani forces.
He alleged that intelligence reports had established that 300 Syrian fighters drawn from "jihadist groups" from the Syrian city of Aleppo had passed through the Turkish city of Gaziantep en route for Azerbaijan.
In August, the State Department registered its strong objection to Erdogan's hosting of two Hamas leaders in Istanbul on August 22.
This was the first time the State Department has called out Turkey's close relations with and ongoing support for Hamas, a sign the U.S. government's patience is wearing thin with Erdogan's harboring of radical Islamists.
As the State Department reminded Erdogan, two of the individuals in the most recent Hamas delegation – senior military leader Saleh al-Arouri and senior political leader Ismail Haniyeh – are Specially Designated Global Terrorists.
During his nearly 18 years as Turkey's leader, Erdogan has not felt the need to hide his close association with Hamas.
In 2018, Erdogan tweeted to Israeli Prime Minister Benjamin Netanyahu that "Hamas is not a terrorist organization" but "a resistance movement," views later echoed by the Turkish Foreign Ministry in 2019.
https://greece.greekreporter.com/2020/10/25/egypt-warns-greece-of-the-threat-posed-by-erdogans-islamic-terrorists/
---------
Arab coalition destroys armed Houthi drone targeting Saudi Arabia
ARAB NEWS
October 25, 2020
RIYADH: The Arab coalition intercepted and destroyed a drone launched by the Houthis toward Saudi Arabia's southern region on Sunday.
The armed drone which targeted civilians was destroyed on Sunday afternoon, coalition spokesman Col. Turki Al-Maliki said.
Earlier, Al-Maliki said that the coalition had intercepted in Yemeni airspace a separate armed drone launched by the Houthis targeting the Kingdom.
---------
Europe
Paris Urges Muslim Countries to Stop Boycott of French Products
25.10.2020
EUROPE
PARIS (Sputnik) - Calls for a boycott of French products in some Muslim countries are groundless and must be stopped, the French Foreign Ministry said on Sunday after President Emmanuel Macron's remarks about Islam following a teacher's beheading has drawn ire in the Muslim world.
"In several countries in the Middle East in recent days, there have been calls for a boycott of French products, especially those agricultural, as well as more general calls for demonstrations against France, sometimes made in hateful expressions, which were broadcast on social networks," the ministry's spokesperson said in a statement.
"The calls for a boycott are groundless and must be stopped immediately, like all attacks against our country committed by a radical minority," the diplomat added.
The calls came after the Islamist terrorism issue gained fresh momentum in France, with President Emmanuel Macron condemning the recent gruesome murder of history teacher Samuel Paty in a Paris suburb by an 18-year-old man of Chechen descent after Paty demonstrated a few satirical cartoons of the Muslim Prophet Mohammad to his students during a lesson on freedom of speech and freedom of conscience.
The suspect was born in Moscow, but years later moved to France and was granted a refugee status there. He was shot dead by police officers that same day, with an investigation into the brutal murder now in full swing.
President Macron immediately weighed in dubbing the vicious incident a "terrorist attack", tasking his government to undertake steps to root out the Islamist threat, and tighten security in schools among other measures. France will never renounce caricatures and will further defend freedom promoted by the murdered teacher, President Emmanuel Macron said during a Wednesday commemoration ceremony for the victim.
https://sputniknews.com/europe/202010251080876072-paris-urges-muslim-countries-to-stop-boycott-of-french-products/
---------
France accuses Turkey of stoking hate and using 'slanderous propaganda'
The National
October 25, 2020
French Foreign Minister Jean-Yves Le Drian on Sunday accused Turkey of "trying to whip up hatred" against France, continuing a war of words over Islam between the Nato allies.
France said on Saturday that it was recalling its ambassador to Turkey after unacceptable comments by President Recep Tayyip Erdogan, who questioned Emmanuel Macron's mental health and his attitude towards Islam.
Paris and Ankara were already at odds over issues including maritime rights in the Eastern Mediterranean, conflicts in Libya and Syria, and most recently the fighting between Armenia and Azerbaijan over Nagorno-Karabakh.
The two sides have now fallen out over domestic policies, and Mr Le Drian described the "insults" against Mr Macron as "unacceptable conduct" from an ally.
Ankara is angered by a campaign championed by Mr Macron to protect France's secular values against extremism, a campaign given impetus by the beheading of a schoolteacher who showed his class cartoons of the Prophet Mohammed.
"We will always be on the side of human dignity and universal values," Mr Macron said in a message written in Arabic on Twitter late on Sunday.
In an unusual move, the official said the French ambassador to Turkey was being recalled for consultation and would meet Mr Macron to discuss the situation.
The Elysee official said France had noted "the absence of messages of condolence and support" from Mr Erdogan after the beheading of Mr Paty near Paris on October 16.
Mr Erdogan has frequently taken aim at Mr Macron, referring to him as "brain dead" last year after the French leader used the term to describe the state of Nato.
The Elysee official said Mr Erdogan had two months to reply to the demands for a change in stance, and that it ended its "dangerous adventures" in the Eastern Mediterranean and "irresponsible conduct" over Nagorno-Karabakh, where Ankara is backing Azerbaijan.
Turkey showed little sign of backing down on Sunday, with a senior official claiming that offensive caricatures were being used to intimidate Muslims under the guise of freedom of expression.
European attitudes demonising Muslims were reminiscent of how the Jews in Europe were treated in the 1920s, said Fahrettin Altun, spokesman for the Turkish presidency.
Hassan Sajwani, a UAE Twitter personality, said that he was sorry that a boycott could gather steam and that Turks would again be affected by their president's actions.
https://www.thenationalnews.com/world/europe/france-accuses-turkey-of-stoking-hate-and-using-slanderous-propaganda-1.1099355
---------
Hamas: French cartoons provocative to Islam, beliefs
October 25, 2020
Mustafa Hassona
Hamas on Saturday slammed France for publishing cartoons that degrade Islamic symbols, Anadolu reports.
"[French President Emmanuel] Macron's encouragement to publish insulting cartoons of the Prophet [Muhammad], peace be upon him, is an attempt to revive the Crusades where France was the source of its debut," said Sami Abu Zuhri, senior spokesman for the Palestinian group.
Abu Zuhri said publishing the cartoons was "provocative to the feelings of the [Islamic] Nation and an aggression on its religion and beliefs."
Publishing the insulting cartoons of Prophet Muhammad, along with Macron's remarks about Islam and the Muslim community,sparked widespread condemnation in the Arab world on the official and other levels with official statements decrying his remarks.
Activists launched boycott campaigns against French products in several Arab countries.
https://www.middleeastmonitor.com/20201025-hamas-french-cartoons-provocative-to-islam-beliefs/
----------
Africa
Chief Imam, others urge youths to shun violence
October 26, 2020
By Tajudeen Adebanjo
The Chief Imam of Lagos State, Sheikh Sulaimon Abou-Nolla has appealed to the youths to shun all acts of violence and give peace a chance.
Sheikh Abou-Nolla condemned the shooting of peaceful protesters at the Lekki Toll gate.
He implored security operatives to refrain from the use of brute force to disperse protesters.
The Chief Imam called on all Muslim faithful and citizens to pray for peace and tranquillity in the country.
In the same vein, The Companion, as association of Muslim Men in Business and the Professions, has called on the leaders of both Islam and Christianity to work together and provide the much needed intervention in the #EndSARS protest.
Its National Amir (President), Alhaj Thabit Wale Sonaike, expressed concern that what started as a peaceful protest against alleged brutality by a unit of the Nigeria Police, Special Anti-Robby Squad (SARS), has been infiltrated and hijacked by elements whose motive was clearly at variance with the original intention of the protest and the nation's interest.
"Whilst we identify with the agitation of our youth and commend the initial peaceful approach, the widespread violence in the last few days that has resulted in loss of innocent lives, wanton destruction of properties and looting are clear evidence of descent into anarchy. This is a confirmation that #EndSARS has been turned into a veritable platform for voicing of pent-up anger beyond police brutality, criminal exploitation by unscrupulous people and worse still a dangerous energisation of the country's fault lines. These ugly developments must be promptly nipped in the bud," he said.
The Companion's female wing, The Criterion, also condemned the shooting of the peaceful protesters in Lekki.
Its Amirah (Female President), Hajia Fatymah Oyefeso, called for thorough investigation and urged the Federal Government to identify the perpetrators and bring them to book.
Hajia Oyefeso said: "This will in no small measure douse the tension of the protesters and the family of the victims. The Federal government should also constitute Judicial Probe Panel to investigate the incident, bring the perpetrators to book and see that justice is served appropriately."
She lamented that what began as a peaceful protest was hijacked by hoodlums, resulting in loss of lives and destruction of properties.
The Criterion, she said, was concerned because women and children are always at the receiving end during civil unrest.
"We sympathise with the victims of the protest and those who may have suffered any loss and hardship during the avoidable violence that followed. We urge the youth to remain calm and return home. We pray that Allah restores peace and harmony in the land," Hajia Oyefeso said.
https://thenationonlineng.net/chief-imam-others-urge-youths-to-shun-violence/
---------
Nigeria: Nearly 70 people killed during police brutality protests; President Buhari in closet
Source : Al-Jazeera, H.TV
October 26, 2020
At least 51 civilians and 18 security forces have died across Nigeria since the protests against police brutality began on October 8, with 38 killed in Africa's most populous country on Tuesday alone.
In a statement released late Friday, Nigerian President Muhammadu Buhari blamed "hooliganism" for the violence while asserting security forces used "extreme restraint", comments that are expected to further inflame tensions.
Buhari was speaking to a special meeting with former heads of state and other officials on the way forward after some of Nigeria's worst turmoil in years.
Soldiers remained in parts of Lagos, Nigeria's largest city, as a 24-hour curfew remained in place.
The protests turned violent Wednesday after the military's shooting a day earlier, as mobs vandalised and burned police stations, courthouses, TV stations and a hotel.
Police battled angry crowds with tear gas and gunfire. The looting and shooting continued on Thursday.
The demonstrations began early this month with calls for Nigeria's government to shut down the Special Anti-Robbery Squad, a notorious police unit known as SARS.
The squad was launched to fight crime but it carried out torture and killings, according to Amnesty International.
The #EndSARS campaign spread across the country and Buhari's government announced it would disband the SARS unit.
The protest persisted with demonstrators calling for more widespread reforms of the police and an end to corruption.
https://en.abna24.com/news//nigeria-nearly-70-people-killed-during-police-brutality-protests-president-buhari-in-closet_1080906.html
---------
Uganda Muslim Supreme Council buys own TV channel
Written by URN
October 26, 2020
The Uganda Muslim Supreme Council has acquired a television channel dedicated to Islamic teachings and activities. The channel, Global Television was acquired from a company that was already operating the frequency but will be changed to Bilal TV in a few weeks from now.
Haj Ramadhan Mugalu the UMSC secretary general and acting secretary for information, says the television channel, will help bridge the gap between mosques and the faithful brought about by the coronavirus disease pandemic.
Earlier in March this year, government shut down places of worship including mosques to curb the spread of coronavirus. Mugalu says while UMSC tried to enhance the use of radio and social media platforms such as Facebook to preach to the faithful, the efficiency of all those avenues was lacking, hence the need to establish a fully-fledged television channel on both free to air and other platforms where viewers subscribe.
Mugalu said it has been UMSC's plan for the past few years to establish a national Muslim TV channel but Covid-19 fueled the idea, speeding up its realization.
There are several dedicated Muslim FM radio channels such as Bilal FM owned by UMSC, Voice of Africa founded by the late Libyan President Muammar Gaddafi's World Islamic Call Society, and a privately owned Pearl of Africa FM among others.
Mugalu says the full TV programming structure and editorial policy as per the Uganda Communications Commission license will soon be unveiled.
https://www.observer.ug/news/headlines/67106-uganda-muslim-supreme-council-buys-own-tv-channel
---------
Libya's High Council of State urges economic boycott on France over slurs to Islam
By: AbdulkaderAssad
October 25, 2020
The Libyan High Council of State (HCS) has called for ceasing economic relations with French companies and canceling France's Total contract for operating Marathon's Waha oil field.
In a statement on Sunday, the HCS said the Presidential Council of the Government of National Accord should respond to the insults made by France against Prophet Mohammed (PBUH) by ending relations and work with French firms, urging the judicial authorities to deliver final verdicts on HCS's appeal against the "dubious" acquisition of Marathon concessions by French oil firm Total.
"We have heard the irresponsible statements of French President Emmanuel Macron who insisted on publishing caricatures that insult Prophet Mohammed (PBUH) claiming this is freedom of expression. It is an insult to over 1.5 billion Muslims by French President Macron and this is a proof of France's fake democracy and its reality that is: a colonial power." The statement reads.
The HCS also condemned the killing of the French teacher, saying the incident was against Islamic teachings and resulted from Macron's racist policies.
Macron's insistence on protecting the publishing of the caricature of Prophet Mohammed (PBUH) and Islamic principles sparked worldwide outrage.
https://www.libyaobserver.ly/news/libyas-high-council-state-urges-economic-boycott-france-over-slurs-islam
---------
Southeast Asia
Rulers begin arriving at Istana Negara for meeting on Muhyiddin's alleged 'emergency' bid
BY EMMANUEL SANTA MARIA CHIN
25 Oct 2020
KUALA LUMPUR, Oct 25 — The first of the Malay Rulers has arrived at Istana Negara here for a special meeting amid rumours that Prime Minister Tan Sri Muhyiddin Yassin was seeking to invoke "emergency powers" purportedly to tackle the Covid-19 pandemic.
Seen arriving an hour early for the 2.30pm meeting was Johor's Sultan Ibrahim Sultan Iskandar and his motorcade.
Yang di-Pertuan Agong Al-Sultan Abdullah Ri'ayatuddin Al-Mustafa Billah Shah, who called for the special meeting of the Conference of Rulers, was seen entering the palace gates around noon.
Earlier, police deployed heavy presence at the palace's main gates here, accompanied by around 100 media practitioners covering the Rulers' arrival.
Prevailing rumours emerged on Wednesday that Muhyiddin would seek to invoke "emergency powers" to prop up his administration that was under challenge from Opposition Leader Datuk Seri Anwar Ibrahim, ostensibly to prevent a general election alongside Covid-19.
These rumours accelerated after Muhyddin rushed to meet the Agong in the Pahang palace on Friday, which led to a meeting of the Conference of Malay Rulers today.
Anwar was granted a royal audience earlier this month with Al-Sultan Abdullah in which the former claimed to have gained the support of "over 120 MPs" to take over the government.
Muhyiddin was appointed as the prime minister in March after former premier Tun Dr Mahathir Mohamad resigned unprompted less than two years into his term.
Between 2.15pm and 2.30pm, the Rulers from Selangor, Kedah, Terengganu, Negri Sembilan, Perlis, and Perak arrived in that order just minutes apart.
The Sultan of Johor arrived in an Audi A8, while Selangor's Sultan Sharafuddin Idris Shah and Kedah's Sultan Sallehuddin Sultan Badlishah both arrived in their Rolls Royce limousines.
Terengganu's Sultan Mizan Zainal Abidin arrived in a BMW 7-Series, with Yang di-Pertuan Besar of Negri Sembilan Tuanku Muhriz Almarhum Tuanku Munawir arriving in a Proton Perdana limousine.
The Raja of Perlis Tuanku Syed Sirajuddin Putra Jamalulail, who arrived at 2.28pm, was seen in a Rolls Royce, with Deputy Yang di Pertuan Agong Sultan of Perak Sultan Nazrin Shah arriving at 2.30pm sharp in a Mercedes-Benz S-Class before the palace gates closed behind him.
https://www.malaymail.com/news/malaysia/2020/10/25/rulers-begin-arriving-at-istana-negara-for-meeting-on-muhyiddins-alleged-em/1916123
----------
Umno leader: Did Muhyiddin negotiate with Opposition leader first before taking 'emergency' route?
BY JUSTIN ONG
25 Oct 2020
KUALA LUMPUR, Oct 25 — Prime Minister Tan Sri Muhyiddin Yassin should not seek to invoke "emergency" powers to prop up his administration unless he has already failed to negotiate a ceasefire with the federal Opposition leader, said Tan Sri Shahrir Samad.
The former Umno minister said this would be the proper sequence of events before Muhyiddin chose to advise Yang di-Pertuan Agong to invoke a state of emergency.
He also said there was nothing wrong with Muhyiddin negotiating with Opposition Leader Datuk Seri Anwar Ibrahim for such a truce.
"(If there is a) refusal by the Opposition leader to reach a political compromise for the Budget to be approved in order for the overcome the Covid-19 pandemic, only then would the prime minister and his government be forced to involve the powers of the Yang diPertuan Agong," he said in a statement yesterday.
Shahrir said Anwar would be obliged to prioritise the truce that would protect Malaysians over his own attempts to take over the government.
Prevailing rumours emerged on Wednesday that Muhyiddin would seek to invoke "emergency powers" to prop up his administration that was under challenge from Anwar.
These rumours accelerated after Muhyddin rushed to meet the Yang di-Pertuan Agong in the Pahang palace on Friday, which led to a meeting of the Conference of Malay Rulers today.
The plan has met with resistance from politicians both past and present, civil society groups, professional associations, and members of the public.
https://www.malaymail.com/news/malaysia/2020/10/25/umno-leader-did-muhyiddin-negotiate-with-opposition-leader-first-before-tak/1916121
-----------
North America
Poll: Majority will accept result of US election, even if they dislike the winner
Reuters
Oct 25, 2020
As the 2020 presidential election enters its final week, a majority of Americans appear ready to accept the result of an exhausting campaign even if their preferred candidate loses, a Reuters/Ipsos poll found.
Its latest survey, conducted from Oct. 13-20, shows that 79% of all Americans, including 59% of those who want to re-elect President Donald Trump, will accept a win by Democratic challenger Joe Biden even if they may not support a Biden presidency.
Among those Trump supporters who said they would not accept a Biden victory, 16% said they would do something to challenge a Democratic win such as protesting in public or resorting to violence.
The poll also found that 73% of Americans, including 57% of Biden supporters, would similarly accept a Trump victory. Among those who said they would not accept a Trump win, 22% said they would take action to challenge the result.
US election officials are dealing with a series of challenges this year that have raised concerns about the public's confidence in the result.
Top national security officials warned last week that Russia and Iran have been hacking into U.S. voting systems and looking for ways to undermine the election.
Trump also has repeatedly questioned the integrity of US elections, arguing that the process is "rigged" against him and repeatedly asserting without evidence that the surge in mail-in voting this year will increase the likelihood of voter fraud. He has refused to commit to a peaceful transfer of power if the vote count indicates he has lost.
Donald Green, a political scientist at Columbia University, said the poll results ease his concerns about post-election violence. But he warned that if the election is close, or one candidate can make a credible accusation of voter fraud, it could spark wider discontent and protests than the poll suggests.
"This is why many people who oppose Trump are holding their breath and hoping for a lopsided outcome that is not up for grabs," Green said.
The latest Reuters/Ipsos poll shows Biden leads Trump by 8 percentage points nationally: 51% of likely voters say they are backing the Democratic challenger while 43% are voting for the president.
Biden also is ahead in Wisconsin and Michigan, but the race appears to be much closer in other battleground states including Pennsylvania, Florida, Arizona and North Carolina.
The Reuters/Ipsos poll was conducted online, in English, throughout the United States. It gathered responses from 2,649 American adults, including 1,039 who said they had voted for Trump or were planning to vote for him, and 1,153 who said they were similarly backing Biden.
https://timesofindia.indiatimes.com/world/us/poll-majority-will-accept-result-of-us-election-even-if-they-dislike-the-winner/articleshowprint/78857827.cms
---------
Australia
Leaders of Sydney mosque condemn 'anti-Turkish vandal who caused more than $100,000 in damage' - but police say there's more to the story
By JACKSON BARRON
26 October 2020
A man has faced court after allegedly vandalising a mosque with a vacuum cleaner and fire hydrant in Sydney's south west.
Police were called to Auburn Gallipoli Mosque at about 7pm on Sunday after reports of extensive vandalism.
Officers arrived to find 13 windows, antique chandeliers and fixtures were destroyed, totaling about $100,000 in damage.
Gallipoli Turkish Cultural Foundation chairman Abdurrahman Asaroglu said the damage at the site was 'significant' and accused the alleged vandal of being 'anti-Turkish'.
'Being such an iconic Turkish mosque, we have unfortunately become a lighting rod for anyone wanting to express their anti-Muslim or anti-Turk sentiment,' he said.
'We are a local Mosque focused on serving the needs of our local community here in Sydney, including the promotion of peace and harmony between all communities calling Australia home.
'The Auburn Gallipoli Mosque will continue to spread the message of peace and harmony in Australia and fight the scourge of hate and division wherever we see it.'
A 20-year-old man was arrested at the scene and refused bail to appear in Burwood Local Court on Monday.
The Guildford man was charged with destroying or damaging a property and breach of bail.
The man is understood to have mental health issues.
'A complete assessment of damage and repairs will be conducted today,' a NSW police spokesperson said.
https://www.dailymail.co.uk/news/article-8878961/Auburn-Gallipoli-Mosque-Sydney-trashed-vandal.html
---------
Mideast
Iran Boosts Military on Border as Nagorno-Karabakh Truce Falters
Arsalan Shahla
26-10-2020
Iran's Islamic Revolutionary Guard Corps reinforced security on the country's frontier with Azerbaijan, whose conflict with Armenia has defied truce efforts.
Tanks, ground troops and military equipment have been deployed in the cities of Khoda Afarin and Jolfa, which are on the Azerbaijan border and also near Iran's boundary with Armenia, the state-run Islamic Republic News Agency reported on Sunday, quoting IRGC Brigadier General Mohammad Pakpour.
Iran's regular ground forces also announced the start of new military drills in the northwest, the Tasnim news agency reported, without giving details on the location.
A longstanding dispute over the region of Nagorno-Karabakh erupted into fighting between Azerbaijan and Armenia last month and at least 80 civilians have so far been killed. Iran has warned its neighbors to contain the conflict after several stray rockets landed in Iranian border towns.
Iran's northwestern frontier traverses Iraq, Turkey, Armenia and Azerbaijan and is home to several ethnic minority populations -- mostly Azeris, Iran's largest minority, and Kurds.
https://www.bnnbloomberg.ca/iran-boosts-military-on-border-as-nagorno-karabakh-truce-falters-1.1512801
---------
Turkish mosque in Australia attacked
BY ANADOLU AGENCY
OCT 25, 2020
An unidentified man on Saturday attacked a Turkish mosque in Sydney, Australia.
A male attacker entered the Auburn Gallipoli Mosque, which is affiliated with Turkey's Directorate of Religious Affairs, and caused material damage by breaking the chandeliers, windowpanes, plasma television and some items on the upper floor.
Some citizens recorded video footage, and took photographs during the attack, and informed the police. The perpetrator has been arrested.
https://www.dailysabah.com/politics/turkish-mosque-in-australia-attacked/news
---------
Hopes for Kylie Moore-Gilbert after detained academic moved out of Iran's Qarchak prison
Ben Doherty
25 Oct 2020
Detained British-Australian academic Kylie Moore-Gilbert has reportedly been moved from Iran's Qarchak prison, along with all of her belongings, but it is not known to where she has been taken.
Family and friends who have been campaigning for her release hope the move is a positive sign, but there is no official word from the Iranian government.
A Cambridge-educated Middle East scholar, Moore-Gilbert has served just over two years of a 10-year sentence for espionage. She was arrested in Tehran in September 2018 and convicted in a secret trial.
No evidence of Moore-Gilbert's alleged crimes has ever been publicly presented. She has denied the allegations against her and the Australian government rejects them as baseless and politically motivated.
The Iranian Association of Human Rights Activists reported Moore-Gilbert was moved on Saturday – along with all her possessions – to an unknown place.
That move came 11 days after she was shifted, along with 15 other political prisoners, to Ward Eight of Qarchak prison, formerly known as the Mothers' Ward.
Qarchak has been trying to quash an outbreak of novel coronavirus among inmates and guards at the prison. Iran, more widely, is suffering under a surging third wave of infections, with nearly 600 new cases and more than 300 deaths in the last 24 hours.
"Obviously one hopes the move might be good news for Kylie, but we don't know yet," said Elaine Pearson, Australia director of Human Rights Watch.
"Kylie has been detained for more than two years now, and she has endured very difficult conditions including extreme isolation. The Australian government should press forcefully and consistently for Kylie's release and safe return to Australia."
Moore-Gilbert spent the first 22 months of her incarceration in Tehran's Evin prison, including months in solitary confinement, before being moved to the desert prison Qarchak, widely regarded as the worst women's prison in Iran, and known as a site of extrajudicial killings, torture and other rights violations.
Sources have told the Guardian Moore-Gilbert was closely watched inside Qarchak – with two fellow prisoners assigned to follow her – restricting her contact with the outside world.
In letters smuggled out of prison, Moore-Gilbert revealed she had rejected an offer to spy on behalf of Tehran in exchange for her freedom, but said she felt "abandoned and forgotten".
In a rare phone call earlier this year she said couldn't eat anything in Qarchak: "I feel so very hopeless … I am so depressed."
On Friday, Human Rights Watch said Iranian judiciary authorities were prosecuting human rights defenders for reporting abuse inside detention, despite the presidential cabinet ordering its justice minister investigate claims of torture against an environmental conservationist, Niloufar Bayani. There has been no report.
Born in Bathurst, New South Wales, Moore-Gilbert is a lecturer in Islamic Studies at the University of Melbourne. She hold both British and Australian citizenship, but was travelling on her Australian passport.
Fellow conference delegates and an interview subject for her academic work flagged her as "suspicious" to Iran's Revolutionary Guards, who arrested her at Tehran airport as she prepared to fly out of the country.
Australia's Department of Foreign Affairs and Trade said their efforts to secure Moore-Gilbert's release were "an absolute priority".
"We do not accept the charges upon which Dr Moore-Gilbert was convicted, and want to see her returned to Australia as soon as possible. Our Ambassador in Tehran has regular consular access to Dr Moore-Gilbert."
https://www.theguardian.com/world/2020/oct/25/hopes-for-kylie-moore-gilbert-after-detained-academic-moved-out-of-irans-qarchak-prison
----------
URL: https://www.newageislam.com/islamic-world-news/political-hand-behind-islamic-extremists/d/123273
New Age Islam, Islam Online, Islamic Website, African Muslim News, Arab World News, South Asia News, Indian Muslim News, World Muslim News, Women in Islam, Islamic Feminism, Arab Women, Women In Arab, Islamophobia in America, Muslim Women in West, Islam Women and Feminism