New Age Islam News Bureau
31 December 2021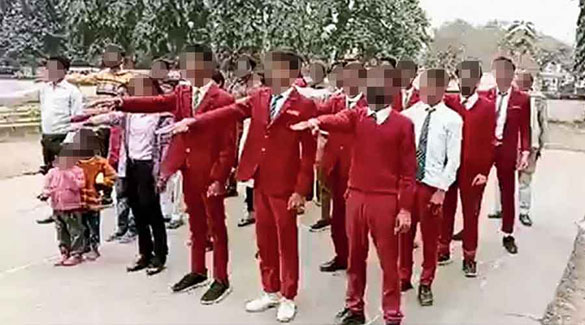 Footage shows the schoolchildren (faces blurred by this newspaper) taking the pledge to "fight, die and kill" to create a Hindu Rashtra. The Telegraph
----
• First-Ever Body Of Hindu Leaders To Take Care Of The Community's Temples Across Pakistan
• Helping Hindus And Others Is Part Of Islamic Ethics, Says Turkish Scholar
• Growing Beard Is Only A Recommendation, Not Mandatory: Islamic Emirate Of Afghanistan
• Egypt's Azhar Grand Imam Congratulates Pope Tawadros, Vatican, All Christians Worldwide On Christmas
India
• Indian Muslims Got 'Less Religious' Since 2016, Shows CSDS Study. 44% Reported Discrimination
• All India Tanzeem Ulama-e-Islam, Related To Dargah Ala Hazrat, Proposes Muslim Agenda Before Political Parties Ahead Of 2022 UP Assembly Polls
• Kashmiri woman, married to Pak terrorist, tells how Hizbul treats family of dead terrorists
• Muslim Personal Law Board Launches 'The Journal of Law and Religious Affairs'
• Building Good Ties With Islamic Nations Is One Of PM Modi's Achievement: Captain G Parthasarathy
• MP, Chhattisgarh Govts Spar Over Arrest of Hindu Seer Kalicharan Who Commented on Gandhi, Islam
• 3 terrorists, including one from JeM, killed in Srinagar encounter
--------
Pakistan
• Pak cabinet OKs supplementary budget to win funds from IMF
• Ababeel Squad, Set Up To Curb The Increasing Street Crimes, Members Living In Police Lines Mosque
• 90% terrorist groups operating from Afghanistan target CPEC projects: Pak counter-terrorism dept
• Pak Islamic scholar against court order to demolish Karachi mosque
• Four killed in bomb attack on workers of JUI faction in Quetta
• PM Imran feels Nawaz will return only after deal
• COAS lauds services of medical community during pandemic
--------
Mideast
• 165 Jewish settlers defile Aqsa Mosque under police guard
• Gaza military drills prove any aggression against Aqsa Mosque will cost Israel dearly: PRC spokesman
• Tehran launches rocket into space: Iran media
• Palestinian journalists raise alarm about content suppression by Facebook
• Abbas to Putin: Israeli-occupied West Bank poised for 'explosion'
• Report: Israel demolished 69 Palestinian homes in Silwan, issued 172 demolition orders in 2021
• Islamic Jihad: Palestinian resistance ready to face any Israeli aggression
• Iran marks 12th anniversary of nationwide rallies held to support Islamic establishment
• 11 Yemeni troops killed, 16 injured in Houthi strike
--------
South Asia
• Afghanistan Ministry Of Vice And Virtue Has Ordered Their Forces Against Invading "People's Privacy"
• Ex-Afghan president says had no choice but to flee Kabul
• Taliban to investigate torture of former security personnel
• Pakistan's first consignment of 1,800 tons of wheat arrives in Afghanistan
• 11 Years After Trying To Kill Each Other, Ex-Marine Meets Talib Again
--------
Arab World
• Raghad Saddam Hussein remembers slain father 15 years on
• Iraqi president convenes new parliament for January 9: Decree
• Guardian: Assassins of dissident journalist Jamal Khashoggi living in luxury villas in Riyadh
• Yemen calls on UN Security Council to hold Saudi Arabia, its arms suppliers to account for devastating war
• 1 injured in car bombing in northern Syria
• King Salman says Iran's destabilizing acts remain a 'great concern' for Saudi Arabia
--------
Europe
• 9 Serbs Indicted For Killing Over 100 Muslim Bosniaks In The 1992-95 War
• Muslim Brotherhood found a new home in Europe
• Mental Health No Longer Taboo In Muslim Communities, Say UK Specialists
• COVID-19 pandemic deepens online Islamophobia in Europe
• Ex-head of UK armed forces admits nobody understood Afghanistan's politics
• British Muslim hikers receive overwhelming support in response to racist comments
• More than 90 jailed terrorists could be freed early from British prisons
--------
North America
• Gabriel Boric's Election Win In Chile 'Bad News For Israel': Report
• US Says 'Remains Concerned' Over Iran's Scientific Progress Amid Sanctions
• Ghani blames US deal with Taliban for fall of Afghanistan
• Turkish presidential aide says 1st attempt made on joint mechanism between Turkey, US
--------
Southeast Asia
• Stricken Boat With Over 100 Rohingya Muslims Allowed To Dock In Indonesia
• Guan Eng: Vernacular School Ruling Enshrines Legitimate Rights Of Non-Malays In Country's Social Contract
• Will Indonesia be the next Abraham Accord nation?
--------
Africa
• Atiku, Others Mourn As Islamic Scholar Who Refused Dialogue With Boko Haram Dies
• Six Nigerian, Niger troops killed by Islamic State, security forces say
• 3 killed as thousands protests in Sudan to demand 'civilian rule'
• Somali military kills 9 al-Shabaab terrorists
Compiled by New Age Islam News Bureau
URL: https://www.newageislam.com/islamic-world-news/police-schoolchildren-kill-hindu-rashtra/d/126074
--------
Police Yet To Register Case Against Accused Of Tricking Schoolchildren Into Pledging To "Fight, Die Or Kill" For A Hindu Rashtra In Sonbhadra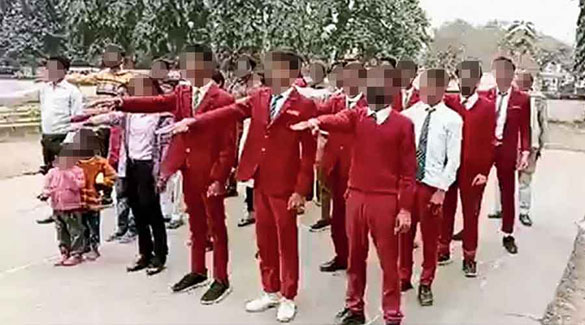 Footage shows the schoolchildren (faces blurred by this newspaper) taking the pledge to "fight, die and kill" to create a Hindu Rashtra. The Telegraph
----
Piyush Srivastava
31.12.21
Uttar Pradesh police have not yet registered a case against those accused of tricking schoolchildren in Sonbhadra into pledging to "fight, die or kill" for a Hindu Rashtra, with officers waiting for "instructions" from their superiors who have been busy with "election-related" meetings.
In neighbouring Uttarakhand — another BJP-ruled, poll-bound state — the police registered a case almost a week after some speakers advocated a genocide of Muslims at a December 17-19 sadhus' conclave in Haridwar, and have issued notices to a couple of accused.
However, the FIR does not name convener Yati Narasinghanand Saraswati.
A police officer from Sonbhadra said on Thursday that an inquiry had been conducted into Tuesday's administration of the "fight, die and kill" oath to children, but no case had been registered in the absence of a complaint.
"We have traced the schoolchildren; we have also traced the Twitter handle from which a video of the event was posted. But we can move forward only when someone comes to have a case registered," the officer said, requesting anonymity.
"Our superiors had asked us to conduct the inquiry and we have informed them orally about it. They are in an election-related meeting and will instruct us further after a few days."
Jitendra Singh, manager of the private school --- Vimla Inter College -- at Robertsganj in Sonbhadra, had told The Telegraph on Wednesday that a crew claiming to be from the Sudarshan News channel had asked to take the schoolchildren to a nearby park to film a debate.
The school had allowed it, having no idea that an oath to kill would be administered to the Class XI and XII boys.
Suresh Chavhanke, CMD and editor-in-chief of Sudarshan News, had tweeted a video of the event on Tuesday.
Jitendra, who was at a Varanasi hospital in connection with a nephew's treatment, told this newspaper over the phone on Thursday: "I am definitely going to take this issue up once I'm back in Sonbhadra."
He said the police had not contacted him yet.
Jitendra added that "I personally belong to the RSS" and insisted the organisation "does not preach violence" and was against those who "want to push the country towards violence".
School principal Shiv Narayan Lal said: "Many of the students who attended the event (took the oath) at the Chacha Nehru Park are from families with links with the RSS. But it doesn't mean they support criminal acts."
Chavhanke's office had on Wednesday morning said he would respond within 48 hours if any questions were posted to him on Twitter. He had not responded to this newspaper's queries till Thursday evening.
A video has been circulating since December 26 in which Narasinghanand, head of the Dasna Devi temple in Ghaziabad, purportedly says in Hindi: "I consider (Nathuram) Godseji as god. He is worth worshipping…. We are alive today because of him. Godse didn't die for himself, he died for us…. Gandhi was a pile of dirt…."
The audio continues: "Gandhi was such a liar…. It was because of the betrayal of Gandhi and (Jawaharlal) Nehru that while there are 800 crore (sic) people in the Hindu community, we don't have even one inch of land to call our own. He (Gandhi) is not worth (being revered as) Father of the Nation."
Calls to Narasinghanand's number remained unanswered.
Source: Telegraph India
Please click the following URL to read the text of the original story:
https://www.telegraphindia.com/india/hindu-rashtra-up-police-yet-to-register-case-against-accused/cid/1845560
--------
First-Ever Body Of Hindu Leaders To Take Care Of The Community's Temples Across Pakistan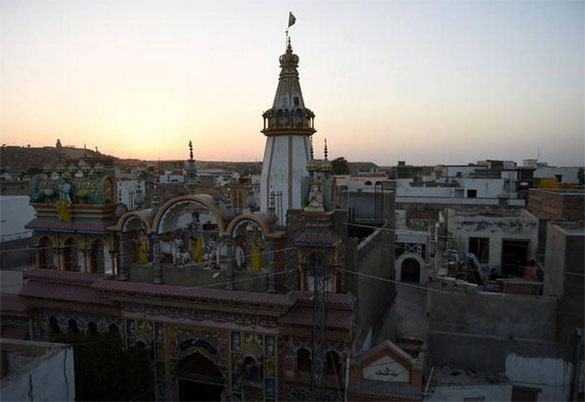 File photo of Hindu Shri Krishna Temple pictured in Pakistan | Photo Credit: AFP
----
December 30, 2021
The government announced the setting up of the first-ever body of Hindu leaders to take care of the community's temples across the country.
The Ministry of Religious Affairs constituted the Pakistan Hindu Mandir Management Committee on the pattern of the already-functional Pakistan Sikh Gurdwara Management Committee.
According to a statement, the inaugural meeting of the body was chaired by Minister for Religious Affairs Noor ul-Haq Qadri. The Evacuee Trust Property Board (ETPB) chief briefed the meeting on the matters.
The ETPB is a statutory board that manages religious properties and shrines of Hindus and Sikhs who had migrated to India following the partition.
"The committee will look after matters related to Hindu places of worship," Qadri said.
The committee comprising Dewan Chand Chawla, Haroon Sarab Dayal, Mohandas, Naranjan Kumar, Megha Arora, Amit Shadani, Ashok Kumar, Versi Mill Dewani and Amar Nath Randhawa will be headed by Krishna Sharma.
"Pakistan has created history by constituting the committee on the demand of the Hindu community," Sharma said.
Qadri said that the problems of the minority population of Pakistan are being solved on a priority basis and the formation of the committee will be instrumental in resolving the issues of the Pakistani Hindu community.
The minister went on to say that despite religious and cultural diversity, tolerance and acceptance of each other is humanity, adding that evil elements want confrontation in Pakistan on the basis of religion, sect and linguistics.
"The new committee will act as a bridge between the non-Muslim population and the State," he said.
He said that according to the vision of Prime Minister Imran Khan, efforts were being made for the welfare of the non-Muslim population.
Hindus form the biggest minority community in Pakistan. According to official estimates, 7.5 million Hindus live in the country.
The majority of the Hindu population is settled in Sindh where they share culture, traditions and language with Muslim residents.
Source: Pakistan Today
Please click the following URL to read the text of the original story:
https://www.pakistantoday.com.pk/2021/12/30/body-of-hindu-leaders-set-up-to-take-care-of-temples/
--------
Helping Hindus And Others Is Part Of Islamic Ethics, Says Turkish Scholar
Sean Augustin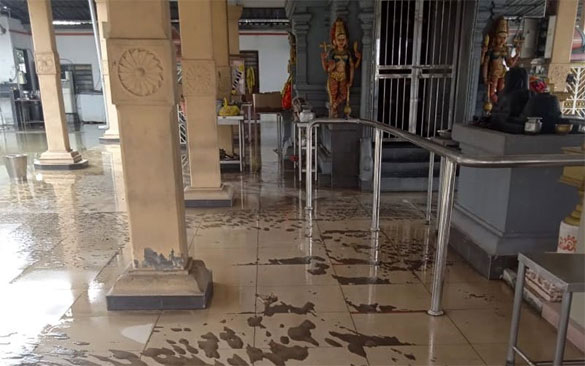 A group of International Islamic University Malaysia students helped clean up a flood-hit Hindu temple in Klang.
-----
December 31, 2021
PETALING JAYA: A celebrity preacher's call for Muslims to refrain from cleaning up the houses of worship of non-Muslims is wrong on two fronts, a prominent Turkish scholar said, adding that such remarks are offensive.
Mustafa Akyol said in today's modern world Muslims are fellow citizens with people of other faiths, or even those without any religious faith at all.
He said the status of citizenship implies a civil contract based on mutual respect, similar to the Constitution of Medina which was signed by the Prophet Muhammad with Jews and the polytheists of Medina.
"In Malaysia, Hindus are similarly fellow citizens, and Muslims should help them when they are in need.
"This would not be a violation of Islamic principles. Quite the contrary, it would be a reflection of Islamic ethics," said Akyol, a senior fellow on Islam and modernity at the Cato Institute, a US-based libertarian think tank.
He told FMT that while the Quran does include condemnation of "mushrikun" (polytheists) in Arabia during the Prophet's time, these group of people were also oppressors who tortured the first Muslims in Mecca for merely saying, "Our Lord is one".
In other words, the Quran's condemnation is against a specific people — Meccan polytheists who persecuted the first Muslims, he explained.
This condemnation could not be extended to other non-Abrahamic faiths around the world. "That is also why, in Islamic history, Hindus were accepted as 'the People of the Book,' who, according to Islamic law, deserve religious freedom."
Yesterday, celebrity preacher Azhar Idrus was reported as saying that Muslims could clean up mosques and surau, but not non-Muslims' houses of worship that were affected by the floods.
In a Tiktok video, Azhar made reference to the story of Prophet Ibrahim, who demolished idols in a temple in his town.
"So, don't interfere. It's your own matter and your own religion. To idol worshippers, we don't want (to interfere)," he said, according to a report in The Vibes.
"We have our own religion. We can clean up mosques and surau, but we do not wash idols. And through that, we can differentiate those who are faithful from those who are impious."
His comments, which earned the ire of netizens, come in the wake of a video that went viral on social media featuring a group of students from the International Islamic University Malaysia cleaning a flood-hit Hindu temple in Klang.
Akyol said he believed Muslims did no wrong by respecting Hindu temples and even helping restore them, even though they do not believe in Hindu gods.
"But we honour Hindus as fellow human beings, who, just like us, deserve sympathy and respect," he said.
Source: Free Malaysia Today
Please click the following URL to read the text of the original story:
https://www.freemalaysiatoday.com/category/nation/2021/12/31/helping-hindus-and-others-is-part-of-islamic-ethics-says-scholar
--------
Growing Beard Is Only A Recommendation, Not Mandatory: Islamic Emirate Of Afghanistan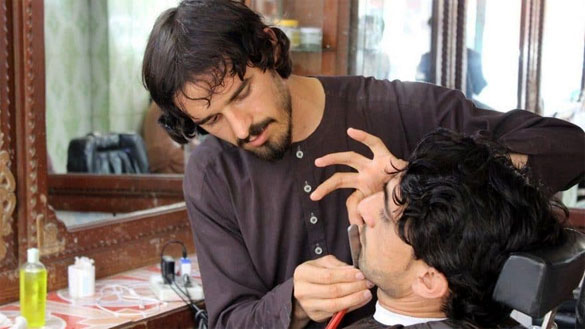 Islamic Emirate of Afghanistan said that growing beard is just a recommendation to people and that it is not mandatory/ Photo: Khaama Press
----
31 Dec 2021
Ministry of promotion of virtue and prevention of vice of the Islamic Emirate of Afghanistan said that growing beard is just a recommendation to people and that it is not mandatory.
The ministry in a Twitter post directed all the Taliban affiliates not to force people to grow beards and that this is a personal choice.
It comes after the ministry's provincial offices' directions over preventing trimming and shaving beards in some provinces aroused national and international reactions.
On the other hand, the ministry in its recent directions directed drivers not to seat two women in the front seat and totally avoid seating women who have not observed Islamic hijab.
The directions have also said that a woman cannot travel alone for more than 45 miles.
The Ministry of promotion of virtue and prevention of vice that was replaced by the ministry of women affairs is one of the strictest administrations of the Taliban that deals with the attitude and physical appearance of people.
Source: Khaama Press
Please click the following URL to read the text of the original story:
https://www.khaama.com/growing-beard-is-only-a-recommendation-not-mandatory-taliban-5685687/
--------
Egypt's Azhar Grand Imam Congratulates Pope Tawadros, Vatican, All Christians Worldwide On Christmas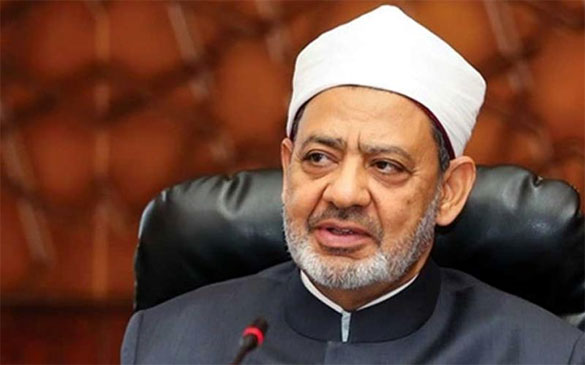 Egypt s Grand Imam of Al-Azhar Sheikh Ahmed El-Tayyeb
----
30 Dec 2021
"My sincere congratulations to my friends; Pope Francis, Pope Tawadros, Archbishop Justin Welby, Patriarch Bartholomew I as well as to all Christians around the world on the occasion of Christmas," El-Tayyeb wrote in Arabic, English and French on his social media accounts.
"I pray that the Almighty continues to bless us with peace, love and fraternity, while sparing, the world from hatred and war," the head of the world's leading Sunni Muslim institution said.
In recent years with the approach of Christians feasts, some hard-line Egyptian Islamic clerics have argued that Muslims should not greet Christians, who make up around 15 percent of Egypt's 102 million population, on religious or social occasions.
Scholars of Al-Azhar in recent years have individually stated that greeting Christians and non-Muslims on their celebrations is acceptable.
In 2019, the International Electronic Fatwa Centre of Egypt's Al-Azhar Mosque has said that Muslims may greet and exchange gifts with Christians during their religious celebrations and on social occasions.
Coptic Egyptians, who make up the largest portion of Christians in the country, celebrate Christmas on 7 January.
Egypt is also home to a number of other denominations, which observe Christmas on 25 December.
On Tuesday, Egypt's Coptic Orthodox Church announced that it would hold the Christmas mass on 6 January at the Cathedral of the Nativity of Christ at the New Administrative Capital due to COVID-19 concerns.
The mass will be broadcast live on television, according to news reports.
The church added that it will not receive well-wishers for the same reason.
Source: Ahram Online
Please click the following URL to read the text of the original story:
https://english.ahram.org.eg/News/454376.aspx
--------
India
Indian Muslims got 'less religious' since 2016, shows CSDS study. 44% reported discrimination
NIKHIL RAMPAL
31 December, 2021
New Delhi: Young Muslims "stand somewhat apart" from their Hindu, Sikh, and Christian cohorts as they are the only community to have recorded a significant decline in religious activities over the last five years, according to a survey report released earlier this month.
The report, titled 'Indian Youth: Aspirations and Vision for the Future', was based on a survey conducted in July-August this year on 6,277 people aged 18-34 across 18 states. The study was carried out by the Centre for the Study of Developing Societies (CSDS) under its research programme Lokniti, in collaboration with German think tank Konrad Adenauer Stiftung (KAS).
The survey found that the proportion of Muslims praying, fasting, visiting mosques, and reading or watching religious material was lower than it was in 2016, when the last CSDS-Lokniti survey was conducted.
Muslims also stood apart from other communities in another respect: their experience of being discriminated against by their friends because of religion. While two other religious minorities, Christians and Sikhs, were similar to Muslims in expressing a "strong sense of despair" about communal harmony in India, a much lower proportion of them reported experiencing religious discrimination.
Muslims went from highest to lowest in religious activity in 5-yr span
The 2016 CSDS youth survey, conducted on a sample size of 5,681, found that Muslim youths reported higher religiosity than any other group. In that year, 97 per cent of Muslim respondents said they prayed regularly, followed by Hindus (92 per cent), Sikhs (92 per cent), and Christians (91 per cent).
However, in 2021, only 86 per cent of Muslim youth said they prayed regularly — a decline of 11 percentage points from five years ago. In comparison, the share of youth who report praying regularly has risen among Sikhs (96 per cent) and Christians (93 per cent), and declined only marginally for Hindus (88 per cent).
Similarly, there has been a sharp decline in the proportion of Muslim youths visiting places of worship.
In 2016, 85 per cent of Muslim respondents reported that they visited their place of worship (at various frequencies), but in 2021, only 79 per cent said they had done so. While there was a decline among other religions too, it was the highest among Muslims — 6 percentage points, followed by 4 percentage points for Hindus (to 88 per cent from 92), 2 percentage points for Christians (to 89 per cent from 91), and 1 percentage point for Sikhs (to 96 per cent from 97).
Self-perception of religious participation
Overall, 19 per cent of respondents said their religious participation had witnessed an increase, while 17 per cent said it had declined, 57 per cent said it had stayed the same, and 7 per cent did not give a response.
Here too, a greater share of Muslims than other religions reported a net decline in their perception of their religious participation.
While 18 per cent of Muslim youngsters observed an increase in their religious participation, 20 per cent felt that their religious participation had gone down.
For Christians and Sikhs, the share of respondents observing both an increase and decrease was the same, at 25 per cent and 13 per cent, respectively.
Hindus reported a net increase in their perception of their religious participation. About 20 per cent of Hindu respondents reported a rise in religious participation, while 16 per cent observed a fall.
Pessimism about religious harmony in India
The CSDS report took note of data from the National Crime Records Bureau, pointing out that 857 cases of communal/religious rioting were registered in 2020, nearly doubling from 438 in 2019.
The report also mentioned recent "hate crimes and lynchings" targeting minority communities as well as the new citizenship law for religious minorities from India's three Muslim-majority neighbours. In this context, the survey asked the respondents whether they thought religious harmony would improve or worsen in the next five years.
While only 19 per cent of Hindus said they believed there would be a deterioration in communal harmony, the minorities were far more pessimistic — 31 per cent of Christians and 33 per cent each of Muslims and Sikhs said they believed religious amity would decline.
The report's authors dug deeper into the views of Muslim youth on the grounds that the community has "borne the brunt of discrimination and violence in recent years".
According to the report, the "despair" about religious co-existence was higher among the Muslims who lived in states with a Muslim population higher than the national average of 14.23 per cent. Taken together, these states — Assam, West Bengal, UP, Bihar, Jharkhand, and Kerala — were more likely to be pessimistic about religious harmony.
In these states collectively, 35 per cent of Muslims said they expected a deterioration compared with 23 per cent in states with a lower-than-average Muslim population.
The survey further found that Muslims in states which had a higher-than-average Muslim population were also more likely to report religious discrimination, arguably because there was "a greater chance of interaction" between the majority and minority communities.
Perception of religious discrimination
According to the 2011 Census, Hindus comprise about 80 per cent of the population, followed by the three biggest minority communities — Muslims (14.23 per cent), Christians (2.3 per cent), and Sikhs (1.72 per cent).
Among the minorities sampled in the survey, Muslims reported experiencing discrimination from their friends most frequently.
About 44 per cent of Muslim respondents said they faced discrimination from their friends, with 13 per cent saying this happened often and 31 per cent saying it occurred sometimes. Only 18 per cent Christians (4 per cent often, 14 per cent sometimes) and 8 per cent Sikhs (3 per cent often, 5 per cent sometimes) reported such discrimination, the survey data showed.
While, on average, 70 per cent of the respondents said they never faced discrimination for their religion, this was only 49 per cent for Muslims.
"What is interesting here is that unlike on the issue of religious harmony where there was some sort of unanimity of opinion among youths from different religious minorities, on the issue of facing discrimination, Muslims were quite alone in feeling so," the report said.
Are Muslims really getting less religious?
The survey report in its discussion of the results said it seemed "counter-intuitive" that Muslim youth appeared to be less religious than before.
"One would think that being at the receiving end of hate, discrimination, and violence would have resulted in an even greater proportion of Muslims turning towards their faith," the report said, adding that it was possible that some Muslim respondents may have felt "less comfortable" about revealing their religious practices.
ThePrint spoke to Islamic scholars for their views on the findings of the study, and found that they were generally sceptical.
Source: The Print
Please click the following URL to read the full text of the original story:
https://theprint.in/india/indian-muslims-got-less-religious-since-2016-shows-csds-study-44-reported-discrimination/791647/
--------
All India Tanzeem Ulama-e-Islam, Related To Dargah Ala Hazrat, Proposes Muslim Agenda Before Political Parties Ahead Of 2022 UP Assembly Polls
December 30, 2021
The All India Tanzeem Ulama-e-Islam has decided to present Muslim agenda before the political parties ahead of the Uttar Pradesh Assembly polls.
It has held consultations with top clerics of the state and deliberations are on to finalise the draft agenda before handing it over to the political parties. Assembly elections in five states are due early next year and UP has the major chunk of Muslim population among the states going to polls.
Shahabuddin Razvi, the General Secretary of organisation, which is related to Dargah Ala Hazrat, said: "The issues related to minority especially Muslims have taken a backseat as each party wants to tap the majority votes and for this they are ignoring a large chunk of the population so the Tanzeem will put forth our agenda ahead of polls."
For this, a committee has been formed which is discussing the ground issues with leading community leaders and also has asked the public for their feedback and suggestions.
The All India Tanzeem Ulama-e-Islam, is the same organisation which has launched a 'Muttahida Hindustan' or 'One India' movement in the subcontinent. Maulana Shahbuddin Razvi had said that they want India of old time like the way it was in 1658 AD. He was endorsed by other prominent Muslim persons on the dias.
The Muslim body, which claims to be the prominent organisation of the Barelvi sect, is also working on social reforms of the community and trying to eradicate social evils from the Muslim society.
Source: Free Press Journal
Please click the following URL to read the full text of the original story:
https://www.freepressjournal.in/india/all-india-tanzeem-ulama-e-islam-propose-muslim-agenda-before-political-parties-ahead-2022-up-assembly-polls
--------
Kashmiri woman, married to Pak terrorist, tells how Hizbul treats family of dead terrorists
December 30, 2021
Razia Bibi, a Kashmiri woman who was married to a Pakistani terrorist and abandoned by Hizbul leadership to her fate upon his husband's death while speaking to a news agency said that the lives of youth of Kashmir are being ruined by misusing the name of Islam.
"I collected some money and decided to go back to India. Coming back to India was a very good decision. My children are really happy. Pakistan does not take care of their own citizens, what will they do for those who go from here? There is no humanity in Pakistan," Razia Bibi said
In another development, for the first time since insurgency broke out in Kashmir, the total number of terrorists active in the valley has fallen below 200 and the recruitment of youngsters by terror outfits has also been kept in check, top security officials said on Thursday.
Addressing a press conference in the Qazigund area of Anantnag district in south Kashmir, Inspector General of Police (IGP), Kashmir, Vijay Kumar and General Officer Commanding (GoC) of the Army's 15 Corps Lieutenant General D P Pandey said the security situation has improved in the valley.
"Majority of the operations conducted this year were based on human intelligence," Lt Gen. Pandey said, adding that the number of active terrorists in the valley has come down to 180.
Source: India TV
Please click the following URL to read the full text of the original story:
https://www.indiatvnews.com/news/india/kashmiri-woman-razia-bibi-married-to-pak-terrorist-narrates-how-terror-group-hizbul-treats-family-of-dead-terrorists-752054
--------
Muslim Personal Law Board Launches 'The Journal of Law and Religious Affairs'
December 30, 2021
Pervez Bari
NEW DELHI – The All India Muslim Personal Law Board (AIMPLB) launched "The Journal of Law and Religious Affairs" with the release of the first edition of the journal here at an impressive ceremony at the India International Centre in the presence of prominent Muslim clerics and legal luminaries.
In his introductory remark, Maulana Khalid Saifullah Rahmani, General Secretary of the AIMPLB, called "The Journal of Law and Religious Affairs" a documentary on law, which he said was the most important need of human society in this age of lawlessness.
He further said, "There are people of different views in the society but it is the law that compels them to establish justice in the society."
The purpose of Islamic law, he said, is to create an atmosphere of justice and peace in the society. Unity in diversity is the special identity of this country and if one religion and one civilization are imposed on the entire population, it will affect all aspects of the country. He asked what if the government decides what to eat, what to wear, when to get married which is not the government's job.
Speaking on the occasion, Maulana Fazlur Rahim Mujaddidi, Secretary of the AIMPLB and Rector of Jamea Tul Hidayat, Jaipur, pointing out the state of justice in the country, said it was the most difficult task for ordinary citizens in India to get justice. The judicial struggle becomes even more difficult, especially if the state and its affiliates are active against minorities.
He said that the law requires that justice should be done to every person who is on the verge of death. "Today's need is for us to gain legal awareness."
The saying, "ignorance of the law is no excuse", applies to the common man. Knowing the law and knowing the solution, everyone can defend himself and fight against injustice in the society.
Speaking on the occasion as Guest of Honour, Kapil Sibal, former Union Minister for Justice and Senior Advocate of the Supreme Court, explained the difference between justice and judgment, and said that the Journal of the AIMLB would play a key role in ensuring justice.
Elaborating on the difference between justice and judgment, he said, "Decisions are made here (in a court of law), not justice. This journal would play an important role in coordinating justice and decision making. The law is for the society and the society keeps on changing and therefore the law also needs to be changed. The court is not familiar with the transformation of society, but such a research journal would act as a bridge between the court and society.
He said that the Parliament could make a law, but the Supreme Court decides whether the law is valid or not. "Everyone has a different understanding of the law, and when I read the law something new comes to the fore," he said.
"History tells us that the law has changed and it is not a stone's throw away."
As for the understanding of law, he said it is necessary to understand the law and what the need of the society is at that time at the time of its making. Since the law is made for the society and if it is not in accordance with the society, the society will not accept it.
Renowned lawyer Sanjay Hegde, acknowledging the importance of the role of the journal of AIMPLB in understanding the law, said the journal would play a significant role in creating an understanding of the Muslim community law. Every citizen here has an equal right and protest is a democratic right of every citizen, he stressed.
Maulana Asghar Imam Mehdi Salafi, Ameer of Jamiat-e-Ahl-e-Hadith, said that the law means implementation of the law in the true sense and the law can be enforced only by obeying the law. He urged the AIMPLB to take up the issues in a civilized manner wherever such a situation exists.
Source: Clarion India
Please click the following URL to read the full text of the original story:
https://clarionindia.net/muslim-personal-law-board-launches-the-journal-of-law-religious-affairs/
--------
Building Good Ties With Islamic Nations Is One Of PM Modi's Achievement: Captain G Parthasarathy
31st December 2021
By Prabhu Chawla And Kaveree Bamzai
NEW DELHI: What has been Narendra Modi's greatest achievement during his seven-and-a-half year tenure as India's Prime Minister? As far as diplomatic relations are concerned, former diplomat Captain G Parthasarathy says it has been his ability to build an excellent relationship with Islamic countries, barring Pakistan.
Parthasarathy, who served as the Ambassador of India to Myanmar, High Commissioner of India to Australia, High Commissioner of India to Pakistan and High Commissioner of India to Cyprus at various points, along with former Indian Ambassador to the USA Meera Shankar, were in conversation with The New Indian Express' Editorial Director Prabhu Chawla and senior journalist and author Kaveree Bamzai, in an episode of E-Expressions' Platinum Pride series.
"His (Prime Minister Modi's) greatest achievement is building an excellent relationship with all Islamic countries in the world. He has personally good relations with Iranians and the Arab world, especially with the monarchs," said Parthasarathy, adding that this could benefit in building of better trade relationships.
"We also have a good relationship with Sheikh Hasina. Things with Sri Lanka have been steadily improving since Manmohan Singh's time," he said. Both Parthasarathy and Shankar agreed that India's foreign policy, irrespective of governments, has changed according to the requirement of the times and has had continuity.
During the course of the conversation, the duo also touched upon subjects like Pakistan and China and how the countries could potentially affect life for us in India. Pointing out that this is a difficult time for the country, Shankar said, "You have a Russia which has shifted closer to China. You have a China that is tied up with Pakistan for its energy security and access to the Gulf and you have an America which is trying to compete with China which may have also left it a bit late. For India, the choices become fairly difficult."
Parthasarathy, on the other hand, said, "Russians treat us equal to China in defence matters. There is a balancing act. Historically, they don't trust the Chinese. They look at them as the successors of Gengiz Khan."
He also reminisced about 1971, when Russia had deployed forces on borders with China and sent a submarine to the Indian ocean.
Source: New Indian Express
Please click the following URL to read the full text of the original story:
https://www.newindianexpress.com/nation/2021/dec/31/building-good-ties-with-islamic-nations-is-one-of-pm-modis-achievement-former-diplomat-2401522.html
--------
MP, Chhattisgarh Govts Spar Over Arrest of Hindu Seer Kalicharan Who Commented on Gandhi, Islam
DECEMBER 30, 2021
The arrest of Hindu religious leader Kalicharan Maharaj from Madhya Pradesh on Thursday has triggered political barbs between the ruling parties in Chhattisgarh and Madhya Pradesh.
Kalicharan was arrested by a team of Chhattisgarh police from Madhya Pradesh's Khajuraho this morning and taken to Raipur.
The arrest by Chhattisgarh police did not go down well with senior BJP leader and Madhya Pradesh Home Minister Narottam Mishra who accused the Congress-led Chhattisgarh government of "breaching inter-state protocol."
Mishra has also directed Madhya Pradesh Director General of Police (DGP) Vivek Johri to speak with Chhattisgarh DGP on the matter of breach of inter-state protocol. "I have an objection to the manner in which Chhattisgarh police arrested Kalicharan. They (CG police) could have informed the Madhya Pradesh police prior to arresting Kalicharan. It is a complete violation of interstate protocol. I have directed MP DGP to speak with Chhattisgarh DGP to seek an explanation from them," Mishra said addressing a press conference.
In response to Mishra's statement, Chhattisgarh Chief Minister Bhupesh Baghel said: "MP Home Minister should clarify whether he is happy or not with the arrest of Kalicharan. Why is he upset?"
Kalicharan Maharaj was arrested for his derogatory remark on Mahatma Gandhi at a 'dharma sansad' or religious meeting in Chhattisgarh's capital Raipur a couple of days ago. His disrespectful statement had promoted chief patron Mahant Ramsunder Das disowning the event and walking off the stage in anger at the same event.
"Mohandas Karamchand Gandhi destroyed the country. Salutations to Nathuram Godse, who killed him," he was heard saying during his speech at a religious meeting in Raipur.
As per police, Kalicharan booked a guest house in Khajuraho but did not stay there, instead went to a rented house some 25 km from Khajuraho to evade the police. To evade the police from tracking, all his close aides had also switched off their phones, sources said.
On Thursday morning, a team of 10 policemen tracked him down, arrested and took him back to Chhattisgarh's capital Raipur. A senior police officer told IANS that Kalicharan has been arrested. "Kalicharan has been arrested from Madhya Pradesh's Khajuraho area and taken to Raipur," said a senior police official from Chhattisgarh requesting not to be named.
The police official also said that the Kalicharan will be produced before a court in the evening.
A video clip, being widely circulated on social media, Kalicharan Maharaj can be seen declaring that the aim of Islam is to capture the nation through politics.
"Mohandas Karamchand Gandhi destroyed the country. Salutations to Nathuram Godse, who killed him," he had said during his speech at a religious meeting in Raipur.
Pramod Dube, a Raipur based Congress leader, who was one of the invitees at 'dharma sansad' has lodged an FIR against Kalicharan in a Raipur police station.
Speaking to IANS on Thursday, Dube said that he was present in the meeting when Kalicharan made derogatory remarks on Mahatma Gandhi. "As per the 'dharma sansad' rules, each speaker had to give a speech on five subjects pertaining to the Hindu religion. The idea of organising 'dharma sansad' was to talk on Hindu religion like how to encourage more number of youth toward the Hindu religion.
Source: News18
Please click the following URL to read the full text of the original story:
https://www.news18.com/news/india/mp-chhattisgarh-govts-spar-over-arrest-of-hindu-seer-kalicharan-who-commented-on-gandhi-islam-4607915.html
--------
3 terrorists, including one from JeM, killed in Srinagar encounter
Dec 31, 2021
NEW DELHI: An encounter broke out in Pantha Chowk area of Srinagar on early Friday where three terrorists including one affiliated with terror outfit Jaish-e-Mohammed (JeM) were eliminated.
"One of the killed terrorists has been identified as Suhail Ahmad Rather of terror outfit JeM. As revealed during yesterday's Press Conference, terrorist Suhail was also involved in Zewan Terror Attack. All terrorists involved in the Zewan attack have been neutralised," Kashmir Zone Police on Twitter quoted Inspector General of Police (IGP), Kashmir, Vijay Kumar.
Earlier the Jammu and Kashmir police had informed that in the initial exchange of fire, three Police personnel and one Central Reserve Police Force (CRPF) personnel got injured and were subsequently shifted to hospital.
The encounter broke out between security forces and terrorists in the Pantha Chowk area of Srinagar on Thursday night.
General Officer Commanding (GOC) 15 Corps, Lt General DP Pandey on Friday said that the infiltration attempts from the other side of the border into Jammu and Kashmir have gone down this year, adding that terror groups are trying to recruit young children aged 15-16 years.
Source: Times of India
Please click the following URL to read the full text of the original story:
https://timesofindia.indiatimes.com/india/3-terrorists-including-one-from-jem-killed-in-srinagar-encounter/articleshow/88604579.cms
--------
Pakistan
Pak cabinet OKs supplementary budget to win funds from IMF
Dec 31, 2021
ISLAMABAD: Pakistan's cabinet on Thursday approved a supplementary budget that plans to end exemptions on sales tax and levy new duties as part of fiscal tightening measures aimed at winning funding from the International Monetary Fund.
The IMF approval is also a pivotal endorsement for Pakistan's economy, which is struggling with external and current account deficits, a depreciating currency, struggling foreign reserves and rising inflation. The IMF agreed last month to revive a stalled $6 billion funding programme, but demanded further budgetary tightening and central bank autonomy from Pakistan before the next tranche could be approved.
Source: Times of India
Please click the following URL to read the full text of the original story:
https://timesofindia.indiatimes.com/world/pakistan/pak-cabinet-oks-supplementary-budget-to-win-funds-from-imf/articleshow/88604475.cms
--------
Ababeel Squad, Set Up To Curb The Increasing Street Crimes, Members Living In Police Lines Mosque
December 31, 2021
PESHAWAR: A number of members of the Ababeel Squad are residing in the upper portion of the main mosque at Malik Saad Shaheed Police Lines after finding no place to live in barracks.
The special squad was set up recently to curb the increasing street crimes.
The police officials have come under criticism for setting up the Ababeel Squad in haste and not providing them the required facilities including decent accommodation.
Some barracks at the lines were vacated for them so they could stay there. "Many of the cops could not get anyplace and have no option but to live in the upper portion of the mosque," said an official.
Source: The News Pakistan
Please click the following URL to read the full text of the original story:
https://www.thenews.com.pk/print/921310-ababeel-squad-members-living-in-police-lines-mosque
--------
90% terrorist groups operating from Afghanistan target CPEC projects: Pak counter-terrorism dept
Dec 30, 2021
PESHAWAR: Pakistan counter-terrorism department (CTD) on Wednesday said that 90 per cent of the terrorist groups operating from Afghanistan target the multi-billion China-Pakistan Economic Corridor (CPEC) projects.
Deputy Inspector General (DIG) CTD Javed Iqbal Wazir told The News International that over 90 per cent of the terrorist groups are planning attacks and operating from across the border (Afghanistan). He said these groups mainly target CPEC projects, key installations, polio teams and economic activity.
The department had busted five major groups of Islamic State - Khorasan Province (IS KP) during operations in Peshawar and Bannu region during the last year.
The held terrorists were involved in over 40 incidents of target-killing, including attacks on polio vaccination teams, said DIG CTD.
Wazir said that 110 terrorists were killed and 599 others were arrested by the CTD during operations across Khyber Pakhtunkhwa (KP) this year.
The CTD chief added the arrested and killed terrorists included a number of most wanted people who were carrying millions of rupees as head money, reported The News International.
Source: Times of India
Please click the following URL to read the full text of the original story:
https://timesofindia.indiatimes.com/world/pakistan/90-terrorist-groups-operating-from-afghanistan-target-cpec-projects-pak-counter-terrorism-dept/articleshow/88590872.cms
--------
Pak Islamic scholar against court order to demolish Karachi mosque
Dec 30 2021
New Delhi, Dec 30 (IANS): Leading Pakistani Islamic scholar and Darul Uloom Karachi head Mufti Taqi Usmani has tweeted against a court order to demolish the Madina Masjid on Karachis Tariq Road, Samaa TV reported.
The Supreme Court of Pakistan on Tuesday ordered the demolition of several structures constructed on encroached lands in Karachi, including the Madina Masjid, a multi-storey building near the Dolmen Mall.
The court found that the mosque was constructed on a piece of land allotted for a park.
Usmani said in his tweet that the order to demolish the mosque and to establish a park is "absolutely unjustified". This mosque on the Tarid Road was built 25 years ago and has been used by worshipers since then, he said, as per the report.
The religious scholar said that it is incomprehensible that such a mosque should be ordered to be demolished without first hearing the people living in the neighbourhood. The court itself should review the issue immediately, he said.
Usmani, who served at the Federal Shariat Court from 1981 to 1982, pioneered the concept of Islamic banking in Pakistan.
Warning Pakistan Chief Justice Gulzar Ahmad and Sindh province Chief Minister Murad Ali Shah of dire consequences, Jamiat Ulema-e-Islam-Fazl (JUI-F) Sindh Secretary General Rashid Mahmood Soomro also said that the party won't allow implementation of the court's order to demolish the mosque in Karachi, Friday Times reported.
Source: Daiji World
Please click the following URL to read the full text of the original story:
https://www.daijiworld.com/news/newsDisplay?newsID=909923
--------
Four killed in bomb attack on workers of JUI faction in Quetta
Saleem Shahid
December 31, 2021
QUETTA: Four people were killed and 16 others injured in a bomb explosion near the main gate of a college at Jinnah Road area here on Thursday night.
Police said unknown people planted an improvised explosive device near the main gate of Science College and detonated it with remote control at 9.40pm, resulting in the killing of four people and injuries to 16 others.
They said the target of the blast was leaders and workers of Jamiat Ulema-i-Islam (JUI-Ideological group) who had come to attend Shuhada Conference organised by the party's student wing.
"The powerful explosion took place when the participants of the conference were coming out of the college at the conclusion of the conference," a spokesman for the Counter Terrorism Department said.
The deceased and the injured were all seminary students and workers of the JUI-Ideological group.
Provincial emir of the party Maulana Abdul Qadir Luni, Maulana Mehmood-ul-Hussan Kazmi, Maulana Abdul Sattar Chishti and other leaders escaped unhurt in the blast as they had left the college premises just before the blast.
Police and personnel of other law enforcement agencies rushed to the scene of the blast and after cordoning off the area shifted the bodies and the injured to civil hospital where a state of emergency was declared.
"We have received four bodies and 19 injured," Dr Javed Ahmed, medical superintendent of the civil hospital told Dawn, adding that the condition of four injured was serious.
The bomb disposal squad collected evidences from the explosion site. "It was a remote-controlled IED," a senior official of the BDS said, adding that the device was planted close to a car which was parked near the main gate of the college.
Several vehicles and motorcycles were damaged by the impact of the blast while windowpanes of nearby buildings were smashed.
Source: Dawn
Please click the following URL to read the full text of the original story:
https://www.dawn.com/news/1666756/four-killed-in-bomb-attack-on-workers-of-jui-faction-in-quetta
--------
PM Imran feels Nawaz will return only after deal
Syed Irfan Raza
December 31, 2021
ISLAMABAD: Prime Minister Imran Khan hinted on Thursday that former pri­me minister and supremo of the Pakistan Muslim League-N (PML-N) Nawaz Sharif will not return to the country without first striking a "secret deal" on the issue.
"He [Nawaz Sharif] had also returned to the country from Saudi Arabia [in 2007] under a deal," the prime minister said while talking to some journalists in the corridors of the Parliament House.
When he was asked about reports that Mr Sharif could return to the country soon, Mr Khan said: "When he [Nawaz] had gone to Saudi Arabia, we used to hear that he was [either] coming today or tomorrow."
In response to a question regarding speeches by Leader of the Opposition in the National Assembly Shehbaz Sharif, the prime minister said: "[A] speech of Shehbaz Sharif is like his job application."
Insists his government is not in trouble; PTI to hold its elections next year
He said his government was managing its affairs well and was under no threat from the opposition. "The government is not in trouble," he remarked.
Earlier in the day, Prime Minister Khan presided over a special meeting of the federal cabinet that approved the Supplementary Finance Bill 2021, which was subsequently introduced in the National Assembly by Finance Minister Shaukat Tarin.
In a tweet on the matter, federal Information Minister Fawad Chaudhry said the cabinet had approved the finance bill and it would be tabled in the National Assembly.
Prime Minister Khan also presided over a meeting of the Pakistan Tehreek-i-Insaf's (PTI) parliamentary party where Mr Tarin explained features of the finance bill and responded to the legislators' queries about amendments to the State Bank Act.
After the meeting, Foreign Minister Shah Mahmood Qureshi told journalists that it was the parliamentarians' right to be acquainted with the legislation about to be tabled in the parliament.
In response to a question, he said parliament was empowered to amend any law with a simple majority, if required, to remove any lacuna in it.
The meeting of the PTI's parliamentary party was attended by cabinet members as well as other members of the parliament.
Party elections
The prime minister also chaired a meeting of the PTI's Central Executive Committee (CEC), which decided the party would hold its elections in 2022 under its slightly amended constitution of 2015.
Source: Dawn
Please click the following URL to read the full text of the original story:
https://www.dawn.com/news/1666755/pm-imran-feels-nawaz-will-return-only-after-deal
--------
COAS lauds services of medical community during pandemic
December 30, 2021
ISLAMABAD: Chief of Army Staff (COAS) General Qamar Javed Bajwa has appreciated the exemplary role and services of the medical community as front line warriors against the coronavirus pandemic.
The army chief expressed this while addressing the 54th convocation ceremony of College of Physicians and Surgeons Pakistan (CPSP) as chief guest at Jinnah Convention Centre on Thursday, said the Inter-Services Public Relations (ISPR) in a statement.
The COAS emphasised that doctors and healthcare workers are the heroes who despite all challenges worked tirelessly for the safety and well-being of the people of Pakistan during Covid-19. He reiterated that the nation pays tribute to all those doctors and paramedics who sacrificed their lives as first responders in battling against pandemic while saving many precious lives.
While mentioning the immense contributions of the Army Medical Corps to the national health care system, the army chief said that all available resources will be utilised to ensure safety and security of people of Pakistan.
Source: Pakistan Today
Please click the following URL to read the full text of the original story:
https://www.pakistantoday.com.pk/2021/12/30/coas-lauds-services-of-medical-community-during-pandemic/
--------
Mideast
165 Jewish settlers defile Aqsa Mosque under police guard
December 30, 2021
At least 165 Jewish settlers escorted by police forces desecrated the Aqsa Mosque in Occupied al-Quds (Jerusalem) on Wednesday morning and later in the afternoon.
Those settlers entered the Mosque in different groups through its Maghariba Gate and toured its courtyards under tight police protection, according to local sources.
During their tours at the Islamic holy site, the settlers received lectures from rabbis about the alleged temple mount and a number of them provocatively performed Talmudic prayers.
Meanwhile, the Israeli occupation police imposed movement restrictions on Muslim worshipers at the Aqsa Mosque's entrances and gates.
The Aqsa Mosque is exposed to daily desecration by Jewish settlers and police forces in the morning and the afternoon except on Fridays and Saturdays.
The Israeli police close al-Maghariba Gate, which is used by Jews to enter the Mosque, at 10:30 am after the settlers complete their morning tours at the holy site. Later in the afternoon, the same gate is reopened for evening tours by settlers.
Source: ABNA24
Please click the following URL to read the full text of the original story:
https://en.abna24.com/news//165-jewish-settlers-defile-aqsa-mosque-under-police-guard_1213586.html
--------
Gaza military drills prove any aggression against Aqsa Mosque will cost Israel dearly: PRC spokesman
30 December 2021
The spokesman for the Palestinian Resistance Committees (PRC) has hailed the joint military drill staged earlier this week by various resistance factions in the Gaza Strip, saying the war game convey the message that any aggression against the holy al-Aqsa Mosque will cost Israel dearly.
Mohamed al-Barim, better known by the nom de guerre Abu Mujahid, said in an interview with the Palestinian Arabic-language Shehab news agency that the message of the war game for the Tel Aviv regime is that any damage to the occupied al-Quds and the al-Aqsa Mosque compound will elicit a strong collective response from all Palestinian resistance factions.
He added that the drill also relayed the message that resistance fighters will not sit idly by, and will tirelessly seek freedom of all Palestinian prisoners being kept behind bars in Israeli jails and detention centers.
Palestinian resistance factions launched a joint military drill in the Gaza Strip on Sunday.
The factions said in a joint statement that the exercise was aimed at the exchange of expertise and enhancement of combat preparedness.
Sunday's military training was the first between Palestinian factions since the 11-day war between Palestinian resistance groups in the besieged Gaza Strip and the Tel Aviv regime, during which the Israeli military killed at least 260 Palestinians, including 66 children.
Tensions have been running high in the occupied territories for months over Israel's settlement activities and its planned eviction of Palestinian families from their ancestral homes.
Palestinian groups and activists have warned that Israel's treatment of the Palestinians and its settler assaults in the occupied West Bank will lead to a new Intifada (uprising).
The Palestinian resistance movement Hamas says it will not remain silent in the face of Israel's ever-growing aggression and settlement expansion across the occupied Palestinian territories.
In a statement released on the 13th anniversary of the 2008-2009 war on Gaza, Hamas said to sit idly by was not permitted while Israel accelerated its Judaization campaign and settlement activities in occupied al-Quds and the West Bank.
Hamas pledged to build up its defensive capabilities and military strength to confront Israel on multiple fronts.
Source: Press TV
Please click the following URL to read the full text of the original story:
https://www.presstv.ir/Detail/2021/12/30/673723/Gaza-military-drills-highlight-any-aggression-against-Aqsa-Mosque-will-cost-Israel-dearly--PRC-spokesman-
--------
Tehran launches rocket into space: Iran media
30 December ,2021
Iran said Thursday it launched a rocket with a satellite carrier bearing three devices into space, though it's unclear if any of the objects entered orbit around the Earth.
The report, carried by state TV and several local news agencies, did not say when the launch was conducted nor what devices the carrier brought with it. However, the launch comes amid ongoing negotiations in Vienna over Iran's tattered nuclear deal. Previous launches have drawn rebukes from the US.
Ahmad Hosseini, a Defense Ministry spokesman, identified the rocket use as a Simorgh, or "Phoenix," rocket. He said the three devices were sent up 470 kilometers (290 miles).
Hosseini was quoted as saying the "performance of the space center and the performance of the satellite carrier was done properly."
However, no one immediately said if the objects launched reached orbit. Iran has suffered a series of setbacks in its space program in recent launches.
Iranian media recently offered a list of upcoming planned satellite launches for the Islamic Republic's civilian space program. Iran's paramilitary Revolutionary Guard runs its own parallel program that successfully put a satellite into orbit last year.
Source: Al Arabiya
Please click the following URL to read the full text of the original story:
https://english.alarabiya.net/News/middle-east/2021/12/30/Tehran-launches-rocket-into-space-Iran-media
--------
Palestinian journalists raise alarm about content suppression by Facebook
31 December 2021
Palestinian activists and journalists, backed by rights groups, have raised the alarm about Facebook's pro-Israeli bias leading to an unjust suppression of their content on the social media network.
Sada Social, a Palestinian social media monitoring center, launched a social media campaign called "Facebook Censors al-Quds" after a record 600 Palestinian accounts or pro-Palestinian Facebook posts were restricted or deleted in 2021.
Rama Youssef, an al-Quds-based journalist who volunteered for the campaign, said Facebook adheres to an Israeli point of view and has "double standards."
Iyad al-Rifai, a media expert with Sada Social, said Facebook while looking into posts targets the word "Shahid", an Arabic equivalent for martyr used by Palestinians to describe people killed by Israeli forces.
Rifai said he had asked Facebook for transparency about the issue but the social media network claimed it reviewed posts according to its own policies as well as "local laws and international human rights standards."
The media expert said he was concerned that deleting accounts might discourage Palestinians from "engaging with pivotal issues" for fear of losing "their digital history and presence."
Rifai said he obtained from Facebook "promises to improve the working mechanisms of the algorithms so as to differentiate between journalistic content and ordinary content," but he feared they offered "temporary rather than radical solutions."
Christine Rinawi, a Palestine TV's correspondent, posted a video on her Facebook account in which Israeli security forces were seen fatally shooting a Palestinian on the ground over an alleged stabbing attack.
Shortly after she posted her video, Rinawi, who has nearly 400,000 followers, noticed it had been removed from her account.
The Palestine TV's correspondent said this was not her first experience with Facebook's enforcement, adding that her account had already been restricted after she shared footage of a November attack in al-Quds.
The Arab Center Washington DC think-tank confirmed reports by Palestinian journalists regarding censorship on Facebook in multiple incidents.
The think-tank said the Israeli regime pushes to censor "tens of thousands of posts and accounts" that support a Palestinian point of view.
Leading human rights groups said in October that the platform had "suppressed content posted by Palestinians and their supporters speaking out about human rights issues in Israel and Palestine."
In the midst of the Gaza war back in May, Facebook acknowledged widescale deletion of Palestinian posts and attributed it to a technical bug that it claimed was seeking to fix.
The issue of censorship by Facebook comes as Israelis routinely and overtly spark violence against Palestinians via their posts on social media, without being prosecuted.
Source: Press TV
Please click the following URL to read the full text of the original story:
https://www.presstv.ir/Detail/2021/12/31/673757/Facebook-Palestinian-activists-journalists-unjust-suppression-Israeli-bias-
--------
Abbas to Putin: Israeli-occupied West Bank poised for 'explosion'
30 December 2021
Palestinian Authority head Mahmoud Abbas has told Russian President Vladimir Putin that Israeli raids and other acts of aggression have put the occupied West Bank on the brink of an "explosion."
Abbas told the Russian president during a telephone conversation on Thursday that Israeli settlements, land confiscation, home demolitions and "settler terrorism" are becoming a casus belli for a new revolt in the West Bank, the official Wafa news agency reported.
"The continuation of these Israeli measures will lead to an explosion of the situation," the Palestinian Authority head added.
He also rejected "economic and security steps" offered by Israeli leaders, saying they are not "a substitute for the political track."
The Palestinian leadership will have to take "key decisions" at an important session of the Central Council of the Palestine Liberation Organization (PLO) expected to be held in the coming months, he said without elaboration.
The remarks came following Abbas' rare visit to Israel on Tuesday for talks with Israeli minister of military affairs Benny Gantz that the Israelis said focused on "security and civil matters".
Abbas said in the absence of a political track, the Israeli regime continues to stifle the Palestinian economy and deduct from tax revenues.
Russia is a member of the Middle East Quartet of international mediators, along with the UN, the US and European Union.
The Palestinian Authority president said Israel's endless settlement expansion, its confiscation of Palestinian lands, and its demolition of Palestinian homes and "settler terrorism" are creating an undercurrent of rage and insurrection among the Palestinians.
The meeting with Gantz at his home was the first by Abbas since 2010. Months earlier, Gantz visited Abbas in Ramallah, the seat of the Palestinian Authority (PA), which rules over the West Bank.
Source: Press TV
Please click the following URL to read the full text of the original story:
https://www.presstv.ir/Detail/2021/12/30/673737/Palestine-Abbas-Russia-Putin-Israel-Gantz-West-Bank
--------
Report: Israel demolished 69 Palestinian homes in Silwan, issued 172 demolition orders in 2021
30 December 2021
Palestinian activists say Israel tore down at least 69 Palestinian homes in the flashpoint Silwan neighborhood of East al-Quds and issued orders for demolition of another 172 buildings during 2021.
Fakhri Abu Diab, a member of the Defense of Silwan Land Committee, said on Thursday that the demolition campaign by Israeli forces displaced 342 Palestinians, including a large number of children and women.
The implementation of the eviction orders could render 10,000 Palestinians homeless in the coming weeks or months. Diab said the massive displacement of Palestinians amounts to "ethnic cleansing."
Forced displacement, or the unlawful transfer of civilians in the occupied territories, violates the Fourth Geneva Convention and constitutes a war crime under the Rome Statute of the International Criminal Court.
Israel also filed indictments against 90 owners of homes and fined them 4,370,000 shekels under the pretext of the so-called illegal construction, he added.
The United Nations has reported a 21 percent increase in the number of Palestinian structures that were confiscated or destroyed this year.
Israel regularly flattens Palestinian homes and structures in al-Quds on the pretext that they lack building permits, expropriating more Palestinian lands to expand its illegal settlements.
The international community considers Israeli settlement construction illegal under international law.
Nearly 700,000 Israelis live in illegal settlements built since the 1967 occupation of the West Bank and East al-Quds.
The UN Security Council has in several resolutions condemned Tel Aviv's settlement projects in the occupied Palestinian lands.
Diab also said Israel had seized hundreds of donums of lands for the construction of new illegal settlements.
Source: Press TV
Please click the following URL to read the full text of the original story:
https://www.presstv.ir/Detail/2021/12/30/673735/Palestine-al-Quds-Silwan-Fakhri-Abu-Diab-Israel--
--------
Islamic Jihad: Palestinian resistance ready to face any Israeli aggression
December 30, 2021
The Palestinian resistance in Gaza is ready to face any Israeli aggression, a senior leader of Al Quds Brigades –the military wing of Islamic Jihad in Palestine– said on Wednesday.
These remarks came following the completion of a military drill carried out jointly by the Palestinian resistance in the Gaza Strip.
"The Palestinian resistance in the Gaza Strip is united and ready to face any new Zionist aggression," the senior leader of Al Quds Brigades, who remained anonymous, said.
"The liberation of the Palestinian prisoners and Al Aqsa Mosque are at the top of our priorities," he said.
The leader added: "This military drill is a message to the Arab and Muslim worlds that Gaza is strong enough, and will not be defeated easily."
Meanwhile, he reiterated that resistance was the "strategic choice" of the Palestinian people to liberate their land.
Source: Middle East Monitor
Please click the following URL to read the full text of the original story:
https://www.middleeastmonitor.com/20211230-islamic-jihad-palestinian-resistance-ready-to-face-any-israeli-aggression/
--------
Iran marks 12th anniversary of nationwide rallies held to support Islamic establishment
30 December 2021
Iranian people have staged nationwide rallies to mark the 12th anniversary of huge demonstrations held across the country in support of the Islamic establishment.
The demonstrators, from various social strata, took to the streets in the capital Tehran and other cities on Thursday, carrying placards and chanting slogans in solidarity with the Islamic establishment.
The event commemorated the 12th anniversary of the 2009 nationwide pro-establishment rallies on the ninth of the Persian calendar month of Dey, which falls on December 30.
The nationwide demonstrations have since been lauded as Dey 9 epic.
The million-strong 2009 rallies restored tranquility to the country after months of political wrangling and foreign-backed riots, and ended what the Iranian authorities described as sedition ensuing the presidential election in June that year.
During the riots, a group of demonstrators offended the sanctities of the Iranian people on the day of Ashura, which marks the martyrdom anniversary of Imam Hussein (AS), the third Shia Imam and grandson of Prophet Muhammad (PBUH).
The unrest was orchestrated by two of the presidential candidates who had lost the election, claiming that the results had been rigged. Both remain under house arrest on charges of provoking the public and harming the national security.
'Sedition failed to confuse Iranian people'
Iran's First Vice President Mohammad Mokhber took part in the Thursday ceremony in Tehran.
Addressing the ceremony, the representative of Leader of the Islamic Revolution Ayatollah Seyyed Ali Khamenei in the Islamic Revolution Guards Corps, Abdollah Haji-Sadeqi said the "darkness induced by the sedition failed to make people confused about the realities."
He added that by taking part in post-election demonstrations in support of the Islamic establishment, people "put the last nail in the coffin of a sedition whose master plan was made in more than a decade and even its name had been mentioned by one of the [US] senators during a session of Senate four years earlier."
Source: Press TV
Please click the following URL to read the full text of the original story:
https://www.presstv.ir/Detail/2021/12/30/673722/Iran-anniversary-Islamic-Republic-rallies-
--------
11 Yemeni troops killed, 16 injured in Houthi strike
December 30, 2021
AL-MUKALLA: At least 11 Yemeni government troops were killed and 17 others wounded on Thursday when an explosion caused by a Houthi missile or drone strike rocked their military base in the southern province of Shabwa, local officials and media reports said.
Soldiers from the Giants Brigades were regrouping inside a military base in the Markha Al-Soufla district when a large explosion ripped through the base, a local government official told Arab News.
"The Giants Brigades were getting ready to advance toward other areas in Markha Al-Soufla to defend them against Houthi incursions," the official, who asked to remain anonymous, said.
Local media reports said the explosion was caused by a ballistic missile fired by the Houthis, but other sources said that an explosives-rigged, Houthi-controlled drone attacked the base.
On Tuesday night, two ballistic missiles fired by the Houthis landed inside Ataq airport in the provincial capital of Shabwa, shortly after the Giants Brigades took charge of the airport from local military units.
The newly appointed governor of Shabwa, Awadh Mohammed Al-Wazer, visited the wounded soldiers in Ataq hospital.
Yemeni military analyst Khaled Al-Nasi said that the military commanders were expecting Houthi attacks on the new troops in Shabwa and had taken precautionary measures.
"This is the nature of war, but this (Houthi attack) will not affect the work of the Giants' forces and their mission in Shabwa," he said on Twitter.
Hundreds of troops from the Joint Forces, an umbrella term for three major military units including the Giants Brigades, were relocated from government-controlled areas in Taiz and Hodeidah to the southern province of Shabwa to reinforce government troops battling the Houthis.
Source: Arab News
Please click the following URL to read the full text of the original story:
https://www.arabnews.com/node/1995606/middle-east
--------
South Asia
Afghanistan Ministry Of Vice And Virtue Has Ordered Their Forces Against Invading "People's Privacy"
Dec 30, 2021
KABUL: In a surprising decree, the Taliban-led ministry of Vice and Virtue has ordered their forces against invading "people's privacy" and asked them not to take the phones of people and go through them.
A spokesperson for the vice and virtue ministry warned that the Islamic Emirate would punish those security forces who violated the decree, TOLO news reported.
"Acting Minister of Vice and Virtue Shiek Mohmmad Khalid has said at different events that the Islamic Emirate forces are not allowed to take the phones of people and go through them," said ministry spokesperson Mohammad Sadeq Akif.
This comes a few days after the outfit had ordered that some taxi drivers in Kabul not carry male and female passengers at the same time.
"Last week, they told us that men and women should not be in a vehicle at the same time," said Abdullah Jan, a driver.
Despite such decrees and actions, the Taliban continue to say that it is committed to women's rights based on Islamic Regulations.
Since the Taliban took over in August, signs of Taliban brutal rule of 1996-2001 have started reappearing on the streets of Kabul.
Source: Times of India
Please click the following URL to read the full text of the original story:
https://timesofindia.indiatimes.com/world/south-asia/taliban-orders-forces-to-respect-publics-privacy/articleshow/88587576.cms
--------
Ex-Afghan president says had no choice but to flee Kabul
Dec 30, 2021
ISLAMABAD: Afghanistan's former president said he had no choice but to abruptly leave Kabul as the Taliban closed in and denied an agreement was in the works for a peaceful takeover, disputing the accounts of former Afghan and US officials.
Former President Ashraf Ghani said in a BBC interview that aired Thursday that an adviser gave him just minutes to decide to abandon the capital city. He also denied widespread accusations that he left Afghanistan with millions in stolen money.
Ghani's sudden and secret departure Aug. 15 left the city rudderless as US and NATO forces were in the final stages of their chaotic withdrawal from the country after 20 years.
"On the morning of that day, I had no inkling that by late afternoon I would be leaving," Ghani told BBC radio.
His remarks conflicted with other accounts.
Former President Hamid Karzai old the Associated Press in an interview earlier this month that Ghani's departure scuttled the opportunity for government negotiators, including himself and peace council chairman Abdullah Abdullah, to reach an 11th-hour agreement with the Taliban, who had committed to staying outside the capital.
After calling the government defense minister Bismillah Khan, the interior minister and police chief and discovering all had fled the capital, Karzai said he invited the Taliban into Kabul "to protect the population so that the country, the city doesn't fall into chaos and the unwanted elements who would probably loot the country, loot shops."
But Ghani in his radio interview with British Gen. Sir Nick Carter, former chief of defense staff, said he fled ``to prevent the destruction of Kabul,'' claiming two rival Taliban factions were bearing down on the city and were ready to enter and wage a bitter battle for control. There was no evidence upon the Taliban entry of the rival factions Ghani referred to.
The insurgent force quickly took control of the palace and according to humanitarian aid workers, who spoke on condition of anonymity because they wanted to speak privately, and who were there at the time, the Taliban moved to protect their compounds.
Still, the Taliban's entry into the capital was met with widespread fear and a deep longing by many to flee their desperately poor homeland despite billions of international money over the 20 years the U.S.-backed governments had been in power.
Ghani in his interview denied widespread accusations that he left Afghanistan with a cache of stolen money. The U.S. Special Inspector General for Afghanistan Reconstruction John Sopko has been tasked with investigating those allegations.
Successive Afghan governments, as well as independent foreign and Afghan contractors, have been accused of widespread corruption over the last 20 years with dozens of reports by Sopko documenting the most egregious incidents of corruption. Washington has spent $146 billion on reconstruction in Afghanistan since the overthrow of the Taliban in 2001, yet even before the insurgents returned in August, the poverty level in Afghanistan was at 54 percent.
Earlier this week Organized Crime and Corruption Reporting Project, an investigative reporting organization with 150 journalists in more than 30 countries, listed Ghani among the world's most corrupt leaders. Belarus President Aleksandr Lukashenko was named the most corrupt with Ghani, Syrian President Bashar al-Assad, Turkey's President Recep Tayyip Erdogan and former Austrian Chancellor Sebastian Kurz among the finalists for the title of most corrupt.
After being told by his national security adviser Hamdullah Mohib that his personal protection force was not capable of defending him, Ghani said, he decided to leave. Saying Mohib, who "was literally terrified," gave him just two minutes to decide whether to leave, Ghani insisted he was not sure where he would be taken even after he was on the helicopter getting ready to evacuate Kabul.
Source: Times of India
Please click the following URL to read the full text of the original story:
https://timesofindia.indiatimes.com/world/south-asia/ex-afghan-president-says-had-no-choice-but-to-flee-kabul/articleshow/88593780.cms
--------
Taliban to investigate torture of former security personnel
31 Dec 2021
Islamic Emirate of Afghanistan said they will investigate cases of former security personnel being kidnapped, tortured, and arrested by rank and file of IEA.
A spokesperson of the IEA Ahmadullah Wasiq said that they are fully committed to the general amnesty announced by Supreme Leader Hebtullah Akhundzada and will not allow anyone to violate amnesty.
Ahamdullah Wasiq said that all cases of the former commanders, security officials, and activists being mistreated by Taliban affiliates.
It comes a day after the Supreme Leader himself in a meeting with the provincial officials of Kandahar asked the Taliban affiliates to respect his general amnesty and stop extrajudicial punishment.
"The cases are not to that extent that is shown on social media. Places, where mistreatment is seen, will be fully under our surveillance." Said Wasiq.
Source: Khaama Press
Please click the following URL to read the full text of the original story:
https://www.khaama.com/taliban-to-investigate-torture-of-former-security-personnel-8687/
--------
Pakistan's first consignment of 1,800 tons of wheat arrives in Afghanistan
30 Dec 2021
The first consignment of 1,800 metric tons of what was donated by Pakistan arrived in Afghanistan and was handed over to Afghan officials at the eastern crossing point between the two countries, Torkham.
The ceremony at Torkham was attended by Shehzad Arbab, special assistant to PM Imran Khan, officials from Afghan National Disaster Management Authority, and Pakistan's Consul General Abidulllah Khan.
This is the first consignment of the 50,000 metric tons of wheat donated by Pakistan to Afghanistan.
Pakistan embassy in Kabul in a statement said that the total amount of wheat will be dispatched to Kabul, Nangarhar, Panjshir, Balkh, Badakhshan, Bamyan, Daikundi, Kandahar, Helmand, Farah, Herat, Khost, and Paktika provinces in the next few weeks.
Earlier, Pakistan had provided the Afghan people with foodstuff, medications, and shelter in various provinces.
Source: Khaama Press
Please click the following URL to read the full text of the original story:
https://www.khaama.com/pakistans-first-consignment-of-1800-tons-of-wheat-arrives-in-afghanistan-8685/
--------
11 Years After Trying To Kill Each Other, Ex-Marine Meets Talib Again
Thomas Gibbons-Neff
31.12.21
The tea was hot. The room, oppressive and dusty. And the Taliban commander I sat across from in a bullet-scarred building in southern Afghanistan had tried to kill me a little over a decade ago.
As I had tried to kill him.
We both remember that morning well: February 13, 2010, Marja district, Helmand Province. We were about the same age: 22. It was very cold.
Mullah Abdul Rahim Gulab was part of a group of Taliban fighters trying to defend the district from the thousands of American, coalition and Afghan troops sent to seize what at the time was an important Taliban stronghold.
He didn't know it when we recently met, but I was a corporal in a company of Marines that his fighters attacked that winter morning so many years ago.
With the insurgents' victory in that 20-year war secured this summer, Gulab, now a high-level commander, was sitting with me in Marja's government headquarters, a mess of a building the Americans had refurbished years ago.
I was his guest, along with two of my colleagues from The New York Times. I told him that the fight for Marja had been important in the eyes of the US, but that most people had heard only one version of the story of the battle. Not the Taliban perspective.
It was 2010, and the Taliban were once again becoming a potent military force, threatening nearly every part of Afghanistan. In Marja, the insurgents were taxing local residents, administering cruel and quick justice, and taking in a significant amount of income from the poppy harvest.
Operation Moshtarak, as the US military called the 2010 mission to seize the district, was the first set-piece battle of President Barack Obama's counterinsurgency troop surge, which failed.
Eleven years later, Gulab and I still remember the call to prayer that February morning in the village of Koru Chareh, a hamlet set amid half-flooded poppy fields, not far from the centre of Marja. The surrounding trees, leafless, looked like dead outstretched hands.
"The skies over Marja were full of helicopters, and dropped American soldiers in different areas," Gulab said.
I had just moved with my team of seven other Marines to a small mud-brick pump house, having landed with more than 250 other troops a few hours earlier. As the sun rose, Gulab gathered his band of Taliban fighters from a nearby village.
Soon after, the mullah, loud and angry, came over the mosque loudspeaker. Gulab and his Taliban fighters prayed.
Then the shooting started.
"It was a very tough fight," Gulab said.
He wasn't wrong. By the end of the day, a Marine engineer was dead and several others wounded. The insurgents suffered their own casualties.
With the war ending this August, the places where I had once fought as a Marine are now reachable again — stretches of land where my friends died and I watched my country's military failures unfold. Now, as a journalist for The Times, I wanted to return to report on what had changed, and what hadn't, on and around these former battlefields.
In November, my drive back to the district, now controlled by the Taliban, was easy enough. The roads were busy with motorbikes and trucks packed with cotton. The pavement was pockmarked with craters from the roadside bombs the insurgents had once placed beneath them. Abandoned military and police outposts dotted the highway like sporadic Stonehenges.
Marja was as I remembered, but some things had changed. There was a paved road. The canals were dry.
And the war was over.
The two-storied building we had once occupied as a command centre, where my friends Matt Tooker and Matt Bostrom were shot that day in February, was now a midwives' clinic.
On this trip back to Marja, men weren't allowed inside. But through the cracked door, I could see the steps where my wounded friends had sat, bandaged, on painkillers and smiling, before the evacuation helicopter swooped in.
Around the same time that a Taliban marksman put a burst of gunfire into my teammates, Gulab lost one of his fighters — as if the pendulum of violence that played out that day was trying to balance itself.
"My friends were shooting at the foreigners from a garden and one was killed," Gulab said, before explaining how his men planted explosives meant for advancing Marines like me.
"For each IED, one Talib was there to detonate it," he said.
Gulab joined the Taliban in 2005, a year before I enlisted in the Marines. He had just lost two brothers in the fighting, both Talibs.
I grew up in the Connecticut suburbs. Gulab grew up in an isolated and mountainous part of Helmand Province.
"When I was a child I was going to the madrasa, and our mullah was telling us, 'The foreigners want to occupy our country, and you guys, you should be ready to defeat them,'" Gulab explained. "I hoped to join the mujahideen."
By the time I landed in Marja, Gulab was a seasoned fighter who had survived American airstrikes as the steady churn of US and Nato troops flooded into southern Afghanistan.
He was in charge of about 60 fighters and understood how to navigate the rules of engagement that kept foreign troops from killing unarmed Taliban fighters who tossed their weapons into the nearest ditch.
Whenever US forces got close, Gulab said, "We would drop our weapons and then come out on the streets and say 'hi' to them, and they'd ask us, 'Where are the Taliban?' and we'd reply, 'We don't know'. After that, kids and villagers would collect our weapons and keep them in their homes until we got them back."
Gulab said his fighters would use children to spot patrols and call his men as soon as the Americans left their posts. He mentioned it as a casual aside, but a decade ago, as we started to learn that eight-year-olds were putting our friends' lives at risk, we wondered — and argued about — how far we'd be willing go to make sure none of us died in a war we had already realised we were losing.
As Gulab recounted his memories of all the ways his friends killed my friends and vice versa, I looked at his rifle next to my right arm. He had propped it in the chair next to me before I sat down. It was an American M4 carbine, much like the one I carried in 2010.
For a brief moment I was in between time, between the beginning of my war and its end.
The rifle was a familiar tool, once an extension of myself and always within arm's reach. But now that it was no longer needed, it was little more than a mass of plastic and steel, and it had no bearing on how I interacted with Marja and Gulab. He was no longer an enemy but a man sitting on the floor, pondering his next sentence. He wasn't fighting in a war that seemed like it would never end. And neither was I.
He had won his war. I had lost mine.
Source: Telegraph India
Please click the following URL to read the full text of the original story:
https://www.telegraphindia.com/world/11-years-after-trying-to-kill-each-other-ex-marine-meets-talib-again/cid/1845558
--------
Arab World
Raghad Saddam Hussein remembers slain father 15 years on
30 December ,2021
Saddam Hussein's daughter has marked 15 years since her father was executed by calling on Iraqis to unite and come to terms with the changes in the Arab world.
Sitting in front of a portrait of her slain father, Raghad Saddam Hussein said it was time for Iraqis to forgive one another regardless of sect or background, "even those who made mistakes."
In an interview with Al Arabiya earlier this year, Hussein said Iran deemed Iraq "free for taking" due to an absence of real and legitimate authorities.
In her latest speech, she said Iraq should not side with an Arab side over another Arab. "We will urge them to avoid disagreements and conflicts amongst each other because their strength is our strength," she said in a recorded message.
WATCH: Saddam Hussein's daughter, Raghad, marks 15 years since he was executed by calling on Iraqis to unite and come to terms with changes in the Arab world.https://t.co/VmKfs13wq6 pic.twitter.com/Et75TuM675
— Al Arabiya English (@AlArabiya_Eng) December 30, 2021
Hussein, who has not ruled out a future in Iraqi politics, said the only Iraqis who should not forgive others are the parents of the "October Revolution" victims. She was referring to the protesters that were shot, beaten and killed by Iraqi security forces or Iran-backed militias.
Source: Al Arabiya
Please click the following URL to read the full text of the original story:
https://english.alarabiya.net/News/middle-east/2021/12/30/Raghad-Saddam-Hussein-remembers-slain-father-15-years-on
--------
Iraqi president convenes new parliament for January 9: Decree
30 December ,2021
Iraq's new parliament will convene on Jan. 9, according to a decree issued on Thursday by President Barham Salih, preparing the way for lawmakers to put a new government in place.
Source: Al Arabiya
Please click the following URL to read the full text of the original story:
https://english.alarabiya.net/News/gulf/2021/12/30/Iraqi-president-convenes-new-parliament-for-January-9-Decree
--------
Guardian: Assassins of dissident journalist Jamal Khashoggi living in luxury villas in Riyadh
31 December 2021
At least three members of a Saudi hit squad convicted of involvement in the gruesome killing of prominent dissident and journalist Jamal Khashoggi inside the Saudi consulate in Istanbul back in October 2018 are reportedly living and working "in seven-star accommodation" inside a government-run security compound in the Saudi capital Riyadh
According to a report published by British daily newspaper The Guardian, a source connected to senior members of Saudi intelligence said the assassins are believed to be staying in villas and buildings run by Saudi Arabia's Presidency of State Security, and are being kept far from the walls and bars of its infamous prisons.
The source has spoken to two witnesses who claim to have seen the men.
They said family members frequently visit the men, who are able to use a gym and workspaces on the site.
All the three men were among the defendants sentenced in December 2019 before the so-called Riyadh Criminal Court, in a trial broadly condemned as a sham, for "committing and directly participating in the murder" of The Washington Post columnist and Saudi critic.
The source confirmed that Salah al-Tubaigy, the forensic scientist who dismembered Khashoggi inside the Saudi consulate in Istanbul, was one of those seen inside the facility.
Mustafa al-Madani, the body double dispatched by the hit squad team to create the ruse that Khashoggi left the consulate alive, has also been seen, as has Mansour Abahussein, who is accused of leading the operation.
Both witnesses have visited the compound on several occasions in the past two years. They say the men were relaxed and appeared to be performing normal duties.
Visitors, including caterers, gardeners, technicians and family members, frequently attend the compound, according to the intelligence source.
The sightings cast further doubt on Riyadh's claims to be holding the killers to account and come as Saud al-Qahtani, a former top aide to Saudi Arabia's crown prince and de facto ruler Mohammed bin Salman (MbS), is quietly edging back to power, with social media influencers loyal to the Riyadh regime seeking to reintroduce him as a figure who has served the kingdom.
Qahtani has been acquitted of any involvement in Khashoggi's murder, despite a western intelligence assessment that he had masterminded the assassination at the Saudi crown prince's behest.
Khashoggi was murdered on October 2, 2018 after he entered the Saudi consulate in Istanbul to obtain a document stating that he was divorced, so that he could marry his Turkish fiancée, Hatice Cengiz.
Recording and other evidence gathered by Turkish authorities revealed how a team of Saudi agents subdued, killed and then dismembered the journalist inside the diplomatic mission.
Saudi Arabia initially issued conflicting stories about Khashoggi's disappearance, but eventually said that he was killed in a "rogue" operation.
US court tosses Saudi suit against former top Saudi intelligence officer
Additionally, a US judge has dismissed a lawsuit by a Saudi state-owned firm against former top Saudi intelligence official Saad al-Jabri.
It ruled that a rarely used US government intervention to stop the release of classified information prevented the case from proceeding.
"The court is unconvinced" that it could rule for Sakab Saudi Holding Co. without involving the materials that the US government deemed state secrets, US District Court of Massachusetts Judge Nathaniel Gorton said.
Source: Press TV
Please click the following URL to read the full text of the original story:
https://www.presstv.ir/Detail/2021/12/31/673756/Assassins-of-dissident-journalist-Jamal-Khashoggi-living-in-luxury-villas-in-Riyadh,-say-witnesses
--------
Yemen calls on UN Security Council to hold Saudi Arabia, its arms suppliers to account for devastating war
30 December 2021
Yemeni Foreign Minister in the National Salvation Government Hisham Sharaf Abdullah has called upon the UN Security Council to hold Saudi Arabia and its arms suppliers to account in accordance with the international law over their war crimes in the crisis-stricken Arab country.
Abdullah, in identical letters addressed to the rotating president of the Security Council Abdou Abarry and members of the UN body, asked them to expose the groundless nature of allegations at the center of the Saudi letter to the Council on December 28.
Earlier, in a letter to UN Secretary General Antonio Guterres and the president of the Security Council, the permanent representative of Saudi Arabia to the UN, Abdallah al-Mouallimi, had asked the world body to hold Yemen's Houthi Ansarullah movement accountable for their retaliatory attacks on Saudi targets, claiming that those attacks endangered peace.
In reaction, the Yemeni foreign minister urged the Security Council to assume its responsibilities with regards to international peace and security, particularly in the Arabian Peninsula and the Persian Gulf region, and to take measures that would stop Saudi Arabia's constant threats and indiscriminate bombardment of civilian facilities, and protect the Yemeni nation against terrorism and crimes being perpetrated by the Riyadh regime and its allies
Abdullah stressed that Saudi Arabia is seeking to portray itself as a victim in order to evoke the international community's sympathy, and escape global condemnation over flagrant violation of the international law.
The Yemeni foreign minister highlighted that incontrovertible and straightforward facts about the Saudi-led war on Yemen cannot be denied.
"It was Saudi Arabia that launched this barbaric military aggression and took the entire Yemeni territories under attack with the most sophisticated rockets and missiles as well as internationally banned chemical weapons," Abdullah pointed out.
"It is fairly bizarre that the Security Council and the international community keep mum and do not condemn the crimes being committed on a daily basis by the Saudi-led coalition of aggression, but rush to cry foul when Sana'a exercises its right of self-defense under the international law and the Charter of the United Nations and targets Saudi military sites and strategic facilities with its domestically-developed armament," the letter read.
"Saudi Arabia is either working directly or through its allied Takfiri terrorist groups to put obstacles in the way of Yemen peace, and is pressing for the settlement of Yemen conflict according to its own interests. All this happen while the kingdom is not taking into account the humanitarian catastrophe which it has caused in Yemen," Abdullah underscored.
The top Yemeni diplomat went on to say that the Salvation Government and all Sana'a-based political factions reject all attempts aimed at Saudi hegemony over Yemen, but welcome just and honorable peace for the entire Yemeni nation.
He called on Saudi Arabia and its allies to review their positions and rectify their miscalculations, emphasizing that Riyadh should realize that a comprehensive political solution to Yemen's crisis is the key to normalcy of life in Yemen and establishment of good neighborly relations.
The Yemeni foreign minister also underlined the need for goodwill and urgent measures in order to pave the way for political peace negotiations and stop the Saudi-led war on Yemen.
He said practical steps must be taken in order to ensure full withdrawal of foreign forces from Yemeni territories, reopen Sana'a International Airport to commercial and civil flights, facilitate the entry of ships loaded with oil derivatives, natural gas and commercial goods to the port of Hudaydah, and resolve a series of problems that have held up salaries for public sector workers.
Abdullah finally called on the Security Council to adopt a clear stance towards Yemen peace by adoption of a binding resolution, and demanded an end to the brutal Saudi-led aggression and siege.
Source: Press TV
Please click the following URL to read the full text of the original story:
https://www.presstv.ir/Detail/2021/12/30/673713/Yemen-calls-on-UN-Security-Council-to-hold-Saudi-Arabia,-its-arms-suppliers-to-account
--------
1 injured in car bombing in northern Syria
Omer Koparan
30.12.2021
AZAZ, Syria
One person was injured in a car bomb attack in the Azaz city, northern Syria on Thursday.
According to preliminary reports, the explosion caused damage to property in the Syrian opposition-held city.
The injured person was taken to a local hospital.
Source: Anadolu Agency
Please click the following URL to read the full text of the original story:
https://www.aa.com.tr/en/middle-east/1-injured-in-car-bombing-in-northern-syria/2461265
--------
King Salman says Iran's destabilizing acts remain a 'great concern' for Saudi Arabia
December 30, 2021
RIYADH: Saudi Arabia's King Salman on Wednesday expressed hopes that Iran would abandon its policy of destabilization and aggression and cooperate in bringing peace and stability to the Mideast region.
"Iran is a neighboring country to the Kingdom. We hope that it will change its negative policy and behavior in the region and shift towards dialogue and cooperation," the king said in his annual speech to the Saudi Shoura Council.
His wide-ranging speech, delivered virtually in view of the resurgent COVID-19 pandemic, also reaffirmed Saudi Arabia's initiative to end the conflict in Yemen and support for the people of Lebanon in the face of economic crisis and security threats from the Hezbollah.
Saudi Arabia and its Arab and Western allies have accused Iran of supporting militias, including the Hezbollah of Lebanon, the Houthis of Yemen and the Hashd of Iraq in fighting its proxy wars.
Iran's nuclear weapons program has also been a cause for concern, with Israel threatening to take preemptive action unless it is stopped, a move that is feared to spark a conflagration.
"We are following with great concern the policy of the Iranian regime that destabilizes security and stability in the region, including the establishment and support of sectarian and armed militias, the systematic deployment of its military capabilities in the countries of the region, and its lack of cooperation with the international community regarding the nuclear program and its development of ballistic missile programs," King Salman said.
"We are also following up on the Iranian regime's support for the terrorist Houthi militia, which stretches the war in Yemen, exacerbates the humanitarian crisis there, and threatens the security of the Kingdom and the region," he said.
Yemen conflict
King Salman reaffirmed Saudi Arabia's initiative "to end the conflict in Yemen and supports global and international efforts to reach a political solution, in accordance with the three references: The Gulf initiative and its implementation mechanism, the outcomes of the National Dialogue Conference, and UN Security Council Resolution No. 2216".

Apart from supporting Yemen's legitimate government in containing the threat of the Iranian-backed Houthis, Saudi Arabia has continued to provide aid of various kinds to alleviate the human suffering of the Yemeni people. Houthis dislodged the government of then President Abed Rabbu Mansour Hadi from Yemen's capital, Sanaa, in 2014 promoting intervention by a coalition of Arab states led by Saudi Arabia.
Since then on, the Houthis have been bombarding mostly civilian targets in the Kingdom's southern borders with missile and armed drone attacks.
Saudi Arabia has been prodding the parties involved "to accept political solutions" to end the conflict, but the United Nations-brokered peace negotiations have so far been unsuccessful.
On Lebanon, the king said Saudi Arabia continues to stand by its Lebanese brothers.
He urged Lebanon's leaders "work to achieve what the brotherly Lebanese people aspire to in terms of security, stability and prosperity, in addition to stop Hezbollah's terrorist control over the country."
On Afghanistan, he said Saudi Arabia is "closely following the developments" as he stressed the "importance of the stability and security of Afghanistan instead of being a haven for terrorist organizations."
"The Kingdom also urges intensifying regional and international efforts to provide humanitarian assistance to alleviate the suffering of the brotherly Afghan people. In this regard, the Kingdom called for a special meeting of the Organization of Islamic Cooperation's Ministerial Council in December 2021, to provide relief to the brotherly people of Afghanistan," he said.
Vision 2030
The king took the occasion to commend Crown Prince Mohammed bin Salman, whom he credited for the various visionary projects being undertaken as part of the Kingdom's Vision 2030 program.
He mentioned the start of the second phase of Vision 2030, the goal of which is to create a diversified economy.
Saudi Arabia's economy had been dependent on the oil industry, which had proven to be disadvantageous as the price of oil has continued to drop worldwide. To achieve the goals of Vision 2030, King Salman launched wide-ranging reforms, such as developing non-oil industries, allowing women to play a bigger role in nation-building, and developing the tourism industry and opening up the Kingdom to global tourists.
Source: Arab News
Please click the following URL to read the full text of the original story:
https://www.arabnews.com/node/1995201/saudi-arabia
--------
Europe
9 Serbs Indicted For Killing Over 100 Muslim Bosniaks In The 1992-95 War
December 30, 2021
A Bosnian war crimes prosecutor has indicted nine Bosnian Serbs for the killing of around 100 Muslim Bosniaks, including seven entire families, early in the 1992-95 war, the prosecutor's office said in a statement on Wednesday.
Twenty-six years after the end of its devastating war between Orthodox Serbs, Catholic Croats and Muslim Bosniaks in which about 100,000 people had died, Bosnia is still searching for people who went missing and seeking justice against the suspected perpetrators.
At the same time, the Balkan country is going through its worst post-war political crisis, with Bosnian Serb leaders' threat of pulling out of Bosnia's national institutions, including the joint armed forces, raising fears of a new conflict.
The nine men, the former members and commanders of the Bosnian Serb wartime army, are accused of killing the Bosniak civilians from the area around the southeastern Bosnian town of Nevesinje, including dozens of women, elderly people and small children.
Source: Blue Print
Please click the following URL to read the full text of the original story:
https://www.blueprint.ng/bosnian-war-9-serbs-indicted-for-killing-over-100-muslims/
--------
Muslim Brotherhood found a new home in Europe
Giulio Meotti
December 30, 2021
After Abdel-Fattah al-Sisi overthrew the Egyptian government led by the Muslim Brotherhood, the Islamist leadership ended up in jail. The Economist tells us that Ibrahim Mounir, the new Supreme Guide, now lives and works from London, from which he "oversees the international network of the Brotherhood and has good relations with foreign governments".
"In the depths of the British capital, the Muslim Brotherhood office has become one of the most active branches of the Islamist group," writes Foreign Policy.
London was the "natural home" for the Islamic Brotherhood. It was already home to the Brotherhood's English-language site, "Ikhwanweb". Gomaa Amin, the second in command and the oldest member of the Brotherhood not in prison, also lives in London. The son of Essam al-Haddad, arrested by the Egyptian security forces, is one of the leaders of the London wing. They use facade foundations, such as Cordoba, which takes its name from the Spanish city that was long conquered by Islam.
The Sunday Telegraph revealed that the main hubs for the Brotherhood's operations in Europe are Westgate House, a building to the west of London, and Crown House, to the north. "They contain at least 25 organizations linked to the Brotherhood".
And from London, the Muslim Brotherhood is now launching mega projects in the heart of Europe.
The Europe Trust, a UK-based organization linked to the Muslim Brotherhood, has just acquired a € 4 million property in Berlin's Wedding district, reports Die Welt. "Wedding - a former working-class neighborhood in Berlin - has been transformed into a stronghold of political Islam and a hotspot for religious extremists. Now it is known for being a community full of mosques, shops, Islamic cultural centers and associations ".
Jean-Louis Harouel, law historian at the Paris II University and author of Human Rights Against the People (Liberilibri), in the weekly Valeurs Actuelles, has just explained that Islamists have found a great ally in Brussels. "Institutional Europe is the worst enemy of the peoples of Europe".
A pro-Islamic partisanship that has manifested itself just recently with the attempt by the Council of Europe to launch a major propaganda campaign, co-financed by the European Union, in favor of the hijab, presented as an instrument of women's freedom. "The Council of Europe strongly supports the expansion of Islam in Europe, declaring that 'Muslims are at home in Europe' (resolution 1743)," explains Harouel. "European leaders, like those of Western European countries, persist in denying that Islam is not only a religion, but also a civilization, and a civilization hostile to European civilization. They refuse to see the obvious, which is that Europe is currently a victim of the muffled process of Muslim conquest."
"It is in this spirit of submission that the European Union urged its officials to refrain from talking about Christmas, so as not to anger Muslims by naming a Christian holiday. The remains of Christianity have more legitimacy on European soil than those who claim to import other cults and other civilizations, who must be prevented from enslaving Europeans by subjecting them to some form of dhimmitude ".
If the European Commission and the Council of Europe seem to work daily against the defense of European identity and civilization, the two composite institutions have a very generous hand (with European taxpayers' money) when it comes to granting funds to associations linked to the Muslim Brotherhood. 64 million euros of public subsidies granted since 2007, this is the count just established by Global Watch Analysis: "At the top of the Islamist organizations that receive European subsidies there are three types of associations: Islamist humanitarian NGOs, youth or women's associations and community organizations that they are conducting a 'legal jihad' against the opponents of Islam ".
The latest Brussels madness was revealed by Fild. The European Union has financed a program against "gender Islamophobia" - more than 160,000 euros of public money - under the aegis of the European Institute for the Mediterranean. The objective of this project is to: teach journalism students from Belgium and Spain to recognize and combat "gender Islamophobia".
Fatiha Agag Boudjahlat, teacher and essayist from Toulouse, tells Fild that "it is the new semantic Trojan horse used by the Islamists. They appropriate the image of women for their soft power, as well as for their economic influence. Today the pseudo-NGOs approved by the European Union or the European Council pass off their Islamist demands as struggles for civil rights. And of course you understand that the defense of women's rights is more consensual than that of bearded men in qamis ".
Source: Israel National News
Please click the following URL to read the full text of the original story:
https://www.israelnationalnews.com/news/319536?401C31E2-B29B-3E4C-8368-E104965EFA48_kav_cup_C6FA3ED5_6D17_47D1_B6E2_F4B02CC905E0_
--------
Mental health no longer taboo in Muslim communities, say UK specialists
SARAH GLUBB
December 30, 2021
LONDON: Discussing mental health is becoming more acceptable among Muslim communities in Britain and misconceptions are being properly addressed, experts have claimed.
"Mental health has been around for a long time, but we have not accepted it or actually sought help, and now we need to get minority communities in the UK, and globally, to understand that mental health is not a stigma, it's not black magic or jinn possession, it is actually an illness," Mohammed Kothia, an emotional support specialist, told Arab News.
"There's a realization now that it's ok to not be ok, it's better to speak and address the problems one has, rather than suffer in silence or brush it under the carpet," he said.
Another common misconception is that non-religious mental health professionals will impose their views on you and undermine your Islamic beliefs, Kothia added.
Muslim communities tend to go spiritual healers who may have no mental health background, rather than skilled, qualified professionals who have ethical obligations and a code of conduct.
"It's important to seek help in the correct place, and I think as a community, maybe we have failed at times to do that," he said, adding: "If Islam and your spirituality is an important factor in your life, then you should have an open discussion with your therapist or counselor."
Kothia said that Muslims have the same issues as everyone else.
For example, the COVID-19 outbreak and lockdowns have caused stress, anxiety, depression and isolation to affect all groups. Families have struggled with death and grieving, especially when they were unable to see loved ones during the final stages of their lives or to perform normal funeral rites due to government restrictions.
Kothia said financial implications may become more severe in the months to come due to the pandemic, a rise in inflation, unemployment — especially among youth — cost of living, and a worsening energy crisis.
Personal wellbeing in the UK during the first and second wave of the pandemic was among the lowest levels in a decade, the Office for National Statistics said in its annual report earlier this month.
There has been a significant increase in the number of people accessing mental health services in the last year, according to the UK National Health Service, and as a result, a number of charities and organizations have taken a proactive focus to address the core of the problem.
Kothia, who is also heavily involved at his local mosque in east London and sees the issues in the community firsthand, said in the last five years, there had also been a massive rise in Muslim and other minority counselors and emotional support volunteers that are "breaking barriers," and the next stage is to get more Muslim specialists in the field.
The other positive is the youth are now being taught about mental health, with hopes that it will not be stigmatized.
This comes down to education, Kothia said, which is why "awareness in the Muslim community and the wider society, will lead to more of us working in the field, and the more awareness we can bring to our communities, then naturally, that collective work will lead to a positive outcome."
The London-based mental health and bereavement charity Supporting Humanity runs a free emotional support helpline, and said in the last three months they have seen a sharp increase in calls.
Many people feel they are not heard and are worried of being judged, so the key is active listening, anonymity and confidentiality, Kothia, who also volunteers at the helpline, said. "We underestimate the power of lending an ear and listening."
Supporting Humanity, which was set up at the start of the pandemic and has trained nearly 30 people to be mental health advisers, said the elderly were among their top callers.
"The pandemic has left a lasting impact on our elderly, and their anxiety and depression levels, and I think the government hasn't addressed this issue that 'shielding' has had a massive impact on our society," Kothia said.
Levels of loneliness in Britain have increased since last spring, and 5 percent of people (about 2.6 million adults) said that they felt lonely "often" or "always," and that proportion increased to 7.2 percent of the adult population (about 3.7 million) by February, the ONS said in April.
"Some of them have been struggling for years and they talk about how they thought about committing suicide numerous times, how they trap themselves in a room because they're embarrassed or scared to go and talk to other people, there's so many people out there with various different mental health issues," said Idris Patel, the charity's CEO.
He also said more marketing campaigns and outreach programs are needed in community centers, schools and universities, businesses, GP surgeries as well as religious centers and mosques as they are "catchment areas" for people who are suffering or contemplating suicide.
The charity also regularly trains imams to explain the differences between black magic and mental health, directing people to professionals and charities, and highlighting free services.
Suicide and attempted suicide rates in the Muslim community have increased, particularly among youth, which account for half of the British Muslim population. A report released in July by the Better Community Business Network, a Muslim-led organization supporting mental health and positive wellbeing of Muslim communities across the UK, in partnership with the University of East London, found that 64 percent of Muslim youth said they experience suicidal thoughts and nearly one-fifth said they had turned to no one when undergoing difficulties.
Addiction is another major issue, Patel said, as parents are not tackling the root of the problem, are embarrassed to admit their child has a drug or alcohol problem, and do not seek professional help. So is domestic violence, he added.
Shamam Chowdhury was introduced to the charity after her 22 year-old son was murdered and needed funeral services, and was also introduced to mental health and emotional support.
British-Bangladeshi Mohammed Aqil Mahdi, an accounting and finance student at Greenwich University, was found stabbed to death in east London on Nov. 6. Three suspects have been charged with murder.
"I was very overwhelmed because I've never been in this kind of situation and one, I've just lost my son, which was shocking itself, and second, not knowing or understanding anything," she said.
With police inspectors contacting her for statements, and then finding out she would not be able to see her son until after the postmortem examination, the 45 year-old single mother felt lost and alone.
The charity stepped in and handled all the paperwork, logistics, postmortem, the ghusl (the washing process Muslims have to undertake before burial), the burial and the funeral (janazah) prayer, as part of the end-to-end bereavement services its offers to help people focus on grieving.
"When you are in that kind of situation where you've just lost, I would say, your most valuable thing in this world, and then being in a situation where you have no clue how to go about these things," she said, describing the torment of her experiences, but added that an emotional support adviser made her feel "like there was a light at the end of the tunnel."
Source: Arab News
Please click the following URL to read the full text of the original story:
https://www.arabnews.com/node/1995681/world
--------
COVID-19 pandemic deepens online Islamophobia in Europe
Omer Tugrul Cam
31.12.2021
BRUSSELS
2020 saw a rise in online Islamophobia as COVID-19 lockdowns were imposed and daily life shut down across Europe, according to a report.
The report called "European Islamophobia Report 2020" was prepared by Enes Bayrakli, an international relations professor at Istanbul-based Turkish-German University, and Farid Hafez, a political scientist from Georgetown University's Bridge Initiative.
The report included 37 academics, experts, civil society activists' contributions to the coverage of 31 European countries.
According to the report, the COVID-19 epidemic, which severely affected Europe in 2020, had different effects on Islamophobia.
"In some countries, with the forced retreat of everyday life to the intimate private sphere, physical Islamophobia has decreased. Yet, at the same time, Islamophobia has moved to the private sphere and is being spread especially in social media."
This report underlines, "The overwhelming majority of European states do not record Islamophobic incidents as a separate category of hate crime. The recording of anti-Muslim/Islamophobic crimes by the police as a separate category of hate crime is essential to uncover the real extent of this problem and to develop counter-strategies to combat it."
This report also says in the EU, only 12% of Muslims who have been discriminated against report their cases to the authorities.
It also shares statistics for the previous years as well as for 2020. Accordingly, the situation in European countries was as follows:
Austria and the Czech Republic
A total of 812 anti-Muslim hate crimes were documented in Austria in 2020. This figure is over double the number of 2019 with 385 cases.
Due to the coronavirus pandemic, the number of online hate crimes rose. In comparison, 3,215 cases were documented in 2020, 1,822 digital hate messages in 2019. Of these cases, 144 had anti-Muslim content.
A total of seven incidents related to anti-Muslim prejudice were recorded by a human rights organization in the Czech Republic.
Germany
A total of 901 Islamophobic crimes were registered by the Federal Criminal Police Office in Germany in 2020.
In the country, 18 anti-Islam demonstrations were held, 16 of which were organized by the racist PEGIDA movement in the same year.
In 2019, a total of 31,472 extremist crimes with a political background were recorded in the country. Compared to the previous year, such crimes increased by 13.8%. In total, 21,290 of these crimes were committed by right-wing extremists. Extremist violent crimes decreased by 13.7% to 925 in 2019.
Of the 8,585 hate crimes in Germany, 2,032 were recorded as anti-Semitic and 950 as Islamophobic crimes.
In 2019, 3,703 crimes were detected in the "anti-foreigner" crime category. Of these, 506 were violent offenses.
France
235 Islamophobic cases were recorded in France in 2020. This number was 154 in 2019. There was a 14 % increase in anti-Islamic actions and a 79% increase in threats.
According to the latest study by the National Consultative Commission on Human Rights, crimes committed with racial motives rose by 11% in 2019. There was a 54% increase in Islamophobic acts.
In the organization's research called "the Collective against Islamophobia in France," Islamophobia increased in the country in 2019, and 800 actions were recorded in this context. Islamophobic actions increased by 77 % in two years by 2020.
It was reported that the organization could not publish data for 2020 as it was targeted and shut down by the government.
Belgium, the Netherlands
According to the statistics published in 2020 in Belgium, 90.6% of recorded Islamophobic cases pertaining to individuals were enacted against women in the preceding year. This is up from 75% of all victims being female in 2018.
26.3% of Islamophobic cases were related to employment. 48% of Islamophobic cases were recorded in the capital Brussels, 23% in Wallonia, and 4% in Flanders.
According to reports in the Netherlands, people with a migration background, mainly Turkish and Moroccan, and Muslims, face relatively high discrimination.
It is stated that these people feel strongly stigmatized, discriminated, and excluded, to the extent of people retreating from society, losing their faith in institutions or simply giving up when it comes to education or finding a job.
Scandinavia
Statistics show that Muslim women experience discrimination in their labor force participation in Denmark. It is determined that Muslim women who wear a hijab have to send %60 more job applications than white Danish women.
Also, minority ethnic women have to make 18% more job applications than white Danish women.
Hate crimes in Finland decreased by 1.2% to 899 cases in 2019.
In the previous year, this number was 910 cases. On the other hand, the number of ethnic agitation cases rose to 105 from 34. As in previous years, the majority of the victims in these incidents were Muslims.
72% of the hate crimes recorded in Finland were related to the person's ethnic background and 14% were related to their religious background. Somalis, Iraqis, and Turks suffered the most from these attacks, respectively.
Spain
In 2019, hate crimes increased by 6.8% compared to the previous year in the country.
A total of 1,706 complaints were made over hate crimes. Of these, 66 were related to religion, and 515 to racism and xenophobia. No segregated statistics for anti-Muslim bias are available.
Source: Anadolu Agency
Please click the following URL to read the full text of the original story:
https://www.aa.com.tr/en/europe/covid-19-pandemic-deepens-online-islamophobia-in-europe/2462001
--------
Ex-head of UK armed forces admits nobody understood Afghanistan's politics
December 30, 2021
LONDON: The former head of the British armed forces has admitted that no one involved in operations in Afghanistan had a "true understanding" of the politics of the country. Gen. Sir Nick Carter also described the withdrawal from the country and the collapse of its Western-backed government as "shocking."
Speaking to BBC Radio 4, he said it is "probably still true" that the majority of Afghans would not support the Taliban.
Discussing the calamitous end in August of NATO's two-decade campaign in Afghanistan, Carter said: "I think at the end of the day it comes down to politics, the local politics in Afghanistan, and I don't think there was ever a true understanding of the political dynamics on the ground, and therefore the ability to be able to rationalize that."
Speaking of the chaotic scenes during the evacuation effort in Kabul, he said that "they were shocking moments for all of us.
"And of course you think of so many people in times like that. You think of all of those who've committed their lives to the cause over the last 20 years, you think of the Afghan people, and of course you wonder how it ended like that — because we thought we had a good plan, we were going to deliver something at the end of all of that. It was a true shock, I think, to most of us who'd been involved."
Carter served as chief of the defense staff until the end of November. He said the West must now engage with the Taliban to prevent a devastating humanitarian crisis.
"I also think it's important that we engage because we might be able to encourage them to govern in a different way," he added. "And the fact that they are governing in an utterly uninclusive way is something that we need to worry about."
Source: Arab News
Please click the following URL to read the full text of the original story:
https://www.arabnews.com/node/1995661/world
--------
British Muslim hikers receive overwhelming support in response to racist comments
December 30, 2021
LONDON: The founder of a Muslim hiking group in Britain has said they have received an "overwhelming response in terms of solidarity" after racist comments were made about the group on Facebook.
One of the hikers, who shared photos from the Christmas Day walk in England's Peak District, said they had seen a comment "comparing the walkers to the Serengeti wildebeest migration."
Haroon Mota, the founder of Muslim Hikers, led more than 100 people on a Christmas Day hike. He said he chose Dec. 25 as the route would be quieter than usual.
But after sharing photos from the trip on Facebook, the walkers were accused of damaging the area and not being "proper walkers," as well as having racist comments made about them.
Mota, from Coventry, told the Press Association: "There were some very racist comments being made."
"These types of comments, racist comments, only make it more problematic for those from our community who feel less empowered to get outside.
"For people who might be joining for the first time, they might think 'oh wow, is this what people actually think?'
"One of the reasons why we set up Muslim Hikers was so that we could stand together and for greater diversity and inclusion.
"We've been working extremely hard to create a culture of confidence in the outdoors."
Another hiker, Selma Mehboob, 43, shared pictures from the day on a local Facebook group, but was met with abuse by a minority of people.
She told PA: "I have never seen comments made like this about any other groups of people walking in this Facebook group, so why was it picked up when I posted our trek?
"Someone made a comment that it's not racism, just that some people enjoy hating on others.
"Whilst I appreciate there is truth in that, unfortunately there were some racist comments such as comparing the walkers to the Serengeti wildebeest migration.
"The majority of comments had been wonderfully supportive and I need to stress how heart warming and reassuring the support has been for the trek, but I noticed early on that there were some quite disparaging and mocking comments."
Source: Arab News
Please click the following URL to read the full text of the original story:
https://www.arabnews.com/node/1995646/world
--------
More than 90 jailed terrorists could be freed early from British prisons
December 30, 2021
LONDON: More than 90 convicted terrorists could soon be released from British prisons, figures have revealed, with some due to appear before the Parole Board within months.
Emergency laws were implemented by the UK government in 2020 after two attacks were carried out in quick succession by terrorists recently freed from jail.
Those laws blocked the early release of terrorists from jail, forcing them to serve at least two thirds of their sentence. Their cases must also be appraised individually by the Parole Board.
There are 92 such cases, with some due to come before parole judges in 2022, The Times has reported.
Among those due to appear before the Parole Board is Rangzieb Ahmed — the first person to be convicted in the UK of directing terrorism after heading a three-man Al-Qaeda cell preparing to commit mass murder, whose case is expected to be ruled upon in March.
That same month, the Parole Board will consider the early release of Jawad Akbar, who plotted to bomb a shopping center in Kent and a club in London in 2004.
Neo-Nazi Jack Coulson, who manufactured a bomb in his bedroom, will be considered for release in February.
The revelation that dozens of terrorists could be freed from jail imminently prompted calls from MPs for a review of the parole system for terrorists.
David Jones, Conservative MP for Clwyd West, said: "These are by any standards seriously dangerous criminals, and there will be huge concern at the prospect of their release next year.
"The government should urgently review the parole rules to ensure that those who continue to pose any threat are not granted early release."
Dominic Raab, the justice secretary, is expected to publish reforms in the new year. The anticipated changes include renaming the Parole Board to emphasize its focus on protecting the public.
Richard Holden, Conservative MP for North West Durham, said: "The government is rightly reviewing the Parole Board and it is vital this includes a proper review of the rules regarding terrorists, ensuring the rules relating to them are the most stringent of all."
Since the new legislation came into force in 2020, 117 cases have been referred to the Parole Board. So far 11 people have been freed and 14 refused release.
Source: Arab News
Please click the following URL to read the full text of the original story:
https://www.arabnews.com/node/1995641/world
--------
North America
Gabriel Boric's election win in Chile 'bad news for Israel': Report
28 December 2021
The historic win of Gabriel Boric, a supporter of Palestine and the Boycott, Divestment and Sanctions (BDS) movement against Israel, in Chile's presidential election has sparked concerns in Tel Aviv.
An article published in London-based Arabic newspaper Rai al-Youm noted that the 35-year-old leftist's election win was "a bad news for Israel".
Boric, who is slated to assume office on March 22, defeated his far-right rival Antonio Kast earlier this month to become the South American country's youngest leader ever.
The article in Rai al-Youm stressed that Boric's election win "represented a model for generalizing 'the global hatred against Israel'".
It said a number of Israeli analysts and observers had "warned of the danger of Boric's election and its repercussions" on the Israeli regime not only because of his support for Palestine but also due to his condemnation of the Tel Aviv regime for perpetuating genocide against Palestinians.
Citing Israeli journalist Amnon Lord's article published in Hebrew-language daily Israel Hayom, it said the victory of Boric is considered "a bad news for Israeli because the radical left in South America …considers them [the Jewish] servants of the Israeli imperialism, and, with the passage of years, the countries of South America have become opponents of Israel, and in which slogans that say that Israel is pursuing a policy of racial segregation against Palestinians are promoted."
The article further said that Tel Aviv is "disturbed" by latest political developments in Chile and is "attempting to exaggerate anti-Jewish conditions there" in order to pursue "early blackmail policy against the winning president".
The article noted that the decision-making circles in Tel Aviv see the victory of Boric as "a golden opportunity" for the BDS, which works to end international support for Israel's oppression of Palestinians and pressure Israel to comply with international law.
It stated that Boric's victory could be "generalized in other countries" and the wave could expand beyond Latin America to North America, home to Israel's main supporters, the US and Canada.
According to the Israeli assessment, the newspaper said, the latest developments in Chile require "a quick response to stop this series that it considers hostile, amid the spread of similar phenomenon in the European continent for a long time."
The anti-Israel and pro-Palestine narrative has been growing louder in the Israeli media and intelligentsia circles in recent years.
Earlier this year, B'Tselem, an Israeli advocacy group, referred to the regime in Tel Aviv as "apartheid regime" that systematically oppresses the Palestinians via military occupation and racist laws.
Israel occupied the West Bank and East al-Quds during the Six-Day War in 1967. It later annexed East al-Quds in a move not recognized by the international community.
Palestinians want the West Bank as part of a future independent Palestinian state with East Jerusalem al-Quds as its capital.
About 600,000 Israelis live in over 230 settlements built since the 1967 occupation of the Palestinian territories of the West Bank and East al-Quds.
Source: Press TV
Please click the following URL to read the full text of the original story:
https://www.presstv.ir/Detail/2021/12/28/673558/Chile-new-president-raises-concerns-Israel
--------
US says 'remains concerned' over Iran's scientific progress amid sanctions
31 December 2021
The United States has voiced concerns over Iran's launch of research devices into space, which marked another major milestone and scientific achievement for the Islamic Republic in the midst of the "toughest ever" US sanctions against the country.
"The United States remains concerned with Iran's development of space launch vehicles," a US State Department spokesperson said on Thursday after Iran successfully launched a rocket carrying three research devices into space.
The spokesperson claimed that Iran's space launch vehicles pose a "significant proliferation concern" and that they "incorporate technologies that are virtually identical to, and interchangeable with, those used in ballistic missiles, including longer-range systems."
Earlier on Thursday, a spokesman for Iran's Defense Ministry announced that the country's domestically-built satellite carrier rocket, Simorgh (Phoenix), launched three research devices in a space research mission that scored yet another achievement for the Islamic Republic's civilian space program.
"We will speed up work so that we can become one of the six countries that can launch satellites into the GEO (geostationary) orbit," Ahmad Hosseini said.
Nevertheless, the US spokesperson claimed that Tehran's space launches violate UN Security Council Resolution 2231.
Resolution 2231 was adopted on July 20, 2015, endorsing the Joint Comprehensive Plan of Action (JCPOA) on Iran's nuclear program. The US exited the deal on May 8, 2018 to impose sanctions against the Islamic Republic without any legal justification.
According to the resolution, "Iran is called upon not to undertake any activity related to ballistic missiles designed to be capable of delivering nuclear weapons, including launches using such ballistic missile technology."
The US has occasionally referred to the resolution to condemn Iran's defensive missile program and its satellite launches.
Iran contends that it has never negotiated over its missile program and that nothing in Resolution 2231 prohibits the country from its defensive missile activities, citing the non-mandatory terminology used in it.
Also, Tehran reassured the world by signing the JCPOA that it does not seek nuclear weapons, citing repeated reports by the International Atomic Energy Agency (IAEA) that certified Iran's full compliance with the 2015 deal.
Despite Iran's strict compliance with the JCPOA, the US withdrew from the pact and reinstated harsh economic sanctions against Iran that the deal had lifted.
Tehran fully honored its nuclear commitments under the JCPOA for an entire year after the US withdrawal giving the remaining parties ample time to secure its interests, but as it received no compensation for US sanctions, the Islamic Republic began to gradually and transparently reduce its nuclear commitments, in a legal move under the 2015 pact.
As Iran has pressed ahead with its nuclear advancements, IAEA Director General Rafael Grossi continued to confirm that he doesn't have "any credible information" that Tehran is seeking a nuclear weapon.
Sanctions failed to hamper Iran's progress: Analyst
Keaten Mansfield, a political analyst, told Press TV that Iran's space exploration program shows that US sanctions have not been able to hamper its progress.
He lamented the imposition of severe sanctions by the US government on Iran and other independent countries, saying the sanctions are aimed at hampering the scientific development of the targeted countries.
Source: Press TV
Please click the following URL to read the full text of the original story:
https://www.presstv.ir/Detail/2021/12/31/673755/US-remains-concerned-over-Iran-scientific-progress-amid-sanctions
--------
Ghani blames US deal with Taliban for fall of Afghanistan
30 December ,2021
Afghanistan's former president, Ashraf Ghani, has blamed the US deal with the Taliban for the collapse of his government and claimed that he was made a "scapegoat" after he secretly fled the country.
"Two different factions of the Taliban were closing in from two different directions," Ghani said in one of his first interviews since escaping Afghanistan for the United Arab Emirates last August. "And the possibility of a massive conflict between them that would destroy the city of five million and bring havoc to the people was enormous," he explained as to why he fled.
For all the latest headlines, follow our Google News channel online or via the app.
Despite claims to the contrary by Ghani's predecessor that the Taliban had agreed not to take over Kabul, Ghani's sudden exit paved the way for a quick fall to the extremist group.
Ghani said the US deal with the Taliban led to "a violent coup, not a political agreement, or a political process."
It was also reported that he left with briefcases filled with millions of dollars in cash.
"I want to categorically state, I did not take any money out of the country," he told the BBC. "My style of life is known to everyone. What would I do with the money?"
The US is investigating these allegations.
As for the deal between the US and the Taliban, which would have seen the US draw down its troop presence in return for peace talks with Ghani's government, the former Afghan president said this was the problem.
"Instead of a peace process, we got a withdrawal process," he said. He claimed the deal "erased" him and his government.
Source: Al Arabiya
Please click the following URL to read the full text of the original story:
https://english.alarabiya.net/News/world/2021/12/30/Ghani-blames-US-deal-with-Taliban-for-fall-of-Afghanistan
--------
Turkish presidential aide says 1st attempt made on joint mechanism between Turkey, US
Kasim Ileri
30.12.2021
WASHINGTON
Ankara sent a letter to Washington on the establishment and functioning of a mechanism on bilateral relations and issues agreed on by Turkish President Recep Tayyip Erdogan and his US counterpart Joe Biden, said Turkey's presidential spokesman.
Ibrahim Kalin visited the US to attend the 20th MAS-ICNA (Islamic Circle of North America-Muslim American Society) Annual Convention in Chicago that brings together tens of thousands of Muslims from all over the world. In an exclusive interview with Anadolu Agency, Kalin answered questions, particularly on Turkish-American relations.
Q: You have been at the MAS-ICNA Convention held by Muslim umbrella organizations in Chicago for three days. You met with Muslim opinion leaders. Can you comment on this convention and your meetings with Muslim opinion leaders?
A: The MAS-ICNA meeting is the largest annual meeting of the American Muslim community. It is held in Chicago every year at Christmas time and there is really great participation. We try to participate as much as possible. Of course, we have Turkish citizens living here, and they participate. This year, we are here with our ambassador (Turkey's Ambassador in Washington Hasan Murat Mercan), our consul (Turkey's Consul General in Chicago Engin Turesin). We have other student friends. We held various meetings to represent our country as much as possible and to strengthen the relations between the American society and the prominent leaders of the society and Turkey. It was a very productive meeting.
As you know, Turkey has a special place for the American Muslim community because many of them come to Turkey. Some people come and invest, some come to Turkey for vacation or education programs. This place (convention) also provides a good environment for Turks living in the US to mingle with other Muslim communities. Here, of course, the American Muslim community is made up of extremely diverse elements, and their representatives are here in groups. Of course, the US is a big country, people are living in different ways in many different parts of the country. Of course, we have always cared about strengthening our ties with them. As you know, every time our president comes to the US, he always receives and talks with the leaders of the American society in New York if he is in New York, or Washington if he is in Washington, or in other cities he visits. We care about these relations in terms of our ties with the US in general, because the prominent representatives and leaders of the American Muslim community hold different positions in many fields from politics to the economy, from the media to local politics, and we care about strengthening relations with them for our country.
Foreign Ministry sent letter to US for joint mechanism
Q: You talked about relations with the US. 2021 is about to be over and there has been a new administration in Washington for nearly a year. You have spoken to your counterpart many times. Can you evaluate the Turkish-American relations in 2021 to cover the approaches of the new administration?
A: Now, Turkish-US relations have a long and deep-rooted history. Our relationship is defined at the strategic partnership level, we are also two allied countries within NATO. But we also witness that the US policies which do not take into account Turkey's national interests from time to time move away from this spirit of alliance. There are two to three main issues that overshadow and poison Turkish-US relations, on which we cannot agree. One of them is the support given to the PYD and YPG by the US administrations since the (former US President Barack) Obama period. We have said this support was a wrong policy from the very beginning, and we repeatedly state that it needs to be changed. Once support has been given to the PYD and YPG for the fight against Daesh (ISIS), you cannot eliminate a terrorist organization by supporting another terrorist organization in principle. Secondly, everyone knows that the YPG and PYD in Syria are the Syrian branches of the PKK. Americans know this too, others know as well. Thirdly, it should be underlined that it has created great discomfort, especially within the Syrian society. Because if you try to build a policy about Syria by pulling a group to your side -- in other words, only one ethnic group within the Syrian opposition and society, or a certain group from within that group that is a Kurdish group that supports the PKK or is a member of the PKK -- it is obvious that there will be great difficulties in terms of territorial integrity, political unity and future of Syria. This is one of our main issues of contention.
Secondly, there are CAATSA (Combating America's Adversaries Through Sanctions Act) sanctions that are unfairly applied to Turkey due to the S-400 issue. Again, within this framework, we were subjected to unfair and unlawful practices such as removing Turkey from the F-35 program.
Thirdly, the fact that the US has not taken concrete steps regarding the FETO (Fetullah Terrorist Organization) structure in the US, which does not satisfy us, constitutes the main points of dispute in the relations between Turkey and the US. Our expectation, of course, is to implement a policy review process that takes into account Turkey's national interests. When the Biden administration came to power, after the Trump era, we contacted them at every level and expressed our concerns and demands on these issues, and we continue to do so. Finally, as you know, in the meeting of our president with Mr. Biden on the margins of the G20 Summit in Rome, these issues were discussed in detail. Not only these controversial issues, but also developments in the Caucasus, the process in Syria, Iraq, the fight against terrorism, the Eastern Mediterranean, and other issues, and developments in Ukraine were also discussed in detail.
As a result of that meeting, it was agreed to establish a mechanism that will deal with all issues in Turkey-US relations. Currently, our Foreign Ministry has sent a paper to the American side on how the structure of this mechanism will be, what issues will be addressed and how the process will work. Our work on this continues. Comprehensively, we want to conduct these relations based on mutual interest and respect, as an equal, fair, and transparent relationship, but while doing this, of course, Turkey's own national interests, priorities, and threat perception come first. In this context, our negotiations continue to advance these relations on the right ground and act with a positive agenda, and we will continue to work in this direction from now on.
Q: There are meetings between the Turkish-US defense delegations, and a mechanism is being established between the foreign ministries, based on what you mentioned. Do you think it is possible to open a new page between Turkey and the US? What are your expectations for the next year in this regard?
A: If certain conditions are met, if certain steps are taken, especially on the issues related to Turkey's threat perception and national security interests, a new page will be certainly opened. These relations can progress with a much more positive agenda, but of course, we can't proceed by ignoring or delaying the main issues. Despite this, we will continue to do our best to solve these problems with a positive agenda, from the defense industry to the fight against terrorism, from trade to regional issues to develop a relationship based on mutual interest and respect.
If Turkey has a role in Ukraine crisis, Turkey will take it
Q: There are concerns in the capitals of Western countries that Russia may attempt a second invasion of Ukraine. What is Turkey's position on this issue, and what exactly is Turkey's path towards solving this crisis?
A: First of all, we are following the tension between Russia and Ukraine with great concern. Our president has also constantly addressed this issue in his meetings with both Mr. (Russian President Vladimir) Putin and Mr. (Ukrainian President Volodymyr) Zelensky, as well as in meetings with other European leaders, the president of the US, and other regional leaders. Our advice to both parties is to lower this tension as soon as possible and take the necessary steps to prevent a military conflict in the Donbass region in eastern Ukraine. In this regard, our president told Zelensky and Putin that if Turkey or himself is expected to play a role in this issue, they can do their bid. Here, of course, reducing the tension is in everyone's interest.
A new military conflict, Russia's entry into Ukrainian territory, some military movements in or on Ukraine, the mobilization of militia forces, or experiencing conflicts will not benefit anyone.
It will further increase tensions in the entire region. Thousands of Ukrainians have already lost their lives due to this tension, and we, of course, have good relations with Russia in principle, but at the same time, we have a clear stance on the protection of Ukraine's territorial integrity. Our advice to both parties is to stay away from such a conflict, reduce tensions, and to settle their issues through negotiations. If there is a role for Turkey in this direction, Turkey will certainly play it. Because Turkey has good relations with both countries at the same time. There are not many countries like Turkey today. In other words, some countries have relations with Ukraine, but their relations with Russia are not good, some are the opposite, but our president has very good relations with both Mr. Putin and Mr. Zelensky.
In other words, if there is a role that Turkey can play in the implementation of smart diplomacy and an effective diplomatic process in this period, of course, our president will happily fulfill it. The international community also needs to be very careful. It is of great importance that they display an approach aimed at reducing tensions and resolving problematic issues between the two sides, rather than escalating statements or attitudes. Because, you know, the issue is not just between Russia and Ukraine. When you look at it from a larger perspective, the issue is reflected in Ukraine as a result of the tension between Russia and the Western alliance, Russia and NATO, Russia and America, and Europe. As we are in constant contact with the Western alliance, the US, Europe, and a part of that alliance and a NATO member country, we are in the process. Our advice to the Americans and Europeans is to take genuine, concrete, and convincing steps to reduce tensions If this is achieved, of course, an important ground for the solution of the issue will be formed, a new climate will be formed, and everyone should do their best to support this. This is our main advice to everyone.
Armenian diaspora needs to act responsibly
Q: Moscow will also host the process of normalization of relations between Turkey and Armenia. Can I get your assessment of the process of normalizing relations with Armenia?
A: If you remember, when Turkey ended its diplomatic relations with Armenia and closed its border gate in 1992, the main issue was the (Armenian) occupation of Karabakh. Today, with the victory that came after the 44-day war last year, the Karabakh problem has been resolved. Karabakh has regained its original place as the Azerbaijani territory and the issue that caused us to end our relations with Armenia in 1992 has also disappeared. So, there is no reason not to normalize it anymore. From the very beginning, our president already had said Turkey would also take steps to normalize relations with Armenia in parallel with the process between Azerbaijan and Armenia. Therefore, as you know, special representatives were also appointed in this direction.
I believe that the process will rapidly and constructively advance from now on. There is also a will on the Armenian side in this direction. Our will is already clear and specific on this matter. We do not have a biased approach towards Armenia. As our neighbor, of course, we want the border to be re-opened and diplomatic relations to restart. For this, certain conditions must be met and certain issues must be negotiated. The process, which will be carried out by special representatives, aims at exactly this.
Here, I would like to underline the following: Armenia's normalization of relations with Azerbaijan and Turkey will contribute to the whole region and will also benefit Armenia more. Because Armenia is a small, poor, underpopulated, and landlocked country, with extremely limited trade routes. If Armenia signs a peace treaty with Azerbaijan, its relations with Azerbaijan will improve. If its relations are normalized with Turkey, different developments will occur in many areas from border trade to border security, to flights of Turkish Airlines, and all these will benefit Armenia and the people of Armenia. We also have very good relations with the Armenian citizens living in our country. God forbid, we have always taken a very clear stance in case of discrimination or an attack against them. We have relations with the Turkish Armenian community at all levels. They can reach us at any time when they have a problem.
Normalization with Armenia will certainly enable Turkish Armenians to establish relations with Armenia more easily and bring relief in other areas, but the Armenian diaspora, which is concentrated in two countries of the world, including France and the US, must also act responsibly. Claiming that the 1915 events were "genocide" through certain obsessions and bringing it to the agenda as a precondition will no longer benefit anyone, especially after this point. Now a new page has been opened in the Caucasus, a new era has begun, and the diaspora communities should also see this truth, and they should adopt a manner and attitude that will be for the benefit of Armenia and the benefit of the region. If this happens, everyone will benefit from it. A new period of peace and stability begins in the Caucasus and all countries benefit from it.
Turkey to continue to stand by Libyan people, legitimate government
Q: As you know, the election process in Libya is stuck. The election has been postponed and there is political uncertainty in the country. What does Turkey offer to overcome this crisis, and can you talk about Ankara's contributions to the resolution of the crisis?
A: We have supported the political process in Libya from the very beginning to the end, and we will continue to support it from now on. Elections were one of the steps and stages of this political process. We made the necessary suggestions for it to be held, but the Libyans decided to postpone the elections with an agreement among themselves since the conditions were not suitable there. There is an ongoing political negotiation process among the Libyans on how long the elections will be postponed, what will happen in the postponement process, who will manage this process and how will different issues from political party law to the constitution be settled in this period until the next elections. We are supporting this process and will continue to do so.
It is something that we have supported from the very beginning, that the eastern, western, and southern groups come together in Libya and that legitimate actors take part in a legitimate political process. In this process, you know, we signed an important agreement with Libya. These are the Maritime Boundary Treaty and the Military Cooperation and Training Agreement. These agreements still remain valid. Even if there are objections from some groups in Libya or some countries in the region, Libyans have a very clear and unequivocal stance on this issue. In other words, the legitimate Libyan government has no objection to these agreements, and they have the will to continue these agreements as they are. This is pleasing for us. Therefore, as Turkey, we will continue to stand by the Libyan people and the legitimate government, both in terms of security, supporting the political process, and rebuilding Libya, and strengthening its infrastructure. Hopefully, this new political process is announced to everyone with a new calendar and a transparent roadmap as soon as possible without causing any tension or conflict. We will continue to stand by the Libyans as a supportive and facilitating actor in the process led by the Libyans, whenever they will be held, and in whatever way, they will be planned.
2021 was difficult year
Stressing that 2021 was a difficult year considering the effects of the COVID-19 pandemic, he said: "This (pandemic) has had very different effects on people's social mobility, individual life, of course, on the global economy, national economies, and regional developments."
"There have been natural disasters. I hope 2022 will be the year where peace, prosperity, stability, and trust are rebuilt and spread for all of us, and a year all can benefit equally from blessings, wealth, peace, stability, and security. As Turkey, we will continue to play its role both in our own region and in global issues, under the leadership of our president. He has been saying for a long time, 'The world is bigger than five.' We saw once again how fragile the global system was, bigger than the world's five and all other countries combined. At the same time, our president also made a call that 'a fairer world is possible.
Source: Anadolu Agency
Please click the following URL to read the full text of the original story:
https://www.aa.com.tr/en/americas/turkish-presidential-aide-says-1st-attempt-made-on-joint-mechanism-between-turkey-us/2461579
--------
Southeast Asia
Stricken boat with over 100 Rohingya Muslims allowed to dock in Indonesia
December 31, 2021
KRUENG GEUKUH (REUTERS) - More than 100 Rohingya refugees who had been adrift on a sinking boat off the western coast of Indonesia were allowed to disembark early on Friday (Dec 31), after authorities relented following international pressure to allow the group to seek refuge.
In a video seen by Reuters, the refugees left the boat in heavy rain and boarded a bus, while authorities sprayed them with disinfectant.
Oktina Hafanti, an official at the United Nations High Commissioner for Refugees (UNHCR), told reporters that the 105 refugees would be kept in quarantine for 10 to 14 days and undergo health checks.
The group of Rohingya, which included children and pregnant women, had been spotted by fisherman on their wooden skiff off the coast of Aceh province on Sunday.
Authorities had initially agreed to provide humanitarian aid before planning to turn the vessel away, but changed that decision after warnings about the condition of the vessel and calls from UNHCR and groups such as Amnesty International to let the boat land.
A fisherman who had approached the boat when it was at sea said the vessel had sustained engine damages and was leaking, and was at risk of sinking. He also said some refugees had indicated that they needed food.
Mr Usman Hamid, executive director for Amnesty International's Indonesia chapter, said the government had reacted late but appreciated that authorities had listened to Acehnese fishermen and accepted the refugees.
The vessel was towed by an Indonesian navy ship on Thursday to shore.
Source: Straits Times
Please click the following URL to read the full text of the original story:
https://www.straitstimes.com/asia/se-asia/stricken-boat-with-over-100-rohingya-allowed-to-dock-in-indonesia
--------
Guan Eng: Vernacular school ruling enshrines legitimate rights of non-Malays in country's social contract
31 Dec 2021
BY KENNETH TEE
KUALA LUMPUR, Dec 31 ― The recent High Court ruling on vernacular schools was crucial in preserving the legitimate rights of non-Malays within the social contract that gave independence and eventually led to the formation of Malaysia, DAP secretary-general Lim Guan Eng said today.
He was earlier referring to the High Court ruling on Wednesday that Malaysia's vernacular schools were consistent with its Federal Constitution, when rejecting a lawsuit seeking for the government to abolish education using Mandarin and Tamil.
In his New Year message, Lim said religious extremism, racism and systemic corruption are among the biggest threats towards national unity and integration between Malaysians that hindered balanced economic development and equitable economic growth.
"The reliance on provoking the sentiments against minorities are deliberately aimed at dividing the people to distract attention from the abject failures of governance and fighting corruption.
"Whilst this may not put a stop to extremists and racists trying to burn down the Federal Constitution, it is ordinary Malaysians regardless of race, religion and background that will ultimately prevail in defeating them," he said in a statement.
Of note, Lim claimed the aforementioned failures included the mismanagement of the Covid-19 pandemic by the federal government which resulted in some 2.7 million infections and some 31,000 deaths nationwide.
He also cited the recent flooding that ravaged peninsular Malaysia the weekend before Christmas as as another example of failure, where racial sentiments were stoked after the motives of non-Muslims volunteers in providing aid to Muslim flood victims were deliberately questioned.
"Fortunately, Malays and Muslims have come out to condemn such extremism giving hope for a Malaysia that is open-minded, moderate and tolerant.
"Malaysians coming together in the recent flood disaster to help each other is encouraging and reminds us that we belong to one big Malaysian family, that is not artificially manipulated for political purposes.
Source: Malay Mail
Please click the following URL to read the full text of the original story:
https://www.malaymail.com/news/malaysia/2021/12/31/guan-eng-vernacular-school-ruling-enshrines-legitimate-rights-of-non-malays/2032198
--------
Will Indonesia be the next Abraham Accord nation?
By AMOTZ ASA-EL
DECEMBER 30, 2021
The plan was brave: land 150 marines in Dutch New Guinea, incite the natives to rebel, and then have their land – a chunk of equatorial rain forests and wetlands the size of Poland – join the 13-year-old Republic of Indonesia.
Militarily the operation that took place 60 years ago next month nosedived. Dutch jets detected the approaching flotilla and the Dutch navy intercepted it, sinking one vessel, disabling the rest, and killing 39 Indonesian troops.
Politically, however, the attack was a big success, as America forced the Netherlands to retreat, much the way it had forced Britain and France to abandon the Suez Canal to Gamal Abdel Nasser's Egypt in 1956, despite his military defeat.
Nasser's Indonesian equivalent was Sukarno, whose eviction of the Dutch emboldened him as he maneuvered between East and West while replacing democracy with autocracy. However, by 1965 his geopolitical acrobatics got out of hand, resulting in a civil war between the American-backed military and the Chinese-backed Communists.
One year and hundreds of thousands of fatalities later, Indonesia sidelined its founder and veered west. That included a slow retreat from Sukarno's anti-Israeli dogmatism, a glacial journey that should now reach its destination.
ISRAEL WAS quick to realize Indonesia's importance, recognizing it in 1950, ahead of most other countries.
However, five years later Sukarno hosted an African-Asian conference that became a landmark in anti-Israeli diplomacy. What began with a rejection of Israel's request to participate in the conference culminated in a resolution calling on Africa and Asia to take the Arab side in the Middle East conflict.
Sukarno's successors remained formally anti-Israeli, but down in the field they quietly changed course.
The two countries began trading, and what started in 1967 with a shipment of military uniforms became by the 1980s a shipment of Skyhawk fighter jets, which were later followed by Israel Aerospace Industries' drones.
Military cooperation eventually spread to other fields, with Israeli telecoms arriving in Indonesia, and Indonesian textiles, diamonds and coconuts arriving here.
Israel became increasingly legitimate. In 2005, an El Al plane landed in Aceh, Sumatra, with 75 tons of emergency aid for tsunami victims. In 2008, Magen David Adom signed a deal to train paramedics in Indonesia. Then Indonesian pilgrims began arriving in Israel, growing since last decade to an annual 30,000. Though disrupted by 2018's fighting in Gaza, and then by the pandemic, this traffic is expected to resume.
While trade is believed to have already exceeded an annual half a billion dollars, diplomatic contacts also evolved.
In 1993, Yitzhak Rabin arrived in Jakarta and met with Sukarno's successor, Suharto. In 2000, Shimon Peres landed in Jakarta, in his capacity at the time as regional cooperation minister. In 2003, former president Abdurrahman Wahid visited Israel. In 2013, then-economy minister Naftali Bennett arrived in Bali for a gathering of the World Trade Organization.
Added up, this is a trend with a clear direction, one obviously steered from above, and seeking a middle road between the paths of Indonesia's two neighbors: Singapore, which has been openly friendly with Israel since its establishment in 1965, and Malaysia, whose hostility to Israel is second only to Iran's.
It was a good course, from Indonesia's viewpoint, for its time, but now that time is up, because this middle road has become historically anachronistic, diplomatically foolish and strategically absurd.
THE ANACHRONISM is about Israel's place in the world.
Back when Indonesia chose to treat Israel as a mistress, rendezvousing with it only in the dark, the Jewish state was still ostracized by two superpowers, China and the Soviet Union, as well as the rest of the Eastern Bloc, and also India, which until 1992 refused to admit an Israeli ambassador (though it did allow an Israel consulate in what then was called Bombay.)
Today this history is so distant that to younger Israelis it sounds like prehistory. Over the past 30 years, Israel has had full diplomatic, commercial and cultural relations with all the superpowers. Trade with all of them is vibrant, and some of it is in fact strategic, like the defense relationship with India or the exchange of academic and infrastructure enterprises with China.
This means that by shunning Israel the way it does, Indonesia is relegating itself to the company of economic laggards like Pakistan, Afghanistan and Bangladesh. Indonesia, with 270 million people sprawled on more than 17,000 islands between Oceania and China, is in a position to become a major world power. Shunning Israel will not serve that cause.
The foolishness is about the Indonesian attitude's Arab context.
Back when Suharto shaped Jakarta's attitude, Israel was at war with the entire Arab world, and he consciously surrendered to Arab pressure not to recognize the Jewish state. Today, Israel is formally at peace with five Arab countries, including the largest, Egypt, and is in the process of normalizing relations with a sixth country, Sudan. Collectively, these countries are home to half the Arab world's population.
Where in this configuration does Indonesia want to belong: alongside Egypt and the United Arab Emirates, or between Syria and Yemen?
Beyond diplomacy and economics looms the most crucial reason for which Jakarta should reconcile with Jerusalem: religion.
Source: Jerusalem Post
Please click the following URL to read the full text of the original story:
https://www.jpost.com/international/article-690234
--------
Africa
Atiku, others mourn as Islamic scholar who refused dialogue with Boko Haram dies
30 December 2021
President of the Supreme Council for Sharia in Nigeria, Ibrahim Ahmad, died in Kano State Thursday.
Ahmad, who refused to join a committee set up by former President Goodluck Jonathan to dialogue with members of Boko Haram, died after a protracted illness.
The late Ahmad, presidential aspirant of the Social Democratic Party, was buried in Kano, according to Islamic rites.
Reacting to Ahmad's death, the presidential candidate of the Peoples Democratic Party in the 2019 election, Atiku Abubakar, said, "I am saddened by the passing to the eternal glory of the President-General of the Supreme Council of Shari'ah in Nigeria, Sheikh (Dr) Ibrahim Datti Ahmed.
"Sheikh Datti's passing has left a huge vacuum. He will be remembered for his leadership and enormous wisdom with which he deployed in steering the affairs of the Council for Shariah. As a man of peace and a firm believer of the philosophy of "Live and Let's Live", Sheikh Ahmed Datti did his best possible to stay uncontroversial all through his years.
"More importantly, he never allowed himself to be dragged into matters capable of disrupting the fragile peace we enjoy as a multi-religious and multi-ethnic society."
Also, An Islamic human rights organisation, the Muslim Rights Concern, described Ahmad as a giant scholarly figure.
MURIC's reaction was contained in a statement issued by its director and founder, Professor Ishaq Akintola, on Thursday.
MURIC said, "Dr Ahmad Datti was an energetic Islamic activist of no small measure. A trained medical doctor, he was the president of the Supreme Council for Shariah in Nigeria. The deceased played a prominent role in the spread of Shariah in the Northern states of the country from 1999 onwards.
Source: Punchng
Please click the following URL to read the full text of the original story:
https://punchng.com/atiku-others-mourn-as-islamic-scholar-who-refused-dialogue-with-boko-haram-dies/
--------
Six Nigerian, Niger troops killed by Islamic State, security forces say
DECEMBER 30, 2021
Six troops from Nigeria and Niger were killed by Islamic State West Africa Province (ISWAP) militants during an operation this month, a joint military force said on Thursday.
ISWAP, which split from Boko Haram five years ago and pledged allegiance to Islamic State, has been fighting troops from Benin, Cameroon, Chad, Nigeria and Niger in the Lake Chad region.
A Multinational Joint Task Force (MTJF) comprising soldiers from Nigeria and Niger had targeted Islamist insurgents near Lake Chad basin but met strong resistance and came under fire from mortar attacks and improvised explosive devices, MTJF spokesman Colonel Muhammad Dole said in a statement.
Two officers and four other ranks from both countries were killed and 16 wounded, Dole said, without providing an exact date. Twenty-two militants were killed and 17 captured while gun trucks and other weapons and ammunition were destroyed, he said.
The region were the attacks took place is part of Nigeria's northeastern Borno state, the center of the Islamist insurgency in which about 300,000 people have died and millions left dependent on aid, according to the United Nations.
Source: Jerusalem Post
Please click the following URL to read the full text of the original story:
https://www.jpost.com/international/article-690246
--------
3 killed as thousands protests in Sudan to demand 'civilian rule'
Buhram Abdel-Men'em
30.12.2021
KHARTOUM, Sudan
At least three protesters were killed on Thursday amid rallies that took place in different areas across Sudan, including its capital Khartoum, that demanded the restoration of civilian rule, according to medical professionals.
At least three protesters have been killed by live munitions in Omdurman, the twin city of the capital Khartoum across the White Nile River, while dozens were injured or affected by tear gas, the Central Committee of the Sudanese Doctors said in a statement.
"The security organs have used massive violence against the protesters especially in Omdurman where at least three killed and others injured, hospitals have been also attacked. We warned the security forces not to use the massive violence and stop it immediately," said the statement.
In the meantime, offices of the media outlets, including the Al-Arabiya, Skynews, and Alsharg TV channels, have been raided by the security forces, the Sudanese journalist network said in a statement Thursday evening.
Al-Arabiya further published a video showing some of its staff injured due to the attack on their office by the security forces.
The rallies took place in several areas in Khartoum, Kasala, and Port Sudan in the country's east, as well as the northern city of Atbara, according to Anadolu Agency correspondent on the ground.
During the rallies, protesters called for democratic civilian rule and decried a recent political deal between the military and Prime Minister Abdalla Hamdok.
Internet services on Thursday were down in the capital and other areas prior to the demonstrations as providers cut mobile services, with only landline connections remaining available.
Neither authorities nor internet providers have so far commented on the issue.
On Wednesday, security authorities closed multiple bridges and overland routes, installing concrete barriers and barbed wire on roads leading to the presidential palace.
The calls for protest were made by the Sudanese Professionals Association, which rejected the deal signed last month and called for full civilian rule.
Sudan has been in turmoil since Oct. 25 when the Sudanese military dismissed Hamdok's transitional government and declared a state of emergency.
Source: Anadolu Agency
Please click the following URL to read the full text of the original story:
https://www.aa.com.tr/en/africa/3-killed-as-thousands-protests-in-sudan-to-demand-civilian-rule/2461477
--------
Somali military kills 9 al-Shabaab terrorists
30.12.2021
MOGADISHU, Somalia
Somali forces on Thursday killed nine al-Shabaab terrorists as they thwarted an attack on the country's strategic town of Balad, state media and officials said.
"The Somali National Army (SNA) has killed at least nine Al-Shabaab terrorists in an ambush in parts of Bal'ad district in Middle Shabelle region this morning," Somali National News Agency (SONNA) reported citing a senior military official.
Two Somali soldiers were killed and several others were wounded in the pre-dawn attack, the official said.
Heavy weapons were used in the attack and five civilians were killed, Ibrahim Said, a local administrator in the Middle Shabelle region told Anadolu Agency over the phone.
The target of the attack was road construction machinery stored at a site in the town, said officials who spoke to Anadolu Agency.
A 90-kilometer (56-mile) road is under construction in the agriculture town located on the outskirts of the capital Mogadishu.
Source: Anadolu Agency
Please click the following URL to read the full text of the original story:
https://www.aa.com.tr/en/africa/somali-military-kills-9-al-shabaab-terrorists/2461291
--------
URL: https://www.newageislam.com/islamic-world-news/police-schoolchildren-kill-hindu-rashtra/d/126074
New Age Islam, Islam Online, Islamic Website, African Muslim News, Arab World News, South Asia News, Indian Muslim News, World Muslim News, Women in Islam, Islamic Feminism, Arab Women, Women In Arab, Islamophobia in America, Muslim Women in West, Islam Women and Feminism