New Age Islam News Bureau
22 Sept 2019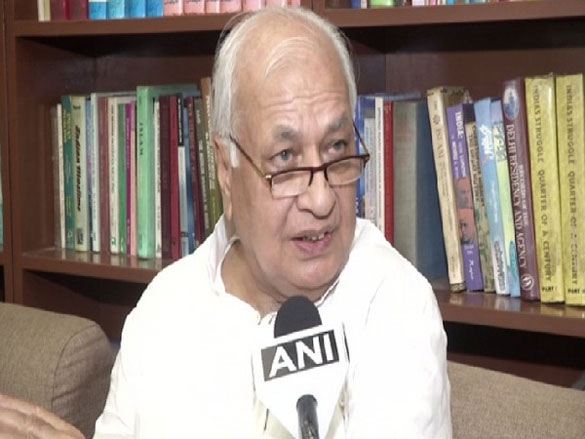 • Kerala Guv Arif Mohammed Khan Said That Solution Of The Problems Of The Country Should Be Searched In The Ideology Of Pandit Deendayal Upadhyay
• On The Occasion Of Maulana Maududi's 40th Death Anniversary, The Jamaat-e-Islami Renews Pledge To Continue Its Struggle To Transform Pakistan Into An Islamic Welfare State
• Govt Okays 'Deeni Madaris Reforms' To Streamline Seminaries
• Bangladesh Religious Leaders Stand Against Corporal Punishment Of Children
• Mosques Should Have a Welfare Officer
• Tunisia Democracy 'Inspiration' For Arab Countries: Analyst
Arab World
• Poisoning Stray Animals Is Prohibited under Islamic Sharia law: Dar al-Iftaa, Egypt
• Human Rights Watch calls on Egypt to protect right to peaceful protest
• Suspected Lebanese hijacker arrested in Greece: Police
• ISIS claims responsibility for Iraq bus bombing that killed 12
• Explosive-laden drone downed in Syria near Israeli-occupied Golan: State TV
• Al-Jubeir calls Iran FM Zarif's statements on Saudi attacks 'outlandish, laughable'
• Kuwait defense minister: All military units must be ready in light of tensions
• Saudi Aramco has come out of the attacks 'stronger than ever,' CEO says
• Syrian army captures drone in Quneitra near Israeli-occupied Golan Heights
• Russia prevents Israeli airstrikes in Syrian capital: Russian media
• Egyptian police, anti-Sisi protesters clash for second night in Suez
• Organization of Islamic Cooperation chief to highlight key issues at UN assembly
• Why Saudi Arabia and Middle East must plan for Alzheimer's care challenge
--------
India
• Kerala Guv Arif Mohammed Khan Said That Solution Of The Problems Of The Country Should Be Searched In The Ideology Of Pandit Deendayal Upadhyay
• 'Know My Religion: Interfaith Youth Dialogue' Focus On India Diversity
• Countering India's terror blind spot in West Bengal
• You've suffered a lot, together we've to build new Kashmir: PM Modi tells Kashmiri Pandits in Houston
• Pakistan 'least qualified' to criticise India on Kashmir: Shashi Tharoor
• Lucknow: After court directive, Babri litigant booked for 'threatening' woman
• Hurriyat denies reports of Mirwaiz signing bond for release
• PM Modi meets Dawoodi Bohra community members in Houston
• Repeal of A 370 led to severe miseries, says Iltija Mufti
--------
Pakistan
• On The Occasion Of Maulana Maududi's 40th Death Anniversary, The Jamaat-e-Islami Renews Pledge To Continue Its Struggle To Transform Pakistan Into An Islamic Welfare State
• Govt Okays 'Deeni Madaris Reforms' To Streamline Seminaries
• For Pakistan's own good, it should stop worrying about Indian Muslims
• Chinese envoy says world needs to resolve Kashmir issue
• PM to shake world's conscience regarding Kashmir at UNGA: Firdous
• Pak PM reaches US in Saudi Crown Prince's 'special' plane
• Avoid heat or you will be destroyed, Rashid to Fazl
• Equal treatment to minorities in Pakistan
• Pakistan expresses solidarity with Saudi Arabia but urges caution
• Parents hold demo in Lahore against inaction on SC fee verdict
--------
South Asia
• Bangladesh Religious Leaders Stand Against Corporal Punishment Of Children
• Twin explosions target sales center of a telecom company in Kabul city
• Burqa-clad Taliban assailants shot dead in Faryab
• Special Forces kill, detain 12 militants; destroy Taliban and ISIS weapons caches
• Abdullah lashes out at election rival for faking New York Times story regarding Pakistan funds
• Afghan official: Roadside bomb kills two civilians in south
--------
Southeast Asia
• Mosques Should Have a Welfare Officer
• Muslim-first campaign can hurt Muslims too, says ex-minister
• Umno, PAS talk up pro-Malay economic plan after unity pact
• Dozens detained in Kazakhstan at anti-China protests
• MB: Allocation for development of Islamic faith to increase to RM20m in N. Sembilan Budget 2020
• PAS-Umno alliance will have some effect on support in Sabah, says Zahid
• Permaisuri Agong speaks of 'normal upbringing', learning to cook, love for Twitter
--------
Africa
• Tunisia Democracy 'Inspiration' For Arab Countries: Analyst
• Tunisia ex-president Ben Ali buried in Muslim holy city of Medina
• Tunisia Islamist party throws weight behind vote frontrunner Kais Saied
• Tunisian ex-president Ben Ali buried in Medina
• Somali President signs anti corruption bill into law
• Boko Haram Is Back in the Media Spotlight, but It Was Never Really Gone
• We need better arms to fight Boko Haram –Military commanders
--------
Mideast
• Iran to present 'Hormuz Peace Initiative' at UN: President Rouhani
• IRGC official: Iran has made 'tremendous progress' in the field of drones
• IRGC chief warns any country that attacks Iran will be 'main battlefield'
• Iran's Armed Forces holding parades to mark start of Sacred Defense Week
• UN urges Saudi Arabia to seize opportunity as Yemen offers ceasefire
• Thousands rally in Sana'a to mark anniv. of Sep. 21 revolution
• Turkey prepared to act on its southern border with Syria: Erdogan
• Funeral held for Palestinian teen shot in Jerusalem al-Quds knife attack
• Tehran seeks to 'divide the world,' says Saudi Arabia's Adel Al-Jubeir
--------
North America
• Trump Heads to UN with Long List of Deals He's Yet To Close
• At UN Trump to tout leadership as US seeks to tackle Iran and China
• US official claims ISIL militant were among Afghans massacred in drone attack
• Saudi regime owes US $181mn for refueling support in bombarding Yemen
• Kushner likely to attend Saudi prince's forum: report
--------
Europe
• Tory Party Action Against Islamophobia: Too Little Too Late?
• In San Diego, Muslims question rollout of city's 'smart' streetlights
• Car rams into mosque in eastern France
• Sarajevo: Al Jazeera Balkans documentary fest kicks off
Compiled by New Age Islam News Bureau
URL: https://www.newageislam.com/islamic-world-news/poisoning-stray-animals-prohibited-under/d/119803
--------
Poisoning Stray Animals Is Prohibited under Islamic Sharia law: Dar al-Iftaa, Egypt
September 21, 2019
Dar al-Iftaa, the government's principal Islamic legal institution for issuing fatwas (religious edicts), has prohibited the poisoning of stray animals in response to a question on its official website regarding the killing of strays.
The religious institution said that poisoning strays is prohibited under Islamic Sharia law. Killing should not become a general behavior by which humans control these animals by extermination and destruction, the website said.
Dar al-Iftaa however authorized the killing of stray animals on the condition that they are harmful, and that eliminating them is the only means of preventing harm.
When killed, it should be done in a way that does not torture the animal, Dar al-Iftaa added.
Dar al-Iftaa recommended that stray animals be collected in places such as shelters to rescue them from life on the streets.
The General Organization for Veterinary Services of Egypt's Agriculture Ministry stated on October 2018 that campaigns to eliminate stray dogs in different areas of Cairo are necessary for several reasons.
These include an increase in dog attacks on humans, with stray dogs posing a threat towards pedestrians.
In July 2018, Member of the House of Representatives Tadros Qaldas submitted a briefing request to Prime Minister Mostafa Madbouly regarding the spread of stray dogs across Egypt, who carry a high risk in transmission of the deadly rabies disease.
Qaldas said that the estimated 15 million stray dogs pose a great danger to the lives of citizens. He accused the government of abandoning its role in preserving the environment by not deploying any vehicles to pick the stray dogs off the street.
https://egyptindependent.com/islam-forbids-killing-stray-animals-with-poison-dar-al-iftaa/
--------
Kerala Guv Arif Mohammed Khan Said That Solution Of The Problems Of The Country Should Be Searched In The Ideology Of Pandit Deendayal Upadhyay
September 21, 2019
Jaipur: Kerala governor Arif Mohammed Khan said that solution of the problems of the country should be searched in the ideology of Pandit Deendayal Upadhyay which has made roots into Indian ideologies.
Khan was visiting Pandit Deendayal Upadhyay Memorial here at Dhankya. Dubbing the memorial as a motivation for the young generation Khan told that much more can be learnt from the life of Pandit Ji and memorial could be the best source of it.
As reported by an Urdu newspaper, Arif Mohammed Khan keenly inspected various aspects of Pandit Deendayal Upadhyay's life, showcased in the museum.
Pandit Deendayal Upadhyay was an RSS ideologue.
https://www.siasat.com/kerala-guv-arif-mohammed-khan-praises-rss-ideologue-1628822/
--------
On The Occasion Of Maulana Maududi's 40th Death Anniversary, The Jamaat-e-Islami Renews Pledge To Continue Its Struggle To Transform Pakistan Into An Islamic Welfare State
Sirajul Haq
September 22, 2019
Syed Abul Ala Maududi (Sep 25, 1903-Sep 22, 1979) was undoubtedly one of the greatest Islamic scholars of 20th century who influenced millions of Muslims across the globe through his writings and religio-political activism.
He was a philosopher, jurist, journalist and politician. His numerous works were written in Urdu, but then translated into English, Arabic, Hindi, Bengali, Tamil, Burmese and many other languages.
Throughout his life, he not only strived hard to transfer Pakistan into a true Islamic welfare state but worked in close collaboration with the worldwide Muslim movements to bring betterment in the respective countries through the brilliant principles of Islam.
Independent historians described him as one of the most powerful Islamic ideologues of the 20th century, whose ideas and writings went on to influence a vast number of Islamic movements in the Muslim world.
Throughout his life, he asked people to follow Quran and Sunnah and shun minor differences. For him, sectarianism was the greatest evil which weakened the Muslim societies and made them vulnerable to the enemies' designs. He urged Ummmah to stand united to thwart the conspiracies against Islam.
Sectarianism, he believed, was the cause of all problems facing the Muslim world and unity was the remedy for the weakness from which Islam had suffered over the centuries. It was perhaps due to this quality that Syed Maududi had enjoyed a great honour and respect in his lifetime and after death across the Islamic world including Saudi Arabia, Iran, Egypt, Malaysia and Indonesia.
Syed Maududi, Syed Qutb and Imam Hasan al-Banna were the leading scholars of 20th centuries who challenged the colonial powers and their agents. Their followers later devoted their lives to transform societies into an ideal place of living for mankind. Syed's work was the continuations of the efforts made by Hazrat Shah Wali Ullah (R.A), Hazrat Mujadid Alf Sani (R.A), Shah Abdul Qadir Gilani (R.A) and Hazrat Ali Hajveri (R.A) to transform society into an ideal place of living for mankind. Syed Maududi was born in Aurangabad (then in Hyderabad, now in the state of Maharashtra, in India) into a traditional Muslim family with a strong religious bent. His father, Ahmad Hasan Maududi, was a lawyer and a religious scholar. For several years during Abul Ala's childhood, his father stopped practicing law and devoted himself to religion. Syed was primarily home schooled. At age 15 he was forced to leave school when his father died. At the age of 17, he became a correspondent, and soon became an editor of Taj, a newspaper in Jabalpur. In 1920 he assumed the editorship of Muslim, which was published by the Jam'iyat-i 'Ulama,' the Ulema of India in Delhi. The newspaper closed in 1923, but Syed Maududi soon became editor of the prestigious al-Jam'iyah. While a journalist, he also began writing about Islam. In 1928, Syed Maududi left journalism and took up scholarship. He wrote a history of the Asafiyah dynasty of Hyderabad and another history of the Seljuk Turks. Most significantly perhaps, he wrote a little book, Toward Understanding Islam, (Risala al Dinyat) that really began his career as an Islamic thinker and religious writer.
By 1930, Syed Sahib had published Jihad fil Islam (Holy war in Islam) a collection of essays.
In 1932, he joined the Hyderabadi journal Tarjuman al-Quran, and in 1933 he became the editor. He used the journal as a platform to spread message of Islam, and later in the 1930s he also turned to Indian politics. He urged India's Muslims to recognise Islam as their sole identity and to become better Muslims. In 1941, Syed Maududi called a meeting in Lahore to found the Jamaat-e-Islami with the sole objective to spread the message of Islam and with the passage of time; the JI became a very important force in Pakistan's national politics.
He was arrested in 1953 because of his active role to declare Qadyanis as non-Muslims. He was sentence to death but later his death sentence was changed into life imprisonment. He was freed after few months under a public pressure. In 1958 Pakistan came under military rule, and Jamaat-e-Islami was banned.
He was arrested by the regime of Ayyub Khan in 1964. In the 1965 elections he supported the presidential candidacy of Fatimah Jinnah against Ayyub Khan. In 1972 he completed his Tafheem-ul-Quran in Urdu and in the same year, he resigned as Amir Jamaat during to growing health issues. However, he continued his writings until late 70s. Syed Sahib died in September 22, 1979 in Buffalo, New York, where he had gone to visit a son who was a physician, and to receive medical treatment for a long standing kidney ailment. He was buried in Lahore.
On the occasion of Maulana Maududi's 40th death anniversary, the Jamaat-e-Islami renews pledge to continue its struggle to transform Pakistan into an Islamic welfare state—the state where people enjoy free education and health facilities and speedy justice and spend their lives according to the bright principles of Islam.
Writer is Jamaat-e-Islami chief and senator
https://www.thenews.com.pk/print/530098-syed-maududi-great-islamic-thinker-who-influenced-millions-of-people-across-the-globe
--------
Govt okays 'Deeni Madaris Reforms' to streamline seminaries
BY AHMAD AHMADANI
Sep 22, 2019
ISLAMABAD:The government has approved 'Deeni Madaris Reforms' to streamline religious seminaries and keep a check on their finance in line with the Financial Action Task Force objectives.
Under the approved reforms, all the seminaries will be registered with the Ministry of Federal Education and Professional Training and the ministry will also facilitate the said madrassas in the opening of bank accounts at the designated branches.
And if they didn't comply with the terms of conditions of the ministry, their registration would be canceled. In case, the seminaries fail to register with the education ministry, they will be sealed.
The registered seminaries will be allowed to enroll foreign students and the education ministry will facilitate them in obtaining Pakistani visas for a maximum period of nine years in line with prevalent rules and regulations.
According to documents, the cabinet considered the summary titled 'Deeni Madaris Reforms' dated September 1, 2019, submitted by the education ministry and approved it in principle.
The interior ministry opposed the reforms; however, the cabinet gave go-ahead on a condition that the ministry would also take all stakeholders on board.
Sources aware of the matter informed that the ministry will develop 12 regional offices in major cities, namely Multan, Lahore, Rawalpindi, Karachi, Sukkur, Quetta, Loralai, Muzaffarabad, Peshawar, Dera Ismail Khan, and Gilgit.
Similarly, the Directorate of Religious Education will be established. And, Ministry of Federal Education and Professional Training will require Rs580 million during the current financial year 2019-2020, they added.
It is relevant to mention that the current government had earlier tasked Ministry of Federal Education & Professional Training to introduce 'Deeni Madaris Reforms'.
In order to develop consensus, Ministry of Federal Education & Professional Training had held a number of meetings with the representatives of Ittehad Tanzeemat-e-Madaris Pakistan (ITMP) under the chairmanship of Federal Minister for Federal Education and Professional Training.
After detailed deliberations on objectives and issues of reformation of seminaries, a final agreement was unanimously signed on August 29, 2019.
https://www.pakistantoday.com.pk/2019/09/21/govt-okays-deeni-madaris-reforms-to-streamline-seminaries/
--------
Bangladesh Religious Leaders Stand Against Corporal Punishment Of Children
September 21st, 2019
Despite divergent views, overwhelming number of Imams and priests in Rajshahi oppose Corporal punishment
"There aren't any more canings in my institution," said Shariful Islam, a madrasa teacher for the last 19 years.
Recognizing that verbal abuse, and beating had long been two common forms of instruments to discipline students, he said: "At times, many students would suffer by fainting or losing consciousness due to severe anxiety, fear or pain from caning. This has been a long drawn traditional form of punishment, I too experienced such practices from my teachers."
"However, those days are gone now. Patterns of such punishment are just a thing of past," stressed Shariful, who is also an Imam of Krishnapur Maddhya Para Jame Masjid of the Tanore upazila in Rajshahi.
Shariful's comments may leave one enraged while it has been pretty much a normal affair in traditional madrasas that teachers and administrators punish students both physically and verbally.
Caning is a common form of discipline in vast majority of schools and madrasas in Bangladesh.
Teachers have long been accustomed to do so, owing to the notion of 'Mair Boro Bidya' (punishment is part of learning) since they would uphold a belief that, children do commit to their studies unless they are in fear of being reprimanded.
Further, they also resort to violent form of punishments, in order to induce students to abide by institutional rules.
Shariful is among hundreds of madrasa teachers who have teamed up to eliminate all forms of corporal punishment against students in three upazilas (Poba, Tanore and Gothagari) of Rajshahi nearly two years ago. They have also joined hands with local priests and other religious clerics, to this end.
The story did not stop here; Imams and priests representing both Islam and Christian faiths have also been working to stop incidents of child abuse by any measure, thanks to a two-year project being implemented by World Vision Bangladesh (WVB, a non-government organisation (NGO).
World Vision undertook the project styled: "The Faith based Child Development," in October 2017, primarily to stop sexual abuse of children in the region.
Following a successful launching, the project officials approached local Imams and priests alike, informing them of what is essential for a child friendly environment, not only at educational institutions, but also in the society.
With many exhaustive rounds of interviews and roundtables, WVB have managed to form a what it termed, "Community Hope Action Team or CHAT Committee" comprising of leaders and representatives of faith based organizations.
During a recent visit to the Tanore upazila in Rajshahi, the reporter came to learn about the recent developments; precisely after a talk with Shariful Islam - also a part-time teacher at a local pre-primary school, who was seen advising parents and mothers of his students to refrain from beating their children as a form of punishment at home.
Acknowledging the values resulting from the campaign, many women appreciated the project as praiseworthy. They said that they have also been learning things of child development and of normative values everyday for an hour, from the religious leaders on corporal punishment, and mental and physical mistreatment.
The project shared messages of positive discipline that should be built into the training of all those who work with or for children and families, in education, health, and social services.
Shurovi Akhter, a mother of two, said she has been following the suggestions of Imams as they are much trustworthy.
"I do not allow my 3-year-old son to go anywhere alone, even with my neighbours. I frequently check with my daughter if any outsider or a relative has touched her inappropriately as the Imam told us to share with our children on which parts of their body are sensitive," she said.
Hafez Maulana Golam Rabbani, principal of Krishnapur Rahmania and Hafizia Madrasa of the Tanore upazila, said as part of the campaign, Imams and Christian priests also hold discussions at least twice a month. They describe the discussions as "Inter-faith Dialogue in Child Protection."
"We discuss with students on whether they are physically abused at schools or other educational institutions or even at home by teachers, guardians or parents," he said.
Father Patrick Gomes, Catholic priest of the Mundumala Missionary, said they get reports of children, aged between 4-16 years, being raped or sexually abused almost every day - news of much regret.
"Apart from these incidents of apparent cruelty, the news of children being abused at educational places also hurt us a lot. Against this backdrop, we have decided to outlaw caning or beating children in our homes first. Then we banned all forms of sexual and mental abuse at educational institutions," he said.
Beatings leave students frightened, sometimes injured, and unable to learn effectively, making it more likely they will leave schools. The high level of corporal punishment of children reflects deeply embedded social attitudes that authorise and approve it.
Details about the 'Faith based Child Development' project
Under the project, 173 Muslims and Christian faith-based leaders, along with 140 school teachers have so far received training on child development and safety issues.
WVB is also providing training to some 3,308 children at 161 learning centres.
When contacted, Bimal James Costa, AP Manager of the Tanore upazila at WVB, said: "We have taken collaborative efforts with the faith-based leaders as people believe in them."
He, however, recounted that the launching of the campaign was not an easy task.
"Initially, the religious leaders were neither convinced nor enthusiastic about the project, but with support from Bangladesh Islamic Foundation, they paid attention to our call as we presented messages of Quran, Hadith and Bible regarding safety of children," he maintained.
It is a fact and acknowledged by many that there are divergent views on corporal punishment of students in schools and madrasas in Bangladesh, though the tilt is towards bringing an end to it.
https://www.dhakatribune.com/bangladesh/nation/2019/09/21/religious-leaders-stand-against-corporal-punishment-of-children
--------
Mosques should have a welfare officer
By Ahmad A Talib
September 21, 2019
HALIMAH leads a very difficult life. Her life is full of daily challenges, some of which look insurmountable.
Abandoned by her husband, Halimah struggles to feed her three children, one of whom, her only son, later turned to drugs.
The boy was arrested and is now trying to regain his life in a rehabilitation centre outside Kuala Lumpur.
Halimah's husband left her and their children, depriving them of any financial support. Life couldn't have been more difficult for her.
People like Halimah don't have a safety net. She has been trying to get a job as a maid or a helper in a restaurant. But this has not been easy. There were days when she could earn a bit of money from helping out a family with some house chores, but this wasn't enough to pay the rent.
She has been getting a bit of money from the Welfare Department. While this is most welcomed, she knows that a steady job is what she needs most.
So this brings us to Zul S. Some friends had gathered at his office in Putrajaya recently to discuss urban issues, including poverty and how to reduce it.
Zul S. gave a somewhat fresh perspective to cases like Halimah's.
While the government, through its various agencies, will continue to provide assistance to people like Halimah, Zul S. said there should be other institutions that could also provide some form of safety net.
"Mosques are everywhere. Nearby residents and others pray there five times a day, with a big congregation on Friday. Besides being a prayer house, mosques should also be used as a centre of local administration."
Every mosque has a properly elected executive committee responsible for its daily running.
"There are a few paid employees, supported by members of the congregation, who are mostly volunteers but they take their jobs seriously.
"The committee members are tasked with cleanliness, maintaining an effective duty roster, fund raising, education and organising community services, such as supervising funeral arrangements. There is also a sub-committee looking after women's affairs.
"I want to suggest that every mosque has a dedicated officer looking after the community's welfare. This can be very useful and functions as a safety net right at the grassroots. Mosques do charity work all the time, but a structured set up can make a major difference," said Zul S.
The suggestion merits serious consideration. Every year, most mosques extend help to deserving members of the congregation, usually in the form of cash contributions. They are given to orphans, single parents and selected senior citizens.
Most mosques do this once a year, usually during Ramadan and in the run-up to Hari Raya Aidilfitri.
If mosques have a dedicated welfare officer, then his job would be to compile an up-to-date list of recipients of the mosque's corporate social responsibility programme, so to speak.
In fact, in Islam, feeding the poor and helping neighbours and those in severe difficulty are requirements if one is to seek rewards in the hereafter.
The task for the mosque welfare officer or volunteer is simple. But it entails a lot of leg work and ground engagement. It is very important for the person to have a 200 per cent commitment to serve the community. The person can head a small sub-committee, whose task is to compile a list of single parents, orphans, the elderly, the poor and those facing difficulty like Halimah.
There has been widespread talk that mosque committees do have funds, but appear reluctant to use them for community projects. This must change.
Depending on location, the congregation attending Friday prayers may contribute anything between RM1,500 and RM12,000 every week. The money is often used to finance religious classes, conduct forums and do minor repairs from time to time.
With a welfare officer, mosques can plan a proper budget to help the needy. Proper criteria can be established and an effective screening system can be put in place. If properly done, mosques would endear themselves to the community.
Such a self-help programme is not rocket science. I personally saw a committee member of a small rural mosque collecting data of the village poor for its annual charity project.
Orphans, the aged and single parents get some money before Hari Raya Aidilfitri and before school reopens. This meets very well with the fundamental teachings of Islam.
Mosques must innovate if they want to be an effective agent of change. They shouldn't be just a place of worship, definitely not in the present environment.
If Islam is to be widely and properly understood, such efforts in helping society must be undertaken seriously and consistently.
Some mosques have established a food bank of their own, though this may be somewhat still in an experimental form.
The mosque committees have stockpiled rice, flour, instant noodles, sugar and other groceries. Those in need can go to the mosque and take whatever they want for free.
It will take a bit more time before the initiative is fully understood. During this trial period, there is bound to have some incidents of abuse.
This must be properly addressed before it can be widely implemented.
But all mosques should heed the proposal by Zul S. — appoint a proper welfare officer and things can really move. A mosque should be one of the places where those in difficulty, like Halimah, can seek and get help.
https://www.nst.com.my/opinion/columnists/2019/09/523315/mosques-should-have-welfare-officer
--------
Tunisia democracy 'inspiration' for Arab countries: Analyst
Sep 21, 2019
The democracy in Tunisia can be an "inspiration" and set a precedent for the future of Arab countries, particularly those grappling to precipitate a peaceful power transition, says a political analyst.
Michael Springmann, a Washington-based author and former US diplomat in Saudi Arabia, made the remarks on Press TV's The Debate program on Friday.
"They have shown that they are not concerned with tradition, with history, with people who are connected to the establishment. They are working for outsiders, working for new blood, working for fresh faces, working for fresh ideas, and I think they can bring this off…I think it can be an inspiration to Algeria and other countries, such as Sudan, where the Saudis are a long-time traditional ruler and an absolute monarchy has been meddling," Springmann said.
"So, I think that a peaceful transition, a successful transition, which is very unusual anywhere in the Arab world, would be a shining light… it is only a matter of choosing the right people," he added.
Springmann also pointed to the 45-percent turnout of Tunisians in the latest election and said even though some reforms have taken place, people are unhappy with the status quo in the North African country.
"People have said that they are disillusioned with what has been happening so far and they are voting for the future of Tunisia and that they are voting for their children and they wanted to see real change and real progress and not rely on simple words and people with connections running the show," the political analyst said.
Tunisia has been beset by violence since the 2011 uprising that ousted the country's dictator, Zine El Abidine Ben Ali, who was in power for over two decades.
Tunisia threw off Ben Ali's autocratic rule eight years ago in a revolution that inspired "Arab Spring" revolts in Egypt, Yemen, Bahrain and Libya, but it alone has enjoyed a smooth, peaceful transition to democracy.
Tunisia's electoral commission announced on Tuesday that law professor Kais Saied and detained media mogul Nabil Karoui had won the most votes in presidential election on September 15, beating veteran political leaders to advance to a second-round runoff. Tunisia's president has only limited powers, controlling foreign and defense policy, while a prime minister chosen by the parliament manages other portfolios.
Elections for the parliament will be held on October 6.
https://www.presstv.com/Detail/2019/09/21/606720/Tunisia-democracy-inspiration-Michael-Springmann-Arab-countries
--------
Arab World
Human Rights Watch calls on Egypt to protect right to peaceful protest
Sep 21, 2019
Human Rights Watch (HRW) has urged the Egyptian authorities to "protect the right to peaceful protest" after police arrested dozens of demonstrators who had participated in rare protests against President Abdel-Fattah el-Sisi over alleged government corruption.
On Friday night, hundreds of people took to the streets in central Cairo and several other Egyptian cities to express their strong dissent against President Sisi, a former military general-turned politician, calling for his removal from power.
However, the riot police were quick in breaking up the crowds, who were shouting "Leave, Sisi!" At least 74 demonstrators were arrested overnight.
"President Sisi's security agencies have time and again used brutal force to crush peaceful protests," said Michael Page, deputy Middle East and North Africa director at the HRW, in a statement on Saturday.
"The authorities should recognize that the world is watching and take all necessary steps to avoid a repetition of past atrocities," he added.
Protests have become very rare in Egypt following a widespread crackdown on dissent under Sisi, who took power after ousting Egypt's first democratically-elected president, Mohamed Morsi, in 2013 through a military coup.
The US-based rights group also strongly called on Cairo to protect the right to peaceful protest in upholding Egypt's obligations under international human rights law, urging the authorities to "immediately release all those arrested for solely exercising their rights."
Friday's protest rallies were held in response to an online call for Sisi's resignation by Mohamed Ali, a former army contractor, who accused the president and the military of corruption.
The HRW further called on Sisi to "direct the state security forces to abide by international standards for law enforcement during demonstrations."
There was heavy security presence in downtown Cairo and on Tahrir Square, where mass protests started in 2011, ending up in the downfall of veteran ruler Hosni Mubarak.
Since Morsi's overthrow, Egyptian authorities have been engaged in a persistent crackdown on dissent, killing hundreds and arresting thousands.
https://www.presstv.com/Detail/2019/09/21/606751/Egypt-protests-HRW-Sisi-Morsi
--------
Suspected Lebanese hijacker arrested in Greece: Police
21 September 2019
A Lebanese man accused of involvement in the hijacking of a TWA plane and the murder of a US navy diver has been arrested in Greece, police said on Saturday.
The 65-year-old was spotted by policemen in the island of Mykonos and detained on Thursday, a statement said.
Greek authorities said there was a European arrest warrant issued by Germany for the hijacking as well as a kidnapping committed in 1987.
Greek media said he was involved in June 14, 1985 hijacking of TWA Flight 847 and the murder of an American passenger.
The plane was travelling from Cairo to San Diego with stops in Athens, Rome, Boston, and Los Angeles. It was hijacked after it took off from Athens.
Over a horrific 17 days, TWA pilot John Testrake was forced to crisscross the Mediterranean with his 153 passengers and crew members, from Beirut to Algiers and back again, landing in Beirut three times before he was finally allowed to stop.
On June 15, 1985 during the first stop in Beirut, 23-year-old US navy diver Robert Stethem was severely beaten, shot point blank in the head and thrown onto the tarmac of Beirut airport.
According to Athens News Agency, the man was arrested during a passport check of cruise ship passengers.
On Friday, he appeared before the prosecutor who ordered his arrest and detention until his extradition to Germany.
Greek media said the man had been arrested in Germany two years after the hijacking but was later exchanged with two Germans who were abducted in Beirut. He has remained a fugitive ever since.
https://english.alarabiya.net/en/News/middle-east/2019/09/21/Suspected-Lebanese-hijacker-arrested-in-Greece-Police.html
--------
ISIS claims responsibility for Iraq bus bombing that killed 12
21 September 2019
ISIS militants have claimed responsibility for a bus bombing that killed 12 people near the Iraqi city of Karbala, the Amaq news agency reported on Saturday.
Iraqi security services said on Friday that 12 people were killed and several others wounded when a bus bombing occurred near the holy city south of Baghdad.
Two police spokesmen in the area said an explosive device planted on the bus detonated at a northern entrance to the city, setting fire to the vehicle.
Meanwhile, Iraqi security forces boosted their presence and measures around the Shiite city of Karbala on Saturday, a day after the deadly bombing outside the city.
Suspect held
Iraq's prime minister said security forces have detained a man suspected of detonating the bomb.
The blast was one of the biggest attacks targeting civilians since ISIS, a terrorist organization was declared defeated inside Iraq in 2017.
The group's sleeper cells continue to wage an insurgency and carry out sporadic attacks across the country.
The charred minibus was still on the road near the city on Saturday morning, hours after the blast.
Prime Minister Adel Abdul-Mahdi in a statement released by his office on Saturday gave no further details about the suspect.
Parliament Speaker Mohamad al-Halbousi expressed in a statement his frustration with the repeated "failures of intelligence agencies" to prevent such attacks. He added that security plans should be reviewed and intelligence gathering intensified.
On Saturday, security was tight on the roads entering Karbala with added checkpoints searching cars.
The explosion occurred as the bus was passing through an Iraqi army checkpoint, about 10 kilometers (6 miles) south of Karbala in the direction of the town of al-Hilla.
There was no immediate claim of responsibility for the attack, which took place during a holy period marked by Shiites in Iraq between two important religious events, Ashura and Arbaeen. Arbaeen is the annual commemoration marking the end of the 40-day mourning period for the martyrdom of Imam Hussein, the Prophet Muhammad's grandson, a central figure in Shiite Islam.
Thirty-one pilgrims were killed and about 100 injured 10 days ago as hundreds of thousands of Shiite Muslims marked Ashura, one of the most solemn holy days of the year. It was the deadliest stampede in recent history during Ashura commemorations.
https://english.alarabiya.net/en/News/middle-east/2019/09/21/Iraq-detains-suspect-in-deadly-bombing-that-killed-12.html
--------
Explosive-laden drone downed in Syria near Israeli-occupied Golan: State TV
21 September 2019
Syria's state news agency SANA says authorities have captured and dismantled a drone rigged with cluster bombs near the border with the Israeli-occupied Golan Heights.
SANA gave no details about the origin of the drone, but posted several photos. They reported that the drone was loaded with highly explosive bombs, and was downed in the Quneitra province.
The incident came two days after another drone was destroyed over the Damascus suburb of Aqraba.
No one claimed responsibility for the drones.
Israel frequently conducts airstrikes and missile attacks inside war-torn Syria but rarely confirms them. Israel says it targets mostly bases of Iranian forces and the Lebanese militant group Hezbollah in Syria.
In neighboring Lebanon, a government investigation concluded Thursday that two Israeli drones were on an attack mission when they crashed in the capital last month, one of them armed with 4.5 kilograms (10 pounds) of explosives.
https://english.alarabiya.net/en/News/middle-east/2019/09/21/Syria-says-it-captured-explosive-laden-drone-near-Israeli-occupied-Golan.html
--------
Al-Jubeir calls Iran FM Zarif's statements on Saudi attacks 'outlandish, laughable'
22 September 2019
Saudi Arabia's Minister of State for Foreign Affairs Adel al-Jubeir called Iranian Foreign Minister Mohammad Javad Zarif's statements on the recent attacks on Saudi oil facilities "outrageous, outlandish and frankly laughable."
In an interview with CNN's Nic Robertson, al-Jubeir was asked about his thoughts on Zarif's statement where he said that Saudi Arabia was "willing to fight Iran down to the last US soldier."
"It confirms that he's said many outrageous and outlandish things, and frankly laughable things… Saudi Arabia always carries its weight; Saudi Arabia and the United States are not reckless when it comes to wars. War is the last resort, it's the Iranians who are reckless in engaging in such behavior," al-Jubeir responded.
Iranian officials have continued to deny any involvement in the attacks that targeted Saudi Aramco's oil facilities in Khurais and Abqaiq on September 14, despite investigators identifying the weapons used as Iranian-made.
"He and other Iranian officials have said a lot of things that are frankly not correct, if not, outright lies. And so, to say that they are not responsible for this or they didn't do it is outrageous," al-Jubeir said.
"Either Mr. Zarif is not telling the truth, or he's not aware of what his government is doing," he added.
Iranian officials have issued several statements since the attacks, including a tweet by the Iranian foreign minister who said that US President Donald Trump's administration and "ambitious allies" should pray that a war does not happen "for their own sake," in addition to threatening an "al-out war."
Iran's Supreme Leader had also said stated that "there will be no talks with the US at any level." The statement came as the UN's General Assembly is set to convene this week, ending speculations that US and Iranian officials would meet.
"There is an art of the Iranian government that projects an image of wanting to talk to the world, but they don't seem to have influence. And there's another part of the government that wants to expand the revolution and take over the region and don't want to talk so it's like two faces of the same coin," al-Jubeir said.
https://english.alarabiya.net/en/News/gulf/2019/09/22/Al-Jubeir-calls-Iran-FM-Zarif-s-statements-on-Saudi-attacks-outlandish-laughable-.html
--------
Kuwait defense minister: All military units must be ready in light of tensions
22 September 2019
All military units in Kuwait must maintain their readiness in light of ongoing regional tensions, Deputy Prime Minister and Minister of Defense Sheikh Nasser Sabah Al-Ahmad Al-Sabah said during an inspection tour of the Kuwait Air Force and Air Defense Forces Operations' Command Center, state news agency KUNA reported on Saturday.
In a statement, the ministry cited Sheikh Al-Sabah as saying, "Army units must be prepared in light of ongoing tensions in the region."
Kuwait raised its security alert level at oil and commercial ports on Friday, according to KUNA, citing a decision made by the country's trade and industry minister.
"The decision emphasizes that all measures have to be taken to protect the vessels and the ports facilities," it said.
The decision follows an announcement from Kuwait's military on Wednesday that it was raising its readiness levels and carrying out military exercises, amid soaring regional tensions after neighboring Iran was accused of attacking Saudi Arabian oil infrastructure.
In a statement, the defense ministry said that these measures "aim to protect the country's security and ensure the safety of its lands, waters and airspace from possible dangers."
https://english.alarabiya.net/en/News/gulf/2019/09/22/Kuwait-s-Defense-Minister-Military-units-must-be-ready-in-light-of-tensions.html
--------
Saudi Aramco has come out of the attacks 'stronger than ever,' CEO says
21 September 2019
Saudi Aramco has emerged from the Sept. 14 attacks on its oil facilities "stronger than ever", Chief Executive Officer Amin Nasser told employees in a message.
"The fires that were intended to destroy Saudi Aramco had an unintended consequence: they galvanized 70,000 of us around a mission to rebound quickly and confidently, and Saudi Aramco has come out of this incident stronger than ever," he told Aramco staff and employees on the occasion of Saudi Arabia's 89th national day.
Nasser added that the attacks "cemented to the world the great importance of Saudi Arabia and its oil industry."
Nasser also commended Saudi Arabia's civil defense forces, and heroic employees who helped in containing the damage of the attacks.
"We have another reason for national pride and that is the great accomplishment the heroic employees, in support of civil defense teams, achieved in containing the damage from the sabotage attacks," he said.
https://english.alarabiya.net/en/News/gulf/2019/09/21/Saudi-Aramco-has-come-out-of-the-attacks-stronger-than-ever-CEO.html
--------
Syrian army captures drone in Quneitra near Israeli-occupied Golan Heights
Sep 21, 2019
Syrian government forces have captured and dismantled an unmanned aerial vehicle rigged with cluster bombs near the border with the Israeli-occupied Golan Heights.
A field source, speaking on condition of anonymity, told Syria's official news agency SANA that provincial authorities intercepted and shot down the drone as it was flying in the skies over Arnah village on Saturday afternoon.
The source added the aircraft had been laden with cluster bombs and Composition C-4 high-velocity military plastic explosives to prevent it from being taken to pieces, but competent engineering units managed to dismantle it.
The incident came two days after another drone was intercepted and destroyed over Aqrabah suburb near the capital Damascus.
There was no claim of responsibility for the drone incident on Thursday.
Syrian forces find Israeli-made weapons in ex-militant redoubt
Separately, Syrian government forces have carried out a string of clean-up operations in Quneitra province, discovering a substantial amount of Israeli-made munitions and medical supplies from a former stronghold of foreign-backed Takfiri terrorists.
An unnamed military source told SANA that Syrian soldiers launched operations in the outskirts of Quneitra on Saturday to clear the area of hidden explosive devices and ordnance left behind by the militants.
The source added that the weapons included machine guns, anti-tank rocket-propelled grenade launchers and assault rifles besides telecommunication devices, food supplies and medicine.
Back in June, Syrian army soldiers discovered a substantial amount of munitions, some of them US-built, from a former militant position when they mounted operations on the outskirts of the town of Jubata al-Khashab in Quneitra province.
An unnamed military source said the weapons were hidden inside two underground tunnels dug by terrorists, which included artillery rounds, rockets, night-vision devices, American BGM-71 TOW anti-tank missiles as well as various types of machine guns.
Syria has been gripped by foreign-backed militancy since March 2011. The Syrian government says the Israeli regime and its Western and regional allies are aiding Takfiri terrorist groups that are wreaking havoc in the country.
https://www.presstv.com/Detail/2019/09/21/606750/Syrian-army-captures-drone-in-Quneitra-near-Israelioccupied-Golan-Heights
--------
Russia prevents Israeli airstrikes in Syrian capital: Russian media
Sep 21, 2019
Russia has reportedly prevented another Israeli airstrike in Syria, helping the Syrian armed forces destroy a drone on its way to attack Damascus.
The Russian aviation publication Avia.Pro reported that the country's combat aircraft took off from Russia's Hmeimim air base in Syria's western coastal province of Latakia on Thursday night, "which resulted in the disruption of the Israeli attacks on the Syrian capital and its surroundings".
According to the report, the Russian military also provided the Syrian armed forces with information about the Israeli drone that was preparing to strike the southeastern suburbs of Damascus.
"According to data, at least two combat aircraft took off from the Hmeimim air base at around 8 p.m. in the southeast direction, after which, under unknown circumstances, an Israeli drone that violated Syrian airspace was shot down and subsequently there was no attack on the suburbs of the Syrian capital," said the report.
According to al-Masdar news agency, the drone was shot down over the Aqraba area near the Damascus countryside of Jaramana.
If confirmed, this would be the fourth time since late August that the Russian forces have blocked an Israeli attack on Syria.
In August, Moscow reportedly stopped an airstrike on the strategic Qasioun region near Damascus, where a Syrian S-300 missile battery is said to be placed.
Moscow also prevented another airstrike later on a Syrian outpost in the southwestern province of Quneitra and a third in the western coastal province of Latakia, media reports have said.
During a meeting with Prime Minister Benjamin Netanyahu last week, Russian President Vladimir Putin reportedly threatened to take measures against Israel if Tel Aviv continued airstrikes against Syria.
According to reports, Putin told Netanyahu that allowing Israeli strikes on Syrian military assets would undermine Moscow's relations with Damascus.
Israel's aggressive moves have been viewed by observers as an attempt to weaken the Damascus government as it increasingly gains the upper hand in its fight against terrorist groups which have plagued the country since 2011.
Russia has been targeting positions held by Western-sponsored terrorist groups inside Syria at the request of Damascus since September 2015.
https://www.presstv.com/Detail/2019/09/21/606718/Russia-Syria-Israel-drone-airstrike-Damascus
--------
Egyptian police, anti-Sisi protesters clash for second night in Suez
Sep 22, 2019
Egyptian police have fired tear gas and live rounds to disperse hundreds of anti-government protesters in the port city of Suez.
The violence broke out late Saturday when protesters, heading to downtown Suez, were met by police and security forces barricading the streets with armored vehicles for the second night in a row.
Chanting slogans against the government in Cairo, the demonstrators called on President Abdel Fattah el-Sisi to step down.
"There were about 200 or so people. They (security forces) fired tear gas, rubber and live bullets and there were injuries," a protester, speaking on condition of anonymity, told AFP.
Reports said a heavy security presence was also maintained in Tahrir Square in the Egyptian capital after protests in several cities on Friday called for Sisi's removal.
At least 74 people were arrested after clashes between the protesters and police in the capital, a security source told AFP.
Human Rights Watch (HRW), demanding an "immediate release" of those arrested, called on the Egyptian government to "protect the right to peaceful protest" across the country.
The recent round of demonstrations began with an online call by exiled Egyptian businessman Mohamed Aly who has accused Sisi of corruption.
In a statement late Saturday, Egypt's foreign media accreditation body cautioned international journalists that their reporting of events "should not be exaggerated", without explicitly mentioning the anti-government protests.
Sisi has long been facing international condemnation for a crackdown on civil society groups since he took power in 2014, a year after a military coup spearheaded by him toppled the country's first ever democratically-elected president Mohamed Morsi.
After his ouster, Morsi began serving a 20-year prison term on charges of ordering the arrest and torture of protesters, a 25-year jail term on charges of passing intelligence to Qatar, and a three-year term for insulting the judiciary.
The 67-year-old passed away during a trial court session in Cairo in June.
Since Morsi's overthrow, Egyptian authorities have been engaged in a persistent crackdown on dissent, killing hundreds and arresting thousands.
Sisi's human rights record, however, has not stopped US President Donald Trump from expressing support for his government.
Trump referred to the Egyptian president as his "favorite dictator" while awaiting a meeting with him at a gathering during the Group of Seven (G7) summit in France last month, according to a report by the Wall Street Journal.
Citing several witnesses, the Journal said Trump's comment was met with a shocked silence. The report did not clarify whether the Egyptian president himself heard the remarks.
https://www.presstv.com/Detail/2019/09/22/606808/Egypt-antigovernment-protest-Suez-Abdel-Fattah-elSisi
--------
Organization of Islamic Cooperation chief to highlight key issues at UN assembly
September 21, 2019
JEDDAH: The secretary-general of the Organization of Islamic Cooperation (OIC), Dr. Yousef Al-Othaimeen, is heading a high-level OIC delegation to New York to participate in the higher segment of the UN General Assembly's deliberations at its 74th Session on Monday.
Al-Othaimeen will hold bilateral talks with a number of heads of state and foreign ministers of OIC member on the periphery of proceedings, the Saudi Press Agency reported.
From Sept. 23 to 27, the OIC General Secretariat will hold a number of events and meetings at the general assembly's annual gathering, to discuss the challenges facing the Muslim world. Key among these events will be the annual coordination meeting of the OIC ministers of foreign affairs.
Highest on the agenda will be the current situation in Palestine and Jerusalem, along with Jammu and Kashmir, the Rohingya minority, Armenia's aggression towards Azerbaijan, further issues in Sierra Leone, Mali and the Sahel and Bosnia and Herzegovina. The OIC General Secretariat will also discuss the situation of Muslims in Europe.
These OIC meetings will also address issues relevant to youth, the family, humanitarian affairs and human rights.
https://www.arabnews.com/node/1557796/saudi-arabia
--------
Why Saudi Arabia and Middle East must plan for Alzheimer's care challenge
September 22, 2019
ABU DHABI: Incurable and increasingly prevalent, dementia is a disease that today affects about 50 million people worldwide. Millions more are diagnosed each year with the most common neurodegenerative form: Alzheimer's disease. The risks generally increase with age, but many people develop symptoms of dementia before they reach the age of 65.
Inheritable genetic conditions can lead to familial or early-onset Alzheimer's, which can afflict people as young as 30.
Despite growing awareness of the global impact of dementia, experts say lingering misconceptions around the disease persist in the Middle East, often leading to late diagnosis, stigma and social isolation.
World Alzheimer's Month, an international campaign to raise awareness and challenge the stigma that surrounds dementia, is marked every September.
The 21st of the month is recognized as the official day to improve public awareness and attitudes regarding the disease.
Experts say there is an immediate need to challenge misconceptions and help some of the most vulnerable people in Middle Eastern communities.
"In my experience, awareness about Alzheimer's is quite low in the region, so people don't know too much about this disease," Dr. Karoly Zoltan Vadasdi, a neurology specialist at Dubai's Canadian Specialist Hospital, told Arab News.
"There's an immediate need to take steps or some measures to address this lack of awareness because Alzheimer's is the most common form of dementia in elderly patients, especially those above the 60-65 age group."
There is no known cure for Alzheimer's, which can start developing decades before obvious symptoms emerge. The disease, which is notoriously hard to slow down, continues to baffle medical scientists despite years of extensive research.
Part of the problem with developing a cure is that the causes of Alzheimer's are still not fully understood. The disease is also challenging to combat because it is not caused by an invading pathogen, but arises from an individual's own biology.
However, for those with early-stage Alzheimer's, which doctors can spot through brain scans and lumbar punctures, the picture is not entirely bleak. Some medications can reduce memory loss, treat changing cognitive symptoms and aid concentration. Nevertheless, experts say it is essential to further educate the public about the early stages of dementia.
According to 2019 statistics made available by the Saudi Health Ministry, there are 130,000 cases of Alzheimer's in the Kingdom. Despite the high number, public knowledge about the condition remains limited.
For a 2018 report entitled "Perception and attitude of the general population towards Alzheimer's disease in Jeddah, Saudi Arabia," author Hussein Algahtani and his research team interviewed 1,698 residents in shopping malls and public places.
They found that while 89 percent of participants had heard of Alzheimer's, 44.9 percent believed that it is a normal part of ageing.
About a third of those asked believed that Alzheimer's is treatable with medication, while 24.6 percent thought there is no treatment, and about 30 percent believed Saudi society stigmatizes people with the disease.
"There are many conflicting beliefs about Alzheimer's disease in the general population," said Algahtani, adding that conducting a study on "public awareness, attitude and knowledge" of it "is useful in decreasing discrimination and stigmatization."
"The results of the study suggest that the perception of the general public of Alzheimer's disease is lagging behind," he said. "Many wrong beliefs were identified in the general public regarding the causes and management," he added. "The findings of our study suggest that more information about Alzheimer's disease would be valuable and beneficial for everyone," said Algahtani.
"Awareness campaigns and public education are needed to increase the knowledge of the public regarding aspects of the disease, including prevention, causes and management,"
he added. "Dissemination of information about Alzheimer's disease should be of high priority. Increased awareness will lead to earlier detection of Alzheimer's disease and other dementia cases, and appropriate care and management of those persons."
The conclusions of Algahtani's report do not surprise Vadasdi, who said: "The disease is underdiagnosed in the Middle East, which stems from a misconception about Alzheimer's and dementia."
Vadasdi added: "Most people incorrectly associate dementia with senility, and believe that declining mental health is a normal part of ageing."
He said: "It's true that when people get older they get a bit forgetful and become a little slower in thinking, but dementia is never caused by ageing itself.
"It's important to emphasize that Alzheimer's is a neurodegenerative disease, which means there's a gradual loss of nerve cells in certain parts of the brain."
Vadasdi said: "Another misconception is that Alzheimer's or dementia is inherited. People are afraid that if one of their parents has it, they'll inherit the disease."
What is undeniable, though, is that full-blown Alzheimer's is devastating for the patient and has a knock-on effect on family members and friends. "Those who suffer from dementia need continuous, sometimes even 24-hour supervision, depending on the severity of the disease and the loss of cognitive abilities," said Vadasdi.
"It's a huge burden for family members, both emotionally and financially. Patients can also suffer from depression or become anxious, agitated or paranoid because of the loss of cognitive functions, including memory, orientation, perception. Family members need a lot of patience when looking after the patient."
It is believed that more than 2.3 million people in the Middle East and North Africa live with dementia, although the figure is hard to verify.
Some countries have no organization to address the challenge posed by dementia and Alzheimer's.
Even as he points to an "urgent need to increase awareness of Alzheimer's in society," Dr. Hania Sobierajska, a specialist in internal medicine at the UAE's Bareen International Hospital, praises local health authorities for conducting campaigns and workshops to reduce barriers to diagnosing the disease.
The Saudi Alzheimer's Disease Association (SADA), one of 90 associations that make up Alzheimer's Disease International (ADI), provides support and assistance to patients and their families. To mark World Alzheimer's Day, the Saudi Health Ministry hosts awareness drives across the Kingdom.
Via SADA, the ministry pays for live-in carers and weekly visits by doctors, nurses, psychologists and therapists, in addition to transport costs and medication.
SADA holds workshops, online training courses for carers, and year-round awareness campaigns on TV, radio and social media.
"Six years ago we hadn't even heard about the word Alzheimer's, but lately it has become known through word of mouth, albeit merely as a disease about forgetfulness," said SADA's Sara Al-Rasheed. Sobierajska said "the number of communities supporting those with Alzheimer's" across the Gulf Cooperation Council (GCC) bloc is "insufficient."
While researchers and scientists continue to hunt for a cure, in a region where over-65s make up only a tiny percentage of the population, cases of dementia and Alzheimer's are likely to surge as the population ages. Experts say Saudi Arabia and the wider GCC must plan for a health burden that will only grow.
https://www.arabnews.com/node/1557841/middle-east
--------
India
'Know My Religion: Interfaith Youth Dialogue' Focus On India Diversity
Sep 22, 2019
KOLKATA: The British Deputy High Commission in Kolkata hosted a 'Know My Religion: Interfaith Youth Dialogue' in collaboration with the Indian Pluralism Foundation to mark the International Day of Peace at the British Club on Saturday.
In his keynote address on the occasion, Professor Ithamar Theodor, head, Hindu Jewish Studies, Dangoor Centre, Bar Ilan University, discussed the teachings of Bhagwat Gita and the similarities with other religions and philosophies.
Bruce Bucknell, British Deputy High Commissioner to Kolkata, said, "The 'Know My Religion' workshops supported by us brought together young people from different backgrounds and helped their understanding of other religions and beliefs. This celebrates the diversity in India."
India Pluralism Foundation had organised six interfaith workshops in August-September at St Andrew's Church, Matri Mandir, Beth El Synagogue, Gurdwara Sant Kutiya, Lake Mosque and the Tollygunge Buddhist Monastery. The objective was to support freedom of religious belief by involving faith leaders to create understanding of different religions' beliefs and practices amongst the next gen.
Over 150 young people in the age group of 18-40 participated in the dialogues on Hinduism, Christianity, Islam, Judaism, Buddhism and Sikhism at these venues. Owaiz Aslam, secretary, India Pluralism Foundation, said, "We must learn to highlight the importance of seeking common ground to build mutual respect, mutual admiration and mutual appreciation for the beliefs of others, and the need to protect and expand our common spaces."
https://timesofindia.indiatimes.com/city/kolkata/interfaith-workshop-focus-on-india-diversity/articleshow/71239052.cms
--------
Countering India's terror blind spot in West Bengal
21 September 2019
In July 2019, India's State Minister for Home Affairs G Kishan Reddy accused Jama'at-ul-Mujahideen Bangladesh (JMB) of using some madrassas (religious schools) in West Bengal for radicalisation and recruitment activities. The claim came a week after Indian police arrested four members of the pro-Islamic State (IS) faction of JMB in West Bengal.
West Bengal has not yet seen any major terrorist attacks except for an accidental blast at a terrorist safe-house in 2014. Minister Reddy's comments were met with fiery criticism from his political opponents in West Bengal. But the claims cannot be brushed away, considering the growing trans-border linkages that terrorist groups maintain in the region. The JMB in particular is believed to have supporters in Bangladesh's northwest. Both of JMB's pro-Al Qaeda (AQ) and pro-IS factions appear to be gaining traction in West Bengal.
The ethno-linguistic space of Bengal consists of independent Bangladesh in the east and the Indian state of West Bengal in the west. Bangladesh is a Muslim majority country and West Bengal is a Hindu majority state with Muslim majority districts along its border with Bangladesh. This border is long, porous and poorly managed, resulting in trans-border crime and the cross-border movement of terrorists. In several cases, JMB has used cross-border marriages to find shelter in West Bengal.
Extremist publications have been produced by both IS and AQ in Bengali to mobilise Bengali Muslim youth in efforts to 'liberate Kashmir', 'fight Hindutva' and 'establish an Islamic Caliphate in Hind'. Such exhortations have been linked to the 'Ghazwatul Hind' prophetic narrative which talks of a final battle for the Indian subcontinent.
The prompt release of AQ chief Ayman al-Zawahiri's latest video message Don't Forget Kashmir in Bengali is a case in point. As the crisis in Kashmir simmers, India may face an escalated threat of radicalisation and terrorist recruitment.
West Bengal's state government has not been able to check the spread of radical and extremist ideologies. The incumbent Trinamul Congress (TMC) party has been accused by New Delhi of being soft on extremists because it looks at the Muslim community as a vote bank. New Delhi argues that TMC often turns a blind eye to radicalism committed under the cover of religious activities.
Critics have accused the ruling TMC of being soft on terror since October 2014, when an explosion occurred in a house in the Khagragarh locality of Burdwan, West Bengal. Two suspected Indian terrorists were killed and a third injured. The police seized 55 improvised explosive devices, chemicals and equipment. The building was owned by Nurul Hasan Chowdhury, a TMC leader. The ground floor of the building had been used as a TMC party office and an election office in the past.
However, the state assembly elections in West Bengal are due to be held in 2020. The perception of TMC as soft on Islamist elements may be used by the ruling national Bharatiya Janata Party as a political tool to discredit.
But there is limited access to mainstream education in West Bengal's Muslim majority districts. This void was filled by madrassas that lacked accountability for and commitment to quality education. TMC has been accused of doing nothing to create access to mainstream education for Muslims. A large segment of the community therefore remains dependent on the madrassas, many of which are outside the oversight of the state.
Islamist militancy in eastern India remains relatively underestimated, especially since JMB launched its India chapter in 2018. JMB originated from the sub-group of a local Salafi movement known as the Ahle Hadis. They have followers in both Bangladesh and West Bengal. In 2018, JMB opened a new wing in India — Jama'atul Mujahideen India (JMI).
The group proclaimed its belief in qital, armed struggle to 'uproot polytheism and establish Islam'. It also claimed that the Indian subcontinent is a future battlefield to establish the Caliphate as per the Ghazwatul Hind prophecy. The Indian chapter could be used to recruit from the Muslim community in West Bengal and to send them to various parts of India for fundraising and operations.
There are several reasons for JMB's expansion in West Bengal. In 2006, Bangladesh launched a major campaign against JMB as a response to the group's country-wide simultaneous bomb attacks in 2005. Some JMB militants crossed the border and took shelter in West Bengal. Through operating across the border, JMB kept in close contact with fellow members on the Bangladeshi side.
Indian security agencies have established JMB links with bomb blasts in Burdwan, West Bengal in October 2014 and Bodh Gaya, Bihar in January 2018. Bodh Gaya and other iconic Buddhist centres in India were targets intended to express solidarity with Rohingya Muslims. Investigations by Indian authorities have revealed JMB plans to make permanent bases along the India–Bangladesh border and to spread its network in South India.
The spread of terror groups underscores a need for the Indian and the West Bengal state governments to create better educational opportunities for youth and to modernise the madrassa education system. Politicising the issue of radicalisation might further polarise the communities within which extremists are born — both Muslims and Hindus alike.
https://www.eastasiaforum.org/2019/09/21/countering-indias-terror-blind-spot-in-west-bengal/
--------
You've suffered a lot, together we've to build new Kashmir: PM Modi tells Kashmiri Pandits in Houston
Sep 22, 2019
HOUSTON: A delegation of the Kashmiri Pandit community met Prime Minister Narendra Modi in Houston on Saturday and thanked him for the historic decision to revoke Article 370 that gave special status to Jammu and Kashmir.
PM Modi acknowledged the hardships endured by the community following their exodus from their ancestral homeland back in 1989-1990 due to militancy. "You have suffered a lot, but the world is changing," said PM Modi. "We have to move ahead together and build a new Kashmir."
"I had a special interaction with Kashmiri Pandits in Houston," PM Modi tweeted following the interaction.
I had a special interaction with Kashmiri Pandits in Houston. https://t.co/07coxdg0oS
— Narendra Modi (@narendramodi) 1569125130000
One of the members of the group kissed PM Modi's hand to thank him "on behalf of 7 lakh Kashmiri Pandits" for the move. The group assured the Prime Minister of their community's full support in building a peaceful and prosperous Kashmir.
"We thanked him on behalf of the 700,000 Kashmiri Pandits all over the globe for such a historic decision. We assured him that our community will work with the government to fulfil your dream for a Kashmir which is peaceful, full of growth where people are all happy," Surinder Kaul, a member representing Kashmiri Pandit community, told ANI.
The group presented a memorandum, requesting the Prime Minister to establish a task force or advisory council comprising of members from the community that would "bring together respected Kashmiri Pandit community leaders, subject matter experts, and key stakeholders both in India and abroad to advise and help in the development of a comprehensive plan to repatriate and reintegrate Kashmiri Pandits to the region".
It added that the community looks forward to working with the Indian government and the newly constituted Union Territories to bring inclusive and sustainable development for the benefit of all, as well as to returning home in order to restore Kashmiri civilization's core values of peace, pluralism and religious freedom.
"The Prime Minister told us: You've suffered a lot together; we've to build new Kashmir. We presented him with messages the community prepared for him. I presented a memorandum on behalf of the community. He gladly accepted that," Kaul added.
"When we talked of Article 370, he said there's a new breeze and we'll build a new Kashmir. We've hopes from the PM, we'll work with him and make Kashmir a paradise again," said Rakesh Kaul, a Kashmiri Pandit.
Before leaving, PM Modi joined the group in reciting 'Namaste Sharade Devi' shloka.
The meeting was preceded by interactions with members of the Sikh and Bohra community in Houston. The interactions come ahead of the mega Howdy, Modi! event, where US President Donald Trump will be joining Prime Minister Modi. More than 50,000 members of the Indian-American community are expected to attend the event.
https://timesofindia.indiatimes.com/india/youve-suffered-a-lot-together-weve-to-build-new-kashmir-pm-modi-tells-kashmiri-pandits-in-houston/articleshow/71241975.cms
--------
Pakistan 'least qualified' to criticise India on Kashmir: Shashi Tharoor
Sep 21, 2019
PUNE: Senior Congress leader Shashi Tharoor on Saturday said Pakistan is the "least qualified" country to criticise India on the Kashmir issue, especially in view of its own record in PoK.
Speaking at the Pune International Literary Festival, the Lok Sabha MP from Kerala also said differences between political parties do not matter when it comes to foreign policy.
"I would like to send an implicit message outside. We may have differences within our country but when it comes to India's interest, it is not BJP's foreign policy nor is it Congress' foreign policy. It is the Indian foreign policy," Tharoor asserted.
He had the right to criticise the (Union) government on Jammu and Kashmir as to the treatment meted out to the people and elected representatives of that state, he said.
"I will continue to attack the government on domestic issues, but when it comes to the international position, I feel Pakistan is the least qualified country to criticise India on Kashmir issue. Look at what they have done to PoK (Pakistan-occupied-Kashmir)," he said.
Talking about his own transition from international diplomat to politician, the Congress leader said earlier he got "preferential treatment", but now the "protective ring" has been removed, adding that he has had many "tests by fire".
He used to interact with "real people" when he first took to social media, but now 95 per cent people on social media are "abusers", he said.
"There is a mafia of abusers on social media and they will do everything to call me a murderer or declare me the reincarnation of Casanova," he said.
Talking about Narendra Modi, Tharoor said he must be given his due as a democratically elected prime minister.
"Whether we like his politics or not, nonetheless he is the democratically elected PM of the country and when he goes abroad, he is PM of India and he carries my flag. I want him to be received and treated with the respect due to my country's prime minister," he said.
By stating thus, he was not only showing respect for the institution of prime minister but also showing respect to the Indian voter, the Congress MP said.
https://timesofindia.indiatimes.com/india/pakistan-least-qualified-to-criticise-india-on-kashmir-shashi-tharoor/articleshow/71237632.cms
--------
Lucknow: After court directive, Babri litigant booked for 'threatening' woman
September 22, 2019
Iqbal Ansari, one of the main litigants in the Ram Janmabhoomi- Babri Masjid title suit, was Friday booked for allegedly insulting and threatening a 24-year-old woman who had visited him at his residence in Ayodhya district on September 3. The FIR was registered after a local court directed the police to do so.
Ansari has been booked under IPC sections for rioting, intentional insult with an intent to provoke breach of peace, statements creating or promoting enmity, hatred or ill-will between classes, and criminal intimidation.
ADG of Lucknow Zone Satya Narain Sabat confirmed that the FIR had been registered at Ram Janmabhoomi Police Station.
The complainant, Vartika Singh, a resident of Lucknow, had earlier moved the court after the police allegedly did not register an FIR in connection with the alleged incident. According to Singh, on September 3, she, along with her cousin Prabhu Dayal Singh, had gone to Ayodhya to meet Ansari. She had claimed that during the meeting, Ansari started shouting pro-Pakistan slogans, threatened to get her killed and started using derogatory words to insult me when she objected.
Vartika and her cousin were taken to a police station and an FIR was registered against them on charges of attempting to assault Ansari.
Ansari also alleged that the two threatened to kill him if he did not withdraw the Ram Janmabhoomi-Babri Masjid dispute case.
https://indianexpress.com/article/india/lucknow-after-court-directive-babri-litigant-booked-for-threatening-woman-6017333/
--------
Hurriyat denies reports of Mirwaiz signing bond for release
September 22, 2019
Saying it stands by its "principled stand" on Kashmir, the Hurriyat Conference has rubbished news reports that its chairman Mirwaiz Umar Farooq has signed a bond for his release.
"(Our) chairman Mirwaiz Umar Farooq continues to be under house arrest since August 5, 2019 at his residence (and) as such his access to people and communication is extremely limited," Mirwaiz led Hurriyat said in an official handout. "The news item carried by some newspaper, quoting sources that the Hurriyat chairman has been released after signing a bond, is entirely baseless."
The handout, a first by any separatist organisation since the scrapping of special status and bifurcation of J&K, was released by an aide of Mirwaiz. "The conglomerate stands firm by the principled stand on the issue of Jammu and Kashmir and stands with the people in this unprecedented situation that all are facing," the statement said.
Mirwaiz and separatist leader Syed Ali Shah Geelani are under house detention since August 5 while most of the separatist leadership has been arrested and lodged in jails of J&K and outside.
https://indianexpress.com/article/india/hurriyat-denies-reports-of-mirwaiz-signing-bond-for-release-6017089/
--------
PM Modi meets Dawoodi Bohra community members in Houston
Sep 22, 2019
Prime Minister Narendra Modi met and interacted with members of Dawoodi Bohra community here on Saturday.
They felicitated Modi and recalled his visit to Indore last year to attend a programme of their community. They also highlighted the Prime Minister's association with Dawoodi Bohra leader Syedna Sahib.
"The Dawoodi Bohra community felicitates PM @narendramodi in Houston. They recall PM Modi's visit to Indore last year to attend a programme of their community as well as highlight PM Modi's association with Syedna Sahib," tweeted PMO India.
He also met a delegation of Kashmiri Pandits and Sikh community.
Prime Minister Narendra Modi is scheduled to address the Indian community at the mega 'Howdy, Modi!' event on September 22 at the NRG stadium here. Around 50,000 people are expected to attend the event.US President Donald Trump will also be taking part in the event.
https://www.hindustantimes.com/india-news/pm-modi-meets-dawoodi-bohra-community-members-in-houston/story-UDqHW3DnEgpotV0fc7FSTL.html
--------
Repeal of A 370 led to severe miseries, says Iltija Mufti
by Qayam
September 21, 2019
Mumbai: Former Jammu and Kashmir CM Mehbooba Mufti's daughter Iltija Mufti, while speaking at India Today Conclave 2019, questioned what the Indian government is doing while Pakistan has been speaking for Kashmir internationally.
She slammed the government over the abrogation of Article 370. She also said that the people of Kashmir feel that their culture and identity will be subsumed in the abrogation of Article 370.
When asked about justification provided for the Article 370 move, Iltija Mufti said, "Do you want to persecute minorities now for unfinished business of partition?"
She slammed the BJP-led government and said institutionalising repression and using brute force is not how "you are going to win hearts".
She further said that if the government wanted to win the confidence of the Kashmiri people, then they must roll back the abrogation of Article 370.
"How long will you keep using Pakistan as an excuse for everything related to Kashmir? Most of the youth who are drifting towards militancy hold PhDs, are engineers and graduates. They have seen so much in life," Iltija Mufti said.
She also said, "I am not justifying them (agitators)…I am trying to humanise them. The government has a concerted agenda to dehumanise Kashmiri people," Iltija Mufti said.
Speaking about the launch of Chandrayaan-2 rover failure she said, "You showed more feelings when the rover failed. In Kashmir, nine million people have been incarcerated. Do you not feel empathy for them?" Iltija Mufti asked.
At the Conclave, Iltija Mufti wondered if the country today was 'Gandhi's India or Godse's India'.
She said that Kashmiris have been "caged" for the past month. "Can we talk about the humanitarian crisis, economic crisis, psychological crisis, the human trauma that people have been subjected to?" she wondered.
"How would you feel if in Mumbai you would need a curfew pass to move around in your own country?"
Iltija Mufti asked why she had to approach the Supreme Court to meet her mother in Kashmir. The top court on September 5 allowed her to meet the former chief minister.
"I said to myself, Modi Sahab, there are 10-11-year-old ones who have been kidnapped, their mothers are unable to sleep in the night thinking where their children must be," Iltija Mufti said. "You [Modi] can meet your mother, don't we have the right to? Don't I have the right to meet my mother? Why I had to reach out to Supreme Court Modi-ji?"
https://www.siasat.com/repeal-370-led-severe-miseries-says-iltija-mufti-1628750/
--------
Pakistan
For Pakistan's own good, it should stop worrying about Indian Muslims
SHIVAM VIJ
21 September, 2019
Since the creation of Pakistan would lead to a large number of Muslims staying back in India, the founders of Pakistan wondered about the rights and well-being of Indian Muslims. They propounded the "hostage theory" whereby Pakistan's treatment of Hindus and Sikhs in the country would depend on how India treats its minorities.
An Independent India, on the other hand, always believed in granting equal rights to its minorities because it's the right thing to do, it's what its Constitution says, and not because it fears the repercussions for Hindus and Sikhs in Pakistan.
India did not want to define itself through Pakistan.
But, 72 years after Partition, Pakistan seems as obsessed as ever with the perpetual need to justify the two-nation theory. It is one thing for Pakistan to worry about Kashmiris, given its dispute with India over territorial claims on Kashmir. But what territorial claims does it have on Assam that it is worried about the NRC process there?
Ever since India decided to change the status of Jammu & Kashmir as a union territory under its own constitutional scheme, Pakistani Prime Minister Imran Khan has been going on and on about Hindu nationalism in India. He often makes the point that religious minorities are better off in Pakistan than in India. He makes Pakistan sound like a secular state, and India a majoritarian one. Regardless of who wins here, Pakistan is doing itself a disservice by making such a comparison in the first place. It is making its self-image incumbent upon India.
This renewed concern for Indian Muslims in Pakistan is not a fallout of the revocation of Jammu and Kashmir's special status on 5 August 2019. In December 2018, Imran Khan told Baloch students in Islamabad, "The way Muslims are treated today in India has made people realise now why Pakistan was born." Does he realise how insecure and unsure the Pakistani nationhood looks with a statement like that? Seventy-two years after Partition, Pakistanis are now realising why Pakistan was born?
Nauseating schadenfreude
As Narendra Modi rose to power in 2014, some Pakistani friends told me, "Achcha hua! Secular nakaab utra (Good, India is taking off its secular veil)." It's as if they were happy that Indian secularism was threatened by Modi's rise. How else would the two-nation theory get a spring in its step?
The trouble with the two-nation theory is that it does not seem to have a historical end-date: Not 1947, not 1971, not the Lahore Declaration and not even 5 August 2019. The two-nation theory seems to be an argument that refuses to end. The Partition continues.
Since 2014, the Pakistani schadenfreude over Hindu nationalism in India has been nauseating. It's as if some Pakistanis are waiting with bated breath to hear of yet another case of a Muslim being lynched in India. It's as if they are watching a spectator sport and are about to scream, 'Two-nation theory won!' I wonder if someone is even maintaining a score.
The rise of Hindutva in India since 2014 has definitely been a factor in determining how the Pakistani government sees India. With Modi as the Prime Minister, India-Pakistan peace seems even more impossible for Pakistan.
Imran Khan is now taking it to a new level. He's started sounding like an opposition leader in India, ranting against Hindutva. The Nazi-inspired RSS is carrying out a project of Hindu supremacism, he says, and Modi wants to establish a Hindu Lebensraum. After they are done with Muslims, they will "come after" Dalits and Sikhs, he warned a Sikh delegation in Pakistan. Ironically, around the same time, there was a controversy over the alleged forced conversion of a Pakistani Sikh girl.
A specious concern
It does Indian Muslims no favour when Pakistan worries about them. It only makes things worse for them, reinforcing the Hindu nationalist narrative of Indian Muslims being 'Pakistanis'. If Pakistan really cares about Indian Muslims, it should stop talking about them. Pakistan's concern for Indian Muslims is specious and serves its own need for validation. Pakistan and Pakistanis must ask themselves what this says about their national self-identity, which still depends on the plight of Indian Muslims.
Look at Bangladesh, a country that does not use India to define itself. The result is that Bangladesh, once a basket case in the region, is today racing ahead of both India and Pakistan in its development indicators, economic growth and job creation. Confident nations don't feel the need to define themselves in comparison to others. When Pakistan's science minister Fawad Chaudhry celebrates the crash landing of an Indian mission to the moon, the joke is on him, and his country.
https://theprint.in/opinion/for-pakistans-own-good-it-should-stop-worrying-about-indian-muslims/295000/
--------
Chinese envoy says world needs to resolve Kashmir issue
BY MIAN ABRAR
Sep 22, 2019
ISLAMABAD: Chinese Ambassador Yao Jing Saturday said that Kashmir is one of the issues the world has failed to resolve and that it needs immediate resolution.
Addressing the audience at a seminar held to observe the 70th Anniversary of Peoples Republic of China, Ambassador Yao Jing said that China and Pakistan are partners and friends and this bond would get cemented by each day passing.
Lauding the services of Senator Mushahid Hussain for cementing Sino, Pakistan bond, Yao Jing said that Mushahid Hussain is the most famous face in China and has done a wonderful job in cementing Sino, Pakistan bond.
He said in Pakistan, Kashmir cause, Pakistaniat and love for China are undisputed unanimity across country.
"China is celebrating its 70th Anniversary of its Foundation but we are also observing seventh decade of Pakistan, China friendship. China is indebted to Pakistan support as China learnt from Pakistani economic model in 1960s.
CPEC is new model of economic partnership. We have to build stronger relationship and we have to build on history," he said.
Yao Jing said that this decade has been difficult and we have been facing numerous challenges. Pakistan, China Institute has come a long way to support China's cause.
Addressing the seminar, Chairman Pakistan, China Institute (PCI) Mushahid Hussain Sayed said that Ambassador Yao Jing was a major reason for success of CPEC.
"Chinese leaders have a futuristic approach and they plan ahead of others.
Quaid Azam told a US journalist in 1947 that Pakistan would be the world's pivot and the world would look towards Pakistan".
He said Chairman Mao Zedong told China's ambassador to Pakistan that take care of Pakistan as Pakistan would be China's window to the world.
"For last forty years China has not fought a war and its soldiers are not on foreign soil. On the contrary, USA has been fighting wars since past forty years.
Chinese resilience is a model for the world and the world needs to learn from China".
Acting Speaker of the National Assembly Qasim Suri that China, Pakistan bond is unmatched in inter-state relations. He said that Beijing's support over forced Kashmir annexation by India has added a new feather into Pakistan, China friendship.
He said that all political parties had signed a Joint Consultation Mechanism (JCM) in Beijing in support for CPEC and it reflects political support enjoyed by China.
He said that Prime Minister Imran Khan visited all neighbouring countries after taking oath to further cooperation with regional partners which reflects PTIs vision on good neighbourhood policy. He said other countries were also joining the CPEC and they were becoming stakeholders in CPEC.
Raja Zafarul Haq said China has been raising voice for oppressed people around the world. China smashed myth that Indian Occupied Kashmir (IoK) is an internal issue of India and raised the issue at UNSC after a lapse of around 70 years.
Leader of the House in the Senate, Senator Shibli Fraz said that his late Father Ahmed Fraz had visited China along with former premier Zulfikar Ali Bhutto and he was on return was full of praise for Chinese people.
"China today is a great example for whole world that how a nation can beat the world and riase from being a poverty stricken state into world's one of the biggest economies. China is unique in a manner in Pakistan as entire nation is united on China being the best friend of Pakistan".
Senator Mushahid Hussain has rendered untiring efforts to cement the Sino-Pakistan bond and his services would long be remembered as a friend of China.
Chairman Kashmir Committee Syed Fakhar Imam said that PCI reflects the excellence of Mushahid in communication. He said Chairman Mao Ze Dong was a great leader but the leader who transformed New China into an economic giant was Deng Xiaoping who had a long-term vision.
"Keeping 10-13 percent growth rate is a miracle and China today is hitting 14 trillion dollars GDP. China if keeps the pace would catch up with the USA who is placed at 23 trillion GDP in next six years. The methodology of New Economic Zones is a huge success. China only country to set a new model of One country three systems .. China, Hong Kong, Macao which is a great achievement," he added.
Salim Safi said that Pakistani politicians need to learn the futuristic approach of Mushahid Hussain Sayed. Pakistan needs to learn from China's policy of restraint and putting focus of economic development. CPEC is a blessing in disguise for Pakistan and we need to adopt Chinese model of development in Balochistan and other under development areas.
https://www.pakistantoday.com.pk/2019/09/21/chinese-envoy-says-world-needs-to-resolve-kashmir-issue/
--------
PM to shake world's conscience regarding Kashmir at UNGA: Firdous
Sep 22, 2019
SIALKOT: Special Assistant to the Prime Minister on Information and Broadcasting Firdous Ashiq Awan has said Prime Minister Imran Khan in his address to the UN General Assembly session will explicitly and effectively present the stance of oppressed Kashmiri people facing worst form of Indian state terrorism.
Addressing a news conference in Sialkot on Saturday, she said the prime minister will shake the world conscience on Kashmir dispute as well as present enlightened, moderate and progressive face of Pakistan before the world community.
She said the government will not disappoint the nation in protection of its national security as well as the fundamental human rights of Kashmiri people.
She emphatically stated that Pakistan will not hold talks with India unless it lifts curfew and all sorts of restrictions in the occupied valley.
She said Pakistan is a peace loving country and it is India which has put the regional peace and security at stake through its illegal and unconstitutional steps in the occupied valley.
Firdous said that the Prime Minister Imran Khan during his visit to the US will also hold talks with different world leaders including President Trump and the presidents of Turkey and Malaysia, and expose the Indian state terrorism before them.
She said the upcoming session of the UN General Assembly is very significant in the context as the entire world is looking towards the world body as to how it moves forward to implement its resolutions and decisions.
She said the besieged people of occupied Kashmir have pinned great expectations with the UN that it will play its due role for the protection of their fundamental democratic, constitutional and religious rights.
He said India whose hands are soaked in blood of innocent Kashmiris and has violated UN Charter and all international laws and norms cannot become permanent member of the UN Security Council.
When asked about the establishment of media tribunals, she said any legislation regarding the media will be brought after consultations with the stakeholders.
She strongly rejected the impression that the government wants to impose curbs on the media and curtail its powers.
https://www.pakistantoday.com.pk/2019/09/21/pm-to-shake-worlds-conscience-regarding-kashmir-at-unga-firdous/
--------
Pak PM reaches US in Saudi Crown Prince's 'special' plane
Sep 22, 2019
ISLAMABAD (PAKISTAN): Pakistan Prime Minister Imran Khan reached the US on Saturday on a "special aircraft" of Saudi Crown Prince, Mohammad bin Salman.
Dunya News quoting sources said Khan was barred from using a commercial flight by the Saudi Crown Prince, who said: "You are our special guest and you would be going to the US on my special aircraft."
Addressing media, Pakistan foreign minister Shah Mehmood Qureshi said, "Prime Minister Imran Khan has reached the US. The seven-day visit is aimed at drawing the attention of the world towards what is happening in Kashmir."
Before arriving in the US, Khan was on a two-day visit to Saudi Arabia to muster support from the Islamic nation on the Kashmir issue.
In Saudi Arabia, Khan met King Salman bin Abdulaziz Al Saud and discussed Kashmir apart from trade, investment and economic relations.
Khan on Saturday left for New York from Saudi Arabia to participate in the 74th session of the United Nations General Assembly.
The cricketer-turned-politician is scheduled to address the UNGA on Septemeber 27. While Khan's address is expected to centre around India's move on Kashmir, New Delhi has cleared that Prime Minister Narendra Modi will focus on his country's contribution on development, peace, and security fronts as a responsible member of the global body.
https://timesofindia.indiatimes.com/world/pakistan/pak-pm-reaches-us-in-saudi-crown-princes-special-plane/articleshow/71242138.cms
--------
Avoid heat or you will be destroyed, Rashid to Fazl
September 22, 2019
LAHORE: Federal Minister for Pakistan Railways Sheikh Rashid Ahmad has said he has sent a message to Jamiat Ulema-e-Islam-Fazl (JUI-F) leader Maulana Fazlur Rehman to avoid heat, otherwise he will be destroyed.
Addressing a press conference at the Railways Headquarters here on Saturday, he said no party would support Maulana Fazl in his protest against the government. The Pakistan Peoples Party (PPP) has refused to participate in the JUI-F rally and hoped that the Pakistan Muslim League-Nawaz (PML-N) would also not be used by others. He expressed optimism that India-held Kashmir would get freedom under the leadership of Prime Minister Imran Khan and Army Chief General Qamar Javed Bajwa. He said the government took the Kashmir issue to the UN Security Council after 52 years and that the prime minister would fight the case of the oppressed people of the occupied territory at the upcoming UN General Assembly session. He said it was for the prime minister and the army chief to decide whether to wage a war against India or not. He, however, said he didn't see the two nuclear-armed countries going to war in the foreseeable future.
He made it clear that the Pakistan Army was ready to give a benefiting response to India if it resorted to any misadventure. Indian Prime Minister Narendra Modi would do the same as Germany's Nazi leader Adolf Hitler who destroyed his entire army as well as nation. He said the entire nation stood behind the COAS.
He said issues were being settled as the team of Zardari had started giving money. He said Shahbaz Sharif was trying to find a middle way.
https://www.thenews.com.pk/print/530203-avoid-heat-or-you-will-be-destroyed-rashid-to-fazl
--------
Equal treatment to minorities in Pakistan
Zafar Alam Sarwar
September 22, 2019
The people of Australia appreciated the 19 February 1948 broadcast talk of the founder of Pakistan when he talked plainly about regard and tolerance of other creeds.
"We follow the teachings of Prophet Muhammad (peace be upon him), we're members of the brotherhood of Islam in which we all are equal in right, dignity and self-respect, and, consequently, we've a special and very deep sense of unity; but make no mistake, Pakistan is not a theocracy or anything like it, Islam demands from us the tolerance of other creeds and we welcome in closest association with all those who, of whatever creed, are themselves willing and ready to play their part as true and loyal citizens of Pakistan."
In the same context worth-remembering is the reply of the Quaid-i-Azam Mohammad Ali Jinnah to Lord Mountbatten's address in the Constituent Assembly on August 14, 1947.
He said the tolerance and goodwill showed by Emperor Akbar to all the non-Muslims was not of recent origin.
"It dates back (more than) 13 centuries ago when our Prophet (peace be upon him) not only by words but by deeds treated the Jews and Christians with the most tolerance and regard and respect for their faiths and beliefs. The whole history of Muslims, wherever they ruled, is replete with these humane and great principles which should be followed and practiced."
Inspired by the leadership and character of the Quaid-i-Azam, former prime minister Zulfikar Ali Bhutto bore in mind many of his significant speeches, including the one at a public meeting in Chittagong about a month later wherein he emphasised that "brotherhood, equality and fraternity of man were the basic points of our religion, culture and civilization."
Like other Pakistani statesmen, the Pakistan People's Party founder believed Islam stands for justice, equality, fair play, toleration and even generosity to non-Muslims who may be under our protection. They are like brothers to us and, as the father of the nation declared, the citizens of the State. This spirit of humanity prevailed upon the founding members of the party while its manifesto was being prepared.
How remarkably relevant is the Press conference of Mohammad Ali Jinnah at New Delhi a month before Pakistan came into being!
"Minorities to which ever community they may belong, will be safeguarded. Their religion or faith or belief will be secure. There will be no interference of any kind with their freedom of worship. They'll have their protection with regard to their religion, their faith, their life, their culture. They'll be, in all respects, the citizens of Pakistan without any distinction of caste or creed. They'll have their rights and privileges and, no doubt, along with it goes the obligation of citizenship. Therefore, the minorities have their responsibilities also, and they'll play their part in the affairs of the State. As long as the minorities are loyal to the State and owe true allegiance and as long as I've any power, they need no apprehension of any kind."
One can recall the speech of the Quaid as Governor-General at a rally at the University Stadium in Lahore two-and-a-half months after the establishment of Pakistan. "The tenets of Islam enjoin on every Musalman to give protection to his neighbours and to the minorities regardless of caste and creed.
Despite the treatment which is being meted out to the Muslim minorities in India, we must make it a matter of our prestige and honour to safeguard the lives of the minority communities and to create a sense of security among them." The father of the nation impressed upon every Musalman to avoid retaliation and to exercise restraint, because retaliation and violence of law and order will ultimately result in weakening the very foundation of the edifice people have cherished to erect.
The policy and performance of the government as regards the minorities have to be gauged by the yardstick of principles of democracy in the light of the Islamic teachings and vision of Mohammad Ali Jinnah.
https://www.thenews.com.pk/print/530342-equal-treatment-to-minorities-in-pakistan
--------
Pakistan expresses solidarity with Saudi Arabia but urges caution
September 22, 2019
NEW YORK: Pakistan has expressed 'solidarity' with Saudi Arabia but has also urged Riyadh not to rush into decisions that could threaten the region's peace and stability, according to Foreign Minister Shah Mehmood Qureshi.
Prime Minister Imran Khan completed his two-day visit to Saudi Arabia on Saturday and flew to New York on a private jet provided by Saudi Crown Prince Mohammad bin Salman to attend the 74th session of the UN General Assembly.
Mr Qureshi, who accompanied the prime minister on this visit, told reporters in New York that Mr Khan has had detailed discussions with Saudi King Salman bin Abdulaziz and the crown prince on "the current delicate situation" in the Middle East.
"We assured the Saudis of our solidarity (yekjehti) but also emphasised the need for caution," Mr Qureshi said. "We urged them not to rush into decisions that could hurt peace and stability of the region."
The Pakistani team shared its views on this and other issues while the Saudi leaders shared their views, he said, adding that "it's a good exchange".
https://www.dawn.com/news/1506633/pakistan-expresses-solidarity-with-saudi-arabia-but-urges-caution
--------
Parents hold demo in Lahore against inaction on SC fee verdict
September 22, 2019
LAHORE: Hundreds of parents and their different associations gathered at Liberty Roundabout on Saturday to protest against the Punjab government and private schools for not implementing orders of the Supreme Court about the fee issue.
The protesters hailed from Pakistan Education Movement (PEM), Parents Action Committee (PAC), Rah-i-Haq and Civil Society Network.
The parents were carrying placards and displaying banners against what they said illegal fee and chanting slogans against the indifference of the district education department.
They said private schools were allegedly threatening and harassing the students either to pay [exorbitant] fee or shift to public schools.
PAC General Secretary Sajeel Usmani apprised the charged parents about the legal standing after Supreme Court orders to freeze the fee raise to the 2017 level and linked any increase to the approval of a regulatory body.
He demanded that the Punjab government implement the Supreme Court's and Lahore High Court's orders in letter and spirit.
Another office-barrier Atifur Rehman said there were only 1,200 public schools in Lahore which were insufficient to cater to the needs of some 2.5 to three million students.
He said 6,000 private schools had turned into a 'mafia' which is not adhering to the law of land.
PEM representative Yaser Qurashi lamented the deteriorating quality of education in the province and said owners of private schools and the Punjab government were responsible for the fiasco.
He expressed his concerns over the recent restructuring of District Regulatory Authority (DRA) and said the government had included a PTI activist as representative of parents' body and she had nothing to do with the aggrieved parents.
He said she was included on the basis of her association with the ruling party.
Civil society activist Abdullah Malik said the government should regulate the fee of the private schools and affordable and quality education throughout the country was the basic responsibility of the state.
Another activist of the movement Dr Faiqa Salman said the Punjab government was neglecting implementation of the SC decision.
The parents unanimously approved a resolution that they would not pay illegal fee and continued chanting slogan 'No fee till legal and low fee".
They also planned to continue protests against the government 'failure' in implementation of the SC order and they would also approach and engage opposition political parties to raise voice for their cause.
https://www.dawn.com/news/1506537/parents-hold-demo-in-lahore-against-inaction-on-sc-fee-verdict
--------
South Asia
Twin explosions target sales center of a telecom company in Kabul city
21 Sep 2019
Twin explosions targeted the sales center of a telecommunication company in Kabul city late on Friday night.
The security officials said the first explosion took place at around 11:46 pm local time Esa-e Awal Park of Khair Khana.
The officials further added that the second explosion took place moments after the security forces arrived in the area.
Furthermore, the officials said the second blast injured a member of the security forces while the two blasts destroyed the sales center of the telecommunication company.
No individual or group including Taliban has so far claimed responsibility for the explosions.
This comes as the Taliban group had earlier warned it would target the installations and staff of Salaam Telecommunication Company.
https://www.khaama.com/twin-explosions-target-sales-center-of-a-telecom-company-in-kabul-city-04090/
--------
Burqa-clad Taliban assailants shot dead in Faryab
22 Sep 2019
The security forces killed two Burqa-clad Taliban militants before they could attack the government institutions in northern Faryab province.
The Ministry of Interior said in a statement a group of 3 Taliban militants had disguised as women and were attempting to travel to Qaisar district to attack the government institutions.
However, the interior ministry said the security forces identified the three Burqa-clad militants, shot dead two of them and arrested the third militant alive.
The Taliban group has not commented regarding the incident so far.
https://www.khaama.com/burqa-clad-taliban-assailants-shot-dead-in-faryab-04099/
--------
Special Forces kill, detain 12 militants; destroy Taliban and ISIS weapons caches
22 Sep 2019
The Afghan Special Forces killed 7 Taliban militants and destroyed multiple caches of weapons during the operations in 3 provinces.
The military officials said Sunday that the Special Forces killed 7 Taliban militants during a patrol in Charikar district of Parwan province.
The officials further added that the Special Forces arrested 5 Taliban militants and destroyed a cache of weapons during the same operation.
Furthermore, the Special Forces destroyed a weapons cache belonging to Taliban in Sayyidabad district of Wardak.
The Special Force also destroyed another cache of weapons belonging to ISIS Khurasan in Achin district of Nangarhar province, the officials added.
https://www.khaama.com/special-forces-kill-detain-12-militants-destroy-taliban-and-isis-weapons-caches-04098/
--------
Abdullah lashes out at election rival for faking New York Times story regarding Pakistan funds
22 Sep 2019
Presidential runner Abdullah Abdullah blamed his election rival for faking a New York Times story about him, claiming that his rival committed the ridiculous act in panic.
Abdullah said in an online statement that the formation of a major coalition in support of Stability and Partnership electoral team left his rival panicked, forcing him to once again commit a ridiculous fraud.
The statement further added that the rival of Stability and Partnership faked the New York Times story, one of the most credible international media outlets, in a bid to confuse and divert the public opinion, alleging that Abdullah has received funds from Pakistan.
Furthermore, the statement said the Kabul Bureau of New York Ties has rejected the report and has assured to formally follow the issue.
Abdullah also called on his rivals to refrain from committing fraud and adopt proper methods in electoral campaigns in a bid to play a positive role in strengthening democracy in the country.
However, he did not disclose further information regarding his rival who has committed the forgery.
The fake story aired late on Saturday evening claimed that Abdullah has received $39 million funds from Pakistan for the upcoming presidential elections.
https://www.khaama.com/abdullah-lashes-out-at-election-rival-for-faking-new-york-times-story-regarding-pakistan-funds-04097/
--------
Afghan official: Roadside bomb kills two civilians in south
21 September 2019
A roadside bomb has killed at least two civilians in southern Kandahar province, Nasrat Rahimi, spokesman for the Interior Ministry, said on Saturday.
Rahimi said that five other people were wounded when the blast struck the vehicle Friday afternoon in Spin Boldak district.
No one immediately claimed responsibility for the attack, but the Taliban are active in the province and have claimed earlier attacks.
Firdaus Faramarz, spokesman for the Kabul police chief, separately confirms two blasts in Kabul on Friday night. He said there were no casualties.
The Taliban's spokesman, Zabihullah Mujahid, claimed the attacks in Kabul.
Across Afghanistan, militant attacks have continued as the country prepares for presidential elections later this month, while US-Taliban talks over a peace deal have collapsed.
https://english.alarabiya.net/en/News/world/2019/09/21/Afghan-official-Roadside-bomb-kills-two-civilians-in-south.html
--------
Southeast Asia
Muslim-first campaign can hurt Muslims too, says ex-minister
Adam Abu Bakar
September 21, 2019
KUALA LUMPUR: The Buy-Muslim-First campaign, a hot issue on social media, can hurt Muslim businesses themselves, says Johari Abdul Ghani, a former finance minister.
"Business is universal, regardless of skin colour or race, whether Malay, Chinese, or Indian. The only difference is whether the product is 'halal'," he said at a forum here on Challenges of the New Economy in the New Malaysian Era.
"If we're talking about Buy-Muslim-First, there is a system that can check whether the product is Muslim or not."
Recently, some Islamic groups began a campaign to give priority to goods and services by Muslims, which has run into opposition.
Johari mentioned the Nestle and Dutch Lady companies as examples: even though their products are not made by Bumiputera, they are still quality products, certified 'halal' by Jakim, the Islamic affairs department.
"These products are present in many households. Nestle products are produced by foreigners but the process is 'halal' and the products are competitive. If we use the rhetoric of Buy Muslim First, we can't exist in the business world, because it's a big market," he said.
Johari said there are situations where Malay businessmen would seek investment from Malaysian Chinese counterparts to expand their businesses by offering a part of their businesses as collateral.
"For example, a Malay wants to expand his factory, and borrows money from a Chinese. But because he has borrowed from this Chinese, the Chinese asks for security in terms of a 51% share until the loan is paid off. So the reality is that this Chinese is selling Muslim products – but if we only look at it from the perspective of who's holding the most shares, then everyone's going to boycott the business. This is why we should be careful so as not to hurt ourselves.
"Many local businesses have been manipulated from the point of view of shares. So I'm afraid that actual Muslim businesses will be sabotaged due to people not knowing the actual structure," Johari said.
https://www.freemalaysiatoday.com/category/nation/2019/09/21/muslim-first-campaign-can-hurt-muslims-too-says-ex-minister/
--------
Umno, PAS talk up pro-Malay economic plan after unity pact
Sep 22, 2019
A week after Malaysia's two biggest Malay Muslim parties, Umno and PAS, officially joined hands, this new opposition alliance and the ruling Pakatan Harapan (PH) coalition have locked horns in espousing new policies both claim will benefit the majority community. In Kampung Baru yesterday, PH outlined plans to finally develop the Malay enclave located just a stone's throw away from the Petronas Twin Towers, after years of stalemate when Umno was in power. Meanwhile, at the nearby Umno headquarters, the once dominant party and new ally Parti Islam SeMalaysia (PAS) told a forum how the pro-Malay New Economic Policy remains relevant nearly half a century since it was introduced.
Leaders from Malaysia's two biggest parties yesterday stressed the need to continue affirmative action for the Malay Muslim majority, claiming the community is still worse off than its fellow citizens.
Sworn enemies for decades, leaders from the Malay nationalist party Umno and Parti Islam SeMalaysia (PAS), along with hundreds of their supporters, sat side by side at a forum, as they discussed the New Economic Policy (NEP) - a race-based policy that has grown contentious but which the two parties broadly agree upon.
Fresh from signing a political unity pact just a week ago at Umno headquarters where the forum was also held, the two new allies put their best arguments forward to woo more Malays against pronouncements by the Pakatan Harapan (PH) government to dismantle the NEP.
Umno and PAS, which together attracted 75 per cent of the Malay vote in the general election in May last year, are banking on their formal pact to win the next polls that must be held by 2023.
Speakers at the forum, Challenges of the New Economic Policy in Malaysia Baru, argued that while the pro-Malay restructuring of Malaysia's economy under the NEP had weaknesses, it simply needed to be updated for the present context.
"Bumiputeras must still be given advantages, not because of inequality, but because it is due from the Constitution," said PAS vice-president Samsuri Mokhtar, who is also Terengganu Chief Minister. Bumiputeras refer to Malays and other indigenous races in Malaysia.
The NEP was introduced in 1970 - a year after deadly race riots followed an electoral setback for the Umno-led government. Although planned to last 20 years, much of the pro-Malay quotas and privileges in business, education and property ownership have remained in place.
Prime Minister Mahathir Mohamad, who also led the country from 1981 to 2003, has said the NEP had failed to uplift the Malays despite the abundant opportunities offered to them.
But former finance minister Johari Abdul Ghani, who is from Umno, said yesterday that the policy's failure to create capable Malay entrepreneurs was due to a rush to meet the 30:40:30 equity target among bumiputeras, other Malaysians and foreigners, respectively, in only two decades.
The result, he said, was widespread "Alibaba" practices, where a government project won by a Malay company was contracted out to a firm owned by Chinese Malaysians who would carry out the project. Ethnic Chinese still dominate Malaysia's marketplace.
Today, Malay equity in business is estimated at 23 per cent, with calls by PH politicians for the government to move to needs-based measures, rather than race-based affirmative action.
Former Selangor Menteri Besar Khalid Ibrahim, who began supporting Umno and PAS after he was removed from his post in 2014 by Datuk Seri Anwar Ibrahim's Parti Keadilan Rakyat, pointed out that the NEP's main success was poverty eradication.
Nearly two-thirds of Malays were poor in 1970, compared with a quarter of Chinese, but the figures dropped to less than 21 per cent and 6 per cent respectively in 1990, he said.
"NEP debates centre too much on equity and quotas. It was about sharing a growing cake and not just redistribution," Tan Sri Khalid said.
Despite the collective support for pro-Malay measures, some in the audience were unconvinced that Umno and PAS have a concrete plan to improve their lot.
"We want to know what PAS and Umno can do for the grassroots, not just theories," said Mr Azizan Taib, 66, from Perak. "We should refer back to Islamic economic policies like Islamic banking, which Malays favour."
Datuk Seri Samsuri promised the two parties would formulate substantive policies ahead of the next election. "Our experts can put forward a game-changing policy. With the two biggest parties in the country, we will have a far better policy than the current government."
The Mahathir administration has responded to economic anxiety, especially from Malays, by unveiling a 10-year Shared Prosperity vision.
As of 2016, bumiputera households continue to earn less than other Malaysians, making an average RM6,300 (S$2,080) monthly, compared with RM8,750 for the Chinese.
https://www.straitstimes.com/asia/se-asia/umno-pas-talk-up-pro-malay-economic-plan-after-unity-pact
--------
Dozens detained in Kazakhstan at anti-China protests
September 21, 2019
ALMATY: Police detained dozens in Kazakhstan's two largest cities on Saturday as they took part in the latest protest against China's influence in the Central Asian republic.
Neighbouring China is already one of Kazakhstan's largest investors and trade partners and a plan to relocate a number of Chinese plants and factories to the former Soviet republic has faced public opposition.
The latest round of protests on Saturday was organised by supporters of Mukhtar Ablyazov, a fugitive banker living in France who has been the fiercest critic of Kazakhstan's first president, Nursultan Nazarbayev.
Nazarbayev resigned last March after running the oil-rich nation for almost thirty years but retains sweeping powers as the head of the security council and the ruling Nur Otan party.
Kazakh authorities consider Ablyazov's political movement extremist and involvement in its activities a crime. Authorities have detained 57 people and may be charged, the interior ministry said.
"You know that as of today's date ‪at 2pm the banned DCK in Kazakhsan was called upon to gather … we (the police) asked people to disperse, and those who didn't, were taken to the district offices for questioning," Bakytzhan Malybayev, first deputy chief of Nur-Sultan police, told reporters.
"We will carry out questioning and then the people will be released."
Reuters reporters witnessed several arrests in Nur-Sultan and Almaty. In Kazakhstan's capital Nur-Sultan, police detained a man with a banner reading: "Let's not give way to Chinese expansion" and "The old man is the enemy", an anti-Nazarbayev slogan. Several people chanted: "Freedom to political prisoners".
Some protesters tried to escape as police moved in and smashed the windows of a police bus.
In Almaty, protesters were quickly taken away to police buses as they began chanting slogans against Chinese expansion and "Old man, go away!"
China is a major investor in Kazakhstan's energy sector and buys oil and gas from the mostly Muslim nation of 18 million, but critics accuse some Chinese companies – as well as Western ones – of hiring too few local staff and paying them less than foreign workers.
https://www.freemalaysiatoday.com/category/world/2019/09/21/dozens-detained-in-kazakhstan-at-anti-china-protests/
--------
MB: Allocation for development of Islamic faith to increase to RM20m in N. Sembilan Budget 2020
21 September 2019
KUALA PILAH, Sept 21 — The upcoming Negri Sembilan Budget 2020 will see an increase of RM3 million in the allocation for the development of Islam in the state, bringing the total amount to RM20 million compared to RM17 million this year.
Mentri Besar Aminuddin Harun said it would be included in the Negri Sembilan Budget 2020 as a manifestation of the state government's serious commitment on Islamic development in the state.
"The state government hopes that this huge allocation can help contribute to the strengthening of Muslims (in the state)," he said in his speech at the "Pemimpin Mesra Rakyat" programme at the Tunku Aliff Hussein Saifuddin Al-Amin mosque here today.
Aminuddin said the state government also remained committed to enhancing understanding of Islam and helping 615,000 Muslims in Negri Sembilan. — Bernama
https://www.malaymail.com/news/malaysia/2019/09/21/mb-allocation-for-development-of-islamic-faith-to-increase-to-rm20m-in-n.-s/1793010
--------
PAS-Umno alliance will have some effect on support in Sabah, says Zahid
Durie Rainer Fong
September 21, 2019
KOTA KINABALU: Umno president Ahmad Zahid Hamidi today admitted that the party's alliance with PAS at the national level will have some bearing on its support in Sabah.
This was one reason why the party wanted to grant Sabah Umno its autonomy to gain more support from the people in the state.
"We will work on increasing support for Umno in the state.
"In essence, the Umno national leaders believe only Sabahans, particularly those in Sabah Umno, will know what is needed to adapt the Piagam Penyatuan Ummah (Umno-PAS national unity charter) to Sabah's political landscape.
"Sabah Umno leaders will know what Sabahans want and need. We will respect the decision of the state leaders," Zahid told reporters here today.
The national unity charter – Piagam Muafakat Nasional – signed by the PAS and Umno presidents a week ago, seeks to uphold the interests of the Malays, Islam as the official religion, and Malay as the national language.
It vows to restore the confidence of the people in the "leadership of Islam, the Malays and the Bumiputeras".
Umno vice-president Khaled Nordin had said the Muafakat Nasional is not exclusive to Umno and PAS, and urged Sabah and Sarawak parties, as well as civil society groups, to join the charter.
Asked on the absence of former chief minister Musa Aman, who is also the former Sabah Umno chief, Zahid said Musa is seeking medical treatment, adding they appreciated the Sungai Sibuga representative's commitment towards the party.
To a question whether Umno and PAS will be contesting the Tanjung Piai seat with the death of its incumbent, the former deputy prime minister said they will need to discuss this with the component parties in Barisan Nasional first.
Deputy Minister in the Prime Minister's Department Md Farid Md Rafik died this morning from a heart attack.
Farid was vice-chief of the Tanjung Piai PPBM division. He won the Tanjung Piai parliamentary seat in the general election last year.
Meanwhile, Zahid was also coy on the possibility of a Umno-PAS unity government before the next general election. "We will announce it when we cross that bridge," he said.
He also dismissed claims that there were no new talents following the mass exodus of senior Sabah Umno leaders last year, saying the party is actually banking on new blood to strengthen its support in the state.
"New talent is now seen as the main catalyst for new growth to strengthen Sabah Umno," he said, adding they have a vital role to play.
https://www.freemalaysiatoday.com/category/nation/2019/09/21/pas-umno-alliance-will-have-some-effect-on-support-in-sabah-says-zahid/
--------
Permaisuri Agong speaks of 'normal upbringing', learning to cook, love for Twitter
22 September 2019
BY IDA LIM
KUALA LUMPUR, Sept 22 — Raja Permaisuri Agong Tunku Azizah Aminah Maimunah Iskandariah has credited her personality today to a "normal upbringing" without bodyguards, saying she also learned to cook from young despite being a princess.
Known for her down-to-earth demeanour, Tunku Azizah said she grew up without pomp and fanfare as she had not been the child of the Tengku Mahkota (crown prince) of Johor at the time but its Raja Muda or second in line to be the Sultan.
The distance from the throne meant the family was not as heavily guarded, she said in an interview with The Star published today.
"I saw my cousin growing up as the children of the Tengku Mahkota, but we grew up as the children of the Raja Muda. So there was not much demand, there weren't bodyguards around us or police or anything.
"So I had a normal upbringing, which my children do not have because they have bodyguards and everything.
"That was what made me what I am today. Because I had a normal upbringing," she was quoted as saying.
Tunku Azizah, who is the daughter of the late Sultan Iskandar Ismail of Johor, noted her different experiences growing up as it was only 10 days before her grandfather died that her father was reinstalled as crown prince.
In the interview, Tunku Azizah also spoke of how her parents had strictly insisted on their children learning how to cook, noting that her mother "was a cook" and would drag them into the kitchen to make them learn.
"Although, sometimes, when I would stay in the kitchen, the cooks would chase me out. Because they said anak raja (royal children), when they get married, cannot have scars, oil marks. But I stayed on," she was quoted as saying.
"You have to learn how to cook, at the end of the day, you are still a wife and you still have to cook for your family," she added.
Tunku Azizah said she will not write more cook books containing her recipes to add to her two — Air Tangan Tengku Puan Pahang - Masakan Tradisional Pahang and Manisan (Air Tangan Tengku Puan Pahang - Manisan Tradisional Pahang) — on traditional Pahang cuisine and desserts.
"I've collected them since I was eight or nine years old. I've got 500 istana recipes from Johor, Pahang and Kelantan that I have cooked.
"I am still negotiating with my daughter, who thinks I shouldn't share my recipes with anybody. She says 'No mama, it's top secret!' I told my daughter, we have to share, it's not right, but she kept saying 'No, they're mine'. So I'm still negotiating with her," she said.
Tunku Azizah, who is married to the Pahang Sultan and current Yang di-Pertuan Agong Al-Sultan Abdullah Ri'ayatuddin Al-Mustafa Billah Shah, said she found Pahang food healthy as it typically uses less oil as the fish and beef are smoked while salad herbs or ulam-ulam are also common.
Despite a recent social media furore, Tunku Azizah said the Agong loves the video-sharing site YouTube while she preferred microblogging site Twitter as she loves to read the news and follows the accounts of news agencies such as CNN and BBC.
While saying she followed sajak or poetry accounts as well as Indonesian poets, Tunku Azizah confessed that her Twitter replies with poetry are actually written by her children's tutor.
"But please, I cheat there (laughs)! It is not me, I have my sajak writer, he is a Chinese man from Kuantan who is called Cikgu Teoh. He taught my daughters their tuition lessons.
"Every time somebody sends me a sajak, I will copy and send it to Teoh. 'Teoh, please answer the sajak for me'. Within a minute, he will reply. Everybody thinks I am a poet, no (more laughter)! It is Teoh. So today, I want to share, I tipu all this while! I don't know how to write sajak, I don't know how to write pantun (verses)," she said.
However, Tunku Azizah disclosed that she personally wrote tweets that touch on Islam.
Tunku Azizah also explained that she took photos with her smartphone during the Merdeka Day parade on August 31 as her husband, the Agong, asked her to do so as protocol and decorum prevented him from doing so personally.
She also explained a popular photograph of them laughing and waving at the parade, saying it stemmed from a meeting with Putrajaya Corporation president Datuk Aminuddin Hassim at the Floria Putrajaya event the previous day, when the latter told them he would be riding a horse during the Merdeka Day parade.
"So Tuanku said 'You are riding? Are you sure? I don't want you to fall'. When he passed by on a horse (during that parade), Tuanku said, 'Look, that is Datuk Aminuddin'. So we were waving and laughing," she was quoted as saying.
Tunku Azizah also said she gave up her third term as elected director of the World Association of Girl Guides and Girl Scouts' fund-raising arm Olave Baden-Powell Society when she became Queen but has been given a new title as benefactor.
https://www.malaymail.com/news/malaysia/2019/09/22/permaisuri-agong-speaks-of-normal-upbringing-learning-to-cook-love-for-twit/1793106
--------
Africa
Tunisia ex-president Ben Ali buried in Muslim holy city of Medina
21/09/2019
Tunisia's former president Zine El Abidine Ben Ali was buried in the Muslim holy city of Medina on Saturday, an AFP photographer said, after he died in exile in Saudi Arabia.
Ben Ali, who died Thursday in the city of Jeddah, was laid to rest at Al-Baqi cemetery next to the Prophet Mohammed's mosque -- a place of great reverence for Muslims.
His body, covered by a green shroud, was carried to his final resting place by a procession of about a dozen men.
Some dressed in white, and others in suits, they crossed a marble forecourt in the shadow of the green dome of the mosque, before entering the cemetery.
Some of Ben Ali's family were to receive condolences on Sunday in an upmarket suburb of Tunis, according to a small notice published in Tunisia's La Presse newspaper.
The Saudi media and authorities have not made any comment about his death.
Ben Ali, the first leader to be toppled by the Arab Spring revolts, died aged 83.
He ruled his North African country from 1987 until 2011 and was viewed by some as a bulwark against Islamist extremism, but he faced criticism for muzzling the opposition and his reluctance to embrace democracy.
Eventually, growing frustration over unemployment and high prices snapped.
In late 2010, a young trader in Sidi Bouzid, in the impoverished centre of the country, set fire to himself in protest at humiliation by police.
That sparked protests which rocked Tunisia and triggered a deadly clampdown.
But the protesters won: on January 14, 2011 Ben Ali fled Tunisia for Saudi Arabia where he stayed until his death.
His rapid departure sparked a string of similar uprisings across the region, toppling Egyptian and Libyan strongmen Hosni Mubarak and Moamer Kadhafi.
The ex-leader's wife, Leila Trabesli, who has led a comfortable and discreet life in exile with daughters Nesrine and Halima -- along with son Mohamed -- has little incentive to return home.
She faces heavy sentences for embezzlement, alongside possession of weapons, drugs and archaeological artefacts.
Ben Ali himself was sentenced several times to life in prison, including for the bloody suppression of protests in the last weeks of his autocratic rule that killed more than 300 people.
https://www.france24.com/en/20190921-tunisia-ben-ali-buried-muslim-holy-city-medina
--------
Tunisia Islamist party throws weight behind vote frontrunner Kais Saied
21 September 2019
Tunisia's influential Islamist-inspired party Ennahdha said Friday it will support law professor and political outsider Kais Saied in a presidential runoff against jailed media magnate Nabil Karoui.
The latest twist in the electoral race came a day after the North African country's longtime dictator Zine El Abidine Ben Ali, who was ousted in 2011, died in exile in Saudi Arabia.
"Ennahdha has chosen to support the people's choice," the party's spokesman Imed Khemiri told AFP after last Sunday's first round of polling, in which Saied finished ahead with 18.4 percent of the vote.
The surprise result of the election, contested by more than 20 candidates, thrust to the fore both Saied and Karoui.
Karoui came second with 15.6 percent, according to the electoral commission ISIE.
Ennahdha, a key force in parliament, followed with 12.9 percent with its first-ever candidate for the presidency, Abdelfattah Mourou.
International Crisis Group analyst Michael Ayari said Ennahdha's established role on Tunisia's political scene could have pros and cons for Saied.
"Many pro-Ennahdha young people voted for Kais Saied in the first round," Ayari said.
But, he added, Ennahdha's endorsement might not go down well among anti-Islamist supporters of Saied.
The first round result was a major upset for Tunisia's political establishment, in place since the fall of Ben Ali over eight years ago after mass protests that sparked the Arab Spring revolts.
On the post-Ben Ali political front, Saied, a fiercely independent academic aged 61, advocates a radical decentralization of power, with local democracy and the ability to remove elected officials during their mandates.
He is seen as strongly conservative on social issues, and has defended the death penalty, criminalization of homosexuality and a sexual assault law that punishes unmarried couples who engage in public displays of affection.
Karoui, a 56-year-old media mogul, has been held in prison since August 23 under investigation for alleged money laundering.
He remains eligible to run as long as any conviction does not also specifically deprive him of his civil rights, according to ISIE.
Karoui has used his popular television channel Nessma to launch high-profile charity campaigns, often appearing in designer suits as he criss-crossed the country to meet with some of its poorest residents before his incarceration.
https://english.alarabiya.net/en/News/north-africa/2019/09/21/Tunisia-Islamist-party-throws-weight-behind-vote-frontrunner-Kais-Saied-.html
--------
Tunisian ex-president Ben Ali buried in Medina
Sep 21, 2019
Men carry the body of Tunisia's former president, Zine El Abidine Ben Ali, from the Medina mosque to the Al-Baqi cemetery, after he died in exile in Saudi Arabia.
https://www.presstv.com/Detail/2019/09/21/606765/Tunisia-ex-president-Medina-funeral-Ben-Ali
--------
Somali President signs anti corruption bill into law
Mohammed Dhaysane
21.09.2019
MOGADISHU, Somalia
Somali president Mohamed Abdullahi Mohamed has signed the anti corruption bill into law in Somali capital Mogadishu on Saturday.
The signing ceremony attended by Somali president, ministers, lawmakers, and international partners including Turkey was held at the presidential palace in Mogadishu.
"This anti corruption bill will be good for our country and our economy and the formation of an Independent Ethics and Anti Corruption Commission is our top priority after this signing," Mohamed said in a speech at the signing ceremony.
This law will protect our economy and also end all damages the corruption have made in our country, he added.
Somali finance minister Abdirahman Duale Beyle described the anti corruption bill signing as "historic" for Somalia.
"The signing of anti corruption bill is historic for Somalia and we are committed to transparency and accountability,'' Beyle said in a statement posted on Twitter.
Transparency International ranks the Horn of Africa country, Somalia as one of the most corrupt countries in the world.
https://www.aa.com.tr/en/africa/somali-president-signs-anti-corruption-bill-into-law/1590257
--------
Boko Haram Is Back in the Media Spotlight, but It Was Never Really Gone
by John Campbell
September 20, 2019
President Muhammadu Buhari of Nigeria, on a number of occasions, has stated that Boko Haram is "technically defeated." The Council's Nigeria Security Tracker indicates otherwise, and on September 14, the New York Times published an extensive story on the resurgence of Boko Haram. It was accompanied by three pictures on a back page, including one of a child's scar from an injury sustained during a suicide bombing. While most of the story will be familiar to Nigeria-watchers, there are details that may be new. The greater significance of the story, however, is its placement: the story starts on the front page above the fold. This is where the Times tends to publish what it regards as its most significant stories. The Times and the Washington Post make up the print media most widely read among policymakers. Hence the prominent placement of the story is likely both a cause and effect of the reemerging profile of Nigeria and Boko Haram.
According to the Times story, Boko Haram militants now control four of ten zones in northern Borno state, near Lake Chad. They are well armed following raids on military facilities, and now employ the use of sophisticated drones. The military is increasingly on the defensive, holing up in heavily fortified "super camps." Recalling similar reports during the Jonathan administration, soldier morale is low. They face daily attacks, lack ammunition and medical care, and are seemingly neglected by their superiors. Corruption, of course, likely plays a role. The Buhari government allocates $80 million per quarter for the struggle against Boko Haram, but it is unclear where the money goes.
The Times story, citing an NGO source, also reports on the operation of markets, courts, and health facilities in the territories Boko Haram occupies. It cites a Nigerian vigilante as saying that there are Boko Haram camps within five miles of the Borno provincial capital of Maiduguri, a city with a nominal population of at least a million, though the actual number is likely higher because of the influx into the city of internally displaced persons. But, Maiduguri has a university, an airport, and other attributes of a large African city.
The Times notes that there are factions within Boko Haram. That of Abubakar Shekau, referred to colloquially as either Boko Haram or Jama'tu Ahlis Sunna Lidda'awati wal-Jihad (JAS), the group's original name, is probably the best known among non-specialists because he orchestrated the Chibok School Girl kidnapping. Another faction, likely similar in size, is the Islamic State in West Africa (ISWA), reborn out of the split in the group in 2016. It has links to the Islamic State, but among Nigeria watchers there is little consensus as to the significance of those links.
Following the kidnapping of the Chibok schoolgirls in 2014, international media attention rallied around the #BringBackOurGirls campaign. A ransom was placed on Shekau's head that was greater than that of the leader of the Afghan Taliban, and Western states offered greater military and logistical support for the Nigerian military, particularly in locating the girls. Attention, perhaps understandably, has waned. Some of the girls were released and it appeared that the military had pushed Boko Haram back into the bush. But about one hundred Chibok girls—so say nothing of thousands of other kidnapped girls and boys—are held captive, and the group's at least two factions are again occupying territory. It may appear then, that Boko Haram has reemerged; for the people of the Lake Chad Basin, in fact, they never really went away.
https://www.cfr.org/blog/boko-haram-back-media-spotlight-it-was-never-really-gone
--------
We need better arms to fight Boko Haram –Military commanders
September 22, 2019
Fresh indications have emerged that military troops deployed to fight Boko Haram insurgency in the North-East are using outdated weapons and equipment, including failing Shilka guns procured during the administration of late Alhaji Shehu Shagari, who was the President of Nigeria between 1979 and 1983.
This development, according to top military officers who spoke to Sunday PUNCH on condition of anonymity, has exposed Nigerian troops at the battlefront to attacks by the terrorists, especially ISWAP fighters, who are said to have more sophisticated weapons. They noted that it was also responsible for the heavy casualties the country had suffered in the anti-insurgency war in recent times, noting that there were times the Shagari-era weapons failed during operations.
The top military officers explained that Shilka, an artillery gun mounted on fighting vehicles, being used by the Nigerian troops at the battlefront are outdated but that they were refurbished and deployed for the operation. They noted that such refurbished arms could not withstand the modern ones used by the insurgents and that there were times they packed up during operations.
One of the officers said, "The Shilka guns were acquired under Shagari's government. We have many of them but they are outdated, so they were refurbished, even though a lot of their components are missing. However, they were deployed in the North-East for the anti-insurgency war like that, hence they fail during battles.
"Recently, Boko Haram even stole one from the troops. So, while we are battling with the refurbished Shilka, ISWAP fighters deploy the latest technology to attack us, and you know the President said a week ago at an ECOWAS meeting that how the terrorists deploy more sophisticated weapons is a matter of concern."
Another officer, who is currently engaged in operations in one of the toughest operational zones in the North-East, also told Sunday PUNCH that apart from Shilka, they used to have in their inventory Tank 72, also known as T-72, which was made in Russia and manufactured in 1971 but sold out in 1972. T-72 are Soviet-era tanks.
He added, "They were procured by former President Goodluck Jonathan's administration towards the 2015 elections and they were used to capture lost territories, but unfortunately, the tanks came without spare parts.
"From time to time, we cannibalised one to fix another until they broke down and they were withdrawn from operations because there were no spare parts. What we have now is called Vickers MBT (Vickers Main Battle Tanks).
"They are even older than the T-72. So, as I'm talking to you, Shilka is what we have and the outdated guns we were supplied with and that is why the insurgents seem to be having the upper hand. The equipment is really outdated."
In a similar revelation, another top military officer at the battlefront told Sunday PUNCH on the condition of anonymity that the attacks on soldiers had increased in recent times because the insurgents were now using the weapons and equipment they once stole from the military.
He noted that superior weapons and equipment, like Armoured Personnel Carrier and Mine-Resistant Ambush Protected vehicles, popularly known as MRAP, which is both bullet- and bomb-proof, were urgently needed by the troops.
Meanwhile, the sources explained further that beyond using drones, the insurgents were now using night vision goggles, thermal detectors and other modern equipment to attack the Nigerian troops.
The Nigerian Army had in November 2018 pointed out that Boko Haram's attacks on troops had revealed that the insurgents were using drones and foreign fighters.
Also, Governor Babagana Zulum of Borno State said in July while welcoming the Speaker of the House of Representatives, Mr Femi Gbajabiamila, that Boko Haram had higher expertise and better technological weapons than the military.
He said, "The capacity of the military has to be re-examined in terms of technological warfare. Otherwise, this thing will never end. Boko Haram now uses drones to monitor the operations of the military. Without providing the proper and up-to-date technological capacity to the military, this thing will never end."
In affirmation of the observation by the military and the governor, one of the sources said, "The ISWAP is highly advanced in technology and in training and that is obvious in the way they attack us. They fly drones; they use night vision goggles and thermal detectors, and they are very innovative.
"Thermal detectors are optic detectors that work as a result of heat emitted by any living thing that breath out carbon dioxide.
"No matter where you are hiding, you will be easily detected. We don't have night vision goggles, not to even talk of thermal detectors," one of them said.
"In fact, if I can, I will call them magicians, yet we keep fighting them with the obsolete equipment we are supplied with and that is why we are losing men. I can tell you that we have not been supplied with fresh equipment in a long while. Those terrorists, especially ISWAP, are very deadly and confident and they now use foreign mercenaries, who are foreign terrorists."
The top military officer, who had previously been attacked, said these days, soldiers do not waste time in withdrawing because they use inferior weapons, compared to what Boko Haram fighters use.
While speaking on the killing of a colonel and an army captain sometime in July, he said the soldiers were travelling from Maiduguri to Damaturu when they ran into the ISWAP fighters and in "three minutes" they killed the soldiers.
Asked if soldiers would not leave the war front if the attacks become too much, he said, "If the attacks become overwhelming, and there are no weapons or equipment to fight with, some would move. We don't have night vision goggles and it's sad because those terrorists use it as an advantage over us in the night."
One of them added, "Let me even shock you; there are times the insurgents come with handcuffs, with the notion of capturing soldiers alive, because when we kill them we see those things. In each of their operation areas, they have suicide bombing squads that move around with them; they have medical teams and engineering teams to manufacture make-shift bridges if they have to cross obstacles or repair any damaged vehicle during the attack. They also have a casualty recovery team that evacuates their dead and injured colleagues during attacks.
The source also lamented that there were times they would call for backup and no one would respond, while the ISWAP fighters, on the other hand, would send heavy backups, with men numbering about 500 sometimes.
"They are well equipped and that is why they launch RPGs cheaply and easily," he added.
FG allocated over N3.77tn for defence in 10 years –Investigation
Meanwhile, despite the inability of the Nigerian military to acquire modern weapons to confront the Boko Haram fighters, findings show that the Federal Government has allocated over N3.77tn to the Ministry of Defence between 2010 and 2019.
Details of the N3.77tn, which were obtained from the Budget Office of the Federation by one of our correspondents, were contained in the annual budgets of the government for the ministry.
The Ministry of Defence is made up of the Nigerian Army, Navy, Air Force, Defence College, Nigerian Defence Academy, Defence Intelligence Agency, Defence Intelligence College, Military Pensions Board, Defence Missions, Defence Space Agency among others.
A breakdown of the allocation showed that the sum of N589.95bn was allocated to the defence sector in the 2019 fiscal period. The budget is made up of recurrent expenditure of N430.82bn and capital expenditure of N159.12bn.
In the 2018 fiscal period, the government allocated the sum of N576.39bn for defence, made up of recurrent expenditure of N418.68bn while capital expenditure was N157.71bn.
YOU MAY ALSO LIKE: Ex-Zamfara bandit commander preaches against banditry
For 2017, the sector had a total allocation of N411.48bn made up of recurrent expenditure of N96.48bn and capital expenditure of N315bn.
The 2016, 2015 and 2014 fiscal years had total allocations of N443.07bn, N375.49bn and N349.71bn.
These were made up of N312.21bn, N338.79bn and N338.79bn recurrent expenditures in 2016, 2015 and 2014 respectively while capital expenditures were N130.86bn, N36.7bn and N35.36bn for the respective periods.
In 2013, the sum of N350.8bn was allocated for defence while for 2012, 2011 and 2010, allocations were N333.26bn, N111.52bn and N232.04bn respectively.
Further analysis showed that the Nigerian Army and the Nigerian Air Force got a total budgetary allocation of over N2.32tn to finance their operations during the 10-year period.
An analysis of the budget document showed that out of the N2.32tn, the Nigerian Army received a budgetary allocation of N1.55tn for the 10-year period while the Air Force got N845.81bn.
A breakdown of the N2.32tn showed that the sum of N228.14bn was allocated in the 2019 financial period. This was made up of N208.79bn for recurrent and N19.62bn for capital expenditure.
The sum of N224.25bn was allocated in the 2018 fiscal year made up of recurrent expenditure of N204.63bn while capital expenditure was N19.62bn.
In 2017, the Nigerian Army got N155.44bn, made up of N134.82bn for recurrent while N20.62bn was for capital expenditure.
In 2016, the allocation to the army was N99.63bn, out of which N65.97bn was for recurrent expenditure while capital expenditure was N33.65bn.
The 2015 fiscal period had the sum of N149.83bn allocated to the Army, out of which recurrent expenditure was N144.08bn, while capital expenditure was N5.75bn.
In 2014, the Nigerian Army got the sum of N136.08bn, made up of recurrent expenditure of N131.18bn and capital expenditure of N4.89bn.
In 2013, 2012, 2011 and 2010 fiscal periods, the Army got allocations of N128.12bn, N123.93bn, N111.52bn and N75bn respectively.
For the Nigerian Air Force, the security agency got N114.83bn in 2019, out of which N69.78bn was for recurrent expenditure while N45bn was for capital expenditure.
In the same vein, the sum of N111.65bn was allocated in 2018 made up of recurrent expenditure of N67.33bn and capital expenditure of N44.65bn.
In 2017, the Air Force got N111.65bn; 2016, N90.71bn; 2015, N77.02bn; 2014, N73.88bn; and 2013, NN68.76bn. For 2012, 2011 and 2010 fiscal periods, the Air Force got allocations of N66.44bn, N84.61bn and N58.28bn respectively.
The allocations excluded the withdrawal made from the Excess Crude Account for the purchase of military equipment.
Analysis of figures obtained from the Budget Office of the Federation showed that the sum of $496.37m was approved by President Muhammadu Buhari and withdrawn for the purchase of Super Tucano Aircraft.
The withdrawal of that amount, according to the Budget Office, was made in the first quarter of 2018.
Similarly, the President also gave approval that the sum of $380.51m be withdrawn for the first batch of procurement of critical equipment for the Nigerian Army, Navy and Defence Intelligence Agency.
The withdrawal of the $380.51m, according to document from Budget Office, was made in the fourth quarter of 2018.
However, despite the money spent on defence, especially on terrorism in the North-East, the Boko Haram insurgents have resurfaced and armed with better military equipment such as drones.
According to a report by the New York Times last Saturday, the terrorists were said to be roaming some parts of Borno State with impunity, even when President Muhammadu Buhari had insisted his administration had defeated the sect.
Another soldier in Borno told one of our correspondents that although the insurgents could not be said to be fully in control of any local government in the country, their threat was still very much potent.
He said the threat of the insurgents made the military authorities to deploy Super Camp and roving military tactics.
The soldier said, "The Boko Haram soldiers have superior firepower. Also, they have spies who work for insurgents at a price. Some of the civilians living along various axis come to buy foodstuffs and other things for these guys."
Also, there is no proper synchronisation between the land Army and the Air Force. If this fight would be properly fought and Boko Haram dealt with, we need more of the air support."
Also, apart from the budgetary allocation, $1bn was deducted from the ECA during the tenure of former President Jonathan to fight the insurgents. At that time, one dollar was about N192, making the sum N192bn.
Meanwhile, the Buhari government also in 2017 revealed its plan to withdraw $1bn to fight the terrorists, but as of December 2018, the Chief of Army Staff, Lt.Gen. Tukur Buratai, said the Army had yet to access the fund.
Defence budget in the spotlight
When reminded that the military had had over N3.9tn in 10 years, the officers noted that there had been no sign of the money in their operation because there were no new weapons and combat equipment as they still relied on old weapons.
"On the other hand, what we see is that ISWAP comes with superior firepower. It takes extreme courage to withstand them for one hour and at times our soldiers may not be lucky enough to withdraw successfully in the face of a fierce battle."
Super camps as safe havens?
Speaking on the Super Camps set up by the military, the officers expressed fear that the insurgents might someday dislodge soldiers from the camps if they were not equipped.
One of the officers said, "It's for the big men to loot and nothing more. Do you form a super camp without weather and adequate equipment? When the dry season comes, their lies will be exposed. The terrain is swampy now, so the terrorists can't move as much as they would want to. Let the terrain dry and you would see their capacity. That super camp is a big joke."
Another officer alleged that the move was to make civilians believe that the troops are in charge but that the initiative would succeed in creating more funds for the personal pockets of certain persons other than the interest of the nation.
Scores of missing soldiers unfound 10 months after
Meanwhile, scores of soldiers who went missing following the Boko Haram and Islamic State fighters' attacks on the army bases in Metele and Baga, Borno State, in November 2018, have yet to be rescued by the military almost 10 months, Saturday PUNCH can report.
This is coming about three months after the Multi-National Joint Task Force explained in June that its operation, Yancin Takfi, "is progressing steadily and is committed to rescuing all personnel who were declared missing in action."
Findings among top military sources on Friday showed that scores of missing soldiers had yet to be found by the military. Some of the soldiers are feared to have been killed or abducted by the insurgents.
The Nigerian Army had on November 28 last year confirmed that it lost 23 personnel to the attack by the ISWAP terrorists, who attacked the 157 Battalion in Metele in northern Borno on November 18. The army also said 31 personnel were also "wounded in action and have been evacuated to several medical hospitals."
The Defence Headquarters, Abuja, has, however, said that the military conducted regular search-and-rescue operations to free any personnel suspected to be in the enclave of the Boko Haram terrorists.
The acting Director, Defence Information, Col Onyema Nwachukwu, who stated this on Friday, said he was not aware any personnel was with the Boko Haram insurgents.
He said, "Of course, we do search and rescue operations; this is done regularly to ensure that any of our personnel are liberated from such captivity. This is apart from the offensives that we are conducting.
"But nobody has told me there is any personnel in captivity. When there are missing-in-action personnel during combats, what we do is to send out search and rescue parties, but there is none of our personnel in the enclave of the Boko Haram."
The acting Director, Army Public Relations, Col Sagir Musa, could not be reached for comments on Saturday evening, as his line rang out two times.
A text message also sent to his line to seek comments on the reportedly outdated Shilka tanks was not replied to as of the time of filing this report.
The acting Director, Defence Information, Col Onyema Nwachukwu, could also not be reached on Saturday evening for comment.
https://punchng.com/we-need-better-arms-to-fight-boko-haram-military-commanders/
--------
Mideast
Iran to present 'Hormuz Peace Initiative' at UN: President Rouhani
Sep 22, 2019
Iranian President Hassan Rouhani says Iran will present at the United Nations this year an initiative for regional cooperation to ensure peace in the Strait of Hormuz.
President Rouhani made the remarks in Tehran during a military parade commemorating the 39th anniversary of the start of the Iran-Iraq War on Sunday.
Rouhani said Iran extended a hand of friendship and brotherhood to all its neighbors and was "even ready to ignore their past mistakes... because the enemies of Islam and the region" were seeking to take advantage of the rifts among regional states.
"The security of the Persian Gulf, the Strait of Hormuz, and the Sea of Oman is indigenous," President Rouhani said. "Foreign forces could cause problems and insecurity for our nation and region."
"This year at the United Nations, we will present to the world the Hormuz Peace Initiative — the gist of which is love and hope — with the slogan 'The coalition of hope,'" he said.
Rouhani said the initiative will envision the provision of security for the Persian Gulf, the Sea of Oman, and the Strait of Hormuz with cooperation between Iran and other regional countries.
He also warned that the presence of foreign forces endangers the region as well as maritime and energy security.
President Rouhani is scheduled to travel to New York for the annual UN General Assembly meeting on Monday.
In his Sunday speech, he also advised the countries that are seeking to blame Iran for recent regional incidents to stop sending "dangerous weapons" to the region instead and "stay away" from it.
Rouhani also censured the American military for bringing insecurity to whatever place it set foot in, including Afghanistan, Syria, Iraq, and the Persian Gulf.
On the contrary, he said, Iranian Armed Forces have brought security to the countries that they have helped.
"When they (Iranian Armed Forces) stood by the side of the people of Iraq, Syria, Palestine, and Lebanon, they brought security to those lands and could root out savage terrorists in the region, that is our difference with the enemy in the region," the Iranian president said.
He said Iran would neither allow any violation of its borders nor would it violate those of other countries.
The economic war on Iran, accompanied by psychological warfare and threats of military aggression, is meant to first and foremost target the Islamic Revolution, he said, adding that the nation however has the capability to withstand arrogant powers as it did during the Iraqi-imposed war.
Forces from the Iranian Army, the Islamic Revolution Guards Corps (IRGC), Police, Border Guards, and Basij are participating in the parades that started on Sunday and that are being held in Tehran and 30 other provincial capitals, as well as in the waters of the Persian Gulf.
https://www.presstv.com/Detail/2019/09/22/606807/Iran-Persian-Gulf-Hormuz-Peace-Initiative-President-Rouhani
--------
IRGC official: Iran has made 'tremendous progress' in the field of drones
21 September 2019
"If an enemy makes a mistake, it will certainly receive a crushing response," warned the commander of the Iranian Revolutionary Guard Corps' air force, Amir Ali Hajizadeh, on Saturday, the semi-official Tasnim news agency reported.
"The enemies must learn and change their language toward the Iranian nation," he said.
Iran has made "tremendous progress in the field of drones," claimed Hajizadeh, stating: "We are among the top five countries in the field of drones."
His remarks come at a time when multiple reports have cited US intelligence sources as saying that Iran was behind drone attacks on key Saudi oil facilities last week.
Iran has denied any involvement in the attacks.
Hajizadeh, who is one of the eight IRGC commanders sanctioned by the US on June 24, referred to the downing of a US drone on June 20, and said that Iran has also made progress in the field of radars.
IRGC head Brig. Gen. Hossein Salami had claimed earlier this month that Iran's military is "invincible."
https://english.alarabiya.net/en/News/middle-east/2019/09/21/IRGC-official-Iran-has-made-tremendous-progress-in-the-field-of-drones.html
--------
IRGC chief warns any country that attacks Iran will be 'main battlefield'
21 September 2019
The commander of Iran's Revolutionary Guards warned Saturday that any country that attacks the Islamic republic will see its territory turn into the conflict's "main battlefield."
"Whoever wants their land to become the main battlefield, go ahead," Guards commander Hossein Salami told a news conference in Tehran. "We will never allow any war to encroach upon Iran's territory."
Salami's statements come after Iran came under fire after recent attacks that targeted Saudi Aramco's oil facilities on September 14. The United States has said that initial investigations of the attacks show that Iran was in some way responsible. Iran denies any responsibility.
"Be careful, a limited aggression will not remain limited. We are after punishment and we will continue until the full destruction of any aggressor," Salami, said in remarks broadcast on state TV.
Salami added that Iran will continue to down drones that "violate its airspace."
A US military drone had been shot down in international airspace over the Strait of Hormuz by an Iranian surface-to-air missile in June.
The US military confirmed the incident and said that it took place in international airspace, challenging Iran's account that the US aircraft had been flying over Iranian territory.
https://english.alarabiya.net/en/News/middle-east/2019/09/21/IRGC-chief-warns-any-country-that-attacks-Iran-will-be-main-battlefield-.html
--------
Iran's Armed Forces holding parades to mark start of Sacred Defense Week
Sep 22, 2019
Iranian Armed Forces have begun holding military parades across the country, including in the Persian Gulf, at the start of the Sacred Defense Week, which marks the anniversary of the 1980-88 Iraq-imposed war.
The parades began countrywide on Sunday morning, marking the day when the regime of slain Iraqi dictator Saddam Hussein launched a war on Iran 39 years ago.
Forces from the Iranian Army, the Islamic Revolution Guards Corps (IRGC), Police, Border Guards, and Basij are participating in the parades, which are being held in Tehran and 30 other provincial capitals, as well as in the waters of the Persian Gulf.
Iranian President Hassan Rouhani delivered a speech before the parades began in Tehran, and Parliament Speaker Ali Larijani spoke at the stage in the southern port city of Bandar Abbas.
Surface, sub-surface, and hovercraft belonging to the Iranian Army and the IRGC are parading in the Persian Gulf. Above them will be flying Army fighter jets and helicopters and IRGC aircraft.
Iran's first domestic fighter jet Kowsar will also be in flight.
In the Iranian capital, military aircraft will also be flown above the parade site.
Army and IRGC commandos will parachute down from aircraft both in Tehran and Bandar Abbas.
Iranian military might is being showcased at a time of tensions initiated by the United States and Saudi Arabia with Iran. The US has been attempting to put together a maritime coalition to sail in the Persian Gulf following accusations that Iran has sabotaged oil shipping in the waterway.
Tehran has rejected the accusations and said such a coalition will only ratchet up tensions in the region.
Saudi Arabia has said it will participate in the US-planned coalition. So far, only Britain has joined.
Domestically-developed military equipment
Among the military equipment showcased during the parade in Tehran, the Ha'el (Buffer) gunnery system was making its debut.
Ha'el, which is an aerial defense system, has a passive radar, enabling it to detect targets and initiate a launch without being detected itself. It is mobile and is designed to take on low-altitude targets such as cruise missiles, intruding drones, and small flying robots.
The Kaman 12 (Bow 12) combat drone was also showcased during the parade.
Kaman 12 is capable of carrying a payload of four 22.6-kilogram bombs and has a flight range of 1,000 kilometers.
Both Ha'el and Kaman 12 have been domestically developed.
https://www.presstv.com/Detail/2019/09/22/606802/Iran-Armed-Forces-parades-Sacred-Defense-Week
--------
UN urges Saudi Arabia to seize opportunity as Yemen offers ceasefire
Sep 22, 2019
The United Nations has welcomed a proposal by Yemen's Houthi Ansarullah movement to halt strikes on Saudi Arabia in return for an end to the Saudi-led coalition attacks on Yemen.
In a statement issued on Saturday, UN Special Envoy for Yemen Martin Griffiths stressed "the importance of taking advantage of this opportunity and moving forward with all necessary steps to reduce violence, military escalation and unhelpful rhetoric."
On Friday, Mahdi al-Mashat, the head of the Houthi supreme political council, said the group would end all attacks on Saudi Arabia provided that the kingdom and its allies ended their attacks on Yemen.
He hoped that "the gesture would be answered by a stronger gesture" from the Saudis.
Griffiths emphasized that the implementation of the proposal by the Houthis "in good faith could send a powerful message of the will to end the war."
He called on all parties to the Yemen conflict to "respect international humanitarian law, exercise restraint, and to spare Yemen from being drawn further into regional tensions."
Saudi Arabia has so far refused to accept the offer.
"We judge other parties by their deeds, actions and not by their words, so we will see," said Saudi Minister of State for Foreign Affairs Adel al-Jubeir.
The Houthi proposal came a week after Yemeni strikes on Saudi Arabia's oil installations, which knocked out half of the kingdom's production.
The Yemeni Houthi Ansarullah movement took credit for the attacks, although the US blamed Iran without providing any evidence. Tehran has denied involvement.
Saudi Arabia and its allies launched the war on Yemen in March 2015 in an unsuccessful attempt to reinstall a former regime. Four years later, the coalition has been bogged down in the war, which it had wished to end in a matter of "months."
https://www.presstv.com/Detail/2019/09/22/606801/Yemen-Saudi-Arabia-Houthi-ceasefire-UN-Griffith
--------
Thousands rally in Sana'a to mark anniv. of Sep. 21 revolution
Sep 22, 2019
Mohammed al-Attab
Large crowds from across Yemen have gathered in capital Sana'a to celebrate the fifth anniversary of the September 21st revolution. The mass rally dubbed "Freedom and Independence" was held to confirm that the Yemeni people are moving forward in their battle for independence.
On the eve of 5th anniversary the, the president of the Supreme Political Council, Mehdi al-Mashat, declared an initiative to achieve peace. He called on all Yemeni parties to engage in serious and genuine negotiations leading to a comprehensive national reconciliation that does not exclude any party, for the sake of building ties of fraternity and safeguarding the primacy of the higher national interests. The initiative was welcomed by demonstrators. They say it's Riyadh's last chance in case it's serious about peace endeavors.
In September 2014, the Ansarullah forces took state matters in their hands in Sana'a amid the absence of an efficient government there.
Before gaining control of the capital, the Houthis had set a deadline for the political parties to put aside differences and fill the power vacuum. However, the deadline was missed without any change in the country's political scene.
September 21st represents the starting point for Yemenis either to stay subject to contemporary slavery or to achieve freedom and independence through resistance against tyrants.
https://www.presstv.com/Detail/2019/09/22/606795/Yemen-thousands-mark-revolution-anniv
--------
Turkey prepared to act on its southern border with Syria: Erdogan
Sep 21, 2019
President Recep Tayyip Erdogan says Turkey is fully prepared for a possible operation on the border with Syria to push back militants from the Kurdish People's Protection Units (YPG) in case the United States fails to create a so-called safe zone in the northeastern part of the Arab country this month.
"Our preparations along the border have been completed," Erdogan told reporters in Istanbul on Saturday ahead of his flight to New York to attend a UN General Assembly meeting.
He roundly criticized the continued support of the US for the YPG, saying Washington was providing the Kurdish militants with arms.
"We have no desire to get into a confrontation with the US. But in a place where the United States is not invited, we cannot afford to ignore the support it has given to terrorist organizations. In other words, their support for terrorist organizations such as the YPG is obvious," Erdogan noted.
The Turkish president then pointed to the so-called Syrian Democratic Forces (SDF) – to which the YPG plays as the backbone, saying he would discuss their presence in northern Syria as well as the withdrawal of US troops from the conflict-plagued Arab country with his US counterpart Donald Trump on the sidelines of the 74th session of the UN General Assembly.
Erdogan has given the US until the end of the current month for concrete results on the development of a purported safe zone on Turkey's border with Syria.
On September 10, Turkey's Foreign Minister Mevlut Cavusoglu said the United States was stalling attempts to establish such a zone, reaffirming that Ankara was ready to act on its own if necessary to confront YPG militants.
"Yes, there are some joint patrols but other than that, the steps that have been taken or the steps that are said to be taken are cosmetic steps," he told reporters at the time.
"We are seeing that the United States is entering a stalling process ... and that it is trying to get Turkey accustomed to this stalling process," he added, arguing that Washington's approach has so far served the YPG more than Turkey.
Turkey's Defense Ministry announced the start of the joint US-Turkish ground patrols east of the Euphrates in northeastern Syria in a post published on its official Twitter page on September 8, and said the patrols are being supported by unmanned aerial vehicles.
Syria strongly condemned the decision on the same day, arguing that the move constitutes a blatant violation of international law and the Syrian sovereignty.
"The Syrian Arab Republic condemns in the strongest terms the US administration and the Turkish regime for conducting joint patrols in the Syrian al-Jazirah region, which is in flagrant violation of the international law as well as the sovereignty and territorial integrity of Syria," an unnamed official source at the Syrian Ministry of Foreign Affairs and Expatriates told Syria's official news agency SANA at the time.
"Syria stresses that this step represents (an act of) aggression in every sense of the word, and is meant to complicate and prolong the Syrian crisis in the wake of the Syrian Arab Army's achievements in pursuit of remnants of terrorist groups."
The source said the Syrian Arab Republic, while reiterating its rejection of the so-called safe area, dismisses all projects aimed at undermining the unity and territorial integrity of the country.
The patrols came after Turkey and the US reached an agreement on August 7 over the establishment of a joint operation center in the northern part of Syria, in the wake of Ankara's threats to launch an operation against YPG militants to push them away from the Turkish border.
Turkey views the YPG as the Syria branch of the homegrown Kurdistan Workers' Party (PKK) militant group, which has been seeking an autonomous Kurdish region in Turkey since 1984.
Turkey expects the creation of a 32-kilometer (20-mile) safe zone in northern Syria, and has stressed that it wants the YPG cleared from the region.
https://www.presstv.com/Detail/2019/09/21/606773/Turkey-prepared-to-act-on-its-southern-border-with-Syria-Erdogan
--------
Funeral held for Palestinian teen shot in Jerusalem al-Quds knife attack
Sep 21, 2019
Palestinians have held a funeral procession for a 14-year old boy, shot dead by Israeli forces after stabbing a policeman in Jerusalem al-Quds last month.
Nassim Abu Rumi, from al-Azariya, died on August 15, after he and another boy, attacked an Israeli policeman in the Old City of Jerusalem al-Quds . His body was kept by the Israeli authorities until they released it on Friday.
Video footage from the incident, aired on Israeli television and circulated on social media, showed two young males approaching a police officer at one of the walled Old City's gates, drawing knives and stabbing him before his colleagues shoot them multiple times.
The attack came less than a week after Palestinians and Israeli police clashed at a nearby holy site of the city.
https://www.presstv.com/Detail/2019/09/21/606748/funeral-Palestinian-knife-attack-Jerusalem
--------
Tehran seeks to 'divide the world,' says Saudi Arabia's Adel Al-Jubeir
NOOR NUGALI
September 21, 2019
RIYADH: Attacks last week on Saudi oil facilities were "an attack against all mankind" and Iran was trying to divide the world, the Saudi minister of state for foreign affairs said on Saturday.
Al-Jubeir said the attacks were undertaken with Iranian weapons and it was for this reason that Iran should be held accountable for the incident, adding: "We are certain that the attacks did not come from Yemen but from the north. Investigations will prove that."
"The Iranian position is to try to divide the world and in that it is not succeeding, he said.
In a press conference held in the Saudi capital, Al-Jubeir also said that the attacks on Aramco facilities were also targeting global energy security and that Saudi Arabia would take appropriate steps to respond if investigations confirm that Iran is responsible.
"The Kingdom will take the appropriate measures based on the results of the investigation, to ensure its security and stability," Al-Jubeir said.
"Saudi Arabia has taken a defensive stance, as opposed to Iran which has fired 260 Iranian-made ballistic missiles through its militias, and more than 150 drones.
"The Kingdom, unlike Iran, has not fired a missile, a drone or a bullet toward Iran. This demonstrates that we seek good while they seek evil," he said.
Saudi Arabia has rejected claims from Yemen's Iranian-backed Houthis that they carried out the strikes, the largest-ever assault on Saudi oil facilities in the world's top oil exporter. Tehran has denied any involvement in the attacks.
Saudi Arabia is consulting with its allies to "take the necessary steps", Al-Jubeir said, urging the international community to take a stand.
"The Kingdom calls upon the international community to assume its responsibility in condemning those that stand behind this act, and to take a firm and clear position against this reckless behavior that threatens the global economy," he said.
More than 80 countries have condemned the attacks, he said.
The head of the Islamic Revolutionary Guard Corps (IRGC) said on Saturday any country that attacked Iran would become a battlefield, after the US ordered reinforcements to the Gulf following last week's attacks.
Washington approved the deployment to Saudi Arabia at "the Kingdom's request," Defense Secretary Mark Esper said, and the forces would be focused on air and missile defense. IRGC commander Major General Hossein Salami said: "Whoever wants their land to become the main battlefield, go ahead. We will never allow any war to encroach upon Iran's territory."
The US this week imposed more sanctions on Iran and approved the sending of American troops to the region.
https://www.arabnews.com/node/1557656/middle-east
--------
North America
Trump heads to UN with long list of deals he's yet to close
22 September 2019
President Donald Trump, a self-described deal-maker, is saddled with a long list of unresolved foreign policy deals he has yet to close heading into his UN visit this coming week.
There are challenges with Iran, North Korea, the Afghan Taliban, Israel and the Palestinians - not to mention a number of trade pacts. Some are inching forward. Some have stalled.
Trump has said repeatedly that he is in "no rush" to wrap up the deals. But negotiations take time. He is nearly three years into his presidency and the 2020 election looms, which will crimp his ability to tend to unfinished foreign business.
"I don't blame the president for having so many deals open," said Nicholas Burns, a former undersecretary of state who has worked for Republican and Democratic presidents. He gives Trump credit for going after China on its trade practises and talking to the Taliban to try to end 18 years of war in Afghanistan.
"But I do think you have to be tough-minded as citizens and grade him," Burns said. "How's he doing? Well, in my book, he doesn't have a single major foreign policy achievement in more than 2½ years in office."
Trump's critics say that lack of success means the president is going to the United Nations in a weakened position.
Some foreign policy experts give Trump credit for opening up international negotiations. Yet there is plentiful criticism of his brash negotiating style - blasting foreign leaders one day, making nice the next - because they think it makes the global chessboard more wobbly.
In his defense, Trump says: "It's the way I negotiate. It's done very well for me over the years, and it's doing even better for the country."
Trump's "America first" mantra hasn't gone over well at the United Nations before. Now, as tensions escalate between the USand Iran, the president needs international support to help put pressure on Tehran.
Ever since Trump pulled the US from the Iran nuclear deal and reinstated crippling economic sanctions, Iran has lashed out. Iran downed an American drone, has impounded ships in the Gulf and is being blamed for the attack on Saudi Arabia's oil facilities. "He's argued in the past that each country should act solely in its own interest, and he's argued that American might, combined with his negotiating skill, would build US power," said Jon Alterman, Middle East program director at the Center for Strategic and International Studies. "Now we have a General Assembly meeting where the president really needs allies on Iran."
The prospect of Trump talking with Iranian President Hassan Rouhani on the sidelines of the UN General Assembly has evaporated.
Alterman said the best-case scenario of another negotiation with Iran would be one leading to the end of Tehran's destabilizing activities in the Mideast, new limits on its nuclear program and greater visibility into its missile program. The worst-case scenario, he said, is that the president alienates his allies and Iran carries out more attacks on US interests and allies.
Former Secretary of State Rex Tillerson, who was fired by Trump, told a group at Harvard University recently that successful negotiations occur when both parties leave with an acceptable outcome. In a comment seemingly aimed at Trump, Tillerson said: "If you ever think about a negotiation as a win/lose, you're going to have a terrible experience, you're going to be very dissatisfied, and not very many people are going to want to deal with you."
Trump's other disarmament talks - with North Korea - have hit a wall, too.
Trump's initial summit with North Korean leader Kim Jong Un in Singapore was a first, as was Trump's historic step inside North Korea at the Demilitarized Zone dividing North and South Korea.
Still, the US and North Korea have failed to gain traction on nuclear talks. Negotiations to get Kim to give up his nuclear weapons have been stalled since a February summit in Hanoi, which collapsed over disagreement about sanctions relief in exchange for disarmament measures.
On Friday, Trump claimed that his three-year relationship with Kim is the "best thing that's happened" to the United States.
"We'll see what happens," Trump added. "It might work out. It might not work out." But Trump stressed that since they started talking, Kim has not conducted nuclear tests and has only fired short-range, not long-range missiles.
Trump's Mideast peace negotiations also have no momentum.
The administration's long-awaited peace plan, developed by Trump son-in-law and adviser Jared Kushner, has not come out and the path forward is unclear.
Tentative plans to release the proposal had been scrapped at least twice. The plan already is facing rejection by the Palestinians, who cut off ties with the administration after Trump recognized Jerusalem as Israel's capital. The Palestinians have accused his administration of losing its standing as an honest broker by repeatedly siding with Israel.
And then there is the long-running conflict in Afghanistan.
While Trump has public backing to end the war, he just cut off nearly a year of US talks with the Taliban. He said the Taliban were ramping up violence to gain leverage in the negotiations.
"They made a mistake," Trump said Friday. "I was totally willing to have a meeting."
Trump has the public's support for withdrawing US troops, but he was harshly criticized for planning to host the Taliban at the Camp David presidential retreat just before the anniversary of the September 11 attacks. The Taliban were harboring al-Qaeda when al-Qaeda orchestrated 9/11.
Trump biographer Michael D'Antonio said that where international affairs are concerned, the president appears more interested having something showy to announce than in long-term problem-solving.
"Once he has a partner engaged, he'll likely announce something that sounds important," D'Antonio said.
"Others will clean up the details after the election."
https://english.alarabiya.net/en/News/world/2019/09/22/Trump-heads-to-UN-with-long-list-of-deals-he-s-yet-to-close.html
--------
At UN Trump to tout leadership as US seeks to tackle Iran and China
21 September 2019
US President Donald Trump will tout US leadership and a collective approach to challenges while at the United Nations next week, said a senior administration official on Friday, as Washington seeks to use the gathering of world leaders to build support to take on Iran and call out China over rights abuses.
While Trump has questioned the value of the United Nations and scorned the importance of multilateralism as he focuses on an "America First" agenda, he will return for a third time to push religious freedom on Monday, address the General Assembly on Tuesday and discuss Venezuela on Wednesday.
"Obviously our overarching concern with Iran's escalatory violence is going to be a theme," the official said, speaking on condition of anonymity. "We welcome opportunities to discuss collective response."
The United States and its ally Saudi Arabia blame Iran for an attack last Saturday on the world's biggest crude oil processing facility and have said they will present evidence to back that up. Iran denies involvement in the attack. Yemen's Iran-aligned Houthi group, which has been fighting a Saudi-led military coalition since 2015, has claimed responsibility.
Trump has said he is considering how to respond and that military action is an option. The United States on Friday imposed another round of sanctions on Tehran.
Iranian President Hassan Rouhani is due to address the United Nations on Wednesday.
Last week Trump flirted with meeting Rouhani, but has since backed away from the idea. Iran's Supreme Leader Ayatollah Ali Khamenei has said Iran would never hold such one-on-one talks but could engage in multilateral discussions if Washington
returns to a 2015 nuclear pact.
Trump will meet at least a dozen leaders during his three days in New York.
Xinjiang
UN Secretary-General Antonio Guterres has made climate action his priority with a summit dedicated to tackling the crisis on Monday. But Trump is skeptical of global warming and he and US Vice President Mike Pence will host an event at the same time on religious freedom.
While it is not clear if Trump or Pence will make reference to any specific situations, US Deputy Secretary of State John Sullivan will host a separate event on Tuesday on the "human rights crisis in Xinjiang" in China, diplomats said.
The United Nations says at least 1 million ethnic Uighurs and other Muslims have been detained in Xinjiang. Beijing describes complexes in Xinjiang as "vocational training centers" helping to stamp out extremism and give people new skills.
"We know that some country is trying to make a fuss on issues relating to China, including the situation in Xinjiang," China's UN Ambassador Zhang Jun said on Friday.
"If they simply want to make the issue a political issue, definitely we have every right to defend ourselves and we are completely opposed to any such interference in China's internal affairs," Zhang said.
'Trust deficit'
Trump drew gasps during his first speech to the 193-member United Nations in 2017 with a threat to wipe out North Korea and then laughter last year with a boast about the achievements of his administration.
Though not specifically addressing Trump's speech on Tuesday, the administration official said he would "affirm America's leadership role in the rules-based international system, and the need to work collectively within the global community to address global challenges."
Trump would also assert "America's determination to uphold the sovereignty and independence of member states especially on issues of national security," the official said.
The message is being delivered at a time when some diplomats say US leadership in global institutions is waning and China's influence is growing. Since Trump took office, he has quit the UN Human Rights Council, the UN cultural agency UNESCO, a global accord to tackle climate change, the Iran nuclear deal and opposed a UN migration pact.
"We do think the United States will - in one way or another - come back to the right track because they will realize ... going back to multilateralism, going back to international cooperation does serve the fundamental interest of the United States," China's UN envoy Zhang said on Friday.
He told reporters the United Nations was at a crossroads and that the "biggest challenge facing the world is a deficit of trust, especially a deficit among major players."
The Chinese government's top diplomat, State Councillor Wang Yi, is due to address the United Nations next week, when more than 135 presidents and prime ministers and dozens of ministers were expected to attend the 74th UN General Assembly.
A senior UN official, speaking on condition of anonymity, said on Friday: "Even though everyone says that multilateralism is dead, multilateralism isn't very popular these days, countries are becoming more and more isolationist - everybody comes."
https://english.alarabiya.net/en/News/world/2019/09/21/At-UN-Trump-to-tout-leadership-as-US-seeks-to-tackle-Iran-and-China.html
--------
US official claims ISIL militant were among Afghans massacred in drone attack
Sep 22, 2019
A senior US military commander in Afghanistan has tried to justify the massacre of Afghan civilians in the recent American drone bombing in the country's eastern Nangarhar province, insisting that Daesh terrorists were hiding among the farmers killed during the strike.
Citing unnamed US officials in Afghanistan, Reuters reported on Saturday that the deadly drone strike was carried out "solely to target" ISIL militants in a densely forested area in Wazir Tangi district of the province that is not inhabited by locals.
"There were ISIL (militants) there, but it appears during harvest season the locals cut deals with the IS fighters to act as harvesters," said the report, quoting "a senior US official who is privy to the counter-terrorism operations conducted by American forces in Afghanistan."
"We were not privy to this 'agreement' that puts them (ISIL terrorists) among other harvesters," the American official further claimed, adding: "We are working through it now with the officials."
The US drone attack on Wednesday night killed at least 32 farm workers and children while they were resting in tents after a day's labor in pine nut fields at the mountainous area, local officials said, adding that the bombing raid also injured 40 others. The owner of the fields said at least 150 workers were resting when the attack occurred, noting that many of them remained missing.
The American drone strike further outraged local residents in Nangarhar, who waged protest rallies against the US-led foreign and local forces and demanded Washington to apologize and pay compensation to the families of the victims.
Moreover, senior Afghan officials in Kabul also stated that a probe was being conducted to assess the intelligence failure prior to planning the deadly drone strike, indicating a joint effort with American military forces deployed to the country.
This is while Afghanistan's President Ashraf Ghani pledged to enforce measures to prevent civilian casualties in the war against militants during an election campaign rally in Jalalabad, the capital of Nangarhar province.
Nearly 14,000 US troops remain in Afghanistan, to purportedly train and advise Afghan security forces and prepare them to take on Taliban and Daesh militants.
The latest US drone attack preceded another deadly attack by the Taliban insurgents, who killed at least 20 people in the southern Afghan province of Zabul.
Taliban have killed hundreds of civilians in clashes that followed the collapse of US-Taliban peace talks this month.
They have pledged to make the US president regret his decision to abruptly call off talks that were supposedly aimed at ending America's longest-running war in its history.
https://www.presstv.com/Detail/2019/09/22/606796/US-military-senior-official-Afghanistan-drone-attack-Nangarhar-Province-Daesh-militants
--------
Saudi regime owes US $181mn for refueling support in bombarding Yemen
Sep 22, 2019
Saudi Arabia still owes the US military $181 million for aerial refueling assistance it received for its brutal bombardment of Yemen's mostly civilian targets amid Pentagon plans to send more troops to the despotic kingdom to purportedly bolster its air defenses against retaliatory drone attacks by Yemeni forces.
Despite Washington's emphasis on US-Saudi alliance following Yemen's destructive drone attack on the Kingdom's huge Aramco oil facilities, Riyadh has failed to repay the Pentagon for providing midair refueling assistance for Saudi Arabia's bombing runs over Yemen nine month after American military announced plans to seek reimbursement of its expenses, US-based Defense News reported Friday citing congressional sources.
'Saudi Arabia pays cash'
The development came after US President Donald Trump emphasized to reporters on Monday that the despotic regime in Riyadh has been a "great ally" for its investments across America, insisting that "Saudi Arabia pays cash."
While addressing reporters at the White House on Friday, Trump further pointed to Washington's efforts to build a regional coalition against Iran and emphasized: "We're also working on the cost of this whole endeavor, and Saudi Arabia has been very generous."
According to the report however, Saudi's refusal to pay for US refueling support has already enraged American legislators, many of whom feel frustrated with the kingdom's involvement in the brutal murder of journalist Jamal Khashoggi as well as the massive civilian casualties the regime has inflicted during its war of aggression on neighboring Yemen.
Saudi's refusal to pay Pentagon dues angers US lawmakers
"Saudi failure to reimburse us for aircraft refueling — hundreds of millions in taxpayer dollars — involves both deep insult and costly injury. It is entirely unacceptable that the Saudis have not reimbursed the Department of Defense for hundreds of millions in refueling costs," said Democratic Senator Richard Blumenthal of Connecticut in a statement cited in the report.
"The American taxpayer-funded US Department of Defense is not the Saudi Royal Family's piggy bank," it added.
Inquiries from Blumenthal and Senate Armed Services Committee ranking member Jack Reed of Rhode Island also prompted the US military to announce in December that it would seek to recoup the money it failed to charge Saudi Arabia and the United Arab Emirates (UAE) for the midair refueling assistance ― which Riyadh ended in 2018.
The report further cited congressional sources as saying that the original balance due was since revised from $331 million to $291 million, and the Pentagon has separately recovered $118 million from the UAE, but Saudi Arabia has not repaid the US.
Pentagon spokeswoman Cmdr. Rebecca Rebarich refused on Thursday to elaborate on its collection efforts but confirmed that "the process of reimbursement is continuing, and we continue to expect full reimbursement of refueling expenses."
Trump warned against anti-Iran military move
This is while Trump was due to hold a meeting on Friday to purportedly consider military options against Iran, the report added, citing "US officials familiar with the planned discussions." It further pointed out that the American president was also due to be warned that any military action against the Islamic Republic would likely escalate into a war.
Tehran has fiercely rejected any involvement in the retaliatory attack by Yemeni forces against Saudi oil facilities and warned Washington that any military action against it will spell into an "all-out war" with immediate retaliation.
Meanwhile, congressional critics of the US president insist that he should not lead the country into an unnecessary conflict with Iran to protect Saudi Arabian oil.
Virginia Democratic Senator Tim Kaine, who sits on Senate Foreign Relations and Armed Services committees, pledged to file a war powers resolution to force a Senate vote to immediately end any such military action.
https://www.presstv.com/Detail/2019/09/22/606793/US-military-Saudi-Arabia-Yemen-bombing-refueling-assistance
--------
Kushner likely to attend Saudi prince's forum: report
Servet Günerigök
20.09.2019
WASHINGTON
U.S. President Donald Trump's senior advisor and son-in-law, Jared Kushner, is due to attend an annual economic conference in Riyadh hosted by Saudi Crown Prince Mohammed bin Salman, U.S. media reported Friday.
Kushner will likely attend the Future Investment Initiative, known as Davos in the Desert, in late October, according to The Washington Post.
The newspaper cited a list of attendees to the conference at the Ritz-Carlton in the Saudi capital. The hotel is infamous for housing dozens of businessmen and princes on corruption allegations.
Kushner "has not yet officially confirmed and would do so as part of a broader U.S. delegation," wrote the Post, citing an anonymous person familiar with the matter.
The forum, slated to run Oct. 23 - 25, is bin Salman's attempt to diversify the country's oil-based economy.
The event was boycotted by many business leaders and political figures last year because of the murder of Saudi journalist Jamal Khashoggi -- a U.S. resident and contributor to The Washington Post, who was killed and dismembered by a group of Saudi operatives shortly after he entered the consulate in Istanbul on Oct. 2.
Riyadh offered various, conflicting narratives to explain his disappearance before acknowledging he was murdered in the diplomatic building, seeking to blame his death on a botched rendition operation being carried out by rogue agents.
U.S. Treasury Secretary Steven Mnuchin was among several dignitaries who pulled out of the forum.
https://www.aa.com.tr/en/americas/kushner-likely-to-attend-saudi-princes-forum-report/1589718
--------
Europe
Tory party action against Islamophobia: too little too late?
Sep 21, 2019
According to a BBC report, a number of Tory party members have been suspended for allegedly endorsing online Islamophobic material.
The BBC claims its investigators presented 20 cases to Tory officials of blatant Islamophobia by Conservative Party members who had posted offensive material on multiple social media platforms.
The alleged Islamophobic incidents range from "liking" offensive pictures and texts on social media to more serious forms of offending, including regularly posting Islamophobic material to social media platforms.
Some of the alleged offenders are relatively senior in local Tory party structures. For example, there is even a Conservative party councillor amongst the group.
The BBC's investigation appears to have had a superficial impact on Conservative party inertia on this issue.
Leading Tory and Business Minister, Kwasi Kwarteng, told BBC Radio 4 that he "believed" an "independent enquiry" was now under way, but he was unable to provide further details.
For years, the Conservative party has tried to brush the problem under the carpet by consistently denying that there is institutional Islamophobia and broader racism within the Tory party.
Fears of rampant Islamophobia amongst the Tory rank and file intensified with the ascent of Boris Johnson to the premiership. Johnson, who often projects himself as an historian and an ideologue, has previously indulged in Islamophobic comments.
In August 2018, barely a couple of weeks after his resignation as foreign secretary, Johnson compared Muslim women who wear the burka to "bank robbers".
Writing in his weekly Daily Telegraph column, Johnson claimed that it was "weird" and "bullying" to "expect women to cover their faces".
According to the anti-racism group, Tell MAMA, there was a "significant spike" in Islamophobic incidents following Johnson's incendiary Daily Telegraph column.
In a report released earlier this month, Tell MAMA said that it recorded a staggering 375 percent increase in anti-Muslim incidents from the week before Johnson's column in August 2018 to the week after.
https://www.presstv.com/Detail/2019/09/21/606739/UK-Conservative-party-Boris-Johnson-Islamophobia
--------
In San Diego, Muslims question rollout of city's 'smart' streetlights
September 20, 2019
Aysha Khan
(RNS) — When San Diego's city council voted to install 14,000 LED streetlights in 2016, the move was touted as a major step toward reducing the city's carbon footprint and transforming the city into a hub for innovation.
But since the vote, local civil rights activists and minority community leaders have raised questions about the potential for the smart streetlights — which are equipped with cameras, mics and sensors to collect data for city planning purposes and traffic control — to be used to invade San Diegans' privacy.
Now, a new analysis of the installed and planned streetlights by the Council on American-Islamic Relations has found that many of the city's mosques are under "direct surveillance" by the city.
"With the metadata that these lights track, they can look at everyone that enters, every car that enters and leaves those mosques," said Dustin Craun, executive director of CAIR-San Diego. "They can create data profiles about our populations, about who's at the mosque most frequently."
About 4,700 streetlights have been installed so far, many of them, activists noted, concentrated in minority communities such as City Heights, Logan Heights and San Ysidro.
CAIR and a handful of other local civil rights and community leaders, acting as the Anti-Surveillance Coalition, have called on government officials to stop the use of the streetlights until they allow public involvement in creating policy on future use of the lights. The group also wants the city to hand over public records detailing how the streetlights' data has been used already.
City officials disputed the idea that the streetlights can be used for surveillance purposes. Instead, they said, the lights are used to collect traffic data and help local law enforcement solve crimes by retroactively gathering relevant video footage.
"The City of San Diego welcomes community input on the smart streetlight program and recently completed a series of public forums in neighborhoods across the city to collect feedback," Nicole Darling, the city's senior public information officer, told Religion News Service. "Despite those efforts, there's still a lot of misinformation being spread about the program from people pushing their own personal agendas."
Officials said that the streetlight system cannot view private property and that they have not implemented facial recognition, license plate reading technology or the ability to pan, tilt or zoom.
The San Diego Police Department, the only city agency that can access the raw video collected by the streetlights, told media it has accessed sensors' footage around 160 times over the past 13 months. Any footage that is not downloaded is destroyed within five days.
A study published last month ranked San Diego as America's fifth most-surveilled city and the world's 42nd most, with close to 2.5 public surveillance cameras per every 1,000 residents. The city's use of police body camera footage and license plate readers has also received backlash from privacy advocates.
"When we look at communities of color, they are already saturated with surveillance and overpolicing," said Bishop Cornelius Bowser, pastor of the Charity Apostolic Church, at a press conference held Tuesday (Sept. 17) outside City Hall. "The intelligent street lighting program could lead to a police state in San Diego, paramilitary abusive power and vindictiveness," he said.
Bowser called the city lighting program a "Trojan horse" that could allow law enforcement to "spy on the black and brown people" in San Diego and could perpetuate racial profiling through predictive policing.
Some activists voiced concern that data could be sold to private companies and app developers as part of the growing industry that has been called "surveillance capitalism."
"This is a perfect example of how our government has colluded with corporations to take your data and to sell it and monetize it for their gain, without any input from the community and without any oversight," said Blair Overstreet, who heads the local chapter of Showing Up for Racial Justice, at the event outside City Hall.
But the greater worry for CAIR-San Diego's Craun is that the street light data can be shared with federal agencies that he alleges have targeted Muslims and other minorities in the U.S.
"With a Muslim ban already in place in this country, should we think that the federal government could potentially use this against all the communities (that face) this white supremacist war?" Craun asked. "Could they target specifically Muslim communities? Could they target Latino communities, black communities? Of course they could."
Without rules on how data-gathering technology can be used, he said, those agencies could exploit joint terrorism task-force agreements between local and federal law enforcement to monitor these sensors' real-time feeds.
Earlier this year, according to Wired magazine, the American Civil Liberties Union found that U.S. Immigration and Customs Enforcement agents were given access to license plate data collected by local law enforcement.
Craun and other Muslim activists also drew parallels between the streetlights and the Chinese government's use of surveillance to clamp down on the country's minority Uighur Muslims and suggested that allowing unfettered surveillance technology under the Trump administration could lead down a similar path.
"Technology like this developed by companies in the United States is being sold to China and used to police (Uighur) Muslim populations," Craun said. "With the Trump administration's targeting of Muslim communities, we cannot allow this technology to be in place, especially if the Trump administration were to stay in power and increase targeting of Muslim communities in his second term."
https://religionnews.com/2019/09/20/in-san-diego-muslims-question-rollout-of-the-citys-smart-streetlights/
--------
Car rams into mosque in eastern France
Nilay Kar
22.09.2019
PARIS
A car rammed into a mosque in the eastern French city of Colmar on late Saturday.
The vehicle crashed into the Grand Mosque of Colmar, damaging its gate and doorway, said the prefecture of Haut-Rhin.
The driver of the automobile was taken to a hospital with a stab wound to his neck.
It is unclear whether the incident was an attack or a suicide attempt.
An investigation was launched into the incident.
https://www.aa.com.tr/en/europe/car-rams-into-mosque-in-eastern-france/1590406
--------
Sarajevo: Al Jazeera Balkans documentary fest kicks off
Talha Öztürk
20.09.2019
BELGRADE, Serbia
The Al Jazeera Balkans Documentary Film Festival opened Friday in the Bosnian and Herzegovina's capital Sarajevo.
Many participants from the Balkans and Europe took part in the opening ceremony of the international festival, held this year for the second time.
The festival was inaugurated with the screening of the documentary "For Sama" by Syrian director Waad Al Kateab and the British director Edward Watts.
Invoking emotional moments among the audience, the documentary depicted one woman's experiences in the northwestern Syrian town of Aleppo throughout the country's uprising.
The international film festival will take place between Sept. 20-24 in Bosnia and Herzegovina's capital Sarajevo, with 23 documentary films set to be screened.
The festival was organized this year under the slogan "Change".
At the festival, which will host Palestinian director Rawan Damen this year, there will be three awards - the Main Award, the Program Award and the Audience Award.
For young talents, various workshops will also be held at the festival. The festival films will be screened at Cinema City in Sarajevo.
More than 400 documentary films from 21 different countries applied, with 12 to be selected for the competition section and 11 to be screened outside the competition section.
The festival was organized by Al Jazeera Balkans, in cooperation with Al Jazeera Media Network (AJMN) and Al Jazeera Media Institute.
Anadolu Agency is the festival's Global Communication Partner.
https://www.aa.com.tr/en/europe/sarajevo-al-jazeera-balkans-documentary-fest-kicks-off/1589785
--------
URL: https://www.newageislam.com/islamic-world-news/poisoning-stray-animals-prohibited-under/d/119803
New Age Islam, Islam Online, Islamic Website, African Muslim News, Arab World News, South Asia News, Indian Muslim News, World Muslim News, Women in Islam, Islamic Feminism, Arab Women, Women In Arab, Islamophobia in America, Muslim Women in West, Islam Women and Feminism