New Age Islam News Bureau
6 March 2018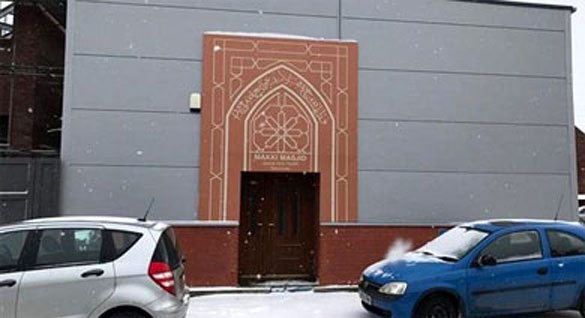 The Makki Masjid in Manchester is among several mosques which have welcomed the homeless in (Photo by Rabnawaz Akbar)
-----
• Plea in Supreme Court to Declare 'Nikah-Halala' Among Muslims Unconstitutional
• Pakistan SC Refuses Plea Seeking Imposition of Sharia Law in Country
• 'Islamic Teachings Advocate Tolerance and Peace': Dy PM UAE
• Turkish Daily Discloses Five-State Plan to Disintegrate Syria
• Canadian PM: Sharia Law Is Compatible With Democracy
• UK Mosques Give Shelter to Homeless amid Cold
India
• Plea in Supreme Court to Declare 'Nikah-Halala' Among Muslims Unconstitutional
• Yogi Adityanath Thanks Muslim Clerics for Shifting Namaz Timings during Holi
• NIA Finds Common Link between 2014 Burdwan, Recent Bodh Gaya Blasts
• Jammu and Kashmir: Jaish militant Mufti Waqas behind Sunjuwan Army camp attack killed
• Yasin Malik detained while trying to protest against alleged killing of civilians in Shopian firing
• Saudi gives Air India rights to fly over its territory for Israel routes: Netanyahu
• Why have ties between India and Maldives plummeted to an all-time low?
--------
Pakistan
• Pakistan SC Refuses Plea Seeking Imposition of Sharia Law in Country
• KP Hairdressers Ban Stylish Beards, Term It 'Un-Islamic'
• Senate Body Concerned about NADRA's 'Prejudiced' Behaviour against Pashtuns
• Govt has no right to privatise national institutions: JI
• Tehmina Janjua begins low-profile visit to normalise Pak-US ties: report
• FIA arrests Daesh social-media operative from Karachi
• Jamaat threatens to move SC for Fata reforms
--------
Arab World
• 'Islamic Teachings Advocate Tolerance and Peace': Dy PM UAE
• Turkish Daily Discloses Five-State Plan to Disintegrate Syria
• Dozens Killed In Single Day in Syrian Enclave of Eastern Ghouta
• 45 Killed In Bombardment Of Syria Enclave
• Turkish airstrikes leave 13 civilians dead in Syria's Afrin
• US fails to stop Ghouta-based militants from raiding Syrian army, civilians: Russia
• First UN aid convoy reaches Syria's militant-held Ghouta
• Coptic Church says Saudi crown prince 'disturbs roots of regional extremism'
• Saudi Arabia, Britain Must Promote Moderate Islam Together, Says Crown Prince
• Saudi Crown Prince Emphasizes Al-Azhar's Role in Defending Islam
• Aid convoy enters Syria enclave as regime presses onslaught
• Syrian Army Sends More Troops, Equipment to Eastern Ghouta
• Saudi Crown Prince and Sisi to open renovated Al Azhar mosque
--------
North America
• Canadian PM: Sharia Law Is Compatible With Democracy
• Pentagon Says Some SDF Forces Quit Anti-ISIS Operations to Fight Turks
• The Trump Administration Is Using Fake Terrorism Statistics to Scare You about Immigrants
• Is Isis Leader Bagdhadi Alive or Dead? New Video Shows Dead U.S. Soldiers, Honors Mysterious Leader
• Speakers talk Muslims in America at GHS
• President Trump, tell terror-supporting Qatar it can kiss our US air base goodbye
--------
Europe
• UK Mosques Give Shelter to Homeless amid Cold
• Extremist Teacher Plotted Terror Attacks on London Gay Bars
• French, Iran leaders discuss regime attacks in Syria
• Russia Says U.S. Wars for Democracy In Middle East And Europe Could Soon Come To Moscow
--------
South Asia
• Sri Lanka: Muslim Shops, Mosques Targeted By Buddhist Hardliners
• How the Stabbing Of Zafar Iqbal Is a Sign of Things to Come
• Sri Lanka Imposes Curfew in Kandy after Anti-Muslim Riots
• Students must know Bangladesh is a secular country: Prof Yasmeen
• Myanmar continues to expel Rohingya as it 'negotiates' to take them back
• 2 dead, dozens of shops burnt as blast targets oil tanker in Nangarhar
• Hekmatyar confirms no Al Qaeda link, suggests autonomy for Taliban
--------
Mideast
• Trump's Mideast Peace Plan in Limbo as Netanyahu Visits
• Trump 'May' Attend US Embassy Opening in Jerusalem
• Turkey detains 12 ISIS suspects, seeks eight others
• Yemeni official pledges to strengthen country's defense against militias
• Turkey asks Germany to detain, extradite Kurdish leader Saleh Muslim
• Turkey pledges to meet NATO's 2 percent defense spending guideline by 2024
--------
Southeast Asia
• Muslim Cyber Army Hoaxers Wanted to Discredit the Government: Police
• Tawfik Says Asked AG To Remind Speaker On Shariah Bill
• Philippines arrests suspected pro-Islamic State militant over siege
• Indonesia Tightens Security for Muslim Clerics
• Indonesia decides against home detention for ailing JI leader Abu Bakar Bashir: Report
--------
Africa
• Suspected Boko Haram Suicide Bomber Blows Himself Up In Nigeria; Kills Three, Injures 18
• The UAE Still Supports Al-Shabaab through Somalia's Illicit Charcoal Trade
• Boko Haram: Nigerian government set to free 95 'repentant' insurgents
• West African leaders plan strategy against extremist threat
• Islamic State video of Niger attack highlights vulnerability of U.S. troops
• West African leaders vow to fight jihadists after Burkina attacks
Compiled by New Age Islam News Bureau
URL: https://www.newageislam.com/islamic-world-news/plea-supreme-court-declare-nikah/d/114499
--------
Plea in Supreme Court to declare 'nikah-halala' among Muslims unconstitutional
Mar 5, 2018
NEW DELHI: Months after the Supreme Court struck down 'triple talaq', a petition filed in the apex court today sought that the practices of polygamy and 'nikah-halala' among Muslims be declared "unconstitutional" and violative of the fundamental rights of women.
Nikah-halala is a practice intended to curb incidence of divorce under which a man cannot remarry his former wife without her having to go through the process of marrying someone else, consummating it, getting divorced and observing a separation period called Iddat before coming back to him.
The fresh petition alleged that the practices of polygamy and 'nikah-halala' violate the basic fundamental rights of Muslim women granted under the Constitution.
"Practice of polygamy and nikah-halala is injurious to basic rights guaranteed under Articles 14 (equality before law), 15 (prohibition of discrimination on grounds of religion, race, caste, sex or place of birth), 21 (right to life and personal liberty) and public order, morality and health. Hence, can be superseded by the state just as it prohibited human sacrifice or the practice of 'Sati'," the petition filed by Delhi BJP leader and advocate Ashwini Kumar Upadhyay said.
The petition claimed that the ban on polygamy and 'nikah-halala' was the need of the hour to secure basic rights and was in the interest of public order, morality and health.
The harm caused to the women due to the practices of triple talaq, polygamy and 'nikah-halala' is violative of Articles 14, 15 and 21 of the Constitution and is injurious to public order, morality and health, the petition said.
"However, police does not lodge FIR under the sections of Indian Penal Code (IPC)," it said.
It further sought a declaration "that the provisions of the IPC are applicable on all Indian citizens and triple talaq is a cruelty under section 498A (husband or relative of husband of a woman subjecting her to cruelty) of the IPC, 'nikah-halala' is rape under section 375 (rape) of the IPC, and polygamy is an offence under section 494 (marrying again during lifetime of husband or wife) of the IPC."
In a landmark verdict, the Supreme Court had on August 22 last year banned the 1,400 year-old practice of instant 'triple talaq' among Sunni Muslims and set it aside on several grounds including that it was against the basic tenets of the Holy Quran and violated the Islamic law.
A five-judge Constitution bench, by a majority of 3:2, had said in a one line order, "In view of the different opinions recorded by a majority of 3:2, the practice of 'talaq-e-biddat' - triple talaq is set aside."
With the apex court setting aside the practice of triple talaq last year, Sunni Muslims, among whom triple talaq was prevalent, are now left with two other modes of securing divorce - 'talaq hasan' and 'talaq ahsan'.
Under 'talaq ahsan', a Muslim man can divorce his spouse by pronouncing 'talaq' once every month in three consecutive months and this would be signified by menstruation cycles.
As per 'talaq hasan', divorce can be given by pronouncing talaq "during successive tuhrs (menstruation cycle)" with no intercourse during any of the three tuhrs.
https://timesofindia.indiatimes.com/india/plea-in-supreme-court-to-declare-nikah-halala-among-muslims-unconstitutional/articleshow/63174933.cms
--------
Pakistan SC Refuses Plea Seeking Imposition of Sharia Law in Country
March 5, 2018
Islamabad: Pakistan's Supreme Court on Monday refused to entertain a petition filed by an infamous radical cleric to impose Sharia law in the country.
Maulana Abdul Aziz of Red Mosque, better known as Lal Masjid, had filed the petition in December 2015 under Article 184(3) of the Constitution through his counsel Tariq Asad.
The Registrar office of the Supreme Court had turned down the plea in February 2016 by declaring it as non-maintainable. The cleric had challenged the rejection.
An official of the court said that Chief Justice of Pakistan Mian Saqib Nisar heard the appeal in his chamber against the decision of Registrar.
"The chief justice sustained the objections by the Registrar office and rejected the appeal," the official said.
The petitioner maintained that Sharia provides solution for all ills confronted by Pakistan and asked the court to order the respondents to amend the Constitution to implement Islamic laws.
Aziz made president, the prime minister, the speaker of the national assembly, secretaries of law, justice and parliamentary affairs, governors and chief ministers of all four provinces and Council of Islamic Ideology (CII) as respondents.
The petitioner also said that the country was being "Indianised and westernised" through television channels and the "younger generation has been inspired into adopting modeling and acting, singing and dancing as careers."
Aziz made headlines when he tried to escape from the red mosque clad in a woman's burqa during 2007 military operation but was arrested. Several cases were filed against him but he was released on bail and also allowed to return to the mosque to continue preaching.
More than 100 people, including Aziz's younger brother Abdul Rashid Ghazi, were killed when commandos stormed the mosque after a week-long standoff in July 2007.
The red mosque had been a militant hub in the heart of Islamabad with links to Pakistani Taliban. indiaivideosmoviesivideosindiaivideos
https://www.news18.com/news/world/pakistan-sc-refuses-plea-seeking-imposition-of-sharia-law-in-country-1679705.html
--------
'Islamic Teachings Advocate Tolerance and Peace': Dy PM UAE
March 5, 2018
Abu Dhabi: Lt General Shaikh Saif Bin Zayed Al Nahyan, Deputy Prime Minister and Minister of Interior, on Monday opened the 2018 Tolerance Conference, which is being held under the theme of 'explore tolerance, moderation, and dialogue when confronting extremism'.
Organised by the Ministry of Interior, the conference is taking place at the Abu Dhabi National Exhibition Centre ahead of the International Exhibition for National Security and Resilience (ISNR 2018).
Shaikh Saif also launched the 'UAE, a Land of Tolerance' initiative by the ministry in cooperation with the National Archives in recognition of Shaikh Zayed Bin Sultan Al Nahyan's contributions to the UAE's development.
He also launched the social media campaign Alamani Zayed (Zayed taught me) to let people express their appreciation and love for the UAE's Founding Father on social media.
Delivering the keynote address at the opening ceremony, Shaikh Nahyan Bin Mubarak Al Nahyan, Minister of Tolerance, said Islamic teachings advocate tolerance and peaceful coexistence and that the UAE has followed them to be nation of peace and progress.
"Tolerance has enriched our long history and our identity. It has enhanced our self-confidence and pride about our civilisation, and our ability to interact with the rest of the world," he said.
Shaikh Nahyan said the UAE has been practising tolerance without compromising society's identity, beliefs and faith.
"UAE society has tackled violent extremism and fanaticism very effectively. A tolerant community will be successful community, achieving excellence in all aspects of life.
"As the world has become a small village [thanks to technological and communication advancements], most of the people share both common opportunities and risks. The conference is a venue to identify such opportunities and utilise them with creative thinking and proper strategies; and tackle the risks and threats collectively.
"As minister of tolerance, I have to focus on the risks such as extremism, violence and terrorism. Violence and terrorism affect peace and security in most part of the world. The terrorists build their philosophy based on economic, political and religious ideologies to justify their misdeeds. However, the world rejects violence, extremism and destructive thinking.
"This conference focuses on the means to get rid of terrorism and achieve progress and development. Tolerant communities will be happy communities. As the world population is very diverse and people have to live with that diversity, the UAE's successful experience of peaceful coexistence of more than 200 nationalities can be a model.
"As the UAE commemorates the Year of Zayed, it is an occasion to remember the great leader's [Shaikh Zayed] values. He advocated for peace and dialogue between communities and faiths, and shunned hatred and violence, Shaikh Nahyan said.
Injustice and culture of hatred cause extremism, expert says
Injustice and a culture of hatred cause extremism in the region, an expert said at the conference of tolerance, moderation and dialogue in countering extremism, organised by the Ministry of Interior (MoI) in Abu Dhabi.
"In some Arab countries dictatorship and injustice cause extremism [which has to be solved by the government]. But it is the responsibility of common people to tackle the culture of hatred," said Mohammad Habash, a Syrian Islamic scholar and writer, at the first session of the conference titled 'Investing in education to promote values of tolerance and dialogue concepts'.
Maqsoud Kruse , executive director of Hedayah, said different factors contribute to a person's transformation into extremism. Psychology, sociology, history, and all play a role…"It is a multidimensional phenomenon. Therefore, it is very important how we devise to tackle it and how we promote tolerance," he said.
Kruse said the innovative measures are needed to tackle extremism.
http://gulfnews.com/news/uae/society/islamic-teachings-advocate-tolerance-and-peace-1.2183175
--------
Turkish Daily Discloses Five-State Plan to Disintegrate Syria
Mar 05, 2018
The Turkish-language Star daily claimed on Monday that representatives of the US, Britain, France, Jordan and Saudi Arabia have had a secret meeting on Syria in Washington.
The paper argued that during the meeting the representatives of these countries planned to split Syria, adding that the US representatives pressured for forming an autonomous government in Eastern and Northern Syria.
The six-step plan according to Star includes:
1- Forming a "terror state" in Eastern and Northern Syria (alluding to Kurds).
2- Helping the "terror state" reach the Mediterranean Sea.
3- Getting United Nations involved in forming and recognizing the new nation.
4- Disregarding Astana and Sochi peace talks.
5- The US will find an office for the "terror state" at the UN.
6- Persuading Turkey to accept the new plan and end military operations in Northern Syria.
According to the paper, the regions where the "terror state" will be formed will include the oil-rich areas in Deir Ezzur in Northeastern Syria.
It also added that Pentagon has accelerated plans to disintegrate Syria after Turkey started its Operation Olive Branch against the Kurds in Northern Syria and is trying to link the regions controlled by the Syrian Kurds to the Mediterranean Sea.
The newspaper also cited an earlier report by a Lebanese paper which wrote in February that it has gained access to an email from the British embassy in the US which reveals Washington's 5-paragrapth plan to disintegrate Syria.
The Arabic-language al-Akhbar newspaper wrote that the US officials along with their western allies have decided to implement a detailed plan to disintegrate Syria and prolong the war in the country by continued deployment on the Eastern banks of the Euphrates.
In a somewhat familiar but precise English, Benjamin Norman - a diplomat in charge of the Middle East at the British Embassy in Washington - reports in a confidential diplomatic telegram of the first meeting of the "Small American Group on Syria" (United States, Great Britain, France, Saudi Arabia and Jordan), held in Washington on January 11, 2018.
In this five-page TD, he reveals the details of the "Western strategy" in Syria: partition of the country, sabotage of Sochi, framing of Turkey and instructions to the UN Special Representative Staffan de Mistura who leads the negotiations of Geneva. A Non Paper (8 pages) accompanies this TD in anticipation of the second meeting of the "Small Group". It was held in Paris on January 23, mainly devoted to the use of chemical weapons and the "instructions" sent by the "Small American Group" to Staffan de Mistura.
Hugh Cleary (Head of the Near and Middle East Department of the Foreign Office ), Jérôme Bonnafont (Director ANMO / North Africa and Middle East at the Quai d'Orsay), David Satterfield (US Assistant Secretary of State for the Middle East) and Jordanian Nawaf Tell and Saudi Jamal al-Aqeel attended the January 11 meeting in Washington. The American opened the meeting, stating that a second meeting would be held in Paris on January 23.
David Satterfield confirmed that President Trump has decided to maintain a large US military presence in Syria, despite the victory over the "Islamic State Organization" (Daesh); the cost of this maintenance being set at $ 4 billion annually. He said that this US military presence should prevent any resurgence of Daesh but, above all, to prevent the Iranians from what he called as settling permanently and imposing themselves in the search for a political solution". Thirdly, he insisted that the first meeting of the "Small Group" should also provide "material and political support for Staffan de Mistura to" consolidate the Geneva process ".
All the participants welcomed this development very positively in order to "make substantial progress in Syria during the year 2018" and "respond to the propaganda of a Russian victory". Then, the participants insisted on the "Russian desire to achieve a political solution" that was to be used to make the "Small Group" objectives "more operational".
The United States noted that they would no longer participate in the Astana meetings, having reduced "their participation to a very low level, to emphasize their commitment to Geneva"; in definitive terms, it was decided to "draw a conceptual line on Astana to return to Geneva". They then felt that so far "Geneva remained a failure, despite the efforts of Staffan de Mistura". They were very cautious about including the ceasefire in the Geneva talks: "the truth is that we just do not have the ability to prevent the regime from nibbling the pockets of the opposition. remaining in Idlib and East of Ghouta ".
TD reports great progress "made by the opposition over the last few months," pointing out that "it will still need to be more flexible to ensure that the Regime does not leave Geneva (...) while the Americans do not support the assumption of a transitional government as provided for in UN Security Council Resolution 2254 ".
The text adds that "it would still be useful for the opposition to stop agitating this assumption all the time ...". It was also agreed that "the opposition had to be more flexible and stop agitating the bogeyman of a transitional government without changing the final goal of partitioning Syria and leaving Bashar al-Assad.
The French representative - Jérôme Bonnafont - posed the problem of a possible participation of Bashar al-Assad in future elections. David Satterfield responded that "the goal was to create conditions and institutions that would allow elections that Assad could not win."
Satterfield added that "there is no flagrant reason" to prevent Assad from being a candidate. Under these conditions, it was mainly a question of testing Russia's intentions, especially so that it could "get the regime to discuss a new constitution, free elections under the control of the United Nations, and the creation of an environment likely to favor these two processes".
Unrestricted agreement of all members of the "Small Group" meeting to "no longer be satisfied with Lavrov's honeyed words, in order to put Moscow under pressure". For Satterfield, it is about getting the Russians to let Assad go, "through meetings of the Security Council and a broad public communication campaign," believing that the announced re-election of Vladimir Putin positively undermined the Russian position.
One of the conclusions of this first meeting of the "Small Group" is perfectly clear: "to reinvigorate Geneva so that Sochi becomes irrelevant"; France demanding more "transparency on the Russian position". But it is still not to oppose "frontally" in Sochi "with the advantage of gathering a significant share of the Syrian civil society", to bring back the "most positive contributions to Geneva, to renew and relaunch this format of Geneva.
The Saudis warned of a "risk of fragmentation of the different opposition groups and asked for help to maintain the cohesion of the opposition." Satterfield replied that their representatives should "be more involved in finding a political solution rather than enjoy great salaries and long stays in pleasant hotels." France supported this remark by emphasizing "communication". In this regard, the British TD makes the following comment: "Unfortunately, the Fifth French Republic is not intended to finance this effort," British representatives recalling "that the communication of the opposition was funded in the first place by ... the United Kingdom ".
David Satterfield then explained that the Turkish opposition to the "Kurdish People's Protection Units (YPG)" prevented the Kurds from participating in Geneva. While understanding Ankara's position, he stressed that "we could not ignore a group that controlled a third of Syria (SIC) and took the largest part in the fight against Daesh ".
He explained that "Americans were seeking to establish multi-ethnic leadership in northeastern Syria to dilute the hegemony of the YPG." On the other hand, it was necessary to impose the SDF (Syrian Democratic Forces, mainly Kurdish and under American control) in the process of Geneva.
Comment from the TD author: "I understand that the United States will appoint William (Bill) Roebuck, their former ambassador to Bahrain, as the SDF Special Representative. I will follow, but it is worth remembering - according to the separate discussions we had, for example with Fiona Hill - that relations between the United States and Turkey are already bad and unlikely to improve. As a result, Americans are not in the best position to do - solo - the big job with SDF and Ankara.
The objective is clearly defined: "to get Staffan de Mistura to accept in Geneva a tripartite structure incorporating the opposition, Assad and the SDF".
Moreover, the Deputy Secretary of State indicates that a "Non-Paper - Reviving the Syrian Political Track in Geneva - will be communicated to Staffan de Mistura before the meeting of January 23 in Paris," in order to put the Russians at the foot of the Wall ". This document includes: "a political road map, the elements of a constitutional reform, the UN election supervision structure and guidelines for the establishment of a peaceful environment".
For their part, the Jordanians called the session "Small Group" of "meeting publique most secret of all time." And the author of the TD concludes: "For the moment, we must keep a group consisting only of the United States, Great Britain, France, Saudi Arabia and Jordan. The next to be invited should be Egypt and Germany (for whom we have pleaded). Turkey should also join the group, but the discussion with it may be poisoned by the Kurds, which will make it more difficult to neutralize Astana. It is therefore not urgent to integrate these last three countries."
The concluding comments of this TD speak volumes about the future of Western strategy in Syria. The three key conclusions underscore "a real reaffirmation of US leadership behind the scenes ...". The second perspective is to "keep the pressure on Russia, even if Russia can not convince Moscow to let go of the regime as we had hoped." In this regard, "we must continue - what we are already doing - to denounce the horrible humanitarian situation as well as the Russian complicity in the campaign of bombing civilian targets." Finally, concludes the author of TD, "the Americans told me how much they appreciated our contribution and our support in recent months as they were finalizing their strategy."
This does not augur a forthcoming crisis in Syria in a context marked by four major developments of the most worrying. 1) The United States has decided to strengthen and diversify their nuclear posture. The Pentagon has announced that it will develop miniaturized tactical nuclear weapons "to adapt to new international threats". Iranian President Hassan Rohani responded: "How can anyone speak of world peace and at the same time announce that he is developing new nuclear weapons for his main enemies?"
2) NATO Defense Ministers agreed on 14 and 15 February in Brussels on the outline of a new overhaul of the Atlantic Alliance command structures. This "adaptation - the largest since the end of the Cold War", according to Secretary General Jens Stoltenberg, is proposed by the US military. It aims to make the Alliance more effective in a high-intensity crisis. Clearly, it is "better to deter and respond to new threats from certain states, first and foremost Russia."
3) In the aftermath of the destruction of an Israeli fighter in Syrian airspace, and while Israeli police demand the indictment of Prime Minister Benyamin Netanyahu for corruption, Tel-Aviv accuses Iran of establishing itself in Syria and threatens to multiply its military operations. This is not the first time that the Israeli prime minister - who refuses to resign - is using the resurgence of regional tension to consolidate his personal power and his alliance with the extreme right of the country.
4) Finally, Washington's military support for the Kurds in Syria continues to provoke the Ankara era. The crisis of confidence is consumed and the Turkish-American axis is on the brink of rupture. Second NATO contingent, the Turkish army had to accompany the conservative and anti-Western turn after the failed coup of July 2016. Mission has been given to a general with conservative and Islamist tendencies to restructure the derailed Turkish army by the purges. [Description: [IMG]]
Ultimately, the British TD perfectly reflects the Western strategy in Syria: to sabotage the Sochi peace efforts, to add two new wars to the Syrian crisis: that of the Turks against the Kurds and those of the Israelis against Iran and the Lebanese Hezbollah. "The Americans have never admitted their military defeat in Syria and do not want to let go and especially their main strategic objective," said a senior French diplomat, "that of a dismantling of Syria, the type of one who has been driven to Iraq and Libya. Their desire is to arm the Kurds to control the oil areas of eastern Syria in order to influence the political and economic reconstruction of the country. Peace is not for tomorrow.
http://en.farsnews.com/newstext.aspx?nn=13961214001261
--------
Canadian PM: Sharia law is compatible with democracy
05/02/18
The American Center for Democracy (ACD) quotes Imam Aasim Rashid of Vancouver, British Columbia, who spoke in October 2017 at Thompson Rivers University, explaining why the Canadian government wants to implement Sharia Law.
"I'll tell you who wants to bring Sharia Law," Thompson said then. "The Canadian government wants to bring Sharia Law and this is not a joke. Why? Because Sharia Law is simply the way Muslims are doing things."
"The Canadian government wanted the Muslims to be able to regulate their own issues....to solve their problems amongst themselves [according] to Sharia Law, so it is not a burden on the court system which is already so bogged down.
"The government told us – we would like you to have this system, and we would like to work on these initiatives with you."
Canadian Prime Minister Justin Trudeau told CBC in January 2016 that "Islam is not incompatible with Western secular democracy."
ACD, however, has challenged this assumption with various facts on Islam and Islamists:
For example, the Quran states that "Men are caretakers of women… As for women of whom you fear rebellion, convince them, and leave them apart in beds, and beat them (lightly without causing injury)…" (Quran 4:34)
In his book, Human Rights in Islam and Common Misconceptions, Abdul-Rahman al-Sheha writes that "the non-Muslim residents of an Islamic state are required to pay a minimal tax called 'Jizyah.'"
He also notes that "Allah set the penalty of cutting the hand as a penalty for theft," and says that "if the robber kills and seizes the money, the punishment may be killing and crucifixion. If he takes money and threatens but does not kill or assault, the punishment may be amputation of his hand and leg. If he kills the victim but does not take his money, he may be executed as in murder."
In a previous article, the ACD exposed a video on Muslim religious leaders' belief that LGBT individuals should be executed.
In that article, ACD's Dr. Rachel Ehrenfeld noted that "the Islamists make no secret of their views. They promote them in mosques, public lectures, articles and books often distributed free in bookstores and on city street corners."
Countering those opposed to Sharia Law recognition, the Canadian government's Standing Committee on Canadian Heritage completed a draft of its Motion M-103 report, which recognizes "the need to...condemn Islamophobia" and "take action" against "religious discrimination including Islamophobia."
According to the Ontario Human Rights Commission, Islamophobia includes "acts of intolerance and racial profiling" towards Muslims as well as "viewing Muslims as a greater security threat on an institutional, systemic and societal level."
https://www.israelnationalnews.com/News/News.aspx/241567
--------
UK mosques give shelter to homeless amid cold
Mar 5, 2018
Several mosques across the UK and Ireland have started to provide shelter and warm food for the homeless as a massive blizzard continues to batter the two countries.
Widespread snow and unprecedentedly cold temperatures following the arrival of the "Beast from the East" polar vortex and Storm Emma have so far claimed 60 lives in eastern Europe, most of them rough sleepers.
The UK Met Office issued a red alert for snow, the highest level of warning possible. The red alert has remained in place due to extremely icy weather.
"The temperature is pretty severe, so we thought, 'Why don't we do something to help?'" Rabnawaz Akbar, a trustee of Makki Masjid in the northern city of Manchester, said Sunday.
The Khizra Mosque in Cheetham Hill has also been providing various services to the vulnerable during the day.
Community volunteers have been staying at the mosques to attend to the city's homeless, giving them food and shelter and even shower facilities.
Oldham councilor Fida Hussain said the European Islamic Centre would keep open over the course of next seven days, or until the weather improves.
"People have been fantastic, doing all they can and coming together to help those in need," he said, noting that taxi drivers had offered to move the homeless to the mosques free of charge.
"Here in Oldham, volunteers have been going out into the cold around the town centre looking for homeless people and bringing them to the centre.
Similar steps have also been taken by mosques in Ireland to help with the homeless situation.
"We will have a security team on duty at night, and maintenance teams have been alerted to make sure there is sufficient heating in the building, especially late at night," said Summayah Kenna, head of community welfare at the Islamic Cultural Centre of Ireland.
Some other mosques have started to hand out sleeping bags to the rough sleepers.
Jamie, a homeless man sheltered at one of the mosques, said despite the negative coverage that they were receiving, UK mosques were doing a job that local authorities had failed to do.
"They made me feel very welcome, gave me something to eat, to drink. Something that the basic council can't even provide for us," he said.
The move comes amid increased hate attacks against Muslims and places of worship in the UK.
http://www.presstv.com/Detail/2018/03/05/554404/UK-blizzard-mosques-Muslims
--------
India
Yogi Adityanath thanks Muslim clerics for shifting namaz timings during Holi
Mar 5, 2018
GORAKHPUR: Uttar Pradesh Chief Minister Yogi Adityanath on Monday thanked Muslim clerics for shifting the timing of 'namaz' prayers in order to avoid any clash with Holi revellers.
"I want to thank the Muslim clerics for changing the time of 'Jumma Namaz' for Holi. Jummah (Friday noon prayer) comes 52 times in a year and Holi comes once. They (clerics) decided to reschedule the namaz after Holi. The festival went off peacefully," he said while addressing public meetings ahead of the Gorakhpur bypoll.
"People were apprehensive as Holi and Jummah were on the same day, but Hindu brothers celebrated Holi peacefully. Riots had taken place in earlier years when people used to come out of mosques after offering prayers and Hindus used to play Holi, but this time round everything went off peacefully," the chief minister said.
Attacking the previous Samajwadi party government for "honouring" people who instigated riots, Adityanath said, "During the previous government, especially on Holi, riots were common ...innocent people faced the brunt while the wrong-doers were honoured". Continuing his attack on the coming together of SP and BSP for the Gorakhpur and Phulpur Lok Sabha bypolls, he said "The BJP is on its way to ensure development. We will usher in investment worth crores of rupees in the state in one year".
"When they (BSP-SP) felt that chances of loot have become difficult, they shook hands...thieves became brothers (chor chor mausere bhai)," he said at a meeting in Ghaghsara.
Attacking the "politics of dynasty, caste and region", the priest-turned-politician said "We will provide jobs without any discrimination ...earlier people of only one area and culture used to get jobs."
"During the previous government, only one family moved on the path of prosperity and development and people of the state became poor. But BJP brought development for all and ended the era of family-based politics," he said.
The BJP leader also criticised the condition of roads during the Samajwadi Party government, but "now roads were getting better and would be widened by seven meters".
https://timesofindia.indiatimes.com/india/yogi-adityanath-thanks-muslim-clerics-for-shifting-namaz-timings-during-holi/articleshow/63174211.cms
--------
NIA finds common link between 2014 Burdwan, recent Bodh Gaya blasts
Bharti Jain
Mar 6, 2018
NEW DELHI: A common link has emerged between the 2014 Burdwan blast and the recent IED explosion in Bodh Gaya with the NIA's probe into the latter case pointing to two senior Jamaat-ul-Mujahideen Bangladesh (JMB) leaders and absconding accused in Burdwan case, Kausar and Salahuddin, as "main conspirators".
The probe into the IED explosion at Kalchakra Maidan, Bodh Gaya, on January 19, coinciding with the visit of the Dalai Lama, found that a group of six men radicalised at madrasas controlled by banned terror group JMB were tasked by Kausar and Salahuddin, both Bangladeshi nationals, to carry out blasts at the Buddhist site. The six, of whom three were recently arrested by Kolkata police, are said to have met Kausar and Salahuddin in a south Indian city.
Kausar and Salahuddin, as per the NIA chargesheet in the Burdwan blast case, were also part of the JMB conspiracy behind the August 2005 serial blasts in Bangladesh that saw 500 explosions across 300 locations.
Salahuddin had, in a recent interview to JMB's media wing, declared himself as the head of JMB's India operations.
The motive behind the IED strike in Bodh Gaya is still being confirmed, though agencies suspect that the blasts were meant to avenge alleged persecution of Rohingya Muslims in Buddhist-dominated Myanmar. An officer told TOI that while three men from the group tasked to carry out the explosions were under arrest, the other three suspects who planted the IEDs have been identified but not yet traced. The NIA, a source said, would seek custody of the three arrested, including Paigamber Shaikh and Jamirul Shaikh, who are lodged in Kolkata's Alipore Jail, for interrogation.
Full report at:
https://timesofindia.indiatimes.com/india/nia-finds-common-link-between-2014-burdwan-recent-bodh-gaya-blasts/articleshow/63179589.cms
--------
Jammu and Kashmir: Jaish militant Mufti Waqas behind Sunjuwan Army camp attack killed
March 6, 2018
The operational commander of Jaish-e-Mohammad (JeM), Mufti Waqas, was killed Monday in a joint operation of the Army, the Jammu and Kashmir police and the CRPF in the Awantipora area of South Kashmir. According to the Army, Waqas plotted the attack on the Sunjuwan camp in Jammu on February 11 in which six soldiers were killed.
The Army, in a statement, said that after "specific intelligence" that Waqas was in Hatwar, Awantipora, a "joint specific operation was launched and mastermind of the Sunjuwan terrorist attack and Lethpora terrorist attack, Jaish-e-Mohammed operational commander, category A++" was killed "in a surgical operation".
The Army spokesperson said Waqas was "alone in the area" and there were no civilian casualties during the operation. "This has resulted in a major dent to the designs of JeM. After the elimination of their earlier operational commander, Noor Mohammad Tantrey in the same area in December last year, his successor too has been killed," the Army said.
According to a J&K police statement, the search party in Hatwar was fired upon. "The fire was retaliated in which a militant was killed, who was later identified as Waqas alias Abu Arsalan, the chief operational commander of Jaish," it said. Police said they recovered one weapon and "war-like stores and other incriminating material" from his possession.
The killing of Waqas is seen as one of the biggest successes by security agencies against the outfit led by Maulana Masood Azhar. Sources in J&K police said Waqas was active in Kashmir for more than a year now and had emerged as the brains behind the JeM's attacks.
Waqas, police sources said, was active mostly in South Kashmir where he planned the deadly fidayeen attack on the Sunjuwan Military station on February 10 in which six soldiers were killed. Sources said the three fidayeens of JeM's Afzal Guru squad had come from South Kashmir to Jammu for the attack. According to police, Waqas was a member of the "inner circle of Jaish and very close to Masood Azhar".
A senior police officer told The Indian Express that "Waqas's importance in Jaish can be understood by the fact that Masood Azhar's nephew Talha Rashid operated under his command". Last November, Rashid and Mehmood Bhai of Jaish were killed in an encounter in Aglar village in Pulwama.
Sources say that a police team was working to "trap Waqas for more than six months" and "were waiting for him to travel to Awantipora area".
The police said Jaish has at least 20-22 militants active in the valley, among who 15 are active in South Kashmir. Waqas, police said, had moved across South Kashmir and had recently travelled to the Tral area. Police also believe Waqas was singularly responsible in ensuring JeM was at the centre of militancy in Kashmir despite having lesser numbers than Lashkar-e-Toiba (LeT) and Hizbul Mujahideen (HM). JeM has been responsible for all fidayeen attacks carried out for more than a year now.
Waqas, police sources said, was instrumental in organising fidayeen attacks at Lethpora (December 31, 2017), Pulwama (August 27, 2017) and the attack on 182 battalion of the Border Security Force (BSF) outside Srinagar airport (October 3, 2017).
A senior police officer said Waqas, a Pakistani national, had teamed up with Noor Trali – the 3-foot tall militant Noor Mohammad Tantray, who had spent more than a decade in jail before being released on parole. Jaish's revival in Kashmir took place after two of their groups infiltrated through Kupwara and another through Poonch in August last year.
The attack at Lethpora on new year's eve, police said, was particularly significant because the two fidayeens of JeM who carried out the pre-dawn strike on a CRPF training camp, killing five CRPF personnel were local. Police sources said Waqas was responsible for recruiting these local fidayeens – a new phenomenon that has worried security agencies.
Fardeen Ahmad Khanday, a class X student and son of a policeman from Tral had joined Jaish in May last year while Manzoor Ahmad Baba of Drabgam, Pulwama was a taxi driver before joining the militant outfit. Fardeen was the first Kashmiri youngster to be part of a suicide squad in seven years.
Full report at:
http://indianexpress.com/article/india/jk-jaish-militant-mufti-waqas-behind-sunjuwan-army-camp-attack-killed-5087386/
--------
Yasin Malik detained while trying to protest against alleged killing of civilians in Shopian firing
March 5, 2018
Police on Monday detained Jammu Kashmir Liberation Front chairman Yasin Malik after he tried to stage a protest against the alleged killing of civilians in Shopian firing. Malik, along with his supporters, reached Budshah bridge here and tried to march towards Lal Chowk, officials said.
They were stopped and taken into preventive custody, the officials were quoted as saying by PTI. Six persons, including two militants, were killed in Sunday night's shootout in Shopian's Pahnoo area.
While the Army has said the deceased were militants and their alleged overground workers, police said they are investigating the matter.
http://indianexpress.com/article/india/shopian-firing-yasin-malik-detained-5086976/
--------
Saudi gives Air India rights to fly over its territory for Israel routes: Netanyahu
Mar 06, 2018
Israeli Prime Minister Benjamin Netanyahu said on Monday that Saudi Arabia had granted Air India permission to fly over its territory on its new routes to and from Tel Aviv.
There was no immediate confirmation from either Saudi officials or Air India. Netanyahu made the announcement during a briefing in Washington to Israeli reporters after he had met US President Donald Trump.
Saudi Arabia does not recognise Israel and lifting the 70-year-old airspace ban would reflect what appears to be thawing ties between Israel and the kingdom, both US allies with a shared concern over Iranian influence in the region.
Last month, Air India announced the planned thrice-weekly flights to Tel Aviv over Saudi soil, but the General Authority of Civil Aviation in Riyadh said at the time it had not granted such permission to the carrier.
Full report at:
https://www.hindustantimes.com/india-news/saudi-gives-air-india-rights-to-fly-over-its-territory-for-israel-routes-netanyahu/story-vPuPnwPOEPw0oZtmxmSPAP.html
--------
Why have ties between India and Maldives plummeted to an all-time low?
Mar 06, 2018
In 1988, when a group of mercenaries attempted to take over the Maldives, the first country that President Maumoon Abdul Gayoom turned to was India. Within hours, India mounted Operation Cactus, which is still regarded as one of the most successful military interventions by New Delhi on foreign soil, and foiled the coup.
Fast forward nearly three decades, and the autocratic regime of President Abdulla Yameen has ignored repeated nudges and even a rare warning from India not to extend a state of emergency that he imposed after a showdown with the judiciary last month. Government ministers went a step further and said all outside powers, including India, shouldn't interfere in the honeymoon islands' internal matters.
What has led to ties between India and the key Indian Ocean archipelago plummeting to an all-time low? Commentators and Maldives watchers think one of the key reasons Yameen has ignored the world community's calls to roll back the emergency is because he strongly believes Beijing has his back, thanks to the burgeoning growth in ties and investments from China.
The latest trouble in the island nation began on February 1, when the Supreme Court quashed the conviction of former President Mohamed Nasheed and eight other opposition politicians on various charges, including terrorism. Yameen responded by imposing emergency and detaining Chief Justice Abdulla Saeed, another judge and several politicians, including Gayoom.
The three remaining judges of the Supreme Court overturned the ruling ordering the release of the nine politicians and Abdulla Yameen's regime rammed a 30-day extension of the state of emergency through the Majlis of Parliament on February 20 despite complaints from the opposition about a lack of quorum in the House.
India has been concerned about developments in the Maldives long before the current political crisis.
In February 2012, Nasheed, the Maldives' first democratically elected president, was forced to resign by rogue police and army officers in what he said amounted to a coup. Nasheed's ouster followed protests against his order to arrest a top judge.
A year later, Nasheed sought refuge in the Indian high commission for 11 days to avoid arrest in connection with a court case. Following his conviction on terror charges in 2015, Nasheed went into self-exile the following year when he was allowed to travel to the United Kingdom for medical treatment.
Yameen, the half-brother of Gayoom who came to power in late 2013, has cracked down on the opposition and free speech while taking steps to tighten his grip on power. Among these measures was a gradual tilt towards China, which too, was keen to expand its strategic footprint in the Indian Ocean with its "string of pearls" policy.
Just six years after Beijing opened its embassy in Male in November 2011, Yameen signed the Maldives' first bilateral free trade agreement with China after the Parliament ratified the pact during an "emergency" session that was attended by only 30 members of the 85-strong Majlis. The opposition Maldivian Democratic Party said it was "deeply concerned" over the rushed free trade agreement with China, "without any disclosure of details to the public or to the MPs".
China had already secured the Maldives' backing for its Maritime Silk Route, which aims to connect the Chinese coast with Europe via the South China Sea and the Indian Ocean, during President Xi Jinping's visit to Male in the year 2014.
Beijing has also poured in millions of dollars for big ticket projects, including a bridge linking the capital and the main airport, called the "China-Maldives friendship bridge". Yameen responded by amending the Constitution in 2015 to allow foreign ownership of land in projects with investments of more than $1 billion for which 70 per cent of the land is reclaimed from the ocean.
The expansion of China's role has also coincided with India's GMR Infrastructure being unceremoniously thrown out of a project to develop the Male international airport in 2012. Former president Mohamed Nasheed's government signed the contract with GMR in 2011 but the deal was terminated by his successor Mohamed Waheed Hassan. At the time, the $511 million concession agreement represented the largest foreign direct investment in the Maldives' history.
Nasheed has accused China of being involved in a "land grab" while exposing the Maldives to a debt trap through its loans for mega projects.
Elizabeth O Colton, a retired US Foreign Service officer whose PhD research at the London School of Economics was on the Maldives' political system, said, "President Yameen, like his predecessors, has made decisions such as extending the emergency based on internal calculations – he wanted more time to show he's in charge, to keep detainees imprisoned, and to wait till the 'street noise' dies and the crowds dissipate. Yameen may have hoped for Chinese support, but part of that support, he would know, depends on his debt to China."
Colton, who was also the first foreign correspondent based in the Maldives, added, "In the late 1970s, the superpowers in the Indian Ocean were the USSR and the US. Both China and India were watching and openly concerned about any moves in or around the Maldives.
"Now, though, China has certainly been developing ties and relationships throughout South Asia and the Indian Ocean region over the past decade, India has shown little sign of countering such Chinese inroads. India has been building internally and on the other hand, China has been expanding externally in terms of influence and funding throughout the region."
In response to questions on the impact of the emergency on India-Maldives ties and New Delhi's concerns about the Chinese presence in the island nation, a spokesperson for the President's Office said: "There's continuous engagement between the two countries as always.
"Representatives from both countries exchange views and are engaged in discussions. Diplomatic engagement between the nations remains strong."
There are other reasons for the foreign policy mandarins in New Delhi to be concerned.The Maldives is located just 700 km from the strategic Lakshadweep island chain and 1,200 km from the Indian mainland, and the growing Chinese presence in the archipelago could have serious security implications.
A Maldives affected by political chaos and uncertainty could prove a fertile breeding ground for extremism and religious fundamentalism, smuggling and drug trafficking.
Opposition Maldivian leaders have said that some 200 people have gone to Syria and Iraq to fight with the Islamic State and the Lashkar-e-Taiba, through its front organisation Idara Khidmat-eKhalq, is believed to have established a foothold in southern Maldives under the garb of the post-2004 tsunami relief operations.
Despite the strong measures adopted by Yameen, the united opposition is fighting back and the political uncertainty is unlikely to be resolved soon.
Full report at:
https://www.hindustantimes.com/india-news/why-have-ties-between-india-and-maldives-plummeted-to-an-all-time-low/story-E5PW05nLx1aghfoMwuS3DM.html
--------
Pakistan
KP Hairdressers Ban Stylish Beards, Term It 'Un-Islamic'
BY SHAMIM SHAHID
March 6, 2018
PESHAWAR: The Khyber Pakhtunkhwa (KP) Hairdressers Association on Monday announced a ban on making stylish beards, terming it un-Islamic.
"We made the decision after consulting religious scholars," remarked KP Hairdressers Association President Muhammad Sharif Kahlun during a press conference. He said that religious scholars stated that since beard in Islam is Sunnah, no one is allowed to make jokes about it.
On these grounds, the hairdressers after a detailed discussion decided to ban stylish beards. Sharif Kahlun told the media, "99 per cent barbers in KP will follow the decision."
In response to a question, he ruled out the impression that there were any threats or pressure on them.
In a number of KP districts, the civil administration has already imposed a ban on making fashionable or up-to-date beards. Even the district administrations in Swabi, Buner, Lower Dir, Swat and Mardan had formally issued notifications in this respect.
However, there hasn't been any decision declared by the KP government in this connection.
Criticism on prim and proper beards first started after the murder of a student, Mashal Khan from Abdul Wali Khan University in April 2017 and later on, after the murder of Naqeeb Ullah Mehsud in a fake police encounter in Karachi on January 13 this year. https://www.pakistantoday.com.pk/2018/03/05/kp-hairdressers-ban-stylish-beards-term-it-un-islamic/
--------
Senate Body Concerned about NADRA's 'Prejudiced' Behaviour against Pashtuns
March 6, 2018
ISLAMABAD: Senate Standing Committee on Interior Chairman, Senator A Rehman Malik in a committee meeting on Monday took notice of the matter wherein NADRA instructed its staff in a written order to 'send Pashto speaking towards the help desk for a proper interview'.
The meeting was held under the chairmanship of Senator A Rehman Malik here at the Parliament House and was attended by Senator Javed Abbasi, Senator Shahi Syed, Senator Dr Jehanzeb Jamaldini and Senator Seher Kamran, Interior secretary, Islamabad inspector general (IG), Islamabad security DIG and officials from the law ministry.
Senator Shahi Syed took up the issue of NADRA's issuance of instructions to its staff in which they are directed to send Pashto speaking people towards the help desk for a proper interview before issuing a token.
Terming it highly condemnable and derogatory, the Senator Malik directed the interior secretary to investigate into the matter, reverse the instructions immediately and further directed NADRA's chairman to appear before the committee and explain why such instructions were being passed in the first place.
He said that we all are equal, respectable citizens of the state of Pakistan and no discrimination based on language, colour, creed, cast or any other factor would be tolerated.
Senator Shahi Syed expressed grave concerns over the issuance of such instructions and said that the move has hurt the feelings of Pashtun people.
Senator Malik stated that applicant can be from any province so there is no logic in mentioning 'Pashtuns" in particular.
The committee also considered and discussed different bills in detail, however, 'The Criminal Laws (Amendment) Rights Protection of Transgender Persons Bill 2017' moved by Senator Rubina Khalid was withdrawn by the mover and was disposed of.
The committee also considered 'The Islamabad Capital Territory (Prohibition of Interest on Private Loans) Bill, 2017' moved by Senator Sirajul Haq.
With the consent of the mover, the bill was referred to the Council of Islamic Ideology (CII); the Bill was deferred and forwarded for the next session considering its importance.
The Balochistan Frontier Corps (FC) submitted a detailed report on FC's Gharang Check Post due to which long queues of vehicles are a daily routine problem causing great discomfort to the people of the area.
Full report at:
https://www.pakistantoday.com.pk/2018/03/05/senate-body-concerned-about-nadras-prejudiced-behavior-with-pashtoons/
--------
Govt has no right to privatise national institutions: JI
March 6, 2018
LAHORE: Jamaate Islami Secretary General Liaqat Baloch on Monday said that the Pakistan Muslim League-Nawaz (PML-N) led government had "no right to privatise major national institutions including the Pakistan International Airlines, the Karachi Steel Mill beside the Sui Gas Company while bypassing the Council of Common Interests (CCI) and the parliament.
Addressing a press conference, he called upon the government to stop the privatisation of leading national institutions on "throwaway prices", only to "benefit its favourites."
He said the JI would take up the matter in the National Assembly and if needs be, before the Supreme Court. He said the government was opening the floodgates of corruption through such an imprudent move.
JI Information Secretary Amirul Azeem was also present on the occasion.
Baloch said the Sui Northern and the Sui Southern companies were earning a profit of around fifteen billion rupees per annum. He said the government was planning to divide the companies into sub companies and the profitable part of the company was being privatised.
He also said the government's decision would affect more than seven million consumers and render thousands of employees jobless.
Stating that the government had also announced the import of NLG and gas from TAPI, he added that there was no progress on the agreement for gas import from Iran due to the pressure from the United States.
The JI secretary general said that an international organisation KPNG, in its reports, had warned the government that further division of the gas companies would affect the supply system and cause huge losses during the next few years.
Full report at:
https://www.pakistantoday.com.pk/2018/03/06/govt-has-no-right-to-privatise-national-institutions-ji/
--------
Tehmina Janjua begins low-profile visit to normalise Pak-US ties: report
March 6, 2018
ISLAMABAD: Foreign Secretary Tehmina Janjua begins a crucial visit to the United States on Wednesday as part of the latest push by the two sides in attempts to rescue their uncertain alliance. However, the visit appears to be kept low profile since the foreign office did not issue any statement on it, according to a report by a private media outlet.
The foreign secretary's week-long stay in Washington is scheduled to hold talks with senior White House and State Department officials. According to official sources, discussions would focus on the current conundrum in bilateral ties and how the two sides could come to a decisive ground on Afghan saga.
The foreign secretary will brief the Trump administration about the steps Pakistan had taken in the war against terrorism. She will also raise Pakistan's concerns, which includes presence of anti-Pakistan elements in Afghanistan and growing footprints of Indian secret agencies with the US government.
The US has adopted a tough policy towards Pakistan since Trump took over the White House. The Trump administration continues to build pressure on Pakistan to do more in the war against terror.
The Oval office recently indicated that it does not wish to abandon ties with Islamabad despite America suspending security assistance and moving the Financial Action Task Force (FATF) against Pakistan.
Full report at:
https://www.pakistantoday.com.pk/2018/03/06/tehmina-janjua-begins-low-profile-visit-to-normalise-pak-us-ties-report/
--------
FIA arrests Daesh social-media operative from Karachi
March 6, 2018
KARACHI: Federal Investigation Authority (FIA) has nabbed social-media operative of the global terrorist organisation, Daesh, from Karachi on Tuesday.
The FIA officials told media that Imran, also known as Saif-ul-Islam Khilafati, was operating the social media of terrorist organisation from Karachi to target and brainwash youth, active on social media.
A Daesh flag, a laptop, internet devices and mobile phones were recovered during the raid. One of Imran's accomplices has already been arrested, the officials said.
The suspect who was operating over fifty social media pages to lure youth for terrorism will be presented before the court on Tuesday.
FOUR SUSPECTED TERRORISTS KILLED
Meanwhile, Counter Terrorism Department (CTD) killed four suspected terrorists in Chaman, Balochistan in the early hours of Tuesday.
Full report at:
https://www.pakistantoday.com.pk/2018/03/06/fia-arrests-daesh-social-media-operative-from-karachi/
--------
Jamaat threatens to move SC for Fata reforms
March 06, 2018
PESHAWAR: The Jamaat-i-Islami's Fata chapter has warned it will move the Supreme Court if the Senate further delays the passage of a bill on Fata reforms.
JI Fata chief Sardar Khan told reporters at the Peshawar Press Club that the delay in the Fata's merger with Khyber Pakhtunkhwa would further increase the sense of deprivation among the people of tribal areas.
He condemned the 'use of money' in the recent Senate elections and demanded the cancellation of the exercise held for the election of Fata Senators.
Mr Sardar said those who purchased votes would serve own interests and recover the money they spent on their election during their stint as parliamentarians.
He called for bringing the changes in procedure of Senate elections to end the horse-trading.
The JI leader said tribesmen had been denied all fundamental rights due to the imposition of the Frontier Crimes Regulation as no health, education and clean drinking water facilities were available to the people of Fata.
Accompanied by JI Fata general secretary Mohammad Rafiq Afridi, deputy secretary general Mohammad Hassan Shinwari and tribal youth leader Farmanullah, Mr Sardar said the roads had been destroyed in different Fata areas during the prolonged period of militancy but the federal government had yet not taken concrete steps for their repairs or reconstruction.
He urged the government not to further delay the approval of Fata reforms bill in the Senate and ensure the early merger of Fata with Khyber Pakhtunkhwa to mitigate the sufferings of tribal people.
The JI leader said another bill regarding extension of jurisdictions of the Peshawar High Court to Fata had been pending the Senate's approval since its approval by the federal cabinet and the National Assembly.
He demanded that the Senate approve the bill to provide Fata people with access to the court of law.
Mr Sardar said the Pakistan People's Party was trying to take the credit for Fata reforms and therefore, it should make efforts for the early passage of the bill on the matter in the Senate.
He demanded that the Fata people be given representation in the Khyber Pakhtunkhwa Assembly in the upcoming general elections to help them effectively raise voice for their rights.
The JI leader asked the government to announce an education emergency in tribal regions and run schools in rented buildings until the reconstruction of the buildings in ruin.
He also called for a comprehensive package of Rs1000 billion for Fata rehabilitation and reconstruction and said the government should fulfil its prime responsibility of providing the people with clean drinking water and other basic amenities.
Full report at:
https://www.dawn.com/news/1393489/jamaat-threatens-to-move-sc-for-fata-reforms
--------
Arab World
Dozens killed in single day in Syrian enclave of eastern Ghouta
5 Mar 2018
At least 77 people have been killed in the besieged Syrian enclave of eastern Ghouta on Monday – the deadliest day for civilians there since and Russia's president ordered a daily five-hour truce in the area.
A further 12 people were killed on Sunday but their bodies were only recovered on Monday, doctors said.
The intense violence continued despite the arrival of a humanitarian convoy in the enclave, two weeks into a renewed regime offensive that has killed more than 700 civilians.
The convoy of 46 trucks – a joint effort by the International Committee for the Red Cross (ICRC), the Syrian Arab Red Crescent and the United Nations – was allowed to deliver food for about 27,000 of the 400,000 people trapped in the enclave.
It was the first aid delivery to the reach eastern Ghouta in weeks, but humanitarian officials said the Syrian military had refused to allow it to bring in critically needed medical supplies.
Ongoing shelling in the area forced the convoy to leave before all the food aid was unloaded.
Pawel Krzysiek, the head of communications for the ICRC in Syria said the situation for civilians trapped inside eastern Ghouta was "very precarious."
Krzysiek told the Guardian that thousands of civilians had been sheltering in freezing basements for more than two weeks, without water or proper sanitation.
"It took more than 15 days for their children to see the sunlight. There is no possibility to really go outside because the shelling gets so intense," he said.
"They also fear to eat in front of other people because pretty much everyone there is hungry. So they are very often forced to go back to their places that are more exposed to eat their food – and unfortunately many of them get caught up in the airstrikes when the planes come or the shelling starts."
"The people are tired and angry, desperate, exhausted, hopeless. They want it to stop. They want to be able to live with dignity, eat normal food, not spend their days in the basement," he said.
A desperate shortage of supplies meant that the wounded have been dying from treatable injuries and illnesses, aid organisations said.
World Health Organisation official Tarik Jašarević told the Guardian that Syrian authorities who inspected the convoy refused to allow in supplies of trauma, surgical and dialysis equipment.
"WHO has long spoken out against the removal or rejection of lifesaving treatments and medical items from aid convoys by national authorities. The health supplies provided by WHO in these convoys are selected after extensive consultations with health partners working in these areas and are desperately needed to save lives and reduce suffering."
Doctors on the ground said 712 people had been killed and more than 5,600 wounded since 19 February.
The airstrikes and artillery bombardment have been coupled with a ground offensive by the regime of Bashar al-Assad and his allied Shia militias, whose advances are aimed at splitting eastern Ghouta in half and cutting off rebel fighters.
The World Food Programme's country director in Syria said aid efforts were still paralysed in many places.
"A humanitarian crisis is unfolding in eastern Ghouta where raging violence has paralysed our response and our ability to reach families who desperately need help," said Jakob Kern.
He said he hoped a second convoy could reach eastern Ghouta on Thursday with food rations for some extra 70,000 people.
"The longer eastern Ghouta is deprived of the necessities of life, the more people will die. We appeal to all parties to allow the ongoing and safe delivery of aid to all people in need, no matter where they are."
Some of the heaviest fighting on Sunday was concentrated in the area of Beit Sawa, on the eastern edge of the densely populated centre of eastern Ghouta, where civilians fled clashes between regime forces and , one of three main rebel groups.
At a press conference on Sunday evening, Assad vowed to continue what he described as a battle against terrorism in the enclave.
Monday's roll call of the dead included one doctor. Denying access to medical aid and targeting hospitals in eastern Ghouta has been condemned as a deliberate policy of the Assad regime.
Abdulkarim Ekzayez, a senior fellow at the Centre on Global Health Security, wrote on the Chatham House website last month that targeting healthcare facilities had been used in the past as a tactic to force the displacement of civilians.
https://www.theguardian.com/world/2018/mar/05/aid-convoy-enters-besieged-syrian-enclave-eastern-ghouta
--------
45 killed in bombardment of Syria enclave
5 March 2018
Syrian regime bombardment on the rebel-held enclave of Eastern Ghouta killed at least 45 civilians on Monday, the Syrian Observatory for Human Rights said.
The Britain-based war monitor said at least 19 of the victims were killed in the town of Hammuriyeh, where regime aircraft used crude improvised munitions known as "barrels bombs".
The Observatory warned that toll could rise further as bodies were still being retrieved from the rubble.
Fresh air raids by the Syrian regime on the besieged rebel-held enclave of Eastern Ghouta reported earlier that 14 civilians were killed overnight, a monitor said Monday.
The Syrian Observatory for Human Rights said barrel bombs -- crude, improvised munitions that cause indiscriminate damage -- were used, including on the town of Hammuriyeh, where 10 people were killed.
The latest deaths brought to 709 the number of civilians killed since regime and allied Russian forces intensified their campaign against Eastern Ghouta in February.
According to Rami Abdel Rahman, the head of the Britain-based Observatory, at least 166 of them were children.
The deadly raids, as well as other strikes and rocket fire elsewhere in Eastern Ghouta Monday, came as the battered enclave awaited a convoy of humanitarian aid from the United Nations.
The Syrian army and its allies have captured more than a third of the rebel enclave in eastern Ghouta near Damascus since starting a ground offensive there a week ago, according to the Syrian Observatory for Human Rights.
Syrian government removes medical aid items from Ghouta convoy
Syrian government officials removed trauma kits and surgical supplies from trucks that are part of an inter-agency convoy heading into the besieged Syrian enclave of eastern Ghouta, a World Health Organization (WHO) official told Reuters on Monday.
"All trauma (kits), surgical, dialysis sessions and insulin were rejected by security," a WHO official said by email, adding that some 70 percent of the supplies loaded on its trucks leaving its warehouses had been removed during the inspection.
The United Nations said on Sunday that it had received approval for the convoy to the government-besieged area of 400,000 near Damascus, which only one small convoy reached in mid-February.
The Russian military said on Monday that Syrian militants had promised to let civilians leave their eastern Ghouta enclave near Damascus in exchange for humanitarian aid, Interfax news agency reported.
Full report at:
https://english.alarabiya.net/en/News/middle-east/2018/03/05/Fresh-air-raids-on-Syria-s-Ghouta-kill-14.html
--------
Turkish airstrikes leave 13 civilians dead in Syria's Afrin
Mar 5, 2018
Turkish airstrikes have claimed the lives of more than a dozen civilians in Syria's northwestern region of Afrin as Ankara is continuing its cross-border military operation against the purported positions of US-backed militants from the Kurdish People's Protection Units (YPG) there.
The so-called Syrian Observatory for Human Rights that 13 civilians, including two children and three women, lost their lives on Monday when Turkish military aircraft bombarded Jindires town, located 20.9 kilometers southwest of Afrin.
The Britain-based monitor added the air raids also left scores of people injured, noting that the death toll is expected to rise as some of the wounded victims are in critical condition.
The Observatory further noted that a total of 165 civilians, including 29 children and 24 women, have been killed ever since the Turkish military launched an offensive in northwestern Syria on January 20.
Meanwhile, the Turkish military said in a statement that at least 2,777 YPG militants have been "neutralized" since the beginning of Operation Olive Branch in Syria.
Turkish authorities often use the word "neutralized" to imply the terrorists in question either surrendered or were killed or captured.
Turkish Deputy Prime Minister Bekir Bozdag also said Turkish forces are now in control of half of Afrin region.
Speaking after a cabinet meeting in Ankara, Bozdag said 702 square kilometers of the total 1,920 are now under the Turkish military's control.
"In Operation Olive Branch, 112 villages, 30 critical positions and a total of 142 spots have been captured so far," the senior Turkish official pointed out.
Ankara views the YPG as the Syrian branch of the Kurdistan Workers' Party (PKK) militant group that has been fighting for an autonomous region inside Turkey since 1984.
Erdogan has repeatedly said that Afrin should be cleared of "terrorists," and demanded the deployment of Turkish troops there during a speech back in November 2016.
This is while US officials regard the YPG as the most effective fighting force against the Daesh Takfiri terrorist group in northern Syria, and have substantially increased their weaponry and technology support to the group.
The controversy over a possible Syria border force first started on January 14 when a report emerged on Reuters saying that the military coalition led by the United States in Syria was planning to set up a large border force of up to 30,000 personnel with the aid of its militia allies.
The Syrian government has already condemned the Turkish offensive against Afrin, rejecting Ankara's claim about having informed Damascus of the operation.
Damascus "strongly condemns the brutal Turkish aggression on Afrin, which is an inseparable part of Syrian territory," Syria's official news agency SANA cited a Syrian Foreign Ministry source as saying on January 20.
Full report at:
http://www.presstv.com/Detail/2018/03/05/554468/Turkish-airstrikes-leave-13-civilians-dead-in-Syrias-Afrin
--------
US fails to stop Ghouta-based militants from raiding Syrian army, civilians: Russia
Mar 5, 2018
The Russian military says Washington is flouting a UN resolution on Syria by failing to prevent the militants it controls from launching daily raids on the Syrian army troops in Eastern Ghouta and shelling the capital Damascus.
The Ministry of Defense of the Russian Federation remarks on Monday came apparently in response to a US allegation made a day earlier that Russian warplanes purportedly had flown bombing missions over the militant-held enclave in defiance of a UN ceasefire.
"Washington does nothing to tame militants under its control in Eastern Ghouta," the ministry further said in a statement, adding that Washington's incompetence in controlling the Ghouta-based militants has led to the killing of civilians in the flashpoint region.
The ministry also strongly rejected the US accusation that Moscow was ignoring the UN resolution on a ceasefire in the Arab country.
Earlier in the day, the first UN aid convoy, made up of 46 truckloads of health, food and nutrition supplies, began to cross into Eastern Ghouta, bringing the much-needed relief to the flashpoint enclave as the government troops secured a humanitarian corridor for trapped civilians to leave the militant-held area near the capital city of Damascus.
Eastern Ghouta, a besieged area on the outskirts of Damascus, which is home to some 400,000 people, has witnessed deadly violence over the past few weeks, with Takfiri terrorists launching mortar attacks on the Syrian capital in the face of an imminent humiliating defeat, killing around 20 civilians in two weeks.
The Syrian army is making steady advances in the enclave, but it is facing a hostile West which is threatening airstrikes to stop the push. President Bashar al-Assad vowed on Sunday that Syrian forces would continue the latest campaign until the whole area is retaken.
Full report at:
http://www.presstv.com/Detail/2018/03/05/554465/Russia-Syria-Eastern-Ghouta-US-militants-UN
--------
First UN aid convoy reaches Syria's militant-held Ghouta
Mar 5, 2018
The first UN aid convoy began to cross into Syria's Eastern Ghouta, carrying desperately needed items to the flashpoint enclave as government troops secured a humanitarian corridor for trapped civilians to leave the militant-held area near the capital city of Damascus.
According to the UN Office for The Coordination of Humanitarian Affairs (OCHA), 46 truckloads of health, food and nutrition supplies entered Eastern Ghouta and were headed for the main town of Douma on Monday.
It would take "many hours" to offload the aid in the enclave and it might be "well after nightfall" before it could leave the volatile area of 400,000 people, said Ali al-Za'tari, a senior UN official with the convoy.
He added that the international convoy's aid had been scaled back from providing food for 70,000 people to providing for 27,500. According to the UN, Damascus has agreed to let the world body bring the rest of the food for the full 70,000 in a second convoy in the course of three days.
"The convoy is not sufficient," Za'tari further noted.
Earlier in the day, the Russian military, which helps Damascus to curb the foreign-backed militancy in the Arab country, said the militants had agreed to let civilians leave Eastern Ghouta in exchange for humanitarian aid. The announcement came a day after Russia said militants had imposed a curfew during humanitarian pauses to prevent civilians from leaving the enclave.
Russia has designated four safe passage routes in Eastern Ghouta after a ceasefire was declared across Syria by the UN Security Council.
Eastern Ghouta, a besieged area on the outskirts of Damascus, has witnessed deadly violence over the past few weeks, with Takfiri terrorist outfits, one of which is made up of militants from al-Qaeda's ex-affiliate, have been launching mortar attacks on the Syrian capital in the face of an imminent humiliating defeat, killing around 20 civilians in two weeks.
The Syrian army is making steady advances in the enclave, but it is facing a hostile West which is threatening airstrikes to stop the push. President Bashar al-Assad vowed on Sunday that Syrian forces would continue the latest campaign until the whole area is retaken.
Full report at:
http://www.presstv.com/Detail/2018/03/05/554448/Syria-Eastern-Ghouta-UN-aid-convoy-Douma-Assad
--------
Coptic Church says Saudi crown prince 'disturbs roots of regional extremism'
6 March 2018
Paul Halim, the Coptic Church's spokesman in Egypt, said on Monday that Saudi Crown Prince Mohammed bin Salman disturbs the roots of extremism in the region.
In an interview with the program Panorama that airs on Al Arabiya television channel, Halim said the crown prince's visit to Saint Mark's Cathedral had a huge impact on the Egyptian and Arab public as it sends a very significant message that supports moderation and rejects extremism.
He added that the visit conveyed a message of cooperation, partnership and kindness.
"The openness which Saudi Arabia is leading has influenced the Egyptian street. Mohammed bin Salman's visit to Egypt is historical given its significances," Paul said.
Full report at:
https://english.alarabiya.net/en/News/gulf/2018/03/06/Coptic-Church-says-Saudi-crown-prince-disturbs-roots-of-regional-extremism-.html
--------
Saudi Arabia, Britain must promote moderate Islam together, says crown prince
6 March 2018
Saudi Crown Prince Mohammed Bin Salman said he believes that Britain and Saudi Arabia would be much safer if their relationship was stronger and they worked to promote moderate Islam together.
In an exclusive interview with The Telegraph published on Tuesday, the crown prince said the historic relationship between both countries is linked by common defense and business interests.
"The relationship between Saudi Arabia and Britain is historic and goes back to the foundation of the Kingdom," he said. "We have a common interest that goes back to the earliest days of the relationship. Our relationship with Britain today is super."
He added: "The British and Saudi people, along with the rest of the world, will be much safer if you have a strong relationship with Saudi Arabia.
"The extremists and the terrorists are linked through spreading their agenda," he said. "We need to work together to promote moderate Islam."
Britain and Saudi Arabia's Vision 2030
Speaking ahead of his three-day visit to Britain this week, Prince Mohammed spoke of business opportunities between both states.
During the visit, Prince Mohammed is set to meet Prime Minister Theresa May and other senior ministers, as well as meeting members of the British royal family, The Telegraph reports.
"We believe that Saudi Arabia needs to be part of the global economy," he explained. "People need to be able to move freely, and we need to apply the same standards as the rest of the world.
"After Brexit there will be huge opportunities for Britain as a result of Vision 2030," he said, in reference to a national plan in which Saudi Arabia aims to diversify their economy away from oil dependence.
"We want economic growth that will help the region to develop. Because of our dominant position, Saudi Arabia is the key to the economic success of the region."
Changes in Saudi Arabia
The crown prince spoke on the social changes currently being felt in Saudi Arabia that have come against a backdrop of sweeping reforms, which include a re-energized crackdown on hate speech and religious police, greater freedoms for women, a bustling entertainment scene and a pledge to "destroy extremism and return to moderate Islam."
Prince Mohammed said: "People in Saudi Arabia have changed a lot because they travel to countries like Britain and see a different way of life."
The crown prince is due to have private meetings with the heads of MI5 and MI6, as well as being invited to attend a meeting of the National Security Council - a rare privilege for a visiting foreign dignitary, the newspaper reports.
"We want to fight terrorism, and we want to fight extremism because we need to build stability in the Middle East," he said.
Iran, Qatar
Discussing regional politics, the crown prince dismissed claims that Saudi Arabia's policies on Iran and Qatar may provoke a new regional conflict.
He said he was working closely with the British government to resolve these issues.
"Britain is very supportive of our concerns regarding Iran and other regional security issues. It is always trying to help us and to fix things when there are issues."
Touching on human rights in the kingdom, the crown prince said: "We do not have the best human rights record in the world," he said, "but we are getting better, and we have come a long way in a short time."
Full report at:
https://english.alarabiya.net/en/News/gulf/2018/03/06/Saudi-crown-prince-Britain-Saudi-must-promote-moderate-Islam-together.html
--------
Saudi crown prince emphasizes al-Azhar's role in defending Islam
5 March 2018
During the second day of his state visit to Egypt, Saudi Crown Prince Mohammed bin Salman affirmed Egypt's al-Azhar important role in confronting the dangers facing the Islamic and Arab world.
This came during his meeting with the Sheikh of Al-Azhar on Monday at their offices in Cairo where he met the Grand Imam of al-Azhar, Ahmed el-Tayeb.
At the beginning of the meeting, el-Tayeb welcomed the Saudi delegation where he expressed appreciation of Al-Azhar and the Egyptian people to the government and people of Saudi Arabia.
Full report at:
https://english.alarabiya.net/en/News/middle-east/2018/03/05/Saudi-crown-prince-emphasizes-al-Azhar-s-role-in-defending-Islam.html
--------
Aid convoy enters Syria enclave as regime presses onslaught
March 06, 2018
DOUMA - An international convoy entered Syria's rebel enclave of Eastern Ghouta to deliver much-needed aid on Monday as the regime pounded the region with fresh bombardment, killing dozens as it seized more ground.
At least 50 people were killed Monday, a monitor said, as the United Nations said dozens of trucks carrying aid reached the main town of Douma.
The government blocked some supplies as the first aid convoy arrived since the start two weeks ago of a bloody Russian-backed assault that has sparked outrage but little action from the West.
The 46 aid trucks arrived after fresh air strikes hit besieged Eastern Ghouta and regime troops were reported to have retaken a third of the enclave in a rapidly advancing offensive. An AFP reporter in Douma said warplanes were flying overhead and explosions from further bombardment on the enclave could be heard even as the aid was being unloaded.
According to the Observatory, an air strike hit the Douma area about one kilometre (just over half a mile) from where the trucks were unloading.
More than two weeks of air strikes, artillery and rocket fire on the last major rebel-held enclave near Damascus have left hundreds dead and three quarters of the region's housing damaged.
More bombs, including crude, improvised "barrel bombs", were dropped in overnight raids on Monday, according to the Syrian Observatory for Human Rights.
At least 19 people were killed in the devastated town of Hammuriyeh, said the Britain-based monitoring group, which relies on a network of sources inside Syria . Another 31 died elsewhere in the enclave, it added, bringing to 740 the number of civilians killed since the assault began, including at least 170 children.
Turkey strikes kill
19 civilians in Syria's Afrin
Turkish air strikes on Monday killed 19 civilians including two children in northwestern Syria's Kurdish enclave of Afrin, a monitor said.
The deadly air raids hit the town of Jandairis near the Turkish border, the Britain-based Syrian Observatory for Human Rights war monitor said. They come six weeks into a Turkey-led assault against the Kurdish People's Protection Units (YPG) militia in the enclave.
The UN Human Rights Council on Monday ordered investigators to examine the latest violence. The resolution, tabled by Britain, specifically condemned "the indiscriminate use of heavy weapons and aerial bombardments against civilians, and the alleged use of chemical weapons in Eastern Ghouta".
Regime troops and allied forces have pushed into the enclave from the east in recent days, and by early Monday they had retaken a third of Eastern Ghouta, according to the Observatory. "Regime forces are advancing at a high pace because operations so far are mostly conducted in farmland," Observatory head Rami Abdel Rahman said, adding that they had advanced to within two kilometres (1.2 miles) southeast of Douma.
The armed groups there, one of which is made up of fighters from Al-Qaeda's ex-affiliate, have been lobbing mortar rounds and firing rockets on adjacent neighbourhoods of Damascus, killing around 20 civilians in two weeks. The latest ground offensive sent hundreds of civilians fleeing from their homes to other areas farther from the moving front line, compounding a humanitarian crisis which has drawn comparisons with the regime's devastating 2016 assault to retake second city Aleppo.
A suffocating, years-long government siege has forced Eastern Ghouta's estimated 400,000 inhabitants to scrape by on smuggled goods, produce from local farms and rare aid deliveries.
Monday's convoy was delivering "health and nutrition supplies, along with food for 27,500 people in need," the UN's humanitarian coordination office OCHA said. But an OCHA spokesperson said "the UN and partners were informed that many of the planned health supplies intended for Douma were not allowed to be loaded and not permitted to be replaced with other life-saving items".
"The items included trauma kits and other life-saving supplies," Linda Tom told AFP, calling for a solution to the problem ahead of the next delivery, slated for Thursday.
The International Committee of the Red Cross, a partner in the aid convoy with the UN and the Syrian Arab Red Crescent, also pleaded for increased access.
"Repeated and continuous humanitarian access is essential and more must be granted in the coming period," the ICRC's Middle East director Robert Mardini said in a statement.
The United States on Sunday condemned the assault and accused Moscow of ignoring a UN resolution calling for a 30-day cessation of hostilities. It said Russia has killed "innocent civilians under the false auspices of counterterrorism operations."
Moscow has offered safe passage to non-combatants wishing to leave Eastern Ghouta during daily "humanitarian pauses", but the UN and the Observatory say no Syrian civilians have left the enclave since the first break in fighting took effect last week.
Damascus and Moscow have accused rebels of preventing civilians from leaving in order to use them as human shields.
In remarks broadcast on state television on Sunday, Syrian President Bashar al-Assad said his forces would push forward with the offensive.
"The majority (of people) in Eastern Ghouta want to escape the embrace of terrorism. The operation must continue," he said.
Observers have said a further advance on the ground might spark fresh efforts to negotiate an evacuation to Idlib, a northern province where defeated anti-regime forces from across the country have gathered.
Full report at:
https://nation.com.pk/06-Mar-2018/aid-convoy-enters-syria-enclave-as-regime-presses-onslaught
--------
Syrian Army Sends More Troops, Equipment to Eastern Ghouta
Mar 05, 2018
The sources said that the army has dispatched a long convoy, including hundreds of fresh soldiers, several personnel carriers, canons and military vehicles to the al-Qazlaniyeh settlement and al-Marj region in Eastern Ghouta.
They said that the fresh forces and their equipment will be used in the current night operations against the terrorists, adding that the army has advanced in different flanks in Eastern Ghouta in recent nights.
Field sources reported earlier today that the army troops have purged 40 percent of Eastern Ghouta of terrorists within the framework of their night operations and after the hours of the daily ceasefire in region end.
The sources said that the army men managed to advance against terrorists in different flanks and deployed near the settlements of Mesraba and Beit Sawa, imposing control over almost 37 percent of lands in Eastern Ghouta in the last several nights.
The sources further said that other army units managed to take control over 3 percent of Eastern Ghouta in Harasta region, adding that an approximate 40 percent of Eastern Ghouta has been liberated in the operations in recent nights.
Full report at:
http://en.farsnews.com/newstext.aspx?nn=13961214000891
--------
Saudi Crown Prince and Sisi to open renovated Al Azhar mosque
5 March 2018
Egyptian President Abdul-Fattah Al-Sisi and Prince Mohammed bin Salman Crown Prince of Saudi Arabia and the Grand Imam Dr. Ahmed Al-Tayeb, Al-Azhar Emam, will inaugurate, on Tuesday, the renovated Al-Azhar mosque.
The renovations took three years following an initiative and a grant by the late Saudi King Abdullah bin Abdul-Aziz.
The development is one of the largest and most extensive restoration work in Al Azhar Mosque over its history of 1,000-years.
https://english.alarabiya.net/en/News/middle-east/2018/03/05/PHOTOS-Saudi-Crown-Prince-and-Sisi-to-Open-renovated-Al-Azhar-mosque.html
--------
North America
Pentagon says some SDF forces quit anti-ISIS operations to fight Turks
6 March 2018
US-backed Kurdish fighters in northern Syria are heading to the Turkish-assaulted Kurdish enclave of Afrin, leading to an "operational pause" in their operations against ISIS, the Pentagon said Monday.
The Syrian Democratic Alliance, made up mainly of Kurds as well as Syrian Arabs, is the main ground force that the US has been training and supporting to battle ISIS. While most of the land once held by the militants has been recaptured, the extremists remain entrenched in the Middle Euphrates River Valley (MERV).
Some SDF in the area have now gone to Afrin, where Turkish troops and allied rebels have for six weeks been attacking Kurdish People's Protection Units (YPG) militia in the enclave. "Operational pauses occur regularly for a variety of reasons," Pentagon spokesman Colonel Rob Manning said.
"The nature of our mission in Syria has not changed. ... This operational pause will not cause us to lose sight on our main objective, which is ISIS." Major Adrian Rankine-Galloway, also a Pentagon spokesman, said the US was continuing its own operations against IS, and none of the territory recaptured from ISIS had been lost.
"We are aware of the departure of some SDF forces from the Middle Euphrates River Valley and continue to point out the potential costs of any distraction from the defeat-ISIS fight," he said, adding that the SDF was "continuing to contain and degrade ISIS in the Middle Euphrates River Valley."
The acknowledgement that some SDF fighters are peeling away from the fight in the MERV comes after the head of Central Command, General Joe Votel, warned lawmakers of "diverging interests" in the region. "Our concern, of course, is that this activity in Afrin is detracting from our efforts against ISIS," Votel told the House Armed Services Committee last week.
https://english.alarabiya.net/en/News/middle-east/2018/03/06/Pentagon-Some-SDF-forces-quit-anti-ISIS-operations-to-fight-Turks.html
--------
The Trump Administration Is Using Fake Terrorism Statistics to Scare You About Immigrants
March 6, 2018
When you see an immigrant or a foreign visitor, especially from a Muslim country, should your first thought be that you might be looking at a possible terrorist?
Clearly, that's how the Trump administration wants Americans to react. It was the message in the president's first address to Congress a year ago last week when he declared that "the vast majority of individuals convicted of terrorism and terrorism-related offenses since 9/11 came here from outside of our country." At that time, he urged that the US immigration system be reshaped because "we cannot allow a beachhead of terrorism to form inside America."
There's a misleading omission in Trump's formulation, though: Homegrown fanatics have killed many more Americans on US soil than foreign-born terrorists have. The disparity grows much wider if you include mass killings carried out not for any religious or ideological cause but (as we have recently been tragically reminded) by mentally troubled individuals. Indeed, in just two such shootings in the last five months in Las Vegas, Nevada, and Parkland, Florida, deranged shooters with assault rifles killed more than three times as many people as all foreign-born jihadists have killed in this country in the last 16 years.
Another key fact is missing, too: Only a fairly small number of those "terror-related" convictions were for acts committed or planned in the United States. Many more involved support, in various forms, for terrorist activity in other countries.
Still, Trump and his associates have repeatedly declared that terrorists sneaking into the country through a too-lax immigration system are a pressing threat to public safety in the United States. That was, for instance, the administration's principal headline earlier this year when it released a reportfrom the Justice and Homeland Security departments, which claimed that nearly three out of every four individuals convicted in international terror cases in US federal courts from 9/11 through 2016 were foreign born—a total of 402, by their count. Announcing that report, Attorney General Jeff Sessions proclaimed that it highlighted the ways in which "our immigration system has undermined our national security and public safety." In the same press release, Homeland Security Secretary Kirstjen Nielsen warned that the United States "cannot continue to rely on immigration policy based on pre-9/11 thinking that leaves us woefully vulnerable to foreign-born terrorists."
Those and a long list of similar statements range from simply misleading to completely false. The deceptions occur in two stages. As a start, the data compiled within government agencies significantly overstate the incidence of Islamist terrorism in this country. Then the president and his associates regularly misrepresent what that already flawed data actually tells us, leaving the truth even farther behind.
"TERROR-RELATED CASES" THAT HAVE NO RELATION TO TERRORISM
The basic database on which Trump and his associates rely is the "Chart of Public/Unsealed International Terrorism and Terrorism-Related Convictions." It's compiled and updated every year by the Justice Department's National Security Division and lists defendants convicted on federal charges in cases since September 11, 2001. Despite its title, the list includes a significant number of cases that are verifiably not terrorism-related and a good many more in which a terrorism connection was not only not proved but remains highly unlikely.
Take Ansar Mahmood's case. It's far from the only example, but what makes it unusual is that the public record includes an explicit official acknowledgement that terrorism turned out not to be involved.
Mahmood, a 24-year-old legal immigrant from Pakistan, came under suspicion a few weeks after the 9/11 attacks when he was noticed taking photographs at a scenic spot along New York's Hudson River. A nervous security guard called the police to report that a Muslim-looking man might be taking pictures of a nearby reservoir and water treatment facility.
He was soon picked up, but investigators quickly concluded that he had no connection whatsoever to terrorism. They did, however, turn up evidence that he had registered a car and cosigned an apartment lease for a Pakistani couple who had overstayed their non-immigrant visas and were in the United States illegally. He was quickly charged with "harboring aliens," a deportable offense, and convicted. After a drawn-out appeal process, Mahmood was deported in 2005.
In a letter notifying him that his final appeal to set aside the deportation order had been rejected, William Cleary, a Bureau of Immigration and Customs Enforcement official, wrote: "It was determined that you were not engaged in any terrorist activity and were quickly cleared of any suspicion of terrorist activity." A few lines later, Cleary added a second time, "I am confident you did not engage in terrorist activity, you have never been charged as a terrorist or accused as being a terrorist."
There could hardly be more conclusive evidence that Mahmood's case had nothing to do with terrorism. Yet, years later, his name still appears on that Justice Department list of "Terrorism and Terrorism-Related Convictions." His two friends, also deported after being found guilty of visa violations and obtaining false IDs, are on the list, too, although there was absolutely no suggestion of any terror connection in their cases, either.
Nor are these isolated examples. Others on the conviction list who clearly were not terrorists include three Arab Americans, at least two of them naturalized US citizens, convicted for buying a truckload of stolen breakfast cereal, and a group of 20 defendants, predominantly Iraqis, found guilty in a scheme to fraudulently obtain commercial driver's licenses and permits to transport hazardous material. There are also cases involving defendants convicted for false marriage claims, foreign students who illegally got jobs in violation of student visa rules, a young man from Saudi Arabia who stored child pornography on his computer, and various others where the record shows no mention of any terrorist link.
Even the most dangerous sounding of these, the one involving hazardous-material permits, may sound ominous, but the scam itself occurred in the 1990s, well before the 9/11 attacks, and prosecutors made it clear that there was no link with terrorism. So did the trial judge, who said he could not "characterize this as a successful prosecution of a terrorism case, because it was not."
None of the 20 defendants who illegally obtained those licenses received any prison time. All were given probation; some paid modest fines. Those sentences would certainly have been far harsher if there had been any genuine suspicion that the defendants might be dangerous. (The driver's license examiner they paid off at the Pennsylvania Department of Transportation, an American, remains on the "terror-related convictions" list, too.)
WHY ARE THEY ON THE LIST?
Given the clear evidence that they were never terrorists, why are Mahmood and his friends, as well as those Iraqi truckers and others in similar cases, still officially identified as having been "convicted of terrorism," as the Trump White House has inaccurately characterized everyone named on the Justice Department chart? Or, in the only marginally more careful wording used in the list itself, why are they still guilty of "international terrorism-related offenses"?
The immediate reason is that, like Mahmood, they originally came to the attention of investigators looking for possible terrorist ties. In other words, their cases started out as possible terrorism ones and, under Justice Department procedures, simply remained in that category even when no such ties were found. The broader reason: Counting them and others like them that way plays right into the Trump administration's anti-immigrant, anti-refugee, and anti-Muslim agenda. It magnifies, falsely, the supposed threat of "foreign nationals" connected with "terrorism-related activity" in the United States.
Setting aside the cases that were clearly not in any way linked to terrorism, there are many more on the chart in which individuals were suspected of ties of some kind to terrorism but were never charged. In those cases, the question is simply left unanswered, but there can be no doubt that some of those suspects, too, were neither terrorists nor supporters of terror movements. In other words, that group similarly inflates the claimed total.
There is another strong hint that many on the Justice Department list are unlikely to have been either terrorists or to have had serious ties to such organizations and it requires no additional research. It's right there on the chart itself in a column listing the sentences that defendants received for their crimes. More than 130 of the offenders on the list (both foreign and US-born), when convicted, were given probation but no prison time at all or were sentenced only to time served before trial. Another 45 were sentenced to one year or less, including several token sentences of one day or, in a single case, a week.
Those light sentences—for more than a quarter of all the cases on the chart—certainly seem to indicate that no authority thought the defendants represented a terror threat.
ANOTHER DISTORTION…
Counting cases that have nothing to do with terrorism as "terror-related" isn't the only way the administration has distorted the facts about immigration and the threat of terrorism. It also counts cases that have nothing to do with immigration.
For example, a White House fact sheet, summarizing the main findings of the January 16 Justice/Homeland Security report, says that 402 foreign-born defendants—the total given in the report—all "entered the United States through our immigration system."
That is false. The report doesn't say that at all. You have to look carefully to find it, but the document explicitly says the opposite, stating that along with those defendants who had at one time or another passed through immigration controls, the 402 foreign-born offenders also include individuals "who were transported to the United States for prosecution." Presumably, some of them were captured overseas by US military or security agencies and some were turned over to the United States by a foreign government.
The Justice Department has not disclosed how many such individuals are on the list. The number, however, is apparently substantial. Researchers for the Lawfare Blog, working from an earlier version of the chart, determined that an even 100 defendants (later reduced to 99) "were extradited, or brought, to the United States for prosecution" without going through any immigration procedure. Including those cases as evidence of a lax immigration system is plainly deceptive.
They undercut the Trump administration's anti-immigration narrative in another way, too. Obviously, defendants who were extradited or otherwise brought into the United States for prosecution were more likely than those on the list as a whole to be charged with serious offenses and to receive much stiffer sentences. So adding them to the overall "foreign-born" figure not only gives a false impression of failures in immigration screening, but also inflates the threat that actual immigrants represent.
…AND ONE MORE
The Trump administration's message about "foreign-born terrorists" and the US immigration system is clear enough: Dangerous people are coming into this country to do bad things to Americans. Though you wouldn't guess it from listening to the president or his attorney general and homeland security secretary, a much larger number of cases involved exactly the opposite problem: people leaving the United States, or trying to leave, to do bad things elsewhere.
Only a small minority of the guilty verdicts on the Justice Department's conviction list were for committing or planning violent acts on US soil. Significantly more defendants were tried for supporting terrorism abroad.
The comparison is dramatically clear in an analysis by the Cato Institute's Alex Nowrasteh. Examining an earlier version of the Justice Department's chart of convictions, he discovered that only 40 foreign-born defendants had been found guilty of "planning, attempting, or carrying out a terrorist attack on U.S. soil." More than 200 were, however, convicted for "material support for foreign terrorists, attempting to join foreign terrorist organizations, planning a terrorist attack abroad, or a similar offense taking place abroad."
The same pattern is evident even in the recent Justice/Homeland Security report, despite all the accompanying dire rhetoric about threats to public safety in America.
The report summarizes eight terror-related cases as "illustrative examples" of crimes by foreign-born offenders. Not one of those crimes caused harm to a person or damage to property in the United States itself. Three of the eight defendants came to the United States as young children. No immigration process, no matter how rigorous, could have screened them out. The same is true of a significant number of others on the Justice Department's list. Just one of the eight defendants—the only offenders actually identified in the report—had anything resembling a concrete plan for a terror attack in this country. Of the other seven, one made vague threats about carrying out "an act of martyrdom" in the United States, but only if he wasn't able to go to Syria to join jihadist forces there. The other six cases involved individuals accused of supporting terror groups in other countries, with no mention of any possible acts inside the United States. The case summaries give no indication that any of the eight killed or injured an American anywhere.
A CHILLING FOOTNOTE
There is one other revealing thread in the administration's campaign to link immigration to terrorism. In the Justice/Homeland Security report's statistical breakdown of terror-related convictions, a footnote to the last line, which shows that 147 defendants were "U.S. citizens by birth," says: "Information pertaining to the citizenship status of the parents of these 147 individuals was not available at the time of this report's issuance."
The White House fact sheet repeated that point in its summary of the report, noting that it "does not contain information regarding the number of terrorism and terrorism-related offenses committed by individuals who are the children of foreign-born individuals." It then added: "Terrorist attacks carried out by children of foreign-born individuals include the attack in Orlando by Omar Mateen, which killed 49 people and wounded more than 50 others, and the attack in San Bernardino, California, by Syed Rizwan Farook, which killed 14 people and injured 22 others." (For the record, and it's odd the White House didn't mention it, Syed Farook's wife, who accompanied him in the San Bernardino shootings, was an immigrant.)
Neither the report nor the White House statement explained what crimes committed by US-born shooters have to do with its declared subject: terror-related acts by "foreign nationals in the United States." Nor, obviously, does a mass shooting by a killer born in Chicago (Farook) or Long Island, New York, (Mateen) tell us anything about the effectiveness of immigration screening procedures or any other aspect of the US immigration system, though it does fit a Trumpian vision of a world under threat from dangerous Muslims.
Full report at:
https://www.thenation.com/article/the-trump-administration-is-using-fake-terrorism-statistics-to-scare-you-about-immigrants/
--------
Is Isis Leader Bagdhadi Alive Or Dead? New Video Shows Dead U.S. Soldiers, Honors Mysterious Leader
By Tom O'connor
3/5/18
Footage of Islamic State militant group (ISIS) leader Abu Bakr al-Baghdadi was included in a recent video depicting the graphic deaths of U.S. soldiers ambushed by jihadis last October in Niger, but the whereabouts and fate of the elusive cleric remained a mystery.
The recently released ISIS video, titled "Assault of the Brave on the Army of the Americans," featured dramatic scenes of U.S. Special Forces attempting to fend off a surprise attack of up to 50 militants believed to be associated with ISIS near the Nigerien village of Tongo Tongo in Western Africa. The combat footage was captured with U.S. soldiers' own equipment and features footage of Baghdadi's first and only known public appearance in June 2014.
On June 29, 2014, Baghdadi declared himself the ruler of a global caliphate in a speech delivered at the Grand al-Nuri mosque in Iraq's second city of Mosul, which was seized by ISIS earlier that month. ISIS managed to capture about half of Iraq and Syria at its height that year. As the group was defeated by various local and international forces, however, Baghdadi remained hidden and competing claims of his location, health and possible death have routinely arisen in his absence.
In one of the most recent official updates on Baghdadi, Abu Ali al-Basri, director of intelligence and counterterrorism at the Iraqi Interior Ministry and head of the elite Falcons Intelligence Cell, told state-run newspaper Al-Sabah that he knew exactly where the secretive ISIS head was hiding. Baghdadi "is still present today with the help of his collaborators in the Syrian region of Al-Jazeera," a span of desert flanked by the Euphrates river and Tigris River in Iraq.
Basri also said he had was suffering from severe "physical and psychological deterioration" due to injuries sustained in Iraqi air raids and may have been afflicted with diabetes as well. That same day, CNN cited unnamed U.S. officials who claimed that Baghdadi had been wounded by airstrikes, but said he had been hit in May near the former de facto ISIS capital of Raqqa, which was taken by the U.S.-led coalition and its partnered, mostly Kurdish Syrian Democratic Forces last October.
The Russian Defense Ministry made a similar claim in June as its own allies, the Syrian military, led a cross-country offensive that also saw victories against the jihadis in parts of Raqqa province. The ministry said it believed Russian warplanes had actually killed the ultraconservative Sunni Muslim cleric in a May 28 airstrike targeting a meeting of ISIS officials in a southern Raqqa city suburb.
The U.S. remained skeptical of Russian claims, even as Moscow appeared to grow more certain of the assassination. Iran, which also backed efforts to defeat ISIS in Iraq and Syria, and elite Islamic Revolutionary Guard Corps member Ali Shirazi said in June that "Baghdadi is definitely dead," but provided no details.
Summer 2017 also saw opposing claims by pro-Syrian opposition monitors, the Syrian Observatory for Human Rights and Raqqa is Being Slaughtered Silently. The former, U.K.-based group told Newsweek in July that Baghdadi had been killed in the eastern Syrian ISIS stronghold of Deir Ezzor, but did not know how. The Raqqa-based monitor, however, said that same day that such rumors were "not true," citing ISIS sources in Raqqa.
As the U.S.-led coalition advanced in Raqqa city and the Syrian military broke a three-year siege of its forces trapped in Deir Ezzor, ISIS shocked the world with an audio tape purporting it to be a recent sermon by Baghdadi. While the audio could not be independently verified by Newsweek, Baghdadi discussed recent ISIS losses, as well as the increasingly tense nuclear standoff between President Donald Trump and North Korean supreme leader Kim Jong Un.
ISIS lost Raqqa the following month, followed by Deir Ezzor in November. As pro-Syrian goverment forces joined fellow Iraqi forces also battling ISIS on their mutual border, Baghdadi was no where to be seen, even as the Syrian military and its allies retook the final ISIS-held town of Al-Bukamal. Lebanese Shiite Muslim movement Hezbollah, a close partner of the Syrian military, claimed Baghdadi had been spotted in the border town prior to ISIS losing it.
Full report at:
http://www.newsweek.com/isis-leader-baghdadi-alive-dead-new-video-shows-dead-us-soldiers-honors-leader-831764
--------
Speakers talk Muslims in America at GHS
March 5, 2018
GREENWICH — Last week, Sheyda Ardalan-Clarke walked students through the Five Pillars of Islam.
The laws that govern her religion are simple: Believe in one god; pray five times a day; give to charity; fast during the month of Ramadan; and take pilgrimage to Mecca.
But even with such clear-cut instructions, Ardalan-Clarke admitted she had lapsed. She does not particularly believe in a divine being, nor does she have time to kneel and worship every few hours. She has too strong of an appetite to give up food for a month, and she has other far off places she wants to visit beyond Saudi Arabia.
There is one tenet she follows: Give to charity. And she gives a lot.
Despite all of her dissensions, Ardalan-Clarke is a Muslim. She was born Muslim, and she never denounced her religion. And so as an art teacher at Greenwich High School, she remains a Muslim who speaks to American children every day, teaching them about the world.
Last Friday afternoon, Ardalan-Clarke stood alongside New Canaan resident and documentary photographer Shekaiba Wakili Bennett during a presentation about Muslims in America for Greenwich High School's diversity week. The two women started off slow, introducing their audience to the intricacies of Islam, including its very foundations.
Ardalan-Clarke told students that Islam is an Abrahamic faith, like Judaism and Christianity, that originated in 613 in Saudi Arabia. Back then, all Muslims were Arab because of the Prophet Muhammad's geographical location in the Middle East, but now only one-sixth of Muslims are also Arab.
Similarly, not all Arabs follow Islam's teachings; even in Palestine, a good number of Arabs are actually Christian, Wakili Bennett said.
"It is the cradle of civilization, the Middle East. So you have a lot of Arabs who are not necessarily Muslim," she added.
Wakili Bennett said the most populous Muslim-majority country isn't actually in the Middle East, but in Southeast Asia: Indonesia. And even in nations that aren't thought of as Muslim, like Russia and India, there are now large swathes of people who practice the Abrahamic religion.
"Islam is not an ethnicity," said Wakili Bennett. "You could be from any part of the world and be Muslim."
That diaspora has extended all the way to the United States, where Muslims have a long and storied history.
According to Wakili Bennett, Muslims came to America on voyages with their Spanish neighbors after the spread of an Islamic empire brought a large Moorish presence to the Iberian Peninsula. On those ships, they stood side by side with Castilian explorers and navigated a New World together.
But on other tides, Muslims from Africa were carried across the Atlantic to serve the European colonies. Ardalan-Clarke said that between 10 and 50 percent of the Africans brought here in chains were Muslim, and their arrival heralded the first Muslim mass migration to America.
Centuries later, the founding fathers of our own nation included Islam in their republican design, said Ardalan-Clarke. They touted freedom of religion as integral to democracy, and Thomas Jefferson even owned a copy of the Quran.
Today, Muslim Americans are part of the vanguard of industries that shape the United States. Ardalan-Clarke pointed to model Gigi Hadid, basketball player Shaquille O'Neal, Chobani CEO Hamdi Ulukaya and others as prominent Muslims based here.
As for Ardalan-Clarke, she still fits into the fabric of America's Islam, regardless of her exceptions.
Full report at:
https://www.greenwichtime.com/local/article/Speakers-talk-Muslims-in-America-at-GHS-12729395.php
--------
President Trump, tell terror-supporting Qatar it can kiss our US air base goodbye
March 6, 2018
The tiny Persian Gulf nation of Qatar – one of the wealthiest countries in the world on a per capita basis, thanks to enormous oil and natural gas reserves – has become one of the most harmful influences in the Middle East and a key supporter of terrorist groups.
No one expects Qatar to launch a military attack of its own on any country. Located on a peninsula jutting out of Saudi Arabia, it is slightly smaller than Connecticut and has a population of only about 2.3 million.
But Qatar is endangering America's Arab allies and our ally Israel by bankrolling terrorists, inciting violence and hatred through its state-funded Al Jazeera TV network, and collaborating with the far more powerful and virulently anti-American Islamic Republic of Iran.
Because Qatar poses such a danger to the region, Saudi Araba and its Persian Gulf allies have blockaded the country since June. They have closed Qatar's border with Saudi Arabia and prevented many planes and cargo ships from landing and docking in Qatar.
Bizarrely, the United States maintains a military base in Qatar so we can fight against Muslim extremists. But at the same time, the Qataris are providing support to Muslim extremists fighting against America's allies in the region.
Unfortunately, the Trump administration, like the Obama administration, prefers to look the other way at Qatar's dangerous behavior. This is because the U.S. Central Command operates the Al Udeid Air Base in Qatar. The base houses some 10,000 U.S., British and other allied troops. It plays a key role in American air operations in war-torn Iraq, Syria and Afghanistan.
Rather than using the base as an excuse for inaction against Qatar, we should be using it to leverage changes in Qatari behavior. The Trump administration needs to make clear to Qatar that its current conduct is unacceptable and will not be tolerated by the United States.
President Trump previously expressed support for the Saudi position that Qatar end its support for terrorists, shut down Al Jazeera and sever ties with Iran. To protect our interests and the security of our allies, he should now threaten to move our military base if the Qataris do not do these things.
Moving our base would be costly, but we did it before when the Saudis asked us to leave. Now that we're on better terms with the Saudis, they might even welcome us back. Better still, the Qataris could accede to our demands and benefit from ending their isolation and allying with those opposing terrorism and the Iranian menace.
Qatar wants to present itself as moderate and helpful to the U.S. Yet the government and individual Qataris have given financial and political support to two terrorist groups – the Muslim Brotherhood and its Palestinian offshoot, Hamas.
Qatar's support for the Brotherhood stems from its need to demonstrate its commitment to Islam to avoid becoming a target of extremists, especially given its Western orientation and willingness to host the U.S. military. But in siding with the Brotherhood, Qatar is at odds with other countries – particularly Egypt – that see the group as a threat to their regimes.
In addition to supporting the Muslim Brotherhood, Qatar is the principal financier of Hamas, which wants to eliminate the Jewish state of Israel and replace it with an Arab state of Palestine. Qatar claims it only supports economic projects in the Gaza Strip, which is controlled by Hamas. But even if that were true, the money Qatar funnels to Hamas frees up money that the terrorist group can use to build rockets and terrorist tunnels to threaten Israel.
Moreover, individual Qataris may be providing direct assistance to Hamas. Qatar also has served as a haven for Hamas terrorists such as Khaled Mashaal.
On top of this, Qatar has made no secret of its hostile feelings toward Israel. Its leaders have called on the world to shun Israel, condemned Israel for destroying terrorist tunnels, and accused Israel during its military operations in Gaza of "war crimes."
Al Jazeera is the propaganda arm of the Qatari government and regularly broadcasts reports critical of Qatar's neighbors and Israel. The TV network is also used to demonstrate Qatar's loyalty to radical Islamists.
In addition, Qatar promotes terrorism through its broadcasts of sermons by the Muslim Brotherhood's Yusuf al-Qaradawi. He has a history of defending suicide bombings in Israel, condoning violence against U.S. troops and agitating against other Arab states. Al-Qaradawi was recently sentenced in absentia to life in prison in Egypt after being convicted of incitement to murder and other charges. He lives in exile in Qatar.
Al Jazeera has also targeted American Jews by sending a spy to infiltrate pro-Israel organizations to try to gather dirt on them. The goal of Al Jazeera is to present viewers with anti-Semitic propaganda falsely claiming there is evidence of an all-powerful Jewish cabal controlling U.S. policy.
Finally, at a time when the Trump administration seeks to isolate Iran, Qatar has strengthened its ties with the Islamic Republic. Qatar claims it has no choice but to deal with Iran given the blockade, but one of the main reasons the Saudis imposed the blockade was Qatar's refusal to sever ties with Iran.
Iran's anti-American policies, support for terrorists, fighting on behalf of Syrian dictator Bashar Assad, and repeated pledges to wipe Israel off the map have not deterred Qatar from drawing closer to its dangerous neighbor.
Yet despite its strong support of Israel's enemies, Qatar has mounted a charm offensive by inviting American Jewish leaders and others to the capital of Doha s and pledging counterterrorism cooperation.
The emir who rules Qatar, Sheikh Tamim bin Hamad al-Thani, has even asked American Jewish leaders to lobby U.S. government officials on Qatar's behalf. Presumably, he believes they can influence President Trump and Congress to pressure Qatar's Gulf rivals to end their blockade.
But even as it woos Americans, Qatar has continued its harmful and hostile activities.
Qatar, like other Arab nations, has long enjoyed a "democracy exception" from American administrations – an understanding that, unlike other countries around the world, we will not pressure them to democratize – as long as we have access to their oil and they support our regional interests.
In Qatar's case, we silently tolerate an autocratic ruler whose family has been in power for more than 100 years, bans organized political parties, restricts civil liberties – including freedoms of speech, press, and assembly – and permits human trafficking. Nevertheless, no U.S. administration has been sufficiently disturbed by Qatar's domestic policy to exert any pressure for change.
Full report at:
http://www.foxnews.com/opinion/2018/03/05/president-trump-tell-terror-supporting-qatar-it-can-kiss-our-us-air-base-good-bye.html
--------
Europe
Extremist teacher plotted terror attacks on London gay bars
5th March 2018
An ISIS-inspired teacher in east London has been convicted of plotting attacks on gay bars and public landmarks in London.
Umar Haque, 25, was on Friday found guilty of two counts of preparation of terrorist acts and one count of collection of information useful to terrorism.
The extremist had been an Islamic studies teacher at the private Lantern of Knowledge faith school in Leyton, east London, and had also worked at the Ripple Road mosque in Barking, east London.
The Old Bailey heard that he had abused the positions at the institutions to attempt to radicalise a number of children to build a home-grown jihadist army in the capital.
Haque kept a list of potential targets for ISIS-inspired attacks. A list of planned targets found by authorities in an orange exercise book included gay clubs in the capital.
His planned targets include up to 30 groups, businesses and establishments in London.
Haque told police that he did not like Britain because of "mass fornication, mass illicit behaviour" – though according to the Times, the police investigation discovered that he had been searching online for transgender prostitutes.
A further two men associated with Haque were also convicted of terror offences at the Old Bailey last week.
Abuthaher Mamun, 29, was found guilty of one count of preparation of terrorist acts. Muhammad Abid, 27, was found guilty of one count of having information about acts of terrorism.
According to police, Haque had discussed various aspects of his plot with both men, from how to increase the strength of a bomb and what type of vehicle to use, to where to carry out an attack and what the police response would be.
In a five-hour phone conversation in March 2017, Haque told Abid that he had radicalised 16 children.
Social service workers, together with police, assessed that Haque had attempted to radicalise 55 children aged 11 to 14 while working at Ripple Road Mosque.
All 55 children have received safeguarding support and 35 have been assessed to require longer-term support.
Haque admitted showing ISIS propaganda videos to his class.
Commander Dean Haydon, head of the Met Police Counter Terrorism Command, said: "Haque was a dangerous man who was inspired by attacks in Europe and Westminster. He wanted to orchestrate numerous attacks at once, using guns, knives, bombs and large cars to kill innocent people.
"We recovered a number of exercise books from his home and it was evident from his notes that his plan was a long-term one. He intended to execute his plan years later, by which time he anticipated he would have trained and acquired an army of soldiers, including children."
Commander Haydon continued: "When specially trained officers interviewed the children, they described being shown by Haque horrific videos of extreme terrorist violence including executions.
"They told police how Haque made them roleplay terrorists and police officers, with the children acting as terrorists being made to stab the 'police officers' to death.
"The children were paralysed by fear of Haque, who they understood to have connections to terrorists and who essentially told them that a violent fate would befall them if they told anyone what he was doing. They were too afraid to confide in anyone.
"It's crucial that the police, partners and communities do all they can to identify where young and vulnerable people are being radicalised and I urge anyone with concerns that this is happening to report it confidentially to police."
Abid, Mamun and Haque are due to be sentenced at the Old Bailey later this month.
https://www.pinknews.co.uk/2018/03/05/extremist-teacher-plotted-terror-attacks-on-london-gay-bars/
--------
French, Iran leaders discuss regime attacks in Syria
05 March 2018
French President Emmanuel Macron Sunday called on his Iranian counterpart Hassan Rouhani to put pressure on Bashar al-Assad regime to end the "indiscriminate" attacks on Syria's besieged Eastern Ghouta region and allow access of humanitarian aid.
In a phone conversation, Macron urged Rouhani "to exert the necessary pressure on the Syrian regime to put an end to the indiscriminate attacks against the besieged population of Eastern Ghouta, to allow humanitarian access and evacuate the critical medical cases," according to a statement issued by French presidency.
Macron "underlined the special responsibility incumbent on Iran, because of its links with the [Assad] regime, in the implementation of the humanitarian truce voted by the UN Security Council 2401 Resolution."
The two presidents have agreed to work together in the coming days with the UN, the Assad regime and the main countries engaged in Syria "to deliver ... necessary assistance to civilians and to implement the ceasefire."
The attacks carried out by the Assad regime and its supporters in Eastern Ghouta have killed more than 700 civilians since Feb.19.
Eastern Ghouta has been under siege for the last five years; humanitarian access to the area, which is home to 400,000 people, has been completely cut off.
In the past eight months, Assad regime forces have intensified their siege of Eastern Ghouta, making it nearly impossible for food or medicine to get into the district and leaving thousands of patients in need of treatment.
The French president recalled his country's concerns related to the Iranian missile program and regional security issues, especially in Lebanon and called for "clear" responses.
France also expects Iran to make a "constructive contribution" to solving crises in the Middle East, the statement said.
The exchange between the two leaders comes on the eve of Foreign Minister Jean-Yves Le Drian's trip to Tehran.
Full report at:
http://www.worldbulletin.net/europe/199438/investigation-opened-into-astori-death-in-italy
--------
Russia Says U.S. Wars For Democracy In Middle East And Europe Could Soon Come To Moscow
By Tom O'connor
3/5/18
A leading Russian diplomat has accused the U.S. of trying to bring conflict to Moscow under the cloak of exporting democratic values—something he said Washington has already done in parts of Europe and the Middle East over the past two decades.
Russian Deputy Foreign Minister Sergei Ryabkov made the remarks Monday at a meeting of the Temporary Commission for Protection of State Sovereignty and Prevention of Interference in Russia's Internal Affairs in his country's upper house of parliament. Anticipating potential U.S. meddling in the upcoming Russian presidential election, Ryabkov criticized a history of U.S.-sponsored regime change and foreign intervention.
"The United States' continued policy aimed at achieving political goals under the guise of the struggle for democracy has been creating chaos in the past 20 years, causing wars and destroying a number of countries," Ryabkov said, according to the state-run Tass Russian News Agency. "Yugoslavia is no more, Iraq and Libya are bursting at the seams and events in Ukraine are also worth mentioning."
"U.S. hotheads wouldn't mind to do [sic] the same to Russia as they consider us the major threat to their global dominance," he added.
The U.S. and Russia both have a long tradition in getting involved in the affairs of other countries, especially throughout the decades-long Cold War that ended with the collapse of the Soviet Union in 1991. Since the millennium, Vladimir Putin, who has served as president or prime minister since late 1999, has increasingly sought to regain Russia's standing as a global superpower. The initiative has caused significant friction with the U.S.
In the aftermath of the Soviet fall, inter-ethnic tensions in the communist Eastern European state of Yugoslavia devolved into a series of wars fought by competing ethnic groups—including Serbs, Croats and Albanians. U.S.-led Western military alliance NATO twice conducted airstrikes, first against Bosnian Serbian forces in 1995, and a second time against Yugoslav forces in 1999. The second instance did not have United Nations Security Council approval as Russia and China threatened to veto.
After the 9/11 attacks killed roughly 3,000 people in 2001, the U.S. focused more closely on the Middle East, invading Afghanistan over the ruling Taliban government's Al-Qaeda months in December 2001. Washington later invaded Iraq in 2003 over allegations that Iraqi President Saddam Hussein was manufacturing weapons of mass destruction. The charges were later proven false, but U.S. forces remained to battle an Islamist Al-Qaeda insurgency that arose and transferred power to mostly Shiite Muslim government in 2011.
That same year, the U.S. joined France and the U.K. in attacking the Libyan military in support of a rebel uprising against Libyan leader Muammar el-Qaddafi. As Qaddafi was overthrown and killed, competing rebel groups turned on another, extending the already violent civil war in Libya. Meanwhile, the insurgency in Iraq worsened and jihadis formed the Islamic State militant group (ISIS), which spread into neighboring Syria's civil war in 2013.
Back in Europe, unrest gripped Ukraine after pro-Russia President Viktor Yanukovych refused to sign a free trade agreement with the European Union in November 2013. Shortly after widespread protests ousted Yanukovych in February 2014, Russia annexed the then-Ukrainian territory of Crimea, arguing its mostly ethnic Russia community was threatened by what Moscow depicted as a far-right uprising.
Russia's annexation of Crimea and allegations of support for separatist rebels in eastern Ukraine prompted NATO to mobilize its forces across Europe, forming new battle groups along Russia's borders. Russia has responded with its own military moves, prompting the largest European arms race since the Cold War. Tensions between Russia and the West grew as countries such as the U.S., France and Germany accused Moscow of attempting to influence its elections.
Full report at:
http://www.newsweek.com/russia-says-us-wars-democracy-middle-east-europe-could-soon-come-moscow-831569
--------
South Asia
Sri Lanka: Muslim shops, mosques targeted by Buddhist hardliners
March 6, 2018
Sri Lanka imposed a curfew in a central town popular with tourists after days of unrest between religious communities with a Buddhist man killed and Muslim businesses set ablaze.
Police said on Monday there had been riots and arson attacks since the weekend in Kandy district, while sources told Al Jazeera the violence was spreading throughout the South Asian island nation.
"The curfew was imposed to control the situation in the area," said police spokesman Ruwan Gunasekera.
Police officers were placed on heightened alert in Kandy to ensure the "situation does not spiral into inter-communal conflagration", the government said in a statement.
Mobs set fire to Muslim-owned businesses and attacked a mosque in the east of the country.
Local officials said more than two dozen suspects had been detained by police in connection with the spate of arson attacks, while senior officers also launched an investigation into the conduct of police.
Rajith Keerthi Tennakoon, executive director of the Centre for Human Rights Sri Lanka, condemned the "unfathomable police inefficiency" that he said led to the violence.
"Social media pages rallied Sinhalese mobs to assemble in Teldeniya town at 10am. At 11am, there was a proclivity for violent confrontations to take place as mobs gathered. The destruction of Muslim properties started taking place from around 1pm," Tennakoon told Al Jazeera.
The violence worsened after a man from the island's mainly Buddhist Sinhalese majority died from injuries sustained during a riot.
Kandy is the latest region to be plagued by religious and ethnic conflict in Sri Lanka, a nation of 21 million people.
Najah Mohamed, secretary of the National Front for Good Governance party in Sri Lanka, told Al Jazeera attacks are spreading all over the country, not just in Kandy.
"We are facing the same situation that we had experienced with the previous government with tension, hate, and violence against Muslims are rampant especially where they are a dispersed community," said Mohamed.
Religious and ethnic violence can turn deadly in Sri Lanka, where Muslims account for 10 percent of the population and Buddhists Sinhalese make up nearly 75 percent.
Some observers blame the hardline Bodu Bala Sena (BBS) group for the ongoing violence.
"The violent BBS mobs manipulated the situation to fuel attacks against Muslims in an unprecedented way and started attacking people. In the afternoon the police and curfew were here, but there are still rising underreported incidents taking place," Mohamed said.
Religious violence is not new to the island. An anti-Muslim campaign was launched following the deadly Aluthgama riots in June 2014.
Full report at:
https://www.aljazeera.com/news/2018/03/sri-lanka-muslim-shops-mosques-targeted-buddhist-hardliners-180305165900594.html
--------
How the stabbing of Zafar Iqbal is a sign of things to come
March 05, 2018
The attempted assassination of an intellectual is just history repeating itself
It might not look it, but sometimes, the world can be split into two.
You may, for example, go back in time, and look at how a line weaved itself between the royals and the peasants.
Or, in the 20th century, when capitalism fought against communism. Later, when 9/11 halved the world into terrorists (Muslims?) and citizens (non-Muslims?).
And now, you may look at the United States, and think of right-wing gun-toting, Bible-thumping, xenophobic, homophobic nut jobs, or left-wing free speech-curbing, safe space-holding, soy milk-drinking "sissies."
And, closer to home, in 1971, between us, those of Bangla Desh and those who chose to oppress us, the evil West Pakistanis.
And, even closer, both in space and time, when those English medium-educated, upper middle-class boys shook up the entire nation in Holey Artisan, there were most of us, apparently, who believed in what Bangladesh truly stood for (democracy, secularism, etc?) and those who didn't (extremism, violence, etc?).
And now, that Muhammad Zafar Iqbal has been stabbed, for being "an enemy of Islam," are we to do the same? No, this is not what Bangladesh is about, don't you know, these are those militant elements amongst us, pockets, who wish to take our values of freedom and peace away.
Is that how we see it?
A case against binaries
The "othering" of foreign elements and opinions and the fathering of bias-confirming viewpoints are not complicated. When dealing with ideologies which define the identities of nations and thereby mass quantities of people, broad brushstrokes are not desirable yet a necessary evil.
Who has time to look at each individual terrorist who wishes to stab you in the back because you have opposed their political party (which seeks Sharia Law perhaps) in public, and quite vehemently? Who has the patience to consider the unlimited number of factors which contribute to the making of terrorists?
It is nice and easy to consider that these rogue elements come out of an inherent ability to be someone the world collectively does not wish for or, at least, not in its narrative.
At the end of the day, it is this narrative that defines these binaries, between terrorists and civilians, between believers and heretics, between patriots and traitors, between us and them, you and me.
And, also at the end of that rather sad day, the stabber, one presumes, is nothing more than another young blood individual, brainwashed in two (more and more binaries emerge out of the woodwork) ways: Actively, by those he respects, his friends, peers, family, elders and passively, by those he hates, and those who hate him back (us?).
When news broke of Muhammad Zafar Iqbal's stabbing, were we fooled by the torch-lit vigil or the imagined echoes of consolation provided by ministers and those who read the Dhaka Tribune or The Daily Star? Have a look at the social media profiles of Bangla newspapers like Prothom Alo.
That which does not kill you
One commenter says (and I poorly translate): "The one who did the stabbing should be killed. Why didn't the idiot insert the knife fully?"
Another: "If he isn't dead, just to be sure choke him to death."
And another: "I would've been happier with the news of him dying."
And so on and so forth. This wasn't different at each of America's interventions, when Trump won, when the Indian right rose, and definitely not when the news of Holey broke. If one, for a moment, thinks that there isn't a veritable rift between Bengalis, a binary that places one's entire life in direct and absolute opposition to a silent and fluid body of people, then one has been blinded by colourful oratory and self-aggrandization.
Our narrative is merely strong because there is no one to disagree with us in our own language. Even if they do, they are outcasts.
But, we forget, that a democracy exists (in whatever incomplete and imperfect form) to ensure that we, those who get comfortable with a certain viewpoint — one which claims something as simple as Muhammad Zafar Iqbal does not deserve to be killed — might eventually be toppled.
And, we might find, that those in support of Zafar Iqbal are a minority and that we have been dwarfed by the children of a different Bengal, whose thoughts reverberate in the hands of a young man, his brain fuzzy with dogma, as he wields a blunt knife aimed at the head of a prominent intellectual.
Full report at:
https://www.dhakatribune.com/opinion/op-ed/2018/03/05/stabbing-zafar-iqbal-sign-things-come/
--------
Sri Lanka imposes curfew in Kandy after anti-Muslim riots
05th March 2018
COLOMBO: Sri Lanka imposed a curfew Monday in a central hill station town popular with tourists after days of communal unrest that saw a man killed and Muslim businesses set alight.
Police had been placed on alert in Kandy, home to famous tea plantations and Buddhist relics, to ensure that the "situation does not spiral into inter-communal conflagration," the government said.
"The government appeals to all parties and especially the general public to act with responsibility and remain calm," it said in a statement.
Police said there had been riots and arson attacks since the weekend in Kandy.
"The curfew was imposed to control the situation in the area," said police spokesman Ruwan Gunasekera.
Local officials said over two dozen suspects had been detained by police in connection with the spate of arson attacks, while senior officers had also launched an investigation into the conduct of police.
The violence has worsened since a man from the island's mainly Buddhist Sinhalese majority died at the weekend from injuries sustained during a riot last week.
Kandy is just the latest region to be plagued by religious and ethnic conflict in Sri Lanka, a nation of 21 million people.
Mobs set fire to Muslim-owned businesses and attacked a mosque in the east of the country last week after a Muslim chef was accused of adding contraceptives to food sold to Sinhalese.
The government dismissed the allegation as baseless and ordered the arrest of those fomenting unrest in the area.
Prime Minister Ranil Wickremesinghe also ordered an investigation into alleged police inaction in handling the clash.
Last November riots in the south of the island left one man dead and homes and vehicles damaged.
Religious and ethnic violence can turn deadly in Sri Lanka, where Muslims account for 10 percent of the population and Sinhalese make up nearly 75 percent.
In June 2014 riots between Buddhists and Muslims left four dead and many injured.
Full report at:
http://www.newindianexpress.com/world/2018/mar/05/sri-lanka-imposes-curfew-in-kandy-after-anti-muslim-riots-1782451.html
--------
Students must know Bangladesh is a secular country: Prof Yasmeen
2018-03-06
"We were not like this when the country became independent. We all were Bengalis. There was no religious communalism," she told reporters at a demonstration in Dhaka's Shahbagh on Monday against Saturday's attack on her husband by a suspected Islamist militant in Sylhet.
"Ours is a secular country. They must read and understand this. Students must understand that it (the attack) should not have happened," she added.
Faizul Rahman Shafiqur, the assailant who was detained immediately after the knife attack on the secular writer-teacher, told the law enforcers that he wanted to kill Prof Iqbal because he believed the writer was an 'enemy of Islam'.
"A young person was made to believe that Zafar Iqbal has written against Islam. He (Faizul) would have understood if he had read the history of this country or what Prof Iqbal has written.
"He never should have been radicalised. Besides them (radicals), the others must understand how our country became independent, and it was never communal," Prof Haque said.
Her husband has authored at least 200 books, she added, but never written a single line against Islam.
The former physics teacher of the Shahjalal University of Science and Technology also thinks "depressed youths are being misled".
"All the students across the country must understand that it should not have happened," she added.
Prof Haque said the attack on her husband might have angered many. "But his first words at the ICU was, 'Tell my students not to be angry or go violent'," she added.
The celebrated writer had received death deaths a number of times for his outspoken stance against militancy and communalism. The police have been providing him security following government instructions since 2016.
"The government had nothing to do here. It has done much more than it could do. We don't want much protection than what we are getting now," Prof Haque said when asked if the family felt insecure.
However, pictures show two of the three policemen guarding him were busy on their mobile phones and the other was looking at something else. They were not even standing right behind the professor that gave the assailant the opportunity to carry out the attack easily.
About Zafar Iqbal's health condition, Yasmeen said he would need to stay at the Combined Military Hospital or CMH in Dhaka for around a week.
The writer suffered injuries in his head, back and left hand in the knife attack during a programme on the SUST campus.
Prof Haque joined the demonstration of former students of the university in front of the National Museum in Dhaka against the attack.
"Everyone knows he had been getting threatened with death for a long time. He is lucky to have survived the attack with everyone's prayers.
Full report at:
https://bdnews24.com/bangladesh/2018/03/06/students-must-know-bangladesh-is-a-secular-country-prof-yasmeen
--------
Myanmar continues to expel Rohingya as it 'negotiates' to take them back
March 05, 2018
Rohingya refugees continue to flee to Bangladesh
The international political discourse around the Rohingya crisis is increasingly around repatriation. And that is hardly surprising.
For anyone who is either ignorant of the situation or at least deliberately refuses to engage too deeply with the problem, that seems to be the most immediately obvious and just resolution to what has befallen the Rohingya people at the hands of the Myanmar army.
But this would be neither the right thing to do, nor the most practical.
Myanmar and Bangladesh have signed an initial repatriation agreement all the way back in mid-January. Yet since Myanmar entered into these negotiations on November 23, they have pushed out a further 70,000 Rohingya across the border to Bangladesh.
And though the flow of refugees has slowed down in recent weeks, it does continue. Rohingya refugees are not going from Bangladesh back to Myanmar. They continue to flee in the opposite direction.
But the talk of repatriation does fit the purposes of both the government of Bangladesh and of that of Aung San Suu Kyi in Myanmar. Bangladesh gets to look tough on immigration as the attitudes toward the refugees in the country are hardening.
And the government of Myanmar gets to look like they are doing something for the Rohingya, even as the autonomous military continues to "cleanse" Rohingya lands.
Not sincere
The fact of the matter is that Myanmar was never sincere about returning the Rohingya. The military, the conservative Buddhist establishment, and large swathes of the population believe that the dark-skinned, Muslim Rohingya fundamentally do not belong in their Buddhist, ethnically Burmese state.
They are hardly going to put in place all the logistics and the security measures needed to repatriate the 700,000+ refugees from Cox's Bazar, just as they have finally succeeded in implementing their long-established genocidal rhetoric.
Nor is there much left for the Rohingya to return to. Their lands and cattle have already been seized, redistributed, and are now being harvested by their former Buddhist neighbours.
Even if individual Rohingya still had the documentary paper-trail to prove ownership of these assets, they are hardly likely to obtain legal redress from the state which has gone to such lengths to purge them from the lands of their birth.
But just to be sure, the Myanmar authorities have seized and destroyed Rohingya documents at every given opportunity for decades.
To be clear: It would be crazy and wrong to try to drive the Rohingya back into the hands of the very assailants who have waged an all-out war on their people.
And there are virtually no arrangements in place to even make such a repatriation possible — all there is in place are some purely symbolic, political statements by two complicit governments.
Repatriation plan
But while the motives of Myanmar to pretend that there is a plan for repatriation are transparent, it is equally important to understand why many other actors in the international community are playing along — especially among the diplomatic circles of the Western capitals who are supposed to be genuinely concerned about humanitarian issues.
Talking about repatriation deflects attention from the real challenges that the burgeoning Rohingya refugee population in Bangladesh is facing. And especially, by pretending that things are on course for being "fixed," our leaders and diplomats can deflect attention from our own humanitarian responsibilities: "Of course we'll send blankets and food aid to the refugee camps. But, the crisis has a clear path to resolution ahead. There is no need for us to get involved any more deeply with this, and certainly no need for us to intervene to guarantee the security of the Rohingya refugees, or to ensure that their refugee status in Bangladesh is normalised and properly defended."
Full report at:
https://www.dhakatribune.com/opinion/op-ed/2018/03/05/myanmar-continues-expel-rohingya-negotiates-take-back/
--------
2 dead, dozens of shops burnt as blast targets oil tanker in Nangarhar
Mar 06 2018
An explosion ripped through a oil tanker in eastern Nangarhar province of Afghanistan leaving at least two people dead, the local officials said.
The incident took place on Jalalabad-Torkham highway at around 6 am local time today after a magnetic bomb planted in the oil tanker went off.
The provincial government media office quoting the governor's spokesman Attaullah Khogyani said in a statement that two people were also wounded in the blast.
Khogyani has also added that more than thirty shops caught fire after the blast ripped through the oil tanker.
No individual or group including the Taliban and ISIS insurgents has so far claimed responsibility behind the incident.
Nangarhar has been among the relatively calm provinces in East of Afghanistan since the fall of the Taliban regime but the anti-government armed militant groups have been attempting to expand their insurgency activities in some of the remote parts of the province during the recent years.
Both the Taliban and militants affiliated with the Islamic State terror group have presence in some districts of Nangarhar.
Full report at:
https://www.khaama.com/2-dead-dozens-of-shops-burnt-as-blast-targets-oil-tanker-in-nangarhar-04583/
--------
Hekmatyar confirms no Al Qaeda link, suggests autonomy for Taliban
Mar 05 2018
The leader of Hezb-e-Islami Gulbuddin Hekmatyar has confirmed that he has no connection with the Al Qaeda terrorist network as he suggests autonomy for the Taliban group in a bid to help reach to a peace agreement between the Afghan government and the Taliban group.
In an interview with the New York Times, Hekmatyar has branded Osama as an individual committed to Islam.
However, he said his party's links with the network were broken after Osama shifted focus from Afghanistan to global Jihad.
"He was a man committed to Islam," Hekmatyar told the paper, as he recalled a 1980s stance where he had saved the future terrorist leader's life by breaking a Soviet Army encirclement of Arab fighters.
In regards to the Taliban group and the Afghan reconciliation efforts, Hekmatyar suggested autonomy for the group in a bid to help reach a peace deal between the government and the insurgent group.
Hekmatyar said his participation in Afghan politics showed the Taliban that they, too, could wield influence after laying down their weapons.
The leader of Hezb-e-Islami further added that he had already begun establishing himself as an intermediary and was in regular contact with the Taliban's supreme leader, Mawlawi Haibatullah Akhundzada.
According to the Times, Hekmatyar is promoting a reconciliation with the Taliban that would grant local autonomy to the insurgent group in certain regions, or peace provinces. He called these regions "secure areas" that would remain part of Afghanistan, even as Afghan Army troops withdrew from them.
Full report at:
https://www.khaama.com/hekmatyar-confirms-no-al-qaeda-link-suggests-autonomy-for-taliban-04581/
--------
Mideast
Trump's Mideast peace plan in limbo as Netanyahu visits
5 March 2018
President Donald Trump and Israeli Prime Minister Benjamin Netanyahu have reasons to celebrate but also ample cause for trepidation as they meet Monday at the White House.
Trump's long-awaited Mideast peace plan has yet to arrive, even as Palestinians and other critics insist it will be dead on arrival. And although Israel's government is overjoyed by Trump's recognition of Jerusalem as Israel's capital, misgivings are percolating over Iran. Israel sees Trump's efforts to date to crack down on Israel's arch-enemy as lacking.
Netanyahu arrived in the United States over the weekend as Washington was gearing up for the annual conference of AIPAC, the powerful pro-Israel lobby. He plans to hold a meeting and working lunch with Trump on Monday before speaking at the conference later in the week
https://english.alarabiya.net/en/News/middle-east/2018/03/05/Trump-s-Mideast-peace-plan-in-limbo-as-Netanyahu-visits.html
--------
Trump 'may' attend US Embassy opening in Jerusalem
6 March 2018
WASHINGON: Donald Trump said he may attend the opening of a controversial new US Embassy in Jerusalem, a fraught prospect designed to underscore close ties with Benjamin Netanyahu, as he hosted the Israeli leader at the White House on Monday.
The embattled US president warmly welcomed the embattled Israeli prime minister, claiming ties between their two countries had "never been better" as he floated a May trip that would be a major security and diplomatic challenge.
In the Oval Office, Netanyahu praised Trump's decision to move the embassy to Jerusalem — which both Israel and the Palestinians claim as their capital.
Asked if he would take part in the planned ceremony, which will coincide with the 70th anniversary of Israel's declaration of independence, Trump said "I may, we'll be talking about that."
"If I can, I will," Trump added, "Israel is very special to me, special country, special people."
Such a visit would risk pouring gasoline on an already enflamed situation and curb US claims to be an independent broker in the peace process.
Trump's plan to move the US Embassy from Tel Aviv to Jerusalem this year has brought the two leaders closer together, but it has also infuriated Palestinians and was condemned by 128 states in a United Nations General Assembly vote in December.
But Monday's meeting was all smiles at the White House as the two leaders — both facing serious legal investigations — put on a joint show of unity.
Hours before Netanyahu arrived at 1600 Pennsylvania Avenue, it was confirmed that an ex-aide agreed to become a state witness in a corruption probe that has imperiled his premiership.
The Israeli leader has embraced the Trumpian tactic of denouncing corruption allegations as "fake news."
It is a method that Trump has honed in dealing with an investigation into whether his campaign team colluded with Russia during the 2016 US elections.
Several of Trump campaign aides are facing charges or have pled guilty to lying to FBI investigators.
Netanyahu's visit while in Washington to the annual conference of the influential lobby group the American Israel Public Affairs Committee (AIPAC), will provide a boost for the right-wing Israeli leader as scandals and political turmoil brew at home.
Trump has offered unswerving support for Israel since coming to office, sharing Netanyahu's determination to challenge Iran's growing regional influence.
"I think they are partners in ideology, and the ideology is a populist, conservative ideology which says that the old liberal elites are against us," said Gayil Talshir, a political scientist at Jerusalem's Hebrew University.
The Middle East peace process grew even more complicated recently after Jared Kushner, the president's son-in-law and one of his senior advisers, lost his top-secret security clearance.
But Netanyahu is not thought to be overly concerned about any delay in restarting the peace talks.
In his encounters with Trump and at the AIPAC conference, he was expected to focus mainly on Iran as Israel's greatest enemy, and one he says seeks a permanent military presence in neighboring Syria.
Full report at:
http://www.arabnews.com/node/1259966/middle-east
--------
Turkey detains 12 ISIS suspects, seeks eight others
5 March 2018
Police on Monday detained 12 suspected ISIS militants in the Turkish capital, Ankara, and were searching for eight others, state media reported, as the US Embassy was closed due to an unspecified security threat.
The Ankara chief prosecutor's office said in a statement that all of the suspects captured in the police operation were foreign nationals. They were allegedly trying to recruit members for the extremist group and were in contact with people in "conflict zones," the statement said, without provide further details.
The US embassy said on its web page late on Sunday that the mission would be closed due to a security threat and urged US citizens to avoid the embassy as well as large crowds. It also advised citizens to "keep a low profile," adding that it would announce its reopening once it resumes services.
It was not clear if the embassy's closure was related to Monday's police operation. But the Ankara governor's office said authorities had "reviewed" security in the capital and had taken additional measures, following intelligence provided by US "sources" about possible attacks against the embassy or where Americans are staying.
Security was high outside the embassy on Monday, and police searched pedestrians before allowing them to enter a street where the main gate is located.
In 2013, a suicide bomber detonated an explosive in front of the US Embassy in Ankara, killing himself and a Turkish guard. Turkish officials blamed the attack on domestic leftists.
Full report at:
https://english.alarabiya.net/en/News/middle-east/2018/03/05/Turkey-detains-12-Islamic-State-suspects-seeks-8-others.html
--------
Yemeni official pledges to strengthen country's defense against militias
5 March 2018
Yemen's Acting Minister of Defense Lieutenant General Mohammad al-Maqdashi said on Sunday that the military institution has become stronger and more capable complete its operations and expel militias and terrorists from Yemen and combat any attempts to take the country backwards.
During a meeting with officials at the defense ministry, Maqdashi also commended the army's victories and praised the Arab coalition's role in helping the Yemeni people restore legitimacy.
Meanwhile, the Yemeni army resumed its operations in Saada, aided by the coalition's air force, to eventually engage in a number of fronts.
Yemeni legitimate forces intensified their operations in the past few hours on some border fronts, north of Saada and Hajjah.
On Sunday, legitimate forces launched an operation to liberate the Razih District, north of Saada, while Saudi joint forces shelled militias' posts and fortifications.
Full report at:
https://english.alarabiya.net/en/News/gulf/2018/03/05/Yemeni-official-pledges-to-strengthen-country-s-defense-against-militias-.html
--------
Turkey asks Germany to detain, extradite Kurdish leader Saleh Muslim
Mar 5, 2018
Turkey has asked Germany to detain and extradite Salih Muslim, a senior Kurdish figure from Syria whom Ankara blames for two terror attacks in the capital Ankara that killed dozens.
Deputy Prime Minister Bekir Bozdag said on Monday that Turkish authorities had asked German counterparts on Friday to temporarily detain and hand over Muslim, adding that Berlin had yet to respond to the request.
Bozdag, who is also the main government spokesman, said Ankara had demanded serious action from Germany over the case of the Kurdish leader.
"We will... continue to invite Germany to act honestly and sincerely," he said, adding, "German authorities had to take measures and comply with the law between two countries, but unfortunately they have not complied."
A court in the Czech Republic decided to release Muslim last week, days after he was arrested on an Interpol red notice requested by Turkey. Muslim, a former co-leader of major Kurdish group the Democratic Union Party (PYD), was attending a conference in Prague when he was arrested after a Turkish participant took a photo of him.
He has now traveled to Germany, which hosts a large Kurdish diaspora in Europe.
Turkey has hugely angered the Kurdish population in Germany by launching a massive military operation against Kurds in Syria's northwestern region of Afrin since January 20.
Turkey views the PYD, and its militant wing the People's Protection Units (YPG), as terrorist groups linked to outlawed Kurdish militants fighting for an autonomous region in the southeast of the country.
Ankara has announced that the main objective behind the ongoing military operation in Afrin in Syria's Aleppo province is to push back Kurds from east of the Euphrates to areas close to the Iraqi border.
Muslim, in a rally in Berlin attended by thousands of Kurds on Saturday, condemned Turkey's campaign in Afrin and urged an immediate halt.
"The situation is very miserable ... hundreds of civilians being killed," said Muslim, adding, "Germany should not support them. Turkey is now attacking, mostly using German weapons ... This is support for state terrorism."
Turkey and Germany, two NATO allies, have seen their ties strained in the wake of a failed coup in Turkey in the summer of 2016. Berlin has fiercely criticized Ankara for its post-coup crackdown, which has expanded to target the Kurds, saying authorities have acted beyond the rule of law.
Full report at:
http://www.presstv.com/Detail/2018/03/05/554466/Turkey-Germany-PYD-leader-extradition
--------
Turkey pledges to meet NATO's 2 percent defense spending guideline by 2024
March 05 2018
Turkey is among the 15 NATO members to meet the alliance's guideline to spend at least 2 percent of its total GDP on defense by 2024. According to a diplomat from one of Turkey's NATO allies, if Ankara ultimately opts to buy the Russian S-400 anti-missile defense systems then it will easily meet this target, but as the system will not be interoperable with the NATO air defense network it will not help Turkey in terms of capacity.
"A non-interoperable system is not helpful in terms of capability for NATO," the diplomat in Brussels told the Hürriyet Daily News on condition of anonymity.
Turkey recently increased its defense expenditure to 1.52 of its overall GDP. The country's equipment expenditure as a share of defense spending was 30.40 percent in 2017, exceeding the NATO guideline of 20 percent.
In the wake of Russia's 2014 invasion of Crimea, NATO's heads of state and government agreed at a summit to commit to spending at least 2 percent of their GDP on defense.
In its definition of "military expenditure," NATO includes research and development costs, as well as defense ministry budgets, pensions, and expenditure for peacekeeping and humanitarian operations.
According to the diplomat in Brussels, just five out of 28 members currently meet the commitment to spend at least 2 percent of their GDP on defense: The United States, the United Kingdom, Poland, Estonia and Greece.
"Since 2014, the increase in defense spending in NATO, including the European allies and Canada, outside of the U.S., has amounted to $46 billion. Three allies have spent at least 3 percent of their total GDP on defense, but by the end of 2018 we hope to see that number reaching eight: Estonia, Greece, Latvia, Lithuania, Poland, Romania, the U.K. and the U.S.," said the diplomat.
If currently planned budgets are followed through, by 2024 NATO expects at least 15 allies to have reached the 2 percent target, he said, stressing that the alliance cannot maintain its strength and capability with only half of its member countries meeting the target.
"It takes all allies to achieve success," he added.
"One of the things we often hear from allies is that they are not going to get to 2 percent but they are still very actively engaged in contributing to the alliance's missions and they have high quality resources ready to go whenever the alliance needs to go. In response, usually we say: 'You're right. We really appreciate what you are contributing today. But we want to make sure that you are able to make that contribution tomorrow. In order to do that, you are going to need to invest today. And you will need a good defense budget to do that.'"
Once capabilities are developed it also takes considerable resources to operate and sustain them, so sufficient funding must be allocated year after year, the diplomat noted.
Full report at:
http://www.hurriyetdailynews.com/turkey-pledges-to-meet-natos-2-percent-defense-spending-guideline-by-2024-128203
--------
Southeast Asia
Muslim Cyber Army Hoaxers Wanted to Discredit the Government: Police
March 05, 2018
Jakarta. By disseminating fake news, the so-called Muslim Cyber Army, or MCA, sought to spread anxiety and distrust toward the government, police officials said during a press conference, which was broadcast live by Metro TV on Monday (05/03).
Last week, six members of the group, including a lecturer, were arrested in Jakarta, West Java, Yogyakarta, Bangka Belitung, Bali and Central Sulawesi. They libeled individuals and disseminated hoax news about attacks against Muslim clerics.
Among 45 stories that the group published in social media in February, 42 were fabricated to spur hate and fear, the National Police's head of social affairs, Insp. Gen. Gatot Eddy Pramono, said.
He said the police's cybercrime unit determined that some members of the MCA's inner circle used to be active in another hatemongering group, the so-called Saracen syndicate, which was uncovered last year.
MCA was trying to create an impression that a broad offensive against Muslim scholars was ongoing in Indonesia.
"This group has a political motive. By spreading hoaxes, they hoped to discredit the legitimate government," Gatot said.
According to the head of the cybercrime directorate at the National Police's Criminal Investigation Unit (Bareskrim), Brig. Gen. Fadil Imran, MCA was also trying to ignite fear by saying that communism was on the rise in Indonesia.
"The perpetrators who were with the MCA, are also former [members of the] Saracen," Fadil said, adding that investigators are still working to find the group's mastermind.
Separately on Monday, Chief Security Minister Wiranto said the government will "weed out" those who spread fake news and hate speech, as it now has a special inter-institutional team to deal with the problem.
In cooperation with Interpol, the police sent investigators to South Korea, where other members of the MCA's inner circle are operating, Bareskrim's intelligence unit head, Chief. Comr. Ratno Kuncoro, said during a seminar in Jakarta last week.
One of the arrested told Metro TV that the group only wanted to target social media accounts that, according to them, were insulting Muslim clerics.
http://jakartaglobe.id/news/muslim-cyber-army-hoaxers-wanted-discredit-government-police/
--------
Tawfik says asked AG to remind Speaker on Shariah Bill
BY RAM ANAND
March 6, 2018
KUALA LUMPUR, March 6 ― Tawfik Ismail, who is suing the Speaker for allowing a bid to raise Shariah sentencing limits, said he has written to the Attorney-General to caution Tan Sri Pandikar Amin Mulia against allowing the matter to again reach Parliament.
The son of the late Tun Dr Ismail Abdul Rahman is suing the Speaker and Parliament secretary Datuk Roosme Hamzah for previously accepting PAS president Datuk Seri Abdul Hadi Awang's proposal to amend the Syariah Courts (Criminal Jurisdiction) Act or Act 355.
The High Court last month dismissed Pandikar's application to set aside Tawfik's suit, and the latter then warned the Speaker that allowing the motion to reappear in Parliament would be contempt of the court.
The motion is listed as the fourth item in today's Order Paper.
"I was not surprised (by its appearance) because I knew about this via several MPs who received the Order Papers. So, last week, my lawyers had written to the AG," Tawfik said.
Tawfik said he was "angered and infuriated" by Pandikar's "disregard" for the court proceedings, adding that it also suggested the Speaker's views of the Conference of Malay Rulers.
"Speaker is showing his contempt for the institution of royalty by placing this [motion] in the Order Paper and after the King declared the Parliament open," he said.
In the letter dated March 2, Tawfik via his lawyers asked the AG to extend Pandikar a copy of the High Court judgement last month when it granted Tawfik leave to challenge Pandikar over the decision to allow the motion to be read out in Parliament.
Hadi's motion was carried over from the previous two parliamentary meetings.
Despite the listing, it is not certain that Hadi's motion to increase Shariah punishments tenfold will be brought up for debate.
In his lawsuit filed March 31 last year, Tawfik claimed, among others, that Pandikar erred by allowing Hadi to submit his motion to raise Shariah sentencing limits before these were presented for the approval of the Malay Rulers.
Full report at:
http://www.themalaymailonline.com/malaysia/article/tawfik-says-asked-ag-to-remind-speaker-on-shariah-bill#GoGeDi6Ku6FGWcBg.97
--------
Philippines arrests suspected pro-Islamic State militant over siege
March 6, 2018
Manila, March 5, 2018 (AFP) -Philippine police announced on Monday the arrest of a suspected pro-Islamic State jihadist accused of killing civilians in last year's deadly siege of the southern city of Marawi.
Hundreds of gunmen flying black IS flags seized Marawi in May last year, triggering a five-month battle that claimed more than 1,100 lives, in a bid to establish a caliphate in the largely Catholic country.
Nasser Lomondot was arrested on Saturday in Manila, months after he fled the fighting in Marawi.
"He participated in the killing of innocent civilians and committed violence against female and child hostages," regional military spokesman Major Ronald Suscano told reporters.
As government forces battled to wrest back control of Marawi, Lomondot directed a diversionary attack by pro-IS gunmen in the neighbouring town of Marantao, Suscano added.
"He was one of the key planners of the attack in Marantao town …while the firefight was still ongoing" in Marawi, Suscano said.
Lomondot was arrested with a second pro-IS suspect, Manila police chief Oscar Albayalde said in a statement.
Full report at:
https://www.arabtimesonline.com/news/philippines-arrests-suspected-pro-islamic-state-militant-siege/
--------
Indonesia tightens security for Muslim clerics
March 6, 2018
Indonesia has tightened security for Muslim clerics after a man was brutally murdered during a home invasion in February and as death threats against religious leaders continue to pour in.
The latest incident occurred on March 4 when a letter was found in Depok of West Java Province containing the names of 10 clerics who it said would be killed. It is unknown who sent the letter.
Police say the number of reports of persecution against clerics is rising this year.
National police chief Tito Karnavian said during a speech on March 4 at a Muslim boarding school in Banten Province that 45 reports have already been made this year.
However, only three of these cases — one in East Java and two in West Java — have been confirmed as targeting clerics, he said, adding that a special unit has been set up to investigate them.
Those responsible have been arrested and exhibited signs of being mentally disturbed, he said.
Responding to the threats, Ari Dono Sukmanto, head of a criminal investigation unit, told ucanews.com on March 5 that police nationwide have been instructed to beef up security for clerics.
"In the case in Depok, we are now investigating who sent the letter," he said. "We can guarantee religious leaders in Depok and other areas that security will be enhanced," he said.
The Ministry of Religious Affairs has issued an appeal to tighten security at mosques and track the movements of people who act suspiciously.
Fears for clerics' safety have grown this year after Ustadz Prawoto, chairman of Islam Unity in Bandung, West Java died after being attacked at his home on Feb. 18.
A few weeks earlier on Jan. 27, Muslim cleric Umar Basri sustained injuries during an attack at the boarding school he was residing at in Cicalengka, Bandung district.
Basri was a member of Nahdlatul Ulama, a traditionalist Sunni Muslim outfit which ranks as the largest independent organization in Indonesia.
Meanwhile, on Feb. 18 a man made an apparently unprovoked attack on Hakam Mubarok, a cleric in Lamongan, East Java. Mubarok was running a boarding school at the time overseen by Muhammaddiyah, the country's No. 2 Muslim organization.
Possible hoaxes in the mix
Karnavian acknowledged the attacks but said most of the reports received by police involved people with mental problems and had been twisted out of proportion on social media.
"The point is there is no massive and structured attack," he said. "But some people are trying to create this impression by scapegoating certain groups."
He gave the example of the Cyber Army Muslims as one group that has been trying to sow social unrest by posting provocative messages on social media.
Police are now investigating the group and have arrested dozens of its members, he added.
Zainut Tauhid Sa'adi, deputy chairman of the Indonesia Ulema Council, urged security officials to thoroughly probe all cases.
"It is good that the police have found out the culprits are mentally ill people. But the question we need to ask is how people with mental disorders can carry out nearly simultaneous attacks on similar targets," he said.
Yati Andriyani, coordinator of the Commission for Disappearances and Victims of Violence (KontraS), a Jakarta-based human rights advocacy group, told ucanews.com the threats and attacks need to be taken seriously.
Full report at:
https://www.ucanews.com/news/indonesia-tightens-security-for-muslim-clerics/81692
--------
Indonesia decides against home detention for ailing JI leader Abu Bakar Bashir: Report
MAR 6, 2018
JAKARTA - Indonesia has decided against transferring the ailing spiritual leader of Jemaah Islamiah (JI), Abu Bakar Bashir, out of jail and under house arrest, chief security minister Wiranto said according to reports.
Wiranto said the government would instead transfer the radical cleric from a jail in Bogor to another one in Central Java - possibly Bashir's hometown of Solo, Tempo.com news portal reported.
"He will remain in a penitentiary, not in a house nor a hospital," Wiranto was quoted as saying at the Presidential Complex in Jakarta on Sunday (March 4).
Wiranto stressed that the authorities would keep an eye on Bashir, who was sentenced to 15 years' jail in 2011 for inciting others to commit terror acts and helping to fund a paramilitary training camp in Aceh, to prevent him from spreading radical ideologies.
The decision was final and would be followed-up by the Law and Human Rights Ministry, Wiranto said. The transfer would be carried out immediately, he added.
"It will be easier [for his relatives] to visit him and get in touch with him. When you are in your hometown you will feel content, even if you are detained," said Wiranto, Indonesia's former military chief.
Indonesian media had previously reported that the government was mulling putting "old and sickly" Bashir under house arrest on humanitarian grounds.
In April 2016, the authorities moved Bashir from the maximum security Nusakambangan island prison in Central Java, where he was locked in an isolation cell, to Gunung Sindur prison outside Jakarta.
The transfer of the founder of the South-east Asian terror network to the smaller state penitentiary near a major city was to ensure that he could receive proper medical treatment, the government had said.
But the Tempo report on Monday cited Law and Human Rights Minister Yasonna Laoly as saying that the court has ordered that Bashir remained in a penitentiary.
"It's impossible to go with house arrest. The law is not like that," he said.
Bashir will be provided with medical treatment, he added.
Full report at:
http://www.straitstimes.com/asia/se-asia/indonesia-decides-against-home-detention-for-ailing-ji-leader-abu-bakar-bashir-report
--------
Africa
Suspected Boko Haram suicide bomber blows himself up in Nigeria; kills three, injures 18
Mar 06, 2018
Nigeria: A suicide bomber on a bicycle killed three people on Monday, when he detonated his explosives on the outskirts of the northeast Nigerian city of Maiduguri, civilian militia told AFP.
Eighteen people were also injured in the attack, which happened in the Muna Dalti area of the city, said Musa Ari, a civilian militia member helping with security against Boko Haram. "The bomber attacked at about 8:20 pm in the midst of a group of residents hanging out, killing three and wounding 18," he added. "There is no doubt this is the work of Boko Haram terrorists," he said.
Another militia leader, Ibrahim Liman, gave the same toll and said the bomber detonated the explosives as he passed the group.
The Muna area of Maiduguri, which is home to a vast camp for people displaced by the conflict, has been repeatedly hit by suicide attacks blamed on Boko Haram. Previous targets include the camp itself, military and civilian militia checkpoints, and a bus station. Boko Haram has increasingly used mostly female bombers against civilian "soft targets", particularly mosques, markets and other gatherings, as part of its insurgency.
On Sunday, three female suicide bombers died in a botched suicide attack in Konduga town, 38 kilometres from Maiduguri, the militia said. Liman said the bombers' veils became entangled in barbed wire security fence erected by vigilantes to fend off Boko Haram suicide attackers. "The bombers blew themselves up to avoid capture and injured one person nearby," he added.
Nigeria's military and government maintain the Islamist militants are a spent force, after a sustained counter-insurgency that began in early 2015. But, while the jihadists no longer hold the territory they once did in the northeast, there are indications they may be stronger than the authorities claim.
On 19 February, heavily armed fighters kidnapped 110 schoolgirls from the town of Dapchi, in Yobe state, while last Friday, militants attacked the town of Rann in Borno. Eight soldiers and three aid workers were killed, forcing the suspension of humanitarian operations in the remote town for a week.
http://www.firstpost.com/world/suspected-boko-haram-suicide-bomber-blows-himself-up-in-nigeria-kills-three-injures-18-4377985.html
--------
The UAE still supports al-Shabaab through Somalia's illicit charcoal trade
5 March, 2018
Since the inauguration of the Federal Government of Somalia (FGS) in 2012, the United Arab Emirates has increasingly vied with other regional powers for influence in the country, investing in infrastructure, and bolstering the country's military capabilities.
The UAE opened a military training facility in Mogadishu in 2015 to train members of the Somali Armed Forces, and a Dubai-based firm has managed Mogadishu's Aden Adde International Airport beginning before the government transition.
During the massive Mogadishu truck bombing in October 2017, it was widely reported that the UAE promised to treat 100 injured civilians. The country responded by sending a flying hospital, and provided additional support to orphaned children through the Emirates Red Crescent.
Yet, the UAE's continuing participation in an illicit Somali charcoal trade undermines these positive contributions.
For years, the UAE has been cited as the primary destination for the illicit charcoal trade coming from Somalia over the years, and has been implicated in the recent formalisation of the trade, which has persisted since the inception of the FGS, documented by the United Nations Monitoring Group on Somalia and Eritrea.
In 2011, al-Shabaab controlled much of southern Somalia, and was estimated to receive between $70 million and $100 million annually through taxation and extortion in the area, including of illegal charcoal exports, which posed a major challenge for the incoming government.
Recognising the charcoal trade's role in financing al-Shabaab, the UN issued called for a total ban on charcoal exports from Somalia in 2012 (resolution 2036).
That year, as the FGS attempted to consolidate territorial control, militia leader Ahmed Madobe led a paramilitary group against al-Shabaab in in the Battle of Kismayo (fought over the southern port city of the same name).
Madobe's group assisted the Kenyan Defense Forces (KDF) in taking the strategically important port, before it later reverted back to al-Shabaab control.
The FGS continues to operate against a dense network of many fractious interests in its attempts to gain and hold territory and domestic legitimacy. Below the surface of international mandates and public relations campaigns, the illicit charcoal trade has continued unabated.
Madobe became President of the interim Juba administration which contained Kismayo, in 2013.
His rise to power coincided with the tenure of a locally operating tax collector for al-Shabaab with deep involvement in the charcoal trade, named Ali Ahmed Naaji.
In November, 2015, the group Journalists for Justice published a report implicating members of the KDF (who controlled the Kismayo port along with Jubaland forces), in a charcoal and sugar smuggling operation along with the interim Juba administration and al-Shabaab.
Toward the end of 2015, al-Shabaab briefly changed its strategy, attacking and punishing associates of the charcoal trade, as importing countries including the UAE improved enforcement of the charcoal ban.
The Monitoring Group noted "as a result of improved charcoal ban enforcement by the United Arab Emirates, dhows [traditional ships] became reluctant to load charcoal in Kismayo and Buur Gaabo in May 2016".
In Somalia, the combined restrictions on the 2016 charcoal trade hampered a key revenue stream of the interim Juba administration. The Monitoring Group cautioned that the Juba administration's reliance on charcoal export revenue, extracted through checkpoints and tax applied at the port, jeopardised its ability to pay police forces, putting them at risk of defecting to al-Shabaab.
This adverse impact of enforcing the ban highlights the complexity of alliances and power dynamics and explains short term incentives around maintaining the status quo on all sides. UAE enforcement of the ban was short-lived, and by the end of 2016, al-Shabaab had reverted to taxing the trade.
Ali Ahmed Naaji, previously tax collector for al-Shabaab, would become financier of the Jubaland Chamber of Commerce in 2016, and join an alliance called the All Star Group, also known as the All Star Trading Company, which, today, says the report, "comprises the main illicit charcoal suppliers, traffickers and investors in Kismayo and Dubai".
Multiple, unconfirmed reports have indicated that a revenue sharing agreement exists between the All Star Group of suppliers and traffickers, and al-Shabaab.
The Monitoring Group has also reported that Naaji "received death threats from the Amniyat [an elite branch of al-Shabaab] demanding a resumption of charcoal revenue sharing". Last month, the KDF disputed photographic evidence implicating its members in continued involvement.
Recognising Dubai as the principal destination for Somali charcoal exports, the UN estimated the total annual value of the Somali charcoal trade in 2016 at between $135 million and $180 million wholesale in the UAE, and between $171 million and $228 million retail.
The stakes in illicit charcoal for the UAE remain high relative to their risk.
Perhaps that is why the Monitoring Group has reported that over the past year, transnational criminal networks operating in Somalia and the UAE "may have assumed a more formal structure". Today, al-Shabaab systematically taxes charcoal between stockpiles and ports at Kismayo and Buur Gaabo further south.
"A conservative estimate suggests that al-Shabaab receives at least $10 million each year from the illicit charcoal trade. Dubai, United Arab Emirates, continues to be the primary export destination as well as a hub for criminal networks that violate the charcoal ban with near impunity.
"The United Arab Emirates, particularly Port Al Hamriya in Dubai, continues to be the principal destination for illegal exports of charcoal from Somalia."
In this scenario, the UAE is primarily responsible for generating the demand fuelling Somalia's illicit charcoal trade.
If the UAE is genuinely supportive of development and security in Somalia, it should enforce the charcoal ban and eliminate a crucial revenue source for al-Shabaab.
The UAE should consider options to support Somalia's federal government to alleviate pressure on the Juba administration and upset the ossified incentive structures that promote the illicit trade, and therefore finance al-Shabaab, rather than contribute to the trade's formalisation.
Full report at:
https://www.alaraby.co.uk/english/comment/2018/3/5/uae-still-supports-al-shabaab-through-somalias-illicit-charcoal-trade
--------
Boko Haram: Nigerian government set to free 95 'repentant' insurgents
March 5, 2018
By Ameh Comrade Godwin
The Nigerian government is set to release about 95 former Boko Haram terrorists after series of training, vocational skills acquisition and rehabilitation courses.
The repentant terrorists were trained by the Nigerian Army wing charged with the responsibility of Deracialising, Rehabilitation and Reintegration (DRR) in Gombe State.
The commandant of the camp, Colonel Adegoke Adetuyi, during the graduation ceremony of the repentant terrorists on Saturday, said they were also empowered with vocational skills.
"An essential element of DRR program is training of the ex-combatant by instructors from National Directorate of Employment (NDE). They went through a number of vocations including barbing, shoe making/leather works and cosmetology which compose of making of body cream, perfume and liquid soap among others.
"They were enthusiastic about their skill acquisition program and they are looking forward to practice their trades after discharge from the camp. They are to further their training with NDE in their state of residence in order to enhance smooth reintegration," he said.
The coordinator of Operation Safe Heaven (OPSC), Major General Bamidele Shafa, said they have earlier facilitated the rehabilitation of 750 men, women and children who were released to their various state government.
One of the repentant fighters, Fadau Bukar, asked for forgiveness for the atrocities they have committed against humanity and the nation as a whole.
"This is happiest day in life. It's like a day of admission into paradise. I appeal to the larger society to receive us wholeheartedly because we have realised that the ideologies of the Boko Haram are wrong that's why we surrendered.
Full report at:
http://dailypost.ng/2018/03/05/boko-haram-nigerian-government-set-free-95-repentant-insurgents/
--------
West African leaders plan strategy against extremist threat
By Brahima Ouedraogo and Carley Petesch 
March 5, 2018
OUAGADOUGOU, Burkina Faso — West African heads of states denounced extremism during a visit to Burkina Faso's capital Monday, vowing to strengthen cooperation to defeat Islamic militants who carried out two simultaneous attacks in Ouagadougou that killed at least eight people Friday.
Their pledge came as the al-Qaida-linked extremist group based in Mali that claimed responsibility for the attacks released a photo that it says is of a suicide bomber before he detonated his vehicle at the army headquarters.
"We have come to condemn in the strongest possible way these terrorist acts and to say that, whatever the sacrifice, we must do everything so that peace and security reign " said Togo's President Faure Gnassingbe, who is acting chairman of the West African regional bloc ECOWAS.
He and Niger President Mahamadou Issoufou on Monday visited the sites of the extremist attacks, the French Embassy and joint chief of staff offices of the army.
"Terrorism is an international phenomenon that hits no matter where and no matter what. Today it's Ouagadougou, tomorrow is another city, so we must strengthen cooperation because alone one cannot defeat terrorism," said Gnassingbe.
Niger President Issoufou, who is also acting chairman for the regional anti-extremist force, known as the G5 Sahel force, said extremism had no future in the region.
"Its defeat is inscribed in the obsolete and anachronistic nature of the values it claims to defend ... and the despicable and inhuman nature of its barbaric methods," he said.
He praised the G5 Sahel force set up to fight Islamic extremists and the international partners that are helping to fund it.
"We are going to strengthen our operational capacities, intelligence capacities with our allies, and we are sure that with this coalition we are going to militarily defeat terrorism and create the conditions for economic development in the Sahel countries," he said.
The 5,000-strong force combines troops from Burkina Faso, Mali, Niger, Chad and Mauritania.
Several extremist groups have vowed to step up the bloodshed in West Africa in response to the recent deployment of the multinational G5 force.
Among those is the militant group Jama Nusrat Ul-Islam wa Al-Muslimin, known by its acronym JNIM, which on Saturday said it carried out the attacks in retaliation for the killing of one of its leaders in a recent raid by French troops, according to the Alakhbar Mauritanian news agency.
On Monday, the group issued a photo of Yunus al-Fulani, who it named as its suicide bomber.
Full report at:
https://www.washingtonpost.com/?utm_term=.dd17d798a80c
--------
Islamic State video of Niger attack highlights vulnerability of U.S. troops
March 6, 2018
WASHINGTON – A propaganda video released by the Islamic State group that apparently shows the deadly ambush of U.S. troops in Niger raised fresh questions Monday as to the nature of the mission and why the soldiers had been left so vulnerable.
The distressing video, distributed by a pro-IS news agency, includes graphic footage taken by a solder wearing a helmet camera.
It shows the chaos of the attack, including the solider wearing the camera being shot dead, with apparent IS fighters stalking past his body.
The Defense Department "is aware of alleged photos and IS propaganda video from the October 4, 2017 terrorist attack in Niger. The release of these materials demonstrates the depravity of the enemy we are fighting," the Pentagon said in a statement.
The nine-minute video, set to Islamic chanting, includes an image of IS leader Abu Bakr al-Baghdadi and footage of pickup trucks rolling through a desert landscape.
One of the vehicles is flying an IS flag and other trucks are packed with what appear to be fighters.
The Oct. 4 attack occurred as a unit of American special forces soldiers together with 30 Nigerien troops returned from the village of Tongo Tongo, near the border with Mali.
They were attacked by a group of some 50 IS-affiliated fighters equipped with small arms, grenades and trucks mounted with guns.
Pentagon spokesman Col. Rob Manning accused news outlets reporting on the video as being "complicit in amplifying ISIS propaganda."
AFP has published a heavily redacted version of the footage.
The mission was supposed to be a low-risk patrol and the soldiers were clearly ill-equipped for the scale of the attack.
Footage shows the U.S. troops wearing only limited body armor, desperately seeking cover behind an unarmored SUV while coming under heavy fire.
In a frantic bid to find some sort of concealment, the troops deployed red smoke grenades but the parched landscape of scrub and dirt provided no effective cover.
At one point in the video, a U.S. soldier is shot and a comrade attempts to pull him to cover behind the SUV.
As their position is about to be overrun, they have no choice but to try to run away, but there is nowhere to hide.
Four American soldiers were killed along with at least five Nigerien troops. The body of one U.S. soldier, Sgt. La David Johnson, was not recovered until the following day.
"Knowing that they were asked to try and complete and execute this type of mission with that type of equipment, I just could not believe it," Republican Congressman Marc Veasey told CBS news.
Questions remain about what intelligence failures may have occurred that allowed such a large attack, and why the soldiers did not get immediate back up or air support.
The Americans had been on a joint patrol with Nigerien counterparts they were training when they were ambushed by motorcycle-riding and car-driving gunmen in the Tillaberi region in the Niger's southwest.
Full report at:
https://www.japantimes.co.jp/news/2018/03/06/world/islamic-state-video-niger-attack-highlights-vulnerability-u-s-troops/#.Wp4d9FRuazc
--------
West African leaders vow to fight jihadists after Burkina attacks
MARCH 6, 2018
OUAGADOUGOU (Reuters) - Burkina Faso's President Mark Roch said his country would fight and defeat militants despite being hit by Islamist insurgents in the capital last week in an attack which 8 people were killed and dozens wounded.
Roche was joined by the presidents of neighboring Togo and Niger in a show of solidarity with each other and with former colonial master France, whose forces intervened five years ago to stop militants taking over neighboring Mali.
An al Qaeda affiliate claimed responsibility on Saturday for the attacks on the army headquarters and French embassy in Ouagadougou that also killed eight gunmen.
"The fight against terrorism is a long one and in this combat no sacrifice will be too high in the defense of our fatherland," Marc Roch said.
"Recent events have shaken the Burkinabe people, but I assure you they will remain standing and end terrorism no matter what," he added.
The double assault highlighted the growing risk from jihadists in the Sahel five years after the French intervention.
France is pinning hopes on the so-called G5 Sahel force — comprising the armies of Mali, Mauritania, Niger, Burkina Faso and Chad — to enable it to start withdrawing the 4,000 troops it still has stationed in the region.
The G5 permanent council, chaired by Niger President Mahamadou Issoufou, met in Ouagadougou on Monday although Togolese President Faure Gnassingbe was the only other president at the meeting.
"Terrorists ... seek to undo our alliance ... They say our allies are foreign troops. For us they are not foreign troops, they are allies fighting for the same cause," Issoufou said.
Full report at:
https://www.reuters.com/article/us-burkina-security-g5-sahel/west-african-leaders-vow-to-fight-jihadists-after-burkina-attacks-idUSKBN1GH2XB
--------
URL: https://www.newageislam.com/islamic-world-news/plea-supreme-court-declare-nikah/d/114499
New Age Islam, Islam Online, Islamic Website, African Muslim News, Arab World News, South Asia News, Indian Muslim News, World Muslim News, Women in Islam, Islamic Feminism, Arab Women, Women In Arab, Islamophobia in America, Muslim Women in West, Islam Women and Feminism