New Age Islam News Bureau
12 December 2020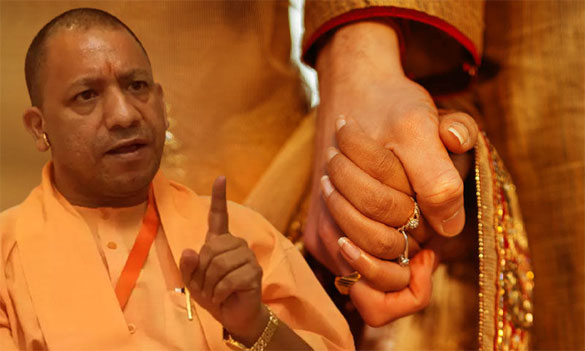 • Afghan Gov't, Taliban Agree Islamic Law to Guide Peace Talks
• Iran Hails UN Rejection of Resuscitating "Islamic Emirate" in Afghanistan
• Morocco-Israel Normalization Deal Draws Widespread Condemnation Online
• Excluded, Abandoned: Children Born Under Islamic State Era Still Paying Heavy Price
• Sudan Nears Removal from US Terror List amid Congress Debate
India
• Plea Filed In Allahabad High Court Challenging the Constitutional Validity of the Ordinance against Religious Conversions in the name of 'Love Jihad'
• Muslim Bride and Hindu Groom? It's Love, Not Jihad
• Terror, Afghanistan peace top agenda of PM's talks with Uzbek president
• Civilian shot at, injured by terrorists in J&K's Pulwama
• India set to ask Pak for info on 7 Pulwama perpetrators
--------
South Asia
• Afghan Gov't, Taliban Agree Islamic Law to Guide Peace Talks
• Daesh-Taliban Threatened to Turn Kabul into Shia Slaughterhouse: The First Vice President of Afghanistan
• Protests In Bangladesh's Cities Against China, Pakistan For Persecution Of Minorities
• Freedom Fighters Won't Tolerate Any Affront Towards Bangabandhu: Liberation War Minister
• Taliban Battered in Kandahar, 90 Killed
• One killed as multiple rockets hit Kabul: Interior ministry
• In War, No One Distributes Sweets: Report
--------
Europe
• EU Disinformation Watchdog Accuses India of Propaganda by Publishing Content against Pakistan and China
• UN Assembly lauds progress in Afghan peace talks
• Germany to allow deportations of Syrians if pose security risk
• Turkey dismisses EU move for sanctions as 'biased, unlawful'
• EU member states, MEPs agree to take terror content down
• Terror arrests fall to lowest level in almost a decade during coronavirus pandemic
--------
Pakistan
• KP Assembly Passes Bill To Create Endowment Fund For Non-Muslim Terror Victims
• Pakistan will have no future if it lives in religious superstition, says Prof Noam Chomsky
• 138 journalists killed in Pakistan since 1990: IFJ
• Fazl has contacts in MI6, says minister
• PDM sees no chance of 'third force' intervention
--------
Mideast
• Iran Hails UN Rejection of Resuscitating "Islamic Emirate" in Afghanistan
• Zarif Warns against Erdogan's Provocative Poems
• Iran Alerts World against ISIL's Revival
• Iran executes dissident journalist Ruhollah Zam: Iranian media
• Turkey slams EU's 'biased and illegal' approach, sanctions threat
• Police foil attack by Kurdish bomber in southeast Turkey
--------
Africa
• Morocco-Israel Normalization Deal Draws Widespread Condemnation Online
• US Kills 8 al-Shabab Fighters in 2 Airstrikes amid Troop Reduction in Somalia
• Executed Nigerian Farmers Were Caught Between Boko Haram and the Army
• Mozambique troops repel Islamists attacking village near gas site
• Mozambique: Us Prepared to Support Counter-Terrorism, but No Troops
• Russia condemns US recognition of Morocco's claim to Western Sahara
--------
Arab World
• Excluded, Abandoned: Children Born Under Islamic State Era Still Paying Heavy Price
• Lebanon recruitment agencies benefit from sponsorship system, lobby against reforms
• Killer of Lebanon's Hariri sentenced to life in prison, remains at large: UN court
• Lebanon's Hezbollah rejects charges against caretaker PM in Beirut explosion
• UAE: Abu Dhabi Police investigating gang for raping girl, posting video of crime
• Hezbollah condemns Morocco-Israel agreement on normalization of relations
• Car bomb kills at least four in Turkish-controlled north Syria
--------
North America
• Sudan Nears Removal from US Terror List amid Congress Debate
• US and Israel won't stop trying to shackle Iran
• Pentagon planning to withdraw support for most CIA counter-terror missions
--------
Southeast Asia
• Ibrahim Ali Says Putra To Play Check And Balance Role On Govt Policies
• Perak PAS apologises to Sultan Nazrin for no-show at palace
• No question of disobedience in Perak, says PAS No 2
• Hadi seeks audience with Perak Sultan to explain PAS' situation
Compiled by New Age Islam News Bureau
URL: https://www.newageislam.com/islamic-world-news/plea-filed-allahabad-high-court/d/123739
--------
Plea Filed In Allahabad High Court Challenging the Constitutional Validity of the Ordinance against Religious Conversions in the name of 'Love Jihad'
Dec 12, 2020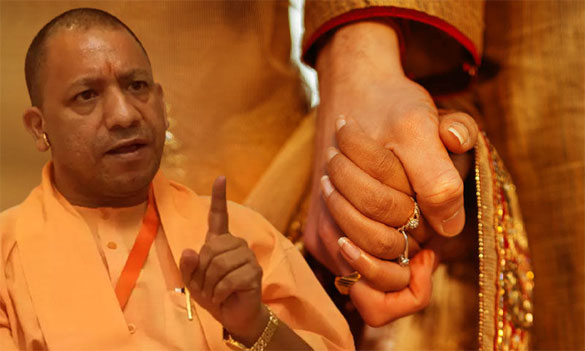 A lawyer from Uttar Pradesh challenged the constitutional validity of Uttar Pradesh's controversial ordinance against religious conversions by marriage, coercion or enticement before the Allahabad high court on Friday, arguing that the state had no role to play in the personal choice of individuals in matters of marriage and religion.
The petition, filed by advocate Saurabh Kumar, also sought an immediate stay on the operation of the Uttar Pradesh Prohibition of Unlawful Conversion of Religion Ordinance, 2020, apart from directions to the state government to not take any coercive action against individuals, including registration of FIRs.
The ordinance, said the plea, gives a license to police authorities to terrorise and harass inter-faith couples who want to exercise their right to marry according to their choice, under the guise of "love jihad", a term used by right-wing activists to describe a relationship between a Muslim man and a Hindu woman. In February, the central government told Parliament that there was no definition of the term and no such cases were reported by agencies.
"The ordinance, which has completely failed to strike a balance between freedoms and mala fide conversions, has been passed and is being implemented in much haste and reckless manner without ensuring that the same does not curb one's Fundamental Rights or hamper national integration instead," added the petition.
The petition came days after a division bench of the high court, in a case of an interfaith marriage, held that the right to live with a person of his/her choice irrespective of religion was intrinsic to the right to life and personal liberty.
The petition, citing this two-judge bench in addition to the Supreme Court's rulings in the Kerala 'love-jihad' case on the need to respect choices and autonomy of adult women and the right to privacy case, contended that the ordinance, which was promulgated on November 28, led to an unreasonable intrusion into the domain of personal autonomy.
According to the lawyer-petitioner, the state government assumed a 'tone-deaf' position when it chose to ignore all these pertinent judgments by the constitutional courts and went ahead with promulgating the ordinance.
No date was fixed by the high court to take up this petition. Similar petitions have also been filed in the Supreme Court, which is also yet to examine any of these pleas.
The Uttar Pradesh law outlawed religious conversions by marriage, coercion, deceit or enticement, and prescribed up to 10 years imprisonment for those found guilty. The law – under which at least 30 people have been booked and 10 people arrested -- includes a provision to void a marriage if it is solemnised primarily to convert a woman's faith. The burden of proof is on the person who converted, and those who performed the conversion.
The ordinance was cleared by the state cabinet days after chief minister Yogi Adityanath promised to end "love jihad" in the state.
https://www.hindustantimes.com/lucknow/plea-filed-against-up-s-love-jihad-law-in-hc/story-AtKdTegiZiVN1Tpe38ZlCL.html
--------
Afghan Gov't, Taliban Agree Islamic Law To Guide Peace Talks
By Kathy Gannon
Dec. 10, 2020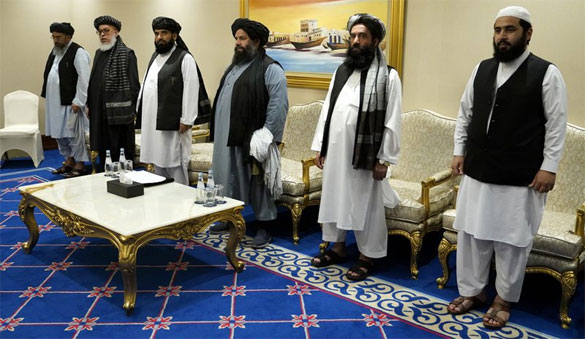 Members of the Taliban's peace negotiation team meet with Secretary of State Mike Pompeo amid talks between the Taliban and the Afghan government, Saturday, Nov. 21, 2020, in Doha, Qatar. (AP Photo/Patrick Semansky, Pool)
------
ISLAMABAD — Afghan government negotiators and the Taliban have agreed to have Islamic law and teachings guide them in peace talks now underway in Qatar, according to a document obtained Thursday.
The document details a 21-point list of rules and procedures for the negotiations and sheds light on what the talks, which are taking place behind closed doors, actually look like. The warring sides signed the document last week in Doha, Qatar, where the U.S.-brokered talks began in September and where the Taliban have for years maintained a political office.
Soon after their ceremonious start — the only part that was public — the talks hit an impasse until last week, when in a breakthrough, the two sides agreed on rules and procedures for the negotiations. The Associated Press on Thursday obtained a copy of that document.
The breakthrough was significant as it meant the sides could soon start to negotiate issues that could end decades of fighting in Afghanistan and determine the country's post-war future — such as a cease-fire, what to do with armed Taliban fighters and militias loyal to warlords allied with the Kabul government. Constitutional changes and the rights of women and minorities are also expected to be on the agenda.
According to Afghans familiar with the talks in Doha, a critical sticking point was whether the deal the U.S. signed with the Taliban in February would be the foundation for the Afghan-Taliban talks. The Afghans spoke on condition of anonymity to discuss the peace process.
The Taliban were adamant that it be a blueprint, but government negotiators were resistant as Kabul representatives were not party to the U.S.-Taliban accord. That deal set out the guidelines for the eventual withdrawal of U.S. and NATO troops from Afghanistan, ending America's longest military engagement.
American troop levels in Afghanistan would be reduced to 2,500 by mid-January, according to U.S. Gen. Mark Milley, chairman of the Joint Chiefs of Staff, after President Donald Trump recently decided to accelerate the troops withdrawal. According to Milley, the smaller U.S. force would operate from "a couple of larger bases," along with several smaller ones, in order to continue its current missions of combatting extremist groups like al-Qaida and training and advising Afghan defense forces.
The U.S.-Taliban agreement from Feb. 29 also committed the Taliban to preventing any attacks against American interests in Afghanistan.
Despite resistance by Afghan government negotiators, the U.S.-Taliban deal made it into the introduction part of the 21-point document on the rules and procedures for the Doha talks, after stating that Islamic law would be the foundation for the negotiations.
"Afghanistan's honor and dignity lies in its Islamic identity and national unity," the document says. "It's only through the implementation of Islamic justice that Afghanistan can protect its sovereignty and avoid direct and indirect interference."
The negotiations between the Afghan government and the Taliban are likely to be protracted and their outcome is far from certain, but Torek Farhadi, a former Afghan government adviser and political analyst, says that "everyone with reason is hoping for a power-sharing agreement."
A power-sharing deal, one in which the Taliban would be part of the political mainstream in a post-war Afghan society, is the only solution that could protect the civilians from continuing to bear the brunt of the conflict, Farhadi said. "For Afghan civilians, between COVID, poverty, the winter and relentless violence, the situation has become unbearable."
"The peace process is struggling even at this early moment, and any successful negotiation leading to a settlement will be long and fraught," said Michael Kugelman, deputy director of the Asia Program at the Washington-based Wilson Center.
The 21-point list in Pashto and Dari — Afghanistan's two official languages —warns warring sides against leaking documents or speaking to the media during the negotiations. It also calls for the negotiations to be conducted with "honesty, sincerity and in good atmosphere." It further urges "mutual respect and decency" to avoid mistrust.
Every meeting between the two sides in the talks will start and end with prayers, the document says, and when the two sides disagree, separate teams will be formed to find alternative solutions, including situations when religious interpretations are disputed.
https://www.washingtonpost.com/world/asia_pacific/afghan-govt-taliban-agree-islamic-law-to-guide-peace-talks/2020/12/10/211820d8-3b05-11eb-aad9-8959227280c4_story.html?utm_source=iterable&utm_medium=email&utm_campaign=1808826_
--------
Iran Hails UN Rejection of Resuscitating "Islamic Emirate" in Afghanistan
2020-December-11
Takht Ravanchi made the remarks in his Thursday address to the 40th Plenary Meeting of the UN General Assembly, entitled "The Situation in Afghanistan".
He said that while Iran welcomes the rejection of revival of what is called "Islamic Emirate" in the neighboring country, it does not accept the presence of foreign occupying troops in the region.
The senior diplomat praised the Afghan government's positive approach to peace talks with the Taliban, and at the same time urged the militant group to stop attacks against Afghan security forces if it wants to prove good faith.
He welcomed the progress made in the peace talks and expressed Iran's preparedness to play a more active role to help its success in coordination with the UN.
"All foreign players must avoid interfering in the peace talks that must be facilitated by the UN. In this regard, we welcome the General Assembly's call for further UN interaction in the peace process," Takht Ravanchi added.
The envoy noted that despite the beginning of peace talks, the security situation in Afghanistan is still worrying, as the number of attacks against civilians and civilian infrastructure including educational and diplomatic centers is on the rise.
"We strongly condemn all these attacks, most of which are carried out by terrorist groups, especially ISIL whose elements are still being transferred from Syria and Iraq to Afghanistan," he further said.
Iran's UN ambassador said that sadly the opposition of certain Western countries made it impossible to include an independent paragraph in a resolution about the threats posed by ISIL terrorist outfit in Afghanistan, even though the group's presence is a serious danger for the security of Afghanistan and the region.
In relevant remarks last month, Iranian Foreign Ministry Spokesman Saeed Khatibzadeh said that his country supports the ongoing peace talks in Afghanistan, calling for the further expansion of bilateral relations.
Khatibzadeh made the remarks in a meeting with his Afghan counterpart Gran Hewad in Kabul on Wednesday November 25.
He said that strengthening and expanding public and cultural relations between the two governments and the brotherly nations of Afghanistan and Iran are in the interest of both countries.
Khatibzadeh stressed Iran's support for the ongoing peace talks while preserving the Islamic Republic and the 19-year achievements in Afghanistan, and expressed hope that the relations between the two countries in various fields, specially in the cultural and media sectors, would expand as much as possible.
He also invited Gran Hewad to visit the Islamic Republic of Iran at an appropriate time in order to discuss further development of relations between the two countries.
Hewad, for his part, referred to the deep and historical relations between the governments and peoples of the two countries, and expressed hope that Khatibzadeh's visit to Kabul would further expand relations between the two friendly and brotherly countries of Afghanistan and Iran.
https://www.farsnews.ir/en/news/13990921000357/Iran-Hails-UN-Rejecin-f-Ressciaing-%E2%80%9CIslamic-Emirae%E2%80%9D-in-Afghanisan
--------
Morocco-Israel normalization deal draws widespread condemnation online
12 December 2020
Political activists in Morocco and other Arab countries have launched an online campaign against a US-brokered normalization deal between the Moroccan government and the occupying regime of Israel.
Donald Trump, the outgoing president of the United States, announced on Thursday that Morocco had reached an agreement with Israel on the normalization of relations, becoming the fourth Arab country – after the United Arab Emirates (UAE), Bahrain, and Sudan – to reach such a deal with the Tel Aviv regime since August.
Morocco's royal court confirmed the news and said that the US will open a consulate in the Western Sahara territory in line with the agreement.
Trump used Morocco's Western Sahara claim as a bargaining chip in talks with Morocco to secure the deal, and agreed to recognize Rabat's sovereignty over the territory.
Morocco annexed the vast Western Sahara region, a former Spanish colony, in 1975 and has since been in conflict with the Algeria-backed Polisario Front, a movement that seeks to establish an independent state in the territory and end Morocco's presence there.
Morocco is currently in control of 80 percent of the region, including its phosphate deposits and fishing waters.
The Polisario denounced Washington's recognition of Rabat's claim, saying it was a violation of international law and added that its struggle for autonomy "will continue."
"The stance… is a blatant violation of the United Nations charter and the resolutions of international legitimacy," the group said.
Reacting to the US-brokered deal, Moroccan and Arab activists took to Twitter on Friday to reject the agreement and to reiterate their support for the Palestinian people.
Using the hashtag "Moroccans Against Normalization", the activists censured the deal as a loss for Sahrawis — the inhabitants of Western Sahara — and Palestinians alike.
For Sahrawis and Palestinians, it is another dark day and we have endured many. But our liberation will come. We have no choice but continue our struggle for freedom and rights.
— Salem Barahmeh (@Barahmeh) December 10, 2020
Blackmail is a crime !! Trump needs to stop blackmailing countries already suffering from a fatal pandemic giving them ultimatum he is creating more hate & conflicts just STOP it Damn it !! #مغاربة_ضد_التطبيع 🇲🇦 "Israel "is annexing the West Bank Damn it !! #Boycottisrael #bds
— Layla Bensassi (@LaylaBe4) December 10, 2020
If you're Moroccan and don't mind this normalization because you "get Western Sahara" then your interests were never for Palestinians or the greater good. It was just another means to an end. And stop talking about a two state solution, it's from the river to the sea 🇵🇸
— ahmierda. #BLM (@ahmierda) December 10, 2020
99% of Moroccan people are against the normalization with a Zionist war criminal.
Sad day for #Morocco and the Moroccans.#التطبيع_خيانة #التطبيع_المغربي_الاسرائيلي pic.twitter.com/4gvul9h3fV
— aboutpalestine (@aboutpalestine1) December 11, 2020
I am a free moroccan , and i am against normalisation with the zionist, the morocan regime doesn't represent me.
#مغاربه_ضد_التطبيع
— nxoob@gmail.com (@nxobb) December 10, 2020
A Moroccan activist said in an Arabic-language tweet that, "Every free Moroccan must share this hashtag so that the traffickers know the issues of our nation and its sanctifies, that we do not and will not recognize the Zionist entity that lives on the land and blood of our brothers."
انا مغربية
انا ضد التطبيع
كل مغربي حر فل يشارك في هاشتاج #مغاربة_ضد_التطبيع حتى يعلم المتاجرين بقضايا أمتنا ومقدساتها، أننا لا ولن نعترف بالكيان الصهيوني الذي يعيش على أرض ودماء إخواننا .
— نعيمة الأندلسي❤ (@Na3ma1999) December 11, 2020
Another activist also tweeted, "We will remain with Palestine, and Jerusalem will remain our first and last issue no matter what happens. Damn every Arab country that normalized with the Zionist enemy."
سنبقى مع فلسطين ، وستبقى القدس قضيتنا الأولى والأخيرة مهما حدث ، وتبا لكل دولة عربية طبعت مع العدو الصهيوني ✊#مغاربة_ضد_التطبيع #التطبيع_خيانة
— Aya_428 (@Aya4281) December 11, 2020
Palestinian resistance movements also vented their outrage over the US-brokered deal, with Hazem Qassem, spokesman for the Palestinian resistance group Hamas, saying, "This is a sin and it doesn't serve the Palestinian people. The Israeli occupation uses every new normalization to increase its aggression against the Palestinian people and increase its settlement expansion."
Hanan Ashrawi, an outgoing member of the Executive Committee of the Palestine Liberation Organization (PLO), censured the deal as "sinister and ugly" and underlined in a tweet that the agreement was meant to "extract concessions and benefits for Israel" before Trump leaves office.
Between bribery & blackmail, the Trump administration is in a mad scramble to extract concessions and benefits for Israel before the new administration takes over. https://t.co/wPyBrsc6fJ
— Hanan Ashrawi (@DrHananAshrawi) December 10, 2020
Islamic Jihad Movement of Palestine also condemned the normalization of relations between Morocco and Israel, describing it as a betrayal of Jerusalem al-Quds.
The normalization deals between some Arab states and the Tel Aviv regime have already been condemned by all Palestinian factions as a betrayal of their cause.
Leader's top advisor slams Morocco-Israel normalization
Ali Akbar Velayati, a senior advisor to Leader of the Islamic Revolution Ayatollah Seyyed Ali Khamenei and also the secretary general of the World Assembly of Islamic Awakening, denounced as betrayal of the Muslim world the normalization of ties between the Moroccan government and the Zionist regime.
"In fact, it is a deal that was made between a triangle formed by the US, Morocco and the Zionist regime," Velayati said.
"The deal came against a backdrop of Morocco's betrayal of Islam and the Palestinian cause, stabbing the Palestinians in the heart, selling Muslim dignity to international Zionism, and recognizing Moroccan sovereignty over the Arabian Desert by the United States," he added.
https://www.presstv.com/Detail/2020/12/12/640549/Morocco-normalization-deal-Israel
--------
Excluded, abandoned: Children born under Islamic State era still paying heavy price
By Charlotte Bruneau
DECEMBER 10, 2020
AL KHAZER, Iraq (Reuters) - Excluded, vilified and sometimes simply abandoned: such is the price paid by thousands of children in Iraq born to suspected Islamic State militants.
At the Hassan Sham camp for displaced people in northern Iraq, five-year-old Aisha, whose father disappeared after joining Islamic State, is pestering her mother because she wants to go to school.
"She's always crying, saying she wants to go to school. But I tell her she can't: she doesn't have the nationality," says her mother, declining to give her name.
Like thousands of other children born to parents who lived in areas governed by Islamic State between 2014 and 2017, Aisha has no official birth certificate, and no easy way to obtain one.
Without papers, basic services including education and health care are difficult to access. In 2018, the Ministry of Education issued a directive allowing undocumented children to register in schools, but humanitarian NGOs say this is not consistently applied on the ground.
"There are a lot of complexities about registering children born during the years ISIS ruled. Many have not been registered yet," Karl Shembri, the regional media advisor of the Norwegian Refugee Council (NRC), told Reuters.
"They don't have civil documents, which excludes them from their basic rights as Iraqi citizens," he said.
In 2019, the NRC estimated that around 45,000 undocumented children were living in Iraqi camps.
To register Aisha with the authorities, her mother said she must first be given security clearance to rule out any ties with Islamic State.
A maze of bureaucracy awaits her, involving local authorities, courts and security agencies, as well as administration fees she says she cannot afford.
In another tent, a mother of eight says she worries most about her grandchild, Dima, who was born at the camp but whose parents were married by Islamic State mullahs in their community in Salahuddin province.
Not only is Dima without an official birth certificate, but her parents did not get a valid marriage licence - required by Iraqi law for the registration of every child.
"There were no certificates issues by the courts, by the government. And the ISIS certificates don't work for the government. We tore it into pieces and threw it away," the grandmother said.
SOCIAL STIGMA
The Iraqi authorities are aware of the children's plight. The Ministry of Interior told Reuters that the government has established an inter-ministerial committee tasked with addressing the issue.
Spokesman for the Ministry of Migration Ali Abbas said they counted around 400 families in camps in northern Iraq with children lacking civil documents.
"Children born under ISIS have a problem," Abbas said. "When there is no marriage certificate, how do we know that a woman is truly the mother of the child?"
Faced with this legal impasse, some mothers are forced into difficult, sometimes unbearable, choices.
"A common practice to resolve that is for the woman to marry someone else as an adoptee, or marry someone in the family, like the husband's brother," said senior Iraq analyst at Crisis Group, Lahib Higel.
But fear and hatred of Islamic State persists and children whose fathers had links to the groups are treated as outcasts, preventing their reintegration.
In a tent nearby, the 24 year-old mother of two undocumented children is packing up. She received a marriage proposal, an unexpected opportunity for her to leave the camp and start a new life as the second wife of a man back in her hometown in Salahuddin province.
However, her husband-to-be asked her to come without her children, three and five, and she agreed to leave them behind with their grandmother at the camp.
"She left the children and went to remarry. Her new husband doesn't want them, he says they are ISIS children," the grandmother said.
This is not an isolated case, senior researcher at Human Rights Watch, Belkis Wille, told Reuters.
"Many times women will say that their new husband will refuse to take in the new children because they are perceived as 'contaminated with ISIS blood', so these children get left behind with dwindling services, no education and away from their mothers," Wille said.
Holding back the tears as she hugged her children goodbye, the young mother climbed into the taxi that would take her to her new husband. Neighbours soon gathered, promising to help out. The crying children calmed down when they were given sweets, unaware that their mother would not be back.
https://www.reuters.com/article/iraq-security-undocumented-children/excluded-abandoned-children-born-under-islamic-state-era-still-paying-heavy-price-idUSKBN28K287?il=0&utm_source=iterable&utm_medium=email&utm_campaign=1808826_
--------
Sudan nears removal from US terror list amid Congress debate
11 December 2020
Sudan is expected shortly to be formally removed from the US blacklist of state sponsors of terrorism but it is still awaiting action by Congress to provide immunity over past attacks.
President Donald Trump announced in October that he was delisting Sudan, a step desperately sought by the nation's new civilian-backed government as the designation severely impeded foreign investment.
For all the latest headlines follow our Google News channel online or via the app.
As part of a deal, Sudan agreed to $335 million to compensate survivors and victims' families from the twin 1998 attacks on US embassies in Kenya and Tanzania, carried out when dictator Omar al-Bashir was welcoming Al-Qaeda, and a 2000 attack on the USS Cole off Yemen's coast.
Sudan's transitional government, which took over last year following Bashir's overthrow, also agreed to recognize Israel, a major goal for Trump, although Khartoum has sought to downplay the connection.
Trump sent his notice to Congress on October 26 and, under US law, a country exits the terror list after 45 days unless Congress objects, which it has not.
A State Department spokesperson did not confirm the date for Sudan's formal removal but said it would formally take effect when Secretary of State Mike Pompeo signs a notice to be published in the Federal Register.
US lawmakers broadly support the decision but have not reached an agreement on an accompanying goal of Sudan – legally shielding it from any further terrorism claims in US courts.
Families of victims of the September 11, 2001 attacks have called on lawmakers to reject the State Department's proposal, saying they want to pursue legal action against Sudan.
"The September 11 families aren't asking for any special favors, just to be left alone to pursue their longstanding lawsuit against Sudan and other regional parties for supporting Al-Qaeda so that it could become the international terrorist organization that has murdered so many innocents," said Jack Quinn, a lawyer for the families.
https://english.alarabiya.net/en/News/world/2020/12/11/Sudan-nears-removal-from-US-terror-list-amid-Congress-debate
--------
India
Muslim Bride and Hindu Groom? It's Love, Not Jihad
12.12.20
When a Muslim woman eloped with a Hindu man in Bareilly last week, the police saw no love jihad or yuddh, deciding that as consenting adults they had the right to live together.
But in several recent instances where the men were Muslim and the women Hindu, the Uttar Pradesh police arrested the men or their relatives under a new state ordinance that criminalises religious conversion for marriage and became law on November 27.
While the ordinance is not religion-specific in its phrasing, BJP leaders have made it clear that it's aimed at checking "love jihad" – an alleged conspiracy by Muslim men to marry, convert and radicalise Hindu women. Chief minister Yogi Adityanath had been among the first to allege such a conspiracy.
The father of a Muslim woman had registered a case at Prem Nagar police station, Bareilly, on December 5 alleging a young Hindu, Aman Kumar, had lured and kidnapped his daughter.
"I registered the case under the Uttar Pradesh Prohibition of Unlawful Conversion of Religion Ordinance, 2020. But the police were sceptical from the beginning," the father told reporters in Bareilly on Thursday.
"The police rescued my daughter, who was under the influence of the man with whom she had eloped, on December 6 and produced her in court, where she said she had gone with the man willingly."
The father said Aman was trying to convert his daughter to Hinduism. "But the police let her go with him. They didn't let us meet her — we wanted to convince her that her future was not safe with the man."
Bareilly city superintendent of police Ravindra Kumar dismissed the father's contentions.
"It's a case of love between adults. There's no angle of religious conversion in the case; so they were allowed to go wherever they wanted," he said.
When a similar case was registered against a Muslim man on December 7 in the Kanth area of Moradabad, however, the police arrested the accused and his brother. They sent his "Hindu" wife to a remand home despite her being an adult and five months pregnant.
The 22-year-old woman said she had undergone a court marriage with Mohammad Rashid six months ago in Uttarakhand and converted to Islam at the time, and that the ordinance was incorrectly being applied retrospectively under prodding from the Bajrang Dal.
She said Bajrang Dal members had accosted the couple on Sunday and alleged that Rashid was pressuring her to convert to Islam.
"We arrested Rashid and his elder brother Mohammad Saleem under the provisions of the new ordinance and sent the woman to a remand home when she refused to go to her parents," Kanth circle officer Balram Katheria said.
But before being sent to the remand home, the woman told reporters in Moradabad the case was based on falsehoods.
"I'm from (adjoining) Bijnore district. While working at a beauty parlour in Dehradun, Uttarakhand, I met a barber and we had a court marriage there. I changed my religion soon after the marriage," she said.
"But the Bajrang Dal somehow contacted my mother in Bijnore and persuaded her to submit a false police complaint (in Moradabad) saying I was being forced to convert after the new ordinance was issued."
On December 5, the police had arrested seven family members of a Muslim youth from the Tambor area of Sitapur district for allegedly helping him "lure and kidnap" a Hindu girl on November 23.
"A relative of the girl lodged a police complaint on November 27 under the new ordinance. Mohammad Jubrail, the main accused, is absconding. We are trying to find the girl too," Sitapur additional superintendent of police Rajiv Dixit said.
Police sources and the families confirmed that the woman was an adult.
The Adityanath cabinet issued the ordinance on November 24, and governor Anandiben Patel cleared it on November 27.
It criminalises religious conversion for the sake of marriage, and invalidates such marriages. It says inter-faith lovers must apply to their district magistrate two months in advance for permission to marry (without conversion). It prescribes 1 to 10 years' jail or a fine ranging from Rs 15,000 to Rs 25,000, or both for violations.
Days before the Bareilly police let off Aman Kumar, they had arrested Owais Ahmad on December 3 on a complaint from a Hindu man from the Devraniya area of the district accusing the youth of pressuring his daughter to elope and convert.
"A case was registered under the new ordinance on November 28 and the accused was arrested after five days," deputy inspector-general (Bareilly zone) Rajesh Kumar Pandey said.
He said Owais had been harassing the woman for the past three years and that she had confirmed this. He added that Owais had been booked under sexual offence sections, too.
According to the woman's father, she had married another man in June but Owais was threatening him to bring her back and hand her over to him.
Owais's father Mohammad Rafiq told reporters the woman had levelled the harassment charge under pressure from her family.
"She is an adult and lived with Owais willingly for a few days. Later, she returned home and was married off elsewhere," he said.
"The girl's father met me recently and said he bore us no ill will. I don't know why he and his daughter registered the case against Owais after that."
https://www.telegraphindia.com/india/muslim-bride-and-hindu-groom-its-love-not-jihad/cid/1800265
--------
ITerror, Afghanistan peace top agenda of PM's talks with Uzbek president
Dec 12, 2020
NEW DELHI: Connectivity, terrorism and the Afghanistan situation dominated India-Uzbekistan virtual summit on Friday with PM Narendra Modi saying it is essential that the gains of the last two decades in Afghanistan are preserved.
Speaking after his meeting with the central Asian country's President, Shavkat Mirziyoyev, Modi said the two countries had similar concerns about extremism, fundamentalism and separatism.
"We both stand firmly together against terrorism. We also have an identical approach on regional security issues," said Modi, adding both leaders also agreed that the Afghan peace process must be Afghanled, Afghan-owned and Afghan-controlled.
The Indian side also welcomed an Uzbek proposal to hold a trilateral dialogue among India, Iran and Uzbekistan to promote connectivity through the Chabahar port.
India and Uzbekistan also signed nine agreements to expand cooperation in several areas. The Indian side confirmed the approval of $448 million of Line of Credit for developmental works in Uzbekistan.
https://timesofindia.indiatimes.com/india/terror-afghanistan-peace-top-agenda-of-pms-talks-with-uzbek-president/articleshow/79689160.cms
--------
Civilian shot at, injured by terrorists in J&K's Pulwama
Dec 11, 2020
SRINAGAR: Terrorists shot at and injured a civilian in Pulwama district of Jammu and Kashmir on Friday, police said.
Mushtaq Ahmad was attacked near his house at Wasura in the evening, a police official said.
He was taken to a hospital for treatment.
It was not immediately known why the Ahmad was targeted, police said.
https://timesofindia.indiatimes.com/india/civilian-shot-at-injured-by-terrorists-in-jks-pulwama/articleshow/79683082.cms
--------
India set to ask Pak for info on 7 Pulwama perpetrators
Neeraj Chauhan
Dec 12, 2020
India has decided to formally ask Pakistan to share details of the terrorists behind last year's Pulwama attack on a Central Reserve Police Force (CRPF) convoy, people familiar with the development said. The suicide bombing attack killed 40 Indian troopers and brought the two countries to the brink of a war.
A formal judicial request or Letter Rogatory (LR), prepared by National Investigation Agency (NIA) seeking information about seven perpetrators, four based in Pakistan — Maulana Masood Azhar, his brothers Abdul Rauf Asghar and Ibrahim Athar, and his cousin Ammar Alvi — and three Pakistanis who came to India to execute the attack, Athar's son Umar Farooq, Kamran (both killed in encounters with security forces after the Pulwama attack) and Ismail alias Saifullah, is currently being fine-tuned in the ministry of home affairs (MHA), the people added on condition of anonymity. Ismail is believed to be hiding in Kashmir.
Once MHA finalises the document, which the people said will be done by the end of the month, permission will be sought from the court to send the judicial request to Pakistan. "It's first such judicial request being sent to Pakistan in the Pulwama attack seeking its cooperation," said one of the people,a senior government official.
Apart from whereabouts of Azhar, Asghar, Athar and Alvi, India is seeking details of communications between them and the others, including WhatsApp chats, voice notes and Voice over Internet Protocol (VoIP) calls made from and to Pakistan, and information on persons seen in photographs and videos recovered from the phone of Umar Farooq , showing different stages of preparation of the Pulwama attack, the official added.
Farooq was sent to India in April 2018 to supervise the February 14, 2019 Pulwama attack, which triggered the Indian Air Force (IAF) action against a Jaish terror camp deep inside Pakistan 12 days later, and resulted in a dogfight between fighter jets of the two nations on February 27.
In its official request, the Indian government is also seeking information on the GPS locations extracted from Farooq's phone as well as details of payments worth Rs10 lakh made into his accounts in Meezan Bank and Allied Bank in Pakistan, recovered by NIA during investigation, said a second officer.
The NIA filed on August 25 a detailed 13,500 page charge sheet naming all seven Pakistanis including JeM chief, Masood Azhar, and 12 others for the Pulwama attack.
"A strong judicial request, equipped with irrefutable technical, material and circumstantial evidence, is being sent to Pakistan. We hope that instead of sheltering them, Pakistan provides evidence and takes action against the Jaish chief and his family members," said a second person, a MHA official.
India has earlier sent judicial requests to Pakistan in 2016 Pathankot IAF base attack and 26/11 Mumbai attacks but to no avail.
https://www.hindustantimes.com/india-news/india-set-to-ask-pak-for-info-on-7-pulwama-perpetrators/story-DfOzHxc6BDQngKPX2KtXDN.html
--------
South Asia
Daesh-Taliban Threatened to Turn Kabul into Shia Slaughterhouse: The First Vice President of Afghanistan
By Mohammad Haroon Alim
12 Dec 2020
Amrullah Saleh, the first vice president, says the Taliban-Islamic State has warned that if one of their members is executed, they will turn Kabul into Shia massacre ground.
Saleh on Saturday morning said, the Taliban-Islamic State has issued a warning message that if a member of the group is executed by the government, they will turn Kabul into a Shia slaughterhouse in addition to beheading all the captured hostages.
He added, that he has instructed the Kabul National Directorate of Security (NDS) to send a message to all networks of the captured Taliban-Islamic State in the government prisons to inform their networks that the government knows their roots.
No threat will stop our efforts to reveal insurgents' true faces to the Afghan people, and I once again call on the Supreme Court to bring these perpetrators to be publicly trialed, Saleh said.
During the meeting he said, NDS has arrested another terrorist network involved in bombings, assassinations of security forces, and the gathering of tithes for the Taliban.
Hazrat Mir, son of Dadmir, is one of 5,000 pardoned prisoners of the Taliban, who returned on a killing spree of an NDS official, Amir Mohammad, in Mirbachah Kot district.
According to Saleh, the death of Fardin Amini, an Ariana News reporter, is not a terrorist act, but his family has the right to request an in-depth investigation.
If Fardin Amini's family has secrets about the mystery of the incident, police will be forced to summon all members of his family, including women to be investigated, First VP said.
It is neither fair nor legal to decipher any murder and then charge the government, so from now on, the police will tell the truth based on the legal literature, Saleh added.
Saleh Indicated, that Malala Maiwand has been assassinated by members of the Taliban and that the silencing of society, especially women, is part of the Taliban's strategic plans, these members are dictated by the group's intellectual and supportive leaders from the "Akoh Rakhatak" region.
Meanwhile, a Senior Advisor for the President of Afghanistan, Shah Hussain Murtazawi, called for calm and responsible reporting, after the first vice president warned that Taliban-Islamic State threatened to turn Kabul into a Shia slaughterhouse.
The presidential advisor tweeted, that "Taliban and Daesh are enemies of humanity and Afghanistan, we should not provoke fear among Shias in our reporting, our method of informing should be professional, and we should not help our enemies in their mental war".
https://www.khaama.com/saleh-daesh-taliban-threatened-to-turn-kabul-into-shia-slaughterhouse-8768699/
--------
Protests In Bangladesh's Cities Against China, Pakistan For Persecution Of Minorities
10 December, 2020
Dhaka [Bangladesh], December 10 (ANI): On the occasion of Human Rights' Day, hundreds of people hit the streets of Dhaka and Sylhet to protest against China and Pakistan for persecuting their minorities.
Demonstrators raised slogans against Chinese treatment of Uyghur Muslims and Pakistan government atrocities against Baloch people.
They held placards and waved Bangladesh flags. Some of the placards read: 'Pakistan stop Baloch Genocide', 'China, Stop Harvesting organs of Uyghurs'.
The protests were held on Human Rights Day. It is observed on December 10-- the day the United Nations General Assembly adopted, in 1948, the Universal Declaration of Human Rights (UDHR).
Balochistan is a resource-rich but least developed province of Pakistan where a movement for freedom is ongoing for the past several decades.
Many Baloch believe that the region was independent before 1947 and was forcibly occupied by Pakistan. Pakistan Army has launched several operations in Balochistan and has supported criminals, whom locals call "death squads".
A large number of political activists, intellectuals, women and children in Pakistan's Balochistan province are victims of enforced disappearances by the security agencies.
Many of them are languishing in detention centres whereas mutilated bodies of some of these abducted Baloch are found in isolated places.
Meanwhile, China has been condemned by countries and human rights experts over its policies in Xinjiang where a large population of Uyghur minorities is detained in re-education camps.
A sizeable Muslim population in Xinjiang has been incarcerating in an expanding network of "political re-education" camps, according to US officials and UN experts. However, China regularly denies such mistreatment and says the camps provide vocational training.
People in the internment camps have said they are subjected to forced political indoctrination, torture, beatings and denial of food and medicine, besides being prohibited from practising their religion or speaking their language. (ANI)
http://www.businessworld.in/article/Protests-in-Bangladesh-s-cities-against-China-Pakistan-for-persecution-of-minorities/10-12-2020-352298/
--------
Freedom Fighters Won't Tolerate Any Affront Towards Bangabandhu: Liberation War Minister
December 09, 2020
The country's freedom fighters will not tolerate any affront towards Father of the Nation Bangabandhu Sheikh Mujibur Rahman, Liberation War Minister AKM Mozammel Haque said today.
On Bangabandhu's call, freedom fighters had submitted their weapons but did not give up their training.
The minister said this while speaking as chief guest at a discussion organised on the occasion of "Kapilmuni Mukto Dibos" at Kapilmuni Sahachari Vidya Mandir ground in Paikgachha upazila of Khulna.
The minister said there are sculptures in all major Muslim countries of the world and there are sculptures in Bangladesh for quite a long ago too.
"No one ever talked about anything about those sculptures. But suddenly anti-liberation war elements are showing audacity against the sculpture of Bangabandhu," he said.
"The heroic freedom fighters will not tolerate such audacity in any way. At the call of Bangabandhu, the heroic freedom fighters submitted weapons but did not submit training," he vowed.
The minister said opposition to Bangabandhu's sculpture is part of a series of conspiracies by the anti-liberation war elements.
https://www.thedailystar.net/country/news/freedom-fighters-wont-tolerate-any-affront-towards-bangabandhu-liberation-war-minister-2008589
--------
Taliban Battered in Kandahar, 90 Killed
By Mohammad Haroon Alim
12 Dec 2020
The Ministry of Defense (MoD) on Saturday, at least 90 Taliban were killed in Kandahar province.
According to the statement, Afghan defense forces repelled Taliban attacks in Panjwai, Zherai, Arghandab, and Maiwand districts of Kandahar province on Friday.
It is said that 90 Taliban were killed and nine others were wounded during the clashes. Also, 15 minefields were discovered and defused by the ANA engineering team.
A number of enemy weapons and ammunition, as well as a tunnel used in terrorist attacks, was also destroyed, MoD stated.
In a sperate incident, Mohammad Naeem Wardak, a spokesman for the Taliban's political office in Qatar, said in a statement on his Twitter page that US troops had conducted airstrikes on Zherai district in Kandahar last night in defiance of a political agreement, killing 10 civilians and destroying many residential homes.
On the other hand, US forces in Afghanistan confirmed airstrike in Kandahar province but rejected the group's claims over civilian casualties.
"A conducted a strike against armed Taliban fighters attacking an ANDSF checkpoint in Zhari district Kandahar on Dec 10. This strike in defense of the ANDSF is IAW with the US-Taliban agreement. The Taliban's claim of civilian casualties are false," Spokesman Col Sonny Leggett tweeted.
In a separate statement, MoD said, Taliban attacked the outposts of the security forces in the Shamulzayi district of Zabul province on Friday.
It is stated that the security forces defeated the enemy and repulsed their attack.
MoD indicated, 4 Taliban were killed and 5 others were wounded in the attack, and some enemy ammunition and weapons were destroyed.
https://www.khaama.com/taliban-battered-in-kandahar-90-killed-8686899/
--------
One killed as multiple rockets hit Kabul: Interior ministry
Dec 12, 2020
KABUL: A series of rockets struck the Afghan capital on Saturday, killing one person and wounding another, the interior ministry said, the second such attack to rock Kabul in less than a month.
"Four rockets were fired from Labe Jar neighbourhood of Kabul," ministry spokesman Tariq Arian told reporters, adding that two landed near Kabul airport.
He said one person was killed and another wounded.
Kabul police confirmed the early morning attack, saying most of the rockets struck the eastern part of the capital.
On November 21, eight people were killed when 23 rockets slammed Kabul in an attack claimed by the Islamic State group.
https://timesofindia.indiatimes.com/world/south-asia/one-killed-as-multiple-rockets-hit-kabul-interior-ministry/articleshow/79690283.cms
--------
In War, No One Distributes Sweets: Report
By Mohammad Haroon Alim
12 Dec 2020
A young boy walks past a mural in Kabul depicting US peace envoy Zalmay Khalilzad and senior Taliban negotiator Abdul Ghani Baradar. AP Photo
Institute for Integrated Transition has launched a research titled: "In War, No One Distributes Sweets: Assessing Transitional Justice Responses and Approaches in Post-2001 Afghanistan" on December 10, 2020.
The Afghanistan Research and Evaluation Unit research was co-produced with support of IFIT, a large international project focusing on non-state insurgencies' role in the peace process, it is aimed at contributing to an understanding of war and its parties since 2001, mainly focusing on Taliban, government and pro-government forces.
AREU and IFIT Transition research unpacks transitional justice approaches to human rights violations and draws lessons on reducing violent extremism, and its prevention, the statement reads.
According to the AREU press statement, "The paper provides a historical background, identifying each party's views and approaches to addressing grave violations in the immediate and longer-term contexts of a peace deal and political settlement. It also analyses the opportunities and challenges of the transitional justice options and how these are understood by the negotiating parties and other key stakeholders".
"Reconciliation in the time of violence, is it really possible and how? We will co-create and coordinate our work to get there," Caecilia Wijgers the Ambassador of the Kingdom of the Netherlands in Afghanistan said during the event.
She added, "Your paper is very handy and timely for us. What is important is of course to realize that the context has changed and we are dealing with 40-year-long violation of human rights and from the discussions, we have together today seem that there is more space for the voices of the victims,".
During the occasion, Shaharzad Akbar Chairperson of AIHRC said, "the two negotiation teams are discussing the agenda in Doha, Qatar. To move from war to lasting peace, we need to acknowledge and advance peace based on a mutual acknowledgment of the country's past, and a shared vision for a better future."
As quoted in the statement, Shaharzad urged the negotiating parties to read this research and called on them to agree on a mechanism to directly hear from victims, acknowledge their sufferings, and address their needs during the agreement.
Executive Director for IFIT, Mark Freeman was quoted saying, "The current intra-Afghan peace talks offer a complex but very real opportunity to bring peace to a war-shattered country. This important new paper shows in creative and realistic ways how transitional justice notions can figure usefully in the peace solution" adding that " the dominant approach of forgetting the past failed and resulted in more violence and killings by all sides"
https://www.khaama.com/in-war-no-one-distributes-sweets-report-7657599/
--------
Europe
UN Assembly lauds progress in Afghan peace talks
12 Dec 2020
UNITED NATIONS: The UN Gene­ral Assembly approved a resolution over Russian objections on Thursday commending progress in peace talks between the Afghan government and the Taliban while urging stepped-up efforts to tackle attacks by the Taliban, Al Qaeda, the militant Islamic State (IS) group and their affiliates.
The vote in the 193-member world body was 130 in favour, Russia against, and China, Pakistan and Belarus abstai­ning. Fifty-nine countries did not vote.
The 15-page resolution titled "The Situation in Afghanistan" covers a wide range of issues including peace and reconciliation, democracy, the rule of law, good governance, human rights, counter-narcotics, social and economic development and regional cooperation.
While welcoming progress in the intra-Afghan talks, including the Dec 2 agreement on rules of procedure for negotiations, the resolution condemns the high rate of continued violence. It says "this is contributing to an unacceptable number of casualties" and calls for an immediate cessation of violence and strongly encourages the Afghan government and the Taliban to pursue confidence-building measures and to reduce violence.
The resolution reiterates the General Assembly's "serious concern" about the security situation in Afghanistan and stresses the need to continue to address the threat to the country's stability from violence committed by the Taliban, including the Haqqani Network, as well as Al Qaeda, IS, their affiliates and other terrorist and criminal groups.
Afghanistan's UN ambassador, Adela Raz, expressed regret that despite her government's strong support for the resolution it wasn't adopted by consensus, saying the measure reflects developments that are taking place on the ground and particularly the progress in the peace process.
Raz said the goal of the government, Afghanistan's neighbours and the General Assembly "is to incorporate the Taliban as a political party. It is our utmost aim to see the Taliban as a constructive political party in the country, without the relationship with Al Qaeda and other terrorist groups, working for prosperity and peace in Afghanistan".
Noting that UN experts monitoring sanctions against the Taliban say it maintains ties to terrorist groups such as Al Qaeda, Raz said the resolution is balanced regarding the Taliban's willingness to take firm steps towards peace and reconciliation and its continuing attacks and terrorist ties.
German Ambassador Chris­toph Heusgen, whose country led negotiations on the resolution, said that out of all the 'special years' for Afghanistan declared in the past two decades, 2020 was indeed singular. Most important was the start of Afghan peace negotiations in September, he said after detailing all the events leading to the talks, starting with the US-Taliban agreement in February.
He said the resolution is constructive and forward-looking and the vote signals that the Gen­eral Assembly "stands behind the Afghan people in a very difficult period of the country".
Russia's deputy UN ambassador, Anna Evstigneeva, sharply criticised Germany's role in the negotiations, saying there was blatant disregard for Moscow's concerns. She also said it was an attempt to conceal the true scope of threats from IS and drug issues threatening the country's security.
Islamabad's stance
For his part, Pakistan's Ambassador Munir Akram lauded the progress made in the peace talks but warned against "spoilers' ploys" to undermine efforts for a peaceful settlement in the war-torn country.
"Spoilers, from within or without, must not be allowed to subvert the success of these negotiations and prevent a comprehensive political settlement in Afghanistan," he said. "The machinations of such spoilers must be defeated."
Turning to the issue of violence in Afghanistan, Ambassador Akram said that Pakistan shared the international community's determination not to allow Afghan soil to be used by Al Qaeda, IS or other groups to threaten or attack other countries.
https://www.dawn.com/news/1595265/un-assembly-lauds-progress-in-afghan-peace-talks
--------
Germany to allow deportations of Syrians if pose security risk
11 December 2020
Germany will allow deportation of Syrians to their war-ravaged homeland from 2021 if they are deemed to pose a risk to security, an interior ministry official said Friday.
For all the latest headlines follow our Google News channel online or via the app.
"The general ban on deportations (to Syria) will expire at the end of this year," Hans-Georg Engelke, state secretary at the interior ministry, told reporters.
"Those who commit crimes or pursue terrorist aims to do serious harm to our state and our population should and will have to leave our country."
The decision was taken at a telephone conference between hardline conservative federal Interior Minister Horst Seehofer, who had long called for an end to the deportation ban, and his 16 state-level counterparts.
The Social Democrats (SPD), junior partners in Chancellor Angela Merkel's right-left "grand coalition" government, failed in their bid to win a six-month extension of the protections, in place since 2012.
They argued that the precarious security situation in Syria made expulsions there indefensible.
Engelke, standing in for Seehofer who was in quarantine after a coronavirus exposure, told a news conference that an estimated 90 Syrian suspected Islamists were believed to be in Germany.
Calls for a change in stance have been growing since a Syrian man was arrested in November on suspicion of carrying out a deadly knife attack in the city of Dresden.
Prosecutors said the 20-year-old, accused of killing one tourist and seriously injuring another, had a raft of criminal convictions and a history of involvement with the Islamist scene.
He had been living in Germany under "tolerated" status granted to people whose asylum requests have been rejected, but who cannot be deported.
Boris Pistorius of the SPD, interior minister of Lower Saxony, noted that on a practical level expulsions to Syria would remain next to impossible "because there are no state institutions with which we have diplomatic relations."
But he sharply criticised the symbolic meaning of Germany, which took in more than one million migrants including hundreds of thousands of Syrians at the height of the refugee influx 2015-16, becoming what he called the first EU country to lift the deportation ban.
"That's an exceptional position we don't necessarily need to be proud of," Pistorius said.
https://english.alarabiya.net/en/News/world/2020/12/11/Germany-to-allow-deportations-of-Syrians-if-pose-security-risk
--------
Turkey dismisses EU move for sanctions as 'biased, unlawful'
11 December 2020
Turkey on Friday dismissed as "biased" and "unlawful" an EU move to draw up a list of Turkish targets for sanctions in response to Ankara's drilling activities in the Mediterranean.
For all the latest headlines follow our Google News channel online or via the app
Turkey is at loggerheads with EU members Greece and Cyprus over energy resources in the eastern Mediterranean.
Ankara has been challenging Athens over maritime territory in the region by repeatedly sending a gas exploration vessel into disputed waters.
"We reject the biased and unlawful attitude which had to be inserted into the December 10 EU summit conclusions after the pressure of solidarity and veto," the foreign ministry said in a statement.
After the marathon summit on Thursday, the bloc decided to draw up a list of Turkish targets for sanctions.
France, Greece, and Cyprus are pushing for action against Turkey, but other EU nations including Germany, Italy and Poland oppose slapping broad sanctions or an embargo on a fellow NATO member.
"The council adopted sanctions in the face of Turkey's 'unilateral actions and provocations'," French European Affairs Minister Clement Beaune tweeted.
https://english.alarabiya.net/en/News/world/2020/12/11/Turkey-dismisses-EU-move-for-sanctions-as-biased-unlawful-
--------
EU member states, MEPs agree to take terror content down
December 10, 2020
BRUSSELS (AP) — European Union member states and lawmakers reached a provisional deal Thursday to take down terror content online within an hour of its being posted.
The provisional agreement was announced as EU leaders gathered in Brussels for a two-day summit where they are set to discuss cross-border police coordination, following a series of recent extremist attacks in France and Austria.
"The EU is working to stop terrorists from using the internet to radicalize, recruit and incite to violence," the EU Council said in a statement, adding that the proposed rules would apply to providers operating across the bloc, "whether or not they have their main establishment in the member states."
Under the agreement, national authorities will be entitled to order platforms to remove content or to disable access to it in all 27 member states. Providers will be forced to act but will remain free to decide how they take down the forbidden material.
"The proposed rules also ensure that the rights of ordinary users and businesses will be respected, including freedom of expression and information and freedom to conduct a business," he council said. "This includes effective remedies for both users whose content has been removed and for service providers to submit a complaint."
The proposed regulation still needs to be formally approved by the EU Parliament and EU ministers.
The agreement was announced a day after the EU's executive branch urged member states and lawmakers to quickly adopt the legislation proposed in 2018. As part of its Counter-Terrorism Agenda, the commission also encouraged EU countries to reinforce external border controls and police cooperation to prevent extremist attacks.
Since the deadly Paris attacks five years ago, in which fighters who had returned from Syria were involved, the EU has been repeatedly hit by extremist actions. In 2019, seven jihadist terrorist attacks were carried out in the EU, and twice that number of plots were thwarted by law enforcement.
https://apnews.com/article/europe-brussels-summits-france-78a9cd8a34535334cb8323127fd206fd?utm_source=iterable&utm_medium=email&utm_campaign=1808826_
--------
Terror arrests fall to lowest level in almost a decade during coronavirus pandemic
Lizzie Dearden
11 December 2020
The number of suspected terrorists arrested in the UK has fallen to the lowest level in almost a decade during the coronavirus pandemic, figures show.
Statistics published by the Home Office show that in the year to October, 215 arrests were made — 18 per cent down on the previous year.
"This was the lowest number of arrests for terrorist-related activity in the last nine years to September and is below the annual average of 253 arrests over the entire time," said a document published on Thursday.
"These reductions may reflect the general reduction in crime during this period when there were restrictions on normal activities to control the spread of the Covid-19 virus."
Figures showed a sharp drop in terror arrests from April, when the UK's first national lockdown came into force.
Between April and June, 31 arrests were made, and there were 44 between July and September, below the previous quarterly average of 61.
In November, the UK's terror threat level was raised to severe — meaning attacks are "highly likely" — following a spate of attacks in mainland Europe.
Of the 215 arrests made, 39 per cent were still under investigation by 30 September, almost a third had led to charges, a fifth of suspects were released without charge and 9 per cent faced alternative action such as a caution or recall to prison.
Forty-four per cent of those arrested were white, the largest ethnic group among suspects for the third consecutive year, followed by people of Asian appearance (38 per cent), black (9 per cent) and other (8 per cent).
The proportion of British or dual national suspects rose by 10 per cent to 79 per cent.
While the "30 and over" age group accounted for the most arrests, the number of children arrested on suspicion of terror offences rose.
There were 17 under-18s arrested in the year, up by six on the previous 12 months.
The figures followed a warning from the head of UK counterterror policing about a "new and worrying trend" of child extremists.
Assistant commissioner Neil Basu said children as young as 14 had been detained in the past year, and almost all of those investigated by police had been radicalised online.
"We are seeing more young people being drawn towards terrorist activity," he added.
"That is a relatively new and worrying trend in the UK, because just a few years ago we were not seeing anyone that young amongst our case work."
Mr Basu said the coronavirus pandemic had created a "perfect storm" as young and vulnerable people spent more time isolated and online, with fewer protective factors from school, employment, friends and family.
Jonathan Hall QC, the independent reviewer of terrorism legislation, said coronavirus also had an impact on the number of port stops under Schedule 7 of the Terrorism Act 2000, which halved in the year.
"Although the number of section 41 arrests, often used for the most serious counter-terrorist operations, fell in the first three months of 2020, the rate has gone back to 2019 levels," he added.
The law allows police to arrest a person "reasonably suspected to be a terrorist" without a warrant.
Mr Hall said the number of terror offenders released from custody had fallen from 55 to 42, following government changes to stop the automatic early release of terrorists.
Emergency legislation was brought in following the knife attacks by released terrorists at Fishmongers' Hall and Streatham, and parliament is currently considering a wider package of laws aimed at keeping them in prison for longer.
But the policy has come into question after two men were able to launch an Isis-inspired attack inside a high-security prison in January.
Only one of the HMP Whitemoor attackers was a known terrorist, while his accomplice had been radicalised inside prison.
Then in June, the Reading attack was launched by a man who had recently been held in prison for offences not related to terrorism.
The number of people put on trial for terror offences stayed stable in the year, despite the closure of crown courts at the start of the coronavirus lockdown, because the cases have been prioritised.
Of the 54 people tried for terrorism-related offences in the year to October, 49 were convicted and most common sentence length in the latest year was under four years.
Five terrorists, including the Manchester bomber's brother, Westminster car attacker Salih Khater and Buckingham Palace sword attacker Mohiussunnath Chowdhury, were jailed for life in the period.
James Brokenshire, the security minister, said: "The police and intelligence agencies have continued to work around the clock to keep us safe throughout the pandemic.
"We are ensuring they have all the tools they need which is why we are introducing tougher sentences for the most dangerous terrorists and have established a new Counter-Terrorism Operations Centre to strengthen operational coordination between our police, intelligence agencies and parts of the criminal justice system."
https://www.independent.co.uk/news/uk/crime/terror-arrests-uk-fall-coronavirus-b1769287.html?utm_source=iterable&utm_medium=email&utm_campaign=1808826_
--------
Pakistan
KP Assembly passes bill to create endowment fund for non-Muslim terror victims
12 Dec 2020
PESHAWAR: The Khyber Pakhtunkhwa government will establish an endowment fund with the initial capital of Rs200 million for the rehabilitation of non-Muslim victims of terrorism in the province.
The provincial assembly on Friday passed the Khyber Pakhtunkhwa Rehabilitation of Minorities (Victims of Terrorism) Endowment Fund Bill, 2020, with four amendments for the purpose.
Speaker Mushtaq Ahmad Ghani chaired the sitting, which was later adjourned for an indefinite period.
Besides Muslim majority, the members of religious minorities, especially Christians and Sikhs, were also targeted by terrorists in the province.
Opposition members complain about slow work on uplift projects, diversion of funds
Ninety Christians were killed and 144 suffered injuries as the two suicide blasts ripped through the main prayer hall of All Saints Church in Peshawar in Sept 2013. Another terrorist attack killed many Christians in a colony on Warsak Road in Peshawar.
Similarly, the targeted killing of Sikhs has been reported in Peshawar, members of Kalash tribe in Chitral district and non-Muslims in other areas of the province.
Special assistant to the chief minister on minority affairs Wazirzada moved a resolution in the assembly seeking for the bill's passage.
A member of Kalash community, he proposed four amendments, which were made part of the bill.
The chief minister's aide told Dawn that the government would accord top priority to the rehabilitation of the families of those, who lost life in the All Saints Church bombing.
He said six victims of the bomb blast had been living with permanent physical disability since then.
Mr Wazirzada said families of the targeted killing victims would also be included in rehabilitation plan.
The new law says soon after the enactment of the law, the government would set up the Khyber Pakhtunkhwa Endowment Fund to rehabilitate, develop and compensate the victims of terrorist attacks.
The proposed fund could also be credited with grants from the federal government, philanthropists, nongovernmental organisations, other organisations working for the welfare of religious minorities, and other lawful sources.
The government will constitute the Endowment Fund Assessment Committee for carrying out the purpose of the law.
The minister, adviser or special assistant to the chief minister for minorities will act as the convener of the seven-member committee, which will receive and scrutinise applications, ascertain entitlement, verify family members of the terror victims, and approve the specified amount for the purpose of technical support, relief, welfare, compensation or rehabilitation of the people hit by terrorists, or their families.
The unavailability of medical oxygen in the King Abdullah Teaching Hospital, Mansehra, also echoed in the assembly with the lawmakers urging the government to take corrective measures without delay.
On a point of order, MPA Humaira Khatoon said Kath didn't have oxygen supply, so the intensive care unit referred patients to the Abbottabad Medical Complex.
She said the hospital's management had acknowledged unavailability of oxygen and said a project for the purpose was in the pipeline.
The lawmaker said the Mansehra hospital had yet not got any ventilators and therefore, the government should take immediate steps to prevent mishap.
The Saudi government had provided a grant to the King Abdullah Teaching Hospital after an earthquake hit Hazara and Azad Jammu and Kashmir in Oct 2005 killing thousands of people and damaging buildings, including Kath's.
Later, a modern hospital was built with the help of the Saudi government.
PTI MPA from Mansehra district Babar Saleem Swati said the Saudi government would provide Rs720 million for the provision of equipment to the hospital and a contract was awarded to a Turkish company for the purpose.
He said the ICU unit would become functional within a month.
The opposition members expressed reservations about slow work on development schemes and diversion of development funds, especially that of roads in North and South Waziristan tribal districts.
They said the relevant department had revealed the non-release of funds for certain reasons.
A lawmaker said funds for the construction of two roads were diverted to beautification schemes in North Waziristan.
He said on one hand, the government had begun allocating over Rs100 billion for development schemes in the merged tribal districts but on the other, Rs180 million was not available for a small road.
https://www.dawn.com/news/1595324/kp-assembly-passes-bill-to-create-endowment-fund-for-non-muslim-terror-victims
--------
Pakistan will have no future if it lives in religious superstition, says Prof Noam Chomsky
8 Dec, 2020
KARACHI – World-renowned intellectual and social critic, Noam Chomsky on Monday speaks at a virtual session of the Habib University's flagship Yohsin Lecture series.
The lecture titled "Bullet Dodged or Merely Delayed: Reflections on the Future of Democracy, Nuclear Proliferation and the Looming Environmental Catastrophe in a Post-Trumpian World," he spoke of the ongoing coronavirus pandemic, saying the world would come out of it at a very terrible cost.
Pakistan used to have an advanced scientific establishment. The country had Noble Prize laureates but for now, science has virtually disappeared. Pakistan has no future if it's going to live in a world of religious superstition, he said.
The 92-year-old American linguist also lambasted at the BJP rule under Prime Minister Narendra Modi as its destroying the remnants of secular democracy, crushing Muslim rights and placing Kashmir under a vicious brutal rule.
He warned the world with four severe crises. The first, of course, is the threat of nuclear war. Second, according to him is the threat of environmental catastrophe, which he described as severe and increasing, and will likely reach an irreversible tipping point if not dealt with soon.
Chomsky said the third major crisis is the deterioration of global democracy, and the ongoing coronavirus pandemic as the fourth major crisis.
Chomsky also discussed the U.S election and termed it as an 'absolute disaster.' He said the signs suggest that President Trump will never concede he lost the election.
He also discussed about the Iran attack, saying Trump before leaving the office might take a step, including attacking Iran. However, he added, Iran in retaliation might target oil fields in Saudi Arabia, which would have a global impact.
https://en.dailypakistan.com.pk/08-Dec-2020/pakistan-will-have-no-future-if-it-lives-in-religious-superstition-says-prof-noam-chomsky
--------
138 journalists killed in Pakistan since 1990: IFJ
12 Dec 2020
ISLAMABAD: As the year 2020 draws to a close, the International Federation of Journalists (IFJ) in a 'White Paper on Global Journalism' listed five countries, including Pakistan and India, as the 'Most Dangerous Countries for Practice of Journalism in the World'.
The white paper marks the 13th anniversary of the 'The List of Journalists Killed (1990-2020), during which 2,658 journalists lost their lives in the line of duty. Iraq topped the list of most dangerous countries for practising journalism, as 340 journalists lost their lives there, followed by Mexico (178 journalists), the Philippines (178 journalists), Pakistan (138 journalists), and India (116 journalists).
This year the International Federation of Journalists (IFJ) recorded killing of 42 journalists and media staff so far in targeted attacks, bomb blasts and cross-fire incidents in 15 countries.
In its 2020 country-wise ranking, Mexico tops the list for a fourth time in five years with 13 killings, followed by Pakistan (five), India, Afghanistan, Iraq and Nigeria (three each), the Philippines, Somalia and Syria (two each) while one journalist was killed in each of the six countries Cameroon, Honduras, Paraguay, Russia, Sweden and Yemen.
In the Indian sub-continent, murders of journalists in Pakistan (138) and in India (116) have featured almost every year in the list since 1990, making 40 per cent of the total deaths of journalists in the Asia Pacific region.
https://www.dawn.com/news/1595257/138-journalists-killed-in-pakistan-since-1990-ifj
--------
Fazl has contacts in MI6, says minister
12 Dec 2020
ISLAMABAD: Minister for Kashmir Affairs and Gilgit-Baltistan Ali Amin Gandapur while levelling serious charges against Jamiat Ulema-i-Islam (JUI-F) chief told a presser on Friday that Maulana Fazlur Rehman had contacts in British intelligence agency MI6 and was allegedly involved in anti-state activities besides corruption.
Addressing the press conference, which revolved around the convener of the opposition's Pakistan Demo­cratic Movement (PDM), Mr Gandapur along with federal Minister for Information Senator Shibli Faraz descri­bed the JUI-F chief as the "rejected politician wearing a religious cloak to hide the wealth that he has amassed through corruption".
In a tirade against the PDM convener two days before its planned Lahore show, Mr Gandapur, who had defeated Maulana Fazl in the 2018 election for the Dera Ismail Khan seat (NA-38) of the National Assembly by a huge margin on a Pakistan Tehreek-i-Insaf (PTI) ticket, also challenged him to contest a re-election in his constituency if the latter believes that the 2018 general elections were rigged.
Calling him the 'Chief of Thieves', the minister for Kashmir and Gilgit-Baltistan said: "Only the person who has the capabilities to gather wealth through illegal means and has expertise to park that ill-gotten wealth will be made the chief of the thieves." These abilities had made him the "ring leader" of opposition party's supremo Nawaz Sharif and others, he remarked. "I present him four sets of questions and demand that the Maulana answer them in the upcoming public gathering [of PDM in Lahore] on December 13," Mr Gandapur said.
He asked the Maulana about reasons for allegedly keeping contacts in the British intelligence agency, MI6, and in what capacity he had met them. The JUI-F chief was further challenged to deny if he had not met the Indian National Security Adviser Ajit Doval while JUI-India's Maulana Mehmood Ahmed Madni too was present in the meeting. "You should tell the nation about the contents of that meeting."
Mr Gandapur then asked about the JUI-F's Azadi March of November 2019 that he said harmed the cause of Kashmir due to its timing. He asked Maulana Fazl to tell the nation about his contacts with the international forces before and during the march.
The minister then touched the sensitive issue of sectarianism in Pakistan, blaming the Maulana for his involvement in pitching one sect against another.
https://www.dawn.com/news/1595255/fazl-has-contacts-in-mi6-says-minister
--------
PDM sees no chance of 'third force' intervention
Zulqernain Tahir
12 Dec 2020
LAHORE: PPP chairman Bilawal Bhutto-Zardari called on PML-N vice president Maryam Nawaz at her Jati Umra residence on Friday and declared that the 11-party Pakistan Democratic Movement (PDM) would not create such a situation through its protest drive that the 'third force' could intervene and take advantage of it.
At a joint media talk after the meeting, Ms Nawaz claimed that some ministers had "contacted the PML-N and offered a dialogue but I rejected it outright".
"We are experienced enough and playing our cards carefully. We will not let such a situation arise in the wake of the PDM's protest campaign that the third force takes advantage of it," Mr Bhutto-Zaradri said in reply to a question about possible intervention by military if the country plunged into crises because of the PDM's protest against the PTI government.
Maryam claims ministers approaching PML-N for dialogue
Both Mr Bhutto-Zardari and Ms Nawaz also discussed the opposition's strategy regarding the PDM's much-hyped rally on Sunday (tomorrow) at the Minar-i-Pakistan and resignations of opposition lawmakers.
However, there has been no change of PPP's stance over resigning from the National and Sindh assemblies as Mr Bhutto-Zardari reportedly told Ms Nawaz that his party's central executive committee (CEC) would have a final say in it.
"Whether we have to sacrifice the Sindh government and come out of the National Assembly or not, I am taking this matter to the party's CEC for consultation so that the selected and his facilitators should be sent home," he said.
When asked to name the selectors, he said he was not taking the name of the selectors or the establishment because "we are maintaining their dignity and I ask the establishment to stop interfering in politics".
When asked since there had been a consensus among all 11 parties of the PDM in the Dec 8 meeting regarding resignations (from national and provincial assemblies), why the PPP was backtracking, Mr Bhutto-Zardari said: "There will be no division in the PDM on the issue of resignations. I am receiving resignations of my party members in bulk."
Taking about Prime Minister Imran Khan, Mr Bhutto-Zardari said: "Imran should take stock of the situation and resign without further delay. Imran should accept the decision of the masses and step down." He claimed that the PDM's march on Islamabad would be the biggest in the country's history.
According to a source, the PDM has planned a long march at the end of February. "The decision on the resignation issue will also be finalised in February," he said.
Mt Bhutto-Zardari was all praise for his younger sister Aseefa Bhutto, saying that she put up a great show in Multan rally. "I warn the selectors/facilitators that whatever they want to do with us they should remember that behind us is Aseefa Bibi and I drive power from my sister," he said and declined to comment on the change of portfolio in the ministry of Sheikh Rashid who has been given interior ministry. "Rana Sanaullah is good at commenting on Satan of Rawalpindi," he commented.
Mr Bhutto-Zardari said Lahore's Dec 13 rally would be historic and after that second phase of the PDM movement would begin and that would be decisive.
Maryam Nawaz said: "For the last few days the senior leadership of the Pakistan Tehreek-i-Insaf (PTI), including ministers, have been contacting the PML-N for talks. It is an ironic fact that Imran Khan who for the last two-and-a-half-year had been saying that he would not give NRO is now seeking it for himself (from the PDM). There will be no talks with the PTI government that had been formed through a stolen mandate. I have been against holding talks with this government from day one," she declared and asked Imran Khan to step down forthwith.
She said the government had been unnerved ahead of Lahore rally. "I want to make it clear that the PDM's public meeting will be held at Minar-i-Pakistan at any cost."
The Punjab government has refused to give permission to the PDM to hold the rally at Minar-i-Pakistan citing rise in Covid-19 cases.
Lahore police on Friday registered seven FIRs against several PML-N workers for holding corner meetings in the city on Thursday in violation of Covid-19 standard operating procedures. The police also booked the owners of a restaurant at Lakhshmi Chowk that offered food (mutton karahi) to Maryam Nawaz and others during her visit there on Thursday as part of her rally.
https://www.dawn.com/news/1595251/pdm-sees-no-chance-of-third-force-intervention
--------
Mideast
Zarif Warns against Erdogan's Provocative Poems
2020-December-11
Zarif on his Twitter account, blasted Erdogan's provocative poems in Baku on Thursday, warning him that such remarks would undermine the sovereignty of Azerbaijan Republic. The Turkish president traveled to Baku on Thursday to attend a military parade of Azerbaijani forces on the occasion of the liberation of the Armenian-occupied territories.
Pres. Erdogan was not informed that what he ill-recited in Baku refers to the forcible separation of areas north of Aras from Iranian motherland
Didn't he realize that he was undermining the sovereignty of the Republic of Azerbaijan?
NO ONE can talk about OUR beloved Azerbaijan
— Javad Zarif (@JZarif) December 11, 2020
At the ceremony, which was also attended by Azeri President Ilham Aliyev, Erdogan read out poems including separatist sentiments about the Aras River which runs along the Iran-Azerbaijan border.
In relevant remarks on Wednesday, Zarif said that in his meeting with visiting Azeri Foreign Minister Jeyhun Bayramov, they have conferred on plans and efforts to reconstruct regions in Azerbaijan which have been destroyed during the recent Karabakh war.
"Pleased to host Azerbaijan's FM Jeyhun Bayramov. Welcomed end of hostilities and restoration of Azeri territorial integrity," Zarif wrote on his twitter page on Wednesday.
"Fruitful talks on furthering comprehensive bilateral cooperation, including reconstruction of war-torn areas, North/South Corridor, Caspian energy and much more," he added.
Zarif also welcomed the termination of hostilities and restoration of territorial integrity of the Republic of Azerbaijan.
https://www.farsnews.ir/en/news/13990921000210/Zarif-Warns-agains-Erdgan%E2%80%99s-Prvcaive-Pems
--------
Iran Alerts World against ISIL's Revival
2020-December-11
Khatibzadeh, in a statement on Friday, felicitated the third anniversary of defeating ISIL terrorists to the brotherly Iraqi nation, and meantime, called for global vigilance toward the revival of this terrorist inhuman group by overt and covert supports of some powers.
"This victory was the result of the firm resolve and unified efforts of Iraqi nation, government and security forces with the support of the great Source of Emulation Ayatollah Sistani," he said.
"Iran has always stood by Iraq and it will spare no effort to help bolster unity, security, stability, and development of Iraq," the spokesman went on to say.
"We witnessed how the blood of the two countries' martyrs intermixed in this sacred battle," he said, adding that the empathy between the two nations culminated in the assassination of General Qasem Soleimani and Abu Mahdi al-Muhandis, the leaders of the fight against terrorism.
"The ISIL militants conceded defeat, but still Takfiri, anti-human, terroristic ideology and covert and overt support for it lingers in the region and beyond," Khatibzadeh said.
In relevant remarks on Thursday, Iranian Ambassador to Baghdad Iraj Masjedi felicitated the Iraqi government and people on the third anniversary of victory over the ISIL terrorist group, stressing the important role played by anti-terrorism commanders Lieutenant General Qassem Soleimani and Abu Mahdi al-Muhandis to this end.
Undoubtedly, the resistance of the Iraqi people and government, especially their armed forces, including the army, the federal police, the counter-terrorism apparatus, Popular Mobilization Units or al-Hashd al-Shaabi, played a major role in the victory over the terrorist group, Masjedi said in a message.
Commander of the IRGC Quds Force Lieutenant General Qassem Soleimani and deputy commander of Iraq's Popular Mobilization Forces Abu Mahdi al-Muhandis played an important and decisive role in the full-scale fight against the ISIL terrorist group and victory over it and one of the reasons for the criminal and terrorist act of the US in martyring these two figures was their role in defeating this group, he added.
Masjedi appreciated Grand Ayatollah Ali Sistani for his role in mobilizing all means for fighting the ISIL, and said that his country is now ready to cooperate, assist and provide all its resources to the Iraqi people despite the sanctions imposed on it.
Lieutenant General Soleimani was assassinated in a US drone strike on Baghdad International Airport in Iraq on January 3, 2020.
The airstrike also martyred al-Muhandis. The two were martyred in an American airstrike that targeted their vehicle on the road to the airport.
Five Iranian and five Iraqi military men were martyred by the missiles fired by the US drone at Baghdad International Airport.
On January 8 and after the funeral ceremony of General Soleimani, the IRGC Aerospace Force started heavy ballistic missile attacks on US Ein Al-Assad airbase in Southwestern Iraq near the border with Syria and a US operated airbase in Erbil in retaliation for the US assassination of General Soleimani.
https://www.farsnews.ir/en/news/13990921000272/Iran-Alers-Wrld-agains-ISIL%E2%80%99s-Revival
--------
Iran executes dissident journalist Ruhollah Zam: Iranian media
12 December 2020
Iranian dissident journalist Ruhollah Zam, who Iran convicted of fomenting violence during the 2017 anti-government protests, was executed on Saturday, Iran's semi-official Nour news agency reported.
Zam was a journalist who ran the Amadnews feed on popular messaging app Telegram, which had more than one million followers.
State broadcaster Seda va Sima said on Saturday Zam, "director of the counter-revolutionary Amadnews network, was hanged this morning."
For all the latest headlines, follow our Google News channel online or via the app.
Iran's Supreme Court on Tuesday upheld the death sentence of Zam, who was captured in 2019 after years in exile. Iran's Islamic Revolutionary Guard Corps claimed to have arrested Zam in Iraq in a "sophisticated and professional operation," but Iraqi government sources later challenged this narrative.
In June, a court sentenced Zam to death, saying he had been convicted of "corruption on Earth," a charge often used in cases involving espionage or attempts to overthrow Iran's government.
Zam's website and Telegram feed had spread the timings of the protests and embarrassing information about officials that directly challenged the authority of the Islamic Republic of Iran. Those demonstrations, which began at the end of 2017, represented the biggest challenge to Tehran since the 2009 Green Movement protests and set the stage for similar mass unrest in November of last year.
Reaction
Zam's execution sparked calls for Iran to abolish the death penalty, with commentators highlighting Tehran's use of repression against protesters.
"Another despicable execution in #Iran, punishing Rohollah Zam for exercising his right to freely express himself. Abolish the death penalty, in Iran and around the world," wrote International Commission of Jurists Secretary-General Sam Zarifi on Twitter.
"I'm deeply shocked & saddened that Islamic Republic executed Iranian dissident journalist #RuhollahZam, who was a source of anti regime news, especially during #IranProtests. Zam was lured to Iraq from Paris & kidnapped by the IRGC. This could happen to all of us. IRI=ISIS," tweeted Iranian activist Masih Alinejad.
Iran recently attracted international criticism for executing Navid Afkari, a wrestler who was arrested during the 2018 anti-government protests.
"Iran's continued jailing, torture, and execution of individuals on manufactured charges related to past protests shows just how afraid of those movements the Islamic Republic actually is," Behnam Ben Taleblu, a senior fellow at the Foundation for Defense of Democracies (FDD), told Al Arabiya English at the time.
https://english.alarabiya.net/en/News/middle-east/2020/12/12/Iran-executes-dissident-journalist-Ruhollah-Zam-Iranian-media
--------
Turkey slams EU's 'biased and illegal' approach, sanctions threat
11 December 2020
The Turkish foreign ministry has slammed the European Union's approach towards Turkey's persisting dispute with Greece and Cyprus in the eastern Mediterranean as "biased and illegal," calling on the Western bloc to instead act as an honest broker.
Ankara's Friday rejection of EU mediation efforts in the dispute came after leaders of the bloc agreed during a summit on Thursday to formulate limited sanctions against Turkish individuals over an energy exploration row with Athens and Nicosia, deferring any harsher steps until March as the countries sparred over how to deal with Turkey.
Calling on the EU to act "with principles, strategically and with reason," the ministry further added in a statement that a proposed conference with all eastern Mediterranean countries would serve as an opportunity to tackle maritime issues in the region, reiterating that Ankara was prepared for talks with Greece without any preconditions.
Turkey insists it is operating in waters on its own continental shelf or areas where Turkish Cypriots have rights. This is while its President Recep Tayyip Erdogan underlined on Wednesday that he was not concerned by any sanctions the EU may decide to impose.
Shying away from its October threat to consider wider economic measures against Turkey, the summit statement by EU leaders paves the way to punish individuals accused of planning or taking part in what the bloc alleges as unauthorized drilling off Cyprus.
Such steps, however, did not go far enough for Greece, with envoys saying the country expressed frustration that the bloc was hesitant to target Turkey's economy over the hydrocarbons row, as Germany, Italy and Spain pressed for further diplomatic efforts, according to a Reuters report.
"It is very clear what is at stake here: the credibility of the European Union," Greek Prime Minister Kyriakos Mitsotakis emphasized in a video message before the summit, which one diplomat cited in the report described as a "heated debate."
France, which remains enraged by Turkish foreign policy in Syria and Libya, has tried to push the EU to consider sectorial sanctions against the Turkish economy, but lacks much support.
Moreover, a French official further said the decision was, for now, a "response to the worsening situation" with Ankara.
The EU asset freezes of yet unidentified Turkish individuals and companies will be in addition to two officials already on a sanctions list set up in November 2019, according to the report.
Meanwhile, pointing to the sensitivities of punishing NATO member Turkey -- which still remains an EU candidate country -- another diplomat also stated that there were largely fruitless "long discussions about words" in the final draft of the EU statement, which accused Turkey of "provocations."
EU leaders now expect the bloc's Foreign Policy Chief Josep Borrell to come up with a broad overview of EU's political, trade and economic ties with Turkey by next March.
That could allow for the EU to either broaden sanctions or offer closer trade relations via an expanded customs union, depending on Ankara's willingness to help end tensions in the eastern Mediterranean, avoiding further measures, diplomats added as cited in the report.
The Greek Cypriot government began exploring for natural gas with a US company in 2011 despite warnings from Turkey, which does not recognize the divided island's status and claims exploration rights.
Tensions intensified in August when Ankara dispatched a seismic exploration ship into Cyprus' exclusive economic zone and also in waters claimed by Greece. The EU, led by Germany, has been trying to negotiate a settlement but without success.
https://www.presstv.com/Detail/2020/12/11/640507/Turkey-EU-eastern-Mediterranean-dispute
--------
Police foil attack by Kurdish bomber in southeast Turkey
December 10, 2020
ANKARA, Turkey (AP) — Turkish police on Thursday shot and killed a suspected Kurdish militant who was allegedly planning to detonate a bomb that was strapped to his body, the state-run Anadolu Agency reported.
Police, acting on information that the militant was planning to carry out an attack, stopped a taxi he was riding in at a checkpoint near the town of Viransehir in the southeastern province of Sanliurfa, the agency reported. A police officer shot and killed the man before he was able to detonate the explosives, it said.
The agency said the militant was a Syrian national and a member of the outlawed Kurdistan Workers Party, known as the PKK, or the Syria-based Kurdish group that is affiliated with it. The militant, who wasn't identified, had allegedly sneaked into Sanliurfa from Syria with explosives.
The foiled attack came as a car bomb went off at a checkpoint across the border in a Turkish-controlled area of northeastern Syria, killing at least two Turkish soldiers and two local security officers, Turkish officials said.
It wasn't immediately clear if the two incidents were connected.
The PKK has led a decades-long insurgency in Turkey's mainly Kurdish southeast region and is considered a terror organization by Turkey, the United States and the European Union. Tens of thousands of people have been killed in the conflict since it started in 1984.
https://apnews.com/article/international-news-turkey-syria-8448aa19b6b99f8ddd28c8033bb851b9?utm_source=iterable&utm_medium=email&utm_campaign=1808826_
--------
Africa
US Kills 8 al-Shabab Fighters in 2 Airstrikes Amid Troop Reduction in Somalia
By Carla Babb
December 10, 2020
WASHINGTON - The U.S. military killed eight al-Shabab fighters and wounded two others in airstrikes Thursday in Somalia, Lt. Cmdr. Christina Gibson, U.S. Africa Command spokeswoman, told VOA.
"We will continue to apply pressure to the al-Shabab network. They continue to undermine Somali security, and need to be contained and degraded," Africa Command (AFRICOM) head Gen. Stephen Townsend added in a statement announcing the strikes.
The AFRICOM statement said two strikes in the vicinity of Jilib targeted terrorists "who were known to play important roles in producing explosives for al-Shabab, to include vehicle-borne improvised explosive devices."
The al-Qaida-affiliated terror group conducts dozens of car bombings across Somalia each year, including against citizens, government and American targets.
According to AFRICOM, al-Shabab has conducted about 45 vehicle-borne bombings in the capital of Mogadishu alone since 2018, collectively resulting in the death of more than 400 people.
The Command assessed that no civilians were injured or killed in the strikes.
The strikes come just days after President Donald Trump ordered the Pentagon to remove the majority of the 700 U.S. military troops stationed in Somalia.
A Pentagon statement issued late last week said these troops would be leaving "by early 2021." Officials have said most of those troops will be repositioned in Kenya and Djibouti to continue the fight against al-Shabab.
"Al-Shabab remains a dangerous franchise of al-Qaida," said Townsend in the announcement Thursday. "This mission illustrates our continuing commitment to eradicating this threat and supporting our Somali partners in the region. We're repositioning, but we will maintain the ability to strike this enemy."
https://www.voanews.com/usa/us-kills-8-al-shabab-fighters-2-airstrikes-amid-troop-reduction-somalia?utm_source=iterable&utm_medium=email&utm_campaign=1808826_
--------
Executed Nigerian Farmers Were Caught Between Boko Haram and the Army
By Ismail Alfa and Ruth Maclean
Dec. 10, 2020
ZABARMARI, Nigeria — For years, the farmers had an agreement with Boko Haram militants: They could tend their fields in peace, as long as they did not report the fighters' presence to the Nigerian Army.
But just over a week ago, that deal was broken. The Islamist group killed more than 70 farmers from Zabarmari, a village in northeastern Nigeria, residents say. The militants accused the farmers of betraying them.
"Everything is shattered now," said Ibrahim Abubakar, 36. Four of his friends were beheaded, he said.
People in rural areas of northeast Nigeria, Africa's most populous country, have largely been left at the mercy of Boko Haram by a government whose security forces have mainly retreated from the countryside to protected garrison towns.
Villagers are caught in a deadly Catch-22. If they report the militants to the Nigerian authorities, they risk gruesome reprisals by Boko Haram, a group known for abducting schoolgirls and killing tens of thousands of people. If they stay silent, they risk the wrath of the Nigerian military, which has been accused of routinely shooting villagers dead and burning their houses down during raids, as well as detaining people for years in inhumane conditions.
In Zabarmari, villagers struggle to eke out a living through subsistence farming and fishing.
"We are accused of being collaborators by both the security operatives and the insurgents, when all we did was look for peace," said Garbati Sani, a village elder. "What do we do to stay safe?"
Militants came to the farmers as they were working in rice fields on Nov. 28 and told the workers that they needed their help with something, several residents said in interviews. Thinking that they were protected by the peace deal, around 50 farmers went with the militants to the nearby village of Koshebe.
But when they arrived, more militants appeared and took most of them into a building where they slit their throats. Later, other bodies were found nearby, bringing the total number of dead to more than 70, villagers said. In addition, the militants abducted about a dozen women from the village.
Boko Haram and its offshoots have terrorized northeastern Nigeria, as well as parts of Cameroon, Chad and Niger, for more than a decade. When Muhammadu Buhari was elected president in 2015, it was partly on a promise to use his expertise as an army general to resolve the crisis.
Mr. Buhari has claimed repeatedly that Boko Haram has been defeated or greatly weakened, and the government has encouraged displaced people to return to their home areas.
But in fact, the military's strategy of retreating to highly militarized garrison towns — or "supercamps" — has left over a million people in rural areas to fend for themselves. And the situation has deteriorated in recent months, so much so that the governor of Borno, which includes Zabarmari and is the country's worst-affected state, last week called for the federal government to send in mercenaries.
Boko Haram's leader, Abubakar Shekau, pledged allegiance to the Islamic State in 2015, a year after the abduction of hundreds of schoolgirls from the village of Chibok in Borno State. But when in 2016 several Boko Haram commanders split off to form their own faction, Islamic State West Africa Province, ISIS backed them.
It was the Shekau faction, widely considered to be more bloodthirsty than the other group, that claimed the Zabarmari attack, in a video circulated on social media.
"We are the ones that carried out that job," said the spokesman in the clip, slung with ammunition, his face wrapped in a scarf. "You thought you can arrest one of us, and hand him over to soldiers and expect to stay in peace?"
Residents had alternate theories about what had motivated Boko Haram to carry out the massacre.
One said a member of Boko Haram had come to the village and asked a local woman to cook him some food. She told her neighbors, who tipped off the authorities, and the militant was arrested.
Another said that the military had raided Boko Haram's camp, confiscating a gun and some motorcycles. Yet another said that soldiers had caught a militant on a motorcycle when they were on patrol.
Surviving farmers said that they would return to their fields because there was no way they could eat otherwise. Conflict and other conditions in northeastern Nigeria have made the people there desperately hungry, and the region could face a famine in the next few months if nothing is done, according to the United Nations World Food Program.
Villagers in Zabarmari said that those killed were mostly young men, many of them the breadwinners in their families.
"The elderly were not killed because, according to the insurgents, they don't have enough blood," said Idi Musa, a fisherman who sat near the mosque, clutching his prayer beads.
But older people in areas controlled by Boko Haram have suffered abuses, torture and killing that amount to war crimes and possibly crimes against humanity, according to a report released by Amnesty International this week.
Many have also had to watch their children and grandchildren die.
On the morning he was killed, one of the farmers, Zakariyau Mohammed, 20, told his father to rest up while he went to the farm.
"I didn't know it was the last smile I would ever see on his face," said his father, Sa'adu Mohammed, a tall, slim man in his late 60s, standing outside his modest home of unplastered bricks.
Zakariyau had been a dedicated son, spending all the money he could earn on looking after his family, his father said. He had been planning to get married.
"He was everything I felt proud of," Mr. Mohammed said.
https://www.nytimes.com/2020/12/10/world/africa/nigeria-boko-haram.html?utm_source=iterable&utm_medium=email&utm_campaign=1808826_
--------
Mozambique troops repel Islamists attacking village near gas site
December 10, 2020
Mozambican soldiers on Thursday repelled Islamist militants that attacked and occupied a northern village in their closest raid yet to a giant gas project, military sources said.
The jihadists launched the assault late Monday on the village of Mute, located about 20 kilometres (12 miles) from the Afungi peninsula.
The peninsula is the centre of a multi-billion-dollar scheme to build a liquefied natural gas (LNG) plant in Cabo Delgado province, where 2,400 people have been reported killed and a million displaced over the last three years in an escalating jihadist insurgency.
"Following two days of intense fighting, we managed to retake" the village on Thursday, a military source in the gas hub town of Palma told AFP.
Mute lies in a buffer zone between the gas project and the jihadist-controlled port of Mocimboa da Praia.
The attack allegedly prompted energy giant Total to temporarily suspend construction work on the LNG support infrastructure.
The French company did not respond to a question about whether its activities were suspended, only saying it "is closely monitoring the situation in Cabo Delgado".
"The security of Mozambique LNG project workforce and activities is our absolute priority. Total remains in permanent contact with Mozambican authorities on this subject," it told AFP.
A security source said Total will soon resume normal activities because the attack was considered a "threat of small proportions".
Last year the company signed a security agreement with Mozambique to protect the multi-billion-dollar gas project in the restive northern province.
https://news.yahoo.com/mozambique-troops-repel-islamists-attacking-181813103.html?utm_source=iterable&utm_medium=email&utm_campaign=1808826_&guccounter=1
--------
Mozambique: Us Prepared to Support Counter-Terrorism, but No Troops
9 December 2020
Maputo — The United States is not considering sending troops to Mozambique to combat the terrorist threat in the northern province of Cabo Delgado, but it is willing to boost "civilian counter-terrorism capabilities", said the US Coordinator for Counter-terrorism, Nathan Sales, on Tuesday.
He was speaking in a telephone press briefing, after visiting Mozambique and South Africa. Sales described his trip as an "opportunity to engage with government officials in both countries to garner support for increased cooperation on counterterrorism issues".
The fact that he travelled to southern Africa, despite the Covid-19 pandemic "is an indication of how seriously the United States takes the terror situation on that part of the continent".
Sales had no doubt that the terrorist raids in Cabo Delgado are the work of the jihadi organization known variously as Islamic State, ISIS or Daesh. "What we've seen is increased terrorist attacks by ISIS affiliates in Mozambique over the last three years, resulting in the deaths of more than 2,000 people", he said. "We're also seeing a humanitarian situation developing with the displacement of more than 400,000 residents of Cabo Delgado province"
"Here in the United States, our key priorities are to assist counterterrorism with security support, while protecting the civilian population and providing humanitarian assistance to those who have been displaced by violence", he added.
In his discussions in Maputo with President Filipe Nyusi and other Mozambican officials, "we discussed our two countries' mutual commitment to a strong strategic partnership to counter terrorism in Cabo Delgado", Sales said. "We also explored ways the United States can help Mozambique enhance its civilian law enforcement capabilities as well as its border security capabilities."
"The United States wants to be Mozambique's security partner of choice in strengthening border security and in strengthening its capacity to counter terrorist activity", he stressed. "We do this time and again by demonstrating across the globe that the United States is the indispensable counterterrorism partner; that the United States brings capabilities that no other country can match".
As for possible military assistance, Sales pointed out that he represents the US State Department, not the Defence Department.
"Typically what the State Department has done in other parts of the world is to help bolster law enforcement capabilities, things like the ability to investigate terrorist attacks, to prevent terrorist attacks, to collect evidence from the battlefield, to train prosecutors to use that evidence in courts of law to obtain convictions that will take terrorists off the battlefield for prolonged sentences upon their conviction", he said.
Sales stressed the importance of border security. "We have a number of state-of-the-art systems that we use in the United States to protect our borders, airports, seaports, land ports of entry, and we always talk to our friends around the world about how those systems might usefully by used to protect their border security", he said. "We'd like to see whether there's an interest in moving forward with those in Mozambique as well".
Sales described human rights and the rule of law as fundamental "because we've found that boosting those rule-of-law capabilities enables a long-term, durable, and sustainable capability that's going to pay dividends over many years to come".
"There's no quick fix when it comes to counterterrorism", he said. "The playbook is a simple one, but it's one that we have to follow with specificity. And it's very simple: it's to develop rule-of-law-compliant capabilities so that police and investigators and prosecutors and judges have the tools they need to defeat terrorists in a sustainable and durable way".
Asked about the threat the Cabo Delgado war poses to other southern African countries, Sales said "one of the things we've seen with terrorist groups like ISIS time and again is that they don't respect national boundaries, and in fact they do their best to exploit national borders."
An example of this was the recent incursion by Cabo Delgado jihadists into southern Tanzania. This was what made border security so crucial, he stressed, "We think that working with our partners on the ground, we will be able to coordinate our efforts better to contain terrorists, to degrade them, and ultimately to defeat them. But ultimately that requires maintaining control over borders and making sure the terrorists don't have freedom of movement across international boundaries".
Sales believed that South Africa "has a special role to play here as an economic power, as a military power, as a strong democracy that much of the rest of the continent looks to for inspiration and leadership. So I hope that we'll be able to find ways to partner together with our friends in Pretoria to degrade and defeat terrorist threats in this part of the continent".
Sales denied suggestions that the Cabo Delgado conflict was a "locally driven war". He replied that although the province had known "spasms of violence" in the past "what's new within the past several years, is that the perpetrators of this violence are aligning themselves with ISIS as a transnational terrorist enterprise in ways that we hadn't really seen previously. So regardless of the origins of these violent networks or individuals who participate in them, what we're seeing today is a committed ISIS affiliate that embraces the ISIS ideology, that embraces the ISIS tactics and procedures, and that embraces the ISIS vision of a caliphate with territorial control".
https://allafrica.com/stories/202012100141.html?utm_source=iterable&utm_medium=email&utm_campaign=1808826_
--------
Russia condemns US recognition of Morocco's claim to Western Sahara
11 December 2020
Russia on Friday condemned US President Donald Trump's decision to recognize Morocco's sovereignty over Western Sahara, saying it contravened international law.
For all the latest headlines follow our Google News channel online or via the app.
Deputy Foreign Minister Mikhail Bogdanov called the US decision "unilateral," Russian news agencies reported, adding that "there are relevant resolutions, there is the United Nations Mission for the Referendum in Western Sahara."
"This is a violation of international law," Bogdanov said.
Western Sahara is a disputed and divided former Spanish colony, mostly under Morocco's control, where tensions with the pro-independence Polisario Front have simmered since the 1970s.
The Algerian-backed movement holds a fifth of Western Sahara and has campaigned for a vote on self-determination through decades of war and deadlock.
With barely a month left in office, Trump fulfilled a decades-old goal of Morocco's by backing its sovereignty in Western Sahara. The move was part of the outgoing US leader's diplomatic push to bring Israel and Arab states together.
He announced on Thursday that Morocco was now the fourth Arab state this year to recognize Israel.
Russia's Bogdanov said Moscow saluted better ties between Morocco and Israel.
"That Arab countries are building bridges with Israel is positive, we can only support this," he said.
https://english.alarabiya.net/en/News/north-africa/2020/12/11/Russia-condemns-US-recognition-of-Morocco-s-claim-to-Western-Sahara
--------
Arab World
Lebanon recruitment agencies benefit from sponsorship system, lobby against reforms
Fatima Al-Mahmoud
11 December 2020
Various attempts to dismantle Lebanon's heavily criticized domestic worker sponsorship program have failed over the years, and now, new research shows that some in Lebanon benefit financially from the system, leaving little impetus for a corrupt ruling elite to abolish it.
Activists estimate that one to two migrant workers die in Lebanon every week, yet the kafala system persists as it props up a financially lucrative industry where recruiters, government entities, and service providers benefit, argue researchers Jonathan Dagher, David Wood, and Jacob Boswall.
The primary beneficiaries from the kafala system are local recruitment agencies who earned approximately $57.5 million in revenues in 2019 alone, according to the findings of Beirut-based Triangle Research, Policy and Media Centre.
For all the latest headlines follow our Google News channel online or via the app.
This is assuming the minimum recruitment fee is earned, estimated to range between $1,800 and $4,300 by the Syndicate of Owners of Recruitment Agencies in Lebanon (SORAL); the fees depend on the agency and the worker's nationality.
There is no definitive data on the profit generated by beneficiaries of the kafala system due to lack of transparency in the industry, but "it is definitely profitable," said Boswall, who is an economic researcher at Triangle.
Deemed as a form of "modern day slavery" by Human Rights Watch, the kafala system excludes migrant workers from Lebanon's labor laws and gives authority of their immigration status and employment to a sponsor (kafeel) instead.
There were attempts to reform aspects of the current system over the past months, but they have been struck down.
"The lobbying led by SORAL against reforms in the last few months was motivated by private economic interests," he told Al Arabiya English. SORAL was the main group that lobbied against reform attempts.
Titled "Cleaning Up: The Shady Industries that Exploit Lebanon's Kafala Workers," Triangle's special report provides a comprehensive understanding of the economic interests of key institutions that underpin Lebanon's kafala system.
Behind the recruitment agencies, the second largest beneficiary of this exploitative system are government institutions. Migrant workers generate an annual revenue of $36.5 million for the General Security Directorate and $6.1 million for the Ministry of Labour in residency and labor permits, according to the reports estimates.
Other parties that financially benefit from the kafala system are local service providers. These include medical labs who perform health screenings, insurance firms that provide basic health insurance packages for workers, and public notaries. The revenue for each institution amounts to $1 million, $1.6 million, and $2.9 million respectively.
Attempted reforms
A standard unified contract for domestic workers that was proposed by caretaker minister of labor Lamia Yammine in September was successfully appealed in the Shura Council, Lebanon's highest legislative court. The recruitment agencies' syndicate pushed back hard against the contract updates for "negatively impacting the industry of domestic workers recruitment in Lebanon and contravening the labor law."
Local recruitment agencies' annual revenues account for roughly 60 percent of the industry's total profit, and they would have the most to lose if the kafala system was dissolved, said Boswall.
The updated contract would have granted workers basic labor rights, like terminating their work contract without their employer's consent, working for designated hours per week and being paid overtime, and being granted separate, private accommodation, among other provisions.
The revised contract was perceived as a "crucial first step toward dismantling kafala in Lebanon" by the International Labour Organization, but it would have significantly shrunk the $100 million annual revenues generated by the system, Triangle's report concluded.
Low wages become smaller
Currently, as Lebanon struggles with one of the worst economic crises in its history, migrant workers are being denied meager wages as employers struggle to obtain dollar bills in a country with dwindling foreign reserves. If they are paid, workers are typically given salaries in Lebanese pounds, the crashing local currency, slashing their wages by nearly 80 percent.
"Salaries now range between 200,000 Lebanese pounds and 600,000 pounds, not more," explained Mekdes Yilma from Egna Legna Besident, an Ethiopian activist group. At the current black market exchange rate, monthly salaries amount to $25 to $75.
The cost of many basic goods, which workers have to purchase themselves, in the country have doubled.
"If they dare protest or ask for their rightful pay, they would be beaten up and abused," continued Yilma.
Prior to the ongoing economic crisis, foreign domestic workers used to earn between $100 and $300 a month depending on their race and nationality, said Yilma. The minimum wage in Lebanon is $450 a month.
Thrown out
Aside from being denied months of pay, many domestic workers were thrown out onto the streets with their belongings packed in trash bags, and left stranded with no money, food, water, or their passports.
In the absence of government action to protect these women, Egna Legna launched a campaign to send migrant workers back home. So far, they have repatriated 300 women and children, with 100 more to be sent back in coming days.
"We have women calling us every day, telling us they're trapped in homes," Yilma told Al Arabiya English. "They tell us that they're miserable and thinking of hurting themselves, and we don't have the authorization to go get them from these homes."
While the proposed unified standard contract would not have fully eradicated the kafala system, it would have ensured basic protections afforded to other workers in Lebanon. But between the money hungry stakeholders lobbying to protect the kafala system and the absence of a constitutional government that can legitimately propose reforms, migrant domestic workers are trapped in the middle, paying the price.
https://english.alarabiya.net/en/features/2020/12/11/Lebanon-crisis-Lebanon-recruitment-agencies-benefit-from-sponsorship-system-lobby-against-reforms
--------
Killer of Lebanon's Hariri sentenced to life in prison, remains at large: UN court
11 December 2020
The UN-backed Lebanon Tribunal on Friday sentenced a Hezbollah member convicted of conspiring to kill former Lebanese prime minister Rafik Hariri in a 2005 bombing to five terms of life imprisonment.
For all the latest headlines follow our Google News channel online or via the app.
Salim Jamil Ayyash was found guilty in August of homicide and committing a terrorist act over the deaths of Hariri and 21 others in the attack on Beirut's waterfront.
The trial was conducted in absentia and Ayyash remains at large. Three alleged accomplices were acquitted due to insufficient evidence.
"The attack was intended to spread terror in Lebanon and indeed did," Australian Judge David Re said in reading out the court's decision. "The trial chamber is satisfied it should
impose the maximum sentence for each of the five crimes of a life sentence to be served concurrently."
Hariri's assassination plunged Lebanon into what was then its worst crisis since its 1975-90 civil war, setting the stage for years of confrontation between rival political forces.
"Mr Ayyash's crimes are extremely grave, he had a central role in the attack," Judge Janet Nosworthy said.
"Lebanon is a parliamentary democracy, its politicians and leaders should be removed from office at the ballot box rather than by the bullet or a bomb," she said.
Prosecutors had called for a life sentence for each of the five counts Ayyash was convicted of.
https://english.alarabiya.net/en/News/middle-east/2020/12/11/Killer-of-Lebanon-s-Hariri-sentenced-to-life-in-prison-remains-at-large-UN-court
--------
Lebanon's Hezbollah rejects charges against caretaker PM in Beirut explosion
11 December 2020
Lebanon's Hezbollah group on Friday said recently filed charges were politically targeting the caretaker prime minister and three allied former ministers over this summer's massive explosion in Beirut.
For all the latest headlines follow our Google News channel online or via the app.
The group called on the investigating judge to reconsider his decision, saying it lacked a legal and constitutional basis and that the four were being selectively charged.
Prime Minister Hassan Diab, who is backed by Hezbollah, resigned in the wake of the August 4 explosion and remains in his post in a caretaker capacity, as Lebanese officials have failed to agree on a new Cabinet.
The four were the most senior officials to be charged in the investigation and are set to be questioned next week by investigating judge Fadi Sawwan. He was named by the government to the post a few days after the explosion and has been conducting his probe mostly in secrecy.
The explosion in the port was caused by the ignition of a large stockpile of explosive material that had been stored at the port for six years, with the knowledge of top security officials and politicians who did nothing about it. It killed more than 200 people and wounded thousands, devastating large parts of the capital Beirut.
The decision to charge senior officials — including one in office — was significant in Lebanon, where a culture of impunity has prevailed for decades, including among the entrenched political elites.
"We are keen that all decisions taken by the investigating judge stay clear of politics and intent; be constitutional and not subject to interpretation or judgement; and that the indictment be based on legal and reasonable basis, which is what we did not find in the latest measures," Hezbollah said
"Therefore, we absolutely reject the absence of unified criteria which led to what we consider political targeting affecting some people and ignoring others unfairly," it added.
Hezbollah said it supports the people's right to know the reasons that led to the massive explosion and those responsible for it. But the powerful group said it doesn't want the probe to be stymied in double standards and doesn't the truth to be lost in the "jungle of politics, the games of the street (pressure) and media clamor."
It was not clear what the impact of Hezbollah's call would be on Sawwan. But the charges issued Thursday have already been protested by the concerned officials.
A statement from Diab's office Thursday accused Sawwan of violating the constitution and bypassing parliament. It added that Diab has already provided all the information he had to the judge, who questioned him in September over his prior knowledge about the explosive chemicals stored at the port.
https://english.alarabiya.net/en/News/middle-east/2020/12/11/Lebanon-s-Hezbollah-rejects-charges-against-caretaker-PM-in-Beirut-explosion-
--------
UAE: Abu Dhabi Police investigating gang for raping girl, posting video of crime
Ismaeel Naar
11 December 2020
Abu Dhabi Police is investigating a group of young men accused of raping a girl and uploading videos of the attack on several social media platforms, according to a report on the Emirates News Agency.
In a statement on Thursday, UAE's Attorney-General Hamad Saif Al Shamsi said that Abu Dhabi Police have arrested the men and are currently "undergoing extensive investigations under the direct supervision of the Public Prosecutor."
The Attorney-General added that the incident contained "a degree of depravity that is not acceptable in UAE society."
https://english.alarabiya.net/en/News/gulf/2020/12/11/UAE-Abu-Dhabi-Police-investigating-gang-rape-of-girl-and-posting-video-online
--------
Hezbollah condemns Morocco-Israel agreement on normalization of relations
12 December 2020
Lebanon's Hezbollah resistance movement has strongly condemned the so-called agreement between Morocco and the Israeli regime on the normalization of relations, stressing that the Arab countries having relations with Tel Aviv will soon regret their move.
American President Donald Trump announced on Thursday that Morocco had reached a US-brokered agreement with Israel on the normalization of relations, becoming the fourth Arab country – After the United Arab Emirates (UAE), Bahrain, and Sudan – to reach such an agreement with the Tel Aviv regime since August.
Morocco's royal court also confirmed the news and said that the US will open a consulate in the Western Sahara territory in line with the agreement.
"We condemn the announcement by the Moroccan authorities about the normalization of relations with the Israeli enemy. This move is in the context of the successive fall of a number of Arab governments that, at the behest of the United States and the Zionist regime, have undermined the Palestinian ideals and want to destroy it," said Hezbollah in a statement published on its official al-Manar website.
As part of the agreement, Trump who is due to leave office on January 20, agreed to recognize Morocco's "sovereignty" over the contested Western Sahara.
Morocco annexed the vast Western Sahara region, a former Spanish colony, in 1975 and has since been in conflict with the Algeria-backed Polisario Front, a movement that seeks to establish an independent state in the territory and end Morocco's presence there.
The provocative normalization agreements between Israel and three Arab countries have already sparked outrage among the Palestinians who view the agreements as stabs on their back and a betrayal of their cause.
"The submission of these governments to the US and Zionist blackmail policy in the hope of achieving gains here or lifting sanctions there, are nothing but illusions and mirages from which they will not gain anything, and they will quickly discover that they have reaped nothing but disappointment and that their country has become exposed to the Israeli enemy and its dangerous conspiracies," Hezbollah added.
Palestinian groups condemn Morocco's agreement as betrayal of Palestine
A number of the Palestinian resistance groups, in a joint statement on Friday, also condemned Morocco's normalization agreement with Israel, saying that the move is a flagrant betrayal of Palestinians and their cause, al-Mayadeen television network reported.
They also stressed that because of the flagrant act of betrayal, Morocco is no longer qualified to be the chair of al-Quds Committee of the Organization of Islamic Cooperation (OIC).
"The compromising regimes betrayed the firm will of their brave nations by agreeing to compromise. These shameful agreements do not reflect the will of the free Arab nations, especially the Moroccan nation, which has always supported the Palestinian cause," the groups said.
The Palestinian resistance groups, in conclusion, called on Moroccans and all other Arab nations to make a massive protest movement to reject the compromise and expose the scandal of the compromisers.
Following the Morocco-Israel agreement on Thursday and in reaction to it, Palestinian resistance movement Hamas issued a statement strongly condemning the agreement as a "political sin."
Islamic Jihad Movement of Palestine also condemned the normalization of relations between Morocco and Israel, describing it as a betrayal of Jerusalem al-Quds.
https://www.presstv.com/Detail/2020/12/12/640537/Palestine-Hezbollah-Morocco-Israel-US-Trump-normalization-UAE-Bahrain-Sudan
--------
Car bomb kills at least four in Turkish-controlled north Syria
DECEMBER 10, 2020
ANKARA (Reuters) - At least four people were killed in a Turkish-controlled region of northern Syria on Thursday when a car bomb detonated at a checkpoint in the border town of Ras Al Ain, according to a Turkish official and a war monitor.
The governor's office in the Turkish town of Sanliurfa identified the dead as two Turkish police gendarmes and two members of local Syrian security forces. It blamed the blast on the Syrian Kurdish YPG, which Ankara views as a terrorist group.
The Syrian Observatory for Human Rights, a UK-based war monitor, put the total death toll at 12, including seven Syrian fighters, two Turkish security personel, two civilians and one unidentified victim.
Turkey, which is allied with some Syrian rebel groups opposed to Syrian President Bashar al-Assad, seized control of the town last year in an offensive to push back YPG fighters from the border.
https://www.reuters.com/article/syria-security-turkey/car-bomb-kills-at-least-four-in-turkish-controlled-north-syria-idUSKBN28K22P?utm_source=iterable&utm_medium=email&utm_campaign=1808826_
--------
North America
US and Israel won't stop trying to shackle Iran
11 December 2020
By J Michael Springman
Well over the last few years ever since the United States withdrew unilaterally from the Joint Comprehensive Plan of Action, Iran has scrupulously adhered to the agreement and granted that it enriched uranium in greater amounts than the agreement provided and increased its holding of heavy water, which is beyond what the original agreement provided but as the Iranian government has repeatedly said we can wipe this all away and we can get rid of this stuff if the United States and the European signatories Britain, France and Germany agree to abide by the agreement and drop the sanctions against Iran which is crippling the economy, crippling the population itself by blocking imports of necessary medical goods and doing its very best to destroy the operation of the Iranian government.
It's a simple matter to do, but I am not optimistic that the United States will do it. Should Joe Biden be inaugurated as president on January 20 he has said that he's going to engage the hard-nosed negotiations with Iran over its missile systems, something dear to the heart of the Israelis and dear to the heart of the right-wing neocons that have infested the American government for years and which Joe Biden is bringing back to power throughout his administration.
So I think that it's a simple matter of dropping the sanctions and rejoining the Joint Comprehensive Plan of Action which really provides for outrageous invasions of Iranian privacy within international inspections, teams filled with espionage agents, I believe.
But, Iran has adhered to this and it's been proven at least 15 times by the International Atomic Energy Agency that Iran is adhering strictly to the provisions of the JCPOA. So I am not optimistic that anything's really going to change.
I think Biden is going to follow Trump's viewpoint, and, of course, Obama. He created this Joint Comprehensive Plan of Action with restrictions on Iran and restrictions on Iran's nuclear program. So I think it's near to the heart of the American government and to the Israeli government, the apartheid entity to shackle Iran, and to prevent Iran from supporting people fighting against American imperialism in Syria and Lebanon and Iraq and other countries.
So I think that the Americans want Iran to stop this. Israel wants Iran to stop this. And I think we're gonna have more the same throughout the Biden administration.
J. Michael Springmann is an American political commentator, author and former US diplomat in Saudi Arabia. He is based in Washington. He recorded this article for Press TV website.
https://www.presstv.com/Detail/2020/12/11/640517/US-and-Israel-won%E2%80%99t-stop-trying-to-shackle-Iran
--------
Pentagon planning to withdraw support for most CIA counter-terror missions
By Jim Sciutto, Ryan Browne and Zachary Cohen
December 10, 2020
Washington (CNN)The US Department of Defense is planning to withdraw most support for CIA counter-terror missions by the beginning of next year, in a move expected to have a broad effect on the scope of the intelligence agency's paramilitary operations, a senior defense official and former senior administration official with direct knowledge of the move told CNN.
Acting Defense Secretary Christopher Miller informed CIA Director Gina Haspel of the decision in a letter this week.
The US military provides a wide range of support to CIA paramilitary operations, including air transportation, logistics and medical evacuation. The changes, which will take place by January 5, involve returning DOD personnel detailed to the CIA and some military equipment, including Predator drones.
The move was first reported by Defense One, citing multiple sources.
The move would be the latest major policy change since President Donald Trump initiated a major personnel shakeup at the Pentagon following his election loss to Joe Biden.
The Trump administration has announced troop withdrawals from Afghanistan, Iraq and Somalia and has jettisoned much of the Pentagon's civilian leadership in recent weeks, replacing officials with a slew of political loyalists in a wave of disruption as his administration winds to a close. Since firing Defense Secretary Mark Esper by tweet November 9, the President has ousted at least three other top officials and replaced them with perceived loyalists and targeted two advisory boards.
A former senior administration official told CNN the Biden administration plans to reverse the move.
"The Department of Defense routinely provides logistical and other support to U.S. Government departments and agencies around the world. This support is provided in accordance with the Economy Act, and other applicable law. As a responsible actor, the Department has taken a look to better align its allocation of resources with the 2018 National Defense Strategy's shift to great power competition," Defense Department spokesperson Lt. Col. Uriah L. Orland said in a statement later Thursday.
"Much has changed in the first two decades of this century, and DoD simply is working with CIA to ensure that both DoD and CIA are able to jointly confront the national security challenges facing the United States" consistent with the National Defense Strategy, he added.
CIA spokesperson Nicole de Haay also told CNN that "there is no stronger relationship nor better partnership than that between CIA and DoD."
"That partnership has led to accomplishments that significantly advanced US national security, and we are confident that DoD and CIA will continue this close collaboration for years to come," she said.
A US official told CNN that the letter sent by Miller to the CIA said the Department of Defense is looking into how to update department memorandum of understanding with the CIA for the first time since 2005.
The letter asks the CIA to respond with its input by January 5, the official said, adding that it is tied to the Pentagon's focus on the National Defense Strategy, which emphasizes a focus on Russia and China -- something Esper advocated for.
Esper had been already in the middle of major reviews of all Pentagon components when he left to ensure they were aligned with the National Defense Strategy, the official added.
News of the plan comes after CNN reported that a CIA operator was killed last month in an operation in Somalia, according to a senior administration official familiar with the matter. The officer was wounded in an operation in the country and later died, the official said.
The identity of the officer has not been made public but the source said the officer was a former Navy SEAL.
Last week the administration confirmed plans to withdraw almost all the troops from the country by early 2021.
US Special Operations forces have been embedded with the Somali National Army, assisting in the fight against the militant group Al-Shabaab. As well as advising on airstrikes and ground assaults, the Navy SEAL-led team's primary task is to train and build Somalia its own elite light infantry force.
While US military advisers in Somalia typically seek to let Somali forces take the lead during operations, there have been incidents where US forces have found themselves in combat situations.
In September, a US service member was injured in the country when Al-Shabaab attacked US and Somali forces. And in August, the US military carried out an airstrike targeting Al-Shabaab fighters in the vicinity of Dar as Salam, after local US-backed forces came under fire from a building.
A Pentagon Inspector General report released this year described the conflict in Somalia as being at a "stalemate," with US-backed Somali government forces continuing to battle Al-Shabaab, with the insurgent group continuing to target Somali and international forces in the country's southern provinces.
Al-Shabaab is estimated to command between 5,000 and 10,000 fighters, according to estimates from Africa Command and the Defense Intelligence Agency.
Though US military advisers have been in Somalia since at least 2013, the effort got a major boost under the Trump administration, which volunteered to undertake the Danab advisory mission in 2017 in addition to expanding drone strikes.
https://edition.cnn.com/2020/12/10/politics/pentagon-cia-counterterrorism/index.html?utm_source=iterable&utm_medium=email&utm_campaign=1808826_
--------
Southeast Asia
Ibrahim Ali says Putra to play check and balance role on govt policies
12 Dec 2020
KUALA LUMPUR, Dec 12 — Parti Bumiputera Perkasa Malaysia (Putra) will play a role as an agent of check and balance to ensure that government policies can be implemented in the best possible way.
Its president Datuk Ibrahim Ali said it was among the motions tabled at the party's first annual general meeting (AGM) for the term 2020-2023 which would also serve as the manifesto in the 15th General Election.
"Putra will be firm to ensure that any implementation of national policies and laws does not contain elements of leakage, malpractice, corruption and abuse of power, not only among political leaders but also civil servants.
"We will also continue our fight to limit the tenure for Prime Minister, Deputy Prime Minister, ministers, Mentri Besar, and state executive councillors, to only two terms. It will ensure a check and balance, clean and integrity," he told reporters after the AGM here, today.
Today's meeting was attended by only 250 senior leaders of the party to comply with the standard operating procedures (SOPs) to curb the spread of Covid-19.
In addition, another proposal tabled is that the party to continue the fight for the creation of a new law to protect the sanctity of Islam as the religion of the federation and uphold the sovereignty of the institution of the Malay Rulers. — Bernama
https://www.malaymail.com/news/malaysia/2020/12/12/ibrahim-ali-says-putra-to-play-check-and-balance-role-on-govt-policies/1931307
--------
Perak PAS apologises to Sultan Nazrin for no-show at palace
11 Dec 2020
BY JOHN BUNYAN
IPOH, Dec 11 — Perak PAS today publicly apologised for failing to appear before Perak's Sultan Nazrin Muizzuddin Shah when instructed to do so on Tuesday.
State PAS commissioner Razman Zakaria (Gunong Semanggol), Mohd Akmal Kamaruddin (Selama); and Khalil Yahaya (Kubu Gajah) made the apology in a joint press conference at their party headquarters in Medan Istana here.
"We humbly express our apology to the Sultan for failing to heed his decree for an audience on December 8 at 3pm in Istana Kinta," said Razman.
"In regard to this, Perak PAS will personally hand over a letter of apology," he added.
On Tuesday, Sultan Nazrin summoned the three assemblymen to an audience at 3pm to ascertain their position in the selection of a new mentri besar of Perak.
However, the PAS assemblymen did not turn up for the audience.
Razman initially said that PAS leadership instructed them to cancel the audience.
PAS secretary-general Datuk Seri Takiyuddin Hassan said the matter was to prevent an error during the lawmakers' audience with Sultan Nazrin.
However, Razman later claimed that PAS did not receive an official invitation to meet with Sultan Nazrin.
It was learnt that the PAS president Datuk Seri Abdul Hadi Awang today sought an audience with the Perak Sultan.
A letter seeking an audience with the Perak Sultan with the signature of Abdul Hadi has been circulated on social media. Razman confirmed that the letter was indeed issued by the party.
However, a source from the Palace said that the Sultan did not give his consent to the audience.
"Istana has officially received (a) letter (to seek audience).
"As of now to my knowledge, He (Perak Sultan) has not given any consent," the source told Malay Mail.
https://www.malaymail.com/news/malaysia/2020/12/11/perak-pas-apologises-to-sultan-nazrin-for-no-show-at-palace/1931075
--------
No question of disobedience in Perak, says PAS No 2
December 12, 2020
PETALING JAYA: The deputy president of PAS said tonight that the question of disobedience towards the Perak Sultan did not arise in the recently resolved political crisis in the state.
The party's representatives had skipped an audience with Sultan Nazrin Shah shortly before a new state government was formed.
Tuan Ibrahim Tuan Man said a political crisis ought to be viewed in its entirety and we should not draw conclusions from a particular angle.
"We need to be given leeway to manage a crisis in a short time. In such instances, it is not surprising for any misunderstanding to take place, misinformation being relayed or opportunists taking advantage," he said on Facebook.
His statement comes in the wake of Perak PAS apologising to Sultan Nazrin Shah, for failing to appear for their audience with the Ruler on Tuesday.
The apology was issued by all three of the party's state assemblymen; Gunung Semanggol assemblyman Razman Zakaria, Selama assemblyman Mohd Akmal Kamarudin and Kubu Gajah assemblyman Mohd Khalil Yahaya.
Sultan Nazrin was to have held an audience with all PAS and PPBM assemblymen at Istana Kinta in Ipoh to show their support for Umno's candidate for the menteri besar and to form the new government.
Razman previously said the assemblymen did not attend the audience following a directive from the party's central leadership, which wanted to wait before deciding on its support for Umno's candidate for the menteri besar's post.
Tuan Ibrahim also said the party would leave it to the Perak Ruler to decide on appointing its representatives to the exco lineup.
"We will accept his views as we are certain that a stable government is his priority."
Saarani Mohamad, the Kota Tampan assemblyman from Umno, took his oath as the 14th Perak menteri besar at Istana Iskandariah yesterday.
He later named five assemblymen to his executive council: Zainol Fadzi Paharudin of PPBM and incumbents Zolkafly Harun, Shahrul Zaman Yahya, Wan Norashikin Wan Noordin and Khairul Shahril Mohamed, all from Umno.
Saarani succeeded Ahmad Faizal Azumu of PPBM after the latter lost the confidence of the state assembly last week, sparking a six-day political crisis in the state.
https://www.freemalaysiatoday.com/category/nation/2020/12/12/no-question-of-disobedience-in-perak-says-pas-no-2/
--------
Hadi seeks audience with Perak Sultan to explain PAS' situation
December 11, 2020
PETALING JAYA: Abdul Hadi Awang is seeking an audience with Sultan Nazrin Shah to inform the Perak Ruler of the "political situation involving PAS".
The PAS president sent a letter to the palace days after the party had ordered its representatives not to go to the palace during the Perak menteri besar crisis, although they had been summoned by the Sultan.
Hadi's letter was sighted by FMT and it is understood that no date has been set for the audience yet.
In the most recent events involving the party, PAS was left out of a five-man exco team named by new Menteri Besar Saarani Mohamad yesterday.
Sultan Nazrin had been scheduled to meet all Perak PAS assemblymen at 3pm on Tuesday, but it was called off by PAS' central leadership.
Party secretary-general Takiyuddin Hassan later issued a statement saying all of the party's assemblymen have been instructed to meet the ruler once they receive the decree from the Sultan.
He had said the party upholds the sovereignty of the monarchy and did not wish to make any mistakes in its decision, especially when it involved the Sultan's decree.
Yesterday, Saarani, the Kota Tampan assemblyman, took his oath as the 14th Perak menteri besar at Istana Iskandariah.
Perak PPBM secretary and Sungai Manik assemblyman Zainol Fadzi Paharudin was also sworn in as a Perak executive councillor, along with Umno members Zolkafly Harun (Lintang), Shahrul Zaman Yahya (Rungkup), Wan Norashikin Wan Noordin (Kampong Gajah) and Khairul Shahril Mohamed (Bota).
It is understood that the other exco members will be named after discussions with other Perikatan Nasional leaders are completed.
https://www.freemalaysiatoday.com/category/nation/2020/12/11/hadi-seeks-audience-with-perak-sultan-to-explain-pas-situation/
--------
URL: https://www.newageislam.com/islamic-world-news/plea-filed-allahabad-high-court/d/123739
New Age Islam, Islam Online, Islamic Website, African Muslim News, Arab World News, South Asia News, Indian Muslim News, World Muslim News, Women in Islam, Islamic Feminism, Arab Women, Women In Arab, Islamophobia in America, Muslim Women in West, Islam Women and Feminism