New Age Islam News Bureau
25 Dec 2013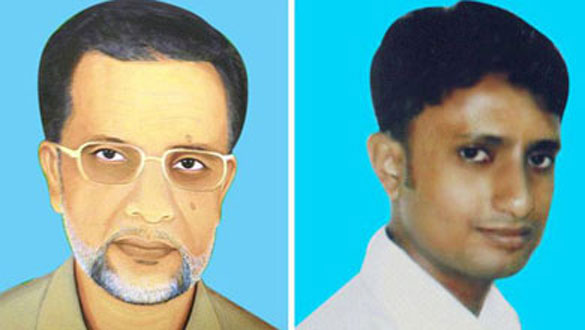 File photo of self-proclaimed commander-in-chief of Imam Mahdi's forces Lutfor Rahman Faruk and his son Sarwarul Islam Monir, Killed in Bangladesh
---------------
South Asia
• Pir, among Six Killed in Bangladesh for Controversial Practices, Fanatic Islamist Suspected
• Rockets explode in Kabul as foreigners mark Christmas
• PM Hasina: BNP chief, Khaleda Zia realised her mistake
• She is hurt by Pakistan resolution on Molla: Khaleda Zia
• Bangladesh to send more peacekeepers to South Sudan
• Violence continues unabated in Bangladesh, 2 killed
Africa
• UN finds mass grave with 75 bodies in South Sudan
• Rape, Mutilations, Atrocities Mark Central African Republic Conflict, UN Experts Warn
• $0.60 for cake: Al-Qaeda records every expense
• South Sudan crisis: Increased efforts to end bloodshed
• Former head of Islamic police arrested in northern Mali
Arab World
• 37 killed as blasts target church, Christian area in Baghdad
• Egypt declares Brotherhood 'terrorist' group
• Egypt police arrest former Morsi PM Hisham Qandil
• Abu Qatada defiant in Jordan terrorism trial
• Syria conflict: Deadly air strikes continue in Aleppo
• Malaysia reiterates support for National Dialogue in Bahrain: Ambassador
• A Grim Christmas for Those Driven from Syria's Maalula
Europe
• A British teenager is newest member of al-Qaeda 'fighting in Syria'
• Pope prays for child soldiers, peace in C Africa, S Sudan, and Syria in Christmas address
• Militants' raids on chemical weapons storage sites look like pre-planned action - Russia
• South Sudan fighting spreads to half country's states: UN
• UK troops mark last Christmas in Afghanistan
North America
• Judge backs T on Israel posters: Says ad campaign demeans Muslims
• Muslim Christmas celebrations gain a toehold
• US hits bin Laden's son-in-law with new conspiracy charges
Mideast
• Israel tracks Syria's Western jihadis, worried about their return
• Turkey requests Santa Claus' bones from Pope
• Compensation talks between Turkey and Israel almost finalized
• Worshippers rejoice in Bethlehem on Christmas Day
• PM: We will not tolerate a 'drizzle' of attacks from Gaza
Pakistan
• UN seeks 'peacekeepers' from Pakistan to bolster mission in South Sudan
• Jailed British Ahmadi Masood Ahmad in Pakistan blasphemy appeal
• Conference: 'Drum Beating, Dancing Against Teachings of Sufi Saints'
• Speakers call for implementing Quaid-e-Azam's vision on democracy, rule of law
• Bomb Disposal Squad disarm eight kilogram bomb in Quetta
• Another five fall prey to Karachi violence
• Pakistan, Turkey to enhance cooperation against terrorism
India
• Targeted by Muslim clerics, Mulayam gets support from Jamiat-e-Islami chief
• Riot-hit Muslims left in lurch as administration forces closure of relief camps
• Indo-Pak DGMOs to make hotline "more effective"
Southeast Asia
• Inmates Walk Free With Christmas Sentence Cuts in Indonesia
• Accept diversity, discard racism, says PAS MP on Christmas Day
• Selangor religious authorities hunt for Christians who used 'Allah' illegally
Compiled by New Age Islam News Bureau
For Details and More Headlines from All Regions, Please click, 'More'
URL:
https://newageislam.com/islamic-world-news/pir,-among-six-killed-bangladesh/d/34998
-----------
South Asia
Pir, among Six Killed in Bangladesh for Controversial Practices, Fanatic Islamist Suspected
December 25, 2013
The contentious religious practices and views of self-proclaimed commander-in-chief of Imam Mahdi's forces Lutfor Rahman Faruk can be behind the killing of six people including Faruk and his son in the capital on Saturday, say police. Any of the militant or fanatic Islamist organisations like Harkat-ul-Jihad al Islami (Huji), JMB and Hizb-ut-Tahrir or any other quarters that were fuming over Faruk's claims and activities might have been involved in the murders. Lutfor, his son Sarwarul Islam Monir and four disciples were slaughtered at his house by a gang of some eight killers.
His younger son Abdullah Al Faruk filed a case with Wari police station accusing 10-11 unknown killers, but suspecting the militants. The law enforcers have not detained or arrested anybody in this connection although they questioned many of the disciples and people in the Ramakrishna Mission Road area. "From the information gathered so far, we are confident that the controversial religious views, practices and his claims to be the self-proclaimed Pir and commander-in-chief of Imam Mahdi's forces were behind the killing of Lutfor along with his son," said Jahangir Hossain Matubbar, DB deputy commissioner (east).
He said they had not found any conflict or feud in his family, not even any financial dealing, apart from the conflicts centring Faruk's religious views and practices.
Jahangir claimed that they were yet to identify the killers and specify the quarters responsible for the killings. "We are suspecting the Islamist outfits as responsible for the murders since activists of some of the organisations earlier had made attacks on Lutfor and staged demonstrations protesting his activities and demanding his punishment."
Lutfor had been vocal against the activities of some of the militant and Islamist organisations and their leaders, he said while adding that anyone else could take advantage too. Joint Commissioner Monirul Islam claimed that they considered three banned Islamist outfits for the incident – Huji, JMB and Hizb-ut-Tahrir. Meanwhile, disciple Anwar Hossain, who was present at the house during the killings, and the house's security guard Sarwar Hossain had been missing since the incident, said Jahangir adding that Anwar was also a brother-in-law of one of the deceased Manjurul.
http://www.dhakatribune.com/crime/2013/dec/25/%E2%80%98pir%E2%80%99-others-killed-controversial-practices-claims-db#sthash.5oLRwQWv.dpuf
-----------
Rockets explode in Kabul as foreigners mark Christmas
2013-12-25
KABUL: Two rockets exploded in Kabul on Wednesday morning, causing no reported casualties but underlining Afghanistan's continuing security problems as many foreigners in the capital marked Christmas Day.
One landed near a hill where former kings and members of the old royal family are buried in a large mausoleum, a spokesman for the National Directorate of Security (NDS) told AFP.
"We can confirm two rocket attacks on Kabul. One impacted near Maranjan hill, about one mile (1.6 kilometres) from the presidential palace. There are no reported casualties," Lutfullah Mashal said.
Kabul has seen a recent drop in insurgent attacks after a series of high-profile strikes earlier in the year, with the NDS claiming to have foiled several plots to launch complex assaults involving truck bombs and suicide gunmen.
The Supreme Court, the airport, foreign compounds and the presidential palace were all targeted in major attacks during 2013.
Nato forces are withdrawing from Afghanistan after more than a decade of fighting the Taliban, but negotiations have stalled on a security accord that would allow some US and Nato troops to stay after 2014.
http://www.dawn.com/news/1076312/rockets-explode-in-kabul-as-foreigners-mark-christmas
-----------
PM Hasina: BNP chief, Khaleda Zia realised her mistake
December 25, 2013
Prime Minister Sheikh Hasina yesterday said Opposition Leader Khaleda Zia now realised that she had made a mistake by not participating in the 10th general elections. "The opposition leader now realises what a blunder she has done by not participating in the election. That is why she is now killing people by setting fire and enforcing blockades," she said, describing the opposition's movement as a militant act. Hasina was addressing a meeting with the members of the Christian community at her official residence Ganabhaban on the eve of Christmas. About the opposition's agitation programmes, she said, "This is not a mass movement at all; this is just a militant act, this is a terrorist act." The Awami League president also questioned the opposition leader's intentions behind such activities. On the opposition's election boycott, Hasina said they had not participated in the election because they were afraid of facing the people. Blasting Khaleda for enforcing continuous blockades and hartals, Hasina said any movement was usually for the welfare of people. "But, she [Khaleda] kills people during her movement," she said, referring to the killing of people in buses, CNG-run auto-rickshaws, felling trees, and damaging roads and uprooting rail lines. Regarding her repeated calls since 2011 to the opposition leader to find out a peaceful way to hold election, the Awami League chief said the opposition never responded to that. "I requested her in parliament, I offered her to join the polls-time government to remove all sorts of confusions, and even I requested her to take the home ministry, but she did not respond. Whenever I requested her to join dialogue, she always turned back." In this connection, Hasina recalled the torture and repression of the BNP-Jamaat activists during their rule following 2001, and said her government had ensured an environment for the people of all religions so that they could perform their religious rites freely. Bangladesh Christian Association President and State Minister for Social Welfare advocate Promod Mankin, Arch Bishop Patric D Rozario and Bangladesh Christian Association Secretary General Nirmol Rozario also spoke at the meeting.
http://www.dhakatribune.com/politics/2013/dec/25/hasina-bnp-chief-realised-her-mistake#sthash.hjii4yF2.dpuf
-----------
She is hurt by Pakistan resolution on Molla: Khaleda Zia
Mohammad Al-Masum Molla
December 25, 2013
BNP Chairperson Khaleda Zia yesterday said she had been "hurt" by the resolution adopted by the Pakistan parliament on the execution of war criminal Abdul Quader Molla.
"The Pakistani legislature on this has hurt us as citizens of Bangladesh," she said at a press conference at her Gulshan office in an apparent reaction to Prime Minister Sheikh Hasina's seeking a clear statement on the issue from the BNP chief. "Even responsible sections of the Pakistan society have been critical of this [the resolution]. The views of the BNP on this have been stated already."
The BNP chief also said Pakistan was now a far-off and a separate country. "The Awami League government signed the tri-nation agreement in 1974 and forgave the Pakistanis accused of these crimes…After that all issues between Pakistan and us should be resolved through diplomatic channels. Any attempt to do otherwise is an expression of the diplomatic failure of this government," she said. Reiterating the party's stance on the trial of war criminals, Khaleda said those who had killed, torched, raped and looted the people of Bangladesh in an organised manner during the Liberation War had to be brought to justice.
"The BNP has all along stated those who committed crimes against humanity have to face the trial and that the trial process must be transparent and meet international standards, that the issue should not be used for narrow political purposes."
The verdicts of the international crimes tribunals was "cunningly coordinated" and "timed in a pre-planned way to create diversion," the BNP chief said.
http://www.dhakatribune.com/politics/2013/dec/25/she-hurt-pakistan-resolution-molla#sthash.zn9zL4QJ.dpuf
-----------
Bangladesh to send more peacekeepers to South Sudan
December 25, 2013
Bangladesh has given consent to sending more troops to the UN peacekeeping mission in South Sudan at the request of UN Secretary-General Ban Ki-moon. Ban had made the request in a telephone call to Prime Minister Sheikh Hasina yesterday evening, PM's Information Adviser Iqbal Sobhan Chowdhury said. "The prime minister has given her approval to the proposal," Iqbal Sobhan said. Bangladesh Permanent Representative to UN Abdul Momen said the UN needed immediate deployment of more troops in the African nation and asked if Bangladesh could help. "I contacted Dhaka and asked for their opinion," Momen told the Dhaka Tribune over telephone from New York. "They need about 5,000 troops, but it is not possible for Bangladesh to meet their requirement," he said, adding: "It is expected Bangladesh will send 1,000 troops." In reply to a question, Momen said the present political situation in Bangladesh was not discussed with the UN side.
Full report at:
http://www.dhakatribune.com/foreign-affairs/2013/dec/25/bangladesh-send-more-peacekeepers-south-sudan#sthash.ZFiBSKNR.dpuf
-----------
Violence continues unabated in Bangladesh, 2 killed
PTI | Dec 25, 2013
DHAKA: A policeman and an Awami League leader were killed in two separate incidents of violence in Bangladesh hours after the opposition's 83-hour nationwide blockade demanding the scrapping of the January 5 polls ended.
Officials said a bus carrying traffic policemen was set afire at Bangla Motor area of Dhaka by unidentified persons shortly before midnight, instantly killing a constable and injuring the driver.
Full report at:
http://timesofindia.indiatimes.com/world/south-asia/Violence-continues-unabated-in-Bangladesh-2-killed/articleshow/27908459.cms
--------
Africa
UN finds mass grave with 75 bodies in South Sudan
2013-12-24
BERLIN: The United Nations says it has discovered a mass grave containing about 75 bodies in South Sudan.
UN's human rights chief says the mass grave was found in Bentiu in the country's oil rich Unity State.
Navi Pillay said in a statement released Tuesday that at least two other mass graves are reported to have been found in Juba.
A spokeswoman for the Geneva-based human rights office says the bodies in Bentiu reportedly belonged to ethnic Dinka who were members of the Sudan People's Liberation Army.
Ravina Shamdasani told The Associated Press that the global body has staff in the country investigating the incidents.
She says it is unclear who was responsible for the killings.
Shamdasani says the other two reported mass graves are in Jebel-Kujur and Newside, near Eden.
http://www.dawn.com/news/1076131/un-finds-mass-grave-with-75-bodies-in-south-sudan
-----------
Rape, Mutilations, Atrocities Mark Central African Republic Conflict, UN Experts Warn
December 25, 2013
Urgent national and international action is crucial to prevent the Central African Republic (CAR) from plunging into full-scale sectarian conflict and protect civilians, particularly women and children, from atrocities that have already killed thousands and driven 750,000 others from their homes amid reports of rape and mutilation, United Nations human rights officials have warned.
"Given the serious nature of continuing violations in an environment of complete impunity, CAR is on the brink of descending into atrocity crimes," UN Special Advisor on the Prevention of Genocide Adama Dieng said over the weekend at the end of a visit to the country, where a year-long conflict has increasingly turned into violence between Christians and Muslims.
"The worst case scenario can only be stopped if urgent measures are taken to stop the violence and those responsible are held accountable," added Mr. Dieng, who was accompanied on the visit by UN Special Representative for Children and Armed Conflict Leila Zerrougui, and Nancee Oku Bright from the office of the Special Representative on Sexual Violence in Conflict.
Full report at:
http://allafrica.com/stories/201312231878.html?viewall=1
-------------
$0.60 for cake: Al-Qaeda records every expense
Dec 25 2013
Timbuktu : The convoy of cars bearing the black al-Qaeda flag came at high speed, and the manager of the grocery store thought he was about to get robbed.
Mohamed Djitteye rushed to lock his till and cowered behind the counter. He was dumbfounded when instead, the Qaeda commander gently opened the glass door and asked for a pot of mustard. Then he asked for a receipt. Confused and scared, Djitteye didn't understand. So the jihadist repeated his request. Could he please have a receipt for the $1.60 purchase?
Full report at:
http://www.indianexpress.com/news/-0.60-for-cake-alqaeda-records-every-expense/1211382/
----------
South Sudan crisis: Increased efforts to end bloodshed
December 25, 2013
International efforts are intensifying to end the bloodshed in South Sudan, where thousands of people are believed to have died in the past 10 days.
The UN Security Council is almost doubling the number of peacekeepers to 12,500 in the world's newest state.
US Secretary of State John Kerry urged both President Salva Kiir and rebel leader Riek Machar to end hostilities and begin mediated political talks.
Full report at:
http://www.bbc.co.uk/news/world-africa-25513572
---------
Former head of Islamic police arrested in northern Mali
December 25, 2013
Malian authorities have arrested the former head of the Islamic police in the northern town of Gao, who imposed hardline sharia law during a 10-month occupation by al Qaeda-linked rebels.
Major Colonel Abdoukaye Coulibaly, military commander in Gao, said Aliou Mahamar Toure was detained on Monday close to the town where he imposed a reign of terror until its liberation by French forces in January.
Toure, one of the leaders of the Movement for Unity and Jihad in West Africa (MUJWA), gained notoriety for ordering the amputation of hands and feet for people convicted of robbery and other crimes in Gao.
Full report at:
http://www.reuters.com/article/2013/12/24/mali-islamist-idUSL6N0K31QF20131224
-----------
Arab World
37 killed as blasts target church, Christian area in Baghdad
Dec 25 2013
The Christmas Day attacks brought the total number of people killed so far this month in Iraq to 441
Militants in Iraq targeted a church and a market in a Christian section in two separate bomb attacks in Baghdad on Wednesday, killing at least 37 people, officials said.
In one attack, a car bomb went off near a church during Christmas Mass in the capital's southern Dora neighbourhood, killing at least 26 people and wounding 38, a police officer said.
A little bit earlier, a bomb ripped through an outdoor market in the nearby Christian section of Athorien, killing 11 people and wounding 21, the officer added.
There was no immediate claim of responsibility for the attacks.
A medical official confirmed the casualty figures. Both officials spoke on condition of anonymity because they are not authorised to talk to the media.
Full report at:
http://www.thehindu.com/news/international/world/37-killed-as-blasts-target-church-christian-area-in-baghdad/article5501013.ece
---------
Egypt declares Brotherhood 'terrorist' group
December 25, 2013
CAIRO: Egyptian Prime Minister Hazem Beblawi has declared the country's Muslim Brotherhood movement a 'terrorist' organisation, state news agency MENA reported Tuesday, quoting the premier's spokesman. "Prime Minister Beblawi has declared the Muslim Brotherhood as a terrorist organisation," premier's spokesman Sherif Showky said. Egypt's military-installed authorities have often accused the Muslim Brotherhood of funding and training militants who regularly launch attacks on security forces in the restive Sinai Peninsula.
http://www.nation.com.pk/national/25-Dec-2013/egypt-declares-brotherhood-terrorist-group
-----------
Egypt police arrest former Morsi PM Hisham Qandil
December 25, 2013
Egyptian police have arrested the former prime minister who served under ousted President Mohammed Morsi.
The interior ministry said Hisham Qandil was caught in a mountainous area with smugglers trying to flee to Sudan.
Mr Qandil was sentenced to a year in prison while in office for not carrying out a court ruling to renationalise a company that was privatised in 1996.
A Cairo appeals court upheld the sentence in September, two months after the military overthrew Mr Morsi.
Full report at:
http://www.bbc.co.uk/news/world-middle-east-25512362
-----------
Abu Qatada defiant in Jordan terrorism trial
December 25, 2013
Radical cleric Abu Qatada has taken a defiant stance as his trial on terrorism charges resumed in Jordan.
The Palestinian-Jordanian raised his voice at judges and a military prosecutor in the courtroom in the capital Amman.
He was convicted in his absence of involvement in bombings in 1998 and a foiled terrorist plot in 2000 but is now being retried.
His eight-year legal battle to stay in the UK ended in July.
'Shut up'
On Tuesday, Abu Qatada again denied all the charges against him.
"I am not guilty, and you are a dishonest judge," he told presiding Judge Ahmad Qatarneh.
After the military prosecutor demanded the cleric be removed from the courtroom, Abu Qatada turned to him and shouted: "Shut up and sit down."
Full report at:
http://www.bbc.co.uk/news/world-middle-east-25512539
-----------
Syria conflict: Deadly air strikes continue in Aleppo
December 25, 2013
At least 15 people have died in air strikes in the Syrian city of Aleppo, activists say, as the air force's assault on rebel-held areas continues.
The Syrian Observatory for Human Rights said three children were among the dead in the southern district of Sukkari.
More than 360 people are believed to have been killed in the past nine days.
The main opposition alliance, the National Coalition, said it could not attend next month's peace conference in Geneva if the air campaign continued.
Monzer Azbik, chief of staff to the coalition's leader Ahmed Jarba, called on foreign powers to halt the bombardment.
Full report at:
http://www.bbc.co.uk/news/world-middle-east-25509933
-----------
Malaysia reiterates support for National Dialogue in Bahrain: Ambassador
December 25, 2013
(BNA) : Malaysia has reiterated its full support to the National Dialogue in Bahrain, praising the invitation extended by His Majesty King Hamad bin Isa Al Khalifa to all parties to engage in the process.
"Malaysia is in full support of His Majesty the King's invitation to the National Dialogue" Ahmad Shahizan Abd Samad, the Malaysian ambassador to Bahrain, said. "Not only HM the King of Malaysia and the Prime Minister, but also all the people of Malaysia are in full support of the National Dialogue in Bahrain because dialogue is the most important component, not only in terms of democratization, but also for national reconciliation. Bahrain is a very multi-ethnic, multi-racial and multi-religious. We are in full support."
Full report at:
http://www.bna.bh/portal/en/news/594450
-----------
A Grim Christmas for Those Driven From Syria's Maalula
December 25, 2013
After fleeing a rebel assault on the historic Syrian town of Maalula, hundreds of Christian families sheltering in Damascus are preparing for a bleak Christmas away from home.
The picturesque hamlet — where residents still speak the ancient Aramaic of Jesus Christ — was a symbol of the long Christian presence in Syria's ethnic and religious mosaic, now shattered by war.
The residents of Maalula are among the millions of Syrians displaced by a war that shows no sign of ending, and what should be a joyful holiday season is instead the latest painful reminder of all that has been lost.
Full report at:
http://www.thejakartaglobe.com/international/a-grim-christmas-for-those-driven-from-syrias-maalula/
---------
Europe
A British teenager is newest member of al-Qaeda 'fighting in Syria'
December 25, 2013
A British teenager is thought to be the newest member of an al-Qaeda linked group of Islamist opposition fighters in Syria.
Police believe Mahdi Hassan, 19, may be the youngest person to join the group of British jihadists after travelling to the Middle East in October.
The former private school pupil from Portsmouth could be one of many UK graduates being encouraged to 'pack their bags' and travel to the war-torn country to avoid repaying student loans.
The 19-year-old who is using the alias Abu Dujana is thought to have been recruited to the Islamic State in Iraq and Sham (Isis), an organisation accused of torturing children and exploiting boy soldiers as young as 10.
Full report at:
http://www.dailymail.co.uk/news/article-2527962/Former-private-school-pupil-latest-member-al-Qaeda-linked-British-band-brothers-fighting-Syria.html#ixzz2pSq1eZgS
-----------
Pope prays for child soldiers, peace in C Africa, S Sudan, Syria in Christmas address
25 December 2013
Pope prays for child soldiers 'robbed' of childhood, for peace in Central Africa, South Sudan, calls for humanitarian aid access in Syria. The world should find inspiration in Jesus and stop all wars and violence, Pope Francis said Wednesday, delivering his first Urbi et Orbi (to the city and to the world) Christmas message since his election nine months ago.
Pope Francis called for humanitarian aid access in Syria and "social harmony" in South Sudan on his first Christmas in the Vatican after a year shaking up the papacy with his humble style and common touch.
Francis also pleaded for divine aid to rescue child soldiers "robbed of their childhood" and for peace in the conflict-torn Central African Republic which he said was "often forgotten and overlooked".
The Argentine pontiff spoke at noon (11:00 GMT) from the central balcony of the Vatican Basilica to tens of thousands of pilgrims in Saint Peter's Square and to millions of TV watchers around the world.
Full report at:
http://voiceofrussia.com/news/2013_12_25/Pope-prays-for-child-soldiers-peace-in-C-Africa-S-Sudan-Syria-in-Christmas-address-Urbi-et-Orbi-6179/
----------
Militants' raids on chemical weapons storage sites look like preplanned action - Russia
25 December 2013
Attacks by Syrian militants on chemical weapons storage facilities look like a pre-planned, determined action, Mikhail Ulyanov, deputy head of the Russian Foreign Ministry's Department for Security and Disarmament, said on Wednesday.
"There have been frequent attacks by militants on chemical weapons storage sites lately. One gets the impression that this is a determined effort aimed at disrupting the operation," he said.
Full report at:
http://voiceofrussia.com/news/2013_12_25/Militants-raids-on-chemical-weapons-storage-sites-look-like-preplanned-action-Russia-2450/
---------
South Sudan fighting spreads to half country's states: UN
December 25, 2013
At least 45,000 South Sudanese civilians have sought protection at badly overstretched UN bases amid brutal fighting that has spread to half of the young nation's 10 states, the UN said Tuesday.
At least 20,000 people are sheltering at two UN bases in the capital Juba, while 17,000 are sheltering in the UN base in the rebel-held town of Bor, state capital of powder-keg eastern Jonglei state.
A further 7,000 people are sheltering at the UN base in Bentiu, state capital of the oil-producing Unity state -- also in rebel hands -- the UN added, while "sporadic fighting" has been reported in Upper Nile, another oil-rich state.
Full report at:
http://english.ahram.org.eg/NewsContent/2/8/89918/World/Region/South-Sudan-fighting-spreads-to-half-countrys-stat.aspx
-----------
UK troops mark last Christmas in Afghanistan
December 25, 2013
British troops are marking their final Christmas in Afghanistan ahead of next year's scheduled pullout.
It is a working day for many of the 5,200 service personnel, now mostly based in the southern part of Helmand province, but there are carol concerts and exchanges of presents.
A Christmas lunch was served at the UK headquarters in Camp Bastion and four smaller remote bases.
There has also been extra time for phone calls home and prayer.
Some 447 British servicemen and women have lost their lives since operations began in 2001, but the number of deaths has fallen in recent times, with nine in the past year.
The most recent death took place on Monday when a soldier from the Royal Engineers was killed after coming under enemy fire while on operations east of Kabul.
Full report at:
http://www.bbc.co.uk/news/uk-25514387
-----------
North America
Judge backs T on Israel posters: Says ad campaign demeans Muslims
December 25, 2013
A federal judge rejected a pro-Israel group's assertion that its free speech rights were violated when the MBTA turned down a subway advertisement on the grounds that the ad was "demeaning or disparaging."
The ad is paid for by the American Freedom Defence Initiative, a New York organization that seeks to combat the spread of Islam in the United States. With bold, all-capital-letter text placed against a stark black background, the ad reads: "In any war between the civilized man and the savage, support the civilized man. Support Israel; defeat Jihad."
Officials with the Massachusetts Bay Transportation Authority rejected the ad in November on the basis that it violated the agency's advertising guidelines, which include rejecting advertisements that demean and disparage individuals and groups, promote alcohol or tobacco, and depict graphic violence.
Full report at:
http://www.bostonglobe.com/metro/2013/12/24/judge-denies-pro-israeli-group-bid-advertise-mbta-subway-stops/MLQYjHiYMgEUFirtHsuQWK/story.html
-----------
Muslim Christmas celebrations gain a toehold
December 25, 2013
A generation or two ago, when America's Muslims were new immigrants who made up an even smaller minority of Americans than they do today, the lights, trees, carols, gifts and festive spirit of Christmas were viewed by many Muslims as a threat to their children's Islamic faith.
But these days, a growing number of Muslims celebrate Christmas, or at least partake in some ways, even if they don't decorate their homes with trees and a light show. Indeed, many Muslim families have created their own unique Christmas traditions.
"I teach my three children, who attend public school and happen to be born into an interfaith Christian-Muslim family, that we absolutely do celebrate Christmas because we are Muslim," Hannah Hawk of Houston wrote in an email. Rather than putting up a tree or lights, "we celebrate the reason for the season, Jesus, by studying all that is written about him in the Quran and by examining historical theories."
Full report at:
http://www.washingtonpost.com/national/religion/muslim-christmas-celebrations-gain-a-toehold/2013/12/23/e27e73d2-6c16-11e3-a5d0-6f31cd74f760_story.html
-----------
US hits bin Laden's son-in-law with new conspiracy charges
25 December 2013
Osama bin Laden's son-in-law is facing two new conspiracy charges in his impending trial, as US prosecutors have reportedly linked him to the 2001 Al-Qaeda shoe bomber plot.
Sulaiman Abu Ghaith, 48, who formerly served as a spokesman for Al-Qaeda and was arrested in February, was originally charged with one count of conspiracy to kill Americans. A superseding indictment unsealed on Friday, however, added two new charges: conspiracy to provide material support and resources to terrorists, and providing material support and resources to terrorists.
Abu Ghaith pleaded not guilty to all charges on Monday. His attorney, Stanley Cohen, requested a 60-day delay in the trial, currently scheduled for February 3, so he could prepare for the new charges. The defense has also denied that Abu Ghaith was an Al-Qaeda spokesperson.
Full report at:
http://rt.com/usa/bin-laden-son-conspiracy-charges-752/
----------
Mideast
Israel tracks Syria's Western jihadis, worried about their return
December 25, 2013
Israel is working with allies abroad to track Westerners fighting in Syria, concerned that such militants could attack Israeli or Jewish targets once back home, a senior Israeli official said on Tuesday.
Of an estimated 10,000 foreign combatants among rebels battling Syrian President Bashar al-Assad, around 20 percent are from the West and that number is rising, the official said.
"Think of a scenario, even one of them returning and getting instructions from someone he worked with, someone he fought beside, someone like (the al Qaeda-linked) Nusra Front, to carry out an attack," said the official, who is privy to intelligence assessments. "This has been keeping us very, very busy lately."
The official, who declined to be named because of the sensitivity of the issue, said Israel was coordinating monitoring efforts with Western countries, whose legal options against fighters returning home were limited.
Full report at:
http://www.hurriyetdailynews.com/israel-tracks-syrias-western-jihadis-worried-about-their-return.aspx?pageID=238&nID=60109&NewsCatID=352
-----------
Turkey requests Santa Claus' bones from Pope
December 25, 2013
The Turkey-based Santa Claus Peace Council has said it has written a letter to Pope Francis, requesting the return of the bones of Saint Nicholas.
Council Chairman Muammer Karabulut said they were expecting Pope Francis to give a positive response to their request to have a meeting on the bones, which are currently in Bari, Italy.
Full report at:
http://www.hurriyetdailynews.com/turkey-requests-santa-claus-bones-from-pope-.aspx?pageID=238&nID=60115&NewsCatID=341
-----------
Compensation talks between Turkey and Israel almost finalized
December 25, 2013
The compensation talks for the Mavi Marmara raid victims between Turkey and Israel have been "almost finalized" at a meeting between delegations of the two countries in Istanbul last week, a diplomatic source told the Hürriyet Daily News.
The vast majority of the text for compensation agreement is settled, merely the space for the amount of compensation is empty, said the diplomat indicating that parties also agreed on wording of the text, particularly on the definition of compensation.
After the approval of the agreement in the two capitals, Jerusalem and Ankara will immediately announce an upgrading of relations and the exchange of ambassadors, said the diplomat.
Full report at:
http://www.hurriyetdailynews.com/compensation-talks-between-turkey-and-israel-almost-finalized.aspx?pageID=238&nID=60093&NewsCatID=352
-----------
Worshippers rejoice in Bethlehem on Christmas Day
Dec 25 2013
Pilgrims celebrated Christmas Day on Wednesday in the ancient Bethlehem church where tradition holds Jesus was born, as candles illuminated the sacred site and the sound of prayer filled its overflowing halls.
This year's turnout has been the largest in years in Bethlehem and the celebrations have been marked by careful optimism amid ongoing Israeli-Palestinian peace talks. Leaders expressed hope that the coming year would finally bring the Palestinians an independent state of their own.
Full report at:
http://www.thehindu.com/news/international/world/worshippers-rejoice-in-bethlehem-on-christmas-day/article5501081.ece
---------
PM: We will not tolerate a 'drizzle' of attacks from Gaza
December 25, 2013
Prime Minister Binyamin Netanyahu characterized the cross-border shooting of a Defense Ministry employee on Tuesday as a "very grave incident" that Israel would not let go unanswered.
This attack from Gaza, unlike the other terrorist attacks this week, elicited a quick and immediate response from Netanyahu.
"Our policy up until now has been to prevent beforehand and to react with force, and this is how we will act now as well," he said.
Government sources said the prime minister viewed this incident as particularly serious, both within the context of the string of other attacks this week – the foiled bus bomb in Bat Yam, the rocket fire from Gaza and the knifing of a border policeman outside Jerusalem – and also because it was such a clear violation of the understandings that brought an end to November 2012's Operation Pillar of Defense.
Full report at:
http://www.jpost.com/Defense/PM-We-will-not-tolerate-a-drizzle-of-attacks-from-Gaza-336059
------------
Pakistan
UN seeks 'peacekeepers' from Pakistan to bolster mission in South Sudan
December 25, 2013
UNITED NATIONS: UN secretary general Ban Ki-moon requested Pakistan on Tueday to contribute its troops to UN peace keeping mission in South Sudan.
Moon has urged Prime Minister Nawaz Sharif and several other world leaders to contribute troops to add 5,500 personnel to the 7,000 strong UN force in South Sudan to protect civilians from the fast deteriorating law and order situation in the country, said spokesperson for the UN Secretary General.
"On the situation in South Sudan, the Secretary-General has been speaking to many leaders, reaching out for their support for bolstering the capacity of the UN peacekeeping mission in the country (UNMISS) to allow it to do its utmost to protect civilians and for stepping up efforts to find a political solution to the crisis," said the spokesperson in a statement.
Pakistan is the largest troop contributor to the UN with 7,592 troops. It also contributes over 600 police units.
Full report at:
http://tribune.com.pk/story/650245/un-seeks-peacekeepers-from-pakistan-to-bolster-mission-in-south-sudan/
-----------
Jailed British Ahmadi Masood Ahmad in Pakistan blasphemy appeal
December 25, 2013
A British man of the minority Ahmadi sect is appealing to the UK for help after being jailed in Pakistan on blasphemy charges. Human rights activists say laws in Pakistan, where Ahmadis are considered heretics, are being increasingly used to persecute the community, as the BBC's Saba Eitizaz reports.
It was a home video that turned a man viewed as the old neighbourhood doctor into a prisoner without bail.
Masood Ahmad shuffles through the dank prison corridor, smiling when he greets me. He looks weak and speaks little. And he worries - but not for his freedom.
"I just want you to tell my children that I am fine. It grieves me more that they must be so worried."
He asks me to convey this message to his seven children living in Britain and Australia.
Last month Mr Ahmad, 72, was arrested at his homeopathic clinic in Lahore on blasphemy charges.
Full report at:
http://www.bbc.co.uk/news/world-asia-25498545
-----------
Conference: 'Drum Beating, Dancing Against Teachings of Sufi Saints'
December 25, 2013
LAHORE: Several speakers at the Data Ganj Bakhsh Conference on Tuesday said drum beating and dancing at shrines were not allowed in Islam and went against the teachings of Sufi saints.
The conference was organised by the International Bazm-i-Qadria Jilania at the Astana Shah Gardez, Mughalpura.
Pir Syed Shahid Hussain Gardezi said Hazrat Ali Havery had taught that sufism was not independent of Shariat laws.
Full report at:
http://tribune.com.pk/story/650132/conference-drum-beating-dancing-against-teachings-of-sufi-saints/
-----------
Speakers call for implementing Quaid-e-Azam's vision on democracy, rule of law
December 25, 2013
Islamabad—Speakers at a day-long seminar held here at Allama Iqbal Open University(AIOU) here on Monday paid rich tribute to Quaid-e-Azam Muhammad Ali Jinnah and called for implementing his vision on Pakistan's ideology and establishment of true Islamic Welfare State. The seminar comprises three sessions was attended by a cross-section of the people including parliamentarian, intellectuals, educationists and journalists. The Vice-Chancellor, AIOU Prof. Dr. Nazir Ahmed Sangi presided over the seminar.
Speakers included prominent journalist, Idrees Bukhtiar, Justice Shahzado Shaikh, MNA Imran Zafar Lughari, Prof. Dr. Anees Ahmed, Vice-Chancellor Ripha University, Prof. Dr. Azhar Hameed, Naseem Ahmed Usmani, Chairman, Pakistan Yakjehti Council and Muhammad Qasim Haider, Director IET.
Full report at:
http://pakobserver.net/detailnews.asp?id=227727
-----------
Bomb Disposal Squad disarm eight kilogram bomb in Quetta
2013-12-25
QUETTA: Bomb Disposal Squad (BDS) personnel defused a bomb, weighing eight kilograms, in Quetta's Saeed Ahmed Khan Road on Wednesday, DawnNews reported.
Police sources said that two mortar bombs were found, wired up together and connected to a detonator, in a trash bin located on Saeed Ahmed Khan Road in central Quetta.
Area residents had informed the security personnel of the presence of explosives after which the BDS was called in.
Full report at:
http://www.dawn.com/news/1076319/bds-disarm-eight-kilogram-bomb-in-quetta
-----------
Another five fall prey to Karachi violence
December 25, 2013
KARACHI - At least five people were killed in separate incidents here on Tuesday.
Ashraf, 28, was shot dead when armed men opened fire on him near Saifi College within the jurisdictions of North Nazimabad police station. Police officials said the victim was a rickshaw driver and hailed from Rahim Yar Khan. The motive behind the incident has yet to be ascertained.
A woman identified as Rabia, 40, wife of Bahadur Ali, was shot dead inside her house situated in the slum area of New Muzaffarabad Colony. Police officials said the woman was killed by her own son over some family dispute. The accused was later escaped after committing the crime. The victim's body was shifted to Jinnah Postgraduate Medical Centre for autopsy.
In Baldia Town, a man who was later identified as Saeed Jumma, 50, was shot dead by armed men in Baldia Town No 9. Police officials said the victim was going somewhere when some unidentified armed culprits shot him dead over unexplained reasons while further investigation was underway.
Full report at:
http://www.nation.com.pk/karachi/25-Dec-2013/another-five-fall-prey-to-karachi-violence
---------
Pakistan, Turkey to enhance cooperation against terrorism
2013-12-24
ISLAMABAD: Pakistan and Turkey Tuesday resolved to increase bilateral cooperation against terrorism and organised crime, besides consulting each other bilaterally as well as multilaterally to promote regional peace and security.
According to a joint statement issued by the ministry of foreign affairs following the visit of Turkish Prime Minister Recep Tayyip Erdogan to Pakistan, both the countries also expressed their desire to enhance cooperation in social sectors especially culture, education and tourism.
Full report at:
http://www.dawn.com/news/1076136/pakistan-turkey-to-enhance-cooperation-against-terrorism
-----------
India
Targeted by Muslim clerics, Mulayam gets support from Jamiat-e-Islami chief
Dec 25 2013,
Lucknow: A day after Samajwadi Party (SP) president Mulayam Singh Yadav stated that no riot victims are left in relief camps; a section of Muslim religious leaders slammed him.
Shafi Madani, national secretary of Jamiat-e-Islami, who visited relief camps in Muzaffarnagar, decried Mulayam's statement.
"Mulayam is totally wrong in his statement. We have all the records that people from riot affected areas as Lisad, Phugana, Kutuba village who were affected by riots have not returned and are living in camps," Shafi Madani stated.
Babar Ashraf, the national secretary of All India Ulema and Mashaikh Board (AIUMB), termed it as a strategic move by state government. "It is not only failure, but strategy of the government to divide people. Such statements show their mentality and strategy to alienate people from their roots," Ashraf stated.
Full report at:
http://www.indianexpress.com/news/targeted-by-muslim-clerics-mulayam-gets-support-from-jamiat-chief-madani/1211424/
----------
Riot-hit Muslims left in lurch as administration forces closure of relief camps
SANDEEP JOSHI
Dec 25 2013
For authorities, camps are "officially" over since they have completed formality of distributing compensation
Amid heightened political tempers over the plight of riot victims in Muzaffarnagar and Shamli, administrations in two districts are trying to wind up at least half-a-dozen relief camps where displaced Muslims are braving the chilly weather while battling with poor conditions.
The State officials, for whom camps are "officially" over since they have completed the formality of distributing compensation, are now reportedly pressuring villagers and organisations helping these displaced people to persuade them to vacate camps and return to their villages.
Full report at:
http://www.thehindu.com/news/national/other-states/riothit-muslims-left-in-lurch-as-administration-forces-closure-of-relief-camps/article5498589.ece
----------
Indo-Pak DGMOs to make hotline "more effective"
Dec 25 2013
The India-Pakistan meeting of Directors-General of Military Operations, held at Wagah on Tuesday, came after an agreement between Prime Ministers Manmohan Singh and Nawaz Sharif in New York in September on the sidelines of the UN General Assembly, that the two officials must meet to work out steps to ensure that the ceasefire on the Line of Control is preserved.
India's DGMO Lt. Gen. Vinod Bhatia crossed the Zero line around 11-30 a.m. into Pakistan at the Wagah border with a group of senior Army officers. The meeting started 15 minutes later than scheduled due to the military protocol that was shown to the officers.
Full report at:
http://www.thehindu.com/news/national/dgmos-to-make-hotline-more-effective/article5498416.ece
--------
Southeast Asia
Inmates Walk Free With Christmas Sentence Cuts in Indonesia
December 25, 2013
The Ministry of Justice and Human Rights gave away 8,429 presents this Christmas, in the form of sentence cuts for prisoners, 161 of whom will walk out of prison right away.
"The government, through the Justice and Human Rights Ministry, gave special Christmas 2013 remissions to 8,429 inmates," Corrections Directorate General spokesman Akbar Hadi told the Jakarta Globe on Wednesday. "161 prisoners all over Indonesia will feel that Christmas this year is a blessing for them, as they can celebrate Christmas with their families after getting special remissions."
Indonesia has a tradition of offering sentence cuts to mark Independence Day and on major religious holidays — Christmas for Christian inmates, Idul Fitri for Muslims, Galungan for Hindus and Waisak for Buddhists. The remissions are given based on recommendations from prison officials.
Full report at:
http://www.thejakartaglobe.com/news/inmates-walk-free-with-christmas-sentence-cuts/
-----------
Accept diversity, discard racism, says PAS MP on Christmas Day
December 25, 2013
Malaysians should accept diversity and discard racism, extremism and injustice, said PAS lawmaker Datuk Dr Mujahid Rawa (pic).
"While every faith has its unique celebration and manner in which believers symbolise their gratitude on such a day, I, as fellow Malaysian and a Muslim, urge all Christians to continue the journey of peaceful relationship between faith and cherish our diversity as a sign of The Creator the Almighty," said Mujahid in a statement today.
"I stand today as a fellow Malaysian in your Christmas celebration to call you to fight with me against injustice, racism and religious extremism and to say with a clear voice, we love this nation and we will not surrender to those who want to destroy it in the name of extremism and tyranny."
Full report at:
http://www.themalaysianinsider.com/malaysia/article/accept-diversity-discard-racism-says-pas-mp-on-charismas-day
-----------
Selangor religious authorities hunt for Christians who used 'Allah' illegally
December 25, 2013
It might be Christmas Day cheer across the world but Selangor Islamic Religious Department (Jais) officials are not feeling the festive occasion as they look for a Christian group that used the word "Allah" in their worship illegally last weekend.
Malay newspapers had reported that the Christian group had allegedly used "Allah" at their Sunday function at a hotel in Klang, reigniting the battle for the word which is now before the country's apex court.
A Court of Appeal ruling decided that the home minister has the power to restrict use of the world.
Full report at:
http://www.themalaysianinsider.com/malaysia/article/selangor-religious-authorities-hunt-for-christians-who-used-allah-illegally
-----------
URL: https://newageislam.com/islamic-world-news/pir,-among-six-killed-bangladesh/d/34998