New Age Islam News Bureau
15 May 2018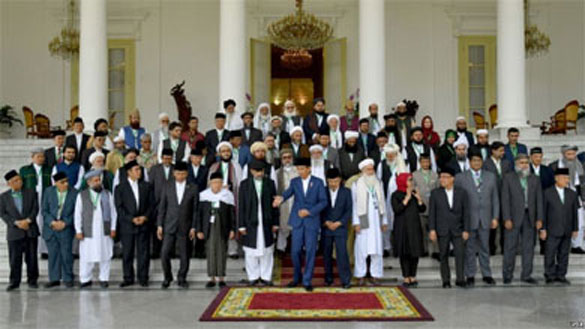 Indonesian President Joko Widodo is pictured with religious scholars from Afghanistan, Pakistan and Indonesia at Bogor, Indonesia, May 11, 2018. (VOA Indonesian service)
------
• PAS President Tells Leaders, Politicians To Emulate Prophet Muhammad's Style Of Leadership
• Religious Clerics in Bogor Conference: Terrorism in Afghanistan Violates Islam
• Pastor Who Said Jews Are Going to Hell Led Prayer at Jerusalem Embassy Opening
• UP Shia Board Chief Floats Shia Political Outfit to Counter 'Sunni Oppression'
• Nawaz Sharif Defends 26/11 Remarks, Says He Will Speak the Truth
Southeast Asia
• PAS President Tells Leaders, Politicians To Emulate Prophet Muhammad's Style Of Leadership
• Marawi Catholics Join Muslims In Welcoming Ramadan
• Terrorist suicide families wreak havoc in Indonesia
• Muslim lawyers body hits out at Bar for proposing Ambiga as AG
• Gov't, Lawmakers Rush to Pass Terrorism Bill after Attacks in East Java
• Four Die in Suicide Bombing at Surabaya Police Headquarters
--------
South Asia
• Religious Clerics in Bogor Conference: Terrorism in Afghanistan Violates Islam
• Taliban Suffer Casualties during the Clashes in 3 Northern Provinces
• Defense forces effective responding to Farah city attack: MoD
• Myanmar police to charge 17 anti-war protesters
--------
Mideast
• Pastor Who Said Jews Are Going to Hell Led Prayer at Jerusalem Embassy Opening
• 58 Dead in Gaza Protests As Israel Fetes US Embassy Move
• Palestinian Government: Israel Committing Terrible Massacre in Gaza
• Iran FM slams Israel for massacring Palestinians 'in cold blood'
• 90 Palestinians Killed since US President's Jerusalem Recognition
• UNSC members want resolution on Israeli settlements enforced
• UNSC to convene emergency meeting after Gaza massacre
--------
India
• UP Shia Board Chief Floats Shia Political Outfit to Counter 'Sunni Oppression'
• Safdar Nagori, 17 SIMI Cadres Convicted In Kerala Arms Training Case
• 18 Convicted For Running SIMI Arms Training Camp In Kerala In 2007
• Clout waning, but Hizbul Mujahideen chief says he won't step down
--------
Pakistan
• Nawaz Sharif Defends 26/11 Remarks, Says He Will Speak the Truth
• 'Sedition' Complaints Lodged Against Nawaz
• Nawaz Sharif dismisses NSC statement, questions who is responsible for terrorism in Pakistan
• Pakistan calls Nawaz Sharif's Mumbai attacks remark 'incorrect, misleading'
• New framework for talks with Afghanistan becomes operational
• Protest against targeted killings continues in tribal areas
• 'Pakistan stands in solidarity with the Palestinian cause': FO
• Pakistan expresses grave concern over shifting of US embassy to Jerusalem
--------
Arab World
• On Ramadan Eve, Islamic State and Al-Qaeda Threat Intensifies Outside Iraq, Syria
• Saudi Arabia Reiterates Its Commitment to Stand with Palestinian People
• Saudi Minister of Islamic Affairs: Terrorism, Wilayet al-Faqih Regime Threaten Muslim Societies
• Russia slams US for snubbing Syria peace talks in Astana
• Iraqi air force destroys ISIS command center in Syria: State TV
• New Financial Corruption of Terrorists' Commander Revealed in Eastern Ghouta
• ISIL Command Base in Eastern Syria Destroyed in Iraqi Airstrikes
• Doha to continue support for unity, stability in Somalia: Qatari emir
--------
Africa
• Jews and Muslims Celebrate Unusual Coexistence in Tunisia's Djerba
• Muslim Scholars Distance Themselves from Anti-Shia Online 'List'
• Libya to return bodies of 20 beheaded Egyptians
• Libyan coast guards rescue 180 migrants off Tripoli
• South Africa: President Cyril Ramaphosa Wishes the Muslim Community Well During Month of Ramadan
• Somalia: Al-Shabaab Displays Military Official Defected From Jubbaland Army
• Kenya Issues Terror Alert After Al-Shabaab Operative Sneaks from Somalia
--------
Europe
• Corbyn Urges UK Action against Israeli Slaughter of Palestinians
• Vatican and Jordanian Institute Underscore Dignity of Human Life
• UK says has no plans to move Israel embassy to Jerusalem al-Quds
• Macron phones leaders of Palestine, Jordan over Gaza
• Turkey bans French studies after anti-Islam manifesto
--------
North America
• Restiveness Prevails In Islamic World Ahead Of Controversial Opening Of US Embassy In Jerusalem
• Ex-FBI agent caught teaching police Islamophobic ideas
• Head of U.S. House Delegation Praises Trump's 'Courage,' Says Embassy Move Will Bring Stability
• How ACT for America encourages citizens to spy on Muslims
• Arab League and the top Sunni Muslim religious authority condemn US Embassy move
Compiled by New Age Islam News Bureau
URL: https://www.newageislam.com/islamic-world-news/pas-president-tells-leaders-politicians/d/115254
--------
PAS President Tells Leaders, Politicians to Emulate Prophet Muhammad's Style of Leadership
May 14, 2018
KUALA LUMPUR: Leaders and politicians in Malaysia should emulate Prophet Muhammad's style of leadership to govern the country, said PAS president Seri Abdul Hadi Awang.
Hadi in a statement said that Allah had mentioned that Prophet Mohammad was the best example of all things, not only in his faith but also in the world's affairs.
He said Prophet Mohammad had taught his companions and his people throughout the ages to the end of time, when he successfully took over Makkah in peace, despite the enemy killing his family and his companions, tortured and seized their property and homes.
"However, Prophet Mohammad showed the noblest and highest character and the people should follow his examples," said Hadi.
Hadi said Prophet Mohammad's gratitude to Allah overcame the triumphs of his victory, his patience made him compassionate over his anger.
"He successfully created matured politics and has dominated the entire Arabian peninsula which was still dominated by the cruelest Jahiliya, which was also supported by two influential powers in eastern Persia and western Rome. Ultimately everything collapsed by matured and prosperous political culture.
"Prophet Mohammad's assertiveness made him a leader who did not stoop down to his followers who were immature, what more to those who were enthusiastic but practiced stupid politics. The result.... Islam was welcomed by many.
"What was more interesting was when Prophet Mohammad apprehended Abu Sufian, the most influential leader, and managed to persuade Umar bin Al-Khattab not to kill him, but instead convince him to convert to Islam," said Hadi.
https://www.nst.com.my/news/politics/2018/05/369487/hadi-tells-leaders-politicians-emulate-prophet-muhammads-style
--------
Religious Clerics in Bogor Conference: Terrorism in Afghanistan Violates Islam
May 14, 2018
Religious scholars from Afghanistan, Pakistan and Indonesia declared terrorism and suicide attacks in Afghanistan and the region as unethical and against the principles of Islam as they gathered at a one-day conference in Bogor, Indonesia, to address violence in Afghanistan.
Friday's conference was held months after more than 1,800 Pakistani clerics issued an Islamic decree, or fatwa, condemning suicide attacks and terrorism in all forms in Pakistan.
Pakistan's conference was criticized by the Afghan government at the time, though, for condemning terrorism inside Pakistan only, and not also extending the religious decree to Afghanistan.
Bogor's religious conference was seen as an effort to persuade Pakistani religious scholars, who have some influence over militant groups in the country, to reject terrorism not only in Pakistan but also in neighboring Afghanistan. That is where Taliban insurgents and the Islamic State terror group have increased their violence in recent months, killing and wounding hundreds of civilians.
The Taliban and the Haqqani Network are said to be hiding in Pakistan and using Pakistani soil to train and launch terror attacks in neighboring Afghanistan.
Accusations of selectivity
U.S. and Afghan officials have long accused Pakistan of being selective in its campaign against militant groups operating in the country and targeting only groups that threaten Pakistan's security.
Pakistan denies the charges and maintains that the country has equally targeted all such groups.
Without directly appealing to the Taliban, the Haqqani Network or IS, religious scholars from all three countries issued a 12-point statement Friday at the end of the one-day conference in Bogor and called on all warring sides to join direct peace talks with the Afghan government.
Dr. Qibla Ayaz — a Pakistani participant in the Bogor conference and head of the Council of Islamic Ideology, a government advisory body — told VOA from the conference the religious scholars from all three countries were not focused on one single group in a single country, but rather on terrorism and extremism facing the region.
Ayaz said the issue could not be solved by a single conference. "Certainly if this process begins, keep it rolling and make other counties part of it, then the situation will get on the right track," Ayaz said.
Mixed reaction
Pakistan's Daily Times, an English-language newspaper, reported that the Taliban allegedly were assured ahead of the Indonesia conference that the militant group's name would not be mentioned in the conference directly.
The Taliban have yet to react officially to the conference, but the group has rejected calls for peace coming from previous similar gatherings.
Following Pakistan's meeting of religious scholars in January, Afghan scholars gathered that same month and issued a separate decree against suicide attacks and violence in Afghanistan.
But militant groups in both countries have carried out dozens of terrorist attacks since the religious decrees.
Overriding optimism
Ordinary Afghans seemed highly optimistic, though, about the religious conference in Indonesia.
Samiullah, a Kabul resident, who like many Afghans goes by one name, told VOA that religious scholars could play a significant role in encouraging peace in Afghanistan.
"These scholars should issue decrees against Taliban and all other groups and declare the terrorist acts as haram [forbidden] in Islam," Samiullah said.
Farooq Hasnat, a Lahore-based international affairs expert, shared Samiullah's optimism.
"The warring groups use religion to justify their acts, but a fatwa from a majority of religious scholars would have a positive impact and discourage the use of religion for the violent acts," Hasnat said.
The religious scholars at the Bogor conference emphasized the need for peace, referring Muslims to read and follow the holy book of Quran and heed the practices of the prophet of Islam, collectively called "Hadith."
The Taliban and other militant groups in Afghanistan and elsewhere in the region also refer to the two top religious sources of Islam for justifying their acts of violence.
Hussain Yasa, the managing editor of Outlook Daily Afghanistan, said the Taliban also have religious scholars in their ranks who encourage them to violence.
"Taliban have ulema [religious scholars] in their fold, too, so it will not be easy to convince them to renounce the violent acts," Yasa said. "They have their agenda and will act according to the ground realities."
https://www.newdelhitimes.com/clerics-terrorism-in-afghanistan-violates-islam/
--------
Pastor Who Said Jews Are Going to Hell Led Prayer at Jerusalem Embassy Opening
By Matthew Haag
May 14, 2018
A Dallas evangelical pastor who once said that Jewish people are going to hell and a megachurch televangelist who claimed that Hitler was part of God's plan to return Jews to Israel both played prominent roles on Monday in the opening ceremony of the new American Embassy in Jerusalem.
Robert Jeffress, who spoke at President Trump's private inaugural prayer service and is the pastor of First Baptist Church in Dallas, delivered a prayer at the opening ceremony on Monday, while the Rev. John C. Hagee, a televangelist who founded Christians United for Israel and leads a San Antonio megachurch, gave the closing benediction.
Despite their comments about Jewish people, the two pastors are among the leading pro-Israel voices in the evangelical Christian world. Some evangelicals believe that American foreign policy should support Israel to help fulfill biblical prophecies about the second coming of Christ.
The decision by Mr. Trump to move the embassy from Tel Aviv fulfilled a major campaign promise and handed a victory to hard-line pro-Israel Americans, as well as conservative and evangelical Christians who have long wanted the United States' diplomatic home to be in Jerusalem.
But critics say the move, which broke from almost seven decades of United States policy, could risk peace negotiations between Israelis and Palestinians, who both claim Jerusalem as their capital. Mass protests broke out along the border fence with Gaza in the hours before the embassy opening on Monday, and Israeli soldiers shot and killed more than 50 Palestinians, the Health Ministry reported.
In their prayers at the ceremony on Monday, both pastors praised Mr. Trump. Mr. Jeffress said the president "stands on the right side of you, God, when it comes to Israel." Mr. Hagee said the new embassy made a clear statement: "Let every Islamic terrorist hear this message: 'Israel lives.'"
Here are some of the most incendiary remarks they've made in the past.
Jeffress: 'You can't be saved being a Jew'
Mr. Jeffress, who leads one of the largest Southern Baptist churches in the country, suggested in a 2010 interview with the Trinity Broadcasting Network that some churches might shy away from saying "anything that's going to offend people" to try to grow their congregations. He made it clear he was going to preach what he believes the Bible says.
"Islam is wrong. It is a heresy from the pit of hell," Mr. Jeffress said in the interview. "Mormonism is wrong. It is a heresy from the pit of hell."
He added: "Judaism — you can't be saved being a Jew. You know who said that, by the way? The three greatest Jews in the New Testament: Peter, Paul and Jesus Christ. They all said Judaism won't do it. It's faith in Jesus Christ."
In the past decade, Mr. Jeffress has assumed a prominent role in conservative politics, appearing frequently on Fox News and urging in sermons and on television to elect a Christian as president. Non-Christian religions are sending their followers to hell, he preached in a September 2008 sermon.
"Not only do religions like Mormonism, Islam, Judaism, Hinduism — not only do they lead people away from the true God, they lead people to an eternity of separation from God in hell," Mr. Jeffress said. "Hell is going to be filled with good religious people who have rejected the truth of Christ."
After Hurricane Katrina struck New Orleans in August 2005, killing more than 1,200 people, Mr. Hagee said that the storm was God's punishment for its sinful ways, a common trope among conservative evangelists. Those sins included a gay pride parade that was scheduled for the same day that Katrina made landfall.
"New Orleans had a level of sin that was offensive to God, and they were recipients of the judgment of God for that," Mr. Hagee said in an interview on NPR in 2006. "Hurricane Katrina was, in fact, the judgment of God against the City of New Orleans."
In the NPR interview, Mr. Hagee spoke about his affection for Israel and how he believes Jews will be saved during the Second Coming of Jesus Christ, which he has long said is imminent. While Jews do not believe in Jesus as their savior, Mr. Hagee said, they will accept him when he appears and "they will weep as one weeps for his only son for a period of one week."
But he had a less sympathetic view of Muslims. "Islam in general, those who live by the Quran have a scriptural mandate to kill Christians and Jews," he told NPR, adding that about 200 million Muslims wanted to "come to America or invade Israel to crush it."
Jeffress: Mitt Romney is part of a cult
Three months before the start of the 2008 Republican presidential primaries in 2008, Mr. Jeffress said in a sermon that the candidate Mitt Romney, a Mormon, was part of a cult.
"Mitt Romney is a Mormon, and don't let anybody tell you otherwise," Mr. Jeffress said in September 2007, according to The Dallas Morning News. "Even though he talks about Jesus as his Lord and savior, he is not a Christian. Mormonism is not Christianity. Mormonism is a cult."
After the pastor said on Fox News over the weekend that he would give the opening prayer at the embassy ceremony, Mr. Romney called him a "religious bigot."
Hagee: Hitler was part of God's plan for Israel
Mr. Hagee has also taken a leading role in conservative politics and threw his support behind Senator John McCain of Arizona in the 2008 presidential election. But Mr. McCain later disavowed Mr. Hagee's endorsement after the pastor's past remarks about Hitler and the Holocaust surfaced.
In a sermon in the late 1990s, Mr. Hagee said the Bible made clear that Hitler and the Holocaust — when about six million Jews were killed — were part of God's plan to return Jews to Israel. "How did it happen? Because God allowed it to happen," he said, referring to the Holocaust. "Why did it happen? Because God said my top priority for the Jewish people is to get them to come back to the land of Israel."
Jeffress: 'Gay Is Not O.K.'
Before Mr. Jeffress joined First Baptist Dallas, he led the First Baptist Church of Wichita Falls, Tex., near the Oklahoma border. He made national news in 1998 when he refused to return two books about children with gay parents to the city's library.
A church member gave him the two books — "Heather Has Two Mommies" and "Daddy's Roommate" — and then Mr. Jeffress sent a $54 check to the library for the cost of the books. "We wanted to highlight the problem in our community," Mr. Jeffress told The Associated Press in May 1998. "I really hope people will look at the book and see what their tax dollars are supporting."
He said he was trying to protect children because homosexuality causes "the deaths of tens of thousands every year through AIDS."
A decade later in Dallas, he gave a sermon titled "Gay Is Not O.K.," which led to protests outside the church. "Even though culture changes, God's word doesn't change," he told The Dallas Morning News.
https://www.nytimes.com/2018/05/14/world/middleeast/robert-jeffress-embassy-jerusalem-us.html
--------
UP Shia Board Chief Floats Shia Political Outfit to Counter 'Sunni Oppression'
May 14, 2018
New Delhi: Syed Waseem Rizvi, the chairman of Uttar Pradesh Shia Central Board of Waqfs on Monday announced the first Shia based political outfit in the country, 'India Shia Awami League' in order to not let the majority Sunni Muslims "overshadow the Shias" in the country.
Rizvi has been appointed the national president of this new political outfit. He recently moved a PIL demanding a ban on hoisting the Pakistan Muslim League flag in mosques, madrassas and Muslim majority areas in the country.
According to Rizvi, the Pakistan Muslim League flag that has a crescent and star on a green background is often raised in Muslim majority areas and it has got nothing to do with Islam.
Rizvi further stated that the new political outfit was triggered by a continuous ignoring of Shias within the Muslim community as Sunnis continue to overshadow them.
"Though the Shia community is a part of the Muslim minority, but on account of being just 20% of the total Muslim population, it has been an object of oppression and exploitation of the fundamentalist section of the Muslim minority. Since the Sunnis constitute about 80% of the Muslim community, benefits under the government schemes meant for the minorities along with other social and political benefits are always reaped by them," states the official party release.
The new party, which has a flying eagle as its logo, has also initiated its registration process with the Election Commission of India with a national executive body in place.
Rizvi has claimed that the Sunnis do not consider Shias as Muslims thus denying them of their due.
"We have want to work towards the political and social upliftment of the Shia community and ensure that the community gets its due which has been denied to it. The Sunni sect has never considered us their brothers and conversely the fatwas are issued world over to kill the innocent Shias," states the National President of the ISAL.
Rizvi had recently created an uproar when it asked the All India Muslim Personal Law Board (AIMPLB) to hand over nine medieval period mosques constructed by Mughal kings.
Rizvi had earlier appealed to the AIMPLB to drop the claims of Muslims over the Babri mosque at Ayodhya and suggested that a new mosque 'Masjid-e-Aman' be constructed elsewhere.
Posing a question before AIMPLB, Rizvi had then asked, "Does Islam permit the construction of mosques at the site of religious places of other faiths in a multi-religious country. Will such mosques be rightful places of worship as per the basic tenets of Islam?"
https://www.news18.com/news/india/up-shia-board-chief-floats-shia-political-outfit-to-counter-sunni-oppression-1748443.html
--------
Nawaz Sharif defends 26/11 remarks, says he will speak the truth
Omer Farooq Khan
May 15, 2018
ISLAMABAD: Pakistan's ousted PM Nawaz Sharif on Monday defended his recent admission about his country's involvement in the 2008 Mumbai attacks, drawing unequivocal condemnation and rejection from National Security Committee (NSC), Pakistan's top civil-military body.
In a meeting convened by PM Shahid Khaqan Abbasi on the suggestion of army chief General Qamar Javed Bajwa, the NSC reviewed Sharif 's criticism against the Pakistani establishment in delaying the trial against terrorists in the 26/11 Mumbai attacks. The committee, "unanimously" termed Sharif 's remarks as "incorrect and misleading". It was "unfortunate and regrettable that concrete evidence and facts were ignored," the civil-military body said.
The NSC claimed that "the denial of access to the principal accused, Ajmal Kasab, and his extraordinarily hurried execution became the core impediment in the finalisation of the trial." The high-level huddle attributed Sharif 's remarks to "either misconceptions or grievances".
Chaired by PM Abbasi and attended by General Bajwa, national security adviser Nasser Khan Janjuga, director-general of Inter-Services Intelligence (ISI) Naveed Mukhtar, senior cabinet officials and other representatives of armed forces, the meeting lasted approximately for two and half hours.
Earlier on Monday, Sharif had dispelled the notion that the comments were falsely attributed to him, saying that he will speak the truth come what may. "What did I say that was wrong in the interview?" Sharif asked reporters.
He said that former president Pervez Musharraf, former interior minister Rehman Malik and former national security adviser Major-General (retd) Mehmood Durrani had already confirmed what he said. "Despite our 50,000 sacrifices of lives, why is the world not paying heed to our narrative? And the person who is asking this question has been labelled a traitor."
He also called out the local media outlets which criticised him. "I am being called a traitor by the media - they (the media) are being made to call me a traitor. Are those who tore apart the country and the Constitution patriots? Are those who pulled out judges from their offices patriots?" he asked.
When asked by a reporter to comment on allegations that India has been reluctant to provide evidence in the case, Nawaz replied, "There is no shortage of evidence - there is plenty of evidence."
Following the NSC meet, Abbasi told reporters that Sharif had said that his remarks on Mumbai attacks had been misreported by the media, a claim that contradicted Sharif 's statement on Monday.
https://timesofindia.indiatimes.com/world/pakistan/nawaz-sharif-defends-26/11-remarks-says-he-will-speak-the-truth/articleshow/64166833.cms
--------
Southeast Asia
Marawi Catholics join Muslims in welcoming Ramadan
May 15, 2018
Catholics in the battle-scarred southern Philippine city of Marawi have joined the predominantly Muslim community in welcoming the start of the Islamic month of Ramadan this week.
A thousand Catholic and Muslim residents participated in the start of the "Duyog Ramadan" celebration spearheaded by the Catholic prelature in the city's Datu Saber district on May 13.
The annual celebration, which started in 1979, aims to encourage Christian families to "accompany" their Muslim neighbors in fasting, prayer and service to the poor.
"Fasting and prayer are major commonalities among Christians and Muslims," said Redemptorist priest Gary Alvarado, head of the group Duyog Marawi.
The priest said it is not a new concept, "but it would strengthen bonds."
Duyog Marawi is a rehabilitation project of Marawi's Catholic prelature and the Congregation of the Most Holy Redeemer or Redemptorists in the war-torn city.
"After the destruction of the city, Catholics need to show more solidarity with our Muslim brothers and sisters," Father Alvarado said.
Bishop Edwin dela Pena of Marawi said "Duyog Ramadan" or One with Ramadan, is "an appreciation of the early memories" of Muslim and Christian interaction in the city.
The program encourages Christian families "to sacrifice one meal" in any day of Ramadan and to donate the cost of the meal to the rehabilitation of Marawi communities.
The bishop said the prelature would take advantage of Ramadan to hold peace-building activities especially among young Muslims and Christians in Mindanao.
The five-month conflict last year between terrorist gunmen and government forces resulted in the destruction of the city and the displacement of at least 400,000 Muslim and Christian residents.
Reynaldo Barnido, executive secretary of Duyog Marawi, said the Ramadan activity would not only be a symbolic gesture for Catholics but "a vow to accompany Muslims even in the hardest times."
"This year's Ramadan is a celebration of victory against individuals and groups who intended to destroy the unity we're forging between Christians and Muslims," said Barnido.
Sultan Abdul Hamidullah Atar of Marawi said fasting during Ramadan is not just skipping meals but "the transformation of the inner self of every person."
"Let Ramadan be our guide towards reconciliation and peace," said the Muslim leader.
"The most important lesson amidst fasting and prayer is how we learn to open ourselves to others through works of charity and service to those in need," he added.
Samira Gutoc Tomawis, a civil society leader, said Duyog Ramadan "reaffirms the singleness of two different but not separated beliefs."
She said Ramadan teaches us "to be like children ... free from hatred and biases."
Father Edwin Gariguez, executive secretary of the social action arm of the Catholic bishops' conference, said the Duyog Ramadan program should be adopted across the country.
"We encouraged other dioceses to accompany Muslims during the Holy Month to emphasize oneness and unity," said the priest.
He said the program conveys a message of hope and solidarity in ongoing efforts to rehabilitate Marawi.
To date, some 27,000 families from the most affected areas of the conflict remain in evacuation centers and transition houses around the city.
Caritas Philippines, which allocated about US$92,000 for the rehabilitation of Christian and Muslim communities, appealed to the public to continue sending donations.
"We have a long way ahead of us. We are not just rebuilding damaged structures but the very life of the people who have been paying the cost of war," said Father Gariguez.
https://www.ucanews.com/news/marawi-catholics-join-muslims-in-welcoming-ramadan/82298
--------
Terrorist suicide families wreak havoc in Indonesia
May 14, 2018
Christian leaders have called for unity following a spate of suicide bombings that targeted three churches, an apartment building and the police headquarters in Indonesia's second city that has left many people dead and scores hurt in the deadliest attacks in more than a decade.
Early on May 14, a family of five, that included three children, carried out a suicide bombing on two motorcycles at the police headquarters in East Java's provincial capital Surabaya, police said.
At least one fatality was confirmed, but initial reports said at least seven people were dead including four of the attackers, and that 10 people were injured, including four policemen.
An 8-year-old girl, who was reportedly with the family, survived the blast and was being treated in hospital, East Java police spokesman Frans Barung Mangera said.
The attack followed a series of bombings a day earlier in the city that killed at least 17 people. Three suicide blasts were committed by one family — a husband, wife and four children — against three churches in the town.
The first bombing was carried out by the couple's sons aged 18 and 16 in the car park of the Santa Maria Catholic Church, the second was by the wife, and their two daughters aged 12 and 9 at the Diponegoro Indonesian Christian Church and the third was detonated outside the Surabaya Central Pentecost Church.
The attacks killed at least 14 people, and left more than 40 injured, according to police.
One of the casualties at Santa Maria Church was Aloysius Bayu Rendra Wardhana who was killed trying to prevent the suicide bombers from entering the church compound.
Father Alexius Kurdo Irianto, the priest at the Santa Maria church praised the bravery and sacrifice of Wardhana.
"If he had not stopped the bombers, there would have been more victims [inside the church]," he said.
The victim's mother said the family was "proud to have a martyr who gave his life to save hundreds of people attending Sunday Mass inside the church building."
"He had completed his service in this world. He was called to serve the Lord in heaven," Rosalia Siswaty wrote on Facebook.
On that same day, police said they later detonated four bombs found in the house of the family who carried out the bombings.
Another blast also occurred at a low-cost apartment killing three people.
Indonesian President Joko called the attacks "The act of cowards, undignified and barbaric."
National Police chief General Tito Karnavian said the Islamic State-inspired Jemaah Anshorut Daulah (JAD), or Jamaah Ansharut Tauhid (JAT) groups were likely responsible for the attacks.
The leaders of both groups are currently in prison. The JAD leader, Aman Abdurrahman, is serving time in the police detention center in Depok, West Java that saw a deadly riot on May 9 that killed five policemen and one prisoner.
"Because their leaders are detained, their groups could be retaliating," said Karnavian,
He said the attacks could also be in retaliation to the arrest of two suspected terrorists and the deaths of four others on May 4 in Bogor, West Java province.
Al Chaidar, a terrorism expert from Malikussaleh University in Aceh, said the bombings marked a change in tactics by the terrorists.
They are deploying women and girls as jihadists "because people will not suspect them," he told ucanews.com.
Father Agustinus Ulahayanan, executive secretary of the bishops' Commission for Ecumenical and Interreligious Affairs, denounced the bombings and called on Catholics and other Christians to unite and be vigilant.
"We must not be afraid. We must tighten security," he said.
Full report at:
https://www.ucanews.com/news/terrorist-suicide-families-wreak-havoc-in-indonesia/82303
--------
Muslim lawyers body hits out at Bar for proposing Ambiga as AG
May 14, 2018
PETALING JAYA: The Muslim Lawyers Association (PPMM) has opposed the Malaysian Bar's suggestion that Ambiga Sreenevasan be made attorney-general (AG) by the new Pakatan Harapan (PH) government, calling it "poor judgement".
Association president Zainul Rijal Abu Bakar said the move would set a bad precedent, more so as Ambiga was a former president of the Bar.
He also said PPMM believed that Bar members were not consulted when the statement on the matter was made.
"As far as PPMM is concerned, no professional body or individual should make any stand in proposing names as the attorney-general," he added in a statement today.
FMT today reported Bar president George Varughese as saying that Ambiga would be independent and free from political pressure, and also enjoy the confidence of the public and the legal fraternity.
He said the AG was the principal legal adviser to the government and it was important for the prime minister to have someone who was competent.
"In appointing a new AG, factors such as race, religion and gender must not form any part of the selection process," he said in response to FMT's query on whether the Bar had anyone in mind to be recommended to hold the post.
Zainul said Varughese's "unilateral announcement" was uncalled for, and he should not restrict the options of Prime Minister Dr Mahathir Mohamad in advising the Yang Di-Pertuan Agong to appoint the AG in accordance with the Federal Constitution.
"Article 145(1) of the Federal Constitution states that the Yang Di-Pertuan Agong shall, on the advice of the prime minister, appoint a person who is qualified to be a judge of the Federal Court to be the attorney-general for the Federation," he said in a statement.
"Is the Malaysian Bar attempting to name its own person to be the attorney-general?
"This may give the impression that the attorney-general will be beholden to the views of the Malaysian Bar," he said.
Zainul claimed that the move would also go against the principles of neutrality and impartiality which the Bar advocated.
Full report at:
http://www.freemalaysiatoday.com/category/nation/2018/05/14/ppmm-baulks-at-bar-idea-for-ambiga-to-be-ag/
--------
Gov't, Lawmakers Rush to Pass Terrorism Bill After Attacks in East Java
May 14, 2018
Jakarta. In the wake of suicide attacks in Surabaya, East Java, pressure is mounting on the House of Representatives and the government to finalize the revision of a law granting the security forces more power to prevent acts of terrorism.
The government submitted the bill to the House in February 2016, following a deadly Islamic State-inspired attack in central Jakarta.
Under current law, counterterrorism officials cannot act on intelligence tips and arrest suspected terrorists, unless they commit criminal offences.
President Joko "Jokowi" Widodo said on Monday (14/05) that he would issue a regulation in lieu of law (Perppu) if lawmakers fail to enact the law by June.
"I requested that the House and ministries finalize the revision of the Anti-Terrorism Law as soon as possible, at the next plenary meeting on May 18," Jokowi told reporters.
"This is an important legal umbrella for our security forces, for the police, in terms of prevention and taking action. If by June the law is not passed, I will issue the Perppu," Jokowi said.
The president's promise comes after a series of suicide bombings have shaken Surabaya in the past 48 hours. Surabaya is Indonesia's second most populous city.
The attacks, which targeted three churches on Sunday and the city's police headquarters on Monday, claimed 25 lives and wounded 47 people.
The police said that members of three families, including children as young as nine years, blew themselves up following an instruction from Islamic State militants. This was the first time women and children carried out suicide attacks in Indonesia, replicating Islamic State's modus operandi in the Middle East, to evade the watchfulness of security officers.
The attackers were among 1,200 persons on a police list of Indonesians who either returned from Syria or have been suspected of links with Jamaah Ansharut Daulah (JAD), a local terrorist group affiliated with the Islamic State.
In accordance with the current law, they could not be arrested, despite well-grounded suspicions, the National Police's head of public relations, Ins. Gen. Setyo Wasisto, said on Sunday.
Dita Oepriarto, the father who led the attacks on churches, was a polite and friendly person who frequented the local mosque with his sons, the family's neighbors said. His wife, two sons and two daughters died in the attacks.
"Our current antiterrorism law is responsive. One can only be arrested if he or she is affiliated with a certain group that engages in terrorism," Setyo said.
Human rights activists and opposition parties, such as the Prosperous Justice Party (PKS) and the Great Indonesia Party (Gerindra), have voiced concerns that the new law would grant too much power to the security forces, allowing them to tap and detain suspects, which could lead to abuse. Also, the law is silent on compensation for the falsely accused.
Lawmakers have, in fact, resolved most of the draft's problematic issues, but the government itself requested to delay the enacting to have its security bodies to word one definition of terrorism. Critics say that if the definition is vague, it could be used to silence political opponents.
"The government did not agree to include motives and goals [in the definition]. In other words, the government wants to decide who is a terrorist and who is not. It cannot be like that, [Indonesia] is a state of law," said chairman of the House's special committee for the revision, Gerindra lawmaker Muhammad Syafii, as quoted by CNN Indonesia.
Chief Security Minister Wiranto said after a meeting with leaders of all political parties on Monday that the government is ready to resolve the issues and have the revised law ready before the presidential deadline.
Full report at:
http://jakartaglobe.id/news/govt-lawmakers-rush-pass-terrorism-bill-attacks-east-java/
--------
Four Die in Suicide Bombing at Surabaya Police Headquarters
May 14, 2018
Jakarta. Four assailants died and 10 bystanders – four of them police officers – were injured in a suicide bombing at the police headquarters in Surabaya, East Java, on Monday (14/05), officials said.
Kompas TV broadcasted closed-circuit television footage showing the explosion occurring immediately after officers stopped four people approaching a checkpoint outside the police headquarters on two motorcycles.
"We can confirm that there were two-wheel vehicles … at the checkpoint when the blast occurred," East Java Police spokesman Chief Comr. Frans Barung Mangera said at a press conference.
He added that all the victims have been taken to a police hospital following the blast, which occurred at 8:50 a.m.
President Joko "Jokowi" Widodo has meanwhile condemned the attack, describing it as cowardly, undignified and barbaric.
Suicide bombers also targeted three churches in Surabaya on Sunday morning, killing 14 people and injuring 40.
Police confirmed that the six attackers were members of one family, headed by the leader of a cell of the Islamic State-inspired group Jemaah Ansharut Daulah (JAD) in Surabaya.
Sidoarjo Blast
Three people were killed and two injured in another attack on Sunday evening, when a bomb exploded in a low-cost apartment behind a police station in nearby Sidoarjo, East Java.
Frans told the Jakarta Globe that three casualties in the Sidoarjo blast were also from one family – the father, mother and their eldest son – while two other children are currently hospitalized at a police hospital in Surabaya.
National Police chief Gen. Tito Karnavian said the head of the family involved in the Sidoarjo blast had close ties with the head of the family involved in the Surabaya church attacks.
The blast reportedly occurred while the family was assembling the bomb. Police have recovered at least three homemade bombs from the scene.
On Monday, five suspected terrorists were captured, one of them is a JAD Surabaya leader, Tito said.
Top Alert
Since the series of attacks in East Java, several other provinces, including Bali, have also been on the highest level of alert.
The Jakarta Police and the military started night patrols on Sunday night, police spokesman Chief Comr. Argo Yuwono said.
"We will be conducting joint patrols with the military, like we did last night" Argo told reporters, adding that increased security measures have been imposed at all police stations.
Legal Umbrella
The president has called on members of the House of Representatives to pass a counterterrorism bill, which has been pending since February 2016, saying that he will issue a government regulation in lieu of law (Perppu), if they fail to enact the bill this month.
Full report at:
http://jakartaglobe.id/news/four-die-suicide-bombing-surabaya-police-headquarters/
--------
South Asia
Taliban suffer casualties during the clashes in 3 northern provinces
May 15 2018
At least thirteen Taliban militants were killed during the separate clashes erupted in three northern provinces in the past 24 hours, the defense authorities said Monday.
The 209th Shaheen Corps of the Afghan Military in the North said Monday at least seven Taliban militants were killed and four others were wounded during a clash in Khanabad district on Sarak Naw highway in northern Kunduz province.
The source further added that one Taliban militant was killed and two others were wounded during a separate clash erupted in Barqot village in Suzma Qala district of northern Sar Pul province.
According to Shaheen Corps, at least five militants were killed and three others were wounded during another clash that took place in Chahar Bolak district of northern Balkh province.
The Shaheen Corps also added that some weapons, ammunition, and other equipment to Taliban were also destroyed during the same operations.
The anti-government armed militant groups including Taliban militants have not commented regarding the report so far.
This comes as the Taliban-led insurgency has been rampant since the group announced its spring offensive but the Afghan forces have also stepped up efforts to counter the militants attacks.
https://www.khaama.com/taliban-suffer-casualties-during-the-clashes-in-3-northern-provinces-05159/
--------
Defense forces effective responding to Farah city attack: MoD
May 15 2018
The Ministry of Defense (MoD) says the Afghan National Defense and Security Forces (ANDSF) are effectively responding to the coordinated attack on Farah city.
A statement by MoD said the militants launched a coordinated attack from the North of the city through Regi outpost towards the 70th Division in the early hours of Tuesday morning.
The statement further added that the national defense and security forces have started operations along the 70th division as well as the western gate of the city and 517th lane in response to the attack.
According to MoD, at least eight militants have been killed during the operations so far and at least three others have sustained injuries.
The defense ministry also added that the Afghan commandos and Air Forces have also started operations to clear the areas where the Taliban insurgents have taken positions.
In the meantime, the provincial council officials are saying that clashes are underway in some parts of the city but the militants have not managed to take control of any key compound so far.
Full report at:
https://www.khaama.com/defense-forces-effective-responding-to-farah-city-attack-mod-05146/
--------
Myanmar police to charge 17 anti-war protesters
May 14, 2018
Myanmar police said on Monday they would charge 17 organizers of an anti-war protest on the weekend that degenerated into scuffles and fistfights, and raised new concern about freedom of speech.
The protest was organized on Saturday in the main city of Yangon as a show of support by about 300 people for victims of fighting between government forces and ethnic minority guerrillas in Kachin state in northern Myanmar.
Police were seeking to charge the young activists for "disturbing the public" and "holding a protest without permission", senior police officer Thein Win told Reuters.
The Saturday scuffles between baton-wielding police and protesters sparked an outcry among activists and lawmakers over what they see as risks for free expression under the government of de-facto leader Aung San Suu Kyi.
Myanmar government spokesman Zaw Htay was not immediately available for comment. Myanmar police spokesman Myo Thu Soe declined to comment.
A growing anti-war youth movement, which in recent months has spread to various parts of the country, has exposed frustration with Suu Kyi's struggle to fulfill her promise to end decades of war by autonomy-seeking ethnic minority guerrillas in lawless border lands.
More than 6,000 people have fled their homes since an army offensive against the Kachin Independence Army, an ethnic rebel group, and rescue workers say hundreds of villagers are stuck in danger zones.
Fighting has also intensified in other ethnic minority areas.
One of the protesters who was detained and later released was Khin Sandar Tun, 29, a Muslim from the Kaman ethnic group in the violence-torn Rakhine state and one of Myanmar's most well-known peace and interfaith activists.
"Five of them grabbed my arm and threw me into the truck even though I told them I would come along. I can't move my arm up, and I'm still in pain," Khin Sandar Tun who was released on Sunday, told Reuters by telephone.
Full report at:
http://www.presstv.com/Detail/2018/05/14/561709/Myanmar-police-fight-protest-Yangon-victims-Aung-San-Suu-Kyi
--------
Mideast
58 dead in Gaza protests as Israel fetes US Embassy move
May 15, 2018
In a jarring contrast, Israeli forces shot and killed 57 Palestinians and injured more than 2,700 during mass protests on Monday along the Gaza border, while just a few miles away Israel and the United States (US) held a festive inauguration ceremony for the new American Embassy in contested Jerusalem.
In addition, a baby died from tear gas inhalation, the Gaza Health Ministry said, bringing the overall death toll to 58.
Six of those killed by gunshots were minors, the ministry said.
It was by far the deadliest day of cross-border violence since a devastating 2014 war between Israel and Gaza's Hamas rulers, and further dimmed the already bleak prospects for US President Donald Trump's hoped-for peace plan.
Throughout the day, Gaza protesters set tires ablaze, sending thick plumes of black smoke into the air, and hurled firebombs and stones toward Israeli troops across the border.
The Israeli military, which has come under international criticism for using excessive force against unarmed protesters, said Hamas tried to carry out bombing and shooting attacks under the cover of the protests and released video of protesters ripping away parts of the barbed-wire border fence.
Monday's protests culminated more than a month of weekly demonstrations aimed at breaking a crippling Israeli-Egyptian border blockade. But the US embassy move, bitterly opposed by the Palestinians, added further fuel.
There was barely any mention of the Gaza violence at Monday's lavish inauguration ceremony for the new embassy, an upgraded consular building located just 80 kilometres away.
Israeli Prime Minister Benjamin Netanyahu and other top officials joined an American delegation of Trump administration officials and Republican and evangelical Christian supporters.
Jared Kushner, Trump's son-in-law and chief Mideast adviser, headlined the US delegation with his wife and fellow White House adviser, Ivanka Trump, as well as Treasury Secretary Steven Mnuchin and four Republican senators.
Republican super-donor Sheldon Adelson was also present, and evangelical pastors Robert Jeffress and John Hagee delivered blessings.
"A great day for Israel!" Trump tweeted earlier on Monday.
In a videotaped address, Trump said the embassy move, a key campaign promise, recognises the "plain reality" that Jerusalem is Israel's capital.
Yet he added the US "remains fully committed to facilitating a lasting peace agreement".
However, Monday's steadily climbing death toll and wall-to-wall condemnation of the embassy move in the Arab world raised new doubts about Trump's ambitions to broker what he called the "deal of the century".
More than a year after taking office, Trump's Mideast team has yet to produce a long-promised peace plan.
Trump says recognising Jerusalem as Israel's capital acknowledges the reality that Israel's government is located there as well as the ancient Jewish connection to the city. He insists the decision has no impact on future negotiations on the city's final borders.
But to both Israel and the Palestinians, the American gesture is widely seen as siding with Israel on the most sensitive issue in their longstanding conflict.
"What a glorious day. Remember this moment. This is history," Netanyahu told the inauguration ceremony.
"You can only build peace on truth, and the truth is that Jerusalem has been and will always be the capital of the Jewish people, the capital of the Jewish state," he added.
The Palestinians, who seek east Jerusalem as their capital, have cut off ties with the Trump administration and say the US is unfit to serve as a mediator.
Israel captured east Jerusalem in the 1967 Mideast war and annexed the area in a move that is not internationally recognised.
Palestinian President Mahmoud Abbas, furious over the embassy ceremony, said he "will not accept" any peace deal proposed by the Trump administration.
The Palestinian president also urged the international community to condemn what he said were "massacres" carried out by Israeli troops in Gaza, and officials said the Palestinians would file a war crimes complaint against Israel in the International Criminal Court over settlement construction.
International condemnation
Egypt, an important Israeli ally, condemned the killings of Palestinian protesters, while the United Nations (UN) human rights chief, Zeid Ra'ad al-Hussein, decried the "shocking killing of dozens".
Turkey said it was recalling its ambassador to the US over Trump's embassy move, saying it "disregarded the legitimate rights of the Palestinian people" and would "not serve peace, security and stability in the region".
It also recalled its ambassador to Israel following what it called a "massacre" of Palestinians on the Gaza border.
South Africa, a fervent supporter of the Palestinians, also recalled its ambassador for consultations, the Israeli Foreign Ministry said.
The European Union's foreign policy chief, Federica Mogherini, called on Israel to respect the "principle of proportionality in the use of force" and show restraint, while also urging Hamas to ensure any protests remain peaceful. UN Secretary-General Antonio Guterres issued a similar appeal.
At the US embassy ceremony in Jerusalem, Kushner placed the blame on the Gaza protesters.
"As we have seen from the protests of the last month and even today those provoking violence are part of the problem and not part of the solution," he said.
Israel says the blockade of Gaza, imposed by Israel and Egypt after Hamas overran the territory in 2007, is needed to prevent Hamas from building up its military capabilities. But it has decimated Gaza's economy, sending unemployment skyrocketing to over 40 per cent and leaving the territory with just a few hours of electricity a day.
The Israeli military estimated a turnout of about 40,000 at Monday's protest, saying it fell short of what Hamas had hoped for. But officials described what they called "unprecedented violence" unseen in previous weeks.
Lt Col Jonathan Conricus, a military spokesman, said hundreds of protesters carried out "concerted, coordinated" attacks on the border fence.
Although the crowd did not manage to break through, he said they caused "significant damage".
The army released video showing demonstrators setting a cargo crossing on fire and appearing to climb on the fence as they lobbed flaming objects into the Israeli side.
Conricus also said Hamas militants disguised as protesters tried to infiltrate, and there were at least three instances of armed Hamas gunmen trying to carry out attacks. Israeli aircraft and tanks struck seven Hamas positions.
Monday marked the biggest showdown in years between Israel's military and Gaza's Hamas rulers along the volatile border. The sides have largely observed a cease-fire since the 2014 war — their third in a decade.
Since the protests began on March 30, 100 Palestinians have been killed, most of them protesters.
Israel said it killed three militants trying to plant a bomb along the fence, and Palestinian security officials said several Hamas militants were also killed by Israeli shelling in northern Gaza.
Ismail Radwan, a senior Hamas figure, said the mass border protests would continue "until the rights of the Palestinian people are achieved".
Throughout the day, sirens wailed as the wounded were carried to ambulances. Groups of young activists repeatedly approached the fence, but were quickly scattered by gunfire and tear gas.
The timing of Monday's events was deeply symbolic to Israel and the Palestinians.
The US said it chose the date to coincide with the 70th anniversary of Israel's establishment.
But Tuesday also marks the anniversary of what Palestinians call their "nakba," or catastrophe, a reference to the uprooting of hundreds of thousands who fled or were expelled during the 1948 war surrounding Israel's creation. A day of mourning and mass funerals was planned on Tuesday.
A majority of Gaza's two million people are descendants of refugees, and the protests have been billed as the "Great March of Return" to long-lost homes in what is now Israel.
The new embassy will temporarily operate from an upgraded, existing US consulate building, until a decision is made on a permanent location. Even the current location is sensitive, located partially in an area designated "no-man's land" in a 1949 armistice agreement.
The UN considers that land to be occupied territory, though the US says in practice the area has been in continuous Israeli use since 1949.
https://www.dawn.com/news/1407823/58-dead-in-gaza-protests-as-israel-fetes-us-embassy-move
--------
Palestinian Government: Israel Committing Terrible Massacre in Gaza
May 14, 2018
Palestinian Government Spokesman Yusuf al-Mahmoud demanded in a statement "an immediate international intervention to stop the terrible massacre in Gaza committed by the forces of the Israeli occupation against our heroic people".
Meantime, Amnesty International wrote on Twitter that the bloodshed along Gaza's border fence with Israel was an "abhorrent violation" of human rights.
"We are witnessing an abhorrent violation of international law and human rights in Gaza.... This must end immediately," the human rights group stated.
Tens of thousands of Palestinians launched the Great March of Return in the besieged Gaza Strip on Monday to demand their right of return to their villages and towns they were forcibly displaced.
The Gaza Health Ministry reported on Monday that the death toll of the Palestinians matyred by Israeli fire in Gaza border clashes has risen to 40, while some 2,000 people, including children, women and journalists, have been injured by Tel Aviv regime's forces who are positioned along the fence.
"These are the biggest protests we have seen on the border with Gaza so far," Israeli Defence Forces Spokesman told Kann News.
The rally also coincided with the moving of the US Embassy from Tel Aviv to Jerusalem, in line with the Washinton's recognition of Jerusalem as the capital of Israel in December, furthering stoking tensions and angering Palestinians.
The 46-day peaceful protests began on March 30, which coincided with the 42nd anniversary of the Land Day, which marks the day Israeli forces killed six Palestinians during protests against land confiscation in 1976. It continues until May 15, which marks the 70th anniversary of the Nakba (catastrophe), in which over 750,000 Palestinians were forcibly displaced from their homes in 1948.
Since the start of the rallies, over 90 Palestinians have been killed and at least 10,000 injured along the fence in Gaza, with no reports of Israeli casualties, according to reports.
The United Nations top human rights official has strongly condemned Israel's use of "excessive force" on Palestinian protesters in the Gaza Strip. UN High Commissioner for Human Rights Zeid Ra'ad al-Hussein has stressed that Israel had to stop the practice and hold to account those responsible for the many deaths and injuries.
Palestinian and foreign doctors have reported that the live fire used by Israeli troops has caused unusually severe injuries among protesters in the besieged Gaza Strip over the past month.
Multiple human rights organizations have come out in full condemnation of Israel's violent raid on the massive unarmed civilian protests in the besieged sliver.
Human Rights Watch (HRW) slammed Israel's killing of Palestinian protesters as "unlawful" and "calculated", saying those officials who authorized the Israeli military to use lethal force ahead of the mass rallies in Gaza are to blame for the bloodshed.
Full report at:
http://en.farsnews.com/newstext.aspx?nn=13970224001277
--------
Iran FM slams Israel for massacring Palestinians 'in cold blood'
May 14, 2018
Iran's Foreign Minister Mohammad Javad Zarif has lashed out at the Israeli regime for pursuing a repressive approach to peaceful protests by Palestinians demanding their right to return to their motherland.
Taking to his official Twitter page on Monday, Zarif took Israel to task for "massacring countless Palestinians in cold blood as they protest in world's largest open air prison," in what was a direct allusion to the situation of the Palestinians who live under years-long Israeli blockade in the besieged Gaza Strip.
Israeli troops on Monday opened fire on Palestinians who have gathered near a Gaza fence for the climax of a six-week demonstration coinciding with the inauguration of US embassy in Jerusalem al-Quds.
Clashes erupted along the fence between Palestinians and Israeli forces as protesters converged on the site for a "day of rage." According to Gaza health officials, at least 41 Palestinians have been shot dead and hundreds have been wounded by Israeli snipers who are positioned along the fence, facing the protesters.
In another part of his tweet, Iran's top diplomat pointed to the move by the US President Donald Trump to transfer the US embassy from Tel Aviv to Jerusalem al-Quds despite global outcry against the move.
He added that as Israel continues its brutal crackdown on Palestinians "Trump celebrates move of US illegal embassy and his Arab collaborators move to divert attention. A day of great shame."
The United States officially opened its embassy to Israel in Jerusalem al-Quds on Monday, despite warnings from around the world that the measure risks triggering a fresh wave of violence in the Middle East.
A senior Iranian official on Monday lashed out at the United States for taking an "illegal" action in moving its embassy in Israel from Tel Aviv to Jerusalem al-Quds, saying the US president has become the epitome of anarchism and violence in the international scene.
"Trump has turned into the symbol of anarchism and increasing violence on the international scene with his strategic mistakes in supporting terrorism, breaching the JCPOA (the landmark 2015 nuclear agreement, officially known as the Joint Comprehensive Plan of Action, signed between Iran and the major world powers) and other international pacts as well as violating the Palestinian people's rights," Secretary of Iran's Supreme National Security Council (SNSC) Ali Shamkhani said.
In a speech at the White House in December 2017, the US president officially declared the disputed city of Jerusalem al-Quds as Israel's capital.
Full report at:
http://www.presstv.com/Detail/2018/05/14/561706/Zarif-Israel-Palestine-Twitter-Jerusalem-alQuds-capital
--------
90 Palestinians Killed since US President's Jerusalem Recognition
May 14, 2018
The Palestinian Health Ministry has reported that ninety people were killed by Israeli forces throughout occupied territories since Washinton's recognition of Jerusalem.
The US President announced early December that Washington would be recognizing Jerusalem al-Quds as Israel's capital, stressing that the United States would relocate the embassy in the occupied lands from Tel Aviv to Jerusalem al-Quds.
The move was hailed by Israel but condemned by the rest of the international community as one which undermines the peace talks.
Washington's move has raised a chorus of outcry across the international community. The Muslim world, the UN, world leaders from Europe to the Middle East to Australia, and even US allies in the West have criticized the bid, saying it would plunge the already tumultuous region into new upheaval.
Tens of thousands of Palestinians have also launched the Great March of Return in the besieged Gaza Strip to demand their right of return to their villages and towns they were forcibly displaced.
The 46-day peaceful protests begun on March 30, which coincided with the 42nd anniversary of the Land Day, which marks the day Israeli forces killed six Palestinians during protests against land confiscation in 1976. It continues until May 15, which marks the 70th anniversary of the Nakba (catastrophe), in which over 750,000 Palestinians were forcibly displaced from their homes in 1948.
Full report at:
http://en.farsnews.com/newstext.aspx?nn=13970224000844
--------
UNSC members want resolution on Israeli settlements enforced
May 15, 2018
Two-thirds of the 15 United Nations Security Council (UNSC) member states have raised alarm over the non-implementation of a 2016 resolution which urges the Israeli regime to stop its settlement expansion on occupied Palestinian territory.
In a letter addressed to UN Secretary General Antonio Guterres and seen by Reuters on Tuesday, 10 UNSC member states said they were writing to express "profound concern about the lack of implementation" of Resolution 2334.
"The Security Council must stand behind its resolutions and ensure they have meaning; otherwise, we risk undermining the credibility of the international system," the letter read.
"While there may sometimes be legitimate reasons for oral reports, they should be reserved for exceptional circumstances," it added.
The council approved Resolution 2334 on December 23, 2016 by a vote of 14-0 when former American president Barack Obama's administration abstained, stopping short of vetoing the anti-Israel document in a rare move.
The resolution states that "it will not recognize any changes to the 4 June 1967 lines, including with regard to Jerusalem [al-Quds], other than those agreed by the parties through negotiations."
Israel occupied the West Bank and East Jerusalem al-Quds during the Six Day War in 1967. It later annexed East Jerusalem al-Quds in a move not recognized by the international community.
Elsewhere, Resolution 2334 states that Israel's establishment of "settlements in the Palestinian territory occupied since 1967, including East Jerusalem, has no legal validity and constitutes a flagrant violation under international law and a major obstacle to the achievement of the two-state solution and a just, lasting and comprehensive peace."
It further calls on Israel to "immediately and completely cease all settlement activities in the occupied Palestinian territory, including East Jerusalem, and that it fully respect all of its legal obligations in this regard."
About 600,000 Israelis live in over 230 settlements built illegally since the 1967 occupation of the Palestinian lands.
The Tel Aviv regime has been emboldened by the all-out support of Obama's successor, Donald Trump, stepping up even further its settlement construction activities in the occupied territories in defiance of UNSC Resolution 2334.
The letter was submitted on the same day that the US raised Palestinian anger to a boiling point by formally transferring its embassy from Tel Aviv to the Israeli-occupied city of Jerusalem al-Quds.
The relocation, which came a few months after President Donald Trump announced that Washington was recognizing Jerusalem al-Quds as the "capital" of Israel, sparked protests both in Palestinian lands and elsewhere in the world.
In Gaza, Israeli military forces opened fire on the protesters that had gathered at the fence separating the coastal enclave from the Israeli-occupied territory, leaving nearly 60 Palestinians dead and over 2,700 wounded.
Full report at:
http://www.presstv.com/Detail/2018/05/15/561760/UN-Israel-palestine
--------
UNSC to convene emergency meeting after Gaza massacre
May 14, 2018
The UN Security Council is to convene an emergency meeting on Tuesday a day after the Gaza Strip experienced its deadliest day of violence since 2014.
Kuwait, a non-permanent UNSC member, called for an emergency session of the Council in the wake of the massacre of nearly 60 Palestinians at the hands of Israeli forces on Monday.
Israeli snipers positioned along the fence targeted Palestinians who had gathered near the Gaza fence for the climax of six-week demonstrations coinciding with the inauguration of the US embassy in Jerusalem al-Quds.
Latest reports have put the death toll at 59. Over 2,700 others are said to have sustained injuries.
"We condemned what has happened," Kuwaiti ambassador to the United Nations, Mansour al-Otaibi, said on Monday.
According to diplomats, the meeting is set to begin at 1400 GMT.
US blocks UNSC Gaza violence probe
According the AFP, the US blocked a UN Security Council statement which would have called for an independent probe of deadly violence in Gaza.
"The Security Council expresses its outrage and sorrow at the killing of Palestinian civilians exercising their right to peaceful protest," read a draft of the statement.
"The Security Council calls for an independent and transparent investigation into these actions to ensure accountability," the text added.
"The Security Council expresses its grave concern regarding recent developments in the Palestinian territory occupied by Israel since 1967, including East Jerusalem, particularly in the context of the peaceful protests in the Gaza Strip and the tragic loss of civilian lives," it added.
The statement went on to call upon all parties to exercises restraint and avoid actions which could further worsen the situation.
It also added that any decisions and actions "which purport to have altered the character, status or demographic composition of the Holy City of Jerusalem have no legal effect," in an elaborate reference to the Washington's recognition of Jerusalem as the Israeli capital.
Erdogan accuses Israel of genocide
Meanwhile, Turkish President Recep Tayyip Erdogan has accused the Tel Aviv regime of "state terror" and "genocide."
"Israel is wreaking state terror. Israel is a terror state," Erdogan addressed Turkish students in London via a televised speech. "What Israel has done is a genocide. I condemn this humanitarian drama, the genocide, from whichever side it comes, Israel or America," he added.
Turkey has also called for an emergency meeting of the Organization of Islamic Cooperation (OIC) to be held on Friday.
Deputy Prime Minister Bekir Bozdag also announced that Ankara was recalling its ambassadors to the United States and Israel "for consultations" following the killings.
South Africa recalls ambassador to Israel
South Africa also recalled its ambassador to Israel in protest to the recent bloodshed.
"Given the indiscriminate and grave manner of the latest Israeli attack, the South African government has taken a decision to recall Ambassador Sisa Ngombane with immediate effect until further notice," said South Africa's Foreign Ministry in a statement. It added that victims were taking part in a "peaceful protest against the provocative inauguration of the US embassy in Jerusalem" and went on to slam "the latest act of violent aggression carried out by Israeli armed forces along the Gaza border."
The statement added that South Africa calls for Israeli forces to pull out of the Gaza Strip and end its "violent and destructive incursions into Palestinian territories."
US established American outpost settlement in al-Quds
Meanwhile, Palestinian President Mahmoud Abbas said that the US had established an "American outpost settlement in East Jerusalem" by opening its embassy.
"We hear that they opened an embassy (which is an outpost settlement and not an embassy. An American outpost settlement. At first we had outpost settlements with the help of America and now we have an American outpost settlement in East Jerusalem," he said.
While referring to the Palestinian deaths as a "massacre" he announced three days of mourning and a general strike to be held on Tuesday.
"We decided to have the flags lowered tomorrow to half mast for three days of mourning (for the people who were killed at Gaza's protests) and to have a strike tomorrow for the Nakba day. Tomorrow will be the anniversary of 70 years of the Nakba of the Palestinian people when they were forced out of their country by the Zionist gangs in 1948," he added.
Saudi censures killings, doesn't mention embassy move
Saudi Arabia condemned the demonstrators' killing without referring to the controversial inauguration of the US embassy in Jerusalem.
"Saudi Arabia strongly condemns the Israeli occupation forces' gunfire against unarmed Palestinian civilians which has left dozens dead and wounded," said a Saudi Foreign Ministry spokesperson.
He further called on the international community to "take responsibility and put an end to the violence against the Palestinians", while stressing Riyadh's support for the "rights of the Palestinian people."
Qatar slams Israel's 'savage' actions
Qatari Foreign ministry spokeswoman Lulwah al-Khater strongly condemned "the massacre" of Palestinians.
Khater further called on the international community to take action and stop "the savage killings."
Syria decries 'brutal massacre'
"Syria condemns... the brutal massacre carried out by the Israeli occupation against unarmed Palestinian civilians," said Syrian Foreign Ministry official.
The official also condemned the "criminal and illegitimate" relocation of the US mission to Jerusalem al-Quds.
He also said the administration of US President Donald Trump bore "responsibility for the blood of Palestinian martyrs."
Protesters in across the globe of have gathered to express their solidarity with Palestinians following the relocation of the US embassy.
The United States officially opened its embassy to Israel in Jerusalem al-Quds on Monday, despite warnings from around the world that the measure risks triggering a fresh wave of violence in the Middle East.
Full report at:
http://www.presstv.com/Detail/2018/05/14/561740/kuwait-turkey-unsc-palestine
--------
India
Safdar Nagori, 17 SIMI cadres convicted in Kerala arms training case
May 14, 2018
A court here today convicted 18 people, including founder member of the banned Students Islamic Movement of India (SIMI) Safdar Nagori, for being members of a terrorist organisation in a case of organising arms training camp in Kerala in 2007. Special NIA court judge Kauser Edappagath convicted the 18 people under the Unlawful Activities Prevention Act, the Explosives Substances Act and Section 120-B (criminal conspiracy) of the Indian Penal Code (IPC), and acquitted 17 others in the case. The court will pronounce the quantum of punishment tomorrow.
The case was registered by Kerala Police against SIMI members for holding an arms training camp in December 2007 at Thangalpara in Wagamon. According to the charge sheet filed by the National Investigation Agency (NIA), the participants at the "secret training camp" had engaged in physical training, firing practice, training in explosives, motorcycle racing, rope climbing, besides classes on "jihad" in India.
The court rejected the NIA's charges against the accused under sections 122 (collecting arms with intention of waging war against the Government of India), 124-A (attempts to spread disaffection towards government) and 153-A (spread enmity between communities) of the IPC. Besides 48-year-old Nagori, the others convicted today are Saduli, P A Shibily, Mohammed Ansar and Abdul Sathar (all from Kerala); Hafeez Hussain, Mohammed Sami Bagevadi, Nadeem Sayeed, Dr H A Asadulla, Shakeel Ahammed and Mirza Ahmed Baig (Karnataka); Aamil Parwaz and Kamaruddin Nagori (Madhya Pradesh); Mufti Abul Bashar (Uttar Pradesh); Danish and Manzar Imam (Jharkhand); Mohammed Abu Faisal Khan (Maharashtra); and Alam Jeb Afridi (Gujarat).
While only two accused were produced today in the court, the others who are lodged in various jails in Ahmedabad, Bhopal and Bengaluru, attended the proceedings through video-conference. Nagori, who was the founder member of SIMI in India, is believed to have been radicalised after the Babri Masjid demolition in December 1992.
Son of a policeman in Madhya Pradesh, Nagori's name first surfaced in police records in 1998 for alleged anti-national activities. He continued playing 'hide and seek' game with the police till he was arrested in Madhya Pradesh in 2008. SIMI had been banned in 2001 as a terror organisation for being "suppliers" of cadres to terror groups such as Taliban, Lashkar-e-Taiba, Jaish-e-Mohammad and the Harkat ul-Jihad-e-Islami in carrying out activities in India and Afghanistan.
The case was originally registered at Mundakayam on June 21, 2008 and the probe was handed over to the NIA in January 2010. The first charge sheet was filed in 2011, followed by supplementary charge sheets in 2013 and 2015, against 38 people. Trial in the case commenced in January last year and 33 accused persons lodged in Ahmedabad, Delhi, Bhopal and Bengaluru prisons were produced through video-conference, while the remaining two accused were produced in person.
One charge-sheeted accused, Wasik Billa, a resident of Azamgarh in Uttar Prdesh, has been absconding, while another, Mehboob of Madhya Pradesh, was killed in an encounter in Bhopal in October, 2016. Another accused, Abdus Subhan Qureshi alias Tawqeer, a resident of Mumbai, was arrested in the case recently. The prosecution examined 77 witnesses through whom 252 documents and 43 material objects got exhibited, while the defence examined three witnesses during the trial.
https://www.financialexpress.com/india-news/safdar-nagori-17-simi-cadres-convicted-in-kerala-arms-training-case/1167215/
--------
18 Convicted For Running SIMI Arms Training Camp In Kerala In 2007
May 14, 2018
KOCHI: Eighteen people have been convicted for running an arms training camp of the banned Students Islamic Movement of India or SIMI in December 2007 in Kerala. Seventeen others have been acquitted. A special court of the National Investigation Agency will announce the sentencing tomorrow.
Special judge Kauser Edappagath found the convicts guilty under the Unlawful Activities Prevention Act, the Explosives Substances Act and the Indian Penal Code.
The NIA said the SIMI members were given arms training, including bomb-making at the camp in Kerala's Wagamon, 185 kilometres from state capital Thiruvananthapuram. The prosecution said the SIMI members met in Indore in November 2007 and decided to run training camps in some states.
Two of the convicts came to the court today, while the others who are in jails in Ahmedabad, Bhopal and Bengaluru attended the proceedings via video conference.
The NIA said the SIMI members organised training camps in Karnataka, Madhya Pradesh and Gujarat from December 10 to 12, 2007. One of the camps was the one in Kerala's Wagamon.
The NIA told the court that the convicts tried to learn battle skills in a training camp in order to wage a war against India.
In February last year, SIMI chief Safdar Hussain Nagori and 10 others were sentenced to life in a 2008 sedition case by a special court in Indore.
Full report at:
https://www.ndtv.com/india-news/18-convicted-for-running-simi-arms-training-camp-in-kerala-in-2007-1852065
--------
Clout waning, but Hizbul Mujahideen chief says he won't step down
May 15, 2018
ISLAMABAD/NEW DELHI: Hizbul Mujahideen boss Syed Salahuddin's clout within the terror outfit as well as with Pakistan's ISI was on the wane, Indian agencies claimed on Monday even as the terror chieftain denied any move to step down to pave the way for a new leader.
According to Indian agencies, Salahuddin, who was designated a "global terrorist" by the US in June last year, has been out of favour with the ISI for some time now. The Pakistani spy agency has reportedly sidelined him, scaled down funding to him and is not allowing him any fresh protest programmes in view of his inability to raise hardened terrorists, including suicide bombers.
The ISI instead has come to rely more on Lashkar-e-Taiba and Jaish-e-Mohammad to execute big terror strikes in J&K, and it is LeT chief Hafiz Mohammad Saeed who is really managing the proxy war in Kashmir.
An intelligence operative in New Delhi said that while Salahuddinhas been leading Hizbul Mujahideen, he may not really be the one in charge, with others taking on key roles in the largest Kashmiri militant outfit.
Amid reports that he may have already reconciled to a diminished role in Kashmir, Salahuddin on Monday denied any possibility of his stepping down and paving the way for others to take control of the terror organisation.
"This is fake news," said Salahuddin, 71, who also heads the United Jihad Council (UJC), a terrorist conglomerate. He claimed that "such myths were spread by Indian security agencies as part of their psychological operations".
Full report at:
https://timesofindia.indiatimes.com/india/clout-waning-but-hizbul-mujahideen-chief-says-he-wont-step-down/articleshow/64166577.cms
--------
Pakistan
'Sedition' complaints lodged against Nawaz
Mohammad Asghar
May 15, 2018
RAWALPINDI: Complaints have been lodged with the police against former prime minister Nawaz Sharif seeking the registration of a sedition case against him for comments he made about the Mumbai attacks in an interview.
Mohammad Ramzan, ameer Tehreek-i-Labaik Ya Rasool Allah and four other individuals lodged a complaint with the Gujar Khan police which says that the former prime minister's comment, given to a newspaper, was an act of treason.
A resident Chak Baili Khan, Raja Zafar Iqbal filed a similar complaint with the Civil Lines police in which he said that the former premier's statement has harmed Pakistan and has negatively impacted Pakistan's war against terrorism and the sacrifices made by the army.
A senior police official said that the complaints have been sent to legal experts for opinion.
https://www.dawn.com/news/1407787/sedition-complaints-lodged-against-nawaz
--------
Nawaz Sharif dismisses NSC statement, questions who is responsible for terrorism in Pakistan
MAY 15, 2018
ISLAMABAD: Ousted Prime Minister Nawaz Sharif dismissed today the National Security Committee's (NSC) statement on the remarks he made on the 2008 Mumbai Attacks.
Speaking to the media outside the accountability court that is hearing corruption cases against him, the former Premier expressed his disappointment over the NSC's statement, and said that it was essential the people question who brought the menace of terrorism to Pakistan's shores.
The PML-N leader also lamented the fact that Pakistan used to be a beautiful and peaceful country before terrorism ruptured the country's social fabric, and said that we must take to task those who brought Pakistan to its present predicament.
Nawaz also challenged his audience to name one country that was currently standing in solidarity with Pakistan. He also said that foreign nations held him in high esteem.
The ousted and beleaguered leader also touched upon the so-called 'Dawn leaks', claiming that similar charges were made in the NSC meeting back then, but these remarks were instead dismissed as a conspiracy and labelled as 'Dawn Leaks'.
The army had on Sunday 'suggested' to Prime Minister Shahid Khaqan Abbasi to call a meeting of the National Security Committee (NSC). The NSC met on Monday and categorically denied the remarks Nawaz Sharif made in an interview with Dawn newspaper.
The NSC labelled Nawaz's remarks 'contrary to reality' and instead claimed that the Indian government had hindered investigation into the 2008 attacks that killed 170 people in India's financial capital.
Nawaz Sharif had, in an earlier interview, insinuated that state elements within Pakistan were responsible for the 2008 attacks.
Speaking to Dawn, the former PM had said,
Full report at:
https://dailytimes.com.pk/240342/nawaz-sharif-dismisses-nsc-statement-questions-who-is-responsible-for-terrorism-in-pakistan/
--------
Pakistan calls Nawaz Sharif's Mumbai attacks remark 'incorrect, misleading'
May 14, 2018
Pakistan's top civil-military body on Monday condemned former prime minister Nawaz Sharif's remarks about the Mumbai attacks, describing them as "incorrect and misleading", but the Pakistan Muslim League-Nawaz leader insisted he had done nothing wrong.
Sharif's remarks, made during an interview with Dawn newspaper last week, triggered a row in his country as he pointed to a Pakistani hand in the 2008 attacks. He also appeared to suggest the military was meddling in politics and had a hand in his removal from office by the Supreme Court last year because he was trying to end support for anti-India terror groups.
A meeting of the National Security Committee (NSC), which Prime Minister Shahid Khaqan Abbasi convened at the nudging of the angry army, reviewed Sharif's comments on the Mumbai attacks and "unanimously termed this statement as incorrect and misleading", according to an official statement.
The NSC believed it was "very unfortunate that the opinion arising out of either misconceptions or grievances was being presented in disregard of concrete facts and realities" and "unanimously rejected the allegations and condemned the fallacious assertions", the statement added.
The meeting was attended by army chief General Qamar Bajwa, the two other service chiefs, ISI head Naveed Mukhtar and National Security Advisor Nasser Janjua.
This was a rare rebuke of Sharif by a government run by his PML-N party, reflecting the growing tension between the ousted premier and the military.
But Sharif stuck by his remarks on Monday while talking to reporters outside an anti-corruption court in Islamabad. "What did I say in the interview that was wrong?" he asked.
He rejected suggestions that the comments were falsely attributed to him and said he would continue to speak the truth. "Former president Pervez Musharraf, former interior minister Rehman Malik and former National Security Advisor Maj Gen Mahmud Durrani had already confirmed (what I said)," he said.
When Sharif was asked by a reporter about suggestions that India was reluctant to provide evidence in the Mumbai attacks case, he replied, "There is no shortage of evidence – there is plenty of evidence."
During the interview, Sharif had questioned the policy of using Pakistan-based terrorists for cross-border attacks on India. "Militant organisations are active. Call them non-state actors, should we allow them to cross the border and kill 150 people in Mumbai? Explain it to me. Why can't we complete the trial?" he had said. The statement was described by defence minister Nirmala Sitharaman on Sunday as "serious disclosure" that vindicated India's position on the Mumbai attacks.
Sharif had also said such a state of affairs is "absolutely unacceptable" and even Chinese President Xi Jinping and Russian President Vladimir Putin had said so.
Expressing disappointment at being labelled a traitor by some elements in Pakistan, Sharif said "Are those who tore apart the country and the Constitution patriots? Are those who pulled out judges from their offices patriots?"
The issue has also exposed rifts within the PML-N, with Sharif's younger brother, Punjab chief minister Shehbaz Sharif, saying on Sunday that the remarks were "incorrectly attributed" and didn't represent party policy.
Following the NSC meeting, Prime Minister Abbasi told a news conference in Islamabad that he had met Sharif and the former premier had told him he was "misquoted". Abassi also said Sharif told him his remarks were "misrepresented by Indian media".
Full report at:
https://www.hindustantimes.com/india-news/pakistan-calls-nawaz-sharif-s-mumbai-attacks-remark-false-misleading/story-gfifFpsVIk6xxBVH4hAYqL.html
--------
New framework for talks with Afghanistan becomes operational
May 15, 2018
ISLAMABAD: The new Pakistan-Afghanistan bilateral engagement framework — Afghanistan-Pakistan Action Plan for Peace and Solidarity (APAPPS) — became operational on Monday with both sides hoping that its implementation would contribute to promoting peace in the region.
"Both sides agreed that effective and full implementation of APAPPS would contribute towards the common objectives of eliminating terrorism and achieving peace, stability, prosperity and development of the people of the two countries," a statement jointly issued by the foreign ministries of Pakistan and Afghanistan said.
Earlier, the Foreign Office hosted a meeting of APAPPS. Foreign Secretary Tehmina Janjua led the Pakistani side at the meeting, whereas Afghan Deputy Foreign Minister Hekmat Khalil Karzai headed the Afghan delegation. It was the fourth meeting of APAPPS.
The two sides had consumed the earlier three rounds negotiating the contours of the framework, but an agreement remained elusive till Prime Minister Shahid Khaqan Abbasi visited Kabul last month and met Afghan President Ashraf Ghani.
The two leaders had on that occasion agreed on the new framework and tasked their foreign ministers and national security advisers with concluding the agreement.
The seven principles agreed between Pakistan and Afghanistan for the new framework for engagement included commitments that Pakistan would support the Afghan-led and Afghan-owned peace and reconciliation; the two countries would undertake effective actions against fugitives and the irreconcilable elements posing security threats to either of the two countries; both countries would deny use of their respective territory by any country, network, group or individuals for anti-state activities against either country; they would put in place a joint supervision, coordination and confirmation mechanism through liaison officers for realisation of the agreed actions; territorial and aerial violations of each other's territory would be avoided; there would be no public blame game and instead APAPPS cooperation mechanisms would be utilised to respond to mutual issues of contention and concerns; and working groups and necessary cooperation mechanism would be set up as per APAPPS.
Both sides have operationalised six working groups, including the ones on security and intelligence cooperation.
Full report at:
https://www.dawn.com/news/1407732/new-framework-for-talks-with-afghanistan-becomes-operational
--------
Protest against targeted killings continues in tribal areas
May 15, 2018
MIRAMSHAH: Residents of Mirali, the second biggest town in North Waziristan, continued their protest for the second day on Monday against surge in the incidents of targeted killings in the region.
Protesters on Sunday blocked the intersection in the centre of the town after three people, including the son of former MNA Maulana Muhammad Dindar, were killed in Mirali and Miramshah over the weekend.
Frequent attacks sparked unrest in the region where at least 10 people have been killed over the last one month. Not a single suspect has so far been arrested.
Witnesses said that announcements were made in Mirali and its surrounding villages through loudspeakers, asking people to take part in the protest. Residents said that around 3,000 people had blocked the intersection.
Full report at:
https://www.dawn.com/news/1407729/protest-against-targeted-killings-continues-in-tribal-areas
--------
'Pakistan stands in solidarity with the Palestinian cause': FO
MAY 15, 2018
ISLAMABAD: Pakistan Foreign Office (FO) on Monday issued a statement expressing solidarity to the Palestinian cause and its people.
The statement affirmed that Pakistan stood by its call for establishment of a viable, sovereign and contiguous State of Palestine that is in accordance with the internationally agreed parameters, the pre-1967 borders and with Al-Qudus as its Capital.
FO asserted that Pakistan was gravely concerned over United States (US) moving its Embassy to Jerusalem despite pressure from the International community to conform to United Nations General Assembly (UNGA) and UN Security Council's (SC) resolutions on two-State solution.
Pakistan affirmed this as a violation of International law and of the resolutions 476 and 478 of the SC.
FO further added that both Parliament and Senate had raised their voice against US's decision, and will remain adamant on their disapproval.
Resolution 476 of the UNSC was adopted by the SC on June 30, 1980 after a letter was sent from a Pakistani representative. The resolution contains and reaffirms that the acquisition of territory by force is inadmissible. It states that the specific status of Jerusalem and in particular the need for protection and preservation of the unique spiritual and religious dimension of the Holy Places in the city. The resolution reaffirmed the overriding necessity to end prolonged occupation of Arab territories occupied by Israel since 1967.
Full report at:
https://dailytimes.com.pk/240338/pakistan-stands-in-solidarity-with-the-palestinian-cause-fo/
--------
Pakistan expresses grave concern over shifting of US embassy to Jerusalem
May 15, 2018
Pakistan has noted with grave concern that despite calls by the international community to comply with UN General Assembly and Security Council resolutions on the two-state solution, the United States is moving its Embassy to Jerusalem, reported by Radio Pakistan.
A Foreign Office spokesperson, in a statement, said the move represents violation of international law and several United Nations Security Council resolutions, in particular resolutions No. 476 and 478.
The spokesman added that the government and people of Pakistan stand firmly with the Palestinian people.
He said that Pakistan also renews its call for establishment of a viable, independent and contiguous state of Palestine, on the basis of internationally agreed parameters, the pre-1967 borders, and with Jerusalem as its capital.
It may be recalled that both houses of the Parliament have already voiced their position on the US decision.
Meanwhile, in Gaza, at least fifty-five Palestinians have been martyred and over 2700 injured in clashes with Israeli troops in the wake of opening of US embassy in Jerusalem.
Full report at:
https://nation.com.pk/15-May-2018/pakistan-expresses-grave-concern-over-shifting-of-us-embassy-to-jerusalem
--------
Arab World
On Ramadan Eve, Islamic State and Al-Qaeda Threat Intensifies Outside Iraq, Syria
14 May 2018
Islamist terrorists' belief that the holiest month for Muslims, Ramadan, is a time when God especially rewards jihad has regularly prompted a spike in attacks that month and may do so again within the next 30 days, despite the devastating losses suffered by the Islamic State (ISIS/ISIL).
In the days leading up to the beginning of Ramadan, ISIS has particularly enhanced its barbaric activities in areas outside the group's former caliphate in Iraq and Syria.
"A series of terror attacks in [the] run-up to the beginning of Ramadan could portend a difficult month ahead for terror at home and abroad, as past years have seen escalated or remarkable acts of violence during the Islamic holy month," Homeland Security Today notes.
According to a Breitbart News tally, the number of casualties at the hands of jihadists last year reached 3,343 (1,639 deaths; 1,704 injuries), marking one of the bloodiest holy months in recent history.
Although the U.S.-led coalition and its local allies have annihilated ISIS's so-called caliphate in Iraq and Syria, the group has intensified attacks through its various branches outside its former bastion in the days leading up to the beginning of Ramadan for Muslims in the United States and Europe on sundown Tuesday.
Post-caliphate ISIS still operates or at the very least influences various components of its once formidable organization outside of Iraq and Syria.
Those groups have intensified attacks in the days leading up to Ramadan all the to the eve of the holy month.
ISIS has claimed responsibility for the recent deadly attacks in Indonesia, the world's most populous Muslim country, including one involving a family of five targeting a police headquarters on Monday, wounding at least ten on the eve of the holy month.
Over the weekend, alleged ISIS jihadists attacked three separate churches, killing about eight people.
Al-Qaeda and ISIS, among other jihadist groups, have rendered Ramadan synonymous with indiscriminate bloodshed, often involving women and children, a deed that has triggered the ire of various Islamic leaders.
Unlike previous years, however, the two terrorist groups have seemingly decided in 2018 against releasing explicit Ramadan messages calling on their members and supporters to intensify attacks.
This could be the result of the start of Ramadan coinciding with the opening of the U.S. Embassy in Jerusalem, a move that has already prompted al-Qaeda, ISIS, and other Islamic terrorist groups to issue threats of violence and urge their supporters and members to carry out attacks.
In a video message released Sunday, Al-Qaeda leader Ayman al-Zawahiri declared that U.S. President Donald Trump "was clear and explicit, and he revealed the true face of the modern crusade, where standing down and appeasement does not work with them, but only resistance through the call and jihad."
Echoing the Ramadan calls to arms in previous years, "Zawahiri reiterated his call and that of his groups to fight America," SITE Intelligence Groups noted, referring to the al-Qaeda leader's speech.
Early this month, al-Qaeda affiliate al-Shabaab in Somalia urged the Yemen-based al-Qaeda in the Arabian Peninsula (AQAP) to escalate attacks.
The group also released an audio message from its late leader Osama bin Laden calling on jihadists to travel to engage in jihad.
This month, ISIS has urged and at times justified attacks against European cities. It has also called on jihadists to target Russia, notably the upcoming Soccer World Cup.
More recently, ISIS issued a message trying to persuade jihadists in Kashmir—a Muslim-majority region claimed by China, its ally Pakistan, and their rival India—to carry out "lone-wolf" attacks against Hindus, police officers, and tourists.
The terrorist organization has also highlighted its violent activities in Libya, Afghanistan, Somalia, Nigeria, Niger, Caucuses region, and the most populous Muslim nation of Indonesia.
Acknowledging in early March that ISIS is "adapting" to its losses, the U.S. State Department acknowledged that the group is operating several branches outside Iraq and Syria.
State identified those branches as ISIS West Africa, ISIS Somalia, ISIS Egypt, ISIS Bangladesh, ISIS Philippines, the Maute Group in the Philippines, and Jund al-Khilafah in Tunisia.
During Ramadan, the majority of Muslims follow the tradition of abstaining from eating, drinking, smoking, having sex, and other physical needs each day, starting from before the break of dawn until sunset.
However, extremists perceive Ramadan as a time when martyrdom and jihad are especially rewarded in paradise, prompting a spike in the terrorist attacks during the period every year.
Islamic extremist groups encourage martyrdom among their sympathizers and followers, promoting the belief that God will reward them if they fatally castigate infidels during Ramadan.
http://www.breitbart.com/national-security/2018/05/14/on-ramadan-eve-post-caliphate-islamic-state-threat-intensifies-outside-iraq-syria/
--------
Saudi Arabia reiterates its commitment to stand with Palestinian people
14 May 2018
Saudi Arabia reiterated its commitment to stand with the Palestinian people to restore their legitimate rights.
An official source at the Saudi Ministry of Foreign Affairs strongly condemned the targeting of unarmed Palestinian civilians by the Israeli forces, resulting in dozens of deaths and injuries, reported Saudi Press Agency.
The source stressed the need for the international community to shoulder its responsibilities in order to stop the violence and protect the brotherly Palestinian people, reiterating the Kingdom's support of the Palestinian cause and supporting Palestinians in their quest to get their legitimate rights in accordance with the UN resolutions and the Arab peace initiative.
Gaza's Health Ministry says the number of Palestinian protesters killed by Israeli army fire near the Gaza border has risen to 52.
Monday's deaths bring to 90 the number of protesters killed since mass border protests against a decade-old blockade of the Hamas-ruled territory began in late March.
Full report at:
https://english.alarabiya.net/en/News/gulf/2018/05/14/Saudi-Arabia-reiterates-its-commitment-to-stand-with-Palestinian-people.html
--------
Saudi Minister of Islamic Affairs: Terrorism, Wilayet al-Faqih Regime Threaten Muslim Societies
14 May, 2018
Saudi Minister of Islamic Affairs, Call and Guidance Sheikh Saleh bin Abdulaziz bin Mohammed Al-Sheikh warned on Sunday that Iran's Wilayet al-Faqik regime is seeking to change the identities of Muslim Sunni societies throughout the Islamic world.
It wants to replace them with another identity and establish militias in every country, he told the 11th Executive Council of the conference of the Islamic Affairs and Endowments Ministers of the Islamic World held in Makkah.
The ministries of Islamic affairs in the Muslim world must exert a lot of efforts to confront ideology with ideology and cement the Sunni creed in Sunni societies, he urged.
Al-Sheikh said that societies should be vigilant to attempts by other creeds to infiltrate Sunni ranks.
In addition, he highlighted the threat of terrorism, "takfir" and violence in the Muslim world, whether in Saudi Arabia, Syria, Iraq, Egypt, Morocco or some African countries through organizations such as al-Qaeda, ISIS and Boko Haram.
He expressed optimism that the Executive Council meeting was "productive", noting that all gatherers had a sense of unity in facing a common threat.
"They agreed to work together to ensure that this religion remains pure and that it would not be infiltrated by any flawed thought that is aimed at tarnishing its image or veering Muslims off the right path," he stressed.
Egypt's Awqaf Minister Dr. Mohammed Mokhtar Jomaa emphasized the need for working on common factors during this "very difficult time."
"There is no doubt that the region is passing though a difficult phase and our nation is being targeted," he noted.
This war is taking on "numerous open and hidden forms," he warned.
He accused extremist groups, "that do not represent us, of usurping religious rhetoric. We must exert great efforts to instead project the correct image to the world."
Full report at:
https://aawsat.com/english/home/article/1267781/saudi-minister-islamic-affairs-terrorism-wilayet-al-faqih-regime-threaten
--------
Russia slams US for snubbing Syria peace talks in Astana
May 15, 2018
ASTANA - Russian chief negotiator Alexander Lavrentyev on Monday upbraided the United States for not sending a delegation to observe the latest round of Syria peace talks in Kazakhstan.
Negotiators from Iran, Russia and Turkey gathered in the Kazakh capital Astana on Monday hoping to make progress on a political settlement in Syria as tensions fan out across the region.
Briefing journalists after the first day of the talks spearheaded by Moscow, Lavrentyev criticised Washington's decision not to send observers after its delegations came to eight previous rounds of negotiations in Astana. "This time round the Americans, unfortunately, have decided not to support our international efforts," Lavrentyev said.
"We regret this and believe the path to political settlement can only be found at the negotiating table, not in efforts and scenarios worked out behind the back of the Syrian government and the international community," he said, without elaborating.
The two-day talks are the first time the three foreign powers most deeply involved in Syria's seven-year war have met together since Iran and Israel became embroiled in a spat over reported cross-border military strikes last week.
It is also the first meeting of the three sides since US President Donald Trump announced Washington's withdrawal from the Iran nuclear deal earlier this month in a move further complicating the regional picture. A Syrian rebel delegation was expected to arrive late on Monday ahead of Tuesday's plenary session, according to Kazakhstan's foreign ministry. The United Nations envoy on Syria Staffan de Mistura was also present at the talks. The multi-sided conflict that has killed more than 350,000 people took a new turn last week after Israel and Iran became embroiled in a dispute over reported cross-border strikes.
Israel claims it struck dozens of Iranian targets inside Syria on Thursday in response to a salvo of rockets fired by Iranian forces into the occupied Golan Heights.
Iranian foreign minister Mohammad Javad Zarif and Russian counterpart Sergei Lavrov held talks in Moscow on Monday.
Zarif said he was "seeking assurances" from the backers of the country's nuclear deal after the United States pulled out earlier this month triggering broad international condemnation and fresh fears for the region.
After the talks, Zarif praised the "excellent cooperation" between Moscow and Tehran and said Lavrov had promised him to "defend and keep the agreement" in comments reported by the Iranian ISNA news agency.
Iran's top diplomat had already visited Beijing and was later heading to Brussels as part of Tehran's bid to salvage the deal.
Since negotiations on Syria in Astana began at the beginning of last year, they have mostly focused on attempts to keep Syrian regime forces and their rebel opponents at arm's length.
But any limited achievements in reducing government-rebel hostilities were put into reverse gear in February when regime forces allied with Moscow and Tehran began a devastating assault on Eastern Ghouta, a suburb of Damascus that was under rebel control at the time.
On Friday, Syrian state media and The Syrian Observatory for Human Rights war monitor both said that the last rebel groups had exited towns close to the capital.
Full report at:
https://nation.com.pk/15-May-2018/russia-slams-us-for-snubbing-syria-peace-talks-in-astana
--------
Iraqi air force destroys ISIS command center in Syria: State TV
May 14, 2018
BAGHDAD: The Iraqi air force carried out a strike on an Islamic State (ISIS) position inside Syria, state television reported on Monday citing a military statement.
The strike, ordered by Prime Minister Haider al-Abadi, destroyed a building used as a command and logistics support center by the group, it said.
The Iraqi air force has already carried out several air strikes against Islamic State in Syria since last year, with the approval of the Syrian government of President Bashar al-Assad and the US-led coalition fighting Islamic State.
Abadi last month said he would "take all necessary measures if they threaten the security of Iraq," referring to the militants who just three years ago overran a third of Iraq.
The prime minister declared final victory over the ultra hardline group in December but it still poses a threat from pockets along the border with Syria and has continued to carry out ambushes, assassinations and bombings across Iraq.
Full report at:
https://nation.com.pk/14-May-2018/iraqi-air-force-destroys-isis-command-center-in-syria-state-tv
--------
New Financial Corruption of Terrorists' Commander Revealed in Eastern Ghouta
May 14, 2018
Sources affiliated to the terrorists reported on Monday that the so-called 'Governor-General Department Council' of Damascus, affiliated to Faylaq al-Rahman has recently written a letter after being transferred to Northern Syria, demanding the return of $242,000 and 783,000 Syrian Liras which had been given to Shamir.
They added that Shamir has claimed that the money has been spent on operations rooms and militants during the battles against the Syrian army, noting that the financial moves made by Faylaq al-Rahman commander have created differences among the militants. Terrorists have been engaged in internal differences over financial issues and stolen ancient antiques since moving from Eastern Ghouta of Damascus to Northern Syria.
In a relevant development earlier this month, media activists said after Aloush resigned from his post that he had stolen tens of millions of dollars from the terrorist group and run trade activities in Turkey.
Media activists affiliated to the dissident groups reported that Aloush had stolen a sum of $47mln from Jeish al-Islam before resignation and has purchased restaurants and commercial centers and businesses in Istanbul of Turkey and Jeddah in Saudi Arabia. Based on reports, Jeish al-Islam commanders had called on Aloush to return the huge amount of money which had been paid to the terrorist group early this year.
Aloush resigned from his post after Jeish al-Islam sustained heavy defeats in recent clashes with the Syrian army and lost its main stronghold in Eastern Ghouta.
Alloush resigned from his post without giving details.
Alloush said in a statement addressed to Jeish al-Islam leadership and individuals that he has been honored to serve them for years since the establishment of the group up to today, justifying his resignation due to his belief to make room for new energies.
Full report at:
http://en.farsnews.com/newstext.aspx?nn=13970224001016
--------
ISIL Command Base in Eastern Syria Destroyed in Iraqi Airstrikes
May 14, 2018
The statement said that the Iraqi fighter jets bombed and destroyed an ISIL command base in Dashisha region in Southern Hasaka.
The statement further said that the air raid was ordered by Commander-in-Chief of the Armed Forces Haydar al-Ebadi and coordinated by Joint Operation Command, adding that Iraqi F16 jets struck ISIL's base in Southern Hasaka, destroying it completely.
In the meantime, the chairman of the Iraqi Parliaments' Foreign Affairs Committee underlined growing coordination between the intelligence services of Iraq and Syria is recent months, saying the coordination and cooperation paves the ground for killing or capturing tens of ISIL commanders at joint borders.
Iraq's Security Media Center reported on Saturday that five senior ISIL commanders that once participated in occupation operation of the town of Mosul and other regions in al-Anbar province were arrested in the Iraqi troops' operation on Syria's soil near the border with Iraq.
The center further said that the Iraqi forces captured Ferat Velayat (province) security Commander Saddam Omar Yahya al-Jamal nom de guerre Abu Roqiyeh al-Ansari, al-Mayadeen emir (commander) Mohammad Hossen Hazar nom de guerre Abu Seif al-Sha'eiti, Osam Abdul Qadir Ashour al-Zobei nom de guerre Abu Abdul Haq Araghi, Intelligence Commander in Ferat Velayat and Commander in al-Mayadeen region Omar Shahab Hamad al-Karbouli and Ismayeel Alwan Salman nom de guerre Abu Zeid Araghi, an aide to al-Baghdadi in an operation in Syria.
The center further said that the Iraqi forces interrogated the ISIL commanders and discovered the venue a meeting of ISIL commanders.
The Iraqi Air Force later pounded the meeting, killing nearly 40 terrorist commanders.
Full report at:
http://en.farsnews.com/newstext.aspx?nn=13970224000913
--------
Doha to continue support for unity, stability in Somalia: Qatari emir
May 15, 2018
Qatar has pledged to continue support for the stability and sovereignty of Somalia amid heightened tensions between the East African country and the United Arab Emirates (UAE), a party to the Saudi-led quartet of Doha's boycotters.
Qatari Emir Sheikh Tamim bin Hamad al-Thani, who held talks Monday with visiting Somali President Mohammad Abdullahi, said the relationship between Doha and Mogadishu were based on "brotherhood and mutual respect."
"Qatar will continue to support the unity, stability, sovereignty and well-being of the people of Somalia," Sheikh Tamim said in a tweet following the meeting.
Earlier this month, a Qatari official told Reuters that Doha had provided $385 million in infrastructure, education and humanitarian aid to the Somali government.
The Monday meeting, which is the third in less than a year, comes at a particularly sensitive time when Mogadishu abandoned a military deal with Abu Dhabi and seized millions of dollars from an Emirati plane.
Last month, an Emirati plane was grounded in the African country for several hours after UAE officials refused to allow the search of suspicious luggage.
Emirati military trainers were held for hours at Bosaso International Airport in Somalia's semi-autonomous region of Puntland, as they refused to allow security forces to check their suspiciously "heavy" luggage.
In an earlier incident, the Somali federal government had confiscated nearly 10 million dollars from a UAE Royal Jet at the Mogadishu International Airport.
Following the incident the UAE ended its military training program in Somalia, which started in 2014.
Tensions between Somalia and the UAE emerged in March after the Dubai-based DP World granted a 19-percent stake to Ethiopia in the Berbera port in breakaway Somaliland, which Somalia has not recognized as independent.
Under that deal, the UAE builds a military base in Berbera Port and trains the soldiers of the breakaway Somali region.
Mogadishu censured the agreement as a violation of international law.
Somalia's internationally-backed government is reportedly planning to file a legal complaint against the UAE for setting up the military base.
Somaliland is located along the strategic Bab al-Mandab Strait across from Yemen, where the UAE has been waging a devastating war as part of a Saudi-led coalition.
Relations between Somalia and the UAE first soured last year when Mogadishu refused to take sides with the Saudi regime and the UAE in their diplomatic dispute with Qatar.
Last June, Saudi Arabia, Egypt, Bahrain, and the United Arab Emirates abruptly cut diplomatic ties with Qatar and imposed an economic embargo on the country, accusing it of supporting terrorism, a claim Doha strongly rejected.
Full report at:
http://www.presstv.com/Detail/2018/05/15/561764/Qatar-EmirSheikh-Tamim-bin-Hamad-alThani-Somali-President-Mohammad-Abdullahi-UAE
--------
Africa
Jews and Muslims celebrate unusual coexistence in Tunisia's Djerba
MAY 14, 2018
DJERBA, Tunisia (Reuters) - Cyrine Ben Said, a Tunisian Muslim, carried candles and wrote her hopes for the future on an egg in religious ceremony at a synagogue on the southern island of Djerba.
She wanted to share the rituals with her Jewish friends because, for her, Tunisia is a country of tolerance, coexistence and freedom of belief.
"I'm here to share rituals with my Jewish friends in new Tunisia of tolerance, coexistence and freedom of belief ... Every one has his religion, but we have many common points; the flag, love and peace," Ben Said said.
Tunisia is home to one of North Africa's largest Jewish communities. Jews have lived in Tunisia since Roman times, and the community once numbered 100,000.
But fear, poverty and discrimination prompted several waves of emigration after the creation of Israel in 1948. Many left after the 1967 Arab-Israeli war, most going to France or Israel.
They now number about 2,000, with more than 1,200 in Djerba.
Ben Said is one of dozens of Muslims who participated in the Jewish religious ceremonies in the oldest synagogue in Africa, Ghriba, during an annual celebration held this month. The eggs, covered in people's ambitions for love and prosperity, are stored in a cellar.
The event is a powerful sign of mutual tolerance in Djerba, where the two communities have long coexisted.
"The Jews and the Muslims of Djerba are all Tunisian citizens, so there is no difference between us," said Perez Trabelsi, a Jewish community leader. He added that despite their small number Jewish people have a strong presence in economic life, including tourism, restaurants and the jewellery trade.
"NO DIFFERENCE"
Each year, Muslim religious leaders and politicians from the Mufti to the head of the government take the chance to go to Ghriba to promote the message of interreligious tolerance.
"This is a peaceful island that embraces its Jews and Muslims in harmony, giving a message to the world that we must abandon hatred and hostility," said Tunisian Imam Hassen Chalghoumi, as he shook hands with one of the rabbis.
Ghriba synagogue was hit by an al Qaeda truck bombing in 2002 that killed 21 people, most of them German visitors.
At the entrance to the synagogue, a young Muslim, Makrem Gaagaa, welcomes visitors with a broad smile and presents headscarves to those who need one.
"It's my job and my livelihood," he said. "My relationship with everyone who visits this place is good, they have their religion and I have my religion," added the guard, who has worked in the synagogue since seven years.
Most Jews in Djerba live in Hara Kbira neighbourhood, their homes next to Muslim homes, where they exchange visits and gifts at religious events and weddings.
"Here, there is no difference between Jews and a Muslims," says Jewish resident Georgina, who gave only her first name. "We are good neighbours, some of them we visit all the time. They offer us food, and we give them food, too."
Despite the peaceful atmosphere, security is still tight. This year, during protests against government austerity measures in January, assailants threw petrol bombs at a small synagogue in Djerba, causing shock but no casualties.
In Djerba's old medina, Jewish tailor Mgissis Chabeh has worked for four decades sewing "jebba", a traditional Muslim dress.
"All my customers are Muslims and they love my work," 70-year-old Chabeh said from behind his sewing machine, in between jokes with a Muslim gold trader friend.
The old medina in Djerba is full of jewellery shops, most of which are run by Jews who have controlled the trade in Djerba for decades.
Nearby, a popular Jewish restaurant has a sign written in Arabic and Hebrew.
"In the old city there are many Jews," said Jewish chef Gabriel Yahich. "We cook meals for them that are compatible with the Jewish religion, but we also offer traditional meals accepted by the Muslims."
"For me the important thing is that trade is good, the rest is details."
https://af.reuters.com/article/topNews/idAFKCN1IF1JU-OZATP
--------
Muslim scholars distance themselves from anti-Shia online 'list'
2018-05-14
The Council of Muslim Theologians (Jamiatul Ulama South Africa) distanced itself from a discriminatory online list on how to identify a Shia Muslim, after the link was circulated on WhatsApp and other social media.
The list was published in January this year, but has seemingly resurfaced after an attack on a Shia mosque in Verulam last week. One person died and two others were injured when three knife-wielding men targeted the Imam Hussain Mosque, just outside Durban.
A section of the building was also set alight.
On Sunday, a bomb-like device was found in the same mosque under the Moulana's seat.
"That is not our website," said Ebrahim Bham, Jamiatul Ulama South Africa secretary general, on Monday.
"There is another organisation claiming the same name."
The list found on a website identified as Jamiatul Ulama Gauteng gives a number of physical and other attributes that would assist a Sunni Muslim in identifying a Shia Muslim. The majority of South African Muslims are Sunni Muslim.
The list includes attributes like the length of a beard or the manner in which Shia women wear their headscarves.
"When walking in the street, or in public places, it's becoming increasingly important to become vigilant as to who may be a Shi'ah, and who may be not. Here are some general guidelines (sic)" it started.
But Bham said the organisation and the page had nothing to do with them.
"Our official website and its aliases are namely: www.islamsa.org.za, www.jamiat.co.za and www.jmtsa.co.za," he said.
"There is no such article under these web addresses that belong to the Jamiatul Ulama South Africa, headquartered in Fordsburg (Johannesburg)."
He said the other organisation was "causing us quite a headache".
He forwarded a statement from the United Ulama Council of SA (UUCSA), condemning last week's attack.
In it, UUCSA general secretary Yusuf Patel states: "We condemn these unjustified acts of violence, which foster nothing but tension, mistrust and insecurity within communities."
Activist Imraahn Mukkadam told News24 that he was horrified by the "list" doing the rounds, following last Thursday's fatal attack which left Abbas Essop dead.
Ali Nchiyane, the imam of the mosque, survived the knife attack, as did the mosque's caretaker Mohammed Ali.
The library and holy books were burnt, but nothing was stolen. The Hawks are investigating and said they were looking into "elements of extremism".
'Third force'
Mukaddam said the "list", and similar anti-Shia sentiments expressed by some, needed to be dealt with quickly as the ripples of global politics were felt in South Africa.
"Unless somebody makes a statement, everybody becomes complicit with anti-Shia rhetoric.
"I cannot go around and say that 'all Jews are going to hell'. I cannot do that. Similarly, I can't say that they (Shia) are not Muslim if they proclaim themselves to be," he said.
He would not rule out a "third force" trying to divide Muslims, and called on the Muslim Judicial Council to step in.
After seeing the shared post, the MJC said: "We CANNOT endorse and therefore distance ourselves from the statement posted on their website entitled 'How to identify a Shia in the street'.
"We will continue to promote tolerance and respect for all sects and religions in our beautiful South Africa."
The MJC said it was not affiliated to the Jamiatul Ulema Gauteng in any way.
Full report at:
https://www.news24.com/SouthAfrica/News/muslim-scholars-distance-themselves-from-anti-shia-online-list-20180514
--------
Libya to return bodies of 20 beheaded Egyptians
May 14, 2018
MISRATA, LIBYA: Libya will return to Egypt today the bodies of 20 Egyptian Christians killed in 2015 by Islamic State in its former Libyan stronghold of Sirte, a Libyan security official said.
The bodies were recovered in October after the area where they were buried was recaptured from the jihadist group.
The Coptic Christians were beheaded on a beach in February 2015 wearing orange jumpsuits, according to a video posted by ISIS.
Their bodies will be flown from the western city of Misrata to Egypt, a Libyan official said, adding that one victim was from Ghana.
Full report at:
https://nation.com.pk/14-May-2018/libya-to-return-bodies-of-20-beheaded-egyptians
--------
Libyan coast guards rescue 180 migrants off Tripoli
14 May 2018
Libyan coast guards rescued 180 undocumented migrants, including 15 women and 7 children, on Sunday off the coast of eastern Tripoli, local authorities said.
According to a statement issued by the Libyan coast guard, the migrants were located 36 miles from the east of the capital Tripoli.
Egyptian, Syrian and African migrants were found in an inflatable boat, the statement added.
According to the Libyan Navy, 16,000 undocumented migrants were rescued in 2017.
Ever since the collapse of the central authority in Libya in 2011, the country's northwestern coast has become a hub for illegal migration to Italy and other countries in Europe.
Full report at:
http://www.worldbulletin.net/africa/202034/libyan-coast-guards-rescue-180-migrants-off-tripoli
--------
South Africa: President Cyril Ramaphosa Wishes the Muslim Community Well During Month of Ramadan
13 MAY 2018
President Cyril Ramaphosa wishes South Africa's Muslim community well during the Holy Month of Ramadan which commences this week.
"The importance and benefits of this Holy Month of fasting, piety and charity extends beyond the lives of Muslims, as it contributes to the spiritual and social wellbeing of all South Africans," said President Ramaphosa.
"This is a month that allows all of us to reflect on - and act on - the small, thoughtful things we can do to contribute to a better society."
President Ramaphosa's thoughts particularly go out to the Muslim community of Verulam, KwaZulu-Natal, who suffered violence and tragedy in a place of worship several days ago.
Full report at:
http://allafrica.com/stories/201805140864.html
--------
Somalia: Al-Shabaab Displays Military Official Defected From Jubbaland Army
14 MAY 2018
Al-Shabaab has paraded a senior military commander it said defected from Jubbaland army in its stronghold town of Jilib in Middle Jubba region.
The commander, Hassan Khaire Hussein, is said to have deserted from the Jubbaland and joined the Al-Qaeda-linked group which tries to topple the UN-backed Federal government.
Speaking to pro-militants' media outlet, Hussein said he left the regional forces based in Bula-Gadud village, located on the outskirts of the southern port city of Kismayo.
Al-Shabab has released photos of the defector armed with an AK-47 rifle and clad in military fatigue standing along with other soldiers in Jilib town.
Full report at:
http://allafrica.com/stories/201805140593.html
--------
Kenya Issues Terror Alert After Al-Shabaab Operative Sneaks From Somalia
11 MAY 2018
Kenya Police is on a manhunt for a suspected Alshabaab militant said to have sneaked into the East African country to execute terror attacks.
The Alshabaab operative has been identified as Anthony Mbele Munyasya aka Abdalla.
Munyasya is said to be armed and dangerous.
The Kenyan police on Tuesday issued a terror alert urging Kenyans to remain extra vigilant ahead of Muslims' holy month of Ramadan that begins on May 15.
Full report at:
http://allafrica.com/stories/201805140681.html
--------
Europe
Corbyn urges UK action against Israeli slaughter of Palestinians
May 15, 2018
UK Labour Party leader Jeremy Corbyn has urged the government of Prime Minister Theresa may to take action against Israel's "slaughter" of Palestinian anti-occupation protesters in Gaza.
"Today's killing of dozens of unarmed protesters and the wounding of many more by Israeli forces in Gaza is an outrage that demands not just international condemnation, but action to hold those responsible to account," Corbyn said in a Facebook statement on Monday.
"This slaughter follows weeks of killings of Palestinian civilians demonstrating for their right to return, most of whom are refugees or the families of refugees," Corbyn said.
The remarks came after Israeli military forces opened fire on thousands of Gazans, who had gathered on the border with Israel to protest the opening of a new US embassy in Jerusalem al-Quds.
The violence saw Israeli troops kill 59 people and injure over 2,700 more by targeting them indiscriminately.
Protests in the coastal strip started as the "Great March of Return" in late March and have been regularly held over the past seven Fridays. The rallies will culminate on the 70th anniversary of the Nakba Day (Day of Catastrophe), which marks the creation of Israel on May 14, 1948.
"The response from many western governments to this flagrant illegality, including our own - which bears a particular responsibility for a peaceful and just resolution of the Israel-Palestine conflict - has been wholly inadequate," Corbyn said.
He said London should address Israel's "multiple abuses of human and political rights Palestinians face on a daily basis, the 11-year siege of Gaza, the continuing 50-year occupation of Palestinian territory and the ongoing expansion of illegal settlements.
"We cannot turn a blind eye to such wanton disregard for international law," he continued.
Corbyn also pledged to review Britain's arms sales to Israel once he becomes prime minister.
Trump's decision to move the US diplomatic mission to the ancient city has been met with outrage among Palestinians, who deem Jerusalem al-Quds as the future capital of a Palestinian state.
The opening ceremony, held amid tightened security measures, was attended by Trump's daughter, Ivanka, and his son-in-law, Jared Kushner. Trump addressed the event in a video message.
http://www.presstv.com/Detail/2018/05/15/561767/UK-Israel-Gaza-embassy-US-trump-Corbyn
--------
Vatican and Jordanian institute underscore dignity of human life
By Robin Gomes
May 15, 2018
The Vatican and a Jordanian institute dedicated to inter-faith studies have issued a statement urging for the protection of and respect for human life, especially that of migrants, refugees and victims of human trafficking.
The call came from the delegates of the Royal Institute for Inter-Faith Studies (RIIFS) and the Vatican's Pontifical Council for Interreligious Dialogue (PCID), who held their fifth colloquium in the Jordanian capital Amman, May 9–10, on the theme, "Religions and the Dignity of Life: Christian and Muslim Viewpoints".
At the end of their meeting, the participants issued a joint declaration stating that "life is God's gift to all members of the one human family; therefore, it should be protected from its conception to its natural end."
The colloquium also underscored that the human being is the apex of creation, endowed with dignity, rights and duties, hence each deserves respect, love and all means necessary for a dignified life.
RIIFS and PCID said "migrants, refugees and victims of human trafficking deserve special attention and care, to have their life and dignity safeguarded, taking into account the anthropological meaning of suffering."
The meeting also urged that young people be educated to "respect creation and the dignity of life," taking into account the negative phenomena in our societies.
Full report at:
https://www.vaticannews.va/en/vatican-city/news/2018-05/vatican-interreligious-jordan-institute-human-life-dignity.html
--------
UK says has no plans to move Israel embassy to Jerusalem al-Quds
May 14, 2018
The UK government says Britain has no plans to move its embassy from Tel Aviv to Jerusalem al-Quds and still disagrees with the US decision to do so.
"The PM said in December when the announcement was first made that we disagree with the US decision to move its embassy to Jerusalem and recognize Jerusalem as the Israeli capital before a final status agreement," Prime Minister Theresa May's spokesman said on Monday.
"The British embassy to Israel is based in Tel Aviv and we have no plans to move it," the spokesman told reporters.
He was speaking on a day when Washington opened its embassy in Jerusalem al-Quds, a controversial move that has already led to the death of dozens of Palestinians and is guaranteed to stir more violence in the occupied Palestinian lands.
An American delegation including White House officials and major Republican Party donors officially opened the American Embassy in the holy city on Monday.
Most foreign envoys to Tel Aviv were absent from the reception hosted by Israeli Prime Minister Benjamin Netanyahu.
Israeli troops opened fire on Palestinians who gathered near a Gaza fence for the climax of a six-week demonstration coinciding with the inauguration of the US embassy.
Israeli troops have killed 45 Palestinians since the demonstrations began on March 30, according to Palestinian health officials, while no Israeli casualties have been reported.
The death toll has drawn international criticism, but the United States which has angered Muslims with its embassy move, has supported Israel.
The rallies known as the "Great March of Return" are due to climax on Tuesday, the 70th anniversary of Nakba Day (Day of Catastrophe) when Israel was created.
Every year on May 15, Palestinians all over the world hold demonstrations to commemorate the day, which marks the anniversary of the forcible Israeli eviction of hundreds of thousands of Palestinians from their homeland in 1948.
The occupied territories have witnessed new tensions ever since US President Donald Trump announced on December 6 Washington's recognition of Jerusalem al-Quds as Israel's so-called capital.
Trump also said he would relocate the US embassy from Tel Aviv to Jerusalem al-Quds.
Full report at:
http://www.presstv.com/Detail/2018/05/14/561705/UK-Israel-Palestine-embassy-Prime-Minister-Theresa-May
--------
Macron phones leaders of Palestine, Jordan over Gaza
15 May 2018
French President Emanuel Macron spoke with Palestinian leader Mahmoud Abbas and King Abdullah of Jordan over the phone late Monday, according to the Elysee Palace.
The three leaders discussed the Israeli attacks against Palestinians in Gaza and the relocation of the U.S. embassy to Jerusalem. Macron reiterated his opposition to the relocation and condemned the violence by Israeli armed forces against Palestinian demonstrators, calling on all parties to ease tensions in the region.
Macron is planning to talk with Israeli Prime Minister Benjamin Netanyahu on Tuesday, the statement said.
More than 50 Palestinians were martyred by Israeli army gunfire Monday and thousands more injured during anti-occupation rallies along the Gaza Strip's eastern border, according to the Palestinian Health Ministry.
Thousands of Palestinians demonstrated along the Gaza Strip's eastern border Monday, which coincided with the 70th anniversary of Israel's establishment in 1948 -- an event Palestinians refer to as the "Nakba" or "the Catastrophe".
Since the border rallies began on March 30, more than 90 Palestinian demonstrators have been killed by cross-border Israeli gunfire, according to the Health Ministry.
Full report at:
http://www.worldbulletin.net/europe/202067/macron-phones-leaders-of-palestine-jordan-over-gaza
--------
Turkey bans French studies after anti-Islam manifesto
May 14, 2018
Turkey has taken retaliatory action over an anti-Islam manifesto published last month by 300 French figures calling for parts of the Qur'an, the holy book of Muslims, to be removed.
Turkey's Higher Education Board decided that Turkish universities no longer admit new students to their French language departments, media reports said on Monday.
Emrullah Isler, the chairman of the Committee on National Education, Culture, Youth, and Sport at the Turkish Parliament, told Al Jazeera that the body had taken the decision in response to the manifesto.
The other factor driving the decision, he said, was that France's universities did not have any departments teaching "Turkology," while there were many offering French studies in Turkey.
On Tuesday, Turkey's President Recep Tayyip Erdogan strongly denounced the manifesto which demanded that "Muslim authorities … strike with obsolescence" verses in the Qur'an, because they were allegedly calling for "the murder and punishment of Jews, Christians, and non-believers."
The statement's signatories include former president Nicolas Sarkozy, three former premiers, and several lawmakers.
"Who are you to attack our scriptures? We know how vile you are," Erdogan said.
"Have they ever read their books, the Bible? Or the Torah?" he asked, referring to the Christian and Jewish holy books. "If they had read them, they probably would want to ban the Bible."
"You are no different than ISIL (Daesh)," Erdogan added.
Full report at:
http://www.presstv.com/Detail/2018/05/14/561663/Turkey-France-Islam-Quran-manifesto-Erdogan
--------
North America
Restiveness prevails in Islamic world ahead of controversial opening of US embassy in Jerusalem
May 14, 2018
Tel Aviv: Deep anger and restiveness prevail in the Islamic world, as the US is going to inaugurate its embassy in Jerusalem today. Keeping in view the restiveness in the Islamic world especially in the Middle East against the move of US, American marine forces have been sent to the US embassies in the Muslim countries for their security. CNN has reported the day before that in the wake of the inauguration of US embassy in Jerusalem the marine forces have been sent to various Muslim countries.
Meanwhile, the controversial opening of the US embassy in Jerusalem has infuriated Palestinians. Seeing it as clear US backing for Israeli rule over the whole city, Gaza's Islamist rulers, Hamas, have led mass protests in a "Great March of Return" for the past six weeks. More than 50 Palestinians have been killed since the protests began. Thousands more have been wounded.
According to sources, the event will be attended by top US officials, besides President Donald Trump's daughter and her husband.
https://www.siasat.com/news/restiveness-prevails-islamic-world-ahead-controversial-opening-us-embassy-jerusalem-1355039/
--------
Ex-FBI agent caught teaching police Islamophobic ideas
May 15, 2018
An Islamophobic former FBI agent, who provides counterterrorism training to members of US law enforcement, has been secretly filmed telling police officers that Muslim students at American universities pose a threat of "jihad" and that a prominent civil rights group is a front for "terrorist" organisations.
During the training event, John Guandolo - a conspiracy theorist who has stated publicly that Muslim Americans should not have the same rights as other citizens - also told our reporter that he was in direct and regular contact with Attorney General Jeff Sessions.
As he was being secretly filmed in Maricopa County, Arizona, Guandolo said: "I was speaking three or four times a week with Jeff Sessions up to the election and after the election, before the inauguration.
"And I said, 'Sir, you gotta give me three or four hours.'
"[He said,] 'John, I know.'
"I said, "Because what's going to happen is as soon as you go into [the Department of Justice], you're going to be in a tornado,'."
Sessions serves under US President Donald Trump, who himself has been criticised for stoking anti-Muslim sentiment.
Guandolo's claim demonstrates how the Islamophobia network - a well-funded circle of organisations and individuals propagating anti-Muslim racism - has reached its tentacles into the halls of power in Washington, DC.
Al Jazeera tracked the movement over the past year as part of its latest investigation, "Islamophobia Inc".
Guandolo resigned from the FBI in 2008 when he faced an investigation into his professional conduct.
During his lecture, he proposed several theories, including a claim that Muslim student associations in Arizona were "recruiting" people to "jihad".
He said the Council for American Islamic Relations (CAIR) was a "front for the Muslim Brotherhood", and compared the Muslim advocacy and civil rights group to Hamas, the Palestinian party designated by the US as a "terrorist" organisation.
"This is just a rhetoric of fear," said Rick Schwein, a former FBI agent. "These organisations have a right to exist; they're a part of America's fabric.
"To say that all of these organisations are the enemy, which is what he's inferring here, is just ludicrous. What he's advocating is dangerous."
Guandolo's team also used execution videos by ISIL fighters to explain the concept of Islamic law to police officers.
"He is a snake oil salesman, this stuff is toxic," said Congressman Keith Ellison. "You don't want a law enforcement community infected with these hateful ideas because they do have the power to deploy deadly force."
Guandolo refused Al Jazeera's request for comment.
Funding hate
Rising Islamophobia in the United States comes as the number of anti-Muslim groups in the country has tripled over the past three years, according to the Southern Poverty Law Center.
Islamophobia Inc enjoys multimillion-dollar funding, and Al Jazeera has traced the secretive donors who bankroll the movement.
In financial documents seen by Al Jazeera, millions of dollars were provided by anonymous donor funds. So-called dark money is given to these groups by front organisations, while the real donor remains hidden.
"Anti Muslim groups have budgets that range from hundreds of thousands up to millions of dollars a year. There's probably tens of millions of dollars sloshing around if not a hundred million every year in budgets that they operate with," said Eli Clifton, a fellow at the Nation Institute.
One of the largest Islamophobic groups, which says it works to protect "national security", is ACT for America. Launched in 2007 by Brigitte Gabriel, it claims to have more than 750,000 members.
Internal documents reveal that ACT encourages its followers to spy on Muslims by monitoring their local mosques and taking courses in Middle East studies at universities because the department has "a real likelihood of being funded by the Saudis and will have professors who are generally pro-Sharia, anti-America and anti-Israel".
Another group, the Centre for Security Policy, has powerful allies in Washington, DC, and is run by Frank Gaffney, a former member of President Ronald Reagan's administration.
Pamela Geller and Robert Spencer, meanwhile, lead two of the most popular websites that characterise Muslims as a threat, Geller Report and Jihad Watch respectively.
"The Islamophobia industry is a tight-knit group of individuals and organisations that, for lots of money, whip up fervour among the general public about the fear of Islam," said Nathan Lean, author of The Islamophobia Industry: How the Right Manufactures Fear of Muslims.
Most of the donors shared a common association. Almost 80 percent had vocally or financially supported causes that promote the state of Israel.
Further insight into donors' motives was found in leaked financial records from the conservative Lynde and Harry Bradley Foundation, revealing a request for funding from an anti-Muslim group.
The money, the document said, would be used to combat the Muslim Student Association, a non-profit organisation.
In response, the Bradley Foundation said it supports "a diverse array of projects and organisations that are aligned with our mission to restore, strengthen and protect the principles of freedom".
The remaining donor groups that responded to Al Jazeera - Jewish community of San Francisco, Jewish United Fund of Metropolitan Chicago and Donors Trust/Donors Capital fund - said they were simply doing what the anonymous benefactors wanted.
"It's extremely upsetting that a Jewish organisation would be funding and funnelling money to these organisations that are promoting Islamophobia," said Rebecca Vilkomerson, head of the Jewish Voice for Peace organisation. "Most of us who are Jewish have an awareness of the past and the scapegoating that Jewish people have experienced."
Much of Islamophobia Inc's manipulation is carried out online.
Addressing thousands of followers, the group plays on irrational fears, such as the threat of Islamic law overtaking the US legal system.
"The donors are enormously important to the messaging of the Islamophobia network, with the rise of social media," said Clifton.
"When you see organisations like Donor's Trust, like the Bradley Foundation… giving money to members of what is fundamentally a fringe anti-Muslim movement that means that's we're seeing a shift of the mainstream Republican party to the right.
Full report at:
https://www.aljazeera.com/news/2018/05/fbi-agent-caught-teaching-police-islamophobic-ideas-180513112255789.html
--------
Head of U.S. House delegation praises Trump's 'courage,' says embassy move will bring stability
May 14, 2018
A delegation of U.S. lawmakers celebrating the opening of the U.S. Embassy in Jerusalem on Monday praised President Trump's "courageous decision" to recognize the city as Israel's capital, saying it will promote stability even if many in the Mideast are angered by the development.
"This is providing the legitimacy of the State of Israel," Rep. Joe Wilson, who's heading a group of 12 Republican members of the House that will attend the embassy's official dedication Monday, told The Washington Times in a telephone interview from Jerusalem.
"It's so important that any country be able to determine its capital," the South Carolina Republican said. "There's no question there are people around the world who question Israel's legitimacy, but that's now been resolved due to the courage I believe of President Donald Trump."
"To me, this actually reduces the level of chaos, which sadly exists today in the Middle East," he added. "With the absolute integrity of the State of Israel being resolved now, other issues, whether in Syria, Iraq or Iran, can be addressed independently."
Mr. Trump announced the decision in December to recognize Jerusalem as Israel's capital and move the U.S. embassy there from Tel Aviv. The development triggered a joyous reaction from the nationalist government of Israeli Prime Minister Benjamin Netanyahu.
But it also sparked widespread protests around the Middle East and infuriated some of the region's most prominent Muslim leaders. It particularly outraged Palestinians, who claim Israeli-annexed East Jerusalem as their own capital. Palestinian President Mahmoud Abbas responded by halting ties with the Trump administration and declaring the United States unfit to remain in its role as the sole mediator in peace talks.
Previous U.S. presidents — both Democrat and Republican — as well as nearly every other nation in the world, have refrained from opening embassies in Jerusalem since Israel's establishment in 1948, arguing the city's status should first be resolved through Israeli-Palestinian negotiations.
Mr. Wilson told The Times on Monday morning that controversy surrounding the embassy move is contrasted by a swell of pride and support for America and Mr. Trump among Israelis, particularly in Jerusalem, which is home to sensitive Jewish, Christian and Muslim holy sites.
"There are posters everywhere around the city recognizing President Trump as 'making Israel great again,' " the congressman said. "It's exhilarating to be here and so uplifting to be in a nation that so appreciates America and President Trump."
The House delegation had a roughly hourlong meeting with Mr. Netanyahu and has been hosted by other Israeli officials ahead of the embassy dedication. A separate group of four U.S. Senators, headed by Lindsay Graham, South Carolina Republican, is also in Jerusalem for the festivities.
Sen. Ted Cruz, who's part of the Senate delegation, told The Associated Press that Mr. Trump's recognition of Jerusalem will go down in history as a moment akin to President Harry Truman recognizing Israel when it was established 70 years ago.
Calling it "the right decision," Mr. Cruz also praised a small number of other nations, including Guatemala and Paraguay, who've followed suit with plans to move their own embassies to Jerusalem from Tel Aviv, where most of the international embassies in Israel are located.
But acrimony over the development hangs heavy in the backdrop. The Associated Press reported that dozens of countries — including Britain, France and Germany — skipped an opening party for the U.S. Embassy dedication held by the Israeli Foreign Ministry on Sunday night.
The party, along with Monday's dedication come even as Israel has bolstered its forces along the border with Palestinian-controlled Gaza and in the West Bank in anticipation of mass Palestinian protests.
Mr. Trump's daughter Ivanka and her husband Jared Kushner, both of whom are Jewish, attended the foreign ministry party Sunday night along with other American VIPs. A smiling Mr. Netanyahu praised Trump's "bold decision," telling the jubilant crowd, "it's the right thing to do."
Mr. Wilson echoed the message in his interview with The Times.
"So Israel, a nation with a 3,300-year history now has the recognition of its capital officially," the congressman said. "The key thing is that the U.S., with the leadership of President Trump, has truly made permanent the State of Israel."
"This is good for America because it will enhance the security of Israel, which enhances the security of the American people," Mr. Wilson said.
Full report at:
https://www.washingtontimes.com/news/2018/may/14/joe-wilson-praises-trumps-courage-says-embassy-mov/
--------
How ACT for America encourages citizens to spy on Muslims
May 15, 2018
Al Jazeera's Investigative Unit has obtained an internal document from ACT for America, a powerful Islamophobic lobby group, which gives a rare insight into the organisation's operations.
A booklet published by the movement, The Art of Chapter Leadership, includes advice on how to "map" kindergarten to 12th Grade school boards for suspected "Islamists", and how to monitor Muslim activities at US universities.
The 129-page paper urges members of local chapters to "select a few [university] courses/professors that would have a likelihood of presenting biased viewpoints regarding Islamic Jihad, immigration, terrorism, etc".
The booklet continues: "The two most highly suspect departments in which you will want to sign up for specific courses are as follows: The Political Science Department [and] Middle East Studies Department.
"These two departments have a real likelihood of being funded by the Saudis and will have professors who are generally pro-Sharia, anti-America and anti-Israel."
ACT is one of the largest anti-Muslim groups in the US, which says it works to protect "national security". Launched in 2007 by Brigitte Gabriel, it claims to have more than 750,000 members.
Over the past year, Al Jazeera investigated ACT and several other organisations and individuals who form the Islamophobia Inc industry in the US - a well-funded network propagating anti-Muslim racism.
Stoking fear
ACT's internal document recommends that members "volunteer in the classroom … so that you can monitor the lessons" in K-12 schools, and it suggests that parents "join the PTA in order to meet the teachers who are going to open up to you and tell you what is being taught.
"Make copies of any homework that is biased and untrue so that it can be used as evidence later with elected officials".
Written in 2015 by Kelly Cook, the former executive director of ACT for America, the booklet cites as its central theme the need to "fearlessly speak out in defence of America, Israel and Western civilisation".
Stressing the need to engage in "community mapping", Cook warns of the growth of "madrassas" and Islamic schools across the United States.
"The Saudis are building madrassas around the world at an alarming rate," he writes.
"If there is one in your area, this school needs to get your chapter's full attention."
The document advises members to conduct title searches on Islamic school properties and lays out steps for how to pressure authorities into closing down such facilities.
"If the county commissioners sense that this is developing into a highly controversial lease situation, the liability picture alone could swing their decision to drop the lease.
"Many local imams have direct ties to Radical Islamism," the booklet warns.
In a welcome message, founder Gabriel writes that the US must "be protected from the rising tide of Islamism and jihad" and urges members to "drown out the foolish voices of political correctness".
The pamphlet also stokes irrational fears, including "exhortations to overthrow our constitutional form of government and replace it with Sharia law or bullying and intimidation in the public square".
The Muslim world, the document continues, expresses "hatred of and contempt for 'infidels' … visibly, fervently and frequently.
"The idea of political Islam and jihad have, over 1400 years, led to the death and enslavement of hundreds of millions of people and the subjugation and persecution of hundreds of millions more".
One chapter, titled Media Issues, urges extreme caution when dealing with journalists, instructing members to "never give an interview that can be edited".
"Many reporters could become indignant and imply that you owe the public your side of the story.
"This is reporter-speak for 'Please say something so that I can twist it out of context. I really want to make you look like a bigoted fool.'
"The best response to a reporter is usually 'I am unavailable for comment at this time'," the document advises.
ACT for America did not respond to Al Jazeera's request for comment on the document.
It did provide statements to Al Jazeera in response to its Islamophobia Inc investigation, saying: "ACT for America has always welcomed and included members and supporters of all faiths, who stand united under the same flag of freedom, and support for Western values."
Commenting on the Islamophobia network, Heidi Beirich, director of the Southern Poverty Law Center, said its members aim to spread "conspiracy theories about Muslims".
"So for example, 'all Muslims are terrorists. Muslims are incapable of fitting in in Western societies'.
"I think of ACT For America as sort of the shock troops and the ground troops for the Islamophobic network with the United States.
Full report at:
https://www.aljazeera.com/news/2018/05/act-america-encourages-citizens-spy-muslims-180513192237993.html
--------
Arab League and the top Sunni Muslim religious authority condemn US Embassy move
14th May 2018
JERUSALEM: The Arab League and the top Sunni Muslim religious authority have criticized the relocation of the U.S. Embassy from Tel Aviv to contested Jerusalem.
The Cairo-based Arab League called on the international community to oppose what it considers an "unjust decision" and the ongoing "Israeli occupation" of the city.
It called the move a "blatant attack on the feelings of Arabs and Muslims," and a "grave violation of the rules of international law" that would destabilize the region.
The Palestinians, who claim east Jerusalem as the capital of their future state, have called for an urgent meeting at the Arab League on Wednesday to discuss the matter.
Egypt's Al-Azhar religious institution called on the international community to use "all peaceful means" to "dismiss positions of countries that sided with the Zionist entity," referring to Israel.
The US is to formally inaugurate the embassy in Jerusalem later on Monday.
Full report at:
http://www.newindianexpress.com/world/2018/may/14/arab-league-and-the-top-sunni-muslim-religious-authority-condemn-us-embassy-move-1814601.html
--------
URL: https://www.newageislam.com/islamic-world-news/pas-president-tells-leaders-politicians/d/115254
New Age Islam, Islam Online, Islamic Website, African Muslim News, Arab World News, South Asia News, Indian Muslim News, World Muslim News, Women in Islam, Islamic Feminism, Arab Women, Women In Arab, Islamophobia in America, Muslim Women in West, Islam Women and Feminism