New Age Islam News Bureau
5 Jan 2019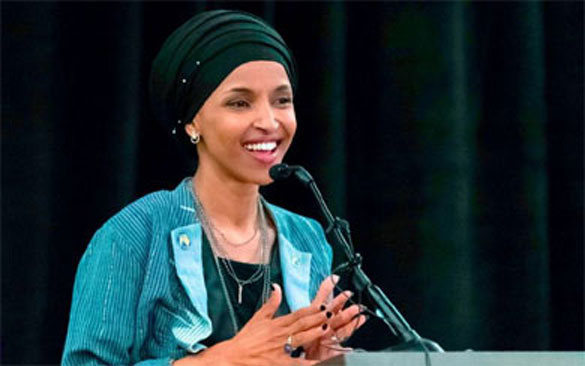 US congresswoman-elect Ilhan Omar of Minnesota addresses her supporters after taking oath, at the Hilton McLean Tysons Corner in Virginia, United States on January 04, 2019. ( Yasin Öztürk - Anadolu Agency )
------
• Parish Priest in Baghdad Praises Muslim Solidarity against Hatred and Divisions
• Ilhan Omar Vows To Make US Live Up to Religious Freedom
• London Mosque to Host Exhibitions on Muslims Who Rescued Jews In The Holocaust
• Anti-Mufti Protest In Perlis Over Fears of Salafism in Mass Sacking of Imams
• Muslims Attack Ghana Church over Pastor's Doom Prophecy
• Do Not Shave Beards of Muslim Patients: SP Leader Writes To BMC
Arab World
• Parish Priest in Baghdad Praises Muslim Solidarity against Hatred and Divisions
• Saudi Arabia Facing Mounting Opposition In Occupied Parts Of Yemen
• Infighting among Assad opponents escalates in northwest Syria
• UN human rights office says Saudi Khashoggi murder trial 'not sufficient'
• UN rights office urges Bahrain to release Nabeel Rajab
• Pompeo to visit Saudi Arabia, UAE during Middle East tour
• Syrian Kurdish leaders seek Russian-mediated deal
--------
North America
• Ilhan Omar Vows To Make US Live Up to Religious Freedom
• US Names New Envoy for Int'l Anti-Daesh Role
• Trump denies media report he is considering Webb for Pentagon chief
• US, Saudi, Israel all benefit from Iran sanctions: Analyst
• Trump comments on 1979 Soviet invasion angers Kabul
• US: Rashida Tlaib sworn in wearing Palestinian dress
• Officials say US exploring 'Arab troops' option in Syria
--------
Europe
• London Mosque to Host Exhibitions on Muslims Who Rescued Jews In The Holocaust
• Britain spent £200,000 protecting welfare of extremist Muslim hate preacher Abu Qatada
• UK welfare payments for deported cleric
--------
Southeast Asia
• Anti-Mufti Protest In Perlis Over Fears of Salafism in Mass Sacking of Imams
• Study finds Malays still anxious about rights under PH govt
• How does the UEC jeopardise nation-building?
• The Uighur question: A civil society solution
--------
Africa
• Muslims Attack Ghana Church over Pastor's Doom Prophecy
• Burkina Faso is a new breeding ground for religious extremism
• Police fire tear gas to break up Sudan protests on 'Friday of Change'
• Sudanese police use tear gas against protesters seeking 'peace, justice'
• Army raids kill 6 Boko Haram militants in NE Nigeria
--------
India
• Do Not Shave Beards of Muslim Patients: SP Leader Writes To BMC
• Afghan NSA Hamdullah Mohib briefs India on efforts aimed at ending 18-year war
• Supreme Court: Appropriate bench will decide Ayodhya hearing schedule on Jan 10
• Telangana BJP MLA: NIA didn't ask me to identify voices of callers who threatened me
• NIA gets 10-day custody of Meerut man who was arrested for supplying weapons to Islamic State-inspired terrorist group
--------
South Asia
• 13 Killed In Attack on Police Posts by Buddhist Rakhine Insurgents
• 52 Taliban And ISIS-K Militants Killed In Various Operations: Military Sources
• 3 dead, 44 wounded as gas station fire engulfs apartment building in Kabul
• UN urges BD to hold HR violators accountable
• Maryknoll missionary serving Muslims in Bangladesh for 43 years
--------
Pakistan
• Trump-Imran Summit Proposal Being Discussed: Pak Official
• Pakistan, UAE Finalise $6.2bn Support Package
• Imran Khan Government disowns 'spokesman' for criticising its policies on TV
• Pakistan delegation departs for FATF meeting with action plan
• PTI will struggle to reverse waning momentum, says Fitch Solutions
• Erdogan welcomes Pakistan's decision to declare Gulen-backed organisation a terror outfit
• Government to improve health services for Afghan refugees
• One terrorist killed in North Waziristan operation: ISPR
• Trump trapping Pakistani rulers: Siraj
• Car bomb explosion wounds 3 in northwest Pakistan
--------
Mideast
• NYT: Exodus of Brains, Talents, Wealth from Turkey Due To Erdogan's Policies
• Palestinian Government Media Raided In Hamas-Run Gaza
• Israel acts at 'military level' amid US sanctions on Iran: Netanyahu
• Israeli forces injure at least 23 Palestinians in Gaza protests
• Fresh Saudi-led airstrikes leave seven dead in Yemen's Shabwah
• Turkey seeks nearly 150 arrests over Gulen ties
Compiled by New Age Islam News Bureau
URL: https://www.newageislam.com/islamic-world-news/parish-priest-baghdad-praises-muslim/d/117376
--------
Parish Priest in Baghdad Praises Muslim Solidarity against Hatred and Divisions
01/04/2019
The statements by Iraq's Grand Mufti and the head of Iraq's Shia movement, on banning Christmas and New Year Greetings to Christians, have sparked outrage, not only among Christians, but also among many Muslims. The Church, together with some of our Muslim brothers, has strongly condemned such statements, which do not express the spirit of brotherhood that unites us. Thousands of people took to the streets of Baghdad on New Year's Eve - as they have done for a long time - to celebrate the occasion, hoping for peace and quiet for all of Iraq.
Along with statements harmful to the dialogue and unity, for the New Year, many of our Muslim brothers have called for the re-opening of churches shuttered years ago because of religious extremism or Christian emigration. The latter has affected central Baghdad as much as the suburbs and other parts of the country. Muslims gathered in front of local churches and expressed their willingness to clean them up. Many have posted videos on social media, expressing hope that Christians can come home. Such a show of brotherhood is a throwback to a time, many years ago, when everyone was united.
I would very much like the Church to extend a message of thanks to these Muslims. They represent a response to the forces of evil, which led to the seizure of Christiane homes and assets. They are a response to the extremism that drove Christians from their homes and churches. They are an answer to the hate speech and intolerance that have spread and are a positive sign for those who have been affected by a discourse that fuels divisions.
Today more than ever, we need every Iraqi citizen to rediscover their "original essence", which stands against arguments based on differences, but focuses instead on living and sharing every aspect of life with one's fellow citizen, for better or for worse. In Iraq we need to remove the layer of rust that has damaged the metal, which fuels trivial differences and hides personal interests. In Iraq we need to remember the time of our childhood, when Muslim and Christian children played together unconcerned about each other's religion . . . How much I miss the days of our childhood!
So, let me say: thank you, our Muslim brothers, who have managed to preserve that "original essence"; thank you, because you have rejected extremism and have not let it enter your homes. On the contrary, you have opened some room for those who are different from you. It is us, on the occasion of this celebration, who want to send you our greetings, who want to pray with you and for you. Let us pray together for Iraq, and for a return to our childhood innocence.
http://www.asianews.it/news-en/Parish-priest-in-Baghdad-praises-Muslim-solidarity-against-hatred-and-divisions-45884.html
--------
Ilhan Omar vows to make US live up to religious freedom
04.01.2019
By Safvan Allahverdi and Umar Farooq
WASHINGTON
Ilhan Omar marked her first day in office by promising to make the U.S. live up to its ideals of religious liberty, and she demanded the country reject divisiveness and hate.
Omar was sworn into the House of Representatives on Thursday, and joined Michigan's Rashida Tlaib in becoming the first Muslim women in Congress. Omar is also the body's first Somali-American member.
"I am feeling very honored and really humble to represent the people of the 5th and get this opportunity to really work on restoring our democracy and fighting for the people," Omar told Anadolu Agency, referring to Minnesota's 5th district.
The 36-year-old Omar used her grandfather's copy of the Quran during her swearing-in ceremony, saying he inspired her to pursue a career in politics.
"I know he would have loved to be here today. But I want to bring him with me. He was with us in spirit because I got a chance to get sworn on his Quran," Omar added.
She also wore a hijab for the ceremony -- another first for Congress that previously banned any sort of headwear.
"We are going to make this country one that lives up to its ideals of inclusion, of religious liberty," Omar said to a crowd of supporters Thursday at a celebration after her swearing in. "One that recognizes this is a land that is stolen from indigenous people, built on the backs of black slaves, and one, one that welcomed immigrants so many years ago.
"We believe in the politics of joy, and this isn't the time for tip-toe politics. We are going to reject divisiveness. And we are going to reject hate. And we are going to reject people who want to destroy one of the greatest governments, one of the greatest democracies to exist on this earth."
Omar commended the diversity in the new Congress that now has 102 women and 55 black members. The new legislative body also sees the first Native American women as well as two of the youngest members in history.
The congresswoman reflected on her roots as well, when she came to the U.S. more than two decades ago as a refugee.
"If this ban was happening 23 years ago. If the reduction of refugees being allowed in this country was happening 23 years ago, my family and I wouldn't be here. I wouldn't have the opportunity to get an education, start a family and now get to represent all of you in Congress," Omar said.
"Not only do we welcome refugees, but we send them to Washington to represent us," she added, praising her district.
https://www.aa.com.tr/en/americas/ilhan-omar-vows-to-make-us-live-up-to-religious-freedom/1356269
--------
London Mosque To Host Exhibitions On Muslims Who Rescued Jews In The Holocaust
December 28, 2018
By Cnaan Liphshiz
A mosque that was recently opened amid protests in a heavily-Jewish part of London announced plans to host an exhibition celebrating Muslims who saved Jews during the Holocaust.
Golders Green Mosque is set to host the exhibition, prepared by the Yad Vashem Holocaust museum in Israel, at the beginning of the new year, the Jewish News of London reported Thursday.
The exhibition is about Muslim Albanians who hid and protected Jews during the Holocaust, when Albania was under fascist control.
Rabbi Natan Levy, head of operations at the interfaith group Faith Forums for London, which is helping the mosque organize the event, told The Jewish News: "The exhibition is a powerful reminder that during the Jewish community's darkest hour, the Muslim community in Albania were one of the few who did not stand idly by when the Nazis attempted to eradicate their Jewish neighbors."
Some Jewish opponents to the mosque's opening in 2017 cited traffic concerns, whereas others said they fear it would introduce security problems, drawing accusations of xenophobia by other Jews.
Albanians rescued about 2,000 Jews during the Holocaust.
In parallel, Albanians also served in the 1st Albanian Waffen SS Division, manned by hundreds of ethnic Albanians — many of them from Bosnia and also Kosovo, which during the German and Italian occupations had been lumped together with Albania.
They are known to have rounded up Jews who belonged to the group of at least 249 Kosovar Jews who ended up at a concentration camp in Germany.
https://forward.com/fast-forward/416735/london-mosque-to-host-exhibitions-on-muslims-who-rescued-jews-in-the/?attribution=blog-article-listing-1-headline&attribution=blog-article-listing-1-headline&attribution=blog-article-listing-1-headline
--------
Anti-mufti protest in Perlis over fears of Salafism in mass sacking of imams
January 4, 2019
KANGAR: Some 200 people gathered outside a mosque here this afternoon to protest the mass sacking of 25 imams in the state, in what is set to renew a long drawn tension between traditional Sunni Muslim leaders and Islamic authorities in Perlis who are seen promoting a strict version of Islam called Salafism.
The protesters also carried banners condemning state mufti Mohd Asri Zainul Abidin, who had said the imams were sacked due to their old age.
Asri, who defended the imams' abrupt termination as a normal procedure, had also accused them of indiscipline as well as making political speeches in mosques.
But a spokesman for the protesters today questioned Asri's claims.
"In other places, imams who are in their 70s and 80s continue to serve. Even our prime minister is 94 years old and is still working," Zainol Abidin Ahmad told FMT.
Zainol challenged Asri to state the real reason behind the imams' dismissal, adding that it had to do with the mufti's disagreement with the practices of Shafi'i Islam, the school of thought followed by majority Malay Muslims in the country.
Some rituals by Shafi'i Sunni Muslims are frowned upon by the Salafists, who claim to be following an "austere" version of Islam.
They include the formal recitation of the doa (invocation) by raising one's hands, as well as the "doa qunut", an invocation performed during the Subuh or dawn prayers.
Salafists also prohibit the practice of "zikir", or the act of singing praises of the names of Allah and the Prophet after the five daily prayers.
"Asri must explain whether they are sacked because they mention the 'bismillah' phrase before the recitation of Surah Fatihah, recite the qunut during Subuh prayers, read Surah Ya Sin every Thursday night and the zikir after every prayer," said Zainol.
He said the protesters were not against the Perlis ruler as the state's highest Islamic authority, adding that Asri should not hide behind the palace in justifying his actions.
Both Putrajaya and the state government have distanced themselves from the decision to sack the imams, saying it was the prerogative of the Perlis Islamic Religious and Malay Customs Council (MAIPs) and State Islamic Religious Committee.
https://www.freemalaysiatoday.com/category/nation/2019/01/04/anti-mufti-protest-in-perlis-over-fears-of-salafism-in-mass-sacking-of-imams/
--------
Muslims attack Ghana church over pastor's doom prophecy
2019-01-04
Angry young Muslims attacked a charismatic church in Ghana's capital Accra after its pastor predicted the country's chief imam would die this year, religious leaders said on Friday.
Wielding clubs and machetes, they attacked a security guard at the entrance to the Glorious Word and Power Ministry church then began hurling stones at its windows and smashing up the musical instruments and furniture inside.
The incident came after its celebrity pastor, Reverend Isaac Owusu-Bempah, prophesied the deaths of Muslim spiritual leader Sheikh Osman Nuhu Sharubutu and Ghana's Muslim vice president, Dr Mahamudu Bawumia, in a New Year's Eve sermon.
Sheikh Sharubutu condemned the violence and called for calm.
"Ghana has gained respect in the eyes of the world because of the peaceful co-existence between Christians and Muslims. We're all brothers and nothing must divide us," Sheikh Sharubutu told AFP at his residence in Accra.
"We must all restrain ourselves and pray for life. Ghana is all we have. Religion is supposed to unite us and not divide us," he said, speaking through an interpreter.
The Ghana Pentecostal and Charismatic Council, which is the umbrella body supervising charismatic churches, has raised red flags over the prophecy.
"It is the Council's considered opinion that prophecies that concern individuals must be given to such individuals personally and privately... in order not to create fear and panic in the entire nation," said council president Reverend Paul Frimpong-Manso in a statement.
"It must be noted that whatever affects national figures, such as those whose deaths have been predicted has the potential to affect the stability of the entire nation," he added, saying that all member churches would rally against the prophecy.
"We call upon our over 200 member churches to fast and pray to avert any such disaster."
More than 70 percent of the population in the West African country identify as Christian, while fewer than 20 percent identify themselves as Muslims, according to the last census in 2010.
https://www.news24.com/Africa/News/muslims-attack-ghana-church-over-pastors-doom-prophecy-20190104
--------
Do Not Shave Beards Of Muslim Patients: SP Leader Writes To BMC
Kamlesh Damodar Sutar
January 4, 2019
Samajwadi Party (SP) Councillor Rais Shaikh has demanded that the beards of Muslim patients should not be shaved off in the hospitals as it is an important part of Islamic practice.
Citing religious reasons, Shaikh has written a letter to the Brihanmumbai Municipal Corporation (BMC) that beards of Muslim male patients shouldn't be shaved off in the BMC-run hospitals during surgeries.
Shaikh said, "Sporting a beard is an important part of Islam. As an Indian, I have a right to religion guaranteed by the Constitution. In cases of life-threatening surgeries, it can be okay but in smaller operative procedures, consent from the patient or his family is required."
"It's not mandatory to remove the beard. You can cover it. Government hospitals are very insensitive about this and have made it a standard operating procedure," Shaikh told India Today.
While Rais Shaikh has become a spokesperson regarding the beard being an important part of Islam, the Samajwadi Party leader himself doesn't sport one.
"It's not that every Muslim keeps a beard. I am not a practicing Muslim so I don't have one. That doesn't mean I don't have any right to talk about the issue. I am speaking for the people I represent," he said.
The issue stems from a hospital norm to remove facial hair for surgical procedures.
Talking about the issue raised, Bariatric Surgeon and Gastroenterologist Dr Narendra Nikam said, "Removing beard has certain indications and contra-indications. In facial surgeries as well as maintaining hygiene, the beard has to be removed. In cases of administering general anesthesia, we need to fix a tube to the mouth and if it gets removed, it may lead to folliculitis (an infection caused due to plucking of hair). We usually take consent before removing the beard."
Slamming Shaikh for raising this issue, the Bharatiya Janata Party said that his demand was based on sheer ignorance.
"Had he discussed the issue with medical experts, he would not have dared to write this letter. By making such statement, not only has he exposed his ignorance but, also done damage for the Muslim community," alleged BJP Leader Manoj Kotak.
The NCP too called it a poor attempt to gain political brownie points.
"He is ill-informed about the procedures and hence trying to create an issue out of a non-issue. Removing the beard is not mandatory, every hospital does it with consent. He doesn't know this and even if he knows, it's a poor attempt to revive their party," alleged NCP spokesperson Nawab Malik.
https://www.indiatoday.in/india/story/dont-shave-beards-of-muslim-patients-sp-leader-shaikh-to-bmc-1423821-2019-01-04
--------
Arab World
Saudi Arabia facing mounting opposition in occupied parts of Yemen
Jan 4, 2019
Saudi Arabia is facing mounting opposition in areas it occupies in Yemen, leading US daily the Wall Street Journal has reported.
Many view Saudi presence and its alleged development projects as a pretext for the kingdom to entrench its control in the country by controlling Yemen's highly vulnerable infrastructure, the paper said.
"We are under Saudi occupation. We don't need the Saudis," it quoted former deputy governor of al-Mahra Ali bin Salem al-Huraizy, who has helped organize protests against the Saudi presence in the past.
Saudi Arabia has taken control over the province's seaports and airports, using them to deploy hundreds of troops in the region.
"There are illegitimate troops in these areas. Are there forces that belong to the Houthis to be fought by the coalition here? The answer is a big 'no'," al-Mahra and Socotra People's General Council member Abdullah bin Issa al-Aafra said.
A senior Yemeni official close to the country's Saudi-backed former president Abd Rabbuh Mansour Hadi explained that even Saudi-allied Yemeni officials had no control over the kingdom's expansion in the region.
"We are allied with the Saudi-led coalition, but we don't accept any violation of our sovereignty," he said, speaking on the condition of anonymity in fear of Saudi retribution.
Many demonstrations have been organized against the Saudi "invaders" since April. In November, Saudi-backed soldiers killed at least two people during a demonstration.
Saudi-backed governor of al-Mahra province Rajeh Saidbakrit claimed those killed were terrorists who had attacked a checkpoint. Huraizy, however, rejected the statement, saying they were ordinary protesters.
Saudi Arabia and its allies unleashed the deadly military aggression against Yemen in March 2015 in an attempt to reinstall the country's former Riyadh-allied regime.
The efforts have gone down the drain, forcing the kingdom to push for peace with Yemen's Houthis and their allies in the Yemeni army.
UN envoy for Yemen Martin Griffiths plans to visit the Yemeni capital of Sana'a on Saturday.
The trip will be part of a new round of talks to follow up on progress made in Stockholm in December where both sides agreed to a prisoner exchange and a truce in Yemen's port city of Hudaydah.
Speaking to Yemen's Saba news agency on Tuesday, chairman of the Supreme Revolutionary Committee of Yemen Mohammed Ali al-Houthi criticized the UN's World Food Program (WFP) for sending "quantities of rotten food" to the country.
Houthi explained that the food was not allowed into the country for violating "standards and regulations and is not suitable for human consumption."
He also accused UN organizations of being biased in their work.
"The work of these organisations is mostly politicized, and their position... confirms their work has shifted from independent to subordinate" to the United States and Britain, he said.
Yemen's Houthi movement, which runs state affairs in Sana'a in the absence of an effective government, has been defending the nation against the Saudi aggression.
The Saudi-led offensive has destroyed Yemen's infrastructure and led to famine in the import-dependent state.
https://www.presstv.com/Detail/2019/01/04/584833/Saudi-Arabia-struggling
--------
Infighting among Assad opponents escalates in northwest Syria
4 January 2019
Clashes among rival Syrian rebel factions have spread across northwest Syria, rebels and residents said on Thursday, in the latest bout of tit-for-tat fighting between opponents of President Bashar al-Assad's rule.
Infighting has long plagued Syria's armed opposition since the uprising against Assad began in 2011. Turf wars have helped the Syrian president, with his Iranian and Russian allies, recover much of the territory previously held by rebels.
Tahrir al-Sham, formerly affiliated to al-Qaeda, had launched an attack on Tuesday against towns in the western countryside of Aleppo held by Nour al Din Zinki, a member of the mainstream National Liberation Front (NLF), the rebels and residents told Reuters by telephone.
The group, which on Wednesday seized the town of Darat Izza, said it was retaliating for an ambush this week that killed five of its fighters. It blamed Nour al Din Zinki. Ideological differences divide hardline militants from nationalist groups in the Free Syrian Army that have gathered under the banner of the NLF, which has the backing of Syria's neighbor Turkey.
Rebel source
A rebel source said capturing the town of Darat Izza would strengthen the Islamist group in secret talks with Turkey, which has a military foothold in the northern region and wants to tighten its grip on the area to secure its border.
The goal was to create a contiguous stretch of territory from areas they control north of Idlib near the Turkish border to strongholds in the Aleppo countryside, said a senior Western diplomat closely following Syria who requested anonymity.
In a further bout of tit-for-tat fighting, NLF forces who sent more deployments and announced a call for war, attacked Tahrir al-Sham strongholds and checkpoints in Idlib province, residents and rebels said.
"We hold Tahrir al-Sham responsible for the dangerous and catastrophic repercussions that result from its escalation and call on its wise men to stop the fighting and preserve what is left of the revolution," the NLF said in statement.
Residents say the NLF has made little progress in dislodging the Islamists from Saraqeb, one of the main cities they hold in Idlib province. Fears however grew that fighting that has mostly avoided civilian areas could spill over into heavily populated urban areas. Dozens have so far been killed and wounded, rebels said.
Mainstream NLF
Although the Islamists are outnumbered by the mainstream NLF, they are the most powerful group in Idlib and have de facto control over most of the province, the last big rebel enclave.
Scores of civilians in Maarat al-Numan, an NLF-controlled town, held a rally against Tahrir al Sham on Wednesday, accusing the group and its leader Sheikh Abu Mohammad al Golani of serving Assad by launching its latest attack.
Clashes between rebel factions have extended to Atma, a town on Idlib province's northern border with Turkey. The town is now home to tens of thousands of Syrians displaced by the years of conflict and who now live in makeshift tents.
Full report at:
https://english.alarabiya.net/en/News/middle-east/2019/01/04/Infighting-among-Assad-opponents-escalates-in-northwest-Syria.html
--------
UN human rights office says Saudi Khashoggi murder trial 'not sufficient'
Jan 4, 2019
The Office of the United Nations High Commissioner for Human Rights (OHCHR) says it cannot assess the fairness of a trial underway in Saudi Arabia over the killing of dissident journalist Jamal Khashoggi, emphasizing that in any case it is "not sufficient."
Saudi Arabia said on Thursday that it has held an initial hearing into Khashoggi's murder case, with the public prosecutor requesting the death penalty for five of the suspects.
The state-run Saudi Press Agency (SPA) reported that at the court session, which was held in Riyadh, the prosecutor demanded that "proper punishments" be imposed against the 11 defendants and that "capital punishment" sentences be handed to five of them over their direct involvement in the killing.
In response to a question about the Saudi prosecutor's demand for the suspects' death penalty, the OHCHR Spokeswoman Ravina Shamdasani said on Friday that the office calls for an independent investigation "with international involvement."
She also reiterated the UN rights office's constant opposition to the death penalty.
Khashoggi, a prominent critic of the Saudi crown prince and a US resident, disappeared on October 2 after visiting the Saudi consulate in Istanbul to obtain documentation for his forthcoming marriage.
Saudi Arabia initially claimed he had left the consulate alive, but weeks later admitted that he was killed inside the diplomatic mission and blamed his death on a group of Saudi operatives.
Turkish authorities believe that a 15-person "hit squad" was sent from Saudi Arabia to Istanbul to kill the 61-yerar-old journo.
On December 10, Turkey called for an international investigation into the case of slain Saudi dissident journalist, after Riyadh refused to extradite two senior Saudi officials suspected of planning his murder.
Fahrettin Altun, director of communications at the Turkish presidency, said in a statement that the international community should seek justice for the slain journalist under international law after Riyadh reiterated that the suspects in the case would not be extradited for trial in Istanbul.
A full translated transcript of an audio recording of Khashoggi's murder has showed that the killing was pre-planned, refuting Riyadh's claims.
A source, who read the translated version and who has been briefed on the investigation into Khashoggi's killing, has made the revelations to CNN.
Full report at:
https://www.presstv.com/Detail/2019/01/04/584846/Khashoggi-OHCHR-Ravina-Shamdasani-trial-death-penalty
--------
UN rights office urges Bahrain to release Nabeel Rajab
Jan 4, 2019
The United Nations human rights office has condemned the latest verdict on Nabeel Rajab as "continued suppression of government critics," urging Bahrain to release the prominent human rights activist.
The Court of Cassation, whose verdicts are final, on December 31 rejected Rajab's appeal and upheld his prison sentence over tweets deemed critical of the Manama regime and the deadly Saudi-led war against Yemen.
"Monday's court decision brings into focus the continued suppression of government critics in Bahrain through arbitrary arrest and detention, travel bans, harassment, threats, revocation of citizenship and other means," UN human rights spokeswoman Ravina Shamdasani said at a news briefing in Geneva, Switzerland.
On February 21, Bahrain's criminal court sentenced the distinguished human rights activist to five years in prison for tweeting in 2015 about torture in the Jaw Prison and censuring the Saudi-led war on Yemen.
According to a court document, Rajab was found guilty of "spreading false news and rumors in time of war," "insulting foreign countries" and "insulting publicly the interior ministry" in comments posted on Twitter.
The pro-democracy campaigner has already served a two-year jail sentence over a news interview in which he said Bahrain tortured political detainees. Rajab completed this sentence in July.
Prominent human rights organizations also denounced the ruling, with Amnesty International describing the verdict as "utterly outrageous."
Thousands of anti-regime protesters have held demonstrations in Bahrain on an almost daily basis ever since a popular uprising began in the kingdom in mid-February 2011. They are demanding that the Al Khalifah dynasty relinquish power and allow a just system representing all Bahrainis to be established.
Manama has gone to great lengths to clamp down on any sign of dissent. On March 14, 2011, troops from Saudi Arabia and the United Arab Emirates were deployed to assist Bahrain in its crackdown.
Full report at:
https://www.presstv.com/Detail/2019/01/04/584841/UN-Bahrain-Rajab
--------
Pompeo to visit Saudi Arabia, UAE during Middle East tour
January 04, 2019
JEDDAH: US Secretary of State Mike Pompeo will travel to eight Middle East capitals next week for talks on security expected to focus on Yemen, Syria and Iran.
UN envoy for Yemen Martin Griffiths will also arrive in Sanaa on Saturday as international efforts aimed at ending the war in Yemen continue.
Griffiths will meet leaders of the Iran-backed Houthi rebels before traveling to Saudi Arabia for talks in Riyadh with Yemeni President Abed Rabbo Mansour Hadi.
Separately, US National Security Adviser John Bolton is visiting Israel and Turkey. His talks will focus on Syria and "how the US will work with allies and partners to prevent the resurgence of Daesh, stand fast with those who fought with us against Daesh, and counter Iranian malign behavior in the region," his spokesman said.
In his first Middle East visit since President Donald Trump's announcement that he intends to withdraw US forces from Syria, Pompeo leaves on Tuesday for an eight-day trip to Jordan, Egypt, Bahrain, the UAE, Qatar, Saudi Arabia, Oman and Kuwait. The US hopes each country will play a significant role in a regional strategic partnership being called an "Arab NATO."
On his second stop in Cairo he will deliver a speech on the US "commitment to peace, prosperity, stability, and security in the Middle East," the State Department said.
Washington is seeking to build a consensus on how to deal with Syria and its backer Iran in the light of the US troop withdrawal.
It is also seeking a solution to the war in Yemen between the legitimate government supported by a Saudi-led coalition and Houthi militias backed by Iran.
Both sides have agreed to a cease-fire in the port city of Hodeidah while UN envoy Griffiths seeks to bring about a new round of talks.
Full report at:
http://www.arabnews.com/node/1430381/middle-east
--------
Syrian Kurdish leaders seek Russian-mediated deal
January 04, 2019
QAMISHLI, SYRIA: Syrian Kurdish leaders aim to secure a Russian-mediated political deal with the Bashar Assad regime regardless of US plans to withdraw from their region, a senior Kurdish official told Reuters.
The Kurdish-led administration that runs much of northern Syria presented a road map for an agreement with Assad during recent meetings in Russia and are awaiting Moscow's response, Badran Jia Kurd said.
If such a deal could be agreed, it would piece back together the two biggest chunks of a country splintered by eight years of war and leave one corner of the northwest in the hands of anti-Assad opposition backed by Turkey.
The talks with Russia and new overtures toward Damascus underline a recalibration of Kurdish strategy since President Donald Trump announced his decision to withdraw US forces whose presence has stabilized the Kurdish-led region.
Their immediate priority is to find a way to shield the region from Turkey, which views the Kurdish YPG militia as a national security threat.
Turkey has already sent its army into Syria twice to roll back the YPG. But it has held off attacking the large Kurdish-controlled area of the northeast where US forces operate. Trump, who has not set out a withdrawal timetable, said on Wednesday the US would leave slowly "over a period of time." He also said the US wanted to protect Kurds, who have been vital to the US campaign against Daesh.
Jia Kurd welcomed the idea of a slow withdrawal but said the United States had not discussed the pullout with its Syrian allies who were caught off guard by Trump's announcement.
To fill the expected vacuum, they want Russia to help secure a Syrian army deployment at the northern border. This is part of a wider effort to strike a deal with Damascus they hope will also safeguard their regional autonomy. Jia Kurd said Russia had agreed to mediate.
"The final decision is (to reach an) agreement with Damascus; we will work in this direction regardless of the cost, even if the Americans object," Jia Kurd said in the northern Syrian city of Qamishli.
"Our view is that (Russia) is trying to open new horizons with Damascus; this is what we sensed from them."
Damascus and the YPG have mostly avoided confrontation during the war. At times, they have even fought common foes.
They convened political talks last year in Damascus, but these broke down without progress. Jia Kurd said the need for Damascus to enter serious dialogue was now more pressing.
The main aims of the road map are to protect the border from Turkey, to find a way to integrate the governing structures of northern Syria into the constitution, and to ensure a fair distribution of resources in northern and eastern Syria.
"The ball is in the court of Russia and Damascus," Jia Kurd said. "On this basis we can negotiate and start a dialogue."
One of the biggest challenges will be reconciling the regional autonomy demands with Assad's goal of exercising authority over the whole country again.
The Syrian foreign minister recently said a federal Syria was unacceptable.
Jia Kurd said "conservative" elements in Damascus wanted to ignore political changes and to "impose their control and influence" through the kind of agreements forced on areas where anti-Assad rebels had been defeated.
"This is rejected by us," he said.
The Kurds' bargaining chips include control of dams on the Euphrates River, oil fields and other resources. Jia Kurd said these would be one main element of the dialogue.
Analysts however say their bargaining position has been weakened by Trump's announcement, which heightened Kurdish fears of a Turkish offensive.
Turkey views the YPG militia as an extension of the outlawed Kurdistan Workers' Party (PKK), which has waved a 34-year insurgency in Turkey.
Analysts believe Assad and the YPG could eventually work together against Turkey-backed rebels in northwestern Syria.
Full report at:
http://www.arabnews.com/node/1430516/middle-east
--------
North America
US names new envoy for int'l anti-Daesh role
05.01.2019
By Servet Gunerigok
WASHINGTON
Ambassador James Jeffrey, the current special representative for Syria Engagement, will take the additional role of special envoy for the U.S.-led coalition against Daesh effective Friday, the State Department said.
Brett McGurk, who served in post for three years, resigned Dec. 22 following Trump's decision to pull troops from Syria. The move also saw a resignation from defense chief James Mattis.
"With this additional responsibility, Ambassador Jeffrey will lead and coordinate U.S. Department of State relations with the Global Coalition to defeat ISIS and Department efforts to implement President Trump's announcement of a responsible U.S. troop withdrawal from Syria," said Robert Palladino in a statement, using another name for Daesh.
The U.S. withdrawal comes on the eve of a possible Turkish military operation in northeastern Syria against the YPG/PKK terrorist group.
McGurk worked under the past three U.S. administrations, becoming one of a handful of those appointed by former U.S. President Barack Obama to keep his post under President Donald Trump. He also served in the George W. Bush administration.
https://www.aa.com.tr/en/americas/us-names-new-envoy-for-intl-anti-daesh-role/1356315
--------
Trump denies media report he is considering Webb for Pentagon chief
5 January 2019
US President Donald Trump said on Friday a New York Times report that he was considering former Democratic Senator Jim Webb to be his next defense secretary was "fake news."
The Times, citing an unnamed official, said on Thursday that Vice President Mike Pence and acting White House Chief of Staff Mick Mulvaney had reached out to Webb. A senior Pentagon official confirmed Webb's name had been circulating at the White House, the Times reported.
"I'm sure he is a fine man, but I don't know Jim, and never met him," Trump said on Twitter. "Patrick Shanahan, who is Acting Secretary of Defense, is doing a great job!" he said.
Jim Mattis stepped down from his job as defense secretary on Tuesday and Trump said a day later he had essentially fired Mattis, a retired Marine general whose letter of resignation was seen as a sharp rebuke to the Republican president.
Mattis resigned after Trump's surprise decisions to withdraw all US troops from Syria and half of the 14,000-strong contingent in Afghanistan.
Full report at:
https://english.alarabiya.net/en/News/world/2019/01/05/Trump-denies-media-report-he-is-considering-Webb-for-Pentagon-chief.html
--------
US, Saudi, Israel all benefit from Iran sanctions: Analyst
Jan 5, 2019
The United States, Israel and Saudi Arabia are looking for ways to challenge Iran's influence and Washington's campaign of sanctions against Tehran helps them fulfill that objective, an American analyst says.
Keith Preston, director of Attackthesystem.com, said the sanctions were designed to put Iranian people under pressure and force the Islamic Republic to abandon its fundamental values.
He made the remarks in reaction to claims by US Secretary of State Mike Pompeo that economic bans were aimed at giving the Iranian people a chance to have better lives.
"The sanctions on Iran have this ultimate goal: creating an outcome where the Iranian people can have better lives than they have today," Pompeo told Newsmax TV on Thursday.
On November 5, the administration of US President Donald Trump announced the re-imposition of the "toughest" sanctions ever against Iran's banking and energy sectors with the aim of cutting off its oil sales and crucial exports. The bans had been lifted under the 2015 nuclear deal, officially known as the Joint Comprehensive Plan of Action (JCPOA).
Preston told Press TV on Friday that a lot of ordinary Americans had no idea what the conflict between the United States and Iran was all about and that Pompeo's rhetoric amounts to "propaganda for public consumption."
He said the sanctions were in no way intended to improve the Iranian people's lives, and instead, "they were holding Iranian people hostage for the purpose of influencing or trying to influence the Iranian government."
The real issues between the United States and Iran are rooted in the 1979 Islamic Revolution, which "removed a puppet government of the United States" and replaced it with a political system that resisted Washington's policies instead, he continued.
"The reason that the United States has such a deep-seeded grudge against Iran is because of that," the analyst further explained. "It's because of the fact that Iran was a nation that defied the American empire."
This, he argued, set an "example" that Washington didn't want other nations to follow.
The second reason was the state of relations between Israel and the United States, Preston added.
"The fact that Israel regards Iran as one of its most important regional competitors in the area also intensifies the hostility of the United States towards Iran," he said.
Preston said Saudi Arabia also had similar tendencies to weaken Iran and used its "influence" on the American foreign policy to make sure the sanctions remained in place.
Full report at:
https://www.presstv.com/Detail/2019/01/05/584879/US-sanctions-Iran-benefit-Saudi-Arabia-Israel
--------
Trump comments on 1979 Soviet invasion angers Kabul
January 05, 2019
KABUL: Afghanistan on Friday blasted US President Donald Trump for defending Moscow's invasion of the country 40 years ago and urging it to get involved in the current conflict.
Trump said the former Soviet Union was right to be in Afghanistan because it was fighting terrorists, upending decades of US foreign policy as Washington had funded and armed the opposition during the 10-year war in the belief that Moscow was trying to spread communism.
Hundreds of thousands of Afghans lost their lives in the fighting and it paved the way for the ongoing bloodshed in the country.
President Ashraf Ghani's office said it was seeking official clarification from Washington over Trump's comments.
"After the invasion of Afghanistan by the former Soviet Union, Afghans in a national uprising for gaining the freedom of their holy land, began jihad (holy war)," a statement said, adding that "after the invasion of the former Soviet, all of the presidents of America not only denounced this invasion but remained a supporter."
It added that Afghanistan's ties with the world had been established on the basis of common interests, and the presence of international forces in Afghanistan was to ensure its security and global security.
"There is a difference in utterances and official policy of the country (America). Therefore, we, through diplomatic channels, are seeking clarity from the USA about a series of comments, especially about some of the policies, and expect to share them with us in the near future."
The Afghan foreign minister slammed the invasion as a "grave violation" of the country's territorial integrity and national sovereignty and said that "any other claim defies historical facts."
"Invasion was condemned by UN and the international community. Heroic resistance & sacrifice of millions of Afghans for freedom and independence ingrained in history," Salahuddin Rabbani tweeted.
Trump also blamed the Afghan war for the collapse of the former Soviet Union. "Russia used to be the Soviet Union," he said in a bizarre and rambling Cabinet meeting on Wednesday. "Afghanistan made it Russia, because they went bankrupt fighting in Afghanistan. So you take a look at other countries. Pakistan is there; they should be fighting. But Russia should be fighting. The reason Russia was in Afghanistan was because terrorists were going into Russia. They were right to be there. The problem is it was a tough fight. And literally, they went bankrupt."
"They went into being called Russia again, as opposed to the Soviet Union. You know, a lot these places you're reading about now are no longer a part of Russia because of Afghanistan."
Full report at:
http://www.arabnews.com/node/1430656/world
--------
US: Rashida Tlaib sworn in wearing Palestinian dress
04.01.2019
By Umar Farooq
WASHINGTON
Newly elected U.S. Congresswoman Rashida Tlaib was sworn into the House of Representatives on Thursday wearing a traditional Palestinian thobe, or dress, sparking a movement on social media.
When she announced last month on Instagram that she would be wearing the dress, Susan Muaddi Darraj, a fiction writer from Baltimore, Maryland, introduced the hashtag #TweetYourThobe, which went viral on Twitter after photos and videos on social media showed Tlaib walking around Congress wearing the traditional clothing.
Palestinian women took Twitter by storm posting pictures of themselves in their own thobes.
The thobe she wore featured ornate, hand-stitched embroidery known as tatreez. The craft of tatreez is a folk art that has been practiced by Palestinian women for centuries, according to The Institute for Middle East Understanding, which said mothers and grandmothers used to pass down designs with different motifs and colors associated with different Palestinian towns and villages.
The congresswoman wrote in Elle magazine that she grew up watching her mother hand-stitch these types of dresses.
"Throughout my career in public service, the residents I have had the privilege of fighting for have embraced who I am, especially my Palestinian roots," Tlaib wrote. "This is what I want to bring to the United States Congress, an unapologetic display of the fabric of the people in this country."
Tlaib became the first Palestinian woman elected to the U.S. Congress and joined Minnesota's Ilhan Omar in becoming the first Muslim women elected to the legislature.
Both congresswomen took their oaths of office on the Quran, with Tlaib using a personal copy and Omar using her grandfather's copy.
"As a kid, I acted as my grandfather's translator at our caucuses, and he was the one who first sparked my interest in politics," Omar said on Twitter. "I wish he could be here to witness this historic moment, but he was here in spirit as I placed my hand on his Quran for the ceremonial swearing in."
Omar wore a hijab for her swearing in ceremony, which was a first for Congress because they had previously banned any sort of headwear.
Full report at:
https://www.aa.com.tr/en/americas/us-rashida-tlaib-sworn-in-wearing-palestinian-dress/1355472
--------
Officials say US exploring 'Arab troops' option in Syria
Joyce Karam
January 4, 2019
US officials dismissed criticism following the news of their hasty withdrawal from Syria, saying on Friday that there "is no timeline" for the pull-out and that it will be a "deliberate, coordinated" process that won't leave behind a vacuum in the war-ravaged country.
Four US officials briefed reporters on Friday about the visit to the region that US Secretary of State Mike Pompeo is set to begin next week (January 8 to 15). The officials, who did not wish to be identified, said Washington is "exploring a variety of options" in Syria, including dispatching Arab troops to the country.
Mr Pompeo is set to visit all six Gulf Cooperation Council Countries (Saudi Arabia, UAE, Bahrain, Oman, Qatar, and Kuwait) as well as Egypt and Jordan. The US is seeking to group these same countries (GCC+2) under an umbrella organisation dubbed Middle East Strategic Alliance (MESA) in 2019. A brief visit to Iraq is also scheduled for January 11.
US officials stressed that the US "is not leaving the Middle East." While its military presence in Syria (2000 troops) is "not indefinite", there is no fixed deadline. "We have no timeline to withdraw from Syria" one official said. "We don't intend to have indefinite presence in Syria…but we don't want to create vacuum," he added.
These comments are at odds with those issued by US President Donald Trump last month, where he vowed to pull out in 30 days. The US President retracted this week, telling reporters that the process would be "slow and coordinated."
Asked about the possibility of dispatching Arab troops to Syria and whether this matter would be discussed by Mr Pompeo on his trip, one official said: "We are exploring variety of options" but there is no final plan yet. "We're exploring a variety of options – I won't go into details on those – but we don't have any plans right now to facilitate Arab forces going into Syria" he said. Arab media have reported that the deployment of Egyptian or Moroccan troops is one of the possibilities currently on the table.
The departure of US troops from Syria, however, does not seem to be imminent. Officials said the US intends to remain in the country until the battle against ISIS is won and the group is fully uprooted.
US officials also insisted that countering Iran will remain a primary objective of the US' policy in the Middle East even after it pulls out its troops from Syria.
"The Iranian regime is the greatest threat and most dangerous actor in the region" one official said.
Mr Pompeo will discuss Jordan's security and stability while in Amman, before travelling to Cairo "where he will meet with Egyptian leaders to discuss critical regional issues, including Iran, Gaza, and counterterrorism, as well as economic and energy cooperation." "The Secretary will [also] deliver a speech on the United States' commitment to peace, prosperity, stability, and security in the Middle East."
One official stressed the unique nature of the trip, which includes a stop in all GCC countries. He said the US is still seeking to host the MESA summit in the first quarter of 2019. The Trump administration rescheduled the summit at least twice due to the White House's schedule as well as delays in agreeing the MESA concept and mechanism.
In the UAE, Mr Pompeo will "discuss regional and bilateral issues, including ways to further expand ties in areas such as trade and investment…the need for all parties to adhere to the agreements made at the Yemen talks in Sweden, particularly the cease-fire and redeployment of forces in Hudaydah, in support of the efforts of the UN Special Envoy for Yemen" the statement said.
The war in Yemen will also be on the agenda in Saudi Arabia, where Mr Pompeo is expected to meet the new Saudi Foreign Minister Ibrahim Al Assaf and the Saudi leadership. "The Secretary and Saudi leaders will discuss ways to continue bolstering UN Special Envoy Martin Griffiths as he works toward a comprehensive political agreement among parties to end the conflict and realise a brighter future for Yemen" the statement read.
The investigation into the murder of Jamal Khashoggi will also be on the agenda in Riyadh, the US official said. From the US viewpoint, he noted that "the Saudi narrative or legal process has yet to hit the threshold of credibility [and] accountability."
Strategic dialogue and GCC unity will be discussed during Mr Pompeo's stops in Oman, Kuwait and Qatar. "The Secretary and Omani leaders will discuss the Middle East Strategic Alliance and the importance of a united GCC in advancing the peace, prosperity, and security of the region" the statement said.
Full report at:
https://www.thenational.ae/world/the-americas/officials-say-us-exploring-arab-troops-option-in-syria-1.809448
--------
Europe
Britain spent £200,000 protecting welfare of extremist Muslim hate preacher Abu Qatada
4 January 2019
Britain has spent nearly £200,000 protecting the welfare of extremist hate preacher Abu Qatada.
Qatada, claimed asylum in Britain in 1993, but was deported to his native Jordan in 2013 to face terrorism charges.
When Theresa May was Home Secretary, she played a key role in the decade long-battle costing more than £1.9million, to deport the cleric.
But his meetings with doctors and human rights workers were funded by taxpayers for three years, as reported by The Times.
The payments were agreed by Mrs May despite her telling Parliament in 2013 that costs relating to Qatada were 'not acceptable to the public and not acceptable to me.'
These visits were to ensure Qatada was not being tortured after his removal from the country, a freedom of information request showed.
The Home Office spent £66,000 on monitoring Qatada, with the money going to the Adaleh Centre for Human Rights Studies.
While the Foreign Office spent £57, 509.92 doing the same.
The Foreign Office also paid an additional sum of £67,000 a decade ago to monitor deportees.
Qatada was cleared of charges by a civilian court in Jordan in 2014.
Conservative MP Andrew Percy said: 'These payments are ridiculous. The money we have spent . . . is an insult to the British taxpayer.'
A spokesman for the government said: 'We committed to monitoring Abu Qatada for up to three years from the date of his deportation in July 2013 . . .
'The final payment for this by the Home Office and the Foreign Office was made in March 2016.'
https://www.dailymail.co.uk/news/article-6556329/Britain-spent-200-000-protecting-welfare-extremist-Muslim-hate-preacher-Abu-Qatada.html
--------
UK welfare payments for deported cleric
January 4, 2019
The UK spent nearly £200,000 to protect extremist preacher Abu Qatada after he was deported to Jordan in 2013, according to information released by the government.
The Palestinian cleric was removed from Britain for being a threat to national security after receiving assurances that evidence gathered under torture would not be used at any trial.
The government agreed to pay for welfare checks and monitoring that amounted to nearly £200,000 until 2016 to ensure he was not mistreated, according to figures obtained by The Times newspaper.
Abu Qatada, described by officials as the spiritual leader of Al Qaeda, was first detained in Britain in 2002 in the aftermath of the 2001 terrorist attacks on the United States. Videos of his sermons were found in the German flat used by some of the hijackers.
He had fought a near decade-long battle to remain in Britain to avoid facing charges in Jordan where he was accused of plotting terrorist attacks on Americans and Israelis. He was acquitted of the charges at a trial in Jordan the following year.
Full report at:
https://www.thenational.ae/world/europe/uk-welfare-payments-for-deported-cleric-1.809440
--------
Southeast Asia
Study finds Malays still anxious about rights under PH govt
Predeep Nambiar
January 5, 2019
GEORGE TOWN: A study involving selected focus groups of Malays in different parts of the country has found that most Malays are worried about their special rights under the Pakatan Harapan (PH) government.
The joint study by the Penang Institute and Ilham Centre found that those in the central region of the peninsula favoured PH while those in the southern, northern and east coast belts favoured PAS and Umno.
It also found that Malay youths are excited about having a new government and that there is sympathy for former prime minister Najib Razak among older Malays.
It found too that a section of the Malays are not happy with the appointment of non-Malays to top posts.
The findings are based on 18 focus group discussions comprising a total of 125 people, divided into three categories: "youths below 30", "adult men" and "women". Individuals who were selected did not know each other. The research was held between Oct 21 and Nov 21 last year.
Ilham Centre fellow and head of research Mohd Yusri Ibrahim said at a talk here yesterday on the findings that the older Malays in the rural areas, in particular, were concerned about the "erosion of Malay rights" and were still reeling from "shock" over PH's win.
"These older Malay folks in the northern, southern and east coast states are worried about their special rights, the sanctity of Islam, the royal institution and the use of Bahasa Malaysia under the direction of the PH government," he said at a talk at the Penang Institute last night.
Yusri said another major concern of the Malays are economic and cost of living issues, with their income affected by dwindling prices of palm oil, rubber and coconuts after May 9, 2018.
He said this had led to doubts as to whether the PH government could do better than the previous Barisan Nasional regime in improving their core agricultural economies.
Yusri said groups interviewed were also not happy about non-Malays being appointed to top posts, particularly that of the finance minister, the attorney-general and the chief justice.
"They feel it is a threat to the Malays' special rights and ask why capable Malays were not selected instead.
"The Malays in the central region, however, find Lim Guan Eng's appointment as finance minister acceptable due to his stint as Penang chief minister.
"But they are against Tommy Thomas' and Richard Malanjum's appointments as they fear it will threaten matters related to Muslim legal issues," he said.
Malays unhappy Chinese still can't speak Bahasa well
Yusri said some Malays felt Lim's use of Chinese in his statements on Facebook was offensive to Malays and the supremacy of Bahasa Malaysia in general.
"While most are against English medium schools, respondents are okay with the education minister's call to learn a 'third language' such as Chinese, Tamil, Arabic, Japanese and Javanese.
"Most remain offended that the Chinese community remains not so fluent in Bahasa despite being in the country for decades," he said.
Yusri said the Malays were also jittery over the high number of non-Malay representatives in PH and more Malay representatives in the opposition.
He said the older Malays interviewed in the northern, Sabah and Sarawak regions felt sympathetic towards Najib, saying the lawsuits brought against him are a form of revenge by PH.
Yusri said the Malays who supported PH were in the Klang Valley and urban centres in the central zone states such as Selangor, Kuala Lumpur and Negeri Sembilan.
Most Malays support PAS
He said one out of five Malay voters voted for PH, while the east coast states and rural Malays, in general, gave their full support to PAS.
He said the Malays who voted for parties other than BN did so because they wanted to oust Najib over the 1MDB issue, corruption and the Goods and Services Tax.
Yusri said his research also found that those in the central zone were the most forgiving of the current PH government and felt it needed more time to implement reforms.
"The Malay youths across the country are excited that there is a new government at the federal level for the first time," he said.
He said in Sarawak, the Malay Melanaus were afraid the chief minister's post would go to another ethnic group if PH were to win in the state polls which must be held by Sept 2021.
Malays not tribal
At the talk, Lawyers for Liberty executive director Latheefa Koya said while it was not surprising for the Malay majority in the country to feel worried after a PH win, people should not treat the community as 'tribal people'.
"We must stop seeing Malays as unique tribal people who have no access to information. There are good Malays and bad Malays, and there are people who reject corruption and some who condone them. It is not different from other communities," she said.
Latheefa said Malays, like all other races in the country, faced a problem where there was a dearth of alternate views on a matter. She said the same experts from the BN era were still getting their outdated views in the media.
She said Malays must be supplied with a variety of views, and the PH government must continue to do so through various channels.
Latheefa said, for instance, while PKR was the pioneer in exposing corruption issues, the party failed to reach the Malay electorate in 2013 by not having Bahasa leaflets that explained the National Feedlot Corp issue and other issues of interest.
She said PKR did not print any Bahasa leaflets on corruption issues, but only had a Bahasa translation of a letter written by Yusof al-Qaradawi, a religious scholar sent to a Friday prayer congregation.
"We need more explainers in Bahasa so the Malay electorate can understand deeper about the country's issues."
Penang Institute's Wong Chin Huat said it would be bad to assume that all Malays were built from the same mould, as they, like others in the world, could be liberal or conservative politically.
He said Malays were jittery over PH's win due to a "winner takes all" democracy, instead of a "muafakat" or a goodwill democracy.
Wong said most Malays today could not stand being in the opposition for fear they would loose everything. He said this needed a rethink and must change.
https://www.freemalaysiatoday.com/category/nation/2019/01/05/study-finds-malays-still-anxious-about-rights-under-ph-govt/
--------
How does the UEC jeopardise nation-building?
Tajuddin Rasdi
January 5, 2019
I was asked to appear before a task force set up by Maszlee Malik on the issue of the Unified Examination Certificate (UEC) and its impact on nation-building. The main concern, as I understand, is that the UEC has not been recognised as a positive development in nation-building because it originated from the Chinese school system which has refused any nationalisation efforts.
It was a unique situation, for me to be asked for my opinion in this matter, because I did not know much about either the UEC or the Chinese school system.
But I went because of one simple reason: I think there is a huge problem with our public schools in relation to nation-building. It is very strange, from my point of view, that the Malays are finding fault with the UEC and the vernacular school system and philosophy when the main problems stem directly from the public schools themselves.
I will make four arguments on how I find the public school system has jeopardised the very foundation of our nation-building philosophy and approach. I will speak about the culture of administration, then about the level of religious and cultural sensitivities between races, the subject of History and the subject of Bahasa Melayu.
First, the culture of administration. As Dr Mahathir Mohamad himself has said many times, public schools in Malaysia already resemble religious or Islamic schools. To many Malays in Umno or PAS, or even PKR and Amanah, this may be a welcome assertion. Unlike in my days, most teachers now comprise Malays in what is a racial imbalance in the teaching force.
Next we have administrators who are also mostly Malays, and they determine the culture and value system in schools, such as the insistence on the so-called Islamic dress code and the reading of Muslim prayers during events and assembly.
When Christians once did the same at missionary schools, the Malays complained of religious pollution in education institutions. But when the Malays do it, it seems all right because the education ministry is full of pious Muslims.
Events such as Qia mu lail and Yaasin reading to ask for Allah's help in examinations are rife. These events are fine if conducted outside of school compounds and hours. This kind of culturalisation frightens non-Malay and non-Muslim parents away from public schools.
Have the UEC and Chinese schools introduced a non-Islamic administrative culture? I have not heard of any Bible reading or Confucian wisdom and Buddhist meditative practices being part and parcel of the day-to-day activities of any school. From the administrative culture perspective, Chinese schools using the UEC have no ethnic preference or religious impetus.
Secondly, there is a proliferation of Muslim religious rituals like prayers at school, halal canteens or stalls. Students who are not fasting must eat in the toilet, there are halal and haram drinking glasses, issues with saris and many others.
Parents are understandably frightened at these acts of outward religiosity and have moved their children to private or vernacular schools. I have not heard of any religious rituals of incense burning or processions of deities in Chinese schools, thus I assume that such outward shows of religious piety or reverence do not exist.
The school environment of those taking the UEC seems, to me, more balanced in respecting religious sensitivities. This would be a point in favour of accepting the UEC as a good nation-building effort.
The argument against accepting the UEC comes to a head over the subject of History. Although the UEC has been accepted by overseas and international universities of worth all over the world, Malaysia rejects it on grounds that its history syllabus does not contain "adequate" local content.
I accept the fact that the UEC History subject covers a more global perspective as well as some local content, showing the idea of globalisation and localisation at the same time. We must get used to the idea that our children will likely not be working in Malaysia. They will spread their wings outside the country of their birth.
I learnt about Christianity and the Greeks in my day, and it was useful when I went to the US for my architectural degrees. On the other hand, the public school curriculum, to my mind, contains too much historical content that may be skewed towards creating a narrative of one race over the others.
I would prefer that both the UEC and the national school History curriculum concentrate more on the history of different peoples rather than one of them being a long-winded narrative of colonialism and the political struggle for independence with heroes being ministers and prime ministers as well as political leaders, most of whom were Malays.
I would prefer that our children know about the rise of each people – the Chinese, the Indians, the Orang Asli, the Kadazans, the Muruts – and their anthropological make-up of social values and rituals in the past as well as adaptations and innovations of the present.
If I were to ask pupils about the history of Christianity or the Buddhist faith in Malaysia, would they be able to answer? There is also the history of technology and the rise of cities that form important aspects of history and would help us better perceive the present social and environmental issues.
My conclusion here is that both the UEC and the national curriculum are flawed in their understanding of history in a narrow construct. Our present curriculums fail miserably in educating our youth about the history of their own peoples.
The other point of contention is the subject of Bahasa Melayu. The so-called unacceptability of the UEC is also on grounds that curriculum expectations of the certificate are apparently lower than those of the national curriculum. I would like to present a totally different view of this matter.
First of all, I assume that most public universities with the exception of perhaps UKM and one or two others, require students to attend lectures and complete assignments in English. Even UiTM, the bastion of Malay-only education, strongly insists on this matter. So students of the UEC should steer away from UKM and apply only to UTM, UPM, USM, UM and others which emphasise English over Bahasa Melayu.
What is the problem here? It was not the Chinese educationists who decided on this line of medium of instruction. It was the Malay vice-chancellors who opened up their universities to foreigners thus dealing a death blow to Bahasa Melayu as Bahasa Ilmu. They should close down Dewan Bahasa dan Pustaka for it no longer has any academic relevance. The rug was pulled from under its feet by the Malay educationists themselves, for the sake of international rankings and the idea of a "world-class" education.
Secondly, what level of Bahasa Melayu do we expect from our children? I took the Standard Six exam and the LCE and MCE, but the level of Bahasa Melayu doubled in complexity in my children's time. I have been writing books, articles and even journals using my MCE Bahasa Melayu, which is "lower" in quality than that of my children. Can UEC students carry out a conversation with a Malay? Can they write a simple job application letter in Bahasa Melayu? If yes, what else should we be asking for? Do we want the Chinese to spout classical Malay or speak in proverbs all the time, in addition to understanding the intricate novels of Malay national laureates? Tak payah lah. I pun tak faham. I do love the classical language of Hang Tuah and Munshi Abdullah. Such beautiful and soft expressions, not mechanical like modern Malay. But the question remains: what level do we or should we expect of an 18-year-old looking for a clerical job in the public service?
Full report at:
https://www.freemalaysiatoday.com/category/opinion/2019/01/05/how-does-the-uec-jeopardise-nation-building/
--------
The Uighur question: A civil society solution
Chandra Muzaffar
January 4, 2019
In the last few months, the International Movement for a Just World (JUST), like so many other civil society groups in various parts of the world, has been inundated with videos and articles from different sources alleging cruel persecution and harsh oppression of the Uighur Muslim minority in Xinjiang province in the western part of China.
It is alleged that the Chinese government views the Uighur and also some other Muslim groups, such as the Kazakhs and Kyrgyzas, as threats to national security given their purported links to terrorism and separatist insurgency.
A UN human rights panel had issued a report in August 2018 that stated that in order to wean them away from terrorism "as many as two million people may have been forced into a vast network of detention camps" in Xinjiang.
In these camps, according to dissident Uighurs, there is a systematic effort to brainwash the detainees. The propaganda is not just about immunising them against militancy or separatist ideologies.
They are required, it is alleged, to give up Islamic prohibitions and even to renounce their faith. Torture is apparently common in these camps and deaths have occurred. Some critics have gone so far as to describe the targeting of the Uighurs as "the most brutal repression the regime has undertaken since the Cultural Revolution".
The Chinese authorities have denied vehemently these allegations. They reject any suggestion that there has been forced renunciation of Islam in the camps. They admit though that there are re-education centres but focused entirely on combating terrorism, religious extremism and separatism.
These denials have not convinced the critics, especially those from civil society in the West and the East. They persist with their allegations and are disappointed that governments as a whole have chosen to keep quiet about the atrocities supposedly committed by the Chinese authorities.
They attribute their silence to the governments' fear that China, with its huge economic might , will make things difficult for countries that have become dependent upon Chinese investments and trade for their own economic well-being.
At the same time, it is equally true that China is being attacked much more in the media and by civil society groups today than in the past because of its phenomenal rise as a global power. The forces that dominate the present global system resent this since they are hell-bent on perpetuating their hegemony. This is why they are using the media and civil society to expose flaws and foibles in Chinese governance.
How Beijing treats the Uighurs and other minorities is perhaps one of those flaws that is susceptible to manipulation and distortion. And indeed, there has been a great deal of exaggeration and hyperbole in the media about the plight of the Uighurs. This does not mean however that the real challenges confronting the Uighurs and other minorities should be glossed over.
To convince everyone that the Chinese government is willing to address genuine Uighur grievances, it should invite representatives from civil society in a number of Muslim-majority countries to undertake a fact-finding mission to Xinjiang, whose primary purpose would be to examine and analyse the actual situation on the ground facing the Uighur and other alleged victims of persecution.
The mission should have maximum access to the Uighur community and to the authorities in the province. Members of the mission should have the full freedom to visit the re-education centres and conduct interviews with detainees past and present. The mission's report should be submitted to not only the authorities in Xinjiang and to the leaders of the Uighur community but also to the government in Beijing.
The countries from which the members of the mission are drawn and the world at large should also have full access to its findings.
Most of all, one hopes that if the recommendations are feasible, Beijing and Xinjiang will try to implement them with sincere trust. If that is done, it is quite conceivable that the chapter on the Uighurs will be brought to a close.
It is in Beijing's interest to resolve the Uighur issue in such a manner that the identity and dignity of the Uighurs and other minorities in Xinjiang are protected and enhanced. If injustices against Uighurs, real or perceived, are allowed to fester much longer, it may erode China's standing among Muslim-majority countries.
This is especially so since the Hui, Muslims among the majority Han people, it is alleged, are also now being targeted by the authorities.
As negative perceptions of the Chinese government's treatment of the Uighurs and other Muslims grow, there could be repercussions in the medium and long-term for China's Belt Road Initiative (BRI) since it involves a large number of countries with substantial Muslim populations. China is also heavily dependent upon the import of oil from Muslim countries.
There are already civil society groups in a couple of these countries which are unhappy about Beijing's attitude towards the Uighurs and Muslims in general. They are demanding action against Beijing.
Full report at:
https://www.freemalaysiatoday.com/category/opinion/2019/01/04/the-uighur-question-a-civil-society-solution/
--------
Africa
Burkina Faso is a new breeding ground for religious extremism
By Gautham Vinod
January 05, 2019
When the Burkinabe government declared a state of emergency in the country for the second time in five years on December 31, thanks to the terrorist attacks by 'jihadist' outfits, the country became the host to a future war on terror.
Burkina Faso and its fellow west African states have long had to deal with the menace of the African division of Al Qaeda, known as Al Qaeda in the Islamic Maghreb (AQIM). As security forces face death against the deadly terrorist organisation, Burkina Faso might have to call upon its former colonial master for assistance.
Burkina Faso is a landlocked francophone country with strong ties to France in various aspects. Known as French Upper Volta prior to 1960, it had been a colony of the French administered west Africa. France has listed Burkina Faso as one of their most prioritised countries in need of development assistance. They have assisted the Burkinabe with agriculture and food security issues, human development, cultural cooperation and governance. But despite France's efforts to help, the entire west African region has largely been neglected from economic and societal development plans. Burkina Faso turning out to be a new breeding ground for religious fundamentalism and extremism is a result of this neglect by the West.
When President Blaise Compaoré's 27-year-long rule came to an end in 2014, Lt. Col. Isaac Zida, a close aide of the former president, took over political and defence duties. The sudden end of a stern regime and an unsuccessful coup attempt in 2015 meant Burkina Faso had let its guard down, at least temporarily. AQIM and various other jihadist groups have capitalised on this opportunity and have started plotting and carrying out various attacks since then. France, whose liberal ideologies have spread throughout west Africa due to their strong cultural and economic clout, has always been seen as a threat to the existence and beliefs of the AQIM.
Jihadist groups view France, Spain, the United States, and other western influencers in the continent as harbingers of anti-Muslim rhetoric and have sought to dispel them from the continent for years. The AQIM's primary aim is to overthrow the Algerian government and establish an Islamic Caliphate in the region. Apart from Algeria, the AQIM launches attacks on neighbouring countries that they deem 'un-Islamic'. But unlike its parent organisation al-Qaeda, the AQIM views France and, less significantly Spain, as its bigger enemy and targets local governments to achieve their goals. The AQIM has promised to 'reclaim' parts of Spain and the Iberian Peninsula, which they view as lost Muslim land. They had declared France's ban on the hijab in public spheres as an insult to Islam. French intervention against AQIM in Mali in the Northern Mali conflict in 2013, although has not led to them attacking Europe, has definitely intensified hostilities between the two and it is just a matter of time before they begin doing so.
With the terror threat on constant rise, France and the European Union have allotted 1.3 billion euros as anti-terror aid for Africa. The French have deployed their Barkhane anti-terror force in neighbouring Mali, with training being given in Burkina Faso. Furthermore, Paris has stationed troops in Oagadougou for years and has sent said troops to intervene in threats to the French mission.
https://www.theweek.in/news/world/2019/01/05/burkina-faso-is-a-new-breeding-ground-for-religious-extremism.html
--------
Police fire tear gas to break up Sudan protests on 'Friday of Change'
4 January 2019
Sudanese police fired tear gas on Friday to break up protests in the capital Khartoum and its twin city of Omdurman, witnesses said, after Protests swept over many Sudanese cities including the capital Khartoum following Friday's prayers, under the motto: "Freedom and Change".
On Thursday night, Sudanese security forces fired tear gas to disperse protesters who were trying to deliver an anti-government petition to the local headquarters of President Omar al-Bashir's ruling party in Port Sudan, a witness said.
22 Sudanese political parties signed a memorandum on Tuesday and was sent to al-Bashir, calling for the dissolution of the Sudanese government and parliament.
For his part, Sudan's President held a press conference on Thursday saying that the country is being targeted by an economic war since 21 years of imposed sanctions, warning that "protests do not mean vandalism, burning and destruction."
Since the demonstrations began, Bashir has appeared largely unperturbed, tempering his talk of conspiracies against Sudan with pledges of economic reform, calls for restraint and the announcement of a fact-finding committee - steps dismissed by protesters as symbolic.
"We are committed to holding free and fair elections in 2020, and we ask that all political powers prepare to participate," Bashir said on Monday.
Full report at:
https://english.alarabiya.net/en/News/middle-east/2019/01/04/Protests-sweep-Sudanese-cities-on-Friday-of-Change-.html
--------
Sudanese police use tear gas against protesters seeking 'peace, justice'
Jan 4, 2019
Sudanese police have fired tear gas to disperse anti-government protesters in Omdurman City, near the capital Khartoum.
Protesters took to the streets after Friday's Muslim weekly prayer, chanting "freedom, peace and justice," witnesses said.
Security forces had deployed earlier in the day across key squares in both Khartoum and Omdurman to deter any new protests.
President Omar al-Bashir late Thursday instructed police to abstain from using excessive force.
Amnesty International said late in December that Sudan's security forces had shot dead at least 37 protesters during the demonstrations. However, the information ministry said at least 19 people had died, including two military personnel.
As part of an ongoing crackdown to prevent the spread of demonstrations, Sudanese security forces have arrested prominent journalist and columnist Faisal Mohamed Salih. He was detained when he was at his office in Khartoum on Thursday, his relatives told AFP.
Sudan has been gripped by mass protests triggered by rising prices and shortages of food and fuel for more than two weeks. The public display of anger later escalated into calls for President Omar al-Bashir to go.
The country is mired in economic woes, including an acute foreign currency shortage and soaring inflation, which is running at close to 70 percent.
Full report at:
https://www.presstv.com/Detail/2019/01/04/584857/Sudan-police-tear-gas-
--------
Army raids kill 6 Boko Haram militants in NE Nigeria
04.01.2019
At least six Boko Haram militants were killed when Nigerian troops raided a terrorist hideout in the northeastern Borno state, an army official said.
Army spokesman Sani Usman said in a statement that the troops destroyed the hideout of Boko Haram militants in Mafa area on Thursday.
"The gallant patrol team also rescued three women held captive in the Boskoro village. They were referred to the Internally Displaced Persons camp officials at Dikwa town," the statement read.
"During the search on the hideout before destruction, the troops recovered three hand grenades, four dane guns, and 26 rounds of anti-aircraft ammunition," it added.
Full report at:
https://www.aa.com.tr/en/africa/army-raids-kill-6-boko-haram-militants-in-ne-nigeria/1355797
--------
India
Afghan NSA Hamdullah Mohib briefs India on efforts aimed at ending 18-year war
Jan 04, 2019
Afghanistan's National Security Adviser Hamdullah Mohib on Friday briefed his Indian counterpart Ajit Doval on the efforts aimed at ending the 18-year war in his country, especially US-backed moves to hold talks with the Taliban.
The US special representative for Afghanistan, Zalmay Khalilzad, is working closely with Pakistan to hold talks with the Taliban, who have persistently refused to engage with the Kabul government. India has misgivings about this, and is keeping a close eye on what people familiar with the matter have described as "Pakistan's activism".
Mohib, who is on a three-day visit, and Doval had a "detailed exchange of views" on developments in Afghanistan, the external affairs ministry said in a statement. Mohib briefed Indian officials about the security situation, recent parliamentary elections, scheduled presidential polls, and the Afghan government's efforts at peace.
Doval made it clear India "supports all efforts for peace and reconciliation that are Afghan-owned, Afghan-led and Afghan-controlled", the statement said.
The Afghan side conveyed its concerns about the undue haste shown by Khalilzad and his "unrealistic agenda" in pushing through efforts to engage the Taliban, people familiar with developments said.
The Afghan side also made it clear there could be no negotiations on sustainable peace without involving the government in Kabul, they said.
Kabul is keen on New Delhi playing a greater role in regulating developments in the region against the backdrop of a rapidly changing regional and world order, the people said.
Mohib met Doval two days after US President Donald Trump belittled India's role in Afghanistan's reconstruction and called on New Delhi to do more in fighting the Taliban. India responded, saying it is committed to long-term developmental aid, but would not commit any troops.
https://www.hindustantimes.com/india-news/want-new-delhi-to-play-key-role-in-development-says-afghan-nsa-hamdullah-mohib/story-QZ9iYhFThlHEq3Y93g8QJJ.html
--------
Supreme Court: Appropriate bench will decide Ayodhya hearing schedule on Jan 10
January 5, 2019
The Supreme Court will likely decide on January 10 when it will start hearing appeals challenging the Allahabad High Court order in the Ram Janmabhoomi-Babri Masjid dispute.
The matter was listed on Friday before a bench of Chief Justice of India Ranjan Gogoi and Justice S K Kaul for fixing a date for further hearing.
The bench concluded the proceedings with: "Further orders in the matter will be passed on 10.1.2018 by the appropriate bench, as may be be constituted." This means the bench that would hear the matter will be in place by January 10, and it will decide the schedule for further hearing.
The court had fixed Friday's date on October 29, 2018, declining the Uttar Pradesh government's request to take up the matter urgently. Hearing on the appeals, which were filed in 2010, got delayed for various reasons. Although it came up for consideration in 2017, the hearing dragged further — initially since the documents had not been fully translated, and later because one of the parties supporting the mosque questioned the findings of the SC Constitution bench in 1994 in the Dr M Ismail Faruqui etc. vs Union Of India And Others case.
What was challenged was a statement in the Faruqui judgment that a mosque was not an "essential part of the practice of the religion of Islam".
However, the SC rejected this in a majority 2-1 verdict on September 27, 2018. The court observed, "To conclude, we again make it clear that questionable observations made in Ismail Faruqui's case were made in context of land acquisition…(and that) those observations were neither relevant for deciding the suits nor relevant for deciding these appeals."
The judges added, "The observation need not be read broadly to hold that a mosque can never be an essential part of the practice of the religion of Islam".
Dismissal of the plea to refer the matter to a larger bench cleared the way for the beginning of the final hearing of the appeals.
On September 30, 2010, the Allahabad High Court ordered a three-way division of the disputed 2.77-acre the Ram Janmabhoomi-Babri Masjid site, giving a third each to the Nirmohi Akhara sect, the Sunni Central Wakf Board, UP, and the Ramlalla Virajman.
The Faruqui verdict came on a plea challenging the constitutional validity of the Acquisition of Certain Area at Ayodhya Act, 1993, under which 67.703 acres were acquired in the Ram Janmabhoomi-Babri Masjid complex.
Full report at:
https://indianexpress.com/article/india/sc-appropriate-bench-will-decide-ayodhya-hearing-schedule-on-jan-10-5524017/
--------
Telangana BJP MLA: NIA didn't ask me to identify voices of callers who threatened me
January 5, 2019
TELANGANA BJP MLA T Raja, cited as a witness by the National Investigation Agency (NIA) in an alleged terror case after he claimed to have received threat calls in 2012, deposed before a court in Mumbai on Friday, stating that the investigating agency had not made him identify any voice.
Raja is named as a witness in the trial against five men, all Nanded residents, who have been behind bars since 2012 on terror charges. The threat calls received by Raja, however, have not been directly from the five accused, as per his statement given to the NIA in August 2014.
According to the NIA, the five accused — Mohammed Muzammil Abdul Gani, Mohammed Sadique Mohammed Farooque, Mohammed Irfan Mohammed Gaus, Mohammed Akram Mohammed Akbar and Mohammed Iliyas Mohammed Akbar — were found with two revolvers and live cartridges and that they planned to influence young Muslims to join Lashkar-e-Toiba. The accused denied the allegations and claimed the investigators had not shown any evidence to show they were LeT members.
"It is correct to say that I cannot identify the voice of the person who had called. I was not asked by the police or the NIA to identify any voice of the callers," Raja told the court during cross-examination by advocates Wahab Khan and Sharif Shaikh.
He said that after he received a threat call on October 10, 2012, an FIR was filed at Mangalhatt police station in Hyderabad against unknown persons. He claimed the caller said he was from Saudi Arabia and the call was made through the Internet with the threat of killing him. The first arrest was made on August 30, 2012, months before this phone call. Raja told the court he had till date received 2,000-3,000 phone calls and that he has given 200-300 complaints.
While he identified a photograph claimed to have been seized by the NIA from one of the accused to be his, during cross-examination, he contended that his photos and speeches were available on the Internet. Raja was asked about the criminal cases faced by him, to which he said he had 40-70 cases against him from 2010 and that three-five cases are registered against him each year, which he claimed were "politically motivated".
Full report at:
https://indianexpress.com/article/india/telangana-bjp-mla-nia-didnt-ask-me-to-identify-voices-of-callers-who-threatened-me-5524050/
--------
NIA gets 10-day custody of Meerut man who was arrested for supplying weapons to Islamic State-inspired terrorist group
Jan 04, 2019
New Delhi: A Delhi court on Friday granted the National Investigation Agency 10-day custody of Naeem, arrested for allegedly providing weapons to members of a suspected IS-inspired terrorist group busted after a multi-city swoop last week.
The 21-year-old was arrested from Meerut in western Uttar Pradesh on Thursday and produced before a district judge on Friday, who sent the the probe agency to another court.
Special Judge Rakesh Sanyal then sent Naeem to 10-day NIA custody.
Naeem, the probe agency says, supplied weapons to the members of a suspected Islamic State-inspired terror group that was arrested on 26 December.
The NIA had arrested the 10 men, including a 'mufti' from Amroha, also in western Uttar Pradesh, who it said were planning suicide attacks and serial blasts targeting politicians and government installations in Delhi and other parts of north India.
The NIA had seized a locally made rocket launcher, material for suicide vests and 112 alarm clocks to be used as timers during its searches in Delhi and Uttar Pradesh.
A Delhi court previously allowed the NIA 10 days' custodial interrogation of the men after it produced them before the court on 27 December, a day after they were arrested.
Full report at:
https://www.firstpost.com/india/nia-gets-10-day-custody-of-meerut-man-who-was-arrested-for-supplying-weapons-to-islamic-state-inspired-terrorist-group-5837101.html
--------
South Asia
13 Killed In Attack On Police Posts By Buddhist Rakhine Insurgents
January 05, 2019
Buddhist Rakhine insurgents killed 13 policemen and injured nine in attacks on four police posts in Myanmar's Rakhine state yesterday as the country marked Independence Day, the official news agency said.
Fighting resurged in Rakhine early last month between government forces and the rebel Arakan Army, which wants more autonomy for the Buddhist ethnic Rakhine minority.
It was also in the restive western state that a military-led crackdown in 2017 prompted hundreds of thousands of minority Rohingya Muslims to flee westwards to neighbouring Bangladesh.
The separate conflict between the military and Arakan Army rebels forced 2,500 civilians from their homes by the end of last year, according to the United Nations.
The official Myanmar News Agency said four police posts in the Buthidaung area in northern Rakhine came under attack from hundreds of Arakan Army fighters after daybreak yesterday.
Thirteen policemen were killed and nine injured as police were forced to abandon two of the posts, it said, adding that the military was now conducting a "clearance" of the area.
However, the Arakan Army spokesman denied any connection between the attacks and the anniversary.
"We are not independent yet. Today is not our Independence Day," Khine Thu Kha said.
Myanmar military spokesman Zaw Min Tun said earlier the insurgents had hit police outposts in a rugged region near the border with Bangladesh.
"These police posts are there to protect the national races in the area so [Arakan Army rebels] shouldn't attack them," Zaw Min Tun said, referring to mostly Buddhist ethnic groups in the area who are, unlike Rohingya Muslims, considered Myanmar citizens. Arakan Army spokesman Khine Thu Kha confirmed the assault and said rebels later retrieved the corpses of seven "enemies".
He said later that rebels had freed at least 12 members of the security forces it detained in the fighting.
The attacks, he added, came in response to a Myanmar military offensive against the Arakan Army in recent weeks that had also targeted civilians.
The Myanmar military last month announced a four-month halt to fighting in the north and northeast of the country to kick-start peace talks with multiple armed groups seeking ethnic autonomy, but that announcement excluded Rakhine state.
Friday's violence erupted shortly after the national flag was raised across the Southeast Asian country to mark 71 years since independence from Britain.
Last August a UN report accused the Myanmar military of mass killings and rapes of Rohingya with "genocidal intent" in 2017 in then operation that drove more than 700,000 of them to flee to Bangladesh, according to UN agencies.
Myanmar has denied the charges, saying its military launched a counter-insurgency operation after attacks on security posts by Muslim militants.
https://www.thedailystar.net/frontpage/news/seven-killed-attack-police-posts-1683235
--------
52 Taliban and ISIS-K militants killed in various operations: Military Sources
04 Jan 2019
The military sources are saying that 52 militants belonging to Taliban group and ISIS Khurasan (ISIS-K) have been killed in various military operations conducted in a number of provinces of Afghanistan.
According to the sources, at least 4 Taliban militants were killed and two of their motorcycles were destroyed during a coalition airstrike in Sarobi district of Paktika province while Afghan forces killed 13 Taliban militants and destroyed various tunnels and weapons during an operation in Almar district of Faryab province.
The sources further added that the Afghan forces killed 4 Taliban militants during a clearance operation in Tarinkot district of Uruzgan while 7 Taliban were killed in Sangin district of Helmand during a patrol of the Afghan armed forces.
According to reports, Afghan forces killed 8 Taliban militants and destroyed some small arms cache of the militants during an operation which was conducted in Kapisa to suppress Taliban and clear the area from landmines.
Full report at:
https://www.khaama.com/52-taliban-and-isis-k-militants-killed-in-various-operations-military-sources-03053/
--------
3 dead, 44 wounded as gas station fire engulfs apartment building in Kabul
04 Jan 2019
The officials have confirmed that three people have died and at least 44 others have sustained burn injuries in a fire incident in capital Kabul.
Wahidullah Mayar, a spokesman for the Ministry of Public Health (MoPH) confirmed that three civilians have died in the incident.
He said at least 44 others have sustained injuries and burns in the incident and are currently undergoing treatment in the hospitals.
According to Mayar, at least six people have been admitted to to the hospital with major burns and three people have died due to severe burns.
According to reports, the incident took place late on Thursday night in Abdulhaq square of the city after an LPG station caught fire and swept through a residential building located in the proximity of the incident.
Full report at:
https://www.khaama.com/3-dead-44-wounded-as-gas-station-fire-engulfs-apartment-building-in-kabul-03052/
--------
UN urges BD to hold HR violators accountable
Masood Haider
January 05, 2019
UNITED NATIONS: The United Nations has called upon the authorities in Bangladesh to hold accountable all those responsible for alleged human rights violations "before, during and after" the Dec 30 elections.
In a statement released in Geneva on Thursday, the spokesperson for the UN High Commissioner for Human Rights (OHCHR} said: "There are credible reports of fatalities and numerous injuries on polling day alone."
"There are worrying indications that reprisals have continued to take place, notably against the political opposition, including physical attacks and ill-treatment, arbitrary arrests, harassment, disappearances and filing of criminal cases," Ravina Shamdasani, the spokesperson, said.
There are reports of disproportionate "violent attacks and intimidation" by activists of the ruling Awami League and, in some cases, with the involvement of law enforcement Officials, the official added. "We call on the authorities to take urgent measures to prevent further reprisals."
Ms Shamdasani cited reports of media intimidation and property damage, as well as other constraints that hindered reporting on the elections. She said at least two journalists covering the elections were arrested under the Digital Security Act, which, according to news reports, suppresses free speech and press freedom.
Full report at:
https://www.dawn.com/news/1455593/un-urges-bd-to-hold-hr-violators-accountable
--------
Maryknoll missionary serving Muslims in Bangladesh for 43 years
01/04/2019
Fr Robert Terence McCahill, 81, wakes up every day at three in the morning, recites his prayers and says Mass, and then travels to villages in search of sick people in need of treatment.
The Maryknoll missionary has been in Bangladesh for 43 years serving the poor and disadvantaged in the Muslim majority country. When a Muslim man asked him to become Christian, he said: "You will only have sorrow". The man insisted: "You don't understand Father, I want to become a Christian". The priest said again: "In doing so, you will have great sorrow."
Today the priest lives in Shariatpur, Dhaka Division. Born in the United States, Fr Robert is known to everyone as Bob Bhai, or brother Bob. In 1964, two months after he was ordained, he left for the mission in the Philippines, where he remained for 11 years.
"After hearing that Bangladesh was really in need and that it was ravaged by famine and natural disasters, I decided to work for the people of this country. Five of us came; two are left."
Among Maryknoll missionaries, Fr Robert is still the only one who works for Muslims. "Immediately after my arrival, I realised that I did not want to be a parish priest. I could bear witness to Christ more intensely among Muslims."
His mission was not simple because he decided to live among the poor like the poor. In all, he has travelled to 12 districts all over the country. "When I realise that people start to love me, I change places to go where I am needed the most".
He rented bamboo houses and lived that way until the terror attack of 1 July 2016, the day of the Dhaka bar bombing. "Since then, the police no longer allow me to live in huts for my own safety," he explained.
Like his mission, life was never simple. "At first I met suspicious people. They were not used to missionaries and foreigners among Muslims and did not trust me."
One of them was Malak Islam, father of Al Amin, a six-year-old disabled child. "The man did not want me to take his son to the hospital for treatment. He made up his mind only after two and a half years." Malak Islam now says "I am grateful to Brother Bob. Thanks to him, my son is improving a lot".
Despite rising Islamic fundamentalism, the missionary has never been threatened. For him, "We are all one human family: Christians, Hindus, Muslims. I have never tried to convert anyone, I only show love, compassion and the good that Jesus did in his life."
Full report at:
http://www.asianews.it/news-en/Maryknoll-missionary-serving-Muslims-in-Bangladesh-for-43-years-45889.html
--------
Pakistan
Trump-Imran summit proposal being discussed: Pak official
Jan 4, 2019
ISLAMABAD: Pakistan and the US are discussing plans to hold a maiden meeting between Prime Minister Imran Khan and President Donald Trump but it hinges on the "positive outcome" of the Pakistan-brokered talks to strike a peace deal in Afghanistan, a senior official here said.
In his first comments in 2019, President Trump on Wednesday said that he wants a "great relationship" with Pakistan and is looking forward to meeting the new leadership.
"The proposal for a summit meeting is being discussed but the final decision hinges on the positive outcome of the ongoing efforts to strike a peace deal in Afghanistan," a senior Pakistani official was quoted as saying by The Express Tribune.
Khan, who took over as the Prime Minister in August, is likely to travel to the US if "all goes well", the official said on the condition of anonymity.
Trump told his Cabinet colleagues on Wednesday that Pakistan has not been fair to the United States.
"We want to have a great relationship with Pakistan, but they house the enemy. They take care of the enemy. We just can't do that," Trump said.
"So, I look forward to meeting with the new leadership in Pakistan. We will be doing that in the not too distant future. But I ended USD 1.3 billion that we paid. I think it was water, we were just paying to Pakistan. So, I ended that."
When asked to comment on the Trump's statement and whether there was any chance of the meeting between the two leaders, Foreign Office spokesperson Muhammad Faisal said Pakistan looked forward to "positive engagement" with the US at the leadership level.
"President Trump's remarks are indeed a departure from his tweet of January 1, 2018," Faisal told a weekly news briefing.
Trump blasted Pakistan in his first tweet of 2018, saying its leaders have given the US "nothing but lies & deceit."
"The United States has foolishly given Pakistan more than 33 billion dollars in aid over the last 15 years, and they have given us nothing but lies & deceit, thinking of our leaders as fools. They give safe haven to the terrorists we hunt in Afghanistan, with little help. No more!" he added," he had tweeted.
The positive vibes coming from the White House are attributed to the recent push for seeking a peace deal in Afghanistan.
Pakistan recently brokered direct talks between the Afghan Taliban and the US in the UAE.
The next round is expected in Saudi Arabia, which suggests a positive movement of the talks. "If the process moves forward in positive direction, certainly there is a possibility of engagement between Pakistan and the US at the highest level," another official said.
Some sources said that the proposal for the Khan-Trump meeting first came from Pakistan.
Officials here believe that engagement at the highest level could help reduce the trust deficit between the two countries.
Ties between the US and Pakistan strained after Trump, while announcing his Afghanistan and South Asia policy in August 2017, hit out at Pakistan for providing safe havens to "agents of chaos" that kill Americans in Afghanistan and warned Islamabad that it has "much to lose" by harbouring terrorists.
In November, The US suspended USD 1.66 billion in security assistance to Pakistan and in September, the Trump administration cancelled USD 300 million in military aid to Islamabad for not doing enough against terror groups like the Haqqani Network and the Taliban active on its soil.
https://timesofindia.indiatimes.com/world/pakistan/trump-imran-summit-proposal-being-discussed-pak-official/articleshow/67379762.cms
--------
Pakistan, UAE finalise $6.2bn support package
January 05, 2019
ISLAMABAD: Pakistan and the United Arab Emirates (UAE) have finalised the terms and conditions of a support package of about $6.2 billion expected to be announced by Crown Prince Sheikh Mohammed bin Zayed Al Nahyan during his visit to the country starting on Sunday (Jan 6) to help Islamabad address its balance of payments challenge.
The package involves $3.2bn worth of oil supplies on deferred payment, besides a $3bn cash deposit, a cabinet member told Dawn.
He said the UAE's package was exactly of the same size and terms and conditions as given by Saudi Arabia. The UAE package was finalised on Thursday evening, he said.
With this, Pakistan would get a total saving of about $7.9bn on oil and gas imports from the two friendly countries — accounting for more than 60 per cent of annual oil import bill of about $12-13bn, he said. This includes about $3.2bn each of oil supplies on deferred payments from the UAE and Saudi Arabia and about $1.5bn trade finance from the International Islamic Trade Finance Corporation (ITFC).
The total financing support from the UAE and Saudi Arabia, including the ITFC's trade finance, would be around $13.9-14bn when cash deposits of $3bn each from the two countries were also included, he said.
This is in addition to a deep-conversion oil refinery to be set up by Parco — a joint venture of Pakistan and Abdu Dhabi — worth $5-6bn at Khalifa Point and an expected petro-chemical complex by Saudi Arabia at Gwadar Oil City.
On top of that, the government has also started backchannel discussions with Qatar for some relief in terms of reduction in LNG prices or a relaxed payment schedule, but that is now at an early stage.
In reply to a question, the cabinet member said Pak­istan was deepening relationships with all three friendly Islamic nations without compromising bilateral ties for geo-political reasons.
He said the UAE crown prince would be paying a two-day visit, adding that all arrangements had been finalised in this regard.
He said Saudi Crown Prince Mohammad bin Salman was expected to arrive in the country in the first week of February and an MoU for establishing a petro-chemical complex was still being worked out on the request of Riyadh.
Pakistan has already received $2bn in cash deposit from Saudi Arabia at an interest rate of 3.18pc while the third tranche of $1bn is due in the first week of February. The Saudi oil facility would also start rolling out this month with an average $274 million per month.
Full report at:
https://www.dawn.com/news/1455585/pakistan-uae-finalise-62bn-support-package
--------
Imran Khan government disowns 'spokesman' for criticising its policies on TV
Jan 4, 2019
ISLAMABAD: The Imran Khan government has disowned an Islamabadbased financial analyst who was widely known as its official spokesperson on economy and energy issues.
The appointment of Dr Farrukh Saleem as government's spokesperson was announced by the information minister Fawad Chaudhry in October 2018. Since October 9, Saleem attended all the official meetings headed by Prime Minister Khan. He was introduced in media chats and TV talk shows as government's spokesperson.
However, in a recent TV programme, speaking on the state of Pakistan's economic crisis Saleem said that the government did not know what it was doing and had no plans to fix the economy. "We need to find an alternative solution to this rather than taking aid from different countries. The government is not curing the disease, but hiding the symptoms. The results of devaluing rupee are not good. Despite a 30 per cent devaluation of the rupee, our exports are still on the decline," Saleem had said.
Clearly upset with his comments, the information minister went public claiming that Saleem had never been appointed as government's spokesperson on economy.
In a tweet, he said that though the government should have appointed him as its spokesperson on economy but later it turned out that the Prime Minister's Office had banned all hiring.
In response to the tweet, Saleem said that he had never been informed over the past three months that he was not a government spokesperson. "I am shocked to find out that I was never appointed in the first place. There was no communication of this. I attended all the meetings including the last one held on December 24, under Prime Minister Imran Khan. All the meetings happened at the Prime Minister's Office," Saleem said.
The disowning of a prominent economist by the government in an unceremonious manner sparked controversy on social media, with many doubting the seriousness of Prime Minister Khan in running the affairs of the state.
Full report at:
https://timesofindia.indiatimes.com/world/pakistan/imran-khan-govt-fires-spokesperson-on-twitter/articleshow/67385083.cms
--------
Pakistan delegation departs for FATF meeting with action plan
Khaleeq Kiani
January 05, 2019
ISLAMABAD: Pakistan on Friday dispatched a Terror Financing Risk Assessment Report electronically to the Financial Action Task Force (FATF) followed by a 12-member team to explain the action plan that the government intends to follow to come into compliance with international obligations and secure an exit from the grey list of the Paris-based watchdog.
A senior government official told Dawn that the high-level delegation led by Secretary Finance Arif Ahmed Khan left for Sydney, Australia to attend a three-day meeting of the FATF. The delegation comprised representatives of the State Bank of Pakistan (SBP), National Counter Terrorism Authority (NACTA), Federal Investigation Agency (FIA), Federal Board of Revenue (FBR) and Financial Monitoring Unit.
The official said the delegation will address questions and observations of the FATF on the basis of risk assessment report already transmitted to the global anti-terror financing watchdog. The report highlights the implementation status of plans for various agencies of the government on the FATF's recommendations.
It said a total of 4,643 suspected transactions relating to terror financing and money laundering had been identified and blocked since 2015, including 3,677 suspected transaction reports and 966 financial intelligence reports. A total of 1,167 transactions were captured during 2018 alone, including 975 STRs and 210 financial intelligence reports.
The report identified some key routes of the terror financing and money laundering, saying Pak-Afghan and Pak-Iran borders were two key routes of such flows.
To address the challenge, checking and security systems at Pak-Afghan border had been strengthened with improved technology and vigilance while security had also been beefed up at Pak-Iran border.
The report said that the long coastal belt was also a source of smuggling and security was being tightened through law enforcement agencies, including through marine and coast guards. It said Afghan Transit Trade was also a source of such unregistered financial flows. All these channels were also being misused by foreign agencies to support terror-related activities.
The tools being used for financial transaction for terrorism included donations, cash smuggling, natural resources, drugs, non-governmental organisations and foreign agencies. The report said the FBR identified about 1,185 illegal transactions since 2015, followed by 1,049 by the SBP and about 1,295 by the FIA.
An official said that no amendment to the law was required for further proscription of organisations. The Foreign Office has given new guidelines, for regulators and law enforcement agencies, so once MOFAP will issue an SRO, the relevant agencies and regulators will move for swift action on that basis.
During the May and September meetings later this year, regulators and law enforcement agencies will be expected to demonstrate results in the form of investigations, prosecutions, convictions, supervisory actions, sanctions with resulting impacts on compliance by financial institutions, implementing cross-border currency and border controls and enforcement of regulatory regime at the borders. NACTA will be expected to enhance coordination with LEAs and CTDs coupled with effective implementation on UNSCR Sanctions.
In June 2018, Pakistan made a high-level political commitment to work with the FATF and APG to strengthen its AML/CFT regime and to address its strategic counter-terrorism financing-related deficiencies by implementing a 10-point action plan to accomplish these objectives. The successful implementation of the action plan and its physical verification by the APG will lead the FATF to clear Pakistan out of its grey list or else move into the black list by September 2019. In August, the APG as part of the pre-site mutual evaluation identified a series of deficiencies in Pakistan's anti-money laundering/counter-terror financing laws and mechanisms.
Full report at:
https://www.dawn.com/news/1455619/pakistan-delegation-departs-for-fatf-meeting-with-action-plan
--------
PTI will struggle to reverse waning momentum, says Fitch Solutions
Fayaz Hussain
January 05, 2019
KARACHI: Political headwinds are growing in Pakistan, warns Fitch Solutions - the macro research arm of the global credit rating agency - in a report issued on Friday.
"The government will struggle to deliver results given growing downside risks to policy-making stemming from a growing opposition and rising influence of religious hardliners, as well as deteriorating foreign relations with the west," said the report.
"We at Fitch Solutions believe that the government would need to deliver tangible economic improvement if its still-high popularity is to continue through the parliamentary term," the authors state.
Pakistan's economy is faced with growing challenges that will adversely hit the lives of the common citizens. As one example, the CPI-based inflation has reached a four-year high at 6.78 per cent in Oct, 2018 before easing to 6.2pc in December. The rising inflation has come on the back of around 25pc depreciation in the Rupee against the greenback during last year coupled with high international oil prices during the first half of 2018.
Moreover, investor confidence has declined significantly in the past six months mainly due to the economic mismanagement of the government visible in the ad hoc mini-budgets, energy crisis affecting the industry, exchange rate volatility and high interest rates.
The authors of the report say that the PTI will have a hard time facing these economic challenges as the political headwinds grow in ferocity. The report maintains Pakistan's short-term political risk index score at 48.2 out of 100, described by the authors as "poor".
The authors see a galvanised opposition that is "gaining momentum" after the by-elections in 11 national assembly and 24 provincial assembly seats held in October. "The polls served as a barometer for Khan's approval rating and popularity" the report says, and the outcome "saw the opposition PML-N ... make notable gains."
The report adds that in its first half year, Prime Minister Imran Khan's office was "dominated by a series of high profile anti-graft and blasphemy sagas distracting from early attempts at economic reforms."
The anti-graft saga itself, the authors note, has been marred by allegations of being "politically motivated", and notes with concern that the PML-N has "promised political reprisals with a pledge to frustrate the PTIs agenda" following the jailing of their leadership.
"In our view, it will be important to observe to what extent the PML-N will carry out these threats over the coming months and to what degree they are successful" the report says.
The report notes that the government "led by Khan also appears to be struggling with the rising influence of Islamic hardliners, having to give in to their demands on several occasions." It cites the cases of Aasia Bibi and the government's decision to drop Atif Mian from the Economic Advisory Council as examples.
PTI remains in "pole position" but is increasingly "losing momentum" as it has had to backtrack on its campaign promises of never going to the International Monetary Fund (IMF) or seek financial help from other countries after PM Khan had to personally visit friendly countries to gather funds in order to avoid a potential default on its liabilities.
Going forward, "a united opposition poses downside risks to policy-making and enactment in the country" since the PTI does not have a "simple majority in the national assembly" and is "reliant on smaller parties to form the majority coalition partners [who] could leverage a stronger opposition to gain political concessions," warns the report.
In addition to the internal pressures, the government found itself in "a difficult situation" after the US President Donald Trump and PM Khan traded barbs against each other on social media.
Full report at:
https://www.dawn.com/news/1455610/pti-will-struggle-to-reverse-waning-momentum-says-fitch-solutions
--------
Erdogan welcomes Pakistan's decision to declare Gulen-backed organisation a terror outfit
January 04, 2019
Turkey's President Recep Tayyip Erdogan on Friday welcomed Pakistan's decision to hand over schools affiliated with cleric Fethullah Gulen to a Turkish government foundation and declare Pak-Turk International Cag Education Foundation (PTICEF) a proscribed organisation.
Erdogan said this while addressing a joint press conference following his meeting with Prime Minister Imran Khan at the Presidential Palace in Ankara.
In a joint declaration issued following the meeting, both the countries "underlined their abiding commitment for fighting the menace of terrorism in all its forms and manifestations" and reiterated their resolve to "fight against the Fethullah Gulen Terrorist Organisation (FETO)".
During the meeting, the leaders discussed enhancing of relations and strengthening of economic ties between Pakistan and Turkey, and decided to further augment people-to-people contacts through increased exchanges and cooperation in the areas of education, culture, tourism and youth.
Speaking at the joint press conference, Imran Khan highlighted that the roots of Turkish-Pakistan relationship go back to a very long time and wished to take this affiliation to a much higher level — "a level that so far has not been reached".
The premier said Pakistan wanted to strengthen its bond with Turkey, not just in trade ties but also in "foreign relations, in our various attitudes to terrorism".
He said Turkey had built over 2 million houses in the last six or seven years which Pakistan would learn from, as it was the first time in Pakistan that "such an ambitious plan has been undertaken".
The prime minister was referring to the Naya Pakistan Housing Programme launched by the federal government for low-income individuals in the country.
Imran Khan also talked about the health reforms of Turkey and the insurance coverage of the underprivileged population, who all had access to quality healthcare, which the premier believed was "probably one of the most important aspects of a civilised society".
Also speaking at the occasion, President Erdogan said he hoped 2019 will be a year when Turkey and Pakistan would take important steps; whether it be high-level strategic council meetings, or the Afghanistan-Pakistan-Turkey Trilateral Istanbul Summit. "The steps that we are going to take within this framework are very important to me," he maintained.
"Meetings between our delegations focused on defence industry cooperation, social and cultural issues, and especially [the] fight against Fethullah [Gulen's] Terrorist Organisation," the Turkish president said.
Erdogan expressed gratitude over the Supreme Court of Pakistan's decision where it termed the organisation running the Pak-Turk schools a terrorist outfit.
Ankara accuses Gulen of being behind a long-running campaign to overthrow the state through the infiltration of Turkish institutions, particularly the military, police, and judiciary.
The Turkish president further said his country will host the leaders of Pakistan and Afghanistan for a meeting geared toward bringing peace to Afghanistan. The trilateral meeting would take place in Istanbul after Turkey's March local election, he said.
Meanwhile, Khan told reporters he hoped the meeting would bring "badly needed peace" to Afghanistan.
The prime minister is accompanied on the trip by Minister for Foreign Affairs Shah Mehmood Qureshi, Finance Minister Asad Umar, Minister for Plan­ning, Development and Reforms Makhdoom Khusro Bakhtyar, Adviser to the PM on Commerce, Textile, Industry and Production Razak Dawood and Special Assistant to the PM on Overseas Pakistanis Zulfikar Abbas Bukhari.
According to Turkish daily Yeni Şafak, the premier in a meeting with Turkish Health Minister Fahrettin Koca and ministry officials said that Pakistan and Turkey have agreed to cooperate in the field of health by setting up a task force.
The premier also visited the mausoleum of Mustafa Kemal Ataturk — founder of modern Turkey — where he laid a wreath and signed a formal guest book, Yeni Safak reported.
As per the report, in his message Prime Minister Khan wrote that Quaid-i-Azam Mohammad Ali Jinnah had described Ataturk as "one of the greatest men who has ever lived".
Earlier in the day, the prime minister met with a delegation of the Turkey-Pakistan Business Council of the Foreign Economic Relations Board of Turkey.
While addressing the delegation, the premier said that Pakistan in the 1970s "went wrong because we had a socialist mindset which became a deterrent to wealth creation."
The premier continued that though the socialist regime stepped down in the subsequent decades, the mindset prevailed among the bureaucracy. He added that the PTI-led government, however, supports investments and is taking measures to create money-making opportunities.
He assured the Turkish business leaders of an investor-friendly environment in Pakistan under the PTI government. "We, as a government, are now making every effort to remove impediments in the way of investments," he said, adding that a separate cell has been established at the Prime Minister Secretariat to monitor the process.
"We have already discussed the issues being faced by Turkish investors in Pakistan," he said, adding that the current government's top priority was the export sector.
The prime minister referred to the Chinese model as his inspiration for governance. "They [China] have taken 700 million people out of poverty in the last 30 years. Our main concern is also to take people out of poverty."
It is expected that the prime minister's visit to Turkey will bring some respite in the prevailing economic crunch in Pakistan as some memoranda of understanding on trade and investment are likely to be inked between the two sides.
Invitation to invest
In a late-night address on Thursday to the Turkish business fraternity in Ankara, Prime Minister Khan invited Turkish businessmen and investors to invest in various fields and industries in Pakistan, including construction, tourism and exploration of natural resources.
He said that his government had streamlined the governance system and removed red-tapism and hurdles in Pakistan to facilitate foreign investors. "We want to provide ease of doing business to the businessmen and investors for wealth and jobs creation," he said.
The prime minister invited Turkish investors and construction firms to invest in his government's five-year plan of building five million houses.
Earlier, the prime minister and his delegation arrived in Konya.
Full report at:
https://www.dawn.com/news/1455431/erdogan-welcomes-pakistans-decision-to-declare-gulen-backed-organisation-a-terror-outfit
--------
Government to improve health services for Afghan refugees
January 5, 2019
ISLAMABAD: Minister for National Health Services, Regulations and Coordination, Aamer Mehmood Kiani on Friday has pledged to support all residents of the country, including Afghan refugees to have access to better health services.
He said that the provision of standard health facilities and reforms in public sector health institutions was the top priority of the Pakistan Tehreek-e-Insaf government.
"We are committed to providing better healthcare facilities to everyone irrespective of their backgrounds," he said this in a meeting at UNHCR office. The meeting also discussed various issues pertaining to the well-being of Afghan Refugees.
The minister said that Afghan refugees both men and women were also trained as paramedics at relevant Islamabad based institutions. He added that it will provide livelihood opportunities for the paramedics and allow refugees communities to benefit from their services.
The minister said, "We will ensure that refugees' health is reflected on the agenda of various thematic months."
United Nation Representative for Pakistan Ruvendrini Menikdiwela said UNHCR has been providing health assistance to refugees and their Pakistani host communities for around four decades. "In the past five years, we have contributed US$ 38 million to support healthcare for both refugees and refugee-hosting communities," she said.
She said, "We will invest resources in the government's healthcare system to enhance quality and coverage of primary, secondary and tertiary care health services in districts hosting refugees," she said.
Full report at:
https://www.pakistantoday.com.pk/2019/01/05/government-to-improve-health-services-for-afghan-refugees/
--------
One terrorist killed in North Waziristan operation: ISPR
January 5, 2019
RAWALPINDI: One terrorist was killed by the security forces during an intelligence-based operation in the Spinwam tehsil of North Waziristan, Inter-Service Public Relations (ISPR) said on Friday.
Hand grenades, SMGs, spare magazines, and communication equipment were recovered during the operation, the military's media wing added.
Further, the ISPR said that terrorist activity was foiled in Balochistan's Qilla Saifullah and Kahan districts. Weapons and ammunition were also recovered from the terrorists, ISPR added.
In another incident, the Frontier Corps conducted an operation in the suburbs of Qila Saifullah and Kahan and foiled terrorist activities aimed to "sabotage peace" in Balochistan. Arms and ammunition were recovered during the operation.
Last week, four security officials were martyred and many others were wounded while staving off a terrorist attack on a training centre of a paramilitary force in central Balochistan.
Full report at:
https://www.pakistantoday.com.pk/2019/01/04/one-terrorist-killed-in-north-waziristan-operation-ispr/
--------
Trump trapping Pakistani rulers: Siraj
January 5, 2019
LAHORE: Jamaat-e-Islami Ameer Senator Sirajul Haq has said US President Trump has once again laid a trap for Pakistani rulers by saying that Washington wanted improved relations with Islamabad.
If the rulers believed him (trump), it would be the height of their imprudence, he said while delivering Friday sermon at Mansoora Masjid and later addressing a meeting of JI Shoora. The JI chief said if the government ignored Trump and switched over to the Islamic economic system, all of its worries would be over soon.
Sirajul Haq said the US and Trump were totally unreliable. As and when they needed Pakistan's services, they announced working hand in hand with Islamabad upon which the rulers of Pakistan felt elated, he said. However, after its agenda was service, the US soon began to hurl threats on Pakistan. He said this game had been going on for about half a century and the Pakistani rulers were deceived by Washington every time. He said it was high time the rulers walked out of this self deception. He said, unfortunately, the present rulers were also getting dictation from IMF and World Bank, and were following their policies due to which the country's economy had worsened. Sirajul Haq said the JI's drive against corruption was continuing. He said that time was not far when this campaign would bear fruit. He asked the JI workers to establish the system of Salat ( prayers). He said that, in fact, this was the job of the government but none of the governments had given any attention to it. Sirajul Haq said that politics was the service of the people and it implied reforms. He said that politics aiming at establishing the supremacy of Islam was permissible in Islam, whereas, the politics aiming at establishing the rule of a party or an individual was prohibited.
https://www.thenews.com.pk/print/414874-trump-trapping-pakistani-rulers-siraj
--------
Car bomb explosion wounds 3 in northwest Pakistan
January 05, 2019
PESHAWAR: Pakistani police say a car bomb has exploded in a Peshawar neighborhood wounding three people and damaging several shops.
Officer Dost Mohammad says the explosion Saturday took place outside a mosque in the Kali Bari area of the city. He says a woman was among the wounded, who were rushed to a nearby hospital.
Mohammad said the area was nearly deserted at the time of the early morning blast.
No one immediately claimed responsibility for the attack.
Peshawar, capital of Khyber Pakhtunkhwa province, is surrounded by lawless tribal regions that have served as a sanctuary for Islamic militants for decades. Militants have targeted the city for years.
http://www.arabnews.com/node/1430691/world
--------
Mideast
NYT: Exodus of brains, talents, wealth from Turkey due to Erdogan's policies
4 January 2019
A report by published The New York Times on January 3 has highlighted the anguish of the Turkish people who are leaving the country in large numbers due to President Recep Tayyip Erdogan's policies, especially after the failed 2016 coup.
According to the report, for 17 years, Erdogan won elections by offering voters a vision of restoring the glories of Turkey's Ottoman past, but after the 2016 he embarked on a sweeping crackdown.
Also the deteriorating economy, which has led to the Turkish currency plunging, has made Turks take a different approach by leaving the country in droves and taking talent and capital with them, in a way that indicates a broad and alarming loss of confidence in Erdogan's vision, according to government statistics and analysts.
More than a quarter of a million Turks emigrated in 2017, according to the Turkish Institute of Statistics, an increase of 42 percent over 2016, when nearly 178,000 citizens left the country.
At least 12,000 of Turkey's millionaires — around 12 percent of the country's wealthy class — moved their assets out of the country in 2016 and 2017, according to the Global Wealth Migration Review, an annual report produced by AfrAsia Bank.
Turkey has seen waves of students and teachers leave before, but this exodus looks like a more permanent reordering of the society and threatens to set Turkey back decades, said Ibrahim Sirkeci, director of transnational studies at Regent's University in London, and other analysts.
"The brain drain is real," Sirkeci said. According to The New York Times, the flight of people, talent and capital is being driven by a powerful combination of factors that have come to define life under Erdogan and that his opponents increasingly despair is here to stay.
They include fear of political persecution, terrorism, a deepening distrust of the judiciary and the arbitrariness of the rule of law, and a deteriorating business climate, accelerated by worries that Erdogan is unsoundly manipulating management of the economy to benefit himself and his inner circle.
The result is that, for the first time since the republic was founded nearly a century ago, many from the old moneyed class, in particular the secular elite who have dominated Turkey's cultural and business life for decades, are moving away and the new rich close to Erdogan and his governing party are taking their place.
Exodus of wealthy
Most of them moved to Europe or the United Arab Emirates, the report said. Turkey's largest business center, Istanbul, was listed among the top seven cities worldwide experiencing an exodus of wealthy people. Erdogan has reviled as traitors businesspeople who have moved their assets abroad as the Turkish economy began to falter.
"Pardon us, we do not forgive," he warned in a speech at the Foreign Economic Relations Board, a business association in Istanbul in April. "The hands of our nation would be on their collars both in this world and in the afterlife." "Behavior like this cannot have a valid explanation," Erdogan added.
His comments came amid reports that some of Turkey's largest companies were divesting in Turkey. Several such companies have made significant transfers of capital abroad, amid fears they would be targeted in the post-coup crackdown or as the economy began to contract.
One is the Turkish food giant Yildiz Holding, which came under fire on social media as being linked to US-based cleric Fethullah Gulen's movement.
Soon after, Yildiz rescheduled $7 billion of debt and sold shares of its Turkish biscuit maker, Ulker, to its London-based holding company, essentially transferring the family's majority holding of Ulker out of reach of Turkish courts, The New York Times report says.
https://english.alarabiya.net/en/features/2019/01/04/Exodus-of-brains-talents-wealth-leave-Turkey-due-to-Erdogan-s-policies-.html
--------
Palestinian government media raided in Hamas-run Gaza
4 January 2019
Armed men raided the headquarters of Palestinian Authority media in the Hamas-run Gaza Strip on Friday, station staff said, causing damage to equipment.
There was no immediate claim of responsibility for the incident, though the staff and a PA official said they held Hamas responsible.
Five armed men entered the offices of the Palestinian Broadcasting Corporation in Gaza City, official Palestinian news agency WAFA reported.
The organization is funded by the West Bank-based Palestinian government, which has a longstanding dispute with the Islamist Hamas movement, and the building houses offices for Palestine TV and the Voice of Palestine radio station.
During the raid workers were assaulted and equipment destroyed, WAFA reported.
"At least five people broke into the building, broke the radio door and completely destroyed the main studio, including cameras, equipment, furniture and broadcasting equipment," a staffer at the radio station said.
AFP correspondents at the scene found a number of video cameras and computers badly damaged, with chairs and doors destroyed.
"We hold the Hamas authorities fully responsible for this crime of breaking into the headquarters and destroying them," Ahmed Assaf, the PA general supervisor for official media said in a statement.
"This is an attack against our people in Gaza," he added.
Salameh Maarouf, director of the Hamas-run media office, said in a statement it condemned the "unacceptable behaviour" and called for the perpetrators to be arrested.
Hamas seized control of Gaza from the West Bank-based government in a 2007 near civil war, and multiple attempts at reconciliation have failed.
Full report at:
https://english.alarabiya.net/en/News/middle-east/2019/01/04/Palestinian-government-media-raided-in-Hamas-run-Gaza.html
--------
Israel acts at 'military level' amid US sanctions on Iran: Netanyahu
Jan 4, 2019
Israeli PM Benjamin Netanyahu says he had "insisted" that the US reimpose sanctions on Iran, adding Tel Aviv complements economic pressures with its own actions "at the military level."
US President Donald Trump "is acting against Iran at the economic level and we here in Israel are acting against Iran at the military level," Netanyahu said in an address to Israeli military cadets on Thursday.
By military actions, Netanyahu apparently meant airstrikes against what Israel calls Iranian positions in Syria. Damascus says the attacks are part of Israel's efforts to prop up terrorists in the face of army advances.
Last week, an Israeli intelligence website refuted Tel Aviv's claims that a recent aerial raid in Syria had targeted Iranian military advisers and Hezbollah fighters, saying the attack actually hit Syrian army positions.
Netanyahu said Israel was "surrounded by enemies on a couple of fronts," and it was "acting determinedly against anyone seeking to endanger us."
His comments came a day after Trump said Iran "can do what they want" in Syria following his decision to withdraw US troops operating there, a move that sparked consternation in Israel.
"Iran is no longer the same country," Trump said. "Iran is pulling people out of Syria. They can do what they want there, frankly, but they're pulling people out. They're pulling people out of Yemen. Iran wants to survive now," he claimed Wednesday.
In an apparent bid to soothe Israel, US Secretary of State Mike Pompeo said on Tuesday Washington would continue to work closely with Israel over Syria and Iran.
Speaking in a meeting with Netanyahu in Brazil, the top US diplomat said Trump's announcement of pulling out troops from Syria "in no way changes anything that this administration is working on alongside Israel."
He said US commitment to counter what he called Iranian aggression and "the protection of Israel continues in the same way it did before" Trump made the decision.
Iran has been offering advisory military assistance to the Syrian government in its counter-terrorism battle at the request of Damascus.
The US, Israel, France, Britain and their regional allies such as Saudi Arabia, the UAE, Turkey and Qatar, instead, have been sponsoring terrorists in Syria since 2011 which has left the Arab country in ruins.
Full report at:
https://www.presstv.com/Detail/2019/01/04/584809/Netanyahu-Iran-Israel-Syria-Trump-sanctions
--------
Israeli forces injure at least 23 Palestinians in Gaza protests
Jan 4, 2019
Israeli forces have attacked anti-occupation protests along the border between the besieged Gaza Strip and the occupied territories, leaving at least 23 Palestinians injured.
Ashraf al-Qedra, the spokesman for the Gaza Health Ministry, said Israeli forces used gunfire and tear gas against the protesters east of the coastal enclave on Friday.
According to the report, 14 protesters were injured during the clashes in addition to seven medics and a journalist.
Tensions have been running high near the fence separating Gaza from the occupied territories since March 30, which marked the start of the protests.
Palestinian protesters demand the right to return for those driven out of their homeland.
The clashes in Gaza reached their peak on May 14, the eve of the 70th anniversary of Nakba Day, or the Day of Catastrophe, which coincided this year with Washington's relocation of the US embassy from Tel Aviv to occupied Jerusalem al-Quds.
More than 240 Palestinians have so far been killed and over 20,000 others wounded in the renewed Gaza clashes, according to the latest figures released by the Gaza Health Ministry.
Full report at:
https://www.presstv.com/Detail/2019/01/04/584868/Israel-injures-Palestinians-Gaza
--------
Fresh Saudi-led airstrikes leave seven dead in Yemen's Shabwah
Jan 4, 2019
At least seven people have been killed when Saudi-led military aircraft carried out airstrikes against a residential area in Yemen's southern province of Shabwah as the Riyadh regime and its regional allies press ahead with their atrocious military campaign against the impoverished Arab country.
A local source, speaking on condition of anonymity, told Arabic-language al-Wahdah news agency that militiamen loyal to the United Arab Emirates (UAE) attacked the Markhah area on Friday, and engaged in fierce armed confrontations with scores of Sada tribesmen.
The skirmishes lasted for several hours, before an Emirati Boeing AH-64 Apache attack helicopter fired several missiles at a number of houses in the area, killing seven people.
Later in the day, Yemeni army soldiers and allied fighters from Popular Committees fired eight domestically-developed Zelzal-1 (Earthquake-1) ballistic missile at the positions of Saudi troopers in Akefah military camp in the kingdom's southern border region of Najran, killing and injuring a number of them.
Yemeni forces and their allies also launched a barrage of artillery rounds at the gatherings of Saudi-backed militiamen loyal to Yemen's former president Abd Rabbuh Mansur Hadi in Hamad base of the same Saudi region, leaving scores of the mercenaries killed and injured in the process.
Saudi Arabia and a number of its regional allies launched a devastating military campaign against Yemen in March 2015, with the aim of bringing the government of Hadi back to power and crushing the Ansarullah movement.
According to a new report by the Armed Conflict Location and Event Data Project (ACLED), a nonprofit conflict-research organization, the Saudi-led war has so far claimed the lives of around 56,000 Yemenis.
The Saudi-led war has also taken a heavy toll on the country's infrastructure, destroying hospitals, schools, and factories. The UN has already said that a record 22.2 million Yemenis are in dire need of food, including 8.4 million threatened by severe hunger. According to the world body, Yemen is suffering from the most severe famine in more than 100 years.
Full report at:
https://www.presstv.com/Detail/2019/01/04/584863/Fresh-Saudiled-airstrikes-leave-seven-dead-in-Yemens-Shabwah
--------
Turkey seeks nearly 150 arrests over Gulen ties
January 04, 2019
ANKARA: Turkish police on Friday launched nationwide raids to detain nearly 150 people, including military personnel, suspected of ties to the group blamed for the 2016 attempted coup, local media reported.
Prosecutors in Istanbul, Konya and Ankara issued arrest warrants for 137 people as part of different investigations into followers of US-based Muslim preacher Fethullah Gulen, state news agency Anadolu and NTV broadcaster reported.
Turkey has claimed that Gulen ordered the coup attempt against President Recep Tayyip Erdogan on July 15, 2016 — a charge he vehemently denies.
The raids were spread across more than 30 provinces including Ankara where the public prosecutor issued detention warrants for 35 non-commissioned officers in the navy including 10 still in active duty.
Tens of thousands of people have been arrested over alleged links to Gulen since 2016 while over 100,000 have been sacked or suspended from the public sector.
Although Ankara has been criticized by human rights defenders and its Western allies over the scale of the crackdown, the nationwide raids have continued in recent weeks.
Full report at:
http://www.arabnews.com/node/1430256/middle-east
--------
URL: https://www.newageislam.com/islamic-world-news/parish-priest-baghdad-praises-muslim/d/117376
New Age Islam, Islam Online, Islamic Website, African Muslim News, Arab World News, South Asia News, Indian Muslim News, World Muslim News, Women in Islam, Islamic Feminism, Arab Women, Women In Arab, Islamophobia in America, Muslim Women in West, Islam Women and Feminism