New Age Islam News Bureau
18 March 2017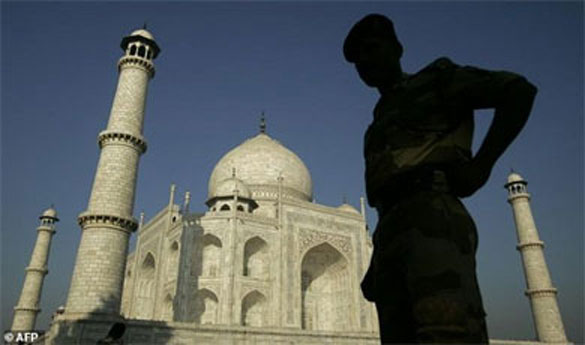 The Taj Mahal is a 17th century monument that attracts millions of tourists every year
---------
• Paris Orly Airport Shooting: Attacker Was 'Radicalised Muslim' Man Known To French
• Intelligence Services
• Turkey's President: Turks Living in Europe Should All Have 5 Children
• Indian Agency Foils Plot To Kill Muslim Clerics, Who Openly Criticised ISIS Ideology; Taj Mahal Also Falls Within the Cross Hairs of TERROR
• Pakistan Government to Facebook, Twitter: Remove Insults to Islam
• Donald Trump Not Safe In White House, Says Former US Secret Service Agent
------
Europe
• Man Shot Dead At Paris Orly Airport after Taking Soldier's Gun
• An anti-Islam Dutch leader is barred from power, His supporters say: Just wait
------
Mideast
• EU Is 'Unfairly' Criticizing Turkey, Hungarian PM Orban Says
• Three children die due to fire in Istanbul
• Germany bans political meetings of ruling AKP deputy chair
• Moody's cuts outlook on Turkey credit rating to 'negative'
• Over 22,000 from army, military schools expelled: Minister
• Turkish ministry denies report on Russian goods ban
------
India
• Deoband Will Be Turned Into Deovrind: BJP MLA
• Urdu Newspapers Flourish in Bihar: Several Prominent Urdu Papers Published From Patna
• Foreign Minister Hints at ISI Hand In Indian Clerics' Disappearance
• Islam influenced Gandhiji's struggle?
• Agra blasts: Twin low-intensity explosions near Cantt railway station, no injuries reported
------
Pakistan
• Religious Seminaries Outnumber Schools in Islamabad
• Nobody has right to alter injunctions of Islam: Siraj
• At least six terrorists killed in KP's Michini, says Frontier Corps
• 30 terrorists, 9 security men die in Pakistan operation
• Pakistan: Sikhs plan protest over omission of their religion in census
• Position on Kashmir not affected by CPEC: China
• Pakistani-American couple donates $15 million to Catholic university
• Speaker wants NA body to probe Haqqani's claims
• Pakistan parties agree to revive military courts
------
North America
• Pentagon Denies Striking Mosque in Syria, Says It Killed Al Qaeda Militants
• Tensions show as Trump ignores Merkel's handshake offer in first meeting
• Trump voices NATO support but says members must pay 'fair share'
• US appeals ruling against Trump's revised travel ban to higher court
• British spy agency denies wiretapping Donald Trump
• Trump's Muslim rhetoric key issue in travel ban rulings
------
Southeast Asia
• What Do Islamic State and Tibet Have to Do with China's Crackdown in Xinjiang?
• What's Driving Malaysian Support for Islamic Penal Code?
• Eminent Islamic scholar meets key leaders in Singapore
• Philippine troops kill 10 Muslim militants
• China Mulls Terror Response after Islamic State Threat
------
Arab World
• Iraqi Forces Battling ISIS Edge into Mosul's Old City, Nuri Mosque in Sight
• Losing Mosul Would Be a Huge Blow To Islamic State
• Syria fires missiles at Israeli jets after air strikes
• 26 Somali refugees killed in Yemen airstrike
• Aleppo: ISIL Besieged in Strategic Town of Deir Hafer
• Homs: Army Forces Regain Control of Oilfields in Eastern Palmyra
• Iran pilgrims to join this year's hajj: Saudi Arabia
------
South Asia
• 19 Militant Skilled In Baghlan Airstrike In North Of Afghanistan
• Suspect Explodes Bomb, Dies at Bangladesh Security Camp
• Bangladesh Forces Kill Suspected Militant Carrying Explosives
• UN urges Afghanistan to tackle 'alarming' extremist threats
• Russia reiterates contacts with Taliban only aimed at promoting Afghan peace
• UN mission mandate in Afghanistan extended for one year
------
Africa
• How Africa Can Win the War on Islamist Militants
• Kenya's president deploys military to quell drought violence
• Uganda: Gunmen kill senior police official, president orders installation of surveillance
Cameras
Compiled by New Age Islam News Bureau
URL: https://www.newageislam.com/islamic-world-news/new-age-islam-news-bureau/paris-orly-airport-shooting--attacker-was--radicalised-muslim--man-known-to-french-intelligence-services/d/110447
-------
Paris Orly airport shooting: Attacker was 'radicalised Muslim' man known to French intelligence services
Lizzie Dearden : 18 March 2017
The man shot dead after attempting to steal a soldier's gun at Paris Orly Airport was a "radicalised Muslim" known to security services.
The 39-year-old shot at police officers manning a checkpoint in northern Paris with an "air pistol" before launching the airport attack, the French interior minister said.
Bruno Le Roux said one officer was shot during the routine check and was undergoing hospital treatment for injuries to his face.
"We can link the [airport attacker's] identity with a check carried out at Garges Les Gonesse by a patrol in Stains this morning at 6.50am (5.50am GMT)," he added.
"The individual's identity is known to the police and intelligence services."
The car stopped in Stains was a Renault Clio, which was later abandoned for a Citroen Picasso hijacked at gunpoint in Vitry. The car was found at Orly airport.
A police source described the attacker as "a radicalised Muslim known to intelligence services".
He attempted to steal a Famas assault rifle from a female soldier on a counter-terror patrol before being killed, Mr Le Roux said, adding that he "did not succeed".
Jean-Yves Le Drian, the French defence minister, said the air force member was thrown to the ground during the assault, adding: "The two other airmen in the patrol opened fire to protect their comrade and protect nearby members of the public.
"They reacted with great professionalism and remarkable composure."
Source: http://www.independent.co.uk/news/world/europe/paris-orly-airport-attack-shooting-suspect-radicalised-muslim-terror-isis-france-security-services-a7636496.html
------
Turkey's president: Turks living in Europe should all have 5 children
Mar 17, 2017
Making European nationalists uncomfortable is good politics for him.
by Zeeshan Aleem
Turkish President Recep Tayyip Erdoğan believes that Turks in Europe are facing terrible discrimination. His proposed solution: Make as many Turkish babies there as possible.
Speaking at a rally in the Turkish city of Eskisehir on Friday, Erdoğan told his compatriots living in Europe that they should view success — and the creation of big families — as the best way to combat the swell in anti-Muslim and anti-Turkish sentiment across the continent.
"Go live in better neighborhoods. Drive the best cars. Live in the best houses. Make not three, but five children. Because you are the future of Europe. That will be the best response to the injustices against you," he said.
Anti-immigrant nationalists shudder at the idea of a swiftly growing and more powerful Turkish — and Muslim — population in Europe. And that's exactly why Erdoğan encouraged it.
The Turkish-European relationship is in a state of chaos these days, and Erdoğan has found it politically advantageous to throw fuel on the fire. He's currently touring Turkey in a bid to whip up support for a referendum on a constitutional amendment that would endow the presidency — and therefore him — with far more power. It's a move his political opponents and many analysts see as a bald attempt at formalizing authoritarian rule in Turkey.
But playing up anti-Turkish sentiment and attacking Europe is proving to be an effective way of stirring up nationalist sentiments at home, which he hopes will translate into support for his referendum. And indeed, Erdoğan's main opposition, the Republican People's Party, has backed his recent denunciations of Europe.
Those denunciations have been aggressive. Earlier this month, Erdoğan accused Germany of behaving like "Nazis" after several German cities canceled rallies supporting his referendum, citing security concerns. Last weekend, he labeled Dutch authorities "Nazi remnants" after they prevented his ministers from campaigning for his referendum among Turkish expats in the Netherlands.
European nationalists have also fed off of this antagonism and used it for their own political gain. Dutch anti-immigrant firebrand Geert Wilders eagerly attempted to take credit for the Dutch government's decision to bar the Turkish ministers from entering the country in the run up to the national election this week, in which he ended up second place.
Great! Thanks to heavy PVV- pressure a few days before the Dutch elections our government did NOT allow the Turkish minister to land here!! https://twitter.com/cnnturk/status/840510938381971459 …
While fiery politicians in both Europe and Turkey have much to gain in the short-term from combative posturing, there's also some serious long-term costs that are being incurred. A big agreement between Turkey and the European Union hangs in the balance: Last year, Turkey agreed to curb the flow of migrants from the Middle East into Europe in exchange for $3 billion in economic aid, visa-free travel for Turks to Europe, and a renewed push in talks over Turkey joining the EU.
Should relations continue to sour between the two, the agreement could evaporate, and potentially contribute to a huge disruption in economic ties.
http://www.vox.com/world/2017/3/17/14959032/erdogan-turkey-europe-immigration
------
Indian Agency Foils Plot To Kill Muslim Clerics, Who Openly Criticised ISIS Ideology; Taj Mahal Also Falls Within the Cross Hairs of TERROR
By Shashank Shekhar and Arvind Ojha
17 March 2017
Uttar Pradesh anti-terrorism squad (ATS) has foiled the plans of a terror module planning to target Shia clerics and Islamic education bodies in the state.
According to investigators, the self-radicalised group intended to eliminate three Muslim clerics from Lucknow who had openly criticised ISIS ideology. Both Sufi and Shia clergy from the city have been vocal in protest against pro-ISIS beliefs.
The officials claim that the terrorists had gathered intel on the daily routines of all three Muslim leaders and were following their daily routines in preparation of an attack.
The Taj Mahal is a 17th century monument that attracts millions of tourists every year
The Taj Mahal is a 17th century monument that attracts millions of tourists every year
A diary and documents seized from their rented house in Haji colony revealed their targets.
Saifullah, who was gunned down by cops in an encounter this month was staying in Lucknow with Atif, Danish Akhtar alias Jaffar and Syed Mir Hussain alias Humza.
Police had claimed that they were trying to set up an ISIS-inspired terror module of Khorasan, the branch of Islamic State based in the Afghanistan-Pakistan region.
'They wanted to eliminate three Muslim clerics associated with a prestigious organisation, as they had raised their voices against ISIS ideology', said a senior police officer.
However, investigating agency is yet to establish if the group's motive was also to spread communal violence in the state by attacking their targets.
The officer said that documents recovered from the terrorists show that they were also prepared to fight with commandos in case of a hostage-like situation.
Their computers had training videos and literature related to past terror attacks. The case was transferred to the National Investigation Agency (NIA) this week.
India has boosted security at the Taj Mahal after a pro-Islamic State group reportedly warned of attacks in the country and threatened the 17th century monument to love, police said Friday
India has boosted security at the Taj Mahal after a pro-Islamic State group reportedly warned of attacks in the country and threatened the 17th century monument to love, police said Friday
A pro-Islamic channel called Al- Hindi on Telegram, an encrypted chat platform, had also praised Mohammad Saifullah, who was killed in a counter-terror operation.
They termed him as a 'soldier of Khilafah from India' and incited Muslims to follow his example and launch lone-wolf attacks.
Al-Hindi channel made a series of posts on Saifullah as an example to launch attacks in India, a jihadi monitoring intelligence body SITE reported.
Al-Hindi is not the only ISIS-backed channel. There are several other channels operated by jihadis, particularly by the ISIS and Al Qaeda for encrypted communication.
Just a week after the UP ATS crackdown, a pro-Islamic State media group warned of attacks in India and published a graphic depicting the Taj Mahal in Agra as a possible target.
Taj Mahal: An inset in the graphic features another image of the Taj Mahal within cross-hairs with the words 'new target' below it
Taj Mahal: An inset in the graphic features another image of the Taj Mahal within cross-hairs with the words 'new target' below it
The graphic by the Ahwaal Ummat Media Center was posted on a channel of Telegram on March 14.
The graphic features a fighter in combat fatigues and black headgear armed with an assault rifle and a rocket-propelled grenade facing the 17th century monument in Agra.
An inset in the graphic features another image of the Taj Mahal within cross-hairs with the words 'new target' below it.
There is another image of a van with the Arabic text Agra istishhadi (Agra martyrdom-seeker), implying a suicide attack.
Security around the historic building has been beefed up after the issue came to notice.
India beefs up security at Taj Mahal after IS threat
India has boosted security at the Taj Mahal after a pro-Islamic State group reportedly warned of attacks in the country and threatened the 17th century monument to love, police said on Friday.
Images published in local media showed a fighter in combat fatigues and black headgear at the Taj Mahal, India's biggest tourist attraction, and the words 'new target' as the backdrop.
The US-based Site Intelligence Group, which tracks jihadi activity, said the pro-IS Ahwaal Ummat Media Center had originally published the graphic on Telegram on Tuesday.
'There have been no specific intelligence inputs or any official alerts, but going by media reports we have stepped up security at the Taj,' senior police superintendent Preetender Singh told AFP on Friday.
'Security drills are being carried out on a six-hourly basis instead of the usual daily drill.'
Members of the bomb disposal squad and Special Weapons and Tactics (SWAT) team have been deployed with additional personnel patrolling the Yamuna river which flows next to the Taj, he said.
India's leaders say the IS group does not have influence in the country of over 1.2 billion people, which has a large but traditionally moderate Muslim population.
There have been some reports of Indians going to fight for the group in Iraq and Syria, but the numbers are low relative to the size of the population.
Last week, police said an IS sympathiser accused in a train explosion that injured 10 people had been killed in a stand-off as they tried to arrest him.
Singh said the nature of any threat remained unclear but police did not want to leave anything to chance.
'Based on the inputs so far, we have beefed up the security and are fully prepared to handle any eventuality,' he said.
'The Taj is in safe hands.'
http://www.dailymail.co.uk/indiahome/indianews/article-4325210/Indian-agency-foils-ISIS-plot-kill-Muslim-clerics.html
------
Pakistan government to Facebook, Twitter: Remove insults to Islam
March 17, 2017
By Asif Aqeel
A Pakistani government minister has asked Facebook and Twitter to remove content considered insulting to Islam or Muhammad.
"We will go to any extent even if we have to go to the extent of permanently blocking all such social media websites, if they refuse to cooperate," Interior Minister Nisar Ali Khan said 16 March. His ministry has said Facebook will send a team to Pakistan, to address the government's reservations.
Khan also lashed out at the West for not reacting sensitively to the government's concerns, saying: "Questioning the Holocaust isn't allowed, but insulting the Holy Prophet (PBUH) is justified as free speech. Is it freedom of expression or a disgusting conspiracy against Islam?"
His comments followed a statement by Pakistan's Prime Minister, Nawaz Sharif, who said that blasphemy against Islam was an "unpardonable offence", and ordered authorities to arrest people who posted such content deemed offensive on social media.
"Law enforcers should search for people spreading blasphemous material and prosecute them under the law," he said in the statement issued 14 March.
"The [posting of] blasphemous content on social media is an unclean attempt to play with the feelings of the Muslim Ummah [community]," he added.
Pakistan has made similar complaints to Facebook before. In 2010 the country's courts temporarily blocked access to the social network in response to a contest urging Facebook users to post caricatures of Islam's prophet.
Pakistan's anti-blasphemy laws, made more stringent by military dictator Zia ul-Haq in the 1980s, are often misused, including against beleaguered religious minorities who exist in small numbers and lack the financial means to clear their names in court. Tightening the laws further will further intimidate non-Muslims, some of whom have already fallen foul of social media.
Sixteen-year-old Nabeel Masih, who is reportedly illiterate, was accused of blasphemy last September after allegedly "liking" and sharing a post on Facebook which "defamed and disrespected" the Kaaba in Mecca. A month ago he was refused bail, even though he's a juvenile without previous conviction. His lawyers say they've been intimidated.
And last May labourer Imran Masih was accused of blasphemy following a row about an anti-Islam video on Youtube.
The politicians' interventions came in response to a high court judge questioning the government's failure to curb blasphemous material on social media, since when various political parties have tried to appear more "religious" than the other.
Islamabad High Court Justice Shaukat Aziz Siddiqui started weeping while issuing an order to Interior Minister Mr Khan on 7 March "to eliminate access to blasphemous content on social media, even if it means blocking all access to social media platforms".
In the unusual move, Siddiqui unsuccessfully ordered Mr Khan to "to appear in person before the court tomorrow (8 March) in the case pertaining to blasphemous pages on social media."
Following Siddiqui's emotional display in court, he was praised by a large number of people, after which he issued a notice not to praise him through advertisements in social media.
The judge's emotional outburst occurred at a hearing into how five liberal bloggers were able to upload "blasphemous" content to Facebook and Twitter, were abducted by unknown entities, and, when released, managed to escape the country. A team has been formed to investigate how the bloggers were able to leave the country.
The bloggers went missing in early January, and then were accused of spreading "blasphemous" content on Facebook and Twitter, though they were not formally charged. They included Salmaan Haider, whom a columnist for the New York Times described as "a poet and academic who has been a vocal opponent of religious extremism". The missing bloggers were reported to have returned home by the end of January and later were reported to have left the country.
The justice called the bloggers "terrorists" and started hearing their case on a daily basis. At the hearing, the Chairman of Pakistan Telecommunication Authority informed the court that it was not possible to "filter one billion social media pages as he directed". The justice replied "If you are unable to rise up to the task, quit the job. It is a serious issue; but the state is asleep."
In recent years Pakistan has responded to a number of religious controversies by placing restrictions on access to internet content. In January 2016, a three-and-a-half year ban on the website Youtube was lifted only after a Pakistani version of the video-sharing site was launched; this allowed the government to demand the removal of content deemed offensive. In 2010 the government blocked access to Facebook and several other sites that were hosting a competition in which users were invited to draw images of Muhammad.
Asad Jamal, a human rights activist and lawyer, told World Watch Monitor that many observers see the abductions of the bloggers as a conspiracy attempt to thwart dissent on social media.
"The government introduced the Prevention of Electronic Crimes Act 2016, which was drafted and framed in a way to place greater curbs on freedom of expression, alongside actively promoting and developing a narrative around the idea that liberal expression of critical thought and religious and political dissent is blasphemous," he said.
Justice Siddiqui's "outburst", he added, "strengthens the right-wing movement to push the agenda of blasphemy on one hand, and on the other hand it suppresses political dissent and weakens political institutions." ­­
As general elections in Pakistan near, no political party wants to be seen not talking about religion. On 14 March a resolution was easily passed in the Punjab Assembly, the largest provincial assembly in Pakistan, calling for access to blasphemous material to be blocked. Assembly member Sardar Vikas Mokal, of the Pakistan Muslim League, submitted a resolution that reads:
"Pakistan is the only country in the world which is founded on the slogan 'There is no god but Allah. Muhammad is Allah's Apostle'. … [Blasphemy law] Section 295-C is enacted to protect honour of these personalities but we have seen in recent days that some wretched freely violated this law … Our law enforcement agencies are not taking action against these culprits."
The resolution demanded a clampdown on culprits and their enablers who spread disrespectful content on social media. A local newspaper reported that the Minister for Law and Parliamentary Affairs, Rana Sanaullah, "even offered a committee of MPs, IT experts and religious scholars to continuously monitor online material for its content and intent."
However Jamal questioned this move, noting that dissent online had not always been subject to the same controls as it was in other fora. "Political activity and dissent on the ground in real life is already well controlled for decades. Such was not the case with virtual reality i.e. the cyberspace. Political dissenters and critical thinkers who question political curbs and lack of political freedoms are seen as a threat by certain state institutions."
https://www.worldwatchmonitor.org/2017/03/pakistan-government-facebook-twitter-remove-insults-islam/
------
Donald Trump not safe in White House, says former US Secret Service agent
Dan Bongino's statement came a week after the arrest of a man who jumped White House fence and roamed around highly-secured property.
March 18, 2017 2:00 pm
donald trump, trump, trump wiretapping, did obama wiretap trump, trump obama, obama trump, trump phone call tapped, trump wiretapping, trump snooping, trump obama administration, world news, latest news, indian express news
US President Donald Trump is not safe inside the White House and even the Secret Service would not be able to protect him during a terror attack, a former Secret Service agent who had guarded previous presidents have warned. Former Secret Service agent Dan Bongino's statement came a week after the arrest of a man who jumped the White House fence and roamed around the higly-secured property for more than 15 minutes. "The intruder set off multiple alarms, alarms that clearly showed someone breached the property, and he was seen by officers who didn't think anything of it. This is a big story," Bongino was quoted as saying by the Fox News.
Bongino once guarded former US presidents Barack Obama and George W Bush. "That just shows the president is not safe there – in the White House. The Secret Service does not have the assets, they don't have personnel on the ground they need to keep him safe," he said and claimed that in case of a terrorist attack the Secret Service would be unable to protect the US President. "The Secret Service cannot even keep one person off the grounds – what will they do if 40 terrorists charge the White House? And believe me the terrorists are already thinking about that," Bongino said.
In a statement, the Secret Service said Jonathan T Tran, 26, of California was detected crossing the White House Fence near the East Executive Avenue and the Treasury Department complex at 11:21 pm and was arrested at 11:38 pm. Trump was at his residence at the time. The Obama White House had experienced several major security breach and fence jumping, but this is the first after Trump became a White House resident on January 20. According to the Secret Service, Tran scaled two other fences, one of them being eight-foot vehicle gate.
In another related development, the Secret Service acknowledged yesterday that a laptop with sensitive information was stolen from its agent in New York. Republican Congressman Jason Chaffetz, Chairman of the House Oversight Committee, blasted the Secret Service for both the lapse. "Tran may have attempted entry into the building. If true, these allegations raise questions about whether the agency's security protocols are adequate," he alleged in a letter to the Secret Service Director Bill Callahan. "It was complete and utter total failures. The White House is probably the most targeted place on the face of the planet. We spend billions of dollars to secure it," he told the CNN.
"This person was there on the ground for 17 minutes, went undetected, was able to get up next to the White House, hide behind a pillar, look through a window, rattle the door handle. It's just beyond comprehension, especially because it's not the first time this has happened," he said.
http://indianexpress.com/article/world/donald-trump-not-safe-in-white-house-says-former-us-secret-service-agent-4574634/
------
Europe
Man shot dead at Paris Orly airport after taking soldier's gun
Security forces at Paris' Orly airport on Saturday shot dead a man who took a weapon from a soldier, the interior ministry said, adding that nobody was hurt in the incident.
"A man took a weapon from a soldier then hid in a shop in the airport before being shot dead by security forces," an interior ministry spokesman told AFP.
He said no one was wounded in the incident.
Interior Minister Bruno Le Roux is due to visit the facility, which is in Paris' southern outskirts, the spokesman added.
"We had queued up to check in for the Tel Aviv flight when we heard three or four shots nearby," witness Franck Lecam said.
"The whole airport has been evacuated," the 54-year-old said, confirming what an airport worker, speaking on condition of anonymity, had said earlier.
"We are all outside the airport, about 200 metres from the entrance," Lecam said.
"There are policemen, emergency workers and soldiers everywhere in all directions. A security official told us that it happened near gates 37-38 where Turkish Airlines flights were scheduled."
https://www.dawn.com/news/1321277/man-shot-dead-at-paris-orly-airport-after-taking-soldiers-gun
------
An anti-Islam Dutch leader is barred from power, His supporters say: Just wait
By Michael Birnbaum
March 17
ALMERE, the Netherlands — If the Dutch anti-Islam leader Geert Wilders were any other politician, his robust election showing this week would warrant a shot at joining a political coalition.
But the bleached-blond agitator says Moroccans are "scum," mosques are havens of terrorism and the Koran is a blueprint for destruction, positions no mainstream Dutch leader will endorse.
The anxious conventional leaders of Europe, fearful that an anti-establishment surge was unstoppable, breathed with relief after Dutch voters in Wednesday's election failed to make Wilders the biggest politician in the Netherlands. They hope for a repeat in France and Germany later this year. But for those who think that the Netherlands is now as placid as its canals, Wilders's followers have a message: They are furious that they have been locked out of power. And they say their ranks will continue to grow.
"This is a very big shame. It's unacceptable. There are so many people who are just being put aside," said Katherine ter Weide, an elegantly dressed 72-year-old in the Wilders stronghold of Almere who said Friday that she feared "how the world for our children and grandchildren is being destroyed."
"All the things he's been warning over all these years have come true," she said. "They've always been closing their eyes."
First it was the headscarves in the streets of her tidy planned community, a three-decade-old city just outside Amsterdam built on land reclaimed from the sea.
Then it was the gang of Moroccan men who she said assaulted her 19-year-old granddaughter, a memory so painful that it brings her to tears.
And when a dark-skinned man zoomed down a pedestrian shopping plaza and ter Weide yelled at him that he needed to go back on the street, he rode up and threatened her, she said, draining any remaining sense of security.
"They are afraid of him," she said of her nation's establishment leaders and their view toward Wilders. "And they don't want him to be right. But he's right all the time."
For now, Wilders can enjoy the luxury of being his nation's largest opposition force, armed with an outsize megaphone but deprived of the responsibilities of power. He need not compromise — as he once did during a spell inside a coalition from 2010 until 2012 — and he therefore need not disappoint either his loyalists or those who might be swayed into his camp. He has vowed to emerge on top after the next election.
"The fight against Islamization and the E.U. will now simply be tougher, stronger and more effective as the second largest party in the Netherlands!" Wilders wrote on Twitter on Friday, embracing the expansion of his seats in parliament by a third.
In the end, he gathered 1.7 million votes — a robust force in a nation of 15.9 million eligible voters, especially given the fractured political landscape where voters could choose among 28 parties. It was the best-ever showing for Wilders in absolute votes, even if it yielded fewer seats in parliament than after the 2010 elections. And the recent campaign was held on his terms, orbiting around issues of immigration, integration and Islam.
The advantage he might derive from his exclusion from power could be seen in Almere's streets Friday, as even some people who did not vote for him said that he ought to be included in a coalition.
"It's not right. He should have the chance" to join the government, said Rina van Dijk, 59, who lost her job at a Dutch window-blind manufacturer when production was outsourced to Poland. Van Dijk can't find another job — "I'm too old," she said — and she says parts of Wilders's message make sense, even if she doesn't always like the way he says it.
"People are on a waiting list for 10 years, and they don't get a place to live. These refugees come here, and they get a place to live right away. I understand those tensions," she said.
She said she wanted Wilders to be handed a scrap of power, even though she voted for the center-right party of Prime Minister Mark Rutte.
"I would like to see, with all the things Wilders is saying, whether he can do anything," she said.
The exclusion also carries a cost for those who want Wilders to moderate his tone, analysts said.
"He is more isolated than he ever was before. The risk in this is that he has no option but to further radicalize," said Job Janssen, a Dutch political analyst who lives in Berlin. "To continue to dominate debate, the only option is a confrontational course."
Even so, Janssen said that Wilders probably has hit his ceiling. He did little to build a campaign structure, and his shoestring budget limited his appearances. A constellation of new far-right parties also drained some of his support.
Further, he has given little indication of an effort that would help him transcend his status as perpetual gadfly and object of media fascination.
"This is not the behavior of a man who is trying to become a coalition partner," said Koen Vossen, who wrote a book analyzing Wilders's political appeal and organization.
But a growing number of Dutch voters truly want a political revolution in their country, pollsters say — and their faith in their institutions is cratering when the leaders they support are excluded from office.
"There are a lot of Muslims. There are a lot of black people. The white people, the Dutch people, they're getting less and less," said Linda Muis, 51, a bartender at Café Cheers in Almere.
She said that her nation needs to fight back. When a Moroccan kid commits a crime, the whole family should be sent back to Morocco, she said.
"Or lock them up for life," she said. "Wilders said women shouldn't wear headscarves. I agree with that."
Wilders's shutout from power infuriates her, she said — and she said her faith in Dutch democracy was going out the window.
"So many people voted for him. But nobody wants to do a coalition with him," she said. "Nobody's going to let him win."
https://www.washingtonpost.com/world/europe/an-anti-islam-dutch-leader-is-barred-from-power-his-supporters-say-just-wait/2017/03/17/867e0f54-0a81-11e7-bd19-fd3afa0f7e2a_story.html?utm_term=.95a2bfed6894
-------
Mideast
EU is 'unfairly' criticizing Turkey, Hungarian PM Orban says
March/18/2017
Prime Minister Viktor Orban has said Turkey is being "unfairly criticized" by the European Union.
"It is necessary to get along with Turkey. We hand over our security to the Turks and criticize, attack and condemn them in unnecessary topics. This is not a smart policy," Orban told the public radio Kossuth on March 17.
About the ongoing construction of the second fence along the southern border with Serbia, Orban said: "As I have said before, simultaneously to the agreement with Turkey, we should have built fences.
"People in Austria and Germany can sleep comfortably because the Hungarians are protecting the outside borders of Europe," he said.
Hungary has reinforced its borders with soldiers and police with support of Visegrad Group partners -- Czech Republic, Poland and Slovakia – as part of its anti-refugee measures.
In 2015, the country installed razor wires on its Serbian and Croatian borders to stop the refugee flow. Additionally, Hungary enhanced penalties applied for illegal crossings by announcing a state of emergency in border areas.
http://www.hurriyetdailynews.com/eu-is-unfairly-criticizing-turkey-hungarian-pm-orban-says-.aspx?pageID=238&nID=110962&NewsCatID=510
------
Three children die due to fire in Istanbul
March/18/2017
At least three children have died due to a fire in Istanbul's Beyoğlu district on March 18, Doğan News Agency has reported.
The fire has erupted at top floor of four-storey apartment.
Meanwhile, numbers of ambulances and police were dispatched to the area following the incident.
http://www.hurriyetdailynews.com/three-children-die-due-to-fire-in-istanbul.aspx?pageID=238&nID=110972&NewsCatID=341
------
Germany bans political meetings of ruling AKP deputy chair
March/18/2017
A top Turkish ruling party official was banned on March 17 from addressing Turkish expat community in the northern German state of Lower Saxony, in a move that is likely to further increase tensions between Germany and Turkey.
The Interior Ministry of Lower Saxony announced in a press release that it banned Mehdi Eker, deputy chair of the Justice and Development Party (AK Parti), from carrying out any political activity in the state, during his stay there.
Eker was on a two-day visit to Hannover, to meet with representatives of Germany's 3 million Turkish expat community, half of whom are vote in Turkey's upcoming referendum in April 16 on constitutional changes.
Lower Saxony's Interior Ministry said local authorities were not fully and timely informed by the Turkish side about Eker's planned political meetings in the state other than Hannover, and the ministry decided to impose a ban on all of his political activities.
Two German police officials intervened during Eker's meeting with a small group of Turkish expats at a restaurant in Hannover, and notified him about the official notice of the ministry, which warned that disobeying the decision would constitute a criminal offense.
Eker sharply criticized the controversial ban and told reporters this move undermined European values and democratic rights.
"Is Germany not a democratic country? Are people not free here to express their opinion?" he asked.
"If people are being denied from an opportunity to learn about what they are going to vote for, you cannot claim this a democratic country," he said.
A day before Eker's visit, local authorities in Hannover had already revoked permission for his planned rally at a hall in the city, citing security concerns and danger to social harmony.
So far this month, German authorities have blocked nearly two dozen planned rallies in various cities by Turkish government ministers or politicians who favor constitutional change for a transition to a presidential system in Turkey.
Earlier this week, Germany's small western state of Saarland announced that it has decided to prohibit all planned political rallies by Turkish politicians, becoming the first state to opt for a blanket ban.
http://www.hurriyetdailynews.com/germany-bans-political-meetings-of-ruling-akp-deputy-chair.aspx?pageID=238&nID=110965&NewsCatID=510
------
Moody's cuts outlook on Turkey credit rating to 'negative'
March/18/2017
Moody's late on March 17 cut its outlook on Turkey's rating to "negative" as risks to the country's credit profile have "risen materially" in recent months.
The ratings group noted that the "tense political environment" following the failed coup attempt July 15, 2016 has "persisted for longer than expected" and has "undermined the country's administrative capacity and damaged private sector confidence."
"Partly as a consequence, Turkey has experienced a further slowdown in growth," Moody's added.
Moody's rates Turkey at Baa1. It previously had a "stable" outlook on the sovereign.
http://www.hurriyetdailynews.com/moodys-cuts-outlook-on-turkey-credit-rating-to-negative.aspx?pageID=238&nID=110968&NewsCatID=344
------
Over 22,000 from army, military schools expelled: Minister
March/18/2017
Defense Minister Fikri Işık has said over 22,000 cadets from the army and military schools have been expelled for links with the Fetullahist Movement following the July 15, 2016, failed coup attempt .
Giving figures in response to a question asked by main opposition Republican People's Party (CHP) lawmaker Sezgin Tanrıkulu, Işık said out of the total 6,511 were expelled from Turkish Armed Forces, while 16,409 others lost their cadet status after the coup bid.
Among the 16,409 cadets, 4,090 cadets were from military high school, 6,140 from non-commissioned officers' college and 6,179 were students getting
their bachelor's degree from Turkish Military Academy, Naval Academy, Air Force Academy, Gülhane Military Medical Academy and School of Nursing, the minister said in a statement.
Fethullahist Movement, led by U.S.-based preacher Fetullah Gülen, is accused of orchestrating the July 15 coup attempt to overthrow the elected government of Turkey. The bid eft 249 people killed and around 2,200 others wounded.
http://www.hurriyetdailynews.com/over-22000-from-army-military-schools-expelled-minister.aspx?pageID=238&nID=110961&NewsCatID=509
------
Turkish ministry denies report on Russian goods ban
March/18/2017
Turkey has been implementing a liberal foreign trade policy in full accordance with rules of the World Trade Organization (WTO) as opposed to some reports in the media about Russian goods, according to Ministry of Economy on March 17.
"As of March 17, there are some inaccurate reports in both domestic and international press about restrictions on import of some Russian goods.
"We would like to underline that these reports do not indicate the reality," the ministry said in a statement.
Turkey is a member of the WTO and is conducting its foreign trade operations to increase its share in the global trade under such free-trade agreements and customs union, it said.
"Turkey's foreign trade policy is completely outlined in the range of WTO rules," the ministry added.
Early March 17, some domestic and international reports suggested there would be some restrictions on Russian grain in retaliations for prohibitions on some Turkish exports.
In January 2016, after Turkey downed a Russian fighter jet violating its airspace, Russia banned the imports of Turkish fruits and vegetables, including tomatoes, oranges, apples, apricots, cabbage, broccoli, mandarins,
pears, peaches, cucumbers, plums, strawberries, onions, cloves, and poultry.
Following reconciliation between the two countries, Russia started to gradually lift the sanctions. But import bans on foods such as tomato and grapes, which have a market potential of $425 million in Russia, remain in force.
Russia recently withdrew the ban of some Turkish agricultural exports such as onion, broccoli and cauliflower.
http://www.hurriyetdailynews.com/turkish-ministry-denies-report-on-russian-goods-ban-.aspx?pageID=238&nID=110964&NewsCatID=344
------
India
Deoband will be turned into Deovrind: BJP MLA
March 18th, 2017
NEW DELHI: The newly elected BJP MLA from Deoband, Brijesh Singh, has said he will ensure that the new government in the state changes the name of the town to Deovrind, The Hindu reported on Friday.
Mr Singh said Deoband should be known for its historical association with Mahabharata and not the Islamic seminary Darul Uloom Deoband.
Talking to The Hindu on the phone from Lucknow, Mr Singh said the proposal to change the name of the town to restore its historical glory would be the first proposal he would move in the state assembly after formation of the government.
Several Hindutva groups like the Bajrang Dal had, in the past, raised the issue of renaming Deoband to Deovrind, but this is the first time it is being proposed by an MLA.
"Deoband is quite sacred for Hindus because of its historical association with Mahabharata. Pandavas visited Deoband when they were in exile and living incognito. Their visit to the town also led to the foundation of the famous temple here," Mr Singh said. "The historical association of Deoband with the Mahabharata needs to be highlighted and reinforced in public memory. It would be unfair if Deoband is known and talked about only as a place where Darul Uloom Deoband is located," added the BJP MLA.
Mr Singh insisted that several ancient structures were found in villages such as Rankhandi, Jakhwala and Jarauda Panda, pointing towards their association with the Mahabharata.
"This is not a new proposal but in the past also many people raised this. Everyone knows how centuries-old structures were found in villages such as Rankhandi, Jakhwala and Jarauda Panda," added Mr Singh, who is the first BJP candidate to have won from the constituency in the past 21 years.
Deoband is one of the five assembly segments of Saharanpur, which the BJP swept, defying conventional wisdom as Muslims make up 30 per cent of Deoband's electorate.
Mr Singh said he had "nothing against Darul Uloom Deoband which is like those old religious Sanskrit schools. In its current form the town stands to symbolise only the Islamic seminary whereas historically Deovrind represented much more than that. I only want this town to get that identity back".
https://www.dawn.com/news/1321177/deoband-will-be-turned-into-deovrind-bjp-mla
------
Urdu newspapers flourish in Bihar: Several prominent Urdu papers published from Patna
Saturday, March 18, 2017
Bihar has been a citadel of Urdu for ages.
The state has more Urdu readers than many of the North Indian states.
In fact, Patna has nearly a dozen major Urdu papers published from the city.
The photograph [Courtesy Mahtab Alam sahab] on the left shows many papers.
While many Urdu speakers in Uttar Pradesh had a superiority complex in terms of Urdu and felt that they were guardians of the zabaan, truth is that Bihar has been more fertile for Urdu post-independence.
Though I am a UP wala, but I have to admit the fact.
These are the Urdu newspapers published from Patna, the capital of Bihar. You can find the major papers like Qaumi Tanzeem, Taseer, Inquilab, Pindar, Jasarat-e-Bihar, Farooqui Tanzeem, Ameen, Pyari Urdu, Hamara Samaj, Sangam and Awami News.
There are some other papers too published from Bihar. Akhbar-e-Mashriq has an edition too.
Bihar had thousands of Urdu schools till a few decades back and still there are Urdu schools across the state though UP has none.
In the last two decades, Urdu journalism has seen a revival. Though Urdu papers were strong in Hyderabad, Telangana [earlier Andhra Pradesh], Karnataka, Maharashtra and Kashmir, the situation once again improved in North India.
In Delhi and UP, there are many big newspapers now. West Bengal and Jharkhand too has several Urdu papers.
However, the situation in Madhya Pradesh is not as good, as there are few papers with declining circulation.
Among big states, Rajasthan and Gujarat don't have Urdu newspapers though almost all the states from JK, Punjab in the North to Tamil Nadu in the South, have Urdu publications.
http://www.anindianmuslim.com/2017/03/urdu-newspapers-flourish-in-bihar.html
------
Foreign Minister Hints at ISI Hand In Indian Clerics' Disappearance
Mar 18, 2017
Indrani Bagchi
NEW DELHI: Foreign minister Sushma Swaraj hinted on Friday that Pakistan's ISI may be behind the abduction of the two custodians of Delhi's Nizamuddin dargah, who have gone missing in that country.
She said the Pakistani "hosts" of the khadims were "under pressure not to speak to the Indian High Commission".
They reportedly went missing from Lahore airport while taking a flight to Karachi a few days ago.
Hinting at official intimidation, Swaraj has also pointed to a widely held suspicion in India's official circles that this was no random abduction.
In a series of tweets on Friday, Swaraj said India had taken up their case with the highest level in the Pakistani government.
"We have also contacted their host in Karachi who appears to be under pressure not to speak to the Indian High Commission," Swaraj tweeted.
Why is she so cautious with her words...Terror state Pakistan has no understanding of what protocol means...
India's biggest mistake was in allowing these converts to Arabic faith to form a count... Read More
"We are pursuing this further with the government of Pakistan." Syed Asif Ali Nizami, 80, is the chief custodian of Hazrat Nizamuddin Dargah.
Accompanying him is his nephew, Nazim Ali Nizami. After landing in Karachi, the two had gone to Lahore to visit the Data Darbar shrine. The Hazrat Nizamuddin shrine has close links with Data Darbar shrine of Gharib Nawaz, or Moinuddin Chisti, and 'khadims' or custodians exchange visits every year. On Friday, Pakistan foreign ministry spokesperson Nafees Zakaria, when asked about the khadims, said they had "no clue" if the two had been found and that they were "pro-actively pursuing" the case.
http://timesofindia.indiatimes.com/india/sushma-hints-at-isi-hand-in-indian-clerics-disappearance/articleshow/57698088.cms
-------
Islam influenced Gandhiji's struggle?
Mar 18, 2017
Gandhiji had four agendas in mind - Satyagraha, Hindu-Muslim unity, abolishing untouchability and the Swadeshi movement.
Bengaluru: "Mahatma Gandhi was a Jihadi of a non-violent kind. Jihad in Islam means 'struggle with one's own conscience'. He was inspired by Islam and imbibed that in his satyagraha," said Gita Dharampal, from the South Asia Institute.
Presenting a paper at The Energy Resources Institute, on 'Gandhi and Islam', Gita explained his efforts to bring Hindu-Muslim unity. "I want this paper to provide answers to present concerns. Right from the cold war, the bombing of Iraq, Afghanistan, oil politics, bombing of twin towers was all part of power politics; and less to do with Islamic radicalism," she said.
Gandhiji had four agendas in mind - Satyagraha, Hindu-Muslim unity, abolishing untouchability and the Swadeshi movement. He supported the Khilafat movement, which pressured the British to let the Ottomon Caliph retain his power.
"The Ottomon empire was a Muslim one. Fall of this meant a fall for Islam and Muslims comprise one-fourth of India's population. He joined the Khilafat movement, initiated by Indian Muslims, to bring Hindu-Muslim unity," Gita said.
Many in the audience countered this point. They said it was more of a political strategy to win the masses. She spoke about Gandhi attempting to maintain harmony between the two religions, especially with regard to cow, an animal considered sacred by most Hindus.
"Gandhi tried to allay the Hindu anxiety with cow protection. In Hind Swaraj master plan, he said that he respects the cow as much as man. One can't kill a Muslim to save the cow. A Hindu must urge the Muslim brother to save the cow," she said. However the British disturbed this harmony by painting the Mughal era as 'dark ages'.
"Gandhiji's wish to become a Brahmachari, a life of chastity to attain spirituality. He felt this is what he needed to achieve Hindu-Muslim unity," said M.N. Venkatachaliah, former chief justice. Gita said what Gandhi propagated was more of contemporary Islam that became part of his spiritual struggle against violence.
http://www.deccanchronicle.com/nation/in-other-news/180317/islam-influenced-gandhijis-struggle.html
------
Agra blasts: Twin low-intensity explosions near Cantt railway station, no injuries reported
No injuries have been reported yet
March 18, 2017
Two low-intensity explosions took place in the vicinity of Agra Cantt. railway station on Saturday. The cause of the blasts is yet to be ascertained. According to news agency ANI, one blast occurred in a garbage dumping tractor while the other on the terrace of a house, which was adjacent to the railway station. No injuries have been reported as police have cordoned off the spot and senior police officials have inspected the area. Forensic teams and dog squads have also reached the spot.
The incident happened just hours after Andaman Express crashed into a huge boulder on the tracks near another station 20 kms away and police recovered a note at the site threatening of terror attacks.
"Two explosions were heard early today. The UP police has taken over and now forensic investigations are being done to determine the cause," Divisional Railway Manager Prabhash Kumar was quoted as saying by PTI.
A note threatening terror attacks was found near Bhandai railway station, 20 kms away, by police after a major mishap was averted when the alert train driver of Andaman Express from Chennai to Jammu saw a huge boulder on
the tracks last evening.
Security has been enhanced at the Taj Mahal after reports sounded an alert of a possible threat to the 17th century world heritage monument from the terror outfit ISIS. Police had increased patrolling and mounted an extra vigil near the Yamuna river yesterday.
A note threatening terror attacks was found near Bhandai railway station, 20 kms away, by police after a major mishap was averted when the alert train driver of Andaman Express from Chennai to Jammu saw a huge boulder on
the tracks.
http://indianexpress.com/article/india/agra-low-intensity-blast-live-updates-injuries-casualties-4574397/
------
Pakistan
Religious seminaries outnumber schools in Islamabad
KASHIF ABBASI
March 18th, 2017
ISLAMABAD: During the last four years, the federal government did not open any new school in Islamabad but a number of madressahs cropped up in the capital territory.
According to a latest survey, the number of seminaries in the federal capital stands at 374 and a majority of them are unregistered.
The survey conducted by the capital administration showed that the government had no influence over a majority of the seminaries as 205 of the religious institutions were unregistered.
Interestingly, the religious seminaries (374) outnumbered the capital's 348 educational institutions (191 primary, 60 middle and 97 high schools). However, 43 higher secondary schools, which are generally considered as inter-colleges, are not included in the list of schools.
The new residential sectors of G-13 and G-14 have no public schools but a number of seminaries are operating there. "For the last many years, we could not construct any new school," confirmed an official of the Federal Directorate of Education (FDE).
New survey shows govt did not open new schools in last four years but several madressahs cropped up in capital territory
An official of the ICT administration said since 2013 a number of new madressahs had been established in various parts of the capital.
"I myself know that six new madressahs, including one unauthorised, were built during the last a few years," said the ICT administration official.
He said religious seminaries belonging to four schools of thought were operating in Islamabad with the Deobandis topping the list followed by the Barelivis, Ahl-i-Hadis and Shias. A source said over 25,000 students were pursuing education in the 374 madressahs having boarding facilities. The source said around 12,000 of the students belonged to Islamabad and the remaining were from other cities and towns.
The survey was carried out on the direction of Interior Minister Chaudhry Nisar Ali Khan, apparently after the recent spike in terror activities in the country. The survey is being carried out in two phases. In the first phase, the status of the seminaries was checked to conform if they were registered or not.
During the second phase, the Capital Development Authority (CDA) will check whether both the registered and unregistered seminaries are operating on encroached land or not. The CDA will also check the size of the land, the building plan, violation of the building plan and the non-conforming use of the plots.
"The first part of the survey has been completed and work is underway to complete the second phase," said a source in the ICT administration. He said the basic purpose of the survey was to put an end to the mushroom growth of unregistered seminaries which continued since 1980, particularly in the rural areas of the capital.
The source said there were also unauthorised mosques. After receiving direction from the local administration, the CDA building control section held a meeting on Friday, which was chaired by the director building control.
An official, who attended the meeting, told Dawn that teams had been formed to complete the task of checking the buildings plans of the madressahs and the status and size of their plots.
When contacted, Building Control Director Shafi Marwat refused to share the CDA plan to complete the task. "Today, we held a meeting regarding madressahs but at this stage I can't share any information with you," he said.
Meanwhile, some officials of the FDE said there was a dire need for the establishment of new schools in the capital. They said the government was focusing on the multi-billion Prime Minister's Education Reforms Programme for improving physical infrastructure of the educational institutions but no focus was being paid on the opening of new schools.
However, an official of CADD said for the forthcoming budget the establishment of five new secondary schools (two in G-13, one each in sector G-14, Margalla Town and Pakistan Town) had been approved.
In addition, he added, efforts would be made for getting funds for the construction of five new primary schools which were approved in 2014.
https://www.dawn.com/news/1321167/religious-seminaries-outnumber-schools-in-islamabad
------
Nobody has right to alter injunctions of Islam: Siraj
March 18, 2017
Jamaat-e-Islami ameer Senator Sirajul Haq has said nobody on earth has the right to alter the injunctions of Allah and His Prophet (PBUH), what to speak of Islamic scholars, no Muslim could even think of that.
Delivering Friday sermon at Mansoora Masjid, he said Islam has always been the religion of peace and love in all respects. He said if the prime minister announced withdrawing the government appeal in the Supreme Court against the Shariat Court's decision to ban interest/usury from the economy, not only terrorism and disruption in the country would come to an end but also country's politics, economy and social order would fall back on the right track.
The JI ameer said Jehad was the struggle to free humanity from tyranny and oppression and to promote faith, peace and love. He said Islam termed the unjust killing of a single individual the murder of entire humanity, and conversely, saving a single human life as saving the entire humanity. Thus, linking Islam with terrorism and disruption was sheer ignorance. He said every Muslim was a Mujahid and was struggling for peace. Stating that the JI would continue its drive against interest, Sirajul Haq said the Constitutions of 1958, 1962 and finally 1973 had declared interest prohibited and called for its immediate end. The article 38-F of the 1973 Constitution provided for immediate abolition of interest-based economy. In 1991, the Shariat Court had issued a verdict on this issue but the government challenged the verdict by filing an appeal in the Supreme Court against it, and the Supreme Court issued a stay order, he said, adding that as a result, the interest-based system still prevailed in the country.
https://www.thenews.com.pk/print/192966-Nobody-has-right-to-alter-injunctions-of-Islam-Siraj
------
At least six terrorists killed in KP's Michini, says Frontier Corps
March 18th, 2017
ALI AKBAR
At least six terrorists were killed during a search operation in the Michini area of Khyber Pakhtunkhwa on Friday, said the spokesperson for the Frontier Corps.
"FC personnel carried out a search operation in the Mosal Kor area of Michini," said the paramilitary force spokesperson.
The spokesperson claimed that terrorists opened fire on security forces and during an exchange of fire six terrorists were killed.
The paramilitary force also said a large cache of arms and explosive were recovered.
Earlier today, the Inter-Services Public Relations said that two personnel of the Frontier Constabulary (FC) laid down their lives as militants from across the Pakistan-Afghan border attempted to attack a checkpost in Khyber Agency.
https://www.dawn.com/news/1321081/at-least-six-terrorists-killed-in-kps-michini-says-frontier-corps
------
30 terrorists, 9 security men die in Pakistan operation
March 18, 2017
More than 30 terrorists and nine security personnel have been killed in Pakistan since the army launched a major operation last month, the military said on Friday.
The military announced on February 22 the start of the countrywide operation codenamed "Radd-ul-Fasaad", ("Reject Discord"), after a series of terrorist attacks that killed over 100 people in the country.
According to the army's Inter-Service Public Relations, the security forces also foiled a number of terror attacks during the operation, which still continues across the country.
Nine security personnel have lost their lives in the operation.
In one of the major raids, five terrorist were killed on March 7 when they were planning to attack a judicial complex in Swabi, a district in northwestern Khyber-Pakhtunkhwa province.
The intelligence-based operation targeted sleeping cells of the militants who were using their hideouts to facilitate the bombers for terror attacks.
Army spokesman Major Gen. Asif Ghafoor said in a statement earlier that the operation was aimed at "indiscriminately eliminating residual and latent threat of terrorism, consolidating gains of operations made thus far and further ensuring security of the borders."
http://www.thestatesman.com/world/30-terrorists-9-security-men-die-in-pakistan-operation-1489790003.html
------
Pakistan: Sikhs plan protest over omission of their religion in census
Mar 18, 2017
The census exercise is taking place after a delay of nine years, as the last population census was conducted in 1998.
March 18, 2017
Outraged over their omission from the census, the Sikh community of the Khyber-Pakhtunkhwa (K-P) is planning to stage a protest in the federal capital with protests already under way in different districts of the province. "Every religion is mentioned in the census form except Sikhism, which is a religion recognised the world over, but sadly our government has forgotten us in the most important national event that can change the fate of every Pakistani," The Express Tribune quoted K-P's Pakistan Minorities' Alliance president Radesh Singh Tony as saying.
"If the government can mention Hinduism, Christianity and other religions, then they could have also added Sikhism but they did not," he questioned.
"It is a conspiracy to create a rift between the Sikh community and the government of Pakistan. We will use our right to protest against this act of the government for not giving importance to an important community in the census that can affect our future. We will boycott the census if the government does nothing to safeguard our rights to be counted as equal citizens," he added.
Another member of the Sikh community, Harmeet Singh, said the origin of Sikhism is in Pakistan as Guru Nanak was born here in Punjab. Sikhs from all over the world visit their sacred places located in this country but not mentioning our religion in the religious column of the census form is unjust with thousands of Sikhs living in Pakistan, he added. The census exercise is taking place after a delay of nine years, as the last population census was conducted in 1998. The data obtained from the census will be used for distribution of the National Assembly seats and division of financial resources. The population is also the base for distribution of civil service jobs among the provinces.
http://indianexpress.com/article/world/pakistan-sikhs-plan-protest-over-omission-of-their-religion-in-census-4574573/
------
Position on Kashmir not affected by CPEC: China
March 17th, 2017
KARACHI: The Chinese foreign ministry has called for the settlement of the Kashmir issue through dialogue between Pakistan and India.
Chinese Foreign Ministry spokesperson Hua Chun­ying said this while addressing a regular press conference in Beijing on Friday.
Answering a question regarding India's objection to Pakistan's plan to declare Gilgit-Baltistan, part of Kashmir, its fifth province and the China-Pakistan Economic Corridor going through these areas, Ms Hua said China's position on the Kashmir issue was consistent and clear-cut.
"As a leftover issue from history between India and Pakistan, it needs to be properly settled through dialogue and consultation between the two sides," she said, adding that development of CPEC did not affect China's position on the Kashmir issue.
https://www.dawn.com/news/1321184/position-on-kashmir-not-affected-by-cpec-china
------
Pakistani-American couple donates $15 million to Catholic university
March 17th, 2017
An American couple of Pakistani origin announced $15 million for the University of Notre Dame to create an institute that will aim to deepen knowledge of religion and seek to explain how the traditions and practice of various faiths influence world events, a New York Times report said.
Rafat and Zoreen Ansari, who moved the US more than four-decades ago, are medical doctors who were born in Pakistan. They spent their lives giving back to the country which gave them their fortune, giving away an estimated $1 million and countless hours to non-profit organisations which focus on children with autism, a condition which affect one of their own children.
After more than a year of deliberation, the Ansari family decided to donate $15 million dollars to develop the Rafat and Zoreen Ansari Institute for Global Engagement With Religion at the University of Notre Dame.
"We came as immigrants, and this country has given us so much," Zoreen said acoording to NYT, ahead of the announcement. "We want to give something back to America, but also to humanity. We want to promote the idea of equality."
"In the last couple of years, the majority of problems have been created by the misunderstandings among the religions," said Rafat, an oncologist and haematologist, NYT reported. "Is this the right time for the announcement? Yes, because there is so much going on."
The donation itself is sizeable for both the university and the Ansari family, who consulted their longtime advisers Merrill Lynch to sort out the process of managing the funds. The finances are going to be held as appreciated securities and cash, and would be disbursed gradually over the years.
"Whenever you get a gift of this size, it's tremendous, but particularly to have this named for the Ansari family, who is Muslim, is tremendously meaningful to us," said the Reverend John I. Jenkins, the president of Notre Dame, NYT reported. "We believe religion is very important in our world. It can have a negative impact, but it should be possible to study the ways religion can be a force for human development and peace."
Father Jenkins said the institute would look at religion not through a sociological or political lens, but through one focused on the religions themselves.
https://www.dawn.com/news/1321276/pakistani-american-couple-donates-15-million-to-catholic-university
------
Speaker wants NA body to probe Haqqani's claims
March 18th, 2017
ISLAMABAD: Instead of constituting a parliamentary commission to probe former ambassador Husain Haqqani's startling claims about visas for American spies, National Assem­bly Spea­ker Ayaz Sadiq has referred the matter to the lower house's foreign affairs committee.
Awais Leghari, who heads the foreign affairs committee, will begin the process by initiating consultations with Defence Minister Khawaja Asif and opposition parties on Monday over the proposal for investigating the matter. The foreign affairs committee chairman also intends to involve the NA committee on defence in the proceedings.
The demand for a multi-party parliamentary commission came from the defence minister during a discussion in the National Assembly on Wednesday over an article by Mr Haqqani in the Washington Post in which he claimed that he had facilitated the stationing of US Special Operations and intelligence personnel on the ground in Pakistan with the approval of the civilian leadership. This, he said, helped the United States locate Al Qaeda chief Osama bin Laden and eliminate him without involving Pakistani military and intelligence.
The matter had been raised in the National Assembly on a point of order by Mr Leghari.
Senate defence committee chief Mushahid says such bodies don't have wherewithal to hold investigation
Mr Asif's proposal was backed by the opposition parties, including the Pakistan Peoples Party, which had appointed Mr Haqqani as ambassador in the United States and whose claim implicated then president Asif Ali Zardari, co-chairman of the PPP, and then prime minister Yousuf Raza Gillani.
Mr Leghari told Dawn the speaker was averse to the idea of creating new bodies and wanted to utilise the National Assembly's existing system for looking into the matter.
"I shall proceed in a detailed and structured manner and look into the specifics," Mr Leghari said.
Although parliamentary committees are considered the eyes and ears — as well as the brains — of a legislature, there are hardly any known instances in the country's history that a probe into such a high-profile case had been assigned to these bodies. There have, however, been demands in the past from political parties for a parliamentary role in investigating cases like the Memogate scandal and the Army Public School carnage.
The rules do not invest parliamentary committees with investigative powers. The capacity of the committees for conducting such inquiries is another issue.
Parliamentary bodies can at best seek information from government departments.
The committees, it must be noted, are tasked with oversight and monitoring of the ministries assigned to them by keeping an eye on their administrative functioning, expenditures and policies.
They also deliberate on the legislation referred to them and entertain public petitions.
Senator Mushahid Hussain Syed, who heads the Senate defence committee, believes that the "committees do not have the required wherewithal to conduct investigations". He contends that the committees can only hold public hearings.
Senator Farhatullah Babar is of the view that the committees can direct government agencies to investigate some issue and examine their findings after which they could approve or reject the outcome, but cannot investigate on their own. Committee members aren't experts, he added.
https://www.dawn.com/news/1321185/speaker-wants-na-body-to-probe-haqqanis-claims
------
Pakistan parties agree to revive military courts
Mar 17, 2017
ISLAMABAD: Pakistan's political parties have agreed to revive the controversial special military courts for trying "hardcore" militants for a period of two years amidst a surge in terror attacks across the country.
The decision was taken after a marathon consultative session of government and opposition politicians chaired by Speaker National Assembly Sardar Ayaz Sadiq on Thursday.
"We have agreed to reestablish military courts for a period of two years, considering it is an issue of national importance," Sadiq told reporters after the talks.
He said that the Constitution would be amended to introduce the military courts.
Finance minister Ishaq Dar, who was also part of the talks, said that the decision to revive military courts was made in view of the fact that the country is fighting a war against terrorism.
Pakistan Peoples Party (PPP) of former president Asif Ali Zardari had opposed the courts but extended its support after some of his party's proposals were accepted.
PPP leader Aitzaz Ahsan said that the opposition had agreed to the proposal conditionally after consultation.
"The government has agreed to four of the nine demands put forth by Pakistan People's Party (PPP)," he said.
Pakistan Tehreek-e-Insaf's Shah Mehmood Qureshi said the court would not target anyone for his religious beliefs.
The religious parties still have some reservations over the language of the proposed law which would be addressed in the final draft, said Sadiq.
The military courts were initially established in January 2015 for two years after the December 2014 attack on the Army Public School in Peshawar which had left 150 people, mostly children, dead.
The military courts awarded death sentence to 161 militants and so far only 21 have been executed.
Pakistan has been breeding terrorism from long many years. Now the terrorism has grown up like a deadly poisonous snake in Pakistan and spilling it's deadly poison on it's own master namely Pakistan.
Over 80 people were killed after an Islamic State (IS) suicide bomber blew himself up at the Lal Shahbaz Qalander dargah in Sehwan on February 18.
A suicide bomber attacked a protest rally outside the Punjab assembly in Lahore on February 13, killing 14 people and injuring dozens.
http://timesofindia.indiatimes.com/world/pakistan/pakistan-parties-agree-to-revive-military-courts/articleshow/57687866.cms
------
North America
Pentagon denies striking mosque in Syria, says it killed al Qaeda militants
Ahrar al-Sham, a powerful Syrian rebel group, said the US-led coalition against Islamic State was behind a deadly mosque attack near Syria's Aleppo that a war monitor said killed dozens of people.
March 18, 2017
Syria, Pentagon on attack on mosque, al Qaeda militants in Syria, Syria war, US attack on Syria mosque, world news, indian express news
The Pentagon on Friday denied accusations by a Syrian rebel group that the United States had targeted a mosque in Syria. (File Photo)
The Pentagon on Friday denied accusations by a Syrian rebel group that the United States had targeted a mosque in Syria and, in a rare move, showed an aerial image to illustrate the mosque was intact and the building destroyed was in fact across the street. Pentagon spokesman Captain Jeff Davis, addressing a Pentagon news conference, said he believed dozens of al Qaeda fighters were killed in the Thursday strike by manned and unmanned US aircraft on an al Qaeda meeting place in the village of al-Jina, Aleppo. Davis said the US military had not yet seen any credible allegations of civilian casualties, including on social media.
The Pentagon said it would soon release to the public the image it showed to reporters: a black and white aerial image showing the mosque still standing across the street from a building that had been reduced to rubble by the strike. Next to the charred plot where the al Qaeda militants had met was another building, which was also still intact. "We struck a meeting of senior al Qaeda terrorists, some of these were likely high value individuals, we're currently assessing that," Davis said. Davis was unable to say what the purpose was of the building that was destroyed, beyond serving as a meeting place for al Qaeda. It is unclear how long after the strike the image was taken and Reuters was unable to independently verify whether the mosque may have suffered any structural damage from the blast that could be difficult to see from an aerial image.
Ahrar al-Sham, a powerful Syrian rebel group, on Friday said the US-led coalition against Islamic State was behind a deadly mosque attack near Syria's Aleppo that a war monitor said killed dozens of people. The Syrian Observatory for Human Rights said jets hit around a mosque in al-Jina village near Atarib in the western part of Aleppo province, a few miles (km) from Idlib province on Thursday, killing at least 46 people, mostly civilians.
The United States has been leading a coalition in an air campaign against Islamic State while also carrying out air strikes against al Qaeda in Syria, which it says sought to take advantage of the chaos from Syria's civil war to reconstitute itself in ungoverned towns. Syrian military and Russian jets have also carried out numerous air strikes against targets in Idlib and western parts of Aleppo province, which are held by rebels seeking to oust President Bashar al-Assad.
http://indianexpress.com/article/world/pentagon-denies-striking-mosque-in-syria-says-it-killed-al-qaeda-militants-4574011/
------
Tensions show as Trump ignores Merkel's handshake offer in first meeting
March 18th, 2017
Stark differences between President Donald Trump and German Chancellor Angela Merkel on everything from trade to immigration were in full view during an icy first meeting at the White House Friday.
In a frequently awkward joint press conference, Trump and Merkel showed little common ground as they addressed a host of thorny issues including Nato, defence spending and free trade deals.
For most of the 30 minutes in the East Room, Merkel was stony-faced as Trump ripped into Washington's Nato allies for not paying for their "fair share" for transatlantic defence and demanded "fair and reciprocal trade" deals.
The veteran German chancellor had arrived at a snowy White House hoping to reverse a chill in relations after Trump's incendiary election rhetoric.
The visit began cordially, with the pair shaking hands at the entrance of the White House.
But later, sitting side-by-side in the Oval Office, Merkel's suggestion of another handshake went unheard or ignored by Trump — an awkward moment in what are usually highly scripted occasions.
There was never going to be an easy rapport between the cautious German chancellor and impulsive US president.
For years, Merkel — a trained physicist — had been president Barack Obama's closest international partner, with the two sharing a strong rapport and a similar deliberative approach.
Before coming to office in January, Trump had set the tone by calling Merkel's acceptance of refugees a "catastrophic mistake" and suggested she was "ruining Germany". In a similar vein, Merkel has sought to remind — some in the White House would say lecture — the real estate mogul about democratic values.
Comments like that have prompted some of Trump's fiercest critics to declare Merkel the new "leader of the free world" — a moniker normally taken up by the occupant of the White House.
During the press conference, Merkel said "it's much, much better to talk to one another and not about one another, and I think our conversation proved this". But even the lighter moments were tinged with tension.
Amid a furor over Trump's unfounded allegations that he was wiretapped by Obama, the new president cracked a joke referring to past revelations that Merkel's phone had also been bugged by his Democratic predecessor.
"As far as wiretapping, I guess, by this past administration, at least we have something in common perhaps," he said.
Merkel appeared not to find the humor in what had been a major political scandal. And neither side tried to make small talk about Trump's own background.
His family hails from Kallstadt, a tidy village nestled in southwest Germany's lush wine country. His grandparents left for America more than a century ago fleeing poverty and later, after a brief return, trouble with the law.
Voice of Europe
Although Trump has tempered his criticism of Nato and the personal attacks against European leaders, officials still fret that Trump has too closely embraced the nationalist ideology of key advisor Steve Bannon.
Bannon has championed trade protectionism and opposed the European Union and other multilateral institutions that underpin the world order.
Trump on Friday pledged to "respect historic institutions" but Bannon, also in the East Room, gave a chuckle as Merkel was asked whether she believed Trump had lied and treated the European Union disrespectfully.
Trump insisted he was not isolationist, saying: "I'm a free trader but also a fair trader."
Merkel rejected Trump's suggestion that individual European countries should negotiate free trade deals with the US, rather than under existing EU-US negotiations.
"I hope we can come back to the table and talk about the agreement" between the EU and US, she said.
Trump departed Washington later Friday, arriving in Florida where he will spend the weekend at his Mar-a-Lago estate, accompanied by his youngest son Barron, wife Melania and the first lady's parents.
https://www.dawn.com/news/1321269/tensions-show-as-trump-ignores-merkels-handshake-offer-in-first-meeting
------
Trump voices NATO support but says members must pay 'fair share'
US President Donald Trump on Friday said he backed the NATO alliance but, with visiting German Chancellor Angela Merkel at his side, stressed that some member states were not contributing enough.
The Republican leader also said he expected relations with Berlin to feature "fair and reciprocal trade policies," and voiced his support for strong "historic" international institutions - a possible nod to the European Union and the World Trade Organization.
"I reiterated to Chancellor Merkel my strong support for NATO as well as the need for our NATO allies to pay their fair share for the cost of defense," Trump told a joint press conference.
"Many nations owe vast sums of money from past years and it is very unfair to the United States. These nations must pay what they owe."
He rejected a description of his policies as "isolationist," noting: "I'm a free trader but also a fair trader."
"Millions of hardworking US citizens have been left behind by international commerce and together we can shape a future where all of our citizens have a path to financial security," said the billionaire US president.
On immigration, another issue dividing the veteran chancellor and the new US president, Trump said immigration was a "privilege" and not a "right".
https://www.dawn.com/news/1321115/trump-voices-nato-support-but-says-members-must-pay-fair-share
------
US appeals ruling against Trump's revised travel ban to higher court
Mar 18, 2017
NEW YORK: The US government took the legal battle over President Donald Trump's travel ban to a higher court on Friday, saying it would appeal a federal judge's decision that struck down parts of the ban on the day it was set to go into effect.
The Department of Justice said in a court filing it would appeal a ruling by US District Judge Theodore Chuang in Maryland to the 4th U.S. Circuit Court of Appeals in Richmond, Virginia.
Chuang on Thursday issued an emergency halt to the portion of Trump's March 6 executive order temporarily banning the entry of travelers from six Muslim-majority countries. He left in place the section of the order that barred the entry of refugees to the United States for four months.
Another federal judge in Hawaii struck down both sections of the ban in a broader court ruling that prevented Trump's order from moving forward.
In Washington state, where the ban is also being challenged, U.S. District Court Judge James Robart put a stay on proceedings for as long as the Hawaii court's nationwide temporary restraining order remains in place, to "conserve resources" and to avoid duplicative rulings.
The decisions came in response to lawsuits brought by states' attorneys general in Hawaii and refugee resettlement agencies in Maryland who were represented by the American Civil Liberties Union and the National Immigration Law Center. Detractors argue the ban discriminated against Muslims in violation of the U.S. Constitution's guarantee of religious freedom. Trump says the measure is necessary for national security to protect the country from terrorist attacks.
White House Press Secretary Sean Spicer said at a press briefing the government would "vigorously defend this executive order" and appeal the "flawed rulings."
He said the plan was to appeal at the 4th Circuit first and then seek clarification of Hawaii's ruling before appealing to the 9th Circuit U.S. Court of Appeals in San Francisco.
The 9th Circuit court last month upheld a decision by Judge Robart that halted an original, more sweeping travel ban signed by the President on Jan. 27 in response to a lawsuit filed by Washington State.
The new executive order was reissued with the intention of overcoming the legal concerns.
Trump has vowed to take the fight all the way to U.S. Supreme Court.
The 4th Circuit is known as a more conservative court compared to the 9th Circuit, said Buzz Frahn, an attorney at Simpson Thacher & Bartlett who has been tracking the litigation nationwide.
"The Government is probably thinking that the 4th Circuit ... would lend a friendlier ear to its arguments," he said.
Judges have said they are willing to look behind the text of the order, which does not mention Islam, to probe the motivation for enacting the ban, said Frahn. Trump during the campaign promised to ban Muslims from entering the United States.
Include the countries who have proven terrorist links and who were involved in 9/11 and see the judge will agree for the ban but if you don't include one who did the crime then why should he agree
The U.S. Supreme Court is currently split 4-4 between liberals and conservatives with Trump's pick for the high court - appeals court judge Neil Gorsuch - still awaiting confirmation.
Hans von Spakovsky, from the Washington D.C.-based Heritage Foundation said that the Department of Justice might want to time their appeals to reach the Supreme Court after Gorsuch is confirmed. He said the court would be likely to hear the case. "They will take it because of its national importance," he said.
http://timesofindia.indiatimes.com/world/us/us-appeals-ruling-against-trumps-revised-travel-ban-to-higher-court/articleshow/57699329.cms
------
British spy agency denies wiretapping Donald Trump
March 17, 2017
Britain's intelligence agency Government Communications Headquarters (GCHQ) has denied the White House claims that it helped former President Barack Obama "wiretap" Donald Trump during the 2016 US presidential campaign.
GCHQ said in a statement that the claims repeated by White House Press Secretary Sean Spicer on Thursday were "utterly ridiculous" and ought to be ignored.
The claims of GCHQ involvement were initially made by former US judge Andrew Napolitano earlier this week and were later repeated by Spicer at a press briefing on Thursday, reported the Guardian on Friday.
"Judge Andrew Napolitano made the following statement, quote, 'Three intelligence sources have informed Fox News that President Obama went outside the chain of command (to spy on Trump). He didn't use the NSA, he didn't use the CIA ... he used GCHQ,'" Spicer had said.
A GCHQ spokesperson said: "Recent allegations about GCHQ being asked to conduct 'wiretapping' against the then President-elect are nonsense. They are utterly ridiculous and should be ignored."
The denial came as the Senate Intelligence Committee announced it had found no evidence that Trump Tower had been under surveillance in 2016, contrary to Trump's previous claims that his predecessor Barack Obama had ordered wiretapping, reported BBC.
"Based on the information available to use, we see no indications that Trump Tower was the subject of surveillance by any element of the United States government either before or after Election Day 2016," committee chair Richard Burr said in a statement on Thursday.
Tim Farron, leader of the Liberal Democrats Party, said Trump was "compromising the vital UK-US security relationship to try to cover his own embarrassment".
http://www.thestatesman.com/world/british-spy-agency-denies-wiretapping-donald-trump-1489746494.html
------
Trump's Muslim rhetoric key issue in travel ban rulings
March 18th, 2017
SEATTLE: US federal law gives the American president broad authority over immigration. Jimmy Carter used it to deny some Iranians entry to the US during the hostage crisis, Ronald Reagan to bar Cubans who didn't already have relatives here and President Barack Obama to keep out North Korean officials.
So why does President Donald Trump keep running into legal trouble with his efforts to freeze immigration by refugees and citizens of some predominantly Muslim nations?
When federal courts in Hawaii and Maryland blocked Trump's revised travel ban from taking effect, the judges spelled out their major concern: the unusual record of statements by the president and his advisers suggesting the executive order's real purpose was to discriminate against Muslims, in violation of the Constitution's ban on officially favouring or disfavouring any religion.
As the legal fight moves into the appeals courts, two key issues will be the extent of the president's broad immigration powers and whether Trump's own record stymies his plans.
The rulings
Neither US District Judge Theodore Chuang in Maryland nor Judge Derrick Watson bought the administration's reasoning that the travel ban is about national security.
"The history of public statements continues to provide a convincing case that the purpose of the second executive order remains the realisation of the long-envisioned Muslim ban," Chuang wrote.
Watson criticised what he called the "illogic" of the government's arguments and cited "significant and unrebutted evidence of religious animus" behind the travel ban.
He also noted that while courts should not examine the "veiled psyche" and "secret motives" of government decision-makers, "the remarkable facts at issue here require no such impermissible inquiry. For instance, there is nothing 'veiled' about this press release: 'Donald J. Trump is calling for a total and complete shutdown of Muslims entering the United States,'" he wrote, referring to a statement Trump issued as a candidate.
But the scope of the rulings differed. In a challenge brought by Hawaii, Watson blocked the federal government from enforcing its ban on travel from six mostly Muslim countries and its suspension of the nation's refugee programme. Chuang only blocked the six-nation travel ban, saying it wasn't clear that the suspension of the refugee programme was similarly motivated by religious bias.
A federal judge in Seattle on Thursday ruled that his order blocking Trump's original travel ban does not apply to the revised executive order because there are enough differences between the two.
Judge James Robart noted that Washington and several other states have also asked him to block the revised ban. He said he would rule on that request at a later date.
Appeals coming
Speaking Wednesday evening at a rally in Nashville, Tennessee, Trump called the ruling in Hawaii an example of "unprecedented judicial overreach" and said his administration would appeal it to the US Supreme Court. He also called his new travel ban a watered-down version of the first one, which he said he wished he could implement. "We're going to win. We're going to keep our citizens safe," the president said. "The danger is clear. The law is clear. The need for my executive order is clear."
White House spokesman Sean Spicer said on Thursday that the Justice Department was exploring its options, but that it expected to file an appeal of the Maryland ruling with the 4th US Circuit Court of Appeals and to seek clarification of the Hawaii order before appealing to the 9th Circuit. That circuit is where a three-judge panel unanimously declined to reinstate Trump's original travel ban when it was put on hold by a Seattle Judge last month.
Despite the legal victories for critics of the ban, it's far from clear that they will continue to win. A different panel of judges in the 9th Circuit will probably hear the appeal of Hawaii's case. And on Wednesday, five judges signed a dissent criticising the court's decision not to reconsider and throw out the panel's ruling on the original travel ban.
"Whatever we, as individuals, may feel about the president or the executive order, the president's decision was well within the powers of the presidency," Judge Jay Bybee wrote for the five.
The president's authority
In 1952, with the nation fearful of communist infiltration, Congress gave the president the authority under the Immigration and Nationality Act to take action: "Whenever the president finds that the entry of any aliens or of any class of aliens into the United States would be detrimental to the interests of the United States, he may ... suspend the entry of all aliens or any class of aliens as immigrants or non-immigrants, or impose on the entry of aliens any restrictions he may deem to be appropriate," the law says.
That power has been invoked dozens of times. But legal experts say those examples were more limited than what Trump has sought.
Citing a report that reviewed White House administrations going back to Reagan, Chuang noted in his ruling that no president has issued a ban on the entry "of all citizens from more than one country at the same time, much less six nations all at once".
Chuang found that the travel ban likely violated another aspect of federal immigration law, barring discrimination on the basis of nationality in the issuance of immigrant visas. That law was passed in 1965 as part of an effort to end longstanding immigration quotas that had been criticised as racist.
Ultimately, the cases will come down to the ways in which that law and the Constitution constrain the president's authority.
"That's the tug of war that is going to play out and, I suspect, go before the Supreme Court," said Ted Ruthizer, a former president of the American Immigration Lawyers Association. "I think it will be a very seminal decision as to what are the limitations on the executive's powers."
https://www.dawn.com/news/1321188/trumps-muslim-rhetoric-key-issue-in-travel-ban-rulings
------
Southeast Asia
WHAT DO ISLAMIC STATE AND TIBET HAVE TO DO WITH CHINA'S CRACKDOWN IN XINJIANG?
Authorities' show of force in China's restive western region follows a spate of terror attacks and an IS video featuring Uygurs
BY GABRIELE BATTAGLIA
Why China's 'One Belt, One Road' plan is doomed to fail
The heat is on in Xinjiang. A string of deadly killings, blamed on Islamist separatists, have rocked China's restive far western province and prompted authorities into an unprecedented show of force – and a social clampdown experts say has been imported from Tibet (西藏).
Huge military parades have taken place in Hotan (和田地區), Kashgar (喀什地區) and Urumqi (烏魯木齊) featuring thousands of servicemen, signalling the authorities' intent to "relentlessly beat, and strike hard against terrorism", in the words of the local Communist Party deputy chief Zhu Hailun.
The show of force comes after a knife attack in February that killed eight people and a car bomb in December that killed five. In January, three suspected terrorists were shot dead in Hotan while resisting arrest.
A Uygur fortune-teller, right, reads playing cards as she tells a young woman her fortune in Xinjiang. Photo: AFP
A Uygur fortune-teller, right, reads playing cards as she tells a young woman her fortune in Xinjiang. Photo: AFP
Those attacks are just the latest grisly episodes in the region's years-long struggle against terrorism that has claimed hundreds of lives. Authorities blame the attacks on ethnic Uygur militants belonging to the separatist East Turkestan Islamic Movement (ETIM), though some critics doubt whether ETIM exists as a cohesive group, claiming the attacks are more a reaction to repressive government policies that target the Uygurs' way of life.
Why China's 'One Belt, One Road' plan is doomed to fail
The spate of violence coincides with the release this month of a half-hour video by Islamic State that features Uygurs issuing the terror group's first threat against Chinese targets. The event has added credibility to warnings by Beijing of the potential for Xinjiang militants to link up with global jihadist groups. Chinese President Xi Jinping ( 習近平 ) told Xinjiang's delegation at the National People's Congress in Beijing this month that the area required a "great wall of iron" to keep out Islamic separatists. He also underscored the need for "ethnic unity".
The government has responded to the growing threat by bringing in new hardline security restrictions on Xinjiang (新疆) residents – restrictions some experts say have been imported from neighbouring Tibet by Chen Quanguo, Xinjiang's Communist Party leader, who previously held the same office in Tibet.
Those measures include the recall of passports and a ban on foreign travel for local residents that covers both Han and Uygurs; a prohibition on praying – even privately – other than in official places of worship, applied not only to mosques but also Christian churches; and a crackdown on "underground" Islamic schools.
They also include a bounty of 100 million yuan (HK$112 million) in rewards for anti-terror tips.
"Every single measure you saw in Tibet is magnified in Xinjiang. The mechanism is similar but the application is different," Robbie Barnett, director of modern Tibetan studies at Columbia University, told This Week in Asia.
Darren Byler, a University of Washington expert on Northwest China who cited local sources, said the situation had never been as tense as it was now.
"Most counties from Aksu to Hotan are on complete lockdown. Uygurs with residence permits in those counties are not permitted to leave without justified permission. In some cases bus services between cities have been stopped. In many places life is now centred around daily political education and red-song singing meetings. Every household has to send a representative to such meetings or their family will be labelled suspicious."
'When are you going back to Arabia?': How Chinese Muslims became the target of online hate
Uygurs were traditionally the majority ethnic group in Xinjiang, but development of the resource-rich territory has bought an influx of Han Chinese, who now account for nearer half the population. This has caused tension, with many Uygurs – most of whom are Muslim – fearing their way of life is being whittled away.
Xinjiang is a hub in China's "One Belt, One Road" development project that seeks to revive the ancient Silk Road by linking regional economies into a China-centred trading network. The initiative is key to the geopolitical ambitions of Beijing, which has responded to recent unrest by drafting in the hardliner Chen as Xinjiang's party leader in August 2016. Chen was the creator of Tibet's so-called "grid management system" – a pervasive surveillance network built to inform on Dalai Lama sympathisers that relies largely on local Han residents to manage the society "without gaps, without blind spots, without blanks", according to state media. China regards the Dalai Lama as a separatist, although he says he merely seeks genuine autonomy for his Himalayan homeland.
Chen had pushed security to the top of his agenda since arriving in Xinjiang, said James Leibold, an expert on China's ethnic issues at Australia's La Trobe University.
"With Wang Lequan (王樂泉) as party leader in Xinjiang from 1994 to 2010, a hard-handed approach led to the Urumqi violence in 2009," said Leibold, referring to several days of rioting that involved at least 1,000 Uygurs and, according to Chinese officials, led to 197 deaths, most of them Han Chinese.
"Then Zhang Chunxiang ( 張春賢 ) came in and developed a softer approach based not only on security but also on economic development."
Leibold said that after attacks in 2013-2014 – 35 people were killed in knife assaults at Kunming Railway station in March 2014, while two months later suicide bombers killed 43 people at a street market in Urumqi – Zhang was recalled to Beijing "in a largely ceremonial position because his approach was considered ineffective".
"Then Chen [was made Xinjiang party chief] and he probably saw this as a great opportunity to reach a high position in the Politburo. He went back to Wang Lequan's approach."
Leibold said that many Uygurs saw the latest security measures as targeting Muslim practices.
"It would be naive to claim that China does not have a problem with radical Islam both domestically and internationally," said Leibold. "Yet its show of force is disproportional to the actual threat posed. Like swatting flies with a machine gun, it is counterproductive, as repressive policies in Xinjiang reinforce the perception that the Xi Jinping leadership is anti-Islam. This not only undermines the 'One Belt, One Road' project but also threatens to make China's problem with terror far more serious and complex in the future."
The release of the Islamic State video appears to be an effort by the terror group to capitalise on the situation in Xinjiang. It shows Uygur fighters who threaten to "shed rivers of blood and avenge the oppressed" in China.
Experts say the video marks a shift from years past when China rarely figured in statements by global jihadist groups.
Critics say introduction of a strict sharia punishment code known as hudud could dissuade investment, strain social harmony, ruin Malaysia's reputation and encourage extremism. So why would PM Najib Razak view it as a vote-winner?
What's driving Malaysian support for Islamic penal code?
Bangladesh militants in suicide blast as police surround extremist hideout
Tunnels under ancient Mosul mosque show how Islamic State saved some artefacts from destruction
Critics say introduction of a strict sharia punishment code known as hudud could dissuade investment, strain social harmony, ruin Malaysia's reputation and encourage extremism. So why would PM Najib Razak view it as a vote-winner?
Dolkun Isa, general secretary of the Munich based World Uygur Congress – an organisation in exile, said the militants who appeared in the video did not represent the Uygur people. "No one who joins Islamic State can say he is a Uygur," he said. ■
http://www.scmp.com/week-asia/geopolitics/article/2077148/chinas-economic-growth-target-maximum-political-minimum
------
WHAT'S DRIVING MALAYSIAN SUPPORT FOR ISLAMIC PENAL CODE?
Critics say introduction of a strict sharia punishment code known as hudud could dissuade investment, strain social harmony, ruin Malaysia's reputation and encourage extremism. So why would PM Najib Razak view it as a vote-winner?
BY DANNY LIM
18 MAR 2017
As Malaysia considers the introduction of a strict sharia punishment code known as hudud, minorities have been left to consider their place in a country once lauded for diversity and moderation – and to ponder the wisdom of experts who warn creeping Islamisation could breed extremism.
Scenes of the tens of thousands who gathered in Kuala Lumpur in February to show their support for hudud are fresh in the minds of lawmakers who are being urged to debate the implementation of aspects of the code before the current parliamentary session ends on April 6.
Also at the forefront of their minds – and not least that of embattled Prime Minister Najib Razak – is the looming general election widely expected to be held this year. For the first time since the country's independence from Britain in the 1950s, there appears a real possibility that the ruling coalition known as the Barisan Nasional (or National Front) could lose power (it clung on at the last election, in 2013, despite losing the popular vote).
How one Islamist party could sway Malaysia's election
Given the tightness of the margins, an issue that for decades has been too divisive for lawmakers to entertain has emerged as an unlikely kingmaker.
Under Malaysia's parallel legal system, secular federal laws operate in tandem with sharia courts that have jurisdiction only over Muslims and only in some aspects of (mostly civil) law that are not covered by the federal law. However, at present, those sharia courts are restricted from implementing the harshest punishments, for those crimes said to violate God's boundaries (or hudud). In its purest, strictest interpretation, the hudud code prescribes amputations, stonings and even crucifixion for certain offences.
But there is sizeable support for implementing hudud – witnessed most recently at the rally in the capital to support a private member's bill by Abdul Hadi Awang, the leader of the country's influential Pan-Malaysian Islamic Party (PAS). His bill's scope is limited: it seeks only to ease some of the restrictions imposed on the sharia courts and – the more archaic punishments, such as crucifixion, would remain off limits.
Still, the limited scope of the bill has done little to dispel the doubts of those who fear that in playing to the rural Muslim voters the politicians are embarking on a slippery slope.
Abdul Hadi's bill alarms many of the country's non-Malay minorities who see such efforts as part of a creeping Islamisation of the multi-ethnic country and claim it would dissuade investors and strain social harmony. About 23 per cent of Malaysians are ethnic Chinese and seven per cent Indian. The direst warnings see it as contributing to a climate of religious conservatism that could leave the country a fertile ground for the Islamic State terrorist group.
That leaves all eyes on Najib, who leads the United Malays National Organisation, the main party in the ruling coalition, and who is in need of a popularity boost.
On first glance, Najib appears an unlikely supporter of the bill. The ruling coalition has often exploited the issue to drive a wedge between opposition parties such as the PAS – the biggest Islamist party – and the secular Democratic Action Party. And it has been successful in doing so: in 2015, disagreement over hudud caused the disbandment of the opposition coalition, the People's Alliance, just two years after it lost the 2013 elections (despite winning the popular vote).
Netanyahu's drama-free Singapore trip: Are Malaysia, Indonesia finally warming to Israel?
But Najib has plenty of reasons to rethink his position, not least among them the loss of support he has felt since being linked to a scandal at the state fund 1Malaysia Development Berhad (1MDB), where investigators reportedly traced some US$700 million wired into his bank accounts. Both the fund and Najib deny wrongdoing, but the scandal has encouraged many Malaysians, particularly urbanites and non-Muslims, to turn away from his ruling coalition.
His response has been to court the PAS on the basis of Malay-Muslim unity with his own party. While he has so far stopped short of endorsing the bill, opponents fear that will be the ultimate quid pro quo the PAS demands.
Najib's ploy, at least for now, appears to be working. The government's move in May last year to allow Abdul Hadi to table the bill – the first private member's bill to gain a hearing since 1988 – set the media agenda for two by-elections the following month, both of which were won by Najib's ruling coalition with increased margins.
Since then, Najib's links to the PAS have been further highlighted. Last month, he and the PAS deputy president, Tuan Ibrahim Tuan Man, launched the Food Flotilla for Myanmar humanitarian aid mission. Just two weeks later, the rally in support of hudud took place in Kuala Lumpur where, in the crowd of predominantly PAS supporters, could be seen several leaders from Najib's ruling coalition – one of whom said he had been given explicit approval from Najib to attend.
Given such developments, it's perhaps unsurprising that the bill's supporters are optimistic.
Yet Najib is wielding a double-edged sword. Some of his party's partners in the ruling coalition, such as the Malaysian Chinese Association, have threatened to vote against the bill, while ministers and business groups warn it could drive away investors already spooked by the 1MDB scandal.
The Proton Saga: why would Malaysia sell its 'symbol of dignity' to China?
In June, the International Trade and Industry Minister Ong Ka Chuan warned passing the bill would cause investors to reconsider their place in Malaysia. "Our trade will be affected and this will be detrimental to our economic fundamentals," he said.
Even more striking are the warnings that calls for hudud are part of a creeping Islamisation that will breed extremism. In testimony to the US congress on assessing the threat terrorist group Islamic State posed to Southeast Asia, Joseph Liow of the Brookings Institution think tank said "the climate of religious conservatism and intolerance [in Malaysia] has created fertile conditions for [Islamic State's] ideology to gain popularity".
Malaysian Prime Minister Najib Razak attends the annual congress of his party, the United Malays National Organisation. Photo: AFP
Malaysian Prime Minister Najib Razak attends the annual congress of his party, the United Malays National Organisation. Photo: AFP
While stressing that supporters of hudud were generally non-violent, Badrul Hisham Ismail, of Iman Research, said they nevertheless shared a strand of thought with the terrorist group. "It's that perception that by going back to so-called pure Islam, you can solve problems – crime, corruption, socio-economic problems," Badrul said.
The PAS brushes such warnings aside. "Investors will be assured if a country practices a system and laws that are just and transparent with zero corruption," said the party's information chief Nasrudin Hassan. "That is what Islam wants to build, through sharia law."
The debate must be seen against a backdrop of decades of division on the issue, which reaches to the heart of Malaysia's parallel legal system.
While Malaysia's secular federal laws are based on the common law legal system inherited as a result of the country's colonisation by Britain in the early 19th century, the constitution gives individual states the authority to legislate for offences and punishment of Muslims, except for matters already covered by federal law. This parallel sharia system covers matters like family law, religious observances and offences not covered by federal law such as adultery, false accusation of adultery, intoxication and heresy. Offences like theft, robbery, rape, murder, incest and unnatural sex are dealt with by the Federal Penal Code and hence off-limits for the states.
The Chinese admiral who spread Islam across Southeast Asia
The constitution also limits sharia courts in the penalties they can impose. The Sharia Courts (Criminal Jurisdiction) Act 1965 imposes limits of a maximum of three years jail, fines of up to RM5,000 (HK$8,700) and whippings of up to six lashes.
It is these limits that the latest bill seeks to change – it envisages limits of a maximum of 30 years' imprisonment, fines of up to RM100,000 and 100 lashes.
In 1993 and 2002, the state legislatures of Kelantan and Terengganu approved the use of hudud punishments such as amputation, stoning and crucifixion for offences such as theft, robbery, fornication, sodomy, false accusation of fornication, drinking and heresy.
But these punishments were unenforceable as they contravened the constitution's limits on sharia.
While the hudud bill would not change this, critics fear it will be the thin end of the wedge – encouraging other states to follow suit and giving fuel to groups already calling for a wider application of hudud. "This will open the floodgates," said Wong Chin Huat from the Penang Institute think tank.
Indeed, some groups are already calling for a wider application of hudud. While the PAS maintains that hudud should not be imposed on non-Muslims, groups like the influential Malaysian Muslim Solidarity (ISMA) movement have called for its universal application. The ISMA president, Abdullah Zaik, said: "We believe an Islamic system can be accepted and will assure everyone that an Islamic system will protect their interests."
A Muslim child rides past flags belonging to the opposition Pan-Malaysian Islamic Party Terengganu, which has previously approved the use of hudud. Photo: AFP
A Muslim child rides past flags belonging to the opposition Pan-Malaysian Islamic Party Terengganu, which has previously approved the use of hudud. Photo: AFP
The appetite for hudud had been building long before the rally in Kuala Lumpur. In a 2014 survey by pollsters Merdeka Centre, 71 per cent of Malay-Muslims supported its introduction (though approval from non-Malays was below 30 per cent).
That has led some to claim that increasing distrust in the government, rising crime and costs of living are fuelling an urge among Muslims to look to the divine for solutions. Others blame the PAS for indoctrinating Malay Muslims to believe that rejecting hudud is a rejection of Islam. "Today, even non-devout Muslims will say they want hudud, out of fear of apostasy," said Wan Ji Wan Hussin, a Muslim preacher who has left the party.
Yet the Merdeka Centre poll also showed only 30 per cent of Malays thought the nation was ready for it.
This hesitance was echoed by Che Ibrahim Mohamed, a sharia lawyer and former member of the Kelantan technical committee on hudud. "[Hudud] shouldn't be the priority right now," he said.
"We need to ensure the needs of the people are met first. When their educational and welfare needs are met, then we can talk about the law. It's like building a house, and hudud is the fence. We need to ensure the house is functional first before safeguarding it with a fence."
ISMA's Abdullah was not impressed by such arguments. "If crimes can be stopped solely by way of education and understanding, we would choose that path too. But where [society has been] unable to curb crime, the laws need to be in place. We do not need to wait for society to understand before implementing those laws."
With such firm views on either side of the debate it may seem hard to envisage a common ground being reached any time soon. Yet it might be that the two sides already have something in common – a misunderstanding about sharia.
Dzulkefly Ahmad, a former PAS leader who formed a new party, Amanah, said that the debate had "reduced everything to the punitive.... but sharia is not about that at all".
Why Trump's travel ban puts Macau, Malaysia in Islamic State's sights
He noted that the Arabic word 'hukm' was used in the Koran to mean arbitration, judgment, authority and Allah's will, but "the Malay word 'hukum', as used in Malay-Muslim society, had come to mean punishment and the penal code". Consequently, "we're in a losing battle if we want to disentangle [the debate]".
Not only has this reductionism oversimplified the matter, it has made hudud appear a panacea in the Malay-Muslim psyche – a cure for crime, a symbol of identity, a cause for the politicians, a vote winner for a down at luck prime minister. Whether or not the present bill passes – and whether or not it leads to the slippery slope feared by some, Dzulkefly is keen to shatter such illusions. "There has been empirical research done on countries that have implemented hudud and there is actually an inverse correlation between hudud and quality of life and justice. Sudan, Pakistan, Nigeria – look at their level of integrity, income disparity, crime, violence. It is not that simplistic," he said.
A row between Malaysia's former prime minister Mahathir Mohamad and the influential Sultan of Johor has put the issue of foreign influence in the country centre stage
Mahathir versus the sultan: How Chinese investment could sway Malaysian election
How one Islamist party could sway Malaysia's election
Why Malaysia's hopes for a post-racial politics are fading – even if Mahathir is not 'anti-Chinese'
Low has said he provided consulting to 1MDB that didn't break any laws. Photo: Handout
New Zealand court backs Jho Low's family in bid to protect US$650 million of assets
A row between Malaysia's former prime minister Mahathir Mohamad and the influential Sultan of Johor has put the issue of foreign influence in the country centre stage
Mahathir versus the sultan: How Chinese investment could sway Malaysian election
How one Islamist party could sway Malaysia's election
"A lot of factors contribute to crime. But in this simplistic mind, if you get hudud implemented, all problems of man will be solved. If that was the case, the Prophet would've pronounced hudud from day one." ■
http://www.scmp.com/week-asia/politics/article/2079953/whats-driving-malaysian-support-islamic-penal-code
------
Eminent Islamic scholar meets key leaders in Singapore
MAR 17, 2017
One of the world's most influential Islamic scholars called on President Tony Tan Keng Yam and Prime Minister Lee Hsien Loong yesterday at the Istana.
Shaykh Abdallah Bin Bayyah, president of the Forum for Promoting Peace in Muslim Societies which is based in the United Arab Emirates, called on Dr Tan in the morning.
They spoke about the importance of social harmony and reaffirmed multiculturalism as a cornerstone of Singapore's multi-religious, multiracial society.
Shaykh Abdallah then met PM Lee in the afternoon, with Singapore's Mufti Fatris Bakaram also present at the meeting.
The Shaykh, who is from Mauritania and is a strong advocate for multiculturalism and inter-faith understanding, is in Singapore as the Islamic Religious Council of Singapore (Muis) Distinguished Visitor.
He will deliver the Muis Lecture today - the highlight of Muis' Distinguished Visitor Programme. This is the fifth time the programme has been held since it started in 2006.
PM Lee said in a Facebook post: "Inter-faith understanding is crucial to maintaining peace and harmony. We enjoy such peace and harmony but we have to keep learning from others, especially when we see so many countries experiencing religious tensions and conflicts."
The Shaykh arrived in Singapore on Monday for a five-day visit.
On Tuesday, he met Minister-in-charge of Muslim Affairs Yaacob Ibrahim, who is also Minister for Communications and Information.
On Wednesday, at a seminar for Islamic religious leaders, he spoke about compassion and human dignity and how they were part of Islamic tradition and thought, Muis said.
http://www.straitstimes.com/singapore/eminent-islamic-scholar-meets-key-leaders-in-singapore
------
Philippine troops kill 10 Muslim militants
MARCH 18, 2017
Philippine troops have killed at least 10 Muslim militants in two days of ground and air offensives against their southern province hideouts.
A local bomber and a foreign leader of the regional terrorist group Jemaah Islamiyah are believed to be among those killed but their identities are still to be confirmed, according to army Captain Arvin Encinas.
Troops swooped on the hideouts belonging to the Bangsamoro Islamic Freedom Fighters in two villages in the province of Maguindanao, 960 kilometres south of Manila, he said on Saturday.
The military also launched air strikes to support the ground operation.
Troops recovered and disabled five homemade bombs from the abandoned encampments of the militants, Encinas said.
The Bangsamoro Islamic Freedom Fighters is a breakaway of the Moro Islamic Liberation Front, the largest Muslim rebel group, which signed a peace agreement with the government in 2014.
The faction opposed the peace agreement, which aims to create a new autonomous Muslim entity in the southern region of Mindanao, and is suspected to have linked up with local and foreign terrorist groups.
http://www.news.com.au/world/breaking-news/philippine-troops-kill-10-muslim-militants/news-story/e15805beb5b1b0cda2ccd1f5840f53ed
------
China Mulls Terror Response After Islamic State Threat
March 18, 2017 1:27 AM
Henry Ridgwell
The Islamic State terror group released a video earlier this month explicitly threatening China with attacks on its soil. Analysts say that as China seeks to expand influence across central Asia, the Middle East and Africa, its nationals are being exposed to a greater terror threat — and Beijing is having to adapt its response.
The Islamic State video purports to show Chinese ethnic Uighurs fighting for IS militants in Iraq. They threaten to return home and shed "rivers of blood."
Analyst Raffaello Pantucci of Britain's Royal United Services Institute says the propaganda is part of Islamic State's attempt to fight back in the face of heavy losses in Iraq and Syria.
"If it's able to say it's fighting forwards, it's got these groups of people from all over the world who are there fighting alongside them to ultimately return home and do horrible things there, then you're painting a much stronger narrative, and one which the group wants to project," he said.
The video invokes the perceived persecution by Beijing of majority-Muslim Uighurs in the western province of Xinjiang. China tightly controls access to the region, Pantucci said, and verifying reports of attacks there is difficult.
"This year at least two potential attacks so far and a number of other odd incidents taking place," Pantucci said. "And we've seen the governor in Xinjiang province actually having a very heavy clampdown and a very visible escalation of the security presence in the region, all of which suggests that China is increasingly concerned about the problems related to terrorism and extremism, and clearly IS is part of that picture."
Common enemy
Islamic State may be a common enemy, but there has been little coordination between China and the global coalition fighting the group, says Mathieu Duchatel of the European Council on Foreign Relations.
"China wants support from Western states on its policies in Xinjiang. China considers that the anti-terror efforts that it is leading in Xinjiang are not being endorsed by countries in the West and the response in Europe at least is that there is a lack of transparency," Duchatel said.
Human rights groups accuse China of oppressing its Uighur population. In turn, Beijing accuses the West of double standards, he said.
"China has a category which it calls the three evils. Terrorism, extremism and separatism are put together in the same basket," Duchatel said.
China adopted a law in 2015 allowing military deployment overseas on anti-terror missions. But Duchatel says working alongside Western or Russian forces against Islamic State remains unlikely.
"The long-standing approach to terrorist risks for China has been to avoid attracting too much attention and becoming a target," he said.
That approach may change as Chinese nationals are exposed to a greater terror risk across the globe.
http://www.voanews.com/a/china-mulls-response-to-islamic-state-threat/3771645.html
------
Arab World
Iraqi forces battling ISIS edge into Mosul's Old City, Nuri mosque in sight
Losing Mosul would be a huge blow to Islamic State.
March 17, 2017
Iraq, Iraqi forces, Mosul, baghdada, Nuri Mosque, islamic state, IS, ISIS, Islamic state mosul, world news
Troops were trying to besiege the Old City and cut off a street leading out to prevent Islamic State dispatching the armoured suicide car and truck bombs that have been targeting army positions inside the city. (Source: Reuters/File)
Iraqi forces battling Islamic State in Mosul edged into the Old City and around the al Nuri mosque on Friday trying to seal off a main road to prevent militants sending in suicide bombers to attack their positions.
Troops are meeting fierce resistance as militants retreat into the Old City, where street fighting is expected in the narrow alleyways and around the mosque where Islamic State declared its caliphate nearly three years ago.
A helicopter fired rockets into the area and heavy gunfire and mortar blasts echoed as troops made forays in districts near the Nuri mosque, where Islamic State's black jihadist flag hangs from its leaning minaret.
"Federal police and rapid response forces completely control the al-Basha mosque, al-Adala street and Bab al-Saray market inside the Old City," a federal police spokesman said. "Forces are trying to isolate the Old City area from all sides and then start an offensive from all sides."
Five months into the campaign to liberate Mosul, Islamic State's last major stronghold in the country, Iraqi forces backed by U.S.-led coalition air strikes have retaken the eastern half of the city and about half of the western side across the Tigris river.
Losing Mosul would be a huge blow to Islamic State. It has served as the group's de facto capital since its leader Abu Bakr al-Baghdadi announced his self-declared caliphate spanning Iraq and Syria from the Nuri Mosque in July 2014.
Troops were trying to besiege the Old City and cut off a street leading out to prevent Islamic State dispatching the armoured suicide car and truck bombs that have been targeting army positions inside the city.
On Wednesday, a suicide bomber in an armoured digger truck penetrated Iraqi forces lines, smashing through vehicles and barricades before detonating a blast that destroyed vehicles including Iraqi U.S.-made Abrahams tanks.
"A bulldozer packed with a large amount of explosives managed to reach our troops near the museum using the Old City side roads, we lost an Abrahams tank, three Humvees and four soldiers," a spokesman for the rapid reaction forces said.
An attack on Thursday was stopped when the vehicle was hit by a rocket in the Bab Tob old market area before it could approach federal police and other units, the rapid reponse force official said.
GUERRILLA TACTICS
Islamic State forces swept in to control a third of Iraq when the army abandoned its positions and fled two years ago. The Iraqi government says its security forces have since been rebuilt and have proven themselves in battle, recapturing lost ground.
A U.S.-led coalition has been providing air strike support, intelligence and advisers on the ground. The Mosul battle has put U.S. troops in a more visible role than at any time since they began to withdraw from Iraq in 2011. Former President Barack Obama sent thousands back as advisers.
U.S. officials have estimated that around 2,000 fighters remain inside the city. But there are risks militants will return to the kind of guerrilla warfare and bombings they have used in the past against the capital and other cities.
Just north of Baghdad, a Sunni militia leader was killed along with two members of his family and two guards on Friday when gunmen, including suicide attackers, broke into his house, police and army sources said.
Lateef al-Jari, local leader of Sunni brigade in the small Sunni town of Mishahda, was killed in the attack, which security sources blamed on Islamic State.
Residents are streaming out of western Mosul neighbourhoods recaptured by the government, many hungry and traumatised by living under Islamic State's rule. Many say food is running short and security is fragile even in liberated areas.
As many as 600,000 civilians are caught with the militants inside Mosul, which Iraqi forces sealed off from the remaining territory that Islamic State controls in Iraq and Syria. The Iraqi forces include army, special forces, Kurdish peshmerga and Shi'ite militias.
Around 255,000 people have been displaced from Mosul and surrounding areas since October, including more than 100,000 since the latest military campaign in western Mosul began on Feb. 19, United Nations figures show.
The last week has seen the highest level of displacement yet, with 32,000 displaced between March 12 and 15.
http://indianexpress.com/article/world/iraqi-forces-battling-isis-edge-into-mosuls-old-city-nuri-mosque-in-sight-4573836/
------
Syria fires missiles at Israeli jets after air strikes
March 18, 2017
Syria fired missiles at Israeli warplanes on a mission to destroy a weapons convoy destined for the Iranian-backed Lebanese militant group Hezbollah prompting it to deploy its missile defence system, Israeli officials said, in a rare military exchange between the two hostile neighbours.
The Israeli military said its aircraft struck several targets in Syria and were back in Israeli-controlled airspace when several anti-aircraft missiles were launched from Syria toward the Israeli jets.
Israeli aerial defence systems intercepted one of the missiles, the army said, without elaborating. It would not say whether any other missiles struck Israeli-held territory, but said the safety of Israeli civilians and Israeli aircraft was
"not compromised."
Israel is widely believed to have carried out several air strikes in recent years on advanced weapons systems in Syria including Russian-made anti-aircraft missiles and Iranian-made missiles as well as Hezbollah positions. It rarely comments on such operations and the military statement detailing the raid and comments confirming the operation by Israeli Prime Minister Benjamin Netanyahu were highly unusual.
"Our policy is very consistent. When we identify attempts to transfer advanced weapons to the Hezbollah, and we have the intelligence and the operational capability, we act to prevent that. That is what was and that is what will be," Netanyahu said.
Hezbollah is fighting alongside President Bashar Assad in the brutal Syrian civil war. The Iran-backed group is sworn to
Israel's destruction and fought a month-long war with the Jewish state in 2006.
The firing of missiles from Syria toward Israeli aircraft is rare, though Israeli military officials reported a shoulder-fired missile attack a few months ago.
Israeli Channel 10 TV reported that Israel deployed its Arrow defence system for the first time against a real threat and hit an incoming missile, intercepting it before it exploded in Israel.
However, Arrow is designed to intercept long-range ballistic missiles high in the stratosphere, so it remained unclear why the system would have been used in this particular incident.
The Israeli military would not comment on the type of system used.
Israel's powerful transportation and intelligence minister Yisrael Katz told the station "our message is clear, we will not be complacent with a Syrian policy that arms Hezbollah."
Katz said "the fact that the incident developed into a situation where Israel claimed responsibility and the Syrians responded is significant."
A Syrian military statement said four Israeli warplanes violated Syrian airspace flying into Syria through Lebanese territory and targeted a military position in central Syria.
http://www.thestatesman.com/world/syria-fires-missiles-at-israeli-jets-after-air-strikes-1489813614.html
------
26 Somali refugees killed in Yemen airstrike
March 17, 2017
At least 26 Somali refugees were killed, including women and children, as their boat was hit by an airstrike near Yemen's Mandeb Strait, security officials said on Friday.
The officials said it is not known who launched the projectile and that dozens of those who were hurt have been transferred to the Al Hudaydah port in the Red Sea, Efe news reported.
The influx of immigrants to Yemen, enroute to other countries, continues despite the war, which has left some 17 million Yemenis - two-thirds of the country's population - in need of urgent aid to avoid risk of death from hunger in the coming months.
Yemen is currently facing the deadliest starvation crisis in the world, according to a United Nations assessment on food security and nutrition.
http://www.business-standard.com/article/news-ians/26-somali-refugees-killed-in-yemen-airstrike-117031700519_1.html
------
Aleppo: ISIL Besieged in Strategic Town of Deir Hafer
Sat Mar 18, 2017
TEHRAN (FNA)- The Syrian army continued military operations in Eastern Aleppo and regained control of all villages located to the South of Kuweires airbase.
The army forces seized back full control over the towns of Rasm al-Abd, Tal Ahmar and al-Asemiyeh to the South of Kuweires that are linked to Sabkhat al-Jaboul region in Eastern Aleppo after heavy clashes with the ISIL terrorists.
A military source also said that the Syrian soldiers laid siege on the strategic town of Deir Hafer from the Northern, Western and Southern directions after retaking control over the town of al-Harmal Southwest of Deir Hafer, adding that the ISIL has already lost the town in military terms.
The Syrian Army troops had on Friday continued their advances against ISIL South of the terrorist-held town of Deir Hafer and managed to retake control over two villages after hours of fierce clashes on Friday.
The army soldiers engaged in heavy fighting with ISIL and drove them out of Zubaydeh and Khasaf villages South of Deir Hafer town, killing and wounding a number of terrorists.
On Thursday, a military source dismissed reports by dissidents-affiliated websites on ISIL's surprise attack against the Syrian government troops near Deir Hafer and the army's withdrawal from Hamimeh al-Kabireh and Hamimeh al-Saqireh regions, stressing that the strategic town will be liberated soon.
The source said that the Syrian army launched massive operations against the ISIL positions near Deir Hafer in the Eastern parts of Aleppo province, adding that at present, heavy clashes were underway between the Syrian soldiers and the ISIL terrorists in the region.
http://en.farsnews.com/newstext.aspx?nn=13951228000252
------
Homs: Army Forces Regain Control of Oilfields in Eastern Palmyra
Sat Mar 18, 2017
TEHRAN (FNA)- The Syrian army scored more victories against the terrorists in Eastern Homs and advanced in important areas East of the ancient city of Palmyra (Tadmur).
According to al-Masdar news, the army soldiers continued military operations in Eastern Palmyra and seized back control of all oilfields near al-Mustadireh mountain after regaining the heights from the militants.
Reports said that tens of ISIL terrorists were killed during the army operations in the region.
The Syrian Army troops continued their anti-ISIL operations in the Eastern suburbs of Palmyra to stretch their chain of security around the ancient city, informed sources said.
The sources said that the army spent a great deal of time this week to attack the ISIL's positions around the newly-liberated ancient city of Palmyra, expanding their buffer-zone around the city via forcing ISIL to withdraw from several positions in order to reinforce important regions, including Arak gas fields and T-3 Pumping Station.
They added that the army soldiers liberated several sites from the terrorist group, including the strategic Mazar mountains and Palmyra gas fields North of the city.
The army men also launched another powerful attack this morning that concentrated on the al-Talilah crossroad and al-Antar Mountains at two different fronts.
Al-Talilah crossroad is located in Palmyra's Eastern countryside, while the al-Antar mountains are to the North of the city.
http://en.farsnews.com/newstext.aspx?nn=13951228000293
------
Iran pilgrims to join this year's hajj: Saudi Arabia
Mar 17, 2017
RIYADH: Iranian pilgrims will participate in this year's annual hajj, Saudi Arabia said on Friday, despite ruptured ties between the regional rivals.
For the first time in nearly three decades Iran's pilgrims -- which would have numbered about 60,000 -- did not attend last year's hajj after Riyadh and Tehran failed to agree on security and logistics.
Tensions remain as Saudi Arabia repeatedly accuses Iran of fuelling conflicts by supporting armed Shiite movements in Syria, Iraq, Yemen and Bahrain.
But after talks between the two sides, the Iranians will join this year's ritual which takes place at the beginning of September.
"The ministry of hajj and the Iranian organisation have completed all the necessary measures to ensure Iranian pilgrims perform hajj 1438 according to the procedures followed by all Muslim countries," the official Saudi Press Agency said, referring to this year in the Islamic calendar.
The hajj ministry said that the kingdom, home to Islam's holiest sites, welcomes "all pilgrims from all the different nationalities and backgrounds".
Iran rejects accusations of regional aggression and says Riyadh must stop its alleged support for Sunni "terrorists" like the Islamic State jihadist group and al-Qaida.
Although the verbal sparring continued, Saudi media reported in December that the Saudi minister in charge of pilgrimages, Mohammed Bentin, had invited Iran to discuss arrangements for this year's hajj.
An Iranian delegation visited Saudi Arabia in February for talks with Bentin.
In early March, Iran said there had been progress.
"Most of the questions up for discussion have been resolved and a couple of issues are remaining," Iran's ISNA news agency quoted Ali Ghazi Askar, the Iranian supreme leader's representative for hajj affairs, as saying.
"If those questions are resolved, we hope pilgrims will soon be sent to Saudi Arabia."
A major issue was compensation for the families of hundreds of people killed in a stampede during the 2015 hajj. Iran says 464 of its citizens died in the disaster.
More than 1.8 million faithful took part in last year's hajj. The pilgrimage is one of the five pillars of Islam and all Muslims who can must perform it at least once in their lives.
Iranian pilgrims have for the past two years not attended the lesser pilgrimage to Mecca and Medina in western Saudi Arabia, known as umrah, which occurs outside hajj.
Tehran suspended its umrah participation over the sexual assault of two Iranian teenage boy pilgrims by Saudi police at Jeddah airport in early 2015.
Ghazi Askar said Iran had raised this issue as well, and if the culprits were punished, "the lesser hajj will also be restored".
India should give only one way ticket to Muslims without Indian passport to go to Haj.
Despite agreement on the hajj, Riyadh maintains its criticism of Iran, as highlighted in talks on Tuesday between Deputy Crown Prince Mohammed bin Salman and US President Donald Trump.
The two leaders "noted the importance of confronting Iran's destabilising regional activities", the White House said.
http://timesofindia.indiatimes.com/world/middle-east/iran-pilgrims-to-join-this-years-hajj-saudi/articleshow/57691749.cms
------
South Asia
19 militant skilled in Baghlan airstrike in North of Afghanistan
By KHAAMA PRESS - Sat Mar 18 2017, 1:07 pm
0 Comments2 viewsEmail Email Print Print
At least nineteen militants were killed in an airstrike conducted in Baghlan province in North of Afghanistan.
The Ministry of Defense (MoD) said the airstrike was carried out in the vicinity of Baghlan-e-Markazi district.
MoD further added that twenty two militants also sustained injuries in the airstrikes.
The security situation in northern Baghlan province has sharply deteriorated during the recent years as the anti-government armed militant groups attempt to expand their insurgency in northern provinces of the country.
Taliban insurgents frequently carry out coordinated attacks on some key districts of Baghlan since they expanded their foothold in this province over a year ago.
The Taliban insurgents briefly took control of the strategic Tala Barfak district from the security forces few weeks ago.
However, the Afghan forces managed to retake its control with the defense officials saying the forces made a tactical retreat to prevent casualties to the local residents and members of the security forces.
The growing activities by the Taliban insurgents forced the Afghan government to launch a large scale operation in the key Dahana-e-Ghor area last year amid concerns that the group was preparing to equip for the fighting season.
http://www.khaama.com/19-militant-skilled-in-baghlan-airstrike-in-north-of-afghanistan-02422--
------
Suspect explodes bomb, dies at Bangladesh security camp
Mar 17, 2017
NEW DELHI: A suspected militant died Friday when he exploded a bomb at the future headquarters of a Bangladesh security agency, officials said.
The elite Rapid Action Battalion comprises military and police personnel and has conducted numerous raids on militant hideouts over the years. Its future headquarters is being constructed at a site in the Ashkona area, opposite Dhaka's international airport.
The explosion happened when security officials challenged the man as he entered the camp, Rapid Action Battalion spokesman Mufti Mahmud Khan said.
Some security officials were in the camp, but it was not immediately known whether the blast caused any other deaths or injuries.
The suspect died at the scene, Khan said. His identity is being investigated.
Bangladesh is experiencing a surge in attacks by suspected militants. A major attack on a restaurant in July left 20 hostages, including 17 foreigners, dead. The Islamic State claimed responsibility for the restaurant attack, but the government has blamed a banned militant group, Jumatul Mujahedeen Bangladesh.
Officials said four JMB members were killed Thursday in a police raid in the southeastern district of Chittagong.
http://timesofindia.indiatimes.com/world/south-asia/suspect-explodes-bomb-dies-at-bangladesh-security-camp/articleshow/57689176.cms
------
Bangladesh Forces Kill Suspected Militant Carrying Explosives
March 18, 2017
A suspected militant was on Saturday shot dead by security forces when he tried to cross a checkpoint run by Bangladesh's elite Rapid Action Battalion in Dhaka, a day after a suicide bomber blew himself up at a RAB camp in Dhaka. "The motorbike rider carrying a bag (of explosives) tried to cross the check post at Khilgaon (area) defying signals, forcing our men to fire gunshots that killed him instantly," a RAB official told PTI.
RAB's operations officer ASM Shakhawat Hossain said two personnel of the force at the check post were injured. He said the bomb disposal experts found explosives in the bag carried by the suspected militant. An investigations was launched into the incident which appeared to be an abortive attempt of attack by the Islamist militants, he said.
Saturday's incident came a day after an ISIS suicide bomber blew himself up inside a camp of RAB near the Dhaka international airport on Friday. The blast wounded two RAB men who were being treated at the nearby Combined Military Hospital in Dhaka Cantonment.
It was the first attack ISIS had claimed in Bangladesh this year and 27th since September 2015. Authorities issued a nationwide alert for all international and domestic airports and prisons in the country and ordered to step up security after Friday's attack. Bangladesh, however, ruled out the ISIS claim, calling it an act by homegrown militants, reiterating that there was no presence of any foreign terrorist group in the country.
Security experts suspected banned Neo-JMB, an outfit inclined to ISIS, behind the subsequent attacks in Dhaka in the past two days after four suspected operatives of the group were killed in encounters near the port city of Chittagong. Bangladesh has witnessed a nationwide anti-Islamist crackdown since last week while police said they arrested over 80 militants.
http://indianexpress.com/article/world/bangladesh-forces-kill-suspected-militant-carrying-explosives-4574467/
------
UN urges Afghanistan to tackle 'alarming' extremist threats
The Security Council on Friday reiterated its support for the Afghan National Defense and Security Forces
March 18, 2017
united nations, un, afghanistan, afghan taliban, taliban insurgency afghanistan, afghanistan security problem, united nations in afghanistan
In this photo provided by the United Nations, members of the United Nations Security council vote at the United Nations headquarters on Friday, Dec. 23, 2016 (Representational). (Manuel Elias/The United Nations via AP)
The UN Security Council has called on Afghanistan's government to tackle the "alarming threats" posed by the Taliban, al-Qaida, Islamic State affiliates and other extremist groups which threaten the security and stability of the country. A resolution adopted unanimously by the Security Council extending the UN political mission in the country until March 17, 2018 expresses serious concern at the presence and potential growth of IS affiliates which pose "serious threats to the security of Afghanistan and the countries of the region."
The Security Council on Friday reiterated its support for the Afghan National Defense and Security Forces "in securing their country and in their fight against terrorism and violent extremism." It called on the Afghan government, with international assistance, to continue tackling threats from "terrorist groups." Council members called for strengthened international and regional security cooperation to deal with violence in the region and attacks by the Taliban, the Haqqani Network, al-Qaida, IS, other extremist and armed groups, criminals and "foreign terrorist fighters."
The Taliban, who have been waging an insurgency against the US-backed government in Kabul for more than 15 years, advanced on a number of fronts in 2016. Afghan forces have struggled to combat the militants since the US and NATO formally concluded their combat mission at the end of 2014. The government is also facing an Islamic State affiliate, which is seeking to expand its footprint in the country beyond the eastern Nangarhar province, as well as attacks by al-Qaida and other groups.
The UN's most powerful body expressed "deep concern" at the record number of civilian casualties reported in February and condemned suicide attacks, often in populated areas, and the deliberate killing of women and girls, including those promoting women's rights, and journalists. According to the UN report, 3,498 people were killed in 2016, including 923 children, and another 7,920 people were wounded, the highest total of civilian casualties recorded since 2009 when the UN mission known as UNAMA began systematically documenting civilian casualties.
The resolution adopted by the council authorizes UNAMA to continue supporting the Afghan government including it coordinating international civilian efforts, organising future Afghan elections including the upcoming parliamentary elections, and facilitating the delivery of humanitarian aid.
http://indianexpress.com/article/world/un-urges-afghanistan-to-tackle-alarming-extremist-threats-4574296/
------
Russia reiterates contacts with Taliban only aimed at promoting Afghan peace
Sat Mar 18 2017
The Russian officials have reiterated that the recent contacts with the Taliban group were aimed at encouraging the group's leaders to participate in an Afghan-led peace talks.
Russia's security adviser Nikolai Patrushev made the remarks during a meeting with the Afghan national security adviser Mohammad Hanif Atmar.
The Office of the National Security Adviser in a statement said the two sides also discussed in details regarding Moscow's support to Afghanistan.
They also expressed concerns regarding the growing drugs production and smuggling and agreed to enhance cooperation in countering the threats posed by the illicit drugs to the region.
Calling Russia a close regional ally, Atmar said the Afghan government will continue to need Moscow's support in fight against terrorism, ensuring peace and stability, fight against drugs, and support to the Afghan National Defense and Security Forces.
This comes as reports emerged recently suggesting the growing contacts between the Taliban group and the regional countries, sparking concerns among the Afghan officials.
The commander of the US forces in Afghanistan and the NATO-led Resolute Support Mission commander General John Nicholson also expressed concerns last month regarding the growing interferences by the regional countries in Afghanistan, including Pakistan, Iran and Russia.
http://www.khaama.com/russia-reiterates-contacts-with-taliban-only-aimed-at-promoting-afghan-peace-02420
------
UN mission mandate in Afghanistan extended for one year
Sat Mar 18 2017
The mission mandate of the United Nations has been extended for another year in Afghanistan with the Security Council reaffirming support to the Afghan government and security forces.
According to a statement by the UN, Security Council today extended the mandate of United Nations assistance operation in Afghanistan until 17 March 2018, stressing the political mission's role in supporting an inclusive Afghan-led and Afghan-owned peace process.
The statement further added that the 15-member Council unanimously adopted a new resolution, requesting the Secretary-General to conduct a strategic review of the UN Assistance Mission in Afghanistan (UNAMA) and report back on the results of this exercise by July 2017, in order to ensure effective support for the Mission.
"On the human rights front, the Council requested continued support efforts to strengthen the protection of children affected by armed conflict, and reiterated the importance of accelerating the establishment of a fair and transparent justice system. In that vein, the Council emphasized the importance of ensuring access for relevant organizations to all prisons and places of detention in Afghanistan," the statement added.
The Council reiterated its support for the Government of Afghanistan, and in particular to the Afghan National Defence and Security Forces (ANDSF), in their fight against terrorism and violent extremism, the statement said.
It also called upon the Afghan Government, with the assistance of the international community, to continue to address the threat posed by the Taliban as well as by Al Qaida, the Islamic State of Iraq and the Levant (ISIL/Da'esh) affiliates and other terrorist groups.
http://www.khaama.com/un-mission-mandate-in-afghanistan-extended-for-one-year-02419
------
Africa
HOW AFRICA CAN WIN THE WAR ON ISLAMIST MILITANTS
Africa has become a major theater for Islamist violence.
BY ANTON DU PLESSIS
3/18/17
How Boko Haram Brought Terror To Nigeria
By any measure, Africa's fight against terrorism has been a failure.
Since it launched the fight in earnest nearly three decades ago in 1992, in the aftermath of a wave of violence from Islamist groups in Algeria, there has been a dramatic rise in incidents and fatalities perpetrated by militant groups. From 2009, for example, there has been a fourfold increase in the number of attacks by such groups, and an 850 percent increase in deaths. Meanwhile, the footprint of militant groups has expanded in a broad arc from the Horn of Africa to northeast Nigeria, encompassing much of North Africa and the Sahel in the process.
Win an iPhone 7 Sign up to our daily newsletter for your chance to win.
Groups such as al-Shabab, Boko Haram and al-Qaeda in the Islamic Maghreb (AQIM) continue to flourish despite repeated military onslaughts, and both al-Qaeda proper and the Islamic State militant group (ISIS) have made a concerted effort to expand their presence on the continent, both directly and via proxies.
Yet in the inability of policymakers to curb the rise of militant groups in Africa lies a lesson for how to deal with these issues in the future. After two decades of trying and failing to counter militancy on the continent, we now know what doesn't work. We know what not to do.
And as the global war on terror enters a new phase—particularly given the hawkish language emanating from President Donald Trump's White House—it has never been more important to recognize these errors and make sure they are not repeated.
Nigerian special forces conduct a mock casualty evacuation during Flintlock 2015, an American-led military exercise, in Mao, Chad, February 22, 2015. Africa has become an important arena for the U.S.-led war on terror.
In hindsight, it is clear that three mistakes were made.
The first, and most significant, has been to prioritize a military and security-led response to militant threats, which has sometimes been accompanied by a callous disregard for rule of law and basic human rights. The injudicious and unrestrained use of force means that, all too often, innocent civilians are caught up in the dragnet of counter-terrorist operations. In some countries—such as Kenya and Nigeria—torture and extrajudicial killings have become commonplace, even though these tactics have repeatedly been proved to be counter-productive.
For example, research conducted in Kenya by the Institute for Security Studies found that the majority of recruits to local militant organizations were motivated by incidents of injustice suffered at the hands of Kenyan security forces. For policymakers, the lesson here is simple: Indiscriminate bullets and beatings actually help, rather than hinder, militant groups in the long run.
The rise of Boko Haram in Nigeria is the clearest example of this. In July 2009, the group's founder and then leader, Mohammed Yusuf, along with dozens of his followers, were killed in a crackdown by Nigerian security forces. The perceived injustice of this incident was a major factor in Boko Haram's subsequent transformation from a dangerous but moderate Islamist group to a radical militant organization.
A man purporting to be Boko Haram's leader Abubakar Shekau speaks in this still frame taken from a social media video, August 10, 2016. Boko Haram has killed thousands and displaced millions during an eight-year insurgency.
Another strategic error has been to allow global narratives on terrorism to dictate local responses, in particular by adopting the rhetoric and tactics espoused by the United States in its war on terror. This is understandable, given that Washington has actively enlisted the assistance of various African governments and disbursed billions of dollars in the process as its world view on militant groups expanded in the wake of 9/11. But it is a mistake.
Nowhere is this more obvious than in Somalia, where the United States is a major funder of the African Union Mission in Somalia (AMISOM). All too often, however, America's emphasis on military- and security-led responses—an approach enthusiastically adopted by regional governments—means that AMISOM's efforts have been directed towards containing and suppressing al-Shabab, rather than working towards a stable, peaceful and inclusive Somalia.
This fixation on global narratives is also present in the way Africa's militant groups are routinely linked to larger, more international groups such as al-Qaeda and ISIS. While it is true that links do exist, they are often more tenuous than usually suggested. Boko Haram, for example, may have declared its allegiance to ISIS, but that does not mean that ISIS leader Abu Bakr al-Baghdadi is calling the shots in Nigeria. By focusing on the international rather than local roots of the problem, leaders are missing opportunities to improve the situation—and, sometimes, avoiding the responsibility to do so.
A Ugandan soldier, part of AMISOM, guards a football stadium in Mogadishu, Somalia, August 15, 2011. Thousands of AMISOM soldiers are stationed in Somalia, with the goal of defeating militant group al-Shabab.
To their credit, African leaders know that things must work differently. At the African Union (AU), member states agreed to a comprehensive counter-terrorism framework that prioritizes regional cooperation and reaffirms the continent's commitment to upholding human rights. This is good policy. Or at least it would be, if it were implemented. Unfortunately, few states are actively adhering to the AU's progressive guidelines. This too must change.
This is a crucial moment in the fight against militancy in Africa. With the rise of insular, populist governments in the developed world, and a distinct hardening in rhetoric from world leaders—the former U.S. administration of Barack Obama, although it did not always practice what it preached, recognized the need for a nuanced, holistic response to terrorism—Africa will continue to be a major theater in the war on terror.
But Africa cannot afford to get counter-terrorism wrong again, and it must resist the hawks and securocrats who urge African governments to repeat the brutal, military-led counter-terrorism policies that have failed so spectacularly over the last three decades. Instead, a holistic, multi-level approach that addresses the real concerns of citizens and engages civil society, community leaders and religious institutions at all levels of society is required. It's not just the right thing to do, from a moral perspective—it is also good strategy.
Anton du Plessis is the executive director of the Institute for Security Studies, a research organization based in Pretoria, South Africa. He tweets @_AntonDP. Simon Allison is the Africa Correspondent for the Daily Maverick. He tweets @SimonAllison.
http://europe.newsweek.com/africa-terrorism-islamist-boko-haram-al-shabab-aqim-569560?rm=eu
------
Kenya's president deploys military to quell drought violence
At least 21 people have died in fighting between herders the Illchamus Pokot and Tugen in Baringo county since early February.
March 18, 2017
Kenya's president has ordered the military to deploy to the volatile counties of Baringo and Laikipia in the Rift Valley to calm deadly violence fuelled by a drought that affects roughly half the country. President Uhuru Kenyatta announced he has authorised the immediate deployment of the Kenya Defense Forces to support police operations there. "The deployment will further assist in disarmament and surrender of illegally held arms," Kenyatta said. At least 21 people have died in fighting between herders the Illchamus Pokot and Tugen in Baringo county since early February.
Thirteen people were killed this week. And in Laikipia county, a British farmer was killed this month by herders invading ranches in search of pasture and water. The military has been accused of human rights abuses, including torture and executions, in a number of domestic security operations. However, the police force has suffered the deadliest attacks in its history at the hands of the pastoralists. At least 42 police officers were killed in November 2012 attempting to pursue herders who had stolen cattle from a rival community.
In November 2014, 21 police officers were killed pursuing the Pokot herders in Kapedo at the border of Turkana and Baringo counties. Livestock-keeping nomadic tribes in Kenya's north routinely engage in traditional cattle raids, which experts say have become more deadly because the tribes have switched from using spears and arrows to guns. Britain's foreign secretary, Boris Johnson, welcomed the decision to deploy troops to Laikipia, which has other British farmers affected by the land invasions. Johnson was in Kenya as part of a regional visit that also stopped in Uganda, Ethiopia and Somalia.
Kenya has declared a national disaster because of the drought that affects about half of the counties in this East African nation. Johnson said Britain will give Kenya 4 million pounds (USD 4.9 million) to mitigate the effects of the drought.
http://indianexpress.com/article/world/kenyas-president-deploys-military-to-quell-drought-violence-4574259/
------
Uganda: Gunmen kill senior police official, president orders installation of surveillance cameras
The unidentified shooters sprayed bullets at Assistant Inspector General Andrew Felix Kaweesi's car after he left his home in a northern neighbourhood of the capital.
March 17, 2017
Ugandan senior police officer shot, Uganda crime rate, Uganda homicide, Uganda President on senior police officer murder, President Yoweri Museveni, world news, indian express news
Ugandan President Yoweri Kaguta Museveni. (Source: Reuters)
Gunmen on motorbikes killed Uganda's third highest ranking police officer on Friday, drawing condemnation from President Yoweri Museveni who ordered the installation of surveillance cameras in major towns and on highways. The unidentified shooters sprayed bullets at Assistant Inspector General Andrew Felix Kaweesi's car after he left his home in a northern neighbourhood of the capital.
The gunmen's motive was not immediately clear. Kaweesi was a former head of police operations in greater Kampala and gained a prominent public profile for overseeing the frequent arrests of Uganda's main opposition leader, Kizza Besigye. Local television showed a crowd gathered at the scene and a parked Toyota Landcruiser with both doors on the driver's side open. Blood was spattered on the ground.
Crime is rampant in Uganda and most homicides go unsolved. Condemning the killing, Museveni's office said: "As a consequence of these repeated murders in the city … the president has directed the immediate installation of cameras in all major towns of Uganda and along the highways."
Last month the Daily Monitor newspaper reported that only 15 out of 1068 murders recorded in 2015 were prosecuted. A year earlier, only 19 murder cases were prosecuted out of 943 cases. Government critics have long accused police of cracking down on opponents of Museveni instead of fighting crime. The murder of a well guarded security official will further heighten fears over public safety. In power since 1986, 72-year-old Museveni won another five-year term last year.
http://indianexpress.com/article/world/uganda-gunmen-kill-senior-police-official-president-orders-installation-of-surveillance-cameras-4573915/
------
URL: https://www.newageislam.com/islamic-world-news/new-age-islam-news-bureau/paris-orly-airport-shooting--attacker-was--radicalised-muslim--man-known-to-french-intelligence-services/d/110447
New Age Islam, Islam Online, Islamic Website, African Muslim News, Arab World News, South Asia News, Indian Muslim News, World Muslim News, Women in Islam, Islamic Feminism, Arab Women, Women In Arab, Islamophobia in America, Muslim Women in West, Islam Women and Feminism