New Age Islam News Bureau
19 Apr 2012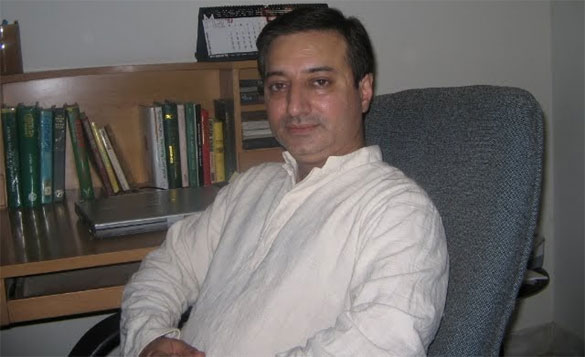 • Senior Dawn journalist Murtaza Razvi found dead with torture marks
• Images show US soldiers with hands and legs of Taliban insurgents
• India's first lifestyle magazine for Muslims to be launched
• Wave of bomb attacks across Iraq kill at least 30
• J&K madarsas snub New Delhi's charm offensive
• Hafiz Saeed goes to court for 'protection'
• Siachen issues needs to be solved by Pak and India: Kayani
• Kashmir no excuse for Pakistan's terrorist ties: MCain
• US Muslim: I was tortured at FBI's behest in UAE
• The Americans are an injured nation: Indian Actor
• Agni-V missile test makes a splash in Pakistani websites
• Deposed president calls Maldives 'another Pak'
• A leading member of Chancellor Says Islam Not Part of Germany
• Sudanese President Bashir threatens overthrow of South Sudan govt
• Fatwa by Ayatollah against nuclear weapons political milestone
• Pakistan is in denial over spreading sectarian violence
• Breivik Wanted to Decapitate Former Norway PM
• New bloodshed in Syria despite Assad regime's pledge
• 'Useless boy' tag outrages parents in Dubai's Indian school
• Breivik Thought Had Slim Chance to Survive Bombing
• Norway killer used computer war games to plan attack
• OIC To Launch Satellite Television Channel To Counter Islamophobia
• Federal, provincial govts failed to address Balochistan issue: Nawaz
• India should 'coerce Maldives for early polls: Nasheed
• Afghan President: Photos of US Troops 'Odious'
• US Army denies clemency in Afghan 'thrill kill' case
• Australia condemns US soldiers posing with remains of Taliban insurgents
• 'Taliban planning attacks to prevent reopening of NATO supply routes'
• India should check out Pakistan Interior Minister's Taliban comment
• Pak will never withdraw army from Siachen unilaterally: Malik
• Pakistani poets cast spell at Alkhobar Mushaira
• No final decision on Pakistan attending NATO summit
• Pak: International Islamic University female students hold annual cultural week
• Russia slams NATO withdrawal from Afghanistan
• Yousuf Raza Gilani's son named in drug scam
• Radical cleric appeal: May stands by deadline
• NYC subway bomb plotter admits of being trained in Pak
• Taliban condemn US soldiers posing with militants' remains
• U.N. Chief Says Syria is failing to Adhere to Peace Plan
• Ousted Maldivian President banking on India to restore democracy
• Israelis gather for Holocaust memorial ceremony
• SP's Muslim appeasement can lead to animosity: Uma Bharti
Complied by New Age Islam News Bureau
Photo: Senior Dawn journalist Murtaza Razvi
URL: https://newageislam.com/islamic-world-news/parents-converted-girls-cry-foul/d/7099
-----------
Parents of converted girls cry foul over Pak SC decision
April 19, 2012
The Pakistani parents of three Hindu girls who were kidnapped and forcibly converted to Islam claim that powerful people were behind the drama. They said the girls' decision to stay with their Muslim husbands was not taken in an open court and hence questionable. Tahir Ali reports from Islamabad [ Images ]
The family members of the three Hindu girls who were allegedly forced to convert to Islam claim that injustice has been done to them.
Following the Pakistan Supreme Court's decision that the women should decide their own fate, the registrar's office of the SC announced that the girls preferred living with their husbands rather than with their parents.
The families, however, said that the decision was not taken in an open court and hence questionable.
The supreme court of Pakistan had asked the girls -- Faryal (Rinkle Kumari), Hafsa Bibi (Dr Lata) and Haleema Bibi (Asha Kumari) -- to decide whether they want to live with their Muslim husbands or with their Hindu parents.
Dr Ramesh Kumar, patron-in-chief of the Pakistan Hindu Council, had moved a petition asking for the recovery of the three women belonging to the Hindu community, Rinkle of Mirpur Mathello, Dr Lata, daughter of Jacobabad, and Asha of Larkana.
The three-member bench headed by Chief Justice Iftikhar Muhammad Chaudhry ordered the police to provide adequate security to the women and said that in case of any harm, the police officials would be blamed for negligence. The court said that the women were old enough to make the right decision themselves.
But their family members have complained that they were not allowed to meet their daughters and said the decision should be taken in an open court.
Talking to rediff.com, Nandlal, the father of Rinkle Kumari, said, "Today the girls were produced before the court but we were not allowed to meet them. Even if we were provided with five to 10 minutes of mulaqaat (meeting), it would have been enough for us. Even five minutes would have been enough, but we were not lucky enough to see our girl. We don't know where the girls are now."
Nandlal, who is a school teacher by profession, said all the three girls wanted to go back to their parents but they were not allowed, as powerful people in the government were backing the kidnappers. "When the case was brought to Gotki in Sindh, Rinkle was weeping and said she wanted to go to her parents, yet she was sent to Darul Aman (shelter centre). We were always kept outside the court, whether it was in Sindh or Islamabad. In Gotki the decision was announced at 7.45 am while the official timing of the court starts from 9 am," said Nandlal.
Sulchhani Kumari, Rinkle Kumari's mother, was inconsolable. She said she could not survive without her daughter. "Judgesahib, I need justice; I need my daughter back; I can't leave without her; I can't live without my Rinkle," she told rediff.com.
Showing displeasure over the court's decision. the parents and other family members of the Hindu women observed a sit-in in front of the supreme court building raising slogans, 'We need our girls back', 'Judge sahib we demand justice'.
The family members of young Asha Kumari were also present in court hoping to see her. She was allegedly kidnapped from a beauty parlour. For more than 40 days there was no news of her whereabouts. She later appeared before the court and said she chose to change her religion. However, her family members claimed that she was forcibly converted to Islam.
"Forty-five days have passed since my daughter was abducted. We were hoping to see her but when she was produced in court we were not allowed to see her. She was abducted and the kidnappers first sent us her photos and asked for a ransom, but later it was dubbed as a conversion case. It is purely a case of ransom, and religion has nothing to do with it," Asha Kumari's father told rediff.com.
Sundardas, Asha Kumari's uncle, said that Mian Mittho, a Pakistan People's Party parliamentarian who was blamed for helping the kidnappers, was allowed to meet the girls while the parents were kept at a distance.
"Tell me; is he important or the parents? No one is here to listen to us. We ask President Zardari to deliver justice, if he can't do that the minorities should be sent abroad," Asha's uncle told rediff.com.
"The kidnappers are going inside (the court); several of their people are inside, but no one from our side is allowed to get in. We don't know what to do now; I just need my sister, nothing else. We will sit here and block the road till we get justice," said Simran], Asha Kumari's sister.
She feared that her sister would be sent back to her kidnappers. "All these people are working as a unit; we are Hindus so they are treating us like this. We came to Islamabad to get justice but we got nothing," she added.
When rediff.com asked Asha Kumari's mother for her comment on the court's decision, she replied in a choked voice, "I need my daughter; I need justice."
Earlier, the father of Dr Lata, Ramesh Kumar, told the media that religion was being used to kidnap young girls and to satisfy sexual desires. "Only young girls are converted to Islam. If they (abductors) want to spread Islam why don't they convert old Hindu women and men?" he asked.
http://www.rediff.com/news/report/parents-of-converted-girls-cry-foul-over-pak-sc-decision/20120419.htm
-----------
Senior Dawn journalist Murtaza Razvi found dead with torture marks
DAWN.COM
April 19, 2012
KARACHI: Murtaza Razvi, a senior assistant editor and head of magazines at Dawn, was murdered in the early hours of Thursday, in Karachi.
According to police, Razvi's body was found from an office apartment in the Defence Housing Authority area. His hands were tied and his body bore torture marks and he had apparently been strangled to death. However, the real cause of his death will be established after the postmortem has been performed, police said.
The late journalist's family has said that he did not have any personal enmity with anyone. They have requested the media not to speculate until the police apprehend his killer(s).
Razvi was one of the most highly-qualified journalists, with over two decades of experience. He had worked at a number of renowned publications before joining the Dawn Media Group, where he also held the post of Dawn's Resident Editor in Lahore.
Later on, he had moved to Karachi to take over as Dawn's magazines editor.
He is survived by his widow and three daughters.
http://dawn.com/2012/04/19/senior-dawn-journalist-murtaza-razvi-found-dead/
--------
Images show US soldiers with hands and legs of Taliban insurgents
Apr 19, 2012
WASHINGTON: A new revelation of young American soldiers caught on camera while defiling insurgents' remains in Afghanistan has intensified questions within the military community about whether fundamental discipline is breaking down given the nature and length of the war.
The photographs, published by The Los Angeles Times on Wednesday, show more than a dozen soldiers of the 82nd Airborne Division's Fourth Brigade Combat Team, along with some Afghan security forces, posing with the severed hands and legs of Taliban attackers in Zabul Province in 2010. They seemed likely to further bruise an American-Afghan relationship that has been battered by crisis after crisis over the past year, even as the two governments are in the midst of negotiations over a long-term strategic agreement.
The images also add to a troubling list of cases - including Marines videotaped urinating on Taliban bodies, the burning of Korans, and the massacre of villagers attributed to a lone Army sergeant - that have cast American soldiers in the harshest possible light before the Afghan public. Accordingly, combat veterans and military analysts are beginning to look inside the catchall phrase "stress on the force" to identify factors that could be contributing to the breaches.
One potential explanation put forth by these analysts is the exhaustion felt by the class of non-commissioned officers that forms the backbone of the all-volunteer force: the sergeants responsible for training, mentoring and disciplining small groups of 18- and 19-year-old soldiers at the small-unit level, hour by hour, patrol by patrol.
Another factor, they say, may be the demands of a counterinsurgency strategy that has distributed small units across vast distances to serve at primitive combat outposts. Self-reliance required in isolation may promote heroic camaraderie. But the rugged terrain, logistical challenges and the in-your-face violence of the insurgency may also present great challenges to the noncommissioned officers in charge of these small units, operating far beyond the more consistent senior supervision in past wars.
Officers and analysts express concerns that some of these isolated units are falling prey to diminished standards of behavior and revert to what one combat veteran described as "Lord of the Flies" syndrome, after the William Golding novel portraying a band of cultured British schoolboys reverting to tribal violence when severed from society.
"Some of these incidents certainly seem to be the fault of a breakdown in leadership at the small-unit level," said Andrew Exum, a defense policy analyst at the Center for a New American Security who teaches a course on irregular warfare at Columbia University.
"Where was the sergeant who is supposed to say: 'Stop, boys. We don't do that. We don't disrespect the dead'?" said Mr. Exum, who led a light infantry platoon in Afghanistan in 2002 and then led a platoon of Rangers in both Iraq and Afghanistan in 2003 and 2004.
Early reports indicate that the soldiers had been sent to gather fingerprints or retina scans for identification of the suicide bomber. Mr. Exum noted how the horrific experience of being ordered to interact with bloody, severed body parts of an enemy may cause soldiers to develop self-defense mechanisms - in particular dark humor around corpses. "But the line is crossed when you disrespect the dead body," he said. "It's one thing to have a psychological release valve, and another thing to take trophy pictures."
Pentagon and military officials, noting that the proliferation of soldiers' carrying camera phones has been involved in many of the cases, said that technology and a changing culture had presented new problems, as well. Troops have behaved badly since the beginning of warfare, of course. But now, those actions can be captured in real time, and spread rapidly without commanders' control, via social networks.
Army officials said Wednesday that the service had guidelines and rules for photos - basically, "think before you post" - but they also acknowledged that social media are evolving so rapidly that regulations were not keeping pace. Rules are set by commanders at the company, battalion and brigade level, but those standards are sometimes ignored by small units in the field.
"Technology today presents definite challenges related to security and propriety," said Col. Thomas W. Collins, an Army spokesman. "In this case, these photos are probably a manifestation of the soldiers' relief that this insurgent no longer posed a threat to them or their fellow soldiers. That cannot excuse what they did. We are the United States Army, and the world rightly has very high expectations that our soldiers will do what's right. Clearly, that didn't happen in this case."
With more than a million military personnel having deployed overseas since the Sept. 11 terrorist attacks, the recent cases represent only a tiny percentage of the force. Senior American officials responding on Wednesday noted that, even as they condemned the soldiers' behavior.
"This is not who we are, and it's certainly not what we represent when it comes to the great majority of men and women in uniform," Defense Secretary Leon E. Panetta said at a NATOconference in Brussels, calling the soldiers' behavior unacceptable and promising a full investigation. President Obama said that those responsible for the actions would be "held accountable," and Gen. John R. Allen, the senior allied commander in Afghanistan, sounded similar themes. But Afghan officials described an increasing skepticism among the public after case after case of misbehavior has come to light over the past year.
Nadir Nadiry, an Afghan human rights activist in Kabul, said Afghans would likely react negatively because similar photographs had surfaced before and despite military investigations the latest pictures suggested that the actions continued to be perpetrated. "It gives them a sense of, 'Oh they are continuing to do this,' " he said. "Each time they say they will conduct a thorough investigation, but these investigations are not being made public, so the results are not known to the Afghan people."
Some Afghan officials said the behavior shown in the images was deeply offensive given Muslim views of how to treat dead bodies. Hajji Baz Mohammed, a tribal elder and head of the development council in Qalat, the capital of Zabul Province, where the soldiers were operating, told of how residents were enraged last year after a similar incident involved Afghan security forces.
"Eight months ago, Afghan security forces dishonored the bodies of two dead insurgents, which really infuriated the people here in Zabul," he said. "People went to the streets, and three more went to the streets and three more died in the clashes between angry mobs and security forces."
He added, "In the past episode, it was Afghans who insulted the bodies and three people were killed as a result - one can imagine what will happen if the people got to know that non-Muslims are insulting the dead bodies of Muslims."
Several of the military analysts commenting Wednesday said the kind of lapses shown in the photos struck directly at the ability of American troops to perform their mission, given how important winning Afghans' sympathies is to keeping the Taliban at bay.
Mr. Mohammed raised the same issue: "These kinds of acts would further increase the already widened gap between the people and the government, and would drive some government supporters toward the Taliban. In the meantime, it's not good for the Americans: these kinds of acts would generate more hatred and would motivate people to vengeance."
http://timesofindia.indiatimes.com/world/us/Images-show-US-soldiers-with-hands-and-legs-of-Taliban-insurgents/articleshow/12729149.cms
-----------
India's first lifestyle magazine for Muslims to be launched
Reetika Subramanian
April 19, 2012
This May, city-based media house, Maxim Media Pvt. Ltd will launch the country's first lifestyle magazine for Muslims, 'Muallim '. The 48-page English magazine has sections on women, spirituality, health, education, children, interviews with community achievers and analysis of contemporary issues.
"Every community has its own unique lifestyle. We felt that it was important to launch a magazine that would talk about issues peculiar to the community and at the same time discuss the spiritual aspects of being," said Ziaulla Nomani, director of the media house. "We are planning to reach out to all the English-speaking Muslims in the country, who are in the age group of 15 to 50 years," he added. The highlight of the magazine is the separate section on Arabic tutorials, which will teach the basics of Arabic to the English-speaking Muslims. "There are several Muslims, who can speak Arabic, but cannot read and write it. This section will focus on the basic alphabets, training absolute beginners in the language," said Nomani.
In appreciation of the effort, Hazrat Rabey Hasan Nadawi, president, All Indian Muslim Personal Law Board, said that it was the right time to launch a magazine specifically for Muslims. "The time is apt for a lifestyle magazine to hit the market as there is dearth of such literature which balances Islamic studies and on contemporary issues," added Nadawi.
http://www.hindustantimes.com/India-news/Mumbai/India-s-first-lifestyle-magazine-for-Muslims-to-be-launched/Article1-842781.aspx
-----------
Wave of bomb attacks across Iraq kill at least 30
Apr 19, 2012
BAGHDAD: A wave of bomb attacks in four different provinces around Iraq killed at least 30 people on Thursday, security officials said.
Bombings in and around Baghdad killed 17 people, an interior ministry official said, while bomb attacks in the northern province of Kirkuk left nine people dead, high-ranking police officers said.
Three more people were killed in bombings in Samarra in Salaheddin province, a commander of a local anti-Qaida militia and a police lieutenant colonel said.
And in Diyala province, north of Baghdad, a suicide bomber killed a police officer in the provincial capital Baquba, an army officer said.
http://timesofindia.indiatimes.com/world/middle-east/Wave-of-bomb-attacks-across-Iraq-kill-at-least-30/articleshow/12728774.cms
-----------
J&K madarsas snub charm offensive
April 19, 2012
The Congress-led UPA Government's move to push money in to the accounts of unregistered Islamic schools (madarsas) in Jammu and Kashmir has not yielded fruitful results. By openly refusing to accept a single penny under the centrally sponsored scheme for providing quality education in Madarsas (SPQEM), majority of these schools and their managing committees have defeated Centre's design to bring them under their control.
Under the ambitious scheme, the State had received a grant of Rs 7.61 crore between December 2011 and February 2012 in three instalments of Rs 347.85 lakhs, Rs 382.59 lakhs Rs 28.24 lakhs on December 9, 2011, February 4, 2012 and February 28, 2012 respectively.
But soon after the chief education officers across different districts of the State started disbursement of grant in aid to the madarsas, the management committees made it clear to the education department that they do not require any grant in aid from the Central Government to run their schools.
Imam of Jamia Masjid (mosque) in Jammu, Mufti Mohd Anayatullah Kasmi told The Pioneer: "We have made our position very clear to the Government on a number of occasions that we do not require even a single paisa aid from the Centre/State Governments to run our Madarsas".
Full report at:
http://dailypioneer.com/nation/58783-jak-madarsas-snub-charm-offensive.html
-----------
Hafiz Saeed goes to court for 'protection'
Apr 19 2012
Lahore: Lashkar-e-Toiba founder Hafiz Saeed has moved the Lahore High Court, asking it to stop Pakistani authorities from taking any "adverse action" against him under pressure from the US, and to provide security to him as his life was "not safe" and any "mishap" could happen.
Acting on the petition, Lahore High Court Chief Justice Azmat Saeed Sheikh on Wednesday issued notices to the federal government, the Interior Ministry and the Punjab Home Ministry, asking them to file their replies by April 25.
Saeed filed the petition along with brother-in-law Hafiz Abdur Rehman Makki. While the US has offered a $10 million bounty for information leading to Saeed's arrest and conviction, for Makki the bounty is $2 million.
Saeed and Makki contended in the petition that under Articles 4 and 9 of the Pakistani constitution, they were free citizens, and the federal and provincial governments should be stopped from taking any "adverse action" against them under pressure from the US. They also want the Pakistani government to ask the US to withdraw the bounty.
Full report at:
http://www.indianexpress.com/story-print/938534/
-----------
Siachen issues needs to be solved by Pak and India:Gen Ashfaq Parvez Kayani
April 19, 2012
ISLAMABAD: Noting that withdrawal of troops from Siachen is necessary to improve 'atmosphere', Pakistani army chief Gen Ashfaq Parvez Kayani today said the issue needs to be resolved by Pakistan and India.
Kayani made the remarks while interacting with reporters in the northern town of Skardu after reviewing the search operation for 138 people buried by an avalanche in Gyari sector of Siachen.
He travelled to Gyari with President Asif Ali Zardari. The army chief said the issue of Siachen needs to be resolved by Pakistan and India.
Kayani contended that Pakistan had stationed its troops in Siachen in response to a move by India.
"The world knows why we are in Siachen," he said. The withdrawal of troops from the glacier is necessary to improve the atmosphere, Kayani was quoted as saying by Geo News channel.
His remarks came a day after, the main opposition party PML-N's chief Nawaz Sharif called on the Pakistan government to take the initiative for resolving the Siachen issue with India.
Full report at:
http://timesofindia.indiatimes.com/world/pakistan/Siachen-issues-needs-to-be-solved-by-Pak-and-IndiaGen-Ashfaq-Parvez-Kayani/articleshow/12719298.cms
-----------
Kashmir no excuse for Pakistan's terrorist ties: MCain
Apr 19, 2012
WASHINGTON, Former US Republican presidential candidate John McCain has said the Kashmir dispute was not an excuse for Pakistan to not break ties with the Haqqani network, held responsible for recent coordinated attacks across Afghanistan
"Pakistan should not take refuge behind Kashmir conflict for not taking action against terrorist groups that operate almost openly in Pakistan," he said speaking on the "Future of Afghanistan" at Carnegie Institute, a Washington think tank.
"I have sympathy for Pakistani military leadership, but disappointed at ISI's continued cooperation with Haqqanis," McCain said calling Pakistani spy agency Inter-Service Intelligence's close relationship with the Haqqani network as "reprehensible."
Full report at:
http://timesofindia.indiatimes.com/world/us/Kashmir-no-excuse-for-Pakistans-terrorist-ties-US-senator/articleshow/12728891.cms
-----------
US Muslim: I was tortured at FBI's behest in UAE
April 19, 2012
American Muslim blames the FBI, saying he was tortured at their behest in United Arab Emirates
PORTLAND, Ore. (AP) ' His interrogators usually came in the morning. Peeking under a blindfold in a cold concrete cell, Yonas Fikre says he caught only glimpses of their shoes.
They beat the soles of his feet with hoses and sticks, asking him about his Portland, Ore., mosque and its imam. Each day, the men questioning him in a United Arab Emirates prison told the 33-year-old Fikre he would be released "tomorrow," according to an account he gave on Wednesday at a press conference in Sweden, where he has been since September.
"It was very hard, because you don't know why you are in there and the only person you speak to is either yourself, or the wall, or when you go to the restroom or when you go to the torture place," said Fikre, who was held for 106 days. "I have never been that isolated from human beings in my entire life."
Full report at:
http://sony.broadcastnewsroom.com/article/US-Muslim:-I-was-tortured-at-FBIs-behest-in-UAE-1980879
-----------
The Americans are an injured nation: Indian Actor
Apr 19, 2012
While Irrfan has dropped his 'Khan' to avoid cultural identification Kamal Hassan is in a seriously defiant mood. He is thinking of changing his distinctly Muslim-sounding name to a more pronounced Islamic-sounding 'Qamal Haasan'.
"Just to show a sense of solidarity with my Muslim brothers, including Shah Rukh whom I am very fond of."
If Irrfan thinks it's a liability to be called a Khan, Kamal thinks it's equally incriminating to be named a Haasan. "It doesn't matter whether I am really Muslim or not. If I have to suffer for my name I'm willing to do so," says Kamal.
It's not just Shah Rukh with his 'Khan' surname that gets him special treatment at the American treatment. You could get the US immigration guys into a budge over a Hindi name simply because it sounds Muslim. This, Kamal Haasan discovered recently at an airport in Canada when he was on the way to the US for a makeover for a role. He was detained and questioned because both his names sounded distinctly Muslim.
Full report at:
http://timesofindia.indiatimes.com/entertainment/bollywood/news-interviews/The-Americans-are-an-injured-nation-Kamal-Hassan/articleshow/12729685.cms
-----------
Agni-V missile test makes a splash in Pakistani websites
Apr 19, 2012
ISLAMABAD: Pakistani websites prominently displayed the news of India successfully testing the Agni-V minutes after the long-range nuclear capable ballistic missile was launched.
India Thursday test-fired the Agni-V missile that can accurately hit targets more than 5,000 km away. With this launch, India entered an exclusive club of nations that have this capability.
The News International carried an agency story with the headline "India successfully tests Agni-V missile". An accompanying photograph was of an Agni missile that was showcased during a Republic Day parade in New Delhi.
Pakistan's leading daily Dawn ran an agency story "India tests long-range nuclear-capable missile: source". The story cited a defence source as saying that missile was capable of delivering a one-tonne nuclear warhead anywhere in China.
The accompanying photograph was of the Agni-V blasting-off in India's Orissa state.
http://timesofindia.indiatimes.com/world/pakistan/Agni-V-missile-test-makes-a-splash-in-Pakistani-websites/articleshow/12727699.cms
-----------
Deposed president calls Maldives 'another Pak'
Apr 19, 2012
NEW DELHI: In his trademark black suit and yellow tie, Mohammed Nasheed warms up to his favourite topic almost instantly.
The former president of Maldives is on a visit to India to apprise the country of the events of February 7 - when he was ousted by a section of the military and police believed to be loyal to former ruler Maumoon Abdul Gayoom.
Looking out of the window of his hotel in New Delhi, the 45-year old is reflective . "I find it so frustrating and at the same time, so shocking that a democratically elected government was brought down in a coup and there was hardly a strong reaction in the neighbourhood . Frankly, I was disappointed by the Indian reaction . The whole thing could have been nipped in the bud, if New Delhi's reaction was strong," says the pro-democracy activist, who came to power in 2008, in the country's first ever multi-party presidential elections held by popular vote.
During his term as president , Nasheed is credited with introducing a number of reforms in Maldives and being the face of moderate Islam - which are the reasons he says radical elements within the country turned against him.
Full report at:
http://timesofindia.indiatimes.com/world/south-asia/Deposed-president-calls-Maldives-another-Pak/articleshow/12725580.cms
-----------
A leading member of Chancellor Says Islam Not Part of Germany
April 19, 2012
BERLIN (Reuters) - A leading member of Chancellor Angela Merkel's conservatives said on Thursday that Islam did not belong to Germany, remarks sure to stir controversy as the government hosts a conference to improve the integration of Muslims.
A row over whether an ultra-conservative Salafist Muslim group should be allowed to hand out millions of free German translations of the Koran to non-Muslims had already raised tensions and threatened to overshadow the conference.
"Islam is not part of our tradition and identity in Germany and so does not belong to Germany," Volker Kauder, head of Merkel's conservative bloc in parliament, told the Passauer Neue Presse.
"But Muslims belong to Germany. As state citizens, of course, they enjoy their full rights."
Germany is home to some 4 million Muslims, about half of whom have German citizenship. Many came from Turkey in the 1960s and 1970s and their hard work contributed to Germany's post-war economic miracle. Germany's total population is about 80 million.
Full report at:
http://www.nytimes.com/reuters/2012/04/19/world/europe/19reuters-germany-islam.html?ref=global-home
-----------
Sudanese President Bashir threatens overthrow of South Sudan govt
Apr 19, 2012
KHARTOUM: Sudanese President Omar al-Bashir threatened on Wednesday to overthrow the "insect" government of South Sudan, amid global efforts to pull the rivals from the brink of all-out war after the South seized a key oilfield.
"Our main target from today is to liberate South Sudan's citizens from the SPLM ( Sudan People's Liberation Movement), and this is our responsibility before our brothers in South Sudan," Bashir said, adding that the southern government cannot be called a "movement".
"We call it an insect ... trying to destroy Sudan, and our main target from today is to eliminate this insect completely.
He spoke at a youth rally in support of troops who hope to reclaim Sudan's most important oil field, Heglig, from South Sudanese troops who seized it eight days ago.
"There are two choices: Either we end up in Juba or they end up in Khartoum. The old borders cannot take us both," Bashir said, predicting that the victory will be swift.
Full report at:
http://timesofindia.indiatimes.com/world/rest-of-world/Sudanese-President-Bashir-threatens-overthrow-of-South-Sudan-govt/articleshow/12727150.cms
-----------
Fatwa by Ayatollah Seyyed Ali Khamenei against nuclear weapons political milestone
Ismail Salami
April 19, 2012
Ismail Salami is the author of Human Rights in Islam and Iran, Cradle of Civilization. His main interest is Middle East. His articles have been translated into a number of languages.
The fatwa issued by the Leader of the Islamic Revolution Ayatollah Seyyed Ali Khamenei forbidding the production, proliferation and use of nuclear bombs is to be considered a political milestone in Iranian history and one which can salvage the Islamic nation from the spate of external threats and plots.
Fatwa is a religious decree issued by a Muslim leader against a specific issue and it is incumbent upon all Muslims to abide by it. However, in this particular case, the issuance of the fatwa has not only religious but political force as well as the leader in the Islamic Republic is the prime decision-maker.
The recent P5+1 talks, which the US officials hailed as "a step forward" and EU foreign policy chief Catherine Ashton described as "constructive and useful", were held in an ambience filled with optimism this fatwa inspired. Although the ten-hour talks between Iran and the six world powers apparently bore no tangible fruits, the two sides ended the talks with an air of sanguinity in a feel-good atmosphere. Further to that, the two sides seemed resolute to put an end to the long-standing dispute so stubbornly dragged on for years by the West.
Full report at:
http://www.presstv.ir/detail/236996.html
-----------
Pakistan is in denial over spreading sectarian violence
Mustafa Qadri
guardian.co.uk,
19 April 2012
Pakistani protesters burn tyres in protest at the killing of shopkeeper Salman Ali in Quetta this week. Photograph: PPI images/Demotix/Corbis
While banned political groups preach hatred towards religious minorities in Pakistan's major cities, a conflict along sectarian lines is spreading across the country, even to areas not previously associated with violence. Having spent decades turning a blind eye to the calculated violence of groups with a clear agenda based on hatred and intolerance, Pakistan's government appears helpless in the face of continuous attacks on Shia Muslims and other minorities.
Sectarian attacks are not new in Pakistan, but there has been an upsurge, especially in Balochistan since at least 2010, in the Khurram and Orakzai tribal agencies bordering Afghanistan, the port city of Karachi and across the Punjab. Now the frosty, picturesque mountain ranges of Gilgit-Baltistan, on the northern border with China, are seeing an increasingly violent sectarian conflict pitting Muslim Sunnis against Shias.
Full report at:
http://www.guardian.co.uk/commentisfree/2012/apr/19/pakistan-sectarian-violence?newsfeed=true
-----------
Breivik Wanted to Decapitate Former Norway PM
April 19, 2012
OSLO, Norway (AP) — Confessed mass killer Anders Behring Breivik says he was planning to capture and decapitate former Norwegian Prime Minister Gro Harlem Brundtland during his shooting massacre on Utoya island.
Breivik told a court that he planned to film the beheading and post the video on the Internet. Brundtland had already left the Labor Party's youth camp on Utoya when Breivik arrived on July 22.
The far-right fanatic said he also planned to kill many more than the 69 people who died on the island. There were nearly 600 people there. Breivik said, "the goal was to kill them all."
http://www.nytimes.com/aponline/2012/04/19/world/europe/ap-eu-norway-massacre.html?ref=world&gwh=462538FB440EB7CD52C655676A66FE99
-----------
New bloodshed in Syria despite Assad regime's pledge
Apr 19 2012
Damascus : A ceasefire to end 13 months of bloodshed in Syria was violated again on Wednesday, despite the government's latest bid to reassure the United Nations over its willingness to implement the peace plan.
As UN observers were greeted by hundreds of anti-regime protesters on the streets of Damascus, Washington said their mission was not being given the necessary freedom to properly monitor a halt to hostilities.
"We have a very small number of observers now on the ground and it seems that small number is having difficulty with the freedom that we all expected and that is required," said Susan Rice, US ambassador to the United Nations.
US Secretary of State Hillary Clinton warned Syrian President Bashar al-Assad of tougher measures if he squanders his "last chance" by failing to implement envoy Kofi Annan's peace plan six days after it came into force.
"It is obviously quite concerning" that, while UN observers are starting to deploy in Syria, the "guns of the Assad regime are once again firing in Homs, Idlib and elsewhere", Clinton said in Brussels.
Full report at:
http://www.indianexpress.com/story-print/938785/
-----------
'Useless boy' tag outrages parents in Dubai
19 April 2012
There are many ways to discipline a child for misbehaving in school, but rarely is an entire class humiliated through a demeaning punishment.
This was the case at Indian High School Dubai on Tuesday, where seventh-standard students were told to walk from school wearing badges stating, "Useless boy".
On Monday, the same teacher instructed the entire class to stand with their arms raised for 45 minutes. These unusual forms of punishment have outraged parents of the children, aged between 11 and 12, and sparked off a debate on possible devastating psychological effects on the kids.
"Yesterday my kid showed up wearing the badge and the previous day the class was made to stand up for 45 minutes at a time with their arms in the air," said one parent.
Full report at:
http://www.khaleejtimes.com/kt-article-display-1.asp?xfile=data/educationnation/2012/April/educationnation_April9.xml&section=educationnation
-----------
Breivik Thought Had Slim Chance to Survive Bombing
April 19, 2012
OSLO, Norway (AP) — Confessed mass killer Anders Behring Breivik thought he had only a slim chance of escaping Norway's capital alive after setting off a bomb in the government district on July 22, he told a court Thursday.
The anti-Muslim extremist said he had expected to be confronted by armed police when he left Oslo for a Labor Party youth camp on Utoya island, where he killed 69 people in a shooting massacre.
"I estimated the chances of survival as less than 5 percent," he said.
Police only cordoned off the area directly affected by the blast, and no one stopped Breivik as he drove to the island dressed in a homemade uniform and armed with a rifle and a handgun he said he had named after weapons used by Norse gods.
A total of 77 people were killed in the twin attacks.
On the fourth day of his trial, Breivik entered the Oslo district court without the clenched-fist salute he had used in previous hearings. His lawyers had advised him against it after complaints by survivors of the massacre and relatives of victims.
Breivik has confessed to the attacks but rejects criminal guilt, saying he was acting to protect Norway and Europe by targeting left-wing political forces he claims have betrayed the country by opening it up to immigration.
Full report at:
http://www.nytimes.com/aponline/2012/04/19/world/europe/ap-eu-norway-massacre.html?ref=global-home&gwh=5869F11D4A7D1B6C3F40E730EA641D79
-----------
Norway killer used computer wargames to plan attack
April 19, 2012
Norwegian anti-Islamic fanatic Anders Behring Breivik told a court on Thursday that he used computer games to prepare for his attacks, once spending an entire year isolated from society playing a game for hours on end.
Breivik, on trial for massacring 77 people last July, said he
spent "lots of time" playing Modern Warfare, a first-person shooting game, and also took an entire year off to play World of Warcraft, a multi-player role-playing game with more than 10 million subscribers.
"I don't really like those games but it is good if you want to simulate for training purposes," Breivik said as he discussed Modern Warfare, smiling when asked about the aiming system.
Breivik killed eight people with a car bomb in Oslo on July 22 and then killed 69, mostly teenagers, at a Labour Party summer youth camp on Utoeya island, in a gun massacre.
Although he pleaded not guilty, he admitted the killings, saying his victims were traitors who supported immigration and multiculturalism, threatening Norwegian ethnic purity.
Breivik, who once played Modern Warfare 17-hours straight on New Year's Eve 2010/2011, said he used such games to simulate the police response and the best escape strategy.
Full report at:
http://www.hindustantimes.com/world-news/Europe/Norway-killer-used-computer-wargames-to-plan-attack/Article1-842968.aspx
-----------
OIC To Launch Satellite Television Channel To Counter Islamophobia
Yusuf Jameel
April 19, 2012
The Organisation of Islamic Cooperation (OIC) is going global in a big way on the media front. The 57-member group of Islamic nations will soon launch a satellite Television channel to be named as OIC to counter Islamophobia, the prejudice against and hatred or irrational fear of Islam or Muslims.
Though the term dates back to the late 1980s or early 1990s, it came into common usage after the 9/11 terror strikes in the United States. The OIC is also planning to establish an 'OIC Muslim Journalists Union' and 'OIC Broadcasting Regulatory Authorities Union', seen by its officials as "ground-breaking steps" which will go long way towards counteracting Islamophobia and other prejudices against Islam or Muslims.
Full report at:
http://www.eurasiareview.com/18042012-oic-to-launch-satellite-television-channel-to-counter-islamophobia/
-----------
Federal, provincial govts failed to address Balochistan issue: Nawaz
April 19, 2012
QUETTA: Chief of the Pakistan Muslim League – Nawaz (PML-N) Nawaz Sharif on Thursday said that provincial and federal governments had failed to properly address the Balochistan issue, DawnNews reported.
Addressing a meeting at Imambargah Nechari in Quetta via telephone, the PML-N chief said "atrocities in Balochistan had exceeded all limits".
The government has become apathetic over the issue and is unresponsive to the situation in Balochistan, Sharif said, adding that there shouldn't even be a second's delay in acting against a handful of extremists.
"All political parties have to play a role in this regard," he said.
"The PML-N would make all possible efforts in its capacity to resolve the issue."
Consoling the Hazara community which has been facing sectarian prosecution in the province, he said "our party feels their pain".
http://dawn.com/2012/04/19/federal-provincial-govts-failed-to-address-balochistan-issue-nawaz/
-----------
India should 'coerce Maldives for early polls: Nasheed
Apr 19 2012
New Delhi : Two months after he quit as President of Maldives, Mohamed Nasheed today said India had "bungled" by not recognising the changeover as a "coup" and wants it to use "coercive" means against the new government to ensure fresh elections within this year.
Nasheed is not satisfied with the Maldives government's announcement regarding holding of polls in July next year, saying it is not the early elections that he is pushing for.
"We want elections this calendar year," he said in an interview here.
The 45-year-old leader, who is here with an intention of meeting Prime Minister Manmohan Singh and some top officials, said India has a key role in ensuring that polls take place within this year itself.
Asked what India could do, he responded, "coercive action... India should go for coercive action to ensure early elections so that democracy is back on tracks."
He did not elaborate on what kind of coercive action he wanted India to undertake and merely said, "they have the tools. The Indian Foreign Service armoury is full of many, many tools that they can use.
Nasheed resigned on February 7 after weeks of protests over his controversial order to arrest a senior judge. He later claimed it was a coup as he was forced to quit.
Insisting that he lost power because of the "coup", Nasheed made clear his unhappiness over India's stand, particularly the immediate recognition of the new government.
"They (India) bungled up. They should have said this was a coup. They should have held to their horses," he said, adding "I was shocked, I am disappointed and I am sad" at India's stand.
http://www.indianexpress.com/story-print/938896/
-----------
Afghan President: Photos of US Troops 'Odious'
April 19, 2012
KABUL, Afghanistan (AP) — Afghanistan's president has condemned newly revealed photographs that show U.S. soldiers posing with the bloodied remains of three suicide bombers, calling them "disgusting."
Hamid Karzai warned in a statement Thursday that similar incidents in the past sparked angry reactions from Afghans and the international community. He said the act of taking such pictures and sharing them was "odious."
The photos were published in Wednesday's Los Angeles Times. One shows members of the 82nd Airborne Division posing in 2010 with Afghan police holding the severed legs of a suicide bomber.
The newspaper said the same platoon later was sent to investigate the remains of three suicide bombers — and soldiers again posed for a photo with the remains.
http://www.nytimes.com/aponline/2012/04/19/world/asia/ap-as-afghan-photos.html?ref=global-home&gwh=6B9387E0FDF189275D2EA27E3E90228B
-----------
US Army denies clemency in Afghan 'thrill kill' case
Apr 19, 2012
SEATTLE: The US Army has denied early release for a soldier who tried to expose a plot to kill Afghan civilians in 2010, only to be convicted in the plot himself.
The clemency bid by former Spc. Adam Winfield was denied earlier this month despite the recommendation of a prosecutor who said he deserved credit for initially trying to stop the killings and for his cooperation in testifying against the plot's ringleader, Staff Sgt. Calvin Gibbs.
"Certainly, Spc. Winfield does not have completely 'clean hands' when it comes to these events," the prosecutor, Maj. Robert C. Stelle, wrote in a memo. "However, it is also true (and well documented) that he attempted to blow the whistle."
Winfield also confronted Gibbs about his conduct, which led to a series of threats made against him to keep him quiet, the prosecutor said.
Stelle urged the commander of Joint Base Lewis-McChord, Maj. General Lloyd Miles, to ``strongly consider granting Spc. Winfield some relief from the remainder of his jail sentence,'' which is set to expire at the end of August.
Miles, however, denied clemency on April 5. He did not state a reason.
Winfield was one of four soldiers convicted in the deaths of three Afghans during patrols in Kandahar Province in January, February and May 2010. Each time, the soldiers involved found isolated Afghan men or teenage boys and staged the killings to make them appear combat-related.
Full report at:
http://timesofindia.indiatimes.com/world/us/US-Army-denies-clemency-in-Afghan-thrill-kill-case/articleshow/12725211.cms
-----------
Australia condemns photos of US soldiers posing with remains of Taliban insurgents, calls it 'contemptible'
Apr 19, 2012
SYDNEY: Australia has condemned "contemptible" photos of US soldiers posing with the mangled remains of Taliban insurgents in Afghanistan and said it did not reflect the values of coalition troops.
The photos, which date back to 2010 but were published by the LA Times on Wednesday, add to a string of recent scandals that have ignited anti-Western feeling and complicated NATO-US efforts to build towards a 2014 withdrawal.
"They're terrible, they're contemptible. They deserve nothing but condemnation," Australian defence minister Stephen Smith told ABC television from Brussels, where NATOdefence and foreign ministers were meeting.
"They don't reflect the values and the virtues of the United States or NATOor the international security assistance force for what we are trying to do in Afghanistan.
"There is no point gilding the lily, there is no point pretending it is not a setback."
US defense secretary Leon Panetta said those responsible would be punished.
NATOhas a 130,000-strong military force fighting the Islamist Taliban but Afghan forces are gradually taking over control of security in the country.
Earlier this week, Australia announced it would be bringing most of its soldiers home in 2013, a year earlier than expected.
http://timesofindia.indiatimes.com/world/rest-of-world/Australia-condemns-photos-of-US-soldiers-posing-with-remains-of-Taliban-insurgents-calls-it-contemptible/articleshow/12726089.cms
-----------
'Taliban planning attacks to prevent reopening of NATOsupply routes'
Apr 19 2012
Islamabad : Tehrik-e-Taliban Pakistan chief Hakeemullah Mehsud convened a meeting in North Waziristan tribal region to plan targeted attacks to prevent the reopening of NATOsupply routes to Afghanistan, a media report said today.
Mehsud convened a meeting with several senior commanders of the Pakistani and Afghan Taliban and al-Qaeda in North Waziristan Agency in the second week of February, The Express Tribune quoted an intelligence agency's report as saying.
The intelligence report said if the NATOsupply routes were reopened, the militants would "show their anger" through terrorist activities across Pakistan, including targeting high-profile personalities.
Information about planned attacks and other possible threats were forwarded to police and other law enforcement agencies by the National Crisis Management Cell of the Interior Ministry.
Officials were directed to beef up security at possible targets, the report said.
The report said possible targets included US diplomats and their bases in Pakistan, Prime Minister Yousuf Raza Gilani, Interior Minister Rehman Malik, Pakistan Tehrik-e-Insaf chief Imran Khan and Jamiat Ulema-e-Islam leader Maulana Fazlur Rehman.
A separate report revealed that the Jundullah group too held a meeting to plan attacks across the country, particularly in Islamabad, Rawalpindi and Lahore, the Tribune reported.
Full report at:
http://www.indianexpress.com/story-print/938860/
-----------
India should check out Pakistan Interior Minister 's Taliban comment
Apr 19 2012
Jammu: Intelligence agencies should ascertain Pakistan Interior Minister Abdul Rehman Malik's reported statement that Taliban militants could be planning to enter India, Union Minister Ghulam Nabi Azad today said.
He said the Pakistan leadership keeps speaking on various things, which does not need to be replied, but "this (Rehman's statement on Taliban) is something which needs to be ascertained."
Malik had reportedly said in Islamabad yesterday that India should watch out for a surge in extremist activities, amid fresh Pakistan Intelligence inputs that Taliban militants could be planning to enter India.
Regarding the recent attacks by Taliban in Afghanistan, Azad said, "By the grace of God, there was no effect outside Afghanistan, we hope there would no effect on our country."
Replying to a question that Chief Ministers of some states had openly voiced reservations against National Counter Terrorism Centre (NCTC), he said, "Well, some chief ministers had reservations and that is why meeting had been called at the highest level and discussions are on."
On withdrawal of troops from tehsil Billawar of Kathua district, Azad said troops reduction depends on where the security forces are.
On the Congress' debacle in civil polls in Delhi, he said, "We will analyse the results and spot the reasons behind it."
http://www.indianexpress.com/story-print/938866/
-----------
Pak will never withdraw army from Siachen unilaterally: Malik
Apr 19 2012
Islamabad : Interior Minister Rehman Malik criticised PML-N chief Nawaz Sharif for suggesting that Pakistan should take the initiative to resolve the Siachen issue with India, saying Islamabad would never unilaterally withdraw its troops from the Himalayan region.
"Every inch of the country is sacred and Pakistan will never withdraw its army from Siachen unilaterally," Malik told reporters in Islamabad.
Pakistan will not initiate the withdrawal process though it is in favour of resolving the Siachen issue through negotiations, he said.
Following a visit to the region in Siachen sector where 138 people were buried by an avalanche that hit an army camp, Sharif called on the Pakistan government to take the initiative to end the military standoff with India so that troops of both countries could be withdrawn from the Himalayan glacier.
"The (Pakistan) government should give it (the Siachen issue) top priority. The Pakistan government should take the initiative. It should not wait for an initiative from India. This is not a problem of ego," Sharif said.
Indian and Pakistani troops have been engaged in a stand-off on the Siachen glacier since 1984.
The guns have largely been silent since late 2003, when the two countries put in place a ceasefire along the frontiers in Jammu and Kashmir, and more troops have died due to the adverse weather than combat.
http://www.indianexpress.com/story-print/938789/
-----------
Pakistani poets cast spell at Alkhobar mushaira
Apr 19, 2012
ALKHOBAR: Two visiting poets from Pakistan delighted Urdu lovers in the Eastern Province with their skills at a memorable evening organized by Ham Awaaz Literary Forum at the weekend.
Liaqat Ali Asim and Saeed Agha, both from Karachi, joined popular poets from Riyadh, Dammam, Jubail, Alkhobar and Bahrain, in casting a spell on the well-informed audience with their well-chiseled couplets.
They demonstrated the beauty and power of Urdu poetry in conveying some of the most complex thoughts through some of the simplest and most evocative lines.
The two popular poets have been in the Kingdom for the last few weeks having being invited by Aalami Urdu Markaz for their very successful mushaira (poetry recitation evening) in Jeddah.
Asim in particular is a highly acclaimed poet. He has been riding the crest of popularity ever since he recited two particularly wonderful poems at a mushaira in Dubai in 1994.
Since then, his popular couplet, "Warna Suqhraat Mar Gaya Hota, Us Pyaale Me Zehr Tha Hi Nahi," has become so popular that it is now on every Urdu speaker's lips. Many poets have since used those lines, though unsuccessfully, to create something similar.
Full report at:
http://arabnews.com/saudiarabia/article614272.ece
-----------
No final decision on Pakistan attending NATO summit
Apr 19, 2012
Pakistan on Thursday said it was yet to decide on attending a NATOSummit next month that will focus on Afghanistan though it was developing a "work plan" on resetting ties with the US on the basis of guidelines approved by its Parliament.
Foreign Office spokesman Moazzam Khan said "no final decision" had been made on Pakistan's participation in the NATOSummit to be held in Chicago during May 20-21 or on a visit to Islamabad by US Special Representative for Afghanistan and Pakistan Marc Grossman.
At the same time, the government is developing a "work plan" for new terms of engagement with the US in line with guidelines that were recently approved by a joint session of parliament, Khan told a weekly news briefing.
The NATOSummit in Chicago is expected to discuss key issues like funding of Afghan security expenditure and foreign troop levels in the war-torn country in the period up to 2014.
In recent weeks, the US has been in contact with the Pakistan government to ensure its participation in the NATOSummit.
Prime Minister Yousaf Raza Gilani ordered a parliamentary review of ties with the US after a cross-border NATOair strike killed 24 Pakistani soldiers in November.
The attack has held up cooperation between Pakistan and the US on finalising the endgame in Afghanistan ahead of the withdrawal of American and other foreign forces.
Full report at:
http://www.dnaindia.com/world/report_no-final-decision-on-pakistan-attending-nato-summit_1678078
---------
Pak: International Islamic University female students hold annual cultural week
April 19, 2012
It was a perfect time for International Islamic University female students to have a fantastic break to mark the annual cultural week after conclusion of their mid-term examinations last week.
The backyard of the grand Faisal Masjid wore a festive look, as students set up around 50 stalls inside and outside of the International Islamic University Auditorium Complex, depicting cultural snapshots of Punjab, Khyber-Pakhtunkhwa, Balochistan, Sindh, Kashmir and Gilgit-Baltistan. The joy of festivity, taking place in the foothills of lush green Margallas, was doubled by the spring season.
Showing their keen interest, several students also established stalls of various brotherly and friendly countries, including China, Iran, Saudi Arabia, Bangladesh, Indonesia, Malaysia and other countries. Scores of students of these countries also study at the university.
Some staff members of the Islamabad-based embassies also visited the related stalls. Several embassies cooperated with the students by providing a few traditional items: Bangladesh embassy provided sari, fishing net and other articles to the students, after having been approached and told about their intention to set up a stall; Saudi Arabia, Iran, China and other countries also did not lag behind in extending similar cooperation to the students.
Full report at:
http://www.thenews.com.pk/Todays-News-6-103774-IIU-female-students-hold-annual-cultural-week
--------
Russia slams NATO withdrawal from Afghanistan
Apr 19, 2012
BRUSSELS: Russia's foreign minister sharply criticized Nato's plan to withdraw its forces from Afghanistan by 2014, saying Thursday that coalition troops should remain in the country until Afghan government forces are capable of ensuring security.
"As long as Afghanistan is not able to ensure by itself the security in the country, the artificial timelines of withdrawal are not correct and they should not be set," Foreign Minister Sergey Lavrov said.
NATOplans to hand over lead responsibility for the war against the Taliban to the Afghan army and police by the middle of next year, and to withdraw its troops by the end of 2014. It has already started drawing down its forces, which reached a peak of about 140,000 last year.
NATO leaders say that Afghan forces are improving rapidly and will be able to counter Taliban guerrillas after 2014. But critics have pointed to widespread drug use and the high desertion rate among government forces as signs that it remains unprepared to handle the insurgents.
NATO Secretary-General Anders Fogh Rasmussen responded to Lavrov's criticism saying the withdrawal schedule had been agreed with the government in Kabul, and that it was "definitely not artificial." He also urged Russia, China and other non-NATO countries to help fund the post-2014 Afghan armed forces.
The Afghan army and police are scheduled to expand to over 350,000 members in the next several months. NATOhas already handed over to them responsibility for security over half of the country's population, and the transition is set to continue.
Lavrov, who attended a meeting of NATO defense and foreign ministers in Brussels, said China and other countries in Asia were also worried about the withdrawal schedule.
Full report at:
http://dawn.com/2012/04/19/russia-slams-nato-withdrawal-from-afghanistan/
-----------
Yousuf Raza Gilani's son named in drug scam
Apr 19, 2012
ISLAMABAD: Pakistan Prime Minister Yousuf Raza Gilani on Thursday directed his son Ali Musa Gilani to cut short his trip to South Africa after he was named an accused in a pharma scam in a petition filed in the Supreme Court.
The Anti Narcotics Force (ANF) named eight accused in its petition, including Musa Gilani, PM's principal secretary Khushnood Lashari and drug controller Sheikh Ansar, Geo News reported.
Gilani's son and a parliamentarian from Multan are currently on a private tour to South Africa. Gilani has directed his son to return to Pakistan to face charges of his alleged involvement in the illegal sale of Ephedrine drug, worth Rs.7 billion.
An editorial in the Dawn newspaper Wednesday said: "First it was the prime minister who summarily dismissed senior ANF officials who were investigating the case. This was done seemingly to thwart investigations by the force, which allegedly led to the PM's son."
It said: "Musa Gilani may have curried favour and may have been involved in wrongdoing. Only an impartial investigation can unearth the facts."
http://timesofindia.indiatimes.com/world/pakistan/Yousuf-Raza-Gilanis-son-named-in-drug-scam/articleshow/12733156.cms
---------
Radical cleric appeal: May stands by deadline
April 19, 2012
The home secretary has insisted radical cleric Abu Qatada's deportation case has "no right" to be referred to the European Court of Human Rights (ECHR).
In a statement to the Commons, Theresa May told MPs the three-month deadline for an appeal passed before the application was submitted.
But lawyers for the preacher, who faces bomb plotting charges in Jordan, and the ECHR said the deadline was later.
Shadow home secretary Yvette Cooper said "chaos has turned into farce".
'hysterical angst'
Mrs May said: "The government is clear that Abu Qatada has no right to refer the case to the Grand Chamber of the European Court of Human Rights, since the three-month deadline to do so lapsed at midnight on Monday."
She confirmed she had written to the ECHR to argue Abu Qatada's application should be rejected and the case heard by the UK's Special Immigration Appeals Commission (Siac) instead.
The deportation process and any potential Siac appeal were now on hold, she confirmed.
She also said Abu Qatada had chosen to use delaying tactics, which he had been doing since 2001.
Full report at:
http://www.bbc.co.uk/news/uk-17765535
-----------
NYC subway bomb plotter admits of being trained in Pak
Apr 19 2012
New York : An Afghan immigrant, who admitted to being part of a foiled terror plot to bomb New York's subways and stock exchanges, said he had travelled with two other men to Pakistan where they received training at an al-Qaeda camp and returned to the US to carry out the attacks.
Najibullah Zazi, 26, appeared in court to testify at the terrorism trial of his high school classmate Adis Medunjanin, accused of helping him in the plot.
A third person, Afghan immigrant Zarein Ahmedzay, who had travelled with the two to Pakistan to receive terror training, has pleaded guilty.
Medunjanin is a Bosnian immigrant who came to the US in 1994 and became a naturalised US citizen in 2002.
Full report at:
http://www.indianexpress.com/story-print/938829/
-----------
Taliban condemn US soldiers posing with militants' remains
April 19, 2012
KABUL: Afghanistan's Taliban on Thursday condemned photographs of US soldiers posing with the remains of their militants, calling the two-year-old photos "inhuman" and vowing revenge.
The pictures, which date back to 2010 but were published by the LA Times on Wednesday, add to a string of recent scandals that have ignited anti-Western feeling and complicated Nato-US efforts to build towards a 2014 withdrawal.
The Taliban "strongly condemns the brutal and inhuman act by the American invading force and their uncultured slaves," a statement from the militants said.
In some of the pictures Afghan police are also seen posing with mangled remains of the Taliban bombers with their US allies.
"This is what the invading Americans teach to their Afghan slaves," the statement said, referring to the members of the Afghan security forces trained and funded by the US-led troops.
Full report at:
http://dawn.com/2012/04/19/taliban-condemn-us-soldiers-posing-with-militants-remains/
-----------
U.N. Chief Says Syria is Failing to Adhere to Peace Plan
By NEIL MacFARQUHAR
April 19, 2012
BEIRUT, Lebanon — Despite the Syrian government's failure to send a "clear signal" that it will implement a peace plan, the United Nations has proposed sending 300 cease-fire observers to Syria for at least three months — with two high-level meetings about the crisis on Thursday due to focus on the mission.
In a letter to the Security Council assessing the situation on the ground since a cease-fire went into effect on April 12, Ban Ki-Moon, the United Nations secretary-general, said Syria had failed to implement almost every aspect of a six-point peace plan.
In addition, the government of President Bashar al-Assad rejected a request by the advance party of United Nations observers to visit the beleaguered city of Homs, where activists said the government continued to shell residential neighborhoods harboring rebels on Thursday in violation of the cease-fire.
In New York, the United Nations Security Council is due to discuss the viability of the observer mission, given the tension that has already emerged with the Syrian government.
In Paris, foreign ministers from the Middle East and elsewhere, including the American secretary of state, Hillary Rodham Clinton, are expected to gather for a "Friends of Syria" meeting to discuss the peace plan and how to further pressure Damascus.
Full report at:
http://www.nytimes.com/2012/04/20/world/middleeast/syria-united-nations-secretary-general-ban-ki-moon-cease-fire.html?ref=world
-----------
Ousted Maldivian President banking on India to restore democracy
April 19, 2012
NEW DELHI: Ousted Maldivian president Mohammed Nasheed is likely to meet Prime Minister Manmohan Singh to brief him about the situation in his country and seek India's support for his ''pro-democracy movement'' and early polls. Nasheed, who arrived here on Tuesday, expressed hope before reporters that India will be able to ''bring Maldives back on track''.
While Nasheed is scheduled to meet foreign secretary Ranjan Mathai, government sources said he may also meet Singh during his visit.
''There is a change of government in Maldives and we want to explain the situation to the Indian government,'' said Nasheed.
''I will be meeting the Indian leadership on 23rd of this month. We want more Indian assistance in bringing democracy back,'' he added. While stating that India has its difficulties in dealing with its neighbours, he added that its influence is paramount in the region.
Before leaving for India, he told a news portal that he expected elections to be held as early as August. ''I think August is reasonable. The more time you give the present dictatorship, the more entrenched they will get; and hence early elections are very important. The dictatorial and military regime, backed by Gayoom, should end at the earliest and should be replaced by a government elected by the people,'' he said.
http://timesofindia.indiatimes.com/india/Ousted-Maldivian-President-banking-on-India-to-restore-democracy/articleshow/12711351.cms
-----------
Israelis gather for Holocaust memorial ceremony
April 19, 2012
JERUSALEM: Israeli Prime Minister Benjamin Netanyahu rejected criticism of his likening of a nuclear-armed Iran to the Nazi Holocaust as improper, saying in an address to the country on Wednesday that "uncomfortable truths" must be aired.
He defended his analogy on the eve of Israel's annual day of Holocaust remembrance against those who say it is not only irreverent to the six million Jews killed by Hitler's Germany but also stokes panic about a new war.
Israeli leaders and Holocaust survivors are gathering in Jerusalem to mark the country's annual Holocaust Memorial Day.
The Holocaust is considered a central event in modern Jewish history and key to Israel's society.
Fewer than 200,000 elderly survivors remain in Israel.
Six survivors were lighting symbolic torches at the ceremony. The Israeli flag flies at half staff, poems are read and the Jewish prayer for the dead is recited.
The Jewish state has not ruled out military strikes on Iran's nuclear facilities if international sanctions imposed on Tehran or diplomacy fail to curb its atomic programme.
Full report at:
http://dawn.com/2012/04/19/israelis-gather-for-holocaust-memorial-ceremony/
-----------
SP's Muslim appeasement can lead to animosity: BJP leader
Apr 19 2012
Lucknow: Senior BJP leader Uma Bharti today asked the Uttar Pradesh government to desist from "Muslim appeasement policy", saying it could create animosity between the minority community and Hindus.
"There should not be a Muslim appeasement policy... it could not only create a sense of insecurity among the Hindus but could also lead to animosity between the two communities," Bharti said here, in reply to a question on the UP government's move to review terror cases.
Citing the recent detention of Bollywood star Shah Rukh Khan in the US, Bharti said a similar atmosphere of "animosity and mistrust" should not be created in India.
"Shah Rukh Khan is a film star and has little significance for me, but the incident has a great social significance," she said.
Bharti, who took oath as member of the UP Assembly today, cited schemes like providing Rs 30,000 to Muslim girls to stress that there should not be any discrimination on the basis of religion.
Full report at:
http://www.indianexpress.com/news/sps-muslim-appeasement-can-lead-to-animosity-uma-bharti/938894/
-----------
URL: https://newageislam.com/islamic-world-news/parents-converted-girls-cry-foul/d/7099