New Age Islam News Bureau
30 Nov 2016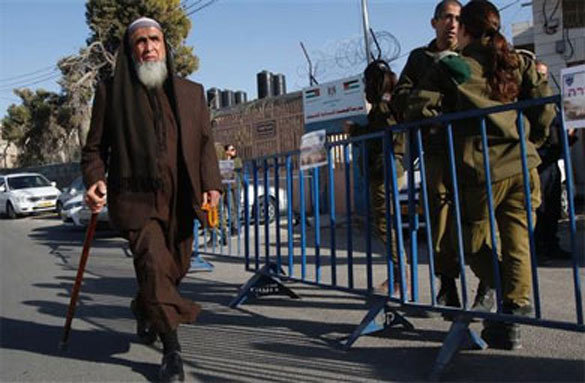 A Palestinian man walks past Israeli soldiers in the West Bank town of al-Khalil (Hebron) on November 25, 2016. (Photo by AFP)
-------
• Palestine Recognition to Have 'No Major Price' For Obama, To Give the Nation UN Membership
• US Islamist Group Arming Up In Anticipation of Trump, Report Claims
• How West Africa Became Fertile Ground for AQIM and ISIS
• 'Socio-Economic Empowerment of Muslims in India Ignored For 70 Years'
Mideast
• Palestine Recognition to Have 'No Major Price' For Obama, To Give the Nation UN Membership
• Turkey's President Erdogan Urges All Muslims to Protect Jerusalem
• Israel president decries bill to quieten mosques
• New government aimed at better serving Yemenis: Houthi leader
• Abbas re-elected party leader as Fatah opens rare congress
• Turkish forces in Syria to end Assad's rule: Erdogan
• Iran calls US military behaviour in Gulf 'unprofessional'
• Iran kills Daesh ringleader along border: Intelligence minister
--------
North America
• US Islamist Group Arming Up In Anticipation of Trump, Report Claims
• Ohio State Attacker Stewed Over Treatment of Fellow Muslims
• 'You Belong. Stay Strong. Be Blessed': A Texas Man's Roadside Message To Muslims
• ISIL claims responsibility for Ohio State Uni attack
--------
Africa
• How West Africa Became Fertile Ground for AQIM and ISIS
• Maitatsine Metamorphosed To Boko Haram Terrorists – NSA
• Kenya police thwart terror attack, tighten security
• Somali Muslims in Atlanta condemn OSU attack
• Nigeria Must Resettle IDPs to Avert Social Discontent - Buhari
--------
India
• 'Socio-Economic Empowerment of Muslims in India Ignored For 70 Years'
• Muslim Outfits Slam Assam Education Minister for Madrasa Remark
• Indian Counter-Terror Agency Arrests 3 Al-Qaeda Suspects
• Muslim Rule in India Cannot Be Considered As 'Foreign Rule': Shashi Tharoor
• Seven Indian soldiers killed in attack on army base
• ATS sees 'links' between Jameel Ahmad and IS
• Base movement of terror: 2 more arrested for court blasts
• Govt contradicts itself, says only four terrorists behind Pathankot attack
--------
Pakistan
• New Bill against Forced Conversions Un-Islamic: Jamaat-i-Islami Ameer
• MQM Pakistan Dissociates From Cases against Altaf in London
• Five suspected militants killed in Balochistan's Sibi
• Russia denies reports of CPEC cooperation with Pakistan
• US-based Muslim scientist honoured at SSUET
• Terror-corruption alliance affecting economy: NAB chief
--------
Europe
• German Intelligence Agent Exposed As 'Suspect Islamist'
• Don′t marginalise your Muslims
• Austrian trade union suggests Muslims should be denied Christmas bonuses
--------
South Asia
• Bangladesh: Ruling Party Official Defends Remarks on Islam as State Religion
• Afghan Govt Reacts on Taliban's Commitment to Protect Public Welfare Projects
• Afghans may get Black Hawks to replace Russian aircraft
• Bangladesh Hindu attacks' suspect arrested
• Faridpur man detained for human trafficking in Libya
• Rohingya Abuse: It may be crimes against humanity
• Afghan forces foiled suicide attack in Sharana city
• ISIS militants suffer heavy casualties in Afghan forces operations
• 162 arrested in Kabul over murder and other criminal activities
• Top Afghan army general killed in helicopter crash, NATO offer condolences
--------
Southeast Asia
• Malaysia PM to Attend Rally Condemning Violence against Rohingya Muslims in Myanmar
• Indonesia's Muslims Protest, Awaken Fears of Minority Chinese
• Ahok inches closer to trial as AGO declares blasphemy case dossier complete
• Malaysian PM Najib Razak voices support for Islamic laws as he seeks to bolster support
• Sarawak non-Muslim unit awaiting approval, says DCM
• Islamic State 'soldier' behind Ohio attack, says Amaq
• Protests by Islamic hardliners against Indonesian governor awaken fears for ethnic Chinese
• Utah lawyers will work for free to defend Muslim refugees
--------
Arab World
• Abadi: Mosul Battle to End before New Year
• Iraqi Forces Liberate ISIS-Held Nineveh Plain
• Jailed Islamic State suspects recall path to jihad in Iraq
• Assad, allies aim to seize all Aleppo before Trump takes power
• Alleged Nusra militant grabs Syrian uprising flag during anti-Assad protest
• ISIL's Religious Emir Gunned Down by Unknown Assailants in Raqqa City
• Official: Turkey Indirectly Fighting against Syria
• Syrian Army to Kick Off Military Operation to Recapture Khan Touman Soon
• Russian Military: Over 500 Militants Surrender, Leave Eastern Aleppo in Last 24 Hours
• Report: Terrorists to Leave Damascus' Al-Tal Town Soon
• As Syrian rebels squeezed in Aleppo, Turkish backers' eyes are elsewhere
Compiled by New Age Islam News Bureau
URL: https://www.newageislam.com/islamic-world-news/new-age-islam-news-bureau/palestine-recognition-to-have-'no-major-price'-for-obama,-to-give-the-nation-un-membership/d/109241
--------
Palestine recognition to have 'no major price' for Obama, to give the nation UN membership
Nov 30, 2016
Lame duck US President Barack Obama and the Democratic Party have "nothing to lose" if recognition is extended to Palestine in the final days of the administration, a move that could have significant impact on the future of the Muslim nation, investigative journalist Wayne Madsen suggests.
The Tampa-based author and columnist, who specializes in intelligence and international affairs, made the remarks in an interview with Press TV on Tuesday, while commenting about an op-ed by former President Jimmy Carter on why the US must recognize Palestine soon before President-elect Donald Trump takes control of the White House.
"I am convinced that the United States can still shape the future of the Israeli-Palestinian conflict before a change in presidents, but time is very short," wrote the 92-year-old former president in the article published by the New York Times on Monday. "The simple but vital step this administration must take before its term expires on January 20 is to grant American diplomatic recognition to the state of Palestine, as 137 countries have already done, and help it achieve full United Nations membership."
The Obama administration has been engaged in efforts for a so-called two-state solution during his tenure but to no avail as the Israeli regime has remained intransigent in its expansive policies as well as the harsh crackdown on the Palestinian population.
US recognition of a Palestinian state could bring about achievements for the nation although the future president "can always reverse" such a move, Madsen suggested.
"President Carter is absolutely correct," said the political commentator, adding that Trump's mass reversal of the previous administration's policies, like the one towards Cuba, comes at a "political cost."
Dems will have to 'bury the action'
While campaigning for the 2016 presidential election, Trump took a different approach towards the situation in Palestine than Obama, saying he would recognize East Jerusalem al-Quds as the "undivided capital of the state of Israel," and vowing to move the US embassy in Israel to the city, which Palestinians want as their capital.
Apart from being considered a blow to the so-called two-state solution, the comments reflected Trump's close ties with the ruling party in Israel, Likud, and Prime Minister Benjamin Netanyahu at its helm.
"He has very close relations with Netanyahu. His son-in law, Jared Kushner, comes from an orthodox Jewish family in New York that has very close links with the Likud party of Israel," Madsen said, further referring to other pro-Israel figures in the Trump administration, set to gain power on January 20, 2017.
Considering the appointments Trump is making and the fact that he has "surrounded" himself by his family members, including Kushner, "Carter is essentially right," he noted.
"There is a short WINDOW now for President Obama to extend recognition of Palestine and Obama has nothing to lose," he said. "Democrats won't have another election for four years[2020], so there won't be a major political price to pay amongst the Israel lobby if Obama goes ahead and recognize Palestine."
He argued that during his first term as president, Obama was "obviously concerned about the power of the Israel lobby" over his reelection in 2012.
"It makes sense that if he is going to do it, he would do it as a lame duck president… and the Democrats have two years to basically bury the action."
Still, Carter has a point
The United States recognition of Palestine would mean Washington will "drop its veto" on the Muslim nation's membership at the United Nations and that may be what the 39th American commander-in-chief "may be getting at."
"If the US does not veto Palestine's membership in the Security Council, there is nothing President Trump can do to change what the UN has done; He could de-recognize Palestine by the United States but this may be a way to get Palestine as a permanent [member] in the UN and I think that's maybe what President Carter has in mind," said the author of the blog Wayne Madsen Report.
Carter (pictured above) has come under harsh criticism in Israel over his views on the situation in Palestine, expressed in part in his 2006 book, Palestine: Peace Not Apartheid.
Israel was made in 1948, when it occupied the Palestinian land along with expanses of other Arab territories during full-fledged military operations.
In 1967, the Zionist regime occupied the Palestinian territories of the West Bank, including East Jerusalem al-Quds and the Gaza Strip. It withdrew from Gaza in 2005, but has been keeping it under recurrent strikes as well as a crippling siege.
Palestine enjoys non-member observer state status in the United Nations and is recognized by 137 UN members.
http://www.presstv.ir/Detail/2016/11/30/495778/Mark-Carters-words-on-Palestine-Trump-Jared-Kushner-Netanyahu-Israel-Wayne-Madsen
--------
US Islamist group arming up in anticipation of Trump, report claims
November 29, 2016
An Islamist group with secretive compounds around the U.S. is arming up in anticipation of raids by the incoming Trump administration, according to a new report from a nonprofit think tank.
Muslims of America, which is headquartered in Hancock, N.Y., and run from Pakistan by leader Sheikh Gilani, operates 22 "Islamic villages" around the nation. The compounds are legal, but Gilani has recently ordered all unarmed members to gather firearms, licenses and hunting permits, according to Clarion Project. Gilani believes his group will be targeted by Trump.
"I foretold disastrous results should this man be elected as the American President," Gilani said in a statement SHORTLY after Trump was elected president on Nov. 8. "He has come as a test and trial for the faithful adherents of the holy books."
Supporters say the compounds are simply Islamic communes for mainly African-American Muslims who seek to follow Gilani's teachings in a rural setting. While they have been the subject of numerous accusations and undercover reporting, the group is not known to have supported or conducted terrorist activity, and its critics are widely dismissed as conspiracy theorists.
A confidential source allegedly inside the organization told Martin Mawyer of the Christian Action Network and Ryan Mauro of the Clarion Project that the group expects the FBI to reopen its cases against them as a "homegrown terrorist organization," according to the report.
According to the report, the sources stated that members across the country were given instructions by Gilani to "be prepared to fight," against President-Elect Trump, who the group believes is part of a satanic-Zionist conspiracy to destroy Islam.
Muslims of America's headquarters in rural New York is known as "Islamberg." According to a 2007 FBI report obtained by the Clarion Project, MOA "possesses an infrastructure capable of planning and mounting terrorist campaigns within the U.S. and overseas."
http://www.foxnews.com/us/2016/11/29/us-islamist-group-arming-up-in-anticipation-trump-report-claims.html
--------
How West Africa Became Fertile Ground for AQIM and ISIS
Nov. 29, 2016
The deadly terrorist attacks in Burkina Faso and Cote d'Ivoire in January and March, respectively, show the deep reach of militants affiliated with al-Qaida in the Islamic Maghreb (AQIM), and their ability to bounce back from the military drubbing they received as a result of France's intervention in the Sahel, which began in 2013. The spectacular attacks are part of a long pattern illustrating the enduring resilience of AQIM and its ability to regenerate itself by adjusting strategy and tactics to mounting pressure from both counterterrorism operations and rising jihadi competition in the Sahel and West African region.
As alliances and rival coalitions reorder themselves in an increasingly chaotic militant landscape, AQIM and its allies have escalated the race to expand their regional footprint into West Africa's economic hubs and coastal areas that have hitherto been spared from terrorist violence. The expansion and execution of successful terrorist attacks helps AQIM-led groups rebuild their resources and broaden their recruitment base, reaching areas riven by long-simmering communal distrust, festering local conflicts and distrust of state institutions, particularly in marginalized peripheries and rural communities. ...
http://www.worldpoliticsreview.com/articles/20556/how-west-africa-became-fertile-ground-for-aqim-and-isis
--------
'Socio-Economic Empowerment of Muslims in India Ignored For 70 Years'
Nov 30, 2016
HYDERABAD: Concerns over lack of political empowerment of Muslim community were raised at a one-day workshop held at the University of Hyderabad as politicians, academicians and researchers discussed on opportunities and challenge to strengthen the participation of the minority community into law-making agencies.
Experts highlighted lack of electoral dividends and representation given to the Muslim population in the city. "Governments over the last 70 years have never been serious of the socio-economic empowerment of Muslims. Equitable budgets and opportunities have not been allotted to the community. Atrocities against Muslims have only increased over the years. As far as political empowerment is concerned, a dialogue needs to begin wherein people are sensitised about voting patterns so that elections are not based on religious sentiments," said Abid Rasool Khan, chairman of Telangana State Minorities Commission.
Concerns were also raised over how the Muslim community has been left in a lurch with poor allocation of budget and opportunities. "Post bifurcation period, political parties made several promises in empowering Muslim community. However, the community did not gain expected dividends. Despite the hue over lack of opportunities, reservation for Muslims in private sector is still at large," said Dr E Venkatesu from the political science department which organised the workshop.
Afshan Shireen, research scholar at UoH said that there has been an attempt to politicise, while creating a tussle between the historical monument of Charminar and some mythological Goddess. Prof Muzaffar Assadi, University of Mysore critically analysed that the present public policy is being formulated against the recommendations of the Sachar Committee recommendations and it will drastically effect the future of Muslim minorities.
Prof Afroz Aslam of Maulana Azad National Urdu University brought out findings that the communal riots are taking place just six month before every election. "Therefore, to reduce the communal riots, there is a need to conduct all the elections at a stretch," said Aslam. Prof Sajjad Ibrahim highlighted the efforts of the government of Kerala for the empowerment of Muslims.
Issues such as government bodies looking after minority affairs such as Wakf board, state minorities welfare commission among others being poorly staffed, deficiencies of Muslim representation in law-making agencies etc. were also discussed.
http://timesofindia.indiatimes.com/city/hyderabad/Socio-economic-empowerment-of-Muslims-ignored-for-70-years/articleshow/55694482.cms
--------
Mideast
Turkey's President Erdogan urges all Muslims to protect Jerusalem
November 30, 2016
Istanbul: Turkish President Recep Tayyip Erdogan has urged Muslims to defend the Palestinian cause, striking a tough stance on Israel despite improved ties between the two nations.
The president of majority Muslim Turkey said on Tuesday "it is the common duty of all Muslims to embrace the Palestinian cause and protect Jerusalem" and that safeguarding the Al-Aqsa Mosque should not be left to children armed with nothing but stones.
Located in the Old City of Jerusalem, the hilltop compound is sacred to Muslims and Jews.
Speaking at a parliamentary symposium on Jerusalem in Istanbul, the Turkish leader also criticised an Israeli proposal to make mosques reduce the volume of loudspeakers issuing the call to prayer.
His comments come as Israel and Turkey prepare to exchange ambassadors as part of a reconciliation deal.
http://www.siasat.com/news/turkeys-president-erdogan-urges-muslims-protect-jerusalem-1075870/
--------
Israel president decries bill to quieten mosques
30 November 2016
Israeli President Reuven Rivlin spoke out on Tuesday against a controversial bill that would prohibit mosques from using loudspeakers to summon believers to prayers early in the morning.
The draft law, which sparked outrage around the Arab and wider Muslim world, is set to be submitted for its preliminary reading in parliament on Wednesday.
Its original form was amended last week in order not to affect the sirens that announce the start of the Jewish day of rest at sundown each Friday.
Rivlin on Tuesday hosted in his Jerusalem residence a meeting of religious leaders "seeking to bridge gaps over the issue of the muezzins", the Muslim lay officials charged with calling the faithful to prayer, a statement from his office read.
"I thought that perhaps such a meeting could have an impact on the whole public, and that it would be a shame that a law should be born which touches on the issue of freedom of faith of a specific group among us," he was quoted as telling participants.
Rivlin, whose post is mainly ceremonial, considers the new legislation - supported by Prime Minister Benjamin Netanyahu - unnecessary.
"The president believes that the existing legislation on noise levels is able to answer problems arising from this issue, alongside dialogue between the different faith communities in Israel," Rivlin's spokesperson Naomi Toledano Kandel said.
Israeli media reported that after the meeting, Rivlin telephoned Finance Minister Moshe Kahlon and encouraged him to enable members of his Kulanu faction to vote against the bill. Sources close to Rivlin and Kahlon would not comment on the reports.
Israeli government watchdogs have baulked at the proposed legislation, describing it as a threat to religious freedom and an unnecessary provocation.
Arab Israeli lawmaker Ahmed Tibi has vowed to appeal to the High Court of Justice if the Sabbath siren is excluded from the scope of the bill on the grounds that it discriminates between Jewish and Muslim citizens.
Full report at:
https://english.alarabiya.net/en/News/middle-east/2016/11/30/Israel-president-decries-bill-to-quieten-mosques.html
--------
New government aimed at better serving Yemenis: Houthi leader
Nov 30, 2016
The leader of Yemen's Houthi Ansarullah movement says the newly-formed National Salvation Government is aimed at boosting efforts to run the country's domestic affairs and better serve the nation, saying everyone must work to pave the way for an eventual popular victory.
Abdul-Malik al-Houthi made the remarks on Tuesday on the occasion of the 49th anniversary of South Yemen's independence from Britain in the 1960s.
"The formation of the National Salvation Government is of great IMPORTANCE as it will consolidate positions inside the country and efforts to provide service to the people," he said, according to Yemen's al-Masirah television. "Everyone should make efforts so the Yemeni people emerge victorious in the end."
Houthi also urged the public to hold rallies in support of the new administration and ignore efforts made by certain parties to create division among the nation's ranks.
Earlier on Tuesday, the new Yemeni government was sworn in after the Houthi Ansarullah movement and their allies announced its formation.
The National Salvation Government is to replace the Supreme Political Council, which was set up earlier this year by Ansarullah and the General People's Congress, the party of former president, Ali Abdullah Saleh, to run the country's affairs.
The new administration has vowed to help UN efforts to bring about peace in the country.
The Houthis took control of state affairs in 2014 after former president Abd Rabbuh Mansur Hadi resigned despite Ansarullah calls to review the decision, a move that created more chaos in a country already grappling with al-Qaeda terror threats.
Hadi then fled to the Saudi capital, Riyadh, before returning to the port city of Aden earlier this year.
The Houthis and the Yemeni army have also been defending Yemen against the deadly Saudi military campaign, which was launched in March 2015 with the aim of reinstalling Hadi, a close Riyadh ally.
Also on Tuesday, the head of the new government Abdul-Aziz bin Habtoor said the formation of the ruling structure was a vital step towards the arrangement of Yemen's internal affairs and dealing with the consequences of the Saudi aggression.
Full report at:
http://www.presstv.ir/Detail/2016/11/30/495799/Yemen-Ansarullah-Houthi-Saudi
--------
Turkish forces in Syria to end Assad's rule: Erdogan
November 30, 2016
ISTANBUL - President Recep Tayyip Erdogan has said that the Turkish army entered Syria to end the rule of President Bashar Assad, whom he accused of terrorism and causing the deaths of thousands.
"We entered [Syria] to end the rule of the tyrant al-Assad who terrorises with state terror. [We didn't enter] for any other reason," the Turkish president said at the first Inter-Parliamentary Jerusalem Platform Symposium in Istanbul.
Erdogan said that Turkey has no territorial claims in Syria, but instead wants to hand over power to the Syrian population, adding that Ankara is seeking to restore "justice."
"Why did we enter? We do not have an eye on Syrian soil. The issue is to provide lands to their real owners. That is to say we are there for the establishment of justice," he said.
He went on to say that "in his estimation" almost 1 million people have died in the conflict in Syria, although no monitoring group has provided any similar figures. The latest UN estimate stands at 400,000 people killed in the five-year civil war.
Full report at:
http://nation.com.pk/international/30-Nov-2016/turkish-forces-in-syria-to-end-assad-s-rule-erdogan
--------
Iran calls US military behaviour in Gulf 'unprofessional'
November 29, 2016
The US military presence in the Gulf poses the main risk of conflict in the region, an Iranian military official said on Tuesday after Washington said an Iranian vessel had pointed its weapon at a US helicopter in the strategic Strait of Hormuz.
Two US defense officials told Reuters on Monday that a small vessel operated by Iran's Revolutionary Guard Corps (IRGC) trained its weapon on a Navy MH-60 helicopter on Saturday as it flew within half a mile (0.8 km) of two Iranian vessels in international waters.
The defense officials called Iran's behavior "provocative".
"Everybody knows that the main problem in the Persian Gulf is the US presence," an unidentified official in the Revolutionary Guards was quoted as saying by Tasnim news agency.
Full report at:
http://nation.com.pk/international/29-Nov-2016/iran-calls-us-military-behavior-in-gulf-unprofessional
--------
Iran kills Daesh ringleader along border: Intelligence minister
Nov 29, 2016
Iran's Intelligence Minister Mahmoud Alavi confirms that a ringleader of the Daesh terrorist group has been killed by Iranian security forces in the country's border areas.
"This individual, named Abu Aisha al-Kurdi, was killed along with a number of other [would-be] bombers along the country's border," Alavi said on Monday.
He added that the Daesh ringleader had sought to sneak into the Iranian capital of Tehran to carry out acts of terror and sabotage.
Some media reports had announced late September that Iranian security forces had killed Abu Aisha some time ago in a complex and massive operation in one of the border cities of the western Iranian province of Kermanshah.
The Iranian intelligence minister further stressed the IMPORTANCE of safeguarding security in the country and said Iran's security forces have foiled every bombing plot in Tehran and confiscated huge amounts of explosives from terrorists.
He added that Iranian security forces have also succeeded in identifying and arresting many terrorists and thwarted their plots to undermine national security.
"The Islamic establishment has many enemies across its borders who seek to wreck our security," Alavi said.
Full report at:
http://www.presstv.ir/Detail/2016/11/29/495723/Iran-Intelligence-Minister-Mahmoud-Alavi-Daesh-Abu-Aisha-alKurdi
--------
North America
Ohio State attacker stewed over treatment of fellow Muslims
November 30, 2016
A Somali-born student who carried out a car-and-knife attack at Ohio State University stewed over the treatment of Muslims while apparently staying under the radar of federal law enforcement, underscoring the difficulty authorities face in identifying and stopping lone wolves bent on violence. Abdul Razak Ali Artan was not known to FBI counterterrorism authorities before Monday's rampage, which ended with him shot to death by police and 11 people injured, a law enforcement official told The Associated Press.
That's in contrast to several other recent attacks, including those in New York City; Orlando, Florida; and Garland, Texas, in which those blamed for the bloodshed had previously come to the attention of federal agents.
Law enforcement officials have not identified a motive for the Ohio State violence but have suggested terrorism as a possibility. FBI agents continued to search Artan's apartment for clues, but California US Rep Adam Schiff, the top Democrat on the House Intelligence Committee, said he had seen no evidence Artan was directed by or was in communication with any overseas terror organization.
The mode of attack plowing a car into civilians, then slashing victims with a butcher knife was in keeping with the recommended tactics of jihadist propaganda. And Facebook posts that were apparently written shortly before the attack and came to light afterward show Artan nursed grievances against the US.
He railed against US intervention in Muslim lands and warned, "If you want us Muslims to stop carrying lone wolf attacks, then make peace" with the Islamic State group.
"America! Stop interfering with other countries, especially the Muslim Ummah. We are not weak. We are not weak, remember that," he wrote, using the Arabic term for the world's Muslim community.
He also warned that other Muslims are in sleeper cells, "waiting for a signal. I am warning you Oh America!"
The posts were recounted by a law enforcement official who was briefed on the investigation but wasn't authorized to discuss it publicly and spoke on the condition of anonymity.
On Tuesday, a self-described Islamic State news agency called Artan "a soldier of the Islamic State" who "carried out the operation in response to calls to target citizens of international coalition countries." The Islamic State group has described other attackers around the world as its "soldiers" without specifically claiming to have organized the acts of violence.
Artan's social media rants seemed at odds with the portrait of the young man painted by neighbors and acquaintances.
Jack Ouham, owner of a market near the home on the outskirts of Columbus where Artan lived with his parents and siblings, saw him almost every day when he stopped in for snacks but never alcohol or cigarettes. He was never angry, Ouham said.
"Very nice guy," he said.
Artan graduated with honors from Columbus State Community College last May, earning an associate of arts degree. A video of his graduation ceremony shows him jumping and spinning on stage and smiling broadly, drawing laughs, cheers and smiles from graduates and faculty members.
The school said he had no behavioral or disciplinary problems while he was there from the fall of 2014 until this past summer.
He started at Ohio State in August as a business student studying logistics management.
A law enforcement official said Artan came to the US in 2014 as the child of a refugee. Artan had been living in Pakistan from 2007 to 2014. It's not uncommon for refugees to go to a third-party country before being permanently resettled.
Federal and local authorities grappling with the pervasiveness of Islamic State group propaganda _ FBI Director James Comey said this year that agents had "north of 1,000" terrorism-related probes will no doubt look to see if they missed any red flags that could have placed Artan under investigation.
Several acts of jihadist-inspired violence in the past two years have involved people known to the FBI.
The FBI investigated Omar Mateen, the gunman in the Orlando nightclub attack in June, for 10 months in 2013 after he boasted of mutual acquaintances with the Boston Marathon bombers and said things to co-workers that suggested he had radical, violent intentions. Agents found nothing to justify continued scrutiny and closed the matter but looked into him again the next year as part of a separate investigation into a suicide bomber who attended the same Florida mosque.
Federal authorities in 2014 looked into Ahmad Khan Rahimi after he was accused of stabbing a relative and his father expressed concerns he might be a terrorist. The FBI said it found nothing in its databases tying Rahimi to terrorism and closed its review. Rahimi was charged with setting off bombs in New York and New Jersey in September; he has pleaded not guilty.
FBI counterterrorism authorities have a "number of trip wires" set up to spot would-be jihadists and have a generally good sense of people who are drawn to terrorist propaganda, which is why many who have gone on to commit violence had come under scrutiny, said Seamus Hughes, deputy director of the George Washington University's Program on Extremism.
"If you look at most quote-unquote successful terror attacks in the US … they've always had some touch point with law enforcement and been on law enforcement's radar in some point in their radical trajectory," Hughes said.
Classes for the 60,000 students at Ohio State were canceled after the attack but resumed Tuesday. Several hundred students gathered on campus Tuesday night for a vigil intended to help in the healing process.
http://indianexpress.com/article/world/world-news/ohio-state-attacker-stewed-over-treatment-of-fellow-muslims-4402580/
--------
'You Belong. Stay Strong. Be Blessed': A Texas man's roadside message to Muslims
November 29, 2016
As some Muslims — and the mosques they worship in — have been subjected to racism, bigotry and hate, a man in Texas has been standing outside an Islamic center near Dallas, spreading a positive and powerful message.
It's not clear who the man is, or what sparked his sympathy, but a photo of him has swept social media. It shows the man, with a white beard and wearing a white cowboy hat, holding up a sign outside the Islamic Center of Irving.
"You Belong. Stay Strong," the sign reads. "Be Blessed. We Are One America."
An Islamic Center of Irving representative said Monday that the man had been seen outside the mosque the past several days, sympathizing with the Muslim community during a time of fear over what a Donald Trump presidency will mean for followers of the faith.
During the campaign, Trump proposed a "total and complete" ban on Muslims entering the United States; he later backtracked, calling instead for a suspension on immigration from countries "compromised by terrorism." But since Trump's election, the Council on American-Islamic Relations, or CAIR, reported that there have been some 100 anti-Muslim incidents across the country.
Numerous mosques in California and one in Georgia were recently targeted with letters threatening that Trump will do to Muslims what Adolf Hitler "did to the Jews," according to CAIR.
[Multiple mosques threatened: Trump will 'do to you Muslims what Hitler did to the Jews']
Irving and its Islamic Center have struggled with their own anti-Islam incidents.
The city, about 15 miles from Dallas, has a small but growing Muslim population of thousands among the city's 232,000 residents.
As The Washington Post reported in 2015, Irving Mayor Beth Van Duyne criticized a Muslim mediation panel rumored to be set up in an Irving mosque to settle civil disputes using Sharia law — which opponents worried would lead to practices and punishments seen in some Muslim countries, as well as clash with America's constitutional rights. Van Duyne began referring to the tribunal as a "court" and warned that foreign law cannot be applied when it "violates public policy, statutory, or federal laws."
Irving's mosque "categorically" denied hosting a court, stating that its imam acted as an arbitrator on a tribunal in the Dallas-Fort Worth metroplex.
Then there was Ahmed Mohamed.
The teenage boy, whose family worshiped at the Irving mosque, was arrested when he brought a homemade clock to school — igniting national outrage.
The mosque is also the site where demonstrators gathered late last year, armed with long guns and signs proposing to "Stop the Islamization of America," the Dallas Morning News's Avi Selk reported at the time. The anti-Muslim protests followed the Islamic State terrorist attacks in Paris that killed at least 130 people and injured hundreds of others in November 2015.
Full report at:
https://www.washingtonpost.com/news/inspired-life/wp/2016/11/29/you-belong-stay-strong-be-blessed-a-texas-mans-roadside-message-to-muslims/
--------
ISIL claims responsibility for Ohio State Uni attack
29 November 2016
A "soldier" of ISIL group carried out the car and knife attack on an Ohiocampus that left 11 people wounded, a rebel-linked news agency said Tuesday.
"The executor of the attack in the American state of Ohio is a soldier of the Islamic State and he carried out the operation in response to calls to target citizens of international coalition countries," the Amaq agency quoted an insider source as saying, according to a translation by the SITE monitoring group.
Full report at:
http://www.worldbulletin.net/america-canada/180918/trudeau-approves-triple-pipeline-expansion-to-pacific
--------
Africa
Maitatsine metamorphosed to Boko Haram terrorists – NSA
Nov 30 2016
The National Security Adviser (NSA), Maj. Gen. Mohammed Babagana Monguno (rtd), yesterday revealed that the Maitatsine insurgents that ravaged the northern part of the country in the 1980s and led to the death of about 5,000 people metamorphosed into the present Boko Haram.
The NSA also said the problem of militancy in the Niger Delta region has called into question the power of the government to protect its citizens.
Monguno who was represented by the Director of External Services in his office, Mr. Abba Ibrahim, disclosed this in Abuja at the fourth Eminent Persons and Expert Group Meeting (EEGM) 2016, with the theme: 'Dialogue on Current Security Challenges in Nigeria: Towards an All-Inclusive National Strategy,' organised by the National Institute for Policy and Strategic Studies (NIPPS), Jos.
According to him, "The most significant security challenge to our individual and national peace and security is the menace of the Boko Haram sect. Though it started as a suppressed religious group called Maitastine in the 80s, it clearly metamorphosed to terrorist sect called Boko Haram in 2009."
He noted: "Its terrorist inclinations manifests in the activities of the group which is now known as a notorious product of an unhealthy mix of religious and political chauvinism and extremism."
The NSA stated that unfortunately, everyone is mutually enmeshed in a high degree of risk and uncertainty posed by the current security challenges which have festered from the inception of our state and have metamorphosed into hideous conditions in more recent times.
Baring his mind on the incessant herdsmen/farmers' clashes, Monguno stressed that the unpalatable situation had spurred hot clashes and flared tensions which have now spread to states in the South-west, South-south and parts of the South-east.
Advertisement
On the Niger Delta crisis, the NSA said: "The militancy that has permeated the Niger Delta region has been most negatively impactful on our economy. Not only has it called the image of the state in the protection of citizens, it has made our tabbed oil rich nation of the confidence to court Foreign Direct Investments (FDIs)."
Monguno recommended that the current security challenges facing the country urgently presents the need for dynamism and pro-activeness in the formulation of a grand strategy of security within the state with standards that must take cognisance of the carrot and stick approaches.
"Dialogue presents the state with the opportunity to negotiate with and rehabilitate suspects who could be potentially productive resources to the state. Also, onus lies with the security agencies to wield the big stick where necessary, that is, to meet violence with more force to subdue any person or group whose actions deliberately undermine our security in order to maintain its paramount in ligation to protect lines and property.
"To ensure these however, the question of capacity of our developmental and security institutions have to be addressed so that emanating security strategies can work beyond papers," Monguno added.
Earlier, the Director General of NIPPS, Mr. Jonathan Juma, said the conference was called to dialogue on the issue of various security challenges facing the country, and to address them.
He said at the end of the conference, actionable recommendations that would address the issue of security challenges would be submitted to the government.
Also, the Chairman, National Advisory Committee, Nigeria Stability and Reconciliation Programme (NSRP), Odein Ajumogobia, said in this technological age, technology was not a luxury but a necessity in order to address the issue of security properly.
He explained that technology ensures real-time spring of information and enables efficient collaboration between different arms of government.
https://www.today.ng/news/nigeria/223358/maitatsine-metamorphosed-boko-haram-terrorists-nsa
--------
Kenya police thwart terror attack, tighten security
29 November 2016
Police in Kenya on Tuesday said they had thwarted a terror attack in Kenya's Garissa County after unearthing a large cache of weapons and ammunition, adding that they are now on heightened alert.
The cache – including grenades, 210 rounds of ammunition, improvised explosive devices, guns, and a suicide vest – is believed to belong to al-Shabaab militants who might have snuck into the country through the porous Kenya-Somali border.
In a statement, Kenya police spokesman George Kinoti said that police in the East African country are aware that al-Shabaab militants are amassing forces in the Jedahaley area in Somalia in an attempt to infiltrate the country.
"In an effort to outwit our security agencies, al-Shabaab militants are now making attempts to change tactics by splitting into smaller groups and infiltrating the country especially along the border areas of Mandera, Wajir, Garissa, and Lamu counties," Kinoti said.
He added that security forces believe possible targets include security establishments along the border and public vehicles used by area residents.
Full report at:
http://www.worldbulletin.net/africa/180912/kenya-police-thwart-terror-attack-tighten-security
--------
Somali Muslims in Atlanta condemn OSU attack
November 29, 2016
CLARKSTON, Ga -- Somali Muslims living in metro Atlanta say they are horrified at Monday's Ohio State University attack, and horrified that the suspect is a Muslim originally from Somalia.
Federal agents searching the background of the suspect, 18-year-old Abdul Razak Ali Artan, who was in the U.S. legally, found that Artan was writing extensively on his social media accounts, complaining that attacks on Muslims around the world "led to a boiling point. I can't take it anymore."
Investigators say Artan planned his attack, against fellow OSU students.
"Of course, he doesn't speak for any Somalis nor any Muslims," says Imam SH Salahadin Wazir.
Wazir and Clarkston City Council Member Ahmed Hassan, and Omar Shekhey, the Executive Director of the Somali American Community Center in Clarkston, and other Somali Muslims condemn Artan and what he's accused of doing.
"The community, myself, everybody is outraged by what happened and who did it," Hassan said. "Everybody's concerned and everybody's angry."
Full report at:
http://www.11alive.com/news/local/somali-muslims-in-atlanta-condemn-osu-attack/357482847
--------
Nigeria Must Resettle IDPs to Avert Social Discontent - Buhari
29 NOVEMBER 2016
President Muhammadu Buhari has warned that the two million Internally Displaced Persons, IDPs, in refugee camps across the country must be properly resettled if the country was to avert possible social discontent.
The President gave the warning when he met with the world leader of Tijjaniyya Islamic Movement, Sharif Ibn Mohammad, at the State House, Abuja on Tuesday.
A statement by Garba Shehu, the President's Senior Special Assistant on Media and Publicity, stated that Mr. Buhari also expressed regret over the destruction of public institutions in the north-east by Boko Haram insurgents.
He said "government is faced with the problem of rebuilding schools, health centres and whole towns.
"We must renovate or rebuild schools and recruit teachers, otherwise, they will become tomorrow's Boko Haram."
President Buhari reiterated the importance of justice in the affairs of governance, emphasising that men and women in authority must show kindness and justice to all the people under their care.
He commended the religious group for the prayers it rendered for three days in Yola, Adamawa State, for the recovery of the economy and for peace in the country.
Buhari observed that the problem of oil production in the country and in global markets had made agriculture imperative for Nigerians.
Full report at:
http://allafrica.com/stories/201611300123.html
--------
India
Muslim Outfits Slam Assam Education Minister for Madrasa Remark
By Samudra Gupta Kashyap
November 30, 2016
Various Muslim outfits and madrasa teachers' organisations in Assam have objected to state Education Minister Himanta Biswa Sarma's warning against madrasas remaining closed on Fridays, instead of Sunday. "If the government wants to bring a law to shift the weekly-off to Sundays, then it should be done through normal process. But an education minister saying that he had only recently discovered that madrasas remain shut on Fridays is surprising," said Amirul Islam, general secretary, All Asam Madrasa Teachers' Association, noting that madrasas have remained closed on Fridays since the time of British, and the state Madrasa Board has a resolution to this effect, dating back to 1934.
At a press conference on Monday, the BJP minister had threatened madrasa heads of action if they continued to observe weekly-off on Fridays, saying "madrasas remain closed on Fridays in Pakistan and Bangladesh, not in India". Nekibur Zaman, chairman of the state Waqf Board, said the education minister should first regulate the mushrooming growth of madrasas across Assam. "Though about 700 madrasas are affiliated to the state Madrasa Education Board, the reality is that there are several hundred more madrasas across the state, of which the government has no information at all. There have been instances of terrorist groups using some such unregistered madrasas in recent times. The government should first streamline the establishment of madrasas," Zaman said.
Mokhlisur Rahman, president of the All Assam Madrasa TET-qualified Teachers' Association, said that the rights of the minorities, including the Muslims, have been guaranteed and protected by Article 29 and 30 of the Constitution. "The education minister is either not aware of this, or is trying to create an unwarranted situation. Moreover, while madrasas remain closed on Fridays, they also remain closed for Saraswati puja, Durga puja, Holi, Diwali, Christmas, Guru Naka Jayanti and other such festivals," Rahman added. Congress MLA Abdul Khalek condemned the minister's remark, saying: "Sarma has hurt the religious sentiments of the Muslims of Assam by referring to Pakistan and Bangladesh…He should find out what Murli Manohar Joshi (HRD minister in the Vajpayee government) had done for modernisation of madrasa education in the country."
http://indianexpress.com/article/india/india-news-india/hd-muslim-outfits-slam-himanta-biswa-sarma-for-madrasa-remark-4402489/
--------
Indian Counter-Terror Agency Arrests 3 Al-Qaeda Suspects
Akash Vashishtha
New Delhi
2016-11-28
India's National Investigation Agency (NIA) on Monday arrested three suspected al-Qaeda operatives who were allegedly plotting to assassinate Prime Minister Narendra Modi and 21 other top Indian officials, police said.
The three men – identified as N. Abbas Ali, T. Ayub Khan and Abdul Kareem – were picked up during raids at several locations in Madurai, a city in the south Indian state of Tamil Nadu, on Sunday night and placed under arrest after questioning on Monday, police sources there told BenarNews.
The NIA, the country's top counter-terror unit, also took in a fourth suspect, Mohammad Ayub Ali, for questioning but he had yet to be formally arrested, sources said late Monday, adding that the agency was hunting for two more suspects, who had been identified as Hakeem and Dawood Sulaiman.
Monday's arrests were the first involving suspected al-Qaeda members in India since December 2015, when local authorities took three suspected members of the group's regional wing, al-Qaeda in the Indian Subcontinent (AQIS), into custody. Those arrests were the first since al-Qaeda leader Ayman al-Zawahari announced the affiliate's formation in 2014. But police had yet to say whether the men arrested on Monday belonged to AQIS.
"The entire operation was carried out by the NIA. Our role was limited to providing assistance and logistics," Sailesh Yadav, Madurai's Commissioner of Police, told BenarNews.
"The suspects are currently being interrogated by the NIA," he said.
None of the NIA officials contacted by BenarNews agreed to comment on the arrests, but police sources said that a "cache of arms and bomb-making material were recovered" from the suspects.
"A pen drive, which contained a list of names of 22 top Indian leaders, including Modi, was also recovered. It seems there was a ploy to assassinate these political figures," a police official, who assisted in the raids, told BenarNews on condition of anonymity.
Involved in explosions
Police said the trio was involved in several explosions that took place in court premises in the country but declined to elaborate.
"They had also made threatening calls to several embassies operating in India," the official said.
Commissioner Yadav, however, confirmed that the three suspects had no police record in Madurai.
Full report at:
http://www.benarnews.org/english/news/bengali/india-qaeda-11282016153818.html
--------
Muslim rule in India cannot be considered as 'foreign rule': Shashi Tharoor
Nov 30, 201
JAIPUR: Congress MP and author Shashi Tharoor refused to consider the 1,200 years of Muslims' rule as 'foreign rule' during the launch of his book 'An Era of Darkness' in the city on Tuesday. He was responding to questions on the social media as to why he didn't elaborate much on the darkness during the Muslim rule.
"Muslim rulers married and assimilated here. Even if they looted India, they became part of this nation. On the contrary, the British came here to exploit our resources. They shipped and spent our money abroad. They destroyed the future of this country. That is the difference between the British and Muslim rulers," said Tharoor.
The MP was in conversation with Rajasthan Pradesh Congress Committee (PCC) chief Sachin Pilot. Both had a long discussion on the changing colour and tone of nationalism. Sachin Pilot stated that people should look up to country's constitution which defines what our nation stands for.
Full report at:
http://timesofindia.indiatimes.com/city/jaipur/Muslim-rule-in-India-cannot-be-considered-as-foreign-rule-Tharoor/articleshow/55697510.cms
--------
Seven Indian soldiers killed in attack on army base
Nov 30, 2016
Seven Indian soldiers, including two officers, were killed when armed men attacked an army base in Indian-occupied Kashmir.
It was the most audacious attack on an Indian military base since the Uri attack in September, when 19 soldiers were killed in an assault that India blamed on Pakistan-based militants.
Police said the four gunmen who raided the base in Nagrota before dawn on Tuesday were killed in a standoff with security forces that lasted most of the day.
India's NDTV reported the attackers, dressed in police uniforms, fired indiscriminately at the officers' mess before taking up positions inside the building.
Helicopters and drones hovered over the building, according to the Hindustan Times.
The "hostage-like situation", said an Indian army statement, was "very quickly contained" and 14 people, including two women and two children, were rescued.
"Bodies of three terrorists have been recovered and operations are in progress to sanistise the complete area," the statement added.
The base, about 25km from the Pakistan border, is one of four command centres in the restive Himalayan region and home to more than 1,000 officers and their families. Three security officials were also wounded during the assault.
India said that after the Uri attack in September it launched "surgical strikes" on insurgent bases across the heavily militarised de-facto border known as the Line of Control (LoC) in disputed Kashmir, a claim Islamabad vehemently denied.
Tuesday's attack came as Pakistan's hugely popular military chief General Raheel Sharif handed over the reins to his successor Qamar Javed Bajwa with a warning to India not to mistake his country's "restraint" for weakness.
It also comes days before a scheduled visit to India by Sartaj Aziz, Pakistan's foreign affairs adviser, for a weekend conference on Afghanistan.
"It [the attack] clearly suggests there is an attempt by certain groups to sabotage the apparent peace outreach by Pakistan's government," Mohan Guruswamy, head of the Centre for Policy Alternatives think-tank in New Delhi, said.
Full report at:
http://www.aljazeera.com/news/2016/11/indian-soldiers-killed-attack-army-base-161129141949921.html
--------
ATS sees 'links' between Jameel Ahmad and IS
Ashish Mehta
Nov 29, 2016
JAIPUR: Forty-one-year-old Jameel Ahmad, who was arrested by the ATS for his alleged links with IS, was in touch with some Pakistani nationals and was preparing himself for some mission. ATS officials investigating the case on Tuesday said that excerpts of various details of his laptop and other gadgets have given them incriminating evidences against the accused to prove his association with IS.
The ATS on November 16 had arrested suspected Islamic State operative Jameel from Sikar district. Jameel was head of finance of a firm in Dubai and he was allegedly transferring funds to those fighting in Iraq and Syria.
Sleuths of ATS managed to grab the details of some Pakistani passports from the laptop of the accused and profiles of several youths who were in touch with the accused.
After 12-days of interrogation, Jameel was sent to the judicial custody by a local court on Tuesday while sleuths of ATS are keen to take him in police remand for more days in coming days. For Unlawful Activities (Prevention) Act, cops can take a police remand of 30 days for the interrogation of accused.
According to the ATS sources, Jameel's computer and its excerpts gave an impression and clues that he was aiming for some bigger mission and was constantly in touch with the IS recruiter, including Abu Khalid Al Kambodi.
"We managed to retrieve the 20 percent of the datas so far which too is shocking and enough to get him prosecuted. We got profile and database of youths of several countries including India and Pakistan who were IS sympathizers and were in touch with Jameel. Likewise, we have got the details of three Pakistani passports who were probably in touch with him," said Vikas Kumar, Superintendent of Police, ATS told TOI.
Full report at:
http://timesofindia.indiatimes.com/city/jaipur/ATS-sees-links-between-Jameel-Ahmad-and-IS/articleshow/55693350.cms?
--------
Base movement of terror: 2 more arrested for court blasts
by Deeptiman Tiwary
November 30, 2016
THE NATIONAL Investigation Agency (NIA) Tuesday arrested two more alleged members of an outfit called 'Base Movement', which is suspected to be behind a series of blasts in court complexes across South India.
On Monday, the agency had arrested three suspected Base Movement members.
According to an officer privy to details of the interrogation, the accused have revealed that they were incensed at the treatment meted out to the minority community, and the attitude of the government and agencies towards the minorities. "They seem to be particularly incensed by the treatment meted out to Muslims in jails. We do not know where and how they have picked up that impression," the officer said.
"Two members of the group, it appears, were radicalised online. But as of now there is no indication that they have a handler, or have links with any other organisation," the NIA officer said.
The two arrested on Tuesday were identified as Shamsudeen (25) and Mohammed Ayub Ali (25) — both from Madurai, Tamil Nadu. Ayub had been picked up Monday and was being questioned. He was put under arrest today.
Abbas Ali (27), Suleiman Abdullah (23) and Samsun Karim Raja were arrested on Monday.
According to an NIA officer, Abbas Ali had formed the group early last year. "Abbas Ali and another member had been radicalised online. Abbas knew the others and got them together…. He gave the group its name as well," the officer said.
Their first activity, according to the officer, was sending threat letters to officers of various jails, including Director General of prisons, Tamil Nadu.
Shamsudeen, allegedly the only Base Movement member with a prior criminal record, first learnt to make bombs from members a local gang in Madurai. "He was followed by Abbas Ali – those two only can assemble bombs in the group. They said they made the first bomb in early 2015," said another officer privy to probe details.
Full report at:
http://indianexpress.com/article/india/india-news-india/south-india-court-blasts-arrest-muslim-prisoner-treatment-nia-4402482/
--------
Govt contradicts itself, says only four terrorists behind Pathankot attack
November 30, 2016
Contradicting Home Minister Rajnath Singh's earlier statement in Parliament that six terrorists had attacked the Pathankot air base in January, the government told the Lok Sabha on Tuesday that there were only four terrorists. "Four Pakistan-based terrorists entered Punjab via Janial road, Dhusi turn, near Ravi river bridge, Gulpur Simli village – Akalgarh and attacked the Air Force station in Pathankot," said Minister of State (Home) Hansraj Gangaram Ahir in a written reply to a question from Congress MP Ravneet Singh.
In contrast, Rajnath Singh has repeatedly claimed, both inside and outside Parliament, that six terrorists were involved in the Pathankot attack. In his last statement in Parliament, he even quoted a forensic report to support his claim. As reported by The Indian Express, NIA investigators found only four bodies, along with four AK 47 rifles and three pistols, with no evidence of more terrorists being present at the air base.
But the National Security Guard (NSG), which kept firing at an airmen's billet for two days on the suspicion of two terrorists being holed up there, had claimed there were six terrorists. This claim was first made public by Defence Minister Manohar Parrikar and Home Minister Rajnath Singh in their statements to the media. The NSG later claimed that it had come under fire from inside the billet, and even heard conversations through special equipment.
However, the NIA could not find any remains of weapons, explosives or human body from inside the completely destroyed billet. Even the Intelligence Bureau (IB), through various call intercepts, had come to the conclusion that there were four terrorists.
On March 2, The Indian Express reported that forensic investigations had failed to find human bone or tooth fragments in a charred mass claimed to be the remains of a terrorist killed by the NSG in the airmen's billet. That would be essential for a DNA test to settle the debate over the number of terrorists involved in the Pathankot attack.
On March 16, however, Rajnath Singh told the Lok Sabha that it had been established that there were six terrorists. "Some charred remains were found there (billet). A forensic report about them has been received. The report makes it clear that those inside the building were two terrorists," Singh had said. Quoting the report, he said, "This burnt mass material belongs to human male. It could not be possible to establish the identity of burnt male remains as under reference."
Full report at:
http://indianexpress.com/article/india/india-news-india/govt-contradicts-itself-says-only-4-terrorists-behind-pathankot-attack/
--------
Pakistan
New Bill against Forced Conversions Un-Islamic: Jamaat-i-Islami Ameer
29 November, 2016
ISLAMABAD (Dunya News) – While addressing a news conference, Jamaat-i-Islami Ameer Siraj-ul-Haq was of the opinion that the new bill adopted by the Sindh Assembly against forced conversions is un-Islamic.
Siraj-ul-Haq let it be known that the Sindh government should take back the bill immediately as he also cleared to meet Zardari in personal capacity over the matter.
He expressed that the ban on conversion to Islam before 18 years is not only un-Islamic but also against United Nations' Charter.
Jamaat-i-Islami Ameer cleared out that Asif Zardari and Bilawal Bhutto should immediately take notice prior to the fact that the bill creates dispersion in our society.
He also warned that the new bill is an effort to create disturbance among Muslims and minorities.
While responding to a question, Ameer Jamaat-i-Islami was of the opinion that the 24th constitutional amendment is an effort to influence Supreme Court's decision.
Siraj-ul-Haq also expressed that matter of Panama Leaks is in courts and the government is trying to to influence the court's jurisdictions.
http://dunyanews.tv/en/Pakistan/363209-New-bill-against-forced-conversions-unIslamic-Si
--------
MQM Pakistan dissociates from cases against Altaf in London
November 29, 2016
KARACHI: The Muttahida Quami Movement (MQM), Pakistan on Tuesday dissociate itself from pursuing cases against founder Altaf Hussain in London and barred its legal team from further representing the cases.
The MQM Pakistan after detailed consultation decided to disassociate itself from cases against the MQM founder in London.
Sources revealed that the MQM founder still faces several cases in London, including the murder of Dr Imran Farooq who was killed in London in 2010.
In this regard several lawyers pursuing the cases were in constant contact with the Dr Farooq Sattar-led MQM in Karachi.
Full report at:
http://nation.com.pk/national/29-Nov-2016/mqm-pakistan-dissociates-from-cases-against-altaf-in-london
--------
Five suspected militants killed in Balochistan's Sibi
Nov 30, 2016
Security forces on Tuesday claimed to have killed five suspected militants in Balochistan's Sibi district.
"Security forces also demolished three sanctuaries which were being used by the militants," said the spokesperson for the Frontier Corps (FC).
Personnel from the FC and a security agency conducted a joint operation in the Tali area of Sibi and five militants were killed in the exchange of fire, added the spokesperson.
Security forces also claimed to have recovered land mines and other weapons from the militant hideouts.
The spokesman stated that the militants were involved in a series of attacks on vital national installations, security forces and passenger trains.
Full report at:
http://www.dawn.com/news/1299411/five-suspected-militants-killed-in-balochistans-sibi
--------
Russia denies reports of CPEC cooperation with Pakistan
November 29, 2016
MOSCOW: Russia's foreign ministry Tuesday denied Pakistani media reports about 'secret negotiations' between the two countries regarding cooperation on the China-Pakistan Economic Corridor (CPEC).
Reports circulating last week claimed that the Russian spy chief had made a visit to Pakistan in order to inspect the Gwadar port.
The reports alleged that Pakistan had formally authorised Russia to join the $46bn CPEC after the head of Russian intelligence requested to join the project.
"The Pakistani media reports about secret negotiations between Russia and Pakistan on the implementation of projects as part of the China-Pakistan Economic Corridor (CPEC) are not true to the facts," said the Russian foreign ministry in a statement
Russia denied holding discussions with Pakistan on the possibility of joining the project.
"Moscow is not discussing the possibility of joining this project [CPEC] with Islamabad," the Russian foreign ministry said.
Full report at:
http://nation.com.pk/national/29-Nov-2016/russia-denies-reports-of-cpec-cooperation-with-pakistan
--------
US-based Muslim scientist honoured at SSUET
November 30, 2016
KARACHI - US-based Muslim scientist and senior Aligarhian Shaheer Khan, currently on a short visit to Pakistan, was chief guest at a luncheon hosted by the vice-chancellor of the Sir Syed University of Engineering and Technology (SSUET), an official of the institution said here on Tuesday.
He said that Shaheer Khan was a senior staff scientist at the Applied Biosystems (Thermo Fisher Scientific), San Francisco Bay Area Bitechnology.
During an interaction with the luncheon participants, Shaheer Khan praised the Aligarh Muslim University Old Boys Association (AMUOBA) for its efforts for establishment of an engineering university named after the great reformer and educationist Sir Syed Ahmed Khan. He praised SSUET founders, including late Zakir Ali Khan and Z.A. Nizami, who helped AMUOBA achieve its objectives in the field of education, particularly in the discipline of engineering.
Shaheer Khan spoke about AMUOBA-like associations elsewhere in the world and said he wanted to establish an association on the pattern of the association at the Aligarh University. He called upon the SSUET graduates to contact him for this purpose. He said that preparations were under way to celebrate the 200th birth anniversary of Sir Syed Ahmed Khan on October 17, 2017. As regards his association in the US, he said its functions were attended by people belonging to all religions because any political or other discussions were not allowed at this forum. Speaking on the occasion, Vice-Chancellor Prof Dr Jawaid H Rizvi welcomed Khan to SSUET and said he was a proud Aligarhian, rendering most important services in the field of science and technology in the US. He said that during his meeting with Khan he discussed with him important matter like visiting fellowship, research collaboration, student guidance and postgraduate programme for faculty.
Full report at:
http://nation.com.pk/karachi/30-Nov-2016/us-based-muslim-scientist-honoured-at-ssuet
--------
Terror-corruption alliance affecting economy: NAB chief
November 30, 2016
Islamabad - Chairman National Accountability Bureau (NAB) Qamar Zaman Chaudhry yesterday said that unholy alliance of corruption and terrorism is affecting the country's economy.
He made these remarks while addressing an anti-corruption seminar titled 'Role of Youth in Eradication of Corruption' organised by the Islamic International University (IIUI).
"NAB is closely working with the Ministry of Education for incorporating anti-corruption theme in curriculum from class I to X," the chairman NAB disclosed.
He said that eradication of corruption is essential for strengthening the country's economy, while it is also a worldwide phenomenon like terrorism. "Pakistan's economy is being affected because of corruption and terrorism," he said. The chairman stated that corruption is root cause of every evil and it has become one of the greatest challenges of the modern era.
He said that youth made 60 per cent of the country's population, urging them to play role for elimination of corruption from the society.
He said corruption was far more prevalent in developing countries as compared to the developed ones and it was badly affecting society, governance and youth.
He viewed: "Economy and social development of Pakistan have suffered immensely from the detrimental effects of corruption and terrorism".
The chairman appreciated the role of army in fight against terrorism and said that NAB and other anti-corruption agencies were working to curb the menace of corruption through various designed strategies.
Full report at:
http://nation.com.pk/islamabad/30-Nov-2016/terror-corruption-alliance-affecting-economy-nab-chief
--------
Europe
German intelligence agent exposed as 'suspect Islamist'
30 November 2016
A German working in intelligence has been exposed as "a suspect Islamist", Germany's domestic security agency said on Tuesday, following reports he was planning an attack on the agency's headquarters.
"The Office for the Protection of the Constitution (BfV) has managed to expose a suspected Islamist among its associates," the agency said in a statement, confirming information published earlier by the Der Spiegel weekly and the daily Die Welt.
The 51-year-old German, who was arrested for sharing "sensitive information" online, is believed to have been planning a bombing at the BfV headquarters in the western city of Cologne, according to the German press. There was no immediate suggestion he had any ties to ISIS.
Contacted by AFP, a BfV spokeswoman said the unnamed 51-year-old had "made Islamist remarks online under a false name, and had offered internal information during online chats". She confirmed that an arrest warrant was issued and the suspect had been detained.
She did not though confirm the reports that he was plotting an attack, saying there was no "evidence of a real danger to the office or its workers". Prosecutors are readying a case of "preparing a serious act threatening state security".
Both Der Spiegel and Die Welt said he had converted to Islam in 2014. Married with children, he was employed at a bank and had, since April, also been doing some work for the agency gathering intelligence on the Islamist scene in Germany.
The publications said the suspect had partially admitted to the allegations by making references to bomb attacks carried out "in the name of Allah".
He used several different names online and allegedly divulged information about the agency in chat rooms, the reports said. His activities were uncovered about a month ago.
Germany has so far been spared the kind of large-scale deadly jihadist atrocities which have been carried out in Paris and Brussels, though individuals have carried out attacks and others have been prevented.
https://english.alarabiya.net/en/News/world/2016/11/30/German-intelligence-agent-exposed-as-suspect-Islamist-.html
--------
Don′t marginalise your Muslims
Peter Schäfer
25.11.2016
Saida Ounissi: I was 5 years old when we moved to France and I can say that I spent the most IMPORTANT part of my life there. I grew up in France and I share a huge part of the French culture. I had a thoroughly French education, attending a Catholic school and studying at a French university. I was active at a community level and wrote for Le Monde. I was considered a positive example of integration, but I was probably too religious for French standards – wearing a hijab was definitely not accepted in the academic and intellectual environment I was in. I would say that , on the one hand, I could not be more "French" and on the other, that there′s no place for me there in public life.
I felt the restrictions early on. I well remember my first public shaming when I was kicked off a university course. The professor told me that wearing a hijab was not compatible with university values. He blamed me for the killing of French in Algeria during the occupation and during the 1990s. I filed a complaint against him. Nothing came of it, but I hope that going on the record about it will help historians to better evaluate our time in 50 years from now. Generally, if you are from a Muslim background in France and you want to be politically active, you won′t get very far. Leadership positions for Muslims within the French system are still the exception, despite a quite qualified and proactive community. Owing to this lack of opportunities for Muslims in France, many diaspora Tunisians returned to Tunisia following 2011.
…and there is, of course, ample opportunity in Tunisia now, since the introduction of a democratic system post-2011.
Ounissi: Yes, but not only that. Many European societies are shifting to the right. We′re seeing the rise of political movements like the Front National in France and the Alternative for Germany. The political narrative of the US elections confirmed this tendency. In Tunisia, the opposite is happening, which is actually very exciting. Here, it is less and less common and accepted to denounce women′s rights or societal minorities. If such things occur, there is a backlash across the board – in parliament, within civil society, in the media. In Europe, things are going in the other direction. Examine the issue more closely and from the worrying rise in hate crimes and hate speech, you can see there has already been a major shift.
Why have things developed like this? The immigration of Muslims from different countries to Europe is not exactly a new phenomenon?
Ounissi: In France, assimilation was a very violent process in the 1960s and 70s. Parents from a migrant background didn′t tell their kids about their origins, because they desperately wanted them to become French, thereby avoiding the discrimination they had experienced themselves. But this doesn′t work if the society you live in singles you out, because your name is Muhammad or you "don′t look French". I was very involved both with my local mosque and the Muslim community organisation: there were children of parents of North-African or Sub-Saharan origin who told us about the identity issue provoked by the difficult balancing act of feeling French at home, but being perceived as non-French in public.
So, if historians will study our time in 50 years, as you mentioned before: are you assuming that the situation will have changed positively by then?
Ounissi: I don′t think it can get any worse than it is now. There is the stigmatisation of Muslims, the political and media attacks and the increase in individual acts of violence. It′s not only a perception, it′s fact reported by serious organisations like Human Rights WATCH, CIMADE, or Amnesty International. The worrying rise of Islamophobia in Europe is quantitative fact and a sad reality.
Nonetheless, I think that the settlement of Muslim communities in Europe can′t be reversed. People are active in their societies, enjoy their education, master needed skills and are part of the economic and other spheres. You can′t expel all these people. And they are very politicised and do participate in political life. Especially at a local level.
Interesting for me is the evolution of discourse in mosques in France. Imams are advocating for voting in elections. They ask people not to react to xenophobic attacks. They have encouraged people to participate in national mourning after the extremists′ attacks in Paris or Nice. They make the Muslim community feel part of the national community. The mosques today are very active in contemporary political life.
Full report at:
https://en.qantara.de/content/interview-with-tunisian-secretary-of-state-saida-ounissi-dont-marginalise-your-muslims?nopaging=1&qt-nodes_popularity=2
--------
Austrian trade union suggests Muslims should be denied Christmas bonuses
Nov 30 2016
A right-wing trade union has caused controversy in Austria by suggesting Muslim workers should not be entitled to Christmas bonuses on account of their religion.
The 'Free Workers of Upper Austria' group conducted a poll on its Facebook page with the title, "Soon new Christmas bonuses will come into force. Muslims will also be eligible, who deny Christian festivals and traditions. What do you think of this?"
The poll asked the page's 14,000 followers whether they thought everyone was entitled to a bonus regardless of their religion, or whether Muslim workers should be denied the extra money "if they are against all Christian traditions".
Last week, the Austrian government voted to give an additional €100 to each of the country's 1.8million pensioners at Christmas, to boost the pre-arranged festive bonus given to workers by their former employers. It is estimated the scheme will cost the country up to €179 million.
The union, which is closely linked to Austria's far-right FPÖ party, appeared to suggest Muslim residents should not be eligible for the planned payment, but quickly deleted the poll after it was criticised.
Out of 600 respondents, a majority of votes in the poll had argued for Muslims to be denied the payment at the time of its deletion, according to the Local.
Gerhard Knoll, national CHAIR of the Free Workers union, said the poll was not intended to be discriminatory and the group merely wanted to discuss the new payments.
"We wanted to open a discussion, pointing out a double standard: many Muslims have a problem with the word Christmas and there was a discussion about whether to rename winter markets because it annoyed them," Mr Knoll told der Standard.
Full report at:
http://www.independent.co.uk/news/world/europe/austria-trade-union-muslims-christmas-bonuses-festivals-traditions-a7445071.html
--------
South Asia
Bangladesh: Ruling Party Official Defends Remarks on Islam as State Religion
Kamran Reza Chowdhury
Dhaka
2016-11-29
A senior official with Bangladesh's ruling party has defended his public comments that Islam should lose its constitutional standing as the state religion and the country should restore its original approach to government including secularism.
Abdur Razzak, a member of the Awami League (AL) Presidium Council, its top policy-making body, told a public forum earlier this month that the religion practiced by a majority of Bangladeshis would eventually lose its official status in the constitution, and that Islam was being kept as the state religion for strategic reasons.
"I have said it abroad and now I am saying it again that Islam will be dropped from Bangladesh's Constitution when the time comes," Razzak said during a roundtable at the National Press Club in Dhaka.
"The force of secularism is in the people of Bangladesh. There is nothing called 'minority' in our country," BDNews24 quoted him as saying.
His remarks have drawn criticism from members of his own party. Those words came as the multi-religious South Asian nation of 169 million people has been contending with growing conservative Islamic sentiment, and a spate of recent murders targeting members of religious minorities as well as writers and intellectuals associated with a grassroots movement that has called for Bangladesh to preserve its tradition of secular rule.
"I have told what I believe. I have clearly [said] that the original 1972 constitution adopted secularism as one of the four fundamental principles of the state. But the autocrats and the military rulers who usurped power cut it from the charter, branding secularism as anti-religion," Razzak told BenarNews during an interview in which he stood by his controversial comments.
Detractors from the party were quick to point out that Razzak's comments were his own and did not represent the Awami League. AL General Secretary Obaidul Quader told a press conference on Nov. 13 – a day after Razzak's remarks at the press club – that the party had no plans to drop Islam as the state religion.
Constitutional history
After Bangladesh was born in 1971, following its war of independence from Pakistan, secularism was included as one of the four core values in the country's first constitution.
"Father of the Nation Bangabandhu Sheikh Mujibur Rahman adopted secularism, promising all faiths that Bangladesh as a state must not be party to any religion. This is the spirit according to which Bangladesh seceded from the Islamic Republic of Pakistan," Razzak said, referring to the father of Prime Minister Sheikh Hasina.
Following the 1975 assassination of Rahman and members of his family, military leader Maj. Gen. Ziaur Rahman seized power. He removed secularism from the constitution and replaced it with the phrase "trust in Allah by all means."
The next military ruler, H.M. Ershad, who took power in a coup in 1982, six years later enshrined Islam as the state religion through the eighth amendment to the constitution.
In 2011, the Awami League recaptured four core values as outlined in the original constitution – nationalism, socialism, democracy and secularism – through the 15th amendment, but allowed Islam to remain as the state religion. The constitution allows other religions to be practiced in peace and harmony.
In March 2016, a three-member panel of the High Court scrapped a petition to remove the 1988 amendment that had made Islam the state religion, but without offering an explanation. Leaders of the conservative Hefazat-e-Islam group had attended the proceeding after threatening to cripple the country with protests if the court stripped Islam of its standing as the state religion.
'Political reality'
Khalid Mahmud Chowdhury, an AL organizing secretary, told BenarNews that Razzak should not have made a sensitive comment without the party's approval.
"Where did he get it? If he was a mature politician, he would not talk like this. Making Islam as the state religion does not ideally fit with the Awami League's party policy of secularism, but we have to do it for political reality," he said.
Explaining what he meant by "political reality," he said the opposition Bangladesh Nationalist Party (BNP) along with Jamaat-e-Islami and other conservative Islamic parties would brand AL as anti-Islam and pro-atheist party if it changed Islam's official status.
AL platform stresses secularism
Razzak is the second top-ranking AL member to face criticism from his party for talking against Islam.
In September 2014, former Telecom Minister Abdul Latif Siddiqui went to jail for criticizing Islam and the Hajj pilgrimage to Mecca. He resigned from the party and gave up his seat in parliament after the AL suspended him for his comments.
The suspension occurred even though the AL's charter stipulated secularism, Professor Ataur Rahman, a former president of the Political Science Alumni Association of Bangladesh, told BenarNews.
"But the Awami League is not working to uphold secularism at all. They are trying to brand themselves as more Islamic than the Jamaat-e-Islami and the BNP," the Dhaka University political science teacher said.
"And what I can assert is that the Awami League will be using Islam to get maximum political mileage out of Islam. This policy is nothing but a political expediency. They are well aware that the people may take to the street in case they talk against Islam," Rahman added.
http://www.benarnews.org/english/news/bengali/state-religion-11292016152733.html
--------
Afghan govt reacts on Taliban's commitment to protect public welfare projects
Nov 30 2016
The Afghan government reacted towards Taliban's statement where the group vowed to protect the public welfare projects, questioning the group's stance and challenging them to practically prove they will not harm the public sites and projects.
Deputy presidential spokesman Shah Hussain Murtazvi said at least 302 schools, 41 health centers, 50 mosques, 5,305 residential houses, 1,818 shops, 1 government compound, 6 bridges, 170 culverts, 123 kilometers of road, 203 retention walls, and 84 service centers were either destroyed or received serious damages in the past 2 months.
Murtazvi further added that the group has incurred a loss of almost AFN2 billion during this period to the government and Afghan people.
The group in its statement said Tuesday that they will protect public welfare projects including TAPI, CASA 1000, Ainal Copper Mine, Railway, and other transit routes and electrical projects.
The group also instructed its fighter to protect the public welfare projects and assist in providing security to the projects which provide benefits to the country.
This comes as the group has been accused of incurring the majority of civilian casualties besides they are blamed for the majority of the destruction of the public private properties of the Afghan people.
United Nations Assistance Mission in Afghanistan released the latest civilian casualties report late last month which stated at least 3726 civilians were killed or wounded between January and June of this year.
Full report at:
http://www.khaama.com/afghan-govt-reacts-on-talibans-commitment-to-protect-public-welfare-projects-02394
--------
Afghans may get Black Hawks to replace Russian aircraft
November 30, 2016
Josh Smith - The US military wants to replace Afghanistan's well-worn fleet of Russian helicopters with American-made aircraft, according to a new budget proposal, a decision aimed at reducing the Afghan air force's decades-long reliance on Russian equipment.
The Afghan air force, trained and assisted by NATO advisers, has slowly gained strength, but remains too small to meet the needs of security forces struggling to combat a stubborn Taliban insurgency.
Now the US Defence Department is requesting funding to refurbish and update 53 older-model US military UH-60 Black Hawk helicopters for the Afghans, enough to replace the current fleet of Russian-designed Mi-17 helicopters.
Donald Trump's victory in the US presidential election, and the prospect of warmer US-Russian ties, could yet impact the proposed move, but were it to go through, it would cost hundreds of millions of dollars and require retraining potentially hundreds of Afghan pilots to fly the new craft.
Roughly 50 Mi-17 transport helicopters form the backbone of the air force, flying missions including troop and supply transport, medical evacuation and close air support.
Heavy fighting, hard conditions and maintenance problems have taken their toll on the fleet, however, and the US military has faced legal barriers to providing new Mi-17s and parts amid deteriorating relations with Russia.
"The Department of Defence has determined that procuring US-made helicopters is a more sustainable long-term solution to meet the requirements," spokesman Adam Stump said.
Among the reasons were "legal restrictions on spending DoD funds to maintain or buy more Russian helicopters."
NEW FUNDING REQUESTED
The $814 million request, made in a budget amendment submitted this month, would also provide money for other new attack aircraft for the Afghans.
It would help push the total funding for Afghan security forces to $4.2 billion for 2017, surpassing the $1.2 billion requested for arming and supporting local forces in Iraq and Syria.
Under the proposal, UH-60A helicopters earmarked for the Afghans would be taken from the US Army's inventory and upgraded to a UH-60A+ variant, which Stump said was "suitable for the challenging Afghanistan environment."
Military planners hope to begin fielding the Black Hawks in Afghanistan, already a common sight during America's 15-year war there, within two years of Congress approving funding, he added. The budget also requests funding for 30 additional armed MD-530 attack helicopters, six A-29 fixed wing close attack aircraft and five AC-208 aircraft for the Afghan air force.
Altogether, the military may order as many as 159 Black Hawks for the Afghans, said US Senator Richard Blumenthal, who represents Connecticut, home of the helicopter's manufacturer Sikorsky, and other lawmakers in a statement.
Of roughly 3,000 Black Hawks in use in the world, the US Army operates at least 2,300, according to Sikorsky Aircraft Corporation, which was acquired by military aviation giant Lockheed Martin last year. Afghan officials in Kabul said they had yet to be officially informed of any decision, but would welcome Black Hawks.
"They have been tested in Afghanistan and can support our forces on the ground," said Mohammad Radmanish, a spokesman for the Afghan Defence Ministry.
Russia's state-owned Rostec, parent company of the main Russian military helicopter manufacturer, and Rosoboronexport, the Russian state arms export agency, declined to comment, as did the Federal Service for Military-Technical Cooperation, which is the state regulator for arms exports.
RETRAINING
Since 2010, the United States has provided at least $3.7 billion to develop and support the Afghan air force, which has struggled to field enough trained crews to operate its aircraft.
Stump said there were now enough personnel. But switching to more complex Black Hawks would require retraining potentially hundreds of pilots, crew chiefs, and maintenance workers.
Full report at:
http://nation.com.pk/international/30-Nov-2016/afghans-may-get-black-hawks-to-replace-russian-aircraft
--------
Bangladesh Hindu attacks' suspect arrested
29 November 2016
Bangladesh police have arrested a man they say is a prime suspect in attacks targeting minority Hindus last month.
The suspect owns a cyber cafe in Brahmanbaria, the eastern area where most of the attacks occurred.
The National Human Rights Commission said the violence was an organised bid to drive Hindu people from their homes and grab their land.
The violence was sparked after a Hindu fisherman allegedly mocked a holy site in Mecca on Facebook.
Police now say the image was not uploaded from his mobile phone. They instead suspect it was uploaded from the cyber cafe in question, local media report.
While the attacks started in Brahmanbaria district, incidents have been reported from all around Muslim-majority Bangladesh.
Dozens of people were arrested earlier this month in connection with the worst attacks, which targeted numerous temples and more than 100 homes on 30 October.
More than 100 people were injured, reports said, and an arson attack destroyed the house of a local leader of the governing Awami League, who is a Hindu.
Correspondents say attacks on Hindus and other religious minorities in Bangladesh are not uncommon, but the scale of the recent violence is unusual.
More homes were attacked on 4 November in the same district.
Full report at:
http://www.bbc.com/news/world-asia-38141927
--------
Faridpur man detained for human trafficking in Libya
November 29, 2016
Rapid Action Battalion on Sunday detained a human trafficker from his house in Faridpur for his alleged involvement in abducting fellow countrymen in Libya and realising ransoms from their families.
Besides, Bangladesh embassy in Tripoli today published a photograph of the human trafficker identified as Billal Hossain of Faridpur.
The Libyan police arrested at least 10 Bangladeshi human traffickers, including Sujan, in November, according to the embassy.
Last month, the Libyan police rescued at least 65 Bangladeshis from the traffickers' den at Tajoura suburb of the war-torn nation's capital and detained 37 other Bangladeshis for trying to cross Mediterranean Sea.
The Bangladesh government in June last year officially banned sending its nationals to Libya on security grounds.
Libya has also suspended recruitment of workers against the backdrop of its troublesome situation.
But the traffickers, who are now working for some recruiting and travel agents based in Bangladesh, remain very active and cheat jobseekers for the last two years, ASM Ashraful Islam, labour counsellor, told The Daily Star.
"The traffickers use Egypt and Tunisia as transit points to send jobseekers to Libya. There are some active groups both in Bangladesh and Libya," he added.
Full report at:
http://www.thedailystar.net/country/faridpur-man-detained-human-trafficking-lybia-1322485
--------
Rohingya Abuse: It may be crimes against humanity
November 30, 2016
Myanmar's Rohingya may be victims of crimes against humanity, the UN's rights agency said yesterday, as former UN chief Kofi Annan arrived in the country for a visit that will include a trip to northern Rakhine.
The army has carried out a bloody crackdown in Rakhine, and thousands of the Muslim minority have flooded over the border into Bangladesh this month, making horrifying claims of gang rape, torture and murder at the hands of security forces.
Some 30,000 have fled their homes and analysis of satellite images by Human Rights Watch found hundreds of buildings in Rohingya villages have been razed.
Myanmar has denied allegations of abuse, saying the army is hunting "terrorists" behind raids on police posts last month.
The government has lashed out at media reports of rapes and killings, and lodged a protest over a UN official in Bangladesh who said the state was carrying out "ethnic cleansing" of Rohingya.
Foreign journalists and independent investigators have been banned from accessing the area to probe the claims.
Yesterday, the UN OHCHR said Myanmar's treatment of the Rohingya could be tantamount to crimes against humanity, reiterating the findings of a June report.
More than 120,000 Rohingya have been crammed into displacement camps since sectarian violence in 2012, where they are denied citizenship, healthcare and education and their movements are heavily curbed.
"The government has largely failed to act on the recommendations made in a report by the UN Human Rights Office... [that] raised the possibility that the pattern of violations against the Rohingya may amount to crimes against humanity," the Office of the High Commissioner for Human Rights (OHCHR) said in a statement.
Amid the mounting crisis, former UN chief Annan yesterday began a week-long visit to Myanmar.
Full report at:
http://www.thedailystar.net/backpage/rohingya-abuse-it-may-be-crimes-against-humanity-1322737
--------
Afghan forces foiled suicide attack in Sharana city
Nov 30 2016
The Afghan security forces foiled a suicide attack in Sharana city, the provincial capital of southeastern Paktika province.
According to the local security officials, a would-be suicide bomber was arrested before he manage to detonate his suicide attack vest.
Provincial police chief Khalilullah Ziayi said the would-be suicide bomber was identified and was arrested earlier today.
Ziayi further added that the would-be bomber is believed to be around 18-year-old and is originally a resident of the same province.
The anti-government armed militant groups have not commented regarding the report so far.
The officials did not elaborate further and the potential target of the suicide bomber has not been ascertained.
Ziayi said the would-be bomber is in custody of the security forces and an investigation is underway.
Full report at:
http://www.khaama.com/afghan-forces-foiled-suicide-attack-in-sharana-city-02397
--------
ISIS militants suffer heavy casualties in Afghan forces operations
Nov 30 2016
The loyalists of the Islamic State of Iraq and Syria (ISIS) terrorist group suffered heavy casualties during the ongoing operations in eastern Nangarhar province of Afghanistan.
The provincial police commandment said the militants suffered casualties during the operations in Pacher Agam district as the Afghan forces raided the hideouts of the terror group in Kargar Khel, Azar Khel, and Musa Khel areas.
The provincial security officials further added that the dead bodies of at least 8 of the militants were left in the area besides several weapons were confiscated by the Afghan forces.
This comes as the Ministry of Interior (MoI) said Tuesday at least 25 loyalists of the Islamic State of Iraq and Syria (ISIS) terrorist group were killed during the joint military operations of the Afghan National Defense and Security Forces (ANDSF).
Full report at:
http://www.khaama.com/isis-militants-suffer-heavy-casualties-in-afghan-forces-operations-02396
--------
162 arrested in Kabul over murder and other criminal activities
Nov 30 201
At least 162 individuals were arrested in connection to murder and other criminal activities in capital Kabul, the Ministry of Interior (MoI) said.
The suspects were arrested during the operations of the police forces in the past two weeks.
The Ministry of Interior (MoI) said at least 4 people were arrested in connection to two separate armed robbery cases and 27 others were held in connection to 15 various robbery incidents.
MoI further added that 4 suspects were arrested in connection to 8 murder incidents while 23 suspects were arrested over smuggling and sale of illicit drugs.
Seven more people were arrested over land grabbing, 2 suspects were held over kidnapping charges, and 2 more individuals were arrested for attempted murder and threatening the capital residents to death.
Full report at:
http://www.khaama.com/162-arrested-in-kabul-over-murder-and-other-criminal-activities-02395
--------
Top Afghan army general killed in helicopter crash, NATO offer condolences
Nov 29 2016
A top General of the Afghan National Army (ANA) forces was killed in a helicopter crash in western Badghis province of Afghanistan.
The NATO-led Resolute Support (RS) mission issued a statement to offer the alliance's condolences regarding the tragic loss of the top army general in the incident.
"Deputy Commander, Resolute Support, Lieutenant General Sandy Storrie, offered condolences to the family of Afghan National Army General Muhayuddin Ghori, commander of the 207th Zafar Corps after the helicopter in which he was riding crashed late today," the alliance said in a statement.
Full report at:
http://www.khaama.com/top-afghan-army-general-killed-in-helicopter-crash-nato-offer-condolences-02393
--------
Southeast Asia
Malaysia PM to attend rally condemning violence against Rohingya Muslims in Myanmar
November 29, 2016
Malaysian Prime Minister Najib Razak will take part in a rare rally to protest a bloody crackdown on Rohingya Muslims in Myanmar, an official from his office said on Tuesday. The gathering, which will take place in an yet-to-be announced location on Sunday, will involve politicians, NGOs and "all concerned with the issue" the official told AFP, without giving further details.
Last Friday, Malaysia summoned the Myanmar ambassador while around 500 Malaysians and Rohingya marched through a heavy tropical downpour from a Kuala Lumpur mosque to Myanmar's embassy carrying banners denouncing the Rakhine "genocide."
Muslim-majority Malaysia's Cabinet also issued a statement last week condemning the violence, an unusually strong criticism against a fellow member of the 10-country Association of Southeast Asian Nations (ASEAN) which has a policy of non-interference in member states.
"The major gathering on December 4 is to express our concern over the violence taking place on the Rohingya," Deputy Prime Minister Zahid Hamidi was quoted as saying by the Malay Mail Online on Tuesday.
Chong Ja Ian, a political analyst from the National University of Singapore, said Najib's appearance at such a rally will be "odd."
"During last year's migrant crisis, there was criticism but it was oblique and not to this level," he said.
The discovery last year of human-trafficking camps — and scores of nearby graves — first in Thailand and then over the border in Malaysia caused shock and revulsion in Southeast Asia.
The camps are believed to have been used by people-smuggling syndicates who move large numbers of impoverished Rohingya out of Myanmar, where they face systematic repression, with most heading for Malaysia.
Bridget Welsh, a Malaysia politics expert with Turkey's Ipek University, said the planned gathering was "purely a political exercise" for Malaysian leaders.
"These leaders are desperately trying to show their Islamic credentials as they are losing moral legitimacy at home," she said.
Violence in Rakhine — home to the stateless ethnic group loathed by many of Myanmar's Buddhist majority — has surged in the last month after security forces poured into the area following a series of attacks on police posts blamed on local militants.
A UN official has said Myanmar is engaged in "ethnic cleansing" of Rohingya Muslims, as reports emerged of troops shooting at villagers as they tried to flee.
But Myanmar's new civilian government, led by Nobel Peace Prize winner Aung San Suu Kyi, has rejected the allegations.
http://indianexpress.com/article/world/world-news/malaysia-pm-to-attend-rally-condemning-violence-against-rohingya-muslims-in-myanmar-4401436/
--------
Indonesia's Muslims protest, awaken fears of minority Chinese
November 30, 2016
JAKARTA--The capital of Muslim-majority Indonesia is on edge ahead of what is expected to be a second massive protest by conservative Muslims against its Christian governor--and no group more so than its Chinese minority.
They have reason to be concerned. The movement against the governor, who is being prosecuted for allegedly insulting the Quran, has overflowed with racial slurs against his Chinese ancestry, an unnerving sign in a country with a history of lashing out violently against the ethnic minority that makes up 1 percent of its 250 million people.
The first major protest against Governor Basuki "Ahok" Tjahaja Purnama on Nov. 4 drew more than 100,000 people to Jakarta's streets. Some held up banners calling for Ahok to be killed or decrying Chinese influence. It ended in violence, with one death and dozens injured after hard-liners attacked police. A separate mob tried to invade the apartment complex where Ahok lives in the north of the city and vandalized property in the area, which is home to many Chinese.
Hard-line organizers of the protest, who were unsatisfied by a police decision earlier this month to formally name Ahok as a suspect in the blasphemy case instead of arresting him, are promising another giant rally on Friday. After police pressure, they have agreed to concentrate the rally around a national monument in central Jakarta and insist it will be peaceful.
The furor over Ahok, sparked by his criticism of detractors who argued the Quran prohibits Muslims from having a non-Muslim leader, has highlighted religious and racial fault lines in Indonesia, the world's most populous nation, and the growing challenge from proponents of Shariah law to its secular system of government.
For Chinese Indonesians, the controversy has awakened painful memories of the mass protests that ousted late dictator Suharto during the 1998 Asian financial crisis. Boiling resentment against immigrant Chinese tycoons who profited from ties to Suharto and his famously corrupt family spilled over into mob attacks on Chinese property and people, killing many. Nearly two decades later, Jakarta's Chinatown is still scarred by the burned out shells of buildings torched in the chaos.
"Certainly as Chinese descendants, we are still traumatized by the riots in 1998," said Clement Alexander, a grocery store owner in a narrow lane of the bustling Petak Sembilan market in Chinatown. "We heard that horrible event may happen again if the government fails to control the protests. It's scared us, but we cannot do anything except pray," he said.
"For rich ethnic Chinese, they could flee to Singapore or to other countries, but for lower-class people like me it is rather difficult, we just survive and depend on the government for protection."
When Ahok in 2012 became the first Chinese to be elected deputy governor of Jakarta, and the first Christian in half a century, it was seen as a sign of the pluralistic tolerance fostered by the moderate form of Islam practiced in Indonesia.
But his rise to governor in 2014 to replace political ally Joko "Jokowi" Widodo after his election as president was unpalatable to hard-liners. With the support of moderates that hope to gain from Ahok's fall, they have elevated their agenda to the national stage, and revealed that intolerant interpretations of Islam adapted from the Middle East have made greater inroads than believed.
Full report at:
http://www.asahi.com/ajw/articles/AJ201611300057.html
--------
Ahok inches closer to trial as AGO declares blasphemy case dossier complete
November 30, 2016
The Attorney General's Office (AGO) has declared that the dossier of a blasphemy case implicating Jakarta Governor Basuki "Ahok" Tjahaja Purnama is complete, paving the way for the high-profile case to go to trial.
"Today, the AGO announces that the case dossier of Basuki Tjahaja Purnama, or Ahok, is complete. That means the police investigation results meet the formal and material [criteria] required by the law," the AGO's junior prosecutor for general crimes, Noor Rahmad, said on Wednesday.
Ahok, a Christian of Chinese descent in the predominantly Muslim country, sparked uproar among some Muslims after he made a comment on a verse in the Quran during a visit to Thousand Islands regency in late September.
On Nov. 4, more than 100,000 people, mostly from Muslim groups, swarmed Jakarta streets to demand Ahok's prosecution for blasphemy.
Full report at:
http://www.thejakartapost.com/news/2016/11/30/ahok-inches-closer-to-trial-as-ago-declares-blasphemy-case-dossier-complete.html
--------
Malaysian PM Najib Razak voices support for Islamic laws as he seeks to bolster support
Nov 30, 2016
Malaysia's Prime Minister Najib Razak has expressed support for strict Islamic laws as he seeks to consolidate support of ethnic Malay Muslims at a party meeting this week, as frustration over graft and the economy cloud his prospects for the next election.
Mr Najib has battled calls to resign over the past 18 months as a scandal at his pet project, 1Malaysia Development Berhad (1MDB), drew the anger of the public, opponents and members of his own United Malay National Organisation (UMNO) ruling party.
A new opposition party, led by former prime minister Mahathir Mohamad and former deputy prime minister Muhyiddin Yassin — who Mr Najib sacked for questioning his handling of 1MDB — is threatening to split the majority Malay vote that has given UMNO victory in every election since independence in 1957.
Ahead of the annual party meeting, Mr Najib said it was the responsibility of Muslims to support a plan by the rival Pan-Malaysian Islamic Party to push for the adoption of 'hudud', the Islamic penal code, that sets out punishments like amputation and stoning.
"We want to develop Islam," Mr Najib said in an interview with a pro-government broadcaster.
"Non-Muslims must understand that this is not about 'hudud', but about empowering the sharia courts."
With rising prices and poor economic prospects for next year, Mr Najib is expected to bank on ethnic and religious sentiment to woo majority Malay voters.
An election is due by 2018.
UMNO meeting to focus on Malay, Islamic interests
Mr Najib said his policy speech at this year's UMNO meeting would focus on the interests of Malays and Islam.
Full report at:
http://www.abc.net.au/news/2016-11-29/malaysian-pm-najib-razak-voices-support-for-islamic-laws-as-he-/8076766
--------
Sarawak non-Muslim unit awaiting approval, says DCM
BY SULOK TAWIE
November 30, 2016
KUCHING, Nov 30 ― The Non-Islamic Affairs Unit in the Chief Minister's Office will only commence operations after the state government provides final approval, Deputy Chief Minister Datuk Amar Douglas Uggah said today.
"The details on the formation of the unit have already been submitted to the state government for approval," he said in his winding up speech in the state legislative assembly here.
"There have also been many discussions with the religious authorities and state government officers on the proposed functions, organisational structure and staffing after the formation of the unit was announced in June this year," he added.
Chief Minister Tan Sri Adenan Satem, during the June meeting of the state assembly, announced the formation of the unit to be placed under the Chief Minister's Office and named Uggah as the minister in-charge.
Full report at:
http://www.themalaymailonline.com/malaysia/article/sarawak-non-muslim-unit-awaiting-approval-says-dcm
--------
Islamic State 'soldier' behind Ohio attack, says Amaq
AFP | November 30, 2016
COLOMBUS: The Somali student who wounded 11 people in a car-ramming and knife attack on an Ohio university campus was a "soldier" of the Islamic State group, a jihadist-linked news agency said Tuesday.
"The executor of the attack in the American state of Ohio is a soldier of the Islamic State," the Amaq agency quoted an insider source as saying, according to a translation by the SITE monitoring group.
"He carried out the operation in response to calls to target citizens of international coalition countries."
Identified as a student at Ohio State University, Abdul Razak Ali Artan was shot dead by police on Monday moments after he drove his car into a crowd of pedestrians and attacked them with a butcher knife.
According to US media, Artan's family arrived in the United States from Somalia via Pakistan in 2014. He was studying at OSU as a third-year transfer student of logistics management.
In an interview a few months ago with student newspaper The Lantern, Artan had complained of the lack of Muslim prayer rooms on campus.
"If people look at me, a Muslim praying, I don't know what they're going to think, what's going to happen," he said.
US media reported that a Facebook page thought to belong to him — since taken offline — included grievances against the United States.
"I can't take it any more. America! Stop interfering with other countries, especially the Muslim Ummah. We are not weak. We are not weak, remember that," a post quoted by ABC television said, using a term referring to the global community of Muslims.
"If you want us Muslims to stop carrying (out) lone wolf attacks, then make peace," the post reads. "We will not let you sleep unless you give peace to the Muslims."
Full report at:
http://www.freemalaysiatoday.com/category/world/2016/11/30/islamic-state-soldier-behind-ohio-attack-says-amaq/
--------
Protests by Islamic hardliners against Indonesian governor awaken fears for ethnic Chinese
30 November, 2016
The capital of Muslim-majority Indonesia is on edge ahead of what is expected to be a second massive protest by conservative Muslims against its Christian governor and no group more so than its Chinese minority.
They have reason to be concerned. The movement against the governor, who is being prosecuted for allegedly insulting the Koran, has overflowed with racial slurs against his Chinese ancestry, an unnerving sign in a country with a history of lashing out violently against the ethnic minority that makes up 1 per cent of its 250 million people.
The first major protest against Governor Basuki "Ahok" Tjahaja Purnama on November 4 drew more than 100,000 people to Jakarta's streets. Some held up banners calling for Ahok to be killed or decrying Chinese influence. It ended in violence, with one death and dozens injured after hardliners attacked police. A separate mob tried to invade the apartment complex where Ahok lives in the north of the city and vandalised property in the area, which is home to many Chinese.
Hardline organisers of the protest, who were unsatisfied by a police decision earlier this month to formally name Ahok as a suspect in the blasphemy case instead of arresting him, are promising another giant rally on Friday. After police pressure, they have agreed to concentrate the rally around a national monument in central Jakarta and insist it will be peaceful.
The furor over Ahok, sparked by his criticism of detractors who argued the Koran prohibits Muslims from having a non-Muslim leader, has highlighted religious and racial fault lines in Indonesia, the world's most populous nation, and the growing challenge from proponents of sharia law to its secular system of government.
For Chinese Indonesians, the controversy has awakened painful memories of the mass protests that ousted late dictator Suharto during the 1998 Asian financial crisis. Boiling resentment against immigrant Chinese tycoons who profited from ties to Suharto and his famously corrupt family spilled over into mob attacks on Chinese property and people, killing many. Nearly two decades later, Jakarta's Chinatown is still scarred by the burned out shells of buildings torched in the chaos.
"Certainly as Chinese descendants, we are still traumatised by the riots in 1998," said Clement Alexander, a grocery store owner in a narrow lane of the bustling Petak Sembilan market in Chinatown.
"We heard that horrible event may happen again if the government fails to control the protests. It's scared us, but we cannot do anything except pray," he said.
"For rich ethnic Chinese, they could flee to Singapore or to other countries, but for lower-class people like me it is rather difficult, we just survive and depend on the government for protection."
When Ahok in 2012 became the first Chinese to be elected deputy governor of Jakarta, and the first Christian in half a century, it was seen as a sign of the pluralistic tolerance fostered by the moderate form of Islam practised in Indonesia.
But his rise to governor in 2014 to replace political ally Joko "Jokowi" Widodo after his election as president was unpalatable to hard-liners. With the support of moderates that hope to gain from Ahok's fall, they have elevated their agenda to the national stage, and revealed that intolerant interpretations of Islam adapted from the Middle East have made greater inroads than believed.
Ahok is running for a second term as governor in elections due in February but since the blasphemy accusations erupted in September, his sky-high popularity in opinion polls has melted away. A pro-tolerance rally in Jakarta on November 19 attracted less than 10,000 people. A military-organized event in the city on Wednesday meant to showcase respect for all of Indonesia's six officially recognised religions was mainly populated by soldiers, schoolchildren and police, who had no choice about attending.
For the November 4 protest, the normally clogged streets of Jakarta were nearly emptied of cars, embassies closed, countries such as Australia issued advisories against travel to the city and many businesses shuttered for the day, particularly in Chinatown.
Full report at:
http://www.scmp.com/news/asia/southeast-asia/article/2050417/protests-islamic-hardliners-against-indonesian-governor
--------
Utah lawyers will work for free to defend Muslim refugees
November 30, 2016
A new group of lawyers announced Tuesday that it will provide free legal services to refugees in Utah who are harassed or bullied and fear that the incoming administration of President-elect Donald Trump could put in place a ban on Muslim immigrants or a registry to keep track of Muslims living in the United States.
The Refugee Justice League of Utah is a non-partisan group made up of people from differing religious backgrounds and has about 50 lawyers ready to represent the refugees at no cost, said civil rights leader and co-founder James McConkie.
The establishment of the group comes as leaders of Utah's Muslim community say there is a rise in harassment following Trump's election.
Recent examples include a girl bullied at school because she wears a headscarf and a man who yelled profanities at a woman and told her to go back to her country while she was walking home, said Noor Ul-Hasan, a leader in Utah's Muslim community.
Utah has more than 40,000 Muslim refugees and the establishment of the group of lawyers is a relief for them, she said.
"The community has been worried about where to go with that and what to do," she said.
The lawyers' group also plans to mount legal challenges to any possible efforts to establish a registry of refugees, McConkie said.
"They have friends in the state of Utah who are willing to help them live peacefully in their new homes and communities," McConkie said.
Many Utah residents feel a connection with refugees because the state was founded by Mormon pioneers who crossed the country looking for a safe place to settle and practice their religious beliefs without interference, said trial attorney Brad Parker, also a co-founder of the group of lawyers.
Full report at:
http://www.thejakartapost.com/news/2016/11/30/utah-lawyers-will-work-for-free-to-defend-muslim-refugees-.html
--------
Arab World
Abadi: Mosul battle to end before new year
30 November 2016
Although the international coalition thinks the Mosul offensive will take a long time, Iraqi Prime Minister Haidar al-Abadi said he expects they will regain control of Mosul before the end of the year.
Abadi added that ISIS organization has lost the motive and the courage to resume fighting Iraqi forces.
He denied any demographic changes in the zones which they restored in Iraq.
His statements come after joint forces, aided by the coalition's air force, deterred an ISIS attack on the towns of al-Sada and Bawiza, north of Mosul.
According to official sources in Nineveh, Iraqi forces clashed with ISIS in al-Sada's and Bawiza's surroundings and inflicted heavy losses on them.
Saladin governor said Iraqi forces restored some towns in the al-Shirqat district on the other front of the Tigris river, adding that they also besieged other towns as part of their military operations which were launched to expel extremists from the left coast of Shirqat.
Meanwhile, a coalition spokesperson said on Tuesday that the battle to restore Mosul and liberate it from ISIS entered "a very difficult phase" in the past few weeks, adding that the battles' pace will escalate if Iraqi forces enter the city from the north and the south.
John Dorian, an air force colonel and a spokesperson of the coalition supporting Iraqi troops, told Reuters from Baghdad that the situation is currently very difficult.
"ISIS has been present in the city for two years and during this time it's been able to build very strong defenses and store weapons and resources which can be used now to complicate progress," he said.
Dorian was referring to extremists' use of booby-trapped cars and civilians as human shields.
https://english.alarabiya.net/en/News/middle-east/2016/11/30/Abadi-Mosul-battle-to-conclude-before-the-new-year.html
--------
Iraqi forces liberate ISIS-held Nineveh Plain
29 November 2016
The "We Are Coming, Nineveh" Operation said on Monday that it liberated the Nineveh Plain area from ISIS.
Lt. Gen. Abdul-Amir Yar Allah, commander of the operations of the Mosul battle which was launched on October 17, said security forces will resume their operations until they purge all of Mosul from ISIS.
In the east front, commanders in the counter-terrorism force said the countdown to restore the left coast from ISIS has begun. This comes after the counter-terrorism force liberated 20 neighborhoods from the east coast.
Lt. Gen. Abdul-Ghani al-Assadi, commander of the counter-terrorism force in east Mosul, said the people's cooperation helped them restore most of these neighborhoods.
Meanwhile, the Iraq army announced killing 54 ISIS members in shelling that targeted the organization's posts in south of Mosul. The US-led coalition also destroyed four booby-trapped cars for ISIS in east Mosul.
Mosul's poor struggling to get food
Meanwhile, the United Nations said on Tuesday there were indications that poorer families in Mosul are struggling to feed themselves as food prices increase.
"Key informants are telling us that poor families are struggling to put sufficient food on their tables," UN Humanitarian Coordinator in Iraq, Lise Grande, told Reuters. "This is very worrying."
Iraqi government and Kurdish forces surround the city from the north, east and south, while Popular Mobilization forces - a coalition of Iranian-backed Shiite groups - are trying to close in from the west. Last week the Popular Mobilization forces cut off the supply route to Mosul from ISIS-held territory in Syria.
"In a worst case, we envision that families who are already in trouble in Mosul will find themselves in even more acute need." Grande said. "The longer it takes to liberate Mosul, the harder conditions become for families."
Full report at:
https://english.alarabiya.net/en/News/middle-east/2016/11/29/Iraqi-forces-liberate-Nineveh-Plain-area-from-ISIS.html
--------
Jailed Islamic State suspects recall path to jihad in Iraq
November 29, 2016
ERBIL: When Kurdish forces began firing rockets at a suspected Islamic State hideout in northern Iraq, one of those inside, former bakery worker Walid Ismail, said he tried to persuade the others to surrender.
Some wanted to hold hand grenades to their throats and pull the pins. In the end, a Tunisian militant among them detonated a suicide bomb, hoping to wipe out their attackers.
Instead he killed five of the group and injured the rest. Ismail said the others were then killed by the Kurds and he only made it out by shouting that he had no bombs.
An online video shows him looking terrified as he emerges from the house in the town of Bashiqa near Mosul with an injured hand, to be arrested by Kurdish peshmerga fighters.
Today, the 20-year-old sits with his ankles shackled in a security compound in the city of Erbil, capital of Iraq's Kurdish region, which is fighting alongside Baghdad to drive Islamic State from its stronghold in Mosul and nearby towns.
Islamic State suspects are rarely allowed to speak to media, but the Kurdistan Regional Security Council allowed Reuters to interview Ismail and another prisoner in the presence of an official.
They described how Islamic State transformed them from ordinary Mosul citizens into jihadists through promises and threats and said unjust treatment of their Sunni community by the Shi'ite-led government and armed forces played a major role.
Their accounts, which could not be verified, show how vital it will be to manage sectarian tensions after any victory over Islamic State to avoid a repeat of what has been the second wave of Sunni militants since Saddam Hussein was overthrown in 2003.
Ismail said Islamic State leader Abu Bakr al-Baghdadi had wide appeal when he walked into a Mosul mosque in broad daylight two years ago, and declared large parts of Iraq and Syria a caliphate, six years after al Qaeda was driven underground.
"I believed him," he said, soft-spoken and wearing a gray track suit. "We loved them because they relieved us of the oppression of the Shi'ites."
"WHATEVER YOU WANT"
Like other members of Iraq's Sunni minority, Ismail alleged many innocent Sunnis had been branded terrorists by the army, which put up little resistance when about 800 Islamic State fighters swept into northern Iraq in pickup trucks in 2014.
"They said 'whoever goes to the mosque is safe'," They said 'we are your Muslim Brothers. We aim to rid you of the Shi'ites and no one will oppress you'," said Ismail.
"We will give you food and money. Whatever you want."
In a separate interview, another prisoner suspected of fighting for Islamic State, Hazem Saleh, seethed when he recalled how the Iraqi army had treated his three brothers in the months before Islamic State appeared on the scene.
"They were laborers. They detained them for about a month and a half. They beat them. They hung them upside down. They dislocated their shoulders," said the former Mosul blacksmith.
The Iraqi military and government, now under new leadership, deny such allegations and say they only went after terrorists.
Ismail's account of the Tunisian's role tallies with what Kurdish and Iraqi officials say is the tendency of foreign fighters to fully embrace Islamic State's ruthless tactics and hardline ideology viewing opponents as infidels deserving death.
FINANCIAL PRESSURE
Some of the Iraqis, on the other hand, are described as criminal gangs which MAKE MONEY through kidnappings for ransom. Others sign up for practical reasons.
Ismail said he was struggling to support six younger siblings when Islamic State disabled the bakery that employed him by cutting off gas supplies, leaving him with few options.
"Daesh gave me 500,000 dinars ($400) per month to hold a machine gun and stand guard on a street," he said, using a derogatory Arabic acronym to describe Islamic State.
Like Ismail, Saleh said Islamic State applied financial pressure, forcing his shop to pay heavy taxes and then offering a handsome salary to entice him to take up the cause.
"I have seven children, the youngest is two. They need to live," he said. "There was a lack of work and poverty so most people joined because of that."
For him, there was something else, he said. "They threatened to make my 14-year-old son wage holy war in order to pressure me ... So I said goodbye to my family and left."
Initiation was simple. Ismail was handed a uniform -- an outfit similar to ones worn by the Taliban in Afghanistan -- and told to watch for any suspicious activities.
He said Islamic State was highly secretive and obsessed with protecting its emirs, or leaders, especially from capture or air strikes. "We did not know who the leader of our army was. They would never allow us near strategic areas," he said.
There did not seem to be any merit system. "They would just come along and say 'you are an emir and you won't be."
He said eventually he became disillusioned but did not dare criticize. That would mean jail, or maybe far worse.
"You can't speak out," he said, citing a time when fighters caught his father violating an Islamic State ban on smoking and warned him that next time he would be whipped.
Saleh, who also surrendered in Bashiqa, appeared for the interview in military fatigues and with a hood over his head initially.
He said he inspected vehicles at Islamic State checkpoints, where any Iraqi soldiers or Kurdish fighters were arrested and anyone not living in the area was viewed with suspicion.
Later he said he worked preparing rice, meat and lentil meals for the fighters, who had one cook for each group of 12.
Full report at:
http://nation.com.pk/international/29-Nov-2016/jailed-islamic-state-suspects-recall-path-to-jihad-in-iraq
--------
Assad, allies aim to seize all Aleppo before Trump takes power
November 30, 2016
BEIRUT-The Syrian army and its allies aim to seize all eastern Aleppo from rebels by the time US President-elect Donald Trump takes office in January, sticking by a Russian-backed timeline for the operation after big gains in recent days, a senior official in the military alliance fighting in support of Damascus said.
The official who declined to be identified in order to speak freely indicated however that the next phase of the Aleppo campaign could be more difficult as the army and its allies seek to capture more densely populated areas of the city.
The United Nations humanitarian chief and relief coordinator said up to 16,000 people had been displaced in eastern Aleppo. The UN envoy for Syria, Staffan de Mistura, said he could not say how long eastern Aleppo would hold out.
"Clearly, I cannot deny - this is a military acceleration and I can't tell you how long eastern Aleppo will last," he told the European Parliament.
The rebels have lost more than a third of the area they held in eastern Aleppo in the last few days of a government assault that has killed hundreds of people and uprooted thousands more. For the rebels, it is one of the gravest moments of the war.
Rebels meanwhile fought fiercely to stop government forces advancing deeper into the opposition-held enclave on Tuesday, confronting pro-Assad militias who sought to move into the area from the southeast, a rebel official said.
The attack on eastern Aleppo threatens to snuff out the most important urban centre of the revolt against President Bashar al-Assad, who has been firmly on the offensive for more than a year thanks to Russian and Iranian military support.
Capturing rebel-held eastern Aleppo would be the biggest victory to date for Assad in the conflict that has killed hundreds of thousands of people since it arose out of protests against his rule nearly six years ago.
As Russia and Iran have stuck steadfastly by Assad, the rebels say their foreign backers including the United States have left them to their fate in their besieged enclave of eastern Aleppo, Syria's biggest city before the civil war.
Government forces backed by Shia militias from Iran, Lebanon and Iraq punched into the rebel-held area from the northeast last week. The senior, pro-Assad official said the rebel lines had collapsed more quickly than expected.
"The Russians want to complete the operation before Trump takes power," said the official, repeating a previous timetable which pro-Damascus sources had said was drawn up to mitigate the risks of any shift in US policy towards the war in Syria.
Trump has indicated that he may abandon support for Syrian rebels who have received military aid from states including the United States, Turkey, Saudi Arabia and Qatar, and could even cooperate with Russia against Islamic State in the country.
He will be inaugurated as president on January 20.
The United States has offered aid including military support to some rebel groups under President Barack Obama, though the rebels have always said this backing has fallen well short of what they need against better armed government forces.
The rebel official said the outgoing US administration was paying little attention to Syria. Assad and his allies were "trying to exploit the current circumstances, unfortunately, and the Western states can't do anything", he said.
France, another backer of the opposition, called for an immediate UN Security Council meeting to discuss Aleppo.
"More than ever before, we need to urgently put in place means to end the hostilities and to allow humanitarian aid to get through unhindered," French Foreign Minister Jean-Marc Ayrault said in a statement.
Russia has consistently blocked attempts by Western states to take action in the Security Council against Damascus.
Accounts from eastern Aleppo, where the United Nations says at least 250,000 civilians are trapped with no access to the outside world, point to a dire humanitarian situation. People have been forced to scavenge in the garbage for food as aid supplies have run out, and all the hospitals in eastern Aleppo have been repeatedly bombed.
The civil defence rescue service that operates in eastern Aleppo said on Monday it had nearly run out fuel to power the equipment it has been using to pull people from the rubble of bombed-out buildings.
Pummelled by air strikes, artillery and ground attacks, the rebels were forced on Monday to withdraw to more defencible lines along a highway that runs through Aleppo, hoping that it would be harder for the government side to make further gains.
The rebel official with one of the main Aleppo rebel groups said the opposition fighters had managed to stabilise new frontlines, but were fighting to stop pro-government militias that sought to advance from the south.
"There is no progress but the bombardment and battles remain fierce, particularly in Aziza" in southeastern Aleppo, said the official with the Jabha Shamiya rebel group, which fights under the Free Syrian Army banner. "Yesterday evening there was a big mobilisation by Iranian militias in Aziza," the official added.
Full report at:
http://nation.com.pk/international/30-Nov-2016/assad-allies-aim-to-seize-all-aleppo-before-trump-takes-power
--------
Alleged Nusra militant grabs Syrian uprising flag during anti-Assad protest
29 November 2016
Activists and locals from Aleppo and Idlib took the streets of the rebel-held city of Idlib at the clock tower in solidarity with those suffering in eastern Aleppo.
During the demonstration, the people chanted for the Free Syrian Army to unite, for Russia and Iran to stop bombing Syria and to show solidarity with Aleppo.
They chanted: "Aleppo, we are with you till death"
Activists held banners that read: "The conscious of humanity is burning in Aleppo."
Hadi Abdullah, a Syrian media activist who has survived many assassination attempts by the Syrian regime and has covered the massacres in Aleppo attended the protest and told Al Arabiya English that during the march, a man ran up and grabbed one of the freedom flags 'angrily' and tried to destroy it.
He said a group of men ran up and confronted the guy, grabbing the flag back.
According to Hadi, the man who attempted to disrupt the peaceful protest, could be affiliated with Nusra front.
Full report at:
https://english.alarabiya.net/en/News/middle-east/2016/11/29/Alleged-Nusra-militant-angrily-grabs-Syrian-uprising-flag-from-anti-Assad-protest.html
--------
ISIL's Religious Emir Gunned Down by Unknown Assailants in Raqqa City
Nov 29, 2016
Abu Amineh Halabi, ISIL's religious commander, was gunned down by armed men using handguns EQUIPPED with silencers, Ara news website reported.
Five masked men in a car shot at Halabi several times in the Eastern part of Sharakseh district and escaped the scene after killing infamous leader.
ISIL's Hasaba (monitoring-security system) forces immediately cordoned off the area after Halabi was killed.
Raqqa city is considered the ISIL's self-proclaimed de facto capital alongside Mosul in Iraq.
The city is under attack by different factions and from different directions.
The predominantly Kurdish Syrian Democratic Forces (SDF) declared the start of their 'Euphrates Rage Operation' to capture Raqqa on November 6.
The Kurdish fighters also warned Raqqa residents to stay away from the terrorists and urged all civilians to move to the territories freed from ISIL.
Full report at:
http://en.farsnews.com/newstext.aspx?nn=13950909001348
--------
Official: Turkey Indirectly Fighting against Syria
Nov 29, 2016
"Considering its campaign against the terrorist groups in Aleppo, the Syrian army is fighting against Turkey indirectly" as the latter is in on the opposite side and helping the terrorists in the same region, Samir Sulayman, a high-ranking official at Syria's defense ministry, said.
He explained that since the Syrian army is fighting against the terrorists in different parts of the country, specially Aleppo, it has indirectly entered a battle against Turkey because the terrorist groups are enjoying Ankara's arms support and consultations.
Sources close to the Syrian dissidents disclosed last week that the Turkish army has deployed anti-aircraft 'Stinger' missile system to the regions near al-Bab city Northeast of Aleppo province.
Ahmad al-Khatib, a journalist with close links to the Free Syrian Army (FSA) terrorist group, disclosed on his twitter page that Turkey is EQUIPPING its affiliated forces stationed near the strategic city of al-Bab with Stinger missile system.
The Turkish media had also reported on Saturday that a number of trucks carrying air defense systems were moving from Oguzeli region in Gaziantep towards the Syrian borders.
Tensions between Damascus and Ankara have gone so high that Syrian sources report army's preemptive strike in the Northern parts of Syria to block the Turkish army's attempts to establish a buffer zone in the region.
After liberation of 25 farms and villages from the terrorists' control in Aleppo, the Syrian army forces continued to advance in the region to surround the strategic city of al-Bab from its Southern and Western sides.
The ISIL stronghold city of al-Bab Northeast of Aleppo is on the verge of a major war among the Syrian army, the Kurds and the Turkey-backed forces that are part of Turkey's Euphrates Shield Operation.
Reports said if the Euphrates Shield Operation forces reach the gates of al-Bab city, the ISIL terrorists will withdraw without any resistance which will pave the ground for the Turkey-backed groups. The ISIL has adopted the same strategy in a number of villages and towns in the Northern parts of Aleppo.
Meantime, possibility is high for direct clashes between the Syrian and Turkish armies as the Turkey-sponsored forces that are backed up by the Turkish army tanks stress that they are resolved to take al-Bab.
Last Saturday reports said that the Syrian army had inched closer to one of the most IMPORTANT strongholds of the ISIL in the Arab country, and were only three kilometers away from the Northern Syrian city of al-Bab in Aleppo province, while the Ankara-backed militants are also racing towards the city.
According to the Al-Mayadeen TV CHANNEL, the army troops managed to dislodge ISIL terrorists from six settlements near al-Bab, and are approaching the ISIL's stronghold city.
The Free Syrian Army (FSA) supported by the Turkish Air Force and armored vehicles has also launched an offensive to push terrorists out of the vital Bastion of ISIL as capturing the city is of strategic importance to Ankara in order to prevent the Kurds' reunification.
Military sources had disclosed in mid September that a large number of Syrian soldiers are deployed at Kuweires airbase to start military operations against the terrorists in al-Bab.
"Hundreds of Syrian soldiers are now in Kuweires airbase 40 kilometers to the east of Aleppo city to start al-Bab military operations against the ISIL terrorist group," the Arabic-language media quoted an unnamed military source as saying.
Also, another source said in mid November that the Syrian army has sent around 1,000 reinforcement troops to the Eastern countryside of Aleppo to start the operation that aims to create a safe zone in areas in the vicinity of Kuweires airbase, including al-Bab, adding that the Syrian government troops' military operation in al-Bab region is also meant to block further advances of the Turkey-backed terrorists in al-Bab region.
After recapturing Manbij from ISIL by the Syrian Democratic Forces (SDF), al-Bab and Deir Hafer have turned into the largest bases of ISIL in Aleppo province.
Full report at:
http://en.farsnews.com/newstext.aspx?nn=13950909000841
--------
Syrian Army to Kick Off Military Operation to Recapture Khan Touman Soon
Nov 29, 2016
"The Syrian army units are getting ready to retake Khan Touman region," the Arabic-language media quoted an unnamed military source as saying on Tuesday.
Meantime, another unnamed battlefield source disclosed that the Iraqi Hezbollah and Nujaba popular forces have dispatched many more of their fighters to Aleppo province to take part in the upcoming Khan Touman liberation operation.
The sources also revealed that the Syrian army troops will most probably move towards the Shiite-populated town of Fouaa and Kafarya in Idlib province to break the prolonged siege of the two towns.
The army, the Lebanese Hezbollah and Iraqi al-Nujaba have now deployed hundreds of their fighters in the Southern part of Aleppo to start jointly a fresh round of offensives to liberate Khan Touman right once they capture al-Rashedeen 4 and 5 and Sheikh Saeed and its surrounding regions South of Aleppo city.
Full report at:
http://en.farsnews.com/newstext.aspx?nn=13950909000831
--------
Russian Military: Over 500 Militants Surrender, Leave Eastern Aleppo in Last 24 Hours
Nov 29, 2016
The Russian center for Syrian reconciliation said in a statement, appeared on Sputnik news website, that of the 507 terrorists, 484 militants were among local residents and they have been immediately granted amnesty.
The center said that the residents of the area received humanitarian aid and medical assistance.
On Tuesday, Syrian Army's General Command called on militants to lay down arms in accordance with an amnesty decree, to stop the bloodshed, bombing of residential areas as well attacks on civilians.
The center also said a part of Eastern Aleppo where 90,000 residents live was liberated from terrorists on Tuesday.
"By noon on November 29, the territory of the city where 90,000 residents of Aleppo live (around 310,000 households), has been fully freed from terrorists."
Over the recent months, Aleppo has been a major fighting battleground between government forces and terrorist groups, however the Syrian army has recently scored significant victories as it continued its rapid advances in Aleppo province, managing to take full control of the Northern flank of the Aleppo city's Eastern districts.
District after district have fallen into the hands of the Syrian army soldiers and their allies, forcing the terrorist groups to rapidly retreat to the South in order to avoid being overrun and outflanked by the pressing forces in Eastern Aleppo as the pro-government troops have already established full control over IMPORTANT blocks and districts in the Eastern part of the city, specially its Northern part.
Full report at:
http://en.farsnews.com/newstext.aspx?nn=13950909000889
--------
Report: Terrorists to Leave Damascus' Al-Tal Town Soon
Nov 29, 2016
The agreement comes as the terrorists affiliated to al-Nusra Front (that has recently changed name to Fatah al-Sham Front) have already violated the ceasefire in al-Tal town and the Syrian army has targeted their military positions and made further advances in the region.
Terrorists in al-Tal in the Northern parts of Damascus gave in to the Syrian government's terms for a peace plan that would include their surrender or relocation from the town after people staged massive protest rallies against them and the army laid siege on the town.
The reconciliation committee in al-Tal town declared that militants reached an agreement with the Syrian government on Saturday, calling on the protesting residents to return to their homes.
Based on the agreement, the terrorist groups will leave the town, carrying their LIGHT weapons, and others who seek to stay in al-Tal will be pardoned once they lay down arms. Also, the roads linking al-Tal and other regions will reopen again.
In recent days, a large number of civilians took to the streets in the town of al-Tal and called on the militants to join the peace agreement with the Syrian government or leave the town.
The demonstrators gathered in front of Jameh (grand) mosque in the town and chanted slogans against the militant groups, including "No to War and Yes to Peace" and called for the complete pullout of the militants from their town.
The interesting point was that the protestors' security was protected by a number of militants who are willing to surrender themselves to the government.
The Syrian army troops started their offensive on terrorists' positions in al-Tal and advanced significantly against the militants, laying siege on the town.
Full report at:
http://en.farsnews.com/newstext.aspx?nn=13950909001022
--------
As Syrian rebels squeezed in Aleppo, Turkish backers' eyes are elsewhere
November 30, 2016
Time was that Turkish President Tayyip Erdogan dedicated large parts of his speeches to condemning Syrian leader Bashar al-Assad for atrocities against his people, calling for his ouster and urging greater support for the rebels fighting him.
Now, as Syrian government forces capture swathes of eastern Aleppo, threatening to crush the opposition in its most important urban stronghold, Assad and the battle for what was once Syria's biggest city get little more than passing mention.
NATO member Turkey has been one of the main backers of Syria's rebels since early in the near six-year war.
But rapprochement with Russia, one of Assad's main allies, frustration with U.S. policy, and an overriding concern about securing its borders against Kurdish militia fighters and Islamic State have seen Ankara scale back its ambitions.
"At the moment, Turkey's foreign policy in Syria is hostage to Russia. Russia controls the air space and Turkish soldiers are 30 km inside Syria," said Behlul Ozkan, assistant professor in international relations at Marmara University in Istanbul.
"Turkey needs to be in agreement with Russia on every step it takes in Syria," he said, or Turkish troops would be exposed.
In a speech on Tuesday, Erdogan condemned what he said was the failure of the United Nations in Syria and cast Turkey's incursion in August, when it sent tanks, fighter jets and special forces over the border, as an act of exasperation.
"Close to one million people died in Syria, and they continue dying. Where is the U.N.? What are they doing? We kept saying 'patience, patience, patience' but could not take it any more and entered Syria," Erdogan said.
"We are there to bring justice. We are there to end the rule of the cruel Assad, who has been spreading state terror."
But Turkey's "Operation Euphrates Shield" was not about battling Assad. It aims to sweep Islamic State from a roughly 90-km (56-mile) strip of the Syrian border and prevent Kurdish militia groups from seizing territory in their wake.
Tuesday was the first time in almost a month that Erdogan had mentioned Assad by name in a major public address, according to a review of his recent speeches published on the presidency website. He made no direct reference to events in Aleppo.
A senior official from one of the Turkmen rebel brigades backed by Turkey said some 60 percent of Turkmen fighters pulled out of Aleppo in August to take part in Euphrates Shield, withdrawing from front lines against Assad's forces.
"Of course that withdrawal had an impact. If those groups had stayed, perhaps Aleppo could have resisted more," said the official from the Muntasir Billah Brigade, although he doubted it would have changed the course of the battle.
"They did not have much of a chance as their weapons are limited - machine guns and Kalashnikovs - while the regime and Russians have used everything from barrel bombs to warplanes," he told Reuters from the Turkish border town of Gaziantep, a rear base for some of Syria's rebel forces.
RUSSIAN RAPPROCHEMENT
Russia has been helping forces loyal to Assad try to take back full control of Aleppo by providing training, equipment, advice and intermittent air support.
Just over a year ago, Turkey shot down a Russian fighter jet over Syria, prompting a breakdown in ties that was only resolved in August after Russian President Vladimir Putin hosted Erdogan in St Petersburg.
The rapprochement has not changed Ankara's position that Assad must go to restore peace in Syria, Turkish Deputy Prime Minister Numan Kurtulmus told Reuters on Saturday.
But Erdogan has spoken with Putin at least twice over the past week, agreeing to try to resolve the humanitarian crisis in Aleppo and "coordinate efforts against international terrorism", officials in his office have said.
Foreign Minister Mevlut Cavusoglu also made a surprise visit to regional rival Iran, another key Assad ally, at the weekend, discussing cooperation in Syria with President Hassan Rouhani.
"The government does continue to criticise the brutal targeting of Aleppo by Assad and his allies, Russia and Iran, but it has seen that the rhetoric does not have much influence," said Can Acun, a researcher at the SETA think-tank in Ankara.
Full report at:
http://nation.com.pk/international/30-Nov-2016/as-syrian-rebels-squeezed-in-aleppo-turkish-backers-eyes-are-elsewhere
--------
URL: https://www.newageislam.com/islamic-world-news/new-age-islam-news-bureau/palestine-recognition-to-have-'no-major-price'-for-obama,-to-give-the-nation-un-membership/d/109241
New Age Islam, Islam Online, Islamic Website, African Muslim News, Arab World News, South Asia News, Indian Muslim News, World Muslim News, Womens in Islam, Islamic Feminism, Arab Women, Womens In Arab, Islamphobia in America, Muslim Women in West, Islam Women and Feminism, Moderate Islam, Moderate Muslims, Progressive Islam, Progressive Muslims, Liberal Islam