New Age Islam News Bureau
2 Oct 2019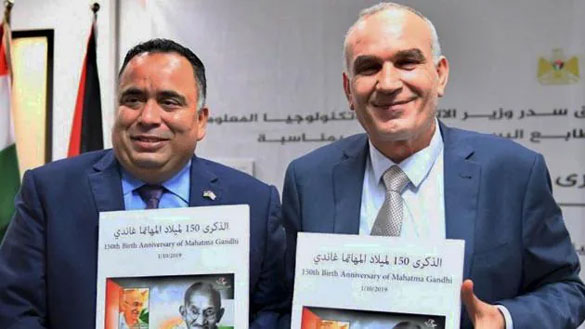 Representative of India (ROI) in Palestinian Authority Sunil Kumar and Palestinian Minister of Telecommunication and Information Technology, Dr. Ishaaq Seder release the commemorative stamp to honour Mahatma Gandhi on his 150th birth anniversary, in Ramallah, Israel.(PTI)
-----
• Academics Warn Of Rise Of Religious Extremism In Malaysia
• Malaysian PM: Israel Is The Origin Of Modern Terrorism
• The Taliban Made Sure Afghans Were Too Terrified to Vote on Election Day
• PM Succeeded In Countering Western Media Portraying Horrible Picture Of Islam: Qadri
• White House Links Huawei And ZTE To Chinese Muslim 'Concentration Camps'
• Time Bomb Jail Packed With 5,000 Isis Fighters
• Lebanese Paper Reveals US-Saudi Plot to Overthrow Gov't in Iran in 3 Years
• Israel Begins Netanyahu's Pre-Indictment Corruption Hearing
• Attack On Mali Army Camps Kills 25 Troops, 60 Missing
India
• Palestine Issues Commemorative Stamp To Honour Gandhi On 150th Birth Anniversary
• In NIA's case in Jammu and Kashmir terror funding, a clear Pakistan link
• Indian Home Minister Amit Shah Promises Non-Muslim Citizenship Bill
• 144 children held in Jammu and Kashmir after Article 370 move: Report
• Mahatma Gandhi showed love for non-violence is only way to defeat hatred: Rahul Gandhi
• Ajit Doval leaves for Saudi Arabia to counter Imran's claims on J&K
• Jammu and Kashmir: Another militant killed in encounter at Ganderbal
---------
Southeast Asia
• Academics Warn Of Rise Of Religious Extremism In Malaysia
• Malaysian PM: Israel Is The Origin Of Modern Terrorism
• Papua, Kashmir: Peace in the backyard, peace in the world
• Indonesia Protesters Fear Rollback of Rights, Reforms
• Christian Lawmaker Decries MPR Speaker's Decision to Disallow Her Reading Prayer During Plenary Meeting
• Malaysia: Ex-IS Cell Leader Says Rehabilitation Changed his Life
---------
South Asia
• The Taliban Made Sure Afghans Were Too Terrified to Vote on Election Day
• Afghan airstrikes kill 17 militants in southern Zabul province
• Afghan officials: Taliban attack kills at least 11 policemen
• Taliban delegation led by Mullah Baradar to visit Islamabad today: Shaheen
• Afghan, U.S. forces kill dozens of Taliban militants in South of Afghanistan
• Bangladesh urged to halt Rohingya camp fencing
• Rohingya refugees continue to risk lives to seek safety: UNHCR
------
Pakistan
• PM Succeeded In Countering Western Media Portraying Horrible Picture Of Islam: Qadri
• Non-Bailable Arrest Warrants Issued For PTM Leader Gulalai Ismail
• Pak PM fails to intimidate world community through Muslim unity idea on Kashmir: Altaf Hussain
• Suicide bomber kills policeman in Pakistan's southwest
• PM Imran shares more details about Islamic TV channel
• Maryam Nawaz's bail plea: LHC directs NAB to submit reply until Oct 14
• Pakistan hands over body of Indian BSF soldier who drowned while crossing nullah: ISPR
• Larger PHC bench sought to hear pleas of military court convicts
• PML-N, PPP agree to launch anti-govt campaign along with JUI-F
---------
North America
• White House Links Huawei And ZTE To Chinese Muslim 'Concentration Camps'
• US Voices Popular Fear Of Pakistani Terrorists Launching Terror Strikes In India Post Article 370
• Kashmir blockade must end: US congresswoman
• Chicagoland mall 'terrorist' did obsessive research before attack: prosecutors
• Why Haven't Police Departments Investigated Cops in Extremist Facebook Groups?
• Man arrested on terrorism complaint after allegedly threatening to blow up midtown apartment
• Muslim Teen Who Was Hit And Smeared As 'ISIS' Wasn't Protected By School, Mom Says
• Pompeo: Adrian Darya 1 is transferring oil to Syria despite promises
• US military pullout from Qatar indicates instability in Washington: Analyst
• U.S. Steps Up Strikes on Islamic State Militants in Libya
---------
Europe
• Time Bomb Jail Packed With 5,000 Isis Fighters
• Sajid Javid's Islamophobia clarification is 'a moment of common sense'
• 7 Catalans jailed as judge opens probe on terrorism charges
• Jihadis Given Dutch Passports After Citizenship Revocation Cancelled
• Dutch Laws Increasingly Target Muslims' Rights
• Former French PM faces trial over Pakistan arms deal
• KSRelief chief, European Parliament official discuss cooperation prospects
• Democracies do not have place for terrorists: Turkey
• EU Court Rules To Demolish Illegal Church In Bosnia
---------
Arab World
• Lebanese Paper Reveals US-Saudi Plot to Overthrow Gov't in Iran in 3 Years
• Saudi Arabia gave Iraq green light to arrange meeting with Iran: Iraqi official
• UN investigators offer more details of Khashoggi's murder
• Aftershocks from Jamal Khashoggi's murder still shake the Middle East
• US Demands Release of 128,000 Prisoners Held by Syrian Regime
• Egypt Investigates MB Leader Accused of Supporting Hasm Movement
• Two killed, 200 injured in Iraqi protests after police open fire
• Saudi Arabia welcomes creation of UN-sponsored constitutional panel on Syria
• Bin Salman ready to recognize Israel if US helps him defeat Iran: Documentary
• Golden coffin stolen during 2011 revolution returned to Egypt
---------
Mideast
• Israel Begins Netanyahu's Pre-Indictment Corruption Hearing
• Iran's Top General Says Wiping Israel Off Map Is An 'Achievable Goal'
• Palestinian PM Says Government Ready to Hold Elections
• Iran dissidents claim to have intel proving regime's involvement in Saudi oil attacks
• The U.S. Navy Isn't Ready to Take On Iran
• Rivals call off Israel unity government talks with Netanyahu
• Iran's IRGC giving assistance to Houthis: Iranian army chief of staff
• Turkey's former FM says Erdogan's AKP 'losing popular support'
• Saudi Cabinet: Iranian regime 'knows nothing but bombing, destruction'
• Iran hands death sentence, jail terms to US, UK spies: Judiciary spokesman
• Three Saudi bases, over 150 square kilometers taken in 2nd phase of Najran offensive: Yemen Army
---------
Africa
• Attack On Mali Army Camps Kills 25 Troops, 60 Missing
• Algeria army arrests terrorist, finds bodies, weapons
• US shows 'appalling disregard for civilians' in Somalia: Amnesty
• South Sudan child soldiers attempt to rebuild lives
• Two Nigerian Evangelicals Executed in Boko Haram Video
• Army arrests eight foreign nationals working for Boko Haram
• Forsaken in terror war, Kenyan islands await doctors by boat
• Nigeria: Buratai - Insurgency Can't Be Defeated By Warfare Alone
Compiled by New Age Islam News Bureau
URL: https://www.newageislam.com/islamic-world-news/palestine-issues-commemorative-stamp-honour/d/119892
---------
Palestine issues commemorative stamp to honour Gandhi on 150th birth anniversary
Oct 02, 2019
Palestine on Tuesday released a commemorative postage stamp on Mahatma Gandhi, honouring his "legacy and values", to mark the 150 birth anniversary of the world leader on October 2.
Palestinian Authority's (PA) Minister of Telecommunication and Information Technology Ishaaq Seder released the stamp in the presence of Representative of India in PA Sunil Kumar at a ceremony held at the ministry here.
Underlining the Mahatma's principles of nonviolence, values, wisdom and vision, Seder said, "Palestine's issuance of the commemorative stamp comes in honour of Gandhi's memory, legacy, and values that guided and shall continue to guide the humanity." Kumar noted that the gesture to honour India's 'Father of the Nation' symbolises the strong historical, political and cultural relations that India and Palestine share. He also highlighted Gandhi's significant contribution to human development, stressing that his teachings of peace, freedom, respect and tolerance are still felt around the world.
The Indian mission in Ramallah has organised several events over the past one year to commemorate the 150th birth anniversary of Mahatma Gandhi, drawing a huge response from all sections of the Palestinian society, especially the youth.
At a cycling event organised in the historic city of Jericho in June, the Governor of the city, Jehad Abu al-Asal, said Gandhi is a "real source of inspiration" for the Palestinian society whose messages "will continue to inspire millions of human beings" around the world.
https://www.hindustantimes.com/india-news/palestine-issues-commemorative-stamp-to-honour-gandhi-on-150th-birth-anniversary/story-3L9XjL70udoCc66G7kA2oK.html
---------
Academics warn of rise of religious extremism in Malaysia
02 OCTOBER, 2019
KUALA LUMPUR — There is a troubling trend towards religious extremism in Malaysia, what with brazen acts of intolerance emerging in recent times, said academics.
Echoing the concerns of Prof Syed Farid Alatas from the National University of Singapore regarding the persecution of Shias in Malaysia by Sunni religious authorities, director of Islamic Renaissance Front Dr Ahmad Farouk Musa said: "The persecution against 'the Other', such as Shias, was a clear and succinct example. Not to mention about the Ahmadis who were also denied of their rights to practise their belief.
"Shias have been targeted by state religious authorities like Jais (Selangor Islamic Religious Department) and JAINJ (Johor Islamic Religious Department) through various means, including the systematic weekly vilification on the mosques' pulpits every Friday," said Dr Farouk.
He regretted that these "nefarious actions of the religious authorities" did not receive any form of reprimand from the government, especially the minister in charge of religious affairs, Dr Mujahid Yusof Rawa.
"In fact, his only response was that their actions were according to SOP (standard operating procedure).
"Obviously, he was abdicating his duty as a minister of religious affairs because he should have voiced out against such actions, which were totally against any basic standard of human rights.
"Not by hiding behind the curtain that religious matters are in the hands of the sultans," Dr Farouk told The Malaysian Insight.
He stressed that Malaysia can stem this tendency of intolerance if the minister concerned could play a proactive role in organising dialogues between the different denominations in Islam.
"If we want to build a society of a middle community or as the Quran termed as 'ummatan wasatan', then this community of moderation can only exist if we foster a sense of respect and the ability to agree to disagree.
"A culture of dialogue and healthy debates. A community that could embrace and celebrate diversity.
"After all, we are all brothers in Islam. Didn't the Quran tell us that 'All believers are but brothers' (49:10). And didn't Imam Ali say that 'A person is either your brother in faith, or your equal in humanity'."
No one can deny the fact that Malaysia is slowly inching towards extremism, added Prof Ahmad Fauzi Abdul Hamid of Universiti Sains Malaysia (USM).
"I know because I've helped the police analyse evidence."
However, the path from extremism to terrorist activity may not be seamless. It may even never come, said Dr Fauzi, who has done studies on Islamic terrorism.
"But the spread of extremist propaganda can eventually influence other lone-wolf violent actors."
He cited social media as an example: "How many youngsters express support for the factory amok perpetrator in Penang on September 24? Even Puteri Umno praised him as a martyr?
"Do these people know the images stored by the attacker in his mobile phone? Even if he had not harmed the victims, evidence would weigh against him in court if charged on offences of storing pro-terrorist material in his electronic gadget.
"But would we have known that he's been an extremist for quite some time if he had maintained composure and not acted violently? Most probably no."
He stressed that seeds of extremism like this are widespread in society.
"Even some members of the state are, inadvertently or not, purveyors of extremist ideology through, for example, their exoneration of figures associated with extremist dogma."
Political scientist Dr Azmil Tayeb of USM pointed out last year's Merdeka Centre survey as he expressed his concern about religious extremism in the country.
The survey, he said, showed 28 per cent of Malay-Muslims who displayed "violence-receptive" tendency when it came to religion. Some 18 per cent of them supported the extremist Islamic group Jemaah Islamiyah and 5 per cent said they supported ISIS (Islamic State).
"While extreme thinking might not translate into acts of terrorism, it still contributes to intolerance and disharmony. The nature of extreme thinking is black and white, my way or the highway.
"Coupled that with the special status accorded to Malays and Islam and the perceived threat to this special status post-2018 election, we have a potent explosive mix of ethno-religious politics that have manifested in many controversies in the past one and a half years."
The prevalence of this extremist thinking is the result of the dominance of Islamic orthodoxy in Malaysia over the past few decades, which does not allow open discourse and diversity of Islamic views to co-exist, he told The Malaysian Insight.
"As a result, we have generations of Malays indoctrinated with the thinking that only their version of Islam is correct and those who disagree are deviants." THE MALAYSIAN INSIGHT
https://www.todayonline.com/world/academics-warn-rise-religious-extremism-malaysia
---------
Malaysian PM: Israel is the origin of modern terrorism
September 29, 2019
The creation of Israel by seizing Palestinian land and expelling its 90 per cent Arab population is the root cause of terrorism, the Prime Minister of Malaysia Dr Mahathir Mohamad said in his speech at the UN, reports Malay Mail.
The Malaysian PM stated that since the creation of Israel "…wars have been fought in many countries, many related to the creation of Israel. And now we have terrorism when there was none before, or at least none on the present scale."
Making his comments at the General Debate of the 74th UN General Assembly in New York, he added: "Military action against acts of terrorism will not succeed. We need to identify the cause and remove it. But the great powers refuse to deal with the root cause."
The prime minister added that Malaysia accepts the state of Israel "as a fait accompli", adding:
He went on to add: "Because of the creation of Israel, there is now enmity towards the Muslims and Islam. Muslims are accused of terrorism even if they did nothing. Muslim countries have been destabilised through the campaign for democracy and regime change. Muslims everywhere have been oppressed, expelled from their countries and refused asylum."
"Thousands have died at sea and in the severe winters. One cannot deny that in the past there were no massive migration. Now the wars and instability due to regime change have forced them to run away from their countries," he added.
Dr Mahathir also said that the application of the rule of law has been selective.
He said: "Friends may break any law and get away scot-free. Thus, Israel can break all the international laws and norms of the world and it will continue to be supported and defended. The unfriendly countries can do nothing right. There is no justice in the world."
https://www.middleeastmonitor.com/20190929-malaysian-pm-israel-is-the-origin-of-modern-terrorism/
---------
The Taliban Made Sure Afghans Were Too Terrified to Vote on Election Day
By Andrew Quilty
Oct 1 2019
WARDAK, Afghanistan — An armored Land Cruiser sped by, flanked front and rear by Afghan police Humvees with machine gunners in their turrets. They were the only vehicles on the typically chaotic 20-mile stretch of road that connects Kabul with Wardak's capital city Maidan Shahr.
It was Election Day, and motorists had heeded the Taliban's warning to stay home.
"The Taliban told people you'll be killed or have your fingers cut off," Rahmatullah, a 19-year-old from Maidan Shahr, told VICE News. Machine gun fire in the distance sounded like fingernails wrapping on a tabletop. According to preliminary tallies, as few as 2.5 million of the 9.6 million registered voters turned out.
But it wasn't just the Taliban who interfered in Afghanistan's presidential election; the fraud that marred previous votes also dissuaded many from taking part this time around.
The historically low turnout has once again cast doubt over the future of the government, but few are surprised by the turmoil. Less than a month ago, the election wasn't expected to happen at all. The vote had been on a collision course with the potential signing of a preliminary peace agreement between U.S. and Taliban representatives after months of negotiations in Doha, Qatar.
The Taliban, and many of incumbent President Ashraf Ghani's political rivals, argued that a leader elected before a peace agreement was reached wouldn't have a mandate to preside over the new political circumstances. But that calculus changed when Trump abruptly called off talks with the Taliban, prompting presidential candidates and diplomats to refocus on the election.
Skepticism was rife, not only among candidates but also voters. Not even the 72,000 security personnel the government deployed on Saturday was enough to gain voters' confidence.
In Kabul, and in most provincial capitals, Afghan security forces were roundly applauded for securing voters and election workers. Reports of casualties varied from 20-30 security forces personnel killed across the country and around 40 injured, while approximately 10 civilians were killed and 70-150 injured; a day not dissimilar to any other in recent years.
But in Maidan Shahr, only an hour from Kabul, it was a different story.
The city's main polling center was located inside the provincial governor's compound. During the late morning, more Taliban rockets could be heard than there were voters. By the time the 10th or 12th rocket struck during one barrage, workers for Afghanistan's Independent Election Commission (IEC) had stopped flinching. Only when one fizzed through the air above the center did the workers duck for cover.
By late morning, less than half a mile from the city center, fewer than 20 people had voted in the two-story Awal Baba School. An unexploded IED had already been found in the yard and removed.
For Ehasanullah, the voting center's manager, it was the second time he'd worked on a presidential election. The first time was in 2014. The difference this time, he said, was twofold: "The process is better, but people aren't attending because of security."
IEC workers sat idle behind school desks. One passed the time watching YouTube videos on one of the thousands of hand-held biometric devices distributed in an effort to crack down on voter fraud. Others sat and stared, seemingly oblivious to the cacophony of gunfire and explosions nearing the school. "Listen to the fighting," said Ehasanullah. "People are staying in their homes."
Sayed Yakubshud was twice the age of most election observers. He was a supporter of Gulbuddin Hekmatyar, the leader of the notorious militia turned political party Hezb-i Islami. At a rally before the election, Hekmatyar threatened a return to violence if the vote was deemed fraudulent. Yakubshud was more sanguine. "There's no voting — you can see the boxes," he said. "But the transparency is good, at least in this part of the process."
Preliminary tallies indicate voter turnout, nationwide, to be as low as 20 percent. In Wardak, the figures will be far lower. In one polling center, after five hours of voting, only 20 people out of 2,170 registered to vote at the center had cast ballots. Of those, 304 were women, two of whom had voted. (As of September 30, the IEC said 20,560 had so-far been tallied in Wardak).
The gesture of voting on Saturday was both hopeful and defiant, and people were relieved that Taliban violence, countrywide, was blunted by the Afghan security forces. But the real damage may have been done before the polls even opened on Saturday. The mere threat of Taliban violence, it seemed, was enough to deal lasting damage on the democratic process.
As security personnel and election workers sat down to lunch in the classrooms they'd occupied for the day in Maidan Shahr, a rocket or mortar exploded 150 yards from the school, and election workers rushed from classrooms into the corridor where they'd be safe from shattering windows if another struck closer.
Soldiers fought from behind the wall of a small amphitheater topped with pink and white flowers in the school grounds. Taliban fighters, they said, were only 200 yards away. Sher Mohammad fired a belt-fed machine gun from the hip, parting the row of flowers with a torrent of bullets until smoke rose along the length of its barrel. Rocket-propelled grenade launchers sent dust into the air and tree leaves fluttering to the ground. The whistle of an incoming rocket sent the soldiers rushing for shelter in the curve of the amphitheater steps.
Back inside the school, Abdul Wahid dropped his vote in a clear plastic box alongside three other ballots at 1 p.m. He was the first voter to arrive in half an hour. "We're voting for the future of Afghanistan," he said. "Although we're not sure the process will be transparent, we would like to try to select the person we want."
With fighting still audible outside, Wahid said he'd been worried about the Taliban threats but unlike a majority of registered voters, it wasn't enough to put him off casting his vote. "We're used to these conditions," he said. "It doesn't scare me."
https://www.vice.com/en_us/article/mbmpea/the-taliban-made-sure-afghans-were-too-terrified-to-vote-on-election-day
---------
PM Succeeded In Countering Western Media Portraying Horrible Picture Of Islam: Qadri
Umer Jamshaid
01st October 2019
ISLAMABAD, Oct 1 (UrduPoint / Pakistan Point News - 1st Oct, 2019 ) :Minister for Religious Affairs and Interfaith Harmony, Noor ul Haq Qadri, Tuesday said Prime Minister Imran Khan was succeeded in countering western media portraying horrible picture of islam before the world.
At the forum of United Nations General Assembly, the prime minister had depicted the true picture of Islam, he said while talking in a private news channel programme. The minister said Imran Khan had valiantly pleaded the case of Kashmiri people and Pakistan before the world leaders.
About launching a channel to counter western media propaganda, he said Pakistan, Turkey and Malaysia had decided to on air a programme in English language channel to remove the misperception of Islam.
To a question, Noor ul Haq Qadri said no body had courage to abolish 295c, adding that Prime Minister Imran Khan presented the case of Namoos-e-Risalat, in a befitting manner.
He said, "Pegham-e-Pakistan" is a complete document, in which 1,800 scholars from various school of thoughts, had signed the document and issued decree against terrorism.
He said the document would be presented in the Parliament for further procedure.
Noor ul Haq Qadri was of the view that competent leadership always made decisions on time, and Imran Khan holds the ability to take right decision in time.
To a question, he said India had been trying to link Jihad with Kashmiri struggle continuing in Indian Occupied Kashmir.
He said India was deliberately exhibiting negative picture of Muslims around the world.
He said there was serious need to formulate a policy benefiting the people and region to avoid losses.
To another question he said in the history of the country, no leader except Imran Khan, had tried to adopt the model of " Riasat-e-Madina" here in this region.
https://www.urdupoint.com/en/pakistan/pm-succeeded-in-countering-western-media-port-726017.html
---------
White House links Huawei and ZTE to Chinese Muslim 'concentration camps'
by Rob Crilly
October 01, 2019
The White House has accused telecom giants Huawei and ZTE of complicity with "concentration camps" in China, where it claims more than three million Muslims are imprisoned.
The Trump administration is a strident critic of Beijing's mass detention of Muslim Uighur minority and other Muslim groups, frequently describing the detention facilities in terms normally associated with Nazi Germany.
The latest condemnation, made during a call in which senior administration officials briefed reporters, coincided with China's celebrations marking 70 years of communist rule.
Sauli Niinistö, president of Finland, is due to meet President Trump at the White House Wednesday. A senior administration official said the two "Arctic nations" would discuss China's growing ambitions in the region and ways to improve 5G alternatives to those offered by companies such Huawei.
"Finland is home to Nokia, which has quickly developed 5G technology that is at least on par with that of Huawei and ZTE, and presents one of the viable alternatives for those countries that cherish privacy of their citizens' data, of the integrity of their networks, the security of their critical infrastructure, and knowing that they're not doing business with companies such as Huawei and ZTE that are involved in the modern-day concentration camps of over 3 million Muslims," said one of the officials
Washington is spearheading a campaign to persuade international allies to exclude Huawei from next-generation 5G networks. Senior intelligence officials have long warned that the company, which has close ties to the Chinese Communist Party, represents a security risk. ZTE is a Chinese telecommunications equipment company.
Human rights groups accuse Beijing of detaining more than a million members of the Uighur minority in "reeducation" camps, mostly in Xinjiang province. Authorities claim the detentions are essential for halting the spread of religious extremism and terrorism, but critics say the detainees' only crime is being Muslim.
https://www.washingtonexaminer.com/news/white-house-links-huawei-and-zte-to-chinese-muslim-concentration-camps
---------
Time bomb jail packed with 5,000 Isis fighters
September 30 2019
The cells smelt of stale sweat, prison grime and something that could have been the death of hope. On the crowded floors thin, shaven-headed men in orange suits lay on their sides crammed together, the chest of each pressed into the back of the next, so that no other phrase than "tinned sardines" could better describe the wretchedness of their situation.
These are the vanquished of Islamic State: 5,000 men in a single improvised prison, citizens of Britain, France, Belgium and the United States among them. All had heeded the call of Abu Bakr al-Baghdadi and flocked to join the caliphate in Syria and Iraq before it was finally crushed this year.
Another 7,000 men languish in similar conditions near by, in six other prisons…
https://www.thetimes.co.uk/article/living-hell-for-isis-suspects-trapped-in-legal-limbo-8klj0npg3
---------
Lebanese Paper Reveals US-Saudi Plot to Overthrow Gov't in Iran in 3 Years
Oct 01, 2019
The Arabic-language al-Akhbar paper reported on Tuesday that the top secret plan which was presented to the US in 2017 was aimed at weakening the Islamic Republic and its allies in the region, but eventually failed.
According to the document, Saudi Arabia intended to destabilize the Iranian government by a three-year-long plot. It includes initiatives to isolate Iran internationally to curb its nuclear program and transfer the battle to inside Iran so long as the Islamic Republic is toppled and a regime will replace it which serves the Saudi and the US interests.
It added that supervising the plan is a Saudi-American task force known as the 'Iran Working Group', noting that the document includes special proposals to the US to counter what it described as Iran's hostile policies in the region in the wake of the Obama administration's overture to Iran which the Saudis resented.
Al-Akhbar noted that after analysis of the document, it was revealed that the Saudis' were begging for the US trust to be its reliable partner in the region while asking for the US support to salvage its unsuccessful venture in Yemen and betting big on Donald Trump specifically.
The document confirms that the scope of the Saudi intervention in the neighboring states is serving the US interests by weakening the Iranian government from inside and outside the country, enhancing Saudi animosity towards Hezbollah and over war against Yemen.
Saudi Arabia and a number of its regional allies launched a devastating campaign against Yemen in March 2015, with the aim of bringing the government of former Yemeni President Abd Rabbuh Mansur Hadi back to power and crushing the Ansarullah movement.
Despite Riyadh's claims that it is bombing the positions of the Ansarullah fighters, Saudi bombers are flattening residential areas and civilian infrastructures. Weddings, funerals, schools and hospitals, as well as water and electricity plants, have been targeted, killing and wounding hundreds of thousands.
The US-based Armed Conflict Location and Event Data Project (ACLED) announced in late August that the total number of reported fatalities in Yemen has passed the 91,000 mark over the past four and a half years.
France, the United States, the United Kingdom and some other Western countries have faced criticisms over arms sales to the Saudi Arabia and the UAE, whose aggression against Yemen has affected 28 million people and caused what the United Nations calls "one of the worst humanitarian crises in the world". According to the world body, Yemen is suffering from the most severe famine in more than 100 years.
A UN panel has compiled a detailed report of civilian casualties caused by the Saudi military and its allies during their war against Yemen, saying the Riyadh-led coalition has used precision-guided munitions in its raids on civilian targets.
https://en.farsnews.com/newstext.aspx?nn=13980709000768
---------
Israel begins Netanyahu's pre-indictment corruption hearing
October 02, 2019
JERUSALEM: Israeli Prime Minister Benjamin Netanyahu's long-awaited pre-indictment hearing has begun.
Netanyahu's lawyers arrived Wednesday at the Justice Ministry in Jerusalem to argue that pending corruption charges against him should be dropped.
Israel's attorney general has recommended charging Netanyahu with bribery, fraud and breach of trust in three separate cases. Netanyahu has denied wrongdoing, calling them part of a media-orchestrated witch hunt. He's long promised he'd clear his name in the hearing.
The sessions are expected to extend over four days. It could take several weeks for the attorney general to render his final decision.
The hearing follows Israel's second inconclusive election of the year. Netanyahu is currently trying to build another coalition government, but the centrist Blue and White party is refusing to partner with him because of his legal troubles.
https://www.arabnews.com/node/1562971/middle-east
---------
Attack on Mali army camps kills 25 troops, 60 missing
James Tasamba
02.10.2019
BAMAKO, Mali
At least 25 Malian soldiers were killed and 60 others have been missing after a suspected al-Qaeda-linked attack targeted two army camps in central Mali on Monday, the government said.
"Among the ranks of the FAMA (Malian armed forces) the provisional death toll is 25, with four wounded -- around 60 missing and heavy equipment losses," the government said in a statement on Tuesday.
Local media said military posts at Boulkessi and Mondoro were targeted in the latest attacks this year orchestrated by militant groups with links to al-Qaeda.
The statement said the army launched a joint operation with forces from neighboring Burkina Faso, which was backed up by French troops stationed in the region.
Tensions erupted in Mali in 2012 following a failed coup and a Tuareg rebellion that ultimately allowed al-Qaeda-linked militant groups to take over the northern half of the country.
In 2015, a peace deal was signed between the government and some insurgent groups.
Political and community disputes continue to fuel tensions in northern Mali, thus undermining the implementation of the peace agreement.
Since 2015, these attacks have spread to central and southern Mali and to neighboring West African countries, particularly Burkina Faso and Niger.
https://www.aa.com.tr/en/africa/attack-on-mali-army-camps-kills-25-troops-60-missing/1599614
---------
India
In NIA's case in Jammu and Kashmir terror funding, a clear Pakistan link
Oct 02, 2019
Neeraj Chauhan
A National Investigation Agency probe into the affairs of Hurriyat leaders has found that Syed Ali Shah Geelani, Shabir Shah, Yasin Malik, Asiya Andrabi and Masarat Alam raise funds through Pakistan High Commission in New Delhi, Pak-based terror groups, Line of Control trade and Hawala channels, according to two officials familiar with the developments.
The NIA is set to make these revelations in a chargesheet it will file later this week against several separatist leaders including Jammu & Kashmir Liberation Front (JKLF) chief Yasin Malik, Shabir Shah (president of J&K democratic freedom party), Andrabi (head of Dukhtaran-e-Millat), Alam (general secretary of All Parties Hurriyat Conference) and businessman Zahoor Ahmad Watali in its Jammu and Kashmir (J&K) terror fund case.
This would be third chargesheet in NIA's J&K terror funding probe. The earlier two chargesheets were filed last year.
To nail the Hurriyat leaders, NIA has used their emails as well as videos, TV interviews, public speeches etc obtained from open source as evidence. One of the statements used by NIA in the chargesheet is Yasin Malik claiming in a TV interview few years back that he had visited the Lashkar-e-Taiba camp in Muree, Pakistan occupied Kashmir, and addressed LeT cadres.
Sharing details which would be part of main allegations in the chargesheet, likely to be submitted on October 3, an official told HT that the All Parties Hurriyat Conference (APHC) has adopted a strategy of instigating the general public to resort to violence and to create an atmosphere which is conducive for the propagation of their secessionist agenda.
These separatist leaders, NIA has found, are working in a systematic and organized manner on the instructions of their Pakistani handlers and have set up a network of their cadres at village, block and district level. The officer said they praise the activities of terrorists, attend their funerals and deliver hate speeches other than motivating youngsters to join militancy.
According to the officer, NIA will allege that Kashmiri people are repeatedly asked (by separatists) to observe strikes on various non-existent issues. They are then incited and instigated to get involved in unlawful activities especially stone-pelting, which throws the normal life out of gear.
The probe agency says the disturbances caused by the frequent strikes and stone-pelting need to be understood in a broader perspective which is to create such circumstances aimed at secession of J&K from Union of India.
As part of the conspiracy, the second officer said, Pakistan High Commission organizes functions and meetings in New Delhi in which Hurriyat leaders are invited and given instructions as well as funds. They usually collect funds in the name of supporting the families of militants.
Hurriyat leaders also sell their recommendations to the Pak HC for Kashmiri students wanting to go to Pakistan universities, suggesting that even Kashmiri youth are not spared when it comes to separatists making money.
Investigations further reveal that illegal benefits drawn from the LoC trade routed by the buyers of imported goods in New Delhi using hawala channels and shell companies ultimately reach separatists. Kashmiri handloom business being used for terror funds is the latest entry in secessionist activities, according to second officer cited above.
https://www.hindustantimes.com/india-news/what-nia-will-charge-hurriyat-leaders-with-in-j-k-terror-funding-case/story-rNdfUjuVowNWY4M6nI4sMN.html
---------
Indian Home Minister Amit Shah Promises Non-Muslim Citizenship Bill
October 01, 2019
New Delhi : Indian Home Minister Amit Shah said Tuesday that the government plans to revive a bill that would give non-Muslim refugees citizenship even before a controversial citizen registry in one northeastern Indian state has been finalised.
Amit Shah, the leader of Prime Minister Narendra Modi's Hindu nationalist Bharatiya Janata Party, said in a speech in Kolkata that the party would give "Hindu, Sikh, Buddhist, Jain and Christian settlers" citizenship.
The proposal, framed as the Citizenship Amendment Bill, has stalled in the upper house of Parliament. It would grant citizenship to non-Muslim refugees from countries like Afghanistan, Bangladesh and Pakistan who have resided in India for at least six years.
A list of citizens in the northeastern state of Assam that was published last month left out nearly 2 million residents. People whose names were left off the list had 60 days to appeal to quasi-legal tribunals to prove their citizenship.
The process was based on voluntary applications rather than a home-to-home census. All residents of Assam, which shares a long, porous border with Bangladesh, were invited to apply to be included on the list with documentation that would prove their lineage to a bona fide resident of the state on or before March 24, 1971, when Bangladesh became an independent country.
Full report at:
https://gulfnews.com/world/asia/india/indian-home-minister-amit-shah-promises-non-muslim-citizenship-bill-1.1569932733031
---------
144 children held in Jammu and Kashmir after Article 370 move: Report
Bhadra Sinha
Oct 02, 2019
As many as 144 children, between the ages of 9 and 18 years, were arrested by police in Jammu and Kashmir since August 5, the Jammu and Kashmir High Court's Juvenile Justice Committee said in a report to the Supreme Court, although it denied that they were being held illegally. Of those arrested 142 were released.
The report is based on the data the panel received from the state police and Integrated Child Protection Services, J&K (ICPS).
A three-judge bench led by Justice NV Ramana is hearing a petition filed by child-rights activists claiming that minors have been arrested under preventive detention law in Kashmir after August 5, when Parliament passed laws and resolutions to bifurcate J&K into two union territories, scrapped its special status, and also withdrew the special privileges enjoyed by its permanent residents.
SC, during the last hearing asked the HC panel to enquire into the allegations.
The report, a copy of which has been reviewed by HT says minors as young as 9 and 11 years-old were detained for causing minor injuries and creating law and order problem. Children are prone to malicious propaganda without understanding the consequences of indulging in such acts and are being used by vested interests, the panel said, quoting the response of State police.
The union home ministry did not respond to queries from HT.
The report also cited the state police and said many of the allegations regarding the illegal detentions were exaggerated. "It happens often that when minors/juveniles indulge in stone pelting, that they are momentarily held up on the spot and sent home. Some of these incidents are exaggerated beyond proportion," the committee quoted the police as saying.
According to the data provided by the state police, 144 children aged between 9 and 18 years were arrested between August 5 and September 23. Nine arrests -- of children between 13 and 18 years– were preventive in nature, while most of them have been booked for breach of peace. Only two children continue to be in judicial custody and are at present lodged in a juvenile home. The rest have been released, the report said.
"No child has been taken into illegal detention. As and when any report in respect of a juvenile in conflict with law is received, the said juvenile is dealt strictly as per the prescribed law on the subject," read the report.
Child-rights activist Sushmita Dev criticized the arrests of minors in Srinagar. "If children have been detained that it is nothing short of blasphemous vis-a-vis our Constitution and a nation like Indian known for its civil liberties. This is shameful and these are dark days for India," she said.
"Wholly irrespective of either Article 370 or politics of any sort, 140 juvenile detentions in a short period of 2 months is alarmingly and unacceptably high. This should be immediately reviewed and the children released wherever possible," said Congress leader Abhishek Manu Singhvi
Full report at:
https://www.hindustantimes.com/india-news/144-children-held-in-j-kafter-art-370-move-report/story-qFDagIT2vpjG33wbHZ5GmN.html
---------
Mahatma Gandhi showed love for non-violence is only way to defeat hatred: Rahul Gandhi
Oct 2, 2019
NEW DELHI: Several top Congress leaders, including party president Sonia Gandhi, on Wednesday paid tributes to Mahatma Gandhi on his 150th birth anniversary with Rahul Gandhi saying that the Father of the Nation showed that love for all living beings and non-violence is the only way to defeat bigotry and hatred.
The Congress president and former Prime Minister Manmohan Singh were among those who paid floral tributes to the father of the nation.
Taking to Twitter, former party president Rahul Gandhi said: "On his 150th Jayanti, my tributes to Mahatma Gandhi Ji, the 'Father of the Nation', who through his words & deeds, showed us that love for all living beings & non violence is the only way to defeat oppression, bigotry & hatred."
On his 150th Jayanti, my tributes to Mahatma Gandhi Ji, the "Father of the Nation", who through his words & deeds,… https://t.co/bNTsUmggmp
— Rahul Gandhi (@RahulGandhi) 1569988734000
Congress general secretary organisation KC Venugopal said, "In a strife-torn world, as indeed India, Gandhiji and his philosophy is more relevant than ever today."
Mahatma Gandhi's legacy of non-violence, co-existence, compassion, truth and economic self reliance have not only shaped nationhood, but those of many across the world, Venugopal said.
Senior Congress leader Kapil Sibal took a swipe at the Modi government on the occasion.
"Bapu: Bharat badal chuka hai. Four pillars of Bapu's India: 1) Truth, 2) Tolerance, 3) Non-Violence, 4) Celebration of diversity. Now:1) Fake news, fake data, fake claims. 2) Intolerance in words and deed. 3) Violence extolled as virtue. 4) Targeting diversity," the former Union minister said in a tweet.
Bapu : Bharat badal chuka hai Four pillars of Bapu's India : 1) Truth 2) Tolerance 3) Non-Violence 4) Celebratio… https://t.co/8vBxKWEEkk
— Kapil Sibal (@KapilSibal) 1569987241000
Several other top Congress leaders such as Punjab chief minister Amarinder Singh, Rajasthan chief minister Ashok Gehlot, Rajasthan deputy chief minister Sachin Pilot, Jyotiraditya Scindia, Sushmita Dev and Meira Kumar, paid homage to Mahatma Gandhi.
The Congress will celebrate Mahatma Gandhi's 150th birth anniversary by organising 'padayatras' across the country, with party leader Rahul Gandhi joining the foot march in the national capital.
Full report at:
https://timesofindia.indiatimes.com/india/mahatma-gandhi-showed-love-for-non-violence-is-only-way-to-defeat-hatred-rahul-gandhi/articleshow/71403863.cms
---------
Ajit Doval leaves for Saudi Arabia to counter Imran's claims on J&K
Oct 2, 2019
NEW DELHI: India is reaching out to Saudi Arabia at the highest levels to sensitise the leadership in Riyadh about the government's August 5 decision on Kashmir.
National security advisor Ajit Doval travelled to Riyadh on Tuesday to meet Crown Prince Mohammed bin Salman and hold discussions on bilateral and regional issues. Doval's visit comes after Pakistani PM Imran Khan stopped over in Riyadh to enlist Mohammed bin Salman's support for Pakistan's Kashmir 'cause'.
Doval's visit is a signal from New Delhi of the importance given to ties and sentiments of the Saudi leadership. The NSA's presence is significant not merely because he is the highest-ranking emissary of the prime minister. He has personally spearheaded the government action in Kashmir after Parliament voted to de-operationalise Article 370 of the Constitution. Doval will emphasise to the Saudi leadership on how the move was an internal one, how the whole idea has been to integrate Kashmir with the rest of the country by allowing all laws and benefits applicable to the country in that state.
Pakistan's diplomatic exertions in the past few weeks brought it support from countries like China, Malaysia and Turkey. Interestingly, both the UAE and Saudi Arabia have played a much more neutral role, despite a statement by the Kashmir contact group of the Organisation of Islamic Cooperation.
Doval's visit comes after Saudi Arabia's premier oil processing facility in Abqaiq suffered extensive damage by a barrage of cruise missiles and drone attacks, putting the region perilously close to a conflict. Mohammed bin Salman took a restrained stand, saying any Saudi-Iran conflict (Saudi Arabia blames Iran for the attack) would be disastrous for the world economy.
Full report at:
https://timesofindia.indiatimes.com/india/ajit-doval-leaves-for-saudi-arabia-to-counter-imrans-claims-on-jk/articleshow/71401230.cms
---------
Jammu and Kashmir: Another militant killed in encounter at Ganderbal
October 2, 2019
The Army said it has killed another militant in the upper reaches of Ganderbal, four days after a militant was killed when an encounter began on Saturday.
"One more terrorist (total two Pakistanis) killed. Weapon and war like stores recovered. Operation in progress," Srinagar-based Army's Chinar Corps tweeted on Tuesday.
The encounter near Gangabal, a high-altitude lake in the upper reaches of Ganderbal, is one of the longest gunfights between militants and the Army in recent years. Even though no further contact was established with the militants in last three days, Army teams continued searches in the area, apprehending that the militant was part of a large group that might have recently infiltrated into the Valley.
https://indianexpress.com/article/india/jammu-and-kashmir-another-militant-killed-in-encounter-at-ganderbal-6046350/
---------
Southeast Asia
Papua, Kashmir: Peace in the backyard, peace in the world
Julia Suryakusuma
October 2 2019
Why is there so much strife in the world? I was pleased to learn that Indonesia has attempted to contribute to world peace, brokering a number of Muslim-related conflicts. I was glad to find out that academically we're also pretty serious about peace when I discovered the Rumah Perdamaian (Peace House) of the School of Strategic and Global Studies (SKSG) at the University of Indonesia (UI). The Peace House has been in existence for about a year, while the SKSG has been around from the 1980s under different names.About two weeks ago, the SKSK conducted two seminars in a row, on Kashmir and Papua, both embroiled in violent conflicts. The one on Sept. 16, titled "Kashmir: a fair solution", presented four speakers: Pakistani Ambassador to Indonesia Abdul Salik Khan, Baskoro Nugroho Ajie of the directorate of South and Central Asia from the Foreign Ministry, SKGK lecturer Mulawarman Han...
https://www.thejakartapost.com/news/2019/10/02/papua-kashmir-peace-backyard-peace-world.html
---------
Indonesia Protesters Fear Rollback of Rights, Reforms
By William Gallo
September 27, 2019
JAKARTA - Indonesia is seeing its largest protests in two decades, amid a wave of public anger at a proposed overhaul of the country's criminal code and a controversial move to weaken an anti-corruption body.
Tens of thousands have protested this month nationwide, including in the capital, Jakarta, where police fired tear gas and water cannons to disperse student protesters outside the parliament building Tuesday.
Many are upset at a proposal that would outlaw or strengthen existing restrictions on abortion, sex outside marriage, blasphemy, and insulting the president or other symbols of government.
Others are angry at the passage of recent legislation that threatens to diminish the independence of, and strips key powers from the country's respected Corruption Eradication Commission.
Separately, at least 30 people were killed this week during an outbreak of anti-government protests in the eastern region of Papua, where there has long been a low-level insurgency.
Challenge for the president
The developments amount to a major challenge for President Joko Widodo, who is set to begin his second five-year term in October after easily winning re-election in April.
"It's very serious," says Devi Asmarani, Jakarta-based founder and editor of The Magdalene, an online feminist magazine.
Widodo has long wanted to revise Indonesia's criminal code, which was set up by the country's former Dutch colonial rulers. His past attempts to do so have failed.
"The whole purpose was to make the criminal code more Indonesian, because it was a legacy of the Dutch colonial era," Asmarani says. "But instead we came up with something that criminalizes everything."
Most international headlines have focused on aspects of the bill that would outlaw sex outside marriage, and how that may impact popular international tourist destinations, such as Bali.
But the proposal, which contains more than 600 articles, could impact a large section of Indonesian society.
Women, gender minorities
Human Rights Watch called the draft criminal code "disastrous not only for women and religious and gender minorities, but for all Indonesians."
It is likely to disproportionately affect women and criminalize same-sex conduct, something Indonesia has never done, said the rights group's Indonesia researcher, Andreas Harsono.
Under the proposal, couples who have premarital sex could receive up to a year in prison. Unmarried couples who live together face up to six months in jail. Abortions would be outlawed in most circumstances.
Lawmakers this week delayed the proposal after Widodo bowed to public pressure, saying more input was needed. But some fear the bill could be passed by the next session of parliament.
Bill pauses, protests continue
Protests have continued even after the bill was paused. In Jakarta this week, hundreds of protesters and dozens of police officers were injured when protesters tried to break into the parliament building, officials said.
The protests are the largest Indonesia has seen since 1998 when mass demonstrations led to the resignation of Suharto, the military leader who had ruled the country for three decades.
Some protesters now accuse the government of risking a return to Suharto's oppressive "New Order."
The protester demands have recently widened to include an end to what they call "militarism" in Papua, the stoppage of man-made forest fires that have spread a toxic haze throughout Southeast Asia, the release of political prisoners, and other wider democratic reforms.
Reforms in jeopardy
Since Suharto's downfall, Indonesia has undertaken a series of reforms. Observers say those reforms are now threatened by a combination of political polarization and the influence of and response to political Islam.
"There is no question Indonesian politics have moved in a more illiberal direction in recent years," says Aaron Connelly, a research fellow at the International Institute for Strategic Studies (IISS) in Singapore.
"That is partly down to the cynical use of Islamist movements by opposition politicians to stir discontent with (Widodo)," he says. "But it is also because of actions that Jokowi himself and his appointees have taken to suppress dissent," he said, using a nickname for the president.
Widodo is seen by some as being aligned with the political elites from the Suharto era. His attempt to revise the criminal code has also received support from some conservative Muslim groups.
Full report at:
https://www.voanews.com/east-asia-pacific/indonesia-protesters-fear-rollback-rights-reforms
---------
Christian Lawmaker Decries MPR Speaker's Decision to Disallow Her Reading Prayer During Plenary Meeting
BY MARKUS JUNIANTO SIHALOHO
SEPTEMBER 27, 2019
Jakarta. Christian lawmaker Rahayu Saraswati Djojohadikusumo has expressed disappointment with a decision by the speaker of the People's Consultative Assembly, or MPR, to disallow her from reading a prayer scheduled for the final meeting of the current term of the national legislature on Friday.
MPR Speaker Zulkifli Hasan ended his speech during the meeting by reading a prayer, which according to the program, Rahayu was supposed to perform. But Zulkifli said he did so for the sake of brevity.
Rahayu said she was looking forward to the prayer, as it would have marked the first time a woman and non-Muslim recited prayers in a plenary session of the national legislature.
"I worked on it and wrote this prayer until 2 a.m. to make sure it would express our hopes to the people's representatives for the future of Indonesia, which focuses on four basic tenets: Pancasila, the Unitary Republic of Indonesia, the 1945 Constitution and Bhinneka Tunggal Ika," she said, referring to the official state ideology, and the national motto of Indonesia, which translates to "Unity in Diversity."
However, the Great Indonesia Movement Party (Gerindra) lawmaker said she was told in the morning that the speaker had objected to her reciting the prayer.
"I proposed that if he objected to me being a female, to then allow a Christian male legislative member to read the prayer I had prepared. But the reading was still removed from the lineup, which was actually an official part of the meeting," she said.
"My question to Mr. Zulkifli Hasan, whom I respect: Was it because I'm female, or because I'm a non-Muslim?" she added.
Rahayu said her faction decided to walk out of the meeting in protest.
"The prayer was an official part of the MPR session. I was so shocked and hurt by this treatment; the reality is, that in the highest state institution – which has a duty to be a bastion of national unity and to uphold the four basic tenets of the state – a representative of women and non-Muslims was denied the opportunity to read a prayer for our beloved nation and country," she said.
Full report at:
https://jakartaglobe.id/context/christian-lawmaker-decries-mpr-speakers-decision-to-disallow-her-reading-prayer-during-plenary-meeting
---------
Malaysia: Ex-IS Cell Leader Says Rehabilitation Changed his Life
2019-10-01
A 36-year-old Malaysian man said he was ready to die for the Islamic State militant organization – but that was before his February 2016 arrest and subsequent rehabilitation.
The man told reporters Tuesday that he ran 13 chat groups on WhatsApp and Telegram and had recruited 50 to become members of the Islamic State (IS) extremist group. Malaysian corrections officials denied journalists who interviewed the man permission to use his real name because of his former ties to IS.
"Yes, I would [die for IS] but, thank God, that I did not get to that stage," he said.
The man was part of a group of IS members in Malaysia who were convicted and sentenced in April 2016 to two years in prison and rehabilitation program under the Prevention of Terrorism Act 2002 for involvement in IS activities. His charges were tied to recruiting and spreading propaganda as well as helping others collect funds to help those who wanted to travel to Syria and Iraq to join IS fighters.
"To me, the rehabilitation program worked. Who thought they would be able to change my ideology, but they did eventually," the former IS member told reporters after launching a three-day workshop at Kajang Prison in Selangor state on preventing and countering violent extremism.
"If you asked me when I was first arrested and put in jail, I would diss the facilitators and the people who worked in the rehabilitation program for their inability to counter my argument," he said.
"But sessions with religious figures, preachers they brought in sometimes weekly, biweekly or monthly depending on the availability of the individuals, helped me to understand religion better."
The man said he became involved with IS at a time when he wanted to learn more about Islam.
"There was no problem back home, my life was fine. But at the time, I was looking for the true Islamic teaching and every day I saw videos of the injustice done against fellow Muslims abroad on Facebook and reading the materials that made me angry," he said.
"I could not just stand and talk about the injustice. I felt that it was my responsibility to help my Muslim brothers and sisters," he said.
The workshop included officers from religious departments, the Southeast Asia Regional Center for Counter Terrorism (SEARCCT), the Royal Malaysia Police, the Attorney General's Chamber and the Malaysia Prisons Department.
The man said he became an IS cell leader and established the Al Qubro Generation, a Telegram group tasked with recruiting IS members and collecting funds to help those who wanted to travel to Syria. The group collected 15,000 ringgit (U.S. $3,577) in three months.
"After I created my own group, I let go of the others and put all my focus into one. I named the group Al Qubro Generation to take on the name of Al-Malhama Al-Kubra, the great battle prophesied to occur at the end of time between Muslims and unbelievers. And the generation for those in the group who were ready to fight in the war," he said.
Since his release from prison in April 2018, the former IS recruiter has been assisting Malaysian corrections officials and other authorities to spread awareness through forums and interviews.
"This is more of me redeeming myself by sharing what happened to me and what I had done wrong in the past, so that the others would not be easily influenced by IS propaganda," he said.
Rehabilitation starts day one
The rehabilitation and reintegration into society of radical inmates starts on the day they report to prison and continues until they leave, said Zulkifli Omar, director general of the Prisons Department.
"All prisoners must follow the human development program handled by well-trained prison officers," Zulkifli said.
Malaysia has 116 radical detainees along with 2,000 listed as high-risk detainees among 72,000 prisoners serving their sentences at the 53 prisons nationwide, according to Malaysian prison statistics released Tuesday.
Zainal Abidin Abu Hassan, deputy secretary-general at the Ministry of Home Affairs, said the workshop was part of its effort to develop a National Plan of Action for Preventing Violent Extremism.
Full report at:
https://www.benarnews.org/english/news/malaysian/recruiter-speaks-10012019163720.html
---------
South Asia
Afghan airstrikes kill 17 militants in southern Zabul province
2019-10-01
QALAT, Afghanistan, Oct. 1 (Xinhua) -- A total of 17 militants had beem confirmed dead as fighting planes struck Taliban hideouts in parts of Shahjoy district of Afghanistan's southern Zabul province on Monday, said an army statement on Tuesday.
According to the statement, 15 more militants were wounded in the air raids.
Five motorbikes belonging to the insurgents had also been destroyed, the statement said.
Taliban militants have not commented.
http://www.xinhuanet.com/english/2019-10/01/c_138439877.htm
---------
Afghan officials: Taliban attack kills at least 11 policemen
1 October 2019
Afghan officials say a multi-pronged Taliban attack on a district headquarters in northern Balkh province has killed at least 11 policemen.
Munir Ahmad Farhad, spokesman for the provincial governor, says the attack started early on Tuesday morning and triggered a gun battle that is still underway around the Shortepa district headquarters.
Taliban spokesman Zabihullah Mujahid says the insurgents have overrun the district - a claim that Farhad denies. The spokesman says reinforcements are on their way to Shortepa.
Mohammad Afzel Hadid, head of the Balkh provincial council, says he fears the casualty toll could rise further unless reinforcement arrive promptly as the district is in a remote area.
Full report at:
https://english.alarabiya.net/en/News/world/2019/10/01/Afghan-officials-Taliban-attack-kills-at-least-11-policemen.html
---------
Taliban delegation led by Mullah Baradar to visit Islamabad today: Shaheen
02 Oct 2019
A delegation of political leaders of Taliban led by Mullah Abdul Ghani Baradar, the deputy political chief of Taliban, will visit Islamabad today.
Suhail Shaheen, a spokesman for the political office of Taliban in Qatar said in a Twitter post the Taliban delegation will visit Islamabad on official invitation.
Shaheen further added that the Taliban leaders will hold talks on some important issues with the Pakistani officials. He did not disclose further information in this regard.
According to Shaheen, the Taliban delegation's visit to Islamabad would be the 4th such trip to regional countries after the delegation's visit to Russia, China and Iran.
This comes as the Pakistani Prime Minister Imran Khan had earlier said it would be a big tragedy if Afghan peace talks don't make headway.
He made the remarks during a ceremony at Torkham crossing on 18th of September. "We will put our best (effort) that these talks are resumed again."
Full report at:
https://www.khaama.com/taliban-delegation-led-by-mullah-baradar-to-visit-islamabad-today-shaheen-04169/
---------
Afghan, U.S. forces kill dozens of Taliban militants in South of Afghanistan
01 Oct 2019
The Afghan and U.S. forces killed dozens of Taliban militants during the operations in southern Zabul and Uruzgan provinces.
The 205th Atal Corps said in a statement the Afghan forces killed 17 Taliban militants and wounded 15 others during a clash in Shahjoi district of Zabul.
The statement further added the security forces also destroyed 5 motorcycles of the militants.
Furthermore, the U.S. forces killed 3 militants of Mullah Ismail and Haji Rasool by conducting an airstrike in Khanqa area of Tarinkot in Uruzgan province and wounded 5 others.
Full report at:
https://www.khaama.com/afghan-u-s-forces-kill-dozens-of-taliban-militants-in-south-of-afghanistan-04166/
---------
Bangladesh urged to halt Rohingya camp fencing
October 1, 2019
Rohingya refugees, church officials and right groups have urged Bangladesh's government not to go ahead with a plan to increase security at Rohingya camps.
The government will construct barbed wire fences and guard towers around 30 Rohingya refugee camps as ordered by Prime Minister Sheikh Hasina, Home Minister Asaduzzaman Khan told media on Sept. 26.
The camps shelter about one million Rohingya Muslims who fled deadly military crackdowns in Rakhine State of Myanmar in 2016 and 2017.
The move is seen as Bangladesh's latest expression of frustration after failing to start the repatriation of refugees after two attempts in November 2018 and August this year.
Since a mass Rohingya rally on Aug. 25, Bangladeshi authorities have beefed up security in camps, banned NGOs, cut off mobile phone and the internet, and revived a plan to relocate Rohingya to an island and transfer refugee officials.
Some media outlets have been accused of conducting a smear campaign to tarnish the image of refugees.
The fencing plan has created renewed unease and disappointment among refugees.
"Rohingya are grateful to Bangladesh for saving lives, but the plan for fencing sounds like an insult, which will instill a guilty feeling among refugees," Abdur Rahim, 52, a Rohingya from Kutupalong refugee camp in Cox's Bazar, told ucanews.com.
Rahim fled to Bangladesh from Myanmar in 2017 with his 12-member family, and they now live in three shelters in the camp.
Guard towers are welcome to increase security but fencing would curtail the freedom of movement of refugees, he said.
"Life in the camp is difficult because we try to survive with aid from charities, which is not enough. So, refugees try to earn some money by working as day laborers and fishermen, which won't be possible anymore," Rahim added.
Fencing would create prison-like conditions in camps, according to Abu Morshed Chowdhury, co-chairman of Cox's Bazar Civil Society NGO Forum, a coalition of 50 local and national charities active in refugee camps.
"There are logical solutions to tackle crimes and security issues in the camps, but I don't think constructing fences and guard towers is a good one. Fencing is like putting refugees in prisons," Chowdhury told ucanews.com.
"Instead of fencing, the authorities should form security cells with law enforcers, locals and refugees to effectively monitor and check on criminal elements."
Holy Cross Father Liton H. Gomes, secretary of the Catholic bishops' Justice and Peace Commission, said Bangladesh risks damaging its good image with the fencing plan.
"Bangladesh earned global accolades by sheltering Rohingya on humanitarian grounds, but now fencing would tarnish this good image. The government must rethink the plan because it is inhuman and a violation of human rights," Father Gomes told ucanews.com.
"The government should talk to Rohingya first to know if they would accept fencing to combat crimes. It is not logical because if we have crime-ridden villages, we tackle crimes but don't fence villages."
In a statement on Oct. 1, New York-based Human Rights Watch also criticized the move.
Full report at:
https://www.ucanews.com/news/bangladesh-urged-to-halt-rohingya-camp-fencing/86237
---------
Rohingya refugees continue to risk lives to seek safety: UNHCR
Oct 02, 2019
Refugees from Southeast Asia, many of whom are members of Myanmar's Rohingya minority, continue to risk their lives to reach safety, according to a new report by the United Nations, which also highlights a much higher rate of deaths over the last year.
The report released on Tuesday by the UN's refugee agency (UNHCR) said one person in every 69 refugees and asylum seekers who embarked on a sea journey last year in the region died or went missing at sea.
That is up from the one in every 81 ratio between 2013 to 2015, at the height of Southeast Asia's refugee and migrant boat crisis in the Andaman Sea.
"As long as the root causes of displacement are unresolved, refugees will continue to feel compelled to undertake dangerous journeys in search of safety for themselves and their families," UNHCR Director for Asian and the Pacific Indrika Ratwatte, said in a statement.
He appealed to countries in the region to provide "orderly and safe pathways" to reduce the danger for refugees and asylum seekers.
While the overall number of people attempting the journey has decreased, the fatality rate has increased, the report said, adding that between January and June of this year, 15 more people have died while attempting to cross seas and rivers.
"Confirmed reports are, however, only the tip of the iceberg given most bodies are never found and many missing persons never reported," the UNHCR said.
In previous years, people smugglers were to blame for most of the deaths, due to beating, gunshot wounds or deprivation of food and water during the journey.
But since 2018, the primary cause of death or disappearance at sea was due to boats in distress, with many vessels without professional crews and not built for or equipped to make long journeys safe for refugees, the report added.
In Southeast Asia, the conflict in Myanmar remains the dominant factor pushing the forced migration.
Since August 2017, more than 740,000 members of Myanmar's long-persecuted mostly-Muslim minority fled to neighbouring Myanmar to escape a brutal military crackdown in Rakhine state.
In 2018 and this year, meanwhile, an escalating conflict between Arakan Army, an armed group seeking more autonomy for Rakhine state's Buddhist-majority population, and the Myanmar armed forces has displaced an additional 22,000 refugees - further complicating the situation on the ground and "exacerbating existing challenges and difficulties" faced by the Rohingya, the report added.
In a report in September, the UN Human Rights Council had warned that as many as 600,000 Rohingya remaining in Myanmar's Rakhine state face "a serious risk of genocide".
Phelim Kine 林海
✔
@PhelimKine
Faces of desperation: These #Rohingya from Rakhine state are officially "illegal migrants" for trying escape the apartheid-like #Myanmar govt-imposed poverty & isolation of their communities http://bit.ly/2nSpWDn "They were seeking ways to find a better future"
View image on Twitter
13
12:11 AM - Oct 1, 2019
Twitter Ads info and privacy
See Phelim Kine 林海's other Tweets
Refugees interviewed by the UNHCR this year recalled harrowing physical abuses by human traffickers, often to extort payments from relatives, according to the report.
One Rohingya boy told the agency that he escaped by himself to get away from the fighting in his area.
He said he was locked up along with other boys, and beaten with a rod by the people smuggler.
"He made me call my mother and turned on the speakerphone so she could hear me crying. He demanded the full payment from my mother. My parents had no choice but to sell their land to pay."
Four out of five refugees seeking safety in Bangladesh between January 2018 and June 2019 were women or children.
"Women and girls, especially those travelling on their own, reported incidents of sexual exploitation and gender-based violence," the report said.
Full report at:
https://www.aljazeera.com/news/2019/10/rohingya-refugees-continue-risk-lives-seek-safety-unhcr-191001075311416.html
---------
Pakistan
Non-bailable arrest warrants issued for PTM leader Gulalai Ismail
Oct 02, 2019
An additional district and sessions court on Tuesday issued non-bailable arrest warrants for Pashtun Tahafuz Movement (PTM) leader Gulalai Ismail in a case pertaining to maligning state institutions.
The court ordered that if the suspect does not appear before it on Oct 21, the process to declare her a proclaimed offender could be initiated.
Ismail, who was booked over seditious speeches in May, mysteriously escaped from Pakistan after her passport was confiscated and is currently seeking political asylum in the United States.
In an informal talk with the New York Times on Sept 20, the self-proclaimed human rights activist on the run refused to reveal how she got out of Pakistan without any passport and other valid travel documents.
"I didn't fly out of any airport," she said, adding: "I can't tell you any more."
In March this year, the Islamabad High Court (IHC), while hearing her petition, directed the interior ministry to remove her name from the Exit Control List (ECL).
The court, however, allowed the ministry to take appropriate action against her, including the confiscation of her passport, based on the recommendations by the Inter-Services Intelligence (ISI).
In November last year, the IHC was informed that the ISI recommended putting the rights activist's name on the ECL for her anti-state activities and reported linkages with foreign spy agencies.
In her petition, she sought the retrieval of her passport and travel documents which the Federal Investigation Agency (FIA) had confiscated upon her arrival in Pakistan on Oct 12 when she was briefly detained at the Agency's Islamabad office.
According to the petition, Ismail is the chairperson of a non-governmental organisation (NGO), "Aware Girls", and has received national and international acclaim for her work on empowering Pakistani women.
The petition said that the FIA, on Oct 12, detained her when she returned from the UK in connection with her association with the Pashtun Tahaffuz Movement and for "delivering anti-state speeches".
Ismail argued in her petition that the federal government placed her name on the ECL and the FIA confiscated her passport without giving her an opportunity to defend herself.
She requested the court to order the removal of her name from the ECL and return her passport.
On Friday last, while Prime Minister Imran Khan was delivering his historic speech at the UN General Assembly (UNGA) highlighting the plights of Muslims around the globe and Kashmir issue, Ismail appeared outside the UN headquarters in New York holding placards and chanting anti-Pakistan slogans.
The protest received prominent coverage from Indian media which used it to back-up its malicious claims of human rights atrocities in Pakistan.
https://www.pakistantoday.com.pk/2019/10/02/non-bailable-arrest-warrants-issued-for-ptm-leader-gulalai-ismail/
---------
Pak PM fails to intimidate world community through Muslim unity idea on Kashmir: Altaf Hussain
October 1, 2019
Pakistan Prime Minister Imran Khan has failed to intimidate the world community through an absolute idea of Muslim unity on Kashmir, Muttahida Qaumi Movement (MQM) leader Altaf Hussain has said.
The MQM also alleged that Khan has failed to realise that the time has changed and the days of Jihadist threats are over now.
"That is why Pakistan could not even get the support of Saudi Arabia and the United Arab Emirates on the issue of Kashmir," he added.
"I want to move the International Court of Justice (ICJ) but the acute financial crunch is the greatest impediment ahead to that move," the leader told his followers in a video that has gone viral on social media.
The world has realised that war is no solution to any conflict but after following the footprints of former Pakistan President Muhammad Zia-ul-Haq, Khan has become pre-obsessed with the idea of uniting the Muslims across the globe.
"Pakistan's military establishment has always misused Islam to carve out means of loot and personal interests and they are still trying to dupe the world and people of Pakistan on this subject of Islam," he said.
While offering a comparison of the recently concluded trip of Khan and Prime Minister Narendra Modi to the United States on the occasion of the 74 session of the United Nations General Assembly, Hussain noted that the Indian Prime Minister was warmly welcomed while Khan was snubbed.
"Prime Minister Modi was in limelight wherever he went and the Houston event was splendid with regards to cordial relations between the Prime Minister and US President Donald Trump. It looked as if they were bosom friends since their childhood. This difference was only because of the primary fact that Modi had his peoples' mandate while Imran Khan was a 'selected' one. Only those with the direct public mandate are respected worldwide," the MQM said.
In the video, Hussain was seen calling on the world community to send their representatives to Pakistan to oversee the tragic life and misery of Mohajirs, Balochs, Pashtuns, Sindhis, Seraikis, and others at the hands of Pakistan military.
"These communities in Pakistan are facing genocide at the hands of the military establishment of the country. They are witch-hunted, targeted, enforced to disappear and lastly are executed extra-judicially because they have shown the courage to ask for their usurped rights," the leader stated.
Referring to the custodial deaths of Professor Dr Hassan Zafar Arif and Dr Aftab Ahmed, Hussain stressed that the then Pakistan Army chief General Raheel Sharif had promised to conduct required investigations on their deaths in Rangers custody and taken the responsibility to task but he did not keep his promises.
"Mothers and families of Mohajir martyrs want to pay homage to their martyred sons and brothers but they are treated brutally, tortured and arbitrarily arrested and forced to disappear. Military, Rangers and Police equally inflict atrocities on them," he said.
"Mohajirs are living under undeclared Martial Law since 2013 and all activities including welfare, charity and political are not allowed. The military has demolished all party offices of MQM and even houses have been sealed under the strict military surveillance," the leader added.
Even after the passage of 70 years, Mohajirs in Pakistan don't have the right of equal citizenship as those sons of the soil and they are being treated as fourth-degree citizens of Pakistan, Hussain said.
He said that if compared to deaths in Kashmir, Pakistan's military has killed more Mohajirs, Balochs, Pashtuns, Sindhis, Hazarwals, people of Gilgit-Baltistan, Shiites and other religious minorities on their soil itself.
"We Mohajirs are facing genocide here in Pakistan and the ghoulish military establishment wants to eliminate us, killed more than 22,000 Mohajirs forcefully disappeared more than 1,000 Mohajir youth and around 10,000 are languishing in different jails in different provinces. Dedicated Mohajir graveyards are flooded with bodies of innocent Mohajirs," he alleged.
Full report at:
https://www.business-standard.com/article/news-ani/pak-pm-fails-to-intimidate-world-community-through-muslim-unity-idea-on-kashmir-altaf-hussain-119100101653_1.html
---------
Suicide bomber kills policeman in Pakistan's southwest
September 30, 2019
QUETTA, Pakistan — Pakistan's police say a suicide bombing has killed a policeman and wounded three others in the country's restive southwest.
Local police chief Mohammad Zaman says Monday's attack took place in the town of Loralai in the Baluchistan province.
Zaman said the bomber rode his motorcycle into a police vehicle, killing himself in the blast.
No group immediately claimed the attack.
Baluchistan is the scene of a low-level insurgency by separatists demanding more autonomy and a greater share in the region's natural resources such as gas and oil.
Full report at:
https://counterextremismproject.nationbuilder.com/r?u=GjwzQmjoNJNKZ7-eUAZR_FrSyNXTboE9JNnyL7TPRN9h57H9ZwoMPcw9Fl-bHWbdZ1DyQ0cPCXNqF6FLp1FFVkTymxv-rNlDvrvomMqAcuoS4N277uHwGP4_J_UCvhDxdDH7l9qGac98EEVmhDJ9u1_kNdFaNxHCFAe_2rUrYSQRs7uISv2IKwdO3-MXG88Dx4sTZihCeSHnjEJa2iRAGpMW1_7CjNZxRWyYMmCkb-I&e=0d777afed7a858c335fe7b529f3b7723&utm_source=counterextremismproject&utm_medium=email&utm_campaign=eoe_10_1_2019&n=27
---------
PM Imran shares more details about Islamic TV channel
September 30, 2019
ISLAMABAD: Prime Minister Imran Khan on Monday shed further light on the TV channel project which Pakistan, Turkey and Malaysia will jointly launch to fight Islamophobia.
The PM shared a picture of his meeting with Turkish President Recep Tayyip Erdogan and Malaysian Prime Minister Mahathir Mohamad in which the three leaders decided to set up the TV channel.
Taking to Twitter, the prime minister said the English language TV Channel will be like BBC which will also highlight the issues faced by the Muslim world.
The decision to launch a TV channel was taken in a trilateral meeting on the sidelines of recent UN General Assembly session in New York.
Imran Khan
✔
@ImranKhanPTI
Our meeting in which we decided to set up a BBC type English language TV Channel that, apart from highlighting Muslim issues, will also fight Islamophobia.
View image on Twitter
71.6K
8:18 AM - Sep 30, 2019
Twitter Ads info and privacy
22.8K people are talking about this
"President Erdogan, Prime Minister Mahathir and myself held a meeting today in which we decided our three countries will jointly start an English language TV channel dedicated to confronting challenges posed by Islamophobia and setting the record straight on our great religion – Islam," PM Imran had announced in a series of tweets last week.
"Misperceptions which bring people together against Islam would be corrected; issue of blasphemy would be properly contextualized; series and films would be produced on Muslim history to educate/inform our own people & the world; Muslims would be given a dedicated media presence," he went on to say.
PM Imran, President Erdogan and Malaysian PM Mahathir Mohamad have been very vocal about the issues Muslims are facing amid rising trend of Islamophobia across the world.
They also raised this issue in their speeches at the UNGA.
Speaking of hatred towards Muslims in his landmark address, PM Imran said Islamophobia had grown apace after the September 11, 2001 attacks in the United States.
"There are 1.3 billion Muslims in the world. It is creating a division," he said. "Muslim women wearing Hijab has become an issue in some countries. It started after the 9/11 [attacks]."
Full report at:
https://www.thenews.com.pk/latest/534245-islamic-tv-channel-will-be-like-bbc-says-pm-imran
---------
Maryam Nawaz's bail plea: LHC directs NAB to submit reply until Oct 14
OCTOBER 2, 2019
The Lahore High Court (LHC) on Tuesday directed the National Accountability Bureau (NAB) to submit its reply on bail plea of Pakistan Muslim League-Nawaz (PML-N) Vice President Maryam Nawaz in Chaudhry Sugar Mills case until October 14.
A two-member bench of LHC headed by Justice Ali Baqir Najfi was hearing the case.
Earlier, Maryam Nawaz had moved LHC against her arrest by NAB, claiming she is being subjected to political revenge and that the anti-corruption watch dog has not found any evidence against her.
Previously, accountability court had rejected NAB's plea seeking extension in Maryam's physical remand and sent her to jail on judicial remand till October 9.
On August 8, NAB team had detained Maryam Nawaz outside the Kot Lakhpat Jail in Lahore for skipping appearance in Chaudhry Sugar Mills case due to meeting with her father and former Prime Minister Nawaz Sharif.
Maryam Nawaz was unable to provide the required details of foreign investment in sugar mills while she was also failed to satisfy the bureau regarding source of income for purchasing the shares. NAB had also claimed that three foreigners had transferred 11000 shares worth millions of rupees on Maryam Nawaz's name.
On July 19, accountability court had turned down petition of NAB claiming Maryam Nawaz had produced a bogus trust deed in Avenfield reference.
Full report at:
https://dailytimes.com.pk/476745/maryam-nawazs-bail-plea-lhc-directs-nab-to-submit-reply-until-oct-14/
---------
Pakistan hands over body of Indian BSF soldier who drowned while crossing nullah: ISPR
October 01, 2019
Pakistan on Tuesday handed over the body of an Indian Border Security Force (BSF) soldier who had drowned while crossing a nullah to Indian authorities, the military's media wing said in a statement.
Sub-Inspector Paritosh Mondal, of India's BSF, had drowned while crossing Nullah Aik along the Working Boundary inside Indian-occupied Kashmir, according to the Inter-Services Public Relations (ISPR).
His body was reportedly swept by the currents towards the Pakistan side of the frontier. Indian BSF subsequently requested the Pakistan Rangers to search his body.
"Pakistan Rangers Punjab undertook a search operation, recovered the body and handed over to Indian BSF today as per military procedure," the ISPR press release said.
The development comes at a time of high tension between Pakistan and India following the Indian government's decision to unilaterally revoke Article 370 of its constitution, which granted special autonomy to occupied Kashmir. A communications blackout and heavy restrictions on movement imposed by the Indian authorities from the eve of this development have been in place for nearly two months now.
Following India's decision to repeal Article 370, Pakistan had downgraded diplomatic relations with New Delhi and suspended all bilateral trade. The Indian ambassador was asked to leave and train and bus services with India were also suspended.
Full report at:
https://www.dawn.com/news/1508400/pakistan-hands-over-body-of-indian-bsf-soldier-who-drowned-while-crossing-nullah-ispr
---------
Larger PHC bench sought to hear pleas of military court convicts
October 02, 2019
PESHAWAR: The federal government has requested the Peshawar High Court to constitute a larger bench for hearing 170 petitions filed against convictions of militants by military courts saying in the past, different division benches had given conflicting judgments.
An application for the purpose was filed by additional attorney general Manzoor Khalil on behalf of the ministries of law and justice and defence seeking the formation of a larger bench for hearing the petitions filed either by those convicted by military courts or their family members.
A bench consisting of Chief Justice Waqar Ahmad Seth and Justice Abdul Shakoor took up for hearing the application on Tuesday and issued notice to the counsel for the petitioners asking them to respond to the plea of the federal government on Nov 5 and adjourned the hearing until then.
The court adjourned hearing into those 170 petitions challenging convictions by military courts mostly the award of death penalties to convicts.
Additional attorney general Manzoor Khalil and Aamir Jawed appeared for the federal government, while advocate general Shumail Ahmad Butt represented the provincial government.
The high court has been conducting in-camera proceedings in military courts cases.
Scores of lawyers, including Lateef Afridi, Shabbir Hussain Gigyani, Arif Jan, Danyal Asad Chamkani, Ziaur Rehman Tajik, Barrister Amirullah Chamkani, Naveed Akhtar, Sajeed Afridi, have been appearing before the court for the petitioners.
Shumail Butt and Manzoor Khalil pointed out that in the past, the benches headed by then Chief Justice Mazhar Alam Miankhel and Yahya Afridi had upheld over 65 judgments of military courts and rejected several petitions against those judgments.
They also said last year, a bench headed by the current Chief Justice Waqar Seth, had accepted around 75 petitions against convictions by military courts.
Mr Butt and Mr Khalil said that judgment was challenged in the Supreme Court, which had suspended it and that the appeals had been pending there since.
They questioned if the bench would follow the judgment delivered last year or earlier.
Mr Butt and Mr Khalil said they requested the court to constitute a larger bench for deciding that question.
The court has been seeking respective records in these cases for many months to decide these petitions. However, the government has yet to act accordingly.
The petitions are filed against convictions by military courts from time to time. The court has already granted interim relief to these convicts and stayed their executions on separate dates.
Most petitions have claimed that the convicts concerned were taken into custody by the security forces many years ago before being kept incommunicado.
They claimed that their relatives remained missing for many years and they learned about their conviction through media reports.
Full report at:
https://www.dawn.com/news/1508469/larger-phc-bench-sought-to-hear-pleas-of-military-court-convicts
---------
PML-N, PPP agree to launch anti-govt campaign along with JUI-F
October 1, 2019
ISLAMABAD: The Pakistan People's Party and Pakistan Muslim League-Nawaz agreed on Tuesday to launch a joint campaign against the Pakistan Tehreek-e-Insaf government for the sake of the country and nation.
Earlier today, PPP Chairman Bilawal Bhutto met with PML-N Chief Shehbaz Sharif. In the meeting, the two leaders agreed upon formulating a joint strategy along with the Jamiat Ulema-e-Islam Fazl.
Sources said that Shehbaz Sharif and Bilawal Bhutto also approved to convene an an All Parties' Conference (APC) soon.
The PPP and PML-N leaders will also offer condolence on the passing of JUI-F leader Maulana Hanif in a recent blast in Chaman, sources added.
The leaders of the two parties spoke to media, following the meeting. PML-N's Ahsan Iqbal said that the government, led by the PTI, destroyed the economy of the country within a year.
Iqbal said that the opposition is ready to launch a joint campaign against the government, adding that the PPP and PML-N leaders will meet the JUI-F Chief Maulana Fazl-ur-Rehman.
Full report at:
https://www.thenews.com.pk/latest/534824-pml-n-ppp-agree-to-send-pti-govt-packing-for-sake-of-country
---------
North America
US voices popular fear of Pakistani terrorists launching terror strikes in India post Article 370
Oct 2, 2019
WASHINGTON: The United States on Tuesday voiced fears of many countries that following abrogation of Jammu and Kashmir special status, Pakistani terrorists might launch terror strikes in India unless Pakistan "keep a lid on militant groups".
"I think many have concerns that Pakistan keep a lid on militant groups that might conduct cross-border activities as a result of the Kashmir decisions, and I don't sense that China wants that kind of conflict or would support that," assistant secretary of defense for Indo Pacific Security Affairs, Randall Shriver, told a Washington audience.
Shriver was responding to a question on China's support to Pakistan on the issue of Kashmir after India nullified articles 370 and 35A of its the Constitution that gave special privileges to Jammu and Kashmir.
"I think it (China's support to Pakistan on Kashmir) is mostly diplomatic and political support," Shriver said.
"They (Chinese) have supported Pakistan in international fora. There is some discussion about whether or not Kashmir would be taken up in the UN, China would support that. But in terms of something beyond that or more active, I don't see it," the top Pentagon official said.
China has a long-standing relationship with Pakistan, and they have growing competition with India, he said, adding that India seeks a stable relationship with China.
Referring to the ongoing visit of India's external affairs minister S Jaishankar, Shriver said the US is having consultations with him.
"We have talked about the relationship with China. They want a stable relationship with China, but there's no doubt that there is growing concern and competition there as well. So I think on a range of issues to include Kashmir, China has leaned toward Pakistan," Shriver said.
https://timesofindia.indiatimes.com/world/us/us-voices-popular-fear-of-pakistani-terrorists-launching-terror-strikes-in-india-post-article-370/articleshow/71403095.cms
---------
Kashmir blockade must end: US congresswoman
Beyza Binnur Donmez
01.10.2019
A U.S. congresswoman voiced solidarity with people of Indian-administered Jammu and Kashmir, saying the ongoing "blockade must end".
In a Twitter post, Democratic congresswoman Alexandria Ocasio-Cortez said: "We stand for the basic human dignity of Kashmiris & support democracy, equality, and human rights for all - including the most vulnerable."
Stressing that reports of violence and torture are "extremely concerning," she said the "blockade from communication and life-saving medical care must end".
She also shared a video posted by a user, in which she can be seen participating in a "solidarity march" on Kashmir and scribbling a message on a huge colored chart board.
"Our entire community's prayers and support are with the families of Kashmir, as we work to establish peace and justice there and throughout the world," the congresswoman had written on the chart board.
Ocasio-Cortez stands out in American politics by her determination to avoid accepting lobbyist money for her campaigns.
Jammu and Kashmir has been under a near-complete clampdown since Aug. 5, when the Indian government revoked Article 370 of the Indian Constitution, which conferred it a special status.
Full report at:
https://www.aa.com.tr/en/americas/kashmir-blockade-must-end-us-congresswoman/1598857
---------
Chicagoland mall 'terrorist' did obsessive research before attack: prosecutors
By Lee Brown
September 30, 2019
The driver of an SUV that plowed through a Chicagoland mall obsessively researched the center online prior to the mayhem that sparked more than 100 terrified calls to 911, prosecutors said.
Javier Garcia, 22, has been charged with terrorism and held without bond for the Sept. 20 carnage that was caught on a now-viral video viewed more than 10 million times.
In the day before his attack, Garcia conducted 124 internet searches on Woodfield Mall in suburban Schaumburg, including the stores inside and street and aerial views, prosecutors said in Leighton Criminal Court on Sunday.
The bipolar suspect also searched a former teacher at least 21 times, although no further explanation was given in court, according to the Chicago Tribune.
Garcia had smashed his black Chevrolet Trailblazer through double doors into a Sears — prompting more than 100 calls to 911, according to the reports.
"The shattering of the glass sounded like multiple gunshots, causing patrons to initially believe that there was an active shooter in the mall," Assistant State's Attorney Annalee McGlone told the court. "Hysterical patrons were running and jumping in attempts to evade the vehicle's path. Stores were locking their gates and sheltering people in the rear of stores for safety purposes."
The SUV narrowly missed a train transporting young children through the mall before finally becoming wedged between support columns, prosecutors said, with two off-duty cops finally yanking Garcia from the car.
Garcia had driven more than halfway through the mall, but luckily no one was hit, the court heard. The damage was estimated to be more than $110,000.
Under Illinois law, the Class X felony of terrorism can apply if the suspect caused more than $100,000 in damage to any building containing five or more businesses, according to Schaumburg police.
Garcia, who also was charged with damaging property in excess of $100,000, faces a possible sentence of 20 years to life, according to the reports.
Cook County Judge Mary Marubio denied bail requests, calling Garcia a "danger to the community," the Chicago Sun-Times said.
Full report at:
https://nypost.com/2019/09/30/chicagoland-mall-terrorist-did-obsessive-research-before-attack-prosecutors/
---------
Why Haven't Police Departments Investigated Cops in Extremist Facebook Groups?
September 30, 2019
Prison guard Geoffery Crosby was a member of more than 50 extremist groups on Facebook, including scores of racist groups dedicated to the Confederacy. Missouri Sheriff's Deputy Richard Crites was — and still is — posting anti-Muslim rants on his personal Facebook page. In Georgia, despite warnings from his chief, Abbeville police Officer Joel Quinn continues to post a steady stream of conspiracy theories and right-wing memes on Facebook, including recently sharing an anti-Semitic meme.
In June, Reveal from The Center for Investigative Reporting identified hundreds of police officers across the country who were members of closed racist, Islamophobic, misogynistic or anti-government militia groups on Facebook. We sought reaction from more than 150 law enforcement departments about their officers' involvement in these extremist groups. Yet only one department — the Harris County Sheriff's Office, which fired a detective for racist posts — has publicly taken any significant action.
More than 50 departments promised investigations, but few have taken any other steps. The Portland Police Bureau said "no jurisdiction existed" for it to take any action against an officer whose Islamophobic comments were posted before he joined the agency. The New York Police Department said it couldn't substantiate reporting showing one of its officers had posted misogynistic comments, even though we obtained screenshots.
Social media activity isn't just a public-facing display of officers' beliefs and biases. Officers are susceptible to being radicalized online just like so many civilians, said Christy Lopez, a Georgetown Law professor who oversaw the Department of Justice's civil rights investigation into the Ferguson Police Department.
"It's hard when you get out there as a new officer, you're from a sheltered community somewhere, and you start to see a lot of pain and harm that is often happening in poor communities of color," Lopez said. "And it is easy for officers who are trying to deal with the emotional impact of that to start to dehumanize people."
Facebook's algorithms can deepen this problem. After we joined extremist groups as part of our investigation, Facebook suggested new — and often even more troubling — groups to join or pages to like. It was easy to see how users, including police officers, could be increasingly radicalized by what they saw on their news feed.
That, in turn, plays into a long-stated goal of white supremacists and other extremists: to lure converts in initially with edgy humor and memes before introducing ever more hateful ideas.
Lopez said police departments must ensure cops get continued training not just on how to behave online, but on how to deal with the trauma and stress they encounter on the streets. Departments also must monitor and counsel their employees on social media use — not just to avoid looking bad, but also to stop vulnerable employees from getting sucked in by hateful ideas.
At the Ketchikan Police Department in Alaska, Lt. Andrew Berntson said he sits down with new recruits and discusses how to use social media positively to engage with the community instead of isolating yourself from it. Berntson said agencies need to investigate applicants before hiring them. Departments should scour the social media postings of potential recruits, he said, looking for warning signs that applicants have racist or other discriminatory views.
"You have to get a good view of who this person is, because that's most likely what they're going to continue to be," Berntson said. "If they have predisposed opinions, you need to flush that out in the hiring process."
Social media searches are just part of the backgrounding process, Berntson said. Departments should also reach out to friends, relatives and former employers to gauge a candidate's suitability, he said. Small town departments should ask around about a future recruit's associations and connections, to establish whether they have ever been involved with extremist groups, Berntson said. And in big cities, departments should check with the detectives who investigate extremist groups, to see if a potential recruit has ever been involved with any of the groups on the department's radar.
Police departments could also duplicate efforts like Reveal's — researching and joining local chapters of extremist groups on Facebook and other social media sites to monitor them and check for current or potential officers, Berntson said.
"Every department should basically maximize their resources to cover themselves. If they have access to information, or can get it, they should use it," he said. "Best-case scenario, you'll find that someone is fine. But the worst-case scenario is that you don't find out about someone's past, then an officer hurts or kills somebody and the department gets sued."
Even then, the world of extremism has learned to adapt and shift to deliberately camouflage hateful activity online. Departments therefore have the challenge of staying up to date with the latest lingo and themes hate groups are using, said Megan Squire, a computer science professor and expert on extremism at Elon University in North Carolina.
"The vocabulary, the jargon these hate groups use is deliberately to keep outsiders out," Squire said. "If you're hiring a 20-year-old, they're going to have memes and terminology that your average 40- or 50-year-old isn't going to know naturally like they would know a swastika."
Keeping up with the latest trends in extremism is no simple task, Squire said, but departments could outsource their research, working with local academics or activists to build knowledge about how hate groups communicate online. There are also valuable resources available online, she said, like the Anti-Defamation League's Hate Symbols Database.
And the International Association of Chiefs of Police runs the Center for Social Media, which publishes guidelines and "awareness briefs" to inform police departments about questionable online activity and how to identify and investigate extremists online.
The organization didn't respond to several calls for comment. A guide to "cybervetting" potential recruits on its website, despite being almost 10 years old, provides extensive guidance for departments. The document details how a department can set up a vetting policy and lays out the legal parameters departments can work inside — explaining how departments should balance privacy concerns with the need to know more about their recruits.
Opacity of Departments
In Savannah, Georgia, Chief Sedrick Rivers, of the Savannah/Hilton Head International Airport Police, said the information we uncovered about one of his officers has been instrumental in helping him draft new policies for social media use at the department. We tried to follow up with him to learn more. After initially opening up to us, however, Rivers then stopped taking our calls.
New York Police Department Officer Randy Paulsaint was active inside several closed Facebook groups that denigrate and insult women. When we provided screenshots that showed his activity and his status as a police officer, the NYPD called our claims "unsubstantiated." The NYPD didn't respond to repeated calls to elaborate on that explanation.
We tried to understand whether the officers we identified on Facebook had been involved in real-life issues around discrimination. However, all but 13 states keep their police disciplinary records secret.
The public isn't allowed to view Paulsaint's disciplinary records because they're confidential in New York. Therefore Reveal couldn't establish whether an officer who called women "money grabbing whores" and who posted a GIF of a woman being kicked in the head by a man has a history of treating women with respect in his police work.
Given the revelations of the past few months from Reveal, ProPublica and the Plain View Project, and the long-standing and well-known history of racial bias and discrimination in American policing, departments need to keep detailed records on the conduct of their employees from their first day on the job, said Samuel Sinyangwe, co-founder of Campaign Zero, which works with local activists and governments to combat discrimination in policing.
And those records should be open to the public for review, he said.
"There's an established research literature that complaints against officers, officers that are named in misconduct lawsuits, officers who have an above-average number of use-of-force incidents — that all of those things are predictive of future misconduct," Sinyangwe said.
Not only are police disciplinary records largely shielded from public view, but departments across the country even routinely destroy misconduct records, Campaign Zero found. Sinyangwe said he didn't know of any departments that could be held up as a success story.
In 2016, the organization studied the union contracts of 81 of the 100 largest police departments in the country. More than half required departments to purge records that would help identify officers with histories of misconduct.
"You look at a city like Cleveland, which signed a contract with the police union to systematically purge records of officer discipline after one or two years," Sinyangwe said. "They're actually destroying the evidence that's needed to identify the most problematic officers and prevent these incidents from happening in the future."
There are efforts around the country to shed light on police practices, however.
In recent years, some activist groups have focused on altering police union contracts to include new rules for police accountability and transparency.
In Texas, for example, the Austin Justice Coalition demanded a seat at the negotiating table between the city and the police union in 2017, after two high-profile incidents of alleged police brutality.
The grassroots group fought for greater transparency from local cops, and while it didn't get everything it wanted, the coalition was able to negotiate substantial reforms, like changing police rules on purging disciplinary records, and creating an anonymous, online complaints process against officers.
Chas Moore, co-founder and executive director of the coalition, said his group has secured funding to work with grassroots organizations from 10 different cities to emulate the work.
"The police union contract has become the new fight," he said. "That's where it starts."
If police chiefs, commissioners and sheriffs want to lead with courage and dedication to the community, they need to address how every member of their community is treated, said Vera Bumpers, former president of the National Organization of Black Law Enforcement Executives.
Full report at:
https://truthout.org/articles/why-havent-police-departments-investigated-cops-in-extremist-facebook-groups/
---------
Man arrested on terrorism complaint after allegedly threatening to blow up midtown apartment
Sep 30, 2019
A Tulsa man was arrested on a terrorism complaint early Monday after he reportedly threatened to blow up his midtown apartment Sunday night with a propane tank from an outdoor grill.
Tulsa police initially responded to the French Villa Apartments, 4752 S. Harvard Ave., about 11:45 p.m. on a report of a domestic assault in progress.
The victim told police Charles Fox was "very intoxicated" and assaulted her before grabbing a propane tank from an outdoor grill and bringing it inside, saying he was going "to blow the apartment up," according to a news release.
Officers evacuated nearby apartments, but when firefighters detected a high level of propane gas in the area, all apartments in the affected building were evacuated, the release states.
The bomb team and Special Operations Team commander responded to the scene and breached the apartment's back sliding-glass door with 12-gauge beanbag rounds.
Fox came outside about 3:50 a.m. Monday and was taken into custody. Other residents were allowed back into their apartments about 4 a.m.
Upon a search of the apartment, officers found two propane tanks modified to release with a handheld nozzle and an air hose and sprayer.
Fox was booked into the Tulsa County jail on complaints of domestic assault and battery by strangulation, fourth-degree arson and an act of terrorism. He was held without bond.
Featured video
Full report at:
https://www.tulsaworld.com/news/local/crime-and-courts/man-arrested-on-terrorism-complaint-after-allegedly-threatening-to-blow/article_06dbaa30-b618-5054-8bc9-2f7bf22844c8.html
---------
Muslim Teen Who Was Hit And Smeared As 'ISIS' Wasn't Protected By School, Mom Says
01/10/2019
In January, 15-year-old Ihab called his mother and pleaded for her to pick him up from school early.
"I don't feel safe," the ninth grader, whom HuffPost is calling by his first name to protect his safety, told his mom, Fouzia Safadi.
Safadi rushed to Cambridge-South Dorchester High School in Maryland to find out what was wrong. There, she saw something alarming: finger marks on Ihab's face and neck. A fellow student had smacked him across the face.
For months, Safadi's son not only endured physical violence by bullies at his school but abuse of a more specific kind, based on his religion and ethnicity. Fellow students called Ihab a member of ISIS and a suicide bomber, Safadi said. Some students even threatened to kill him, she said.
Ihab is just one of many Muslim students across the country who have reported being the target of anti-Muslim bullying in American schools. Schools have a responsibility to stop it, experts say. But in Ihab's case, his mother said officials failed him.
Safadi, who is a single mother of three, accused school officials at this Maryland school of failing to protect her son from severe Islamophobic and racist bullying he faced during the 2018 to 2019 academic school year. She said the school did not inform her every time her son complained about being bullied and that the issue was only addressed when it turned violent.
The school district disputes her claims. A spokesperson for Dorchester County Public Schools told HuffPost that it had "thoroughly investigated" the allegations of bullying against Ihab, "and it was determined that no bullying occurred." The spokesman later told HuffPost they were unable to comment due to concerns of student privacy in cases where more than one child is involved.
But Safadi has witnessed a change in her son and believes he has been bullied. Ihab is suffering from mental health issues due to the bullying and subsequently started to see a mental health counselor once a week, Safadi said.
Safadi described her eldest son as a former cheerful and outgoing teen whose life has turned upside down due to the unaddressed bullying. Ihab has become reserved and quiet. He rarely wants to leave his house, especially to go to school. Ihab is now ashamed of being Muslim because of the bullying, Safadi said.
"It's so hard to see him like this," Safadi said. "He was never like this. Never."
Anti-Muslim Bullying On The Rise
Nationwide, Muslim students are four times more likely to report being bullied at school compared to the general student population, according to a 2017 report by the Institute for Social Policy and Understanding, a Washington, D.C., think tank that researches issues that affect American Muslims.
During the first half of 2019, the Council on American-Islamic Relations documented 52 incidents of anti-Muslim bullying, making that at least eight incidents a month. More than half of those incidents involved students bullying other students. Others involved teachers and other school staff members bullying students, according to CAIR. In 2018, CAIR received nearly 100 bullying complaints, with 55 of them those were peer to peer.
Bullying can do immense harm to children. It can result in a storm of negative emotions such as evoking shame, self-hatred and loneliness, and "can be extremely damaging to the well-being of a developing child," according to a 2018 report from the Institute for Social Policy and Understanding. Young people who were harassed due to being part of a minority group were more likely to suffer from higher levels of mental health issues.
Bullying against religious minorities, in particular, is on the rise, said Nadia Ansary, an associate professor at Rider University who focuses on discrimination against religious minorities and its psychological impact on adolescents and is the co-author of the ISPU anti-bullying report.
"When a person is targeted because of an essential part of their identity, the impact is severe," Ansary told HuffPost. "What happens is that we see impacts on self-esteem, risk for anxiety and risk for depression."
Ansary emphasized the need to see bullying more than just a one-off or an "isolated incident." Bullied adolescents face long-term consequences such as living in constant fear of being targeted beyond school because of their identity. This psychological trauma then results in children being ashamed or wanting to hide their religious, sexual or ethnic identity.
That means schools, which are often the site of bullying, have a special obligation to take the matter seriously.
"Every child and teen deserves a learning environment where they feel safe," Zainab Chaudry, the director of Maryland outreach at the Council on American-Islamic Relations.
From A Cheerful Boy To Paranoid Student
In Ihab's case, the effects of the bullying were immediate, Safadi said. He used to be the first to jump out of the car anytime they went out, but now begs his mother to let him wait at home or inside the car if the pair are ever out together. She tried to coax him out and once took him McDonald's, his favorite place to eat, but he refused to leave the car. Safadi said her son doesn't want to be seen with his mother in public because she wears a hijab, a visible marker of their Muslim faith.
For months after the January physical assault, the bullying continued at school. Ihab's bullies frequently called him a member of ISIS and a suicide bomber. Safadi said each time her son went to a teacher or official to voice his concerns, but the school administration brushed them off.
Safadi has attempted to work with school officials to resolve the matter but said officials didn't take her concerns seriously. She has since hired CAIR as her lawyer to address the matter.
The school, Safadi and the CAIR lawyers have not yet met ― the school spokesperson said CAIR canceled three meetings, which a CAIR spokesperson attributed to "extenuating circumstances, poor communication between spokespersons and scheduling conflicts."
But Safadi said it's not enough to reverse the damage that has been inflicted upon her son. She said school officials downplayed the January incident when a student jumped from behind a door and smacked her son without any proper recourse. When she learned that her son was being called names and bullied due to his Arab ethnicity and Muslim faith, Safadi said officials told her they could move him to a different class. (The school declined to offer further details on the situation because it involved another minor.)
Chaudry argued moving the boy "was completely not acceptable, because that's punishing the student who's been victimized rather than the student who's doing the bullying." Experts such as Ansary, the professor who focuses on discrimination, agree. Moving the student who was bullied only "further victimizes the child," she said, adding that schools need to address the culprit instead.
October marks National Bullying Prevention Month, a nationwide program founded in 2006 to educate and raise awareness of bullying prevention. For the last several years, CAIR has partnered with the state to provide anti-bullying workshops and inform educators on the signs and dangers of anti-Muslim bullying.
"CAIR recognizes and appreciates school officials' expressed commitment to providing a safe learning environment for all of its student population," said Chaudry, adding that the organization was looking "forward to working with DCPS in a variety of ways to promote a bully-free culture in all of its institutions."
Safadi said she doesn't want any child to go through what Ihab went through.
"When I send my son to school, I want to be a million percent sure that he's not going to get hurt," Safadi said. "He is going to learn and to be safe."
Full report at:
https://www.huffingtonpost.in/entry/muslim-boy-who-was-hit-and-called-isis-wasnt-protected-by-his-school-mom-says_n_5d92137de4b0ac3cddac3fd0?ri18n=true
---------
Pompeo: Adrian Darya 1 is transferring oil to Syria despite promises
2 October 2019
The Iranian tanker Adrian Darya 1 is transferring its crude oil to the Syrian government, breaking assurances it gave not to sell crude to the country, US Secretary of State Mike Pompeo said on Tuesday.
"Despite Iran FM Zarif's promise to the UK that the AdrianDarya1 would not deliver oil to Syria, it is now transferring oil off the Syrian coast. Will the world hold Iran accountable if this oil is delivered to Syria?," Pompeo said in a tweet.
He also shared a picture reportedly showing the vessel transferring oil to delivery points in Syria.
British commandos on July 4 seized the vessel, formerly named the Grace 1, on suspicion that it was en route to Syria in breach of European Union sanctions. Gibraltar released it on Aug. 15 after getting written Iranian assurances that it would not discharge its 2.1 million barrels of oil in Syria.
Britain's foreign ministry on Tuesday said the tanker had sold its crude oil to the government of Syrian President Bashar al-Assad, breaking those assurances, and that the oil had been transferred to Syria.
Iran's envoy to Britain, who was summoned by the British foreign ministry over the matter, on Wednesday said Adrian Darya 1's oil cargo was sold at sea to a private company, denying Tehran had broken assurances it gave. He also said the private buyer of the oil "sets the sale destination."
Asked if the United States had evidence that the ship had offloaded its crude oil to Syria, State Department spokeswoman Morgan Ortagus told reporters: "Yeah ... The Iranian regime delivered oil to Syria, and that fuel goes straight into the tanks of troops that are slaughtering innocent Syrians."
Pressed on whether Washington had evidence of such a transfer from the Adrian Darya 1, Ortagus added: "I wouldn't say that if we didn't."
On Tuesday, the State Department had stopped short of confirming whether Iran had sold the oil to Assad's government, but strongly suggested it had.
Full report at:
https://english.alarabiya.net/en/News/world/2019/10/02/Pompeo-Adrian-Darya-1-is-transferring-oil-to-Syria-despite-promises.html
---------
US military pullout from Qatar indicates instability in Washington: Analyst
Oct 1, 2019
The US military pullout from Qatar indicates instability and an unpredictable course of events in Washington, says a former United States Senate military and foreign policy analyst.
The US Air Force Middle East Command Center at Al-Udeid Air Base in Qatar suddenly moved its operations from the tiny Persian Gulf Arab state of Qatar to Shaw Air Base in South Carolina.
The US Air Force used this Qatari base to command fighter jets, bombers, drones and other aircraft in an area stretching from Northeast Africa through the Middle East to South Asia.
Press TV asked James Jatras, a former Senate foreign policy adviser in Washington, on Monday what had caused the sudden pull out from the Persian Gulf, and whether it was related to a possible escalation of violence in the region.
The analyst said that the shifting of the location of the Air Force Middle East Command Center can be viewed in two ways:
"This can be seen in two ways. One is that the United States is preparing itself for some sort of strike on Iran and today we trying to reduce our vulnerability. The other one is that we are not intending such a strike, but this is a contingency."
Either way, Jatras was convinced that the exit indicated the possibility of an outbreak of hostilities.
"Clearly the overarching concern would be to deprive Iran of a major target in case of an outbreak of hostilities," Jatras said.
He said nowadays US President Donald Trump was preoccupied with the question of impeachment, and with former US National Security Adviser John Bolton out of the White House equation, Secretary of State Mike Pompeo was in charge of American policy.
"We are still in a period of great instability and unpredictability in terms of the course of events. I just hope that cool heads prevail and this is not a preparation to United States doing something I think very very stupid with respect to Iran," Jatras concluded.
Tensions escalated in the region following the September 14 attacks on Saudi oil facilities claimed by Yemen's Ansarullah movement.
Yemen's Ansarullah movement and their allies in the Yemeni army deployed as many as 10 drones to bomb Abqaiq and Khurais oil facilities run by the Saudi state-owned oil company Aramco.
The unprecedented attack knocked out more than half of Saudi crude output, or five percent of global supply.
Saudi and US officials suggested without any evidence that the attacks on Aramco installations probably originated from Iraq or Iran. Then, the US and Saudi Arabia started to accuse Iran of carrying out the attacks.
Full report at:
https://www.presstv.com/Detail/2019/10/01/607628/US-Qatar-Saudi-Arabia-Iran-Yemen-Interview-Jatras
---------
U.S. Steps Up Strikes on Islamic State Militants in Libya
By Samer Al-Atrush
September 30, 2019
The U.S. has stepped up airstrikes on Islamic State militants in southern Libya, where a breakdown in security has allowed the extremists who once controlled parts of the North African country to regroup.
An American strike that killed seven suspected Islamic State members on Sept. 29 was the fourth in a month, with a total of 43 militants dead, according to a tally of casualties from statements released by the U.S. military's Africa Command.
The forces of eastern-based strongman Khalifa Haftar swept through the oil-rich southwest at the start of 2019, saying they wanted to restore security and fight terrorism. But the intervention set off a deadly ethnic war between the Tebu people and Arab tribes allied with Haftar's Libyan National Army. The country has seen almost constant conflict since a 2011 NATO-backed revolt ousted Muammar Qaddafi, allowing extremists and traffickers to thrive.
"The sheer number of casualties suggests that Islamic State had definitely benefited from the contemporary situation to significantly recruit and build alliances. So this is a preemptive measure," said Emad Badi, a Libya expert and non-resident fellow with the Middle East Institute. Africom said it conducted the strikes in coordination with the Tripoli-based government.
It has not released the identity of those killed and it's unclear whether the group's leadership in the country, which includes an Iraqi militant known as Abu Muath al-Iraqi and veteran Libyan commanders, were targeted or killed.
Chaos in the south
The Islamic State's affiliate in the OPEC state is believed to number in the hundreds of members since a coalition of US-backed militias drove it out of the coastal city of Sirte in late 2016. It has regrouped in desert and mountain hideouts, launching several spectacular attacks, including a 2018 assault a the National Oil Corporation's headquarters in Tripoli.
There had been concerns in Libya that an offensive by Haftar to capture the capital in April, which has turned into a prolonged war drawing in foreign intervention on both sides, would allow the Islamic State room to expand. "The fact that both warring sides in Tripoli have attempted to co-opt local groups is also another factor that may have created more grievances and marginalization locally, to Islamic State's benefit," Badi said.
Full report at:
https://www.bloomberg.com/news/articles/2019-09-30/u-s-says-strike-on-islamic-state-in-libya-kills-seven-militants
---------
Europe
Sajid Javid's Islamophobia clarification is 'a moment of common sense'
1 Oct 2019
Christians have welcomed comments from Sajid Javid clarifying his views on Islamophobia following concerns over a proposed definition.
Speaking on BBC Radio 4 Today on Monday, the Chancellor said there would be an inquiry into defining Islamophobia.
"I call it 'anti-Muslim hate crime', rather than Islamophobia," he said during the programme.
"Sometimes when some people talk about 'Islamophobia', sometimes some people mean that you shouldn't criticise or shouldn't have the ability to criticise a religion – not people, but a religion.
"And I think in our free society anyone should be able to talk about any religion...respectfully, but to say I don't agree with that religion. That's up to them.
"But attacking someone if they are a Muslim is completely, utterly unacceptable. So, it's 'anti-Muslim hate crime'."
Welcoming his clarification, Tim Dieppe, Head of Public Policy at Christian Concern, said it was a "moment of common sense".
"'Anti-Muslim' is much clearer language than 'Islamophobia'," he said, adding that he was equally opposed to the term 'Christophobia'.
"It is high time that we as a society abandoned irrational 'phobia' language," he said.
"We also object to the term 'Christophobia' for similar reasons, but mainly because of the ambiguity of the term. 'Anti-Christian' is much clearer and requires no special definition."
He continued: "A phobia is an irrational fear. This is not what we are talking about when we discuss anti-Muslim hatred, discrimination or attacks. It is certainly not what criticism of Islamic teaching should be described as.
"The same logic applies to anti-Christian discrimination. Allegations of 'X-phobia' are often used to silence legitimate criticism of 'X'. Society should not be encouraging this kind of abuse of language and restriction of free speech."
Dieppe was one of the signatories to a letter to Javid when he was Home Secretary expressing concern over a proposed definition of Islamophobia by the All-Party Parliamentary Group (APPG) on British Muslims.
In an unusual alliance, signatories of the letter included faith leaders, the head of the National Secular Society, atheist professor Richard Dawkins, and gay rights campaigner Peter Tatchell.
In the letter, they expressed fears that the proposed definition would infringe upon free speech.
"No religion should be given special protection against criticism. Like anti-Sikh, anti-Christian, or anti-Hindu hatred, we believe the term anti-Muslim hatred is more appropriate and less likely to infringe on free speech," they said.
"A proliferation of 'phobias' is not desirable, as already stated by Sikh and Christian organisations who recognise the importance of free discussion about their beliefs."
Mr Dieppe added, however, that what constitutes a hate crime is "disturbingly vague" and said that more discussion was needed to ensure that freedom of speech is protected.
"I hope that other government ministers and parliamentarians will pay attention to Sajid Javid's objection to the use of 'Islamophobia', and to the open letter objecting to a proposed definition of Islamophobia," he said.
"We could all do with more clarity of language rather than increasingly irrational use of 'phobias' to silence debate."
https://www.christiantoday.com/article/sajid-javids-islamophobia-clarification-is-a-moment-of-common-sense/133335.htm
---------
7 Catalans jailed as judge opens probe on terrorism charges
SEP 30, 2019
Seven Catalan separatists have been jailed as Spain's National Court probes whether their alleged plans to commit violent acts with explosives amount to terrorism.
An investigating judge on Thursday found signs that the activists could be part of a pro-secession organization that allegedly intends to use "any means, including violent ones" to establish an independent republic in Catalonia, a court statement said.
It added that no bail has been granted for the seven and that details of the investigation will remain under judicial secrecy.
Word of the jailing led to tense scenes at the Catalan parliament in Barcelona, where separatist lawmakers including the regional president disrupted a debate Thursday evening.
"Freedom!" they shouted. Some walked out of the chamber to protest the court's decision.
Pro-independence supporters consider that the Spanish probe of the activists is an attempt to criminalize their movement.
Hundreds demonstrated in Sabadell, a town near Barcelona that is home to some of the activists.
The arrests come as the Supreme Court prepares to rule, possibly next month, in the case of a dozen Catalan politicians and activists tried for their 2017 push for independence.
Whether use of violence was part of the events leading to and after an independence referendum banned by Spain has been a key part of that trial. That could decide whether they are convicted for rebellion or sedition, which in Spain is punished with years behind bars.
Only two Catalan separatists had been investigated for possible terrorism-related charges until now, but the court dismissed those cases last year. If terrorism charges are levelled this time, it would mark an escalation in the judicial crackdown against Catalan separatism.
On Thursday, the court placed the seven activists under investigation for allegedly being part of a terrorist organization, manufacturing explosives and conspiring to wreak havoc.
The judge believes they are linked to special teams of the self-proclaimed Committees for the Defense of the Republic, which has in the past organized street protests and blocked road and rail lines. According to the court, these teams are prepared to use violence to achieve their aims.
Full report at:
https://www.nydailynews.com/news/national/sns-bc-eu--spain-catalonia-20190926-story.html
---------
Jihadis Given Dutch Passports After Citizenship Revocation Cancelled
30 Sep 2019
Five Moroccan jihadists are set to get their Dutch passports back after the government withdrew the process to strip them of citizenship.
The five men had initially travelled to the Middle East in 2013 and 2014 to join jihadist groups in Syria and Iraq with former State Secretary for Justice and Security Mark Harbers having ordered that their passports and citizenships be revoked, Nederlandse Omroep Stichting reports.
The reason for the revocation was that the groups the jihadis had joined were classified as prohibited groups, however, they were not classified as such under Dutch law at the time the men joined them.
As a result, the Council of State reversed the decision to revoke their passports and citizenship, though one of the five jihadists, Driss Daouayry, was reported to have died in Syria in 2015 due to American bombings in the city of Kobani.
The stripping of citizenships of Islamic State and other jihadi fighters has been an issue for many countries across Europe with some, such as the UK, having stripped jihadists such as "Jihadi Jack" Jack Letts and ISIS-bride Shamima Begum of their citizenships.
The UK Home Office commented on the decision to remove UK citizenship from Letts, who is now solely a Canadian national, saying, "Decisions on depriving a dual national of citizenship are based on substantial advice from officials, lawyers and the intelligence agencies and all available information."
Other European countries,m such as Sweden, have refused to entertain the idea of removing citizenship for Jihadis with Swedish Prime Minister Stefan Löfven saying they had every right to return to the country.
Full report at:
https://www.breitbart.com/europe/2019/09/30/jihadis-given-dutch-passports-after-citizenship-revocation-cancelled/
---------
Dutch Laws Increasingly Target Muslims' Rights
Oct 01, 2019
Aseries of laws recently enacted in the Netherlands have increased discrimination against Muslims and the violation of their rights, Dutch academics are warning.
Martijn de Koning of Amsterdam University's Anthropology and Sociology Department told Anadolu Agency (AA) that legal regulations affecting religious groups have been made in the past in the Netherlands, but recent steps are now aimed entirely at Muslims. In August, the Netherlands brought into force a ban on burqas — a full body covering including a face veil worn by some Muslim women – in public institutions.
Clothing that "covers the face," such as burqas or veils no longer to be worn in public institutions such as schools, hospitals and government offices or on buses and trains, authorities said in August when the new law came into force. The ban was first proposed by far-right politician Geert Wilders in 2005.
In May, the Dutch parliament introduced a bill for the second time to ban ritual slaughter of animals, which would prohibit the methods of humane slaughter followed by Muslim and Jewish communities.
In addition to the burqa ban and restrictions on the animal slaughtering practices, Dutch Education Minister Arie Slob in September ordered a review of schools providing Islamic education.
"Cases such as the ban against halal slaughter and restriction of religious education have affected other religious groups as well. However, with the recent ban on burqas, we have seen that the aim of religious regulations is aimed only at Muslims," Koning said, adding that this is a serious situation and the government needs to do something about it.
Professor Annelies Moors of Amsterdam University also told AA that politicians have used anti-Muslim rhetoric as a means of gaining votes that each restriction now targets Muslims.
Moors said that negative reactions toward women wearing burqas may increase because of the legal proceedings, noting, "Such restrictions trigger violence and discrimination against Muslims in the community."
Cross Cultural Human Rights Centre Chairman Professor Tom Zwart said that the Dutch government's intervention in the course content of Islamic education institutions and Islamic schools is a result of its efforts to make Islam "more democratic and European." He explained that while Islam instructs Muslim minorities to be committed to the country where they live as long as they have religious freedom, these restrictions harm Muslims' commitment due to the conflict of loyalties.
The Dutch government's main advising body in 2015 said the choice to wear an Islamic veil is protected by the constitutional right to freedom of religion, and that it saw no ground to limit that right. It is also said the law was unnecessary, as only about 150 women in The Netherlands wear such clothes.
Full report at:
https://www.dailysabah.com/islamophobia/2019/10/01/dutch-laws-increasingly-target-muslims-rights
---------
Former French PM faces trial over Pakistan arms deal
October 02, 2019
PARIS: France will try 90-year-old former prime minister Edouard Balladur over claims that he used kickbacks from a 1990s arms sales to fund a failed presidential bid, the country's top prosecutor said on Tuesday.
Balladur joins a long list of senior French politicians pursued for alleged financial wrongdoing, including deceased ex-president Jacques Chirac, Chirac's successor Nicolas Sarkozy and two other ex-prime ministers.
On the same day another court ordered former president Nicolas Sarkozy to stand trial for illicit campaign financing, adding to his legal woes as he also prepares to answer charges of exerting pressure on a judge.
Sarkozy, 64, lost his final appeal to the highest criminal court, and risks a year in prison and a fine of 3,750 euros ($4,085) if found guilty.
Edouard Balladur, the conservative ex-premier, will be tried by the Court of Justice of the Republic, a tribunal dedicated to hearing cases of ministerial misconduct, attorney general Francois Molins announced.
Balladur and former defence minister Francois Leotard, 77, were charged in 2017 with "complicity in misuse of corporate assets" over the sale of submarines to Pakistan and frigates to Saudi Arabia when Balladur was prime minister, between 1993 and 1995.
The kickbacks are estimated at about 13 million francs (almost two million euros in today's money), which are suspected of including a cash donation to Balladur's 1995 presidential campaign of a little over 10 million francs, Molins said in a statement.
Balladur also has to answer to a charge that he concealed the crimes.
The claims came to light during an investigation into a 2002 bombing in Karachi which targeted a bus transporting French engineers.
Fifteen people were killed, including 11 engineers working on the submarine contract.
Al Qaeda was initially suspected of the attack, but the focus later shifted to the arms deal as investigators considered whether the bombing may have been revenge for the non-payment of promised bribes after Chirac pipped Balladur in the vote and cancelled the payment of commissions.
'Opaque network'
Former defence minister Leotard is accused of having created an "opaque network" underpinning arms contracts signed with Pakistan and Saudi Arabia under the Balladur government.
The ex-premier, in turn, stands charged with instructing the budget ministry to approve state guarantees for "deficient or underfunded" contracts, because of the alleged kickbacks, Molins' statement read.
Balladur's lawyers said on Tuesday he was "confident" he would be cleared of any wrongdoing, "given that he never committed any of the acts of which he is accused".
He has on other occasions denied knowledge of any commissions or kickbacks and said he was not responsible for the "details" of the financing of his presidential campaign.
Others close to Balladur, including his campaign manager Nicolas Bazire, senior official Thierry Gaubert who worked for then-budget minister Sar­kozy, and controversial Franco-Leba­nese businessman, Ziad Takieddine, will be tried in the same case later this month.
Case against Sarkozy
Prosecutors say Sarkozy spent nearly 43 million euros ($40 million) on his failed 2012 re-election bid — almost double the legal limit of 22.5 million euros — using fake invoices.
He has said he was unaware of the fraud by executives at the public relations firm Bygmalion, who are among 13 others being pursued in the case.
Sarkozy's lawyer Emmanuel Piwnica called the appeals court ruling a "disappointment".
Since losing the election to the Socialist Party's Francois Hollande and leaving office, Sarkozy has fought a barrage of corruption and campaign financing charges, all of which he rejects.
The former Republican party leader faces another trial on charges of corruption and influence peddling over his alleged attempts to try to get information from a judge about an investigation focused on him.
Full report at:
https://www.dawn.com/news/1508503/former-french-pm-faces-trial-over-pakistan-arms-deal
---------
KSRelief chief, European Parliament official discuss cooperation prospects
October 01, 2019
The supervisor general of King Salman Humanitarian Aid and Relief Center (KSRelief), Dr. Abdullah Al-Rabeeah, held a meeting with Anna Fotyga, member of the European Parliament from Poland, during which they discussed prospects of cooperation between KSRelief and the EU in the field of humanitarian works.
Al-Rabeeah also briefed the European official on the overall activities of the Riyadh-based humanitarian center and on the different projects it is carrying out in various countries around the world.
Ambassador Saad bin Mohammed Al-Arifii, head of the Saudi mission to the EU, was also present.
Full report at:
https://www.arabnews.com/node/1562701/saudi-arabia
---------
Democracies do not have place for terrorists: Turkey
Yusuf Ozcan
01.10.2019
Turkish foreign minister on Tuesday said the participation of terrorists at side events in the Council of Europe reduces Turkey's confidence in the organization.
Speaking to reporters in Strasbourg, France, Mevlut Cavusoglu said he came to attend the celebrations of the 70th anniversary of the Council of Europe, as the Honorary President of its Parliamentary Assembly.
During his meetings in Strasbourg, Cavusoglu said, he conveyed Turkey's uneasiness on the participation of terrorists at side events in the Council of Europe.
"Council of Europe is an organization which is home of democracy and democracies do not have a place for terror or terrorists," he stressed.
Cavusoglu said the participation of PKK terrorists or members of Fetullah Terrorist Organization (FETO) at side events in the Council of Europe is "wrong".
FETO and its U.S.-based leader Fetullah Gulen orchestrated the defeated coup on July 15, 2016, which left 251 people martyred and nearly 2,200 injured.
In its more than 30-year terror campaign against Turkey, the PKK -- listed as a terrorist organization by Turkey, the U.S., and the EU -- has been responsible for the deaths of over 40,000 people, including women, children, and infants.
Cavusoglu said Council of Europe is the only organization embracing whole Europe.
Full report at:
https://www.aa.com.tr/en/europe/democracies-do-not-have-place-for-terrorists-turkey/1599153
---------
EU court rules to demolish illegal church in Bosnia
Talha Ozturk, Vesna Besic
01.10.2019
BELGRADE, Serbia
European Court of Human Rights (ECHR) on Tuesday ruled to demolish an unauthorized church built by Serbs at the garden of a Muslim Bosnian woman.
Fata Orlovic, 77-year-old Bosnian grandmother, has been struggling for years to remove the illegally built Orthodox church in her garden by the Serbs during the Bosnian War between 1992 and 1995.
The court ordered the state of Bosnia and Herzegovina to demolish the unauthorized church in her garden.
ECHR said that the order should be implemented within three months.
Orlovic, who lived with her husband and 7 children in Konjevic Polje near Srebrenica before she lost 22 of her relatives, including her husband Sacir during the war.
She lived as a refugee in different parts of the country and did not leave her native land despite all the persistence of her children living in the U.S.
She returned to her village in 1999 after the war was over and saw a church built in her garden.
Orlovic then initiated a lawsuit for the removal of the church and rejected the money offered to her to withdraw her lawsuit.
She then won the 11-year legal battle in 2010, but the court's decision was never implemented.
Full report at:
https://www.aa.com.tr/en/europe/eu-court-rules-to-demolish-illegal-church-in-bosnia/1599150
---------
Arab World
Saudi Arabia gave Iraq green light to arrange meeting with Iran: Iraqi official
Oct 2, 2019
An Iraqi official says Saudi Arabia has agreed that Iraq's Prime Minister Adil Abdul-Mahdi help set the stage for a meeting with Iran.
"The Saudis have given the green light in this matter, and Mr. Abdul-Mahdi is working on it," Abbas al-Hasnawi, an official in the Iraqi premier's office, told the Middle East Eye (MEE) news portal on Tuesday.
He also noted that the Iraqi prime minister had been mediating between Riyadh and Tehran in a bid to ease tensions in the region, and that he had communicated the conditions of both sides for negotiations.
"The Iraqi leadership has channels with both sides. Our Sunni brothers [in the government] liaise with the Saudis and our Shia brothers with the Iranians," Hasnawi said.
"The Saudis have conditions before the negotiations process starts and the same with Iranians. We have liaised these conditions to each side. It is not an easy task to get together two opposite sides in terms of their ideology, sect and their alliances in the region," he added.
The official further said that Abdul-Mahdi was hoping to host a meeting between Saudi Arabia and Iran in Baghdad under the supervision of the Iraqi government, stressing, however, that a location had yet to be agreed.
"Baghdad is the best place for this meeting, but I can't confirm it will be. In the beginning, there will be meetings between officials of both countries, and then a deal will be made. Leaders of Saudi Arabia and Iran will meet to sign it," he said.
The Americans "have no problem" with a potential deal in the region, said Hasnawi, adding that Iraq's National Security Adviser Falih Alfayyadh is currently in Washington to discuss a timeline for a Saudi-Iran meeting.
Hasnawi also confirmed that Saudi Arabia, including Crown Prince Mohammed bin Salman, had "calmed their rhetoric" in recent days, warning of the consequences of a new regional conflict.
"The region can't withstand another conflict between Saudi Arabia and Iran, it is a hazardous region, and it is rich with crude oil, essential to the whole world," he said.
The remarks came amid heightened tension between Iran and Saudi Arabia over the latter's baseless accusations against Iran over the September 14 air raids on two Aramco installations, which were claimed by Yemen's Houthi Ansarullah movement.
However, in an apparent break with his trademark bellicose rhetoric, bin Salman on Sunday called for a "peaceful" settlement with Tehran and warned that a war with Iran would lead to a "total collapse of the global economy."
On Tuesday, Iran's Parliament speaker Ali Larijani told he Doha-based Al Jazeera broadcaster that Tehran welcomed the Saudi crown prince's apparent willingness to talk.
"We welcome Mohammed bin Salman being quoted as saying he wants to resolve issues through talks with Tehran," Larijani said.
Iranian government spokesman Ali Rabiei confirmed on Monday that Saudi leaders had been sending messages to Iran's president through a head of state.
Last week, Abdul-Mahdi held talks with Saudi officials during a visit to Jeddah. After the trip, the Iraqi premier told Al Jazeera that Saudi Arabia was looking to de-escalate tensions with Iran.
https://www.presstv.com/Detail/2019/10/02/607655/Saudi-Arabia-Iran-Iraq
---------
UN investigators offer more details of Khashoggi's murder
Oct 1, 2019
The Saudi government hitmen who killed dissident journalist Jamal Khashoggi are heard joking about dismembering human bodies on secret tapes that United Nations (UN) investigators have listened to.
In a recent BBC documentary to mark one year since Khashoggi's murder, UN investigators Agnes Callamard and Helena Kennedy revealed the "chilling" and "callous" discussions the killers had before and after the murder.
Khashoggi, a former advocate of the Saudi royal court who later became a critic of Crown Prince Mohammed bin Salman, was killed after being lured into the Saudi consulate in Istanbul on October 2, 2018, and his body was dismembered by his murderers.
Kennedy said that the hitmen were heard in the recordings from inside of the Saudi mission referring to Khashoggi as "sacrificial animal."
"There was a discussion about 'Will the body and the hips fit into a bag this way?'" Kennedy said.
"There was a point where you can hear Khashoggi moving from being a man who's a confident person, towards a sense of fear, a sense of anxiety, rising anxiety, rising terror, and then knowing that something fatal is about to happen."
According to the grim account, Khashoggi's killers also joked about having "a coffee and cigar on hand" to butcher his body.
The tapes reveal the conversations between the leader of the hit squad, Maher Abdulaziz Mutreb — a personal bodyguard of the Saudi crown prince — and Salah al Tubaigy, a forensic pathologist.
Callamard also said it was possible that Khashoggi believed he was only going to be kidnapped rather than murdered.
"He's asking 'Are you going to do that to me? Are you going to give me an injection?'... The sounds that are heard after that point indicate that he's suffocated, probably with a plastic bag over his head."
'Coming from the top'
The UN investigators said the recordings also refuted Saudi Arabia's claim that Khashoggi's death was a "rogue" operation.
"There is no doubt in my mind that this was a seriously, highly organized mission coming from the top. This was not some flaky maverick operation," Kennedy said. "Something treacherous and terrible happened in that embassy. The international community has a responsibility to insist on a high level judicial inquiry."
The gruesome murder is believed to have been directly ordered by the crown prince. However, the Saudi government claims that the ill-fated journo was killed by a "rogue" group, denying that the crown prince had ordered the slaying.
According to a PBS documentary, Mohammed has claimed he did not order the murder.
The world believes otherwise.
Turkey, which first offered recordings from inside of the Saudi consulate, has been most assertive about the case.
Full report at:
https://www.presstv.com/Detail/2019/10/01/607605/Saudi-Arabia-Khashoggi-UN-investigator-tapes
---------
Aftershocks from Jamal Khashoggi's murder still shake the Middle East
2 Oct 2019
In a region largely inured to savagery, the murder of Jamal Khashoggi a year ago has left an extraordinary impact. Rarely in modern history has the death of one man been so consequential.
When the dissident and writer walked into his country's consulate in Istanbul on 2 October last year, Saudi Arabia was enjoying a moment in the global spotlight. Its ambitious leader had embarked on an extensive reform programme that was starting to overcome doubters.
World leaders including Donald Trump and Emmanuel Macron were clamouring to be seen alongside Mohammed bin Salman, a thirtysomething prince who had promised to change the world.
All that was overturned in the minutes after Khashoggi entered the Saudi diplomatic mission, where a team of state assassins ambushed and butchered the critic and columnist – all captured on hidden microphones planted by Turkish spies.
The brutality was captured in its entirety, laying bare a premeditated mob-style hit that was soon traced to the door of the Saudi royal court. And there its stain remains 12 months on – despite Crown Prince Mohammed's repeated denials that he had personally issued the "kill order".
The aftershocks continue to ripple through the region's capitals and battlefields.
Saudi Arabia's travails have had a profound impact on friend and foe alike. In the year since Khashoggi's assassination, Prince Mohammed has largely been isolated. The acclaim he enjoyed while tabling a remarkable array of reforms has given way to outrage and recrimination.
The prestige brought to the kingdom by Trump's 2017 state visit – which reset Washington from its Obama-era pivot to Iran to a default support for Saudi Arabia – has cost the US leader.
Trump's tough talk about alliances has stopped short at defending the desert kingdom – even after a devastating drone and missile attack on oil facilities that both countries blame on Iran.
That attack, which Washington and Riyadh insist was launched by regular Iranian forces, from Iranian soil – not Houthi proxies in Yemen who claimed responsibility – took offline half of Saudi Arabia's oil production, and clipped 5% from the world's daily supply.
It was described as an act of war and was widely predicted to provoke a US response. But no retaliation has come, partly because of Trump's reluctance to commit US forces to another regional conflict, and partly because of re-election calculations. The potential fallout from defending such a tainted friend is also believed to have been a factor.
In the eyes of Saudi Arabia's rivals, Khashoggi's murder has derailed Prince Mohammed, 34, and lessened his family's claim to be protector of Islam's holiest shrines, through which the modern House of Saud draws much of its legitimacy. Iran and Turkey also lay claim to speaking on behalf of Islam and each hold stronger regional hands.
Turkey's propaganda efforts have centred on diminishing Prince Mohammed to the point where he is no longer seen as an obvious heir to his father, King Salman.
In doing so, Recep Tayyip Erdoğan believes he has weakened an opposing axis comprised of Prince Mohammed, the United Arab Emirates' leader, Mohammed bin Zayed, and President Sisi of Egypt.
Lining up on the other side are the Turkish leader, the Emir of Qatar and the remnants of Egypt's Muslim Brotherhood, many senior members of which live in exile in both countries.
The Brotherhood remains the bogeyman of Erdoğan's rivals, yet their collective goal of weakening political Islam as a regional presence has stalled, largely due to Saudi's loss of regional clout.
Khashoggi, who had voiced regular support for political Islam including in one of the last columns he wrote for the Washington Post, has become a cause célèbre for the Erdoğan axis and for those claiming Prince Mohammed's reform programme was largely a smokescreen for him to grab power.
After laying low for much of the year, the Crown Prince agreed to two interviews broadcast ahead of the anniversary of Khashoggi's death.
He told Frontline, an investigative strand on the American TV channel PBS, that because the killing "happened on my watch, I bear full responsibility".
The collective, rather than personal, claim has done little to appease those demanding the de facto leader face global justice for the murder, which has been pinned on the 15-man team dispatched from Riyadh to lie in wait for Khashoggi.
One of Prince Mohammed's most trusted advisers, Saud al-Qahtani, has been fingered by Washington as the mastermind behind the operation. He has not been charged with any offence, but has been nominally removed from his roles.
Five of the alleged hit squad are facing the death penalty in Riyadh, where global demands for retribution for the crime resonate less.
Domestic agendas dominate discourse in Saudi Arabia, where Khashoggi is rarely discussed. Nor is the fate of other dissidents who have defied the Saudi state and remain in prison, such as Loujain al-Hathloul, a women's rights activist who has been imprisoned for the last two years and is charged with undermining state security.
Many Saudis remain reluctant to speak out inside the country and are even fearful of doing so on trips abroad. "We have learned the Syrian way," said one woman in Beirut. "We can have whatever freedoms the state says we have. Still, it's better than nothing."
Three months ago, guardianship laws restricting women from many life decisions, including divorce and travel, were lifted – potentially the most transformative move yet among the cultural and economic reforms that Prince Mohammed continues to roll out.
His efforts at home to remake Saudi Arabia into an Arab nationalist police state – in the mould of Abu Dhabi rather than Cairo – are continuing more or less as billed.
Full report at:
https://www.theguardian.com/world/2019/oct/02/aftershocks-from-jamal-khashoggis-still-shake-the-middle-east
---------
US Demands Release of 128,000 Prisoners Held by Syrian Regime
Oct 02, 2019
Tuesday, 1 October, 2019The United States demanded on Monday the release of nearly 128,000 people who have been arbitrarily detained by the Syrian regime.
"This practice is unacceptable," US Ambassador Kelly Craft told the UN Security Council at its monthly meeting on the conflict in Syria.
"The Assad regime must release detainees and provide international monitors access to detention centers," she said.
Syrian regime leader Bashar Assad has declared several amnesties of prisoners since the conflict began in 2011 -- notably in 2014, 2018, and in mid-September.
Separately, Russian Deputy Foreign Minister Sergey Vershinin called for the "elimination of terrorists in Idlib" province, while stressing that utmost care be taken to spare civilians.
The conflict has claimed the lives of an estimated 370,000 people.
"The time has come to encourage and not impede Syria's return to the Arab family," Vershinin said.
Syria was suspended from the Arab League in 2011, and the issue of its return has divided the organization's members for more than a year.
Security Council members also welcomed the creation of a UN-sponsored constitutional committee by the regime and the opposition, after two years of arduous negotiations.
The UN envoy for Syria, Geir Pedersen, said the committee's formation marked the first concrete political agreement between the regime and the opposition.
"It is also a shared promise to the Syrian people to try to agree under the auspices of the United Nations on new constitutional arrangements for Syria -- a new social contract to help repair a broken country," he said.
The committee's 150 members are supposed to hold their first meeting October 30 in Geneva.
Full report at:
https://aawsat.com/english/home/article/1926346/us-demands-release-128000-prisoners-held-syrian-regime
---------
Egypt Investigates MB Leader Accused of Supporting Hasm Movement
1 October, 2019
Egyptian authorities began investigating one of the Muslim Brotherhood's (MB) leaders, Khalid al-Mahdi, an Egyptian security source confirmed.
Kuwaiti police caught Mahdi following an arrest warrant sent by the Egyptian security authorities to Kuwait's Interior Ministry. He was extradited to Egypt earlier in September.
Mahdi was already sentenced to 10 years' imprisonment for his involvement in violent acts, financing MB in Egypt, and inciting chaos in the country. He is also accused of supporting Brotherhood affiliate movements such as Hasm and The Revolution Brigade.
In July, Kuwaiti authorities handed over a Muslim Brotherhood cell of eight Egyptians. Kuwait announced at the time that cell members have been sentenced by the Egyptian judiciary to prison time ranging between 5 and 15 years.
Egypt received Mahdi a few days ago from Kuwait, after he had fled to Sudan, and from there to Kuwait, following June 30th revolution that overthrew the Muslim Brotherhood's regime in 2013, according to a security source, who spoke on condition of anonymity.
Sources close to Mahdi's family in Sharqiya told Asharq Al-Awsat that he was a leading MB member in their area. They also indicated that he invited Sharqiya youth to travel to Cairo and participate in demonstrations organized by the Brotherhood following the ouster of former President Mohammed Morsi.
Kuwait media reports indicated that Mahdi admitted during investigations that some MB members relocated to Iran after authorities heightened restrictions in their countries.
Mahdi also established an electronic army in Kuwait and three other countries to attack the Egyptian state and spread rumors. Egyptian security forces arrested MB members in Sharqia working as members of Mahdi's electronic committees.
Expert on fundamentalist movements in Egypt Amr Abdel Moneim noted that Mahdi is one of the young cadres of the Movement in Sharqiya. He was arrested in Kuwait while trying to go to Turkey.
Abdel Moneim told Asharq Al-Awsat there was a link between Mahdi and a cell arrested in Kuwait last July, especially in matters relating to the economic activity.
The expert indicated that the Egyptian authorities accuse Mahdi of supporting certain cells of the Brotherhood, namely Hasm and Revolution Brigade. They also accused him of financing MB members and inciting demonstrations and chaos.
Abdel Moneim pointed out that preliminary investigations by the security services revealed a relationship between Mahdi and member of Brotherhood's Guidance Office Yahya Musa.
Musa fled to Turkey and is accused of killing of former Attorney General Hisham Barakat.
Full report at:
https://aawsat.com/english/home/article/1926641/egypt-investigates-mb-leader-accused-supporting-hasm-movement
---------
Two killed, 200 injured in Iraqi protests after police open fire
1 October 2019
At least two people were killed and 200 wounded in clashes in Iraq on Tuesday as security forces used tear gas, water cannon and live fire to disperse demonstrations over unemployment, corruption and poor public services.
The main protest took place in Baghdad, with some demonstrations in other areas.
A government statement and a health ministry spokesman said one person was killed, and that 40 members of the security forces were among those injured. They did not say where the death took place.
Police sources in the southern city of Nassiriya said a protester there was shot dead.
The government statement blamed "groups of riot inciters" for the violence and said the security forces were working to ensure the safety of peaceful protesters.
In Baghdad, police opened fire in the air as some 3,000 protesters tried to cross a bridge leading into Baghdad's fortified Green Zone, which houses government buildings and foreign embassies.
Reuters reporters saw several people with blood covering their faces. Ambulances rushed in to transport the wounded.
Security forces blocked roads and used stun grenades and water cannons to push back crowds. Protesters refused to leave and so security forces opened fire.
Since similar but more deadly protests took place last year, public anger has simmered over a chronic shortage of job opportunities, electricity and clean water.
Iraqis blame politicians and officials for endemic corruption that is preventing Iraq from recovering after years of sectarian conflict and a devastating war to defeat ISIS.
"This is not a government, it is a bunch of parties and militias who destroyed Iraq," said one protester who declined to give his name out of fear of reprisal.
Shiite Muslim paramilitary groups known as Popular Mobilization Forces play a large role in Iraqi politics and have representation in parliament and government. They are also said to control parts of Iraq's economy, which they deny.
Prime Minister Adel Abdul Mahdi, who chaired the weekly cabinet meeting on Tuesday, issued a statement promising jobs for graduates. He instructed the oil ministry and other government bodies to start including a 50 percent quota for local workers in subsequent contracts with foreign companies.
Full report at:
https://english.alarabiya.net/en/News/middle-east/2019/10/01/Iraqi-police-open-fire-use-tear-gas-and-water-cannon-to-disperse-Baghdad-protests.html
---------
Saudi Arabia welcomes creation of UN-sponsored constitutional panel on Syria
1 October 2019
Saudi Arabia welcomed on Monday the creation of a United Nations-sponsored constitutional committee by the Syrian government and the opposition, after two years of negotiations.
Saudi Arabia's ambassador to the UN, Abdallah al-Mouallimi, told the Security Council at its monthly meeting in New York on the conflict in Syria, that the Kingdom welcomes this announcement "which is in accordance with the UN Resolution 2254."
Saudi Arabia considers it a vital step toward reaching a political solution which will put an end to the Syrian people's plight, guaranteeing a safe return of the Syrian refugees, he said.
Al-Mouallimi said that the meeting comes amid difficult challenges in the Middle East, "but what was announced earlier this week sends a glimmer of hope on the situation in Syria," stressing that the Syrian negotiating committee showed cooperation with the UN envoy for Syria, Geir Pedersen, whose efforts are commendable.
"In response to the requirements of this phase, the Syrian negotiating committee will hold a meeting of its candidates for the constitutional committee and its advisors to prepare the constitutional papers for this purpose, in Riyadh on October 7," he added.
The Saudi ambassador to the UN added: "The government of my country calls on the Syrian authorities to seize this opportunity and to engage seriously and honestly at the first meeting of the constitutional committee to be held at the end of October and not to hinder it. It must prevail in order to lift Syria out of its long-standing crisis eight years ago, and exploited by the enemies of the Syrian people and the enemies of the Arab nation to implement foreign agendas aimed at plunging the region into destruction as part of a destructive sectarian policies that seek to engulf the region and keep it burning in the service of these agendas."
"We must realize that the Iranian-backed terrorist sectarian militias that have penetrated into Syrian territory have played a key role in the destruction that has taken place in Syria. Therefore, any solution to the Syrian issue requires the removal of these militias from Syrian territory, and Iran must realize that Syria is an Arab country and its natural place is among its Arab brothers and its blatant interference in Syria is the best proof that the terrorist regime of Iran has transformed it from a normal state that respects international conventions and laws and good neighborliness to a rogue state that is wreaking havoc on the ground regardless of the suffering of the people of the region as a result," he said.
Al-Mouallimi said "The government of my country rejects and condemns the killing and displacement of civilians and the use of chemical weapons in Syria, and calls for holding accountable the perpetrators of these inhumane crimes. The crimes committed in Idlib should be halted immediately and unconditionally. The Saudi Kingdom supports the Syrian people with all honest ways to put Syria back on track and to spare its people further destruction and suffering, and to ensure the safe return of refugees in accordance with international laws."
The UN envoy for Syria, Geir Pedersen, said during the UN Security Council monthly meeting on Monday that the committee's formation marked the first concrete political agreement between the government and the opposition.
"It is also a shared promise to the Syrian people to try to agree under the auspices of the United Nations on new constitutional arrangements for Syria - a new social contract to help repair a broken country," he said.
Full report at:
https://english.alarabiya.net/en/News/middle-east/2019/10/01/Saudi-Arabia-welcomes-creation-of-UN-sponsored-constitutional-panel-on-Syria.html
---------
Bin Salman ready to recognize Israel if US helps him defeat Iran: Documentary
Oct 1, 2019
A new documentary has revealed that Saudi Crown Prince Mohammed bin Salman — also known as MbS — had promised US President Donald Trump to recognize Israel and normalize ties with the regime if the United States helped him "defeat Iran and take control of the Middle East."
According to PBS documentary 'The Crown Prince,' which was broadcast on Saturday, the kingdom's de facto ruler made the pledge in a meeting with President Trump during his visit to Riyadh in May 2017.
Martin Smith, the presenter of the documentary, said that bin Salman had asked Trump to ensure "the United States' assistance in defeating Iran while supporting the prince's ambitions to become the key player in the Middle East."
In return, bin Salman offered to help Trump and his son-in-law and advisor Jared Kushner, solve the decades-long Palestinian-Israeli conflict.
David Ignatius, The Washington Post's columnist and military analyst, who was interviewed in the documentary, quoted bin Salman as saying that "I see a Middle East where Israel is a part of … I am ready to recognize and have trade relations with Israel."
Ignatius explained that bin Salman's proposal "tempted the US administration and became the focus of the plan that Kushner keeps on advocating."
He was referring to Trump's controversial proposal for "peace" between the Israeli regime and Palestinians, dubbed "the deal of the century." Kushner and Jason Greenblatt, the US president's special adviser for international negotiations, are reportedly the main architects of the plan.
The so-called deal of the century, a backchannel plan to allegedly reach a peace settlement between Israel and the Palestinians, was proposed by the Trump administration in 2017. Although the plan has not been released, leaks signal that it would mainly include the same tried-and-failed ideas of the past.
In recent years, Israel has been working to improve ties with Persian Gulf Arab states such as Saudi Arabia, the United Arab Emirates and Bahrain.
While little is known about Trump's plan, leaks have suggested that it regards Jerusalem al-Quds entirely as an Israeli territory. This can be problematic since Palestinians view the eastern sector of the occupied city as the capital of their future state.
The US-drafted plan is believe to call for keeping borders and security under Israeli control, while keeping a decision over the final borders of Israeli settlements for later negotiations.
According to the Times of Israel, the Israeli regime has been conducting extensive diplomatic negotiations with Saudi Arabia and other Arab governments over the past months in a bid to convince them to establish diplomatic relations with the regime more than half a century after the Six-Day War which saw Israel occupy the West Bank and the Golan Heights.
The kingdom has expanded secret ties with Israel under the young crown prince, who has made it clear that he and the Israelis stand on the same front to counter Iran and its growing influence in the Middle East.
In highly controversial comments during an April 2018 visit to the US, bin Salman told the Atlantic that he recognized Israel's "right to exist," distancing himself from the kingdom's longtime policy of opposing Israeli occupation of Palestinian territories.
Full report at:
https://www.presstv.com/Detail/2019/10/01/607576/Saudi-Arabia-Crown-Prince-bin-Salman-Israel-normalization-US-President-TrumpIran-Middle-East
---------
Golden coffin stolen during 2011 revolution returned to Egypt
LAILA MOHAMED
October 01, 2019
CAIRO: Egyptian and American authorities have announced that the golden coffin of Egyptian priest Nedjemankh, which was stolen during the 2011 revolution, was this week returned to Egypt after it was fraudulently sold to New York's Metropolitan Museum of Art.
The large decorated coffin dates back to the first century BC. It was excavated from Minya governorate in Upper Egypt, stolen by antique gangs eight years ago and then smuggled out of the country.
According to the Daily Mail, the Met purchased the coffin from a Paris art dealer in July 2017 for about $4 million. It came with bogus documentation, including a forged 1971 Egyptian export license.
The museum believed that the art dealer, Christophe Kunicki, was acting in good faith and had a legal right to sell the coffin.
As a result, the museum was deceived into believing that it could legitimately purchase the golden coffin.
The object was placed on public display and soon became a major hit with visitors. It was not long before 500,000 people had been to see the coffin, which is in the shape of a mummy, is 2 meters long and is skillfully made from wood and metal, with a covering of sheets of gold.
Ahmed Fathy, a restoration official at Egypt's Ministry of Antiquities, said that the Met was approached by the district attorney's office in New York in February this year.
It came forward with evidence indicating that the prized artifact was stolen as part of an international smuggling operation. After reviewing the evidence, the museum's officials agreed to return the golden coffin to its rightful owners, the Egyptian people, and removed the item from public display.
Fathy said that the coffin was identified as stolen thanks to the efforts of the Antiquities Anti-Smuggling Unit, which is affiliated with the office of the district attorney in New York, and with the cooperation of officials from the Foreign Ministry and the Ministry of Antiquities.
The unit had previously succeeded in retrieving stolen Roman, Greek, Indian and Buddhist monuments and returned them to their countries of origin. He added that Egypt has become more determined to recover its monuments that have been stolen or illegally sold.
A press conference was held last week announcing the imminent repatriation of the coffin.
It was attended by Egyptian Foreign Minister Sameh Shoukry, the New York district attorney and senior officials.
Shoukry stated that the coffin "is not only for Egyptians but this is for our common human heritage."
Investigations into the theft and illegal sale of the historic item are ongoing.
The authorities have not indicated if they have identified any suspects. The Met is reportedly deeply angered by the incident and is reviewing how it acquires new items. The museum has also vowed to retrieve the money that it gave to the French art dealer for the stolen item.
An official at Cairo's Egyptian Museum, who preferred to remain anonymous, told Arab News that the coffin will be displayed in the new Grand Egyptian Museum, which is due to open next year.
History researcher Abdel-Meguid Abdel-Aziz said that Nedjemankh's coffin dates back to when Egypt was ruled by the Ptolemaic dynasty.
Nedjemankh was a senior priest of the ram-god Heryshef of Herakleopolis (now the Ehnasia district in Beni Suef). The coffin no longer contains the mummy of the priest.
The coffin of Nedjemankh is elaborately decorated with scenes and hieroglyphic texts meant to guide the priest on his journey to eternal life.
Full report at:
https://www.arabnews.com/node/1562561/middle-east
---------
Mideast
Iran's top general says wiping Israel off map is an 'achievable goal'
Oct 02, 2019
Iran's Revolutionary Guard Corps (IRGC) commander on Monday said that wiping Israel off the map is now an "achievable goal" thanks to the country's technological advances.
Gen. Hossein Salami's comments, delivered before an audience of IRGC leaders, were carried by multiple news outlets, including the state-funded IRNA agency.
"This sinister regime must be wiped off the map and this is no longer … a dream (but) it is an achievable goal," Salami said.
He added that the country has "managed to obtain the capacity to destroy the imposter Zionist regime," four decades after the Iranian Revolution.
"The second step of the revolution is the step that rearranges the constellation of power in favor of the revolution. Iran's Islamic evolution will be on top of this constellation," Salami said, adding, "In the second step, we will be thinking of the global mobilization of Islam."
Salami's incendiary comments come amid heightened tensions between Tehran and Western allies over the United States' withdrawal from a controversial pact that promised eased sanctions if Iran curbed its nuclear ambitions.
Tehran also made recent headlines after its Saudi neighbors accused Iran of attacking its oil facilities. On Monday, Iran said that the missile-and-drone attack was an act of "legitimate defense" by Yemen's Iran-allied Houthi rebels.
The Sept. 14 assault was claimed by the Houthis, though Saudi Arabia said it was "unquestionably sponsored by Iran." The kingdom has been at war with the Houthis in Yemen since March 2015.
https://www.foxnews.com/world/irans-top-general-says-wiping-israel-off-map-is-an-achievable-goal
---------
Palestinian PM Says Government Ready to Hold Elections
1 October, 2019
Palestinian Prime Minister Mohammad Shtayyeh said that the government was ready to hold general elections as soon as a presidential decree was issued on the matter.
Speaking at the start of the weekly cabinet meeting in Ramallah, Shtayyeh said President Mahmoud Abbas will ask the president of the Central Election Commission, Hanna Nasser, to go to the Gaza Strip to begin consultation on elections.
He added that a ministerial delegation is going to travel to Cairo to discuss economic cooperation.
Shtayyeh also thanked Saudi Arabia, Kuwait, Algeria and Qatar for their support for the Palestinian people and the $50 million support provided by Al-Aqsa and Al-Quds Funds during its 76th annual meeting held Sunday in Jeddah, Saudi Arabia, to implement development projects in Palestine.
Shtayyeh's declaration about his government's readiness for polls follows another announcement by the central electoral commission saying it was technically ready to hold general elections in the Palestinian territories, excluding Jerusalem.
Abbas, in his speech at the UN General Assembly last week, had reaffirmed that he will call for general elections to be held in the West Bank, Gaza and Jerusalem. But Jerusalem is likely to be dropped because Israeli authorities will not allow voters there to participate in elections held by the Palestinian Authority.
"Holding elections is not a new proposal…the idea was put forward dozens of times, and during the last period, it was discussed with Egypt which will mediate it to all factions, including Hamas in the Gaza Strip," Fatah deputy chief Mahmoud al-Aloul said. "The issue is very important in this period, especially because it has to do with the reconciliation, which has reached a stalemate," he added.
Full report at:
https://aawsat.com/english/home/article/1926466/palestinian-pm-says-government-ready-hold-elections
---------
Iran dissidents claim to have intel proving regime's involvement in Saudi oil attacks
Oct 02, 2019
Iran's main resistance group claimed Monday to have intelligence detailing how Tehran was behind the recent attacks on a Saudi oil facility -- just days after Iranian President Hassan Rouhani challenged the international community to provide such evidence of its involvement.
The National Council of Resistance of Iran (NCRI) said it has received information from within the government that detailed the missile and drone attacks on Saudi oil facilities on Sept. 14.
It announced its claims in a report, along with an accompanying press conference in Washington, D.C. The report says that the attack was ordered on July 31 by Supreme Leader Ali Khamenei, with both Rouhani and Foreign Minister Mohammad Javad Zarif present.
The group says the information is based on MEK (Mujahedin-e Khalq) sources from within the regime and the Islamic Revolutionary Guard Corps (IRGC). MEK is part of the NCRI.
"The regime is counting on inaction of the international community in its aggression," the report says. "As long as this regime exists, it will not cease its aggression."
The U.K., France and Germany joined the U.S. last week in blaming Iran for the attacks, a win for President Trump as he seeks to rally other nations to endorse its "maximum pressure" campaign and demonstrate that Iran is a rogue regime.
"All nations have a duty to act, no responsible government should subsidize Iran's bloodlust," he said in his speech to the U.N. General Assembly last week.
Trump's administration, which has imposed waves of sanctions after pulling out of the 2015 Iran nuclear deal last year, announced in the wake of the Saudi attack that it would sanction Iran's national bank in response to the attack.
"This will mean no more funds going to the [Islamic Revolutionary Guard Corps] or to fund terror, and this is on top of our oil sanctions and our financial institution sanctions," Treasury Secretary Steven Mnuchin said, calling the move "very big."
But Rouhani has pointed the finger instead at Yemen rebels, telling reporters at the U.N. on Thursday that forces on the ground have longer-range missiles and have previously attacked parts of Saudi Arabia. He also urged the countries to provide proof for the allegations that Tehran is responsible.
"Those who make the allegations must provide the needed proof to back up such allegations," he said.
But the NCRI says its intelligence indicates that the attack involved the highest levels of the Iranian regime. It goes on to name the type of missiles used and claims that it was produced by the military facility in Parchin, Tehran.
"The simultaneous missile and drone attack on Saudi Arabia's oil facilities on September 14, 2019, emanated from inside Iran and was a blatant act of war that Khamenei, Rouhani, Zarif, and other regime heads were responsible for in deciding, approving, and implementing," the report concludes.
Much of the report is spent outlining the specifics about how exactly the missiles were produced, and how the attack was carried out -- including when top IRGC commanders were deployed.
Specifically, it claims that IRGC commanders coordinated the attack from Omidiyeh base near Ahvaz and that the presence of regular army forces concealed the IRGC's presence there.
Ominously, it also claims that a new IRGC force entered Omidiyeh on Sept. 22, nearly a week after the attack on the oil facilities, but that "there is no information on their orders yet."
Full report at:
https://www.foxnews.com/politics/iran-dissidents-regime-saudi-oil
---------
The U.S. Navy Isn't Ready to Take On Iran
BY MICHAEL MORAN
SEPTEMBER 30, 2019
Whatever lay behind the indecisive Trump administration response to the alleged Sept. 14 Iranian missile and drone strike on Saudi oil facilities, one thing is clear. The United States' ability to project power into the Persian Gulf region via carrier strike groups, the go-to U.S. option in such situations for decades, is not what it used to be, nor what it might have been.
Not long ago, a modern version of gunboat diplomacy—dispatching carriers or guided missile cruisers to the region to loiter menacingly offshore—could have decisively influenced events. In the 1981, carrier aircraft slapped down a territorial grab by Libyan leader Muammar al-Qaddafi in the Gulf of Sidra by downing two of his fighters. Parking a carrier off Lebanon the next year pressed a cease-fire on Israel and Lebanese factions long enough to affect a U.S.-organized evacuation of the Palestine Liberation Organization, removing at least one source of the country's chaos. And similarly, in 1996, U.S. President Bill Clinton reacted to provocative Chinese war games off Taiwan by sending two carriers to the Taiwan Strait, leading Beijing to back down in a humiliation cited frequently today as a reason for China's own naval buildup.
Today, however, such a deployment would no longer elicit the same response in a potential adversary. In part, the change reflects the closing of the enormous technological advantage the U.S. Navy had enjoyed for decades over any realistic rival. New classes of quiet diesel submarines and new developments in mine and torpedo technology make operations close to tense coastlines far more dangerous today than in the past. As a result, U.S. aircraft carriers are no longer immune from risk when entering waters within range of enemy forces.
More serious still is the deployment of Russian and Chinese area denial systems, like the so-called carrier killer DF-21 antiship missile developed in the last decade by China. Its range of over 1,000 miles far outstrips the range of any warplane on U.S. flight decks today. Sailing a U.S. carrier strike force through the Taiwan Strait these days—in a show of support for pro-democracy forces in Hong Kong, for instance—would risk catastrophe.
Iran does not yet possess anything as sophisticated as China's DF-21. However, its domestically produced Noor antiship missile (itself a reverse-engineered rip-off of an earlier Chinese cruise missile) is dangerous at over 100 miles. In 2016, the USS Mason, a destroyer ship, discovered as much when it was targeted by several Noor missiles apparently fired by Iran's Houthi rebel allies in Yemen. The combination of these missiles and Iran's fleet of fast and cheap patrol boats has been enough to keep the USS Lincoln out of the Persian Gulf as tensions between Iran and the United States increased this summer.
This is an important moment for military strategists. Even against what the U.S. military regards as a second-tier power like Iran, Washington's options are severely limited. As a result, as the Trump administration ponders what to do in Iran, President Donald Trump's options will be limited, likely confined to surface warships and submarines capable of launching long-range cruise missiles, warplanes based in politically sensitive and unreliable Middle Eastern countries, or strategic bombers such as the B-52 and B-2s based half a world away. Naval air power, which since World War II has been the main weapon in the U.S. arsenal in such scenarios, is quite suddenly nearly irrelevant.
Forward-looking officers in the U.S. Navy have been warning that this day would come for years. Like the naval aviators of the 1920s and 1930s who prophesized the end of the battleship as the Navy's most important weapon, for today's officers, pointing out that some of the U.S. Navy's most beloved and expensive equipment is obsolete is hardly a career move. Nonetheless some voices persist.
"In today's Navy, the aircraft carrier has become 'too big to sink,'" wrote Navy Lt. Jeff Vandenengel, a submariner, in a provocative article in the U.S. Naval Institute's journal Proceedings two years ago. "Yet the Navy remains blind to the reality that its carriers—by way of destruction, damage, or deterrence from completing their missions—are poised for defeat in battle."
Or perhaps not so blind. After all, the Lincoln and its 90-plane strong air wing have remained about 200 miles off the coast of Oman since May, even though its F/A-18 strike aircraft have a range of only about 500 miles. At best, this leaves strike aircraft barely able to get to the eastern Iranian coast and back and hundreds of miles short of the Iranian naval bases in the Gulf most frequently cited as potential targets.
The Navy is not entirely unaware of this problem, either. Over the past several decades, it has made several efforts to address the area denial problem.
For one, back in the 1980s, the Navy began development of a new carrier-based attack aircraft, the A-12 Avenger II, with McDonnell Douglas and General Dynamics. It was to replace a Vietnam War-era warplane, the A-6 Intruder, which ultimately disappeared from the Navy inventory in the last decade. The A-12 II was to have a range of over 900 miles as well as an early variant of stealth technology. Unfortunately, as the change orders continued and overruns piled up, it grew to be a 30-ton white elephant. If U.S. Secretary of Defense Dick Cheney hadn't killed it in 1991, it would have consumed the entire U.S. Navy aircraft procurement budget during the early 1990s. With the Cold War over, the consensus was that the A-12 was no longer needed.
Another attempt came in the 2000s. The post-Cold War Navy, having foreclosed on longer-range attack aircraft, increasingly found itself operating in waters unsuitable for large carriers: off Somalia, East Timor, and, of course, the Persian Gulf itself. Enter the littoral combat ship. The concept was to create something akin to the cheap, functional corvettes that helped the British Royal Navy keep the Atlantic sea lanes open during the U-boat battles of World War II. Sixteen years in development, until this year not one of the vessels—derided by critics as the "Little Crappy Ship"—had passed its sea trials. A 2017 Pentagon review concluded that none of the current designs would be "survivable in high intensity combat."
It will be years before the United States can regain its previous naval edge—years during which one can only assume China, Russia, and others will further extend their own area denial capabilities. Even if China's aircraft carriers stand little chance of surviving an encounter with their U.S. counterparts in the open sea, their point isn't global power projection. The goal is simply to keep the United States out of the South China Sea and other waters Beijing regards as its national wading pool.
Some hope that soon-to-be-deployed F-35C Lightning IIs (range of perhaps1,300 miles) and upgraded F/A-18 Super Hornets (sporting additional fuel tanks to extend their reach to 750 miles) on carriers will help right the ships. But these, too, are years away and miles short of ideal. Deployment of carrier-based refueling tankers—none of which currently exist or are on order—is similarly distant.
Full report at:
https://foreignpolicy.com/2019/09/30/the-u-s-navy-isnt-ready-to-take-on-iran/
---------
Rivals call off Israel unity government talks with Netanyahu
1 October 2019
The party of Israel's ex-military chief Benny Gantz on Tuesday pulled out of planned talks on forming a unity government with main rival Prime Minister Benjamin Netanyahu following deadlocked elections.
Representatives of the centrist Blue and White alliance were set to meet Wednesday with counterparts from Netanyahu's rightwing Likud, followed by a face-to-face encounter between the two rivals.
But on Tuesday night, following a two-day holiday to mark the Jewish New Year, Gantz's party announced it had canceled the talks.
"At this stage, the pre-conditions upon which any further meetings between the negotiating teams may take place have not been met," Blue and White said in a statement.
"In view of this, no meeting will be held on Wednesday," it added, without ruling out talks at a later date.
"When deemed appropriate and necessary, an additional meeting will be scheduled for this week or next," the party said, adding that the head-to-head with Netanyahu had also been called off.
Since the deadlocked September 17 polls, Netanyahu has been scrambling to extend his run as Israel's longest-serving prime minister.
The embattled premier is also set Wednesday to attend a pre-indictment hearing led by Israel's attorney general, who has said he intends to charge Netanyahu with bribery, fraud, and breach of trust.
Likud said in a statement that it was "stunned by Blue and White's decision to blow up the negotiations and cancel the meetings" on Wednesday.
Full report at:
https://english.alarabiya.net/en/News/middle-east/2019/10/01/Rivals-call-off-Israel-unity-government-talks-with-Netanyahu.html
---------
Iran's IRGC giving assistance to Houthis: Iranian army chief of staff
1 October 2019
Yemen's Houthi militia is receiving assistance from Iran's Islamic Revolutionary Guard Corps (IRGC), said the chief of staff of Iran's armed forces Maj. Gen. Mohammad Bagheri, the semi-official Tasnim news agency reported on Tuesday.
"We are giving [the Houthis] advisory and intellectual assistance and the IRGC is in charge of this," said Bagheri, adding that Iran "will stand by the Yemeni people until the end."
While Bagheri admitted providing assistance to the Houthis, he said that Tehran would like to provide further support but was unable to do so. "Things are a little different in Yemen," said Bagheri, comparing the country to Syria and Iraq where the IRGC provides more "help."
"Today, Yemen is under a complete blockade, and all of its paths are blocked, and not even medicine can be delivered there," claimed Bagheri, adding: "How can one send several-meter-long missiles to Yemen when it is not possible to send medicine there?"
Vice commander of the IRGC Ali Fadavi had made similar remarks back in May, saying that Iran helps the Houthis as much as it can, but not as much as it would like to, due to the "blockade of Yemen."
In November 2018, Iran for the first time acknowledged being involved in the Yemen conflict when then-IRGC head Mohammad Ali Jafari said Iran provided advisory assistance to its allies in Yemen.
Iran has been accused of proving financial and military support to the Houthi militia in Yemen on several occasions.
Arab Coalition forces have provided evidence of Iran's weapon smuggling to Yemen. Speaking at a press conference on May 31, 2019, the Arab Coalition spokesman Turki al-Maliki presented evidence that Iran is supplying missiles, drones, and explosive-laden ships to the Houthi militia.
Al-Maliki also showed evidence of Iranian experts training Houthis in Yemen, as well as a map showing the ballistic missile field launched by the Houthis toward Saudi Arabia. Al-Maliki showed reporters photographs of Iranian naval weapons, including mines and bombs.
Full report at:
https://english.alarabiya.net/en/News/middle-east/2019/10/01/Iran-s-IRGC-giving-assistance-to-Houthis-Iranian-army-chief-of-staff.html
---------
Turkey's former FM says Erdogan's AKP 'losing popular support'
1 October 2019
Turkey's Justice and Development Party (AKP) is losing popular support in the country, former Turkish Foreign Minister Yasar Yakis told Al Arabiya, as a result of a "17-year period of staying in power" and "mistakes made in foreign policy and the economy."
In an interview with Al Arabiya, Yakis discussed former premier and party member Ahmet Davutoglu's resignation, and said that "Davutoglu did not wait for the party to expel him following his statements against the party. He refused to stay despite [Turkish President Recep Tayyip] Erdogan's proposal to work with him."
Former Prime Minister Davutoglu announced his resignation from Erdogan's ruling party on September 13, and said that he has plans to form a new political movement.
He has recently been critical of Erdogan's policies, especially concerning freedom of expression, and was the second key AKP figure to resign from the party after Ali Babacan - a former deputy prime minister and economy minister, who in July also announced plans for a new party.
"Davutoglu and Babacan are opposed to the deteriorating economic and democratic conditions, as well as the [lack of] freedom in the country. They may have a chance at winning the next elections as a result of the ruling party's failures," he added.
Yakis, who was expelled from Erdogan's ruling party for rejecting the president's policies in the Middle East, said that early elections in Turkey "may be a possibility if Erdogan could estimate the losses his party will face in the 2023 elections."
The AKP ordered a re-run of the Istanbul mayoral vote on May 6 following the defeat of Erdogan's party, citing what they say are irregularities that affected the outcome.
The main opposition Republican People's Party (CHP) won in the capital Ankara and Istanbul for the first time in 25 years in the March 31 local elections, in a major setback for Erdogan, who served as Istanbul's mayor in the 1990s.
Erdogan's ruling AKP and its nationalist MHP allies have since called for the vote in Istanbul to be re-run. The parties have also filed appeals to annul results in two Istanbul districts, Buyukcekmece and Maltepe, over the same claims.
"The decision to hold early elections in Turkey goes back to Erdogan. If he decides that his AKP party will face more losses during the elections in 2023, then he will resort to holding early elections.
The former minister also criticized the dismissal of three Kurdish mayors in the country, saying that "replacing them with trusted officials is against the democratic principles that the AKP used to cherish in the early stages of its rule."
He added that when the AKP was established in 2001, "We preferred to have a transfer of power take place through local authorities, but what the party is doing now is the opposite of what was promoted in its early years."
Intervening in Syria
Turkey's intervention in Syria was "wrong from the very first day," Yakis said, adding that, "Turkey should not get involved in Syria's internal affairs."
Turkey has been heavily involved in the Syrian civil war since 2016. The war in Syria has killed more than 370,000 people and displaced millions since it started in 2011 with a brutal crackdown on anti-government protests.
Full report at:
https://english.alarabiya.net/en/News/middle-east/2019/10/01/Turkey-s-former-FM-says-Erdogan-s-AKP-losing-popular-support-.html
---------
Saudi Cabinet: Iranian regime 'knows nothing but bombing, destruction'
1 October 2019
Saudi Arabia's Council of Ministers said on Tuesday that the Iranian regime has known "nothing but bombing, destruction and assassination" for 40 years, according to Saudi Press Agency (SPA).
The council, which met on Tuesday afternoon during a session chaired by Saudi King Salman, reviewed a number of reports on a number of reports on developments in the region.
Full report at:
https://english.alarabiya.net/en/News/gulf/2019/10/01/-Saudi-Cabinet-Iranian-regime-knows-nothing-but-bombing-destruction-assassination-.html
---------
Iran hands death sentence, jail terms to US, UK spies: Judiciary spokesman
Oct 1, 2019
Iran's Judiciary says a person has been handed a death sentence after being convicted of spying for the United States, while two others have been given jail terms on the same conviction.
Gholamhossein Esmaili, the Judiciary's spokesman, made the announcement at a news conference in Tehran on Tuesday, without identifying the individual.
He added, however, that the verdict had been sent to the appeals court upon the defendant's request.
The official said another defendant, identified as Ali Nefriyeh, had received a 10-year prison sentence for espionage for the CIA and had been ordered to repay $55,000 which he had received from the American spy agency.
Similarly, Mohammad Ali Babapour, was given 10 years behind bars and ordered to repay $55,000 over spying for the US, Esmaili said.
Meanwhile, Mohammad Amir-Nasab, he added, had been given a 10-year jail term for spying for Britain.
Full report at:
https://www.presstv.com/Detail/2019/10/01/607582/Iran-Judiciary-death-spying
---------
Three Saudi bases, over 150 square kilometers taken in 2nd phase of Najran offensive: Yemen Army
Oct 1, 2019
The spokesman for Yemeni Armed Forces says three Saudi military bases and more than 150 square kilometers of land have been taken during the second phase of a recent large-scale military offensive carried out by Yemeni Army troops and allied fighters from Popular Committees in the kingdom's southern border region of Najran.
Speaking at a press conference in the capital Sana'a on Tuesday evening, Brigadier General Yahya Saree said video footage recorded by Yemeni forces on the second phase of Victory from God Almighty Operation attests to their full control over the Saudi military sites and seizure of considerable amounts of munitions. The offensive also resulted in the death and injury of at least 200 Saudi-led coalition soldiers.
Saree added that the second phase of the operation was launched on September 3, and that more than 150 square kilometers were purged from the presence of Saudi troopers and Saudi-sponsored Yemeni militiamen loyal to Yemen's former pro-Saudi president, Abd Rabbuh Mansur Hadi. More than 120 armored vehicles were destroyed and seized in the process as well.
He said Yemeni missile defense units carried out six operations in the military campaign, most notably against Najran Regional Airport, while domestically-manufactured Yemeni combat drones struck positions inside Najran on 16 different occasions.
Yemeni air defense units were also able to counter forty attacks by Saudi Apache helicopters, and that Saudi warplanes launched more than 600 raids in retaliation, Saree pointed out.
The spokesman for the Yemeni Armed Forces went on to say that Yemeni soldiers and their allies managed to wrest control over al-Fara'a and al-Sooh areas, and reached the highlands overlooking the city of Najran, located 844 kilometers (524 miles) south of the Saudi capital Riyadh.
Saree said the Yemeni fighters also took a large group of Saudi forces hostage, without elaborating on the exact number.
Yemeni forces had obtained documents proving that militants from al-Qaeda and Daesh Takfiri terrorist groups were fighting alongside the Saudi-led coalition against Yemeni army troops and their allies.
"Our military operations will not stop once the (Saudi-led) aggression ceases. Our armed forces will continue to implement various stages of Victory from God Almighty Operation till then. Our valiant army has weapons for deterrence, and is capable of repelling attacks," Saree highlighted.
Saudi Arabia and a number of its regional allies launched a devastating campaign against Yemen in March 2015, with the goal of bringing the government of Hadi back to power and crushing the Houthi Ansarullah movement.
The US-based Armed Conflict Location and Event Data Project (ACLED), a nonprofit conflict-research organization, estimates that the war has claimed more than 91,000 lives over the past four and a half years.
Full report at:
https://www.presstv.com/Detail/2019/10/01/607637/Three-Saudi-bases-over-150-square-kilometers-taken-in-2nd-phase-of-Najran-offensive-Yemen-Army
---------
Africa
Algeria army arrests terrorist, finds bodies, weapons
2019-10-01
ALGIERS, Sept. 30 (Xinhua) -- A terrorist was arrested in an operation in southern Algeria while bodies of two others were found in another operation, Algeria's defense ministry announced in a statement on Monday.
According to the statement, the army arrested a man who joined terrorist groups in 2016 in an ambush in the border region of Ain Qazam in the southern province of Tamanrasset.
The army also seized a Kalashnikov machine-gun, ammunition and 1.5 kg of explosives and detonation devices.
The army also found bodies of two terrorists who were eliminated in an earlier operation in Awana region in the coastal province of Jijel.
Meanwhile, army forces in the southernmost region of Tamanrasset found a cache of weapons and ammunition containing an RPG-2 rocket launcher with two shells and two improvised explosive devices, a machine-gun and five BM-21 surface-to-surface missiles.
The security situation in Algeria has remarkably improved in the last decade but clashes between security forces and terrorist groups are still occasionally reported.
A few militants affiliated to al-Qaida in the Islamic Maghreb (AQIM) and Islamic State-affiliated groups are still taking refuge in the dense woods in northern Algeria, and remote desert areas near Libya, Niger and Mali.
http://www.xinhuanet.com/english/2019-10/01/c_138437602.htm
---------
US shows 'appalling disregard for civilians' in Somalia: Amnesty
Oct 1, 2019
Amnesty International says the United States has killed civilians in one of its airstrikes in Somalia, and failed to investigate claims they were farmers with no ties to Al-Shabaab.
Amnesty said its investigations revealed the three civilians killed in the March 18 strike in southern Somalia were innocent, despite US Africa Command (AFRICOM) saying the men were extremists.
The US has stepped up drone strikes in Somalia in 2019 against what it says are fighters from Al-Shabaab, a militant outfit linked to Al-Qaeda, and the Daesh in Somalia.
But Amnesty says civilians have been among the dead, claiming it has documented more than a dozen cases of innocent people being killed in US air raids.
The international rights group said AFRICOM had provided no evidence to support its assessment the three men were militants.
It also accused the US military of failing to follow up claims the men were innocent despite promising to do so, or make any effort to contact their families.
"It's bad enough that the US Africa Command appears not to know who its airstrikes are actually killing and maiming in its secretive war in Somalia," Abdullahi Hassan, a Somalia researcher for Amnesty, said in a statement.
"But it's reprehensible that AFRICOM offers no way for those affected to contact it and has failed to reach out to the families of victims after its version of events was called into question in this case."
Amnesty says it interviewed 11 people about the March 18 strike, including co-workers and family of the men killed when their car was hit in Lower Shabelle, a hotbed of the radical insurgency in southern Somalia.
It said all those interviewed in the investigation "were adamant that none of the men was a member of Al-Shabaab".
In a March 19 press release confirming the strike, AFRICOM said "it assessed this airstrike killed three (3) terrorists" and it was aware of reports of civilian casualties.
Full report at:
https://www.presstv.com/Detail/2019/10/01/607560/Amnesty-international-US-airstrike-AFRICOM-Somalia-civilians
---------
South Sudan child soldiers attempt to rebuild lives
Benjamin Takpiny
02.10.2019
BOR, South Sudan
Makuei Anyieth was recruited in the Sudan People's Liberation Army (SPLA), at the tender age of 11.
Dodging death over past two decades, while fighting numerous battles, Anyieth, now 33, is attempting to wash the tag of a child soldier, by rebuilding his life.
Thousands of battle-hardened children like Anyieth, who fought in the South Sudan conflict, under commanders from both government and opposition forces, are facing an uncertain future.
The transition from waving a Kalashnikov rifle, to holding pen and books is, however, appearing a daunting task.
"When you recruit young people in the army, they will not have any bright future," Anyieth told Anadolu Agency in an interview in Bor, the capital city of Jonglei province in South Sudan.
Pursuing a degree in John Garang University in Bor, Anyieth recalled that he had joined armed group, after his father was killed in the battle field.
While he does not regret being part of the liberation struggle for South Sudan, he laments at the use of children in the armed conflicts.
"Even when there is peace, they only think of fighting. Many of them get introduced to drugs and spoil their life and also country's progress," he said.
19,000 child soldiers used in conflict
According to the UN Children's Fund (UNICEF) 19,000 children may have been used in the South Sudan's civil war, which began in December 2013, when soldiers loyal to President Salva Kiir and former Vice President Riek Machar, now the rebel leader, fought in Juba, the capital.
The African Charter stipulating the rights and welfare of children, signed by South Sudan, prohibits recruitment of children for battles.
Kuol Ajak Kuol Nyuon, had joined the battlefield at 15, in 2015, when he hardly knew about the motive of fighting.
"I had no idea about politics. I joined the army, because people used to be displaced from their houses," Nyuon told Anadolu Agency. His uncle prevailed upon his commander, to relieve him from services. He is now back in school.
Sitting pretty in his school, Nyuon says that many of his friends are still in the army, fighting and are deprived of education. The children have horrific experiences to relate.
Pressure is piling up on the South Sudan government as well as on the opposition groups to abandon practice of recruiting children. They are also under pressure to relieve existing child soldiers and allow them to return to schools.
According to activist David Garang Goch, besides the forced recruitment, socio-economic issues also play a major party in the children's enrollment in armed groups.
"Many children had joined fighting forces, because of lack of opportunities," said Goch.
Goch said the government must strengthen the Disarmament, Demobilization, and Reintegration (DDR) Commission, to ensure children are relieved from the army.Also, there is need to set up vocational training centers for former child soldiers, to allow them a smooth transition from a battle-hardened life to normal civilian life.
Recruitment of children prolongs violence
Mary Dok, one of the mothers taking care of child soldiers in Ethiopia, said the practice of recruiting children to fight in conflicts is appalling.
"We did not feel happy as mothers when our children were taken away, to join the army because we did not know, what will happen to them. During those days, I have seen our children eating unhealthy food, "she said.
Local Bor Area Chief Agot Kou said the recruitment of children was responsible for prolonging the violence. It has also potential to turn them to criminals.
Jonglei State's Minister for Gender, Child and Social Welfare, Rachel Amuor Pach said the government was planning to invest in child education programs. He said the government was also making it sure to protect children from army recruitment.
"This [use of] child soldiers were a past practice, but now I do not think it is the intention of our government, or even opposition forces to continue with the practice," Pach told Anadolu agency.
South Sudan has enacted a law in 2008, dedicated to the protection of children.
According to Article 31, of the South Sudan Child Rights Act, 2008, the government has committed itself that no child shall be recruited or engaged in any military or paramilitary activities.
The law further states that children will not be used for even limited work, like as sentries, informants, agents or spies, cooks, in transport, laborers, for sexual purposes, or any other forms of work that do not serve the interests of the child.
Full report at:
https://www.aa.com.tr/en/africa/south-sudan-child-soldiers-attempt-to-rebuild-lives/1599758
---------
Two Nigerian Evangelicals Executed in Boko Haram Video
OCTOBER 01, 2019
Islamic extremist group Boko Haram released a video last week showing the execution of two Christian aid workers in Nigeria, sources said.
Lawrence Duna Dacighir and Godfrey Ali Shikagham, both members of the Church of Christ in Nigeria (COCIN) in Plateau state, are shown kneeling while three masked, armed men stand behind them in a video posted September 22 on Boko Haram's Amaq news agency site. The two young men, who had gone to Maiduguri to help build shelters for people displaced by Islamic extremist violence, are then shot from behind.
Speaking in the Hausa language, the middle one of the three terrorists says in the video that they have vowed to kill every Christian they capture in revenge for Muslims killed in past religious conflicts in Nigeria.
Dacighir and Shikagham, originally from Plateau state's Mangu County, were captured by Boko Haram, now called the Islamic State in West Africa Province (ISWAP), as they carried out their work in displaced persons camps.
Ethnic and religious tensions resulted in large-scale clashes between Muslims and Christians in Jos in 2001 and 2008.
It is not clear from the video, temporarily posted on YouTube, when the two men were executed. Their identities were confirmed by a relative, John Pofi, a COCIN pastor.
Pastor Pofi, a cousin of the two executed Christians, told Morning Star News in a text message statement also shared with others that the two Plateau state natives had gone to Maiduguri from Abuja.
"Lawrence and Godfrey left Abuja for Maiduguri in search of opportunities to utilize their skills for the betterment of humanity and paid with their lives," Pofi said. "We will never get their corpses to bury. The community will have to make do with a makeshift memorial to these young lives cut short so horrifically."
If the federal government had created economic opportunities for those tempted to join extremist groups and had returned security to the country, his cousins would not be dead now, Pastor Pofi said.
"We must ask ourselves if this is the kind of country we want where young men who are earning an honest living are brutally killed while those who abduct and kill others are invited to dialogue with government and paid handsomely," he said.
In a letter last week to the United Nations secretary general, attorney Emmanuel Ogebe of the US-Nigeria Law Group, a legal consulting firm with an emphasis on human rights, expressed concern that the Nigerian government did not condemn the killing of the two men even though they were helping to provide shelter for displaced Nigerians.
"Lawrence and Godfrey … were using their skills to provide a basic human need of shelter to others when they were killed," Ogebe stated. "Your excellency, we wish to draw your urgent attention to the fact that taken together with the execution of aid worker Hauwa Liman (ICRC) this time last year, the recorded number of aid workers slaughtered by terrorists in Nigeria over the past decade is now in excess of 40."
Ogebe asserted in his letter that the killing of the two Christians was Boko Haram's first execution on the basis of "ethnic cleansing." The two victims were from the predominantly Christian Mwalghavul ethnic group. Previous ethnic/religious clashes took place between the predominantly Muslim Hausa and Fulanis against the predominantly Christian Berom, Irigwe, Afizere, Tarok, Ngas, and Mwalghavul peoples.
Ogebe wrote that workers for international aid group Action Against Hunger kidnapped in July issued a distressed plea for government help with no notable administration response. On last Wednesday, Action Against Hunger announced that one of its workers being held hostage had been executed.
"More executions of humanitarian workers could yet occur," Ogebe wrote to the UN. "Despite these humanitarian organizations' resilience in still serving victims, the Nigerian Government has since just last week suspended Action Against Hunger and Mercy Corp on dubious grounds."
International aid agency Mercy Corps suspended operations in Borno and Yobe states in northeast Nigeria after the Nigerian army closed four of its offices in the region without explanation, the agency announced last Wednesday.
Ogebe urged the UN secretary general to obtain an assurance from Nigerian President Muhammadu Buhari that all hostages will be released before the country's Independence Day on Tuesday.
Full report at:
https://www.christianitytoday.com/news/2019/october/two-nigerian-evangelicals-executed-in-boko-haram-video.html
---------
Army arrests eight foreign nationals working for Boko Haram
October 1, 2019
Troops of the Nigerian Army have arrested a bus driver and seven passengers who are illegal immigrants and believed to be working for the Islamic State West Africa Province and the Boko Haram fighters along Yola Road in Borno State.
The eight suspects were rounded up by troops of 331 Artillery Regiment deployed at a checkpoint along the road. The army identified only the driver as Musa Ibrahim.
According to a release from the army headquarters, Abuja, on Monday, the arrest was made between September 25 and 28, after troops also arrested one "notorious logistics supplier of the criminal insurgent group, Alhaji Kolomi Modu, at Ndollori area of Maiduguri."
The army operations media coordinator, Col Aminu Iliyasu, said the troops on operations Lafiya Dole, Mesa and Swift Response would continue to conduct more arrests ahead of the 2019 yuletide season to deny criminals and bandits a freedom of action.
He said, "Within September 25 and 28, the troops deployed in the North-East continued to dominate the areas with aggressive fighting patrols and ambushes to fix and neutralise the fleeing Boko Haram and ISWAP elements.
"Troops of 25 Task Force Brigade in conjunction with some vigilantes arrested one Abubakar Musa, a suspected logistics supplier of the insurgents at Kumsem village in Damboa Local Government Area of Borno State. Items recovered from the suspect include 12 yards of black fabric suspected to be used for making of Boko Haram flags, a large quantity of drugs and some groceries.
"In a similar operation, troops of 27 Task Force Brigade acting on a timely intelligence arrested another logistics supplier of the insurgents, Mohammed Isa, at a checkpoint in Maina Hari. During preliminary investigation, the suspect confessed to his membership of Boko Haram in Kimba village in Biu LGA of Borno State.
"Similarly, the vigilant troops of 231 Battalion in conjunction with troops of 331 Artillery Regiment arrested a commercial driver, Musa Ibrahim, and seven passengers believed to be illegal immigrants from a neighbouring country. Suspects are believed to have links with ISWAP. Additionally, troops of 7 Division Garrison, in a joint operation with the Office of the National Security Adviser's tactical team, arrested one notorious logistics supplier of the criminal insurgent group by name Alhaji Kolomi Modu at Ndollori area of Ajilari in Maiduguri.
Full report at:
https://punchng.com/army-arrests-eight-foreign-nationals-working-for-bharam/
---------
Forsaken in terror war, Kenyan islands await doctors by boat
01/10/2019
Laden with medicines, the speedboat sets off before dawn, its path lit only by the full moon as it cuts between miles of thick mangroves towards Kenya's border with Somalia, where few dare to go.
Two hours later at sunrise, the boat arrives at Kiangwe village, one of several remote coastal communities whose only healthcare comes from these monthly visits by the Safari Doctors mobile medical team.
Volunteer doctors and nurses roll up their trousers and heave containers full of medical supplies onto their shoulders before wading ashore and hiking up a hill to a building that will serve as their clinic for a few hours.
Kiangwe and surrounding villages have been hard-hit by the Kenyan government's war with Somali extremist group Al-Shabaab, whose militants operate from within the nearby Boni Forest which straddles the border.
In the distance, between stick-and-mud houses topped with palm fronds, stands a shuttered clinic that was built but never occupied.
"We have several buildings laying dormant because we have personnel (professional nurses and doctors) that don't want to get posted" to the region, said Umra Omar, the 36-year-old who founded Safari Doctors four years ago.
So, every month, over a few days, her voluntary team made up of both Kenyan and foreign medics visits up to 12 villages, some of which require a last-minute phonecall to check on security.
However four other villages in the region are considered no-go zones and have no healthcare access at all, said Omar.
Thanks to donations and fundraising, the Safari Doctors mobile medical team treats up to 800 patients a month.
- Few options in emergencies -
Inside the makeshift clinic, the team sets up a triage area where patients are weighed and have their blood pressure taken, before being directed to one of several desks manned by medical personnel.
At one desk, a group of nurses crowd around a woman with a hard lump in her neck, believed to be a bullet lodged there from an Al-Shabaab ambush on a car she was travelling in several years ago.
"I was the only one left... others had died on the spot," Bilai Abdi said of the attack, which also left her with bullet wounds in her foot.
The nurses advise her to go to Lamu to get the bullet removed. Asked how she will do so, she just shakes her head.
Rufia Alio, 55, sliced his finger open while farming over a week before the mobile clinic visited, and is finally getting it bandaged up.
"There are no hospitals here which is a problem. We have pregnant women here, we have the aged ones who are suffering, there are others who suffer from fever... and thus when Safari Doctors come they help by giving us medicine and injections," he said.
However once the Safari Doctors move on, there are few options.
Omar tells of a young man from Kiangwe who carried a sick villager with appendicitis on a 24-hour journey by motorbike in order to get him to a hospital.
That journey costs about $30 (27 euros), but the road is dangerous and prone to Al-Shabaab attacks, while communities on islands have no access to a road.
Hiring a speedboat to Lamu town can cost up to $200 -- a fortune for members of this community who mostly live off the land.
Omar said that for a woman in emergency labour, the bumpy speedboat ride is "something else", while some have even given birth in the middle of the ocean.
In a bid to plug the gap, Safari Doctors has trained traditional birth attendants and given youth in the communities basic first aid training.
- Changing traditions -
Lamu County has long been one of the poorest, most underdeveloped, and marginalised areas in Kenya.
Locals say their plight has only grown worse since the army in 2015 sent troops into the area to flush Al-Shabaab militants out of the forest, in what was meant to be a three-month operation, but has yet to come to an end.
The Al-Qaeda linked Al-Shabaab has staged several bloody attacks in Kenya, including in Lamu, in response to Nairobi sending troops into Somalia in 2011.
It is believed that a few hundred members of a Kenyan Al-Shabaab affiliate are living inside the forest.
"Ever since they (security forces) came, we can no longer go and earn a living from the forest like we used to before which was our way of life, harvesting honey," and hunting, said Alio.
Full report at:
https://www.france24.com/en/20191001-forsaken-in-terror-war-kenyan-islands-await-doctors-by-boat
---------
Nigeria: Buratai - Insurgency Can't Be Defeated By Warfare Alone
1 OCTOBER 2019
The Chief of Army Staff, Lieutenant General Tukur Buratai, yesterday said that Boko Haram and other terror groups operating in the country cannot be defeated by warfare alone.
He said that finding appropriate narratives that will counter the ideologies of the terror groups will greatly enhance the efforts of the Nigerian Army against terrorism and terrorist groups.
Buratai, who observed that terrorism cannot be totally eliminated, noted that the insurgents' belief in their ideologies remains their strongest driving force, adding that it is easier to kill members of a terrorist group than to eliminate their ideologies.
The COAS stated this at the opening ceremony of a Spiritual Warfare Seminar organised by the Nigerian Army for religious leaders and clerics at the Army Resource Centre in Abuja.
Buratai, who was represented at the event by Major General Sani Yusuf, said that the seminar was aimed at evolving narratives to defeat the ideologies of religious based terrorists groups operating in the country.
He challenged the religious leaders to produce appropriate narratives that can effectively counter the ideologies of the insurgents, urging them to leverage on their daily interface with the society to protect the vulnerable people from succumbing to wrong ideologies.
According to him, "the Nigerian Army has attained great feats in the fight against the insurgents, breaking their ranks and degrading their will to fight, however the insurgents' belief in their ideologies remain the driving force, as such ideological battle can in many ways be more important than the kinetic battle. It must that it is easier to kill members of a terrorist group than to eliminate their ideologies.
"It is a well-known fact that terrorism and terrorist groups cannot be totally eliminated by mainly Military actions, this means focusing our efforts on the underlying narratives through ideologies that employed by these terrorists to lure innocent citizens to their fold.
He added that "in the case of Boko Haram, its ideology is classifying Western education as sin, while the Islamic State of West African Province (ISWAP) is the one that challenges the rational of democratically elected government. By its nature, ideology has the power to manipulate what people think, form their opinion and direct their attitude. This often results in controlling people's mind to the extent that they accept social contracts that equal denial of rights.
"The need to defeat the ideologies of Boko Haram and ISWAP is based on the awareness that it is the ideologies that enhance their resource and help to recruit new fighters to their fold and as such, kill their ideology and terrorist movement withers and dies."
"The importance of this seminar is premised on the key roles clerics have to play in producing appropriate narratives required to counter the ideologies of these religious terror groups.
"Communities and the state need to be joined with a common purpose of rejecting the ideologies of these groups and challenge those who espouse them. These can be better achieved through the provision of appropriate counter narratives targeted at the ideologies of the terror groups. It means starting at the grassroots where families and local communities are at the forefront of the effort to protect the vulnerable people from succumbing to wrong ideologies.
"It is in this regard that I see you the religious leaders and clerics who regularly interface with members of the society making value contributions to counter terrorism and prevent violent extremism.
Full report at:
https://allafrica.com/stories/201910010111.html
---------
URL: https://www.newageislam.com/islamic-world-news/palestine-issues-commemorative-stamp-honour/d/119892
New Age Islam, Islam Online, Islamic Website, African Muslim News, Arab World News, South Asia News, Indian Muslim News, World Muslim News, Women in Islam, Islamic Feminism, Arab Women, Women In Arab, Islamophobia in America, Muslim Women in West, Islam Women and Feminism