New Age Islam News Bureau
9 March 2019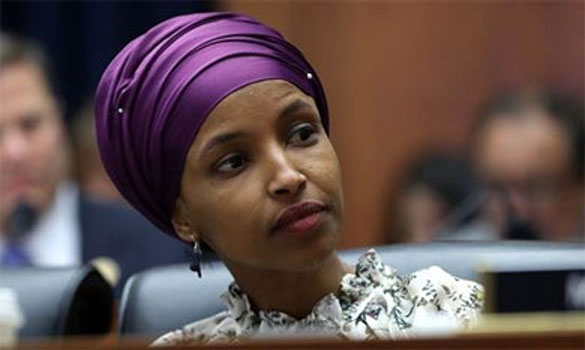 US Representative Ilhan Omar in the Rayburn House Office Building on March 6, 2019 in Washington, DC. (Getty Images)
----
• Pakistan's Use of Terrorism as Instrument of State Policy 'Central Problem': India at UNHRC
• AIMPLB, Muslim Clerics Welcome Mediation Process in Ayodhya Dispute
• Eco-Terrorism: Pakistan Files FIR against IAF Pilots for Bombing Trees
• Imran Khan Says No Terrorist Groups Will Be Allowed To Operate On Pakistani Soil
• SIS: More Muslims Seeking Legal Advice on Polygamy, Many Secret Thai Marriages
• Taliban Deny Discussing Ceasefire, Afghan Dialogue with US
• US House Passes Broad Anti-Hate Bill After Pressure from Allies of Muslim Congresswoman, Ilhan Omar
• 40,000 Attend Prayers At Holy Site After Israeli Ban On Top Cleric
• 'Muslim for German Chancellor? Why Not?' Remark by Senior MP in Merkel's Party Triggers Backlash
India
• Pakistan's Use of Terrorism as Instrument of State Policy 'Central Problem': India at UNHRC
• AIMPLB, Muslim Clerics Welcome Mediation Process in Ayodhya Dispute
• 'Hizbul Paid Rs 50,000 to Juvenile for Jammu Blast'
• India, US seek 'irreversible', 'credible' actions from Pakistan on terror
• Army jawan on holiday kidnapped by militants from his home in Kashmir
• Army chief Bipin Rawat meets top US Army official, discusses terrorism
• After ban on J&K Jamaat-e-Islami, government set to curb its online presence
--------
Pakistan
• Eco-Terrorism: Pakistan Files FIR against IAF Pilots for Bombing Trees
• Imran Khan Says No Terrorist Groups Will Be Allowed To Operate On Pakistani Soil
• Govt Takes Over Five Karachi Seminaries As Crackdown Continues
• Pak-India tensions, nuclear threat alarm world community
• MQM of 1986 will fight pro-India elements, Sattar assures army
• NACTA, UK agree on concrete steps to combat terrorism financing
• Israel is Pakistan's number-one enemy: Pakistani minister
--------
Southeast Asia
• SIS: More Muslims Seeking Legal Advice on Polygamy, Many Secret Thai Marriages
• Mahathir meets Philippine Muslim rebel chief-turned-governor
• Islamic, Betawi groups rally in support of Anies' goal to give up beer company shares
• Philippine military launches air strikes on Abu Sayyaf militants' hideout
--------
South Asia
• Taliban Deny Discussing Ceasefire, Afghan Dialogue with US
• Taliban commander among dozens killed in latest military operations
• Taliban will not win on the battlefield, says NATO Secretary General
• Two prominent Taliban leaders killed in Kunduz airstrikes
• Qawmi madrasa students get govt jobs: Information minister
--------
North America
• US House Passes Broad Anti-Hate Bill After Pressure from Allies of Muslim Congresswoman, Ilhan Omar
• Trump Calls Democrats 'Anti-Israel' and 'Anti-Jewish'
• The military has a white-power problem
• Canadian man behind mosque massacre appeals sentence
• US moving terrorists from Syria's Baghuz to 'new Guantanamo': Analyst
• US accuses Iran of defying UN resolution, calls for tough bans
• Muslims face most discrimination in US: Poll
• US issues travel advisory for citizens: Don't visit J&K due to 'terrorism', don't go near Pak border
--------
Mideast
• 40,000 Attend Prayers At Holy Site After Israeli Ban On Top Cleric
• Abbas party backs candidate for new Palestinian PM
• Israeli forces kill 1 Palestinian, wound 42 others in Gaza
• Resistance groups have foiled Israeli plots through support from Iran, Syria: Nasrallah
• Kuwait: Many in UN oppose Israel action on Palestinian taxes
--------
Europe
• 'Muslim for German Chancellor? Why Not?' Remark by Senior MP in Merkel's Party Triggers Backlash
• Germany Refuses to Blacklist Hezbollah In Defiance Of US, Saudi Pressure
• Turkey slams Belgium for blocking prosecution of PKK
• Tory urged to apologise for Islamophobic comments
• UK: Ruling Tories under fire for party Islamophobia
--------
Arab World
• Hezbollah Leader Calls On Supporters To Donate To The Group
• UN: 62,000 Uprooted In ISIS Battle Crowd Syria Displacement Camp
• Adel al-Jubeir visits Pakistan, discusses bilateral ties with top leaders
• Assassination reports compound amid rift among Saudi royals
• US bombs Syrian town with internationally-banned white phosphorus munitions
• Al Azhar mulls doubling medical, relief convoys to African countries
--------
Africa
• Some 50 Migrants Wounded By Clash inside Detention Centre In Libya
• South Africa to go ahead with Israel embassy downgrade: President Ramaphosa
• Hezbollah leader calls for donations as group feels the pinch
• At least 5 killed in Nigeria as van strikes Boko Haram mine
Compiled by New Age Islam News Bureau
URL: https://www.newageislam.com/islamic-world-news/pakistans-use-terrorism-instrument-state/d/117977
--------
Pakistan's Use of Terrorism as Instrument of State Policy 'Central Problem': India at UNHRC
March 8, 2019
India has said that Pakistan's use of terrorism as an instrument of state policy is a "central problem" and the international community must unequivocally condemn terrorism and its perpetrators.
Addressing the 40th Session of the Human Rights Council on Thursday, Permanent Representative of India to the UN in Geneva Ambassador Rajiv Chander said, "Terrorism is the most fundamental violation of human rights and we overlook it at our own peril."
He told the Council that the "central problem is cross-border terrorism and Pakistan's use of terrorism as an instrument of state policy. This fact needs due recognition."
Chander called for a UN-led consensus on zero tolerance on terrorism, saying the international community needs to unequivocally condemn terrorism and those who perpetrate it.
"We firmly believe that UN-led consensus on zero tolerance on terrorism is as much an international obligation as it is a commitment to our own people. We all need to unequivocally condemn terrorism and its perpetrators," he said at the Interactive Dialogue with the High Commissioner for Human Rights.
On the issue of Jammu and Kashmir, the envoy said India's views on the state have been made clear in the Council.
"The whole state of Jammu and Kashmir is an integral part of India. Pakistan remains in illegal occupation of a part of our territory," Chander said
Earlier, Pakistan's Acting Permanent Representative Tahir Hussain Andrabi had made references to Kashmir in his statement to the Council.
Chander said India's efforts towards protection and promotion of human rights are second to none.
"This is reflected in the Constitution of India that guarantees its citizens fundamental political and civil rights and provides for the progressive realisation and enforcement of economic, social and cultural rights," he said.
The diplomat underscored that India is a secular state and safeguarding the rights of minorities forms an essential core of its polity.
"The Indian Constitution enshrines various provisions for the protection of rights and interests of the minorities. The State makes no distinction between caste, creed, colour or religion of a citizen," he said.
Chander underlined that along with being the world's largest democracy, Indian polity also weaves in immense diversity along with respect for tolerance and mutual understanding.
"An independent judiciary, free and vibrant media, and, a vocal civil society are all active in this regard within the legal framework of the State. National and State level Human Rights Commissions along with other specific Commissions continue to monitor complaints from minority communities regarding issues of discrimination and disadvantage faced by them," he said.
The government has issued Communal Harmony Guidelines which lay down Standard Operating Procedures to deal with communal violence, the envoy added.
https://indianexpress.com/article/india/pakiatans-use-of-terrorism-as-instrument-of-state-policy-central-problem-india-at-unhrc-5617509/
--------
AIMPLB, Muslim Clerics Welcome Mediation Process In Ayodhya Dispute
Mar 8, 2019
NEW DELHI: The All India Muslim Personal Law Board (AIMPLB) and Muslim clerics said the Supreme Court's decision to send the Ayodhya dispute for mediation was a positive step which may open space for a solution. They reiterated that justice should be delivered on the basis of the legal position and not on grounds of faith.
AIMPLB general secretary Maulana Mohammad Wali Rahmani told TOI that they would support the mediation process by putting across their viewpoint before the court-appointed panel. "In the past, when the Supreme Court asked parties to the case to resolve the matter through mediation, the SC did not get involved in the process. That has changed with this three-member panel. The parties to the case will put their views before the panel and the outcome, a consensus or otherwise, will be conveyed to the court," Rahmani said. S Q R Ilyas, joint convener of the AIMPLB's Babri Masjid Committee, said they were always for mediation and welcomed the decision to make these proceedings in-camera.
Jamaat-e-Islami Hind president Maulana Syed Jalaluddin Umari reiterated that justice should be based on the legal position of the dispute.
Jamiat Ulama-i-Hind president Maulana Arshad Madani was more assertive on what they would put on the table. "We will abide by the SC decision. We have said in the past that there was a masjid at the site which was about 500-600 years old and there was a Ram Chabutra and a Sita ki Rasoi. We want all that was there should exist and be restored as it was. We said this in the past and will say the same before the committee. This is our stand," he said.
https://timesofindia.indiatimes.com/india/aimplb-muslim-clerics-welcome-mediation-process/articleshow/68325878.cms
--------
Eco-terrorism: Pakistan files FIR against IAF pilots for bombing trees
Mar 09, 2019
The forestry department filed a First Information Report (FIR) against unidentified Indian Air Force (IAF) pilots on Friday for bombing trees in Balakot area of the country's north on February 26.
The FIR also details the damage caused to 19 trees after Indian aircraft "hastily dropped their payload". Terming India's actions as "eco-terrorism", Pakistan has plans of approaching the United Nations (UN) against the damaged caused by India to the Pakistani environment.
Climate Change Minister Malik Amin Aslam said that Pakistan was assessing the impact caused to the environment by the bombing and the results would be the basis for Pakistan's complaint at UN and other international forums. "What happened at Jabba Top is defined as environmental terrorism because there has been serious environmental damage," the minister said.
According to the United Nations General Assembly (UNGA) resolution 47/37, the destruction of the environment, not justified by military necessity and carried out wantonly is clearly contrary to the existing international law.
On February 26, Indian aircraft bombed Jabba Top, a hilly forest area near the northern town on Balakot, which is about 40km away from Indian Occupied Kashmir (IOK). India bombed a "forest reserve"
The Reuters reporters who visited the site of the bombings, up to 15 pine trees had been damaged and four large craters could be seen. They also interacted with the local villagers who also dismissed India's claims of killing 300 militants.
https://www.pakistantoday.com.pk/2019/03/08/eco-terrorism-pakistan-files-fir-against-iaf-pilots-for-bombing-trees/
--------
Imran Khan says no terrorist groups will be allowed to operate on Pakistani soil
Mar 8, 2019
ISLAMABAD: Pakistan Prime Minister Imran Khan said on Friday that his government would not let any armed groups function in the country amid intensifying crackdown on Islamist groups and their leaders.
"Under the National Action Plan (NAP), we will not permit any armed group in Pakistan. No country does this. This was decided by all the parties of Pakistan. Since our government came to power, we have decided that we will implement the NAP," Khan said while addressing a rally in Tharparkar district.
"Pakistan's soil will not be allowed to be used for terrorism," he was quoted as saying by Geo News.
His comments came amid tensions between New Delhi and Islamabad after the Pakistan-based Jaish-e-Mohammed (JeM) claimed responsibility for the February 14 Kashmir suicide bombing that killed 40 CRPF troopers.
The Kashmir bombing resulted in mounting pressure from the international community on Islamabad to act on terrorist groups.
Following that, Pakistan launched a crackdown against terror groups earlier this week and arrested the brother and son of JeM Masood Azhar along with 42 others affiliated with the banned terror groups.
It said that law enforcement agencies took 121 people into preventive detention and seized 182 madrasas as part of its continuing crackdown on terror groups.
The government also seized properties belonging to Hafiz Saeed's proscribed Jamaat-ud-Dawa and its charity arm Falah-eInsaniyat. But Pakistan says that its action against the terror groups was not taken under any pressure.
Khan also spoke about the security of the minorities in Pakistan and said that his country stood with them unlike India where "the minorities were being targeted".
He said his government stood with the people of the Hindu community, a minority in Pakistan, and would not tolerate any injustice against them.
"In this Pakistan, it is our responsibility to ensure that minorities are equal citizens and will not be discriminated against."
India, in retaliation to the Kashmir bombing, had bombed the JeM's biggest training camp in Balakot, Pakistan, on February 26.
The next day, Islamabad captured an Indian Air Force pilot after a dogfight between the two air forces. He was released on March 1 as a "peace gesture" by Pakistan.
Reiterating that his country wanted peace, Khan said: "We returned the pilot because we don't want war. We decided that if you (India) have casualties in Pulwama, we are willing to provide help. However, no one should mistake this for fear."
He added that the main focus of his government was to eliminate poverty.
"When I spoke to Modi after becoming Prime Minister, I said South Asia has the highest rate of poverty and we should resolve issues through dialogue. But I did not know that as soon as their election campaign began, their focus shifted to gain votes by spreading hatred."
https://timesofindia.indiatimes.com/world/pakistan/imran-khan-says-no-terrorist-groups-will-be-allowed-to-operate-on-pakistani-soil/articleshow/68321024.cms
--------
SIS: More Muslims seeking legal advice on polygamy, many secret Thai marriages
08 March 2019
By Ida Lim
KUALA LUMPUR, March 8 — The number of Muslims asking for free legal advice on polygamy is rising, statistics from a legal clinic operated by Sisters in Islam (SIS) has shown.
Polygamy cases recorded at the Telenisa legal aid clinic rose from 75 in 2016 to 106 in 2017, and 176 in 2018.
The SIS said this was happening against a backdrop of weakening legal protection over the years for the current wife, which has made it easier and easier for Muslim men to take on more wives.
SIS programme manager Shareena Sheriff said many Muslim men secretly have subsequent marriages by going to the border of Thailand to bypass Malaysian legal requirements that require these marriages to be validated in a Shariah court.
Shareena said it was a weakness of Malaysian law that Muslims who marry abroad are allowed to subsequently register it in Malaysia without having to first have it approved in court.
"So this is how these marriages remain secret, they marry in Thailand, they come back and secretly register it," she said at the launch of Telenisa's booklet on its 2018 statistics of cases it handled.
"In many marriages, the marriages are not even registered. When divorces happen, the status of the wife is as if they were never married," she added.
According to Telenisa, cases of subsequent marriages that went unregistered in Malaysia amounted to 11.4 per cent of the 176 polygamy cases it handled in 2018, with affected wives losing their rights to the inheritance and matrimonial property while their children are regarded as illegitimate.
Shareena also pointed out the problem of husbands either refusing to give money to provide for the maintenance or reducing such funds for the wife and children from an earlier marriage, after taking on a new wife.
Out of the 176 polygamy cases at Telenisa in 2018, 15.9 per cent revolved on complaints of subsequent marriages without the current wife's knowledge, while 15.2 per cent were on subsequent marriages without the current wife's consent.
Some of the current wives only found out years later that their husband had taken on additional wives.
Cases in which husbands gave no money to their current wives amounted to 9.7 per cent of the 176 cases, while 10.8 per cent said their children no longer receive financial provision from the husband.
As for the remaining cases, 10.8 per cent were on wives being unhappy, while 9.7 per cent involved absconded husbands, 7.4 per cent complaining of unjust rotation and 9.1 per cent involved other complaints.
Those who consulted Telenisa last year on polygamy consisted of the first wife in 62 of the 176 cases, the second wife (41 cases), third wife (five cases), husband (two cases) and partner (37 cases).
The Telenisa booklet also outlined the unfair laws in Malaysia on polygamy, with SIS noting that the rights of the current wife have been increasingly chiselled away over the years with legal amendments in 1994 and 2006.
The 1994 amendment allows for secret polygamous marriages, by permitting the registration of illegal marriages — that were entered into without the court's permission — with the payment of a small fine.
Muslim men who wanted to marry an additional wife previously had to show the marriage was both just and necessary, but the 2006 amendment loosened it to either just or necessary, with the risk of adultery by the husband also accepted as a necessary condition.
The booklet by SIS also noted that Muslim men are no longer legally required to maintain the standard of living of their current wives, which SIS said directly contradicts the Muslims' holy book Al-Quran.
The booklet also listed the laws in other Muslim countries, such as those which ban polygamy like Turkey, or such as in Indonesia where polygamous marriages requires court authorisation upon fulfilment of strict rules and which can only be concluded if the existing wives agree.
Laws in Muslim countries like Egypt, Algeria, Bahrain, Jordan, Lebanon recognises the wife's right to divorce after the husband enters into subsequent marriages, while Shareena noted that polygamy is not a condition for divorce in Malaysia.
Among other things, the booklet by Telenisa covers statistics on and issues of divorces, child custody, child maintenance, as well as property division or division of inheritance.
Telenisa, which has been giving free legal advice since 2008 on Islamic family law and Shariah criminal offences, recorded a total of 576 clients in 2018.
Deputy women, family and community development minister Hannah Yeoh, who officiated the launch of the Telenisa booklet, today acknowledged the importance of SIS's work.
Yeoh also announced a pledge of RM20,000 to SIS to support its work, with the funds to be from her allocation as deputy minister.
Yeoh encouraged SIS to go on a nationwide roadshow to explain and present its data and findings in the Telenisa booklet to MPs and state assemblymen in the respective states, as Islamic matters is under the jurisdiction of state governments.
In conjunction with International Women's Day, Yeoh also took the opportunity to acknowledge on behalf of the government the work of NGOs such as SIS, Women's Aid Organisation and Tenaganita.
"I want to acknowledge your contribution to Malaysia, I think Malaysians would be in a worse position if not for your efforts in the last few decades," she said.
https://www.malaymail.com/news/malaysia/2019/03/08/sis-more-muslims-seeking-legal-advice-on-polygamy-many-secret-thai-marriage/1730471
--------
Taliban deny discussing ceasefire, Afghan dialogue with US
Mar 8, 2019
The Taliban denied on Friday that they were discussing a ceasefire and dialogue with the Kabul government during ongoing talks with the US in Doha, contrary to statements from Washington.
"This phase is about fleshing out the details of the two issues... the withdrawal of all occupying forces from Afghanistan and not allowing" the country to be used as a base for international militancy, Taliban spokesman Zabihullah Mujahid said.
He described them as "external" aspects of the 17-year conflict.
"Other issues that have an internal aspect and are not tied to the United States... have not been held under discussion."
On Tuesday, US State Department spokesman Robert Palladino had affirmed the opposite.
"What we're focusing on are the four interconnected issues that are going to compose any future agreement," Palladino said --listing them as "terrorism", "troop withdrawal", "intra-Afghan dialogue" and "ceasefire".
He said progress was being made.
The latest round of talks, believed to be among the longest held between Washington and the militants, began on February 25 in the Qatari capital.
Both sides have remained tight-lipped, however, and it is not clear how many days have involved direct negotiations.
The talks have already been paused at least once for two days, and the Taliban said Friday that they were again being suspended for a day, due to resume Saturday. It is not clear how much longer they will go on for.
Expectations remain high. The previous round, in January, saw the US and the Taliban walk away with a "draft framework" that focused on the issues Mujahid said were being discussed this time: a potential US troop withdrawal and a pact to prevent Afghanistan from harbouring terrorists.
The Taliban have repeatedly refused to meet with the Afghan government, whom they dismiss as "puppets".
US envoy Zalmay Khalilzad, who is leading the diplomatic push, had earlier hinted that headway was being made on the issue, however.
He also met with the Taliban's top political leader Mullah Abdul Ghani Baradar at the start of the current round in Doha, in what has been touted as the highest-level engagement between the two sides in the months-long diplomatic thrust.
General Scott Miller, the top US and NATO commander in Afghanistan, has also attended at least some of the talks.
President Donald Trump has repeatedly voiced his eagerness to end America's involvement in Afghanistan, where 14,000 US troops are still deployed.
On Thursday, General Joseph Votel, head of US Central Command, said the military has received no directions yet to withdraw from Afghanistan.
Secretary of State Mike Pompeo has suggested he could visit Doha to help advance the negotiations "in a couple (of) weeks".
Afghanistan has been enmeshed in nearly constant conflict since the Soviet invasion in 1979, which was followed by civil war, the Taliban regime, and the post-9/11 US invasion in late 2001.
https://timesofindia.indiatimes.com/world/south-asia/taliban-deny-discussing-ceasefire-afghan-dialogue-with-us/articleshow/68323026.cms
--------
US House Passes Broad Anti-Hate Bill After Pressure from Allies of Muslim Congresswoman, Ilhan Omar
Mar 8, 2019
The US House of Representatives has passed a resolution condemning bigotry and hate after backlash from a number of factions across the Democratic Party forced changes to a bill that originally focused on anti-Semitism and remarks about Israel by a Muslim American congresswoman.
The resolution passed in the lower chamber of Congress on Thursday overwhelmingly, 407 to 23, with all Democrats voting in favour including Representative Ilhan Omar herself, whose legitimate criticism of Israel has been deemed anti-Semitic by some colleagues and exposed deep fault lines among Democrats.
House of Representative Speaker Nancy Pelosi unveiled the resolution, which she called the "strongest possible opposition" to anti-Semitism, Islamophobia, and white supremacist bigotry.
Omar, a newly elected Democrat Congresswoman from Minnesota, has sparked a firestorm on Capitol Hill over repeated criticisms of Israel and the powerful pro-Israel lobby in Washington that exerts great influence in US politics.
Omar joined the two other Muslims in Congress, Rashida Tlaib and Andre Carson, in praising the measure's passage.
"It's the first time we have voted on a resolution condemning Anti-Muslim bigotry in our nation's history," they said, noting the worrying rise of extremism in America.
The resolution was initially pushed by Zionist organizations and some Jewish members of Congress to rebuke Omar for condemning the Israel lobby, but there was a heated backlash from fellow Democrats who said she was being unfairly singled out by the leadership.
Some Democratic senators in the upper chamber of Congress, including three 2020 presidential candidates Bernie Sanders, Elizabeth Warren and Kamala Harris, expressed frustration that Omar faced an implicit rebuke, while racist statements by President Donald Trump and other Republicans go largely unchallenged.
"We must not... equate anti-Semitism with legitimate criticism of the right-wing Netanyahu government in Israel," said Sanders, who is Jewish.
"What I fear is going on in the House now is an effort to target Congresswoman Omar as a way of stifling that debate. That's wrong," added Sanders, an independent senator from Vermont who caucuses with the Democratic Party.
The Democrats' growing diversity -- in ethnicity, religion, gender, age and ideology -- has created new challenges for party leaders, said Jonathan Sarna, professor of American Jewish history at Brandeis University in Waltham, Massachusetts.
https://www.presstv.com/Detail/2019/03/08/590490/US-House-of-Representatives-Ilhan-Omar-antiSemitism
--------
40,000 attend prayers at holy site after Israeli ban on top cleric
March 08, 2019
AMMAN: A row over an Israeli ban on a top cleric entering Islam's third-holiest site failed to prevent thousands of Muslims flocking to Friday prayers.
More than 40,000 worshippers packed into Al-Aqsa Mosque in Jerusalem and the adjoining Bab Al-Rahmeh prayer area less than a week after the Israeli government placed a 40-day bar on head of the Jerusalem Waqf Council, Sheikh Abdel Hafiz Salhab, from accessing the mosque.
The Israelis have also ordered his deputy, Najeh Bkeirat, to stay away from Al-Aqsa mosque for four months.
Jordanian Minister of Waqf Abdel Naser Abu Basel last week described the ban on Salhab, who holds diplomatic status, as "unacceptable" and said the Israeli move was designed to "cripple" the work of the Jerusalem waqf and "terrorize" its members.
But Salhab told Arab News that the waqf council refused to contest the issue in the Israeli courts.
"We don't recognize Israeli courts and we are keeping a vigilant eye as to what is happening on our religious properties, including Al-Aqsa Mosque," he said.
Hatem Abdel Qader, a member of the newly established waqf council in Jerusalem, told Arab News that Friday prayers at Al-Aqsa went without incident.
"We are not interested in escalating the situation, and the other side (Israel) appears to have also lowered the level of tension," he said.
Israeli officials including Nadav Argaman, the head of internal intelligence Shin Bet, have reportedly held high-level talks with their Jordanian counterparts in Amman aimed at taking the heat out of the situation in Jerusalem.
Officials in Amman told Arab News that all offers to close Bab Al-Rahmeh were rejected.
Waqf council member Abdel Qader confirmed negotiations were taking place but said these were more to do with the mechanics of getting equipment and materials for renovation work into the prayer hall.
He said that Bab Al-Rahmeh has been in urgent need of repair for years.
Seven women who were recently arrested outside the mosque were on Friday released on condition they stay away from Al-Aqsa for a week.
More than 100 Palestinian Muslims have been ordered by the Israelis to keep clear of the mosque.
Salhab said that there was no religious reason to stop women from being added to the waqf council. "I see no problem in having women in our council," the cleric added.
"They should not be ignored as they have an important and effective role and represent half the population."
http://www.arabnews.com/node/1463696/middle-east
--------
'Muslim for German chancellor? Why not?' Remark by senior MP in Merkel's party triggers backlash
8 Mar, 2019
A high-ranking MP from Angela Merkel's ruling party said that a Muslim could become German chancellor by 2030, making headlines across the nation and triggering a furious backlash.
Ralph Brinkhaus, who leads the Christian Democrats (CDU) in the German parliament, could have avoided making front-page news had he not been asked one particular question from evangelical news outlet Idea. They wanted to know if a Muslim could lead the party and become chancellor in the next 10 years or so, and he said the following:
The center-right CDU party, led by Chancellor Angela Merkel – the daughter of an East German pastor – has long been proud of the letter 'C' which stands for Christian values. But for Brinkhaus, human values are more important than religious beliefs.
"The CDU is not a religious community – that is what distinguishes us from the Catholic Church, of which I am member," he reportedly said.
The interview took place in late February, but it didn't cause a media frenzy until Bild quoted from it on Wednesday. German newspapers, both big and small, rushed to report on the stunning quote just a while later.
Brinkhaus' remarks also raised some eyebrows in the German establishment.
"God forbid, I can't believe he said that," Vincent Kokert, a CDU chief in the state of Mecklenburg-Western Pomerania, told Bild. "No, I can't believe it."
Another conservative MP, Eberhard Gienger, said that a Muslim becoming German chancellor is unimaginable because it would imply "that Muslims would constitute the majority in Germany," and "this is not the case."
Other politicians claimed that Muslim values cannot be incorporated into the party's mindset, citing Sharia law and the treatment of women, non-believers, and homosexuals under strict Islamic traditions.
Some, however, defended Brinkhaus' comments.
"Of course, a Muslim Christian Democrat, a Hindu or an atheist could run for Chancellor," said Karin Prien, the education minister in Schleswig-Holstein.
Germany's Muslim community also defended the comments. "Any person, regardless of religious affiliation, should be able to hold any office in our country having appropriate qualifications," Ayman Mazyek, head of the Central Council of Muslims in Germany, told the media.
According to a 2015 study by Germany's immigration agency, there are over 4.4 million Muslims living in the country.
The story comes days after Annegret Kramp-Karrenbauer, a hand-picked successor of Chancellor Merkel, was blasted for mocking gender laws and telling jokes about installing trans bathrooms in Berlin.
https://www.rt.com/news/453318-germany-muslim-chancellor-reaction/
--------
India
'Hizbul paid Rs 50,000 to juvenile for Jammu blast'
Mar 9, 2019
JAMMU: A teenager who allegedly lobbed a grenade at the Jammu bus stand, killing two men, is under 16 years of age and he told interrogators that he was paid Rs 50,000 by a Hizbul Mujahideen terrorists for it, officials said Friday. The boy, who will turn 16 on March 12, was apprehended while fleeing after hurling the grenade that left two dead and 31 others injured on Thursday.
The interrogators will conduct an age test on the boy before initiating legal proceedings, they said. According to investigators, Fayaz, the self-styled district chief of Hizbul Mujahideen's Kulgam wing, had passed on a grenade to one Muzammil for lobbing
at a crowded place in Jammu. As Muzammil developed cold feet, he was asked to pass it on to the boy who was codenamed "chhotu".
Meanwhile, a local court on Friday also granted four days' police remand of Yasir Javed Bhat, who was allegedly involved in the crime.
https://timesofindia.indiatimes.com/india/hizbul-paid-rs-50000-to-juvenile-for-jammu-blast/articleshow/68327978.cms
--------
India, US seek 'irreversible', 'credible' actions from Pakistan on terror
Mar 08, 2019
The United States and India have separately called upon Pakistan to ensure its post-Pulwama crackdown on terrorists was "sustained, irreversible" and not "cosmetic" as in the past when apprehended individuals and shut down facilities returned to normal when the glare of global scrutiny shifted away.
"The United States notes these steps," said Robert Palladino, the US state department spokesperson, on Thursday about the ongoing crackdown in Pakistan. "...and we continue to urge Pakistan to take sustained, irreversible action against terrorist groups that will prevent future attacks and that will promote regional stability."
He added: "And we reiterate our call for Pakistan to abide by its UN Security Council obligations to deny terrorists safe haven and block their entry to funds"
Separately, an Indian official told reporters at a background briefing that Pakistan has staged such crackdowns — "professed actions" — before. "Whether these actions are cosmetic or credible is yet to be seen," the official said of the current actions, adding that India would be looking for "credible and verifiable actions".
Full report at:
https://www.hindustantimes.com/india-news/india-us-seek-irreversible-credible-actions-from-pakistan-on-terror/story-IXZO4iRLPNLejudF5NwEyL.html
--------
Army jawan on holiday kidnapped by militants from his home in Kashmir
Mar 09, 2019
A soldier of the army's Jammu and Kashmir Light Infantry (JAKLI) was kidnapped from his home in Qazipora Chadoora in Jammu and Kashmir's Budgam district by unknown gunmen.
The kidnapped soldier has been identified as Mohammad Yasin Bhat. The incident took place late on Friday evening.
Police and army launched a manhunt to trace the soldier.
Officials said that Bhat was at his home at Qazipora when some unidentified gunmen abducted him from his house. Soon after police came to know about abduction of the soldier, a joint police and army team was send to village and search operation was launched in the area.
Officials said that Bhat was on leave from Febuary 26 till March 30.
In June, an army soldier Aurangzeb of 44 Rashtriya Rifles posted in south Kashmir's Shopian district was abducted by militants and his bullet-riddled body was found 10 kilometers away from the place of kidnapping.
Full report at:
https://www.hindustantimes.com/india-news/army-jawan-kidnapped-by-terrorists-from-his-home-in-kashmir-s-budgam/story-WwyIFkayo1JTmEqbo65eBI.html
--------
Army chief Bipin Rawat meets top US Army official, discusses terrorism
Mar 08, 2019
General Raymond Thomas, the Commander of the US Special Operations Command, met Army chief General Bipin Rawat here Friday, during which the two officers deliberated on the developing regional security environment and discussed Pakistan's "continued support to terrorism", according to a statement.
Raymond emphasised on the need for furthering military cooperation in the field of technology and military-to-military exchanges between the two countries.
"Both the generals deliberated on the developing regional security environment, issue of global terrorism and Pakistan's continued support to terrorism was also discussed," the statement said.
The visit of the senior US Army officer comes days after the Indian Air Force struck at the terror group Jaish-e-Mohammed's biggest training camp near Balakot, deep inside Pakistan, on February 26.
A day later Pakistan also retaliated by attempting to target Indian military installations. However, the IAF thwarted the plan.
The Indian strike on the JeM camp came 12 days after the terror outfit claimed responsibility for a suicide attack on a CRPF convoy in Kashmir, in which 40 personnel were killed.
The statement further said in the current scenario, the Indian Army remains fully prepared for emerging challenges.
Full report at:
https://www.hindustantimes.com/india-news/army-chief-bipin-rawat-meets-top-us-army-official-discusses-terrorism/story-mKFNBkfwYvPwgHRccLtI3I.html
--------
After ban on J&K Jamaat-e-Islami, government set to curb its online presence
by Rahul Tripathi
March 9, 2019
Days after the Central government banned the Jamaat-e-Islami, Jammu and Kashmir, under the Unlawful Activities (Prevention) Act, the government is said to be considering a curb on the online presence of the organisation, accusing it of using social media platforms to propagate its ideology and garner support.
Based on inputs by agencies, the government is set to give its nod to block the organisation's website — jamaateislamijk.org — and plans to curb Jamaat's social media activities on Facebook, Twitter and WhatsApp, sources said.
"While a tribunal led by a judge will look into the Home Ministry's ban order, the Jamaat-e-Islami (JeI) is allegedly misusing the social media platforms to build a narrative against the government's order. The notification banning JeI for five years was cleared by the Cabinet Committee on Security (CCS)," a senior government official said.
The JeI's Twitter handle has more than 5,800 followers, and on Thursday it had tweeted a photograph showing the organisation's central offices being sealed. The post stated, "…Jamaat has already announced to challenge this arbitrary ban on our right peaceful assembly and religious freedom in the court of law."
On Facebook, the organisation has termed the ban by the Centre as "unconstitutional" and "undemocratic". The Facebook page, according to details available on its profile, was started in January 2013.
The Jamaat-e-Islami had earlier been banned, for two years, in 1975, and in April 1990 for three years.
In its order, the MHA had cited Jamaat's close association with the All-Party Hurriyat Conference (APHC) for the move to make it unlawful.
"A conglomerate of organisations with separatist and terrorist leanings, APHC has been ideologically supporting Pakistan-sponsored violent terrorism. JeI (J&K) was instrumental behind APHC with the support of Pakistan," according to the ministry.
An MHA official said, "This organisation has nothing to do with the Jamaat-e-Islami Hind [formed at the time of Independence]. In 1953, JeI J&K enacted its own constitution. It is the main organisation responsible for propagation of separatist and radical ideology in Kashmir valley. The group is also responsible for formation of Hizbul Mujahideen (HM), the biggest terror organisation active in Jammu and Kashmir."
Citing intelligence reports, an official said, "JeI provides all kinds of support to HM in terms of recruits, funding, shelter, logistics and with the support of Pakistan. HM is actively spearheading terrorist activities in Kashmir."
While declaring it an "unlawful organisation", the Centre had reasoned that the group was looking at escalating its subversive activities, including attempts to carve out an Islamic state out of India by de-establising the government established law, sources said.
According to MHA, the JeI has a large number of cadres in south Kashmir, where militant activities have been on the rise, particularly after the encounter-killing of HM militant Burhan Wani in 2016.
"A sizeable section of JeI (J&K) cadres overtly worked for militant organisations, especially HM. Its cadres are actively involved in subversive activities of HM by providing hideouts. HM's strong presence in the area of influence of JeI is a clear reflection of separatist and radical ideology of the outfit," another MHA official said.
Full report at:
https://indianexpress.com/article/india/after-ban-on-jk-jamaat-e-islami-govt-set-to-curb-its-online-presence-5617752/
--------
Pakistan
Govt takes over five Karachi seminaries as crackdown continues
Mar 09, 2019
KARACHI: In continuation of its crackdown on the banned outfits under the under the National Action Plan (NAP), the government has taken control of five more religious seminaries in Karachi.
The countrywide action against these outfits was decided in a National Security Committee meeting in the aftermath of Pulwama attack which the Jaish-e-Mohammed, an outfit based in Pakistan, took credit for.
The drive is also in compliance with the Financial Action Task Force (FATF) demand for curbing terror financing and money-laundering.
In the lastest action on Friday, Sindh's auqaf department took the administrative control of "Riyazul Janna in North Karachi, Jamaatul Aman, Huzaifa bin Eman in North Nazimabad, and Madrassa Maaz bin Jabal in Landhi and Jamaa Masjid Hunain in Quaidabad".
The Sindh government had already taken over 56 seminaries, schools and hospitals over the past three days.
In all, 31 schools, 16 madressahs and nine hospitals associated with the banned groups were seized across the province. Of them, 10 schools, nine seminaries and five hospitals were situated in Karachi division, three schools and a hospital in Hyderabad district, two schools and a seminary in Matiari, a school in Jamshoro, three schools and a hospital in Mirpurkhas, four schools in Sanghar, a school in Tando Allahyar, three schools and a madressah in Badin, a school, two hospitals and a seminary in Tharparkar, a madressah in Naushahro Feroze, two schools and three madressahs were situated in Benazirabad and one school was functioning in Kambar-Shahdadkot district.
In Punjab alone, the provincial authorities took over control of 529 properties of the banned outfits and arrested more than 100 of their activists. Most of the assets belonged to JuD and JeM.
In Rawalpindi alone, the government sealed a hospital and three dispensaries run by the proscribed organisations. The district administration told journalists that law enforcement agencies sealed the establishments being run by the banned outfits.
The security agencies also sealed seven shops and seized an ambulance during the crackdown.
On Thursday, the federal government decided to place eight banned outfits from medium risk to high-risk category during an official meeting regarding implementation on the Financial Action Task Force (FATF) recommendations on anti-money laundering and counter terror financing for Pakistan, media reports said Thursday.
According to details, these organisations include Daesh (Islamic State), Al Qaeda, Tehreek-e-Taliban Afghanistan, Haqqani Network, Jamaatud Dawa, Falah-e-Insaniat Foundation and Lashkar-e-Taiba.
The government has directed the departments concerned to take action against these high-risk banned outfits. The decision was taken during FATF General Committee meeting which was chaired by Finance Secretary Arif Ahmed. The session also reviewed FATF's recommendations and progress on their implementation.
https://www.pakistantoday.com.pk/2019/03/08/govt-takes-over-five-karachi-seminaries-as-crackdown-continues/
--------
Pak-India tensions, nuclear threat alarm world community
Anwar Iqbal
March 09, 2019
WASHINGTON: As the American media warn that the Kashmir dispute could lead to a nuclear conflict in South Asia, a senior US general says terrorists continue to stoke tensions between India and Pakistan.
Pakistan too in a meeting with Senator Mitt Romney told the senior lawmaker, who now heads the Senate's Subcommittee on South Asia, that peace in the region would remain elusive if the Kashmir dispute was not resolved, but General Joseph Votel, who leads the US Central Command (CENTCOM), underscored the need to fight militancy for restoring peace in the region.
"Militants operating out of Pakistan and Afghanistan continue to threaten Afghan stability as well as stoke tensions between Pakistan and India," the general told the US House Committee on Armed Services on Thursday afternoon.
A New York Times (NYT) editorial on Friday, however, alerted the international community that the ongoing conflict between South Asia's two nuclear-armed neighbours could have dangerous consequences.
"The two countries have crossed into dangerous territory, with India attacking Pakistan and engaging in aerial duels. The next confrontation, or the one after that, could be far more unthinkable," the NYT wrote.
Going a step ahead, the Wall Street Journal (WSJ) warned that India and Pakistan were "flirting with nuclear disaster".
An article in the Atlantic magazine suggested that both countries were hiding facts from their people while working quietly to prevent a war.
As the international community expedites efforts to reduce India-Pakistan tensions, Islamabad's envoy in Washington Asad Majeed Khan has reached out to US lawmakers to explain his country's positions. "Lasting peace and stability in South Asia would remain elusive as long as India continues to deny the people of Occupied Kashmir their legitimate right to self-determination," he told Senator Romney. "Pakistan desires to resolve the core regional dispute through dialogue," he said.
At the congressional hearing, Gen Votel who, as CENTCOM commander, supervises Washington's military strategy for the Pak-Afghan region, said the US security assistance to Pakistan remained suspended, but some military cooperation activities continued, demonstrating "the importance of military cooperation, despite challenges in the bilateral relationship".
"Pakistan presents the US with challenges and opportunities in the execution of our South Asia Strategy," he said. "As a state possessing nuclear weapons that sits at the nexus of Russian, Chinese, Indian, Iranian and US geopolitical interests, Pakistan will always be a country of importance to the US."
Full report at:
https://www.dawn.com/news/1468503/pak-india-tensions-nuclear-threat-alarm-world-community
--------
MQM of 1986 will fight pro-India elements, Sattar assures army
March 09, 2019
HYDERABAD: Former Muttahida Qaumi Movement-Pakistan convener Dr Farooq Sattar has urged the military leadership not to doubt loyalties of Mohajirs [Urdu-speaking people] in the wake of past incidents. They [Mohajirs] should be given their due space in politics.
He said those whose forefathers had created Pakistan should be allowed to play their role in the country's uplift like their elders did in its creation.
Dr Sattar was speaking at the 'Afwaj-i-Pakistan Yakjehti Rally' outside the local press club on Friday.
He said that people of Hyderabad, Karachi and other parts of Sindh would not hesitate in sacrificing their lives for the defence of Pakistan. He said that PAF pilot Hassan Siddiqui had made the nation proud by downing an Indian aircraft.
"Pakistan armed forces are capable of doing so many things. If armed forces are protecting eastern and western borders, the MQM of 1986 will fight those who are trying to play in the hands of India and will make the country's defence invincible," he said, and asked those supporting India and so-called nationalists to talk sense.
Dr Sattar said that his party would empower women so that they could play their due role in the health and education sectors and in improving the country's economy.
Youths, especially males, would have to concentrate on their education because use of mobile phone would not help solve problems, he added.
He advised Indian Prime Minister Narendra Modi to sit on the negotiation table and put an end to the 70-year-old bickering. He argued that a solution to the Kashmir issue must be found because this problem had stalled pace of development in the region.
He observed that the armed forces of Pakistan never got provoked by Indian aggression though their patience had always been tested. "The entire world realises that the Pakistan army is making peace overtures despite facing aggression" he said, adding that this had improved Pakistan's image globally.
He called for resolving the Kashmir issue in line with the aspirations of Kashmiri people.
Full report at:
https://www.dawn.com/news/1468408/mqm-of-1986-will-fight-pro-india-elements-sattar-assures-army
--------
NACTA, UK agree on concrete steps to combat terrorism financing
Mar 09, 2019
ISLAMABAD: The National Counter Terrorism Authority (Nacta) and British High Commission on Friday agreed to take concrete steps to stem financial aid to terrorism activities, ARY News reported.
The understanding was reached during a seminar organised by the two entities in Islamabad. Experts from both the sides discussed the national and international laws against terrorism financing.
The British High Commission assured the Nacta of full cooperation to stop financial assistance being given to terrorists.
Recently, the Paris-based Financial Action Task Force (FATF) praised Pakistan progress for combating money laundering and terrorism financing and termed the steps taken by the country satisfactory.
The FATF had placed Pakistan on a money laundering "grey list" early in 2018 but given it time to take action against further downgrade.
"Since June 2018, when Pakistan made a high-level political commitment to work with the FATF to strengthen its anti money laundering/combating financing of terrorism regime and to address its strategic counter-terrorist financing-related deficiencies, Pakistan has taken steps towards improving the regime, including by operationalising the integrated database for its currency declaration regime," the body said in a statement.
The statement, however, urged for more steps to the work that remains to be done.
Full report at:
https://www.pakistantoday.com.pk/2019/03/08/nacta-uk-agree-on-concrete-steps-to-combat-terrorism-financing/
--------
Israel is Pakistan's number-one enemy: Pakistani minister
Mar 8, 2019
Pakistan's Minister of State for Parliamentary Affairs Ali Muhammad Khan says his country will never recognize Israel, which he said is the Pakistani nation's "number one enemy."
"We will never recognize Israel. Israel is Pakistan's number one enemy," said Khan in a public session in parliament on Thursday.
Khan's comments come in response to recent comments made by Pakistan's former military ruler, Pervez Musharraf.
Speaking at a news conference in the Emirati city of Dubai earlier, the self-exiled Musharraf had called for a strengthening of Islamabad's relations with the Tel Aviv regime in a bid to counter Pakistan's arch-rival India.
Khan, however, ruled out any such scenario, reiterating that the Pakistani nation was united in its decision not to recognize Israel.
"The Pakistani people will strongly resist those who will even talk of having friendship with Israel," the minister stressed.
Khan's statements echoed earlier comments made by Pakistan's United Nations Ambassador Maleeha Lodhi rejecting any relations with Tel Aviv and highlighting her country's commitment to Palestine.
Senior Pakistani lawmaker and head of the Pakistan Peoples' Party (PPP) Syed Khurshid Ahmed Shah has also recently said that Pakistan's Prime Minister Imran Khan will not ever "make the mistake" of recognizing Israel.
Separately, last January, Pakistani Foreign Ministry spokesman Mohammad Faisal ruled out any prospect of opening ties with Israel and described Pakistan as being supportive of the rights of the Palestinian people.
Earlier this week, Pakistan's leading English-language newspaper Dawn cited a high-ranking government source as saying that Israel had assisted India in its recent confrontation with Pakistan following a car bombing that killed at least 40 Indian paramilitary forces in Indian-controlled Kashmir on February 14.
Full report at:
https://www.presstv.com/Detail/2019/03/08/590529/Pakistan-never-recognize-Israel-Minister
--------
Southeast Asia
Mahathir meets Philippine Muslim rebel chief-turned-governor
MARCH 8, 2019
MANILA, Philippines — Malaysian Prime Minister Mahathir Mohamad on Friday met a Filipino Muslim rebel leader who has become a regional governor under a Malaysian-brokered peace deal, telling him while it's easier to shoot and kill than to develop a nation, prosperity can only happen in the absence of war.
Moro Islamic Liberation Front rebel chairman Murad Ebrahim said Mahathir pledged during their meeting in Manila that his country will help ensure the success of the peace accord that transformed him and other rebel commanders last month into administrators of a conflict-wracked Muslim autonomous region in the south.
Mahathir met Murad on the last day of his visit to Manila, where he held talks with President Rodrigo Duterte on a wide range of issues, including combatting Islamic State-linked militants in the largely Roman Catholic nation's southern region of Mindanao.
"Prime Minister Mahathir told him it's easy to shoot and kill, but it's difficult to develop. Chairman Murad said 'Yes, that is the next level of our struggle, how to develop and transform our revolutionary organization,'" said Nabil Tan, a Philippine official who joined the meeting.
Murad said Mahathir told him, "If there is peace, then everything will come ... He really encouraged us."
"I explained to him our priorities, the challenges. Part of the challenges is our transformation from revolutionaries to this governance. We want to have programs that will benefit the people," Murad told The Associated Press.
Under the peace deal brokered by Malaysia, Murad's group gave up its goal of a separate Muslim state in exchange for broader autonomy. The 40,000 fighters and at least 7,000 firearms that Murad's group has declared are to be demobilized starting this year in three phases depending on progress in the agreement's enforcement.
The first huge batch of about 12,000 guerrillas and their firearms would be demobilized in two to three months, Murad said.
Murad's people, including fierce Muslim commanders still facing criminal cases for past attacks, were sworn in last month to comprise 41 of 80 regional administrators, who would lead a transition government for the five-province region called Bangsamoro until regular leaders are elected in 2022.
Duterte picked his representatives, along with Muslim rebels from another group, to fill the rest of the transition authority, which will also act as a regional parliament.
The Philippine and Western governments see effective Muslim autonomy as an antidote to nearly half a century of Muslim secessionist violence, which the Islamic State group could exploit to gain a foothold in the region.
Bangsamoro replaces an existing poverty-wracked autonomous region of more than 3.7 million people with a larger, better-funded and more powerful entity. An annual grant, which could reach more than $1 billion, is to be set aside to bolster development in a region that has little infrastructure and is deeply scarred by decades of fighting.
Smaller but more violent groups aligned with the Islamic State group like the Abu Sayyaf still threaten the region.
During talks with Mahathir on Thursday, Duterte thanked Malaysia for brokering the peace talks. The Malaysian leader pledged to continue helping.
A Malaysia-led team of 28 international peace monitors will remain in the south until all Muslim guerrillas have demobilized under the peace deal, Malaysian officials said. The European Union, Japan and Brunei have contributed personnel to the peacekeeping contingent, which has been credited for enforcing a yearslong ceasefire and helping ease major fighting in the past.
http://www.startribune.com/mahathir-meets-philippine-muslim-rebel-chief-turned-governor/506865662/
--------
Islamic, Betawi groups rally in support of Anies' goal to give up beer company shares
March 8, 2019
A number of Islamic and Betawi organizations staged a rally on Friday to support Jakarta Governor Anies Baswedan's efforts to relinquish the Jakarta administration's shares in beer firm PT Delta Djakarta.
The Central Jakarta Police deployed some 900 personnel to secure the rally, which was held by members of the Islam Defenders Front (FPI), Islam Defender Troop (LPI) and Jawara Betawi in front of the City Council building on Jl. Kebon Sirih in Central Jakarta.
The Jakarta provincial government has owned a 26.25 percent share in the firm since 1970.
Relinquishing ownership in the beer producer was part of Anies' campaign promise in the 2017 gubernatorial election, reportedly to win the vote of conservative Muslims.
However, Anies' recommendation to release the shares has been opposed by some members of the City Council, with speaker Prasetyo Edi Marsudi arguing that they contributed significantly to the capital's income.
Anies countered the claim by saying that the shares contributed as much notorious night club and hotel Alexis before it was closed down in March 2018.
"Jakarta receives around Rp 38 billion [US$2.6 million] in dividends from the shares; that is similar to the tax paid by Alexis, around Rp 36 billion," Anies said in Pondok Labu, South Jakarta.
Full report at:
https://www.thejakartapost.com/news/2019/03/08/islamic-betawi-groups-rally-in-support-of-anies-goal-to-give-up-beer-company-shares.html
--------
Philippine military launches air strikes on Abu Sayyaf militants' hideout
March 09, 2019
MANILA: Philippine security forces on Friday launched an air strike on a hideout where militants were suspected of plotting a major new terror attack.
The bombing raid targeted the Abu Sayyaf Group (ASG) in an area of Sulu province where ASG leader Radulan Sahiron, another senior chief Hajan Sawadjaan, and an estimated 200 fighters were believed to have been gathered.
Daesh-inspired Sawadjaan has been tagged as the mastermind of the Jan. 27 suicide attack on a Roman Catholic cathedral which killed 23 people and injured more than 100.
Lt. Col. Gerald Monfort, spokesman for the army's 11th Infantry (Alakdan) Division, said that military operations commenced at 6.40 a.m. after the presence of ASG terrorists was confirmed in Barangay Kabbon Takas, Patikul town.
Patikul is located near the provincial capital Jolo, where the bombings of Our Lady of Mount Carmel Cathedral took place. Following the deadly attack — allegedly carried out by two Indonesian suicide bombers with the help of local ASG members — Philippine President Rodrigo Duterte ordered his military to crush the militant group. The army said Friday's offensive was part of that directive.
"We have stepped up our tactical offensives against the ASG following the monitored and validated consolidation of the ASG terrorists in the hinterland of Patikul," said Brig. Gen. Divino Rey Pabayo Jr., commander of the Joint Task Force (JTF) Sulu.
Friday's military strike was launched before the ASG could carry out whatever terrorist action it was planning, added Pabayo, which he believed to be "something big" based on the number of fighters that had been gathered.
Monfort said the JTF Sulu had been in the area for a few days prior to launching the attack on the hideout. "Radulan Sahiron and Hajan Sawadjaan, the ASG main leaders, were reported to be in the consolidation area planning to launch terror acts," he added.
The Philippine Army said "selective aerial bombardment" was carried out as the combined ground forces of the Armed Forces of the Philippines (AFP) moved in for the final assault.
The AFP's Western Mindanao Command (WesMinCom) said the result of the bombing raid has yet to be determined as clearing operations were continuing.
Security also remains tight in Jolo to prevent any possible ASG attack aimed at diverting the AFP's attention away from the intensified military operations.
WesMinCom commander, Lt. Gen. Arnel B. Dela Vega, said pursuit operations were continuously being conducted by JTF Sulu troops. He asked people to pray for the safe return home of soldiers involved in the operations against the ASG militants in Sulu.
Pabayo vowed that JTF Sulu would "never lose focus" in hunting down the terrorists who had been "wreaking havoc" in the region. He said that earlier this week government forces had arrested an ASG "spotter" during a combined operation in Ipil, Zamboanga Sibugay province.
Maldimar Mahmor, a follower of ASG sub-leader Idang Susukan and previously Galib Andang (alias "Commander Robot"), was arrested on March 4. He is tagged in the abduction of the former mayor of Naga, Zamboanga Sibugay, Gemma Adana.
Mahmor also reportedly took part in the 2000 Sipadan kidnappings when ASG militants seized 21 European and Malaysian tourists and Filipino resort workers.
Full report at:
http://www.arabnews.com/node/1463866/world
--------
South Asia
Taliban commander among dozens killed in latest military operations
08 Mar 2019
Scores of Taliban militants including one of their commanders were killed during the operations of Afghan Special Forces and airstrikes which were conducted in the past 24 hours.
According to the informed military sources, the operations were conducted in Kundu, Logar, Ghazni, and Wardak provinces.
The sources further added that the Afghan Special Forces conducted a raid in province killing 25 Taliban fighters and destroying a weapons cache.
The Afghan Special Forces conducted a similar raid in Charkh district of Logar province killing 13 Taliban fighters, the sources added.
In the meantime, the security forces conducted airstrikes in Andar district of Ghazni and Jagahtoo district of Wardak province leaving two Taliban group members dead including one of the local commanders.
https://www.khaama.com/taliban-commander-among-dozens-killed-in-latest-military-operations-03445/
--------
Taliban will not win on the battlefield, says NATO Secretary General
08 Mar 2019
The NATO Secretary General Jens Stoltenberg has said that NATO has a presence in Afghanistan to create conditions for peace and send a clear message to Taliban that they will not win on the battlefield.
He made the remarks during a press conference with the President of Poland on Thursday.
"We support the peace efforts. We are there to create the conditions for peace. To send a clear message to the Taliban that they will not win on the battlefield, but they have to sit down at the negotiating table and reach a political agreement," he said. The NATO Secretary General further added that for any peace to be sustainable, it will need to be built on the achievements that have been made in recent years, including on human rights and the rights of women.
Full report at:
https://www.khaama.com/taliban-will-not-win-on-the-battlefield-says-nato-secretary-general-03444/
--------
Two prominent Taliban leaders killed in Kunduz airstrikes
08 Mar 2019
Two senior leaders of Taliban have been killed during the airstrikes which were conducted in northern Kunduz province of Afghanistan on Wednesday, the Afghan military said Thursday.
The 209th Shaheen Corps of the Afghan Military in the North announced that the airstrikes were carried out at around 10:20 am local time on Wednesday against the hideouts and commander and control center of Qari Wali Mohammad and Najeebullah alias Haroon. According to a statement released by 209th Shaheen Corps, at least 6 Taliban militants including the leaders of the group were killed and 3 others were wounded in the airstrikes.
The statement further added that a fighting position, the command and control center of Taliban, and another compound of Taliban were destroyed in the airstrikes.
The 209th Shaheen Corps also added that a clash also broke out between Taliban militants and security forces at around 1:30 pm local time in Pesta and Malraghai areas of Khanabad district, leaving 4 militants dead and 6 others wounded.
Full report at:
https://www.khaama.com/two-prominent-taliban-leaders-killed-in-kunduz-airstrikes-03443/
--------
Qawmi madrasa students get govt jobs: Information minister
MARCH 08, 2019
Dhaka, Mar 8 (UNB) — Qawmi Madrasa students are getting government jobs after the Dawrae Hadith certificate was given master's degree status, Information Minister Hasan Mahmud said Friday.
"The government also provided jobs to the madrasa students," he said at the 5th anniversary of Bangladesh United Islami Party (BUIP) at Suhrawardy Udyan in the capital.
"We established around 73,000 'maktab'-based madrasas. A teacher has been appointed at every 'maktab' (pre-school for religious education) and they are getting government salary," he said.
Mahmud accused the BNP and its ally Jamaat-e-Islami of using Islam for political purposes.
"On the other hand, the Awami League government is setting up mosques in every upazila. The tender process for 250 mosques is complete," he added.
Minister Mahmud said Prime Minister Sheikh Hasina set up the Imam-Muezzin Trust in 1996. She gave Tk10 crore to the fund after returning to power. "She has fulfilled the Islamic scholars' demands," he said.
Full report at:
http://unb.com.bd/category/Bangladesh/qawmi-madrasa-students-get-govt-jobs-information-minister/14128
--------
North America
Trump calls Democrats 'anti-Israel' and 'anti-Jewish'
Mar 8, 2019
US President Donald Trump has called Democrats "anti-Israel" and "anti-Jewish" after the House of Representatives passed a resolution condemning bigotry and hate.
The House Thursday passed the resolution after backlash from a number of factions across the Democratic Party forced changes to a bill that originally focused on anti-Semitism and remarks about Israel by a Muslim American congresswoman.
The resolution passed in the lower chamber of Congress overwhelmingly, 407 to 23, with all Democrats voting in favor including Representative Ilhan Omar herself, whose legitimate criticism of Israel has been deemed anti-Semitic by some colleagues and exposed deep fault lines among Democrats.
"As members of Congress and Americans we have a solemn, urgent responsibility to fight to end the scourge of bigotry, racism and hatred in our country," House Speaker Nancy Pelosi said during the debate on the resolution.
Trump, before leaving the White House to tour tornado damage in Alabama on Friday, said he thought the vote was "disgraceful."
"The Democrats have become an anti-Israel party. They've become an anti-Jewish party," he told reporters.
"I thought yesterday's vote by the House was disgraceful," Trump said. "I thought that vote was a disgrace, and so does everybody else if you get an honest answer."
Omar, a newly elected Democrat Congresswoman from Minnesota, has sparked a firestorm on Capitol Hill over repeated criticisms of Israel and the powerful pro-Israel lobby in Washington that exerts great influence in US politics.
She joined the two other Muslims in Congress, Rashida Tlaib and Andre Carson, in praising the measure's passage.
"It's the first time we have voted on a resolution condemning Anti-Muslim bigotry in our nation's history," they said, noting the worrying rise of extremism in America.
https://www.presstv.com/Detail/2019/03/08/590532/US-Donald-Trump-Democrats-
--------
The military has a white-power problem
By Juliette Kayyem
March 8, 2019
Juliette Kayyem, a former assistant secretary at the Department of Homeland Security under President Barack Obama, is faculty chair of the homeland security program at Harvard's Kennedy School of Government.
It wasn't long ago that the question of what to call Islamic State-inspired terrorists turned Democrats into verbal gymnasts. The term "radical Islamic terrorists" was shunned by those who feared that it too easily vilified a religion and was too likely to alienate our Muslim allies in the fight against global terrorism. In the Barack Obama years, we were often compelled to use words such as "violent extremism" instead, though the very vagueness of the phrase risked muting the necessary actions needed to counter the threat from those using violence in the name of Islam. It was, from a personal perspective, an exhausting exercise.
As the 2016 election approached, then-candidate Donald Trump weaponized this habit and drove it home. "These are radical Islamic terrorists, and she won't even mention the word, and nor will President Obama," he said, referring to Hillary Clinton at a presidential debate in October 2016. "Now, to solve a problem, you have to be able to state what the problem is, or at least say the name."
Calling an ideology out for what animates it gives clarity to the public. It allows the public to see the threat as a trend rather than an aberration. And it isn't as if leaders of Muslim nations don't know that terrorism is being invoked in their name.
But when it comes to homegrown forms of terrorism, Trump officials not only won't name the problem; they also will barely talk about it.
It has been several weeks since Lt. Christopher Paul Hasson, 49, a neo-Nazi member of the U.S. Coast Guard, was arrested for allegedly planning attacks "to murder innocent civilians on a scale rarely seen in this country," according to government charging documents. At his home in Silver Spring, investigators found 15 guns and 1,000 rounds of ammunition but cautioned that their investigation was just beginning. Inspired by the Norwegian right-wing extremist and mass murderer Anders Behring Breivik, Hasson had, federal agents said, compiled his own hit list of Democratic leaders and media figures. A key piece of evidence against Hasson: He would allegedly log on to his work computer and search previous mass murders.
But apart from statements by the prosecutors, both the Justice Department and armed services have been exceptionally quiet about Hasson and the problem he represents. Trump, in response to a question, merely stated, "I think it's a shame."
For a president who found a way to both-sides a neo-Nazi rally, the hypocrisy is not surprising. But by failing to name Hasson's white supremacist ideology, the military risks missing dangerous subcultures in its force structure and then finding ways to remove them.
And there is a trend. A Military Times poll in 2017 found that about 22 percent of service members have seen evidence of "white nationalism or racist ideology within the armed forces." For nonwhite service members, the figure exceeded 50 percent. Respondents noted racist and anti-Semitic language in casual conversations, tattoos aligned with white power groups, Confederate flag displays and swastika graffiti as evidence of hate-filled ideology.
Meanwhile, the military has reported to Congress that only 18 members, out of 1.3 million serving each year, have been discharged or disciplined for racist activity since 2013.
These figures suggest that the uniformed military services view this problem in terms of actionable cases, not as a systemic ideology to be identified and discarded, root and stem.
If the gap between having hate-filled or racist views and engaging in conduct worthy of a discharge or discipline remains large, these polling numbers are not reassuring. The military — an institution that has often led the way on America's path toward inclusion — needs to address the racism in its midst and the forces that can lead to radicalization. Those who hate cannot be permitted to use the skills they learn — weaponry, discipline, secrecy — while in uniform or after as veterans.
The Hasson saga should lead the services to look harder for warning signs during a soldier's recruitment and service. Federal officials reported Hasson had been an extremist for years and allegedly fed his hatred at work: He contacted other like-minded souls from his office computer. How widespread is this problem? The Pentagon needs to find out more than it knows.
And it can start by giving the problem a name: the alt-right in uniform. White nationalism in uniform. Military racist extremism. Call it something. Just don't ignore it.
Full report at:
https://www.washingtonpost.com/opinions/the-military-has-a-white-power-problem/2019/03/08/e5ba3f92-41a7-11e9-922c-64d6b7840b82_story.html
--------
Canadian man behind mosque massacre appeals sentence
March 9, 2019
MONTREAL: A Canadian man sentenced to 40 years in prison without the possibility of parole for the killing of six worshippers at a Quebec mosque in January 2017 has launched an appeal, local media reported Friday.
Alexandre Bissonnette was convicted on February 8 to life imprisonment for the murders, the deadliest attack on a Muslim place of worship in the West.
On January 29 2017, Bissonette opened fire on around 40 men and four children who were chatting after prayers in the grand hall of the ground floor, killing six men and seriously wounding five others.
In their appeal at the Quebec courthouse, Bisonnette's lawyers argued that Judge Francois Hout had imposed "an illegal punishment, manifestly unreasonable and not indicated in ordering 40 years imprisonment before being eligible for parole," according to the public Radio-Canada.
The verdict, preventing Bissonnette from applying for parole before his 67th birthday, was considered too lenient by the president of the mosque, Boufeldja Benabdallah.
Full report at:
https://www.freemalaysiatoday.com/category/world/2019/03/09/canadian-man-behind-mosque-massacre-appeals-sentence/
--------
US moving terrorists from Syria's Baghuz to 'new Guantanamo': Analyst
Mar 8, 2019
The US is reportedly withdrawing extremists and their family members from Daesh's last stronghold in Syria's Dayr al-Zawr province to camps in western Iraq which an Iraqi analyst has called the "new Guantanamo".
Five years after Daesh swept across Syria and Iraq, all that remains of the "caliphate" that at its peak stretched across two countries and controlled 10 million people is a handful of streets in a bend of the Euphrates river running through the desert town of Baghuz.
Trapped from the east and the west by advancing US-backed SDF militants and by the Syrian army and Russia, the self-proclaimed caliphate is a hellscape of smoke and fire. There is nowhere left for the fighters to go.
Between 1,000 and 1,500 men are believed to be still inside the riverside pocket, along with an unknown number of women and children.
Now, the US-led coalition is reportedly evacuating the enclave and moving the terrorists and their family members to camps in western Iraq.
Iraqi security analyst Hazem al-Bawi says the US is seeking to create a new Guantanamo Bay camp, similar to the notorious one in Cuba.
According to al-Bawi, the US is pressurizing the Iraqi government to create camps for accommodating thousands of Daesh family members in the desert areas of western Iraq, but there are concerns that the camps would turn into a new Guantanamo.
"The government must prevent the US from finding a new pretext for prolonging its presence in Iraq through accommodation of terrorists in these new camps," the analyst said.
The Guantanamo detention camp is a United States military prison located on the coast of Guantánamo Bay in Cuba, where many terror suspects have been kept indefinitely without charge amid reports of torture.
Despite earlier promises by US President Barack Obama and his successor Donald Trump to shut down the notorious prison, the latter said in January that he had signed a new executive order to keep it open.
Full report at:
https://www.presstv.com/Detail/2019/03/08/590499/Syria-Baghuz-US-terrorists-Guantanamo-camp
--------
US accuses Iran of defying UN resolution, calls for tough bans
Mar 8, 2019
The US has accused Iran of violating the UN Security Council Resolution 2231 by testing one of its ballistic missiles and launching two satellites, urging the world body to restore "tougher international sanctions" against the Islamic Republic.
In a letter to the 15-member council, acting US Ambassador to the United Nations Jonathan Cohen said Iran tested a medium-range ballistic missile on Dec. 1, 2018, and attempted to place satellites in orbit on Jan. 15 and Feb. 5.
"Iran has carried out these three launches in defiance of the expressed will of the UN Security Council, and such provocations continue to destabilize the entire Middle East region," Cohen claimed.
Cohen's letter called upon the council to "join us in imposing real consequences on Iran for its flagrant defiance of the council's demands and bring back tougher international restrictions to deter Iran's missile program."
The US claims about Iran's violation come as Washington turned into a "gross violator of the resolution" after unlawfully leaving the 2015 nuclear deal with Iran, and imposing unilateral sanctions against Tehran.
Resolution 2231 terminated the provisions of previous UN resolutions against Iran, some of which had imposed restrictions on Iranian missile activities.
Such activities are not prohibited under Resolution 2231, which merely "calls on" Iran "to refrain from any activity related to ballistic missiles designed to be capable of delivering nuclear weapons."
Tehran has always emphasized that it has no nuclear warheads and that none of its missiles have been designed to carry nuclear weapons.
In remarks made on Thursday, IRGC deputy commander Brigadier General Hossein Salami said the Islamic Republic is increasing its military power in order to counter any type of threat posed by its adversaries.
"Today the Islamic Republic has learned that it must respond to the enemy's war on the Islamic Revolution ... with the language of force and in the battleground," he said.
He also noted that the country's defense power is being strengthened with a rapid and unstoppable pace.
Brigadier General Kiumars Heidari, the commander of the Iranian Army's ground forces, also said on Thursday that the country's military is more prepared than ever, and has upgraded all its equipment based on the state-of-the-art technologies.
"If the enemies of the Islamic Republic of Iran make any stupid move, our response will be strong and crushing," he noted.
"Today the Iranian armed forces, the Army, the Islamic Revolution Guards Corps (IRGC) and other military forces are stronger than ever, and the enemies would be eliminated in a very short time if make any stupid move," General Heidari warned.
His warning came after Israeli Prime Minister Benjamin Netanyahu issued another military threat against Iran, this time saying that the regime's navy could take action against Iranian oil shipments.
Speaking at a graduation ceremony of Israeli navy cadets in Haifa on Wednesday, Netanyahu claimed that Iran was trying to "covertly" ship fuel over maritime routes to "circumvent" unilateral US sanctions.
"To the extent that these attempts widen, the navy will have a more important role in blocking these Iranian actions," Netanyahu threatened.
The Israeli premier also urged the international community "to stop Iran's attempts to circumvent the sanctions by sea, and of course, by any (other) means."
This is while the international community has been critical of Washington's withdrawal in May 2018 from the nuclear deal and the ensuing re-imposition of the economic sanctions, which had been lifted under the nuclear deal.
Speaking on the sidelines of an anti-Iran meeting in Warsaw last month, Netanyahu openly called for "war with Iran."
In addition, he frequently threatens to target Iranian military advisers in Syria, where they are helping the Arab country in its fight against Israeli-backed militants.
In August 2018, the Israeli prime minister threatened Iran with "atomic annihilation" right from the regime's secretive atomic weapons facility.
Full report at:
https://www.presstv.com/Detail/2019/03/08/590474/US-Iran-sanctions-missile-test-unsc-resolution-2231
--------
Muslims face most discrimination in US: Poll
Umar Farooq
09.03.2019
WASHINGTON
Muslims face more discrimination than any other religious group in the United States, according to a poll of registered voters published Friday.
Conducted by political website The Hill and market research and consulting services company HarrisX, it found that 85 percent of respondents believe Muslims face discrimination while 79 percent said Jews are discriminated against.
Some 61 percent of respondents said Christians face discrimination, while 55 percent said atheists face discrimination.
The poll's release comes during a week in which an anti-hate resolution was passed in Congress to condemn anti-Semitism, Islamophobia and other forms of bigotry.
All three Congressional Muslims hailed its passage, calling it "historic on many fronts".
"It's the first time we have voted on a resolution condemning anti-Muslim bigotry in our nation's history," Reps. Ilhan Omar, Rashida Tlaib and Andre Carson said in a statement.
The resolution made its way onto the House floor in the wake of comments made by Omar criticizing Israel, sparking outrage among critics, who said the remarks were anti-Semitic.
"I want to talk about the political influence in this country that says it is OK for people to push for allegiance to a foreign country," Omar said at a town hall last week, referring to Israel.
While many in Congress slammed her comments, including Rep. Eliot Engel, who called them "unacceptable and deeply offensive", some lawmakers came to her defense.
"One of the things that is hurtful about the extent to which reprimand is sought of Ilhan is that no one seeks this level of reprimand when members make statements about Latinx + other communities," Rep. Alexandria Ocasio-Cortez said on Twitter.
Full report at:
https://www.aa.com.tr/en/americas/muslims-face-most-discrimination-in-us-poll/1413227
--------
US issues travel advisory for citizens: Don't visit J&K due to 'terrorism', don't go near Pak border
March 9, 2019
The United States Saturday issued a travel warning for its citizens visiting India due to "terrorism and civil unrest" in the country. It also asked Americans not to go within 10 kilometres of the border with Pakistan "due to the potential for armed conflict."
The level-2 travel alert comes in the wake of tensions between India and Pakistan, that escalated after the Jaish-e-Mohammad carried out a terrorist attack on a CRPF vehicle in Pulwama on February 14, killing 40 personnel.
White House bureau chief Steve Herman said on Twitter Saturday: "US issues Level 2 travel alert for #India — "exercise increased caution," warning Americans to not visit most of Jammu and Kashmir due to "terrorism and civil unrest" and not go within 10 km of the border with #Pakistan "due to the potential for armed conflict."
Asserting that some areas have increased risk, the US asked its citizens to exercise increased caution in India due to "crime and terrorism". However, the country has made an exception for tourists visiting the eastern Ladakh region and its capital Leh.
A Level 2 alert suggests 'exercise increased caution', Level 3 means 'reconsider travel'. Level 1 advises travellers to exercise normal precaution, while Level 4 recommends "Do Not Travel".
The advisory stated that "terrorists may attack with little or no warning, targeting tourist locations, transportation hubs, markets/shopping malls, and government facilities."
Citing rape cases as another reason for the advisory, the US government said, "Indian authorities report rape is one of the fastest growing crimes in India. Violent crime, such as sexual assault, has occurred at tourist sites and in other locations."
Referring to J&K, the advisory said, "Sporadic violence occurs particularly along the Line of Control (LOC) separating India and Pakistan, and in tourist destinations in the Kashmir Valley: Srinagar, Gulmarg, and Pahalgam. The Indian government prohibits foreign tourists from visiting certain areas along the LOC."
It further said, "India and Pakistan maintain a strong military presence on both sides of the border. The only official India-Pakistan border crossing point for persons who are not citizens of India or Pakistan is in the state of Punjab between Atari, India, and Wagah, Pakistan. The border crossing is usually open, but confirm the current status of the border crossing prior to commencing travel. A Pakistani visa is required to enter Pakistan. Only US citizens residing in India may apply for a Pakistani visa in India. Otherwise, apply for a Pakistani visa in your country of residence before travelling to India."
The advisory also said that US government employees are prohibited from visiting some of the northeastern states in India. "Incidents of violence by ethnic insurgent groups, including bombings of buses, trains, rail lines, and markets, occur occasionally in the northeast. US government employees are prohibited from travelling to the states of Assam, Arunachal Pradesh, Mizoram, Nagaland, Meghalaya, Tripura, and Manipur without special authorization from the U.S. Consulate General in Kolkata," it said.
Expressing their concerns over the "presence of Maoists groups in India", the US government said, "Maoist extremist groups, or 'Naxalites', are active in a large swath of India from eastern Maharashtra and northern Telangana through western West Bengal, particularly in rural parts of Chhattisgarh and Jharkhand and on the borders of Telangana, Andhra Pradesh, Maharashtra, Madhya Pradesh, Uttar Pradesh, Bihar, West Bengal, and Odisha. The Naxalites have conducted frequent terrorist attacks on local police, paramilitary forces, and government officials."
In February, just after the deadly Pulwama attack, the US had urged its citizens to reconsider their travel to Pakistan mainly due to terrorism and risks to civil aviation operating within or near the country. "Reconsider travel to Pakistan due to terrorism," the State Department had said.
Full report at:
https://indianexpress.com/article/india/us-travel-alert-india-terrorism-jk-unrest-pakistan-5617800/
--------
Mideast
Abbas party backs candidate for new Palestinian PM
8 March 2019
Palestinian President Mahmoud Abbas is expected to appoint long-time ally Mohammad Shtayyeh as prime minister in the next few days after backing by his Fatah party, senior officials said Thursday.
Analysts view bringing in Shtayyeh to replace outgoing prime minister Rami Hamdallah as part of Abbas's efforts to further isolate his political rivals Hamas, who run the Gaza Strip.
The central committee of Fatah backed Shtayyeh to take over the post during a meeting earlier this week, the senior officials said on condition of anonymity.
The recommendation is not binding on Abbas, but he is expected to back the decision, the officials said.
Shtayyeh, born in 1958, is a long-term Abbas ally and member of the Fatah central committee.
He would replace Hamdallah, who was politically independent.
Shtayyeh has been part of a number of Palestinian negotiating teams in US-brokered talks with Israel, and is a former government minister.
He is also an academic and economics professor.
Hamdallah's government submitted its resignation in late January, though it has continued on an interim basis.
Secularist Abbas remains the primary decision-maker and interlocutor with the international community.
Palestinian politics has essentially been paralyzed since 2007, when Hamas movement seized control of the Gaza Strip from Abbas's forces in a near civil war, a year after winning parliamentary elections.
Since then Abbas's governments have maintained limited self-rule in the occupied West Bank, while Hamas has led a rival administration in Gaza.
The previous government was formed during a period of improved relations and had the backing of Hamas.
This government will instead be dominated by Fatah, though other smaller parties will be represented. Hamas will not be included.
https://english.alarabiya.net/en/News/middle-east/2019/03/08/Abbas-party-backs-candidate-for-new-Palestinian-PM.html
--------
Israeli forces kill 1 Palestinian, wound 42 others in Gaza
Mar 8, 2019
Israeli forces have killed one Palestinian and injured at least 42 others during protests on the edge of the besieged Gaza Strip.
Gaza's Health Ministry said a Palestinian had succumbed to the injuries he sustained during clashes east of Rafah City in southern Gaza on Friday.
The ministry added that 42 people, including women and children, had also been wounded during the 50th week of the "Great March of Return" protests.
Four medics and two journalists were among those injured, according to the report.
Tensions have been running high in Gaza since March 30, when the protests started. Palestinian protesters demand the right to return for those driven out of their homeland by Israeli aggression. They also demand a halt to Israel's inhumane blockade of the Gaza Strip.
The clashes in Gaza reached their peak on May 14, the eve of the 70th anniversary of Nakba Day, or the Day of Catastrophe, which coincided this year with Washington's relocation of its embassy from Tel Aviv to the occupied Jerusalem al-Quds.
More than 260 Palestinians have so far been killed and at least 26,000 others wounded in the Gaza clashes, according to the latest figures released by the Gazan Health Ministry.
Gaza has been under Israeli siege since June 2007, causing a decline in living standards. Israel has launched three major wars against the enclave since 2008, killing thousands of Gazans each time and shattering the impoverished territory's already poor infrastructure.
Full report at:
https://www.presstv.com/Detail/2019/03/08/590522/Israeli-fire-Palestinians-Gaza
--------
Resistance groups have foiled Israeli plots through support from Iran, Syria: Nasrallah
Mar 8, 2019
The secretary general of the Lebanese resistance movement Hezbollah says the anti-Israel resistance front, thanks to solid and unwavering support from Iran and Syria, has well managed to frustrate the Tel Aviv regime's plots in the Middle East.
"All Lebanese and Palestinian resistance groups, supported by Iran and Syria, thwarted the project to pull the plug on the front. The steadfastness and resilience demonstrated by Hezbollah in Lebanon, Gazans, Syria as well as Iran foiled the fiendish plot against the region back in 2006," Sayyed Hassan Nasrallah said as he addressed his supporters via a televised speech broadcast live from the Lebanese capital, Beirut, on Friday evening.
He then praised the sacrifices made by all members of the Islamic Resistance Support Association, especially the female members, over the past 30 years.
Nasrallah also condemned a recent decision by the British government to outlaw Hezbollah in its entirety, stating that some countries would follow suit.
"They list us as a terrorist organization because they have failed in their military confrontations and schemes, and are fearful of a new war. Hezbollah's willpower and might is getting stronger day by day indeed.
"The latest US sanctions are part of the psycho-economic war against us. We expect further sanctions and punitive financial measures against Hezbollah and all its allies in the Middle East. The financial difficulties, which the anti-Israel axis of resistance is currently enduring, are part of the US-Israeli war on it. We must weather difficulties through patience, tolerance and good management," he said.
Nasrallah further noted that the United States wants to achieve through economic war what it has failed to accomplish via acts of aggression.
He expressed hope that Hezbollah will eventually emerge victorious from the ongoing financial war.
Nasrallah added that Hezbollah has managed to collect more than two million dollars in donations for the crisis-hit Yemeni people, and transferred the money to relevant authorities there to be distributed among needy people.
Elsewhere in his remarks, Nasrallah touched down on the fight against corruption in Lebanon, stating that Hezbollah has launched the campaign in the country in order to preserve its national victories.
"We have already announced that fighting corruption and reducing bureaucracy must be among the major priorities of the incumbent Lebanese government. If the economy is in the doldrums, then the government would collapse and everything would be in disorder. We cannot stand idly by and watch Lebanon plunge into chaos," he commented.
Nasrallah underlined that Hezbollah will never sacrifice Lebanon's national interests to boost its own popularity, emphasizing that his movement will support any group or party that would contribute to the battle against corruption.
Full report at:
https://www.presstv.com/Detail/2019/03/08/590517/Resistance-Israeli-plots-Nasrallah
--------
Kuwait: Many in UN oppose Israel action on Palestinian taxes
March 09, 2019
UNITED NATIONS: An "overwhelming" number of UN Security Council members oppose Israel's decision to deduct money that Palestinians transfer to the families of people killed, injured or imprisoned for attacks on Israel from their monthly tax revenue, Kuwait's UN ambassador said Friday.
Mansour Al-Otaibi told reporters after a closed-door council meeting that Israel's action was "in violation of existing bilateral agreements."
US Mideast envoy Jason Greenblatt came to New York from Washington to defend close ally Israel.
He told the council that the Palestinian Authority's decision to reject the latest tax transfer was only hurting the Palestinian people because they were rejecting the 95 percent of the tax revenue that Israel is not withholding, according to a diplomat at the meeting.
Greenblatt said it was "inappropriate" to focus on Israel, which was withholding 5 percent to 7 percent of the monthly tax revenue because of the Palestinian Authority's "abhorrent practice" of paying that money "to terrorists and their families," the diplomat said, speaking on condition of anonymity because discussions were private.
"The Palestinian Authority is refusing to accept over $150 million in revenue to protest the fact that $11 million is being withheld, only to make a political point," the diplomat quoted Greenblatt as saying. "Does that sound like a governing authority that is concerned with the welfare of its people?"
Kuwait's Mansour, who called for the Security Council consultations along with Indonesia's UN Ambassador Dian Djani, said the Palestinians "have the right ... to do whatever they want with their money."
He said UN Mideast envoy Nikolay Mladenov, who briefed the council by video, said "there is a need for mediation on this to solve it."
Mansour said an "overwhelming" number of members on the 15-nation Security Council "think that this is a unilateral decision, it's not acceptable, it's a violation of the Oslo agreement and Paris protocol, and this is Palestinian money."
Indonesia's Djani said Israel's suspension of international observers in Hebron coupled with the withholding tax revenue were making things "more and more difficult once again for the Palestinian people — so that's why we are raising this issue, because we don't want to continue to escalate an issue."
The diplomat said Greenblatt told the council that members who disagree with Israel's decision to withhold the customs revenues were free to discuss it with the Israeli government.
Full report at:
http://www.arabnews.com/node/1463931/middle-east
--------
Europe
Germany refuses to blacklist Hezbollah in defiance of US, Saudi pressure
Mar 8, 2019
Germany has refused to follow Britain's lead in designating the Lebanese resistance movement Hezbollah as a terrorist organization despite pressures from Saudi Arabia and the United States, a senior official says.
The decision was announced on Friday by Minister of State Niels Annen in an interview with weekly news magazine Der Spiegel after his visit to Lebanon.
Annen described Hezbollah as "a relevant factor in Lebanese society", and said Germany "was interested in Lebanese stability."
Berlin made the decision despite the fact that it may fuel tensions with Saudi Arabia and the United States, which have been pressurizing their allies to ban the Lebanese movement.
Annen rejected US criticism that Berlin was doing too little to combat Iran's influence in the region and said his country's foreign policy remained focused on finding political solutions even in tough situations.
The British government last month designated the entire Hezbollah organization – both its political and military wings – as a terrorist entity. It had previously blacklisted Hezbollah's military apparatus as a "terrorist group."
Hezbollah strongly condemned the move, and described it as an insult to the Lebanese nation.
"The British government, in this decision, insulted the sentiments and the free will of the Lebanese people, who consider Hezbollah such a political and popular force that they granted it big representation in Parliament and Cabinet," Hezbollah said in a statement released after the UK's decision.
Hezbollah is strongly supported by the people of Lebanon and has a strong representation in the country's political process, especially after its victory in last year's elections, where it won over half of the parliamentary seats.
As a result of the victory, it later gained control over three of 30 ministries in the government led by Prime Minister Saad al-Hariri, the largest number ever.
In remarks made earlier on Friday, Hezbollah Secretary-General Sayyid Hassan Nasrallah condemned the British government's decision to outlaw Hezbollah in its entirety, stating that some countries would follow suit.
"They list us as a terrorist organization because they have failed in their military confrontations and schemes, and are fearful of a new war. Hezbollah's willpower and might is getting stronger day by day indeed," he noted.
Britain has become increasingly angered by Hezbollah's role in an anti-militancy campaign in Syria, where London has for the past eight years supported terrorist groups opposed to the government of President Bashar al-Assad.
Hezbollah has played a major role in helping Assad purge the Syrian territory from terrorist groups. The intervention, once criticized inside Lebanon, has helped the resistance movement increase its political clout as the group now controls three ministries, a first in the history of the Lebanese government.
The Israeli regime swiftly welcomed Britain's decision, with Israeli Security Minister Gilad Erdan saying in a tweet that the European Union, which unlike the United States has opposed designation of Hezbollah as terrorist entity, should follow suit.
https://www.presstv.com/Detail/2019/03/08/590537/Germany-Hezbollah-terrorist-designation-saudi-pressure
--------
Turkey slams Belgium for blocking prosecution of PKK
08.03.2019
Turkey on Friday slammed a decision by authorities in Belgium to block the prosecution of 36 PKK-linked individuals.
In a statement the Foreign Ministry said: "Despite evidence submitted by the Federal Prosecutor of Belgium on the PKK's terrorist nature, this decision, as it stands, provides the terrorist organization with a very dangerous area of exploitation."
Foreign Ministry spokesman Hami Aksoy said it was possible to appeal the decision in the Belgium Court of Appeals.
"Turkey will continue its legal fight determinedly," he added.
"We expect our ally Belgium to act in line with counter-terrorism responsibilities and take necessary steps in the fight against the PKK terrorist organization in an effective manner," he concluded.
Full report at:
https://www.aa.com.tr/en/europe/turkey-slams-belgium-for-blocking-prosecution-of-pkk/1413132
--------
Tory urged to apologise for Islamophobic comments
Muhammad Mussa
08.03.2019
LONDON
The leader of the House of Commons has been urged to apologise for saying that Islamophobia is an issue that should be taken up by the Foreign Office.
In a letter addressed to Andrea Leadsome, MP Naz Shah expressed her concern at the comment.
"In doing so, Andrea Leadsome played into the idea that Muslims born in our country are 'foreigners' or somehow less British than the rest of us.
"I cannot express how damaging the consequences of this could be for the British Muslim community," Shah said.
Leadsome, who is also a member of the Cabinet, responded by saying her comments were in regard to a "global definition of Islamophobia".
However, Shah has argued that she specifically mentioned the definition of Islamophobia in a report that was released by the All Party Parliamentary Group on British Muslims and that her statement was addressing the crisis of Islamophobia in the Tory party.
"This comment exposes a profound ignorance of race issues at the top of government. This is not a trivial matter. In the face of rising hate crime and an emboldened far-right movement here in Britain, how can the government hope to combat racism when its own ministers seem to lack basic understanding of the ways in which it manifests itself?" the Muslim MP said.
"Rather than seeking to make excuses, the right thing for Andrea Leadsome to do is wholeheartedly apologise and grant this debate," she added.
Shah had been calling for a debate in the House of Commons on the rising issue of Islamophobia within the Conservative party and throughout the U.K. as a whole when Leadsome made the comment.
Full report at:
https://www.aa.com.tr/en/europe/tory-urged-to-apologise-for-islamophobic-comments/1412985
--------
UK: Ruling Tories under fire for party Islamophobia
Muhammad Mussa
08.03.2019
LONDON
Britain's ruling Conservative Party came under fire this week, accused of being institutionally Islamophobic following a string of incidents that led to the suspension of members and the resignations of councillors accused of being Islamophobic.
Baroness Sayeeda Warsi, a senior Tory peer in the House of Lords, publicly accused her party of turning a blind eye to anti-Muslim prejudice within its ranks and called on party officials to show leadership after Prime Minister Theresa May and Chairman Brandon Lewis failed to do so.
"I first raised these matters three years ago," Warsi told BBC Newsnight on Tuesday. "I raised these privately, I've raised it with three successive chairmen, I raised it in a letter to the prime minister in 2017.
"And the way in which this matter has just been pushed around from pillar to post, not really taken seriously, not getting into dealing with issues until they become very public on social media, has meant that the party has failed to deal with it."
Telling of her experience bringing up the issue with May, Warsi said that the prime minister is not fond of discussing such matters openly with party colleagues. Warsi added that it was difficult to engage May on the matter, describing her response to Morsi's letter as rather "odd and formal," as if it had been written by a civil servant.
"She simply passed me back to the party chairman at the time … we had two meetings and each time he listened and then absolutely nothing was done, and I think this is why I say this is an institutional issue," Warsi added.
The former Conservative Party co-chair also called out the Tories for reinstating a member previously suspended for making Islamophobic comments and allowing him to run in a local election.
Warsi has also gotten death threats for publicly raising these issues, she said, including last April around the so-called "punish a Muslim" day when violent literature was sent out to Muslim MPs threatening violence against them.
Suspensions, resignations
Soon after the BBC interview, 14 members of the Conservative Party were suspended for posting Islamophobic comments on a Tory Facebook group, including ones saying "turf all Muslims out of public office" and "get rid of all mosques", as well as ones attacking Home Secretary Sajid Javid and warning against "voting for Islam."
On Wednesday, two Tory councillors resigned from the party after being found to have endorsed Islamophobic posts on their Facebook accounts. Len Milner and Chris Smith had "liked" a cartoon that depicted London Mayor Sadiq Khan being beheaded by the queen. Another councillor was suspended for retweeting a Twitter post praising Tommy Robinson, a well-known anti-Muslim activist.
The recent suspensions and resignations are hardly the only examples of Islamophobia within the party. Last November, in a piece in the Daily Telegraph, former Foreign Secretary -- and likely aspirant for the prime minister's post -- Boris Johnson compared women who wear Muslim garb to "letter boxes and bank robbers," but a later internal inquiry by the party found he had not committed any wrongdoing.
Last month, in a debate on the BBC on Islamophobia and the government's response, Tory MP Henry Smith claimed: "I've never come across any of that in the Conservative party." Smith's denial of Islamophobia within the party showed that he was "refusing to confront the issue," according to Warsi.
In the last three years, there has been a sharp rise in Islamophobia and anti-Muslim hate crime in the U.K., with 2017 seeing a record number of attacks against Muslims. In 2018 there were over 1,200 reports of Islamophobic attacks, jumping 26 percent from the previous year.
Full report at:
https://www.aa.com.tr/en/europe/uk-ruling-tories-under-fire-for-party-islamophobia/1412685
--------
Arab World
Hezbollah leader calls on supporters to donate to the group
8 March 2019
The leader of Lebanon's Hezbollah group is calling on his supporters to donate funds as it comes under tighter sanctions from Western countries.
The rare call came during a televised speech on Friday by Sayyed Hassan Nasrallah, a few days after Britain joined the United States in banning the group as a terrorist organization.
The US has increased its pressure on the group recently, placing several sets of sanctions on Hezbollah and its regional backer, Iran.
"The resistance needs your support ... because we are in the heart of the struggle," Nasrallah said. He added that the group will face sanctions with "patience and steadfastness."
"We can survive this war," he said.
https://english.alarabiya.net/en/News/middle-east/2019/03/08/Hezbollah-leader-calls-on-supporters-to-donate-to-the-group.html
--------
UN: 62,000 uprooted in ISIS battle crowd Syria displacement camp
8 March 2019
More than 62,000 people uprooted by fighting around ISIS extremist group's last pocket in Syria have flooded al-Hol displacement camp in Syria, with 5,200 arriving between March 5-7 and thousands more expected, the United Nations said on Friday.
"Al-Hol camp has significantly surpassed its capacity, with the current population exceeding 62,000 individuals. More than 90 per cent of the new arrivals are women and children. Children represent the vast majority, 23 per cent are under the age of 12 and 12 per cent are under the age of 5," a UN report said.
Full report at:
https://english.alarabiya.net/en/News/middle-east/2019/03/08/UN-62-000-uprooted-in-ISIS-battle-crowd-Syria-displacement-camp.html
--------
Adel al-Jubeir visits Pakistan, discusses bilateral ties with top leaders
8 March 2019
Saudi Arabia's Minister of State for Foreign Affairs, Adel bin Ahmed al-Jubeir, visited Pakistan on Thursday and held talks with the country's top leaders, the Kingdom's official news agency SPA said.
During the visit, al-Jubeir met with Pakistani Prime Minister Imran Khan, Foreign Minister Shah Mehmood Qureshi, and Chief of Army Staff General Qamar Javed Bajwa.
During the meetings, they reviewed means to enhance bilateral relations in various fields and discussed the outcome of Crown Prince Mohammed bin Salman's recent visit to Pakistan.
https://english.alarabiya.net/en/News/gulf/2019/03/08/Adel-al-Jubeir-visits-Pakistan-discusses-bilateral-ties-with-top-leaders.html
--------
Assassination reports compound amid rift among Saudi royals
Mar 8, 2019
Saudi Crown Prince Mohammed bin Salman has escaped an assassination attempt by his brother Bandar bin Salman, an Israeli newspaper reports.
Bin Salman's brother had promised an officer in charge of protecting the crown prince 10 million Saudi rials if he assassinated the powerful heir to rule the kingdom, Makor Rishon reported earlier this week.
The plot, however, was uncovered beforehand by bin Salman who ordered the arrest of his brother and the security officer, it added.
The report cannot be independently verified.
According to the Israeli newspaper, a new security team described as a rapid response unit had been formed to protect the crown prince inside the kingdom and abroad following the plot.
The alleged assassination attempt came after the British daily The Guardian reported rising tensions between bin Salman and his father, King Salman bin Abdulaziz Al Saud, over important policy issues.
A source told the newspaper that tensions between the king and the crown prince dramatically increased late February when the former visited Egypt for a joint summit between European Union and Arab League leaders at Sharm el-Sheikh.
According to the paper, the king was warned by advisers of a potential move against him to the extent that a new security team of more than 30 hand-picked loyalists from the interior ministry was flown to Egypt to replace the existing team.
"Some of the original security staff might have been loyal to the prince," Guardian quoted the source as saying.
The prince's handling of the Saudi war on Yemen along with the murder of Saudi dissident journalist Jamal Khashoggi are said to have led to heightened rift between the king and the crown prince, it said.
Bin Salman is known as the architect of the bloody war on Yemen.
Full report at:
https://www.presstv.com/Detail/2019/03/08/590498/Mohammed-bin-Salman-escapes-assassination
--------
US bombs Syrian town with internationally-banned white phosphorus munitions
Mar 8, 2019
US warplanes have again bombed a town in Syria's eastern Dayr al-Zawr province with internationally-banned white phosphorus munitions, killing several people, the official SANA news agency says.
The attack took place in the town of Baghouz on Thursday, leaving an unknown number of civilians including women and children dead, it added.
The so-called Syrian Democratic Forces (SDF), which is supported by Washington, claims that is fighting the last remaining pocket of land controlled by Daesh terrorists in Baghouz.
Thursday's bombing marks the third reported US attack with white phosphorus bombs after the SDF announced it had resumed operations following a break in the fighting to facilitate civilian evacuation last week.
Washington has long been providing the SDF -- a predominantly Kurdish alliance of militants -- with arms and militants, calling the group a key partner in the purported fight against Daesh.
The US and its allies have been conducting airstrikes against what they call Daesh targets inside Syria since September 2014 without any authorization from the Damascus government or a UN mandate.
Damascus has repeatedly denounced the US military presence in the country and its aerial assaults which have repeatedly targeted civilians and its critical infrastructure.
The US has previously used internationally banned munitions in Syria, particularly in the Dayr al-Zawr province.
Full report at:
https://www.presstv.com/Detail/2019/03/08/590492/US-coalition-uses-white-phosphorus
--------
Al Azhar mulls doubling medical, relief convoys to African countries
Mar. 7, 2019
CAIRO - 7 March 2019: Al Azhar's African affairs committee reviewed doubling the number of medical and relief convoys which Al Azhar sends to various African countries.
In a statement on Thursday, the committee said it is coordinating with the ministries concerned to secure needed support for the convoys, especially in view of the positive outcome of the convoys' activities in African states.
Over the past few years, Al Azhar, the world's highest seat of Sunni Islamic learning, used to send relief and medical convoys to African states, including Chad, Nigeria, Somalia, Niger and Sudan, read the statement, highlighting the scholarships offered by Al Azhar University to students of 46 African countries.
http://www.egypttoday.com/Article/1/66775/Al-Azhar-mulls-doubling-medical-relief-convoys-to-African-countries
--------
Africa
Some 50 Migrants Wounded By Clash inside Detention Centre In Libya
9 March 2019
At least 50 migrants were reportedly injured after they staged a protest that was suppressed inside a detention center in the capital Tripoli, the United Nations said on Friday.
The protest had been "driven by frustration and anxiety" as the migrants had been held for months "in extremely dire conditions," the UN refugee agency UNHCR said.
"Around 50 people were reportedly injured when the authorities sought to suppress the protest. Two individuals were badly injured and transferred to Abu Salim hospital," a UNHCR statement said, without giving more details.
A government official declined to comment, while the detention center could not be for reached for comment.
Libya's west coast is a leading departure point in North Africa for migrants crossing the Mediterranean Sea to Europe, mainly from other parts of Africa fleeing wars and poverty.
https://english.alarabiya.net/en/News/north-africa/2019/03/09/Some-50-migrants-wounded-by-clash-inside-detention-center-in-Libya.html
--------
South Africa to go ahead with Israel embassy downgrade: President Ramaphosa
Mar 9, 2019
South African President Cyril Ramaphosa says his country is planning to downgrade the status of its embassy in the occupied territories in response to Israel's violation of Palestinians' rights.
Speaking to the parliament in Cape Town, Ramaphosa said South African International Relations and Cooperation Minister Lindiwe Sisulu was working on implementing a decision by the ruling African National Congress (ANC) party to lower diplomatic ties with Israel.
At the end of a conference in December 2017, the ANC decided to downgrade its diplomatic mission in Tel Aviv to a liaison office in an expression of "practical support" for the oppressed Palestinian people, warning Israel that it should pay the price for its "human rights abuses and violations of international law."
Ramaphosa stressed the South African government's resolve to go ahead with the ANC's decision.
"The South African government remains seized with the modalities of downgrading the South African Embassy in Israel and we will communicate once the cabinet has fully finalized on this matter," he said.
"In implementing this conference resolution, we are mindful of South Africa's responsibility to continue engaging with all parties to the conflict to see where we would be able to provide assistance," he added.
The South African president further noted that the decision to downgrade the embassy in the occupied lands is driven by Israel's violations of the rights of the Palestinians and the regime' failure to enter negotiations on the so-called two-state solution to the Israeli-Palestinian conflict.
Last May, South Africa withdrew its ambassador to Tel Aviv in protest at Israel's deadly crackdown on anti-occupation rallies in the Gaza Strip.
South Africa established close ties with the Israeli regime during the apartheid era, but after the collapse of the discriminatory system, the African country began to lean towards Palestine.
Full report at:
https://www.presstv.com/Detail/2019/03/09/590552/South-Africa-Israel-embassy
--------
Hezbollah leader calls for donations as group feels the pinch
James Haines-Young
March 9, 2019
Feeling the pinch of international sanctions, Hezbollah on Friday called on its supporters to donate money to the group.
In his latest appearance, Sayyed Hasan Nasrallah said that the sanctions were a form of war and that the self-styled resistance group would respond to them as such.
Last month, the UK ended its long-held policy of distinguishing between the political and military arms of Hezbollah to classify the entire group and its subsidiaries as terrorist organisations.
The UK joined the United States, Canada and The Netherlands in its prescription of the group, but the move will not immediately much change to the way London deals with Beirut as it has long had a policy of no contact with Hezbollah since it supported the group's fighting against British forces in Iraq after 2003.
"I announce today that the resistance is in need of its [popular base]," Nasrallah said before calling on donations in order to help the group maintain its activities.
Most small contributions to the group come through a network of religious associations and the so-called "resistance support association" that Nasrallah said, "must significantly energise activities because we are in the heart of the battle.
"The resistance support association must provide an opportunity for jihad by money," Nasrallah said, quoting Quranic verses.
The Hezbollah leader said that he expects the US-led sanctions push to get tougher, saying that "we may see new names, new people and new organisations added to the sanctions list".
The Lebanese newspaper, Daily Star, reported that Hezbollah's TV station has been airing daily commercials calling for donations for the resistance support association.
"The sanctions and the terror lists are a form of war ... we should deal with them as if they are a war," Nasrallah said in a televised speech on Friday.
"Their actions will not be able to make us poor, hungry or isolated. Those that support us will continue in their support — be they countries, people or our people and the people of [the] resistance in Lebanon," Nasrallah said.
Last year, US Treasury under-secretary for terrorism and financial intelligence, Sigal Mandelker, said that Iran transfers some $700 million a year to Hezbollah through a network of shell and front companies.
That figure has more than tripled from estimates prior to the Syrian war when Hezbollah intervened to support the embattled president, Bashar Al Assad. However, the move last year by the US administration to re-impose sanctions has hit Tehran hard and analysts say it will likely impact the ability to support Hezbollah financially.
As well as Iran, a large proportion of Hezbollah's income is believed to come from hundreds of local and international businesses who contribute to the group financially and logistically.
Hezbollah has also been accused of involvement with organised crime.
A report from German intelligence last year pinpointed Al Mustafa Community Centre in the northern German city-state of Bremen as a hub of fundraising for Hezbollah.
An EU terrorism report in 2018 said that a major investigation the year before had focused on a network of Lebanese nationals offering money laundering services to organised crime groups in the EU with a share of the profits going to Hezbollah.
It has also been accused of involvement in the south American drug trade, although Nasrallah has specifically pushed back at the claim.
In tandem with sanctions on Iran itself, the US and its allies have been ramping up pressure on Iran backed groups such as Hezbollah, with additional sanctions on known leaders, supporters and financiers.
Last week, the US sanctioned Harakat Hezbollah Al Nujaba, an Iranian backed militant organisation that during the Syrian conflict rose to be one of the primary recruiters of pro-government foreign fighters.
In Lebanon, Hezbollah has been in politics since 2005 and now has three cabinet ministers and 13 seats in Parliament – although it can call on more support from allies and closely aligned independent MPs.
Under the new government, Hezbollah has been calling for an anti-corruption drive. Fiscal reform is a major pillar of the new administration as it seeks to reduce the country's debt – the third highest debt-to-GDP in the world – and pass reforms to tap into some 11 billion in grants and loans pledged at an international donor conference last year.
Nasrallah said that the party was "bound by religious duty to fight corruption" and said that Hezbollah was locked in a battle "no less sacred than the resistance's battle against [Israeli] occupation."
While he said the group was not pushing the anti-corruption drive to gain publicity or score political points there is one major stumbling block.
A major question hangs over the public accounts between 1993 and 2017 when there was no state budget. Of particular concern is the estimated $11 billion unaccounted for extrabudgetary spending between 2005 and 2009 under then Prime Minister Fouad Siniora. As head of Prime Minister Saad Hariri's Future Movement parliamentary bloc, who oppose Hezbollah and its continued armed militia, Mr Siniora has pushed back at claims that he oversaw or was involved in corruption but the issue of the accounts has become a contentious political football.
Hezbollah was founded in 1982 by the Iranian Revolutionary Guards and grew rapidly to be one of the most powerful groups in the Lebanese civil war. It was the only militia not to disarm after the end of the conflict in 1990 as it bills itself as the resistance against Israel, which was occupying large tracts of south Lebanon.
After a highly successful and bloody guerrilla campaign, Israel made a hasty withdrawal from south Lebanon in 2000. After that, Hezbollah and Israel waged a low-level tit-for-tat cross border (largely cold) war until an explosion of violence in 2006 led Israel to again invade Lebanon. With some 1,200 Lebanese killed – mostly civilians – and some 200 Israelis – almost all soldiers – the war wrought a devastating toll on Lebanon.
However, Hezbollah has undergone a quantum leap in expertise since its controversial intervention to support the embattled Syrian leader.
Full report at:
https://www.thenational.ae/world/mena/hezbollah-leader-calls-for-donations-as-group-feels-the-pinch-1.834807
--------
At least 5 killed in Nigeria as van strikes Boko Haram mine
2019-03-08
Maiduguri – A resident says at least five farmers are dead and dozens are wounded in northeastern Nigeria after their vehicle struck a landmine buried by Boko Haram extremists.
Bello-Indimi Zabarmari says the blast occurred on Wednesday. He says the mine was planted as the extremists fled after trying to attack Khaddamari town outside Maiduguri city in Borno state, on the eve of the February 23 elections.
Zabarmari says the farmers defied soldiers' warnings not to use the road because they wanted to reach their cucumber farms.
He says four died at the scene and a fifth died at a hospital.
A security source who spoke on condition of anonymity, because they were not authorised to speak to reporters, had estimated seven dead.
Full report at:
https://www.news24.com/Africa/News/at-least-5-killed-in-nigeria-as-van-strikes-boko-haram-mine-20190308
--------
URL: https://www.newageislam.com/islamic-world-news/pakistans-use-terrorism-instrument-state/d/117977
New Age Islam, Islam Online, Islamic Website, African Muslim News, Arab World News, South Asia News, Indian Muslim News, World Muslim News, Women in Islam, Islamic Feminism, Arab Women, Women In Arab, Islamophobia in America, Muslim Women in West, Islam Women and Feminism