New Age Islam News Bureau
22 Nov 2017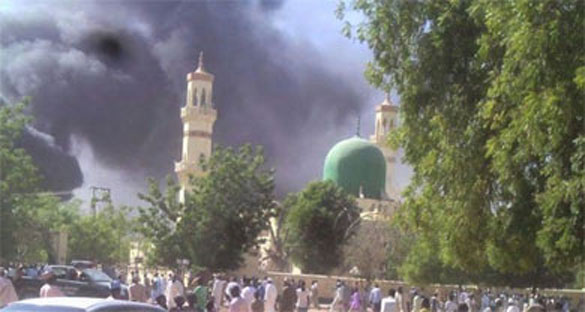 Massive Explosion In Nigeria Mosque Kills At Least 50
-----
• Pakistan's Islamic Schools Rife with Child Sex Abuse That Goes Unpunished
• US Strike In Somalia Kills Over 100 Shabaab Fighters
• Iran's President Declares End of Islamic State
• Law to Ban Instant Triple Talaq on Anvil; Govt May Move Parliament This Winter Session
• Jamiat-e-Islami Accuse Afghan Govt of Ethnic Cleansing after Controversial Police Document Leak
• Truck Bomb Attack in Northern Iraq Kills 32, Inures 75
Pakistan
• Pakistan's Islamic Schools Rife with Child Sex Abuse That Goes Unpunished
• Samiul Haq Confirms JUI-S, PTI Alliance; Says Parties Adhere To Similar Ideologies
• Pakistan's universities tackle extremism threat
• Security personnel martyred in exchange of fire with suspected terrorists in Turbat
• Pakistan welcomes US offer to prevent militant raids
• FC Frees 16 Foreigners from Terrorists In Turbat
--------
Africa
• US Strike In Somalia Kills Over 100 Shabaab Fighters
• At Least 50 Dead In Nigeria Mosque Bombing: Police
• Dialogue with Boko Haram Fighters, They Are Nigerians'
• US carries out air strikes against Islamic State in Libya
--------
Mideast
• Iran's President Declares End of Islamic State
• Drone Strike 'Kills Four Qaeda Suspects' In Yemen
• Six prominent Houthi militia commanders killed in Nihm, Saada
• Iran president urges France to play productive role in Middle East
• Families of missing Turkish ISIL militants ask Turkey to try them at home
--------
India
• Law to Ban Instant Triple Talaq on Anvil; Govt May Move Parliament This Winter Session
• Kerala 'Love Jihad' Case: Hadiya's Father Seeks In-Camera Proceedings
• Two Bangladeshi Ansar Al-Islam Operatives Detained In Kolkata
• J&K: Talks apart, hard line on terror to continue
• Three Pakistani LeT terrorist killed in Jammu and Kashmir
• India to give visa to 33 Pakistani children of Bohra community
--------
South Asia
• Jamiat-e-Islami Accuse Afghan Govt of Ethnic Cleansing after Controversial Police Document Leak
• Key Taliban Commander among 8 Killed In Logar Operations
• Dubai Cares gets Dh1m to help Rohingya refugees
• Amnesty accuses Myanmar of imposing 'apartheid' on Rohingya
• Dozens of humanitarian groups demand UN rights council session on Rohingya crisis
--------
Arab World
• Truck Bomb Attack in Northern Iraq Kills 32, Inures 75
• Iraq to Declare Final Victory over Islamic State after Desert Campaign
• Arab League works as tool against Muslim nations: Syria
• Rifts Widening among Terrorists in Southern Damascus
• Iraq: Deadly suicide car bomb rocks disputed town north of Baghdad
• Aoun defies the Arab League, defends Hezbollah's arms
• Syrian Army Laying Siege on ISIL in Eastern Deir Ezzur
• Hariri returns to Lebanon after talks with Egyptian President in Cairo
• ISIL Drives Al-Nusra Rivals out of Four Regions in Northeastern Hama
--------
Southeast Asia
• China Urges Thailand to Find Muslim Uighurs Quickly After Dramatic Cell Break
• Indonesian Jesuits Thank Muslim Group from Averting Protest
• Malaysian police steps up patrol at Malaysia-Thai border
• DPM: Malaysia committed to sharing expertise, experience in fighting terrorism
• Indonesia Deemed Role Model for Moderate and Tolerant Islam Worldwide
--------
Europe
• UK 'Dangerously Complicit' In Saudi War on Yemen: Ex-Tory Minister
• The UK Government's Silence on Myanmar Is Shameful
• Morocco goes digital to counter radical Islam online
• Historic verdict due in genocide trial of 'Butcher of Bosnia'
• Coalition was aware of evacuation of ISIL fighters: UK ambassador
--------
North America
• US Designates Victims Of Terrorism Its Sponsors: Analyst
• US blacklists Iranian counterfeiting network
• US: Trial postponed in Iranian-Turkish gold trader case
Compiled by New Age Islam News Bureau
URL: https://www.newageislam.com/islamic-world-news/pakistans-islamic-schools-rife-with/d/113312
--------
Pakistan's Islamic Schools Rife with Child Sex Abuse That Goes Unpunished
November 21, 2017
KEHRORE PAKKA, Pakistan — Kausar Parveen struggles through tears as she remembers the blood-soaked pants of her 9-year-old son, raped by an Islamic religious cleric. Each time she begins to speak, she stops, swallows hard, wipes her tears and begins again.
The boy fidgets with his scarf and looks over at his mother.
"Did he touch you?' He nods. "Did he hurt you when he touched you?" "Yes," he whispers.
"Did he rape you?" He buries his face in his scarf and nods yes.
Sexual abuse is a pervasive and long-standing problem at Pakistan's network of Islamic schools known as madrassas, an Associated Press investigation has found. But in a culture where Muslim clerics are powerful, it is a problem seldom discussed or even acknowledged in public.
Formal prosecutions are even rarer, according to the investigation, based on police documents and dozens of interviews with victims, families, officials and aid groups. Police are often paid off not to pursue justice against clerics, victims' families say. Cases rarely make it past the courts because Pakistan's legal system allows the victim's family to "forgive" the offender and accept what is often referred to as "blood money."
A tally of cases reported in newspapers over the past 10 years of sexual abuse by "maulvis," or Islamic clerics and other religious officials, came to 359. That represents "barely the tip of the iceberg," said Munizae Bano, executive director of Sahil, the organization that tallies news accounts.
In 2004, a Pakistani official revealed that more than 500 complaints had been filed of sexual assaults against boys in madrassas. He has since refused to talk.
Two officials familiar with the Islamic schools said sexual abuse is commonplace. They asked to remain anonymous for fear of retribution from militant groups. One compared the situation to the abuse of children by priests in the Catholic Church.
"There are thousands of incidences of sexual abuse in the madrassas," he said. "This thing is very common. I am not sure what it will take to expose the extent of it. It's very dangerous to even try."
Religious Affairs Minister Sardar Muhammad Yousaf dismissed suggestions that sexual abuse is widespread, saying such talk is an attempt to malign the religion, seminaries and clerics. He acknowledges that abuse could occur occasionally 'because there are criminals everywhere.'"
The Interior Ministry, which oversees madrassas, refused repeated written and telephone requests for an interview.
More than 22,000 registered madrassas in Pakistan teach at least 2 million children, often among the country's poorest. Students often receive food and education free of charge. Thousands of additional madrassas, like the one Ms. Parveen's son attended, are unregistered and operate without scrutiny. Unlike the Catholic Church, which has a clear hierarchy, there is no central religious authority in Islam that governs madrassas.
When offending mullahs pay off police, they refuse to even register a case, the victims' families say. The families involved are often poor and powerless.
"We are being pressured to compromise," said a man from Punjab who would give his name only as Maqsood. His younger brother says he was sexually assaulted at a madrassa by an Islamic cleric who threatened to kill his family if he told. The AP is not naming the children because they are victims of sexual abuse.
Investigators have to get past a wall of religious authorities just to investigate suspected abuse cases.
"Basic responsibility, when something happens, is with the head of the madrassa," said Mufti Mohammed Naeem, the head of the sprawling Jamia Binoria madrassa in the city of Karachi.
There are 2,000 to 3,000 unregistered madrassas, Mr. Naeem said, which makes central oversight even harder. The government has launched a nationwide effort to register madrassas.
The "keepers" of madrassas are also notoriously reluctant to accept government oversight or embrace reforms, said I.A. Rehman of the independent Human Rights Commission of Pakistan, which makes sexual abuse harder to prevent.
"This is one of those things, you know, which everybody knows is going on and happening, but evidence is very scarce," he said, adding that the power of the people who run the madrassas has increased over the years.
As the religious right has grown stronger in Pakistan, clerics who were once dependent on village leaders for handouts, even food, have risen in stature. With this rise, reporting of sexual abuse in madrassas has dwindled, said human rights lawyer Saif-ul Mulk. Mr. Mulk has police protection because of death threats from militants outraged by his defense of a Christian woman sentenced to death for insulting Islam.
The top police officer in the district center of Multan, Deputy Inspector General Police Sultan Azam Temuri, denied that pressure from clerics or powerful politicians prompts police to go easy in such cases. He said cases are investigated when accusations are made. Mr. Temuri said his department is trying to tackle child abuse in general with the introduction of gender- and child-protection services.
Victims and their families can also choose to "forgive" an assailant because Pakistan's legal system is a mix of British Common Law and Islamic Shariah law. A similar legal provision was changed last year to prevent forgiveness of "honor" killings, in which victims are thought to have brought shame on their families. Honor killings now carry a mandatory sentence of life in prison, but clerics in sexual abuse cases can still be forgiven.
Victims and their families often come under intense pressure to "forgive" the crime, or essentially settle for money. Many do, partly because they don't believe they have the power to do anything else.
Sahil, the abuse monitoring organization, offers families legal aid to pursue such cases. Last year, Sahil found 56 cases of sexual assault involving religious clerics. Yet none of the families accepted the group's offer of legal assistance.
The story of Ms. Parveen's son, who said he was raped by his teacher in Kehrore Pakka, shows how difficult it is to get justice in cases of sexual abuse at madrassas.
At the courthouse in Kehrore Pakka, the former cleric waited his turn to go before a judge. A half-dozen members of the radical Sunni militant organization Sipah-e-Sahabah were there to support the teacher.
They scowled and moved closer when an AP reporter sat next to the teacher, who was shackled to a half-dozen other prisoners. The whispers grew louder and more insistent.
"It's too dangerous here," said one person, looking over at the militants nearby. "Leave. Leave the courthouse; they can do anything here."
The teacher had already confessed, according to police, and the police report said he was found with the boy. Yet he swore his innocence in court.
"I am married. Why would I do this?" he said.
In the end, the mother, Ms. Parveen, "forgave" the cleric and accepted $300, according to police.
The cleric was set free.
https://www.washingtontimes.com/news/2017/nov/21/pakistans-madrassas-rife-with-child-sex-abuse/?
--------
US strike in Somalia kills over 100 Shabaab fighters
November 22, 2017
WASHINGTON - US forces conducted an air strike against the Al-Qaeda-affiliated Shabaab group in Somalia on Tuesday, killing more than 100 jihadists, military officials said.
"In coordination with the Federal Government of Somalia , US forces conducted an air strike in Somalia against an al-Shabaab camp on Tuesday, November 21 at approximately 10:30 am local Somalia time (0730 GMT), killing more than 100 militants," the US Africa Command said in a statement.
The operation occurred 125 miles (200 kilometers) northwest of the capital, Mogadishu.
The US military has in recent months upped the tempo of its operations in Somalia , conducting a growing number of drone strikes against Shabaab and other jihadists.
On November 13, the Pentagon said US forces had killed 40 Shabaab and Islamic State fighters in a series of Somalia strikes over several days.
The surge in US operations came after President Donald Trump in March loosened the constraints on the US military to take actions against alleged terrorists when they judge it is needed, without seeking specific White House approval.
http://nation.com.pk/22-Nov-2017/us-strike-in-somalia-kills-over-100-shabaab-fighters
--------
Iran's President Declares End of Islamic State
Nov. 21, 2017
BEIRUT (Reuters) - Iranian President Hassan Rouhani declared the end of Islamic State on Tuesday while a senior military commander thanked the "thousands of martyrs" killed in operations organised by Iran to defeat the militant group in Syria and Iraq.
"Today with God's guidance and the resistance of people in the region we can say that this evil has either been lifted from the head of the people or has been reduced," Rouhani said in an address broadcast live on state TV.
"Of course the remnants will continue but the foundation and roots have been destroyed."
Major General Qassem Soleimani, a senior commander of the elite Revolutionary Guards, also said Islamic State had been defeated, in a message sent on Tuesday to Iran's supreme leader which was published on the Guards' news site, Sepah News.
Supreme Leader Ayatollah Ali Khamenei congratulated Soleimani on the defeat of Islamic State and said it was a blow against Israel, America and its allies, an allusion to Saudi Arabia.
"It was a blow against the past and current governments of America and the regimes linked to it in the region who created this group and gave them every kind of support so they could expand their malevolent power in west Asia," Khamenei said in a statement published on his official website.
In June Islamic State carried out its first attack in Iran, killing 18 people in Tehran, testing the government's belief that by backing offensives against the group elsewhere in the region it could keep the militant group away from Iran.
FRONTLINE POSITIONS
Iranian media have often carried video and pictures of Soleimani, who commands the Quds Force, the branch of the Guards responsible for operations outside Iran, at frontline positions in battles against Islamic State in Iraq and Syria.
The Revolutionary Guards, a powerful military force which also oversees an economic empire worth billions of dollars, has been fighting in support of Syrian President Bashar al-Assad and the central government in Baghdad for several years.
More than 1,000 members of the Guards, including senior commanders, have been killed in Syria and Iraq.
The Syrian conflict has entered a new phase with the capture at the weekend by government forces and their allies of Albu Kamal, the last significant town in Syria held by Islamic State, where Soleimani was pictured by Iranian media last week.
Iraqi forces captured the border town of Rawa, the last remaining town there under Islamic State control, on Friday, signaling the collapse of the so-called caliphate it proclaimed in 2014 across vast swathes of Iraqi and Syrian territory.
Most of the forces battling Islamic State in Syria and Iraq have said they expect it to go underground and turn to a guerrilla insurgency using sleeper cells and bombings.
In his address on Tuesday, Rouhani accused the United States and Israel of supporting Islamic State. He also criticized Arab powers in the region and asked why they had not spoken out about civilian deaths in Yemen's conflict.
The foreign ministers of Saudi Arabia and other Arab states criticized Iran and its Lebanese Shi'ite ally Hezbollah at an emergency meeting in Cairo on Sunday, calling for a united front to counter Iranian interference.
"DEFENDERS OF THE SHRINE"
Soleimani acknowledged the multinational force Iran has helped organize in the fight against Islamic State and thanked the "thousands of martyrs and wounded Iranian, Iraqi, Syrian, Afghan and Pakistani defenders of the shrine".
He pointed to the "decisive role" played by Hezbollah and the group's leader Seyed Hassan Nasrallah and highlighted the thousands of Iraqi Shi'ite volunteers, known as the Popular Mobilisation Forces, who have fought Islamic State in Iraq.
On websites linked to the Guards, members of the organization killed in Syria and Iraq are praised as protectors of Shi'ite holy sites and labeled "defenders of the shrine".
Rouhani is scheduled to meet Russian President Vladimir Putin and Turkish leader Tayyip Erdogan in Russia on Wednesday to discuss the Syria conflict.
The Revolutionary Guards initially kept quiet about their military role in both Syria and Iraq but have become more outspoken about it as casualties have mounted. They frame their engagement as an existential struggle against the Sunni Muslim fighters of Islamic State, who see Shi'ites, the majority of Iran's population, as apostates.
Last month, U.S. President Donald Trump gave the U.S. Treasury Department authority to impose economic sanctions on Guards members in response to what Washington calls its efforts to destabilize and undermine its opponents in the Middle East.
https://www.usnews.com/news/world/articles/2017-11-21/iranian-president-declares-end-to-islamic-state
--------
Law to ban instant triple talaq on anvil; govt may move Parliament this winter session
Nov 21, 2017
The Narendra Modi government plans to bring in legislation to ban instant triple talaq, or talaq-e-biddat, in the winter session of Parliament, providing a legal framework to prosecute Muslim men calling off marriages using a custom outlawed by the Supreme Court.
Government sources said on Tuesday that the government had set up a ministerial panel and will either bring a new law or amend existing provisions to ban talaq-e-biddat and punish those practising it.
Talaq-e-biddatinvolves Muslim men divorcing their wives by mentioning the word 'talaq (divorce)' three times in one go, sometimes over email, WhatsApp messages or letters. In August, the top court had struck down the custom as arbitrary and unconstitutional in a verdict that was hailed as a watershed moment for gender justice in India.
But in the next few months, several complaints of instant triple talaq poured in from across the country with Muslim women saying they were divorced through the custom despite the SC order. "Even police are helpless as no action can be taken against the husband in the absence of punitive provisions in the law," the sources said. The government's proposed move could help plug that loophole.
"It is to this end that the positive step being taken by the government of enacting a legislation will go a long way in deterring the Muslim husbands from divorcing their wives…," the sources added. They said the reason behind the new cases of triple talaq could be lack of knowledge about the SC decision, or the absence of legal punishment.
'Consult Muslims'
Muslims organisations reacted to the government's decision with caution.
Maulana Khalid Rasheed Farangi Mahli, who is a member the All India Muslim Personal Law Board (AIMPLB), said the government should consult all stakeholders before introducing a legislation in Parliament.
"Whatever the present government is doing, it is in sync with the apex court verdict," he said.
Siddiqullah Chowdhury, minister in charge of library and mass education in the West Bengal government, said "quashing" Muslim law through legislation will be wrong. "The government can certainly table a Bill on the basis of the Supreme Court judgement. But I think the right to talaq comes under the purview of Muslim personal law, and quashing it through legislation may tantamount to interfering with fundamental rights," said Chowdhury, who is the president of the Bengal unit of Jamiat Ulema-e-Hind, an organisation that runs the largest number of madarsas in the state.
Mohammad Kamruzzaman, general secretary of the All Bengal Minority Youth Federation, too wanted the government to consult Muslims. "Interference of the government in this matter is not desirable," he said.
Shaista Amber, president of All India Muslim Women Personal Law Board, welcomed the government's decision. "I want to thank the judges of Supreme Court for banning triple talaq and I'm happy that the government is keeping its promise of making a law within six months of the SC verdict," she said.
The Congress said it will support any progressive step that protects the status of a Muslim woman but insisted on seeing the contents of the bill first.
"Unless we see the contents of the bill, we can't comment on it. But having said that we support and stand by any progressive step that protects the status of a Muslim woman," Congress leader Sushmita Dev said.
"I am skeptical because there is a difference in what they (government) say and what they do."
The top court in August said instant triple talaq was against the tenets of Islam and violated gender equality. Its decision came on the petitions of several Muslim women affected by the custom.
Ahead of the Uttar Pradesh assembly elections early this year, the issue of triple talaq dominated the public discourse, with the BJP terming it as an issue of gender justice and equality.
Prime Minister Narendra Modi had said that lives of Muslim women could not be allowed "to be ruined" by triple talaq,"
While the opposition parties cried foul, accusing the BJP of trying to politicise the issue, the ruling party rejected the allegations, re-iterating the party's commitment to gender justice. After the party's resounding victory in UP, BJP leaders claimed a section of Muslim women had voted for the party because of its stance on triple talaq.
The government's move to bring a bill in the forthcoming winter session of Parliament is likely to resonate in poll-bound Gujarat, too.
Talaq-e-biddat is banned in 22 Muslim-majority countries, including Pakistan and ultra-conservative Saudi Arabia. Muslim men in India can still divorce using two other forms of talaq that have a three-month cooling off period.
http://www.hindustantimes.com/india-news/to-end-instant-triple-talaq-govt-considers-new-law-in-winter-session/story-d8hldGERdYHawAr1SwvfXJ.html
--------
Jamiat-e-Islami Accuse Afghan Govt of Ethnic Cleansing after Controversial Police Document Leak
Nov 21 2017
The provincial governor of northern Balkh province and chief executive of Jamiat-e-Islami Ata Mohammad Noor has accused the government of national unity of adopting a theory and approached aimed at cleansing certain ethnic groups from the political scene by sparking ethnic tensions.
In a statement in the aftermath of the leakage of controversial document of the ministry of interior, Noor said the removal of telecommunications, economy, and education ministers as well as certain ambassadors and restricting the executive authorities of certain high level government officials reveal the attempts of the government of national unity regarding the ethnic cleansing efforts.
Noor further added that the government and certain individuals close to ARG Palace have even started to discriminate among certain ethnic Pashtuns.
According to Noor, the recent document of the public order police reveals the persistent issue of discrimination and hatred in the ministry of interior besides showing the lack of competence in the leadership level.
He also added that the Jamiat-e-Islami together with ites allies will soon declare their stance regarding the conspiracies being hatched.
The ministry inerior on Moday issued a statement to clarify the government's stance regarding a controversial letter being circulated on media.
Admitting the writing mistakes in the letter, the ministry said such perceptions are baseless that the ministry has adopted discriminatory approach while recruiting new personnel in public order police forces.
The letter being shared on social media has stated that the new personnel for the new formations of the public order police forces should be recruited from the other ethnic groups, apart from the Afghan nationals belonging to the Tajik ethnic group.
http://www.khaama.com/noor-accuse-govt-of-ethnic-cleansing-after-controversial-police-document-leak-03893
--------
Truck bomb attack in northern Iraq kills 32, inures 75
Nov 21, 2017
A Truck bomb explosion in the northern Iraqi town of Tuz Khurmatu has killed 32 people and injured 75 others, Iraqi security officials say.
The Tuesday attack took place in a crowded market place in the predominantly Shia Turkmen town in Kirkuk Province.
According to medical sources, most of the casualties were civilians and the death toll is expected to rise as many of those wounded are in critical condition.
At least six Iraqi security forces were among those killed.
No group has claimed responsibility for the bomb attack.
The incident comes a few days following the collapse of the pro-claimed caliphate of Daesh Takfiri terrorists in Iraq and Syria.
On Friday, Iraqi armed forces liberated the town of Rawa near the border with Syria, which was the last remaining town under Daesh's control, and raised the Iraqi flag over its buildings.
Two days later, Syrian army soldiers, backed by pro-government fighters from popular defense groups, fully liberated Bukamal, Daesh's last stronghold in Syria, which is a strategic city in the country's eastern province of Dayr al-Zawr on the border with Iraq.
The recapture of the two towns marked an end to Daesh's reign of terror, which started in 2014 with the group making vast territorial gains in a lightning offensive and establishing its self-proclaimed "caliphate" in Iraq's Mosul and Syria's Raqqah.
http://www.presstv.com/Detail/2017/11/21/543006/Iraq-bomb-attack-kirkuk
--------
Pakistan
Samiul Haq confirms JUI-S, PTI alliance; says parties adhere to similar ideologies
Nov 22, 2017
NOWSHERA: Jamiat Ulema-e-Islam Sami (JUI-S) chief Maulana Samiul Haq on Monday confirmed that his party had formed an alliance with the Pakistan Tehreek-e-Insaf (PTI) for the 2018 election adding that he and the PTI chief have similar views on many national, international issues.
He was talking to reporters in his hometown Akora Khattak. He further confirmed that a verbal agreement has been finalised between him and the PTI chief Imran Khan to form the electoral alliance. According to him, the Defence of Pakistan Council would also be a part of the alliance for the general election to be held in 2018.
Maulana Samiul Haq, head of the Darul Uloom Haqqania madrassa in Akora Khattak, Nowshera, said that more meetings are due to be held with the PTI chairman to plan out the future course of action.
According to Sami-ul-Haq, small parties of the MMA were supporting the Pakistan Muslim League-Nawaz (PML-N) which is one of the reasons why the JUI-S has decided to form an alliance with the PTI.
Maulana Samiul Haq said that he was grateful to KP Chief Minister Pervez Khattak for bringing the JUI-S and PTI chief Imran Khan close to each other for the alliance.
According to reports, this alliance was made possible due to the one-on-one meeting between Pervez Khattak and Maulana Samiul Haq at Darul Uloom Haqqania in Akora Khattak. It is also being said that according to the agreement between Imran Khan and Sami-ul-Haq, representation will be given to the JUI-S as per its strength in the national and provincial assemblies and in Senate— in case of winning the upcoming election.
According to these reports, PTI might be planning on making alliances with other political parties in Punjab to challenge the ruling PML-N there.
https://www.pakistantoday.com.pk/2017/11/21/samiul-haq-confirms-jui-s-pti-alliance-says-parties-adhere-to-similar-ideologies/
--------
Pakistan's universities tackle extremism threat
November 21, 2017
Islamabad: Alarmed by the rising trends of extremism in students, Pakistan's top universities gathered in Islamabad to discuss their role in countering the threat of radicalisation and instilling peaceful ideology.
As many as 80 university vice-chancellors attended the conference on "the role of universities in advancing national narrative to counter violence, extremism and terrorism" on Monday, organised by Islamic Research Institute of International Islamic University (IIU), in collaboration with Higher Education Commission (HEC).
The educationists issued a joint declaration saying a subject centred on interfaith harmony, tolerance and peaceful coexistence should be introduced in all schools to counter extremist trends with a positive narrative and to create a peaceful society.
The participants said sectarian hatred and imposing one's ideology was clear violation of Sharia and could not be allowed as it was also against the constitution of Pakistan. The VCs and ministers agreed that non-Muslims must be provided full protection and higher education institutions must discourage discriminatory attitudes.
HEC Chairman Dr Mukhtar Ahmad highlighted that Pakistan's armed forces are safeguarding Pakistan's geographical borders, and as educationists, "it is the duty of universities' vice-chancellors to secure the country's ideological borders."
"Our youth are being neglected at all levels, from their homes to educational institutions, and it is the responsibility of teachers and parents to address their issues and challenges with the utmost care, and engage them in productive activities" Dr Ahmad said.
IIUI Rector Dr Masoom Yasinzai said extremism had crippled society and a counter narrative was required to deal with the menace and to move towards progress and prosperity.
"Extremists have started targeting our youth, and in some cases, faculty and staff are also involved" Dr Yasinzai highlighted.
He called upon the universities to take the responsibility to support youth and address threat of extremism, while briefing the participants about the efforts initiated by the IIU to curb the problem of terrorism, violence and intolerance.
IIU President Dr Ahmad Yousuf Al Draiweesh shared that university had organised around 400 conferences and dialogues regarding eradication of extremism and promotion of peaceful coexistence which were attended by intellectuals of Pakistan and aboard. The dissemination of peace should be the top priority of universities, Al Draiweesh said.
Hafiz Abdul Kareem, Minister for communication said that universities are the best sources to eradicate the menace of extremism as education is the backbone for prosperity and progress.
Mumtaz Ahmed Tarar, Minister for Human Rights highlighted that no religion in the world supports extremism and violence. He maintained that Islam was staunch supporter of peace and prosperity. He stressed that youth be put in the constructive activities to have positive results in the society.
Senator Mushahid Hussain Syed, in his speech, called for a unified and well devised strategy and counter narrative against extremism by both academia and parliament. Universities and legislators need to work together to produce a counter narrative, he urged. Quoting Quaid-i-Azam Mohammad Ali Jinnah, Senator Hussain said that "education is a matter of life and death for Pakistan" to emphasise the importance of education.
Full report at:
http://gulfnews.com/news/asia/pakistan/pakistan-s-universities-tackle-extremism-threat-1.2128219
--------
Security personnel martyred in exchange of fire with suspected terrorists in Turbat
Syed Ali Shah
November 21, 2017
A security personnel was martyred and three others were injured in an exchange of fire with suspected terrorists in Balochistan's Turbat area on Tuesday.
The deceased's identity has yet to be verified.
According to security sources, two suspects were also killed in the incident in Turbat's Buleda area.
A search operation is underway for suspects who escaped from the site shortly after the exchange of fire.
Tuesday's incident has taken place in the same area where twenty bullet-riddled bodies were found over the past week.
On Nov 15, fifteen bodies were found. The victims had been killed by unknown gunmen in the Buleda Gorak area. Balochistan Liberation Front (BLF) had taken responsibility of the attack and an alleged BLF commander involved in the incident was later killed. A few days later, on Saturday, five more bodies were found. Levies had said that the victims belonged to to Punjab's Gujrat district.
Balochistan has experienced incidents of violence and targeted killings for over a decade. In recent months, the province has faced a number of security challenges, with security personnel in the province often being targeted in roadside explosions and suicide attacks.
On Nov 15, Superintendent of Police (SP) Muhammad Ilyas and three members of his family were killed in a gun attack in Quetta's Nawan Killi.
On Oct 18, eight people, including seven policemen were killed in an explosion targeting truck carrying police officials in the Sariab Mill area of Quetta. 24 others were injured in the attack.
Full report at:
https://www.dawn.com/news/1371946/security-personnel-martyred-in-exchange-of-fire-with-suspected-terrorists-in-turbat
--------
Pakistan welcomes US offer to prevent militant raids
November 22, 2017
ISLAMABAD - Pakistan is welcoming a US military offer to take action against militants involved in cross-border raids against Pakistan from Afghan soil. Pakistani officials say the move "augurs well" for regional counterterrorism cooperation.
General John Nicholson, commander of US forces in Afghanistan, told reporters in Kabul on Monday his offer was meant to discourage Pakistan army from shooting at civilians across the Afghan border while responding to border raids by militants. "We have also offered if they [Pakistan] have a concern about anything on this side of the Durand Line [the border] to let us know and we will act against it so that it is not necessary for cross-border shelling to occur," said the US general.
The chief spokesman for Pakistan 's army, Major General Asif Ghafoor, while responding to Nicholson's remarks, told Voice of America (VOA) his country has always offered and sought cooperation to strengthen border security.
"Unilaterally Pakistan , having cleared all areas on Pakistan side, has restored writ if [the] state, including steps like enhancing [troop] presence along the border [with Afghanistan], establishing new forts and posts and has also started to fence the border to deny freedom of movement to illegal crossers and terrorists." Ghafoor explained.
General Nicholson also emphasized the need for improving border coordination to address mutual concerns. "I think the concern now is that we improve the mechanisms for control along the Durand Line so that we may have mechanisms to consult before people start shooting and not after innocent people have been displaced," the general observed.
Mushahid Hussain, who heads the defence affairs committee of the Pakistani Senate, said Nicholson's remarks are an acknowledgment of Islamabad's "valid and justifiable" concerns regarding security management of the border.
Full report at:
http://nation.com.pk/22-Nov-2017/pakistan-welcomes-us-offer-to-prevent-militant-raids
--------
FC frees 16 foreigners from terrorists in Turbat
November 22, 2017
Quetta - The law enforcement agencies on Tuesday launched intelligence based operations (IBOs) in Mekran division of Balochistan and killed two operatives of a proscribed organization in exchange of fire, besides rounding up of two others.
"Frontier Corps Balochistan conducted intelligence based operations in Tump, Turbat on a terrorist hideout in which two militants were apprehended," said a press release issued by Inter-Services Public Relations (ISPR).
"During operation, 18 hostages including 2 Pakistani and 16 foreigners (Nigerian and Yemeni) were recovered who were kept hostages by these terrorists ," unveiled the press release.
The security forces also recovered a huge quantity of arms and ammunition including improvised explosive devices (IEDs) from the hideout.
In another operation, the Frontier Corps personnel conducted an intelligence-based operation (IBO) in village Panodi located 25 kms south east of Balnigur in Makran division, in which two terrorists of banned organizations were gunned down, said the ISPR press release, while a Sepoy Nasir Mehmood embraced martyrdom during exchange of fire with terrorists and two other soldiers' sustained injuries. These terrorists were involved in different activities like destroying of a bridge on M-8, planting of IEDs and attack on security forces, the press release said.
The security sources said 15 Nigerians and 1 Yemeni were among the 16 rescued foreigners' and efforts were underway to illegally send them to Europe. The spell of operation couldn't be finalized in view of miscreants' presence in the area, said the sources. Human trafficking is a daunting challenge for both central and provincial authorities and requires effective measures to successfully cope with the situation.
Balochistan Chief Minister Nawab Sanaullah Zehri expressed satisfaction over successful operations by security forces in Turbat against terrorists . He also expressed condolences over the martyrdom of a Frontier Corps Sepoy and injuries to two soldiers during exchange of fire with terrorists .
The chief minister expressed pleasure over recovery of hostages from the clutches of miscreants and reiterated that crackdown against terrorists would continue and all those targeting innocent civilians would be brought to justice at any cost.
He had also directed the security agencies to hunt down and demolish their hideouts so they could not find any place to hide.
FIA BUSTS HUMAN SMUGGLING GANG
INP adds: The Federal Investigation Agency (FIA) arrested on Tuesday seven people in the Gujranwala's Sadoke area suspected to be involved in smuggling of labourers whose bullet-riddled bodies were found in Turbat last week.
The suspects include four persons hailing from Balochistan.
The suspects were identified as Muhammad Husnain Khan, Afzaal Ahmed, Iqrar Hussain, Raja Muhammad Farooq Khan, Imran Khan, Faisal Ameen and Rasheed Abbas Khan.
Fake stamps, 142 Pakistani passports, pictures, several original Computerised National Identity Cards (CNIC), medical certificates, a photocopier machine, a laptop and an internet device were also recovered from the possession of the agents, the source said. According to FIA Deputy Director Khalid Anis, the suspects were involved in smuggling of people via Iraq, Iran and Pakistan to Europe.
The main accused, Husnain, was found to be in contact with a wanted suspect, Akhtar Meo, involved in the Turbat killings incident. In a separate operation in Gujrat, the FIA arrested a facilitator of Sohail Shakeel, another suspect in the incident who was nabbed a day earlier from the City.
Authorities have made a number of arrests in Quetta and parts of Punjab after the Turbat incident. On November 15, about 15 bodies were found in Buleda area of Turbat tehsil in Kech district of Balochistan. The bodies bore bullet wounds and were of people from different parts of Punjab, including Mandi Bahauddin, Gujranwala, Gujrat and Sialkot.
Two days later, five more bodies were found in the same tehsil at a short distance from the same spot. The Balochistan Liberation Front (BLF) had claimed responsibility for the deaths and an alleged BLF commander suspected of involvement in the incident was later killed during an intelligence-based operation by Frontier Corps (FC) last week.
The source claimed the investigation revealed that the suspects allegedly used two main methods to send people to Europe via Iran. They would send the victims to Iran and Iraq on a pilgrim visa from where they would be sent onto Turkey and then to Greece illegally by other operatives, he added.
The other method used was to help people cross all borders from Iran to Greece illegally.
Full report at:
http://nation.com.pk/22-Nov-2017/fc-frees-16-foreigners-from-terrorists-in-turbat
--------
Africa
At least 50 dead in Nigeria mosque bombing: Police
Nov 21, 2017
KANO (NIGERIA): At least 50 people were killed today when a suicide bomber blew himself up at a mosque in northeast Nigeria, police said, in an attack blamed on Boko Haram jihadists.
The blast happened during early morning prayers at the Madina mosque in the Unguwar Shuwa area of Mubi, some 200 kilometres (125 miles) by road from the Adamawa state capital, Yola.
"So far we have at least 50 dead from an attack at a mosque in Mubi," Adamawa state police spokesman Othman Abubakar told AFP.
"Several people were injured. We don't have the figure now because they have been taken to several hospitals for treatment.
"It was a (suicide) bomber who mingled with worshippers. He entered the mosque along with other worshippers for the morning prayers.
"It was when the prayers were on that he set off his explosives."
Asked who was responsible, Abubakar said: "We all know the trend. We don't suspect anyone specifically but we know those behind such kind of attacks."
The attack bore all the hallmarks of Boko Haram, the Islamist militants whose insurgency has left at least 20,000 people dead and more than 2.6 million others homeless since 2009.
Haruna Furo, head of the Adamawa state emergency management agency, and Musa Hamad Bello, chairman of the Mubi north local government area, both confirmed the attack.
They gave lower death tolls but both said the number of those killed was likely to rise.
Another emergency services official described the blast as "devastating". He said only that there were "high casualties".
Abubakar Sule, who lives near the mosque, said he had just returned home when he heard the blast.
"I was there when the rescue was on and 40 people died on the spot and several others were taken to hospital with severe and life-threatening injuries," he added.
"The roof was blown off. People near the mosque said the prayer was mid-way when the bomber, who was obviously in the congregation, detonated his explosives.
"This is obviously the work of Boko Haram."
Boko Haram briefly overran Mubi in late 2014 as its fighters rampaged across northeastern Nigeria, seizing towns and villages in its quest to establish a hardline Islamic state.
The town's name was changed temporarily to Madinatul Islam, or "City of Islam" in Arabic, during the Boko Haram occupation.
But it has been peaceful since the military and the civilian militia ousted them from the town, which is a commercial hub and home to the Adamawa State University.
In recent months, Boko Haram activity has been concentrated on the far north of Adamawa state, around Madagali, which is near the border with neighbouring Borno state.
Earlier this month, at least two civilians were killed when dozens of Boko Haram fighters tried to storm the town of Gulak but were repelled by soldiers.
There have been repeated suicide bombings in the area, which lies not far from the Sambisa Forest area of Borno, where the militants had a base.
Boko Haram fighters are also said to be hiding in the Mandara mountains, to the east of Adamawa state, which forms the border with neighbouring Cameroon.
https://timesofindia.indiatimes.com/world/rest-of-world/at-least-50-dead-in-nigeria-mosque-bombing-police/articleshow/61738199.cms
--------
Dialogue with Boko Haram fighters, they are Nigerians'
November 21, 2017
Frontline Igbo leader and member of the Board of Trustees of the Peoples Democratic Party (PDP) Chief Emmanuel Inwuayanwu on Tuesday called on the Federal government to begin a process of dialoguing with the Boko Haram insurgents as a way of addressing the crisis in the northeast.
Speaking when the leadership of the Muslim Students Association of Nigeria (MSAN) presented him with an award as peace ambassador in recognition of his contribution to peacebuilding and student empowerment, Iwuanyanwu said those involved in the Boko Haram insurgency were Nigerians who should be brought to the roundtable to discuss the way out.
Chief Iwuanyanwu said the government should take steps to find out why the insurgents were fighting, pointing out that as Nigerians they cannot be asked to leave the country and so, efforts should be made to engage them in dialogue.
The PDP Chieftain also expressed support for the anti-corruption crusade of the Buhari administration, stressing that at his age, he can no longer sit back and refrain from saying the truth.
According to him, Boko Haram has killed more Muslims than Christians, so it is not about religion. These people are just enemies of Nigeria.
"I want to congratulate President Muhammadu Buhari for the success his government has recorded against the insurgency in the country. But at this point, the federal government should find out why these people are really fighting because they are Nigerians.
"So, the government should dialogue with them because the dialogue is a way of addressing the problem. These people are Nigerians so get them and talk to them with a view to changing their mindset because you can't chase them away from Nigeria."
While expressing support for the Buhari anti-corruption war, he said even though successive administrations fought corruption "but President Buhari made it a major issue because I have seen monumental fraud exposed by this government.
"So, what Buhari needs is support from those working with him, remember that one man cannot run a government," Nwayanwu stated.
He described Nigeria as the hope of the black nations all over the world, adding that the Muslim students have come to demonstrate to him that the future of the country is assured with the likes of right youthful people.
He said the founding fathers of Nigeria never envisage that one day some people will come up to demand secession, saying "So people who have been talking about the disintegration of Nigeria did not know what they are talking about. Don't talk about Balkanization of the country because those calling for disintegration of the country simply want you to continue to fight border war"
Speaking earlier, leaders of the Muslim Students Association of Nigeria (MSAN) Olalekan Salami called on the federal government to take immediate action against the renewed killings by the terrorists in the North-east region in particular and other parts the country.
Full report at:
http://thenationonlineng.net/buhari-dialogue-boko-haram/
--------
US carries out air strikes against Islamic State in Libya
22 Nov 2017
WASHINGTON: The U.S. military said on Tuesday that it had conducted two air strikes against Islamic States militants in Libya in the past few days.
In a statement, U.S. Africa Command said one strike was carried out on Friday and another one on Sunday. It said both strikes were carried out near the city of Fuqaha, but did not say how many militants had been killed.
The statement said the strikes were carried out in coordination with Libya's Government of National Accord.
Islamic State took over Sirte in early 2015, turning it into its most important base outside the Middle East and attracting large numbers of foreign fighters to the city. The group imposed its hard-line rule on residents and extended its control along about 155 miles (250 km) of Libya's Mediterranean coastline.
But it struggled to keep a footing elsewhere in Libya and was forced out of Sirte by last December after a six-month campaign led by brigades from the western city of Misrata and backed by U.S. air strikes.
Full report at:
http://www.channelnewsasia.com/news/world/us-carries-out-air-strikes-against-islamic-state-in-libya-9427616
--------
Mideast
Drone strike 'kills four Qaeda suspects' in Yemen
November 21, 2017
ADEN: A drone strike killed four suspected Al-Qaeda fighters in central Yemen on Monday, a local official said.
The United States is the only force known to operate armed drones over Yemen .
"A car carrying four fighters was hit as it drove on a mountain road" in Bayda province, the official said. "All of them were killed."
"The fighters were from Al-Qaeda," he said.
Washington considers the Yemen-based Al-Qaeda in the Arabian Peninsula to be the radical group's most dangerous branch.
AQAP has flourished in the chaos of the country's civil war, which pits the Saudi-backed government of President Abedrabbo Mansour Hadi against the Huthi rebels.
A long-running drone war against AQAP ( Al-Qaeda in the Arabian Peninsula) has intensified since US President Donald Trump took office in January.
An air raid he ordered that month killed a US Navy SEAL and several Yemeni civilians in Bayda.
US strikes in Yemen have typically targeted suspected Al-Qaeda fighters, but last month the United States said it had killed dozens of fighters from its militant rival, the Islamic State group, at training camps in Bayda.
Full report at:
http://nation.com.pk/21-Nov-2017/drone-strike-kills-four-qaeda-suspects-in-yemen
--------
Six prominent Houthi militia commanders killed in Nihm, Saada
21 November 2017
Six field commanders from the Houthi movement were killed in north Yemen during clashes with the Yemeni army.
Houthi leader Hamoud Morshed Laham was killed along with a number of his companions during clashes with the National Army by snipers. Houthi leaders Ali Abdul Samad al-Nunu and Saleh Abdullah Abu-Butm were also killed.
In the northern province of Saada, air raids by the Arab coalition killed a number of field commanders of the militias, including Mohammed Ahmed al-Azi, Mujahid Muhammad Saleh al-Kaiser.
Full report at:
https://english.alarabiya.net/en/News/gulf/2017/11/21/Six-Houthi-field-commanders-were-killed-in-Yemen.html
--------
Iran president urges France to play productive role in Middle East
Nov 21, 2017
Iranian President Hassan Rouhani has hailed the defeat of Daesh terrorist group in Iraq and Syria, saying France can play a "productive role" in the Middle East by pursuing a "realistic and impartial approach."
"We believe that France, by maintaining its independence of opinion and its position in the region, can, with a realistic and impartial approach, have a productive role," Rouhani said in a telephone conversation with French President Emmanuel Macron on Tuesday.
"The main objective of the Islamic Republic of Iran in the region is to fight against terrorism and we believe that after [the fall of] Daesh, other terrorist groups must be also countered."
Backed by popular groups and Iranian military advisors, armed forces in Iraq and Syria have managed to flush Daesh militants out of their last strongholds in both countries, declaring full victory over the notorious terror group.
The recapture of the two cities marked an end to Daesh's reign of terror, which started in 2014 with the group making vast territorial gains in a lightning offensive and establishing its self-proclaimed "caliphate" in the Iraqi city of Mosul and the Syrian city of Raqqah.
The Iranian president also emphasized that the Islamic Republic's presence in Syria and Iraq was at the request of their legitimate governments with the purpose of battling terrorism and reiterated that Tehran does not seek to dominate the region.
"Iran's objective is to help [promote] peace and security in the region and prevent the breakup of countries," Rouhani added.
He warned that acts of adventurism by some inexperienced princes in the region would be detrimental to the entire regional countries, saying, "We oppose adventurism and the creation of division in this region."
He emphasized that regional countries must maintain their vigilance not to fall into the trap laid by the Israeli regime and said the Lebanese resistance movement "Hezbollah is a part of the Lebanese people and is exceptionally popular in this country (Lebanon) and its weapons are merely for defensive purposes and for use in the face of possible attacks on Lebanon."
"Now we all have to try so that Lebanese groups could, in security, have a government that can help advance their country," Rouhani pointed out.
Need for constructive talks in region
The French president, for his part, said his country supports the continuation of constructive talks among countries in the region to promote stability and security.
As a mediator, Paris is seeking to reduce tensions and boost stability in the region, Macron added.
He expressed hope that the ongoing conflicts in Yemen and Syria would end and peace would be restored to these war-ravaged countries as soon as possible.
Full report at:
http://www.presstv.com/Detail/2017/11/21/542993/Iran-France-Iraq-Syria-President-Hassan-Rouhani-Emmanuel-Macron-Daesh
--------
Families of missing Turkish ISIL militants ask Turkey to try them at home
November 21 2017
A number of families of missing Turkish suspects of the Islamic State of Iraq and the Levant (ISIL) have asked the country's authorities to bring their relatives back to Turkey to try them.
The families visited the Foreign Ministry on Nov. 20 to submit a petition asking for their relatives who joined ISIL in Syria and Iraq to be brought back to Turkey.
"Our sons were tricked and our daughters were forcefully taken by their husbands. Now most of them are captives in Iraq," the families said, asking the state to "bring our children back."
"If they are going to be tried, they should be tried here. Hear our voice," they said.
The plight of Turkish jihadists' wives and children came to prominence after the Iraqi army liberated Mosul and Tal Afar from ISIL.
Many families in Turkey are desperately searching for their relatives and trying to obtain information on their whereabouts.
Mehtap Nur Kazancı, who has been searching for her 7-year-old son Alparslan Çelik, said her former husband Muhammet Çelik took their son to Syria in 2014.
"I know that my son was taken to Iraq after his father was killed in 2015. I'm a mother and my heart and mind is there. I'm waiting for the day that I will reunite with my son," Kazancı told daily Hürriyet.
Another woman looking for her child is Kezban Mağden, who says her daughter Hatice Cırcır went to Iraq three years ago with her husband Yusuf Cırcır.
"When her husband died in Iraq she wanted to return to Turkey but the roads are closed. There is war, how can she come back?" Mağden said.
Mustafa Daştan, meanwhile, said he had given a petition regarding her daughter Rukiye Yeter.
"We know that my daughter and grandchildren Havva, Zeynep and Meryem are captives. Three innocent children are there but we don't know their condition," Daştan said.
There are also many other families hoping to reunite with their little children taken to ISIL-controlled areas after the defeat of the jihadist group.
Six-year-old Destan, 6-year-old Yağız, and 3-year-old Yiğit Alp are just three of the unknown number of infants facing a murky future.
Şahin Aktan has been looking for his son Destan since his Kyrgyz-origin former wife Svetlana Çhasanova took him to Syria.
Aktan married Çhasanova in 2008 and the couple had their son in 2011. In 2014, Aktan started to notice differences in his wife's behavior, as she started wearing a veil and watching scenes of the Syrian war more often. He then noticed that Çhasanova was in contact with ISIL militants over Facebook.
"She was talking to strange men with beards on Facebook. We were in such a situation that we had to separate our beds. She started to beat our son. One day, she came to me and said: 'They will come and pick me up from here.' I then learned she was talking to an ISIL commander named 'Hamzat,'" Aktan told Hürriyet.
Hamzat called Çhasanova to Syria, after which he and Aktan divorced in 2014. After a court gave the custody of then-3-year-old Destan to his mother, Çhasanova moved to Istanbul's Sultanbeyli district, before crossing into Syria with the little boy in July 2014.
"On June 30, 2014, I called my former wife and she didn't pick up. I went to her house in Sultanbeyli but there was no one at home. I then learned that she had changed her name to 'Asiye' and our son's name to 'Abdullah,'" Aktan said, adding that Çhasanova had married Hamzat.
According to Aktan, Çhasanova contacted him at the beginning of this year after ISIL started to lose territories in Iraq and Syria.
"I asked her to send pictures of Destan to me and she did. He was looking devastated. There was a picture of him taken under an ISIL flag. Our last conversation was on Oct. 5 and she told me that they were in a town called 'al-Qaim.' Then our communication ended," Aktan said, urging the Turkish authorities to bring Destan back to Turkey to rehabilitate him.
Another child, Yiğit Alp, was also taken to Syria in 2014 by his mother Hülya. The boy's father Ramazan Bozkurt said that Hülya sent him pictures of his son six months ago.
"I saw that my son was wounded in his stomach and was receiving treatment at a hospital. She told me that he was wounded in an airstrike. Four months ago I learned that they were in Raqqa after she sent me her location. Hülya told me she wanted to come back to Turkey and kept asking for money," Bozkurt said, adding that their communication then ended.
"I learned that they fell captive two months ago. I want my child to be brought back to Turkey," he added.
Yağız, meanwhile, was taken to Syria by his father Serkan Öztürk in 2014. His mother, Deniz Öztürk, told Hürriyet that she found out that her former husband and son had moved to Tal Afar after crossing into Syria.
"They then moved to Raqqa. We had little communication when they were in Syria. I heard my son's voice only once. He asked me, 'Mom, why aren't you coming here?' He then asked where his toys were. We couldn't talk after that," Öztürk said, adding that she learned they were in Deir al-Zor two months ago.
Full report at:
http://www.hurriyetdailynews.com/families-of-missing-turkish-isil-militants-ask-turkey-to-try-them-at-home-122787
--------
India
Kerala 'love jihad' case: Hadiya's father seeks in-camera proceedings
November 22, 2017
The father of Hadiya (formerly Akhila) has moved an application in Supreme Court, seeking a direction for in-camera proceedings on November 27, when his daughter will be produced in court in connection with a petition from her husband who has challenged the nullification of their marriage.
K M Ashokan sought in-camera proceedings, citing the communally sensitive nature of the case and threats from radical elements to him and his family.
Hadiya is at the centre of a controversy after her conversion to Islam and marriage with a Muslim man. The marriage was nullified by the Kerala High Court.
On October 30, a bench headed by Chief Justice of India Dipak Misra directed that Hadiya be produced before it on November 27 and said it would only interact with her in open court. A bench headed by CJI Misra's predecessor CJI J S Khehar had on August 16 said it would hear her in-camera whenever it summoned her.
Shefin questioned
The NIA has questioned Hadiya's husband Shefin Jahan, who moved the Supreme Court against nullification of their marriage. He was questioned for five hours as part of preparation of a report. The NIA has also recorded statements of Hadiya and Ashokan. Weeks ago, it questioned A S Sainaba, president of Women's Front of India (women's wing of PFI) and P Aboobacker, whose daughters were friends of Hadiya. — WITH ENS, Thiruvananthapuram
http://indianexpress.com/article/india/kerala-love-jihad-case-hadiyas-father-seeks-in-camera-proceedings-4948788/
--------
Two Bangladeshi Ansar al-Islam operatives detained in Kolkata
November 21, 2017
The duo had been living in India illegally for the last one and half years without valid travel documents, Kolkata police say
Kolkata police arrested three persons, including two Bangladeshi nationals with Ansar al-Islam linkages, on Tuesday from near Kolkata Railway Station [formerly known as Chitpur station] in the capital city of West Bengal.
The Bangladeshi arrestees are- Riyazidul Islam, 25, alias Suman and Sansad Miya, 26, alias Tanveer alias Tushar, reports Mumbai Mirror.
According to Murlidhar Sharma, deputy commissioner of Special Task Force of Kolkata police, Riyazidul and Sansad are active operatives of Ansar al-Islam, a militant terrorist group involved in murder of bloggers, and known allegiance with al-Qaeda.
"Tanveer is a civil engineer and held a high post within the militant group. The duo have no valid travel documents, and had been living in India illegally for the last one and half years," Sharma said while talking to reporters.
"The two suspected Bangladeshi militants had come to Kolkata station to meet Monotosh Dey, 46, alias Mona da, who is a resident of Basirhat in North 24 Parganas district of West Bengal to see samples of arms."
"Further investigations will reveal whether they had come here to find hideout or any other objective," the police official said.
Full report at:
http://www.dhakatribune.com/world/south-asia/2017/11/21/bangladeshi-ansar-al-islam-kolkata/
--------
J&K: Talks apart, hard line on terror to continue
Rajat Pandit
Nov 22, 2017
NEW DELHI: The NDA government will continue with its hardline approach to pro-actively go after terrorists and all their sympathisers in Jammu and Kashmir, while "dominating" the Line of Control with retaliatory fire assaults to deter infiltration and impose punitive costs across the border, despite an interlocutor's appointment for "sustained dialogue" with all stakeholders in the state.
With the security forces having already killed over 200 terrorists in J&K this year, the highest such tally in eight years, top government sources on Tuesday asserted the twin-pronged strategy of the "stepped-up counter-terror offensive+ " and interlocutor Dineshwar Sharma's outreach to the civil society could help turn the tide in the strife-torn state.
"The interlocutor's appointment to open the dialogue process to remove apprehensions and misconceptions among the common people, as well as other humanitarian measures, do not mean the government is going soft. Terrorists will continue to be hit hard to ensure the rule of law prevails in J&K," said a source.
But only time will tell whether this "hard-soft" strategy actually yields dividends on the ground in J&K, given that an embattled chief minister Mehbooba Mufti continues to face protests, alienation among the youth still runs high and the Kashmiri separatist leadership has so far refused to meet the interlocutor.
The government, however, feels confident the situation will turn the corner in the coming months+ . For one, there is a significant jump in information flowing from the common people about the presence and movement of terrorists in the state. "Counter-terror operations usually slow down in the winters. But it will be different this time with the confidence-levels among people going up. Once local politicians begin to move around freely, things will further improve in the Valley," said another source.
For another, there is disarray among terrorist ranks, with as many as 25 top commanders being killed this year. "Anybody who proclaims himself a commander is promptly targeted by the security forces. The terror attacks on J&K Police personnel and their families have strengthened their resolve in the fight against militancy," he added.
The Army, J&K Police, central armed police forces like CRPF and the intelligence agencies, who often pulled in different directions earlier, have certainly achieved a high-level of synergy in the counter-terror operations over the last one year. "Earlier, it was the terrorists who had the initiative and were attacking targets. Now, they are being intercepted, ambushed with better intelligence. Almost 30 terrorists and over 60 over-ground workers have also been arrested this year," said a source.
Pakistan's Inter-Services Intelligence (ISI), on the back foot in Kashmir, has taken to "targeted killings" to fan communal disturbances in other states like Punjab. Earlier this month, Punjab chief minister Amarinder Singh said several ISI-backed terror modules behind the killing of RSS leaders like Jagdish Gagneja and Ravinder Gosain, among others, had been smashed in the state.
Full report at:
https://timesofindia.indiatimes.com/india/jk-talks-apart-hard-line-on-terror-to-continue/articleshow/61746619.cms
--------
Three Pakistani LeT terrorist killed in Jammu and Kashmir
Nov 21, 2017
SRINAGAR: Three Pakistani Lashkar-e-Taiba (LeT) terrorists were killed on Tuesday in a gunfight with security forces in Jammu and Kashmir's Kupwara district, police said.
After receiving specific information about the presence of the militants in the Magam area of district Kupwara, a joint operation was conducted by the CRPF, J&K Police and the Indian Army.
"Started operations at midnight on specific information of terrorists hiding. Terrorists who were hiding in a house, were asked to surrender but they kept firing. Three Pakistani LeT terrorists killed, and arms and ammunition recovered," said IGP Kashmir told media.
A search operation is on in the area.
"Pakistan is trying hard to push as many militants as they can across LoC & anytime snowfall will start. So, this is the time we should be very alert," Khan added.
Following the encounter, DGP J&K Police SP Vaid congratulated the security forces on Twitter.
In the last few days, security forces have achieved a series of successes against terrorists in Kashmir.
On Saturday, six terrorists were gunned down in north Kashmir's Bandipora district in an encounter in which a Garud commando of the Indian Air Force (IAF) was also killed.
Following the operation, 15 Corps Commander Lt Gen JS Sandhu appraised the media on Sunday about the success of year-long counter-insurgency operation in the region and said that the operations have resulted in "remarkable change" in the security situation in the Valley.
"We have killed about 190 terrorists as on date, in 2017. Out of these 190, 80 are local terrorists and 110 foreign. Out of these 110, 66 terrorists were killed near the LoC while infiltrating," Sandhu said.
Full report at:
https://timesofindia.indiatimes.com/india/three-pakistani-let-terrorist-killed-in-jammu-and-kashmir/articleshow/61735822.cms
--------
India to give visa to 33 Pakistani children of Bohra community
Nov 22, 2017
NEW DELHI: India has approved visas for 33 Pakistani children of the Bohra community, who have been invited by their spiritual leader Syedna Mufaddal Saifuddin to Mumbai, External Affairs Minister Sushma Swaraj said on Tuesday, NDTV reported.
"We have approved visas for 33 Bohra children from Pakistan who have been invited by the community's spiritual leader Syedna Mufaddal Saifuddin in Mumbai. @IndiainPakistan," Swaraj tweeted.
The Bohra community is scattered across the globe and its spiritual leader is based in Mumbai.
Full report at:
https://www.pakistantoday.com.pk/2017/11/21/india-to-give-visa-to-33-pakistani-children-of-bohra-community/
--------
South Asia
Key Taliban commander among 8 killed in Logar operations
Nov 21 2017
A key commander of the Taliban group was among at least eight militants killed during the operations of the Afghan security forces in central Logar province of Afghanistan.
The provincial government media office in a statement said the militants were killed in an area located between Baraki Barak and Tangi Wardak area.
The statement further added that the Taliban commander killed during the operation has been identified as Agha Gul.
Originally a resident of Honai Safli area of Logar's capital, commander Gul was believed to be an important Taliban leader who was actively involved in anti-government armed insurgency.
According to the provincial government, the remaining militants all hailed from Babus area and Maidan Wardak province.
The ant-government armed militant groups including the Taliban insurgents have not commented regarding the report so far.
Logar is among the relatively volatile provinces in central Afghanistan where the Taliban insurgents as well as militants belonging to other terrorist networks are actively operating in its various districts.
The Ministry of Interior of Afghanistan earlier in Stepmber informed regarding the deaths of the Taliban leader and his fighters today morning.
A statement by the ministry of interior said the Taliban leader was killed in an airstrike and was identified as Qari Ismail who was also famous as Mir Mohammadi.
Full report at:
http://www.khaama.com/key-taliban-commander-among-8-killed-in-logar-operations-03894
--------
Dubai Cares gets Dh1m to help Rohingya refugees
Nov 22, 2017
Dubai
Dubai Cares has received a contribution of Dh1,000,000 from Emirates Islamic, through the bank's Emirates Islamic Charity Fund, to support Rohingya refugees in Bangladesh.
According to a report by the Inter Sector Coordination Group, titled 'Situation Report: Rohingya Refugee Crisis', violence in Rakhine State began in August and the conflict has so far driven around 615,500 Rohingya across the border into Cox's Bazar, Bangladesh.
The speed and scale of the influx has resulted in a critical humanitarian emergency, said Dubai Cares in a statement on Tuesday. The people who have arrived in Bangladesh are reliant on humanitarian assistance for food, and other life-saving needs. They are highly vulnerable, having fled conflict and experienced severe trauma, and now living in extremely difficult conditions, the statement said.
Tariq Al Gurg, CEO of Dubai Cares, said: "We are very grateful to Emirates Islamic for its generous support to the Muslim Rohingya refugees in Bangladesh. Their donation reflects the values of the UAE's 'Year of Giving' as declared by President His Highness Shaikh Khalifa Bin Zayed Al Nahyan. It is critical that the Rohingya refugee children, who have suffered so much in this conflict, have access to education in a safe and nurturing environment. This generous support from Emirates Islamic will certainly help us provide these children a sense of normality, to enable them to build a future they can look forward to."
Awatif Al Harmoody, general manager of operational governance at Emirates Islamic, said: "Emirates Islamic is proud to join hands with Dubai Cares in their endeavour to ensure the wellbeing of Rohingya refugee children. Through education, these children will be able to create a better future for themselves and their community. Charity is a cornerstone of Sharia and as one of the country's leading Islamic banks, Emirates Islamic is committed to continue to support those in need via the Emirates Islamic Charity Fund."
Full report at:
http://gulfnews.com/news/uae/emergencies/dubai-cares-gets-dh1m-to-help-rohingya-refugees-1.2128103
--------
Amnesty accuses Myanmar of imposing 'apartheid' on Rohingya
November 21, 2017
Myanmar's suffocating controls over its Rohingya population amount to "apartheid", Amnesty International said Tuesday in a probe into the root causes of a crisis that has sent 620,000 refugees fleeing to Bangladesh.
Scenes of dispossessed Rohingya in Bangladeshi camps have provoked outrage around the world, as people who have escaped Rakhine state since August recount tales of murder, rape and arson at the hands of Myanmar troops.
Myanmar and Bangladesh have agreed in principle to repatriate some Rohingya but disagree over the details, with Myanmar's army chief saying last week it was impossible to accept the number of refugees proposed by Dhaka.
The Amnesty report details how years of persecution have led to the current crisis.
A years-long "state-sponsored" campaign has restricted virtually all aspects of Rohingyas' lives, the Amnesty study says, confining the Muslim minority to a "ghetto-like" existence in the mainly Buddhist country.
The 100-page report, based on two years of research, says the web of controls meet the legal standard of the "crime against humanity of apartheid".
"Rakhine State is a crime scene. This was the case long before the vicious campaign of military violence of the last three months," said Anna Neistat, Amnesty's senior director for research.
Myanmar's authorities "are keeping Rohingya women, men and children segregated and cowed in a dehumanising system of apartheid," she added.
The basis for the widespread hatred towards the Muslim group comes from a contentious 1982 Citizenship law.
Enacted by the then-junta, it effectively made hundreds of thousands of Rohingya stateless.
Since then, Amnesty says, a "deliberate campaign" has been waged to deny the Rohingyas' right to live in Myanmar, where they are denigrated as "Bengalis" or illegal migrants from Bangladesh.
A system of identification cards is central to those bureaucratic controls, with Rohingya routinely issued one form of ID, only to see it later rendered meaningless.
"This is a system designed to make people hopeless," said Laura Haigh, Amnesty's Myanmar researcher.
She raised concerns that paperwork may be used to restrict the number of Rohingya returnees. Myanmar authorities have said they must be subject to a "verification" process.
Full report at:
http://www.thejakartapost.com/seasia/2017/11/21/amnesty-accuses-myanmar-of-imposing-apartheid-on-rohingya-.html
--------
Dozens of humanitarian groups demand UN rights council session on Rohingya crisis
Nov 21, 2017
Dozens of humanitarian groups have called for the UN Human Rights Council (UNHRC) to hold a special session on the ongoing violence against the persecuted Rohingya Muslims in Myanmar.
The Britain-based Amnesty International and nearly three dozen other humanitarian groups made the demand in an open letter addressed to the 47-member council on Monday.
We "strongly support calls for a UN Human Rights Council special session on the deteriorating human rights situation in Myanmar and urge your delegations to support holding such a session as soon as possible," the groups said.
"In light of serious reports of human rights violations … we believe that a special session is imperative to launch decisive action and ensure international scrutiny and monitoring of the situation."
The groups said the council should adopt a resolution that would call on the Myanmar government to "immediately cease all human rights violations, including crimes against humanity" and allow human rights groups "full and unfettered access to all parts of the country.
In all, the UN group has held 26 sessions since its inception in 2006. A special session may be held at the request of at least a third of the member states, or 16 countries.
Earlier this month the UN Security Council dropped plans to adopt a resolution demanding an end to the violence in Myanmar.
More than 600,000 Rohingya Muslims have so far fled the predominantly-Buddhist Myanmar to neighboring Bangladesh since August 25, when the crackdown on the Rohingya intensified in Rakhine state.
During the past three months, government troops, apart from raping, have been committing killings, making arbitrary arrests, and carrying out mass arson of houses in hundreds of predominantly-Rohingya villages in the restive state.
The UN has already described the Rohingya as the most persecuted community in the world, calling the situation in Rakhine similar to "a textbook example of ethnic cleansing."
Rights groups say Myanmar's treatment of the Rohingya constitutes crime against humanity.
Estimates as to how many Muslims have been killed vary from 1,000 to 3,000.
Full report at:
http://www.presstv.com/Detail/2017/11/21/542992/UN-UNHRC-Rohingya-Rakhine-Rohingya-Amnesty
--------
Arab World
Iraq to Declare Final Victory Over Islamic State After Desert Campaign
Nov. 21, 2017
BAGHDAD (Reuters) - Iraqi Prime Minister Haider al-Abadi said on Tuesday Islamic State had been defeated from a military perspective but he would only declare final victory after IS militants were routed in the desert.
Iraqi forces on Friday captured the border town of Rawa, the last remaining town under Islamic State control, signaling the collapse of the group's "caliphate" proclaimed after it overran much of Iraq's north and west in 2014.
Securing desert and border areas is what remains in the campaign against Islamic State, military commanders say.
"From a military perspective, we have ended the presence of Daesh in Iraq," Abadi said while addressing a weekly news conference, referring to Islamic State by an Arabic acronym.
"God willing we will announce very soon after the end of the purification operations victory over Daesh in Iraq."
Abadi's comments came as Iranian President Hassan Rouhani declared the end of Islamic State while a senior Iranian military commander thanked the "thousands of martyrs" killed in operations organized by Iran to defeat the militant group in Syria and Iraq. Political disagreements will pave the way for the Sunni militant group to carry out attacks, however, Abadi said. He was referring to the central Baghdad government's dispute with the semi-autonomous Kurdistan Regional Government over the latter's declaration of independence following a Sept. 25 referendum.
"Any disagreement between political factions will encourage Daesh to carry out terrorist attacks," he said. "I call on our Kurdish brothers to avoid fighting."
Hours before Abadi spoke, at least 23 people were killed and 60 wounded when a suicide bomber set off a truck bomb near a crowded marketplace in the northern Iraqi town of Tuz Khurmatu, south of the oil city of Kirkuk.
Abadi praised a federal court verdict that ruled the Kurdish referendum unconstitutional and called on Kurds not to resort to violence.
Iraq's Supreme Federal Court ruled on Monday that the referendum was unconstitutional and the results void, bolstering Baghdad's hand in a stand-off with the Kurdish region watched closely by neighbouring Turkey and Iran.
"I hail the federal court's decision to void the Kurdish region's referendum," he said.
Kurds voted overwhelmingly to break away from Iraq in the referendum, defying Baghdad and alarming neighboring Turkey and Iran who have their own Kurdish minorities.
The Iraqi government responded to the referendum by seizing Kurdish-held Kirkuk and other territory disputed between the Kurds and the central government. It also banned direct flights to Kurdistan and demanded control over border crossings.
https://www.usnews.com/news/world/articles/2017-11-21/iraq-to-declare-final-victory-over-islamic-state-after-desert-campaign-pm
--------
Arab League works as tool against Muslim nations: Syria
Nov 21, 2017
Syria has strongly denounced the closing statement of the latest Arab League foreign ministers' meeting in Cairo, saying the so-called league, backed by petrodollars of "sheikhdoms", has been turned into a "tool" against Muslim nations.
An official source at Syria's Ministry of Foreign Affairs and Expatriates made the remarks in a statement, carried by Syria's official news agency SANA on Tuesday, adding that the money of oil sheikhs was also being used against the security of Muslim countries in order to advance the agendas of the Muslims' enemies.
On Sunday, the Arab League foreign ministers held an extraordinary general meeting in the Egyptian capital at the request of Saudi Arabia. At the end of the meeting, the participants issued a statement accusing Iran of interfering in the internal affairs of the countries in the region and pursuing aggressive policies against Arab states.
The so-called resolution further stated that Arab states had agreed to designate Lebanon's Hezbollah resistance movement a "terrorist organization", accusing it of supporting "terrorist groups" across the Middle East.
Tehran strongly rejected the allegations and described the league's statement as "worthless" and as being "full of lies and distortions." Secretary General of the Lebanese Hezbollah resistance movement Sayyed Hassan Nasrallah also categorically rejected Arab League's claims.
The Syrian official also appreciated the efforts made by Iran and Hezbollah to curb Takfiri terrorist groups in the Arab country, saying that Arab nations are also well aware of the sacrifices made by the pair in foiling Israel's plans for the region and in resisting Zionist "expansionist aggression."
The accusations leveled by Saudi-dominated Arab League against Hezbollah echoes exactly what Israel alleges against the resistance movement, strongly suggesting Riyadh is trying hard to help the Israeli entity by weakening Hezbollah.
In an apparent reference to Saudi Arabia, the Syrian official also said "Whoever provided all forms of support for Takfiri terrorism and committed genocide against the Yemeni people does not have the credibility to speak about Arab national security because it is itself the real threat to the interests of the Muslim nations and Arab national security."
On Monday, the Palestinian resistance movement Hamas slammed the Arab League for labeling Lebanon's Hezbollah as a terrorist organization. A statement released by the Gaza-based Hamas said it "rejects the description of the Lebanese Hezbollah resistance movement as terrorist."
The Palestinian movement added that instead of Hezbollah, Israel's actions against Palestinians should be labeled "terrorism."
Full report at:
http://www.presstv.com/Detail/2017/11/21/542998/Syria-Arab-League-Hezbollah-Iran-Takfiri-terrorism-Saudi-Arabia-Israel
--------
Rifts Widening among Terrorists in Southern Damascus
Nov 21, 2017
The Arabic-language al-Watan daily reported that Amer Sabri nom de guerre Abu Saleh Amer has been appointed as ISIL's emir in Southern Syria to rule over vast parts of the Yarmouk Palestinian Refugee Camp and the town of Hajar al-Aswad.
The daily quoted local sources as saying that Sabri's command in Yarmouk came after growing disunity among terrorists as ISIL has now two different organizations in Southern Damascus, adding that one of the organizations in under the command of Abu Hashem al-Khabouri deployed in Hajar al-Aswad South of Yarmouk, whose fighters are mainly from Hajar al-Aswad.
The second organization includes Palestinians of the Yarmouk Camp and the residents of settlements in Damascus countryside.
Relevant reports said on Monday that the army men fended off heavy attack of Faylaq al-Rahman and Ahrar al-Sham terrorists in the Vehicle Management Base in Harasta in Eastern Damascus.
The army soldiers further carried out a rapid counter-attack and retook control over several buildings North of Rahbah al-Dababat (Tank Repair Base), killing 200 terrorists and wounding many more and destroying two tanks.
Commander of the 10th Brigade of Faylaq al-Rahman Abu Tha'er Sawan was among the killed terrorists.
Full report at:
http://en.farsnews.com/newstext.aspx?nn=13960830000929
--------
Iraq: Deadly suicide car bomb rocks disputed town north of Baghdad
21 November 2017
A suicide car bomber has killed at least 32 people in an attack on a busy market in a town north of Baghdad on Tuesday, a security official said.
Dozens more were wounded when the attacker blew up the vehicle in the middle of the fruit and vegetable market in Tuz Khurmatu, the official said.
A doctor at the town's general hospital put the number of wounded at 80, some of them lightly injured.
There was no immediate claim of responsibility.
Suicide attacks in Iraq are usually claimed by ISIS , which has suffered a string of military defeats and last week lost control of the last town the extremists held in the country.
Tuz Khurmatu is home to a mixed Kurdish, Arab and Turkmen population. It was the scene of deadly violence in mid-October when Iraqi forces retook it from Kurdish control in response to a Kurdish independence referendum.
Turkmen MP Niazi Maamar Oglu said an attack of Tuesday's magnitude had not been seen in the town 'for years'.
A security chief in Salaheddin province, Mehdi Taqi, told AFP that a curfew was imposed immediately after the bombing.
Full report at:
https://english.alarabiya.net/en/News/middle-east/2017/11/21/Suicide-car-bomb-kills-32-in-town-north-of-Baghdad-.html
--------
Aoun defies the Arab League, defends Hezbollah's arms
21 November 2017
Lebanon's President Michel Aoun voiced his rejection of the Arab League's statement that categorized Hezbollah as a terrorist militia following its extraordinary meeting on Sunday.
Aoun told the Arab League chief who is visiting Beirut that he rejects hints that the government is a partner in terrorist acts. He also adopted Hezbollah's stance regarding its illegitimate weapons and justified their presence by citing Israeli threats.
This comes after Arab League foreign ministers held an extraordinary summit in Cairo upon Saudi Arabia's request after Houthi rebels in Yemen fired a ballistic missile towards Saudi territories.
Supporting terror
The summit's final statement held Hezbollah, which is a "partner in the Lebanese government, responsible for supporting terrorist groups in Arab countries with advanced weapons and ballistic missiles."
It called on the Iranian-backed group "to stop spreading extremism and sectarianism, to stop interfering in other countries' domestic affairs and to quit supporting terrorism and terrorists in its regional surrounding."
Full report at:
https://english.alarabiya.net/en/News/middle-east/2017/11/21/Aoun-defies-the-Arab-League-defends-Hezbollah-s-arms.html
--------
Syrian Army Laying Siege on ISIL in Eastern Deir Ezzur
Nov 21, 2017
The source said that the ISIL is only in control of two regions on the Western and Eastern banks of the Euphrates River after the army forces' strategic advances in Eastern Deir Ezzur and liberation of the town of Albu Kamal.
The source went on to say that ISIL is in control of a region as large as 7,500 sq/km from the Northwest of Badiyeh (desert) Albu Kamal to the Southeast of al-Sukhnah in Eastern Homs, adding that another region covering 6,500 sq/km of area from the North of Albu Kamal to the South of Merkadah in Hasaka province and between the Iraqi border and the Kurdish-held Thowar region under the control of the ISIL terrorists.
The source further said that the closure of the 25-km-long gap between the North of Albu Kamal and South of the town of al-Mayadeen by the army soldiers has driven a wedge between the Western and Eastern banks of the Euphrates River, and left the terrorists with the only two options of death or surrender.
Field sources confirmed on Monday that the Syrian Army troops captured another ISIL-held region in Eastern Deir Ezzur, killing tens of terrorists.
The sources said that the army men drove ISIL out of the small town of al-Kashmah (Tishrin) after they captured the town of al-Salehiyeh in Eastern Deir Ezzur.
Full report at:
http://en.farsnews.com/newstext.aspx?nn=13960830001202
--------
Hariri returns to Lebanon after talks with Egyptian President in Cairo
21 November 2017
Lebanon's Saad al-Hariri, who resigned as prime minister on Nov. 4, returned to Beirut on Wednesday for the first time since he resigned from Saudi Arabia.
Hariri's sudden resignation thrust Lebanon to the forefront of regional tensions between Saudi Arabia and Iran, whose powerful Lebanese ally Hezbollah is part of the government.
Hariri was greeted by members of the security forces as he disembarked from a jet at Beirut airport, live footage of his arrival showed.
Hariri cited fear of assassination and meddling by Iran and Hezbollah in the Arab world in his resignation speech.
Lebanese President Michel Aoun has refused to accept the resignation until Hariri returns to present it in person.
Earlier, Hariri met Egyptian President Abdel Fattah al-Sisi in Cairo, for talks in a brief Cairo stopover before a planned return to Lebanon, Egypt state media said on Tuesday.
Hariri had been in Paris since Saturday when he met French President Emmanuel Macron. He has said he will return to Lebanon by Wednesday for the country's Independence Day celebrations, where he said he will clarify his position.
His surprise resignation announced from Riyadh triggered a political crisis in Lebanon's power-sharing government.
Hariri said he quit over interference in Lebanon by Iran and its Lebanese ally Hezbollah militia group.
Hariri arrived at Cairo International Airport, where he was received by Egypt's health minister, the Lebanese ambassador to Cairo and Egypt's ambassador to Beirut, his press office said.
He went immediately to the presidential palace, it said. A message on Hariri's Twitter account said the meeting would be followed by a dinner in his honor.
"Saad Hariri arrived in Cairo on Tuesday evening from Paris to meet President Sisi, and he is scheduled to return to Lebanon on Wednesday," MENA state news agency said.
Full report at:
https://english.alarabiya.net/en/News/middle-east/2017/11/21/Lebanon-s-Hariri-holds-talks-with-Egypt-President-Sisi-in-Cairo.html
--------
ISIL Drives Al-Nusra Rivals out of Four Regions in Northeastern Hama
Nov 21, 2017
The websites reported that ISIL clashed with Al-Nusra in al-Sa'an region in Northeastern Hama and pushed them back from the villages of Talihan, Ma'asaran, Abu Hariq and Abu al-Kasour.
Relevant reports said last month that the Al-Nusra hit ISIL's defense lines and pushed the rival terrorists back from the villages of Abu Meel and Marijab in Northeastern Hama.
A number of gunmen from both warring sides, including ISIL Commander Abu Hamza Mesri, were killed in the clashes.
http://en.farsnews.com/newstext.aspx?nn=13960830001065
--------
Southeast Asia
China urges Thailand to find Muslim Uighurs quickly after dramatic cell break
Nov 22, 2017
BEIJING (Reuters) - China said on Tuesday it has urged Thailand to "quickly bring to justice" 20 ethnic Uighur Muslims from China who broke out of a Thai detention center through a hole in the wall, using blankets to climb to the ground.
Twenty-five Uighurs dug through their cell wall with broken tiles to make their dramatic escape from the center in Thailand's southern Songkhla province, near the border with Malaysia, early on Monday.
Five were caught, but 20 fled and their whereabouts were unknown, according to Thai police, who said checkpoints had been set up along the border. Heavy rain had helped cover up the noise from their escape.
The escapees were part of the last remaining group of more than 200 Uighurs detained in Thailand in 2014.
Members of the group identified themselves as Turkish citizens and asked to be sent to Turkey but more than 100 were forcibly returned to China in July 2015, a move that sparked international condemnation, including from rights groups who feared they could face torture in China.
Chinese Foreign Ministry spokesman Lu Kang said China would continue to strengthen cooperation with Thailand on the detainees' escape and closely follow the situation.
"China has already urged the relevant Thai department to quickly bring the relevant people to justice," he said at a regular news briefing.
Over the years, hundreds, possibly thousands, of Turkic-language speaking Uighurs have escaped unrest in China's western region of Xinjiang by traveling clandestinely via Southeast Asia to Turkey.
The Chinese government has blamed violence in Xinjiang between majority Han Chinese and Uighurs on separatist Islamist militants, though rights groups and exiles say that anger over strict Chinese controls on the religion and culture of Uighurs is to blame.
Exiled ethnic Uighur leader Rebiya Kadeer called on Thailand and any country that may find the Uighurs to treat them according to international law and not hand them over to China.
"The Uyghurs took the risk of capture and perhaps harsh repercussions to try to save themselves from indefinite detention in Thailand and from deportation to China," Kadeer said in an email released by the World Uyghur Congress, which she heads.
"[Whether they] are indeed Turkish nationals as they claim or Chinese nationals as China claims, the fact that they are ethnic Uyghur is enough for them to face persecution and harsh punishment," she said.
Kadeer is a former political prisoner in China accused of leaking state secrets in 1999. She was later allowed to leave on medical grounds and lives in the United States.
Amnesty International has said that Chinese authorities in recent months have detained up to 30 of Kadeer's relatives.
China routinely denies accusations of rights abuses in Xinjiang, though it has admitted a problem with torture of detainees and has pledged to stop mistreatment of prisoners.
On the borders of Central Asia, Afghanistan and Pakistan, the region is one of China's most sensitive domestic issues, and the government has dramatically ramped up police operations there and set up what critics characterize as "re-education" camps and oppressive surveillance.
http://www.businessinsider.com/r-china-urges-thailand-to-find-muslim-uighurs-quickly-after-dramatic-cell-break-2017-11?IR=T
--------
Indonesian Jesuits thank Muslim group from averting protest
November 22, 2017
Jesuit priests have thanked leaders of Indonesia's second largest Islamic organization for preventing a Muslim hardline group from stoking religious tensions by averting a planned protest at a Jesuit-run school in Jakarta.
A group called Gerakan Pemuda Jalan Lurus Jakarta had planned to stage a protest on Nov.17 at Canisius College in retaliation for an earlier in which many of the school's alumni walked out while Jakarta governor Anies Baswedan was delivering a speech during a school 90th anniversary event.
The walkout sparked anger among the governor's supporters, some of whom include hardline groups.
Well-known musician Ananda Sukarlan left the venue on Nov.12 followed by more a 100 alumni, in what he said was a protest against the governor who won the governor election in April by exploiting race and religious issues to defeat Basuki Tjahaja Purnama, a Chinese Christian.
Jesuit Father Joannes Heru Hendarto, the rector of Canisius College, said the hardline group's protest was canceled thanks to the intervention of the Muslim group Muhammadiyah and Governor Baswedan who said the alumni's actions were spontaneous and did not represent the school's stance.
"We thank Muhammadiyah leaders because they have defused a potentially harmful protest from taking place in this school," Father Hendarto said.
Full report at:
https://www.ucanews.com/news/indonesian-jesuits-thank-muslim-group-from-averting-protest/80839
--------
Malaysian police steps up patrol at Malaysia-Thai border
22 NOVEMBER, 2017
KUALA LUMPUR — Malaysia has stepped up security along areas bordering neighbouring Thailand after scores of ethnic Uighur Muslims from China broke out of an immigration detention centre in southern Thailand.
Malaysia's national police chief Mohamad Fuzi Harun said both the police and the army have increased patrols along the border areas of three Malaysian states — Kedah, Kelantan and Perak.
"We do no rule out the possibility of them trying to sneak into the country and we have taken precautions by stepping up our border patrols, especially along the (Thai) border," national news agency Bernama quoted him as saying.
On Monday, some 20 Uighur Muslims bored through the wall of the centre in Sadao, near Thailand's southern-most border, using blankets to climb out as heavy rains masked their flight.
Thailand's Deputy Prime Minister Gen Prawit Wongsuwan said five of the 20 escapees had been recaptured, but he did not furnish further details on the matter.
"The rest have crossed the border (into Malaysia). So, now we are contacting our counterparts in Malaysia to send them back to us," he said on Tuesday.
Six Thai immigration officers have been transferred pending an investigation into the breakout.
Malaysia's Deputy Prime Minister Ahmad Zahid Hamidi said on Wednesday (Nov 22) that Malaysia has received information on the escapees from Thai authorities.
"(We are not certain that the Uighurs are here) but if they are, we know how to get them," he said, adding that this includes working closely with Aseanapol and the Interpol.
The escapees were among hundreds detained in Thailand 2014 despite their claims to be Turkish citizens.
Turkey shares ethnic links with the Uighurs and accepts those who flee from China's western Xinjiang region, where the Muslim minority has faced increasingly strict curbs on their faith, including bans on beards and public prayers.
A spokesman for China's Foreign Affairs Ministry has urged the Thai authorities to return the Uighurs.
"China has asked Thailand's relevant departments to bring back these fugitives as soon as possible," spokesman Lu Kang said at a press briefing on Tuesday.
In July 2015 Thailand forcibly deported 100 Uighurs, who were initially detained with the group of escapees, back to Chinese authorities.
The move was blasted by the United Nations and followed one month later by a deadly blast at a Bangkok shrine that killed ethnic Chinese tourists.
Two Uighur-origin men are facing trial for the bombing, sparking speculation the attack may have been in revenge for the forced deportation.
Uighurs often claim Turkish citizenship to avoid returning to China.
Full report at:
http://www.todayonline.com/world/malaysian-police-steps-patrol-malaysia-thai-border
--------
DPM: Malaysia committed to sharing expertise, experience in fighting terrorism
November 22, 2017
KUALA LUMPUR, Nov 22 — Malaysia today reiterated its commitment to support regional efforts in fighting terrorism and terrorism financing by sharing information, sharing expertise and experience, and through joint enforcement action.
Deputy Prime Minister Datuk Seri Ahmad Zahid Hamidi said Malaysia was committed to sharing expertise and experience specifically in relation to the Integrated Deradicalisation Module for Terrorists and the Counter-Messaging Centre, which were among the key initiatives that had proven to be effective.
"We welcome regional and international partners to provide us with the details of individuals, groups and organisations that pose a threat and are involved in terrorism and terrorism financing at the regional level, to be placed under Malaysia's domestic terrorists list and to be subjected to asset-freezing measures under Malaysian law," he said in his opening keynote address at the 3rd Counter-Terrorism Financing Summit here.
Ahmad Zahid, who is also Home Minister, noted that Malaysia had been consistent and serious in the pursuit to strengthen its domestic legal framework and policies to keep up with the emerging risks and trends in terrorism financing.
This, he said, was demonstrated through the amendment and enactment of various laws related to terrorism and terrorism financing over the past few years, including amendments to the Penal Code, the Anti-Money Laundering, Anti-Terrorism Financing and Proceeds of Unlawful Activities Act 2001 (AMLA) and the Prevention of Crime Act 1959.
Ahmad Zahid said the government had also enacted the Prevention of Terrorism Act 2015 and Special Measures against Terrorism in Foreign Countries Act 2015 (SMATA).
"The amendment of AMLA, for example, has resulted in the freezing of funds related to terrorists of more than RM1 million. Similarly, these laws have provided a significant foundation to our law enforcement authorities in the investigation of terrorism and terrorism financing, resulting in the arrest of more that 300 terrorists, Malaysians and foreign nationals," he said.
In addition to criminal justice measures, the Deputy Prime Minister said, Malaysia had greatly stressed on the importance of the 'soft approach' which emphasised the aspect of prevention and rehabilitation, operationalised through the Integerated Deradicalisation Module for Terrorists.
"I am delighted to announce that 289 terrorists underwent the deradicalisation module from 2001 until now. Fascinating enough, it has seen a success rate of 97.5 per cent, where 282 were disengaged from terrorist activities," he said.
Ahmad Zahid said that since Malaysia had a long sea border, border control had also been strengthened through an integrated approach such as the Advanced Passenger Screening System and enhanced security features on international travel documents.
"It is hoped that effective implementation of these measures will deter the use of Malaysia as a transit point and safe haven for terrorists and their supporters," he said, adding that Malaysia had also established the Counter-Messaging Centre to monitor social media content as well as to counter terrorist narrative and rhetoric.
On the summit, Ahmad Zahid expressed his confidence that it would provide an effective platform for productive and mutually beneficial discussions and operational outcomes.
The summit is being hosted by Bank Negara Malaysia in partnership with Australia and Indonesia's financial intelligence agencies.
Full report at:
http://www.themalaymailonline.com/malaysia/article/dpm-malaysia-committed-to-sharing-expertise-experience-in-fighting-terroris#QgXJTEdboGRMhJiM.97
--------
Indonesia Deemed Role Model for Moderate and Tolerant Islam Worldwide
22 November 2017
SERPONG, NETRALNEWS.COM - Indonesian Muslims' religious life is considered to be an ideal example for countries in the world to present moderate, tolerant and democratic Islam. This attracted the interest of dozens of Islamic experts from abroad to see firsthand and study Islam in Indonesia.
"Hopefully this forum can contribute to the development of science and Islamic studies in order to develop the civilization of the nation," said Minister of Religious Affairs Lukman Hakim Saifuddin in the opening of the Annual International Conference on Islamic Studies (AICIS), Tuesday (11/21/2017).
Lukman considered love and loyal to the homeland is a human nature that is recognized and appreciated by any religion so religion and citizenship should not contradict each other. For, citizenship arises from loyalty on the basis of similarity of residence, the homeland where a person is born and raised.
"In the tradition of the santri [students of pesantren/Islamic boarding school], it is very popular the expression hubbul wathan minal iman [patriotism is part of faith]. Although it is not a hadith [Prophet's sayings and teachings], its meaning and substance are in line and strongly recommended by religion," said Religious Ministry when becoming a keynote speaker at the AICIS forum.
AICIS and International Conference on Pesantren Studies held on Tuesday (21/11/2017) is a series of International Islamic Education Exhibition (IIEE) 2017 held by Directorate of Islamic Research at Religious Ministry on November 21-24, 2017 in ICE BSD Serpong, South Tangerang, Banten.
AICIS 2017 sports the theme of Religion, Identity, and Citizenship: Horizons of Islam and Culture in Indonesia.
Director General of Islamic Education at Ministry of Religious Affairs Kamaruddin Amin said this forum will discuss how the relationship between religion and state should be built and how religion is present in the life of nation and state.
Full report at:
http://www.en.netralnews.com/news/currentnews/read/15304/indonesia.deemed.role.model.for.moderate.and.tolerant.islam.worldwide
--------
Europe
UK 'dangerously complicit' in Saudi war on Yemen: Ex-Tory minister
Nov 21, 2017
A former Tory cabinet minister has said that the UK is being "dangerously complicit" in the Saudi war on Yemen that is "directly promoting a famine and the collective punishment of an entire population."
The former international development secretary, Andrew Mitchell, said on Tuesday that Britain is involved in a conflict that's "doomed to strategic failure".
He also warned of a humanitarian catastrophe "the likes of which we have not seen in decades."
On November 6, Saudi Arabia announced that it was shutting down Yemen's air, sea, and land borders, after Yemeni fighters targeted an international airport near the Saudi capital with a cruise missile.
London has been resisting international calls to stop aiding Saudi war crimes in Yemen, amid overwhelming evidence that British weapons and intelligence are being used to target Yemeni civilians.
A report published by The Guardian in May showed that the UK was selling record quantities of arms to countries the Foreign Office listed as having poor human rights records, including but not limited to Saudi Arabia, Bahrain, Burundi and the Maldives.
Mitchell also warned that a 15-day Saudi-imposed blockade was endangering tens of thousands of lives.
The United Nations made a plea for the Saudi war machine to remove its blockade, warning that without aid shipments "untold thousands of innocent victims, among them many children, will die" and that its partial lifting was not enough.
"The position is very precarious. One of the aid shipments contains medicine to combat the cholera outbreak, and the other urgently needed food aid including grains and rice," Jamie McGoldrick, the UN humanitarian coordinator for Yemen said.
Of a population of 26 million, some 17 million Yemenis do not know where their next meal is coming from and seven million are totally dependent on food aid.
"With the port blocked, it makes life very precarious. We are very worried that the gains we have made on cholera and food scarcity are being reversed."
Some 2,100 people have died of cholera since April as hospitals struggle to secure basic supplies across the country. The epidemic had been on the wane for weeks in Yemen, although new cases are still running at around 2,600 per day.
"There is a diphtheria outbreak in the southern part of the country. Many have died already and many more are going to die soon unless we get them vaccinated completely. It is not looking very hopeful," McGoldrick added.
Britain has signed a framework deal on military and security cooperation with Saudi Arabia, media outlets said in September.
Saudi Arabia has been incessantly pounding Yemen since March 2015 in an attempt to crush the popular Houthi Ansarullah movement and reinstate Yemen's former President Abd Rabbuh Mansur Hadi, who is a staunch ally of the Riyadh regime.
http://www.presstv.com/Detail/2017/11/21/543015/UK-dangerously-complicit-in-Saudi-policy-toward-Yemen-Former-Tory-cabinet-minister
--------
The UK government's silence on Myanmar is shameful
by Lloyd Russell Moyle
Nov 22, 2017
A decade ago, the military government in Myanmar cracked down on peaceful protests for economic and political reform, killing an estimated 100 monks and triggering a wave of international diplomatic activity to curb the violence.
In preceding years, the UK's Labour Party had been lobbying within the EU, successfully securing tighter sanctions on the Myanmar military. The UK was instrumental in bringing a debate on Myanmar for the first time to the UN Security Council, a path to binding resolutions.
When the military started killing the monks in 2007, Gordon Brown led the world in the international effort to de-escalate the situation. He expended political capital by lobbying the US president and Chinese premier to take diplomatic action and made representations directly to influential people within Myanmar itself. David Miliband, the then foreign minister, coordinated EU leaders into a unified bloc against the military government.
Fast forward and Myanmar civilians are suffering a considerably graver human rights catastrophe at the hands of the same military. But this time they will find no help in Britain.
Last week, David Mepham, the UK director of Human Rights Watch, told the International Development Committee that the British response is "ragged" and insufficient compared to previous human rights crises.
This is, sadly, of no surprise. The top Foreign Office civil servant has said the government has deprioritised human rights for its so-called "prosperity agenda". And Tory infighting has rendered the government sclerotic and unwilling to respond to the violence, which the UN has called a "textbook case of ethnic cleansing".
We have heard credible and corroborated reports, since August, of mass killings, rape, arson, looting and extortion. Thousands have been killed, hundreds of villages have been destroyed and some 600,000 Rohingya have been forced to flee to Bangladesh.
The UK government has responded to these crimes against humanity by announcing an aid package and sending out a handful of Foreign Office staff on a fact-finding mission.
Yes, aid is important, but it is only politics that will stop the killing, and the UK government seems to be demonstrating a distinct lack of political will over the slaughter of the Rohingya.
We should be leaning on Israel, a major supplier to the military government, to end the trade of light arms and vehicles which are being used to commit war crimes. If Israel were to rightly argue that Britain should perhaps end its own material support of the Saudi bombing campaign and maritime blockade of Yemen, Labour would happily agree with them. Neither of us should be profiting from war crimes.
We should be rallying international actors, especially China and India, both bilaterally and through the UN, to stop the slaughter and to allow unfettered humanitarian access in Rakhine state.
While we are still in the EU, we should be using our membership to build support for the banning of any sales of equipment to the Myanmar military, and calling for a UN-mandated global arms embargo to stop unscrupulous nations from profiting off these war crimes.
And we should be openly calling for a referral to the International Criminal Court of those involved in this campaign of ethnic cleansing, wherever that may lead.
These steps will not, alone, end the violence, but they will help, and, at the very least, they will show the military government, the Rohingya and the world where the UK stands.
The government is also labouring under the delusion that Aung San Suu Kyi, Myanmar's top civilian leader, will rescue the Rohingya any day now. The theory goes that putting pressure on the military government would risk snuffing out the post-2011 reforms that they allowed, ceding limited power to her democratically elected party.
This is why Britain supported, with GBP10m ($13m) in finance and political support, a census which omitted the Rohingya as a minority - an ugly and significant step to ethnic cleansing, but one which the government made as a concession for the wider reforms.
The whole point of supporting constitutional reform in Myanmar was to help reduce human rights abuses. But those have instead dramatically increased, and Aung San Suu Kyi has not used her current power to release political prisoners or change a 1982 law, which stripped the Rohingya of citizenship. Instead, she has dismissed reports of ethnic cleansing in her country as "fake news".
Full report at:
http://www.aljazeera.com/indepth/opinion/uk-government-silence-myanmar-shameful-171121162936341.html
--------
Morocco goes digital to counter radical Islam online
By Tom Heneghan
Nov 22, 2017
RABAT, Morocco (RNS) — Chababe is a lively site on Facebook, YouTube and the web where young Moroccans can talk about what troubles them — sex, suicide, online harassment, violence or religious extremism.
The three-member team running Chababe — the name means "youth" in Arabic — often brings in psychologists or sociologists to discuss these issues in live webcasts. The team posts further information online and passes along names of groups around the country that youths can turn to for help.
The team also regularly calls on Islamic scholars for advice. It doesn't have to look far — Chababe is part of Mohammadia League of Islamic Scholars, a government research institute leading Morocco's extensive campaign against violent Muslim extremism.
Rabita ("league"), as the institute is known, has over the past decade rolled out a broad array of programs aimed at dissuading Moroccans from turning toward radical forms of Islam. Those initiatives range from video games and updated schoolbooks for children to social media like Chababe for those in their teens and 20s and improved higher education for Muslim clerics.
The aim is to update and defend Morocco's traditionally Sufi-inspired Sunni Islam against violent groups such as al-Qaida and the Islamic State group and the spread of strict Salafist Islam. That is particularly challenging in the digital age.
"My generation is out of it — we don't understand Snapchat, Facebook, WhatsApp or Twitter," Rabita's secretary general, Ahmed Abbadi, 57, admitted with a smile. "We were paying attention to what was happening on the radio, on television and in the mosques."
But "our youths live in a cyber world, they zap right away if you don't know how to grab their attention," he told visiting journalists from Paris.
Morocco, at the western end of the Arab world, got firsthand experience of the extremist threat in 2003 when Salafia Jihadia, a group linked to al-Qaida, staged a series of suicide bombings in the Atlantic port of Casablanca that killed 33 people.
Shown it was not immune to the turmoil over 3,000 miles away in the Middle East, the government tightened security but also launched a broader response by updating its family law in 2006, expanding women's legal rights and starting a pioneering training program for female preachers and religious counselors.
Rabita also began a flurry of research projects to analyze and deconstruct the arguments used by Muslim extremists, identify the target audiences they appeal to and present a counternarrative promoting Morocco's moderate approach to religion.
In 2015, the government unveiled two new projects, one to update religious textbooks in state schools and another to provide improved higher education for future imams. Most of these students are Moroccans, but the Mohammed VI Institute in Rabat also trains candidates from sub-Saharan Africa and France.
Yassine Souidi, director of Chababe, said his three-person team has tracked social media over the past six years to identify which topics being discussed could lead to religious or other forms of radicalization.
"We check Facebook, Twitter, news and other websites to see which potential risk behaviors emerge," he said. Once an issue is identified, young people are invited to discuss it in a webcast program called "Youths Get to Speak."
"We've spoken about suicide, sexual information in social media, sexual harassment, sex education, freedom in the streets, extremism and violence, and the radicalization of youths in Morocco."
After that, the team analyzes the exchange with a psychologist, a sociologist, a cleric or some other expert to prepare a second webcast — called "A Meeting With …" — where the expert discusses these issues with a young person.
"We're only three people here and it's impossible for three to change the behavior of 8 million young Moroccans," Souidi said. So Rabita has built up a network of about 2,000 activists around the country who relay its message in local discussion groups, youth clubs or women's centers.
Many activists hold degrees in Islamic studies and Rabita provides them with information about the issues and citizens' rights and coaches them in leading group discussions.
"They're not delivering Friday sermons, but if someone asks a question about religion, they can respond," Souidi said. "They're not doctors or psychologists, but they have contacts with those people locally."
This "relay system" was adapted to prisons after officials reported radical prisoners were recruiting among young inmates. Instead of trying to convert the radicals, which often fails, Rabita taught prison guards how to persuade other prisoners to push back with arguments against their extremist views.
Prisoners who cooperate can become "peer educators" to train even more prisoners how to spread a moderate interpretation of Islam. "By the end of November, we will have 22,000 prisoners trained like this," Souidi said.
"They don't say Daesh is bad and extremists should be killed," he said, using the Arabic acronym for the Islamic State group. "They lead discussions," he said, and don't tell people what to think.
When Rabita posted its guidelines for deconstructing radical arguments online, hackers — presumably extremists — promptly crashed the site, and more firewalls had to be erected to protect it, Abbadi said. "That was a good sign, because it meant it hurt," he said.
Souidi said Rabita had closely analyzed Islamic State videos and found they sometimes used quite unreligious bait to entice youths to join their jihad.
"We have found kids who are not religious and fascinated by action films. They want to fire a Kalashnikov into the air and drive around in a 4×4. He found these videos on WhatsApp telling him where he can do that, so became an extremist.
"Another recruit was a sociologist who left for Daesh because he was bypassed for a job at his university. So he became an education official with Daesh in Syria."
With the Islamic State close to defeat in Syria and its dream of a caliphate shattered, the group has lost its prestige among young Moroccans, several experts said. But the rigorist Salafist form of Islam that it took to violent extremes still holds some attraction.
"There is a kind of Salafism light that is spreading in schools," said Rachid Saadi, a teacher in the provincial city of Oujda near the Algerian border. "The kids wear modern clothes and like computers, but their thinking is Salafist."
Saudi-supported Salafists are winning seats on regional Islamic councils, said another academic who asked not to be named, and they sometimes block use of the updated textbooks the government has distributed.
"Young Moroccans are no longer attracted to Daesh but religious extremism in general is still there," Souidi said, noting the radical group was now urging Muslims to become lone-wolf attackers in Europe.
Full report at:
http://religionnews.com/2017/11/21/morocco-goes-digital-to-counter-radical-islam-online/
--------
Historic verdict due in genocide trial of 'Butcher of Bosnia'
November 22, 2017
UN war crimes judges will on Wednesday seek to close a chapter in the brutal Balkans conflicts of the 1990s, handing down a historic verdict in the genocide trial of former Bosnian Serbian commander Ratko Mladic.
Dubbed "The Butcher of Bosnia," Mladic's trial is the last before the International Criminal Tribunal for the former Yugoslavia (ICTY), and the judgement has been long awaited by tens of thousands of victims across the bitterly-divided region.
The man, who remains a hero to many in Serbia, has denied 11 counts including genocide, war crimes and crimes against humanity allegedly committed during the 1992-1995 war that killed 100,000 and displaced 2.2 million as ethnic rivalries tore Yugoslavia apart.
Now 74, Mladic is the highest military commander to be judged by the tribunal set up in 1993 and based in The Hague. The verdict is set to start at 0900 GMT.
Prosecutors accuse Mladic and his political counterpart Radovan Karadzic of seeking through ethnic cleansing to "permanently remove" Bosnian Muslims and Bosnian Croats from areas claimed by Bosnian Serbs.
Wednesday's verdict "is one of the most important in the history of the tribunal", chief prosecutor Serge Brammertz told AFP.
Mladic "was the mastermind behind the killing of thousands of people," he said. In a twist of fate, former Serbian president Slobodan Milosevic died in 2006 while on trial.
Caught after 16 years on the run, Mladic faces two genocide charges including for the 1995 massacre in northeastern Srebrenica, where troops under his command slaughtered almost 8,000 Muslim men and boys.
Full report at:
http://www.thejakartapost.com/news/2017/11/22/historic-verdict-due-in-genocide-trial-of-butcher-of-bosnia-.html
--------
Coalition was aware of evacuation of ISIL fighters: UK ambassador
November 21 2017
The anti-Islamic State of Iraq and the Levant (ISIL) coalition forces "knew" about the evacuation of the terrorist group's fighters from Raqqa, U.K. Ambassador to Ankara Richard Moore has said.
Moore referred to "certain local elements of the coalition" cooperating with the Syrian Democratic Forces (SDF) that were aware of the evacuation, referring indirectly to the U.S.
The U.K. "was not part of it," he said at a meeting with the Diplomatic Correspondents Association, adding that local elements made the decision on the ground, "against the wishes of the coalition."
"Clearly we are there in Syria and Iraq to defeat Daesh. Having Daesh members able to escape, particularly if some of them are able to threaten Turkey, the U.K. and other places, is deeply unwelcome," Moore said.
"At the end of the day the actors that are involved inside Syria make their own decisions on these types of things," he said.
"The coalition did know about it at the time but they felt unable to stop it. Their judgement was these decisions were taken by groups on the ground. They were not in the position to stop it, even if their view were very clear that they did not support it. The coalition in contact with the SDF knew about it in advance," Moore added.
He said he was not aware of whether Turkey was briefed about it beforehand, adding that this was "unlikely" as Turkey is not "with those coalition elements that are side-by-side with the SDF."
The U.S.-backed Syrian Democratic Forces (SDF), which is dominated by YPG fighters that Ankara sees as organically linked to the outlawed Kurdistan Workers' Party (PKK), announced the liberation of Raqqa from ISIL on Oct. 17.
However, the BBC subsequently reported that a deal was struck between the SDF and ISIL to help thousands of fighters, including foreign fighters, and their families escape from Raqqa along with their weapons and ammunition.
'S-400 is Turkey's sovereign decision'
Meanwhile, speaking about Turkey's controversial purchase of the Russian S-400 missile system, Moore said it is "Turkey's sovereign decision."
"But clearly there will be issues about integration [with NATO] as it is a Russian system," he added.
Moore, who is due to depart from his post soon, said he does not agree that Turkey is drifting away from NATO, dismissing such suggestions as "absurd."
He also welcomed Turkey's engagement with Russia and Iran as part of efforts to find a solution to the Syrian crisis, describing dialogue between the three guarantors as "useful."
Touching on recent controversy at a NATO exercise facility, at which the founder of the Republic of Turkey, Mustafa Kemal Atatürk, and President Recep Tayyip Erdoğan were identified as "enemies" of NATO, Moore described it as a "disgraceful" incident.
He also said that Turkey has "the absolute right to pursue people involved in the July 2016 coup attempt, and indeed pursue people who are members of the Gülen organization that tried to infiltrate into institutions," while warning about the danger of disproportionate practices under the State of Emergency.
Full report at:
http://www.hurriyetdailynews.com/coalition-was-aware-of-evacuation-of-isil-fighters-uk-ambassador-122782
--------
North America
US designates victims of terrorism its sponsors: Analyst
Nov 21, 2017
The United States usually designates countries as sponsors of terrorism if they are victims of terrorism, says James Jatras, a former American Senate foreign policy adviser.
Jatras made the remarks in an interview with Press TV on Tuesday, after US President Donald Trump declared North Korea a state sponsor of terrorism.
"The designation of North Korea as a state sponsor of terrorism is pretty much just a formality. Whether or not there is a basis for designating them as such, I am not really in position to state. It really isn't that important to tell the truth," Jatras said.
"In terms of putting additional sanctions on North Korea, there is not much else that we can do to them than we have already done so far. The designation means very little in that regard," he added.
"This is simply one of the standard tools that the US government tends to use against any country crosses the line with Washington because of one reason or the other," the analyst said.
"I can remember that in the 1990s under Clinton we designated Serbia as a state sponsor of terrorism even though it was a victim of terrorism not a sponsor of it," he stated.
"So there is actually nothing remarkable to tell the truth. It's simply another effort politically to ratchet up pressure on North Korea to no particular purpose that I can see," he concluded.
The situation between the United States and North Korea has reached a very dangerous level and Trump instead of taking an initiative to lessen the tensions, has announced another hostile move against Pyongyang which is already under a wide array of US and UN sanctions.
The Trump administration has warned the United States is ready to use its nuclear weapons against the country if it continues to threaten Washington or its allies.
North Korea has warned that it is "inevitable" that Pyongyang will launch a missile toward the mainland United States in revenge for Trump's insults against Kim Jong-un.
And, Kim has said that Trump is "a rogue and a gangster fond of playing with fire," who is "unfit to hold the prerogative of supreme command of a country."
The terror designation of North Korea was lifted by then US President George W. Bush in 2008, but Trump on Monday re-imposed it as a method of ratcheting up the pressure on Pyongyang.
http://www.presstv.com/Detail/2017/11/21/543021/-US-declares-countries-sponsors-of-terrorism-if-they-are-victims-of-i
--------
US blacklists Iranian counterfeiting network
21 November 2017
The U.S. on Monday blacklisted an extensive money counterfeiting network it says has been used by the Islamic Revolutionary Guard Corps-Qods Force (IRGC-QF) to print fake Yemeni bank notes potentially worth hundreds of millions of dollars.
The network used deceptive measures "to circumvent European export control restrictions" in order to get advanced equipment and supplies, the Treasury Department said in a statement.
"Counterfeiting strikes at the heart of the international financial system, and the fact that elements of the government of Iran are involved in this behavior is completely unacceptable," Treasury Secretary Steven Mnuchin said in a statement.
"This counterfeiting scheme exposes the serious risks faced by anyone doing business with Iran, as the IRGC continues to obscure its involvement in Iran's economy and hide behind the façade of legitimate businesses to perpetrate its nefarious objectives," he added.
The Trump administration designated Iran's elite Revolutionary Guards as a terrorist group last month, paving the way for Monday's sanctions.
Among those designated Monday are Reza Heidari, who the Treasury Department said has been central to the IRGC-QF's attempts to procure advanced printing materials and equipment through his companies, which include two Germany-based companies - ForEnt Technik GmbH and Printing Trade Center GmbH.
Full report at:
http://www.worldbulletin.net/america-canada/196128/us-trial-postponed-in-iranian-turkish-gold-trader-case
--------
US: Trial postponed in Iranian-Turkish gold trader case
21 November 2017
A Judge in New York on Monday postponed jury selection in the trial of an Iranian-Turkish businessman who has been detained on charges of violating sanctions against Iran.
The decision came after judge Richard Berman held a closed session with attorneys in the case against Reza Zarrab, who was not present.
Jury selection has been rescheduled to Nov. 27 and the trial will begin after that process is completed, according to court documents.
Zarrab was previously the subject of an investigation in Turkey in 2013 where he was suspected of conducting illegal gold sales to Iran via Turkey, leading to his arrest. The case was dismissed in 2014.
In addition, the deputy general manager of Turkey's Halkbank, who also was arrested earlier this year in the U.S. on similar sanctions violations charges, appeared at the trial Monday.
"Order as to Mehmet Hakan Atilla. The trial and jury selection are adjourned for one week and will commence on Monday, November 27, 2017," according to court records that said, "once the jury is selected we will immediately proceed to openings and witness testimony."
Istanbul's Public Prosecutor's Office on Saturday accused former U.S. Attorney for the Southern District of New York Preet Bharara and current post holder, Joon H. Kim, who is in charge of the case, of using information and documents from previous investigations in Turkey in the case against Zarrab.
The lawyers obtained voice recordings and other false documents from unknown persons instead of obtaining the materials through official channels -- a move contrary to international law -- to build the cases against Zarrab and Atilla, Istanbul Prosecutor's Office said.
Full report at:
http://www.worldbulletin.net/america-canada/196134/us-trial-postponed-in-iranian-turkish-gold-trader-case
--------
URL: https://www.newageislam.com/islamic-world-news/pakistans-islamic-schools-rife-with/d/113312
New Age Islam, Islam Online, Islamic Website, African Muslim News, Arab World News, South Asia News, Indian Muslim News, World Muslim News, Women in Islam, Islamic Feminism, Arab Women, Women In Arab, Islamophobia in America, Muslim Women in West, Islam Women and Feminism