New Age Islam News Bureau
14 November 2021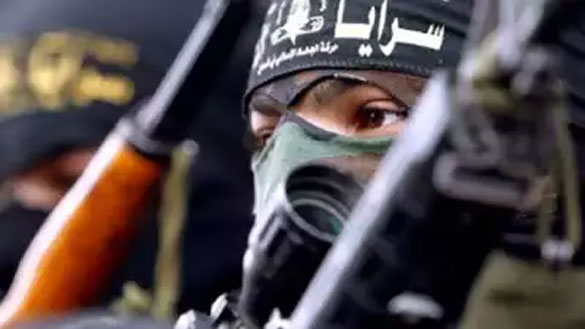 Representative Photo/ Pakistan's ISI
----
• On The Commands Of Hebatullah Akhundzada, Taliban Establishes Military Tribunal To Enforce Sharia law in Afghanistan
• Union Home Ministry: No Report Of Injury Or Rape Or Death Of Any Person In Tripura As Alleged In Some Social Media Posts
• Saif Al-Islam Gaddafi Registers As Presidential Candidate: Election Official
• US Hid An Airstrike That Killed 70 Women, Children In Syria In 2019: Report
Pakistan
• Pak opposition is fighting for country's survival: Fazlur Rehman rips into Imran Khan govt
• 5 security men die in attacks in Pakistan near Afghanistan border amid government-TTP deal
• ISIS claims responsibility for police barracks attack in Pakistan
• Pakistan's Army Chief discusses Afghanistan with Chinese, US, Russian envoys
--------
South Asia
• Taliban to start issuing passports in 7 Afghanistan provinces
• One killed as minibus hit by bomb in Afghan capital
• Sheikh Hasina calls on world leaders to 'act seriously' for Rohingyas repatriation to Myanmar
--------
India
• India Under Congress Was Semi-Islamic State, Says BJP
• Indian Politician Sued For 'Hurting Religious Sentiments' In Book Comparing Hindu Nationalism To Jihad
• Muslim pockets observe bandh to protest against Tripura violence
• Gurugram: Namaz sites come down by nearly 50%, but protests continue
• Proposed after 26/11, India to finally get maritime coordinator
• Government concerned over crypto use for laundering, terror
--------
Africa
• Nigerian Army commander killed in Boko Haram attack at Borno
• Holy Quran translation into Kalenjin language brings joy to Kenyan tribe
• Five dead as Sudanese rally against army tightening grip on power
--------
Southeast Asia
• Dozens Protest For Uyghur Muslims Outside Chinese Embassy In London
• 175-year-old Hajjah Fatimah Mosque in Singapore getting combined $2.24m for restoration, maintenance
• Stop taking Malaysians for fools
--------
Arab World
• US, Qatar against normalizing ties with Syria's Assad regime
• Strike on Kadhimi shows Iran losing control over Shia militias in Iraq: US officials
• Scorpions kill three, injure hundreds in Egypt's Aswan
--------
Mideast
• Arab Coalition: 186 Houthis Killed In 42 Attacks In Sirwah And Al-Bayda
• Islamic Jihad movement unveils new rocket launcher
• Iran's Top Negotiator: Removal of Unlawful Sanctions Reiterated in Tour of Europe
• Several Documentaries to Compete for General Soleimani Award in Iran
• Israeli couple arrested in Turkey on espionage charges
• OIC welcomes UN sanctions of 'terrorist' Houthi leaders
• Two al-Qaeda suspects among three killed in Yemen drone strike
--------
North America
• Sleepy President Of US Calls On Countries To Cut Iran Oil Imports Ahead Of Vienna Talks
• Air Force official says US to maintain presence in Mideast
• US staying in Syria until ISIS threat eliminated: State Department
--------
Europe
• Polish Muslim Leader Helps Feed Migrants And Soldiers At Belarus Border
• Polish police say body of Syrian man found near Belarus border
• Turkey's armed drones put to test in Hungary: Report
Compiled by New Age Islam News Bureau
URL: https://www.newageislam.com/islamic-world-news/extreme-ideology-afghanistan-taliban-pakistan/d/125766
--------
Pakistan's ISI Backing Small Jihadi Outfits, Distinguished By Their Even More Extreme Ideology, In Afghanistan To Hinder Taliban, Says Report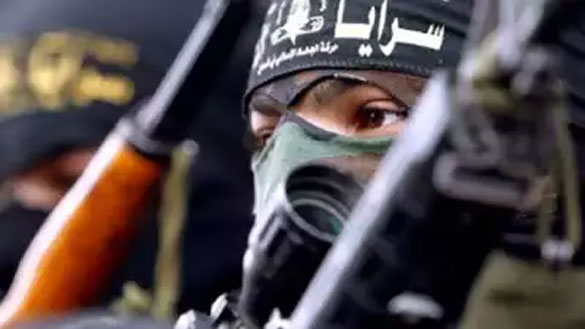 Representative Photo/ Pakistan's ISI
----
Nov 14, 2021
NEW DELHI: Pakistan's ISI is sponsoring and putting together an alliance of smaller jihadi groups in Afghanistan, distinct from the Taliban and the ISKP, according to a new report. These new jihadists are distinguished by their even more extreme ideology and apparently undermine the Taliban.
A new report in Foreign Policy says the Islamic Invitation Alliance (IIA) has been funded by the ISI and was created in 2020, and has been on the radar of US intelligence for over a year. At the time, the idea was to ensure the Taliban's victory. But now, this alliance is apparently being used to undermine the Taliban.
The intensification of internal factional fights within the Taliban may be coming to a head in the coming weeks as per assessment shared by the group of national security czars who were in Delhi this week for the NSAs' dialogue. Most of the discussions were behind closed doors but the group reached some key understandings on the evolving situation in Afghanistan. In fact, the seriousness of the situation is believed to be much more grave than is being publicly reported or acknowledged.
The anxiety levels in the region are rising, with the participating countries unanimously describing the past 20 years as a "failure". Despite many of the participants remaining engaged with the Taliban, there is little trust in the regime at present. "There was a consensus that the Taliban would have to gain internal legitimacy first before external recognition," said a participant. It's unlikely that would happen peacefully. There is an expectation of a power struggle between the Doha group led by Mullah Baradar and the more extreme Haqqani group — one perceived to be close to the US and the other considered to be close to Pakistan.
The top concerns shared by the NSAs were first, refugee flows from Afghanistan, which could export the Taliban ideologies into their countries as well as rampant proliferation of weapons left behind after the US withdrawal.
Source: Times of India
Please click the following URL to read the text of the original story:
https://timesofindia.indiatimes.com/world/pakistan/isi-backing-small-jihadi-outfits-in-afghanistan-to-hinder-taliban-says-report/articleshow/87691765.cms
--------
On The Commands Of Hebatullah Akhundzada, Taliban Establishes Military Tribunal To Enforce Sharia law in Afghanistan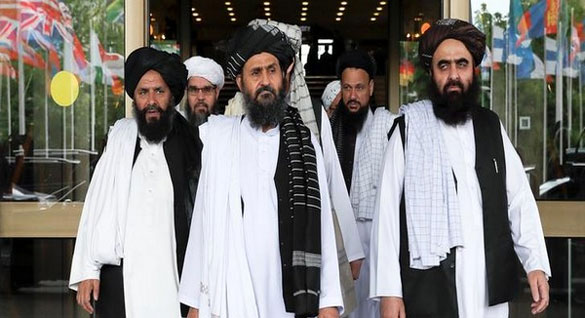 Representative Image/ ANI
-----
Nov 13, 2021
KABUL: The Taliban has announced to establish a military tribunal on the commands of its supreme leader Hebatullah Akhundzada to enforce Islamic law in Afghanistan, reported The Express Tribune.
The formation of the tribunal has been done for the enforcement of "sharia system, divine decrees, and social reform,", the newspaper reported citing the Taliban's deputy spokesperson, Enamullah Samangani's statement.
The statement further said that Obaidullah Nezami has been appointed as the tribunal's chairman along with Seyed Aghaz and Zahed Akhundzadeh as the deputies.
The military tribunal is authorised to interpret the Sharia rulings, issue decrees that are relevant to the Islamic civil laws and register complaints, lawsuits and petitions against the Taliban officials and personnel of the police, army and intelligence units, reported The Tribune citing Samangani.
Meanwhile, amid the rise in terror attacks in Afghanistan, questions are been raised over the Taliban's ability and willingness to protect the civilians especially the minorities of the country, said a media report.
Di Valerio Fabbri, writing in Geopolitica.info, said the Taliban is now facing its biggest test of managing the country's governance as it struggles with the tag of being a 'rogue state', outcast by the international community.
"Moreover, the mounting terrorist attacks by the Islamic State-Khorasan Province (ISKP) have raised questions over the Taliban's ability and willingness to protect religious minorities and Afghan civilians. Unless the Taliban steps up to tackle these challenges, Afghanistan is undoubtedly destined to descend into civil war," Fabbri said.
According to Fabbri, the Taliban's governance tests are too many. But it looks like the regime doesn't realise the enormity of the challenges as it pursues the single-line agenda of international recognition.
"Taliban has pressed the Western financial institutions to release Afghan Central Bank's money. Probably by now, the group would have realised that capturing a country through force and violence is easier than governing it, Fabbri added.
Source: Times of India
Please click the following URL to read the text of the original story:
https://timesofindia.indiatimes.com/world/south-asia/taliban-establishes-military-tribunal-to-enforce-sharia-law-in-afghanistan/articleshow/87684959.cms
--------
Union Home Ministry: No Report Of Injury Or Rape Or Death Of Any Person In Tripura As Alleged In Some Social Media Posts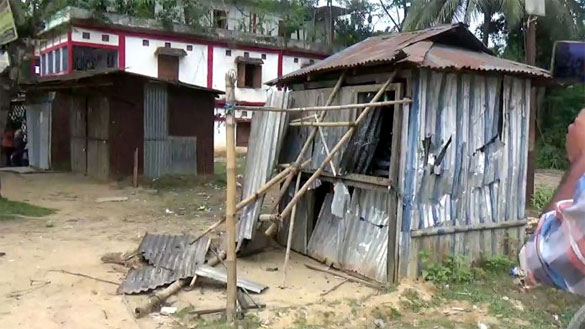 A hut damaged in Tripura's North district during violence in the state last month | ANI
-----
Prema Rajaram
November 13, 2021
The news circulating on social media of vandalism at a mosque in Tripura on Saturday is fake, said the Union Home Ministry, adding it is a "complete misrepresentation of facts".
The statement by MHA also said there is no report of simple or grievous injury or rape or death of any person in these incidents in Tripura as alleged in some social media posts.
The Ministry of Home Affairs (MHA) said there is no reported case of damage to the structure of any mosque in Tripura in the recent past and that people should maintain calm and should not be misguided by such fake reports.
"There have been news reports that have been circulating that a mosque in Kakraban area of Gomati district in Tripura has been damaged and vandalised. These news reports are fake and are a complete misrepresentation of facts," the statement said.
The home ministry said the mosque in the Dargabazar area of Kakraban has not been damaged and the Tripura Police in Gomati district is working to maintain peace and tranquillity.
The home ministry said that in Maharashtra, there have been reports of violence and unsavoury statements that are aimed at disturbing peace and harmony based on fake news regarding Tripura.
"This is very concerning and it is urged that peace is maintained at all costs," it said.
The home ministry made it clear that there is no reported case of damage to the structure of any mosque in Tripura in the recent past.
"There is no report of simple or grievous injury or rape or death of any person in these incidents as alleged in some social media posts," it said.
There has been violence in some parts of Maharashtra following rallies taken out by Muslim organisations on Friday to protest against incidents in Tripura.
In Amravati, over 8,000 people had gathered outside the district collector's office on Friday to submit a memorandum demanding that atrocities against the minority community in Tripura be stopped.
Violence was reported in Amravati, Nanded, Malegaon, Washim and Yavatmal.
Police have so far arrested 20 people and detained four others by registering 20 FIRs under various charges, including rioting, in connection with Friday's incidents.
Source: India Today
Please click the following URL to read the text of the original story:
https://www.indiatoday.in/india/story/social-media-reports-of-rape-mosque-damage-and-death-in-tripura-fake-mha-1876431-2021-11-13
--------
Saif al-Islam Gaddafi registers as presidential candidate: Election official
14 November 2021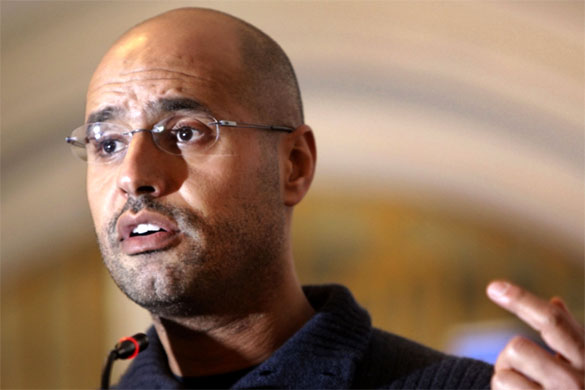 While Saif al-Islam al-Gaddafi is likely to play on nostalgia for the era before the 2011 uprising that swept his father from power, analysts say he may not be a front runner [File: Ben Curtis/AP Photo]
-----
Saif al-Islam al-Gaddafi, son of Libya's former leader Muammar Gaddafi, registered on Sunday as a presidential candidate for the December 24 election, an official from the electoral commission said.
Source: Al Arabiya
Please click the following URL to read the text of the original story:
https://english.alarabiya.net/News/north-africa/2021/11/14/Saif-al-Islam-Gaddafi-registers-as-presidential-candidate-Election-official
--------
US Hid An Airstrike That Killed 70 Women, Children In Syria In 2019: Report
13 November 2021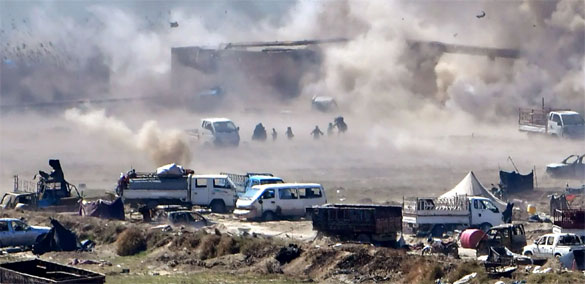 Fleeing heavy bombardment in Baghuz, Syria — the Islamic State's last holdout — on March 18, 2019.Credit...Giuseppe Cacace/Agence France-Presse — Getty Images
-----
The US military hid an airstrike in which it bombed a large crowd of women and children in Syria's Baghuz town, killing dozens, during the last days of the battle against ISIS in 2019, the New York Times reported on Saturday.
On March 18, 2019, an American F-15E attack jet dropped a 500-pound bomb on the crowd huddled against a river bank, killing dozens. As survivors tried to scramble away, the jet dropped a 2,000 pound bomb, then another killing most of them.
An analyst at the US military's Combined Air Operations Center at al-Udeid Air Base in Qatar typed on a secure chat system: "We jet dropped on 50 women and children."
An initial assessment of the strike revealed that the death toll amount to 70.
The New York Times reported that "the Baghuz strike was one of the largest civilian casualty incidents of the war against ISIS, but it has never been publicly acknowledged by the US military".
"A legal officer flagged the strike as a possible war crime that required an investigation. But at nearly every step, the military made moves that concealed the catastrophic strike. The death toll was downplayed. Reports were delayed, sanitized and classified. US-led coalition forces bulldozed the blast site. And top leaders were not notified," NYT said.
"Leadership just seemed so set on burying this. No one wanted anything to do with it," said Gene Tate, an evaluator who worked on the case for the inspector general's office.
The NYT investigation found that bombing had been called in by a classified American special operations unit, Task Force 9, which was in charge of ground operations in Syria.
"The task force operated in such secrecy that at times it did not inform even its own military partners of its actions," NYT reported.
This week, the US Central Command acknowledged that the strike killed 80 people, but said it was "justified". It said "the bombs killed 16 fighters and four civilians. As for the other 60 people killed, it was not clear that they were civilians, in part because women and children in ISIS sometimes took up arms."
The NYT said its investigation of the Baghuz strike showed that the special operations task force skirted rules meant to protect civilians and the troops rarely faced repercussions when they caused civilian deaths.
CIA officers working in Syria alleged that in about 10 incidents, the task force hit targets knowing civilians would be killed, and raised concerns with the Department of Defense inspector general.
The inspector general investigated and determined that all the strikes were legal.
Staff in the operations center in Qatar also became concerned with task force strikes and Air Force lawyers starting tracking the self-defense justifications the task force used to call the strikes then comparing them with drone footage.
They found that "the task force was adding details that would legally justify a strike, such as seeing a man with a gun, even when those details were not visible in the footage".
Source: Al Arabiya
Please click the following URL to read the text of the original story:
https://english.alarabiya.net/News/middle-east/2021/11/14/US-hid-an-airstrike-that-killed-70-women-children-in-Syria-in-2019-Report
--------
Pakistan
Pak opposition is fighting for country's survival: Fazlur Rehman rips into Imran Khan govt
Nov 14, 2021
KARACHI: Ramping up the protests against Prime Minister Imran Khan government, the Pakistan Opposition alliance-- Pakistan Democratic Movement (PDM)-- said it is fighting for the country's survival and that it would win in this struggle.
Addressing a PDM protest in Karachi, PDM and JUI-F chief Fazlur Rehman said: "We will win this war, and Pakistan will have a government that is truly representative of the people, which will understand the problems faced by the masses. The ones who [were imposed] are not aware of the public's issues."
Politicians are the hope of the nation. If we do not play our role today, the nation will not forgive us," Rehman said adding that the state intuitions should review their "mistakes" and seek apology from the nation, Geo News reported.
The rally was held against the government of Prime Minister Imran Khan for its "anti-people policies" and the rising inflation in Pakistan.
Rehman, who is also the Chief of Jamiat Ulema-e-Islam party also slammed the Imran Khan government for its "incompetency" and vowed to make all the efforts to remove the Pakistan Tareek-e-Insaf from power.
"We will win this war, and Pakistan will have a government that is truly representative of the people, which will understand the problems faced by the masses. The ones who [were imposed] are not aware of the public's issues,"
"If we do not push the 'illegitimate' rulers in the Arabian Sea anytime soon, then the survival of the country will be in danger," Rehman said during the rally.
Besides Rehman, Pakistan Muslim League-Nawaz's (PML-N) Senior Vice President and former Prime Minister Shahid Khaqan Abbasi also addressed the rally.
Source: Times of India
Please click the following URL to read the full text of the original story:
https://timesofindia.indiatimes.com/world/pakistan/pak-opposition-is-fighting-for-countrys-survival-fazlur-rehman-rips-into-imran-khan-govt/articleshow/87694029.cms
--------
5 security men die in attacks in Pakistan near Afghanistan border amid government-TTP deal
Nov 14, 2021
PESHAWARA/QUETTA: At least five security personnel — three soldiers and two policemen — were killed and six civilians were injured in three separate attacks in Pakistan's restive western region bordering Afghanistan, security forces said on Saturday.
Two soldiers were killed during a shootout with militants in the Hoshab area of Pakistan's Turbat district, while a third soldier was killed while trying to clear an improvised explosive device in a related incident, the armed forces' communications wing said. Earlier on Saturday, two policemen were killed and six civilians injured, including a young girl, in attacks in northern Pakistan near Afghanistan as local Taliban militants agreed a month's ceasefire after talks with the government, police said. The cease-fire between Pakistani Taliban — known as Tehreek-e-Taliban Pakistan — and the Imran Khan government was announced on Tuesday.
The policemen were killed by an improvised explosive device near the border in Khyber Pakhtunkhwa province, where they were posted at a reservoir. "The other attack took place on the outskirts of Quetta, the capital of Balochistan province, where a policeman and five including a young girl and three women were injured.
Source: Times of India
Please click the following URL to read the full text of the original story:
https://timesofindia.indiatimes.com/world/pakistan/5-securitymen-die-in-attacks-in-pakistan-near-afghanistan-border-amid-government-ttp-deal/articleshow/87692498.cms
--------
ISIS claims responsibility for police barracks attack in Pakistan
14 November ,2021
ISIS militants detonated an explosive device on Saturday inside barracks of the Pakistani police in the district of Bajaur, the group said on Telegram.
A police officer and a policeman were killed, it added.
Source: Al Arabiya
Please click the following URL to read the full text of the original story:
https://english.alarabiya.net/News/world/2021/11/14/ISIS-claims-responsibility-for-police-barracks-attack-in-Pakistan
--------
Pakistan's Army Chief discusses Afghanistan with Chinese, US, Russian envoys
14 Nov 2021
Army Chief of Staff of Pakistan General Qamar Javed Bajwa met with special representatives of the US, China, and Russia to Afghanistan after the Troika Plus in Islamabad and discussed Afghanistan's situation.
Citing a statement by Inter-Service Public Relations (ISPR), Pakistani media reported that the Bajwa has met with the representative separately in General Headquarter in Rawalpindi.
As per the statement released by the media wing of the Pakistani military, the Army Chief of Staff discussed mutual interests with the envoys of the three countries and the need for a global convergence to prevent the looming humanitarian crisis in Afghanistan.
Troika Plus was hosted by Islamabad on Friday, November 11 that brought together the representatives from China, the US, Russia, and Pakistan.
Source: Khaama Press
Please click the following URL to read the full text of the original story:
https://www.khaama.com/pakistans-army-chief-discusses-afghanistan-with-chinese-us-russian-envoys-68568/
--------
South Asia
Taliban to start issuing passports in 7 Afghanistan provinces
Nov 13, 2021
KABUL: Afghanistan's Passport Directorate officials said that the authority will start the issuance of passports in Balkh, Paktia, Kandahar, Kunduz, Herat, Nangarhar, and Khost provinces from Sunday, reported local media.
The Ministry of Interior Affairs made the decision in order to further facilitate the process for passport applicants, Khaama Press reported citing Alam Gul Haqqani, chief of Passport Directorate.
Stressing that priority will be given to those who have already filled online forms for the passports, Haqqani said that the passports will be issued based on the e-ID or the previous IDs that are verified officially.
He also said that the passports will be issued based on the e-ID or the previous IDs that are verified officially
Source: Times of India
Please click the following URL to read the full text of the original story:
https://timesofindia.indiatimes.com/world/south-asia/taliban-to-start-issuing-passports-in-7-afghanistan-provinces/articleshow/87689732.cms
--------
One killed as minibus hit by bomb in Afghan capital
Nov 13, 2021
At least one person was killed and four others injured Saturday when a suspected bomb destroyed a minibus near a Taliban checkpoint in Kabul, officials said.
The incident happened in Dasht-e Barchi, a Kabul suburb dominated by members of the mostly Shiite Hazara community, who for years have been the target of violence by the Islamic State (IS) group.
Since the Taliban returned to power on August 15, dozens of bombs have been set off in eastern Nangarhar province - a hotbed of IS activity - but the capital Kabul has largely escaped such violence.
"I was in my car and an explosion happened in the vehicle in front of us," a witness told AFP.
"It was completely burnt."
He said the explosion occurred near a Taliban checkpoint, and that gunfire could be heard briefly immediately afterwards.
A nearby hospital posted a notice saying it had admitted one dead and four injured.
Taliban spokesman Zabihulla Mujahid tweeted that one person had been killed and two injured.
The blast comes a day after at least three people were killed and 15 wounded by a bomb at a mosque Nangarhar.
That bombing - for which no group has yet claimed responsibility - underscores the many challenges facing the new Taliban regime in Afghanistan, with the UN warning the country is also on the brink of the world's worst humanitarian crisis.
Source: Times of India
Please click the following URL to read the full text of the original story:
https://timesofindia.indiatimes.com/world/south-asia/one-killed-as-minibus-hit-by-bomb-in-afghan-capital/articleshow/87688079.cms
--------
Sheikh Hasina calls on world leaders to 'act seriously' for Rohingyas repatriation to Myanmar
Nov 13, 2021
PARIS: Bangladesh prime minister Sheikh Hasina has called on world leaders to "act seriously" to ensure the repatriation of forcibly displaced Rohingya refugees to Myanmar.
Speaking at the ceremonial opening of the Paris Peace Forum held at Grande Halle de la Villette, Hasina said: "The world must act seriously to make sure these people are back to Myanmar soon. Otherwise, the security risks from the crisis will not just remain confined within our borders. We already see the signs of that."
In her speech titled, 'Minding the Gap: Improving Global Governance after Covid-19,' Sheikh Hasina mentioned that Bangladesh helped the world avoid a major regional crisis by giving temporary shelter to Myanmar's forcibly displaced people - the Rohingya community in August 2017.
The complex Rohingya refugee crisis erupted in August 2017, following attacks on remote police outposts in western Myanmar by armed groups alleged to be from within the community.
These were followed by systematic counterattacks against the minority, mainly Muslim Rohingya, which human rights groups, including senior UN officials, have said amounted to ethnic cleansing.
Since August 25, 2017, more than 7,00,000 Rohingya refugees from Myanmar have fled to Bangladesh.
This Rohingya refugee crisis is among the largest, fastest movements of people in recent history.
Source: Times of India
Please click the following URL to read the full text of the original story:
https://timesofindia.indiatimes.com/world/south-asia/sheikh-hasina-calls-on-world-leaders-to-act-seriously-for-rohingyas-repatriation-to-myanmar/articleshow/87680327.cms
--------


India
India under Congress was semi-Islamic state, says BJP
Nov 14, 2021
NEW DELHI: BJP on Saturday said barring the interregnum of the Vajpayee government, India before 2014 was a semi-Islamic state.
At a press conference, BJP spokesperson Sudhanshu Trivedi also alleged that Congress member Rahul Gandhi's derogatory remark on Hinduism led to violence in Maharashtra and fake news was purposely spread after large scale ruckus took place across the state.
"Under the Congress rule, India was partially a Muslim nation. I'm saying so with full responsibility because Sharia provisions were part of the constitutional system," he said, referring to practice like instant talaq, now barred, and grant of Haj subsidy, since discontinued. In an apparent reference to the Rajiv Gandhi government bringing a law to override an SC order in the Shah Bano case, Trivedi said the judgment was overruled to give primacy to Sharia provisions. "Overriding an SC judgment was not done even in a Muslim state," Trivedi said, adding, "Insulting Hindu religion is in Congress DNA."
He alleged that the violence in Maharashtra over the "false" news of mosques being targeted in Tripura and Congress leaders' comments attacking Hindutva were part of a conspiracy. "Large scale violence, Rahul's remark against Hindutva and Salman Khurshid comparing Hindutva with Islamic terrorist outifts can't be a coincidence but smacks of a larger conspiracy of spreading hatred against Hindu religion," he said.
Source: Times of India
Please click the following URL to read the full text of the original story:
https://timesofindia.indiatimes.com/india/india-under-congress-was-semi-islamic-state-says-bjp/articleshow/87692695.cms
--------
Indian politician sued for 'hurting religious sentiments' in book comparing Hindu nationalism to jihad
Ananaya Agrawal
NOVEMBER 13, 2021
A criminal complaint was registered Friday against Indian politician and former union minister Salman Khurshid over statements made in his recent book 'Sunrise over Ayodhya-Nationhood in our times.' The complaint has been filed under Sections 153 and 295A of the Indian Penal Code on the grounds of hurting religious sentiments.
The complaint was filed by a lawyer, Bharat Sharma, at a Jaipur police station and alleged that Khurshid had hurt religious sentiments of Hindus by comparing Hindutva (or Hindu nationalism) with radical terror groups such as ISIS and Boko Haram. Khurshid's book on Ayodhya and the Ram Janambhoomi dispute created an uproar upon its release last week. In chapter six, titled 'Saffron Sky,' he writes:
Sanatan dharma and classical Hinduism known to sages and saints was being pushed aside by a robust version of Hindutva, by all standards a political version similar to the jihadist Islam of groups like ISIS and Boko Haram of recent years. Since the political content was clear, the term inevitably found place in election campaigns.
Two Delhi lawyers have also filed a criminal complaint against Khurshid, accusing him of "legitimising the radical elements of ISIS by creating an artificial equivalence with Hindus" and promoting enmity between Hindus and Muslims in the country. The police will now be required to investigate this matter and determine whether to proceed against Khurshid.
On his part, Khurshid has rebutted the allegations made in the police complaint, saying that his book is meant to promote Hindu-Muslim unity and make readers understand that the recent Supreme Court judgment on the Ram Janambhoomi dispute is "a good verdict."
Source: Jurist
Please click the following URL to read the full text of the original story:
https://www.jurist.org/news/2021/11/indian-politician-sued-for-hurting-religious-sentiments-in-book-comparing-hindu-nationalism-to-jihad/
--------
Muslim pockets observe bandh to protest against Tripura violence
Nov 13, 2021
MUMBAI: Several Muslim pockets in the city and suburbs, like Mohammed Ali Road, Nagpada, Mira Road and Mumbra, observed a bandh called by Raza Academy to protest against alleged anti-Muslim violence in Tripura. State home minister Dilip Walse Patil appealed for calm and urged people not to believe in rumours.
"We appealed to people to observe a bandh against the atrocities in hurtful slogans by VHP workers in Tripura. We didn't force anyone. They did it voluntarily," said Raza Academy general secretary Saeed Noorie.
"It was partial bandh in Mumbra," said Mohammed Shabbir, a resident.
At a meeting at Islam Gymkhana, Muslim leaders, lawyers and activists decided to approach CM Uddhav Thackeray and seek a ban on former chairman of UP Shia Wakf Board Waseem Rizvi's allegedly 'blasphemous' book on Prophet Muhammad. "The book maligns our prophet and not only hurts sentiments of Muslims. It may create communal disharmony. Its distribution in print and digital forms must be stopped," said advocate Rizwan Merchant, who demanded that the stringentUAPA should be slapped on people like Rizvi, who habitually hurt people's religious sentiments.
Source: Times of India
Please click the following URL to read the full text of the original story:
https://timesofindia.indiatimes.com/city/mumbai/muslims-shut-shops-in-part-of-mumbai/articleshow/87674003.cms
--------
Gurugram: Namaz sites come down by nearly 50%, but protests continue
Nov 13, 2021
GURUGRAM: Namaz sites in the city were down by almost half as Friday prayers were read at only 20 of the 37 originally designated spots. However, the protests, which have been organised every Friday over the last few weeks, continued as usual.
This time, a group of locals landed up at a prayer site at Sirhaul village in Sector 18 on the Gurugram-Delhi border and demanded a stop to namaz being conducted there. In the 19 other places, namaz passed off peacefully. No prayers were offered at the disputed sites in sectors 47 and 12A, where a Govardhan Puja was organised by some groups last Friday.
Sirhaul Mod was one of the 20 public places that were recently identified by a committee where namaz would be held. However, due to unavailability of space at the intersection, the namaz site was shifted to a park, which was opposed by some residents, who assembled in the area with the tricolour and shouted slogans.
"We are not opposed to namaz but it should not be offered at a public place. They (members of the Muslim community) should go to the mosque. The park is a public space and people from nearby areas, including those working in companies located close by, visit it all day. Religious activities should not be organised in such public places," said Sudhir Yadav, a resident of Sirhaul. He added that people in the village, including many Muslims, were living in harmony.
Rajiv Mittal of Sanyukt Hindu Sangharsh Samiti said though the outfit had given a call to oppose namaz in public places, locals were coming out to protest on their own. "Namaz should be offered at mosques and idgahs. They (Muslims) should apply for land if there aren't enough mosques," he added.
Altaf Ahmad, co-founder of Gurugram Muslim Council and Gurugram Nagrik Ekta Manch, said, "Right-wing groups had installed RSS wing Muslim Rashtriya Manch as so-called representatives of Muslims in Gurugram and conveniently reduced the number of places for Friday prayers."
Ahmad added that unless the government allocated land for mosques so that the community could offer prayers "with dignity", the disruptions would continue.
Source: Times of India
Please click the following URL to read the full text of the original story:
https://timesofindia.indiatimes.com/city/gurgaon/namaz-sites-come-down-by-nearly-50-but-protests-continue/articleshow/87675088.cms
--------
Proposed after 26/11, India to finally get maritime coordinator
Nov 14, 2021
NEW DELHI: India will now finally have a national maritime security coordinator (NMSC) to ensure effective coordination and cohesive policy-making among the disparate central and state authorities dealing with maritime affairs from the coastline to the high seas.
The Cabinet Committee on Security has approved the post of the NMSC, who will also act as the interface between military and civilian agencies to strengthen the country's maritime security, energy and 'blue economy' needs, sources said on Saturday. A retired or serving Vice Admiral of the Navy (equivalent to a Lt-General in the Army) is likely to be appointed to the post. The NMSC will work in the National Security Council Secretariat and report to national security adviser Ajit Doval.
TOI had in April reported that the government was working towards creating an apex federal body, the National Maritime Commission (NMC), and the post of the NMSC. While the NMC "is still a work in progress", the NMSC post has now become a reality. "It's a long overdue reform. The NMSC's charter of duties will soon be notified," said a source. "The basic charter will be ensuring coordination among the multiple authorities largely working in silos, and often at cross-purposes. They range from central ministries and departments (external affairs, defence, home, shipping, fisheries etc) and state governments to the Navy, Coast Guard, customs, intelligence agencies and port authorities. He will also look at some technology aspects," he added.
The urgent need for an effective federal maritime mechanism has been repeatedly stressed over the years. The 2001 Group of Ministers' report on reforming the national security system after the Kargil conflict, for instance, underlined the need for "an apex body for management of maritime affairs for institutionalised linkages among the Navy, Coast Guard and ministries of central and state governments".
After the deadly 26/11 Mumbai terror attacks in 2008, which exposed the lack of "critical connectivity"' between intelligence agencies and security forces, the creation of a maritime security advisory board (MSAB) with a maritime security adviser as its chief had also figured on the CCS agenda. But it could not take off due to turf wars and general politico-bureaucratic apathy.
Source: Times of India
Please click the following URL to read the full text of the original story:
https://timesofindia.indiatimes.com/india/proposed-after-26/11-india-to-finally-get-maritime-coordinator/articleshow/87691943.cms
--------
Government concerned over crypto use for laundering, terror
Nov 14, 2021
NEW DELHI: The government is looking at "forward looking and progressive" regulation of cryptocurrency with government sources making it clear that an unregulated market for digital currency cannot be allowed to become avenues for money laundering and terror financing.
Following a meeting chaired by PM Narendra Modi on Saturday, it emerged there was a strong view that attempts to mislead the youth through non-transparent advertising, that "over-promises", needed to be stopped.
While the government and the RBI have been discussing legislation for several months now, there has been a spurt in interest in cryptocurrency with many individuals, including senior citizens investing in private digital currencies. The Reserve Bank of India (RBI) has consistently maintained the need to ban private digital currency.
The PM's meeting comes in the backdrop of expectations that the government may soon pilot a Bill, something it had planned during the Budget session to "prohibit all private cryptocurrencies in India".
Following the meeting, official sources said, the government will keep a close watch and take proactive steps as it was cognisant of the fact this is an evolving technology. While looking to engage with experts and other stakeholders, those who attended the meeting were also of the view that regulation will require global partnerships and collective strategies.
The sources said that the PM held a comprehensive meeting on the way forward for cryptocurrency and related issues. This followed a consultative process as the RBI, finance ministry and the home ministry had carried out an elaborate exercise on the issues and consulted experts from across the country and the world. Global examples and best practices were also looked at.
In 2019, the government had appointed an inter-ministerial panel headed by then economic affairs secretary Subhash Chandra Garg which had backed a ban on private cryptocurrencies. Since then there has been intense discussions on the issue while the sector has lobbied hard to prevent a complete ban.
Earlier this year, the RBI had conveyed its decision to seek a ban on such instruments after having already expressed its serious concerns. While asserting that the technology of blockchain should be encouraged, the central bank has questioned the purpose of cryptocurrencies to be labelled as a currency. It has said that a currency is a sovereign right and cannot be assigned to any individual entity. The issue of these instruments being legal is also yet to be settled. Besides, there are concerns about volatility in their price apart from their impact on the economy.
Source: Times of India
Please click the following URL to read the full text of the original story:
https://timesofindia.indiatimes.com/india/government-concerned-over-crypto-use-for-laundering-terror/articleshow/87691627.cms
--------
Africa
Nigerian Army commander killed in Boko Haram attack at Borno
November 14, 2021
Heavy clashes erupted on Saturday between Boko Haram and Nigeria military in Askira-Uba in Borno state when a senior commander of the Army was killed in a terrorist ambush attack.
A senior Nigerian Army Commander whose name was not revealed and at least four other soldiers have been killed in the battle.
Reports indicated that a Commander of Nigerian Army Special Forces in Brigadier-General has been shot dead in an ambush by terrorists of the Boko Haram terrorist group who called them as "Islamic State of West Africa" (ISWAP) in Borno State.
"On Thursday the takfiri terrorists attacked Alagarno village, killed many people, and burnt a hospital and shops. But soldiers intervened and killed more than ten of the terrorists," Luka Yakubu, an eyewitness who flee the Askira with his family after the terrorist attack, told Iran Press.
"Saturday we saw no fewer than 16 trucks carrying the armed takfiri terrorists, launched an attack on a military base in Askira-Uba state government headquarters and many people have been killed including soldiers.
Source: ABNA24
Please click the following URL to read the full text of the original story:
https://en.abna24.com/news//nigeran-army-commander-killed-in-boko-haram-attack-at-borno_1198246.html
--------
Holy Quran translation into Kalenjin language brings joy to Kenyan tribe
Andrew Wasike
14.11.2021
NAIROBI, Kenya
The Kalenjin indigenous community in Kenya has over 6.3 million members, according to the country's 2019 national census.
The Kalenjin people are a southern Nilotic ethnic group that is comprised of 11 tribes – Ogiek, Nandi, Keiyo, Sabaot, Lembus, Tugen, Terik, Nandi, Marakwet, Pokot and Kipsigis.
The Muslim faithful from the community have always found it hard to understand some scriptures in the Holy Quran as most are not well versed neither in English nor Arabic.
"We used to have a serious challenge. Many people in our community love their language. We are not well versed in English or Arabic, so we normally rely a lot on our mullahs (religious teachers) who teach us in our madrasahs and Islamic schools to translate the Quran," Bilala ibn Kipkorir from the Kalenjin community told Anadolu Agency.
Kipkorir, who attends religious services at Masjid Fahillah in Eldoret, thanked those who worked tirelessly to ensure that the Quran was translated into a Kalenjin dialect.
"We can't wait to have this translation to get published and sent all over our region," he said. "So many people will acquire it because we badly need it and I am thankful that he took such a long time to perfect his work."
"Generations to come will forever be grateful to him. Everybody is filled with joy. We are just waiting for it."
The translation is the first-ever in the Kalenjin language and is set to benefit hundreds of thousands from the community.
Sheikh Suleiman Kiptoo Sugoi, who is acquainted with Kalenjin dialects, Arabic and English is the author of the translation. He said he collaborated with Muslim scholars and clerics to ensure that the work was perfect.
His goal was to promote a better understanding of the Quran and Islam among the Kalenjin community who mostly live in Kenya and Uganda.
"We have launched the first Kalenjin Quran which took me 10 years to do the translation. My aim was to ensure that the Kalenjin nation understands the Quran and put it to practice," he told the reporters.
Uasin Gishu Governor Jackson Mandago hailed the translation, saying it will boost cohesion and bridge the gap for many of the Muslim faithful in his region to understand Islam.
"The biggest challenge to understanding Islam has been the language barrier. This translation makes it way easier to understand the ways and religion of our Muslim brothers and sisters and this initiative is going to make us a community more cohesive to understand ourselves," he said. "I want to congratulate Sheikh Sugoi for this noble course. I am proud of you as your governor."
Source: Anadolu Agency
Please click the following URL to read the full text of the original story:
https://www.aa.com.tr/en/africa/holy-quran-translation-into-kalenjin-language-brings-joy-to-kenyan-tribe/2420418
--------
Five dead as Sudanese rally against army tightening grip on power
13 November ,2021
Sudanese security forces fired live ammunition and tear gas on Saturday to disperse protesters denouncing the military's tightening grip on the country, killing at least five and wounding several, activists said.
The violence came as thousands of pro-democracy protesters yet again took to the streets across Sudan to rally against the military's takeover last month. The coup has drawn international criticism and massive protests in the streets of the capital of Khartoum and elsewhere in the country.
Security forces used live ammunition and tear gas to disperse protesters in different locations Saturday. At least five protesters were killed in Khartoum and its twin city of Omdurman, including four from gunshots and one from a tear gas canister, according to the Sudan Doctors Committee. Several others were wounded, including with gunshots, it said.
For the latest headlines, follow our Google News channel online or via the app.
The rallies, called by the pro-democracy movement, came two days after coup leader Gen. Abdel-Fattah Burhan reappointed himself head of the Sovereign Council, Sudan's interim governing body. Thursday's move angered the pro-democracy alliance and frustrated the United States and other countries that have urged the generals to reverse their coup.
"For me, this is an illegitimate council and this was a unilateral decision that was taken by Burhan alone," said protester Wigdan Abbas, a 45-year-old healthcare worker. "It was a decision by one person ... without consulting the coalition for freedom and change."
The Sudanese military seized power Oct. 25, dissolving the transitional government and arresting dozens of officials and politicians. The takeover upended a fragile planned transition to democratic rule, more than two years after a popular uprising forced the removal of longtime autocrat Omar al-Bashir and his Islamist government.
Saturday's protests were called by the Sudanese Professionals Association and the so-called Resistance Committees. Both groups were primary forces behind the uprising against al-Bashir in April 2019. Other political parties and movements joined the call. The Sudan Doctors Committee is also part of the pro-democracy movement.
They movement has opposed the return to the power-sharing deal that established the deposed transitional government late in 2019 and demand a full handover to civilians to lead the transition to democracy.
Earlier Saturday, protesters gathered in Khartoum neighborhoods waved Sudanese flags and posters of deposed Prime Minister Abdalla Hamdok, who has been under house arrest since the coup. They also chanted "civilian, civilian," a reference to their main demand that the generals hand over power to civilians.
Later, the demonstrators regrouped in Khartoum and barricaded at least one major street with stones and burning tires. There were also protests in other Sudanese cities and towns.
"The youth ... will not give up and will not stop this revolution until we achieve the goals of the revolution," said Mohammed Ahmed, a 28-year-old university student.
Hamza Baloul, the information minister in the deposed government, took part in Saturday's rallies following his release from detention earlier this month.
There should be "no negotiations with the coup leaders," he told the protesters in Khartoum. "The Sudanese people insist on a civilian government ... the civilian state (government) is our option and we will fight for it."
Source: Al Arabiya
Please click the following URL to read the full text of the original story:
https://english.alarabiya.net/News/middle-east/2021/11/13/Five-dead-as-Sudanese-rally-against-army-tightening-grip-on-power
--------
Southeast Asia
Dozens protest for Uyghur Muslims outside Chinese embassy in London
13 November, 2021
Dozens of protesters rallied outside the Chinese Embassy in London on Saturday calling for the freedom of Uyghur muslims, forcing the official building to take down its flag, according to eyewitnesses.
The protest was organised by Islam21C - a project set up to provide digital representation for British muslims - with support from over 50 Muslim organisations.
Protesters took to the streets and social media using the hashtag #Stand4Uyghurs to demand the shutdown of China's concentration camps, which experts estimate over one million muslims have been incarcerated in, in a Beijing crackdown against those practising Islam in Xinjiang.
"The Chinese Embassy... have actually took down their flag, they're scared of you," one speaker allegedly said in a video shared to social media, echoing comments protesters made to The New Arab regarding the removal.
"We are here to show our solidarity as part of the Muslim Ummah... and fulfil our Islamic obligation towards oppressed Muslims in China," one protester Shabih Hasan told The New Arab.
"We want to send a message to the Muslim Rulers around the world to come to the aid of Uyghurs and put pressure on the Chinese government to change [their course of actions]," Hasan continued.
"There was a lot of raw emotions and strong feeling [of solidarity for the] suffering of our Uyghur brothers & sisters [at the demonstration]," another protester Mohamed Asif told The New Arab.
Source: The New Arab
Please click the following URL to read the full text of the original story:
https://english.alaraby.co.uk/news/dozens-protest-uyghur-muslims-outside-chinese-embassy
--------
175-year-old Hajjah Fatimah Mosque in Singapore getting combined $2.24m for restoration, maintenance
November 14, 2021
The Hajjah Fatimah Mosque stands tall in Kampong Glam, Singapore holding its own in an area known for iconic buildings such as the Sultan Mosque.
It is one of the oldest mosques in Singapore and is affectionately nicknamed the Leaning Tower of Singapore due to a slight tilt to its minaret tower.
But at more than 170 years old, the mosque requires a lot of care.
Helping with that is the National Monuments Fund (NMF).
The Hajjah Fatimah Mosque is one of 20 national monuments which received a total of $2.24 million from the fund for restoration and maintenance works in 2020 and 2021.
The 20 of them represent about two-thirds of the monuments eligible for funding, said the National Heritage Board (NHB) in a statement on Friday (Nov 12).
Launched in 2008, the fund is a co-funding scheme administered by the NHB. It supports monuments that are owned and managed by non-profit or religious organisations, which currently comprise 31 of Singapore's 73 monuments.
Funds are disbursed for two types of work - maintenance and restoration - and the disbursement quantum is assessed based on the severity and urgency of the work required.
NHB also assesses applications based on the monument owners' ability to finance the required work by considering the owners' financial needs and the sources of funding available to the owner.
Mr Chern Jia Ding, senior assistant director for architecture and inspectorate at NHB, said disbursed funds cover at least 50 per cent of the cost of the works.
"If we go anything below 50 per cent, it doesn't give (monument owners) enough capital to start works, so that will not make any sense," he said.
The board said the fund has evolved based on the needs of monument owners and occupiers over the years, and in response to their feedback.
For instance, more types of works have been added to the list of qualifying works for maintenance funding based on feedback.
This year, fire protection maintenance works were added to the list.
Ms Jean Wee, director of NHB's Preservation of Sites and Monuments division, said this change was made after the board saw the extent of the damage that fire caused to Paris' Notre-Dame cathedral in 2019.
In Parliament earlier this month, changes to the Preservation of Monuments Act - which lays out laws to protect monuments - were debated and passed.
Workers' Party MP Leon Perera had suggested then that the National Monuments Fund could be expanded to cover more maintenance works.
Ms Wee said the board has always tried to improve its support for monument owners, citing the increased amount of funding made available over the years since the fund was launched and the gradual addition of qualifying maintenance works.
"We will continue to expand the utilisation of the maintenance fund by expanding the qualifying works that can be considered for and supported by the maintenance grant," she said.
One of the recipients of the fund was Maghain Aboth Synagogue, which obtained $393,751 in 2021. The money will go towards the repair and replacement of the synagogue's timber roof.
Another recipient was Lian Shan Shuang Lin Monastery, which received $32,660 for restoration works in 2020. It erected a temporary roof cover for the entrance hall, in anticipation of further restoration of the building.
Its restoration committee chairman Chuang Shaw Boon said NHB's support through the fund "will uphold the legacy and propagate the uniquely traditional architecture of the monastery".
"This will provide future generations with a real and palpable experience of our rich cultural heritage and in turn instil an innate desire to serve the community," he added.
Sultan Mosque, at the heart of Kampong Glam, received $112,500 which financed asbestos removal works and the installation of gypsum boards in its place.
Source: ABNA24
Please click the following URL to read the full text of the original story:
https://en.abna24.com/news//175-year-old-hajjah-fatimah-mosque-in-singapore-getting-combined-2-24m-for-restoration-maintenance_1198251.html
--------
Stop taking Malaysians for fools
K. Parkaran
November 14, 2021
Are Malaysians becoming insensitive to political falsehoods? Do they not know whether things uttered, especially in political debates and campaigns, are true or false?
To put it bluntly, do people no longer care about the truth? Or are they being taken for an easy ride especially when top politicians effortlessly (or is it shamelessly?) condemn certain actions of their former parties and colleagues where they held key positions at one time?
Obviously, voters may understand perfectly well that certain politicians are lying, and ignore falsehoods when they are pointed out. However, I reckon many choose to tolerate being lied to without holding it against individuals or parties which they support.
This is a major flaw in most Malaysians and it is turning out to be the nation's worst enemy, causing the country's image to take a severe beating. And the wrong leaders are taking charge to decide what's best for us.
We all know that when Pakatan Harapan was in power, among the major reasons that they only lasted 22 months was its blatant disregard for its much touted manifesto, which was treated like a mere piece of paper by Dr Mahathir Mohamad.
Of course, this was besides the Sheraton Move that was spearheaded by a push for Malay-Muslim supremacy by Bersatu and PAS mainly while Umno was on the periphery in a bid to get back into power.
Most Perikatan Nasional leaders obviously have very short memories or they are pretty confident that the voters forget easily, going by their public declarations.
Former prime minister Muhyiddin Yassin's statement a few days ago stands out, when he said PN is not like PH when it comes to lying. This is laughable, as he was the president of Bersatu which held key positions in the PH government for 22 months.
"We are not PH. During its time, it promised many things but then Dr Mahathir Mohamad said the manifesto does not need to be abided by. We won't lie to Malaysians. When we've made a promise, we will fulfil them. Our religion demands it," he said.
Muhyiddin held the key position of home minister and had direct access to Mahathir, I was told. Just what were he and all his Bersatu leaders doing when Mahathir was blurting many unacceptable and preposterous reasons for not keeping PH's pledges made before the last general election?
And then Muhyiddin said he, not Mahathir, took the step to form Bersatu, as he wanted the struggle or "jihad" against kleptocracy to be effective, which had to be with a strong group on a political platform. However, this was quickly denied by an aide to Mahathir.
But to claim that his struggle was a jihad against kleptocracy made no sense as he worked with the alleged kleptocrats to bring down the PH government, paving the way for him to become prime minister.
Also joining this bandwagon of demagogues was PAS president Abdul Hadi Awang, who touted PN as a coalition of non-extremists and a party that can cure Barisan Nasional's weaknesses.
PN and BN have made their candidates sign statutory declarations (SDs) stating they will not leave their parties if they win while PN made its candidates sign anti-corruption pledges in a bid to convince poor Malaysians that whatever is happening now will not recur.
As a voter, it insults my intelligence that they are doing the same things all over again despite Malaysians knowing these documents have absolutely no value.
Source: Free Malaysia Today
Please click the following URL to read the full text of the original story:
https://www.freemalaysiatoday.com/category/opinion/2021/11/14/stop-taking-malaysians-for-fools/
--------
Arab World
US, Qatar against normalizing ties with Syria's Assad regime
12 November ,2021
The top diplomats from the US and Qatar met in Washington on Friday, saying they were not considering normalizing relations with Syria's government for the time being.
"We don't support normalization, and again, we would emphasize to our friends and partners to consider the signals that they're sending," US Secretary of State Antony Blinken said during a joint press conference with Qatar's Deputy PM and Foreign Minister Sheikh Mohammed Al-Thani.
Both diplomats were asked their position after Tuesday's visit to Damascus by UAE Foreign Minister Sheikh Abdullah bin Zayed where he met with Syrian President Bashar al-Assad.
On Friday, Blinken said he was "concerned about the signals that some of these visits and engagements" were sending.
"And I would simply urge all of our partners to remember the crimes that the Assad regime has committed and indeed continues to commit," he added.
For his part, the Qatari FM said normalizing ties with the Assad regime was not a step Doha was considering "right now."
"We believe that all the crimes he has committed against his own people, he needs to be held accountable. But also, we support the political resolution and political transition over there in a peaceful way with the support of the Security Council Resolution 2254," he said.
But he stopped short of criticizing the decision by the UAE to re-engage with the Assad regime.
Source: Al Arabiya
Please click the following URL to read the full text of the original story:
https://english.alarabiya.net/News/middle-east/2021/11/12/US-Qatar-against-normalizing-ties-with-Syria-s-Assad-regime
--------
Strike on Kadhimi shows Iran losing control over Shia militias in Iraq: US officials
13 November ,2021
The drone strike which targeted Iraq's Prime Minister Mustafa al-Kadhimi was likely not sanctioned by Iran but rather showed Tehran's waning control over Shia militias in the country, US officials told NBC News.
Iraq's military said on Sunday Kadhimi's residence in Baghdad's Green Zone was targeted by an explosive-laden drone in a "failed assassination attempt", but the PM was unharmed.
Iraqi security officials and sources close to Iraqi militias told Reuters the attack was carried out by at least one Iran-backed militia group, and the drones and explosives used were Iranian-made.
The commander of US Central Command, General Frank McKenzie told Al-Hurra TV the attack was carried out by Iranian-backed militias.
Shia militias are at odds with Kadhimi after the results of last month's parliamentary elections which saw some of their political candidates perform poorly. The militias have organized several protests alleging the vote was fraudulent.
The US officials told NBC News that the attack showed how Iran "has struggled to corral quarrelling Shia militia leaders in Iraq" since the US killed top Iranian General Qassem Soleimani in 2020.
"It's fair to say that Iran does not have as much control over these groups since Soleimani was killed," a US official said.
Iran has long been accused of fanning the flames of violence in the Middle East through its financial and military support to its network of Shia proxies in the region, specifically in Iraq, Lebanon, Syria, and Yemen.
Tehran condemned the attack on Kadhimi and denied any involvement. The Iranian regime sent the commander of Iran's Quds Force Esmail Ghaani to visit Baghdad after the assassination attempt. The Quds Force is responsible for military operations outside Iran.
Douglas Silliman, who served as US ambassador to Iraq from 2016 to 2019, said that the assassination of Kadhimi was not to in Iran's strategic interests, as it would risk unleashing a volatile chain of events on its border.
"I would be very surprised if Iran ordered a drone strike on Kadhimi. Iran does not want to see a completely destabilized Iraq. They simply want an Iraq that is off balance enough that they can have significant influence, both political and economic," he said.
Source: Al Arabiya
Please click the following URL to read the full text of the original story:
https://english.alarabiya.net/News/middle-east/2021/11/13/Strike-on-Kadhimi-shows-Iran-losing-control-over-Shia-militias-in-Iraq-US-officials
--------
Scorpions kill three, injure hundreds in Egypt's Aswan
14 November ,2021
Scorpions in Egypt's southern city of Aswan killed three people and injured hundreds after storms brought them into streets and houses, state newspaper Al-Ahram reported on Saturday.
"Three people died and 450 were injured as a result of scorpion stings due to the bad weather that hit Aswan yesterday," a health official told Al-Ahram.
Extra doses of anti-venom have been provided to assist hospital doctors in providing medical care to injured patients, the official added.
Aswan witnessed violent hail storms, strong winds and heavy rain on Friday.
Scorpions are usually washed into the streets by heavy rain.
Scorpion stings are usually not fatal, and typically only cause pain, numbness and tingling, and swelling, according to the Mayo Clinic.
Source: Al Arabiya
Please click the following URL to read the full text of the original story:
https://english.alarabiya.net/News/middle-east/2021/11/14/Scorpions-kill-three-injure-hundreds-in-Egypt-s-Aswan
--------
Mideast
Arab Coalition: 186 Houthis killed in 42 attacks in Sirwah and al-Bayda
13 November ,2021
At least 186 Houthi militants were killed in 42 separate attacks targeting the Iran-backed militia group in cities west and south of Marib province, the Arab Coalition said in a statement.
The Arab Coalition said that it had conducted 42 military operations over the past 24 hours targeting Houthi positions and convoys in Sirwah, west of the city of Marib, and Al-Bayda, south of Marib.
In total, that targeted operations included the destruction of 17 military vehicles as well.
Source: Al Arabiya
Please click the following URL to read the full text of the original story:
https://english.alarabiya.net/News/gulf/2021/11/13/Arab-Coalition-186-Houthis-killed-in-42-attacks-in-Sirwah-and-al-Bayda
--------
Islamic Jihad movement unveils new rocket launcher
November 14, 2021
November 14, 2021Al-Quds Brigades, the armed wing of the Palestinian Islamic Jihad on Saturday unveiled a new rocket launcher named after Baha Abu al-Ata, a commander who was martyred by the Israeli regime in an assassination.
According to Palestinian Today, during the ceremony to unveil the rocked in commemoration of the Islamic Jihad commander hundreds of people in Gaza were participating.
Last Thursday, Saraya al-Quds Brigades held a large-scale military parade on the second anniversary of the assassination of Baha Abu al-Ata and hundreds of people marched on the Gaza streets while holding arms and pictures of the martyred commander.
Military vehicles carrying various units of al-Quds Brigades including scuba divers, infantry units as well as snipers unit took part in this parade.
Source: ABNA24
Please click the following URL to read the full text of the original story:
https://en.abna24.com/news//islamic-jihad-movement-unveils-new-rocket-launcher_1198227.html
--------
Iran's Top Negotiator: Removal of Unlawful Sanctions Reiterated in Tour of Europe
2021-November-13
"During visit to France, Germany , UK & Spain, I had serious & constructive discussions on bilateral, regional & int'l issues incl. upcoming negotiations," he tweeted.
"Also has several interviews w/ media. Effective removal of unlawful sanctions & importance of assurances on non-repetition was emphasized," he added.
Baqeri Kani traveled to Europe for four days for diplomatic consultations and met with the foreign ministries of France, Germany, Britain and Spain.
The Iranian deputy foreign minister also met with Enrique Mora, the EU's deputy secretary-general of the foreign action service, who is chairing the meeting of the joint commission of the Joint Comprehensive Plan of Action (JCPOA).
Iran's top negotiator described the purpose of the talks as the lifting of illegal sanctions.
In a relevant development on Thursday, Baqeri Kani reiterated that his country's main goal of attending the Vienna talks is removal of the US sanctions, saying that Washington has violated both the nuclear deal and the UN Security Council Resolution 2231.
"The main purpose of these talks from the Islamic Republic of Iran's standpoint is to remove the illegal sanctions imposed on the Iranian nation by the US government in blatant violation of the JCPOA (the Joint Comprehensive Plan of Action) and the UN Security Council Resolution 2231," Baqeri Kani said in an interview with press tv.
He once again stressed that the upcoming talks will not be about the nuclear issue, which has already been resolved, but will rather focus on the US withdrawal from the 2015 multilateral deal and the termination of its illegal sanctions against the Islamic Republic.
"What Americans did by leaving the nuclear deal was not only in violation of the JCPOA, but also the UN Security Council Resolution 2231. The objective of the negotiations is to remove US sanctions, both slapped in the past and in the wake of their withdrawal from the nuclear deal," Baqeri Kani noted.
The senior Iranian diplomat explained that the remedial measures that Tehran took in response to the US withdrawal from JCPOA are within legal rights stipulated in Article 26 of the nuclear deal, which grants a party the right to suspend its contractual commitments in case of non-compliance by other signatories and let go of some of the restrictions imposed on its nuclear energy program.
He said Iran is seeking practical guarantees that the international deal would not be violated by the United States anymore.
"Not only did they (Americans) hurt Iranian by withdrawing from the nuclear deal, violating the UN Security Council Resolution 2231 and imposing sanctions on Iranians, but also harmed parties to the deal as they had business transactions and contracts with Iran," Baqeri Kani said.
He lauded his recent conversations with the political officials from France, Germany and the United Kingdom as being straightforward and serious.
"Those conversations were clear and progressive. I shared our perspective on the necessary framework for the upcoming talks in an unequivocal and very transparent manner. I also shared with them what our expectations of the upcoming negotiations are," Iran's top negotiator pointed out.
"What is important for these European countries is to pursue their own interests rather than those of anyone else," Baqeri Kani said.
The Iranian diplomat also hailed his talks with officials from the UK Foreign Office as positive, stating that the two sides had comprehensive discussions on bilateral relations, regional issues and future sanctions-removal talks.
Tehran insists that all sanctions must be removed in a verifiable manner.
Envoys from Iran and the G4+1 group of countries, Britain, France, Russia, and China plus Germany, are expected to hold the seventh round of discussions in the Austrian capital on November 29.
Source: Fars News Agency
Please click the following URL to read the full text of the original story:
https://www.farsnews.ir/en/news/14000822000281/Iran's-Tp-Negiar-Remval-f-Unlawfl-Sancins-Reieraed-in-Tr-f-Erpe
--------
Several Documentaries to Compete for General Soleimani Award in Iran
2021-November-13
Presided by Mohammad Hamidi Moqaddam, the 15th edition of "Cinéma Vérité" is due to be held in Tehran from December 6 to 16, 2021.
Due to the spread of coronavirus, this edition of the festival will be held virtually.
In the latest edition of the Cinéma Vérité festival, Iran's major international festival for documentary films, in 2020, the Special Jury Award of Iran's Martyr Lt. Gen. Qassem Soleimani Award went to Sasan Falahfar for 'Iranian Eye'.
In the closing ceremony of the 14th edition of the festival, the secretary of the Cinéma Vérité festival Hamidi Moqaddam underscored that the Martyr Lt. Gen. Qassem Soleimani Award is aimed at commemorating this "respected martyr".
The Documentary and Experimental Film Centre (DEFC) organizes the annual Iran International Documentary Film Festival.
The festival has several sections including National, International, Martyr Avini Prize, Special Screenings, Portrait, Mirror of a festival, Focus on a country, Panorama, Workshop, and Doc Market.
Source: Fars News Agency
Please click the following URL to read the full text of the original story:
https://www.farsnews.ir/en/news/14000822000658/Several-Dcmenaries-Cmpee-fr-General-Sleimani-Award-in-Iran
--------
Israeli couple arrested in Turkey on espionage charges
13 November ,2021
An Israeli married couple were arrested for espionage late Friday after taking photographs of the Turkish president's residence in Istanbul, Turkey's official news agency said.
Anadolu Agency said a Turkish national was also arrested. Police detained them after a tip off from an employee working in the Camlica radio and television tower on the Asian side of Istanbul.
The employee claimed they were taking photographs of Turkish President Recep Tayyip Erdogan's nearby home from the tower's restaurant earlier this week.
They were formally arrested pending trial for "political and military espionage" by an Istanbul court.
In a statement issued late Friday, Israeli Foreign Minister Yair Lapid denied the couple work for an "Israeli agency." He said his department has been in regular contact with the pair and is trying to organize their release.
Source: Al Arabiya
Please click the following URL to read the full text of the original story:
https://english.alarabiya.net/News/middle-east/2021/11/13/Israeli-couple-arrested-in-Turkey-on-espionage-charges
--------
OIC welcomes UN sanctions of 'terrorist' Houthi leaders
14 November ,2021
The Organization of Islamic Cooperation (OIC) in statement welcomed the United Nations Security Council's addition of three leaders of the "terrorist" Iran-backed Houthi militia on the international sanctions list, the official Saudi Press Agency (SPA) reported.
The press agency reported that the sanctions were imposed "due to their direct threat to peace, security and stability in Yemen, in addition to spilling the blood of the Yemeni people and causing a humanitarian catastrophe."
OIC expressed hope that the classification of these leaders on the terrorist list will reduce the threat of the "terrorist Houthi militia" and stop its supply of missiles, drones, and money it uses to buy weapons to threaten the "Yemeni people, the security of the Kingdom of Saudi Arabia and threaten international navigation."
The organization reiterated its support for the Yemeni people and its legitimate government, calling on the international community to work hard to support peace and end the Yemeni crisis to alleviate the human suffering of the Yemeni people.
Source: Al Arabiya
Please click the following URL to read the full text of the original story:
https://english.alarabiya.net/News/gulf/2021/11/14/OIC-welcomes-UN-sanctions-of-terrorist-Houthi-leaders-
--------
Two al-Qaeda suspects among three killed in Yemen drone strike
14 November ,2021
A suspected US drone strike on Sunday killed three people in central Yemen, including two alleged al-Qaeda extremists, local government officials said.
"A drone that is believed to be American targeted a car carrying a man, who is likely an al-Qaeda member, and his wife, resulting in the injury of both," a government official, who spoke on condition of anonymity, told AFP.
"Three people, a civilian and two suspected al-Qaeda gunmen, who were in a vehicle that was heading to the site to assist the wounded were targeted in another strike and killed."
A second government official in the border region between the central provinces of Shabwa and al-Bayda confirmed the two strikes and death toll.
The US considers al-Qaeda's Yemen branch -- al-Qaeda in the Arabian Peninsula (AQAP) -- the most dangerous faction of the global extremist network.
A long-running US drone war against AQAP had intensified after ex-president Donald Trump took office in 2017.
AQAP, and other militants loyal to ISIS, have thrived in the chaos of Yemen's civil war which pits the internationally-recognized government against Iran-backed Houthis.
AQAP has carried out operations against both the Houthis and government forces as well as sporadic attacks abroad, including on the offices of the French satirical publication Charlie Hebdo in 2015.
But analysts say its abilities on the ground have dwindled, although it still inspires attacks carried out by "lone wolf" extremists or former operatives.
In February 2020, AQAP confirmed the death of its leader Qassim al-Rimi after he was killed in a US drone strike, and appointed Khalid Batarfi as his successor.
Source: Al Arabiya
Please click the following URL to read the full text of the original story:
https://english.alarabiya.net/News/gulf/2021/11/14/Two-al-Qaeda-suspects-among-three-killed-in-Yemen-drone-strike
--------
North America
Sleepy president of US calls on countries to cut Iran oil imports ahead of Vienna talks
November 14, 2021
US President Joe Biden has said there are sufficient supplies of petroleum worldwide so other countries can reduce what they buy from Iran.
Biden's remarks are potentially construed as an impediment to the progress of the forthcoming round of negotiations on the removal of anti-Tehran sanctions at the Austrian capital of Vienna.
Biden made the comments in a memo to the State Department on Friday as the US government needs to give assurance every six month that there is enough oil supply globally to maintain sanctions against the Islamic Republic.
"Consistent with prior determinations, there is a sufficient supply of petroleum and petroleum products from countries other than Iran to permit a significant reduction in the volume of petroleum and petroleum products purchased from Iran by or through foreign financial institutions," the US president said in the memo.
Biden's statement comes ahead of a virtual meeting with China's President Xi Jinping on Monday, in what is expected to be the two presidents' most extensive meeting since Biden took office.
China is the largest purchaser of Iranian oil, averaging purchases of more than 500,000 barrels a day over the last three months.
Chinese purchases of Iranian crude have continued this year despite sanctions that, if enforced, would allow Washington to cut off those who violate them from the US economy.
The United States has recently resorted to pirating Iranian oil cargoes as it has failed in its various attempts to cut the country's oil exports to zero through its regime of sanctions.
Iran's Islamic Revolution Guards Corps (IRGC) said on Wednesday that it had prevented a piracy attempt on an Iranian oil cargo traveling in the sea of Oman last month.
IRGC's Navy released videos showing its servicemen had boarded a ship that was carrying Iranian oil just before an alleged attempt by US forces to confiscate the tanker.
The new oil-related sanctions by Biden would complicate the upcoming negotiations with Iran over the removal of US sanctions as part of obligations to the 2015 nuclear deal that would allow Tehran to sell its oil openly again.
Envoys from Iran and the P4+1 are expected to hold the seventh round of discussions in Vienna on November 29. The negotiations were paused in June, when Iran held its presidential election. Since then, the new Iranian administration has been reviewing the details of the six rounds of discussions held under the previous administration.
Source: ABNA24
Please click the following URL to read the full text of the original story:
https://en.abna24.com/news//sleepy-president-of-us-calls-on-countries-to-cut-iran-oil-imports-ahead-of-vienna-talks_1198254.html
--------
Air Force official says US to maintain presence in Mideast
13 November ,2021
The top US Air Force general in the Mideast said Saturday that American airmen would continue to be stationed in the region even as military planners consider competition with China and Russia as Washington's next major challenge.
Speaking to journalists ahead of the Dubai Airshow, Lt. Gen. Gregory Guillot acknowledged that presence "could adjust" after the US withdrawal from Afghanistan in August. The US Air Force operates a major base in nearby Qatar, which oversaw operations in Afghanistan, as well as Iraq and Syria.
"But I don't see any scenario where the United States does not have an important role," Guillot said.
Guillot's comments come as tensions remain high between Iran and the US after years of confrontations following then-President Donald Trump's decision to unilaterally withdraw America from Tehran's nuclear deal with world powers. Israel meanwhile is suspected of launching a series of attacks targeting Iran's atomic program.
As talks over the deal remain stalled, Iran elected a hardline protege of the country's supreme leader as president and has itself seized vessels at sea and is suspected of launching drone attacks.
Guillot several times declined to directly attribute recent drone attacks in the region to Iran, though he acknowledged the rising number of such assaults in the region.
"The collaborative defense of multiple countries, you know, in the region is going to be our key to detecting those and staying one step ahead of the threat as it evolves," he said after appearing at the Dubai International Air Chiefs' Conference.
Russia is expected to display its Sukhoi Su-75 Checkmate fighter jet at the Dubai Airshow this week. It's a direct competitor to the American F-35 fighter, which the United Arab Emirates has been trying to buy since diplomatically recognizing Israel last year. That sale has slowed under President Joe Biden's administration.
Asked about the Checkmate, Guillot said he hoped that US allies and partners would use equipment that would be "interoperable" with the American military. He said buying the Russia fighter "absolutely" would affect that.
Source: Al Arabiya
Please click the following URL to read the full text of the original story:
https://english.alarabiya.net/News/middle-east/2021/11/13/Air-Force-official-says-US-to-maintain-presence-in-Mideast
--------
US staying in Syria until ISIS threat eliminated: State Department
13 November ,2021
The US said Friday that terrorist groups in Syria were threatening its national security and that US troops would not withdraw until the threat was eliminated.
"Terrorist groups like ISIS in Syria directly threaten US national security and the Syrian people. The United States remains committed to the military mission against ISIS," a tweet from the State Department read.
For the latest headlines, follow our Google News channel online or via the app.
Conflicting reports have surfaced in recent months over the commitment of US President Joe Biden to remain in the Middle East after the colossal, deadly withdrawal from Afghanistan.
But US officials and diplomats have previously told Al Arabiya English that their troops would remain in Iraq and Syria until their missions were complete.
In Iraq, after coming under increased pressure from Iran-backed militias and political parties, Washington agreed to end its "combat mission" and transition to more of a supervisory role.
Although US troops are in Iraq at the invitation of Baghdad, pro-Iran factions are calling on US troops to leave the country.
Source: Al Arabiya
Please click the following URL to read the full text of the original story:
https://english.alarabiya.net/News/middle-east/2021/11/13/US-staying-in-Syria-until-ISIS-threat-eliminated-State-Department
--------
Europe
Polish Muslim leader helps feed migrants and soldiers at Belarus border
14 November ,2021
Maciej Szczęsnowicz cried when he saw migrants at the border for the first time, hungry and exhausted from the ordeal of being stuck while trying to enter from Belarus.
The chairman of the local Muslim community in the eastern Polish village of Bohoniki, Szczęsnowicz saw people so tired they could no longer stand, so hungry that they picked mushrooms from the ground to eat and when given an apple, ate the seeds.
But what hurt him the most was hearing the sounds of their suffering.
"It's the sound of the crying and screaming of the children," he said. "It's the worst thing."
As Poland has seen migrants from the Middle East crossing from Belarus into an area of forests and swamps, Szczęsnowicz has gotten to work helping to collect clothing and prepare food for them.
A large number of migrants appeared this week at Poland's border, intensifying a political standoff between the European Union and Belarus.
With a buildup of forces on the border, Szczęsnowicz is also helping to feed soldiers and other service people protecting the country.
The AP visited him on Saturday in a restaurant where he and other volunteers were preparing a large pot of steaming chicken and vegetable soup. It was destined for soldiers and other guards on the border, but he hopes that some also makes its way to the migrants.
While the border zone is off-limits due a state of emergency in force since early September, his delivery of soup to the border has given him access others do not have — and a view of the suffering of the people just across razor wire fences in Belarus.
Thousands of migrants have been trying for months to slip through Poland's eastern border from Belarus, hoping to make their way toward Western Europe.
To Polish and EU politicians, the arrival of the migrants, most of whom are Muslims from the Middle East, is viewed as a problem to stop.
But there is a significant number of Poles who simply see human beings in need of a helping hand and have been seeking ways to help them. Medics have been going into the woods to provide medical help to those who manage to slip through. They are often sick or injured. Meanwhile, people across the country have been donating money to organizations taking food and other help to the migrants in the forests.
Most of the volunteers are Roman Catholic, as is their country, but Szczęsnowicz heads the Muslim community in Bohoniki, where a tiny minority still lives that is descended from a population of Muslim Tatars who settled in the area 600 years ago.
Source: Al Arabiya
Please click the following URL to read the full text of the original story:
https://english.alarabiya.net/News/world/2021/11/14/Polish-Muslim-leader-helps-feed-migrants-and-soldiers-at-Belarus-border
--------
Polish police say body of Syrian man found near Belarus border
13 November ,2021
The body of a young Syrian man has been found in Poland near the border with Belarus, Polish police said on Saturday.
"Yesterday, in the woods, near the border, near Wolka Terechowska, the body of a young Syrian man was found," Podlaska Police said on Twitter.
Source: Al Arabiya
Please click the following URL to read the full text of the original story:
https://english.alarabiya.net/News/middle-east/2021/11/13/Polish-police-say-body-of-Syrian-man-found-near-Belarus-border
--------
Turkey's armed drones put to test in Hungary: Report
Mehmet Yilmaz
13.11.2021
BUDAPEST, Hungary
Turkey's armed drones, or unmanned aerial vehicles (UAVs), have been tested by the Hungarian army, local newspaper Magyar Nemzet reported on Friday.
The news report said the KARAYEL-SU armed drone developed by Vestel Defense was photographed both on land and in the air at the Hungarian Armed Forces' Papa Air Base.
According to the report, "Turkish drones showcased at Papa" by David Laszlo, Gaspar Maroth, a Hungarian defense official, said in May that Hungary has in place a drone strategy since 2018 and has reviewed many Turkish companies for procurement.
Pointing out that Hungarian security forces may prefer the KARAYEL-SU drones, the report said the UAVs have a 20-hour endurance rating in addition to its fully autonomous takeoff, landing and flight features.
Source: Anadolu Agency
Please click the following URL to read the full text of the original story:
https://www.aa.com.tr/en/europe/turkey-s-armed-drones-put-to-test-in-hungary-report/2419797
--------
URL: https://www.newageislam.com/islamic-world-news/extreme-ideology-afghanistan-taliban-pakistan/d/125766
New Age Islam, Islam Online, Islamic Website, African Muslim News, Arab World News, South Asia News, Indian Muslim News, World Muslim News, Women in Islam, Islamic Feminism, Arab Women, Women In Arab, Islamophobia in America, Muslim Women in West, Islam Women and Feminism