Age Islam News Bureau
29 Apr 2018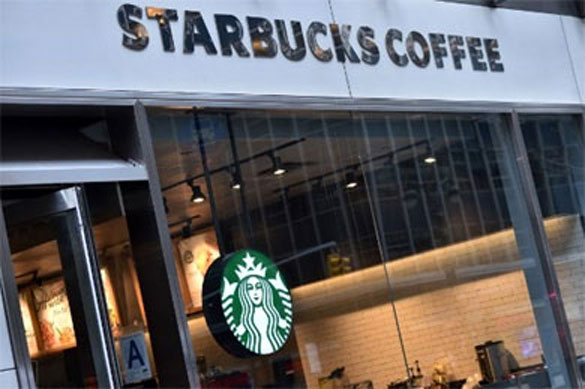 A Starbucks Coffee shop in New York on April 17. (AFP/Hector Retamal)
----
• Pakistan's Ahmadi Community Releases Damning Persecution Report
• Muslims Buying From Starbucks Will Go To Hell, Says Popular Jakarta Preacher
• Bangladesh Tabligh Jamaat: Scuffles Expose Simmering Division
• Historians Object To Centre's Move To Give Red Fort For Upkeep To Corporate Group
• Taliban Launch Spring 'Nipped in the Bud' Offensive Targeting U.S
• Egypt's Al-Azhar Denounces French Call to Omit Verses of Quran
Pakistan
• Pakistan's Ahmadi Community Releases Damning Persecution Report
• 2 Hazara Men Shot Dead In Fourth 'Targeted' Attack This Month In Quetta
• MYC Urges Government to Highlight 'Paigham-e-Pakistan'
• Gunmen kill 4 in northwestern Pakistan along Afghan border
• NA committee to resolve dispute over 'temple' site: report
• Interpol tells Haqqani warrant not being issued
• Court acquits 2 Safoora massacre convicts in school grenade attack
• Pak support strengthened Saudi Arabia's resolve to fight against terrorism
• Terrorists shoot dead 4 labourers in SWA
--------
Southeast Asia
• Muslims Buying From Starbucks Will Go To Hell, Says Popular Jakarta Preacher
• Nikko Gets More Muslim-Friendly with Prayer Rooms at Station
• Don't belittle candidates of other parties, urges Hadi
• Philippines makes ban on work in Kuwait 'permanent'
--------
South Asia
• Bangladesh Tabligh Jamaat: Scuffles Expose Simmering Division
• Thirty-Five Taliban Killed In US Airstrikes In Afghanistan's Balkh Province
• Saudi Arabia to Host Meeting Of Islamic Scholars on Afghan War
• Taliban leader Omari and 15 militants killed in Ghazni operations
• Myanmar Rebels Say Clashes With Gov't Could Displace More People
• Six dead in suicide hit on Afghan army base
• Rampant nepotism and politics in BEFAQ
--------
India
• Historians Object To Centre's Move To Give Red Fort For Upkeep To Corporate Group
• UPSC Grooming for Muslims Pays off Again, 51 Candidates from The Community Cleared the Three-Stage Examination
• Tension Grips Uttar Pradesh's Azamgarh after Anti-Islam Post on Facebook; Heavy Police Deployment in Area
• Film Screening On 'Love Jihad': Day after Scuffle, ABVP and Left Students Take out Marches in JNU
• Pakistani, Indian DGMOs Discuss Cross-Border Firing Along Line of Control and International Border
--------
North America
• Taliban Launch Spring 'Nipped in the Bud' Offensive Targeting U.S
• Trump Motivates Muslim Americans to Run For Office
• US's Pompeo presses Turkey on S-400 missiles purchase from Russia
• Pompeo begins Mideast tour amid Arab intervention plan
• Trump hasn't decided on Iran nuclear deal
--------
Arab World
• Egypt's Al-Azhar Denounces French Call to Omit Verses of Quran
• Paper Discloses S. Arabia's Intention to Spread Yemen War to Lebanon
• Syrian Army, Islamic State Wage Fierce Battle in South Damascus
• KSA learnt a lot from Pak anti-terror fight: Gen Abdulelah
• Egypt's Abdel Fattah al-Sisi promises quick end to Sinai military operations
• Syrian army, Islamic State wage fierce battle in south Damascus
• Syrian Army Wins Back Control of Key Region from ISIL in Southern Damascus
• Syrian Army Prepares for Purging Terrorists from Homs, Destroys Tahrir Al-Sham Base
• Turkey Planning to Merge Terrorist Groups in Northern Syria
• Assassination of Terrorist Commanders Continue in Northern Syria
• More Terrorist Commanders Killed in Southern Damascus amid Syrian Army Advances
• How much did Qatar bankroll Qassem Soleimani in terrorist-linked deal?
• Syrian army hits Daesh targets in southern Damascus
--------
Mideast
• Yemen's Houthi Militia Leader to Impose Mandatory Donations to Army
• Iran, Russia, Turkey FMs Vow To Boost Efforts To Settle Syria Crisis
• Trial Begins in Iran over Deadly Attacks Claimed by Islamic State
• Islamic State Lieutenant Captured Hiding among Fleeing Refugees in Turkey
• Israeli gunfire in spotlight after hundreds wounded in Gaza
• IS 'emir' killed in southern Yemen
• Saudi-led strike 'kills dozens' of Yemen rebels
• Palestinian teen dies after being wounded by Israeli fire on Gaza border
--------
Africa
• Suspected Islamic Militants Kill Over 30 Tuaregs in Mali
• Uganda: 2 Killed, 36 Arrested In Mosque Raid
• Al-Shabaab Suicide Bomber Kills 6 People, Including Mil Officials in Somalia
• Boko Haram: Nigerian Air Force bombards sect base in Borno
--------
Europe
• EU, US Police Cripple Islamic State Media Mouthpieces
• German bill seeks to prevent weapons exports to Saudi Arabia, UAE over Yemen conflict
Compiled by New Age Islam News Bureau
URL: https://www.newageislam.com/islamic-world-news/pakistans-ahmadi-community-releases-damning/d/115085
--------
Pakistan's Ahmadi Community Releases Damning Persecution Report
Apr 28, 2018
Pakistan's disenfranchised Ahmadi community released an annual report on Saturday that detailed growing hostilities against the minority sect, including indiscriminate arrests and impediments blocking them from voting in general elections.
Ahmadis are forbidden from calling themselves Muslims or using Islamic symbols in their religious practices. They face discrimination and violence over accusations their faith insults Islam and community leaders say that open vitriol and calls for violence against the community intensified in 2017.
"Under pressure from religious extremists, the Ahmadis were denied registration in joint electoral lists," community leaders said in a news release accompanying the "persecution report".
"The preparation of separate electoral lists being prepared specifically for the Ahmadis in Pakistan is the worst kind of discrimination," they said.
With a general election due in 2018, politicians from both the religious fringe and established parties have had the Ahmadis in their sights.
The ultra right-wing Tehreek-e-Labaik party began a political furore late last year after lawmakers from the ruling Pakistan Muslim League-Nawaz (PML-N) approved apparently small changes to the election law that discarded a requirement for Ahmadi voters to declare they are not Muslim.
Protests ended after the government met its demands, scrapping the proposed amendments and accepting the law minister's resignation.
Labaik has since staged smaller protests and openly denounced the Ahmadi community.
The Ahmadis consider themselves to be Muslims but their recognition of Mirza Ghulam Ahmad, who founded the sect in British-ruled India in 1889, as a "subordinate prophet" is viewed by many of the Sunni majority as a breach of the Islamic tenet that the Prophet Mohammad was God's last direct messenger.
Legal restrictions began in 1974, following a constitutional amendment declaring Ahmadis non-Muslim. A decade later military dictator General Zia ul Haq barred Ahmadis from identifying themselves as Muslim.
The report says that 77 Ahmadis were booked under discriminatory religious laws in 2017, with nine still in prison "on faith-related allegations", and four Ahmadis were murdered in hate crimes in Pakistan.
A separate report on Pakistani media listed 3,936 news items and 532 editorial pieces from Pakistan's Urdu-language media that contained "hate propaganda" against the Ahmadi community.
"There is need for the government in Pakistan to take formidable steps to remove religious discrimination from the country and thus put an end to sectarianism and biased attitudes of the population," community spokesman Saleemuddin said.
A Pakistani court ruled last month that all citizens must declare their religion when applying for identity documents, a move human rights advocates say is another blow for the country's persecuted minority communities, particularly members of the Ahmadi sect. Reuters
http://www.tribuneindia.com/news/world/pakistan-s-ahmadi-community-releases-damning-persecution-report/581085.html
--------
Muslims Buying From Starbucks Will Go To Hell, Says Popular Jakarta Preacher
April 28, 2018
A popular preacher is under fire on Twitter for saying Muslims who buy from Starbucks will go to hell.
In a 52-minute video uploaded by Islamic channel Fodamara TV on Youtube, Abdul Somad, the preacher in question, says that Muslims will be thrown into hell if they buy from Starbucks, as the coffee shop openly supports the lesbian, gay, bisexual and transgender (LGBT) community.
He made the statement when answering a question from a member of the audience on whether Muslims are allowed to buy from a café that supports LGBT rights.
He said: "In the afterlife [...] the angels will ask the [LGBT community], 'How did [your community] grow so big?' [The LGBT community] will respond, 'Because of the donations [given to us]. 'Who gave you the donations?' 'Those who are in heaven.'"
God will pull out those who are in heaven and throw them into hell for donating to Starbucks, he added.
Although the video was uploaded in October 2017, it went viral on Thursday after several Twitter users uploaded snippets of the video on social media and criticized the cleric for being ridiculous.
One of them was Muslim scholar Akhmad Sahal, who said Somad's logic was contradictory as the social media channel that the cleric uses also supports LGBT rights.
"Facebook, Twitter, Youtube, all of them support LGBT rights. Based on his logic, wouldn't that mean its users will go to hell too?" Sahal said on his Twitter account.
"My penniless fellow, you are free from hell's torment now," wrote another Twitter user.
But not everyone agreed that Somad's statement was ridiculous.
"I don't really get what people are fuming about. As far as I'm concerned, Somad only said what he believes in. Don't agree with him? Go get your Starbucks and stop watching his videos. Make it easy for yourself. Won't tell you again," wrote one user. (dpk/ahw)
http://www.thejakartapost.com/news/2018/04/28/muslims-buying-from-starbucks-will-go-to-hell-says-popular-preacher.html
--------
Bangladesh Tabligh Jamaat: Scuffles Expose Simmering Division
April 29, 2018
Two factions of the Tabligh Jamaat scuffled at the capital's Kakrail Mosque yesterday over establishing supremacy following a long-running conflict.
The incident happened around 9:30am when the supporters of Maulana Jubayer obstructed Maulana Saad Kandhalvi's followers from entering the mosque premises.
At least nine people were hurt during the scuffle. On information, police rushed to the spot and took the situation under control.
"Police urged the leaders of both factions to leave the area for security reasons," said Maruf Hossain Sardar, deputy commissioner of Dhaka Metropolitan Police (Ramna Zone).
After the clash, the mosque authorities held an emergency meeting in the presence of law enforcers, said its sources.
They took two decisions -- Syed Wasiful Islam and Maulana Jubayer, two key leaders of the Tabligh Jamaat, will stay out of Kakrail Mosque till May 1; and there will be a temporary ban on entry to it of four murubbis (elders) from both groups.
The four are Abdullah Mansur, Erteja Hasan, Mahfuz Hannan and Dr Asgar.
"We have talked to the mosque authorities and brought out both groups from the mosque," the DC said. "Outsiders will not be able to stay inside the mosque. If anyone wants to attend prayers, they can."
The mosque sources said a meeting will be held with Home Minister Asaduzzaman Khan Kamal to resolve the crisis once he returns from abroad.
The conflict between the two factions started at the last Biswa Ijtema, the second largest Muslim congregation after the hajj.
Hefajat-e-Islam first tried to prevent Saad's arrival because they were strongly opposed to his participation in the Ijtema. Their opposition stemmed from allegations of what Hefajat leaders claimed to be "controversial statements about the Quran and Sunnah" that Saad had made.
They demanded an apology from Maulana Saad for the "statements" if he wished to attend the Ijtema.
Finally, the top leader of the Tabligh Jamaat Maulana Saad, who had been conducting the Akheri Munajat (concluding prayers) for the last three years, had to return to New Delhi without joining this year's Biswa Ijtema.
Earlier, the two groups clashed at least four times, centring on Saad's speech. The home minister mediated between the two factions.
According to the mosque sources, there are 11 Shura members. Of them, five members are led by Maulana Jubayer and six others by Wasiful Islam. They are followers of Maulana Saad. Recently, Saad appointed two new Shura members, with which the other group did not agree.
On Thursday, several thousand students from 10 to 12 Qawmi madrasas, who are against the Maulana Saad group, started gathering at Kakrail Mosque.
On Friday morning, the anti-Saad group led by Maulana Jubayer held a meeting and announced that they will not let Maulana Saad preach any sermon in Bangladesh.
Tension arose inside the mosque. Police were deployed to avoid any untoward situation. Police also recovered two mobile phone jammers from the mosque. Police said it is still under investigation to know who set up the jammers inside the mosque.
Meanwhile, there was a gathering of Dhaka district Tabligh Jamaat in Zinda Bahar mosque in Old Dhaka yesterday.
After the gathering, the followers of Maulana Saad decided to protest the incident. Around 1,000 people then came to Kakrail Mosque around 9:30am.
"While we were trying to enter the mosque, the Qawmi madrasa students obstructed us. Heated words were exchanged and they also beat up a few followers of Maulana Saad," said Jahangir Alam, a follower of Saad.
After police got all the protesters out of the mosque premises, Saad's followers beat up one of the madrasa students, named Jakaria.
Yesterday afternoon, this correspondent found some foreign guests and murubbis staying inside the mosque. Other people from both groups were leaving the area.
The Tabligh Jamaat, known as a non-political global religious movement, came into being in 1927 in India. Maulana Ilyas Kandhalvi founded the religious movement, which has an estimated 7 to 8 crore followers in more than 150 countries, majority of whom are based in South Asia.
According to sources at Kakrail Mosque, considered the headquarters of the Tabligh Jamaat in Bangladesh, all decisions regarding Ijtema and selection of Shura members are made after consultation with the organisation's headquarters in Nizamuddin Markaj (centre) in New Delhi, India.
Maulana Saad played a key role in those consultations. But it did not happen this year as the Shura members in India and Bangladesh have a sharp division over Saad's "controversial statements".
A rift in Tabligh's leadership has been going on in India for the last two years but there had been no problems in Bangladesh until this year's protest by Hefajat.
https://www.thedailystar.net/city/clashes-expose-simmering-division-1569280
--------
Historians object to Centre's move to give Red Fort for upkeep to corporate group
Apr 29, 2018
AGRA: Historians of Aligarh Muslim University have taken strong exception to the Union government's decision to give the Red Fort, the 17th century protected monument, to a corporate group under the central government's 'Adopt a Heritage' scheme.
Eminent scholar Irfan Habib, who is professor emeritus in the department of history in AMU, said that the government should not have given the Red Fort to a corporate group as they are not archaeologists or historians and are not aware of the "style" of that era.
"The government's aim is just to increase the tourist footfall and revenue, but in the process, private firms are being allowed to destroy the beauty of these protected monuments," Habib told TOI.
RC Agarwal, former joint director, Archaeological Survey of India, said the move was not in the interest of the monument. "Dalmia group has no in-house expertise. They will also hire someone on contract and this will not be good for the monument," he said, adding that basic amenities should not be provided at the cost of the monument itself.
Agarwal also agreed with Habib's view that the ministry doesn't have archaeologists, conservators and historians, and as a result, they do not "seem to understand that preserving heritage should be the primary motive while marketing should be the secondary concern".
Shireen Moosvi, professor in history department of AMU and former secretary of Indian History Congress, said "They should not modernise heritage as this is our identity and people want to see it." Citing the example of conservation work undertaken by the Agha Khan Trust at the Humayun's tomb, Moosvi said the colours, paint and brackets at the Mughal emperor's mausoleum are not like the original. "With such interventions, historical monuments will become like 21st century buildings," she added.
As per the scheme, the adoption enables Dalmia Bharat group to construct, landscape, illuminate and maintain activities related to provision and development of tourist amenities. These include various basic and advanced amenities, such as public conveniences, clean drinking water, cleanliness of the monument, accessibility for all, signage, cloakroom facilities, illumination and night viewing, surveillance system, tourist facilitation-cum-interpretation centre among others.
According to the group, they will also introduce other key amenities for the visitors like app-based multi-lingual audio-guide, digital interactive kiosk, digital (LED) screening, free Wi-Fi and cafeteria along with a souvenir shop which will help in promoting local art and craftsmanship.
There will be construction of ramps and disabled-friendly toilets. Facilities like wheelchair availability, battery-operated vehicles, signage in Braille are some of the key addition which will make the Red Fort a barrier-free monument.
https://timesofindia.indiatimes.com/city/agra/historians-object-to-centres-move-to-give-red-fort-for-upkeep-to-corporate-group/articleshow/63955526.cms
--------
Taliban Launch Spring 'Nipped in the Bud' Offensive Targeting U.S.
APRIL 27, 2018
The Taliban launched their spring offensive with a vow to nip America and supporters "in the bud" in an operation named after a 627 A.D. battle by Muhammad and his forces at Medina.
In an English-language statement, the Afghan terror group reminded fellow jihadists, "You realize that some areas of our beloved homeland are still under the infidel occupation of American invaders and their allied forces."
"The continuation of the legitimate Jihadi resistance against the foreign invaders and their internal and external supporters is deemed as a legal, moral and security obligation by the Islamic Emirate of Afghanistan as a defending force of the pious values of our sacred religion of Islam and the territorial integrity of our homeland," said the statement. "Like past, this year too, for the sake of well-coordinated and better-organized military activities, the Al Khandaq Jihadi operations will be launched for the following reasons."
Those reasons include the Afghan government being "completely helpless in inhibiting this brutality of the American invaders," the "newly adopted war strategy of Trump" that meant "thousands of additional foreign forces are being deployed inside Afghanistan and they are supplied with new devastating weapons and vast military authorities," the continued existence of multiple American bases, and "the overall anarchy prevailing in the areas controlled by the American invaders and their stooge admin in Kabul, numerous evident and secret centers for obscenity, alcohol, licentious movies, invitation to revoked religion and various other illegitimate activities continue to operate."
The Taliban declared that "Americans have no serious or sincere intentions of bringing the war to an end," but instead "want to intensify and prolong it by engulfing Afghanistan as well as the whole region in its flames, thus securing chances of their further influence and interference."
hey chose the Battle of the Trench as their op namesake because "instead of annihilating the Muslims, the battle of Al Khandaq proved to be a decisive defeat for the infidel forces, as they lost all hope of ever invading the holy city of Medina" and launched "the beginning of perpetual victories for Mujahidin and successive defeats for the infidel forces."
"The planning and strategy of the Al Khandaq Jihadi operations are organized by the expert and proficient skilled cadre of the Military Commission of the Islamic Emirate which is based on guerrilla, offensive, infiltrated and various other new and intricate tactics against the new war strategy of the enemy, mainly focusing on crushing, killing and capturing American invaders and their supporters," the statement continued.
"Its primary target will be the American invaders and their intelligence agents. Their internal supporters will be dealt with as a secondary target while the present and future mischievous plots of the mischief-mongers will be nipped in the bud. In-sha Allah!!!"
The Taliban, whose recent attacks included the January attack on the Inter-Continental Hotel in Kabul -- four Americans were among the dozens killed -- and a car bomb using an ambulance later that month in Kabul's city center, said they "expect that our Mujahid masses will fully partake in the Al Khandaq Jihadi operations through their increased support for Mujahidin while remaining at sufficient distance from all enemy bases and convoys so that they are not unnecessarily harmed during these operations."
Despite their recent mass attacks on civilian targets, the statement told jihadists to use "precautionary measures" with civilian lives and property.
https://pjmedia.com/homeland-security/taliban-launch-spring-nipped-in-the-bud-offensive-targeting-u-s/
--------
Egypt's al-Azhar denounces French call to omit verses of Quran
28 April 2018
Egypt's al-Azhar has denounced calls by several prominent French figures to omit versus from the Quran.
Several French figures, including former president Nicolas Sarkozy and former prime minister Manuel Valls, published an open-letter French Daily Le Parisien urging verses of the Quran calling for the "murder and punishment of Jews, Christians and disbelievers" to be removed.
In response, Al-Azhar University's deputy during a sermon on Saturday said that the Quran does not call for murder but it calls for fighting back against hostile people instead.
Al-Azhar's deputy warned of the attempts that emerges every now and then and added that the Quran does not include verses that orders killing anyone without committing one of the crimes that requires killing a criminal, like the intended murder or raising of weapons, indicating that Islam is not responsible when others misunderstand the verses.
He asserted that the verses in the Quran in question regarding fighting are all referring to defense of oneself in cases of being attacked and not to attack others.
According to Egypt Independent, the country's Dar al-Iftaa-affiliated Observatory of Islamophobia denounced "such dangerous calls launched by some from time to time, causing attacks and antagonism against Muslims there, and creating a conflict among the people [of France]".
https://english.alarabiya.net/en/features/2018/04/28/Egypt-s-al-Azhar-denounces-French-call-to-omit-verses-of-Quran.html
--------
Pakistan
2 Hazara men shot dead in fourth 'targeted' attack this month in Quetta
Syed Ali Shah
April 28, 2018
Two shopkeepers belonging to the Shia Hazara community were killed in a drive-by shooting in Quetta on Saturday, police said.
According to police, unidentified assailants opened fire at an electronics shop in Quetta's Jamaluddin Afghani Road area, killing two Hazara men on the spot.
The assailants managed to escape unhurt from the scene after the attack, while the bodies of the deceased — identified as Jaffar and Muhammad Ali — were shifted to the Civil Hospital in Quetta.
A police officer who requested anonymity said the attack appeared to be an incident of targeted killing.
Police and personnel of other law enforcement agencies reached the site as an investigation into the incident went underway. No group has so far claimed responsibility for the attack.
Activists of the Hazara Democratic Party staged a protest against the killings at Quetta's Bacha Khan Chowk. They set tyres alight, chanted slogans against the administration and demanded immediate arrest of the culprits.
Attacks against Hazaras in Quetta have seen a spike recently, with today's incident being the fourth this month alone.
Two members of the community were killed and another was injured in an attack in the Western Bypass area of the city last Sunday. A shopkeeper was gunned down on April 18 while another Hazara man was killed in the beginning of the month.
Sectarian terrorism in Balochistan has disproportionately targeted people from the Hazara community.
A report by the National Commission of Human Rights (NCHR) released last month claimed that 509 Hazaras were killed in various incidents of terrorism in Quetta in the last five years.
https://www.dawn.com/news/1404396/2-hazara-men-shot-dead-in-fourth-targeted-attack-this-month-in-quetta
--------
MYC urges government to highlight 'Paigham-e-Pakistan'
Mumtaz Alvi
April 29, 2018
ISLAMABAD: Milli Yakjehti Council (MYC) Deputy Secretary General and noted scholar Saqib Akbar on Saturday called on the government to accord due importance to the vital document 'Paigham-e-Pakistan' (PeP), regretting both the government and the media had ignored it so far.
Saqib emphasised that the government should also give importance to the recommendations forwarded to it, by the Council of Islamic Ideology(CII) with regards to the 'Paigham-e -Pakistan' (narrative).
He said in a statement issued here that the council had also supported the PeP document, which carried signatures of leading over 1,800 muftis and religious scholars, aimed at elimination of the menace of terrorism, reflecting the fact how important the document was. He emphasised that this had also manifested national consensus on thereon.
Whereas, he pointed out that during his visit to Pakistan, the grand mufti of Egypt, Dr Shawki Ibrahim Abdel Karim Allam had also extended support to the PeP document.
Saqib Akbar said that the CII recommendations were highly commendable and must be appreciated by all and sundry. These recommendations, he explained, included that 'Paigham-e-Pakistan' should be discussed in the National Assembly, the Senate as well as the four provincial assemblies and legislation should be done in the light of this national narrative.
CII also emphasised that the process of projection and promotion of 'Paigham-e-Pakistan' in seminaries and other educational institutions should be taken forward and the Higher Education Commission should play its role for making it a part of their syllabi.
The government, it recommended, should organise seminars in Islamabad and the four provincial capitals and also other major cities for introduction and publicity of the national narrative by inviting scholars, belonging to all schools of Muslim thought so that the pulpit and other forums could help public comprehend it.
Moreover, the council recommended that the PeP should be made formal part of syllabi and scholars, professors and teachers should teach it to students in such a manner that they could understand its message in the light of Shariah and law.
Full report at:
https://www.thenews.com.pk/print/310400-myc-urges-government-to-highlight-paigham-e-pakistan
--------
Gunmen kill 4 in northwestern Pakistan along Afghan border
Apr 28, 2018
DERA ISMAIL KHAN (PAKISTAN): A Pakistani official says unknown gunmen fatally shot three local tourists and their driver in a tribal region along the Afghanistan border.
Ikhlaq Bangash, deputy administrator in South Waziristan, said Saturday a group of tourists from Dera Ismail Khan were camping in the Momi Karam area when the gunmen struck Friday night.
Bangash said the attackers torched the camp after shooting the tourists and fleeing. The victims' bodies were transported to their hometown.
Full report at:
https://timesofindia.indiatimes.com/world/pakistan/gunmen-kill-4-in-northwestern-pakistan-along-afghan-border/articleshow/63951169.cms
--------
NA committee to resolve dispute over 'temple' site: report
April 29, 2018
RAWALPINDI: The National Assembly Standing Committee on Religious Affairs and Interfaith Harmony will resolve a dispute between Gawalmandi's local Hindu community and the Evacuee Trust Property Board (ETPB) pertaining to the ownership of Swami Narayan Temple, reported a local media outlet.
Members of the standing committee led by Shagufta Jumani were supposed to visit the site of dispute on Saturday but the visit was cancelled.
Members of the local Hindu community claim that the site was a temple but ETPB officials claim the property was allocated to a Hindu couple who later embraced Islam. In addition, the Hindu community is of the opinion that servants of the temple converted to Islam after which the property was sealed.
https://www.pakistantoday.com.pk/2018/04/29/na-committee-to-resolve-dispute-over-temple-site-report/
--------
Interpol tells Haqqani warrant not being issued
Anwar Iqbal
April 29, 2018
WASHINGTON: The International Criminal Police Organisation, commonly known as Interpol, has assured Pakistan's former ambassador to the US Husain Haqqani that it has not issued an arrest warrant for him.
"The General Secretariat of the International Crimi­nal Police Organisation, Interpol, hereby certifies that as of today (April 18, 2018), Mr Husain Haqqani, born on July 1, 1956, is not subject to an Interpol Blue Notice or diffusion and is not known in Interpol's data basis," says a letter issued by Interpol's office of legal affairs.
According to Mr Haqqani, his lawyer had contacted Interpol after the media ran reports about an arrest warrant for him. In response, Interpol sent him the letter.
Interpol notices are international requests for cooperation or alerts allowing police in member countries to share crime-related information.
A 'blue notice' is a request to collect additional information about a person's identity, location or activities in relation to a crime. After a blue notice, Interpol can issue a 'red notice' to seek the location and arrest of wanted people with a view to extradition or similar lawful action.
A blue notice is the first step indicating Interpol's interest in a person sought by the national police of a member state. A red notice follows a blue notice.
Earlier this month, the Federal Investigation Agency (FIA) announced in Islamabad that it had asked Interpol to issue a red notice for Mr Haqqani's arrest.
This was, however, not the first such request. The FIA has contacted Interpol in the past as well, asking it to issue a red notice for Mr Haqqani.
However, Interpol sought more information about the case but did not issue a warrant.
Last month, the FIA registered a case against the former envoy accusing him of committing "criminal breach of trust, misuse of authority and embezzlement of funds" at Pakistan's embassy in the US. The case was registered under Sections 3, 4, 409, 420 and 109 of the Pakistan Penal Code.
Full report at:
https://www.dawn.com/news/1404543/interpol-tells-haqqani-warrant-not-being-issued
--------
Court acquits 2 Safoora massacre convicts in school grenade attack
APRIL 28, 2018
KARACHI: An anti-terrorism court (ATC) on Saturday acquitted two Safoora massacre convicts in School bomb attack over insufficient evidence.
Saad Aziz and Tahir Hussain Minhas, who were handed death sentence in Safoora bus massacre in Karachi, were acquitted by the ATC in grenade attack on a private school in North Nazimabad.
According to the police, the two had carried out a grenade attack which caused the school's external wall to collapse.
The suspects' counsel, however, argued that no evidence had been found against Aziz and Minhas and that the school administration has also refused to recognise them.
Full report at:
https://dailytimes.com.pk/233589/court-acquits-2-safoora-massacre-convicts-in-school-grenade-attack/
--------
Pak support strengthened Saudi Arabia's resolve to fight against terrorism
April 29, 2018
Acting Secretary General of Islamic Military Alliance Lt Gen Abdulelah bin Usman Al Saleh says Pakistan support has strengthened Saudi Arabia's resolve to fight against terrorism, reported by Radio Pakistan.
In an interview with APP, he said every citizen of Saudi Arabia has great respect for Pakistan's political and moral support.
He said Pakistan and Saudi Arabia enjoy strong bonds of bilateral friendship, love and common faith, and in the coming years these relations would be converted into new shapes in the fields of economic and military cooperation.
Usman Al Saleh said the whole world, especially Muslim countries are facing the challenges of terrorism and required comprehensive strategy to deal with it.
He said Pakistan was facing the challenge of terrorism for last several years, and the way the Pakistan government, armed forces and media tackled the menace is appreciable.
Full report at:
https://nation.com.pk/29-Apr-2018/pak-support-strengthened-saudi-arabia-s-resolve-to-fight-against-terrorism
--------
Terrorists shoot dead 4 labourers in SWA
April 29, 2018
PESHAWAR - At least four labourers were killed as terrorists stormed their tent near Afghan border in South Waziristan Agency in the wee hours of Saturday, Assistant Political Officer Akhlaq Ahmed said.
According to the political administration of Ladha tehsil of South Waziristan Agency, the incident occurred in Momi Karama area.
The sources said the labourers were sleeping in tent erected in the compound of former Taliban commander Allouddin Mehsud where they were shot dead. Their bodies were set ablaze by the terrorists before they fled, they added.
It may be added that Allouddin Mehsud has defected to the government some time back.
Meanwhile, police have arrested two suspects and recovered illegal weapons from them in Dera Ghazi Khan on Saturday.
According to sources, Sakhi Sarwar police stopped a vehicle coming from Balochistan for checking at a picket.
Police recovered two Kalashnikovs, 310 bullets with magazines from one Abid son of Jumma and Muhammad Ali son of Mukhtar. The accused hailed from Dukki and Jacobabad, Sindh.
Three TERRORISTS HELD
IN FAISALABAD
Counter Terrorism Department (CTD) has foiled a terrorism plan by arresting three terrorists of a banned outfit along with explosive material in Faisalabad on Saturday. Counter Terrorism Department spokesman said CTD police station Faisalabad received information that three terrorists belonging to Tehrik-e-Taliban Pakistan (TTP) were present near Banaspati Factory Sammundri Road and wanted to launch terrorist attack on LEAs (Law Enforcing Agencies).
On the tip-off, the CTD team conducted a raid and succeeded in nabbing three terrorists who were identified as Walid Ahmed, Shahnawaz and Muhammad Amir.
Full report at:
https://nation.com.pk/29-Apr-2018/terrorists-shoot-dead-4-labourers-in-swa
--------
Southeast Asia
Nikko gets more Muslim-friendly with prayer rooms at station
April 29, 2018
Prayer rooms for Muslim men and women opened at Tobu Railway Co.'s Tobu Nikko Station on April 1. (Takashi Kajiyama)
NIKKO, Tochigi Prefecture--A railway company has set up Muslim prayer rooms in one of the most popular tourist destinations in Japan.
The rooms opened on April 1 at Tobu Railway Co.'s Tobu Nikko Station in hopes of attracting more Muslim travelers from Southeast Asian countries, such as Malaysia and Indonesia.
"To lure Muslim tourists, it's vital to prepare prayer rooms and foods that accommodate their needs," an official of Tokyo-based Food Diversity Co. said.
The company, which is headed by Akihiro Shugo and provides information about Islam, teamed up with Tobu Railway in Nikko to open the first railway station prayer rooms in Tochigi Prefecture.
The two prayer rooms, one for men and one for women, are each 2 meters by 4 meters and are located on the second floor of Tobu Nikko Station
The area was previously used as office space for a Tobu Railway group company.
The prayer rooms are equipped with hot water features that allow Muslims to perform the "wudu" washing ritual before they pray.
A Qibla mark shows the direction toward the Kaaba in Mecca, which Muslims face when they pray on the carpeted floors in the rooms.
The rooms are open every day from 9 a.m. to 4:30 p.m.
A newly established concierge at the ticket window on the first floor of the station manages the prayer rooms.
Tobu Railway also caters to Muslim guests at its group accommodation facilities in the tourist hotspot: Nikko Kanaya Hotel and Chuzenji Kanaya Hotel.
The hotels offer breakfast and dinner menus that do not contain pork or alcohol, items forbidden in Muslim diets. Reservations for the Muslim dishes must be made at least five days in advance.
The company has also issued tourist maps and upgraded its website to help travelers easily find Muslim-friendly places. The list includes 15 restaurants and accommodation facilities that provide menus for Muslims as well as venues that house prayer rooms. One of them is the Tobu World Square, a theme park famed for its 102 architectural "bigatures" on a scale of 1:25. It opened a prayer room equipped with wudu facilities in December 2015.
According to the Japan National Tourism Organization and other sources, a record 28.69 million foreign nationals visited Japan in 2017, up 19.3 percent from the previous year.
The number of visitors from predominantly Muslim countries, including those in Southeast Asia, has sharply increased.
About 350,000 Indonesians, up 30 percent from 2016, and about 440,000 Malaysians, up 11.5 percent, visited Japan last year.
http://www.asahi.com/ajw/articles/AJ201804290007.html
--------
Don't belittle candidates of other parties, urges Hadi
April 28, 2018
MARANG: PAS president Abdul Hadi Awang rapped a Terengganu Pakatan Harapan leader for belittling the Barisan Nasional (BN) candidate for the Batu Buruk state seat in the upcoming election.
Hadi, who is also the PAS candidate for the Marang parliamentary seat, said no one should belittle candidates of other political parties contesting in the GE14 as each one had his or her own strengths.
"We cannot look down on candidates of any party. Each party will surely select a candidate (for GE14) who has his or her own strengths.
"All of them (GE14 candidates) have their own role and we advise PAS members not to belittle any of the candidates.
"Some might be less educated than others but are able to provide better service to the people," he said after submitting his nomination papers for the GE14 at the nomination centre at Marang district office here today.
Hadi said this in response to the statement by Terengganu Pakatan Harapan chairman Raja Kamarul Baharin Shah Raja Ahmad who said that BN had fielded a weak candidate in Batu Buruk to give an easy victory for PAS, which is represented by Hadi's son Muhammad Khalil.
Raja Kamarul claimed that the BN candidate, Zamri Awang Hitam, was not on the same level as Khalil, who is PAS Youth chief, as he was not popular among the constituents.
Full report at:
http://www.freemalaysiatoday.com/category/nation/2018/04/28/dont-belittle-candidates-of-other-parties-urges-hadi/
--------
Philippines makes ban on work in Kuwait 'permanent'
Apr 29, 2018
Philippine President Rodrigo Duterte on Sunday said the temporary ban on Filipinos going to work in Kuwait is now permanent, intensifying a diplomatic standoff over the treatment of migrant workers in the Persian Gulf nation.
Duterte in February imposed a prohibition on workers heading to Kuwait following the murder of a Filipino maid, whose body was found stuffed in a freezer in the Persian Gulf state.
The crisis deepened after Kuwaiti authorities last week ordered Manila's envoy to leave the country over videos of Philippine Embassy staff helping workers in Kuwait flee allegedly abusive employers.
The two nations had been negotiating a labor deal that Philippine officials said could result in the lifting of the ban, but the recent escalation in tensions has put an agreement in doubt.
"The ban stays permanently. There will be no more recruitment for especially domestic helpers. No more," Duterte told reporters in his hometown in the southern city of Davao.
Around 262,000 Filipinos work in Kuwait, nearly 60 percent of them domestic workers, according to the Philippines' foreign department.
Last week, the Philippines apologized over the rescue videos, but Kuwaiti officials announced they were expelling Manila's ambassador and recalling their own envoy from the Southeast Asian nation.
Duterte on Sunday described the situation in Kuwait as a "calamity."
He said he would bring home Filipino maids who suffered abuse as he appealed to workers who wanted to stay in the oil-rich state.
"I would like to address to their patriotism: come home. No matter how poor we are, we will survive. The economy is doing good and we are short of our workers," he said.
About 10 million Filipinos work abroad to seek high-paying jobs they were unable to find at home, and their remittances are a major pillar of the Philippine economy.
Duterte said workers returning from Kuwait could find employment as English teachers in China, citing improved ties with Beijing.
Describing China as a "true friend," he said he would use Chinese aid to fund the workers' repatriation.
Duterte added that he was not after "vengeance" against Kuwait and did not "nurture hate."
Full report at:
http://www.presstv.com/Detail/2018/04/29/560030/Philippines-Kuwait-work-ban-Duterte
--------
South Asia
Thirty-five Taliban killed in US airstrikes in Afghanistan's Balkh province
April 28, 2018
At least 35 Taliban militants were killed and 40 others wounded in US airstrikes in northern Balkh province, Afghanistan National Army (ANA) officials said on Saturday.
The airstrikes were carried out in close cooperation with the Afghan commandos and lasted 40 minutes, TOLOnews reported, quoting an army official.
The airstrikes targeted Arzankar village in Chahar Bolak district. Commandos then launched operations and cleared the village of Taliban, said Mohammad Hanif Rezaye, spokesman for 209 Shaheen Military Corps in Balkh.
According to Rezaye, a Taliban stronghold and dozens of their weapons were destroyed in the airstrikes.
A clearing operation was launched a week ago to maintain security of vulnerable areas in Chahar Bolak district.
Balkh, one of Afghanistan´s more stable provinces with valuable trade crossings into Central Asia, is a long way from the Taliban heartlands in the south and is considered far more secure than neighbouring Kunduz province, where the Taliban dominate many areas.
https://nation.com.pk/28-Apr-2018/thirty-five-taliban-killed-in-us-airstrikes-in-afghanistan-s-balkh-province
--------
Saudi Arabia to host meeting of Islamic scholars on Afghan war
SYED SALAHUDDIN
April 28, 2018
KABUL: A meeting of Islamic scholars from across the world will be held in Jeddah in July to discuss the religious justification of the Taliban war against the Afghan government and the presence of foreign troops in Afghanistan, Afghan High Peace Council (HPC) officials said on Saturday.
Akram Khpolwak, HPC's secretariat chief, is in Saudi Arabia and has held meetings with authorities and members of the Organization of Islamic Cooperation about the moot, Sayed Ehsanullah Tahiri, HPC spokesman, told Arab News.
The first of its kind, the moot will examine the latest round of the spiraling Afghan war, which began with the ousting of the Taliban in 2001. It is being held at the request of the HPC, which has struggled for years to bring Taliban militants to the dialogue table, the HPC official said.
It follows the offer of President Ashraf Ghani's unconditional peace package in February, which has earned regional and international support.
The Taliban have neither rejected nor accepted the overture, but the launch of the group's annual offensive this week was seen as a rejection of the offer by some analysts.
Asked if Afghanistan would accept a decision by the meeting that sought the expulsion of foreign troops, Tahiri said that the Taliban could put a timetable for troop withdrawal on the table when the group accepts Ghani's unconditional peace talks offer.
"The meeting in Jeddah will have high impact since in the past Pakistani ulema have repeatedly termed the war here as jihad and a righteous act," he said, adding that the upcoming moot will decide that the Afghan war has no legality.
"We need a religious verdict on this war and the holy religion of Islam emphatically orders all that there has to be talks, negotiations, between adversaries at all times."
He said that despite the launch of the spring offensive by the Taliban, sources from within the group suggested that its leadership was deliberating on Ghani's overture and expressed the hope that an Afghan-led peace process would begin later this year.
"All scholars from the Muslim countries should attend the meeting and assess the Afghan war and bloodshed from a religious point of view," Tahiri said.
Abdul Sattar Khawasi, a lawmaker who is a leading opponent of foreign troops in Afghanistan, described the meeting as a great initiative by Saudi Arabia.
"We hope that the ulema come up with a just decision," Khawasi said.
Full report at:
http://www.arabnews.com/node/1293236/saudi-arabia
--------
Taliban leader Omari and 15 militants killed in Ghazni operations
Apr 29 2018
At least sixteen Taliban insurgents including one of their local leaders identified as Omari were killed during the operations of the Afghan armed forces in southeastern Ghazni province.
The 203rd Thunder Corps of the Afghan Military in the Southeast said the militants were killed in Khogyani district of Ghazni province during the operations of the armed forces of the Thunder Corps.
The source further added that the operations were conducted in Ganj, ZaraiQala, Deh Pirgai, Syedan Qala, Barwali, Larwali, and Pakawal areas.
According to the Thunder Corps, at least eight militants also sustained injuries during the same operations.
The Taliban leader Omar who was killed during the operation was originally a resident of Maidan Wardak district, the Thunder Corps added.
In the meantime, the Thunder Corps said some vehicles, weapons, and ammunition belonging to Taliban were also destroyed during the operations.
Full report at:
https://www.khaama.com/taliban-leader-omari-and-15-militants-killed-in-ghazni-operations-05014/
--------
Myanmar Rebels Say Clashes With Gov't Could Displace More People
April 28, 2018
Yangon. Fighting between Myanmar forces and a rebel group in the remote northeast could escalate, a spokesman of the Kachin Independence Army (KIA) told Reuters on Friday (27/04), worsening a humanitarian crisis that has displaced more than 4,000 people.
One of Myanmar's most powerful rebel groups, the KIA has regularly clashed with government troops in the mountainous region bordering China and India since 2011, when a 17-year-old ceasefire broke down.
Since early April, the conflict has escalated, driving more than 4,000 people from their homes, civil society groups based in Kachin have said.
Clashes have been reported in half of the 18 townships in the region, where the Myanmar military has sent about 2,000 infantry troops, fighter aircraft and helicopters to combat KIA forces, said the spokesman, Col Naw Bu.
"The army is sending more troops from the lower part of Myanmar and that's why the fighting will be more intense," he said.
"The number of refugees could increase and they could suffer more challenges," he added, calling the clashes "the worst conflict" since Kachin soldiers started fighting the government in the early 1960s.
He declined to give details of the casualties sustained by the KIA or its military deployment.
Myanmar's military and civilian government officials did not immediately respond to requests from Reuters for comment.
Aid groups have urged the government to allow access to the village of Aung Lawt, where about 2,000 people have been trapped in a remote forest with no access to humanitarian aid for two weeks.
"The longer it takes, the more challenging it is for them. And most of the people are elderly, women and children," said Gum Sha Aung, an official of a coalition of Kachin-based humanitarian groups.
The United States embassy in Yangon said it was "deeply concerned" about intensified fighting in Kachin.
In a Twitter message on Friday, it urged the government and military to "protect civilian populations and allow humanitarian assistance" to those affected by the recent conflicts.
A coalition of 32 groups in Kachin this week urged the United Nations Security Council to refer Myanmar to the international criminal court, citing recent deaths and displacement of civilians in Myanmar army operations.
"Women, children, elderly people forced to flee their homes because of the relentless fighting in Kachin," Mark Cutts, the head of a UN agency coordinating humanitarian affairs in Myanmar, said in a Twitter message on Thursday.
"Local humanitarian organizations doing outstanding work trying to help. But when will this decades-old conflict end?"
Reaching a comprehensive peace deal with Myanmar's ethnic minorities has been leader Aung San Suu Kyi's stated top priority, but the Buddhist-majority country has seen the worst fighting with rebels in years since she took office in 2016.
Full report at:
http://jakartaglobe.id/international/myanmar-rebels-say-clashes-govt-displace-people/
--------
Six dead in suicide hit on Afghan army base
April 29, 2018
LASHKAR GAH - At least six people including the attacker have been confirmed dead and 10 others injured as a suicide bomber blew an explosive-laden car next to a military base in Nad Ali district of Helmand province in southern Afghanistan on Saturday, spokesman for provincial government, Omar Zawak said.
"A terrorist riding an explosive-laden car blew himself up next to a military base in Nad Ali district today morning, killing himself and five others including one security personnel and four civilians and injured 10 more people including seven civilians and three security personnel," Zawak told Xinhua. Without providing more details, the official said an investigation is underway. However, unofficial sources said the number of casualties is higher than reported.
Taliban outfit since launching its so-called spring offensive on Wednesday has intensified activities elsewhere in the insurgency-hit Afghanistan and since then fierce fighting has been continuing in parts of the country.
Meanwhile, a total of 12 people sustained injuries as a blast hit a booth of police traffic in Jalalabad city, the capital of Afghanistan's eastern Nangarhar province on Saturday, a provincial government official Attaullah Khogiani said.
"A bomb blast, organized by terrorists, targeted a police traffic booth in Jalalabad city today morning, and injured 12 persons including two traffic police," Khogiani told reporters here.
Without blaming any militant group, the official said that the attackers by organizing terror attacks want to terrorist the people.
Full report at:
https://nation.com.pk/29-Apr-2018/six-dead-in-suicide-hit-on-afghan-army-base
--------
Rampant nepotism and politics in BEFAQ
April 29, 2018
Befaqul Madarisil Arabia Bangladesh (BEFAQ) is alleged to have disregarded conventions through the election of its executive committee at its 10th board council held on February 12
The largest Qawmi madrasa education board in Bangladesh has been accused of nepotism and bending to political influence in the recent election of its new committee.
Befaqul Madarisil Arabia Bangladesh (BEFAQ) is alleged to have disregarded conventions through the election of its executive committee at its 10th board council held on February 12.
BEFAQ appointed relatives of influential alems, including the son of qawmi board chief Allama Shah Ahmad Shafid, to senior posts. At the same time, political high-ups were also given responsible posts in BEFAQ.
In response, Mymensingh alems demanded the cancellation of the BEFAQ committee within two weeks of the 10th council concluding at the Jamia Imdadia Arabia Faridabad madrasa.
At a February 26 meeting of the head teachers of different madrasas, Mymensingh Majlish-e-Amela President Khaled Saifullah Sadi tabled a six-point demand which included the cancellation of the BEFAQ committee called 'Majlish Khash'.
"The 10th council was not held democratically," Khaled Saifullah Sadi said. "That is why we are demanding a new committee be elected.
"Members from madrasas under BEFAQ in each district should be given posts in the shura council and the Majlish-e-Amela."
Religious leaders started expanding their influence in BEFAQ when BNP came to power after HM Ershad's downfall in 1990. Later, religious parties also began playing an influential role in employing officials and staff of BEFAQ.
Sources from BEFAQ and different qawmi madrasas have said that according to the laws established during the establishment of BEFAQ, no senior leaders of political parties can be elected to the committee board.
According to the law, the members of BEFAQ have to be elected from among the madrasa teachers.
When asked if nepotism had played a role in the forming of the committee, BEFAQ Secretary General Mawlana Abdul Quddus accepted some "mistakes" had been made.
"Such incidents might have occurred once or twice," he said. "We do not know about it but we intend to correct these mistakes in the next council meeting."
BEFAQ Senior Vice-President Allama Ashraf Ali was unreachable when contacted.
Qawmi board expanded
The number of members overall was increased in the recently-announced committee.
116 members were included in the executive committee, while 242 members were elected in the shura council. The members of the executive council also have the right to stay in the shura council.
At the 9th BEFAQ council held on 2012, by comparison, there were 55 members in the executive council and 145 members in the shura council.
At the 10th BEFAQ council, Hefazat-e-Islam Amir Shah Ahmad Shafi was re-elected president to a post he has held for the past decade.
The council also elected Shah Ahmad Shafi's son Mawlana Anas Madani as the vice president, and son-in-law Mawlana Ishaq as a member.
Secretary General Mawlana Abdul Kuddus' brother-in-law Mufti Nurul Amin was elected as the joint secretary general, while his brother Mawlana Abdul Kadir was made a member. Such selections sparked controversy on social media.
In a similar manner, Mufti Niamatullah, the brother-in-law of another joint secretary general, Mawlana Mahfuzul Haque, was elevated to the same post.
Mawlana Mahfuzul's brother, Mamunul Haque, was made a member. Membership was also given to Mawlana Ataullah, the son-in-law of Senior Vice-President Mawlana Ashraf Ali.
Mawlana Rashid Ahmed, the son of Vice-President Mufti Wakkas, was given the post of general secretary, while Mawlana Mahmudul Hasan and his son-in-law Mawlana Niamatullah Faridi were made executive committee vice-president and member of shura council, respectively.
However, Ahmad Shafi's son, Anas Madani, was elected as the vice-president, bypassing the claims of Hefazat Secretary General Junaid Babunagari.
Even though Babunagari is one of the heads of Hathazari Madrasa under the control of Ahmad Shafi, complaints have been lodged against Madani for being elected as the vice-president only because of his lineage.
Politics in BEFAQ
Leaders from important religious groups are now occupying top posts in the BEFAQ council.
Leaders from religious parties including Jamiat-e-Ulama-e-Islam, Khilafat Majlish, Islami Oikya Jote, Bangladesh Khilafat Andolon, and Bangladesh Khilafat Majlish have achieved top positions in the executive committee of BEFAQ.
Claims have been made that qawmi madrasa teachers and students are being used by these leaders in their own ploys.
A greater number of political leaders than ever before have also been elected into the executive committee this year.
Senior Vice-President of BEFAQ Allama Ashraf Ali is the chairman of advisory committee of Bangladesh Khilafat Majlish.
Among the vice-presidents of BEFAQ are Jamiat Secretary General Mawlana Nur Hossain Kashemi, Jamiat Amir Mufti Wakkas, Islami Oikya Jote leader Mawlana Muhibullah Babunagari, Islami Oikya Jote Vice-President Mawlana Abdul Hamid, Bangladesh Khilafat Andolon Amir Mawlana Ataullah Ibn Hafezi, and Islami Oikya Jote Secretary General Mufti Faziullah.
Full report at:
https://www.dhakatribune.com/bangladesh/2018/04/29/rampant-nepotism-politics-befaq/
--------
India
UPSC Grooming for Muslims Pays off Again, 51 Candidates from The Community Cleared the Three-Stage Examination
29th April 2018
NEW DELHI: For the second consecutive year, over 50 Muslim candidates have qualified for the coveted civil services.
An analysis of the civil services examination results, declared by the Union Public Service Commission on Friday, shows that 51 candidates from the community cleared the three-stage examination. This is one short of the figure from the previous year, when 52 cracked the exam. In percentage terms, 5.15 per cent of the successful candidates are Muslims as 990 qualified this year.
Saad Miya Khan, at number 25, secured the highest rank.
The increasing number of Muslims clearing the exam, considered the toughest in the country, is being attributed to the community's concerted effort to groom Muslim youths for the top bureaucracy.
The need to push Muslim youth into the civil services was felt after the Rajinder Sachar Committee, set up in 2005 to examine the status of Muslims in India, found that just 3 per cent were in top administrative jobs.
The Sachar Committee report served as a wake-up call, so in 2007, community elders decided to groom bright Muslim youths for the test.
"The report was an eye-opener for us. We realised that while 90 per cent of the total governance-related functions are carried out by top bureaucrats, there are so few Muslims who represent us," said Syed Zafar Mahmood, a former civil servant.
He has been running the Sir Syed Coaching and Guidance Centre under the parent organisation, the Zakat Foundation of India, since 2007, which offers scholarships to about 50 students annually. This year, 26 students from his centre qualified."Unless Muslims get into the decision making and implementation process of various government programmes, how will the face of the community change?" he asked.
His concerns are justified. Prior to 2012, when 31 candidates made it to the final list, not even those many students qualified to be what is considered the "most sought-after" government job in the country.
Some other popular academies for Muslim students are IKLAS IAS Academy in Chennai, Aaghaz Foundation in Lucknow, Hamdard Study Circle in New Delhi, M.P. Waqf Board in Bhopal, Noor and Jahan Foundation in Hyderabad.
'Representation must be proportional to population'
As there were 14.2% Muslims in India as per the Census 2011, the aim should be to reach a proportional representation in administrative and police services, Mahmood said. "We still have a long way to go but the growth has been remarkable since last year"
http://www.newindianexpress.com/nation/2018/apr/29/upsc-grooming-for-muslims-pays-off-again-1807762.html
--------
Tension grips Uttar Pradesh's Azamgarh after anti-Islam post on Facebook; heavy police deployment in area
Apr 28, 2018
Azamgarh: Tension gripped the Saraimeer area of Azamgarh district on Saturday, after members of a minority community torched a police outpost and damaged a police jeep over derogatory comments against their religion on Facebook, the police said.
"As many as 15 persons have been taken into custody over the incident. Heavy force has been deployed in the area," said Ravi Shankar Prasad, circle officer, Phooplur, adding that the police resorted to lathi charge and tear gas shells to control the situation.
According to the police, a derogatory post against Islam was uploaded to Facebook three days ago. Angered by the post, locals gathered at the police station on Friday.
The accused was arrested following a complaint by a former Nagar Panchayat chairman, Prasad said.
However, a large number of people gathered outside the police station on Saturday morning again, and demanded that the stringent National Security Act (NSA) be slapped against the arrested accused.
Full report at:
https://www.firstpost.com/india/tension-grips-uttar-pradeshs-azamgarh-after-anti-islam-post-on-facebook-heavy-police-deployment-in-area-4449549.html
--------
Film screening on 'love jihad': Day after scuffle, ABVP and Left students take out marches in JNU
Mohammad Ibrar
Apr 29, 2018
NEW DELHI: A day after a scuffle broke out between members of the ABVP and the Left wing students of JNU during the screening of a documentary film on 'love jihad', both the groups took out protest marches against the "violence perpetuated in the campus" by each other.
Both groups blamed each other for "vitiating the atmosphere of the campus. While the Left students claimed that the film screening was an attempt at "spreading communalism on the campus, the ABVP, criticising the Left for its "hypocrisy", alleged that they don't tolerate freedom of speech and expression of others.
There were simultaneous marches in the campus by both the Left and the ABVP. The Left groups started from Ganga Dhaba and went till Chandrabhaga hostel while the ABVP March started from Chandrabhaga hostel and ended at Sabarmati Lawns. Earlier both the groups were arriving at the same spot. But the plan was changed at the last minute by the JNU Student's Union (JNUSU) "to avoid confrontation."
At the start of the march, Geeta Kumari, JNUSU president said "many want to destroy JNU but we will not let their dreams come true, we will not indulge in violence or be provoked."
The screening of the film, 'In the Name of Love- Melancholy of God' s Own Country' was organised by a cultural organization Vivekanand Vichar Manch at the Sabarmati Lawns on Friday. The screening was opposed by members of the Student's Union and the Left-wing activists in the campus who said that "the film was spreading communal venom and bigotry."
The JNUSU in its statement said that "JNU students standing up for gender justice and against this politics of hate in the name of 'love jihad' protested against such politics today."
They alleged that their peaceful demonstratiion on students were showered with eggs and stones to create a situation of chaos "reminiscent of the Ramjas College incident."
However, Umesh Kumar Khute, Convener of the Vivekanand Manch said that the Left students "displaying their intolerance broke the security cordon and stood in front of the film screen with placards and raised slogans. We had asked them to see the film and then raise their concerns. But they became violent and we had to remove them from in front of the screen."
The incident also saw former JNUSU president Mohit Pandey complaining that he was assaulted and his car window pane broken by a group of ABVP members. "I felt I would die today," Pandey claimed in his police complaint alleged that stones were thrown at him and his car and some ABVP members tried to attack him with the broken glass shards.
This was denied by the ABVP who in their counter complaint claimed that it was Pandey who provoked them and attacked their members. They also claimed that he ran his car over a guard present at the incident.
In an exciting turn of event, Left students cross the Sabarmati Lawns road turn amidst tight security and the human chain formed by Left students and security guards while both sides continued to raise slogans against each other
Full report at:
https://timesofindia.indiatimes.com/city/delhi/protests-in-jnu-over-film-screening-on-love-jihad/articleshow/63956211.cms
--------
Pakistani, Indian DGMOs discuss cross-border firing along Line of Control and international border
Apr 28, 2018
ISLAMABAD: Pakistan's director general of military operations has discussed with his Indian counterpart the issue of cross-border firing along the Line of Control and international border.
Radio Pakistan reported that hotline contact was established between the Pakistani and Indian DGMOs.
"The Pakistani DGMO also highlighted deliberate targeting of innocent civilians residing along LoC and Working Boundary by Indian forces on false pretext of reaction against alleged cross border infiltration," according to the report.
The DGMO said "such unprofessional and unethical acts are provocative, detrimental to peace, vitiate the situation along LoC and also contribute towards further escalation".
He said durable peace along the LoC and the international border is contingent upon practical manifestation of existing understandings by Indian troops on the ground.
He claimed that so far this year there have been 219 civilian casualties due to Indian ceasefire violations.
Full report at:
https://timesofindia.indiatimes.com/india/pakistani-indian-dgmos-discuss-cross-border-firing-along-line-of-control-and-international-border/articleshow/63955239.cms
--------
North America
Trump motivates Muslim Americans to run for office
Apr 28, 2018
Saba Hamedy
Fayrouz Saad, a 34-year-old Muslim American, said her mom, a Lebanese immigrant, is "not a sign-waving sort of person."
But when President Donald Trump implemented the first iteration of his travel ban in January 2017 — which temporarily kept immigrants from seven predominantly Muslim nations from entering the U.S. — Saad said her mom was adamant about trekking to the Detroit Metropolitan Airport, where one of many anti-ban protests erupted across the US.
As Saad stood alongside her mother, sister and thousands of her fellow Michigan residents, she said, she felt inspired. "It was just clear, despite the election, that Michigan was just not going to stand for discrimination," she told CNN.
Now, motivated in part by that experience, Saad is running as a Democrat to represent Michigan's 11th Congressional District, which the Democratic Congressional Campaign Committee has identified as a key target to flip in November.
She is one of more than 90 Muslim American candidates who are running for office across the country, most of them as Democrats.
As they campaign, the fate of many Muslims with hopes of coming to the U.S. lies in the hands of the Supreme Court, which heard oral arguments concerning the legality of the latest version of Trump's travel ban last week.
"My parents came here in search of the American dream," said Saad, who worked at the Department of Homeland Security under the Obama administration. "I got into public service to protect that."
Some candidates — like Saad and Deedra Abboud, of Arizona — hope to make it to Capitol Hill to join Democratic Reps. Keith Ellison of Minnesota and André Carson of Indiana, the only two Muslim members of Congress. Others, like Fayaz Nawabi, whose family came to the US from Afghanistan as refugees, and Abdul El-Sayed, an Egyptian-American doctor, are vying for positions at the state and local level. (Nawabi is a candidate for the San Diego City Council and El-Sayed is seeking the Democratic nomination for governor of Michigan.)
In 2017, a political action group called Jetpac launched a campaign to encourage more Muslims to run for office, offering guidance on how they can get started. The organization offers interested candidates a "playbook," with a curriculum that helps teach list building, how to formulate a campaign message, social media outreach and fundraising.
"We have to elevate Muslim American voices," Jetpac Executive Director Shaun Kennedy told CNN. "American Muslims are fed up of not being included in conversation that is about them ... and they are being made targets."
Kennedy said the program they offer candidates currently has a wait list of about 100 people.
The organization is among a handful of others, including the Arab American Institute, that offer assistance to aspiring Muslim American politicians.
Running for office is challenging for most who decide to enter politics. But for many Muslim Americans, Islamophobia has become an additional obstacle.
According to a Pew Research Center analysis released in November 2017, "the number of assaults against Muslims in the United States rose significantly between 2015 and 2016, easily surpassing the modern peak reached in 2001, the year of the September 11 terrorist attacks. Half of U.S. Muslim adults say that in recent years it has become more difficult to be a Muslim in the U.S."
Kennedy said trainees in Jetpac's program often ask how they should deal with racism publicly. "Frequently our advice to them is to be very candid with the media and say, 'Look, don't cover the guy saying hateful things and instead talk about the positive stuff I'm saying and doing instead,' " Kennedy said.
Even with guidance, some Muslim American candidates have said it's tough avoiding anti-Muslim sentiments while campaigning given the current political climate.
Abboud, who is running for Republican Sen. Jeff Flake's open seat in Arizona, has experienced online harassment since announcing her campaign last year. — (CNN)
For example, one person commented on her Facebook page in July 2017, "Your religion doesn't allow equal rights to women so why are you running for senate?? Your religion teaches woman are worth less than livestock and are treated like animals! You don't have any business holding office in the USA. You should go back to your own country of origin and run for office over there!!"
Flake came to Abboud's defense after the backlash toward her made national headlines. "Hang in there @deedra2018," Flake tweeted. "Sorry you have to put up with this. Lots of wonderful people across AZ. You'll find them."
El-Sayed has also faced his fair share of discrimination.
"I think right now there's just a moment where the challenges that come with being Muslim American have hit a fever pitch," El-Sayed told CNN. "We're in a moment where we either slink into the background and wait for permission to come out or we stand up and say we belong here every bit as much as everybody else, and we add to the social fabric of who we are as Americans."
If elected, El-Sayed would be the nation's first Muslim governor.
But, he emphasized, "As a Muslim American, my work is not just about advocating for Muslim Americans."
"I have a beard. My wife wears a hijab," he added. "I don't think that should matter at all."
Ellison believes the rise in Muslims running for office stems from what he described as "the Americanization of the American Muslim community."
"The 1965 Voting Rights Act passed within my lifetime," Ellison told CNN in a recent interview. "I was 2 years old when it passed. Before that you didn't see African-Americans being sheriffs or mayors. So the Muslim community is made up of new Americans, many of whom don't come from a democratic tradition, and African-Americans, who come from a democratic country but were excluded from that democracy. That sort of explains why you have this new crop of Muslim candidates and elected officials."
Like other underrepresented groups, including women, many Muslim Americans were inspired to run for office after the 2016 election.
"There does seem to be an increase in Muslim Americans running for office," Evelyn Alsultany, director of the University of Michigan's Arab and Muslim American Studies Department, told CNN. "The Trump presidency has been a catalyst of sorts for Muslims — and other communities — to be more politically active."
Still, a handful of Muslim American candidates have emphasized in their campaigns that they are indeed proud Muslims but they are running because they are also proud Americans.
"They love this country, they believe in it, they believe in ideals that animate it," Ellison said. — (CNN)
http://www.phillytrib.com/news/trump-motivates-muslim-americans-to-run-for-office/article_8ee0b667-c333-589c-b20f-3c7e74f11ee8.html
--------
US's Pompeo presses Turkey on S-400 missiles purchase from Russia
27 April 2018
US Secretary of State Mike Pompeo on Friday warned of the "seriousness of U.S. concerns" in a meeting with his Turkish counterpart in Brussels over Ankara's decision to buy Russian S-400 surface-to-air missile batteries, which are not compatible with NATO's defenses.
"The secretary underscored the seriousness of US concerns ...if they go ahead," a senior US official said after a meeting between Pompeo and Turkish Foreign Minister Mevlut Cavusoglu on the sidelines of a NATO foreign ministers meeting.
"He asked Cavusoglu to closely consider NATO interoperable systems," the official added. Hours after being confirmed as US President Donald Trump's new secretary of state, Pompeo headed to Brussels to participate in the NATO meetings, which have focused on Russian aggression and ways to strengthen the alliance.
During the meeting Pompeo also raised concerns about the detention of Pastor Andrew Brunson, who has been in jail since December 2016, and other Americans detained by Turkey.
$2.5 billion deal
Turkey signed an agreement with Russia for S-400 missiles, reportedly worth $2.5 billion, in late December as part of Ankara's plans to boost its defense capabilities amid threats from Kurdish and Islamist militants at home and conflicts across its borders in Syria and Iraq.
Turkey's purchase of the systems has unnerved NATO member countries, which are already wary of Moscow's military presence in the Middle East, as the system is incompatible with the alliance's systems.
NATO officials have warned Turkey about unspecified consequences of purchasing the S-400, but Turkish President Tayyip Erdogan has said ties with NATO remain strong.
On Thursday, three US senators introduced a measure to block the transfer of Lockheed Martin's F-35 Joint Strike Fighter to Turkey, over what they said was Erdogan's "path of reckless governance and disregard for the rule of law."
Full report at:
https://english.alarabiya.net/en/News/middle-east/2018/04/27/US-s-Pompeo-presses-Turkey-on-S-400-missiles-purchase-from-Russia.html
--------
Pompeo begins Mideast tour amid Arab intervention plan
Apr 29, 2018
US Secretary of State Mike Pompeo has embarked on a tour of the Middle East in a bid to muster support for President Donald Trump's proposal to form an Arab military force to replace American troops in Syria.
Pompeo met with Saudi Foreign Minister Adel al-Jubeir and Crown Prince Mohammed bin Salman in Riyadh on Saturday, though the content of their discussions was not released.
The US secretary of state was expected to meet Saudi King Salman on Sunday and then fly on to the occupied territories to meet Israeli Prime Minister Benjamin Netanyahu. He will also travel to Jordan for talks with King Abdullah II.
The trip comes as the Trump administration is reviewing US involvement in the Syria conflict after repeatedly complaining about the cost and duration of the military intervention in the Middle East.
Last December, he lamented Washington's waste of money in the Middle East wars, tweeting, "After having foolishly spent $7 trillion in the Middle East, it is time to start rebuilding our country!"
Earlier this month, Trump called on Washington's allies, "including Saudi Arabia, the United Arab Emirates, Qatar, Egypt, and others" to form an Arab force to replace the US military in Syria.
"America does not seek an indefinite presence in Syria under no circumstances. As other nations step up their contributions, we look forward to the day when we can bring our warriors home," he said.
Pompeo's Middle East tour also comes amid a Saudi-led campaign to hold Qatar's feet to the fire over Doha's refusal to submit to the kingdom's steep demands.
On Saturday, the New York Times wrote, "As Saudi Arabia considers digging a moat along its border with Qatar and dumping nuclear waste nearby, Secretary of State Mike Pompeo arrived in Riyadh on his first overseas trip as the nation's top diplomat with a simple message: Enough is enough."
Last June, Saudi Arabia and the United Arab Emirates led an embargo by four Arab nations of Qatar, accusing the tiny, gas-rich nation of funding terrorism, cozying up to Iran and welcoming dissidents. According to the NY Times, years of perceived slights on both sides of the conflict added to the bitterness.
On Tuesday, Saudi Arabia's Foreign Minister Adel al-Jubeir said Qatar must pay for the US military presence in Syria if it wants to sustain Washington's support.
"Qatar has to pay for US military presence in Syria and send its military forces there, before the US president cancels US protection of Qatar," Jubeir said in a statement carried by the Saudi Press Agency.
Another important issue on Pompeo's agenda is Riyadh's bid to normalize ties with Israel.
Early this month, Saudi Crown Prince Mohammed bin Salman said Riyadh and Tel Aviv had "a common enemy" and that they could immediately normalize their relations once the Palestine issue was resolved.
Those remarks came after the young crown prince broke with tradition to declare that Israelis, like Palestinians, have the "right" to have "their own homeland", practically recognizing Israel for the first time.
Pompeo's trip also comes two weeks before a deadline set by Trump to decide whether to reinstate sanctions against Iran which were lifted under the 2015 nuclear agreement, officially called the Joint Comprehensive Plan of Action (JCPOA).
Reports said Washington's new chief diplomat was to meet Saudi and Israeli leaders on Sunday to rally coordinated opposition to Tehran and brief them on Trump's threat to end the Iran nuclear deal.
Pompeo made his first overseas trip as the new secretary of state earlier this week, traveling to the Belgian capital, Brussels, for a NATO foreign ministers' meeting.
Full report at:
http://www.presstv.com/Detail/2018/04/29/560022/Mike-Pompeo-Saudi-Iran-JCPOA
--------
Trump hasn't decided on Iran nuclear deal
28 April 2018
U.S. Secretary of State Mike Pompeo said Friday that President Donald Trump has yet to decide on whether to pull out from the Iran nuclear deal.
"Absent a substantial fix, absent overcoming the shortcomings, the flaws of the deal, he is unlikely to stay in that deal past this May," said Pompeo, speaking to reporters after a meeting of NATO foreign ministers in Brussels.
Trump considers the 2015 Iran nuclear accord "insane" and the "worst deal ever" and has threatened to pull the U.S. out of it unless Washington and its European allies strike a side deal with conditions largely unrelated to the original agreement spanning Iran's regional activities and its ballistic missile program.
But the pact's other signatories – Britain, France, Germany, the European Union, China and Russia -- view the deal as the best way to prevent Iran from acquiring nuclear weapons. Iran has adamantly denied that its program was intended to develop nuclear arms.
Trump has until a May 12th deadline to decide whether he will continue to extend sanctions relief on Iran with or without the side deal he has sought. Should he fail to extend relief, the deal would almost certainly collapse.
Saying he was warmly welcomed by his counterparts at his first NATO meeting, Pompeo said: "I made it clear today that the United States is eager to continue to lead here in NATO."
He added that Russia has threatened allies both in military and democratic terms.
"Russia threatens allies and partners both militarily…and through an aggressive campaign to undermine Western democratic institutions," he said, adding the U.S. "would love nothing more than to have them rejoin the democratic world".
Pompeo said the July summit, which will be held in Brussels, will focus on three priorities: "increased defense spending and burden sharing, strengthening NATO's deterrence and defense, and countering terrorism".
He also congratulated South Korean President Moon Jae-in and North Korean leader Kim Jong-un for their historic meeting Friday.
The leaders of North and South Korea agreed to a "complete denuclearization" and lasting peace on the Korean Peninsula, according to local media reports.
The deal followed a historic summit between Moon and Kim in the Joint Security Area of Panmunjom in the South.
Full report at:
http://www.worldbulletin.net/america-canada/201521/trump-hasnt-decided-on-iran-nuclear-deal
--------
Arab World
Paper Discloses S. Arabia's Intention to Spread Yemen War to Lebanon
Apr 28, 2018
The Arabic-language al-Akhbar newspaper released the text of a letter wrote by Kawar to the UAE diplomats on November 22, 2017, in which she elaborated on her meeting with Mike Bell, a retired US Army colonel who served in the Iraq war and is now Trump's top Middle East adviser on the National Security Council.
Quoting Bell, Kawar wrote, "Abdolrahman al-Sadhan, a senior advisor to Mohammed bin Salman (the Saudi crown prince), has said that it is better to spread the proxy wars against Iran in Yemen to Lebanon."
The Lebanese newspaper had also earlier this week disclosed a new document showing that the UAE foreign ministry had rendered all-out financial support for Hezbollah's adversaries in the upcoming parliamentary elections in Lebanon.
Al-Akhbar released a telegraph sent by Hamdan Seyed al-Hashemi, the UAE consul-general in Beirut, to the country's deputy foreign minister on December 19 to introduce 28 Shiite Lebanese candidates who have adopted strong positions against Hezbollah and Amal movement.
It also called for financial support for the candidates to launch election campaign.
Qalib Yaqi, Hareth Suleiman, Manni Fayyadh, Hoda al-Husseini, Mostafa Fahas, Ali al-Amin, Mohammed Barakat, Imad Qamiheh, Hadi al-Amin, Hessan al-Zin, Tha'er Qandour, Vazah Shararah, Omar Harqous, Ahmad Ismail, Manif Faraj, Loqman Salim, Malik Marvah, Nadim Qatish, Ziyad Majed, Saud al-Mola, Farouq Yaqoub, Abbas al-Johari, Sobhi al-Tofaili, Mohammed Abdolhamid Bayzoun, Ibrahim Shamseddin, Salah al-Harakat, Ahmed al-Asa'ad and Eqab Saqar are the names mentioned in the message.
Meantime, secretary general of the Lebanese Hezbollah resistance movement Seyed Hassan Nasrallah said his group sought a clean and fair election as the Arab country gears up for a legislative vote.
Addressing his supporters via a televised speech broadcast live from the coastal city of Byblos last Monday, Nasrallah stressed that people from all walks of life, religions and social status must participate in Lebanon's May 6 election, and determine the future of their country.
Nasrallah then pointed out that Lebanon could only be built through cooperation among all political factions.
http://en.farsnews.com/newstext.aspx?nn=13970208000689
--------
Syrian army, Islamic State wage fierce battle in south Damascus
APRIL 28, 2018
Reuters witnesses, a war monitor and state television reported intense fighting including artillery bombardment and small arms fire.
The army had made broad advances, said state television. The monitor, the Syrian Observatory for Human Rights, said it had gained control of several buildings in the densely built-up area.
Footage on state TV showed tanks rolling across an open area of fields to the edge of the enclave, which includes parts of al-Qadam district, al-Hajar al-Aswad and the Yarmouk Palestinian refugee camp.
It showed uniformed soldiers moving through battered streets with dense clouds of black smoke overhead, while the whizz and crash of artillery fire, the rattle of small arms fire and deep echoing blasts could all be heard.
Syrian President Bashar al-Assad this month defeated rebels in their biggest stronghold near Damascus in eastern Ghouta, and has since then focused on ending resistance in several smaller pockets near the Syrian capital.
Islamic State lost most of its territory in Syria last year in the face of two rapid offensives, one by the Syrian army backed by Russia and Iran, and the other by an alliance of Kurdish and Arab militias backed by the United States.
It has held onto some areas of desert in eastern Syria, as well as to the pocket in south Damascus and one other area by the borders with Jordan and Israel which is held by a group that has pledged allegiance to it.
Russia's entry into the war in 2015 has propelled Assad to a succession of victories that have dashed any rebel hopes of ousting him militarily, but rebel groups still hold large swathes of northwest and southwest Syria.
Russian Foreign Minister Sergei Lavrov said on Saturday after meeting in Moscow with his counterparts from Turkey and Iran that the three countries need to help Syria's government clear its country of terrorists.
Full report at:
https://www.reuters.com/article/us-mideast-crisis-syria/syrian-army-islamic-state-wage-fierce-battle-in-south-damascus-idUSKBN1HZ0MQ
--------
KSA learnt a lot from Pak anti-terror fight: Gen Abdulelah
April 29, 2018
JEDDAH - The government of Pakistan and especially its armed forces' support has strengthened Saudi Arabia's resolve to fight against terrorism, Acting Secretary General of Islamic Military Alliance Lt Gen Abdulelah bin Usman Al Saleh said.
In an interview with APP, he said every citizen of Saudi Arabia had great respect for Pakistan's political and moral support. "Pakistan and Saudi Arabia enjoy strong bonds of bilateral friendship, love and common faith, and in the coming years these relations would be converted into new shapes in the fields of economic and military cooperation."
Presently, armies of 24 Islamic countries are working under the supervision of Lt Gen Abdulelah bin Usman Al Saleh and this alliance has unprecedented power and professional capabilities.
Responding to a question, he said the whole world, especially Muslim countries were facing the challenges of terrorism and required comprehensive strategy to deal with it.
He said extraordinary alertness and capabilities, from intelligence to every level of operation, were required against terrorism, otherwise elimination of terrorism would be difficult.
He said to effectively deal with terrorism, Joint Islamic Military Alliance was in the process of preparing a strategy in consultation with allied countries' experts.
He termed intelligence agencies' role and bilateral cooperation 'vital' to eliminate terrorism. He said Pakistan was facing the challenge of terrorism for last several years, and the way the Pakistan government, armed forces and media tackled the menace was appreciable.
He said Saudi Arabia had also learnt from the Pakistani government and armed forces strategy. He said the Islamic Joint Military Alliance admired Pakistan government and armed forces' strategy to eliminate terrorism.
He said terrorists wanted to create sense of insecurity among people by carrying out subversive activities. To effectively tackle them, he said, greater unity and preparedness were required.
He said media could play a vital role to create awareness to deal with external and internal challenges in an effective way. He appreciated the role of Pakistani media for highlighting the sacrifices of Pakistan's armed forces in war against terrorism and playing role for national unity.
He said in the present era, media had a role to have impact on all segments of the society, especially in ensuring peace and stability.
He called upon Saudi Arabia, Pakistan and other allied countries' media to discourage activities based on extremism.
Full report at:
https://nation.com.pk/29-Apr-2018/ksa-learnt-a-lot-from-pak-anti-terror-fight-gen-abdulelah
--------
Egypt's Abdel Fattah al-Sisi promises quick end to Sinai military operations
April 2018
CAIRO: Egyptian President Abdel Fattah al-Sisi promised on Saturday to end military operations against jihadists in the Sinai Peninsula "as soon as possible".
More than 200 jihadists and at least 33 government troops have been killed since February 9, when Egypt launched operation "Sinai 2018" against an affiliate of the Islamic State group, according to official figures.
Sisi, speaking to Sinai residents at a military event broadcast on state TV, promised to "finish the mission as soon as possible".
He also said that a social and economic development plan for the area, launched in 2014, would be completed by 2022.
The country has been hit by significant militant attacks in recent years, especially after the army toppled Islamist president Mohamed Morsi in 2013 following mass protests against his government.
Jihadists have killed hundreds of soldiers, policemen and civilians, mainly in the northern Sinai, but also elsewhere in Egypt.
"All Egyptians know that their Egyptian brothers in Sinai are not responsible for the evil people," Sisi said, referring to jihadists.
"We don't hold our people in Sinai responsible in any way" for the attacks carried out by jihadists, said Sisi, stressing that "terrorism is present in all the republic's provinces".
Sisi thanked "every honourable Egyptian in the Sinai... this is a trying time but if we had not taken these measures (against jihadists), we would be losing Sinai".
New York-based Human Rights Watch said on Monday that the offensive has "left up to 420,000 residents in four northeastern cities in urgent need of humanitarian aid" in the northen Sinai.
The Egyptian army denounced the report, saying it was based on "undocumented and unreliable sources".
Full report at:
http://www.newindianexpress.com/world/2018/apr/28/egypts-abdel-fattah-al-sisi-promises-quick-end-to-sinai-military-operations-1807620.html
--------
Syrian Army, Islamic State Wage Fierce Battle in South Damascus
April 28, 2018
BEIRUT (REUTERS) - THE Syrian army and its allies engaged in a fierce battle on Saturday with Islamic State fighters in an enclave south of Damascus held by the jihadist group.
Reuters witnesses, a war monitor and state television reported intense fighting including artillery bombardment and small arms fire.
The army had made broad advances, said state television. The monitor, the Syrian Observatory for Human Rights, said it had gained control of several buildings in the densely built-up area.
Footage on state TV showed tanks rolling across an open area of fields to the edge of the enclave, which includes parts of al-Qadam district, al-Hajar al-Aswad and the Yarmouk Palestinian refugee camp.
It showed uniformed soldiers moving through battered streets with dense clouds of black smoke overhead, while the whizz and crash of artillery fire, the rattle of small arms fire and deep echoing blasts could all be heard.
Syrian President Bashar al-Assad this month defeated rebels in their biggest stronghold near Damascus in eastern Ghouta, and has since then focused on ending resistance in several smaller pockets near the Syrian capital.
Islamic State lost most of its territory in Syria last year in the face of two rapid offensives, one by the Syrian army backed by Russia and Iran, and the other by an alliance of Kurdish and Arab militias backed by the United States.
It has held onto some areas of desert in eastern Syria, as well as to the pocket in south Damascus and one other area by the borders with Jordan and Israel which is held by a group that has pledged allegiance to it.
Russia's entry into the war in 2015 has propelled Assad to a succession of victories that have dashed any rebel hopes of ousting him militarily, but rebel groups still hold large swathes of northwest and southwest Syria.
Russian Foreign Minister Sergei Lavrov said on Saturday after meeting in Moscow with his counterparts from Turkey and Iran that the three countries need to help Syria's government clear its country of terrorists.
Full report at:
https://www.usnews.com/news/world/articles/2018-04-28/syrian-army-islamic-state-wage-fierce-battle-in-south-damascus
--------
Syrian Army Wins Back Control of Key Region from ISIL in Southern Damascus
Apr 28, 2018
The Syrian army forces continued clashes with the ISIL terrorists West of Hajar al-Aswad region on Saturday, retaking control of al-Madeniyeh district in al-Qadam neighborhood.
Meantime, the artillery and missile units of the army heavily pounded the terrorists' positions in Hajar al-Aswad and Yarmouk refugee camp, inflicting heavy casualties on the militants.
Also, the Syrian army advanced in the Western and Eastern fronts of Hajar al-Aswad region, tightening the noose on the terrorists in the region which is considered as the ISIL key stronghold.
In a relevant development earlier today, the Syrian army continued its advances in several directions in Southern Damascus, killing tens of terrorists, including notorious commanders.
The Syrian army units clashed with the ISIL terrorists in al-Joureh, al-Asali and Hajar al-Aswad regions in Southern Damascus and managed to make further advances by breaking the defense lines of the terrorists in Southern Damascus.
The Syrian air force, missile and artillery units also heavily pounded the terrorists' military positions in Hajr al-Aswad and Yarmouk camp, inflicting heavy losses and casualties on the terrorists.
The Syrian artillery and missile units also targeted and killed the entire members of a terrorist group who had taken position in a building in the outskirts of Hajar al-Aswad region, field sources said.
The sources reiterated that at least 60 terrorists, including a number of foreign militants, have been killed in clashes with the Syrian army over the past 24 hours.
Full report at:
http://en.farsnews.com/newstext.aspx?nn=13970208001010
--------
Syrian Army Prepares for Purging Terrorists from Homs, Destroys Tahrir Al-Sham Base
Apr 28, 2018
The sources said that a large number of special army forces have been sent to Northeastern Homs along with a large number of military equipment, adding that they are missioned with purging all terrorists of al-Rastan region in Northern Homs.
Meantime, the air force, artillery and missile units of the Syrian army attacked the terrorists' positions and moves in Northern Homs and Southern Hama, inflicting damage on the militants.
Also, field sources reported that the Syrian army has destroyed one of Tahrir al-Sham's bases in the village of Ezzeddin in Northeastern Homs by missile strikes.
During the operations, a commander of Tahrir al-Sham named Abu Ramah al-Hamawi was killed.
In a relevant development on Thursday, the Syrian army's airstrikes and ground operations against terrorists in Northern Homs and Southern Hama killed tens of them, including two notorious commanders.
The army troops engaged in clashes with the terrorists in regions near Jabal al-Kan and areas near the village of al-Hamarat in Northeastern Homs.
Meantime, the army's artillery and missile units targeted militants' positions in areas of clashes, inflicting heavy casualties on them.
Also, the Syrian air force bombarded the militants' moves and positions near the towns of al-Rastan, al-Za'afaraneh, Deirful and Salim and the village of al-Hamarat in North and Northeast of Homs.
The Syrian fighter jets also attacked the terrorists' bases West of the town of Salamiyeh in Southwestern Hama.
Full report at:
http://en.farsnews.com/newstext.aspx?nn=13970208001307
--------
Turkey Planning to Merge Terrorist Groups in Northern Syria
Apr 28, 2018
"Since last February Ankara has been trying to incorporate Tahrir al-Sham with other Turkey-backed militant groups in Northern Syria," sources close to the terrorist groups said.
This comes as Turkey had fueled tensions between Tahrir al-Sham and other groups of Syria's Tahrir Front in Northern Syria.
"Accordingly several meetings between commanders of Tahrir al-Sham and commanders of the Turkish army have been held in Turkey," the sources added without specifying any further details on the outcome of the talks.
In a relevant development last Tuesday, Tahrir al-Sham Hay'at managed to recapture the lands lost to rival terrorists of Syria's Tahrir front in Western Aleppo.
Tahrir al-Sham stormed the positions of Syria's Tahrir front in Western Aleppo and seized control again over the villages of Labanta, al-Habatah and two regions of Ja'iyeh al-Sa'adiyeh and Ebud al-Rahman.
The two warring sides sustained casualties in the clashes.
Full report at:
http://en.farsnews.com/newstext.aspx?nn=13970208000747
--------
Assassination of Terrorist Commanders Continue in Northern Syria
Apr 28, 2018
Field sources reported on Saturday that one of the commanders of Syria's Tahrir Front terrorist group named Abdolrahman al-Ali Adnan has been killed by members of the rival group, Tahrir al-Sham Hay'at (the Levant Liberation Board or the Al-Nusra Front), in the village of Mosayyebin in Southern Idlib.
They added that a commander of the so-called Free Syrian Army (FSA) terrorist group, namely Ahmad al-Jarou, was also killed in a bomb explosion in Northern Idlib.
Meantime, a number of Tahrir al-Sham militants were killed near the town of Arab Saeed in Western Idlib and one of the terrorist group's members was assassinated by unknown assailants near the village of al-Qaniyeh, North of Jisr al-Shaqour in Soutwestern Idlib.
Several other terrorists were also assassinated in territories occupied by militants in Aleppo province.
Field sources said that the terrorist groups stationed in Aleppo and Idlib accuse each other of assassinating members of rival groups, adding that insecurity, fear and horror have increased among the militants.
In a relevant development on Thursday, two notorious terrorist commanders were killed by unknown assailants in Idlib as militants had apparently reached an agreement to stop infighting in Northern Syria.
A commander of Jeish al-Ahrar terrorist group, named Abu Salim Banash, was shot dead near the town of Banash in Northeastern Idlib after unknown raiders fired at him.
Also, reports said that a commander of Tahrir al-Sham Hay'at named Abu al-Ward Kafr Batikh was killed along with one of his comrades by unknown assailants North of Ma'arat al-No'eman in Idlib.
Meantime, unknown raiders' gunfire killed 3 foreign members of Tahrir al-Sham's Turkistani party near the town of Armanaz in Northwestern Idlib.
The developments came after Tahrir al-Sham, Syria's Tahrir Front and Soqour al-Sham terrorist groups had on Wednesday agreed to stop infighting in Aleppo and Idlib provinces.
Soqour al-Sham had threatened last week to kill Chief Commander of Tahrir al-Sham Hayat Abu Mohammad al-Joulani after the son of Soqour al-Sham's commander was killed in infighting in Northern Syria.
Soqour al-Sham that fought against Tahrir al-Sham along with Syria's Tahrir Front in Jabal al-Zawiyeh region in Idlib province threatened to killed al-Joulani.
Soqour al-Sham's decision came after Ahmad al-Sheikh, the son of Soqour al-Sham's commander, was killed in clashes with Tahrir al-Sham Hay'at in Jabal al-Zawiyeh.
Full report at:
http://en.farsnews.com/newstext.aspx?nn=13970208000989
--------
More French Military Convoys Arrive in Northeastern Syria
Apr 28, 2018
The French troops entered the US base in Ramilan region which is controlled by Kurdish fighters in Hasaka province, field sources said.
The sources pointed to the increased military movements of the French forces from Iraq to Syria, and said that the French troops in their military vehicles accompanied by American soldiers patrolled several districts in Manbij, Raqqa and some regions of Deir Ezzur.
In a relevant development last Tuesday, the US and France dispatched new military convoys to Hasaka province, an Arab media outlet reported, adding that the American and French forces have increased their military movements in the Northeastern part of the war-held country.
Al-Manar TV network reported that a new American military column, including several vehicles, arrived in Hasaka city and later moved toward the town of al-Shadadi in Southern Hasaka.
The network quoted field sources as reporting that the US convoy of armored vehicles moved towards al-Shadadi from a military base North of Khabour Dam.
Al-Manar further said that three military vehicles under French flags entered a Kurdish militia base in al-Aliyeh silos region South of the town of Ra'as al-Ein in Northwestern Hasaka.
Another Arab media also reported earlier today that the US Army has set up a new military base in Hasaka province despite President Donald Trump's claims that Washington is resolved to withdraw forces from Syria.
Moraseloun news website quoted media activists as reporting that the US forces have embarked on setting up a new military bas between the towns of Tal Tamer and Tal Bidar in Hasaka province in Northeastern Syria.
It added that the US plans to set up a military airport near the base.
Full report at:
http://en.farsnews.com/newstext.aspx?nn=13970208000529
--------
How much did Qatar bankroll Qassem Soleimani in terrorist-linked deal?
29 April 2018
Audio and text messages obtained by the Washington Post have revealed a multi-million dollar payoff to Qassem Soleimani, the leader of Iran's Islamic Revolutionary Guard Corps, as part of a deal to release 25 members from its ruling family from Iraqi kidnappers last year.
Doha has consistently denied that it paid terrorist organizations as part of the deal, but the messages reveal senior Qatari diplomats appearing to sign off on a series of side payments.
They ranged from $5 mln to $50 mln to Iranian and Iraqi officials and paramilitary leaders, with $25 mln earmarked for a Kata'ib Hezbollah boss and $50 mln set aside for "Qassem," an apparent reference to Soleimani, believed to be a key mediator in the hostage deal.
The outlet said it obtained hacked messages that reveal for the first time that the payment plan allocated an additional $150 mln in cash for individuals and groups acting as intermediaries, although they have long been regarded by US officials as sponsors of international terrorism.
These include, in addition to Iran's Islamic Revolutionary Guard Corps and Kata'ib Hezbollah, an Iraqi paramilitary group linked to numerous lethal attacks on American troops during the Iraq War, as well as Lebanon's Hezbollah militia and at least two Syrian opposition groups, including al-Nusra Front, the notorious Sunni rebel faction linked to al-Qaeda.
The newspaper says that the total sum demanded for the return of the hostages at times climbed as high as $1 billion.
"The Syrians, Hezbollah-Lebanon, Kata'ib Hezbollah, Iraq — all want money, and this is their chance," Zayed bin Saeed al-Khayareen, Qatar's ambassador to Iraq and chief negotiator in the hostage affair, wrote in the message. "All of them are thieves."
Also, "You will get your money after we take our people," Khayareen wrote in an April 2017 text message, recounting his conversation with a top official of Kata'ib Hezbollah.
Full report at:
https://english.alarabiya.net/en/features/2018/04/29/How-much-did-Qatar-bankroll-Qassem-Soleimani-in-terrorist-linked-deal-.html
--------
Syrian army hits Daesh targets in southern Damascus
Apr 29, 2018
Heavy shelling struck the district of al-Hajar al-Aswad, to the south of Damascus on Saturday, as the Syrian army worked to gain further ground against the remaining members of Daesh terrorists in the capital.
The offensive comes after the Syrian military announced the full recapture of Eastern Ghouta from militants late last month.
http://www.presstv.com/Detail/2018/04/29/560010/Syrian-army-hits-Daesh-targets-in-southern-Damascus
--------
Mideast
Yemen's Houthi militia leader to impose mandatory donations to army
29 April 2018
Houthi militia leader Abdulmalik al-Houthi is attempting to speed up the adoption of a controversial law to impose mandatory donations, known as "khums" by Shiite Muslims, that will force Yemenis to give money to the militia's armed ranks.
During a long televised speech on Saturday night, the Houthi chief demanded the draft law to be completed before the holy month of Ramadan, during which Muslims are advised to be more charitable and giving.
According to information obtained by Al Arabiya, the draft law will seemingly allow the militia to apply what they describe as the "khums," but to their own advantage – based on their interpretations of Zakat (obligatory alms-giving in Islam) and using banks that are under their control.
He called on traders and wealthy citizens to "support the material aspect of the war and its necessities," a sign that his group may intend to impose further levies on businesses.
The Houthi leader also stressed on the need to "focus on recruiting and mobilizing battle fronts," where the group is suffering from a significant shortage of fighters, alongside
https://english.alarabiya.net/en/News/gulf/2018/04/29/Yemen-s-Houthi-militia-leader-to-impose-mandatory-donations-to-army.html
--------
Iran, Russia, Turkey FMs vow to boost efforts to settle Syria crisis
Apr 28, 2018
Iran, Russia and Turkey have reaffirmed their strong commitment to Syria's sovereignty, independence, unity and territorial integrity, vowing to strengthen trilateral coordination to find a sustainable solution to the ongoing crisis in the Arab country.
At the end of their talks in Moscow on Saturday, Iranian Foreign Minister Mohammad Javad Zarif and his Russian and Turkish counterparts Sergei Lavrov and Mevlut Cavusoglu, respectively, whose countries act as guarantors of the Syria ceasefire, issued a joint statement.
According to the statement, they expressed their determination to increase tripartite coordination on the basis of the joint statements issued by Iranian President Hassan Rouhani and his Russian and Turkish counterparts Vladimir Putin and Recep Tayyip Erdogan, respectively, in November 2017 and April 2018.
The ministers "agreed to increase joint efforts aimed at facilitating the achievement of a lasting political settlement in Syria envisaged by the UN Security Council Resolution 2254 and through full use of multi-level mechanisms of the Astana format," the statement read.
The presidents of Iran, Russia and Turkey in April reaffirmed their commitment to work toward achieving a sustainable ceasefire between warring sides in Syria and bringing peace and stability to the war-torn Arab country.
Rouhani, Putin and Erdogan, "reaffirmed their determination to continue their active cooperation on Syria for the achievement of lasting ceasefire between the conflicting parties and advancement of the political process envisaged by UN Security Council Resolution 2254," said a joint statement issued at the end of the meeting of the three leaders in Ankara.
Iranian Foreign Minister Mohammad Javad Zarif said on Saturday that military approaches would fail to resolve the Syrian crisis, stressing that military intervention of certain countries has only prolonged the sufferings of people in the war-stricken state.
Zarif was speaking at a joint news conference with his Russian and Turkish counterparts in Moscow, where the three top diplomats discussed the latest developments in Syria.
The top Iranian, Russian and Turkish diplomats said the Astana peace process is the "only international initiative that had helped practically improve the situation in Syria through joint efforts to combat terrorism, reduce the level of violence and create favorable conditions for the political settlement including via facilitating broad intra-Syrian dialogue," the statement said.
They agreed to hold the next International Meeting on Syria in Astana in May 2018, it added.
It noted that Zarif, Lavrov and Cavusoglu said the Astana talks must "ensure real progress in achieving a political solution in Syria through an inclusive, free, fair and transparent Syrian-led and Syrian-owned process based on the free will of the Syrian people."
They agreed to hold more regular joint consultations of high-level representatives of the three guarantors with the United Nations Secretary General António Guterres and his special Envoy for Syria Staffan de Mistura, it added.
According to the statement, the three foreign ministers reaffirmed their determination to continue their cooperation in order to ultimately eliminate Daesh terrorist group, Jabhat Fateh al-Sham, formerly known as al-Nusra Front, and all other individuals, groups, undertakings and entities associated with terrorists as designated by the UN Security Council in Syria.
It added that they highlighted the importance of de-escalation efforts and reiterated their commitment to preserve the ceasefire in Syria that had become instrumental in helping to reduce violence on the ground and alleviate the humanitarian suffering in the war-stricken country.
The ministers rejected all attempts "to create new realities on the ground" under the pretext of fighting terrorism and expressed their determination to stand against separatist agendas aimed at undermining Syria's national sovereignty and territorial integrity as well as security of the neighboring countries, the statement said.
The Iranian, Russian and Turkish foreign ministers strongly condemned any use of chemical weapons in Syria and called on the Organization for the Prohibition of Chemical Weapons (OPCW) to "promptly and professionally" investigate into an alleged chemical attack in Syria.
Western states blamed the Syrian government for the suspected chemical weapons attack in the Damascus suburb town of Douma on April 7.
One week after the incident, the US, Britain and France launched a coordinated missile attack against sites and research facilities near Damascus and Homs with the purported goal of paralyzing the Syrian government's capability to produce chemicals.
Syria has rejected the accusations of possessing chemicals. It surrendered its chemical stockpile in 2013 to a mission led by the OPCW and the UN.
The joint statement further said the three foreign ministers reaffirmed their commitment to continue joint efforts aimed at protecting the civilians, improving the humanitarian situation via facilitating rapid, safe and unhindered humanitarian access to all those in need and creating conditions for the safe return of refugees and internally displaced persons.
Full report at:
http://www.presstv.com/Detail/2018/04/28/559993/Zarif-Lavrov-Cavusoglu-statement-Moscow-Syria
--------
Trial Begins in Iran Over Deadly Attacks Claimed by Islamic State
April 28, 2018
DUBAI (REUTERS) - A Revolutionary Court in Iran on Saturday began the trial of a group accused of involvement in attacks last year which killed 18 people in the first deadly operation by Islamic State in the country.
Eight of the 26 suspects in the case attended the hearing, facing charges including belonging to a terrorist organization, weapons smuggling and unauthorized entry to Iran, the Iranian judiciary's news website Mizanonline reported.
Sunni Islamic State, in decline in Iraq and Syria, claimed responsibility for the unprecedented attacks in majority Shi'ite Iran, in which suicide bombers and gunmen attacked the parliament and Ayatollah Ruhollah Khomeini's mausoleum in Tehran. The attackers were Kurdish Iranian Sunnis.
Full report at:
https://www.usnews.com/news/world/articles/2018-04-28/trial-begins-in-iran-over-deadly-attacks-claimed-by-islamic-state
--------
Islamic State lieutenant captured hiding among fleeing refugees in Turkey
April 28, 2018
A lieutenant of Abu Bakr al-Baghdadi, the fugitive leader of Isil, has been arrested in Turkey while trying to hide among refugees fleeing to Europe, according to Turkish authorities. Kasir al-Haddawi, an emir in Deir Ezzor, the eastern Syrian province, was captured by Turkish security forces in the western city of Izmir in a raid yesterday morning. Three other Islamic State of Iraq and the Levant (Isil) operatives were arrested with him, Turkish media reported.
The men were reportedly hiding among a group of Syrian refugees planning to get to Greece by boat. Previous Isil attackers have entered Europe posing as refugees and gone on to carry out attacks. Meanwhile, the EU's joint police agency seized servers used to spread Isil propaganda and gathered digital evidence in an operation that "punched a big hole" in the jihadists' media network.
Haddawi, who was identified in court papers only by the initials KEH, was close to Baghdadi's inner circle, Turkish authorities said.
The Isil leader remains at large even as his so-called caliphate has crumbled in Syria and Iraq. He may have been injured in an air strike and is believed to be hiding in eastern Syria close to the Iraqi border. Turkish and Western intelligence agencies will be hopeful that Haddawi might be able to provide information on Baghdadi's whereabouts.
Hassan Hassan, senior fellow at the Tahrir Institute for Middle East Policy, described Haddawi as a "mid-level leader" in the jihadist group.
Anadalou, Turkey's state news agency, said Haddawi was responsible for the massacre of 700 civilians in Deir Ezzor during his time as emir. The agency appeared to be referring to the killing of hundreds of members of the Shaitat, a Sunni tribe that rose up against Isil rule in 2014.
Haddawi is also the brother-in-law of a relative of Saddam al-Jamal, a Syrian fighter who deserted the Free Syrian Army and joined Isil in 2013.
Jamal went on to become a senior Isil leader and was later involved in producing the jihadists' execution videos. Jamal was reportedly captured by Western-backed Kurdish forces in October as they advanced through the Euphrates River valley. Europol said an operation was conducted this week by European countries including Britain, as well as the US, which may identify administrators who help run Isil propaganda, and possibly lead to the jihadists' supporters in Europe and elsewhere.
Full report at:
http://nationalpost.com/news/world/islamic-state-lieutenant-captured-hiding-among-fleeing-refugees-in-turkey
--------
Israeli gunfire in spotlight after hundreds wounded in Gaza
April 29, 2018
Mai Yaghi - When Palestinian Mohammed al-Mughari was shot by an Israeli sniper on the Gaza border, it left a hole in his leg so big he says he could fit a finger into it.
Over a month into mass protests, more than 40 Palestinians have been killed and at least 1,500 wounded by Israeli fire during the "Great March of Return", a major protest movement along the border between Gaza and Israel.
Doctors are troubled by the high number of disabling wounds, especially to the legs and knees, with Israel facing questions over both its disproportionate use of force and the types of ammunition it is using against demonstrators.
Three weeks after being shot, 28-year-old Mughari's leg is propped up and wrapped in plaster, but he's not in the clear yet. He knows there is still a possibility it might need to be amputated.
The bullet destroyed "30 centimetres of bone in the leg", he told AFP from his hospital bed in Gaza City.
Since March 30, thousands of Palestinians have gathered every Friday at points along the border separating the besieged Gaza Strip and Israel.
The marchers are demanding the right to return to their homes seized by Israel in 1948.
While most of the crowd stands a few hundred metres (yards) from the border fence, smaller numbers have pushed closer to burn tyres and throw stones.
In response Israeli snipers have fired live ammunition.
Mughari declined to say whether he threw stones, but he thinks it may be years before he can return to his restaurant job. "I was planning to get married soon. I'm not thinking about it anymore," he said.
The Israeli army says it fires live rounds only as a "last resort" to protect soldiers and the fence. It has accused Gaza's Islamist rulers Hamas of exploiting the demonstrations and using the protesters as human shields.
Since the protests began, Israeli troops have shot more than 1,500 people. The vast majority are young men, and most of the wounded were hit in the legs, according to the health ministry in Gaza. Twenty-one people have had limbs amputated. Among those killed there have been two journalists and several teenagers.
'Unusual' wounds
The asymmetry of force has brought criticism of Israel's policies. No Israelis have been injured since the protests began.
The European Union and others have called for an investigation into Israel's response, but the Jewish state has rejected the idea. The United States, Israel's strongest backer, has blocked moves for a probe at the United Nations.
Doctors have reported unusually severe injuries. "What is unusual is the lesions and the fact that the wounds are very wide, and the bones can be in many fragments," Marie-Elisabeth Ingres, head of the Doctors Without Borders mission (MSF) in the Palestinian territories, told AFP.
The charity has given nearly 600 people post-operative care since March 30.
Abdel Latif el-Hajj, director general of hospitals in Gaza, accused Israel of using types of ammunition aimed at permanently disfiguring their targets.
He told AFP the army was using "expanding bullets" that separate inside the body, "breaking the bones and blood vessels, causing severe rupturing of the tissue". Amnesty International on Friday said some of the wounds appear consistent with bullets that expand inside the body. Such ammunition is considered illegal in international warfare.
AFP could not independently confirm the claim. "The nature of these injuries shows that Israeli soldiers are using high-velocity military weapons designed to cause maximum harm to Palestinian protesters that do not pose imminent threat to them," an Amnesty statement said.
It accused Israel of "deliberate attempts to kill and maim" protesters.
In a statement the Israeli army said it was only using "standard weapons and ammunition that are lawful under international law", and accused Gaza's health ministry of regularly spreading false information.
Gaza's severely limited medical facilities have been stretched thin by the number of injuries. Hajj estimates they have only a few weeks of saline solution and antibiotics left.
They also have only around 50 orthopaedic devices, used to support damaged bones or replace destroyed ones. "I suspect they will be gone in a week," he said. Ingres from MSF thinks hundreds of people will need costly treatment for months, if not years, with the risk of infection and further amputations if quality treatment is not given.
Full report at:
https://nation.com.pk/29-Apr-2018/israeli-gunfire-in-spotlight-after-hundreds-wounded-in-gaza
--------
IS 'emir' killed in southern Yemen
April 29, 2018
ADEN : A top Islamic State group leader was killed and three others arrested in a government raid on Saturday in southern Yemen, police said.
Saleh Nasr Fadl al-Bakhshi, self-proclaimed "emir" of the radical group's branch in the Aden and Abyan regions, was killed in the raid on an IS hideout in government-held territory, a senior officer with Aden's police force told AFP.
Islamist networks, including IS and Al-Qaeda in the Arabian Peninsula, have exploited years of war in Yemen to expand their presence in the country's south.
The government of Abedrabbo Mansour Hadi has been based in southern Yemen since 2015, after Shiite Huthi rebels drove it from the capital Sanaa and much of the country's north, prompting a Saudi-led military intervention.
Southern Yemen is the target of a US-backed operation against AQAP, led by the United Arab Emirates, as well as a long-running US drone campaign.
Full report at:
https://nation.com.pk/29-Apr-2018/is-emir-killed-in-southern-yemen
--------
Saudi-led strike 'kills dozens' of Yemen rebels
April 29, 2018
SANAA - A Saudi-led coalition air strike has killed dozens of Yemeni insurgents including two commanders, state media said Saturday, in another blow to the rebels following the assassination of their political chief.
Yemen's Huthi rebels on Saturday staged a public funeral for Saleh al-Sammad, head of their Supreme Political Council and effectively the insurgents' second-in-command, who was killed last week in an air raid claimed by Saudi Arabia and its allies.
His funeral came hours after Saudi Arabia's state-run Al-Ekhbariya television said two high-ranking insurgents were among more than 50 Huthis killed in a new strike overnight in the capital Sanaa.
The rebels have been locked in a war since 2015 with a Saudi-led military alliance fighting to restore the internationally-recognised Yemeni government to power. Saudi-owned Al-Arabiya television said the strike had targeted the interior ministry in Sanaa, which is controlled by the rebels.
The Huthis, backed by Saudi Arabia's regional arch-rival Iran, confirmed an overnight air strike on Sanaa but gave no details. The rebels, who hail from northern Yemen, control Sanaa and much of the country's north - which borders Saudi Arabia - and the key Hodeida port on the Red Sea coast.
Shortly after Sammad's funeral began, the Huthis said they had launched eight ballistic missiles into the Sunni kingdom.
The coalition confirmed it had intercepted four missiles headed for the southern Saudi coastal city of Jizan, one day after the kingdom's defence forces said they had downed a missile headed for the same area. No casualties were reported in either incident.
The rebels have ramped up their missile attacks on Saudi Arabia this year, although only one casualty has been reported.
Saturday's attacks came as newly-appointed US Secretary of State Mike Pompeo was scheduled to land in Riyadh for meetings including talks on the Yemen conflict.
Riyadh and its close ally Washington accuse Iran of arming the Huthis, which Iran denies.
Tehran blames Saudi Arabia for the devastating Yemen war, which has seen millions struggle to secure food.
In Sanaa, Huthi supporters lined the streets Saturday for the funeral of Sammad and six others killed in last Thursday's strike.
Rebels dressed in military fatigues marched ahead of his hearse, which included seven cars draped in the Yemeni flag and accompanied by a marching band.
Nearly 10,000 people have been killed since the Saudi-led alliance joined the Yemen conflict, triggering what the United Nations has called the world's worst humanitarian crisis.
Yemen now stands at the brink of famine.
The Saudi-led coalition imposed a total blockade on Yemen's ports in November in retaliation for cross-border Huthi missile attacks on Saudi Arabia.
Full report at:
https://nation.com.pk/29-Apr-2018/saudi-led-strike-kills-dozens-of-yemen-rebels
--------
Palestinian teen dies after being wounded by Israeli fire on Gaza border
28 April 2018
A 15-year-old Palestinian youth died on Saturday after being shot the previous day by Israeli troops during protests along the Gaza border, the Palestinian Health Ministry said.
Israeli forces have killed 42 Palestinians since Gaza residents began staging protests along the border fence on March 30. The demonstrators are pressing for a right of return for refugees and their descendants to what is now Israel.
The teenager killed was identified as Azzam Aweida. Hundreds of people gathered at his home in the southern town of Khan Younis to attend the funeral.
Mourners carried his body, wrapped in a Palestinian flag, to a nearby mosque for prayers before burial. "My son is a martyr and I am very proud of him," said his father, Helal Aweida.
The Palestinians say Israel is using excessive force against the protesters, 2,000 of whom have been wounded by gunfire.
International criticism
Israel's use of live fire has drawn international criticism.
Israel says it is protecting its borders and takes such action only when protesters, some hurling stones and rolling burning tires, come too close to the border fence.
The UN High Commissioner for Human Rights Zeid Raad al-Hussein on Friday called the loss of life deplorable and said a "staggering number" of injuries had been caused by live ammunition.
Full report at:
https://english.alarabiya.net/en/News/middle-east/2018/04/28/Palestinian-teen-dies-after-being-wounded-by-Israeli-fire-on-Gaza-border.html
--------
Africa
Suspected Islamic militants kill over 30 Tuaregs in Mali
APR 29, 2018
BAMAKO (AFP) - Suspected Islamic militants killed more than 30 Tuaregs, including women and children, on Mali's northeastern border with Niger, several sources said on Saturday (April 28) as the second such attack in two days stoked fears of widespread unrest.
The former Tuareg rebel group MSA and tribal leaders said the massacre occurred Friday, a day after another attack by gunmen on motorbikes had left 12 people dead outside the town of Anderamboukane, which is also in the same area.
"There have been 43 deaths in two days, all civilians, from the same community," tribal leader Sidigui Ag Hamadi told AFP from the regional capital Menaka.
"Our fighters are destroying their bases and wiping them out. They are targeting innocent civilians," he added, saying he viewed the bloodletting as a reprisal for attacks on militants by armed Tuareg groups.
The MSA also put the death toll from the two attacks in the villages of Aklaz and Awakassa at 43, saying all the victims were from the Idaksahak pastoralist Berber group.
The group urged the governments of Mali and Niger to take steps to ensure that "an immediate end is put to these abominable crimes" and added that it would "not give in to any intimidation."
Menaka governor Daouda Maiga urged caution regarding the death toll until official observers had arrived on the scene.
"There are various versions, but I know there are women and children among the victims, as well as elderly," Maiga told AFP, while adding he would await the observers' return to Bamako.
FEAR OF REPRISALS
Local people had been fearful of reprisals by militants who suffered major losses in recent attacks in the region over recent weeks, Menaka official Attaye Ag Ossadki told AFP.
"But nobody imagined that they would kill civilians in this way," he said.
Two weeks ago, the UN's MINUSMA peacekeeping operation said they had received "very serious" information that "summary executions of at least 95 people" had occurred during anti-militant operations in the northeastern Menaka region carried out by "a coalition of armed groups" including MSA and Gatia.
Both groups flatly denied any involvement.
France intervened militarily in Mali in 2013 to help government forces drive Al-Qaeda-linked militants out of the north.
But large tracts of the country remain lawless despite a peace accord signed with ethnic Tuareg leaders in mid-2015 aimed at isolating the militants. The violence has also spilled over into both Burkina Faso and Niger.
French military sources announced 30 deaths in the troubled region after an April 1 confrontation near the Mali border between a French paratroop detachment fighting alongside Malian forces and some 60 militants.
The French military said the extremist group Islamic State in the Greater Sahara (ISGS) is using the border region as a haven.
The former Tuareg rebel group CMA on Saturday regretted the "spiralling violence in the Menaka region (which) is generally affecting civilian populations" and condemned what it called "abominable and inhuman acts".
The CMA urged political and military groups in the region to take steps to ensure civilian safety.
https://www.straitstimes.com/world/africa/suspected-islamic-militants-kill-over-30-tuaregs-in-mali
--------
Uganda: 2 killed, 36 arrested in mosque raid
29 April 2018
Uganda security forces said they have killed two people and arrested 36 others following a raid in a mosque in a Kampala suburb.
Addressing reporters Saturday afternoon, Ugandan counterterrorism police director Abas Byakagaba explained they were following what they described as a key suspect, who went into Usafi Mosque in Kisenyi.
"By that time we were only following up that suspect. In the process we found that there were children who we believe were kidnapped."
In total, 18 women and 94 children of various nationalities were found in the mosque for reasons still unclear, according to police.
Byakagaba said that people in the mosque who were not being followed engaged the police.
"That engagement caused the death of the two people and an injury to one of our own," he said.
Among those arrested was the suspect police were initially following.
Police has been investigating the murder of Susan Magara who was kidnapped early February.
In a statement to the media, Internal Affairs Minister Gen. Jeje Odongo said: "Following credible intelligence, one of the key suspects in the murder of Magara ran into Usafi mosque in Kisenyi having known that he was being tracked by security agencies."
Odongo said the mosque has been shut down and will be put under strict monitoring.
"It is sad that this had to take place in a mosque. If the suspect we were pursuing had not gone into the mosque, we had no reason whatsoever to go into the mosque. But we were placed in an awkward situation."
Minister Odongo also stated that they were going to investigate on how the children ended up in the mosque.
"Some look like children from Rwanda, from Burundi and Kenya, we are going to ascertain how many," he added.
Full report at:
http://www.worldbulletin.net/africa/201552/uganda-2-killed-36-arrested-in-mosque-raid
--------
Al-Shabaab Suicide Bomber Kills 6 People, Including Mil Officials in Somalia
April 29, 2018
he attack took place in the north-central Somalian city of Galkayo. Al-Shabaab, an al-Qaeda-linked terrorist group operating in the region, has claimed responsibility.
According to Garowe Online, a local news agency, the bomber blew himself up in a crowded restaurant after approaching a group of military officials. The media outlet has identified the two slain military authorities as Col. Abdihukun Abdullahi Mohamud (also known as Horreye), and Abdiqani Ahmed Khaire.
Garowe Online reports that the blast took lives of at least six people and injured eight others.
However, Reuters, citing local police officer Abdirahman Haji, said the attack was conducted in a military camp. According to the police, as quoted by the agency, the death toll might rise.
The militants of the Al-Shabaab terror group, who have sworn allegiance to al-Qaeda*, have claimed responsibility for the attack.
Full report at:
https://sputniknews.com/africa/201804281063988585-al-shabaab-somali-suicide-bomb/
--------
Boko Haram: Nigerian Air Force bombards sect base in Borno
April 29, 2018
By Wale Odunsi
The Air Task Force (ATF) of Operation LAFIYA DOLE on Friday destroyed a Boko Haram Terrorists (BHT) logistics base at Tumbum Gini in the northern axis of Borno.
Air Vice Marshal Olatokunbo Adesanya, NAF Director of Public Relations and Information, made the announcement in a statement on Saturday.
He said NAF Intelligence, Surveillance and Reconnaissance (ISR) aircraft conducted the Battle Damage Assessment (BDA) for the mission.
"The BDA revealed that the first wave of a Nigerian Air Force (NAF) Alpha Jet aircraft strike on the location totally destroyed the vehicles and other logistics items at the place thereby further degrading the terrorists' capabilities."
Full report at:
http://dailypost.ng/2018/04/29/boko-haram-nigerian-air-force-bombards-sect-base-borno-video/
--------
Europe
EU, US police cripple Islamic State media mouthpieces
27th April 2018
European and US police forces have struck at the heart of Islamic State's propaganda machine, seizing servers and "punching a hole" in its ability to spread its radical jihadist message online.
The transatlantic takedown was spread over eight countries and was coordinated by the EU's police agency in "a major operation over a two-year period", the head of Europol, Rob Wainwright, told AFP on Friday.
Wednesday and Thursday's operation was the latest in a campaign targeting in particular the Amaq news agency used by IS to broadcast claims of attacks and spread its message of jihad.
"With this takedown action, targeting major IS-branded media outlets like Amaq, but also al-Bayan radio, Halumu and Nasher news, IS's capability to broadcast and publicise terrorist material has been compromised," Europol said in a statement.
The "simultaneous multinational takedown" was coordinated by Europol from its headquarters in The Hague, and led by the Belgian federal prosecutor.
"Dozens and dozens" of police fanned out in their countries, seizing servers in the Netherlands, Canada and the United States as well as in Bulgaria, France and Romania.
- 'Technically challenging' -
The goal was "to destabilise this apparatus by seizing and dismantling servers used to diffuse IS propaganda and to identify and arrest its administrators," the Belgian prosecutor said in a statement.
"With this groundbreaking operation we have punched a big hole in the capability of IS to spread propaganda online and radicalise young people in Europe," Wainwright said.
Britain's Counter Terrorism Internet Referral Unit was also involved in identifying "top-level domain registrars abused by IS", and the Bulgarian interior ministry confirmed "access was blocked to four servers, used for disseminating information" by Amaq in its country.
"It was so technically challenging that we were only really able to do it because of our experience in major cybercrime takedowns," Wainwright told AFP.
"We basically ran the cyber playbook against IS," he said, adding police forces around the world had spent years gathering intelligence to locate the servers being used by the jihadists.
- 'Squeezed' in battle and online -
While a US-led international coalition has been combatting IS on the battlefields of Iraq and Syria taking back territory it had seized in 2014, nations have also warned that a multi-pronged effort was needed, including choking off funding and its online access.
"They've been squeezed on the battlefield, and now they've been really badly squeezed, badly hit, on the online platform as well," said Wainwright.
IS used Amaq to claim "every major attack since 2015 in Europe", he said, including the deadly assaults in Paris, Brussels, Barcelona and Berlin.
"The technical infrastructure which allows it to put these terrible propaganda videos and messages out has been knocked offline," Wainwright told AFP, speaking on his last day as Europol chief.
But Europol's investigation is still ongoing, and arrests could follow.
At its height, the IS media portfolio included smartphone apps for children, websites, and a glossy magazine, full of post-apocalyptic prophesies and articles declaring the "caliphate" was the only legitimate and viable home for Muslims.
But as IS's structure has crumbled, its media empire has waned too. Al-Bayan radio, which once broadcast on frequency mode and offered a wide range of statements, news and talks in several languages, had long moved online and reduced its activities.
On Friday, however, Nasher news -- the main Telegram account on which Amaq statements are posted in the region -- remained active, claiming jihadist fighters had damaged three Syrian army vehicles in fighting in southern Damascus.
"We are realistic in recognising that there still might be a retained possibility of re-establishing the network," Wainwright said, highlighting that this week's action was the third in a series of such takedowns.
"But we're getting stronger every time, and narrowing the space for them to re-create their online presence."
https://www.expatica.com/nl/news/country-news/Syria-Iraq-conflict-Europol-propaganda_1833195.html
--------
German bill seeks to prevent weapons exports to Saudi Arabia, UAE over Yemen conflict
Apr 28, 2018
Germany's democratic socialist political party Die Linke has proposed a draft bill aimed at banning weapons exports to Saudi Arabia and the United Arab Emirates (UAE) for their role in the three-year-old Yemen war, which has claimed the lives of thousands of civilians in the impoverished Arab country.
The bill seeks to prevent weapons exports and all other related goods and services to the two countries over their human rights abuses in Yemen.
The proposed law, if approved, would not only stop future transactions from being made but would also retroactively recall deals already made.
There are reports that German-made patrol boats bought by Saudi Arabia were used to blockade Yemeni ports from receiving aid and basic commodities , which consequently exacerbated the dire humanitarian situation in the conflict-plagued country.
The Yemeni Ministry of Human Rights announced in a statement on March 25 that the Saudi-led war had left 600,000 civilians dead and injured since March 2015.
The UAE is Saudi Arabia's key partner in its deadly military campaign against Yemen.
The United Nations says a record 22.2 million Yemenis are in need of food aid, including 8.4 million threatened by severe hunger.
A high-ranking UN aid official recently warned against the "catastrophic" living conditions in Yemen, stating that there was a growing risk of famine and cholera there.
"After three years of conflict, conditions in Yemen are catastrophic," John Ging, UN director of aid operations, told the UN Security Council on February 27.
He added, "People's lives have continued unraveling. Conflict has escalated since November driving an estimated 100,000 people from their homes."
Full report at:
http://www.presstv.com/Detail/2018/04/28/559959/Germany-to-block-weapons-shipments-to-Saudi-Arabia-UAE-over-Yemen-conflict
--------
URL: https://www.newageislam.com/islamic-world-news/pakistans-ahmadi-community-releases-damning/d/115085
New Age Islam, Islam Online, Islamic Website, African Muslim News, Arab World News, South Asia News, Indian Muslim News, World Muslim News, Women in Islam, Islamic Feminism, Arab Women, Women In Arab, Islamophobia in America, Muslim Women in West, Islam Women and Feminism