New Age Islam News Bureau
22 March 2015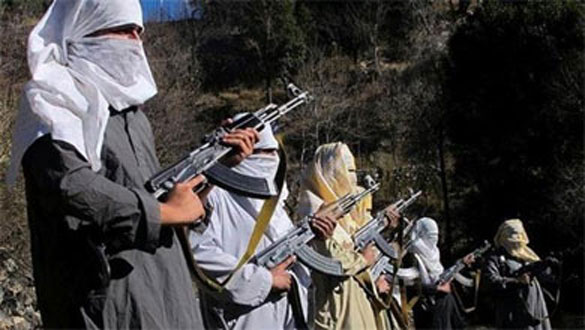 Pro-Taliban militants in Pakistan (file photo)
-----------
Pakistan
• Pakistani Security Forces Kill 80 Militants near Afghan Border
• International Islamic University Shuts Down Barelvi Mosque
• 7 Militants Dead In Khyber Airstrikes
• India tutoring militants in Afghanistan to target Pakistan: JuD
• Political party's target killers arrested: Karachi police
• Opposition leader worries over Uzair's allegations
• JI chief seeks fresh polls in Karachi
• Tunis wants to boost strategic ties with Islamabad: Envoy
• US lauds improving Pak-Afghan ties
------------
India
• 1987 Hashimpura Massacre: Delhi Court Acquits 16 UP Cops
• Muslims Responsible For Bringing Bad Name to Their Community: Maulana Madani
• Muslim Personal Board Meet Opposes 'Forcing' Of RSS Agenda
• Parents, Indian society deterred youth from joining ISIS: Rijiju
• 4 Indians have died fighting for IS in Iraq and Syria
• Killer cops' acquittal murder of justice: Indian Muslim body
• Mandatory for Govt to Accede Our Religious Rights: Muslim Panel
------------
Arab World
• 45 Dead In Attacks on Syria Kurds Celebrating New Year
• Iraqi Shia Fighters Kill Tens of ISIL Militants
• Iraqi Sunnis Accuse Shiite Paramilitaries of Burning Homes outside Tikrit
• 74 held in Saudi for involvement in terror activities
• 'Syria-bound' Briton held in Turkey arrested on return home
• Al-Qaeda driven out of Houta after it slew 20 soldiers
• Iraq's Kurdistan vows revenge after ISIL beheading of Peshmerga members
• Saudi king meets senior GCC officials
• Syria exiled opposition to snub Moscow peace talks
• Swedish king offers to contribute in resolving issue with Saudi Arabia
• U.S. judge orders release of Iraq prisoner abuse photos
• Al-Samaani blasts foreign interference in internal affairs
-----------
Africa
• 19 Killed In Sudan Ethnic Clashes: Tribesmen
• World powers hail resumption of Libya dialogue
• Tunisia says 'developments' in museum massacre probe
• Libya's army strikes on camp in Tripoli
• Day of carnage at Tunisian museum leaves memories, questions
• Tunisian gunman took break from travel agent job to shoot tourists
• S Sudan children 'increasingly abducted to fight war'
-----------
South Asia
• Afghanistan Faces 'Difficult' Taliban Spring Offensive
• Fearing IS, Afghan Shias Seek Help from Taliban
• BNP Waits For Khaleda's Nod
• President Ghani proposes 16 new names for Afghan cabinet
• AL-Shibir friendship!
-----------
North America
• ISIS Releases Kill List, Addresses Of 100 U.S. Military Members to Be Beheaded In Their Homes
• Obama says Israel vote won't affect Iran nuke talks
• UN Security Council to hold emergency meeting on Yemen
-----------
Mideast
• Yemen's Houthis Seize Airport in Town of Taez
• To End Extremism, Give Muslims Opportunity: Turkey's EU Minister
• U.S. evacuating remaining 100 Special Forces troops from Yemen
• Kurdish militant leader says armed struggle with Turkey 'unsustainable'
• U.S. says nuke talks advance, Iran voices mistrust
• Saudi king orders urgent medical aid to Yemen
• Palestinians at cancer risk in Israel jails: Rights body
• Yemen's Ansarullah seizes control of Ta'izz
-----------
Southeast Asia
• Why Hudud Law Cannot Be Enforced
• Muslim lawyers: Bar's stand is itself unconstitutional
• DAP: Hadi acted unilaterally on hudud
• Hudud issue makes it tougher on Barisan, says Kadir
-----------
Europe
• Anti-Muslim Attacks Soar in Austria: Report
• Al Qaeda-Islamic State Rivalry Worsens Threat, de Kerchove Says
• France wants guarantees Iran won't acquire atomic bomb
• UK says 'unity of purpose' to secure nuclear deal with Iran
Compiled by New Age Islam News Bureau
URL: https://www.newageislam.com/islamic-world-news/new-age-islam-news-bureau/pakistani-security-forces-kill-80-militants-near-afghan-border/d/102058
------------
Pakistan
Pakistani security forces kill 80 militants near Afghan border
Mar 21, 2015
Pakistani security forces have killed at least 80 suspected pro-Taliban terrorists and injured nearly 100 others in the northwest of the country near the Afghan border.
A Pakistani military source, speaking on condition of anonymity, said on Saturday that seven soldiers have been also killed in the Tirah Valley of Khyber tribal district.
Military jets have dropped bombs over the region, known to be a home to the Pakistani pro-Taliban militants.
Pakistan has intensified its anti-terror campaign following a December 16, 2014, attack on an army-run school in the city of Peshawar, which claimed the lives of about 150 people, mostly children.
The militant group, Tehrik-i-Taliban Pakistan (TTP), claimed responsibility for the attack, saying it was carried out in retaliation for an ongoing Pakistani military offensive against the militants in the country's tribal belt.
The militant groups in Pakistan have carried out numerous attacks against Pakistani security forces and civilians.
Many Pakistanis have lost their lives in bombings and other militant attacks in the country since 2001, when the Pakistani government entered an alliance with the US in its so-called war on terror.
http://www.presstv.in/Detail/2015/03/21/402861/Pakistan-army-kills-80-militants
------------
International Islamic University shuts down Barelvi mosque
Mar 21, 2015
ISLAMABAD: On Friday, students at the International Islamic University (IIUI) Islamabad offered prayers outside the locked doors of a mosque, recently shut down by the university administration.
The administration recently closed down the decades old mosque aligned with the Barelvi school of thought. They claimed the decision had been made because of security concerns.
Students praying outside the closed mosque expressed resentment against the university's decision.
At the university's main mosque, where a large number of students offer Friday prayers, the sermon is only delivered in Arabic.
For the last seven years, students who associate themselves with the Barelvi school and others who wish to listen to the Friday sermon in Urdu, had been offering Friday prayers at another mosque located near the university entrance.
The mosque had originally been built by locals of the area, several decades ago.
In 2000, local people moved from the area after receiving compensation for their land from the Capital Development Authority (CDA) and the mosque was abandoned.
Students associated with the Barelvi school renovated this mosque in 2008 and began offering prayers here.
The IIUI Security Team recently shut down the mosque, citing security as the reason. However, the students took the matter to court. According to them, the court set March 24 as the date for the next hearing and allowed them to pray at the mosque, meanwhile. For several weeks, the students have been praying outside the locked doors of the mosque.
"Our mosque is safer than the main mosque but has been shut in the name of security," said a student member of Anjuman Tuleba Islam (ATI), the student wing of the Barelvi school.
He said that under the law, the university cannot stop students from praying at the mosque. Another student said the mosque was opened in 2008 and the university administration had no objection to it.
"We even requested the president to release funds for the renovation of the mosque but this was rejected. However, the university had no problem with us renovating the mosque," he said.
A spokesperson for IIUI, Haran Khattak, said the university treated all students equally irrespective of whether they associate with Salafi, Barelvi or any other school of thought.
"The mosque was shut down because of security concerns emerging after the Peshawar school attack. The varsity mosque is open for all students," he said.
Published in Dawn March 22nd , 2015
http://www.dawn.com/news/1171160/international-islamic-university-shuts-down-barelvi-mosque
------------
7 militants dead in Khyber airstrikes
March 22, 2015
KHYBER AGENCY - At least seven militants were killed and 10 others injured as military gunships targeted militant hideouts in Khyber tribal region's Tirrah Valley on Saturday.
Military gunships carried out airstrikes in Nari Baba, Sanda Pal areas of tehsil Bara in Khyber Agency, official and local sources said on Saturday.
The casualties, however, could not be verified by independent sources.
It merits mentioning here that fierce fighting underway in Tirah Valley for the last few days and both the forces and the militants have initiated fresh offence against one another in the area to get hold of the important posts.
Local sources said for the last couple of days, hideouts of banned organisations have continuously been targeted in airstrikes. Khyber is one of Pakistan's seven semi-autonomous regions governed by tribal laws and lies near the Afghan border. Tirah Valley is home to militants from the proscribed Tehreek-i-Taliban Pakistan (TTP) and an allied group called Lashkar-i-Islam.
Meanwhile, Pakistan army said Saturday that so far 80 terrorists had been killed while 100 others injured during current phase of military operations Zarb-e-Azb and Khyber-2. Director General, Inter-Services Public Relations (ISPR), Maj-Gen Asim Saleem Bajwa said seven soldiers also embraced martyrdom valiantly in the operation.
He said forces had inflicted heavy casualties on militants as the army follows up its series of aerial strikes to clear the area close to the Afghan border.
"The operation to clear areas further ahead, close to Pak-Afghan border has made steady progress and heavy losses have been incurred to terrorists," he tweeted. In Khyber Agency, terrorists were being dislodged from bases and they were fleeing across the border into Afghanistan.
The DG ISPR said that ongoing operations will continue with full force till total terrorist elimination from these areas.
http://nation.com.pk/national/22-Mar-2015/7-militants-dead-in-khyber-airstrikes
------------
India tutoring militants in Afghanistan to target Pakistan: JuD
March 22, 2015
Islamabad- Jamaatu Dawa (JuD) chief Hafiz Saeed has claimed that India was giving training to militants in Afghanistan to carry out terrorist activities in Pakistan.
The JuD chief said that a foreign hand was behind all the terrorist activities in the country and India wanted internal war in Pakistan, to distract it from the core issue of Jammu and Kashmir, said a press release issued today.
Saeed said that Kashmir is the jugular vein of Pakistan, which needed to be liberated from Indian occupation. He also said that Western countries have unleashed a propaganda linking Islam with terrorism, but they will not succeed in their nefarious design to subjugate Muslims. He said that Islam was fast spreading in the West, which has sent ripples through their societies.
Saeed also said that he was not averse to hold talks with India, but negotiations will only succeed if India withdrew its forces from Kashmir. The JuD chief claimed that his organization was not banned but only his adversaries were making such claims.
http://nation.com.pk/national/22-Mar-2015/india-tutoring-militants-in-afghanistan-to-target-pakistan-jud
------------
Political party's target killers arrested: Karachi police
Mar 21, 2015
KARACHI: Police on Sunday arrested four 'target killers' who they claimed were affiliated with a political party, and reportedly involved in the killing of political rivals.
The suspects were arrested from the Preedy area after a brief encounter with police personnel.
Several weapons and ammunition were recovered from the arrested suspects.
Police asserted that the arrested suspects were involved in target killing, snatching the hides of sacrificial animals and extortion.
In a separate incident, a police van was attacked with a rocket launcher in Sohrab Goth today. Security forces retaliated and killed three suspects who were allegedly linked to a banned organisation.
The crackdown against criminals has stepped up in Karachi with the focus shifting to those suspects who have taken shelter within political parties or are part of their militant wings.
Rangers arrest 22 suspects
Separately, Rangers personnel conducted raids in several areas of the provincial capital and arrested at least 22 suspects including alleged target killers, extortionists, those involved in Lyari's gang war, and banned militant organisations.
A Rangers spokesperson said that targeted operations were carried out in Agra Taj Colony, Soldier Bazaar, Bihar Colony, Malwari Parah, Liaqatabad Northern Bypass, Pirabad and Shah Faisal areas.
The spokesman added that weapons, ammunition and jihadi literature had also been recovered from the arrested suspects.
Today's developments comes amid accelerated efforts to clear the city of criminal elements, following the approval of the National Action Plan against terrorism. Targeted operations have been taking place in the metropolis since a joint grand targeted operation was launched with great fanfare in September 2013 in the hopes of improving the law and order situation.
http://www.dawn.com/news/1171217/political-partys-target-killers-arrested-karachi-police
------------
Opposition leader worries over Uzair's allegations
WASEEM SHAMSI
Mar 21, 2015
SUKKUR: The Pakistan Peoples Party appeared to have a sense of foreboding about hitherto undisclosed allegations apparently made by banned Peoples Amn Committee chief Uzair Jan Baloch in custody in the United Arab Emirates as Leader of the Opposition in the National Assembly Syed Khurshid Shah said on Saturday that the Lyari gangster was taking his revenge on the PPP for the action against him.
Uzair Baloch, who is in the custody of the United Arab Emirates authorities and the law enforcement agencies are trying hard to bring him back here, had fled abroad after a targeted operation was launched in Karachi against criminals.
After his arrest, there are widespread reports that Uzair Baloch — who is allegedly leading one of the two major gangs in Lyari — reportedly disclosed that certain senior leaders of the PPP were his partners in crime.
Read: Uzair extradition: police team visas to expire soon
Speaking to reporters at his residence, Mr Shah avoided talking about death row convict Saulat Mirza's allegation against the Muttahida Qaumi Movement leadership.
"I cannot talk about Saulat Mirza, but the case of Uzair Baloch is different," he said.
He said that Lyari was a PPP stronghold, where the party had launched an operation to restore peace and order. Uzair Baloch had to escape abroad since the noose was tightening around his neck to the targeted operation, he added.
Also read: Opposition leader worries over Uzair's allegations
Mr Shah said that now he was levelling allegations against the PPP leadership in order to take his revenge.
Governor's rule
Talking about the rumours of Governor's Rule in Sindh, the opposition leader said that after the 18th amendment to the Constitution it was quite difficult to impose Governor's Rule in any province.
He warned if Governor's Rule was imposed in Sindh, it could also be imposed in other provinces.
Full report at:
http://www.dawn.com/news/1171094/opposition-leader-worries-over-uzairs-allegations
------------
JI chief seeks fresh polls in Karachi
Mar 21, 2015
KARACHI: Jamaat-i-Islami (JI) chief Senator Sirajul Haq has called for fresh elections in Karachi on the grounds that the city has been deprived of peace, stability and prospects of development because those elected from the city had got "fake mandate" in the May 2013 general elections and had failed to deliver.
"Besides, the federal government should announce Rs500 billion development package for Karachi," he said at a press conference at the JI's Idara Noor-i-Haq office here on Saturday. "The people of Karachi want permanent peace for which the federal government should formulate a comprehensive and long-term policy."
He announced that a 'youth centre' would be established at Idara Noor-i-Haq to build future leadership.
Full report at:
http://www.dawn.com/news/1171126/ji-chief-seeks-fresh-polls-in-karachi
------------
Tunis wants to boost strategic ties with Islamabad: Envoy
March 22, 2015
islamabad - Abdel Elarbi, Ambassador of Republic of Tunisia, celebrated the 59th anniversary of the independence of his country here at a local hotel and there was representation from all walks of life. Chaudhry Shujaat Hussain, former prime minister and president of PML-Q, was the centre of attraction for many ambassadors present in the reception. Germany Ambassador Dr Cyrill Nunn while talking to Ch Shujaat enquired about his health as the former prime minister is regularly visiting Germany for his treatment over past many years.
Dr Nunn informed Shujaat that a seven-member parliamentary delegation of Germany will visit Pakistan on 14th and 15th of April on the invitation of the speaker National Assembly of Pakistan.
US Ambassador Richard Olson also met with Shujaat and Mushahid Hussain Sayed. Shujjat offered Olson a farewell dinner. However, Olson replied that it will take some time for the new ambassador to come to Pakistan as there is a long procedure for approval from the Congress.
Syed Riaz Hussain Pirzada, federal minister for inter-provincial coordination, was the chief guest on the occasion. On the sidelines, there was a photo exhibition of Tunisian tourist sites.
Adel Elarbi has said that his country wanted to upgrade its strategic partnership with Pakistan for mutual benefit of their people. He pledged to find new avenues of cooperation between the two brotherly countries to bring the prevailing bilateral relations to the highest level of strategic partnership.
Tunisia and Pakistan enjoyed long-standing political, economic, social and cultural relations based on trust and mutual respect, he added.
Full report at:
http://nation.com.pk/national/22-Mar-2015/tunis-wants-to-boost-strategic-ties-with-islamabad-envoy
------------
US lauds improving Pak-Afghan ties
rch 22, 2015
WASHINGTON - On the eve of Afghan President Ashraf Ghani's visit to the United States, the White House has expressed appreciation for consistently improving Pakistan-Afghanistan relations, seeing cooperation between the two neighbours toward regional stability at the important time of ongoing transition.
In this regard, senior American officials noted the importance of collaboration between Pakistan and Afghanistan toward Kabul's reconciliation with the Taliban and acknowledged Islamabad's stakes in the Afghan success.
Meanwhile, in an opinion piece in The Washington Post, President Ghani and Chief Executive Office Abdullah Abdullah noted that "our cooperation with Pakistan is increasingly depriving rebels of sanctuaries."
In a White House conference call, US Special Representative for Afghanistan and Pakistan Dan Feldman said "given the importance of the relationship with Pakistan and with other neighbours, and given the emphasis that Ghani and Abdullah have placed on reconciliation, it will certainly be part of the broader discussion," during Ghani's visit beginning Sunday.
Hosting the Afghan leaders, Secretary of State John Kerry will chair one session at the Camp David on regional engagement and reconciliation in particular.
Feldman said the role Pakistan plays there is a "particularly important one and one that has really - the bilateral relationship between Afghanistan and Pakistan has really grown much stronger over the course of the last six months, given the outreach" by the top Pakistani and Afghan political and military leaders including Prime Minister Nawaz Sharif, Army Chief Gen Raheel Sharif and President Ghani.
The two capitals are "through a variety of ways that they're seeking to knit their two countries together in a variety of channels - economic and trade, by trying to continue to further the promise of the Afghan-Pakistan Transit Trade Agreement that was signed a few years ago, on cross-border military issues, on counterterrorism issues."
The special envoy also noted that Pakistan credited Afghanistan for detaining six of the people wanted in relation to the Peshawar Army Public School massacre. Referring to the security cooperation, he said the first-ever military cadets from Afghanistan are now being trained for 18 months in Pakistan.
Full report at:
http://nation.com.pk/national/22-Mar-2015/us-lauds-improving-pak-afghan-ties
------------
India
1987 Hashimpura massacre: Delhi court acquits 16 UP cops
March 22, 2015
A Delhi court on Saturday acquitted sixteen Uttar Pradesh police personnel accused in 1987 Hashimpura massacre in which over 40 Muslim were killed.
Additional Sessions Judge Sanjay Jindal acquitted sixteen Provincial Armed Constabulary (PAC) for the charges of murder under the IPC.
The court said that the prosecution has not been able to establish the identity of the suspected policemen. Rehabilitation of victims in the case was referred to legal services authority.
Full report at:
http://indianexpress.com/article/india/india-others/1987-hashimpura-massacre-delhi-court-acquits-16-up-cops/
------------
Muslims Responsible For Bringing Bad Name to Their Community: Maulana Madani
Mar 21, 2015
BIJNOR (UP): Muslims themselves are responsible for bringing a bad name to the community and creating the "Islam's image of terror", Jamiat Ulema-e-Hind general secretary Maulana Mehmood Madani today said and called for spreading education in the community to change this.
"If Muslims for coming 20 years decide their agenda for education and pledge to educate their children even if they have to go without a meal, then those who hate Muslims will be forced to change their opinion," he said.
Addressing a function in Kirtanpur here, he said that a section of people from the community have spoiled its image.
Full report at:
http://timesofindia.indiatimes.com/india/Muslims-responsible-for-bringing-bad-name-to-their-community-Maulana-Mehmood-Madani/articleshow/46645501.cms
------------
Muslim Personal Board meet opposes 'forcing' of RSS agenda
March 21, 2015
Jaipur: Any attempt to "impose" RSS agenda and curtail religious freedom of Muslims will be challenged at all appropriate levels, members of All India Muslim Personal Law Board asserted on Saturday while vowing to carry out a campaign to clear "misunderstandings" spread by the Sangh outfits.
Issues like religious conversion, inclusion of chapter of Bhagwad Gita in syllabus and introduction of Yoga and Surya Namaskar in schools were raised at the 24th national meeting of AIMPLB, an apex Muslim body.
The members accused RSS and other Hindu outfits of trying to force their agenda on Muslims. They alleged that the agenda of development on which Narendra Modi had contested election has been "left behind", according to the members present at the conclave. The members expressed the need for undertaking an extensive campaign to reach out to the masses to clear "misunderstandings and misconceptions" about the community.
"The country has a secular Constitution and the government cannot force people to learn chapters of the religious book of a particular community. Inclusion chapters of Gita in school syllabus is not appropriate," Khalid Rasheed Farangi Mahli of Imam-e-Eidgah Lucknow told PTI after attending a session in the ongoing general body meeting of the Board.
"There was a consensus in the session that we should undertake a campaign against the propaganda and agenda of RSS, Bajrang Dal, VHP and other such organisation in order to remove misconception for the Muslim community. This is needed in context of today when these organisations are trying to force its agenda on us," he said.
Full report at:
http://zeenews.india.com/news/india/muslim-personal-board-meet-opposes-forcing-of-rss-agenda_1565491.html
------------
Parents, Indian society deterred youth from joining ISIS: Rijiju
Mar 22, 2015
NEW DELHI: Days after Union home minister Rajnath Singh reposed his faith in the patriotism of Indian Muslims and brushed aside the threat of ISIS pull on Indian youth as "negligible", minister of state for home Kiren Rijiju applauded parents who have prevented their sons from joining the outfit.
Addressing an international conference on counter-terrorism organized by India Foundation, Rijiju said, "The war of terrorism has to be fought by the society." Giving the example of how terror groups like ISIS were trying hard to capture young minds, he said, "The parents and the Indian society have been able to prevent young people from joining such groups."
Full report at:
http://timesofindia.indiatimes.com/india/Parents-Indian-society-deterred-youth-from-joining-ISIS-Rijiju/articleshow/46649519.cms
------------
4 Indians have died fighting for IS in Iraq and Syria
Mar 22, 2015
NEW DELHI: As many as four Indians are learnt to have died fighting battles in Iraq and Syria alongside Islamic State ever since it captured power in parts of the region. These are part of around 10 Indians whose connection with ISIS has been confirmed by the intelligence agencies.
As many as 20 more of Indian origin but hailing from US, UK and Europe are learnt to be engaged in propaganda activity for the outfit. The latest casualty among these is that of former Indian Mujahideen (IM) operative Sultan Armar, whose death in a battle in Syria was reported by ISIS sympathizers on social media about 10 days ago.
Interestingly, however, only one of the four deceased had gone to the battle zone from India. Rest all are of Indian origin but were holed up in various countries for several years. The only direct export from India to have died in Syria is Kalyan youth Shaheem Tanki. The other three include Karnataka's Bhatkal-born Sultan Armar from Pakistan, one youth from Saudi Arabia and another from a South East Asian country.
Apart from these, there has been only one more fidayeen from India, Anwer Hussain, who died in 2014 in Afghanistan. However, all these deaths are yet to be confirmed by the intelligence agencies independently. Deaths of both Tanki and Armar were confirmed by the agencies through calls that were made to their respective families from Syria informing them of their ward's death. It must be noted that a similar call had been received in case of another ISIS recruit from Kalyan, Areeb Majid, who later returned to India and was arrested by National Investigation Agency (NIA).
Full report at:
http://timesofindia.indiatimes.com/india/4-Indians-have-died-fighting-for-IS-in-Iraq-and-Syria/articleshow/46649301.cms
------------
Killer cops' acquittal murder of justice: Indian Muslim body
22 March 2015
NEW DELHI: A court in New Delhi on Saturday cleared all sixteen policemen accused of murdering dozens of Muslims 27 years ago in a north Indian city, a lawyer said.
"The acquittal is a murder of justice and a black day in the history of India," said Zafarul-Islam Khan, president of the All India Muslim Majlis-e Mushawarat, the umbrella body of Indian Muslim organizations.
Khan said there is a pile of evidence of all kinds against the accused but the learned judge chose to give them benefit of doubt claiming that there was lack of evidence in the ease.
He added that the UP state government continued to tell the courts that it cannot find the accused while they were actually serving in their units, getting promotions and even retiring with full benefits.
Full report at:
http://www.arabnews.com/world/news/721536
------------
Mandatory for govt to accede our religious rights: Muslim panel
March 22, 2015
Jaipur: "It is necessary to make it crystal clear in front of those who hold the reins of power today that whatever Constitutional rights Muslims have as a citizen of free India they should confer upon them in a democratic manner. It is mandatory for the government of the day to honour the Indian Constitution to accede to all the religious and citizens rights of the Muslims and others of the country. - See more at: http://www.ummid.com/news/2015/March/21.03.2015/muslim-panel-jaipur-meet.html#sthash.OOBgwIoO.dpuf
The Muslims being citizens of India strive to claim their religious rights righteously and it is the duty of those in power to oversee that Muslims achieve this in a judicious and friendly manner without any ill feelings. This would strengthen brotherly relations among the communities leading to communal harmony and national integration which in turn would be beneficial for the country.
If Muslims, who constitute nearly one fifth of country's population and this is no small a number, are not taken into confidence with inclusive growth then India cannot stride on the path of development in a meaningful manner. For this the communal harmony between the majority and the minority communities should be the hallmark of development with granting full rights to the minorities and this is the duty of the government of the day to ensure it."
The above views were expressed by Maulana Syed Mohammad Rabey Hasani Nadvi, president of All India Muslim Personal Board, (AIMPLB), while delivering his presidential speech in the three-day 24th general session of AIMPLB here in the pink city at the seminary Jamea-Tul-Hidayah on Saturday. Over 400 delegates from all over the country are participating in the convention.
Full report at:
http://www.ummid.com/news/2015/March/21.03.2015/muslim-panel-jaipur-meet.html
------------
Arab World
45 dead in attacks on Syria Kurds celebrating new year
21 March 2015
Forty-five people, including five children, were killed in attacks on Syrian Kurds as they celebrated their new year, a monitor said Saturday, accusing the Islamic State of Iraq and Syria (ISIS) group of responsibility.
The attacks occurred Friday in what was one of ISIS's bloodiest days in Syria as the Sunni Muslim extremist group left dead more than 120 people across the war-ravaged country.
"There are now 45 dead from last night's attacks in Hasakeh, as most of those who were in critical condition passed away," the Syrian Observatory for Human Rights said, updating its toll after reporting that 33 were killed.
Two explosions struck as members of Syria's Kurdish minority took part in festivities on the eve of Nowruz, the Kurdish new year, in the northeastern city of Hasakeh.
"They were lighting the candles at night, and there were a lot children around," said Observatory head Rami Abdel Rahman.
There was still no claim of responsibility, but Abdel Rahman told AFP that the ISIS group was behind the attacks.
According to him, the explosions were a few hundred meters apart from each other, with at least one of them caused by a suicide bomber inside a vehicle.
Fear of additional attacks dimmed the spirit of the Nowruz celebrations in Hasakeh on Saturday.
"Today is supposed to be a day about freedom, but people were afraid of celebrating," Abdel Rahman said.
Full report at:
http://english.alarabiya.net/en/News/middle-east/2015/03/21/45-dead-in-attacks-on-Syria-Kurds-celebrating-new-year-.html
------------
Iraqi Shia fighters kill tens of ISIL militants
Mar 21, 2015
Iraqi volunteer fighters have engaged members of the ISIL Takfiri militant group in the violence-wracked northern province of Salahuddin, and inflicted heavy losses on the extremists.
A local security source, speaking on condition of anonymity, said Popular Mobilization Units killed tens of ISIL militants during fierce clashes west of the city of Samarra, located 125 kilometers (78 miles) north of the capital, Baghdad, on Saturday, Iraq's al-Sumaria satellite TV network reported.
The source added that the fighters also destroyed a number of vehicles that ISIL had planned to use as car bombs against security forces in the area.
Meanwhile, ISIL Takfiris have executed five more Iraqi Kurdish Peshmerga fighters in Hammam al-Alil area, located some 25 kilometers (15.5 miles) south of the militant-held city of Mosul.
ISIL released a video on March 19, showing the purported beheading of three Peshmerga soldiers identified as Rezkar Mohammad Saleh, Pishtiwan Osman Rasul, and Hisham Nabil Khorshid.
A still from a video posted by the ISIL on March 19, 2015, showing the purported beheading of Rezkar Mohammad Saleh, a member of Peshmera forces, by the ISIL Takfiri terrorist group.
The three victims are dressed in orange outfits, and are beheaded in three different locations with masked knife-wielding Takfiri militants speaking Kurdish.
Kurdish forces are fighting the Takfiri group in several areas across Iraq and Syria and have inflicted heavy losses on them.
Full report at:
http://www.presstv.in/Detail/2015/03/21/402832/Tens-of-ISIL-terrorists-slain-in-Iraq
------------
Iraqi Sunnis accuse Shiite paramilitaries of burning homes outside Tikrit
2 March 2015
Two Iraqi local officials and a police officer accused Shiite paramilitary forces on Saturday of burning and looting homes in the town of al-Dour after capturing the area during a military campaign to oust the Islamic State of Iraq and Syria (ISIS) fighters.
A spokesman for the armed faction, Kataib Hezbollah, denied the allegations, while a security commander in the area also said there had been no incident in al-Dour.
Salahuddin Provincial Council member Sahar Mawlood, parliament member Dhia al-Douri and a local policeman said that Kataib Hezbollah fighters, who have been battling ISIS, had looted, blown up or set fire to houses in the town.
"More than 150 houses were burned. Today witnessed the largest targeting of houses, more than the previous days," Mawlood said.
Iraqi security forces backed by Shi'ite paramilitary groups have paused their push to drive ISIS out of the city of Tikrit, which it seized last June in a lightning advance across central Iraq, although they have captured al-Dour and nearby communities.
The Shi'ite paramilitary forces have been hailed as heroes by fellow Shi'ites, but accused by the Sunni minority of punishing Sunnis with extrajudicial killings and by driving ordinary people from their homes for failing to resist ISIS.
They strongly deny the allegations. Kataib Hezbollah's military spokesman Jaffar al-Husseini called the al-Dour accusations a smear campaign, saying: "There aren't any attempts to destroy or burn houses in al-Dour."
Full report at:
http://english.alarabiya.net/en/News/middle-east/2015/03/22/Iraqi-Sunnis-accuse-Shi-ite-paramilitaries-of-burning-homes-outside-Tikrit.html
------------
74 held in Saudi for involvement in terror activities
22 March 2015
Security forces arrested a total of 74 people involved in terrorist activities during last week's sweep, Al-Watan Arabic daly reported on Saturday.
Forty people, who were involved in terrorism, did not have identity papers.
Some 27 Saudis, two Egyptians, two Yemenis, two Syrians and an American were arrested for being involved in terrorist activities and threatening national security. The arrested American is under investigation as another American, who was arrested in February, faces the Court of Appeals.
Last month, the Special Criminal Court in Riyadh sentenced two members of a terrorist cell to death and 25 others to varying jail terms. They belonged to a 36-member terrorist cell whose members were accused of various crimes.
Full report at:
http://english.alarabiya.net/en/News/middle-east/2015/03/22/74-held-in-Saudi-for-involvement-in-terror-activities.html
------------
'Syria-bound' Briton held in Turkey arrested on return home
22 March 2015
LONDON: A British woman detained in Turkey on suspicion of seeking to join Islamic State (IS) insurgents in Syria was returned home on Thursday and promptly arrested on suspicion of terrorism offenses, police said.
The 21-year-old, identified by Turkish media as Jalila Nadra H., was arrested at Luton airport near London on suspicion of preparing acts of terrorism, a spokesman for the Metropolitan Police said.
"The woman, a British national, was arrested as she entered the UK having landed on a flight from Istanbul. She is currently in custody at a south London police station," he said.
The woman was detained on Monday at the bus station in Ankara and was questioned by Turkish police before being transferred to Istanbul on Thursday morning to be deported, according to Anatolia news agency.
She was the fourth Briton held in Turkey in a week on suspicion of trying to cross the border to Syria.
Full report at:
http://www.arabnews.com/middle-east/news/721491
-----------
Al-Qaeda driven out of Houta after it slew 20 soldiers
22 March 2015
ADEN/SANAA: Al-Qaeda fighters captured Houta, the capital of a province in southern Yemen, killing about 20 soldiers, before they were driven out by the army late on Friday, officials and residents said.
The fighting came hours after suicide bombers killed scores in Sanaa, in coordinated attacks claimed by Islamic State.
Clashes also took place in the country's north on Friday between local tribes and the Houthi militia, which controls Sanaa, illustrating the wide-ranging nature of Yemen's security crisis.
There were no reports of any militant casualties.
Houta is only 30 km from the Indian Ocean port of Aden, where President Abed Rabbo Mansour Hadi has temporarily based the government since he escaped from weeks of house arrest in Sanaa by Houthi militia.
The clashes in the north on Friday took place on the borders of Marib and Al-Baydha provinces, a government official said, but there were no immediate reports of casualties.
Meanwhile in Taiz, a Sunni city in southern Yemen, Houthi forces on Saturday fired on hundreds of people protesting against their advance across the country, but there were no immediate reports of casualties.
The Interior Ministry, which is dominated by Houthis, denied it had sent security forces to Taiz to help quell unrest.
Full report at:
http://www.arabnews.com/middle-east/news/721496
------------
Iraq's Kurdistan vows revenge after ISIL beheading of Peshmerga members
Mar 22, 2015
Iraq's Kurdistan Regional Government (KRG) says it is determined to exact revenge on the ISIL Takfiri terrorists for beheading members of the Kurdish Peshmerga forces.
"We promise the families of these martyrs that their blood will not be wasted and that we will avenge them," KRG President Masoud Barzani vowed in an online statement on Saturday.
ISIL released a new video Thursday showing the purported beheading of three Peshmerga fighters identified as Rezkar Mohammad Saleh, Pishtiwan Osman Rasul, and Hisham Nabil Khorshid.
This still from a video posted by ISIL on March 19, 2015, purportedly shows moments before the beheading of Rezkar Mohammad Saleh, a member of Iraq's Kurdish Peshmerga forces.
"Those who martyr the Peshmerga in this way, before, now and in the future, will see how the hand of the heroic Peshmerga will reach them," Barzani stated.
Kurdish forces are battling ISIL in several areas across Iraq and northeastern Syria. The Kurds have inflicted heavy losses on the terrorists over the past few months.
In February, ISIL released another video that showed 21 Kurdish Peshmerga fighters in cages being paraded through packed streets in the province of Kirkuk, northern Iraq.
The nine-minute footage showed the prisoners clad in orange jumpsuits being interviewed by an ISIL militant holding a microphone with the group's insignia, before being seemingly taken to a location to be executed.
Full report at:
http://www.presstv.in/Detail/2015/03/22/402881/Kurds-blood-wont-be-wasted-Barzani
------------
Saudi king meets senior GCC officials
22 March 2015
Saudi King Salman met on Saturday several senior Gulf Arab officials, including the crown princes of Bahrain and Abu Dhabi as well as the prime minster of Qatar and Kuwait's deputy premier, the Saudi Press Agency reported.
According to the state-run agency, King Salman met with Bahrain's Crown Prince and First Deputy Premier Salman bin Hamad Al-Khalifa; Abu Dhabi Crown Prince and Deputy Supreme Commander of the UAE's Armed Forces Sheikh Mohammad bin Zayed Al Nahyan; Qatari Prime Minister and Interior Minister Sheikh Abdullah bin Nasser Al Thani and Kuwait's Deputy Premier and Interior Minister Sheikh Mohammad Al-Khaled Al-Hamad Al-Sabah.
The senior officials met the king at Al-Awja Palace "within framework of exchanging talks and views in the interest of the GCC peoples and all events in the region."
King Salman receives Bahraini crown prince, Qatari premier and Kuwaiti minister of Interior. (SPA)
According to the SPA, King Salman,who held a luncheon in their honor, toured with the GCC guests at Al-Awja Palace and the guests looked at the historical photos of the late King Abdulaziz.
Earlier, the GCC visitors held talks with Saudi Deputy Crown Prince Mohammed bin Naif bin Abdulaziz, who is also the second deputy premier and interior minister, the SPA reported.
Deputy Crown Prince Holds Meeting with a Number of GCC Member States' Officials. (SPA)
At the meeting, the officials discussed the latest developments in the region, particularly Yemen.
Full report at:
http://english.alarabiya.net/en/News/middle-east/2015/03/22/Saudi-king-meets-senior-GCC-officials.html
------------
Syria exiled opposition to snub Moscow peace talks
22 March 2015
Syria's exiled opposition announced Saturday that it had declined an invitation from Russia to attend peace talks in Moscow with representatives of President Bashar al-Assad's government.
A Russian foreign ministry spokesman told AFP this week Syrian government and opposition representatives would meet for peace talks in Moscow on April 6.
But the exiled Syrian National Coalition said it had discussed the invitation during a meeting of its members in Istanbul and "decided not to take part in the Moscow 2" talks.
Despite this, a coalition source told AFP the invitation was in itself "a major development" because it indicated that key Assad ally Russia "recognizes the Coalition".
"There is no reason to attend the meeting in Moscow, especially when we see attempts on the part of the regime's allies, including Russia and Iran to place Assad center-stage again," Anas al-Abdo told AFP, reiterating rejection of "any political transition that would include Assad".
The National Coalition is the key political representative of Syria's opposition and is officially recognized by much of the international community.
It has participated in several rounds of failed peace talks, including two in Geneva, and insists that Assad must step down.
Full report at:
http://english.alarabiya.net/en/News/middle-east/2015/03/22/Syria-exiled-opposition-to-snub-Moscow-peace-talks-.html
------------
Swedish king offers to contribute in resolving issue with Saudi Arabia
22 March 2015
Sweden's King Carl XVI Gustaf expressed concern over his country's diplomatic row with Saudi Arabia, offering to help in resolving the issue, local media reported on Saturday.
The spat was triggered when Sweden's Foreign Minister Margot Wallstrom launched an attack on Saudi Arabia and criticized its judicial system.
The kingdom reacted by recalling its ambassador from Stockholm in protest. The UAE, Saudi Arabia's Gulf ally, followed suit this week by recalling its envoy from Sweden and summoned the Swedish ambassador to Abu Dhabi to deliver a protest.
King Gustaf has said he will meet Foreign Minister Margot Wallström "to help contribute in finding a solution to the situation," Sweden's The Local news site cited the royal palace as saying.
Full report at:
http://english.alarabiya.net/en/News/middle-east/2015/03/22/Swedish-king-offers-to-contribute-in-resolving-issue-with-Saudi-Arabia.html
------------
U.S. judge orders release of Iraq prisoner abuse photos
21 March 2015
A United States judge has ordered the government to release a trove of photos depicting abuse of detainees in Iraq and Afghanistan in the latest twist to a long-running legal battle over the images.
In a ruling issued in New York on Friday, U.S. federal Judge Alvin Hellerstein gave the government two months to decide how to respond to his order before the photos could be released.
The case has been brought by the American Civil Liberties Union which argues the release of the photos is necessary for an "ongoing national debate about governmental accountability for the abuse of prisoners."
The U.S. government has opposed the release of the photos on the grounds they could provoke a violent backlash and place U.S. forces and personnel overseas at heightened risk of attack.
Congress passed a law in 2009 known as the Protected National Security Documents Act, which allows for the U.S. secretary of defense to withhold the release of documents that are deemed to endanger U.S. personnel.
Full report at:
http://english.alarabiya.net/en/perspective/features/2015/03/21/U-S-judge-orders-release-of-Iraq-prisoner-abuse-photos.html
------------
Al-Samaani blasts foreign interference in internal affairs
22 March 2015
Justice Minister Walid Al-Samaani strongly condemned recent statements from foreign parties targeting the country's judicial system.
The minister, who is also the acting chairman of the Supreme Judicial Council, called on international leaders to understand the nature of the different communities and their respective values and moral principles.
Al-Samaani's statement came in the backdrop of Swedish Foreign Minister Margot Wallstrom's pronouncements against the Kingdom's Shariah laws that led Saudi Arabia to recall its envoy to Stockholm.
The minister said that such accusations are unwarranted and uncalled for, since the Saudi law is derived from the Book of Allah and the teachings and practices of His Prophet (peace be upon him).
Full report at:
http://www.arabnews.com/saudi-arabia/news/721636
------------
Africa
19 killed in Sudan ethnic clashes: Tribesmen
Mar 21, 2015
Sudanese tribesmen say deadly clashes between two ethnic groups in the country's western region have claimed the lives of nearly 20 people.
Leaders of Zayadiya and Berti ethnic groups said on Friday that the clashes had taken place around the Mallit area, north of the city of Al Fashir, the capital of the western North Darfur State.
Witnesses say about 20 bodies were seen after the clashes.
It is not clear which side initiated the deadly fighting.
The Berti ethnic group also said 13 of its men were killed in the fighting, while the Zayadiya said it had lost six.
Full report at:
http://www.presstv.in/Detail/2015/03/21/402823/19-killed-in-Sudan-clashes-Tribesmen
------------
World powers hail resumption of Libya dialogue
22 March 2015
European powers and the United States welcomed renewed dialogue between Libya's rival political factions, amid U.N.-mediated talks aimed at reaching an agreement to form a unity government in the strife-torn country.
In a joint statement, France, Germany, Italy, Spain, Britain and the United States urged the participants in the talks to "enter into the discussions constructively and in good faith in order to reach agreement on a national unity government and arrangements for a ceasefire as quickly as possible."
"We call on the Libyan political leaderships to act responsibly and to make clear their support for the dialogue and call on them to exercise authority over military and militia leaders and ensure civilian oversight and control of their actions and disavow military actions not taken in that framework," they added.
"We are deeply concerned about the growing threat from terrorist groups in Libya, including Da'esh, who have expanded their presence in Libya as a result of the absence of a strong, united, central government in the country," the world powers said, using an Arabic acronym for the ISIS group.
"The United Nations-led process to establish a national unity government provides the best hope for Libyans to address this terrorist threat and to confront the violence and instability that impedes Libya's political transition and development."
Separately, Libya's official government conducted air strikes on Saturday against airports and a military camp in the capital Tripoli, controlled by a rival government, and killed a senior commander loyal to that government, officials said.
The internationally recognized government said on Friday that it had launched a military offensive to "liberate" Tripoli, which a group called Libya Dawn seized in August, reinstating a previous parliament.
A Tripoli official said Salah Burki, a Libya Dawn leader, had been killed west of Tripoli, where a state news agency reported clashes between Libya Dawn and forces from Zintan allied to Thinni.
Full report at:
http://english.alarabiya.net/en/News/middle-east/2015/03/22/World-powers-hail-resumption-of-Libya-political-dialogue.html
------------
Tunisia says 'developments' in museum massacre probe
21 March 2015
Tunisian authorities said Saturday there were developments in the investigation into the attack on the national museum claimed by the Islamic State of Iraq and Syria (ISIS) group that killed 20 foreign tourists.
"There are developments in the case, but to protect the secrecy of the investigation we prefer not to provide any details," prosecution spokesman Sofiene Sliti told AFP.
However, Interior Minister Mohamed Ali Aroui said "more than 10 people have been arrested for direct or indirect involvement in the attack, among them people who provided logistical support".
He declined to say whether they included nine people already reported arrested, including the father, sister and two brothers of one of the gunmen police killed in the attack, Jabeur Khachnaoui.
A police source and acquaintance of Khachnaoui said the gunman's four relatives had now been freed, but Aroui would not confirm that report.
On Wednesday, the two gunmen targeted tourists visiting the National Bardo Museum, killing 21 people, including a policeman.
The dead tourists were four Italians, three Japanese, three French, two Spaniards, a Colombian, an Australian-Colombian, a British woman, a Belgian woman, three Poles and a Russian.
Full report at:
http://english.alarabiya.net/en/News/middle-east/2015/03/21/Tunisia-says-developments-in-museum-massacre-probe.html
------------
Libya's army strikes on camp in Tripoli
21 March 2015
Libya's internationally recognized government conducted air strikes on a military camp on Saturday and attempted to hit the airport in Tripoli, the capital controlled by a rival administration, officials said.
The attack came a day after the official government said it had launched a military offensive to "liberate" Tripoli, which has been seized by a group called Libya Dawn in August, reinstating a previous assembly.
The recognized Prime Minister Abdullah al-Thinni and the elected parliament have been confined to eastern Libya since then but both administrations allied to armed factions fight for control four years after the ousting of Muammar Qaddafi.
Saqer al-Joroushi, an eastern air force commander, said his aircraft hit the Mitiga airport in Tripoli and a camp used by Libya Dawn near another airport in the capital.
A security source in Tripoli said the camp had apparently been hit while planes had missed the airport.
Full report at:
http://english.alarabiya.net/en/News/middle-east/2015/03/21/Libya-s-recognized-government-launches-air-strike-on-camp-in-Tripoli.html
------------
Day of carnage at Tunisian museum leaves memories, questions
22 March 2015
With bullets flying and his heart pounding, Spanish tourist Josep Lluis Cusido never got a clear look at the men shooting their way through the Bardo museum in Tunis as he hid behind a pillar. The only thing he noticed what that the attacker closest to him seemed young.
Cusido, the mayor of the small Spanish town of Vallmoll, will never know for certain but the man who stood just a few meters (yards) away was likely 20-year-old Yassine Laabidi - the younger of the two attackers.
"They looked to see how they could inflict the most damage possible. I saw one group who was in the museum who took refuge in a room... They went in there and machine gunned them all," Cusido told The Associated Press Saturday, stifling a sob.
After breakfast Wednesday morning, Laabidi had left home to go to his job making deliveries for a local business, his father Arbi told The Associated Press outside the family's home in the neighborhood El Omrane at the edge of Tunis.
Later that day he joined up with 26-year-old Hatem Khachnaoui and shot dead 21 people at the renowned museum - including a Tunisian security agent who had recently become a father - before being killed in a shootout with security forces.
In El Omrane - a poor neighborhood that has proven fertile ground for jihadi recruiters - a mourning tent has gone up in front of the Laabidi home, where the family is still trying to come to grips with the fate of a young man they said "liked the good life."
"We want to know who transformed him, who brainwashed him so that he went to kill innocent people. We have to find the people who are sending our children to death and setting our country adrift," said his brother, Khaled.
Anna Tounsia, a neighbor who knows the family well, said she mourns the loss of young Laabidi as well as the victims of the attack.
"Yes he killed. We're sad for those who died, sad for the security agent who was killed and left a child," Tounsia said. "Find the people who did this. Go to the mosques, monitor them."
Authorities have said Laabidi and Khachnaoui had slipped across the border to Libya in December to reach one of many militia training camps there. On Saturday, 20 other people linked to the attack were detained in Tunisia, prosecutors said, but didn't give any details.
Tunisia's Interior Ministry also released security camera footage showing the gunmen walking through the museum, carrying assault rifles and bags.
Full report at:
http://english.alarabiya.net/en/perspective/features/2015/03/22/Day-of-carnage-at-Tunisian-museum-leaves-memories-questions-.html
------------
Tunisian gunman took break from travel agent job to shoot tourists
21 March 2015
Shortly before he and a friend gunned down 20 foreign tourists at Tunisia's Bardo museum, Yassine al-Abidi sat down to a breakfast of olive oil and dates with his family and left for work at his travel agency as usual.
His relatives, mourning his death in a hail of police bullets in the midst of the attack, said they could not understand how a lively, popular young man with a taste for the latest imported clothes could have done such a thing.
They said he was typical of the young men of Tunis' Omrane Superieur suburb. He graduated in French, held down a job and showed no sign of the hardline Islamist ideology that would drive him to commit the worst militant attack in a decade.
But relatives said last year he had begun to spend more and more time at a local mosque, following a pattern of radicalization of Tunisian young men who then find themselves fighting in Syria, Iraq and Libya.
"I am sad for Yassine, but even sadder for the victims that Yassine killed. They were innocent, why did they have to pay the price of a false understanding of Islam," said his uncle Mohamed Abidi. "They are the victims of terrorism. We are the victims of a demagogic network that wants only death."
Yassine's family had set up a traditional mourning tent outside their home, a well-made orange duplex standing in contrast to the more rundown residences nearby.
Chairs sat empty inside, with only ten family members present. Nearby his mother wept constantly.
Four years after a popular revolt toppled autocrat Zine el-Abidine Ben Ali, Tunisia has had free elections, a new constitution and compromise politics.
But the new government is also caught up in a low-level war with militants who have taken advantage of the new freedoms.
More than 3,000 Tunisians have left to fight in Syria and Iraq and the government estimates around 500 have since returned, fuelling fears of further attacks on Tunisia's fragile new democratic state.
'Couldn't hurt a bird'
Abidi and his fellow gunman were trained at a jihadist camp in Libya before the Bardo attack, the Tunisian government has said. Officials said the two men had been recruited at mosques in Tunisia and travelled to Libya in September.
The Islamic State of Iraq and Syria (ISIS), which has declared a caliphate in large parts of Iraq and Syria and is active in Tunisia's chaotic neighbour Libya, praised the two attackers in an audio recording as "knights of the Islamic State" armed with machineguns and bombs.
Family members said Abidi had left home for two months, saying he would be working in the commercial city Sfax on Tunisia's coast. But he did not display any of the conservative beliefs of hardline Islamists, never, for instance, complaining about alcohol being consumed at his uncle's house.
Full report at:
http://english.alarabiya.net/en/perspective/features/2015/03/21/Tunisian-gunman-took-break-from-travel-agent-job-to-shoot-tourists.html
------------
S Sudan children 'increasingly abducted to fight war'
21 Mar 2015
South Sudan's army and rebels have both stepped up the kidnapping of children to fight in the country's civil war, with hundreds snatched from villages in the last month alone, the UN children's agency has said.
Providing the most detailed account yet of the country's child soldier crisis, UNICEF said in a statement on Friday that it believed there were now more than 12,000 children in government and rebel ranks across the country.
"It has become increasingly desperate for boy children in many areas of the conflict zone. They are being targeted. They are being rounded up and sent to the front line. This is happening as I speak," Jonathan Veitch, UNICEF's representative in the country, said.
Veitch said UNICEF had "credible and in some instances verifiable information that forces aligned with the government and opposition have abducted or coerced hundreds of children into their ranks in the past month
alone", a period coinciding with the collapse of peace talks.
"Our teams on the ground and our partners are reporting a strong upsurge in recruitment at the moment and it is ongoing," he told reporters in Geneva.
South Sudan is the the world's youngest nation, having broken away from Khartoum in 2011 after a long and bloody independence struggle.
Civil war broke out in the new nation in December 2013, when President Salva Kiir accused Riek Machar, his former deputy, of planning a coup. Since then tens of thousands have died, two million have been uprooted and four million face starvation.
Full report at:
http://www.aljazeera.com/news/africa/2015/03/sudan-children-increasingly-abducted-fight-war-150320135102899.html
------------
South Asia
Afghanistan faces 'difficult' Taliban spring offensive
Mar 21, 2015
Afghan President Ashraf Ghani says his country has a "difficult" spring ahead, as Taliban militants prepare for their so-called fighting season against government forces.
Ghani made the remarks during a press briefing at the Afghan presidential palace in the capital, Kabul, shortly before leaving for an official visit to the United States.
"The winter has been extraordinarily difficult. And barring major breakthroughs in the region, spring will be difficult," Ghani said, referring to the militants' annual "spring offensive," which usually starts in May.
The Afghan president said he would discuss the nature of the threat Taliban militants currently pose, as well as Kabul's response to the threat during his visit to Washington.
He added that the Afghan government was "preparing conditions" to possibly hold talks with the militants in the future.
Full report at:
http://www.presstv.in/Detail/2015/03/21/402855/Afghanistan-faces-difficult-spring
------------
Fearing IS, Afghan Shias seek help from Taliban
Mar 22, 2015
KABUL: Even by Afghanistan's standards of often-shifting alliances, a recent meeting between ethnic Hazara elders and local commanders of the Taliban insurgents who have persecuted them for years was extraordinary.
The Hazaras - a largely Shia minority killed in the thousands during the Taliban's hard-line Sunni Islamist rule of the 1990s - came to their old enemies seeking protection against what they deemed an even greater threat: masked men operating in the area calling themselves "Daesh", a term for the self-style Islamic State in the region.
In a sign of changing times, the Taliban commanders agreed to help, said Abdul Khaliq Yaqubi, one of the elders at the meeting held in the eastern province of Ghazni.
Read: Fear stalks Afghan minorities after rare attacks
The unusual pact is a window into deepening anxiety in Afghanistan over reports of Islamic State (IS) radicals gaining a foothold in a country already weary of more than a decade of war with the Taliban.
Back-to-back kidnappings within a month of two groups of Hazara travellers - by men widely rumoured, though far from proven, to claim fealty to IS - have many spooked.
The current threat IS poses in Afghanistan, observers say, is less about real military might than the opportunity for disparate insurgent groups, including defectors from an increasingly fractured Taliban, to band together under this global "brand" that controls swathes of Iraq and Syria.
The fear is especially keen among religious minorities like the Hazaras, who worry the influence of the fiercely anti-Shia IS could introduce a new dimension of sectarian strife to the war.
"Whether Daesh exists or not, the psychological impact of it is very dangerous in Ghazni, which is home to all ethnicities," Ghazni's deputy governor Mohammad Ali Ahmadi told Reuters.
"This could easily stir up tensions."
'Moving target'
Unlike in Iraq or Syria, IS controls no Afghan territory and operational links between local fighters and the group's leadership are murky.
But reports of self-proclaimed IS fighters have been growing since last summer.
Also read: Gunmen kidnap eight Hazaras in Afghanistan
In Kandahar, the Taliban's birthplace, armed clashes between alleged IS fighters and local Taliban have been reported.
Full report at:
http://www.dawn.com/news/1171213/fearing-is-afghan-shias-seek-help-from-taliban
-----------
BNP waits for Khaleda's nod
March 22, 2015
BNP leaders and activists are now waiting to get the final nod from party chief Khaleda Zia on endorsing party candidates for elections to the country's three key city corporations.
A number of BNP leaders yesterday told The Daily Star that after consulting with party policymakers, well-wishers and pro-BNP intellectuals, the BNP chairperson is now positive on backing party candidates for the polls to Dhaka North, Dhaka South and Chittagong city corporations to be held on April 28.
"The chairperson thinks participating in the city polls will be part of our ongoing movement. She also could read sentiments of the party leaders and activists, many of whom are in favour of contesting the elections," Lt Gen (retd) Mahbubur Rahman told this paper.
The BNP standing committee member thinks that the party might lose its dominance in the country's two largest cities -- Dhaka and Chittagong -- if it gives the ruling party "a free ride" in the elections.
Once Khaleda formally gives the go-ahead, BNP leaders will sit with the Election Commission to discuss a range of issues, including ways to make the elections free and fair and arrest of opposition leaders on political grounds, he said.
"How will our men carry out campaigns when many of them are either behind bars or on the run to avoid police harassment? We will have to raise these issues to the Election Commission," said the former army chief.
Nazrul Islam Khan, another BNP standing committee member, too said they indeed were "thinking positively" about the city elections.
"But there are some divides inside the party as some think our candidates may not be able to run the campaigns with so many of our people in jail or on the run ... We will have to address these issues before making the final move," he told The Daily Star, adding that the final announcement may come soon.
"We want to proceed with caution ... because we fear the government might postpone the elections once we announce to back candidates. Therefore, we want to announce our decision at a time when it would be hard for the government to backtrack on the elections," said a Dhaka city BNP leader.
Full report at:
http://www.thedailystar.net/frontpage/bnp-waits-khaledas-nod-72994
------------
President Ghani proposes 16 new names for Afghan cabinet
Mar 22, 2015
Afghan President Ashraf Ghani has announced 16 new cabinet nominees replacing the proposed ministers whose nominations were rejected by the parliament in January.
Ghani issued the list on Saturday, shortly before departing for the United States with Chief Executive Officer Abdullah Abdullah.
The new list is submitted nearly two months after the parliament disapproved two thirds of the proposed ministers.
The lower house of parliament has not approved the 16 nominees yet.
There are four women included in the list, along with proposed names for several key portfolios, including the ministries of economy, trade and industry, and agriculture.
However, just as "fighting season" between Afghan security forces and the Taliban militants begins, no name for the crucial defense ministry's head has been proposed. Currently, an interim minister is holding the position.
In January, President Ghani unveiled and presented his full list of cabinet nominees to the parliament for a vote of confidence, after a long delay, over 100 days after he was sworn in on September 29, 2014.
Full report at:
http://www.presstv.in/Detail/2015/03/22/402887/Afghan-cabinet-sees-16-new-nominees
------------
AL-Shibir friendship!
Mar 22, 2015
Politics in districts appears very different from what is preached in the capital.
An Awami League leader in a district recently threatened a police official with dire consequences for arresting a leader of Chhatra Shibir, student wing of the Jamaat-e-Islami, a party blamed by the government for orchestrating recent violence across the country.
Considered the most powerful law enforcement official in the field-level, the officer-in-charge of a police station found the threat so menacing that he went on to file a general diary. The matter is now lying with the home ministry for action.
As recorded in the GD and in a report prepared by the Special Branch of police, the AL leader demanded the immediate release of the Chhatra Shibir man for ensuring safety of the AL leaders and workers in the area.
The Daily Star has obtained a copy of the SB report, marked "secret".
"When we won't be in power we will need some Jamaat-BNP workers. We also have some of our men in the Jamaat-BNP. We'll have to ensure that we can live here [the name of the district taken out] once we aren't in power in future," the report quotes the AL leader as telling the OC.
On January 31, the police official filed the GD. On March 5, the SB informed Mozammel Haque Khan, senior home secretary, about the matter for action.
The incident reflects the desperate attempts by district-level AL leaders to set guidelines for police and force them to work according to their will. It also shows how law enforcers are under political pressure and influence.
During his conversation with the OC, the AL leader in question also alleged police were making a brisk business by detaining and releasing people.
Full report at:
http://www.thedailystar.net/backpage/al-shibir-friendship-73053
------------
North America
ISIS Releases Kill List, Addresses Of 100 U.S. Military Members To Be Beheaded In Their Homes
March 21, 2015
On Friday night, the Islamic State Hacking Division released a kill list that allegedly contained the addresses of 100 U.S. military members. The group claims that they compiled the list of addresses so that ISIS members residing in the United States could behead them in their own homes.
The Washington Times reports that the document posted online by the Islamic State Hacking Division feature addresses along with some photos of the military members to be killed. The "brothers" of ISIS in the U.S. are called to action to kill American military members where they think they are safe. This includes beheading the servicemen in their own homes, stabbing them as they walk down their own streets and killing them on "their own lands."
"Kill them in their own lands, behead them in their own homes, stab them to death as they walk their streets thinking that they are safe."
Full report at:
http://www.inquisitr.com/1943729/islamic-state-isis-releases-kill-list-addresses-of-100-us-military-members-to-be-beheaded-in-their-homes/
-----------
Obama says Israel vote won't affect Iran nuke talks
22 March 2015
Israel's elections, which saw Benjamin Netanyahu clinch a third term, will not greatly affect Barack Obama's defense of any deal reached with Iran, the U.S. president said.
"I don't think it will have a significant impact," Obama told The Huffington Post in an interview Friday published in full on Saturday.
Iran and six world powers are in negotiations to clinch a landmark deal that would have the country scale back its controversial nuclear program in return for relief from sanctions.
Netanyahu won re-election this week after a close-fought parliamentary campaign.
Benjamin Netanyahu meeting Barack Obama in a file photo. (Reuters)
The Israeli leader opposes any accommodation with Tehran and came to Washington during his election campaign to address US lawmakers, denouncing the agreement under negotiation as a "bad deal."
Two-state solution
In the interview, Obama also said that he takes Netanyahu "at his word" for saying that an independent Palestinian state will never co-exist with Israel as long as he is in office.
Netanyahu has backpedaled since he stunned the U.S. and the international community by announcing that dramatic policy reversal on the eve of his re-election Tuesday.
"We take him at his word when he said that it wouldn't happen during his prime ministership, and so that's why we've got to evaluate what other options are available to make sure that we don't see a chaotic situation in the region," Obama said.
Obama, who placed a congratulatory telephone call to Netanyahu on Thursday, said he indicated to the prime minister that the U.S. remains committed to a two-state solution as the only way to keep Israel secure.
"And I indicated to him that given his statements prior to the election, it is going to be hard to find a path where people are seriously believing that negotiations are possible," Obama said.
Full report at:
http://english.alarabiya.net/en/News/middle-east/2015/03/22/Obama-Israel-vote-won-t-affect-Iran-nuclear-talks-.html
------------
UN Security Council to hold emergency meeting on Yemen
Mar 22, 2015
The UN Security Council plans to hold an emergency meeting aimed at finding a solution to the crisis in Yemen.
The meeting will be held behind closed doors on Sunday afternoon at 3 p.m. local time (1900 GMT) in New York, says the UN.
Diplomats say the meeting will take place following a letter by fugitive President Abd Rabbuh Mansur Hadi to the council.
Citing the Ansarullah movement's control of the Yemeni capital city of Sana'a, Hadi called for "your urgent intervention in all available means to stop this aggression that is aimed at undermining the legitimate authority, the fragmentation of Yemen and its peace and stability."
Representatives from Yemen and Qatar are scheduled to address the 15-member council.
On Friday, Hadi gave a televised speech challenging the Houthis. He called the movement's rule in the capital and elsewhere a "coup against constitutional legitimacy."
Following the speech, Ansarullah called for a "general mobilization" against forces loyal to the embattled president.
The Yemeni Houthis, in a statement from the movement's Supreme Revolutionary Committee issued on Saturday, described the motive behind the move as "deteriorating security conditions in the country" and the "war imposed on the Yemeni people on all fronts." Hadei
Yemen's fugitive President Abd Rabbuh Mansur Hadi
US pullout
This came as the US announced on Saturday that it will withdraw its forces from Yemen for security reasons.
"Due to the deteriorating security situation in Yemen, the US government has temporarily relocated its remaining personnel out of Yemen," State Department spokesman Jeff Rathke said in a statement.
Over 140 people were killed and more than 350 suffered injuries in three bomb attacks at Badr mosque in southern Sana'a and al-Hashoosh mosque in the northern part of the capital on March 20. The ISIL Takfiri terrorist group claimed responsibility for the attacks.
Rathke added that Hadi was informed about the move and that Washington "will continue to engage the Yemeni people and the international community to strongly support Yemen's political transition."
Full report at:
http://www.presstv.in/Detail/2015/03/22/402890/UNSC-emergency-meeting-to-discuss-Yemen
------------
Mideast
Yemen's Houthis seize airport in town of Taez
22 March 2015
The Shiite Houthi militia and its allies on Sunday seized the airport in the battleground central Yemeni town of Taez from forces loyal to President Abed Rabbo Mansour Hadi, security sources said.
Taez is strategically located on the road between Sanaa, which the Houthis overran in September, and the southern city of Aden, to which Hadi fled last month after escaping house arrest in the capital.
Separately, anti-aircraft guns opened fire at an unidentified plane flying over Hadi's compound in the southern city of Aden on Sunday and appeared to force it away, witnesses said.
It was the third incident of its kind in the past four days, in which unidentified aircraft have flown over the compound, where Hadi is based, on one occasion dropping bombs without causing any casualties.
Full report at:
http://english.alarabiya.net/en/News/middle-east/2015/03/22/Houthis-seize-airport-in-key-Yemeni-town-of-Taez.html
------------
To end extremism, give Muslims opportunity: Turkey's EU Minister
Mar 22, 2015
A Turkish government official says to eliminate a root cause of Islamist extremism, European countries must give their Muslim residents greater opportunities and more reasons for hope.
Volkan Bozkır, Turkey's EU Minister, said March 21 that many Muslims living in Europe "now feel they are the other."
Bozkır called that the leading reason for Islamist radicalization and terrorism. He said European leaders should take action so their Muslim populations will stop feeling they are "outside the circle."
Full report at:
http://www.hurriyetdailynews.com/to-end-extremism-give-muslims-opportunity-turkeys-eu-minister.aspx?pageID=238&nID=79992&NewsCatID=510
------------
U.S. evacuating remaining 100 special forces troops from Yemen
21 March 2015
The United States is evacuating its remaining 100 special operations forces from Yemen, amid a deteriorating security situation in the country, CNN reported, citing sources in the region familiar with the matter.
CNN said the troops, who had conducted counterterrorism operations against al-Qaeda and its affiliated militant groups, were the last U.S. forces stationed in Yemen.
The United States closed its embassy in Sanaa last month, after Houthi rebels took over the Yemeni capital.
Full report at:
http://english.alarabiya.net/en/News/middle-east/2015/03/21/U-S-evacuating-remaining-100-special-forces-troops-from-Yemen-.html
------------
Kurdish militant leader says armed struggle with Turkey 'unsustainable'
21 March 2015
Jailed Kurdish rebel leader Abdullah Ocalan said on Saturday his militant group's three-decade insurgency against the Turkish state had become "unsustainable" but stopped short of declaring an immediate end to its armed struggle.
In a message relayed by Kurdish politicians to tens of thousands gathered in the southeastern city of Diyarbakir, the leader of the Kurdistan Workers Party (PKK) urged his militant group to hold a congress on laying down its weapons.
"This struggle of our 40-year-old movement, which has been filled with pain, has not gone to waste but at the same time has become unsustainable," Ocalan said in the message, read out at a rally to mark the Kurdish "Newroz" New Year celebrations.
President Tayyip Erdogan, then prime minister, launched talks with Ocalan in late 2012 to end an insurgency that has killed 40,000 people, ravaged the region's economy and tarnished Turkey's image abroad. Progress has been faltering since then, but Kurdish faith in Ocalan remains undiminished.
"History and our people are demanding from us a democratic solution and peace in line with the spirit of the age," he said, calling for the congress to determine the PKK's "political and social strategy in harmony with the spirit of the new period".
Erdogan, who triggered anger last weekend by suggesting there was no "Kurdish problem" in Turkey, said in a speech hundreds of kilometres away in the southwestern city of Denizli that he hoped Saturday would mark a turning point.
"Let it be a cornerstone that truly combines love ... not a Newroz like those of the past, when everywhere was burned and destroyed by Molotov cocktails, stones and fireworks," he said.
Full report at:
http://english.alarabiya.net/en/News/middle-east/2015/03/21/Kurdish-militant-leader-says-armed-struggle-with-Turkey-unsustainable-.html
------------
U.S. says nuke talks advance, Iran voices mistrust
21 March 2015
Iran's top leader voiced mistrust on Saturday of U.S. efforts to reach a nuclear deal, even as Washington spoke of "genuine progress" toward an outline accord.
With just 10 days remaining until an end-of-March deadline, Iran's Supreme Leader Ayatollah Ali Khamenei denounced U.S. "bullying" in the negotiations and repeated Tehran's denial that it is seeking to develop a nuclear weapon.
Speaking after week-long talks with Iran in Switzerland, U.S. Secretary of State John Kerry said there had been real progress toward solving the dispute, which has threatened at times to push the Middle East to the brink of war.
But he added it was time for tough choices.
"We are not rushing ... but we recognize that fundamental decisions have to be made now and they don't get any easier as time goes by," Kerry said. "It is time to make hard decisions."
The six powers negotiating with Iran aim to complete the framework of a final deal by the end of March and reach a full agreement by June 30.
Kerry added he would meet European counterparts later in London to try to resolve remaining sticking points. He said talks would then resume next week to see whether a deal was possible.
"It is a matter of political will and tough decision making," he said.
The West suspects Iran of seeking the ability to produce atomic weapons and the United Nations has imposed stringent economic sanctions on Tehran. Iran says its program is intended only for peaceful purposes, such as medical technology and nuclear energy, and wants the swift lifting of sanctions.
"Imposition and bullying"
Iran's Khamenei, who has the last word on all matters of state, reiterated in a speech that Tehran would not be pressured into giving in to Western demands.
"What the Iranian people don't want is imposition and bullying from America," he said, at one point repeating the phrase "Death to America" after it was shouted from the crowd.
He accused Washington of seeking to foment instability in the Middle East.
"They raise the issue of an atomic bomb. They know themselves that we are not pursuing nuclear weapons. But they just use that as an excuse to pressure the Iranian people."
He criticized "arrogant" Western countries for what he said was their role in bringing about a halving of world oil prices which has squeezed Iran's economy.
Full report at:
http://english.alarabiya.net/en/News/middle-east/2015/03/21/Kerry-Substantial-progress-in-nuke-talks-but-gaps-remain.html
------------
Saudi king orders urgent medical aid to Yemen
21 March 2015
Saudi King Salman bin Abdulaziz has ordered dispatching urgent medical aid to Yemen on Friday to those who sustained injuries in the attacks in the cities of Sanaa and Aden that killed at least 142 worshippers, the Saudi Gazette daily reported on Saturday.
Following the king's directive, Saudi is also prepared to bring in the wounded so as to provide them treatment at its various medical centers, the Saudi Press Agency reported, quoting an official source.
"Saudi Arabia condemns these terrorist attacks that will only lead to further undermining the stability and security of Yemen and causing more destruction to the people and the country," the source said, adding that the Kingdom is following the painful developments in the neighboring country with deep concern.
Full report at:
http://english.alarabiya.net/en/News/middle-east/2015/03/21/Saudi-king-orders-medical-aid-to-Yemen.html
------------
Palestinians at cancer risk in Israel jails: Rights body
Mar 22, 2015
A rights group has warned that the Palestinians in Israeli jails are prone to a growing risk of cancer due to high levels of radiation inside prisons.
In a statement on Sunday, the Hossam Association of Palestinian Prisoners and Ex-Prisoners said Israeli prison authorities continue to contribute to a heightened cancer risk by setting up devices to jam satellite and telephone signals near jail cells.
A number of Palestinians are also being held in prisons near the Dimona nuclear reactor as well as toxic waste dumps in Negev Desert, the rights body added.
It said the inmates are also frequently exposed to radiation by being forced to walk through security apparatuses as part of searches and examinations.
According to the organization, at least 15 Palestinian prisoners have already been diagnosed with cancer and are at risk of dying.
Full report at:
http://www.presstv.in/Detail/2015/03/22/402923/Palestinian-inmates-face-cancer-risk
------------
Yemen's Ansarullah seizes control of Ta'izz
Mar 22, 2015
Fighters of Yemen's Ansarullah movement have taken control of the southwestern city of Ta'izz, a strategic city between the capital, Sana'a and Aden, officials say.
The Houthi fighters and their allies seized the city's airport on Sunday after defeating forces loyal to fugitive President Abd Rabbuh Mansur Hadi, security sources said.
Reports say Houthi fighters also captured several state facilities including a court complex in Ta'izz, which is Yemen's third largest city.
"Houthi forces also took control of the city's central prison Saturday night and set up checkpoints near the prison," an official told the DPA.
Speaking on Sunday, Brigadier General Hamoud al-Harathi, the commander of special forces units based in the city, said he believes that Hadi had lost his legitimacy as president.
The new development came two days after Hadi gave a televised speech challenging the Houthis. He called the movement's rule in the capital and elsewhere a "coup against constitutional legitimacy."
Following the speech, Ansarullah called for a "general mobilization" against forces loyal to the embattled president.
Full report at:
http://www.presstv.in/Detail/2015/03/22/402914/Ansarullah-seizes-control-of-Taez-airport
------------
Southeast Asia
Why hudud law cannot be enforced
March 21, 2015
By Shamsher Singh Thind
I once asked my students "How many states in Malaysia enforces Islamic criminal law?" Some of them had no idea what I was asking and kept quiet but others, referring to the recent development in Kelantan, enthusiastically answered "One". I do not blame my students for their ignorance since many people in Malaysia are of the same opinion too.
Every state in Malaysia enforces Islamic criminal law, not just Kelantan. In Penang, there are at least 40 offences listed in the Syariah Criminal Offences (State of Penang) Enactment 1996. Among them are:
(a) sexual intercourse out of wedlock
(b) male person posing as a woman for immoral purposes
(c) indecent act in a public place
Although criminal law is listed in the Federal List of the Federal Constitution, a state assembly is empowered to enact Islamic criminal law by the State List.
Syariah courts are conferred with the jurisdiction to punish offences by virtue of the Syariah Courts (Criminal Jurisdiction) Act 1965, extended to Sabah and Sarawak in 1989.
Nevertheless, section 2 provides two limitations: (i) that Islamic criminal law shall only be enforceable on persons professing the religion of Islam and (ii) that such jurisdiction shall not be exercised in respect of any offence punishable with imprisonment for a term exceeding 3 years or with any fine exceeding MR5,000 or with whipping exceeding 6 strokes or exceeding any combination thereof.
Neither Barisan Nasional nor Pakatan Rakyat component parties have any problem with such enforceability of Islamic criminal law. However, all hell broke loose when Kelantan, led by PAS, recently amended the Syariah Criminal Code (II) Enactment 1993.
The 1993 Enactment was a controversial piece of legislation for introducing additional punishments like amputation of limbs and death penalty by stoning!
Unlike other Islamic criminal law, the 1993 Enactment cannot be enforced even after the recent amendment: it goes against the provisions of the 1965 Act.
The State List clearly provides that although state assemblies may create offences against Islamic precepts, Syariah courts shall only be conferred with the jurisdiction to pass sentences by federal laws, like the 1965 Act.
Full report at:
http://www.freemalaysiatoday.com/category/opinion/2015/03/21/why-hudud-law-cannot-be-enforced/
------------
Muslim lawyers: Bar's stand is itself unconstitutional
March 21, 2015
KUALA LUMPUR: Muslim lawyers, welcoming the introduction of the hudud penal code "with outstretched arms", criticised the Bar Council today for taking an unconstitutional stand on hudud.
The Malaysian Muslim Lawyers Association (PPMM) accused the Bar for taking a stance that does not reflect the views of the majority of the Malaysian Bar in its statement on Friday, which described hudud as "unconstitutional, discriminatory and divisive".
PPMM president Haji Zainul Rijal Abu Bakar took issue with the Bar's view that the Federal Constitution was secular in nature and said the Bar had over-stretched its interpretation of the Supreme Court decision in the Che Omar bin Che Soh court case of 1988.
Haji Zainul said that an often-cited remark of former Lord President Sallah Abbas did not mean that the Federal Constitution was secular but was restricted to only the particular law involved, the Drug Traffickers and Fire Arms (Increased Penalties) Act, and not to the Constitution as a whole.
Salleh Abbas had said "… we have to set aside our personal feelings because the law in this country is still what it is today, secular law, where morality not accepted by the law is not enjoying the status of law".
Haji Zainul said the Bar Council's stance that was based on a wrongful reading of the Che Omar bin Che Soh decision.
Full report at:
http://www.freemalaysiatoday.com/category/nation/2015/03/21/muslim-lawyers-bars-stand-is-itself-unconstitutional/
------------
DAP: Hadi acted unilaterally on hudud
March 22, 2015
KUALA LUMPUR: PAS president Abdul Hadi Awang has committed acts of treachery which are untenable and a deliberate act of provocation to break up Pakatan Rakyat (PR), according to DAP secretary-general Lim Guan Eng.
He said the issue facing the PR Leadership Council was no longer just PAS's stubborn insistence to trust and cooperate with UMNO to implement hudud laws but also the PAS president's utter contempt for PR by repeatedly breaking his own promises to PR issued personally.
"Such an approach by Hadi of either 'it is my way or the highway' cannot be part of, and violates the consensus approach adopted by PR towards a healthy, democratic and functional coalition," he said in a statement yesterday.
Lim noted that Abdul Hadi's unilateral decision to table a private member's bill to allow hudud implementation in the current parliament sitting, was an act of treachery by PAS in breaching the PR consensus agreed upon by the PAS top leader during the PR Leadership Council meeting on February 8.
He contended that Abdul Hadi had however, served notice to Parliament on March 18, to implement hudud on Muslims in Kelantan by amending Act 355, which is the Syariah Court's (Criminal Jurisdiction) Act 1965.
Lim, who is also Penang chief minister and MP for Bagan, pointed out the PAS hudud bill was only passed unanimously by the Kelantan State Assembly on March 19.
"By serving notice even before the bill was passed, shows that Hadi has again broken his promise made personally by him during the February 8 meeting that any attempt to move a private member's bill would be first discussed by the PR Leadership Council," he noted.
On March 18, Menteri Besar Ahmad Yakob tabled the Syariah Criminal Code II 1993 (Amendment 2015) to enable the implementation of PAS's hudud law in Kelantan. The bill was passed one day later.
Full report at:
http://www.freemalaysiatoday.com/category/nation/2015/03/22/dap-hadi-acted-unilaterally-on-hudud/
------------
Hudud issue makes it tougher on Barisan, says Kadir
March 22, 2015
KUALA LUMPUR: The hudud issue will make non-Muslim voters more wary of politicians and cause problems for the Barisan Nasional at the elections, predicts former newspaper editor A Kadir Jasin.
In a blog article, Kadir singled out the use of the "conscience vote" in Kelantan last week as a factor that would cause unease among voters.
The Kelantan state assembly's 44 members unanimously approved amendements to its syariah criminal code. The 12 Umno members voted in favour after the Barisan Nasional lifted the party whip to allow a free vote. The sole PKR member also voted by his conscience, defying the party's stand against the amendment.
The new law imposes hudud penalties under the state's syariah criminal code of justice.
Kadir predicted that many non-Muslim voters would more circumspect in future when supporting Muslim candidates "because when it comes to the crunch (like with hudud) they will vote not according to party policies but individual conscience".
Barisan Nasional's non-Malay parties such as MCA, Gerakan and MIC, already suffering a loss of support in their traditional communities, would now face greater difficulty in attracting non-Muslim votes, said Kadir.
Full report at:
http://www.freemalaysiatoday.com/category/nation/2015/03/22/hudud-issue-makes-it-tougher-on-barisan-says-kadir/
------------
Europe
Anti-Muslim Attacks Soar in Austria: Report
21 March 2015
CAIRO – Reflecting soaring Islamophobia across Europe, a new racism report has warned of increasing attacks against Muslims and asylum seekers in the central European country of Austria.
"A lot of political capital has been made by talking about the danger of immigrants who fail to integrate," Claudia Schäfer, managing director of ZARA, a Vienna-based NGO which works to combat racism and promote civil courage, was quoted by the Local on Sunday, March 20.
"But sadly this is contributing to increasing prejudices against certain groups and a general suspicion of Muslims."
Released by ZARA, the report showed a slight increase in the number of reported racist attacks between 2013 and 2014.
While 731 racist incidents were reported in 2013, about 794 attacks were reported in 2014, with notable increase in attacks against Muslims and Jews.
Out of the 794 attacks, "20 percent of these cases were related to racist remarks or attacks in public places, 19 percent in economic life such as during the provision of goods and services", the report revealed.
It also added that "17 percent on the internet, 8 percent in the politics and media, and 7 percent from the police".
As the anti-Muslim attacks have doubled since 2013, more than 61 incidents against Muslims have been documented by ZARA in 2014.
According to the NGO, the anti-Muslim attacks increased after the emergence of the so-called Islamic State (ISIL) last summer.
Full report at:
http://www.onislam.net/english/news/europe/484147-anti-muslim-attacks-soar-in-austria-report.html
------------
Al Qaeda-Islamic State Rivalry Worsens Threat, de Kerchove Says
Competition for the "leadership of global jihad" could incite al-Qaeda to carry out a terrorist attack in Europe to prove its credibility, according to the European Union's counter-terrorism chief.
Rivalry between al-Qaeda and Islamic State, also known by the Arabic acronym Daesh, has only added to the terror threat Western policy makers grapple with, Gilles de Kerchove said at a forum in Brussels Saturday.
"The fierce competition between al-Qaeda and Daesh over the leadership of global jihad -- we may see at some stage in Europe or in some part of Africa, al-Qaeda wanting to launch an attack to show they are still relevant," de Kerchove said.
At least one of the three gunmen who killed 17 people in attacks in Paris in January had connections to al-Qaeda in the Arabian Peninsula, the Yemen-based group that swears allegiance to Osama bin Laden's original movement. Another declared allegiance to Islamic State in a video.
Islamic State, which controls parts of Iraq and Syria, claimed responsibility for the killing at least 22 people at a museum in Tunis on Wednesday.
Full report at:
http://www.bloomberg.com/news/articles/2015-03-21/al-qaeda-islamic-state-rivalry-worsens-threat-de-kerchove-says
------------
France wants guarantees Iran won't acquire atomic bomb
21 March 2015
France's foreign minister said on Saturday that his country wanted an agreement over Iran's nuclear program that was sufficiently robust to guarantee that Tehran could not acquire an atomic bomb, Reuters news agency reported.
"France wants an agreement, but a robust one that really guarantees that Iran can have access to civilian nuclear power, but not the atomic bomb," French Foreign Minister Laurent Fabius told Europe 1 radio on Saturday.
Iran and six world powers suspended negotiations on a nuclear agreement on Friday and are set to meet again next week to break a deadlock over sensitive atomic research and lifting of sanctions. France has been demanding more stringent restrictions on the Iranians under any deal than the other Western delegations, officials said.
France has been demanding more stringent restrictions on the Iranians under any deal than the other Western delegations and at one point during the talks Fabius phoned his team to ensure it made no more concessions, officials said.
The Europeans and U.S. Secretary of State Kerry plan to meet in London on Saturday to help bridge differences, negotiators said, before a end-March deadline for a political framework agreement and a full nuclear deal by June 30. Officials have expressed concerns that the French might block a deal.
Iran denies allegations from the Western powers and their allies that it harbours nuclear weapons ambitions. It wants all U.N. sanctions to be lifted immediately, including those targeting its nuclear programme.
Full report at:
http://english.alarabiya.net/en/News/middle-east/2015/03/21/France-wants-robust-Iran-agreement-.html
------------
UK says 'unity of purpose' to secure nuclear deal with Iran
Mar 21, 2015
The UK foreign secretary says there is "unity of purpose" on the part of the negotiating side to the nuclear talks with Iran to secure a successful outcome from the negotiations.
Philip Hammond conveyed the message in a statement released after a meeting between US Secretary of State John Kerry, France's Foreign Minister Laurent Fabius, German Foreign Minister Frank-Walter Steinmeier, the European Union's foreign policy chief, Federica Mogherini, and the UK foreign secretary in London on Saturday.
"We will all continue to work together with unity of purpose to secure a successful outcome," said the statement.
It was also underscored in the statement that "substantial progress" has been made in the negotiations.
There still remain differences on some "important issues," the statement read.
Western officials said they were "equally committed," adding, "Any solution must be comprehensive, durable and verifiable. None of our countries can subscribe to a deal that does not meet these terms."
"Now is the time for Iran, in particular, to take difficult decisions," the statement said.
On Saturday, Iran's President Hassan Rouhani said reaching a nuclear deal is possible.
Iran's President Hassan Rouhani
"I believe that reaching a final agreement is possible and there is nothing insolvable and the other negotiating side should also make a final decision about this issue," Rouhani stated.
The Iranian president added that the Islamic Republic has the necessary will for holding negotiations and clinching a nuclear deal within the framework of its principles and the bounds of its red lines.
Full report at:
http://www.presstv.in/Detail/2015/03/21/402876/Unity-of-purpose-to-secure-Iran-deal
------------
URL: https://www.newageislam.com/islamic-world-news/new-age-islam-news-bureau/pakistani-security-forces-kill-80-militants-near-afghan-border/d/102058