New Age Islam News Bureau
6 Nov 2014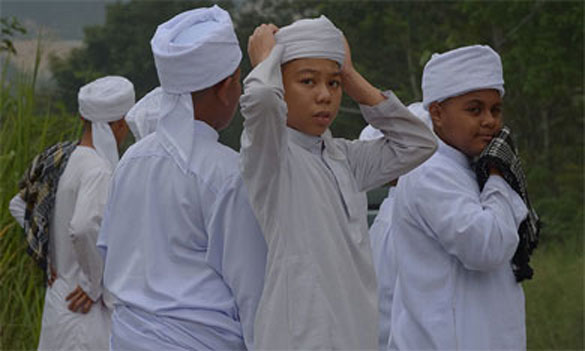 Malaysian religious studies students wait for transport to offer Friday prayers in Hulu Langat, on the outskirts of Kuala Lumpur. — AFP
----------
Pakistan
• Pakistani Policeman Kills Blasphemy Suspect with Axe
• Kashmiris Are Freedom Fighters, Not Separatists: Pakistan's Foreign Office
• TTP-JA Warns Attacks against India 'In the Pipeline'
• Lashkar-i-Islam continues to broadcast 'Khyber Mullah' sermons despite operation
• Operation Zarb-i-Azb disrupted Haqqani network: US general
• Guru Nanak's birth anniversary: 1,600 Sikh pilgrims come from India
• Suspected militant gunned down in Badbher
• Pakistan urges for 'serious steps' for return of Afghan refugees
• Pak-China economic corridor project to get funding from AIIB
• PTI, JI mend fences; vow joint war against corruption and status quo
• Pakistan-UK to enhance bilateral trade
• Pakistan takes 'serious exception' to Pentagon report
------------
India
• Al-Qaeda Grooming Indian Militants for Bigger Attacks: Intelligence Officials
• Don't Tarnish Entire Muslim Community: Jamat-Ulema-e-Hind
• Countries Must Refrain From Hosting Terrorist Acts: Rajnath Singh
------------
Mideast
• Human chain formed in Ramallah to protest al-Aqsa desecration
• 'Drone' strikes kill 20 Qaeda suspects in Yemen
• Jordan ready to 'stop Israeli attacks' on al-Aqsa Mosque
• ICC says won't prosecute over Israel's deadly Gaza flotilla raid
• Iranian general said to mastermind Iraq ground war
• Jordan recalls envoy to Israel over Al-Aqsa excesses
• Three Israeli soldiers wounded in West Bank
-------------
Southeast Asia
• Malaysia's Moderate Muslim Face Takes a Beating
• Fresh graft scandal hits Religious Affairs Ministry
• Malaysia, Netherlands press for access to MH17 site
------------
Arab World
• Hiding under Corpses: Iraqi Tribesmen Recount Escape From IS
• Army Forces Fight Off ISIL Terrorists in Northern Iraq
• Bomb attack kills 2 in Egypt Menufiya province
• Iraq against foreign boots fighting ISIL
• Syrian army inflicts losses on ISIL
• Lebanon's Shia defiant in face of ISIL threat
• Blast hits near presidential palace in Egypt capital
• Syria army retakes gas fields from militants
• Saudi Arabia blames 'Qaeda' for deadly sectarian attack during Ashura
-------------
South Asia
• Bangladesh Cops hunt for Harkat ul Jihad al Islami members
• Bangladesh Islamist 'may hang in a week'
• Ramna blast: Condemned convict held
• Abdus Subhan's trial at final stage
-----------
North America
• Pentagon denies US strategy to defeat Isis jihadists is unravelling
• US tries Russian man over Afghan attack
• US airstrikes in Pakistan surpass 400
------------
Africa
• Burkina talks agree one-year transition, polls in Nov 2015
• Iran slams bomb attack on Shia ceremony in Nigeria
• S Africa deputy president linked to Marikana
• Muslim religious leader killed in Kenya
-----------
Europe
• European diplomats urge Iran-P5+1 deal by deadline
• Why there is no such thing as the Muslim 'community' in UK
Compiled by New Age Islam News Bureau
URL: https://www.newageislam.com/islamic-world-news/new-age-islam-news-bureau/pakistani-policeman-kills-blasphemy-suspect-with-axe/d/99894
-------------
Pakistan
Pakistani Policeman Kills Blasphemy Suspect with Axe
AFP
Lahore, November 06, 2014
A Pakistani policeman used an axe to kill a man arrested on blasphemy allegations, a day after a mob murdered a Christian couple accused of the same crime, officials said Thursday.
Tufail Haider, a 50-year-old from the minority Shiite sect of Islam, was arrested for allegedly making derogatory remarks about the companions of the Prophet Mohammed and brought to the Civil Lines police station in the eastern city of Gujrat on Wednesday.
It was the second vigilante killing over blasphemy in Punjab province in two days, after a husband and wife were lynched and their bodies burned in a case that sparked widespread horror.
"Tufail was kept in the lock-up but he continued uttering derogatory remarks and hurled abuse at policemen. He looked like a Malang (wandering preacher) and seemed mentally imbalanced," duty officer Ali Raza told AFP.
"Assistant Sub-Inspector Faraz Naveed, 36, became very angry on hearing the derogatory remarks against the companions of the prophet and he killed the detainee with an axe in the lock-up."
Naveed has been arrested and legal proceedings have been started against him, he added.
District Police Chief Rai Mohammad Ejaz confirmed the incident and said Naveed had brought Haider into his own room and locked the door before killing him.
Sectarian violence has been on the rise in Pakistan, with mainly Sunni extremists targeting the country's minority Shiite community.
Around 1,000 Shiites have been killed in the past two years, a heavy toll on the community that makes up roughly 20 percent of the country's 180 million population, most of whom are Muslim.
'The worst brutality'
There has been a recent surge in extra-judicial killings linked to Pakistan's draconian blasphemy laws, which were put in place during the period of British rule and strengthened by military ruler General Zia-ul-Haq in the 1980s.
A furious crowd murdered a Christian bonded labourer and his pregnant wife on Tuesday for supposedly desecrating pages of the Koran in a village in Punjab, prompting condemnation, including from Prime Minister Nawaz Sharif and the country's top religious body.
Punjab Chief Minister Shahbaz Sharif described the couple's murder as "the worst brutality" and pledged to bring justice for their three children.
On Thursday, the head of a leading body of Islamic clerics pledged to monitor the case closely to ensure the perpetrators were punished.
Cleric Tahir Ashrafi, head of the Pakistan Ulema Council, said he would set up a commission to follow developments.
"Nobody has the right to hurl an allegation, set up his own court and punish someone in the most gruesome way," he said.
"Those who have committed this heinous crime have neither served Islam nor Pakistan."
Pakistan is a deeply religious country and blasphemy an extremely sensitive subject, with even unproven allegations sometimes triggering mob violence.
Rather than being punished, those who kill people accused of defaming Islam are often hailed as heroes.
The axe killing echoes the September prison shooting of an elderly British man with severe mental illness, who was sentenced to death for blasphemy in January.
An internal investigation found that the guard who shot the man had been radicalised and goaded into the attack by Mumtaz Qadri, a police bodyguard who murdered the Punjab governor in 2011 for suggesting reform of the blasphemy laws.
http://www.hindustantimes.com/world-news/pakistani-policeman-kills-blasphemy-suspect-with-axe-officials/article1-1283223.aspx
------------
Kashmiris are freedom fighters, not separatists: Pakistan's Foreign Office
Mateen Haider
November 6, 2014
ISLAMABAD: Pakistan's Foreign Office on Thursday strongly reacted to a statement issued by Indian Defence Minister Arun Jaitley and said Kashmiris were freedom fighters and not separatists.
Speaking to media representatives during the weekly briefing in Islamabad, FO spokeswoman Tasnim Aslam said Jaitley's statement was "unacceptable for Pakistan".
Jaitley had on Wednesday said that Pakistan must make a "conscious choice of peace" and decide whether it wanted to talk to the Indian government or the Hurriyat leaders.
The spokeswoman added that Pakistan was sincere when it came to a dialogue with India, saying that was necessity for peace in the region.
Referring to the Indian leadership's statement in condemnation of the Wagah border post attack, Aslam said no condemnation or condolence message had been received through official channels.
She added that US Ambassador Richard Olson had been apprised of Pakistan's reservations against a report recently issued by the Pentagon.
Aslam said Prime Minister Nawaz Sharif would be leaving for Beijing tomorrow prior to a meeting of the Asia-Pacific Economic Cooperation forum (APEC) and would hold talks with the Chinese leadership, including the country's premier and president.
During the prime minister's visit, a number of agreements and memoranda of understanding (MoU) will be signed between the two countries, most of them in the field of energy, Aslam added.
The spokeswoman said Afghan President Ashraf Ghani would visit Islamabad this month. However, dates could not yet be announced, she said.
http://www.dawn.com/news/1142683/kashmiris-are-freedom-fighters-not-separatists-fo
-------
TTP-JA warns attacks against India 'in the pipeline'
November 06, 2014
November 6, 2014
PESHAWAR: A new Pakistani Taliban group behind this week's devastating suicide bombing on the Pakistani-Indian border said on Wednesday the attack was as much aimed at India as Pakistan, suggesting that Indian targets might be next. At least 57 people were killed during the flag-lowering ceremony on Sunday when a bomber tried to get as close as possible to the border in a possible attempt to cause casualties on the Indian side as well. Ehsanullah Ehsan, a prominent militant and spokesman for the group, Tehreek-e-Taliban Pakistan Jamaat Ahrar (TTP-JA), said he had warned Indian Prime Minister Narendra Modi that attacks in India were in the pipeline. "I have already conveyed it to Modi ... that if our suicide bombers can carry out attacks on this side of the border, they can easily do it on other side of the border in India," he told Reuters by telephone from an undisclosed location.
"I told him that his hands are red with the blood of Kashmiri Mujahideen (fighters) and innocent people of Gujarat for which he would have to pay the price." He earlier tweeted in English: "You (Modi) are the killer of hundreds of Muslims. We wl (will) take the revenge of innocent people of Kashmir and Gugrat" (sic). An Indian intelligence official said the account appeared genuine. Gujarat - misspelt in the tweet - is a western Indian state where more than 1,000 people, most of them Muslims, were killed in inter-religious rioting in 2002, when Modi was its chief minister. India has long accused Pakistani militants of trying to attack its targets, particularly after the 2008 Mumbai attacks.
http://www.dailytimes.com.pk/national/06-Nov-2014/ttp-ja-warns-attacks-against-india-in-the-pipeline
-------------
Lashkar-i-Islam continues to broadcast 'Khyber Mullah' sermons despite operation
Zahir Shah Sherazi
November 6, 2014
PESHAWAR: Despite an all-out operation against militants in Khyber tribal agency, the banned outfit Lashkar-i-Islam's pirate radio is still operational and broadcasting fiery sermons of its chief Mangal Bagh.
The militant-cum-criminal from Bara region issues daily speeches urging people to fight security forces and issuing threat to opponents – even directing his commanders to target politicians opposed to their ideology mostly belonging to the PPP and Awami National Party (ANP).
Residents of Khyber, Jamrud, Hayatabad, the outskirts of Peshawar and even Jalozai have confirmed that they have been receive the banned militant group's FM radio broadcast, which may be operated from the roof of some vehicle or hideouts in the Bara mountains.
Zar Zameen Afridi, who lives near Shakas area of Jamrud, told Dawn.com that he tunes in to the broadcast daily on his mobile phone radio.
"Yes, many of the villagers are listening (to the sermons) and are terrified… Mangal Bagh often hurls threats against tribesmen calling them infidels," he said.
Awal Gul, a resident of Sarband, also confirmed that he could receive the transmission on his radio. He said the sermons are threatening and terrify the locals mostly living near the border with Bara.
Gul, however, said that the speeches used to be more frequent earlier, but after the start of the operation they had decreased in number.
Law enforcement and intelligence agencies intercepted one particular broadcast of the sermon last week, and have submitted a report confirming that the pirate radio is still operational.
Also read: Mangal Bagh territory
In the sermon broadcast on Saturday, the LI chief challenges the government, claiming that they are unable to block the FM transmission and that the militant outfit would continue its Jihadist transmission.
In the speech, Mangal Bagh also warned the media against siding with the government and accused it of being used as a propaganda tool for "the infidels".
A high-level security official, speaking to Dawn.com on condition of anonymity, said the transmission goes on and off air with intervals, but security agencies are trying to trace the source of the radio broadcast and shut it down.
Mangal Bagh is not the first militant commander to use FM radio as a propaganda tool.
Mullah Fazlullah – who is now the chief of the umbrella group Tehreek-i-Taliban Pakistan (TTP) – first became popular as 'Mullah Radio' or 'FM Mullah' for his fiery speeches and sermons on his own FM station, railing against polio vaccination programmes and girls' education in the scenic Swat valley.
http://www.dawn.com/news/1142698/lashkar-i-islam-continues-to-broadcast-khyber-mullah-sermons-despite-operation
-------------
Operation Zarb-i-Azb disrupted Haqqani network: US general
APP | Dawn.com
Nov 06, 2014
WASHINGTON: A top American general in command of international forces in Afghanistan said Pakistan's ongoing military operation in North Waziristan has helped disrupt the Haqqani network's ability to launch attacks on Afghan territory.
Lt. Gen. Joseph Anderson, a senior commander for US and Nato forces in Afghanistan, noted in a Pentagon-hosted video briefing from Afghanistan on Wednesday that the Haqqani network is now "fractured" like the Taliban.
"They are fractured. They are fractured like the Taliban is. That's based pretty much on the Pakistan [operations] in North Waziristan this entire summer-fall," he said, acknowledging the effectiveness of Pakistan's continuing military offensive, Zarb-i-Azb.
"That has very much disrupted their efforts [in Afghanistan] and has caused them to be less effective in terms of their ability to pull off an attack in Kabul," Anderson added.
The US commander's remarks came in response to a question, when he was asked about the level of Haqqani network threat in the wake of Pakistani operation in the previously militant stronghold tribal area of North Waziristan.
Since its launch in June this year, the Pakistani offensive has eliminated a large number of terrorists. In the briefing, the US general also referred to success of the Afghan national security forces against the Haqqani network, which he described as one of the many threat streams affecting security in Afghanistan.
The network, he said, is focused more on the high profile attack like the large vehicle-borne explosives attacks.
Full report at:
http://www.dawn.com/news/1142664/operation-zarb-i-azb-disrupted-haqqani-network-us-general
-------
Guru Nanak's birth anniversary: 1,600 Sikh pilgrims come from India
The Newspaper's Staff Reporter
November 06, 2014
LAHORE: As many as 1,600 Sikhs, who had arrived in Lahore on Tuesday from India, left for Nankana on Wednesday to participate in the festivities in connection with Baba Guru Nanak's birth anniversary.
Officials of the Evacuee Trust Property Board and the Pakistan Gurdwara Parbhandhik Committee had received them at the Wagah border amid tight security. The Punjab Rangers had taken strict security measures in the wake of suicide attack at Wagah on Sunday that killed 62 people.
"More than 1,600 Sikh pilgrims arrived here from India through three special trains," ETPB spokesman Amer Hashmi told Dawn on Wednesday.
He said Sikh pilgrims had also arrived here from European countries.
"The pigrims have left for Nankana Sahib to attend the main function on Thursday (today)," he said.
Full report at:
http://www.dawn.com/news/1142554/guru-nanaks-birth-anniversary-1600-sikh-pilgrims-come-from-india
------
Suspected militant gunned down in Badbher
Zahir Shah Sherazi
November 6, 2014
PESHAWAR: A suspected militant was gunned down on Thursday by the security forces after an attack on a security checkpost in Badbher area on Kohat road.
Police sources said a police checkpost on Afridi road was attacked with a hand grenade and also fired upon which resulted in the death of a policeman Sanjab.
In response, a militant was killed as security forces conducted an encounter.
Full report at:
http://www.dawn.com/news/1142689/suspected-militant-gunned-down-in-badbher
-------------
Pakistan urges for 'serious steps' for return of Afghan refugees
November 6, 2014
UNITED NATIONS: Pakistan on Wednesday urged the international community to help the Afghanistan government take "serious steps " towards the creation of a safe and conducive environment for Afghan refugees in their homeland, where they could return voluntarily after living years in exile.
"We would very much want these refugees to return peacefully to Afghanistan with the support of the international community," Ambassador Masood Khan told a UN panel, while pointing out that after more than three decades Pakistan is still caring for over three million of them.
"Pakistan is now witnessing the birth of the third generation of Afghan refugees," Masood Khan said in a speech to the General Assembly's Third Committee, which deals with Social, Humanitarian and Cultural questions.
Read: Afghan govt deal may encourage repatriation of refugees, says UN
Regrettably, he pointed out that although international support to these refugees has been dwindling, Pakistan has continued to provide the necessary services.
"Our resources have been stretched by massive relief efforts following recent floods and temporary relocation of the hundreds of thousands of people because of the ongoing military operation Zarb-i-Azb," the Pakistani envoy said, as he underlined the continuing relevance and important role of UNHCR.
Full report at:
http://www.dawn.com/news/1142674/pakistan-urges-for-serious-steps-for-return-of-afghan-refugees
-------------
Pak-China economic corridor project to get funding from AIIB
November 06, 2014
BEIJING – Pakistan-China economic corridor project is likely to get funding from the Asian Infrastructure Investment Bank (AIIB), which is to be functional by the end of next year.
The bank is being set up on the proposal of the Chinese President Xi Jinping to support the developing countries for construction of their basic infrastructure. In this connection, twenty-one countries including Pakistan that are willing to join the AIIB have signed a memorandum of understanding (MoU) last week in Beijing.
Prof Gao Jianlong, President Xinjiang Academy of Social sciences told reporters at journalists seminar held in Urumqi, (Xinjiang Autonmous Region) that AIIB is supposed to finance to mega projects like PaK-China economic cooridor, which is a development programme to connect Gawadar Port in southern Pakistan to China's northwestern region of Xinjiang via highways, railways and pipelines to transport oil and gas.
Chinese Premier Li Keqiang was among the first advocates of the project. The New China Silk Road economic project is also likely get financial support from the AIIB. Prof. Gao said that the Bank is a major imitative for providing financial support to the developing countries to build up their basic infrastructure, bringing prosperity to their people.
This is as per the dream of the Chinese government to have equal development of the all regional countries on the basis of win-win situation. Pak-China economic corridor, after completion, will serve as a primary gateway to trade among China, Middle East and Africa through Pakistan. Particularly, the oil from the Middle East could be offloaded at Gawadar, which is located just outside the mouth of the Persian Gulf.
Full report at:
http://www.dailytimes.com.pk/business/06-Nov-2014/pak-china-economic-corridor-project-to-get-funding-from-aiib
-------------
PTI, JI mend fences; vow joint war against corruption and status quo
November 06, 2014
ISLAMABAD: Pakistan Tehreek-e-Insaf (PTI) chief Imran Khan and Jamaat-e-Islami (JI) Ameer Sirajul Haq on Wednesday renewed their pledge to fight together against corruption and status quo.
They were addressing a joint press conference here at the house of JI Deputy Ameer Mian Aslam, after Imran Khan called on Sirajul Haq in an apparent bid to iron out misunderstandings. Imran Khan reiterated PTI's ongoing sit-in will continue till "we get justice". "Qadri is gone but don't be mistaken, we will continue our protest." He said that issues relating to masses would never be resolved until a true elected government comes into power. Speaking at the joint-press conference, the PTI chairman said that Pakistan was created in the name of Islam and that both the parties share the same ideology.
Full report at:
http://www.dailytimes.com.pk/national/06-Nov-2014/pti-ji-mend-fences-vow-joint-war-against-corruption-and-status-quo
-------------
Pakistan-UK to enhance bilateral trade
November 05, 2014
ISLAMABAD – Pakistan Britain Trade and Investment Forum (PBTIF) Chairperson Baroness Nosheena Mobarik called on Pakistan high commissioner to the UK Syed Ibne Abbas on Wednesday and discussed matters related to enhancing Pakistan-UK bilateral trade.
The high commissioner congratulated Baroness on becoming the member of the British House of Lords and said that her achievement was a matter of great pride for the entire Pakistani community in the UK. While appreciating the good work being carried out by the PBTIF under her leadership, the high commissioner stated that enhancing Pakistan's trade with the UK was one of his top priorities and the High Commission looked forward to working with the PBTIF in future.
Full report at:
http://www.dailytimes.com.pk/national/05-Nov-2014/pakistan-uk-to-enhance-bilateral-trade
-------------
Pakistan takes 'serious exception' to Pentagon report
November 06, 2014
MAQBOOL MALIK
Islamabad - In a strong reaction, Islamabad Wednesday lodged protest with Washington over unsubstantiated allegations in a recent Pentagon report that terrorists operate against Afghanistan and India from 'sanctuaries' inside Pakistan.
US Ambassador Richard Olson was summoned in Foreign Office where Adviser to Prime Minister on National Security and Foreign Affairs Sartaj Aziz conveyed to him Pakistan's protest over the report.
Mr Aziz conveyed to the US ambassador that government of Pakistan has taken serious exception to comments contained in the report sent to the US Congress under the title 'Progress towards Security and Stability in Afghanistan'.
The adviser noted with concern that despite Pakistan's cooperation with the US in areas of mutual interest, the recently released report also carries unsubstantiated allegations of the existence of terrorist 'sanctuaries' in Pakistan or that proxy forces are operating against Afghanistan and India from inside Pakistan.
Aziz told Ambassador Olson that such allegations were of particular concern at this point when Pakistan government has launched comprehensive operations against militants in North Waziristan. He said military operation 'Zarb-e-Azb' has been broadly welcomed internationally, also in the US, and the operation has successfully eliminated terrorist hideouts and is directed against all militants, without any distinction. "We therefore hope that the issues will be seen in their correct perspective," he emphasised.
Interestingly, these developments are taking place ahead of the maiden visit of Army Chief General Raheel Sharif on November 16 to the United States where he would be meeting senior officials of Pentagon.
Full report at:
http://nation.com.pk/national/06-Nov-2014/pakistan-takes-serious-exception-to-pentagon-report
-------------
India
Al-Qaeda grooming Indian militants for bigger attacks: Intelligence officials
November 6, 2014
Decrypted communications between Indian Mujahideen (IM) and Al-Qaeda and testimony from suspects have triggered alarm among intelligence officials in New Delhi: the groups appear to be working together to launch major attacks in the region. The officials told Reuters that plots they had uncovered included the kidnapping of foreigners and turning India into a "Syria and Iraq where violence is continuously happening".
Allegiances between Islamist militant groups can be murky and fleeting, and providing concrete proof of operational ties is notoriously difficult.
ALSO READ: Wagah bomb blast: Taliban group vows 'revenge' against PM Narendra Modi
But Indian security agencies said evidence they had gathered pointed to growing ties between Al-Qaeda and IM, a home-grown movement hitherto known for low-level attacks on local targets using relatively crude weapons like pressure cooker bombs. Weeks after al Qaeda announced the formation of a South Asia wing to strike across the subcontinent, agencies said they had discovered IM members were training with al Qaeda and other groups in Pakistan and Afghanistan for major attacks.
That increases the risk of a more dangerous form of militancy in the world's biggest democracy, which has been largely spared the kind of violence that regularly rocks its neighbour Pakistan and, beyond it, Afghanistan.
Security officials cite last Sunday's deadly suicide bombing on the Pakistani side of a border crossing with India, and a terror alert on Tuesday at two eastern ports that forced the Indian navy to withdraw two ships, as evidence that militant coordination and activity are on the rise.
Full report at:
http://indianexpress.com/article/india/india-others/officials-fear-al-qaeda-grooming-indian-militants-for-bigger-attacks/
-------------
Don't Tarnish Entire Muslim Community: Jamat-Ulema-e-Hind
November 5, 2014
Accusing central agencies and Ministry of Home Affairs of being involved in witch-hunting in the Burdwan blast case, Jamat-Ulema-e-Hind general secretary Maulana Mahmood Madani on Wednesday alleged that a conspiracy is on to "tarnish" the entire Muslim community.
"If someone is guilty, then he should be punished. But please don't indulge in witch-hunting and tarnish the entire community. The central agencies even before something is proved, is leaking things about raids in madrasas which in turn is creating problems for the entire community," he said.
"What was the central agencies and the Home Ministry doing when such activities were going on? If any unlawful thing is going on in madrasas and it is proved, we will fully cooperate with the agencies," Madani said.
Madrasas operating in Bengal and throughout India work for the benefit of the masses, he asserted.
Full report at:
http://indianexpress.com/article/india/india-others/dont-tarnish-entire-muslim-community-maulana-madani/
-------------
Countries must refrain from hosting terrorist acts: Rajnath Singh
November 5, 2014
In a veiled attack on Pakistan, India has said nations must refrain from hosting and encouraging terror activities and ensure that their territories are not used for setting up terrorist training camps.
Addressing the 83rd General Assembly of Interpol in Monaco on Monday, Home Minister Rajnath Singh also said lifting banking secrecy and corporate veil in corruption and terrorist-related cases would go a long way in bringing the criminals to book.
"States must refrain from organising, instigating, facilitating, participating in, financing, encouraging or tolerating terrorist activities," he said.
The Home Minister said countries must take appropriate measures to ensure that their territories are not used for setting up terrorist infrastructures or training camps.
Singh called on governments across the globe to collectively address the issue of safe havens for organised criminal and terrorist groups.
"Governments across the world have to recognise the need to collectively address the issue of safe havens for organised criminal and terrorist groups, their illicit operations, and their tainted money," he said.
Full report at:
http://indianexpress.com/article/world/europe/countries-must-refrain-from-hosting-terrorist-acts-rajnath-singh/
-------------
Human chain formed in Ramallah to protest al-Aqsa desecration
Nov 6, 2014
Palestinians have formed a human chain in the occupied West Bank city of Ramallah to protest against Israel's recent desecration of the al-Aqsa Mosque, Press TV reports.
Some 200 protesters took to the streets of Ramallah on Wednesday, forming a human chain to show their anger at the Israeli regime's recent violations in the al-Aqsa Mosque.
The Palestinian protesters carried banners reading "it is our Aqsa and not their temple."
Meanwhile, the Palestinian resistance movement Hamas urged all Palestinians to join the anti-Israeli demonstration in Ramallah and defend the al-Aqsa Mosque with all possible means.
"This human chain is formed to express that we are in the same tunnel with our brothers in Jerusalem al-Quds and to say that we reject all forms of occupation, judaization, siege, closure and preventing the Muslims to pray in the al-Aqsa Mosque… We condemn the daily crimes committed by the Israelis against our people," said Hossein Abu Kweik, a senior Hamas official.
Full report at:
http://www.presstv.ir/detail/2014/11/06/384952/ramallah-human-chain-to-support-alaqsa/
-------------
'Drone' strikes kill 20 Qaeda suspects in Yemen
November 06, 2014
SANAA - Overnight drone strikes killed at least 20 suspected Al-Qaeda militants in Yemen, where Washington has conducted a sustained drone war against jihadist leaders, tribal sources and witnesses said on Tuesday.
The twin raids targeted Al-Qaeda positions near Rada, a central town which has been the focus of deadly fighting between the jihadists and advancing Shiite rebels, the sources said. The United States is the only country operating drones over Yemen, but US officials rarely confirm individual strikes. Washington regards Al-Qaeda's Yemen branch as its most dangerous and there has been no let-up in the drone war even as the jihadists battle the Shiite rebels alongside tribes. The rebels, known as Huthis from the name of their leading family, overran the capital Sanaa in September and have since advanced south from the mainly Shiite northern highlands into Sunni majority areas. The Rada area is confessionally mixed and has seen deadly clashes in recent weeks.
Full report at:
http://nation.com.pk/international/06-Nov-2014/drone-strikes-kill-20-qaeda-suspects-in-yemen
-------------
Jordan ready to 'stop Israeli attacks' on al-Aqsa Mosque
Nov 6, 2014
Jordan says it is ready to make efforts in order to "stop Israeli attacks" against the al-Aqsa Mosque in East al-Quds (Jerusalem).
Jordanian Ambassador to the United Nations Dina Kawar sent a letter to the president of the UN Security Council on Wednesday, slamming Tel Aviv's "outrageous actions" against Islam's third-holiest site.
"Jordan considers such serious and outrageous actions by Israel an unprecedented escalation," Kawar said.
The Jordanian representative noted the recent recall of its ambassador in Tel Aviv, saying, "This is without prejudice to any further lawful steps and measures that Jordan will be taking to stop Israeli attacks against the Haram al-Sharif."
Palestinian envoy to the UN Riyad Mansour also reacted to the Israeli regime's actions against al-Aqsa, saying the Security Council must call on Tel Aviv to "stop all these activities and policies of provocation and incitement."
Earlier in the day, clashes took place between Israeli forces and Palestinian protesters at the site.
Full report at:
http://www.presstv.ir/detail/2014/11/06/384948/jordan-to-stop-israeli-attacks-on-aqsa/
-------------
ICC says won't prosecute over Israel's deadly Gaza flotilla raid
THE HAGUE: The International Criminal Court will not prosecute over Israel's raid on a Gaza-bound flotilla in 2010 in which 10 Turkish activists died, despite a "reasonable basis to believe that war crimes were committed".
Chief prosecutor Fatou Bensouda said that there would be no investigation leading to a potential prosecution because the alleged crimes, including the killing of 10 activists by Israeli commandos, were not of "sufficient gravity".
"The information available provides a reasonable basis to believe that war crimes were committed on board the Comorian-registered vessel the Mavi Marmara during the interception of the flotilla," Bensouda said in a statement on Thursday.
"However, after carefully assessing all relevant considerations, I have concluded that the potential case(s) likely arising from an investigation into this incident would not be of 'sufficient gravity' to justify further action by the ICC," she said.
Nine Turkish nationals died when Israeli commandos staged a botched pre-dawn raid on a six-ship flotilla seeking to bust Israel's naval blockade of the Gaza Strip on May 31, 2010.
A tenth activist later died of his wounds.
Full report at:
http://www.dawn.com/news/1142706/icc-says-wont-prosecute-over-israels-deadly-gaza-flotilla-raid
------
Iranian general said to mastermind Iraq ground war
5 November 2014
BAGHDAD: When Islamic State militants retreated from the embattled town of Jurf Al-Sakher last week, the Iraqi military was quick to flaunt a rare victory against the extremist group, with state television showing tanks and Humvees parading through the town and soldiers touring government buildings that had been occupied by the militants since August.
However, photos soon emerged on independent Iraqi news websites revealing a more discreet presence — the powerful Iranian general Ghasem Soleimani — whose name has become synonymous with the handful of victories attributed to Iraqi ground forces. Local commanders said Lebanon's powerful Shiite Hezbollah group was also on the front lines.
Shiite militias have played a key role in driving the Islamic State group out of the so-called Baghdad Belt of Sunni villages ringing the capital. But the sectarian militias have long been implicated in brutality against the country's Sunnis, and while they have benefited from US-led airstrikes, their advance could undermine efforts to knit the troubled country together.
Militia commanders told The Associated Press that dozens of advisers from the Iranian Revolutionary Guard and the Lebanese Hezbollah were on the front lines in Jurf Al-Sakher, providing weapons training to some 7,000 troops and militia fighters, and coordinating with military commanders ahead of the operation.
One commander, who agreed only to be identified by his nickname, Abu Zeinab, said Soleimani began planning the Jurf Al-Sakher operation three months ago. The cleared town, 50 kilometers (30 miles) south of the capital, lies on a road often used by Shite pilgrims, who will be heading in droves to the holy city of Karbala this week to commemorate a Shiite holy day.
Full report at:
http://www.arabnews.com/middle-east/news/655371
-------------
Jordan recalls envoy to Israel over Al-Aqsa excesses; car attack kills cop
6 November 2014
JERUSALEM: A Palestinian man rammed a minivan into a crowded train platform in east Jerusalem on Wednesday and then attacked people with an iron bar after leaving the vehicle, killing a border policeman and injuring 13 in what authorities called a terror attack before he was shot dead by police.
Hamas group took responsibility for the attack — the second such assault in east Jerusalem in the past two weeks.
Earlier Wednesday, Israeli police had dispersed dozens of masked Palestinians who threw rocks and firecrackers near a contested holy site in Jerusalem's Old City.
Neighboring Jordan called back the kingdom's ambassador to Israel for consultations in a gesture of protest over the violence in east Jerusalem.
Police said the motorist slammed his car — a white minivan — into the train platform in east Jerusalem first, backed out and proceeded to drive away, hitting several cars along the way. He then got out of the car and attacked a group of civilians and police officers on the side of the road with a metal bar before he was shot and killed.
Security camera footage appeared to show him darting about a crowded intersection before he was shot. Israeli police said "one person was killed and about a dozen people were injured in the terror attack."
Full report at:
http://www.arabnews.com/middle-east/news/655726
-------------
Three Israeli soldiers wounded in West Bank
Nov 6, 2014
At least three Israeli soldiers have reportedly been wounded after a Palestinian driver ran them over south of the occupied East al-Quds (Jerusalem).
According to Israeli police, a vehicle rammed into the soldiers standing by the side of a road near the al-Arroub Palestinian refugee camp in the occupied West Bank governorate of al-Khalil (Hebron) on Wednesday.
One of the soldiers is said to be in critical condition.
The Israeli military said in a statement that it "is conducting a widespread search in the region to locate the vehicle and its driver," who drove off after the incident.
The Wednesday incident came just hours after another Palestinian drove his car into a train station platform in East al-Quds .
An Israeli police officer was killed and many more were injured there. Israeli forces later shot and killed the driver.
In a similar incident on October 22, Abdel Rahman al-Shaludi, a Palestinian man, rammed his car into a railway station in al-Quds. An Israeli was killed and eight others were injured in the incident.
Full report at:
http://www.presstv.ir/detail/2014/11/06/384984/3-israel-troops-injured-in-west-bank/
-------------
Southeast Asia
Malaysia's Moderate Muslim Face Takes a Beating
Nov 06, 2014
Kuala Lumpur. When Malaysia's urbane Prime Minister Najib Razak travels abroad he invariably touts his country's widely accepted reputation for moderate Islam, but that image is taking a beating at home.
Increasingly strident Islamist pressure, often initiated by Najib's own government, is causing deepening dismay in the traditionally tolerant multi-faith country.
The trend is rooted in the decades-old regime's attempts to strengthen its weakening grip amid repeated electoral setbacks, as a formidable opposition taps into broad sentiment for liberal reform.
But the ruling establishment is setting the country on an uncertain path, critics warn.
"The government spends a lot of money promoting the label 'moderate'. Of course [Malaysia is] not moderate. We are far from that," said Zaid Ibrahim, a former minister in the regime.
Malaysia has enjoyed uncommon racial and religious harmony, with a politically dominant Muslim ethnic Malay majority largely co-existing with sizable Chinese and Indian communities.
Speech or actions that inflame religious sensitivities can result in jail.
But Islamic pressure has accelerated this year as the ruling United Malays National Organisation (UMNO) falls back on its Muslim base.
Campaign against 'deviants'
In a deeply emotive dispute, government and religious officials have upped pressure on Malay-speaking Christians to cease using the Arabic word "Allah" for the Christian God, as they have done for generations. Authorities have angered Christians by seizing Bibles containing "Allah."
Official Friday sermons and religious edicts have increasingly warned of creeping liberalism and other threats to Islam, critics say, while prominent moderate-Muslim groups have been branded "deviant" by religious authorities.
An animal activist triggered a frenzy last month with a campaign encouraging his fellow Muslims to touch and be kind to dogs, which are considered unclean by Islam. The activist was sharply denounced and received death threats.
Pressured by powerful conservatives, the mild-mannered Najib, 61, is accused by moderate critics of looking the other way.
Full report at:
http://thejakartaglobe.beritasatu.com/international/malaysias-moderate-muslim-face-takes-beating/
-------------
Fresh graft scandal hits Religious Affairs Ministry
Haeril Halim
November 06 2014
The Religious Affairs Ministry has been rocked by another graft scandal, with the Attorney General's Office (AGO) naming on Wednesday five people suspected of embezzlement of funds earmarked for the procurement of textbooks for Buddhist students.
The ministry, currently led by United Development Party (PPP) politician Lukman Hakim Saifuddin, was previously hit by a scandal involving trillion of rupiah in the ministry's haj fund, and which saw Lukman's fellow PPP member, former religious affairs minister Suryadharma Ali, named a suspect by the Corruption Eradication Commission (KPK).
"We have named five suspects in the case. The project was launched in 2012, and we started looking into alleged irregularities in September of this year. The project's total budget is Rp 7.2 billion and we're still calculating the state losses caused by the alleged irregularities," AGO spokesman Tony Spontana told The Jakarta Post on Wednesday.
He said that irregularities in the project included budget mark-ups, bribery, gratuities and procurement of items not stated in the contract.
Tony said further that AGO investigators were still looking for evidence to implicate more individuals in the case.
"For now, we have listed five people as suspects, but the investigation is still ongoing to unearth the role of others in the case," Tony said.
Full report at:
http://www.thejakartapost.com/news/2014/11/06/fresh-graft-scandal-hits-religious-affairs-ministry.html
-------------
Malaysia, Netherlands press for access to MH17 site
Afp, Putrajaya
November 6, 2014
The leaders of Malaysia and the Netherlands yesterday vowed to keep pressing for access to the crash site of Malaysia Airlines flight MH17 and bring to justice those responsible for downing the plane in Ukraine.
Prime Minister Najib Razak met with his visiting counterpart Mark Rutte in Malaysia to discuss the Dutch-led investigation into the July 17 disaster, which killed 193 Netherlands citizens.
Malaysia says 44 of its nationals also were among the 298 people aboard the Amsterdam-to-Kuala Lumpur flight when it was brought down over strife-torn eastern Ukraine.
"We agreed that the priority should be to recover the wreckage, so that experts can identify both the cause of the incident, and the parties responsible," Najib told reporters during a joint press briefing after their talks.
Full report at:
http://www.thedailystar.net/backpage/malaysia-netherlands-press-for-access-to-mh17-site-48968
-------------
Arab World
Hiding under corpses: Iraqi tribesmen recount escape from IS
November 6, 2014
BAGHDAD: Mohammad Hilal and about 100 other members of Iraq's Albu Nimr tribe felt safe hiding from Islamic State militants in tall grass — until the headlights of dozens of cars exposed them.
"We know you are there, traitors," militants shouted, before opening fire on the tribesmen who had fought them for weeks.
Most died. Some were taken prisoner.
Shot in the arm and leg, Hilal survived, after smothering himself in blood and playing dead under corpses as the militants beat the wounded and called them "scum", he said.
Hilal says he spotted more bodies, including children and the elderly, dumped on the roadside as he fled the scene after hours of hiding beneath the dead.
"I'm waiting for my family. I have no way of reaching them. Their cellphones are switched off and I'm powerless to do anything," Hilal said by telephone from Haditha, a town under the control of Iraqi forces and tribal fighters but still vulnerable to attack from nearby Islamic State militants.
Many other members of the tribe face that same uncertainty after Islamic State executed hundreds to punish the tribe that had fought back.
After seizing the tribe's main village, Islamic State militants combed the area for those who had set out on foot hoping to escape the wrath of a group notorious for beheading or shooting dead anyone opposed to their ultra-hardline ideology.
The killings raised new concerns about Iraq's ability to defeat Islamic State, which swept through northern Iraq in June, meeting little resistance from the US-trained army.
The Shia-led government of Prime Minister Haider al-Abadi wants Sunni tribes like Albu Nimr, which once helped the United States defeat al Qaeda in Anbar, to back government forces fighting Islamic State.
Full report at:
http://www.dawn.com/news/1142677/hiding-under-corpses-iraqi-tribesmen-recount-escape-from-is
-------------
Army forces fight off ISIL terrorists in northern Iraq
Nov 6, 2014
Military forces in Iraq have managed to retake control of a village in the north of the country from the Takfiri ISIL group.
Army troops took control of the Maleha village in Salahuddin Province after heavy clashes with the Takfiri militants there.
Fighting, however, is still underway between Iraqi forces and the terrorists for the control of the oil-rich town of Baiji. The town is located on a main road to the northern city of Mosul, which is being controlled by the ISIL militants.
The liberation of the town can choke off the militants' supply lines. Iraqi forces have so far managed to prevent the terrorists from capturing the town's refinery, which is the largest in the country.
The ISIL terrorists control large areas of Syria and Iraq.
A US-led coalition has been conducting airstrikes on ISIL positions in Iraq and Syria, but the air raids have so far failed to dislodge the terrorists.
Speaking on Monday, Iraqi Prime Minister Haider al-Abadi said the recent military gains against the ISIL Takfiri militants have been achieved by Iraqi forces and not through US airstrikes.
Full report at:
http://www.presstv.ir/detail/2014/11/06/384983/army-forces-fight-off-isil-in-n-iraq/
-------------
Bomb attack kills 2 in Egypt Menufiya province
Nov 5, 2014
A bomb attack in the Egyptian province of Menufiya has left two people dead and 11 others wounded.
The bomb was planted in a train carriage and went off when it was being inspected by military troops at a station in Menufiya province north of the capital Cairo, the Egyptian security sources said on Wednesday.
Both of the victims were police forces who were trying to evacuate passengers from the train as the bomb exploded, the Egyptian state media said.
In late October, two attack claimed the lives of 33 soldiers in the Sinai Peninsula of the North African country.
Full report at:
http://www.presstv.ir/detail/2014/11/05/384933/egypt-bomb-attack-kills-2-injures-11/
-------------
Iraq against foreign boots fighting ISIL
Nov 6, 2014
Iraq has voiced opposition to the presence of foreign military forces on its territory for the purpose of battling the Takfiri ISIL terrorist group.
Iraq's Foreign Minister Ibrahim al-Jaafari announced his country's stance on the issue while speaking in Turkey's capital, Ankara, on Wednesday.
He, however, said Baghdad would accept training from abroad for its soldiers.
The ISIL terrorists control large areas of Syria and Iraq. The group first sent its militants into Iraq in June, seizing large parts of land along the border between the two countries.
The ISIL militants have committed terrible atrocities in Syria and Iraq, including mass executions and beheadings of local residents as well as foreign nationals.
A US-led coalition has been conducting airstrikes on ISIL positions in Iraq and Syria, but the air raids have so far failed to dislodge the terrorists.
Full report at:
http://www.presstv.ir/detail/2014/11/06/384978/iraq-against-foreign-boots-fighting-isil/
-------------
Syrian army inflicts losses on ISIL
Nov 6, 2014
The Syrian army has come out victorious in more battles against the ISIL Takfiri terrorists.
Syrian army units recaptured more parts of the town of Sheikh Meskin in the southwestern Dara'a province on Wednesday and inflicted heavy losses on the militants there.
The government forces also flushed out the ISIL terrorists from some parts of Qalamun region in the Damascus countryside.
Additionally, the army made advances in Quneitra, Idlib and Homs provinces.
Earlier, Syrian soldiers recaptured two major gas fields and a gas company in the central province of Homs.
Full report at:
http://www.presstv.ir/detail/2014/11/06/384965/syrian-army-inflicts-losses-on-isil/
-------------
Lebanon's Shia defiant in face of ISIL threat
05 Nov 2014
Beirut - Past the barricaded checkpoints, the searching tents, and groups of men with walkie-talkies, hundreds of thousands of Shia Muslims gathered in Beirut's southern suburbs on Tuesday, to commemorate Ashura.
On this day, Shia Muslims worldwide mourn the death of Imam Hussein, grandson of Prophet Muhammad - and in Lebanon, despite significant security threats and political deadlock, this year was no different.
As rain fell on the southern suburbs of Dahiyeh, men - old and young alike - sobbed, covering their faces with their hands, while women, clad in black, squatted silently by closed-up shops.
Over massive, ubiquitous speakers, a solemn voice narrated the battle of Karbala - in modern-day Iraq - where Hussein was killed. When the reader's voice cracked into a sob, you could hear the wailing and heaving of hundreds of thousands of mourners.
But once the reading was done and the march began, the commemoration's mood drastically changed.
Flags bearing Hezbollah's logo and traditional Ashura slogans - "For you, Hussein" - mixed in with Palestinian and Lebanese flags.
Marchers chanted in support of Imam Hussein, Hezbollah, and its Secretary-General Hassan Nasrallah, while yelling "Death to Israel," and "America is the Great Satan."
This confident tone bled into Nasrallah's speech, which was broadcast to supporters via video link on Tuesday morning. In it, he boasted of his party's victories over "extremists" in Syria, where Hezbollah has intervened on behalf of embattled President Bashar al-Assad.
Nasrallah assured his audience that Hezbollah had not forsaken its mission to fight Israel and liberate Palestine.
And hitting home, he promised that Hezbollah would continue its fight against takfiri groups, both in Syria and in an increasingly unstable Lebanon.
RELATED: Nasrallah vows to defeat Syria 'extremists'
Over the past 15 months, Beirut's predominantly Shia southern suburbs have been the target of a number of car bombs, killing over 75 people and injuring hundreds.
There is widespread belief among Lebanon's Shia community that groups such as al-Qaeda-linked Jabhat al-Nusra and the Islamic State of Iraq and the Levant (ISIL), have established a foothold in the country over the past year.
Full report at:
http://www.aljazeera.com/news/middleeast/2014/11/lebanon-shia-defiant-face-isil-threat-201411554736711396.html
-------------
Blast hits near presidential palace in Egypt capital
Nov 6, 2014
A bomb has exploded near a presidential palace in the Egyptian capital, Cairo, leaving a female passer-by injured, security sources say.
According to Egyptian security officials, the bomb attack was carried out early Thursday just 100 meters (yards) from the palace, located in the northeast of Cairo.
President Abdel Fattah el-Sisi rarely uses the palace as his main office is in another palace in the capital.
Egyptian Interior Ministry spokesman Hani Abdel Latif, meanwhile, said the bystander sustained minor injuries from the bomb, which was placed under a bridge.
The bombing came shortly after an attack on a train in the Nile Delta governorate of Monufia late on Wednesday, in which two policemen and a civilian lost their lives.
Egyptian media put the death toll from Wednesday's attack at five, saying 15 people were also wounded.
In late October, two attacks claimed the lives of 33 soldiers in the Sinai Peninsula of the North African country.
Full report at:
http://www.presstv.ir/detail/2014/11/06/384986/egypt-capital-rocked-by-bomb-blast/
-------------
Syria army retakes gas fields from militants
November 06, 2014
BEIRUT/Oslo - The Syrian army on Wednesday recaptured two key gas fields and a gas company in central Homs province, less than a week after their seizure by militants, a monitoring group said.
"Regime forces and pro-regime militia retook control of the Jhar and Mahr gas fields, as well as the Hayyan gas company in the east of Homs province," said the Syrian Observatory for Human Rights. The facilities had fallen into the hands of the Islamic State (IS) militant group late last week. "Jhar and Hayyan are particularly important because they feed Homs city and Damascus the gas supplies needed to produce electricity," said Observatory director Rami Abdel Rahman. The facilities are near the Shaer gas field, parts of which are still under IS control after a deadly attack late last month, though the army is advancing in its bid to recapture it fully, said Abdel Rahman. "The army's advances come amid fierce fighting and heavy regime air raids against IS positions. These gas facilities are simply too important for the regime to let go," he told AFP. State news agency SANA also reported the advance. "The army is advancing in Shaer... and has killed many terrorists," said SANA. IS has targeted oil and gas facilities in Iraq and Syria as it seeks funds for its fight to seize territory for a self-proclaimed Islamic "caliphate".
Shelling of a rebel-held area in the northeast of the Syrian capital killed 11 children on Wednesday, a monitoring group said, with activists saying a school had been hit. "Eleven children were killed in shelling of the part of Qabun district that is out of government control," the Syrian Observatory for Human Rights said. Activists accused President Bashar al-Assad's forces of the killings, which they described as a "massacre of children". The Syrian Revolution General Commission, a network of activists across the war-torn country, said the shelling hit a school, and an activist group in the neighbourhood shared a grisly video of the aftermath.
Full report at:
http://nation.com.pk/international/06-Nov-2014/syria-army-retakes-gas-fields-from-militants
-------------
Saudi Arabia blames 'Qaeda' for deadly sectarian attack during Ashura
November 06, 2014
RIYADH - Saudi authorities have blamed a deadly attack targeting Shias during Ashura on militants linked to Al-Qaeda. Masked gunmen late on Monday killed five Shias in the kingdom's oil-rich east.
The next day two Saudi policemen and two suspects linked to the incident died in a shootout in Qassim region, north of the capital Riyadh.
Officers rounded up 15 suspects in several cities after the initial shooting in the Eastern Province.
"They are followers of the deviant ideology," interior ministry spokesman General Mansur al-Turki was quoted by the Asharq al-Awsat daily as saying.
He used the term by which Saudi authorities describe the ideology of Al-Qaeda. No group has so far claimed the attack.
Full report at:
http://nation.com.pk/international/06-Nov-2014/ksa-blames-qaeda-for-deadly-sectarian-attack
-------------
South Asia
Bangladesh Cops hunt for Harkat ul Jihad al Islami members
November 06, 2014
Detectives are in the hunt for a group of Harkatul Jihad al Islami members, who were trained in Pakistan to make powerful bombs and weapons.
The group comprising 10 to 12 members were trained by Pakistan-based militant group Lashkar-e-Taiba. They visited Pakistan on tourist visas in the three phases over the last two years, said the Detective Branch of police.
The DB police disclosed this hours after arresting Khairul Bashar alias Ibrahim, who claimed himself to the "chief" of Huji's operations wing. Ibrahim said he received training from Lashkar-e-Taiba in Pakistan for three months last year.
Detectives arrested Ibrahim, imam of Salehnagar Jame Mosque in Narayanganj, from capital's Sayedabad area, acting on information from seven Huji men held on October 25 and November 1.
Upon their return from Pakistan, the Huji men started giving training to other operatives. They had a plan to carry out attacks on different establishments in August this year. But they became frustrated as their superiors asked them to shelve the plan.
"Ibrahim learnt how to make explosives and firearms, plant bombs at targets and explode those," Monirul Islam, joint commissioner of Dhaka Metropolitan Police, said at the press briefing at the DMP Media Centre in the capital.
The Huji men received intensive training on making small arms and powerful explosives and on operating heavy weapons.
Full report at:
http://www.thedailystar.net/backpage/cops-hunt-for-huji-gang-48949
-------------
Bangladesh Islamist 'may hang in a week'
06 Nov 2014
Bangladesh may hang a senior Islamist leader as early as next week after the Supreme Court upheld his death sentence for war crimes, the law minister said.
Mohammad Kamaruzzaman of the Jamaat-e-Islami party, the country's largest Islamic political group, would be the second senior Islamist to hang for crimes committed during the 1971 war of independence that resulted in secession of the former East Pakistan. Law minister Anisul Huq told the AFP news agency on Thursday Kamaruzzaman could be hanged as early as next week unless he sought a presidential pardon.
The 62-year-old assistant secretary-general of Jamaat has seven days to petition the president for clemency, Huq said.
"On the expiry of seven days, if he does not apply for clemency, the sentence passed by the highest court of the country can be executed," he said.
Kamaruzzaman was found guilty in May 2013 of mass murder, torture and abductions.
The Supreme Court on Monday rejected his appeal, triggering violent clashes between police and Islamist protesters, who set off improvised bombs, torched cars and pelted police with rocks.
Full report at:
http://www.aljazeera.com/news/asia/2014/11/bangladesh-may-hang-jamaat-official-week-20141166161721693.html
-------------
Ramna blast: Condemned convict held
November 06, 2014
Rapid Action Battalion (Rab) personnel arrested a fugitive condemned convict in Ramna Batamul carnage case last night.
Maulana Abu Bakar alias Selim Hawlader, a top leader of banned outfit Harkat-ul-Jihad-al-Islami (Huji), was arrested from Keraniganj, said Captain Maksudul Alam, assistant director of Rab's Legal and Media Wing.
Abu Bakar is a charge-sheeted accused in the August 21 grenade attack case, Alam said adding that he was also a close associate to Huji top leader Mufti Abdul Hannan, who was also sentenced to death in the case filed for killing 10 people in the attack during Pahela Baishakh celebrations at Ramna Batamul on the first day of Bangla year in 2001.
Full report at:
http://www.thedailystar.net/ramna-blast-condemned-convict-held-49025
-------------
Abdus Subhan's trial at final stage
November 06, 2014
Placing of closing arguments, after which will come the verdict, began yesterday first by the prosecution in the war crimes case against Jamaat leader Abdus Subhan before International Crimes Tribunal-2.
The first charge, the trial's background and Subhan's status and his alleged role in the crimes committed in Pabna during the 1971 Liberation War were heard. The Jamaat-e-Islami nayeb-e-ameer has denied the nine charges, including genocide.
The prosecution says in 1971, Subhan was the Jamaat ameer of Pabna and general secretary, later promoted to vice-chairman, of anti-liberation organisation Pabna Peace Committee.
Yesterday Chief Prosecutor Ghulam Arief Tipoo said Subhan, as the top Jamaat and Peace Committee leader, had close relations with Razakar and Al-Badr Bahini, two auxiliary forces of the Pakistan occupation army, in Pabna.
Using his superior status, he not only assisted the Pakistani army but also committed crimes.
Citing prosecution witnesses' testimonies, Prosecutor Sultan Mahmud Simon said Subhan was the "chief controller" of Razakar force in Pabna and had organised the anti-liberation forces there.
"He was directly involved in killings and genocide and sometimes used his personal gun to kill people," he added.
Full report at:
http://www.thedailystar.net/city/abdus-subhans-trial-at-final-stage-48973
-----------
North America
Pentagon denies US strategy to defeat Isis jihadists is unravelling
5 November 2014
The Pentagon has denied that the US strategy against Islamic State (Isis) is in disarray after a series of setbacks as the war known as Operation Inherent Resolve stretches into its fourth month.
"I don't believe that we view current events as a major setback to the goals that we've set with respect to training and equipping the moderate opposition" in Syria, said Rear Admiral John Kirby, the Pentagon's chief spokesman.
Kirby's remarks came days after an al-Qaida-aligned faction routed one of the Syrian resistance groups on which the US has been depending to anchor an anti-Isis proxy force. The Nusra Front, al-Qaida's affiliate in Syria, appears now to be allying with Isis, an indication that the Islamist extremist group's fortunes are rising.
"Obviously, these kinds of developments are certainly not helpful to the security situation writ large, but we don't view it as a major setback or a major blow to our ultimate objectives," Kirby told reporters on Tuesday.
Kirby said no decision had yet been made on launching airstrikes against Nusra directly, which would expand the US war against another enemy.
Syrian rebel groups that the US had hoped to align with are criticizing the Obama administration for a de facto alliance with Bashar al-Assad, the dictator whose brutality sparked the gruesome civil war in Syria that is nearing its fifth year. The moderate rebels' battlefield setbacks and their prioritization of Assad has created an open question about the viability of the planned US proxy force.
The administration insists its opposition to Assad remains ironclad. But Chuck Hagel, the US defense secretary, conceded last week that Assad "derives some benefit" from Washington's emphasis on Isis. Hagel reportedly urged the White House to clarify its intentions with regard to Assad, which analysts warn is a self-imposed obstacle to building its Syrian proxy force.
Isis has faced stiffer resistance than expected in taking the Syrian Kurdish border town of Kobani, where the US military commander has boasted of taking advantage of the "opportunity" the jihadist army presented. US airstrikes on Isis positions in Kobani occur daily despite the Obama administration's portrayal of the city as peripheral to its strategy. Yet military officials still caution that Isis may prevail there.
Beyond Kobani, the US war effort, which has already morphed from its initial summer formations, has begun to look dire.
Full report at:
http://www.theguardian.com/us-news/2014/nov/04/pentagon-denies-us-strategy-to-defeat-isis-is-unravelling-syria-iraq
-------------
US tries Russian man over Afghan attack
04 Nov 2014
A former Russian army officer facing "terrorism" charges for a 2009 attack on US and Afghan forces has made an appearance in a US court, becoming the first foreign detainee to be brought from Afghanistan for trial.
The suspect, Irek Ilgiz Hamidullin, appeared before a federal court in the state of Virginia on Tuesday, the Justice Department said.
US authorities unsealed an indictment charging Hamidullin with 12 counts of "terrorism-related" offenses, including providing material support to armed rebels, attempting to destroy a US forces aircraft and attempted murder of a US national.
He faces up to life in prison if convicted.
Hamidullin, who is around 55 years-old, was captured in 2009 and held for five years before his transfer from Parwan prison near Bagram, Afghanistan.
He allegedly led an attack in 2009 on US forces in the mountainous Khost province of Afghanistan.
Full report at:
http://www.aljazeera.com/news/americas/2014/11/us-tries-russian-man-over-afghan-attack-2014114202658477191.html
-------------
US airstrikes in Pakistan surpass 400
Nov 6, 2014
A recent study shows that the number of US drone strikes in Pakistan has surpassed 400, Press TV reports.
The London-based Bureau of Investigative Journalism's (BIJ) report for October 2014 noted that the number of strikes alone in October stands at 18.
The report went on to say that an average of 3.2 people were killed in each attack.
The Americans try to weaken the enemy by conducting drone strikes in Pakistan, security analyst Talat Masood told the Press TV correspondent in Islamabad.
Pakistani Foreign Ministry spokeswoman Tasnim Aslam said, "The government of Pakistan is itself taking a decisive action against terrorism and terrorist elements and therefore believes that these strikes are unnecessary and should be stopped."
Full report at:
http://www.presstv.ir/detail/2014/11/06/384946/us-airstrikes-in-pakistan-surpass-400/
------------
Africa
Burkina talks agree one-year transition, polls in Nov 2015
Nov 06, 2014
OUAGADOUGOU: Burkina Faso's army, politicians and civil society leaders agreed to a one-year political transition with elections in November 2015 following highly charged crisis talks on Wednesday.
The talks, mediated by three west African presidents and also attended by religious and tribal chiefs, failed to name a new leader to head the transitional government.
But a statement after the meeting said all parties had agreed that an "eminent civilian personality" should take the job.
Ghana's President John Dramani Mahama, who mediated alongside his Nigerian counterpart Goodluck Jonathan and Senegal's President Macky Sall, said he was not concerned about the failure to agree on a unity leader at this stage.
"I believe that... in days rather than weeks, we'll be able to achieve an agreement and install a transitional government," he said.
"Our intention was not to take names back to the ECOWAS summit," he added, referring to an emergency meeting of African leaders due to be held in Accra on Thursday.
"It's a decision for the people of Burkina Faso. They must be the ones to decide. Pain is still fresh in people's mind." The trio of presidents had travelled to Ouagadougou to press for the swift return of civilian rule after the military appointed one of its own, Lieutenant-Colonel Isaac Zida, to run the country following last week's ouster of president Blaise Compaore.
In scenes compared to the Arab Spring, Compaore was forced to flee the country after tens of thousands took to the streets and set parliament ablaze in violent protests against efforts to extend his 27-year rule.
A rocky start
The talks did not start well on Wednesday, with opposition leaders storming out in protest over the possible involvement of Compaore loyalists in any provisional government.
"We haven't even buried our dead yet and they are putting arrogant people back in office who held the people in contempt," said Luc Marius Ibriga, spokesman for the civil society groups, as their representatives left the room. Security guards had to intervene as emotions ran high.
"We do not want to talk with the old governing party. They represent Blaise Compaore," said Rose-Marie Compaore, parliamentary leader of the main opposition group, the Union for Progress and Change.
Full report at:
http://www.dawn.com/news/1142659/burkina-talks-agree-one-year-transition-polls-in-nov-2015
--------
Iran slams bomb attack on Shia ceremony in Nigeria
Nov 6, 2014
Iran has roundly condemned a terrorist bomb attack that killed more than 30 Shia Muslim worshippers and injured many others in northeastern Nigeria.
On Wednesday, Iran's Foreign Ministry spokeswoman, Marzieh Afkham, denounced the inhumane act and called on the Nigerian government to provide security for religious ceremonies in the country.
She also urged Abuja to identify the perpetrators of the deadly assault and bring them to justice.
On November 3, at least 32 people were killed and over 100 others wounded when a large explosion ripped through a procession of Shia worshippers mourning the martyrdom anniversary of Imam Hussein (PBUH) in the Potiskum area in Nigeria's northeastern state of Yobe.
Afkham further emphasized the need for countering extremism and terrorism across the world, saying Muslim states should remain vigilant and maintain their unity in the face of such threats.
Full report at:
http://www.presstv.ir/detail/2014/11/06/384973/iran-raps-terror-attack-on-nigeria-shias/
-----------
S Africa deputy president linked to Marikana
06 Nov 2014
A lawyer has accused South Africa's deputy president, Cyril Ramaphosa, of partial responsibility for the decision to forcibly remove miners in Marikana during a prolonged strike that led to police killing 34 miners.
Geoff Budlender, speaking on Wednesday as part of the closing arguments to the probe into the Marikana massacre, said Ramaphosa's phone call to the South African Police Service (SAPS) acted as a "trigger" for the deadly crackdown.
"The South African Police Service acted from improper political reasons in deciding to remove strikers," said Budlender, one of the lawyers for the commission of inquiry.
"One [motive] was to respond to the call Cyril Ramaphosa made to the minister of police."
But Budlender added that Ramaphosa, who was then a director and shareholder at Lonmin platinum mines before becoming deputy president in May 2014, could not have anticipated the killings that resulted.
Thirty four miners were killed on August 17, 2012, when police opened fire on them while they were engaged in a protracted strike outside the Marikana mines. Miners were demanding better wages, working and living conditions.
Ramaphosa has admitted he spoke to the ministers for mining and police to urge action, but denies encouraging a violent crackdown.
Budlender alleged that at time, the police plan to disperse the strikers included having mortuary vehicles on the scene.
But it was not just Ramaphosa that came under intense scrutiny from Budlender. The lawyer also urged the panel to look beyond criminal liability and punish the leadership failure on all sides.
Full report at:
http://www.aljazeera.com/news/africa/2014/11/ramaphosa-triggered-marikana-crackdown-201411644244388229.html
-------------
Muslim religious leader killed in Kenya
05 Nov 2014
A moderate Kenyan Muslim religious leader, who supported government efforts to stamp out rhetoric of armed al-Shabab group, has been killed by unknown assailants, according to Kenyan police.
Sheikh Salim Bakari Mwarangi was killed on Wednesday while returning home from evening prayers at a mosque in the Likoni area of Mombasa, the local police chief said.
"Gunmen on a motorbike slowed down, shot at him and sped off," Robert Kitur said.
"Police have launched an investigation and manhunt for the attackers."
Kenya's coastal region, a tourist hub where most of Kenya's Muslims live, has been hit by a spate of bomb attacks over the past months blamed on al-Qaeda-linked al-Shabab group based in Somalia.
Kassim Bakari, a relative of Mwarangi, said the slain man had received death threats and feared for his life, according to the AFP news agency.
"People were calling him saying they are looking for him to kill him," Bakari said.
"But he was a preacher who liked peace and always preached peace."
Full report at:
http://www.aljazeera.com/news/africa/2014/11/muslim-religious-leader-killed-kenya-20141151763249140.html
-------------
Europe
European diplomats urge Iran-P5+1 deal by deadline
Nov 6, 2014
A group of former and current European diplomats have called on the P5+1 group of world powers and Iran to intensify their efforts to reach a comprehensive nuclear deal by the November 24 deadline set by the six countries.
"Postponing the final tough decisions ahead is likely to provide more opportunities for those opposing the diplomatic track to spoil this process," they said in a statement released on Wednesday.
"This is especially so when creative technical solutions have been formulated and a deal is within reach," the statement further read, adding the deal should address potential international concerns about Iran's nuclear energy program and should respect "Iranian legitimate aspirations and sovereignty."
Praising an interim nuclear deal reached between Iran and P5+1 in November 2013, they said, "Europe must seize this moment to encourage the negotiating parties to address the outstanding areas through reasonable compromises while steering clear of issues that are not essential to a good deal."
The statement was signed by the former foreign minister of Spain, Italy and Sweden, as well as Javier Solana, the former EU high representative for foreign and security policy; President and CEO of International Crisis Group Jean-Marie Guéhenno; Chairman of the Foreign Affairs Committee of the Bundestag (a German legislative body) Norbert Röttgen; and Robert Cooper, a former UK diplomat.
Full report at:
http://www.presstv.ir/detail/2014/11/06/384974/europe-diplomats-urge-iranp51-deal/
-------------
Why there is no such thing as the Muslim 'community' in UK
6 November 2014
Cases of extremist violence and sexual exploitation have caused significant anxiety in the UK in recent years and politicians are continually looking for ways to identify how these things happen and how they can be prevented.
A strange consensus seems to be building as a result – the key to solving these social problems is the Muslim "community" or, at least Muslim "communities".
But the reality is that there is no such thing as a Muslim community. Followers of the faith come from cultures and countries all over the world, live in different parts of the UK and subscribe to a wide spectrum of doctrines. Yet we seem to expect them to all know each other. Just as every person who has ever picked up a scarf pattern is not a member of the knitting community, nor is everyone who has read the Koran a member of the Muslim community.
When the UK government produced its strategy for preventing violent extremism in 2007, it was Muslim communities who were to provide local solutions to a national problem. The latest version of this strategy – published in 2013 – also pushes the idea of building community capacity and integrating Muslim communities into British society as integral to tackling radicalisation.
Similarly Nazir Afzal, the Crown Prosecution Service's lead on child sexual abuse and a laudable champion of women's rights, has stated in the wake of the Rotherham child abuse scandal that the problems of street-grooming can be addressed effectively within Muslim communities.
Full report at:
http://theconversation.com/why-there-is-no-such-thing-as-the-muslim-community-33862
-------------
URL: https://www.newageislam.com/islamic-world-news/new-age-islam-news-bureau/pakistani-policeman-kills-blasphemy-suspect-with-axe/d/99894