New Age Islam News Bureau
1 Dec 2018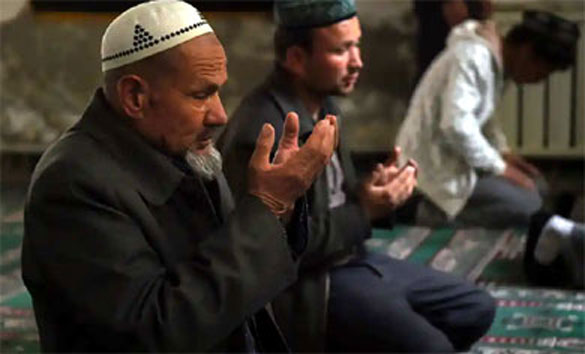 Getty
Muslims living in China's western region of Xinjiang are being forced to put up Communist Party officials in their homes,
-----
• Pakistani PM Denigrates Jesus, Wants World Convention to Prevent Insult to Islam
• China Sends State Spies To Live In Uighur Muslim Homes and Attend Private Family Weddings and Funerals
• Family of Afghan Man Sues CIA to Find Body of Post-9/11 Detainee
• Show-Cause Notice to Gujarat Govt Trying To Identify Only Muslim Students
• CNN Commentator Sacked For Giving Pro-Palestine Speech at UN
Pakistan
• Pakistani PM Denigrates Jesus, Wants World Convention to Prevent Insult to Islam
• I&B Minister Lauds Ulema, Mashaikh Role in Spreading Islamic Teachings
• Pakistan's Detention of TLP Cleric Draws Mixed Reactions
• US lauds Pakistan's gesture of opening Kartarpur corridor
• Govt considering renegotiating LNG deal with Qatar: minister
• COAS reviews Sialkot Corps formation during winter training exercise
• Pakistan and EU to jointly combat terrorism
--------
Southeast Asia
• China Sends State Spies To Live In Uighur Muslim Homes and Attend Private Family Weddings and Funerals
• Philippine Officials: Some Muslim Rebel Groups in South Still Use Child Fighters
• Report Links Slain Journalist Khashoggi to 1MDB Conspirators
• Indonesia Launches 'Snitch' App Targeting Religious Minorities
• Proponents of 212 Movement Facing Legal Woes
--------
South Asia
• Family of Afghan Man Sues CIA to Find Body of Post-9/11 Detainee
• Dozens of Taliban Militants Killed, Wounded In Herat Infighting
• Bangladeshi Police Rescue 10 Rohingya Bound for Malaysia
• U.S. displays weapons it says Iran provided to Taliban and other militants
• U.S. airstrike leaves 12 militants dead in Geru district
• UNAMA release preliminary regarding civilian casualties in Helmand airstrike
'• US has long record of institutionalized targeting of civilians in Afghanistan'
--------
India
• Show-Cause Notice to Gujarat Govt Trying To Identify Only Muslim Students
• 'Demography along Pakistan Border Changing': BSF Flags Concerns
• 2 Pak Terrorists Get 40-Year Jail For Terror Bid
• To stay with India, Pakistan must become secular state: Army chief
• Delhi Police Take down Terror Alert Posters After 'Operatives' Identified as Pak Students
• Jammu professor calls Bhagat Singh 'terrorist', varsity institutes inquiry
• PM Modi at BRICS informal meet: Terrorism, financial crimes pose biggest threats to world
--------
Mideast
• CNN Commentator Sacked For Giving Pro-Palestine Speech at UN
• Yemeni Army Kills 40 Houthi Militants in Clashes in Al-Baydah
• Israeli police arrest Jordanian suspected in Eilat attack
• Iran four-point plan on Yemen still only viable option: FM Zarif
• Israeli forces shoot, injure 28 Palestinian protesters in Gaza
• Houthis vow to liberate southern Yemen on anniversary
• Two injured in Houthi missile attack in southwestern Saudi Arabia
--------
Arab World
• US-Backed Syrian Fighters Say They Hold ISIS Leader's Assistant
• 30 Civilians Killed As US-Led Coalition Warplanes Strike Eastern Syria
• UN Once Again Urges Israel to Withdraw from Entirety of Syria's Golan Heights
• Bahraini protesters show support for detained senior Shia clergyman
• Iraqi protesters rally to denounce Saudi-led aggression on crisis-hit Yemen
• Two injured in Houthi missile attack in south-western Saudi Arabia
• Organization of Islamic Cooperation attends Islamic conference in Bahrain
• A rearmed Hezbollah in Lebanon is top concern for Israel
--------
Africa
• Nigeria: Muslims, Christians Can Flourish Together - Buhari
• Africa: How 'Foreign' Are Foreign Terrorist Fighters In Africa?
• US strike kills 11 suspected Qaeda militants in Libya, says sources
• Tunisia arrests 12 suspected Daesh members, dismantles cells: ministry
• Boko Haram: Again, Nigerian Army issues warning over false report on attacks
• Some Service Chiefs making money from war against Boko Haram – Ohanaeze
--------
Europe
• Anti-Muslim White Supremacist Who Amassed a Bomb Factory Avoids Terror Charges
• German Mosques Should Forgo Foreign Funding, Says German Interior Minister
• UK Prime Minister Discusses Khashoggi Killing with Saudi Crown Prince
• Bosnian court acquits Srebrenica's Muslim defender at retrial
• German court rules in favour of Iranian bank
• Iran says not to wait forever for Europe's special payment mechanism
--------
North America
• President Trump, Saudi Crown Prince Exchange greetings at G20
• US Official: Military Action on the Table against Iran
• Anti-Muslim hate crimes surge in Canada: Report
• US airstrike in Helmand killed 23 civilians, UN says
Compiled by New Age Islam News Bureau
URL: https://www.newageislam.com/islamic-world-news/pakistani-pm-denigrates-jesus-wants/d/117037
--------
Pakistani PM Denigrates Jesus, Wants World Convention to Prevent Insult to Islam
30 November 2018
Pakistani Prime Minister Imran Khan has called for an international convention banning speech deemed insulting to Muslims and claimed there does not exist any historical "mention" of Jesus.
Khan, a former cricketer with a reputation as a playboy, whose first wife has Jewish roots, has worked to portray himself as a devout Muslim in recent years since becoming one of Pakistan's most prominent political figures.
His growing popularity and selection as premier in the July elections — marred by accusations of military interference and vote-rigging — have come amid a backdrop of a growing movement in Muslim-majority Pakistan against alleged blasphemy.
In a speech on November 20 marking the Prophet Muhammad's birthday, Khan denigrated prophets from Judaism and Christianity who are also revered in Islam, claiming that — unlike Muhammad — there was "no mention of them" in history.
"There were prophets of Allah other [than Muhammad], but there is no mention of them in human history. There is negligible mention of them. Moses is mentioned, but there is no mention of Jesus in history," he said, according to a translation posted Thursday by the Middle East Media Research Institute.
"But the entire life of Muhammad, who was Allah's last prophet, is part of history," Khan added.
Turning to periodic outbursts of anger over the publication of cartoons and other satirical portrayals of Muhammad, Khan said the often violent reactions were being used to tarnish Islam.
"Every few years, in some Western country, our dear Prophet is blasphemed against and dishonoured. What is the consequence of this? Muslims become angry. We take to the streets in protest, [protesters] break things in our country… It enables the enemies of Muslims to tell people in the West: 'See, Islam is a big religion that spreads violence,'" he said.
"They get an opportunity to spread propaganda against Islam."
Khan credited the intervention of his foreign minister with the cancellation earlier this year of a Mohammad cartoon competition in the Netherlands planned by a far-right politician.
He also said Pakistan's lobbying on the issue to the Organization of Islamic Cooperation and the United Nations was leading to less tolerance for alleged blasphemy in the West.
"Something happened that had never happened before. The European Union's Human Rights Court said for the first time that you cannot hurt somebody's religion under the pretext of freedom of speech, and especially it said that you cannot blaspheme against Muhammad's honour," he said.
Khan was referring to a ruling by the European Court of Human Rights last month that an Austrian court's conviction of a woman for comparing Muhammad's marriage to an underage girl to paedophilia was not a violation of her right to freedom of speech.
The Pakistani prime minister called for countries around the globe to adopt an "International Convention on Preventing the Defamation of Religions," which he said would ensure that "freedom of speech cannot be used as a pretext to hurt the world's 1.25 billion Muslims."
Khan vowed Pakistan would play a leading role in this effort and "Allah willing… for the first time in the world get this convention signed."
Khan's speech came amid unrest in Pakistan following the acquittal last month of a Christian woman who had previously been sentenced to death for blasphemy.
Asia Bibi's case has inflamed radical Islamists, some of whom are calling for her death.
Pakistan's Tehreek-e-Labbaik party launched nationwide protests demanding Bibi's public execution and the party's founder, Mohammad Afzal Qadri, called for the death of the three Supreme Court judges who ruled to acquit her. Qadri also called for the overthrow of the Pakistan government. Protests ended after the government agreed to a Supreme Court review. Khan has gone on national television saying that the Supreme Court's decision will be final and upheld.
https://www.timesofisrael.com/pakistani-pm-west-using-muslim-anger-over-blasphemy-to-spread-propaganda/
--------
China sends state spies to live in Uighur Muslim homes and attend private family weddings and funerals
Dec 1, 2018
Muslims living in China's western region of Xinjiang are being forced to put up Communist Party officials in their homes, effectively extending state surveillance into the last place they had felt safe from intrusion.
Since early 2017, the Uighur people have been subjected to an increasingly strict security regime, including armed checkpoints and streets lined with facial recognition-equipped CCTV.
Experts and human rights groups believe around a million mostly male Uighurs are being held in secretive internment camps across the province. After initially denying the camps' existence, the Chinese government has begun referring to them as voluntary "vocational training centres".
Now, in interviews with the Associated Press, Uighurs living in exile have described how a state "cultural exchange" programme has thrust government spies into the only private space most Muslims in Xinjiang had left.
According to the ruling Communist Party's official newspaper, 1.1 million local government officials have been deployed to spend about a week every two months living in the home of an Uighur host family.
The government calls it the "Pair Up and Become Family" campaign, with social media posts by the Uighurs involved referring to the officials as their new "relatives".
"Look, I have a Han Chinese mother now!" reads the caption of one picture posted online by the 39-year-old sister of Halmurat Idris, an Uighur Muslim living in Istanbul. Han Chinese make up about 90 per cent of the country's ethnic mix, with Uighurs numbering between 1 and 3 per cent.
The government describes the programme as voluntary, but China's Muslims are well aware that refusing any state initiative can lead to being branded a potential extremist. Social media images show the new "relatives" attending Uighur weddings, funerals and other occasions once considered intimate and private.
Mr Idris said that seeing the picture of his sister alongside an elderly woman he did not know, her face fixed with a mirthless smile, made him feel sick.
"I wanted to throw up," the 49-year-old said. "The moment I saw the old woman, I thought, 'Ugh, this person is our enemy.' If your enemy became your mother, think about it – how would you feel?"
AP said it had interviewed four other Uighurs living abroad who had been in contact with relatives back home in Xinjiang, and who described their loved ones as constantly on edge in their own homes, knowing that any misstep – a misplaced Quran, a careless word – could lead to detention or worse.
In the presence of their faux relatives, the interviewees' family members could not pray or wear religious clothing, and the government officials were privy to their every move.
Meanwhile, a new analysis of satellite images by experts and Reuters has revealed the growing extent of 39 detention camps for Uighurs across Xinjiang province.
Collectively, the facilities have almost tripled in size in the 17 months between April 2017 and August 2018, while the most recent imagery suggested construction work was still going on at many of them.
Though covering an area roughly the size of 140 football pitches, the camps represent just a portion of the total number of detention facilities that are believed to exist in the state. Access for journalists to the province is tightly controlled, making it almost impossible to verify the precise number and nature of the camps.
China refers to its broader crackdown on Xinjiang as the "people's war on terror", which started in 2014 after a series of violent attacks that authorities blamed on extremists. Beijing said in August that "those deceived by religious extremism... shall be assisted by resettlement and re-education".
That admission came after the UN's Committee on the Elimination of Racial Discrimination said it was "alarmed" by reports from the province, criticising the "broad definition of terrorism and vague references to extremism and unclear definition of separatism in Chinese legislation".
Members of the committee said there were credible reports that the Chinese government had "turned the Uighur autonomous region into something that resembles a massive internment camp".
China has strongly refuted any suggestion that it is mistreating the Uighur minority. Journalists from state media outlets have been given tours of the internment camps and described surprisingly light security measures, as well as activities like basketball and arts projects. Last year a senior official in Xinjiang went as far as to refer to the Uighurs as "the happiest Muslims in the world".
https://www.independent.co.uk/news/world/asia/china-uighurs-muslim-xinjiang-weddings-minority-communist-party-a8661006.html
--------
Family of Afghan man sues CIA to find body of post-9/11 detainee
30 November 2018
The family of an Afghan man detained and allegedly tortured to death by the Central Intelligence Agency in the wake of the 9/11 attacks sued Friday to find out what happened to his body.
The lawsuit says that Gul Rahman and his family were living in a refugee camp in Peshawar when he was kidnapped by the US spy agency on suspicion of being a militant on November 5, 2002 and transferred to a CIA prison for interrogation.
"Over the next two weeks, CIA personnel subjected Mr. Rahman to extensive and systematic torture and abuse," the lawsuit said, until he died of hypothermia on November 20, the lawsuit said. His death was not reported until 2010 and not officially confirmed until 2014.
"To date, the CIA has not officially informed Mr Rahman's family of his death, nor returned his body to his family," the lawsuit said. The suit, brought in the federal district court in Washington, demands the release of records regarding his death and his body under the Freedom of Information Act (FOIA).
Tortured in prisons
It came after the agency failed to respond to formal requests under FOIA for the information. Rahman's family had already shared part of a settlement in a case filed together with two men who were also tortured in CIA prisons in Afghanistan against two CIA contract psychiatrists who advised on interrogations and torture techniques.
But the family was never told what happened to his body. "I have faith that people in America will know the right thing for their government to do is to tell me and my family what happened to my father's body," Hajira Hematyara, Rahman's daughter, said in a statement. "Only then will we be able to do right by my father and give him a proper funeral."
The American Civil Liberties Union, which helped Rahman's family file the lawsuit, lodged a second complaint against the CIA with the court, saying agency director Gina Haspel was preventing the release of information to protect the agency's reputation and because it "related to her personal role in prisoner torture and abuse."
"This country still needs to continue to reckon with the consequences of torture," said ACLU staff attorney Dror Ladin.
https://english.alarabiya.net/en/News/world/2018/11/30/Family-of-Afghan-man-sues-CIA-to-find-body-of-post-9-11-detainee.html
--------
Show-cause notice to Gujarat govt trying to identify only Muslim students
Nov 30, 2018
AHMEDABAD: The Gujarat High Court on Wednesday issued a show-cause notice to the state government seeking an explanation for using an online examination form for the Class X and XII board examinations, taken by the Gujarat Secondary and Higher Secondary Education Board (GSHSEB), to collect data and segregate students of Muslim community.
The notice was issued following a PIL filed by K.R. Koshty, who alleged that the BJP-ruled Gujarat government was resorting to religious-profiling of students from Muslim community apearing for the board exams.
The PIL stated, "The action of the authorities for making compulsory the online application form for final examination of Standard 10 & 12 students of the GSSHEB, the instructions therein asking for Aadhaar data and also the religious profiling of the students, is illegal."
"Further classification of students of Muslim community among other minority communities is unconstitutional, illegal, unreasonable, contrary to law and the same is in violation of Article 14, 15, 19, 25, 27, 28 and 30 of The Constitution of India," states PIL as reported by Ahmedabad Mirror.
Koshty also challenged Gujarat government's mandatory online forms for the board exams, arguing that Internet connectivity in many parts of the state was poor. According to the PIL, the forms also seek Aadhaar details which is against the Supreme Court's recent judgement.
Around 17.5 lakh students sit for the GSHSEB every year. The state government has been collecting data for the last five years of Muslim students appearing for the board exams, the state Education Minister had said on Tuesday.
A division bench of acting Chief Justice Anant Dave and Justice Biren Vaishnav sought replies from the state government, Gujarat Secondary and Higher Secondary Education Board (GSHSEB) and the Unique Identification Authority of India (UIDAI) by December 6.
https://www.siasat.com/news/show-cause-notice-gujarat-govt-trying-identify-only-muslim-students-1439804/
--------
CNN commentator sacked for giving pro-Palestine speech at UN
Nov 30, 2018
CNN has sacked political commentator Marc Lamont Hill after he gave a pro-Palestinian speech at the UN, where he called for justice for Palestinians and said there needs to be "a free Palestine from the river to the sea."
A CNN spokesperson told Mediaite that "Marc Lamont Hill is no longer under contract with CNN." The media outlet did not give a reason for the ouster, nor did it explicitly confirm Hill's exit was a result of what he said at the UN.
Speaking at the pro-Palestine meeting at the UN on Wednesday, Hill urged the international community to boycott Israel, and called for a "free Palestine from the river to the sea."
The comments sparked an immediate backlash from those who believed "from the river to the sea" is a phrase used by Hamas and other anti-Israel groups, and implies the replacement of Israel by a Palestine stretching from the Jordan River to the Mediterranean Sea.
"We have an opportunity to not just offer solidarity in words but to commit to political action, grass-roots action, local action and international action that will give us what justice requires and that is a free Palestine from the river to the sea," Hill said at the UN.
Israeli lobby groups in the US accused the commentator of advocating for the destruction of Israel, but Hill wrote on Thursday his "reference to 'river to the sea' was not a call to destroy anything or anyone. It was a call for justice, both in Israel and in the West Bank/Gaza."
"If we are standing in solidarity with the Palestinian people, we must recognize the right of an occupied people to defend itself," he said in his Wednesday speech.
"We must advocate and promote nonviolence at every opportunity, but we cannot endorse a narrow politics of respectability that shames Palestinians for resisting, for refusing to do nothing in the face of state violence and ethnic cleansing."
He also lashed out at the Israeli regime for denying "citizenship rights and due process to Palestinians just because they are not Jewish."
Hill further expressed his support for the Boycott, Divestment and Sanctions (BDS) movement, a global campaign promoting various forms of boycott against Israel until it meets its obligations under international law.
He delivered the speech for the UN's International Day of Solidarity with the Palestinian People, which has been annually marked on Nov. 29 since it was established in UN General Assembly Resolution 32/40 B of 2 December 1977.
Speaking at a Wednesday meeting of the Committee on the Exercise of the Inalienable Rights of the Palestinian People, UN chief Antonio Guterres said the UN had created the day of solidarity 40 years ago to remind people of the unfinished task of resolving the Palestinian issue.
He took a jab at the Israeli regime and said "demolitions, illegal continued settlement expansion and construction, forced evictions and collective punitive measures will not bring peace."
He also urged Israel to lift its restrictions on the flow of goods and people into the Gaza Strip and act with restraint along the Gaza fence.
The UN chief further called on Hamas to prevent violent actions and provocations, but at the same time noted "Palestinians in Gaza have legitimate grievances and the right to demonstrate peacefully."
https://www.presstv.com/Detail/2018/11/30/581549/CNN-commentator-support-Palestine-BDS-Israel
--------
Pakistan
I&B Minister Lauds Ulema, Mashaikh Role in Spreading Islamic Teachings
December 1, 2018
ISLAMABAD: Information and Broadcasting Minister Chaudhry Fawad Hussain on Friday lauded ulema and Mashaikhs role in spread of Islamic teachings in the society.
He was talking to Sajjada Nashin of Eidgah Sharif in Rawalpindi Pir Naqeebur Rehman. Sahibzada Haseebur Rehman was also present on the occasion. Fawad said he was proud of being a member of the cabinet of a Prime Minister, who had the resolve to develop Pakistan on the pattern of State of Madina.
The minister contended that it was for the first time in Pakistan's history that a government had talked on the issue of blasphemy of the Holy Prophet Peace Be Upon Him directly with the countries concerned.
https://www.thenews.com.pk/print/400529-fawad-lauds-ulema-mashaikh-role-in-spreading-islam
--------
Pakistan's Detention of TLP Cleric Draws Mixed Reactions
November 30, 2018
Pakistanis have had mixed reactions to the government's decision to detain Khadim Rizvi, a radical Islamic cleric and founder of Tehreek-e-Labbaik Pakistan (TLP), a religious-turned-political party with extreme views on the country's blasphemy law.
Authorities took Rizvi into custody in Lahore last week as part of a larger government crackdown on the group's leaders and members across the country, particularly in Punjab province, where the group has large followers.
Hundreds of others associated with TLP have also been detained.
"No one who halts the country, incites hatred and issues Islamic decrees to kill others should be spared. It is against the law and the constitution," Salman Abid, a Pakistan-based political expert, told VOA.
Abid said Rizvi's detention is a reminder for all who would create a state within a state and play with people's religious sentiments.
"TLP has repeatedly used derogatory comments for government institutions, the Supreme Court, judges and politicians. They were using politics as a tool for their own agenda. They were using media to promote their extreme ideology. The government has done the right thing," Abid added.
Keeping quiet
However, most who support the blasphemy law are keeping silent because of the government's crackdown on TLP supporters, analysts say.
TLP staunchly supports implementation of the law and has used the issue as a platform to add followers, contest elections and launch widespread, often violent protests in the country.
Since its emergence in 2017, TLP has arranged numerous protests, some of which have turned violent and paralyzed major cities across the country for weeks.
Rizvi is from the Attock region in Punjab province. Prior to establishing Tehreek-e-Labbaik Pakistan, the cleric worked in a mosque in Lahore and delivered Friday sermons to the local community.
Rizvi has also worked as a government employee in Punjab's religious affairs department. He lost his job after he continued to encourage violence in support of the blasphemy law.
He has openly and repeatedly justified violence against those in the government who attempt to alter the blasphemy law.
Rizvi was arrested after refusing a government's demand to withdraw a call for arranging a large gathering in the capital, Islamabad.
Fawad Chaudhry, Pakistan's information minister, confirmed in a tweet last week that Rizvi had been taken into "protective custody and shifted to a guest house" to preserve public order.
"The action was prompted by TLP's refusal to withdraw its call for protest on Nov. 25. It's to safeguard public life, property and order, and has to do nothing with [the] Asia Bibi case," Chaudhry said.
Violent rallies
Rizvi's arrest came weeks after TLP held violent rallies in Pakistan to oppose last month's acquittal of Bibi by Pakistan's Supreme Court.
Bibi, a Christian woman accused of committing blasphemy, had served eight years in prison and was sentenced to death over accusations of insulting Islam's Prophet Muhammad.
Following her acquittal, TLP arranged large protests that paralyzed several cities across the country for three days. During the protests, TLP's leadership had openly incited its followers to kill the judges who ordered the release of Bibi.
Rizvi ended the protests after the government agreed that Bibi would not leave Pakistan until a petition against her acquittal was reviewed.
Ayaz Amir, a Pakistan-based journalist, said Rizvi had "become a danger for Pakistan's safety, and his arrest was necessary to avoid any fresh series of violent clashes and protests."
"Rizvi had called [on TLP] followers to gather in Islamabad, which meant the closure of the capital, and the government wanted to avoid it at any cost. We have seen what happened after Bibi's acquittal. So, the government had taken a precautionary measure to avoid any violence, and rightly so," Amir added.
The government has not yet said how long the TLP leaders and followers will be held, but legal experts in Pakistan said they could be legally be detained from 30 to 80 days.
TLP members did not return multiple calls for comment. Before the crackdown, however, the group's spokesperson told VOA that they would not back down.
Pardon 'is not permitted'
"This is a religious matter. The Christian lady has committed blasphemy and admitted of using derogatory language against Prophet Muhammad," Ejaz Ahmad, the TLP spokesperson, told VOA.
"According to Islamic law, it is not permitted to pardon her. We cannot allow this to happen. We will raise our voice and launch protests throughout the country," he added.
Some analysts also saw Rizvi's detention as a rare sign of strengthening civilian-military relations and cooperation.
Amir, the Pakistan-based analyst, said, "There is no division" between the civilian and military sectors, and that is "adding to the strength of Prime Minister Imran Khan, who makes tough calls without hesitation."
Imran Malik, a retired Pakistani brigadier and security analyst, told VOA, "TLP's behavior is not justified. Look what they did after Asia Bibi's acquittal and how brutally everyone in the country criticized the government for not being able to stop them."
Malik added that the government and the military could work together to deal with extremist elements like TLP.
Inspired by Taseer's killer
Tehreek-e-Labbaik Pakistan was created in 2017 and is registered with Pakistan's Election Commission. The party was able to secure 2 million votes in the general elections held earlier this year.
TLP has been inspired by the actions of Mumtaz Qadri, a security guard who in 2011 killed Punjab Gov. Salman Taseer because of his demands for reforms to the blasphemy law.
Full report at:
https://www.voanews.com/a/pakistan-s-detention-of-tlp-cleric-draws-mixed-reactions-/4682001.html
--------
US lauds Pakistan's gesture of opening Kartarpur corridor
DECEMBER 1, 2018
United States on Friday hailed Pakistan's decision of opening Kartarpur corridor, terming it a big step towards confidence building between India and Pakistan.
In a statement, US State Department Deputy Spokesperson Robert Palladino said Pakistan's efforts to increase contact between the people of the two countries are commendable.
He said normalisation of relations between Pakistan and India is vital to both countries and the region.
Earlier on Thursday, Prime Minister Imran Khan performed a groundbreaking gesture for Sikhs in India by opening up the Kartarpur Corridor and enabling the Sikhs to visit the shrine of their religion's founder in eastern Pakistan.
"We must bury the past," PM Imran Khan told Indian and Pakistani officials as well as several thousands of Sikhs.
"Both our countries have atomic weapons. There cannot be war; what alternative is there but friendship?"
The project inaugurated will see a secure corridor and bridge built between the two countries, leading directly to the grave of Sikhism founder Guru Nanak, just four kilometres from the Indian border.
Full report at:
https://dailytimes.com.pk/328283/us-lauds-pakistans-gesture-of-opening-kartarpur-corridor/
--------
Govt considering renegotiating LNG deal with Qatar: minister
Khaleeq Kiani
December 01, 2018
ISLAMABAD: Building on its continuous criticism of liquefied natural gas import and processing terminals, the government on Friday said it was considering renegotiating the 15-year LNG import contract with Qatar.
The ruling Pakistan Tehreek-i-Insaf (PTI) has been criticising the contracts signed by the previous Pakistan Muslim League-Nawaz (PML-N) government for import of LNG from Qatar at a price equivalent to 13.39 per cent of international benchmark crude oil price and two terminals set up by the private sector for re-gasifying imported LNG.
"The price of LNG imported from Qatar is the most expensive," said Petroleum Minister Ghulam Sarwar Khan at a news conference, adding that even the prices under proposed gas pipelines from Turkmenistan and Iran were cheaper.
He said that his objection to the LNG agreement with Qatar was that why it was signed for 15 years when the mandate was only for five years. On top of that, he added, it also contained a clause putting a bar on non-disclosure of the agreement even three years after the expiry of the 15-year term.
Mr Khan said the government was looking into the agreement from both aspects [being expensive and non-disclosure]. Responding to a question, he said he would not speak about its specific terms because the issue could land in the International Court of Arbitration (ICA). "I am bound under the contract to keep its specifics secret," otherwise they would involve the ICA, he said, adding that "an in-camera briefing will be given to Prime Minister Imran Khan in a few days" for a decision.
The minister said the petroleum division also had some reservations over the agreements on terminals and some of them were in courts and, therefore, he would opt not to prejudice the issue.
He said the Supreme Court, National Accountability Bureau (NAB) and Federal Investi­gation Agency (FIA) were looking into the contracts relating to import of LNG from Qatar and two LNG terminals in Karachi and those found responsible for signing the expensive deals would be held accountable.
The petroleum minister had last month announced sending three LNG contracts to NAB for investigation and renegotiating the contract with terminal operations to bring down processing charges.
The terminal operators said the agreement could not be reopened. NAB had been probing the LNG deals even when the PML-N was in power and comprehensively grilled various officials involved but never took it to the next level of filing a reference in a court.
Former prime minister Shahid Khaqan Abbasi has always defended the LNG import and processing terminal contracts as transparent and in best national interest and has been challenging the PTI ministers for an open debate.
The petroleum minister also announced at the news conference that all politically motivated board of directors of oil and gas companies would be reconstituted in the next 100 days to ensure transparency in the appointment of heads of these companies, adding that the government had already reconstituted boards of directors of six companies. He said the boards would also elect their own professional chairmen while chief executive officers would be appointed after clearance from NAB and the FIA.
Mr Khan claimed that the previous government had not auctioned a single block for oil and gas exploration during its five-year tenure, whereas the PTI government selected 40 blocks and auctioned 10 of them to exploration companies.
He said the federal government had written letters to the provinces, asking them to give the names of their representatives for boards of directors of oil and gas companies.
The minister said ExxonMobil would start offshore drilling 230 kilometres from Karachi in January next year for which a rig was on its way. OGDCL, PPL, ENI and ExxonMobil have 25pc shares each in this offshore block.
Full report at:
https://www.dawn.com/news/1448712/govt-considering-renegotiating-lng-deal-with-qatar-minister
--------
COAS reviews Sialkot Corps formation during winter training exercise
Dec 1, 2018
SIALKOT: Chief of Army Staff (COAS) General Qamar Javed Bajwa visited the formation of Sialkot Corps during its winter collective training exercise and witnessed the final phase of the operational exercise by an Infantry Division.
COAS appreciated the battle procedures and operational proficiency of the participants. Speaking at the occasion, he said, "We cannot afford to ignore our preparations and readiness for a conventional response despite our commitments in ongoing Operation Raddul Fasaad. Our experience of sub-conventional operations is an addition to our combat worthiness."
He said that a professional army which is well-trained, equipped and practised deters war. COAS said that he takes pride in leading an army which, by the grace of God, has served the nation by successfully combating terrorism and is prepared to respond to any conventional threat on borders for the defence of the motherland.
https://www.pakistantoday.com.pk/2018/11/30/coas-reviews-sialkot-corps-formation-during-winter-training-exercise/
--------
Pakistan and EU to jointly combat terrorism
DECEMBER 1, 2018
Pakistan and European Union (EU), while reaffirming that terrorism continued to pose a threat to states and societies across the globe, reiterated their resolve to jointly combat terrorism in all its forms and manifestations.
Both countries held seventh round of Pakistan-EU Political Counter-Terrorism dialogue in Brussels, according to the Foreign Office (FO). The EU side of the dialogue was chaired by Pawel Herczynski, director for Security Policy (EEAS) while director general of Counter Terrorism Department (CTD) Ahmad Farooq represented Pakistan during the talks.
The parties held in-depth discussions and exchanged perspectives on a wide range of counter terrorism issues in a cordial and constructive manner, according to the Foreign Office's statement. "Both sides reaffirmed their solidarity with the victims of terrorist attacks across the world," read the FO statement.
During the meeting, the EU side appreciated Pakistan's increasing efforts in fighting terrorism and emphasised on the need for increased engagement in preventing and countering radicalization. The parties agreed on the need for a comprehensive approach to terrorism, based on the rule of law and protection of human rights. The parties also agreed to enhance cooperation in dealing with violent extremism in all its forms. The meeting further decided that there was a need to prevent and counter radicalization and addressing its root cause. The meeting also reiterated its joint commitment to regional peace and stability. Both sides also emphasised on the importance of interfaith dialogue and harmony as a key to promote tolerance and social cohesion in the society.
Recalling the commitments of all states for the implementation of UN General Assembly and Security Council resolutions relating to international terrorism, both sides reaffirmed their support for the implementation of the United Nations Global Counter-Terrorism Strategy in a balanced and integrated manner.
The parties also reiterated their determination to work together in promoting international cooperation through for a such as the Financial Action Task Force (FATF) and the Global Counter Terrorism Forum (GCTF). They discussed the ongoing EU-Pakistan cooperation in the area of counter-terrorism, and agreed to explore further avenues of bilateral collaboration including exchange of best practices and potential co-operation projects in mutually agreed areas.
Full report at:
https://dailytimes.com.pk/328386/pakistan-and-eu-to-jointly-combat-terrorism/
--------
Southeast Asia
Philippine Officials: Some Muslim Rebel Groups in South Still Use Child Fighters
2018-11-30
Deep inside a Moro Islamic Liberation Front jungle encampment in the southern Philippines, veteran fighter Abdul Campong leads a patrol against possible attacks by saboteurs opposed to a peace deal that his group signed with Manila four years ago.
Campong joined the MILF rebels when he was 14 years old, one of many child fighters who left their homes at the time to enlist in the battle for a Muslim homeland in the majority Catholic country's southern third.
Recalling his early years as a guerrilla, Campong said he was hand-picked to lead a group of young fighters in protecting the camp that housed Hashim Salamat, the ailing MILF leader who died of natural causes in 2003.
"I am thankful I survived despite several encounters I experienced against government soldiers," Campong recently told BenarNews. "I was mostly a medic tending to injured fighters during the battles."
The phenomenon of "child soldiers" remains rampant in the south, where many armed groups use them, said Col. Gerry Besana, a spokesman for the Philippine military's Western Mindanao Command.
It has become easy for groups to recruit children from remote areas where poverty persists and they have access to loose firearms, he said.
"Except for the MILF, there are still many child soldiers under Abu Sayyaf and BIFF [the Bangsamoro Islamic Freedom Fighters] in Mindanao. However, with the implementation of Bangsamoro Organic Law, we are confident it will be lessened," Besana said.
"There are programs that will address the cases of child soldiers among these groups," he said.
Now in his late 30s and working on the security detail of another commander, Campong is frequently deployed in Camp Darapanan, MILF's main headquarters in Maguindanao province that has been converted into a peace zone.
He no longer plans assaults against government soldiers, but joins them in hunting down radical fighters who broke away from MILF in protest of a 2014 peace accord with the Philippine government. Some of those militants allied with the extremist group known as Islamic State (IS).
"Many of us joined the organization when were still young. My vision before was to take revenge over the deaths of family members. But now I am looking forward to the law that will change the lives of my three children and their generation," he said.
Under the Bangsamoro Organic Law, 4 million Muslim Filipinos would be allowed to form an elected parliament and administration in Islamic-majority areas of southern Mindanao Island and nearby isles, where five decades of insurgencies have left more than 100,000 people dead.
Campong's tale is not unique. Many children are drawn into joining militant groups in the region, Ramon Beleno III, a political scientist at Ateneo de Davao University, told BenarNews.
Theology, he said, was among the factors that drove children to join the armed movements – they were taught that fighting in a holy war (jihad) was the way to religious salvation.
"At the same time, it also has something to do with social injustice," Beleno said. "In other cases, it involves historical issues, like if they lost their loved ones in the war. They want revenge"
MILF agreed to end the practice of recruiting children to its ranks when it signed the peace deal, he noted.
Last year, the United Nations Children's Fund (UNICEF) removed MILF from its list of armed groups recruiting and using children, after it facilitated a U.N.-MILF Action Plan involving training programs and integration into communities.
The plan resulted in the removal of 1,869 children from the MILF ranks, allowing them access to appropriate health, education and protection support and services from government and development partners.
Recruiting goes on
Last year, Isnilon Hapilon, an Abu Sayyaf leader and the acknowledged head of IS in the Philippines, led fighters including teenagers in taking over the southern city of Marawi. The five-month siege ended in October 2017 with the deaths of Hapilon and key militants from Asia and the Middle East.
The Abu Sayyaf, or Bearers of the Sword, has been engaged in banditry, kidnapping and bombings.
While the military has estimated its ranks to number in the low hundreds, it is known to recruit young Muslims by offering them an escape from grinding poverty. It is a tradition in Muslim areas in the south that when a boy reaches the age of 13, he is considered an adult, officials and analysts have said.
A 2005 study by the Philippine Human Rights Center said that more than three-quarters of children drawn into conflict were actual combatants, while the rest were enrolled in support roles.
The study has not been updated, but Defense Secretary Delfin Lorenzana acknowledged last year that many militant factions had prolonged the practice of recruiting children to carry out their war.
Abu Sayyaf as well as the IS-linked Maute group, which fought in Marawi, had child soldiers in their ranks, Lorenzana said.
"In fact, those who are beheading their victims are just teenagers," Lorenzana has said.
In July, his department facilitated the surrender of more than 100 Muslim rebels, many of them younger than 18.
Earlier this month, Malaysia's police chief reported that officers had arrested eight suspects, including a man who allegedly recruited children in the Philippines to join Abu Sayyaf.
Police Inspector-General Mohamad Fuzi Harun said the 35-year-old Filipino suspect, whom he did not name, helped find children and train them to use weapons before turning them into human shields in Abu Sayyaf battles with the Philippine Army.
https://www.benarnews.org/english/news/philippine/child-soldiers-11302018134610.html
--------
Report links slain journalist Khashoggi to 1MDB conspirators
01 December 2018
KUALA LUMPUR, Dec 1 — A report detailed today how murdered US-based journalist Jamal Khashoggi had been involved with alleged conspirators of the 1MDB scandal who arranged for him to interview Datuk Seri Najib Razak in 2009.
According to local financial weekly The Edge, fugitive financier Low Taek Jho (Jho Low) and a shareholder of Petro Saudi International (PSI) that was implicated in the 1MDB scandal orchestrated the event in the year Najib became prime minister.
"The interview was arranged by Jho Low and Obaid three months after 1MDB poured US$1 billion into a joint venture with PSI," The Edge wrote, referring to PSI shareholder and Saudi businessman Tarek Obaid.
"The interview was meant to promote Malaysia, Najib, and his wife Datin Seri Rosmah Mansor to the people of Saudi Arabia," the financial weekly wrote.
The interview with Najib was carried out before Najib's official visit in January 2010 to Saudi Arabia when he met the late King Abdullah. Najib was also awarded Saudi Arabia's highest civilian honour there — the King Abdulaziz Order of Merit.
The Edge published a series of emails; including a November 25, 2009 email by Najib's special officer Wan Ahmad Shihab Ismail to Khashoggi.
In the email also copied to Low, Wan Ahmad informed the journalist that the tycoon had given the latter's email address to him to enable arrangements to be made for the interview.
In a December 2, 2009 email, Obaid instructed for US$100,000 (RM417,990) to be transferred to Khashoggi.
Obaid had in a separate December 8, 2009 email to Jho Low greeted the latter with "hey bro", before listing out 16 questions that Khashoggi would ask Najib in the interview.
The questions included those touching on the topics of Malaysia's importance to the Muslim world, the "centrality of Saudi Arabia and a new 'beginning' to a Saudi-Malaysian 'strategic' relationship, global themes shared by the two countries, Najib's personal message to the Saudis ahead of his visit to Saudi Arabia, according to the email published by The Edge.
The Edge also showed a December 10, 2009 email by Obaid's brother, Nawaf Obaid, to Khashoggi with the proposed media plan for the latter's interview with Najib.
The published email showed Nawaf proposing a "major front-page interview" with Najib on the message and ideas that he wanted to tell the Saudi leadership and people and other matters to be addressed in line with "local Saudi domestic sensitivities and requirements".
Nawaf also proposed "a smaller interview" with Rosmah "to highlight all her Islamic charitable works for the poor in Malaysia and beyond", which he said will be very interesting for Saudi women involved in charitable works.
"Furthermore, demonstrating that the wife of the Malaysian PM is so involved in Muslim causes will only reinforce the bonds between our two respective countries," he wrote, also proposing Khashoggi write several editorial pieces.
Khashoggi's interview with Najib took place on December 12, 2009, with the two posing for a photo together after the interview, The Edge reported.
Najib was prime minister of Malaysia from March 2009 to May 2018.
According to The Edge, Obaid and the late Saudi ruler King Abdullah's son Prince Turki Abdullah were shareholders of PSI, with the latter's standing taking a hit after his father died in 2015.
Turki was removed as Riyadh governor via a royal decree in January 2015.
The Edge said 1MDB lost US$1.8 billion in its dealings with PSI, claiming that much of this sum has allegedly been traced back to the bank accounts of Obaid and Turki, as well as Low and PSI director Patrick Mahony.
Full report at:
https://www.malaymail.com/s/1698952/report-links-slain-journalist-khashoggi-to-1mdb-conspirators
--------
Indonesia Launches 'Snitch' App Targeting Religious Minorities
Dec 1, 2018
Following your own religious beliefs shouldn't be a crime, but in Indonesia, new technologies are helping authorities identify and potentially prosecute religious minorities who follow "deviant teachings."
On November 22, Bakor Pakem, a body charged with religious oversight in the Indonesia Attorney General's office, launched an app that allows mobile device users to report individuals suspected of "religious heresy."
The app, Smart Pakem, available in the Google Play store, is an extension of an official website and hotline service. They were all set up by Bakor Pakem ostensibly to "protect" Indonesia's six officially recognized religions – Islam, Protestantism, Catholicism, Hinduism, Buddhism, and Confucianism – and facilitate prosecutions under the blasphemy law.
The app lists several religious groups, including the Ahmadiyah, Shia, and Gafatar, names their leaders and Indonesian office addresses, and describes their "deviant teachings." It risks inflaming tensions and increasing the potential for Islamists to abuse Indonesia's increasingly besieged religious minorities.
Human Rights Watch has long documented the role of government officials and Islamist militant groups in cases of intimidation, humiliation, violence, and arbitrary detention of religious minorities.
Bakor Pakem was created in 1952 under Indonesia's Ministry of Religious Affairs and moved to the Attorney General's Office in 2004. Its main goal is to enforce the 1965 blasphemy law and it has branches in every province and regency under public prosecutors' offices.
Over the last five decades, Bakor Pakem has been instrumental in banning more than 30 religions, ranging from indigenous faiths like the Agama Djawa Sunda in 1964 to global religions like the Jehovah's Witness in 1976. In 2016, the office was instrumental in charging Jakarta Governor Basuki "Ahok" Purnama with blasphemy against Islam. Ahok lost his reelection and was sentenced to two years in prison in May 2017.
Full report at:
https://www.hrw.org/news/2018/11/30/indonesia-launches-snitch-app-targeting-religious-minorities
--------
Proponents of 212 Movement Facing Legal Woes
November 30, 2018
Jakarta. It is nearly two years since thousands of protesters took to the streets of Central Jakarta to demand the arrest of then-Governor Basuki "Ahok" Tjahaja Purnama on blasphemy charges.
Members of the so-called 212 movement held a "reunion" of sorts at the National Monument on Dec. 2 last year, attended by incumbent Governor Anies Baswedan, to celebrate the anniversary of the 2016 rally.
They are set to gather once again for another reunion this Sunday.
The movement, which was formed under the pretext of defending Islam, succeeded in its true objective when it managed to bring down Ahok, an ethnic Chinese Christian, who was found guilty of having committed blasphemy by referring to a Koranic verse during a campaign speech. The controversial trial ended in May 2017 with him sentenced to two years in prison.
However, several of the most vocal proponents of the movement are currently facing legal woes of their own.
South Jakarta District Court prosecutors sought two years' imprisonment for musician Ahmad Dhani on Monday for alleged hate speech, BeritaSatu.com reported.
Dhani was named a suspect for posts he made on Twitter last year, which were seen as provocation to attack Ahok supporters.
In one of the tweets he made during the Jakarta gubernatorial election campaign, he wrote that "anyone who supports the blasphemer is scum and deserves being spat in the face."
This prompted members of a network of Ahok supporters to report the tweet, which appeared to be an indirect reference to the former governor, to the police, who opened an investigation into the matter.
The musician also faces separate charges for comments he made against President Joko "Jokowi" Widodo in 2014.
Dahnil Anzar Simanjuntak
Dahnil Anzar Simanjuntak, former chairman of the youth wing of Muhammadiyah, Indonesia's second-largest Islamic organization, was questioned as a witness last week amid an ongoing police investigation.
Police are probing the alleged misappropriation of Rp 5 billion ($348,000) allocated by the Ministry of Youth and Sports Affairs to the youth wings of Muhammadiyah and Nahdlatul Ulama, the country's largest Islamic organization, for a youth development program.
Dahnil has denied any involvement in the technical aspects of the program.
"Related to the funds used for that program, I have mentioned from the very beginning that I was not involved," he said, as quoted by state-run news agency Antara.
Ratna Sarumpaet
Actress and activist Ratna Sarumpaet, who was one of Ahok's most vocal critics in the 212 movement, is facing a maximum sentence of 10 years in prison if found guilty of having spread false and inflammatory information.
The police declared her a suspect in an ongoing investigation into a political hoax, allegedly masterminded by Ratna, who lied about an assault in Bandung, West Java. This was subsequently used by the campaign team of presidential hopeful Prabowo Subianto to attack his opponent, President Jokowi.
Full report at:
https://jakartaglobe.id/news/proponents-212-movement-facing-legal-woes/
--------
South Asia
Dozens of Taliban militants killed, wounded in Herat infighting
Nov 30 2018
Dozens of Taliban militants were killed or wounded during the clashes among the two factions of the Taliban in western Herat province of Afghanistan.
Provincial governor's spokesman Jilani Farhad confirmed the incident and said at least 28 militants have been killed during the latest clashes among the Taliban fighters in Shindand district.
Farhad further added that the loyalists of Mullah Hebatullah and Mullah Rasool clashed with each other, leaving at least 28 militants dead.
According to Farhad, at least 17 militants belonging to Mullah Hebatullah group were killed and at least 8 others sustained injuries during the clashes.
He said at least 11 militants belonging to Mullah Rasool group were killed and at least 9 others sustained injuries.
Herat is among the relatively calm provinces in West of Afghanistan but the security situation in some of its districts has deteriorated during the recent years.
https://www.khaama.com/dozens-of-taliban-militants-killed-wounded-in-herat-infighting-02721/
--------
Bangladeshi Police Rescue 10 Rohingya Bound for Malaysia
2018-11-30
Bangladeshi police rescued 10 Rohingya refugees, including six women, and arrested a suspected human trafficker who was about to take them by boat to Malaysia, officials said Friday.
Maj. Mehedi Hasan, chief of the Rapid Action Battalion (RAB) in Cox's Bazar district, told BenarNews, an RFA-affiliated online news service, the rescue operation occurred Thursday night in the southernmost border of Bangladesh within Teknaf sub-district.
The police operations took place days after authorities in southern Myanmar's Tanintharyi region returned 93 Rohingya Muslims to their displacement camps in Rakhine state after allegedly paying traffickers 500,000 Myanmar kyats (U.S. $312) each to take them by boat to Malaysia in hopes of a better life.
"We conducted an operation in the late hours of Thursday and rescued 10 Rohingya," Hasan told BenarNews, adding that a man has been arrested on suspicion of human trafficking.
Myanmar considers the Rohingya illegal immigrants from Bangladesh and systematically discriminates against them, denying them citizenship although many of their families have been in the country for generations. They also do not get access to basic services, such as education and health care.
At least 64 Malaysia-bound Rohingya Muslims, mostly women, were rescued during the past two months and five suspected traffickers have been detained, officials said.
Six women who were rescued Thursday night were lured by the suspect who allegedly promised them they could marry prosperous Malaysians, officials said.
The Bay of Bengal is generally calm during winter and traffickers take that opportunity to smuggle Rohingya to Southeast Asian countries where the refugees could find employment.
Mass graves
But trafficking became less frequent after Thai authorities in May 2015 discovered mass graves containing the bodies of 32 Rohingya and Bangladeshi victims of human trafficking in the jungle along Thailand's southern border with Malaysia.
After the discovery, Thai authorities launched a crackdown on illegal migration, arresting a three-star army general, police and government officials who were implicated as part of a transnational smuggling ring.
In July 2017, former Army Lt. Gen. Manas Kongpaen was sentenced to 27 years in prison, when he and 61 other defendants were convicted in Thailand's largest human trafficking case.
The widespread media coverage generated by the sentencings spurred Bangladesh to launch a crackdown on human smugglers in 2015.
Two weeks ago on Nov. 16, naval authorities rescued a group of 106 Rohingya who paid traffickers to take them to Malaysia when their boat's engine failed, leaving them stranded in the Andaman Sea off Yangon region.
In recent years, tens of thousands of Rohingya have fled or attempted to flee persecution in Buddhist-majority Myanmar on boats organized by human traffickers and bound for other Southeast Asian nations.
Full report at:
https://www.rfa.org/english/news/myanmar/bangladesh-refugees-11302018154412.html
--------
U.S. displays weapons it says Iran provided to Taliban and other militants
Nov 30 2018
The United States officials have displayed the weapons and military equipment supplied by Iran to Taliban in Afghanistan and other militant groups in the Middle East.
A Fadjr missile was also put on display which was seized by the Afghan National Army in southern Helmand province of Afghanistan.
The U.S. Special Representative for Iran Brian Hook has has confirmed the capture of the missile of the Afghan forces in Helmand province.
Ambassador Hook has also added that the coalition forces have also captured an Iranian made drone, Shaheed-123, in Afghanistan which was put on display for the media.
According to Ambassador Hook, Iran also supplies similar weapons and missiles to the militant groups including Houthis in Middle East.
This comes as the Afghan officials have long been claiming that Iran supports the Taliban group and supplies militants with weapons.
Full report at:
https://www.khaama.com/u-s-displays-weapons-it-says-iran-provided-to-taliban-and-other-militants-02848/
--------
U.S. airstrike leaves 12 militants dead in Geru district
Nov 30 2018
At least twelve militants were killed in an airstrike carried out by the U.S. forces in southeastern Ghazni province of Afghanistan.
The 203rd Thunder Corps of the Afghan Military in the Southeast in a statement said the airstrike was carried out in the vicinity of Geru district.
"The coalition forces carried out airstrike against the militants in Geru district of Ghazni province, leaving at least 12 of them dead," the statement said.
The anti-government armed militant groups including Taliban militants have not commented regarding the airstrike so far.
Ghazni is among the relatively volatile provinces in Southeastern parts of the country where the Taliban militants are actively operating in some of its districts.
Full report at:
https://www.khaama.com/u-s-airstrike-leaves-12-militants-dead-in-geru-district-02847/
--------
UNAMA release preliminary regarding civilian casualties in Helmand airstrike
Nov 30 2018
The UN Assistance Mission in Afghanistan (UNAMA) says the mission's preliminary findings indicate that as many as 23 civilians were killed and three injured Tuesday in an airstrike in Garmser district of Helmand province during operations conducted by pro-government forces against Taliban in the area.
UNAMA in a statement said initial findings indicate that the vast majority of the victims were women and children. "The Mission is actively working to verify information indicating up to 10 children were killed along with eight women, and three children were injured, including an eight-year-old boy."
The statement further added that the incident took place during an operation involving Afghan and international military forces, when international military forces conducted an airstrike following engagements between the forces on the ground and Taliban.
According to UNAMA, in addition, three days earlier, during fighting between Taliban and pro-government forces, three civilian homes were struck by explosive ordnance in Nad-e-Ali district of Helmand province, killing two civilians and injuring at least 14 more, including 10 children, reportedly after Taliban initiated an attack from the vicinity of civilian homes against an Afghan National Army convoy returning to its base.
Full report at:
https://www.khaama.com/unama-release-preliminary-regarding-civilian-casualties-in-helmand-airstrike-02846/
--------
'US has long record of institutionalized targeting of civilians in Afghanistan'
Nov 30, 2018
The United States has "a long record of crimes" since the invasion of Afghanistan, says an analyst, adding that Washington has absolutely no business being in the war-torn country.
"Whatever anyone might think about the Taliban, the United States has absolutely no business [being] in Afghanistan where it is really doing one thing and that is violently propping up a corrupt puppet government. There is no other way to look at it," Barry Grossman told Press TV in an interview on Friday.
"Let's be clear about another thing. The United States has a long record of crimes in Afghanistan during those 17 years whether you want to talk about abductions, rape, murder, other abuses by military personnel or the institutionalized targeting of civilian population, schools, mosques and such things … In my view the United States has no business being there and it is very revealing," he added.
This is while at least 23 civilians, most of them women and children, have been killed in a US airstrike in Afghanistan's southern province of Helmand.
The United Nations said last month the number of civilians killed or injured by airstrikes in Afghanistan in the first nine months of the year was already higher than in any entire year since at least 2009.
The increase comes as the US has stepped up its air operations in an attempt to exert pressure on the Taliban militant group to force them to accept a negotiated end to the 17-year war.
Full report at:
https://www.presstv.com/Detail/2018/11/30/581574/Afghanistan-US-airstrike-civilians-Taliban-invasion-UN
--------
India
'Demography along Pakistan border changing': BSF flags concerns
Dec 1, 2018
NEW DELHI: The Border Security Force (BSF) has flagged concerns over increasing radicalisation of Muslim population in the border district of Jaisalmer in Rajasthan with rising prevalence of "Arab customs" even as Hindus and Muslims admit to a shrinkage in dialogue between the communities.
A BSF study that examined demographic changes has found a departure from traditional Rajasthani culture in terms of personal grooming such as hairstyles and dress. The study also found a high 22-25 per cent growth rate in Muslim population as compared to 8-10 per cent of other communities. There is a rise in religiosity with higher attendance of children at mosques for more frequent namaz.
While warning of radicalisation, the study says there is no evidence of any "anti-national" activity and there is no discernible soft corner for Pakistan among the minority population. Also, both communities have not had any problems so far and they conduct business and are cordial to each other, the BSF states.
BSF study also talks about an increase in the membership of Hindu right-wing organisations, which are opposed by Muslims.
"The activities of Hindu right-wing organisations have made Hindus in the village of Mohangarh, Nachna and Pokaharan more concerned about their religion. The membership in such organisations is increasing and they are extending their horizons at different spheres of religious activities ranging from training, monetary and communal support to education. However, no direct confrontation with other community has been noticed", the report says.
The "study of demographic pattern in the border areas of Rajasthan and its security implications", notes that areas like Pokhran and Mohangarh of Jaisalmer have seen frequent visits of Muslim clerics, especially from Deoband, Uttar Pradesh. The clerics are reported to "preach fanaticism and (seek to) unite Muslims as a separate identity with feeling of paramountcy of religion".
There is also an aggressive investment in land, which has now become a bone of contention for the Hindu community, BSF asserts. The growing communal divide is reflected in the "Hindu community believes that unbalanced rate of Muslim population increase is disturbing the communal harmony of their village."
The BSF study also names a personage of Jaisalmer (name withheld), who often travels to Pakistan, has business interests there and has emerged as an influential political influence. "(The) involvement of Muslim population in anti-establishment activities and surfacing of anti-India sentiments on his call can't be ruled out..."
It has recommended a check on activities of clerics, a task force comprising police, administration, intelligence and BSF, to assess any rise in the communal temperature.
Asked about the report, BSF chief Rajnikant Mishra said that the force "regularly prepares these reports based on demographic, social, economic changes in border areas and shares it with sister agencies".
BSF surveyed six villages — Mohangarh, Nachna, Bahla, Bharewala, Sam, Tanot and the town of Pokhran — in the border region of Jaisalmer district.
https://timesofindia.indiatimes.com/india/demography-along-pakistan-border-changing-bsf-flags-concerns/articleshow/66889652.cms
--------
2 Pak Terrorists Get 40-Year Jail for Terror Bid
Nov 30, 2018
JAMMU: Two Lashkar-e-Taiba (LeT) terrorists from Pakistan were sentenced to 40 years' rigorous imprisonment and fined Rs 95,000 each by a local court on Friday for infiltrating into India to carry out terror activities.
The court observed that Jameel Ahmed alias Abu Chargam and Abdul Majid alias Abu Tala — both from Pakistan's Nawab Shah district in Sindh province — had illegally entered India and were unable to furnish a reason for the same. Their involvement with a terrorist organisation further proved that they were here to carry out subversive activities.
Maintaining that no leniency could be shown to the convicts, the court sentenced them under relevant sections of the Ranbir Penal Code.
Police said the duo had travelled to India on the orders of the LeT commander in Pakistan. They arrived in Mumbai from Karachi by sea, where they procured forged identity cards and other documents. The two then reached Rajouri's Manjakote sector on March 3, 2007, but were arrested the same day. During investigation, cops found that they had been sent to India in a bid to fuel terrorism in Jammu and Kashmir.
https://timesofindia.indiatimes.com/india/2-pak-terrorists-get-40-year-jail-for-terror-bid/articleshow/66887671.cms
--------
To stay with India, Pakistan must become secular state: Army chief
December 1, 2018
Two days after the opening of the Kartarpur Corridor, Army chief General Bipin Rawat said Friday that Pakistan cannot stay together with India as long as it is an "Islamic state" and that an opportunity may arise if Pakistan is "ready to become a secular state".
Gen Rawat made the remarks on the sidelines of the Passing Out Parade of 135th course of National Defence Academy in Pune at a time when Pakistan has made renewed efforts to resume dialogue with India.
Asked about Khan's statement in Kartarpur Wednesday that if Germany and France who fought several wars can live in peace, why not India and Pakistan, Gen Rawat said: "For this idea of countries coming together, Pakistan will have to first look at their own internal situation. Pakistan has made itself into an Islamic state. If they have to stay together with India, they will have to become a secular state. We are a secular state. How can we stay together when they say they are an Islamic state and there is no role for anyone else? If they are ready to become a secular like us, I think there can be an opportunity."
Responding to a question on Pakistan Prime Minister Imran Khan's statement that if India takes one step Pakistan will take two, Gen Rawat said, "India has taken the first step several times. At least show us one step from your side. Terrorism is growing in your country. At least show us movement from your side to control terrorism and not let it spread to other countries…If you want to generate trust, you can't just keep making statements. One step from them should come in a positive direction. Until then, our country has a very clear policy that terror and talks can't go together."
Full report at:
https://indianexpress.com/article/india/kartarpur-corridor-to-stay-with-india-pakistan-must-become-secular-state-army-chief-bipin-rawat-5473450/
--------
Delhi Police Take Down Terror Alert Posters After 'Operatives' Identified As Pak Students
December 1, 2018
Delhi Police has taken down posters it had put up across the city on November 20, which showed two men posing next to a milestone and carried an alert that they were suspected Jaish-e-Mohammad operatives. This comes after a seminary in Pakistan claimed on Monday that the two were its students and had "never visited India".
Special Cell sources said the inputs did not come from their agency, but they were tipped off by other agencies and as per their standard operating procedure, "they inform the public rather than risk an untoward event".
"There are several alerts issued by various agencies. It takes a lot of time for the source information to be verified and our priority is to ensure the public is sensitised rather than risk an attack," an official from Special Cell said.
The pictures were released two days after a grenade attack on a religious gathering in Amritsar, in which three people were killed and 20 were injured. The poster shows the two men leaning on a milestone that read: "Firozpur 9 kilometres, Delhi 360 kilometres". Officials said they assumed the men were near Firzopur, which is 133 km from Amritsar, following which the posters were circulated. "The men were never declared terrorists in the posters," the official added.
However, Pakistani newspaper, Dawn, reported that the two students never left Pakistan. "The administrator of Jamia Imdadia, Mufti Zahid, said both students, Nadeem and Tayyab, of his seminary were present in Faisalabad and they had never visited India," the report stated.
Full report at:
https://indianexpress.com/article/india/amritsar-attack-delhi-police-take-down-terror-alert-posters-after-operatives-identified-as-pak-students-5473447/
--------
Jammu professor calls Bhagat Singh 'terrorist', varsity institutes inquiry
December 1, 2018
Jammu University on Friday instituted an inquiry into its senior professor Mohammad Tajuddin after the political science teacher allegedly referred to revolutionary Bhagat Singh as a "terrorist" while delivering a lecture.
An inquiry committee headed by Dean (Academic Affairs) Keshav Sharma has been constituted and has been asked to submit its report within seven days, Jammu University Vice Chancellor Prof Manoj Dhar said. The V-C said that till the report is submitted, Tajuddin shall remain disassociated from teaching.
The students who made the complaint also submitted a CD which has been forwarded to the inquiry panel, Dhar added.
Some of the students who made a written complaint to the vice chancellor included Abhinav Pandotra and Saket Rathore of Law Department, besides Suyash Gupta of School of Hospitality and Tourism Management (SHTM). However, none were present in that class, and none were students of the political science department.
The complaint is based on a 25 second video, in which the professor is purportedly heard saying, "Terrorism yahan bhi hua, azadi ke daur mein. Bhagat Singh, hum unko hero mantey hein, woh bhi terrorist they' (Terrorism took place even in India during freedom struggle. Bhagat Singh, whom we consider a hero, he was also a terrorist)".
Pandotra, however, admitted that he was yet to hear the full video of the lecture.
Tajuddin said he was explaining to his students that any kind of violence against a state is terrorism and in this context, he had pointed out that during the freedom struggle, the Britishers had charged Bhagat Singh with terror and had hanged him. "Bhagat Singh was a patriot and a freedom fighter and I have no doubt about it,'' he said.
Full report at:
https://indianexpress.com/article/india/jammu-professor-calls-bhagat-singh-terrorist-varsity-institutes-inquiry-5473446/
--------
PM Modi at BRICS informal meet: Terrorism, financial crimes pose biggest threats to world
November 30, 2018
Identifying terrorism, radicalism and financial frauds as the major threats to the world, Prime Minister Narendra Modi on Friday urged BRICS nations to join forces against the menace of black money.
"Terrorism and radicalism are a threat to the world, those who commit financial crimes are also a big threat. We have to work together against black money," PM Modi was quoted as saying by ANI. He was participating in the BRICS leaders' informal meeting on the sidelines of the G20 Summit in Argentina's Buenos Aires.
The prime minister also underlined that BRICS nations have to talk in one voice for the interest of developing nations in the United Nations and other multilateral organisations. "This is the reason we have come together for BRICS," Modi told his fellow BRICS nations.
He also reaffirmed India's commitment to globalisation and reformed multilateralism.
Subsequently, PM Modi met Chinese President Xi Jinping on sidelines of G-20 summit in Buenos Aires and said he had a productive discussion with the Chinese President.
Earlier in the day, Modi had met with the United Nations chief Antonio Guterres and discussed India's uniting role in addressing climate change globally, with specific reference to the forthcoming COP24 meeting in Katowice, Poland. Foreign Secretary Vijay Gokhale said the main topic of Prime Minister Modi's discussion with the UN chief was the forthcoming COP24 climate change meeting in Katowice, Poland from December 3.
"The Secretary-General has said India plays a major role in climate change negotiations. He acknowledged that Prime Minister had taken a number of concrete steps towards addressing climate change," Gokhale said. "He mentioned the International Solar Alliance. The Secretary-General also said that when he was in Delhi last month he had seen for himself the manner in which other campaigns the prime minister had led including the Swachh Bharat campaign having an impact on the environment," he said.
Full report at:
https://indianexpress.com/article/india/pm-modi-at-g20-reaffirms-indias-commitment-to-globalisation-and-reformed-multilateralism-5473080/
--------
Mideast
Yemeni army kills 40 Houthi militants in clashes in Al-Baydah
December 01, 2018
DUBAI: Yemen's national army clashed with the Houthi militia in Al-Baydah province on Friday leaving 40 militants dead and dozens wounded, Saudi state-news agency SPA reported.
Military sources quoted by the official Yemeni news agency said that clashes between the army and militia in Malajim directorate left 30 militants killed.
Sources said that aerial support from the Saudi-led Arab coalition destroyed Houthi gathering sites and killed 10 militants on the Qanya Front.
http://www.arabnews.com/node/1413906/middle-east
--------
Israeli police arrest Jordanian suspected in Eilat attack
30 November 2018
A Jordanian man has been arrested by Israeli police after allegedly attacking two Israelis on Friday, in the port city of Eilat, which borders Jordan.
Police said that the two victims were hospitalized with serious injuries after the Jordanian beat them with a hammer. The suspect was apprehended and police were investigating the circumstances of the incident.
The countries signed a peace treaty in 1994, but relations have been tumultuous due to occasional violent incidents and political disagreements.
Bilateral ties sank to historic lows last year after an Israeli embassy guard shot and killed two Jordanians, contending that one tried to attack him and the second was caught in the crossfire.
Full report at:
https://english.alarabiya.net/en/News/middle-east/2018/11/30/Israeli-police-arrest-Jordanian-suspected-in-Eilat-attack.html
--------
Iran four-point plan on Yemen still only viable option: FM Zarif
Nov 30, 2018
Iranian Foreign Minister Mohammad Javad Zarif has once again assessed the viability of putting an end to the ongoing Saudi-led crisis in Yemen only through the Islamic Republic's four-point plan.
In a post on his official Twitter account on Friday, Zarif said he has announced Iran's four-point proposal on the Yemeni crisis in April 2015.
"Today, after untold human suffering & war crimes by the Saudi coalition & its U.S. accomplices, & efforts to whitewash their crimes with absurd allegations against Iran, our four-point plan still remains the only viable option," the top Iranian diplomat said.
In April 2015, the Iranian foreign minister submitted a four-point peace plan for Yemen to the United Nations in an attempt to end the bloodshed in the Arab country.
"It is imperative for the international community to get more effectively involved in ending the senseless aerial attacks and establishing a ceasefire," Zarif said in the letter, adding that Tehran is ready to cooperate with the UN "to facilitate and encourage an immediate end to these senseless bombardments and initiation of a genuine dialogue to find a political solution to this tragic crisis."
Saudi Arabia and a number of its regional allies launched a devastating military campaign against Yemen in March 2015, with the aim of bringing the government of former Yemeni president Abd Rabbuh Mansur Hadi back to power and crushing the country's Houthi Ansarullah movement.
According to a new report by the Armed Conflict Location and Event Data Project (ACLED), a nonprofit conflict-research organization, the Saudi-led war has so far claimed the lives of around 56,000 Yemenis.
The Saudi-led war has also taken a heavy toll on the country's infrastructure, destroying hospitals, schools, and factories. The UN has already said that a record 22.2 million Yemenis are in dire need of food, including 8.4 million threatened by severe hunger. According to the world body, Yemen is suffering from the most severe famine in more than 100 years.
During a press briefing in the Yemeni capital Sana'a on Thursday, UN Under-Secretary General for Humanitarian Affairs and Emergency Relief Coordinator Mark Lowcock appealed for a halt to fighting in Yemen.
The UN official said the fighting has once again highlighted the ongoing humanitarian tragedy in the war-ravaged Arab country and said, "I'd like to see a cessation of hostilities, especially around the key infrastructure, especially around Hudaydah."
A number of Western countries, the US, France and Britain in particular, are also accused of being complicit in the ongoing aggression as they supply the Riyadh regime with advanced weapons and military equipment as well as logistical and intelligence assistance.
US President Donald Trump, who has touted the country's lucrative purchase of arms from the US, has threatened to veto a bill on ending the United States' military support for the Saudi-led war in Yemen if it arrives on his desk.
The United States on Thursday displayed pieces of what it claimed were Iranian weapons deployed to militants in Yemen and Afghanistan.
Full report at:
https://www.presstv.com/Detail/2018/11/30/581586/Zarif-Yemen-Saudi-Arabia-fourpoint-Twitter
--------
Israeli forces shoot, injure 28 Palestinian protesters in Gaza
Nov 30, 2018
Israeli forces have once again opened fire on Palestinians taking part in protests near the border between the besieged Gaza Strip and the Israeli-occupied territories, leaving at least 28 people wounded.
The Gaza Health Ministry said the 28 people were hit with live ammunition in Gaza on Friday. Ashraf al-Qedra, the spokesman for the ministry, said a journalist was among the casualties.
Tensions have been running high near the fence, separating Gaza from the occupied territories, since March 30, which marked the start of a series of protests called "The Great March of Return." Palestinian protesters demand the right to return for those driven out of their homeland.
The deadly clashes in Gaza reached their peak on May 14, the eve of the 70th anniversary of Nakba Day, or the Day of Catastrophe, which coincided this year with Washington's relocation of the US embassy from Tel Aviv to occupied Jerusalem al-Quds.
Some 240 Palestinians have so far been killed and over 20,000 others wounded in the renewed Gaza clashes, according to the latest figures released by the Gaza Health Ministry.
On Thursday, Doctors Without Borders (MSF) said around 1,000 Palestinians shot by Israeli forces during the anti-occupation protests have infections that could leave them permanently crippled.
The international medical charity also warned that a "slow-motion healthcare emergency is unfolding in Gaza" as hospitals, already under-equipped due to Israeli siege, were being overwhelmed by the "huge numbers of patients with complex and serious gunshot wounds".
Gaza has been under the Israeli siege since June 2007, causing a decline in living standards as well as unprecedented unemployment and poverty.
Full report at:
https://www.presstv.com/Detail/2018/11/30/581598/Israel-injures-protesters-Gaza
--------
Houthis vow to liberate southern Yemen on anniversary
Nov 30, 2018
A senior Houthi official says Yemen will liberate the country's south from the grip of separatists and aggressors led by Saudi Arabia and the United Arab Emirates.
Mahdi al-Mashat, the senior political leader of the popular resistance movement, made the remarks in a statement on the occasion of the 55th anniversary of the country's independence from Britain.
He likened the situation in the area to the one that existed under the colonial era, urging its liberation, Yemen's al-Masirah television network reported on Thursday.
Separatists in southern Yemen, backed by the United Arab Emirates, have called for secession of the restive port city of Aden and other southern provinces, controlled by officials of the country's former Saudi Arabia-allied government.
The separatists want to revive the former South Yemen republic, which merged with the north in 1990. Aden, Yemen's second largest city, used to be the capital of the once independent South Yemen.
The UAE has played a key role in a Saudi military campaign, which was launched in March 2015 with the aim of reinstalling the government of former president Abd Rabbuh Mansur Hadi.
Yemen has no effective government for now, and the state affairs are now being run by Ansarullah, which also defends the country against the aggressors.
Prior to the Saudi aggression, Hadi resigned and fled to Riyadh. The Saudi regime and its allies later managed to seize Aden from the Houthis and put it under the control of the ex-president's officials.
Mashat said the Yemeni republic did not have any envoys at the United Nations, saying those alleging to be the country's ambassadors at the UN were not representing Yemen.
However, the Houthi movement respects all efforts to resolve the country's crisis, he added.
The official urged reconciliation based on mutual respect and demanded serious endeavors towards finding a clear and logical solution aimed at bringing different sides to the conflict back to the negotiating table.
The UN peace envoy Martin Griffiths has been trying to help re-launch the talks in Sweden. The negotiations have fallen apart on several occasions over the past years due to Saudi Arabia's constant violation of provisional ceasefires.
The Saudi war has killed thousands of people, while thousands others have died of the malnutrition resulting from a concomitant crisis.
Nilesat move against al-Masirah
Separately, Abdel Bari Atwan, the editor-in-chief of Rai al-Youm, a pan-Arab digital news and opinion website, took to Twitter, condemning Nilesat's move on Wednesday to take al-Masirah TV off the air.
The Egyptian satellite company stopped broadcasting al-Masirah, accusing the Yemeni television channel of "sectarian programming," according to Saudi state television Al Arabiya.
"Media empires, which spend billions of dollars, are afraid of a simple channel," Atwan wrote.
Ibrahim al-Dailami, the director-general of the channel, told IRNA the company's move signaled that the invaders were prepared to perpetrate more atrocities against the Yemeni nation.
Nilesat and Arabsat, he reminded, had previously targeted the Iran's Arabic-language channel Al Alam, Lebanese channels Al Mayadin and Al Manar, as well as such Yemeni channels as Saba, Yemen, Al Iman, and Al Sahat.
In 2003, Nilesat jammed broadcast of Al Alam and pulled off the plug on Al Manar in 2016.
"The enemies target independent and resistant media," Dailami said, adding it was the ninth time al-Masirah had been taken off the air. Al-Masirah Mubasher, which broadcasts live, has also been pulled three times so far, he said.
Full report at:
https://www.presstv.com/Detail/2018/11/30/581545/Yemen-Nilesat-alMasirah-Saudi-Arabia
--------
Two injured in Houthi missile attack in southwestern Saudi Arabia
December 01, 2018
JERUSALEM: President Donald Trump's recognition of Jerusalem as Israel's capital has set off an increasingly visible battle in the city's eastern sector — with an emboldened Israel seeking to cement its control over the contested area and Palestinians pushing back to maintain their limited foothold.
In recent weeks, Israel has arrested dozens of Palestinian activists for alleged illegal political activity. It demolished Palestinian shops for failing to have permits, a court has cleared the way for settlers to move in to an Arab neighborhood and the city's outgoing mayor is trying to close the east Jerusalem operations of the UN agency for Palestinian refugees.
The Palestinian Authority in the West Bank, in turn, has boosted efforts to protect its claim on Jerusalem, attempting to block east Jerusalem Palestinians from selling properties to Jews — a major taboo that it is largely powerless to prevent.
"The change in the US position on Jerusalem under Trump's administration has unleashed the Israeli hands to increase and escalate its measures that aim to change the features of the city from a Palestinian city to an Israeli one," said Walid Salem, a Palestinian analyst in Jerusalem. "The Palestinian Authority feels the heat and is stepping up measures to resist this Israeli policy."
The conflicting claims to east Jerusalem lie at the heart of the Israeli-Palestinian conflict. Israel captured the area, home to the city's most sensitive religious sites, in the 1967 Middle East war and annexed it, claiming the entire city as its capital. But the annexation is not internationally recognized, and the Palestinians seek east Jerusalem as the capital of a future state.
A year ago, Trump upended decades of American policy and recognized Jerusalem as Israel's capital.
"We finally acknowledge the obvious: that Jerusalem is Israel's capital," Trump said at the time.
Several months later, he moved the US Embassy from Tel Aviv to Jerusalem, thrilling Israel and enraging the Palestinians.
Speaking at the embassy dedication ceremony in May, Netanyahu said: "We are in Jerusalem and we are here to stay."
Although Trump has said his decision would not determine the city's final borders, it has been seen by both Israel and the Palestinians as taking sides.
Israel's hawkish government has been energized by the backing of its American ally in its quest to keep Jerusalem what it considers to be its eternal, undivided capital.
The Palestinians have for years accused Israel of taking steps to fortify its hold on the city, primarily by encircling Arab neighborhoods in east Jerusalem with Jewish settlements. These settlements, considered by Israel to be neighborhoods of its capital, are now home to over 200,000 Israelis.
Criticism from previous US administrations has often held Israel back in the past. With the reins removed, Israel has carried out a flurry of moves, often jostling with Palestinians along the way.
"Around 300, 000 Palestinian live in east Jerusalem," said Adnan Husseini, the Palestinian minister of Jerusalem affairs. "They have always resisted the Israeli occupation measures in the city and they always will."
In an unusual step, Israel arrested the top Palestinian official in Jerusalem this week along with over 30 Palestinian Jerusalemites, accusing them of the rarely enforced offense of serving in the Palestinian security forces in violation of previous agreements with Israel. Most were released on bail, but the governor, Adnan Ghaith, remains in custody.
The arrests appear to have been prompted by the detention of a Palestinian resident of east Jerusalem who allegedly sold property to Jews — a punishable offense under Palestinian law.
That detention was a bold move by the Palestinians because, also according to previous accords, they cannot arrest Jerusalem residents.
The Palestinians have also zeroed in on the Bedouin hamlet of Khan Al-Ahmar. Israel says the West Bank encampment, just outside of Jerusalem, was illegally built and is trying to uproot the village. A planned demolition was postponed following heavy European pressure, but it could still happen at any time.
Critics say the demolition is meant to make way for Israeli settlement homes, a step the Palestinians fear could cut off the West Bank from their hoped-for capital in east Jerusalem.
While Khan Al-Ahmar residents avoided eviction for now, others haven't. After a lengthy legal battle, Israel's Supreme Court this month rejected an appeal by residents of the Silwan neighborhood in east Jerusalem who claimed their land was illegally granted to a pro-settler group. The decision could lead to the evictions of hundreds of longtime Palestinian residents.
"A huge mechanism of displacement has been set in motion, allowing settlers and the government to work hand in hand," said Yudith Oppenheimer, executive director of Ir Amim, an Israeli advocacy group that promotes coexistence in the city.
Israeli police demolished 18 stores in east Jerusalem last week in what it called a "large-scale" operation against illegal structures that it said was prompted by Palestinian residents' complaints.
Meanwhile, in a move coordinated with the national government, Jerusalem's municipality plans to evict the UN agency responsible for Palestinian refugees and shift its services — schools, sanitation and others — over to Israeli authorities.
Jerusalem's outgoing mayor, Nir Barkat, said a decision by the Trump administration to cut $300 million in funding to UNRWA prompted the move.
The Israeli steps in east Jerusalem come ahead of the promised release of Trump's long-awaited peace plan. The Palestinians have already said they will oppose it, accusing Trump of being unfairly biased in favor of Israel.
Yitzhak Reiter, a senior fellow at the Jerusalem Institute for Policy Research, said Israel may be trying to skew the American plan toward its vision for the city.
Full report at:
http://www.arabnews.com/node/1413916/middle-east
--------
Arab World
US-backed Syrian fighters say they hold ISIS leader's assistant
30 November 2018
US-backed fighters in Syria have captured a senior ISIS leader who served as an assistant to the group's self-declared "caliph" Abu Bakr al-Baghdadi, they said on Friday.
The Syrian Democratic Forces (SDF), a Kurdish-led militia alliance that holds the quarter of Syria east of the Euphrates, detained Osama al-Awaid last week, it said in a statement.
SDF fighters have been attempting to take the last ISIS Syrian pocket of territory on the banks of the Euphrates near Iraq for weeks, in an offensive backed by US-led air strikes.
They captured Awaid in a special operation in a village in eastern Syria, the statement said, adding that he had been a senior security official for ISIS in the country.
More than a year after the physical "caliphate" of ISIS collapsed in both Syria and Iraq under military attack, Baghdadi's whereabouts remains a mystery.
However, despite its loss of territory, the group has been able to launch guerrilla attacks in areas controlled by both the Syrian and Iraqi governments.
https://english.alarabiya.net/en/News/middle-east/2018/11/30/US-backed-Syrian-fighters-say-they-hold-ISIS-leader-s-assistant.html
--------
30 civilians killed as US-led coalition warplanes strike eastern Syria
Nov 30, 2018
More than two dozen civilians, mostly women and children, have lost their lives when the US-led coalition purportedly fighting the Daesh Takfiri terrorist group conducted an aerial assault on Syria's eastern province of Dayr al-Zawr.
Local sources told Syria's official news agency, SANA, on Friday that the airstrike targeted residential buildings in the town of al-Shaafah, leaving at least 30 people dead.
The sources added that the death toll is expected to rise as some people are still trapped under the debris of destroyed buildings.
The development came only a few days after US-led coalition fighter jets bombarded the village of Abu Hassan, which lies close to the town of Hajin. Several civilians, mostly women and children, were killed and injured as a result.
On November 13, the Syrian Ministry of Foreign Affairs and Expatriates condemned a recent airstrike by the so-called US-led coalition against the eastern town of al-Shaafah, which left more than 60 people dead and injured, arguing that the massacre clearly pointed to the fact that members of the military alliance had no respect for moral values, international rules and regulations besides the lives of innocent civilians.
The ministry, in two separate letters, addressed to United Nations Secretary General Antonio Guterres and the rotating president of the UN Security Council Ma Zhaoxu, called on the Security Council to fulfill its responsibilities and stop US-led aerial assaults.
It also asked the world body to propose an international, independent and impartial mechanism to investigate the crimes being perpetrated by the so-called US-led coalition.
The letters noted that the coalition was deliberately targeting Syria civilians and making use of internationally banned weapons, including white phosphorus bombs, in Syria.
The ministry stressed that the so-called US-led coalition airstrikes were meant to kill as many Syrian people as possible, prolong the ongoing Syrian conflict, destroy the country's infrastructure and undermine its sovereignty and territorial integrity in flagrant violation of all UN Security Council resolutions on Syria.
Full report at:
https://www.presstv.com/Detail/2018/11/30/581570/30-civilians-killed-as-USled-coalition-warplanes-strike-eastern-Syria
--------
UN once again urges Israel to withdraw from entirety of Syria's Golan Heights
Dec 1, 2018
The majority of the United Nations General Assembly has adopted a resolution urging the Israeli regime to withdraw from the entirety of the Syrian Golan Heights it occupied some half a century ago.
The resolution, titled The Syrian Golan, was adopted by a record vote of 99 in favor, 10 against and 66 abstentions on a Friday session, declaring that the Israeli controversial move to extend its laws, jurisdiction and administration on the occupied mountainous plateau is null and void and calling on the Tel Aviv regime to pull out from the strategically-important territory.
In 1967, the Israeli regime waged a full-scale war against Arab territories, including those of Syria, and occupied a large swathe of Syria's Golan Heights.
In 1973, another war, known as the Arab-Israeli War or the Yom Kippur War, broke out between the Israeli regime and a coalition of Arab states led by Egypt and Syria. A year later, a UN-brokered ceasefire came into force, according to which the Israeli regime and the Syrian government agreed to separate their troops, and create a buffer zone patrolled by the UN Disengagement and Observer Force (UNDOF).
In late 1981, Israel passed the Golan Heights Law that extended the regime's "laws, jurisdiction and administration" to the Golan Heights, effectively annexing the territory to Israel.
A few days after the law's passage in Israel's Knesset, UN Security Council Resolution 497 determined the law as "null and void and without international legal effect."
The assembly on Friday also denounced Israel's non-compliance with the UNSC 1981 resolution.
The so-called Israeli law is not recognized by the international community.
"Israel continues to occupy a precious part of our land, and our people there continue to suffer because of this occupation," said Syria's permanent delegation at the world body, Munzer Munzer, adding, "We are the legitimate owners."
He also stressed that Syria would not forfeit its right to its land and that its share of Golan Heights are non-negotiable.
The fact that most UN member states continue to support these resolutions shows that they are committed to the goals and purposes of the UN Charter, and that they reject foreign occupation and support Syria's right to reclaim the entirety of its Israeli-occupied lands, Munzer added.
Full report at:
https://www.presstv.com/Detail/2018/12/01/581616/Syria-UN-General-Assembly-Israel-Golan-Heights
--------
Bahraini protesters show support for detained senior Shia clergyman
Nov 30, 2018
Scores of people have held a protest in Bahrain to voice their support for distinguished Shia cleric Sheikh Khalid Fadhil al-Zaki, whom regime forces recently arrested as the ruling Al Khalifah regime does not shy away from its clampdown on pro-democracy campaigners in the kingdom.
The protesters staged a rally in the northwestern village of Diraz, situated some 12 kilometers west of the capital Manama, following Friday prayers, carrying images of the cleric, who is the head of the Sharia Commission at the Islamic Scholars Council's Central Committee – a leading Shia body dissolved in 2014.
Bahraini security authorities detained Sheikh Zaki early on Friday after raiding his home.
Eyewitnesses, requesting not to be named, said security forces ransacked Zaki's home for two hours, before taking him to an unknown location.
HRW urges Thailand not to deport refugee footballer back to Bahrain
Separately, Human Rights Watch (HRW) has called on the Thai government to recognize the refugee status of Bahraini footballer Hakeem Ali al-Araib and allow him to return to his place of residence in Australia.
Araib was detained upon arriving in Thailand earlier this week, and now faces deportation back to Bahrain where he is at risk of persecution and torture.
Brad Adams, the executive director of the Asian division of HRW, pointed to the "grave dangers" that the 25-year-old footballer faces if he is returned to Manama.
He urged Thai immigration authorities to "immediately release Araib, who is recognized as a refugee in Australia, and ensure that he is not harmed in violation of international law."
"Handing him over to Bahrain would be a heartless act that blatantly violates Thailand's obligations to protect refugees and opens Bangkok up to a chorus of international criticism," Adams added.
Araib is wanted in Bahrain over his alleged involvement in attacking a police station for which he received a 10-year prison sentence in absentia.
The footballer says the charges against him are fabricated and that he was in Qatar at the time of the purported incident.
Thousands of anti-regime protesters have held demonstrations in Bahrain on an almost daily basis ever since a popular uprising began in the country in mid-February 2011.
They are demanding that the Al Khalifah regime relinquish power and allow a just system representing all Bahrainis to be established.
Manama has gone to great lengths to clamp down on any sign of dissent. On March 14, 2011, troops from Saudi Arabia and the United Arab Emirates were deployed to assist Bahrain in its crackdown.
Scores of people have lost their lives and hundreds of others sustained injuries or got arrested as a result of the Al Khalifah regime's crackdown.
On March 5, 2017, Bahrain's parliament approved the trial of civilians at military tribunals in a measure blasted by human rights campaigners as being tantamount to imposition of an undeclared martial law countrywide.
Full report at:
https://www.presstv.com/Detail/2018/11/30/581590/Bahraini-protesters-show-support-for-detained-senior-Shia-clergyman
--------
Iraqi protesters rally to denounce Saudi-led aggression on crisis-hit Yemen
Nov 30, 2018
Thousands of people have taken to the streets in the Iraqi capital city of Baghdad to express outrage over the Saudi-led aerial bombardment campaign against Yemen, which has killed thousands of innocent civilians and reduced much of the Arab country's critical infrastructure to rubble.
Iraqi protesters, carrying Iraqi and Yemeni flags as well as banners in condemnation of the Saudi-led aggression, converged in the al-Jadriya neighborhood following Friday prayers.
They chanted slogans and censured Saudi-led war crimes against the Yemeni nation during the demonstration, which had been organized by religious scholars as well as social media activists and dubbed as "We Stand With You."
The demonstrators condemned the continuation of the Saudi-led aggression on Yemen, and deplored the international silence on the tragic humanitarian situation there.
Mohammad al-Qabali, a representative of Yemen's Houthi Ansarullah movement, said the Saudi-led military alliance has unleashed a relentless onslaught against Yemen aimed at starving ordinary people to death and destroying the country.
He added that more than two million Yemeni children are suffering from acute malnutrition, warning that al-Qaeda in the Arabian Peninsula (AQAP) and Daesh Takfiri terrorist group are acting freely in areas seized by the Saudi-led coalition.
Jaafar al-Husseini, a spokesman for the Iraqi pro-government Kata'ib Hezbollah voluntary forces, demanded the immediate intervention of international organizations to end the Saudi-led military aggression on Yemen.
Saudi Arabia and a number of its regional allies launched a devastating military campaign against Yemen in March 2015, with the aim of bringing the government of former Yemeni president Abd Rabbuh Mansur Hadi back to power and crushing the country's Houthi Ansarullah movement.
According to a new report by the Armed Conflict Location and Event Data Project (ACLED), a nonprofit conflict-research organization, the Saudi-led war has so far claimed the lives of around 56,000 Yemenis.
The Saudi-led war has also taken a heavy toll on the country's infrastructure, destroying hospitals, schools, and factories. The UN has already said that a record 22.2 million Yemenis are in dire need of food, including 8.4 million threatened by severe hunger. According to the world body, Yemen is suffering from the most severe famine in more than 100 years.
Full report at:
https://www.presstv.com/Detail/2018/11/30/581576/Iraqi-protesters-rally-to-denounce-Saudiled-aggression-on-crisishit-Yemen
--------
Two injured in Houthi missile attack in southwestern Saudi Arabia
November 30, 2018
JEDDAH: Two people were injured on Friday from a missile fired into southwestern Saudi Arabia by Houthi militants in Yemen.
Col. Yahya Abdullah Al-Qahtani, a Civil Defense spokesman in Jazan, said teams were dispatched on Friday morning after a residential property was hit by a projectile launched by the Iranian-backed group.
A Yemeni woman and a Saudi national were injured when the residential area in Samtah was hit.
The attack comes as momentum builds owards peace between the internationally recognized government and the Houthis in Sweden next month.
Yemen's internationally recognized government insisted it was committed to peace on Thursday as momentum built toward talks in Sweden next month.
President Abed Rabbo Mansour Hadi on Thursday insisted his government was committed to peace and has already said his administration would attend the latest attempt at a negotiated settlement to the conflict.
But his statement to mark Yemen's Independence Day was overshadowed on Thursday by another attempt by the militia to fire a ballistic missile toward Saudi Arabia, which is part of an Arab Coalition supporting the government.
The coalition said it had destroyed a missile launch platform in Saada province before the missile could be launched.
The peace talks will take place after fierce fighting this month around Hodeidah, which resulted in pro-government troops advancing deep into the port city.
United Nations Secretary General Antonio Guterres said on Thursday the international body is "working hard to ensure the start of meaningful peace talks in Yemen" before the end of the year.
Previous talks have collapsed with little progress, and in September the Houthi delegation did not even arrive for negotiations in Geneva.
The Houthi militia on Thursday said they would attend talks in Sweden if guarantees to ensure they can leave home and return back are maintained.
UN envoy Martin Griffiths has held talks separately in the past few days with officials from both sides.
According to UN figures, nearly 10,000 people have been killed since the coalition joined the conflict in 2015 to bolster Hadi after the Houthis seized the capital Sanaa in 2014.
Full report at:
http://www.arabnews.com/node/1413756/saudi-arabia
--------
Organization of Islamic Cooperation attends Islamic conference in Bahrain
November 30, 2018
JEDDAH: The secretary-general of the Organization of Islamic Cooperation (OIC), Dr. Yousuf bin Ahmed Al-Othaimeen, chaired the OIC delegation to the extraordinary Islamic Conference of Culture Ministers, which was held under the patronage of Bahrain's King Hamad bin Isa Al-Khalifa.
Participants celebrated the Bahrain city of Muharraq as the capital of Islamic culture.
The conference discussed the most important challenges facing the Arab and Islamic cultural identity, calling for the humanitarian message of Islam to be conveyed to the whole world with special attention to thought and culture.
http://www.arabnews.com/node/1413776/saudi-arabia
--------
A rearmed Hezbollah in Lebanon is top concern for Israel
November 30, 2018
ON THE ISRAEL BORDER: On a moonlit night, some two dozen Israeli soldiers in full battle gear march near a Lebanese border village with a bomb-sniffing dog, searching for explosives and infiltrators.
Suddenly the force stops. Through night vision goggles, two suspicious men appear over the ridge, holding what looks like binoculars. Could they be undercover Hezbollah militants? Lebanese soldiers on a night patrol? Or perhaps UN peacekeepers?
The men appear unarmed and since they are on the other side of the internationally recognized "blue line" that separates the two countries, Israeli troops move on, completing another routine foot patrol along a scenic frontier that has remained quiet but tense since the bloody battles of a 2006 summer war.
Even with attention currently focused on Gaza militants along the southern front, Israel's main security concerns lie to the north, along the border with Lebanon.
Israeli officials have long warned the threat posed by Gaza's Hamas rulers pales in comparison to that of Lebanon's Iran-backed Hezbollah militant group — a heavily armed mini-army with an arsenal of some 150,000 rockets that can reach nearly every part of Israel. It is along this northern front that Israeli soldiers come face-to-face with Hezbollah militants and where any skirmish could spark an all-out war.
"The rules of the game are very clear. They know I'm here and I know they're there," said Lt. Col. Aviv, a regional battalion commander. "But if they break that equation, they are going to get hit."
From his base along the border near the Israeli farming community of Avivim, he can see the hilltop Lebanese village of Maroun Al-Ras, a UN observer outpost and a new square house inside an agricultural field, assumed to be a Hezbollah lookout.
Under the UN-brokered cease-fire that ended the 2006 war, Hezbollah militants are prohibited from approaching the border. But Israeli intelligence says Hezbollah men operate freely, generally unarmed and in civilian clothes. Sometimes they come within just a few meters of the Israeli troops, it says.
When Israel's Benjamin Netanyahu recently decided against a full-scale offensive in Gaza, he cited the current "security-sensitive period" in what was widely assumed to be a reference to the northern front.
Israel has generally refrained from engaging in Syria's civil war, where Hezbollah has fought alongside Bashar Assad's men, though it has carried out scores of airstrikes against what Israel says were Iranian shipments of advanced weapons bound for Hezbollah.
Israel flew its jets through Syrian skies with impunity. But that was severely restricted after a Russian plane was downed in September by Syrian forces responding to an Israeli airstrike, a friendly fire incident that stoked Russian anger toward Israel and hastened the delivery of sophisticated S-300 air defense systems to Syria.
With Syria's civil war winding down, an empowered Hezbollah is now free to re-establish itself back home in Lebanon and refocus on Israel, said Eyal Ben-Reuven, a lawmaker and retired general who commanded Israeli ground troops in the 2006 war. Armed with more exact rockets and munitions, Hezbollah now poses a far more dangerous threat, he said.
"A terror organization, unlike a country, doesn't stockpile weapons for deterrence but in order to use them one day," he said. "I suspect they will now try to goad Israel. ... The war the Israeli military has to prepare for is the one against Hezbollah."
Neither side appears interested quite yet in another full-fledged confrontation like the monthlong 2006 war, which ended in stalemate and in which more than 1,200 Lebanese and 160 Israelis were killed.
With a lagging economy and a paralyzed government, Lebanon appears unlikely to have the stomach for another war. Though emboldened politically from the Syria war and having surged in power in Lebanese parliamentary elections earlier this year, Hezbollah is going through a financial crunch. It also is recovering after having hundreds of fighters killed or wounded in Syria.
Still, Israel accuses it of ratchetting up tensions.
The military says it recently uncovered militant surveillance outposts along the border, set up under the guise of a tree-planting campaign by an environmental advocacy group, "Green Without Borders." The group acknowledges its affiliation with Hezbollah but says its work is purely environmental.
Netanyahu also accused Hezbollah of setting up secret rocket launching sites near Beirut's international airport. The military says Hezbollah is establishing new launching sites among civilians — a trap that could make it difficult for Israel to respond forcefully.
But the military says its major concern is Iranian-backed efforts to convert some of Hezbollah's unguided rockets into precision munitions that could wreak far more devastation on Israeli targets.
Hezbollah declined to respond to the accusations. Its leader, Hassan Nasrallah, said recently the group is "more confident than ever" and ready for war at any time.
Due to the uneven terrain, Israel's sophisticated northern fence does not run precisely along the border, creating enclaves of Israeli territory that are inside the blue line but beyond the fence.
Israel is now stepping up its presence, fortifying fences and clearing away brush to improve observation.
It is also sending a signal that violations won't be tolerated — even on a night patrol, Israeli troops do not hide their presence.
Full report at:
http://www.arabnews.com/node/1413696/middle-east
--------
Africa
Nigeria: Muslims, Christians Can Flourish Together - Buhari
30 NOVEMBER 2018
President Muhammadu Buhari has warned against politicising religion, saying Christians and Muslims in Nigeria can flourish together.
Mr Buhari said this in an opinion article published by the News Agency of Nigeria.
The article earlier appeared on the UK-based Christian Times on Friday.
In the article, the president referenced a Biblical verse and argued that Christians and Muslims share the same root, although their believes differ.
Read the op-ed below:
In 1844, the Revd Samuel Ajayi Crowther returned home to Yoruba land (now part of modern-day Nigeria). Twenty years earlier, he had been kidnapped and sold to European slave traders who were bound for the Americas. He was freed by an abolitionist naval patrol, and received by the Church Missionary Society. There, he found his calling.
Crowther made his voyage home to establish the first Anglican mission in Yoruba land. He came with the first Bibles translated into Yoruba and Hausa languages. He opened dialogue and discussion with those of other faiths. And his mission was a success: Crowther later became the first African Anglican bishop in Africa.
Today, Nigeria has the largest Christian population on the continent. The messages and teachings of Christianity are part of the fabric of each person's life.
Along with the millions of Christians in Nigeria today, I believe in peace, tolerance, and reconciliation; in the institution of the family, the sanctity of marriage, and the honour of fidelity; in hope, compassion, and divine revelation.
Like Bishop Crowther, I am a descendant of Abraham; unlike him, I am a Muslim. I believe our two great religions can not only peacefully coexist but also flourish together. But Muslims and Christians must first turn to one another in compassion. For, as it says in Amos 3.3: "Do two walk together, unless they have agreed to meet?"
As they are People of the Book, I believe that there is far more that unites Muslims and Christians than divides them. In fact, I believe that the messages of the Bible are universal: available for anyone to exercise, and instructive to all.
We must resist the temptation to retreat into our communities, because, if we do, we can only look inwards. It is only when we mix that we can reach new and greater possibilities.
NAN
Whichever religion or religious denomination they choose to follow, Nigerians are devout. Anything that Nigerians believe will place impositions on their practice, and belief is therefore sure to cause widespread alarm.
And, unfortunately, there are those who seek to divide Nigerians -- and our two great religions -- and to do so for their own advantage.
I stand accused -- paradoxically -- of trying to Islamise Nigeria while also being accused by Boko Haram terrorists of being against Islam. My Vice-President is a devout man, a Christian pastor. He, too, is accused of selling out his religion, because of his support for me.
This is not the first time that I -- nor, indeed, my Christian-Muslim evenly split cabinet -- have been the subject of such nonsense. Fortunately, the facts speak differently from the words of those who seek to divide us from one another.
Since my administration has been in power, Boko Haram has been significantly and fatally degraded; I have befriended church leaders and church groups both within and outside our country; my Vice-President has addressed and opened dialogue with Muslims up and down our land.
In all things, we seek that which all well-meaning Christians and well-meaning Muslims must seek: to unite, respect, and never to divide. Does it not say "There is no compulsion in religion" (Qur'an 2.256)? Does it not say "Forbid him not: for he that is not against us is for us" (Luke 9.50)? This, surely, is the path that followers of both our two great religions must walk.
UNFORTUNATELY, those who wish us all to walk apart have recently found another focus for their efforts: the tragic clashes between nomadic herdsmen and settled farmers in the central regions of Nigeria.
For generations, herders have driven their cattle from the north to the centre of our country; they tend to be predominantly Muslim, although not exclusively. The farmers, in certain areas of central Nigeria, are predominantly Christian.
The causes of this conflict are not religious or theological, but temporal. At the heart of this discord is access to rural land, exacerbated both by climate change and population growth.
Sadly, there are some who seek to play fast and loose and so make others believe that these are not the facts. When religion is claimed as the cause -- and by those who know that it is not -- it only makes finding a resolution more difficult.
The government has taken action to mediate, to bring the two groups together in peace and unity. But we also need all parties to follow the teachings of the scriptures, and encourage reconciliation rather than cause division. As it is said: "Having eyes do you not see, and having ears do you not hear?" (Mark 8.18).
As our constitution codifies, politicising religion has no place in Nigeria; for it makes us turn away from one another; it makes us retreat into our communities and walk different paths.
I believe that there is a better way. To those who seek to divide, I still hold my hand out in brotherhood and forgiveness. I ask only that they stop, and instead encourage us to turn towards one another in love and compassion. Nigeria belongs to all of us. This is what I believe.
https://allafrica.com/stories/201811300800.html
--------
Africa: How 'foreign' Are Foreign Terrorist Fighters in Africa?
29 NOVEMBER 2018
In September 2018, five people acquitted of the July 2010 terror attacks in Kampala, Uganda, were re-arrested by the Ugandan Police. Omar Awadh Omar and four others were charged with possessing literature for the promotion of terrorism. These charges were later dropped by the Director of Public Prosecutions following deportation letters for three of the suspects to Kenya.
Omar contested the orders by the Ugandan authorities to deport him to Kenya on the grounds that although born to a Kenyan father, his nationality is Ugandan by right of birth, as his mother is Ugandan.
Omar, the four other suspects and the eight convicts of the July 2010 bombing in Kampala were trained al-Shabaab operatives and the group claimed responsibility for the attacks. This is one of several situations that raise the question of the applicability of the term 'foreign terrorist fighter'.
These cases may not be unique to Africa and there are indeed Africans who have travelled to other parts of the world to fight battles. However, within Africa itself there is a need to reflect on a range of issues when considering foreign terrorist fighters.
People affected by terror attacks sometimes find it difficult to seek asylum across state borders
The United Nations Security Council (UNSC) defines these fighters as 'individuals who travel to a State other than their States of residence or nationality for the purpose of the perpetration ... or participation in terrorist acts'.
In many African contexts where ethnic groups traverse state borders, the notion of 'foreignness' is difficult to define. Most borders on the continent have complicated histories and the African context presents particular challenges for understanding the concept of foreign terrorist fighters.
From the Lake Chad Basin to the Horn of Africa, states affected by terrorism have witnessed their citizens cross borders along battle lines. However, the borders they cross are valid reminders of common ethno-religious and traditional roots predating the colonial period.
In the Lake Chad Basin where the Boko Haram crisis has raged for close to a decade, the Kanuri ethnic group extends across borders that separate people in present-day Cameroon, Chad, Niger and Nigeria. This implies for example that many communities in the Lake Chad Basin area have stronger connections to communities just across the border in a neighbouring country than to communities in Yaounde, N'Djamena, Niamey or Abuja.
So while the existing state boundaries remain, effective policies on countering violent extremism or counter-terrorism need to take into account the local and historical contexts of issues. A similar situation can be observed in the Horn of Africa where communities in the coastal parts of Kenya and the Ogaden region of Ethiopia share ethnic ties with Somalia. This situation is also comparable to the ethnic groups affected by the terror dynamics in the Sahel.
Marriage binds the fighter to that community, rendering the 'foreign' distinction somewhat irrelevant
Also, the concept of foreign terrorist fighters in parts of Africa becomes amorphous when marriage occurs between those considered foreign terrorist fighters and local women. Marriage binds the fighter to that community, rendering the 'foreign' distinction somewhat irrelevant.
Algerian Mokhtar Belmokhtar of the Jama'at Nusrat al-Islam wal-Muslimin (Group for the Support of Islam and Muslims), who migrated to northern Mali, is said to have garnered local support and rooted himself in the community through marriages to various women of Tuareg and Berabiche origin.
In view of significant displacements and movements of people due to fighting, apart from the issue of fighters, the people affected by terror attacks sometimes find it difficult to seek asylum or join members of their families or ethnic group across state borders. Counter-terrorism policies that concern communities in this type of context would need to understand these nuances and be adapted to the local realities.
Given the complexity of the foreign terrorist fighter phenomenon in the African context, the one-size-fits-all application of the term in Africa should be avoided. Instead, the specific realities of the phenomenon in communities must be recognised. UNSC resolutions 2178 and 2396 stress the importance of taking effective measures that are comprehensive and in consultation with local communities. These resolutions provide the backing required by state and regional institutions to do what is necessary.
There is a need for further research into the uniqueness of the African context
In the case of former violent extremists, policy options should reflect a greater recognition of the communal connections in rehabilitation and reintegration programmes. As already witnessed, there are indeed former Boko Haram members from Chad engaged in Nigeria's rehabilitation initiative known as Operation Safe Corridor.
Full report at:
https://allafrica.com/stories/201811300440.html
--------
US strike kills 11 suspected Qaeda militants in Libya, says sources
30 November 2018
The US military said on Friday it killed 11 suspected al Qaeda militants in an air strike in Libya's southwestern desert.
US Africa Command (Africom) said Thursday's attack was its third since March on the militant group's North African branch- al Qaeda in the Islamic Maghreb (AQIM).
The strike near the town of Al Uwaynat, close to the Algerian border, destroyed three vehicles and "at this time, we assess no civilians were injured or killed," Africom added.
Extremists linked to al Qaeda and ISIS found a haven in Libya's vast southern desert as the country struggles to restore stability seven years after the uprising that toppled Muammar Gaddafi.
https://english.alarabiya.net/en/News/north-africa/2018/11/30/US-strike-kills-11-suspected-Qaeda-militants-in-Libya-says-sources.html
--------
Tunisia arrests 12 suspected Daesh members, dismantles cells: ministry
November 30, 2018
TUNIS: Authorities have arrested 12 suspected members of Daesh and seized bomb making materials since a suicide attack last month, the interior ministry said Friday.
Authorities have also "dismantled four takfiri (Sunni extremist) sleeper cells in several parts of Tunisia," the ministry said in a statement.
The announcement follows an attack by 30-year-old female suicide bomber Mna Guebla on October 29 that wounded 26 people on the capital's busy upmarket Avenue Habib Gourguiba, in the first militant attack in the capital since November 2015.
The attack went unclaimed but the Tunisian authorities said the suicide bomber had sworn allegiance to Daesh.
Police have arrested 12 people suspected of supporting Daesh, an interior ministry spokesman told AFP, without specifying where and when the arrests were made, nor the suspects' links to the perpetrator of October's attack in Tunis.
The suicide bomber had contact with Daesh officials "inside and outside the country, and liaised with them over the Internet," the ministry said in its statement.
The Daesh officials had taught the bomber how to make explosive devices, and she built the one used in the attack, the statement said.
A laboratory producing explosives and electronic components has also been uncovered in a Tunis suburb, the ministry said.
The four dismantled cells are suspected of having been in contact "with terrorist officials entrenched in the Tunisian mountains to organize a series of attacks... aimed at sensitive targets with weapons, a car, poison or remote explosives," the statement said.
Investigators confiscated "a very large quantity of explosive and chemical products, along with a drone equipped for remote bombings," the statement added, without specifying where the haul was found.
In a separate statement late on Thursday, the interior ministry said a police patrol had been targeted by an armed group in the middle of Kasserine, a marginalized city in western Tunisia.
A passerby was shot and wounded, the ministry said, adding that an investigation was underway to determine whether the attack was linked to extremist groups holed up in nearby mountains bordering Algeria.
Thousands of Tunisians have joined extremist groups fighting in Iraq, Syria and neighboring Libya.
In November 2015, a suicide bombing killed 12 security agents on a bus used by the presidential guard, in an attack claimed by Daesh.
Full report at:
http://www.arabnews.com/node/1413631/middle-east
--------
Boko Haram: Again, Nigerian Army issues warning over false report on attacks
November 30, 2018
By Maina Maina
The Nigerian Army has again cautioned against what it called deliberate and concerted efforts to mislead the public through inaccurate and false publication of casualty figures on the unfortunate attacks on some of its locations in the North East.
A statement from Sani Usman, Brigadier General, the Director Army Public Relations on Friday said the latest of this worrisome development was the attack on troops' location at Metele, Borno State.
He said some persons and media outlets had continued to circulate various wrong accounts and inaccurate casualty figures of troops without efforts to verify from the military.
He said, "This is coming at the heels of our release of 28th November 2018 in which we gave accurate details of the attacks and casualty figures in a bid to set the records straight and inform the public true account of things.
"We also promised to continuously carry the public along through accurate and timely information dissemination on operations and other activities of the Nigerian Army in the release.
"However, it was observed that the trend continued unabated. Most of these inaccurate, false reports and fake news were aimed at denigrating the leadership of the Nigerian Army.
"Regrettably, the rate at which some mischievous persons ignorantly attack the Armed Forces of Nigeria, especially the Nigerian Army is very alarming and unfortunate.
"This is deliberate attempt to demoralise the Nigerian Army which would have devastating consequences on troops' will to discharge their constitutional duties especially in the fight against terrorism and insurgency, thus affecting national security.
"We would like to warn all those mischief makers to keep the Nigerian Army out of their politics and mischief.
"Journalists and media platforms should be professional and accurate in their reportage.
"The achievements of the Nigerian Army within the last three years are glaringly obvious, therefore, whatever recent temporary setbacks we experienced in the course of the fight against terrorism and insurgency should not be the yardstick for condemning these laudable three and half years' accomplishments.
"We have however identified the few unpatriotic harbingers of the fake news on the attack at Metele and would take appropriate legal actions against them.
"This is to ensure that the Nigerian Army is insulated from propaganda and ulterior motives of destabilising the country.
"The Nigerian Army is quite aware that the perpetrators through these acts are covertly supporting terrorists and their activities in Nigeria with a long term objective. We are also aware that they want to use insecurity to scuttle and subvert the democratic process in the country.
"Consequently, we would like to state unequivocally that no amount of mischief or pressure would circumvent the journey to a peaceful, free and fair general elections in Nigeria."
"We, therefore, need the continued support, encouragement and understanding of well meaning Nigerians as we deal decisively with the remnants of the Boko Haram terrorists hibernating at the fringes of our borders with contiguous countries of Cameroon, Chad and Niger Republic.
"We are committed to the defence of the territorial integrity of Nigeria. We hasten to state that we will continue to be professional in our assigned roles and remain apolitical at all times.
Full report at:
http://dailypost.ng/2018/11/30/boko-haram-nigerian-army-issues-warning-false-report-attacks/
--------
Some Service Chiefs making money from war against Boko Haram – Ohanaeze
November 30, 2018
By Chijindu Emeruwa
The apex Igbo socio-cultural organization, Ohanaeze Ndigbo, has alleged that some Service chiefs in the country were making money from the war against Boko Haram insurgents.
The group expressed dismay that despite the huge funds being earmarked for the procurement of weapons to fight insurgency in the northeast,the government has failed to protect lives and property of its citizenry.
Ohanaeze, however, expressed shock over the massacre of Nigerian soldiers at Metele in Borno state.
The Deputy National Publicity Secretary of Igbo body, Mazi Chuks Ibegbu, made this known in an interview with newsmen on Friday, in Umuahia, the Abia state capital, calling on President Muhammadu Buhari to explain what has happened to the security funds and why the soldiers complain of lack of weapons and welfare.
He noted that," The Boko Haram war is now a money-making venture for some government officials and top army officers.
Full report at:
http://dailypost.ng/2018/11/30/service-chiefs-making-money-war-boko-haram-ohanaeze/
--------
Europe
Anti-Muslim white supremacist who amassed a bomb factory avoids terror charges
30th Nov 2018
Harun Nasrullah
A far-right extremist who turned his Bristol home into a bomb factory has not been charged with terrorism-related offences, despite waging a white supremacist anti-Muslim and anti-immigrant social media campaign.
Matthew Glynn, 37, had filled a tennis ball with explosives to be thrown like a grenade, a hand-held device covered in ball bearings and made a cylindrical bomb.
Despite following a number of far-right groups and posting a series of anti-Muslim posts on social media authorities discounted Glynn had a "terrorist motive".
The decision not to charge Glynn with terrorist offences will raise questions for police and prosecutors about whether white supremacist suspects are being treated differently from their Muslim counterparts.
The charges that Glynn pleaded guilty to at Bristol Crown Court on October 31 include making explosives at his home in Horfield from a period that began in 2016.
His bomb factory was considered so dangerous that his street in Horfield, Bristol, was evacuated for four days while it was dismantled.
From 2015 until last year Glynn shared Islamophobic, white nationalist and anti-immigrant Facebook posts. Among the groups he liked were Britain First, which has since been banned from Facebook, and the Oath Keepers, an American far-right organisation.
He also shared an article by Knights Templar International, which has been promoted by British far-right leaders including Nick Griffin, the former leader of the British National Party.
He liked anti-Muslim Facebook pages including World Against Islamism and Stop Islamification Wake Up World.
In August 2015 he shared a post that said, 'Snow – the only thing that settles here . . . and doesn't claim f***ing benefits'. He also shared posts which advocated banning school trips to mosques and that refugees were not welcome in Britain.
His final open post was made in February 2017 when he shared a cartoon image of a baby in a nappy carrying a sword, with the caption 'English born English bred 100% English and proud'. It was produced by a far-right website.
Avon and Somerset police would not comment on the case.
It is understood that police noted much of the far-right material was two years old and therefore not necessarily a reflection of Glynn's current views. It is understood that prosecutors felt a link between the views indicated on his social media accounts and his bomb-making activity could not be proven, meaning the threshold for more serious terror plot charges, such as possessing the explosives with intent to endanger life, was not reached.
The Terrorism Act 2000 defines terrorism as threats or action with the purpose of "advancing a political, religious, racial or ideological cause".
The Crown Prosecution Service (CPS) said there was "insufficient evidence" to charge him with a terrorism offence but refused to comment further.
A spokesperson for the CPS explained: "Glynn was charged with making an explosive device, possession of a regulated substance and possession of a prohibited weapon. There was insufficient evidence to charge any terrorism offences."
The terrorism threshold requires that a device was constructed for the "purpose of advancing a political, religious, racial or ideological cause".
A spokesman for the Muslim Council of Britain said: "There have long been concerns that when Muslims are involved, crimes are more likely to be deemed as a form of terrorism. Such concerns are only amplified when individuals with a history of Islamophobia and caught with explosives, are not charged with terrorism offences. Justice needs to be done and be seen to be done. We will be calling the next Independent Reviewer to look into parity of treatment and give confidence that everyone is treated fairly."
Assistant Judge Advocate General, Alan Large, remanded Glynn in custody pending a probation report which will shed more light on his offences. He is due to be sentenced on December 14.
http://muslimnews.co.uk/newspaper/top-stories/anti-muslim-far-right-white-extremist-bomb-factory-avoids-terrorism-charges/
--------
German mosques should forgo foreign funding, says German interior minister
30.11.2018
German Interior Minister Horst Seehofer has demanded that the country's mosques be more independent of foreign donors.
Mosque communities should "largely" organise and finance themselves and the training of preachers, Seehofer said at the start of the fourth German Islam Conference in Berlin on Wednesday.
"Of course, Muslims have the same rights and the same responsibilities as everyone here in Germany," Seehofer said. As to how the financing should specifically be assured, Seehofer did not say. Existing support programmes for integration projects within mosque communities would be expanded, he said.
Seehofer, a hardline conservative and acrimonious ally of Chancellor Angela Merkel, was criticised in March for rejecting Islam's role in Germany.
"Islam does not belong to Germany," he told the popular tabloid Bild at the time. "Germany has been forged by Christianity."
"The Muslims who live here are naturally part of Germany," he told the paper. "That does not of course mean that we therefore give up our country-specific traditions and customs out of false consideration."
Seehofer had made changes to this year's German Islam Conference, inviting liberal theologians, activists and scientists in addition to Islamic associations in Germany. Some of Seehofer's new invitees have harshly criticised the other associations in the past for their conservative understanding of Islam.
"The participation is more colourful this time. I think that's good," said Seyran Ates, the founder of the liberal Berlin Ibn Rushd Goethe Mosque.
The conference brings together German Muslims and representatives of federal, state and local governments. In recent years it has discussed issues such as religious education and Islamic pastoral care.
Seehofer and other politicians have criticised foreign influence in Germany's mosques and Islamic communities, mostly from Turkey.
The Turkish-Islamic Union for the Institution of Religion (DITIB), Germany's largest Islamic organisation, is under the control of the Directorate of Religious Affairs (Diyanet) in Ankara, which provides and pays for the imams at some 900 mosques in Germany. DITIB has shifted from being a useful point of contact for German politicians to being the object of harsh criticism for its closeness to autocratic Turkish President Recep Tayyip Erdogan.
The Central Council of Muslims in Germany called for more trust in mosque congregations ahead of the conference.
"I can only warn against considering the mosque community as a problem; On the contrary, it is part of the solution," central council Chairman Aiman Mazyek told Germany's Redaktionsnetzwerk group of publications on Wednesday.
At the same time, Mazyek acknowledged "considerable deficits" and errors in Muslim religious communities.
Health Minister Jens Spahn, who is campaigning to replace Merkel as leader of the Christian Democratic Union (CDU), has demanded binding rules for Muslims to integrate in German society.
"We have religious freedom and there should also be mosques in Germany," Spahn told Wednesday's Rheinische Post newspaper. "But integration only succeeds if these mosque communities see themselves as German mosque communities and not, for example, as Turkish."
Mosques should not be financed from abroad, he said. The imams have to be trained in Germany and also speak German.
The federal integration commissioner, Annette Widmann-Mauz, also demanded "emancipation" from foreign influences for German mosques.
Full report at:
https://en.qantara.de/content/german-mosques-should-forgo-foreign-funding-says-german-interior-minister
--------
UK Prime Minister Discusses Khashoggi Killing with Saudi Crown Prince
November 30, 2018
Saudi Arabia's Crown Prince Mohammed bin Salman held talks with British Prime Minister Theresa May on the sidelines of the G20 summit in Argentina.
The pair discussed the murder of the journalist Jamal Khashoggi at the Saudi consulate in Istanbul last month.
"The Prime Minister stressed the importance of ensuring that those responsible for the appalling murder of Jamal Khashoggi are held to account, and that Saudi Arabia takes action to build confidence that such a deplorable incident could not happen again," Mrs May's office said in a readout of her meeting with Prince Mohammed.
The prime minister had told reporters on the flight to Buenos Aires that she would speak to the crown prince about Mr Khashoggi's death and the situation in Yemen.
British officials said the meeting would cover a range of topics, including the upcoming peace talks on Yemen to be held in Sweden next week.
Mrs May's presence at the talks between world leaders is likely to be dominated by the issue of Brexit and the UK's future global trade as it prepares to leave the European Union in March 2019.
Britain exported more than £6 billion in goods and services to Saudi Arabia in 2017 including machinery, cars and aircraft.
It is also the second-largest major arms supplier to Saudi Arabia, behind the United States, according to the think tank the Stockholm International Peace Research Institute.
The UK imports from Saudi Arabia amounted to some £3 billion with crude oil making up about half of the total.
The crown prince also met briefly with US President Donald Trump on Friday.
A White House official confirmed the two exchanged pleasantries during a leaders' session.
Mr Trump later said there was "no discussion" but did not rule out holding longer talks with the crown prince during the two-day summit.
Prince Mohammed spoke with other world leaders on the sidelines including Chinese President Xi Jinping.
Saudi Arabia's press agency posted an image of the pair together but gave no details of what was discussed.
France's President Emmanuel Macron sought firm talks with the crown prince when they met on Friday, according to a French official.
Prince Mohammed was greeted warmly by Russian President Vladimir Putin.
Kremlin documents showed the pair were due to hold bilateral talks on Saturday.
Earlier on Friday, Prince Mohammed met Indian Prime Minister Narendra Modi and told him about plans to scale up investments in India's tech, farm and energy sectors, an Indian official and the Saudi news agency (SPA) said on Friday.
Full report at:
https://www.thenational.ae/world/mena/uk-prime-minister-discusses-kashoggi-killing-with-saudi-crown-prince-1.797692
--------
Bosnian court acquits Srebrenica's Muslim defender at retrial
NOVEMBER 30, 2018
SARAJEVO (Reuters) - An appeals chamber of Bosnia's war crimes court acquitted on Friday former Bosnian Muslim commander Naser Oric of human rights violations and the killings of three Serb prisoners of war in and around Srebrenica in the country's 1992-95 conflict.
Oric, regarded as a hero by Bosnian Muslims, led the defense of Srebrenica, a besieged town that eventually fell to Bosnian Serb forces in 1995 who then killed more than 8,000 Muslim men and boys in Europe's worst atrocity since World War Two.
The second instance verdict was delivered after the court in June revoked its previous ruling, clearing Oric and fellow soldier Sabahudin Muhic of guilt, and ordered a new trial after the prosecutor complained of criminal procedures violations.
The appeals chamber found discrepancies in the statements of a key protected witness and "could not find them credible and establish beyond a reasonable doubt the responsibility" of Oric and Muhic for the alleged crimes, said judge Tihomir Lukes.
The verdict is final and cannot be appealed.
Branislav Dukic, the head of an association of Bosnian Serb prisoners of war, said the ruling was shameful. "All Serbs should leave the state judiciary in response," he said.
The International Criminal Tribunal for the Former Yugoslavia (ICTY) acquitted Oric of war crimes against Serbs in 2008, but he was arrested again in June 2015 in Switzerland on a warrant from Serbia accusing him of killing three Bosnian Serb prisoners of war early in the conflict.
Full report at:
https://www.reuters.com/article/us-bosnia-warcrimes-verdict/bosnian-court-acquits-srebrenicas-muslim-defender-at-retrial-idUSKCN1NZ1OG
--------
German court rules in favour of Iranian bank
Nov 30, 2018
A court in Germany has ordered Deutsche Telekom, a partly state-owned telecom provider, to reactivate phone and internet service for the Hamburg branch of Bank Melli Iran.
The German telecoms company abruptly cut off phone and internet services for Bank Melli Iran and two other Iranian banks earlier this month for what it called doubts about their future solvency in the wake of the US sanctions on Iranian financial institutions.
In a preliminary injunction, the Hamburg district court ordered Deutsche Telekom to reactivate the services for Bank Melli, arguing that the justification was not sufficient for a termination without notice, especially as the bank has so far fulfilled its obligations and has sufficient resources, Der Spiegel reported Friday.
A court spokesman later confirmed the Spiegel report, telling the Deutsche Presse-Agentur (DPA) that the injunction had originally been issued on Tuesday.
Deutsche Telekom's move to discontinue its services for Bank Melli came after the bank even offered to pay the bills for one year in advance.
Both Der Spiegel and the DPA questioned the company's account, writing that the move to disconnect the banks was apparently based on concerns that its T-Mobile subsidiary could be penalized in the US for violating Washington's sanctions against Iran.
Helmut Gottlieb, the director of the Hamburg-based Bank Melli, said it's interesting that a state-owned company like Telekom is giving in to US President Donald Trump's pressures, especially when neither the German government nor the European Union has issued its own sanctions against Iran.
In addition to Bank Melli, around three dozen companies with roots in Iran are said to be affected by Telekom's move, including Bank Sepah in Frankfurt and the European-Iranian Trade Bank in Hamburg. Both of them, however, obtained injunctions against the termination of their telecom connections this week.
In an editorial published last Friday, German business newspaper Handelsblatt criticized the Deutsche Telekom's move as "cynical." It also accused the German government and central bank of "doing nothing" to ensure that Bank Melli can make legal payments to German institutions.
"Where is the help for German companies? Where is the defense of Germany's sovereignty?" the German publication asked.
The Trump administration launched the second wave of sanctions against Iran on November 5, targeting Iran's oil sales, its wider energy industry, shipping, banking, insurance and so on.
Meanwhile, the European Union is trying to create a mechanism to maintain banking channels with Iran in the face of US sanctions.
Full report at:
https://www.presstv.com/Detail/2018/11/30/581607/Germany-Iran-Bank-Melli-Hamburg-sanctions
--------
Iran says not to wait forever for Europe's special payment mechanism
Nov 30, 2018
Iran has warned that it cannot wait forever for the establishment of a payment mechanism the Europeans have promised to launch in order to maintain trade with Tehran.
"We've so far witnessed that the European countries have the political will [to maintain business relations with Iran], and have not seen any sign that proves otherwise," Deputy Foreign Minister Abbas Araqchi said on Friday.
Europe has promised to establish the Special Purpose Vehicle (SPV), a mechanism which is supposed to bypass US sanctions against Tehran.
Araqchi said, "The Europeans have so far failed to introduce operational solutions required for securing Iran's benefits under the deal, and we are not going to wait forever. We'll take appropriate decisions in due time."
"We are currently aware of the efforts being made [by Europe], and they regularly brief us on these efforts; therefore, we believe we should give them more time so that Europeans would be able to operationalize these solutions," Araqchi said.
"We see that the US is exerting enormous pressures, and there are very serious technical and legal barriers to the establishment of the mechanism, which Europeans are trying to remove," he told Iran's official news agency IRNA during his visit to Algeria. "But they should know the time is certainly not unlimited," he added.
He also pointed to a report by the Wall Street Journal that Germany and France are going to host the SPV to keep trade with Iran in defiance of US sanctions, and said he cannot confirm it because of the "sensitivity of the issue".
"The Americans are seeking to block all the paths, and have already started exerting pressure on the countries that try to establish the payment mechanism," Araqchi said.
Luxembourg and Austria, under the US pressure, refused to host the SPV, with Luxembourg officials being warned that hosting the mechanism could damage the country's place as a major financial center hosting many international investment funds, European diplomats said.
The Wall Street Journal reported on Monday that the European governments participating in the payment channel will directly manage the clearing house in order to prevent the US from putting direct sanctions on it.
According to the diplomats, British officials are also mulling over joining France and Germany in order to rescue the European attempt to circumvent the US sanctions and salvage the Iran nuclear deal following the US' withdrawal in May.
The report said if France plays host to the SPV, Germany will take the helm, and vice versa.
According to the report, the mechanism is not finalized yet and finishing touches will be discussed on the sidelines of the 2018 G20 Buenos Aires summit, scheduled to begin on November 30.
Europe has been taking a range of measures to meet the Iranian demand for practical guarantees.
Iran and the European side have been discussing ways to conduct non-dollar trade in order to offset the US sanctions.
Full report at:
https://www.presstv.com/Detail/2018/11/30/581560/Araqchi-Europe-SPV-Iran-sanctions-JCPOA
--------
North America
President Trump, Saudi Crown Prince exchange greetings at G20
30 November 2018
US President Donald Trump and Saudi Crown Prince Mohammed bin Salman greeted each other during the line up for the group photo prior to the start of the G20 leaders' session which convened on Friday at Costa Salguero in the Argentinian capital, Buenos Aires.
Prior to the group photo gathering, Saudi Crown Prince chatted with President Trump and his daughter Ivanka, ahead of the start of the two-day meeting of the world's top economies, according to AFP.
A white house source commented on the exchange of greetings between the two leaders as saying: "as he (Trump) did with nearly every leader in attendance."
The source added that the US President hadn't yet any lengthy discussions with the Saudi Crown Prince, but that he might, without elaborating more.
World leaders welcomed Saudi Crown Prince Mohammed bin Salman on Friday.
https://english.alarabiya.net/en/News/gulf/2018/11/30/President-Trump-Saudi-Crown-Prince-exchange-greetings-at-G20.html
--------
US official: Military action on the table against Iran
Nov 30, 2018
The Trump administration says military action against Iran could be possible should US sanctions against the country fail to curb Tehran from threatening Washington's interests.
The threat by Brian Hook, the US State Department's director of policy planning and head of Iran Action Group, on Thursday came a day after Tehran asserted that it did not seek a war with any other nation.
"We have been very clear with the Iranian regime that we will not hesitate to use military force when our interests are threatened," Hook said.
"I think right now, while we have the military option on the table, our preference is to use all of the tools that are at our disposal diplomatically," he said.
He was speaking at a press conference at Joint Base Anacostia-Bolling in Washington, DC in response to a question on possible next steps the US could take against Iran in its maximum pressure campaign against the Islamic Republic.
Hook spoke at an event held to display pieces of what he claimed were Iranian weapons and military equipment handed over to the US by Saudi Arabia.
Outgoing US Ambassador to the United Nations Nikki Haley held a similar event in the same location last November, displaying what she alleged scraps of a missile given by Iran to Yemen's Houthis.
The show drew ridicule from many observers who questioned the authenticity of the claims made by a diplomat with no knowledge of military matters.
Foreign Minister Mohammad Javad Zarif said on Twitter then that Iran would not print the "Iranian Standard Institute logo" on its missiles as was the case concerning the "evidence" displayed by the US.
"Try fabricating 'evidence' again," he said, pointing out that a destroyed missile would not "land fully assembled."
On Thursday, US media questioned the timing of the event, saying it was an attempt to shift the narrative away from Saudi Arabia, which has come under intense scrutiny over the killing of journalist Jamal Khashoggi.
It came as the Senate on Wednesday advanced a resolution that would end US military support for the Saudi military campaign in Yemen in a sharp rebuke to President Donald Trump.
Hook tried to dispel those questions, saying there "isn't anything tied to what's happening in Saudi Arabia."
He also sought to press back on criticisms that the display was a political stunt by the Trump administration that could increase tensions in the region.
"This is simply putting out in broad daylight Iran's missiles and small arms and rockets and UAVs and drones," he said.
On Wednesday, Leader of the Islamic Revolution Ayatollah Seyyed Ali Khamenei stressed that the Iranian Armed Forces have to develop their capabilities to deter any potential aggressor. The Leader, however, said the Islamic Republic is not after a war with any country.
Full report at:
https://www.presstv.com/Detail/2018/11/30/581566/United-States-Iran-war-Brian-Hook-Leader-Ayatollah-Khamenei
--------
Anti-Muslim hate crimes surge in Canada: Report
Nov 30, 2018
Hate crimes targeting Muslims have increased by over 200 percent in Canada's most populous province of Ontario in the past year, according to the country's national statistics agency Statistics Canada.
The data, which has raised concern among Muslim and other advocacy groups, was released on Thursday by Statistics Canada.
Quebec also saw a similar surge, with nearly three times more anti-Muslim hate crimes reported in 2017 compared to the previous year.
The report counted 2,073 overall police-reported hate-crimes in 2017 across the country, an all time high surpassing the previous year by 664 more incidents.
The data revealed that Muslims had been targeted in 349 incidents and had experienced the highest increase of hate-related crimes compared to any other minority.
Crimes specifically targeting Muslims increased nationally by 151 percent, while Jewish and black minorities respectively witnessed a 60 and 50 percent increase in hate crimes.
"The data, while very unsettling for our communities, unfortunately does not surprise us; 2017 was an immensely difficult year for the Canadian Muslim community," said executive director of the National Council of Canadian Muslims (NCCM) Ihsaan Gardee.
Last year began with a tragic January shooting targeting a Mosque in Quebec City, Quebec, killing six worshipers and wounding many more.
"This new data reveals Islamophobic hate crimes peaked in February 2017, signaling that the shooting very much set the tone for the increase in hate crimes against Muslims for the remainder of the year," said Gardee.
The Muslim director further explained that "approximately two-thirds of hate crimes are never even reported to police for a variety of reasons including fear of retaliation, shame, and fear of not being believed by police."
The worrying reports come amid increased domestic debate about Canada's relatively open immigration policies.
Political debate related to minority communities, specifically Muslims, has also consequently surged in the country.
In an important development last week, more than a hundred community groups called on Canadian Prime Minister Justin Trudeau to launch an initiative for uniting the country against hate crime.
Quebec's newly elected Premier Francois Legault seeks to impose a controversial ban preventing public servants who are "in position of authority" from wearing religious symbols such as the hijab.
The controversial law, which was denounced by numerous rights organizations, has sparked public protests in the past two months.
Full report at:
https://www.presstv.com/Detail/2018/11/30/581559/AntiMuslim-hate-crimes-surge-in-Canada
--------
US airstrike in Helmand killed 23 civilians, UN says
Nov 30, 2018
At least 23 civilians, most of them women and children, have been killed in a US airstrike in Afghanistan's southern province of Helmand, the UN says.
The United Nations Assistance Mission in Afghanistan (UNAMA) pointed to a sharp increase in civilian casualties from the air operations in a Friday statement, emphasizing that it was particularly concerned about the high number of children impacted by the bombardment.
"Initial findings indicate that the vast majority of the victims were women and children," said the statement following its probe of the attack on suspected Taliban targets.
"The Mission is actively working to verify information indicating up to 10 children were killed along with eight women, and three children were injured, including an eight-year-old boy," added the UNAMA statement.
Local residents insist that at least 30 people were killed as the result of the air strike, which was carried out amid a surge in US-led air operations as the US military claims to have adopted a more aggressive approach in its bid to force Taliban militants to "peace" talks.
This is while the US military claims that it is also conducting its own investigation of the airstrike on Tuesday in which a helicopter hit a compound during a joint operation with American and Afghan forces in Garmsir district of the province.
Elsewhere in Helmand, explosive ordnance struck residential units during clashes between the Taliban militants and Afghan security forces days ago, killing two civilians and injuring at least 14 others, including 10 children. According to the UN, those clashes occurred in the Nad-e-Ali district.
The clashes broke out after the Taliban militants reportedly entrenched in the vicinity of civilian homes launched an attack on an Afghan National Army convoy.
Pointing to the two incidents, UNAMA expressed major concern regarding the number of children that were disproportionately affected, comprising 55 percent of the civilian casualties.
UNAMA further underlined that aerial attacks in Afghanistan in the first nine months of this year have caused nearly 650 civilian casualties, including 313 deaths. The figure includes the highest number of civilian casualties from aerial operations documented by the organization since 2009.
According to UNAMA, the persisting war in Afghanistan caused more than 8,000 civilian casualties -- including 2,738 deaths between January 1 and September 30 in the current year alone.
In the first nine months of the year, it maintains, US aircraft released 5,213 weapons, more than in any other year since 2011, when there were more than 100,000 American military forces in Afghanistan.
The United States appointed Zalmay Khalilzad, its former ambassador to Iraq and Afghanistan, in September to lead the reconciliation efforts with the Taliban.
Full report at:
https://www.presstv.com/Detail/2018/11/30/581565/Afghanistan-UNAMA-US-air-strikes-civilian-casualties-women-and-children-Helmand-province
--------
URL: https://www.newageislam.com/islamic-world-news/pakistani-pm-denigrates-jesus-wants/d/117037
New Age Islam, Islam Online, Islamic Website, African Muslim News, Arab World News, South Asia News, Indian Muslim News, World Muslim News, Women in Islam, Islamic Feminism, Arab Women, Women In Arab, Islamophobia in America, Muslim Women in West, Islam Women and Feminism