Pakistani Flag Hoisting was a Hindutva Plot to Foment Strife, Police Say
PRADEEPKUMAR KADKOL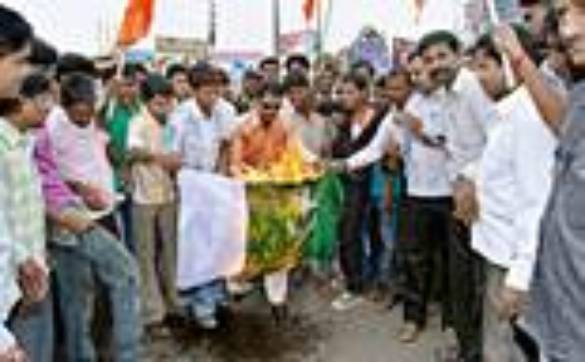 Pakistani flag hoisting was a Hindutva plot to foment strife, police:The Hindu
-----------
With the arrest of another Hindutva activist on Tuesday in connection with the hoisting of a Pakistani flag in front of the Tahsildar office at Sindagi in Karnataka on January 1, the number of persons held by the police for what they believe was a plot to foment communal strife has increased to seven.
The arrested are members of Sri Ram Sene, a pro-Hindutva outfit. According to the police, they allegedly hoisted the Pakistani flag and then blamed it on the town's Muslim community. The accused were shifted to the Bellary district prison on Sunday morning as other inmates of the Bijapur district jail allegedly attacked them for being involved in "anti-national activities."
Rakesh Math, the prime accused, was seriously injured in the fracas, and the remaining sustained minor injuries.
Meanwhile, members of the district unit of Sri Ram Sene have said the accused do not belong to their outfit but are members of the Rashtriya Swayamsevak Sangh (RSS).
At a press conference here, they released several pictures to prove their point, alleging that the police had been pressured not to drag the name of the RSS into the issue.
Well-placed police sources, however, told The Hindu that the entire incident was carried out at the behest of an elected representative of the BJP, whose political agenda was to foment communal disturbances in the district. The sources added that the elected representative had instructed his supporters to destroy all evidence of his involvement, including photographs of the protesters and the banners of the organisation.
The Pakistani flag was hoisted in the early hours of January 1. Later in the morning, the accused, led by Rakesh Math, organised a protest in front of the Tahsildar's office, alleging that the Muslim community was behind the incident. The protesters blocked the road and hurled stones at buses before the police enforced order.
The police then formed a special team to investigate the matter.
It concluded that the Sri Ram Sene activists who organised the protests were behind the incident. They arrested the six ringleaders on January 3 under various sections of the Indian Penal Code for sedition and inciting communal disturbance.
As a precautionary measure, the district administration has banned rallies, protests and dharnas in connection with the issue.
Keywords: Pakistan flag hoisting incident, Hindutva activist arrest, Sindagi Tahsildar office, Sri Ram Sene
http://www.thehindu.com/news/national/article2790960.ece
--------
Norwegian Schools Preach the Wonders of Niqab
The Council on American Islamic Relations (CAIR) has announced that the Department of Defense will now allow Muslim and Sikh students participating in Junior Reserve Officers' Training Corps (JROTC) to wear headscarves and turbans while in uniform.
When I read this, the first thing I thought was: What?! And the second was: Since when does CAIR make announcements on behalf of the Department of Defense?
The background was as follows: a Muslim girl in Tennessee was told by her JROTC commanding officer that she could not wear her headscarf, or hijab, in a homecoming parade. She contacted CAIR, which in turn contacted Secretary of Defense Leon Panetta, asking for a change in policy. And instead of informing CAIR that the Department of Defense does not take its marching orders from fronts for terrorist organizations, Deputy Assistant Secretary of the Army Larry Stubblefield fell right into line, writing a letter to CAIR assuring that henceforth JROTC policy would be different.
France and the Netherlands have banned the niqab, the face-covering veil, in public; the hijab is also prohibited in certain venues (such as classrooms and government offices) in a few European jurisdictions. But in most of the Western world, there are no laws against any Muslim garments. In many Western cities, there has been a visible increase in the number of women wearing these things in public. And there has also been an increase in the number of Muslims who demand their right to wear them in institutions ranging from the armed forces and police to schools and universities.
Case in point: a twenty-year-old woman named Aisha Shezadi Kausar. Kausar wears niqab. Last year her name appeared on an essay, "You, Me, and Niqab," which was included in Utilslørt (Uncovered), a collection of essays by and about Muslim women. On December 20, she was featured in a news report on Norwegian public television (NRK) about a nationwide project aimed at Norwegian children and teenagers. Kausar, NRK reported, is making personal appearances at various schools around Norway, where she presents her use of the niqab as a feminist choice. In the report, she was seen in front of an auditorium full of students, first praying, then talking about Allah, and then making her case. She's engaged in a "struggle for freedom" and "fighting against xenophobia." The only reasons for opposition to niqab are "prejudice" and "fear of foreigners." At the end of her talk the students gave her a big round of applause, and the kids interviewed by NRK said all the "right" things about diversity and tolerance. Plainly they had not learned anything about Islam, the place of women in Islam, or what niqab actually represents. Their teachers had taken them away from their studies to be propagandized.
Who's sponsoring this promotional campaign for symbols of female submission and subordination? The Muslim Students' Association? The Norwegian Islamic Council? No: the Norwegian Non-Fiction Writers and Translators Organisation (NFF) and a group called Foreningen !les (the exclamation point and the small "l" are part of the name) whose official goal is to promote reading and literature. The premise of this sponsorship is that Kausar (the author, as far as I can determine, of exactly one essay) is an author and that they are sending her around to talk about her work.
In other words, Norwegian schools are setting aside time to allow their students to be fed pretty lies about Islam and niqab – and the country's major organization for writers and translators is helping to foot the bill.
(If I were still an NFF member, I'd quit in protest. Alas, I already quit in protest years ago over something else.)
Who is Aisha Shezadi Kausar? Pretty much the only things I could find about her online were articles about hijab and niqab. The author of a May 2009 article on Nettavis, entitled "A hijab – is it really worth making so much of a fuss about?", interviewed Kausar, then nineteen years old. At the time, according to the article, Kausar was not a wearer of hijab. Nettavis, which is a news website for young people, quoted Kausar:
"It speaks for itself that it's wrong that my belief should put a stop to my career choice. After all, we have religious freedom in this country," she says with a certain bitterness in her voice.
A little over a year later, in August 2010, the newspaper VG ran an interview with Kausar. Though in the May 2009 article she had been represented as a Muslim girl who chose not to wear hijab, in the August 2010 VG interview she was described as a wearer of Hijab and was quoted as saying she had begun wearing it three years earlier. She said that her motivation for doing so was, in large part, "[t]o show the Islamophobes that Muslim girls can choose." She insisted, moreover, that nobody had pressured her to wear Hijab. On the contrary, she called herself a "feminist in a religious head covering" and said that she "identifies with the tough Muslim ladies who have fought for women in hijab to be accepted."
And now, just over a year later, here she is wearing and promoting the Niqab. And she's still presenting herself as a feminist, a believer in freedom and diversity, and as somebody who, aside from her faith and her fashion choices, is not really all that different from the young people whom she addresses in Norwegian schools.
In addition to the Nettavis and VG articles, I did find Kausar's Facebook and Twitter pages. Judge for yourself. On her Facebook page, under "People who inspire Aisha," there's precisely one name – the Prophet Muhammed. Her favorite books? The Koran, Hadith, and Sunnah. Under "Favorite Movies" there's a single entry, "Bollywood is Haram," which is not the title of a movie but a statement, meaning of course that Bollywood films are against Islamic law. If you click on "Bollywood is Haram" on Kausar's Facebook page, it'll take you to another Facebook page entitled "Bollywood is Haram," at which you can read this explanation of the page by whoever set it up: "Bollywood is Haram, people. We have to work against this beast that is spreading itself through our homes. The filthy half-naked hags who dance on the TVs in our living rooms must be removed forever!"
http://frontpagemag.com/2012/01/10/norwegian-schools-preach-the-wonders-of-niqab/
--------
Egyptian businessman to be tried for blasphemy
Poking fun at Islam is no Mickey Mouse affair. Egyptian businessman and Free Egyptians Party founder Naguib Sawiris has learnt this the hard way: after tweeting a picture of Mickey & Minnie dressed in conservative Islamic garb, his court appearance on blasphemy charges is set for 14 January. By THERESA MALLINSON.
Naguib Sawiris is a well-known Egyptian telecommunications mogul and, since last year, politician. A Coptic Christian, he has been vocal against the rise of conservative Islam and queries have been raised about his company benefiting from privatisation sell-offs under the Mubarak regime. One thing he's famous for is speaking his mind, as The Washington Post noted, recently Sawaris claimed: "Egyptian pharaonic genes had deteriorated over the years and that's why Egyptians were lazy, unproductive people."
This time he's in trouble for a tweet he posted back in June 2011. It was a picture of Mickey & Minnie Mouse, with Mickey wearing a dish-dash and sporting a beard and Minnie's face covered by a burqa, leaving only her eyes peeping out. Sawiris subsequently tweeted an apology. "I apologise for any who don't take this as a joke, I just thought it was a funny picture no disrespect meant!" Despite this a group of Islamist lawyers laid a complaint.
On Monday the prosecution office of central Cairo referred the case to the Bulaq misdemeanour court, where it will be heard on Saturday. Sawiris is to be charged with contempt of religion.
"It was a joke, the reaction was surprising and strong, and he apologised and took it down, which showed good intentions," The Washington Post quoted human-rights lawyer Gamal Eid as saying. "The same prosecutors that are moving so quickly on this case have had other cases on their plate for months, but they've been dealing with them really slowly."
On Tuesday a second complaint was laid against Sawiris with the Illicit Gains Authority, over his business dealings with the Mubarak regime. This complaint, which wasn't laid by the same group of lawyers, is still to be investigated, but it certainly makes the timing of the prosecutor's decision on the Mickey Mouse case suspicious. Evidence may or may not come to light that supports the allegations levelled against Sawiris for dodgy business practices. But the second case against him has – or should have – absolutely nothing to do with the first.
Unfortunately, it seems the lawyers who levelled the blasphemy charge against Sawiris fall into the stereotype at which South African cartoonist Zapiro poked fun last year, when he depicted the Prophet Muhammed on a psychologist's couch, moaning: "Other prophets have followers with a sense of humour". We hope the judge presiding over Sawaris's case sees his joke for what it is, but the reality is, stuck between the military and Islamists, the right to freedom of expression in Egypt is in a precarious position at the moment. DM
http://dailymaverick.co.za/article/2012-01-10-egyptian-businessman-to-be-tried-for-blasphemy
--------
US drone attack kills four persons in Pakistan's North Waziristan
Jan 11, 2012
ISLAMABAD: Four persons were killed when a US drone targeted a house in the restive North Waziristan tribal region of northwest Pakistan today, the first such attack since November last year.
The drone fired two missiles at the house in Miranshah, the main town of North Waziristan Agency, Geo News channel reported.
The identity of the four persons killed in the attack could not immediately be ascertained. The house caught fire after the missiles slammed into it, local residents were quoted as saying by the channel.
This was the first US drone strike in Pakistan's tribal belt since November 17 last year.
The US had reportedly suspended its controversial drone campaign after a cross-border NATO air strike killed 24 Pakistani soldiers on November 26.
Pakistan had angrily responded to the air strike by shutting all NATO supply routes and forcing the US to vacate Shamsi airbase, reportedly used by CIA-operated drones.
http://timesofindia.indiatimes.com/world/pakistan/US-drone-attack-kills-four-persons-in-Pakistans-North-Waziristan/articleshow/11443215.cms
--------
5 dead, 10,000 displaced after clashes in Nigeria city
Jan 10, 2012
BENIN CITY: Clashes that broke out after Muslims were violently targeted in the southern Nigerian city of Benin have left five people dead and more than 10,000 displaced, a Red Cross official said Tuesday.
"We have recorded so far five deaths -- on both sides, those that have been attacked and the attackers," said Dan Enowoghomwenwa, secretary general of the Nigerian Red Cross in Edo state, said.
"We have over 10,000 internally displaced persons in various places."
http://timesofindia.indiatimes.com/world/rest-of-world/5-dead-10000-displaced-after-clashes-in-Nigeria-city/articleshow/11438948.cms
--------
Libyan Muslim scholars form first Islamist party
January 9, 2012
A group of Libyan Muslim scholars have formed the nation's first legal Islamist party with a view to rebuilding Libya based on Islamic sharia law, a statement from the new political entity said Monday.
The Party of Reform and Development (PRD) was formed on Saturday in the eastern city of Benghazi and is chaired by former Muslim Brotherhood member Khaled al-Wershefani.
Members of Muslim Brotherhood attended the party's inauguration, but the statement said it "did not depend on any particular party", referring to the Brotherhood.
The PRD is an "Islamist party committed to the principles of Islamic sharia" and aims to work for establishing a state based on institutions, the statement said.
Full Report At:
Lebanon: http://www.nowlebanon.com/Sub.aspx?ID=125478
http://www.nowlebanon.com/NewsArticleDetails.aspx?ID=350652
--------
Former U.S. Soldier Charged with Trying to Aid Somali Militants
A former U.S. soldier has been charged with trying to join the Somali Islamist militant group al Shabab.
The U.S. Department of Justice said in a statement Monday Craig Baxam secretly converted to Islam shortly before leaving the army in July of last year. The statement says the 24-year-old flew to Kenya and paid for transportation to Somalia, where they say he intended to join al Shabab and "live under (Islamic) Sharia law."
He was arrested by Kenyan police near Mombasa, before crossing the border.
Baxam, who trained in cryptology and intelligence in the U.S. army and served in Iraq and Korea, could face up to 15 years in prison if found guilty.
Al-Shabab is trying to overthrow the United Nations-backed government and set up a strict Islamic state.
http://blogs.voanews.com/breaking-news/2012/01/09/former-u-s-soldier-charged-with-trying-to-aid-somali-militants/
-----------
Al-Azhar reform draft law stirs controversy
The draft bill proposed by leaders of Al-Azhar to reform the oldest Sunni Muslim institution has sparked controversy among some young preachers, who dismiss it as a move by the old guard to tighten their grip on power.
The proposed legislation caused a stir after the local press unveiled details of the draft discussed in a recent meeting between the grand imam of Al-Azhar and members of the Islamic Research Academy, the Al-Azhar body in charge of handing down fatwas.
The proposal seeks to re-instate the Senior Scholars Authority and entrust it once again with electing the Grand Imam of Al-Azhar. In 1961, President Gamal Abdel Nasser abrogated this body and replaced it with the state-controlled Islamic Research Academy as part of his policies aimed at bringing religious establishment under his control.
Full Report At:
http://www.google.com/hostednews/ap/article/ALeqM5heBmYJVyq0PtYrrGJxGyF1RmxzDw?docId=ad52e1b798184395a348bd437730b2c0
--------
'They don't represent the spirit of Islam': Head of Tunisia's moderate Islamic party condemns anti-Semitic slurs chanted at Hamas official
Ultra conservative Muslims chanted 'kill the Jews' at Hamas PM Ismail Haniyeh
Head of Tunisia's moderate Islamic party says those chanting are 'marginal group'
By CHRIS PARSONS
The head of Tunisia's moderate Islamic party today condemned anti-Semitic slogans which were chanted at a top Hamas official by ultraconservative Muslims.
Online videos last week showed members of a crowd greeting Hamas Prime Minister Ismail Haniyeh at an airport on Thursday chanting 'kill the Jews' and 'crush the Jews.'
But today Rachid Ghannouchi said the Salafist ultraconservative Muslims behind the chanting 'do not represent Islam's spirit or teachings' before denouncing the hardline Muslims as a 'marginal group'.
Hamas PM was greeted on his arrival in Tunisia last week with chanting 'kill the Jews' and 'crush the Jews.'
Rachid Ghannouchi also reiterated the policy of his party, which heads the country's new government, that Tunisia's Jews are 'full citizens with equal rights and duties.'
The chants came from Salafists, ultraconservative Muslims that have been making their presence felt in Tunisia recently.
Full Report At:
Read more: http://www.dailymail.co.uk/news/article-2084313/Head-Tunisias-moderate-Islamic-party-condemns-anti-Semitic-slurs-chanted-Hamas-official.html#ixzz1j86Z1PCY
--------
Goldman's bold dip into Islamic bond market
UNA GALANI AND MARGARET DOYLE
http://www.theglobeandmail.com/globe-investor/investment-ideas/breaking-views/goldmans-bold-dip-into-islamic-bond-market/article2296431/
--------
Christmas in Cairo: Is There a Place for Non-Muslims and Liberals in the New Egypt?
This time last year Egypt was reeling from the shock of a huge explosion. Less than four weeks before the first protesters headed to Tahrir Square, a bomb went off on New Year's Eve in front of a church in the second-largest city of Alexandria killing more than 20 worshipers as they attended midnight mass. To date nobody has been prosecuted.
Full Report At:
http://www.huffingtonpost.com/carina-kamel/christians-egypt_b_1190960.html?ref=world
--------
Malakand Sharia Courts, big achievement: Pak Law Minister
Islamabad—Provincial Law Minister of KPK Arshad Ahmad said that the Khyber Pakhtunkhwa government had fulfilled all its promises including the establishment of the Sharia Courts as desired by the people of Malakand Division. Talking to VOA, he said that at least hundred judges have been appointed and seventy thousand cases have been decided so far since the establishment of the Sharia courts in Malakand Division last year.
Full Report At:
http://pakobserver.net/detailnews.asp?id=134791
--------
Celebrated for Pluralism, but Marred by Rights Abuses
2011 was not a good year for human rights in Indonesia. Starting with the persecution faced by the Ahmadiyah sect and continuing with the closure of the GKI Yasmin church in Bogor, the ongoing Papuan crisis and, at the end of the year, news of the Mesuji massacre, the year seemed perfectly designed to give way to a 2012 in which a child was charged for stealing a pair of a policeman's sandals.
The wave of human right violations has caused no little public insecurity. Most of the cases have in common the fact that the victims are mostly from defenseless minorities.
The ignorant crimes of religious violence have been worsened by the fact that the Religious Affairs Ministry has been traditionally slanted to favor Muslims. The Religious Affairs Minister openly stated his preference for disbanding Ahmadiyah in August 2010. While the statement was made two years ago, it is a reminder that Indonesian public officials are capable of making irresponsible comments that are not subject to consequences of any sort.
Full Report At:
http://www.thejakartaglobe.com/opinion/celebrated-for-pluralism-but-marred-by-rights-abuses/490124
--------
Free Qur'an Dispels US Stereotypes
CAIRO - Offering an answer to skeptical Americans, a leading Islamic group has launched a new initiative to clear long-held misconceptions about Islam by handing out free copies of the holy Qur'an and Islamic pamphlets in front of public libraries.
Full Report At:
http://onislam.net/english/news/americas/455297-icna-free-quran-copies-dispel-stereotypes.html
--------
Human Rights Watch slammed over anti-Israeli and pro-Gaddafi reports
JANUARY 9, 2012
SAIF AL-ISLAM GADDAFI WAS PORTRAYED AS A REFORMIST BY HRW'S MENA DIRECTOR
The NGO Monitor released an analysis of the Human Rights Watch (HRW) work in 2011, revealing some rather alarming statistics and producing some serious accusations. Monitor focussed on HRW's reporting on Middle East and North Africa (MENA), with a special emphasis on the Arab-Israeli conflict and the role of the HRW in Libya.
HRW Allegedly erased references in its reports to its previous cooperation with the Gaddafi regime, including organisation's MENA Director Sarah Leah Whitson's role in marketing Saif al-Islam Gaddafi as a reformer. Monitor further accused the HRW for media exhibitionism and tendency to ignore even the most brutal regimes.
NGO Monitor pointed out the disproportionate attention that HRW devotes to 'Israel and the Occupied Territories'; statistically, this region attracted more attention in 2011 than Tunisia, Saudi Arabia, or Iraq. It was for the first time since 1995 that HRW did not publish a major report on Israel and that it published an almost equal number of documents criticising Israel and the Palestinians, but with a continuing bias on Israel.
http://www.neurope.eu/article/human-rights-watch-slammed-over-anti-israeli-and-pro-gaddafi-reports
--------
Terror in Tampa- CAIR Denial
MONDAY, 09 JANUARY 2012
The Investigative Project on Terrorism
"We all have to die, so why not die the Islamic way?" Sami Osmakac, a 25-year-old immigrant who plotted a suicide terror attack in Tampa,told a confidential informant. When the informer tried once more to dissuade him from his plans, by asking whether he wanted to get married and have children, Osmakac replied that he would build his family in Paradise.
Osmakac was arrested Saturday night, after receiving nonfunctioning guns and explosives from the FBI and making a martyrdom video. Although he initially planned to blow up a car bomb outside of Tampa's nightlife district of Ybor City, he altered his plan to avoid being cut short by police patrols around the busy club scene. He currently faces one charge of attempted use of a weapon of mass destruction, with the potential of life imprisonment and a $250,000 fine.
Full Report At:
http://www.rightsidenews.com/2012011015348/us/islam-in-america/terror-in-tampa-cair-denial.html
--------
Michael Den Tandt: A serious approach to religious freedom should begin at home
BY MICHAEL DEN
JANUARY 9, 2012
As they get set to roll out Canada's new Office of Religious Freedom, Conservatives face suspicion from opposition benches, as well as from left-leaning human-rights organizations such as Amnesty International, that this is a clumsily-disguised attempt to curry favour with Christian evangelicals.
Full Report At:
Read more: http://www.montrealgazette.com/news/canada-in-afghanistan/Michael+Tandt+serious+approach+religious+freedom+should+begin+home/5964328/story.html#ixzz1j8AY95R0
http://www.montrealgazette.com/opinion/Michael+Tandt+serious+approach+religious+freedom+should+begin+home/5964328/story.html
--------
Anti-Islam Sites Under German Surveillance
CAIRO - Worried that their anti-Muslim rhetoric undermines their society, German authorities are planning to place right-wing website under closer surveillance, throwing a spotlight on their role in fermenting hatred of Muslims in Europe
"Blogs and websites such as Politically Incorrect or Nürnberg 2.0 clearly promote a racism that extends deep into society," Ulla Jelpke, a member of parliament for the opposition Left Party, told The National newspaper on Monday, January 9.
"They call into question the dignity and the rights of a whole group of people solely because of their origin or their faith.
Full Report At:
http://www.onislam.net/english/news/europe/455314-german-anti-islam-sites-under-surveillance.html
--------
Florida Family Association's David Caton protests Muslim speaker's visits to Hillsborough school
By Marlene Sokol
Tuesday, January 10, 2012
TAMPA — A history teacher who sought to broaden her students' horizons got more than she bargained for when she invited a Muslim leader to Steinbrenner High School.
Kelly Miliziano now finds herself in the crosshairs of David Caton's Florida Family Association.
Caton, a well-known conservative leader, is calling on the Hillsborough County School Board to end visits by Hassan Shibly of the Council on American-Islamic Relations, or allow time for speakers who could counter Shibly's message.
Full Report At:
http://www.tampabay.com/news/education/k12/florida-family-associations-david-caton-protests-muslim-speakers-visits-to/1209894
--------
Islamic Reform Movement Again Targets Indonesian Church
Radical groups added pressure on the congregation of GKI Yasmin church in Bogor as they shouted and chased its members during a Sunday service near the contested religious building.
Members of the Islamic Reform Movement (Garis) shouted at church-goers who were approaching their facility, prompting police officers to come and control the mob.
"We are not afraid of the officers. If the Yasmin congregation is not dismissed, we will deploy a bigger group," said Garis coordinator Majudien.
Full Report At:
http://www.thejakartaglobe.com/news/islamic-reform-movement-again-targets-indonesian-church/489936
--------
US rights group rapped over sodomy call
KUALA LUMPUR: Legal experts, an eminent historian and a parlimentarian have criticised the United States-based Human Rights Watch for asking Malaysia to drop charges against opposition leader Datuk Seri Anwar Ibrahim and to repeal laws on homosexuality.
Full Report At:
Read more: US rights group rapped over sodomy call - Top News - New Straits Times http://www.nst.com.my/top-news/us-rights-group-rapped-over-sodomy-call-1.28098#ixzz1j8CH5i4m
--------
The secret to balancing Islam and human rights in the Mideast
In Egypt, Islam flourishes among the impoverished. In Qatar, veiled women drive sports cars.
DOHA, Qatar - A few months ago, Israel severed relations with Qatar, the richest state in the world. Consequently, a few Qatari plans to finance projects in Israel and the territories were derailed.
The reasons for the decision were as follows: First, Qatar has close ties with Hamas, which, as everyone knows, refuses to recognize the State of Israel. Second, the emir, Hamad bin Khalifa Al-Thani, who heads the Arab League monitoring committee on the Palestinian issue, supported the Palestinian Authority's bid for UN recognition of a Palestinian state that would live peacefully alongside Israel in the 1967 borders, find an agreed solution to the refugee issue and end the conflict.
Full Report At:
http://www.haaretz.com/print-edition/features/the-secret-to-balancing-islam-and-human-rights-in-the-mideast-1.402490
--------
Govt urged to crack down on extremist elements
By Shamsul Islam
FAISALABAD: Speakers at a rally on Sunday urged the government to improve the law and order situation by cracking down on groups promoting religious extremism and intolerance among various communities for their vested interests.
The rally was organised jointly by the Association of Women for Awareness and Motivation (AWAM), the Peace and Human Development (PHD) Foundation, the Development Organisation for Social Transformation (DOST) and the Participatory Organisation for Women Empowerment and Rights (POWER).
The participants held placards demanding that equal opportunities be available to all citizens without discrimination of the basis of caste, gender and economic status. They chanted slogans in support of democracy, justice and human rights and for promotion of peaceful ties between various groups within the country as well as with other countries in the region.
The speakers urged the government to crackdown on groups promoting religious extremism, intolerance and terrorism.
Full Report At:
http://tribune.com.pk/story/318576/advocating-peace-govt-urged-to-crack-down-on-extremist-elements/
--------
Norway's 'Beloved' Terrorist Heads Back to Iraq
How time flies! It seems only yesterday that we folks in Norway first heard the name Mullah Krekar. The sometime leader of Ansar al-Islam – which narrow-minded individuals insist on calling a terrorist organization, but which I prefer to think of as a heavily armed, Koran-toting Iraqi version of Rotary or the Knights of Columbus – the charismatic Krekar has long since become every (well, not quite every) Norwegian's lovable grandpa. Now, after many years in Norway, he has announced that he will soon be leaving us and returning to Iraq, where he will continue to pursue the task to which he has consecrated his life: that of serving his God.
And oh, how many ways there are to serve God! Ansar al-Islam, according to the Canadian Institute of Strategic Studies, has "burned down girls' schools and beaten and killed women for not wearing the burqa." Human Rights Watch notes that under its previous name, Jund al-Islam, Krekar's industrious associates took over villages in which they required, among other things, "the obligatory closure of offices and businesses during prayer time and enforced attendance by workers and proprietors at the mosque during those times; the veiling of women by wearing the traditional 'abaya; obligatory beards for men; segregation of the sexes; barring women from education and employment; the removal of any photographs of women on packaged goods brought into the region; the confiscation of musical instruments and the banning of music both in public and private; and the banning of satellite receivers and televisions." The Lord's work never ends!
Full Report At:
http://frontpagemag.com/2012/01/09/norways-beloved-terrorist-heads-to-back-iraq/
--------
We need more, not less, about religious freedom
Here's a sampling of recent news from around the world that you may have missed.
In Egypt, tens of thousands of Coptic Christians – who make up 10 per cent of the population – have fled the country. The so-called Arab Spring has not been good news for them. In October, 27 people died when security forces opened fire on a crowd of peaceful demonstrators who had gathered to protest against church burnings. And last week, a teenaged Coptic boy was arrested for posting pictures of the Prophet Mohammed on his Facebook page. "Copts worry that even mainstream Muslims don't really care that much about the defence of Coptic rights," says Paul Sedra, associate professor of history at Simon Fraser University.
http://www.theglobeandmail.com/news/opinions/margaret-wente/we-need-more-not-less-about-religious-freedom/article2294454/
--------
Gaddafi's captured son has part of finger and thumb amputated in prison cell as he awaits trial in Libya over war crimes and corruption
By CHRIS PARSONS
Saif al-Islam, the son of Colonel Gaddafi who was captured in November, has had the ends of his thumb and forefinger amputated as he prepares to face trial on corruption and war crimes charges.
Human rights groups have expressed concern over the treatment of the dictator's son, who has been held in solitary confinement without access to legal counsel since his capture by local militia in Libya.
Mr Gaddafi has since had the ends of his right-hand forefinger and thumb amputated in his prison cell due to injuries sustained in a Nato airstrike before his capture.
Captured: Saif al-Islam, pictured in November shortly after his capture by Libyan rebel forces, could face a war crimes trial as early as next month
These phone pictures were taken by one of the men guarding the captive Saif when he was taken last month
Booty: Saif's western-style glasses and a stack of U.S. dollars which he was carrying when he was captured
Medics had to remove the top knuckle of his thumb and forefinger because the injuries he sustained had become gangrenous.
Full Report At:
http://www.dailymail.co.uk/news/article-2080246/Gaddafis-son-Saif-al-Islam-finger-thumb-amputated-prison-cell-awaits-trial-Libya-war-crimes-corruption.html#ixzz1j8EsI1BH
--------
Shia-Sunni: A Deadly Ancient Schism in the Islamic World
The revolution in the Arab World, as well as conflicts in Iran, Pakistan and elsewhere has revealed that the Muslim world is anything but a monolithic empire.
Enlarge
Ali, son-in-law of Mohammad the Prophet
Guantanamo Represents 'Toxic Legacy for Human Rights'
In New Hampshire, Another Solid Finish for Ron Paul
New Hampshire Primary: Ron Paul Supporters Threaten Mass Write-In Campaign in November
One of the gravest issues facing Islam is the seemingly insoluble battle between Sunni Muslims and those who espouse Shia Islam.
Full Report At:
http://www.ibtimes.com/articles/278721/20120109/shia-muslim-sunni-iraq-iran-saudi-arabia.htm
--------
Tunisia's Islamist party slams anti-Semitic chants disquieting local Jews
TUNIS, Tunisia — The head of Tunisia's moderate Islamic party condemned anti-Semitic slogans chanted Monday by a handful of ultraconservative Muslims during the arrival of a top Hamas official that have alarmed the local Jewish community.
It was the latest action by a small group of ultraconservative Muslims over the past few months to have embarrassed the government in what was once one of the more secular countries in the Arab world.
Rachid Ghannouchi reiterated the policy of his Ennahda party, which heads the country's new government, that Tunisia's Jews are "full citizens with equal rights and duties."
Full Report At:
http://www.washingtonpost.com/world/middle-east/tunisias-islamist-party-slams-anti-semitic-chants-promises-full-rights-for-nations-jews/2012/01/09/gIQABdhZlP_story.html
--------
Al Qaeda delivers magazine to homes in Pak to preach jihad
Islamabad, January 09, 2012
Al Qaeda continues to preach jihad or holy war through an Urdu monthly magazine that is delivered to homes in cities across Pakistan by post, according to a media report on Monday.
The 200-page magazine, Hiteen, is named after the battlefield where Sultan Salahuddin Ayubi defeated
the Crusaders and features articles that preach jihad and praise Osama bin Laden.
The magazine was started in June last year, a month after bin Laden was killed in a US military raid in Abbottabad, The Express Tribune reported.
Hiteen is being delivered to Deobandis, Ahl-e-Hadith and Barelvis sects to convert them to Al Qaeda's point of view, the report said.
Full Report At:
--------
American Muslims Cooperation With Law Enforcement
by Sheila Musaji
During Rep. Peter King's hearings, one of the false memes about American Muslims that was consistently raised in the Islamophobic press was that Muslims have failed to come forward and tell law enforcement about criminal plans, and that in fact American Muslims are uncooperative with law enforcement.
I wrote an article Answers to Peter King's Claims About the American Muslim Community which discussed this false claim as well as many others. Here is what I said at that time:
Actually many individuals who have been arrested for terrorist plots and activities were turned in by members of the Muslim community. These include: Craig Monteilh, Abdel Hameed Shehadeh, Times Square bomber, the Oregon jihadist, Lackawanna six, Paintball 11 in VA, Matin Siraj plot in NY , Daniel Boyd in NC, 5 Muslim men who went to Pakistan from VA, Farooque Ahmed subway plotter. Muslims have also helped by infiltrating al Qaeda. There are many American Muslims promoting non-violent solutions including people like John Muhammed Butt working with Taliban.
Full Report At:
http://theamericanmuslim.org/tam.php/features/articles/american-muslims-cooperation-with-law-enforcement/0018970
--------
Islamophobia in China: Violence breaks out in Xinjiang
by Chally Kacelnik
January 9, 2012
Western China is far from the happiest place in which to be Muslim right now. At the end of December, police killed seven people in Xinjiang, an area traditionally dominated by the Uighur Muslim ethnic group, using some very sketchy justifications. Days later, the government destroyed a mosque in Ningxia that was just set to reopen after refurbishment, prompting a fight in which at least two more people were killed. The details available on these events have been sparse and often in stark contradiction. It might seem as though we have wandered back in time to the Cultural Revolution, but we're looking at a very twenty-first century brand of Islamophobia, infused with a legacy of ethnic tensions.
What happened in Xinjiang? The state claimed that police officers confronted a group of fifteen men who had kidnapped two people, and the kidnappers were Muslim extremists or terrorists off to "jihadist training" across the border. Government media sources and spokespeople refuse to specify the ethnic origins of the fifteen. One police officer was also killed.
http://muslimvillage.com/2012/01/09/18101/islamophobia-in-china-violence-breaks-out-in-xinjiang/
--------
Mak in spotlight over 'Islamophobia' - UHRC as accused lecturer receives death threats
SUNDAY, 08 JANUARY 2012
Veiled students in class
Makerere University is in the spotlight again and not for staging a strike.
Rather, some of the lecturers at the Ivory Tower are facing accusations of 'Islamophobia'. Recently, a cross section of Muslim students held a march protesting what they described as staff discrimination against Muslim students. The protests followed an incident on December 27 when a female student, Zaitun Namujju, was forced to remove her veil before she was allowed to sit for her exam. In a petition to the university Imam dated December 28, Namujju complains that she was sent out of the examination because she was wearing a veil.
"Dr Eria Oluwo Onyango (invigilator) ordered me to remove my veil without leaving anything on my head. He told me that Makerere is not an Islamic university and I should go and join Islamic universities where they allow veils which he termed as headgears", Namujju wrote.
After pleading for about 30 minutes to be allowed to write her papers, Namujju removed the veil, although the action, she complained, tortured her psychologically. In a show of defiance, students protested the act, accusing the university of being insensitive to the Islamic faith. The female Muslim students argued that ordering them to remove their veils amounts to undressing them. The examination supervisors believe that some students smuggle prohibited material under the veils.
Full Report At:
http://www.observer.ug/index.php?option=com_content&view=article&id=16568:mak-in-spotlight-over-islamophobia-muslim-students-petition-parliament-uhrc-as-accused-lecturer-receives-death-threats&catid=85:education&Itemid=106
--------
'All-American Muslim' – Suehaila Amen Reflects on the Show
by Dilshad Ali
TLC's "All-American Muslim" is airing its season finale tonight. The episode follows the trajectory of most reality-show season finales — some story lines are satisfactorily wrapped up (hint: Coach Zaban's Fordson Tractors play a seminal game against their archrivals, Dearborn High), while other cast members near a climax in their personal stories (will Suehaila Amen be leaving her parents and Detroit to pursue her career in Washington, D.C.? Did Nina Bazzy open her club?). Is it enough to leave you wanting more? Will "All-American Muslim" be renewed for a second season? Time will only tell.
Full Report At:
http://www.patheos.com/blogs/allamericanmuslim/2012/01/all-american-muslim-suehaila-amen-reflects-on-the-show/
--------
Canadian Muslim sitcom that became a global success comes to an end
by Sonya Bell
January 10, 2012
The concept was radical in its non-radicalness: a television series about Muslims who were neither extremist nor oppressed.
Five years ago this January, the writer Zarqa Nawaz created something no one had seen before: a sitcom about ordinary Muslims living alongside non-Muslims in North America. They laughed. They cried. They got interrogated at airports.
As Little Mosque on the Prairie enters its sixth and final season today, the series remains the only one of its kind. Canadian in origin, it has gone on to be broadcast in more than 50 countries worldwide, from France to Finland to francophone Africa. It came to the UAE in 2008. Along the way, the show has won countless awards in Canada and abroad for its fresh portrayal of multiculturalism.
"It accomplished more than I ever thought it ever would – no one believed it could last six seasons," Nawaz says. "A show about Muslims in the middle of the prairies was not what anyone was going to consider a ratings hit."
The actress Sitara Hewitt, who plays Dr Rayyan Hamoudi, recalls the show had a humble start.
"We shot it in a little studio – it didn't have a huge budget at the beginning. It was a bit of a pipe dream."
Then, after the first episode was broadcast, Hewitt got a text message telling her more than two million viewers had tuned in that night. She was shocked.
Full Report At:
http://muslimvillage.com/2012/01/10/18141/canadian-muslim-sitcom-that-became-a-global-success-comes-to-an-end/
--------
Muslim American comics' tour and documentary
Beware, America. The Muslims are coming, and they look and act suspiciously like you.
Negin Farsad, an Iranian American stand-up comic from California, wears eye-catching mini dresses, curses liberally and has awkward sex talks with her mother (though hers sound more like alien encounters. Actual quote: "You had intergender flesh relations without the security of external safety product?").
In a full-frontal attack on Islamophobia, a group of Muslim comedians hit Georgia, Alabama and Tennessee to combat stereotypes.
Full Report At:
http://www.washingtonpost.com/local/muslim-american-comics-tour-and-documentary/2011/12/27/gIQATKmULP_story.html
http://www.northjersey.com/news/opinions/islamophobia_122011.html
--------
Norway killer Anders Behring Breivik permitted to receive visitors from Tuesday
Anders Behring Breivik, the Norwegian far-right terrorist, will be allowed to receive visitors for the first time from Tuesday, after state prosecutors decided not to apply for continued restrictions.
Anders Behring Breivik could potentially receive visits from those sharing his extreme anti-Islamic ideology. Photo: REUTERS
By Richard Orange, Malmo12:42PM GMT 09 Jan 2012
The decision will open the way for Mr Breivik to give his first interviews with the media since he killed 77 people last July, and potentially to receive visits from those sharing his extreme anti-Islamic ideology.
Odd Gron, a lawyer at Lippestad, the firm representing Mr Breivik, said his client had received several letters from supporters requesting a visit.
"There have been requests from fans," he confirmed. "There are letters from people giving him support, there are people who want to tell him that they don't want to give him support, and also letters from journalists requesting arrangements."
Full Report At:
http://www.telegraph.co.uk/news/worldnews/europe/norway/9002206/Norway-killer-Anders-Behring-Breivik-permitted-to-receive-visitors-from-Tuesday.html
--------
FACTBOX-What is Nigeria's Boko Haram?
Mon Jan 9, 2012 11:23am GMT Print | Single Page [-] Text [+]
SOME MAJOR ATTACKS:
* In July 2009, Boko Haram staged attacks in the northeastern city of Bauchi after the arrest of some of its members, and clashed with police and the army in the northern city of Maiduguri. About 800 people were killed in five days of fighting in the two cities.
* Later that month, sect leader Mohammed Yusuf was captured by Nigerian security forces and shot dead in police detention some hours later.
* In early July 2010, Abubakar Shekau, a former deputy leader of the sect who was thought to have been killed by police in 2009, appeared in a video and claimed leadership of the group.
* In December 2010 the group said it was behind bombings in central Nigeria and attacks on churches in the northeast that led to the deaths of at least 86 people.
* On June 16, 2011, a car bomb tore through a car park outside Nigeria's police headquarters in Abuja, killing at least two people. Boko Haram claimed responsibility for the blast.
* On June 26, about 25 people were killed when several bombs exploded in the Dala ward of Maiduguri after suspected Boko Haram members threw bombs at a bar-cafe.
* On Aug. 25, Boko Haram members attacked Gombi police station in the northeast, killing four policemen and one soldier before driving to the First Bank and Union Bank where they killed seven staff and took an unspecified amount of money.
* On Aug. 26, a suicide bomber struck the U.N. building in Abuja. At least 23 people were killed and 76 wounded in the explosion. Boko Haram claimed responsibility on Aug. 29, demanding the release of prisoners and an end to a security crackdown aimed at preventing more bombings. Continued...
http://af.reuters.com/article/nigeriaNews/idAFL6E7NP01P20120109?pageNumber=2&virtualBrandChannel=0
--------
Hatred material spoiling schoolchildren
By Arsalan Haider
LAHORE: The Pakistani society has witnessed a considerable surge in the number of incidents of terrorism and violence against minorities during the last decade.
If we try to search for the reasons for this gradual spread of intolerance, violence and terrorism, we come to know that the roots of these problems lie in most schoolbooks, which are being considered a major source for the promotion of hatred against minorities.
Full Report At:
http://www.dailytimes.com.pk/default.asp?page=2012%5C01%5C08%5Cstory_8-1-2012_pg7_15
--------
US policy shift on Egypt Islamists?
Luke Harding
Berlin, January 05, 2012
With the Muslim Brotherhood pulling within reach of an outright majority in Egypt's new Parliament, the Obama administration has begun to reverse decades of mistrust and hostility as it seeks to forge closer ties with an organisation once viewed as irreconcilably opposed to US
interests.
The administration's overtures — including high-level meetings in recent weeks — constitute a historic shift in a foreign policy held by successive American administrations that steadfastly supported the autocratic government of President Hosni Mubarak in part out of concern for the Brotherhood's Islamist ideology and historic ties to militants.
Full Report At:
http://www.hindustantimes.com/world-news/Europe/US-policy-shift-on-Egypt-Islamists/Article1-791290.aspx
--------
On My Mind: Hamas's victory tour
By KENNETH BANDLER
01/09/2012
With Haniyeh's current trip Abbas is no longer the exclusive Palestinian leader traversing the globe.
Six years after Hamas swept the first and only Palestinian parliamentary elections, the terror organization's Gaza leader is on a victory tour of the region. Feted in Egypt, Turkey and Tunisia, with stops planned for Qatar, Saudi Arabia and Iran, Ismail Haniyeh has stepped out through the international blockade of Gaza, unscathed.
At the time, Hamas' electoral victory in January 2006 seemed a political anomaly, but it was, in retrospect, the first blossom of the "Arab Spring" that would eventually bring Islamist forces to the fore in Egypt and Tunisia. Hamas' perseverance in resisting any alterations to its ideology or long-term strategy has paid off, and Haniyeh is eager to spread the radical Islamist nectar. No wonder the Muslim Brotherhood called Hamas a model during his Cairo visit.
Elections, of course, do not alone make a democratic society, nor do they guarantee moderation on the part of the victor. Hamas violently ousted Fatah, the party of Palestinian Authority President Mahmoud Abbas, from Gaza only 18 months after the election, and then imposed Islamic strictures, even banning Christmas celebrations. Similar hostility toward minorities has led hundreds of thousands of Christians to flee Egypt and Iraq.
Hamas remains steadfastly committed to destroying Israel. It rejects the Quartet's offer to become a partner in the peace talks with Israel by recognizing the Jewish state, ending terror and accepting previous Israeli-Palestinian agreements.
Full Report At:
http://www.jpost.com/Opinion/Columnists/Article.aspx?id=252882
--------
Anti-Pak forces bent to destabilise country: Speakers
Staff Reporter
Islamabad—Speaking at the monthly meeting of Shura Hamdard former chairman of Islamic Ideology Council Dr. S. M. Zaman, former I.S.I. chief Retd Gen. Hameed Gul President Shura Hamdard Sadia Rashid and other thinkers of Shura Hamdard said that Anti Pakistan forces are trying their best to destabilise Pakistan and great game is being played in Balochistan.
Full Report At:
http://pakobserver.net/detailnews.asp?id=134187
--------
Somalia: Puntland Islamic scholars hold conference on Al Shabaab
8 Jan 8, 2012
BOSSASO, Somalia - Islamic scholars in Puntland State of Somalia have held a conference in the commercial capital Bossaso, blaming Al Shabaab for spilling blood of many Somalis, Radio Garowe reports.
Sheikh Abdiqadir Nur Farah prominent Somali Islamic scholar
The Islamic scholars held the meeting in Al Rowda mosque in Bossaso where many hundreds gathered to hear Sheikh Abdulkadir Nur Farah speak on Al Shabaab's ideology and how their thinking is detrimental to Puntland's society.
Full Report At:
http://www.garoweonline.com/artman2/publish/Somalia_27/Somalia_Puntland_Islamic_scholars_hold_conference_on_Al_Shabaab.shtml
--------
SOCIAL MEDIA
Iranians not allowed accessing Facebook and Twitter
9 JAN 2012 Pooja Thakkar
Iran is always in the news for its unstable political conditions and its war with Iraq. The already conservative country creates yet another restriction for its citizens. Iranians may not be able to access foreign sites in near future.
The Government has developed its own Intranet called "Halal" which is in the trial phase and aims to block Iranians from using Facebook which the country believes is un-islamic and discourage them from getting influenced by Western ideology.
Full Report At:
http://www.technology-digital.com/social_media/iranians-not-allowed-accessing-facebook-and-twitter
--------
Hajj is an opportunity to disseminate Islamic ideology: Leader
19 December 2011
Tuesday 20 December 2011
TEHRAN – Supreme Leader of the Islamic Revolution Ayatollah Seyyed Ali Khamenei has described the hajj as an ideal opportunity to disseminate Islamic thoughts.
The Leader made the remarks at a meeting with hajj officials in Tehran on Monday, held days after the annual gathering of Muslims in Mecca for the hajj pilgrimage, which began in late October and culminated in November according to the Islamic lunar calendar.
In the meeting, Ayatollah Khamenei emphasized the inseparability of religion and politics and the practice of religion in life.
http://tehrantimes.com/politics/93703-hajj-is-an-opportunity-to-disseminate-islamic-ideology-leader
--------
The Obama Administration's Islamist Whitewashing Campaign
Posted by Joseph Klein Bio
Dec 21st, 2011
The Obama administration continues to deny that we are at war with Islamist jihadists. Indeed, the word "jihad" itself is forbidden in Obama-land if used to describe the Islamist warriors. At its highest levels, the Obama administration insists on using bland euphemisms rather than accurate language describing the Islamist ideology we are fighting.
Full Report At:
http://frontpagemag.com/2011/12/21/the-obama-administrations-islamist-whitewashing-campaign/
--------
Egyptian businessman to be tried for blasphemy
Poking fun at Islam is no Mickey Mouse affair. Egyptian businessman and Free Egyptians Party founder Naguib Sawiris has learnt this the hard way: after tweeting a picture of Mickey & Minnie dressed in conservative Islamic garb, his court appearance on blasphemy charges is set for 14 January. By THERESA MALLINSON.
Full Report At:
http://dailymaverick.co.za/article/2012-01-10-egyptian-businessman-to-be-tried-for-blasphemy
--------
ICC Extends Deadline for Libya to Report on Seif
11/01/2012 10:26:00
The International Criminal Court on Tuesday extended a deadline by three weeks, to January 23, for Libya to provide information on the health and status of the former Libyan dictator's son, Seif al Islam, or whether to transfer him to The Hague, that has indicted him for crimes against humanity.
If Libya failed to respond to the ICC's request for information the court could refer Libya to the UN Security Council.
Full Report At:
http://tripolipost.com/articledetail.asp?c=1&i=7660
--------
Court upholds injunction against Shariah law ban in Oklahoma courts
By ROBERT BOCZKIEWICZ World Correspondent
DENVER - An appeals court on Tuesday said Oklahoma's ban on the consideration of Islamic Shariah law in the state's courts "is likely unconstitutional" and kept in place an injunction against the voter-approved measure.
"While the public has an interest in the will of the voters being carried out ... the public has a more profound and long-term interest in upholding an individual's constitutional rights," the 10th U.S. Court of Appeals said.
The Denver-based court ruled 3-0 that the rights of an Oklahoma City Muslim, Muneer Awad, likely would be violated if the ban on Shariah law takes effect.
"When the law that voters wish to enact is likely unconstitutional, their interests do not outweigh Mr. Awad's in having his constitutional rights protected," the judges wrote in a 37-page decision.
Awad sued to block the "Save Our State" constitutional amendment, approved by 70 percent of Oklahoma voters on Nov. 2, 2010.
The measure, also known as State Question 775, bars Oklahoma state courts from considering or using Shariah law.
Full Report At:
http://www.tulsaworld.com/news/article.aspx?subjectid=11&articleid=20120111_14_A1_DENVER691890
--------
Bangladesh Islamist leader jailed on war crimes charges
DHAKA, Bangladesh — A former chief of Bangladesh's largest Islamic party has been denied bail by a special tribunal and jailed pending trial on charges of crimes against humanity during the 1971 war of independence from Pakistan.
The International Crimes Tribunal ordered 89-year-old Ghulam Azam jailed during a hearing Wednesday in the capital, Dhaka.
Weigh InCorrections?
Azam led the Jamaat-e-Islami party until 2000. He is charged with heading a group that campaigned against Bangladesh's independence from Pakistan and aided Pakistani soldiers in commiting crimes such as murder, arson and looting in 1971.
Bangladesh says Pakistani soldiers, aided by local collaborators, killed an estimated 3 million people, raped about 200,000 women and forced millions to flee their homes.
Copyright 2012 The Associated Press. All rights reserved. This material may not be published, broadcast, rewritten or redistributed.
http://www.washingtonpost.com/world/asia-pacific/ex-chief-of-bangladeshs-largest-islamic-party-jailed-pending-trial-on-war-crimes-charges/2012/01/11/gIQAperAqP_story.html
--------
How Pakistan came to feel snug in a Chinese pocket
Jayadeva Ranade
China's expanded influence in Pakistan came into prominence recently amidst the fog of verbiage surrounding the Memogate fiasco. The shorthand used for years to describe Pakistan's political power triad namely, 'Allah, Army and America', now has to include China.
Over the past few years and, especially since the US raid in May 2011 to eliminate Osama bin Laden, China's proximity to Pakistan has increasingly been on display. Examples include Sino-Pak collaboration to stall the Indo-US Civil Nuclear Agreement, prevent the Nuclear Suppliers Group granting a waiver to India and opposition to India becoming a Permanent Member of the UN Security Council.
As US-Pak relations came under strain in the wake of the raid, China shed its preference for exercising influence from behind-the-scenes and in mid-May, it publicly expressed support for Pakistan. It declared in unequivocal terms that any attack on Pakistan would be construed as an attack on China. Pakistan's media added that this warning had been conveyed by the Chinese Foreign Minister during that week's 'China-US Strategic and Economic Dialogue' in Washington. Pakistan Premier Yousuf Gilani flew to Beijing to garner support and was promptly received by Chinese Premier Wen Jiabao.
Article continues below the advertisement...
Full Report At:
http://www.dnaindia.com/analysis/column_how-pakistan-came-to-feel-snug-in-a-chinese-pocket_1635526
--------
US think-tanks call Hillary Clinton to help protect Haqqani
PTI Jan 10, 2012, 10.38AM IST
Tags:
Woodrow Wilson International Center
WASHINGTON: A bipartisan group of foreign policy experts have asked Secretary of State Hillary Clinton to speak with Pakistani leaders and make appropriate public statements to ensure that former diplomat Husain Haqqani is not physically harmed and that due process of law is followed.
"We would urge the US government to continue to weigh in with key Pakistani leaders and to make appropriate public statements to ensure that Husain Haqqani is not physically harmed and that due process of law is followed," said a letter signed by 16 leading US-Pakistan scholars to Clinton.
http://articles.economictimes.indiatimes.com/2012-01-10/news/30611816_1_due-process-husain-haqqani-letter
--------
Pakistan recovers bodies of 10 soldiers
By S.H. Khan (AFP) – 2 days ago
PESHAWAR, Pakistan — Pakistani authorities on Monday recovered the bodies of 10 soldiers in an exchange of bodies with Taliban militants following a clash two weeks ago in the northwestern tribal region.
An official of the military's media wing said the 10 soldiers had been missing in Orakzai district since December 21 when rebels attacked a checkpost and killed 13 others.
One security official said the 23 soldiers were attacked in a late-night assault by up to 100 heavily armed insurgents.
Another security official said the 10 soldiers had been beheaded and their bodies recovered in an exchange with the Taliban.
Full Report At:
http://www.google.com/hostednews/afp/article/ALeqM5g6AuZWVgjNahE-xyWoUa4zp6gm4A?docId=CNG.d38246e70641f2e62d505bacea5d3e5b.9b1
--------
Bangladesh worried about security in Pakistan - Naimur Rahman
ESPNcricinfo staff
January 10, 2012
Pakistan has not hosted an international series since the terrorist attack on the Sri Lankan team in 2009 © PA Photos
Bangladesh's players are concerned about the security situation in Pakistan ahead of their scheduled tour to the country in April, the Cricketers' Welfare Association of Bangladesh (CWAB) president, Naimur Rahman, has said.
The Bangladesh Cricket Board (BCB) had requested the government to send a team to Pakistan to evaluate the security arrangements, but it is believed the players think the board should talk to them first before making a decision.
Full Report At:
http://www.espncricinfo.com/bangladesh/content/current/story/548724.html
--------
Working to improve ties with Pakistan: US
Press Trust of India
Washington: The Obama Administration is working to improve its relationship with Pakistan as this is in the interest of the US, top officials said on Monday.
"We have an important relationship with Pakistan. We have a complicated relationship with Pakistan. We continue to work on it because it's in the interests of the American people and in the interests of American national security to do so," White House Press Secretary Jay Carney said.
Carney was responding to questions on US-Pak relationship with the arrival of the new Pakistan Envoy Sherry Rehman in Washington.
"I don't have any updates on that for you except to say that we are working with Pakistan precisely because it's in American national security interest to do so. And we will continue to do that," Carney said in response to a question. Meanwhile, State Department spokesperson Victoria Nulandsaid the US welcomes new Pak Ambassador to the US.
Full Report At:
http://ibnlive.in.com/news/working-to-improve-ties-with-pakistan-us/219329-2.html
--------
Pakistan, Oman agree to strengthen cooperation in diverse areas
ISLAMABAD, Jan 9 (APP): Pakistan and Oman have agreed to further strengthen mutually beneficial cooperation in a number of areas including trade and commerce, finance and banking, law enforcement, education and health care. This was agreed during the fourth round of Pak-Oman Annual Bilateral Political Consultations held in Muscat on Monday, a press release issued by the ministry of foreign affairs here said.
Foreign Secretary Salman Bashir and Omani Under Secretary for Diplomatic Affairs, Ahmed bin Yousuf bin Obaid Al Harthy discussed whole range of bilateral cooperation between Pakistan and Oman.
Both sides also exchanged views on regional and international situation.
Foreign Secretary Salman Bashir also called on His Highness Sayyid As'ad bin Tariq Al-Said, Advisor to His Majesty the Sultan of Oman and the Minister Responsible for Foreign Affairs Yousuf bin Alawi bin Abdullah.
Pakistan's Ambassador in Oman, Nawabzada Aminullah Khan Raisani and Director General Middle East at Ministry of Foreign Affairs Mr Manzoor ul Haq also participated in the consultations.
http://app.com.pk/en_/index.php?option=com_content&task=view&id=174219&Itemid=2
--------
Senior US diplomat to meet Egypt Muslim Brotherhood
CAIRO: The US state department's number two was to meet on Wednesday with leaders of the Muslim Brotherhood's party after it claimed a crushing victory in landmark post-revolution parliamentary elections.
William Burns "will meet leaders of the Freedom and Justice Party at their headquarters in Cairo," FJP spokesman Ahmed Sobea told AFP.
"It will be the highest level meeting with any official from the United States," Sobea said.
http://timesofindia.indiatimes.com/world/middle-east/Senior-US-diplomat-to-meet-Egypt-Muslim-Brotherhood/articleshow/11447639.cms
--------
Immigrants protest in Rome after Chinese killings
ROME: Thousands of Chinese immigrants took to the streets of Rome today to protest at a lack of security in the Italian capital after the murder of a Chinese man and his baby daughter last week.
Tearful demonstrators held up white candles and flowers in the march to the scene of the crime, which was organised by the Chinese community.
"There is concern," Marco Wong, head of the Associna community group, said at the protest in the immigrant-heavy Piazza Vittorio neighbourhood.
"There have been various incidents. Many of the transactions here are done in cash and that's why the people here become natural targets," Wong said.
Another community activist, Lucia King, said: "People are exasperated. Some people have been robbed or mugged six or seven times."
A banner at the demonstration read: "No to violence, more security" and many people held up enlarged photographs of the victims.
Zeng Zhou, 31, and his six-month-old daughter were shot dead last Wednesday in a scuffle with two robbers who were after the cash takings from his bar and money exchange buisinesses for the day -- around 3,000 euros (USD 3,838).
Full Report At:
http://timesofindia.indiatimes.com/world/europe/Immigrants-protest-in-Rome-after-Chinese-killings/articleshow/11442002.cms
--------
Iran nuclear scientist killed in car bomb blast
an 11, 2012
TEHRAN: An Iranian nuclear scientist was killed on Wednesday in a Tehran car bomb assassination blamed on Israel that threatens to ignite a dangerously tense international standoff over Iran's atomic programme.
An Iranian official immediately blamed "the Zionist regime" for the explosion, saying the method -- two men on a motorbike attaching a magnetic bomb to the target's vehicle -- was similar to those used in the assassinations of three other scientists over the past two years.
Iran's parliament erupted with yells of "Death to Israel" and "Death to America" during a speech by one MP who said Wednesday's attack would not dissuade the Islamic republic from "achieving progress."
Mostafa Ahmadi Roshan, 32, died immediately in Wednesday's blast, which occurred in front of a university campus in east Tehran.
Full Report At:
http://timesofindia.indiatimes.com/world/middle-east/Iran-nuclear-scientist-killed-in-car-bomb-blast/articleshow/11448061.cms
--------
Gunman in Afghan uniform kills US soldier on base
Jan 9, 2012
KABUL: A man in an Afghan army uniform opened fire on a group of Americans at a base in the south of the country, killing a US soldier and wounding another, an Afghan military spokesman said on Monday.
Spokesman General Mohammad Zahir Azimi said the gunman was also killed in the shootout on Sunday. "Right now, an investigation is going on to determine whether he really was a soldier or someone using an army uniform. And if he was a soldier, what caused the shooting," Azimi said.
Similar attacks have raised fears of increased Taliban infiltration of the Afghan police and army as NATO speeds up the training of the security forces. In some cases the attackers were Afghan soldiers who turned on NATO troops. Others involved insurgents dressed in Afghan uniforms.
A NATO statement released late on Sunday said only that a coalition service member was killed in the incident, apparently by an Afghan soldier, but provided no details on the location or the victim's nationality.
Azimi said the shooting occurred inside one of the Afghan National Army's bases in Zabul province, about 250 miles (400 kilometers) south of Kabul.
Full Report At:
http://timesofindia.indiatimes.com/world/south-asia/Gunman-in-Afghan-uniform-kills-US-soldier-on-base/articleshow/11422461.cms
--------
Iran car explosion 'kills nuclear scientist' in Tehran
BBC's Mohsen Asgari: "It seems a motor cyclist pasted a bomb to his car which he was in with two other passengers
A university lecturer and nuclear scientist has been killed in a car explosion in north Tehran, reports say.
Mostafa Ahmadi-Roshan, an academic who also worked at the Natanz uranium enrichment facility, and another unidentified person were killed in the attack.
Full Report At:
http://www.bbc.co.uk/news/world-asia-16511826
--------
Ex-Arab League monitor labels Syria mission 'a farce'
The UN says 400 people have been killed in Syria since the Arab League mission arrived
Continue reading the main story
A former member of the Arab League's observer mission to Syria has called it a "farce" and described the situation there as a humanitarian disaster.
Anwar Malek told al-Jazeera TV that he had resigned because of what he had witnessed in Syria, including a series of war crimes.
He said the government had "fabricated" most of what the monitors had seen to stop the Arab League taking action.
Full Report At:
http://www.bbc.co.uk/news/world-middle-east-16507805
URL: https://www.newageislam.com/islamic-world-news/pakistani-flag-hoisting-was-a-hindutva-plot-to-foment-strife,-police-say/d/6344