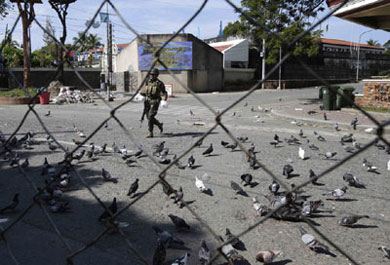 Photo: A government Trooper Carries Some Supplies during a lull in the offensive against Muslim rebels Sunday Sept. 15, 2013
Pakistan
Pakistani 'Father of Taliban' Keeps Watch over Loyal Disciples
Pakistan police raid madrasas, arrest 21 foreign students
Two rapes rock Pak
Talks with Taliban: Pakistan army to pull out from Malakand in KP
PM condoles, TTP claims responsibility for killing of a Major General in KP
Pakistani Taliban make demands ahead of peace talks
Karachi operation: Rangers arrest 14 accused
K-P will stand out from the rest of Pakistan, soon: Imran Khan
Arab World
Wave of Bomb Attacks Kill 35 in Shiite-Dominated Cities in Iraq
Al-Qaeda tells Syria fighters to shun secularists
Syrian rebel infighting kills 5 near Iraqi border
Bahrain jails 3 Shias for trying to kill police
No Shariah violations at Souk Okaz, says Haia chief
Report: Jordan hosts over 2,100 Syria army defectors
Syrian opposition elects moderate Islamist Ahmad Tumeh as provisional PM
Lebanese shell beads link earliest humans to Middle East
India
Muzaffarnagar riots: Tales of tragedy and destruction unfold in refugee camps
Israel not to supply weapon systems to Pakistan
Southeast Asia
Nearly 100 Philippine Muslim rebels killed or captured
Race based measures will not affect non-Malays, says Najib
North America
Washington to 'encourage' Pak-India 'high-level discussions'
Bangladesh will be a rich country in 2040: US Ambassador
Republican Senators blast Obama administration on Syria deal with Russia
US govt urged to hold talks with Taliban
Kerry to brief Netanyahu on Syria arms deal
Europe
UN accepts Syria chemical arms treaty application
France hails Syria deal as an important first step
Africa
Somali Islamic centre eulogises American Jihadi
Decision on Libya Museum not final: Zidan
Mideast
No political motive behind tanker detention, Iran tells India
Qaeda confirms drone death of Yemen leader: SITE
Israel imposes closure on WB
Turkey's Ruling Party hires thousands for new social media campaign
Netanyahu hopes US-Russia deal will lead to destruction of Syria's chemical weapons
South Asia
Taliban releases 'pointless' for Afghan peace
Blood and money: stabbing attack follows campaign deal gone wrong in Maldives
President Waheed to back PPM in second round, stepping down as GIP head
"We will do everything possible to help MDP win the election": DRP leader
Needle-free injection technology launched in Bangladesh
Compiled by New Age Islam News Bureau
URL: http://newageislam.com/islamic-world-news/new-age-islam-news-bureau/pakistani--father-of-taliban--keeps-watch-over-loyal-disciples/d/13502
---------
Pakistan
Pakistani 'Father of Taliban' keeps watch over loyal disciples
Reuters | Sep 15, 2013
AKORA KHATTAK (Pakistan): He is known as the Father of the Taliban, a radical Pakistani cleric who calls the Taliban's one-eyed leader an "angel" and runs a seminary described as the University of Jihad.
Bespectacled and soft-spoken, Maulana Sami ul-Haq is a revered figure in Pakistan and Afghanistan whose views carry enormous weight among the Taliban on both sides of the border.
Tucked away in a dusty Pakistani town off the main motorway to the Afghan border, his Dar ul Uloom Haqqania University was the launching pad for the Taliban movement in the 1990s and is still often described as the incubator for radical Islamists.
Speaking to Reuters at the sprawling campus near his native town of Akora Khattak, Haq did little to hide his sympathies for the Taliban, a word meaning "students" in Pashto. He said he was sure the Taliban would soon sweep back to power in Afghanistan.
"Give them just one year and they will make the whole of Afghanistan happy," Haq said. "The whole of Afghanistan will be with them ... Once the Americans leave, all of this will happen within a year."
Despite Haq's openly pro-Taliban views and connections, his seminary is recognised officially in Pakistan — a symptom of Islamabad's long-running duality over the Taliban issue.
Haq would not talk about this publicly but he is believed to be close to the Pakistani security forces — a legacy of an era when Pakistan sponsored movements and supported militants, including Osama bin Laden, fighting Soviet troops in Afghanistan.
Kabul's government has long accused Pakistan of playing a double game and harbouring militants on its soil while publicly condemning extremism — a charge Islamabad fiercely denies.
Back in the 1980s, many young Dar ul Uloom Haqqania graduates swapped books for guns and drove west along the highway running just outside its iron gates towards Afghanistan, where they joined Mujahedeen groups to fight against the Russians.
One of them, Mullah Mohammed Omar, later took advantage of the chaos that followed the Soviet withdrawal in 1989 to found the Taliban movement — a period often recalled with nervousness ahead of next year's drawdown of US forces from Afghanistan.
Omar is now believed to be hiding somewhere in Pakistan's ethnic Pashtun tribal regions on the Afghan border.
Haq's face brightened as he recalled Omar, one of his best's students, but laughed when asked about his whereabouts.
"He is a devout Muslim, very virtuous. He is hospitable. He is a very simple man, with no princely tastes," Haq said, alternating between Pakistan's official Urdu and his native Pashto language.
"He is very intelligent. He understands politics and is wise to the tricks of outsiders."
Haq added with conviction: "He is no aggressor. He is an angel-like human being."
Taliban alma mater
The seminary, founded in 1947, is now one of biggest and most respected Islamic institutions in South Asia. It propagates a hard-line curriculum based on the radical Deobandi strain of Sunni Islam.
Fenced off from the hustle and bustle of the outside world by high walls and barbed wire, it houses 4,000 male students in its multi-storey concrete buildings.
Haq says he and his seminary have nothing to do with terrorism. He has even offered to mediate between the United States and militants in order to bring peace to Afghanistan.
Haq, who speaks fluent Arabic, said the US ambassador to Pakistan visited him in July to discuss the situation in the region but added that peace was not possible as long as foreign troops were still in Afghanistan.
"As long as they are there, Afghans will have to fight for their freedom," Haq said. "It's a war for freedom. It will not stop until outsiders leave."
The Taliban were initially popular among Afghans after years of Soviet brutality and the ensuing anarchy of feuding warlords. But that quickly changed after they seized power and enforced puritanical restrictions on all spheres of people's lives.
After years of war there are hopes that the Taliban might be coaxed to the negotiating table or even turned into a political movement with the help of influential mediators such as Haq.
But would the Taliban still listen to him?
"They are my students. In our tradition, a teacher is like a father, like a spiritual leader," Haq said. "Afghans should be allowed to fight for their freedom. Foreign powers should get out and let them do what they want."
http://timesofindia.indiatimes.com/world/pakistan/Pakistani-Father-of-Taliban-keeps-watch-over-loyal-disciples/articleshow/22599742.cms
---------
Pakistan police raid madrasas, arrest 21 foreign students
PTI | Sep 15, 2013
ISLAMABAD: At least 21 foreign students staying without valid documents were arrested by police in an early morning raid on two madrasas in Pakistan's Punjab province, media reports said.
The madrasas reportedly belonged to Qazi Hamidullah Khan - a teacher of Taliban supreme leader Mullah Omar, the Express Tribune said.
The police carried out a raid on madrasa Mazahirul Uloom and Anwar ul Uloom in Punjab's Gujranwala, the seventh largest city of Pakistan.
Officials from 30 police stations headed by the Superintendent of Police raided the seminaries.
Authorities arrested twenty-one foreign students living there without any valid documents, Geo News reported.
The nationality and the names of the foreigners could not be ascertained.
Police said that the arrested suspects were able to speak Urdu but could not speak Pashtu.
The security officers are investigating how and when these foreigners arrived in Pakistan and under which visa.
According to the law, if a person is not a Pakistani national, he cannot study in the country without official registration.
http://timesofindia.indiatimes.com/world/pakistan/Pakistan-police-raid-madrassas-arrest-21-foreign-students/articleshow/22596697.cms
---------
Two rapes rock Pak
MEENA MENON
September 15, 2013
As news of the Delhi gang rape verdict was coming in, two major incidents of rape sparked horror and indignation in Pakistan.
The Supreme Court took notice of the rape of a five-year-old girl in Lahore on Friday and ordered an immediate investigation by a high-ranking police officer who submitted a preliminary report on Saturday. The girl was found near a hospital in an unconscious condition on Friday morning. News reports say she is recovering at the Services hospital.
The other equally brutal case was the gang rape of a 26-year-old woman belonging to a minority community in Tharparkar district in Sindh. A woman getting gang raped in public has not happened here ever before, said Kashif Bajir head of the Sindh unit of the Society for the Protection of the Rights of the Child (Sparc).
The Asian Human Rights Commission (AHRC) has taken a strong view of the gang rape and has appealed for quick action. According to the Commission's report, the woman was raped by five people in front of her husband and three children. The police have registered a case against the accused who, it is said, enjoy political backing. Sindh Police have arrested eight accused so far. The medico-legal documents, as per the AHRC report, say that "due to no sign of violence and marital status it is [was] not possible to ascertain the gang rape". The report adds that her clothes have been sent to the chemical laboratory in Karachi for further probe.
The woman was brutally beaten and raped by five people on September 4, 2013. On the day of the incident at around 8 am, the victim, along with her husband, two sons, and a daughter and other relatives was going to work at a brick kiln. On the way, they were stopped by eight persons who were armed with pistols, axes and sticks.
They dragged the woman to a community centre and beat up the whole family. Then they tied them up and forced them to watch while they raped the woman. Police suspect family enmity. Meanwhile the AHRC is writing a separate letter to the U.N. Special Rapporteur on Violence against Women.
http://www.thehindu.com/news/international/south-asia/two-rapes-rock-pak/article5129755.ece
---------
Talks with Taliban: Pakistan army to pull out from Malakand in KP
PTI | Sep 15, 2013
ISLAMABAD: In what is seen as a build up to the peace talks with Taliban, Pakistan's Khyber Pakhtunkhawa provincial government has given an "in principle approval" for the gradual withdrawal of the army from the picturesque Malakand division, once controlled by the banned militants.
In the initial stage, security forces will be withdrawn from Buner and Shangla districts in the province starting mid-October.
An official communique issued from the CM House stated that provincial chief minister Pervaiz Khattak announced the withdrawal of army from Malakand division in Nowshera.
Khattak said that withdrawal of army from these two districts would be followed by a phase-wise withdrawal from Upper Dir, Lower Dir and Swat where "the writ of the government has been consolidated".
The announcement comes in the backdrop of federal government preparing to start peace talks with the Tehreek-i-Taliban Pakistan (TTP) in the light of decisions of an all-party conference.
The army was called out by the then government in 2007 to assist the administration in parts of Malakand division to quell militancy in the mountainous region.
The division comprises Swat, Buner, Shangla, Upper Dir, Lower Dir, Chitral and Malakand districts.
When several militant groups, led by Mullah Fazlullah, established a parallel administration in Swat, Buner and other adjoining districts and started brutalities, the army launched an operation in May 2009. The Air Force assisted the army.
While the security establishment did succeed in establishing its writ, the area continues to be a target of attack. Last year in October, militants shot teenage activist Malala Yousufzai and her two friends in Swat.
Khattak said the security forces had offered innumerable sacrifices to clear the area and restore peace and now "hundreds of displaced people are back", the report said.
Meanwhile, asked whether the troops would leave Malakand or only restrict their movements, the chief minister's spokesman Shiraz Paracha was quoted by The Dawn daily as saying, "No, they will reduce visibility and the civil administration will take over".
He said results of the withdrawal of troops from the two districts would be assessed and then a decision would be taken about a phased pullout from other areas.
http://timesofindia.indiatimes.com/world/pakistan/Talks-with-Taliban-Pakistan-army-to-pull-out-from-Malakand-in-Khyber-Pakhtunkhawa/articleshow/22596646.cms
---------
PM condoles, TTP claims responsibility for killing of a Major General in KP
AGENCIES and DAWN.COM
2013-09-15 17:15:05
PESHAWAR: A roadside bomb attack on Sunday killed Pakistan's two senior military officers and a soldier in the country's troubled northwest, the military said.
The Tehreek-i-Taliban Pakistan (TTP) have accepted responsibility for the attack, which was confirmed by TTP spokesman Shahidullah Shahid in a statement.
Major General Sanaullah Niazi and Lieutenant Colonel Touseef were visiting troop posts in the Upper Dir district of northwestern Khyber Pakhtunkhwa province, along the Afghan border, when their vehicle hit a planted bomb killing them along with a soldier.
Full report at:
http://www.dawn.com/news/1043059/pm-condoles-ttp-claims-responsibility-for-killing-of-a-major-general-in-kp
---------
Pakistani Taliban make demands ahead of peace talks
AP
2013-09-15
PESHAWAR: The Pakistani Taliban demanded Sunday that the government release militant prisoners and begin withdrawing troops from the group's tribal sanctuary before they will participate in peace talks, raising doubts about prospects for negotiations.
The Taliban's leadership council decided on the need for confidence building measures while meeting to discuss the government's offer to hold peace talks, said the group's spokesman, Shahidullah Shahid.
Full report at:
http://www.dawn.com/news/1043065/pakistani-taliban-make-demands-ahead-of-peace-talks
---------
Karachi operation: Rangers arrest 14 accused
DAWN.COM
2013-09-15
KARACHI: Fourteen accused, along with other suspects involved in target killings and extortion, were arrested by Rangers in targeted operations on Sunday, DawnNews reported.
According to a Rangers spokesperson, targeted operations were conducted in Landhi, Korangi, Nazimabad and Quaidabad along with many others.
During these operations, Rangers arrested various suspects involved in extortion and target killings, along with 14 others accused and confiscated weapons from their possession.
Full report at:
http://www.dawn.com/news/1043063/karachi-operation-rangers-arrest-14-accused
---------
K-P will stand out from the rest of Pakistan, soon: Imran Khan
September 15, 2013
DI KHAN: People will notice clear difference between Khyber-Pakhtunkhwa and the rest of Pakistan by the end of 2013, Pakistan Tehreek-e-Insaf (PTI) chairman Imran Khan said on Sunday.
Imran was addressing a rally in DI Khan.
The PTI chairman said that constant criticism against his party-led government was immature as the PTI had been in power for just 2.5 months for the first time in its history, while other parties had been around for decades.
Full report at:
http://tribune.com.pk/story/604605/k-p-will-stand-out-from-the-rest-of-pakistan-soon-imran-khan/
---------
Arab World
Wave of Bomb Attacks Kill 35 in Shiite-Dominated Cities in Iraq
AGENCIES
2013-09-15
BAGHDAD: A new wave of insurgent attacks, mostly car bombs targeting Shiite-dominated cities in central and southern Iraq, killed at least 35 people on Sunday, officials said.
The attacks continue a surge in bloodshed that has engulfed the country for months, raising concerns of Iraq slipping back into the all-out sectarian war years earlier that left tens of thousands dead.
No one has claimed responsibility for the blasts, which targeted commercial areas and parking lots in seven cities.
The deadliest was in the city of Hillah, 95 kilometres south of Baghdad, where a car bomb explosion near an outdoor market and parking lot killed nine civilians and wounded 15 others, a police officer said. A few minutes later, another car bomb went off nearby, killing six civilians and wounding 14, he added.
Full report at:
http://www.dawn.com/news/1043067/wave-of-bomb-attacks-kill-35-in-iraq
---------
Al-Qaeda tells Syria fighters to shun secularists
15 September 2013
Reuters, Dubai
Al-Qaeda leader Ayman al-Zawahri has told the Islamist militants who are some of Syria's toughest opposition forces to avoid alliances with other rebel fighters backed by Gulf Arab states and the West.
His comment reflects a deepening rift between groups of the Western- and Arab-backed Free Syrian Army (FSA) and guerrillas sympathetic to Zawahri's ultra hardline network, which seeks to wage a transnational armed campaign against the West.
Division among rebel fighters, as well as the influence of hardline Islamists, is one reason Western powers have hesitated to intervene in Syria's two-and-a-half-year-old conflict, in which more than 100,000 people have been killed.
Full report at:
http://english.alarabiya.net/en/News/middle-east/2013/09/15/Al-Qaeda-tells-Syria-fighters-to-shun-secularists-.html
---------
Syrian rebel infighting kills 5 near Iraqi border
AP | Sep 15, 2013
BEIRUT: Al-Qaida-affiliated rebels battled more moderate Syrian opposition fighters in a town along the Iraqi border on Saturday, killing at least five people in the latest outbreak of infighting among the forces opposed to President Bashar Assad's regime.
Clashes between rebel groups, particularly pitting al-Qaida-linked extremist factions against more moderate units, have grown increasingly common in recent months, undermining the opposition's primary goal of overthrowing Assad.
Full report at:
http://timesofindia.indiatimes.com/world/middle-east/Syrian-rebel-infighting-kills-5-near-Iraqi-border/articleshow/22591551.cms
---------
Bahrain jails 3 Shias for trying to kill police
September 15, 2013
A Bahraini court jailed on Sunday three Shia Muslims for 10 years each after convicting them of attempting to kill police officers during anti-government protests, lawyers said.
The trio, Jaafar Ali, Hussain Mansur and Mustafa Abdulkarim, had been charged of attempting to kill three policemen "with premeditation" on February 16, in the Shia village of Karzakan, southwest of Manama.
The public prosecution had also accused the men of "possessing homemade shotguns, as well as employing violence against police, and participating in an unauthorised protest."
They opened fire on police as security forces were dispersing a protest in the Shia village, the prosecution said.
Full report at:
http://english.ahram.org.eg/NewsContent/2/8/81639/World/Region/Bahrain-jails--Shias-for-trying-to-kill-police.aspx
---------
No Shariah violations at Souk Okaz, says Haia chief
September 15, 2013
TAIF — The head of the Commission for the Promotion of Virtue and Prevention of Vice (Haia) has said the Haia team at the ongoing Souk Okaz cultural festival outside Taif has not reported any violations or harassment of visitors during the festivities, an Arabic daily reported on Saturday.
Sheikh Abdullateef Al-Alsheikh said a 20-member strong Haia field team was monitoring activities at Souk Okaz.
There is a Haia office at the site and the Haia members conduct round the clock field monitoring trips, he said, adding that the Taif branch of the Haia had participated in the preparatory meetings of Souk Okaz.
Full report at:
http://www.saudigazette.com.sa/index.cfm?method=home.regcon&contentid=20130915180461
---------
Report: Jordan hosts over 2,100 Syria army defectors
15 September 2013
AFP, Amman
More than 2,100 Syrian officers have fled to Jordan since the start of the conflict in their country in 2011, the kingdom's interior minister said in remarks published on Sunday.
"Jordan is hosting around 2,130 Syrian officers of different military ranks in a special military complex," Hussein Majali told the government-owned al-Rai daily.
"The kingdom will remain a safe heaven for everyone but this will not be at the expense of Jordan's safety and stability. Jordan has the ability to deal with the situation in a balanced manner."
Full report at:
http://english.alarabiya.net/en/News/middle-east/2013/09/15/Report-Jordan-hosts-over-2-100-Syria-army-defectors.html
---------
Syrian opposition elects moderate Islamist Ahmad Tumeh as provisional PM
Reuters | Sep 14, 2013
ISTANBUL: The opposition Syrian National Coalition elected moderate Islamist Ahmad Tumeh as provisional prime minister on Saturday, entrusting him with the difficult task of restoring order to areas no longer controlled by president Bashar al-Assad, coalition members told Reuters.
Full report at:
http://timesofindia.indiatimes.com/world/middle-east/Syrian-opposition-elects-moderate-Islamist-Ahmad-Tumeh-as-provisional-PM/articleshow/22588886.cms
---------
Lebanese shell beads link earliest humans to Middle East
15 September 2013
Al Arabiya
Recently discovered shell beads from Lebanon link the earliest "modern" humans to the Middle East, according to findings by Oxford University.
The University of Oxford team radiocarbon dated 20 marine shells from archaeological layers at Ksar Akil, north of Beirut, according to the Daily Mail.
The research suggested that the unearthed beads made from shells that may be around 41,700 to 42,400 years old and may have been used as jewelry or as decoration.
Full report at:
http://english.alarabiya.net/en/variety/2013/09/15/Lebanese-shell-beads-link-modern-humans-to-Middle-East.html
---------
India
Muzaffarnagar riots: Tales of tragedy and destruction unfold in refugee camps
Dipankar Ghose
Sep 15 2013
Lisarh represented all that was good in Muzaffarnagar, dubbed the sugar bowl of India. It had the prosperity arising from the region's agrarian boom, and in its demographics, it had two communities living and working together in peace.
Haji Samiuddin, 65, of Lisarh represented all that Muzaffarnagar could have been. Having toiled in his fields for decades, he had ensured his children got a good education and saw them become owners of a saw mill. The family business was booming, and they were thinking of expanding.
Samiuddin and his wife are now dead, killed and dumped inside their burning home. And Lisarh, a village that was on the cusp of becoming a town, will now never be the place it was.
Samiuddin's eldest son Saeed Hassan remembers each detail of the last time he met his father. It was the morning of September 7. Things had been worsening, and they had heard of the Jat mahapanchayat being held that day in Sakheda, 35 km away. "The Jats have gathered in lakhs. Our friends are leaving and so should we. These are dangerous times," Hassan had said.
Samiuddin found this incredulous. "We have lived here all our lives, half the youngsters here have grown up sitting in my lap. Nobody will harm us here," he said.
Hassan says he told him that it was no longer about the villagers. "This is about politics and things we are not connected to."
However, Samiuddin insisted on staying. "You go son, you have your children to think about," he said. "You mother and I were born here and come what may, we will die here."
His mother Hamida, age 58, had added, "I cannot leave your father's side. Jahan bhi jao khuda to sab jagah hai (Wherever you go, god is everywhere)."
Their faith in Lisarh wasn't without basis. Like several other villages in the surrounding areas, it had considerable Muslim presence. In its population of 8,000, close to 2,500 were Muslims. The village, like most others in the region, is also primarily agrarian, with the economy centered around sugarcane. A few hundred work in two brick kilns on the fringes of the village, while some commute to Muzaffarnagar to serve in government offices.
"Four thousand are Jats, and the other 1,500 Hindus are Nais, Valmikis, Kumars and Pandits. There are two ponds here, and all the children used to play there together. Because the communities were so evenly distributed, it was very hard to imagine violence on a scale such as this," says Mahender Kumar, a resident of the village.
If Hassan employed Hindus as labourers in his mill, like other prosperous Muslims, the workforce for Jat farmers was Muslim. There is both a temple and an equally large mosque in the village, and festivals were celebrated together. "During Eid, the Muslims would make food for the rest of the village, and this was reciprocated by us in times like Diwali," says Rakesh Choudhary, a Jat of the village.
Lisarh had also given Samiuddin all he had hoped for. "We are three brothers and two sisters. My father made sure we all got the best education possible and did not limit ourselves to just farming. He knew the land would have to be divided among us one day and that education was our best bet in the long run," says Hassan, 44.
Hassan went on to own one of the two saw mills in Lisarh, along with his brothers Gajoor and Tahir. The family business was doing well and their clientele included most of Lisarh's population. Plans for expansion were also set in motion; they had purchased new equipment and vehicles. Samiuddin's "dream" was coming true, says Hassan.
According to him, the September 7 mahapanchayat ruined it all. He and the rest of his siblings and their families left Lisarh for Kandhla that same morning. In the evening, Hassan spoke to Samiuddin from Kandhla. "He said everything was fine and we should not worry. The next day (September 8) I spoke to my mother at 10 in the morning and things were tense but calm. I could not get in touch with them after that," Hassan says. "She said god was everywhere, but he was not in Lisarh. He was not in Lisarh."
At 11 am, an unknown number of assailants attacked Lisarh armed with knives, guns and cans of petrol. "We could see houses burning when we reached Lisarh after we received a distress call. The Army helped rescue several villagers from burning homes," a senior police officer says.
Around 3 pm, Hassan received the news he had been dreading. A neighbour, Umar Khan, who was rescued, says, "They dragged Hassan's father out and attacked him with swords and knives while another mob torched the house and their wood mill." When the flames roared strongest, Samiuddin and Hamida, by then dead, were thrown in.
Hassan, who walked around the refugee camp in Kandhla gripping photographs of his parents for three days, breaks down. "They gave us everything. Nobody loved us more and now there is not even enough left of them to bury. After the violence died down, a few of us went to the house. We found nothing, just ashes," he says.
He remembers other funerals, at other times. "Two years ago, a wooden splinter had pierced my thigh several inches deep. I was falling in and out of consciousness because of the blood loss. Two Jat men from the village rushed me to the nearest dispensary. I needed more treatment so they took me in a tempo to Muzaffarnagar. They refused to leave until my wife came to
the hospital. In gratitude, I provided wood, free of cost, for all Hindu cremations."
The story of Lisarh is repeated across villages—Kutba, Lakh, Hassanpur, Bhavdi, Jauli, Jaula, Kirthal, Bhorakalan, Kalyan, Khayali, Shahpur, Foghana and Baraula, to name a few.
In each, the modus operandi was the same. People left fearing the worst, and are now in relief camps. At last count, the number of refugees in Kandhla alone was 20,000. Add to this an estimated 4,000 persons in Khairana, 3,000 in Badwana and thousands more in Jauli and Bassikalan.
The organisers of the camp in Kandhla say the numbers have overwhelmed them. The chairman of the Nagar Parishad, Wajid Hassan, says four camps had been set up there and they could keep no more. "We have taken support from neighbouring towns and new refugees are being sent there. We provide for them by collecting donations from the residents of the town," says Hassan.
District administration officials estimate that the total number of those who have fled their villages is around 41,000, across 27 camps in Muzaffarnagar district, and 11 camps in Shamli.
At both the relief camps and the now divided villages, with empty houses a testimony to the madness of the past week, there is anger. Yasin Ahmed, who is living in one of the refugee camps, says, "This is all political. This is just so they can polarise us before the elections. We are nothing but fodder for these politicians."
Iqbal Ansari had just come back from Haryana, where he had gone for some work. "I had no idea what was happening. How is any of this connected to me?" says a bewildered Ansari.
Many were not even lucky enough to find refuge. They were caught by attackers who used the same sugarcane fields that have given the region its livelihood to hide and leave a death trail.
Back in Lisarh, the Jats lay the blame at the door of the Muslims. "We did not start this," says Yashpal Singh. "The government seems to only listen to one community and has no space for us."
When asked about the gutted houses in Lisarh, Mahendra Singh Chowdhary says, "How could we arrange the stuff to burn all the houses in this village? They set fire to their homes themselves so they could get compensation."
For Hassan, such talk is laughable. "I will sell off what land I have left and try to eke out a living elsewhere. We have lost at least Rs 50 lakh worth of equipment and wood. And the government has announced some meagre compensation for our lost parents, but only if we can prove it. Why will we ever return to Lisarh?" he asks.
In neighbouring Lakh, an 11-year-old Hindu boy is wondering why not. "I used to play with Nawazuddin and Syed," he says. "Tell me, what is the difference between them and me?"
Nasima, living in the Kandhla refugee camp, has questions of her own. She is nursing Arman Imran, born to her the day the violence began. Her husband and parents were killed and the rest of her family is scattered across similar camps. "We were in our village Kanyani when news filtered in about the mahapanchayat on September 6. I was in labour when we had to leave. My baby boy was born in the relief camp just as the violence erupted," Nasima says.
The Kandhla camp alone includes at least four other women like her, with sons and daughters not more than seven days old.
However, it is another mother's story that shows why the scars of Muzaffarnagar will take a long time to heal.
Ruksana, says cousin Liyakat, has not eaten for days.
"Her daughter Tamanna was born on September 6. She
was trying to leave Hassanpur the next day. There were no vehicles and, with attackers on her heels, she ran through the fields with her baby across her shoulders in a makeshift sling," he says. "But while she was running, the baby slipped out somewhere. We went back, but we could not find her."
http://www.indianexpress.com/news/muzaffarnagar-riots-tales-of-tragedy-and-destruction-unfold-in-refugee-camps/1169288/
---------
Israel not to supply weapon systems to Pakistan
PTI | Sep 15, 2013
NEW DELHI: With its defence ties with India growing at a rapid pace, Israel on Sunday asserted that it will not supply any weapons systems and military hardware to Pakistan, saying the policy in this regard was "very clear" and "strict".
Israeli ambassador Alon Ushpiz said his country follows very strict guidelines in exporting weapons systems and there was no question of reversing its policy of not supplying military hardware to Pakistan.
"The policy of government of Israel is (very clear) and we are tremendously strict about it that we do not export weapons system to Pakistan," he said.
A report by Israel's Haaretz newspaper in June had quoted a British government report saying Israel exported military equipment, including hi-tech gear used in combat jets, over the past five years to Pakistan. Israel had strongly rejected the report, saying it would "not do anything that could undermine" India's security.
Full report at:
http://timesofindia.indiatimes.com/india/Israel-not-to-supply-weapon-systems-to-Pakistan/articleshow/22599537.cms
---------
Southeast Asia
Nearly 100 Philippine Muslim rebels killed or captured
The Associated Press
September 15 2013
Philippine officials say nearly 100 Muslim guerrillas, who have held scores of people hostage for a week in the south, have been killed or captured in a push by government troops to retake rebel-held coastal communities.
Interior Secretary Mar Roxas and other officials say government forces pressed the assault Sunday but were trying to avoid harming an unspecified number of hostages still held by Moro National Liberation Front insurgents in the coastal outskirts of Zamboanga city.
Officials say at least 51 rebels have been killed and 42 others captured. Six policemen and soldiers, along with four villagers, have also been killed.
Full report at:
http://www.thejakartapost.com/news/2013/09/15/nearly-100-philippine-rebels-killed-or-captured.html
---------
Race based measures will not affect non-Malays, says Najib
BY LEE SHI-IAN
September 15, 2013
A raft of financial measures introduced to assist the Bumiputera community is not meant to sideline or deny the interests of other ethnic groups, said Prime Minister Datuk Seri Najib Razak.
"We are doing what is fair, we are doing what is right and we are doing what is equitable," Najib told an audience at the Chancellor's Hall in Universiti Teknologi Mara in Shah Alam today.
Najib, flanked by his deputy Tan Sri Muhyiddin Yassin, was accompanied by most of his Cabinet colleagues and several menteris besar.
He reiterated that Putrajaya is not prejudiced against other races in Malaysia.
"Do not misunderstand the Malay economic empowerment.
"This initiative is not at the expense of or taking away the rights of any other people... There is no prejudice against other races," he said.
Full report at:
http://www.themalaysianinsider.com/malaysia/article/race-based-measures-will-not-affect-non-malays-says-najib
---------
North America
Washington to 'encourage' Pak-India 'high-level discussions'
ANWAR IQBAL
2013-09-15
WASHINGTON: As Indian and Pakistani prime ministers prepare to meet, the United States has said it will welcome "any and all high-level discussions" between the two countries.
Prime Ministers Nawaz Sharif and Manmohan Singh are slated to meet in New York later this month while attending the UN General Assembly. The two leaders will also have separate meetings with US President Barack Obama and Afghan President Hamid Karzai.
Mr Singh, Mr Karzai and President Obama are also scheduled to have a trilateral meeting amid hopes that these high-level contacts would reduce tensions in the South Asian region and allow for a smooth withdrawal of US combat troops from Afghanistan by 2014.
Full report at:
http://www.dawn.com/news/1043034/washington-to-encourage-pak-india-high-level-discussions
---------
Bangladesh will be a rich country in 2040: US Ambassador
Adil Sakhawat
September 15, 2013
US Ambassador in Bangladesh Dan Mozena on Saturday hoped that Bangladesh would be one of the richest countries of the world after 30 years in the fields of culture, agriculture, hi-tech and industrialisation.
The envoy and his wife Grace Mozena visited the country's first private English medium boarding school for boys, Pledge Harbor School and Sports Academy (PHSA), in Gazipur to distribute prizes in school essay competition on "What will Bangladesh be like in 2040."
Children from all over the country participated in the competition. Samiha Mahbub, 15, from Green Gems International School won the first prize. She has also got free educational trip to the United States.
Full report at:
http://www.dhakatribune.com/bangladesh/2013/sep/15/bangladesh-will-be-rich-country-2040-mozena
---------
Republican Senators blast Obama administration on Syria deal with Russia
PTI | Sep 15, 2013
WASHINGTON: Top Republican Senators have blasted Obama Administration for its deal with Russia in Syrian chemical weapons saying that the agreement would be seen by "friends and enemies" of the US, as an act of "provocative weakness" on America's part.
"What concerns us most is that our friends and enemies will take the same lessons from this agreement - they see it as an act of provocative weakness on America's part," Arizona's John McCain and South Carolina's Lindsey Graham have said.
Full report at:
http://timesofindia.indiatimes.com/world/us/Republican-Senators-blast-Obama-administration-on-Syria-deal-with-Russia/articleshow/22593983.cms
---------
US govt urged to hold talks with Taliban
AMANULLAH KASI
2013-09-15
QUETTA, Sept 14: A member of the Afghan Ulema Consultative Committee (AUCC) has urged the US to hold talks with the resistance groups and the Taliban for restoration of peace in Afghanistan and an honourable exit of Nato troops from that country.
Speaking at a press conference on Saturday, Maulana Abdul Aziz Kakar further demanded of the US to release 4,000 Afghan Ulema detained in different prisons, besides allowing Taliban, Ulema and intellectuals to resume political activities in the country.
The US-led Nato forces invaded Afghanistan after 9/11 but the foreign forces could not achieve anything during the last 12 years except destroying the infrastructure and religious institutions there, he claimed.
Full report at:
http://www.dawn.com/news/1043047/us-govt-urged-to-hold-talks-with-taliban
---------
Kerry to brief Netanyahu on Syria arms deal
September 15, 2013
US Secretary of State John Kerry is heading to Israel for a meeting with Israeli Prime Minister Benjamin Netanyahu, a day after sealing a deal with Russia on securing Syria's chemical weapons stockpiles.
Mr. Kerry will make a brief stop in Jerusalem on Sunday to brief Netanyahu on the agreement and also discuss the developments in the Israeli-Palestinian peace process.
Mr. Kerry met Palestinian President Mahmoud Abbas last week in London and had wanted to see both men before the annual United Nations General Assembly session, where they are all expected to attend later this month.
Full report at:
http://www.thehindu.com/news/international/kerry-to-brief-netanyahu-on-syria-arms-deal/article5130292.ece
---------
Europe
UN accepts Syria chemical arms treaty application
PTI | Sep 15, 2013
UNITED NATIONS: The United Nations has accepted Syria's application to join the chemical weapons convention, with its chief Ban Ki-moon pledging support to implement a deal reached by Russia and the US in this regard.
Syria applied on Thursday to join the convention, which bans the production and stockpiling of chemical weapons and orders the destruction of existing stocks. But UN lawyers asked Syria for detail data before it could be accepted.
"The secretary general, in his capacity as the depositary of the 1992 Convention on the Prohibition of the Development, Production, Stockpiling and Use of Chemical Weapons and on their Destruction, yesterday received the formal instrument of accession to the Convention by Syria," a UN spokesperson said.
Full report at:
http://timesofindia.indiatimes.com/world/middle-east/UN-accepts-Syria-chemical-arms-treaty-application/articleshow/22596792.cms
--------
France hails Syria deal as an important first step
15 September 2013
Al Arabiya
French Foreign Minister Laurent Fabius on Sunday said that a deal between Russia and the United States to remove Syrian President Bashar al-Assad chemical weapon's arsenal was an important first step, calling for a political solution for the Syrian crisis.
Fabius was speaking to reporters in the Chinese capital of Beijing, after meeting his Chinese counterpart Wang Yi, according to Reuters.
Full report at:
http://english.alarabiya.net/en/News/middle-east/2013/09/15/France-hails-Syria-deal-as-an-important-first-step.html
---------
Africa
Somali Islamic centre eulogises American jihadi
September 15, 2013
American jihadi Omar Hammami was murdered "in cold blood," a Somalian Islamic center said, backing up reports that the militant from Alabama was killed Thursday by rivals within the Somali Islamic extremist group Al-Shabab.
The Islamic World Issues Study Center published a tribute online in which it describes the killings of Hammami, 29, and two other militants as a "tragedy," saying Al-Shabab should be "directing their arrows at the enemies of the group," according to a report issued Saturday by SITE Intel Group, an American private company that analyses terror threats.
"Here they are today being killed in cold blood at the hands of those who belong to jihad ... and the world is watching," the tribute said, according to SITE Intel Group.
"One wonders who will be next," the eulogy said. "And, more importantly, who will be responsible for the blood of those brothers?"
Hammami, whose nom de guerre was Abu Mansoor Al-Amriki, or "the American," was reported killed in southern Somalia following months on the run after falling out with Al-Shabab's top leader. The extremist from Alabama had been reported dead before, only for him to resurface. Al-Shabab rebels said on Thursday Hammami was slain in an ambush but presented no proof of his death.
Full report at:
http://english.ahram.org.eg/NewsContent/2/8/81580/World/Region/Somali-Islamic-center-eulogises-American-jihadi.aspx
---------
Decision on Libya Museum not final: Zidan
September 15, 2013
TRIPOLI – Prime Minister Ali Zidan indicated that he was ready to make a U-turn on his decision to convert the old King's palace into a new HQ for the Supreme Judicial Council.
Speaking at a press conference in response to a question from the media, Zidan explained that both his government and the GNC had agreed to allow the Supreme Judicial Council to use the old King's palace as their new HQ.
However, he admitted that the Ministry of Culture had objected to this decision in view of the fact that they had spent LD20 million converting the palace into a museum.
Zidan admitted that there are split views on the subject with some wanting a headquarter for the Supreme Judicial Council, seeing this as an important branch in society, whilst others wanted to use the palace as a cultural center.
Full report at:
http://www.saudigazette.com.sa/index.cfm?method=home.regcon&contentid=20130915180480
--------
Mideast
No political motive behind tanker detention, Iran tells India
SANDEEP DIKSHIT
September 15, 2013
Tehran has no intention of producing nuclear weapon, Rouhani tells Khurshid
Recently elected Iranian President Hassan Rouhani has said there is no political motive behind the detention of an Indian tanker by his security agencies.
The issue was raised by External Affairs Minister Salman Khurshid during New Delhi's first high-level contact with Tehran after the presidential elections.
On Iran's nuclear issue, which led to wide-ranging unilateral sanctions by the U.S. and the European Union that have inhibited India from expanding ties, especially in the oil sector, Mr. Rouhani said Iran considered it "politically and morally wrong" to take the path of developing nuclear weapons.
Full report at:
http://www.thehindu.com/news/international/world/no-political-motive-behind-tanker-detention-iran-tells-india/article5129705.ece
---------
Al-Qaeda confirms drone death of Yemen leader: SITE
September 15, 2013
The Yemen-based Al-Qaeda in the Arabian Peninsula (AQAP) confirmed in an Internet posting the death of senior AQAP member Qaeed Al-Dhahab in a US drone strike late last month.
The US-based SITE Intelligence Group said Friday in a communique issued on jihadi forums that Dhahab was killed in the US "war on Islamic sharia" (law).
It was the latest in a string of attacks targeting what Washington considers to be the extremist group's most dangerous branch.
Full report at:
http://english.ahram.org.eg/NewsContent/2/8/81599/World/Region/AlQaeda-confirms-drone-death-of-Yemen-leader-SITE.aspx
---------
Israel imposes closure on WB
Mohammed Mar'i
September 15, 2013
RAMALLAH – The Israeli army closed the West Bank for two days starting Thursday midnight on the occasion of Yom Kippur (Day of Atonement, the holiest day on the Jewish calendar).
The Israeli army's spokesperson's unit said in a statement that all crossing to and from the West Bank will be closed until midnight Saturday in accordance with security assessments.
It added that that following orders of Defense Minister Moshe Ya'alon, individuals will be allowed to cross in cases of extreme medical or humanitarian emergency, subject to the approval of the Civil Administration, an Israeli military department responsible for coordinating civil issues between Israeli government and the Palestinians. The statement added that thousands of Palestinian workers will be barred from reaching their places of work during the two-day closure.
Full report at:
http://www.saudigazette.com.sa/index.cfm?method=home.regcon&contentid=20130915180484
---------
Turkey's Ruling Party hires thousands for new social media campaign
September 15, 2013
Turkey's ruling Justice and Development Party (AKP) has launched a massive project to boost the party's social media presence by hiring over 6,000 new employees for its newly formed social media team, according to daily Star.
Over 900 districts will have its own AKP social media representatives, with a 1,000 staff to be located in Istanbul, 600 in Ankara, and approximately 400 in İzmir.
The team will be responsible for converting AKP sentiments into trending hashtags, Star reported.
Full report at:
http://www.hurriyetdailynews.com/ruling-akp-hires-thousands-for-new-social-media-campaign.aspx?pageID=238&nID=54479&NewsCatID=338
---------
Netanyahu hopes US-Russia deal will lead to destruction of Syria's chemical weapons
Reuters | Sep 15, 2013
JERUSALEM: Prime Minister Benjamin Netanyahu said on Sunday Israel hoped a US-Russian deal to remove Syria's chemical weapons would result in the "complete destruction" of the arsenal.
"We hope the understandings reached between the United States and Russia regarding the Syrian chemical weapons will yield results," he said in a speech at a memorial ceremony for Israeli soldiers killed in the 1973 Middle East war.
Full report at:
http://timesofindia.indiatimes.com/world/middle-east/Netanyahu-hopes-US-Russia-deal-will-lead-to-destruction-of-Syrias-chemical-weapons/articleshow/22597648.cms
--------
South Asia
Taliban releases 'pointless' for Afghan peace
Emal Haidary, Rahmatullah Alizada
September 15, 2013
Afghan officials say Pakistan's release of 33 Taliban prisoners from jail, a policy initially trumpeted by Kabul as an opportunity to ignite peace talks, has resulted in no concrete progress.
The Afghan government, desperately searching for a way to negotiate peace before NATO troops leave next year, has said that the release of influential insurgents could encourage their comrades to the negotiating table.
But despite the 33 Afghan Taliban prisoners released by Pakistan and dozens of others freed in Afghanistan, there is still no peace process and some fighters have returned to the battlefield.
Full report at:
http://www.dhakatribune.com/op-ed/2013/sep/14/taliban-releases-%E2%80%98pointless%E2%80%99-afghan-peace
---------
Blood and money: stabbing attack follows campaign deal gone wrong in Maldives
By Daniel Bosley | September 14th, 2013
Maldivians across the atolls were glued to state broadcaster Television Maldives (TVM) one week ago, awaiting the results of the country's second multi-party presidential election.
As counting from the 470 ballot boxes continued throughout the evening, live updates were accompanied by news bulletins keeping all up to date on this historic event – even the deaf.
Members of the Maldives' deaf community were glued to the bottom corner of their television screen, where Shaheez Abdulla communicated in sign language for those with impaired hearing.
Full report at:
http://minivannews.com/politics/blood-and-money-stabbing-attack-follows-campaign-deal-gone-wrong-65449
---------
President Waheed to back PPM in second round, stepping down as GIP head
By Neil Merrett | September 14th, 2013
President Dr Mohamed Waheed's Gaumee Itthihaad Party (GIP) will support the Progressive Party of Maldives (PPM) during a run-off vote to decide this year's presidential election – presently scheduled to be held on September 28.
Minivan News understands that, although Dr Waheed will also be stepping down as head of the party, he will urge supporters to back PPM presidential candidate Abdulla Yameen against Maldivian Democratic Party (MDP) rival, former President Mohamed Nasheed.
The announcement of the GIP backing the PPM, comes days after the Dhivehi Rayyithunge Party (DRP) announced its support for Nasheed and the MDP during the second round of voting. The DRP had backed Waheed in the first round vote, with party Leader Ahmed Thasmeen Ali standing as the incumbent's running mate.
Full report at:
http://minivannews.com/politics/president-waheed-to-back-ppm-in-second-round-stepping-down-as-gip-head-65464
---------
"We will do everything possible to help MDP win the election": DRP leader Thasmeen Ali
By Mariyath Mohamed | September 14th, 2013
The Maldivian Democratic Party (MDP) held a rally on Friday night to celebrate the Dhivehi Rayyithunge Party's (DRP) support in the second round of the presidential election.
Jumhooree Party (JP) founding member Ahmed 'ADK' Nashid and Maldives Reform Movement leader Dr Mohamed Munavvar – also the former MDP chairperson - also announced their support for the party at the rally, attended by several thousand supporters.
DRP leader Thasmeen Ali, MPs Abdulla Mausoom, Visam Ali, Mohamed Nashiz, Rozaina Adam and other members of the party attended the rally held in the Alimas Carnival area of Male'.
Making the opening statement, MDP Chairperson 'Reeko' Moosa Manik asserted that, despite rumours allegedly being spread by political competitors, the two parties had not formed a coalition, and that the DRP had merely decided to back the MDP and to provide assistance in winning the upcoming second round of the election.
Full report at:
http://minivannews.com/politics/we-will-do-everything-possible-to-help-mdp-win-the-election-drp-leader-thasmeen-ali-65475
---------
Needle-free injection technology launched in Bangladesh
Syed Samiul Basher Anik
September 15, 2013
Aiming to let medical practitioners easily and effectively administer intra-dermal, subcutaneous and intramuscular injections to patients without the use of needles, the country's first ever Needle-Free Injection Technology (NFIT) was launched on Saturday.
iHealthNet, a US-registered company introduced the technology at a city hotel.
Designed by the USA-based NFIT developer and manufacturer Bioject Medical Technologies, the products offer patients with enhanced safety, compliance and quality of life, while reducing risks associated with typical syringe injectors, and elimination sharps waste disposal, said organisers at the programme.
Full report at:
http://www.dhakatribune.com/bangladesh/2013/sep/15/needle-free-injection-technology-launched-bangladesh
---------
URL: http://newageislam.com/islamic-world-news/new-age-islam-news-bureau/pakistani--father-of-taliban--keeps-watch-over-loyal-disciples/d/13502