New Age Islam News Bureau
13 Jun 2017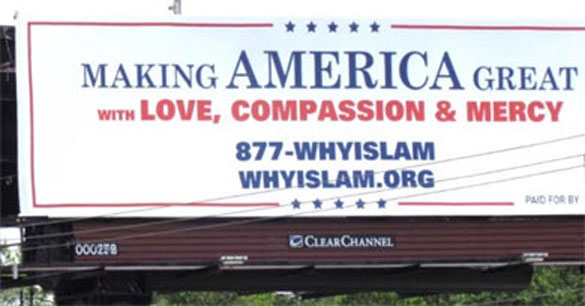 Muslim leaders in Tampa are using President Trump's campaign slogan to spread a message of love during the holy month of Ramadan: ICNA Florida
----
• Pakistani Court Hands Down Death Penalty to Anti-Wahhabi Shia Activist for 'Online Blasphemy'
• Muslim Village's Panchayat Fine Man Rs 2 Lakh for Triple Talaq
• 'Making America Great' Billboards in Tampa Aim to Teach About Islam
• From 'Caliph' To Fugitive: ISIS Leader Abu Bakr Al-Baghdadi's New Life on the Run
• Truah Letter Calls on Israel to End Occupation, Create Palestinian State
Pakistan
• Pakistani Court Hands Down Death Penalty to Anti-Wahhabi Shia Activist for 'Online Blasphemy'
• Pakistani Law Makes Ramadan a Dangerous Time for Religious Minorities
• Abducted Chinese nationals were 'preaching' in Quetta, Nisar told
• PM launches Gulf 'mediation effort', meets Salman
• Arrest warrants for Chinese firm's directors
• PM visits Jeddah for 'Middle East mission'
• Kidnapping, Killing of Chinese by ISIS: Visa policy to be streamlined
• India to free 11 Pakistanis as 'goodwill gesture'
• Two terrorists killed in Quetta
--------
India
• Muslim Village's Panchayat Fine Man Rs 2 Lakh for Triple Talaq
• In Goa, Church and Muslim Groups Come Together To Fight Anti-Slaughter Order
• ISIS Game Plan for Kashmir Caliphate: Fight and Kill Idol-Worshipping Infidels
• Holy Month of Ramzan Makes the Hindu-Muslim Bond Stronger In Old Delhi
• Meet the Meos, the Muslim 'Gau Rakshaks' Of Mewat
• Indian shot at by Saudi forces in Awamia
• Terrorists hurl grenade at CRPF camp in Pulwama, two jawans wounded
• Mecca Masjid case Accused seeks exemption from appearance
• Attacks on press freedom will jeopardise citizens' rights: Vice-President Hamid Ansari
--------
North America
• 'Making America Great' billboards in Tampa aim to teach about Islam
• Supporters of Muslim-Americans Outnumber Muslim Haters
• Trump's 'Muslim ban' dealt new blow by US appeals court
• Chicago City Council comes out against Trump idea of Muslim registry
• US senator slammed for posing with anti-Muslim militia
• Options on Afghanistan to be presented to Trump 'very soon': Mattis
• Marawi conflict: Hundreds held hostage by Islamic militants as US forces join army effort
--------
Arab World
• From 'Caliph' To Fugitive: ISIS Leader Abu Bakr Al-Baghdadi's New Life on the Run
• No One Has the Right To Discuss Its Foreign Policy: Qatar
• S Arabia soldier killed in Qatif bomb blast
• Egypt bans scores of news websites in growing crackdown
• Ramzan toll shows ISIS in pitched recruiting race
• Qatar hosted Taliban at US request: official
• Over 30 Terrorists Killed, Wounded in Clashes among Rival Terrorists in Northern Syria
• Tens of Terrorists Killed, Wounded in Failed Attack on Syrian Army Positions in Deir Ezzur
• Terrorists Fail again to Prevail over Syrian Army Positions in Dara'a
• Suspicious Iranian links to blast in Iraq's Karbala, sources say
--------
Mideast
• Truah Letter Calls on Israel to End Occupation, Create Palestinian State
• Yemeni Army Takes Over Republican Palace in Taiz
• 'Qaeda militants' attack Yemen army camp, 12 dead
• Senior MP: Key Terrorist behind Tehran Attacks Killed outside Iran
• Saudi-Led Forces' Positions Come Under Yemen's Missile, Artillery Attacks
• Iran's Khamenei blames US for creation of ISIS
• Iran says US will end up abiding by nuclear deal
• Iran police kills four IS suspects in south
--------
Europe
• British Muslims Hand Out 3,000 Roses at London Bridge After Attack
• ISIS Calls For Attacks In West, Russia, Middle East, And Asia During Ramadan
• Qatar asks U.N. body to resolve Gulf airspace row: sources
• Islamic State calls for Ramadan attacks in US, Europe
• Why it's so hard for minorities in France to find safe spaces
• Britain needs to reset relations with its Muslims, insists Warsi
--------
South Asia
• Myanmar Anti-Islam Monk Barred From Facebook
• Bangladesh Arrests 6 Suspected Islamist Militants
• Taliban's military commission chief killed in Helmand drone strike
• Bangladesh diplomat in New York charged with labour trafficking, assault
• Afghan civilians killed as US troops open fire after bomb attack: Afghan official
• Afghan civilian killed with his 2 children in foreign forces fire in Nangarhar
• Afghan forces thwart another explosion in Kabul city
--------
Southeast Asia
• Islamic State Cells in Nearly All Indonesian Provinces: Military Chief
• Envoys Strengthen Relations through Engagement with Islam
• Pancasila and The Problematic Blasphemy Law
• Zahid: Govt not bringing back militant's body home
• Court orders Jawi to name officers in transgender raid
--------
Africa
• Ghana: Vice President Prays With Muslims in the Western Region
• Kenya foils terror attack planned by Somali militants
• Somalia will not sever ties with Qatar
• Tunisian soldier dead after landmine blast
• What next for Saif al-Islam Gaddafi?
Compiled by New Age Islam News Bureau
URL: https://www.newageislam.com/islamic-world-news/pakistani-court-hands-down-death/d/111526
--------
Pakistani Court Hands Down Death Penalty to Anti-Wahhabi Shia Activist for 'Online Blasphemy'
Jun 12, 2017
An anti-terrorism court in Pakistan has handed down death sentence to a Shia Muslim activist who allegedly committed blasphemy by posting anti-Wahhabi and Saudi contents on social media.
The court in Punjab province's Bahawalpur district announced the sentence for Taimoor Raza after holding him guilty of posting derogatory content on social networking website Facebook.
Shafiq Qureshi, public prosecutor in Bahawalpur, confirmed Raza was convicted for allegedly making derogatory remarks against the Deobani sect, which is akin to the Wahhabi tradition and Takfirism practiced in Saudi Arabia.
"An anti terrorism court of Bahawalpur has awarded him the death sentence," Qureshi said, adding, "It is the first ever death sentence in a case that involves social media."
"The trial was conducted in Bahawalpur jail in tight security," Qureshi noted.
Raza, who belongs to the Shia Muslim community, had been accused of spreading of blasphemous contents including "hate speech."
The 30- year-old activist was detained after playing the material on his phone on a bus stop in the region, where a counter-terrorism officer arrested him and confiscated his phone.
A case was then registered against him on behalf of the State.
Takfirism is largely influenced by Wahhabism, the radical ideology dominating Saudi Arabia and freely preached by Saudi clerics. The extremist ideology has made inroads into Pakistan over the past decades.
The sentence is the harshest among cyber-crime related sentences handed down so far in the country.
The conviction of the Shia Muslim activist follows a high-profile crackdown against blasphemy on social media by the government of Prime Minister Nawaz Sharif.
Some political activists have blamed elements within the government for colluding with some Wahhabi royals from Arab monarchies over the issue.
Misuse of the blasphemy law in Pakistan
The developments come at a time when the Islamabad government is trying to tackle the growing militancy, political instability and extremism in the country.
Critics say Pakistan's blasphemy laws are largely misused, with hundreds of people languishing in jails under false charges. In most cases, even unproven allegations frequently stir mob violence and bloodshed.
The law has raised concerns among rights activists and some politicians who say it is often exploited by extremists or those who want to settle personal scores.
Supporters of extremist groups have murdered dozens of people over blasphemy allegations over the past few decades.
In April 2017, viral footage showing the lynching of a 23-year-old university student by sympathizers of Wahhabism and Takfiri groups in northwestern Pakistan sparked widespread public outrage.
Journalism student Mashal Khan, who had been accused of blasphemy, was beaten and shot to death at a university in the northwestern city of Mardan.
The brutality of the attack, recorded on a mobile phone camera, shocked the public and led to widespread condemnation and protests in several cities over the past weeks.
In a case of high-profile murder, a member of security forces shot Salman Taseer, the high-profile member of the Pakistan People's Party (PPP) and Punjab Governor, 28 times while guarding him in an Islamabad market in early 2011. The guard told the police that he had killed Taseer because the provincial governor sought reforms to Pakistan's blasphemy law.
The same extremist groups are involved in the killing of Shia Muslims as thousands of them have been slain as a result of militancy and hate attacks over the past decade. Shias make up about one third of Pakistan's population of over 180 million.
Critics blame the Pakistani government and some elements within intelligence services of being unwilling to protect Shia Muslims and moderate Sunnis across the violence-wracked country.
International organizations and rights groups have urged the Pakistani government to take decisive actions against the forces involved in the targeted killings and massacres.
http://webcache.googleusercontent.com/search?q=cache:http://www.presstv.ir/Detail/2017/06/12/525072/Pakistan-Shia-Muslims-Taimoor-Raza-Wahhabi-Saudis&gws_rd=cr&ei=kJA_Wd_GOI6YvQT-8LvYBQ
--------
Muslim Village's Panchayat Fine Man Rs 2 Lakh for Triple Talaq
Jun 13, 2017
SAMBHAL: Muslims from 52 villages assembled at a Panchayat in Sambhal and, calling the practice "undesirable and irregular", levied a fine of Rs 2 Lakh on a local man who divorced his wife through triple Talaq. The Panchayat also ordered him to pay Rs 60,000 as 'Mehr' to his former wife, besides ordering him to return whatever he had received as dowry, to the woman's family.
Local elders and jurists of the community said, Salman Turk, 45, of Musapur village got married to Sabiha Begum, 35, in 2014. The marriage was not a happy one, with frequent quarrels. On June 1, in a fit of rage, Turk pronounced triple Talaq on his wife.
Shahid Hussain, a senior member of the local Turk community said, "The woman's family approached the elders, and a Panchayat was convened on Sunday."
Liyaqat Hussain, Islamic scholar, who attended the Panchayat said, "You can't pronounce triple Talaq as you wish, at one go. A buffer period of three months is required within which to reconsider.
Community elders said Turk could not justify his act.
http://timesofindia.indiatimes.com/india/muslim-villages-fine-man-rs-2-lakh-for-triple-talaq/articleshow/59116867.cms
--------
'Making America Great' billboards in Tampa aim to teach about Islam
Jun 13, 2017
TAMPA, Fla. (WFLA) – Muslim leaders in Tampa are using President Trump's campaign slogan to spread a message of love during the holy month of Ramadan.
Muslim groups in Florida have helped paid for a set of billboards along I-275, I-75 and I-4 in Tampa that read "Making America Great" with love, compassion and mercy in a style similar to Trump's campaign posters.
One of the billboards is located at I-275, 80 feet south of Norfolk Street. Another is located on I-275, .2 miles south of Fowler Avenue. The third billboard is located on I-4, 1.3 miles west of I-75. The fourth is located at I-4, 20 feet west of 44th Street.
Below the message is the number for the Why Islam hotline (877-WhyIslam) and link to the website, WhyIslam.org, a resource for volunteer opportunities and information about the Muslim faith. It also offers a free copy of the Quran.
"Serving our neighbors through love, compassion and mercy are core principles of Islam during Ramadan and throughout the year," said ICNA Florida volunteer Ahmed Youssef. "Everyone in our nation is making America great when we all work together to serve neighbors and solve our problems."
The ICNA says the billboards serve as a reminder that American Muslims have a strong record of community service.
Thirty of these billboards have been posted in cities across America this year as part of an ongoing educational campaign.
http://wric.com/2017/06/12/making-america-great-billboards-in-tampa-aim-to-teach-about-islam-2/
--------
From 'caliph' to fugitive: ISIS leader Abu Bakr al-Baghdadi's new life on the run
Jun 12, 2017
BAGHDAD/ERBIL: Islamic State leader Abu Bakr al-Baghdadi is on the brink of losing the two main centres of his 'caliphate' but even though he is on the run, it may take years to capture or kill him, officials and experts said.
Islamic State fighters are close to defeat in the twin capitals of the group's territory, Mosul in Iraq and Raqqa in Syria, and officials say Baghdadi is steering clear of both, hiding in thousands of square miles of desert between the two.
"In the end, he will either be killed or captured, he will not be able to remain underground forever," said Lahur Talabany, the head of counter-terrorism at the Kurdistan Regional Government, the Kurdish autonomous region in northern Iraq. "But this is a few years away still," he told Reuters.
One of Baghdadi's main concerns is to ensure those around him do not betray him for the $25 million reward offered by the United States to bring him "to justice", said Hisham al-Hashimi, who advises Middle East governments on Islamic State affairs.
"With no land to rule openly, he can no longer claim the title caliph," Hashimi said. "He is a man on the run and the number of his supporters is shrinking as they lose territory."
Iraqi forces have retaken much of Mosul, the northern Iraqi city the hardline group seized in June 2014 and from which Baghdadi declared himself "caliph" or leader of all Muslims shortly afterwards. Raqqa, his capital in Syria, is nearly surrounded by a coalition of Syrian Kurdish and Arab groups.
The last public video footage of him shows him dressed in black clerical robes declaring his caliphate from the pulpit of Mosul's medieval Grand al-Nuri mosque back in 2014.
Born Ibrahim al-Samarrai, Baghdadi is a 46-year-old Iraqi who broke away from al-Qaeda in 2013, two years after the capture and killing of the group's leader Osama bin Laden.
He grew up in a religious family, studied Islamic Theology in Baghdad and joined the Salaafi jihadist insurgency in 2003, the year of the US-led invasion of Iraq. He was caught by the Americans who released him about a year later as they considered him then as a civilian rather than a military target.
Bounty
He is shy and reserved, Hashimi said, and has recently stuck to the sparsely populated Iraq-Syria border where drones and strangers are easy to spot.
The US Department of State's Counter-Terrorism Rewards Program had put the same $25 million bounty on Bin Laden and Iraqi former president Saddam Hussein and the reward is still available for Bin Laden's successor, Ayman al-Zawahiri.
Neither Saddam nor Bin Laden were voluntarily betrayed, but the bounties complicated their movements and communications.
"The reward creates worry and tension, it restricts his movements and limit the number of his guards," said Fadhel Abu Ragheef, a Baghdad-based expert on extremist groups. "He doesn't stay more than 72 hours in any one place."
Baghdadi "has become nervous and very careful in his movements", said Talabany, whose services are directly involved in countering Islamic State plots. "His circle of trust has become even smaller."
His last recorded speech was issued in early November, two weeks after the start of the Mosul battle, when he urged his followers to fight the "unbelievers" and "make their blood flow as rivers".
US and Iraqi officials believe he has left operational commanders behind with diehard followers to fight the battles of Mosul and Raqqa, to focus on his own survival.
It is not possible to confirm his whereabouts.
Baghdadi does not use phones and has a handful number of approved couriers to communicate with his two main aides, Iyad al-Obaidi, his defence minister, and Ayad al-Jumaili, in charge of security. There was no confirmation of an April 1 Iraqi state TV report that Jumaili had been killed.
Baghdadi moves in ordinary cars, or the kind of pick-up trucks used by farmers, between hideouts on both sides of the Iraqi-Syrian border, with just a driver and two bodyguards, said Hashimi.
The region is well known to his men as the hotbed of the Sunni insurgency against US forces that invaded Iraq and later the Shi'ite-led governments that took over the country.
At the height of its power two years ago, Islamic State ruled over millions of people in territory running from northern Syria through towns and villages along the Tigris and Euphrates river valleys to the outskirts of the Iraqi capital Baghdad.
It persecuted non-Sunnis and even Sunnis who did not agree with its extreme version of Islamic law, with public executions and whippings for violating strict controls on appearance, behaviour and movement.
But the group has been retreating since in the face of a multitude of local, regional and international forces, driven into action by the scores of deadly attacks around the world that it has claimed or inspired.
A few hundred thousand people now live in the areas under the group's control, in and around Raqqa and Deir al-Zor, in Syria's east, and in a few pockets south and west of Mosul. Hashimi said Islamic State was moving some fighters out of Raqqa before it was encircled to regroup in Deir al-Zor.
Mosul, with pre-war population of 2 million, was at least four times the size of any other the group has held. Up to 200,000 people are still trapped in the Old City, Islamic State's besieged enclave in Mosul, lacking supplies and being used as human shields to obstruct the progress of Iraqi forces by a U.S-led international coalition.
The Syrian Democratic Forces, made of Kurdish and Arab groups supported by the US-led coalition, began to attack Raqqa last week, after a months-long campaign to cut it off.
The militants are also fighting Russian and Iranian-backed forces in Syria loyal to President Bashar al-Assad, and mainly Sunni Muslim Syrian rebels backed by Turkey.
The last official report about Baghdadi was from the Iraqi military on Feb. 13. Iraqi F-16s carried out a strike on a house where he was thought to be meeting other commanders, in western Iraq, near the Syrian border, it said.
Overall, Islamic State has 8,000 fighters left, of which 2,000 are foreigners from other Arab states, Europe, Russia and central Asia, said Abu Ragheef.
"A small number compared to the tens of thousands arrayed against them in both countries, but a force to be reckoned with, made up of die-hards with nothing to lose, hiding in the middle of civilians and making extensive use of booby traps, mines and explosives," he said.
The US government has a joint task force to track down Baghdadi which includes special operations forces, the CIA and other US intelligence agencies as well as spy satellites of the National Geospatial Intelligence Agency.
It will take more than that to erase his influence, Talabany said. "He is still considered the leader of ISIL and many continue to fight for him; that hasn't changed drastically," he said, using one of Islamic State's acronyms.
Even if killed or captured, he added, "his legacy and that of ISIL will endure unless radical extremism is tackled."
http://timesofindia.indiatimes.com/world/middle-east/from-caliph-to-fugitive-isis-leader-abu-bakr-al-baghdadis-new-life-on-the-run/articleshow/59111982.cms
--------
Truah letter calls on Israel to end occupation, create Palestinian state
June 11, 2017
A letter calling on Israel to end the military occupation of the West Bank and lay the groundwork for a Palestinian state was delivered on behalf 1,800 American rabbis and cantors to the Israeli embassy in Washington DC.
The letter addressed to Israeli Prime Minister Benjamin Netanyahu was written on behalf of the members of Truah: The Rabbinic Call for Human Rights, and delivered on Friday, the day 50 years ago that the Six Day War ended.
The letter said that the Truah members are rabbis and cantors "who hold deep love for the State of Israel, and who believe that the vision of the Hebrew prophets, cited in Israel's Declaration of Independence, for a homeland committed to peace and justice, represents the most powerful guarantee of Israel's future."
The letter continues: "As we approach the fiftieth anniversary of the Six-Day War, we celebrate the extraordinary victory that enabled Israel's survival, and granted the Jewish people sovereignty over our holiest sites. We also recognize that this victory inaugurated fifty years of occupation that has infringed on the human rights of Palestinians, left too many Israelis and Palestinians dead or injured, and continues to threaten Israel's long-term survival."
The letter also is scheduled to be delivered to the Israeli consulates in New York and Los Angeles.
"We went to the Embassy as Zionists and as lovers of Israel. But as much as we celebrate Israel's victory 50 years ago, we conveyed to Israeli officials our belief that the occupation of the territories captured during the Six Day War has inflicted misery and vast injustices upon millions of Palestinians. In the name of Jewish values and for the sake of Israel's democracy we urged the government of Israel to take all possible steps to end the occupation." Rabbi Sid Schwarz, one of the rabbis in attendance at the embassy meeting in Washington, DC said in a statement issued by Truah.
"For the past fifty years, both Israelis and Palestinians have been enslaved to an occupation that harms both parties. We call on the government of the State of Israel to be a rodef shalom (Avot 1:12), the party that pursues peace, ending the military occupation, and laying the groundwork for a Palestinian state, living side-by-side, in peace, with Israel," the letter concluded. .
http://www.jta.org/2017/06/11/news-opinion/united-states/truah-letter-calls-on-israel-to-end-occupation-create-palestinian-state
--------
Pakistan
Pakistani Law Makes Ramadan a Dangerous Time for Religious Minorities
by Ammar Anwer
Jun 13, 2017
The unconscious man was covered in filth, and being rushed to a hospital.
Irfan Masih was a sewer cleaner, and had been stricken by poisonous gases trapped inside a sewer hole. Time was of the essence. But the emergency staff at the hospital in Pakistan's Sindh province refused to treat Masih — a 30-year-old Christian — until he was thoroughly washed.
Then they cleaned Masih and pumped oxygen into him, but the pump was empty. Lying in the corner of the hospital, Irfan died — as he was gasping for air.
He was never treated by a physician. It was Ramadan, and the doctors were fasting.
"My brother died during the process of cleansing the filth from his body," Irfan's brother, Parvez, told a local newspaper. Although Muslim medical professionals across the world do interact with patients in all sorts of conditions during Ramadan, according to Irfan's mother, the doctors refused to treat him because they were fasting and said her son was "napaak" (unclean).
During Ramadan, Muslims abstain from eating, drinking and having sex during daylight hours. For non-Muslims in Pakistan, the holiday can be a dangerous time. Last year, police severely beat an elderly Hindu man for eating publicly during the holiday. He was eating food given to him by a charity.
Similarly, a 2013 video showed a man who said he was beaten up for eating publicly during the Muslim fasting month.
In Pakistan, people from the Christian community face severe discrimination, and are often given jobs in sanitation. Angered at the doctors' negligence, people from the Christian community staged a protest outside the press club in Umerkot.
Critics blame Pakistan's Ehtram-e-Ramadhan ordinance for creating this intolerant environment. Enacted in 1981, the ordinance seeks to ensure that the sanctity of the month of Ramadan is preserved.
Article 3 of the Ramadan ordinance says:
1. No person who, according to the tenets of Islam, is under an obligation to fast shall eat, drink or smoke in a public place during fasting hours in the month of Ramadhan.
2. Whoever contravenes the provisions of sub-section (1) shall be punishable with simple imprisonment for a term which may extend to three months, or with fine which may extend to five hundred rupees, or with both.
Although the law does not mention non-Muslims, the closing of all hotels, restaurants and even common food stores during the day does affect their lives.
The law defines a public place as "any hotel, restaurant, canteen, house room, tent, enclosures, road lane, bridge or other place to which the public have access." It further requires that those places remain closed during all fasting hours.
The ordinance states that it intends to protect the holiness of Ramadan, but while doing so, it clearly violates the principles of fundamental freedoms.
An amendment to the law — passed last month — increases the fine from Rs.500 to Rs.25,000 (about $388) for hotel owners who violate the statute. Television channels and theaters have to pay a minimum fine of Rs.500,000 (about $7,7670) for violating the law.
How can someone protect the sanctity of any "blessed month" by adopting such harsh, coercive and tyrannical measures. Respect is earned, not imposed.
When the state starts legislating on religious grounds, it creates an environment of intolerance toward religious minorities, and legitimizes discrimination. Pakistan has done this with its "Ehtram-e-Ramadhan ordinance." Just last week, four people were arrested by the police for eating during fasting hours.
This ordinance enshrines intolerance and violates basic human rights. By closing down all the restaurants and food stores, it not only infringes upon the rights of various religious minorities in Pakistan, but also on those Muslims who do not want to comply with the ordinance.
Silence from the local media and Pakistani human rights groups over this controversial law is quite depressing.
Ammar Anwer is an ex-Islamist who writes for The Nation, Pakistan Today and other media outlets. He believes in secularism and democracy and aspires to see Pakistan become a pluralistic state.
https://www.algemeiner.com/2017/06/12/pakistani-law-makes-ramadan-a-dangerous-time-for-religious-minorities/
--------
Abducted Chinese nationals were 'preaching' in Quetta, Nisar told
Jun 13, 2017
Two Chinese nationals abducted from Quetta last month were involved in preaching instead of business activities — their declared purpose for visiting Pakistan — Interior Minister Chaudhry Nisar was informed in a high level meeting today.
Lee Zing Yang, 24, and Meng Li Si, 26, were abducted from Jinnah Town Quetta on May 24 and later murdered by the militant Islamic State.
It was not immediately clear what the interior ministry suspected them of 'preaching'.
The interior ministry confirmed the two Chinese had been killed but it was not clear if their bodies have been found.
After the briefing, the Interior Minister ordered an initial review, followed by regulation and the streamlining of the visa process to avoid the misuse of business visas by foreign nationals.
The interior minister was told that the abductees had gone to Quetta and were engaged in preaching under the garb of learning Urdu from a Korean national, Juan Won Seo, who is the owner of ARK Info Tech.
The minister was informed that the two were part of a group of Chinese citizens who obtained business visas from the Pakistani Embassy in Beijing and entered Pakistan.
Nisar expressed his displeasure at the laxity often shown in granting visas by Pakistani missions abroad. He directed all Pakistani missions to undertake proper scrutiny of visa application forms and acquire all necessary details before exercising their powers.
Nisar directed the Ministry of Foreign Affairs be taken on board and their input be included while formulating new visa policy guidelines for issuance of visas to the foreigners on various visa categories.
At present, Chinese citizens are able to obtain visas faster than other nationals, and for longer periods when their work relates to CPEC projects.
He also called for a data bank of Chinese nationals present in the country to be maintained.
Full report at:
https://www.dawn.com/news/1339083/abducted-chinese-nationals-were-preaching-in-quetta-nisar-told
--------
PM launches Gulf 'mediation effort', meets Salman
Baqir Sajjad Syed
Jun 13, 2017
ISLAMABAD: Prime Minister Nawaz Sharif on Monday launched a 'mediation effort' to resolve the rift between Qatar and other Gulf states.
PM Sharif, who arrived in Jeddah for a one-day trip, met King Salman bin Abdul Aziz.
According to the Press Information Department, the PM was received by Makkah Governor Prince Faysal bin Abdul Aziz. King Salman also hosted an Iftar reception in honour of the visiting delegation.
The prime minister is accompanied by Finance Minister Ishaq Dar, Adviser to the PM on Foreign Affairs Sartaj Aziz and Chief of the Army Staff General Qamar Javed Bajwa.
PM Sharif's mission comes in tandem with several other initiatives aimed at resolving the Middle Eastern schism, with Kuwaiti emir Sabah Al-Ahmad Al-Jaber Al-Sabah spearheading a similar move. Saudi and Qatari delegations are, meanwhile, also holding talks in Washington DC, facilitated by the US.
Mr Sharif started his journey back home late on Monday night.
Although diplomatic observers are optimistic that a solution will soon be found, Arab countries allied with Saudi Arabia have so far taken a hard line on Qatar.
UAE Foreign Minister Anwar Gar­gash said in a recent interview that "there is nothing to negotiate" with Qatar.
Pakistan's Foreign Office had earlier expressed its concern over the crisis unfolding in the Arab world, which had led Saudi Arabia, Bahrain, Egypt, Yemen and the UAE to sever ties with Qatar over allegations that the oil-rich island nation was sponsoring extremism and terrorism.
Foreign Office spokesman Nafees Zakaria had said: "Pakistan believes in unity among Muslim countries. We have made consistent efforts for its promotion."
Unlike last year's diplomatic crisis between Riyadh and Tehran, which PM Sharif had also attempted to defuse, a rift between Saudi Arabia and Qatar poses a bigger foreign policy challenge for Pakistan, which has strong political, economic and security ties with both sides.
In addition, the ruling Sharif family has historic relations with the ruling families in both Saudi Arabia and Qatar — after being ousted by a military coup in 1999, the Sharif family went into exile in Saudi Arabia, while the Qatari royal family is one of the Sharifs' main benefactors.
In fact, the former Qatari prime minister's letter in the Panama Papers case before the Supreme Court was a mainstay of the prime minister's defence team.
There are worries that Pakistan would not be able to maintain its neutrality in the conflict for long.
Domestically, the government had been under pressure to stay out of the conflict and, instead, play its role in trying to defuse tensions between the two sides.
Last week, the National Assembly adopted unanimously a resolution calling on all states in the Gulf region to shun their differences.
"This house calls upon all countries to show restraint and resolve all differences through dialogue. This house also calls upon the government to take concrete steps towards forging unity amongst the Muslim Ummah in the region," the resolution said.
The prime minister had announced his intention to mediate during his visit to Astana for the Shanghai Cooperation Organisation summit. "Since Pakistan enjoys good relations with Saudi Arabia, Iran and Qatar, we will try our best to resolve the differences between them," PM Sharif had told journalists accompanying him.
Full report at:
https://www.dawn.com/news/1339128/pm-launches-gulf-mediation-effort-meets-salman
--------
Arrest warrants for Chinese firm's directors
Jun 13, 2017
PESHAWAR: An accountability court here on Monday issued arrest warrants of three women Chinese directors of a mining company after their failure to appear in a case of alleged smuggling of antimony from mines in Chitral to China.
The judge Naveed Ahmad Khan fixed July 11 for next hearing of the case with the direction to local police to produce the three suspects who are charged along with some other directors of the mining firm, Tuny Pak Mineral Private Limited.
The court was informed that the three directors named Ms Hongying Wen and her two daughters, Xe Ping and Han Wen, had not turned up to face trial despite issuance of summons on their names.
The NAB had filed a reference against the three suspects along with some other directors of the firm claiming that the firm had explored antimony from a mining site and had smuggled it to China thus inflicting a loss of $947,000 to the exchequer.
The bureau had started an inquiry against the said company three years ago when the then provincial minister Ziaullah Afridi had levelled certain charges against it alleging that the company had excavated antimony from mines in Chogor area of Chitral but sold it in China without lawful authority and through unfair means. He had alleged that around 413 tons of antimony was smuggled to China by the said company.
Full report at:
https://www.dawn.com/news/1339243/arrest-warrants-for-chinese-firms-directors
--------
PM visits Jeddah for 'Middle East mission'
June 13, 2017
JEDDAH - Prime Minister Nawaz Sharif Monday led a high level delegation to Kingdom of Saudi Arabia for a day-long visit in the backdrop of a deepening diplomatic rift in the Middle East.
The delegation included Army Chief Genral Qamar Javed Bajwa, Finance Minister Ishaq Dar, Adviser to the PM on Foreign Affairs Sartaj Aziz and some other top officials.
King Salman Bin Abdul Aziz received the premier and his delegation upon their arrival at the Palace, and latter hosted them Iftar dinner.
Earlier upon their arrival in Jeddah, Pakistani dignitaries were received by Governor of Makkah, Prince Fysal bin Abdul Aziz. Later around midnight, the delegation left for home.
There was no official word on the matters discussed by the officials of the two sides, but talks were likely to centre on deteriorating situation after Saudi Arabia, Bahrain, Egypt and the United Arab Emirates cut ties with Qatar, accusing it of supporting terrorism.
The visit came days after a six-member Qatari delegation reportedly visited Islamabad, asking Pakistan to play a positive role in resolving the crisis engulfing the Middle East.
The Foreign Office had denied knowledge of any such visit and has also recently denied foreign media reports of 20,000 Pakistani troops being deployed in Qatar.
In its initial response to the Middle East crisis, Pakistan had stressed the need for unity in the Muslim world and urged the countries involved to engage in dialogue.
Last week, lawmakers at the National Assembly expressed "deep concern" over the diplomatic rift and passed a resolution urging all countries to "show restraint and resolve their differences through dialogue".
Qatar hosted Taliban 'at US request'
As neighbors have severed ties with Qatar accusing the tiny yet gas-rich Gulf state of backing terrorism, the country says that it had hosted the Taliban at the request of the government of the United States.
"The Gulf country hosted the Taliban by request of the US government and as part of Qatar's open-door policy, to facilitate talks, to mediate and to bring peace," said foreign minister's special envoy on counterterrorism Mutlaq-Al-Qahtani.
Taliban opened an office in Qatar in 2013, but the Qatari government later shut it down. However, Taliban leaders are still said to be in Doha.
"Qatar was facilitating the talks between the Americans, the Taliban and the government of Afghanistan," Qahtani told Al-Jazeera in Doha.
There was no immediate comment from the US. President Donald Trump had recently accused Qatar of "historically" funding "terrorism at a very high level" - an allegation Qatar denies. The US president has not provided any evidence for his accusation.
Al-Qahtani said, "Domestically, we have enacted proper laws, we have our national committees on terror financing and counterterrorism. We also have our preventive action plan.
Full report at:
http://nation.com.pk/national/13-Jun-2017/pm-visits-jeddah-for-middle-east-mission
--------
Kidnapping, Killing of Chinese by ISIS: Visa policy to be streamlined
June 13, 2017
ISLAMABAD - The federal government on Monday decided to review and strictly regulate its visa policy for Chinese after the recent abduction and killing of two Chinese nationals in Balochistan.
"The interior ministry has decided to review, regulate and streamline its visa policy for Chinese as the two Chinese nationals abducted from Quetta last month violated terms and conditions of their business visas and were involved in preaching activities instead," a ministry spokesperson said.
The interior ministry made the decision at a meeting with Ch Nisar Ali Khan in the chair, the spokesperson said.
On June 8, the Islamic State claimed responsibility for the killing of the two Chinese nationals, hours after the army said that it has killed some IS militants in an operation in Mastung of Balochistan.
The interior ministry said that the two foreigners had got business visas from the Pakistani embassy in Beijing but they went straight away to Quetta "instead for doing a business and were involved in activities of preaching".
Expressing his deep concern over the unfortunate incident of abduction and killing, the minister observed in the meeting that there was a "need to review the process of issuance of visas to the Chinese nationals coming to Pakistan to work for various projects and simultaneously to maintain a databank of the Chinese nationals present in various parts of the country".
"This databank, to be prepared by National Database and Registration Authority (Nadra), should be shared with all security agencies, the minister maintained.
The meeting was called to review regulations for issuance of visas to the Chinese and the progress made so far on the registration of international non-governmental organisations under a new policy.
The interior minister further said that there was a need to regulate the process of grant of visa extensions so as to ensure that the facility was not misused.
Taking serious note of laxity often shown by the Pakistani missions abroad during grant of visas especially the business visas, the minister directed that all Pakistani missions were bound to undertake proper scrutiny of visa application forms and must get all necessary details before exercising their power of issuance of visas to the foreign nationals.
The meeting decided that the foreign office would be taken on board and their input would be included while formulating new visa policy guidelines for issuance of visas to the foreigners on various categories.
On the security of Chinese nationals present in the country, the meeting observed that ensuring the security of foreign nationals was a shared responsibility. Where the government makes every effort to provide security to foreigners, the visiting foreign nationals are equally bound to abide by the terms and conditions of their visas and inform local authorities about their movements and activities keeping in view the security requirements, if any, the meeting underlined.
Nisar observed that it was highly unfortunate that a misuse of the terms of business visa contributed to the unfortunate incident of abduction and subsequent murder of two innocent Chinese. He directed secretary interior to investigate the matter and ensure that such misuse did not occur in the future.
The meeting was informed that a group of Chinese citizens (which included the two slain) obtained business visas from Pakistani embassy in Beijing and entered Pakistan. However, instead of engaging in any business activity they went to Quetta and under the garb of learning Urdu language from a Korean national Juan Won Seo, Owner of ARK Info Tech, and actually engaged in preaching. The reports received by the interior ministry indicate that Mr Lee Zing Yang (24) and Ms Meng Li Si (26), were abducted from Jinnah Town Quetta on May 24.
Full report at:
http://nation.com.pk/national/13-Jun-2017/visa-policy-to-be-streamlined
--------
India to free 11 Pakistanis as 'goodwill gesture'
June 13, 2017
NEW DELHI - India is set to release 11 Pakistani prisoners in a goodwill gesture Monday, Times of India reported.
The move comes days after Prime Minister Nawaz Sharif exchanged greetings with his Indian counterpart in Astana.
According to TOI, Pakistan had sought the release of the said prisoners since they had completed sentences handed to them by courts in India.
The release is significant as it also comes days after Modi's "exchange of greetings" with Sharif in Astana on the margins of the SCO summit. According to official sources, since it was the first occasion when the 2 leaders came across each other after Sharif's operation, PM enquired about his health. He also enquired about Sharif's mother and family.
Earlier this month, India had released two Pakistani boys who had mistakenly crossed the border in Narowal sector. Incidents of cross-border firing have become a norm since the last months of 2016 as tensions simmer between Pakistan and India over the Kashmir issue.
Following the Uri army base attack in September, Indian Prime Minister Narendra Modi stepped up a drive to 'isolate' Pakistan diplomatically.
In the days following the attack, India claimed to have conducted a cross-border 'surgical strike' against 'launch pads of terror' in Azad Jammu and Kashmir — a claim Pakistan strongly rejected. Pakistan maintains that India has been attempting to divert the world's attention away from atrocities committed by government forces in India-held Kashmir.
Tensions between the two countries soared recently as India approached the International Court of Justice to secure consular access for Indian spy Kulbhushan Jadhav, who has been sentenced to death by a Field General Court Martial (FGCM) in Pakistan over his involvement in espionage and terrorism.
In a hearing of the case on May 18, a 10-member bench at The Hague restrained Pakistan from executing Jadhav, who India claims is a retired naval officer.
Indian officials said the release of prisoners was a humanitarian issue and should not be linked with further downturn in ties over Jadhav. The government hopes that Islamabad too will facilitate the release of Indian prisoners lodged in Pakistani jails
Full report at:
http://nation.com.pk/national/13-Jun-2017/india-to-free-11-pakistanis-as-goodwill-gesture
--------
Two terrorists killed in Quetta
June 13, 2017
QUETTA - Two suspected terrorists were killed on Monday in exchange of fire with security forces at Western Bypass, a suburban area of Quetta. According to police, the personnel of law enforcement agencies shot dead two alleged terrorists in exchange of fire near Karwarn Petrol Pump at Western Bypass. The bodies of terrorists were shifted to Sandeman Civil Hospital Quetta for medico-legal formalities.
http://nation.com.pk/national/13-Jun-2017/two-terrorists-killed-in-quetta
--------
India
In Goa, Church and Muslim groups come together to fight anti-slaughter order
June 13, 2017
With influential Muslims and the Roman Catholic Church in the state backing a civil society collective called Goa for Beef — Beef for Goa, the Qureshi Meat Traders Association filed a writ petition Monday before the Goa bench of the Bombay High Court, seeking a stay on the May 26 central notification banning the sale and purchase of cattle from animal markets for slaughter. The Qureshi Meat Traders Association, part of the collective, made the Union and state governments respondents in the petition — the Manohar Parrikar government has been silent on the central notification that has hit Goa's meat industry and tourism. The collective expects to hear the "justification behind the ban on trading at cattle markets".
Anwar Bepari, representing the Qureshi Meat Traders Association, said one of the important points raised in the petition is the ban on purchase of animals for religious sacrifice. "This is important for us because in two months we have Bakr Eid which will open other issues if this notification goes through."
The collective, which has held meetings at the Clergy Home in Margao, was formed after the June 1 incident when trucks travelling to transport bullocks were stopped at the Goa-Karnataka border following the central notification.
Abdul Matin, representing the Muslim community, said the collective was formed because they found no representation from the new government on the beef issue. "We were tired of their silence when other state governments and chief ministers were sending letters against the notification," Matin said.
Calling the collective a product of "inter-faith dialogue", Father Savio Fernandes, its co-convener, said "it was the need of our times". He is also executive secretary of Council for Social Justice and Peace, "a body of the Church" formed in 2005 to look into cases of rights violations.
"We were quiet but now the issue affects livelihood and is an act of infringement," Father Fernandes said of the central notification.
"In this collective, there are three formal members — the Church's body, that is this office; the Muslim community; and, representatives of the meat traders in Goa. We have come together specifically for this issue as this is is a direct attack on the secular nature of our country. We now feel that the time has come where we will have to meet more often than before. Inter-faith dialogues will have to increase," he said.
In meetings in Margao and at the office of the Council for Social Justice and Peace, convenors and meat traders highlighted loss of livelihood because of the notification — the state relies on cattle markets in Karnataka and the slaughter house in Ponda for beef.
"Beef was always the cheapest food in Goa and forms an important weekend dish in most households. Even our traditional cuisine is styled around beef," Father Fernandes said. "Priests have been sending us feedback from the people. In fact, we are seeing it ourselves.
Many restaurants in Goa have started putting 'beef not served here' signs… they do not want trouble," he said.
Bepari said: "Without the market, there is no space to look. With incidents of lynching, one cannot travel anywhere and pick up cattle from any farmer. We are telling our problems to the court through this writ petition since no one seems to be representing us. We are looking to see if there are legal remedies available. Livelihood is not just restricted to us, there are many sectors that will be affected."
http://indianexpress.com/article/india/in-goa-church-and-muslim-groups-come-together-to-fight-anti-slaughter-order-beef-ban-eid-sacrifice-4701155/
--------
ISIS Game Plan for Kashmir Caliphate: Fight and Kill Idol-Worshipping Infidels
June 9, 2017
ISIS appears to be pursuing a nefarious game plan to turn Muslim-majority Jammu and Kashmir into a caliphate, a blueprint prepared by its terror masterminds suggests.
Accessed exclusively by India Today, the wicked plot for the restive Valley -- already plagued by Pakistan's ISI-sponsored terror -- is documented in an Islamic State publication.
It calls for carnage in the Himalayan region, extolling jihad and the group's trademark narrative of hate against democratic rule.
In a series of spiteful paragraphs, the ISIS has also tried to instigate a dangerous guerrilla warfare against the army.
"You are not fighting a strong army but idol worshippers, drinkers of cow urine," reads one of the passages from the Kashmir-centric article in the terror journal. "These are the weakest forces. You must attack them. You must surround them. Wherever you find them, kill them. Follow them to the skies, if you have to."
Alongside this dangerous incitement, the terror group also plans to eliminate any traces of liberal Islam, its moderate Sufi roots, from the Valley, the blueprint reveals.
"Kill bad clerics who are only rumour mongers. Commit yourself into massacring them," says ISIS in its characteristic rant for a caliphate based on eight-century Islam and the Sharia law.
ISIS PLAN
In a nutshell, the ISIS plan centres around annihilating various organs of a democratic state -- security forces, political and religious representatives and established rule of law -- by invoking fundamentalist Islam.
"Infidels have captured Kashmir for a long time, but Kashmiris have never been silent against infidels. They have always sought freedom," said the eight-page article. "But, unfortunately, they were not initiated in the right direction. Political parties and organisations took advantage of their sacrifices," it claimed.
The ISIS write-up then glorified Islamic State and its ballyhooed caliphate as the only representative of true Islam.
"The Islamic caliphate witnessed a renaissance, which diminished the influence of political parties and organisations. The Islamic caliphate provided the right direction and led Muslims to true faith. Just like the rest of the world, the people of Kashmir will witness the rise of the Islamic caliphate," the article claimed.
ISIS vs ISI
The group doesn't spare even Pakistan as part of its plot to build a base of its own terror forces in Kashmir.
"Kill the officials and spies of Indian RAW and Pakistan's ISI. Don't give them the benefit of the doubt," reads a passage. "These are the people who have sold off their religion and therefore quality for punishment by Allah. Their names may be Muslim, but they have discarded Sharia, just as an arrow escapes the bow."
Loaded with its distinctive venom, the ISIS piece called upon potential terrorists to mount fatal attacks.
"The heads of these snakes must be crushed. Sharia must be dominant. Allah will help those who follow him. We pray to Allah to show Kashmiris the right direction. Islam must reside in their hearts.
"We pray to Allah to dispel their obstacles. That is how the path for a caliphate will be made," the article read.
Emboldened by the separatist-fuelled unrest, terrorists are attempting to plunge the entire Valley into a deeper crisis, with their own brand of radical Islam.
WHAT IS SEEN IN THE VIDEO
In a video, issued purportedly by militant commander Zakir Musa and his Taliban-e-Kashmir, masked militants could be seen holding guns with audio threatening youth for their western lifestyle and dresses.
"The youth of Kashmir are wearing jeans, and girls apply make-up. We are totally against it," says a voice in the footage. "We will murder your children and you will not see their future. We warn all of Kashmir in the name of Taliban and Zakir Musa."
Zakir Musa has recently declared Sharia as his sole goal for Kashmir.
Formerly Hizbul Mujahideen, he recently announced a Taliban-e-Kashmir group. Musa is believed to have successfully poached more than a dozen cadres from Hizbul.
The terrorist leader has also been successful in developing a following among the Kashmiri youth following radical Islam over mystical Sufism, which highly-placed security sources say is losing appeal in the state.
"Musa has been able to break away 12 to 15 of his former Hizbul Mujahideen cadres and take them with him to the Taliban-e-Kashmir, which is an attempt to attract more youth and give a push to militancy," said a senior security official.
Full report at:
http://indiatoday.intoday.in/story/islamic-state-gameplan-exposed-in-kashmir-valley/1/975215.html
--------
Holy month of Ramzan makes the Hindu-Muslim bond stronger in Old Delhi
Jun 10, 2017
For members of the Muslim community, the holy month of Ramzan involves fasting, devotion and charity. In Old Delhi, the month holds significance for its Hindu brethren, too. In a show of solidarity, many are choosing to not eat anything for the whole day. Mohd. Shaan, owner of Kallan Sweet Shop in Old Delhi, tells us, "Kaushal Singh, who has been working with us for the last sixteen years, doesn't eat anything for the whole day. Like him, we have several Hindu workers who stand in front of the 'bhatti' all through the day but to support us, they also skip their meals and water. And, if they want to have food or drink water, they go in the backyard."
For Kaushal, it's not about religion, but humanity. "How can I eat or drink anything when a colleague abstains from it. I'm not a sadist. I respect all religions and value them," he says proudly.
The story is the same for many employees at the several shops in the area, with a majority of Hindu staff showing concern for the Muslims. Mohd. Arshad, who runs a dry-fruit shop, shares, "Meva Ram, who works for me, doesn't even talk about food in front of me. He also skips his lunch every day to eat iftari (the meal that breaks the day-long fast) with my family. Aisa bhaichara kaha dekhne ko milega?"
Some even share the work load of those observing a fast. Mohd. Arshad says, "My Hindu employees insist that we, Muslims, take rest and they take care of the work."
Full report at:
http://www.hindustantimes.com/delhi-news/holy-month-of-ramzan-makes-the-hindu-muslim-bond-stronger-in-old-delhi/story-3NSqf1i9Alwmpj2j3N7B9K.html
--------
Meet the Meos, the Muslim 'Gau Rakshaks' Of Mewat
by Adrija Roychowdhury
June 12, 2017
Abid Hussain had just completed his afternoon namaaz at his gaushala (cow shelter) in Nuh district of Haryana's Mewat region. A devoted manager of the cow shelter, the 23-year-old explained how his day revolved around taking care of the 50 cows now under his care. Three years ago, soon after completing his Bachelor's degree in civil engineering, Hussain decided to take charge of the first Muslim-owned cow shelter in Mewat that his brother, Mohammad Habib, had opened. Since then, his foremost priority is to get rid of the 'cow slaughterer' tag attached to his community. "Hum logon ko yeh sabit karna chahte hain ki Musalmaan gau hatyara nahin hain. Musalmaan gau palak hain. Yeh toh sirf rajneeti ki vajah se hum logon ko kalankit kiya ja raha hain (We want to prove to people that Muslims are not cow slaughterers. Muslims are cow protectors. It is just because of politics that we are being targeted)," he says.
Abid Hussain belongs to Mewat, a region that spreads across parts of Rajasthan, Haryana and Uttar Pradesh. Inhabitants of the region, the Meos, exhibit a unique identity with a blend of Hindu and Muslim ethos. Driving across the dry, barren lands of Mewat, you see bearded men in skull caps and women in colourful Rajasthani lehenga cholis.
In recent times, the Meos have been in news after 55-year-old Pehlu Khan from Alwar (also in Mewat) was allegedly lynched by a mob while transporting cows for his dairy farm. Following the brutal murder, the Meos demanded that the cow be declared India's national animal, and its slaughter be banned. Underlying the Meo call for the ban, however, is an unusual religio-cultural identity that manifests itself in a combination of 'cow worship' and namaaz in the community.
The Meo's unique Hindu-Muslim culture
"Hum Meo qaum ka itihaas gaate hain, jaise Heer-Ranjha, jaise Kaurav-Pandav, Bharat-Hari, yeh local itihaas gaate hain hum (We recite the history of the Meo community, the tales of Heer-Ranjha, Kaurav-Pandav, Bharat-Hari, stories from our local history)," says Aash Mohammad, who belongs to the Mirasi caste among the Meos. The lower-caste Mirasis are folk singers, whose presence in weddings and other cultural events is considered auspicious. As he prepares to perform the most popular ballad among the Meos, the Pandun ka Kada, the Meo version of the Mahabharata, Aash Muhammad explains that this particular folk song has a special significance in their community and is widely sung during their weddings.
The Meos claim an ancestry that dates back to the Pandavas. "I had once asked a jagga (Hindu genealogist) to tell me my family history, and he explained that my ancestors came from Hastinapur near Delhi and that we are the sons of Arjun," said Arif Mohammad, a member of the audience at Aash Muhammad's ballad recital. Historical records suggest the Meos were converted to Islam sometime in the early 15th century when Firuz Shah Tughlaq was the Sultan of Delhi. This date is, however, at best an approximation, and many historians are of the opinion that the Meos underwent a gradual process of conversion that began in the 10th-11th century, and was led by a series of Sufi saints.
"We use the word 'conversion' as a modern concept. There was no such large-scale complete conversion in the time we are talking about, the 14th-15th century," Professor Shail Mayaram, an authority on the ethnic composition of the Meos, said. The Meos, she said, did come under the influence of certain Sufi pirs, but continued their traditional practices, which led to a situation of "multi-religiosity". Being of high-caste Rajput descent and predominantly landholders, they were reluctant to give up their Hindu cultural practices, even when they gradually adopted Islamic ways.
The unique identity of the Meos, however, underwent a massive transformation in the 1920s and subsequently, at the time of partition, under the influence of the Tablighi Jamaat movement started by Muhammad Ilyas al-Kandhlawi. The Tablighis' first major experiment was among the Meos, which began with efforts in the 1920s to educate the community on the importance of the namaaz, keeping a beard, and the study of the Holy Quran. These first cultural interventions failed to make much headway against deep-rooted practices followed by the community — but the horrors of Partition helped break down popular resistance. "During Partition, there was a genocide against the Meos carried out by the Alwar and Bharatpur states. Overnight their villages were burnt," Mayaram said. The Tablighi Jamaat preyed on human tragedy, preaching that the violence was a manifestation of the anger of God, the result of the Meos being "bad Muslims", Mayaram said
Since 1947, the religious identity in Mewat has largely been defined by the discourse of Sunni Islam. However, people still continue with their older, 'Hindu' cultural practices, albeit at a gradually diminishing scale. "Earlier there would be worship of the Goddess. There is a Mewati Mahabharata in which Draupadi is the form of the Goddess. In their weddings they would sing about the marriage of Mahadev and their descent from Krishna," Mayaram said.
Even so, these 'Hindu' practices have not yet disappeared altogether. Arif Mohammad said that even today, practices like ghur savari — a custom in which the groom arrives for his wedding on a horse — and other Hindu rituals remain in vogue. The Meos also continue to follow the Hindu system of recording ancestry known as the gotra, and the tradition of tracing their lineage through Hindu genealogists known as jaggas.
"The modern idea of religion, which has come to us from the Enlightenment and the Protestant Reformation, is the that you can only have one religion. Similarly, it is understood that once converted, you completely opt out of your earlier religious identity," Mayaram said. That's a model that does not work in the case of the intermixed Meo religious identity.
"The tendency in scholarship is to see religion as something that is pure, and syncretism as something that is mixed. This is an unfortunate binary. I think religion is something that is in any case mixed, and the Meos are a prime example of that," Mayaram said.
The Meo's respect for the cow
In this unique socio-religious context of Mewat, the cow holds a very special position. While the animal is largely considered to be a Hindu religious symbol, it is equally revered, if not worshipped, by the predominantly cattle-rearing Meo Muslim community.
Social activist Mohammad Habib, who opened the first Muslim gaushala in Mewat, said, "The Meo Muslims rear the largest number of cows in India. Very few people indulge in slaughtering the cow and the entire community of Mewat, both Hindus and Muslims, are against it.We have grown up believing that Islam says that cow milk is like medicine, and its meat spreads illnesses. Islam clearly notes this and we are trying our best to spread awareness about this among the ordinary masses."
The Meos relationship with the cow is clearly rooted in the socio-economic built of Mewat. "They are part of the tradition of the worship of the cow," Mayaram said. The Meos, she said, live in the Braj region, where the Ahirs and Yadavs, the principal cow worshipping communities, are numerically significant and socially dominant. "The Meos are part of that tradition," she said. The special position of the cow in Meo life is manifested in many ways — such as the fact that married Meo women make the sacred batevra (stacks of cow dung cakes), and the community celebrates Govardhan puja.
Siddique Ahmad, an independent researcher of Mewat's history, said that in an agricultural community like that of the Meos, the cow has an importance of its own. "The Meos had a lot of faith in the cow, and still do. During the first month of the monsoon, a festival called 'khansotiya' is celebrated here. In that festival, the cow is washed, decorated with a teeka on her forehead, and her horns are oiled. She may not be worshipped in the technical sense, but there is a certain faith in her that is rooted in the economic necessities of the community," he said.
Full report at:
http://indianexpress.com/article/research/cow-vigilantes-groups-cow-slaughter-meet-the-meos-the-muslim-gau-rakhshaks-of-mewat-4700295/
--------
Indian shot at by Saudi forces in Awamia
Jun 13, 2017,
HYDERABAD: An Indian has been reportedly injured in a shooting resorted to by Saudi forces at Awamia in Saudi Arabia on June 12. A photograph of the man, soaked in blooded and lying on the ground, was shared on Twitter by those who are raising their voices against the violence.
The Consulate General of India (CGI) in Jeddah, Saudi Arabia which took note of the post responded saying: "Very sad. Share his details to help him if he needs."
On Tuesday, when TOI sought the know the identity of the Indian driver who was shot at, Ali Al Nimir, who shared the photograph said, "Unfortunately, we don't. Yesterday, there were 30 people injured. We try to know their identities to tell the world about them."
Ameen who also shared photographs of the shooting incident said the India driver was working for a family in Alowina neighbourhood. "He was a victim of 34-day Saudi state terror military campaign," he said.
He said many women, men, children and foreign workers were injured in what he described as "random" shooting by Saudi forces.
'Angry Qatifi' who also responded to CGI Jeddah also informed that three Indian drivers were shot in the last one week in Awamia.
Full report at:
http://timesofindia.indiatimes.com/india/indian-shot-at-by-saudi-forces-in-awamia/articleshow/59120723.cms
--------
Terrorists hurl grenade at CRPF camp in Pulwama, two jawans wounded
Jun 12, 2017
NEW DELHI: Two jawans were injured after terrorists attacked a CRPF camp at Tral in Jammu and Kashmir's Pulwama district on Monday, news agency ANI reported.
The terrorists reportedly hurled a grenade into the CRPF camp, resulting in an explosion which injured two police personnel.
The area is being cordoned and a counter-operation is underway.
"Two CRPF jawans sustained minor injuries in the grenade fired from an UBGL (under barrel grenade launcher). The area has been cordoned off and searches mounted to trace the terrorists," a police official said.
Full report at:
http://timesofindia.indiatimes.com/india/terrorists-hurl-grenade-at-crpf-camp-two-jawans-wounded/articleshow/59113994.cms
--------
Mecca Masjid case Accused seeks exemption from appearance
June 13, 2017
An accused in the 2007 Mecca Masjid blast case moved a petition seeking exemption from personal appearance as the special NIA court hearing the case resumed trial on Monday after vacation. The court was immediately adjourned to June 19 to fix the schedule fo hearings.
Bharat Mohanlal Rateshwar, who is out on bail and lives in Gujarat, sought time, saying he won't be able to immediately appear in court as he is working as a teacher and coaching civil services aspirants. He was arrested in December 2011 for his alleged role in blasts in Mecca Masjid, Ajmer dargah and Samjhauta Express.
http://indianexpress.com/article/india/mecca-masjid-case-accused-seeks-exemption-from-appearance-4701277/
--------
Attacks on press freedom will jeopardise citizens' rights: Vice-President Hamid Ansari
June 13, 2017
Attacks on press freedom impact the rights of citizens and self-censorship by the media under fear of attacks can give rise to frustration in society, Vice-President Hamid Ansari said here on Monday.Speaking at the release of a special edition of the National Herald to commemorate 70 years of India's independence, Ansari said, "A free media is not only beneficial but necessary in a free society. If press freedom is attacked it will result in the jeopardising of citizens' rights. When faced with unjust restrictions and the threat of attack, self-censorship in the media can have the opposite effect, aiding the covering up of abuses and fostering frustration in marginalised communities."
The constitutional framework of India allows intervention by the state to ensure smooth working of the press and society but such intervention should only be in the interest of the public, he said. "By the same token, the state shall not impede in the free flow of information that will go a long way in protecting and promoting citizens' rights," he said.
"In this age of 'post truths' and 'alternative facts' where 'advertorials' and 'response features' edge out editorials, we would do well to recall Nehru's (who started the National Herald newspaper) vision of the press playing its role of a watchdog in democracy and look at the ethos and principles that powered his journalism," he said. Congress vice-president Rahul Gandhi, who was at the event, said there is a disbalance between the "power of truth" and the "truth of power" in India.
"The power of truth has been completely replaced by the truth of power. Anybody who attempts to say the truth and anybody who attempts to stand for truth is pushed aside in different forms. Dalits are beaten up, minorities are frightened, journalists are threatened, bureaucrats are threatened," the Congress leader said. "We are living in an India where power simply manufactures the truth. Everybody knows what the truth is but they are scared to say it. A famous Soviet poet once said when truth is replaced by silence, the silence is a lie. That is what the government is trying to do. They are forcing everyone into silence."
Full report at:
http://indianexpress.com/article/india/attacks-on-press-freedom-will-jeopardise-citizens-rights-vice-president-hamid-ansari-4701201/
--------
North America
Supporters of Muslim-Americans Outnumber Muslim Haters
Jun 13, 2017
On a bright and windy morning last Saturday, Esther and Neal, a middle-aged couple, drove 60 miles from Richmond to San Jose to express their solidarity with Muslim Americans. They were motivated to come after hearing about the rally a group called ACT for America (AofA) were organizing against Sharia Law in the U.S.
"This was really important for us," said Esther, "to say 'No' to the hate mongers. As Jews, we can never forget the holocaust legacy. We have to reach out to our fellow Muslims to make America safer and stronger."
But the couple, holding up signs that read "Another Jew for Love,' was also curious to know from me – a Muslim - what percent of Muslim Americans (about 3.3 m illion, or 1% of the population) wanted Sharia Law (traditional Islamic law) in the U.S.
"I know of no Muslim who wants Sharia Law," I said. "We love the U.S. Constitution."
"That's what we thought," said Neal.
Bay Area Muslims have been bracing for the anti-Sharia Law protest for weeks. It was the quintessential straw man, a conduit for anti-Muslim hysteria by Islamophobes and White Supremacists emboldened by President Trump's anti-Muslim policies.
We were tense and stressed as dawn broke but when we showed up at the intersection of Santa Clara and San Jose on Steven's Creek Boulevard on Saturday, June 10, our fear dissolved and hope filled our hearts. Supporters, brought together by over 130 diverse organizations from all faiths and of all ages, easily outnumbered the AofA protesters - I counted about 40 of them - by at least 20 to 1.
"I am a writer," said Esther, as we reflected on the sad state of America today riven by divisions, inequality and hatred. I made a mental note of the book she had written.
The sidewalks along Santa Row resounded with chanting.
"Trump Says: Get Back. We Say: Fight Back!"
"When Muslims are Under Attack, Stand Up and Fight Back!"
"Say It Loud, Say It Clear, Muslims Are Welcome Here!"
Victoria, in her '60s and affiliated with the Trinity Episcopal Church in Menlo Park, showed me how she had used the malleability of the English language to turn a negative slogan into a positive message. "I saw this poster at an anti-Muslim rally that showed a brick wall on which was written 'No More Muslims.' I simply changed it to 'Know More Muslims!" she said, beaming.
Abigail, seven, and her two year old brother Theo, conveyed to the rest of America and to the world this message: "Stop the Hatred. Muslims Welcome Here."
Maureen and Barbara, retired teachers from San Jose, held aloft posters that read "Christians stand up for Muslim Americans," and "Resist the Right. Stop Racist Attacks."
For Martin of San Jose, it was a moral imperative to attend the rally in support of Muslims. "We cannot wait for Internment camps. I heard some politicians talk openly for Muslim Internment camps after the Manchester attack."
A large number of Japanese-Americans, descendants of Internment Camp survivors during WWII, held up signs that stated in bold red letters, "We Stand for Inclusion." The statements were imprinted on images of the "Instructions to All Persons of Japanese Ancestry" manual that was handed out to their parents and grandparents during their Internment.
Across the street, among the anti-Sharia Law protesters, there was a man with a poster that read "Sharia Law: No. US Constitution: Yes." I wanted to ask him if he knew of a single Muslim American who wanted to impose Sharia Law on America. But when I checked with a policeman, he wisely advised me not to.
What I noticed was that in this month of Ramadan, fasting Muslim volunteers were distributing water bottles to thirsty people, and that included those rallying against us. Nothing captured for me the spirit of Ramadan more than this simple and poignant gesture.
The posters were pithy and precise. Tara of San Jose: "Honk if you love you Muslim Neighbor." Honking along Stevens Creek was indeed deafening Saturday morning.
Chris of Palo Alto told me her daughter Michelle, 10, insisted on accompanying her after she heard about the event and wished upon all of us: "Shabbat Shalom. Ramadan Mubarak." We are also in the midst of the Jewish observance of Sabbath.
Charles and Tori, members of Showing Up For Racial Justice(SURJ), declared, "I Love My Muslim Neighbor." Jay, of Muslim-Jewish Solidarity Alliance, advised, "Resist Hate." A San Jose family declared: "We stand with Our Muslim Neighbors," and implored "Unity." Tim, of Congress of Resistance, advised: "Unite to Fight Against Racism and Bigotry."
For Steven, what was at stake was nothing less the future of democracy in America. "We cannot accept What Trump is trying to do to America," he said. "We have to stand up for what we believe in and fight for our values for as long as it takes."
For Sister Elizabeth, it was to stop the encroachment of what she saw was the unmistakable sign of fascism in America. Her poster said: "In the Name of Humanity, He Refused to Accept a Fascist America." It showed the image of Taliesin Myrddin Namkai Meche, who lost his life at the hand of a White Supremacist in Portland when he came to the defense of two muslim girls.
After a while I simply began reading the signs for my own edification and inspiration:
"Muslims for love, peace, diversity, feminism, science and humanity."
"Jews Stand with Muslims"
"End Terrorism by Not Participating In it"
"Dear Mrs. President: Trust Muslim Women"
"First They Came for the Muslims and I said, Stop Right There!"
Particularly moving for me was the message conveyed by the word "MUSLIM" on the T-shirt of a woman holding a banner with 2 other Americans of "Indivisible San Jose." She had highlighted "US" in "MUSLIM." It could stand for "US" as in, we are all in this together, and it could also stand for the United States. I never thought of my faith label that way, and I would have never discovered it if I hadn't come to the rally. With awe and wonder, I realized that in the most unexpected way, I had redeemed my fasting!
When I returned home that night after performing the special nightly Ramadan prayers called 'Taraweeh' at the Evergreen Islamic Center, the images of diversity and inclusion and love and courage still fresh in my mind. It was past midnight. But I had one more thing to do before turning it in. I turned on my laptop, went to Amazon's website and ordered a book called "Nest," a book about the power of healing and friendship, by an author named Esther Ehrlich.
New America Media is partnering with the Documenting Hate Project, a collaborative of media outlets, civil rights groups and tech companies nationwide working to document the rise of hate crimes and incidents of bias or harassment in the United States since the 2016 election. If you have experienced or witnessed a hate crime or incident of bias or harassment, you can use this form to send information about the incident to the Documenting Hate Project. The form is not a report to law enforcement or any government agency. It will be used as part of a national database for use by journalists, researchers and civil rights organizations. Read more of NAM's reports on hate crime and hate speech here.
http://newamericamedia.org/2017/06/supporters-of-muslim-americans-outnumber-muslim-haters.php
--------
Trump's 'Muslim ban' dealt new blow by US appeals court
Jun 13, 2017
Another US appeals court stomped on President Donald Trump's revised travel ban, saying the administration violated federal immigration law and failed to provide a valid reason for keeping people from six mostly Muslim nations from coming.
The decision by a unanimous three-judge panel of the San Francisco-based 9th US Circuit Court of Appeals helps keep the travel ban blocked and deals Trump a second big legal defeat on the policy in less than three weeks.
The administration has appealed another ruling against the ban to the Supreme Court, which is likely to consider the cases in tandem. The White House said it is confident the high court will uphold Trump's executive order.
The 4th US Circuit Court of Appeals in Virginia last month cited the president's campaign statements calling for a "total and complete shutdown" on Muslims entering the US as evidence the 90-day ban was unconstitutionally "steeped in animus and directed at a single religious group", rather than necessary for national security.
The 9th Circuit, which heard arguments in Seattle last month in Hawaii's challenge to the ban, found no need to analyse Trump's campaign statements. It ruled based on immigration law, not the Constitution.
"Immigration, even for the president, is not a one-person show," the judges said. "National security is not a 'talismanic incantation' that, once invoked, can support any and all exercise of executive power."
Judges Michael Hawkins, Ronald Gould and Richard Paez - all appointed by President Bill Clinton - said the travel ban violated immigration law by discriminating against people based on their nationality when it comes to issuing visas and by failing to demonstrate their entry would hurt American interests.
The president's order did not tie citizens of Iran, Libya, Somalia, Sudan, Syria and Yemen to "terrorist organisations" or identify them as contributors to "active conflict", the court said. It also did not provide any link between their nationality and their propensity to commit terrorism.
"In short, the order does not provide a rationale explaining why permitting entry of nationals from the six designated countries under current protocols would be detrimental to the interests of the United States," the ruling said.
The judges pointed to a June 6 tweet by Trump saying the order was aimed at "dangerous countries". That helped demonstrate he was not assessing whether the roughly 180 million citizens of the six countries had ties to terrorism, they said.
Because of the conflict with immigration law, the judges said they didn't need to consider whether it also violated the Constitution's prohibition on the government favouring or disfavouring any religion. The 4th Circuit found the policy unconstitutional on that basis.
Attorney-General Jeff Sessions denounced the ruling. "Recent attacks confirm that the threat to our nation is immediate and real. Certain countries shelter or sponsor terrorist groups like ISIS and al-Qaeda, and we may be unable to obtain any reliable background information on individuals from these war-torn, failed states," Sessions said in a statement.
Full report at:
http://www.aljazeera.com/news/2017/06/trump-muslim-ban-dealt-blow-appeals-court-170613005531086.html
--------
Chicago City Council comes out against Trump idea of Muslim registry
Jun 13, 2017
Mayor Rahm Emanuel's preemptive move to stop Chicago from contributing to a federal Muslim registry if one come about advanced Monday, the mayor's latest effort to publicly announce his opposition to one of President Donald Trump's ideas.
Trump has not taken steps to create such a registry of Muslims in America, though he talked about doing so during the presidential campaign and after his election. The president also has suffered several legal setbacks in his attempt to ban travel to the U.S. from a half-dozen Muslim-majority countries.
But that hasn't stopped the Emanuel administration from blasting the possibility. On Monday, Emanuel's human rights commissioner, Mona Noriega, compared such a registry to lists created in Nazi Germany to enable the rounding up and killing of Jews. And she pointed to the U.S. holding Japanese-Americans and others during World War II.
"We know all too well from history that registries of different types have been used to single out people for internment, torture and even death," Noriega said during testimony at the City Council Human Relations Committee.
The ordinance, which the panel advanced, prohibits the use of city money, facilities or equipment to "provide support in any manner for the creation, publication or maintenance of a registry program" based on religion, race, national origin and other factors.
The mayor has taken numerous opportunities to place himself at the forefront of anti-Trump efforts, repeatedly proclaiming that the Republican president's immigration and environmental policies don't "reflect the shared values" of overwhelmingly Democratic Chicago.
As the mayor considers running for a third term in 2019, Emanuel has positioned himself as the tough leader who can act as a bulwark here against Trump's policies.
Full report at:
http://www.chicagotribune.com/news/immigration/ct-rahm-emanuel-donald-trump-muslim-registry-met-20170612-story.html
--------
US senator slammed for posing with anti-Muslim militia
Patrick Strickland
Jun 13, 2017
A US state senator has sparked fierce criticism after appearing in a photo with a controversial anti-Muslim militia during the National March Against Sharia, a campaign that was roundly denounced by rights groups and watchdogs.
Georgia State Senator Michael Williams, who is a Republican Party candidate running for governor, posed in a photo by with local members of the Three Percenters militia movement in Atlanta on Saturday.
In the photo, which was picked up by local media outlets over the weekend, the militiamen were armed with rifles and dressed in camouflage military garb.
The Council on American-Islamic Relations (CAIR), a Muslim civil rights group, described Williams' choice to take a photograph with the group as confusing.
"In this situation, especially because Senator Williams is running for governor, this didn't really make sense to us," Ruwa Romman, the communications director of CAIR's Georgia chapter, told Al Jazeera by telephone.
"They seem to not really understand what the Three Percenters represent."
'Alienate an entire group of people'
Last year, the Three Percenters led a campaign to prevent the construction of a mosque in Georgia's Newton County. The group claimed the mosque was actually a training ground for the Islamic State of Iraq and the Levant (ISIL, also known as ISIS) armed group.
Following the outrage over the photograph, CAIR-Georgia invited Williams to visit a local mosque and speak to its congregation.
Explaining that more than 100,000 Muslims live in Georgia, Romman said: "It doesn't make sense to me that, if you're running for governor, you would alienate an entire group of people."
At time of publication, Williams had not replied to Al Jazeera's request for a comment.
'OK' hand sign
Twitter users also criticised Williams, asking whether the militiamen were making a white supremacist hand sign in the photo.
The Southern Poverty Law Center (SPLC), a group that monitors hate groups, echoed CAIR's concerns and explained the group's use of the "OK" hand signal in the photo.
"For the anti-government Three Percenter movement, this same hand gesture symbolises their belief in the disputed claim that only three percent of American colonists fought against the British in the American Revolution," the statement said. "The three extended fingers represent this three percent."
The SPLC has designated the Georgia chapter of the Three Percenters as a "hate group".
The watchdog said that, although it did not consider the gesture a symbol of white supremacy, Williams "did stand with a well-known right-wing paramilitary group as they flashed the hand signal of a movement that espouses violent anti-government rhetoric and anti-Muslim conspiracies".
'Islamophobia'
Sponsored by ACT for America, a lobby group that the SPLC describes as the largest grassroots anti-Muslim group in the US, the National March Against Sharia coordinated anti-Muslim marches in dozens of cities across the country.
ACT for America did not reply to Al Jazeera's request for a comment. A press release on the group's website claimed the marches were called for to oppose alleged efforts to impose sharia - or Islamic law - in the US, which it deemed as contrary to human rights and the country's constitution.
In most cities, counter-protesters outnumbered participants of the National March Against Sharia.
Alia Salem, a Dallas-based Muslim-American and social justice activist, told Al Jazeera that the marches came at a time of soaring anti-Muslim xenophobia, citing an uptick in hate crimes targeting Muslims in recent years and President Donald Trump's efforts to ban travellers from six Muslim-majority countries from entering the US.
Full report at:
http://www.aljazeera.com/news/2017/06/senator-slammed-posing-anti-muslim-militia-170612175340975.html
--------
Options on Afghanistan to be presented to Trump 'very soon': Mattis
Jun 13, 2017
U.S. Defense Secretary James Mattis said yesterday he would present options on Afghanistan to President Donald Trump "very soon," adding the strategy would take a regional approach rather than looking at the war-torn country in isolation.
The situation in Afghanistan, which U.S. military officials acknowledge is in a stalemate almost 16 years since the war started, has deteriorated in recent months.
A truck-bomb explosion in Kabul last month killed more than 150 people, making it the deadliest attack in the Afghan capital since the ouster of the Taliban in 2001.
In some cases, Afghan security forces have been forced to abandon more scattered and rural bases, and the government can claim to control or influence only 57 percent of the country, according to U.S. military estimates earlier this year.
"We are taking a regional approach to this," Mattis told the House Armed Services Committee. "We will take that forward to the president for a decision very soon."
Mattis said a request by General John Nicholson, the head of U.S. and international forces in Afghanistan, for additional troops would mostly be made up of troops who would train, advise and assist Afghan forces, potentially putting them with Afghan forces at the brigade level.
"It's a fundamental change to how we bring our, what I would call our real superiority, in terms of air support," Mattis said.
At the same hearing, Chairman of the Joint Chiefs of Staff Joseph Dunford said he had gone to Mattis and Trump with "some options that might be considered" in order to help improve the security situation in Afghanistan.
Reuters reported in late April that Trump's administration was carrying out a review of Afghanistan and conversations were revolving around sending between 3,000 and 5,000 U.S. and coalition troops there.
Deliberations include giving more authorities to forces on the ground and taking more aggressive action against Taliban fighters.
Some U.S. officials questioned the benefit of sending more troops to Afghanistan because any politically palatable number would not be enough to turn the tide, much less create stability and security. To date, more than 2,300 Americans have been killed and over 17,000 wounded.
Full report at:
http://nation.com.pk/international/13-Jun-2017/mattis-says-options-on-afghanistan-to-be-presented-to-trump-very-soon
--------
Marawi conflict: Hundreds held hostage by Islamic militants as US forces join army effort
Jun 13, 2017
Local authorities in the southern Philippines say as many as 1,500 civilians remain trapped or held hostage in the besieged city of Marawi, as US special forces joined the ongoing military effort to help end the assault by Islamic militants.
The military are using fighter jets and helicopters to blast militants out of the city, on the island of Mindanao, which has been a warzone for three weeks.
Almost the entire population of about 200,000 have fled, but beyond the checkpoints fencing it off there are still hundreds of civilians who cannot get out due to the violence or are being held hostage.
Authorities have been trying to orchestrate a ceasefire to get the civilians out, officials said.
As of Saturday the number of security forces killed in the battle for Marawi stood at 58, while the death toll for civilians was 20 with more than 100 killed overall.
The seizure of Marawi by fighters allied to Islamic State, including some from the Middle East, has alarmed South-East Asian nations which fear the ultra-radical group — on a backfoot in Iraq and Syria — is trying to set up a stronghold on Mindanao that could threaten their region.
Philippines President Rodrigo Duterte said on Sunday he had not expected the battle for Marawi to be as serious as it has turned out, adding that it had now emerged "that Baghdadi himself, the leader of the ISIS, has specifically ordered terroristic activities here in the Philippines".
On Tuesday, an audio message purporting to come from the spokesman of Islamic State called on followers to launch attacks in the Philippines during the Islamic holy month of Ramadan, which began in late May.
The audio clip was distributed on Islamic State's propaganda channel on Telegram, an encrypted messaging application.
US special forces assist Philippines military
Over the weekend, US special forces were confirmed to have joined Philippines troops to help end the siege, according to a US embassy spokesperson in Manila.
Philippine military spokesman Lieutenant Colonel Jo-Ar Herrera confirmed the US special forces would be assisting local troops to end the siege, but only to provide technical support.
On Monday, bomb blasts continued to rock Marawi, as the national flag was raised to mark independence day.
Rescue workers, soldiers and firemen sang the national anthem and listened to speeches as three OV-10 attack aircraft darted through the cloudy sky, taking it in turns to drop bombs on areas where fighters are still holed up.
"To our Muslim brothers there, we want to tell them to stop their meaningless fight because we are all Muslims," vice provincial governor Mamintal Adiong Jr. told the gathering.
Full report at:
http://www.abc.net.au/news/2017-06-13/hundreds-held-hostage-in-southern-philippines-as-us-forces-join/8612294
--------
Arab World
No one has the right to discuss its foreign policy: Qatar
Jun 13, 2017
PARIS: Qatar on Monday denounced the sanctions imposed against Doha by Saudi Arabia and its allies as "unfair" and "illegal", as Britain announced talks to try to resolve the crisis.
"Whatever relates to our foreign affairs ... no one has the right to discuss," Foreign Minister Sheikh Mohammed bin Abdulrahman Al-Thani told reporters during a visit to Paris.
He called for "dialogue based on clear foundations" over accusations that Qatar supports extremist groups. "Qatar is willing to sit and negotiate about whatever is related to Gulf security," he added.
In London, British foreign minister Boris Johnson said he would meet this week with his counterparts from Saudi Arabia, Kuwait and the UAE, and called for calm. "I have urged all sides to refrain from any further escalation and to engage in mediation efforts," he said.
While praising Qatar's restraint during the crisis, he added: "In finding a resolution, I call on Qatar to take seriously their neighbours' concerns." Qatar is a partner of the UK in the fight against terrorism but they urgently need to do more to address support for extremist groups, building on the steps they have already taken to tackle funding to those groups."
Kuwaiti mediation welcomed
In Paris, Sheikh Mohammed, who is on a European tour to drum up support for Qatar, said his country had no idea what had provoked the move against it. "It's not about Iran or Al-Jazeera," he said, referring to the Qatar-based broadcaster. "We have no clue about the real reasons."
But he supported moves by Kuwait to act as a mediator in the dispute "with the help of friendly countries such as the United States," he added.
Qatar Airways calls for UN intervention
In Doha, Qatar Airways called on the UN's aviation body to declare the Gulf boycott against the carrier "illegal" and a violation of a 1944 convention on international air transport. In televised interviews on Monday, Qatar Airways CEO Akbar Al Baker called the move an "illegal blockade" and urged the United Nations' civil aviation branch to intervene.
Qatar Airways has made Doha a global hub in just a few years, but industry analysts say banning it from Gulf states' airspace could threaten its position as a major transcontinental carrier.
Qatar announced on Monday that it had launched direct shipping services to ports in Oman in a bid to bypass the Gulf "blockade".
Saudi Arabia has closed the Qatari peninsula's only land border, threatening imports of both fresh food and raw materials needed to complete a $200 billion infrastructure project for the 2022 football World Cup. Iran had announced Sunday that it had sent five planes carrying produce to Qatar. Three ships carrying 350 tonnes of food were also set to leave Iran for the emirate.
http://nation.com.pk/international/13-Jun-2017/no-one-has-the-right-to-discuss-its-foreign-policy-qatar
--------
S Arabia soldier killed in Qatif bomb blast
Jun 13, 2017
RIYADH : A Saudi soldier was killed and two members of the security forces wounded when an explosive device went off during a patrol in the Kingdom's eastern Qatif province, the Interior Ministry said on Monday.
The ministry said in a statement carried by the state news agency that the blast, which it described as a "terrorist incident" had occurred late Sunday evening in the Masoura district.
In a statement carried by Saudi Press Agency (SPA), the ministry said that the blast occurred late Sunday evening in the Masoura district in the village of Awamiya. It described the explosion as a "terrorist incident". The state news agency, citing the interior ministry, identified the dead soldier as Major Tariq Al-Allaqi. Security spokesman of Interior Ministry announces martyrdom of Major/ Tariq Al-Allaqi and two security personnel injured in Qatif province. pic.twitter.com/kQHQErQ5Zm.
The oil-rich eastern province of Qatif is mostly Shia, a minority in the kingdom.
The SPA has reported an increase in clashes between Shia fighters and security forces in Masoura in recent weeks after the Saudi government sent in workers to demolish a 400-year-old walled neighbourhood there.
UN rights experts have urged the Saudi government to halt the demolition, saying the planned commercial zone threatened the town's historical and cultural heritage and could result in the forced eviction of hundreds of people from their businesses and residences.
In May, another soldier was killed and five others injured in Masoura after they were hit by a grenade while on patrol, the SPA said.
It said "terrorist elements" had carried out the attack "to impede the development projects in Al-Masoura".
Earlier this month, two men were killed there when their car exploded on a main street. The interior ministry described the pair as "two wanted terrorists".
Full report at:
They have protested in the past over alleged marginalisation in the kingdom.
http://nation.com.pk/international/13-Jun-2017/s-arabia-soldier-killed-in-qatif-bomb-blast
--------
Egypt bans scores of news websites in growing crackdown
Jun 13, 2017
CAIRO - An often fiery government critic, Egyptian journalist Khaled al-Balshi has been arrested, had his operations monitored, and staff harassed by police for years. Yet his website Al-Bedaiah, a rare dissident voice in Egypt, had never been touched.
On Sunday that changed when it suddenly went blank with no warning after being blocked, part of what Balshi called an unprecedented and far-reaching state crackdown on scores of news websites in recent weeks.
"Let's be clear, the Egyptian websites going through this are dealing with a long-term shutdown - this is not short term," said Balshi from his downtown Cairo office, where four work stations sat idle, because staff feared coming to work in case of arrest.
Balshi's website was the 57th blocked since May 24, according to the Association for Freedom of Thought and Expression, a non-government organization tracking the affected sites through software that monitors outages.
Journalists see the campaign against them as a step toward banning all but the most state-aligned media, effectively reversing the private media boom that flourished in the final decade of former president Hosni Mubarak's rule and which they say helped push him from power in 2011.
Though no precise figures on readership are available, Egypt enjoys an active private media that includes widely read print and web format publications as well as popular late-night talk shows. State newspapers still maintain wide circulation.
The spike in censorship has come as a surprise, even to journalists long-accustomed to reporting within strict red lines in Egypt where direct criticism of the military, the president, and judiciary are considered taboo and punishable by jail time.
The government has offered no comment on the reason behind the blockages and the Ministry of Communication and Information Technology had no immediate comment.
MUSLIM BROTHERHOOD
Makram Mohamed Ahmed, head of the newly formed Supreme Media Council, a state media regulator, told Reuters he believes "the main reason is how much [these websites] deal with the Muslim Brotherhood or express support for terrorism," referring to the Islamist group whose president Mohamed Mursi held office for a year before being ousted in 2013 by the military after mass protests.
But the blockages have also hit Mada Masr, a self-described progressive outlet with no Islamist ties, as well as the widely read Al-Borsa, a financial newspaper favored by the largely pro-government business community.
"If they did something more grave like arresting team members or me it would make big noise, whereas blocking the website is the best way to paralyze us without paying a high price for it," Lina Atallah, editor of Mada Masr, told Reuters.
Some journalists say a presidential election in 2018 means Egypt is doubling down on press restrictions, a move intended to ensure opposition candidates have few spaces to challenge general-turned-president Abdel Fattah al-Sisi, who is widely expected to run for a second term.
"There are people getting ready to nominate themselves for the presidency and they have to make their voices heard or else they won't be competitive," said Adel Sabry, the editor-in-chief of Masr al-Arabia, a website blocked last month.
"[The goal] is that it's just one voice," said editor-in-chief of Al-Borsa, Hussein Abd Rabo, who said his paper could be closed any day.
RED SEA ISLANDS
When Balshi's website was wiped from Egyptian screens seven of its eight most read articles dealt with the same hot-button issue: a controversial accord transferring two Red Sea islands to Egypt's top benefactor, Saudi Arabia. The measure is expected to be voted on within days by parliament.
Full report at:
http://nation.com.pk/international/13-Jun-2017/egypt-bans-scores-of-news-websites-in-growing-crackdown
--------
Ramzan toll shows ISIS in pitched recruiting race
Jun 13, 2017
Its strongholds in Iraq and Syria slipping from its grasp, the Islamic State group threatened to make this year's Ramadan a bloody one at home and abroad. With attacks in Egypt, Britain and Iran among others and a land-grab in the Philippines, the group is trying to divert attention from its losses and win over supporters around the world in the twisted competition for jihadi recruits during the Muslim holy month.
The militants insisted in their English language magazine this week that losing territory has only made it work that much harder to kill. The attacks since Ramadan's beginning on May 26 show the sweep of the group's ambition — from attacking the West, to expanding in the Philippines, to targeting Shiite powerhouse Iran — something al-Qaida itself never risked.
"They can say here is something that al-Qaida has refrained to do," said Assaf Moghadam, an author and analyst of jihadi groups. "From their perspective it's been a great Ramadan so far."
But a powerful counter-message is emerging in recent days. With the month of fasting also a time of high television ratings in the Arab world, the telecommunications company Zain has launched a commercial that begins with footage of a man fabricating a suicide bomb. By the end, faced with bloodied victims and survivors of extremist attacks, the man stumbles and fails in his mission. "Let's bomb delusion with the truth," a man sings. The ad has been viewed more than 6 million times on YouTube. "We will counter their attacks of hatred with songs of love," it ends.
IRAN
The attack on Iran marked a new stage for the Islamic State group, which had threatened the Shiite-majority state repeatedly without actually striking it.
Five Islamic State group extremists battle-tested in strongholds Mosul and Raqqa simultaneously targeted the country's parliament and shrine of late founder of the Islamic Republic Ayatollah Ruhollah Khomeini, killing 17 people. More than any of the other Ramadan attacks, the bloodshed in Iran shows the group's violent attempts to persuade potential recruits it has the staying power to endure beyond the loss of its two major strongholds.
IS and al-Qaida, both radical Sunni groups, are competing for recruits in the global jihadi movement. Al-Qaida, however, has never attacked Iran. Founder Osama bin Laden had put the Persian state off-limits, citing and the country's role as a conduit for arms and money.
LONDON BRIDGE
Three men armed with knives plowed a rented van into pedestrians on London Bridge, then slashed their way through the evening crowd at Borough Market on June 3, killing eight people.
The man believed to be the group's ringleader, Khuram Butt, had appeared in a documentary last year called "The Jihadis Next Door" and his neighbors said he was recruiting young people to join Islamic State. It was the third attack in Britain in three months claimed by the extremists.
PHILIPPINES SIEGE
Islamic militants in the Philippines aligned with the Islamic State group two weeks ago assaulted the southern lakeside city of Marawi, parts of which they occupy to this day, in a plot that they sketched in chilling detail on the back of a paper calendar. Among those at the table for the secret meeting was the purported leader of the Islamic State group's Southeast Asia branch, Isnilon Hapilon, who is on Washington's list of most-wanted terrorists and has a $5 million bounty on his head.
EGYPTIAN CHRISTIANS
Full report at:
http://nation.com.pk/international/12-Jun-2017/ramzan-toll-shows-is-in-pitched-recruiting-race
--------
Qatar hosted Taliban at US request: official
Jun 13, 2017
According to Tolo News, A senior Qatari official says Qatar hosted the Taliban based on a request from the United States, whose president, along with a number of Arab regimes, has been pressuring Doha over what they say is its support for extremist groups.
Mutlaq al-Qahtani, a senior counterterrorism adviser to Qatar's foreign minister, told Al Jazeera on Sunday that Qatar hosted the Taliban "by request by the US government" and as part of Qatar's "open-door policy, to facilitate talks, to mediate and to bring peace."
The Taliban opened an office in Qatar in 2013, but the Qatari government later shut it down. Taliban leaders are still said to be in Doha, however.
Qatar has come under intense pressure from Saudi Arabia, the United Arab Emirates (UAE), Bahrain, the Maldives, and Egypt — all of which have broken off ties with Doha — over accusations that the Qatari government sponsors extremist groups, including the Taliban.
According to Iran's Press TV a recent visit by U.S President Donald Trump to Riyadh, where he called on Arab countries to "isolate" governments supporting "terrorism" as well as Iran, is believed to have emboldened the Saudi rulers to pursue their policies more aggressively, including by assailing Qatar.
Those regional countries have suspended all land, air, and sea traffic with Qatar, ejected its diplomats, and ordered most Qatari citizens to leave.
Qahtani meanwhile told Al Jazeera that Qatar "was facilitating the talks between the Americans, the Taliban, and the government of Afghanistan."
The U.S has a military base in Qatar, which it says is crucial to its operations in the Middle East.
Qatar has however rejected the accusations that it supports extremism, and the country's Foreign Minister Sheikh Mohammed bin Abdulrahman Al Thani has said Doha would not "surrender" under political pressure.
This comes after Qatar appeared Sunday to be ready to listen to the concerns of Gulf Arab states that cut ties.
According to Reuters, the rift has disrupted travel, separated families, severed commercial links and sown confusion among banks and businesses. It has also deepened divisions between their respective allies fighting in wars and political struggles from Libya to Yemen.
"(Kuwait) affirms the readiness of the brothers in Qatar to understand the reality of the qualms and concerns of their brothers and to heed the noble endeavors to enhance security and stability," Kuwait's state news agency KUNA quoted Foreign Minister Sheikh Sabah al-Khalid al-Sabah as saying.
Reuters stated that Kuwait, which has retained ties with Qatar, said it wanted to resolve the dispute "within the unified Gulf house".
Morocco, a close ally of the Gulf countries, said on Sunday it would remain neutral and offered to facilitate dialogue, Reuters reported.
"If the parties so wish, the Kingdom of Morocco is ready to offer its services to foster a frank and comprehensive dialogue on the basis of non-interference in internal affairs and the fight against religious extremism," a statement from the country's foreign ministry read.
Reuters however stated a Qatari diplomat said the crisis reflected a lack of U.S leadership.
Full report at:
http://nation.com.pk/international/12-Jun-2017/qatar-hosted-taliban-at-us-s-request-official
--------
Over 30 Terrorists Killed, Wounded in Clashes among Rival Terrorists in Northern Syria
Jun 12, 2017
The sources said that after al-Hamzeh division attacked the positions of the 1st regiment in al-Bab, fierce clashes erupted among militants of al-Hamzeh division and Ahrar al-Sham with other militants from al-Bab military council and Bezaeh military council.
The source further said that 12 terrorists were killed and seven more were wounded in the clashes, adding that along with intensification of the clashes, Liwa Sultan Morad attacked Ahrar al-Sham positions in the villages of Oweilan and Qadiran. The fresh round of clashes between the terrorists in al-Bab has thus far left 30 gunmen dead or wounded.
While the news websites affiliated to the terrorists claim that al-Hamzeh division's accusation against Ahrar al-Sham about the latter's ties with the Al-Nusra Front (also known as Fatah al-Sham Front or the Levant Liberation Board) has been the root cause of the clashes, the local sources said that the clashes erupted only on distribution of wheat in al-Bab's silos and its warehouses that were left without guard after ISIL's withdrawal from al-Bab.
Relevant reports said on Sunday that intensified infighting between two groups of rival terrorists in the town of al-Bab North-East of Aleppo province left tens of fighters dead or wounded.
Full report at:
http://en.farsnews.com/newstext.aspx?nn=13960322001454
--------
Tens of Terrorists Killed, Wounded in Failed Attack on Syrian Army Positions in Deir Ezzur
Jun 12, 2017
The army men engaged in heavy fighting with ISIL that attacked their positions in Tamin brigade base in the Southern outskirts of Deir Ezzur city and repelled their offensive.
In the meantime, the army's artillery and missile units opened heavy fires at ISIL's concentration centers and movements in the power company, near the Tamin brigade bae, al-Makbat region, cement-block making company, Jonayd division base, the neighborhoods of al-Omal, oil airport, Panorama base, near Deir Ezzur airbase and in the village of al-Baqaliyeh.
Also, the Syrian fighter jets bombed heavily ISIL's positions in Panorama school, the surroundings of Panorama base, Panorama square, Tamin brigade baes, Jonayd division base and airbase.
A military source confirmed that a large number of ISIL were killed and wounded and an armored vehicle of ISIL was destroyed in the attacks.
Relevant reports said on Saturday that the army men clashed fiercely with a large number of ISIL terrorists that attacked the defense lines of the pro-government forces in al-Tanmimeh region, the hills near Panorama base and brigade 137 base and repelled their offensive, killing and wounding a large number of them.
In the meantime, the army aircraft bombed heavily ISIL's concentration centers in al-Janineh region, al-Maqaber (cemetery) region, around Panorama base and Jadideh al-Akidat region, destroying a command center, several vehicles and killing tens of militants, including several fighters from Egypt, Turkey and Iraq.
Full report at:
http://en.farsnews.com/newstext.aspx?nn=13960322001257
--------
Terrorists Fail again to Prevail over Syrian Army Positions in Dara'a
Jun 12, 2017
The artillery and missile units opened heavy fire at the movements of the terrorists that attacked the army's strongholds in Dara'a al-Balad district, Tariq al-Sad and al-Abbasiyeh neighborhoods, fending off their attack and inflicting major losses on them.
The army forces also targeted a drone and a bomb-laden vehicle of the terrorists near the town of Tafas in Northern Dara'a.
The Syrian Air Force also launched several airstrikes over Dara'a city, hitting the positions of Tahrir al-Sham Hay'at (the Levant Liberation Board) in al-Manshiyeh neighborhood and Dara'a al-Balad .
In relevant developments in the province on Sunday, the missile units shelled heavily terrorists' positions in Dara'a al-Balad district and Tariq al-Sad (way to dam) neighborhood in Dara'a city and Qaraz region in its outskirts.
In the meantime, the fighter jets bombed badly terrorists' concentration centers in Qaraz.
Full report at:
http://en.farsnews.com/newstext.aspx?nn=13960322001379
--------
Suspicious Iranian links to blast in Iraq's Karbala, sources say
12 June 2017
The blast that killed three people and injured 15 others on Friday in the Iraqi city of Karbala was linked to Iran link, sources told Al Arabiya.
"After the explosion and during the investigation and inspection on Friday night, the Iraqi intelligence forces arrested five Iranians who had explosives and remote control devices at the area near the blast site, in the eastern Abbasid," an official said on condition of anonymity.
"The security forces transferred the Iranian detainees to the Karbala intelligence headquarters for interrogation," the source said. "But minutes later dozens of Brigade Ali Akbar and Badr Organization militias supported by Iran surrounded the headquarters of the intelligence of Karbala."
The source said the militias demanded the release of the five Iranian detainees but their request was rejected by the head of intelligence, who emphasized that he will hand them back only to authorities in Baghdad.
The refusal led the armed militias to break into the intelligence headquarters, where they took the five detainees and the head of the intelligence department.
The militias released the head of the internal intelligence department at dawn on Saturday at about 4:30 am, but the fate of the five Iranians is still unknown, raising doubts about the involvement of Iran in the Karbala bombing.
There was a media blackout about the explosion of Karbala in general, except for the Iranian media, which was quick to emphasize that the attack was far from where Iranian nationals were present.
Analysts believe that the coinciding of the Karbala blast days after Tehran's armed attacks on parliament and Khomeini's shrine is not arbitrary. Observers have stressed the likelihood of these events being fabricated by the Iranian regime to show itself as a victim of terrorism.
Full report at:
https://english.alarabiya.net/en/News/middle-east/2017/06/12/Sources-Iranian-fingerprints-on-the-bombing-of-the-Iraqi-city-of-Karbala.html
--------
Mideast
Yemeni army takes over republican palace in Taiz
12 June 2017
The Yemeni army has taken control of the republican palace and is gaining ground eastward, Al Arabiya's news correspondent rerported.
The Sofitel hill overlooking eastern Taiz is one of the most beautiful highlands in the city. Residents of Taiz have never thought that it would be a source of concern for nearly two years, when the militias took over the city and turned it into a military barracks.
The location of the hill overlooks the eastern entrance of the city and the line connecting Taiz, Sanaa and Aden contributed to the siege of the city.
The heavy weapons of the militias stationed on the hill, including what is known as the "Sofitel tank" were not only targeting the vital facilities that have recently witnessed fierce battles like the Republican Palace and the Tashrifat Camp, but also residential neighborhoods in the center of Taiz.
The location that overlooks large areas of eastern Taiz and features the city's most famous hotel that was opened in 2002, was targeted by coalition fighters in a series of violent raids that resulted in the destruction of militias' vehicles and equipment.
A Yemeni army source said that the raids killed and injured dozens of militia members who were at the Sofitel Hotel that was hit by the raids.
The residents of Taiz, whose eyes have been locked on this hill and the death shells that will be targeting them, hope that this would be the last thing that emerges from the Sofitel hill towards the neighborhoods of Taiz.
Yemeni Minister of Human Rights Mohammed Askar said that militias have blown up more than 300 mosques and centers for Holy Quran memorization in Yemen since their coup against the legitimate authority.
He said during his participation in a regional seminar on the human rights discourse on confronting religious extremism in Cairo that the militias have arrested and killed more than 600 religious preachers, the official Yemen News Agency reported today.
https://english.alarabiya.net/en/News/gulf/2017/06/12/Yemeni-Army-takes-over-presidential-palace-in-Taiz.html
--------
'Qaeda militants' attack Yemen army camp, 12 dead
Jun 13, 2017
SANAA : Suspected al Qaeda militants launched a car-bomb and gun attack on an army camp in southeastern Yemen early on Monday, leaving at least 10 militants and two soldiers dead, a military official and residents said.
The assault near the town of Baddah in oil-producing Hadramout province came after a lull in attacks by the Islamist militant group.
Attackers set off two car bombs outside the camp, the official said. Residents said they also heard gunfire after two loud explosions.
"Our soldiers foiled the attack and managed to secure the camp and we are still pursuing those who have escaped in nearby farms," the official told Reuters by phone.
Al Qaeda took advantage of years of turmoil to build up one of its most active branches in the impoverished Arabian Peninsula country.
It has been forced out of some areas in recent years by Yemen's army and allied Saudi-led coalition forces backing President Abd-Rabbu Mansour Hadi in Yemen's civil war.
But its militants have retreated to mountainous and desert areas and launch regular attacks on Yemeni troops and government facilities.
Full report at:
http://nation.com.pk/international/13-Jun-2017/qaeda-militants-attack-yemen-army-camp-12-dead
--------
Senior MP: Key Terrorist behind Tehran Attacks Killed outside Iran
Jun 12, 2017
"The main terrorist was killed by our forces outside the borders," member of the parliament's Judicial Commission Mohammad Ali Pourmokhtar told FNA on Monday, but he declined to reveal any further details on the identity of the terrorist or the place he has been hunted.
He warned the terrorist groups of Iran's more much harder response to any such action in future.
Three unknown male assailants fired several rounds at the guards protecting the parliament building in Tehran on Wednesday morning. The assailants opened their way into the parliament's administrative building while shooting at the guards.
A similar attack took place at the holy shrine of the late founder of the Islamic Republic, Imam Khomeini, parallel with the parliament attack.
17 people, including the parliament's guards, were killed and 52 others were wounded in the twin attacks claimed by the ISIL terrorist group.
Commander of the Islamic Revolution Guards Corps (IRGC) Protection Unit Brigadier General Ali Asqar Gorjizadeh announced on Saturday night that the terrorists who carried out the last Wednesday attacks in Tehran had undergone trainings outside the country.
"Based on the documents, the terrorists had Takfiri and Salafi thoughts and were affiliated to the ISIL and they had gone outside the borders several times in the past and were trained there and had participated in a number of their (the ISIL) operations before too," General Gorjizadeh said in an interview with the state-run TV.
Also, the Iranian intelligence ministry announced in a statement on Thursday that the terrorists who carried out the Wednesday twin attacks on the parliament and the holy shrine of late Imam Khomeini were ISIL members who also had a record of fighting in Iraq and Syria.
"The ISIL team which participated in the terrorist operations at Imam Khomeini shrine and the parliament were 5 infamous terrorists affiliated to the Wahhabi and Takfiri groups who had left the country after being recruited by the ISIL terrorist grouplet and took part in the terrorist grouplet's crimes in Mosul and Raqqa," the statement said.
It added that the terrorists had entered the country in August 2016 under the command of an ISIL ringleader named Abu Ayesheh who intended to carry out terrorist operations in the country's religious cities.
The terrorists fled the country after their group was disbanded and their commander, Abu Ayesheh, and other ringleaders of the group were killed by the Iranian security forces, according to the statement.
Full report at:
http://en.farsnews.com/newstext.aspx?nn=13960322000745
--------
Saudi-Led Forces' Positions Come Under Yemen's Missile, Artillery Attacks
Jun 12, 2017
The Saudi-led forces' military positions in Najran and Assir provinces came under heavy fire of artillery units.
"The concentration of the Saudi-led forces in al-Sadis and Nahiqeh military bases in Western al-Fawaz, al-Makhrouq, al-Zabe and al-Taleh in Najran were hit hard," the Arabic-language al-Masira TV quoted an unnamed military source as saying.
He noted that the Yemeni army and popular forces also pounded the Saudi-led military forces' military positions in al-Sheibani peak and Alab border passage.
In a relevant development on Sunday, a military source confirmed that over 170 Saudi mercenaries have been killed or wounded in clashes with the Yemeni Army troops and National Committees.
The source reported that the army soldiers and the fighters of the National Committees engaged in fierce clashes with the Saudi mercenaries in the 9th region and managed to repel their attack, killing and wounding 174 of them.
Earlier reports said that Yemeni army soldiers, backed by allied Popular Committees, launched fresh attacks against positions held by Saudi mercenaries in several provinces across the conflict-ridden country.
The Yemeni forces had hit militants' positions in Fatim Mountain and nearby areas in Sana'a Province and caused heavy damages, Al Masirah reported.
Mercenaries also came under mortar and rocket attacks in the Sirwah district of Ma'rib Province and Khabb and Sha'af neighborhood of Jawf Province.
Full report at:
http://en.farsnews.com/newstext.aspx?nn=13960322001356
--------
Iran's Khamenei blames US for creation of ISIS
Jun 13, 2017
Iran's Supreme Leader Ayatollah Ali Khamenei on Monday blamed the United States for instability in the Middle East and said Washington's fight against the Islamic State militant group was "a lie".
"You (the United States) and your agents are the source of instability in the Middle East...who created Islamic State? America ... America's claim of fighting against Islamic State is a lie," Khamenei said in a meeting with high-ranking Iranian officials, according to his official website.
Iran and the United States cut diplomatic ties shortly after Iran's 1979 Islamic revolution and enmity to Washington has long been a rallying point for hardline supporters of Khamenei in Iran.
Khamenei has made several statements denouncing the United States since the start of the Muslim holy month of Ramadan, while U.S. President Donald Trump has spoken out against Iran in harsh terms since taking office, indicating that he will reverse the previous administration's attempts at rapprochement with Tehran.
The Iranian leader has accused the United States and its regional ally Saudi Arabia of funding hardline Sunni militants, including Islamic State, which carried out its first attack in Iran on Wednesday in Tehran, killing 17 people.
Riyadh has denied involvement in the suicide bombings and gun attacks on Iran's parliament and the mausoleum of the Islamic Republic's founder, Ayatollah Ruhollah Khomeini.
Iranian President Hassan Rouhani, who favors opening up to the world, has condemned the attacks, without pointing a finger at any country.
The pragmatist president championed a nuclear deal with the United States and five other powers in 2015 that led to the lifting of most sanctions against Iran, in return for curbs on its nuclear program.
But the deal has not led to normalization of ties between the two countries that Rouhani hoped for. Trump has frequently called the agreement "one of the worst deals ever signed" and said Washington would review it.
Khamenei said Iran had no intention of normalizing ties with the United States.
"The American government is against an independent Iran ... They have problems with the existence of Islamic Republic of Iran...Most of our problems with them cannot be resolved," the semi-official Fars news agency quoted him as saying.
Khamenei's hardline loyalists, drawn from among Islamists and the Revolutionary Guards, fear that normalization of ties with the United States might weaken their position.
Full report at:
http://nation.com.pk/international/13-Jun-2017/iran-s-khamenei-blames-us-for-creation-of-isis
--------
Iran says US will end up abiding by nuclear deal
Jun 13, 2017
Tehran - Iran's foreign minister, Mohammad Javad Zarif, said on Monday the Trump administration will end up abiding by the 2015 nuclear deal despite its protestations to the contrary because it is in the national interest of the United States.
Trump has previously said that the 2015 nuclear deal with Iran is a "disaster" and the "worst deal ever negotiated"."Unfortunately the behaviour from the new administration in Washington is not very promising," Zarif told reporters after meeting his Norwegian counterpart. "We believe that at the end of the day they will find it necessary to abide by the deal. "I believe the US administration will find it in the interest of the US, as well as the interest of international peace and security, to live up to its commitments."
http://nation.com.pk/international/13-Jun-2017/iran-says-us-will-end-up-abiding-by-nuclear-deal
--------
Iran police kills four IS suspects in south
Jun 13, 2017
TEHRAN : Police in Iran killed four Islamic State suspects, two of them foreigners, in the southern province of Hormuzgan and seized explosives, guns and the group's flag, an Iranian news agency said on Monday.
A major security operation is underway after 17 people were killed last Wednesday in suicide bombings and gun attacks in Tehran, the first to be claimed by the hardline group Islamic State inside Iran.
"Police forces clashed with the four men and killed them in a mountainous area in southern Iran," the semi-official Tasnim news agency quoted a local police chief as saying.
Two of those killed were not Iranian, he said, without elaborating.
Guns, ammunition, explosives and the flag of Islamic State were seized during the operation, Tasnim reported, citing the police chief.
A local official at the port town of Jask, also in Hormuzgan, said five suspects linked to Islamic State were detained on Monday, Iran's Mizan news agency reported.
Southern Iran is home to a minority and has seen previous clashes between security forces and insurgent groups.
The authorities say Iranian security forces killed the mastermind of the attacks on Saturday and that more than 50 suspects have been arrested around the country.
Full report at:
http://nation.com.pk/international/13-Jun-2017/iran-police-kills-four-is-suspects-in-south
--------
Europe
British Muslims hand out 3,000 roses at London Bridge after attack
Jun 12, 2017
LONDON: A group of British Muslims handed out 3,000 roses to passersby and tourists at the London Bridge as a gesture of love, days after an attack at the iconic British site+ by Islamists claimed eight lives.
"After the events of last weekend we are making a symbolic gesture of love for the communities affected by the attack," said Zakia Bassou, one of the organisers of the event.
"The whole concept is we are not going to let London Bridge, or any bridge, fall down," she was quoted as saying by the Press Association.
Londoner Elida Ercolano was visibly emotional after receiving her rose.
"I think it's lovely, it's what London is actually about as a city," she said.
"It's what people should remember despite what's gone on. It's a great symbol and if nothing else it's bringing people together," Ercolano said.
"It's very easy to believe the fear but boil it down and we are actually, in the main, good people and we should remember that," she added.
June Collis, from Gillingham, Dorset, said it was "beautiful and lovely to see the Muslim group come out and share their love against all the horrible things that have happened".
"Muslims need to speak up and go against the extremists," she was quoted as saying.
The gesture came just days after a suicide bombing at a concert in Manchester claimed 22 lives and an attack at the London Bridge by three terrorists+ , who drove a van into pedestrians and then went on a stabbing spree, killed eight persons.
Muslim groups across the country have condemned the horrific terror attacks+ .
Over 130 imams and Muslim religious leaders in the UK last week refused to perform the traditional Islamic funeral prayer for the London Bridge attackers, saying their "indefensible actions" were completely at odds with the teachings of Islam.
The gesture of distributing flowers evoked a warm response from Londoners with David Hackett, visiting the capital from Durham, saying he found the event "very touching".
"It's great to see people giving such a beautiful thing to demonstrate the love people have for each other," he said.
Nancy Cannata, from Massachusetts in the US, said, "It's very nice to see. And I think it's nice that they're Muslims -- it's not everybody in the Muslim community carrying out these attacks. There are good and bad people in every religion, and I wish people could realise that."
http://timesofindia.indiatimes.com/world/uk/british-muslims-hand-out-3000-roses-at-london-bridge-after-attack/articleshow/59107276.cms
--------
ISIS Calls For Attacks In West, Russia, Middle East, And Asia During Ramadan
Jun 13, 2017
An audio message purporting to come from the spokesman of Islamic State called on followers to launch attacks in the United States, Europe, Russia, Australia, Iraq, Syria, Iran, and the Philippines during the Islamic holy month of Ramadan, which began in late May.
The audio clip was distributed on Monday on Islamic State's channel on Telegram, an encrypted messaging application. It was attributed to the militant group's official spokesman, Abi al-Hassan al-Muhajer.
The authenticity of the recording could not be independently verified, but the voice was the same as a previous audio message purported to be from the spokesman.
"O lions of Mosul, Raqqa, and Tal Afar, God bless those pure arms and bright faces, charge against the rejectionists and the apostates and fight them with the strength of one man," said al-Muhajer. Rejectionist is a derogatory term used to refer to Shi'ite Muslims.
Full report at:
http://nation.com.pk/international/13-Jun-2017/isis-calls-for-attacks-in-west-russia-middle-east-asia-during-ramadan
--------
Qatar asks U.N. body to resolve Gulf airspace row: sources
Jun 13, 2017
Qatar has asked the United Nations' aviation agency to intervene in an airspace rights' dispute with three Gulf states following an escalating diplomatic row and trade blockade, two sources familiar with the matter said on Monday.
Qatar has sent a letter to the International Civil Aviation Organization's (ICAO) governing council in an effort to resolve the dispute after Saudi Arabia, United Arab Emirates and Bahrain closed their airspace to Qatari flights.
The Gulf state has indicated that it will ask the council to resolve the conflict, one of the sources said, using a dispute resolution mechanism under the 1944 Chicago Convention which is overseen by ICAO. The sources spoke on condition of anonymity because council business is discussed in private.
Saudi Arabia, the United Arab Emirates, Bahrain and Egypt cut diplomatic and transport ties with Qatar a week ago, accusing it of fomenting regional unrest, supporting terrorism and getting too close to Iran, all of which Doha denies.
The biggest diplomatic rift in years among the rich states of the Gulf has disrupted Qatar's imports of food and other materials, although its finance minister has played down the economic toll of the confrontation.
It is not yet clear whether the ICAO council, which is holding regularly scheduled meetings in Montreal this week, would agree to intervene, and how long any efforts would take. The matter is expected to be discussed at council by Friday, said one of the sources.
"I would not expect any overnight resolutions," he said.
ICAO spokesman William Raillant-Clark said the agency could not make an immediate comment.
The UN aviation agency, which is headquartered in Montreal, does not impose binding rules, but wields clout through safety and security standards that are usually followed by its 191-member countries.
Earlier in the day, the chief executive of Qatar Airways told CNN that ICAO should declare the measures against Qatari air traffic to be illegal.
"We have legal channels to object to this," he said. "ICAO... should heavily get involved, put their weight behind this to declare this an illegal act."
Baker said 18 destinations were now out of bounds for the airline.
He also criticized Saudi Arabia and the UAE, both members of ICAO's governing council, for shutting down the airline's offices.
He added that he was "extremely disappointed" in U.S. President Donald Trump.
"(The U.S.) should be the leader trying to break this blockade and not sitting and watching what's going on and putting fuel on (the) fire," he said.
Full report at:
http://nation.com.pk/international/13-Jun-2017/qatar-asks-un-body-to-resolve-gulf-airspace-row-sources
--------
Islamic State calls for Ramadan attacks in US, Europe
June 13, 2017
The Islamic State group has called on supporters to carry out attacks in the United States and Europe during the Muslim holy month of Ramadan that began two weeks ago.
In an audiotape circulated online Monday, spokesman Abu al-Hassan al-Muhajer praised last week's attacks in Iran's capital, saying the country is "weaker than a spider's web" and calling for more assaults.
Al-Muhajer also called for attacks in Russia and Australia, saying "heaven is reached under the shadow of swords."
IS has called for attacks during Ramadan in the past. This year it has claimed responsibility for attacks in Britain, Egypt, Iran and the Philippines that killed dozens of people and wounded hundreds.
Seventeen people were killed in Wednesday's assault in Tehran that simultaneously targeted the country's parliament and shrine of late founder of the Islamic Republic Ayatollah Ruhollah Khomeini.
Full report at:
http://www.timesofisrael.com/islamic-state-calls-for-ramadan-attacks-in-us-europe/
--------
Why it's so hard for minorities in France to find safe spaces
By Joel Dreyfuss
June 12
France has long insisted that it had found a wise approach to two volatile topics, race and religion. On race, the government has resisted any special measures to reduce inequality, such as affirmative action, and is barred by law from collecting statistics on race or ethnicity; this is rooted in the acknowledgment that such data were used to round up Jews during the Nazi occupation of France. But critics say the lack of numbers also makes it more difficult to track racial progress — and racial discrimination — in a society in which minorities have few high-profile roles. On religion, France has rigidly separated church and state since 1905. More recently, the government has banned the wearing of hijabs and other obvious religious symbols in public schools and face-covering niqabs in public spaces.
France has stuck to its rigorous rules on color-blindness and secularism even as it has struggled to integrate the millions of Arab and African immigrants who have changed the face of France in the past five decades. By some estimates (since there are no official numbers), 6 million of France's population of 65 million are Muslim and 3 million to 5 million are black (many of them also Muslim). Tensions over refugees, immigration and terrorism helped drive 10 million French voters to cast their ballots for right-wing candidate Marine Le Pen in last month's presidential election. She lost badly to Emmanuel Macron, but the new president has offered few clues as to how he will address the racial and religious conflicts that surface periodically and how he will help give France's minorities a better sense of belonging.
A recent kerfuffle was triggered when Le Pen's right-wing party, National Front, criticized the "exclusion of white people" after a black feminist group wanted to reserve some workshops for black women only for a July conference in Paris. There was an immediate political uproar. Paris Mayor Anne Hidalgo threatened to cancel the conference at a city-owned venue, citing France's laws against racial discrimination. Condemnation of the Nyansapo Festival crossed political lines: SOS Racisme, a leading anti–racist group, and LICRA, which has long fought anti-Semitism, both criticized the organizers, known as the Mwasi Collective. "Rosa Parks must be spinning in her grave," declared Alain Jakubowitz, president of LICRA.
Attempts to organize along racial or ethnic lines are viewed with deep suspicion in France and quickly condemned as communitariste or separatist. The organizers explained that the closed sessions were intended to allow attendees to freely discuss issues without being intimidated or restrained by the presence of whites. The argument was similar to the controversial debate in the United States about creating "safe spaces" for minority students on college campuses. The French newspaper Le Monde pointed out that the concept of safe spaces has a long history in France, dating back to an abortion rights movement in the 1970s that held women-only meetings. Claude Askolovitch, writing in the French edition of Slate, suggested that Hidalgo would have probably objected to the 1995 Million Man March.
After several days of polemics, Hidalgo announced that a compromise had been reached. The main conference would be held on city property, but the women-only sessions would be hosted at private venues. The Mwasi Collective shrugged off the announcement as what the group had intended all along.
On the issue of religion, the city of Nice barred investment firm Noorasur from posting a sign saying that it does "Islamic Financing." Nice Mayor Christian Estrosi, citing the terrorist attack with a truck that killed 86 people last July, said the sign was a "threat to public order." The city argued that the sign could provoke "antagonistic gatherings" and threaten the safety of employees of the firm.
Islamic financing conforms to sharia by avoiding investing in tobacco, alcohol or pornography, barring interest charges and requiring investors to share both profits and losses. It is widespread in the Middle East — France's large Muslim population suggests a profitable market in the waiting. In fact, the subject is even taught in some French universities.
Nice also tried to ban "burkinis," the full-length swimwear worn by some conservative Muslim women. A viral photograph showed policemen forcing a woman on a beach to remove her burkini. The city's argument then was similar to the one about Islamic financing: fear of a violent reaction to Islam because the burkini "overtly manifests adherence to a religion at a time when France and places of worship are the target of terrorist attacks." The ban was overturned by France's Council of State, which called the ordinance a grave violation of personal liberty.
In both cases, Nice officials seemed to be saying that being identified as Muslim could trigger violence and is enough of a reason to ban an activity. "It seems unbelievable to hold people who might be discriminated against responsible for the reactions they might trigger," says Rokhaya Diallo, a journalist and activist who has reported extensively on race relations in France. Noorasur has turned to the courts for a judgment.
Full report at:
https://www.washingtonpost.com/news/global-opinions/wp/2017/06/12/why-its-so-hard-for-minorities-in-france-to-find-safe-spaces/?utm_term=.6441206ae5c4
--------
Britain needs to reset relations with its Muslims, insists Warsi
11 June 2017
Britain's relationship with its Muslim community has become so brittle that it needs to be reset from scratch, according to one of the UK's most prominent Muslims. Speaking from her home in Wakefield, West Yorkshire, in the aftermath of the London Bridge attack, Conservative peer Sayeeda Warsi said: "When things go wrong with an iPhone or a coffee machine, pressing the restart button is usually a good, safe place to start. Right now, Britain's relationship with her Muslims is within that frozen, overloaded, splurging episode – we need to press the button."
A third UK act of terrorism in 10 weeks means that a recalibrated discourse among politicians, Muslims and the British public needs to start urgently, she said. She is clear that the Muslim community is playing its part by condemning the actions of the terrorists more forcibly than ever in an effort to demonstrate that there is no place for Islamism. As proof of this, she points to the reaction of the Muslim community following the tragedies.
"The fact that scholars and imams have said they will not perform Muslim burials is pretty unprecedented. Imams and young people have taken to the streets, we've seen vigils up and down the country, Muslims have raised money for the victims."
Warsi, who resigned from the cabinet in 2014 over the government's policy on Gaza, said she has seen the UK's Muslim community fearful, but never has she witnessed it as furious. "I've never seen as much anger. The language used to describe the terrorists has never been sharper, angrier, and, I would say, the level of anger towards the terrorists from British Muslims is even greater than it is within the mainstream."
She, too, is similarly exasperated. Her grandparents arrived in West Yorkshire from Pakistan in 1958, with her father originally securing employment as a mill worker. Born in 1971 into a working-class home in Dewsbury, Warsi made history in 2010 as Britain's first Muslim cabinet member, becoming co-chairman of the Conservative party. Despite such achievements, however, she is aware that her Britishness remains an issue of debate.
"My family has 60 years' history in Britain, but how long before I have to stop taking a loyalty test?" The enduring debate on multiculturalism alongside the populist instincts that convulse her political party makes Warsi wonder whether her grandchildren will actually call Britain their home.
A group of 2.8 million people are, she said, consistently defined through the lens of a tiny fraction of murderers. "There are far more Muslim doctors in Britain than terrorists, yet the community is not defined by the reputation of its daily life-savers, it's defined by the reputation of ad hoc life-takers."
Warsi would like the country's leading politicians to do much more to counter this. She urges the government to show restraint in its response to terrorism, pointing out that the Muslim community in all three recent attacks had come forward to warn the authorities that the perpetrators had exhibited extremist behaviour. "There's no point saying we need to go deeper into the Muslim community, because in all cases they reported them [the terrorists]; it was obvious to them who was radicalised."
Warsi also asks the government to shy away from an ideological response to tackling terrorism, name-checking one former cabinet minister as a Conservative colleague whose instincts helped engender an antagonistic and counter-productive relationship with the Muslim community. One central source of irritation is the broad retreat from dialogue with large sections of the Muslim community.
"The government has got to stop its policy of disengagement. There are a lot of calls saying they should be speaking to more young people, more women, a broader range of people, but since 2007 successive governments have had a policy of disengagement. We have to question whether not speaking to people has actually yielded results," said Warsi, whose book The Enemy Within: A Tale of Muslim Britain presents a forensic indictment of counter-terrorism policy. "If we work with the Muslim community we will make this problem smaller. If we introduce legislation that pits us against them, we are going to make it bigger."
Another thorny issue that needs urgent attention, according to Warsi, is the approach to far-right extremism and Islamism. "There is still no definition of far-right extremism. The only definition of extremism that exists within government policy is Islamism. We also have no definition of what is Islamophobia."
Even now Warsi – whose multiculturalist credentials saw her placed on an Islamic State "kill list" last year – remains the only British politician to have delivered a mainstream speech on Islamophobia. Yet she is quick to warn that Muslims must take responsibility, in particular by challenging enduring conservative views. "You're not a terrorist, but are you fit for purpose? That includes everything from their attitude to women, minorities, LGBT communities, education, the child exploitation issue."
Warsi – who wore a traditional shalwar kameez dress at her first meeting in Downing Street – also believes the British Muslim community needs to work towards phasing out the burqa from British streets, describing it as "not the greatest manifestation of British Islam".
Full report at:
https://www.theguardian.com/politics/2017/jun/10/baroness-warsi-britain-must-hit-reset-muslims-relationship
--------
South Asia
Myanmar anti-Islam monk barred from Facebook
June 13, 2017
Last month Myanmar's top Buddhist authority officially banned the ultra-nationalist Ma Ba Tha movement to which Wirathu belongs
A Myanmar monk once dubbed the "Buddhist Bin Laden" for his extremist diatribes says he has been banned from using Facebook, as the site ramps up efforts to clamp down on hate speech.
For years firebrand preacher Wirathu has used the social network as a platform to rail against the country's embattled Muslims, comparing them to dogs and accusing them of raping and killing Buddhists.
His tirades, which have gained him hundreds of thousands of followers online, have been blamed for stoking deadly sectarian violence including riots in 2013 outside Mandalay which killed dozens of people.
But in his latest video, posted on Friday, the monk said he had been banned from using the site for 30 days for repeatedly posting content not allowed by Facebook's monitors.
"I am not sure (if I can keep using my account) as Facebook's team is in the hands of Muslims," he said in the video, put up from a different account.
"Facebook is occupied by the Muslims."
A spokesperson for the site did not immediately respond to a request for comment.
The move comes at a time when Facebook is facing global pressure to clamp down on hate speech, violent threats or deliberately misleading information on posted on its platform.
Last month its monitors appeared to ban people in Myanmar from posting the word "kalar," a term often used as a slur against the country's embattled Muslim minority.
The move caused uproar online after some users said they had been blocked after writing other words that include the same sound in the Burmese alphabet, such as the word for chair.
Myanmar's government has also been seeking to stifle hate speech after a spike in anti-Muslim actions by nationalists.
Last month Myanmar's top Buddhist authority officially banned the ultra-nationalist Ma Ba Tha movement to which Wirathu belongs, which responded by simply changing their name.
Censors have also banned a documentary on festering religious tensions between Buddhists and Rohingya Muslims in Rakhine state from an upcoming film festival for fear it could stoke tensions.
http://www.dhakatribune.com/world/south-asia/2017/06/13/myanmar-anti-islam-monk-barred-facebook/
--------
Bangladesh arrests 6 suspected Islamist militants
Jun 13, 2017
NEW DELHI
Security officials in Bangladesh's capital have arrested six members of a banned militant group and accused them of planning to kill an outspoken Islamic scholar for his stand against religious extremism, a police official said Monday.
Police counter-terrorism chief Monirul Islam said the men were arrested Sunday night in a raid in Dhaka.
He said the suspects are members of Jumatul Mujahedeen Bangladesh, which has been blamed for many killings in recent years, including an attack last July on a restaurant in Dhaka's diplomatic zone in which 20 hostages were killed. Seventeen of the victims were foreigners.
Islam said the suspects had targeted a top Islamic scholar who speaks and acts against radicalism. He would not disclose the name of the reported target, but said the suspects wanted to kill him during the current fasting month of Ramadan.
Islam said the house of the targeted scholar was already under the suspects' watch and their plan was going ahead.
Later Monday, a judge in Dhaka authorized police to keep them in custody for interrogation.
Meanwhile, the anti-crime agency Rapid Action Battalion said it has arrested a garment factory owner for allegedly funding the banned militant group's purchase of weapons and explosives.
Emran Ahmed, managing director of Zemtex Linkage Industries Ltd., was arrested Saturday night at a house in Narayanganj district, just outside Dhaka, agency spokesman Mufti Mahmud Khan said. His driver was also arrested and accused of aiding his boss.
Khan said Ahmed, 37, is a member of the militant group's policy-making body and the head of its Dhaka metropolitan unit.
Bangladesh has experienced a rise in Islamic militancy in recent years, with groups targeting atheist bloggers, publishers and writers, members of minority groups and foreigners.
Full report at:
http://www.mcclatchydc.com/news/politics-government/national-politics/article155646814.html
--------
Taliban's military commission chief killed in Helmand drone strike
Jun 12 2017
A top Taliban leader was killed in an airstrike carried out in southern Helmand province of Afghanistan late on Sunday night, the security sources said Monday.
According to a statement released by the 215th Maiwand Corps of the Afghan National Army, the airstrike was carried out in the vicinity of Nad-e-Ali district.
The statement further added that the military commission chief of the group for southern Helmand province was killed in the airstrike.
According to the 215th Maiwand Corps, the Taliban leader killed in the airstrike has been identified as Mullah Abdul Bari who was involved in various attacks while leading the military committee of the group in Helmand.
Helmand is among the volatile provinces in southern Afghanistan where the Taliban insurgents are actively operating in its various districts and often carry out insurgency activities.
The Afghan forces are busy conducting counter-insurgency operations in the restive parts of the province as they are receiving support by the foreign forces, mainly involving airstrikes.
Full report at:
https://www.khaama.com/talibans-military-commission-chief-killed-in-helmand-drone-strike-02921
--------
Bangladesh diplomat in New York charged with labour trafficking, assault
June 13, 2017
Bangladesh's deputy consul general in New York was indicted on Monday on charges of labour trafficking and assault for forcing his servant to work without pay through threats and intimidation, a New York City prosecutor said.
Mohammed Shaheldul Islam has limited diplomatic immunity and was ordered to surrender his passport when he appeared before Queens Supreme Court Justice Daniel Lewis, said Queens District Attorney Richard Brown in a statement. Bail was set at $50,000 bond or $25,000 cash. He faces up to 15 years in prison if convicted.
According to the indictment, Islam brought another Bangladeshi, Mohammed Amin, to New York between 2012 and 2013 to work as a household help for Islam and his family. "Soon after Mr. Amin's arrival, the defendant allegedly took his passport and required the man to work 18 hours a day … Even though Mr. Amin had a contract which outlines his compensation, it is alleged he was never paid for his work," the statement said. "If the victim disobeyed the defendant's orders, Mr. Amin was allegedly physically assaulted by the defendant, who either struck him with his hand or sometimes with a wooden shoe," it said.
A spokesman for the Bangladesh embassy in Washington said he had no information on the issue. The Bangladesh consulate in New York did not immediately respond to a request for comment. An official of the U.S. State Department said it informed Bangladeshi officials of the arrest. Reuters was not able to determine if Islam had an attorney.
According to the charges, Amin's only form of income came from tips from guests at parties and a "miniscule" amount of money Islam sent to Amin's family in Bangladesh. On several occasions when Amin sought to leave, Islam hit him and threatened to harm his mother and young son in Bangladesh, the statement said. On occasion, Islam also stated that he would have Amin's college-age daughter "shamed" if he did not continue to work as his servant, the statement said. The statement did not make clear what he meant by shaming. It said that in 2014, shortly after an Indian diplomat in New York was charged with labour trafficking, Islam wrote a check for Amin's cash-tip earnings that the latter then had to deposit in a bank account to create the appearance of a paycheck.
Full report at:
http://indianexpress.com/article/world/bangladesh-diplomat-in-new-york-charged-with-labour-trafficking-assault-4701311/
--------
Afghan civilians killed as US troops open fire after bomb attack: Afghan official
Jun 13, 2017
As many as three Afghan civilians were killed early on Monday morning when American troops opened fire after their vehicle struck a roadside bomb, an official in eastern Nangarhar province said.
A man and his two sons were killed at their home in Ghani Khel, a district in the south of Nangarhar, on the border with Pakistan, said Attaullah Khogyani, a spokesman for the provincial governor.
"After the bomb blast hit them, the American forces then started shooting and killed one man and two children nearby," he said.
The U.S. military command in Kabul said it was investigating the reports.
Civilian casualties have running at near record highs as fighting spreads to more areas of Afghanistan, according to the United Nations.
Afghan President Ashraf Ghani generally has been less vocal than his predecessor, Hamid Karzai, in publicly criticizing the U.S. military when troops are involved in incidents where civilians are killed.
On Saturday, three American soldiers were killed and one wounded when an Afghan soldier opened fire on them in Nangarhar, where elite U.S. troops have been helping Afghan forces battle Islamic State militants.
Also over the weekend, an American air strike in southern Afghanistan killed at least three Afghan policemen and wounded several others during a joint operation by Afghan and U.S. special forces.
U.S. and Afghan troops have been battling militants in Nangarhar province for months.
Islamic State, or Daesh as it is generally known in Afghanistan, has established a stronghold in the region, which borders Pakistan. U.S. military officials estimate there are about 600 to 800 Islamic State fighters in Afghanistan, mostly in Nangarhar, but also in the neighboring province of Kunar.
The increase in involvement by U.S troops and warplanes comes as U.S. President Donald Trump's administration weighs whether to deploy more troops in the war-torn country.
Reuters reported in late April that the U.S. administration was carrying out a review of Afghanistan and there were conversations over whether to send between 3,000 and 5,000 U.S. and coalition troops to Afghanistan.
Full report at:
http://nation.com.pk/international/12-Jun-2017/afghan-civilians-killed-as-us-troops-open-fire-after-bomb-attack-afghan-official
--------
Afghan civilian killed with his 2 children in foreign forces fire in Nangarhar
Jun 12 2017
At least three civilians were killed in foreign forces firing in eastern Nangarhar province of Afghanistan where the Afghan and US forces are busy conducting counter-terrorism operations, the local officials said Monday.
Provincial governor Mohammad Gulab Mangal confirmed the incident and said a civilian was killed with his two children in the firing.
Mangal further added that the incident took place in the vicinity of Shergar area located in Ghani Khel district late on Sunday night.
He said the man killed in the firing has been identified as Zer Gul who lost his life in the firing together with his two children.
The governor of Nangarahr further added that an investigation was launched shortly after the three civilians were killed and the government is committed to support the family of the victims.
Nangarhar is among the relatively calm provinces in eastern Afghanistan but the anti-government armed militant groups are attempting to expand their insurgency in this province during the recent years.
The growing threats posed by Taliban, ISIS and other insurgents forced the Afghan forces and US forces based in Afghanistan to step up operations in a bid to restrict their insurgency activities.
Full report at:
https://www.khaama.com/afghan-civilian-killed-with-his-2-children-in-foreign-forces-fire-in-nangarhar-02924
--------
Afghan forces thwart another explosion in Kabul city
Jun 12 2017
The Afghan security forces have thwarted another plan of the anti-government armed militants to carry out an explosion in Kabul city.
The police commandment officials said an improvised explosive device planted in a governmental vehicle was discovered and defused before the militants mange to detonate it.
The officials further added that the explosion thwarted in the vicinity of the 10th police district of the city.
According to the police officials, the vehicle in which the mine was planted belongs to the ministry of transportation of Afghanistan.
The explosives were defused with the help of the Explosives Ordnance Disposal team of the 101st Asmayee Zone security forces, the officials added.
This comes as the Afghan intelligence said Saturday that the operatives of the directorate arrested a suicide bomber soon after he arrived in Kabul together with a car bomb to conduct a suicide attack.
Earlier on Friday, a suicide bomber belonging to the Haqqani terrorist network was also arrested earlier by the security forces in central Maidan Wardak province before he manage to carry out an attack in Kabul city.
Full report at:
https://www.khaama.com/afghan-forces-thwart-another-explosion-in-kabul-city-02923
--------
Southeast Asia
Islamic State Cells in Nearly All Indonesian Provinces: Military Chief
June 13, 2017
JAKARTA (Reuters) - The Islamic State militant group has a presence in nearly all provinces across Indonesia, the world's largest Muslim-majority country, the military chief in Jakarta has said.
General Gatot Nurmantyo's comments late on Monday that there are clandestine "sleeper" cells across the sprawling Indonesian archipelago underscored concerns about Islamic State's growing influence in Southeast Asia.
"After observation, we see that in almost every province ... there are already IS cells, but they are sleeper cells," Nurmantyo told reporters in the capital, Jakarta.
He singled out the predominantly Christian province of Papua as one of the few exceptions.
"These sleeper cells can easily join up with other radical cells," he said.
Governments across the region have been on high alert since Islamic State-linked militants, mostly from Southeast Asian countries, overran a city in the southern Philippines about three weeks ago.
The Philippine military, which has carried out air strikes and raids in Marawi city, said on Tuesday the militants still control about 20 percent of the city.
Indonesian and Malaysian officials have stepped up security to prevent militants from escaping from Marawi over their shared borders with the Philippines.
"It's easy to jump from Marawi to Indonesia and we must all beware of sleeper cells being activated in Indonesia," Nurmantyo said.
Southeast Asian nations believe the region is home to thousands of Islamic State sympathizers, and Indonesia and Malaysia have detained scores of suspected militants in recent years.
Singapore said on Monday it had detained an assistant child-care worker suspected of trying to join Islamic State, the first woman to be held on such charges in Singapore.
A gun-and-bomb attack that killed four people in Jakarta last year marked the first Islamic State strike in the region.
There has since been a string of small, Islamic State-inspired attacks in Indonesia, the latest of which were twin suicide bombings at a Jakarta bus station that killed three police officers last month.
(Reporting by Agustinus Beo da Costa and Ed Davies; Writing by Kanupriya Kapoor; Editing by Paul Tait)
https://www.usnews.com/news/world/articles/2017-06-13/islamic-state-cells-in-nearly-all-indonesian-provinces-military-chief
--------
Envoys strengthen relations through engagement with Islam
June 13 2017
Foreign ambassadors in Indonesia use the fasting month as an opportunity to enhance relations with Muslim figures in the world's largest Muslim-majority country.
Japanese Ambassador to Indonesia Masafumi Ishii hosted an iftar (breaking of-the-fast meal) gathering with Indonesian Muslim figures in Jakarta last Tuesday to deepen the friendship between Indonesia and Japan.
http://www.thejakartapost.com/news/2017/06/13/envoys-strengthen-relations-through-engagement-with-islam.html
--------
Pancasila and The Problematic Blasphemy Law
June 12, 2017
Indonesia is a multicultural country characterized by the coexistence of several different religions, which poses a potential for conflict. Indonesia claims to be a democratic secular state that does not support a particular religion because of the multicultural and multireligious character of the country.
The adoption of Pancasila in 1945 as the state ideology and ideological basis of law aimed to balance the newly independent country by making Indonesia neither a theocratic Islamic state nor a secular state. The first principle, stating "Belief in one God", was intended to be a crucial factor in stabilizing the newly independent Indonesia, as it clearly recognized major monotheistic religions while excluding communism.
Pancasila's own theistic-secular character is expressed by this belief in One Supreme God ("God" meaning, and thus accommodating, "all belief systems"), but the law and legal institutions interpret Pancasila principles too narrowly because of the Islam-oriented politicization of discourse. Examples are the lack of consequences in the case of riots caused by Muslims against non-Muslims (the rallies in Jakarta against the Christian former Jakarta governor) or the lack of will shown by authorities in pursuing offenders of non-Islam blasphemy. The Indonesian police does not take necessary preventive measures to stop attacks against minority religious communities. Such a situation, particularly visible nowadays, could lead to religious conflict in which the victims will be religious minorities, hence further diminishing Indonesia's global reputation regarding the protection of its minorities.
Founding father and first president Sukarno proposed the new ideology as a compromise between an Islamic and a secular state, which was embodied in the 1945 Constitution. On June 1, 1945 Sukarno explained in a speech the five principles of Pancasila: Belief in one God, humanitarianism, unity of Indonesia, democracy and social justice.
The first principle presents the relationship between state and religion as a theistic secular principle, based upon the belief in a single God who is not a representative for a particular religion, but rather represents all religions and belief systems in Indonesia. The theistic secular principle here defines religion, a traditional element of the Indonesian identity.
This principle states that every religious denomination can be represented within the context that the state allows religious freedom, but according to Article 29 of the Constitution (UUD), Pancasila excludes any religion (including dominant Islam) from becoming the national religion.
Indonesia's blasphemy provision of the Criminal Code is based on the 1965 blasphemy law, and specifies that the six recognized religions in Indonesia are Islam, Buddhism, Protestantism, Catholicism, Hinduism, and Confucianism. Indonesian citizens are required to identify themselves as members of one of these six faiths, and they may not declare atheism.
The problem with the law is that it lacks clarity as to what acts constitute "blasphemy" or "religious defamation," leaving their interpretation open to abuse by political opponents. The core problem of this law lies in the fact that blasphemy has never been clearly defined.
The blasphemy law may violate the right to freedom of expression and impede the religious expression of minority groups. In the opinion of the Western world as presented in international media, the blasphemy law is considered to discriminate against non-Muslims – especially after the trial of outgoing Jakarta governor Basuki "Ahok" Tjahaja Purnama, who was convicted for blasphemy. Ahok is a Chinese Christian, and "blasphemy" is often defined by mainstream Muslims.
Thus, although Pancasila seems to give equal state recognition to all major religions, the dominance of Islam as the mainstream religion is strongly visible. The authorities set boundaries overprotecting Islam not for religious reasons, but for the political benefits of the support of Islam-oriented political leaders, such as those allied with the Islam Defenders Front (FPI) leader Rizieq Shihab. The state has become the guardian of social order, not as defined in the context of the ideal social order articulated in Pancasila, but as defined by radical politicians.
Another reason for this situation is a permissive government which is afraid of taking any action against a violation of law because of its fear of the power of radical groups, allowing religious intolerance to grow. Undoubtedly, the politicization of both religion and the Pancasila by opportunistic politicians and the lack of dialogue have significantly contributed to increasing intra-religious conflict and fear among religious minorities. The government fails to prevent and appropriately address violence based on religious beliefs.
The current interpretation and use of the blasphemy law do not protect the primary intent of Pancasila to stabilize a multicultural society; instead, they foster a climate of intolerance and allow the law to be used to justify an extralegal discrimination of minorities. The government does not consistently use its authority in cases of violations of Pancasila.
Full report at:
http://www.thejakartapost.com/academia/2017/06/12/pancasila-and-the-problematic-blasphemy-law.html
--------
Zahid: Govt not bringing back militant's body home
BY MANJIT KAUR
13 June 2017
BAGAN DATUK: The Government has no intention to bring back the body of Malaysian Islamic State militant Mohd Nizam Ariffin, who was killed in clashes with security forces in Iraq, said the Deputy Prime Minister.
The militant, also known as Abu Afghan, was killed a few days ago in Mosul, added Datuk Seri Dr Ahmad Zahid Hamidi.
"If his family wants to bring back his body, they will need to communicate with his (Mohd Nizam's) friends," he said after launching the state-level "Young Agropreneur" programme here yesterday.
Dr Ahmad Zahid said the Government also did not recognise the deaths of IS militants as martyrdom.
On another matter, when asked about Malaysia's stand on Muslim scholar Yusuf Al-Qaradawi, a Tokoh Maal Hijrah recipient whose membership was terminated by the Muslim World League (MWL) follo­wing his inclusion in a "terror list" by Saudi Arabia, the UAE and a few other Islamic countries, Dr Ahmad Zahid said the recognition in Malaysia was given to the scholar at that time for his contributions then.
The MWL is an international non-governmental organisation founded in 1962 to propagate Islam and to improve worldwide understanding of the religion.
The MWL's headquarters is in Mecca, Saudi Arabia, and it maintains offices in countries throughout the world.
Dr Ahmad Zahid said the terrorist term on the scholar is used by certain countries, and the Malaysian Government had no intention to label him as that just yet.
"We will need to study the authentic reports and get all the necessary in-depth information on him before taking any further action," he said.
On Indian politician V. Gopala­samy, better known as Vaiko, who was refused entry into Malaysia, Dr Ahmad Zahid said that was due to legitimate reasons.
"It is due to some involvement of his in India, and the decision made by the Immigration director-general was the right one," he added.
On entrepreneurship, Dr Ahmad Zahid urged youths to venture into this industry.
He said there was a lot of room for success if the young worked hard and smart.
Citing an example of prisoners who are trained in various entrepreneurship programmes during their jail term, he challenged those who are free to become successful as well.
He said there were 59,000 prisoners in the country, and many of them were trained as cooks to prepare meals for the rest of the inmates.
Full report at:
http://www.thestar.com.my/news/nation/2017/06/13/zahid-govt-not-bringing-back-militants-body-home/
--------
Court orders Jawi to name officers in transgender raid
BY KAMLES KUMAR
June 13, 2017
KUALA LUMPUR, June 13 ― The High Court here ordered the Federal Territories Islamic Religious Department (Jawi) today to release details of the officers involved in last year's raid at a purported "beauty pageant" for transgenders.
Lawyer Surendra Ananth, representing Siti Kasim who plans to sue Jawi raiding officers for her wrongful arrest, said Justice Faizah Jamaludin allowed the "pre-action" order to obtain within 14 days details of the officers who raided the event in April last year at Renaissance Hotel here.
"The judge allowed the application. The government, which is the defendant, has 14 days to divide the names and titles of the Jawi officers involved in the incident," he told Malay Mail Online when contacted.
"Siti will be filing a suit against the government and the officers for wrongful arrest and detention once we get the details," he added.
Jawi officers raided the event on April 3 last year and arrested Siti then, claiming that the function was unlawful as it was supposedly a beauty pageant held for trans women.
Siti said she was present as an invited guest at the closed-door dinner event and that Jawi officers did not state the reason for their intrusion, adding that they had sought to detain all present at the dinner without informing them of their alleged offence.
Siti also added that she had identified herself as a lawyer, but Jawi's enforcement officers did not respond then to her queries on the alleged offence that led to the raid, adding that these officers who were unaccompanied by the police had failed to show any arrest warrants.
She said one of Jawi's enforcement officers finally told her the alleged offence was the organising of a beauty pageant, but the officers failed to state any legal provision for this and had ignored her attempts to explain that the event was a dinner.
Siti had accused Jawi of abusing their powers by bringing her to the Dang Wangi police station, where she was allegedly told to wait for several hours before she was allowed to leave as she was not under arrest.
Full report at:
http://www.themalaymailonline.com/malaysia/article/court-orders-jawi-to-name-officers-in-transgender-raid
--------
Africa
Ghana: Vice President Prays With Muslims in the Western Region
12 JUNE 2017
His Excellency the Vice President of the Republic of Ghana, Dr Alhaji Mahamudu Bawumia, on Saturday, joined Muslims to perform ablution and pray at the Shama Central Mosque, the Assembly Hall of Baidu Bonsu Senior High School and the Takoradi Central Mosque, all in the Western Region.
The visit to the Western Region offered the Vice President the opportunity to thank Muslim electorates in the region for overwhelmingly voting the New Patriotic Party into power.
Addressing Muslims after the prayers, Dr Bawumia disclosed that Government had allocated in the 2017 budget two hundred and nineteen million Ghana cedis (GH¢219,000,000.00) for the Zongo Development Fund in fulfillment of the promise made prior to the 2016 election.
He gave the assurance that Government would restore the allowances for teachers who taught Arabic language in Muslim cleric schools in muslim communities in the country and also push for the writing of Arabic language as a subject as part of the Basic Education Certificate Examination.
He pledged Government's commitment to ensuring that this year's Hajj Pilgrimage would be smooth and without any hitches, and that Government instituted some measures such as the text messaging prompt that would prompt pilgrims who had applied before they get to the Hajj village.
These measures, he said, were expected to curb the problems that had been associated with the process in the past.
He, therefore, called for continuous prayer and support for Government to enable it fulfill its promises.
Present in the Mosques were the Regional Minister and his Deputy, Dr Kwaku Afriyie and Mrs Gifty Eugenia Kusi, respectively; Minister for Information, Mustapha Abdul-Hamid, the incoming Ambassador to Saudi Arabia, Sheik T.B Damba; CEO for the National Petroleum Authority, Alaskan Tampuri; and Dr. Samiw Nuamah, and MP for Kwadaso, among others.
http://allafrica.com/stories/201706120916.html
--------
Kenya foils terror attack planned by Somali militants
Jun 13, 2017
Kenya has seized six men suspected of planning an attack sponsored by the al Shabaab militant group from neighboring Somalia, the head of Kenyan police said late yesterday.
In recent weeks, the East African nation has lost 20 officers in various attacks, mostly on deserted roads in the vast northern region bordering Somalia, in which the militants used Improvised Explosive Devices (IEDs).
Joseph Boinnet, the inspector general of the police, said in a statement that two of the suspects were Kenyans and the others were Somali nationals. Police also seized assembled explosives, four suicide vests and bomb-making materials such as TNT.
"The six had been dispatched from Burhanche in Somalia by their commanders to launch attacks in Kenya," Boinnet said.
Kenyan security forces worked with their counterparts in Somalia to foil the attack and to capture the suspects. The captured men were being interrogated to establish the extent of the entire network, Boinnet said.
Full report at:
http://nation.com.pk/international/12-Jun-2017/kenya-foils-terror-attack-planned-by-somali-militants
--------
Somalia will not sever ties with Qatar
12 June 2017
Somalia will not sever ties with Qatar as the Gulf state becomes increasingly isolated from its nieghbors, a senior Somali diplomat has said.
"Somalia has taken a neutral position," Abdi Halane Hirsi, spokesman and cultural attache at the Somali embassy in Pretoria, said. "We shall not end ties with either Saudi Arabia or Qatar. Our Foreign Ministry issued a statement calling for dialogue to resolve this issue."
Hirsi denied media reports suggesting Saudi Arabia had withheld $50 million in aid it earlier pledged to the Horn of Africa country until it cuts ties with Qatar.
"I think those are baseless media reports because Somalia already knows its position on this issue," he said on Sunday.
However, a senior official in Mogadishu claimed the Saudi authorities had attempted to pressure Somalia to cut ties to Qatar since Saudi Arabia, the United Arab Emirates, Bahrain and Egypt severed links on June 5, accusing Doha of supporting terrorism.
Qatar denies the allegation and has been supported by Turkey after its Arab neighbors cut transport links with Doha and ordered Qatari nationals to leave.
The Somali official, who spoke on condition of anonymity due to restrictions on talking to the media, said six Somali Cabinet ministers who recently visited Saudi Arabia were pressured to end ties with Qatar or miss out on development aid.
"I think Somalia will not take any sides against the Qatari government because Somalia's interest is Islamic world unity," the official said.
Somalia's Foreign Ministry issued a statement last week calling for "all brotherly countries involved to settle the differences through dialogue and within the Arab League and the Organization of Islamic Cooperation."
Somalia, a member of the Arab League, also offered to help resolve the dispute.
Some economists fear that Somalia, which largely depends on exports of livestock to Saudi Arabia and other Arab nations, could face sanctions if it continues its policy of neutrality.
However, others have said Somalia has adopted an even-handed stance to show solidarity with Turkey, its largest development partner.
Full report at:
http://www.worldbulletin.net/africa/190689/tunisian-soldier-dead-after-landmine-blast
--------
Tunisian soldier dead after landmine blast
12 June 2017
A Tunisian soldier died on Monday of his wounds from a landmine explosion on Mount Ouergha in the west of the country near the Algerian border, the defence ministry said.
Another soldier was killed in a mine blast last summer in a mountainous region of northwest Tunisia where the army has been tracking down extremists.
Full report at:
http://www.worldbulletin.net/africa/190706/tunisian-soldier-dead-after-landmine-blast
--------
What next for Saif al-Islam Gaddafi?
12 June 2017
Saif al-Islam Gaddafi is reported to have been freed from jail in Libya after six years. So what next for the son of Col Muammar Gaddafi, who once appeared poised to succeed his father as leader of the North African country?
Is Saif al-Islam Gaddafi really free?
According to the militia brigade that captured and has detained him since 2011, as well as to one of his lawyers, he is indeed free. However, both parties made a similar claim in July last year. In the end, that appeared not to be true - at least not in the commonly understood sense of being free.
He may have been treated as a "free man", in theory, over the past year by the brigade holding him. But there was no evidence then, nor any today, that he has ever left the outskirts of Zintan, where he has been held.
Why the announcement of his release now?
Libya and its militia politics is nothing if not complicated and is in a permanent state of flux. No-one can quite put their finger on why his release has been announced but some believe it could be linked to the wider, ongoing conflict between rival militia and political groups.
Where is he?
We do not know. His lawyer has so far not disclosed his client's location for "security reasons".
If he has left Zintan, the most commonly-held belief is that he went to eastern Libya.
Others believe he went south, and some think he's more likely to head to the town of Bani Walid than anywhere else. This was one of the last places to fall during the 2011 conflict in which his father was ousted and it is still seen by many Libyans as a hub for loyalists of the old regime.
Others have suggested he could be in Egypt.
What does he plan to do?
This will only become clear if and when he makes a statement. His lawyer has claimed that Gaddafi could play a pivotal role in national reconciliation efforts.
Would it be possible for him to re-enter politics?
In Libya today, everything is possible. Since 2011, members and institutions of the old order have returned to power, albeit in different capacities. However, if Gaddafi were to attempt this, he would be contending with multiple centres of power.
Can he travel within Libya?
Theoretically, yes, but not freely or easily. Some of the most powerful brigades in the country will be angered by his reported release and are likely to to try and re-capture him.
What happens to the death sentence against him?
The court in Tripoli that convicted him has not scrapped it and there does not appear to be any plan to do so.
The country's prosecutor general, who sits in Tripoli, also does not believe the amnesty law, passed by the parliament based in the east of Libya, applies to Gaddafi.
The militia that released him invoked this law when announcing his release - it claimed to be following legal procedures.
Saif al-Islam Gaddafi: Heir to prisoner
June 1972: Born in Tripoli, Libya, second son of Libyan leader Colonel Muammar Gaddafi
February 2011: Uprising against Gaddafi government begins
June 2011: International Criminal Court issues arrest warrant for him for crimes against humanity
August 2011: Leaves the capital after Tripoli falls to anti-government forces; flees to Bani Walid
October 2011: Father and a younger brother killed
19 November 2011: Captured by militia as he tries to flee south to Niger. Imprisoned in Zintan
July 2015: Sentenced to death by a Tripoli court in his absence
June 2017: Reportedly released under amnesty law issued by one of Libya's two competing governments
Why is Libya so lawless?
Profile: Saif al-Islam Gaddafi
What do Libyans think of Gaddafi now?
To some, he will always be the son of a former dictator who stood staunchly by his father's side until his demise, and who allegedly played a role in ordering the killing of protesters.
To others, who once saw him as a reformist within his father's regime, albeit with a healthy dose of scepticism, he could be a man with just enough "hard and soft power" to put an end to the chaos in the country.
Who might be expected to support or oppose him inside Libya?
There is a long list of militias, politicians, influential businessmen and ordinary Libyans who will always oppose him.
But some Libyans who have suffered since his father was ousted in 2011 may support him.
Saif al-Islam Gaddafi would also be supported by armed blocs who believe they could be stronger against their rivals with him by their side. At present, it is believed this could include some political and military forces in the east of the country, led by the controversial military strongman, Khalifa Hefter.
What do we know of his political opinions on present-day Libya?
Nothing that we have heard from him directly, since his detention.
Given that many of the Islamist political prisoners that he helped get released from his father's jails played a significant role in the rebellion against his family, it is likely he will oppose them first.
But if we are to go by what his lawyers - past and present - have said, he seems to think the country is deeply divided and he could play a role in resolving that.
Can he travel outside Libya?
He could.
However, he is still wanted by the International Criminal Court in The Hague, which is seeking to prosecute him over alleged war crimes committed during the 2011 conflict.
In theory, if he travelled to any country that is a signatory to the ICC, it would be obliged to arrest and deliver him to The Hague.
How would the rest of the world react if he re-emerges as a public figure?
Much of the rest of the world is seen as having played a direct role in overthrowing his father, so a few seats might shift uncomfortably in Washington, London and Brussels.
However, there is a strongly held belief among Libyans that Western powers in particular would be prepared to work with anyone who could assert control and stabilise the country, as long as there was a shared vision and policies that were acceptable to them.
International powers do not want to be seen as meddlers in Libya's internal affairs and the reality is that who they deal with is often dictated by who has the military might on the ground.
It is unlikely international powers would intervene militarily to prevent or reverse any return to power by Gaddafi.
Does he have any credibility or realistic prospect as a future leader?
To some Libyans, he does.
The post-2011 chaos that has engulfed Libya leaves room for anyone to step into the vacuum - or at least try to.
Many would argue "everyone else has, so why not?"
He remains credible in the eyes of thousands of families who fled the country in the past six years, and to those who remained in Libya and were marginalised or arbitrarily persecuted by lawless militias.
But there is a fine line between reality and fiction in Libya today. They often seem to overlap, much to everyone's confusion.
The reality in this case is that any attempt by Gaddafi to return to power would not go uncontested and would be unlikely to happen soon.
Do many Libyans yearn for the good old days of Col Gaddafi?
Today, yes.
Full report at:
http://www.bbc.com/news/world-africa-40246964
--------
URL: https://www.newageislam.com/islamic-world-news/pakistani-court-hands-down-death/d/111526
New Age Islam, Islam Online, Islamic Website, African Muslim News, Arab World News, South Asia News, Indian Muslim News, World Muslim News, Women in Islam, Islamic Feminism, Arab Women, Women In Arab, Islamophobia in America, Muslim Women in West, Islam Women and Feminism