New Age Islam News Bureau
17 Oct 2014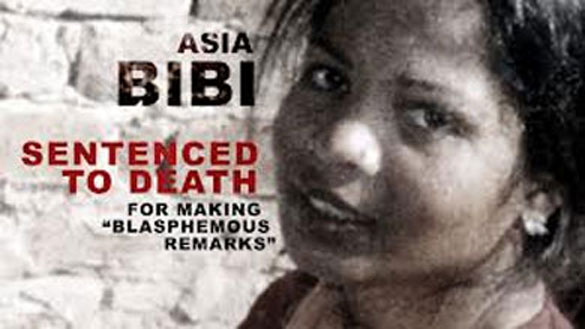 Pakistan
• Pakistani Christian Woman Is Sentenced To Hang For Blasphemy
• Terrorism Came To Muslims from Non-Muslim World, Conference Told
• Doctor Who Deserted Army Asks Officers to Join Taliban
• 'Sadiq' and 'Ameen' not defined in Constitution, says SC
• Nine killed as military operation launched in Khyber
• Use of armed drones must comply with international law: Zamir Akram
• Senate pays tribute to Malala, condemns LoC ceasefire violation
• Pakistan urges Iran to share proof of border infiltration
• PPP all set to demonstrate political prowess at Mazar-e- Quaid
Arab World
• Isis 'Behead Their Own Fighters' For Spying and Embezzlement in Syria
• Militant Attacks in Iraq's Baghdad Kill At Least 38 People
• Usury Edict Casts Shadow Over Top Saudi Bank's IPO
• Bearing the brunt of ISIS, Yazidis carry on with a tale of survival
• raqi forces launch anti-ISIL operation north of Tikrit
• Syria ISIS militants train in three captured jets
• The ISIS fighter who begged for death... and got it
• Egypt newspaper questioned over unpublished report
• No permanent Iqamas for Saudi-born expats
South Asia
• 'Jamaat-E-Islami Building Militant Network in South Asia'
• Afghan NSA Wants Radical Religious Schools Shut Down
• New Afghan government calls on Taliban to join peace process
• Jundullah terrorist network leader killed in Takhar province
• Hasina, Putin for Bangladesh-Russia stronger ties
• Cut-out strategy helping Jama'atul Mujahideen Bangladesh leaders to hide
• Saudi Prince donates MVR18.4 million to build mosques in the Maldives
Europe
• Spanish Parliament Set To Vote on Recognizing the Palestinian State
• Ban Ki-Moon assures UN's support to Satyarthi, Malala
• Eight-year-old Kosovo boy rescued from ISIS
• Russia 'will not' share intel with U.S. on ISIS
• Britain to re-deploy drones from Afghanistan to Iraq
• Germany detains 'terror group suspect' back from Syria
North America
• U.S. says Baghdad is not under 'imminent threat' from ISIS
• Kerry: Two state solution vital to curb extremism
• Poll finds IS popular among 5% of Saudis
• Relations with Pakistan will continue to grow: US
India
• Al-Qaeda IS May Join IM, Let To Attack India: NSG Chief
• HuJi-Let Link To Bangla Terror Module?
• NIA considers FIR against ISIS for enlisting Indian youths
• India can't afford to carry out surgical strikes inside Pakistan, NSA says
Mideast
• Turkish PM vows to promote commercial ties with Pakistan
• Hamas urges Muslims to defend Jerusalem shrine from 'Israeli seizure'
• Palestinian boy killed by Israeli forces in West Bank
• Turkey outlines locations for potential safe zone in Syria
• Houthis, tribesmen clash in Yemen's Ibb city
Africa
• Libyan Red Crescent calls for Benghazi ceasefire
• Tunisia wary of terrorist threat ahead of elections
Southeast Asia
• Malaysia Calls for SE Asian Cooperation on IS Threat
• Muslims who believe 'Allah' exclusive to Islam are confused, says Indonesian scholar
• Education, economic 'jihad' better for Malaysian Muslims, says PAS
• Deadline Set By Philippine Militants Holding German Hostages Passes
Compiled by New Age Islam News Bureau
URL: https://www.newageislam.com/islamic-world-news/new-age-islam-news-bureau/pakistani-christian-woman-is-sentenced-to-hang-for-blasphemy/d/99575
-----------
Pakistan
Pakistani Christian Woman Is Sentenced To Hang For Blasphemy
Oct 17, 2014
A Pakistani Christian woman has been sentenced to hang after she was accused of making 'blasphemous' comments about the prophet Mohammed during an argument.
While working as a berry picker in 2009, 46-year-old Asia Bibi got into a dispute with a group of Muslim women who objected to her drinking their water because as a Christian she was considered 'unclean'.
Hours after the incident one of the women reported mother-of-five Ms Bibi to a local cleric, claiming she had made disparaging remarks about the prophet Mohammed during the row.
As a result of the allegations, a furious mob arrived at Ms Bibi's home and savagely beat her and members of her family.
She was later arrested, charged with blasphemy and eventually sentenced to death - with her entire family forced to go into hiding after receiving threats on their lives.
This week, despite international outrage and hundreds of thousands of people signing a petition for her release, Ms Bibi lost an appeal to have her sentence overturned, meaning she now faces death by hanging.
The shocking case hit global headlines after two prominent politicians who tried to help Ms Bibi were assassinated, one by his own bodyguard.
Lawyers showered the killer with rose petals when he appeared in court and the judge who convicted him of murder had to flee the country.
Ms Bibi's lawyer, Naeem Shakir, said her accusers have contradicted themselves many times since first raising their complaint.
Two witnesses allegedly involved in the incident did not appear in court, he said.
A Muslim prayer leader did appear, saying he did not witness the original altercation, but that Ms Bibi had confessed to the supposed crime in front of him.
Speaking of Ms Bibi's failed appeal against her death sentence, Mr Shakir said: 'I was expecting the opposite decision. We will file an appeal to the Supreme Court of Pakistan in a few days.'
But Gulam Mustafa, the lawyer for the complainant, said the court's decision was correct.
'Asia's lawyer tried to prove that the case was registered on a personal enmity but he failed to prove that,' he said.
Human rights groups say Pakistan's blasphemy law is increasingly exploited by religious extremists as well as ordinary Pakistanis to settle personal scores.
The law does not define blasphemy and evidence might not be reproduced in court for fear of committing a fresh offence. There are also no penalties for false accusations.
Those accused are sometimes lynched on the spot. If they are arrested, police and the courts often allow trials to drag on for years, as in the case of Ms Bibi.
The delays tend to be caused because officials are afraid of being physically attacked if they release anyone they feel had been wrongly accused of blasphemy.
Only one person has been executed since Pakistan imposed a de facto moratorium on executions in 2008. This year has seen a record number of blasphemy cases as well as increasing violence against the accused.
Mrs Bibi - a farm worker from rural Punjab - released a memoir called 'Blasphemy' last year, in which she described her torment at not knowing how long she has left to live.
Talking about how she ended up being accused of blasphemy, she says: 'I drank water from a well belonging to Muslim women, using 'their' cup, in the burning heat of the midday sun.
'I, Asia Bibi, have been sentenced to death because I was thirsty. I'm a prisoner because I used the same cup as those Muslim women, because water served by a Christian woman was regarded as unclean by my stupid fellow fruit-pickers.'
In the book, Mrs Bibi describes how - tired of being considered a second-class citizen simply because of her religion and insulted by constant calls for her to convert to Islam - she decided to stand up to the crowd and defend Christianity.
Pushing and shoving ensued, forcing Ms Bibi to flee the scene.
When she returned to work five days later she was attacked again, but this time the crowd were accusing her of having insulted the Prophet Mohammed.
Battered and bruised, Ms Bibi was dragged before the local Islamic teacher who told her the only way she could redeem herself was by converting to Islam. Otherwise, he said, she would face death.
In November 2010 Ms Bibi was sentenced to death in a Sharia law court, becoming the first woman in Pakistan's history to be given the death penalty for blasphemy.
Over the past four years Ms Bibi has languished in the high-security District Jail Seikhupura, 22 miles north-west of Lahore, before being moved to a more remote prison.
Officials now make her cook her own food every day because they fear that Ms Bibi has so many enemies - within both the prison population and its staff - that she is at serious risk of poisoning.
Ms Bibi's death sentence has drawn international outrage from human rights groups, including Human Rights Watch who say Pakistan's blasphemy laws amount to form of religious persecution.
On news that Ms Bibi's appeal against her conviction had been overturned, Kate Allen, UK Director of Amnesty International, said: 'This is the latest blasphemy outrage to come out of Pakistan. It seems obvious that this is a case of religious persecution, and it's very likely the result of a squabble which escalated out of all proportion.'
'Blasphemy accusations in Pakistan are often used to settle petty vendettas and persecute minority groups. It's a complete disgrace that the courts are complicit in these vendettas.'
Pope Benedict XVI publicly called for clemency for Ms Bibi, describing his 'spiritual closeness' with her and urging that 'human dignity and fundamental rights of everyone in similar situations' be respected.
Her case also attracted the attention of a number of online petitions calling for her release, one of which attracted over 400,000 signatures from the citizens of over 100 countries.
http://www.dailymail.co.uk/news/article-2796178/pakistani-christian-woman-sentenced-death-blasphemy-making-derogatory-remarks-muslim-neighbours-loses-appeal.html#ixzz3GOYXqVB6
-----------
Terrorism Came To Muslims from Non-Muslim World, Conference Told
October 17, 2014
KARACHI: Two-Day international conference titled "The Issue of Religious Harmony in Europe, South Asia and the Middle East" ends here on Thursday on a note that a meaning full dialogue between religions of South Asia, Middle East and Europe is inevitable to avoid clash of civilization and further division of world on basis of religion, ethnicity and other identities.
The conference was organized by Area Study Centre for Europe (ASCE), University of Karachi, in collaboration with the Hanns Seidel Foundation.
Talking about the topic, German scholar and Research fellow, Dr. Thomas K. Gugler, University of Munster, Germany briefed participants about the history of religious freedom in Europe and said that it was not until the Treaty of Westphalia, back in 1648, that parity among religion and state emerged and notion of modern Nation State came into being.
"9/11 is the turning point to start discourse on religious freedom and question of Hijab along with other symbolic presentations put before policy makers" he said. He further added that sometimes the steps in western societies might have perception of Islamophobia but it is not true despite several events of separate incidence.
Sharing the crux of his presentation veteran diplomat and political analyst, Ambassador (R) Shahid M. Amin said that terrorism is started in Non-Muslim world even before it became rampant in Muslim Societies; he shared the examples of Liberation Tigers of Tamil Eelam (LTTE), Irish Republic Army (IRA) and Algerian crises in this regard. Talking about the crust of his presentation he added "It is a fairly complex world with serious ethnic and religious identity problems but it can be solved through meaning full dialogue with intention to solve the problem. He further added that there is growing perception among Muslim societies that War on Terror along with other measures is against Muslim societies".
Professor Dr. Jamal Malik of University of Erfurt said that cultural identity crises among immigrants of Europe resulted in the violent behaviour. He said that role of religion in modern nation state has to be defined in contemporary world affairs. Dr. Malik recommends that new set of hermeneutics tools should be introduced on orient and western discourse in order to develop inter-religious and inter-cultural harmony.
Prof. Dr. Syed Nomanul Haq of Institute of Business Administration adopt philosophical approach to describe religious harmony, their context, Narratives, and Conceptualization and said that no interpretation on growing extremism in Muslim Societies has been made without studying the impact of colonial rule, especially in Middle East where borders were drawn during the period of WWI.
Earlier, the moderator, briefed participants about the Area Study Centre for Europe that was established at the University of Karachi in the year 1974 along with five other Area Study Centres in major state sector universities of Pakistan. The Centre undertakes research at M.S. /Ph. D. level. The Centre also publishes the bi-annual Journal of European Studies since 1985, with articles on contemporary European issues and related topics. The Centre also focused research on the European Union, its politics, law, competition policy, economics and external relations. European Security, Common Foreign and Security Policy, Europe–Pakistan relations, Europe and the Muslim World and Europe's relations with the developing world are also amongst the subjects of research and teaching at the Centre.
http://www.dailytimes.com.pk/sindh/17-Oct-2014/terrorism-came-to-muslims-from-non-muslim-world-moot-told
-----------
Doctor who deserted army asks officers to join Taliban
October 17, 2014
PESHAWAR: Jamaat-ul-Ahrar (JA), a splinter group of proscribed Tehreek-i- Taliban Pakistan (TTP) has released video of a renegade army doctor, asking military officers and soldiers to join Taliban'.
Sitting beside JA spokesman Ehsanullah Ehsan in the video, the man with black beard and wearing black turban is introducing himself as Capt Dr Tariq Ali who claimed to have served in Frontier Corps Balochistan, 80 Brigade Siachen, and various places in Punjab. He cited posting in Waziristan the reason for leaving the army.
He said in fluent English that he had spent two tenures in North and South Waziristan agencies and refused order of the Second in Command official when he was asked to go for the third time.
"I refused to obey the orders of 2-IC (Officer Second in Command) and a few days later I took a flight to London," he said. He is critical of the media and blames it for spreading a bad image of Taliban.
He called upon officers to join Mujahideen for the enforcement of shariah and Islamic system.
Addressing senior officers and soldiers in Urdu and English Tariq Ali who is also known by the name of Abu Obaidah Al-Islamabadi said that his "PA" number was 103907 and he passed out with 18th course of the Army Medical College.
He said that he worked in the army for nearly seven years and about nine years ago he left the army and migrated to London where he did general surgical training in London and Cambridge.
Simultaneously, he said he used to call non-Muslims to Islam.
"Allah blessed me with the passion of Jihad. I left Britain with an intention to go to Iraq and join Islamic State, but I was arrested on the way and sent to prison in Croatia," said Dr Tariq.
Then he was deported to Pakistan and initially he faced some difficulties in the beginning. Later he joined JA. "May be it was the will of Allah that I should join the Mujahideen of Khorasan instead of Iraq and Syria," he said.
There was no independent confirmation of the doctor's claim.
http://www.dawn.com/news/1138524
-----------
'Sadiq' and 'Ameen' not defined in Constitution, says SC
October 17, 2014
ISLAMABAD - The Supreme Court on Thursday observed conviction of a parliamentarian by a competent court of law was necessary for his disqualification under Article 63 (1) (g) of the Constitution.
The three-member bench, headed by Justice Jawwad S Khawaja, was hearing petitions of PTI leaders Ishaq Khakwani and Brig (retd) Samson Sharaf and PML-Q President Chaudhry Shujaat Hussain as well as appeal of Gohar Nawaz Sindhu of Insaf Lawyers Forum against the Lahore High Court verdict on Prime Minister Nawaz Sharif's disqualification case.
He claimed discrimination was in practice before 1947, but it doesn't exist anymore as the people of the subcontinent were under the British rule at that time.
Sindhu, appearing in person, relied on articles 62, 63 and 66 of the Constitution and said a person who is not 'Sadiq' and 'Ameen' (righteous) is not eligible to become a member of the parliament.
Justice Dost Muhammad Khan said definition of 'Sadiq' and 'Ameen' has not been given in Article 260 of the Constitution. The petitioner requested the court to interpret the meanings of both the terms in this case.
Deputy Attorney General Khawaja Saeed Zafar, referring to the SC judgment in Dr Imran Liaquat Hussain vs Election Commission of Pakistan case, argued that the apex court had interpreted 'Sadiq' and 'Ameen'.
However, the court observed this issue has been raised for the first time after the 18th Amendment, so it has become mandatory for the court to interpret articles 62, 63 and 66 of the Constitution.
Attorney General Salman Masood was issued a notice under Rule 27-A of the Supreme Court Rules to assist the court in this regard.
The petitioner claimed the premier had first asked Army Chief General Raheel Sharif to act as a 'mediator' between the government and protesting parties – Pakistan Tehreek-e-Insaf (PTI) and Pakistan Awami Tehreek (PAT) – but, later, he changed his statement given on the floor of the National Assembly.
He said the people were convicted for maligning and scandalising the superior judiciary under Article 204 of the Constitution and Contempt of Court Ordinance 2003, adding there should have been a law to stop defamation of the army.
Justice Jawwad said the Supreme Court did not make laws as this task had been assigned to the parliament. The court said for the disqualification of a parliamentarian under Article 63 (1) (g) conviction by a competent court of law was necessary.
The deputy attorney general explained that Yousaf Raza Gilani's case was different from Prime Minister Nawaz Sharif's disqualification case. He said Gilani was convicted by the court. Justice Khawaja said there is no other option, but to forward the case to the speaker. The petitioner argued that his petition should be heard by the court and should not be sent to the speaker.
The bench directed the petitioner, Sindhu, to submit his formulations regarding the case. The bench decided to detach the petitions of PML-Q chief Ch Shujaat Hussain and PTI leader Ishaq Khakwanai from Gohar Sindhu's. The hearing of the case was adjourned until next week.
http://nation.com.pk/national/17-Oct-2014/sadiq-and-ameen-not-defined-in-constitution-says-sc
-----------
Nine killed as military operation launched in Khyber
October 17, 2014
PESHAWAR: At least nine suspected militants were killed and 10 others were injured in an operation against militants in Khyber Agency's Bara area, sources told Dawn, adding that this operation has been named as Khyber I (Khyber one).
Intensifying their efforts to counter militants in Khyber, security forces have upped action in the region.
Senior security sources told Dawn that this was the first wave of a fresh offensive launched to clear Bara tehsil.
Sources said the main aim of the operation was to clear Khyber from Bara until the border of Tirah valley, following which the second phase of the operation will begin.
Curfew has been imposed in the area and people are not allowed to either enter or leave Bara.
Security forces have also blocked all routes leading to Bara and have surrounded its Malikdinkhel, Akakhel and Sipah areas.
Scores of families have started moving to safer places as the offensive against militant groups is intensifying. Jet fighters have also been seen flying in the area.
A day ago, 21 suspected militants were killed when fighter jets pounded positions of the outlawed Lashkar-i-Islam group in Akakhel.
Five hideouts of the Bara-based militant group were destroyed in the air strikes.
Khyber is among Pakistan's seven semi-autonomous tribal districts near the Afghan border, rife with homegrown insurgents and foreign militants. These are also home to religious extremist organisations including Al Qaeda.
The plains of Bara hold strategic significance for militant groups as they connect the agency to the outskirts of Peshawar.
The area was being used by militants to put pressure on the provincial capital. In recent weeks, police and military posts in and around Peshawar have come under attack.
The key area also straddles the Nato supply line into Afghanistan.
Khyber also links several agencies to each other, serving as a north-south route within Fata. The region has been long fought over by a mix of militant organisations, including the TTP, the Ansarul Islam and Mangal Bagh's Lashkar-i-Islam.
http://www.dawn.com/news/1138575/nine-killed-as-military-operation-launched-in-khyber
-----------
Use of armed drones must comply with international law: Zamir Akram
October 17, 2014
UNITED NATIONS: Voicing concern over the deterioration of global security, Pakistan has called for evolving international norms to govern the use of armed drones and other new weapon systems strictly according to the United Nations Charter, international human rights and humanitarian law.
"Technology must follow the law and not the other way around," Ambassador Zamir Akram, the Pakistani delegate to the General Assembly's First Committee, which deals with disarmament and international security matters, said.
He said Lethal Autonomous Weapon Systems (LAWS), that would choose and fire on pre-programmed targets on their own without any human intervention posed a fundamental challenge to the protection of civilians and the notion of affixing responsibility and transparency.
Full report at:
http://www.dawn.com/news/1138581/use-of-armed-drones-must-comply-with-international-law-zamir-akram
-----------
Senate pays tribute to Malala, condemns LoC ceasefire violation
October 17, 2014
ISLAMABAD: Paying tribute to Malala Yousufzai upon winning the Nobel Peace Prize, the Upper House of the Parliament on Friday unanimously adopted a resolution "saluting the struggle and efforts of Malala who has given innumerable sacrifices for peace and promotion of education in Swat".
The resolution was moved by Awami National Party (ANP) Senator Haji Adeel.
After the resolution was adopted, the senators condemned the ceasefire violation along the Line of Control (LoC) and the working boundary.
Leader of the House Raja Zafarul Haq said it was unfortunate that Indian forces were trying to destabilise measures for peace by targeting the civilian population residing along the LoC.
Haq rejected the opposition's objections in relation to the government's response over the ceasefire violation and said that the government had already issued several statements to condemn Indian aggression. He added that he would also present all statements issued by the government and the Foreign Office before the House.
Full report at:
http://www.dawn.com/news/1138594/senate-pays-tribute-to-malala-condemns-loc-ceasefire-violation
-----------
Pakistan urges Iran to share proof of border infiltration
October 17, 2014
ISLAMABAD – Pakistan on Friday urged Iran to provide proof of infiltration of militants into Iran from Pakistani side of the border.
Addressing a weekly briefing, Foreign Office spokesperson Tasnim Aslam said that Tehran had not provided any proof of infiltration. She said that if Iran has any proof it should share it with the Border Management Committee.
To a question regarding statement of Iranian Islamic Revolution Guards Corps (IRGC) deputy commander, the spokesperson said that we should not be reactive to such incidents, especially when there were no evidences. She urged Iranian side to share evidences of terrorism with Pakistan to root out this menace.
Full report at:
http://www.dailytimes.com.pk/national/17-Oct-2014/pakistan-urges-iran-to-share-proof-of-border-infiltration
-----------
PPP all set to demonstrate political prowess at Mazar-e- Quaid
October 17, 2014
KARACHI- PPP will demonstrate its political prowess today at Mazar-e- Qaid in a mammoth public meeting to be addressed by party chair person Bilawal Bhutto Zardari. .
Security arrangements have been given final shape for the public meeting in the face of high threat level as over 30000 policemen have been deployed to ensure security and safety of people. Parking for vehicles have been set up at the distance of 2 kilometers from public meeting venue. 4 central passages have been carved out for entry into public meeting ground. Police officer equal to the rank of DIG will be in charge of every entry point.
Screening of public meeting venue and localities around it has been conducted several days before and ban has been imposed on flying drone cameras in the public meeting under security plan.
100 police mobiles equipped with cameras held by Sindh police are also being linked to security van through wireless.
http://nation.com.pk/national/17-Oct-2014/ppp-all-set-to-demonstrate-political-prowess-at-mazar-e-quaid
---------
Arab World
Isis 'Behead Their Own Fighters' For Spying and Embezzlement in Syria
October 17, 2014
Isis militants have reportedly publicly executed at least two of their own fighters in the Syrian city of Al-Bukamal, on charges of spying and embezzlement.
The Syrian Observatory for Human Rights said the first militant was executed for "banditry and robbing Muslims' money". The second militant was allegedly killed for "dealing with the regime and throwing electronic chips to keep track of Mujahedeen".
The electronic chips are understood to be a reference to electronic chips used for geo-location of targets in air strikes.
There are unconfirmed reports that the men were beheaded, although Isis (also known as Islamic State) have also been known to crucify people.
Charlie Winter, Programs Officer at counter-extremism think tank the Quilliam Foundation, said reports of Isis executing their own fighters are unsurprising.
Full report at:
http://www.independent.co.uk/news/world/middle-east/isis-behead-their-own-fighters-for-spying-and-embezzlement-in-syria-9797687.html
-----------
Militant attacks in Iraq's Baghdad kill at least 38 people
Oct 17, 2014
Militants unleashed a wave of attacks on Thursday targeting Shiite areas in the Iraqi capital of Baghdad, killing at least 38 people and wounding dozens, officials said.
The deadliest attack took place when two parked car-bombs exploded simultaneously in a commercial area in the northern Dolaie neighborhood, killing 14 civilians and wounding 34 others, a police officer said.
In the eastern neighborhood of Talibiyah, a suicide bomber rammed his explosives-laden car into a police check point, killing at least 12 people, another police officer said. The dead in that attack included seven policemen and five civilians, he added.
Full report at:
http://indianexpress.com/article/world/middle-east-africa/militant-attacks-in-iraqs-baghdad-kill-at-least-38-people/#sthash.9hKpbl6z.dpuf
-----------
Usury edict casts shadow over top Saudi bank's IPO
Oct 17, 2014
The Permanent Committee Tasked with Issuing Fatwas has officially prohibited Muslims from buying shares in any financial institutions dealing in usury, which includes Sunday's initial public offering (IPO) planned by the National Commercial Bank (NCB).
The fatwa, or Islamic edict, was issued by committee members led by Grand Mufti Sheikh Abdul Aziz Al-Asheikh, including Sheikh Ahmed bin Ali Sair Al-Mubarki, Sheikh Salih bin Fawzan Al-Fawzan, Sheikh Abdullah bin Mohammed bin Khunain and Sheikh Abdullah bin Mohammed Al-Mutlaq.
The committee earlier received and reviewed an inquiry submitted by Fahd bin Sulaiman Al-Qadi, addressed to the grand mufti, which said that the NCB dealt openly with the proceeds of usury, the statement said. The committee then decided it was prohibited to buy shares in companies dealing in usury. It was a sin and transgression according to the Qur'an and Sunnah of Prophet Muhammad (peace be upon him). There was also consensus among the nation's scholars on the matter, the statement said.
Full report at:
http://www.arabnews.com/news/645701
-----------
Bearing the brunt of ISIS, Yazidis carry on with a tale of survival
16 October 2014
Iraq's Yazidi minority, enslaved and driven out by the advance of ISIS in Iraq, represent a story of hundreds of years of survival in a hostile environment.
Some experts say the Yazidis, who are mostly Kurdish speaking people, passed their religion through generations for thousands of years, weathering Muslim caliphates - Abassids in Baghdad (750-1517) and Umayyads in Damascus (661-744), the sweeping Mongol invasion in 1258 and the Ottomans.
Now, they are facing a ferocious attack from the radical Islamic State of Iraq and Syria militant group, which boasted recently about their enslavement of Yazidi women.
Former U.N. diplomat Gerard Russell questions how Iraq came "to have so much religious diversity in the first place" and what "this this say about the type of Islam that prevailed there until the 21st century." Equally important is what is happening to these diverse strands under today's rising violence in the region.
Full report at:
http://english.alarabiya.net/en/perspective/profiles/2014/10/16/Bearing-the-brunt-of-ISIS-Yazidis-carry-on-with-a-tale-of-survival.html
---------
Iraqi forces launch anti-ISIL operation north of Tikrit
Oct 17, 2014
Iraqi security forces launched an operation on Oct. 17 aimed at regaining ground from the Islamic State of Iraq and the Levant (ISIL) jihadist group north of the militant-held city of Tikrit, officials said.
Security forces backed by air support have begun "an operation to liberate areas north of the city of Tikrit," said Ali Mussa, an adviser to the governor of Salaheddin province, where the operation is taking place.
An army lieutenant colonel also confirmed the launch of the operation north of the city, which was seized on June 11 during a sweeping ISIL-led militant offensive that overran large areas of the country.
Full report at:
http://www.hurriyetdailynews.com/iraqi-forces-launch-anti-isil-operation-north-of-tikrit.aspx?pageID=238&nID=73109&NewsCatID=352
-----------
Syria ISIS militants train in three captured jets
17 October 2014
Iraqi pilots who have joined ISIS in Syria are training members of the group to fly in three captured fighter jets, Reuters reported a group monitoring the war as saying on Friday, citing witnesses.
The group has been flying the planes over a captured Syrian military airport in the northern Aleppo province, said Rami Abdulrahman, who runs the Britain-based Syrian Observatory for Human Rights.
"They have trainers, Iraqi officers who were pilots before for (former Iraqi president) Saddam Hussein," he said. "People saw the flights, they went up many times from the airport."
Meanwhile, U.N. Syria envoy Staffan de Mistura will visit Russia next week, the Moscow-based U.N. information center said on Friday.
Full report at:
http://english.alarabiya.net/en/News/middle-east/2014/10/17/Syria-ISIS-militants-get-training-in-captured-jets.html
-----------
The ISIS fighter who begged for death... and got it
17 October 2014
Kurdish grocer Cuneyt Hemo remembers the moment he crossed paths with a jihadist ISIS prisoner inside the besieged Syrian town of Kobane.
"He begged us to kill him so he could go to paradise and be rewarded," Hemo told AFP, in a rare glimpse of life inside the town which has been fought over street by street for nearly a month.
Hemo, 33, is one of an estimated 200 000 mainly Kurdish Syrians who have fled the onslaught of Islamic State (ISIS) militants on Kobane to the relative safety of Turkey.
The jihadist was captured by Kurdish fighters during fierce close-quarters fighting for control of the town on the Turkish border.
He was held for a day and, according to Hemo, was ultimately killed by his captors.
"We captured him in the street," said Hemo, dragging on a cigarette in the Turkish border town of Suruc, where along with other Kobane refugees, he has found sanctuary.
"He said he came from Azerbaijan. He was in his 20s and spoke to us in Arabic," he added. The fighter was dressed in full camouflage gear.
Full report at:
http://english.alarabiya.net/en/perspective/features/2014/10/17/The-ISIS-fighter-who-begged-for-death-and-got-it.html
-----------
Egypt newspaper questioned over unpublished report
17 October 2014
Egypt's Interior Ministry has filed a complaint against the country's largest private newspaper, al-Masry al-Youm, over an unpublished report claiming that 2012's presidential election, won by the Muslim Brotherhood's Mohammad Mursi, was fixed.
The newspaper announced last week its intentions to publish documents proving that the 2012 poll was fixed to ensure Mursi's win.
But Egypt's top prosecutor issued an order against the release of the documents and obliged the newspaper not to publish their exclusive report, the paper claims.
The newspaper agreed to abide by the publishing ban, but lashed out against the ministry saying it had "over-stepped its authority."
Ali al-Sayyed, the newspaper's chief, spoke out against the government's actions, saying that the complaint "sets a dangerous precedents as it constrains freedom of the press," in comments to the newspaper.
Full report at:
http://english.alarabiya.net/en/media/print/2014/10/17/Egypt-newspaper-questioned-over-unpublished-report.html
-----------
No permanent iqamas for Saudi-born expats
Oct 17, 2014
Kingdom-born expats will not be eligible for permanent residency permits (iqamas), according to a high-ranking official at the Directorate General of Passports.
Col. Ahmed Al-Luhaidan, directorate spokesman, was refuting rumors circulating on social media sites alleging that expats who were born in the country would be able to reside here indefinitely.
"The directorate only issued temporary iqama cards to specific categories of Kingdom-born expats until procedures for acquiring regular iqamas are complete," said Al-Luhaidan.
Many Kingdom-born residents are facing an imminent identity crisis because they have little affinity to their ancestral countries and yet are not regarded as Saudis.
Still, a large percentage of second and third generation expats who were born and raised in the country feel they have a right to special privileges, such as the Saudi citizenship, while many feel they belong here because they speak fluent Arabic in the local dialect and have adopted the country's customs.
Full report at:
http://www.arabnews.com/featured/news/645676
-----------
South Asia
'Jamaat-e-Islami Building Militant Network in South Asia'
October 17, 2014
Jamaat was the godfather of all militant networks in South Asia including Bangladesh and its activities in the name of Jihad had threatened the country's security
Key BNP ally Jamaat-e-Islami is developing a militant network in the subcontinent in different ways including with financial support from West Bengal's Trinamool Congress, campaigner of war crimes trial Shahriar Kabir has alleged.
He said Jamaat was the godfather of all militant networks in South Asia including Bangladesh and its activities in the name of Jihad had threatened the country's security.
The Ghatak Dalal Nirmul Committee leader made the remarks yesterday at a discussion in the city citing news reports on the recent Saradha Group's funding for Jamaat and the grenade blasts in Bardhaman of West Bengal.
The event was jointly organised by the committee and the Forum for Secular Bangladesh and Trial of War Criminals of 1971 at the WVA auditorium in the capital's Dhanmondi.
Kabir said the blast incident had taken place on October 2 at the house of a Trinamool leader which was used as a den of banned Islamist group JMB.
Full report at:
http://www.dhakatribune.com/crime/2014/oct/17/%E2%80%98jamaat-building-militant-network-south-asia%E2%80%99#sthash.yWPar1ag.dpuf
-----------
Afghan NSA wants radical religious schools shut down
SUHASINI HAIDAR
Oct 17, 2014
Radicalised religious schools must be closed across South Asia, says Afghanistan's new National Security Adviser Mohammad Hanif Atmar.
Speaking to an audience in Delhi via satellite from Kabul, Mr. Atmar said, "Hate madrasas and schools that radicalise will have to be shut down. They have become a key element of terror infrastructure in the region."
In a veiled reference to Pakistan's intelligence agencies, whom the Afghan government has accused of funding Taliban groups, Mr. Atmar said the madrasas or religious schools in the region were "historically known as places of knowledge and tolerance," but were now being misused for terrorism by "certain State and non-State actors."
Speaking to strategic and diplomatic experts at a conference organised by the Delhi Policy Group, the Afghanistan President Ashraf Ghani's National Security Adviser, who was earlier the Interior Minister, identified threats to the region from five types of terror networks — the Afghanistan Taliban, the Pakistani Taliban and the Lashkar-e-Taiba, the al-Qaeda, Islamic State or "Da'esh" and Central Asian and Chinese groups.
Full report at:
http://www.thehindu.com/news/national/afghan-nsa-wants-radical-religious-schools-shut-down/article6509396.ece
-----------
New Afghan government calls on Taliban to join peace process
October 17, 2014
KABUL: After assuming office late last month, Afghan President Ashraf Ghani has announced that one of his priorities would be to reopen talks with the Taliban as he called on the insurgent group to respond positively to the peace dialogue that has been started by the previous administration.
"Political disputes should be solved through political means since war is not the solution," President Ghani said.
But political observers here are pessimistic on the success of the dialogue process, saying the Taliban are bent on pursuing their armed insurrection in order to restore its brutal Islamic rule by re-establishing the Islamic Emirate in Afghanistan.
"The Taliban won't agree to a peace dialogue unless and until they are defeated in battle ground," a US-based Afghan political analyst Edris Rahmani told the Afghan media recently.
Rahmani said the pullout of US and NATO-led forces from Afghanistan by the end of the year has only encouraged the Taliban militants to intensify their attacks against government and civilian targets.
Full report at:
http://www.dailytimes.com.pk/region/17-Oct-2014/new-afghan-government-calls-on-taliban-to-join-peace-process
-----------
Jundullah terrorist network leader killed in Takhar province
October 17, 2014
The leader of Jundullah terrorist network was killed following an airstrike in northeastern Takhar province on Thursday.
Afghan intelligence – national directorate of security (NDS), said the airstrike was carried out around 5:30 pm in Eshkemesh district.
NDS further added Mullah Shamsullah, also known as Qari Zubair was killed following the airstrike along with another senior member of the network, Qari Asad.
According to NDS, Mullah Shamsullah was involved behind the assassination of Mawlana Abdul Rahman Syed Kheli and numerous other tribal elders and political leadrs.
Jundullah terrorist network is a branch of the Islamic Movement of Uzbekistan (IMU) which is actively operating a number of northern and northeastern provinces of the country.
http://www.khaama.com/jundullah-terrorist-network-leader-killed-in-badakhshan-province-6846
-----------
Hasina, Putin for Bangladesh-Russia stronger ties
October 17, 2014
Prime Minister Sheikh Hasina and Russian President Vladimir Putin have expressed their hope that the socioeconomic relation between Bangladesh and Russia will be further strengthened in the future.
Sheikh Hasina held talks with Vladimir Putin during a gala dinner hosted by Italian President Giorgio Nepolitano at Sala Delle Cariatidi in Milan on Thursday evening, BSS reported.
Both the leaders also hoped that the member states of the Asia-Europe Meeting (ASEM) would put emphasis on working together for the development of the two regions of the globe.
On October 15, Prime Minister Sheikh Hasina left Dhaka for the Italian city of Milan on a four-day visit to attend the 10th summit of the Asia-Europe Meeting (ASEM).
http://www.dhakatribune.com/foreign-affairs/2014/oct/17/hasina-putin-bangladesh-russia-stronger-ties#sthash.vLaDRWGk.dpuf
-----------
Cut-out strategy helping Jama'atul Mujahideen Bangladesh leaders to hide
October 17, 2014
Members of banned militant outfit Jama'atul Mujahideen Bangladesh (JMB) have reportedly adopted a "cut-out" strategy, which isolates its senior leaders from the field-level operatives, in an attempt to carry out subversive activities by attacking important persons of state.
Under the system, which the police are calling the "cut-out" strategy, JMB activists are kept in the dark about the identities of top leaders of the outfit as they blindly carry out orders that they consider part of their "religious duty." As a result, even when any JMB member is arrested, the identify of the others remain a mystery, said a senior DB official on condition of anonymity.
Information about the new method of operation was found by the Detective Branch following the arrest of 23-year-old JMB member Khorshed Alam Rubel on Wednesday.
Cantonment police arrested Rubel after the CNG autorickshaw he was on violated a police check-post near Mirpur Flyover, while passengers of the vehicle shot at the police – injuring a police official and a pedestrian. Rubel was also hit by a bullet fired by the police, and was captured after his cohorts left him at the scene.
Full report at:
http://www.dhakatribune.com/politics/2014/oct/17/cut-out-strategy-helping-jmb-leaders-hide#sthash.ZCmhS7jd.dpuf
-----------
Saudi Prince donates MVR18.4 million to build mosques in the Maldives
October 17, 2014
Saudi Arabia's crown prince Salman bin Abdulaziz Al Saud has donated MVR18.4 million (US$ 1.2 million) to a mosque project with plans to build 10 mosques in the islands.
Islamic Minister Dr Mohamed Shaheem Ali Saeed confirmed that the money was transferred to ministry's bank account yesterday (October 15) and that work on the mosques is scheduled to start in the next couple of months.
"This is just the first donation of a US$4 million full amount from the Saudi Prince. We are told that we would receive the rest of the amount as construction of the mosques goes forward," said Dr Shaheem.
The Saudi Prince – who pledged to build 10 world class mosques in the Maldives in his visit to the Maldives earlier this year – told Shaheem he is willing to help the Maldivian government to preserve the Islamic identity of the nation and that Saudi Arabia sees the Maldives as a country of 'special importance.'
For his visit in March, the prince – who also serves as the defense minister of Saudi Arabia – booked out three resort islands for nearly a month, reportedly leaving tourists unhappy as bookings were cancelled.
Full report at:
http://minivannews.com/society/saudi-prince-donates-mvr18-4-million-to-build-mosques-in-the-maldives-90505
---------
Europe
Spanish parliament set to vote on recognizing the Palestinian state
17 October 2014
The Spanish parliament is set to vote on recognizing the Palestinian state, Al Arabiya News channel reported Thursday.
The announcement comes days after British lawmakers voted overwhelmingly in favor of recognizing Palestine as a state.
The motion - which is non-binding - was passed by 274 in favor to 12 votes against, to "recognize the state of Palestine alongside the state of Israel" as part of a "contribution to securing a negotiated two-state solution."
It came only a week after Sweden's new center-left government is set to officially recognize Palestine – a move that has been condemned by Israel, which says an independent Palestine can only be achieved through negotiations.
http://english.alarabiya.net/en/News/middle-east/2014/10/17/Spanish-parliament-set-to-vote-on-recognizing-the-Palestinian-state.html
-----------
Ban Ki-moon assures UN's support to Satyarthi, Malala
Oct 17, 2014
Lauding this year's Nobel Peace laureates Kailash Satyarthi and Malala Yousafzai, UN chief Ban Ki-moon said the two "remarkable" Asians give hope to people around the world struggling against exploitation and assured the world body's support to their "vitally
important work".
Ban congratulated Satyarthi and Yousafzai in his remarks to the Asia Society Game Changer Awards here on Thursday, noting that the awards celebrate an array of "remarkable" Asians.
The inaugural award has been instituted by leading educational and cultural organization Asia Society honouring "true leaders making a positive contribution to the future of Asia."
Ban said the world got a head start on the awards ceremony with the announcement last week that the year's Nobel Prize for Peace was being "shared by two remarkable Asians". The UN Chief said that Satyarthi and Yousafzai "give hope to people around the world struggling against exploitation, discrimination and violence.
Full report at:
http://indianexpress.com/article/world/asia/ban-ki-moon-assures-uns-support-to-satyarthi-malala/#sthash.Dwwnqt53.dpuf
-----------
Eight-year-old Kosovo boy rescued from ISIS
16 October 2014
An eight-year-old Kosovo boy, taken to Syria five months ago by his father who Islamic State of Iraq and Syria (ISIS) militants there, has been brought home after an intelligence operation, officials said Thursday.
"The Kosovo Intelligence Agency (AKI) has successfully completed an operation of locating, detecting and safely returning Erion Zena to his mother," a statement from Prime Minister Hashim Thaci's office said.
Arben Zena, a Kosovo national, took his eight-year-old son to Syria in June against the wishes of the boy's mother.
President Atifete Jahjaga, who welcomed the boy at Pristina airport late Wednesday with his mother Pranvera, said she had approved the "justified" rescue operation.
"The boy was taken without his mother's permission by his father to Syria to join terrorist groups that are fighting on the territory of Syria and Iraq," she said in a statement.
Full report at:
http://english.alarabiya.net/en/News/2014/10/16/Kosovo-rescues-eight-year-old-boy-from-Syria-jihadists-.html
-----------
Russia 'will not' share intel with U.S. on ISIS
16 October 2014
Moscow on Thursday denied U.S. claims that it had agreed to share intelligence with Washington over the Islamic State of Iraq and Syria (ISIS), saying it would only if there is a U.N. Security Council approval for any operation against ISIS.
The statement came after U.S. Secretary of State John Kerry said this week that he and his Russian counterpart Sergei Lavrov agreed to step up intelligence sharing ISIS.
But Russia's foreign ministry denied that saying Moscow "will not join any 'coalition' set up without the backing of the U.N. Security Council and that violates international law."
It pointed out that a bilateral commission involving Washington and Moscow that aimed to help tackle terrorism had been scrapped by the United States, according to AFP.
Moscow also added that it was already giving "significant help" to countries including Syria and Iraq and would continue to do so.
Full report at:
http://english.alarabiya.net/en/News/middle-east/2014/10/16/Russia-will-not-share-intel-with-U-S-on-ISIS.html
---------
Britain to re-deploy drones from Afghanistan to Iraq
Oct 17, 2014
Britain will shortly begin re-deploying its unmanned armed drones from Afghanistan to counter Islamic State jihadists in Iraq, Foreign Secretary Philip Hammond told parliament on Wednesday.
The remotely-piloted Reaper planes will provide surveillance, reconnaissance and intelligence support to the Iraqi troops and international coalition forces taking on the IS group in northern Iraq.
They can also launch bombs and missiles.
It will be the first time Britain has deployed Reapers outside of Afghanistan, where Britain is completing a pull-out of combat troops this year.
"We are in the process of re-deploying some of our Reaper remotely-piloted aircraft from Afghanistan to the Middle East," Hammond said.
Britain already has several Royal Air Force (RAF) Tornado fighter jets conducting bombing raids on Islamic State targets in Iraq.
Full report at:
http://english.ahram.org.eg/NewsContent/2/8/113253/World/Region/Britain-to-redeploy-drones-from-Afghanistan-to-Ira.aspx
-----------
Germany detains 'terror group suspect' back from Syria
Oct 17, 2014
Police in Germany have arrested a man on charges of belonging to a foreign terror organisation during an extended trip to Syria, officials said on Thursday.
The 27-year-old German national, identified as Soufiane K., is alleged to have been a member of the Al Qaeda-backed militant group Al-Nusra Front, the federal prosecutor general in Karlsruhe said.
He allegedly left his western German home in Ruesselsheim for Syria in July 2013 and later joined the group, a statement said.
Full report at:
http://english.ahram.org.eg/NewsContent/2/8/113243/World/Region/Germany-detains-terror-group-suspect-back-from-Syr.aspx
-----------
North America
U.S. says Baghdad is not under 'imminent threat' from ISIS
17 October 2014
The Iraqi capital Baghdad is not facing immediate danger from ISIS jihadists despite battlefield gains by the group in the country's west and recent car bombings in the city, the US military said Thursday.
Pentagon spokesman Rear Admiral John Kirby acknowledged several deadly bombing attacks in Baghdad earlier Thursday, including one claimed by ISIS, but said the city's defenses were solid.
"We don't believe that Baghdad is under imminent threat," Kirby told a news conference.
"It's not the first time in recent weeks or even months that there's been IED attacks inside Baghdad," he said, using the military's abbreviation for an improvised explosive device or homemade bomb.
The car bomb blasts in and around Baghdad killed at least 26 people and wounded dozens, Iraqi police and medical sources said. One double car bomb attack was claimed by ISIS, which said it targeted a group of Shiite volunteer fighters.
Full report at:
http://english.alarabiya.net/en/News/middle-east/2014/10/17/U-S-says-Baghdad-is-not-under-imminent-threat-from-ISIS.html
-----------
Kerry: Two state solution vital to curb extremism
17 October 2014
U.S. Secretary of State John Kerry on Thursday warned that that the unresolved Israel-Palestinian conflict was fueling recruitment for the ISIS militant group and it was "imperative" the peace talks be resumed.
"There wasn't a leader I met with in the region who didn't raise with me spontaneously the need to try to get peace between Israel and the Palestinians, because it was a cause of recruitment and of street anger and agitation," Kerry said at a State Department ceremony marking the Muslim festival of Eid al-Adha which took place in early October.
He added: "People need to understand the connection of that. And it has something to do with humiliation and denial and absence of dignity."
"It is imperative that we find a way to get back to the negotiations."
He also described "creating two states" as a solution for the Israel-Palestinian conflict was "still possible."
Full report at:
http://english.alarabiya.net/en/News/middle-east/2014/10/17/Kerry-Two-state-solution-vital-to-curb-extremism.html
-----------
Poll finds IS popular among 5% of Saudis
Oct 17, 2014
A recent American survey revealed that only 5 percent of Saudis, or around half a million citizens, view the so-called Islamic State (IS) terror group favorably.
The findings, released by popular think tank the Washington Institute for Near East Policy (WINEP), were based on three opinion polls that gauged popular support for the group in the Kingdom, Egypt and Lebanon, which are all part of an international coalition against IS.
The study interestingly found that the group has almost no support among these countries, even in Sunni strongholds.
In Egypt, for instance, only 3 percent of respondents viewed IS favorably, slightly lower than popularity rates in the Kingdom.
In Lebanon, only 1 percent of Sunnis voiced support for IS, while Christians, Shiites or Druze unanimously condemned the group.
The polls were conducted by a leading survey company in the Middle East in September through face-to-face interviews of people.
Full report at:
http://www.arabnews.com/saudi-arabia/news/645666
---------
Relations with Pakistan will continue to grow: US
October 17, 2014
WASHINGTON: The US relationship with Pakistan has grown significantly and must continue to grow, top US Envoy for the region Dan Feldman said, as he cited the vitality of the wide-ranging bilateral cooperative ties.
Speaking at a Washington think tank, the special representative for Afghanistan and Pakistan said the Kerry-Lugar-Berman authorisation, which expired on September 30, spelled out a set of policy principles that continue to guide the relationship - "support for civilian democratic institutions; parity in assistance to civilian and military entities; expanded economic cooperation; and expanded people-to-people ties".
"To take the next step, we're going to need a common conception of what this relationship can achieve. It cannot be solely about Afghanistan, or terrorism.
Full report at:
http://www.dailytimes.com.pk/national/17-Oct-2014/relations-with-pakistan-will-continue-to-grow-us
-----------
India
Al-Qaeda IS may join IM, LeT to attack India: NSG chief
October 17, 2014
National Security Guard (NSG) chief J.N. Chaudhary Thursday said al-Qaeda's threat to attack India was a matter of concern as the terror group can target Indian cities with the help of Pakistan-based militants.
Al-Qaeda and IS or Islamic State may join hands with terrorist groups like Lashkar-e-Taiba, Jaish-e-Mohammed, Harkat-ul-Ansar and Indian Mujahideen (IM) to target Indian cities, the NSG director general said.
"Al-Qaeda's threat to attack Indian cities is a matter of concern. They can target India in collaboration with Pakistan-based terrorist outfits," he told reporters after the elite force's 30th Raising Day celebrations at the Manesar base camp here.
Chaudhary said the terror groups were planning to carry out 26/11 Mumbai style multiple terror attacks in India.
Full report at:
http://www.business-standard.com/article/news-ians/al-qaeda-is-may-join-im-let-to-attack-india-nsg-chief-114101600870_1.html
-----------
HuJi-Let Link To Bangla Terror Module?
Dwaipayan Ghosh,TNN | Oct 17, 2014
KOLKATA/BURDWAN: A breakaway faction of the Indian HuJI-SIMI-LeT network that sheltered terrorist mastermind Abdul Karim Tunda was aiding the Jammat-ul-Mujaihideen Bangladesh module in Bengal, say central intelligence sources. What's more scary, the aim was not only to smuggle IEDs to Bangladesh, but also in India.
NIA has found fresh evidence which shows that the terror module stored IEDs at several hideouts in four districts. The nature of the planning — and the information from the interrogation of Abdul Hakim at SSKM Hospital — point towards links with Harkat-ul-Jihadi Islami (HuJI), SIMI and Lashkar-e-Toiba. The network's main targets in Bangladesh were Dhaka and Rajshahi but Indian cities may also have been on the radar.
Full report at:
http://timesofindia.indiatimes.com/india/HuJI-LeT-link-to-Bangla-terror-module/articleshow/44842210.cms
-----------
NIA considers FIR against ISIS for enlisting Indian youths
TNN | Oct 17, 2014
NEW DELHI: The home ministry is actively considering NIA's proposal to register a case against the Islamic State of Iraq and Syria (ISIS) to check the threat posed by it after intelligence inputs said nearly 20 Indian youths may have joined the global outfit.
Of the 20 persons said to have been recruited by ISIS, four have already been identified as residents of Kalyan in Mumbai, while one is said to be from J&K and another settled in Singapore.
A senior home ministry official said a case against ISIS may be registered but did not support the NIA's stance that ISIS chief Abu Bakr al-Baghdadi should be named in the "open FIR". This is because it would unnecessarily sensationalise the case, considering the almost nil chances of Indian agencies laying their hands on al-Baghdadi.
In case the home ministry does firm up its view and allows NIA to register an FIR, ISIS and its unknown cadres may be booked under the Unlawful Activities (Prevention) Act for radicalizing the Indian youths to take up terror activities.
Full report at:
http://timesofindia.indiatimes.com/india/NIA-considers-FIR-against-ISIS-for-enlisting-Indian-youths/articleshow/44843983.cms
-----------
India can't afford to carry out surgical strikes inside Pakistan, NSA says
Oct 17, 2014
ISLAMABAD: Pakistan on Thursday said India cannot afford to carry out "surgical strikes" inside the country as it is aware of Pakistan's response to any such action.
National security adviser Sartaj Aziz claimed that the current border tension was part of a bigger conspiracy by Indian government to blame Pakistan as well as exploit the border issue to attract voters in the state elections.
He said that India cannot carry out "surgical strikes" inside Pakistan as it would result in a "response".
Aziz's comments came during a briefing to the National Assembly Committee on Foreign Relations.
"Our army is fully alert and capable to appropriate response," he said amid tensions between India and Pakistan along the line of control and International Border.
Full report at:
http://timesofindia.indiatimes.com/india/India-cant-afford-to-carry-out-surgical-strikes-inside-Pakistan-Sartaj-Aziz-says/articleshow/44838758.cms
-----------
Mideast
Turkish PM vows to promote commercial ties with Pakistan
October 17, 2014
ISLAMABAD - Turkish Prime Minister Ahmet Davutoglu has said that serious efforts are needed to further promote economic and commercial relations between Turkey and Pakistan.
The Turkish prime minister stressed on the need to focus on trade, investment and connectivity. He said that he will soon visit Pakistan to co-chair next meeting of High Level Strategic Cooperation Council with Prime Minister Nawaz Sharif, said a message received here Friday.
He made these remarks during a meeting with a visiting Pakistan's delegation led by Minister for Commerce Engineer Khurram Dastgir Khan at Ankara on late Thursday.
He said that Pak-Turkish relations were deep-rooted in history and are time tested, adding that strength of Pakistan was Turkey's strength. Khurram Dastgir Khan briefed the Turkish prime minister about the steps taken by Pakistan to revitalize economy and particularly about the various projects that the government was initiating in the energy sector.
He also pleaded for Turkish collaboration and investment in Pakistan's energy sector. Turkish prime minister assured every possible Turkish support for projects to produce electricity including coal-based and hydropower plants.
http://www.dailytimes.com.pk/national/17-Oct-2014/turkish-pm-vows-to-promote-commercial-ties-with-pakistan
-----------
Hamas urges Muslims to defend Jerusalem shrine from 'Israeli seizure'
17 October 2014
The leader of the Palestinian group Hamas on Thursday called on Muslims to defend the al-Aqsa mosque compound in Jerusalem, saying Israel was trying to seize the site, revered in Islam and Judaism and focus of a Palestinian
uprising in 2000.
Khaled Meshaal, speaking in the Qatari capital Doha where he lives in exile, said: "We call on all our people inside the country to hurry up to al-Aqsa to defend it."
Palestinians, fearing Israel planned to restrict access to the site for Muslims, clashed with Israeli police there earlier this week when security forces arrived for what a police spokesman said was an attempt to stop them from "staging a riot and disrupting visits."
Meshaal said the Israeli government was taking advantage of Arab preoccupation with regional turmoil, particularly in Syria and Iraq, to try to take over al-Aqsa, the third holiest shrine in Islam which is also revered by Jews as the former site of a Biblical temple.
"We call on the nation to be angry and to send a message of painful anger to the world that the Palestinian people, the Arab and Muslim nation, will not be silent at the Israeli crime," Meshaal said.
Full report at:
http://english.alarabiya.net/en/News/middle-east/2014/10/17/Hamas-urges-Muslims-to-defend-Jerusalem-shrine-from-Israeli-seizure-.html
-----------
Palestinian boy killed by Israeli forces in West Bank
Oct 17, 2014
Israeli forces shot and killed a Palestinian boy in a village in the occupied West Bank on Thursday, local medics and residents told Reuters.
Bahaa Badr, 13, was shot in the chest as Israeli forces entered Beit Liqya near the dividing line with Israel and were pelted with stones by local youths, the sources said.
It is unclear whether the boy took part in the confrontation, which the Israeli army described as an "illegal riot" in which residents threw molotov cocktails at their forces as they were exiting the village.
A military spokesperson said soldiers responded with live fire and the army would investigate the reports of the killing.
Full report at:
http://english.ahram.org.eg/NewsContent/2/8/113285/World/Region/Palestinian-boy-killed-by-Israeli-forces-in-West-B.aspx
-----------
Turkey outlines locations for potential safe zone in Syria
Oct 17, 2014
Turkish Prime Minister Ahmet Davutoğlu has clarified the locations of possible internationally sanctioned safe zones near Syria's border with Turkey, outlining a line stretching from the Mediterranean to Iraq.
"The buffer zone we mean here is not a military definition, but a humanitarian safe zone under military protection," Davutoğlu said in an interview with Al-Jazeera Arabic on Oct. 15.
After noting that safe zones should protect "areas with populations over a certain density," the Turkish PM mentioned the need to connect the Turkish border with northern Latakia, "certain areas in al-Hasakah," as well as Jarabulus, Ayn-al Arab (Kobane), Tel Abyad, Idlib and Afrin to protect Syria's Arabs, Kurds and Turkmens.
Davutoğlu stressed that the depth of the safe zone could change according to varying humanitarian situations in these areas, but he reiterated that Turkey would not take the risk of intervention alone.
Full report at:
http://www.hurriyetdailynews.com/turkey-outlines-locations-for-potential-safe-zone-in-syria.aspx?pageID=238&nID=73054&NewsCatID=338
-----------
Houthis, tribesmen clash in Yemen's Ibb city
17 October 2014
Yemen's Houthis, a Shiite tribal grouping, clashed with tribesmen Friday in the northern part of the Yemeni city of Ibb, Al Arabiya's News Channel correspondent reported.
The clashes took place after the Houthi rebels seized more territory near the capital Sanaa, nearing a bastion of al-Qaeda in the Arabian Peninsula (AQAP).
Ibb borders the Al-Bayda province, which is an AQAP stronghold.
On Thursday, at least 10 people were killed in fighting between Houthi tribesmen and al-Qaeda-linked militants in central Yemen, Reuters reported witnesses as saying.
The clashes are part of a growing struggle over territory and influence between the two enemy sides.
Houthis established themselves as Yemen's new powerbrokers last month, capturing Sanaa on Sept. 21 to little resistance from residents or from the weak administration of President Abd-Rabbu Mansour Hadi.
Full report at:
http://english.alarabiya.net/en/News/middle-east/2014/10/17/Houthis-al-Qaeda-clash-in-Yemen-s-Ibb-city-.html
-----------
Africa
Libyan Red Crescent calls for Benghazi ceasefire
17 October 2014
Libya's Red Crescent called on Thursday for a ceasefire in the eastern city of Benghazi to allow the evacuation of families trapped by street fighting between Islamist militants and pro-government forces supported by local youths.
Banks, government offices, supermarkets and some hospitals were closed in Libya's second-largest city on the second day of the clashes. War planes bombed suspected Islamist positions.
The death toll from two days of fighting rose to at least 17 after four more bodies were brought to hospitals on Thursday, medics said. One hospital was running out of medical supplies, a health official said.
The port city, home to several oil firms, is caught up in a chaotic struggle for control between an alliance of Islamist militia groups and the army, amid turmoil in the oil producer three years after the ouster of Muammar Qaddafi.
Full report at:
http://english.alarabiya.net/en/News/africa/2014/10/17/Libyan-Red-Crescent-calls-for-Benghazi-ceasefire-.html
-----------
Tunisia wary of terrorist threat ahead of elections
17 October 2014
With Tunisia's parliamentary elections due on Oct. 26 and the presidential vote next month, both politicians and political observers fear violent extremists would seek to disrupt the country's march to democracy.
Earlier this week the ministry of interior announced dismantling the media and the logistical wings of a terrorist group suspected of plotting to carry out attacks against "prominent media and political figures."
The ministry announced on Thursday that it would deploy 50,000 security forces to secure the upcoming elections.
Political analyst al-Ajmi al-Qasimi said any potential terrorist attack could affect voter turnout and cast questions over the results of the elections, the second in the North African country since a January 2011 revolution that ousted former president Zine El Abidine Ben Ali.
"Let's consider the scenario in which terrorists succeed in assassinating a political figure; that would easily disrupt the elections season," al-Qasimi told Al Arabiya News.
Tunisia is flanked by Algeria and Libya, two countries with active Islamist extremist groups that have pledged allegiance to the Islamic State of Iraq and Syria (ISIS).
Besides, Tunisia has its own terrorist group, the Ansar al-Shariah. It was established in 2011 and suspected behind the simultaneous attacks on the U.S. embassy in Tunis and the American Cooperative School of Tunis in 2012, and the assassination of two opposition figures, Chokri Belaid and Mohammed al-Brahimi later in 2013.
Full report at:
http://english.alarabiya.net/en/perspective/analysis/2014/10/17/Tunisia-wary-of-terrorist-threat-ahead-of-elections-.html
-----------
Southeast Asia
Malaysia Calls for SE Asian Cooperation on IS Threat
October 17, 2014
Kuala Lumpur. Malaysia's defense minister has labelled efforts by a US-led coalition to push back the Islamic State group in Iraq and Syria "ineffective", and called for regional cooperation to prevent jihadists gaining a foothold in Southeast Asia.
"Air strikes by the United States and its allies [against IS in Syria and Iraq] appear to be ineffective for now. So, we need to consider our own approach," Hishammuddin Hussein was quoted as saying in The Star newspaper.
"We cannot work in isolation. We need to work with our friends and our neighbors," he said, speaking on Thursday.
Citing neighbors Indonesia — the world's most populous Muslim nation — the Philippines and Brunei, Hishammuddin said the region needed more intelligence-sharing and other cooperation on the IS threat.
Hishammuddin also lamented hesitation in the Arab world in condemning the group.
"The silence from Arab states is quite deafening when it comes to the IS issue," he said.
Concern is growing in Southeast Asia over the potential for the Islamic State to gain followers in the region.
Full report at:
http://thejakartaglobe.beritasatu.com/international/malaysia-calls-se-asian-cooperation-threat/
-----------
Muslims who believe 'Allah' exclusive to Islam are confused, says Indonesian scholar
October 17, 2014
Banned Indonesian scholar Dr Ulil Abshar Abdalla has waded into Malaysia's controversial "Allah" edict, saying Muslims who believe the word is exclusive to Islam were "confused" and noted the Arabic term predates Islam.
Ulil, who was denied entry into Malaysia this month for allegedly opposing its Islamic stand, said Muslims did not have a monopoly of the word "Allah" as it was a general term to refer to God.
Malaysia has declared "Allah" is exclusive only for Muslims, who are the majority among the 30 million population.
"The term 'Allah' comes from two words which are 'Al' 'and 'Ilah' which means God.
"If we mention the word 'Allah', it is translated as God. The people of Mecca also used the word 'Allah' before Islam came," he said in a recent telephone interview with The Malaysian Insider.
Full report at:
http://www.themalaysianinsider.com/malaysia/article/muslims-who-believe-allah-exclusive-to-islam-are-confused-says-ulil#sthash.wWGmIlSm.dpuf
-----------
Education, economic 'jihad' better for Malaysian muslims, says PAS
October 17, 2014
Muslims in Malaysia need not get involved in militant activities on the excuse that it is jihad (holy war) because they have ample room to "jihad" in the aspects of education and the economy in the country, PAS Dewan Ulama (Religious Scholars Wing) acting chief Datuk Ahmad Yakob (pic) said today.
He said the act of recruiting Malaysians to join militant groups in Syria was unacceptable because this was against Islam.
"We do not know what is the real agenda of these (militant) groups, so we have to be careful about the words and (Quranic) verses they use (to entice people to join them)," he told reporters after launching the book "Khalifah: Kita Pilihan ALLAH" in Kota Baru today.
Ahmad, who is also Kelantan Menteri Besar, also urged parents to monitor the movements of their children who are studying in West Asia to ensure they did not join these groups.
Full report at:
http://www.themalaysianinsider.com/malaysia/article/education-economic-jihad-better-for-malaysian-muslims-says-pas-bernama#sthash.XG0gJrzU.dpuf
-----------
Deadline Set By Philippine Militants Holding German Hostages Passes
October 17, 2014
A deadline set by Islamist militants holding two Germans hostage in the southern Philippines passed on Friday with no immediate word on their fate.
The Abu Sayyaf militants had said they would execute one of the two at 3 p.m. local time if they were not given a ransom of 250 million Philippine pesos ($5.56 million). They have also demanded Germany stops supporting US-led air strikes on Islamic State fighters in Iraq and Syria.
They later said they were willing to extend the deadline by two hours if they were assured the ransom was on its way.
http://thejakartaglobe.beritasatu.com/international/deadline-set-philippine-militants-holding-german-hostages-passes/
-----------
URL: https://www.newageislam.com/islamic-world-news/new-age-islam-news-bureau/pakistani-christian-woman-is-sentenced-to-hang-for-alleged -blasphemy/d/99575