New Age Islam News Bureau
9 Jul 2019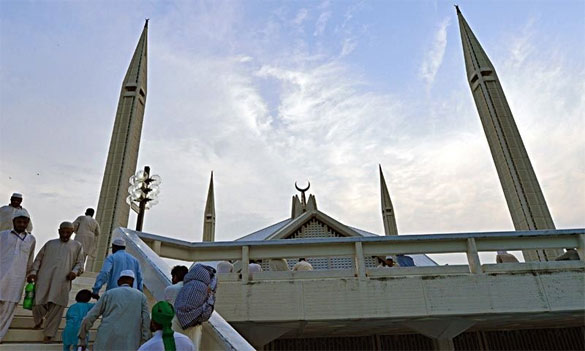 The administration once more attempted to have all mosques and imambargahs in the capital deliver written or approved sermons on Fridays and deliver the Azaan at the same time, but was opposed by ulema. — AFP/File
----------
• Pakistan Ulema Oppose Capital Administration's Request for Approved Sermons, Azaan at Uniform Timings
• People Want Old Pakistan Back, Says Abbasi
• U.K. Far-Right Extremist Sets Himself on Fire as He Attacks Synagogue
• 'Serious Problem' With Media Portrayal of Muslims And Islam, Study Claims
• ISIS Re-Emerges in Southern Libya to Pledge Allegiance to Baghdadi
• US Has Given Lebanese Armed Forces A Pass with Hezbollah — Conditioning Aid Is Necessary
• Hasina Slams Proposal to Annex Rakhine to Bangladesh
• Urs of Sufi Saint in Srinagar Draws People from All Faiths
• Rohingya Repatriation: Malaysia to work with Bangladesh
Pakistan
• Ulema Oppose Capital Administration's Request for Approved Sermons, Azaan at Uniform Timings
• People Want Old Pakistan Back, Says Abbasi
• PBC asked to request CJP for suo motu hearing over judge's video
• Opposition set to submit no-trust motion against Sanjrani today
• Pakistan to issue on arrival visas to Qatari nationals
• Thai police seize 51 Pakistani Christian asylum seekers
--------
Europe
• U.K. Far-Right Extremist Sets Himself on Fire as He Attacks Synagogue
• 'Serious Problem' With Media Portrayal of Muslims And Islam, Study Claims
• US Call for Syria Troops Divides German Coalition
• Government rejected military plan to bring home suspected Isis supporter Lisa Smith
• Conservatives: Members see Islam as 'threat to British life', poll suggests
• Berlin rejects Washington's call for deploying ground forces to Syria
• Relations with Croatia play great importance: Turkey
• Balkans' peace 'extremely important' for Turkey
--------
Africa
• ISIS Re-Emerges in Southern Libya to Pledge Allegiance to Baghdadi
• 8,000 Children Recruited By Boko Haram: UN
• Libya's Haftar promotes officer wanted for war crimes
• Sudan's top general says military council will be dissolved
• Jihadist attack in Mozambique kills seven
• Boko Haram kills at least five soldiers in northeast Nigeria - sources
• Sudanese say US pressure was key to reaching transition deal
• Tunisia presidential candidate charged with money laundering
• Police arraign Nigerian senator for assaulting woman
--------
North America
• US Has Given Lebanese Armed Forces A Pass with Hezbollah — Conditioning Aid Is Necessary
• Bolton: US to keep raising pressure until Iran abandons nuclear arms program
• Vice President Pence: US does not seek war with Iran, but will not back down
• Pence says US action has cut off Iran's ability to support terrorism
--------
South Asia
• Hasina Slams Proposal to Annex Rakhine to Bangladesh
• Intra-Afghan Dialogue Participants Including Taliban Agree On Adoption of Softer Approach to Help Peace Process
• Islamic State says it carried out attack at Shi'ite mosque in central Afghanistan
• Afghan airstrikes kill 25 militants in southern province
• UN expert still barred from Myanmar
• Uzbek militant among 5 killed in Afghan Special Forces raid in Faryab
• Intra-Afghan peace meeting concludes in Doha
• Afghan talks: Rival sides agree on 'road map for peace'
--------
India
• Urs of Sufi Saint in Srinagar Draws People from All Faiths
• Muslim Group in Jharkhand's Ramgarh Defies Prohibitory Orders to Hold Protest Meet against Lynching
• Tiktok Removes Users Who Posted Video on Jharkhand Lynching
--------
Southeast Asia
• Rohingya Repatriation: Malaysia to work with Bangladesh
• NU, Muhammadiyah For Nobel, Guardians Of Pluralism
• Indonesian Muslim Delegation Visits Israeli Diamond Exchange
• Muslim preacher Wan Ji bound for prison as judge rejects sedition appeal, ups sentence
--------
Arab World
• Top Saudi Clerics Snub Council of Supreme Scholars Sessions over Corruption: Report
• Russian-led assault in Syria leaves over 500 civilians' dead: rights groups, rescuers
• Iraqi paramilitary forces kill two Islamic State terrorists in Nineveh
• Iraq begins operation to clear ISIS militants from Syria border
• Egyptian politicians arrested, accused of working with Muslim Brotherhood
• Iraqi Forces Cleanse Tens of Regions along Western Borders with Syria
• Iraqi Hashd al-Sha'abi forces launch second phase of op along Syria border
--------
Mideast
• UAE Says Reducing Number of Troops in Yemen In Strategy Shift Towards 'Peace'
• Israel's Arrest Campaign Cannot Sap Palestinian Nation's Will: Hamas
• Want To Support Victims Of Torture? Put the Squeeze On Iran
• Radio Station in War-Torn Yemen Raises $132,000 for Hezbollah
• Houthis kill 10 in attacks in Hodeida, Yemen officials say
• Yemen: Houthis Commit 18,000 Human Rights Violations in 6 Months
• Arab Coalition intercepts, destroys Houthi drone targeting Saudi Arabia
• Turkey orders arrest of 176 military personnel over suspected Gulen links
• UAE official says redistribution of troops in Yemen is for 'tactical reasons'
• Iran summons Nigeria chargé d'affaires over Zakzaky situation
• Israel says it shot down drone that crossed from Gaza
Compiled by New Age Islam News Bureau
URL: https://www.newageislam.com/islamic-world-news/pakistan-ulema-oppose-capital-administrations/d/119130
--------
Pakistan Ulema Oppose Capital Administration's Request for Approved Sermons, Azaan at Uniform Timings
Munawer Azeem
July 09, 2019
ISLAMABAD: The administration once more attempted to have all mosques and imambargahs in the capital deliver written or approved sermons on Fridays and deliver the Azaan at the same time, but was opposed by ulema.
Capital administration officials told Dawn that officers from the administration, including Additional Deputy Commissioner Dr Asif Rahim, met with ulema from various sects to discuss matters related to approved sermons and the Azaan.
The meeting aimed to standardise sermons delivered at all places of worship, they said. The ulema were told that written or approved sermons would maintain religious and sectarian harmony in the capital and avoid religious hatred.
However, the officials said the administration failed to convince the ulema during the meeting and the idea of delivering written sermons was largely opposed, the officials said. The ulema expressed concern at the possibility of having their sermons approved by the administration.
After failing to persuade the ulema, the administration asked them to deliver sermons on approved topics, to which they agreed. Officials said ulema were also given the aforementioned topics.
They said the administration had approached the International Islamic University Islamabad earlier and sought help in this regard. The university suggested 35 topics, including the five pillars of Islam, the prophets, Ahle Bait and fundamental rights, which have been divided into more than a hundred sub-topics.
The ulema also opposed the request to deliver the Azaan at the same time across the capital, as different sects have different timings for some prayers.
The administration asked ulema to register all places of worship and seminaries with the Directorate of Industries and Labour as soon as possible. Once registered the administration will be able to monitor all their activities, officials said, including details of donations and funds received and spent.
The ulema told the administration they would discuss the matter internally to reach a decision and will prepare a joint strategy, which the administration will be informed of.
Officials said the ulema also asked the administration to hold a convention and invite ulema from all sects and from all over the country to discuss these issues.
It was decided that the convention would be held next month, after the ulema's internal meetings have concluded.
The administration also tried, unsuccessfully, to have approved or written sermons delivered during Friday prayers last year, and was opposed by ulema.
When contacted, Dr Rahim, who is also the deputy director of the Auqaf department, said the aforementioned meeting was an internal meeting with ulema and that he did not know why such hype was created around it.
https://www.dawn.com/news/1492874/ulema-oppose-capital-administrations-request-for-approved-sermons-azaan-at-uniform-timings
--------
People Want Old Pakistan Back, Says Abbasi
July 09, 2019
TAXILA: Former prime minister Shahid Khaqan Abbasi said on Monday that people had rejected 'new Pakistan' and they wanted their old Pakistan back.
Speaking at a workers' convention of the Pakistan Muslim League-Nawaz (PML-N), he said that an unprecedented rise in prices of essential commodities caused by the wrong policies of the government had made the life of people miserable.
Mr Abbasi said the country was passing through the worst economic crisis. "There is uncertainty everywhere. The prime minister holds a begging bowl wherever he goes. The people want to know what is happening in this country, why the economy is becoming weak day by day, electricity, natural gas and edible items are going out of reach of the people," he said.
The former prime minister said the present government, which had been brought into power through rigged elections, could not bring about a positive change in the country.
He said the rulers were trying to make people silent as was done by the dictators in the past.
Mr Abbasi said the government, which was unable to ensure justice, could not establish a state like Madina.
Former interior minister Ahsan Iqbal said that this crowded convention was an ample proof that PML-N supreme leader Nawaz Sharif was living in the hearts of the people. The PML-N existed from Gwadar to Gilgit, he added.
He said Mr Sharif had protected the country from an evil eye. "We are here to deliver the message of Nawaz Sharif."
He said the PML-N was being victimised and its leaders were sent behind bars because it launched the China-Pakistan Economic Corridor and brought development projects worth Rs29 billion to make Pakistan an Asian tiger.
"A conspiracy has been hatched against Pakistan by its enemies which I had predicted in 2017," he said.
He alleged that the government wanted to create differences between the people and the armed forces by making a task force of defence forces personnel.
PML-N information secretary Marriyum Aurangzeb said the incumbent government had sent Nawaz Sharif behind bars because it was afraid of him.
She said Nawaz Sharif made Pakistan a nuclear power, built 1,600km motorway, 10,000km roads, set up electricity projects and much more as he never believed in hollow slogans and lip-service.
Former minister Sheikh Aftab, MNAs Malik Sohail and Jahangir Khanzada, MPA Sardar Iftikhar and former chairman of the Attock Municipal Corporation Nasir Mehmood also spoke on the occasion.
https://www.dawn.com/news/1492944
--------
U.K. Far-Right Extremist Sets Himself on Fire as He Attacks Synagogue
JULY 8, 2019
A London criminal court handed a far-right extremist that tried to set a synagogue on fire a hospital order without limit of time on Friday, CNN reported.
On July 21, 2018, Tristan Morgan set the 18th century synagogue in the city of Exeter on fire.
A clip released by the Devon & Cornwall Police on Twitter shows the 52-year-old man breaking a window with a hammer, then pouring something from a tank inside the building, before igniting it. The blast of the fire was so powerful that it backfired against Morgan himself, causing severe burns.
The 52-year-old chose to attack the synagogue, the third oldest in England, on the day of Tisha Be' Av, which commemorates the destruction of the two temples in Jerusalem and other tragedies of Jewish history.
"Please tell me that synagogue is burning to the ground. If not, it's poor preparation," Morgan said as he was put in a police van, according to the BBC.
The British public broadcasting company also pointed out that Morgan had previously admitted arson and two terrorism-related charges, for encouraging terrorism by publishing a song entitled White Man to live-streaming website Soundcloud and possessing a copy of the White Resistance Manual.
"Morgan is clearly very unwell and following multiple detailed medical assessments, it is clear that a hospital order is appropriate. I would like to thank our partners and local residents who have given such tremendous support to the synagogue," police superintendent Matt Lawler commented according to a Tweet by the Devon & Cornwall Police.
According to a statement by the police, the President of the Synagogue, Richard Halsey thanked the local police for "their brilliant response" and for "their thorough investigation and support since the traumatic events of last year."
"In particular we wish to highlight how the community of Exeter has come together to demonstrate the genuine positivity in our city. We live in a wonderful place that has demonstrated tolerance and support for each other at times of need, and the whole Jewish community sincerely appreciates the support we have had from all faiths here in Exeter," Halsey added.
The community was able to start again holding the services in the synagogue in October and it re-dedicated it in April.
Following the attack, solidarity to the Jewish community was expressed by several representatives of Exeter religious institutions, including the Exeter Cathedral and the Exeter Mosque.
https://www.jpost.com/Diaspora/UK-far-right-extremist-sets-himself-on-fire-as-he-attacks-synagogue-594913
--------
'Serious Problem' With Media Portrayal of Muslims And Islam, Study Claims
09/07/2019
By Nadine White
Sections of the British media have a "serious problem" in the way they portray Islam and Muslims, a study has claimed.
Some 59% of reports published towards the end of last year associated Muslims with "negative behaviour", research by the Centre for Media Monitoring (CfMM) suggested.
The project, run by the Muslim Council of Britain, said it analysed 10,931 published articles and broadcast reports between October to December 2018 by most major national titles and news television programmes.
More than a third of the articles that were checked "misrepresented or generalised" about Muslims, according to the report.
CfMM director Rizwana Hamid said the findings - to be presented to parliament on Tuesday - showed there was "no doubt about the seriousness of Islamophobia within sections of British media".
The report claimed 37% of religious and "right-leaning" publications and 14% of Sky News broadcasts analysed were "very biased".
Analyst Faisal Hanif, a former BBC researcher and Times reporter who co-wrote the report, said the overall picture was "mixed" despite "many examples" of misrepresentation.
He said the media can be an "effective balance" against misreporting and prejudices and also have a bigger impact on issues than those in power.
But this was in contrast to the "constant drip feed of misinformation seen in rolling news coverage, particularly concerning suspected 'terror' attacks and the misreporting of Muslim beliefs, actions and ideas", he said.
He added: "Of particular concern is what can only be reasonably interpreted as a deliberate attempt by some online news platforms, in particular, to associate Muslims and/or Islam with anything negative."
ITV regional channels that were checked were said to have "no biased content".
Daily Mail Australia had the "highest proportion of articles" analysed as being "very biased" (37%), followed by Christian Today (35%) and The Spectator (29%), the findings suggested.
The most recurring theme in the reports was terrorism, the CfMM said.
In one example, the report warned "repeated" use of an image of Westminster Bridge terrorist Khalid Masood pictured next to the Kaaba in Makkah - Islam's holiest site and a place of pilgrimage - "subconsciously links Muslim practice to terror and terrorism".
The report also claimed drama "proportionately misrepresented Muslims and Islam the most" as it hit out at award-winning television series Bodyguard.
The most watched BBC drama in a decade "pandered to stereotypes of Muslim women who wear the hijab as oppressed or subservient", according to the CfMM.
The research also raised the example of a storyline in EastEnders - where mother Chloe reacts to news her son had been given a copy of the Koran by his foster parents.
The report said: "Chloe's reaction of looking on in horror when the Qur'an is mentioned could be there to show how some people react to the Qur'an but it can also be interpreted as her finding the Muslim holy book as something to be feared."
The centre monitors all main British media outlets including 31 websites and five broadcasters using 50 key words in various forms.
Factors including generalisation and misrepresentation are considered during the analysis, with imagery and headlines also assessed.
It hopes its findings will serve as a "valuable resource for journalists and editors" and help to bring "greater accuracy and balance in media coverage".
The BBC, Sky News, Daily Mail Australia, Christian Today and The Spectator have all been contacted for comment.
This report comes as concerns around Islamophobia in Britain continue to intensify.
On Monday Hope Not Hate published a YouGov poll of Conservative party members which reveal that 60% believe that 'Islam is generally a threat to Western civilisation'.
Just 17% of Conservative members agreed that Islam was 'generally compatible with Western civilisation', while a shocking 54% thought that Islam was also 'generally a threat to the British way of life'.
https://www.huffingtonpost.co.uk/entry/serious-problem-with-media-portrayal-of-muslims-and-islam-reports_uk_5d237bcee4b04c4814182ea0
--------
ISIS Re-Emerges in Southern Libya to Pledge Allegiance to Baghdadi
8 July, 2019
ISIS re-emerged in southern Libya, pledging its allegiance to the terrorist group's leader Abu Bakr al-Baghdadi.
Dozens of masked gunmen appeared in a video released by ISIS media to renew their allegiance, vowing to carry out reprisals against the Libyan National Army (LNA).
They announced that they will continue combating the LNA, threatening to launch more terrorist attacks against it.
Local sources suspected that the video was shot in a remote desert region in southern Libya where dozens of ISIS gunmen, led by Mahmoud al-Baraasi, are located. Barassi, known as Abu Musab al-Libi, is the former founder of the ISIS affiliate in the eastern city of Benghazi.
In May, ISIS had claimed responsibility for an attack on an oilfield in the town of Zillah, some 650 kilometers southeast of the capital Tripoli. The attack was seen as an escalation against LNA-held regions in the South.
The terrorists also launched major attacks in Tripoli in 2018, but they have since retreated to the desert in the South after they lost their former stronghold of Sirte in late 2016.
https://aawsat.com/english/home/article/1802896/isis-re-emerges-southern-libya-pledge-allegiance-baghdadi
--------
US Has Given Lebanese Armed Forces A Pass with Hezbollah — Conditioning Aid Is Necessary
07/05/19
American diplomats have been quietly mediating a resolution to the Israeli-Lebanese maritime border dispute, an important step to avoiding another war between these two countries. However, even if American mediators can resolve the dispute, Hezbollah's presence in southern Lebanon keeps alive the possibility of a devastating war.
In any future war with Israel, Hezbollah will likely rely on its growing arsenal of roughly 120,000 missiles and rockets that likely can overwhelm Israel's air defenses. Both of us have participated in trips to the Israel-Lebanon border with the Jewish Institute for National Security of America (JINSA) that demonstrated the next war between Israel and Hezbollah will yield unprecedented destruction on both sides.
Hezbollah's ability to launch missiles against Israel has significantly improved since their last war in 2006. In the initial phases of another war in Lebanon, Israel will be forced to quickly destroy these missile sites, bringing itself into direct contact with troops from the Lebanese Armed Forces (LAF). These troops are distinct from Hezbollah, but their uncertain position and sheer proximity is a complicating factor since the United States has been providing aid to the LAF. Should fighting break out, the United States could find itself funding both sides of a major war involving our closest ally in the region.
The United States has provided the LAF with $1.7 billion since 2006, hoping substantial military aid would decrease Hezbollah's influence in Lebanon. During the 2006 conflict, the LAF demonstrably distanced itself from Hezbollah. In recent years, however, multiple factors indicate that ties between Hezbollah and the LAF are growing dangerously close. In their joint fight against ISIS on Lebanon's northern border, the parties coordinated military operations and deployments, and shared intelligence.
In southern Lebanon, where Hezbollah's influence is most pronounced, the LAF has ignored its obligation to enforce U.N. Security Council Resolution 1701, which calls for the "disarmament of all armed groups in Lebanon" other than the LAF. Despite increased LAF troop deployments to southern Lebanon in recent years, Hezbollah's military capacity has continued growing there unchecked – including its development of offensive cross-border tunnels into Israel.
Political ties between Hezbollah and the LAF have grown alarmingly close as well. In 2018, Hezbollah won its first majority in the Lebanese parliament. Lebanese President Michel Aoun remains a loyal ally of Hezbollah and has repeatedly hailed Hezbollah's "major" and "essential" role in Lebanon's defense apparatus. Likewise, Hezbollah's Secretary-General Hassan Nasrallah has referred to the LAF as a "partner" and "pillar" of defense against Israel. Hezbollah's growing partnership with the LAF has alarmed many Lebanese political leaders, especially moderates who seek to free their country's future from the grip of Iranian influence.
One of us argued in a February op-ed that American policymakers should revisit their decision to fund the LAF, given its growing connections with Hezbollah. Unless the United States begins to recognize the dangerous implications of its current policy, the Trump administration will likely continue this funding without placing appropriate checks on the LAF's actions. Maintaining the current policy endangers U.S. national security and that of our ally Israel.
Members of Congress from both parties recently introduced the Countering Hezbollah in Lebanon's Military Act of 2019. By setting conditions on 20 percent – rather than all – of U.S. aid to the LAF and Lebanese government, the bill seeks to pressure Beirut to distance itself from Hezbollah without compromising or eliminating American influence and leverage.
This bill is a welcome step in the right direction. Congress should also consider imposing additional conditions on the U.S. military aid package, including demands that the LAF attempt to restrict Iranian arms channels to Hezbollah.
For too long, the United States has given the LAF a free pass to expand its dangerous and enabling relationship with Hezbollah, a terrorist group that has served as a destabilizing force in the Middle East. If the trend continues, American taxpayers can expect more of their dollars to flow to an active and willing partner of Hezbollah.
The LAF could serve as an effective ally against terror, and they undoubtedly demonstrated their military capabilities in the fight against ISIS. To protect U.S. interests in the Middle East, however, a critical reexamination of our relationship with the LAF ought to take place. Conditioning the aid that the U.S. provides to the LAF is a necessary first step in the process.
https://thehill.com/blogs/congress-blog/foreign-policy/451466-us-has-given-lebanese-armed-forces-a-pass-with-hezbollah
--------
Hasina slams proposal to annex Rakhine to Bangladesh
SM Najmus Sakib
08.07.2019
Bangladeshi Prime Minister Sheikh Hasina on Monday criticized a proposal put forward by a U.S. congressman of annexing Rakhine state of Myanmar to Bangladesh.
"Why they want the Rakhine State to attach to us. Every state is sovereign […] the U.S. congressman showed his audacity by placing such proposal," Hasina said in a press conference in the capital Dhaka, aired live on state-run BTV.
On June 13, U.S. Congressman Bradley Sherman placed the proposal of bringing Rakhine state of Myanmar under Bangladesh in a hearing on the State Department's budget for South Asia.
The Bangladeshi prime minister said her country has provided shelter to Rohingya people on humanitarian ground.
"Despite the pressure of huge Myanmar nationals [Rohingya] in Cox's Bazar of Bangladesh, we are still upholding friendly relationship with Myanmar," she added.
Persecuted people
The Rohingya, described by the UN as the world's most persecuted people, have faced heightened fears of attack since dozens were killed in communal violence in 2012.
According to Amnesty International, more than 750,000 Rohingya refugees, mostly women and children, have fled Myanmar and crossed into Bangladesh after Myanmar forces launched a crackdown on the minority Muslim community in August 2017.
Since then, nearly 24,000 Rohingya Muslims have been killed by Myanmar's state forces, according to a report by the Ontario International Development Agency (OIDA).
More than 34,000 Rohingya were also thrown into fires, while over 114,000 others were beaten, said the OIDA report, titled "Forced Migration of Rohingya: The Untold Experience."
Some 18,000 Rohingya women and girls were raped by Myanmar's army and police and over 115,000 Rohingya homes were burned down and 113,000 others vandalized, it added.
The UN has also documented mass gang rapes, killings -- including of infants and young children -- brutal beatings and disappearances committed by Myanmar state forces.
In a report, UN investigators said such violations may have constituted crimes against humanity.
https://www.aa.com.tr/en/asia-pacific/hasina-slams-proposal-to-annex-rakhine-to-bangladesh-/1526300
--------
Urs of Sufi saint in Srinagar draws people from all faiths
Jul 8, 2019
Reverberating with the verses of Holy Quran, the shrine of Hazrat Qazi Mir Syed Mohideen Kamali, located in Nowhatta area of Srinagar city became the abode of peace and tranquility as people cutting across religious lines came to attend the urs of holy saint. Devotees offered nightlong prayers to the saint and prayed for the fulfillment of their wishes. As a part of the celebration, Sufi scholars and Imams, the worship leader of a Mosque threw light on the life, religious services, teachings and spiritual strength of the saint, who devoted his entire life to serve humanity. With its eclectic emphasis on tolerance and peaceful coexistence, Sufism has been guiding the life of Kashmiris for nearly 700 years. Forming an integral part of people ethos for the last several centuries, even today the Sufi traditions play an important role in their lives and connote them with an understanding of the world in all its spiritual dimensions. The teachings of Sufi saints still reverberate in every nook and corner of the state and continue to inspire people to live in peace and harmony. Saint Hazrat Qazi Mir Syed Mohideen Kamali was also one among these Sufi saints whose message of oneness and brotherhood is still preached by the residents here. The holy celebration clearly indicates that the lesson of love and compassion that was once propagated by the Sufi saints is still having its roots deeply embedded in the culture and traditions of Jammu & Kashmir.
https://www.dnaindia.com/india/video-urs-of-sufi-saint-in-srinagar-draws-people-from-all-faiths-2769829
--------
Rohingya Repatriation: Malaysia to work with Bangladesh
July 08, 2019
Malaysia said it would work together with Bangladesh to ensure quick repatriation of the Rohingya as well as accountability for the persecutions committed against the Muslim minority group in Myanmar.
Malaysia's Foreign Minister Saifuddin Abdullah, who held a meeting with Bangladesh Foreign Minister AK Abdul Momen at the state guest house, Padma, yesterday evening made the assurance.
"He [Saifuddin] said Malaysia would work together with us in repatriation of the Rohingyas and on the question of accountability," Momen told reporters after the meeting.
The Malaysian minister arrived in Bangladesh on a three-day visit. He visited the Rohingya camps in Kutupalong and a Malaysian-run field hospital for the refugees there.
Saifuddin told reporters that Malaysia would ask Asean Coordination Centre for Humanitarian Assistance (AHA) to prepare a comprehensive report on the preparedness of the Myanmar government for the repatriation of the Rohingyas by the end of this year.
A recent report of AHA was seriously criticised as it had no input from the refugees and had almost entirely disregarded the Myanmar government's atrocities that led to mass displacement of the Rohingyas. It did not even use the term "Rohingya", denying the group's self-identity.
said Malaysia too was critical of the report and that it would ask AHA to prepare another report incorporating opinions of the Rohingyas.
"We both agreed that the repatriation of the Rohingya should occur as soon as possible," he said.
Malaysia, as a member of Asean, would convince Myanmar in this regard and facilitate the repatriation.
"We are trying our level best to convince Asean and Myanmar," Saifuddin said.
About one million Rohingyas, including the 741,000 who fled military atrocities in Myanmar's Rakhine State to Bangladesh since August, 2017, live in refugee camps in Cox's Bazar, putting huge economic and environmental pressure on Bangladesh.
Saifuddin said, "They [the Rohingyas] want to go back to Myanmar, but they want it to be safe and dignified."
The two ministers talked about reopening the Malaysian labour market for Bangladeshis. The market has been suspended since last September following allegations of monopoly and charging high recruitment fees by a syndicate of 10 Bangladeshi recruiting agencies and their lobbyists in Kuala Lumpur.
"We are working to improve the recruitment plan and salaries," Saifuddin said, thanking the Bangladeshi workers for their hard work in the Southeast Asian country, home to some eight lakh Bangladeshis.
Minister Momen said Malaysia was preparing a comprehensive plan for labour recruitment from Bangladesh.
"We hope it will be open by August," he said without elaborating.
He said the Malaysian prime minister might visit Bangladesh towards the end of the year or early next year.
The ministers also talked about a possible free-trade agreement between Bangladesh and Malaysia.
Bangladesh and Malaysia had substantial trade and investment ties with the 2018 two-way trade valued at $2.37 billion, an increase of 35.4 percent from $1.75 billion in 2017, according to Malaysian foreign ministry.
https://www.thedailystar.net/backpage/news/rohingya-refugee-camps-landslides-kill-one-displace-thousands-1768129
--------
Pakistan
PBC asked to request CJP for suo motu hearing over judge's video
Nasir Iqbal
July 09, 2019
ISLAMABAD: Against the backdrop of the alleged video scandal, the Pakistan Bar Council (PBC) — the top supervisory body of lawyers in the country — was on Monday asked to consider requesting Chief Justice of Pakistan (CJP) Asif Saeed Khosa to initiate suo motu hearing against accountability court judge Mohammad Arshad Malik on alleged misconduct.
In a letter addressed to all 22 members of the PBC, Advocate Raheel Kamran Sheikh also proposed to the council to hold an immediate meeting in which a request be made to the CJP for initiating the suo motu action to be heard by a larger bench. He said the PBC should apply to join and assist the court if such proceedings opened.
Such events, the letter feared, had questioned the very integrity and credibility of the country's judicial system by allegedly painting as if the institution of the judiciary was weak, vulnerable and amenable to control.
Alternatively, the PBC can also file a constitutional petition in the Supreme Court, seeking a directive for initiating an appropriate legal action against the accountability judge, the letter suggested.
Judge Malik became the focus of a controversy when on Saturday Pakistan Muslim Leader-Nawaz (PML-N) lea­der Maryam Nawaz claimed that he had confessed that he had been pressurised and blackmailed to convict former prime minister Nawaz Sharif in the Al-Azizia reference.
During her media interaction, the video containing the judge's purported confession during his conversation with a 'sympathiser' of the PML-N was also screened at the party's provincial headquarters in Lahore's Model Town.
In response, Judge Malik himself issued a press statement denying the allegations of being blackmailed and also terming the alleged video clip fabricated.
The judge also demanded legal action against those behind the move, adding that the video was not only contrary to facts, but also an attempt to hatch a conspiracy to present conversations made on different occasions by twisting them out of context.
The letter also suggested to the PBC that any petition instituted before the apex court by the council should also include in its prayer a request for holding an independent and impartial inquiry or investigation, without any further loss of time, to ascertain genuineness or otherwise of the video of the alleged conversation of the accountability court judge.
The letter stated that the events that have unfolded since the July 6 press conference had put the integrity and credibility of the judicial system on trial and the same had been accused of being weak, vulnerable and amenable to control.
https://www.dawn.com/news/1492946/pbc-asked-to-request-cjp-for-suo-motu-hearing-over-judges-video
--------
Opposition set to submit no-trust motion against Sanjrani today
Iftikhar A. KhanU
July 09, 2019
ISLAMABAD: With the leadership of the two main opposition parties behind bars on corruption charges, the opposition in the Senate is set to submit a no-trust motion against Sadiq Sanjrani, the chairman, on Tuesday (today) as a first step towards mounting pressure on the PTI-led coalition government.
The submission of the motion will precede a meeting of senators belonging to the opposition to thrash out a strategy for the no-confidence motion. The meeting will be chaired by the Leader of the Opposition in the Senate, Raja Zafarul Haq, who had lost to Sanjrani in last year's polls for the office of Senate chairman.
The decision to convene the meeting was taken after National Party (NP) leader Mir Hasil Khan Bijenjo called on Raja Zafarul Haq on Monday.
Talking to reporters after meeting Mr Haq, the NP leader said: "We discussed a strategy for the no-confidence motion."
Mr Bizenjo said the strategy would also be discussed at a meeting of opposition senators at Parliament House on Tuesday.
He said senators from the opposition would put their signatures on the no-trust motion and then it would be submitted to the Senate Secretariat.
In reply to a question, he said a decision on the opposition's candidate for Senate chairman would be taken on Thursday (July 11) at a meeting of the Rahbar committee. "So far neither I am a candidate nor has anybody proposed my name."
In reply to a question whether Tuesday's meeting had been convened to check the available number of opposition senators, he said: "We want to ensure that a large number of members support the motion."
Although a final decision on the opposition's candidate is to be taken on Thursday, sources in the PML-N claimed that the party had been given the right to name the opposition's nominee for the slot.
Other sources, however, say that the opposition's candidate would be from Balochistan. Sadiq Sanjrani is the first-ever Senate chairman from Balochistan.
A decision to remove the chairman of the upper house was made at a multi-party conference (MPC) on June 26.
The PML-N is still a majority party in the Senate. Interestingly, the N-League had offered to assist the PPP in getting Raza Rabbani re-elected as Senate chairman, but the latter opted to join hands with the PTI.
A majority of 53 votes is required to remove the Senate chairman. Currently, the PPP, PML-N, National Party and Jamiat Ulema-i-Islam (JUI-F) have 46 members, while there are 29 independents. The Pakhtunkhwa Milli Awami Party (PkMAP) has two members, while the Awami National Party (ANP), Balochistan Awami Party (BAP) and PML-Functional have one member each.
The ruling PTI has 14 members, Muttahida Qaumi Movement (MQM) five and Jamaat-i-Islami (JI) has two senators.
Rules for removal
Section 11 of rules of procedure and conduct of business in the Senate-2012 explains the process for removal of the chairman and the deputy chairman from office.
Section reads: "(1) Not less than one-fourth of the total membership of the house may give to the secretary notice in writing of a motion for leave to move a resolution under Article 61, read with paragraph (c) of clause (7) of Article 53 of the Constitution, for removal from office of the chairman or the deputy chairman and the secretary shall forthwith circulate the notice to the members. The chairman or, as the case may be, the deputy chairman shall not preside over a sitting of the Senate in which a resolution for his removal from office is fixed for consideration. Voting on the resolution shall be by secret ballot, which shall be held in such manner as the presiding officer may direct. The chairman or, as the case may be, deputy chairman shall stand removed from his office on the resolution being passed by a majority of the total membership of the Senate."
Sadiq Sanjrani, the incumbent, was elected with the support of the PPP and Pakistan Tehreek-i-Insaf on March 12 last year by bagging 57 votes against 46 by Raja Zafarul Haq of the PML-N.
The Senate's decorum was interrupted briefly as counting for the chairman's election about to close, with observers in the galleries erupting in cheers for PPP chairman Asif Ali Zardari — crediting him with engineering Sanjrani's victory — as soon as Sanjrani crossed the 52-vote mark.
Full report at:
https://www.dawn.com/news/1492947/opposition-set-to-submit-no-trust-motion-against-sanjrani-today
--------
Pakistan to issue on arrival visas to Qatari nationals
Jul 09, 2019
Pakistan will issue a visa on arrival to Qatari passport holders, the Qatar Ministry of Foreign Affairs announced on Monday.
"Pakistani authorities have decided to grant all Qatari passport holders immediate entry visas (tourist/visit) for one or several trips and for a period of 30 days which is extendable for an additional 30 days," stated a press release by Qatar MOFA.
However, those seeking a Pakistani visa will have to produce documents including a valid passport for at least six months, a round trip ticket and a cash equivalent of $1500 or a valid credit card.
The Pakistan Tehreek-e-Pakistan (PTI) government had announced of easing travel restrictions to revive tourism by offering visas on arrival to visitors from 50 countries and electronic visas to 175 nationalities in January 2019.
Full report at:
https://www.pakistantoday.com.pk/2019/07/08/pakistan-to-issue-on-arrival-visas-to-qatari-nationals/
--------
Thai police seize 51 Pakistani Christian asylum seekers
July 9, 2019
Thai authorities in Bangkok have arrested 51 Pakistani Christian asylum seekers in an incident that has reignited fears among the city's Christian refugees of another immigration crackdown on illegal immigrants.
According to eyewitnesses, immigration authorities arriving in two police vans pulled up outside a low-rent apartment building in Bearing Soi 7 in eastern Bangkok where several Pakistani Christian families had been hiding out after having overstayed their tourist visas to Thailand.
Likely acting on a tipoff from a disgruntled local, immigration police knocked on selected doors around 7 a.m. on July 8. When the fearful residents failed to respond, officers battered the doors down with hammers.
They then proceeded to round up entire families and take them to Bangkok's notorious Immigration Detention Center where inmates languish, often indefinitely, in squalid and overcrowded cells.
"They took everyone — men, women, old people, young children," a Pakistani Christian asylum seeker who was privy to the incident via a phone connection told ucanews.com. "They even took sick old people who can't walk anymore."
When several Christian asylum seekers seemed reluctant to leave the apartments, immigration officers allegedly manhandled them, including mothers in front of their crying children.
"The officers roughed up some people, even women," a Pakistani Christian told ucanews.com. "They took some of my friends. I'm very concerned about them."
As evidence of the incident, Pakistani Christians showed off images, taken by mobile phones, of plywood doors bashed in and numerous Pakistani refugees, including a distraught elderly woman, being taken away in police vans.
The incident has raised fears among Pakistani Christians in Bangkok that local authorities might be launching another crackdown on people staying illegally in the country, including asylum seekers with no proper refugee status.
Hundreds of Pakistani Christians who have fled their homeland in fear of their lives remain in legal limbo in Bangkok.
They arrived in the country on tourist visas that have long since expired. Thai authorities, who refuse to accept them as genuine refugees, consider them to be illegal immigrants.
As a result, Pakistani Christians, along with other persecuted minorities from other countries, are routinely arrested and detained at overcrowded immigration detention centers in prison-like conditions.
To avoid that fate, Pakistani Christian asylum seekers spend their time hiding from the authorities in small low-rent apartments. They say they cannot or will not return to Pakistan because they would be certain to be persecuted, and possibly killed, owing to their religious beliefs.
Christians, who account for less than 2 percent of the predominantly Muslim country's population, are widely considered to be among the most persecuted minorities in the region.
Christians in Pakistan, where a conservative form of Islam dominates, face various forms of discrimination. Numerous Christians and other religious minorities have been jailed and murdered over accusations of blaspheming against Islam.
"We can't go back but we can't stay here either," a Pakistani Christian asylum seeker said. "Thailand does not want us."
These asylum seekers say their only hope lies in being accepted as refugees by a third country. The process of doing so, however, can take several years.
In the meantime, they do their best to stay out of sight by hiding in small apartments. They venture outside, briefly and periodically, only after sunset to do their shopping at local convenience stores.
Unable to work legally, most Pakistani Christians make ends meet on handouts provided by Christian charities.
The 51 seized Pakistani Christians will likely be detained in spartan surroundings with little hygiene or medical care, possibly for months or even years. As their mobile phones have been taken, they cannot be contacted from the outside.
Their plight has set nerves on edge among other asylum seekers who continue hiding around the Thai capital.
"My wife is especially worried. She is very worried," said a young Pakistani Catholic man from Lahore whose wife is pregnant with the couple's second child. "We are desperate to get out of Thailand, but all we can do is wait [until we are accepted by a third country]."
Other Pakistani Christians must now look for new places to hide, if only temporarily. It's against the law in Thailand to rent apartments to illegal immigrants and some landlords send asylum seekers packing on the first sight of trouble.
Full report at:
https://www.ucanews.com/news/thai-police-seize-51-pakistani-christian-asylum-seekers/85590
--------
Europe
US Call for Syria Troops Divides German Coalition
July 7, 2019
Discord broke out in German Chancellor Angela Merkel's ruling coalition Sunday, after the United States urged the country to send ground troops to Syria as Washington looks to withdraw from the region.
"We want ground troops from Germany to partly replace our soldiers" in the area as part of the anti-Islamic State coalition, U.S. special representative on Syria James Jeffrey had told German media including Die Welt newspaper.
Jeffrey, who was visiting Berlin for Syria talks, added that he expects an answer this month.
Last year U.S. President Donald Trump declared victory against IS and ordered the withdrawal of all 2,000 American troops from Syria.
A small number have remained in northeastern Syria, an area not controlled by the regime of President Bashar al-Assad, and Washington is pushing for increased military support from other members of the international coalition against IS.
"We are looking for volunteers who want to take part here and among other coalition partners," Jeffrey said.
A clear rejection of the American request came from Merkel's junior coalition partners, the Social Democrats (SPD).
"There will be no German ground troops in Syria with us," tweeted a member of the interim SPD leadership, Thorsten Schaefer-Guembel.
"I don't see people wanting that among our coalition partners" in Merkel's centre-right CDU, he added.
But deputy conservative parliamentary leader Johann Wadephul told news agency DPA that Germany should "not reflexively reject" the US call for troops.
"Our security, not the Americans', is being decided in this region," added Wadephul, seen as a candidate to succeed Ursula von der Leyen as defense minister if she is confirmed as European Commission chief.
Syria's war has killed more than 370,000 people and displaced millions since it started in 2011 with a brutal crackdown on anti-government protests.
'This isn't a banana republic'
Washington has two goals in northeastern Syria: to support the US-backed Kurdish forces that expelled IS from northern Syria as they are increasingly threatened by Turkey, and to prevent a potential IS resurgence in the war-torn country.
The US is hoping Europe will help, pressuring Britain, France and now Germany, which has so far deployed surveillance aircraft and other non-combat military support in Syria.
However Germany's history makes military spending and foreign adventures controversial.
Berlin sent soldiers to fight abroad for the first time since World War II in 1994, and much of the political spectrum and the public remains suspicious of such deployments.
As well as the SPD, the ecologist Greens, liberal Free Democrats and Left party all urged Merkel to reject the US request for troops.
The US appeal comes after Trump has repeatedly urged Berlin to increase its defence spending, last month calling Germany "delinquent" over its contributions to NATO's budget.
But such criticisms have more often hardened resistance to forking out more on the military rather than loosening the country's purse strings.
Former Chancellor Gerhard Schroeder told business newspaper Handelsblatt on Saturday that Trump wanted "vassals" rather than allies.
"I'd have liked the federal government to tell him once or twice that it's none of his business" how much Germany spends on defense, Schroeder said.
"This isn't a banana republic here!"
https://www.voanews.com/middle-east/us-call-syria-troops-divides-german-coalition
--------
Government rejected military plan to bring home suspected Isis supporter Lisa Smith
Jul 6, 2019
The Government rejected a plan from the Defence Forces to bring Irish-born suspected Islamic State supporter Lisa Smith home from Syria two months ago through co-operation with foreign intelligence agencies.
The plan, which was drawn up by the Directorate of Military Intelligence, also known as J2, was presented to Minister of State for Defence Paul Kehoe in late April.
It involved requesting US military intelligence personnel extract Ms Smith (37) and her two-year-old child from the Al-Hawl refugee camp in Syria. She would then have been brought south to the Jordanian border where Irish officials would have escorted her back to Ireland.
US military intelligence officials had provisionally agreed to assist their Irish counterparts in the operation. However, the plan was rejected by the Government.
Since then the Garda and the Department of Foreign Affairs have taken the lead in plans to secure Ms Smith's safe passage home.
There is significant dissatisfaction within J2 and the higher levels of the Defence Forces with the Government's decision. Intelligence officers believed their experience placed them in the best position to bring the former solider home safely and discreetly.
Shared intelligence
The Garda is the primary intelligence agency for the State but J2 has more experience operating in conflict zones and has established relationships with other forces including US and British intelligence agencies.
Despite not being a member of Nato, Irish military intelligence enjoys a close working relationship with its US counterparts.
Requests for assistance or information are common amongst the intelligence agencies of friendly western countries, sources say.
Such arrangements often operate on an informal, quid pro quo basis with agencies sharing information and resources as long as it does not jeopardise their own country's interests.
The Department of Defence referred queries about the plan to the Department of Foreign Affairs, which declined to comment. The Defence Forces did not respond to queries.
'Turf wars'
The Garda and Defence Forces have been carrying out separate enquires as to whether Ms Smith, who left for Isis-controlled territory in Syria about five years ago, poses a threat if she returns to Ireland.
There is a long-standing rivalry between military and Garda intelligence, former deputy director of J2 Michael C Murphy told The Irish Times.
"When you have a number of intelligence agencies it is historical and normal that there are turf wars."
Full report at:
https://www.irishtimes.com/news/ireland/irish-news/government-rejected-military-plan-to-bring-home-suspected-isis-supporter-lisa-smith-1.3948120
--------
Conservatives: Members see Islam as 'threat to British life', poll suggests
Jul 9, 2019
More than half of Conservative members questioned for a new poll believe Islam is a threat to British life.
YouGov was commissioned by Channel 4's Dispatches programme to carry out a survey among the members who will decide whether Jeremy Hunt or Boris Johnson becomes the next Tory leader.
Of the 892 members questioned, 56% said Islam threatened British values.
The party's chairman Brandon Lewis said the poll was "hardly representative" and questioned the methodology used.
In a series of tweets, he suggested there was a "danger" in relying on the responses of fewer than 900 people when the party membership was about 180,000.
The Conservative Party has been criticised for its response to allegations of Islamophobia among party members,
Its former chair Sayeeda Warsi, one of the party's most outspoken critics, said the findings of the poll were "disturbing" and pointed to a "lurch to the right" at grass-roots level.
The Equality and Human Rights Commission is currently considering a formal complaint submitted by the Muslim Council of Britain, which details examples of Islamophobic comments made by party members and activists.
Channel 4's Dispatches, broadcast on Monday night, highlighted further comments made on social media by people claiming to be Conservative members.
A party spokesman said: "Those people making these posts that we have found to be members of the party have been suspended pending investigation.
"Discrimination or abuse of any kind is wrong and will not be tolerated."
During the Conservative leadership campaign, both candidates have condemned all forms of racism and discrimination.
Jeremy Hunt has committed to holding a specific independent inquiry into the extent of Islamophobia in the Conservative Party if he becomes leader.
Boris Johnson told the Conservative Home website he would hold a general, independent investigation into all types of prejudice and discrimination.
Full report at:
https://www.bbc.com/news/uk-politics-48912065
--------
Berlin rejects Washington's call for deploying ground forces to Syria
Jul 8, 2019
Germany has rejected a call by the United States to deploy ground troops in Syria, a stance that will most likely anger US President Donald Trump who wants the European country to commit to a bigger military role in the Middle East.
German government spokesman Steffen Seibert made the comment during a regular press briefing in Berlin on Monday, a day after US special representative on Syria James Jeffrey told reporters in Berlin about Washington's call on Berlin about the Syria deployment.
"When I say the government envisages sticking to the current measures in" the anti-Daesh "(military) coalition, this includes no ground troops, as is well known," Seibert said.
Jeffrey, who was on a visit to the German capital for Syria talks, said Sunday that he expected an answer this month but apparently Germany didn't need that long to reject the call.
The US and its allies, including Germany, have been bombarding what they call Daesh positions inside Syria since September 2014, without any authorization from the Damascus government or a UN mandate.
Germany has so far deployed surveillance aircraft and other non-combat military support in Syria, but it does not have ground troops in the Arab country, unlike the US which has deployed some 2,000 forces there.
The request by the US comes after Trump's announcement last year that he was withdrawing most of American troops from Syria.
Jeffrey said Sunday that Washington wanted "ground troops from Germany to partially replace our soldiers."
He added that the German ground troops, if ever deployed, might not necessarily need to engage in combat and could rather ease the burden on the remaining US forces by helping with air support, logistics, training and technical assistance.
Nevertheless, he said combat should not be ruled out since ground troops would need to be prepared to defend themselves.
Any change in the mandate requires approval by the German parliament – the Bundestag – where Chancellor Angela Merkel would be likely to face opposition even from parts of her fragile coalition government.
The Social Democrats, the junior partner of Merkel's governing coalition, are highly likely to oppose any prospect of deploying ground troops to the Arab country.
Trump has time and again urged Berlin to boost its defense spending as on e of the key members of the NATO military alliance. Last month, the American president called Germany "delinquent" over its contributions to NATO's budget.
Trump has urged all member states to spend 2 percent of their GDP on their military or forget about help from the US, which account for a whopping 22 percent of the military alliance's annual budget.
Daesh has been almost purged from entire territories it used to control in Syria and neighboring Iraq. However, sporadic attacks by the group are still reported in the two countries.
The US-led airstrikes against the purported Daesh positions have on many occasions resulted in civilian casualties and failed to fulfill their declared aim of countering terrorism.
Full report at:
https://www.presstv.com/Detail/2019/07/08/600462/Germany-US-ground-troops-Syria-Trump-Merkel-NATO
--------
Relations with Croatia play great importance: Turkey
Muhammed Boztepe
08.07.2019
Relations between Croatia and Turkey have great importance for regional peace and stability, said Turkey's Interior Minister on Monday.
Suleyman Soylu made the remarks in Croatia's capital Zagreb while meeting with Davor Bozinovic, his Croatian counterpart.
Speaking to reporters, Soylu stressed the importance of good Turkish-Croatian relations for regional peace and stability.
After their face-to-face meeting, Soylu and Bozinovic signed a pact on cooperation between the two nation's police academies.
Bozinovic hailed the pact as a joint effort, stressing bilateral cooperation in research and security, adding that experts will pay mutual visits towards this end.
Full report at:
https://www.aa.com.tr/en/europe/relations-with-croatia-play-great-importance-turkey-/1526347
--------
Balkans' peace 'extremely important' for Turkey
Diyar Guldogan
08.07.2019
Balkans' peace, stability and welfare are "extremely important" for Turkey, President Recep Tayyip Erdogan said on Monday, ahead of his visit to Bosnia and Herzegovina.
"Balkans' peace, stability, tranquility and welfare are extremely important for us. Our country does have the luxury to monitor developments in this geography," Erdogan told reporters at Istanbul Airport.
Erdogan will attend the two-day South East European Countries Cooperation Process (SEECP) Summit in the capital Sarajevo.
"Turkey, within the framework of the importance it attaches to the peace, stability and welfare in the Balkans, has effectively contributed to the SEECP, the only regional cooperation platform that encompasses all the countries in the Balkans, since its foundation," according to a presidential statement.
Erdogan said Turkey contributes to the regional stability not only through bilateral ways but also through diversified cooperation platforms.
"Within the scope of Sarajevo summit, we will hopefully handle cooperation activities in Balkans particularly in the areas of economy, trade, transportation and infrastructure investments," he added.
During his visit, Erdogan will also hold bilateral meetings with members of the Bosnia and Herzegovina Presidential Council and with other participating leaders.
He will also meet with Turkish soldiers -- deployed as part of the Turkish Military Representative to the European Union Force in Bosnia and Herzegovina, Operation ALTHEA, in Butmir.
On Tuesday, Erdogan will commemorate the 24th anniversary of the Srebrenica genocide.
The Srebrenica genocide took place on July 11, 1995 and saw over 8,000 Bosnian Muslims massacred by Bosnian-Serb forces under President Slobodan Milosevic and General Ratko Mladic.
Full report at:
https://www.aa.com.tr/en/europe/balkans-peace-extremely-important-for-turkey/1525964
--------
Africa
8,000 children recruited by Boko Haram: UN
Abu 'Adnan
08.07.2019
At least 8,000 children have been recruited by the Boko Haram terrorist movement across the Lake Chad region in Central Africa since it launched its violent campaign in 2009, the UN said in a statement on Monday.
Sylvester Tunde Atere, national project officer of the UN Office on Drugs and Crimes (UNODC), said in a statement that the children were used by the group in combatant and noncombatant roles.
"Recruitment and exploitation have a long-lasting impact on children's lives," the statement said.
"Today, rehabilitating and reintegrating these children pose significant challenges, not only in view of their number, but also due to the intense and lasting traumatic effects," it added.
The UNODC accused Daesh-affiliated Boko Haram of raping or forcing teenage girls into marriage.
https://www.aa.com.tr/en/africa/8-000-children-recruited-by-boko-haram-un/1526122
--------
Libya's Haftar promotes officer wanted for war crimes
Mohamed Sabry Emam Muhammed
08.07.2019
TRIPOLI
East Libya-based military commander Khalifa Haftar has promoted an officer wanted by the International Criminal Court (ICC) for war crimes, according to local Libyan sources.
Army Major Mahmoud al-Werfalli was promoted to the rank of lieutenant-colonel, the sources said Monday on condition of anonymity due to security concerns.
Observers see the move as defiance by Haftar to the ICC, which issued an arrest warrant in 2017 for al-Werfalli amid allegations that he had committed war crimes in Libya.
In an earlier video that surfaced online, al-Werfalli can be seen executing 10 people in Benghazi after the eastern city was rocked by a deadly bombing.
Last year, the UN Support Mission in Libya (UNSMIL) demanded al-Werfalli's immediate extradition.
In early April, Haftar, who commands forces loyal to a rival government based in eastern Libya, launched a wide-ranging campaign to take the capital Tripoli from the UN-recognized Government of National Accord.
His forces, however, have failed to achieve their primary objective, although they have captured several strategic towns and cities in the vicinity.
Libya has remained beset by turmoil since 2011 when a bloody NATO-backed uprising led to the ouster and death of long-serving President Muammar Gaddafi after more than four decades in power.
Full report at:
https://www.aa.com.tr/en/africa/libyas-haftar-promotes-officer-wanted-for-war-crimes/1526036
--------
Sudan's top general says military council will be dissolved
8 July 2019
Sudan's top general says the ruling military council will be dissolved after the formation of a new power-sharing body that will rule the country.
The military and pro-democracy leaders agreed last week on a joint sovereign council that will rule for a little over three years while elections are organized. A military leader will head the council for the first 21 months followed by a civilian leader for the next 18.
General Abdel-Fattah Burhan, head of the military council, said in TV comments late Sunday the army could withdraw from governing the country after the end of the first 21 months.
Full report at:
https://english.alarabiya.net/en/News/middle-east/2019/07/08/Sudan-s-top-general-says-military-council-will-be-dissolved.html
--------
Jihadist attack in Mozambique kills seven
06/07
Seven people, including a police officer, were killed in northern Mozambique in an attack claimed by the jihadist group Islamic State, local sources reported on Saturday.
One police officer and six civilians, including two children, were killed in the attack, which took place on Wednesday evening in the village of Lidjungo, Nangade district, AFP was told by a local official based in Cabo Delgado province in northern Mozambique, without giving details of how the attackers operated.
Since October 2017, Islamist militants have targeted isolated communities in Cabo Delgado province, a gas-rich and predominantly Muslim province, killing more than 250 people and forcing thousands more to leave their homes despite a strong police and military presence in this region bordering Tanzania.
According to SITE Intelligence, which monitors jihadist activities, the Islamic state group issued a statement on Friday evening, stating its involvement in the Wednesday attack. This is the second time he has claimed an attack in northern Mozambique.
"Caliphate soldiers attacked Mozambican army barracks in the Nangade region of northern Mozambique two days ago," according to a SITE translation. The group claimed to have encountered the soldiers "killing and wounding a number of them and forcing others to flee".
The EI had already claimed its involvement in an attack in northern Mozambique on 3 June in the village of Metubi, 150 km east of Nangade.
Police and authorities have a policy of not commenting on insurgent activities, even if the attacks are confirmed by the local population.
Full report at:
https://www.africanews.com/2019/07/06/jihadist-attack-in-mozambique-kills-seven/
--------
Boko Haram kills at least five soldiers in northeast Nigeria - sources
JULY 7, 2019
MAIDUGURI, Nigeria (Reuters) - Islamist insurgent group Boko Haram ambushed Nigerian soldiers in the northeast of the country, killing at least five and injuring more than a dozen, sources told Reuters on Sunday.
The sources said the death toll could increase as a number of soldiers were still missing after the attack on Thursday in Damboa, in Borno state in northeastern Nigeria.
The soldiers had gone to the area to clear a Boko Haram camp, but were ambushed, the sources said.
Boko Haram militants have killed thousands and displaced millions in Nigeria during the group's decade-long insurgency against the government.
The general commanding officer, Brigadier General Bulama Biu, confirmed a confrontation between troops and Boko Haram, but said there was "no casualty on the part of troops."
Full report at:
https://af.reuters.com/article/topNews/idAFKCN1U2097-OZATP
--------
Sudanese say US pressure was key to reaching transition deal
8 July 2019
The power-sharing agreement reached between Sudan's military and pro-democracy protesters last week came after the United States and its Arab allies applied intense pressure on both sides amid fears a prolonged crisis could tip the country into civil war, activists and officials said.
The agreement, which raised hopes of a democratic transition following the military overthrow of long-ruling autocrat Omar al-Bashir in April, was announced days after the protesters held mass marches through Khartoum and other areas.
But those familiar with the negotiations say the main breakthrough happened at a secret meeting the day before the protests, when diplomats from the US, Britain, Saudi Arabia and the United Arab Emirates pressed the two sides to accept proposals from the African Union and Ethiopia.
"It was a tense but crucial meeting. It melted the ice," a leading activist said on condition of anonymity to discuss the back-room negotiations. "The meeting was the cornerstone of Friday's deal."
The two sides agreed on a jointly run sovereign council that will rule for a little over three years while elections are organized. A military leader will head the council for the first 21 months followed by a civilian leader for the next 18.
They also agreed on an independent Sudanese investigation into security forces' crackdown on the protests last month. The military also agreed to restore the internet after a weekslong blackout.
The deal appears to be on track, with the two sides expected to formally sign it this week.
Two leading activists, a Sudanese military official and two Egyptian officials described intense US efforts to broker a deal after veteran diplomat Donald Booth was appointed special envoy in mid-June. They spoke on condition of anonymity because they were not authorized to discuss the talks.
State Department officials declined to comment on US efforts to broker the deal, saying only that Washington welcomes the agreement and commends the AU and Ethiopia for their mediation efforts.
Two Egyptian officials with direct knowledge of Booth's meetings in Cairo last month said the US urged President Abdel-Fattah el-Sisi to back the AU and Ethiopian proposal and "pressure" Gen. Abdel-Fattah al-Burhan, the head of the ruling military council, to respond positively.
"We received a direct message from the White House: Facilitate a deal between the military and the protesters," one of the officials said.
The Sudanese military official says the generals received the same message.
"The Americans demanded a deal as soon as possible," he said.
The US and its allies also put pressure on the protesters, who are represented by a coalition known as the Forces for the Declaration of Freedom and Change. The activists say the US and Arab countries reached out to individual factions. Protest leaders gave in when it appeared the coalition was at risk of fracturing.
The efforts culminated in a secret meeting on July 29 at the home of a Sudanese businessman that was attended by protest leaders as well as al-Burhan and Gen. Mohamed Hamdan Dagalo, known by the nickname Hemedti, who is seen by many as a powerful figure on the military council.
Full report at:
https://english.alarabiya.net/en/News/middle-east/2019/07/08/Iran-will-only-discuss-issues-in-current-nuclear-deal-not-take-part-in-new-deal.html
--------
Tunisia presidential candidate charged with money laundering
9 July 2019
Tunisian media magnate and would-be presidential candidate Nabil Karoui has been charged with money laundering, had his assets frozen and slapped with a travel ban, a judicial source said Monday.
Karoui and his brother, Ghazi Karoui, have been under investigation since 2017 after anti-corruption watchdog I-Watch submitted a dossier accusing him of tax fraud, said Sofiene Sliti, spokesman for the judiciary department for financial cases.
"After an inquiry into the complaint filed by I-Watch and having summoned and heard the two men... the judge decided 10 days ago to charge Nabil Karoui and Ghazi Karoui with money laundering," he told AFP.
The judge also decided to freeze their assets and ban them from travelling abroad, Sliti said, ruling out any political motives for the rulings.
But Nabil Karoui's recently-formed political party, Heart of Tunisia, condemned the decision as a "vain attempt to damage the party and its president and to question his growing popularity."
The brothers in 2002 launched Karoui & Karoui, an international media and advertising company.
Nabil Karoui was an active supporter of President Beji Caid Essebsi's election in 2014 but has become a fierce opponent of Prime Minister Youssef Chahed.
In May, Karoui, who has also founded a major private television channel, Nessma, said he would run for the presidency in November polls to succeed Essebsi.
Full report at:
https://english.alarabiya.net/en/News/north-africa/2019/07/09/Tunisia-presidential-candidate-charged-with-money-laundering.html
--------
Police arraign Nigerian senator for assaulting woman
08.07.2019
A Nigerian senator was arraigned on charges of criminal assault on Monday, days after footage emerged of him slapping a woman in a store.
Opposition Senator Elisha Abbo has been in the news since last week when he was seen in footage assaulting a woman at a sex toy shop in the capital Abuja for interceding in an argument he was having with the shop owner.
"The senator is being arraigned for criminal assault at a magistrate court here in Abuja," Bala Ciroma, police chief for Abuja, told Anadolu Agency by telephone on Monday.
Abbo was grilled for hours last Thursday and was later detained following the outcry that greeted the footage. He has since apologized for the action.
But various women groups have rejected his apologies and insisted that he must face charges.
If convicted, Abbo faces at least six months in prison or a fine.
"If it gets to that stage, the terms to be served or the fine don't really matter. What matters is the fact that he would become a convict and that comes with grievous political consequences," Adams Ishola, a lawyer, told Anadolu Agency.
Full report at:
https://www.aa.com.tr/en/africa/police-arraign-nigerian-senator-for-assaulting-woman/1526355
--------
North America
Bolton: US to keep raising pressure until Iran abandons nuclear arms program
8 July 2019
The United States will keep increasing pressure on Iran until it abandons its pursuit of nuclear weapons and ceases its violent activities in the Middle East, John Bolton, the White House national security adviser, said on Monday.
"We will continue to increase the pressure on the Iranian regime until it abandons its nuclear weapons program and ends its violent activities across the Middle East, including conducting and supporting terrorism around the world," Bolton said in a speech.
Iran denies seeking nuclear weapons.
Earlier on Monday, US Vice President Mike Pence said that the United States is willing to talk to Iran about its nuclear program and does not seek war, but said President Donald Trump's administration is prepared to protect US interests and lives.
https://english.alarabiya.net/en/News/middle-east/2019/07/08/Bolton-US-to-keep-raising-pressure-until-Iran-abandons-nuclear-arms-program.html
--------
Vice President Pence: US does not seek war with Iran, but will not back down
8 July 2019
US Vice President Mike Pence said on Monday that the United States is willing to talk to Iran about its nuclear program and does not seek war, but said President Donald Trump's administration is prepared to protect US interests and lives.
"Iran should not confuse American restraint with a lack of American resolve," Pence said in prepared remarks to a conference of the Christians United for Israel advocacy group.
Full report at:
https://english.alarabiya.net/en/News/middle-east/2019/07/08/Vice-President-Pence-US-does-not-seek-war-with-Iran-but-will-not-back-down.html
--------
Pence says US action has cut off Iran's ability to support terrorism
July 08, 2019
WASHINGTON: The United States will not waver from its course of maximum pressure against Iran, Vice President Mike Pence said Monday, as tensions rise and the US-brokered nuclear deal between Tehran and world powers appears to be unraveling with the Trump administration's pullout.
Pence's assertion to a pro-Israel Christian organization that the US "will never allow Iran to obtain a nuclear weapon" came on the same day that Iran began enriching uranium to 4.5 percent , breaking the limit set in the 2015 agreement sealed under President Barack Obama.
The speech, amplified in later remarks to the group by the Secretary of State Mike Pompeo and national security adviser John Bolton, also comes as the other partners in the agreement must decide how to respond to Iran's announcement. President Donald Trump discussed the issue by phone Monday with French President Emmanuel Macron.
Echoing comments made repeatedly by Trump, Pence said the international accord simply delayed Iran from obtaining a nuclear weapon by "roughly a decade" and gave away billions in economic relief that Iran could then use to wage terrorist attacks.
Since Trump withdrew from that deal more than a year ago, his administration has reimposed crippling sanctions on Tehran and designated its Revolutionary Guard a foreign terrorist group.
"Iran must choose between caring for its people and continuing to fund its proxies who spread violence and terrorism throughout the region and breathe out murderous hatred against Israel," Pence said.
Pence said the US's actions have succeeded in "cutting off" Iran's ability to support terrorism in the Middle East, but he also charged that Iran had increased its "malign activity and violence in the region" over the past several months.
Tensions in the region have risen in recent weeks after oil tankers were attacked near the Strait of Hormuz and Iran downed an unmanned US military surveillance drone. The downing of the drone nearly led to a US military strike against Iran; it was called off at the last minute by Trump.
Instead, the US military's cyberforces launched a retaliatory strike against Iranian military computer systems that controlled the country's rocket and missile launchers.
The US has sent thousands of troops, an aircraft carrier, nuclear-capable B-52 bombers and advanced fighter jets to the Middle East.
"Let me be clear," Pence said. "Iran should not confuse American restraint with a lack of American resolve."
Iran has long maintained it was enriching uranium for peaceful reasons. While enriched uranium at the 3.67 percent level is enough for peaceful pursuits, it isn't close to the weapons-grade levels of 90 percent. At 4.5 percent, the enriched uranium is enough to help power Iran's Bushehr reactor, the country's only nuclear power plant.
Iran has been trying to gain European help in bypassing US sanctions, which have targeted oil sales and top officials, including Supreme Leader Ayatollah Ali Khamenei. The remaining signatories to the deal include Britain, France, Germany, China and Russia.
"We hope for the best, but the United States of America and our military are prepared to protect our interests and to protect our personnel and citizens in the region," Pence said.
Later Monday, Bolton, the White House national security adviser and a longtime advocate of tough measures against Iran, devoted a large portion of his speech at the same summit to Iran, noting that the that the administration has expanded sanctions to cover metals and the petrochemical sector.
"As we pressure the Iranian regime, we will also continue to stand with the long-suffering Iranian people, who as President Trump has said, are the "rightful heirs to a rich culture and an ancient land," Bolton said.
Full report at:
http://www.arabnews.com/node/1522686/middle-east
--------
South Asia
Intra-Afghan dialogue participants including Taliban agree on adoption of softer approach to help peace process
09 Jul 2019
The participants of intra-Afghan talks including Taliban have agreed to adopt a softer approach in a bid to help the reconciliation process.
Germany and Qatar co-hosted the conference in a bid to help the Afghan peace process.
The participants of the conference issued a joint declaration after concluding the two-day talks in Doha, the capital of Qatar late on Monday.
Steps for establishment of environment of trust for peace
The joint declaration states that the conflicting parties shall avoid threats, revenges and conflicting words, shall use soft terminologies and words during their official gatherings and shall not fuel the conflict and revenge.
Furthermore, the declaration states that the aged, disabled and ill inmates should be released unconditionally in a bid to create a trustable environment for peace.
The declaration also states that the parties involved in the conflict must ensure security of public institutions, such as schools, Religious Madrasas, hospitals, markets, water dams and other working locations.
The participants have made particular emphasis on respecting the security of educational institutions including schools, universities and other educational institutes.
Meanwhile, the declaration states that the parties involved in the conflict must respect and protect the dignity of people, their life and property and to minimize the civilian casualties to Zero.
The participants of the dialogue also emphasized on assurances regarding women's rights in political, social, economic, educational and cultural affairs in the framework of Islamic values.
Road-map for peace:
In the meantime, the declaration states that the dialogue participants agree on a roadmap for peace based on specific conditions which includes institutionalizing Islamic system in the country for the implementation of comprehensive peace.
The dialogue participants also emphasized on simultaneous launch of peace process with the accomplishment of all terms and conditions set forth and monitoring and observation of the peace agreement.
Furthermore, the declaration emphasizes on reform in preservation of fundamental institutions, defensive and other national entities which belongs to all Afghans, repatriation of immigrants and return of IDPs.
Meanwhile, the dialogue participants have called for international and donors' support post peace agreement based on the new cooperation and relations and assurances on zero interference from the neighboring and regional countries in Afghanistan.
https://www.khaama.com/intra-afghan-dialogue-participants-including-taliban-agree-on-adoption-of-softer-approach-to-help-peace-process-03863/
--------
Islamic State says it carried out attack at Shi'ite mosque in central Afghanistan
JULY 6, 2019
KABUL (Reuters) - Islamic State fighters claimed responsibility on Saturday for a deadly overnight attack in a mosque in central province of Ghazni in Afghanistan.
At least two people were killed and 20 others sustained injuries as a bomb planted by the hardline Islamist militants inside the Mohammadiya mosque, used by Shi'ites, went off on Friday night, said Aref Noori, a provincial government spokesman.
Islamic State frequently targets Afghanistan's Shi'ite minority, which it calls "apostates". The militant group said 40 people were injured in the explosion.
The explosive device was planted ahead of the Friday prayers, government officials said.
Ghazni has recently been the scene of heavy clashes between government forces and Taliban militants.
While Afghanistan's wars have mostly been fought among Sunni Muslims, there have been increasing numbers of attacks on Shi'ite targets in recent years.
Islamic State increasingly claims responsibility for attacks on civilian targets even as talks for peace between U.S. officials and the Taliban to end the Afghan war intensify.
Full report at:
https://www.reuters.com/article/us-afghanistan-blast/islamic-state-says-it-carried-out-attack-at-shiite-mosque-in-central-afghanistan-idUSKCN1U109O
--------
Afghan airstrikes kill 25 militants in southern province
2019-07-06
KANDAHAR, Afghanistan, July 6 (Xinhua) -- A total of 25 militants have been confirmed dead as fighting aircraft pounded Taliban hideout in Marof district of the southern Kandahar province, provincial police chief Tawdin Khan said Saturday.
According to the official, the air raids, launched by the NATO-led Resolute Support mission's fighters in the early hours of Saturday, killed 25 insurgents on the spot.
Taliban militants who have intensified their activities in the country are yet to make a comment.
http://www.xinhuanet.com/english/2019-07/06/c_138204424.htm
--------
UN expert still barred from Myanmar
July 9, 2019
A United Nations human rights expert who is visiting Thailand and Malaysia to investigate the killing and mistreatment of Muslim Rohingya is still barred from visiting the nation where they come from.
Myanmar has since December 2017 banned Yanghee Lee, who is the U.N. special rapporteur on human rights in the country.
In that time more than 700,000 Rohingya refugees have joined several hundred thousand others who were already living in camps in Bangladesh, and some have made it to various countries in the region or to developed Western nations.
In a July 5 statement, Lee said that despite Myanmar authorities not allowing her entry, she would continue to "reach out and seek to engage" with the government there in order to provide assistance on human rights issues.
She is visiting Thailand and Malaysia from July 8-18 to speak to Rohingya refugees with personal accounts of atrocities committed my Myanmar's military and extremist Buddhist vigilantes.
Matthew Smith, executive director of Fortify Rights, said barring U.N. and other rights investigators puts Myanmar in the same category as pariahs such as dictatorial regimes and war criminals.
He said this sent a message to international prosecutors, who deal with war crimes and crimes against humanity, that the government of Myanmar is engaged in a "crude attempt to cover up the truth."
"Domestically, the government wants people to believe that the special rapporteur is biased and untrustworthy, and that's part of their strategy to maintain control over hearts and minds as well as political power," Smith told ucanews.com.
He said the current government of former pro-democracy icon Aung San Suu Kyi mirrors past military regimes in this regard.
Khin Zaw Win, from a think tank group called Tampadipa based in the country's commercial hub Yangon, said Suu Kyi's government shared the army's attitudes and tactics in its dealings with the U.N.
In October, Lee is scheduled to present her findings to the U.N. General Assembly in New York from her visits to Thailand and Malaysia, along with making specific recommendations.
Lee told the U.N. Human Rights Council in Geneva on July 2 that fragrant rights violations during so-called counter-insurgency operations would continue in Myanmar while a climate of impunity prevails.
She said it remains Myanmar's responsibility to bring about all necessary conditions for the return of more than one million Rohingya who have fled the Buddhist-majority nation
Lee called on the U.N. Security Council to put aside differences so that Myanmar could be referred to the International Criminal Court or to an independent tribunal for the hearing of charges in relation to atrocities against Rohingya.
Full report at:
https://www.ucanews.com/news/un-expert-still-barred-from-myanmar/85585
--------
Uzbek militant among 5 killed in Afghan Special Forces raid in Faryab
09 Jul 2019
The Afghan Special Forces killed 5 Taliban militants including an Uzbek national in northern Faryab province.
The 209th Shaheen Corps in a statement said the Special Forces conducted the raid in Tukli area of Khwaja Namoosi district.
The statement further added that the Special Forces killed 5 Taliban militants including an Uzbek national who was sighting in Taliban ranks.
Furthermore, the 209th Shaheen Corps said the Special Forces also arrested a key Taliban commander Nabiullah during the same operation.
The Special Forces confiscated three weapons during the operation, the 209th Shaheen Corps added.
Full report at:
https://www.khaama.com/uzbek-militant-among-5-killed-in-afghan-special-forces-raid-in-faryab-03865/
--------
Intra-Afghan peace meeting concludes in Doha
Jul 9, 2019
Wary representatives of Afghan society met Taliban officials in Qatar on Monday (July 8) for a second day of talks, with bloody insurgent attacks back home casting a pall over efforts to end Afghanistan's years of war.
The Taliban on Sunday (July 7) detonated a car bomb outside a government security compound in central Afghanistan killing 14 people and wounding 180, including scores of children.
The attack came at the onset of a two-day meeting between Afghan citizens and the militants, meant to open the way to a peace process that should build on a hoped-for deal between the United States and the Taliban to end the longest ever US war.
"It is very hard to sit across from those men who are waging a war against innocent Afghans, but it is also a test of our commitment to peace," said a senior Afghan official involved in the talks.
The Taliban and US officials are trying to strike a deal on a Taliban demand for the withdrawal of US and other foreign forces and a US demand that the Taliban not let Afghanistan be used as a base for terrorism.
"We think the gap between the US and Taliban is narrow now. We hope both sides will reach an agreement this month about the outstanding issues," said Qatar's lead mediator Mutlaq Bin Majid Al-Qahtani.
US-Taliban talks, the seventh since last year, are set to continue on Tuesday in Doha, as US officials look to clinch a deal by September ahead of an expected Afghan presidential election.
But the Taliban have refused to negotiate with the US-backed Afghan government, denouncing it as a US puppet.
So while the 60-member delegation of Afghan representatives in Qatar includes officials, they are not there in their government capacity.
Full report at:
https://www.presstv.com/Detail/2019/07/09/600490/IntraAfghan-peace-meeting-concludes-in-Doha
--------
Afghan talks: Rival sides agree on 'road map for peace'
by Shereena Qazi
Jul 9, 2019
Doha, Qatar - Two-day peace talks, attended by Afghan delegates and Taliban representatives in the Qatari capital of Doha, have ended with both sides calling to reduce civilian casualties to "zero" amid the rising death toll in the war-torn country.
The so-called intra-Afghan dialogue, sponsored by Qatar and Germany, between Afghan politicians, civil society members, including women, and the Taliban is seen as a substantive step towards peace in Afghanistan.
"… Committed to respect and protect the dignity of people, their life and property and to minimise the civilian casualties to zero," a joint statement released at the end of the talks in Doha said late on Monday.
The statement also pledged to guarantee the security of public institutions.
"Ensuring the security of public institutions, such as schools, religious madrassas, hospitals, markets, water dams and other working locations," the statement said.
Qari Din Mohammad Hanif, a member of the Taliban delegation, said the group of Afghan delegates which also included members from the Afghan government, was on the same page on civilian casualties.
"Afghan people will be protected, we have always wanted this, they are never the target," he told Al Jazeera.
"We have all agreed to the fact that the civilians should not be affected, war continues, but our aim is to reduce civilian casualties to zero."
Direct US-Taliban talks
The assurances came a day after at least 18 people were killed and more than 180 wounded, including scores of children, in a car bomb attack claimed by the Taliban which has been running a bloody armed rebellion since it was removed from power in 2001.
The so-called intra-Afghan meetings, which follow six days of direct United States-Taliban talks, also in Doha, saw the participation of about 50 Afghan politicians and activists, including 10 female delegates.
The gathering was organised in a bid to initiate direct dialogue between the rival sides that have been at constant war with each other since the US-led invasion in the wake of September 11, 2001 attacks in the US.
The talks were also aimed at sustaining peace after the expected withdrawal of US-led NATO troops.
US special envoy for Afghanistan, Zalmay Khalilzad, has held several rounds of talks with the Taliban in Doha to ink a peace deal with the armed group, which wields considerable influence in the country.
The Taliban, which has repeatedly refused to negotiate with the Western-backed Kabul government, agreed to join the meeting on the condition that the attendees do so in a personal capacity.
The armed group consider Afghan President Ashraf Ghani's administration a puppet regime, which has also been excluded from the direct US-Taliban talks.
Details of joint statement
Following the press briefing on Monday, several delegates and diplomats differed on details of the joint statement.
Some said the statement was not an agreement but recommendations for peace, while others said it is "a call for peace and stability" or "a road map for peace".
"We can't call it a peace agreement, it is just a call for reduction of civilian casualties and protection of public places and institutions," Anwar-ul-haq Ahadi, a former minister of finance, told Al Jazeera.
"It is a first step in the right direction in reducing hostilities and an important one. This was more than what I expected from these talks."
Markus Potzel, Germany's Afghanistan envoy who co-hosted the talks with Qatar, said the joint statement contained an "appeal and promise to reduce violence in Afghanistan'.
Sher Mohammad Abbas Stanikzai, the Taliban's chief negotiator, said it was a "conference where everybody was expressing his or her views regarding peace in Afghanistan".
He defended Sunday's car bomb attack in Ghazni saying it was a "fight for freedom" against "foreign occupation".
"Our target is not civilians, those who were killed in the attack were intelligence forces, only nearby houses were affected by the blast which injured civilians."
The US-Taliban talks are set to resume on Tuesday, which are aimed at hammering out details of a framework agreement reached in January.
Full report at:
https://www.aljazeera.com/news/2019/07/afghan-peace-talks-rival-sides-agree-roadmap-peace-190709012150435.html
--------
India
Muslim group in Jharkhand's Ramgarh defies prohibitory orders to hold protest meet against lynching
Sanjoy Dey
Jul 08, 2019
The Ramgarh district administration in Jharkhand said it will take legal action after hundreds of Muslims gathered at a school on Monday to protest mob lynchings in the state.
"Videography of the meeting was done. The process of lodging FIR will be initiated soon," Ramgarh superintendent of police Prabhat Kumar said after the group met at Chitarpur High School in Ramgarh district, around 50-km east of state capital Ranchi.
A section of Muslims from Chitarpur block had sought permission for a rally from Idgah ground to Main Road from the administration. Earlier, the administration had given permission with certain condition.
However, the permission was cancelled on Sunday evening in the wake of recent violence following rallies by Muslims against lynchings in state.
On Friday, a joint group of Muslim organizations, which took out a protest rally in the state capital Ranchi against the recent lynching of a young man named Tabrez Ansari in Saraikela, vandalized a bus of Central Institute of Psychiatry (CIP) in the heart Ranchi.
The Ramgarh administration had also invoked prohibitory orders under Section 144 of the Criminal Procedure Code (CrPC) on the route of the rally and banned all kinds of protest activities such as demonstration, meeting and rally.
In the prohibition order, it was mentioned that Ramgarh had been sensitive to the issues like mob lynching and communal clash. It further said, "It was found some unscrupulous elements trying to disturb the peace and harmony of the society during such rallies in other parts of the state."
"We were denied permission for the rally, which we followed. But, we were given permission for a meeting after our request on Sunday night," the chief speaker at the meeting Sahjada Anwar, said.
Ramgarh police chief Prabhat Kumar, however, said no such permission was given to them. "The community members had requested permission for the meeting after dropping the idea of rally. But, we did not give any permission for such a programme. We felt the meeting was a violation of administrative order and legal action will be taken accordingly," the SP said.
Anwar, who is also an All India Congress Committee (AICC) member and fought assembly elections twice from Ramgarh assembly constituency, claimed, "It was a peaceful meeting that requested the government to implement Supreme Court directives against mob lynching."
He said the Supreme Court had directed every state including Jharkhand to review the cases of mob lynching every three months by the home secretary and director general of police and constitution of a task force for preventing such incidents. "But, nothing was done in the state in this regard," he said.
https://www.hindustantimes.com/india-news/muslim-group-in-jharkhand-s-ramgarh-defies-prohibitory-orders-to-hold-protest-meet-against-lynching/story-dnA5DMvpfxAqNrJnvB7EWM.html
--------
TikTok removes users who posted video on Jharkhand lynching
Jul 09, 2019
By Safoora
NEW DELHI: A day after the Mumbai Police registered a complaint against a group of TikTok users for posting controversial videos related to the mob lynching of Muslim youth Tabrez Ansari in Jharkhand, the Chinese short video-messaging app on Tuesday said it has removed the users from its platform.
Shiv Sena activist Ramesh Solanki had filed a complaint against the TikTok group named "Team 07" — that has nearly 4 crore followers — at the Mumbai Police's cyber cell.
The members of the group– Faisal Shaikh, Hasnain Khan, Faiz Baloch, Adnan Shaikh and Sadhan Faroqui – uploaded a video supporting Ansari that was heavily criticized on social media for spreading hate speech.
"The video in question, which has violated our Community Guidelines, is no longer available on TikTok. Such irresponsible acts will not be tolerated on our platform, hence we have suspended three user accounts and are cooperating with law enforcement agencies," the company said in a statement.
The three user accounts that has been removed belong to Hasnain Khan, Faisal Shaikh and Sadhan Faroqui.
Solanki, in his complaint, said the video shows how "the public at large may have killed Tabrez, but if tomorrow, his progeny exercises revenge then he mustn't be a called a 'Muslim Terrorist'".
The Jharkhand High Court on Monday sought a report from the state government on the mob lynching of Ansari in Seraikela-Kharsawan district on June 17 and the violence that took place in Ranchi during an agitation to protest the tragedy.
Full report at:
https://www.siasat.com/news/tiktok-removes-users-who-posted-video-jharkhand-lynching-1541104/
--------
Southeast Asia
NU, Muhammadiyah for Nobel, guardians of pluralism
July 9, 2019
Nahdlatul Ulama (NU) and Muhammadiyah are nominated for this year's Nobel Peace Prize for their role in promoting religious tolerance and pluralism in the country and region. The Jakarta Post's Riyadi Suparno interviewed Indonesian Ambassador to Norway Todung Mulya Lubis, the man behind the nomination of the country's two-largest Islamic groups, to learn about his efforts and views about their chance of winning the prestigious prize.
What's your main reason for orchestrating the nomination of the NU and Muhammadiyah for the Nobel Peace Prize?
I've seen radicalism, fundamentalism and sectarianism enter Indonesia and spread, seemingly getting stronger. I don't want to imagine Indonesia becoming another Syria or Libya one day because we have all this potential to become a great nation. The nightmare could come true if we let it grow or if we did nothing to stop it.
Just look at the 212 Movement demonstrations in Jakarta. The capital was not like the Jakarta we once knew. It looked more like Riyadh, where people wear white Arabic attire.
We have to do something. The state cannot do it alone, therefore it needs partners. And the right companions would be the NU and Muhammadiyah. If we encourage the NU and Muhammadiyah to remain the guardians of pluralism, we will be safe.
However, if we let radical groups penetrate the NU and Muhammadiyah, it will be dangerous because they have thousands of schools, boarding schools and universities. If their curriculum, teaching materials, books and textbooks are filled with radical teachings, such as easily labeling others as kafir (infidels) or declaring other people's blood halal, it would be dangerous. This will eventually destroy our pluralism.
Although I don't always agree with the NU and Muhammadiyah 100 percent, I can say that they play an important role in protecting our pluralism. Therefore, I'm fighting for their nomination for the Nobel Peace Prize.
Who supports the nomination of the NU and Muhammadiyah for the Nobel Peace Prize?
Those who can nominate a candidate for the Nobel Peace Prize are Nobel Peace Prize winners, professors or academics of social sciences, international court justices, legislators or high-ranking government officials and the Nobel Peace Prize committee.
Around 40 people have signed for the nomination of the NU and Muhammadiyah. They include Vice President Jusuf Kalla, Islamic scholar Azyumardi Azra, Catholic priest Franz Magnis-Suseno and many more renowned scholars from Australia, Japan, the Netherlands, Norway, the United States and Britain. We have also former Nobel Peace Prize winners. This is the first time that an Indonesian or Indonesian institution has registered as a candidate for the Nobel Peace Prize.
Do you think people outside Indonesia, especially here in Norway where the Noble Peace Prize committee is located, know the NU and Muhammadiyah? What are their chances of winning the prize?
I understand that people here are not familiar with the NU or Muhammadiyah. That's why I brought along representatives of the NU and Muhammadiyah here to speak.
I also understand that we have many competitors. But winning is not everything. Mahatma Gandhi was nominated nine times and he never won the Nobel Prize. But because of his nominations, his non-violence teachings spread to many parts of the world. The European Union was nominated 10 times before it won.
We have nominated the NU and Muhammadiyah. If they don't win, it's OK. We can nominate them again in the future. What's more important is our efforts to encourage the NU and Muhammadiyah to maintain their role as the guardians of pluralism in Indonesia.
If they win, then they will gain appreciation. They would have a moral obligation to remain the guardians of pluralism and spread Islamic teachings of pluralism to a wider audience.
If they are not known outside of Indonesia, why do you think the Nobel Peace Prize committee should give the prize to the NU and Muhammadiyah? How can the prize also benefit people outside Indonesia?
The world should not look at Islam from the Middle East only but also from Indonesia as we have the largest Muslim population. They should know that we promote a more moderate, tolerant and peaceful Islam. They have to understand that. And they have to help us keep our Islam this way.
https://www.thejakartapost.com/academia/2019/07/09/nu-muhammadiyah-for-nobel-guardians-of-pluralism.html
--------
Indonesian Muslim Delegation Visits Israeli Diamond Exchange
JULY 8, 2019
A delegation from the Indonesian Chamber of Commerce came to Israel to visit the Israeli Diamond Exchange over the weekend.
The seven Indonesian representatives were given a tour and met with senior officials from the Israeli Diamond Exchange in Ramat Gan. The Israeli Export Institute was responsible for the meeting.
The meeting was led by vice president of the Indonesian Trade Organization Mufti Hassan who met with Yoram Dvash, president of the Israeli Diamond Exchange.
Dvash said, "This visit is part of a very important trend of strengthening the ties of Muslim companies and businessmen with the State of Israel and with Israelis."
The two parties met to discuss cooperation and the establishment of trade relations between the two countries.
In 2018, Prime Minister Benjamin Netanyahu said it was time for Israel and Indonesia to establish diplomatic ties. However, the Republic of Indonesia said they will not consider normalization with Israel until the Palestinian people have full independence.
Indonesia is currently a non-permanent member of the UN Security Council and says one of their main goals while on the council is to "deal with the Palestinian issue."
Full report at:
https://www.jpost.com/Israel-News/Indonesian-Muslim-delegation-visits-Israeli-Diamond-Exchange-594977
--------
Muslim preacher Wan Ji bound for prison as judge rejects sedition appeal, ups sentence
09 July 2019
BY G. PRAKASH
KUALA LUMPUR, July — The High Court in Shah Alam rejected today independent Muslim preacher Wan Ji Wan Hussin's appeal against his conviction for making seditious remarks against the Sultan of Selangor seven years ago.
Malay daily Sinar Harian reported that High Court judge Abdul Halim Aman also increased Wan Ji's original prison sentence from nine months to a year.
Halim said Wan Ji's remarks were clearly insulting to Sultan Sharafuddin Idris Shah.
"After taking into consideration the seriousness of the case, the court extends the jail sentence meted out by the Sessions Court to a year
"As stated in the charge, this is an extreme act, and we must remember the principle of the Rukun Negara which is loyalty to king and country.
"Although as citizens we are given a lot of freedom, it has limits and is subject to laws and norms," Halim said in his judgment.
Wan Ji, 37, through his lawyer, Mohd Radzlan Jalaludin, sought for a stay of the sentence pending further appeal but the judge said this must come via a formal application for him to decide.
In April last year, the Sessions Court sentenced Wan Ji to nine months' jail over his Facebook posts in 2012.
He was charged under Section 4(1) of the Sedition Act 1948, which is punishable by a fine not exceeding RM5,000, a prison term of up to three years, or both.
Wan Ji, a former member of the Selangor PAS Ulama wing, had reportedly questioned the status of the sultan as the head of religion.
Full report at:
https://www.malaymail.com/news/malaysia/2019/07/09/muslim-preacher-wan-ji-bound-for-prison-as-judge-rejects-sedition-appeal-up/1769655
--------
Arab World
Top Saudi clerics snub Council of Supreme Scholars sessions over corruption: Report
Jul 8, 2019
Three members of Saudi Arabia's highest religious authority have reportedly been refusing to attend the council's sessions in a show of strong protest against "systematic moral corruption" in the ultra-conservative kingdom.
Exiled academic and political dissident Saeed bin Nasser al-Ghamedi wrote in a post published on his official Twitter page on Monday that the three members of the Council of Senior Scholars have declined to take part in the council's meetings after they were barred from making mention of systematic moral corruption in the country.
Even though Ghamedi did not name the three Saudi scholars, he did not rule out possible issuance of an order to prevent the trio from attending sessions of the Council for unknown reasons.
Saudi Arabia has stepped up politically-motivated arrests, prosecution and conviction of peaceful dissident writers and human rights campaigners.
Saudi officials have also intensified crackdown in the country's Shia-populated Eastern Province.
Eastern Province has been the scene of peaceful demonstrations since February 2011. Protesters have been demanding reforms, freedom of expression, the release of political prisoners, and an end to economic and religious discrimination against the oil-rich region.
The protests have been met with a heavy-handed crackdown by the regime, with regime forces increasing security measures across the province.
Over the past years, Riyadh has also redefined its anti-terrorism laws to target activism.
https://www.presstv.com/Detail/2019/07/08/600475/Top-Saudi-clerics-snub-Council-of-Supreme-Scholars-sessions-over-corruption-Report
--------
Russian-led assault in Syria leaves over 500 civilians' dead: rights groups, rescuers
Suleiman Al-Khalidi
JULY 7, 2019
AMMAN (Reuters) - At least 544 civilians have been killed and over 2,000 people injured since a Russian-led assault on the last rebel bastion in northwestern Syria began two months ago, rights groups and rescuers said on Saturday.
Russian jets joined the Syrian army on April 26 in the biggest offensive against parts of rebel-held Idlib province and adjoining northern Hama provinces in the biggest escalation in the war between Syrian President Bashar al Assad and his enemies since last summer.
The Syrian Network for Human Rights,(SNHR), which monitors casualties and briefs various UN agencies, said the 544 civilians killed in the hundreds of attacks carried out by Russian jets and the Syrian army include 130 children. Another 2,117 people have been injured.
"The Russian military and its Syrian ally are deliberately targeting civilians with a record number of medical facilities bombed," Fadel Abdul Ghany, chairman of SNHR, told Reuters.
Russia and its Syrian army ally deny their jets hit indiscriminately civilian areas with cluster munitions and incendiary weapons, which residents in opposition areas say are meant to paralyze every-day life.
Moscow says its forces and the Syrian army are fending off terror attacks by al Qaeda militants whom they say hit populated, government-held areas, and it accuses rebels of wrecking a ceasefire deal agreed last year between Turkey and Russia.
Last month U.S.-based Human Rights Watch said the Russian-Syrian joint military operation had used cluster munitions and incendiary weapons in the attacks along with large air-dropped explosive weapons with wide-area effects in populated civilian areas, based on reports by first responders and witnesses.
Residents and rescuers say the two-month-old campaign has left dozens of villages and towns in ruins. According to the United Nations, at least 300,000 people have been forced to leave their homes for the safety of areas closer to the border with Turkey.
"Whole villages and towns have been emptied," said Idlib-based Civil Defence spokesman Ahmad al Sheikho, saying it was the most destructive campaign against Idlib province since it completely fell to the opposition in the middle of 2015.
On Friday, 15 people, including children, were killed in the village of Mhambil in western Idlib province after Syrian army helicopters dropped barrel bombs on a civilian quarter, the civil defense group and witnesses said.
The heads of 11 major global humanitarian organizations warned at the end of last month that Idlib stood at the brink of disaster, with 3 million civilian lives at risk, including 1 million children.
"Too many have died already" and "even wars have laws" they declared, in the face of multiple attacks by government forces and their allies on hospitals, schools and markets," the U.N.-endorsed statement said.
Last Thursday an aerial strike on Kafr Nabl hospital made it the 30th facility to be bombed durng the campaign, leaving hundreds of thousands with no medical access, according to aid groups.
Full report at:
https://www.reuters.com/article/us-syria-security-casualties/russian-led-assault-in-syria-leaves-over-500-civilians-dead-rights-groups-rescuers-idUSKCN1U200Q
--------
Iraqi paramilitary forces kill two Islamic State terrorists in Nineveh
by Mohammed Ebraheem
Jul 7, 2019
Baghdad (IraqiNews.com) – An Iraqi paramilitary force said on Sunday that its personnel killed two Islamic State terrorists during a military operation in Nineveh province.
In a press statement carried by Al Sumaria News TV channel, the pro-government Popular Mobilization Forces said its fighters "killed two militants of the Islamic State terrorist group" in al-Ba'aj district in Nineveh province as part of a wide-scale military operation, which was launched earlier in the day on the country's border with Syria.
The Joint Operations Command had launched the "Victory Will" operation on Sunday morning to pursue Islamic State remnants, who are still at large in Nineveh, Salahuddin and Anbar provinces.
Iraq declared the collapse of Islamic State's territorial influence in November 2017 with the recapture of Rawa, a city on Anbar's western borders with Syria, which was the group's last bastion in Iraq.
Full report at:
https://www.iraqinews.com/iraq-war/iraqi-paramilitary-forces-kill-two-islamic-state-terrorists-in-nineveh/
--------
Iraq begins operation to clear ISIS militants from Syria border
July 7, 2019
Iraq's security and paramilitary forces on Sunday launched a military operation along the border with Syria to clear the area of ISIS militants that have remained since the group's territorial defeat, the military said in a statement.
Although Iraq declared victory against ISIS in July 2017, the extremists have launched an insurgency and have carried out deadly attacks in the country.
The military said the operation that began at sunrise was being carried out by Iraqi troops and members of the Popular Mobilisation Forces that largely consist of Iran-backed militias.
It said the operation will last several days and was the first phase of the Will of Victory Operation securing the western province of Anbar and the central and northern regions of Salahuddin and Nineveh.
"We press on the hands of our heroic forces that will achieve victory with the will of its heroes against the gangs of Daesh," said Iraqi Prime Minister Adel Abdul-Mahdi using an Arabic acronym to refer to ISIS. "May God protect you and make you victorious."
ISIS once held large parts of Syria and Iraq where it declared a caliphate in 2014. The extremists lost in March the last territory they controlled in Syria.
Anger in Sunni areas of Iraq laid the groundwork for ISIS to rise in 2014, when they captured the northern Iraqi city of Mosul. The group's leader Abu Bakr Al Baghdadi would deliver a sermon from the pulpit of the Al Nuri Mosque in the city in which he declared a self-proclaimed Islamic state.
The de facto state attracted thousands of foreign fighters and even through the group no longer controls any territory, it retains sleeper cells in both Iraq and Syria. Al Baghdadi is yet to be captured and made a rare appearance on camera in April. It was his first propaganda video appearance in almost five years.
Full report at:
https://www.thenational.ae/world/mena/iraq-begins-operation-to-clear-isis-militants-from-syria-border-1.883541
--------
Egyptian politicians arrested, accused of working with Muslim Brotherhood
July 7, 2019
CAIRO — The Egyptian Interior Ministry announced that it had arrested several politicians and journalists suspected of planning to form a terrorist cell it named as Amal in cooperation with the Muslim Brotherhood, which is designated as a terror group by the Egyptian government. The Amal ("Hope") Alliance is a nascent coaltion of liberal and leftist groups.
In a June 25 statement, the ministry explained the case also involves the owners of 19 Egyptian real estate, development and service companies affiliated with the Brotherhood and with a combined capital of 259 million Egyptian pounds (about $15 million), which it alleges is intended to finance demonstrations against the Egyptian government.
The defendants include Zyad al-Elemy, a former leader of the Egyptian Democratic Party and a 2012 member of parliament, and Hassan Barbari, the executive director of the Egyptian Labor Relations Forum, an international human rights organization.
The arrests included two politically active journalists, among others. Hossam Mo'nis is the former leader of the presidential campaign of the 2014 presidential candidate Hamdine Sabah and Hisham Fouad is a leader in the Revolutionary Socialists movement in Egypt.
Bahi al-Din Hassan, director of the Cairo Institute For Human Rights Studies, said that these accusations are baseless. Hassan tweeted June 25 that the defendants were seeking to establish a political coalition of leftist and liberal forces to rein in the upcoming parliamentary elections slated for 2020.
"[Egypt's President] Abdel Fattah al-Sisi is trying to abort the Amal Alliance, which includes the Civil Democratic Movement, the 25-30 Alliance and the Conservative Party as well as several liberal and leftist public figures. The alliance was supposed to be announced within days at a press conference," Hassan said.
The Civil Democratic Movement also denounced the arrests. Its June 26 statement read, "Politicians are being apprehended for their freedom of thought and are facing fabricated accusations for having the mere intention of running for elections, which is a new political crime. The Civil Democratic Movement has nothing to do with the Muslim Brotherhood and everything that has been said in this context is baseless."
One of the human rights lawyers who attended the interrogations with the defendants but declined to be identified said the questions included the defendants' ties to the companies mentioned in the Interior Ministry statement. The lawyer told Al-Monitor that the defendants were asked their opinion of the revolutions of Jan. 25 and June 30 and their positions on the constitutional amendments allowing Sisi to remain in power, the Egyptian-Saudi Tiran and Sanafir Islands deal and Sisi's performance as president, all issues irrelevant to the charges.
Medhat al-Zahid, the head of the leftist Socialist Popular Alliance Party, told Al-Monitor that despite the Interior Ministry's claims, the Amal Alliance "seeks to build a political coalition that includes a 25-30 parliamentary bloc, the parties of the Civil Democratic Movement and youth groups, in order to run in the parliamentary elections."
Zahid, who was involved in the effort's planning meetings, added, "The new alliance was designed to become a guarantee for the people, the state and security and to open new doors for change against the policies harming the nation."
A parliamentarian and member of the 25-30 Alliance told Al-Monitor on condition of anonymity that the Egyptian security apparatus got in touch with the founders of the alliance and asked them not to contact former interim vice president and founder of the Dustour Party Mohamed ElBaradei or to try to get him to join.
Full report at:
https://www.al-monitor.com/pulse/originals/2019/07/muslim-brotherhood-cell-terrorist-parliament-egypt-sisi.html
--------
Iraqi Forces Cleanse Tens of Regions Along Western Borders with Syria
Jul 08, 2019
The Command Headquarters of the Joint Iraqi Operations in a statement on Sunday reported that the massive joint military operation of the Iraqi forces (named Eradeh al-Nasr) started with the partnership of Hashd al-Sha'abi (popular forces) and tribal forces in the regions stretching among the Salahuddin, Nineveh and al-Anbar provinces towards the border with Syria.
The Arabic-language al-Ma'aloumeh News Website quoted Hashd al-Sha'abi forces as saying that the first phase of the operation covered Nineveh province from three directions, and has already resulted in cleaning up more than 28 towns and villages.
The commander of headquarters of al-Jazireh Operations, meantime, reported that during the clean-up operations in Salahuddin at least 16 hideouts were cleaned up and bombs and military equipment of the terrorists were destroyed, while 15 regions were also cleansed.
Meantime, the Arabic-language website of the Russian Sputnik news agency quoted joint military operations command of Eradeh al-Nasr as saying that during the operation a 10-square-kilometer area behind Iraq's border with Syria has been cleansed and a military base of the ISIL terrorists was also destroyed in Nineveh province.
In a relevant development in late June, a prominent Iraqi security expert warned of the US plot to transfer the ISIL terrorists to the bordering areas with Syria in collaboration with the two countries' tribes.
Al-Ma'aloumeh news website quoted Hossein al-Kanani as saying that the US attempts to transfer the ISIL terrorists to the bordering areas of Iraq and Syria and build safe shelters for them through coordination with a number of tribal leaders in the region.
He referred to the recent attempts by US Ambassador to Baghdad Matthew Tueller to meet the Iraqi tribal leaders, and said other goals are also pursued by the measure, including targeting the Hashd al-Shaabi (Iraqi popular forces) and Iraqi security forces in these regions and cutting Tehran-Baghdad-Damascus-Beirut connections by taking control over the Iraqi-Syrian borders.
Meantime, a senior official in al-Qiyarah region in the Southern parts of Nineveh province said that the ISIL terrorists have increased their operations in the desert areas in the Western parts of the region under the nose of the US planes and drones that fly over the same regions.
Full report at:
https://en.farsnews.com/newstext.aspx?nn=13980417000702
--------
Iraqi Hashd al-Sha'abi forces launch second phase of op along Syria border
Jul 8, 2019
Iraqi fighters from pro-government Popular Mobilization Units (PMU) have launched the second phase of a military operation to purge the vast desert in the country's western province of Anbar along the border with Syria of Daesh terrorist group members.
The media bureau of the voluntary forces – better known by the Arabic name Hashd al-Sha'abi –announced in a statement on Monday that the fighters and Iraqi army troopers, backed by military aircraft, mounted an offensive to flush out remaining Daesh terrorists in al-Jazeera region.
The forces added that Hashd al-Sha'abi fighters and government forces were now heading towards al-'Awinah area.
The media bureau of the Iraqi Joint Operations Command later stated that government troops had destroyed two militant hideouts and as many vehicles rigged with explosives.
Iraq's army and the voluntary forces began the first phase of the Will of Victory Operation early on Sunday, the military said in a statement, adding that the operation would last several days and was aimed at securing the province of Anbar and the central and northern regions of Salahuddin and Nineveh.
"We press on the hands of our heroic forces that will achieve victory with the will of its heroes against the gangs of Daesh," said Iraqi Prime Minister Adel Abdul-Mahdi.
"May God protect you and make you victorious," he added.
Former Iraqi prime minister Haider al-Abadi declared the end of military operations against Daesh in the country on December 9, 2017.
On July 10 that year, he had formally declared victory over Daesh in Mosul, which served as the terrorists' main urban stronghold in Iraq.
In the run-up to Mosul's liberation, Iraqi army soldiers and volunteer Hashd al-Sha'abi fighters had made sweeping gains against Daesh.
Full report at:
https://www.presstv.com/Detail/2019/07/08/600450/Iraqi-Hashd-alShaabi-forces-launch-second-phase-of-op-to-secure-desert-near-Syria-border
--------
Mideast
UAE says reducing number of troops in Yemen in strategy shift towards 'peace'
Jul 8, 2019
The United Arab Emirates says it is reducing the number of its troops fighting as part of a Saudi-led military coalition which presses ahead with a years-long atrocious military aggression against the impoverished Yemen.
A senior Emirati official during a press briefing in Dubai on Monday claimed that the withdrawal took place because Abu Dhabi was shifting from a military strategy to a peace plan in Yemen.
"We do have troop levels that are down for reasons that are strategic in (the Red Sea city of) Hudaydah and reasons that are tactical" in other parts of the country, he said.
"It is very much to do with moving from what I would call a military-first strategy to a peace-first strategy, and this is I think what we are doing," the official added.
Meanwhile, an official from Yemen's former Saudi-backed government told AFP that UAE troops had "totally vacated" the military base in Khokha, located about 130 kilometers (80 miles) south of the Yemeni city Hudaydah.
He went on to say that the UAE had withdrawn part of its heavy artillery from Khokha but was still overseeing the military situation in Yemen's west coast.
The Yemeni official also said Emirati troops vacated a military post in Sarwah, west of Marib province, and pulled back the Patriot missile system that was previously deployed in the area.
Western diplomatic sources said in late June that the UAE was scaling back its military presence in Yemen as worsening US-Iran tensions "threatened security closer to home."
Saudi Arabia has been leading a coalition of its vassal states in waging war on Yemen since March 2015 to reinstall former president Abd Rabbuh Mansour Hadi, who resigned from presidency and fled to Riyadh in January 2015 amid popular outcry over corruption and mismanagement of the economy. Houthi Ansarullah fighters then took over state matters to prevent the country from descending into chaos.
But Hadi, who initially fled to Saudi Arabia, started to reclaim a right to power when Riyadh agreed to form the coalition to drive out the Houthis, whom the Saudi regime accuses of being "Iranian-backed."
That war has been unsuccessful to this day, and reports have revealed cracks in the coalition in the form of differences between Hadi and the UAE, which has reportedly gained oversized influence in southern Yemen.
Tensions between Riyadh and Abu Dhabi — yet to play out in full display — could have major consequences for the Saudi-led coalition, which has for more than four years been fighting a war it hoped to finish in a matter of weeks.
In May,the UAE reportedly deployed dozens of southern separatists on the Yemeni island of Socotra in the Arabian Sea as divisions grew in the Saudi-led coalition over Abu Dhabi's military build-up on the strategic island.
Citing sources close to Hadi, the Middle East Eye news website earlier said in a report that Hadi was angry at Emirati forces for acting "like an occupation power" in Yemen.
The US-based Armed Conflict Location and Event Data Project (ACLED), a nonprofit conflict-research organization, estimates that the Saudi-led war has claimed the lives of over 60,000 Yemenis since January 2016.
The war has also taken a heavy toll on the country's infrastructure, destroying hospitals, schools, and factories. The UN says over 24 million Yemenis are in dire need of humanitarian aid, including 10 million suffering from extreme levels of hunger.
https://www.presstv.com/Detail/2019/07/08/600457/Yemen-UAE-Saudi-Arabia-Hodydah-Hadi
--------
Israel's arrest campaign cannot sap Palestinian nation's will: Hamas
Jul 8, 2019
The Islamic resistance movement, Hamas, has condemned the Tel Aviv regime's campaign of arrest against Palestinians across the occupied West Bank and Jerusalem al-Quds, describing the move as a desperate attempt to break the will of the Palestinian nation.
The movement said in a press statement on Monday that Hamas fighters and leaders will continue to remain a pioneer in defending the Palestinian nation and its national cause, stressing that most of the movement's leaders have spent tens of years in Israeli jails and have even lost their children in the course of resistance against the occupying regime of Israel.
Hamas then called on Palestinians from all walks of life to confront the Occupation and its arbitrary policies against the Palestinian nation through solid national unity.
Earlier in the day, the Palestinian Prisoner's Society (PPS) said Israeli forces had detained 27 Palestinians in various parts of the West Bank and Jerusalem al-Quds.
Israeli troopers conducted large-scale raids across the northern West Bank city of Jenin, detaining 13 former prisoners.
Israeli forces rounded up five Palestinians after storming their houses in the East Jerusalem al-Quds neighborhood of al-Isawiyah.
The other Palestinians were arrested in the West Bank cities of Qalqilyah, Ramallah, Bethlehem and al-Khalil besides the towns of Silwad, Biddu, Tuqu', al- Khadr and al- Dhahiriyah.
More than 7,000 Palestinians are reportedly held at Israeli jails. Hundreds of the inmates have apparently been incarcerated under the practice of administrative detention, a policy under which Palestinian inmates are kept in Israeli detention facilities without trial or charge.
Some Palestinian prisoners have been held in administrative detention for up to eleven years.
Palestinian inmates regularly stage hunger strikes in protest at the administrative detention policy and their harsh prison conditions in Israeli jails.
Full report at:
https://www.presstv.com/Detail/2019/07/08/600460/Israeli-arrest-campaign-cannot-sap-Palestinian-nations-will-Hamas
--------
Want to support victims of torture? Put the squeeze on Iran
07/06/19
June 26 marked the International Day in Support of Victims of Torture, commemorated on the anniversary of the implementation of the United Nations Convention against Torture. For many imprisoned Iranians, it was yet another day of torture by the country's repressive regime, which has never signed the Convention. If free democracies want to walk the walk in opposing torture, they should increase economic and political pressure on Tehran to stop this barbaric practice.
The Iranian authorities employ a grotesque menagerie of physical and psychological torture methods. They inflict bodily harm through beating; burning; cutting; electrocution; placement into stress positions; sleep deprivation; denial of medical care; and rape, including "virginity" and "sodomy" tests. And they torment victims' minds through prolonged solitary confinement, mock executions, threats of rape, and claims that family members are being tortured nearby.
Torture, which pervades the judicial process from beginning to end, serves many purposes for the Iranian regime. It deters Iranians from protesting for their rights in the first place. As one student who feared attending demonstrations remarked, "Before, you might be afraid that they would take you to jail for the day. Now, you are afraid that they will beat you and cut you."
Additionally, Iranian courts routinely accept coerced confessions, incentivizing torture to secure convictions — and sometimes death sentences — for crimes real or imagined. Last September, the regime executed three young Kurdish Iranians. UN human rights monitors claimed the three were compelled to "confess" after being beaten, put in stress positions, and threatened with rape. Just two months ago, Tehran executed two 17-year-old boys after reportedly flogging them until they "confessed."
Not content with using torture to aid prosecutions, the regime employs it to punish the convicted, including by executing them. Capital-punishment methods include stoning, throwing them from a height to their deaths, and even hanging from cranes — a punishment in which, as Vice reports, "the condemned is slowly lifted from the ground by his neck and left to dangle in the noose" and consequently "[i]t can take more than 20 minutes to die." Punishments for lesser crimes include blinding, amputation, and flogging.
The U.S. and other Western countries should act against Iran's use of torture not only out of commitment to human rights, but because the regime is using this tactic against Americans and other Westerners. Tehran held American journalist Jason Rezaian hostage for two-and-a-half years, subjecting him to solitary confinement, sleep deprivation, and a lack of medical care. Former U.S. marine Amir Hekmati was whipped, tasered, hit with batons, put in stress positions, sleep deprived, and force-fed and then deprived of addictive medication so that he would suffer the effects of withdrawal.
Nazanin Zaghari-Ratcliffe, a British aid worker held hostage since 2016, is serving a five-year sentence on spurious charges of seeking to overthrow the regime. She spent months in solitary confinement — and the authorities extorted 6,000 British pounds from her family by threatening to send her back into solitary. Her husband said that her treatment amounts to "psychological torture." She and her husband recently engaged in a hunger strike to demand her release.
Unfortunately, however, while the U.S. and European Union issued routine annual statements on June 26 condemning the use of torture, both have failed to follow up on their words with action.
In practice, the EU has chosen money over human lives. The 2015 nuclear deal paved the way for European companies to do business with Iran. European governments are so desperate not to rock the boat that they have not sanctioned even one new Iranian official for human rights abuses since the pact was finalized — even after the imprisonment of European citizens like Nazanin Zaghari-Ratcliffe — including 40 individuals and entities already sanctioned by the U.S.
Instead, they are sprinting to grease trade with Iran by injecting a credit line of several million euros into a new mechanism, known as INSTEX, designed to facilitate transactions while avoiding U.S. sanctions. Such trade could generate billions of dollars for the regime, including its torture-happy judicial system.
The U.S., to its credit, has increased economic pressure on the regime, restoring and increasing sanctions to deter European trade. Yet while the Trump administration touts its "maximum pressure" policy on Iran, it hasn't sanctioned many of the regime's human rights abusers — including more than 60 officials sanctioned years ago by the EU. And it hasn't included an end to all violations of human rights in its 12 requirements for a new deal.
The Europeans and Americans can still reverse their ignominious course and do more to stand up for victims of Iranian torture. The Europeans should terminate Instex and work with the U.S. to harmonize and expand their human-rights sanctions lists. They should also join the U.S. in demanding a new deal with Iran that would lift sanctions only in exchange for Tehran ceasing the totality of its malign behavior, including torture and other violations of the Iranian people's human rights.
Full report at:
https://thehill.com/opinion/international/451823-want-to-support-victims-of-torture-put-the-squeeze-on-iran
--------
Radio Station in War-Torn Yemen Raises $132,000 for Hezbollah
By Mohammed Hatem
July 6, 2019
A fundraising campaign on a Yemeni radio station affiliated with Iran-backed Houthi rebels has collected 73.5 million Yemeni rials for the Lebanese militant group Hezbollah.
The campaign on the Sam FM station solicited donations from listeners in the Arab world's poorest nation from May 25 to July 5, reported the rebel-held Saba news agency. It was the radio's third fundraising campaign and the first for Hezbollah. Saba cited the value of the funds as equaling $132,000, likely using a black market rate for the currency.
Full report at:
https://www.bloomberg.com/news/articles/2019-07-06/radio-station-in-war-torn-yemen-raises-132-000-for-hezbollah
--------
Houthis kill 10 in attacks in Hodeida, Yemen officials say
07.07.2019
Yemeni officials and witnesses say rebel attacks have killed at least 10 pro-government forces in the key port city of Hodeida.
They say the clashes, which flared up Wednesday, wounded at least seven civilians when shells hit their residential areas in the contested Red Sea city.
The officials demanded anonymity because they weren't authorized to brief reporters. Witnesses asked for anonymity for fear of reprisals.
Yemen's internationally recognized government accused the Houthi rebels of using U.N. facilities in Hodeida to attack its forces. It says the attack killed at least 10 troops, and wounded 20 others.
The Houthis claimed in May to have completed the long-delayed redeployment of their forces from Hodeida ports under a December cease-fire agreement. Yemen's internationally recognized government has accused the Houthis of handing the ports over to allied fighters.
Full report at:
https://www.dailysabah.com/mideast/2019/07/07/houthis-kill-10-in-attacks-in-hodeida-yemen-officials-say
--------
Yemen: Houthis Commit 18,000 Human Rights Violations in 6 Months
6 July, 2019
Houthis' violations of human rights had escalated this year in Sanaa and other areas under their control, confirmed security and human rights sources in Sanaa.
They said militias committed about 18,000 violations over the past six months, basing their information on reports from state facilities.
The violations varied between killings, kidnappings, house raids, confiscation of properties, and arbitrary arrests at the checkpoints deployed in streets and roads between the provinces.
Human rights organizations expressed their deep concern over the Houthi escalation against civilians and innocent people, especially women and children.
They asserted that such actions oppose human rights and constitute a flagrant violation of international conventions and laws, as well as the customs and traditions of the Yemeni society.
Sam Organization for Rights and Liberties issued last week a report documenting violations of arbitrary detention and psychological and physical torture of women in Yemen.
The organization said Houthis had formed a women's security apparatus, tasked with breaking into homes, arresting, and luring women in order to gather information.
President of SAM Organization Tawfiq al-Humaidi indicated that while women hold a special status in Yemen, they lost that with Houthis' control over Sanaa and other cities and are being subjected to gross violations of human rights, norms, and values.
The report pointed out that women detentions included deserted places - used for interrogation and psychological torture, homes of citizens who were forced to leave, and police departments controlled by Houthis.
Female detainees were subjected to severe torture and cruel treatment, prompting them to try to commit suicide.
The report contained testimonies of victims, their relatives, and eyewitnesses who have spoken of serious violations in Houthi militias prisons, including police and military prisons.
The coup militias fabricate charges and evidence such as pictures and videos during the abduction period in secret prisons before being transferred to public prisons for torture and extortion.
Yemen's Organization for Combating Human Trafficking (YOCHT) asserted that 120 women from Sanaa were arrested, most of which were detained in the criminal investigation facilities in Sanaa. The organization based its accusations on reports it received from within the Yemeni capital.
The actual number of Houthi violations against women in their areas of control is much more than the declared figures because most Yemeni families refrain from reporting any violation so that they are not slandered, according to the head of The Association of Yemeni Abductee Mothers Amat al-Salam al-Haj.
Haj told Asharq Al-Awsat that the number of kidnappings and imprisonment of women and children escalated this year, accusing Houthis of systematically and physically torturing women, defaming many of them, and accusing them of unethical charges contrary to Yemeni custom and traditions.
Houthi militias arrested hundreds through its secret security force, known as "preventative security", including leaders of the Popular Congress Party and a number of figures affiliated with the group in Sanaa, Dhamar, and Ibb on charges of "treason and treachery", according to human rights sources.
Full report at:
https://aawsat.com/english/home/article/1800416/yemen-houthis-commit-18000-human-rights-violations-6-months
--------
Arab Coalition intercepts, destroys Houthi drone targeting Saudi Arabia
9 July 2019
The Arab Coalition said on Monday that its forces intercepted and destroyed a drone launched by the Houthi militia toward Saudi Arabia.
The spokesperson of the Arab Coalition, Col. Turki al-Maliki, said that the drone failed to reach its target inside Saudi Arabia.
"The attempts of the Houthi militia to continue targeting civilians and public facilities will be constantly confronted and neutralized in accordance with international humanitarian law and its customary rules," al-Maliki said in a statement.
Full report at:
https://english.alarabiya.net/en/News/gulf/2019/07/09/Coalition-intercepts-destroys-drone-launched-by-Houthi-toward-Saudi-Arabia.html
--------
Turkey orders arrest of 176 military personnel over suspected Gulen links
9 July 2019
Turkey has ordered the arrest of 176 serving military personnel over suspected links to the network which Ankara says was behind an attempted coup three years ago, the Istanbul chief prosecutors' office said on Tuesday.
Among those facing arrest were a colonel, two lieutenant colonels, five majors, seven captains and 100 lieutenants in an operation encompassing the army, air force and navy, the statement said.
Ankara says US-based Muslim cleric Fethullah Gulen masterminded the failed putsch on July 15, 2016. He has denied any involvement.
In the three-year purge since the coup attempt, more than 77,000 people have been jailed pending trial and about 150,000 civil servants, military personnel and others have been sacked or suspended from their jobs.
Turkey's Western allies and rights groups have criticized the scale of the crackdown, saying President Tayyip Erdogan has used the abortive coup as a pretext to quash dissent.
Full report at:
https://english.alarabiya.net/en/News/middle-east/2019/07/09/Turkey-orders-arrest-of-176-military-personnel-over-suspected-Gulen-links.html
--------
UAE official says redistribution of troops in Yemen is for 'tactical reasons'
9 July 2019
An official from the United Arab Emirates has said that that they have begun a plan regarding the redistribution of its troops in Yemen for "strategic and tactical" reasons and that the move was coordinated with coalition partner Saudi Arabia.
The agency quoted the official as saying the UAE was moving from "military first strategy to a peace first strategy."
"Our discussion over our redeployment has been ongoing for over a year and it has been heightened after the signing of the Stockholm agreement in December," the official told reporters in Dubai according to Reuters.
"It makes a lot of sense for us to redeploy away from Hodeidah. By connection, Assab in Eritrea has also been affected because it was a staging ground for our operations in Hodeidah," the official said, adding that troop movements in other areas of Yemen are "tactical and based on our needs."
UAE-based newspaper The National said the Emirati official did not provide details regarding the redistribution of troops in Yemen but said that their troop numbers were "definitely down" and there had been a movement of equipment.
Asked by Reuters regarding the UAE's decision to redistribute troops, the spokesman for the Arab Coalition said member countries played different roles and contributed whatever capabilities they could.
Full report at:
https://english.alarabiya.net/en/News/gulf/2019/07/09/UAE-official-says-redistribution-of-troops-in-Yemen-is-for-tactical-reasons-.html
--------
Iran summons Nigeria chargé d'affaires over Zakzaky situation
Jul 8, 2019
Iran's Foreign Ministry says it has summoned Nigeria's chargé d'affaires to the country to express concern over reports of Nigerian Muslim leader Sheikh Ibrahim al-Zakzaky's deteriorating health condition.
Ministry Spokesman Abbas Mousavi announced the summoning on Monday, describing Zakzaki as a "eruditely and distinguished figure."
"We hope that the efforts that are being taken [towards bettering Mr. Zakzaky's condition] yield result and he recovers his health," Moussavi said.
The 66-year-old leader of the Islamic Movement in Nigeria has been in detention since December 2015 following a crackdown by Nigerian forces against the African nation's Muslim community.
He has reportedly sustained serious injury resulting from brutal treatment by security forces that has cost him his left eye.
The crackdown also took the lives of three of his sons and 300 of his followers.
In 2016, Nigeria's federal high court ordered Zakzaky's unconditional release from jail following a trial.
However, he was charged in April 2018 with murder, culpable homicide, unlawful assembly, disruption of public peace, and other accusations. He has pleaded not guilty.
Full report at:
https://www.presstv.com/Detail/2019/07/08/600481/Iran-Nigerian-Muslim-leader-Zakzaky-charg-daffaires-summoned
--------
Israel says it shot down drone that crossed from Gaza
July 09, 2019
JERUSALEM: Israel's military said it had shot down a drone that crossed into its territory from the Gaza Strip.
The military says it recovered the downed drone and took it in for examination Monday.
There was no comment from Gaza. Its Hamas leaders are known to have developed a drone program with Iranian help.
The drones are typically used for reconnaissance along the Israeli-Gaza border and it was unclear if they have potential to carry out attacks. The incident comes amid low-level tensions along the border as Israel and Gaza are still trying to maintain an informal long-term truce between them.
Recent protests have included Palestinian youths launching incendiary balloons toward Israeli farmland.
Others have approached the heavily guarded fence at several locations and clashed with Israeli troops.
In another development, an Israeli court has ruled that the Palestinian Authority should be held responsible for 17 anti-Israeli attacks committed by Palestinians between 1996 and 2002.
The ruling came in response to a complaint filed on behalf of victims demanding 1 billion shekels (€250 million, $280 million) in compensation, according to a Justice Ministry statement.
The amount is to be decided by the court at a later date, it said.
The Palestinian Authority refused to participate in the case at Israel's Jerusalem district court and it is unclear how the judgment would be enforced.
Late Palestinian leader Yasser Arafat and Marwan Barghouti, serving five life sentences in an Israeli jail for allegedly organizing a series of killings of Israelis, were also held responsible by the court.
"It is a historic victory that finds that the Palestinian Authority is responsible for attacks during the second intifada," said lawyer Nitzana Darshan-Leitner of Israeli NGO Shourat Hadin, which represented the victims and wages legal battles worldwide against what it calls "Israel's enemies."
The second Palestinian intifada, or uprising, lasted from 2000 to 2005.
Full report at:
http://www.arabnews.com/node/1522846/middle-east
--------
URL: https://www.newageislam.com/islamic-world-news/pakistan-ulema-oppose-capital-administrations/d/119130
New Age Islam, Islam Online, Islamic Website, African Muslim News, Arab World News, South Asia News, Indian Muslim News, World Muslim News, Women in Islam, Islamic Feminism, Arab Women, Women In Arab, Islamophobia in America, Muslim Women in West, Islam Women and Feminism