New Age Islam News Bureau
8 Jun 2015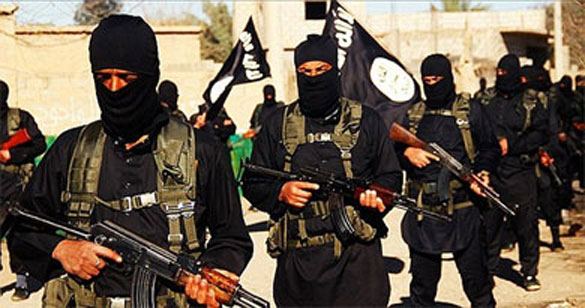 ISIS fighters in Iraq and Syria, where British fugitives are feared to be funding the holy war by milking the UK benefits system
-----------
Pakistan
• Pakistan Ulema Endorsed the Edict of Saudi Clerics Outlawing the Use of Phrases Jihad Fi-Sabilillah and Qital Fi-Sabilillah
• At Least 19 Suspected Militants, Including Five Commanders, Killed In NWA
• Five Hazaras gunned down in Quetta
• Pakistan, Sri Lanka have shown resilience in the fight against terrorism: COAS
• Persecution of Muslims: Pakistan to mobilise OIC and UN over Rohingya plight
• Govt to take all steps to protect minorities, says Minister
Arab World
• Egyptian Sheikh Says Using Internet Search Engines is Haram
• ISIS Jihadis Are Funding Their Evil War by Milking Britain's Benefits System
• 20 dead in Syria air raid in Idlib province: activists
• Nasrallah Describes Saudi Rulers as Oppressors, Dictators
• US-led anti-IS strikes kill family in Syria: Monitor
• ISIL Suffers Major Setbacks in Aleppo, Homs
• Iraqi Army Wins Back 7 Key Towns in Karama from ISIL
• Report: Riyadh in Range of Yemeni Missiles
• Syrian opposition factions to form new coalition
• Bahrain foils 'terror plot' by Iraqi-trained cell
• Unplanned Makkah district is a 'haven for drug dealers'
Mideast
• Israel's Odd Partnership with Hamas In The Face Of Salafist Escalation
• 45 Dead in Saudi-Led Raids on Yemen Capital
• Yemeni Religions Join Ansarullah against Saudi Regime
• Turkey's Christian minority sends four deputies to parliament
• Turkish PM says election results prove AKP 'backbone of Turkey'
• Iran Asks UN to Consider Realities in Region, Warns of ISIL Plots
• Yemeni Official: Firing Scud Missiles A Warning to Saudi Arabia
• Four Saudi children die due to chemical poisoning in Iran
• Israel-Gaza crossings to reopen after brief closure
• Iran to open 150 alcohol treatment centres
South Asia
• Five Soldiers Martyred, 41 Insurgents Killed In Military Operations in Afghanistan
• Ariana Planes Transport Fighters to Iraq and Syria from Iran: Afghan MP Claims
• Four civilians killed in landmine explosion in Afghanistan
• Khaleda tells Modi about absence of democracy
• 150 Bangladeshi trafficking victims on way home
• Kishoreganj 'Razakar' verdict tomorrow
Africa
• Two Dead in NE Nigeria Suicide Attack: Police
• Al Qaeda's North African wing claims two Algerian attacks
• ISIS militia kidnap group of Eritreans in Libya
Europe
• Favourable View of Muslims on the Rise in France, Poll Says
• Britain to send 125 more troops to Iraq in fight against IS
• Western thinks only hope for Libyan unity govt is UN
• Danish Muslim Frown at Cemetery Defiling
• EU: No Iran nuclear deal without U.N. probe of past
India
• AIMPLB to Log On To Social Media for Sharia's Cause
• Sheikh Hasina and I Think Alike, PM Modi Says
• After India denies visa to Pak official, Islamabad cries foul
• BNP, Jamaat hold different views on Modi's visit
• 932 Bangladeshis languishing in West Bengal jails
North America
• Anti-Terror: Inland Muslims Wary Of Being Targeted By Federal Initiative
• Ontario Muslim Youth Address Islamophobia
• Muslim chaplain surprised by outpouring of support
• Obama huddles over Mideast on G7 sidelines
• A tranquil Muslim hamlet in the Catskills - until the attack plot
• Soldier who killed 16 Afghans says he was 'consumed by war'
Southeast Asia
• Indonesia's Religious Minorities Live In Hope
• Malaysians on Twitter United In Helping Rohingya, But Divided On How
• Don't use us as shield to deflect nation's problems, PAS tells Najib
• Thailand positions itself as 'Muslim-friendly destination'
• Philippines aim to adopt OIC Halal standards
Compiled by New Age Islam News Bureau
URL: https://www.newageislam.com/islamic-world-news/new-age-islam-news-bureau/pakistan-ulema-endorsed-the-edict-of-saudi-clerics-outlawing-the-use-of-phrases-jihad-fi-sabilillah-and-qital-fi-sabilillah/d/103392
--------
Pakistan
Pakistan Ulema Endorsed the Edict of Saudi Clerics Outlawing the Use of Phrases Jihad Fi-Sabilillah and Qital Fi-Sabilillah
June 8, 2015
LAHORE: Several scholars meeting under the aegis of Pakistan Ulema Council (PUC) have endorsed the edict of Saudi Arabian clerics outlawing the use of phrases Jihad Fi-Sabilillah and Qital Fi-Sabilillah.
They have issued a fatwa saying: "Prophet Muhammad (peace be upon him) warned this Ummah not to exceed in extremes and stated that exceeding in affairs of religion is one of major reason for annihilation of erstwhile nations. It has also been stated in Hadith of Prophet Muhammad (peace be upon him), 'Beware of excesses in affairs of religion as people before you were ruined for excesses in religious matters.'"
They said some militant groups, including the Islamic State of Iraq and Syria (ISIS) and Hezbollah, considered the killing of innocent people jihad.
"In reality, there are limits defined for jihad in Islam. Killing people and destroying their properties based on personal opinions can't be considered a righteous act."
They said Muslims all over the world were facing problems due to wrongdoings of the ISIS, the Tehreek-i-Taliban Pakistan (TTP), the Hezbollah and Houthi rebel tribes. Owing to these groups, they said, anti-Islam elements were achieving their nefarious goals of disrupting peace and stigmatising the Muslims' image.
"We want to make it clear that these groups and their actions have nothing to do with Muslims and Islam. They want to sow differences among different schools of thought among Muslims," the clerics said.
"We appeal that Islam should not be criticised for the wrongdoings of these groups. No particular Islamic school of thought should be held responsible or associated with the militant groups," they said in the fatwa.
They said it was wrong to term moderate Islamic believers as takfeeri.
http://tribune.com.pk/story/899642/terrorism-militants-have-nothing-to-do-with-islam/
--------
At least 19 suspected militants, including five commanders, killed in NWA
June 8, 2015
NORTH WAZIRISTAN: At least 19 suspected militants, including five commanders, were killed during an exchange of fire with security personnel on Sunday night near the Afghan border, according to a statement issued by the Inter-Services Public Relations (ISPR).
Seven soldiers were also killed during the military action conducted at an uncleared pocket along the shared North Waziristan-Afghan border.
One militant, after being chased down and cordoned off by security personnel, detonated his suicide vest resulting in the deaths of soldiers.
Operations against militants in North Waziristan have been stepped up after the government decided to implement the nation-wide National Action Plan combating terrorism in the country. Suspected militants have also been killed in drone strikes in the region.
Zarb-i-Azb, another military operation which targeted local and foreign militants specifically in North Waziristan was spearheaded following an attack on Karachi's Jinnah International Airport on June 8, 2014.
The government believes that Zarb-i-Azb operation will be completed by the end of 2015, after which a 'mini-Marshall plan' will be launched for the socio-economic progress of the people of the Federally Administered Tribal Areas (Fata).
http://www.dawn.com/news/1186933/at-least-19-suspected-militants-including-five-commanders-killed-in-nwa
--------
Five Hazaras gunned down in Quetta
June 8, 2015
QUETTA: At least five people belonging to the Hazara community were gunned down in Quetta's Circular Road area near Meezan Chowk Sunday evening.
Unidentified armed men on two motorcycles opened indiscriminate fire on the victims outside tea shops.
Four of them died on the spot, while one person was shifted to CMH Quetta, where he succumbed to his injuries.
Bodies of the deceased were shifted to the civil hospital and the CMH. They have been identified as Mohammad Ali, Mohammad Idrees, Kazim, Zeeshan and Nematullah.
As news of the attack spread, the main bazaars of Quetta shut down.
Police and FC cordoned the area, and initiated an investigation.
According to police sources, five people were detained for interrogation.
No group had claimed responsibility for the attack till the filing of this report.
A large number of men, women and children from the Hazara community, including relatives of the victims staged a protest in Meezan Chowk, and demanded the arrest of the culprits behind the attack.
Meanwhile, Prime Minister Nawaz Sharif took notice of yet another incident of targeted killing against the Hazara community and ordered swift arrest of the culprits behind the incident.
In a statement issued on Sunday, he also condoled with the bereaved families for their irreparable loss.
Earlier on May 27, two Hazaras were shot dead near Meezan Chowk.
On Saturday, gunmen shot dead four policemen — including a sub-inspector — in a targeted attack in a troubled suburb of the provincial capital.
The gunmen riding motorcycles pulled up near a police mobile van parked near a post office on Mullah Abdul Salam Road in the Pashtoonabad neighbourhood and shot dead all those on board, according to Abdul Razaq Cheema, the capital city police officer (CCPO).
http://tribune.com.pk/story/899422/four-hazaras-gunned-down-in-quetta/
--------
Pakistan, Sri Lanka have shown resilience in the fight against terrorism: COAS
June 8, 2015
RAWALPINDI: A reception was hosted on Sunday in Colombo for Chief of Army Staff (COAS) General Raheel Sharif by Quetta Alumni association, an effective body of a large group of Sri Lankan military students trained in Pakistan, the ISPR said.
According to a press release by the ISPR, speaking on the occasion the COAS said that relationship between Pakistan and Sri Lanka is special, and defence and security cooperation has been central to this relationship.
"We would always stand with our brothers on their way to greater security and prosperity," said General Sharif.
Paying rich tributes to Sri Lankan armed forces for their resilience, professionalism and sacrifices in war against terrorism, the COAS said Sri Lanka has fought a long war against terrorism and its model of counter insurgency and later efforts for sustainable peace are text book case study.
He went on to say that states that suffered from internal conflict collapsed because their institutions, particularly Armed forces were unable to sustain.
"Pakistan and Sri Lanka have shown resilience in the fight against terrorism for bringing peace and stability in the region. "
Referring to the ongoing Operation Zarb-e-Azb, he said the aim of this operation is to bring enduring peace and stability in Pakistan and the region.
"With the support of our nation, we have successfully dismantled their infrastructure and created significant effects."
"We as a nation are determined to take this surge to its logical end, whatever it may take."
Earlier, on arrival at a reception, the COAS was received by Lieutenant General AWJC De Silva, Commander of the Sri Lanka Army.
http://www.thenews.com.pk/article-187266-Pakistan,-Sri-Lanka-have-shown-resilience-in-the-fight-against-terrorism:-COAS
--------
Persecution of Muslims: Pakistan to mobilise OIC and UN over Rohingya plight
June 8, 2015
ISLAMABAD: Pakistan is going to raise the issue of the persecution of Rohingya Muslims at international forums by mobilising the Organisation of Islamic Cooperation (OIC), as well as the United Nations.
A high-profile special cabinet committee looking into the issue sent its recommendations to Prime Minister Nawaz Sharif on Sunday.
Interior Minister Chaudhry Nisar, PM's Adviser on Foreign Affairs and National Security Sartaj Aziz and PM's Special Assistant on Foreign Affairs Tariq Fatemi recommend that Pakistan must prioritise the protection of Rohingya Muslims in its engagement with Myanmar.
"We have sent our recommendations to the premier for approval," Aziz told The Express Tribune. "After his approval, we shall release them to the media on Monday (today)."
Pakistan has consistently expressed its deep concern over the plight of the ethnic minority community in Myanmar.
Full report at:
http://tribune.com.pk/story/899656/persecution-of-muslims-pakistan-to-mobilise-oic-and-un-over-rohingya-plight/
--------
Govt to take all steps to protect minorities, says Minister
June 8, 2015
LAHORE: The government is taking all needed steps to protect the lives and properties of minority citizens, Minister for Minorities Affairs and Human Rights Khalil Tahir Sindhu said on Sunday.
Talking to a delegation of Sikh community leaders, Sindhu said that the government would raise its voice over the violation of the rights of minorities in any part of the world.
"We have strongly condemned the discriminatory attitude towards Sikhs and other minorities in the neighbouring country. Sikhs and other minorities enjoy all constitutional rights in Pakistan. No one will be allowed to use religion to gain political mileage," he said.
The minister said that that the government had always raised its voice in the United Nations and other forums over violation of human rights. He also assured the delegations of the government's support.
He said that the prime minister had set up a special committee to provide relief to Rohingya Muslims of Burma.
"The international community and UN should take notice of the atrocities against Muslims in Burma and take immediate measures for the protection of their rights," he said.
http://tribune.com.pk/story/899629/policy-priority-govt-to-take-all-steps-to-protect-minorities-says-sindhu/
-------
Arab World
Egyptian Sheikh Says Using Internet Search Engines is Haram
June 8, 2015
Rabat – An Egyptian Salafist sheikh recently said that using the services of Internet search engines is haram (forbidden) in Islam.
Answering the question of a viewer of his show on Safa TV concerning search engines that predict user's search terms, Sheikh Mustafa al-Adawy said that the method of suggesting words or phrases to the user could be considered haram. He likened this method to the practices of sorcerers and soothsayers.
The sheikh went on to add that this "not permitted by any means."
Islam prohibits the practice of sorcery, witchcraft because they are never done for good purposes and they appeal to unnatural powers. Additionally, the practice of sorcery leads those who resort to it to believe in the unnatural powers of sorcerers and witches, which lead them away from God.
Full report at:
http://www.moroccoworldnews.com/2015/06/160387/egyptian-sheikh-says-using-internet-search-engines-is-haram/
---------
ISIS Jihadis Are Funding Their Evil War by Milking Britain's Benefits System
June 8, 2015
ISIS terrorists are abusing the UK benefits system to fund their holy war in Iraq and Syria, authorities fear.
Hundreds of Brits are believed to have travelled abroad to fight with ISIS and many of them are still believed to be claiming taxpayer-funded benefits.
Experts believe jihadists have committed a number of high-level frauds to deliberately abuse the welfare system.
A government probe has now been launched to establish the extent of the dodgy benefit claims.
While a number of countries do have benefits agreements with the UK that allow British citizens to continue claiming state hand-outs, Iraq and Syria are not among them.
But the Department of Work and Pensions (DWP) Fraud and Error Service has launched a series of reviews after people living in Iraq and Syria successfully pocketed UK benefits.
The claims – which run to an unknown sum – are alleged to have been made within the last three years.
Full report at:
http://www.dailymail.co.uk/news/article-3114177/ISIS-jihadis-Syria-Iraq-funding-evil-war-milking-Britain-s-benefits-false-claims-online-fraud-student-loans.html#ixzz3cSMDvqvu
-------
20 dead in Syria air raid in Idlib province: activists
June 8, 2015
BEIRUT: At least 20 civilians, including three children, were killed on Monday in Syrian government airstrikes on a town in Idlib province in the northwest, activists said.
The Syrian Observatory for Human Rights said the raids hit a square in the town of Al-Janudiyah, in the west of the province, which is now almost completely controlled by opposition forces.
http://www.dailystar.com.lb/News/Middle-East/2015/Jun-08/301082-20-dead-in-syria-air-raid-in-idlib-province-activists.ashx
---------
Nasrallah Describes Saudi Rulers as Oppressors, Dictators
June 8, 2015
Hezbollah Secretary General Seyed Hassan Nasrallah deplored the Saudi rulers for oppressing the Yemeni people and massacring civilians in the neighboring country.
"The Al Saud rulers are dictators and oppressors who attack the oppressed Yemeni people and the extent of their crimes has reached a level unprecedented in the history," Nasrallah said in a video conference message to a meeting of instructors and scholars of Qom Seminaries on Sunday.
The Hezbollah secretary general said Riyadh has attacked Yemen because it cannot see an elected government and independence of the neighboring nation.
Nasrallah pointed to the Saudi regime's oppositions to the Islamic system of Iran, and said, "The Saudi government is Islamic on the surface and by name."
The Yemeni people have stood up for their independence against the Saudis and they will do their best in this regard, he continued.
He reiterated that the Yemeni people's faith and will is quite evident, and said, "The Yemeni people need political diplomacy and they stand strong on the path to independence and freedom."
Full report at:
http://english.farsnews.com/newstext.aspx?nn=13940317001376
-------
US-led anti-IS strikes kill family in Syria: Monitor
June 8, 2015
A couple and their five children were killed overnight in Syria's northern Aleppo province in strikes by the US-led coalition fighting the Islamic State group, a monitor said on Monday.
The Syrian Observatory for Human Rights, a Britain-based group, said the deaths raised to 148 the number of civilians killed in US-led strikes in Syria since they began in September.
The Observatory said the family was killed in a coalition strike on the village of Daly Hassan, in the northeast of Aleppo province.
Full report at:
http://english.ahram.org.eg/NewsContent/2/8/132229/World/Region/USled-antiIS-strikes-kill-family-in-Syria-Monitor.aspx
-------
ISIL Suffers Major Setbacks in Aleppo, Homs
June 8, 2015
The ISIL terrorists suffered a serious setback on the outskirts of Homs and Aleppo provinces on Sunday after the Syrian army launched a surprise attack against the terror group.
The Syrian soldiers stormed the ISIL hideouts in the Northern and Eastern countryside of Aleppo and Homs early on Sunday, forestalling the terror group for launching further attacks against the Arab country.
Elsewhere in Syria, the Takfiri groups suffered major losses in the areas of al-Salamiyah, Umm Taweenah, Zanouba, and Rasm Al-Qadisiyah, after the army troops made gains in their battle against the ISIL terrorists in Eastern Hama.
Earlier in the day, more than 200 ISIL terrorists participated in a major operation in an attempt to take over Deir Ezzur's military airport, but the Syrian troops managed to drive them out, forcing them to flee the battlefield.
The ISIL Takfiri terrorists currently control shrinking swathes of Syria and Iraq. They have threatened all communities, including Shiites, Sunnis, Kurds, Christians, Ezadi Kurds and others, as they continue their atrocities in Iraq.
Senior Iraqi officials have blamed Saudi Arabia, Qatar, and some Persian Gulf Arab states for the growing terrorism in their country.
The ISIL has links with Saudi intelligence and is believed to be indirectly supported by the Israeli regime.
http://english.farsnews.com/newstext.aspx?nn=13940317001012
-------
Iraqi Army Wins Back 7 Key Towns in Karama from ISIL
June 8, 2015
The Iraqi army and popular forces seized back 7 strategic towns in al-Karama region in al-Anbar province, Baghdad Operations Command Center announced on Sunday.
The army's Brigade 59 regained full control over five regions of al-Hamra, Ma'askar al-Hamra, al-Bodlov, al-Bu Issa and al-Malali towns in al-Karama region.
Meantime, the 1st Brigade of the army's rapid reaction forces won back al-Zajalieh and al-Maqala near al-Karama.
Earlier today, the Iraqi army backed by the volunteer forces started a new offensive to seize back two strategic towns near al-Karama.
Full report at:
http://english.farsnews.com/newstext.aspx?nn=13940317001223
-------
Report: Riyadh in Range of Yemeni Missiles
June 8, 2015
The Yemeni troops showed that Riyadh is within their reach after they fired a Scud missile on Saturday, media reports said today.
The London-based Arabic daily Rai al-Youm reported that as the UN-backed peace talks are near, firing of Scud missiles by the Yemeni forces means a shift in the balance of power in the crisis in Yemen.
Military analysts believe that the Scud missiles used by the Yemeni army and popular forces against Saudi Arabia are reminiscent of the missiles used by the Hezbollah and Hamas resistance movements against Israel; the missiles which reached deep inside Israel.
The daily noted that Saudi Arabia is also aware of the threat of the Scud missiles and the Saudi regime knows that if they can hit al-Khamees, Shamit and Abha as well as Jizan, they can also reach deep inside Saudi Arabia and cause serious threat to that country.
On Saturday, the Yemeni army fired a Scud missile into Saudi Arabia, forcing the monarchy's officials to cancel all Jizan and Abha flights.
Full report at:
http://english.farsnews.com/newstext.aspx?nn=13940317001341
-------
Syrian opposition factions to form new coalition
8 June 2015
Syrian opposition factions will gather in the Egyptian capital on Monday for talks aimed at forming a new coalition as an alternative to an exiled Western-back alliance.
More than 200 figures from the armed and civilian opposition factions are to attend the June 8-9 gathering and discuss a roadmap aimed at ending the four-year war in Syria.
The new grouping would offer an alternative to the National Coalition, the exiled opposition bloc that is widely recognized and supported by Western and Arab countries such as Qatar and Saudi Arabia.
"Arab, Kurdish and all faiths will attend the meeting to elect a political committee to adopt a roadmap and a policy charter," Haytham Manna, a veteran opposition figure and a key organizer of the event, told Agence France-Presse last month.
Full report at:
https://english.alarabiya.net/en/News/middle-east/2015/06/08/Syrian-opposition-to-form-new-bloc-at-Cairo-meet.html
-------
Bahrain foils 'terror plot' by Iraqi-trained cell
June 8, 2015
Bahraini authorities foiled a "terrorist" plot planned by a militant cell trained in Iraq, the interior ministry said Sunday.
The ministry said in a statement that investigations have led to the arrest of individuals suspected of carrying out "terrorist acts in the kingdom" under Saraya al-Ashtar, a blacklisted anti-government group.
The state-run Bahrain News Agency said those arrested confirmed they are members of the militant group.
Some of those arrested were "assigned to form a terrorist group targeting policemen," BNA added.
Full report at:
https://english.alarabiya.net/en/News/middle-east/2015/06/07/Bahrain-says-foils-terror-plot-by-Iraqi-trained-cell-.html
-------
Unplanned Makkah district is a 'haven for drug dealers'
June 8, 2015
The unplanned Al-Otaibiya District in the central part of Makkah has become a preferred destination for illegal residents and workers after its original inhabitants left the area years ago.
The old, crowded area has provided an environment for criminal activities including illegal workshops that offer different counterfeit products and drug traffickers who take advantage of the neighborhood's narrow and hidden alleys.
Muhammad Al-Shareef, resident, said textile trading had always been associated with the area. The Al-Gammasha market – named after the Arabic word for textiles, qimash – occupies a large part of the area as it was the only built area in the region that was not demolished.
"It started decades ago with a few shops before it was expanded along adjacent streets, and now it is one of the city's well-known markets," he said.
Full report at:
https://english.alarabiya.net/en/variety/2015/06/07/Unplanned-Makkah-district-is-a-haven-for-drug-dealers-.html
--------
Mideast
Israel's odd partnership with Hamas in the face of Salafist escalation
June 8, 2015
Officially, Israel regards Hamas as an enemy, holds it entirely responsible for every attack from Gaza and responds harshly to every instance of fire. But practically speaking, its policy is the opposite.
The firing of rockets at the Negev from the Gaza Strip, which happened twice in three days last week, is still a localized problem. The rockets were launched by an extremist Salafi faction in the context of a local conflict with the Hamas government in the Strip, after Hamas arrested some of its activists and killed one of them. Hamas is working to stop the firing on Israel and Israel is giving it time to deal with it.
In the meantime, there is still hope in Israel that the regime in Gaza can overcome the internal threat and ensure that it does not escalate to the point of renewed conflict with the Israel Defense Forces, as the Salafis are threatening to do.
Full report at:
http://www.haaretz.com/news/diplomacy-defense/.premium-1.660093
------------
45 dead in Saudi-led raids on Yemen capital
June 8, 2015
SANAA: Twenty civilians were among at least 45 people killed in Saudi-led air strikes on the rebel-held armed forces headquarters in the Yemeni capital early on Sunday, a medic said.
The raids on the army headquarters in central Sanaa came a day after the kingdom's air defences shot down a Scud missile fired from the war-torn country.
They also followed the UN confirmation of June 14 as the start date for peace talks between warring Yemen factions in Geneva, which both the country's Shia Houthi rebels and its exiled government said they will attend.
"At least 20 civilians and 25 soldiers and officers were killed" in four raids that hit the headquarters in the Tahrir residential neighbourhood in central Sanaa, the medic said.
The raids hit residential buildings, including five houses that were completely destroyed, witnesses said.
Full report at:
http://timesofindia.indiatimes.com/world/middle-east/45-dead-in-Saudi-led-raids-on-Yemen-capital/articleshow/47575199.cms
---------
Yemeni Religions Join Ansarullah against Saudi Regime
June 8, 2015
Representative of Ansarullah Movement Seyed Sharafeddin underlined that different religious sects in Yemen have grown united against the Saudi regime by supporting the revolutionary movement and its leadership.
"Different religions, including Shiites, Sunnis and Ezadis believe in Ansarullah Leader Abdul-Malik al-Houthi and they have grown united against the Al Saud regime and in this way they stand up against the arrogant powers, including the US and the Zionist regime because this nation does not belong to a specific political group and they are only trying to achieve independence," Sharafeddin said, addressing a meeting of Qom Seminary instructors and scholars on Sunday.
Full report at:
http://english.farsnews.com/newstext.aspx?nn=13940317001395
-------
Turkey's Christian minority sends four deputies to parliament
June 8, 2015
Turkey's Christian minority will be represented in the Turkish parliament in greater number after a long absence as four members of the community will become deputies after the June 7 elections.
The results of the parliamentary election, one of the most critical and closely fought in years, ended the Justice and Development Party's (AKP) 13-year one-party rule, while also propelling four members of the Christian minority to the legislature.
Markar Esayan, an Armenian-Turkish journalist for the pro-AKP daily Yeni Şafak, entered the parliament on an AKP ticket as the 12th candidate from Istanbul's second election area.
Selina Doğan, from the Republican People's Party (CHP), was elected as the first deputy candidate from the second election area of the CHP's Istanbul list. Doğan, who is of Armenian origin, practices law as an attorney.
Full report at:
http://www.hurriyetdailynews.com/turkeys-christian-minority-sends-four-deputies-to-parliament.aspx?pageID=238&nID=83623&NewsCatID=338
-------
Turkish PM says election results prove AKP 'backbone of Turkey'
June 8, 2015
Turkish Prime Minister Ahmet Davutoğlu laid emphasis on his Justice and the Development Party's (AKP) "victory" in the June 7 elections, which resulted with the loss of its parliamentary majority and the Peoples' Democratic Party's (HDP) crossing the notorious 10 percent threshold.
During the traditional balcony speech at the party's headquarters in Ankara, Davutoğlu stressed the significance of the "national will," adding that the AKP had made history with the election results.
"Everyone should know that the AKP is the winner of this election. No one should take a victory from an election it lost. We sent deputies to the parliament from 76 provinces, and the first from six regions is the AKP," said Davutoğlu in his party's balcony speech, which became associated with Turkish President Recep Tayyip Erdoğan during his time in the prime minister's office.
Full report at:
http://www.hurriyetdailynews.com/turkish-pm-says-election-results-prove-akp-backbone-of-turkey.aspx?pageID=238&nID=83632&NewsCatID=338
-------
Iran Asks UN to Consider Realities in Region, Warns of ISIL Plots
June 8, 2015
Iranian Foreign Minister Mohammad Javad Zarif urged the UN to act upon the realities when dealing with regional issues, warning that a reinvigorated ISIL would attack Saudi Arabia too.
"It is important that we try to play an assisting role in the region but unfortunately, some of our friends in the region act against unity and convergence in Iraq. The UN should also act upon the existing realities in the region," Zarif said in a meeting with Special Representative of the Secretary-General for Iraq Ján Kubiš in Tehran on Sunday.
Stressing that the ISIL's is not confined to Iraq and should be seen as a danger to the entire region, he said, "If the ISIL finds a stronger position, it will show mercy neither to the Shiites nor Sunnis even in Saudi Arabia and will seriously threaten that country's security too."
Kubiš, for his part, described the perspective of Iraq's future as good and bright, and said, "Good opportunities are facing everyone which should be used to the interest of the country's people."
Full report at:
http://english.farsnews.com/newstext.aspx?nn=13940317001287
-------
Yemeni Official: Firing Scud Missiles A Warning to Saudi Arabia
June 8, 2015
A high-ranking Yemeni official underlined that firing missiles by Yemen into Saudi Arabia meant to give a warning to the Riyadh government to stop its continued attacks against the neighboring country.
"The goal of targeting Saudi Arabia with Scud missiles was to warn Riyadh and we hope that it has grasped the meaning," Al-Mayadeen TV quoted the senior official, who asked to remain anonymous, as saying on Sunday.
The source reiterated that the Yemeni army has many options that it can use against Saudi Arabia if the monarchy does not halt its attacks against the Sana'a government.
On Saturday, the Yemeni army fired a Scud missile into Saudi Arabia, forcing the monarchy's officials to cancel all Jizan and Abha flights.
Full report at:
http://english.farsnews.com/newstext.aspx?nn=13940317000602
-------
Four Saudi children die due to chemical poisoning in Iran
8 June 2015
Four Saudi children from Al-Qatif governorate in Saudi Arabia died due to chemical poisoning in one of the hotels of the Iranian city of Mash'had while 18 others have been reported to be in a critical condition.
A source close to the family said the death cases were due to the leakage of a chemical substance into the room where the four children were staying. The chemical substance came through the central air-conditioning ducts.
Full report at:
https://english.alarabiya.net/en/News/middle-east/2015/06/08/Four-Saudi-children-die-due-to-chemical-poisoning-in-Iran.html
-------
Israel-Gaza crossings to reopen after brief closure
8 June 2015
Israel is to reopen border crossings to and from the Gaza Strip on Monday, the military said, after closing them in the wake of a Palestinian rocket attack.
"I can confirm that they are opening," an army spokeswoman told AFP.
Israeli warplanes struck Gaza early Sunday for the second time in three days after cross-border rocket fire by an Islamic extremist group which is locked in a power struggle with Hamas, the de facto power in the strip.
Full report at:
https://english.alarabiya.net/en/News/middle-east/2015/06/08/Israel-Gaza-crossings-to-reopen-after-brief-closure.html
-------
Iran to open 150 alcohol treatment centres
8 June 2015
Iran plans to open 150 alcohol treatment centres, a health ministry official said on Monday, in an acknowledgement of the scale of abuse in a country where drinking is illegal.
The head of the ministry's drug abuse department, Dr Alireza Norouzi, told the ISNA news agency that the 150 day centres would provide special settings and educational courses to help people give up alcohol.
Six of the centres to be opened by March 2016 would also provide in-patient detoxification, Norouzi said.
Iran opened its first detoxification centre in Tehran in late 2013.
Authorities estimate that as many as 200,000 Iranians have an alcohol problem despite the ban on drinking in force since the Islamic revolution of 1979.
The sole exemption is for Iran's Christian minority, which is allowed to produce wine for use in mass.
Full report at:
https://english.alarabiya.net/en/life-style/healthy-living/2015/06/08/Iran-to-open-150-alcohol-treatment-centres-.html
--------
South Asia
Five soldiers martyred, 41 insurgents killed in military operations in Afghanistan
June 8, 2015
Five soldiers have embraced martyrdom while 41 militants were killed in latest military operation across the country, Ministry of Defense announced on Monday.
A statement issued Monday morning by the ministry states that the four soldiers embraced martyrdom in insurgent fire and landmine explosions in past 24 hours. The statement does not specify the exact location of the incident.
Ministry of Defense statement furhter states that 41 militants were killed and 32 wounded in military operation during the operations conducted in 15 provinces in past 24 hours.
The operations were carried out in Andar and Waghaz districts of Ghazni province, Gomal District of Paktika, Janikhil District of Paktia, Aqcha and Mardyan districts of Jawzjan, Musakhil and Sabari districts of Khost, Dehrawoud, Charchino and Surab of Urozgan, Gizab and Gujran districts of Daikundi, Nish, Shah Wali Kot, Khakriz and Panjwai districts of Kandahar, Juram, Wardouj, Yamgan and Baharak districts of Badakhshan, Imam Sahib District of Kundoz, Chamtal District of Balkh, Mizan District and Qalat the capital of Zabul province, Aab Kamari District of Badghis, Pusht Rod District of Farah, capital of Sar-i-Pul and Nawzad and Kajaki districts of Helmand province.
Six suspects were also arrested and weapons and ammunition seized by the security forces but the defense ministry has not mentioned its specific number in statement.
http://www.khaama.com/five-soldiers-martyred-41-insurgents-killed-in-military-operations-3454
-------
Ariana Planes Transport Fighters to Iraq and Syria from Iran: Afghan MP Claims
June 8, 2015
An Afghan lawmaker in the Lower House of the Parliament has claimed that the planes of Ariana Afghan Airlines are used to transport masked men to Syria and Iraq conflicts.
Head of the parliamentary commission on transportation and communication, Qais Hassan, said the planes are used to transport masked men from Iran to Baghdad, Najaf and Syrian cities.
Hassan further added that Ariana Airlines planes have been charted by Mahan Air which is illegally transporting masked men to participate in Iraq and Syrian wars.
The shareholders and officials of Ariana Afghan Airlines who were summoned by the parliamentary commission confirmed that the international flights of Ariana Airlines were chartered with an Iranian airline.
The officials called the charter of the flights as a normal agreement but did not elaborate regarding the lawmaker's claims concerning the transportation of masked men to Syria and Iraq.
Full report at:
http://www.khaama.com/ariana-planes-transport-fighters-to-iraq-and-syria-from-iran-mp-claims-1179
-------
Four civilians killed in landmine explosion in Afghanistan
June 8, 2015
Four civilians have been killed in a landmine explosion in northern Baghlan province.
Officials say the incident took place in Burka District of Baghlan province late yesterday.
The target of the landmine was the governor and police chief of Burka District.
Abdul Jabar Islami, governor of Burka District said that the bomb went off after their convoy passed through the site between the district center and Falul area.
Islami said that a civilian vehicle behind the convoy hit the landmine leaving four people killed and the vehicle destroyed.
No group has yet claimed responsibility for planting the landmine.
However, it is usual if government officials lose lives Taliban claim responsibility for the explosion but in the case civilians die they reject involvement.
http://www.khaama.com/four-civilians-killed-in-landmine-explosion-in-baghlan-3455
-------
Khaleda tells Modi about absence of democracy
June 8, 2015
BNP chief Khaleda Zia yesterday told Indian PM Narendra Modi that they believe there is no democracy in Bangladesh now.
Emerging from a 45-minute meeting, Khaleda told reporters that it was a nice talk.
"Democracy is prerequisite for sustained development. No development will come in handy if democratic values are neglected," Abdul Moyeen Khan, a standing committee member of BNP, said after a Khaleda-led five-member BNP delegation met Modi at Sonargaon Hotel.
The Indian prime minister held a one-on-one talk with Khaleda Zia for ten minutes, said Moyeen Khan.
Moyeen said: "The talk was held in a very cordial atmosphere. We have discussed bilateral issues."
Full report at:
http://www.dhakatribune.com/bangladesh/2015/jun/08/khaleda-tells-modi-about-absence-democracy#sthash.AAOaXVTp.dpuf
-------
150 Bangladeshi trafficking victims on way home
June 8, 2015
A total of 150 Bangladeshi human trafficking victims who were rescued by Myanmar Navy on May 21, boarded six buses to return home this afternoon.
Myanmar Border Guard Police handed over the trafficking victims to the Border Guard Bangladesh on the no man's land around 2:00pm, our correspondent reports from the Tumbru border quoting Col Mohammad Khalequzzaman, BGB sector commander of Cox's Bazar.
The victims will be taken to a temporary camp at the Tumbru Primary School premises in Bandarbans from where they will be taken to Cox's Bazar Cultural Centre. Later, they will be handed over to their families.
Full report at:
http://www.thedailystar.net/country/150-bangladeshis-be-repatriated-after-flag-meeting-93937
-------
Kishoreganj 'Razakar' verdict tomorrow
June 8, 2015
A special tribunal in Dhaka will deliver its verdict tomorrow on fugitive war crimes suspect Syed Md Hasan Ali of Kishoreganj.
The alleged Razakar commander of the district faces six charges including killing, abduction and arson committed the district during the Liberation War in 1971.
The International Crimes Tribunal-1 led by its Chairman Justice M Enayetur Rahim today fixed tomorrow for delivering the verdict.
The 65-year-old accused was once involved with Nezam-e-Islami, an anti-liberation organisation. But he is not active in politics now.
Full report at:
http://www.thedailystar.net/country/war-crimes-trial-kishoreganj-razakar-verdict-tomorrow-93922
---------
Africa
Two dead in NE Nigeria suicide attack: police
June 8, 2015
Maiduguri: A female suicide bomber killed two people and injured four others in northeast Nigeria, while two people were injured when a bomb exploded near a military checkpoint, police said on Sunday.
"A female suicide bomber detonated an improvised explosive device strapped to her body along the Baga-Monguno highway, killing herself and two others on Saturday," said Borno state police commissioner Aderemi Opadokun.
Opadokun said four other people were injured in the attack, which was the sixth in northeast Nigeria since Muhammadu Buhari took over as Nigeria´s new president on May 29.
There have been 11 attacks in total and at least 93 dead, according to an AFP tally.
Meanwhile, Opadokun said there was a blast at Tungushe village in the Konduga district of Borno, about 35 kilometres (22 miles) by road southeast of the Borno state capital Maiduguri, at about 9:30 am (0830 GMT) on Saturday.
"Two persons were injured and are now being treated at the hospital," he said, calling for increased public vigilance to deter fresh attacks.
There was no immediate claim of responsibility for either incident but each bore the hallmarks of Boko Haram, which has previously used female suicide bombers and homemade explosives in its six-year insurgency. (AFP)
http://www.thenews.com.pk/article-187310-Two-dead-in-NE-Nigeria-suicide-attack:-police
--------
Al Qaeda's North African wing claims two Algerian attacks
June 8, 2015
The North African wing of al Qaeda has claimed two attacks on Algerian military and security forces in the east of the country that killed at least five people, the US-based SITE jihadist monitoring service said on Sunday.
Attacks are rarer in Algeria since the end of its civil war with Islamist militants in the 1990s. But al Qaeda in the Islamic Maghreb (AQIM) is still active, and another splinter group has pledged allegiance to Islamic State.
SITE said AQIM claimed responsibility on a social media account for a roadside bomb that killed an Algerian army colonel and wounded two others last week, and an attack that killed four members of a local neighbourhood watch brigade. The attacks took place near Batna, 500 km (300 miles) east of Algiers.
Full report at:
http://english.ahram.org.eg/NewsContent/2/8/132197/World/Region/Al-Qaedas-North-African-wing-claims-two-Algerian-a.aspx
-------
ISIS militia kidnap group of Eritreans in Libya
June 8, 2015
(ADDIS ABABA) – A group of Eritrean refugees have reportedly been kidnapped by members of the Islamic State (ISIS)-affiliated militants in Libya.
The Stockholm-based International Commission on Eritrean Refugees (ICER) said 86 Eritrean refugees, 12 women and children, were kidnapped outside the capital, Tripoli.
On Wednesday, the militants reportedly ambushed a vehicle carrying Eritreans as they traveled to Tripoli and took hostage Christian after separating them from the Muslims.
Meron Estafanos, the co-founder of ICER said although nearly all members of the group lied to be Muslims for fear of kidnapping, the militants had to separate Muslims from their Christians counterparts based on their knowledge of the Koran and prayer habits.
Full report at:
http://www.sudantribune.com/spip.php?article55251
-------
Europe
Favourable view of Muslims on the rise in France, poll says
June 8, 2015
French citizens increasingly have a positive view of Muslims, according to a Pew Research Center survey, a trend that remained unchanged in the months since Islamist attacks on Charlie Hebdo magazine and a kosher market in January.
Seventy-six percent of French surveyed said they have a favourable view of Muslims in their country, four percentage points higher than last year, according to the survey published on June 2, five months after Islamist terrorists killed 17 people in attacks in and around Paris.
The attacks sparked debate among journalists, public officials and ordinary citizens on France's treatment of its 5 million Muslims, raising questions about the lack of integration and potential for radicalisation in Europe's largest Muslim community. And public opinion on Muslims has remained constant, the survey found, even becoming more positive.
"There has been no backlash against Muslims in French public opinion," the author of the research, Richard Wike, said in the report.
Full report at:
http://www.france24.com/en/20150605-french-muslims-france-attacks-pew-survey-research-opinion?dlvrit=66745
-------
Britain to send 125 more troops to Iraq in fight against IS
June 8, 2015
Prime Minister David Cameron says Britain will send 125 more troops to Iraq to train local forces fighting the Islamic State group.
The deployment brings to 275 the number of UK personnel helping the Baghdad government and Kurdish authorities battle the militants.
Cameron made the announcement Sunday at a meeting of G-7 leaders in Germany, saying IS terrorism poses one of the world's biggest challenges.
The government says most of the new troops will train local forces in dealing with roadside bombs. They will be based around the country.
Britain says the troops will remain on their bases and the UK will not send combat troops to Iraq, where 179 British personnel died between 2003 and 2009.
British warplanes are part of the US-led coalition attacking IS targets in Iraq.
http://english.ahram.org.eg/NewsContent/2/8/132206/World/Region/Britain-to-send--more-troops-to-Iraq-in-fight-agai.aspx
-------
Western thinks only hope for Libyan unity govt is UN
World Bulletin / News Desk
June 8, 2015
The United Nations plans to host on Monday in Morocco a new round of talks among Libya's warring factions in an effort to end a conflict that threatens to break up the oil producer.
The internationally recognized government has had to operate out of the East of the north African oil state since an armed alliance known as Libya Dawn took over the capital Tripoli and set up its own self-declared government last year.
Western officials say the U.N. talks are the only hope of forming a unity government and halting the fighting among factions allied to either government.
Previous rounds have yielded little progress with the two governments and parliaments arguing for months over an agreement to form a unity government, but the U.N. said this round would be "decisive".
Full report at:
http://www.worldbulletin.net/todays-news/160359/western-thinks-only-hope-for-libyan-unity-govt-is-un
--------
Danish Muslim Frown at Cemetery Defiling
June 8, 2015
CAIRO – The Danish Muslim community have vented anger over the desecration of several Muslim graves in a cemetery in western Copenhagen suburb of Brøndby, as some politicians questioned the police negligent reaction to the crime.
"A Muslim cemetery is vandalized but police don't see it as politically motivated? Why?" Socialist People's Party MP Özlem Cekic wrote on Twitter, The Local.dk reported on Sunday, June 7.
According to police spokesman Kim Madsen, the Muslim cemetery was vandalized late on Friday by unknown assailants.
Aggrieved by the attack on their dear ones graves, a banner was displayed by some families reading: "To the racists. We didn't get peace from you in our lives, let us have peace from you in our deaths!"
Full report at:
http://www.onislam.net/english/news/europe/487127-danish-muslim-frown-at-cemetery-defiling.html
-------
EU: No Iran nuclear deal without U.N. probe of past
8 June 2015
The European Union is telling Iran to cooperate with a stalled U.N. probe of suspicions that it worked on atomic arms if the country wants a nuclear deal that will see removal of sanctions.
The cautionary EU statement comes ahead of a June 30 target date for such an agreement. It was obtained by The Associated Press ahead of its delivery at a meeting of the U.N's International Atomic Energy Agency that opens Monday.
Iran denies any work on — or interest in — nuclear arms and has fended off IAEA demands for cooperation with its investigation. The EU statement says getting to the bottom of the allegations "will be essential" to a nuclear deal.
https://english.alarabiya.net/en/News/2015/06/08/EU-No-Iran-nuclear-deal-without-U-N-probe-of-past.html
-------
India
AIMPLB to Log On To Social Media for Sharia's Cause
Pervez Iqbal Siddiqui,TNN | Jun 8, 2015
LUCKNOW: The All India Muslim Personal Law Board is all set to enter social media in a big way. The Board has decided to set up a cell to regularly monitor and post its officials' stand on Sharia-related issues to deal with misgivings that figure on social media on a regular basis. The issue was taken up at the Executive Committee meeting of the Board held at Lucknow on Sunday.
The Board also decided to rope in people of all communities to launch a nationwide campaign against making lessons on Gita, Surya Namaskar and yoga compulsory in government schools. Members said making such changes in curriculum of government schools was against the law of the land and there was a need to form public opinion on such issues. It was also decided that the Board will become a party in Sharia-related cases pending before various courts of the country.
Full report at:
http://timesofindia.indiatimes.com/india/All-India-Muslim-Personal-Law-Board-to-log-on-to-social-media-for-Sharias-cause/articleshow/47579189.cms
--------
Sheikh Hasina and I think alike, PM Modi says
Indrani Bagchi,TNN | Jun 8, 2015
DHAKA: PM Narendra Modi here on Sunday said that regardless of who worships which god, people should unite against terrorism. "Promote tourism, not terrorism," he said in one of his characteristic quips.
The message was clear: In a country which is battling fundamentalism and extremism by forces like Jamaat Islami, Modi put India's support squarely behind Sheikh Hasina and her approach to terror. "Sheikh Hasina and I think alike," he declared, an endorsement which was missed by no none.
It was also a message he was careful to give to BNP leader Begum Khaleda Zia who met him in the afternoon. Foreign secretary S Jaishankar told journalists that the PM had told Begum Zia that democracy would flourish only in the absence of terrorism. Khaleda, in her remarks, expressed support for India, but complained at what she called "lack of democracy" in Bangladesh, which was impeding development.
Full report at:
http://timesofindia.indiatimes.com/india/Sheikh-Hasina-and-I-think-alike-PM-Modi-says/articleshow/47579377.cms
--------
After India denies visa to Pak official, Islamabad cries foul
June 8, 2015
NEW DELHI: The current trough in India-Pakistan ties is likely to continue with the 2 countries now locked in a face off over denial of visa by Indian authorities to a Pakistan foreign ministry official.
Even after the visa was formally denied last week, Islamabad refused to withdraw the application it had filed on behalf of the official saying that the denial by India was "unprecedented".
Pakistan wanted to post the official at its high commission here and had applied for a diplomatic assignment visa for him. Pakistan authorities have now taken up the issue with India saying this was unacceptable.
The official in question has not served in India before, a fact cited by Pakistan authorities to claim that India had no reason to deny him visa. The Pakistan high commission here has a sanctioned strength of 110 people and, according to Islamabad, the official's appointment was meant to fill in a position approved by India.
Full report at:
http://timesofindia.indiatimes.com/india/After-India-denies-visa-to-Pak-official-Islamabad-cries-foul/articleshow/47577477.cms
--------
BNP, Jamaat hold different views on Modi's visit
June 8, 2015
The key Opposition parties of Bangladesh — the Bangladesh Nationalist party (BNP) and the Jamaat-e-Islami — are in a loose alliance, but have absolutely diametrically opposite views of Prime Minister Narendra Modi's Bangladesh visit.
While the BNP thinks that the visit was "well-intended," the Jamaat said that it has only facilitated "India's interest." Prime Minister Modi concluded his trip on Sunday night with a speech to the civil society, where he said that countries would grow together in future. "If your neighbour's wall is not strong, your wall — which is adjacent to your neighbours— will collapse, howsoever strong it may be," said Mr. Modi. One of the key advisers of BNP A.K. Mahmud Chowdhury said that he liked Mr. Modi's speech. "His intentions are noble."
"We need to look at the big picture and Mr. Modi has indeed come up with a clear vision. He spoke about strengthening bi-lateral relationship, while also focusing on regional growth in every sector...this is what the doctors have ordered for Bangladesh," he said.
He refused to put his finger on any one particular issue — like water sharing — which has not met the expectation of Bangladesh. "Everyone wants those things and so do we."
http://www.thehindu.com/news/international/south-asia/bnp-jamaat-hold-different-views-on-modis-visit/article7292275.ece
--------
932 Bangladeshis languishing in West Bengal jails
June 8, 2015
As Prime Minister Narendra Modi and his Bangladeshi counterpart Sheikh Hasina are taking the bilateral ties to a new level, thousands of Bangladeshis continue to languish in West Bengal prisons even after they have completed their term. Records of the West Bengal Correctional Homes, accessed by The Hindu, show that 932 prisoners who have completed their sentences are still behind bars. Furthermore, 167 Bangladeshi children are still in the State's correctional homes.
"Of 965 Jan Khalash inmates [prisoners who have completed their sentences] in the correctional homes of the State, 932 are Bangladeshi nationals, 833 men and 99 women," Adhir Sharma, Additional Director-General & Inspector-General of the West Bengal Correctional Services, told The Hindu.
Full report at:
http://www.thehindu.com/news/national/932-bangladeshis-languishing-in-west-bengal-jails/article7292274.ece
--------
North America
Anti-Terror: Inland Muslims wary of being targeted by federal initiative
June 8, 2015
Some Inland Southern California religious leaders are worried about a federal initiative that aims to steer youths away from Islamic State and other terror groups because it focuses on Muslims.
"Definitely, we condemn terrorists who are doing horrible things to any human beings," said Omer Mohammed Ali, chairman of the board of directors for the Islamic Center of Temecula Valley.
But Ali said he is afraid the Obama administration's Countering Violent Extremism initiative will lead to domestic spying on Muslims.
"Nobody likes to be spied on," Ali said in a telephone interview. "It's not right."
And, he added, "it violates our fundamental rights and religious freedom."
Yousuf Bhaghani, board president for the Islamic Society of Corona-Norco, is also concerned.
"CVE can be a very productive program, if it's not limited to Muslims," Bhaghani said. "As it is right now, it is limited to Muslims."
Full report at:
http://www.pe.com/articles/muslim-769370-community-islamic.html
-----------
Ontario Muslim Youth Address Islamophobia
June 8, 2015
CAIRO – Tackling challenges that face Canadian Muslims, a youth-led event was held in Ontario's Mississauga on Saturday, June 6, in a bid to empower the religious minority to find its voice.
"They want Canadians to be afraid of Muslims. They can benefit if Canadians fear Muslims," Hamilton-based lawyer Hussein Hamdani told The Star.
"Because then they can say we are the only party that will protect against the hordes, locusts and animals that are coming and who are already in the land. It's a political strategy."
The Muslim lawyer, who has worked with the government since 2005 on anti-terror strategies as part of the Cross-Cultural Roundtable on National Security, believes that the government has been fueling hatred toward Muslims to lure voters.
Full report at:
http://www.onislam.net/english/news/americas/487125-ontario-muslim-youth-address-islamophobia.html
-------
Muslim chaplain surprised by outpouring of support
June 8, 2015
CHICAGO — When Tahera Ahmad logged on to Facebook late last week and posted a message about a troubling clash with a United Airlines flight attendant, she never expected the support that would pour in from people around the world, including the president of Northwestern University, where she serves as an interfaith chaplain.
Thousands of customers say they are boycotting United until its CEO, Jeff Smisik, apologizes for how Ahmad, a Muslim woman, was insulted by a flight attendant because she was wearing a headscarf.
United issued a statement Wednesday saying that employee, who worked for another airline that serves United, will no longer be allowed to serve United customers.
Meanwhile, the 31-year-old Morton Grove, Ill., native said the mass response to her complaint demonstrates the systemic problem of discrimination that has been allowed to go on for too long.
Full report at:
http://www.pressherald.com/2015/06/06/muslim-chaplain-surprised-by-outpouring-of-support/
-------
Obama huddles over Mideast on G7 sidelines
8 June 2015
President Barack Obama was huddling with allies Monday on the sidelines of an international summit to address pressing Mideast problems while trying to convince European leaders not to waver on sanctions against Russia in the face of fresh violence in Ukraine.
Obama came to the final day of the Group of Seven summit under the strain of an intimidating list of global pressures and little signs of movement to address them among the world's largest industrial democracies. Climate change and terrorism topped the official agenda, but leaders also grappled with Russia's aggressive moves on Ukraine, an upcoming nuclear deadline with Iran, tenuous trade pact politics and an impasse over Greece's international bailout.
Full report at:
https://english.alarabiya.net/en/News/middle-east/2015/06/08/Obama-huddles-over-Mideast-crises-on-G7-sidelines.html
-------
A tranquil Muslim hamlet in the Catskills - until the attack plot
June 8, 2015
ISLAMBERG: Just beyond the gated entrance to the tiny Catskills community of Holy Islamberg, population 200, cows graze and ducks glide on a tranquil pond. Modest houses of wood and cinder block sit along the hamlet's single thoroughfare, a rutted dirt road without traffic signs.
Islamberg sits about 150 miles northwest of New York City, but the small enclave of Muslim families living on shared land feels a world away from city life, which is what its founders intended 30 years ago, when they established the hamlet on 70 acres of pasture land and dense woods in upstate New York.
Last month, however, the community's serenity was disrupted by news that a Tennessee man had pleaded guilty to charges of plotting an attack on Islamberg and its residents.
Formed by a group of African-American Muslims from New York City, the community follows the teachings of Pakistani Sufi cleric Mubarik Ali Shah Gilani, who during the 1980s urged his American acolytes to leave metropolitan areas and establish rural communities centered on religious life.
Full report at:
http://www.dailytimes.com.pk/region/08-Jun-2015/a-tranquil-muslim-hamlet-in-the-catskills-until-the-attack-plot
---------
Soldier who killed 16 Afghans says he was 'consumed by war'
June 8, 2015
TACOMA, Washington: The U.S. soldier who murdered 16 Afghan villagers in 2012 says he had lost compassion for Iraqis and Afghans over the course of his four combat deployments.
The News Tribune newspaper of Tacoma used the Freedom of Information Act to obtain an eight-page letter former Staff Sgt. Robert Bales wrote to the senior Army officer at Joint Base Lewis-McChord requesting that his life sentence be reduced.
"My mind was consumed by war," Bales wrote late last year.
"I planted war and hate for the better part of 10 years and harvested violence," he added. "After being in prison two years, I understand that what I thought was normal was the farthest thing from being normal."
Full report at:
http://www.dailystar.com.lb/News/World/2015/Jun-08/301057-soldier-who-killed-16-afghans-says-he-was-consumed-by-war.ashx
----------
Southeast Asia
Indonesia's Religious Minorities Live In Hope
June 8, 2015
During the past decade attacks on Indonesia's religious minorities have cast a shadow over the county's reputation as a tolerant and moderate Muslim-majority nation. Across the archipelago Christian, Buddhist, Ahmadi and Shi'ite communities have been exposed to increasing levels of discrimination, harassment, intimidation and violence, largely at the hands of Sunni hardliners.
On May 29 2014 seven people were injured during attacks on a Catholic prayer service in Sleman, Yogyakarta. In June 2014, stone-throwing Sunni hardliners attacked a nearby church claiming it did not have a building permit. On August 4, 2013, a bomb exploded in a Buddhist temple in Jakarta, injuring three people. The following day Molotov cocktails were thrown into the yard of a Catholic high school in Jakarta.
Some of the most ferocious attacks have been directed at Indonesia's Ahmadi and Shi'ite communities. On 6 February 2011, an angry crowd in Cikeusik, Banten, murdered three Ahmadi men while a local policeman looked on. On August 29, 2012, more than 1000 Sunni villagers attacked a Shi'ite community on Madura Island, off the northeast coast of Java, burning homes and killing two people. The villagers were forced to seek refuge in a local stadium where they remained in temporary shelters for 10 months. On June 20, 2013, Sunni groups and religious leaders staged a mass protest to rid the stadium of the 'blasphemers', forcing the desperate leader of the Shi'ite community to agree to relocate the community to a town two hours away on the island of Java.
Full report at:
http://www.establishmentpost.com/indonesias-religious-minorities-live-in-hope/
-------
Malaysians on Twitter united in helping Rohingya, but divided on how
June 8, 2015
KUALA LUMPUR, June 8 — Malaysians are actively discussing the ongoing Rohingya boat crisis on Twitter and keen on helping the migrants who have been adrift on Southeast Asia's seas over the past few weeks, but are split on how exactly help should be extended, according to an analysis by research firm Politweet.
A sampling of 418 active users of the microblogging site over May 7 to 22 found that an overwhelming 85.89 per cent want the refugees to be rescued, though they suggested solutions that fell into seven different categories.
Of those for saving the Rohingya, 128 or 30.62 per cent believed that Malaysia should rescue the refugees predominantly on humanitarian grounds, followed by religious reasons.
"Many expressed disbelief that Malaysia or other governments would ignore such obvious suffering," Politweet said in its analysis, which was almost evenly split between those posting in Bahasa Malaysia and English.
Full report at:
http://www.themalaymailonline.com/malaysia/article/malaysians-on-twitter-united-in-helping-rohingya-but-divided-on-how#sthash.pDLnx4Jm.dpuf
-------
Don't use us as shield to deflect nation's problems, PAS tells Najib
June 8, 2015
KUALA LUMPUR, June 8 — PAS today told Prime Minister Datuk Seri Najib Razak not to use the Islamist party as an excuse to run away from his responsibility in dealing with the ongoing 1Malaysia Development Berhad (1MDB) fiasco.
Newly-minted PAS deputy president Datuk Tuan Ibrahim Tuan Man said party leaders will not allow themselves to be drawn into whatever shenanigans Najib has in mind.
"Do not try to use PAS to divert attention from more important issues," Tun Ibrahim said in a statement in response to Najib's offer to engage with PAS on Muslim issues.
"Najib can run away from the #NothingToHide forum. But he cannot run away from the country's problems," he added, referring to last Friday's highly-anticipated forum on 1MDB that was cancelled at the last minute.
Full report at:
http://www.themalaymailonline.com/malaysia/article/dont-use-us-as-shield-to-deflect-nations-problems-pas-tells-najib#sthash.6IuAjznI.dpuf
-------
Thailand positions itself as 'Muslim-friendly destination'
June 8, 2015
Thailand, the world's tenth-most visited country that expects to welcome no less than 28mn foreign visitors this year, is positioning itself as a Muslim-friendly destination by pushing halal tourism and launching marketing incentives for Muslim-related agencies, the audience of this year's Thailand Travel Mart Plus, a tourism conference and exhibition held on June 5 in Bangkok, learned.
According to Juthaporn Rerngronasa, acting governor for International Marketing – Europe, Africa, Middle East and Americas of the Tourism Authority of Thailand (TAT), marketing for Thailand as a "Muslim-friendly destination" is a "pilot project to promote Muslim visitors to Thailand," whereby the TAT "realises the potential and readiness of Thailand to promote this market."
Full report at:
http://www.gulf-times.com/eco.-bus.%20news/256/details/442306/thailand-positions-itself-as-%E2%80%98muslim-friendly-destination%E2%80%99
-------
Philippines aims to adopt OIC halal standards
World Bulletin / News Desk
June 8, 2015
The Philippines is aiming to become the first non-Muslim country to adopt harmonized halal standards being set by the Organization of Islamic Cooperation (OIC), according to the department of science and technology.
As the Philippine Halal Assembly in Metro Manila wrapped up this week, the department's Region 12 director Haja Shayma Zenaida Laidan expressed determination to make products compatible with the Muslim bloc's standards so they could enter the trillion-dollar halal market.
"We are the first non-Muslim country to have this," Laidan said, Philstar reported Sunday.
She stressed that it was a great opportunity for the country that the OIC-Standards and Metrology Institute of Islamic Countries (SMIIC) had handed its guidelines to DOST-12 during this week's conference.
Full report at:
http://www.worldbulletin.net/todays-news/160347/philippines-aims-to-adopt-oic-halal-standards
---------
URL: https://www.newageislam.com/islamic-world-news/new-age-islam-news-bureau/pakistan-ulema-endorsed-the-edict-of-saudi-clerics-outlawing-the-use-of-phrases-jihad-fi-sabilillah-and-qital-fi-sabilillah/d/103392