New Age Islam News Bureau
03 November 2021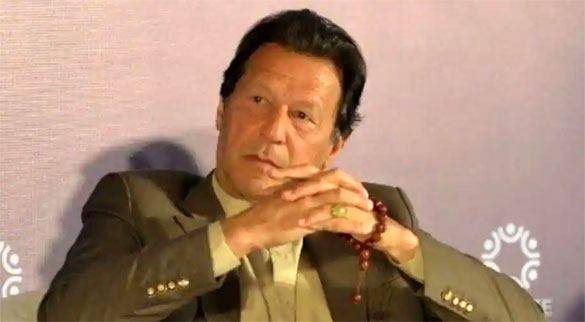 (File photo) Pakistan PM Imran Khan Photograph :( AFP)
-----
• Targeted violence against Muslims in Tripura: Supreme Court advocates and Human Rights Activists' Investigation Report
• Afghanistan: Nearly 20 Killed, Dozens Injured As Twin Bombings Hit Kabul's Biggest Hospital
• United States Commission on International Religious Freedom Chief Expresses Concern over Attacks on Muslims in Tripura
• France Bars Council of Europe's Campaign against Anti-Muslim Hate Speech
Pakistan
• Militancy, sectarian violence engulfs Pakistan after Taliban takeover in Afghanistan
• SC Refuses Group of Pilgrim's Plea to Visit Gurudwara Nankana Sahib in Pak for Guru Nanak Dev's 551st Birthday
• Pak-Afghan trade resumes as Chaman border reopens
• 99 TLP workers released from Adiala Jail
• Pakistan NSA rules out visiting India to attend conference on Afghanistan
--------
India
• In West Bengal's Malda Muslims Fund Hindu Co-Villager's Final Farewell, Brought the Deceased from Secunderabad
• J&K govt sacks DSP, school principal for terror links
• J&K gets SIA for speedy probe in terror-related cases
--------
South Asia
• ISIS-K Claims Responsibility For Kabul's Attack On Hospital
• Senior Taliban commander among dead in hospital attack: Official
• Islamic Emirate Denied Reports that ISIS has Recruited Former Troops
• Taliban bans use of foreign currency in Afghanistan
• US trying to set up military bases near Afghanistan: Russian minister
• Taliban promise progress on girls' schooling soon
• Key Taliban commander among those killed in Kabul attack
--------
North America
• Muslim-Americans more philanthropic than general population: study
• Last of California students stranded in Afghanistan make it out
--------
Europe
• Afghan inspires other refugees with mini robot creation in Greece
• Turkey rescues 256 asylum seekers pushed back by Greece
--------
Arab World
• Archaeologists Excavate Pre-Islamic Kingdoms in Saudi Arabia
• Israel launches missile attack targeting area on outskirts of Syria's Damascus: TV
• Lebanon says it wants dialogue with Saudi Arabia, not demands about Hezbollah
• Saudi Arabia's King Salman stresses GCC relations in virtual cabinet session
• Bahrain's Crown Prince visits Saudi Arabia's pavilion at COP26
• Arab Coalition says 115 Houthis killed in airstrikes around Yemen's Marib
--------
Mideast
• Islamic Jihad Threatens Israel with Open War If Any Palestinian Inmate Dies
• Islamic Republic of Iran has a say in world: Ayatollah Ramazani
• 18 people arrested in Turkey on charges of coop. with ISIL
• Iran Blasts UN Human Rights Rapporteur's Silence on US Sanctions
• Israel looks to pass budget in major test for new government
--------
Africa
• Islamic seminary students meet Sheikh Zakzaky in Abuja
• Sudan's Burhan 'hijacked and betrayed' aspirations of Sudanese people: Feltman
• UN chief voices concern over Ethiopia's state of emergency
• Gunmen kidnap 4 university lecturers, children in Nigeria's capital
--------
Southeast Asia
• City MPs Urge DBKL To Reverse Latest Liquor Ban For Infringing On Non-Muslims
• In court, woman born in Pahang to Muslim refugee parents from Cambodia bids to join siblings as Malaysian
Compiled by New Age Islam News Bureau
URL: https://www.newageislam.com/islamic-world-news/pakistan-activists-tehreek-labbaik-elections/d/125704
--------
Pakistan to Free More Than 2,000 Jailed Activists and To Allow Tehreek-e-Labbaik Pakistan to Contest Elections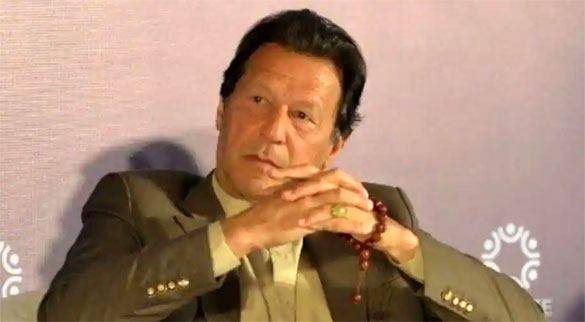 (File photo) Pakistan PM Imran Khan Photograph :( AFP)
-----
By Asif Shahzad and Mubasher Bukhari
November 2, 2021
ISLAMABAD, Nov 1 (Reuters) - Pakistan is to free more than 2,000 jailed activists of a banned Islamist militant group and allow the movement to contest elections, under a deal with the government struck to end weeks of violent clashes, negotiators on both sides said.
In return, the Tehreek-e-Labbaik Pakistan has agreed to shun the politics of violence and withdraw its longstanding demand to have France's ambassador expelled over the publication of caricatures of the Prophet Mohammad by a French satirical magazine, they told Reuters on condition of anonymity.
The caricatures have triggered repeated demonstrations by the group to protest at what it considers blasphemy.
Prime Minister Imran Khan's government banned the TLP after its protests turned violent earlier this year, designated it a terrorist group and arrested its chief Saad Rizvi.
The government and the movement said at the weekend they had reached an agreement to help end the clashes, but neither side gave details. read more
Two members of the TLP's negotiating team and one from the government side told Reuters the centrepiece of the deal was to lift the ban and allow the group to contest elections.
"The state has acknowledged that the TLP is neither a terrorist group nor a banned outfit," another member of the TLP negotiation team, Bashir Farooqi, separately told local Dunya News TV.
In addition, the government has agreed not to contest the release of the group's jailed leader as well as nearly 2,300 activists and to remove their names from a terrorist watch list, the three negotiators told Reuters.
Punjab province Law Minister Raja Basharat said nearly 1,000 of the activists had already been released.
Information Minister Fawad Chaudhry did not respond to a request for comment.
The settlement came after seven police officers were killed and hundreds more were wounded as they confronted thousands of TLP demonstrators marching up Pakistan's busiest highway from the eastern city of Lahore to the capital Islamabad.
The group, which can mobilise thousands of supporters, was born in 2015 out of a protest campaign to seek the release of a police guard who assassinated a provincial governor in 2011 over his calls to reform blasphemy legislation. read more
It entered politics in 2017 and surprised the political elite by securing over 2 million votes in the 2018 election.
The next national election is scheduled for 2023, and analysts expect political groups to start gearing up from early next year.
Despite the agreement, TLP demonstrators have refused to clear the Grand Trunk Road highway, which they have blocked for more than two weeks, until the government showed good progress on the agreement, its leaders said.
Source: Reuters
Please click the following URL to read the text of the original story:
https://www.reuters.com/world/asia-pacific/pakistan-allow-banned-islamist-group-contest-votes-end-clashes-2021-11-02/?rpc=401&
--------
Targeted Violence against Muslims In Tripura: Supreme Court Advocates And Human Rights Activists' Investigation Report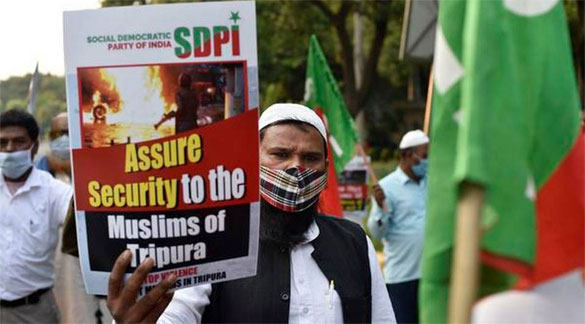 A fact-finding team led by a group of lawyers said several mosques and shops run by Muslims in Tripura had been targeted as a "result of irresponsibility of the administration" and extremist organisations. | Photo Credit: PTI
-----
03rd November 2021
NEW DELHI: After the recent communal violence in Tripura, a group of Supreme Court advocates who visited the state to investigate the incident released a report on Tuesday and alleged that it was a "targeted violence against Muslims".
Several reports of attack on members of the minority community, vandalism, arsoning of houses, shops and other properties owned by them have been reported from Tripura in the past four days. Following this, a team of advocates from the SC and human rights activists Ehtesham Hashmi, Amit Srivastav, Ansar Indori and Mukesh visited the northeastern state.
Advocate Hashmi said: "Protests were held in 51 places in Tripura over incidents of attacks on Hindu minorities in Bangladesh. Violence started after the demonstrations. The fact which has come to light before us primarily indicates that if the government had taken appropriate steps on time, the incident would not have assumed such formidable form."
The report released by the team showed that Bajrang Dal, Vishwa Hindu Parishad and Hindu Jagran Manch held protests and rallies after several Durga Puja pandals and temples in Bangladesh were vandalised on October 15.
As per the report, at least 12 mosques, nine shops, three houses of the minority community members were targeted during the protests. The fact-finding team found out that such incidents could have been prevented had the police and administration handled the situation strictly.
"Four days before this incident, Muslim organisation Jamaat-E-Ulema (Hind) met with Chief Minister Biplab Kumar Dev and informed him that such incidents could take place and there is a danger to the peace between Hindus and Muslims. Despite this, the government not taking any action is tantamount to sponsoring this violence," said the team in the report.
Source: New Indian Express
Please click the following URL to read the text of the original story:
https://www.newindianexpress.com/nation/2021/nov/03/targeted-violence-against-muslims-in-tripura-supreme-court-advocates-2379108.html
--------
Afghanistan: Nearly 20 killed, dozens injured as twin bombings hit Kabul's biggest hospital
November 3, 2021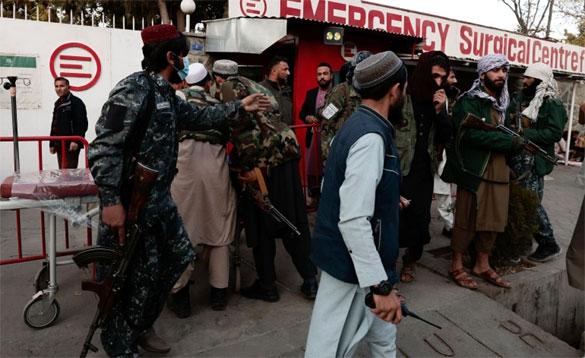 Taliban fighters check on injured comrades at the entrance of the emergency hospital in Kabul [Zohra Bensemra/Reuters]
-----
Multiple explosions have rocked Afghanistan's capital, leaving at least 19 people dead and dozens of others injured, as the war-ravaged country continues to grapple with fresh security challenges.
The two back-to-back powerful attacks were reported at the entrance of the 400-bed Sardar Mohammad Daud Khan Hospital, the country's biggest military hospital, in central Kabul's Wazir Akbar Khan area, interior ministry spokesman Qari Saeed Khosty said.
The explosions, followed by indiscriminate gunfire, led to chaos inside and outside the busy hospital, reports quoting eyewitnesses said.
At least 43 had been wounded in the attack until last reports came in. The casualty toll is likely to mount as many have been admitted to hospitals in a critical condition, reports said.
Khosty said the Taliban's special forces had rushed to the scene to secure the area.
Afghanistan's private TV Tolo News, citing an Italian NGO that runs a separate hospital in Kabul, said the hospital had received some ten people with injuries from the blast site.
There was no immediate claim of responsibility for the attack, but according to Kabul-based Bakhtar News Agency, a number of Daesh terrorists had entered the hospital and clashed with security forces.
The hospital had come under terrorist attack in 2017, when gunmen disguising as medical personnel killed at least 30 people.
There have been a series of terrorist attacks across Afghanistan in recent weeks, mostly claimed by the Daesh terrorist group, which is engaged in fierce power rivalry with the Taliban.
Today's attack is the worst since the twin bombings outside the Hamid Karzai International Airport in Kabul late August, which killed at least 175 people.
Senior Taliban officials have unequivocally blamed the US for the resurgence of Daesh, which ironically coincided with the botched exit of the US-led coalition forces from Afghanistan mid-August.
Source: ABNA24
Please click the following URL to read the text of the original story:
https://en.abna24.com/news/afghanistan-nearly-20-killed-dozens-injured-as-twin-bombings-hit-kabuls-biggest-hospital_1194882.html?__cf_chl_jschl_tk__=pmd_7aR_YE.m2BM7ukiTST8Vb7WNk.QBW4I8C1XkfVV2ud0-1635925694-0-gqNtZGzNApCjcnBszQkR
--------
United States Commission on International Religious Freedom Chief Expresses Concern over Attacks on Muslims in Tripura
03.11.21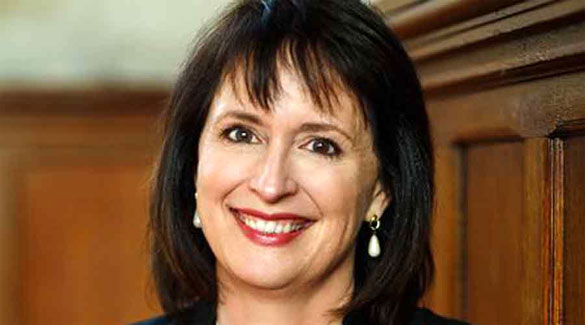 USCIRF Chair @nadinemaenza
----
The chairperson of the United States Commission on International Religious Freedom (USCIRF) has expressed concern over last week's attacks on Muslims in Tripura and urged the Union government to "stop violence against religious communities".
The violence took place during a rally taken out by the Vishwa Hindu Parishad on October 26 in North Tripura in protest against the attacks on Hindus in Bangladesh. The High Court of Tripura has initiated a suo motu PIL.
On Monday, USCIRF chairperson Nadine Maenza tweeted: "USCIRF is concerned about ongoing violence in #Tripura against #Muslims, which some regard as retaliation for attacks against #Hindus in #Bangladesh last month. The Indian government must stop violence against religious communities."
This was amplified by the USCIRF from its Twitter handle, as was a similar tweet by commission member Anurima Bhargava: "USCIRF is particularly alarmed about reports from #Tripura of mobs desecrating mosques & torching properties of #Muslims. The Indian govt must bring those responsible for instigating & engaging in religious violence to justice & must prevent further attacks."
The USCIRF is an independent and bipartisan federal government entity created under the 1998 International Religious Freedom Act to monitor the universal right to freedom of religion or belief overseas.
While fellow travellers of the Narendra Modi government tend to see an international conspiracy in such comments from watchdogs like the USCIRF, the fact is that the commission had also expressed deep concern about the attacks on Durga Puja festivities and the communal violence in Bangladesh last month.
At the same time, the USCIRF acknowledged the measures taken by the Sheikh Hasina government in Bangladesh to crack down on those responsible for the violence. The Modi government, too, had acknowledged these measures, noting publicly soon after the first incidents were reported that the Bangladesh government was taking action in these cases.
While the Indian government has received flak for not being more vocal on the violence against Hindus in Bangladesh, officials maintained that since Dhaka was taking action there was no reason why India should be issuing public statements and making things difficult for the Hasina government.
Over 600 arrests have been made and Prime Minister Hasina herself had taken the lead in speaking out against the attacks.
Source: Telegraph India
Please click the following URL to read the text of the original story:
https://www.telegraphindia.com/india/uscirf-chief-expresses-concern-over-last-weeks-attacks-on-muslims-in-tripura/cid/1837067
--------
France Bars Council of Europe's Campaign against Anti-Muslim Hate Speech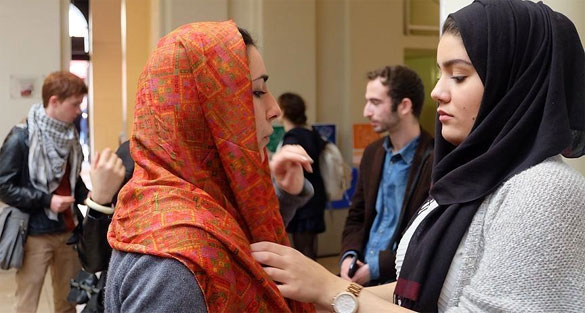 'Wearing a headscarf is encouraged in the campaign's video. Photo AA.com
-----
Yusuf Ozcan
03.11.2021
PARIS
France has barred a campaign launched by the Council of Europe against anti-Muslim hate speech.
Speaking to LCI TV, Sarah El Hairy, the minister of state for youth and engagement attached to the minister of national education, youth and sport, said the campaign by the council's Inclusion and Anti-Discrimination Division shocked her.
The campaign is against the values of France, El Hairy claimed.
"Wearing a headscarf is encouraged in the campaign's video. We condemn this. France conveyed its disapproval of this campaign [to the Council of Europe] and the campaign was cancelled."
They have defended secularism and religious freedom, but this campaign defended the headscarf, she added.
After France ensured the cancellation of the campaign, the Council of Europe deleted the related posts on its campaign's Twitter account.
The European Commission provided funding for the campaign as part of the law, equality and citizenship program, according to the Le Figaro daily.
The Council of Europe launched the campaign against the discrimination of women wearing headscarves Thursday.
Images of women wearing headscarves were shared on the Twitter account of the Inclusion and Anti-Discrimination Division with the slogans "Freedom is in the headscarf," "Bring joy & accept hijabs" and "Beauty is in diversity as freedom is in the hijab."
https://www.aa.com.tr/en/europe/france-bars-council-of-europes-campaign-against-anti-muslim-hate-speech/2410319
Germany: Muslim Afghan 'refugee' destroys statue of Christ inside pro-migrant Lutheran church
November 02, 2021
On Oct. 28, a 25 years old Afghan, who came to Germany in the autumn of 2015 during the height of the migrant invasion as a refugee, desecrated a local church building in the Thuringian town of Nordhausen. The man entered the Evangelical (Lutheran) St. Maria Frauenberg Church and began grabbing furniture, pews, crucifixes and ornaments, dragging them out in front of the entrance, and piling them up on the street.
He did not spare the centuries-old crucifix either that was taken down by local churchgoers during World War II to protect it from allied bombing raids. During the incident, the Afghan smashed the wooden statue of Christ attached to the cross, ripping off its hands and legs.
It is an irony that the congregation belongs to the German Lutheran Church (EKD) that is one of the largest financial donors to the migrant smuggling boats in the Mediterranean, such as the Sea Watch NGO, which are responsible for bringing tens of thousands of economic migrants to European shores. One of the lead clerics within the EKD, Thies Gundlach, remarked in the past that the work of migrant rescue boats presents a missionary opportunity for the church. There is little evidence of an influx of new churchgoers from primarily Muslim migrants arriving in Germany. Instead, the German evangelicals appear to be instrumental in destroying their own places of worship and religion.
This is the impression Pastor Klemens Müller may have had as he looked out of his window on the day of the incident, and saw the Afghan destroying his church. When he rushed down to confront him, the Afghan calmly explained to the priest that it is necessary for him to empty the church of Christian symbols because of "religious differences." He proceeded to describe the Christian faith as fundamentally wrong, and that the claim that Jesus Christ is the Son of God is a mistake, which is why he felt that it was his duty to empty the church building of any Christian symbols and furniture.
The pastor asked him what he would do if he went to Afghanistan and cleared out a mosque in the same manner. The pastor said that the man refused to consider it on those terms. Müller said there was no real dialogue the man was willing to listen to.
After the Afghan stopped speaking with the pastor, who was barely a few weeks into his job, the migrant reportedly calmly walked back into the church and finished the acts of destruction that he started earlier.
It is unclear why the pastor did not call the police immediately or tried to stop the man from desecrating his congregation's place of worship, but given the cultural and political climate in Germany, there is a fair chance the pastor was concerned about whether contacting the police would direct scrutiny back on him for being culturally or racially insensitive.
Only after the destruction was complete did the church secretary finally dare to call the police, who promptly arrived at the scene, took the intruder's personal details, and then let him go. A complaint was filed, but as the man is living in Germany under refugee status, it is unlikely he has the money to pay for the substantial damage he caused. There is also no chance he will be deported back to Afghanistan since, due to the Taliban takeover in the Central Asian country, all deportation flights have been stopped. The perpetrator will most probably get away with the act of vandalism and a blatant attack on the freedom of religion with impunity.
Any German vandalizing a mosque could expect to be charged with hate-crimes, yet the German media only spoke of "religious differences" in explaining the possible motives behind the crime. The Nordhausen local paper wrote about damage to the valuable crucifix during "transport works." The paper also claimed that it cannot be determined whether the figure of Christ on the cross was smashed intentionally or by accident. Although the difference between the two cases is rather artificial, as the act of knocking a statue off a wall and forcibly dragging it out of a building, then throwing it on a pile of rubbish contains very few instances in which it could be labeled an "accident."
Despite the man clearly admitting the attack was religiously motivated, the police appear to claim at the same time that it was not the case.
"What I see at least is that is not a religiously-motivated attack, although the suspect argued it was in this direction, and he also has an Islamic belief," said police spokesperson Patrick Martin. The police appear to be acknowledging reality and denying it all in one sentence — highly emblematic of the political and social perception around sensitive issues such as Islam and immigration in modern Germany.
The St. Maria Frauenberg Church itself operates an "open church" policy with prolonged opening times and free entry to the church building for anyone. It is unclear if that policy may be revisited in the future. For the local press in Nordhausen, the moral of the story seems to be only that "the work on tolerance among world religions seems to be urgently required."
However, the Nordhausen district administrator Matthias Jendricke (SPD) was not so conciliatory in his assessment of the attack on the church. In a statement he said that "I condemn this trespassing with property damage in the strongest possible terms. Such behavior is the reason why I made a plea in the summer not to accept any further refugees from Afghanistan. Most of them reject our culture. It is a mistake to think that they would want to integrate well, as yesterday's incident proves once again. In addition, we currently have no way of deporting people who have committed criminal offenses to their home country, because there are no longer any flight connections to Afghanistan. We don't need a new admission contingent for Thuringia, and we won't solve Afghanistan's problems if we bring unlimited numbers of people to us."
"What I see at least is that is not a religiously-motivated attack, although the suspect argued it was in this direction and he also has an Islamic belief," said police spokesperson Patrick Martin.
Source: RMX News
Please click the following URL to read the text of the original story:
https://rmx.news/egyeb/germany-afghan-muslim-refugee-destroys-statue-of-jesus-christ-inside-pro-migrant-lutheran-church/
--------
Pakistan
Militancy, sectarian violence engulfs Pakistan after Taliban takeover in Afghanistan
02nd November 2021
ISLAMABAD: After the Taliban takeover in Afghanistan, the complexities including militancy and sectarian violence are widely arising in the country, according to a media report. Pakistan's government hinted earlier at these challenges, but its voice is muted after what it perceives as its "strategic victory" with the group that it sheltered for long taking power in Kabul.
According to Al Arabiya Post, these complexities depend on two factors -- one, Taliban themselves encounter more extremist Al Qaida and local affiliates of the Islamic State-Khorasan and other, the Kabul government is unwilling to curb their ideological allies, the Tehreek-e-Taliban Pakistan (TTP).
In Pakistan, the Imran Khan-led government is facing challenges from the TTP that are from the Deobandi section of Islam and from Tehreek-e-Labbaik Pakistan (TLP) that belongs to the rival Barelvi section.
TTP is consolidating itself with help from Kabul and the TLP has unleashed its "Long March" from Lahore to Islamabad. Experts and human rights bodies fear that the inevitable socio-religious fall-out will be sectarian violence in the country, Al Arabiya Post reported.
The number of the violence registered in the portal "Violence Register Database Pakistan"
In the Christian community there are 304 incidents of violence against Pakistani Christians, specifically attacks on places of worship and persons; targeted killings, kidnappings, sectarian attacks, mob violence, bomb blasts, rapes and forced conversions between 2005 and 2021.
Source: New Indian Express
Please click the following URL to read the full text of the original story:
https://www.newindianexpress.com/world/2021/nov/02/militancy-sectarian-violence-engulfs-pakistan-after-taliban-takeover-in-afghanistan-2378750.html
--------
SC Refuses Group of Pilgrim's Plea to Visit Gurudwara Nankana Sahib in Pak for Guru Nanak Dev's 551st Birthday
Nov 2, 2021
NEW DELHI: The Supreme Court has refused to entertain the plea by a group of pilgrims seeking to visit Gurudwara Nankana Sahib and other gururdwars in Pakistan on the occasion of the 551st birthday of Guru Nanak Dev.
The petitioner Gurdwara Sahib Dasmesh Darbar had moved the top court against the October 18, 2021 communication of the Ministry of Home Affairs which declined its proposal to allow a Jatha (group of people) of 55 pilgrims to visit Sikh religious places in Pakistan either from October 23, 2021, to November 1, 2021, or from November 1, 2021, to November 11, 2021.
The ministry had said there have been certain restrictions on movement due to Covid-19 and asked the petitioner to consider joining the Jatha from November 17, 2021, to November 26, 2021, for visiting gurudwaras in Pakistan on the occasion of Gurpurab and asked it to send the proposal through stategovernment of Punjab.
While refusing to interfere with the decision of the Centre, a bench of Justices SK Kaul and MM Sundresh noted that due to the spread of the Covid-19 pandemic, certain restraints were put on the persons who wish to go to Pakistan.
"In our view, the aforesaid forms part of the practical administrative domain of the government to spread the visit of Jathas over a period of time. It is the say of the petitioner that they are older persons and they can be accommodated. They could have made a further representation if they are so pleased. It is not as if the petitioner is not being permitted to visit but their proposal is sought through the channel of the state government of Punjab for the period in question.
"We are thus of the view that there is no infringement of the Constitutional right for invocation of the jurisdiction under Article 32 of the Constitution of India which would enable us to interfere with the aforesaid process. The writ petition is dismissed accordingly," the bench said.
Source: Times of India
Please click the following URL to read the full text of the original story:
https://timesofindia.indiatimes.com/world/pakistan/sc-refuses-groups-plea-to-visit-gurudwara-nankana-sahib-in-pak-for-guru-nanak-devs-551st-bday/articleshow/87492591.cms
--------
Pak-Afghan trade resumes as Chaman border reopens
Saleem Shahid
November 3, 2021
QUETTA: Pakistani and Afghan authorities reopened the Chaman border on Tuesday after nearly a month, allowing goods transport and citizens of both countries to cross after clearance from security and customs officials.
The Chaman crossing — a major transit point for truckers moving fruit exports from the southern Afghan city of Kandahar — reopened after a final round of talks between Pakistani and Afghan authorities at Spin Buldak on Monday evening.
The Taliban authorities in Kandahar had closed the border on October 5, without informing the Pakistani border authorities on the issue of border crossing without travel documents.
Chaman and Kandahar residents allowed to cross the border on showing identity, travel papers, says official
Heavy cement blocks and boulders placed at the entry points were removed on Tuesday morning as the border remained open from 8am till 5pm without break.
"The border is opened to all kind of traffic and the people for crossing into Pakistan and Afghanistan," a senior security border official said. He explained that Afghan authorities removed all huge cement blocks and other barricades they had put on the border to facilitate border crossing without any hurdle.
Several thousand Pakistani and Afghan citizens who were waiting to return to their countries crossed the border after completing the procedure agreed upon by the authorities on the two sides. "Crossing of border is allowed on showing Afghan national identity cards (Terkeera) and Pakistan CNIC, belonging to Chaman and Kandahar," the immigration officials said, adding that a large number of people from both sides crossed the border.
With the reopening of Chaman border, Afghan transit trade resumed as trucks carrying goods were allowed to cross after clearance. "Hundreds of trucks crossed into Pakistan from Afghanistan and into Afghan areas after customs clearance," customs officials told Dawn.
Both countries were deprived of millions of rupees of customs duty and other taxes due to the border closure for 27 days.
Several rounds of talks between officials of the two sides had been held in Chaman and Spin Buldak, but remained fruitless as Kandahar Governor Yousaf Wafa insisted that Afghan nationals be allowed to cross into Pakistan without travel documents.
Thousands of Pakistanis and Afghan citizens, including patients, were stranded on both sides of the border while all trade between the two countries, including Afghan transit trade, also suffered. Hundreds of trucks carrying goods, including fresh fruits and vegetable, were stuck due to the month-long closure of the Chaman crossing.
Members of business and trade community had staged several protests during the past month against the closure. Even traffic on the Quetta-Chaman National Highway had been blocked to press the authorities to reopen one of the main Pak-Afghan border crossings.
Vice president of Pak-Afghan Joint Chamber of Commerce and Industry Imran Khan Kakar welcomed the decision to reopen the border at Chaman and said people involved in trade between Pakistan and Afghan­istan had suffered losses of millions of rupees during the past 27 days.
Source: Dawn
Please click the following URL to read the full text of the original story:
https://www.dawn.com/news/1655606/pak-afghan-trade-resumes-as-chaman-border-reopens
--------
99 TLP workers released from Adiala Jail
November 3, 2021
RAWALPINDI: As many as 99 activists of the outlawed Tehreek-i-Labbaik Pakistan (TLP) arrested in Rawalpindi and Islamabad were released from Adiala jail on Tuesday, two days after the government and the banned outfit reached an agreement.
A police official said those detained under section 16 of the Maintenance of Public Order (MPO) were released but workers against whom first information reports (FIRs) had been registered would have to obtain bail from courts.
He said there were seven TLP arrested activists against whom FIRs had been registered previously. However, no FIR was registered during the recent crackdown against any TLP activist in Rawalpindi.
Earlier, the capital administration issued the release orders of 41 TLP workers.
Officials of the administration said separate orders were issued from the office of the deputy commissioner withdrawing the detention orders.
Source: Dawn
Please click the following URL to read the full text of the original story:
https://www.dawn.com/news/1655556/99-tlp-workers-released-from-adiala-jail
--------
Pakistan NSA rules out visiting India to attend conference on Afghanistan
Nov 3, 2021
Pakistan National Security Adviser (NSA) Moeed Yusuf on Tuesday said he would not travel to India for an upcoming conference on Afghanistan on November 10 as he dismissed India's role as a "peacemaker" in the war-torn neighbouring nation. India extended the invitation to Pakistan to attend the regional conference on Afghanistan being hosted by Indian NSA Ajit Doval.
Yusuf said that he will not travel to India to attend the conference hosted by India on Afghanistan on November 10, Express Tribune newspaper reported. According to sources, even China has so far not confirmed participation and is unlikely to be represented physically in the conference.
In response to a question during a press conference, Yusuf said that a "spoiler" could not take on the role of a "peacemaker", the report said. Earlier, Pakistan's foreign office confirmed the invitation from India but said the decision would be taken at an appropriate time. India has also invited Russia, Iran, Tajikistan and Uzbekistan for the conference.
Source: Times of India
Please click the following URL to read the full text of the original story:
https://timesofindia.indiatimes.com/india/pakistan-nsa-rules-out-visiting-india-to-attend-conference-on-afghanistan/articleshow/87497678.cms
--------
India
In West Bengal's Malda Muslims Fund Hindu Co-Villager's Final Farewell, Brought the Deceased from Secunderabad
03rd November 2021
By Pranab Mondal
KOLKATA: At a time when the country is witnessing politics of polarisation, a non-descript village in West Bengal's Malda has set up an example of brotherhood between two communities. Muslim residents of minority-dominated Gargari village in Harishchandrapur police station area raised funds to bring back the body of their Hindu neighbour, Chandan Mahaldar (38), who had gone to south India in search of job after becoming jobless last year because of lockdown and died in Secunderabad (Telangana) three days ago after falling off a speeding train. They also shared shoulder to carry the body for cremation.
"Chandan was a poor villager like us. He was our neighbour. His family is in distress and what we did was nothing extraordinary. We stood by one of our neighbour's family,'' said Hasan Ali.Chandan's wife Pratima said her husband had left home to bring back smile on the faces of his family members. "I thought I would never be able to see his face for the last time. But the way our neighbours stood beside me setting aside their religious belief, I will never forget it," she said.
Chandan had returned home last year after nationwide lockdown was announced. "A few days later, my father-in-law passed away. My husband and I borrowed from local money lenders and started selling vegetables. But it did not prove effective. He borrowed money from a local contractor and left home to work as a construction worker," recounted Pratima.
Source: New Indian Express
Please click the following URL to read the full text of the original story:
https://www.newindianexpress.com/nation/2021/nov/03/muslims-fund-hindu-co-villagers-final-farewell-2379119.html
--------
J&K govt sacks DSP, school principal for terror links
M Saleem Pandit
Nov 3, 2021
SRINAGAR: The J&K government has terminated the services of two employees — a deputy superintendent of police and a school principal — for their terror links.
Official sources said services of Feroz Ahmad Lone, DSP (Prison), and Javid Ahmad Shah, principal of government higher secondary school in Bijbehara were terminated on Monday.
Lone, who was appointed as DSP (Prison) in 2012, was charged with facilitating a meeting between two youths and a jailed terrorist commander, who was arrested by NIA. He was accused of misusing his official position by facilitating issuance of passes to the two youths, who had come to meet the terrorist in Srinagar jail.
"It was in this meeting that a criminal conspiracy was hatched to send the duo to Pakistan for arms training," an official claimed, adding that both were, however, arrested before crossing over to the neighbouring country.
Source: Times of India
Please click the following URL to read the full text of the original story:
https://timesofindia.indiatimes.com/india/jk-govt-sacks-dsp-school-principal-for-terror-links/articleshow/87495594.cms
--------
J&K gets SIA for speedy probe in terror-related cases
Sanjay Khajuria
Nov 3, 2021
SRINAGAR: The Jammu & Kashmir government has given a go-ahead for the formation of a State Investigation Agency (SIA) to effectively investigate terror-related cases as well as coordinate with central agencies.
The Jammu and Kashmir home department in an order issued on Monday said the SIA, which will be headed by a director, will be mandated to probe terror offences like terror finance and false propaganda and those under the Unlawful Activities (Prevention) Act (UAPA).
The Counter Intelligence units of Kashmir and Jammu, both under the CID department of the police, will also be the police stations under the new SIA for registering of terror-related cases, it said. The CID chief will be the ex-officio director of the SIA, the order said.
According to the order, in-charge of police stations will mandatorily intimate the SIA immediately upon registering a terror-related case and about any such cases where any terrorism linkage surfaces during the probe.
If any case is not taken by the NIA, the director general of police (DGP), having regard to the gravity of the offence and progress of the probe, will determine in consultation with SIA whether it is fit to be investigated by the agency and transfer the probe, it said.
"However, if there is a difference of opinion, the DGP shall take a decision, while recording the reasons in writing," the order said.
If the case is not handed over to the SIA and local police continue to probe it, the police headquarters will ensure that the SIA is informed about the progress of investigation at regular intervals, it said.
Giving an edge to the SIA, the order said if the agency is of the opinion that an offence related to the "scheduled crimes" has been committed, it can register an FIR keeping the DGP informed.
Source: Times of India
Please click the following URL to read the full text of the original story:
https://timesofindia.indiatimes.com/india/jk-gets-sia-for-speedy-probe-in-terror-related-cases/articleshow/87495572.cms
--------
South Asia
ISIS-K claims responsibility for Kabul's attack on hospital
03 Nov 2021
Islamic State of Iraq and Syria-Khorasan (ISIS-K) took responsibility for the attack on Sardar Muhammad Daud Khan military hospital in the Afghan capital on Tuesday, November 2, and claimed that the attack has left tens of the Taliban fighters killed.
A Taliban spokesperson Bilal Karimi has said that three Taliban fighters, three women, and a child were killed and five people more were wounded in the attack.
Bilal Karimi has added that the Daesh (ISIS-K) fighters wanted to enter the hospital and kill civilians but the Taliban fighters prevented them and killed all five assailants.
As per reports, the group attack that was conducted on Tuesday afternoon left 22 killed and over 50 wounded.
Source: Khaama Press
Please click the following URL to read the full text of the original story:
https://www.khaama.com/isis-k-claims-responsibility-for-kabuls-attack-on-hospital-57457/
--------
Senior Taliban commander among dead in hospital attack: Official
03 November ,2021
A Taliban military commander in Kabul was among the fighters killed when his men responded to an ISIS attack on a hospital, officials said Wednesday.
Hamdullah Mokhlis, a member of the hardline Haqqani network and an officer in the Badri Corps special forces, is the most senior figure to have been killed since the Taliban seized the capital.
"When he got the information that Sardar Daud Khan Hospital was under attack, Maulvi Hamdullah (Mokhlis), the commander of the Kabul corps, immediately rushed to the scene," the Taliban media official said.
"We tried to stop him but he laughed. Later we found out that he was martyred in the face-to-face fight at the hospital," he added.
At least 19 people were killed on Tuesday in the attack claimed by the Taliban's hardline rivals, the IS-K, on Kabul's main military hospital.
The attack began with a suicide bomber detonating his explosives near the facility's entrance before gunmen broke into the hospital grounds.
As part of the response, Kabul's new rulers deployed their special forces to the roof of the building in a helicopter captured from Afghanistan's former US-backed government.
Source: Al Arabiya
Please click the following URL to read the full text of the original story:
https://english.alarabiya.net/News/world/2021/11/03/Senior-Taliban-commander-among-dead-in-hospital-attack-Official
--------
Islamic Emirate Denied Reports that ISIS has Recruited Former Troops
2021-11-03
Kabul (BNA) Sources affiliated with the Islamic Emirate say that ISIS has no permanent presence in Afghanistan and that the joining of a number of former Afghan soldiers to the group is unrealistic.
Bilal Karimi the deputy spokesman for the Islamic Emirate called foreign media reports about the former security forces joining ISIS propaganda, saying that ISIS had no fixed position in Afghanistan and would be suppressed by Islamic Emirate forces even if it made any move.
He stressed that ISIS in Afghanistan does not have the capacity to recruit people.
This statement is in response to the news published by a number of Western media that a number of former soldiers have joined forces with ISIS.
The Wall Street Journal, meanwhile, claims that US-trained intelligence and military agents of the former Afghan government are registering to join ISIS.
The newspaper said that some trained Afghan soldiers who are under threat from the Taliban have signed up to join ISIS.
But these statements have been denied by the news sources of the Islamic Emirate.
Earlier, Zabihullah Mujahid, spokesman for the Islamic Emirate, said that a number of countries were promoting ISIS in Afghanistan, while a number of political analysts said that circles outside Afghanistan were trying to magnify ISIS in Afghanistan. By magnifying this group, they introduce Afghanistan as a dangerous country for others.
Source: Bakhtar News
Please click the following URL to read the full text of the original story:
https://bakhtarnews.af/islamic-emirate-denied-reports-that-isis-has-recruited-former-troops/
--------
Taliban bans use of foreign currency in Afghanistan
Nov 3, 2021
KABUL: In a move that is certain to cause further disruption to the Afghanistan economy that is already on the brink of collapse, the Taliban has announced a complete ban on the use of foreign currency in the country and warned of action for violating the order, reported Al-Jazeera.
"The Islamic Emirate (Taliban) instructs all citizens, shopkeepers, traders, businessmen and the general public to ... conduct all transactions in Afghanis and strictly refrain from using foreign currency," the news channel quoted the statement by Taliban spokesperson Zabiullah Mujahid as saying.
"Anyone violating this order will face legal action," the statement further read.
According to the channel, the US dollar is the widespread medium of exchange in Afghanistan's markets. The bordering areas use the currency of neighbouring countries like Pakistan for trade purposes, reported the news channel.
Notably, Afghanistan's access to more than USD 9.5 billion has been blocked by the US, the World Bank and the International Monetary Fund (IMF) after the Taliban take-over in Kabul on August 15.
Source: Times of India
Please click the following URL to read the full text of the original story:
https://timesofindia.indiatimes.com/world/south-asia/taliban-bans-use-of-foreign-currency-in-afghanistan/articleshow/87499823.cms
--------
US trying to set up military bases near Afghanistan: Russian minister
Nov 3, 2021
KABUL: Russian foreign minister Sergey Lavrov has said that President Vladimir Putin has told his American counterpart Joe Biden at the Geneva Summit that the country is against the US attempts to form agreements with Central Asian countries to deploy the US military on their territory, reported TOLOnews.
The foreign minister claimed that the US is continuing the efforts to establish military bases in a country neighbouring Afghanistan, reported the news channel citing his interview with the Russian Television.
The proposals have been sent to Pakistan, Uzbekistan and Kyrgyzstan, however, the countries rejected the proposal, according to TOLOnews.
"Well aware of the Americans' intrusiveness, I do not rule out that they will be pressing for the same aim from different sides. I've heard that they have been trying to persuade India to grant the Pentagon some opportunities on the Indian territory," the news channel quoted Lavrov as saying.
Meanwhile, various reactions came up on the US proposals for the deployment of the forces.
Source: Times of India
Please click the following URL to read the full text of the original story:
https://timesofindia.indiatimes.com/world/south-asia/us-trying-to-set-up-military-bases-near-afghanistan-russian-minister/articleshow/87499603.cms
--------
Taliban promise progress on girls' schooling soon
November 3, 2021
KABUL: Afghanistan's Taliban government said it would announce good news soon on older girls being allowed to go back to school, but urged the international community to help it fund the process as most external aid has been halted.
Ensuring rights for women and girls has been one of the most sensitive issues facing the Taliban since they seized power in August, with international bodies demanding proof they were being respected before any discussion of formal recognition of the new government.
In September, the hardline Islamist movement drew global condemnation when it allowed boys to return to the classroom but told older girls to stay home until conditions permitted their return.
"Inshallah we will have a good announcement for the whole country, the whole nation," Waheedullah Hashimi, Director of External Programmes and Aid at the Ministry of Education, said in an interview.
In some northern areas, girls have already resumed their education but others are forced to study in hiding and heavy scepticism remains with countries from the United States to Russia demanding they match promises with action.
"Our Ulema (religious scholars) are working on it, and soon inshallah, we will announce it to the world," Hashimi said.
The effective ban on educating girls beyond primary school echoed decisions by Taliban's previous government, between 1996-2001, when women were largely shut out of paid employment and girls were not allowed to go to school.
Hashimi said the movement was committed to educating girls and was working on ways of getting them back to school. He said no women teachers had been laid off, and that this was "a positive message to the world that we are working on a mechanism. We are not working on deleting them from our schools and universities."
However, Hashimi also said that education, like other areas of government, had been hit hard by the abrupt withdrawal of foreign support following the collapse of the Western-backed government in August and he appealed for aid to be restored.
"If they truly want to see girls in schools, they ought to help us now," Hashimi said.
While education spending had been increasing slowly under the last government, a UNESCO report said that external aid represented almost half the education budget in 2020.
As well as the issue of girls' education, Hashimi said the ministry was working on a new curriculum for schools to bring them into line with the principles of Islam, local culture, and international standards.
Source: Dawn
Please click the following URL to read the full text of the original story:
https://www.dawn.com/news/1655602/taliban-promise-progress-on-girls-schooling-soon
--------
Key Taliban commander among those killed in Kabul attack
03 Nov 2021
Hamdullah Mukhles, a key and senior commander of the Taliban and one who entered Arg (Presidential Palace), now Prime Minister's office for the first time on August 15 killed in Kabul's Tuesday, November 2 attack on the hospital.
The Taliban did not say anything about his killing though, sources have confirmed that Mullavi Hamdullah Mukhlis was among dozens killed in Kabul.
Mukhlis was reportedly appointed as commander of military corps in Kabul and was one of the prominent commanders of the Taliban.
Source: Khaama Press
Please click the following URL to read the full text of the original story:
https://www.khaama.com/key-taliban-commander-among-those-killed-in-kabul-attack-6856858/
--------
North America
Muslim-Americans more philanthropic than general population: study
Michael Gabriel Hernandez
02.11.2021
WASHINGTON
Muslim-Americans are more philanthropic than the general population, a study has indicated.
Sponsored by the Islamic Relief USA non-profit, the Oct. 26 survey from Indiana University–Purdue University Indianapolis's Muslim Philanthropy Initiative, found that on average, Muslims gave $1,810 to faith-based causes compared to $1,138 given by non-Muslims.
When looking at non-faith-based causes, Muslims gave $1,400 compared to non-Muslims who donated $767. Unlike non-Muslims, however, Muslims gave more to overseas causes than domestic, the study found.
Asked what motivated them to give, more than 85% of Muslim-American respondents said they donate "because I feel compassion toward people in need" compared to about 75% of non-Muslims who said the same.
Still, 60% of Muslims cited tax deductions as a motivating factor, compared to just over 50% of non-Muslims.
Muslims make up around 1% of the overall US population. The web-based survey included about 2,000 adults, half of which were Muslim, from across the US.
Source: Anadolu Agency
Please click the following URL to read the full text of the original story:
https://www.aa.com.tr/en/americas/muslim-americans-more-philanthropic-than-general-population-study/2410156
--------
Last of California students stranded in Afghanistan make it out
03 November ,2021
The last of several Afghan refugee families who had resettled near San Diego only to end up trapped in their homeland during summer visits amid the Taliban takeover in August have made it safely out of the country, school officials said on Tuesday.
The final stranded family group consisting of four students from the Cajon Valley Union School District and their mother made their way to Kabul, the Afghan capital, and took a flight to Doha, Qatar, according to district spokesman Howard Shen.
He said the group, stuck in Afghanistan since August after the Taliban swiftly seized power, got out of the country "with lots of assistance," but he declined to elaborate on the precise means of their departure.
A statement from the school district, located in the San Diego suburb of El Cajon, said the stranded family were helped by various aid organizations and government officials who asked not to be named.
School district community liaison representatives, working with staff from their local member of Congress, Darrell Issa, a Republican, had previously arranged exits for 19 other immigrant students and their parents likewise trapped during vacation visits to Afghanistan, according to the statement.
Afghan refugees account for a few hundred of the 17,000 students enrolled in Cajon Valley schools.
District officials said such families likely saw the summer of 2021 as their last, best chance to safely pay a return visit to Afghanistan to see loved ones before the US military pulled out but ended up caught in the ensuing chaos when the Afghan government abruptly fell.
The superintendent of the San Juan School District in Sacramento County has said nine local Afghan refugee families, comprising a total of 24 students, were still stranded in Afghanistan under similar circumstances and in need of rescue.
Source: Al Arabiya
Please click the following URL to read the full text of the original story:
https://english.alarabiya.net/News/world/2021/11/03/Last-of-California-students-stranded-in-Afghanistan-make-it-out
--------
Europe
Afghan inspires other refugees with mini robot creation in Greece
Derya Gulnaz Ozcan
03.11.2021
An Afghan refugee who moved to Greece five years ago became an inspiration for other migrants with a mini robot he created through his own means while struggling to hold onto life.
Saidullah Karimi lives in the capital Athens with his physiotherapist wife, Shaista Karimi, and their four children aged 11, 14, 22 and 23.
Karimi told Anadolu Agency that he decided to produce the robot, which he named Athens, in order to show what refugees can achieve when given the opportunity and how they can benefit society.
Karimi, who worked as an orthopedic technician in Afghanistan for more than 20 years, now works as a translator for a non-governmental organization to support his family while keeping ties to his profession, which he has dedicated himself to for years.
Recalling the difficulties they faced in their initial days after arriving in Athens, Karimi said they had a "very frustrating time."
"The economy was not good here, especially for refugees. Because we're unable to speak or understand the language. I also looked for an orthopedics workshop where I could practice my profession, but unfortunately, I couldn't find it," he said.
Changing image of refugees
He said his effort was not just to stand on his own two feet, but also to change people's perceptions about refugees and to inspire and encourage other immigrants.
"I was depressed because I couldn't find work. When I applied for jobs in some orthopedic workshops, they laughed at me and refused to hire me. I am now sure if it was for economic reasons, or there were other reasons. However, when I was grieving at home, I decided to demonstrate to them the capabilities of refugees," he commented.
Noting that the robot production phase took a year, Karimi said the idea for a robot production came to his mind while he was drinking a soft drink, and noticed that the bottle had a "proper shape" to make a thigh bone.
"Then I started to draw a design and then began making the robot," he said.
Karimi informed that the robot is made entirely of recyclable waste materials, which sends a message about environmental consciousness.
The robot is a prototype with sensors in its eyes and can move its head right and left by following hand movements, he explained and added that if given the opportunity, it may be transformed into a device that helps children with walking difficulties and teaches them how to walk.
Karimi, who reads books and conducts lessons to children at the refugee camp on Samos Island, stressed the need of providing support to refugee children living in challenging circumstances.
Source: Anadolu Agency
Please click the following URL to read the full text of the original story:
https://www.aa.com.tr/en/europe/afghan-inspires-other-refugees-with-mini-robot-creation-in-greece/2410300
--------
Turkey rescues 256 asylum seekers pushed back by Greece
02.11.2021
Turkey on Tuesday rescued some 256 asylum seekers who were illegally pushed back to Turkish waters by Greece.
Of the asylum seekers, the Turkish Coast Guard rescued 99 off the coast of Kusadasi in the western Aydin province, plus 157 others off the coast of the Aegean province of Izmir.
Turkey and human rights groups have denounced Greece's practice of pushbacks, saying that in addition to violating international law, the pushbacks endanger innocent asylum seekers, including women and young children.
In a separate development, Turkish security forces held 32 irregular migrants in the northwestern province of Kirklareli.
Turkey has been a key transit point for irregular migrants who want to cross into Europe to start new lives, especially those fleeing war and persecution.
Source: Anadolu Agency
Please click the following URL to read the full text of the original story:
https://www.aa.com.tr/en/europe/turkey-rescues-256-asylum-seekers-pushed-back-by-greece/2410021
--------
Arab World
Archaeologists excavate pre-Islamic kingdoms in Saudi Arabia
02/11/2021
AL ULA, Saudi Arabia--Amid the arid desert and mountains of Al Ula in northwest Saudi Arabia, archaeologists are working to excavate the remnants of the ancient and long-forgotten kingdoms of Dadan and Lihyan.
Al Ula, a flagship tourist destination since it opened in 2019, is known chiefly for the majestic tombs of Madain Saleh, a 2,000-year-old city carved into rocks by the Nabateans, the pre-Islamic Arab people who also built Petra in neighbouring Jordan.
A team of French and Saudi archaeologists is now focused on excavating five nearby sites related to the Dadanite and Lihyanite civilisations, important regional powers that flourished 2,000 years ago.
"It's a project that really tries to unlock the mysteries of (these) civilisations," said Abdulrahman Al-Sohaibani, who is co-directing the Dadan archaeological mission.
Dadan is mentioned in the Old Testament and the Lihyanite kingdom was one of the largest of its time, stretching from Medina in the south to Aqaba in the north in modern-day Jordan, according to the Royal Commission for the project.
Spanning roughly 900 years until 100 CE, the kingdoms controlled vital trade routes but very little is known about them. The team is hoping to learn more about their worship rituals, social life and economy.
Previous excavations had been limited to the main sanctuary area, said Jerome Rohmer, a researcher with the French National Center for Scientific Research.
Source: The Arab Weekly
Please click the following URL to read the full text of the original story:
https://thearabweekly.com/archaeologists-excavate-pre-islamic-kingdoms-saudi-arabia
--------
Israel launches missile attack targeting area on outskirts of Syria's Damascus: TV
03 November ,2021
Israel launched an aerial attack with a number of missiles targeting an area on the outskirts of the Syrian capital of Damascus, Syrian state TV said early on Wednesday citing a military source.
Source: Al Arabiya
Please click the following URL to read the full text of the original story:
https://english.alarabiya.net/News/middle-east/2021/11/03/Israel-launches-missile-attack-targeting-area-on-outskirts-of-Syria-s-Damascus-TV
--------
Lebanon says it wants dialogue with Saudi Arabia, not demands about Hezbollah
03 November ,2021
Lebanon's foreign minister said Saudi Arabia was dictating impossible terms by asking the government to reduce the role of Iran-backed Hezbollah, adding Beirut's row with Riyadh be resolved if the kingdom agreed to a dialogue with the new Lebanese cabinet.
"If they just want Hezbollah's head on a plate, we can't give them that," the minister, Abdallah Bou Habib, told Reuters in an interview on Tuesday.
"Hezbollah is a component of politics in Lebanon. It has a regional armed dimension, yes, but this is beyond what we can resolve," he said.
Lebanon is facing its worst rift yet with Gulf Arab states, spurred by a minister's critical comments about the intervention in Yemen that described the war there as futile.
Saudi Arabia and some Gulf Arab allies have reacted angrily to the remarks made by the information minister in an interview last week, which he'd filmed before taking up his position in cabinet.
Riyadh expelled Lebanon's ambassador, banned all imports from Lebanon and recalled its envoy for consultations.
Kuwait and Bahrain followed suit by expelling the top envoys in their own capitals, while the United Arab Emirates withdrew all its diplomats from Beirut.
Saudi Arabia has said its actions were driven not just by George Kordahi's comments but rather were rooted in its objection to the increasing dominance of Hezbollah over Lebanese politics.
The row is part of a longstanding feud between Saudi Arabia and Iran that has played out in proxy conflicts across the region, from Yemen to Syria to Iraq.
Gulf states are traditional aid donors to Lebanon but for several years have been increasingly dismayed by Hezbollah's expanding power, and have so far been loathe to help rescue Lebanon from a devastating economic crisis.
Mutual dialogue
On Tuesday, Bou Habib told Reuters he believed mutual dialogue between Lebanon and Saudi Arabia was the only way forward to solving the dispute. But he added that there had been no meetings on any level between both parties since Prime Minister Najib Mikati's cabinet was formed on Sept 10.
"There has been no dialogue (with Saudi Arabia) even before the problem with minister Kordahi ... the Saudi ambassador here never communicated with us," Bou Habib said.
"He (the Saudi ambassador) was here and was communicating with a lot of Lebanese politicians, but he wasn't communicating with us," he said.
"We need to know what they want... we prefer dialogue to dictates."
Kordahi has refused to resign over the incident, but Bou Habib said it was unclear whether his resignation would solve the rift with Saudi at this point, although it could be enough for others in the Gulf.
The only offer on the table towards a resolution so far has come from Qatar, whose Emir met Mikati in Glasgow on the sidelines of the COP26 meeting on Monday, Bou Habib said.
"There is the possibility of a Qatari mediation," Bou Habib said, but added that it was in the initial stages and that the Qataris had not spoken with the Saudis yet over the matter.
"There is no other initiative."
Qatar has denounced the Kordahi comments but has not announced any diplomatic initiative over the incident.
Source: Al Arabiya
Please click the following URL to read the full text of the original story:
https://english.alarabiya.net/News/middle-east/2021/11/03/Lebanon-says-it-wants-dialogue-with-Saudi-Arabia-not-demands-about-Hezbollah
--------
Saudi Arabia's King Salman stresses GCC relations in virtual cabinet session
03 November ,2021
Saudi Arabia's King Salman bin Abdulaziz Al Saud chaired the Kingdom's Cabinet's virtual session on Tuesday, according to the official Saudi Press Agency (SPA).
The King briefed the Cabinet on two phone calls he made to Bahrain's King Hamad bin Isa Al Khalifa and to Kuwait's Emir Sheikh Nawaf al-Ahmad al-Sabah, where he stressed the solidarity and deep-rooted relations among Gulf Cooperation Council (GCC) states.
The Cabinet session also addressed the G20 Leaders' Summit which was held in Rome, Italy, and Saudi Arabia's affirmation at the summit of continuing its leading role in economic and health upturn and recovery from global crises, as well as its keenness to strengthen multilateral action to achieve prosperity in the countries of the G20 and the entire world, SPA reported.
The Cabinet reviewed recent meetings and talks that took place between Saudi Arabia and several countries with the aim of developing and strengthening relations in various fields, Acting Minister of Media Dr. Majid bin Abdullah al-Qasabi said in a statement to SPA.
The press agency reported that the Cabinet also reviewed Saudi Arabia's fifth annual Future Investment Initiative (FII) Summit last week that brought together representatives of governments, companies, investors and innovators from all over the world "to explore pioneering solutions in order address challenges."
Source: Al Arabiya
Please click the following URL to read the full text of the original story:
https://english.alarabiya.net/News/gulf/2021/11/03/Saudi-Arabia-s-King-Salman-stresses-GCC-relations-in-virtual-cabinet-session
--------
Bahrain's Crown Prince visits Saudi Arabia's pavilion at COP26
03 November ,2021
Bahrain's Crown Prince Salman bin Hamad Al Khalifa visited Saudi Arabia's pavilion at the 26th UN Climate Change Conference of the Parties (COP26) in Scotland's Glasgow, where he was received by the Kingdom's ambassador to the UK Prince Khalid bin Bandar bin Sultan.
During his tour of the Saudi pavilion, the Crown Prince of Bahrain was briefed on the works of the coordination meeting of the Saudi delegation participating in the conference, the official Saudi Press Agency (SPA) reported Tuesday.
"The Crown Prince of Bahrain praised the efforts being exerted by the Saudi delegation in introducing the projects and measures taken by the Kingdom of Saudi Arabia within the programs of the Saudi Vision 2030 to combat climate change," according to SPA.
Saudi Arabia's Prince Khalid thanked the Crown Prince of Bahrain for his visit to the pavilion.
During its G20 Presidency last year, Saudi Arabia strengthened its leadership role towards common international issues and contributed to the protection of the planet, SPA said in a report.
Source: Al Arabiya
Please click the following URL to read the full text of the original story:
https://english.alarabiya.net/News/gulf/2021/11/03/Bahrain-s-Crown-Prince-visits-Saudi-Arabia-s-pavilion-at-COP26
--------
Arab Coalition says 115 Houthis killed in airstrikes around Yemen's Marib
02 November ,2021
The Arab military coalition backing the government in Yemen said on Tuesday that 115 Houthi fighters were killed in air strikes around the strategic city of Marib.
The Iran-backed Houthis rarely comment on losses, and AFP could not independently verify the toll.
Source: Al Arabiya
Please click the following URL to read the full text of the original story:
https://english.alarabiya.net/News/gulf/2021/11/02/Arab-Coalition-says-115-Houthis-killed-in-airstrikes-around-Yemen-s-Marib
--------
Mideast
Islamic Jihad Threatens Israel with Open War If Any Palestinian Inmate Dies
2021-November-2
"We fervently stand by the prisoners, and warn the Israeli occupation not to harm their lives," Mohammed Shalah, an Islamic Jihad leader, told Al-Mayadeen television news network on Monday evening.
He added, "The martyrdom of each of the prisoners would aggravate the situation and will spare no one unharmed ... The resistance [front] would intervene and take actions to protect [Palestinian] prisoners."
Shalah noted that Israel is well aware of the fact that Palestinian resistance factions will not leave their loved ones defenseless in the regime's prisons.
"We will defend the captives with all available means. All options are on the table," he asserted.
"Our current struggle is not less important than battles fought in the West Bank, the Gaza Strip, Al-Quds, and elsewhere in Palestinian territories ... The resistance will not back down. We are ready to start a direct war in case a Palestinian inmate is martyred," the Islamic Jihad leader pointed out.
"Prisoners will see that all Palestinian groups and the entire nation are by their side," Shalah said, stressing that a joint operations room has been set up to monitor the situation of Palestinian detainees.
Back on October 23, the secretary general of the Islamic Jihad resistance movement announced the group's threats to go to war with Israel in support of its prisoners forced the Tel Aviv regime to end its new suppressive policies toward Palestinian detainees and make concessions.
"Some 250 of our inmates went on hunger strike a few days ago in protest at restrictions imposed on them. Our message to the Zionists was very clear: We will respond with force if you do not stop the criminal measures," Ziad Al-Nakhala stated during an interview with IRNA news agency in Tehran.
Following our threats, Nakhala said, Israeli officials agreed to make concessions in return for the non-disclosure of the matter, as it could have triggered backlash inside the occupied territories.
The Al-Quds Brigades, the Islamic Jihad's military wing, also said in a brief statement on October 14 that it would go to war if Israel did not end the punitive measures imposed on the movement's prisoners after the heroic escape of six Palestinians from a maximum-security Israeli detention center last month.
"We announce a state of general alert among the ranks of our fighters. We are completely prepared and at the ready," the statement read.
Nakhala had also added that the Islamic Jihad was prepared to "go to war" with Israel for its members imprisoned in Israeli jails.
"The Islamic Jihad will not leave its members in Zionist prisons to be victims at the hands of the enemy. Accordingly, we will stand with them and support them with everything we have, even if this means we must go to war for their sake," he noted on October 13.
Islamic Jihad official Tareq Ezaddin said on October 22 that "the prisoners decided to suspend the hunger strike after they scored a victory against the administration of the occupation prison authorities".
"The victory is a turning point in the confrontation with the [Israeli] jailers," Ezaddin added.
Israeli prison authorities keep Palestinian inmates under deplorable conditions lacking proper hygienic standards. The prisoners have also been subjected to systematic torture, harassment, and repression.
Many Palestinian prisoners have resorted to hunger strikes to protest against harsh prison conditions and Israel's infamous "administrative detention", under which the regime incarcerates Palestinians without charge or trial for renewable periods of three to six months.
Source: Fars News Agency
Please click the following URL to read the full text of the original story:
https://www.farsnews.ir/en/news/14000811000808/Islamic-Jihad-Threaens-Israel-wih-Open-War-If-Any-Palesinian-Inmae?651EC1B0-B8E6-8246-BBA9-60D37900EC70_kav_cup_C6FA3ED5_6D17_47D1_B6E2_F4B02CC905E0_
--------
Islamic Republic of Iran has a say in world: Ayatollah Ramazani
November 3, 2021
"The Secretary-General of the AhlulBayt (a.s.) World Assembly said, "Relying on its scientific knowledge, the Islamic Republic of Iran have a say in the world and can negotiate with the six world powers."
During his visit to Lebanon, Ayatollah Reza Ramazani, Secretary-General of the AhlulBayt (a.s.) World Assembly, visited the University of Islamic Maaref, and met with Dr. Ali Aladdin, President of the University.
In this meeting, Dr. Ali Aladdin, President of the University of Islamic Education, stated, "This year is the seventh year of the university's activity in the field of science and academic education. The University of Islamic Maaref is trying to gain its academic position in Lebanon more than other universities, and Alhamdulillah, it has been successful in this regard so far."
"The University of Islamic Maaref makes every effort to simultaneously teach science, culture and ethics to students in one format. Because we will succeed with two wings of correct knowledge and Islamic ethics. Currently, the university has 250 students, but our goal at the University of Islamic Maaref is to reach 10,000 students. We consider it obligatory for us to achieve scientific growth with the cooperation of the AhlulBayt (a.s.) World Assembly," he continued.
Following the meeting, while appreciating the good reception of the University of Islamic Maaref from the delegation of the AhlulBayt (a.s.) World Assembly, Ayatollah Ramazani praised the good use of two categories of correct and beneficial science and cultural ethics, and noted, "I believe that good science cannot succeed without good morals, and good morals cannot succeed without good science. Relying on its scientific knowledge, the Islamic Republic of Iran have a say in the world and can negotiate with the six world powers and relying on the power of science in some fields of study, the Islamic Republic of Iran is one of the top 10 countries in the world, and this power has frightened the enemies of Islam."
Source: ABNA24
Please click the following URL to read the full text of the original story:
https://en.abna24.com/news//islamic-republic-of-iran-has-a-say-in-world-ayatollah-ramazani_1194865.html
--------
18 people arrested in Turkey on charges of coop. with ISIL
November 3, 2021
Turkish security officials announced the arrest of 18 people in this country on charges of taking membership in ISIL terrorist group and carrying out large-scale terrorist activities in Turkey.
Turkish authorities have detained 18 suspected ISIL members in wide-scale operations across the country on Tue., Xinhua reported.
According to the report, anti-terror teams launched simultaneous raids at 27 addresses in Turkey's biggest city Istanbul, the southeastern provinces of Batman and Sanliurfa, and the southern Adana province against a total of 21 suspects.
Those targeted in operations were believed to provide financial support for ISIL and act on behalf of the group in Istanbul, it noted.
So far, 18 of them have been detained and operations are going on to apprehend the remaining three, the report added.
Source: ABNA24
Please click the following URL to read the full text of the original story:
https://en.abna24.com/news//18-people-arrested-in-turkey-on-charges-of-coop-with-isil_1194860.html
--------
Iran Blasts UN Human Rights Rapporteur's Silence on US Sanctions
2021-November-2
Qaribabadi made the remarks while referring to Rehman's excessive obedience for certain countries, such as the United States and Sweden, which is documented in a declaration by a group of independent UN special rapporteurs and technicians.
"Javaid Rehman's intentional silence about the status of the fundamental rights of the Iranian patients, which is deteriorating due to the US sanctions, followed by the support of some other countries, is repeated violation of the human rights of the Iranian nation, and leaves room for no doubt about the biased nature of his reports and lack of his independence, teaming him up with those who breach the human rights, not those who defend the Iranian nation's human rights," Iran's Judiciary Deputy Chief for International Affairs and Secretary of High Council for Human Rights said.
He added that "this rapporteur attaches value to any political declaration against Iran", attends the gatherings of the terrorist groups, and bases his reports on biased and deviated information, but is not yielding to identifying the real cases of breaching the human rights of the Iranian nation, leaving no doubt that the special rapporteur's reports on Iran are based on politicizing and need to be ended, he added.
Source: Fars News Agency
Please click the following URL to read the full text of the original story:
https://www.farsnews.ir/en/news/14000810000855/Iran-Blass-UN-Hman-Righs-Rapprer's-Silence-n-US-Sancins
--------
Israel looks to pass budget in major test for new government
03 November ,2021
Israeli lawmakers are set to begin marathon voting on Wednesday to try and pass the first national budget in three years, a major test for the fractious coalition government that was sworn in earlier this year after four divisive elections.
Failure to pass the budget by November 14 would bring down the government and trigger yet another election, giving former Prime Minister Benjamin Netanyahu his best opportunity to swiftly return to power.
The coalition includes eight parties from across the political spectrum and has a razor-thin margin of 61 seats in the 120-member assembly. If Netanyahu and his allies can peel away just one defector the budget could fail to pass, but most expect it will, if only because the coalition is firmly united against him.
"The moment the budget passes, this buys the government stability for several years, and what it means for the opposition is disintegration," Prime Minister Naftali Bennett said earlier this week. "They are desperate to topple the budget and to take us to a fifth election, this is their goal."
The Knesset, Israel's parliament, is expected to begin voting on hundreds of amendments in a marathon session leading up to a final vote Thursday or Friday. The government has given itself a 10-day window ahead of the hard deadline in case there are any surprises.
Israel entered a prolonged political crisis after elections in April 2019, when a right-wing party that had been allied with Netanyahu refused to sit in a government with him. The next two years brought three more hard-fought elections with no clear victor, as well as Netanyahu's indictment on serious corruption charges, which he denies.
Source: Al Arabiya
Please click the following URL to read the full text of the original story:
https://english.alarabiya.net/News/middle-east/2021/11/03/Israel-looks-to-pass-budget-in-major-test-for-new-government
--------
Africa
Islamic seminary students meet Sheikh Zakzaky in Abuja
November 3, 2021
A group of Islamic seminary (Hawza Ilmiyah) students have met with the leader of the Islamic Movement of Nigeria Sheikh Ibraheem Zakzaky.
During the meeting that lasted several hours last week, the students who represented their colleagues from other Islamic seminaries in Nigeria held talks with Sheikh Zakzaky and his wife at his residence in the country's capital Abuja. They conferred on various issues including the recent developments in the country.
Sheikh Zakazky urged the Shia seminary students to increase their religious and cultural activities adding that, "the Islamic society needs active and compassionate scholars and students to their fellow human beings."
He pointed out that the educated class must warn the Islamic Ummah against the conspiracies of the enemies.
In December 2015, Nigeria's military launched a crackdown as part of a deadly state-ordered escalation targeting the movement that Abuja has branded as illegal.
The campaign saw the troops attacking Zakzaky's residence in the town of Zaria in Kaduna, afflicting him and his wife with serious injuries that reportedly caused the cleric to lose his left eye.
During the crackdown, the military also attacked the movement's members as they were holding religious processions, with the government alleging that the Muslims had blocked a convoy of the country's defense minister.
The movement has categorically rejected the allegation, and said the convoy had intentionally crossed paths with the IMN's members to whip up an excuse to attack them.
The violence led to the death of three of Zakzaky's sons and hundreds of innocent Muslims.
The couple were kept in custody despite a 2016 ruling by Nigeria's federal high court that ordered their release from prison.
Amid the long-drawn-out jail term, the couple were allowed to leave for India for medical purposes. Their stay was, however, reportedly plagued by the state's interference aimed at preventing them from receiving proper medical treatment.
Source: ABNA24
Please click the following URL to read the full text of the original story:
https://en.abna24.com/news//islamic-seminary-students-meet-sheikh-zakzaky-in-abuja_1194892.html
--------
Sudan's Burhan 'hijacked and betrayed' aspirations of Sudanese people: Feltman
02 November ,2021
Sudan's top military general, Abdel Fattah al-Burhan, has "hijacked and betrayed the aspirations of the Sudanese people for a peaceful, democratic country," the US special envoy responsible for Washington's policy on Sudan said Tuesday.
Jeffrey Feltman, the special envoy for the Horn of Africa, told reporters in a phone call that the "immediate restoration of democratic governance in Sudan" was a must.
For the latest headlines, follow our Google News channel online or via the app.
Feltman was in Khartoum last, hours before Sudan's top military general seized power and ordered the arrest of Prime Minister Abdalla Hamdok and other government officials.
Burhan claimed he was protecting Hamdok, who is still under house arrest, and the country from a civil war.
Feltman said that the military and the civilians had "important roles" to play in the transition. "We urge the military to release all civilians detained in connection with the unacceptable events on October 25," the US official said.
Feltman also said that the international support, especially from the US, was based on the transition moving forward.
"I think that the [Sudanese military] generals will realize that they need the support of the international community when it comes to issues such as economic development debt relief, access to financing via the World Bank and the IMF," he added.
The US and Europe have repeatedly called for Hamdok's government to be restored. The International Monetary Fund (IMF) and the US suspended economic aid and assistance after the military coup.
Asked by Al Arabiya English about concerns over Russia's support for the military takeover, Feltman said: "We were concerned by the initial Russian statements after the takeover; they seemed to almost bless the takeover."
But he went on to note the UN Security Council statement, which Russia signed on to. "[That] was much more in line with the international consensus," Feltman said, adding that Washington was in touch with Moscow over the Sudan file.
"I can't say our positions overlap entirely, but there is some similarity in that we [both] want to see Sudan be stable, and we want to make sure that the situation remains non-violent," he said.
Source: Al Arabiya
Please click the following URL to read the full text of the original story:
https://english.alarabiya.net/News/middle-east/2021/11/02/DNP-US-envoy-for-Sudan-back-in-Khartoum-calls-for-Hamdok-s-return-to-power-
--------
UN chief voices concern over Ethiopia's state of emergency
Servet Gunerigok
03.11.2021
WASHINGTON
UN Secretary-General Antonio Guterres voiced concern Tuesday about a nationwide state of emergency in Ethiopia.
Guterres "is extremely concerned by the escalation of violence in Ethiopia and the recent declaration of a state of emergency," spokesman for the UN chief, Stephane Dujarric, said in a statement. "The stability of Ethiopia and the wider region is at stake."
The state of emergency came after an extraordinary meeting of the council of ministers amid escalating clashes with the rebel Tigray People's Liberation Front (TPLF) and Oromo Liberation Army - Shene (OLA-shene).
The Ethiopian government declared a unilateral cease-fire on June 29 and pulled out troops from Tigray, after which rebel forces expanded into the neighboring Amhara and Afar.
Millions have been internally displaced due to the conflict, according to the UN, warning of a humanitarian catastrophe.
Over the last couple of weeks, TPLF fighters have made gains, capturing new territories and strategic towns deep in the Amhara and Afar regions.
Source: Anadolu Agency
Please click the following URL to read the full text of the original story:
https://www.aa.com.tr/en/africa/un-chief-voices-concern-over-ethiopias-state-of-emergency/2410301
--------
Gunmen kidnap 4 university lecturers, children in Nigeria's capital
Olarewaju Kola
02.11.2021
MAIDUGURI, Nigeria
Gunmen on Tuesday kidnapped four lecturers and a number of children from a university in the Nigerian capital Abuja, officials confirmed.
In a statement posted on the University of Abuja's website, spokesman Habib Yakoob said the gunmen invaded the university staff lodging in the early morning and abducted four lecturers and an unspecified number of children.
He stated that university security authorities are working with law enforcement agencies to free the kidnapped teachers and children.
The Federal Capital Territory Police Command arrived on campus and beefed up security both inside and outside the institution.
The incident was the country's first major attack on an educational institution in the country's capital. Students have been kidnapped in large numbers in the country's northeast and central regions.
Source: Anadolu Agency
Please click the following URL to read the full text of the original story:
https://www.aa.com.tr/en/africa/gunmen-kidnap-4-university-lecturers-children-in-nigerias-capital/2409968
--------
Southeast Asia
City MPs urge DBKL to reverse latest liquor ban for infringing on non-Muslims
02 Nov 2021
BY KENNETH TEE
KUALA LUMPUR, November 2 — Federal lawmakers here have urged the Kuala Lumpur City Hall (DBKL) and the federal territories minister to reverse the decision to prohibit the sale of liquor at all convenience stores, grocery stores, and Chinese medicine halls.
After the ban came into effect yesterday, the seven MPs said in a joint statement that the ruling was inconsistent with the Prime Minister Datuk Seri Ismail Sabri Yaakob's "Malaysian Family" concept.
They alleged the prohibition to be an attempt by the government to obstruct the rights of businesses from operating effectively and disrespectful to the cultures of non-Muslims who moderately consume hard liquor for either health or culinary purposes.
"DBKL and the minister must respect the way of life and cultures of all Malaysian citizens, whether they are Muslims or non-Muslims.
"We are unanimous that the new DBKL guideline to prohibit sundry shops, convenience stores and Chinese medical halls from selling hard liquor effective November 1 as unfair, oppressive towards business owners and a burden to the non-Muslim communities.
"With that, we are asking DBKL and the minister to consider reversing the new ruling and respect the rights and freedom of non-Muslim communities in Kuala Lumpur," they said.
The MPs are Tan Kok Wai (DAP-Cheras), Teresa Kok (DAP-Seputeh), Fong Kui Lun (DAP-Bukit Bintang), Datin Tan Yee Kew (PKR-Wangsa Maju), Hannah Yeoh (DAP-Segambut), Lim Lip Eng (DAP-Kepong) and P. Prabakaran (PKR-Batu).
The MPs said repeated attempts to meet with FT Minister Datuk Seri Shahidan Kassim along with several business associations have been futile, and that the minister appeared to be unconcerned with the plight and feedback from those affected by the ruling.
Further justifying the ban as being unreasonable, the MPs said businesses affected by the ruling through the Associated Liquor Merchants Association of Malaysia have always complied with the existing rulings on the sale of alcoholic beverages.
They argued that guidelines such as restricting sale to non-Muslims above the age of 21 was sufficient to prevent any Muslims or adolescents from buying them.
With the ban now enforced, the MPs noted that business owners would suffer in terms of their revenue and ultimately affect the image of Kuala Lumpur's status as a World Class City that celebrates the diversity of its denizens.
"We are also pleading with the government to be fair to everyone. Just because we dislike something, we need to ban it when said things are a part of the customs and culture of others.
"We respect Islam and we are aware that alcohol is forbidden to Muslims but what is forbidden for Muslims cannot be forced upon non-Muslims especially in the issue of consumptions," they added.
Shahidan previously defended the ruling in the Dewan Rakyat, stating that the ban was to ensure alcohol would not be made available in public places and to curb social problems and ensure that those under age 21, whether Muslim or non-Muslim, would not easily get their hands on alcoholic beverages.
Source: Malay Mail
Please click the following URL to read the full text of the original story:
https://www.malaymail.com/news/malaysia/2021/11/02/city-mps-urge-dbkl-to-reverse-latest-liquor-ban-for-infringing-on-non-musli/2017888
--------
In court, woman born in Pahang to Muslim refugee parents from Cambodia bids to join siblings as Malaysian
03 Nov 2021
BY IDA LIM
KUALA LUMPUR, Nov 3 — The Court of Appeal heard yesterday an appeal by a 35-year-old woman — born in a Pahang refugee camp to parents who were Muslim refugees from Cambodia — to be recognised as a citizen of Malaysia.
Azimah Hamzah's lawyer, N. Surendran, told the court that his client is stateless as she is not a citizen of any country, while also highlighting that Azimah's refugee parents have already been granted Malaysian citizenship and that all her siblings are Malaysians — leaving her as the only one in the family who is not a citizen.
Based on court documents including Azimah's own affidavit, her parents and her elder sister were Muslim refugees from Cambodia who had been accepted for settlement in Malaysia since 1985, with the parents and elder sister placed in a refugee camp in Cherating, Pahang until they left the camp in 1987.
It was in June 1986 that Azimah's refugee parents gave birth to her in the refugee camp in Pahang.
Azimah, her parents and all her siblings are all now in Malaysia. The parents were permanent residents since November 1986 and became naturalised Malaysian citizens in November 2008, while all Azimah's four younger siblings — born in Malaysia before the parents became citizens — are Malaysians because of the parents' status. Azimah's elder sister became a Malaysian in November 2008 via the Federal Constitution's Article 15A where the government may register persons aged below 21 as citizens in special circumstances as it thinks fit.
Azimah had in 1998 applied for a Malaysian identification card when she was 12, but the National Registration Department had in November 1999 said she was not entitled to Malaysian citizenship by operation of law.
She was then subsequently given a MyKas or a green identity card — introduced since 1990 by Malaysia for non-citizens who have temporary resident status — and allowed to renew it several times before being denied subsequently. Over the years, she had also made multiple attempts to obtain Malaysian citizenship status.
Azimah in October 2018 applied for Malaysian citizenship via Article 14(1)(b) of the Federal Constitution, but her application was rejected in March 2019.
On June 3, 2019, she then filed a lawsuit via a judicial review application against the NRD's director-general, the home minister and the Malaysian government, to seek various court orders including a declaration to recognise her as a Malaysian citizen and one to compel the issuance of a MyKad or citizenship certificate.
The High Court on March 11, 2020 dismissed Azimah's lawsuit, which then led to this appeal.
The key law at the heart of appeal
In the appeal hearing, Surendran said his client was mainly relying on Section 1(e) of Part II of the Second Schedule of the Federal Constitution, read together with the Constitution's Article 14(1)(b).
Article 14(1)(b) states that those who are born after Malaysia was formed and who fulfill any of the conditions in Part II of the Second Schedule are citizens by operation of law or entitled to be Malaysians, with one of the conditions being Section 1(e) which is that a person born within Malaysia "who is not born a citizen of any country".
Surendran said that Azimah's court case is essentially not about seeking Malaysian citizenship to be granted to her, but an application for the court to make a declaration to confirm that she is entitled to Malaysian citizenship by law.
Surendran said his client has discharged her burden of proving that she falls under the Section 1(e) situation, noting that it was undisputed that she was born in the Cherating refugee camp in Kuantan, Pahang, Malaysia and that it was also undisputed that she has lived in Malaysia "all her life" since her birth 35 years ago.
The government in this case however holds the position that her parents were Cambodians when she was born, and insist that she is not stateless.
Were the refugee parents Cambodian when Azimah was born in Pahang?
The Court of Appeal judges focused on the status and nationality of Azimah's parents at the time she was born.
The judges examined Azimah's birth certificate issued in June 1986, where she was stated as being a non-citizen and with her race stated as Cambodian, and where her parents were recorded with the same details and with "maklumat tidak diperolehi" (information not obtained) stated for the parents' identification documents.
Asked further by the judges, Surendran said it seems to be unclear what Azimah's parents' nationality was at the time of her birth and also indicated that there are no available additional documents — apart from a November 1986 entry permit issued to the parents — to show the parents' nationality then.
Surendran further said Azimah had made an attempt to settle the question of whether she is a Cambodian citizen or otherwise by asking the Cambodian embassy, which confirmed in a September 18, 2018 certified letter that Azimah "has never been holding Cambodian passport and identity documents".
Surendran said Azimah was definitely stateless without a doubt and fulfills the Section 1(e) condition, pointing out that this is clear from what the NRD had itself said in a court affidavit.
In the affidavit sworn on behalf of all three respondents, the NRD's citizenship division director claimed that Azimah is not a stateless person that would qualify her to acquire Malaysian citizenship by operation of law, stating that Azimah should make efforts to obtain a passport or other documents to "return to Cambodia and obtain citizenship in Cambodia, since at her birth her parents were still of Cambodian nationality".
"It's quite clear from what the respondents are saying that she doesn't have Cambodian nationality now, this is their own statement of oath," Surendran said when asserting that this meant Azimah is stateless.
Asked by the judges whether the Malaysian government's assertion that Azimah's parents were Cambodian at her time of birth is backed by documents, Surendran said there was a November 1986 entry permit issued to the parents (where both were stated to be of Cambodian nationality) but also acknowledged that there seems to be some discrepancy with the information here and Azimah's birth certificate.
But going beyond such questions over the parents' nationality when she was born, Surendran argued that Section 1(e) only requires showing that one was born within Malaysia and not being a citizen of any country as it is a provision based only on the principle of jus soli or citizenship based on place of birth.
Surendran also noted that the High Court had dismissed his client's case by saying it was bound by a previous Court of Appeal case — which had decided that both jus soli and jus sanguinis (citizenship by lineage or based on parents' nationality) had to be fulfilled in order to fulfill the Section 1(e) condition.
But Surendran argued it was an error for the Court of Appeal to say that the parents' nationality would also be relevant when deciding if someone fulfills the Section 1(e) condition, arguing that the legislative history of the Federal Constitution instead shows that Section 1(e) was intended to only require the jus soli concept.
Government argues parents were Cambodians, parents' nationality relevant to prove statelessness
Responding to the argument that Azimah's parents' nationality was uncertain at her time of birth, senior federal counsel Nik Mohd Noor Nik Kar who represented the Malaysian government then argued it was not disputed at the High Court that her parents' citizenship was Cambodian.
Nik Mohd Noor noted that it was said that Azimah's parents were "refugees from Cambodia" and that both were not Malaysian citizens when she was born.
Court of Appeal judge Datuk Vazeer Alam Mydin Meera then asked how "refugees from Cambodia" could be equated to having Cambodian citizenship, and Nik Mohd Noor again said the parents could not be said to have had uncertain nationality at Azimah's birth since it was previously undisputed that they were Cambodians then.
As for whether Azimah was stateless when she was born, Nik Mohd Noor cited Article 4 of Cambodia's citizenship laws to say that a legitimate child — regardless of where they are born — would follow their Cambodian parents' nationality and obtain Cambodian citizenship.
Court of Appeal judge Datuk Seri Kamaludin Md Said then highlighted that would be the case under ordinary situations, but noted that Azimah's case relates to refugees coming to Malaysia who definitely could not return to their home country and who were given protection by the Malaysian government.
As Nik Mohd Noor agreed that this was why the Malaysian government gave protection to Azimah's parents and siblings, judge Kamaludin further asked: "Logically speaking, now the parents have no more connection with Cambodia, because (they are) refugees, how do you expect this applicant to go back to Cambodia and acquire citizenship there?"
Court of Appeal judge Datuk Gunalan Muniandy also suggested that a child would become stateless if born to parents who are Cambodian nationals who are refugees, as they would not be able to go back and acquire Cambodian citizenship.
Nik Mohd Noor however argued that being refugees does not mean they would lose their Cambodian citizenship status.
Nik Mohd Noor cited the 1986 entry permit as documentation to show that Azimah's father's nationality was Cambodian at that time, arguing that the burden has now shifted on Azimah to show that her parents were not Cambodians and to show that she and her parents were stateless.
Nik Mohd Noor agreed that the entry permit was issued in November 1986 which was after Azimah's June 1986 birth, and also agreed that there were no other documents available to show her father's nationality to be Cambodian.
He also argued that fulfilling Section 1(e) should be based on both a person's birth place and a person's lineage or parents' nationality, citing the Court of Appeal decision referred by the High Court judge in dismissing Azimah's case.
He argued Azimah had not shown she was stateless by relying on the birth certificate and the Cambodian embassy's letter, noting that the embassy letter did not say that Azimah never applied for Cambodian citizenship and also did not say that her parents were not Cambodian citizens.
Judge Vazeer also said it cannot be assumed that Azimah's parents were Cambodians because they left Cambodia, noting that Myanmar for example does not recognise Rohingyas who left the country as being its citizens.
Nik Mohd Noor also suggested that Azimah's acquiring of Malaysian citizenship should be through the right channels or correct legal provision such as Azimah's elder sister who became a Malaysian after applying under the different constitutional provision of Article 15A, noting that there is also the alternative provision of applying to be a naturalised Malaysian citizen via Article 19.
Judge Kamaludin and judge Gunalan suggested that advice should have been given on what provision Azimah should have used to apply for citizenship, instead of just rejecting her citizenship application.
Source: Malay Mail
Please click the following URL to read the full text of the original story:
https://www.malaymail.com/news/malaysia/2021/11/03/in-court-woman-born-in-pahang-to-muslim-refugee-parents-from-cambodia-bids/2018006
--------
URL: https://www.newageislam.com/islamic-world-news/pakistan-activists-tehreek-labbaik-elections/d/125704
New Age Islam, Islam Online, Islamic Website, African Muslim News, Arab World News, South Asia News, Indian Muslim News, World Muslim News, Women in Islam, Islamic Feminism, Arab Women, Women In Arab, Islamophobia in America, Muslim Women in West, Islam Women and Feminism